Property Stories
My Search For The Perfect Co-Living Company In Singapore: A Non-Sponsored Overview On Hmlet, Figment & Coliwoo
TJ
May 14, 2023

12

min read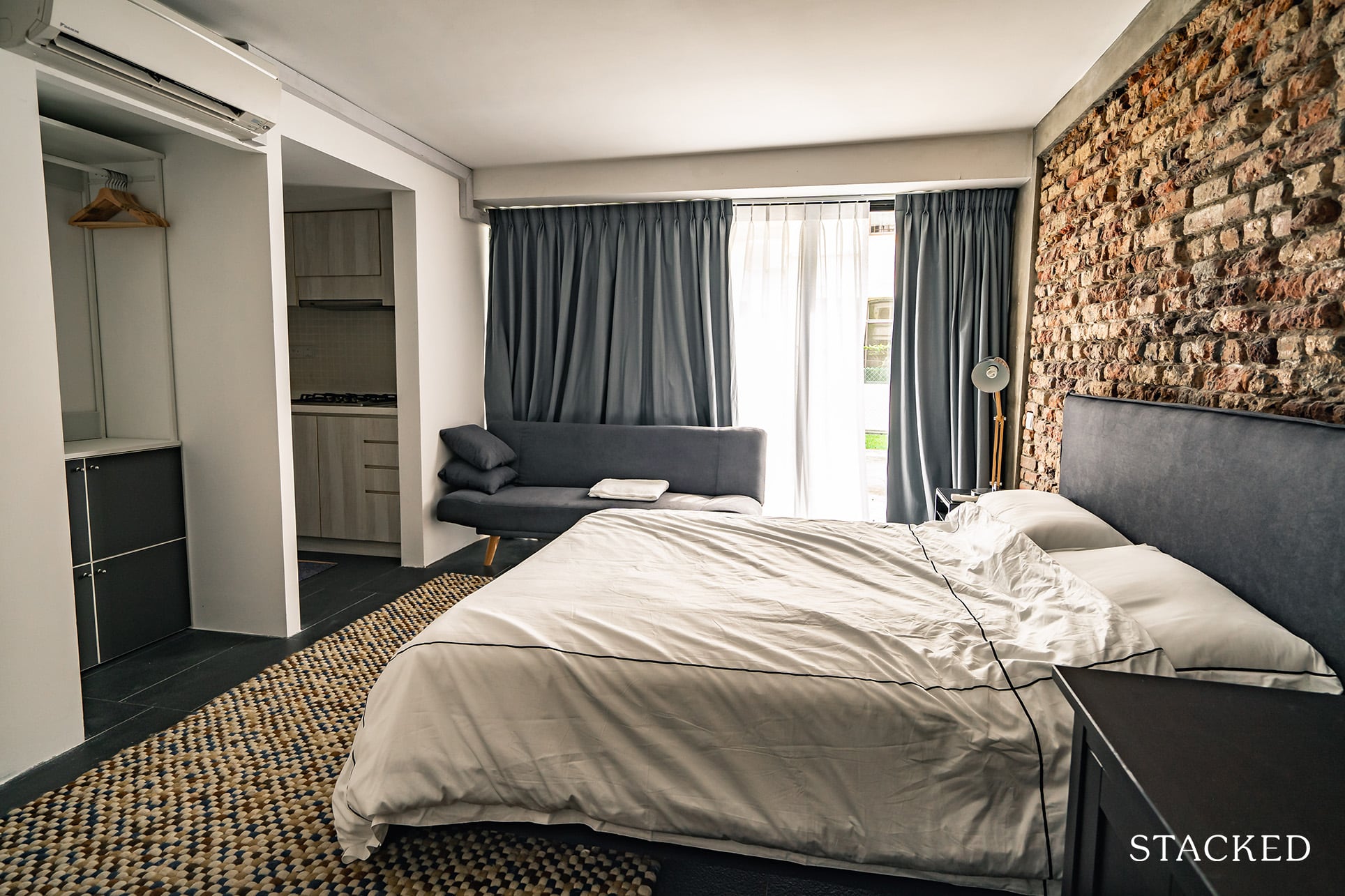 12
min read
A few years ago, I moved back from the UK to Singapore. As all Singaporean Singles know, getting your own place when you're unmarried is prohibitively expensive, due to the many BTO restrictions singles face. Since I've covered this in my various articles with Stacked, I won't bore you by repeating myself here but, suffice it to say, 1.5 years on, I'm ready to throw in the towel regarding finding an affordable multi-generational property.
However, I've not quite given up on having "a room of one's own", to paraphrase Virginia Woolf, and so I've been toying with the idea of renting or trying co-living. (If you're curious about my Singapore property journey, click through to see how it all started.)
Note: this is not an advertorial for co-living as the stay was completely paid for by myself (not sponsored by any co-living company OR Stacked) so you can rest assured that everything I write is wholly objective, based on my experience, and not a result of having been "bribed" to say nice things! Moreover, I did not inform the company when booking that I would be writing an article about the experience, so you can take my experience as a "generic" one. (And not a fake-pimped-up version in which they try to impress me because they want good publicity!)
Renting vs Co-Living
I briefly looked for spaces to rent. However, I soon gave up on it because:
Too expensive. To be honest, I can't afford it! I could probably afford to rent a shared HDB room, but having heard so many horror stories about other tenants and landlords, I don't think the experience is worth it for me. If you're thinking that co-living fees are not much lower than renting directly from landlords, you would be right, but I'll explain my (perhaps skewed) logic in more depth below.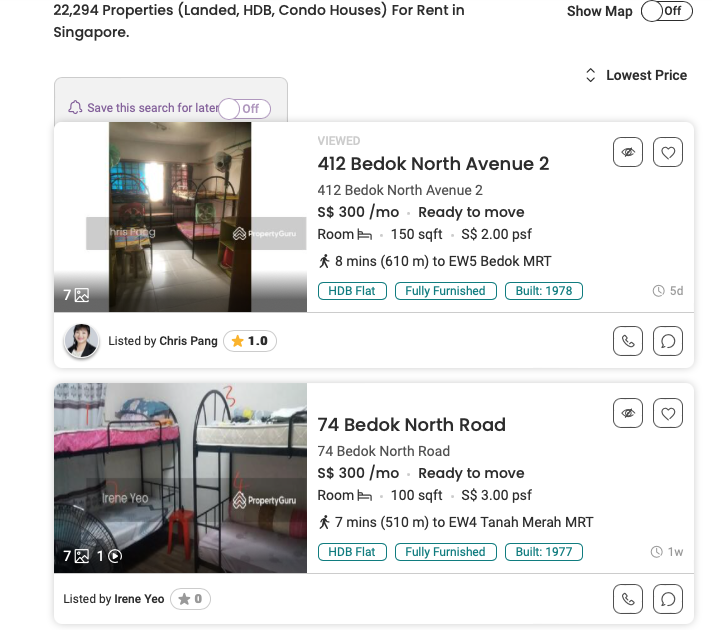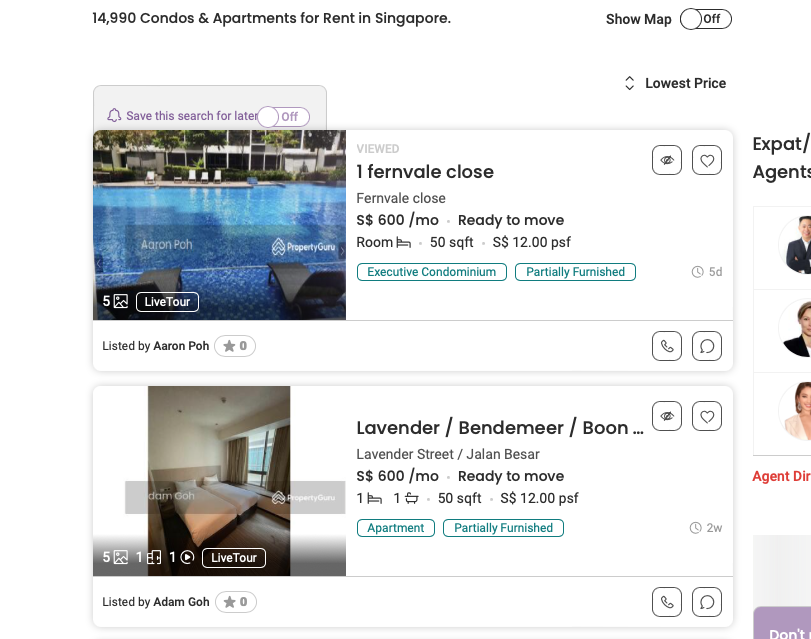 Note: As for how much a room to yourself costs – this is where I can see a property agent really adding value. Even though I clicked on the "entire place to yourself" box on PropertyGuru, I was still shown shared rooms! I tried scrolling down but even after reaching page 5, I was still being shown shared rooms, which made me decide that there are more important things in life than to waste my time on PropertyGuru.
Even when I included a minimum size filter when searching for a small unit for oneself (filter: above 400 sq ft), it was useless as listings would state that they were over 1,000 sq ft, but still be shared rooms! (The size listed is actually the size of the entire flat. See below.) Of course, the low price was a dead giveaway but, nonetheless, all the inaccurate listings make the rental search super troublesome!
Useful fact 1: If you're wondering how much it costs, according to this article, the average lowest rent in 2023 is $2,000 for an HDB in Woodlands, so you could try setting a minimum of $2,000 as a filter if looking for a unit to yourself. This goes up to an average of $7,927 for a condo in Orchard.
Useful Fact 2: the minimum lease period for an HDB in Singapore is 6 months or 3 consecutive months for private property.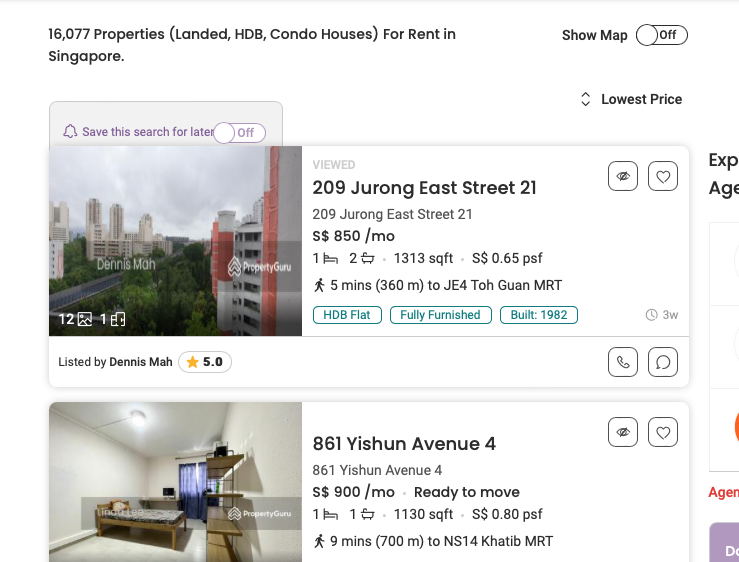 2. Renting is too much hassle. There's the letter of intent, doing the inventory and taking photos upon moving in (to avoid disputes over the deposit when moving out), setting up the internet and utilities etc. Moreover, added to the fact that TWO of my 3-4 landlords (so over 50%) in the UK ended up running away with my deposits, I just didn't have a lot of faith in the whole rental system.
Anyway, long story short, I decided that I don't hate living at home so much that I want to pay a fortune and have to do all this when I wouldn't be renting for longer than a year. If I was an expat, then sure, but not for a "moving out experiment." With co-living, at least I'm dealing with (what I hope to be) a professional company instead of an individual and potentially capricious landlord.
Useful Fact 3: I believe in Singapore the landlord is not bound to keep the deposit in a trust or Escrow account.
Note: If you wanted to say that the landlords kept my deposit because I trashed the flats etc, that is not true!
One landlord, supposedly the richest man in the town I was staying in then, actually declared bankruptcy just before the tenancies ended so many of us didn't get the deposit back. (He had several rental properties.) As for the other, the agency said the credit card machine was not working so asked for the deposit in cash and gave me a receipt. After that, the agent claimed not to have received the deposit because going to court would cost more than losing the deposit, according to the lawyer I consulted, I never got my money back! Rookie mistake but a warning to all of you out there to be very careful!
Useful Fact 4: Did you know that above and beyond your rent, you also have to pay stamp duty??? (I didn't know till now! This is only for properties whose annual rental is above $1,000. However, given that the cheapest monthly rent is already $600… …. … (Also note that the multiple question marks are not due to bad editing but my disbelief.)
Anyway, co-living is looking even better now!
Useful Fact 5: having a property agent can save you a lot of work but you have to pay them a commission and I was trying to keep expenses down. Exceptions used to be made if your rental is above $3,500 and you rent for at least 2 years but that's no longer the case.
3. Lastly, I passed on renting because I preferred living somewhere with a community.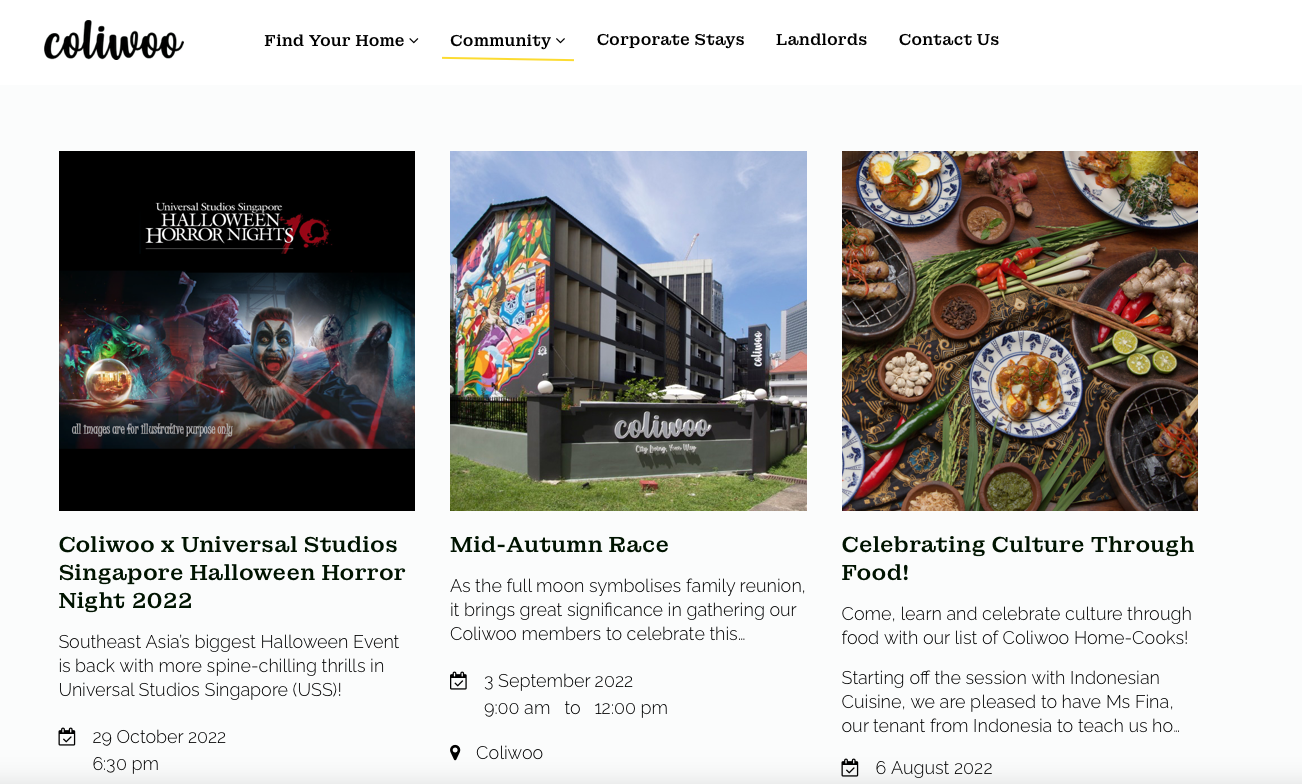 Having been away for 7 years (or 11 years, depending on how you view it), my connection to the Singaporean community is somewhat tenuous. Most friends have gotten married and had kids, so even when we meet up, we don't have that much in common anymore and I would be happy to meet more like-minded people who want to talk about other things besides children and schooling. (No offence to all the parents out there but I believe I can speak for many single people when I say that we are interested in your kids but only up to a certain point!)
In London, it was easy. I made friends just by attending 1-session cooking classes or random events but, somehow, it's not quite the same in Singapore.
Hopefully, co-living will help to address that!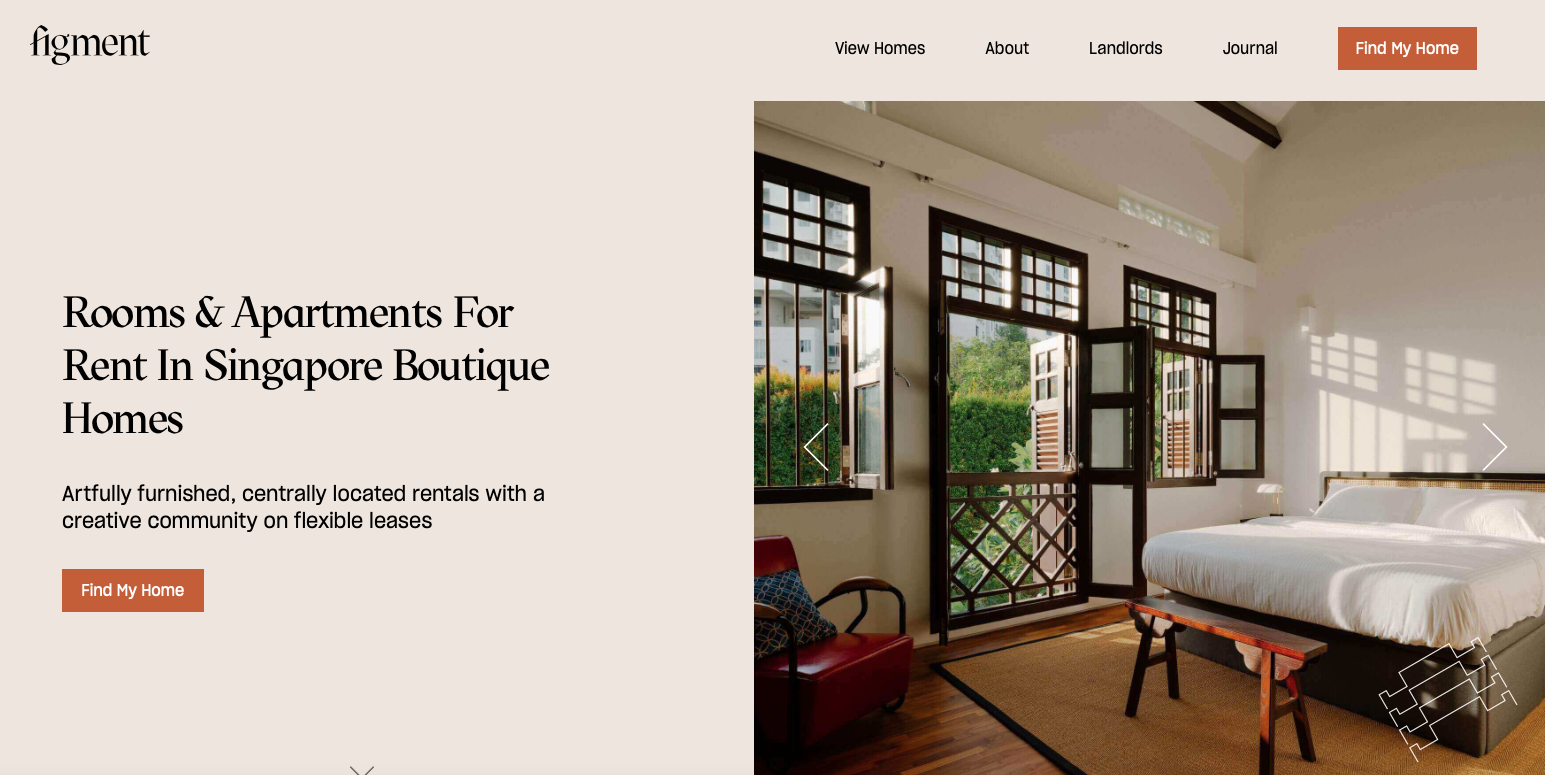 Thus, in the battle between renting and co-living, co-living wins!
If you're one of those sceptical about living with strangers – as many of my friends are ("Is it safe??" and "Eeee. Strangers!" are just 2 of the disapproving responses that I've gotten!) – check out this video of an awesome co-living place in Seoul. (I'm actually thinking of staying there the next time I visit!)
Now I had to decide which Co-living company to choose and, boy was it difficult as there are SO MANY out there now and very few, to my mind, articles that are not advertorials in disguise. I decided to narrow the search down to companies which had either actual houses (i.e. landed properties) or larger adult "dorm" buildings to offer.
What's the difference between co-living in a small flat and regular flat sharing, after all? With larger properties, there are more people to mingle with as well as less chance of the flatmate problems that arise from living in close quarters. Moreover, with apartments, not every room comes with a bathroom and the ones that do are much more expensive. (I'm not quite ready to face sharing bathrooms with strangers again.)
That narrowed my search down to 3 companies: Figment, Coliwoo and Hamlet, which I'll share more about next week!
Economics
Before I sign off, let me touch on the economics, which I mentioned briefly above.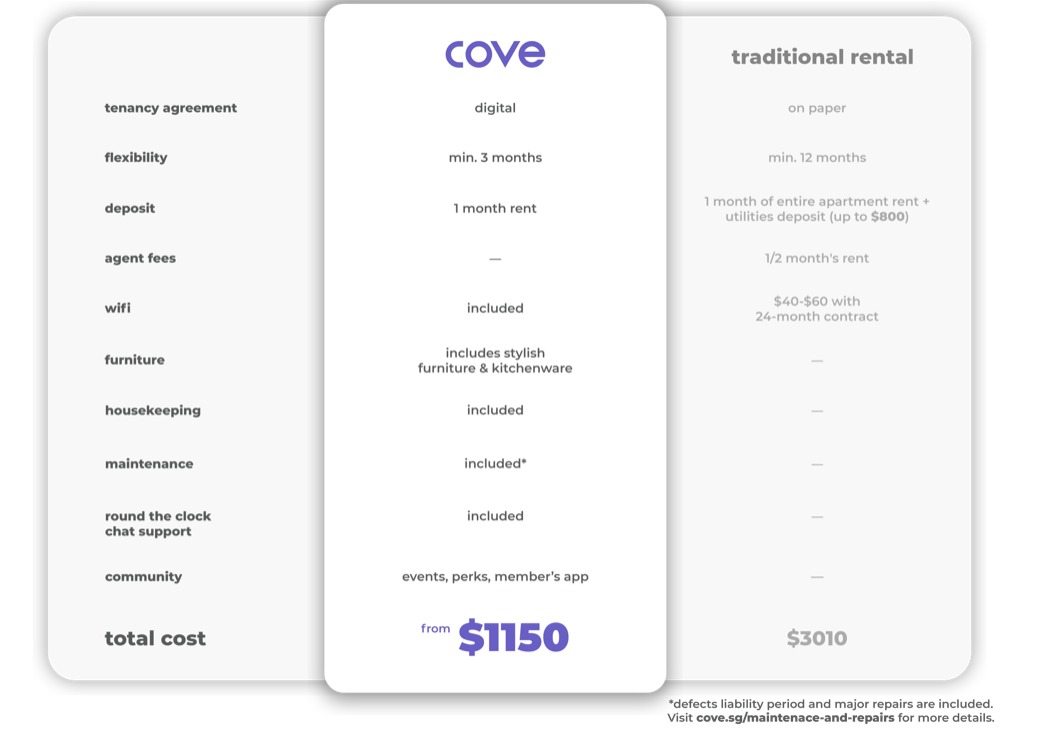 Here's a comparison done by Cove which I must say has one of the best search functions among all the co-living sites.
I filtered down to a bedroom with a private bathroom in a landed house and, at the time of writing, the cheapest option was $2,150. However, what I didn't like about the site was that it felt more like an impersonal hotel website than a real co-living experience. Moreover, the additional fees aren't obvious. Not only are they not stated in the property listing (only in the FAQ), they don't include utilities, wifi usage above 1 GBPS as well as the monthly air con maintenance fees ($15-$30 monthly.
I have no issue paying for maintenance etc, but I wish it would all be calculated in 1 lump sum to make things more straightforward!)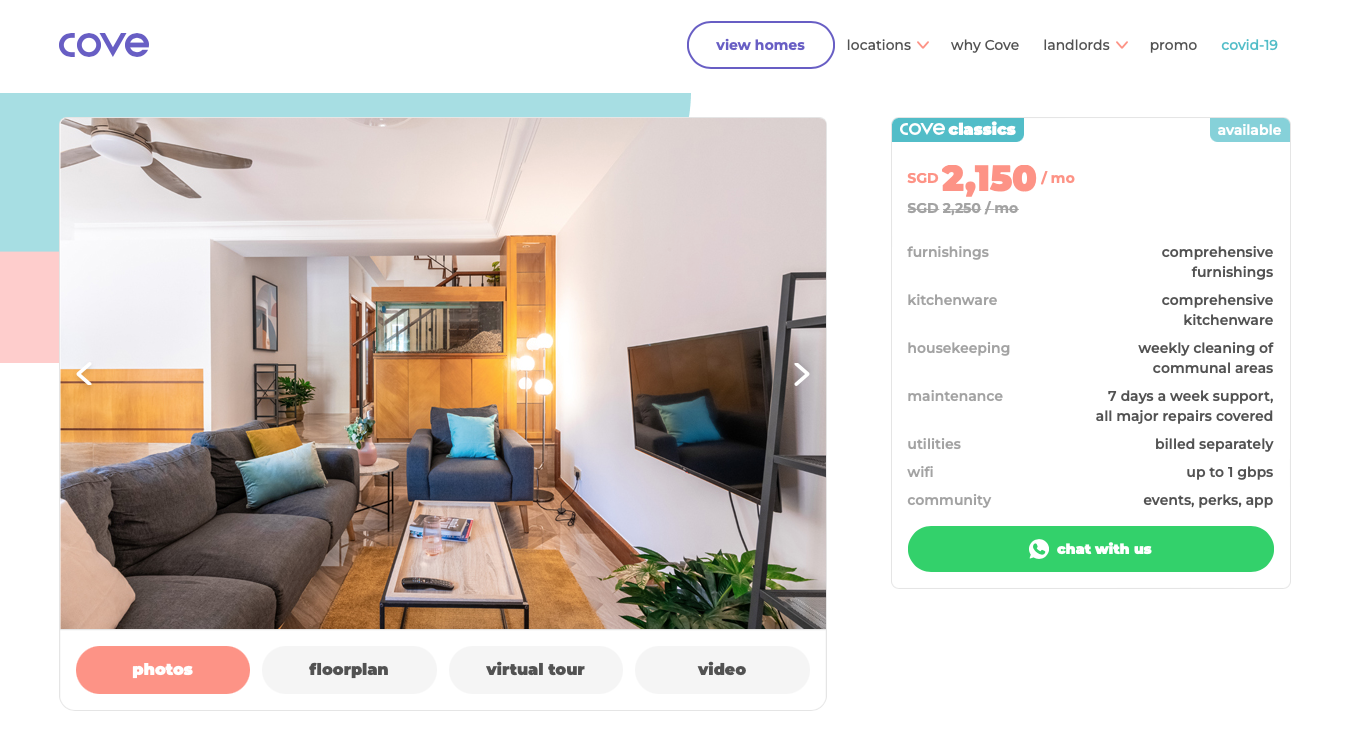 For renting:
– according to the article I cited previously, you can rent an HDB flat for $2,000 in Woodlands. (I honestly wonder where they get the information from though as when I input $2,000, the options that came up at that price were still room rentals only! Personally, the cheapest one I could find was $2,500 for a 600 sq ft unit in Punggol.) AsiaOne cites the average 3-room flat as going for $2,280 so let's use that instead. It's very hard to find a lease for under a year now, so x12 that comes up to $27,360.
Add the stamp duty: $109 according to the IRAS calculations
Agent's commission: There's no hard and fast rule but market practice is half a month's rent so that makes it $1,140
Monthly utilities such as wifi, water and electricity (which requires a deposit too!): the average SP Bill was $140 for a 4-bedroom flat in 2018/9. I'm only looking at a 3-bedroom flat but we all know utilities have soared, so let's keep it at $140 plus another $40 for broadband (so $180 or $2,160 for the year)
Others such as furniture if the place is not-furnished, the security deposit etc etc
That brings us to a minimum of $30,769 and I've not even added the deposits and other incidentals
For co-living
Heihomes even has a "pocket room with private bathroom" that is going for $1,000/month in the River Valley/Orchard/Somerset location!! The price includes wifi, utilities and weekly maid cleaning of the communal space. (I do wonder if this is originally the helper's room but must say it's a decent price given that a shared HDB room is already $600!) Unfortunately, Heihomes seems to prefer younger tenants as, at the time of writing, all the rooms available were only open to those "37 years and below (due to current flatmate demographics.)" As a potential tenant, I'm happy to hear that the companies are trying to find a tenant mix that meshes but as someone above 37, less happy about that!
Some properties allow leases of 1 week whilst others have a minimum of 3 months. (Yes, I know that we're comparing apples to oranges here since the lease terms for renting and co-living are different. Certainly, this wouldn't make sense for an expat who needs a permanent place to stay. However, for a local who is looking to move out of the family home but finding it strenuous on the budget, co-living for any duration at all is a shorter and thus more affordable alternative to renting for a year if that makes sense. (The Heihomes rooms above would be around $3,000 for a period of 3 months or $12k for 12 months – much less than the $30-k(ish) required to rent.) After all, he or she is usually looking for some independence and private space. Both co-living and renting serve the purpose of providing a home away from home, albeit for different periods of time. I know many will disagree which is why I said it's potentially skewed logic!)
Hope you've enjoyed Volume 1 of the Singaporean co-living diaries!
I'll be back again to share more about the differences between the companies, the process of checking in and the actual experience of living with strangers so stay tuned!