Property Stories
We Live In A Top Floor Penthouse: Here Are The Pros And Cons About High Floor Living
Ryan J
May 23, 2023

7

min read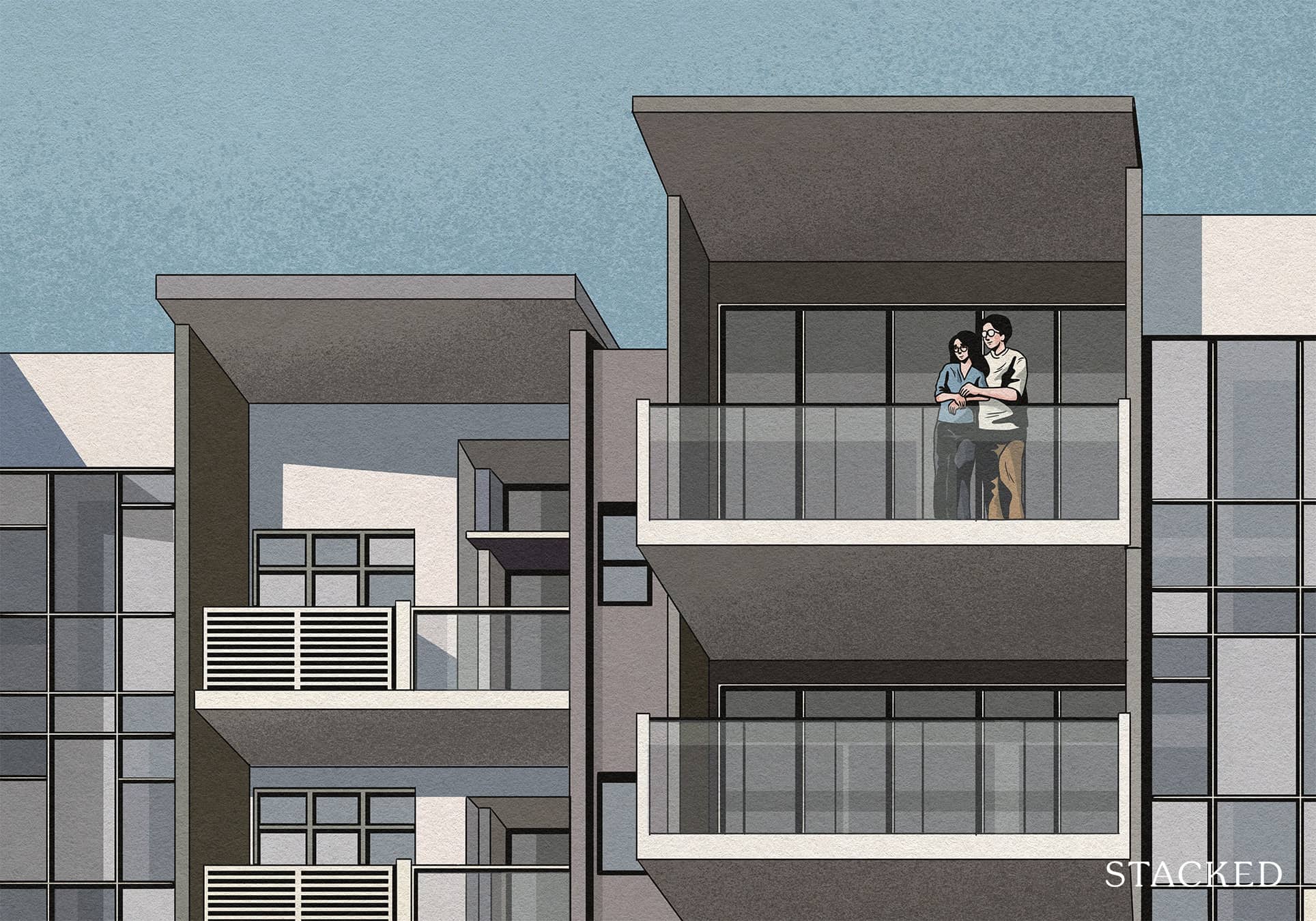 7
min read
Great views, fresher air, a (theoretically) pest-free environment… it's no wonder the higher you go, the pricier your home gets. But what's it really like living at the literal top? Rather than just trust the sales pitch, we spoke to a couple who have experienced high-floor living. This is what it feels like:
First off, what counts as "top floor" living?
As our couple explains, it's not defined by just the highest floor in the building, but "how high up you are actually living."
After all, living on the top of 10th storey building doesn't count for much, if you're surrounded by 20-storey condos. As such, our couple says: "I like living high up, and I guess would consider top floor living from 20 floors and up."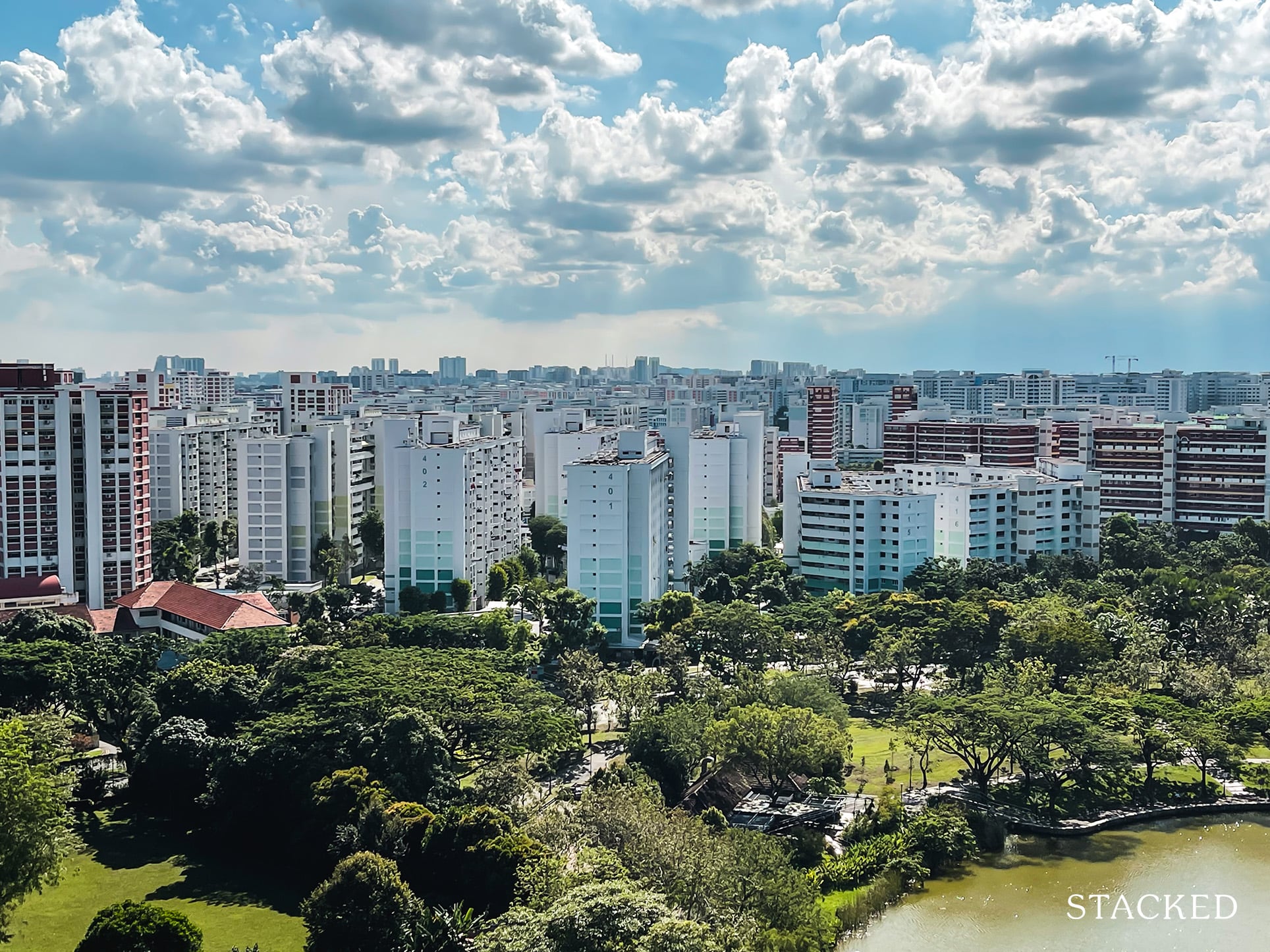 Besides this though, we've heard a few other definitions. Some home buyers feel that only the top five or 10 floors are the "top", while others consider details such as whether the view clears the tree line.
Our couple does point out, however, one important advantage of being on the very top floor, as opposed to just a "high floor." That is:
"I've lived on high floors but not on the top floor before, and sometimes you still have very noisy neighbours above you, who are doing weird things late in the night…so the top floor has the benefit of no one disturbing you as no one is above you."
The pros and cons of top floor living
The couple says their high-floor unit's view "used to be good, as although it wasn't like a greenery or sea view, it was unblocked and we could see far out. However, a new building is on the same level as us, so our view is now effectively half-blocked."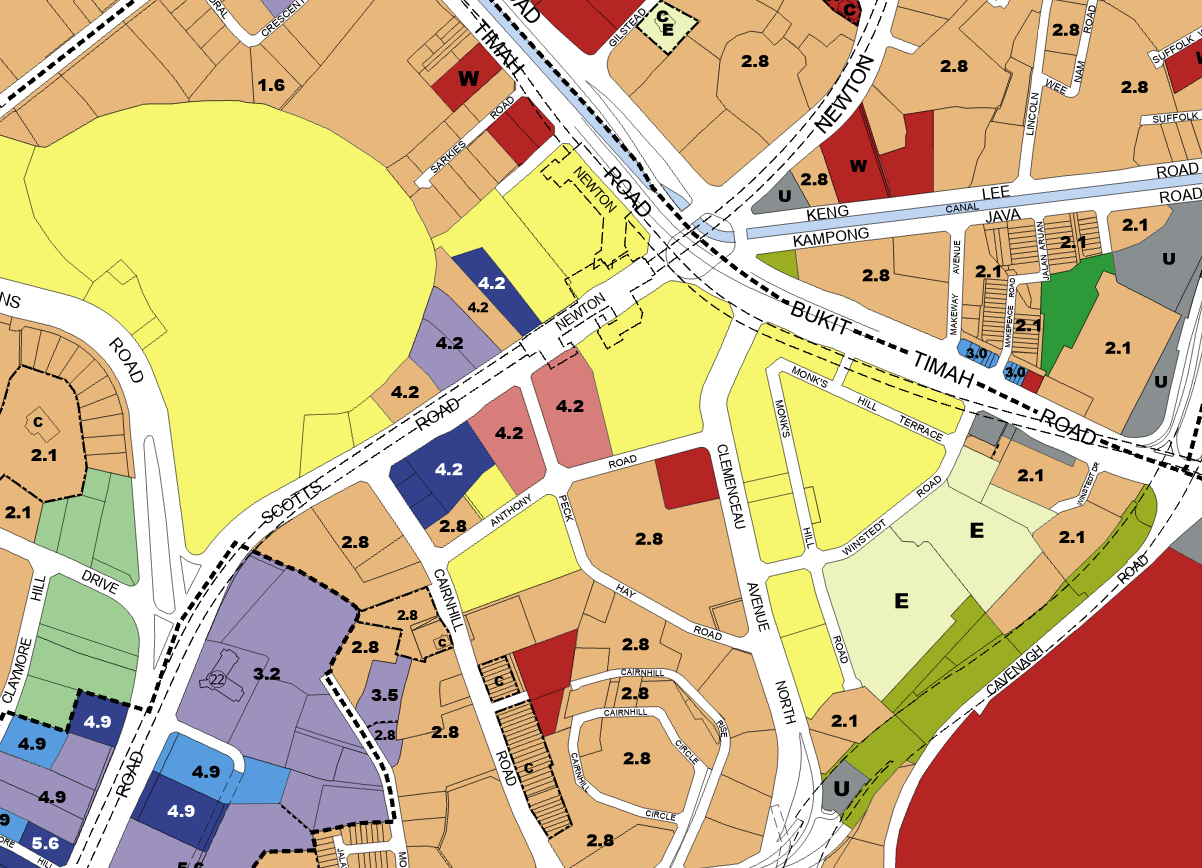 One way to avoid such outcomes is to check the URA zoning map – most home buyers avoid condos with high plot ratio residential land nearby, for fear of this exact issue. When views become blocked, those who purchase higher floor units can be seen to "lose more", as they paid a higher rate for the view.
That said, do be aware that things can change in the URA Master Plan, as nothing is quite set in stone. As a recent example, there was a proposed change to the Master Plan in the Great World area, which you can read more about here.
Speaking of cost, the couple did pay quite a sum:
"It was a premium overall because it was a penthouse unit. But unlike some of the newer penthouses, this was an older penthouse where there was more outdoor space; so the price per square foot that we paid was lower.
It's worth it because of the previously unblocked views, along with the lifestyle benefits of having an outdoor terrace."
Even without being a penthouse unit, we have seen price differences of as high as $100,000 for a difference of one or two storeys, at some new launches. In recent years however, developers have begun to use promotions such as an "all-floors-same-price" approach, which may happen during very early launch phases (it's a tactic to get sales going).
A downside to all this, which the couple found out, was the increased reliance on elevators. In the event of a breakdown, it's always the upper floor residents who risk being completely cut off:
"We've faced it twice so far, when one lift broke down (there are two lifts), so it was more annoying…we had to face a longer wait at more busy times of the day.
I would say that it wasn't so much an issue as our development doesn't have a lot of units. But I've been to friends living in penthouses who don't have private lifts, and the wait for the lift can be really long. I can't imagine if it was a daily affair!"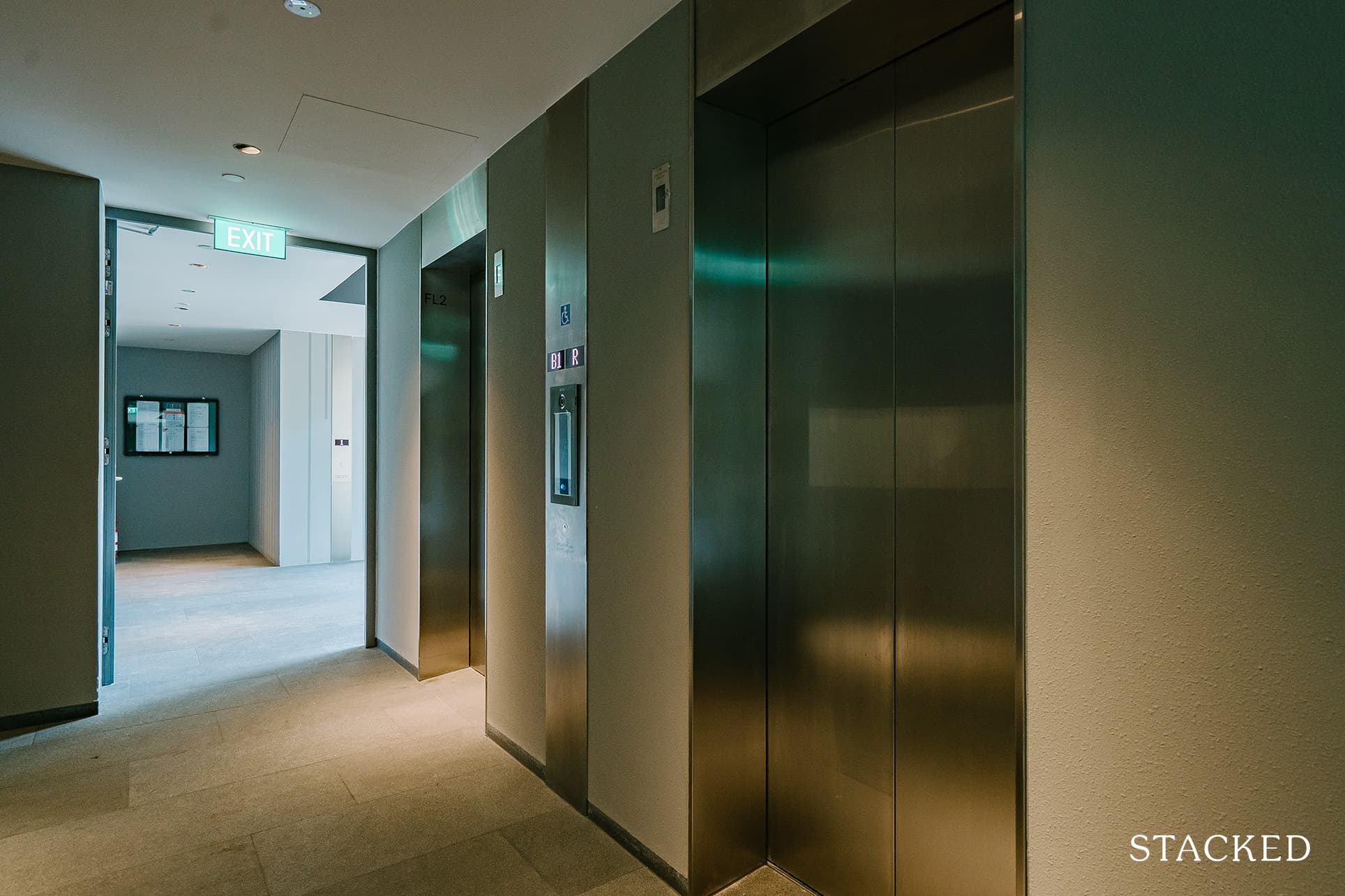 For top floor living, it's ideal if there are three or more lifts. This is because when one lift breaks down, people who are moving house, renovating, etc jam up the use of a second elevator. If there are only two, then that's a serious problem for other residents (except the bottom few floors, who can just walk up or down).
Also remember that, if the lifts aren't accessible, top floor residents can forget about their GrabFood or other deliveries!
Nonetheless, a top floor unit retains the advantage of added privacy. The couple said that:
"For us on the top floor, there are only two units so we did have good relations with our neighbour; but it is also more private as you don't run into each other very often."
Vermin-free? It's more about the condo maintenance than the floor
There's a belief that higher floor units are spared vermin issues, such as rats, cockroaches, etc. Our couple says this is partially true, but it's more about overall condo maintenance:
"I think it's very dependent on how well maintained or new your development is. Ours was quite well maintained for its age, so we didn't have problems with pests; but cockroaches in the common chute were more common with neighbours on the ground floor.
We also haven't lived on lower floors so we can't make a proper comparison, but even we had our fair share of lizards running about on the top floor."
Fun fact: some studies from American researchers cite Singapore as an example, in which mosquito breeding has occurred on the 21st floor and above. In Singapore, even our pests are high flyers.
Other quirks that may not happen in every condo
Some of the benefits to top floor living are subjective, and don't apply to every condo. The couple observes that:
"I suppose because you are higher up you can also sort of get away with more grey area things like using the common areas to put more shoes, plants, etc. as you have fewer people coming up…the ground floors is where things are more visible. This is probably only applicable to older developments where they are less fussy!"
On the flip side, older condos can have issues such as leaks – and if you're on the top floor, it may be originating with you:
"We've also once faced a problem when our neighbour below us faced a leak from their ceiling," the couple says, "It was on their balcony and it came from our planter. That became our cost to deal with and fix."
Some condos also have extra facilities on top of the penthouse units, or top-most units. These are often tennis courts, sky parks, or swimming pools. Our couple didn't seem to be a big fan of these:
"I wouldn't want to buy the supposed top floor of a development if there is a tennis court or swimming pool above. I would be afraid of leaks as the development gets older. But a bigger day-to-day issue would be noise, when people play tennis or they entertain guests, as the noise would for sure leak down."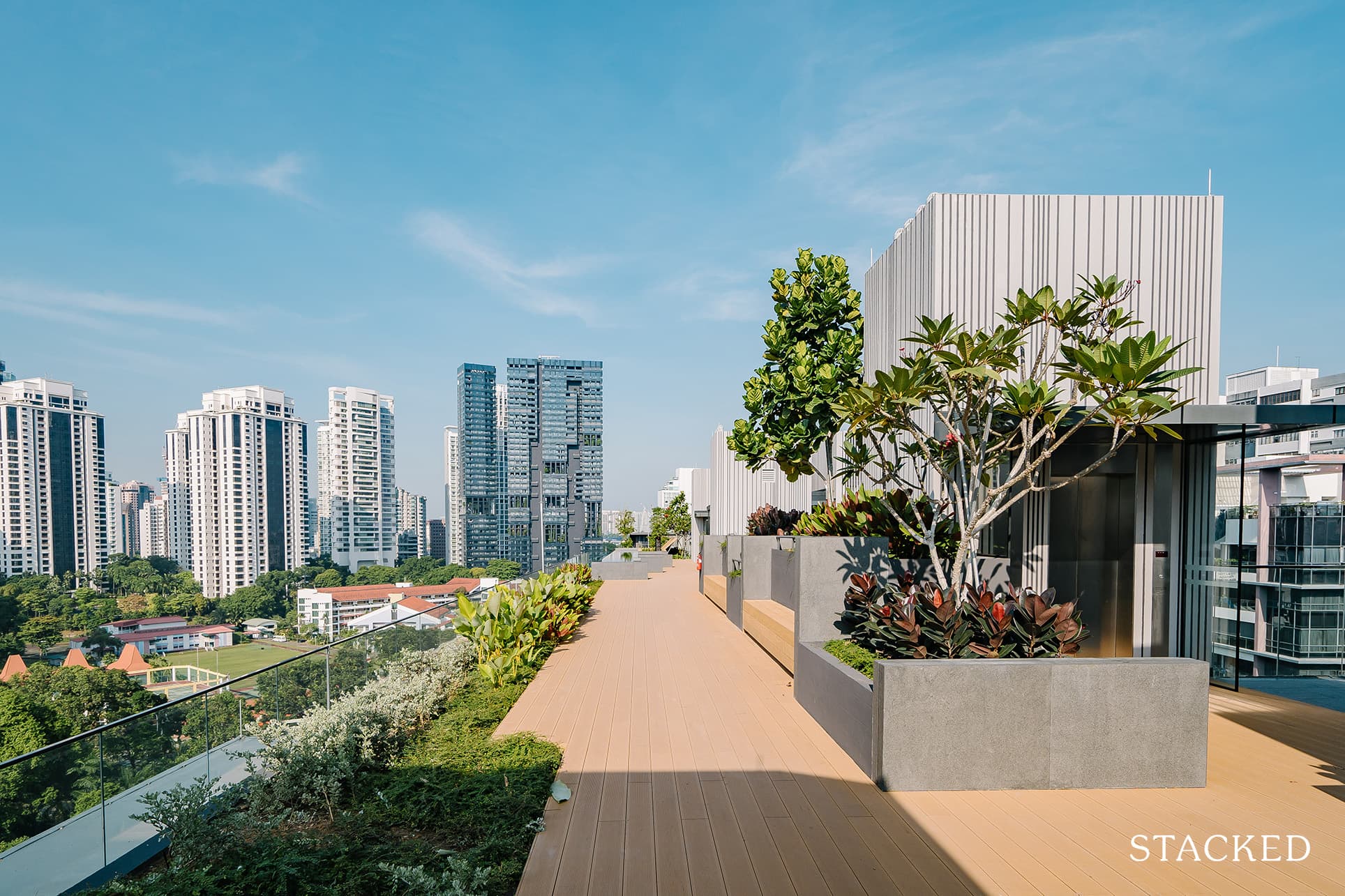 Advice on buying a top floor unit
The couple said to look out for high-floor units that come with outdoor space:
"If you are buying a penthouse with more outdoor space, be prepared that that's not something that most buyers want; even though penthouse living may seem like something aspirational."
You may be better off sticking to something without outdoor terraces, jacuzzi or "rooftop BBQ" style features, which not every high-floor or penthouse buyer appreciates.
Also, do keep in mind that, due to the typical higher quantum of these top floor units, it can take longer to find a buyer.
For more on homeowner and investor experiences, follow us on Stacked. You can also check out our in-depth reviews of new and resale projects alike.