New Launch Reviews

Midtown Bay Review: Car-Free Living In The City
Reuben
November 8, 2019

19

min read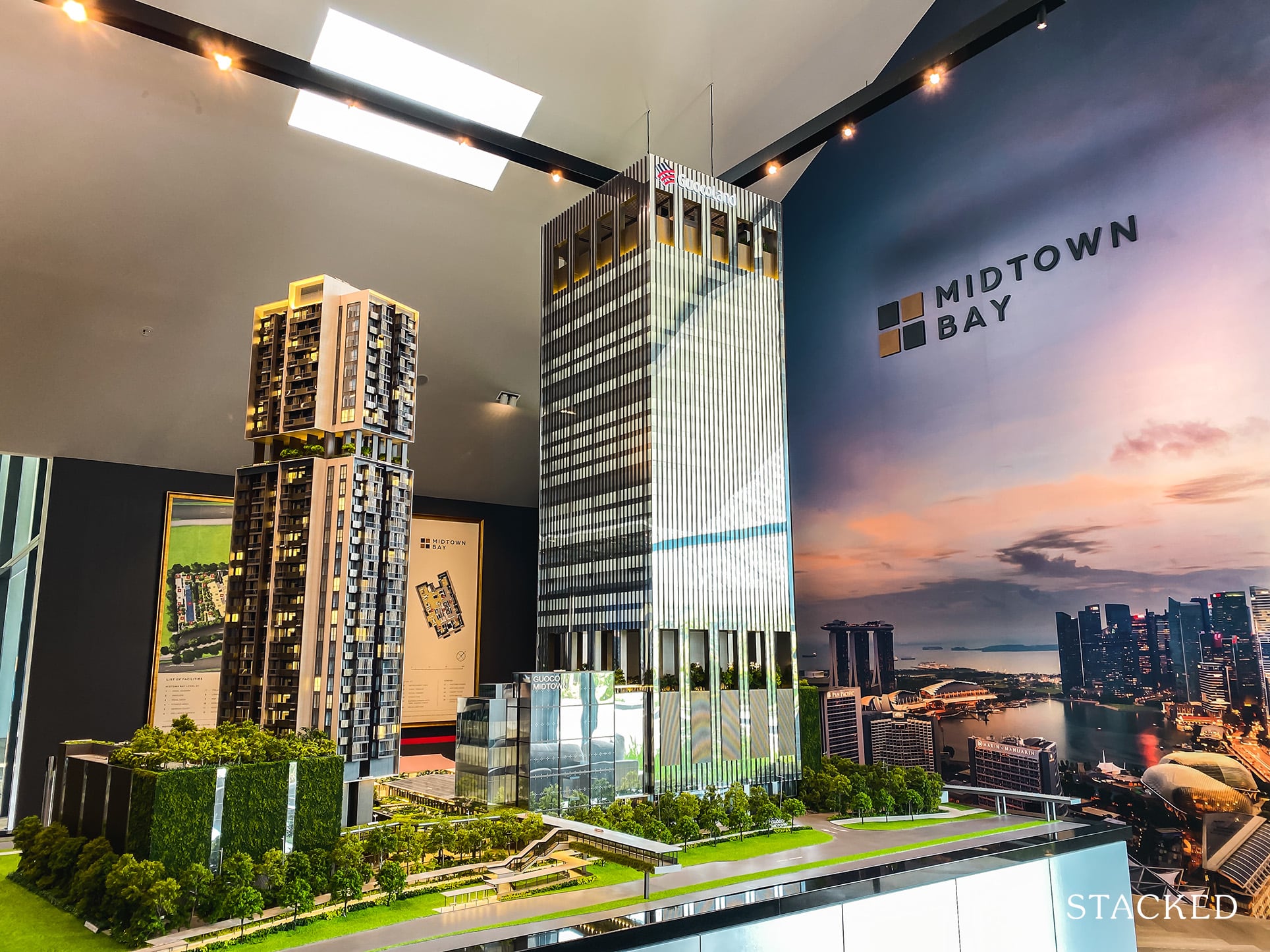 Extremely convenient if you work in the CBD and prefer public transportation, but the lack of schooling options and unit space would not be ideal for those with kids.
Reviewed by Reuben on November 08, 2019
What we like
4 MRT lines

Shopping/dining options

Great facilities for 219 units
What we don't like
—

Hustle and bustle of city
| | | | |
| --- | --- | --- | --- |
| Project: | Midtown Bay | District: | 7 |
| Address: | Beach Road | Tenure: | 99 years |
| Site Area: | 226,300 sqft | No. of Units: | 219 |
| Developer: | GuocoLand | TOP: | 2022 |
Imagine living where you work, and working where you live! And no, we're not talking about turning you into a Digital Nomad…
GuocoLand's Midtown Bay is expected to reach completion by the first half of 2022; a project that is by no means similar to any other condominium in Singapore's development pipeline.
Investors and homeowners alike can look forward to massive Grade A office spaces, Retail and F&B outlets, a 33-storeyed residential tower housing 219 luxurious units… and even a Heritage site!
More than that, the condo will boast gorgeous views over the Kallang Basin and Marina Bay amongst other intricacies like a bamboo garden, a business & social club and a one-of-a-kind skyline terrace.
Yet all this aside, Midtown's biggest highlight comes off as slightly more intangible.
Unlike its predecessor, the Wallich Residences, GuocoLand is looking at pricing Midtown Bay more competitively. Its cheapest unit? A one-bedder going for as low as $1.38m!
Considering its incredibly rare locale (you just don't get too many residentials in D7), luxury status and the touted increase in market unit prices across the board, the short-term uptake for Midtown Bay units does seem very promising… especially when you factor in the upcoming underground path linking its residents to Bugis MRT – a mere 4-minute walk away.
Intrigued, we paid the Midtown Bay showrooms a visit to see if it would live up to its hype. Behind-the-scenes and thorough analysis coming your way. Enjoy!
Midtown Bay Insider Tour
Facilities in Midtown Bay

| | | |
| --- | --- | --- |
| Pool Garden | Pavilion | Fitness Area |
| Wellness Garden | Foliage Garden | Lawn Garden |
| Skyline Terrace | Bayview Terrace | Garden Terrace |
| Water Garden | 40m Lap Pool | Meeting Room |
| Refreshment Area | Event Terrace | Social Corner |
| Fitness Hub | Bamboo Garden | 100m Jogging Track |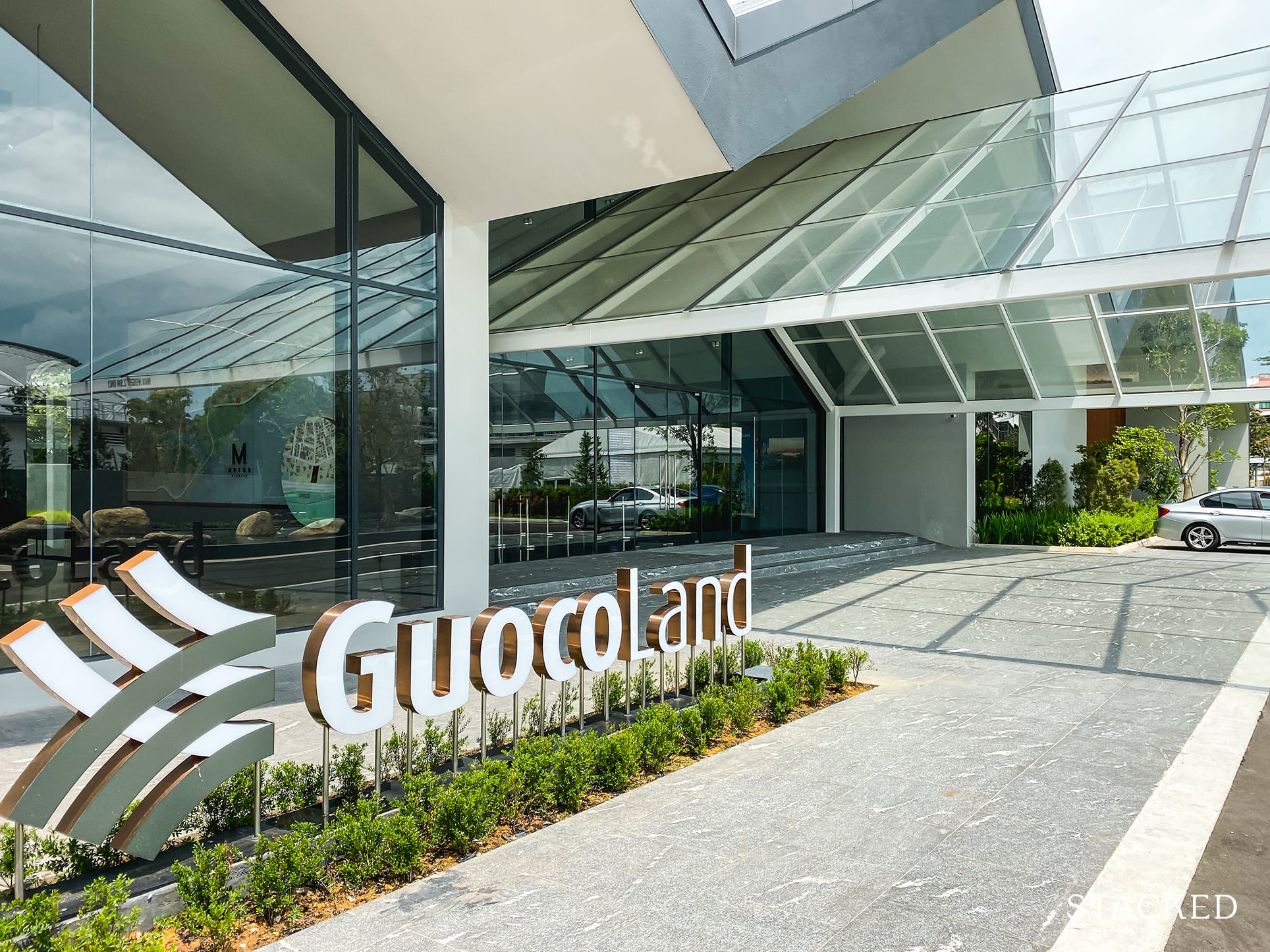 If you are looking at this photo right now and finding it all too familiar, that's because Midtown Bay by GuocoLand is on the same site as Meyer Mansion, a luxury condo in the East that we reviewed earlier. But that is really where the similarities between the two end, as they are both aimed at very different clientele. For one, Midtown Bay is really targeted towards singles or young couples that work in the CBD and do not have kids.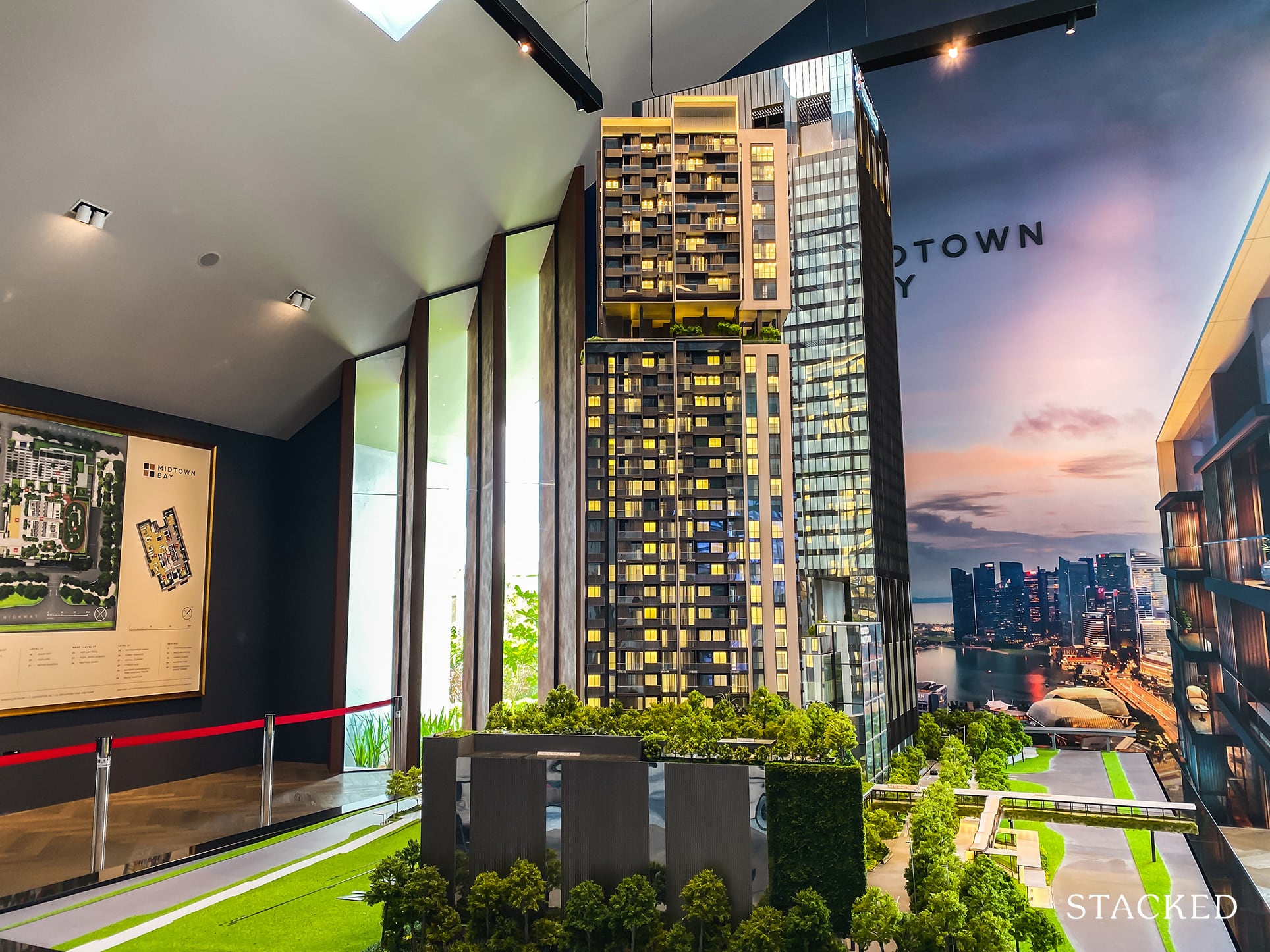 You can ignore the taller gleaming building at the back, as that is the office tower. Although the office tower is taller and sleeker-looking, I have to say that it is great that GuocoLand has not taken the lazy way out and actually designed the residential block to look different. The result is a much softer, homely feel, but yet still retains its modern look.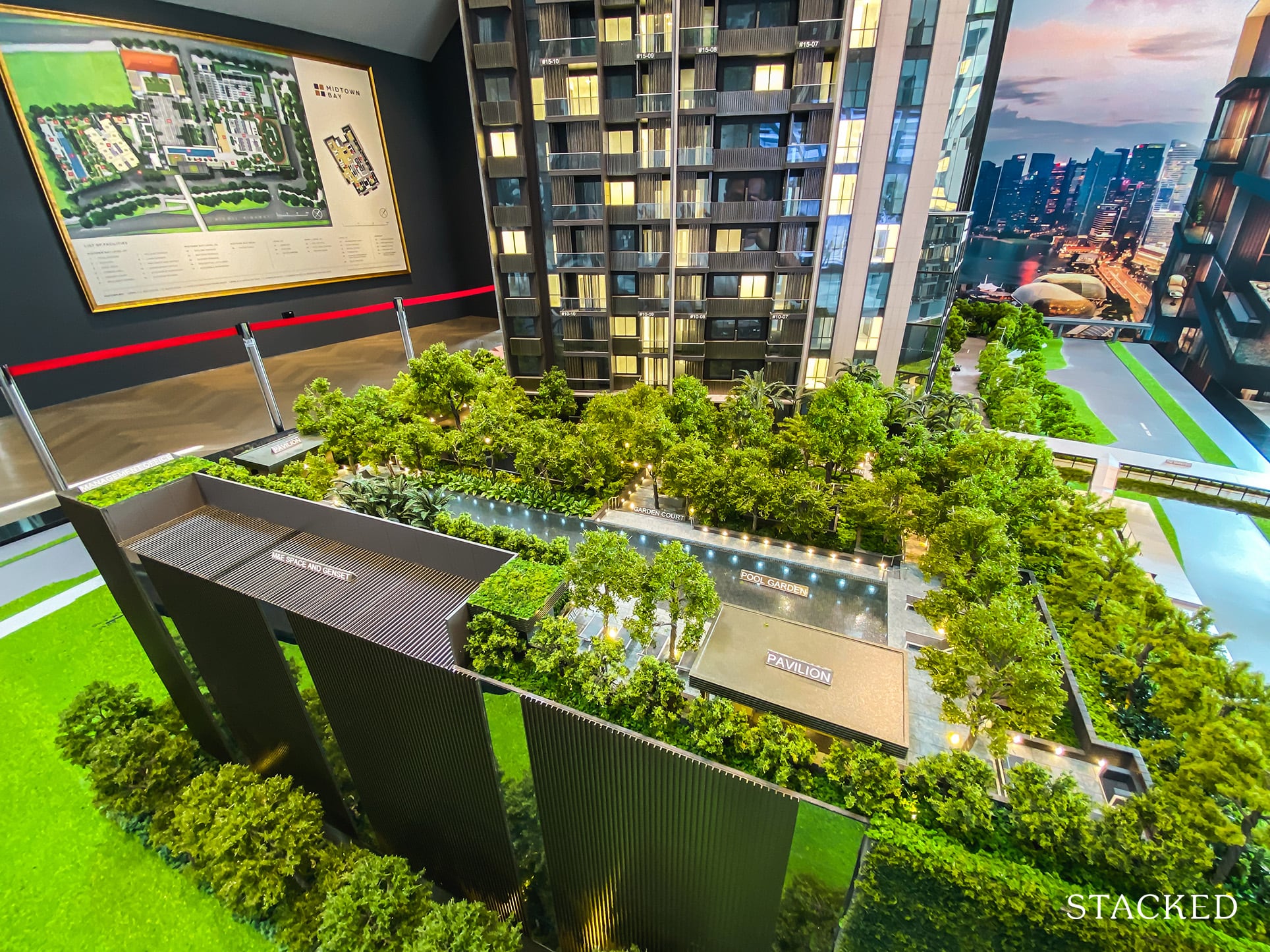 So as a prime city project, are there any interesting facilities worth talking about? Well for one, there are two pools available, which is awesome considering there are only 219 residential units. Also, the pool garden along with the pavilion and landscaping looks to be almost quite a resplendent respite from the hustle and bustle of the city. This is perched on level 7, which doesn't save you from the road noise but the elevation provides a certain degree of privacy at the very least. It would have been cool if Midtown Bay had an infinity rooftop pool like Wallich Residence, but GuocoLand probably wanted a point of differentiation between the two.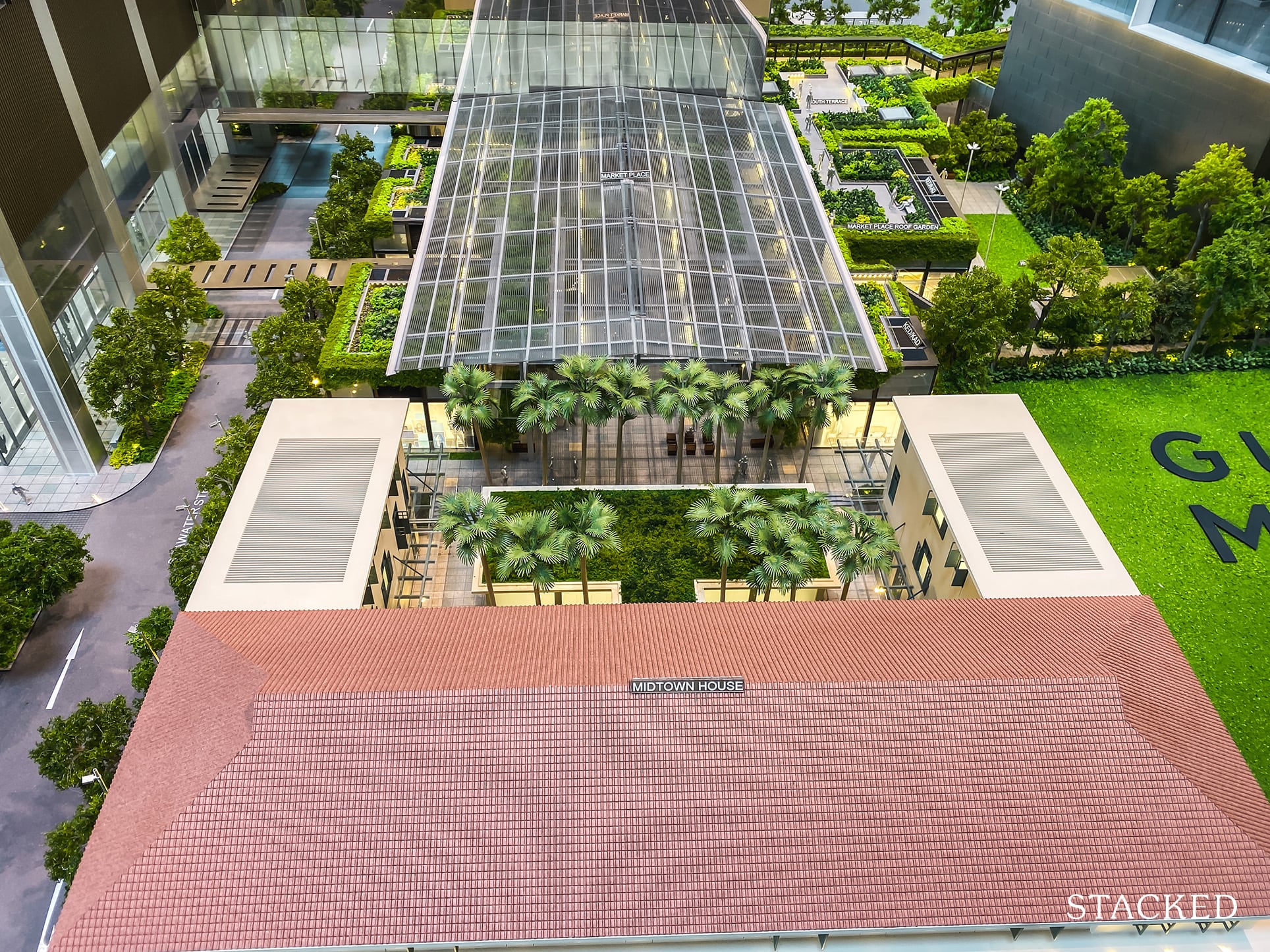 One of the cool features is the preservation of Beach Road Police Station, which will be restored into Midtown House, where you'll find retail and F&B outlets. In front of it is the Market Place, a large sheltered space envisioned for al fresco dining and other amenities. With a proposed ceiling height of 11 metres, this space should be really airy and cooling at night, reminiscent to the one at Wallich Residence.
Midtown Bay 1 Bedroom Review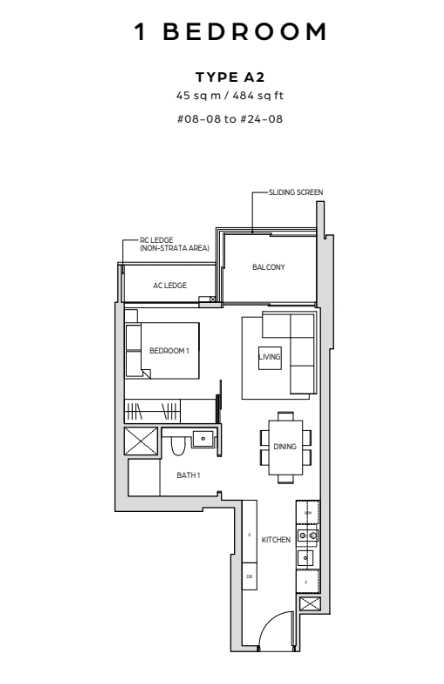 At 484 square feet of space, let's not pretend that you will be enjoying spacious living at the Midtown Bay. But if you take into account its city-centre location, I think most people will be perfectly happy with the size given the enviable convenience that the location offers. Right off the bat, you'll see that the unit is efficiently laid out, with little to no wasted space.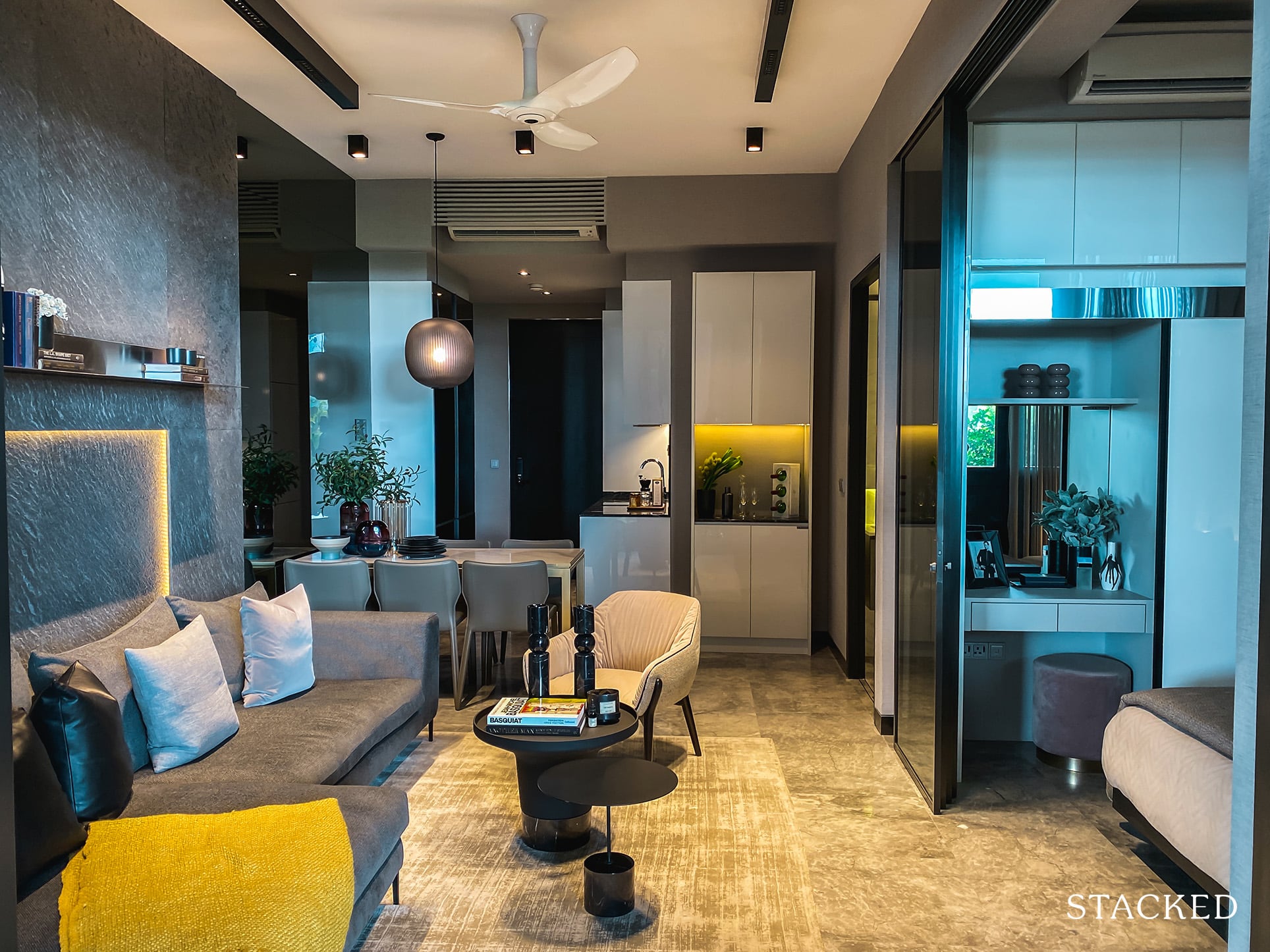 Even with the darker tones of the showflat ID (which reflects its modern city vibes well), you don't get the sense that it is a small space at all. In fact, I think most people would guess that it is bigger than its 484 square feet size. Partly because of the sliding door to the bedroom that opens it up, but you can see immediately that it is a very decent sized living room. Something interesting here is the inclusion of a ceiling fan, which is not commonly seen in most showflat units at all.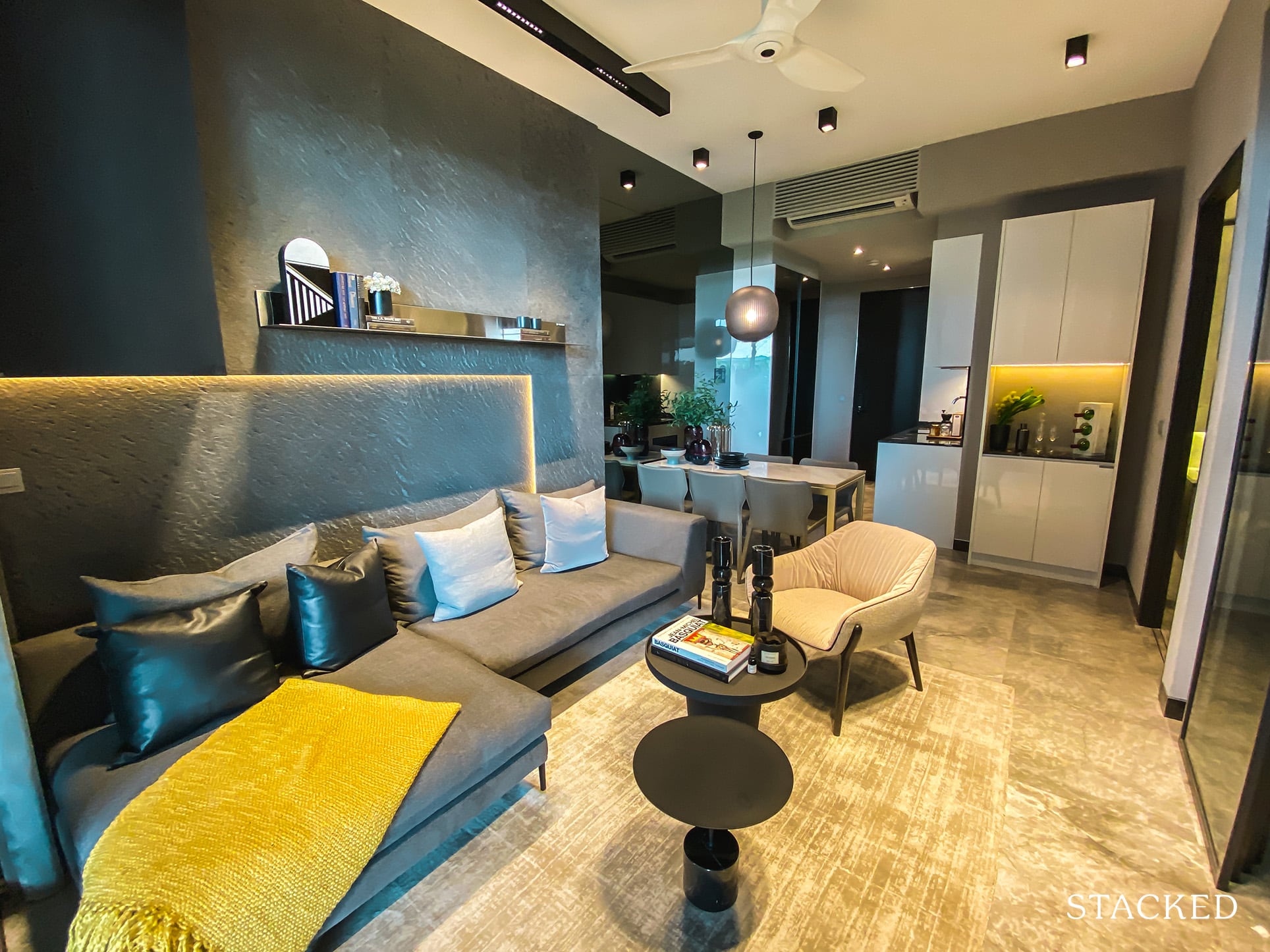 The living room can accommodate quite a long sofa, but something you would have to note is the lack of a TV and console here. Because the bedroom is right opposite, you will need to be a bit more creative in placing your TV set.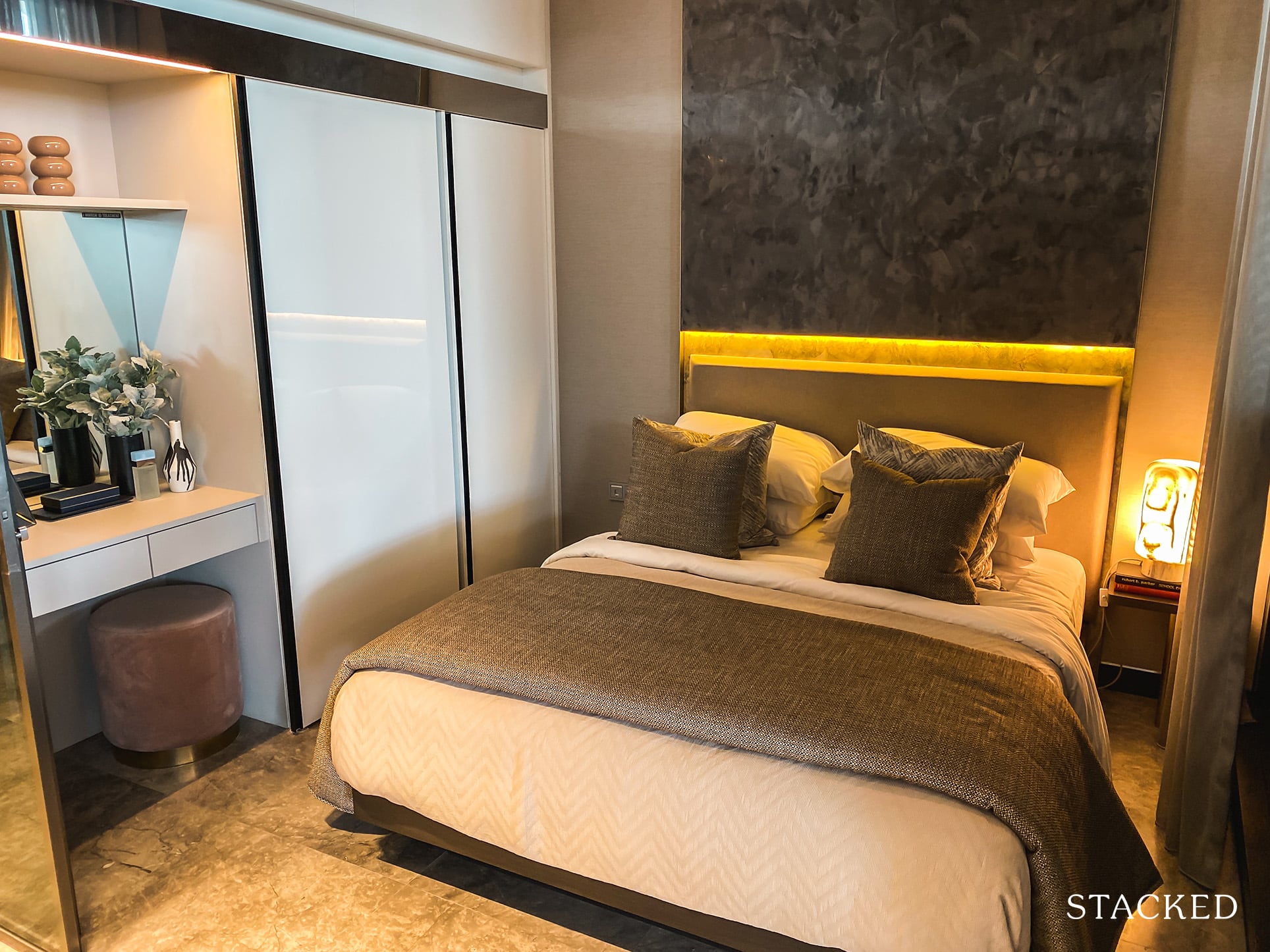 The bedroom in this 1 bedroom unit is on the small side, but you are still able to squeeze a queen size bed in here. However, that leaves you with little space to do much else. If you'd like a small dresser, you can see it will compromise on your storage space, which is already at a premium here already. With that said, because you can always open up the sliding door when you are alone, it will naturally make it feel a lot more spacious.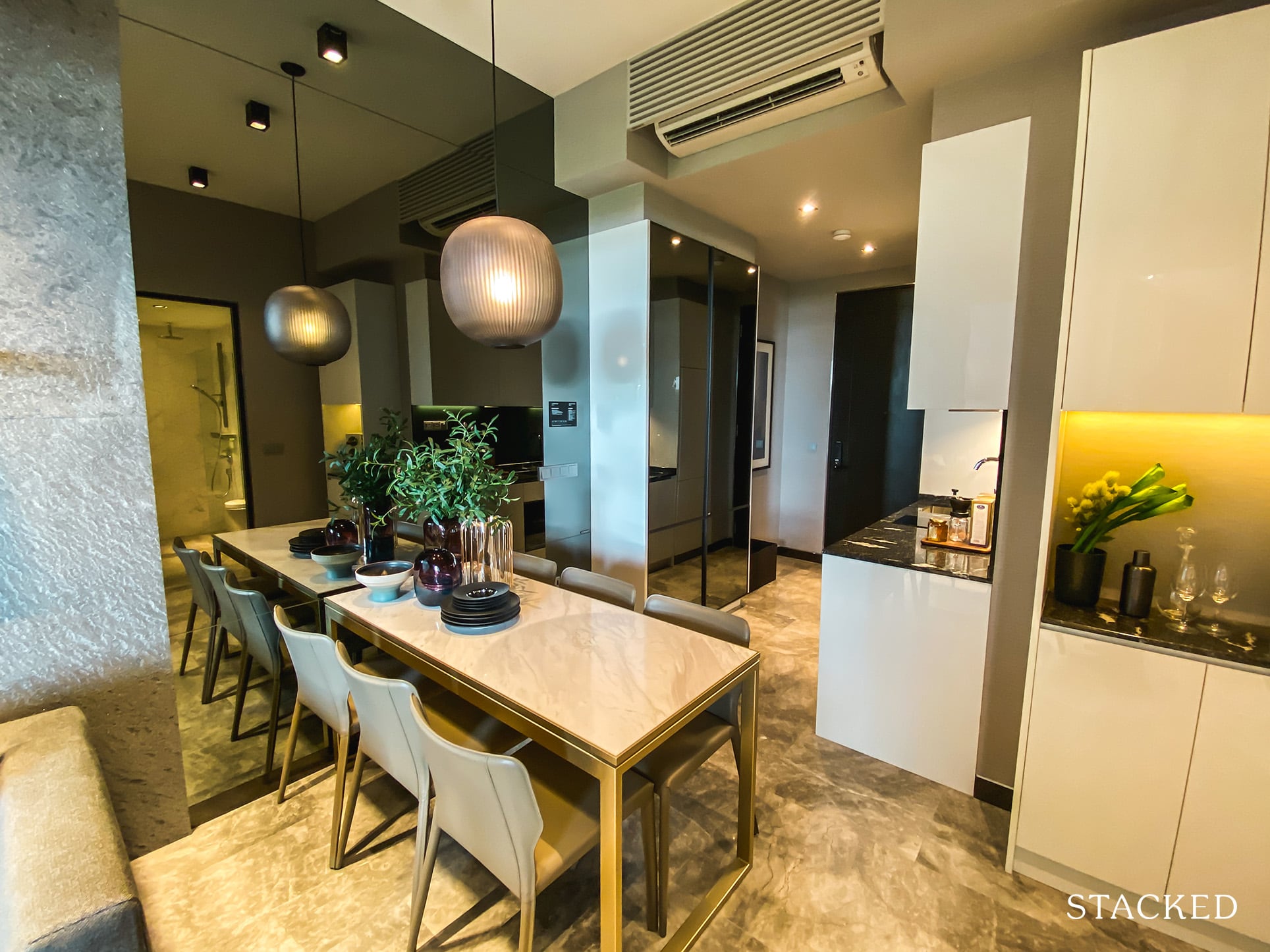 The space that you can dedicate to the dining area is just okay. You can see from the ID that they have fitted in a dining area for 6, but truthfully the dining table is pretty narrow and would definitely be a squeeze for 6 people. With that said, the reality is that for most people, there is no need for a big dining table in a 1 bedroom unit. Not to mention, with all the other outdoor dining facilities available and the wealth of dining options at your doorstep, this might not even be a problem for most.
Something we can learn from here, however, is the placement of the mirror. This is just ID treatment, and won't come with the unit but I think it is a great place to fit a mirror to make the place appear bigger.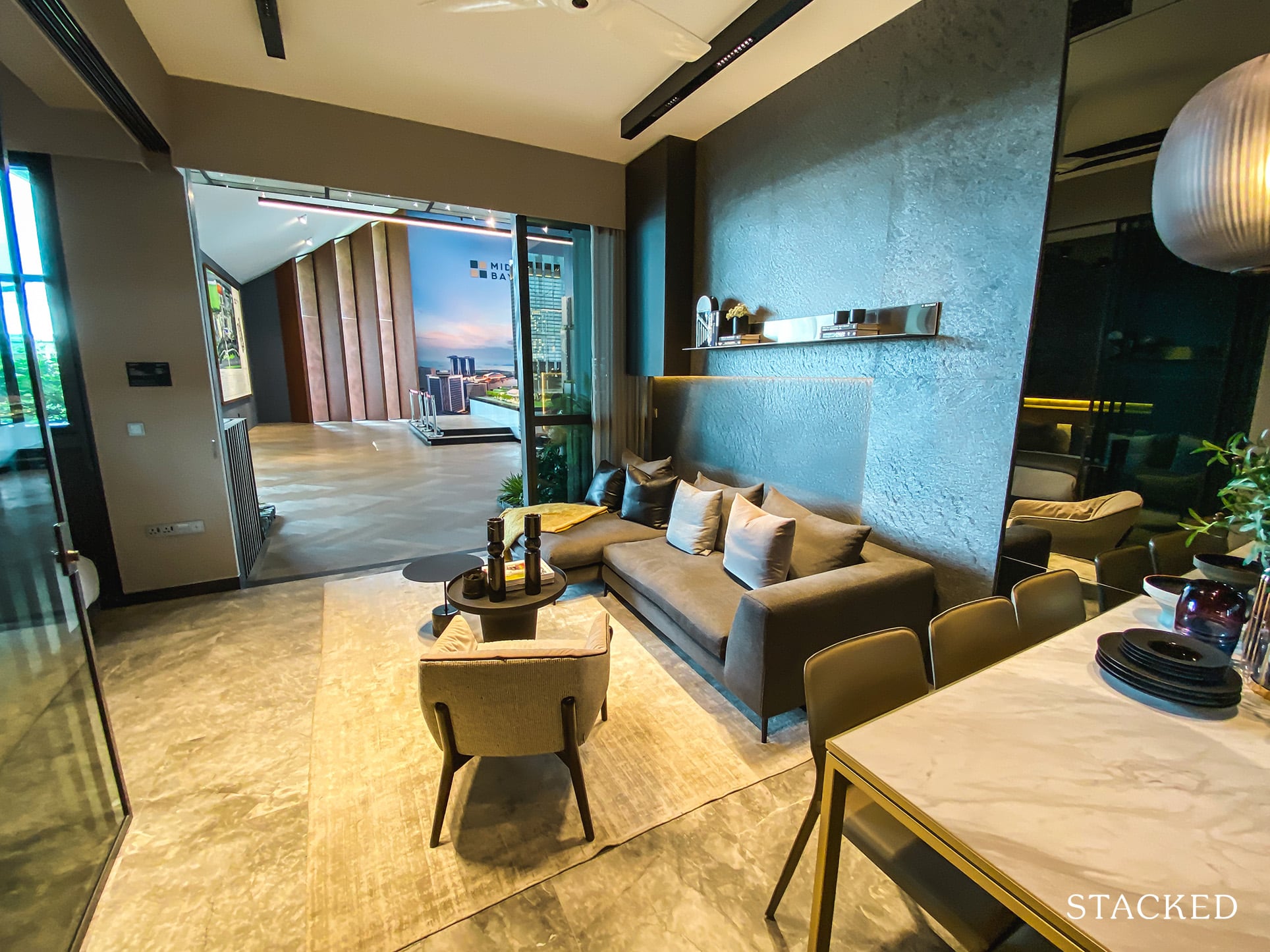 The balcony is not a big space, and I think most people would be happy with the size as it is just enough space for one or two seats to sit outside and enjoy the view (if you bought a high enough floor!).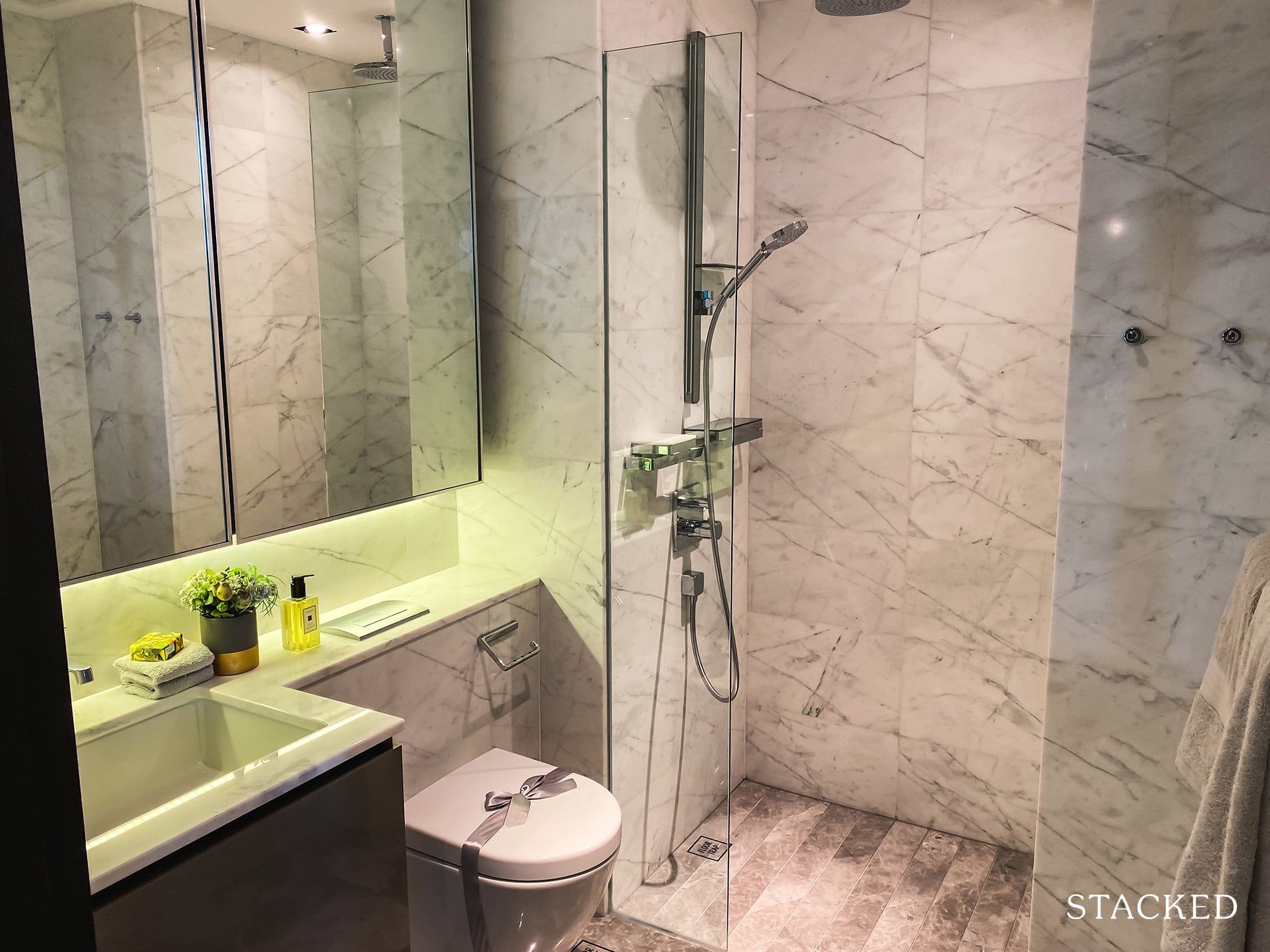 The bathroom is about a size you'd expect. There is only one entrance, unlike some other 1 bedroom units that we've seen that has another door that opens up from the bedroom.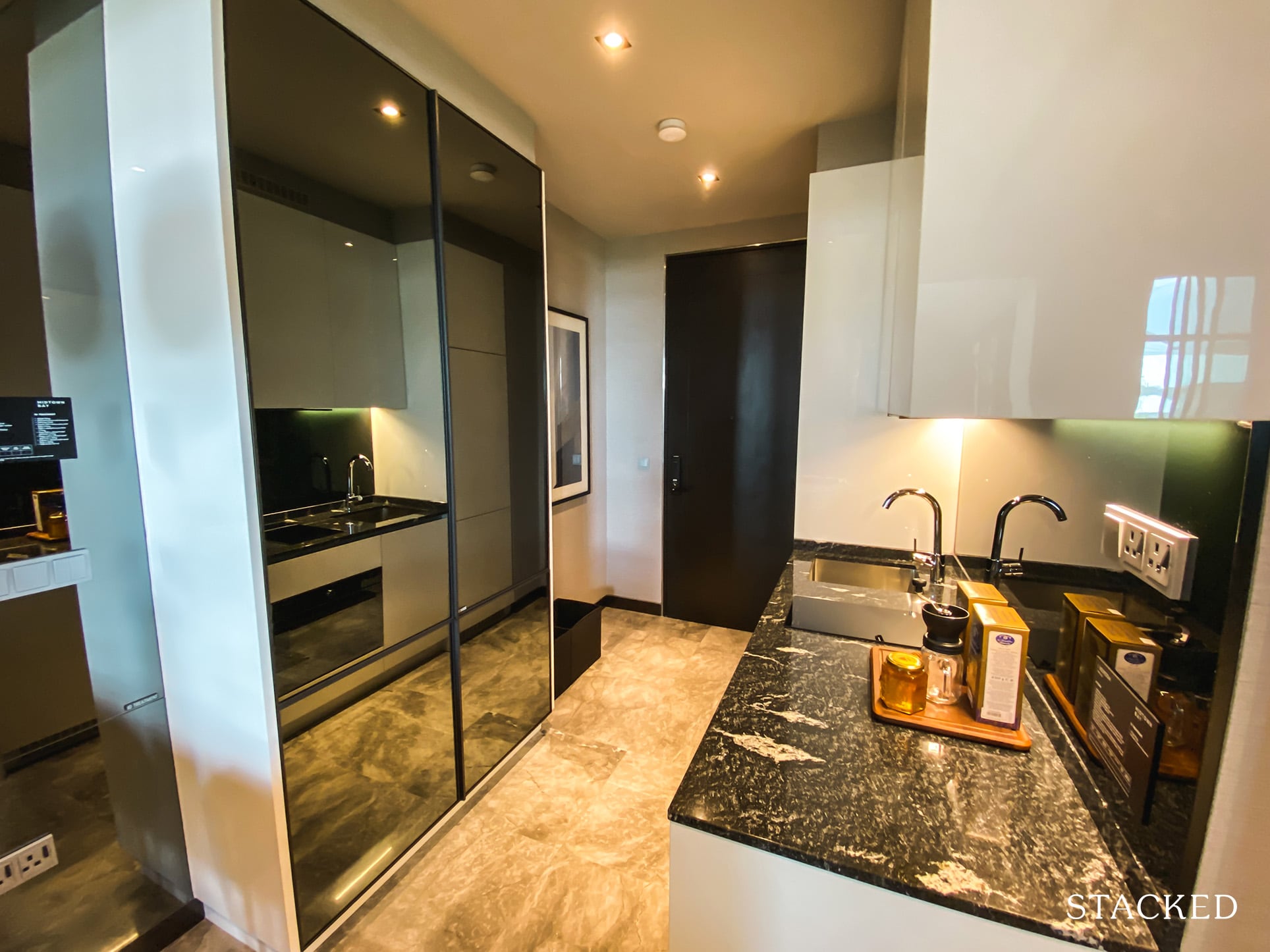 The kitchen area is quite short as it is basically the entranceway to this 1 bedroom unit. Again, for the targeted clientele here I think most aren't going to be doing too much cooking, so this is very much adequate for something simple.
Midtown Bay 2 Bedroom Review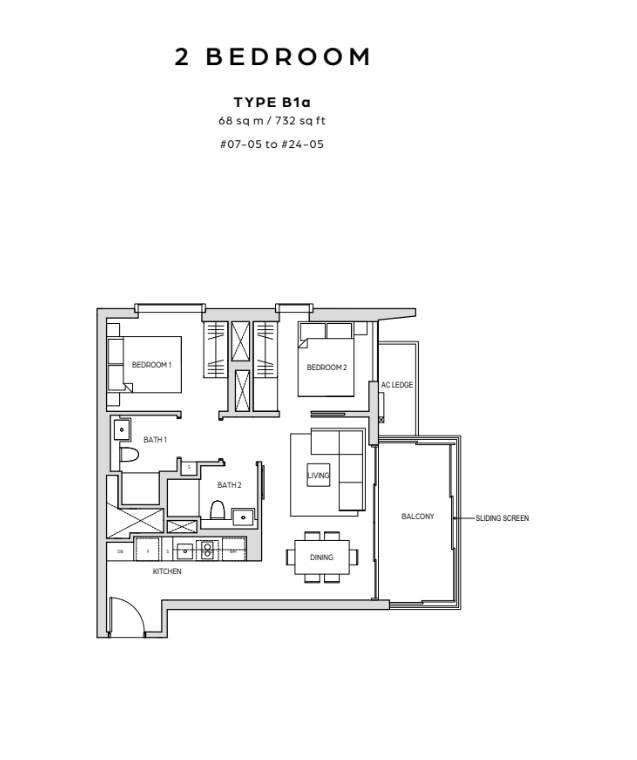 At 732 square feet, it is slightly above what I would have expected for a project such as this. First impressions seem to point towards an efficient layout, which is similar to the 1 bedroom unit. There is very little wasted space in the unit.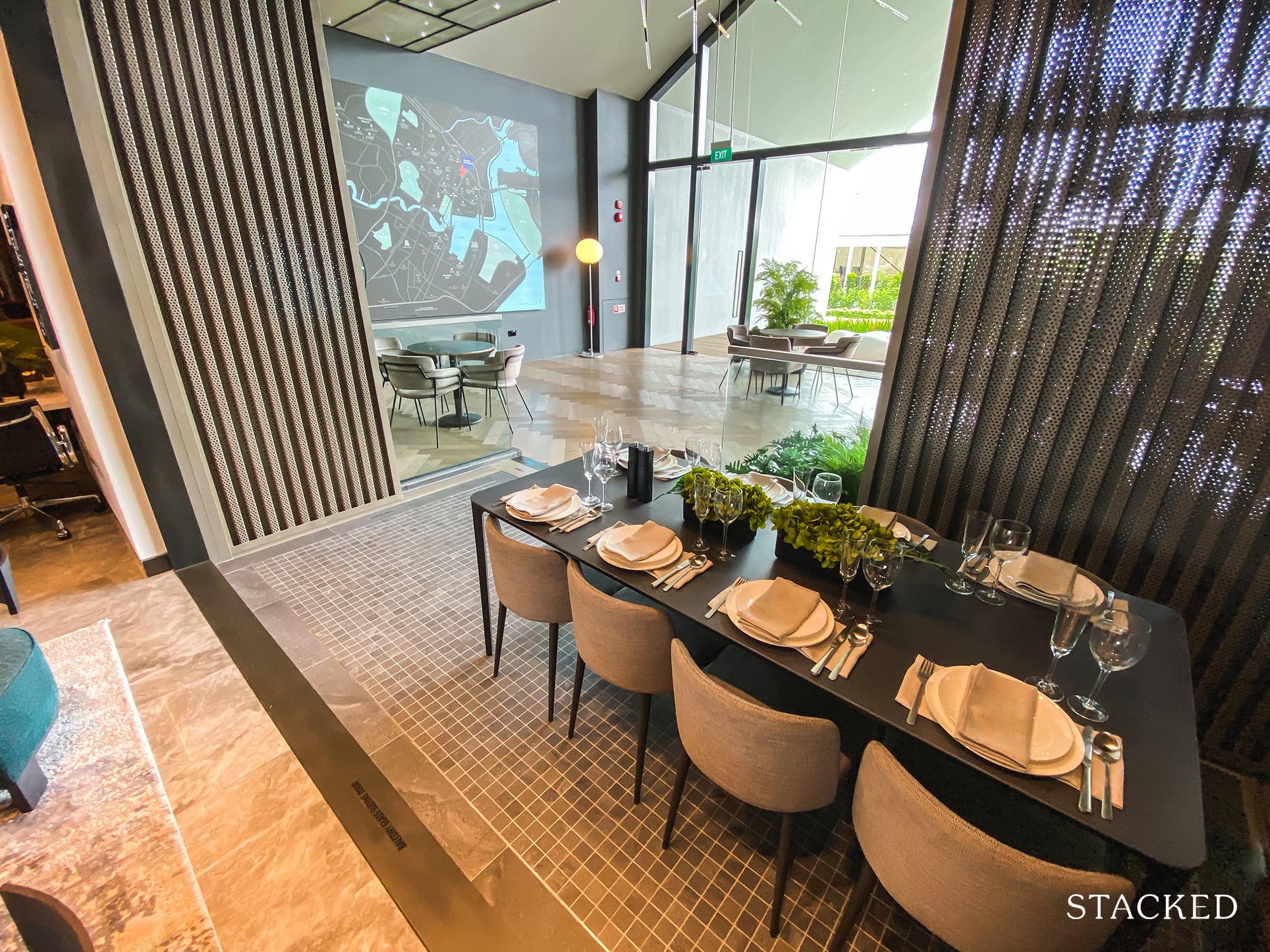 First things first, the balcony in this 2 bedroom unit is big for its size. If you are an outdoor space lover, this would be totally up your alley. So if you are up for having a permanent dining table here, this would definitely free up more indoor space for your living area. There is a screen that can be slid across to block out the sun which can come in handy.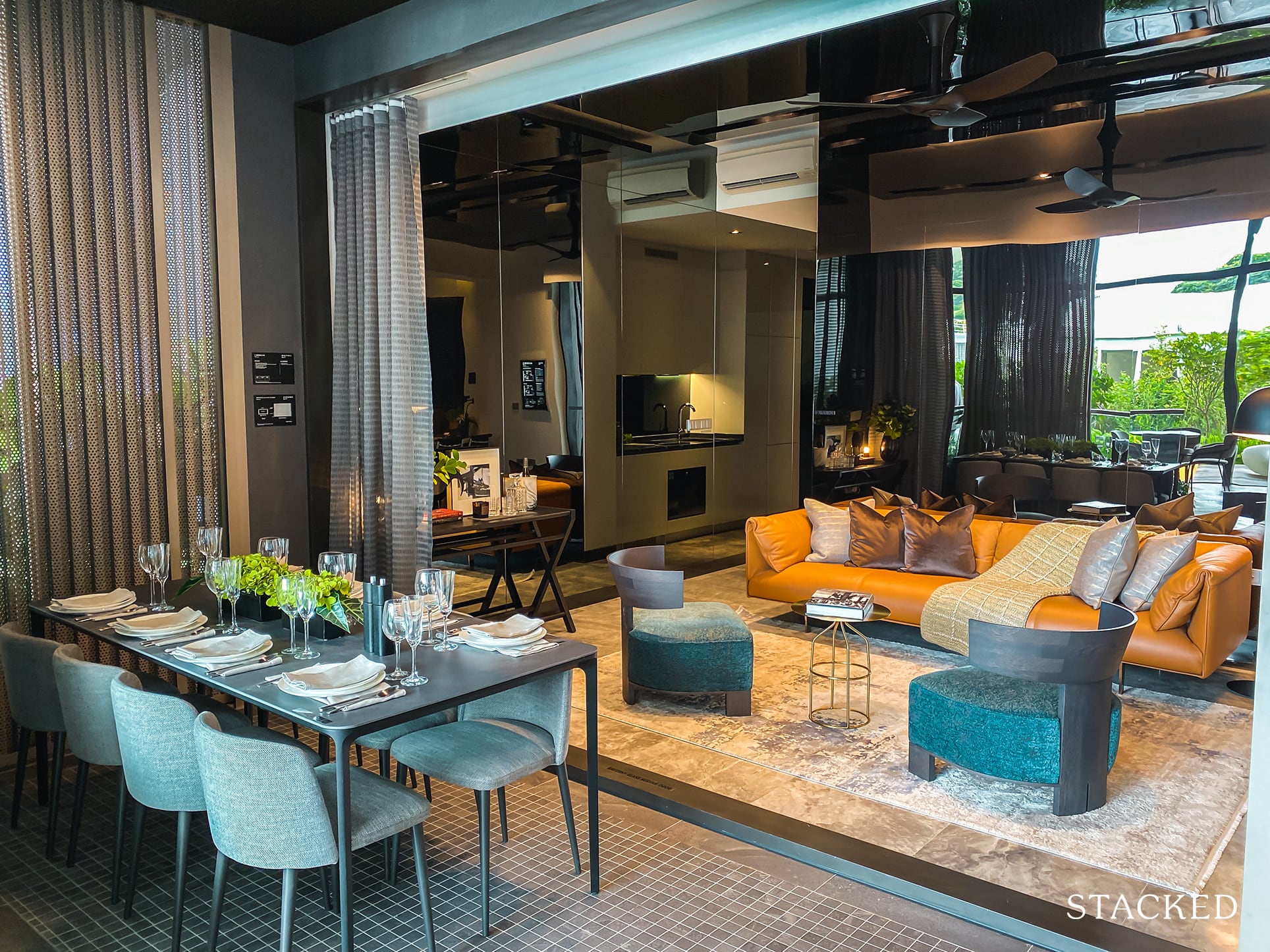 The mirrors all around undoubtedly help to create a bigger sense of space. In this showflat unit, the living area takes up what is supposed to be the dining area as well. So in fact, if you were to move the dining area indoors you'd find it is actually on the smaller side.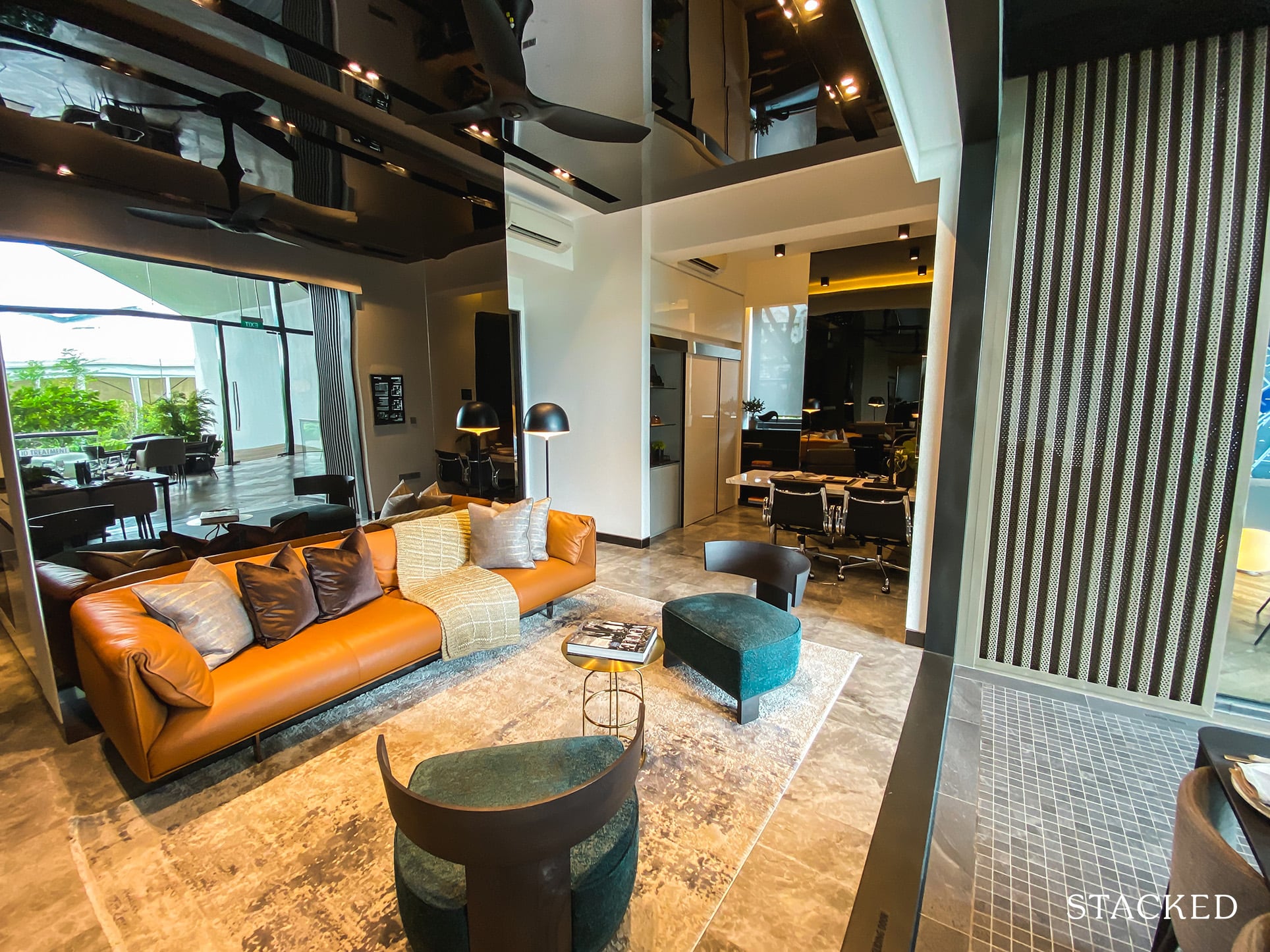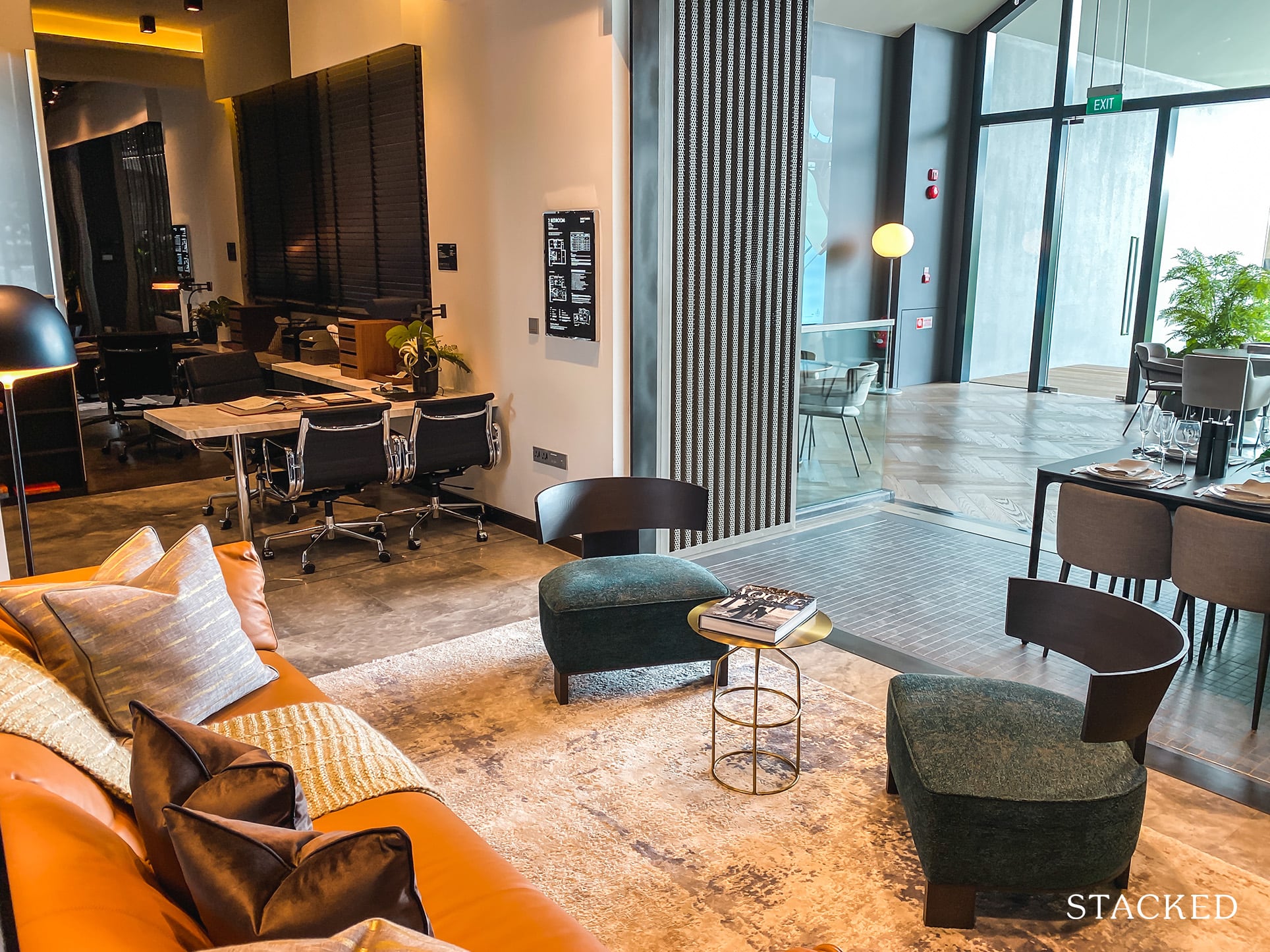 I do think this layout makes the most efficient use of space for this 2 bedroom unit. Especially if you've snagged a unit on the higher floors, it would be a treat to have your meals out on the balcony.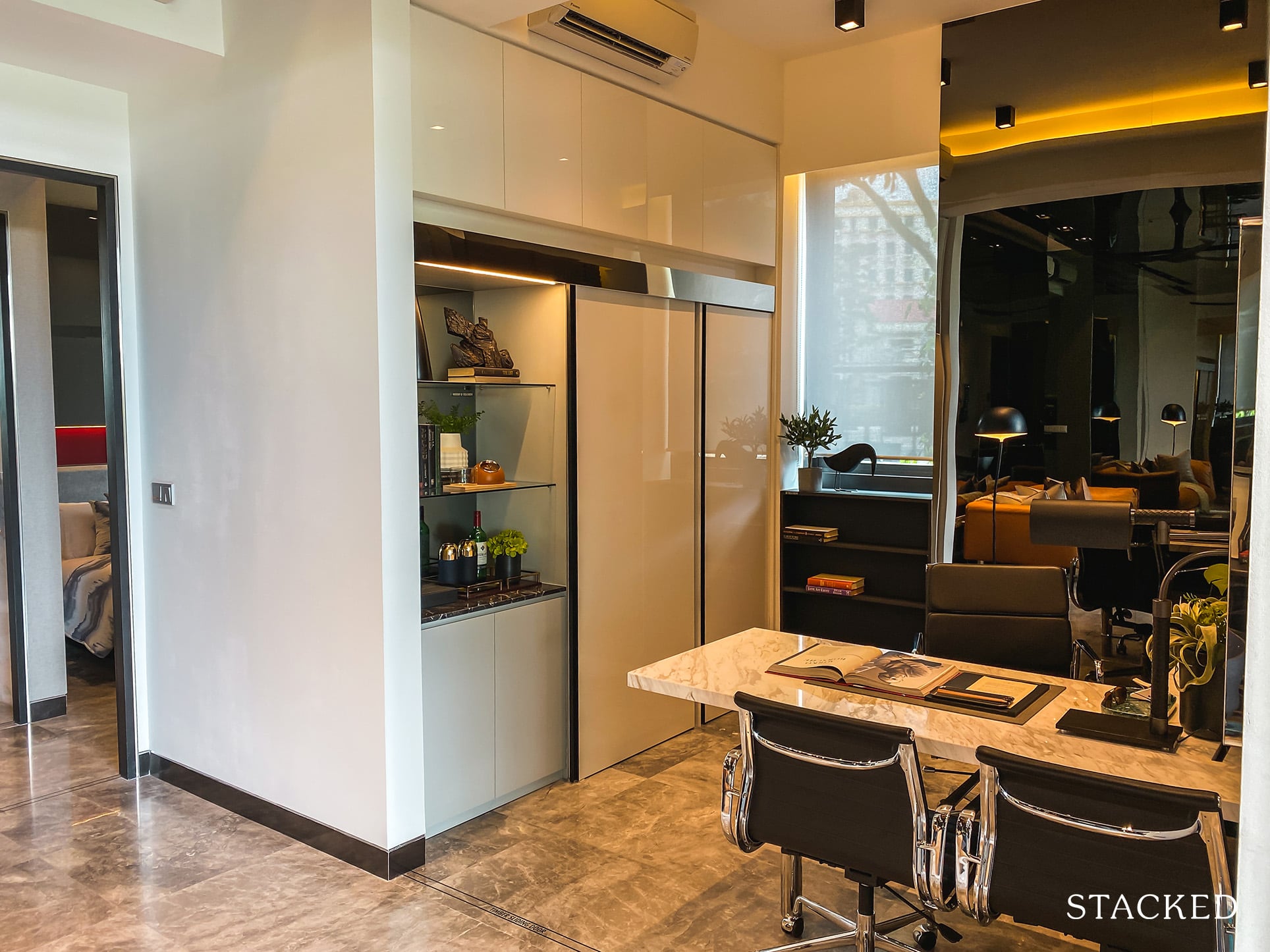 In this particular unit, the walls of the common bedroom have been removed to form a big study room. As a bedroom, however, it isn't very big.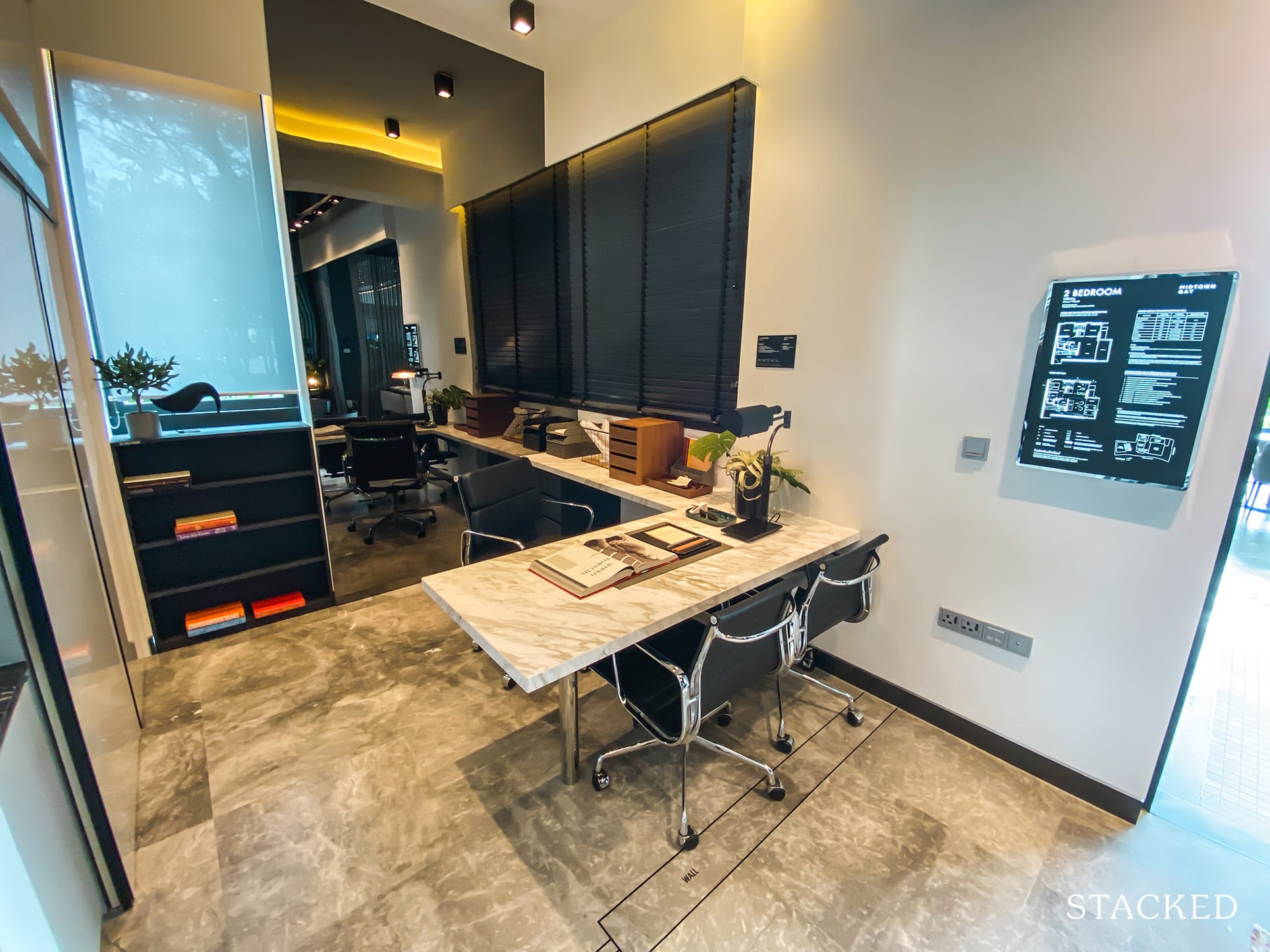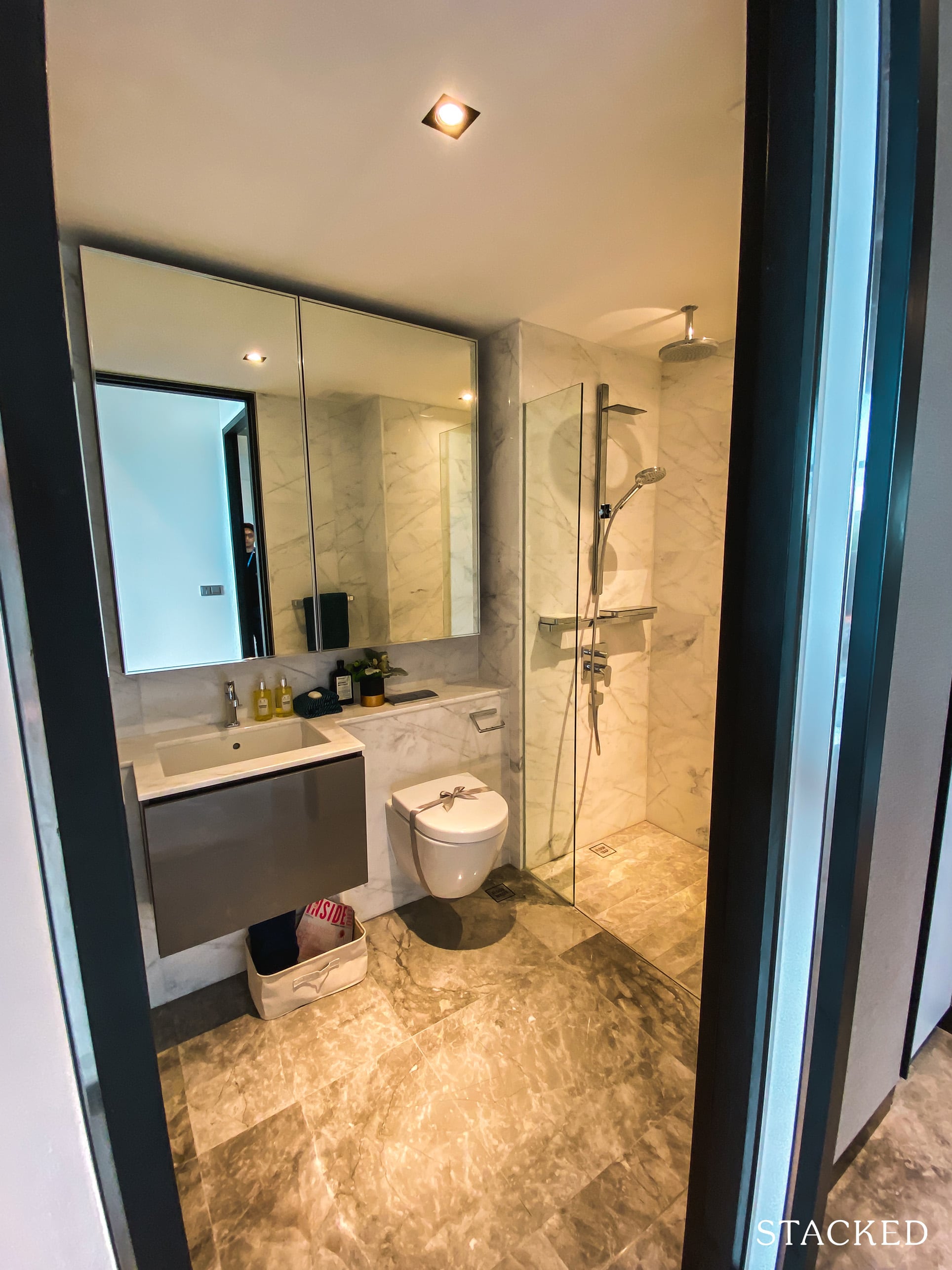 For a common bathroom, it is actually quite spacious.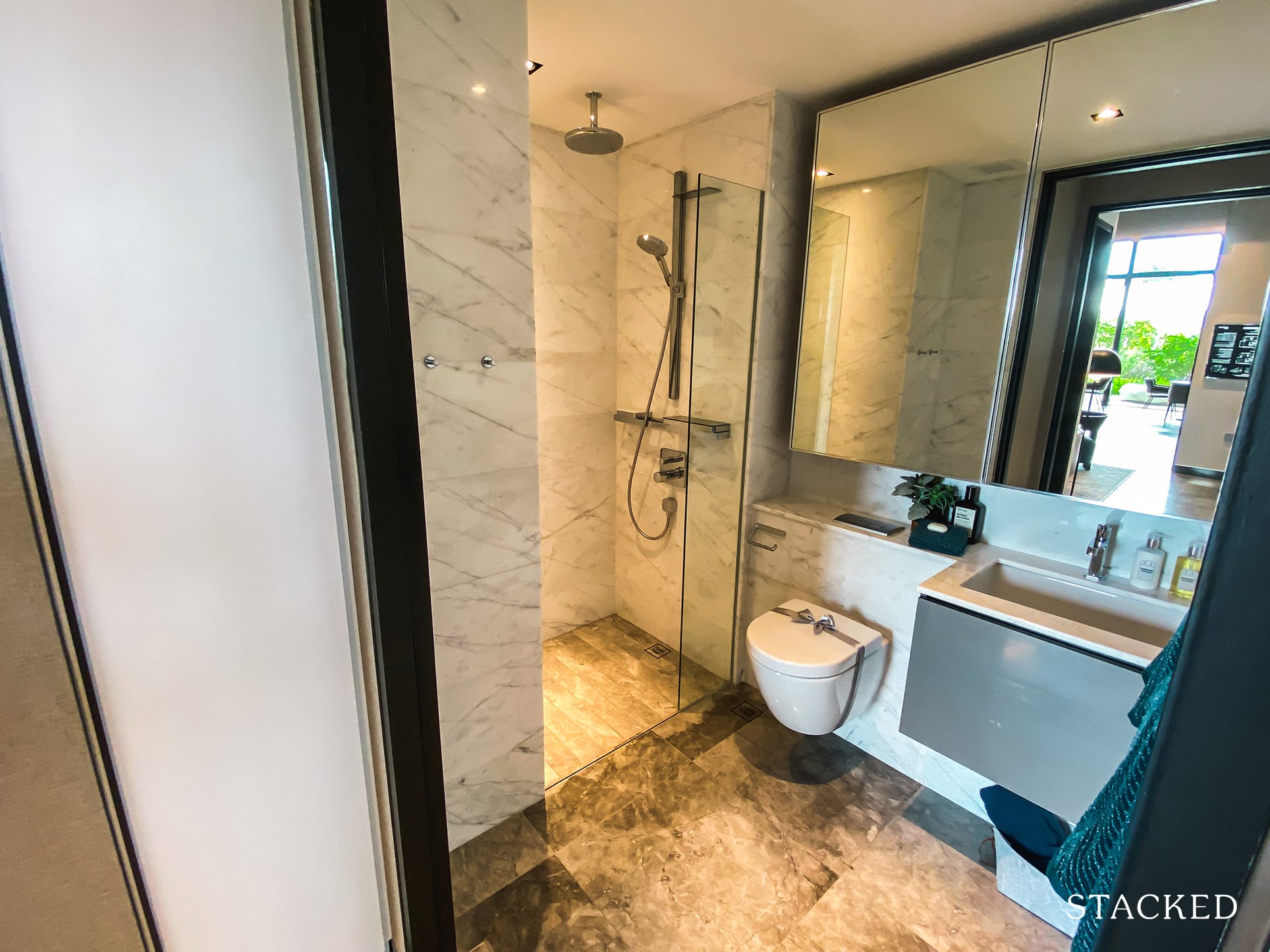 On the other hand, the master bedroom is ever so slightly larger but is on the smaller side for a master bathroom.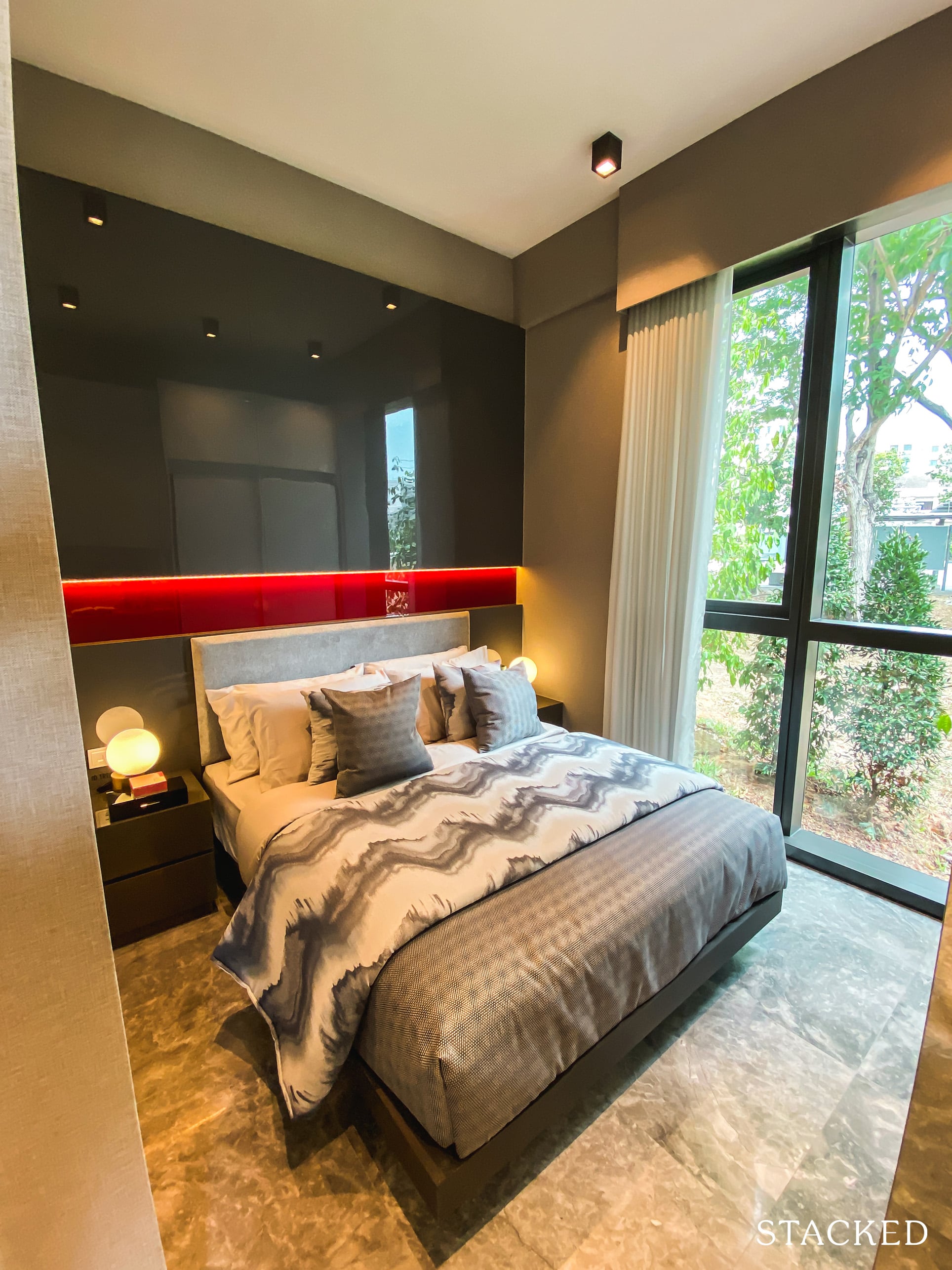 The master bedroom is okay sized, you can fit two small side tables and possibly a smaller dresser at the front. But it'll be a squeeze for sure.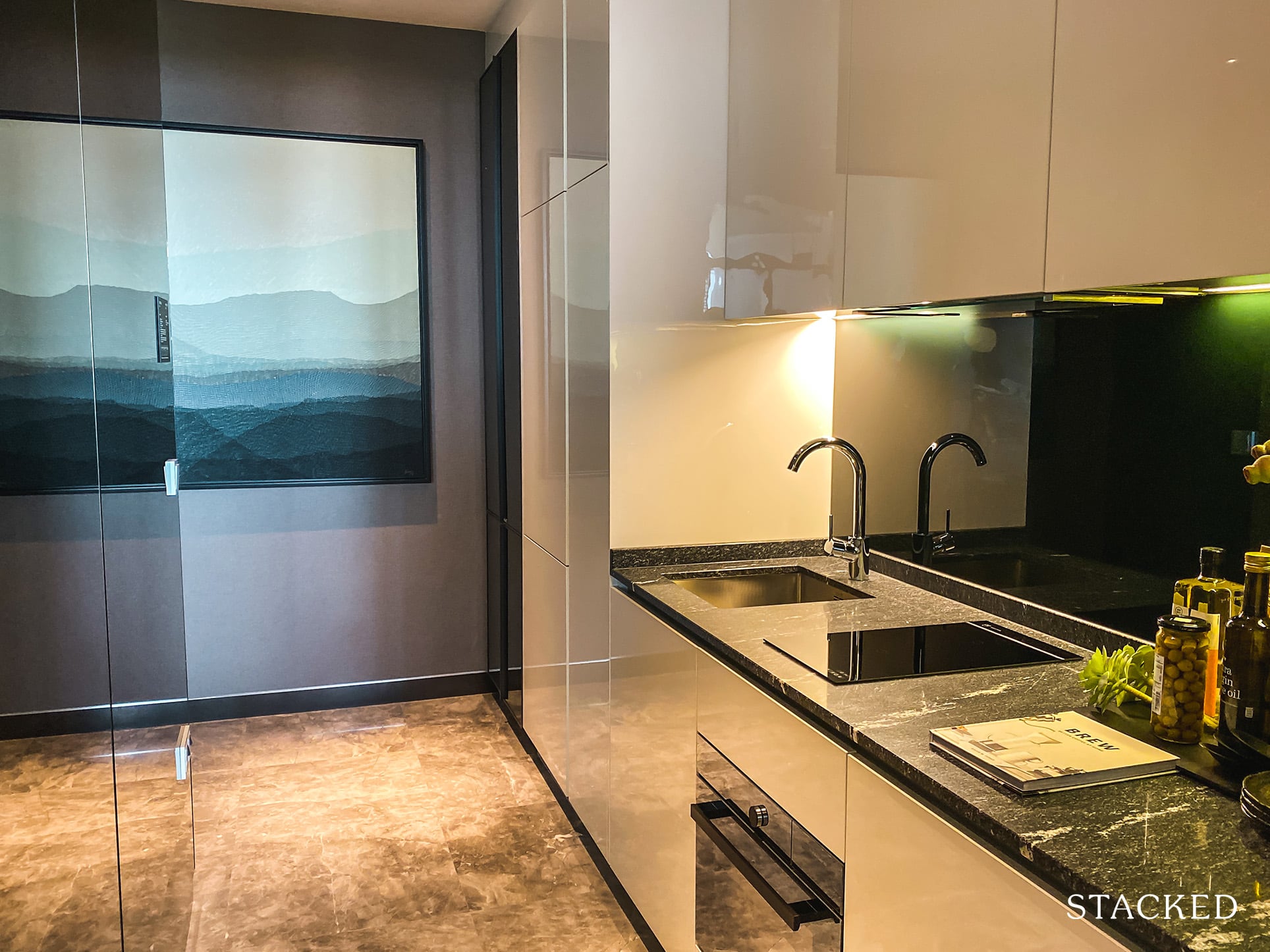 Now on the other side is the kitchen, which actually forms part of the entranceway into the unit. As far as kitchen sizes go, it is actually quite big and has a long counter for your stove, sink and space to prep food/store your kitchen equipment.
Midtown Bay Location Review
Situated in the heart of Singapore's bustling city centre, the upcoming Midtown Bay's is to be juxtaposed to a series of shophouses along Tan Quee Lan Street serving up scintillating locale fare and low-key nostalgia.
It is also adjacent to Shaw Tower, a classic that actually served as a former beachfront development following its completion in 1975 (that is before land reclamation pushed it further inland).
Unsurprisingly, it is currently undergoing refurbishment into a 35-storey Grade A office tower/retail building (touted date of completion is 2023) – great news for residents who will be shifting in post-construction.
But really, if you choose to, you might not even have a need to go out of the development at all. With unique dining experiences (Market Place/City Room/Midtown House), Midtown Bay is really convenient at its best.
Finally, despite its city-centre location, it is admirable that GuocoLand has still tried to maintain a good level of greenery (200,000 square feet in fact). Of which there are 10 gardens at different levels!
Transport
| | | |
| --- | --- | --- |
| Bus Station | Buses Serviced | Distance From Condo (& Est. Walking Time) |
| 'Shaw Twrs' | 57, 100, 107, 107M, 961, 961M | 150m, 2-min walk |
| 'Bugis Stn Exit D' | 12e, 48, 57 | 150m, 2-min walk |
| 'Opp The Gateway' | 100, 107, 107M, 961, 961M, 980 | 180m, 3-min walk |
Closest MRT: Bugis MRT (Exit D) – 150m, 2-min walk
Midtown Bay's public transport options are extremely convenient, to say the least.
For those of you familiar with the MRT lines, you will know that Bugis MRT is situated on both the Downtown and East-West Line. More than that, it is a stop away from the Circle and North-South Line and 2 stops from the North-East line.
Factor in the proposed underground Condo-MRT linkway and you can just imagine how convenient it will be for residents here.
Private transport accessibility: Very Good
| | |
| --- | --- |
| Highway/Major Road | Distance From Condo (& Est. Off-Peak Drive Time) |
| Nicoll Highway | Immediate |
| Beach Road | Immediate |
| Rochor Road | 250m, 2-min drive (U-turn on Beach Road) |
| Ophir Road | 400m, 2-min drive |
| Victoria Street | 550m, 2-min drive |
| Selegie/Bukit Timah Road | 1.3km, 3-min drive |
| ECP | 1.4km, 3-min drive |
| CTE | 2.3km, 5-min drive |
| KPE | 2.9km, 3-min drive |
| MCE | 4km, 5-min drive |
| PIE | 4.8km, 5-min drive |
| AYE | 5.2km, 8-min drive |
To be frank, a car is by no means a necessity here given the convenience of Public Transport. Still, drivers have very good access to a list of major roads and highways in the city centre as seen from the chart.
The only thing that is holding the condo's private accessibility rating back from an 'excellent' is the fact that most of these roads will be heavily congested come peak hour – that and the amount of ERP gantries in the area that some could be troubled to avoid.
Groceries
| | |
| --- | --- |
| Name of Grocery Shop | Distance From Condo (& Est. Drive Time) |
| Cold Storage Bugis Junction | 650m, 3-min drive |
| Cold Storage Raffles City | 900m, 4-min drive |
| FairPrice French Road | 1.9km, 7-min drive |
| FairPrice Chinatown | 2.3km, 9-min drive |
| FairPrice Xpress Peace Centre | 2.5km, 9-min drive |
| FairPrice City Square Mall | 2.5km, 9-min drive |
Grocery options are also not a shortage with the closest being the Cold Storage at Bugis Junction (7-min walk) even if the cheaper alternatives in FairPrice(s) are situated a little further away from the condo.
Shopping Malls
| | |
| --- | --- |
| Name of Shopping Mall | Distance From Condo (& Est. Drive Time) |
| Bugis Junction | 550m, 3-min drive |
| Bugis Cube | 650m, 4-min drive |
| Bugis+ | 900m, 4-min drive |
| Raffles City Shopping Centre | 1km, 5-min drive |
| Suntec City | 1.1km, 4-min drive |
| Millenia Walk | 2.7km, 10-min drive |
| Marina Square | 1km, 4-min drive |
| City Link | 2.2km, 7-min drive |
| Sim Lim Square | 1.4km, 7-min drive |
| Golden Mile Complex | 1.5km, 5-min drive |
| Peninsula Shopping Centre | 1.3km, 5-min drive |
| Clarke Quay Central | 2.4km, 10-min drive |
| Far East Square | 2.4km, 9-min drive |
| One Raffles Place | 2.9km, 10-min drive |
| Plaza Singapura | 1.9km, 10-min drive |
| OG People's Park | 2.6km, 10-min drive |
When you are located so close to such a well connected MRT station, the list of shopping malls increase by tenfold – especially when you consider that most MRT stations are linked to these entities.
Still, the list details proximity of some of the more prominent malls (within the 10-min drive radius) – a useful detail for those who prefer to visit the malls by car.
Schools
| | | |
| --- | --- | --- |
| Name of School | Education Level | Distance From Condo (Est. Drive Time) |
| LeClare Preschool | Preschool | 130m, 1-min drive (walkable) |
| Nafa Arts Preschool | Preschool | 1.2km, 6-min drive |
| Vic's Schoolhouse | Preschool | 900m, 4-min drive |
| Mindchamps @ Marina Square | Preschool | 1.1km, 4-min drive |
| Josiah Montessori | Preschool | 2.9km, 10-min drive |
| Stamford Primary | Primary | 1.4km, 6-min drive |
| St. Margaret's Primary | Primary | 1.8km, 8-min drive |
| Farrer Park Primary | Primary | 2.5km, 9-min drive |
| Broadrick Secondary | Secondary | 4.3km, 9-min drive |
| Dunman High | Secondary | 4.5km, 9-min drive |
| Coleman College | Tertiary | 350m, 2-min drive |
| Institute of Paralegal Studies | Tertiary | 800m, 4-min drive |
| Monash College Singapore | Tertiary | 1.1km, 4-min drive |
| Queensfield International Business School | Tertiary | 1.4km, 6-min drive |
| Bethany International University | Tertiary | 1.5km, 3-min drive |
| Embry-Riddle Aeronautical University | Tertiary | 1.7km, 5-min drive |
| Lee Kong Chian School of Business | Tertiary | 1.8km, 7-min drive |
| Singapore Management University | Tertiary | 1.8km, 7-min drive |
| Glion Institute of Higher Education | Tertiary | 2.4km, 9-min drive |
| Raffles Design Institute Singapore | Tertiary | 2.5km, 9-min drive |
| University of Newcastle | Tertiary | 2.8km, 10-min drive |
| FY Institute of Technology | Tertiary | 2.8km, 9-min drive |
| James Cook University | Tertiary | 4.6km, 10-min drive |
The location's education options seem to sit pretty well given Midtown Bay's Target Audience (bachelors and young couples).
A number of preschools in the vicinity will greatly ease the education headache for young parents, though there seem to be limited Primary and Secondary options within the 10-min radius (even if there a couple more out there just past this mark).
What's more, the incredible number of tertiary options in the immediate area will also prove useful for those who are looking to level up with further education.
Additional Pointers
Immediate healthcare facilities
The closest major healthcare option is the Raffles Hospital along North Bridge Road – a mere 2-minute drive away. Given the condo's centrality, it is also relatively close to Novena Medical Centre and Singapore General Hospital (9-min drives).
The latter of which is currently being redeveloped via the SGH campus masterplan – an initiative that will span over 43 hectares!
Given Midtown Bay's quantum and proximity to the CBD, there is little doubt that a solid percentage of its tenant pool will come from expats. One thing that will go a long way in supplying comfort and aid to these residents living in a relatively foreign land is the number of embassies scattered in the vicinity.
The embassies of Mexico, Austria, Argentina, South Africa and Hungary are just some of them within walking distance from the condo.
Gastro-enthusiasts will rejoice. We'll leave you to explore all the food options in and surrounding the malls we listed above. But one thing we absolutely have to highlight is the food options along Tan Quee Lan Street.
Probably the closest food option to the condo, it serves up some incredible Thai food in Sawadee Thai Cuisine as well as Ah Loy Thai. For those with a sweet tooth, be sure to check out Desert First and Ah Chew desserts. Rest assured that further steamboat, barbeque, western and a bunch of local fare options will go on to tickle your fancy.
While it might seem like sunshine and rainbows thus far, we'd like to bring your attention to possible noise pollution in the area. With a number of highways and crowded major roads situated so close to Midtown Bay, we can only hope that the shrubbery in the condo will help to absorb traffic-related disturbances.
More than that, given the amount of construction in the area (more on that in a bit) that is expected to drag on after the condo's completion in 2022, residents could find themselves in the noisier part of town for quite a period come move-in day.
Midtown Bay Development Site
With a total land area of approximately 226,300 square feet and a plot ratio of 4.2, it is a no brainer to include two separate entrances/exits to the development even if public transport might be very accessible here.
As you can see, the residential section makes up a small portion of the entire site with an approximate 38,888 square feet area.
The Grade A office tower as well as the Retail and F&B (which will include the City Room and Market Place) sectors will take up approximately 183,333 sq ft and 7,688 sq ft respectively alongside sizable public green spaces.
Combine these amenities with its locale, and it will undoubtedly result in a busier-than-average development. Perhaps the good news for residents is that the residential tower is situated in a secluded (and most likely gated) area of its own away from all the hubbub.
Expounding on the noise-related topic (as promised earlier), the Shaw Tower revamp is set to finish sometime in 2023 – a good year after the condo's completion.
More than that, the sales of two major GLS sites along Middle Road and Tan Quee Lan St. (just down the road) earlier this year will also spell major renovation in the area.
Unfortunately, the noise from all the construction is expected to spill into early residential life at Midtown Bay.
Let's check out the unit mix (courtesy of GuocoLand):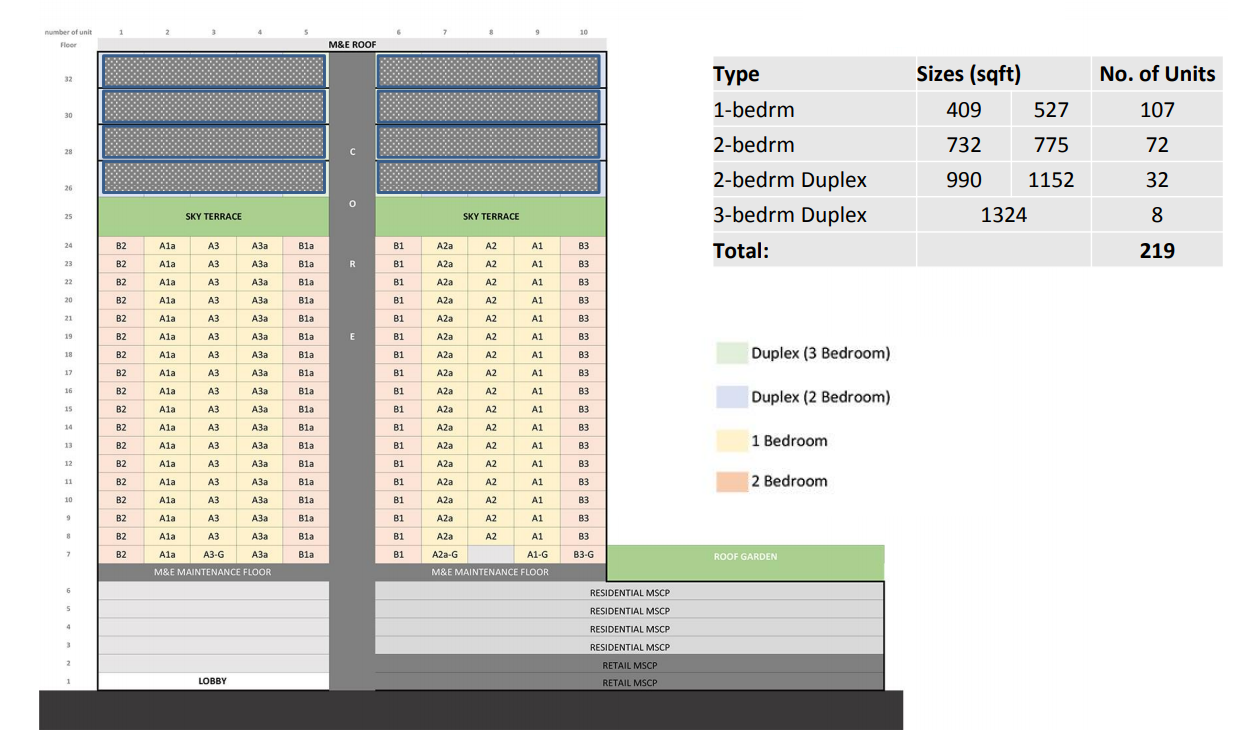 The lack of 4-bedroom units here isn't surprising at all given the condo's locale – a factor bound to put bachelors and young working couples at the target audience front.
As you can see, the focus here are 1 and 2-bedders, and having done the tour earlier, it is very heartening to know that despite the 1-bedders 'small unit area' on paper, its layout is incredible space efficient, making it seem a lot bigger than it actually is.
The 2 and 3-bedder duplexes are located at higher floors – with stack 5 probably being the best bet because of its NE-SW orientation and corner (which means good ventilation).
Also bear in mind that Midtown Bay's residential tower is 33 storeys high as opposed to Shaw Tower's 35 storeys (when it is rebuilt) – so make sure you are able to get an unblocked view should you opt for the more exclusive units higher up (for more insider info on the best units, feel free to reach out to us at hello@stackedhomes.com).
Price Review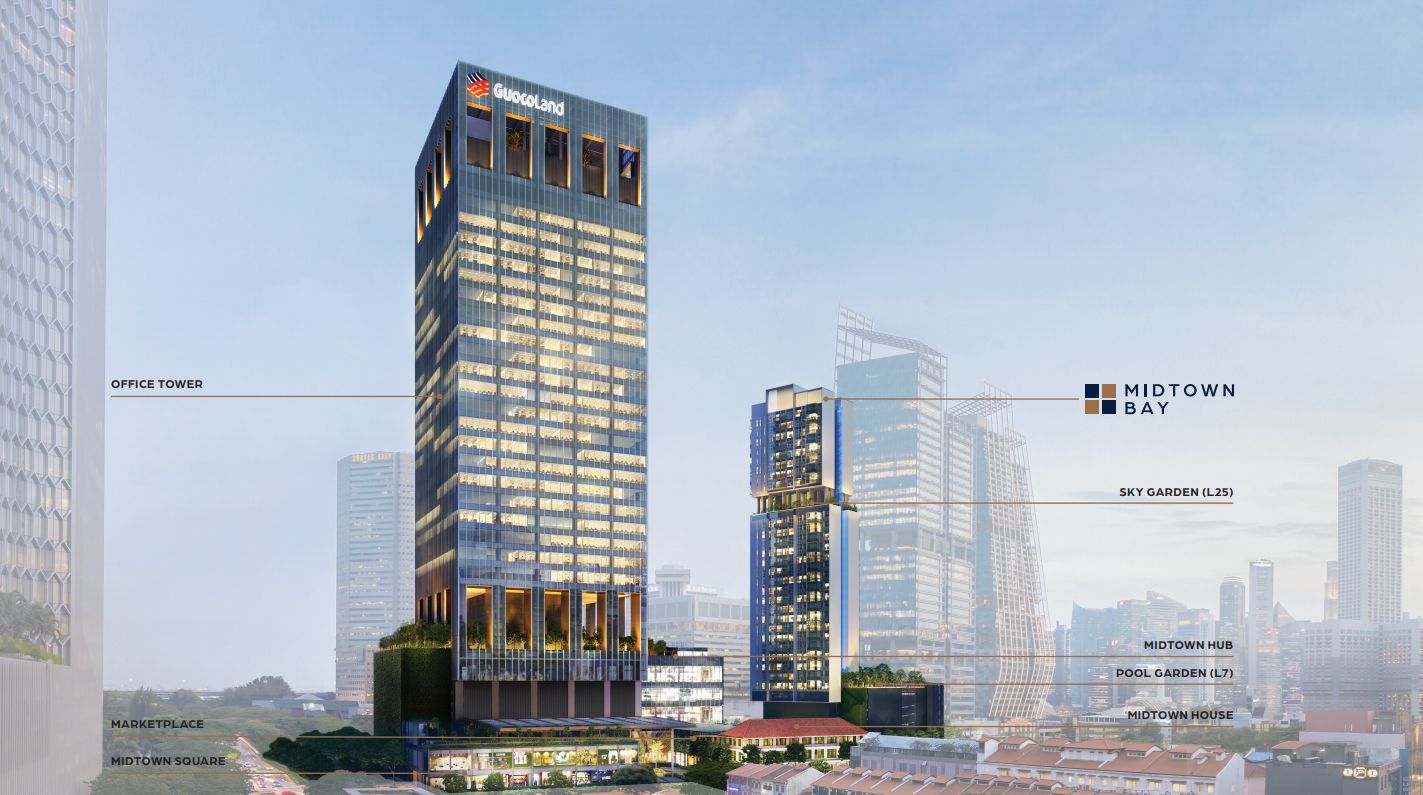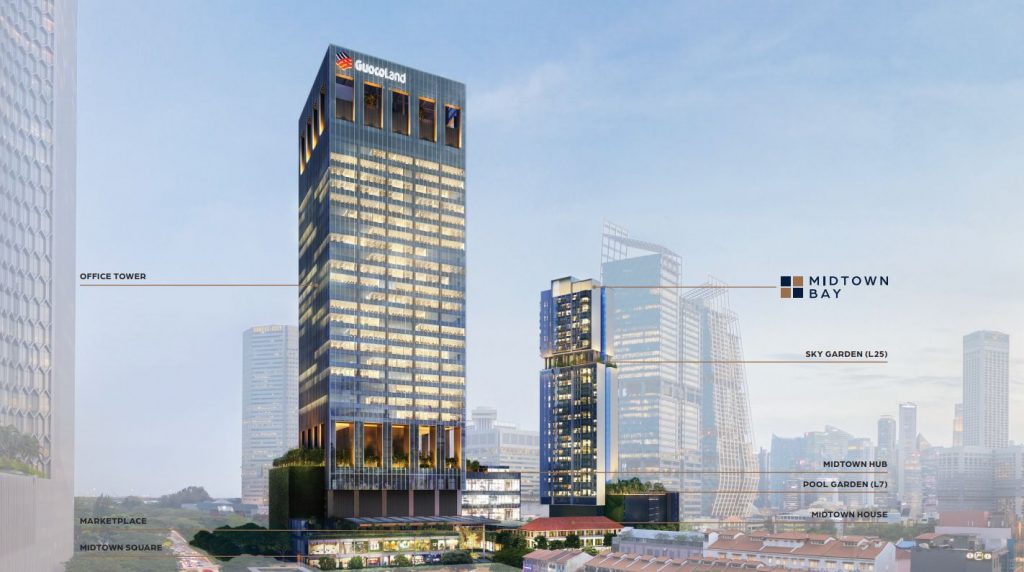 | | | | |
| --- | --- | --- | --- |
| Project Name | Tenure | TOP | Average Price (PSF) |
| Midtown Bay | 99-years | 2022 | $2,937 |
| Duo Residences | 99-years | 2017 | $2,114 |
| South Beach Residences | 99-years | 2016 | $3,335 |
| Concourse Skyline | 99-years | 2014 | $2,160 |
Right from the kick-off, you'll realise that there are no freehold condos in the area given the incredible value and volatility of land here – meaning that the newer leaseholds can command an above average quantum (as seen above).
Furthermore, by factoring in the solid residential rental demand from expats, it is easy to see why developers are pricing their units at a premium.
Add in Midtown's novelty, pristine facilities, proposed 'all-in-one' hub as well as its proximity to Bugis MRT, and it really comes as no surprise that it commands a much higher price-tag as compared to its counterparts – the Duo Residences and Concourse Skyline.
At the end of the day however, the South Beach Residences will still command the highest quantum despite its age. The reason for this is really that it is the only true luxury development in the area, not to mention its incredible adjacency to both the Esplanade MRT and the glitzy Suntec City area (aka the home of top-tiered company office spaces).
Finally, do bear in mind that the upcoming residential developments at Middle Road and Tan Quee Lan Street will result in a myriad of price movement-related factors amongst developments. Be sure to keep your eyes and ears peeled for news on these 2 sites!
Our Take
On a personal note, I feel that a residential unit at Midtown Bay can be a good investment. This statement is based off three main factors.
Firstly, the business (CBD), entertainment (Bugis area) and transport access (Bugis MRT) surrounding the condo aren't going to be going anywhere anytime soon. More so when you include the upcoming commercial amenities from the development. As a result, the prices here are not likely to crash overnight even with competition from other new developments – which brings us to our next point.
Secondly, GuocoLand has just secured the land site across Bugis MRT – which is probably the most prime available spot in the area at the moment. Yes, they will price that particular development favourably to ensure good uptake, but given the costly land fee as well as the fact that that Midtown is also under their wing, you can be rest assured that they will not be looking to cut out the latter development in terms of pricing.
Thirdly, if you look at GuocoLand's track record in the past 5 years, you'll realise that every single one of their developments (including the incredibly luxurious Wallich Residence) has achieved a higher than 10% appreciation up till this point! It speaks volumes, especially when you consider that most of its projects are priced relatively high.
If you look at Midtown from a homeowner's standpoint however, it does demand quite a sizable quantum. It also doesn't cater to larger families (save for its 8 three-bedroom units) and residents can expect the potential of noise-pollution during their initial years of stay here.
Is all that worth the incredible convenience for your work/play lifestyle? You'll have to decide on that.
One thing that is for sure though is that we don't usually come across residential developments in an area as rare as this very often!
What this means for you
You might like Midtown Bay if you:
• Work somewhere in the CBD:There are few better things than living close to work, especially if you have limited time outside of the office. The reduced travelling time really goes a long way.
• Greatly value public transport convenience:Cars are at a premium in Singapore and most prefer the efficiency of public transport. The proximity to Bugis MRT provides just that.
You might not like Midtown Bay if you:
• Greatly value peace and quiet:With neighbouring construction in the pipeline and the inclusion of a commercial/retail/office space in the same development, things could get noisy.
• Are raising kids:The lack of many Primary and Secondary school options in the area could prove troublesome – what's more, a lack of unit space might not make this place ideal for kids.
End of Review
[optin-monster-shortcode id="gzivtlotizxfiuzqwtnx"]