Property Stories
"Our Parents Became Our Next Door Neighbours" The Awkward Truth About Living Next To Our Parents
Ryan J
November 17, 2023

4

min read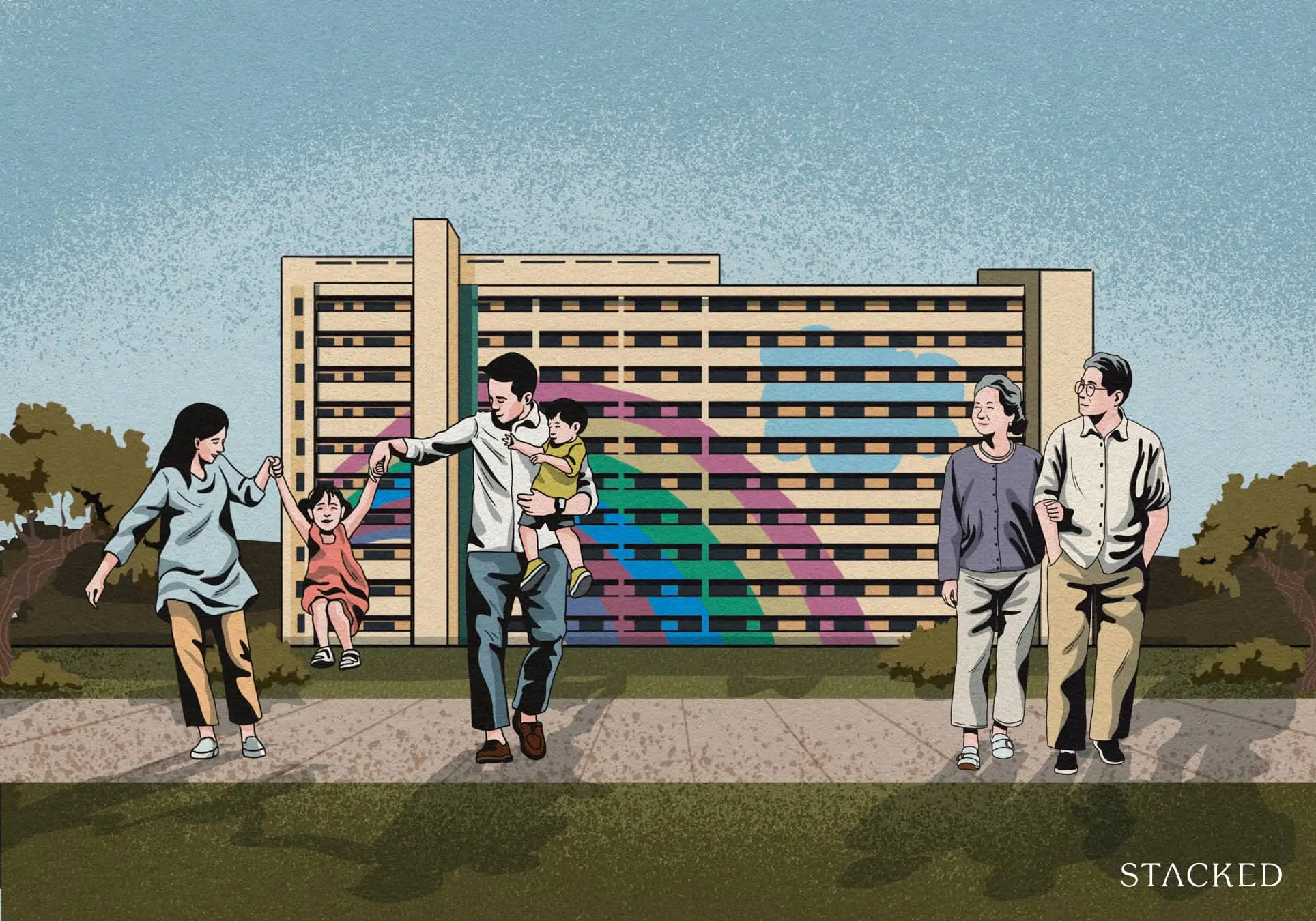 4
min read
With more Singaporean families being dual-income, grandparents' support has become vital. The topic has been in the news, on and off, for as long as most of us can remember. (Although we had better add, not all grandparents are happy for a second round of child-rearing, or being used as some kind of de-facto daycare service!) So for AR and his wife, it was a remarkable stroke of luck that his parents managed to secure a flat not only nearby, but even on the same floor of their block. We asked them what it was like to live so close to their parents:
A chance conversation due to a lift breakdown
AR and his wife moved into their Hougang area flat just as their child turned four. Around a month after moving in, the lift outside AR's flat was briefly under maintenance. This caused him to use the lift at the other end of the corridor, where he met a neighbour moving out:
"I noticed all the boxes outside," AR said, "So I asked him if he was moving out. I found out the flat was not sold yet, but he had intentions to sell. He was moving in with his son and daughter-in-law; so he was getting ready and slowly moving his things."
AR briefly mentioned it to his wife and in-laws, but thought nothing of it for the next few weeks. Then unexpectedly, he got a call from his father-in-law, asking his opinion on whether they might buy the flat, if his neighbour was moving out.
"Luckily he was still there, he was still intending to move out; in fact he had already engaged a property agent. So it was quite simple, I put the agent in touch with my in-laws, and let them talk."
AR says he wasn't privy to their conversation, but he knows that his mother-in-law was opposed to it at first:
"I think she was not because they would be moving from a 4-room to 3-room, and her old place was across the road from the market. Our block, to be honest, was not so convenient as theirs. We take the bus about two stops to reach the market. Actually it is a downgrade for them."
AR says that the deciding factor for his in-laws was his wife's decision to return to work:
"She stopped working since our daughter was born, but she wanted to go back to work; her former Secondary school friend just opened a stall (coffee shop – ed.) in Bedok, so the two of them would work together. So when we told our parents, my in-laws said they could help look after my daughter."
Surprise at the speed and ease of the move
AR says his in-laws could meet the seller's price without any issue, as their previous flat sold for a lot more. He also feels they were lucky in that the seller was rushed: "I heard he didn't really wait for many offers, it was just chop-chop, because he was ready to go."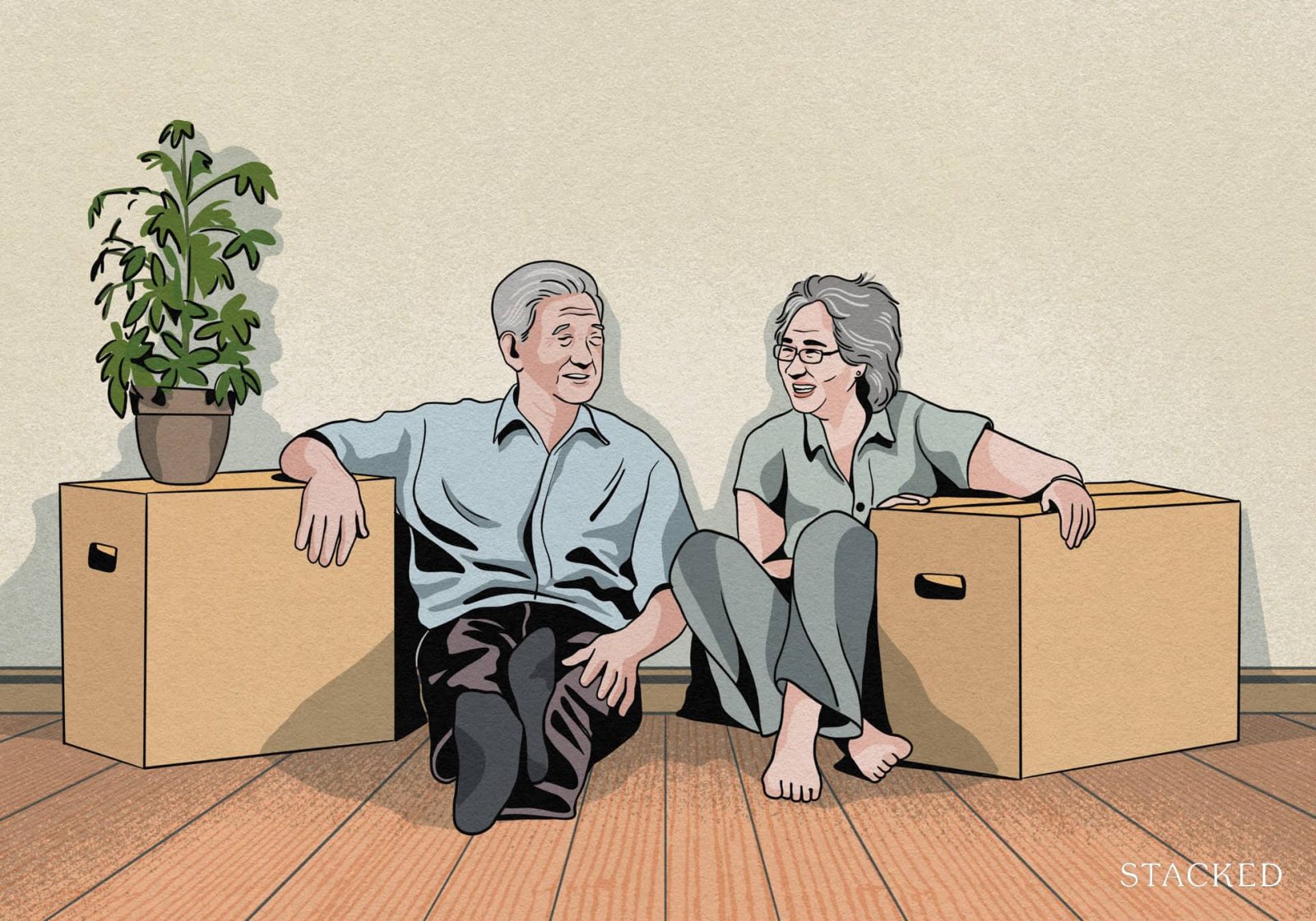 On top of this, his in-laws found they didn't need to make big changes:
"The previous owner did some renovation just two or three years ago. The faucets, the flooring, the light fixtures, and a lot of things were less than three years old. The only thing they changed was some of the cabinets, because some of the doors were sagging; and they made some small redesign to the living room."
This is unusual, as one of the main drawbacks of resale flats is the amount of renovation they usually need. One of the lessons here is that, if you pick a resale flat where you're happy with the existing renovations, you can move in a lot faster (and at a much lower cost.)
Bringing the families closer
AR says it's now quite common for the couple to share meals with their parents: "Usually it's in their flat. When I come home I actually go to their flat first, most days, because my daughter will be with them – then we eat dinner and go home from there. I feel we're a lot closer, because before this I would see them maybe once or twice a month at most."
AR says there's also a change in his daughter, as his in-laws have time to bring her out and supervise her interactions: "They will bring her around to meet other kids, and for her sixth birthday she could celebrate with two friends from another block. If we just hired a maid or leave her in childcare she will not have this sort of exposure."
Nonetheless, AR and his wife have every intention to decrease the load on their parents: "We don't want to be one of those couples where we make the grandparents become the parents. I just changed jobs, and I am discussing with my boss to see if I can work from home for three days a week, starting in a few months; and my wife will also stop working weekends – they have another helper at the stall. But in the meantime, we are very lucky to have our parents so near to us to help."
There is a downside as well though
AR is reluctant to talk too much about this, as he worries he could be recognised; but he does mention one drawback:
"There is a bit of lost privacy, we have the keys to each other's flats. My wife didn't like it but I thought it made sense, now I think I should have listened to her. Sometimes, parents can be like 'inspectors' when they are so close. They will comment on how we leave so many of the clothes to pile up, or why we let our daughter stay up so late."
AR adds that one of the annoyances is when he takes his daughter to the nearby McDonald's, as his in-laws don't feel it's healthy. "They complain I feed her McDonald's every day, but I don't, it's once every few months. But because we live nearby, sometimes they will see us there, and then I will see their black face later."
AR says that, while he's grateful the couple has their parents nearby, maybe a smidgen of extra space might help. He advises extended families to consider neighbouring blocks, perhaps, rather than being on the exact same floor, or living together in the same unit.
Nonetheless, he says that: "The advantages of living close by are definitely worth it, if you can make it happen. But you have to balance it out, and retain a bit of your own privacy also."
For more on homeowner experiences and stories, follow us on Stacked. You can also follow us for reviews of new and resale properties alike.