Condo Reviews

Leedon Residence Review: Immense Sized Luxury In Holland
Reuben
January 28, 2020

19

min read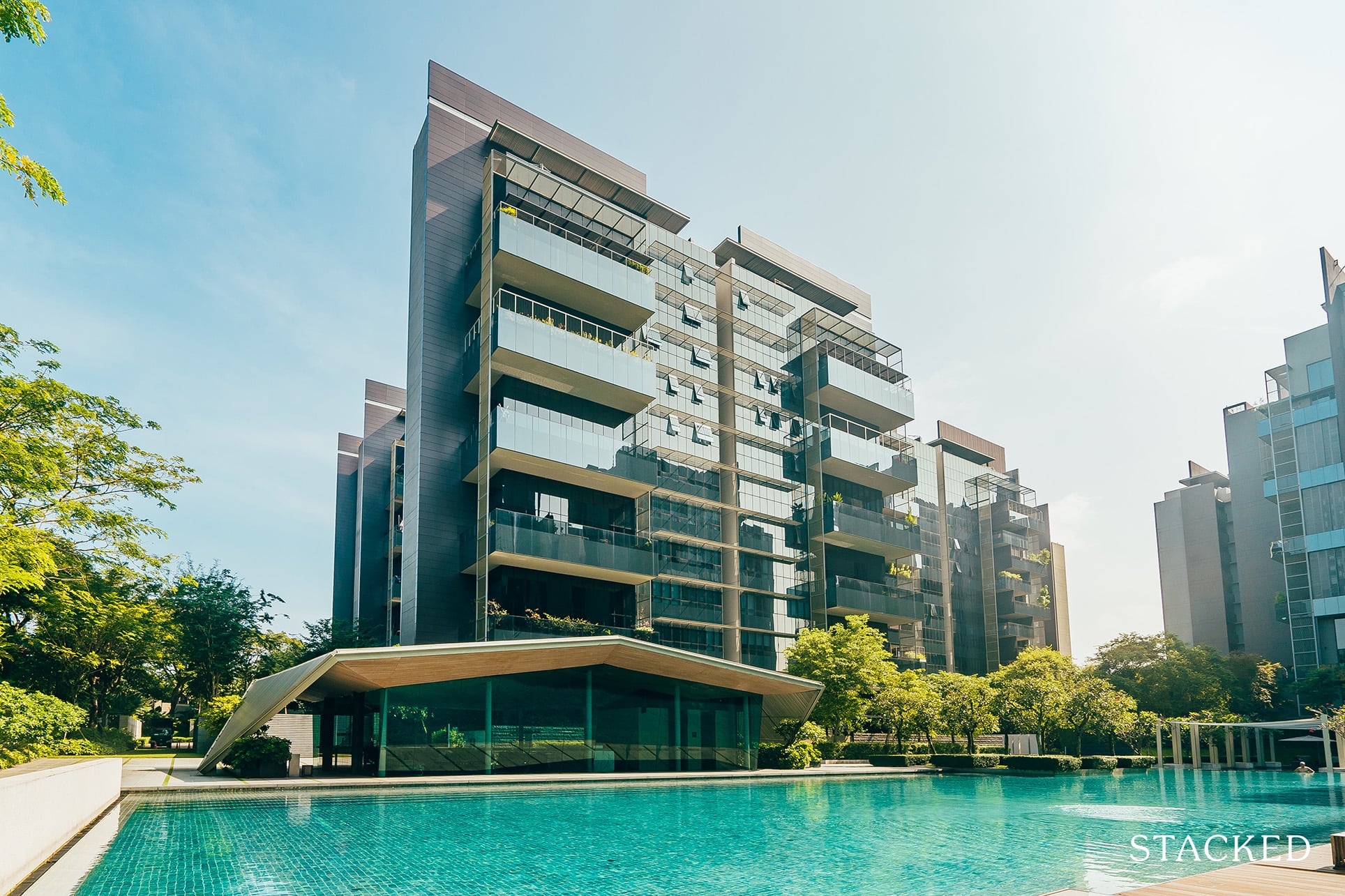 Leedon Residence is perfect for those who love huge condo common spaces in a key private residential location. However, those on a strict budget and want to invest in other areas of their lives can look at alternatives like D'Leedon.
Reviewed by Reuben on January 28, 2020
What we like
Huge grounds

Big living spaces

Exclusivity

Modern Design
19
min read
| | | | |
| --- | --- | --- | --- |
| Project | Leedon Residence | District | 10 |
| Address | Leedon Heights | Tenure | Freehold |
| Site Area | 522,322 sqft | No. of Units | 381 |
| Developer | Guocoland | TOP | 2015 |
BCA Green Mark GoldPlus Award winners aren't something you see everyday.

But what happens when you have incredulous premium land space minus the unit overcrowding?

Most would say that it'd be a once-in-a-lifetime opportunity.

Or at least that's what it would look like at first glance.

Well, to be frank, the Leedon Residence is really quite an architectural masterpiece.

Engineered by both the reputable GuocoLand and award-winning SCDA Architects, the project sees 381 units spread across 11 painstakingly designed towers.

Turquoise, crystal-like balconies and massive floor-to-ceiling windows shining immaculately in the sunlight; a sprawling mass of carefully maintained lawns, neatly positioned facilities, and tranquility shaded pathways – all serving up a sumptuous buffet for the eyes.

Still, the 5-year old Leedon Residences isn't all a bed of roses.

Noise issues, high quantum-values and 'scuffed paint' are a few tiny, but pesky nuances that plague a few of the residents here have to deal with.

And so in a rather unexpected twist of Dr. Jekyll and Mr. Hyde, Leedon Residences proves to be one of our more interesting reviews to date.
Either way, this is a tour you absolutely do not want to miss!

Leedon Residence Insider Tour
Facilities in Leedon Residence
Basement car park
Clubhouse
Drop Off Point
Fitness corner
Fun pool
Lap pool
Lift lobby
Main entrance
Pavillion
24 hours security
Tennis courts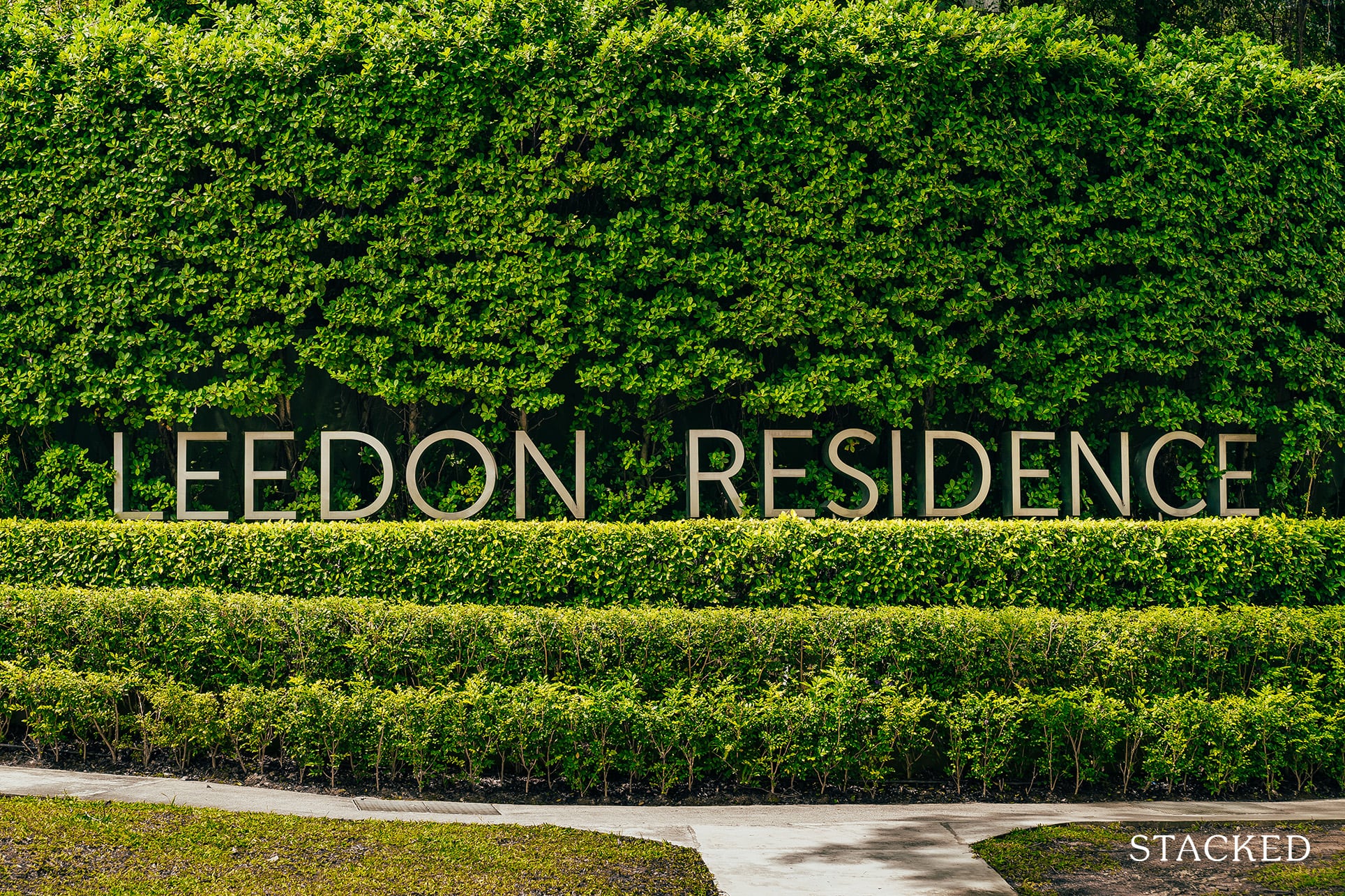 The word "luxury" might be one of the most overused words when it comes to describing condos in Singapore.
Especially when it comes to one of the most premium districts in Singapore (D10).
Now as much as I'd like to stray away from the norm and describe it in a different way, it's tough to think of anything else but.
I've been there a couple of times since its TOP in 2015, and it's the one word that still sticks in my mind.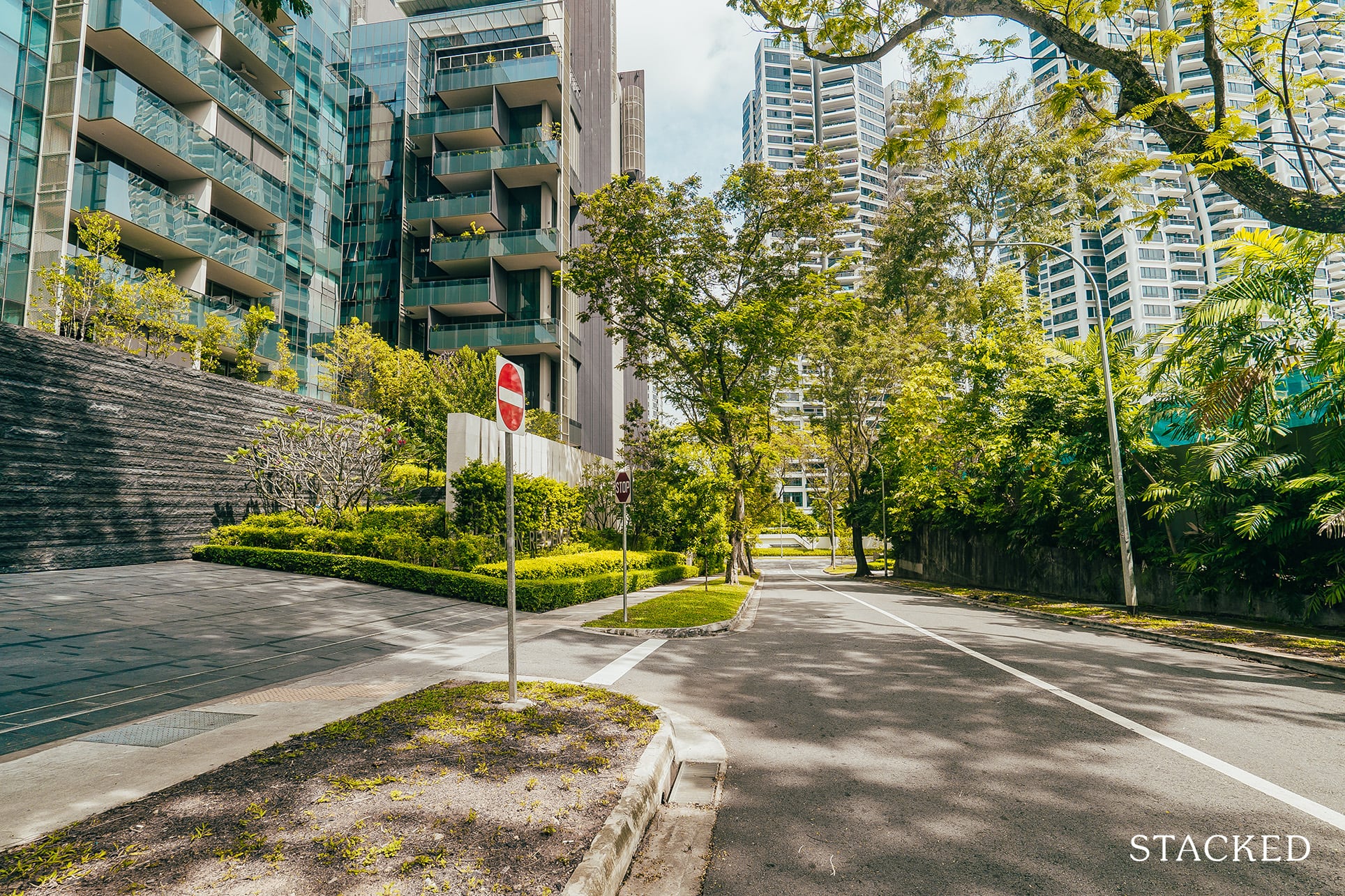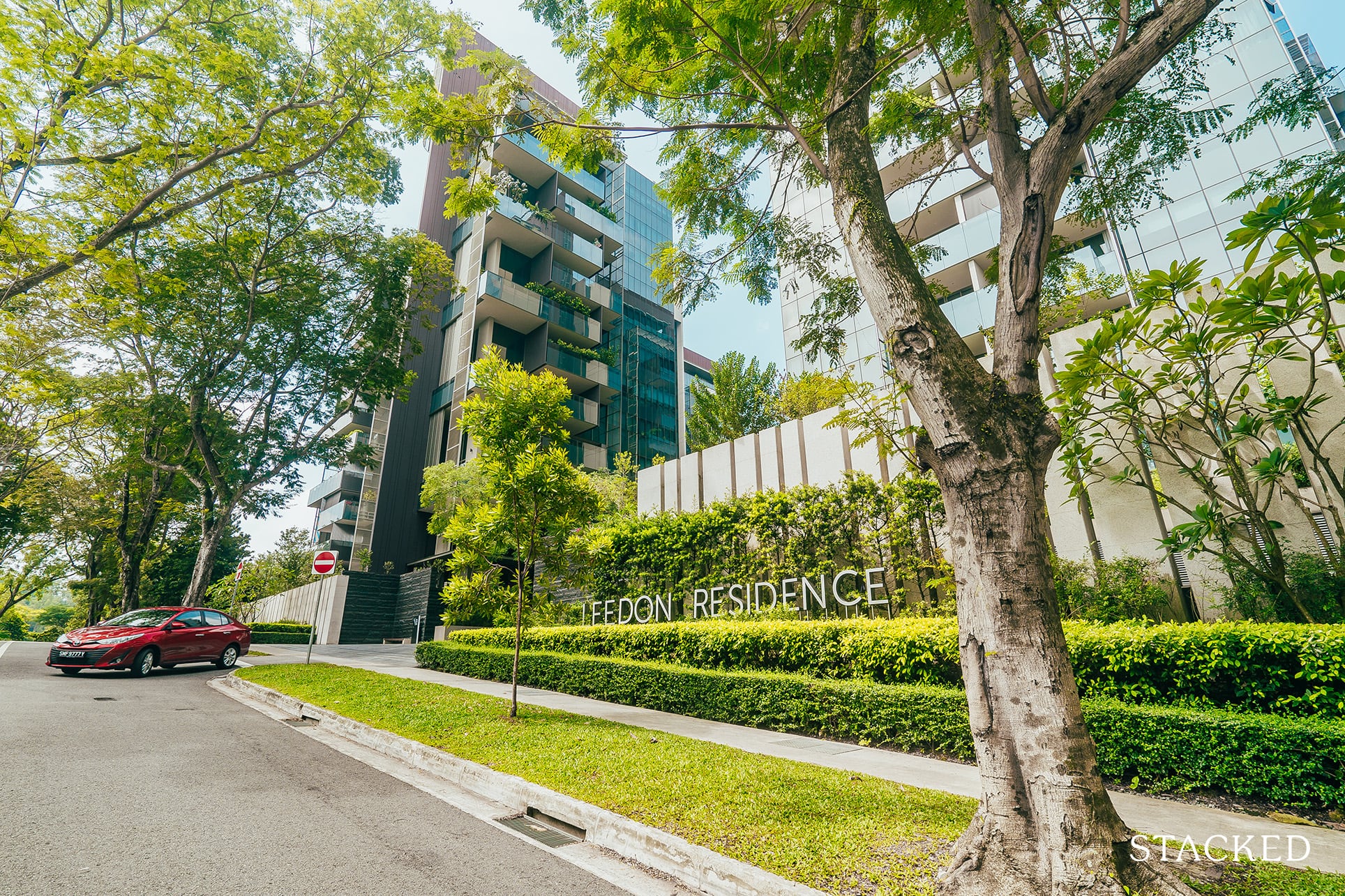 The main entrance is located along Leedon Heights, and it's in a quiet spot tucked close to the Leedon GCB enclave. For now, you are still king of the road as it's the only development along Leedon Heights.
That will change, however, in a couple of years once Leedon Green is up. To be fair, there are two entrances to Leedon Green – but with a planned 670 units you can expect traffic to be much heavier here during peak hours.
Once you turn in, you are greeted by a long driveway flanked by a cascading waterfall. It might sound ostentatious, but given the generous land size (522,322 sq ft) it certainly helps to accentuate the grandness of the development.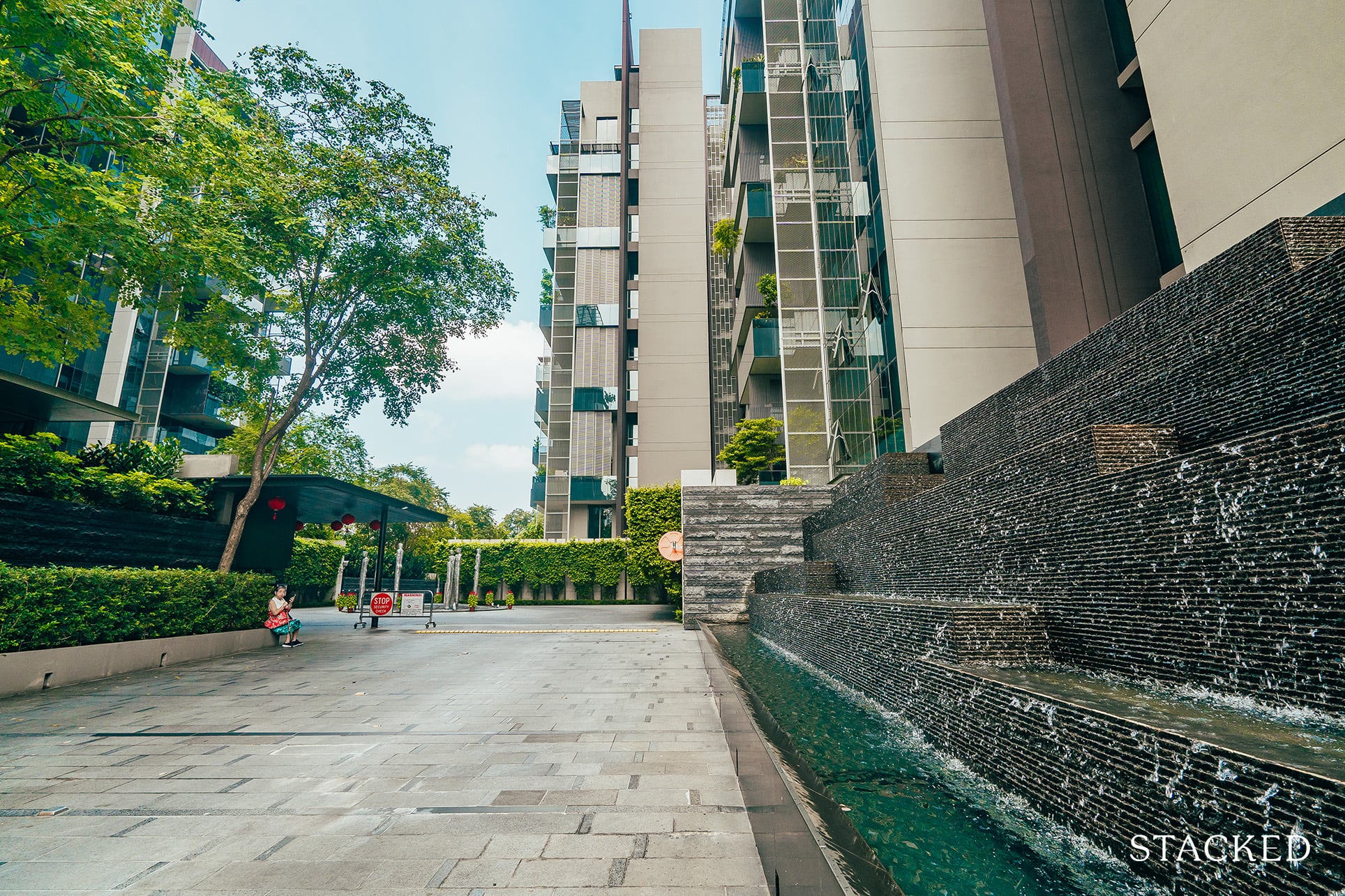 Unlike most condos with the barriers signifying the entrance to the development, the Leedon Residence only has barriers at the actual entrance of the carpark. This might not have been its intended motive (though knowing SCDA's pedigree, it probably was) but it definitely makes the entrance look that much more open, and welcoming.
The guardhouse shelter isn't extended out very far however, and the consequence of that is a slight rainy-day inconvenience for drivers conversing with the guardhouse.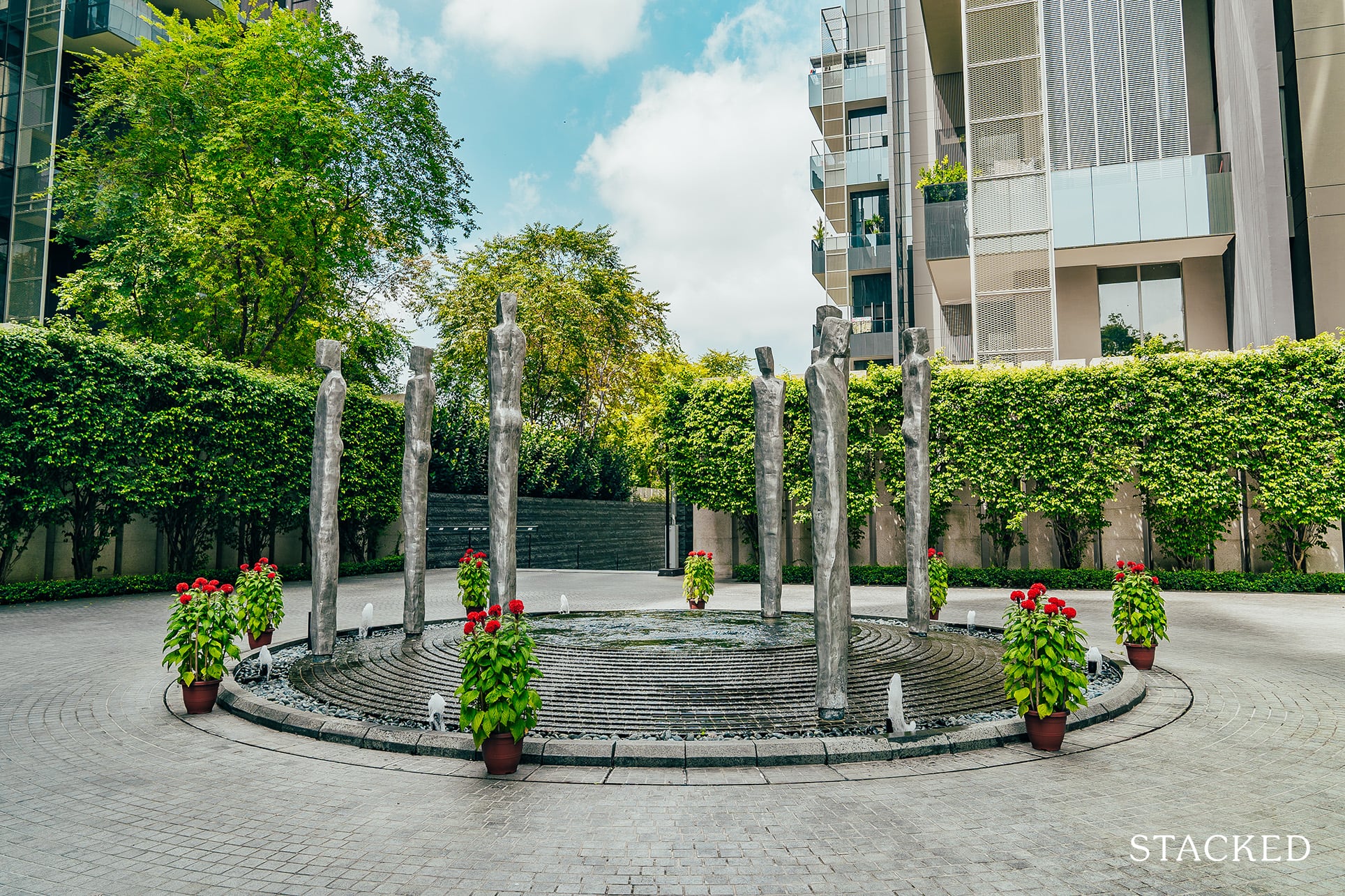 Once you get past the guardhouse though, the arrival court is highly impressive. It's super big and really gives you a taster of what is about to come.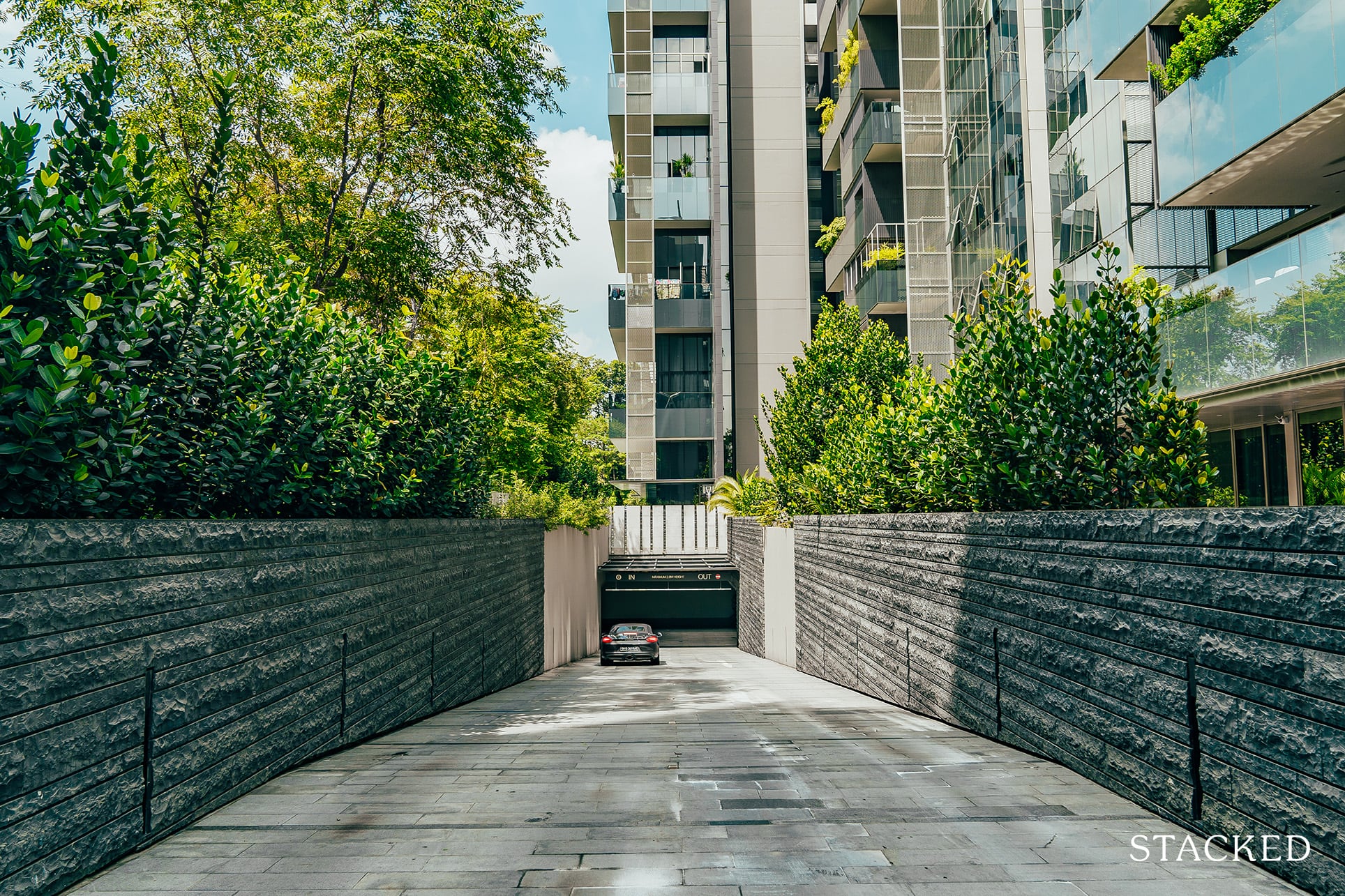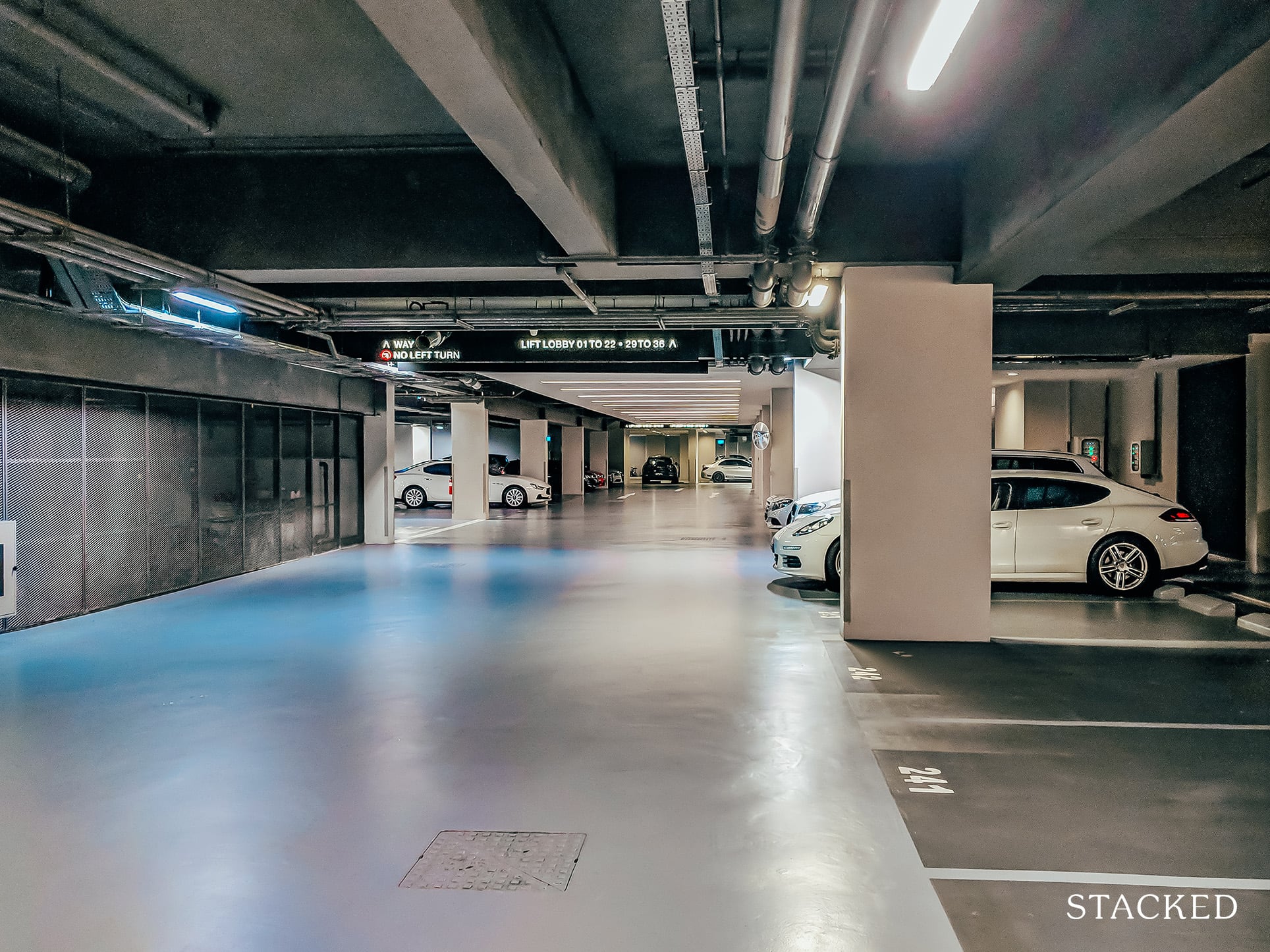 As you'd expect from a place like this, the carpark is suitably premium looking. Car park spaces are big and with approximately 2 lots allocated per unit, you wouldn't have issues finding carpark space. A word of caution – because of the size, it's really easy to get lost as the signs are not the most intuitive.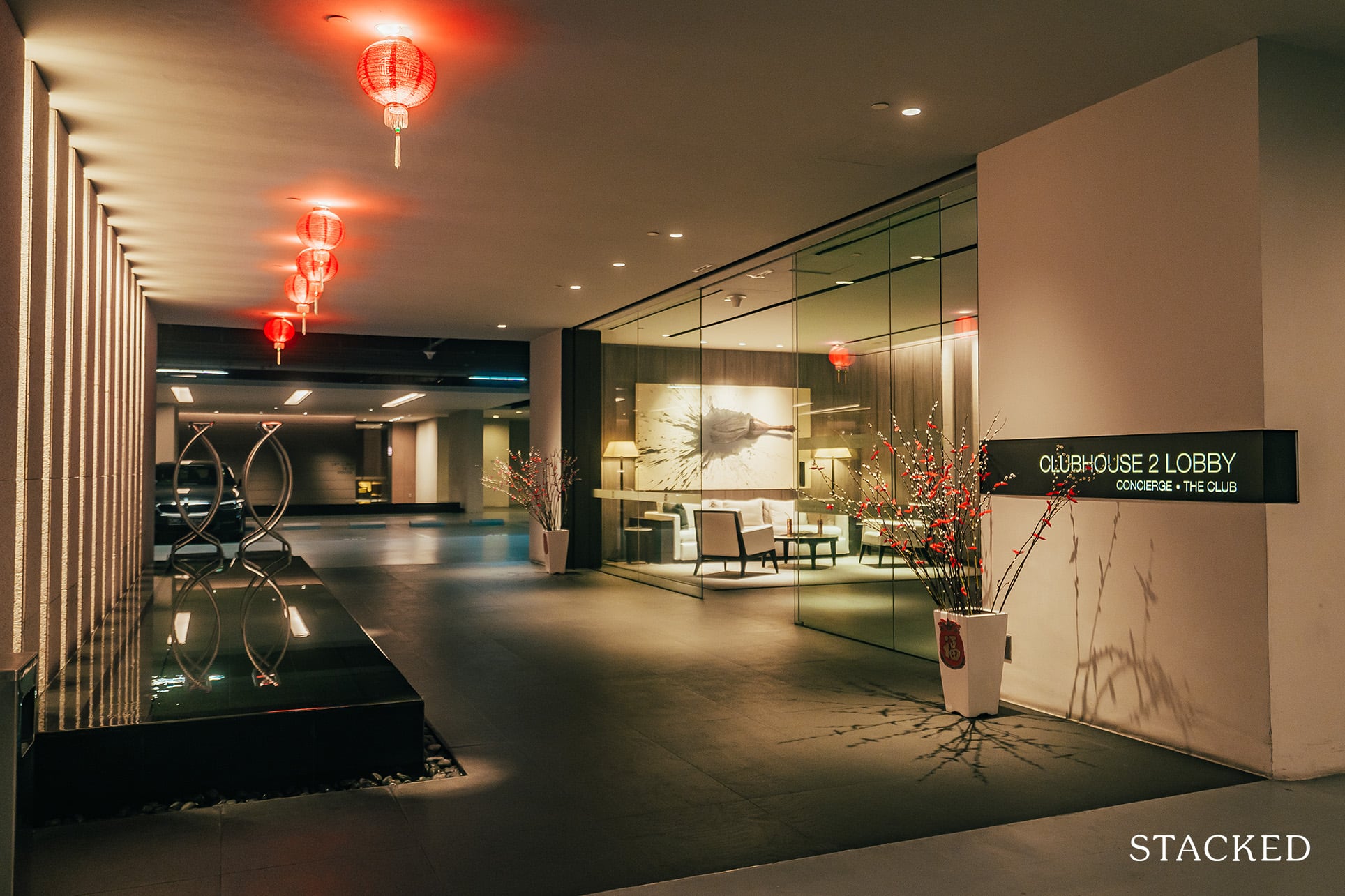 If you're anything like me, you'd be overjoyed at this delightful clubhouse lobby. It doubles up as the concierge space too, where you can book cabs or have them store parcels for you if you aren't home.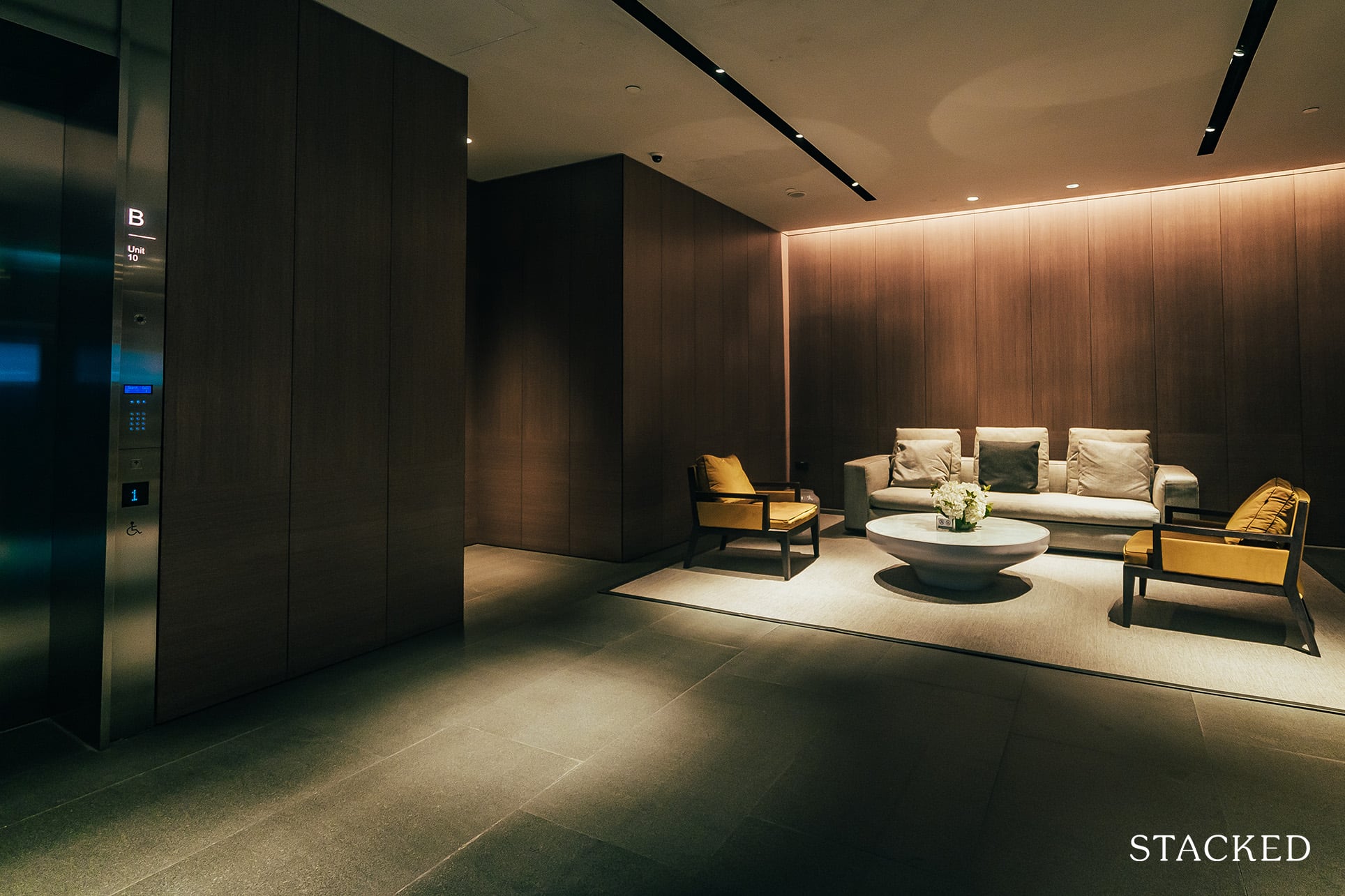 And if you thought that the upscale lobby was reserved only for the clubhouse, you'll be amazed to find that each lobby in every block is fitted out and finished in this handsome manner.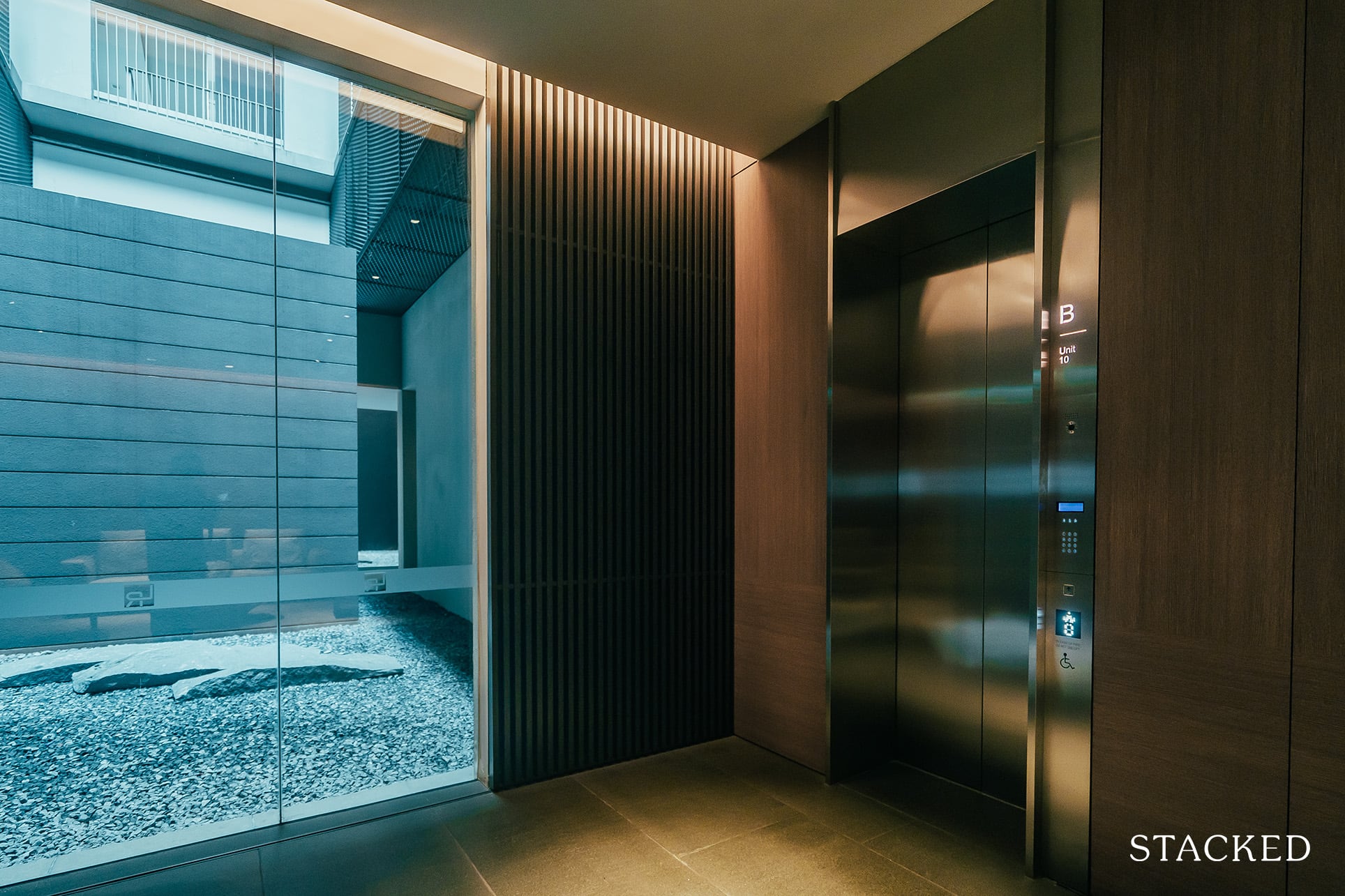 Everything looks remarkably posh, coupled with the air-con it really feels like you've arrived at a high-end hotel. If you are a guest, you'll have to dial up for access at this point – every single unit here has a private lift access (even the 2 bedroom units).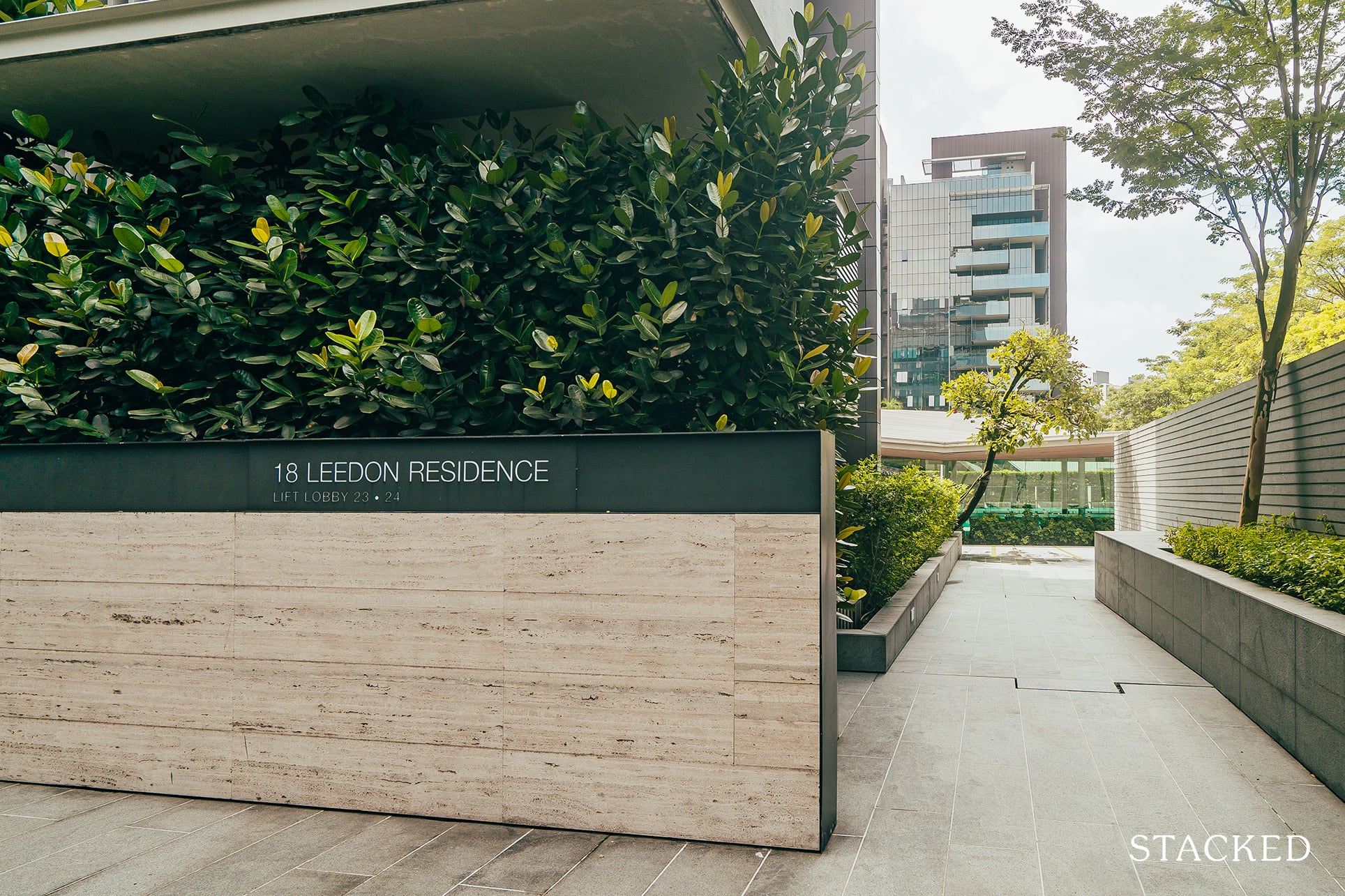 It's a similar story on the ground level, each block signage is a minimalist's dream. Clearly, it is very chic looking and if you are a fan of past SCDA works (Alila Villas Uluwatu/Cluny Park Residence) this would be right up your alley.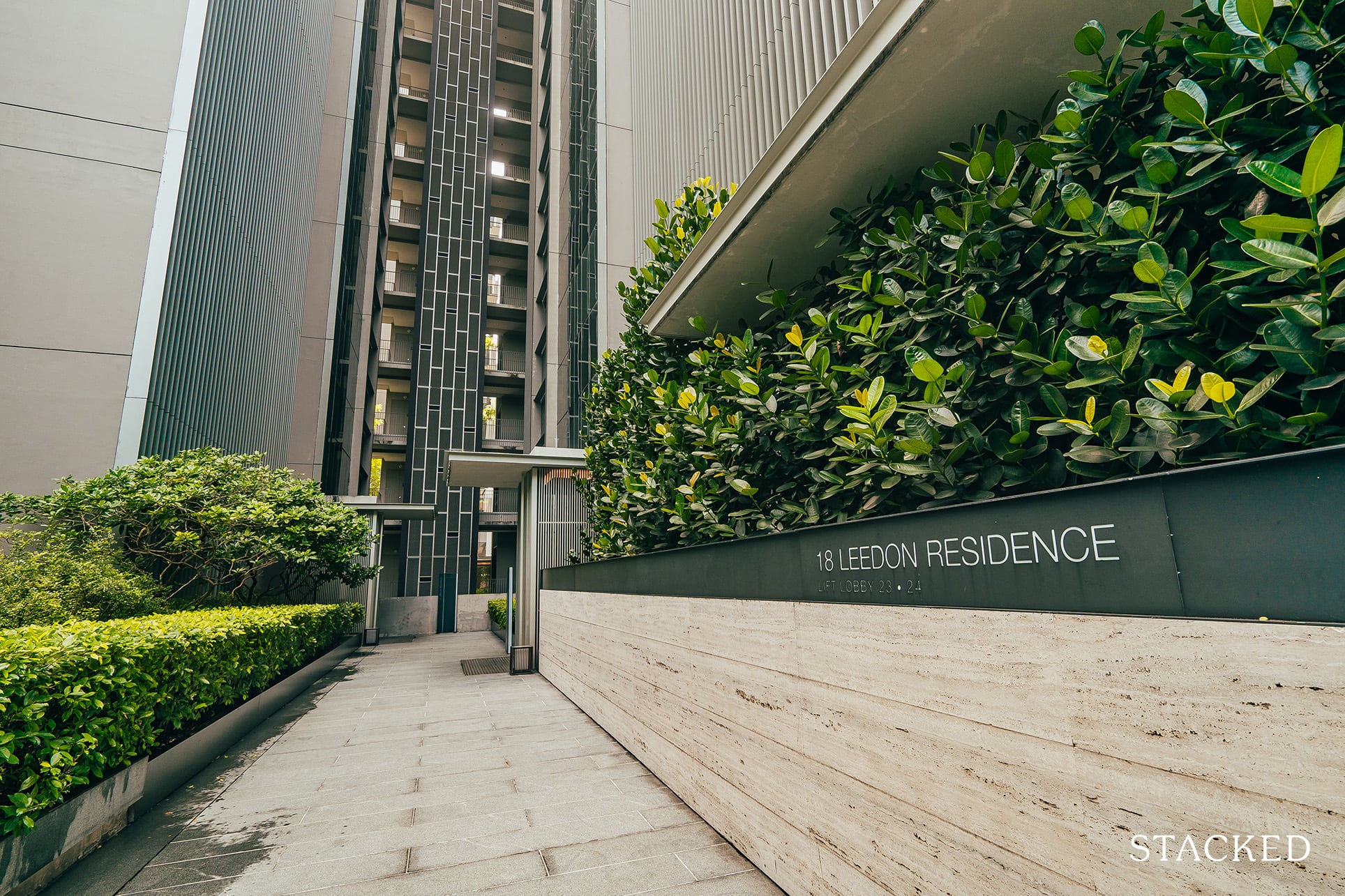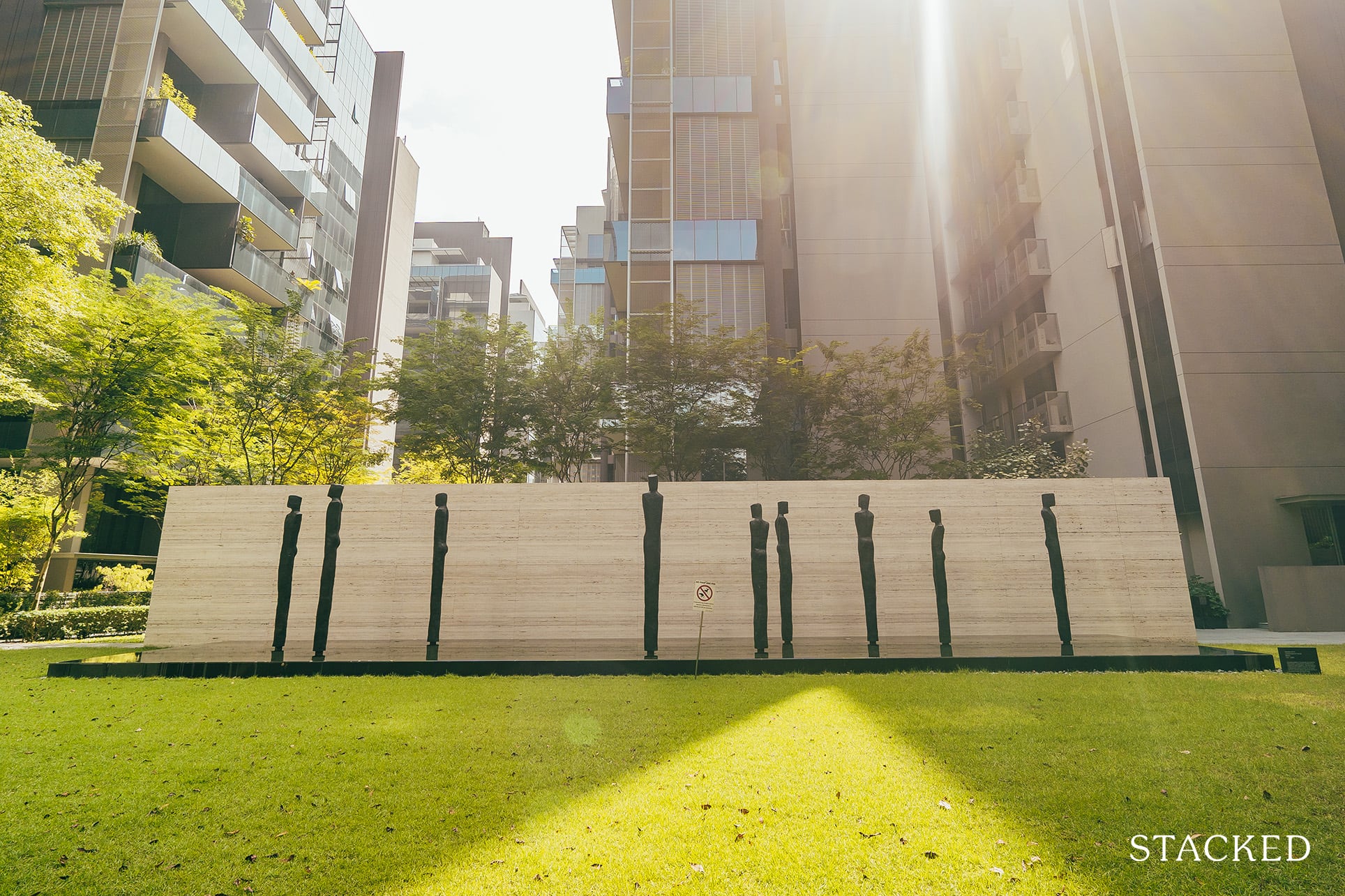 To tell you the truth, when I first visited the Leedon Residence showflat, I was hardly impressed. Yes, the units were well laid out and of a good size. But it didn't seem to be as awe-inducing as they made it out to be.
Once it was built however, it became a completely different story for me. Take a step out onto the first level and you'll observe what really makes Leedon Residence tick.
A well-finished entrance gives way to sprawling open grounds.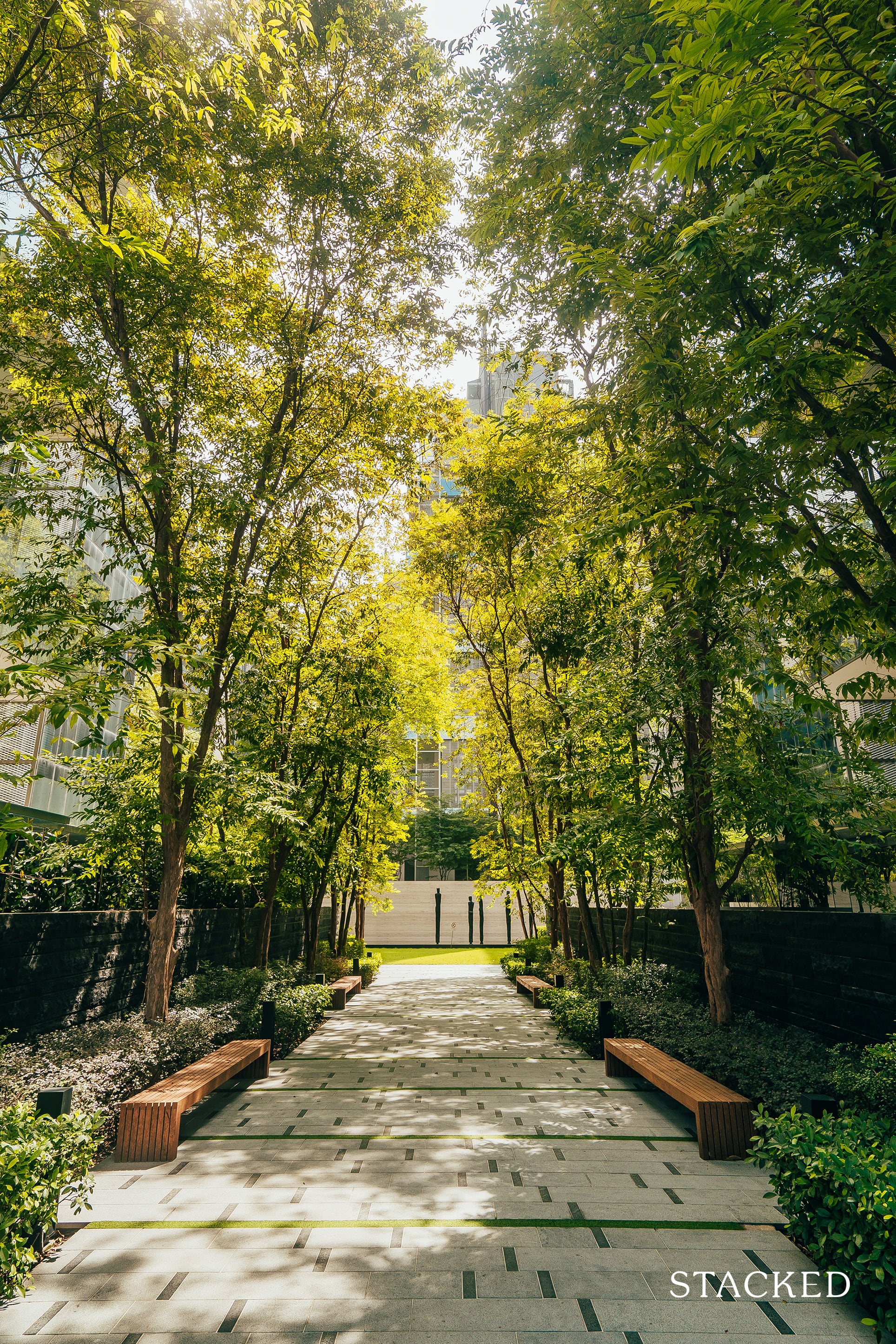 I know I've been waxing lyrical about it, but it really is that special. The greenery and trees are immaculately maintained and the colours just integrate nicely together. This comes at a cost though – 5 full time gardeners are required to support the upkeep so maintenance fees here are high.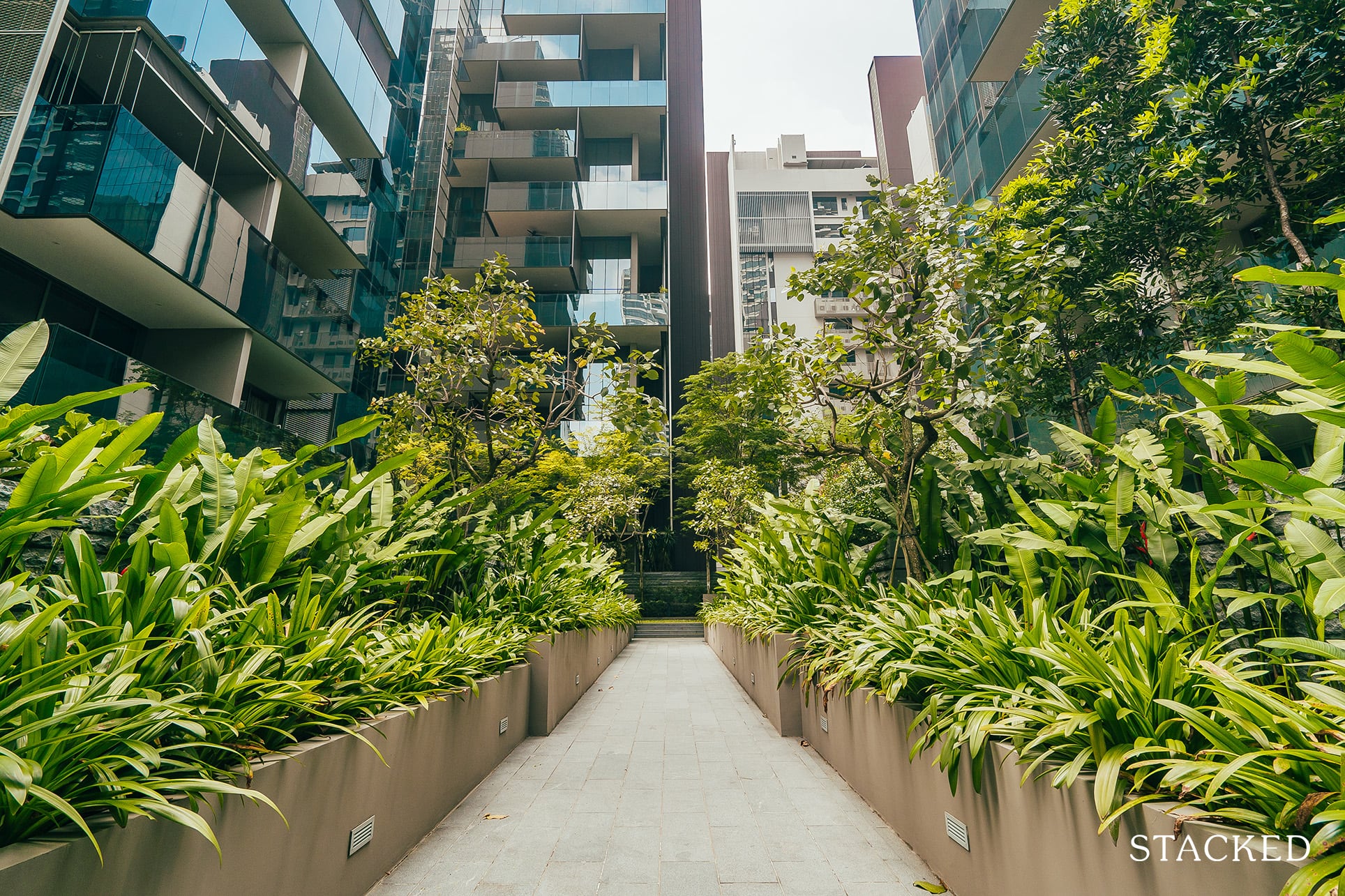 Walking through the development, you will be gob smacked at how massive the space is. It's easy to think there must be at least more than 5-600 units here but there's really only 381 here in total (once again, 522,322 sq ft land)!
To further put things into perspective, the upcoming Leedon Green (at 296,697 square feet of land) has 670 units and neighbouring D'Leedon has 1,715 units spread across 840,049 square feet.
The difference in 'open spaces' is really quite staggering.
And here's the thing.
What sets Leedon Residence apart from every other development in Singapore is very simply, its combination of modern luxury (for the lack of a better word) and open space.
You'd be surprised, but there really isn't anything else that is in a similar category. Sure, there are condos with a similar amount of space (Yong An Park, Pandan Valley, Reflections at Keppel Bay), but they are either old, or not as luxurious.
And that, exactly why people have been willing to pay top dollar for a unit here, even though that same amount could have landed them… well, an actual landed home somewhere else in Singapore.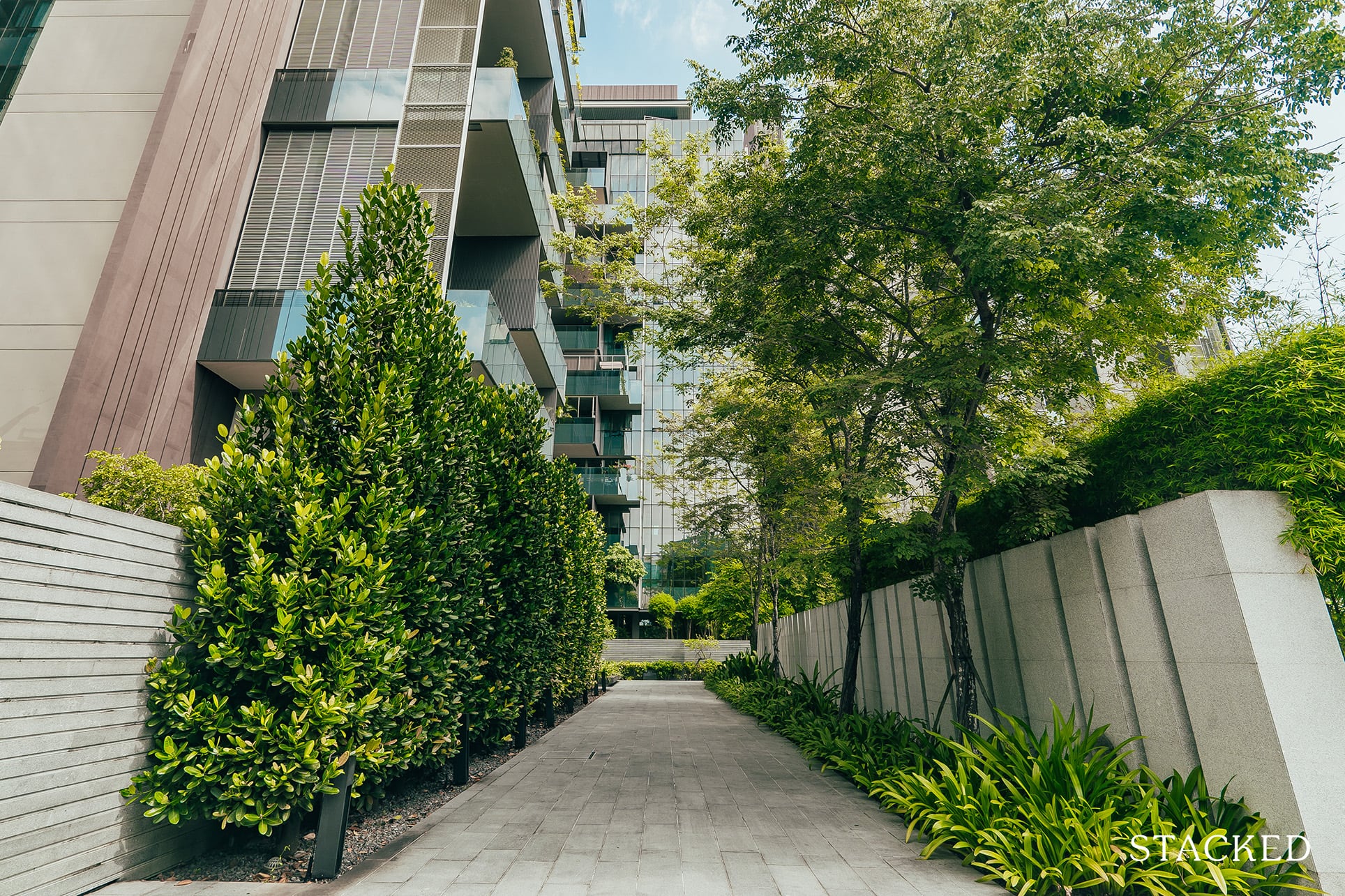 The grounds are so big, you practically don't have to go out of the development if you so wished. Whether it is walking the dog, going for a morning run, or evening stroll, everything can be done from the inside without the all-too-familiar sense of claustrophobia. .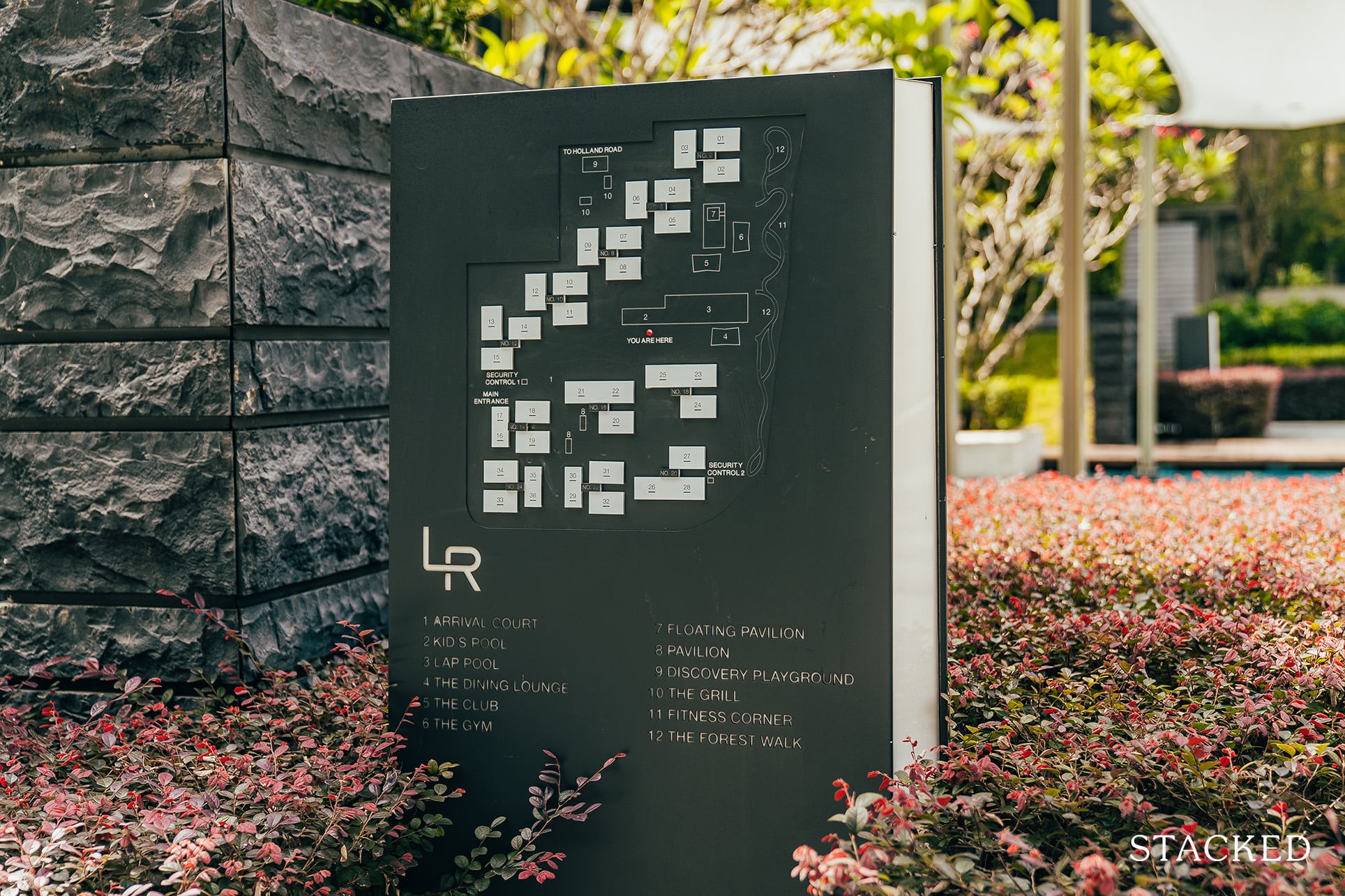 An obvious downside that comes with it though would be walking distance to the different facilities.
Depending on the block, you might find yourself having to take a long walk to the pool given how huge the grounds are at Leedon Residence. Just think of it as a little 'warm-up ritual' if you will.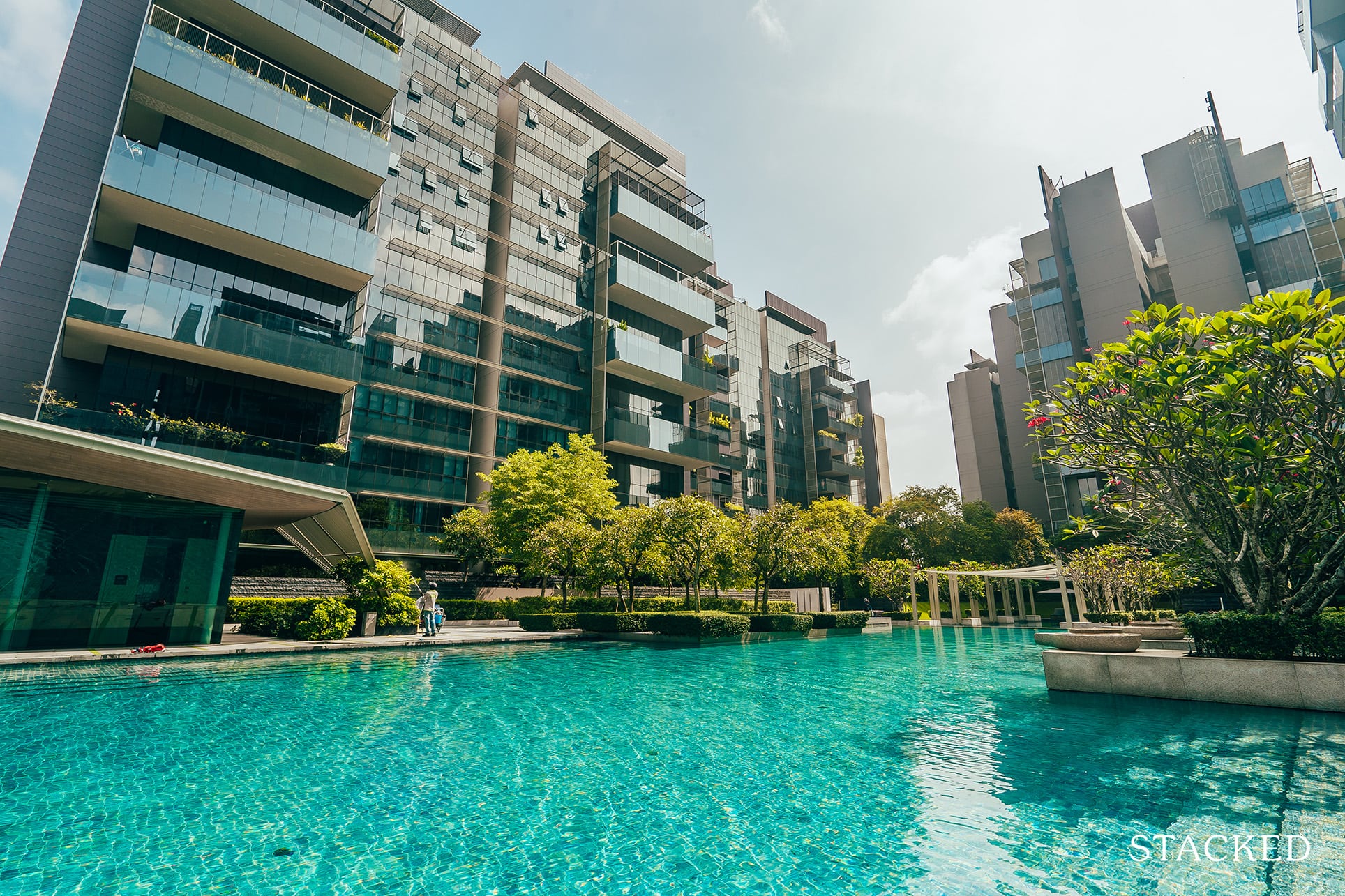 The pool's a magnificent one, that's for sure. Although not as visually stunning as the one at the Scotts Square, it looks majestic and befits the status of the estate.
Even the entrance to the pool looks visually enticing. You'd be with the majority in mistaking this photo for a high-end resort in a far flung country.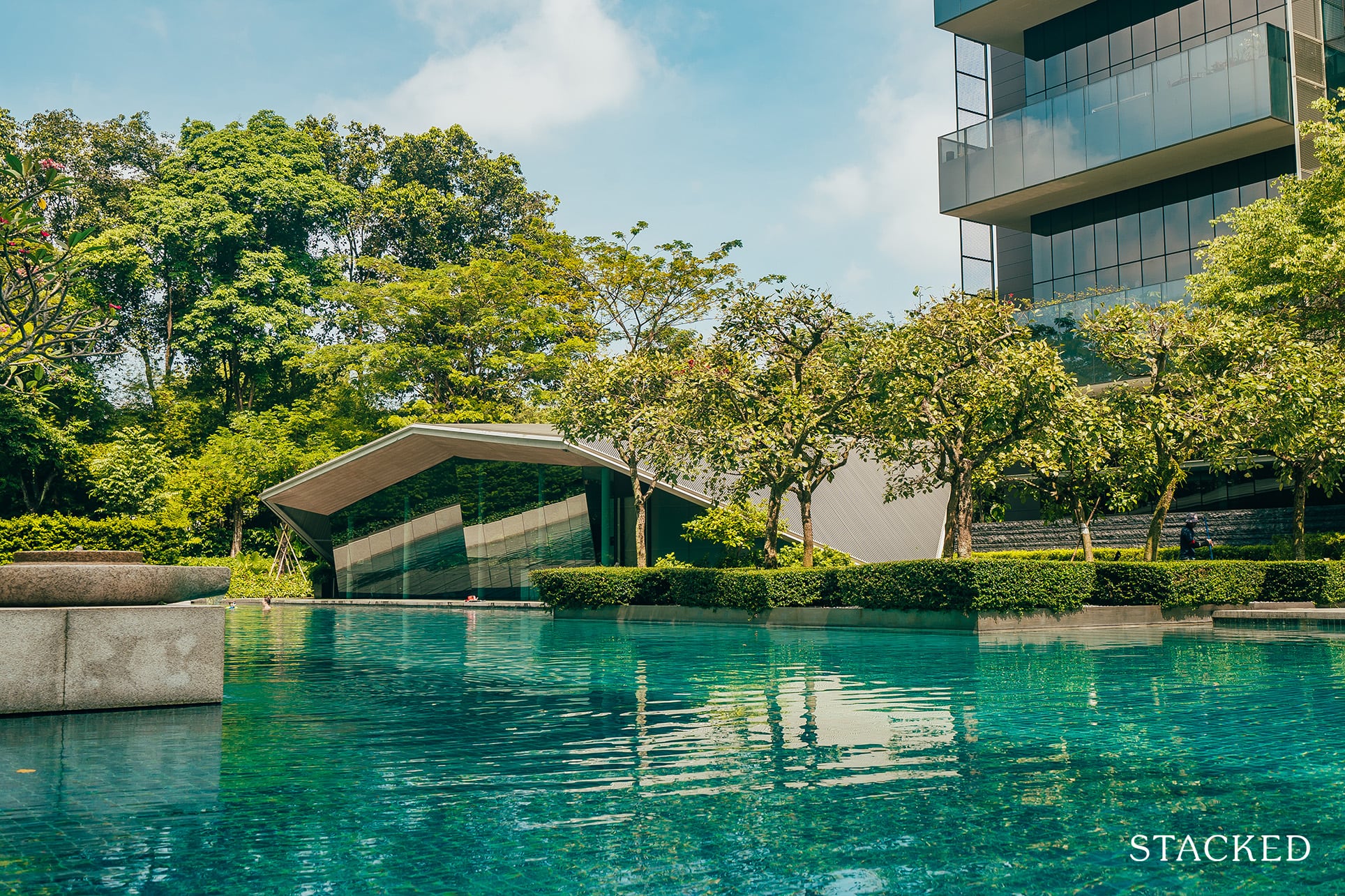 The swimming pool is actually flanked by both the dining lounge and the club – so you get quite a bit of space between the blocks. This is ideal as the pool feels so much more open.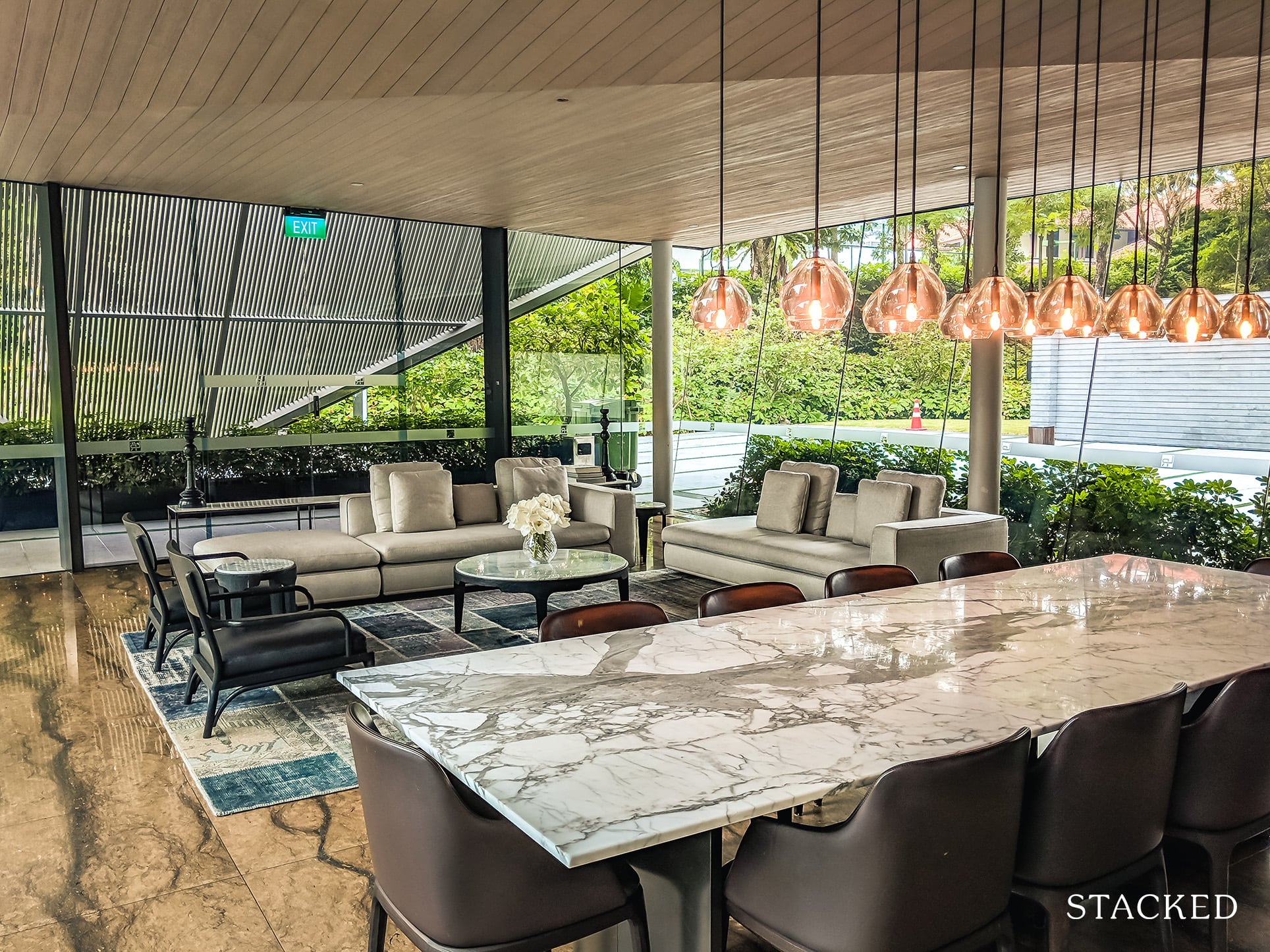 The dining lounge is a wonderfully designed space. There's a seating area together with a 10-seater table. You get the usual kitchen facilities so it's the perfect place to host an intimate event.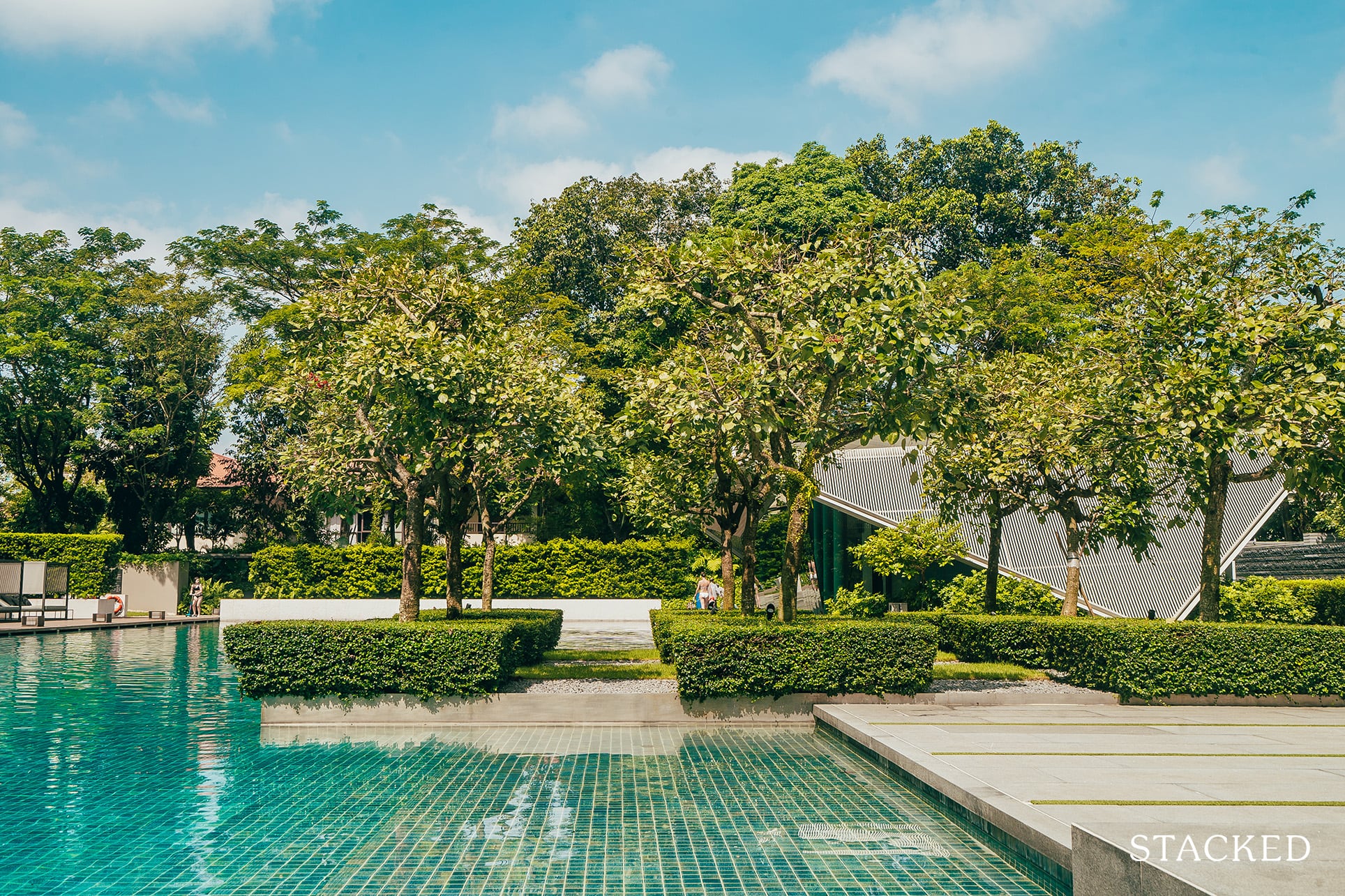 What helps too is the back of the pool facing the Leedon GCB enclave. The result makes everything feel that much private with endless blue skies stretching way beyond the trees.
If you are interested in staying here for a term, it's comforting to know that there would be no further construction past this side – just pure peace and quiet for the long stretch.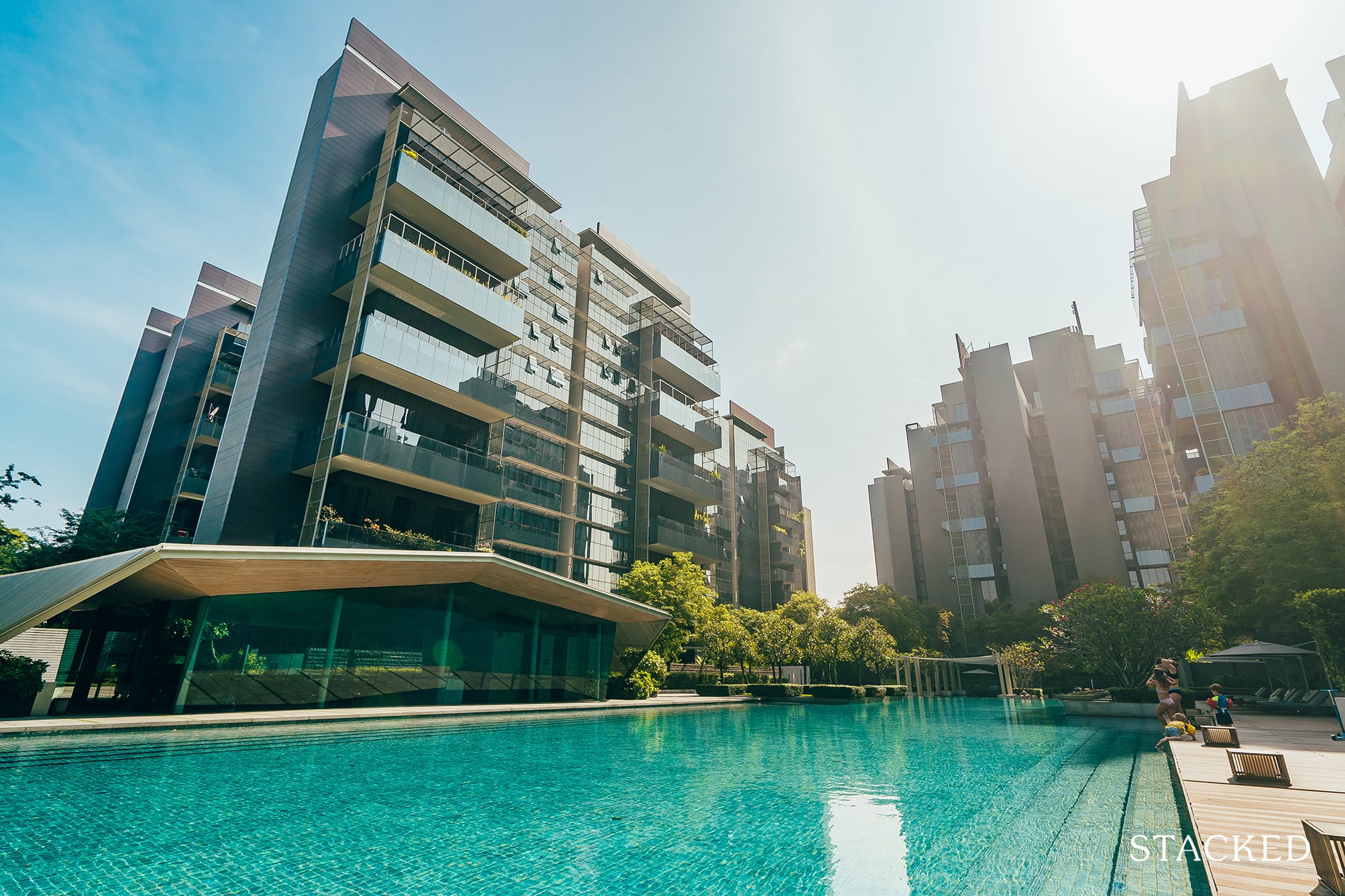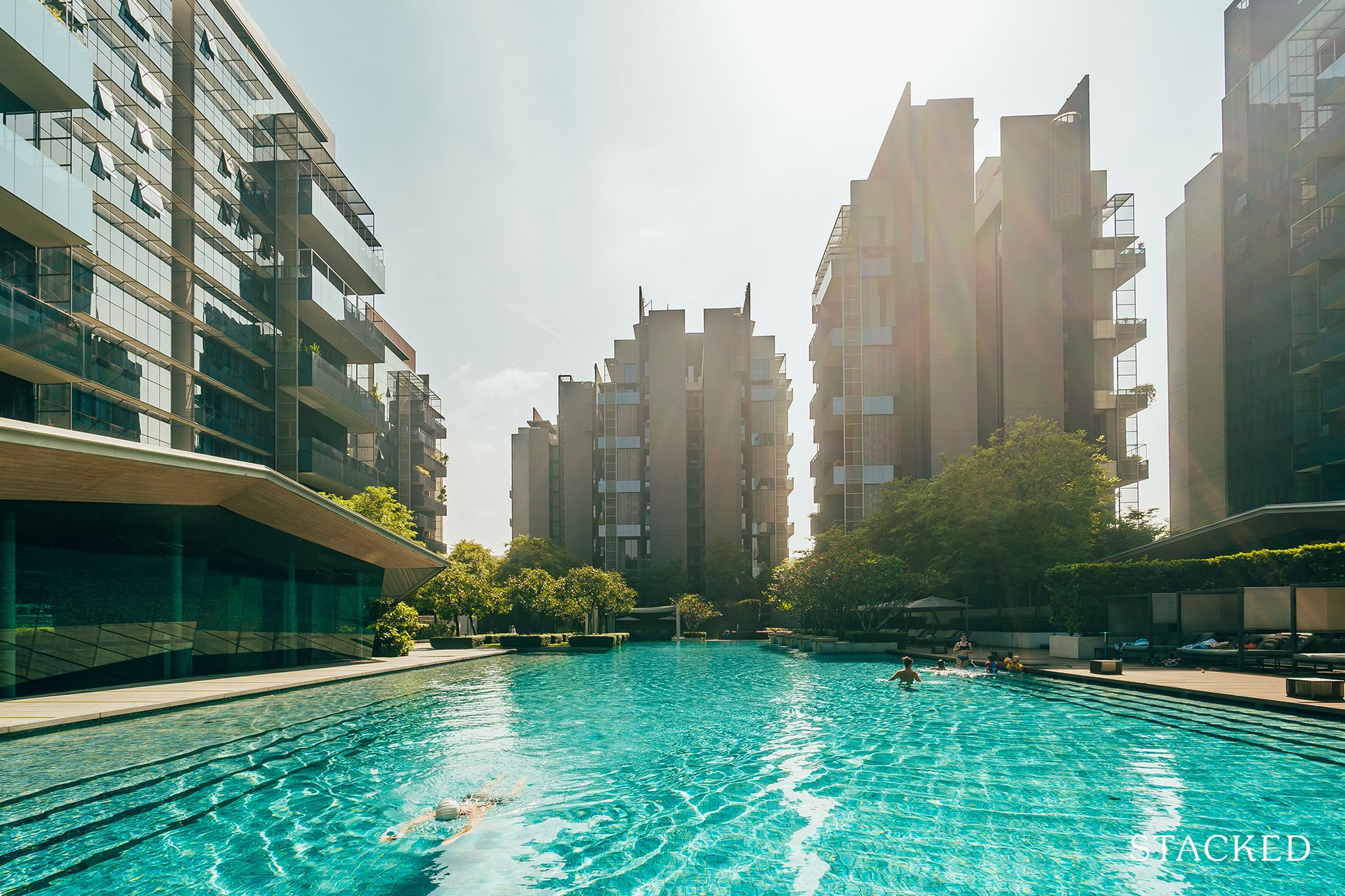 You might be thinking that the pool looks a little small since the grounds are so big. But don't forget to consider that there are quite a few penthouses and ground floor villas with their own private pools.
Factoring that in, overcrowding really shouldn't be an issue here.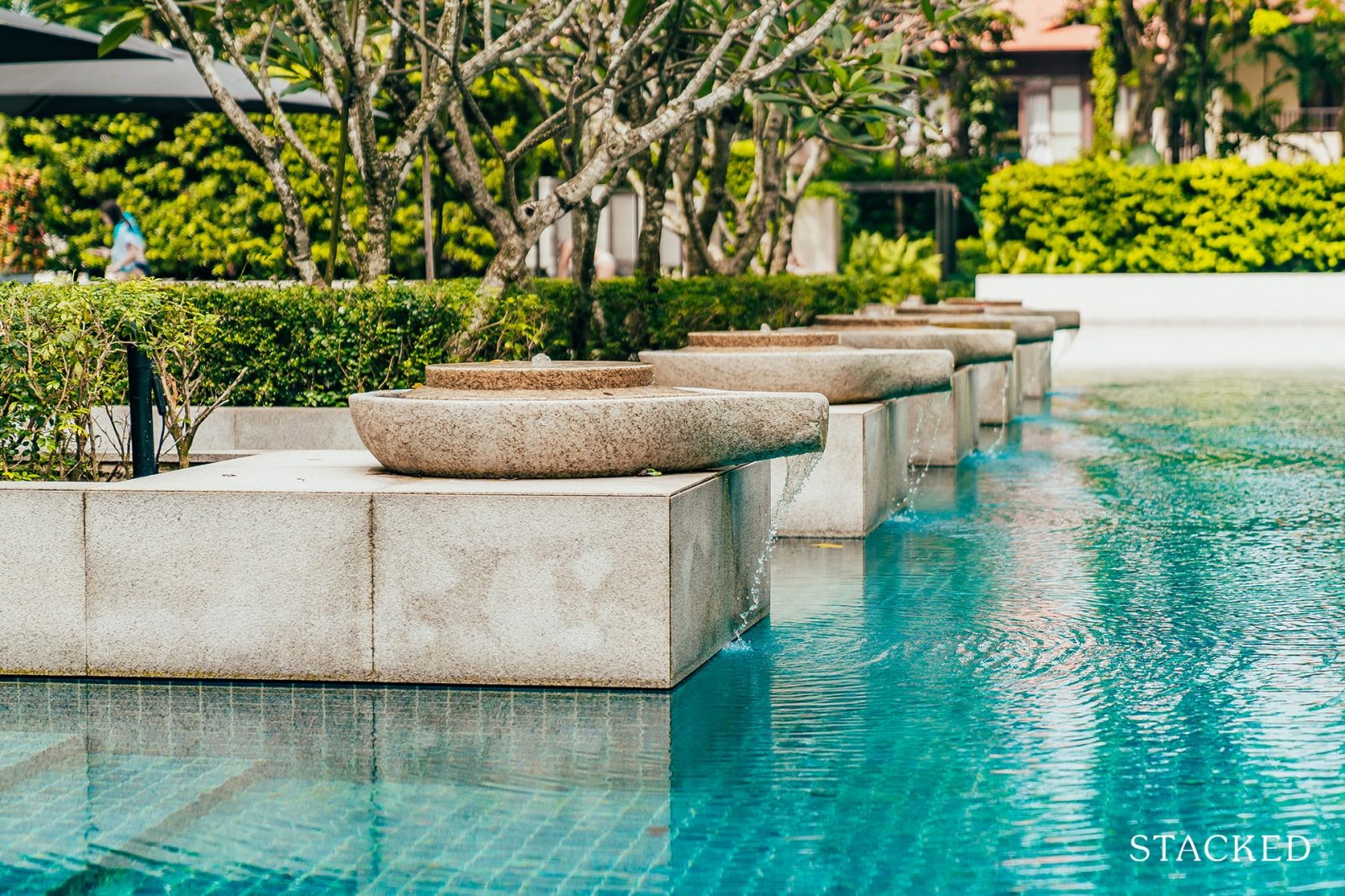 The little detailing touches also make the area that much more charming and quaint.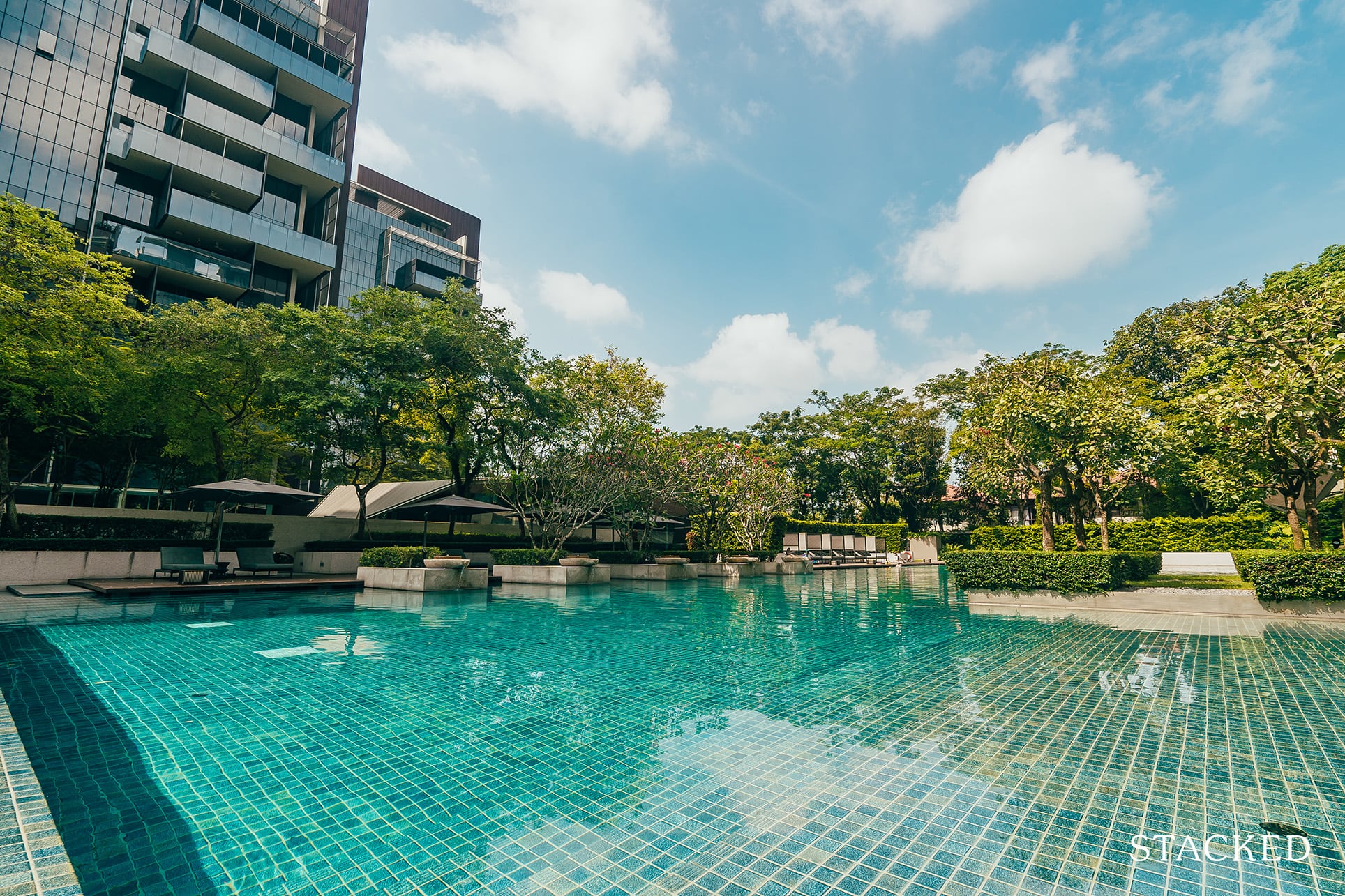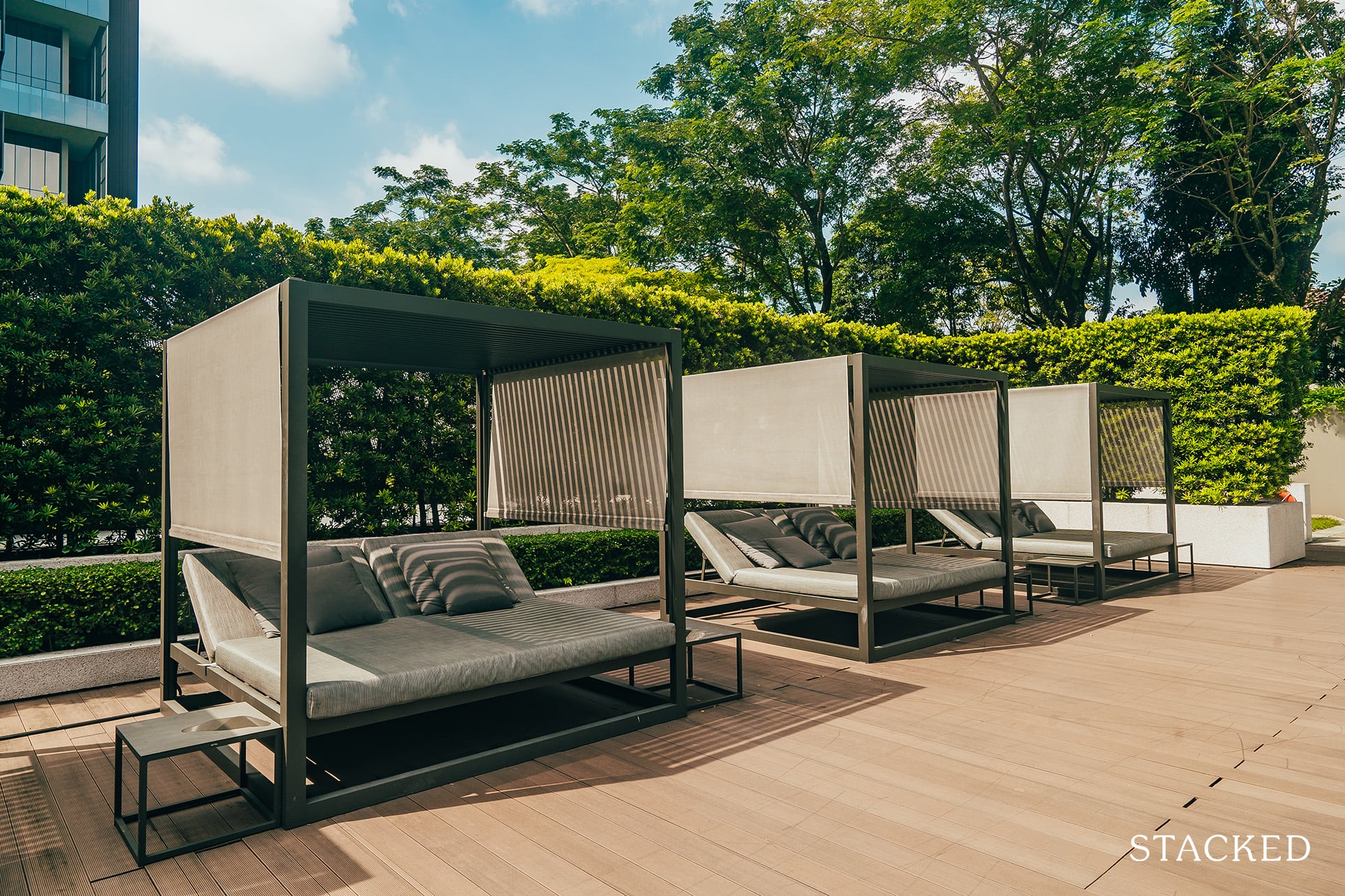 The pool deck is really spacious as well, and the sheltered cabanas look like a super chill place to while the weekends away.
The only criticism?
The cabanas are placed quite close to each other, so perhaps this wouldn't be the best place to have a private conversation.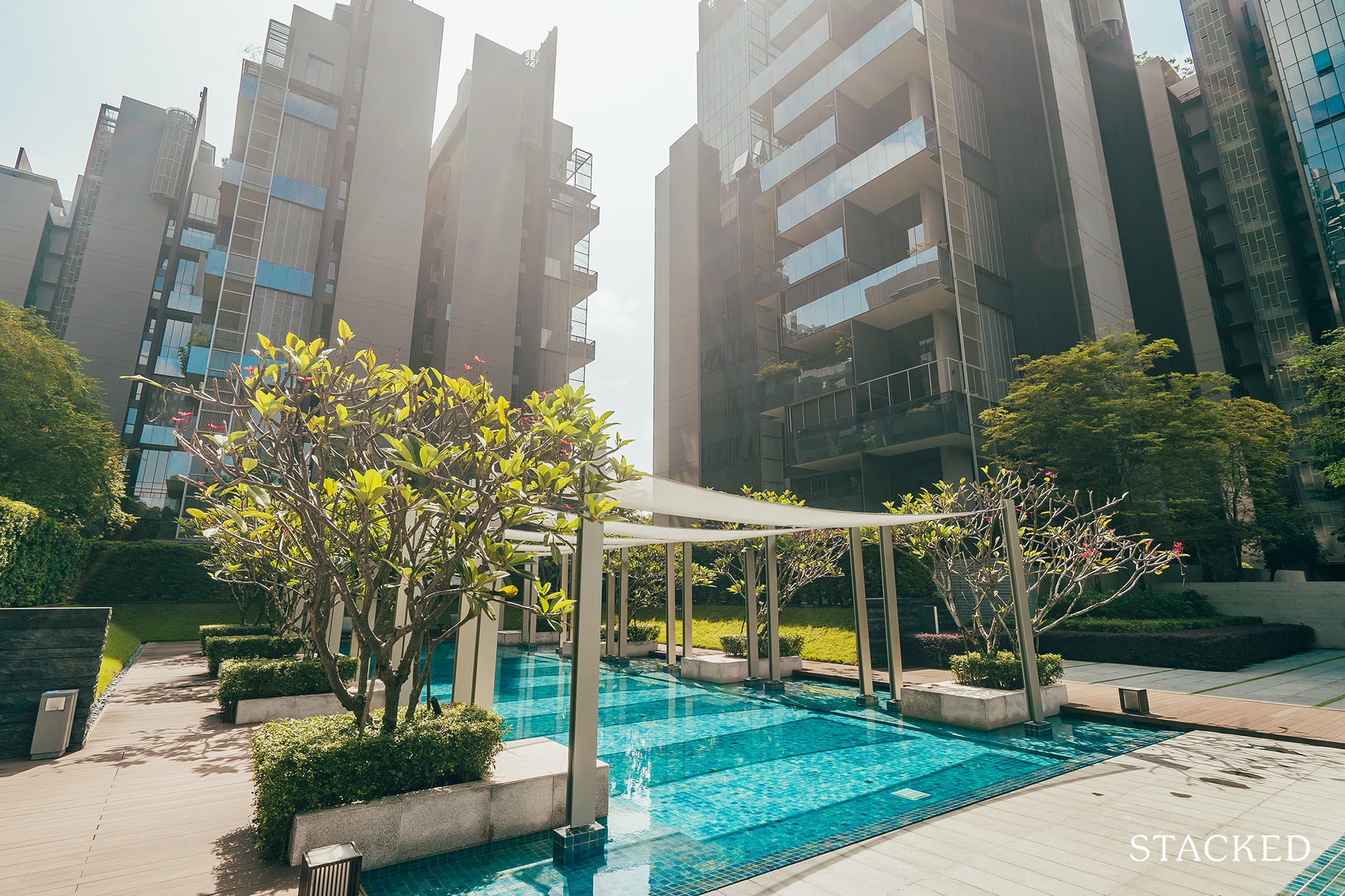 Just before the main pool is actually the kids pool.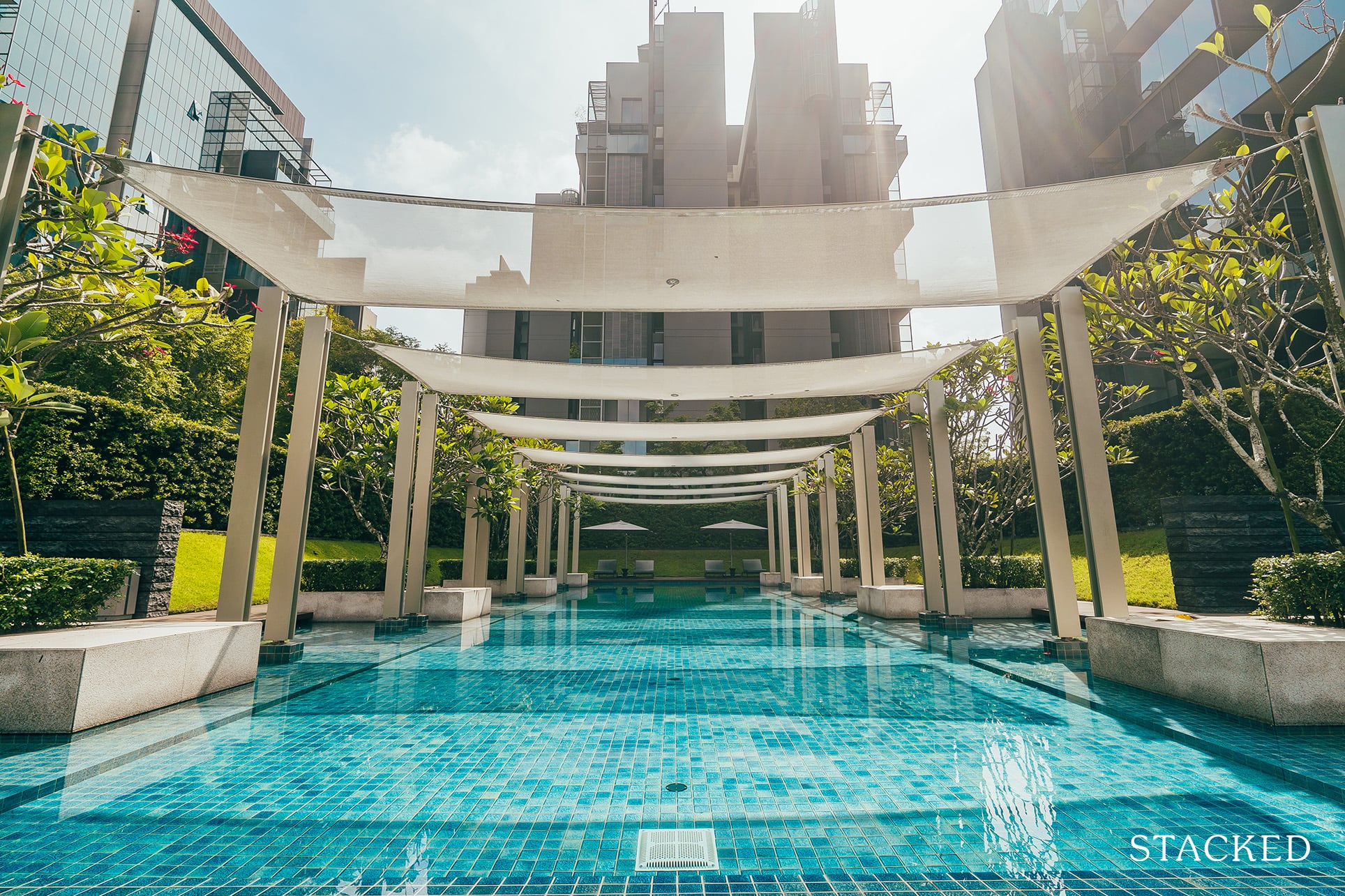 Although if it wasn't made known to you, you'd probably never have guessed as much. It simply looks too pristine.
In fact, nothing would have given it away, save for the pool's shallow nature. While some parents might find it a turnoff as it doesn't look attractive to kids (no bright colours, slides, etc) I actually prefer that the design remains consistent with the look and feel of the development.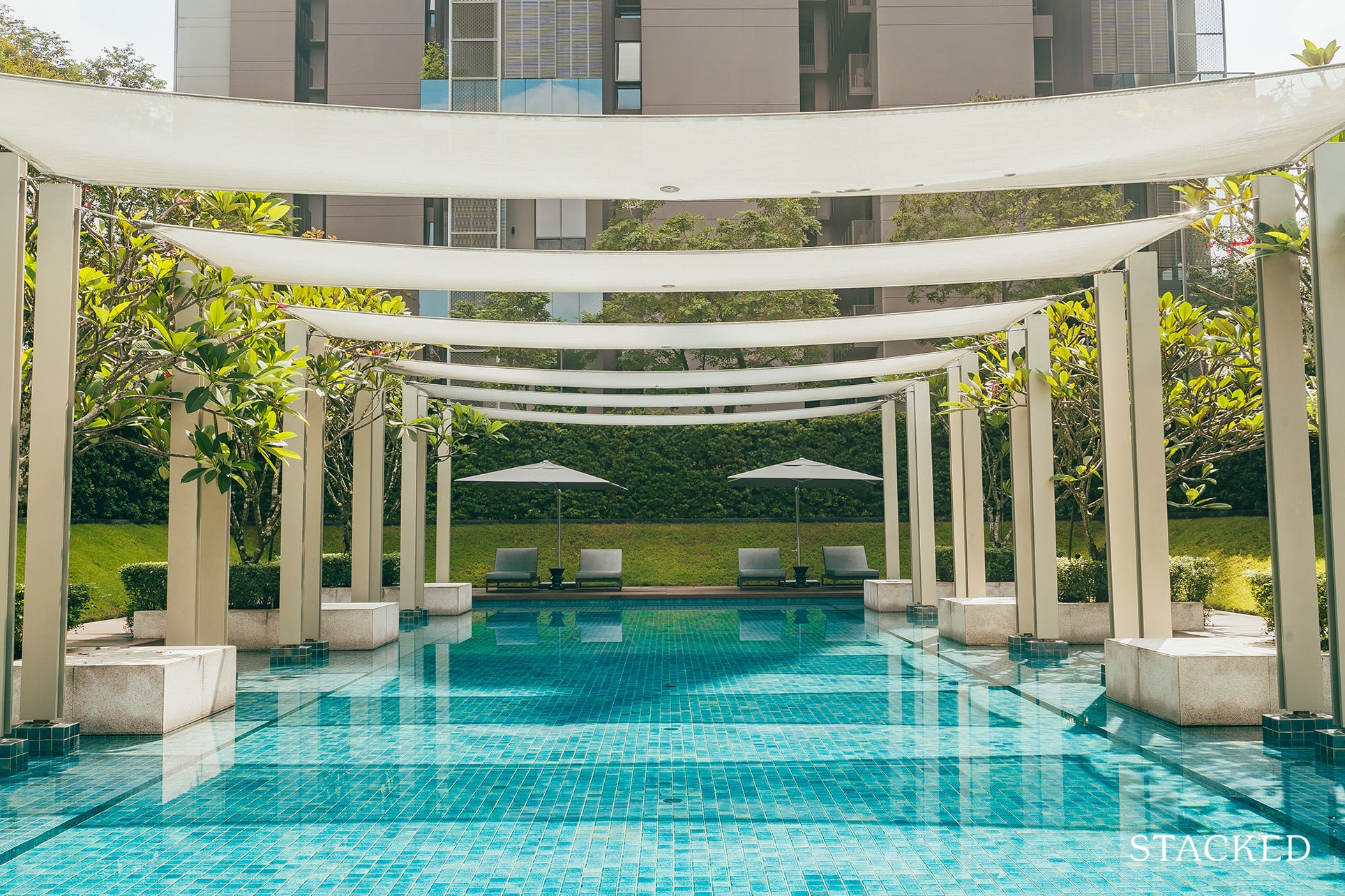 At the far end are some deck chairs, which will come in very handy for parents to keep watch over their kids.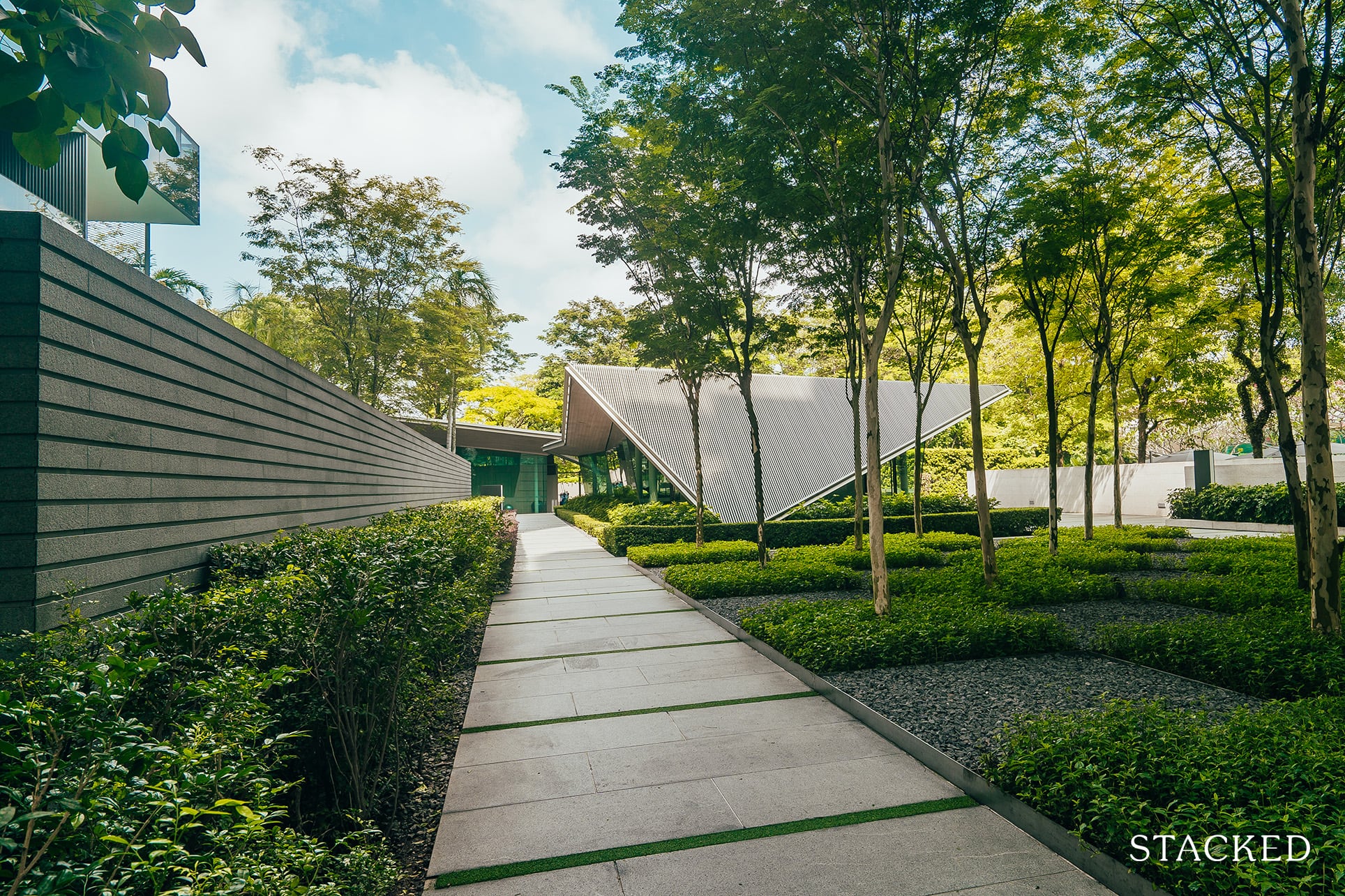 Trudging along to the other areas.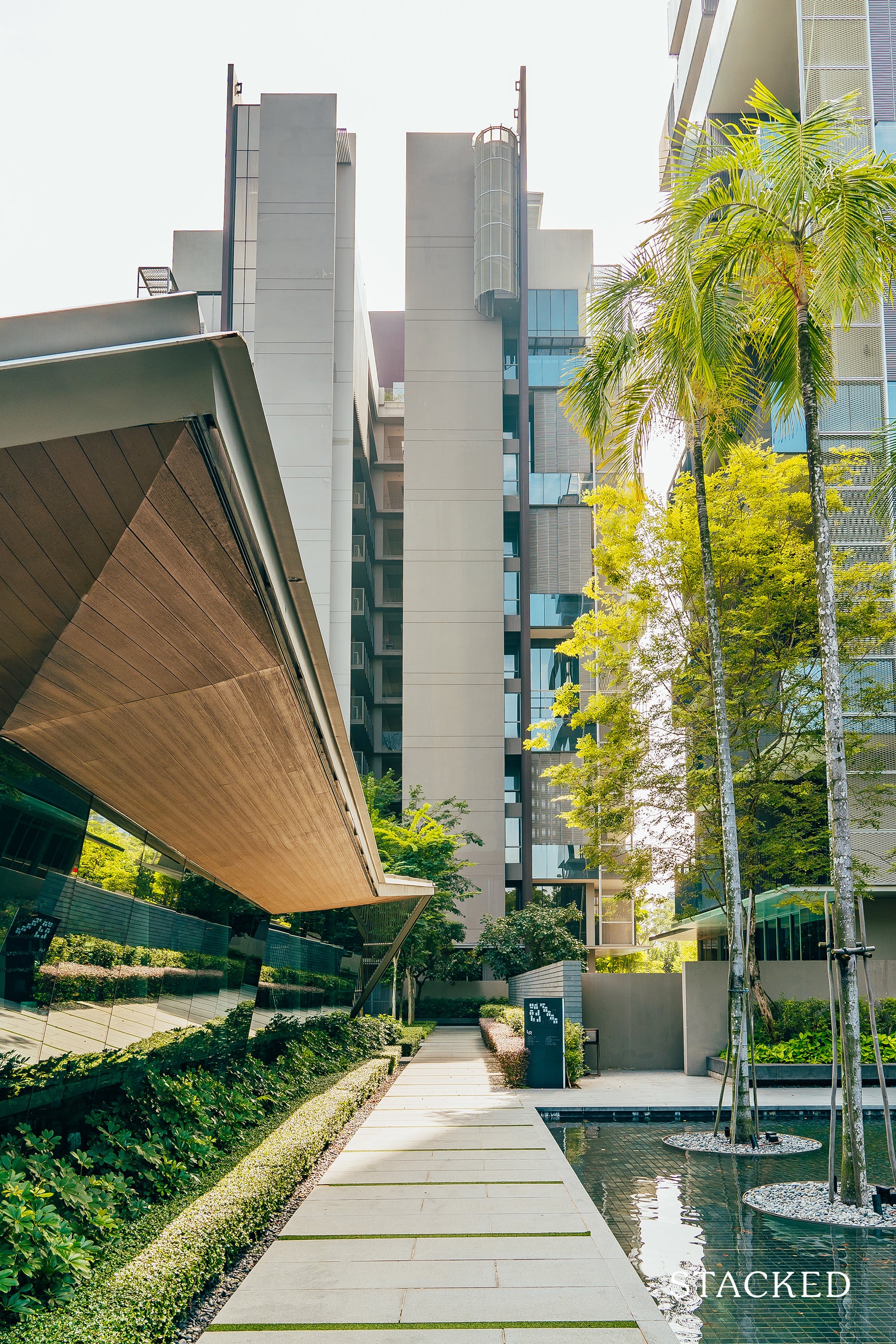 There isn't a clubhouse here per se, but the essentials have been split up into different sections. Right here is the club – a stylish space with loungers and tables. You can have coffee/tea/water here so you'll see this space actually being used quite a lot.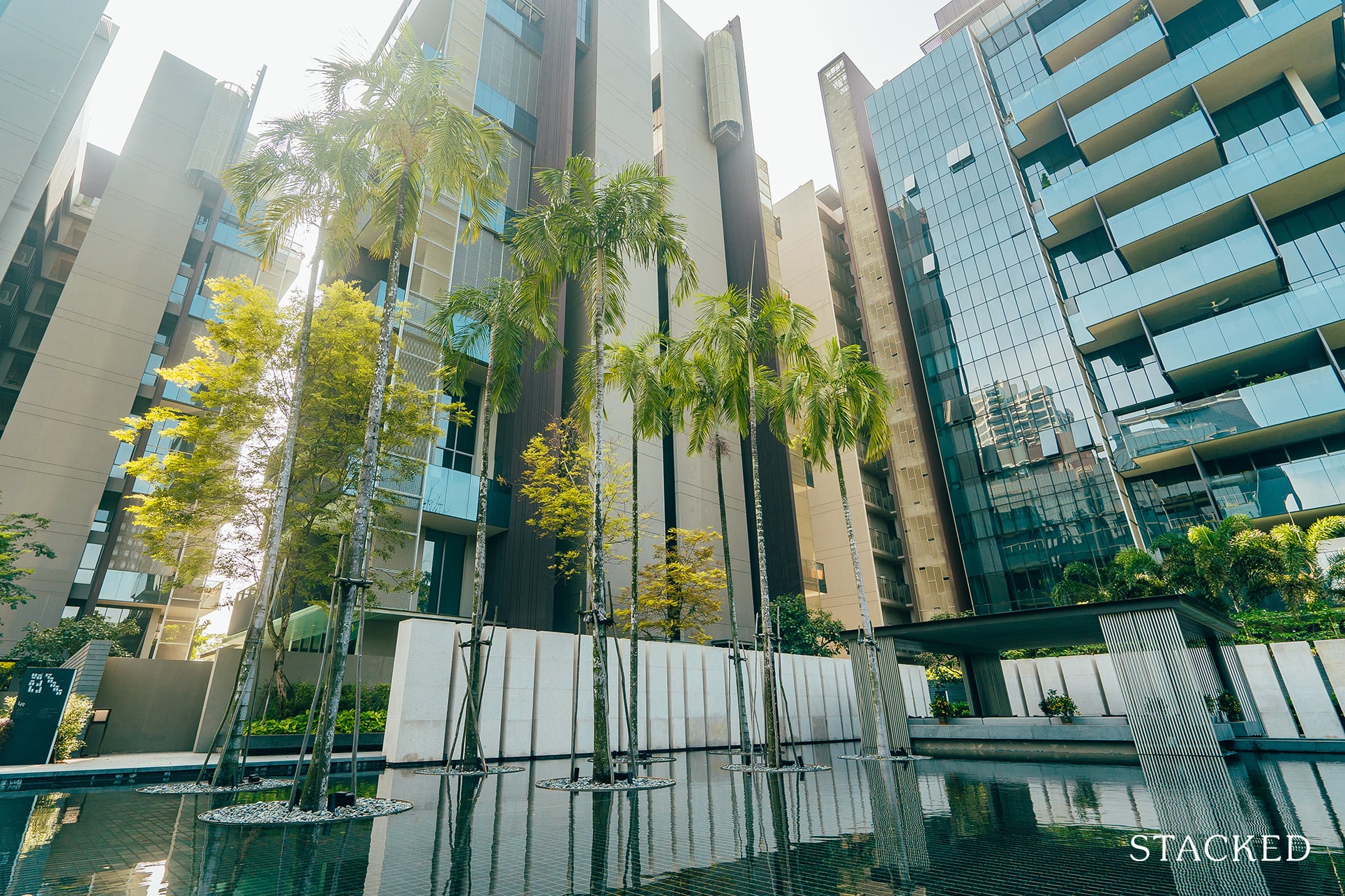 The walk to the gym is further bordered by a tranquil looking water feature.
Unfortunately, the gym does feel like a slight let down. It's a nice enough space, plus it overlooks the peaceful water feature so there is some view while you exercise.
There's also decent aerobic equipment, but the free weights section is really only for circuit training. One would also expect the place to be a lot bigger, especially given the plentiful space.
Possibly even double-storeyed in this case?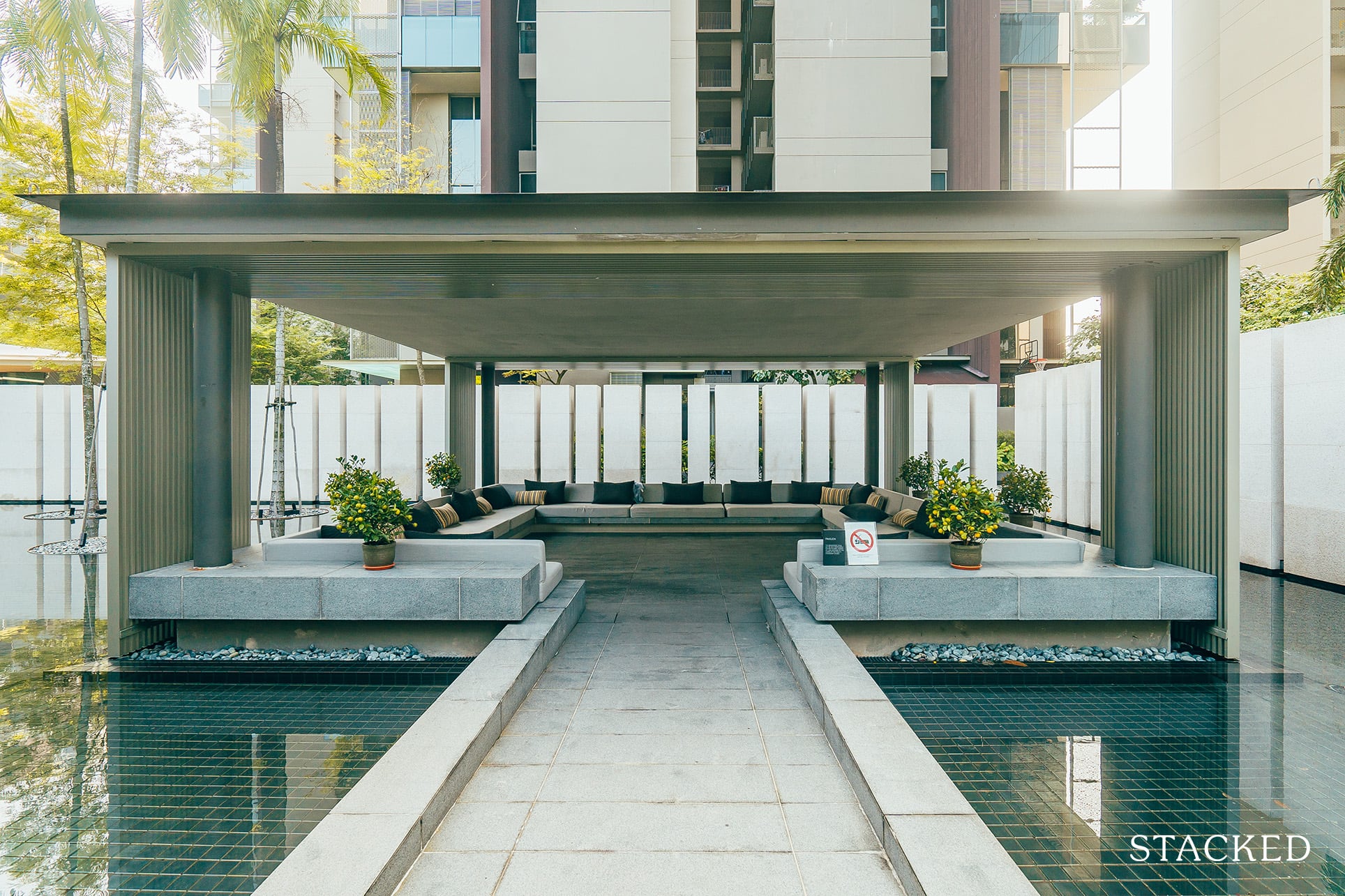 At the far corner, you'll find a jumbo lounge pavilion. To be honest, these don't usually observe much usage. Looks fantastic in photos, but lacks in utility.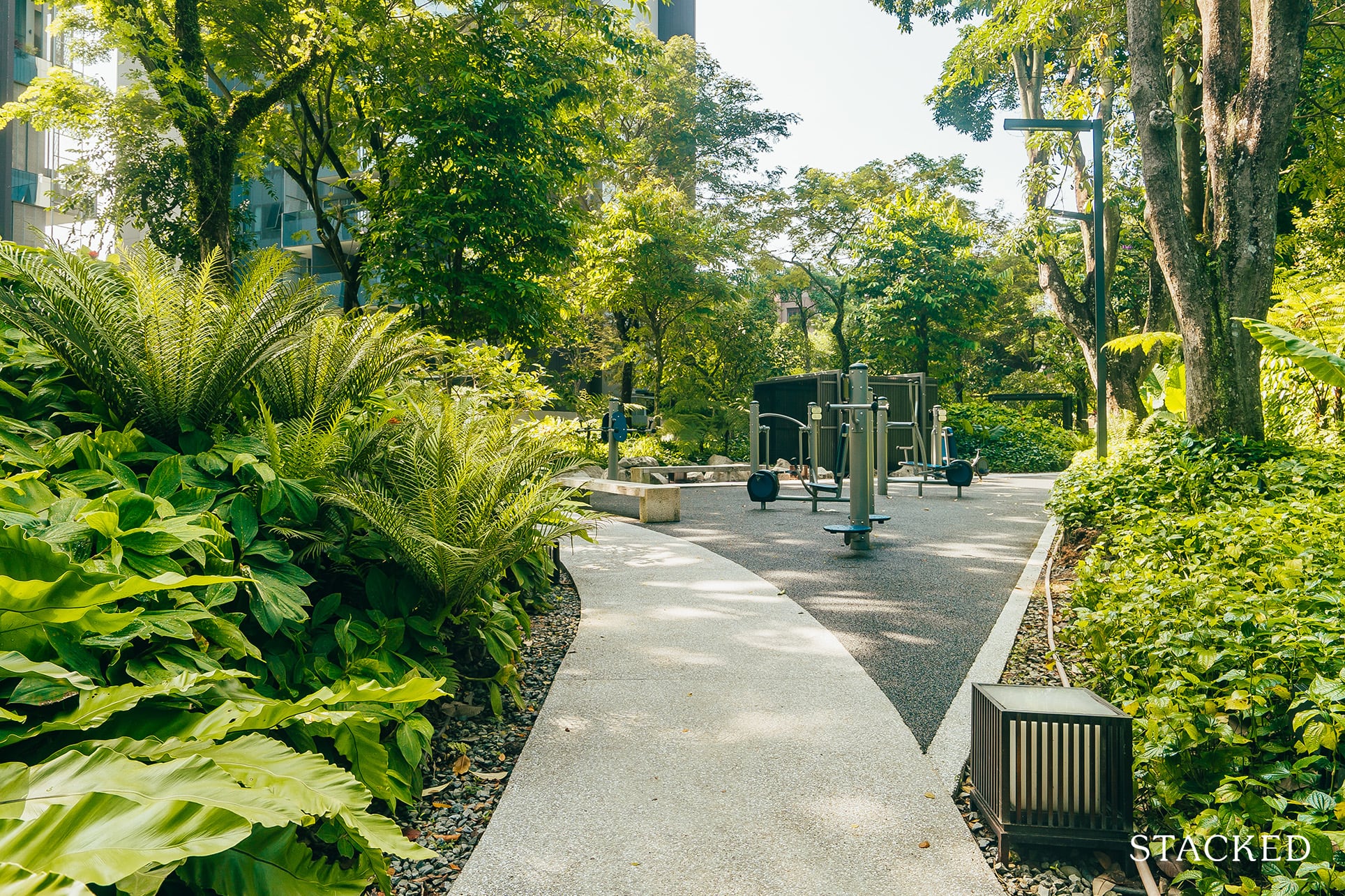 Round the back of the gym is the outdoor fitness station. It's almost completely surrounded by greenery so you could have a private workout session without much disturbance.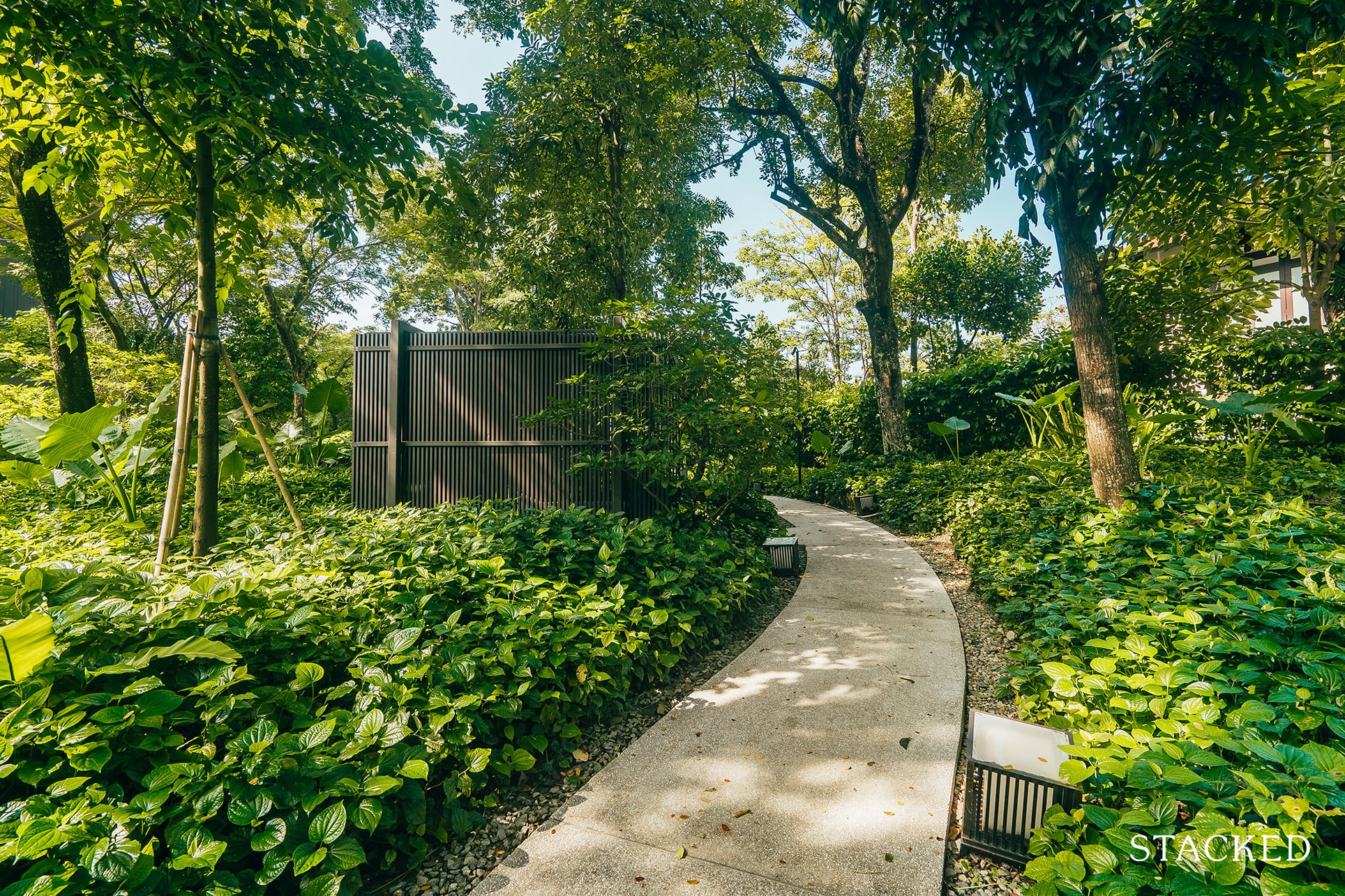 For the adventurous, the path leads on to a 200-metre walking trail through lush over-arching greenery.
It circles around a pond, which will then lead you back to the gym. If you don't fancy walking through all the blocks, this will suit you perfectly.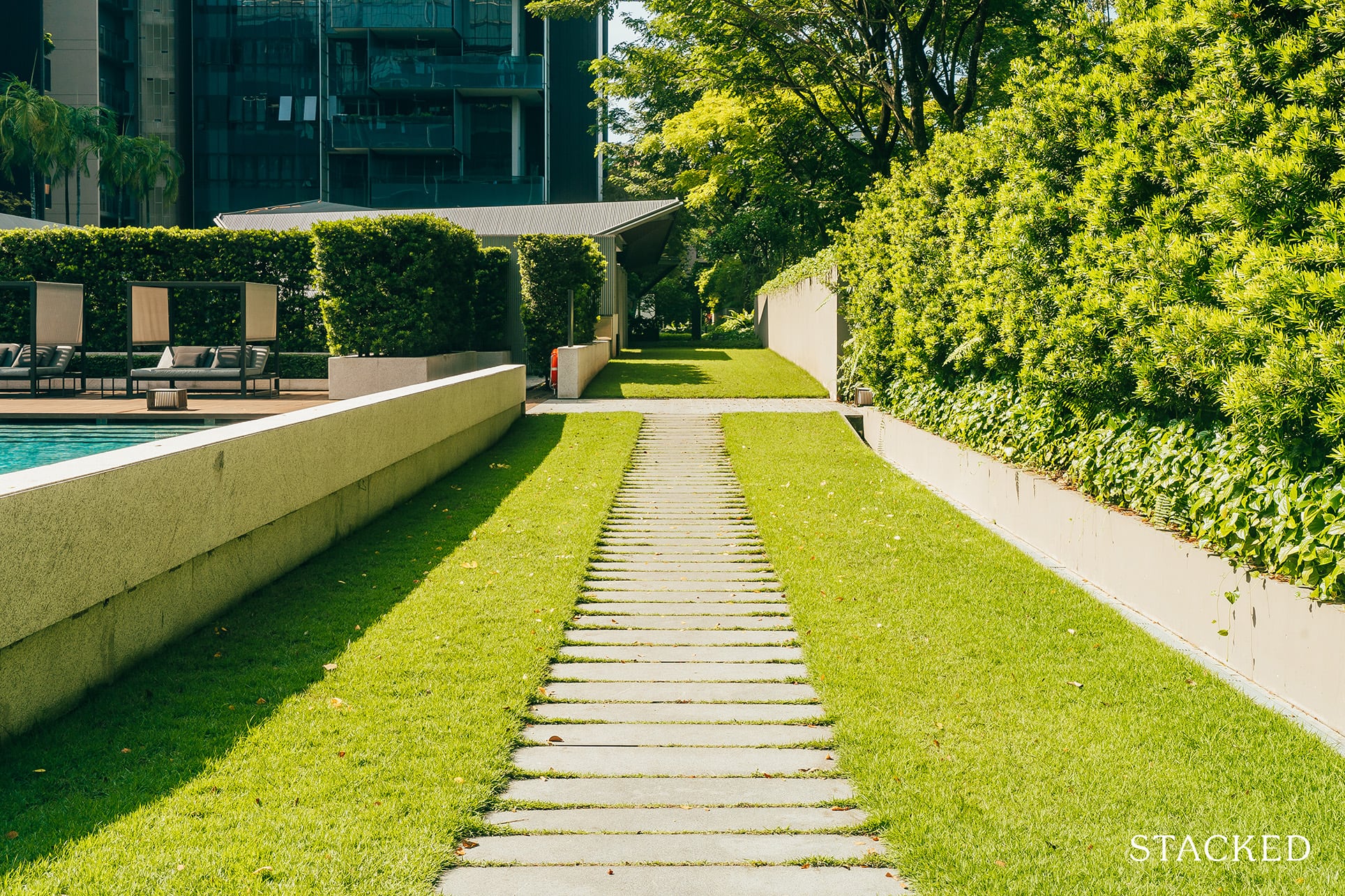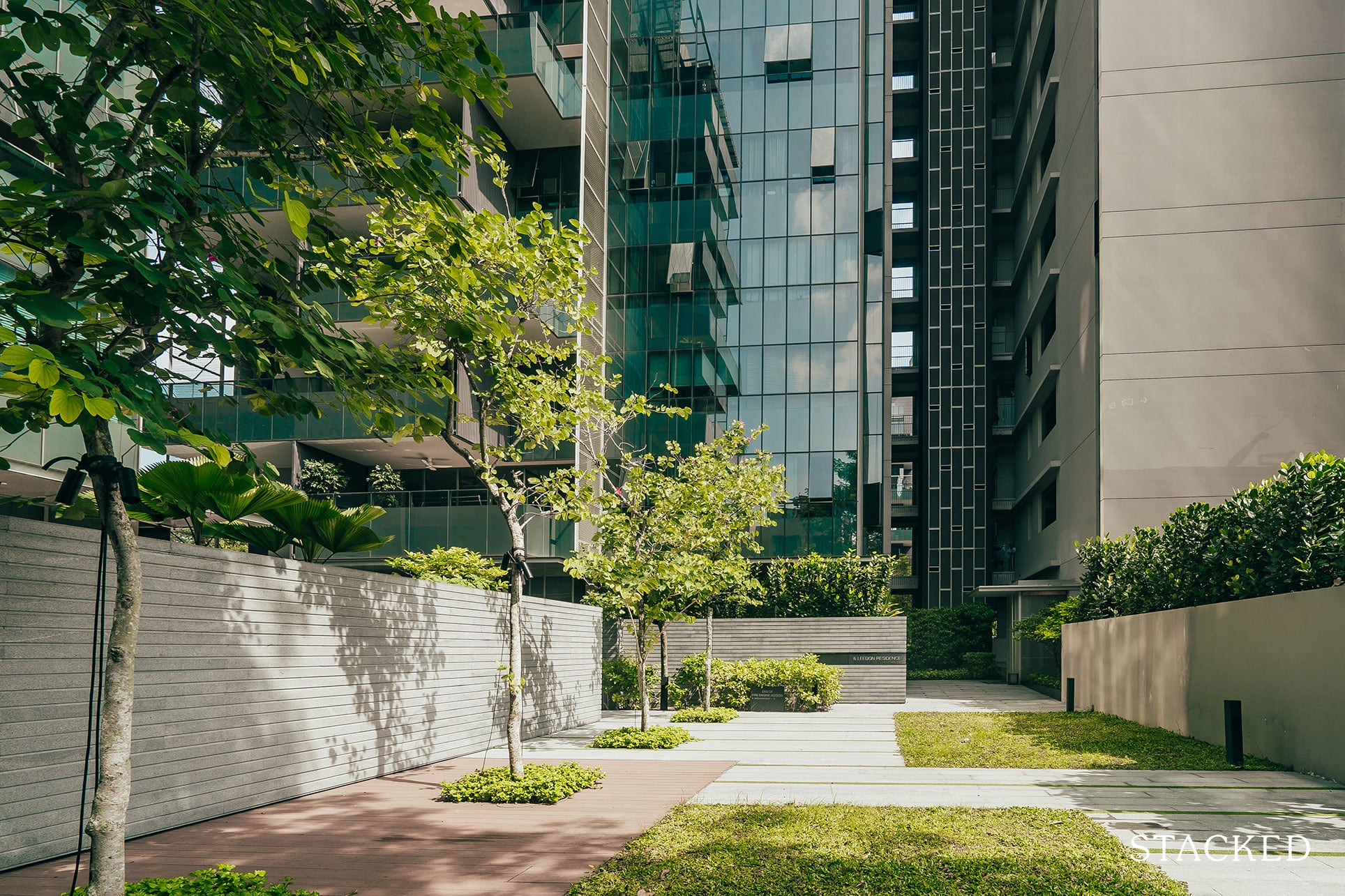 Throughout the estate, there are pockets of common areas where you might find kids kicking a ball around or just running/screaming their heads off.
Similarly, there are numerous seating pavilions scattered throughout the development.
Looking at the blocks of the Leedon Residence, you'll notice right off the bat how sleek each stack is. It's in keeping with today's modern designs and the colours and design really exemplifies its high-end nature.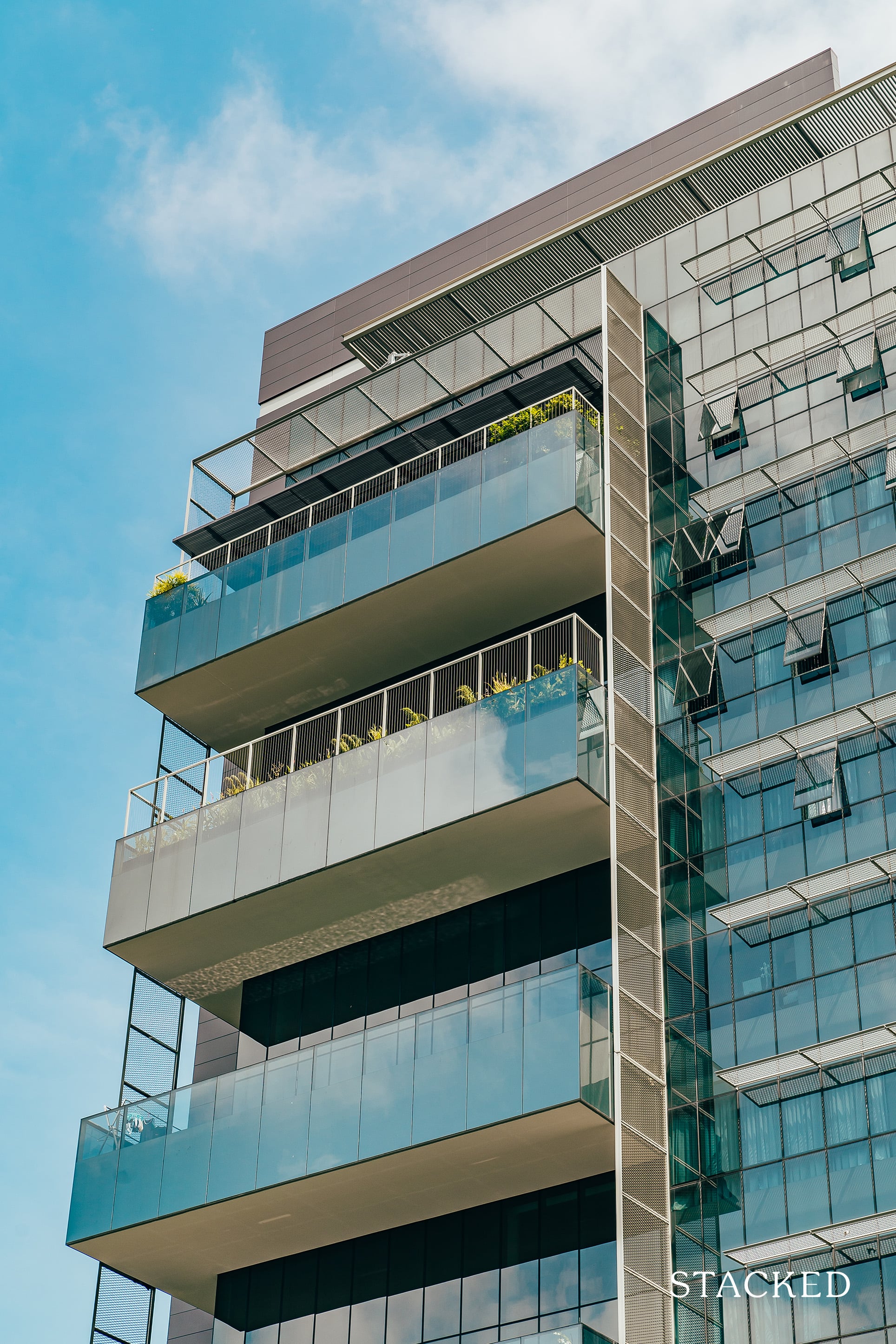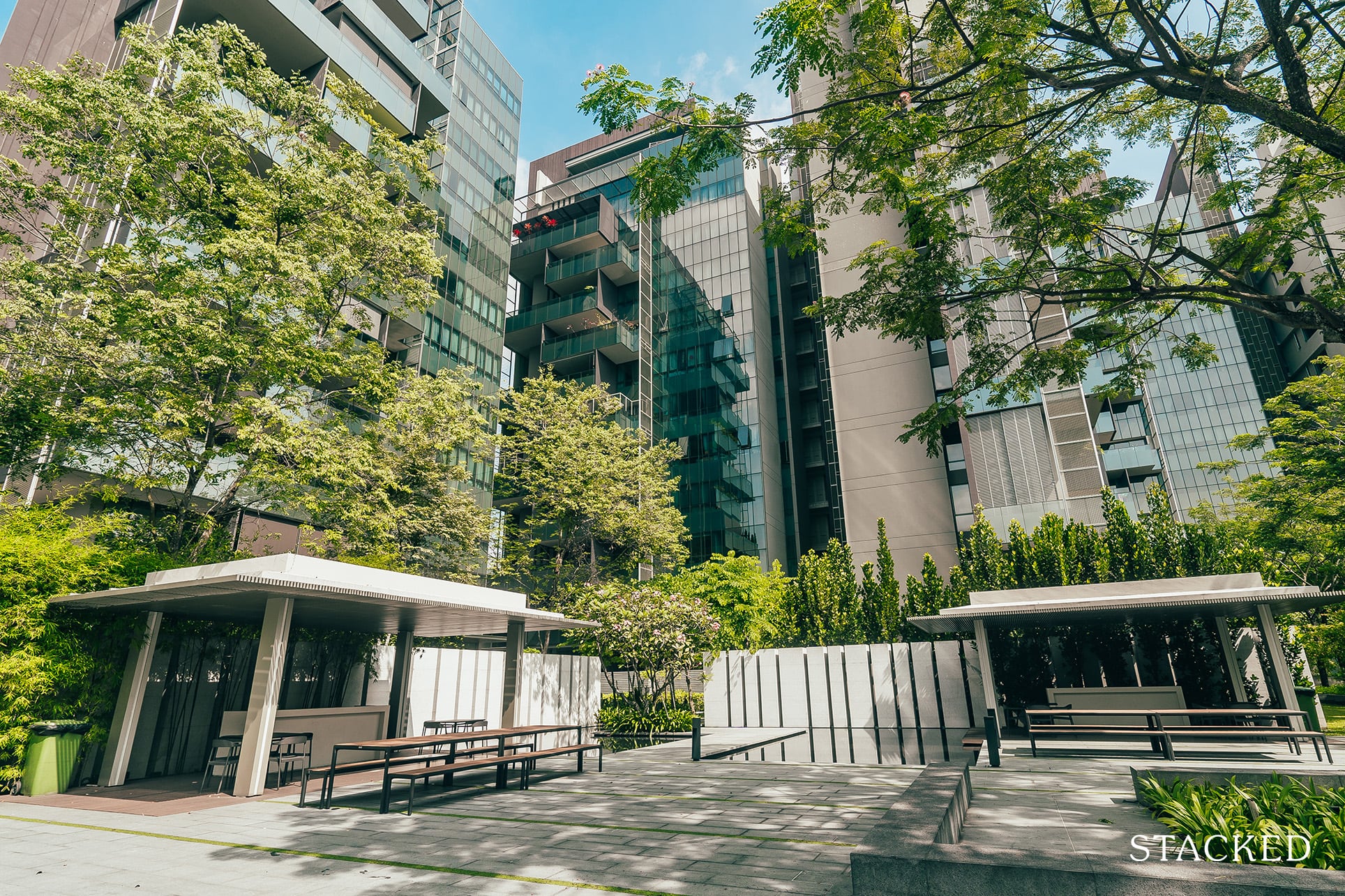 If you're wondering whether there are any barbecue pits – fret not. There are two outdoor dining areas situated at the corner of the estate.
Their location make for a private affair, but there really isn't as much seating under the shelters as there should be.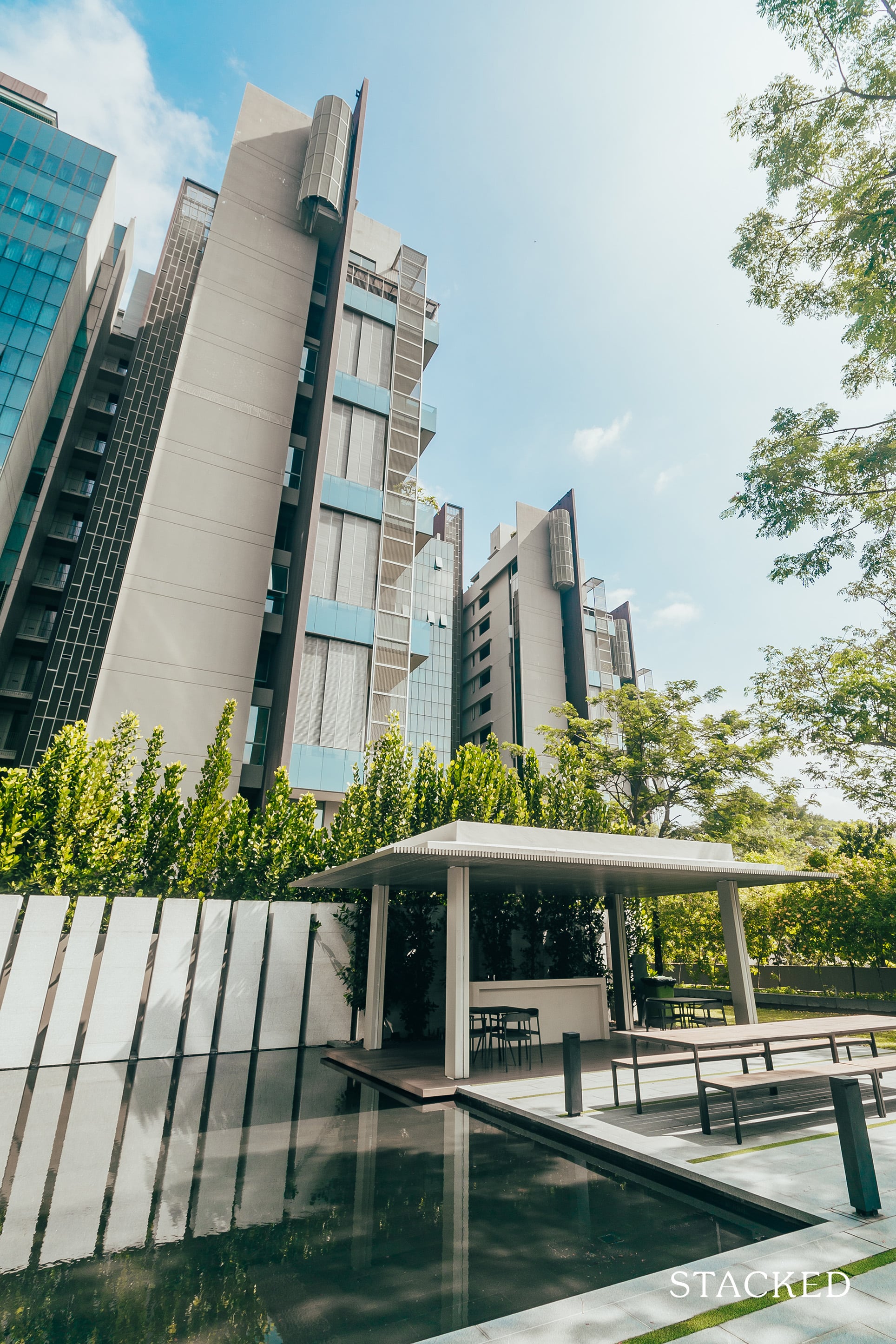 It's still a wonderfully serene dining environment nonetheless.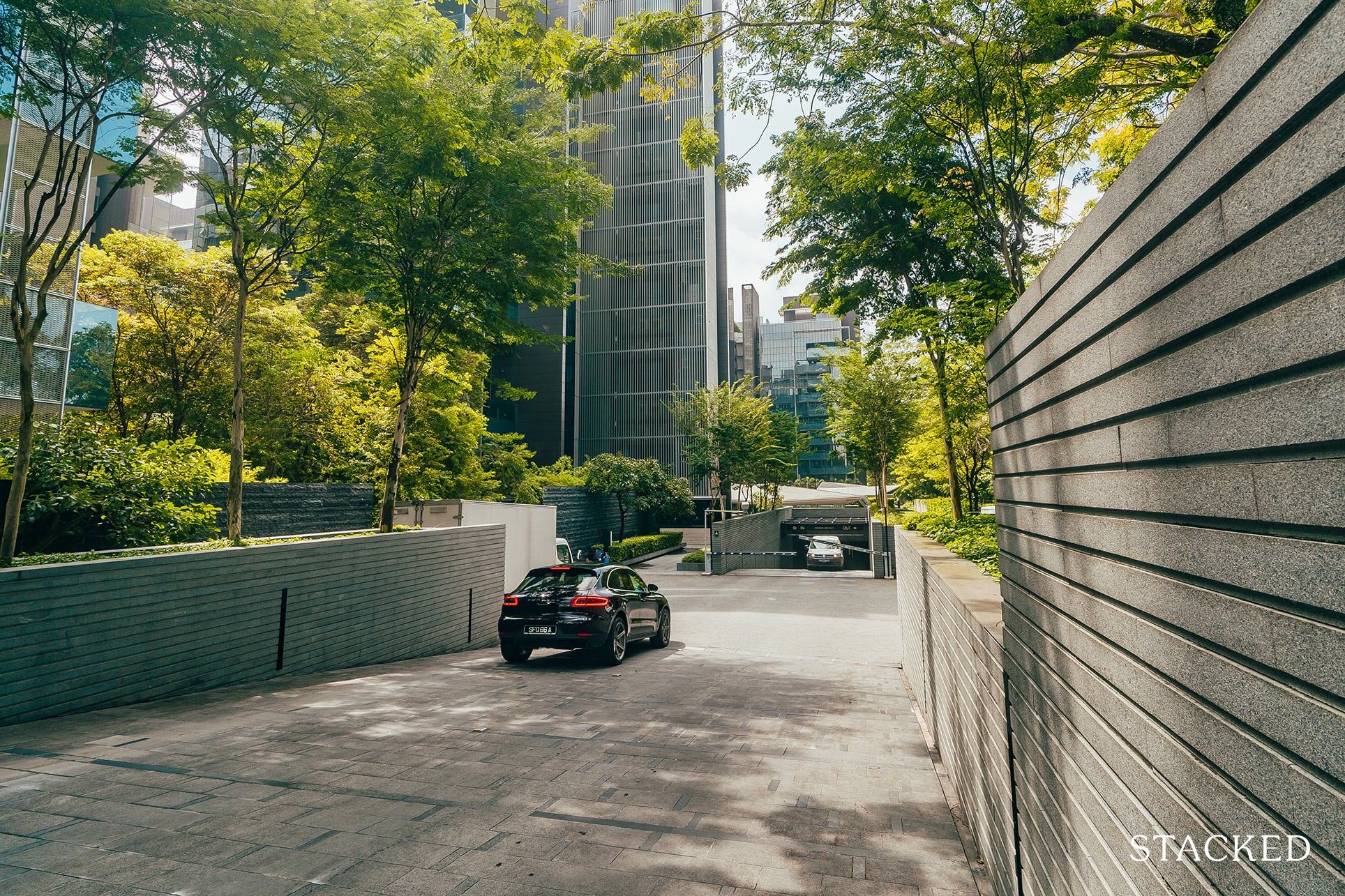 Finally, (because of the size of the development) it's vital to have 2 entrances at the least to regulate traffic flow. This second entrance is reserved only for residents, and the security there is extremely strict about that.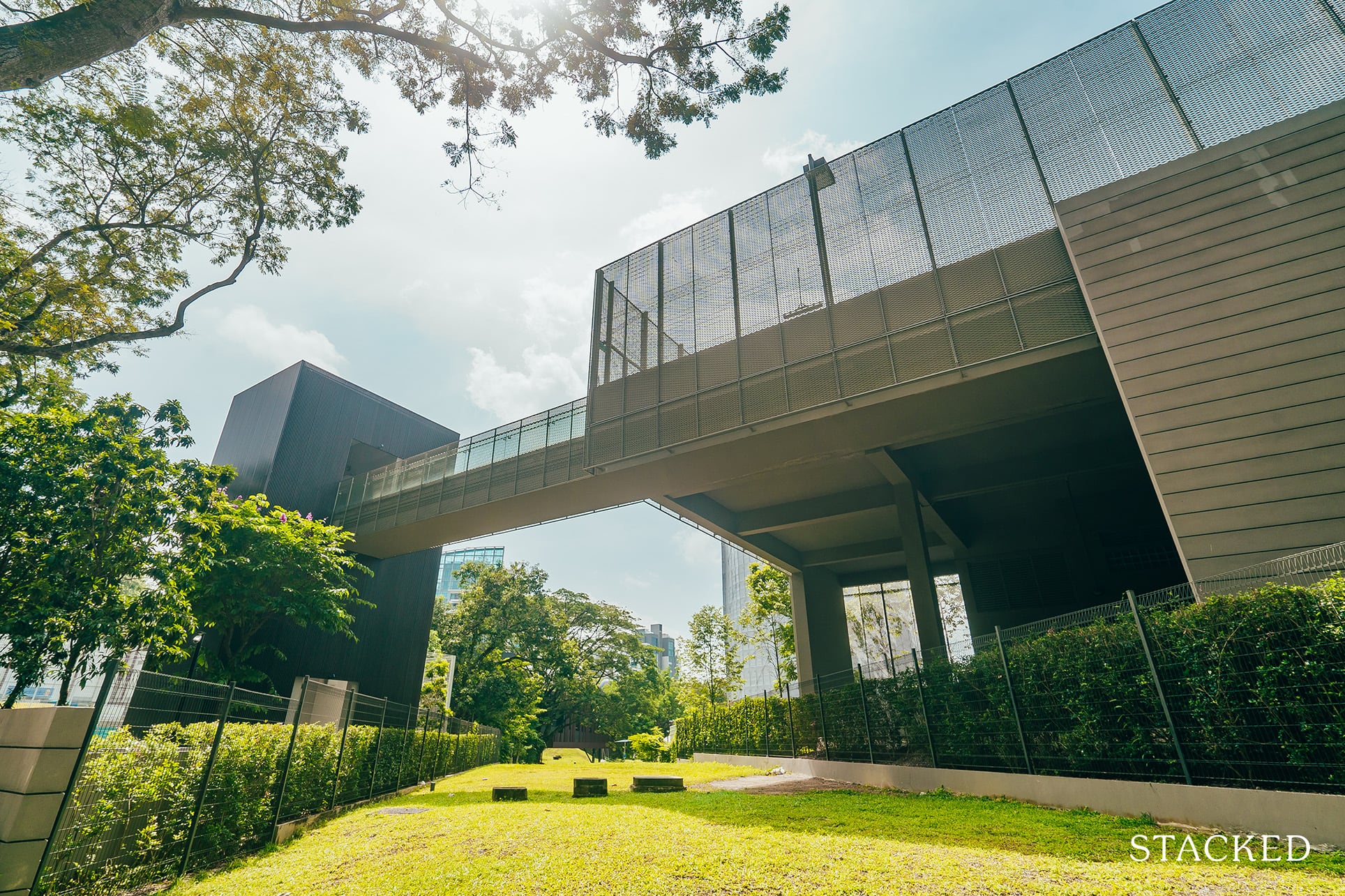 Oh, one more thing.
In rather curious fashion, both tennis courts (differentiated by elevation) are actually located on a small piece of land outside of the main estate.
You'll have to cross Leedon Heights to get there which is a tad inconvenient – especially if it starts to pour mid-game (maybe pop along an umbrella or two for this one).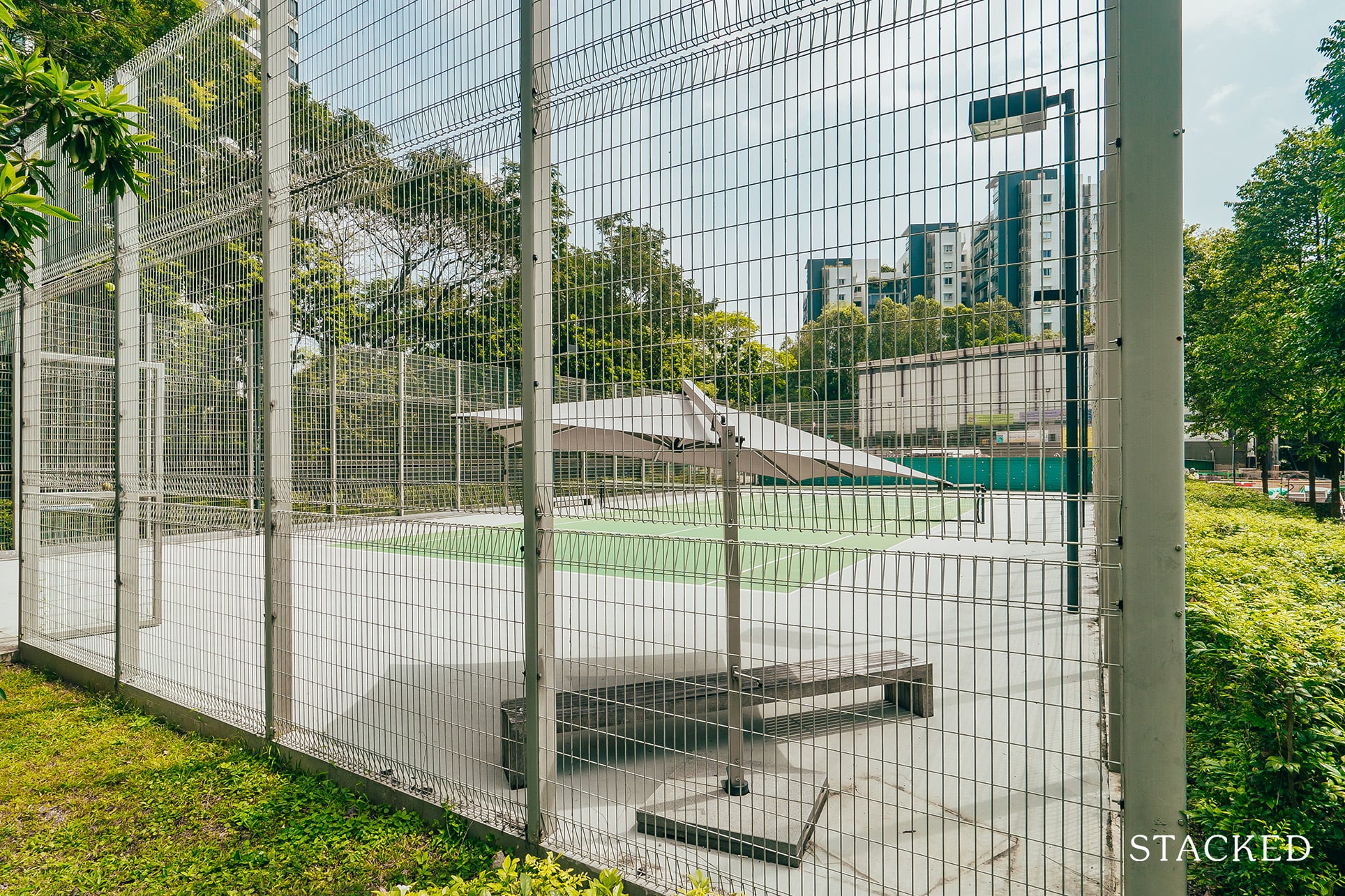 Leedon Residence Location Review
Leedon Residence is located along Leedon Heights, in the upscale District 10.

As most of its motorists might observe, this inner-section of Farrer Road is no stranger to massively spaced residentials.

By now, you would've read about D'Leedon's outrageous size – which spans across a massive 840,049 square feet.

The adjacent (former) Tulip Gardens also stood atop 316,708 square feet of land before it's mega $907m en bloc sale to Asia Radiant in 2018.

It's successor, Leedon Green is expected to take 296,697 square feet in its place.
Public Transport

| | | |
| --- | --- | --- |
| Bus Station | Buses Serviced | Distance From Condo (& Est. Walking Time) |
| 'Tulip Gdn' | 48, 93, 153, 165, 174, 186, 855, 961, 961M | 600m, 7-min walk |
| 'Fairlodge' | 7, 7B, 48, 75, 77, 106, 165 | 800m, 10-min walk |
Closest MRT: Farrer Road MRT – 850m, 10-min walk

As far as MRT centrality goes, Farrer Road MRT is simply a stop away from Holland Village MRT (as discussed in our previously reviewed One Holland Village Residences).

It is 9 stops from the CBD/Raffles Place MRT (19-minute ride), involving 2 line changes along the way.

The Orchard MRT station is also an 8-9 minute MRT ride away, but due to the 3 line changes required, the commute often takes a tad longer.

The simpler alternative (for most residents here at least) comes in bus 174, which will take you all the way to the 'Royal Thai Embassy' bus stop along Orchard in just under 11 minutes.

Finally, do note that the 10-minute walk to the MRT station is unsheltered at a couple of road intersections, with the biggest one located right before the station itself. Given the relatively similar walk times to either the bus stop or MRT station, most residents will choose to 'power through' the full walk.

Private Transport
| | |
| --- | --- |
| Key Destinations | Distance From Condo (& Est. Peak Hour Drive Time) |
| CBD (Raffles Place) | 8.6km, 23-min drive |
| Orchard Road | 5.3km, 13-min drive |
| Suntec City | 9.6km, 21-min drive |
| Changi Airport | 23.4km, 27-min drive |
| Tuas Port (By 2040) | 34.7km, 42-min drive |
| Paya Lebar Quarters/Airbase (By 2030) | 13.4km, 21-min drive |
| Mediapolis (and surroundings) | 4.4km, 12-min drive |
| Mapletree Business City | 5.9km, 15-min drive |
| Tuas Checkpoint (Friday evenings) | 24km, 30-min drive |
| Woodlands Checkpoint (Friday evenings) | 17.8km, 30-min drive |
| Jurong Cluster (JCube) | 11.4km, 17-min drive |
| Woodlands Cluster (Causeway Point) | 18.1km, 23-min drive |
| HarbourFront Cluster (Vivo City) | 9.4km, 19-min drive |
| Punggol Cluster (Waterway Point) | 20.4km, 23-min drive |
*Note that Drive Times are calculated during Peak Hours

Immediate Road Exit(s): 2 separate ends of Leedon Heights. Back entrance (closer to Cornwall Gardens) reserved only for residents.

Summary: Leedon Heights might get crowded during peak hours, but the multi exit points into Farrer Road, Cornwall Gardens and Belmont Road helps to ease some congestion. A host of nearby highways and major roads make non-peak vehicular movements here a joy with extremely convenient private-vehicular access to the Orchard, Bukit Timah, Holland Village, One-North and Alexandra nodes.

Groceries

| | |
| --- | --- |
| Name of Grocery Shop | Distance From Condo (& Est. Walk Time) |
| Cold Storage – Holland Village | 3.1km, 9-min drive OR 1.3km, 16-min walk |
| FairPrice – Holland Drive | 3.2km, 10-min drive OR 1.7km, 22-min walk |
Schools

| | |
| --- | --- |
| Educational Tier | Number of Institutes |
| Preschool (within 1km walk) | 1 |
| Primary (3km-drive) | 1 |
| Secondary (3km-drive) | 3 |
| International School (3km-drive) | 0 |
| Junior College (5km-drive) | 3 |
| University (5km-drive) | 3 |
| Polytechnic (10km-drive) | 2 |
Additional Pointers

Empress Market (Groceries)
Leedon Residences' location might be overshadowed by a lack of nearby household grocery points. As a result, most residents often patronize the nearby Empress Market.

There you will find a range of convenience stores, including a 7/11. A wide variety of Hawker Fare is also available here as is a renowned artisan bread shop and a variety of other miscellaneous shops.

This all-in-one amenity is a 5-minute walk from the condo.

Bukit Timah/Kent Ridge Education Belt (Education)
The condo might not be within immediate proximity to many educational institutes, but it is definitely smacked in the middle of Singapore's two biggest education belts.

With numerous main/arterial roads (for driving) and direct public transport to both regions (Bus 174 for Bukit Timah & MRT Circle line for Kent Ridge), commute times to these top-tiered schools will be massively cut down regardless of the mode of transport.

Botanic Gardens/Tanglin Area (Recreation)
The immediate area of Leedon Residence is well endowed with greenery, without even mentioning its incredible inner-condo 'nature' offerings.

For those who crave something extra, however, the nearby Botanic Gardens serves as a great recreational option. In fact, it is simply a 2km jog/cycle away via Holland Road.

As you'll be entering the gardens from the south-gate, the nearby (posh) Tanglin area also opens up for a great post-workout meal/stroll!

Leedon Residence Development Site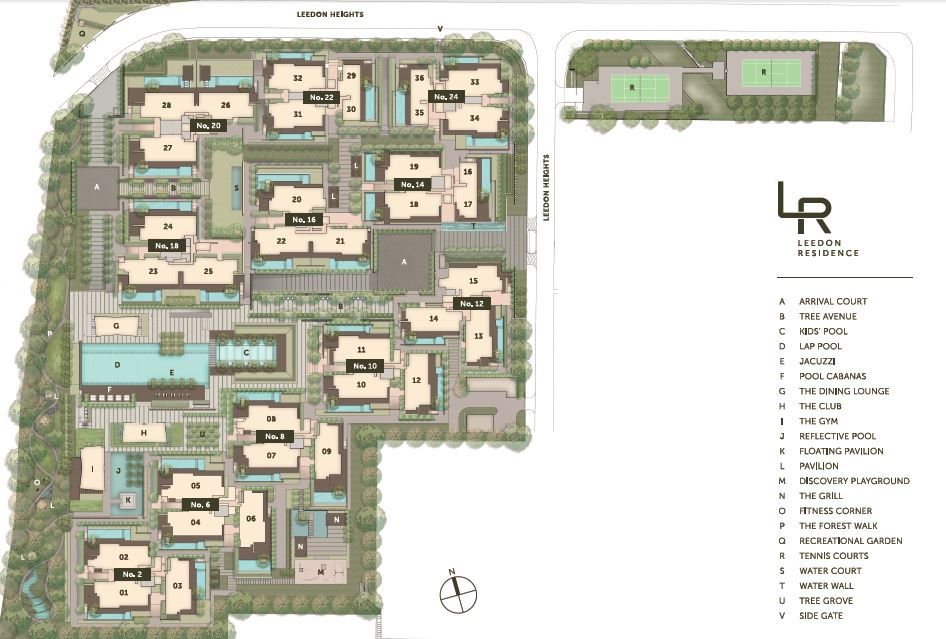 Most of us will know that mega developments often = mega traffic jams.

Thankfully for those who stay here, there are two residential exits (with one kept solely for residents). Traffic along Leedon Heights might get a tad heavier when Leedon Green comes along, but the numerous 'drain-off' roads like Belmont Road and Cornwall Gardens will help to reduce the issue.

The massive grounds here and sleek architectural designs naturally make for a private villa-like experience. And as we've also addressed previously, walking to some facilities might take some time for residents living at either end of the development.

Installing most of the child-related facilities next to major ones like the Lap Pool and Grill has both its perks and drawbacks. While parents will be able to watch their kids while enjoying themselves to an extent, the noise from the little ones might, in turn, affect those looking for peace and quiet nearby.

On that note, given the current construction over at Leedon Green (former Tulip Gardens), residents on the east side of the condo (nearer to the tennis courts) are more likely to receive some form of noise pollution till its completion in 2023.
Best Stacks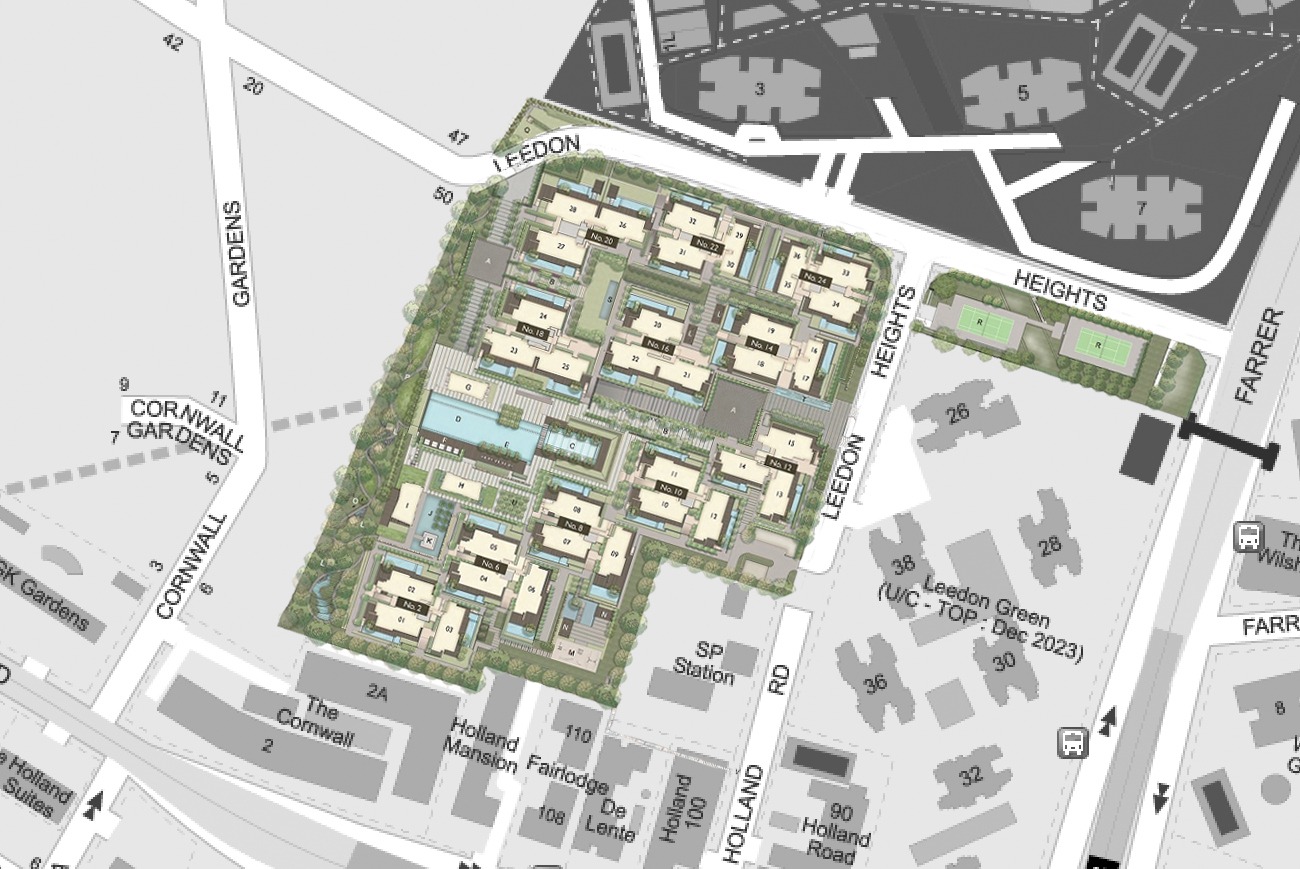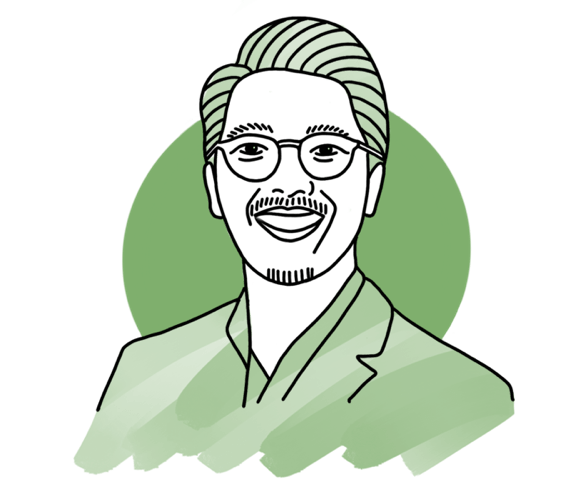 Insider Tip
"Our pick of the blocks would be Stacks 23 and 25. Unblocked views and good distance away from neighbours make it a worthwhile option."
Ryan Ong,
Real Estate Specialist
Because it's on such a big plot of land, choosing the best stacks for you really depends on different factors.
For example, if you walk to Holland Village a lot, it's probably best to look at Stacks 1 to 9 as these are closest to the side gate that leads out towards Holland.
Out of these Stack 5 would be my pick of the bunch. North East facing, good distance from the other blocks, and it overlooks the main pool as well.
If you tend to use the facilities a lot, Stacks 33 to 36 would be less ideal as it is quite a walk to the main area itself.
Generally speaking, for Stacks 23 and 25 you may get a slight west sun depending on the time of the year. Distance from the next blocks are quite far, plus you get to enjoy the views from the pool and unblocked views over the GCB enclave.
Unit Mix

| | | |
| --- | --- | --- |
| Unit Type | No. Of Units | Size of Units (sqft) |
| 2-Bedroom | 54 | 1,044 |
| 3-Bedroom | 129 | 2,088 – 4,047 |
| 4-Bedroom | 156 | 2,486 – 5,285 |
| 5-Bedroom | 30 | 4,704 – 8,051 |
| Penthouse | 12 | 5,694 – 7,718 |
The unit mix at Leedon Residence is incredibly diverse.

Larger unit sizes are also apparent here. Note that while that suits those with greater spatial needs, it also increases the overall quantum of each purchase.

Although not present in the table, the condo also offers quite a bit of variation amongst the 3 & 4 bedroom units. Ranging from Garden/Sky suites to extra study area unit additions (for the 3 bedders), it is therefore important for those who are looking at resale unit here to first note their choice unit (and availability thereof) from this extensive list.

There have also been complaints (albeit minimal) of slightly thinner walls/ceilings in certain units – which result in sound carryovers, as well as the occasional unit paint scuff.

While these concerns should (and do) not apply to all units, it is once again pivotal to properly access these aspects when viewing a unit as part of uptake consideration.

Leedon Residence Price Review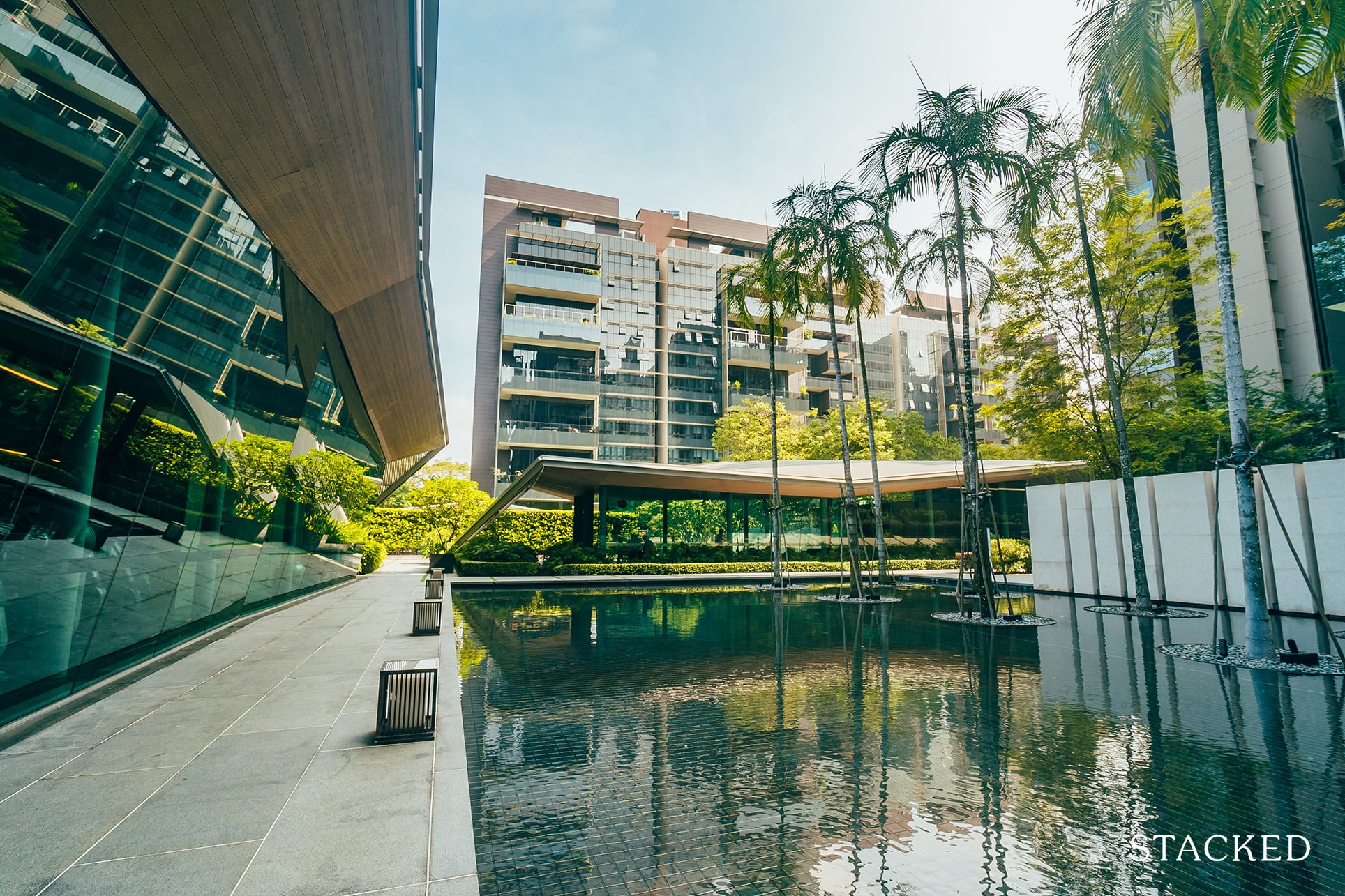 | | | | | |
| --- | --- | --- | --- | --- |
| Project Name | Tenure | TOP | Average Price (PSF) | Comparison Point |
| Leedon Residence | Freehold | 2015 | $2,225 | |
| D'Leedon | 99-year | 2014 | $1,564 | Immediate Proximity/Large Development |
In all fairness (and I think most of you will agree with me on this), Leedon Residence doesn't have a vast amount of similar comparisons given its unique nature.

That being said, the neighbouring D'Leedon has a couple of distinct similarities.

Disregarding the proximity factor, both these condos are large-type developments with relatively similar completion dates. Naturally, that helps even the comparison grounds to a certain extent.

As most of us know, D'Leedon is closer to the MRT station and Empress Market and therefore has a better location in that sense.

That being said, its status as a 'population saturated' development (1,715 units to be exact) has reduced its 'luxury factor' as opposed to the 'exclusive' Leedon Residence.

Not forgetting to factor in D'Leedon's 99-year leasehold tenure against Leedon Residence's freehold tenure, and we see why there is such a PSF differential between D'Leedon and Leedon Residence despite the former's 'better locale'.

At the end of the day, however, D'Leedon's massive number of units does means a wider diversity in unit types and spaces. Understandably, its smaller unit (size) range help cater to those with tighter budgets.

For example:
| | | |
| --- | --- | --- |
| Unit type | D'Leedon (minimum unit size) | Leedon Residence (minimum unit size) |
| 2-Bedroom /w +1 for D'Leedon | 786 sqft | 1,044 sqft |
| 3-Bedroom /w +1 for D'Leedon | 1,076 sqft | 2,088 sqft |
| 4-Bedroom | 1,615 sqft | 2,486 sqft |
You can see the differential in minimum unit sizes (and therefore total quantum) as the tiers increase.

Through this comparison, we see that Leedon Residence commands quite a high quantum (especially given its larger unit sizes) and that you could easily find 'cheaper options' over at the D'Leedon next.

While the condo's lack of 'more affordable' options doesn't go unnoticed, it is a genuine testament to the added value that this prized development boasts in terms of its exclusivity and generous spatial offerings.

Appreciation Analysis
Price History

For simultaneous comparison, D'Leedon's quantum trend has remained relatively constant throughout its entire lifespan.

$1,546 PSF was its average quantum in December 2010 (new launch month in which 190 units were sold). Its average PSF as of this month (January 2020) is $1,599 PSF.

On the other hand, Leedon Residence averaged about $1,950 PSF during the bulk of its initial launch sales and has since seen an increase to $2,225 PSF as of its 3 most recent sale average.

Through the years it sustained a number of price peaks and dips ranging from $2,685 PSF (during its new launch months when the most choice units were available) to $1,413 PSF (also near the start where developer unit discounts were widespread).

These sales were for the most and least favoured units respectively.

Unit prices were relatively constant across the tiers through the years despite the depressed market sentiment between 2013 and 2017.

Though sales have been relatively few in 2019 as compared to its previous years, we were able to sift out data from the 4 transacted units.

During this time, a 5-storey unit was sold for a solid $2,682 PSF in February 2019 – higher than all the previous 5th floor unit sales before.

The remaining three units that were sold in November 2019 were from the 6th and 7th floor, averaging $2,225 PSF. Their quantums was just slightly above the average of other similar floored units since Leedon Residences' launch.

Prediction

Now based off the 2019 Master Plan, it seems like the entire area around Leedon Residence is reserved for private residential developments.

While most of the major spaces have already been filled, the neighbouring $907million en bloc sale of Tulip Gardens is bound to cause a ripple effect in the Leedon's future price trends.

With Leedon Green set to rise in its place, most would expect prices at Leedon Residence to rise based on increased demand/notice of the area.

Due to the hype that Leedon Residence and D'Leedon had already caused during their respective launches, however – as well as the total number of units already on offer in the area and the lack of potential in both current/upcoming immediate amenities (save for Empress Market), some others would argue that a sudden explosion of short-term appreciation might not be on the cards for both these condos.

Now before we start laying down random bets, one other important point to note is that depending on Leedon Green's offerings (more on that in the coming days), Leedon Residence unique inner-condo vibe and exclusivity might actually pave the way for increased demand in the area for this niche type of residency (as we've seen with Park Infinia @ Wee Nam).

Further given Leedon Residence's lack of available units (remember that lack of prized supply often creates high demand), and taking into account that Singapore's private residential property prices are forecasted for continued growth in the following years, we can, therefore, expect a gradual rise in quantum for units here, resulting in good long-term returns (barring distant economical/property market dips).

Our Take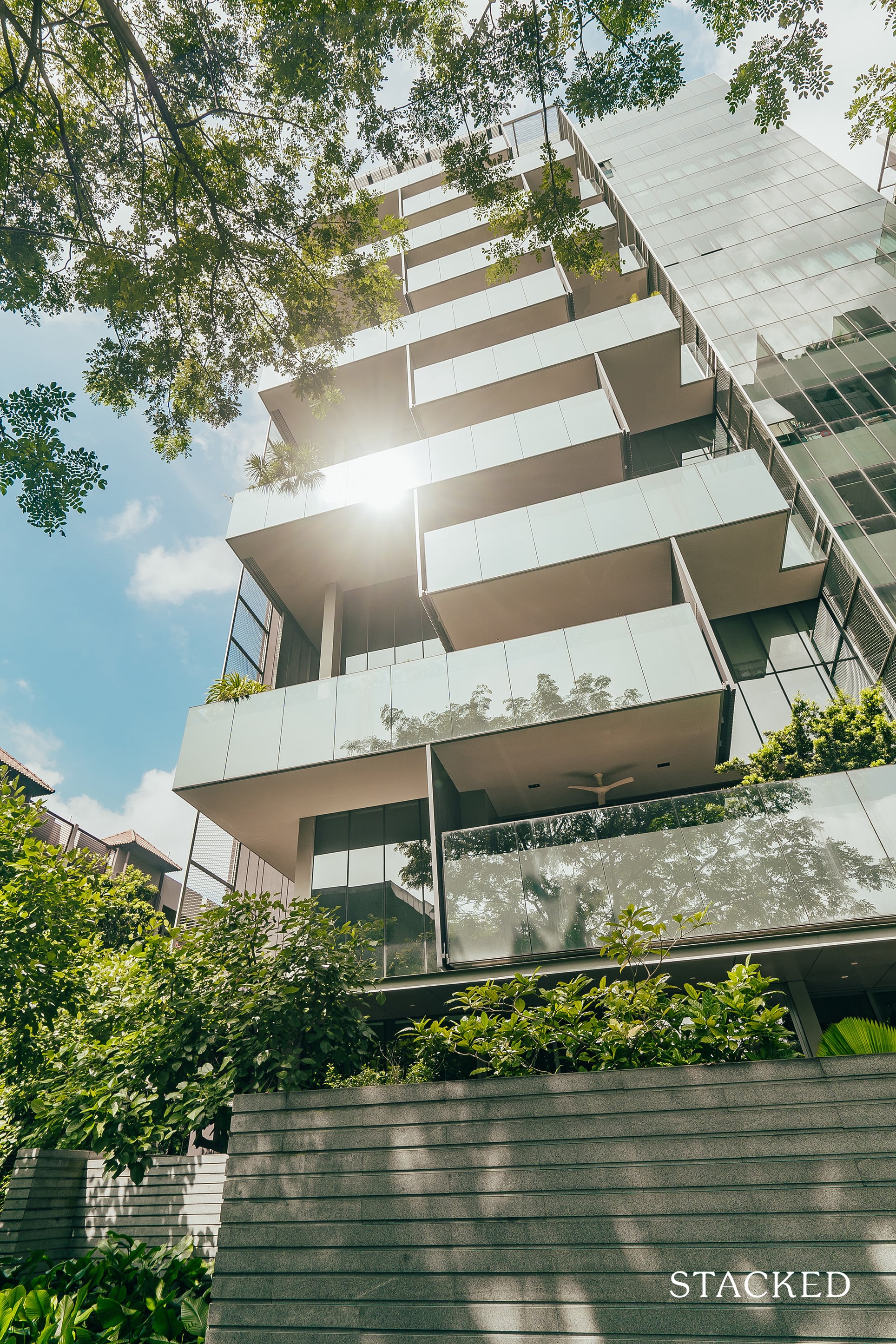 If you enjoy big living spaces, sprawling grounds, and want something suitably modern, Leedon Residence is almost unmatched in those respects. There really isn't anything quite similar in the market right now.

While unit sizes here are high – especially with the larger-than-average units spaces, the fact that you get a D10 address with such massive inner condo space makes it worthwhile in my opinion.

Yes, there isn't an incredible amount of immediate amenities like at One Holland Village Residences for example, but its address along Farrer Road means that those who drive or are willing to walk that extra minute or so to the bus stop will stand to benefit from the centrality of its locale. It may not be the best location overall in Holland – but let's be real here, most people who can afford a unit here aren't going to be using public transport much.

Further considering its expected long-term appreciation growth, Leedon Residences will no doubt appeal to the well-heeled who are in the market for an incredible unit to land space ratio and a development that comes with wisps of inner-serenity alongside a whole dash of centrality.

Of course, the impending Leedon Green is just over the horizon, and that in itself will result in some disturbances in the area.

So depending on how things go over there, we might just observe a tiny impact (or two) on the quality of residency here and naturally any unit investment plans that go along with it.

Lucky for us, we've got a full tour and detailed comparative analysis on Leedon Green coming right up!
What this means for you
You might like Leedon Residence if you:
• Love Immense Inner-Condo Space:At 522,322 square feet, you'd be hard-pressed to find a (key location) private residential development like this in Singapore today.
• Are Looking for a Long-Term Appreciator:The ability to either live in a development of this substance or collect rental yield for a period before selling it off for a good sum makes Leedon Residence an appealing to high budget investors.
You might not like Leedon Residence if you:
• Have a Strict Budget:For those who'd prefer to invest a bulk of their money into other sectors of life, D'Leedon offers itself as an alternative within the immediate area.
• Love Your Sport Facilities:Considering that residents have to cross the road to the tennis courts and the lack of flare at the gym here, fitness-inclined homelookers looking for immediate/well-equipped fitness convenience might think twice about a unit here.
End of Review