23
min read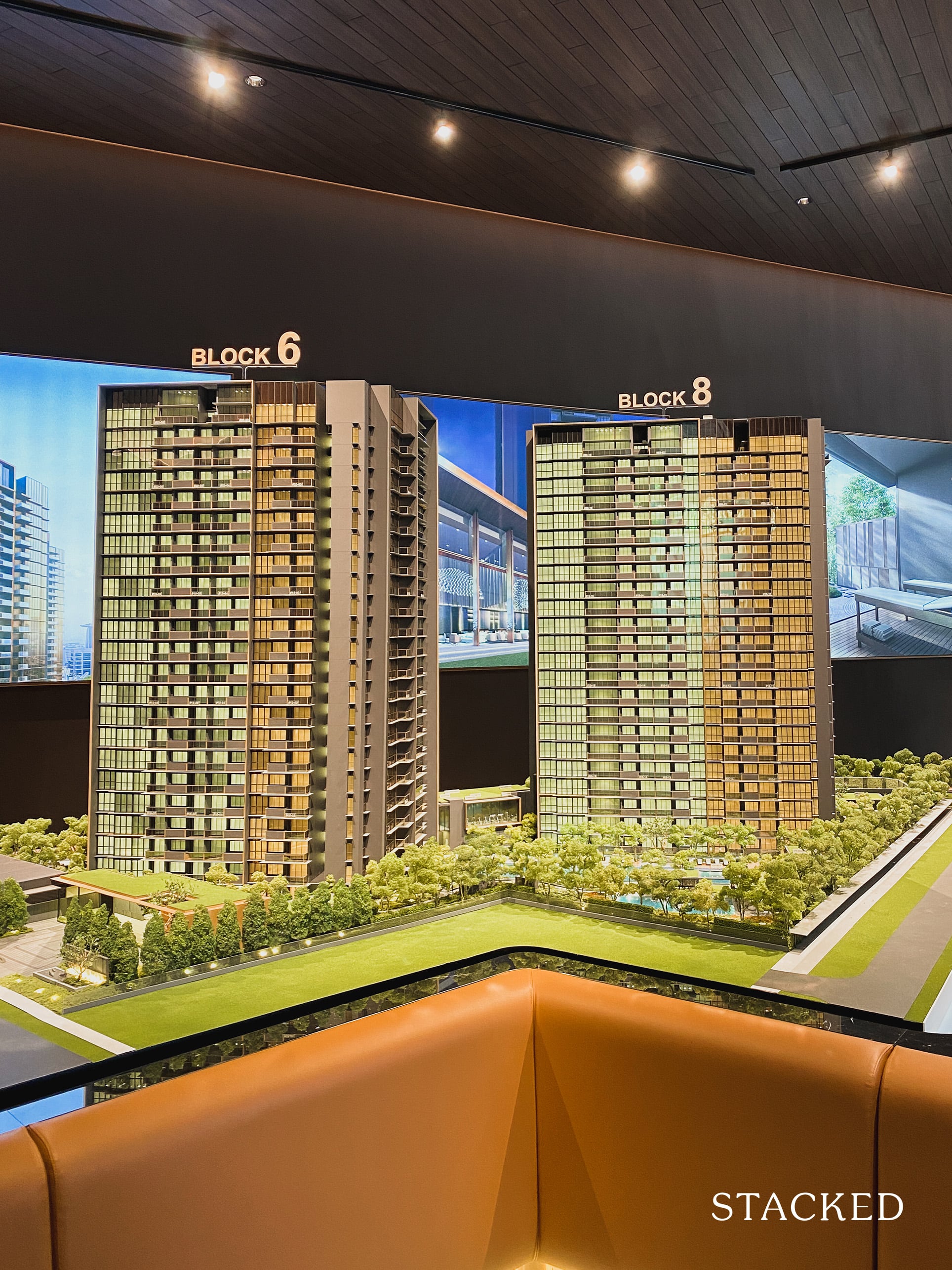 Urban Luxury At Its Finest
Kopar at Newton is great for those who appreciate urban luxury and enjoy a well-spaced residential development given that only 30% of the land is used for living spaces. However, the $2,300 factors in the novelty + luxury aspect of the condo which could be too high for many, and the area nearby the Newton Circus connector may not be well-suited to those who want complete peace and silence.
| | | | |
| --- | --- | --- | --- |
| Project: | Kopar at Newton | District: | 09 |
| Address: | 150 Kampong Java Road | Tenure: | 99-Year |
| Site Area: | 125,326 sqft | No. of Units: | 378 |
| Developer: | CELH Development Pte. Ltd. | TOP: | 2023 |
I have to admit that the very first time I heard the word 'Kopar', I immediately thought of the Copa Del Rey in Spain.

'Probably a new football clinic of some sort', my partner mused.

Imagine my surprise nearly a week on when I realised that it's actually a New Launch condo popping up at the very mouth of Newton MRT!

Now some of the smarter ones amongst us might have already guessed that Kopar, is quite simply a synonym for copper.

What you might not have guessed though, is that it's actually Icelandic!

I don't think many of us here speak Icelandic, but what I do know is that the last time I came across a new launch architectural concept that specifically involved copper as a publicised entity was at the showroom of Meyer Mansion.

And although I highly doubt that we'll be getting much sea views here, the Kopar at Newton is set to follow in Meyer Mansion's footsteps, featuring duo 23-storeyed copper-tinged residential blocks.

An increasingly common symbol of urban luxury status it seems.

Perhaps more interestingly, the Kopar at Newton is also set to reserve 70% of its 100,000+ square foot land area… solely for common areas!

For most new launches, an idea such as this would be outrageous – especially when you consider that the Kopar is a Newton-based development of considerable land size.

Enough chit chat, let's get right to it.
Kopar at Newton Insider Tour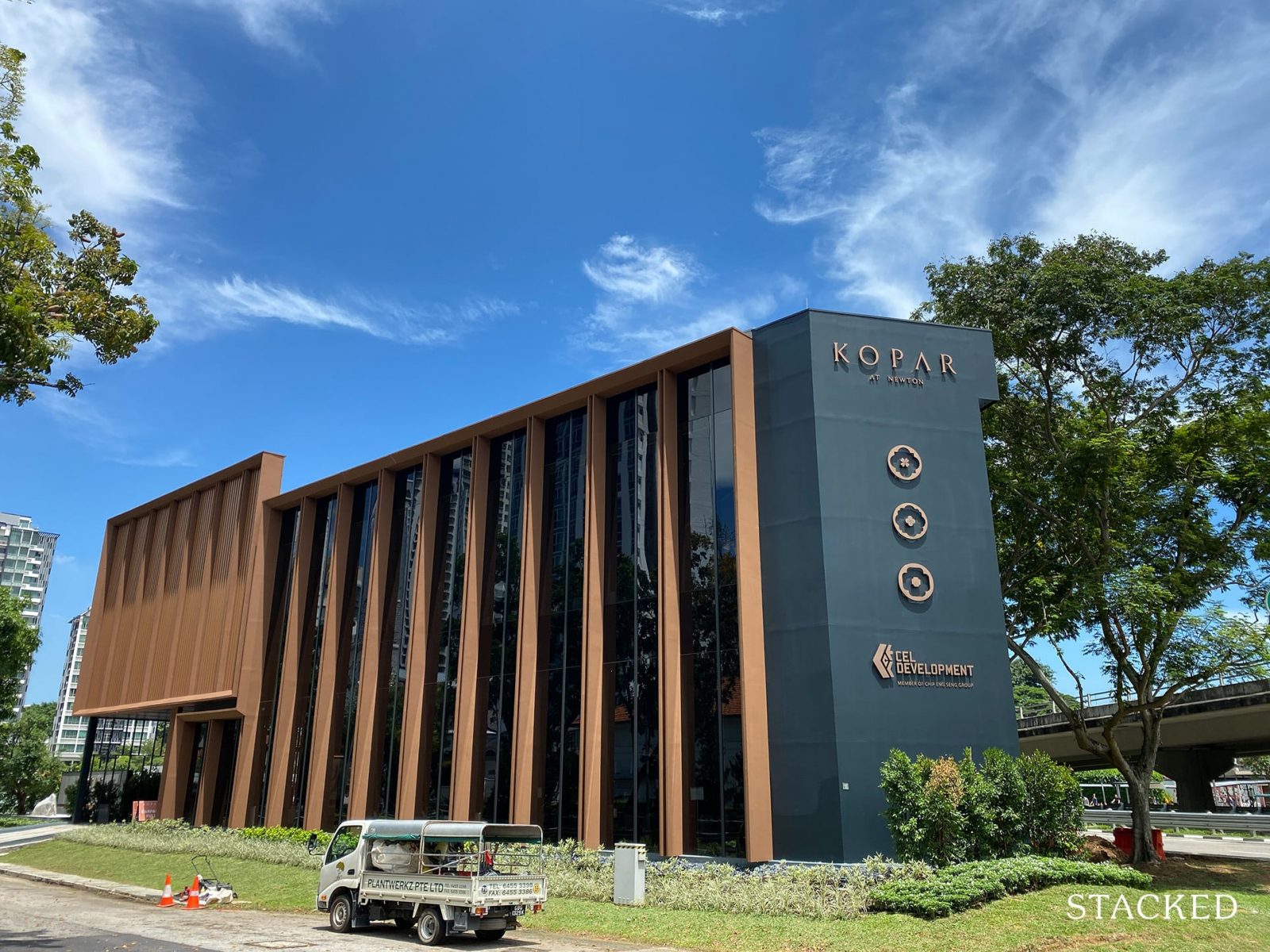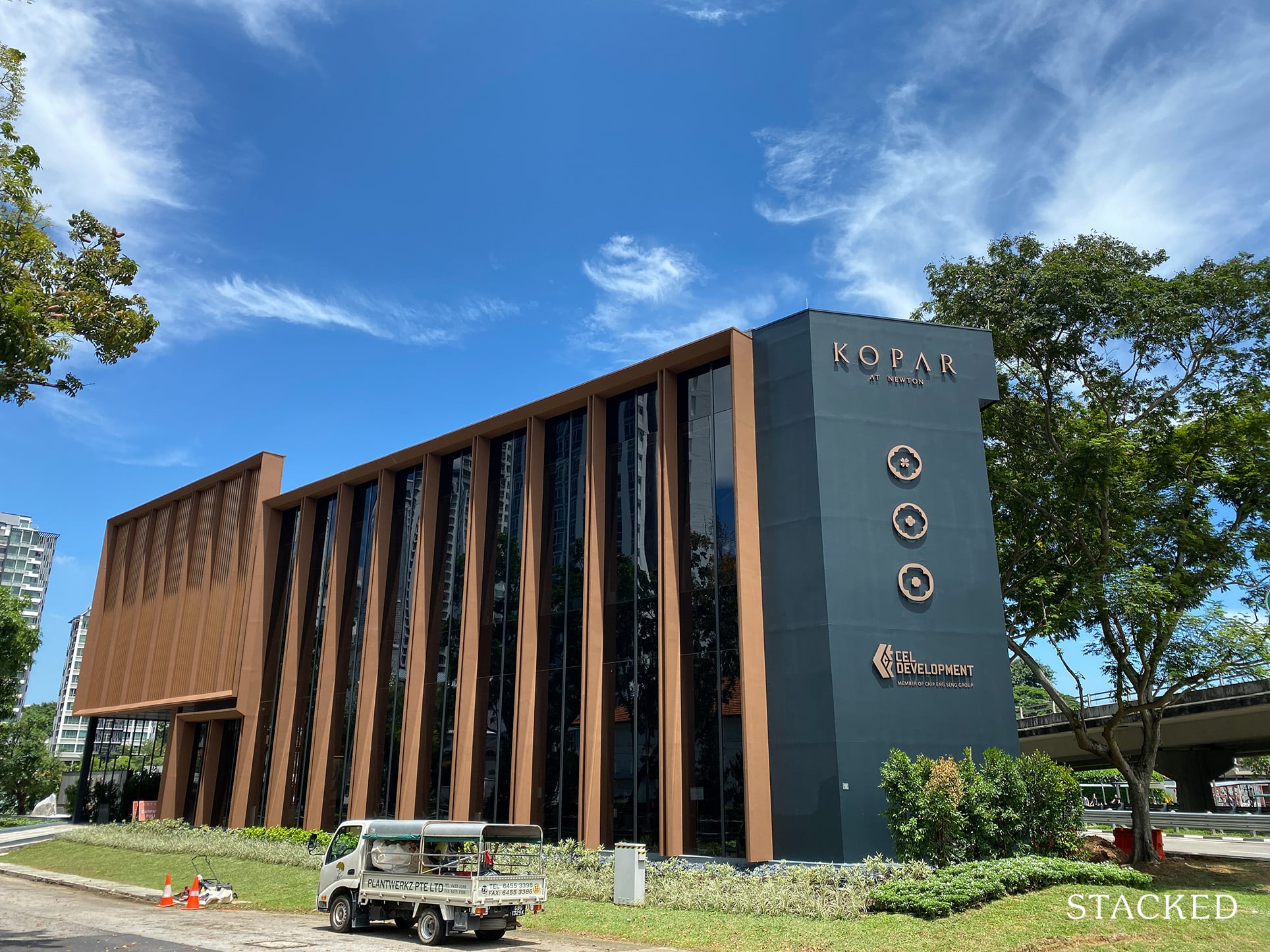 For those who've driven past the Newton Circus roundabout the past few weeks, you would have definitely noticed this gleaming copper structure erected at the Kampong Java Road entrance. If your favourite metal happens to be copper, this is a great time to be alive – for it seems as if the rust coloured metal trend is here to stay for some time.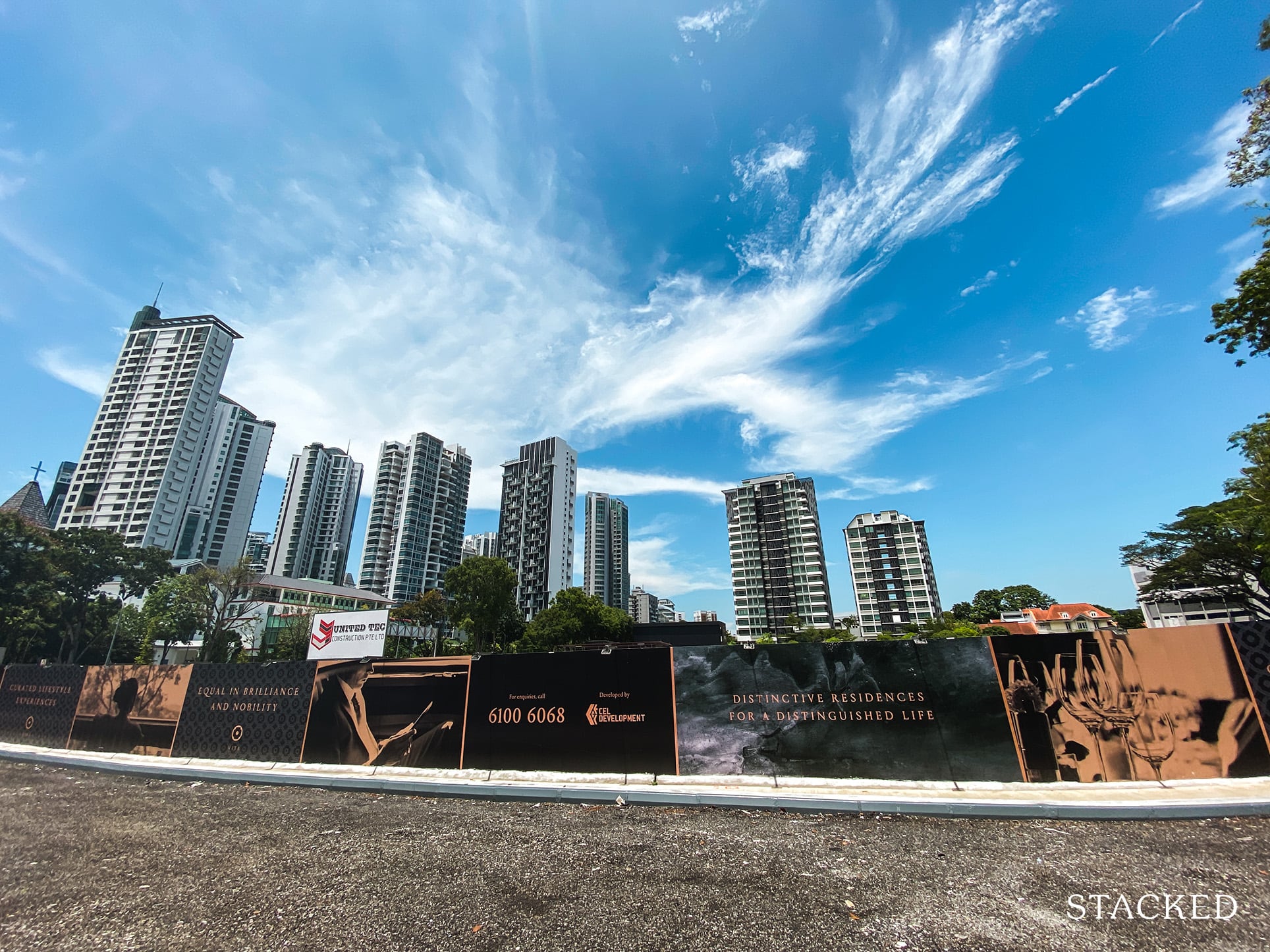 It's always good to have the showflat on, or in this case, close to the actual site of the project. For one, you are able to properly judge things like the size of the land, traffic flow, and even test out the walking distances to amenities or transport. Just from here, you can see that it is quite a significant plot of land in this part of town.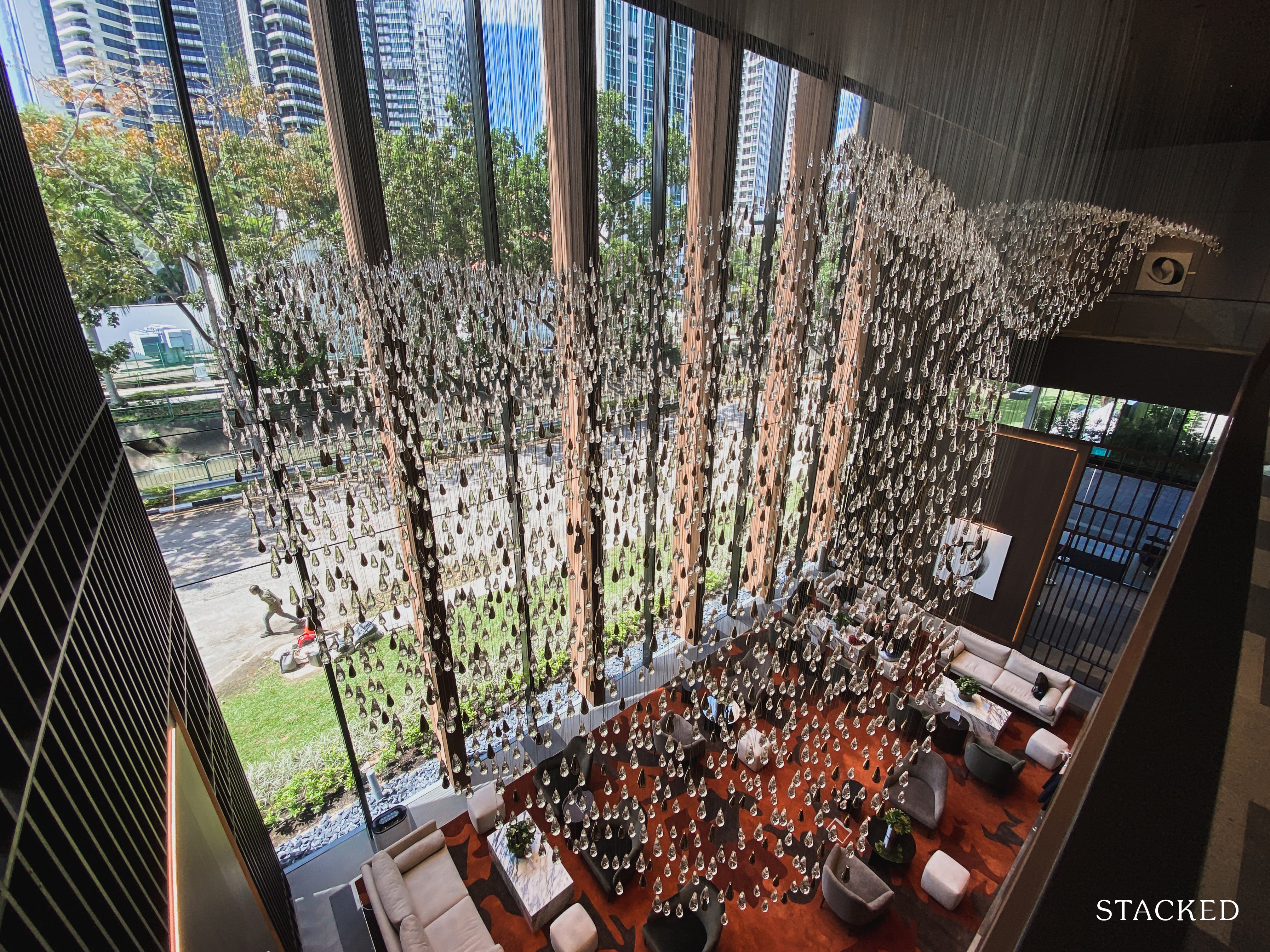 Another ongoing trend seems to be the chandelier, or rather developments trying to outdo each other to see who has the biggest, baddest chandelier in town (just take a look at the Ola EC one).
Clearly, this one at Kopar at Newton is inspired by the Kinetic Rain sculpture at Changi Airport – albeit without the moving element to it. If I had to choose, I do prefer the look of this – it does add a certain vibrancy and grandness to the setting. Mind you, it does contain 8,000 crystal and copper teardrops after all.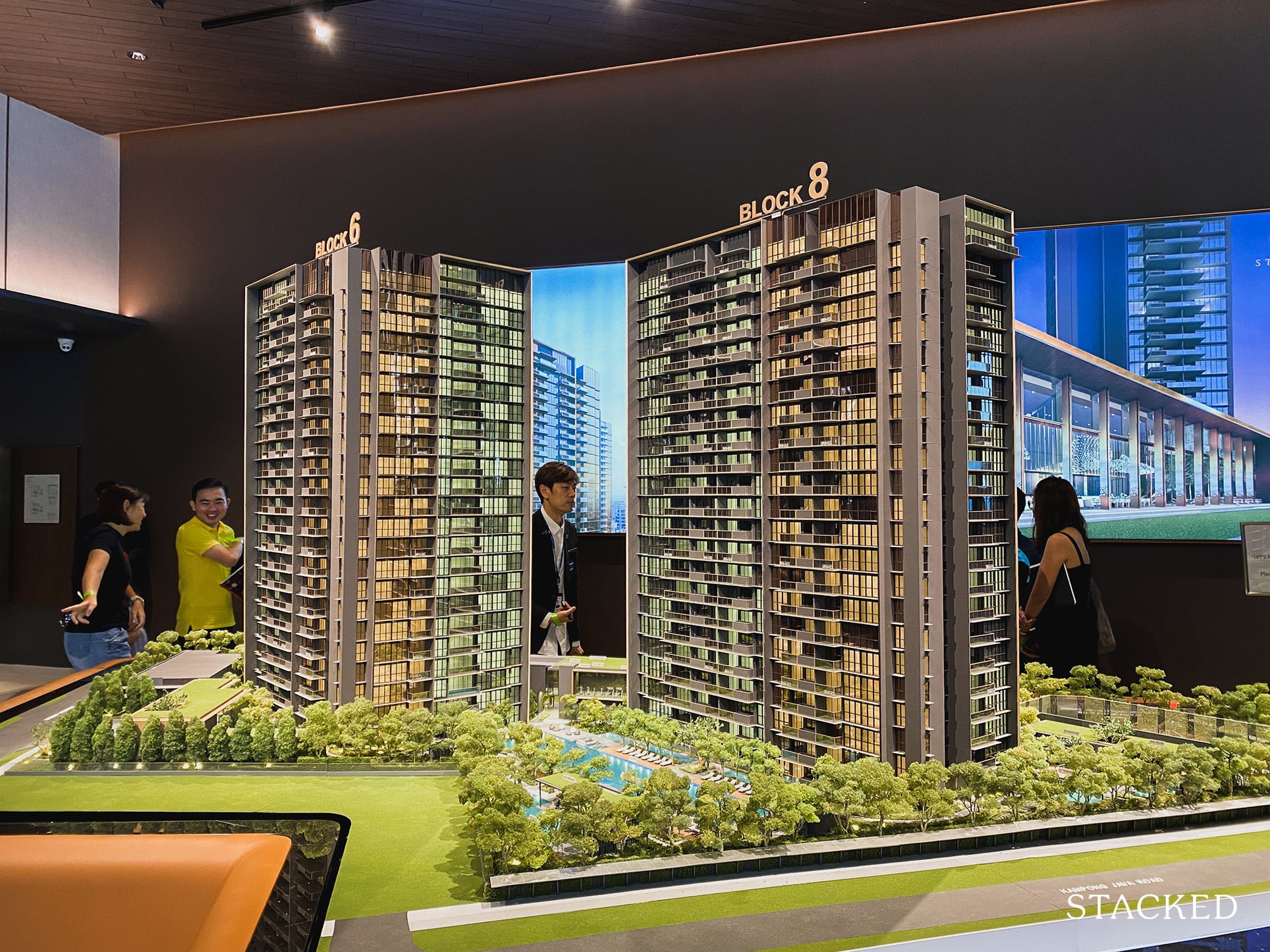 At 125,326 square feet of land, Kopar at Newton is quite a substantial size. They've done the commendable move to attribute 70 percent to ground space, with the 2 towers only taking up the remaining 30 percent. So this was a conscientious choice to build just 378 units, instead of its maximum 438 units.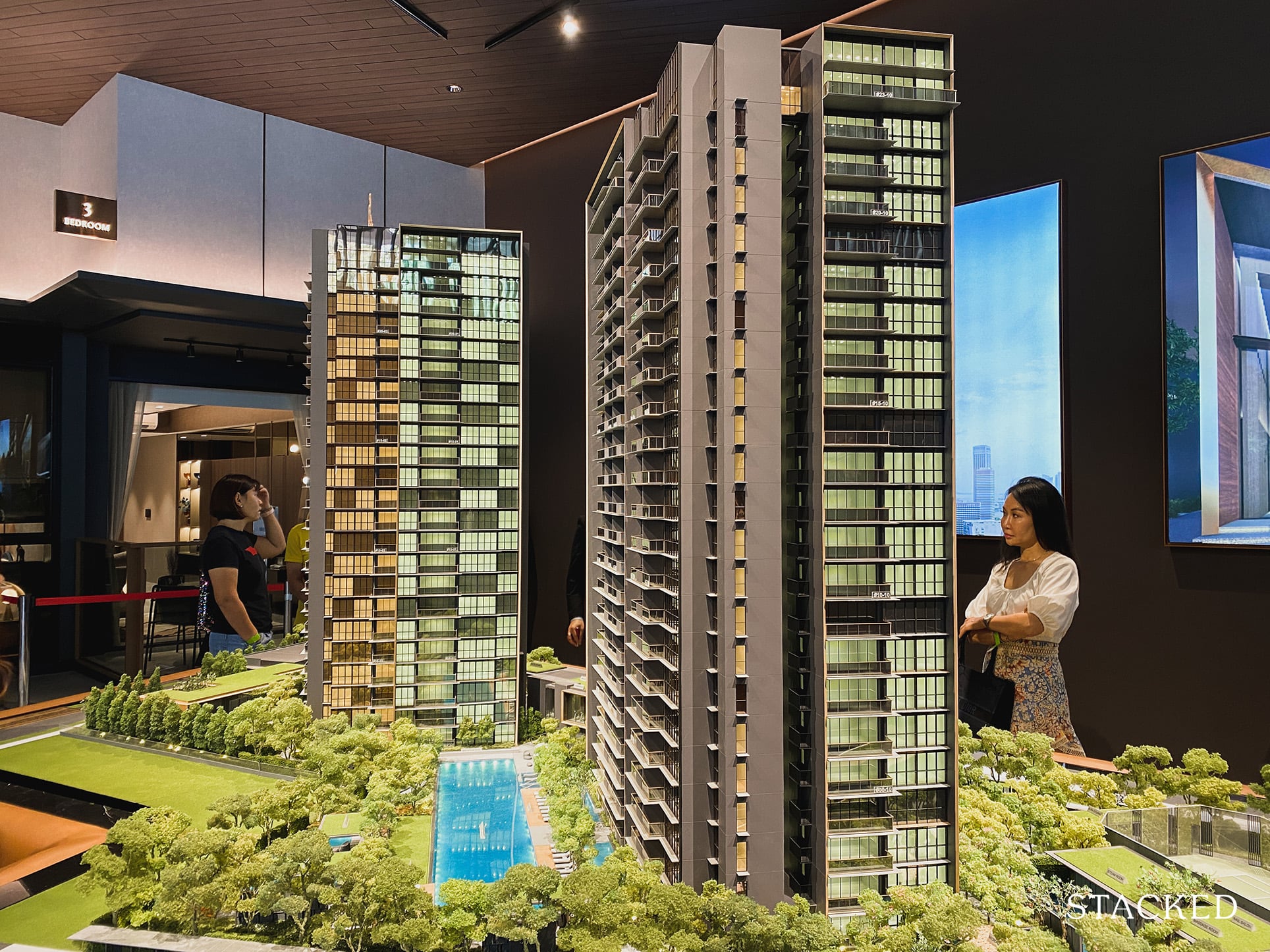 Clad in copper accents (the primary reason for its name), I'm sure most people would find the exterior design reasonably attractive. If you've been hunting around for a new launch, you'd probably find the look familiar – The Avenir and Meyer Mansion immediately come to mind.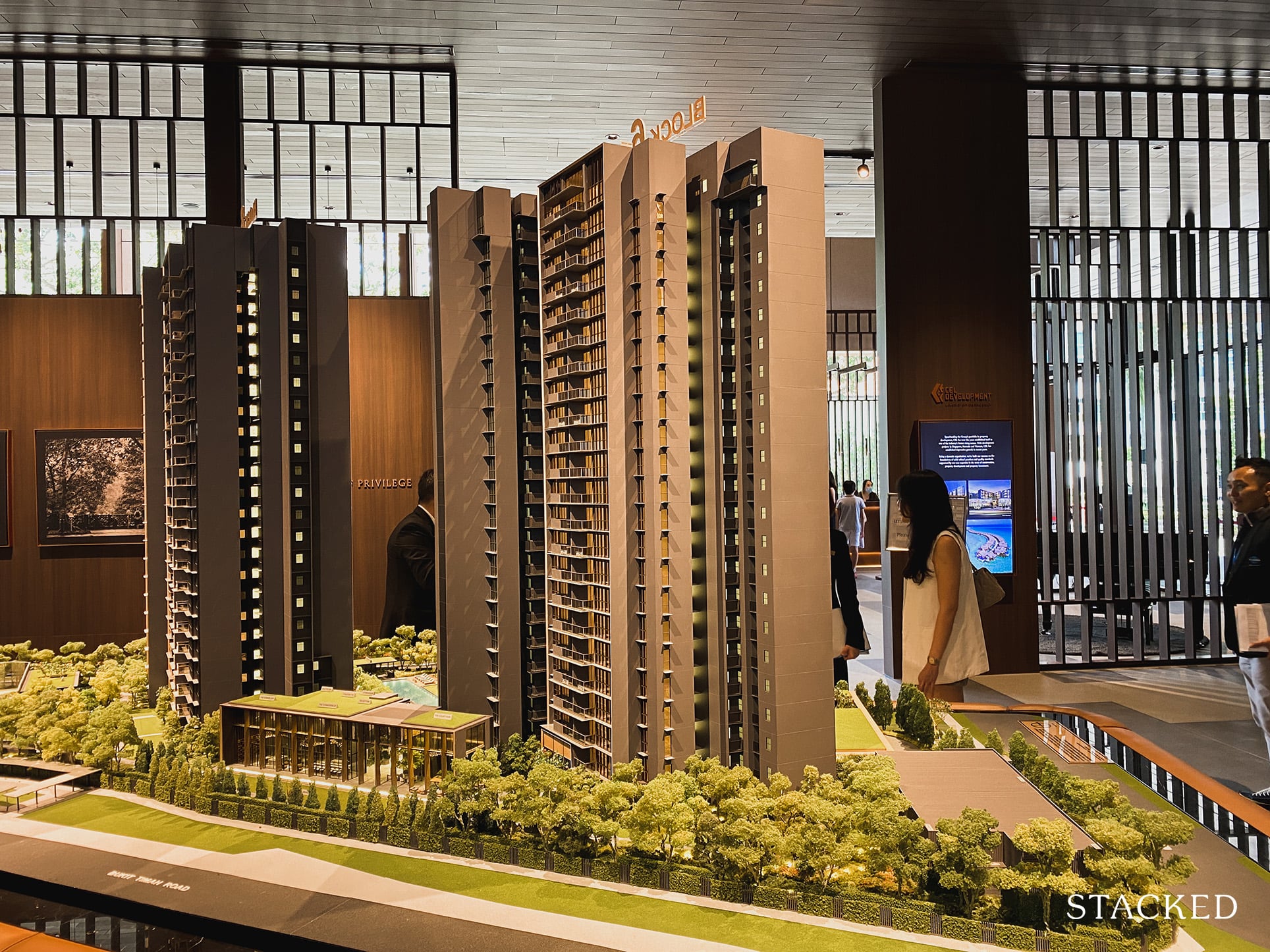 It's a look that is getting increasingly common, just like how you'll find similar design elements in older developments like Mandarin Gardens or Sommerville Park. It's something that I've always been intrigued about – would we look back at developments like these in 20-30 years time and marvel at just how dated they now look?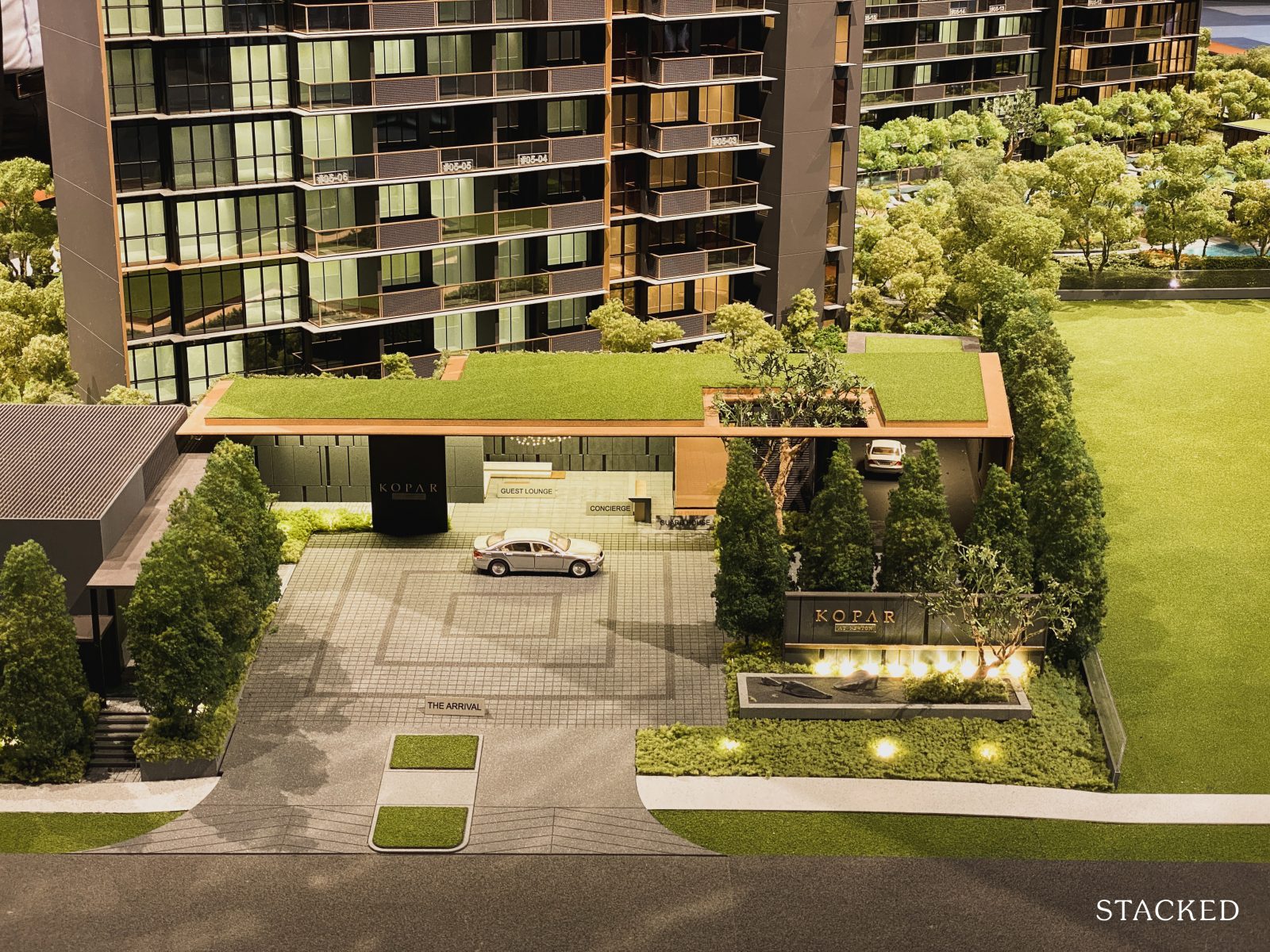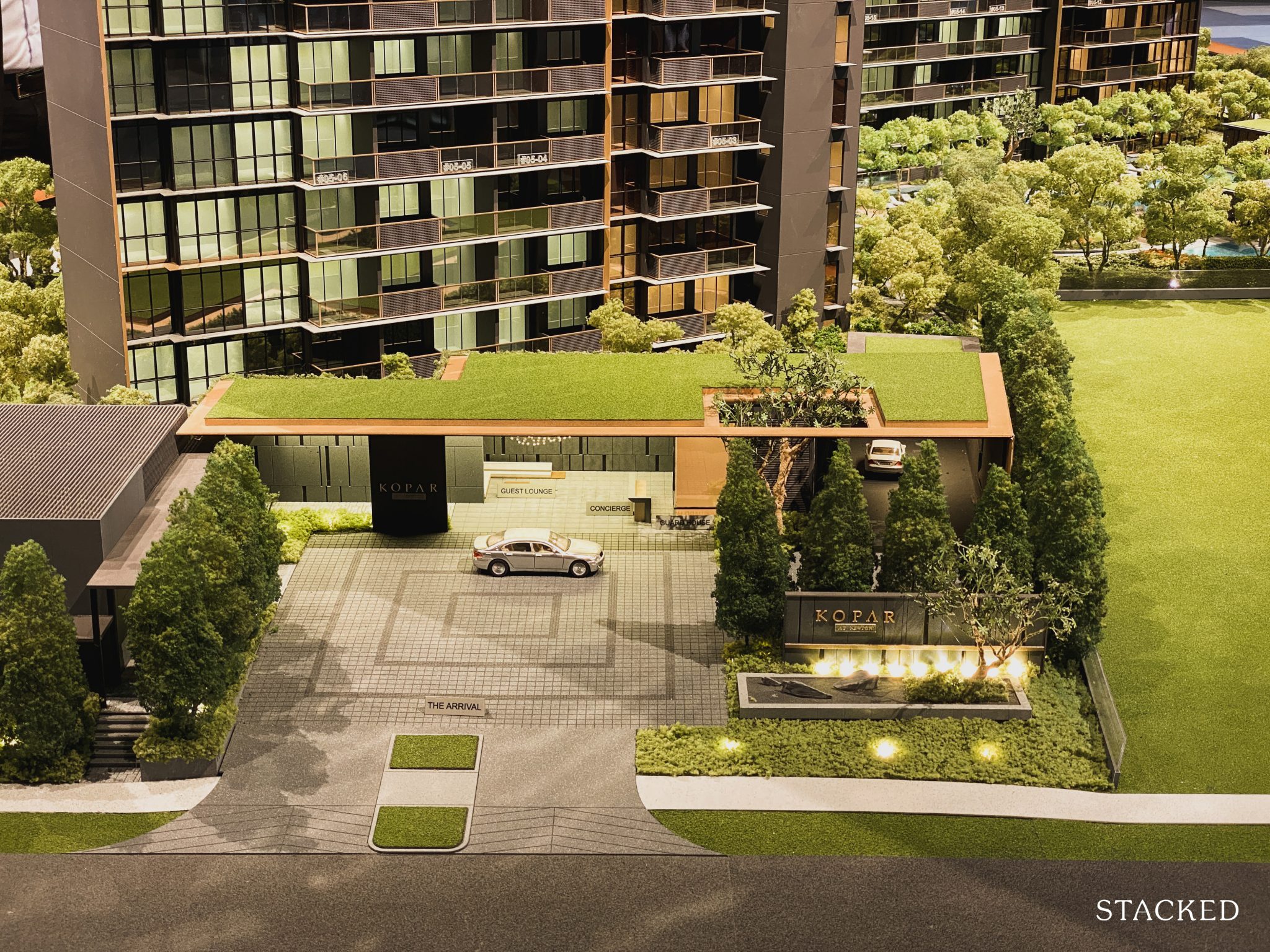 The entrance to Kopar at Newton is along Makeway Avenue rather than Kampong Java itself. It looks to have a competently sized arrival court, which is something that you'll find in most luxury-focused condominiums.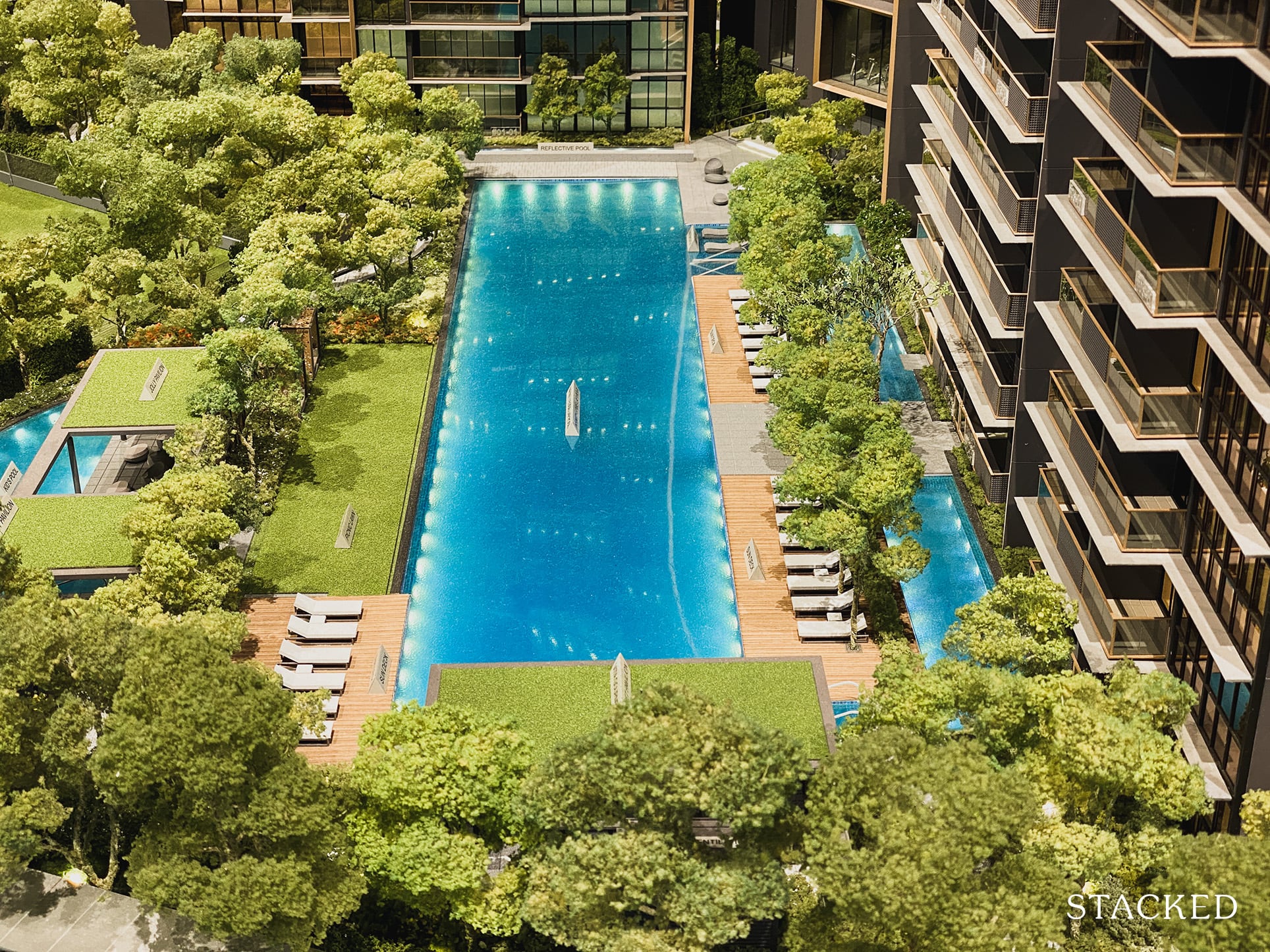 They've chosen to place the swimming pool to be "hidden" by both blocks, which provides some privacy and shielding from the traffic noise from Bukit Timah Road. Depending on the layout from the neighbouring new launch, The Atelier, this privacy might be hindered.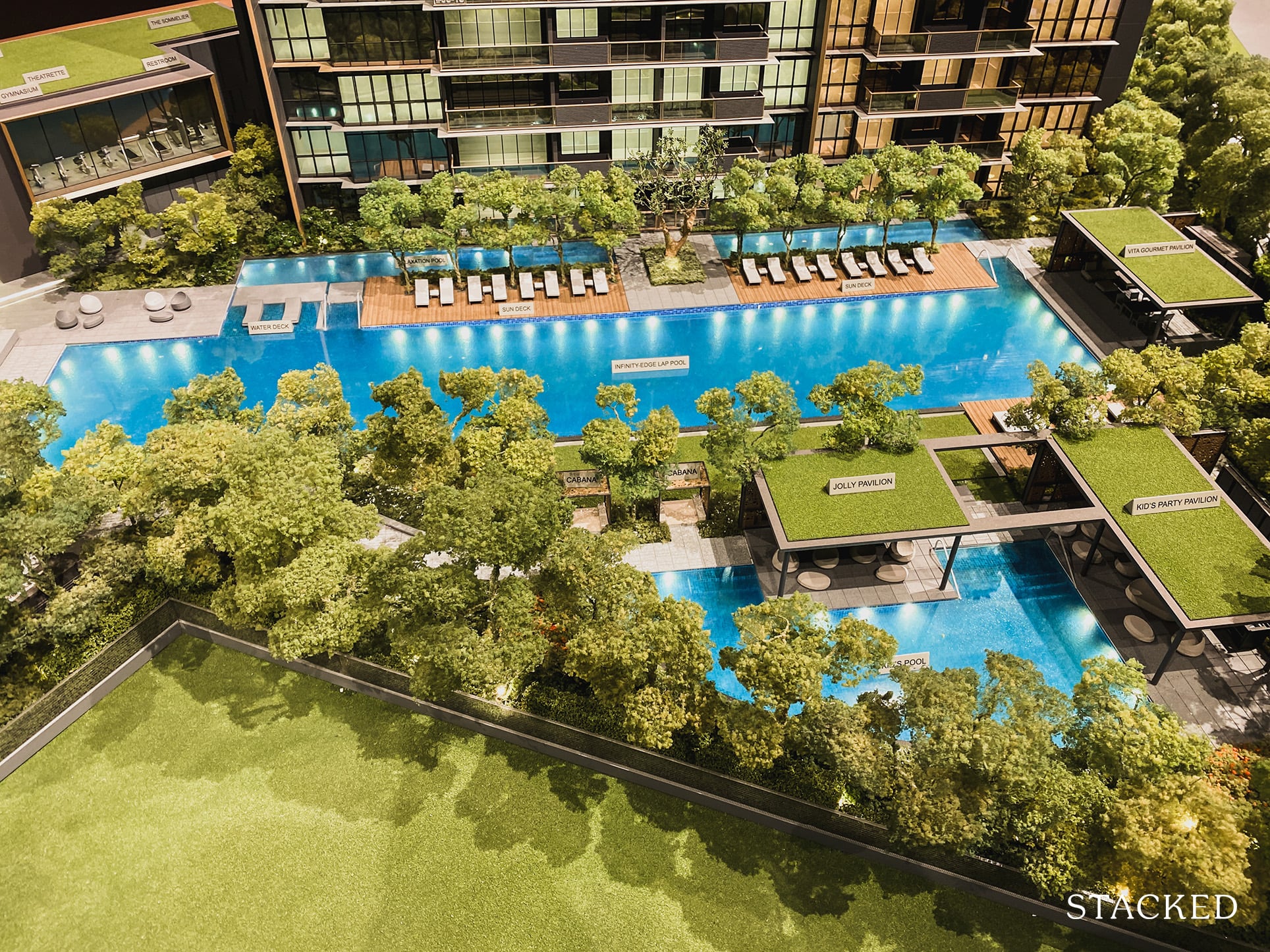 Other than that, there's nothing much to complain about the 50m infinity lap pool. It's a good length and size for the number of units available.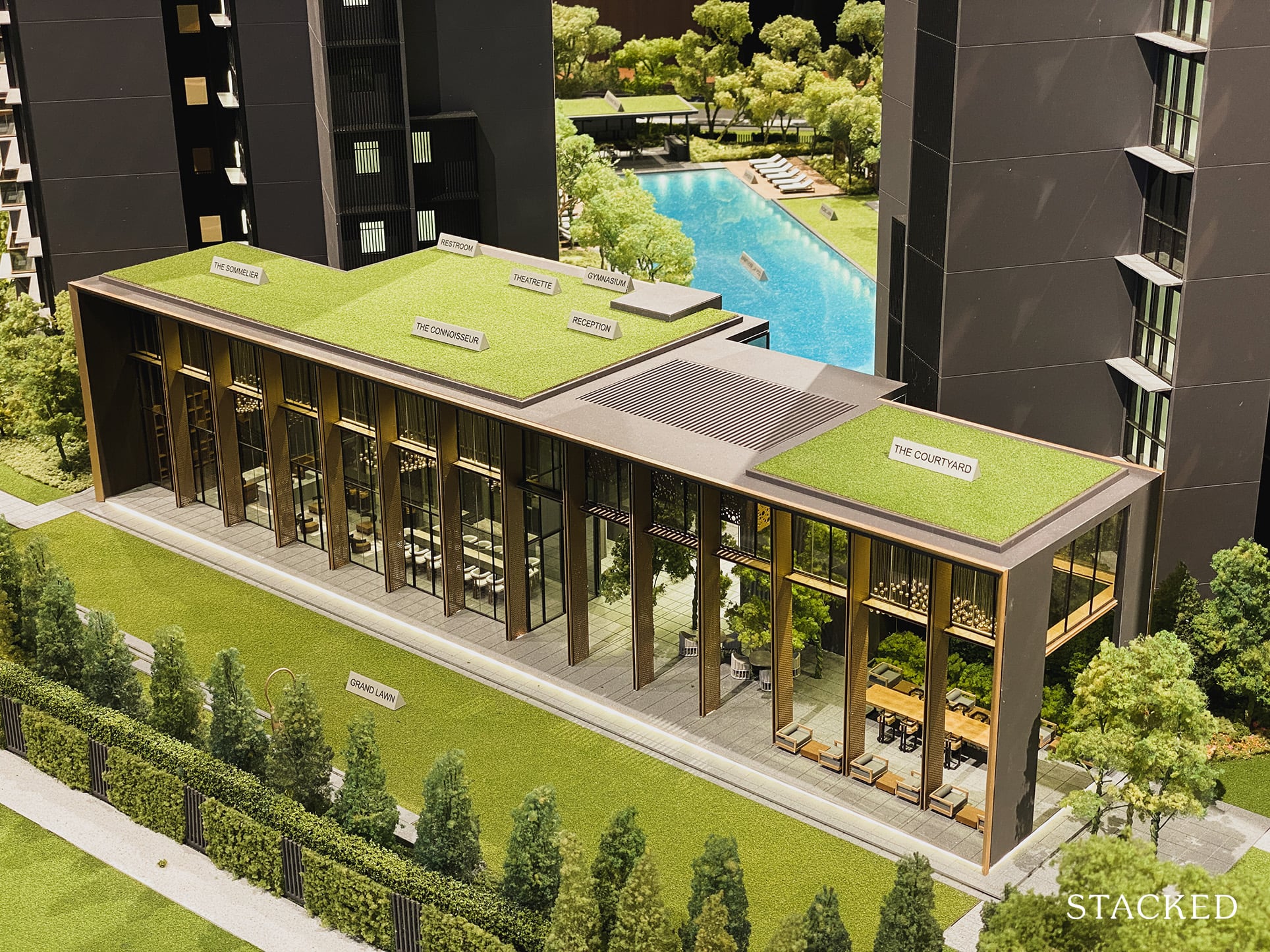 The clubhouse has been a much-vaunted topic, and it's easy to see why. At 38m long and 8m ceiling height, it will certainly look quite imposing and voluminous – along with the suspended chandelier. I do like developments that have added emphasis on the design and offering of the common facilities. Especially as unit sizes get smaller, entertainment areas are going to become increasingly important as a space for residents to host family and friends.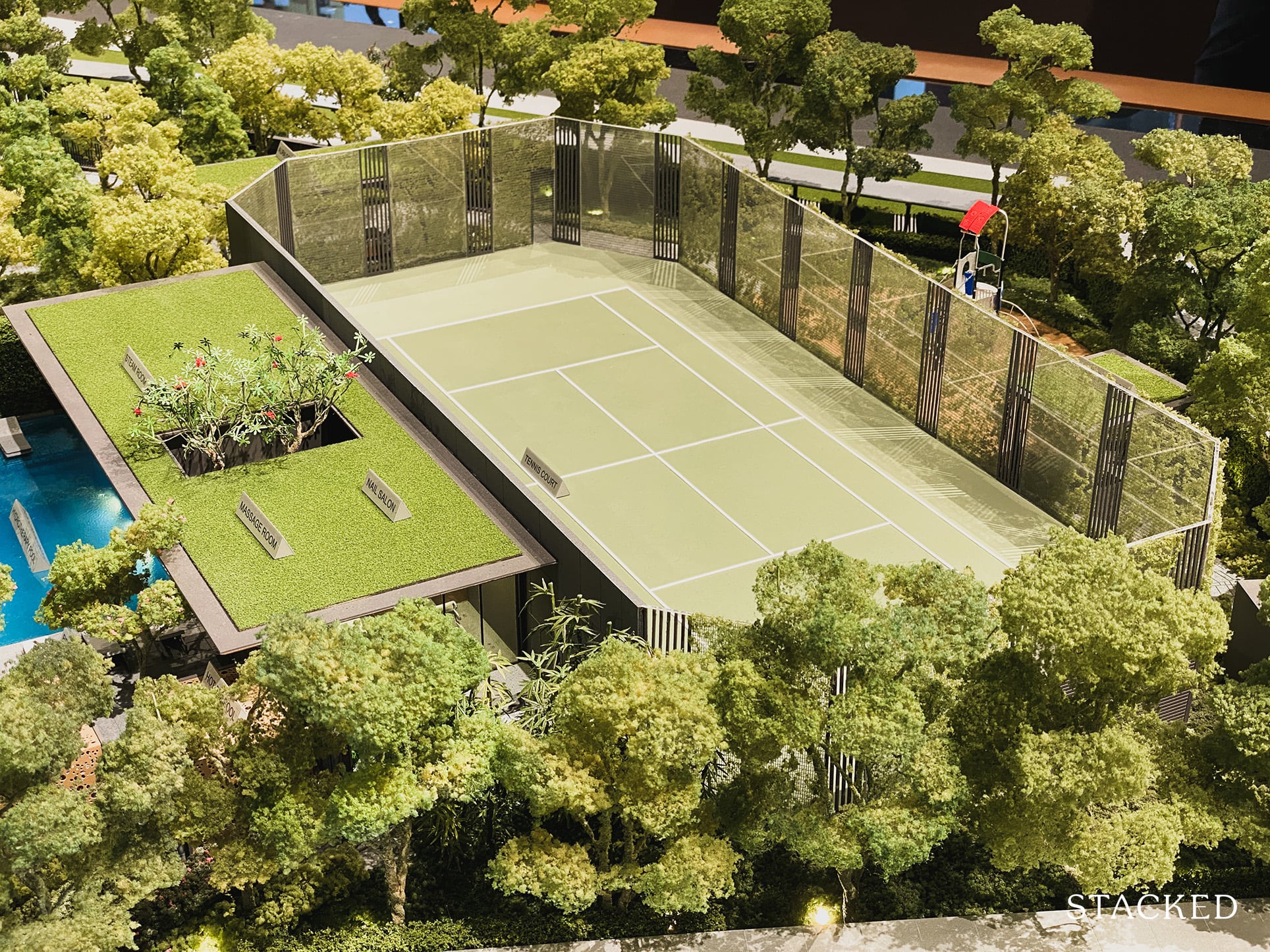 Rounding off the facilities on the ground floor is the tennis court. I think the location of it is pretty smart – it acts as a frontage so that the blocks are set further away from the busy Newton Circus traffic noise. Sure, you might get more road noise while you play a round of tennis, but it is a necessary evil to ensure quieter residential living.
Kopar at Newton 2 Bedroom Review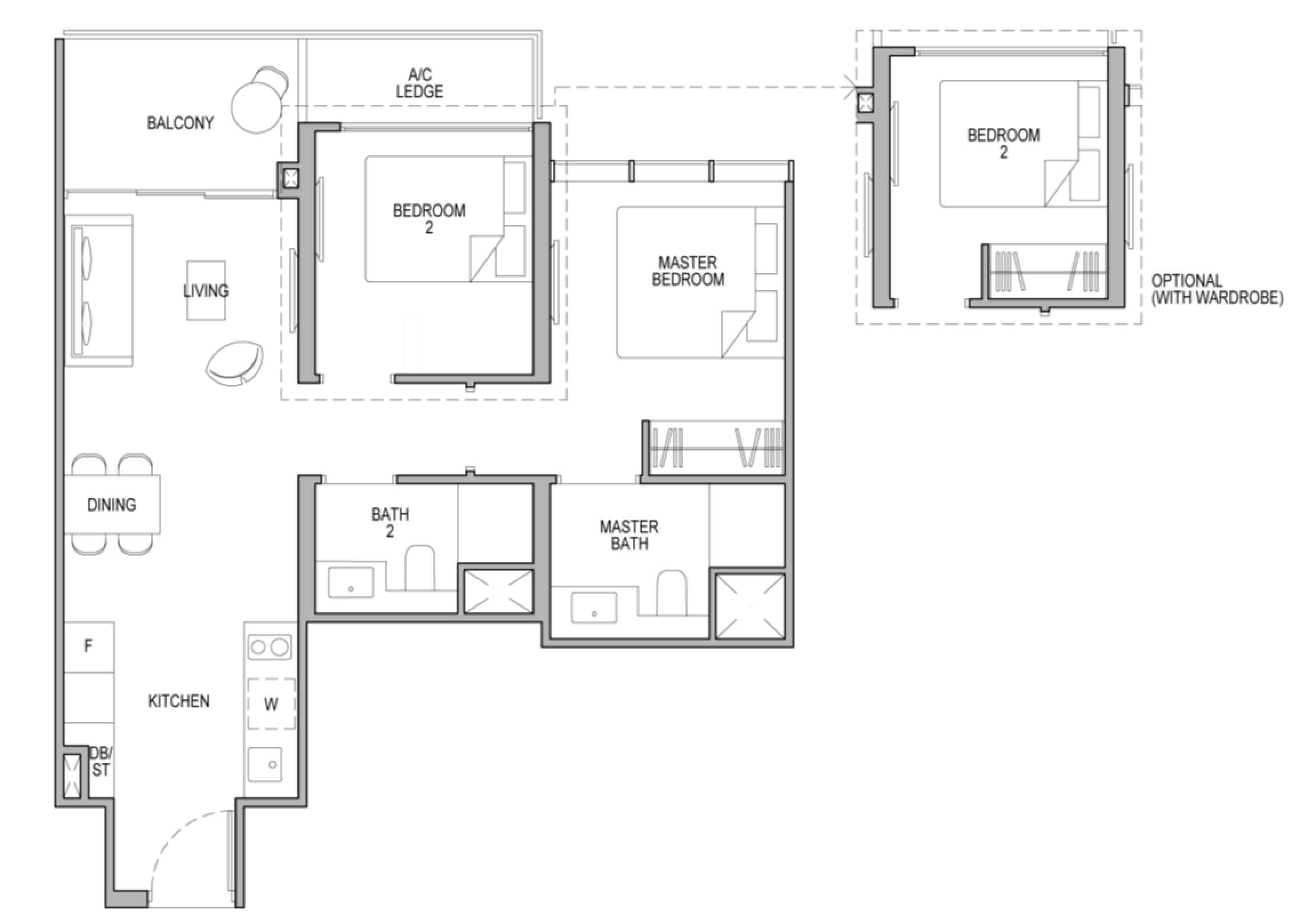 At 689 square feet of space, the 2 bedroom unit at Kopar at Newton isn't fantastically large but it is ever so slightly bigger than the current 2 bedroom units in other new launch projects. I do prefer dumbbell layouts but this layout is only present for the smaller 2-bedroom 1 bathroom units.
For this layout, the AC ledge is right next to the balcony as well – which is something I'm not typically fond of because of the whirring noise if you happen to be sitting outside.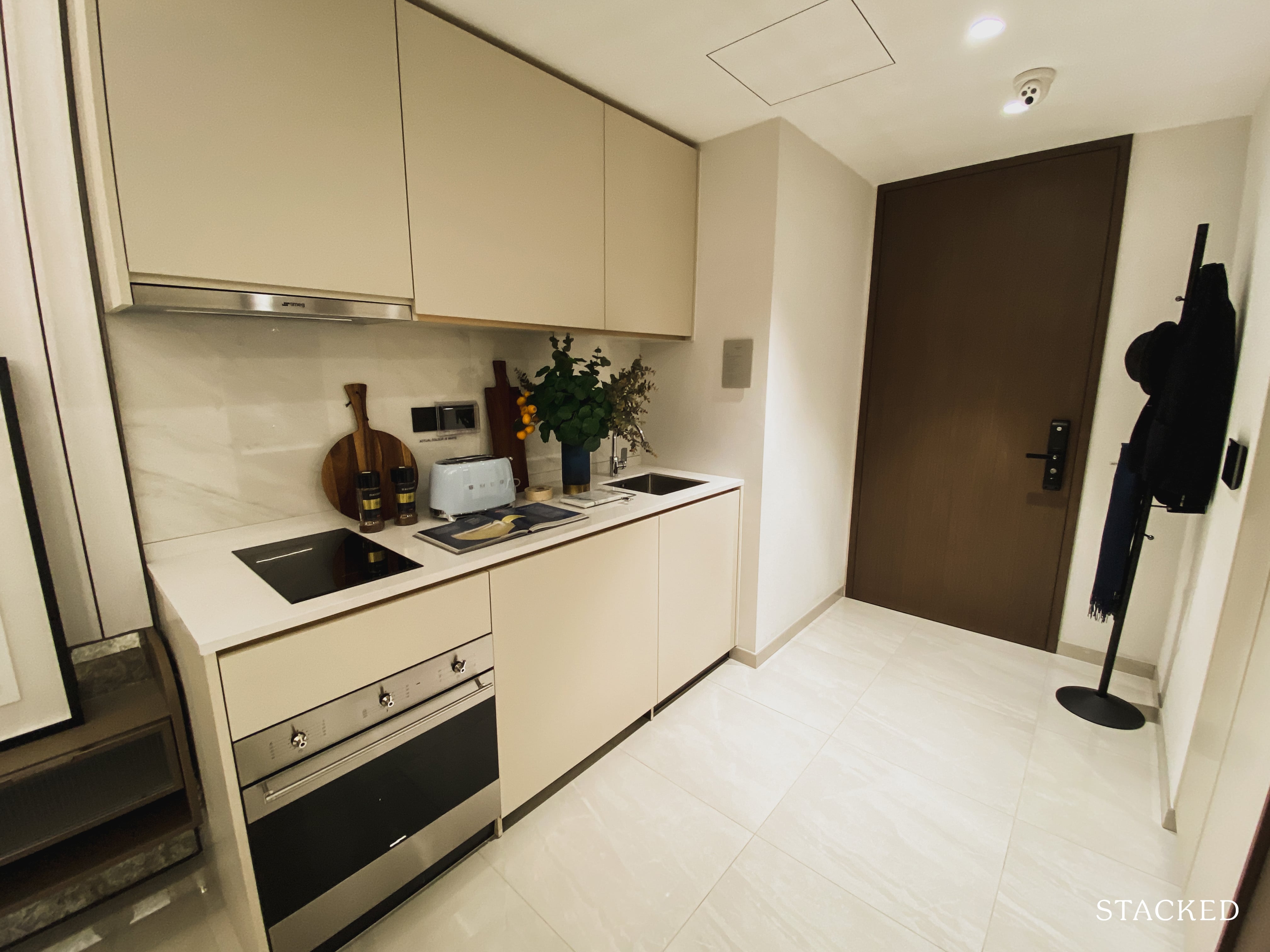 There is a "mini" entranceway by the main door, which is a tad wasted. Other than that, the kitchen is a good size – it is quite wide and you have decent countertop space. Kitchen cooking equipment is supplied by Smeg, which most should be familiar with.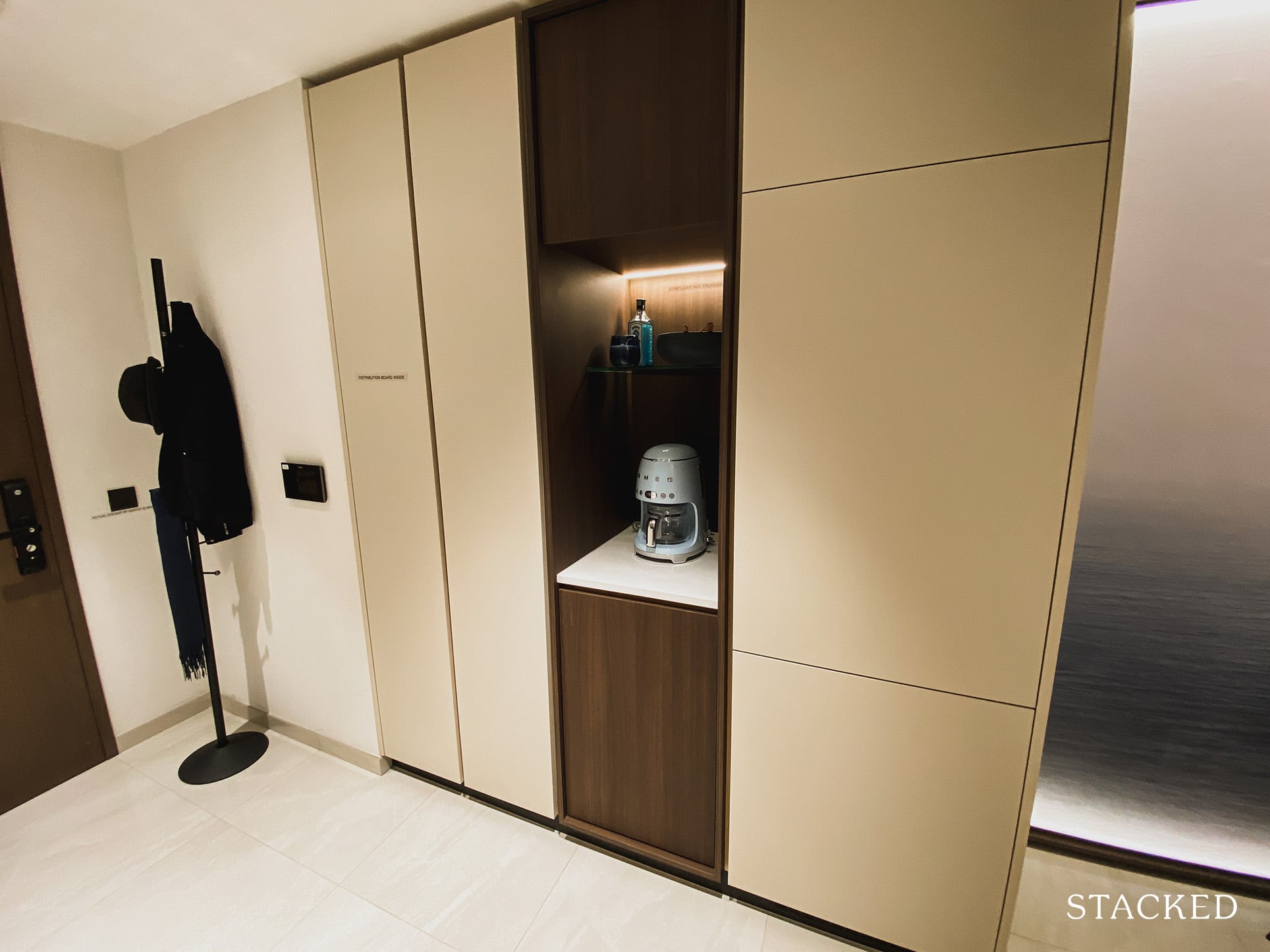 There is more storage on the opposite side of the wall as well, along with an open cabinet which would serve as a useful display for your coffee machine. As with most new projects nowadays, it comes with an in-built fridge.
That said, general quality and feel of the countertops and cabinets are not as good as I would have anticipated for a supposedly mid-tier luxury project.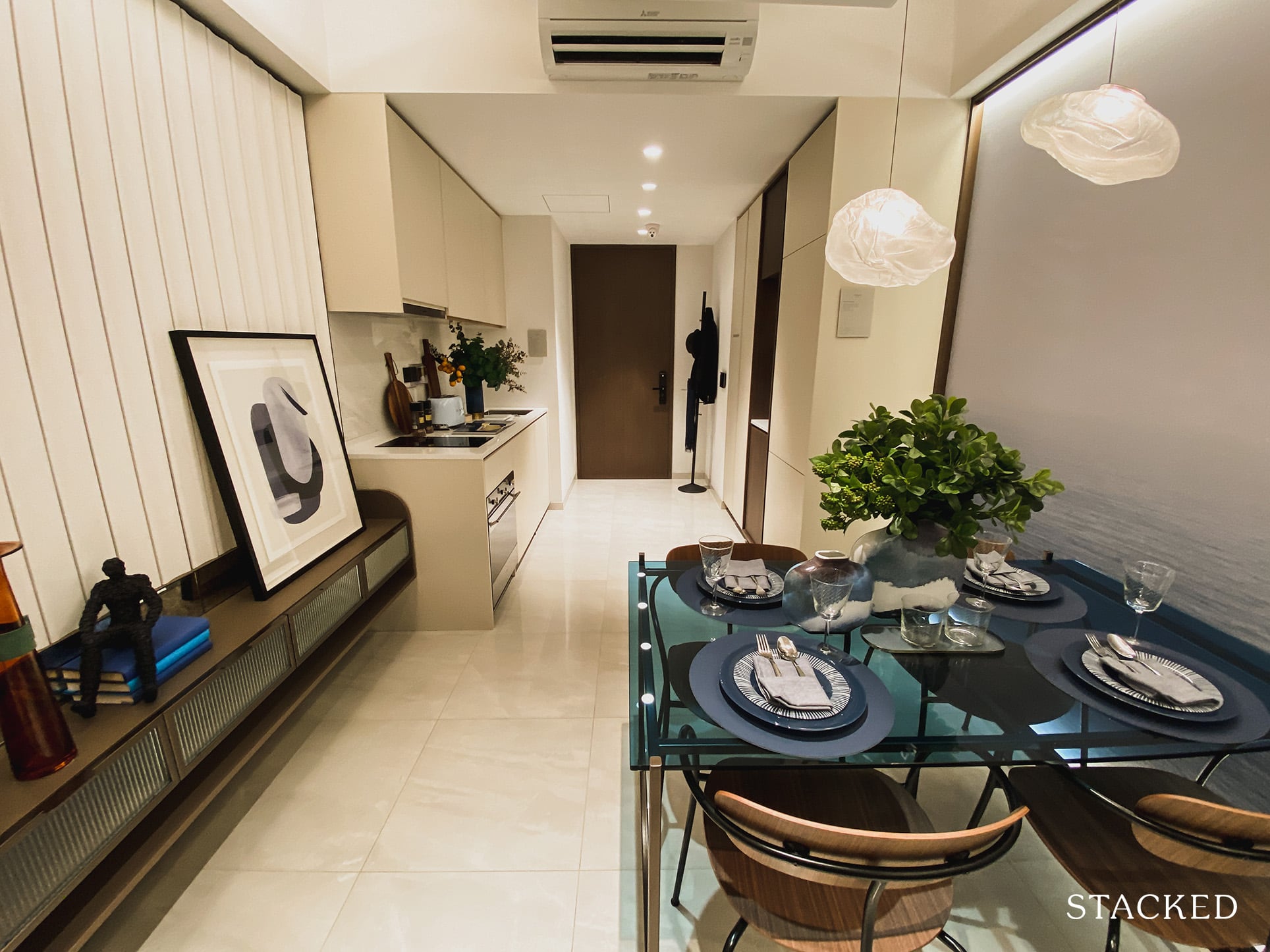 The dining area is surprisingly spacious – as long as you are careful with your choice of the dining table.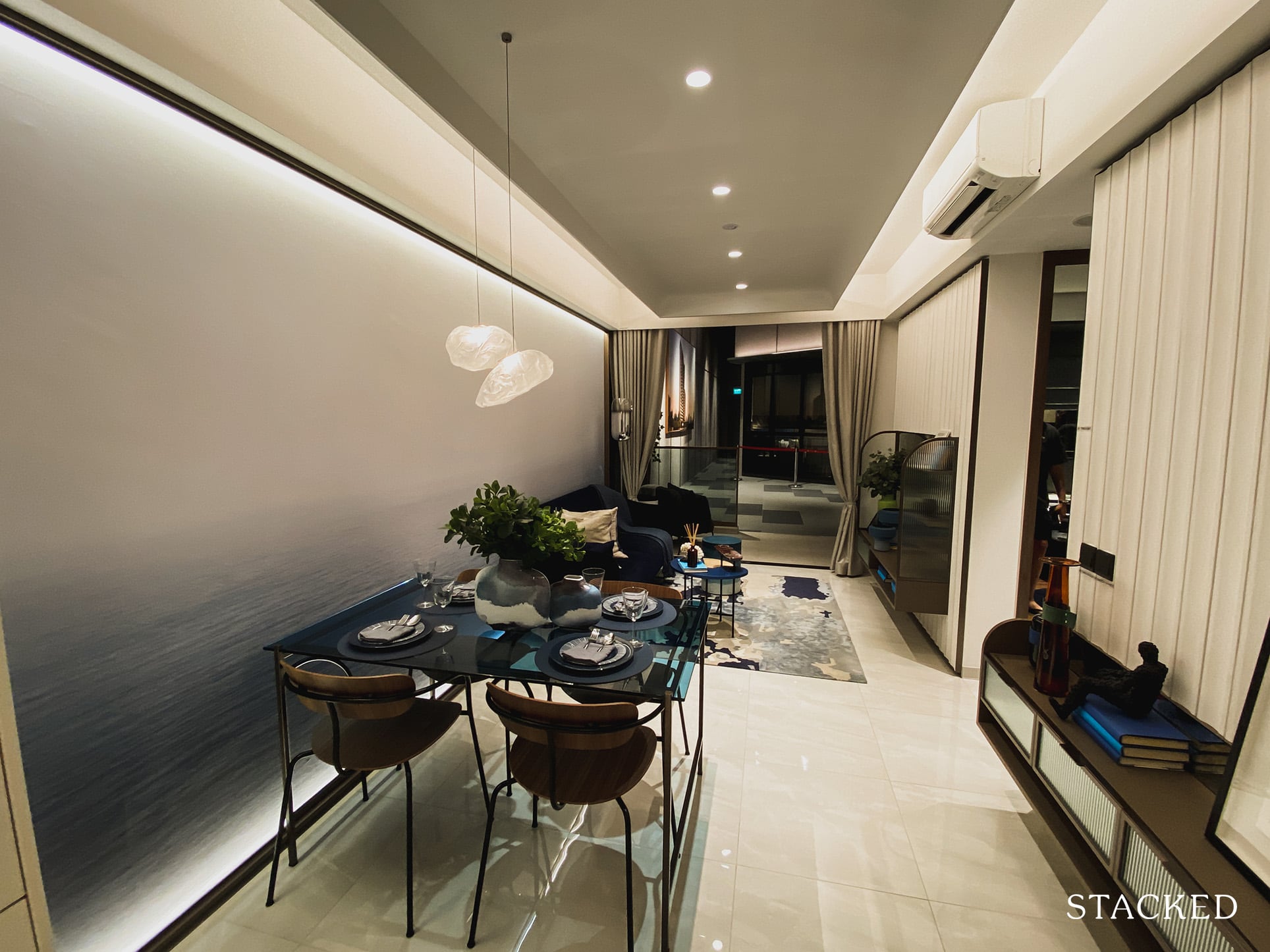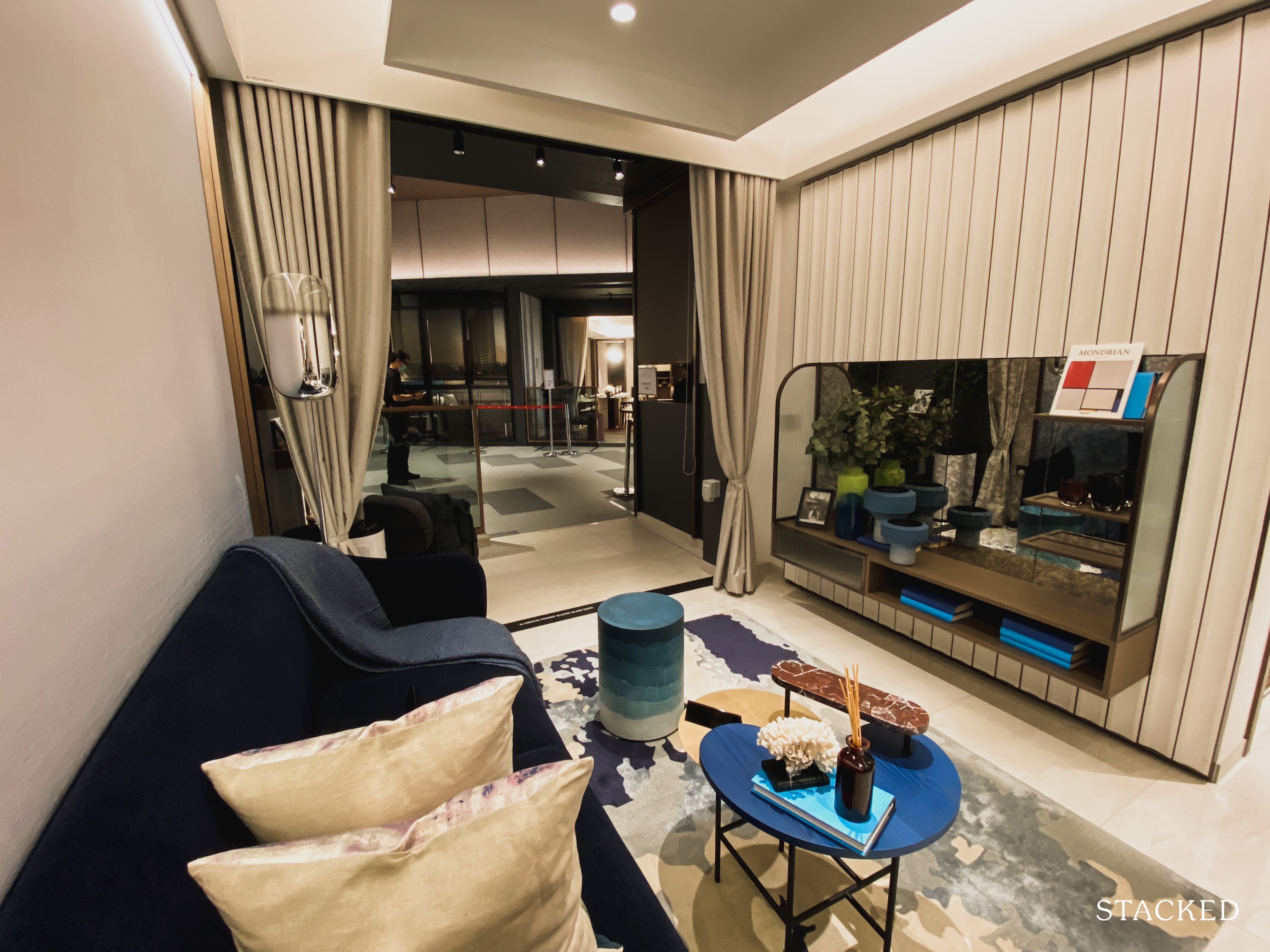 The living room is not bad at all too, even with a proper couch and coffee table there is still adequate walkway space.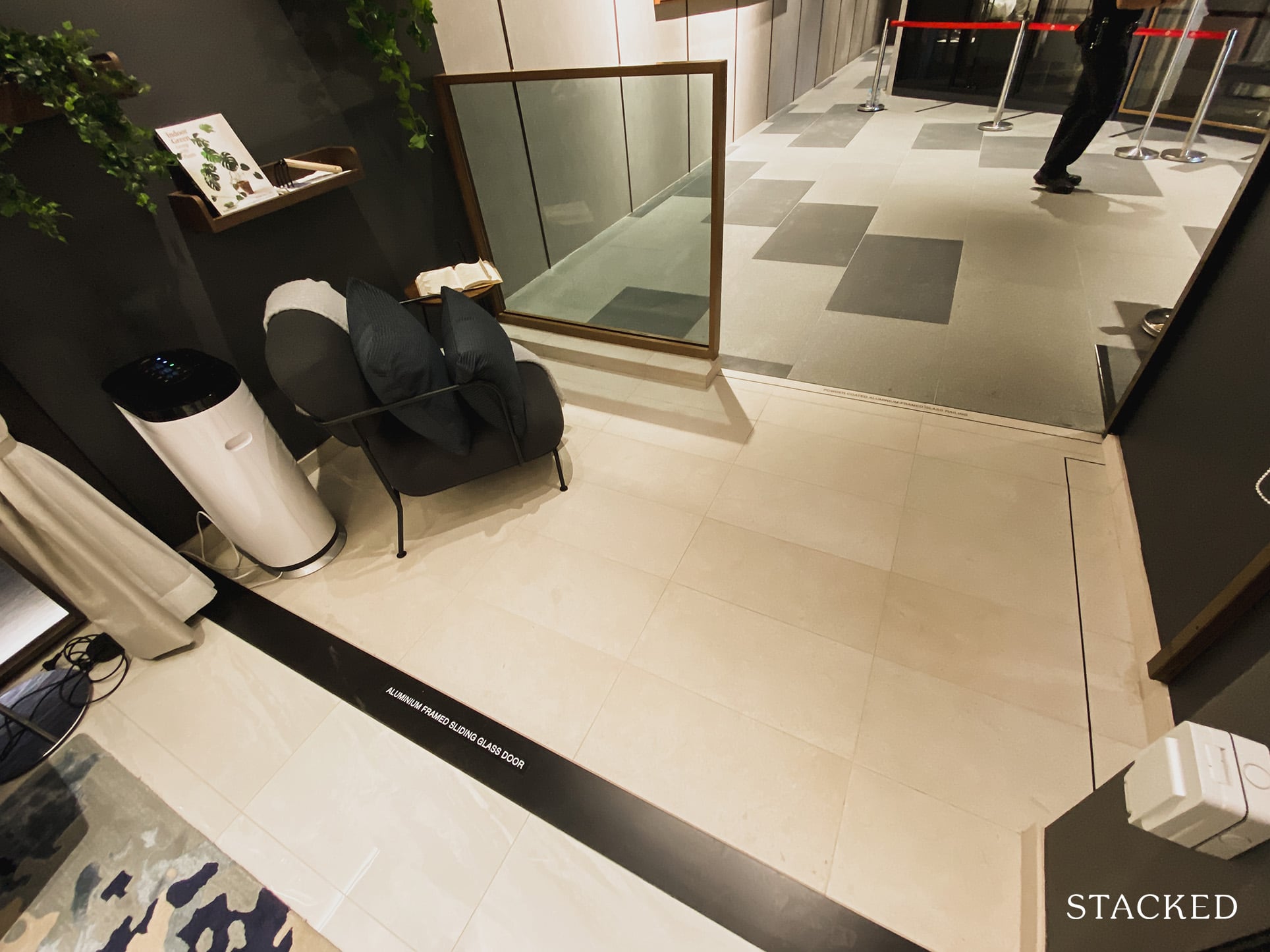 The balcony area is kept to a minimum, but as mentioned, the AC ledge next door is a bit of a bummer.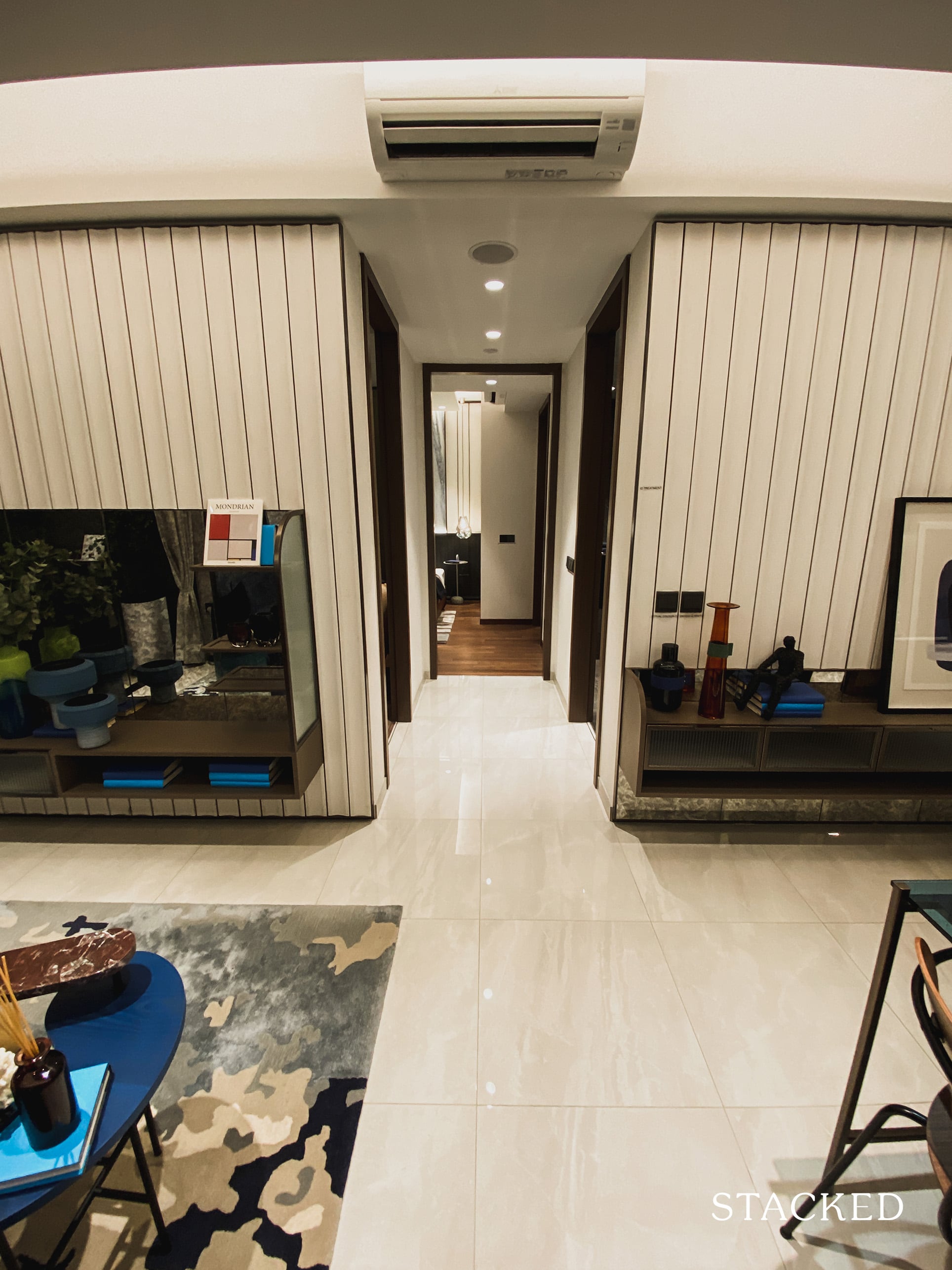 Now onto the bedrooms.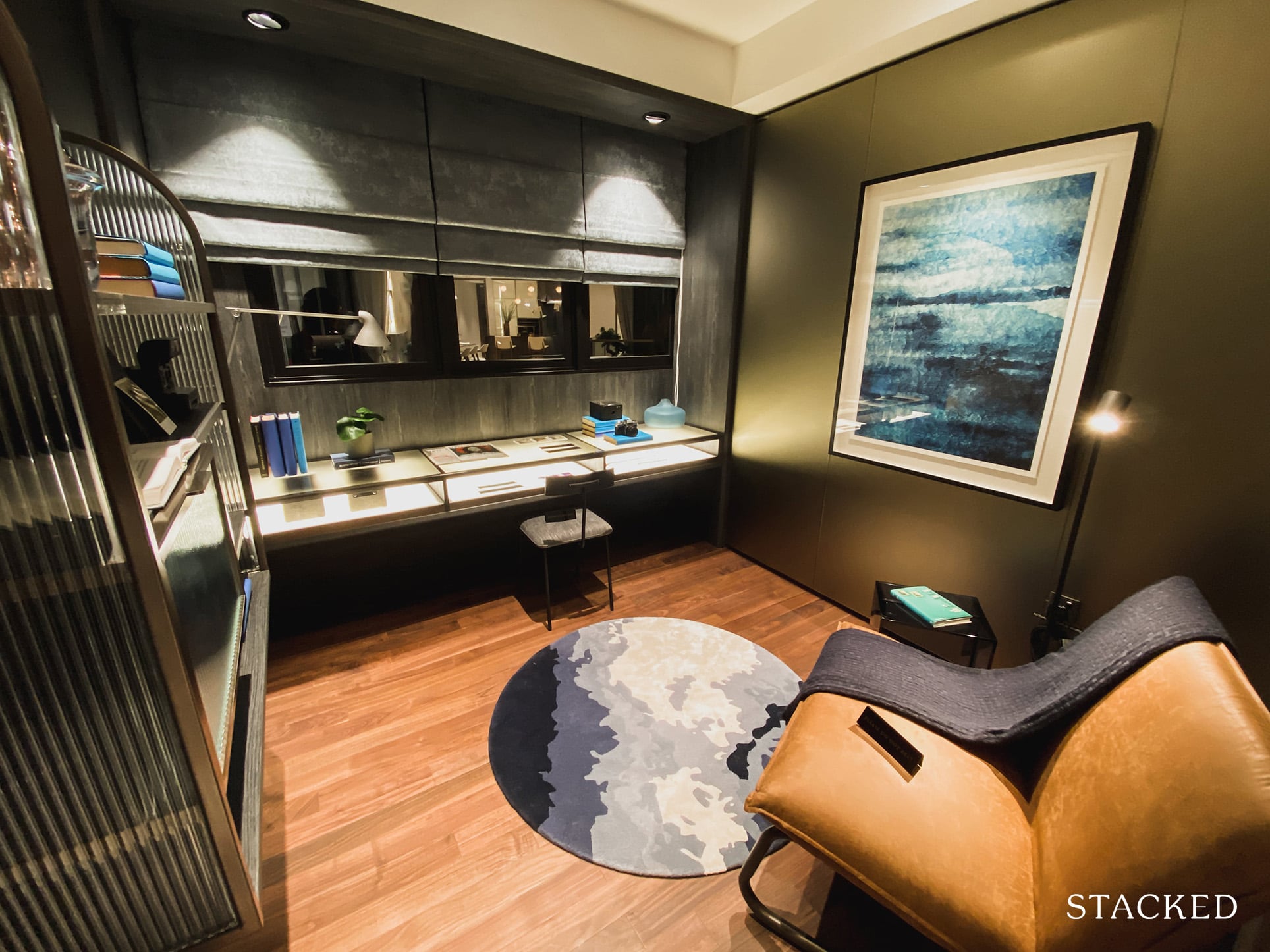 I actually really like the vibe and aesthetic of this room – it's a nice lounge/study hybrid. Although not very many people can afford to just turn one of the bedrooms into a study – especially when it is a 2 bedroom unit in question so I'm not sure why they chose to display this as such.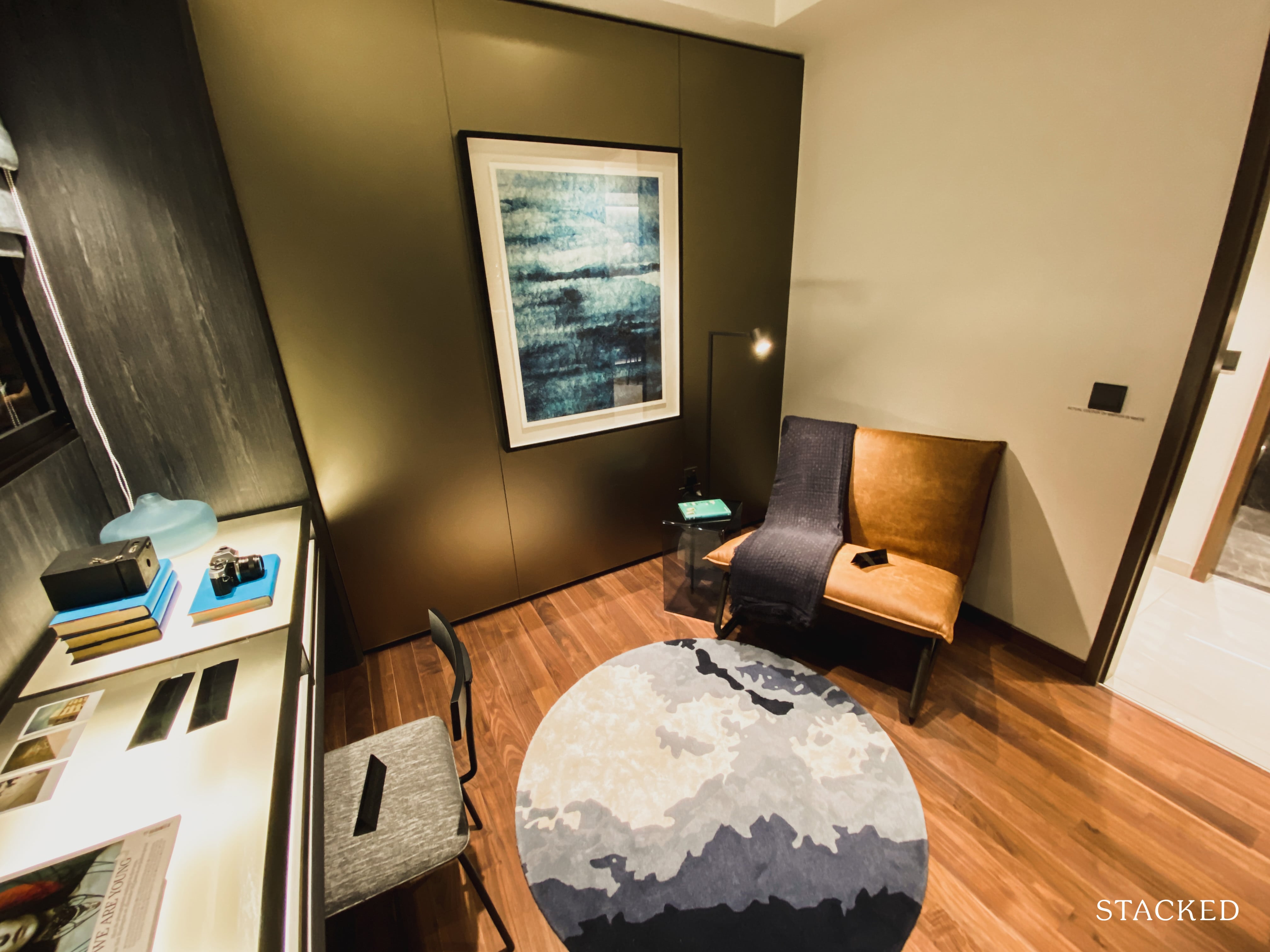 Personal preferences aside, you have to take note that there isn't a wardrobe displayed here too – so the room looks bigger than it actually is (if you are intending to leave it as a bedroom). You don't get floor-to-ceiling windows here as a consequence of that AC ledge on the outside too.
The common bathroom is on the smaller side, but still more than decent for 2 people living here.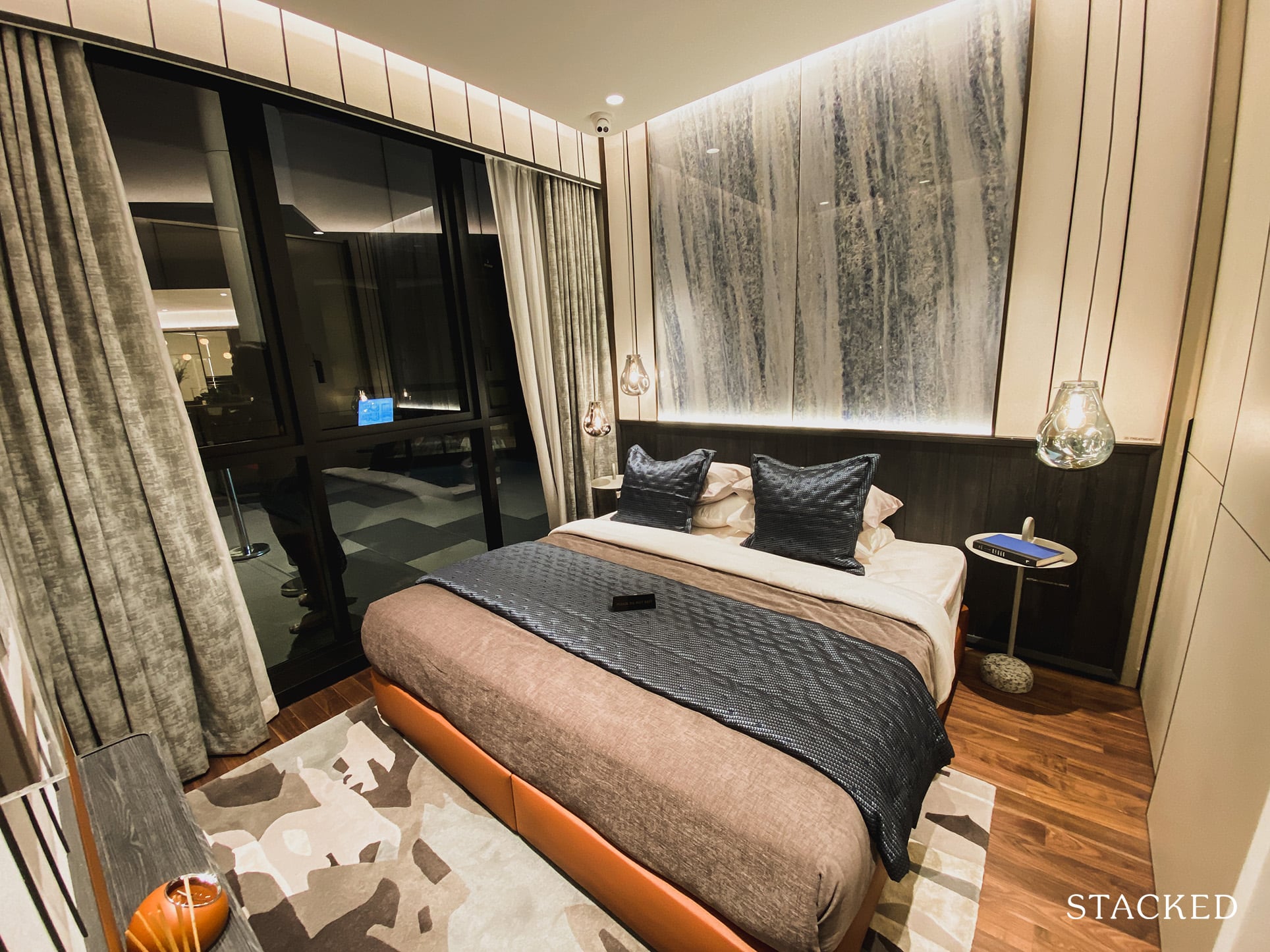 The master bedroom is actually of quite a good size, there is a decent gap between the end of the bed and the wall. And unlike the common bedroom, this one comes with floor to ceiling windows.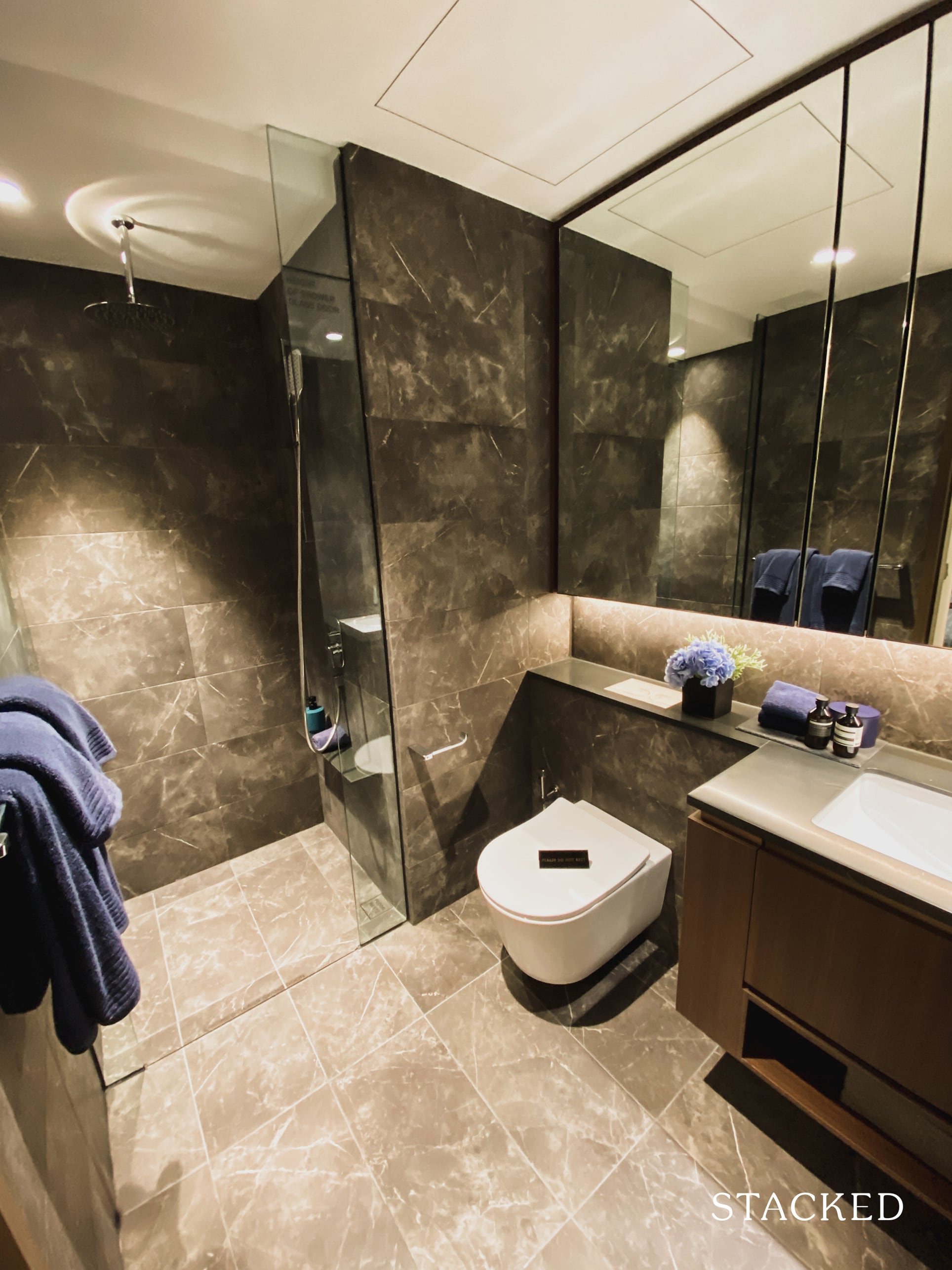 The master bathroom is a smidgen bigger than the common bathroom. Other than the size, the only other difference is the availability of a rain shower.
Kopar at Newton 3 Bedroom Deluxe Review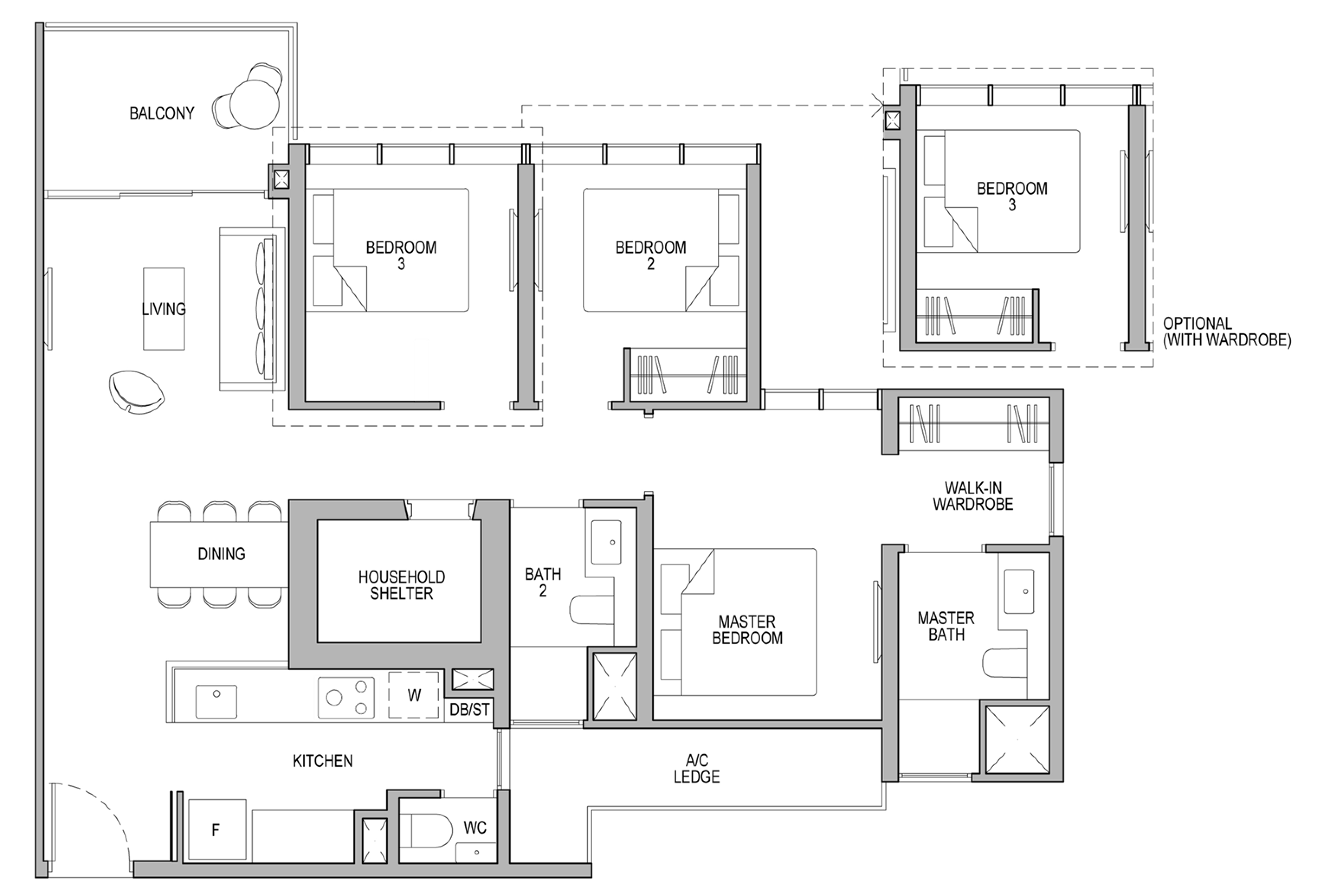 At 1,055 square feet in size, this 3-bedroom deluxe unit is definitely larger than the average 3-bedder that you'll see. The differences between this and the classic 3-bedroom are mainly down to the additional bomb shelter and a bigger master bedroom (plus walk-in wardrobe).
I'll change it up a little here to start with the balcony and living room instead. In the same manner as the 2 bedroom, balcony space is kept to a minimum. As much as that very tiny table and chair out on the balcony seem to show, outdoor dining on this balcony will be a squeezy affair.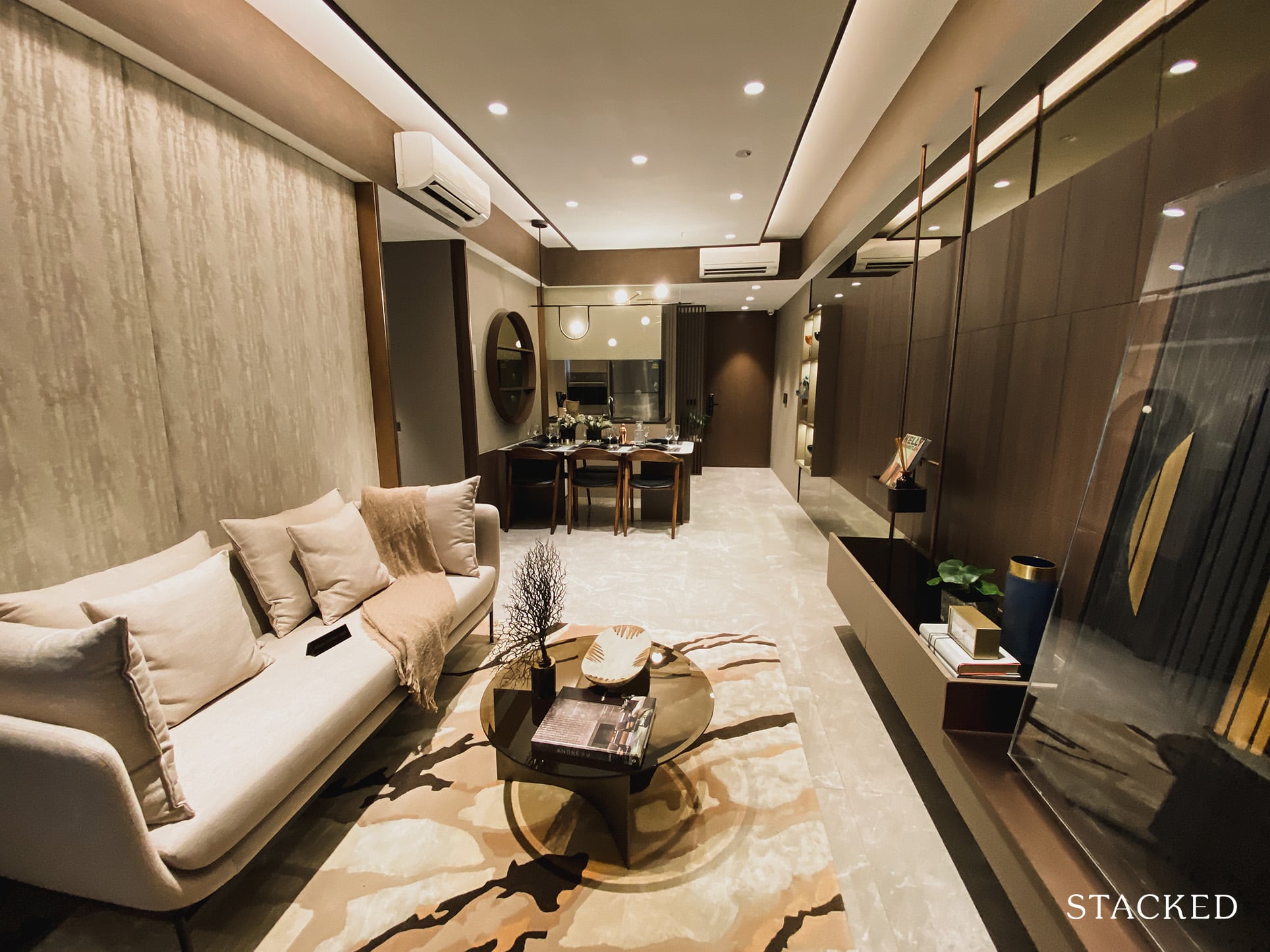 For a deluxe 3-bedroom unit, the living room isn't particularly blessed in the size department. It's certainly big enough for the usual couch, coffee table and TV console – nothing less, nothing more.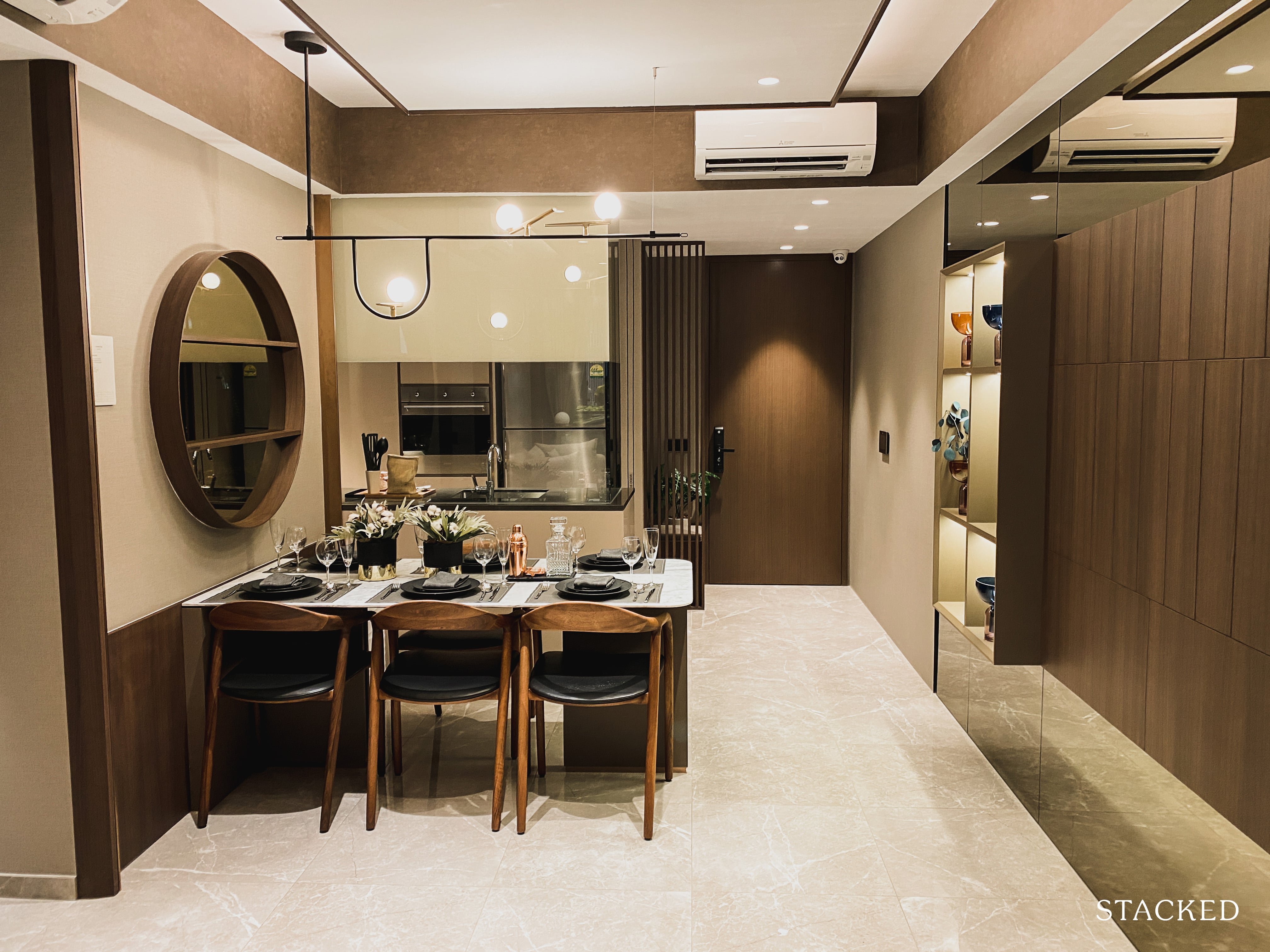 Plainly speaking, the dining table here will be quite a tight squeeze to fit 6. You could definitely do with a bigger dining table here, just at the expense of a little walkway space.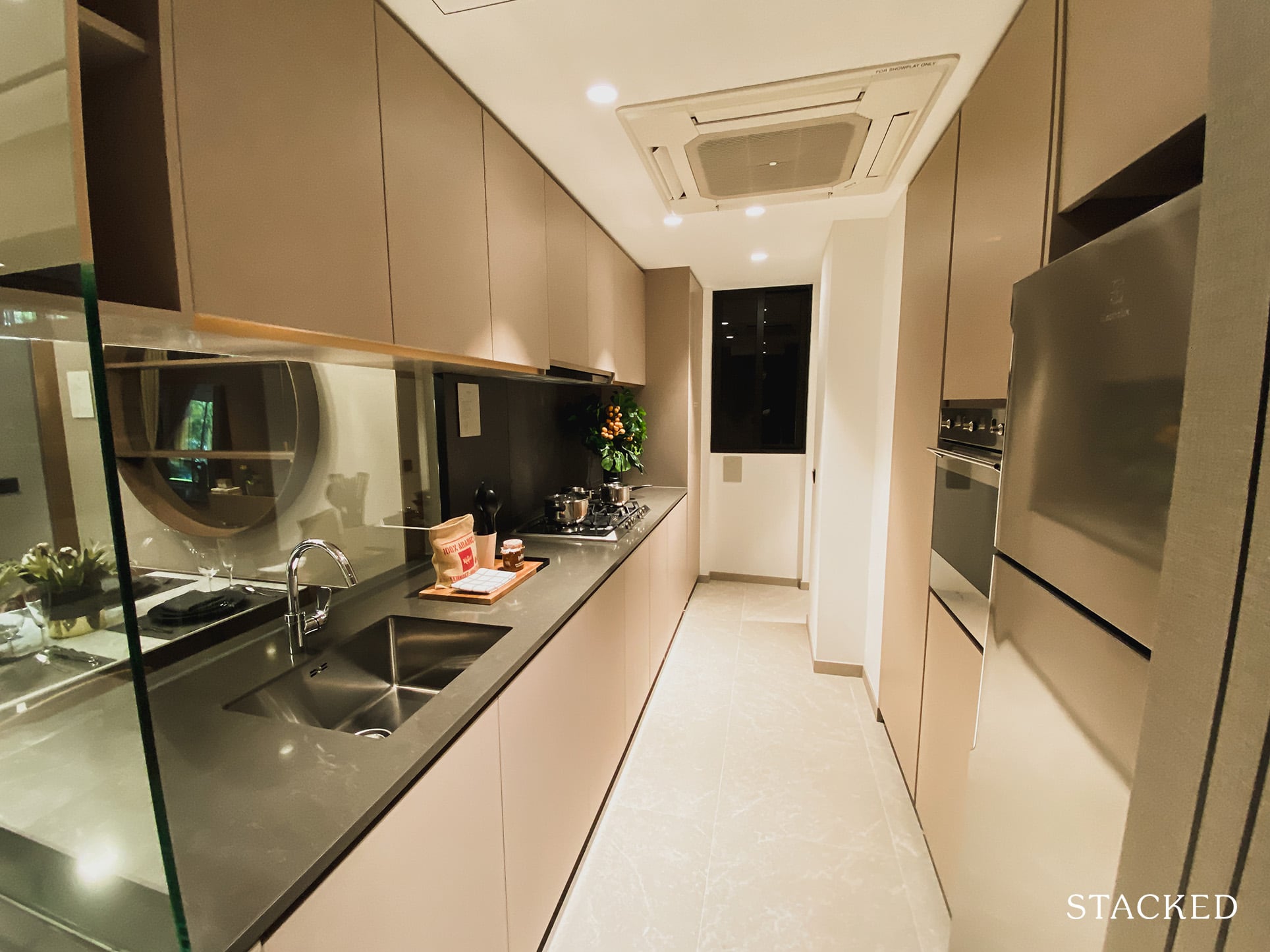 If you were to judge by absolute size, the kitchen in this 3-bedroom deluxe unit is actually quite big. It has a long usable countertop and plenty of storage given the length.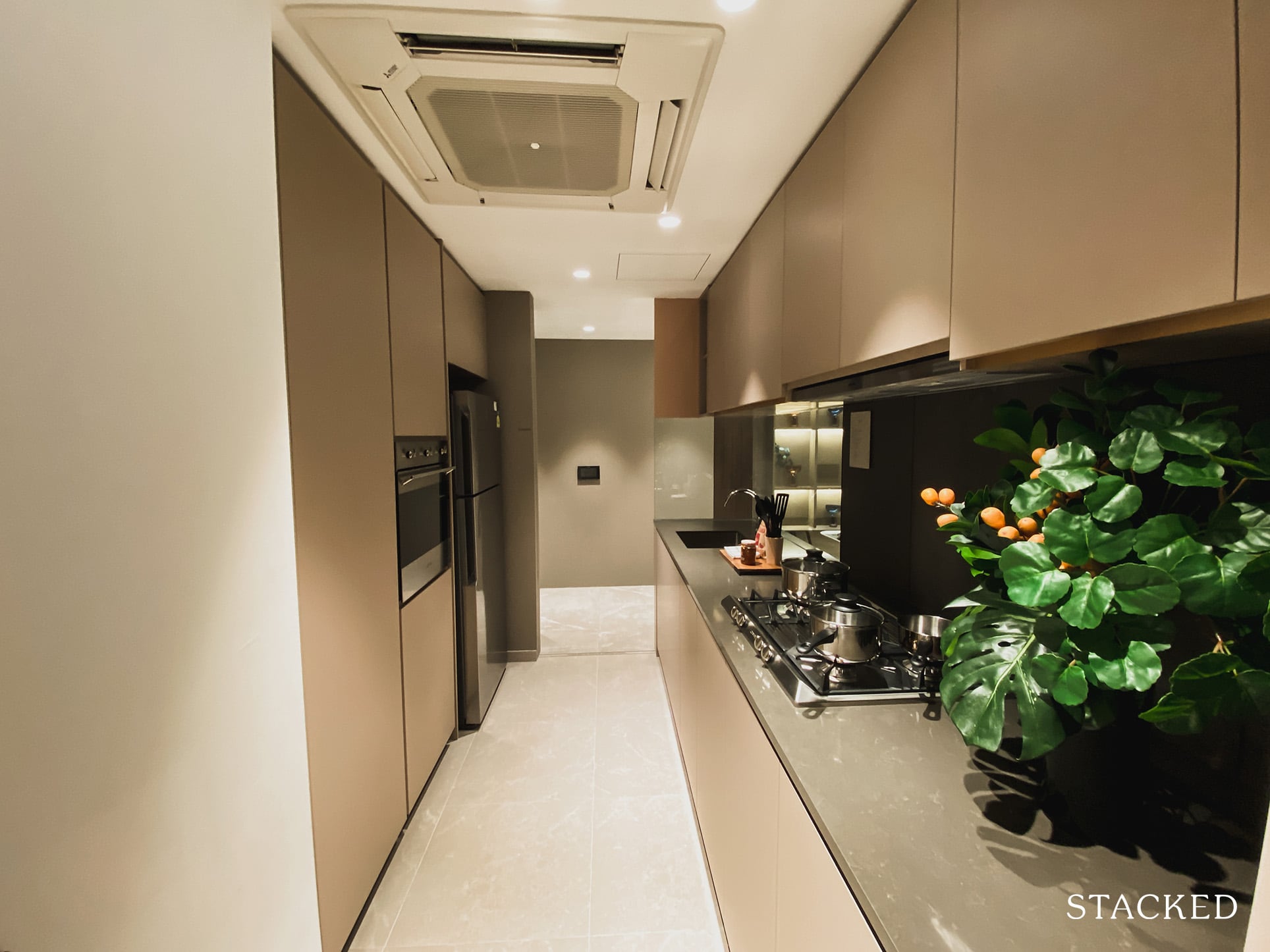 That said, it is quite narrow so from a usability perspective, I think I'd prefer a more squarish layout.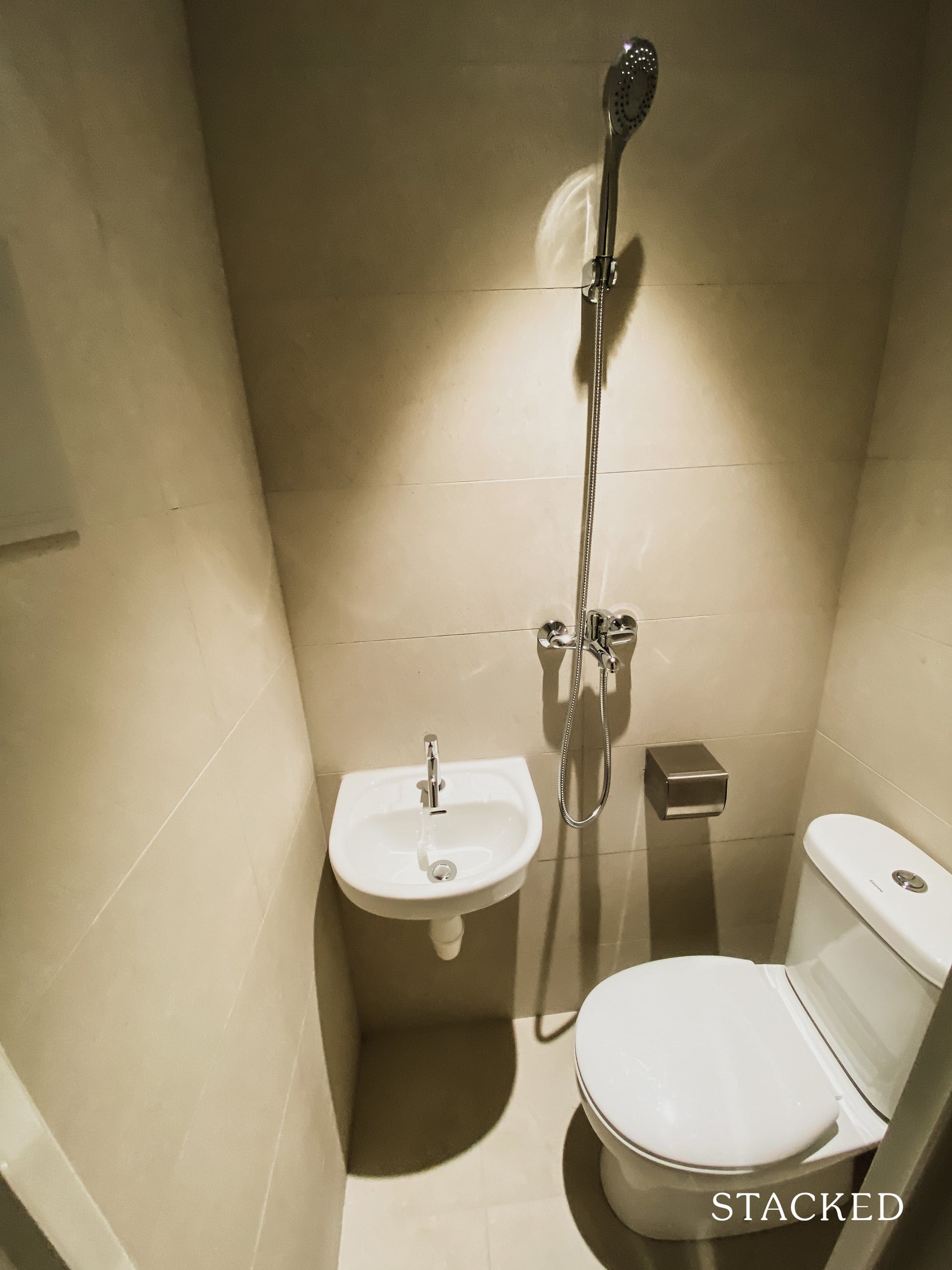 There is a small bathroom located right in the corner at the end. While it's always useful to have another bathroom in the house the location of this one is a little perplexing. There is a bomb shelter that could double up as a helper's room, but that distance between both is quite off too.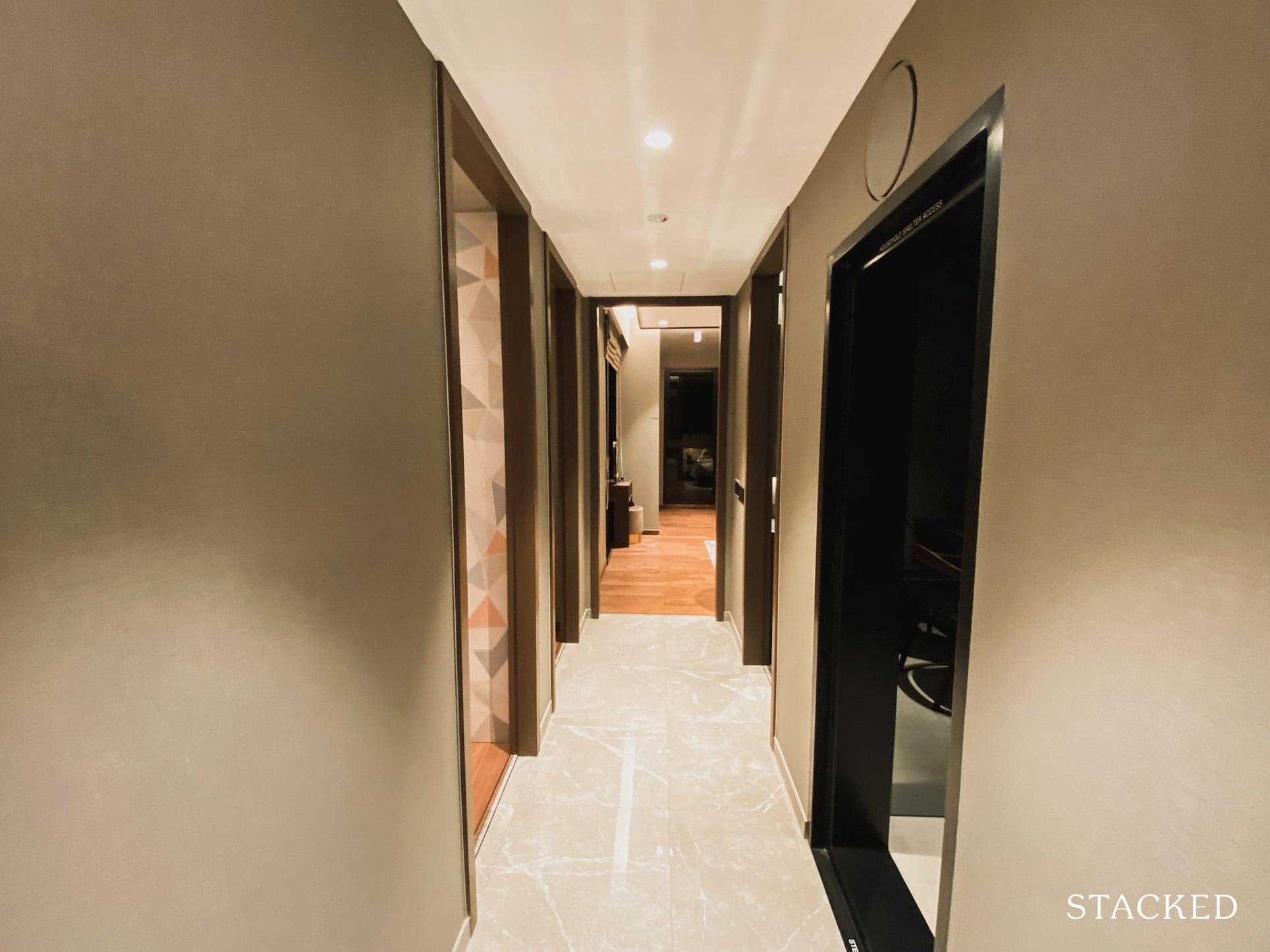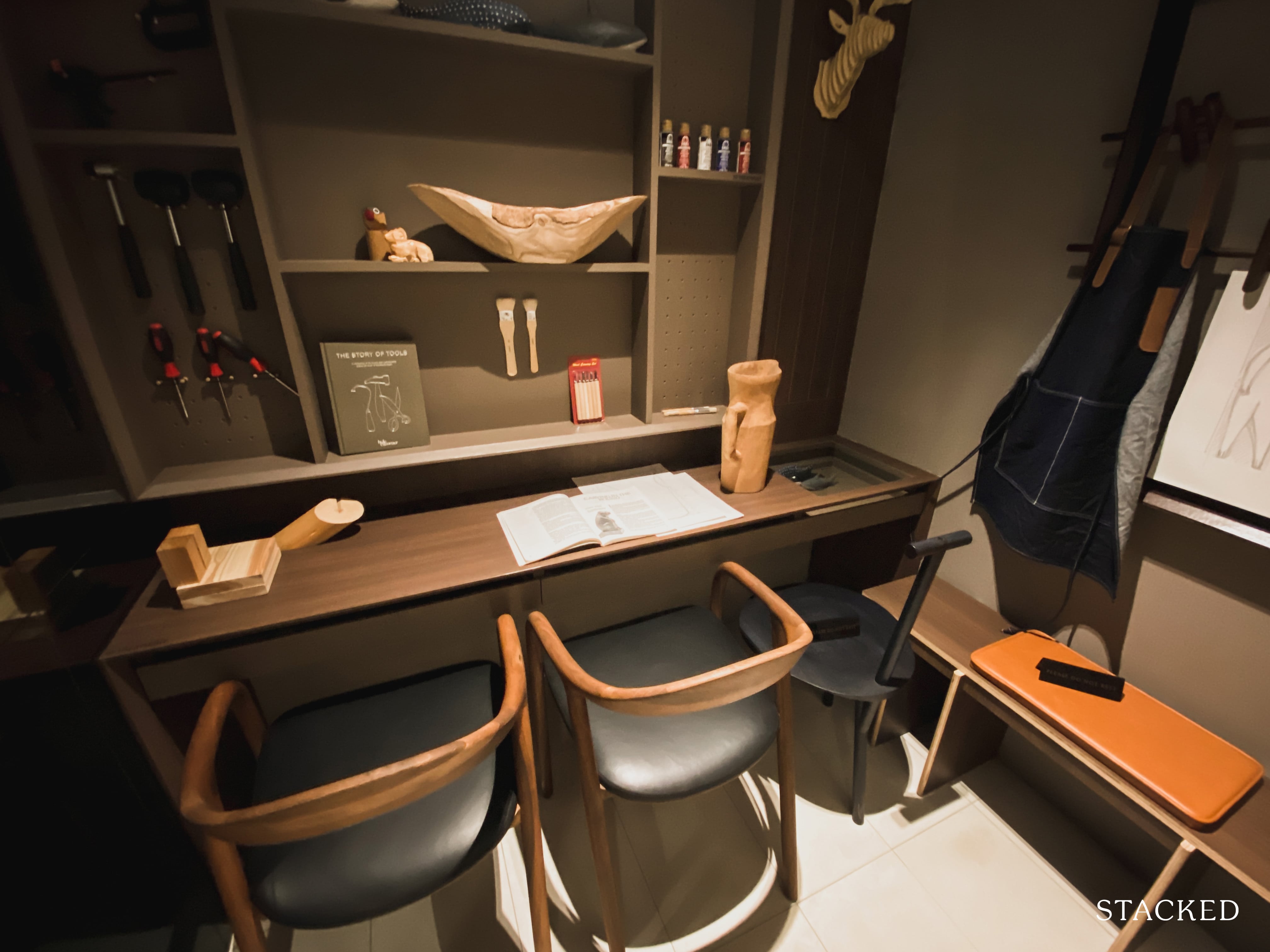 Like the WC at the back, the location of this bomb shelter is not the best placed. You could use it as a helpers room or additional storage – or in this case, a nicely designed but claustrophobic study area.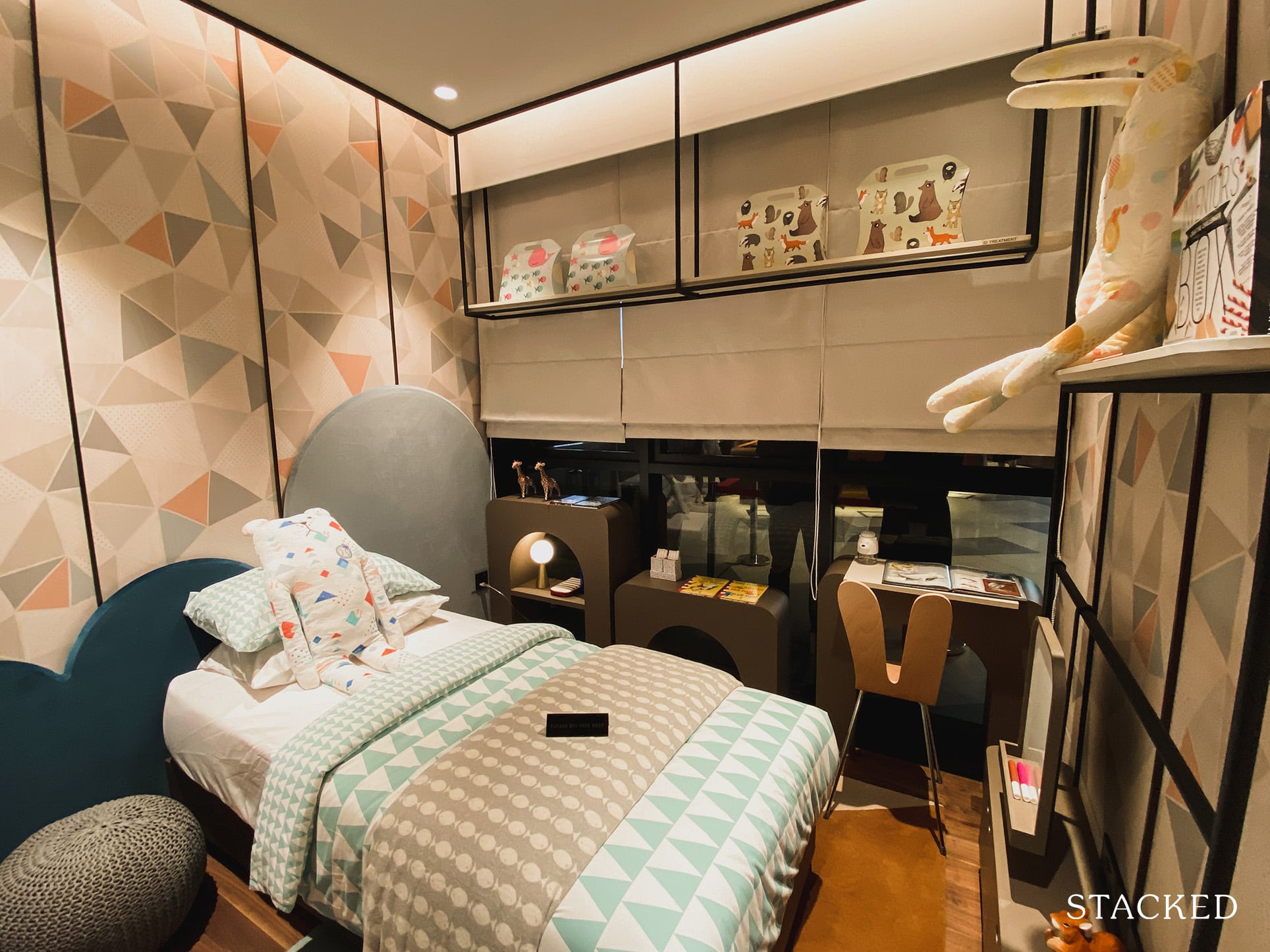 Both common bedrooms are of equal size, although neither comes with an ensuite bathroom.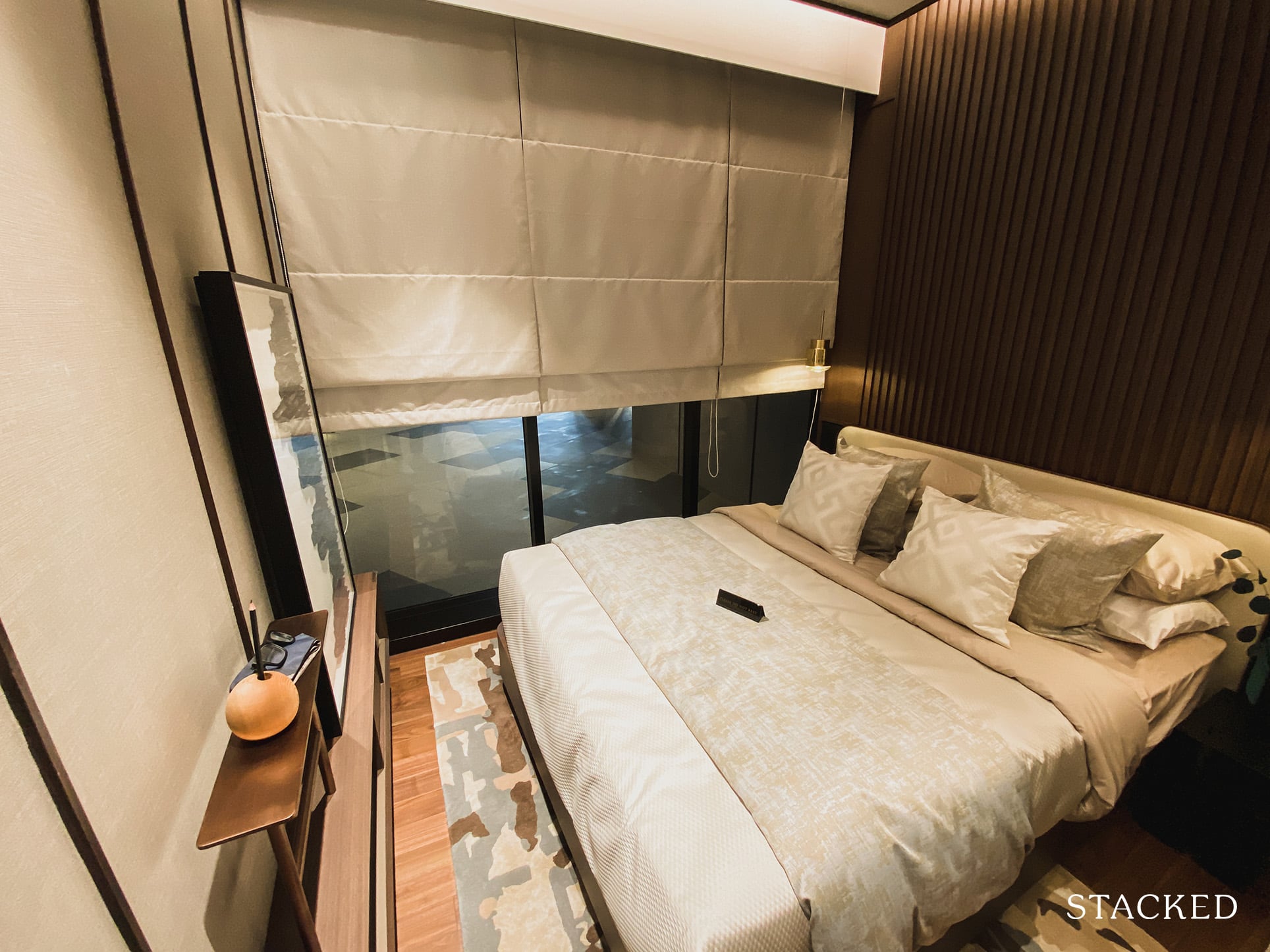 They are both definitely on the small side, you'll be able to fit a queen-sized bed, but that's pretty much it. On the positive end of things, both bedrooms do come with floor to ceiling windows.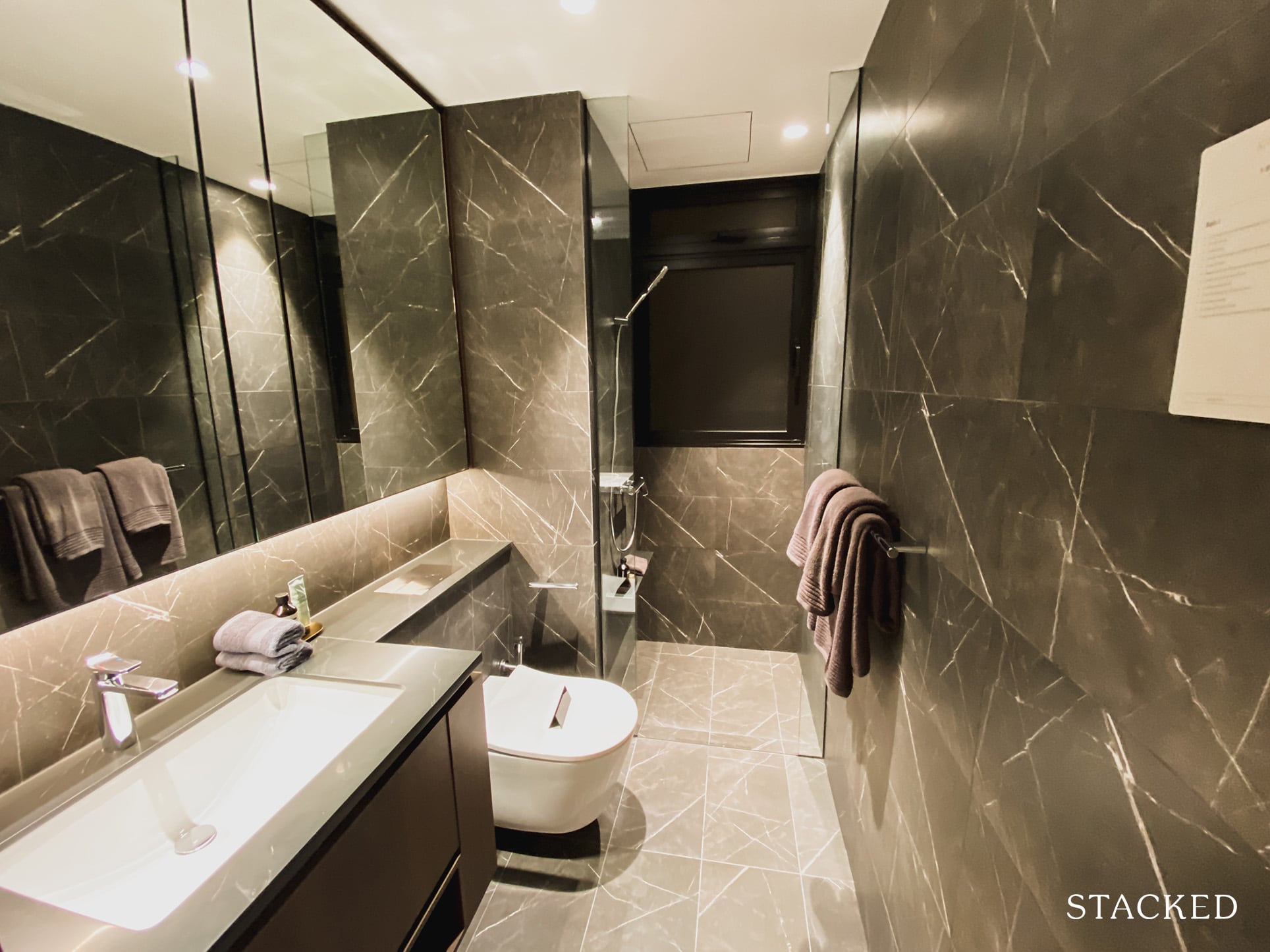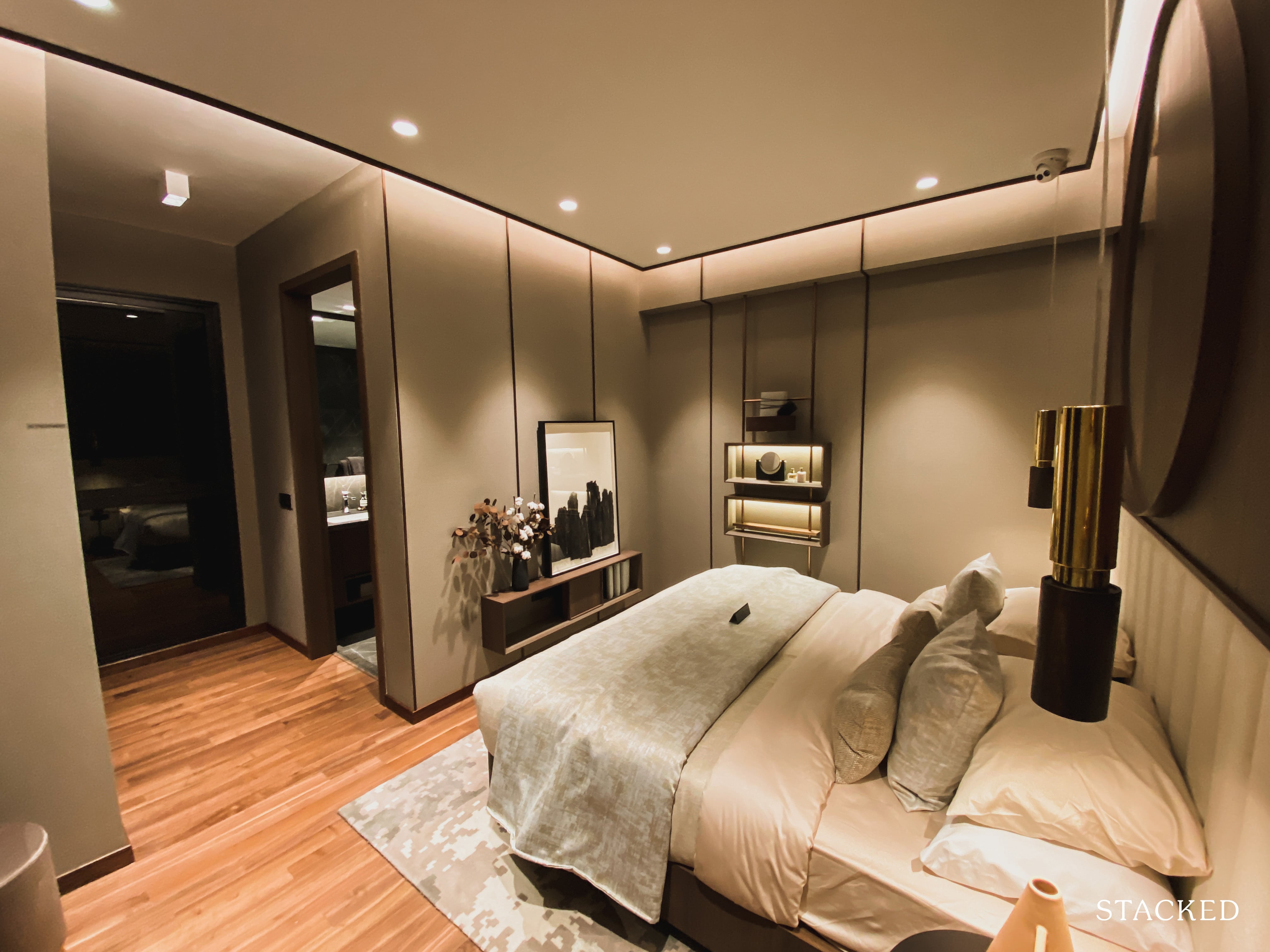 For parents looking to purchase this 3 bedroom unit – you'll probably be well pleased with the amount of space available. First off, there is a wide berth by the side which you can use as a dresser or a study corner.
However, on that side of the wall, only half of the window is available as the other part is a wall that is shared with the second common bedroom.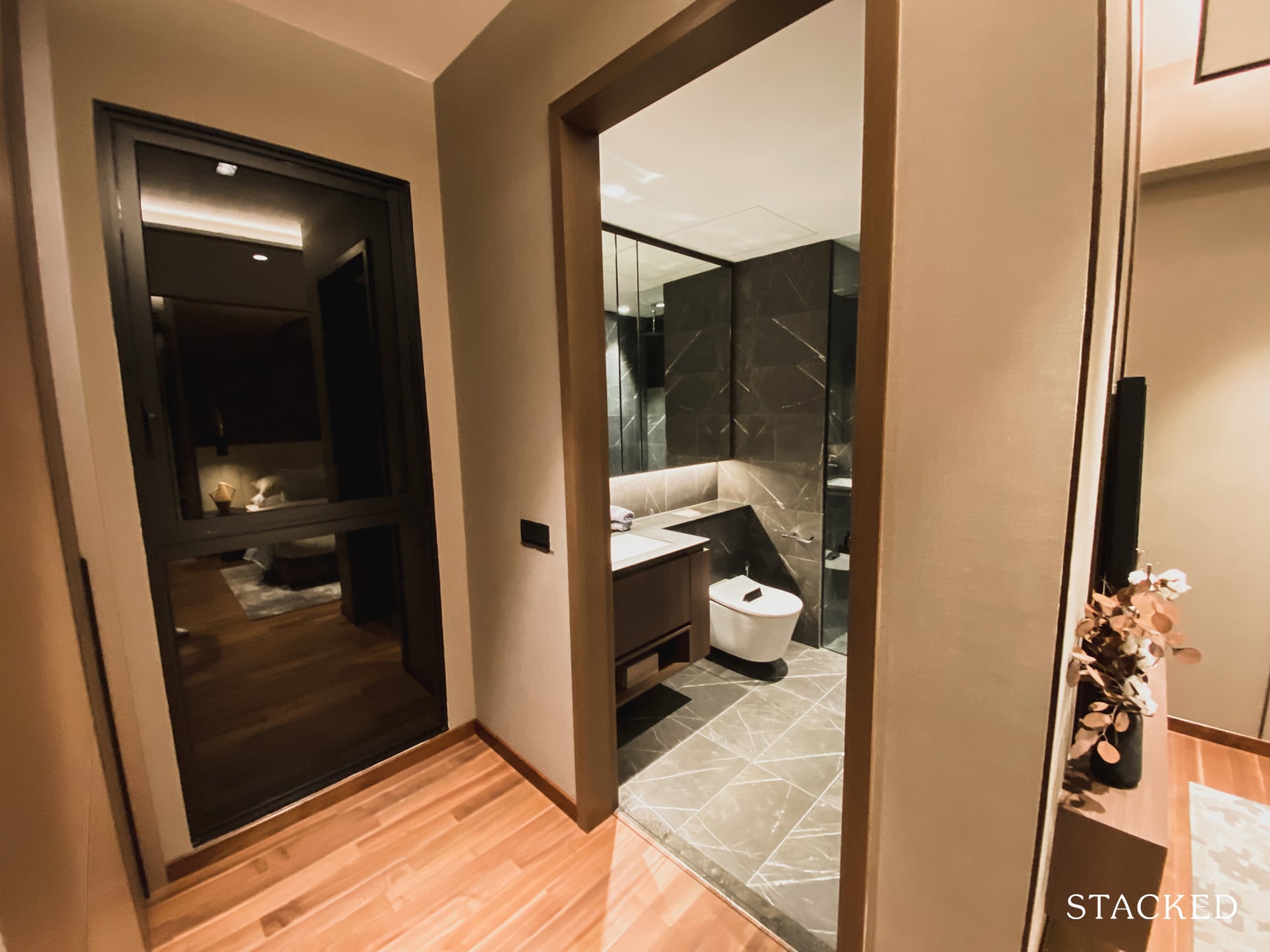 This area is termed as the "walk-in wardrobe" but in actual fact, it is best described as more space in front of your wardrobe. You do get another window here too – which is always good to add more light in.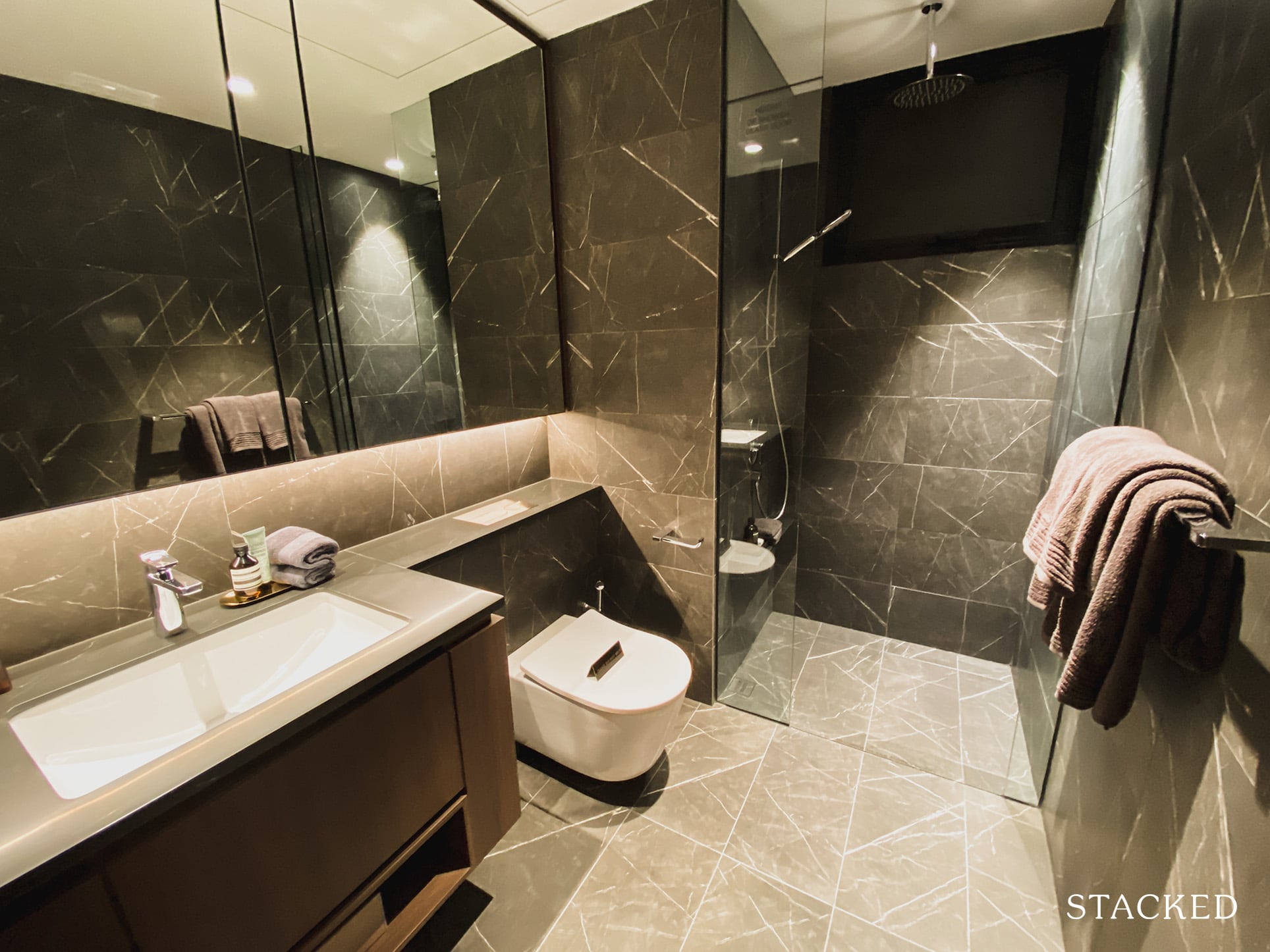 The master bathroom is larger than the common bathroom – but not by much. Just like the 2 bedroom unit, there is a rain shower as well.
Kopar at Newton 5 Bedroom Review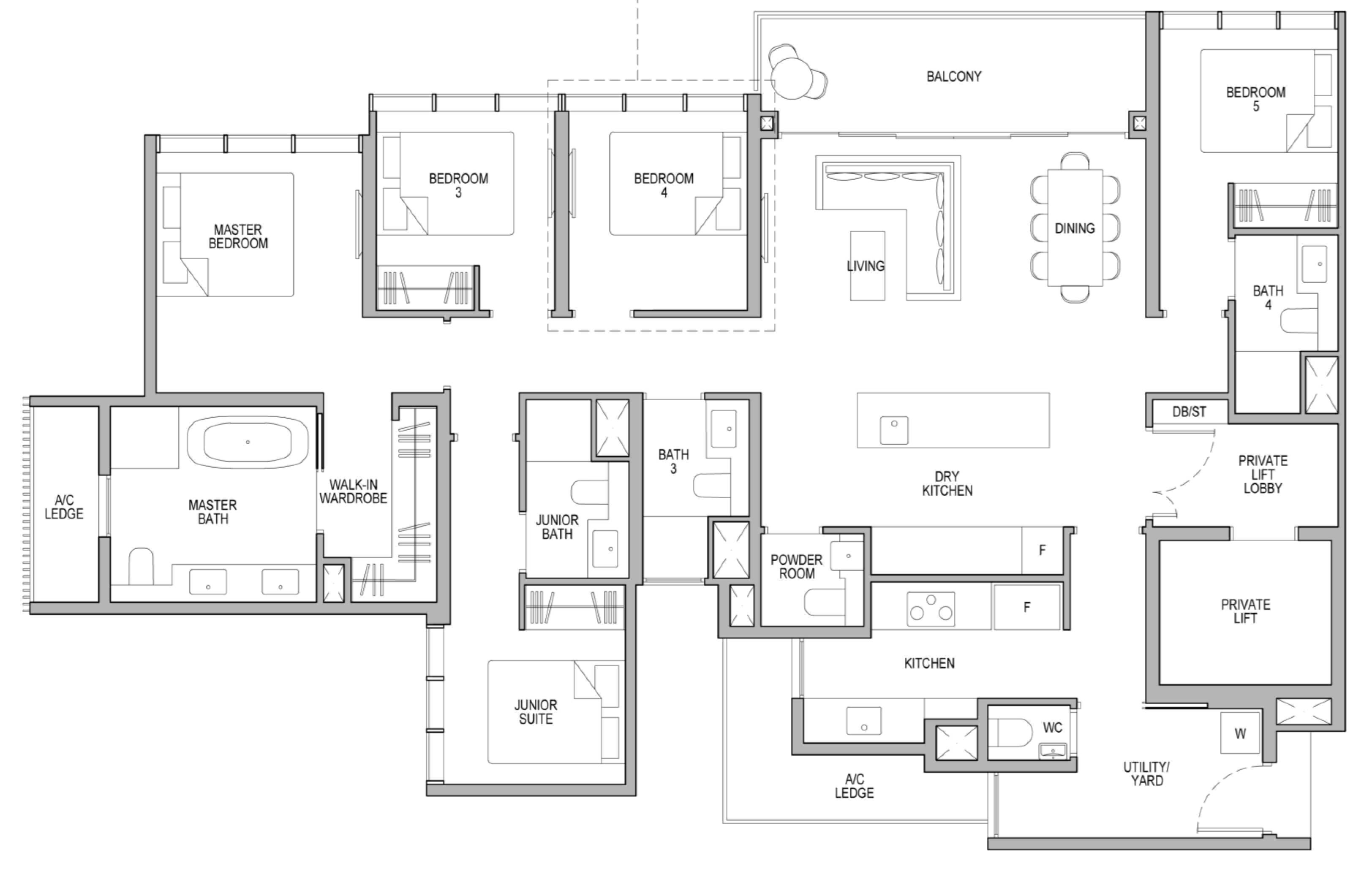 At 1,819 square feet isn't huge by any means for a 5 bedroom unit (take a look at the Avenir's 4 bedder + Family for example). Although it must be said if you are looking for a 5 bedroom for a big family this one is practical enough for you to consider at a cheaper quantum.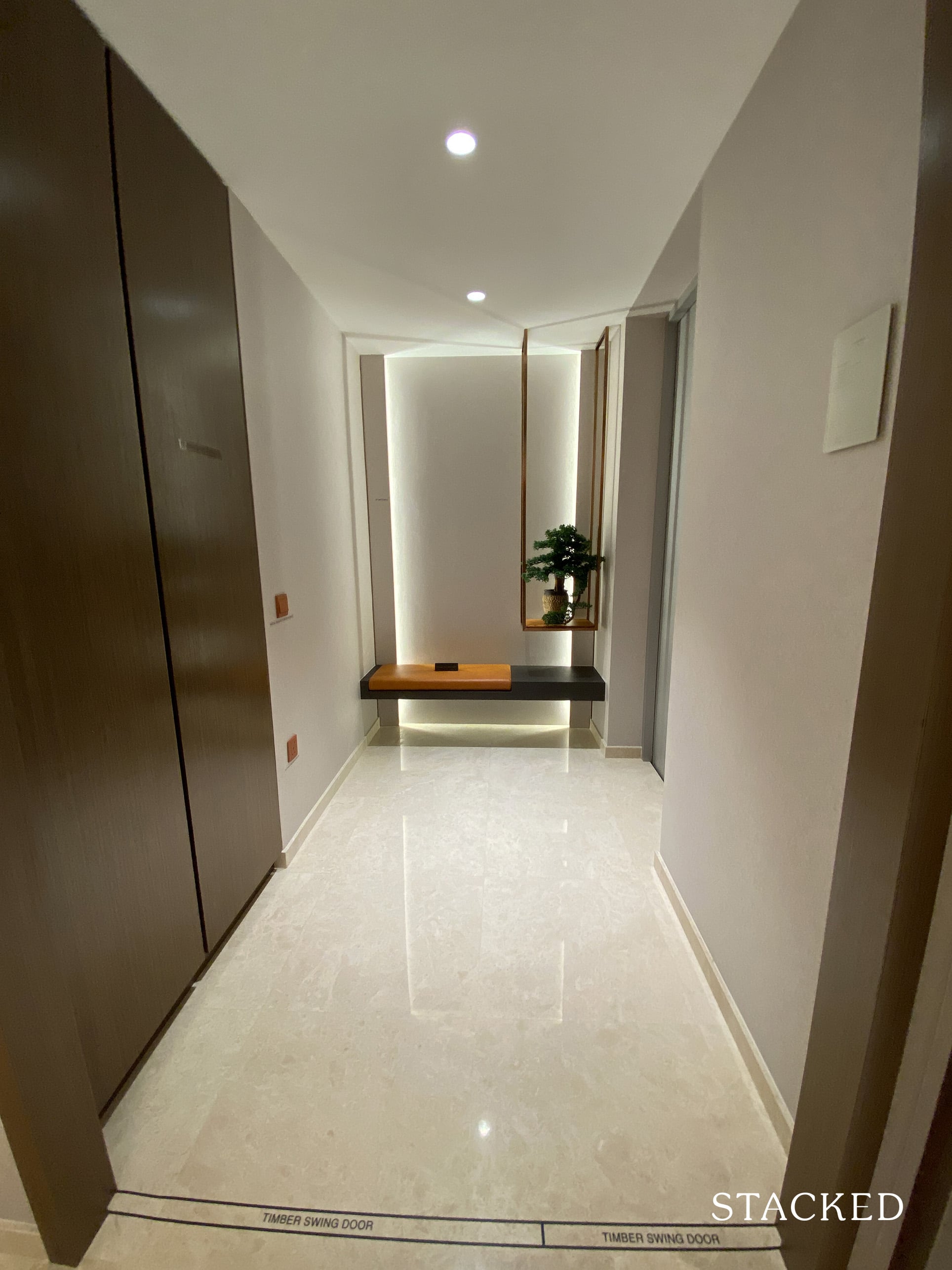 In what is becoming an increasingly bare minimum for higher-end condos nowadays, this 5 bedroom unit at Kopar at Newton comes with private lift access. You get built-in storage cabinets here too – which will come in handy to put all your shoes.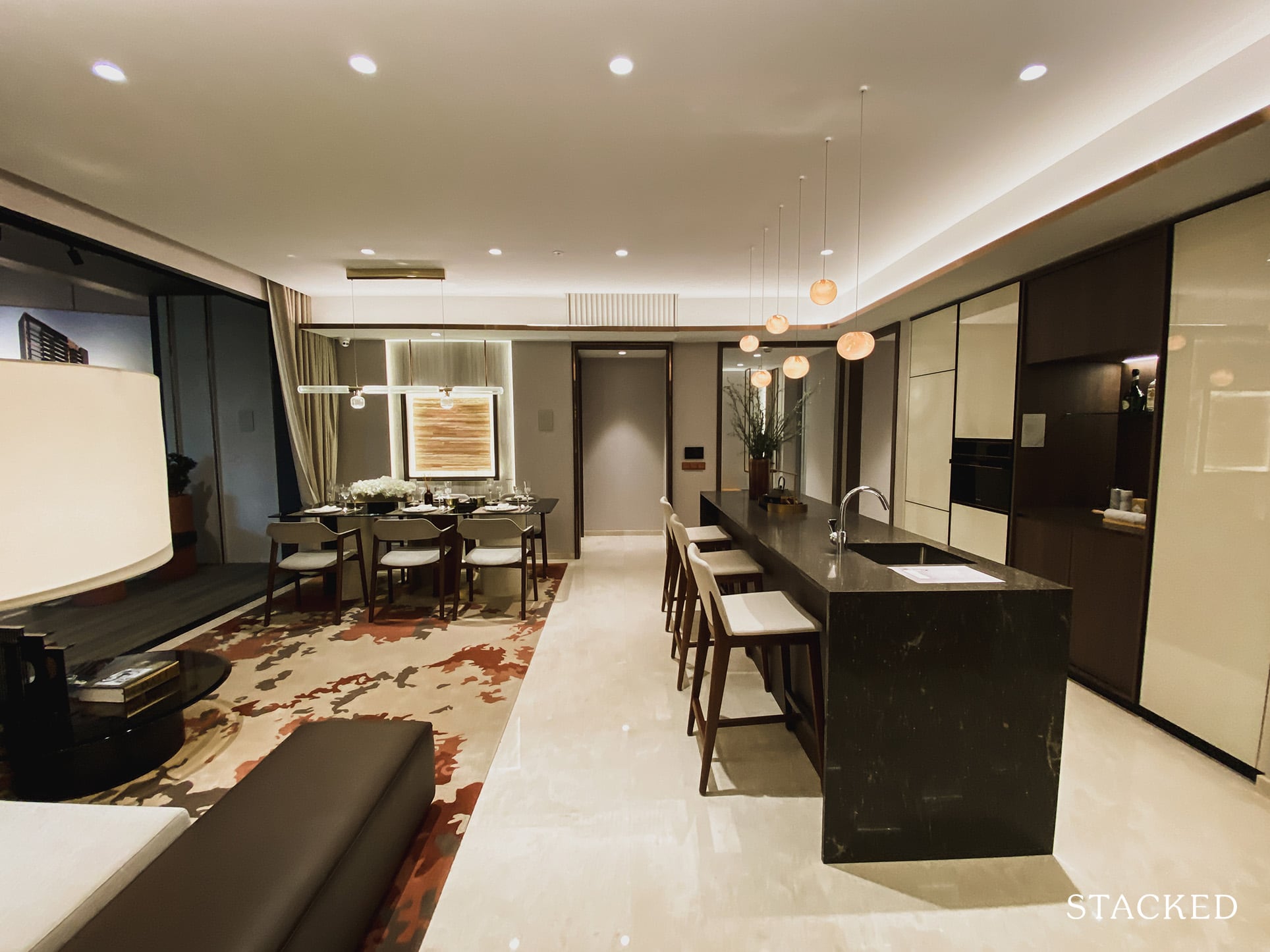 The lift lobby opens up to a living and dining space measuring 5.6 metres in length.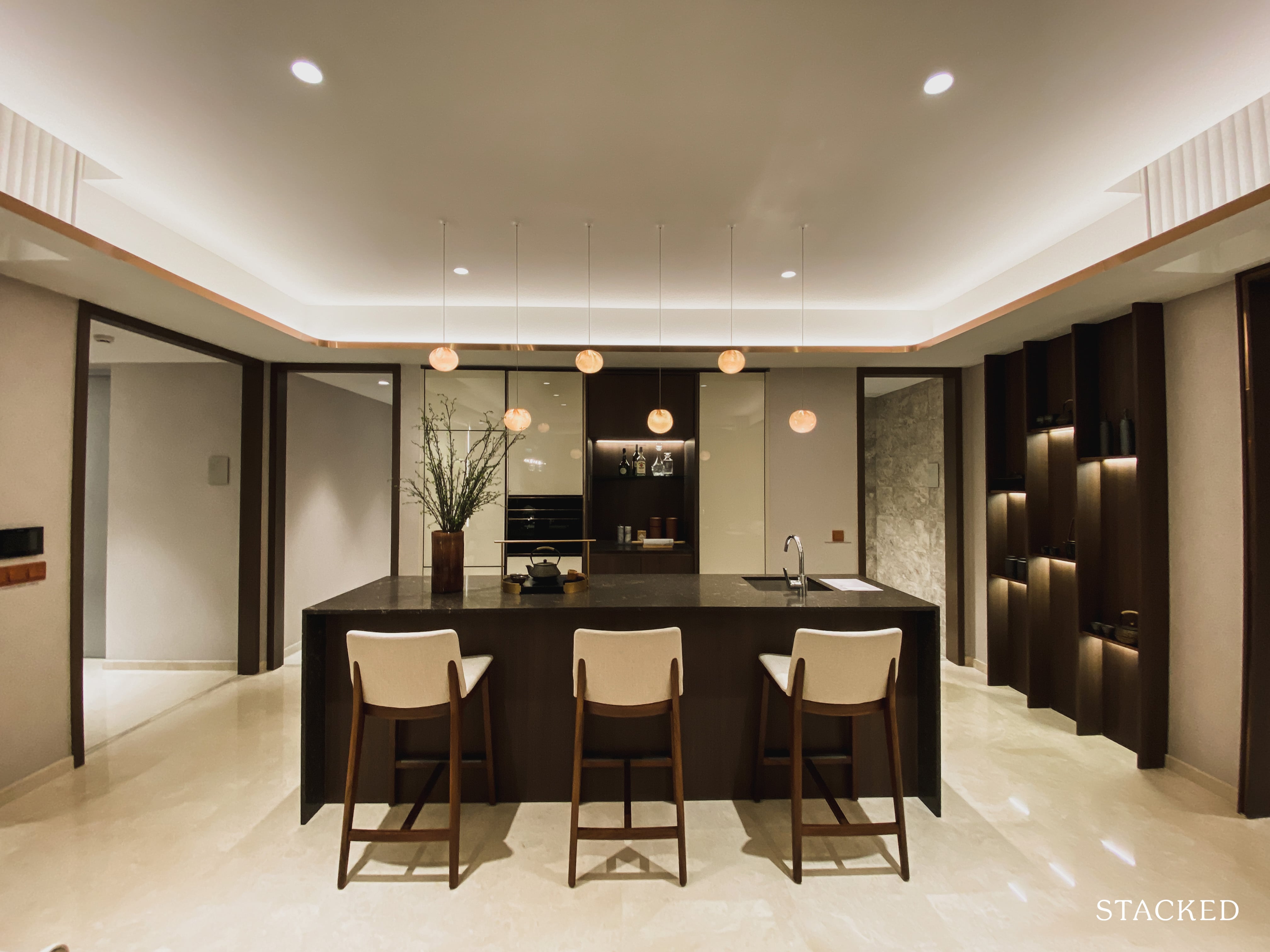 The 2.8m kitchen island is the visual centrepiece that takes all focus the moment you walk in. It spans exactly half the length of the room, and it further accentuates the size of this living area. Because of its size, you can use it as a secondary dining area too.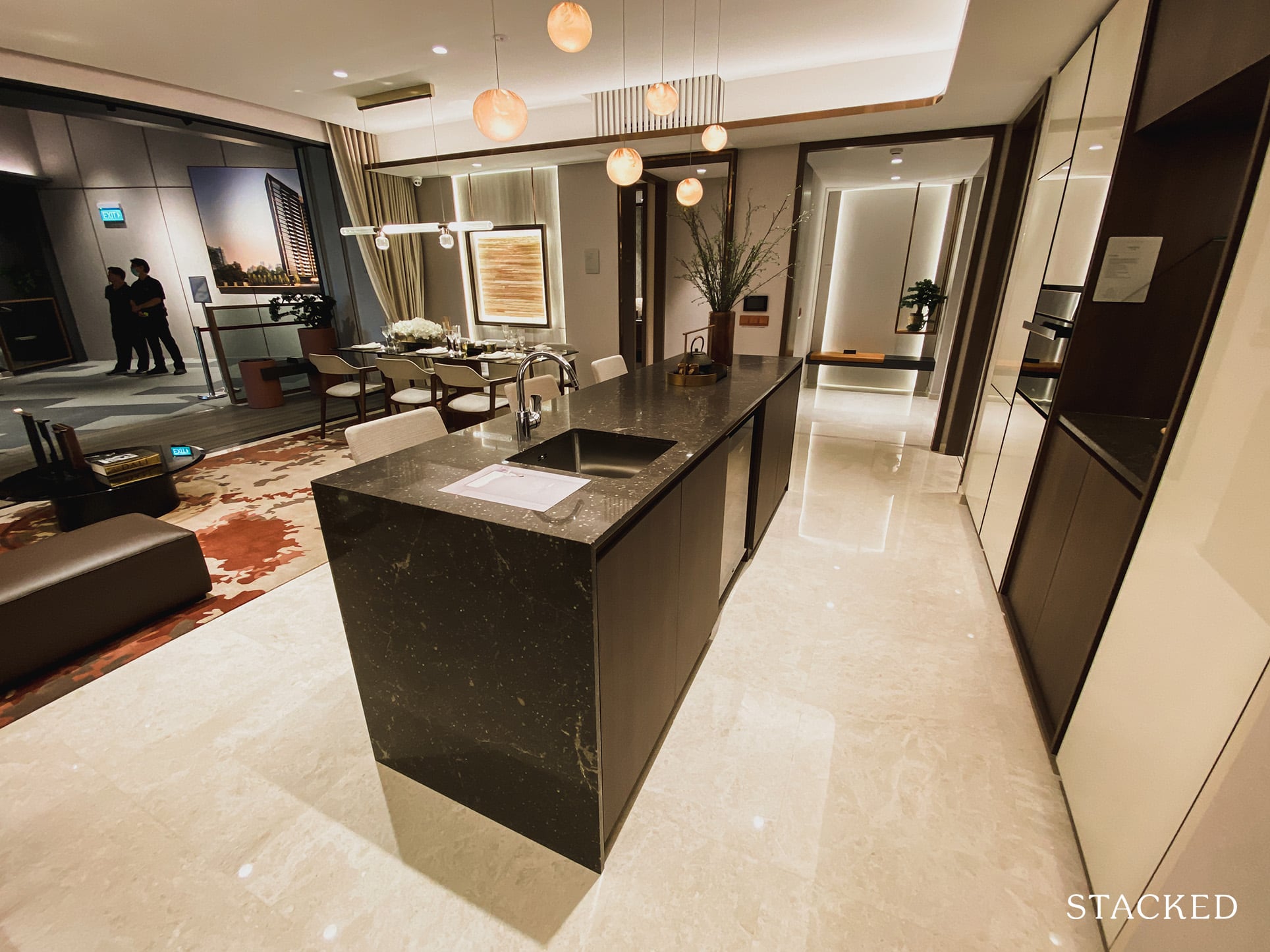 As you can see, the space you have to work within this dry kitchen is pretty sizeable too.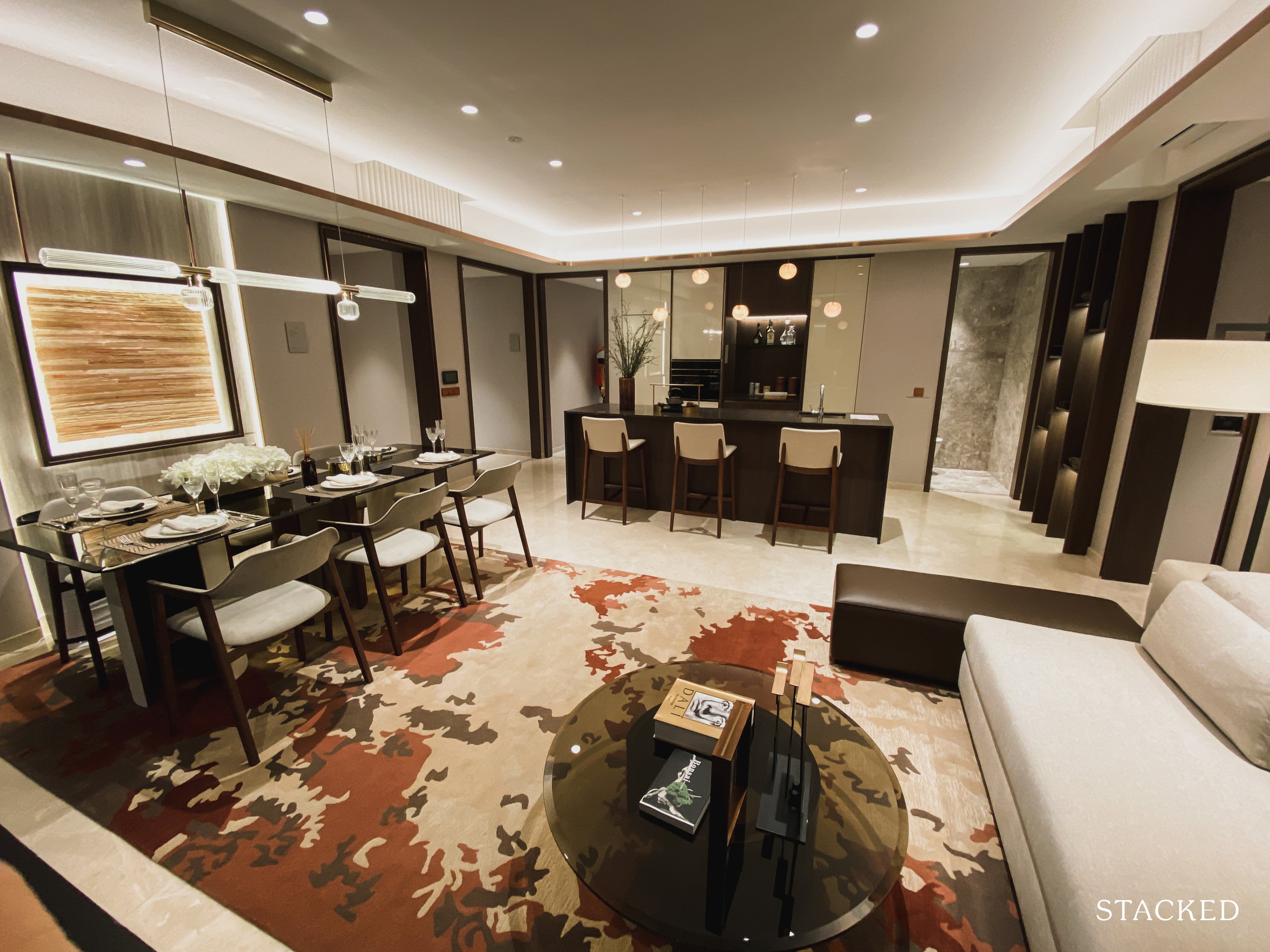 For a 5 bedroom unit, you'll probably need a bigger dining table to accommodate the family – something like an 8 to 10 seater would do the trick. – so the one shown here is definitely on the small side. The balcony does span the same length as well, so you could always opt for outdoor dining if you wish.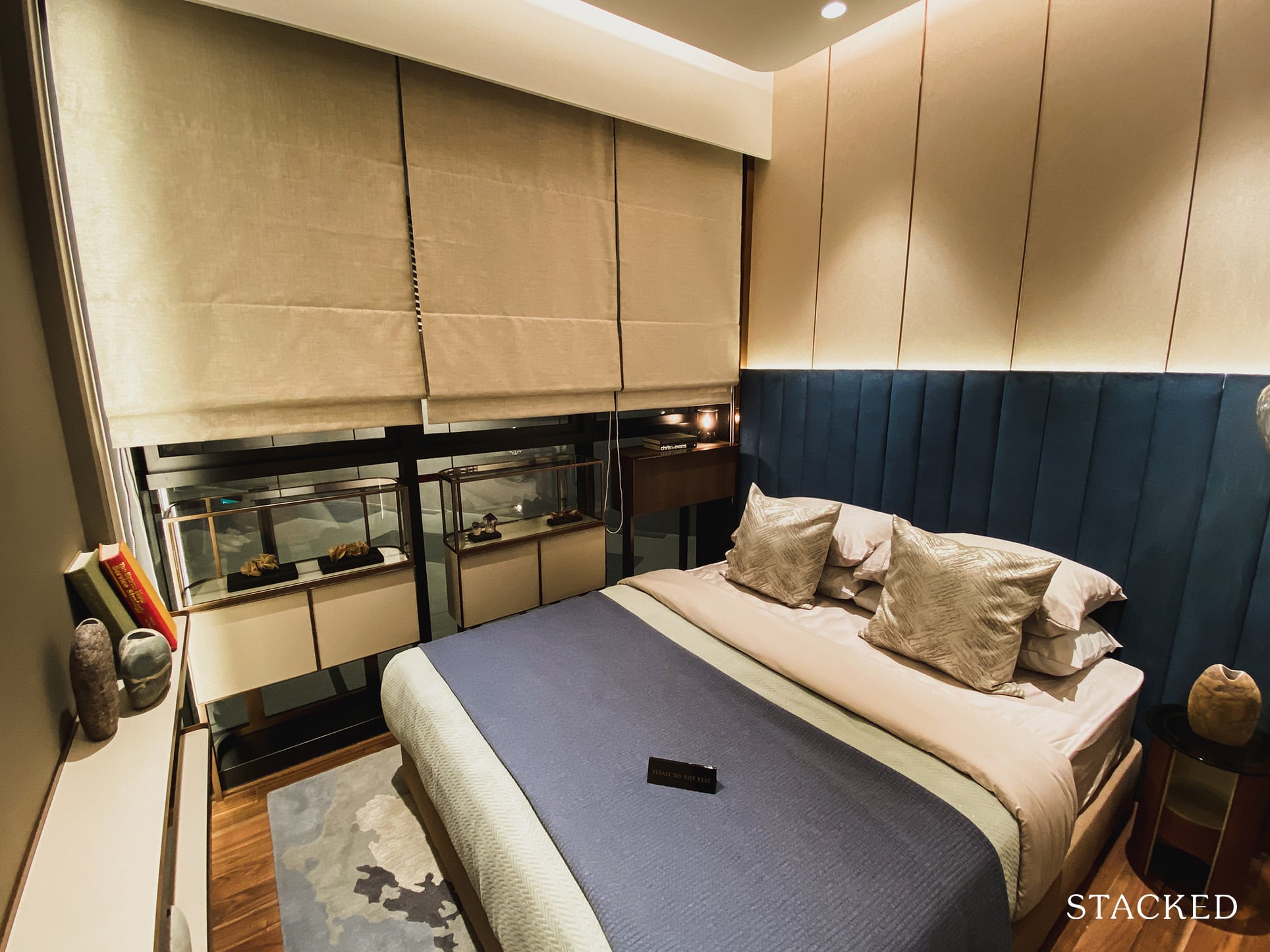 Thankfully, in this 5 bedder unit, not all the bedrooms are positioned at just one end. In this case, this bedroom is on its own as it is located just outside the private lift lobby. So you do get some privacy of your own, which is well suited for multi-generational living.
Do bear in mind that other than the fact that it has an attached bathroom, the general living space isn't great – don't expect to be fitting any study/dresser table in here if you are using a queen-sized bed.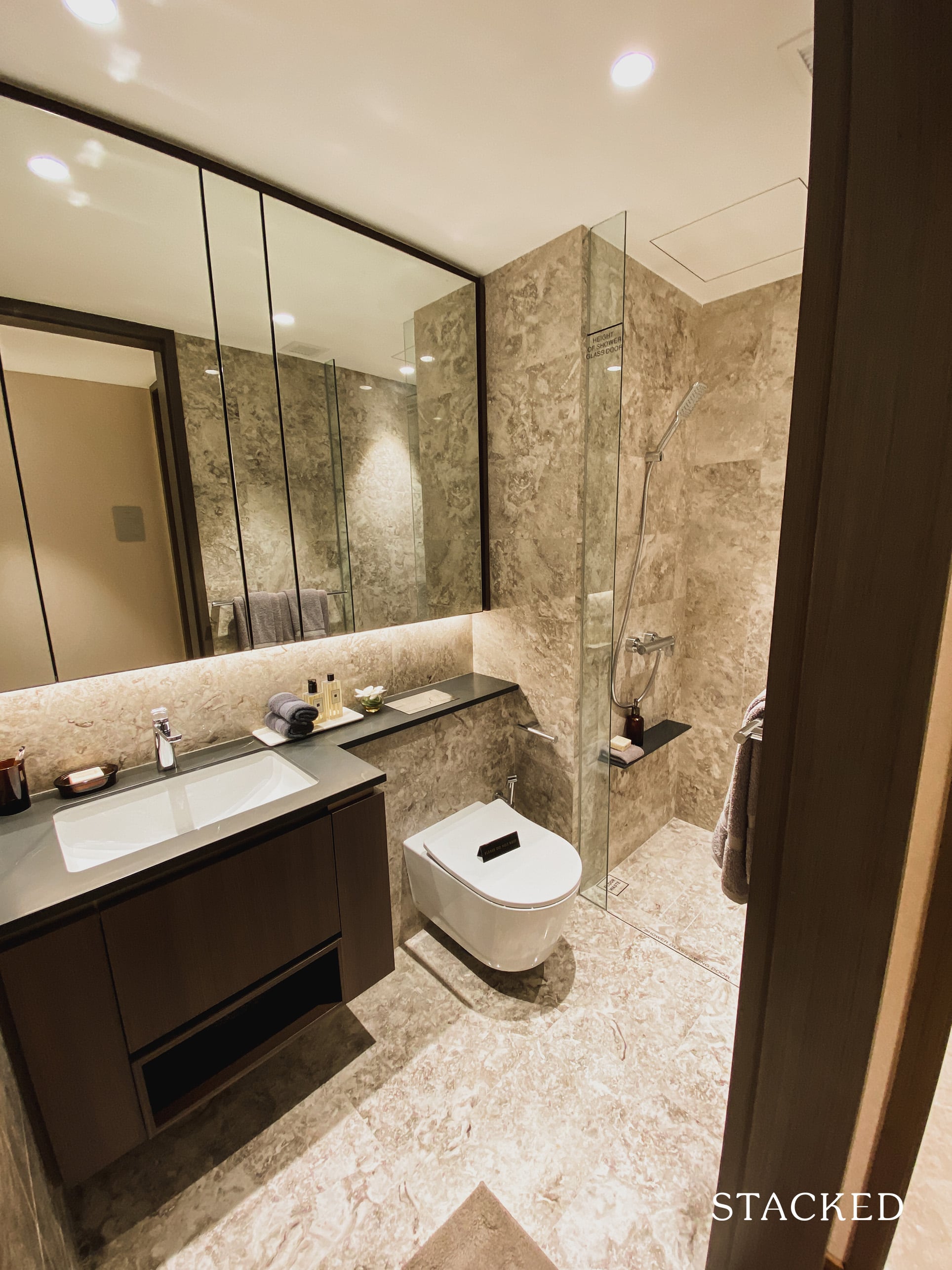 The attached bathroom is an adequate size for two people.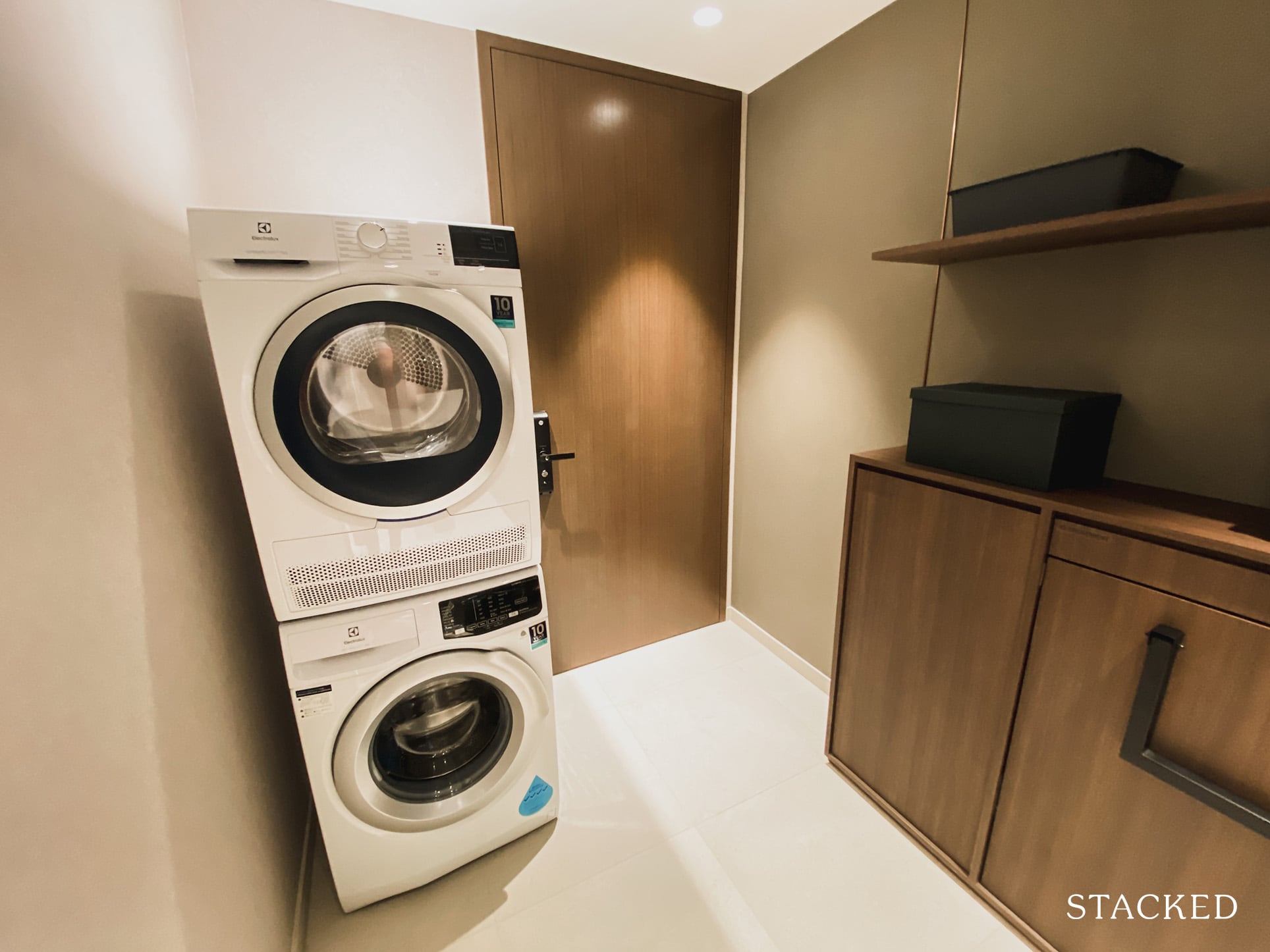 Towards the back of the unit, you'll find a utility/yard area. It is quite disappointing to find that these aren't separate spaces. Sure, it is flexible such that you are able to use the space however you would like. But for a big family, you'd usually expect to have a helper plus a separate yard space to do housework.
There is a separate bathroom here, which is good, but I really wouldn't count this as a separate room – it's more like a connecting yard with the second entrance and the kitchen.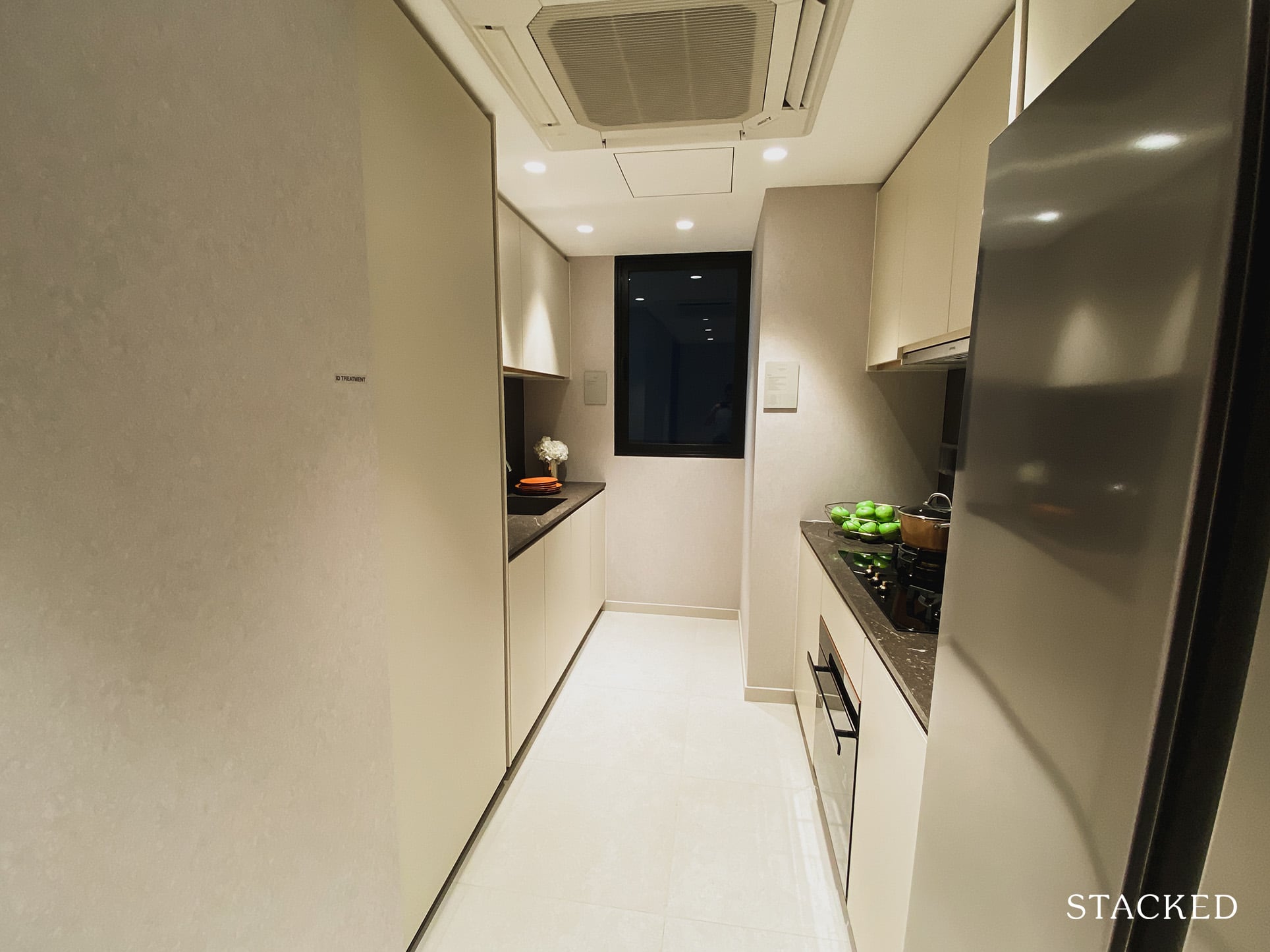 Of course, there is a wet kitchen at the back too. While it is great that there is a wet and dry kitchen, the size of this one could be bigger in my opinion.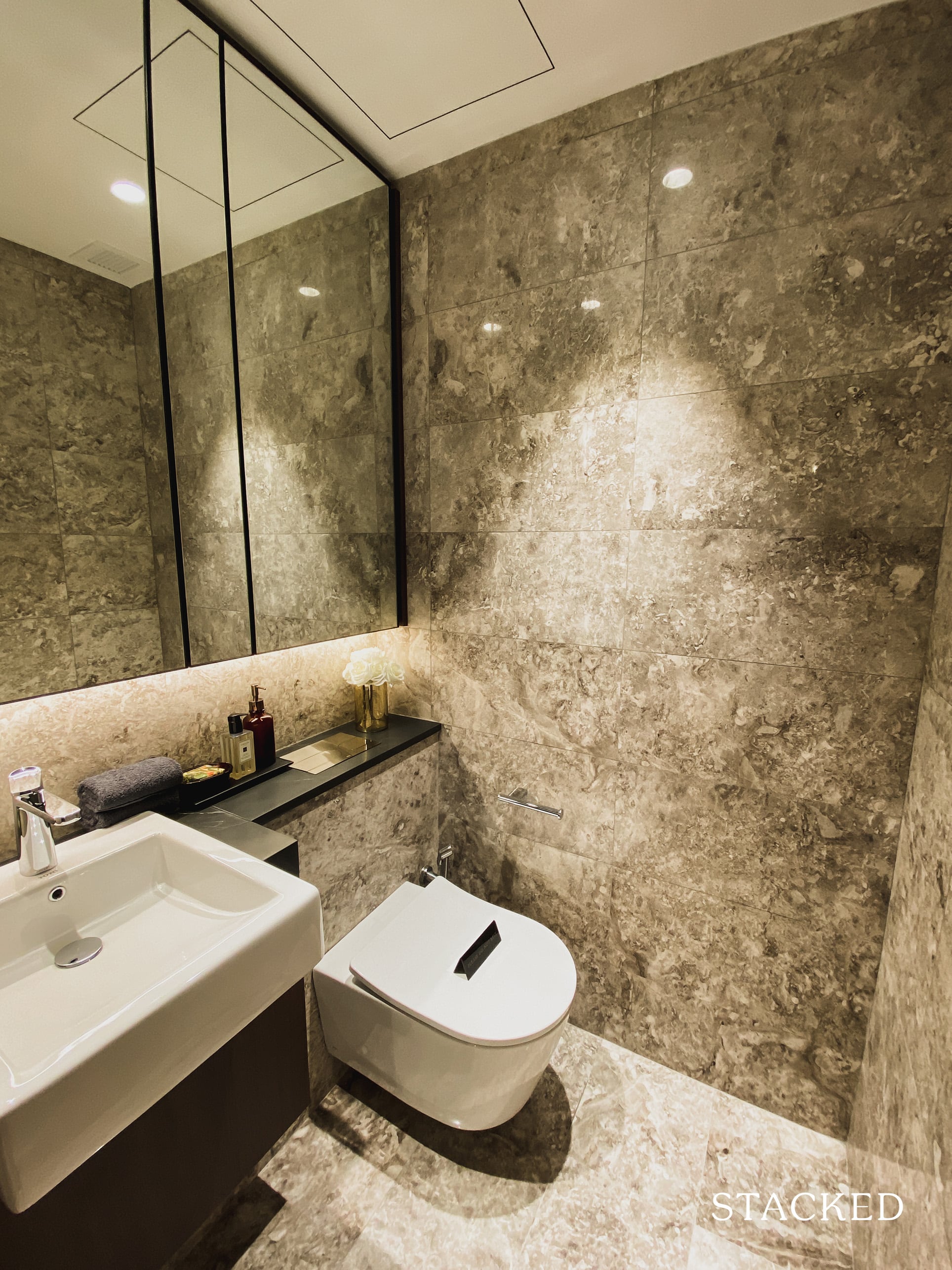 Close to the kitchen island on the outside is a separate toilet/powder room which is usually used by guests when they visit.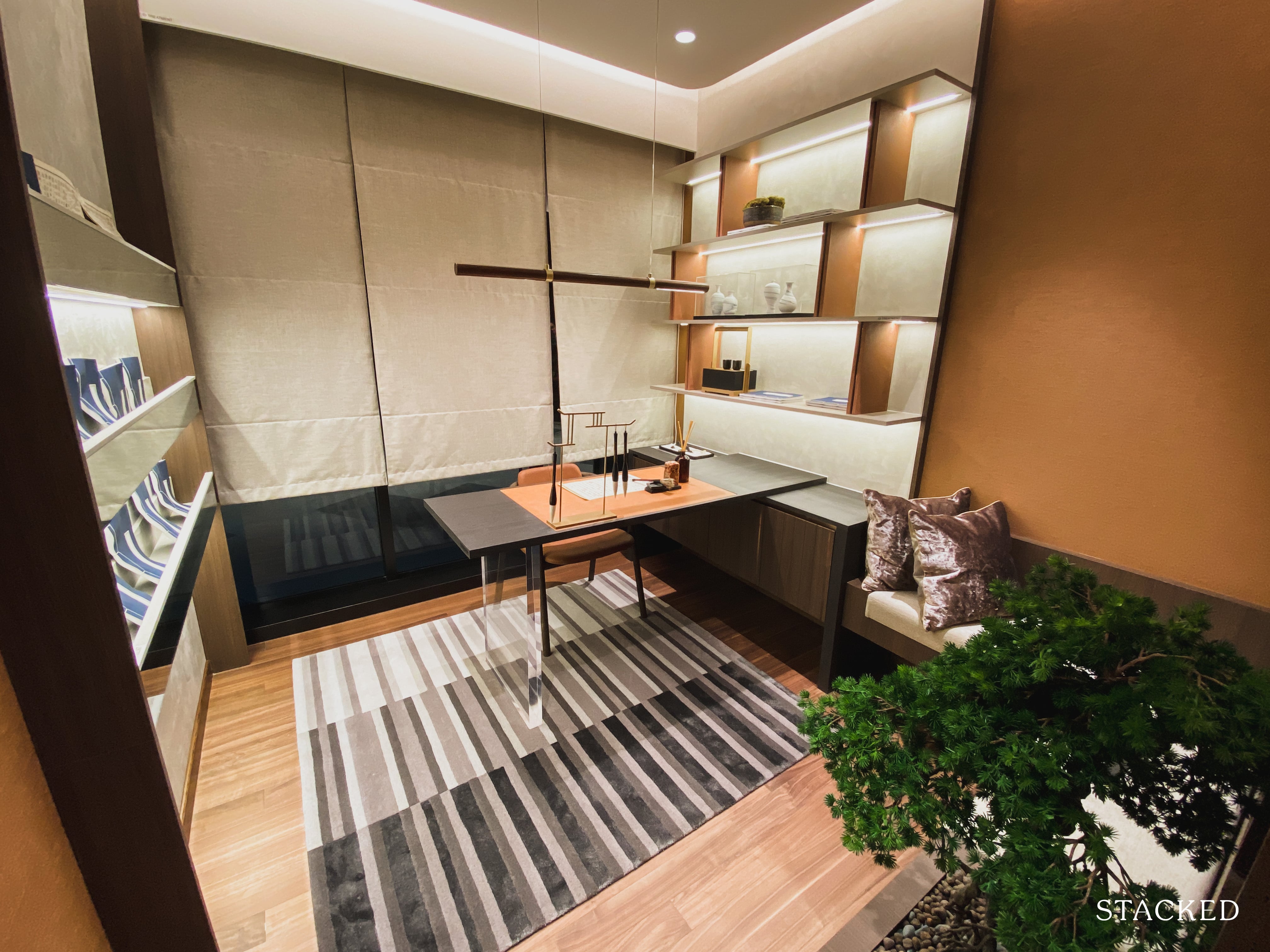 The first of the common bedrooms down the long hallway was shown to be a study in the showflat. Like the other two units so far, this one doesn't have a wardrobe included so it does look a fair bit more spacious.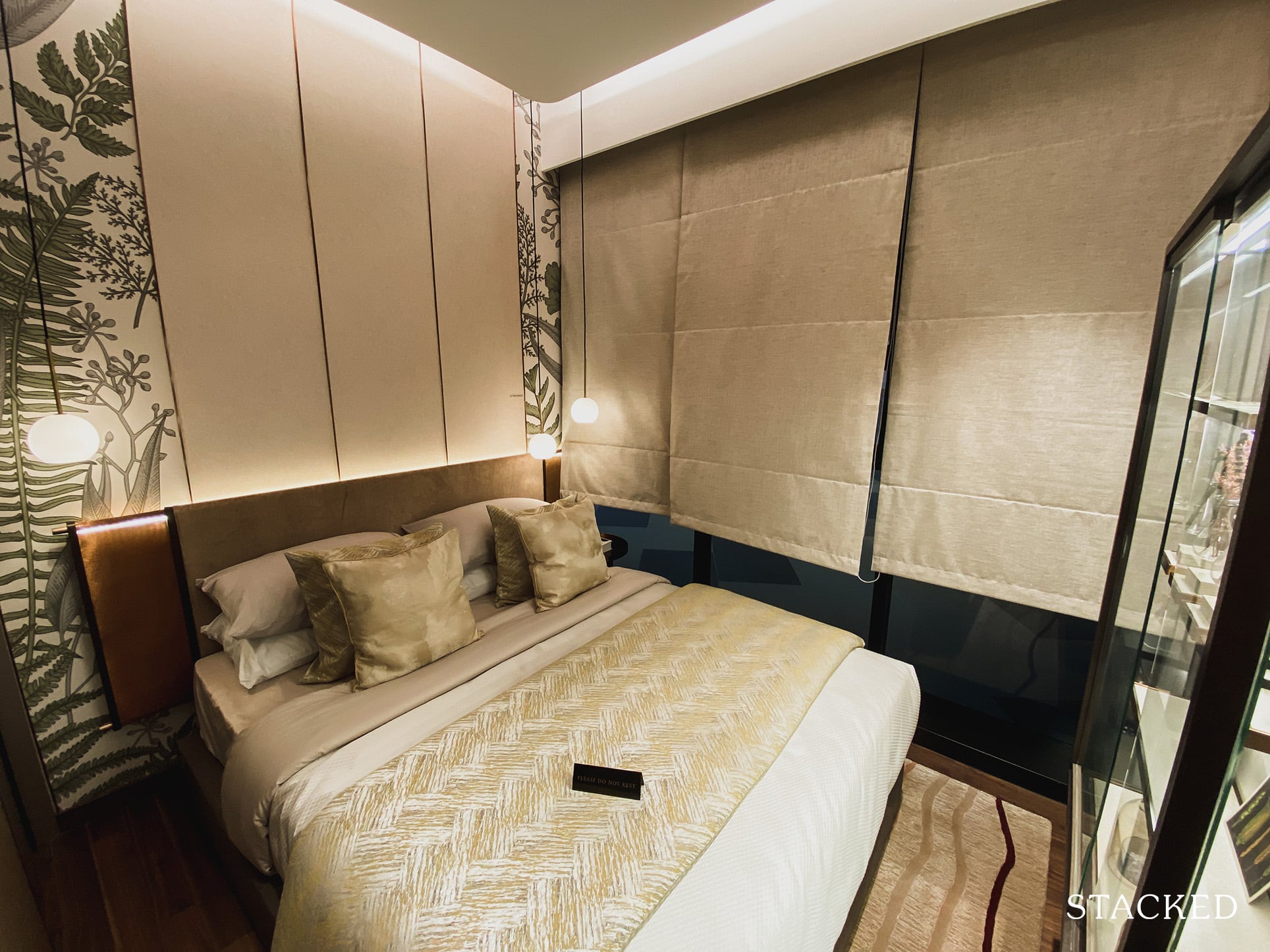 The second common bedroom is of the same size as the previous, with floor to ceiling windows included as well.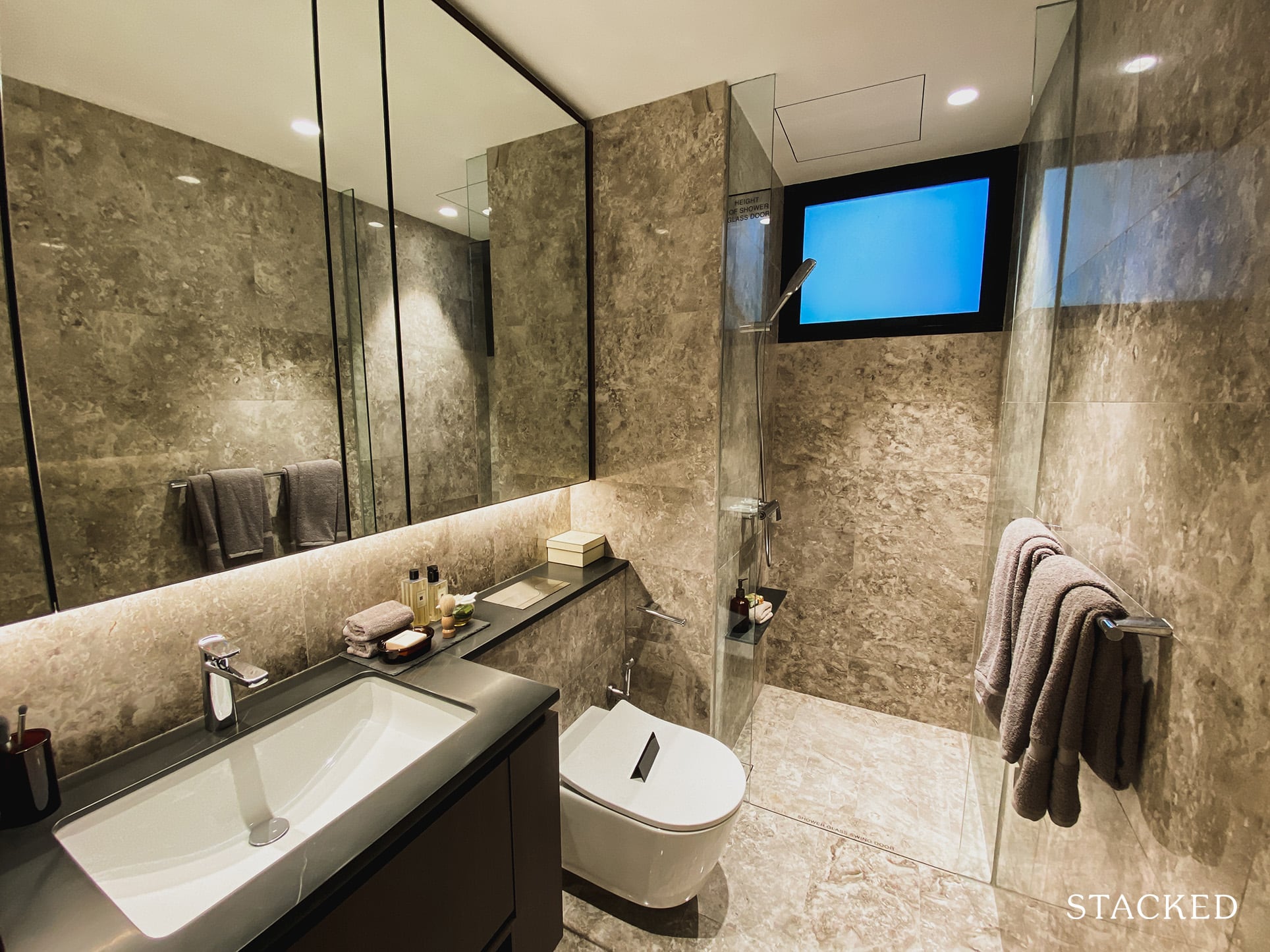 Both the bedrooms share a common bathroom on the opposite side.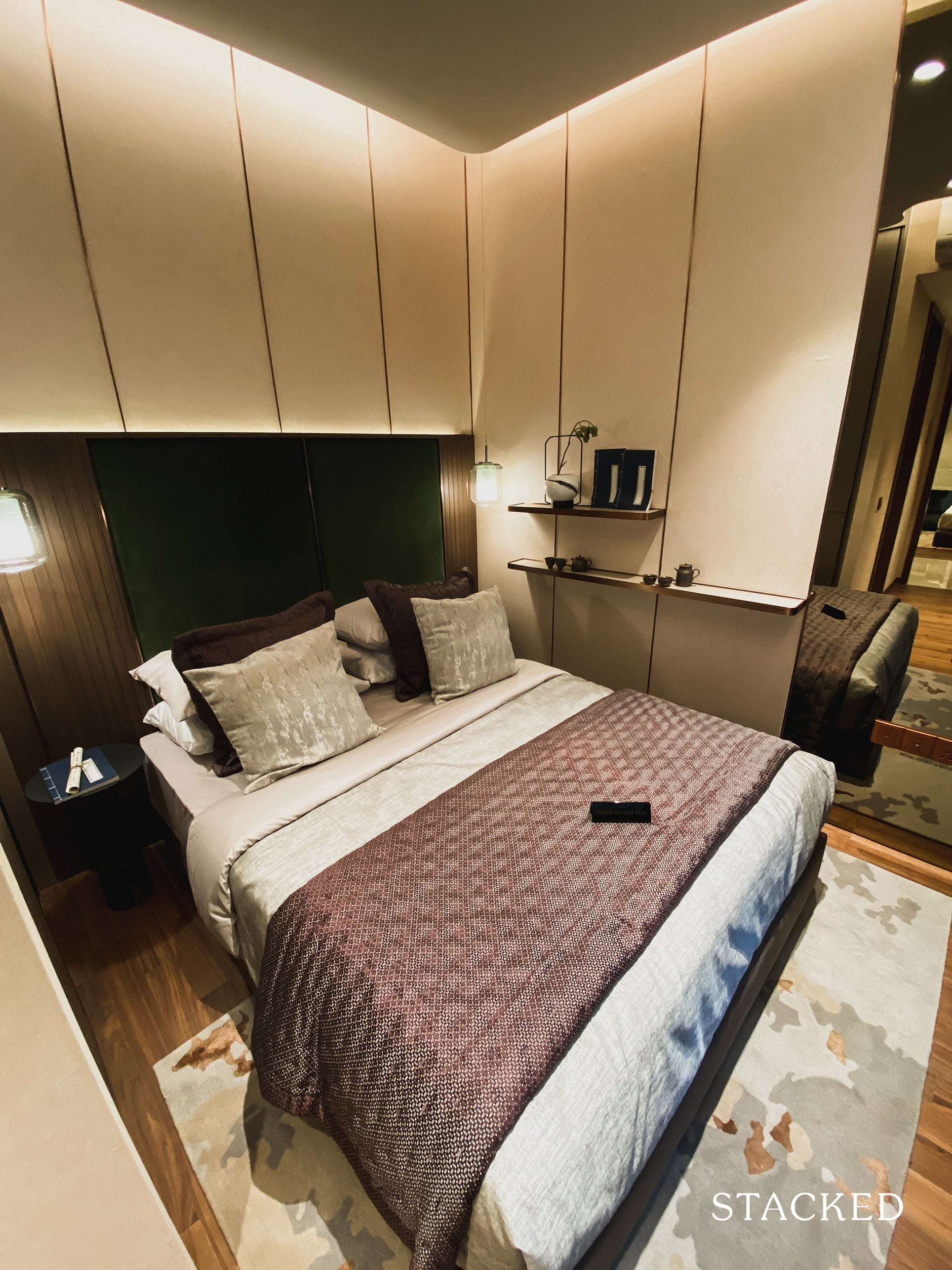 To be honest, in the actual floor plan this bedroom is termed as the junior suite. This one is a slight bit larger than the common bedrooms and has a long (wasted) walkway that leads up to the bedroom. Because of how the unit is structured, the views for this bedroom will be different from the rest.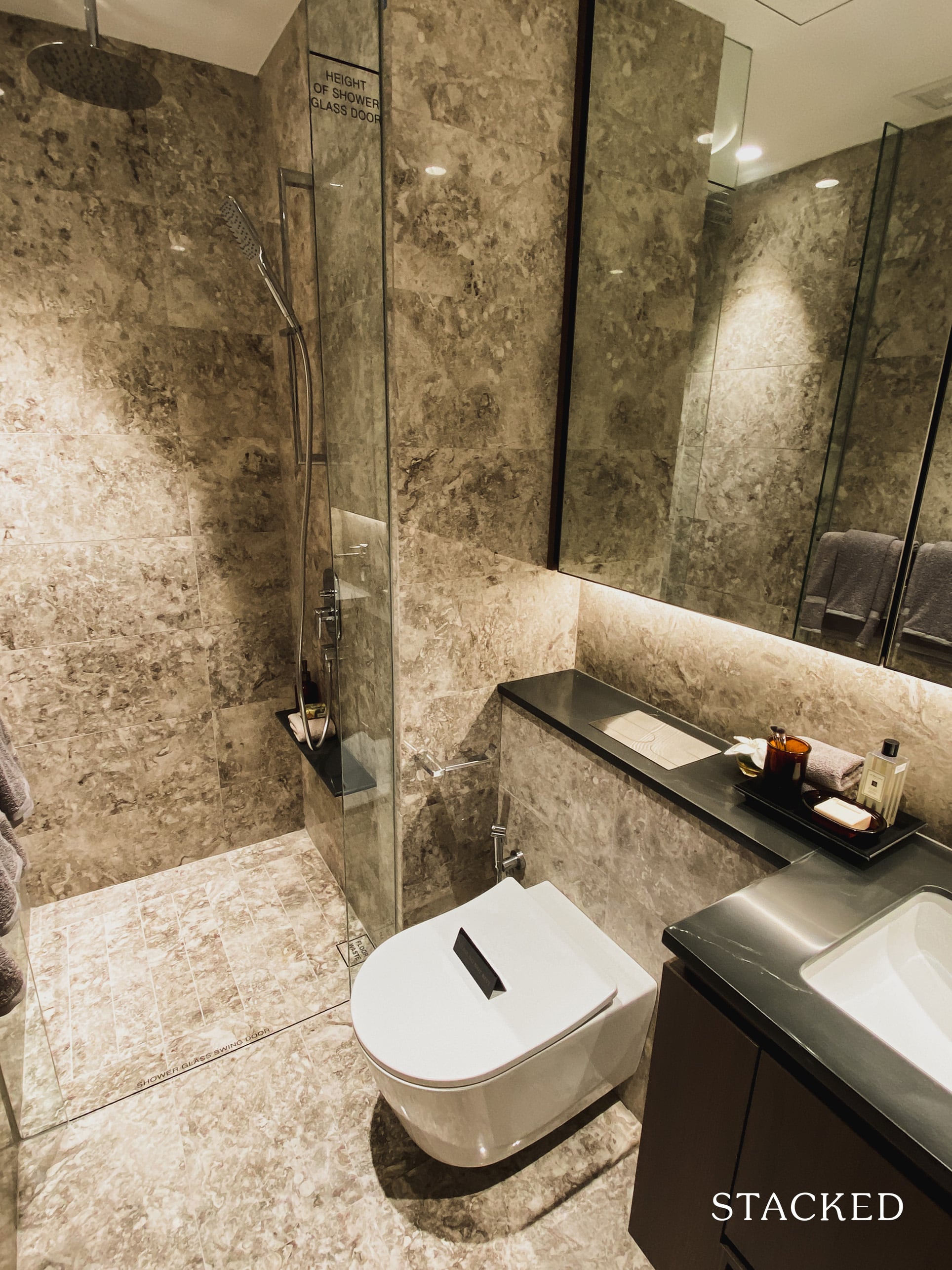 You can tell this is the junior suite because of the rain shower.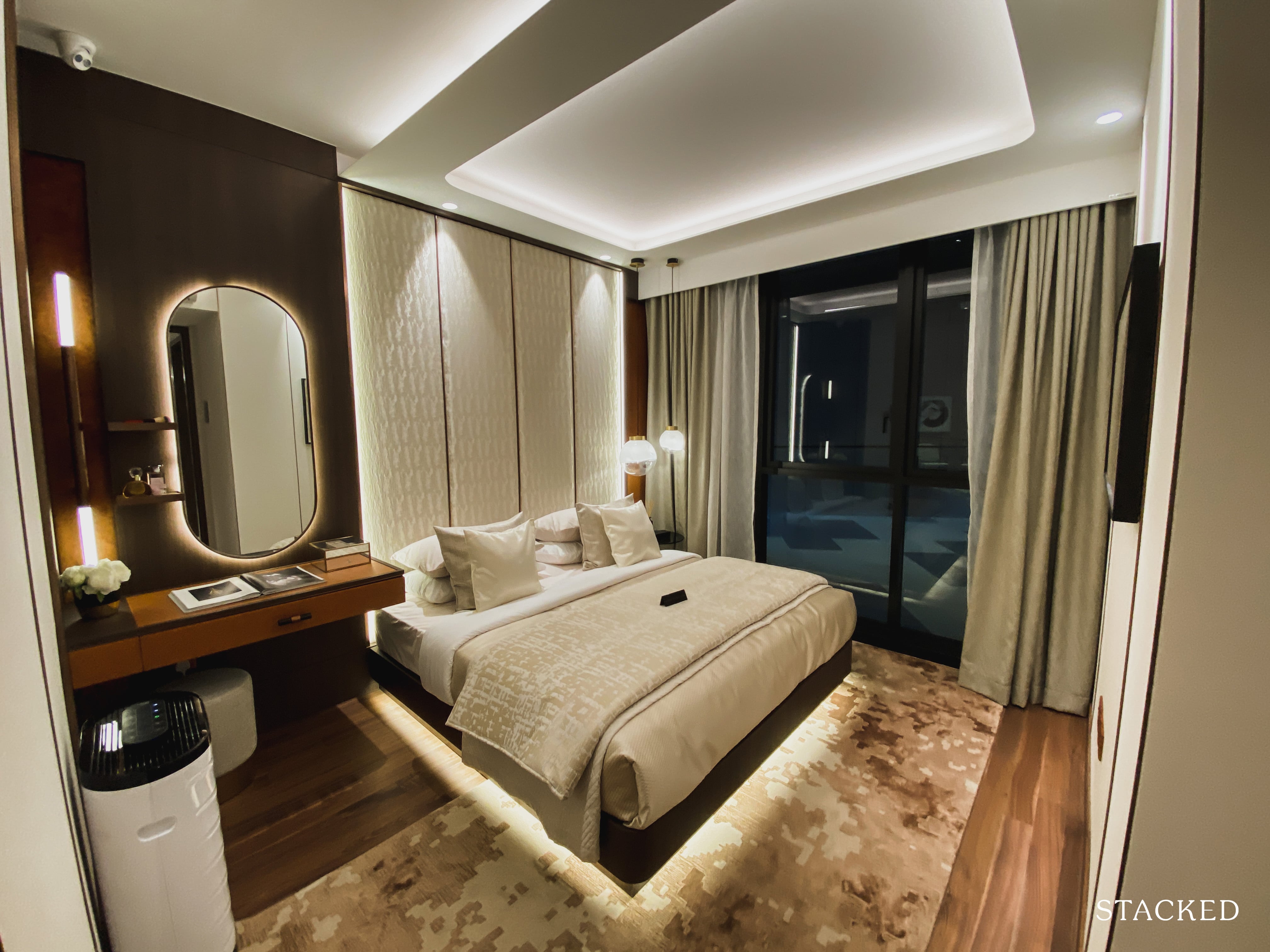 The master bedroom is deserved of its status as the best room in the house. There's enough space for a study/dresser by the side and more than enough walkway space to move around.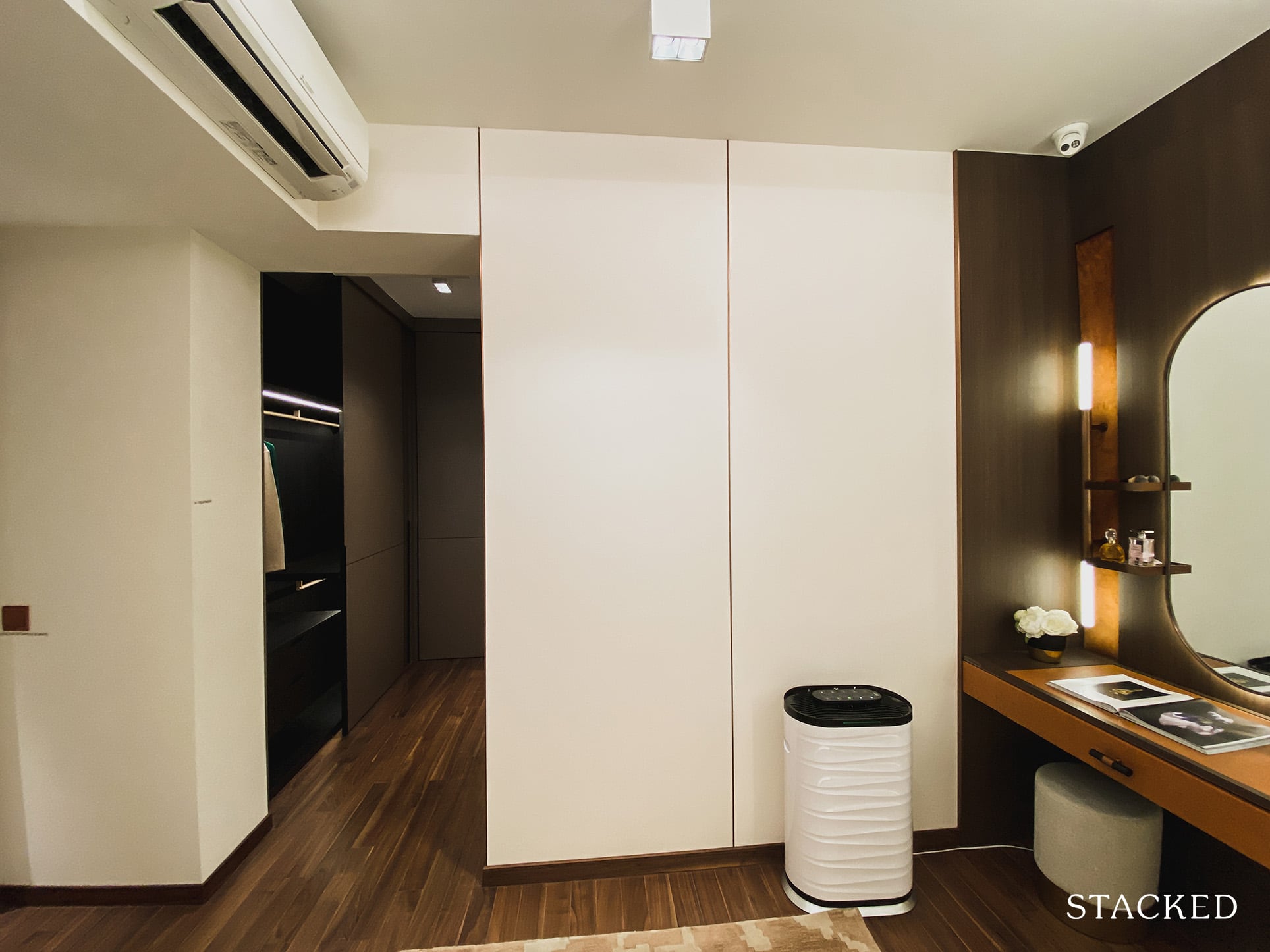 You do get quite a lot of storage here too, with cabinets in the main bedroom and a "walk-in" wardrobe by the bathroom. Although not nearly as luxurious as the one at the Avenir (and why should it be, at nearly half the price tag), the size of this should satisfy most people.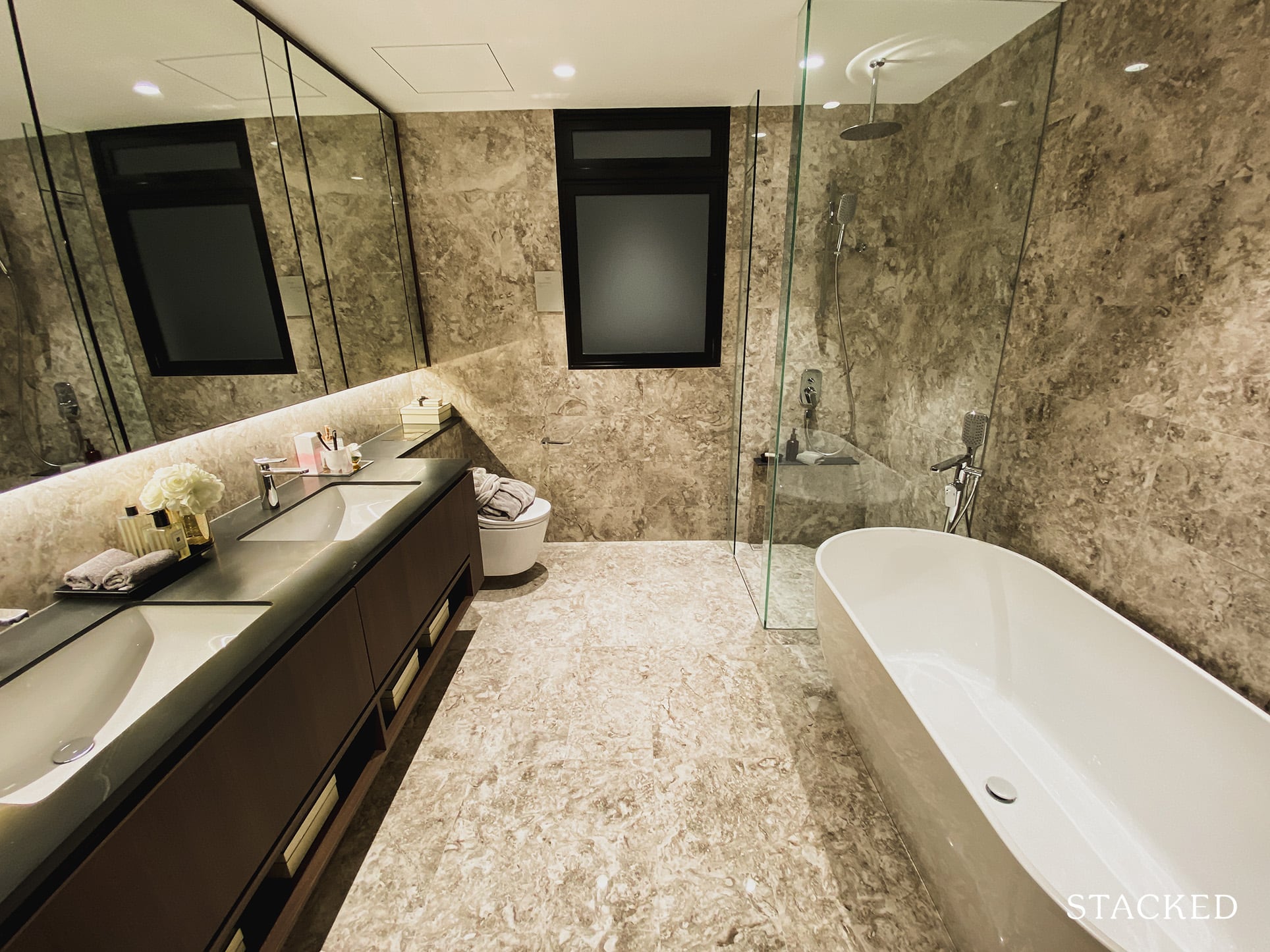 Saving the best for last, the master bathroom is probably one of the most luxurious part of the house to be in. Featuring a rain shower, his and hers sinks, and a bathtub as well – it is certainly befitting of a well specced master bathroom.
Kopar at Newton Location Review
Those who have recently crossed that somewhat sketchy looking 'underpass' from the start of Bukit Timah Road over to Newton Food Centre would have no doubt observed the massive construction taking place in the area.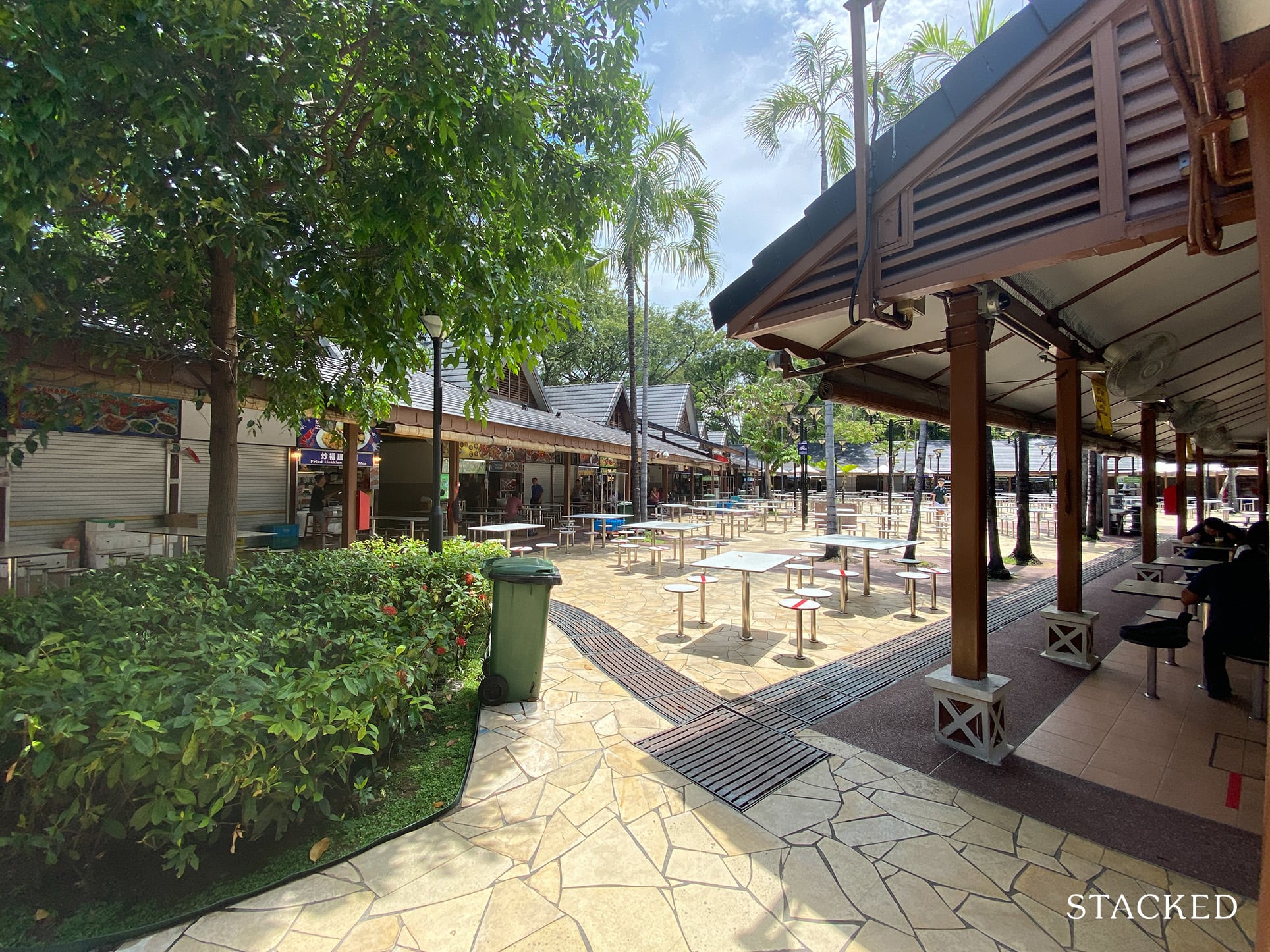 The Kopar @ Newton is set to occupy a triangular plot of land along both Kampong Java Road and Bukit Timah Road.

Currently adjacent to the upcoming development is Newton Edge, and on its other end, the irreplaceable Newton Circus roundabout – servicing over 6 alternating lanes of traffic in as many directions.
Public Transport

| | | |
| --- | --- | --- |
| Bus Station | Buses Serviced | Distance From Condo (& Est. Walking Time) |
| 'Opp Newton FC' | 48, 66, 66B, 67, 170, 960, 960e | 120m, 2-min walk |
| 'Newton Stn Exit B' | 5, 54, 124, 128, 143, 162, 162M, 167, 167e, 171, 518, 518A, 700, 700A | 450m, 6-min walk |
| 'Newton Life Ch' | 5, 54, 124, 143, 162, 162M, 167, 167e | 240, 3-min walk |
Closest MRT: Newton MRT – 300m, 4-min walk

The word 'convenience' is often simultaneous with most developments in the prestigious District 9.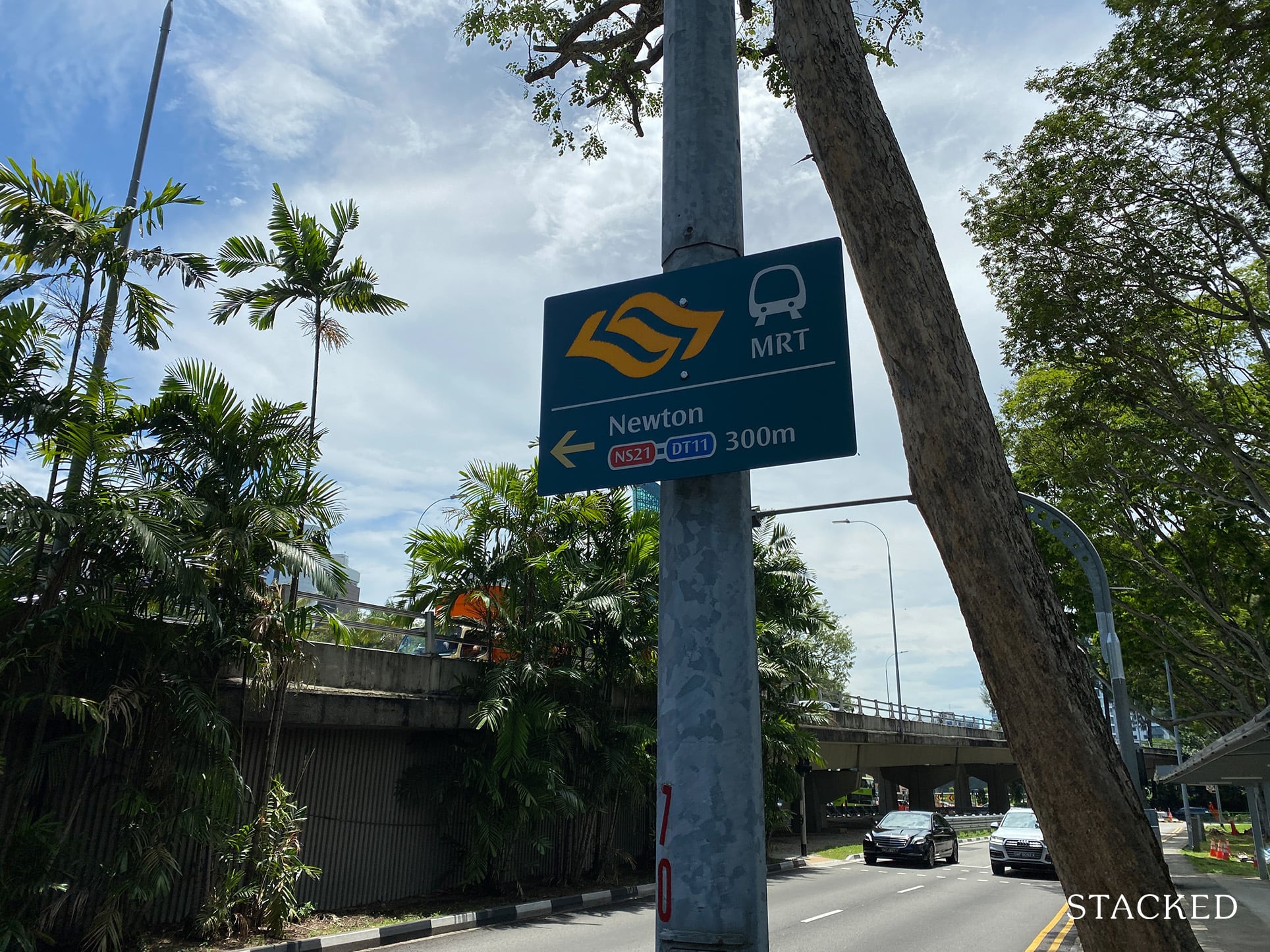 Living right next to the Newton MRT station however, guarantees that this 'convenience' is doubled nearly twofold (provided ease of accessibility to the MRT from the condo is emphasised during construction).

It services both the North-South and Downtown line, allowing commuters to arrive in the CBD/Raffles Place MRT in 9 minutes (across 5 stations), and the 'neighbouring' Orchard MRT station in nearly a quarter of that time.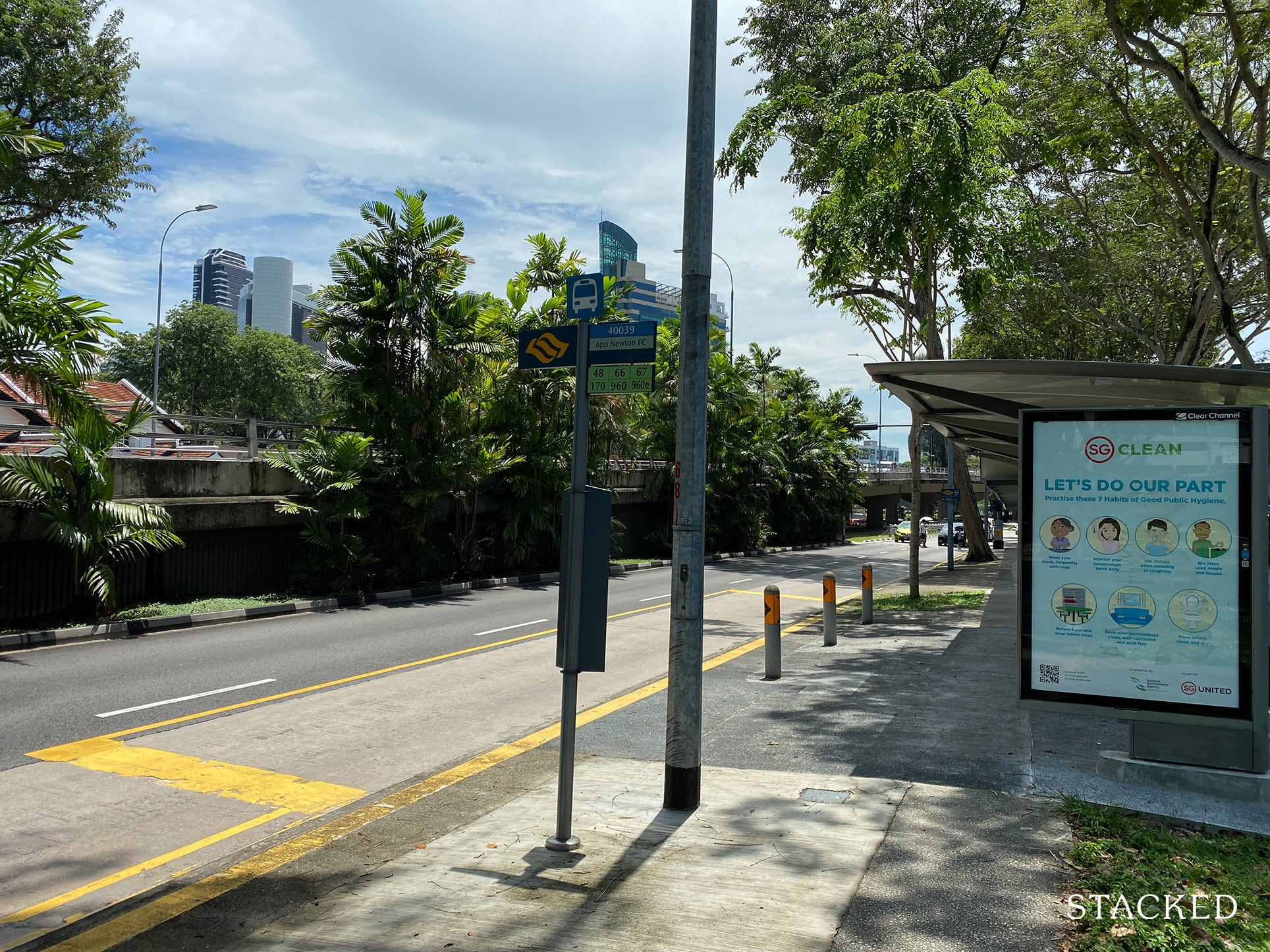 A good number of bus stops (no doubt owing to the Newton Circus connector) are also within walking distance of the condo, with over 21 combined bus services plying the various stations.

Private Transport
| | |
| --- | --- |
| Key Destinations | Distance From Condo (& Est. Peak Hour Drive Time) |
| CBD (Raffles Place) | 8.8km, 20-min drive |
| Orchard Road | 3.7km, 10-min drive |
| Suntec City | 5.4km, 12-min drive |
| Changi Airport | 19.3km, 20-min drive |
| Tuas Port (By 2040) | 41.5km, 45-min drive |
| Paya Lebar Quarters/Airbase (By 2030) | 11.9km, 20-min drive |
| Mediapolis (and surroundings) | 14.2km, 20-min drive |
| Mapletree Business City | 18km, 30-min drive |
| Tuas Checkpoint | 30.7km, 35-min drive |
| Woodlands Checkpoint | 20.2km, 30-min drive |
| Jurong Cluster (JCube) | 16.1km, 25-min drive |
| Woodlands Cluster (Causeway Point) | 20.5km, 30-min drive |
| HarbourFront Cluster (Vivo City) | 11.4km, 20-min drive |
| Punggol Cluster (Waterway Point) | 17.7km, 20-min drive |
*Note that Drive Times are calculated during Peak Hours

Immediate Road Exit(s): 1 exit along Makeway Avenue

Summary: Good placement of exit/entrance point away from Newton Circus congestions, leading to Kampong Java/Bukit Timah Road in either direction. Immediate access to CTE, not to mention various key roads made possible by Newton Circus connector. Could get noisy during peak hours.

Groceries

| | |
| --- | --- |
| Name of Grocery Shop | Distance From Condo (& Est. Walk Time) |
| Cold Storage – Thomson Road | 650m, 8-min walk |
| FairPrice – Square 2 | 2.6km, 6-min drive OR 1.6km, 20-min walk |
Schools

| | |
| --- | --- |
| Educational Tier | Number of Institutes |
| Preschool (within 1km walk) | 6 |
| Primary (3km-drive) | 5 |
| Secondary (3km-drive) | 0 |
| International School (3km-drive) | 5 |
| Junior College (5km-drive) | 1 |
| University (5km-drive) | 13 |
| Polytechnic (10km-drive) | 1 |
Additional Pointers

Abundant Medical Amenities
Given the number of units and unit variations here, it is more a question of how many and not if residents here will require frequent (good) healthcare services.

Rather fittingly, the KK Women's and Children's Hospital is right next to the condo, as are an entire plethora of medical services available just a stone's throw away in the Novena district to the north of the condo.

What's more, with the impending Novena health city set to become Singapore's biggest healthcare complex, comprising over 10 well-equipped medical buildings (including Tan Tock Seng Hospital), healthcare professionals will find that the Kopar @ Newton could also provide convenient home-work commutes.

Food is often seen as an escape from life/work for many Singaporeans.

For those who take their 'makan' endeavours to new heights, you will be delighted at both the quality and diversity of food outlets available in the immediate (Newton) and surrounding districts (Little India, Novena, Orchard etc.).

Even for those who might not be as adventurous as others in hunting for new food opportunities, it's hard to refuse the convenience of a 2-minute walk to your local Newton Circus Food Court.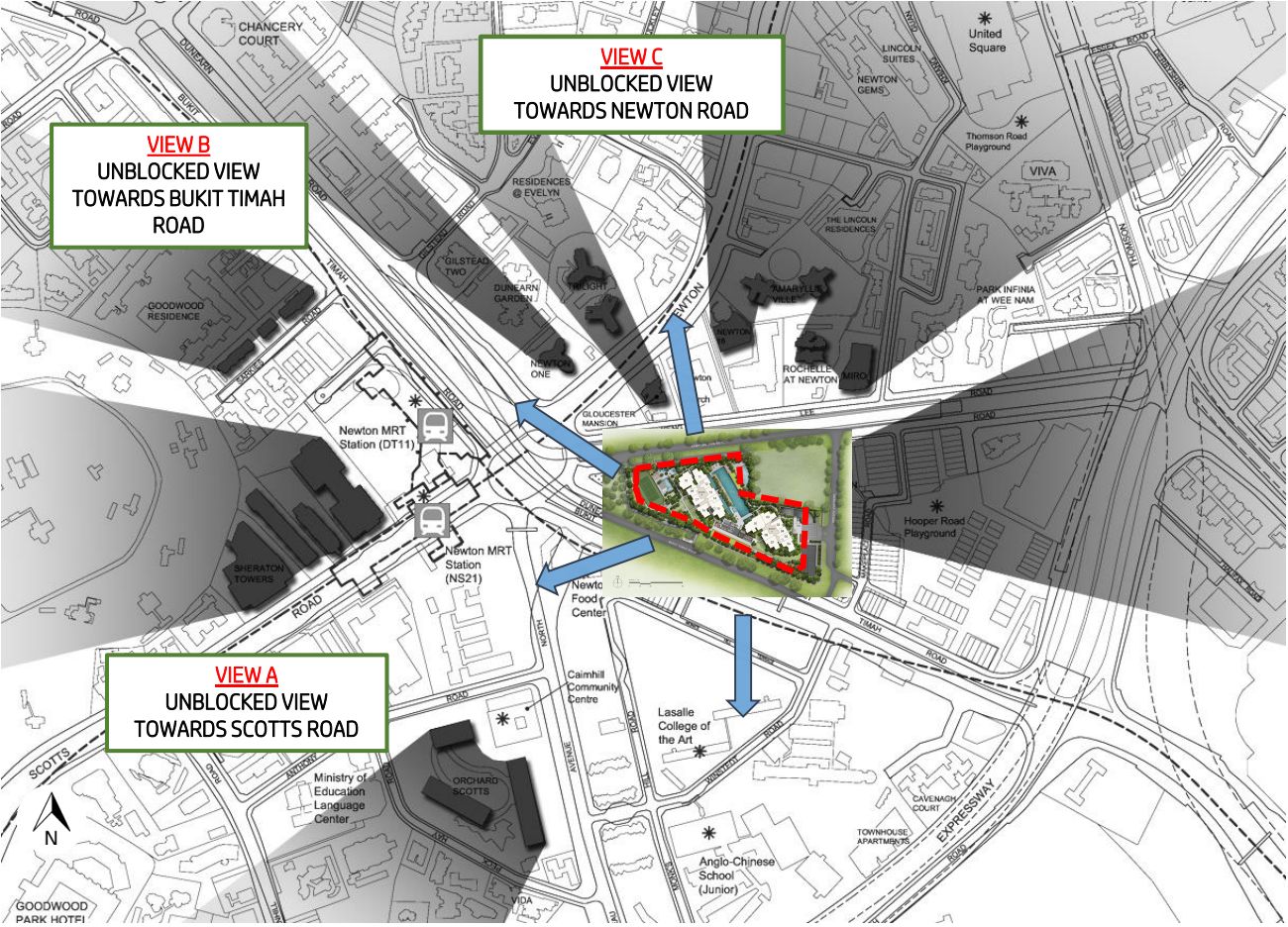 The topic of views can sometimes be a very controversial one.

And that's simply because no two units in a condo are the same – certainly not in terms of views.

That said, the developers of the Kopar @ Newton have specifically mentioned a trio of unblocked view paths for residents at the condo. These views would incorporate a section of Newton, Bukit Timah and Scotts Road.

Of course, road-views aren't many people's prefered view-choice, but if you're living in the heart of central Singapore, it's definitely a bonus worth taking any day.
Kopar at Newton Development Site Review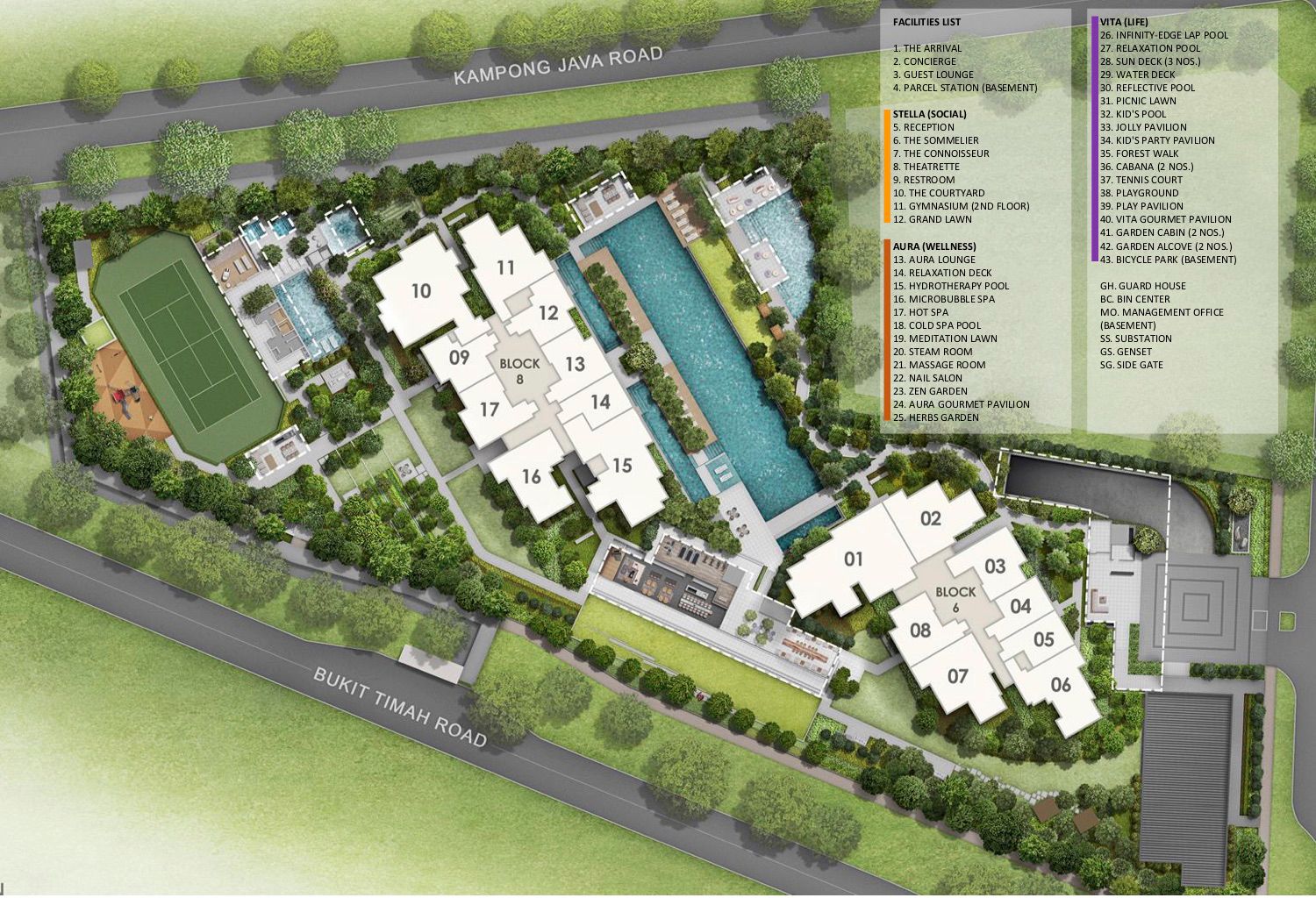 Unfortunately, it seems as if the facilities were not labelled on the site map, though it is clear that the developers have decided to group these facilities based on three main sections. They include:

Stella, which comprises social amenities like the reception area, theatrette and gymnasium (I believe that the gym would have been placed under 'Vita' were it not for architectural boundaries – as we will cover in a bit).

Aura, summarising relaxing recreational bliss (wellness) – including hot and cold spa opportunities, a massage room and the zen garden; amongst others.

Vita, providing opportunities for physical fitness through means of amenity-dependant exertions. Facilities here include a tennis court, infinity-edge lap pool and playground.

Another point that has received little mention up till now, is actually the installation of a 2m-wide cycling path on the outer perimeters of the condo. It will come fitted with 95 distinct bicycle lots for residents to utilise.

Now a key concern for many potential residents/investors here is the volume of traffic disturbance that the condo will receive.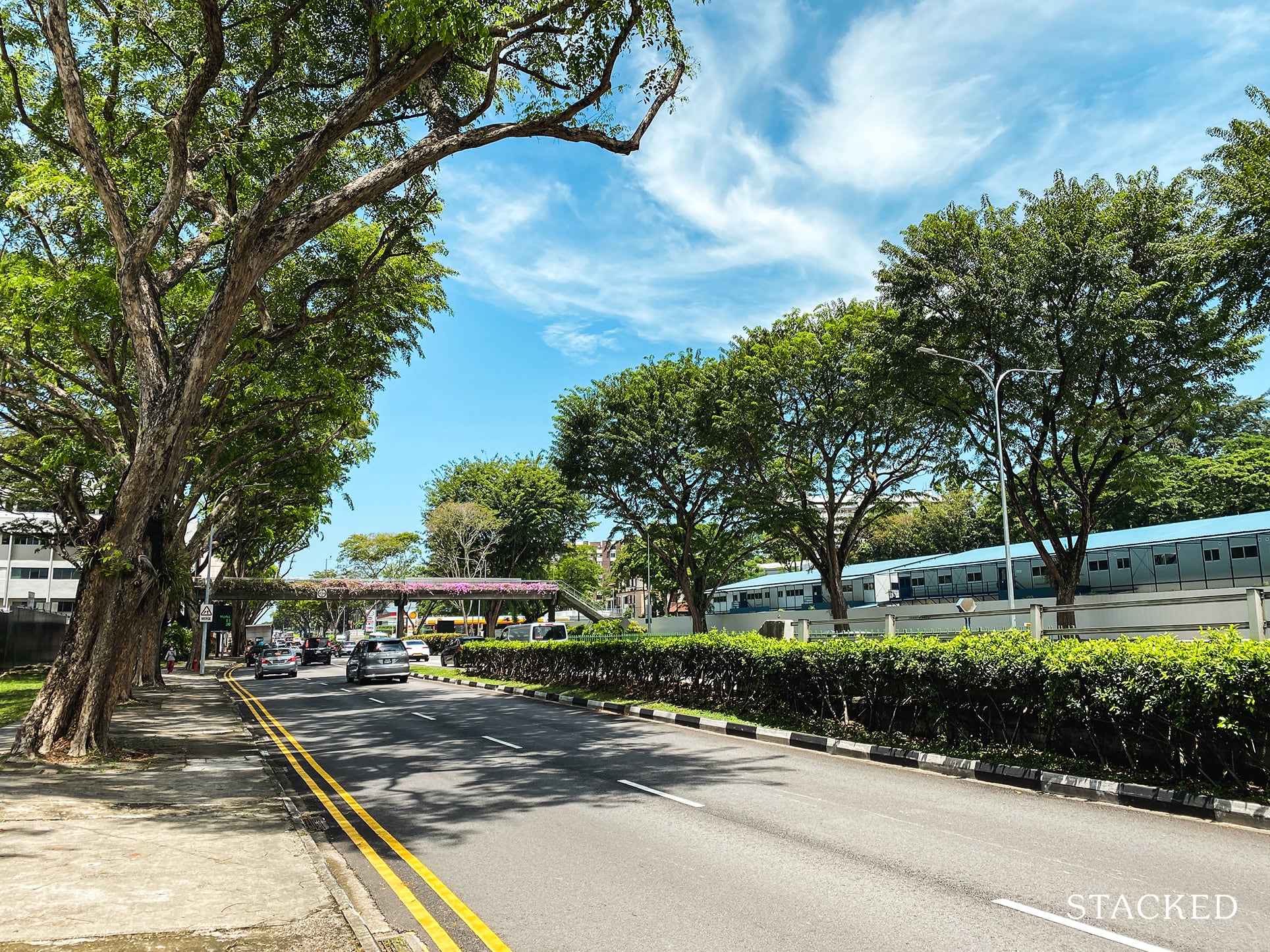 In a bid to address these concerns, the developers have drawn up buffer zones to the various roads. These buffers amount to approximately 30-65m at various points.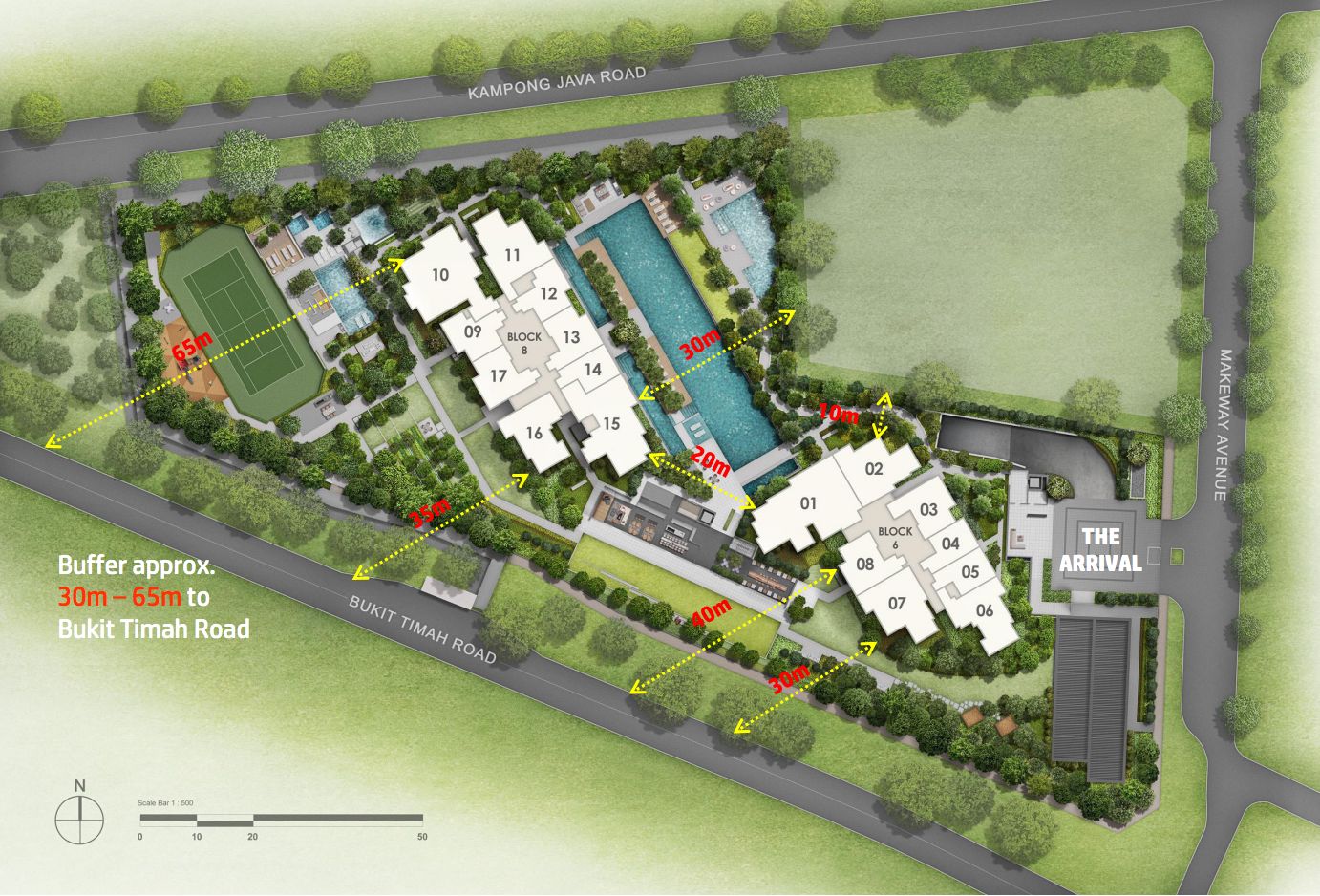 It's worth noting here that you can access the development through both ends of Kampong Java. That said, you can only leave the development by turning right at Makeway Avenue as the initial part of Kampong Java is a one-way road. Also, despite the fact that Kampong Java is actually two lanes, the majority of the road has street parking – rendering it effectively a one-lane road.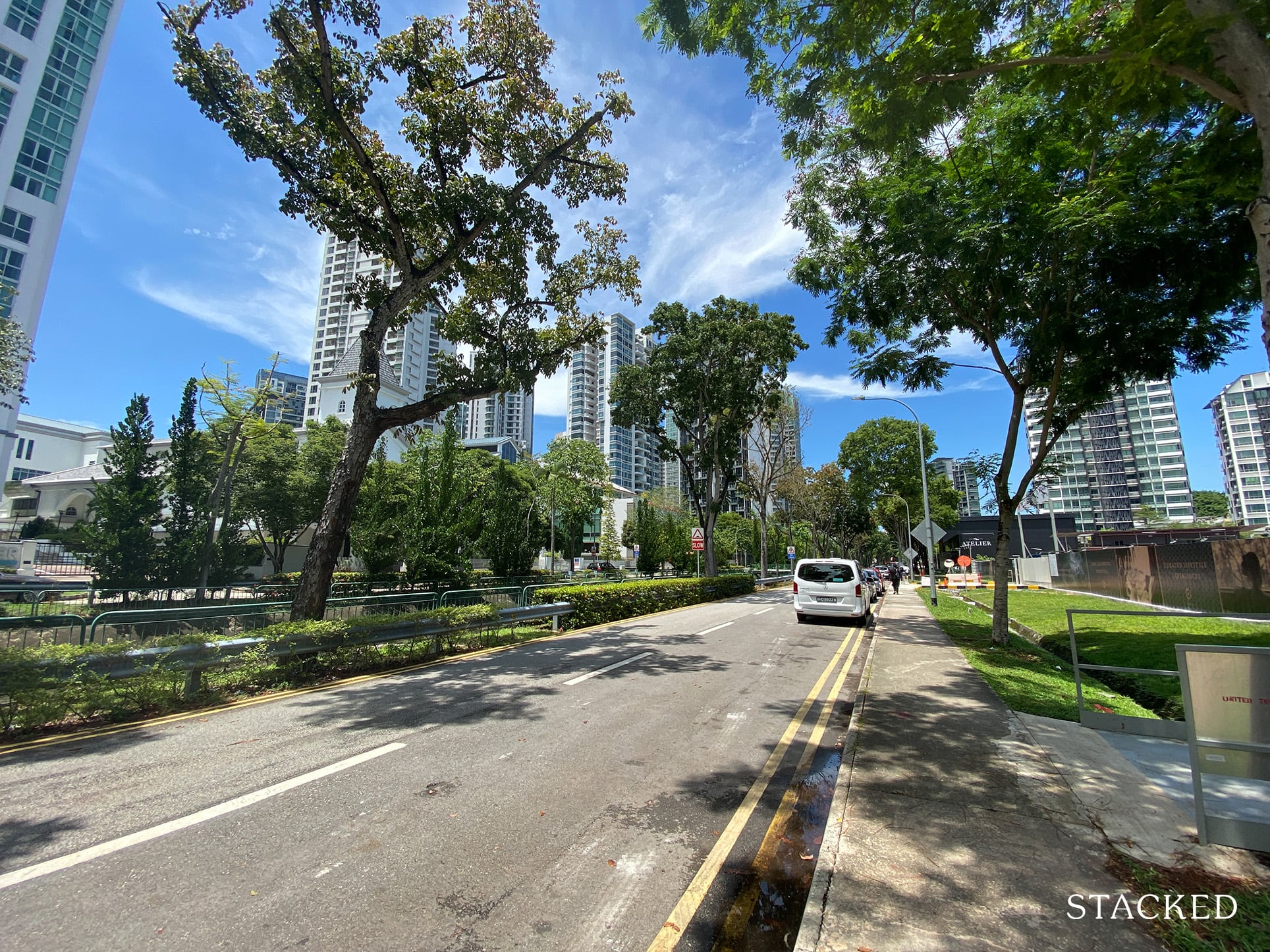 Finally (and as promised earlier), it is also worth noting that the gym will be located on the 2nd floor, so fitness enthusiasts are promised (at the very least), full tranquil-like views of the 50m lap pools.
Unit Mix

| | | | |
| --- | --- | --- | --- |
| Unit Type | No. Of Units | Size of Units (sqft) | Current Prices |
| 1-Bedroom | 66 | 517 sqft | $2,382 – $2,841 psf |
| 2-Bedroom Classic | 42 | 614 sqft | $2,326 – $2,830 psf |
| 2-Bedroom Deluxe | 86 | 689 sqft | $2,326 – $2,830 psf |
| 3-Bedroom Classic | 44 | 915 – 958 sqft | $2,123 – $2,572 psf |
| 3-Bedroom Deluxe | 66 | 1,055 – 1,098 sqft | $2,123 – $2,572 psf |
| 4-Bedroom Deluxe | 45 | 1,518 – 1,604 sqft | $2,170 – $2,503 psf |
| 5-Bedroom Luxury | 21 | 1,819 sqft | $2,184 – $2,527 psf |
| Penthouse (3-bedder) | 4 | 1,346 – 1,367 sqft | $2,184 – $2,527 psf |
| Penthouse (4-bedder) | 1 | 1,722 sqft | $2,184 – $2,527 psf |
| Penthouse (5-bedder) | 3 | 2,637 – 2,863 sqft | $2,527 psf |
*Note: All 4-bedrooms units onward (including Penthouses) will come with private lifts) 

As you'd observe, an entire list of units is available to buyers here, even if it is the 1 and 2-bedders that are in hot demand (making up approximately 85% of the 70+ units sold).

The trend comes with little surprise given that a large portion of these initial buyers would comprise investors who strongly believe in the good rental demand/yield of smaller tiered units in the area.

That said, it is worth noting that the relatively large maintenance fee here (starting from $400 for 1-bedders) will undoubtedly cause substantial pullbacks on rental gains.

As for the higher-tiered units, it is my belief that their increased quantities (not to mention further penthouse options for 3-5 bedroom tiers) has substantially reduced their exclusivity – and hence value/demand for them.

This, despite the fact that 4-bedders are perceived as a somewhat prized commodity in the Novena/Newton area. A statistic that undoubtedly prompted developers to mark up the tier's unit prices by nearly a $100psf on average.

Prices for Kopar
Price Breakdown (1st Property)
1-Bedroom
2-Bedroom
3-Bedroom
4-Bedroom
5-Bedroom
Price
$1,231,494
$1,495,618
$1,980,759
$3,411,240
$3,972,696
25% Down Payment
$307,874
$373,905
$495,190
$852,810
$993,174
Additional Costs
Buyer Stamp Duty
$33,860
$44,425
$63,830
$121,050
$143,508
Legal Fees
$2,500
$2,500
$2,500
$2,500
$2,500
Valuation Fees
$300
$300
$300
$300
$300
Stamping Fees
$500
$500
$500
$500
$500
Total Price
$1,268,654
$1,543,343
$2,047,889
$3,535,590
$4,119,504
Initial Investment Amount
$345,033
$421,629
$562,320
$977,160
$1,139,982
Return on Investment
Expected Rental Price
$2,585
$3,215
$4,199
$7,074
$8,186
Rental Yield
2.45%
2.50%
2.46%
2.40%
2.38%
Price (2nd Property)
1-Bedroom
2-Bedroom
3-Bedroom
4-Bedroom
5-Bedroom
Cost Without ABSD
$1,268,654
$1,543,343
$2,047,889
$3,535,590
$4,119,504
Plus: ABSD (12%)
$147,779
$179,474
$237,691
$409,349
$476,724
Total Price After ABSD
$1,416,433
$1,722,817
$2,285,580
$3,944,938
$4,596,227
Initial Investment Amount
$492,813
$601,103
$800,011
$1,386,508
$1,616,705
Return on Investment
Expected Rental Price
$2,585
$3,215
$4,199
$7,074
$8,186
Rental Yield
2.19%
2.24%
2.20%
2.15%
2.14%
Best Stacks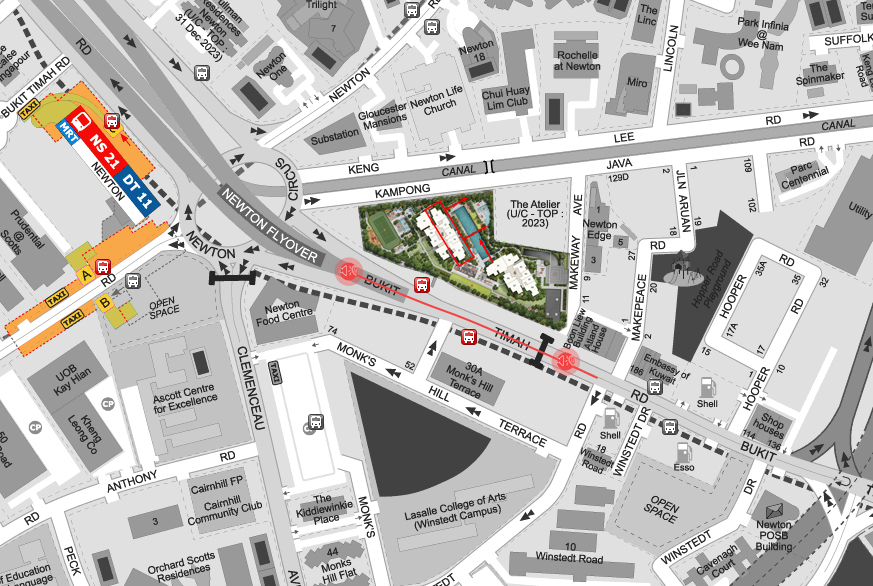 Like I mentioned earlier, in a densely built-up area such as Newton, where your unit faces will be an important point to consider when choosing your unit.
In this case, I would pick the NE facing units that I've highlighted within the red box on the lower floors. NE facing will be towards the multitude of Novena condos, and even at the top floor all you'll be seeing is the density of buildings.
The SW facing units offer better views at the expense of road noise, do take into consideration that Bukit Timah Road is a heavily traversed one.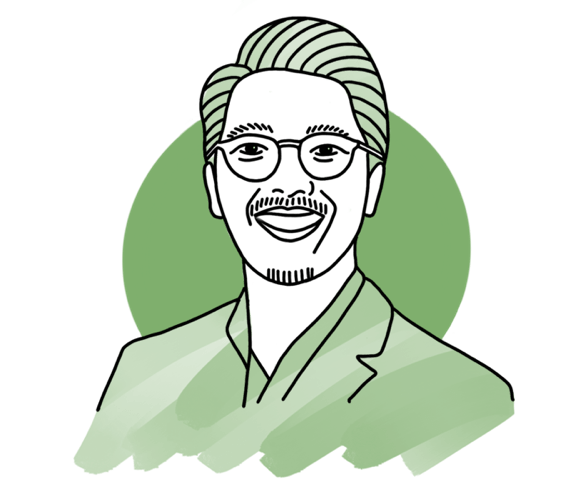 Insider Tip
"5 Bedroom units offers the best facings, overlooking the length of the swimming pool to maximise frontage clearance for the views."
Ryan Ong,
Real Estate Specialist
Best stacks with the least afternoon sun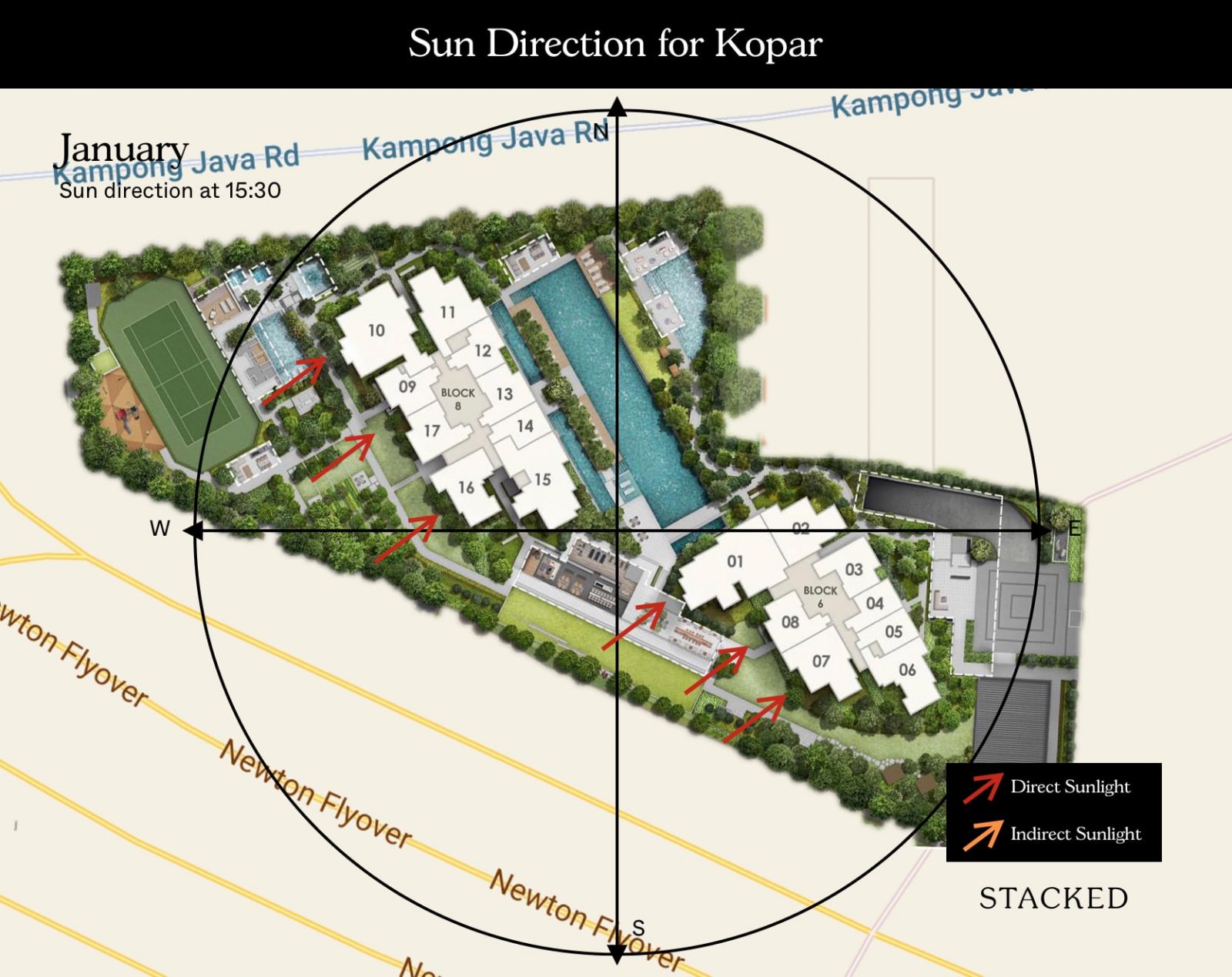 Stacks 12 – 15 and 03 – 05 have the least afternoon sun given that they face the North-East direction. Stacks 10 and 01 have the most amount of sun all year round as it faces the South-West direction.
Price Review
Methodology
For those of us who've been through a few reviews now, you'll understand that we prefer to compare the main development with its immediate/surrounding developments and analyse the various price points based on a number of factors involved.

This is mostly done to give home-lookers a clearer picture of the price/age/tenure ranges you can expect in the area, while also providing investors with an idea of any neighbouring competitors.

That said, for those who are looking to invest into new launch condos, it is also important to have a look at the other developments who are coming into the market at the same time and analyse their price points/potential returns. 

As such, we've also included a number of other upcoming developments in the general vicinity for your perusal (should you require a more detailed analysis/advice, feel free to reach out to us at hello@stackedhomes.com).

Comparisons/General Observations

| | | | | |
| --- | --- | --- | --- | --- |
| Project Name | Tenure | TOP | Average Price (PSF) | Comparison Point |
| Kopar @ Newton | 99-year leasehold | End 2023 | ~$2,300 (New Launch Prices) | |
| Pullman Residences | Freehold | 2023 | $3,000 | Similar Launch Periods/Relative Proximity |
| Newton Edge | Freehold | 2011 | $1,378* | Immediate Proximity |
| Parc Centennial | Freehold | 2011 | $1,429 | Immediate Proximity |
| Neu @ Novena | Freehold | Early-Mid 2023 | $2,609 | Similar Launch Periods/Relative Proximity |
| Dunearn 386 | Freehold | End 2022 | $2,469 | Similar Launch Periods/Relative Proximity |
Looking at the list, the first thing that really pops out is Kopar's 99-year leasehold tenure.

It really sticks out like a sore thumb amongst the sea of freehold condos in the area.

On the surface, it might seem like there is a huge price gap between Kopar at Newton and its immediate neighbours like Newton Edge. But when you dig deeper you'd realise that that low average price is because the last unit that sold was a penthouse unit.

As it is a boutique development, you tend to not get many transactions – hence the harder it is for prices to appreciate. Case in point: Just the one transaction for the whole of 2019.

Now let's compare this with Neu @ Novena – the other new launch in the relative area that is 'next' to a key MRT station.

Neu @ Novena, being a freehold development that is relatively compact (just 22,198 square feet of land at its disposal), while Kopar @ Newton, though abundant on land, being a 99-year leasehold development amongst a sea of freehold condos.

I would say that the location of Neu @ Novena is one of ultra-convenience, with the many shopping centres plus hospitals in the immediate vicinity. Some people might feel that the Novena location is a slight downgrade as compared to Newton but if you are looking at it as an investment for rental that will be a moot point.

Dunearn 386 however does seem to have a cheaper price tag but you will have to take into account its proximity to a less central MRT station in Tan Kah Kee MRT and its mere 19,203 square feet of land. With just 35 units available, its hard to recommend this as an investment – its more of an own stay project.

Last but not least is Pullman Residences, where it has sold just 12 units so far at an average of $3,000 psf. If they do end up lowering their prices this could have an effect on the pricing of Kopar as well.

Appreciation Analysis

One important point that sets the Kopar aside from its other new launch competitors is that the 125,326 square feet of land (350,917 square feet GFA) on which it resides, was actually bidded over at a steal of $418.8 million (or $1,192 psf ppr).

Unfortunately, it doesn't seem like that price transitioned into the average units PSFs here, meaning it does leave room for it to depreciate through developer discounts in the near future (in the event of low sales). This, made more pertinent in lieu of the current Covid-19 outbreak.

Further considering that it is a 99-year leasehold condo amongst many other freehold residential developments (resale and new launch), we would naturally expect its value to gradually decrease in the long term as its tenure wears down.

That being said, there are a number of reserve sites just across the road (Monk's Hill/Scotts Road area), which, if developed into key amenity hotspots or residential enclaves, could boost the prices of units here in the short to mid-term.

All in all, the initial new launch prices for the Kopar @ Newton do seem relatively reasonable – though it remains to be seen how long its developers will hold on to the remaining units – possibly for a chance at pushing prices up in the near future.

Our Take
What we like
Well-designed

Good space within development

Close to MRT
What we don't like
–

Traffic noise

–

Maintenance fees
At the end of the day, Kopar @ Newton does seem like a well designed new launch (facilities, architecture, furnishings etc.) in an extremely convenient locale.

That said, its convenience does act as a double-edged sword, given the possible traffic-related issues in the immediate area (noise + jams).

Rental in this part of town should always have quite good demand, but for the smaller units, maintenance is quite a substantial chunk here. Inversely, should you be looking at a big unit – maintenance fees are actually reasonable.

Given the current situation, the fact that it has sold 77 units so far is quite an encouraging sign to the attractiveness of the development.
What this means for you
You might like Kopar at Newton if you:
• Enjoy Well-Spaced Residential Development:

The Kopar is set to utilise just 30% of its 100,000+ square feet land area for residential living.

• Appreciate Urban Luxury Projects:

Combined with Copper outfits, top-of-the-line interior furnishings, and a Kinetic Rain-like chandelier structure, it has to be said the Kopar does boast a certain degree of elegance.
You might not like Kopar at Newton if you:
• Prioritise Your Budget:

At over $2,300 average psf (not to mention hefty maintenance fees), you'd be paying much more for the novelty + luxury factor of the condo.

• Require Complete Peace & Silence:

While the developers have done their parts to reduce traffic-related noise disturbances, living in District 9 by the Newton Circus connector is a match made in hell for those who crave quiet surroundings.
End of Review
Join our Telegram group for instant notifications
Join Now
Reuben