Condo Reviews
I've Lived At Daintree Residence In Upper Bukit Timah For 2 Months: Here's My Review Of This New Condo
Ryan J
July 18, 2023

7

min read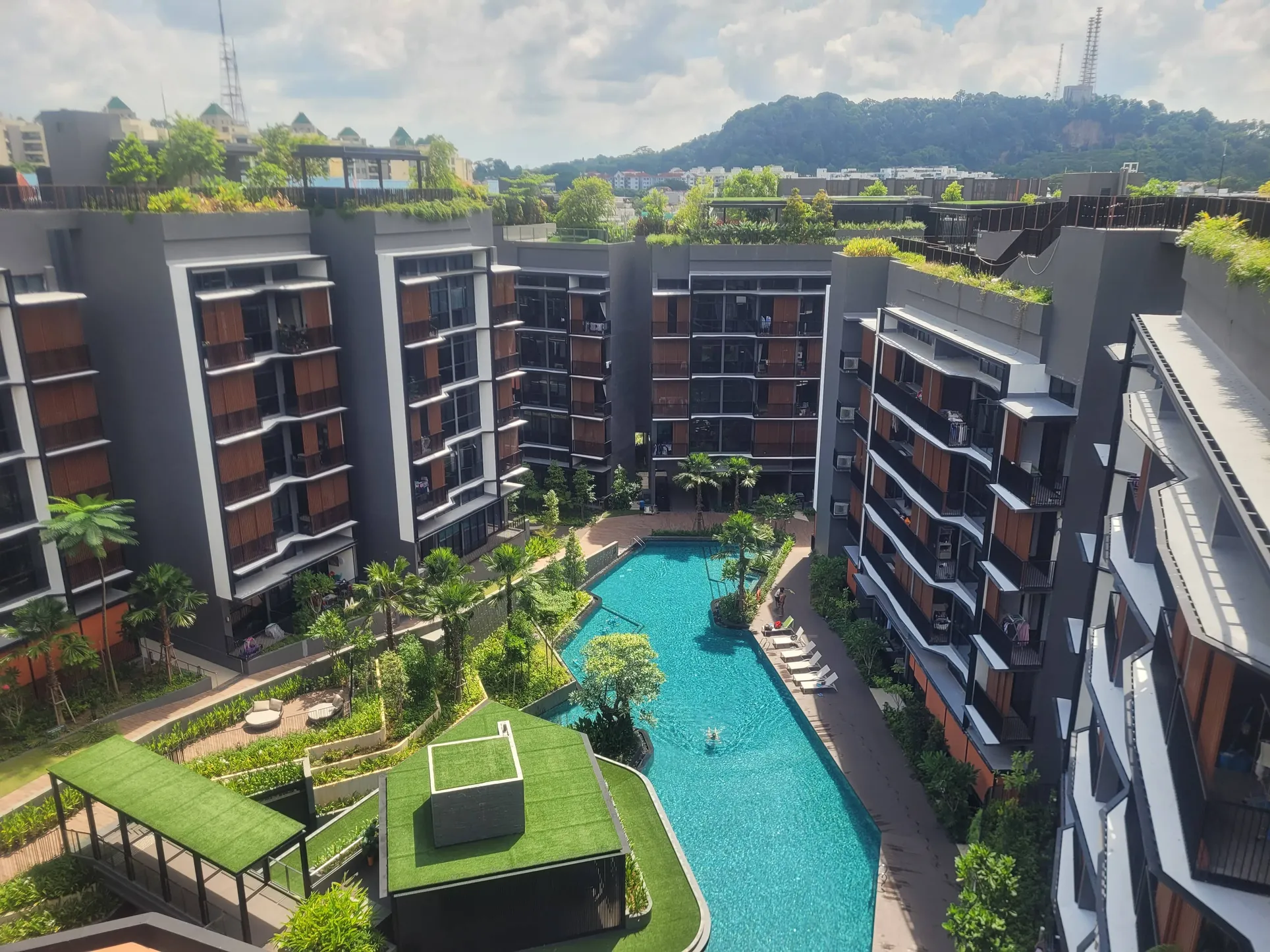 7
min read
Daintree Residence was expected to have a rocky start, as it launched in July 2018 – the first condo to launch after a round of cooling measures, when market analysts predicted buyers pulling back. Nonetheless, the developer remained confident of the Upper Bukit Timah location, and never even flinched on the prices. In the end, Daintree Residence did sell out on time; and recently we spoke to one of the buyers, J, about what's it like after moving in:
Deciding on Daintree Residence
Daintree Residence is still new, having gotten its Temporary Occupancy Permit (TOP) only in December 2022. J has been living there for two months, and he had very specific requirements in mind when choosing his property. His foremost consideration was for the property to be an effective hedge against inflation, with a price that could match up to the URA's Property Price Index (PPI).
And of course, the location was of paramount importance. He wanted a tranquil environment that would allow him to unwind after a long day at work. As such, a busy, bustling township was out of the question. This led him to the serene locale of Bukit Timah.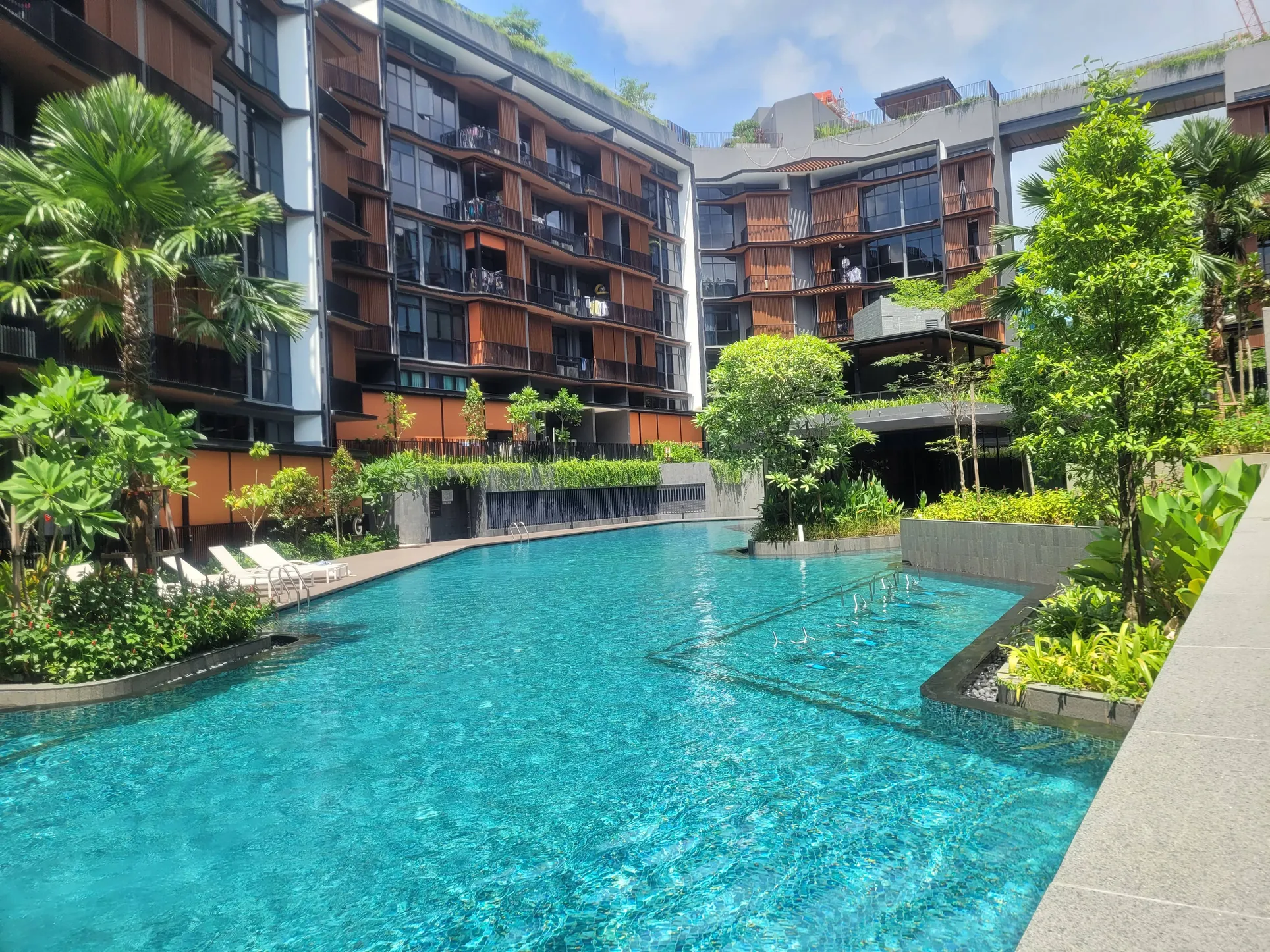 In addition to the peaceful setting, proximity to essential transport nodes like the MRT was a must. The property needed to be situated within convenient reach of necessary amenities that would cater to his family's needs, both in terms of safety and liveability.
J says that:
"Most millennials in their 30s or 40s in the West should have a recollection of the old Beauty World area, with the King Albert Park McDonald's and arcades in the 1990s.
Unfortunately, it has given way to large numbers of enrichment centres and maid agencies, which together with the backdated malls, have become synchronous with the Beauty World brand. Nonetheless, the nostalgia of growing up and its rustic charm do have an appeal of their own."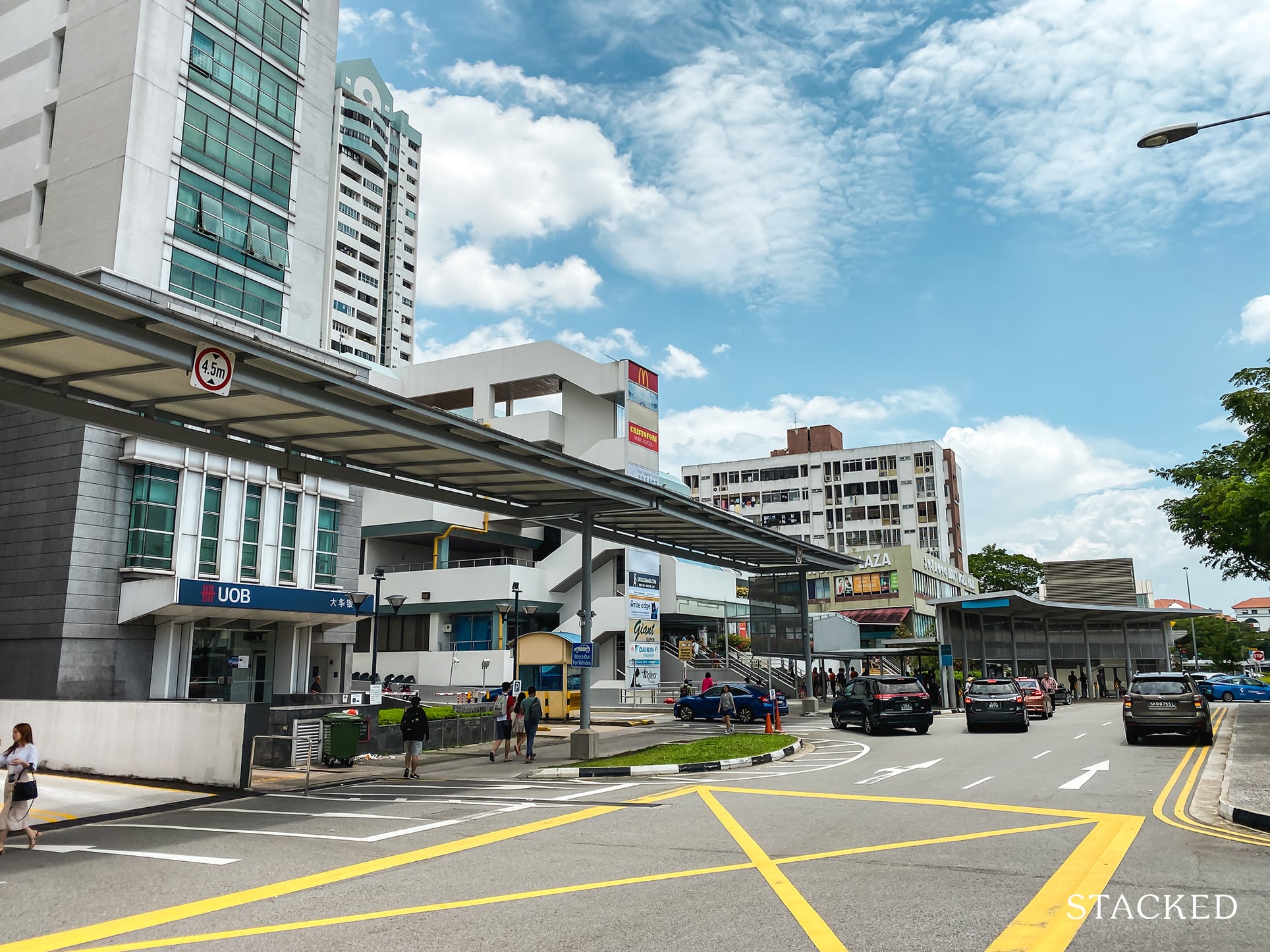 Note that King Albert Park saw redevelopment into KAP Residences, and the commercial component was a bit slower in recapturing the old vibe. This was initially due to problems involving the commercial tenant mix, which resulted in a lawsuit at one point. However, KAP's situation has improved substantially, ever since the tenants took things under their own control.
J also says that:
"Things got moving when the government formalized their plans to rejuvenate the Beauty World area with the impending launch of Jalan Anak Bukit GLS (today's Reserve Residences). Daintree Residence is located next to the epicentre of transformation, and yet far enough for me to enjoy the peace and quiet.
In addition, it was the first GLS being launched to kickstart the Beauty World transformation story, so it offers a first-mover advantage of sorts. I was initially concerned about the performance of a leasehold project nestled in a freehold enclave, but the data analysis of Leasehold vs Freehold by Stacked have convinced me to let go of my subjective bias. The performance of Garden Vista, D'leedon and Hillford helps too."
Read this next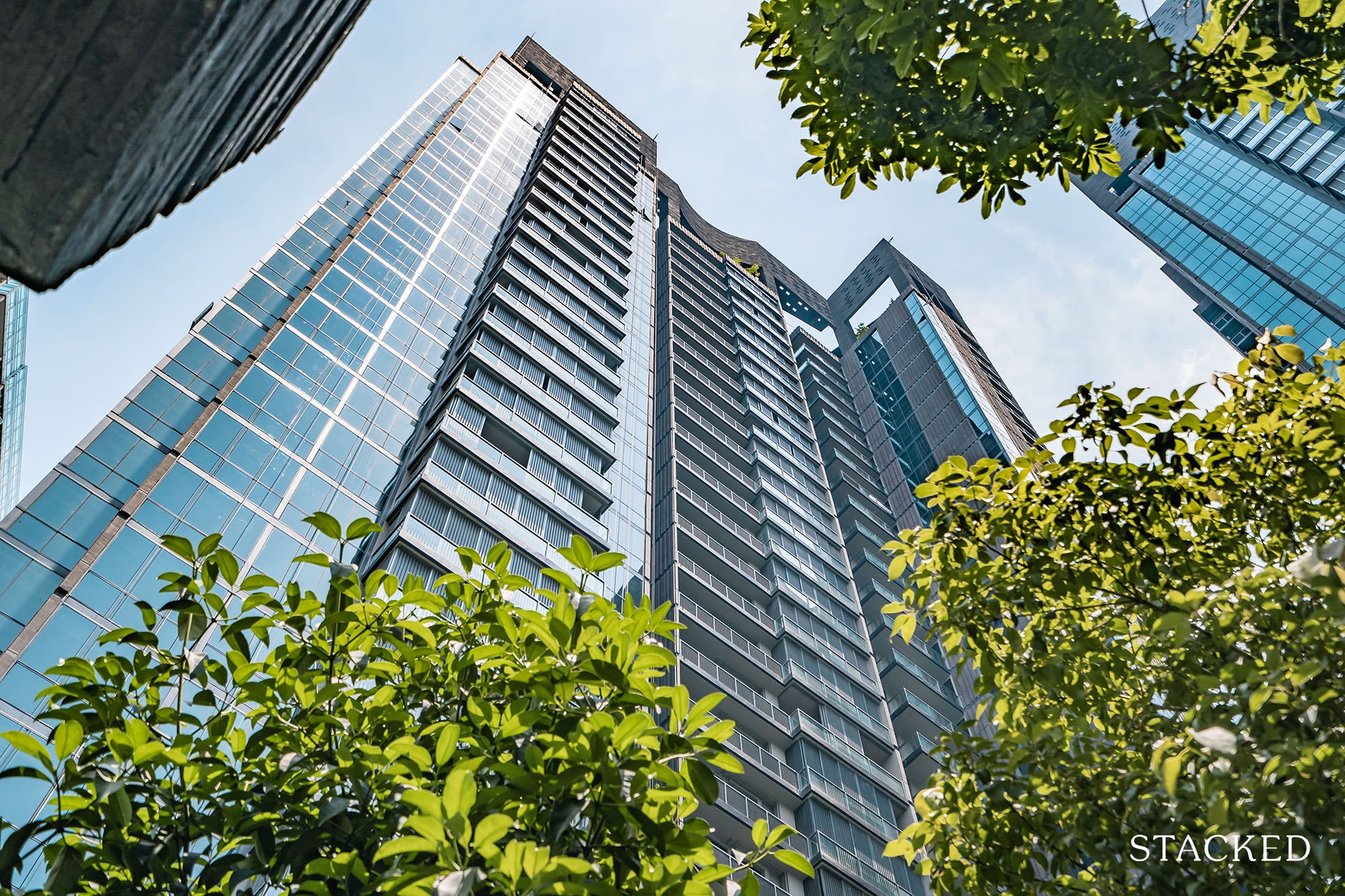 J also considered some freehold resale condos, along Dunearn Road and Sixth Avenue. But he decided against them due to the layouts; many of these older condos have large bay windows, which are wasteful. In addition, renovation tends to cost more for older resale units, and the supply of three and four-bedders was scarce. This eventually led to the choice of Daintree.
The Best Part About Living at Daintree Residence
Daintree Residence is a smaller development by unit count, which J appreciates:
"The low density (327 units across 210,000+ square feet) is a plus as this means every resident gets to enjoy the facilities without the effect of overcrowding.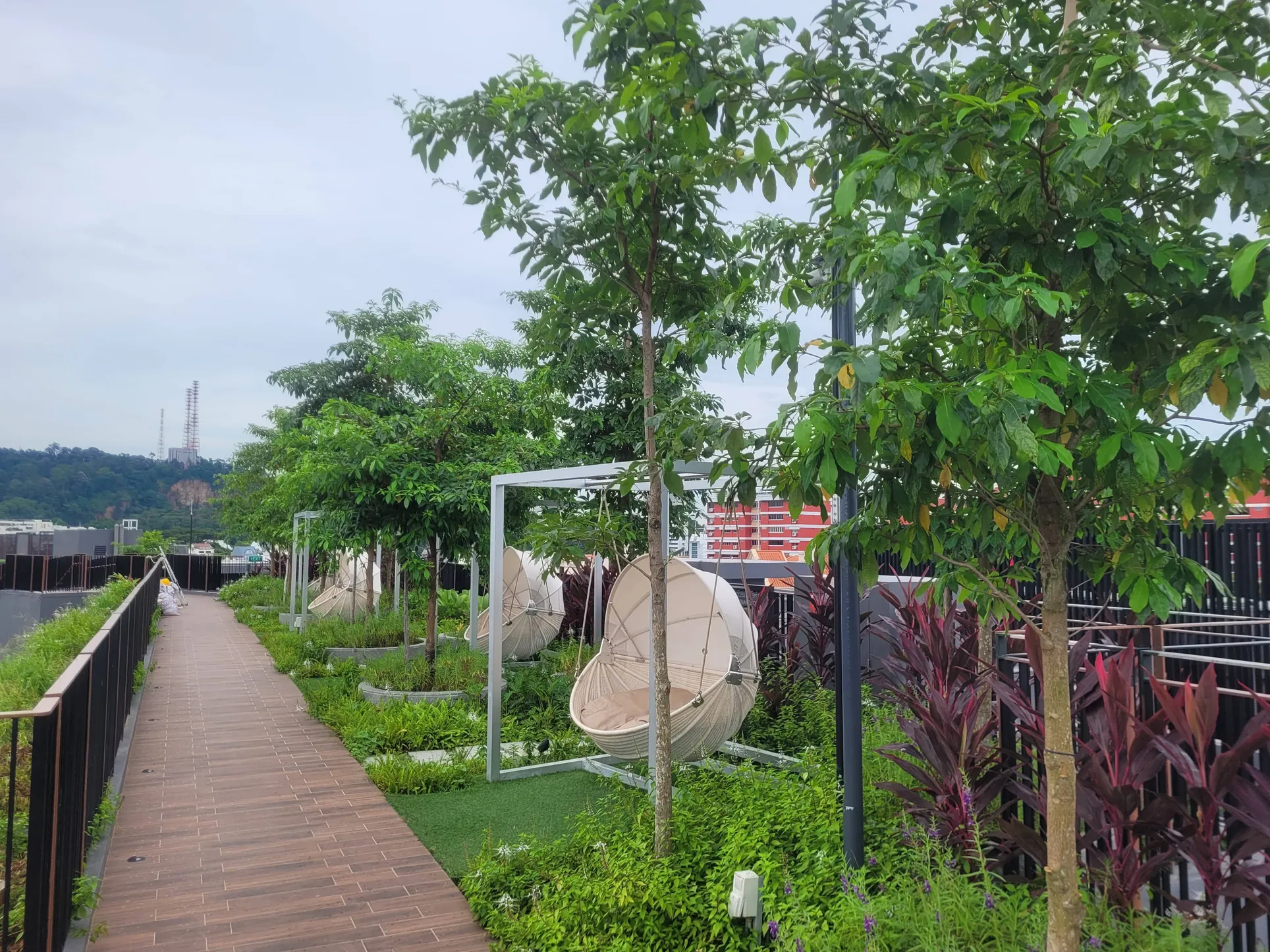 The 330m rooftop garden, otherwise known as the 'Treetop Walk', is well shrouded with lush greenery, and has an expansive view of Bukit Timah Hill."
So for the number of units in the project, there's definitely a diverse set of facilities that the residents get to enjoy.
From the well-equipped function rooms: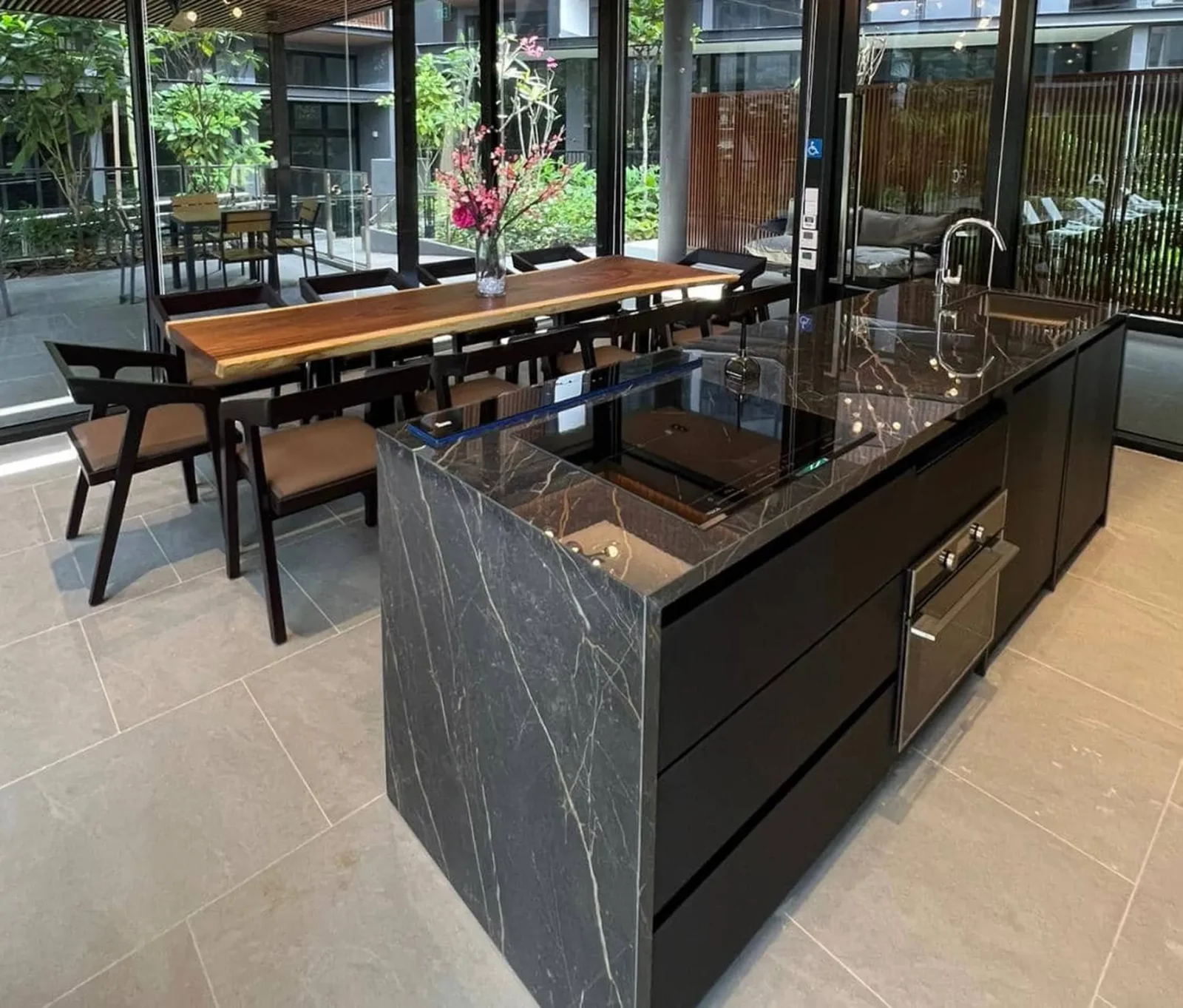 To the various areas to sit and chill: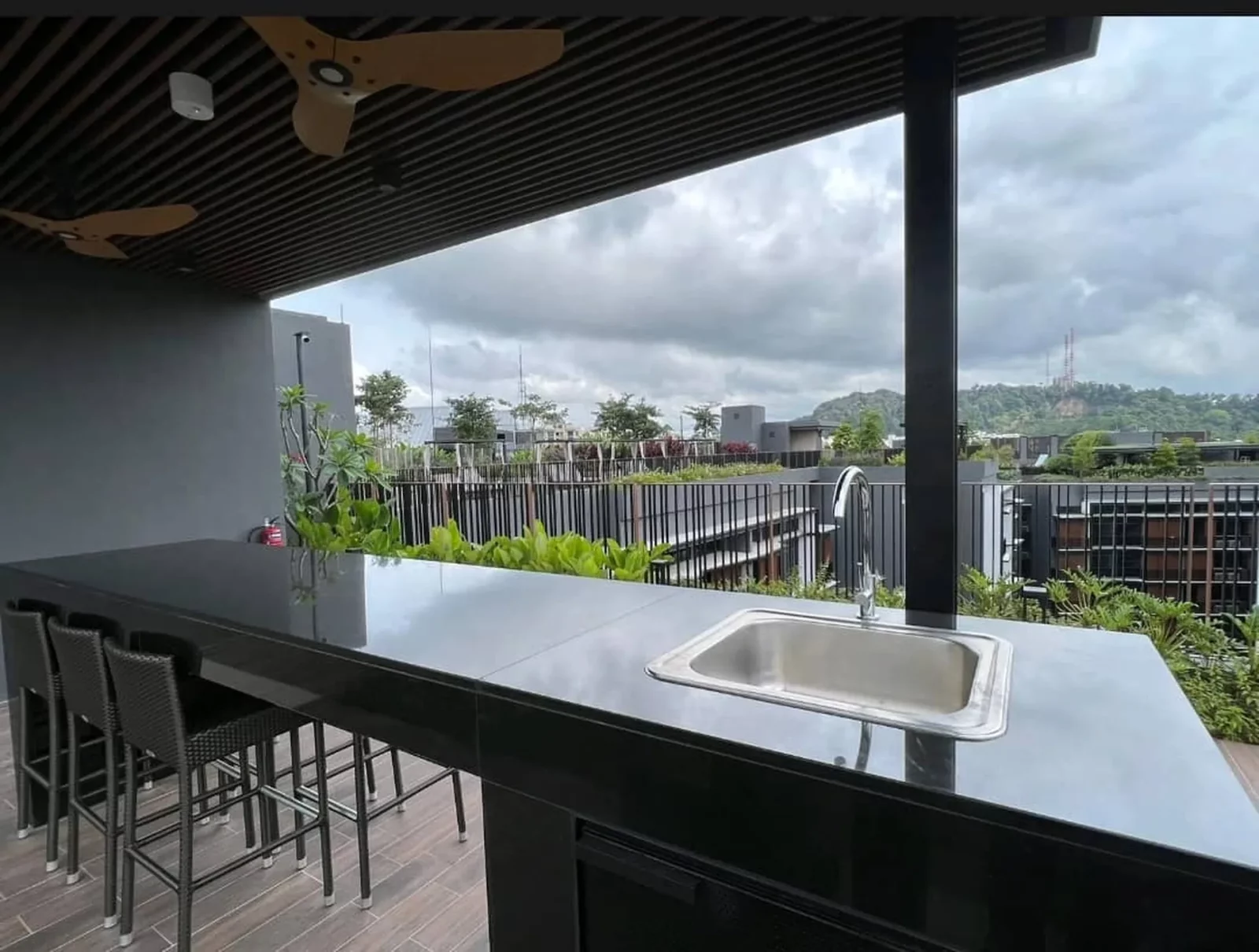 "However, what seals it for me is the people. One can't help but notice a strong sense of camaraderie where residents look out for one another. This enhances the move-in experience, and seamless integration into the community."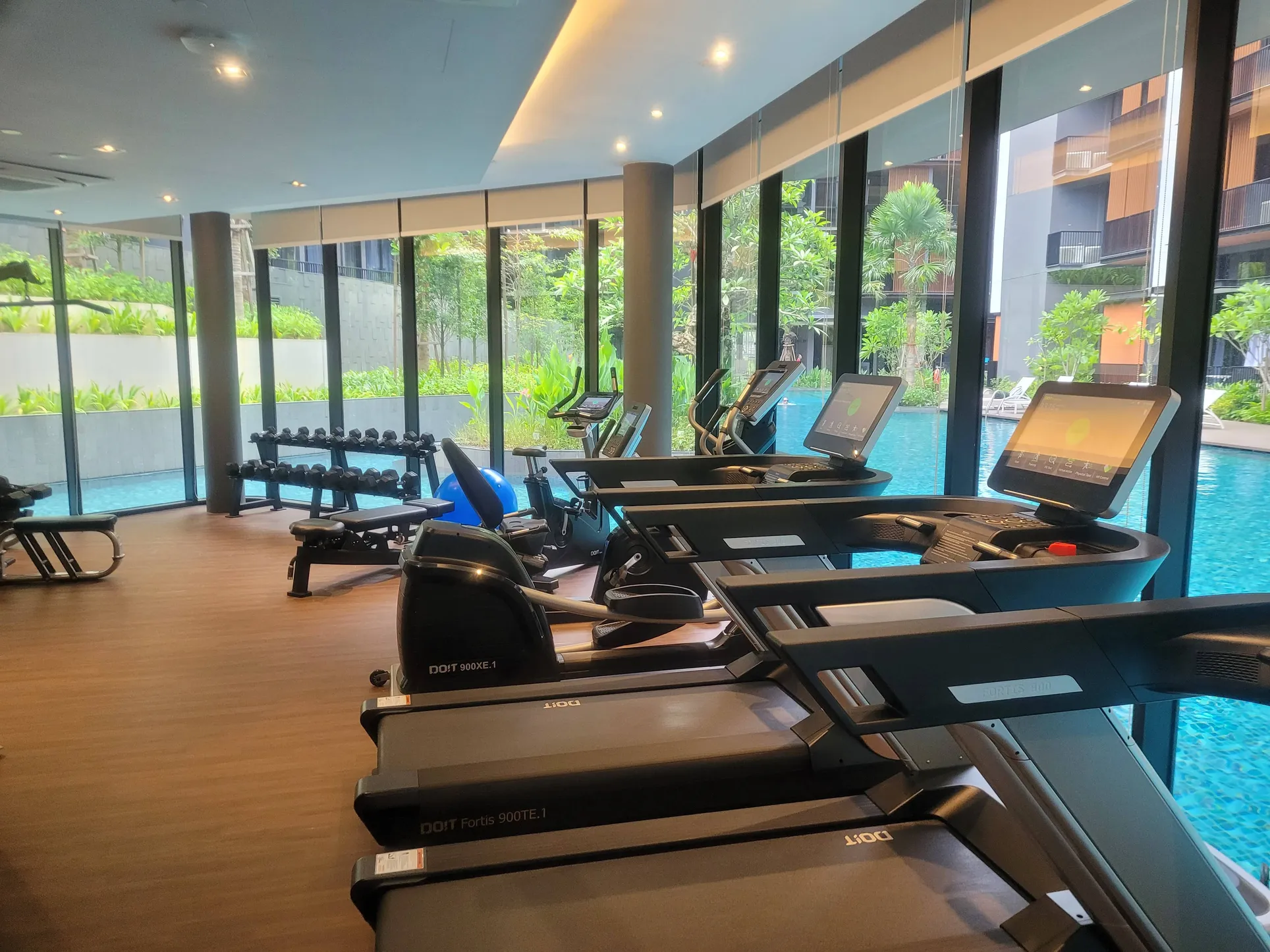 J says this may be due to Daintree being a family-oriented project, as opposed to one where most residents are temporary tenants. "Your neighbours are going to be with you for a long time," J says, "So one can potentially make or break your stay."
Some examples are individuals volunteering to take ownership of group-buy circles, e-banners, websites, and so forth, to contribute to the overall development.
That said, J did point out some minor issues
He says that: "Though my experience is pleasant so far, as per all developments there will be teething issues of sorts.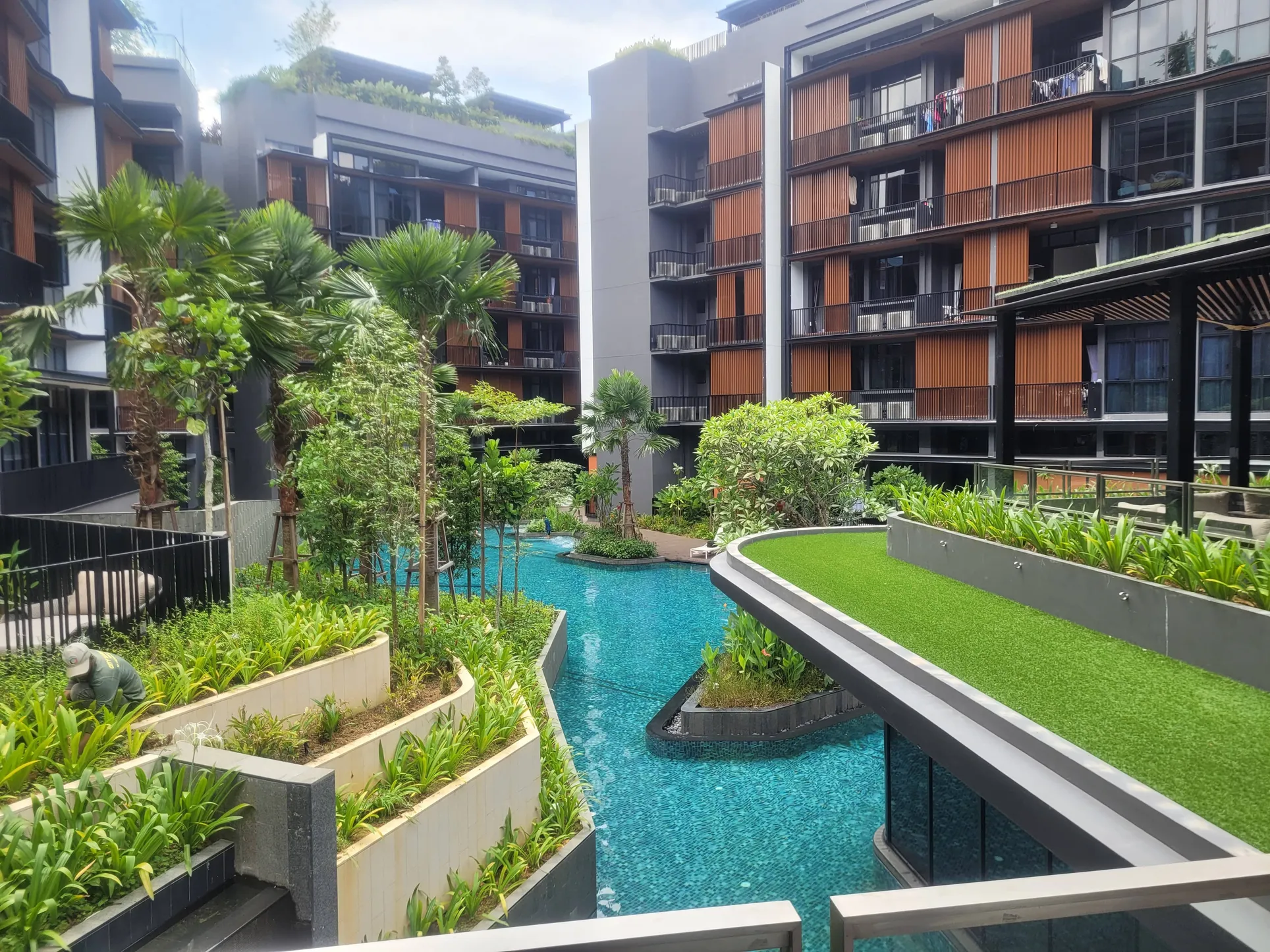 The ongoing construction activities from View at Kismis does give rise to some dust and noise pollution. The vast amount of landscaping, which spans across the pools and rooftop, also results in frequent mosquito issues. Hopefully, all these will pass with time."
J feels that the frequency of fogging can be increased to manage the mosquito issue; but residents may be able to do this in subsequent Management Committee meetings.
Besides this, some possible improvements could involve a side gate for more direct access to Pei Hwa Presbyterian, and perhaps the incorporation of work pods of flexible workspaces on the condo grounds, to better support Work From Home residents.
Important Details From Living at Daintree Residence
Daintree Residence has done well in terms of returns since TOP, with J pointing out the article where we cover this. Daintree has seen average gains of 22.3 percent following launch and is one of the top sub-sale performers to date.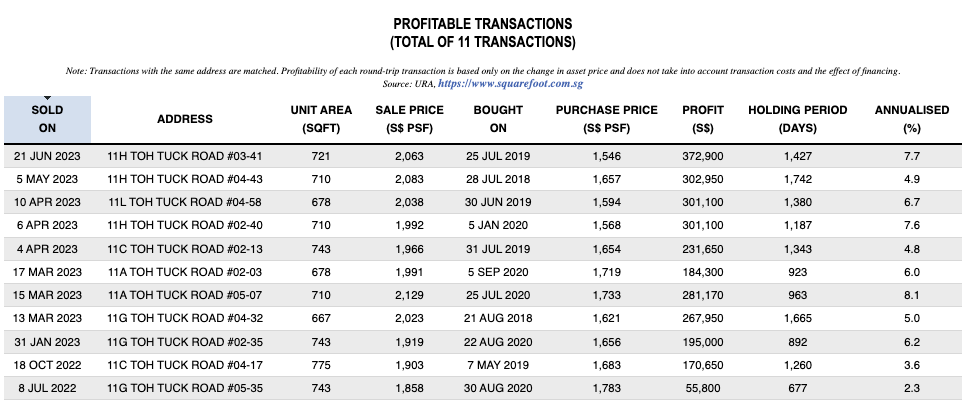 However, some other highlights pointed out by J include:
Proximity to Pei Hwa Presbyterian, which reduces the price elasticity effect from future family upgraders
Availability of Cheong Chin Nam car park as a future government land sales plot according to the 2019 URA masterplan (zoned for commercial development)
Reserve Residences 'halo' effect – With over 80 percent of units sold at an average of $2,490+ psf, this project will also add amenities via its retail podium.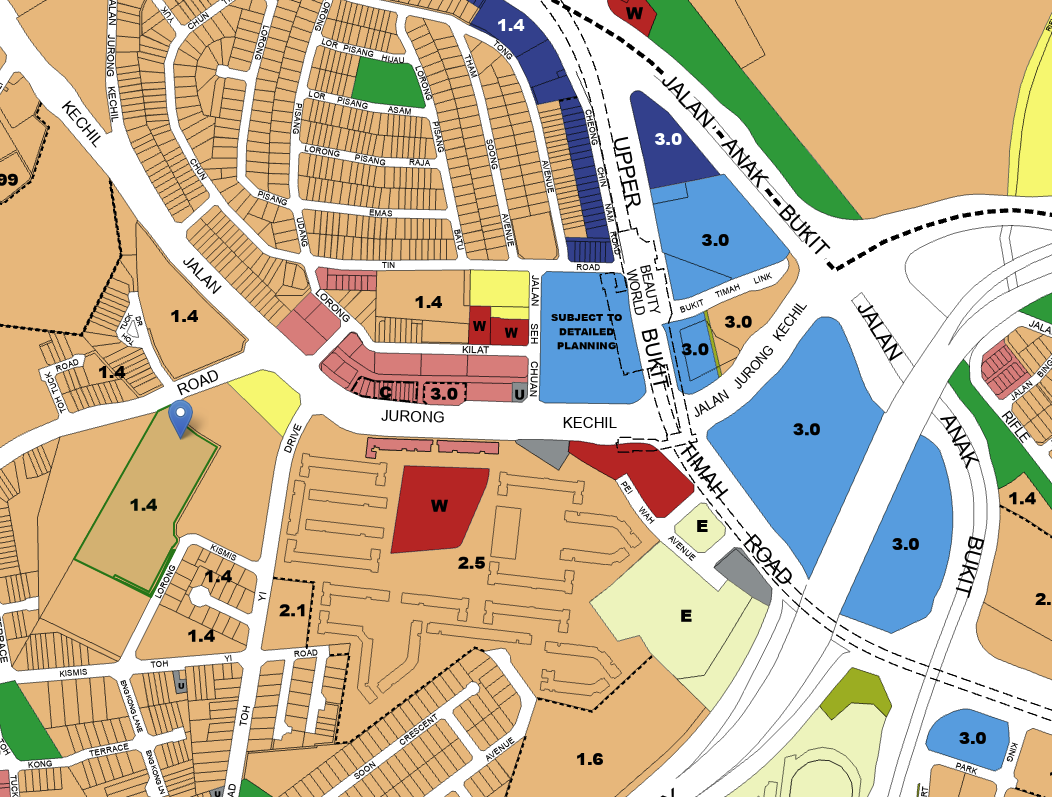 J sees these factors as adding to future resale value, and offering multiple exit points further down the road. He has also noticed that:
"In terms of residents' profiles, a majority of the owners are young local couples or families in their 30s and 40s, who have children. This is not surprising given that over 84 percent of the condo is Singaporean-owned, and Daintree is a family-oriented project."
A family-oriented condo will appeal to HDB upgraders, who are now – and likely will be for some time – the largest demographic of condo buyers.
Daily Life at Daintree Residence
"On a weekday evening I like to end my day with a swim or stroll along the Treetop Walk to wind down from work," J says, "For a typical weekend, my family and I will start the day off with our favourite carrot cake and satay bee hoon at Bukit Timah Food Centre.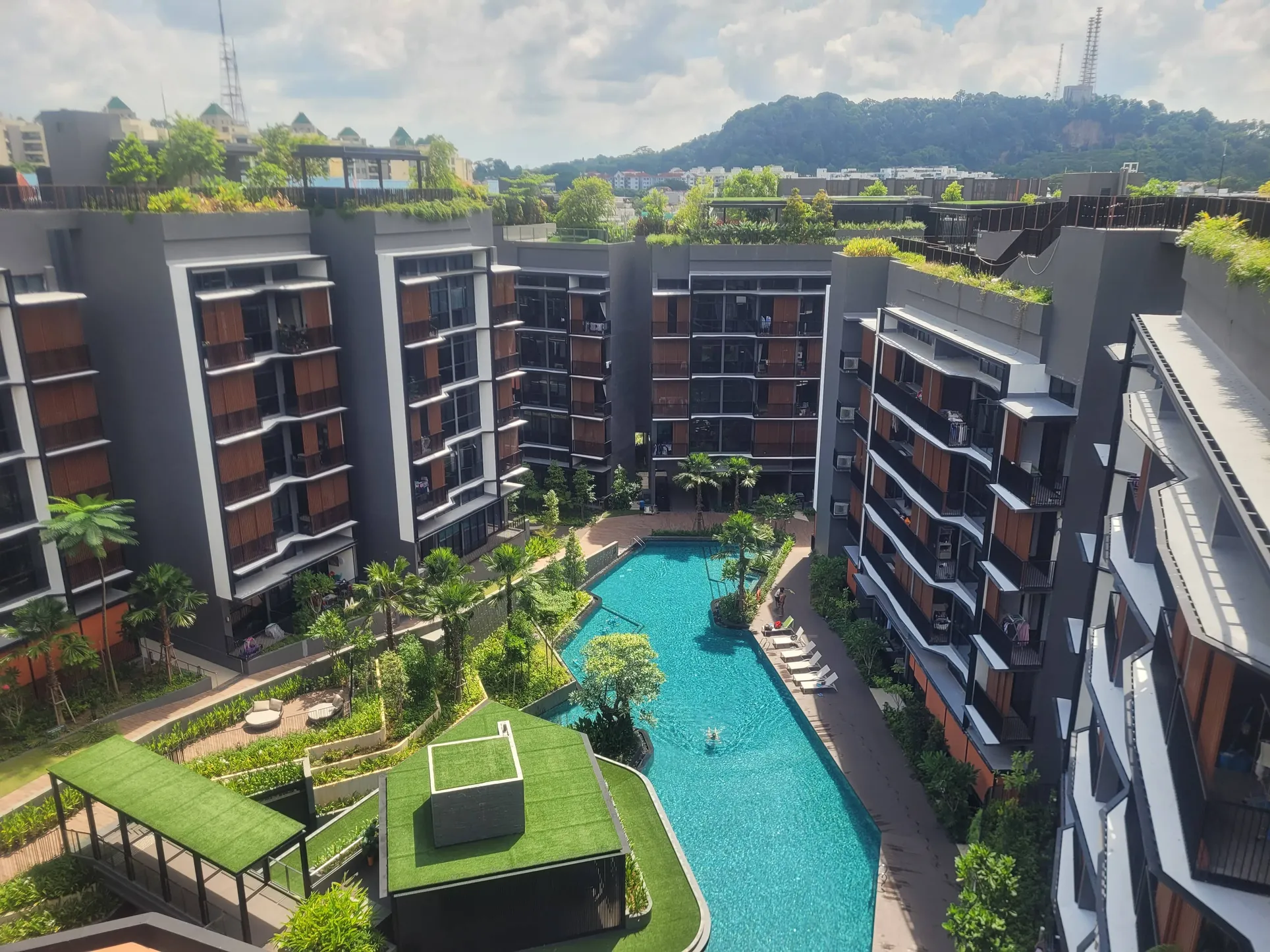 We will then cross over to Beauty World Centre and explore the new Rifle Range Park, via the connector link bridge on the fourth floor, which is my favourite park for now."
For those who like longer walks, jogs, or cycling, the location has more to offer:
"Occasionally we will do a 30-minute trek up Bukit Timah Hill, or explore a new cycling trail along the Rail Corridor. If you get adventurous, you can run down Dunearn Road which leads all the way down to Botanic Gardens. I like the fact that my family is surrounded by greenery and nature, with a plethora of activities available for families."
Long-term Plans for Daintree Residence
For now, J has no plans to move from Daintree; at least not for the next three to five years; the only exception would be if there's a change in the family nucleus, or a need to move closer to a tertiary institution.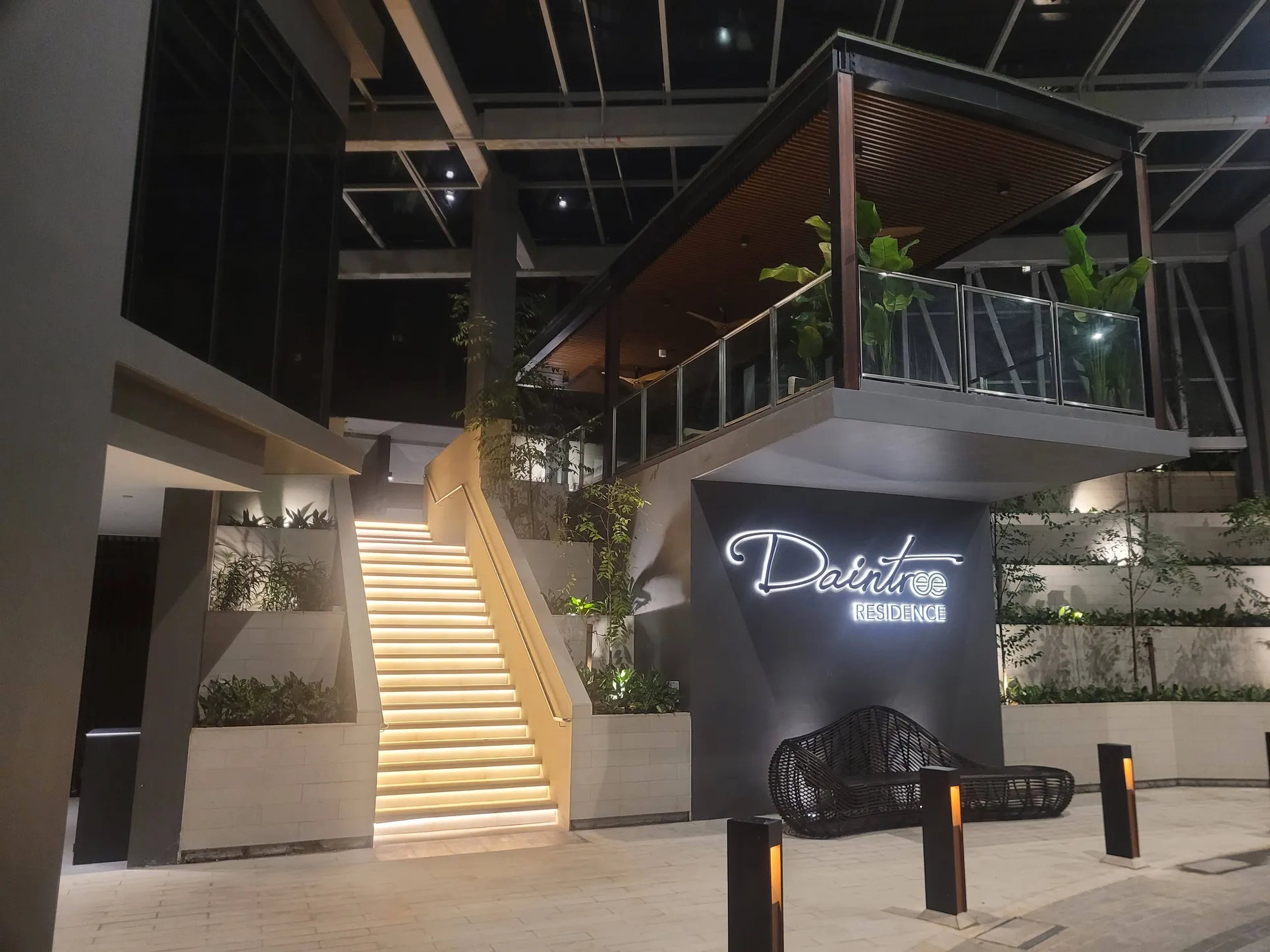 "For now, I am happy to enjoy the lifestyle in Daintree Residence and Beauty World," J says, "Where the new meets the old, and where nature meets living."
For more homeowner experiences in various projects, follow us on Stacked. We'll also provide in-depth reviews of new and resale properties alike, so you can make a better-informed decision.