Commentary
Is This The End Of Real Estate Agents As We Know It? Here's How AI Can Transform Real Estate
Ryan J
September 2, 2023

9

min read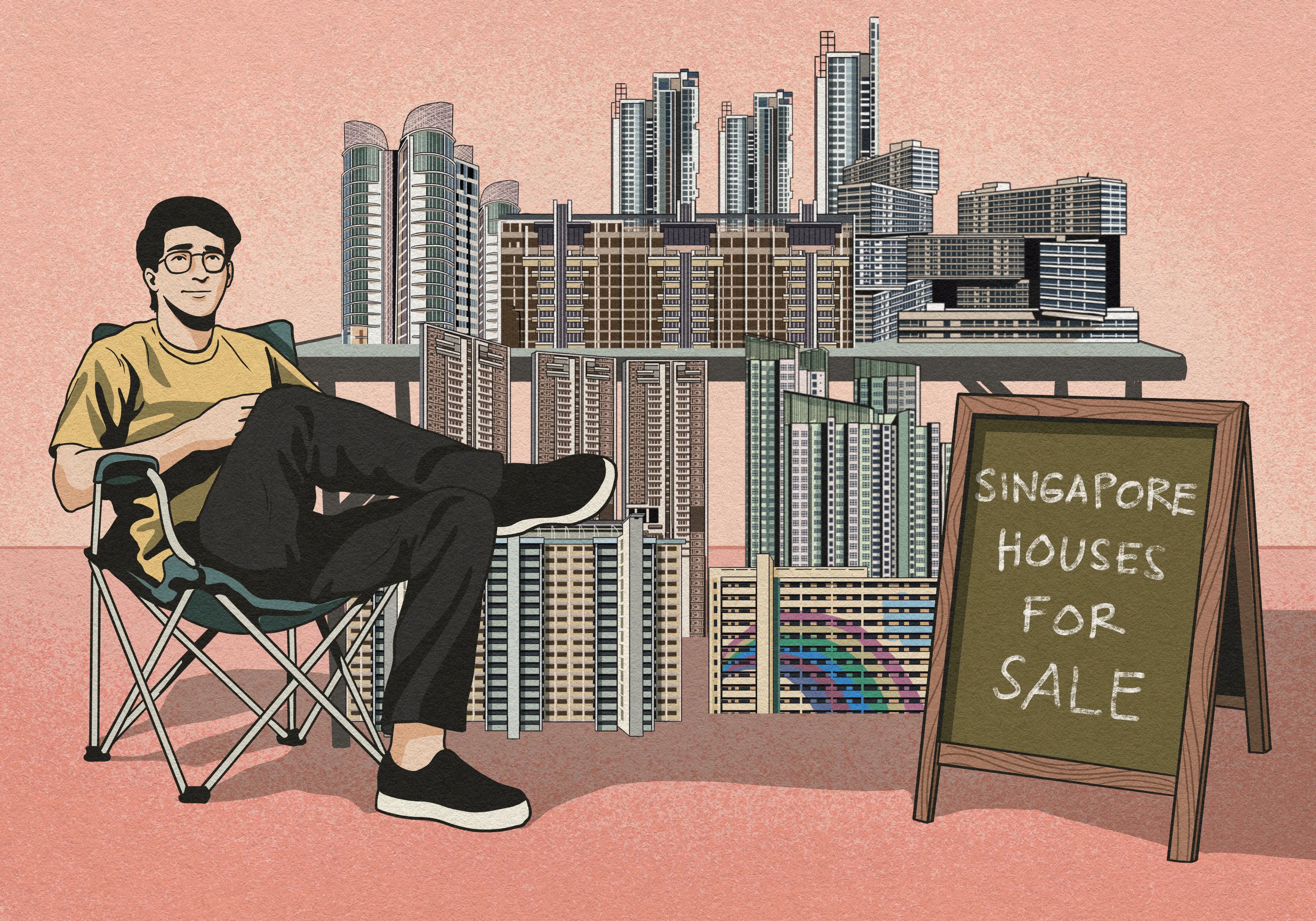 9
min read
Besides insurance agents, property agents are often one of the most "hated" professions. Whether it's the hefty commissions or the sometimes less-than-transparent practices, many people have dreamed of a world where tech could completely replace the traditional property agent. But as we've explored in a previous article, (We Tried to Eliminate Property Agents in Singapore: Why We Failed & The Challenges New Platforms Face), the task isn't as straightforward as it seems. Property agents do more than just show homes; they negotiate deals, understand what's happening on-the-ground, and provide a layer of emotional intelligence that's not easily replicated by algorithms.
That said, we are in an age where many jobs are at threat of being replaced. Artificial intelligence has come leaps and bounds, and new AI models can now generate persuasive writing or convincingly lifelike imagery. Whether it's chatbots so advanced that you might mistake them for a human, or AI models that can craft complex articles and even fool educators, the landscape is rapidly changing. Add to that new technologies capable of generating photorealistic images of properties yet to be built, and it becomes clear that we're on the brink of a significant paradigm shift.
So can these tech advancements really replace a property agent eventually? Let's explore various AI tools and technologies that could kickstart the disruption, or at the very least speed up some parts of a property agent's job:
1. ChatGPT for listings and templates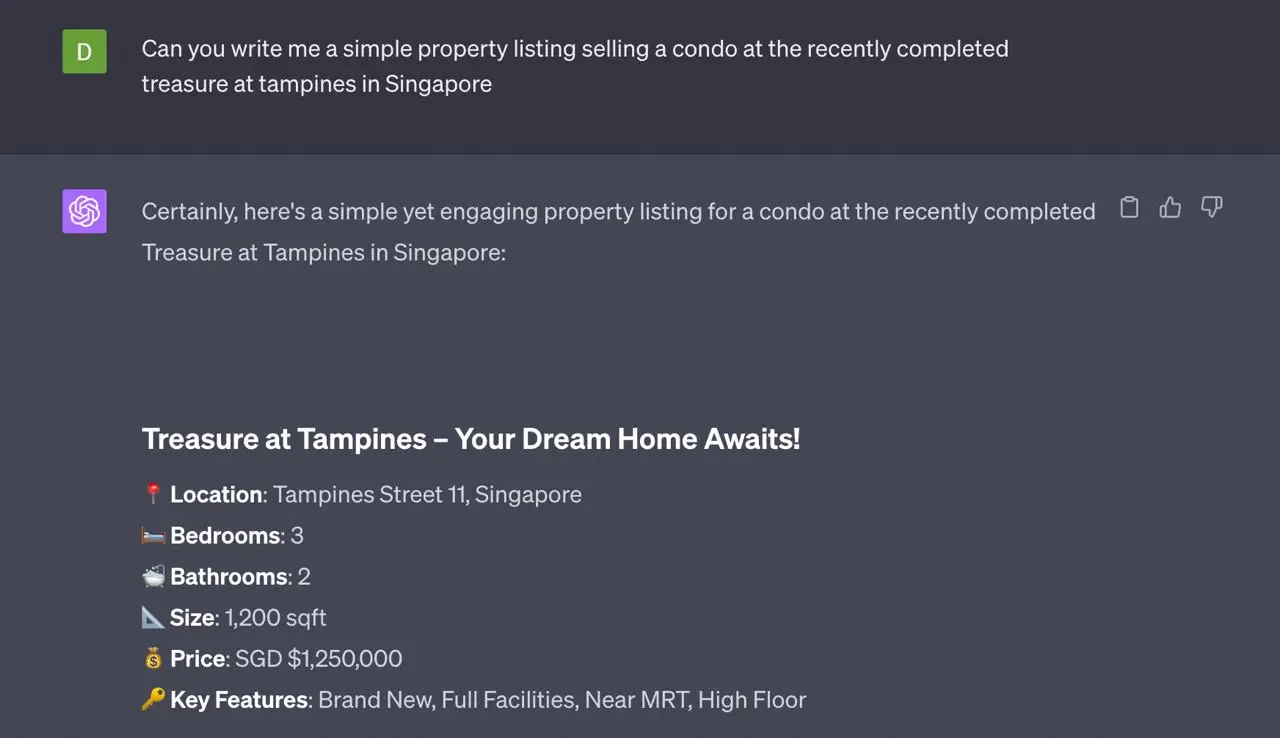 ChatGPT is usually the first that comes to mind, and many agents have told us they already use this. This can save a lot of time in writing property listings, which some agents absolutely loathe doing. For example, this listing was written by ChatGPT in just a few seconds:
Welcome to the epitome of contemporary urban living at The Continuum Condo, a prestigious address that redefines luxury and convenience in the heart of Singapore. This meticulously designed three-bedroom unit offers a lifestyle of unparalleled comfort, sophistication, and convenience.
Property Highlights: 🛏️ 3 Bedrooms 🛁 2 Bathrooms 📐 Spacious Floor Plan: [Provide dimensions] 🌆 Spectacular City Views 🏞️ Private Balcony 🍽️ Modern Kitchen with High-End Appliances 🚗 2 Designated Parking Spaces 🏊‍♂️ Access to Exclusive Condo Amenities
Key Features:
✨ Elegant Interiors: Step into a world of elegance with thoughtfully curated interiors that blend contemporary design with timeless aesthetics. The open-concept layout allows for seamless flow between living, dining, and kitchen spaces.
🌇 Breathtaking Views: Indulge in mesmerizing panoramic views of Singapore's iconic skyline and the lush greenery that surrounds The Continuum. Experience the city's beauty both day and night, right from the comfort of your own home.
🍳 Gourmet Kitchen: The state-of-the-art kitchen is a culinary enthusiast's dream, equipped with top-of-the-line appliances, ample counter space, and stylish cabinetry. Prepare gourmet meals with ease and entertain guests in style.
🌴 Tranquil Balcony: Step out onto your private balcony and unwind in the serenity of your own outdoor oasis. Whether it's sipping your morning coffee or enjoying a glass of wine in the evening, this space is perfect for relaxation.
🛋️ Luxurious Bedrooms: The three spacious bedrooms are designed to provide the ultimate retreat. Plush carpets, ample natural light, and generous closet space create a soothing ambiance for rest and relaxation.
🏊‍♂️ Exclusive Amenities: As a resident of The Continuum, you'll have access to a range of premium amenities including a sparkling swimming pool, well-equipped fitness center, lush landscaped gardens, and 24/7 security services.
🚗 Convenient Parking: This unit comes with two designated parking spaces, ensuring that your vehicles are secure and easily accessible.
Location: Situated in the vibrant [neighborhood/city district], The Continuum offers the perfect balance between urban living and serene surroundings. Enjoy easy access to shopping centers, renowned dining establishments, prestigious schools, and major transportation hubs.
Price: Contact us for pricing and more information about this exceptional property.
Indulge in a lifestyle that surpasses expectations at The Continuum Condo. Don't miss the opportunity to own a piece of this urban paradise. Contact us today to schedule a viewing and witness the allure of this remarkable three-bedroom unit.
For inquiries and viewings, please contact: [Your Name] [Your Contact Information] [Real Estate Agency]
Granted, it's all very generic – but it provides a template that an agent can tweak and edit. The same can be done for contracts like a Tenancy Agreement. ChatGPT was able to write the following terms and conditions:
1. Term of Tenancy: The term of this tenancy shall be from [Start Date] to [End Date], both dates inclusive.
2. Rent and Payment:
The monthly rent for the property shall be SGD [Rent Amount], payable by the Tenant to the Landlord on or before the [Rent Due Date] of each month.
The rent shall be paid in Singapore Dollars via [Payment Method] to the Landlord's designated bank account.
3. Security Deposit: The Tenant shall pay a security deposit of SGD [Security Deposit Amount] to the Landlord upon the execution of this Agreement. The security deposit shall be held by the Landlord as security for the Tenant's obligations and shall be returned to the Tenant within [Number of Days] days after the end of the tenancy, subject to deductions for any outstanding rent, damages, or breaches of the Agreement.
4. Utilities and Services: The Tenant shall be responsible for all utility charges, including electricity, water, gas, and any other utilities consumed during the tenancy period.
5. Use of Property: The Tenant shall use the property solely for residential purposes and shall not sublet, assign, or transfer the property without the prior written consent of the Landlord.
6. Maintenance and Repairs: The Tenant shall maintain the property in good and clean condition throughout the tenancy and shall promptly notify the Landlord of any repairs or maintenance required.
7. Termination: Either party may terminate this Agreement by giving [Notice Period] days' written notice to the other party. In the event of early termination by the Tenant, the Tenant shall be liable for the rent for the entire notice period.
8. Governing Law: This Agreement shall be governed by and construed in accordance with the laws of Singapore.
If a lot of listings and messages from property agents start to sound similar in future, we'll know why. The ones who make an effort though, will edit the messages further.
2. AI chat to speak to multiple clients at once
Meet Luke is a real estate bot, which is quite unlike most other AI chats that you may have tried. We've personally tried it for ourselves, and it's so convincing that the unassuming buyer may not even be aware that they are speaking to a bot.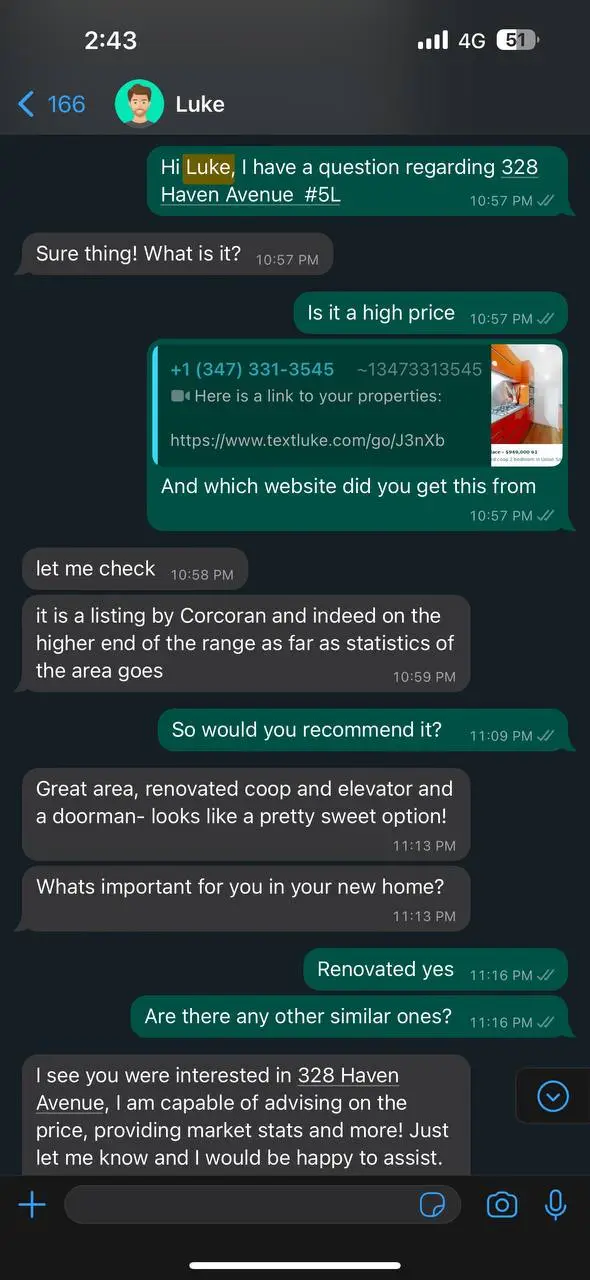 In fact, it can do things like quickly compile databases for rental numbers. The company behind it is constantly improving on it, and claims it even has limited capacity to flag bad listings; but this is still in the works, so property agents need to double-check.
Meet Luke tends to just present the data without explanation, however, so property agents who need a report will still need to do some work. They'll need to interpret why the numbers differ for each area, which will still require on-the-ground knowledge or legwork. Nonetheless, it still saves a property agent from having to manually check and crunch the numbers.
One realtor felt that the people using this tool would likely be analysts in the larger agencies, rather than individual agents. She says that:
"It will probably be useful for the analysts or back-end data experts. Usually we get our data from them, rather than sourcing it ourselves…the firm's analysts have greater expertise when it comes to these things. But it's also good for verifying any suspicions or theories we have about the area."
It still definitely isn't perfect, and if you ask a question that the bot isn't able to handle, this is handed off to an actual human to reply.
Nevertheless, this could improve to a stage where chat bots are able to qualify and educate customers, such that the property agent can save time on responding to simple queries and work on closing them at the end. It's still some time away from being able to navigate complex questions that often come with real estate, but try it for yourself and it may not be as far off as you might think.
3. Meet Elise, for managing rental issues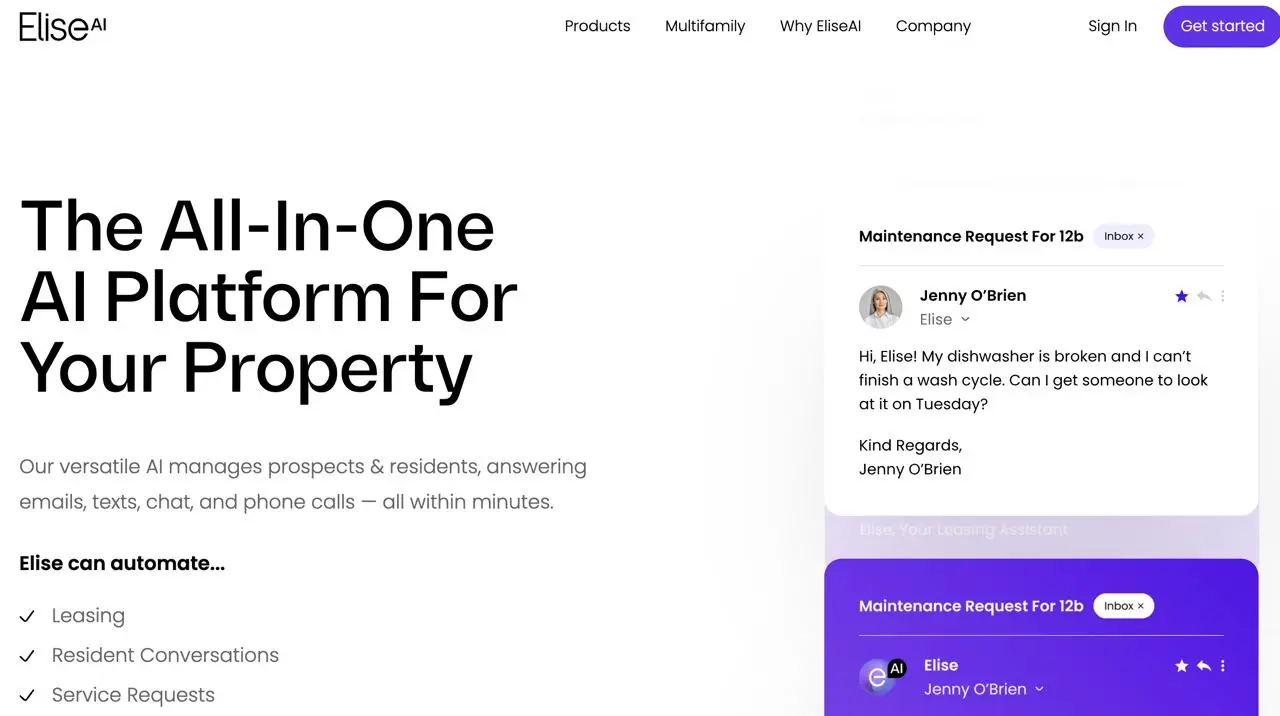 Technically speaking, a property agent's job ends once the lease is signed. But as many realtors have told us, this is a fantasy, as most landlords expect more. Besides, failing to go the extra mile means they probably won't get commissions, when it's time to renew the lease.
There are already such products on the market that have come up to help with that (although they aren't for the Singapore market yet). Meet Elise can store conversations with tenants, track payments and lease expiry dates, and even flag issues like increasing delinquency. This isn't a huge deal for someone handling just one or two properties; but for landlords with 20 or 30 units, or an agent helping multiple landlords, Meet Elise can be much easier than sorting through dozens of Excel spreadsheets each month.
Most agents today dislike rental transactions, due to the low commissions and recurring difficulties. But as tools like Meet Elise get more sophisticated, it may herald renewed interest in the rental sector.
We do think just as many landlords may be interested in this as property agents though; and one co-living space, which declined to be named, said they were already experimenting with Meet Elise and similar tools for their operations. 
Read this next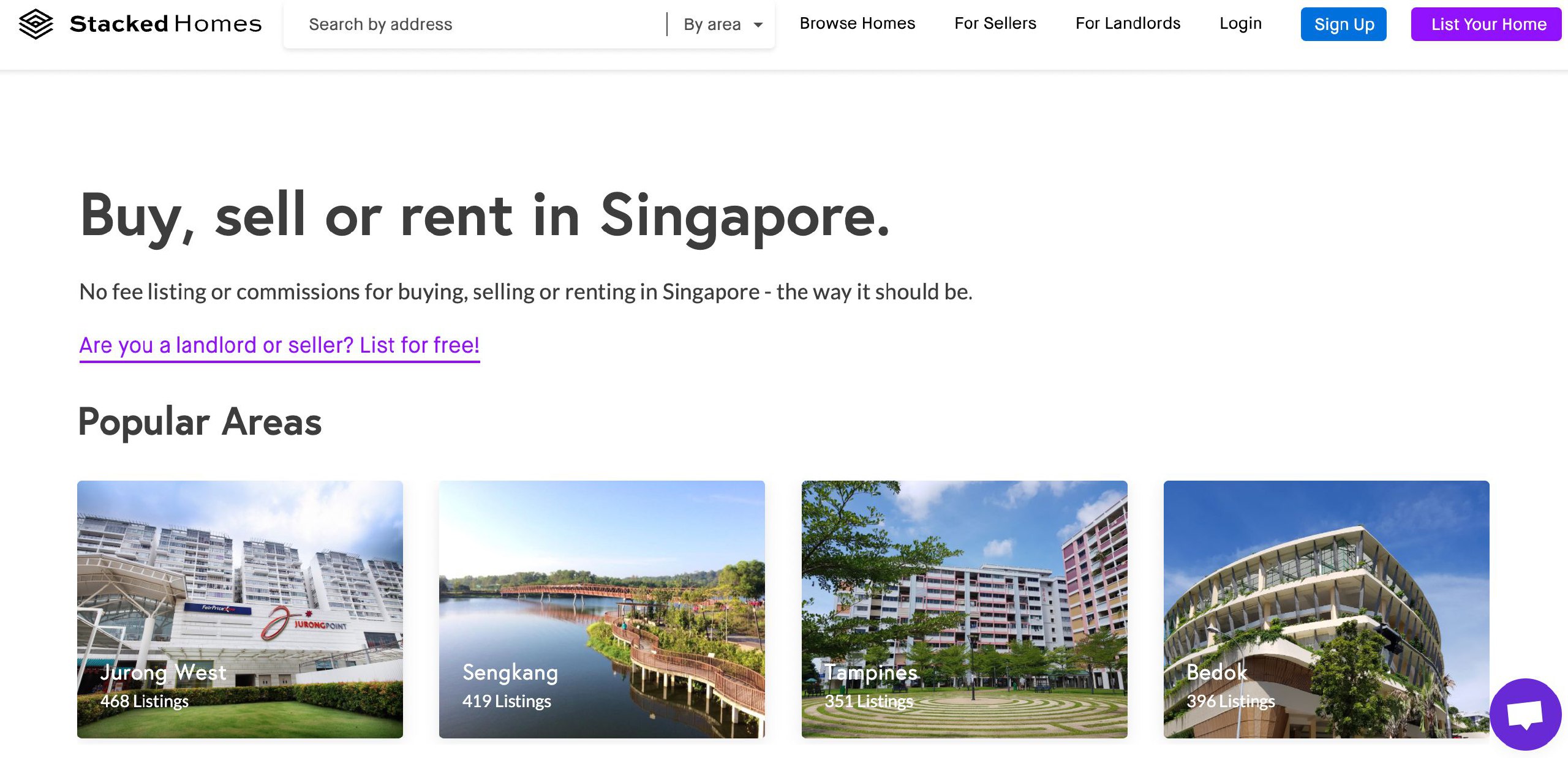 4. Code Interpreter (from ChatGPT) for real estate data analysis
The new code interpreter in chatGPT is BLOWING my mind.

I just uploaded a data set and asked it to help me find the 20 best and worst real estate markets based on rent growth in the last 5 years.

Took all of 30 seconds. pic.twitter.com/SlzXSWbWm8

— Vidit Saxena (@supermode_) May 2, 2023
You can't get this for free, but US$20 a month is not a high price. Code Interpreter is used to analyse data, after which it can create graphs, charts, or other visual displays. The most impressive feature though, is its ability to spot patterns or discrepancies, and interpret the data.
You could, for instance, input all transaction data for all the condos in a given area; and ChatGPT might identify the projects with the most unprofitable transactions, the slowest sales, the highest rental rates, and so forth.
This is, however, on the condition that property agents are able to access the required data. This can be useful for property agents who want to build quick shortlists of viable properties (e.g., list the five top performers for investment-oriented clients), or who are sourcing for inventory.
If a property agent can spot condos that have risen significantly in price, for instance, it gives them a lead on where to find potentially interested sellers.
Today, this is still a big part of why buyers engage property agents – for that on-the-ground experience and property knowledge. If a big part of this can be eventually replaced, that may reduce the reliance on property agents in the future.
5. Midjourney and other virtual staging apps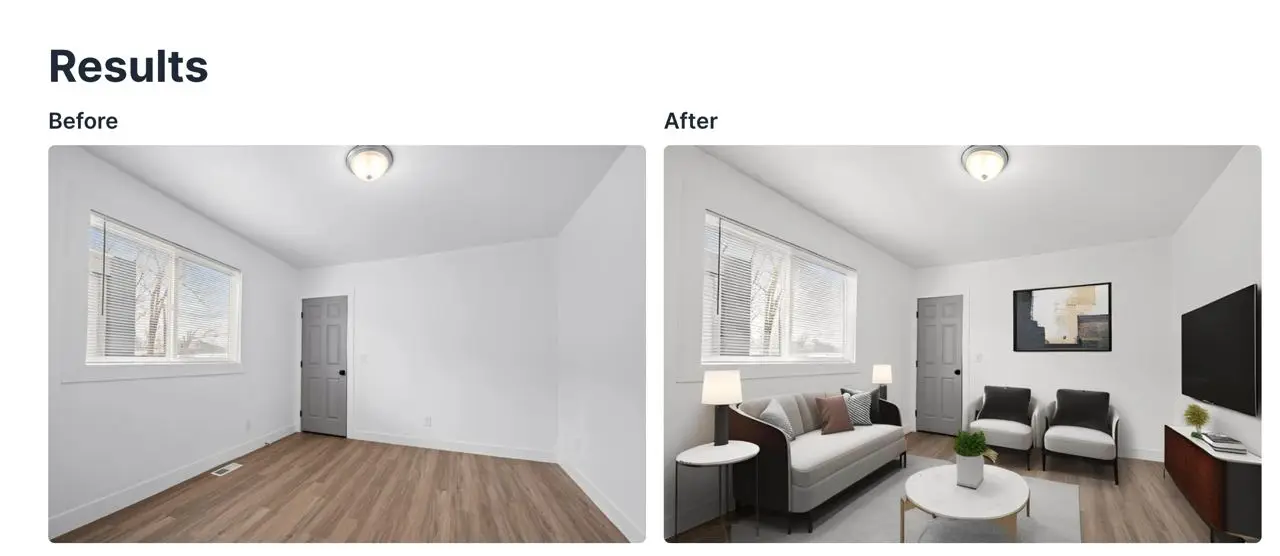 For those who don't know it, 3D renderings are a very time consuming process, and asking a designer to keep generating them is a guaranteed way to drive them up the wall.
One of the biggest pains of selling a home is to dress it up to an attractive standard. Because let's face it, who wants to look at ugly listings online. If property agents can be bothered to learn to use Midjourney, they can create more attractive images of interiors; and they can even retouch or change the image.
To take it one step further (or easier). Virtual staging apps, like the directly named Virtual Staging AI, can replace the need for physically rearranging the property. At present, property agents sometimes need to go to the lengths of using their own furniture, decor, and lighting to make a unit look presentable. This is especially true for old or run-down units (e.g., former homes of hoarders), where it's not reasonable to expect the agent to clear out the entire mess.
Note that we're not saying the images are to fool buyers – just that they can at least present the possibilities once the place is cleaned up. This may even save sellers some money, as the agents won't need to raise service fees to cover staging.
To wrap up, technology's relentless march has a long history of relegating once-indispensable roles to the pages of history books. The knocker-up has given way to the alarm clock, and the door-to-door salesman has been largely replaced by the convenience of online shopping. As AI tools and digital platforms become increasingly sophisticated, we should prepare for a future where the role of the property agent undergoes a similar transformation.
In this climate, mediocrity will have no place to hide. Agents who fail to adapt, who offer nothing more than what a simple search algorithm can, will find themselves obsolete. This natural culling will likely leave us with a leaner, more skilled calibre of agents who add genuine value to the real estate transaction process.
Will we still need 30,000 property agents in Singapore in such a scenario? Highly unlikely. But those who remain will likely be the crème de la crème, professionals whose expertise and skills are irreplaceable even in a digital age.
As we look toward this future, one question looms large: Are we witnessing the beginning of the end for the traditional property agent, or will this be a transformation that brings forth a new breed of super-agents, empowered by technology yet irreplaceable in their human touch? Only time will tell.
Do comment below and let us know of any tech you've found, that you think may help the real-estate market. In the meantime, you can also follow us on Stacked for news and trends in the Singapore property market.