Buying
Is It Worth Buying A High-Ceiling Condo Unit?
Ryan J
November 14, 2023

5

min read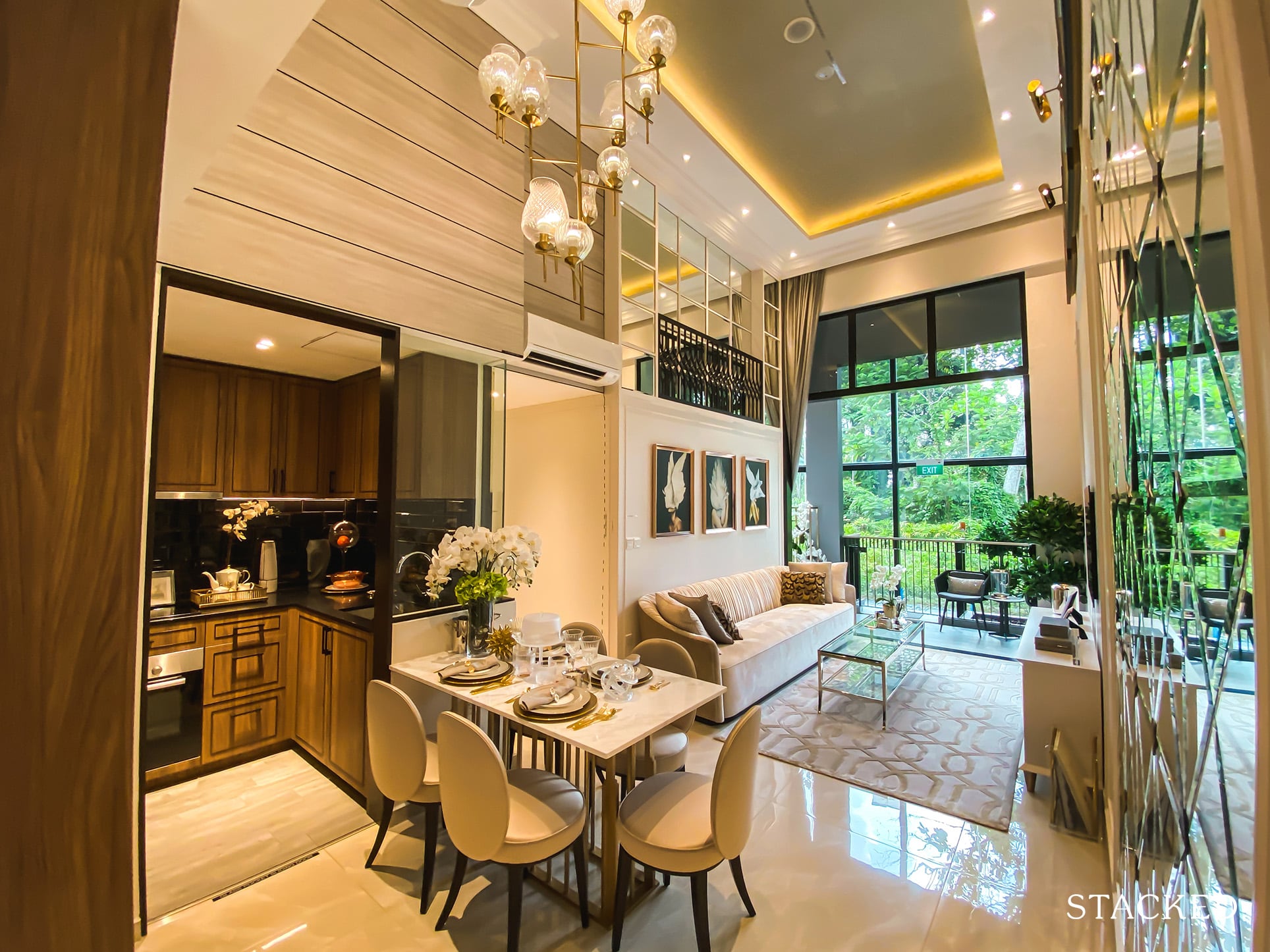 5
min read
High ceilings are among the most impressive features of a home. They make your place look bigger, they're great for ventilation, and some are even high enough that you can include a mezzanine floor. But at the same time, there are homebuyers who decry these features as a waste of space, and an unjustifiable expense. Here's a look at whether homes with high ceilings are really worth buying:
Why would high ceilings affect a unit's performance?
There are two main reasons for this:
The first is strata void space. Simply put, this is the space between the floor and ceiling (but here's a more exact definition if you prefer). Prior to 1st June 2023, strata void spaces counted toward the total Gross Floor Area (GFA) of a unit.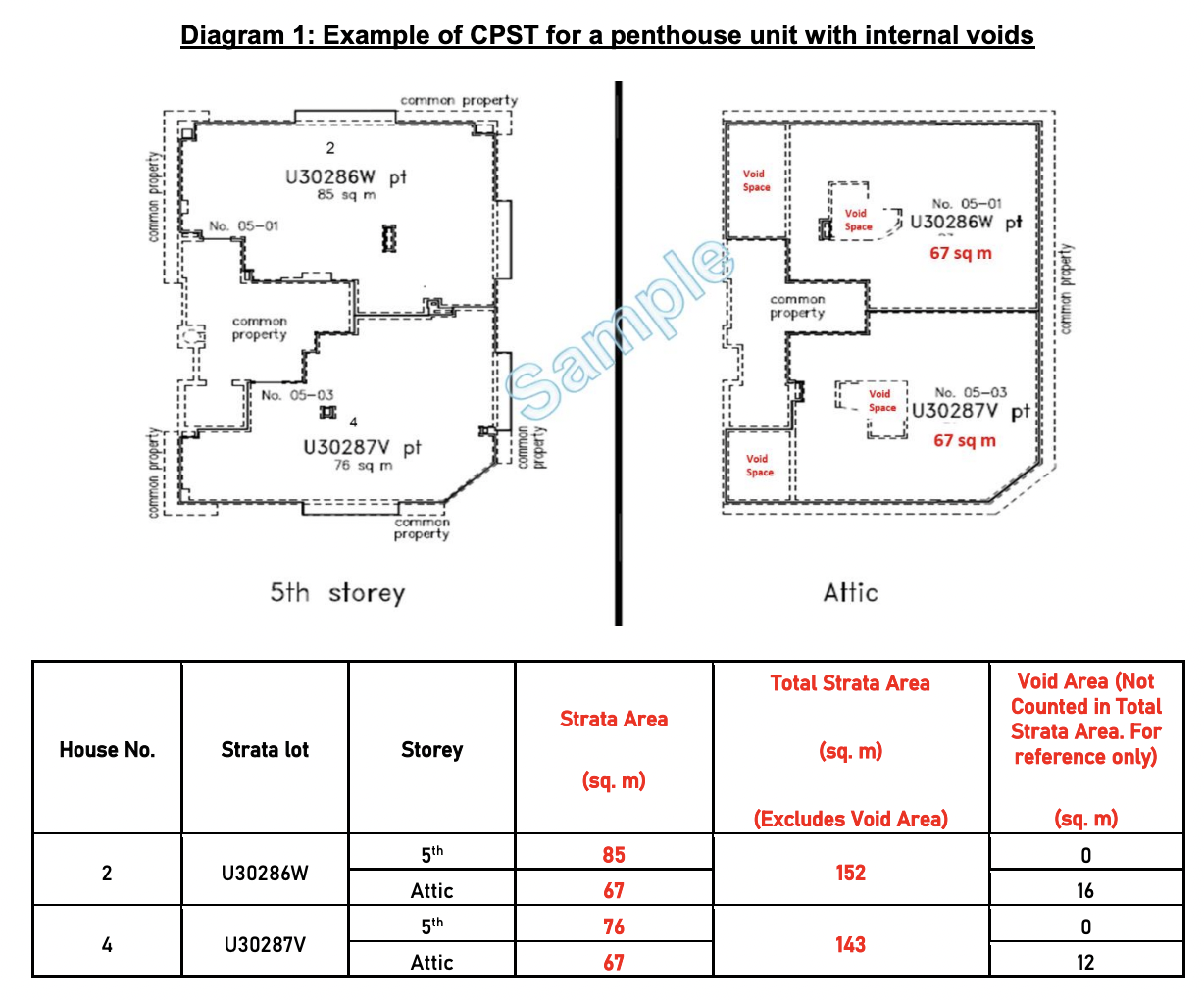 (If you're not sure whether there's strata void space, take a look at the floor plan. There is usually a dotted "x" drawn across rooms that have high ceilings. This often means there's void space that's part of the GFA, if the unit predates 1st June 2023).
This was to the disadvantage of the buyer, as void space is paid for but not usable. For example, if you're paying $1,500 psf (and 200 sq. ft. is the empty space between your floor and ceiling) then you're paying $300,000 for nothing besides an impressive ceiling height.
On top of that, the rule change on 1st June 2023 means that void spaces are now excluded from the GFA. This is a painful blow to buyers who paid for that void space, but may find that it's excluded from future considerations. We have asked some valuation companies about the likely impact of this, but no one has yet replied.
To date, we have yet to see any reclassification or changes in resale listings, as a result of the latest rule change (do let us know in the comments, if you've seen any).
The second reason is that some homeowners dislike the logistics involved with high ceilings. They do look great, but someone has to climb up there and clean it; and in some cases, you need to engage a professional.
That said, there are upsides beyond being a luxury
Frankly, there are few claims to practicality, even when developers advertise high ceilings. It's mostly an indulgence homeowners pay for, because it does look great. We've also heard of some minor upsides, like cooling the room a bit (because hot air rises, leaving it cooler at the bottom*), and allowing for more natural light.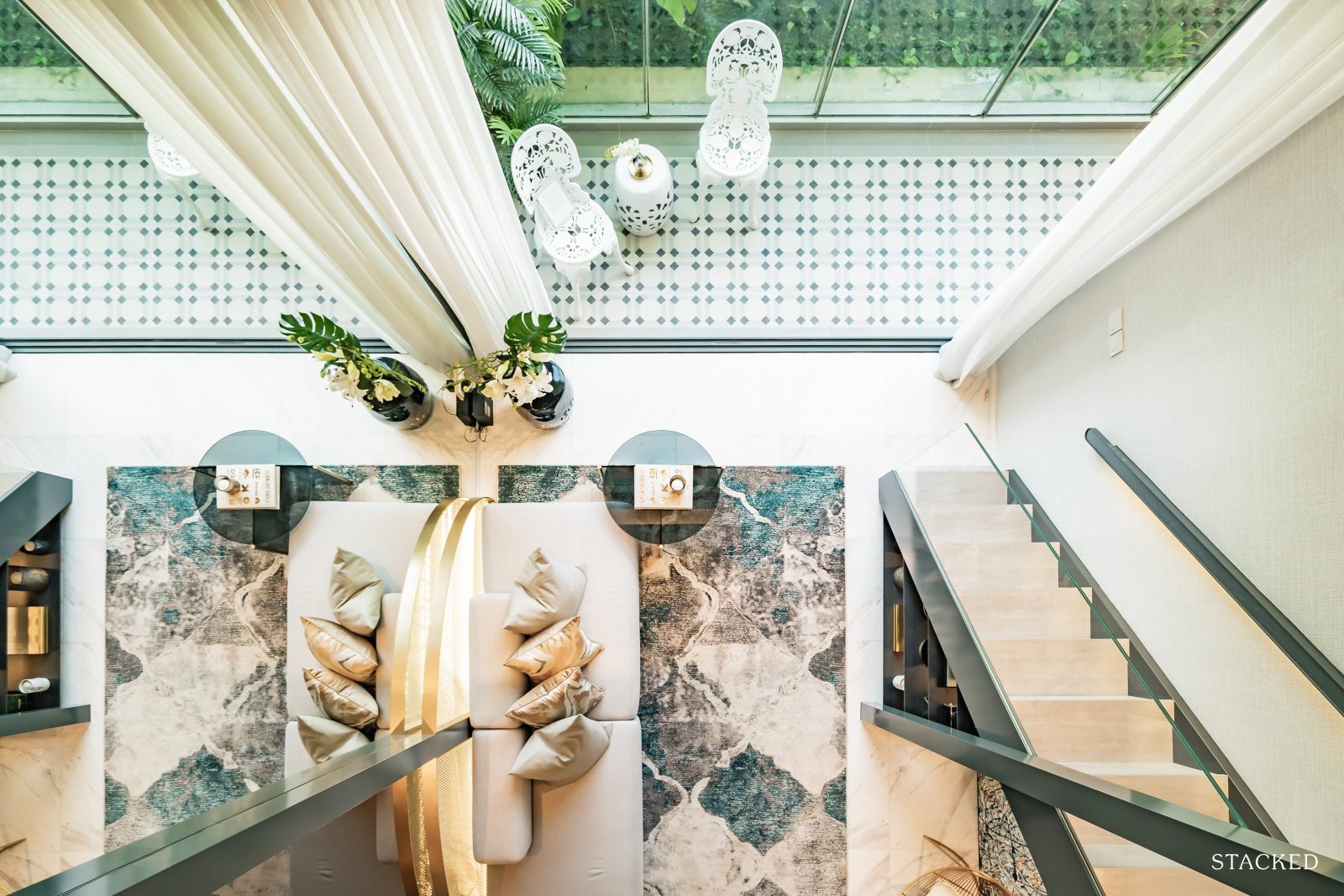 More significantly, there's the benefit of having extra storage, albeit with some drawbacks. One contractor explained:
"If you have a high ceiling then your storage can be built higher, so you have more space for shelving, taller cupboards, and all these things. But I don't recommend this, unless it's a display for your collection, or things to store long-term. Because depending on the design, sometimes you put the things so high up, it's very hard to take down, and you got to use a stepladder. It will get dusty also, unless you can really bother to open it up and clean regularly."
The biggest tangible benefit to a high ceiling may be the option for a mezzanine floor (sometimes referred to as a sub-floor). However, building a subfloor does increase the GFA, so you need to seek approval from the authorities. This is a job for your Interior Designer or contractor, but it's assuredly not cheap. Our contractor also noted that it's uncommon to have mezzanine floors in all but the largest condo units (usually penthouses), and it's more often done for landed properties.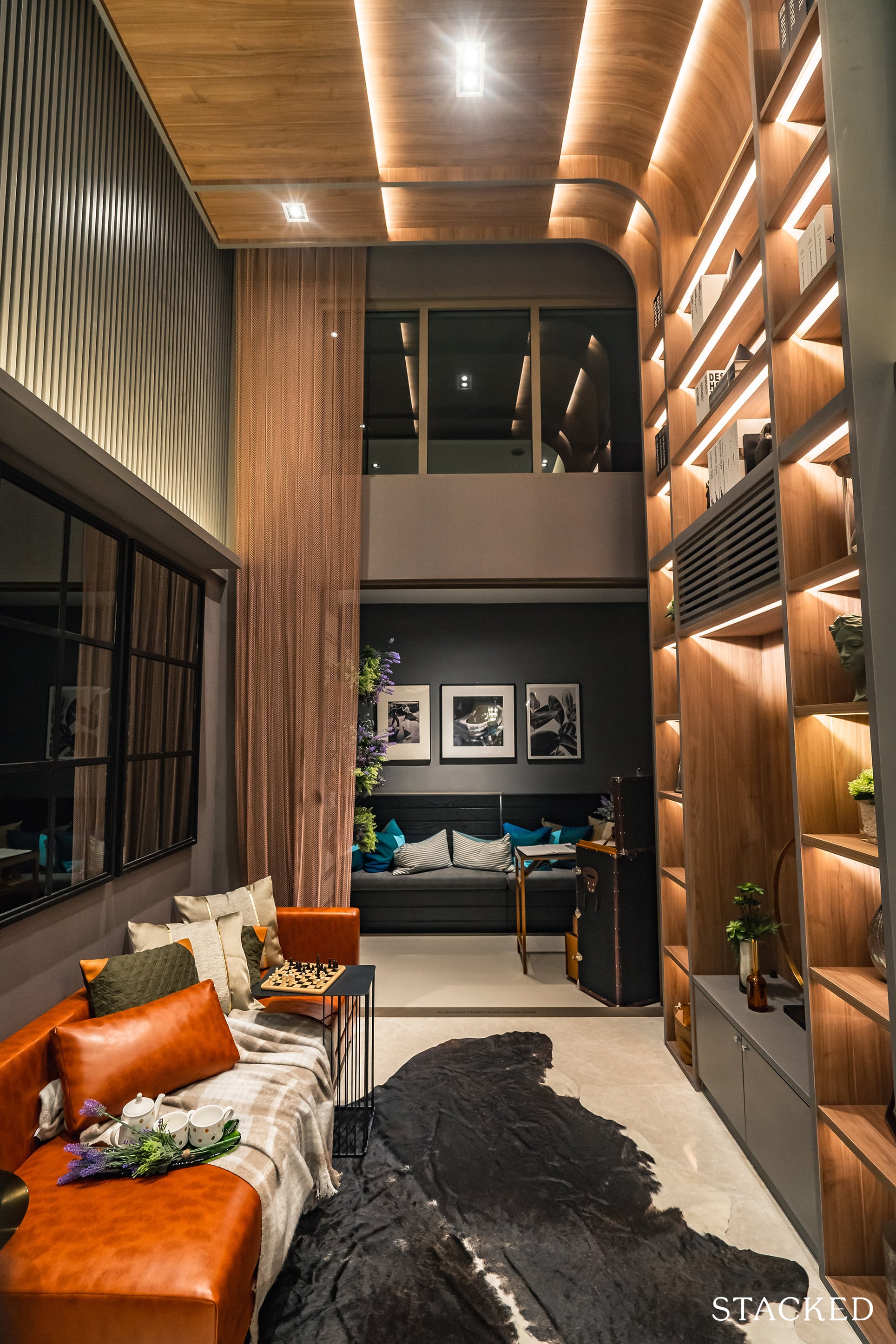 *If you're thinking of energy savings, that's only likely if you use a fan. A high ceiling won't help you save much on air-con bills, as the larger volume of the room will also take more power to cool.
The impact of a high ceiling may ultimately depend on the buyers' profile
According to a realtor we asked, high ceilings are not necessarily in the same category as bay windows or planter boxes (features commonly decried as money-wasters). The realtor noted that:
"It's mostly higher-end units that come with high ceilings, although we have seen some mass-market properties recently that also have high ceilings. But mostly you find it in penthouses, landed properties, or the more premium units in a project.
These are marketed at more affluent buyers; this group may be more interested in a beautiful or eye-catching home, than strict dollars and cents. So to me, a high ceiling is not really a disadvantage when selling, as if you market it to the right buyer, it may even be a draw for them. It's all about finding the right buyer for the right property."
On the flip side, other types of buyers (such as family buyers who prize space and cost efficiency) tend to see a high ceiling as an unnecessary expense.
How have some high-ceiling units performed?
When it comes to specific features like high ceilings, it's difficult to isolate these as a factor. Property prices move based on a multitude of reasons, ranging from location, to situations specific to the seller. So do take the following with a grain of salt, as the high ceiling wouldn't be the only reason for the performance. We picked a number of projects that were completed recently that had high ceiling units, to see how some of these performed (Seaside Residences, Trilinq, High Park Residences, Sims Urban Oasis):
Here's what the data showed when we compared the high-ceiling units of the development, versus the non high-ceiling units performance.
| | | |
| --- | --- | --- |
| | AVERAGE of % | No. of buy/sell transactions |
| Regular Unit | 20.64% | 893 |
| High-ceiling | 16.91% | 118 |
| Grand Total | 20.21% | 1011 |
While the number of transactions for high-ceiling units was much lower, overall it can be said that high-ceiling units had lower average gains.
Now, here's what it looks like when we break it down by development:
| | | | |
| --- | --- | --- | --- |
| Project Name | Unit Type | AVERAGE of % | No. of buy/sell transactions |
| HIGH PARK RESIDENCES | Regular | 27.33% | 414 |
| | High-ceiling | 25.34% | 18 |
| SEASIDE RESIDENCES | Regular | 18.14% | 102 |
| | High-ceiling | 1.20% | 2 |
| SIMS URBAN OASIS | Regular | 15.86% | 231 |
| | High-ceiling | 12.24% | 48 |
| THE TRILINQ | Regular | 10.36% | 122 |
| | High-ceiling | 18.99% | 50 |
| Grand Total | | 20.21% | 1011 |
In evaluating the financial performance of various developments, it's evident that the impact of high-ceiling units varies significantly by project. For instance, at The Trilinq, high-ceiling units performed much better than regular units. Perhaps this was because this project was unique in featuring a diverse range of these units across various bedroom types, that were located on alternate floors.
Contrastingly, at Sims Urban Oasis, while high-ceiling units were more present than most, their impact was less pronounced. The difference? These units were limited to 1 and 2 bedroom apartments. This restriction might partly explain the slightly lower appreciation rates observed here.
For more on homes in the Singapore market, and in-depth reviews of new or resale properties, follow us on Stacked. You can also reach out to us directly for help, in shortlisting your home or for renovations.