Advice
Is A 3/4 Bedroom Unit At Skies Miltonia The Best Option For A Family At Yishun?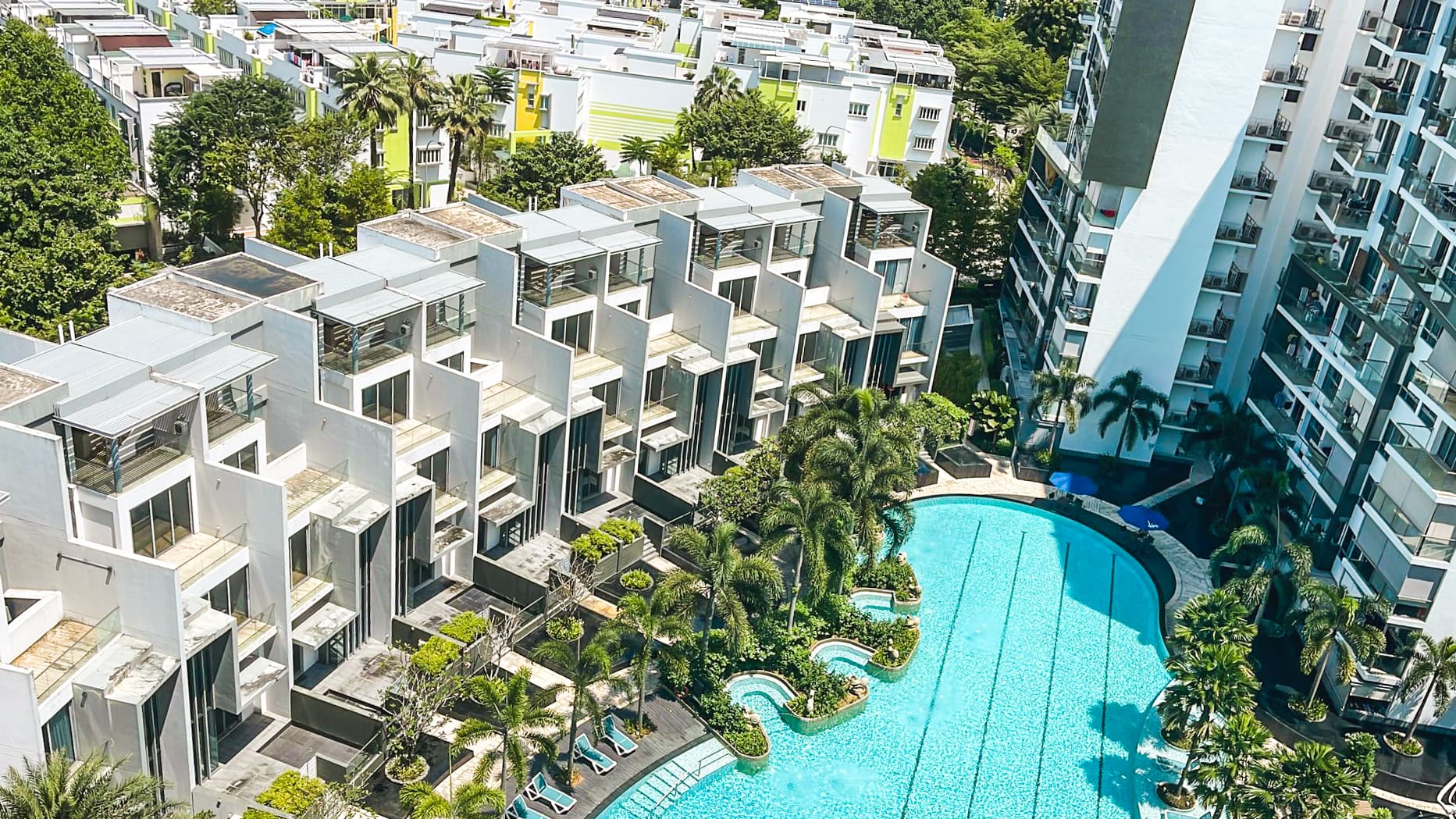 11
min read
Hi, Stacked!
I am interested in considering a 3 or 4 bedder unit at Skies Miltonia at Miltonia Close. I noticed recently that prices had gone up for this project since late last year and there are many families who find this project family-centric in terms of size, locality, and entry price.
It is a relatively young project that is only 5- years old and close to an international school. The project is of mid-range size about 420 units. I don't foresee strong competition when I need to exit 10 years down the road as the only project opposite Skies Miltonia is Miltonia Residences.
I am personally not in favour of projects more than 10 -years old as I do not wish to spend too much on refurbishing an old unit and also it may be hard to exit 15 years down the road.
There is no lack of amenities and educational facilities nearby as there are several many coffee shops and MOE schools nearby.
Another factor worth considering is the 3 bedder is quite large by today's standard around 1100sq feet with enclosed kitchen and a yard which are rare to find. The price is also very affordable compared to other projects in many parts of Singapore.
At the same time, it is easily accessible by CTE and several buses ply the route along Miltonia Close to Yishun and Khatib MRT. Residents can also take the free shuttle bus every 30mins interval.
May I know what are your views on this project? I look forward to your analysis.
---
Hey there,
Thank you for writing to us and thanks for sharing your intended purchase in detail.
While you're right that prices have been going up at Skies Miltonia in recent months, this has really been almost across the board everywhere else as the pandemic has brought about much demand for residential properties in Singapore. So to be honest, it's hard to say that it is precise because of the demand of Skies Miltonia, then it is just a widespread demand everywhere else.
For those who don't know (Skies Miltonia has always sounded like quite an exotic destination), the Miltonia cluster is located on the deeper side of Yishun; which is quite a quiet enclave. Skies Miltonia offers a decent range of facilities considering it is a mid-sized development with only 420 units. We do like that the development comes with its own Minimart if you do need a quick grocery run. It is also within walking distance of nearby HDB blocks for coffee shops and basic amenities. Accessibility-wise, drivers can connect to the CTE via Yishun Avenue 1 easily.
You are right about the shuttle bus services too; a resident reader has also shared that free shuttle bus services are provided; connecting residents to both Khatib and Yishun MRT stations. This is a great initiative especially for its location; as it is definitely not within walking distance of the MRT station.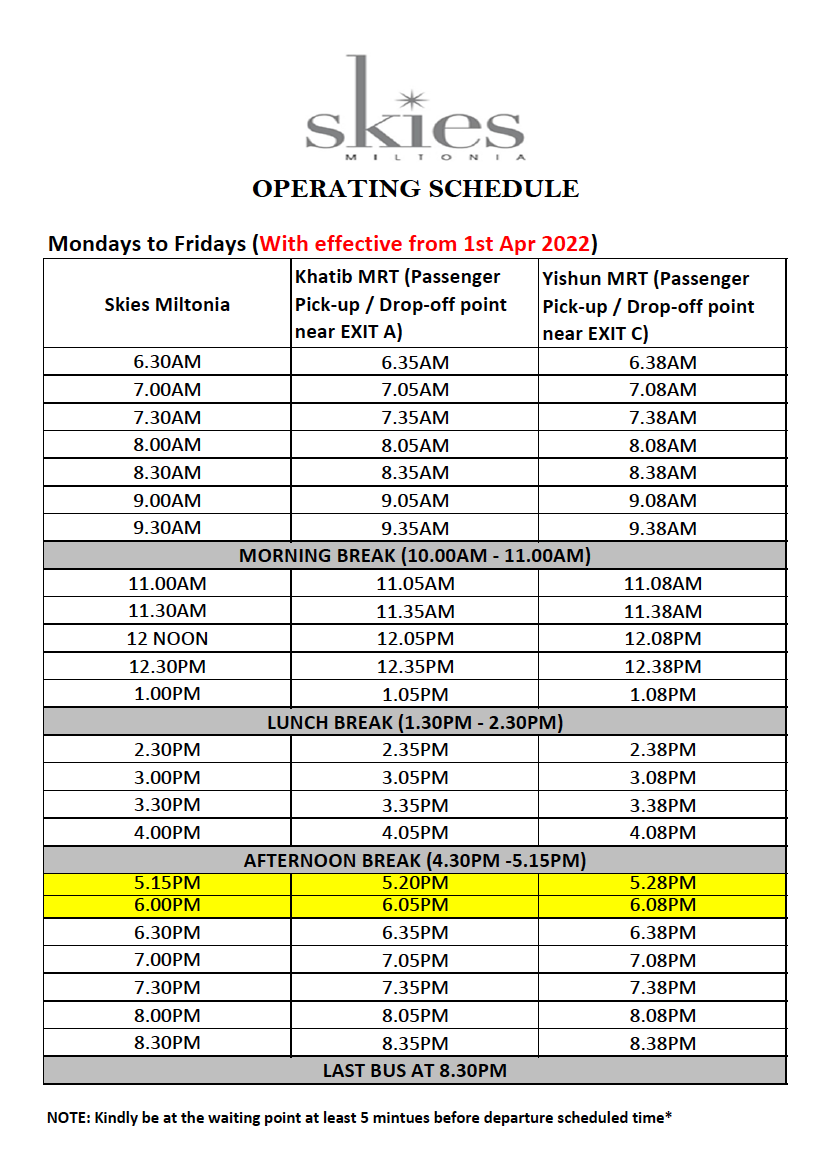 Price-wise, it is currently seeing a slight uptrend in recent months with its current average standing at $1,100 psf. In addition, it is seeing an uptick in terms of resale transaction volume in recent years, with 17 resales transacted thus far this year and 43 transactions for the whole of last year; this indicates healthy demand in the resale market despite its location. Although it's worth noting that Skies Miltonia was launched during the uptrend of the property market back in 2012/2013 hence the flattish trend to date.

Recent 3 Beder transactions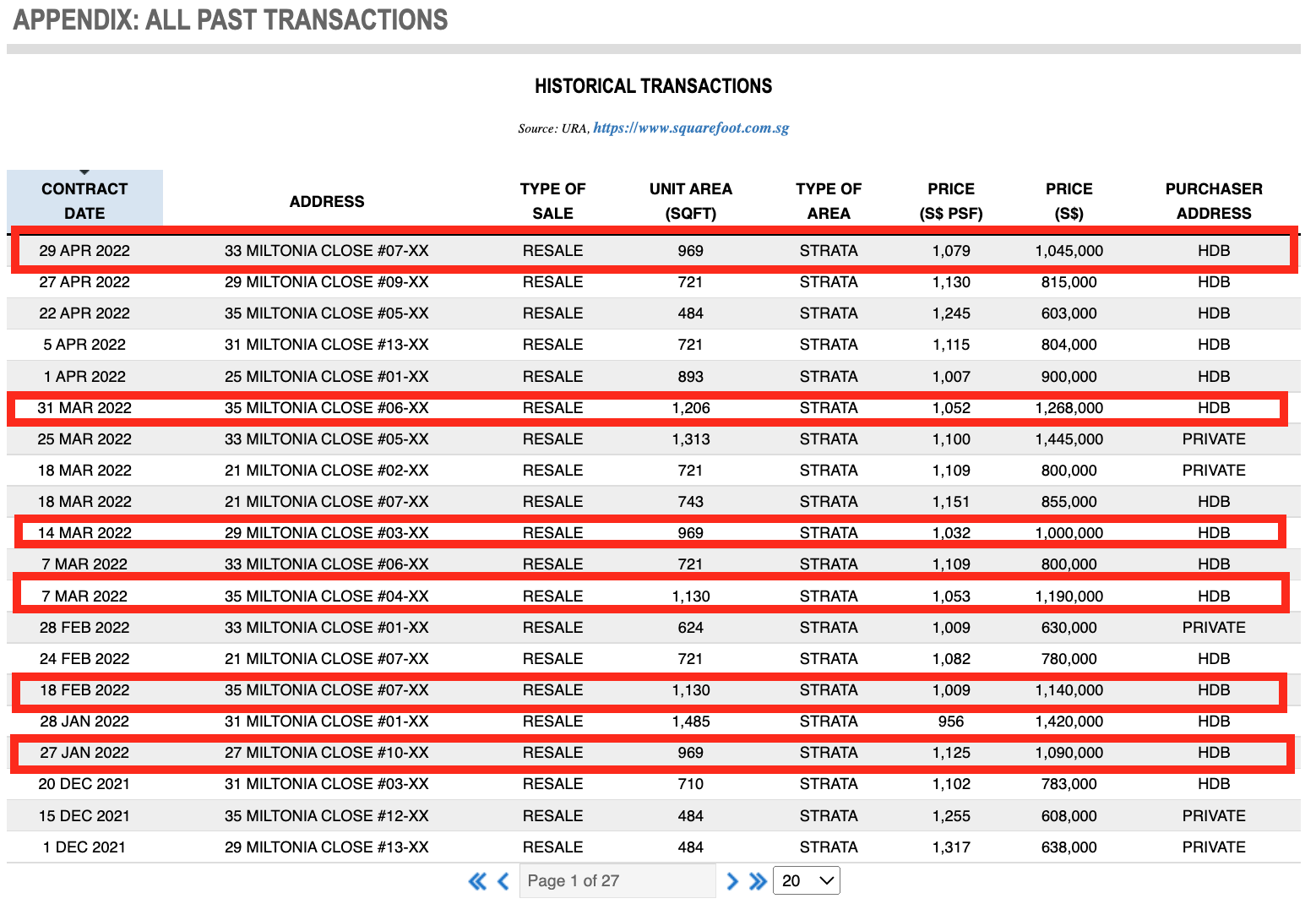 Recent 4 Beder transactions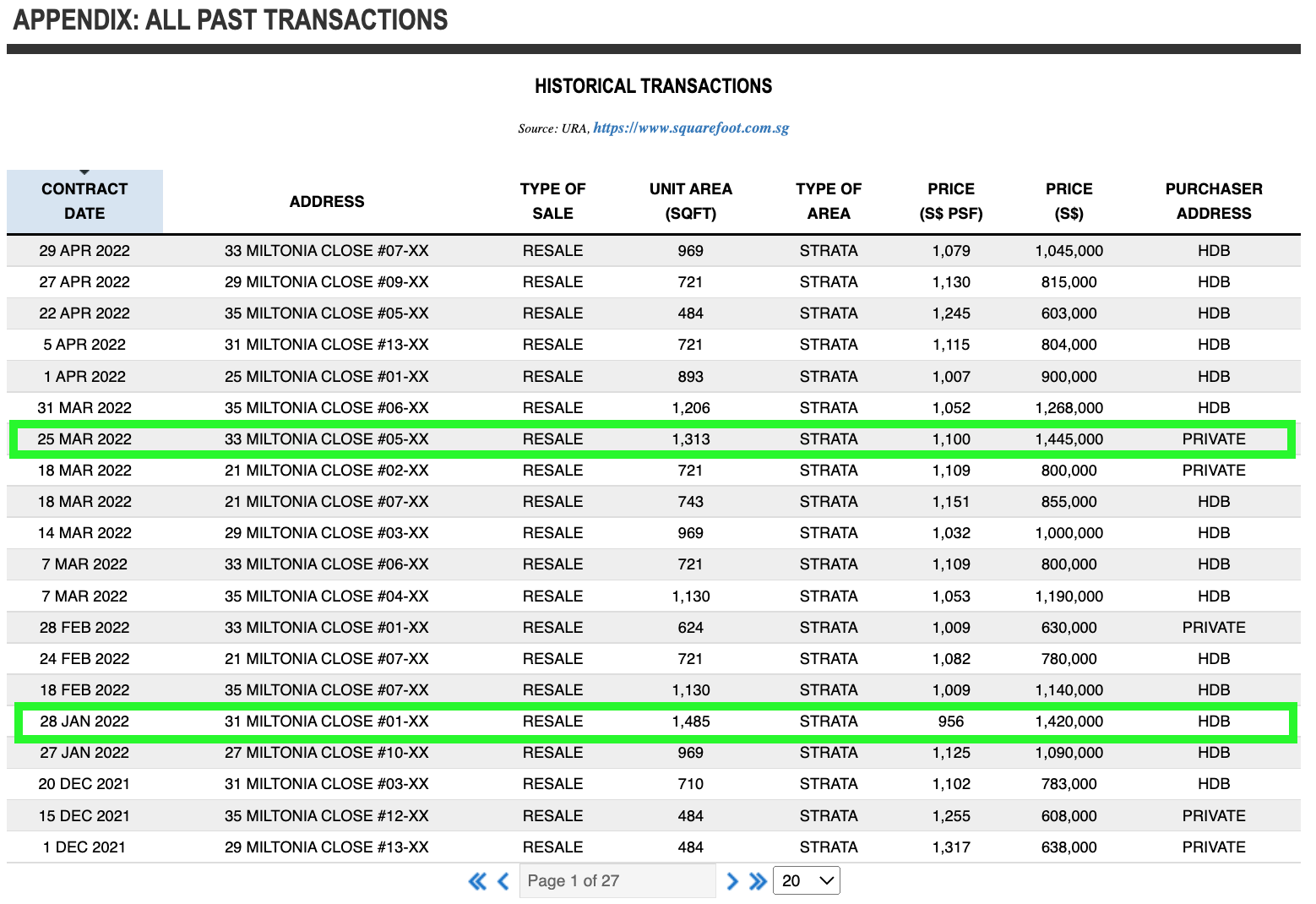 You should also know that although Skies Miltonia is surrounded by several developments (The Shaughnessy, The Miltonia Residences, Signature at Yishun, and The Criterion). That said, only Miltonia Residences is a like-for-like competitor, as Signature at Yishun and The Criterion are EC developments, and The Shaughnessy is a collection of 254 townhouses.
So let's compare this to The Miltonia Residences which is a low-rise development located across the street. Most of the 3 and 4 bedders are penthouse units with a high and less efficient unit layout (because of their low-rise nature). The unit comes with long walkway entrances and similar to Skies Miltonia, it has an overlarge balcony space that takes up space. Price-wise, at $9xx PSF, undeniably, it is on the lower side as compared to Skies Miltonia but if we go into detail to look at its recent transactions, most of the units transacted in the past few months are penthouse unit types so it isn't exactly fair to compare. Usually, penthouse unit types have a lower $psf price point and with a higher volume transacted here, it gives the impression that the development is more attractive as compared to Skies Miltonia in terms of $psf basis.
To top it off, comparing the two developments, Skies Miltonia plot ratio is higher hence it offers a better frontage of the reservoir as compared to The Miltonia Residences, which is a low-rise development with not all stacks facing the reservoir.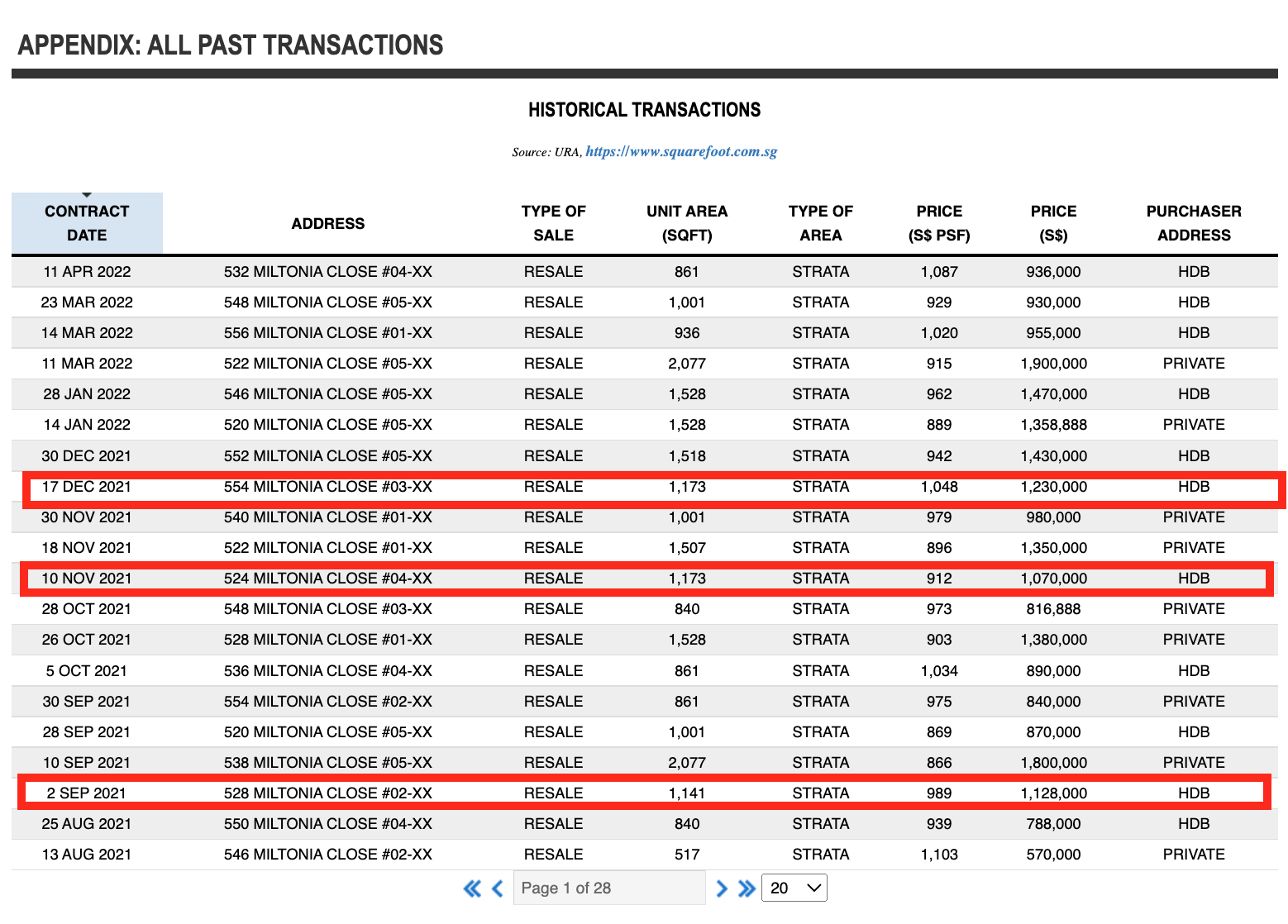 Layout analysis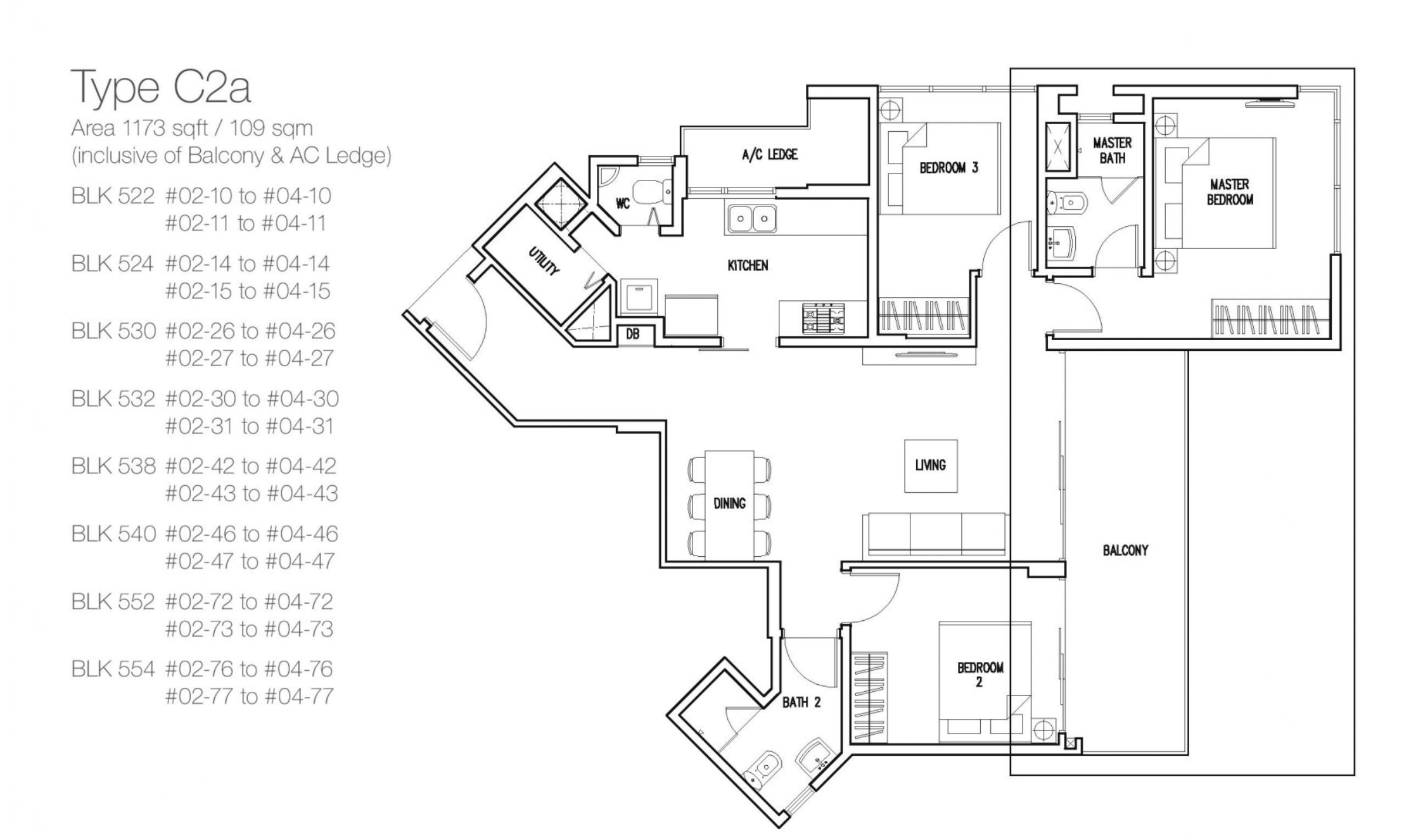 There are a few layout options for the 3 and 4 bedder unit, most of which comes with double and overlarge balcony area. Personally, we do like how the developer has designed all its larger unit types (3 and 4 bedders) to face south; maximising the unblocked Upper Seletar Reservoir view for mid-high floor units. With the scenic frontage, residents could relax and unwind in their personal balcony area and enjoy the panoramic view; hence, in this case, the balcony area is a positive commodity for the development.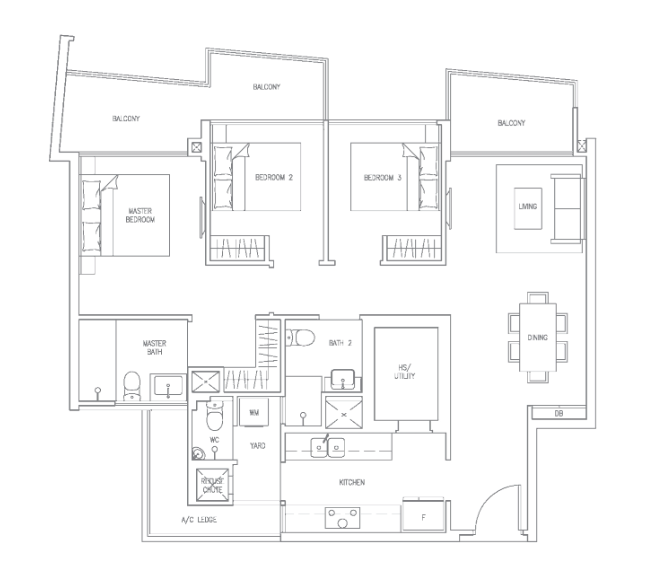 At 1,130 sq ft, the layout is fairly efficient and is a functional layout, especially for families. We do like the small foyer area that provides some privacy as you enter the unit. There is a good-sized enclosed kitchen area with decent countertop space on both sides of the area. The unit also comes with an in-unit household shelter which could be used for storage or pantry area, but for the family types that would be staying here, this would more likely be used as a room for your helper. Although we would say that the location of the household shelter is a bit inflexible, and the location of the entrance is a little unorthodox.
Additionally, we do like that there is a proper yard area for laundry – a rare commodity in today's new launches even for some 3 bedroom units that are meant to be for families.
The dining and living area is decent, and there's not much to complain about at this size. All bedrooms are able to fit in a queen size bed minimally. You do have a good-sized master bedroom that could accommodate a king-size bed with ample space for a dressing table. You do also have a semi-walk-in wardrobe so storage is a little more than usual. Both bathrooms and the kitchen area also come with ventilation windows which is great for natural ventilation.
However, the unit comes with a double and irregular balcony space which may be deemed inefficient for some – but in this case, with the views, we daresay most people would be happier for it.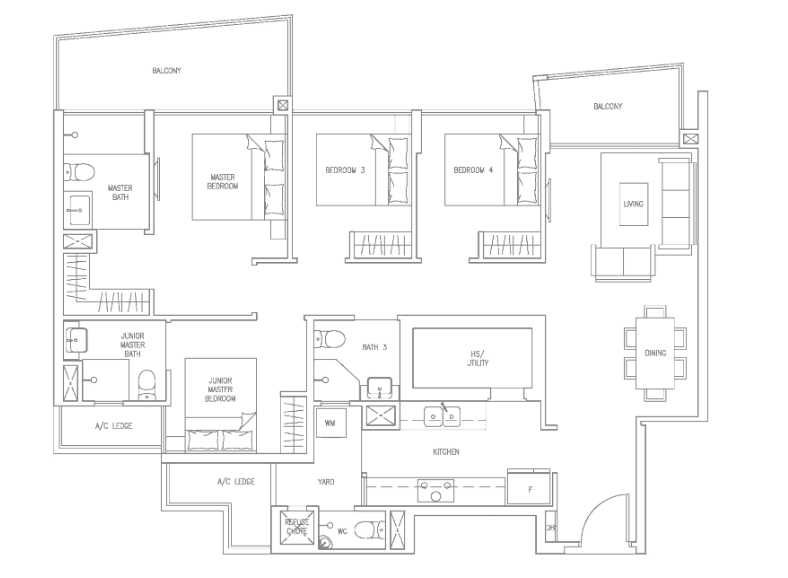 Now for the 4 bedroom unit. At 1,313 sq ft, it is a good-sized 4 bedder unit with a junior master suite – this is a great set-up for a multi-generation family although it would have been better in a dumbbell layout for privacy concerns as all the bedrooms are bunched together here. Similar to the 3 bedder layout, it comes with a small foyer area that provides some privacy. There is a good-sized enclosed kitchen area with countertop space on both sides of the area. On the contrary, the in-unit household shelter is slightly bigger here, great for storage/ pantry areas or as a helper's room. The yard area is a much-needed area here especially since the target market is family own stay profiles.
Otherwise, the setup here is actually very similar.
All the bedrooms are decent in size with a spacious master bedroom sized with a dedicated area for a wardrobe. Lastly, both bathrooms and the kitchen come with ventilation windows.
To elaborate more on the downsides, the unit comes with a long bedroom walkway, and some people may find the living and dining to be a little on the smaller side when it comes to a 4 bedroom unit. Also, like the 3 bedroom unit, it would have been more suitable to have a bigger balcony for the living instead of the master bedroom as this would allow for more flexible dining options on the balcony. At this current size, it is rather limiting.
Future Potential
A NEW RAIL LINE IS ON THE CARDS
We understand that you are only looking at a 10 years horizon but just to share; back in 2019, the LTA has announced a feasibility study to assess whether a new rail line should be built to supplement transport options in the north and northeast regions and connect these regions to the south.
This line would connect the upcoming Woodlands North Coast residential development to the Greater Southern Waterfront, which takes over the site of the Pasir Panjang and City port terminals, possibly serving residents in Sembawang, Sengkang, Serangoon North, Whampoa, and Kallang along the way.
Source: LTA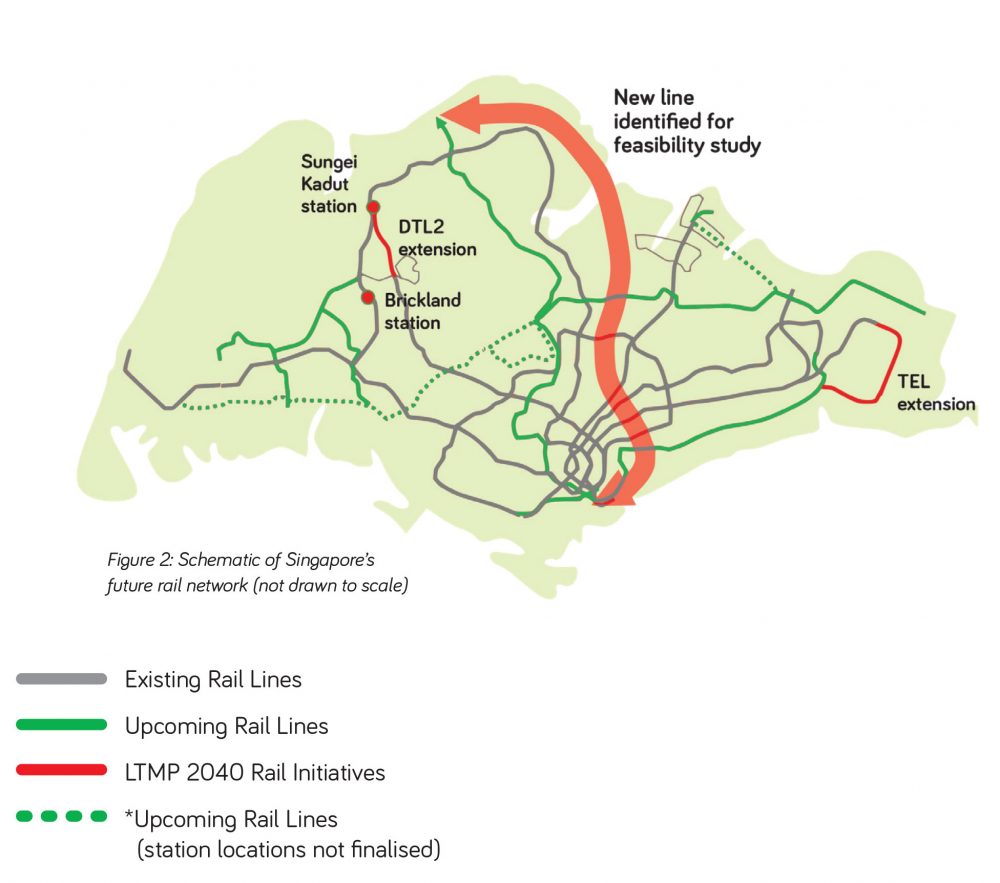 If the new line gets the go-ahead, there is a chance it could be operational as soon as 2040.
Measuring roughly 30 km, it would also bring the total length of the rail network here close to 400 km by the time it is completed.
LTA will assess the demand, station locations, and implementation timeline of the line, as well as whether it will be feasible for it to pass through the Lower Seletar Reservoir.
If it materialises with a possible station to be built in the Yishun Dam locality, developments in the area will benefit from it. The new line will improve public transport connectivity for the Yishun Dam cluster, which is in great need of one. This indirectly gives a price boost to the area in years to come and it works well since you are looking to exit beyond 2030 during the construction phase of the new line.
Additionally, things may turn around in years to come since both URA and HDB have recently released plans to develop residential developments along Miltonia Close where we foresee there will be a mixture of both private and public housing to be built along Miltonia Close. If it materialises, Skies Miltonia may benefit and see an uptick in terms of pricing and resale volume.
On another note, it comes with the inconvenience of construction noise and dust where the area has mostly enjoyed tranquillity and quietness for the longest time.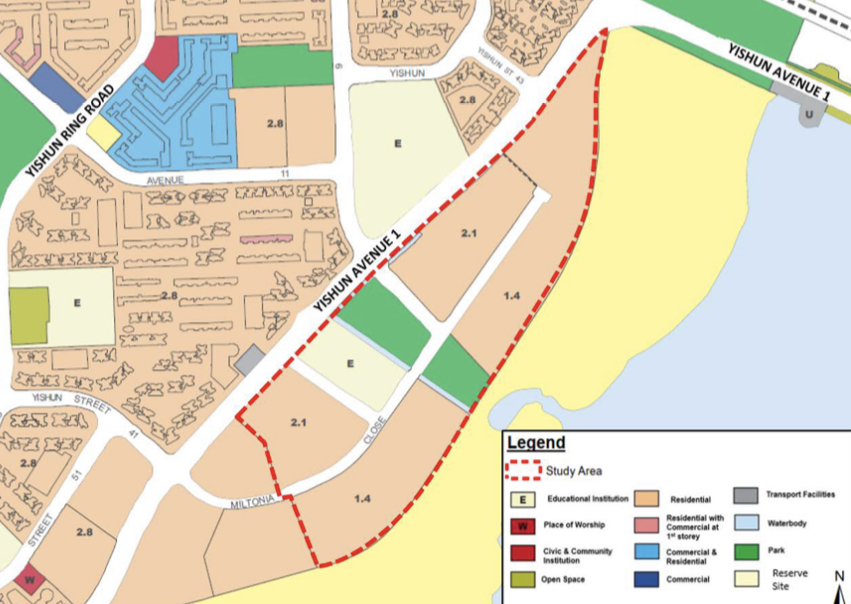 Conclusion:
All in all; added with the recent EC launch, North Gaia, with average pricing of $1,300 PSF; sets a new benchmark for the district as a whole. This indirectly brings in a positive impact on the resale price in the vicinity/district as future buyers will likely compare the resale options available. Hence, we do foresee Skies Miltonia's value to hold up in the future as it is one of the cheaper options comparing it to the future price of North Gaia once it hits MOP.
Though it must be said, at that point Skies Miltonia will lose out in terms of its land tenure and older facilities; it will be an older resale after all. On the contrary, with the lower plot ratio of The Shaughnessy and The Miltonia Residences located right across the street; the scenic view of Skies Miltonia will remain attractive among buyers that prefer the quieter side of Yishun. Additionally, it offers a decent quantum, especially for its spacious unit size, efficient and safe layout especially great among family own stay profiles.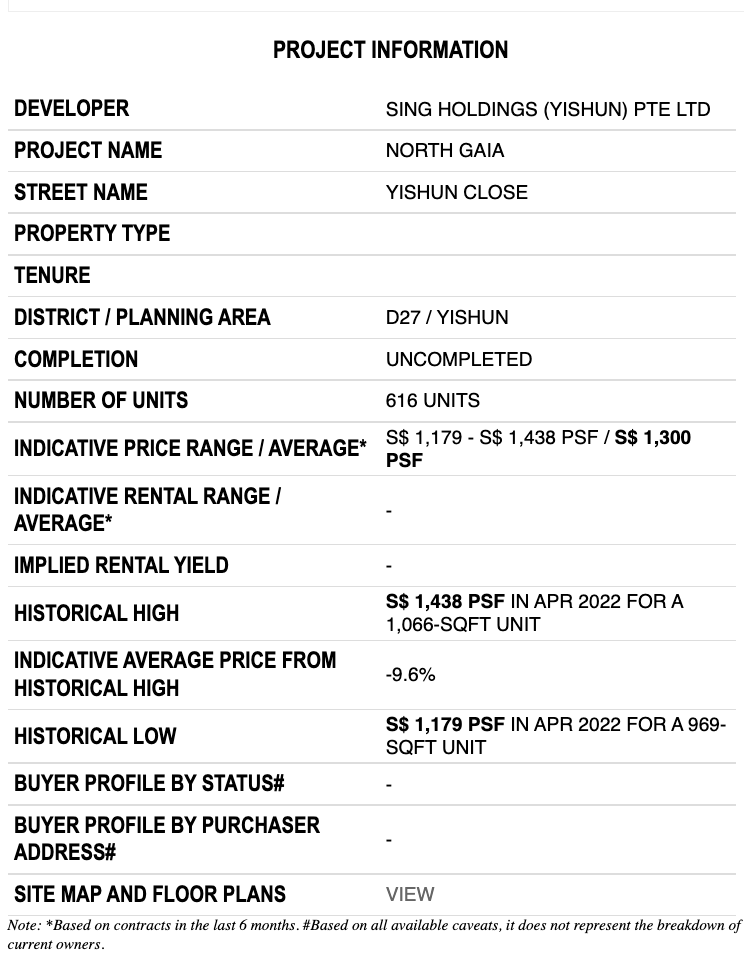 With this, we hope that this will be useful in your decision-making.
Have a question to ask? Shoot us an email at hello@stackedhomes.com – and don't worry, we will keep your details anonymous.
Looking for a home? Feel free to reach out to us here for a more in-depth consultation.
For more news and information on the Singapore private property market or an in-depth look at new and resale properties, follow us on Stacked.