Insider Tour
Inside An Amazing Transformation Of A 45-Year-Old HDB Flat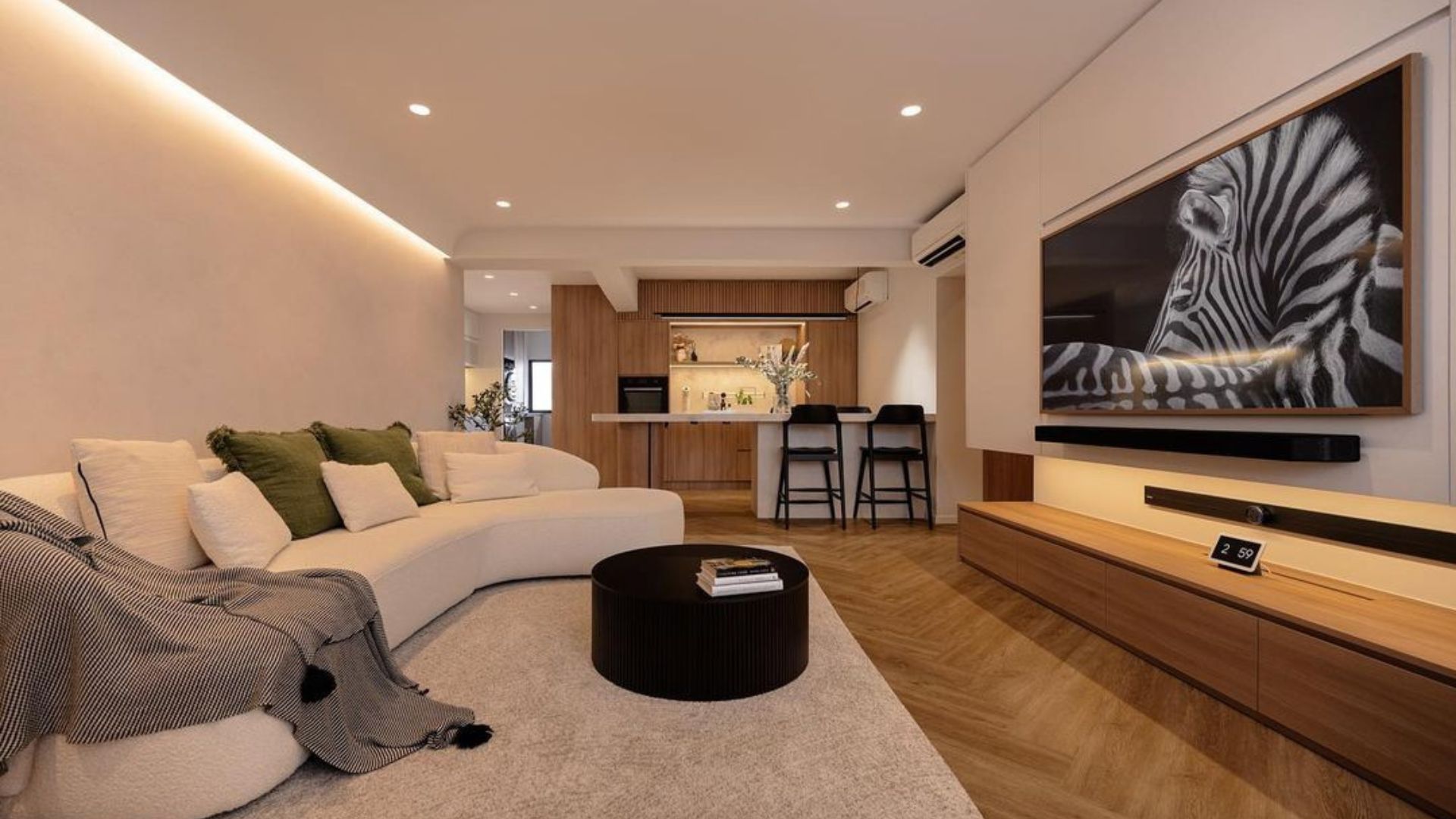 4
min read
This week, we explore a 990 sqft (92 sqm) four-room apartment in Bedok. In 2022, the family of three bought the resale flat for $390,000. Considering the apartment's age, the couple invested $120,000 to refurbish the space.
Upon entering, a distinctive glass gate welcomes you, allowing ample light to flow in when the main door is open. Meticulous attention to detail is evident in the front door, which features the same texture as the wall, creating a seamless integration when closed. To the right of the entrance, the homeowners installed generous cabinet storage for their shoes.
As you step inside, you'll notice the recurring curvature theme in the carpentry. The living room boasts a spacious four-seater curved sofa situated at a comfortable distance from the TV console, providing flexibility to accommodate more guests if needed.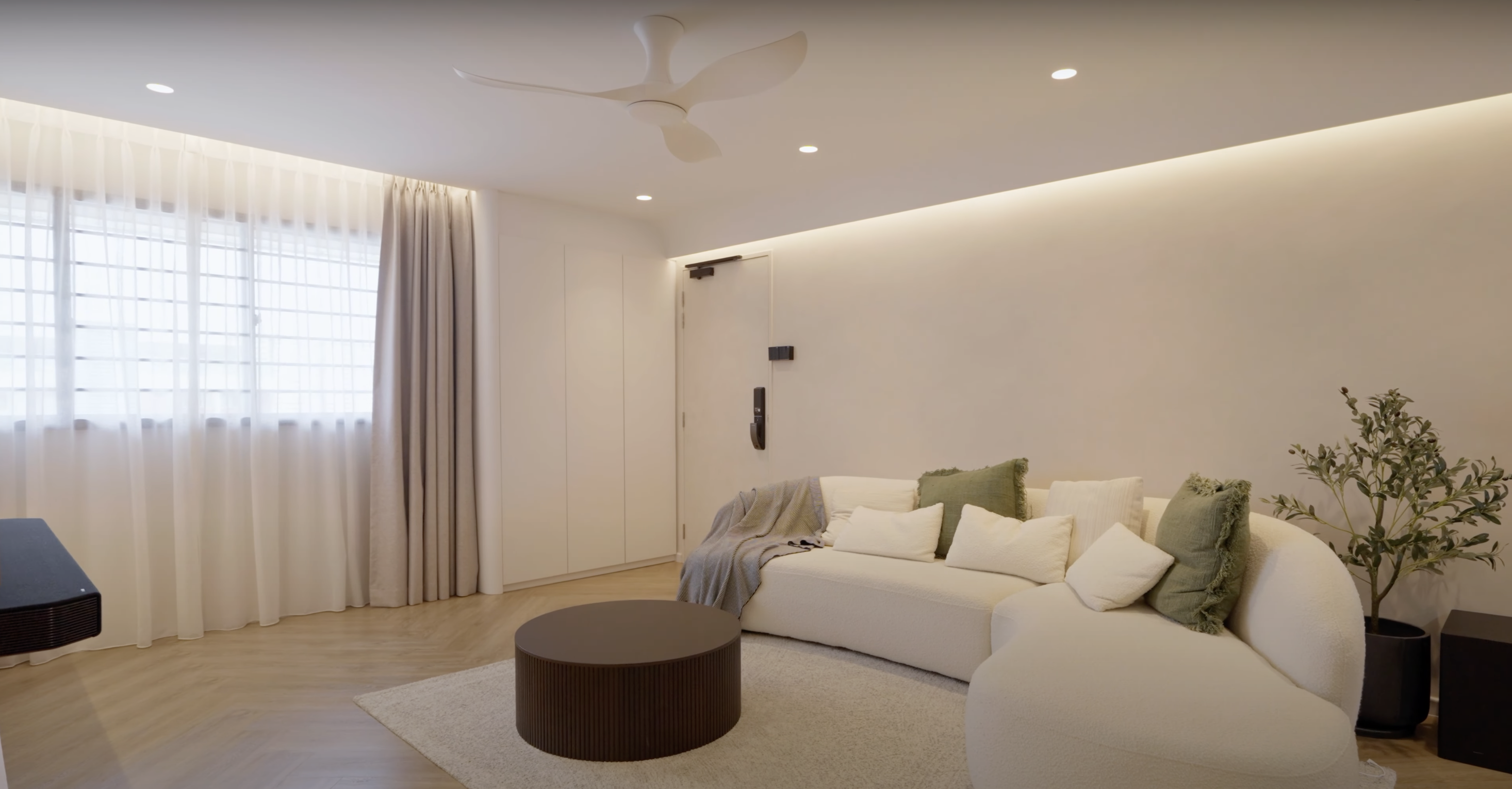 The TV console, extending the entire width of the living room wall, offers additional storage space. Adorned with a white finish, the wall's minimalist design contributes to a visually uncluttered aesthetic.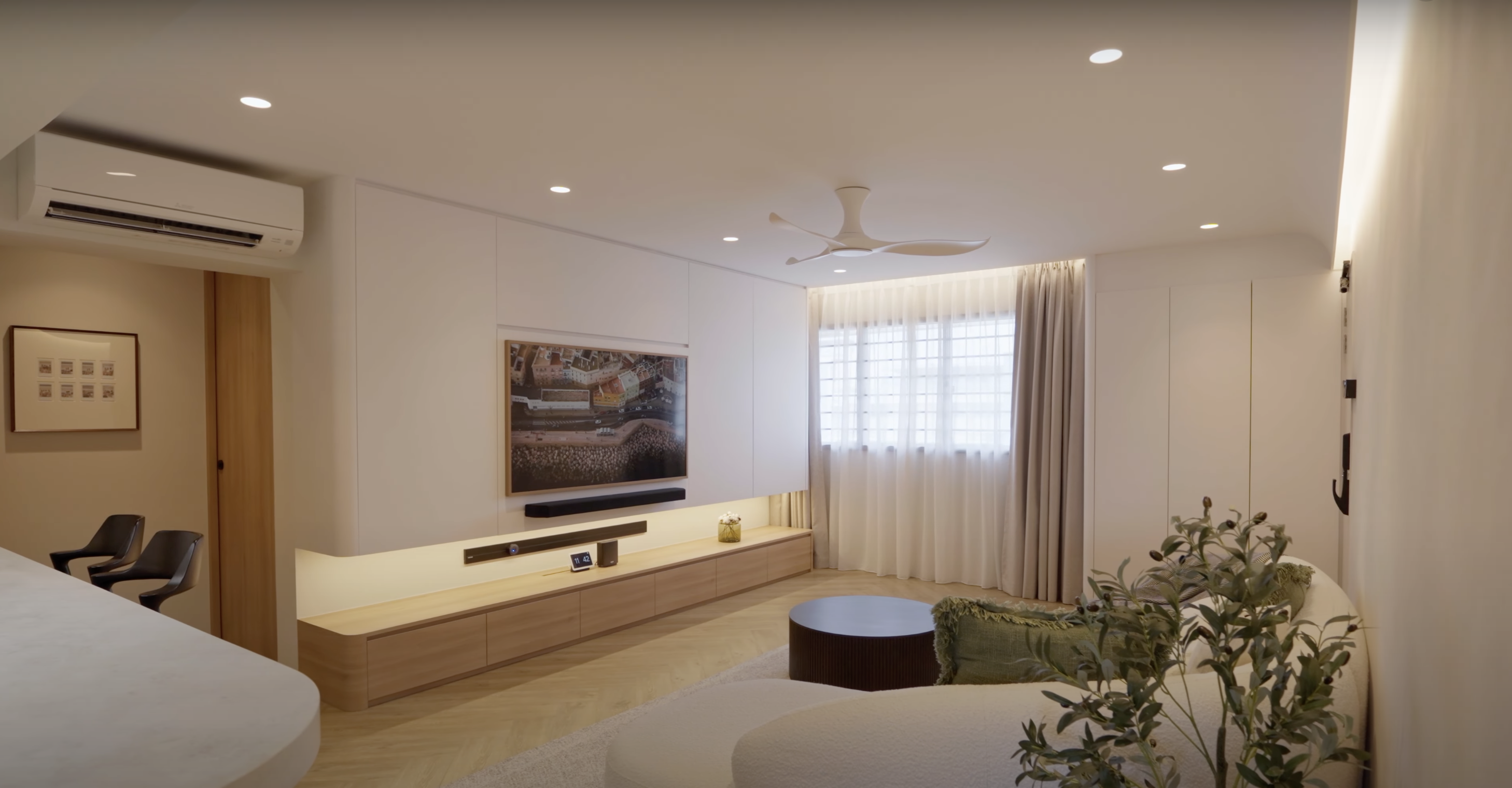 The original master bedroom was removed to create a dining area and pantry, frequently used by homeowners. The dining space accommodates up to 10 people and includes storage cabinets beneath. Ingeniously, the countertop serves as a study area, equipped with integrated electrical sockets.
Adjacent is the open-concept wet kitchen, designed to enhance the sense of space. The sintered stone countertop, accompanied by a matching backsplash, creates a seamless appearance. The homeowners maximized the area by installing ample bottom and top cabinetry, complete with a dishwasher.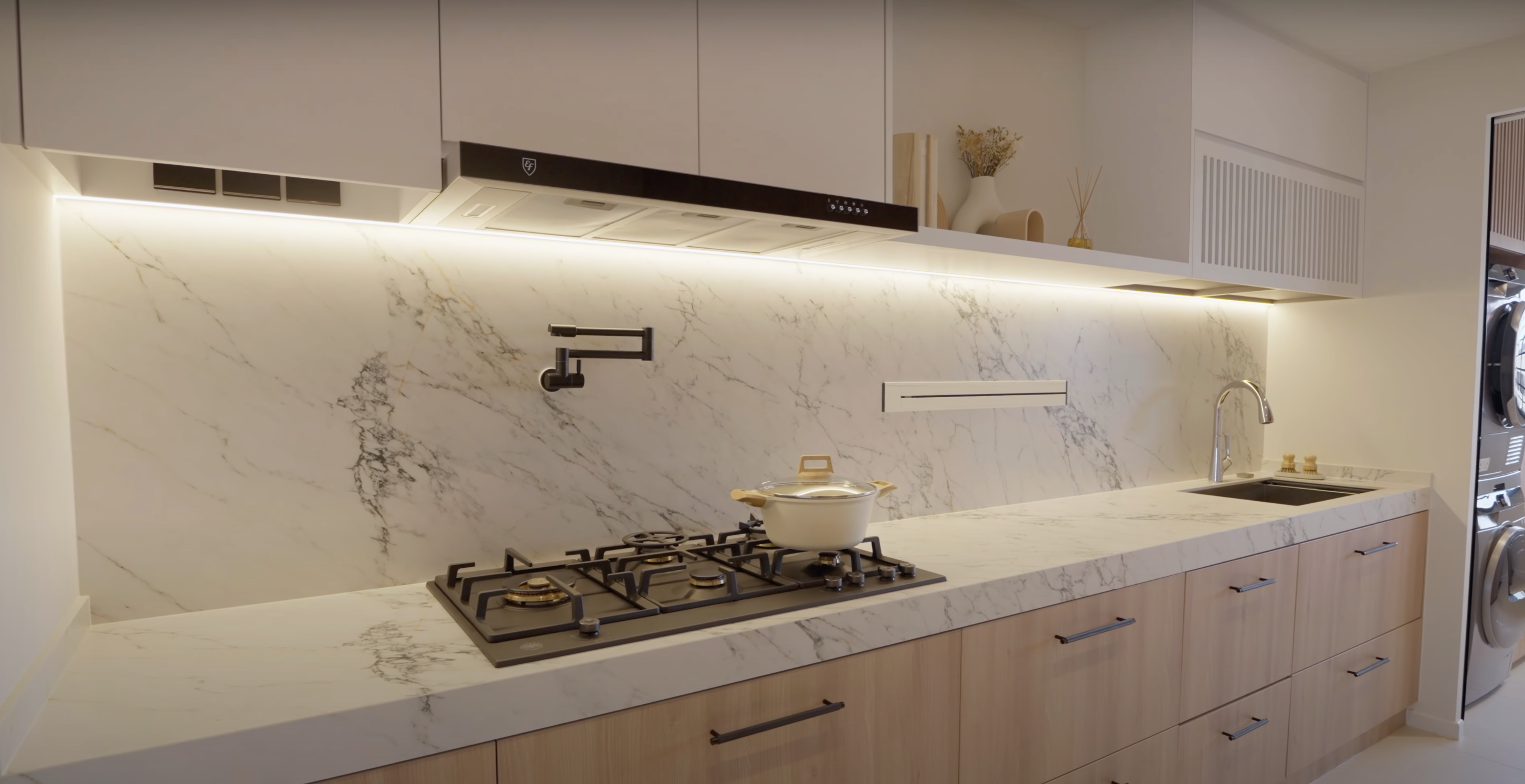 Passing through the sliding door, you'll discover the service yard, which houses a stackable washer and dryer. The yard also accommodates a built-in laundry basket and a sizable sink, making it ideal for families.
Next is the first common room, utilized as the child's bedroom. The homeowners chose not to include built-ins or permanent fixtures, allowing the room to adapt as the child grows.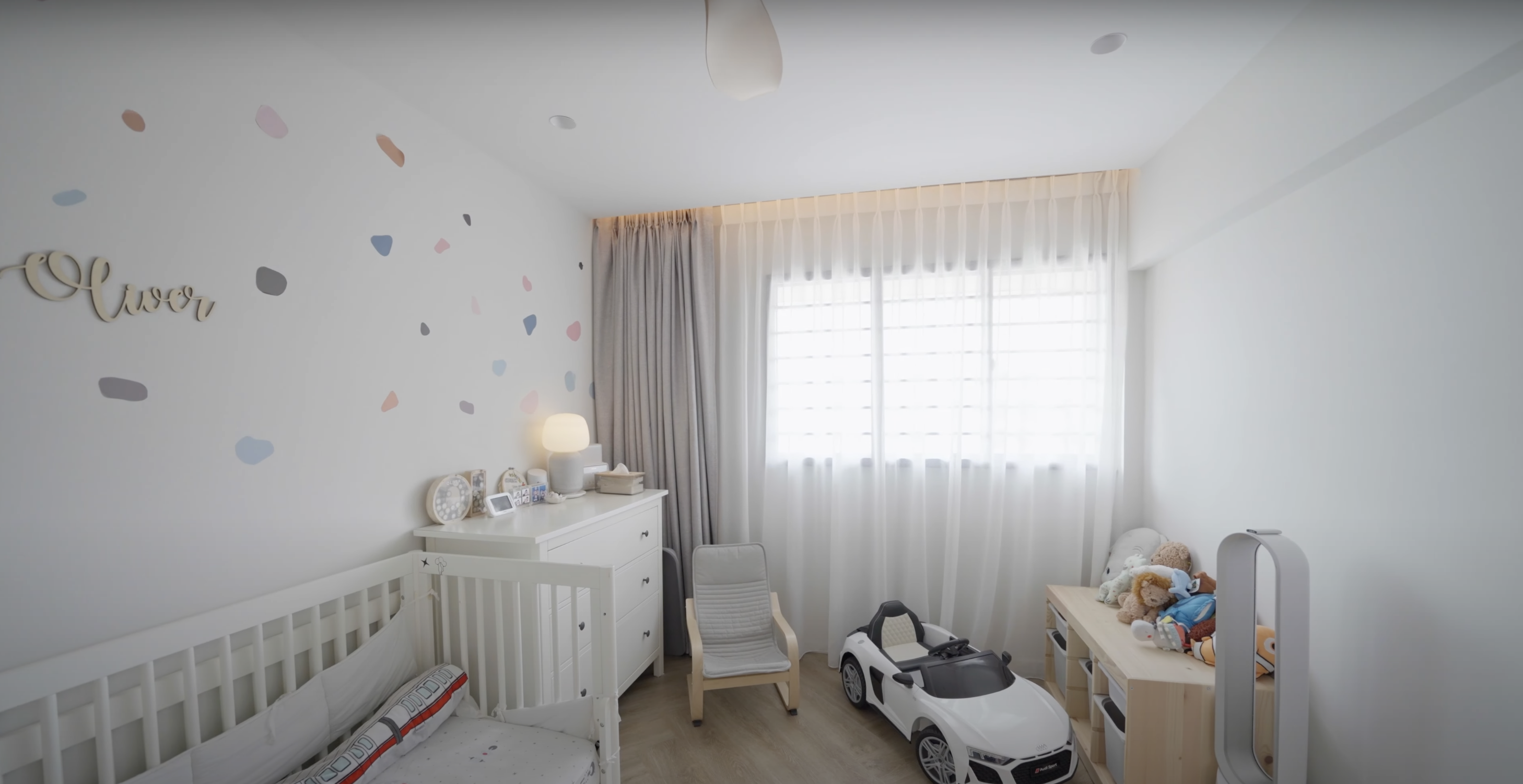 Opposite this room is the master bedroom, featuring an L-shaped full-height walk-in wardrobe in a dedicated corner, providing ample storage for the homeowners. A queen-sized bed occupies the centre of the room, with sufficient space for bedside tables on either side.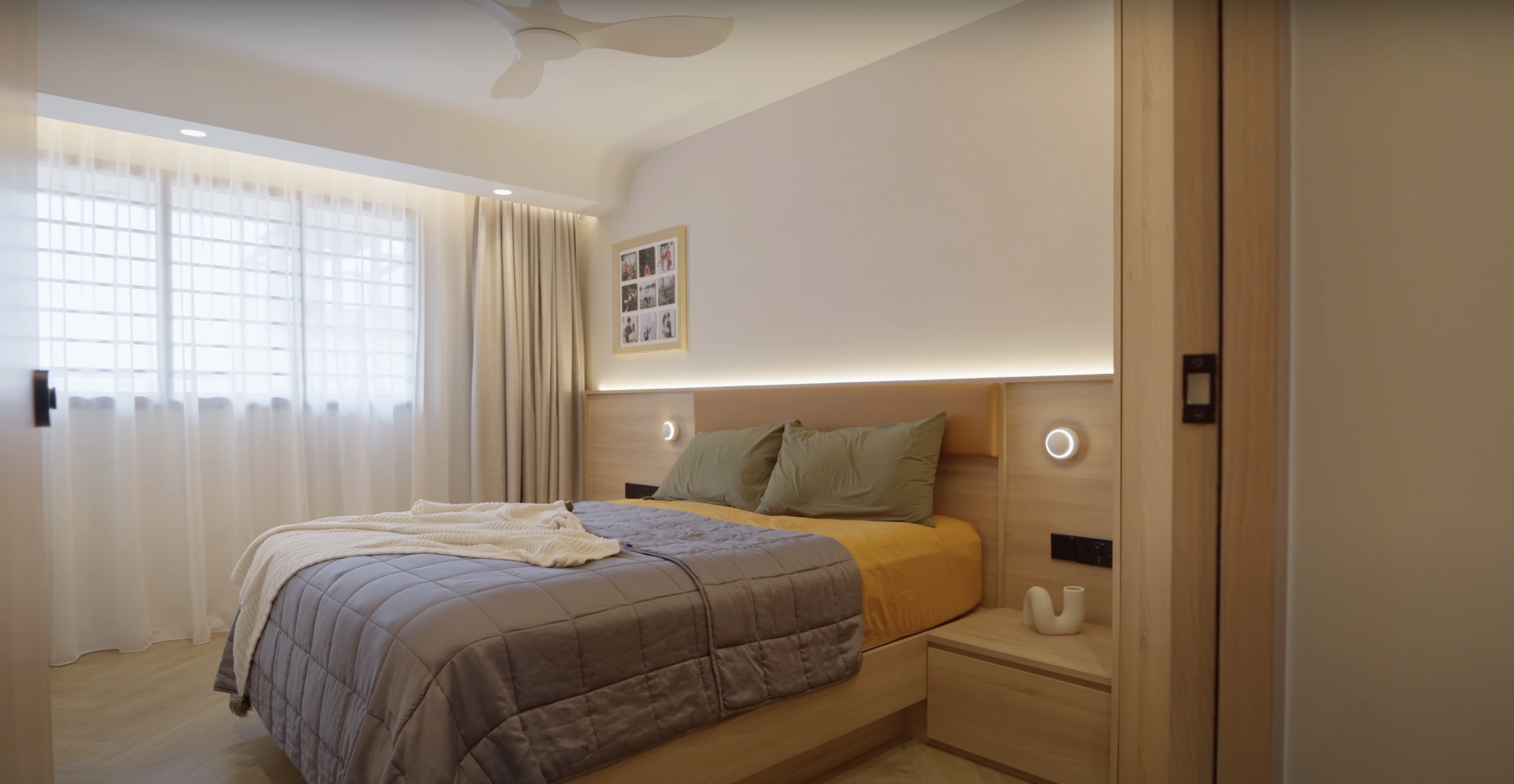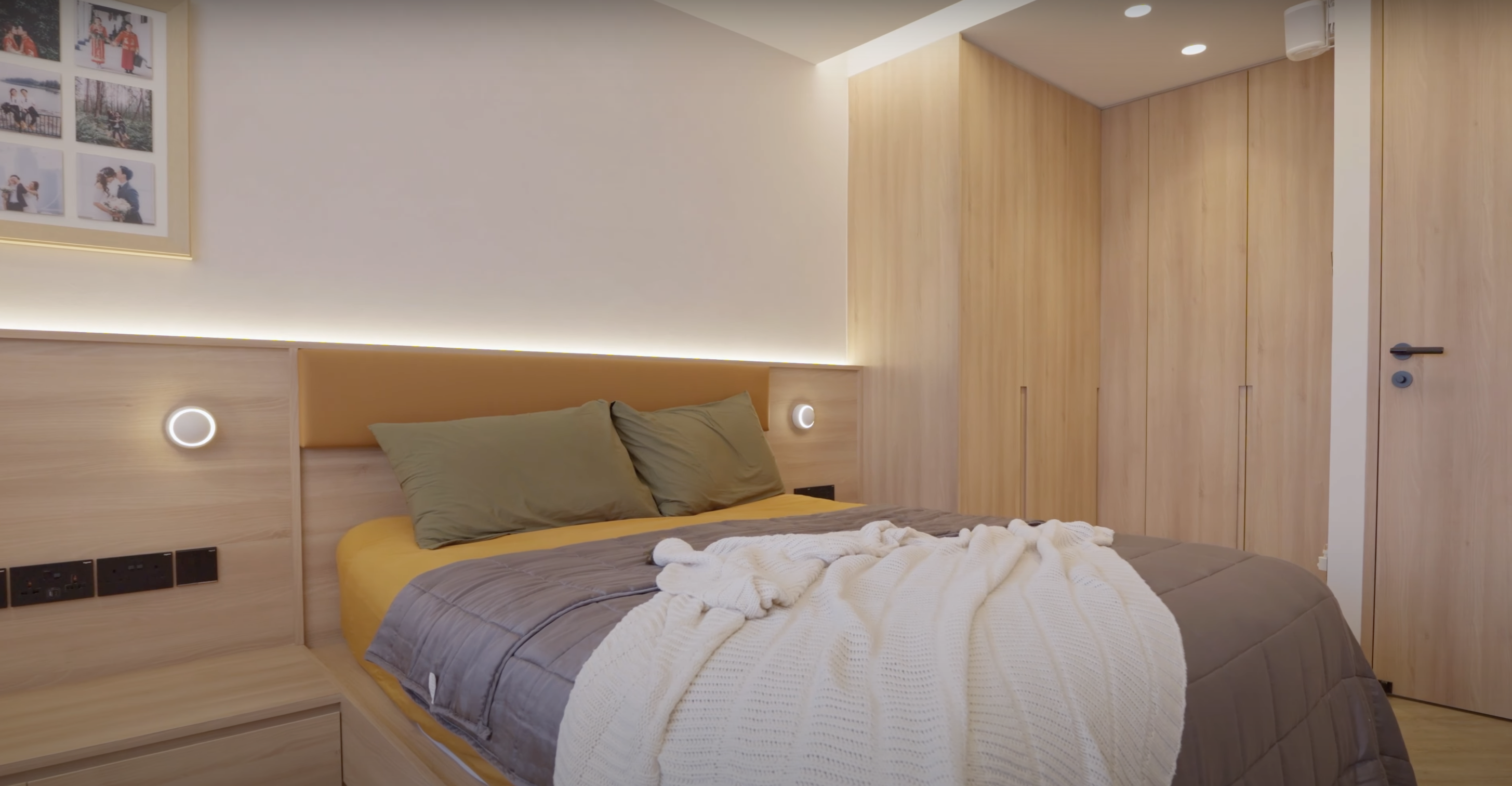 Accessed through a floor-to-ceiling sliding door, the master bathroom offers a unique layout. Upon entering, you'll find a small corridor area that ensures privacy between the sleeping quarters and the bathroom. A large window allows abundant ventilation and light into the space. A stylish glass-reeded door leads to the bathroom, which shares the same design as the previous bathroom, maintaining a cohesive aesthetic throughout the home.