Insider Tour
Inside A Retiree's 667 Sqft Small Cosy Resort-Themed Home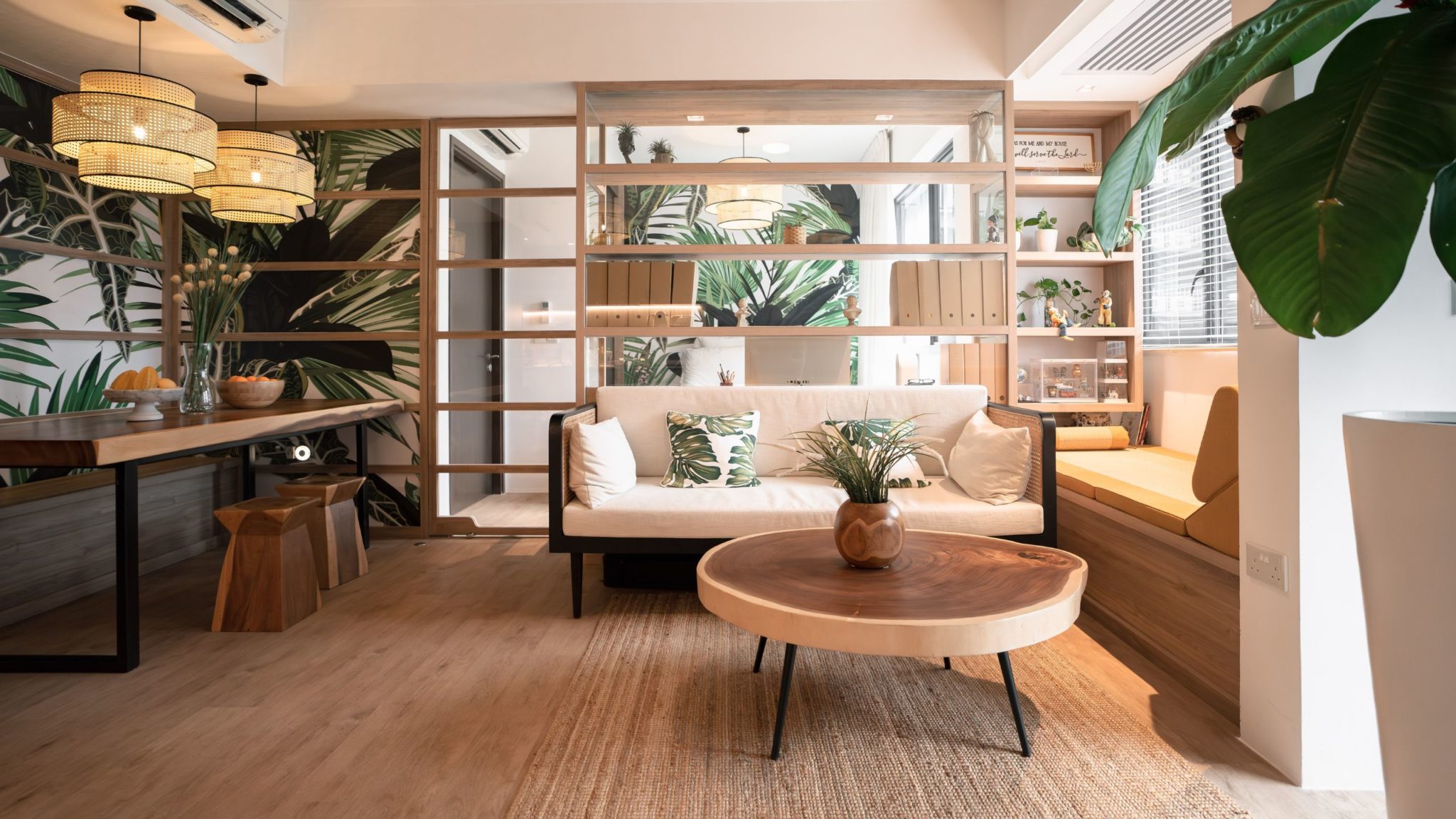 4
min read
This week, we tour a cosy two-bedroom resort-themed unit at Grandeur Park in the east of Singapore. This home belongs to a retired couple in their sixties who downsized from a larger landed home after their children moved out.
The home, initially a two-bedroom unit, spans 667 square feet and underwent extensive renovations to achieve the remarkable transformation we see today.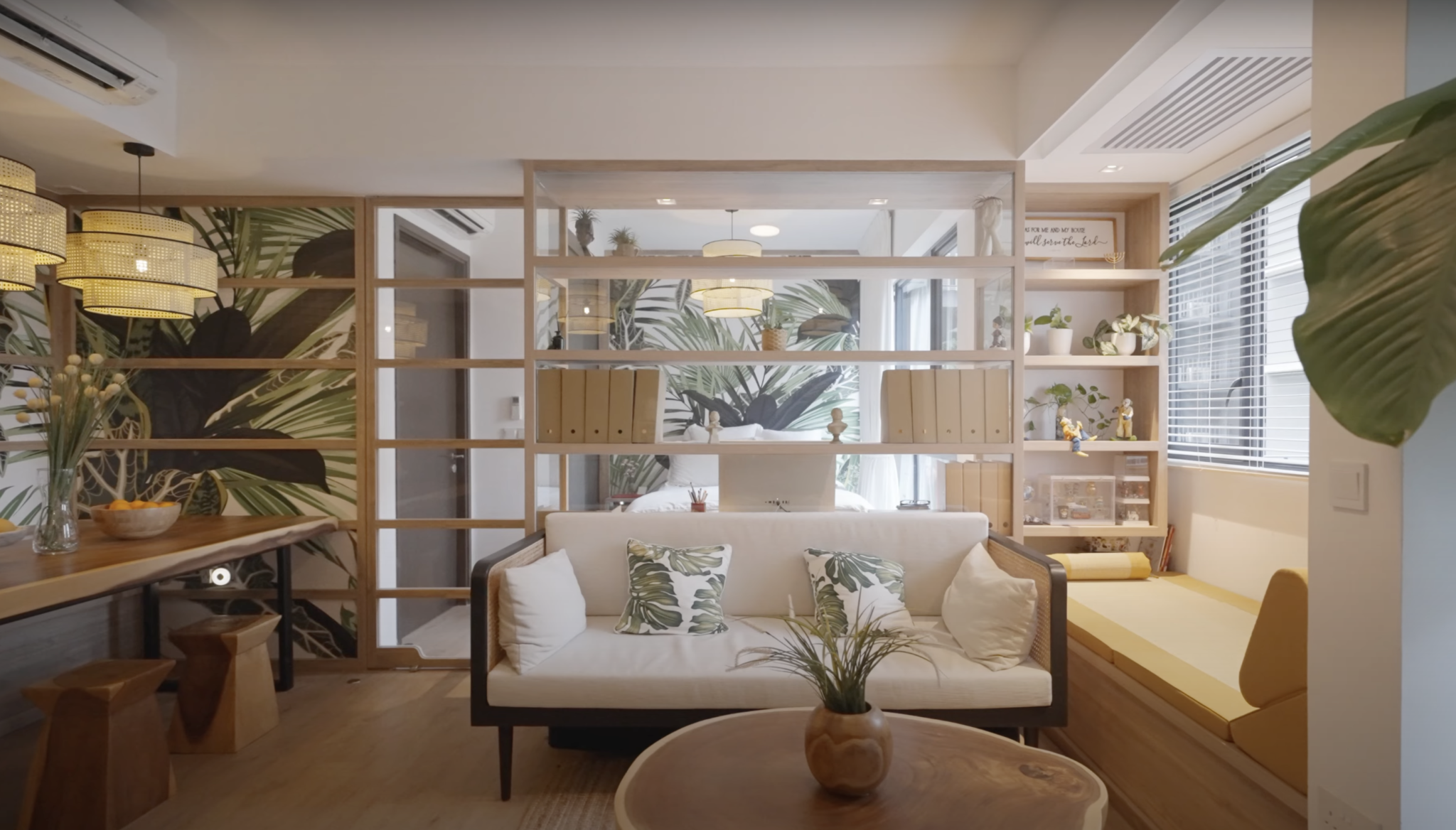 Upon entering, you'll be greeted by a long entryway adorned with vinyl parquet tiles that stretch throughout the entire home. Mirrored storage cabinets line one side, while an eye-catching large botanical print decorates the opposite wall, creating a delightful resort ambience.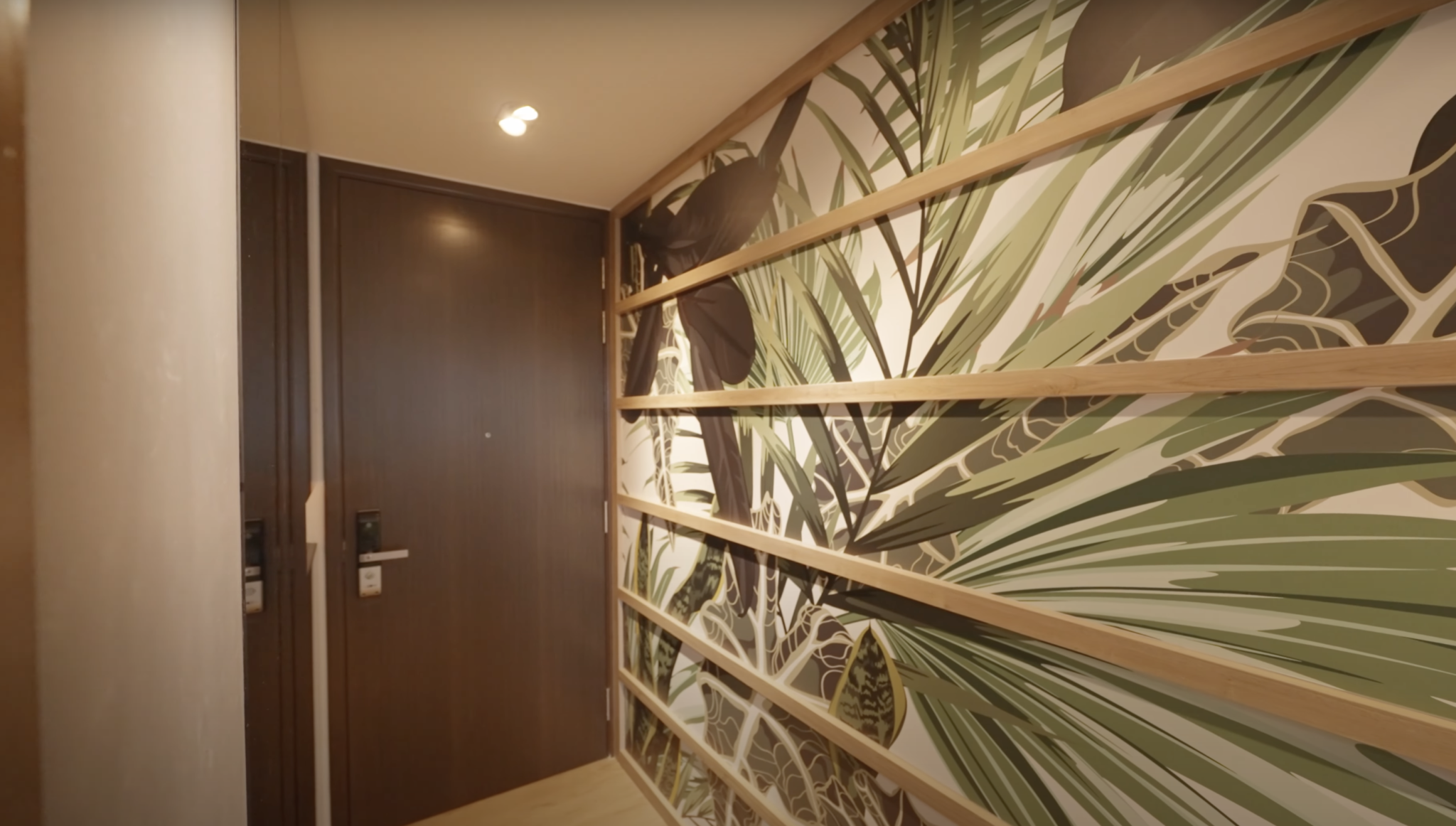 Further on, you'll find the common bathroom, which boasts a simple white and grey aesthetic. It's a well-appointed space given the home's size.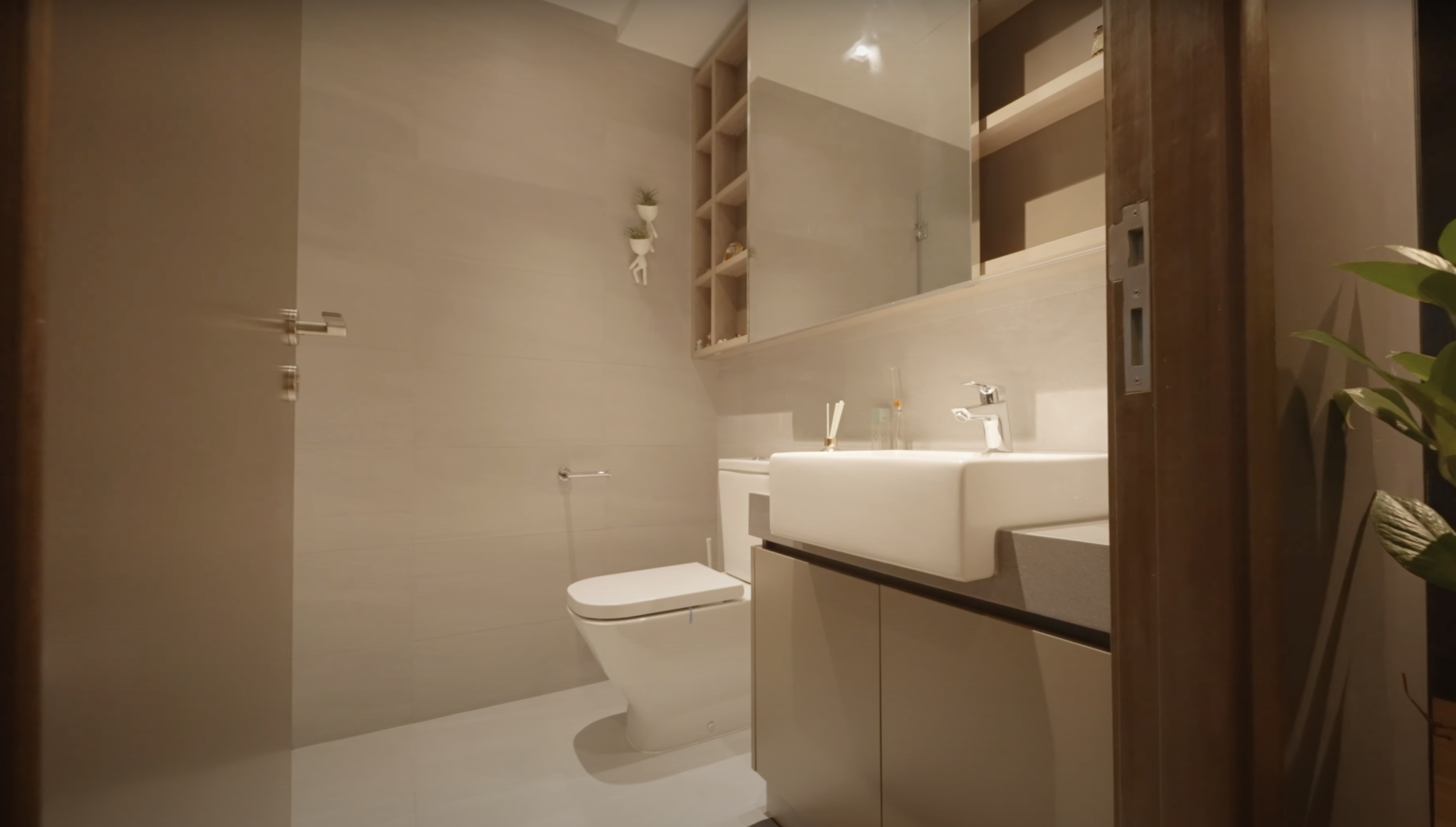 At the end of the entryway, a dedicated dining area awaits. It features a small wood dining table with seating for six, including a bench on one side and wooden stools on the other. The bench doubles as extra storage and two charming rattan pendant lights overhead complete the look.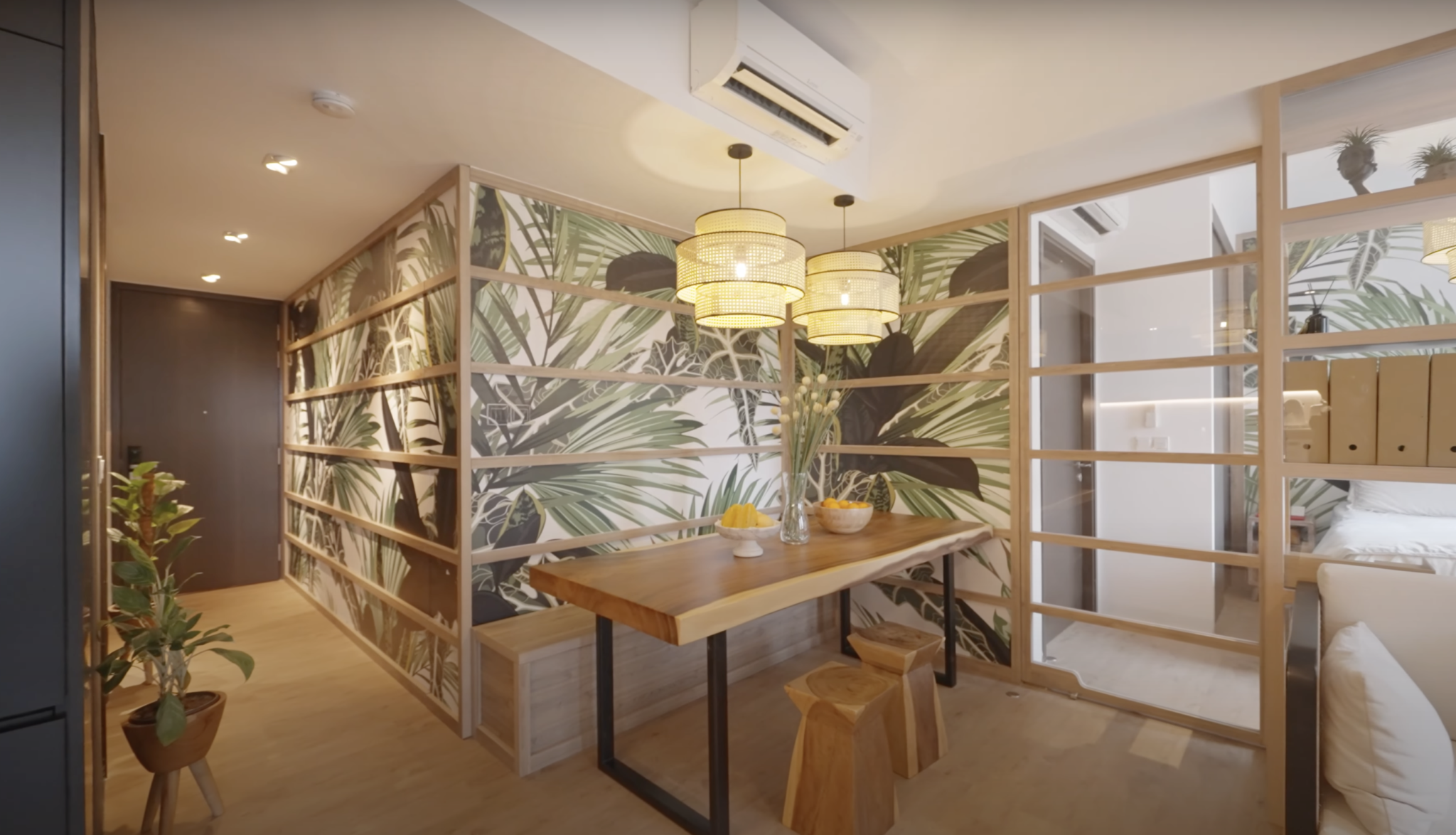 Adjacent to the dining area, you'll find the open L-shaped kitchen. Its warm woody tones are complemented by black laminates, creating a striking contrast. The top and bottom cabinets offer ample storage space, and the kitchen is equipped with essential appliances, including a discreetly concealed fridge to minimize visual clutter.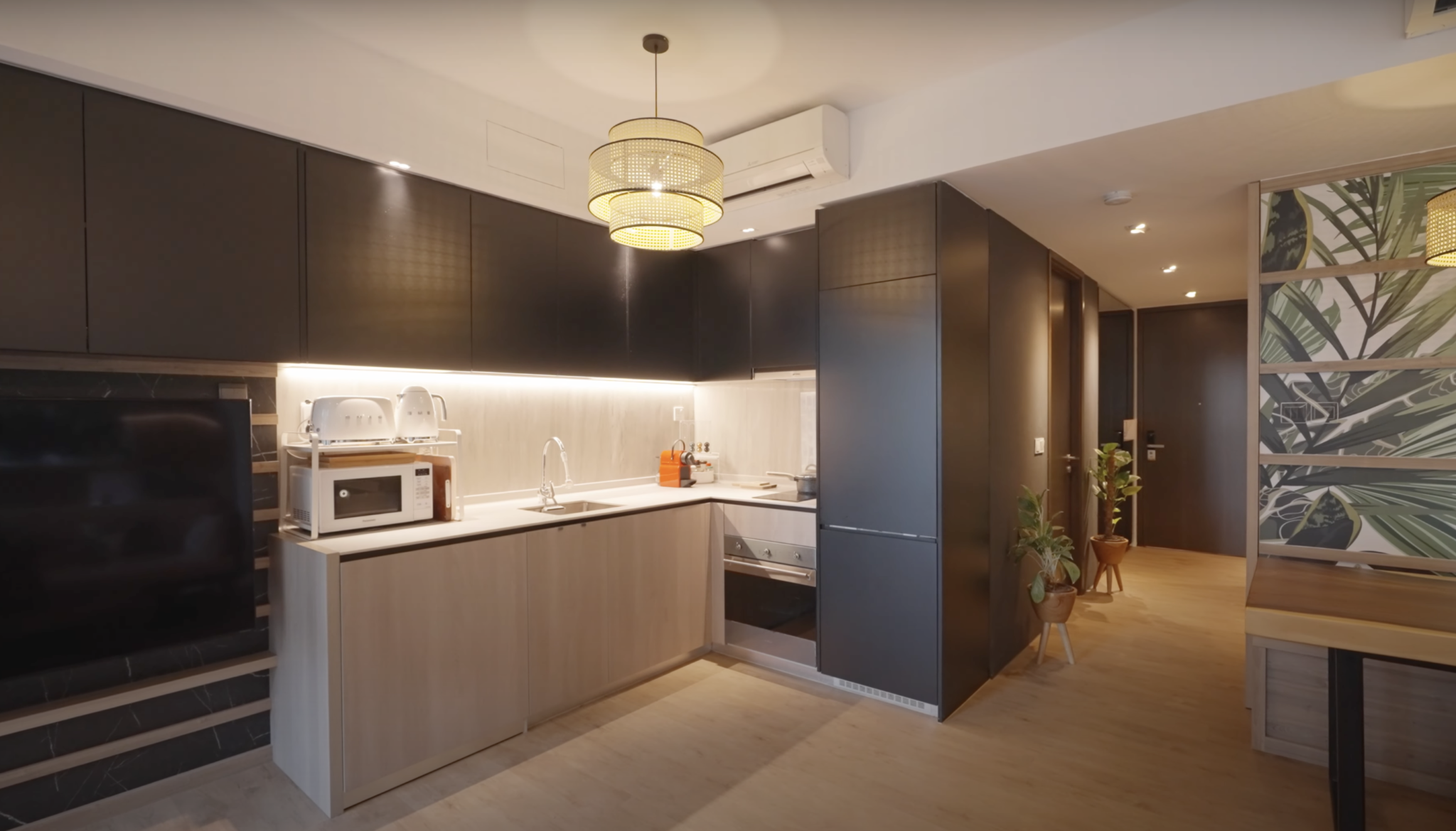 Moving on to the living room (which was once part of a common bedroom), the walls have been removed to create an expanded common area. A three-seater rattan sofa rests against a glass panel, harmonizing with the small wood coffee table that matches the dining table.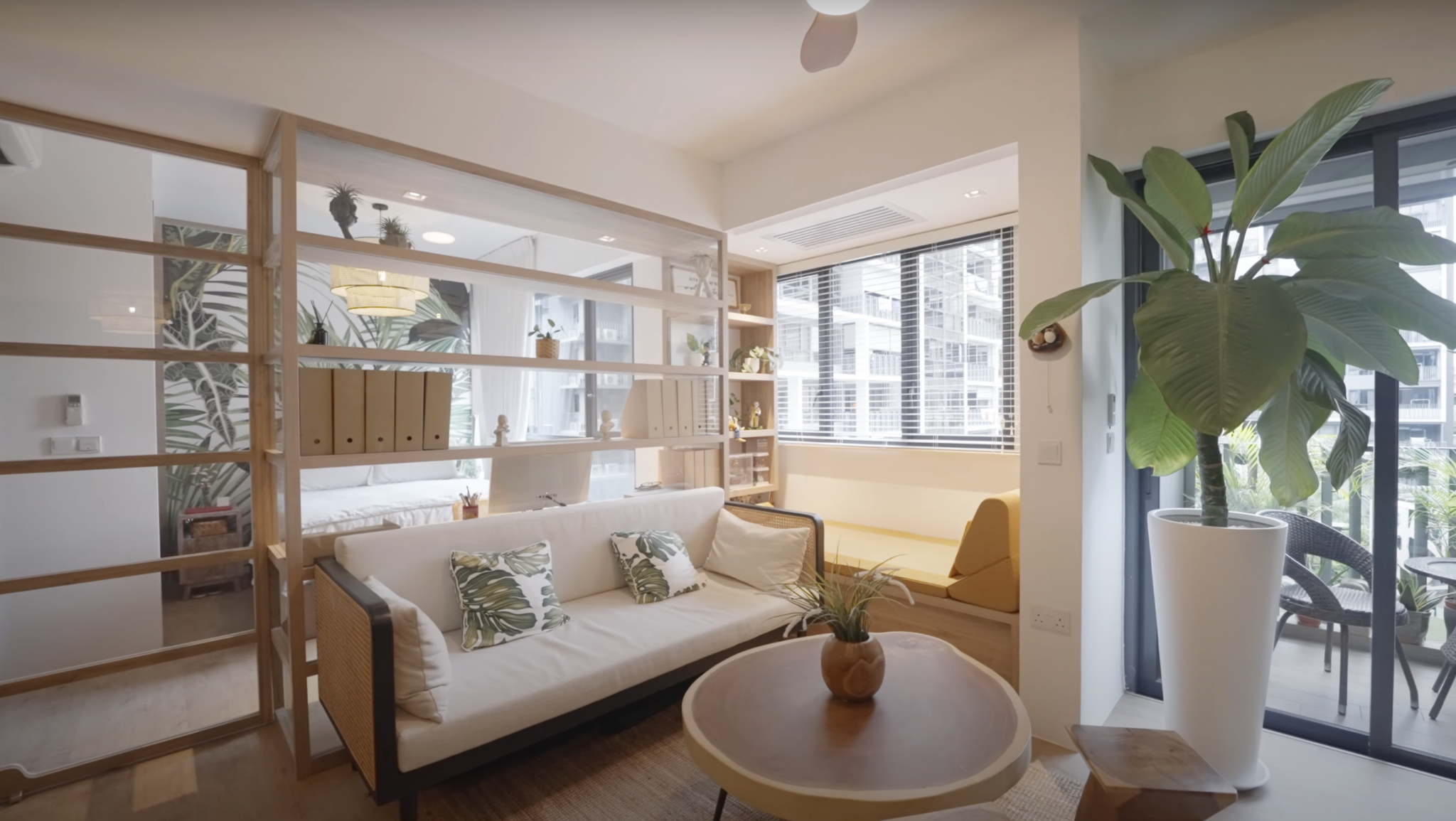 Utilizing the available space ingeniously, a corner nook features a tatami mat atop a storage platform, serving as a versatile daybed. Open shelving in the corner allows homeowners to display their cherished decor items.
Across from the seating area, a large wall-hung TV takes centre stage, flanked by cabinets that seamlessly blend the living room with the kitchen.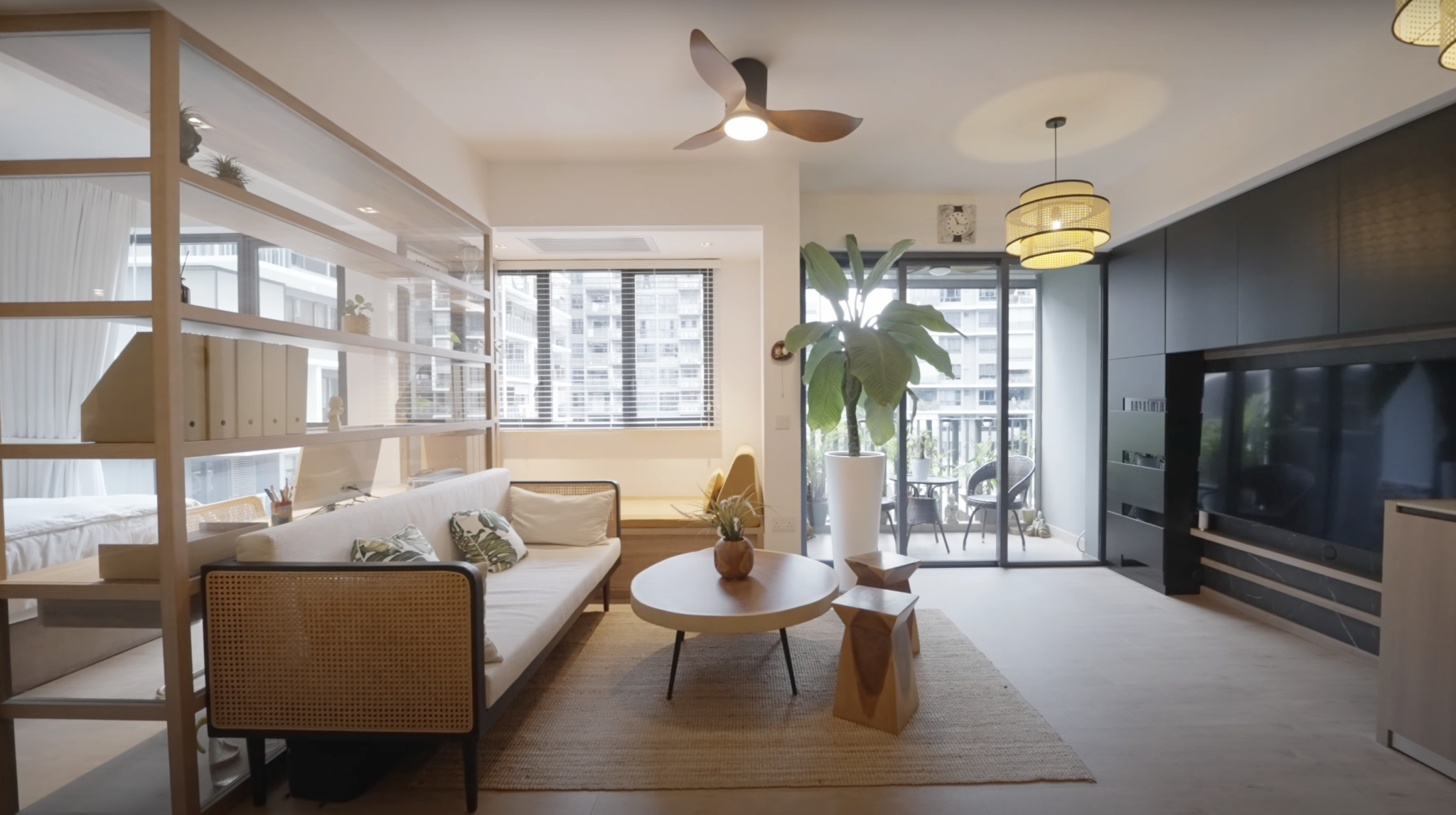 Stepping onto the balcony, you'll be greeted by a picturesque view of the lush greenery within the development. Automated blinds have been installed, ensuring this outdoor space can be enjoyed in all weather conditions.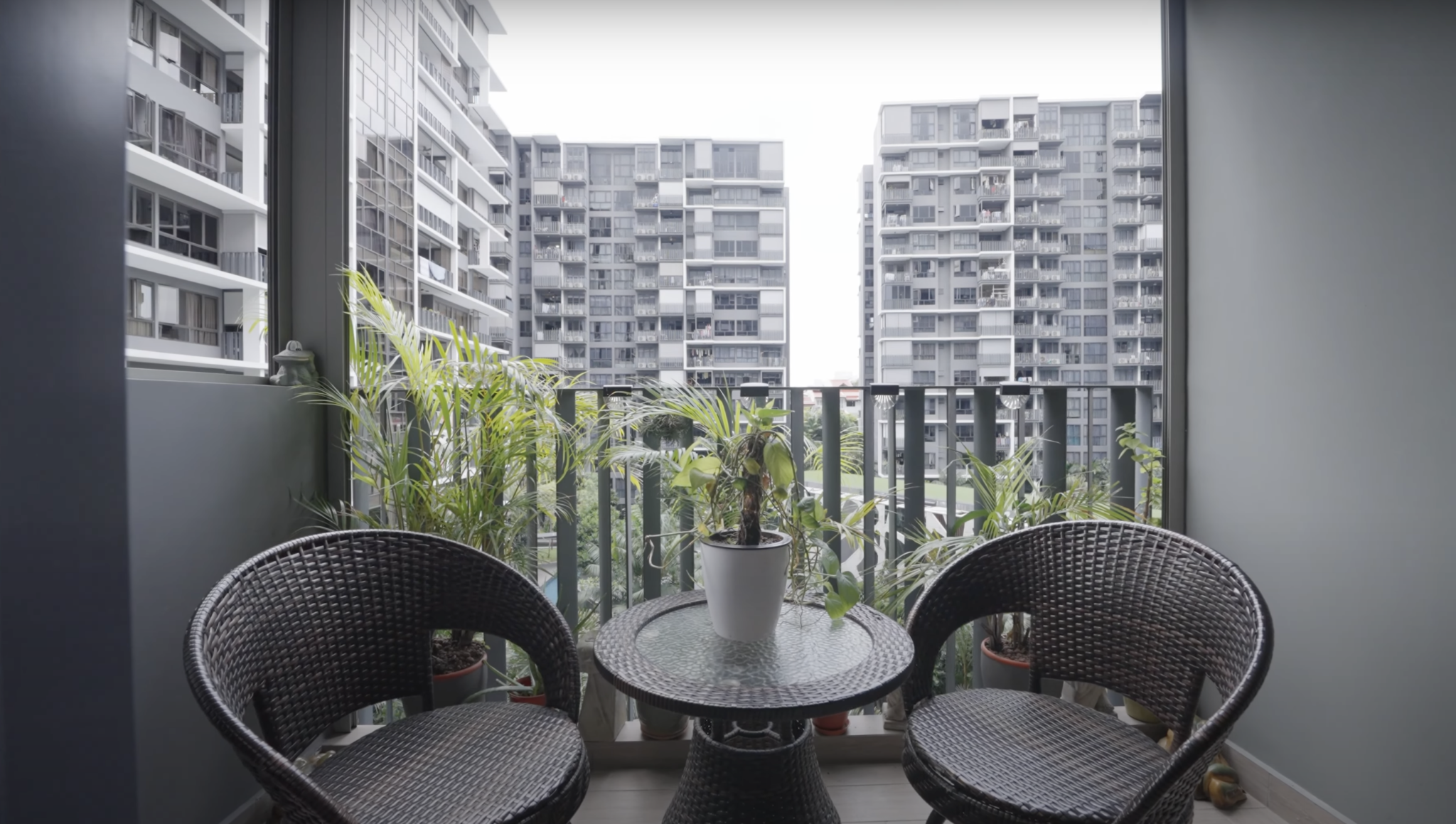 Finally, glass partitions have replaced the walls for the master bedroom, allowing ample natural light to flood the room and create an airy atmosphere. The master bedroom comfortably accommodates a queen-sized bed and accommodates a dedicated study area. Curtain tracks envelop the room, providing the homeowners with added privacy when desired.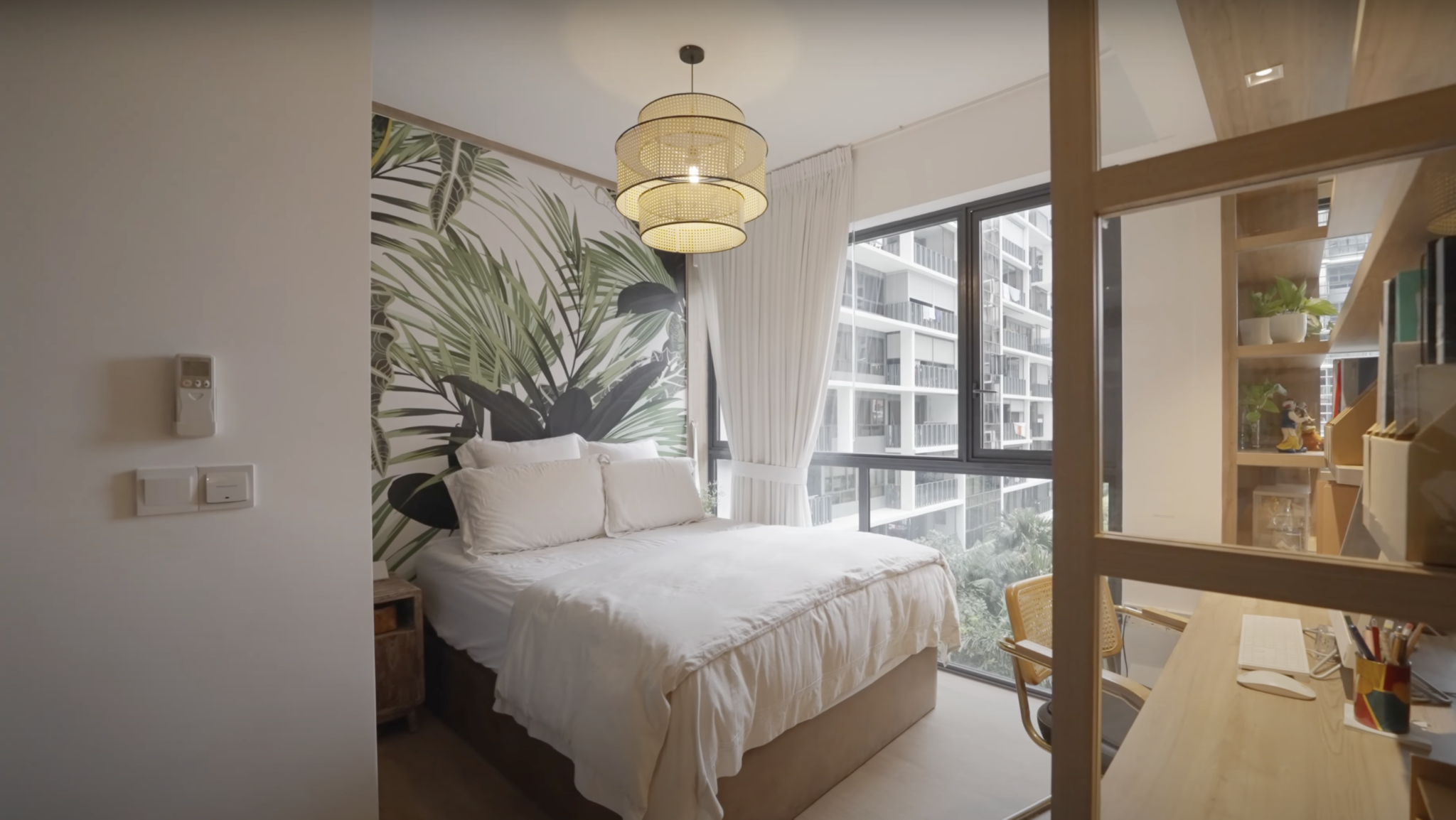 The master bathroom is also remarkably spacious for a two-bedroom unit. It features a dedicated shower area with a luxurious rain shower set and walls finished in a tasteful dark grey textured tile.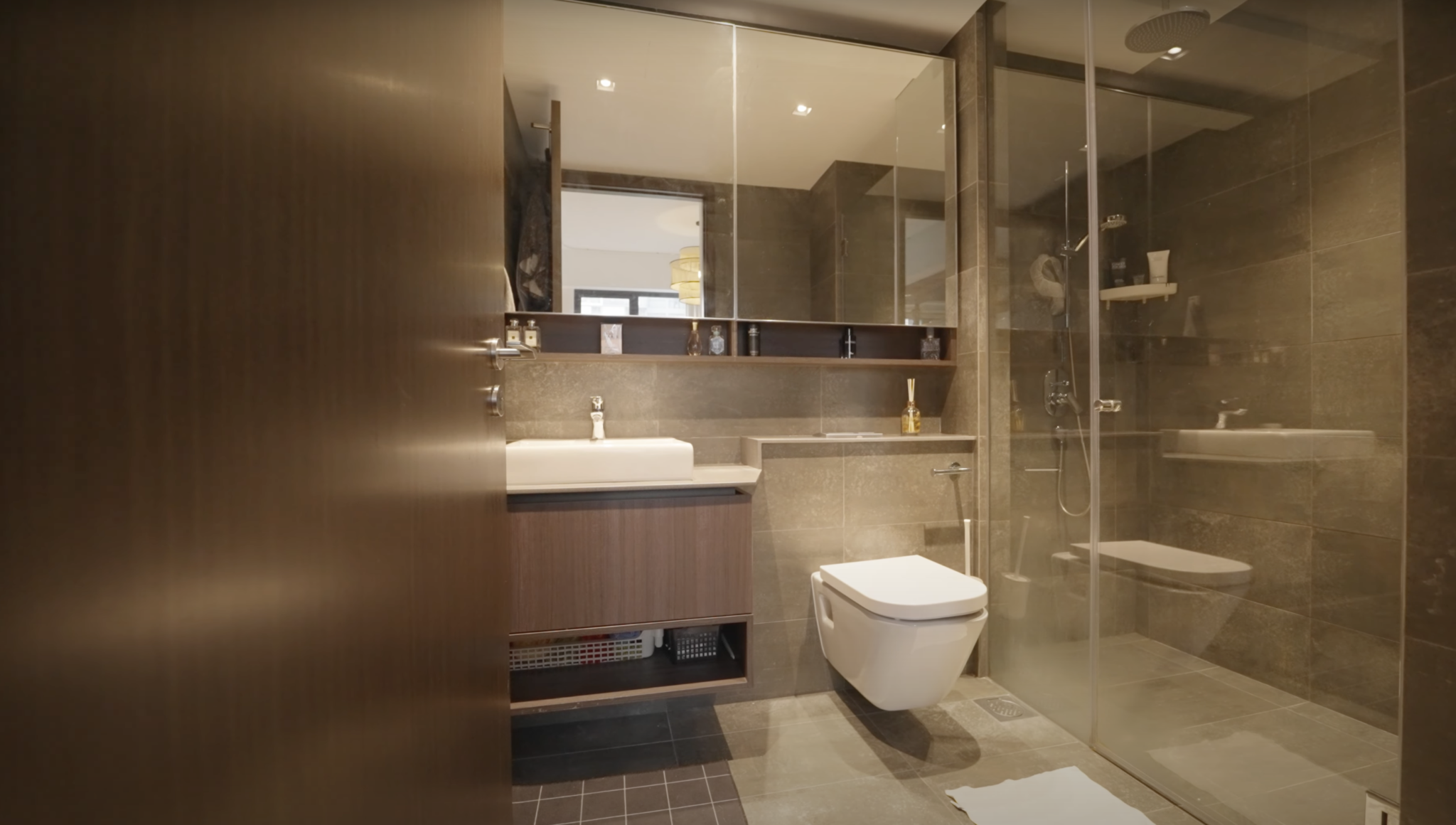 As always, special thanks to the homeowners for opening up their beautiful unit to us.