Living In

Inside A Designer's HDB Home With Extraordinary Lighting Choices
Stacked
January 29, 2023

3

min read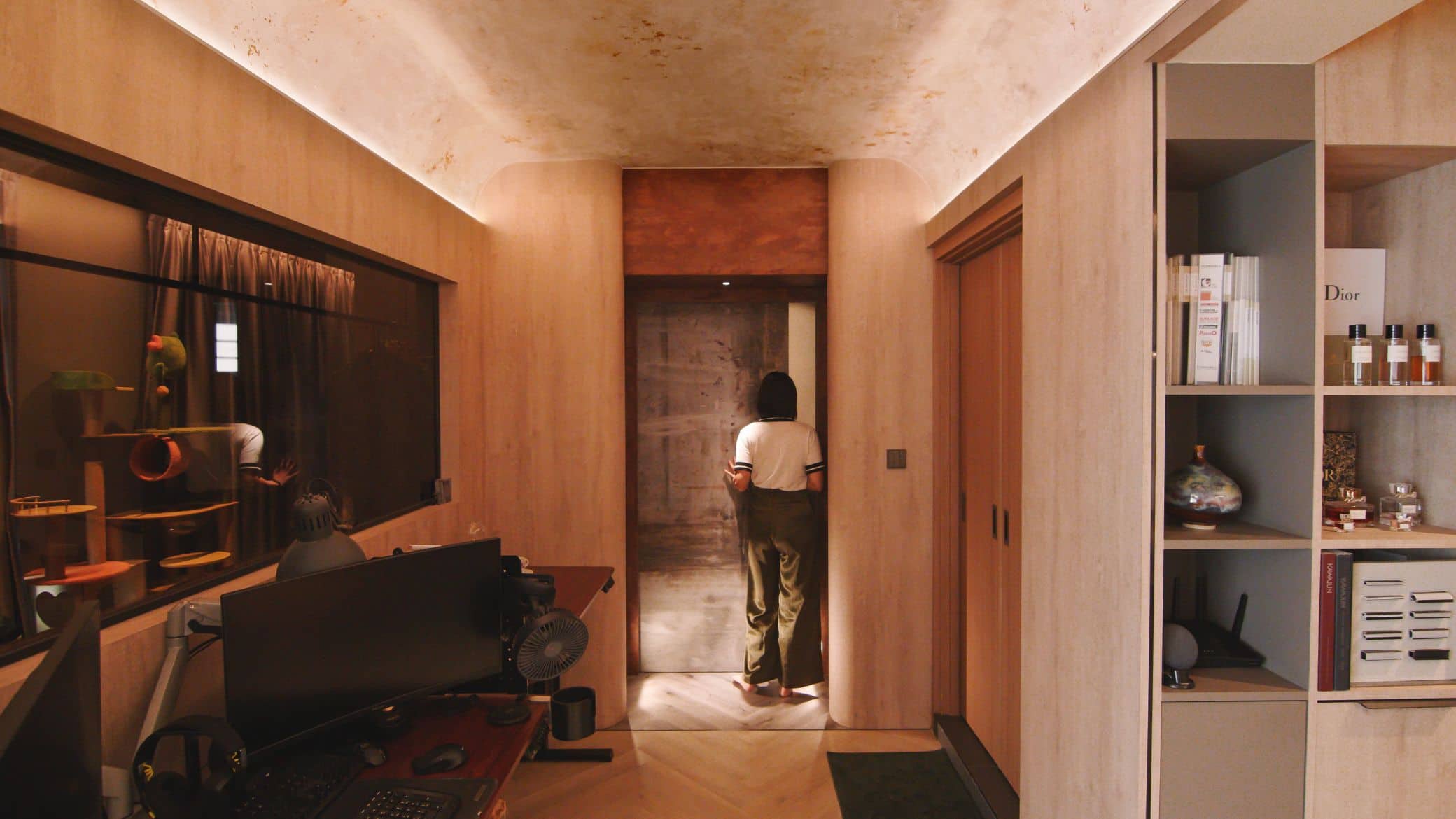 3
min read
This week, we take a tour of a truly unique and visually striking 4-room HDB flat in Punggol. The homeowners, Careen and Clement, are interior designers and lighting designers respectively, and their expertise is evident in every aspect of the flat. With a construction cost of $100,000, they took the bold step of knocking down all the walls to completely reconfigure the entire space, creating a desert and cave-inspired look that is both warm and inviting.
One of the standout features of the flat is the use of materials that add to the desert theme. A rust-coloured countertop piece that they came across became the main inspiration for the look of the entire house. For the kitchen, their countertop material is also used as a backsplash, and is demarcated with a led light strip. The kitchen has been downsized to a pantry style as they don't cook much, and the island doubles as a material library for clients, making it a functional and beautiful space.
The living room has a fireplace, which was included as part of the desert concept, and creates a cosy and intimate atmosphere. The guest room has a giant sliding door, which when opened, becomes a part of the living room, and creates an open and airy feeling. The study area features an interesting uplight near the curved ceiling, adding a touch of drama to the space.
The bathroom features a custom sink and tap, which mimic spring water and the entrance door to the master bedroom has been designed to mimic walking into a painting, adding a touch of whimsy to the space. The master bathroom is kept simple with textured tiles but has an LED ceiling to give the feeling of rays shining through, and a bathtub for relaxing after a long day.
One of the most interesting design elements is the glass cut-out in the walk-in wardrobe area, which offers stunning sea views, adding to the overall feeling of space and openness in the flat.
Join us as we explore this one-of-a-kind home, and discover the many ways in which Careen and Clement have used their expertise to create a visually stunning and functional space that is truly unique.
Special thanks to Careen and Clement for sharing with us their incredible space.
For more, please visit: https://instagram.com/clickcolab