Living In

Inside A Charming 1,650 Sqft Executive HDB Home Transformation
Stacked
January 15, 2023

3

min read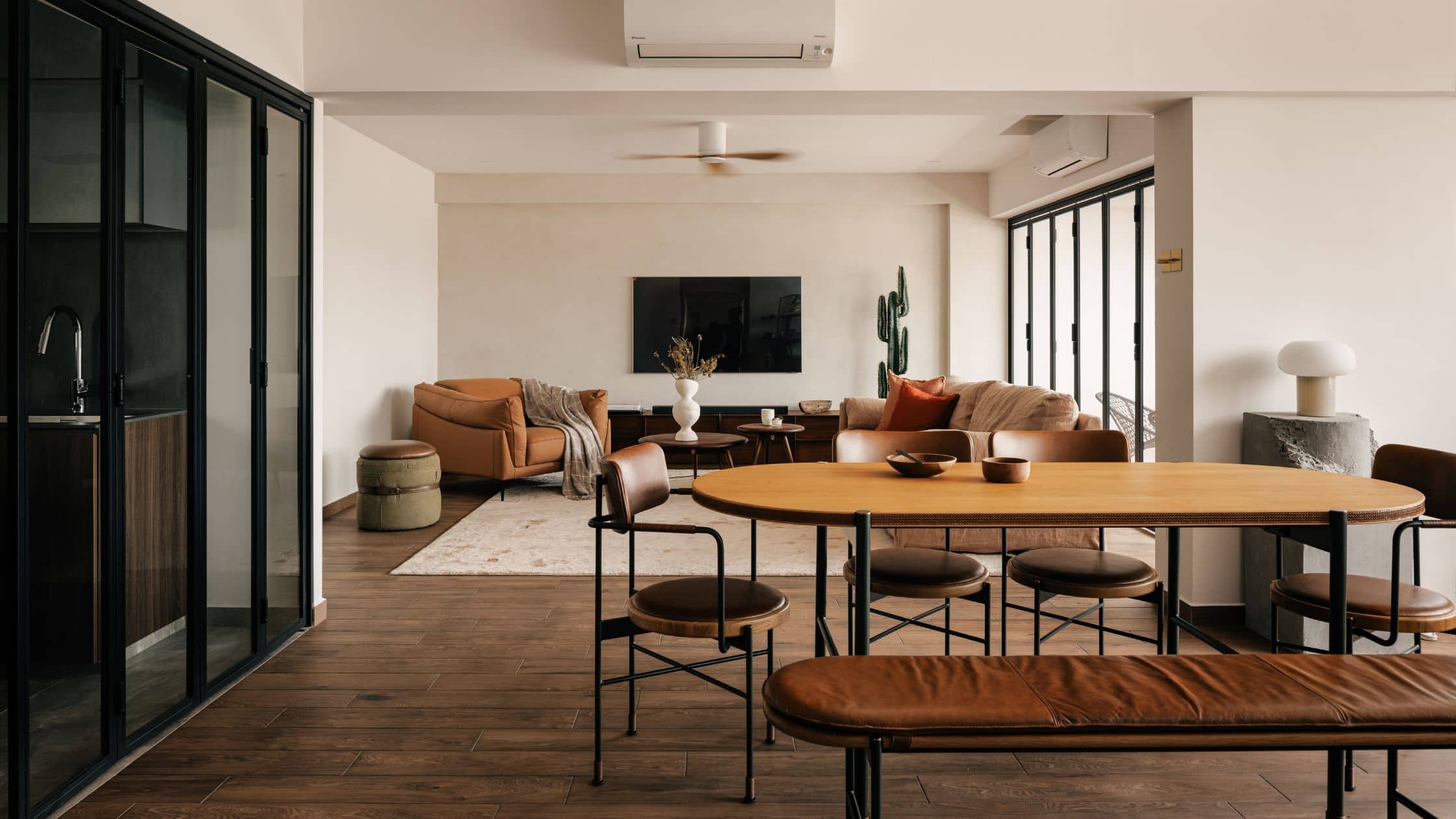 This week we visit the stunning Executive Apartment of homeowners SH and Alvin, a 1,650 square feet oasis where natural materials and plants come together to create an inviting and cosy atmosphere. As you enter the home, you'll be greeted by a settee area that acts as a mini walkway, providing privacy and a sense of separation from the rest of the home. Behind the settee, you'll find a convenient store room that they repositioned for their storage needs.
The living room is the heart of the home, and SH and Alvin have hacked the wall to create a spacious communal area for all to enjoy. The balcony, which was nonexistent in the previous home, is now a relaxing spot to unwind and take in the beautiful views. The unique tiles used on the balcony were specially sourced by their ID, making it truly one-of-a-kind.
The kitchen was an important space for SH, and was enlarged to incorporate an island and fitted with bi-fold doors for easy access during meal preparation. The darker palette with green tones and wood laminate creates a cosy and inviting space for family and friends to gather.
The common bathroom features square pink tiles for a fun and playful touch, while the corridor boasts an asymmetrical curve and LED lights in the ceiling to accentuate the lime wash paint. For the master bedroom, the initial store room area has been transformed into a walk-in wardrobe, and the couple's bathroom includes a stunning bathtub that was created and fitted with the same tiles as the bathroom, creating a seamless and cohesive look.
Join us as we take a tour of this beautiful home, and discover the unique design elements that make it truly special.
Featured Image Credit: Marcus Ip
Special thanks to SH and Alvin for opening up their lovely home to us
For more, please visit: https://www.instagram.com/streetthirtythree/
If you are an architect, ID, or homeowner interested in featuring your home, please fill in our form at https://forms.gle/a1GmuwSCCFAns3GV9