Living In

Inside A Beautifully Redesigned Chic & Curvy Landed Home
Stacked
February 5, 2023

3

min read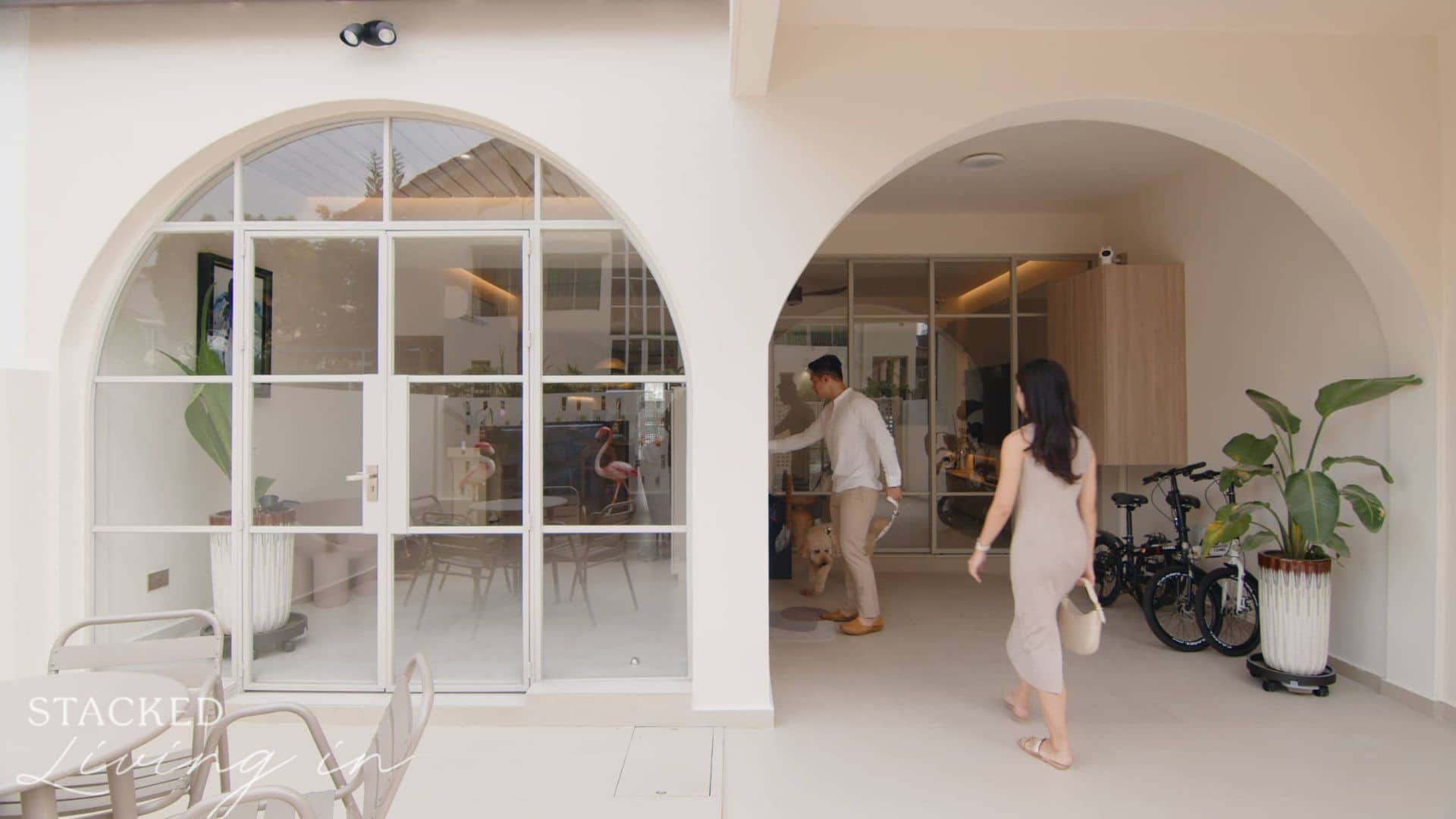 3
min read
This week, we visit the beautiful home of Valerie and Leon and their furry friend, Maple. Situated in Kovan, this inter-terrace landed house has a land area of 1,700 sq ft and a built-up of 2,200 sq ft, and underwent a renovation that cost under $200,000. The home has two floors, with the living, dining, kitchen, and yoga room on the first floor and three bedrooms on the second.
The theme of the house, stone, wood, cream, and the flow of the house with its ventilation blocks and glass panels, make it a bright and inviting space, surprising for an inter-terrace home that often has a reputation for being darker. The entrance has been beautifully redesigned with a dedicated foyer area, featuring an arch glass and wood laminated ceilings.
The couple was hands-on throughout the renovation process, making sure that every detail was just right, including keeping the ceiling high to make the space feel more spacious. The large format 90×90 stone-like slabs for the floor add to the spacious feel. There was originally a wall separating the dining and the kitchen, which was hacked, but a column prevented further hacking.
The couple came up with a creative solution by building ventilation blocks. The wet kitchen, which was originally outdoors, was closed up and made more practical with bi-fold doors that can be folded away to segregate the space. The backyard was a garden with a rambutan tree but was transformed into a peaceful Japanese zen garden. Valerie and Leon enjoyed being hands-on throughout the renovation process and it shows in the attention to detail in every room.
Special thanks to Valerie and Leong for opening up their home to us! For more, please visit: https://instagram.com/flowhabitat