Property Stories
I Stayed At Hmlet Cantonment: Here's What My Actual Co-Living Experience Was Like (Not Great)
TJ
June 4, 2023

9

min read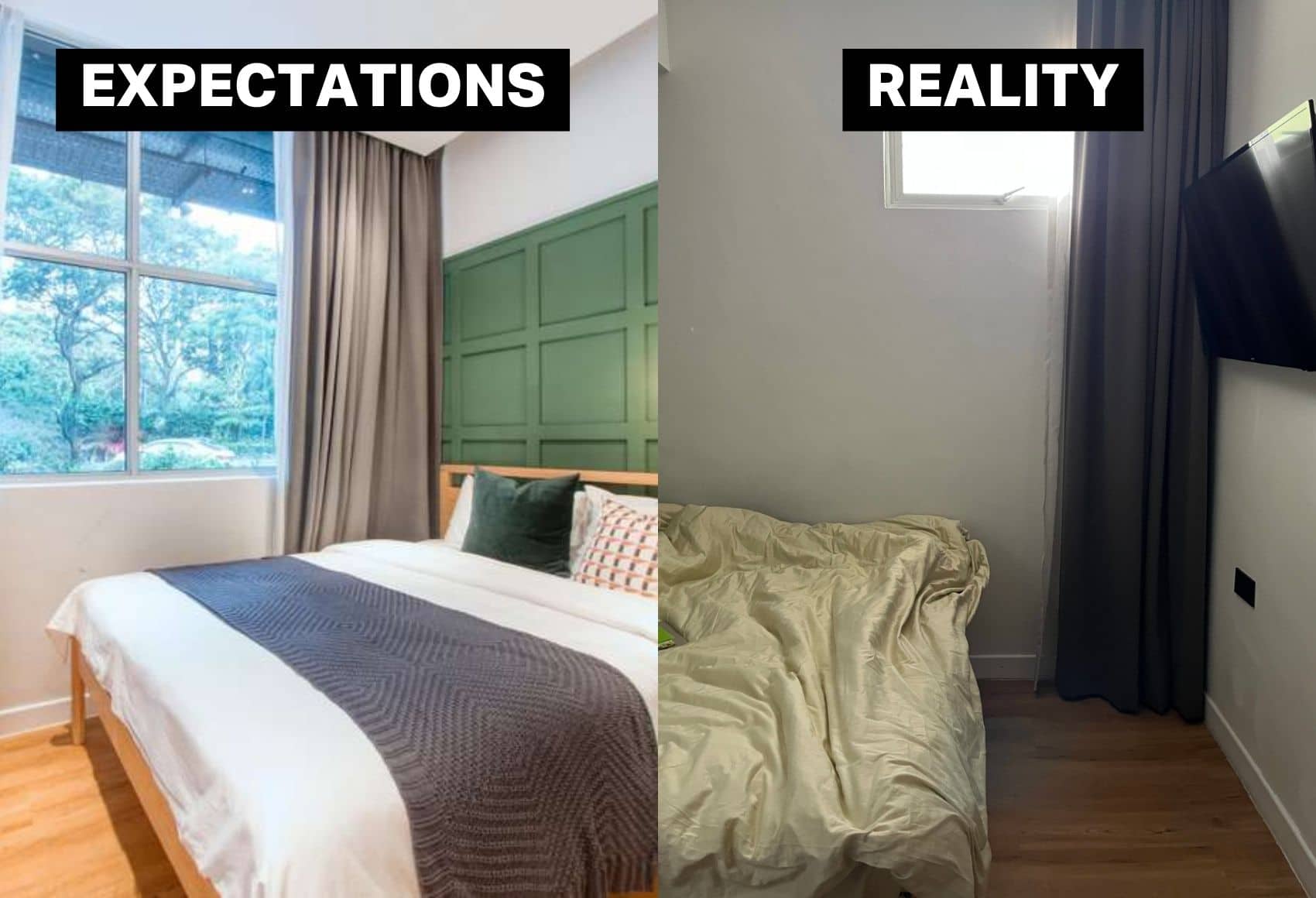 9
min read
Is the co-living experience as pretty as this picture of the Hmlet Cantonment backyard below makes it out to be? Read on to find out!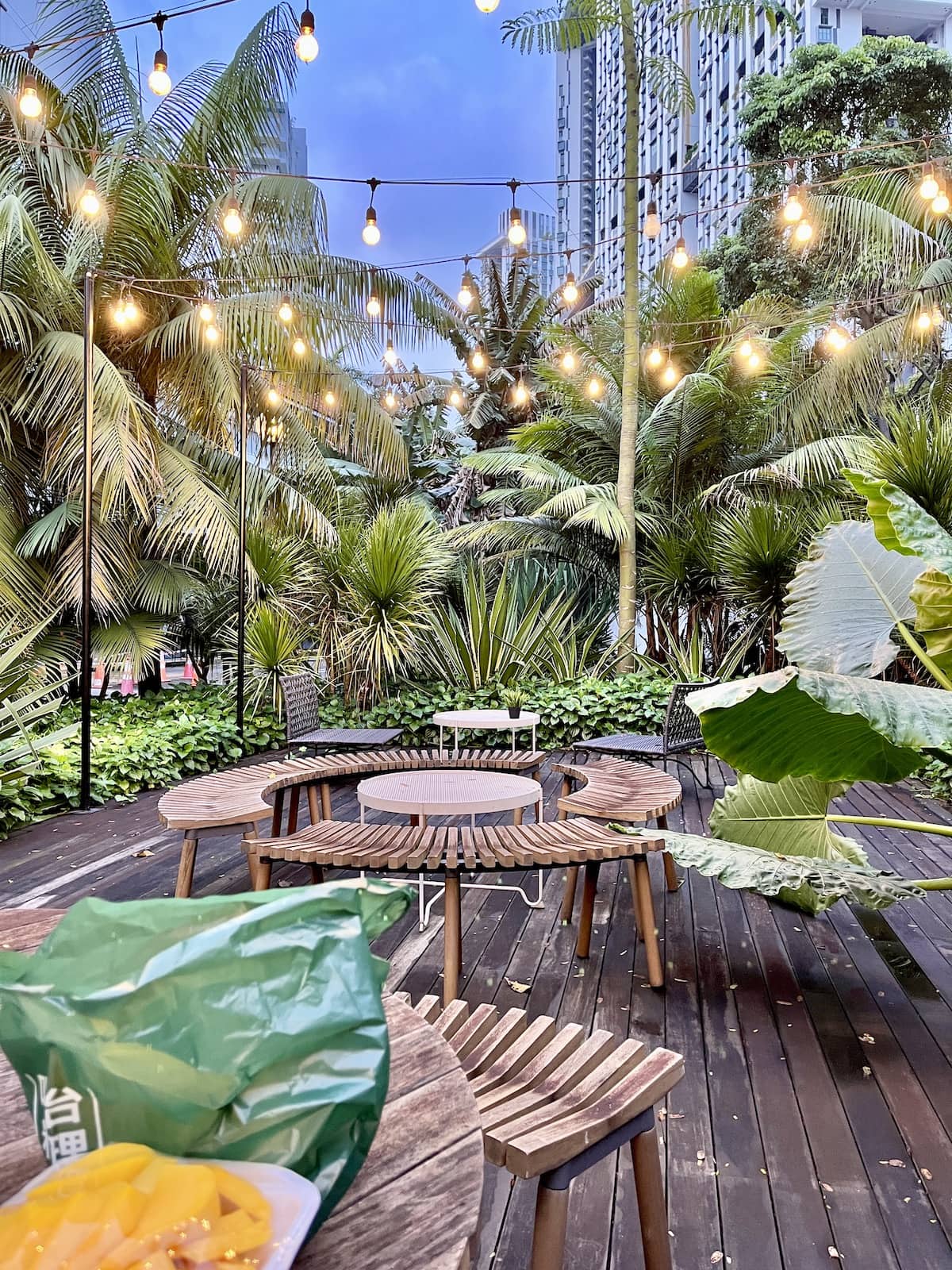 So I'm back again for the 4th and final part of this co-living series, in which I discuss the actual co-living experience and whether it delivered on its promises. I'll also briefly touch on how other people found their co-living experiences in Singapore (as some of you actually sent me some messages to share about your stays!)
As a quick re-cap:
So today is the day of the actual stay!
Check-in process
Let's start with the Hmlet check-in process, which was pretty smooth. I actually arrived a few hours after the check-in time but there was no issue checking in. (I once arrived late at a 5-star hotel in Europe and they had given my room away!!!)
Note that the receptionist is only on site between 730-930 am, but there is someone around for 24 hours. And, yes, I personally verified that there was someone (let's call him the night watchman) physically around in the wee hours of the morning!
Another thing I liked is that there is a WhatsApp hotline to contact the receptionist/night watchman which saves me the hassle of physically having to go to the receptionist desk (which, by the way, if you book a small room, is in another building. The lounge, fitness studio and backyard are all located at Block B, the block with the big rooms.) I messaged the hotline twice after-hours (just before 10pm), and received quick replies so you don't have to worry about any potential maintenance issues going unheeded. One within the hour, and the other instantly, and there was nothing that needed fixing in my room during my stay.
There is also a QR code provided at check-in which gives you more information about the residence, as shown below. I thought that was a nice touch!
Note that if you order food and stay in a small room (Block A), you'll need to walk to the other block (B) to get your food. Thus, in the end, I decided I might as well just venture across the road for food!
After this, there are 3 more pages which summarise the offers and discounts available to Hmlet residents (about 10 of them, not all located within the Cantonment neighbourhood.)
The Room
I was a little disappointed to find out that my room was not in the main building (Block B), where the co-working space and lounge were located, but in the next one. (If you're wondering why it matters, it just feels like more of a trudge to get to the lounge if one wants to work at night when the lounge is in a different building, albeit one that is only a few steps away. Am I the only one that feels that way?)
However, I was still looking forward to my room as it had looked pretty nice in the photos on the site.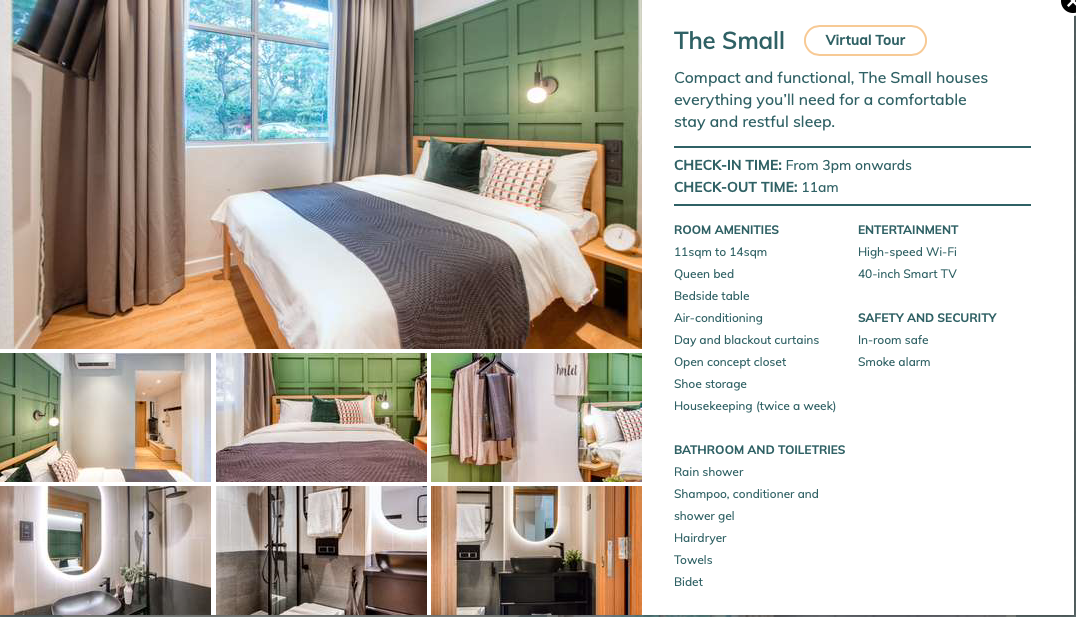 To refresh your memory, this is what I had booked.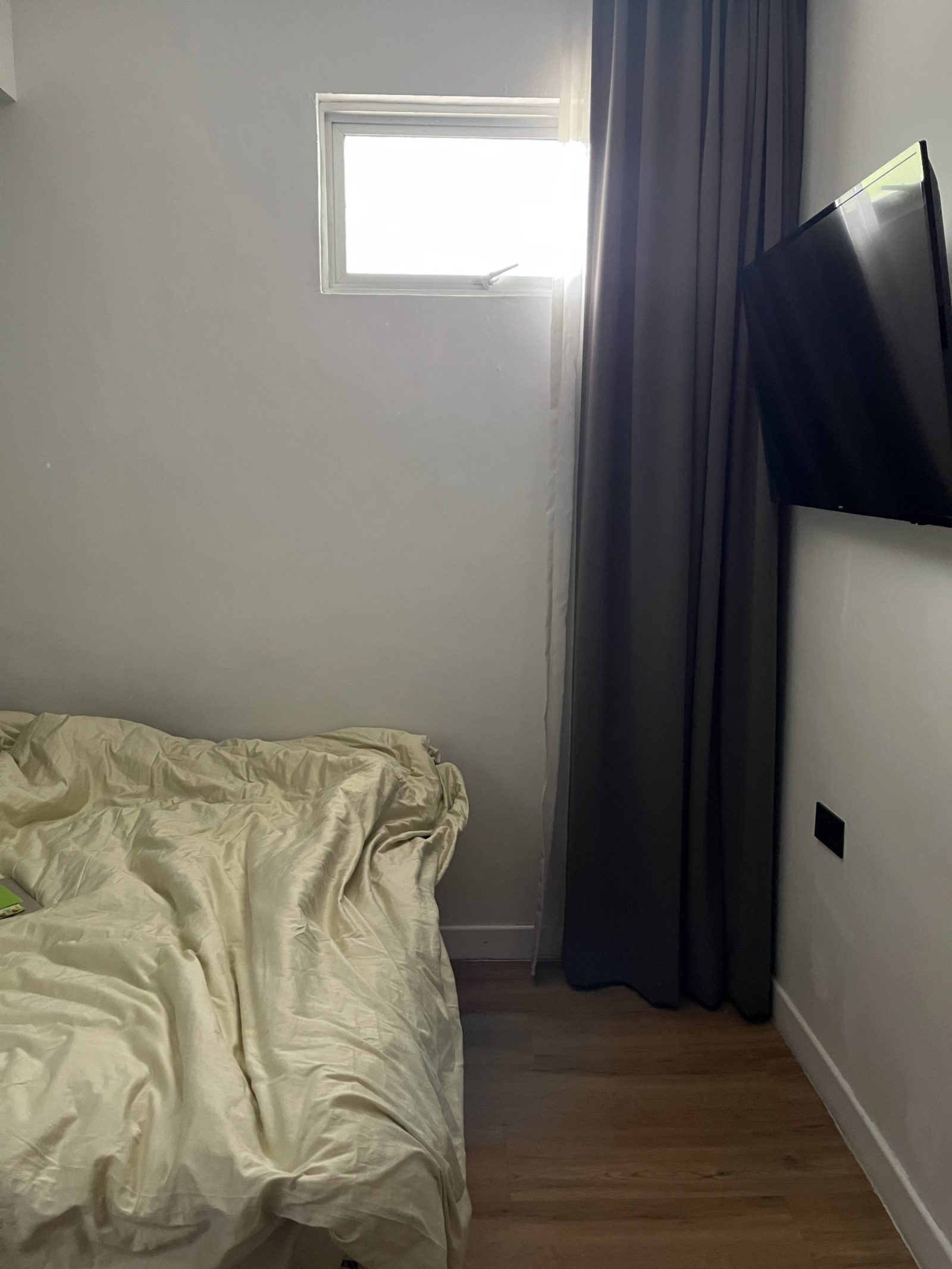 Alas this is what I got!!!!
Now, is it just me, or is what was delivered different from what was promised??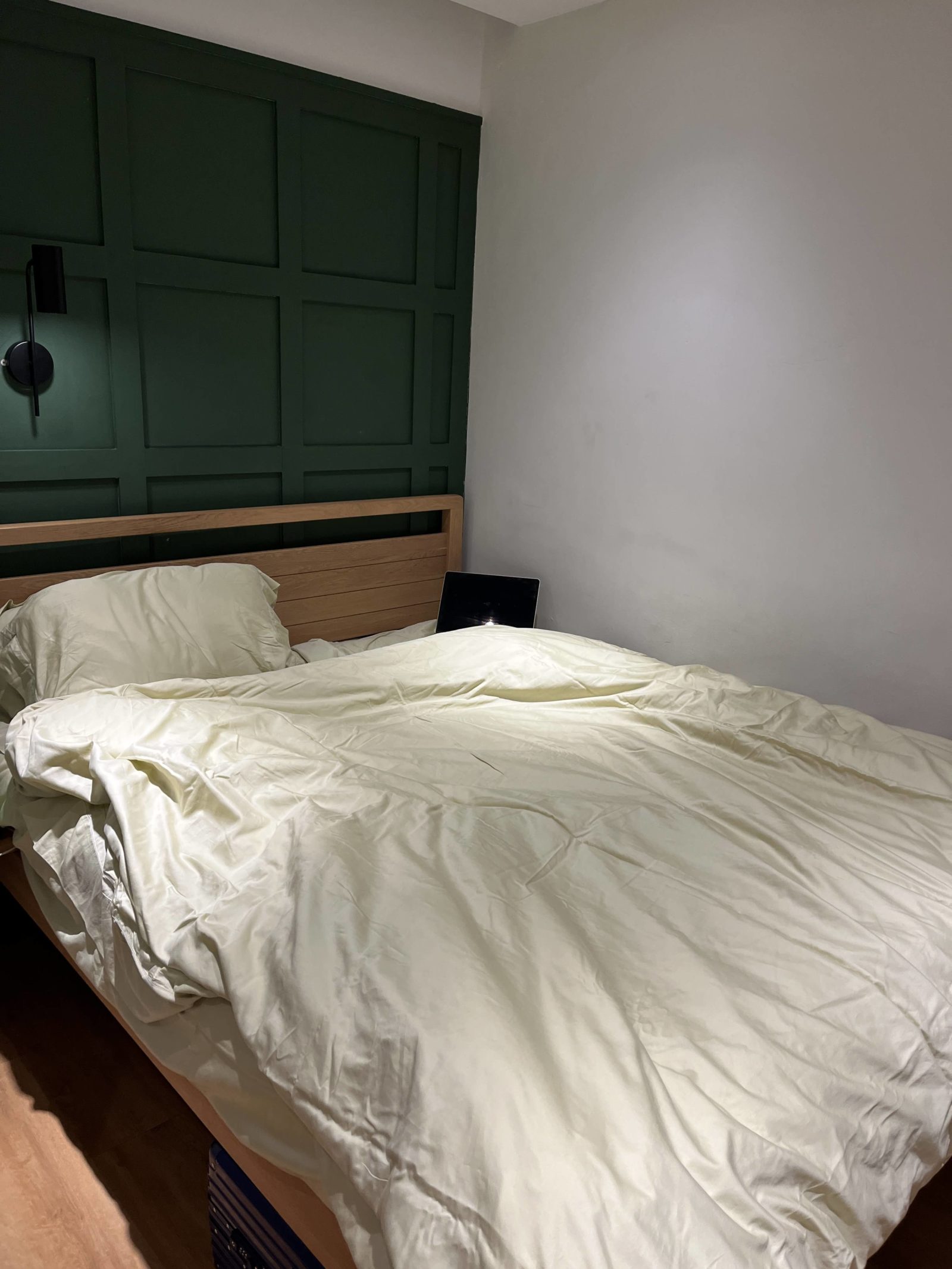 You do get the pretty headboard shown on the Hmlet website but that tiny window is a real turn-off for me. I can't imagine anyone staying in this room for a year! I actually had to do a few online work meetings during my stay and, without fail, everyone said "It looks like you're living in a prison!"
Honestly, I think in America this might be considered misrepresentation? (I actually checked to see if there was any small print on the site along the lines of "the photo is for illustrative purposes only" but, if there was, I couldn't find it.)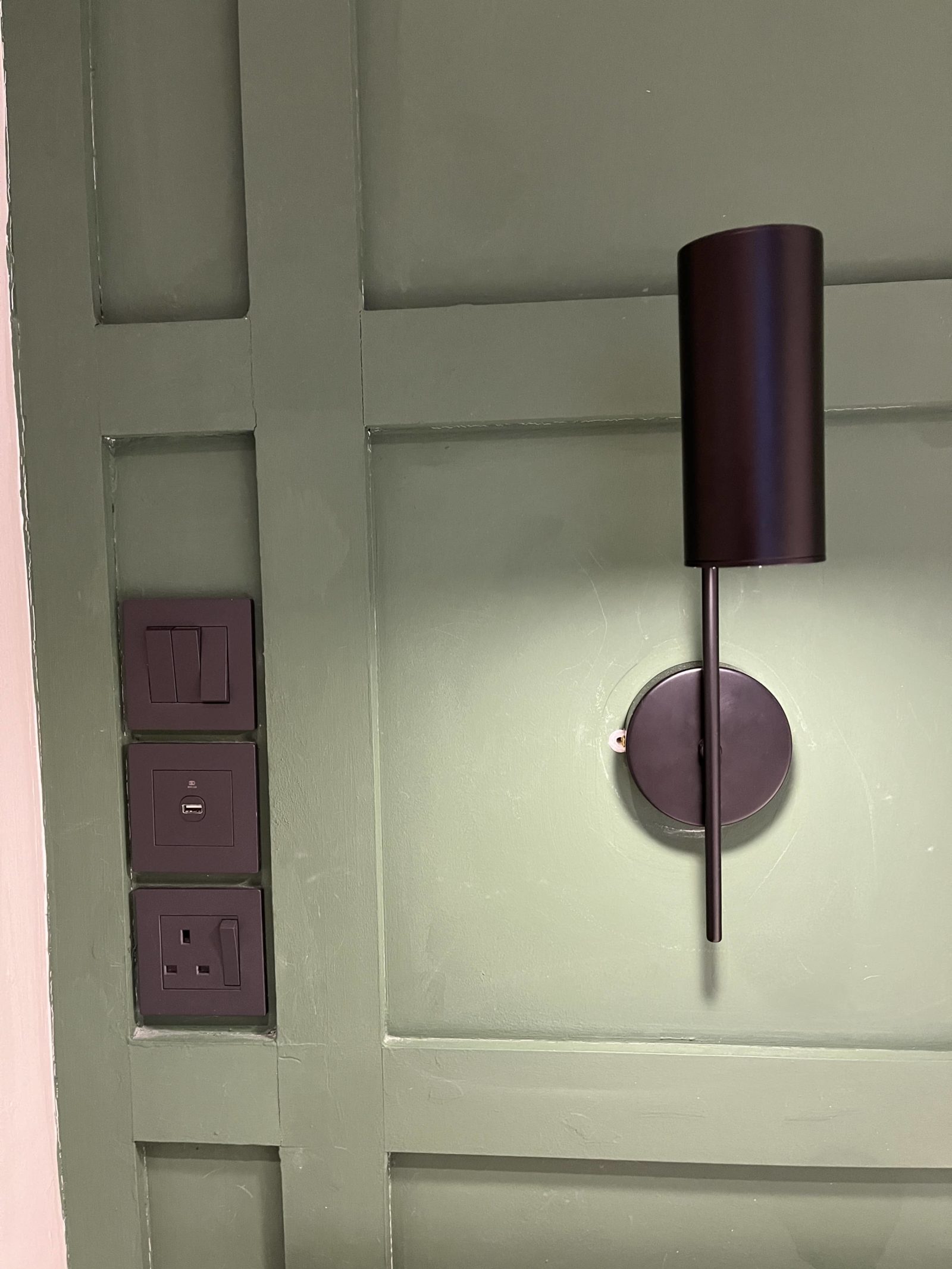 Bedside lamp and switches make life a bit more convenient.
The rest of the room and bathroom, thankfully, was pretty much as shown in the pictures- although nowhere as attractive due to the lack of natural light. I must say the room had quite a bit of wear and tear (more than you usually see at a reputable hotel) but this was not a deal-breaker for me since everything worked well. (It may be for some people, as this was highlighted in some Google reviews.)
Note: As some of you commented that the previous articles had too much extraneous detail, I won't bore you with the minuscule about the rest of the room but, if you're interested, you can view a video of the Hmlet Cantonment Small room here.
Unfortunately, something worse about the room soon revealed itself and that was the COMPLETE LACK OF SOUNDPROOFING. I could hear doors slamming at all hours of the day and night. (Basically, the door is such that even when you just close it gently, it makes a very loud noise. And perhaps because of the lack of windows in the corridor, the noise echoes pretty loudly? You can hear it for yourself in the Hmlet Cantonment video.)
Besides the doors, you can also hear the road traffic, so it was not anything near a peaceful stay.
When deciding between co-living options, I had read an article in which someone who stayed here described it in these words: "Hmlet Cantonment feels like an oasis: it's almost a home away from home."
Well, whoever wrote that review definitely didn't have the same experience that I did! The noise was bad enough that on the first night I had difficulty falling asleep!
Working in the space
Picture taken when I was working in the communal lounge. (That's an honesty bar cum kitchen island in front. I had to take this weird angle shot as there are always people in the lounge and I didn't want to get them in the frame.)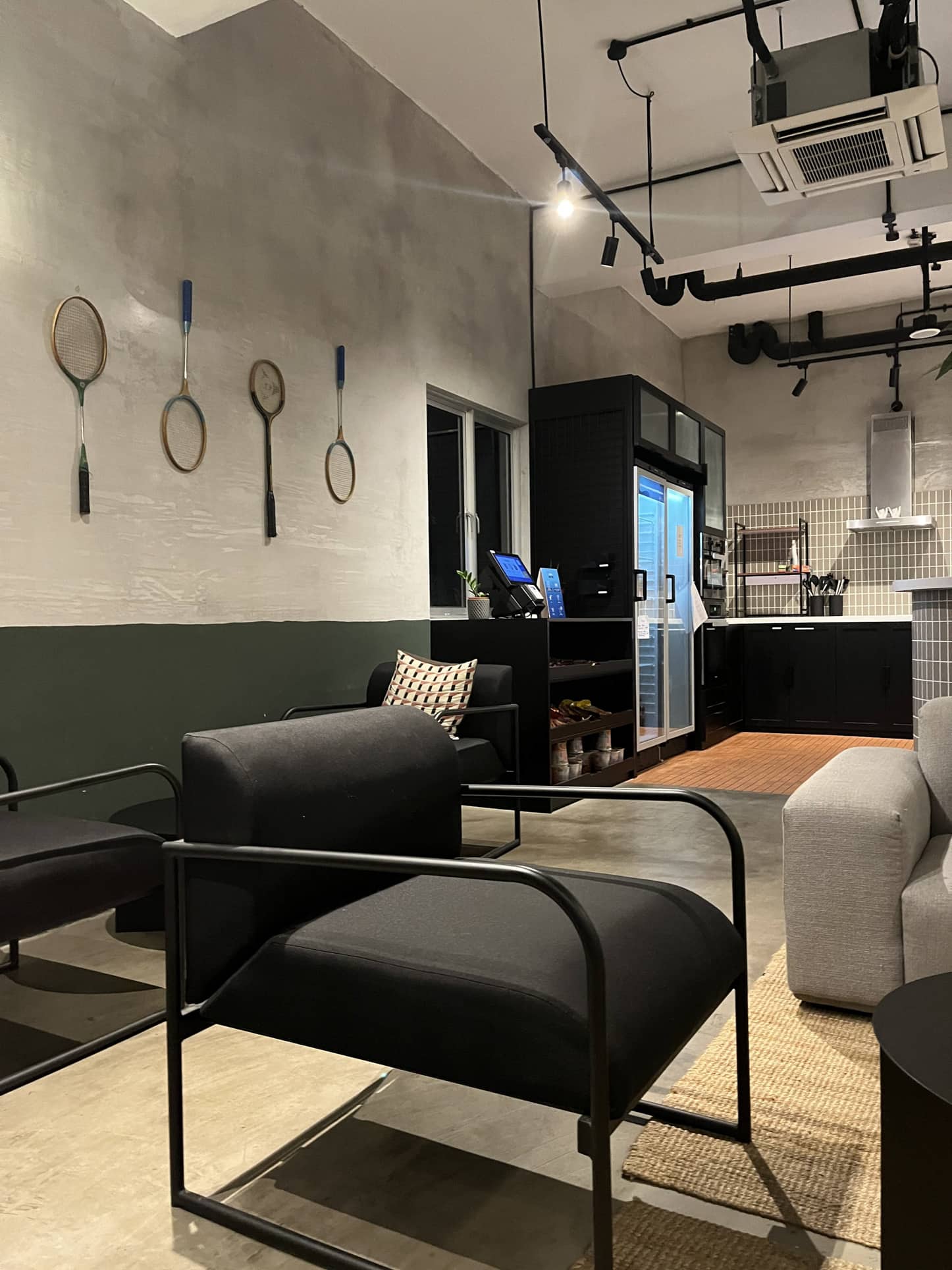 Now, many of us work from home post COVID. Even if it's just the odd day here and there, one definitely needs a set-up for working at home.

At Hmlet Cantonment, I found it almost impossible to work from "home", at least in a small room (As you can see from the Hmlet small room video, there is no desk or chair.) Although there is a co-working space/lounge, there are no separate cubicles so it is impossible to participate in an online meeting (as you would be disturbing everyone else who is working and/or sharing confidential work information.) Well, unless you are not required to speak at the meeting, I guess?

If you're just doing solo work (so no speaking required), there are desks and chairs in the lounge and backyard from which you can do so. However, because there are no separate cubicles, people do sometimes chat in the lounge (quite loudly). So if you're someone that needs peace and quiet, that might be an issue for you.
I would say for people who regularly work from home, you would need to book a medium or even large/extra large room as those comes with small tables. (You can find a video of the medium Hmlet Cantonment room here.) They're expensive though. Honestly, at those prices, you might as well rent a flat at Pinnacle@Duxton (which is just just opposite!)
The grocery mart and eateries at Pinnacle@Duxton are the closest to Hmlet Cantonment I think (at least that's where I go for a quick bite/to pick up snacks.)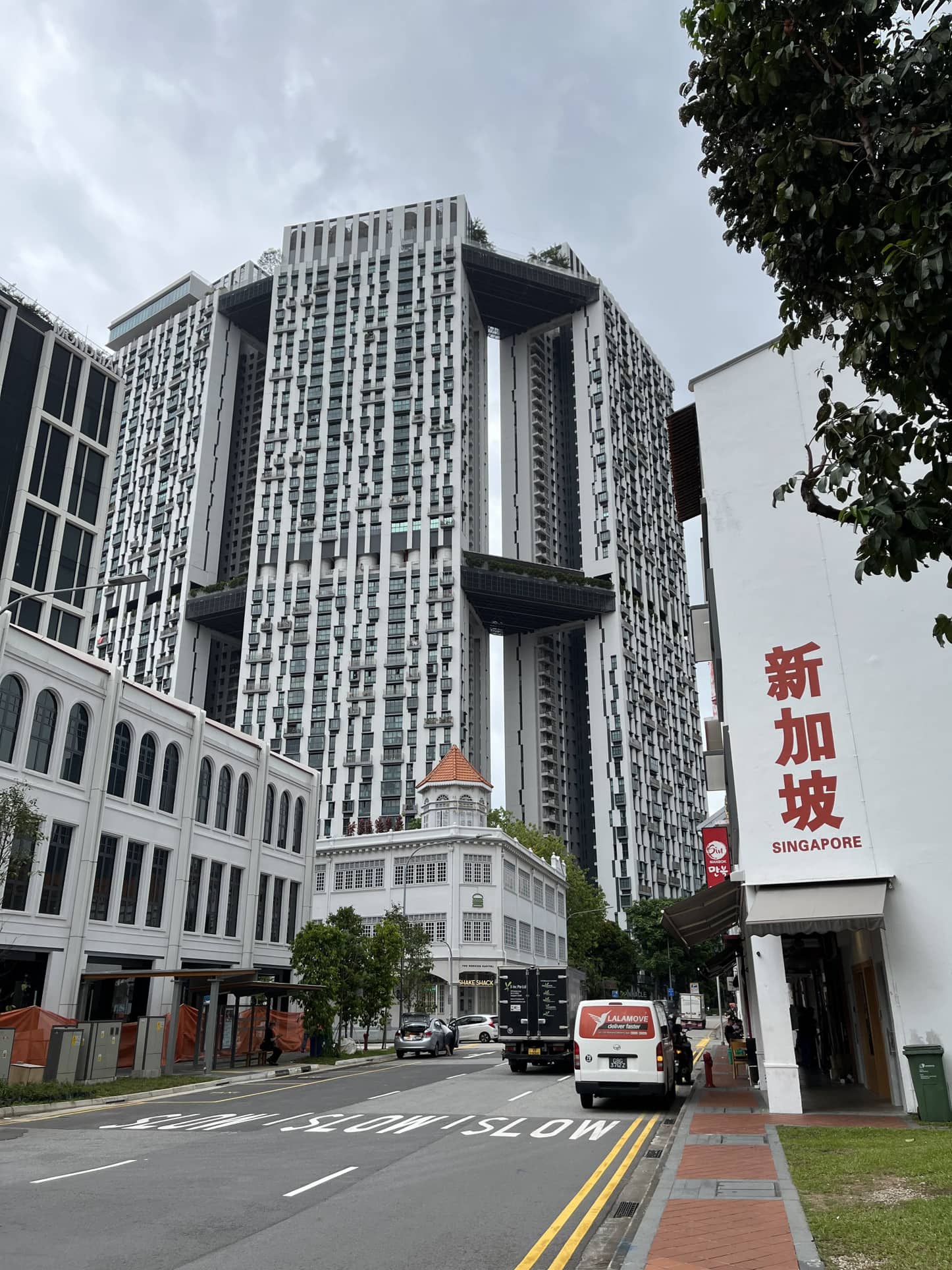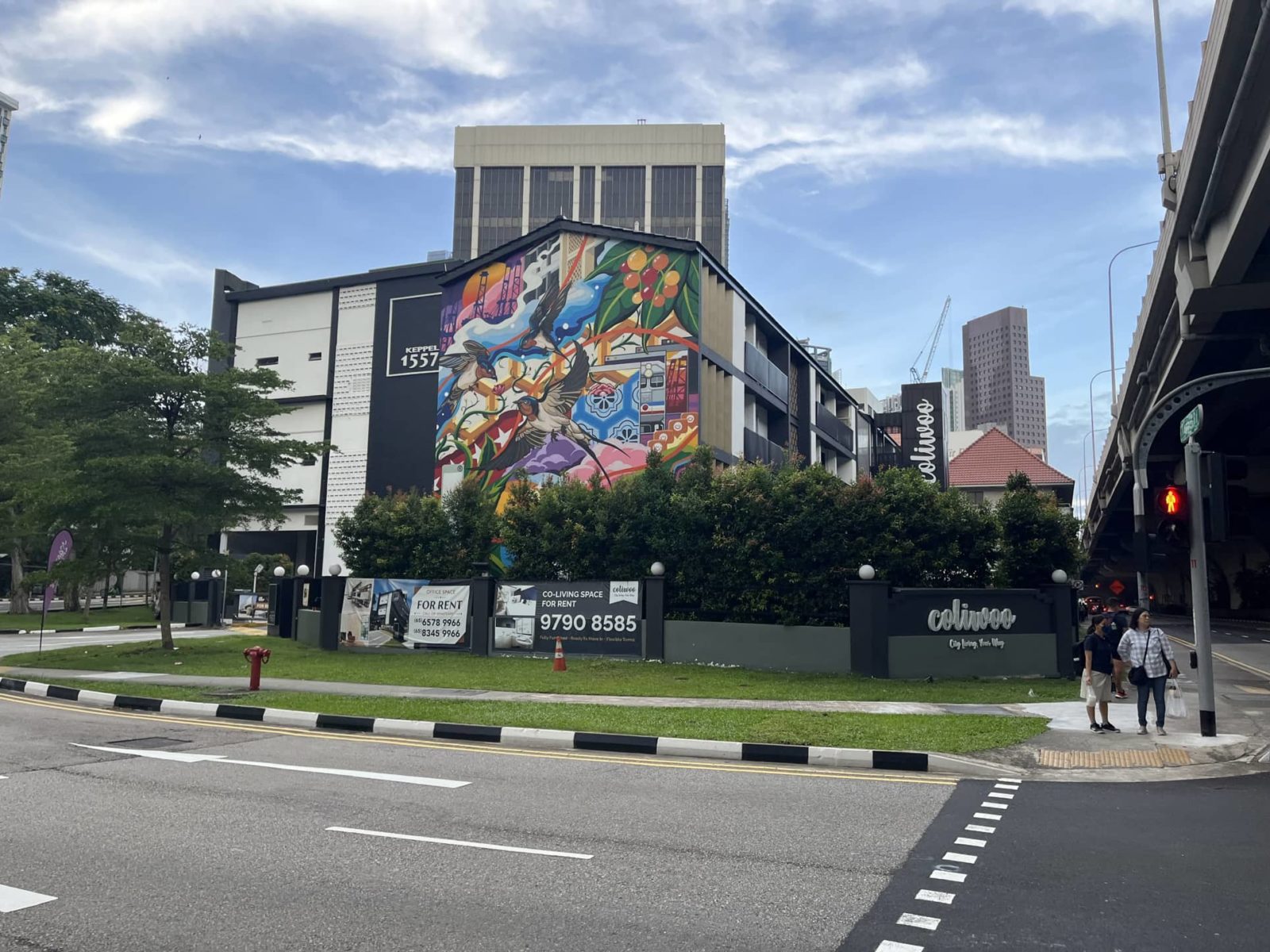 Alternatively, you could stay at Coliwoo Keppel as even the cheapest rooms here come with a small desk!
Another area I tried working at was the back yard and front yard (shown below.) As you can see, the front yard is super instagrammable. I would probably have booked Hmlet just based on this photo!
But it is SO impractical. I tried sitting there (and at the back yard) several times but insects would always descend (fast.) I know we live in the tropics, but there were way more insects here than in the landed property gardens that I've experienced! (Which is probably why I've never seen anyone sit in the front yard!)
The back yard, though, does see some people working there in the mornings. However, in the evening, it's not well-lit enough to work in. It gets its share of bugs too, I had a friend over and we sat here for like 2 minutes before she asked to move back indoors due to the insects!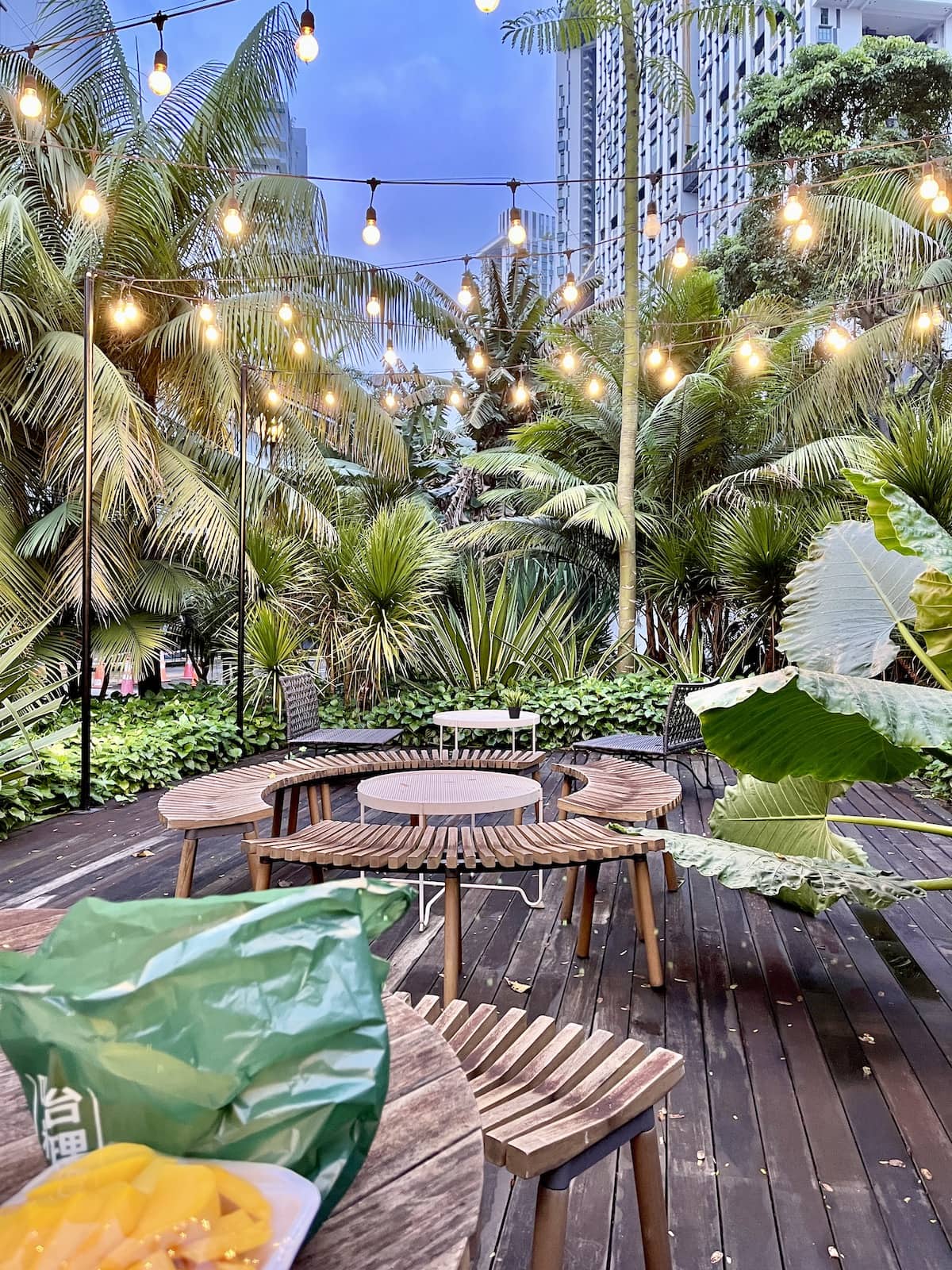 You wouldn't be able to tell that this seating area is in the middle of the carpark! Kudos to the landscaper!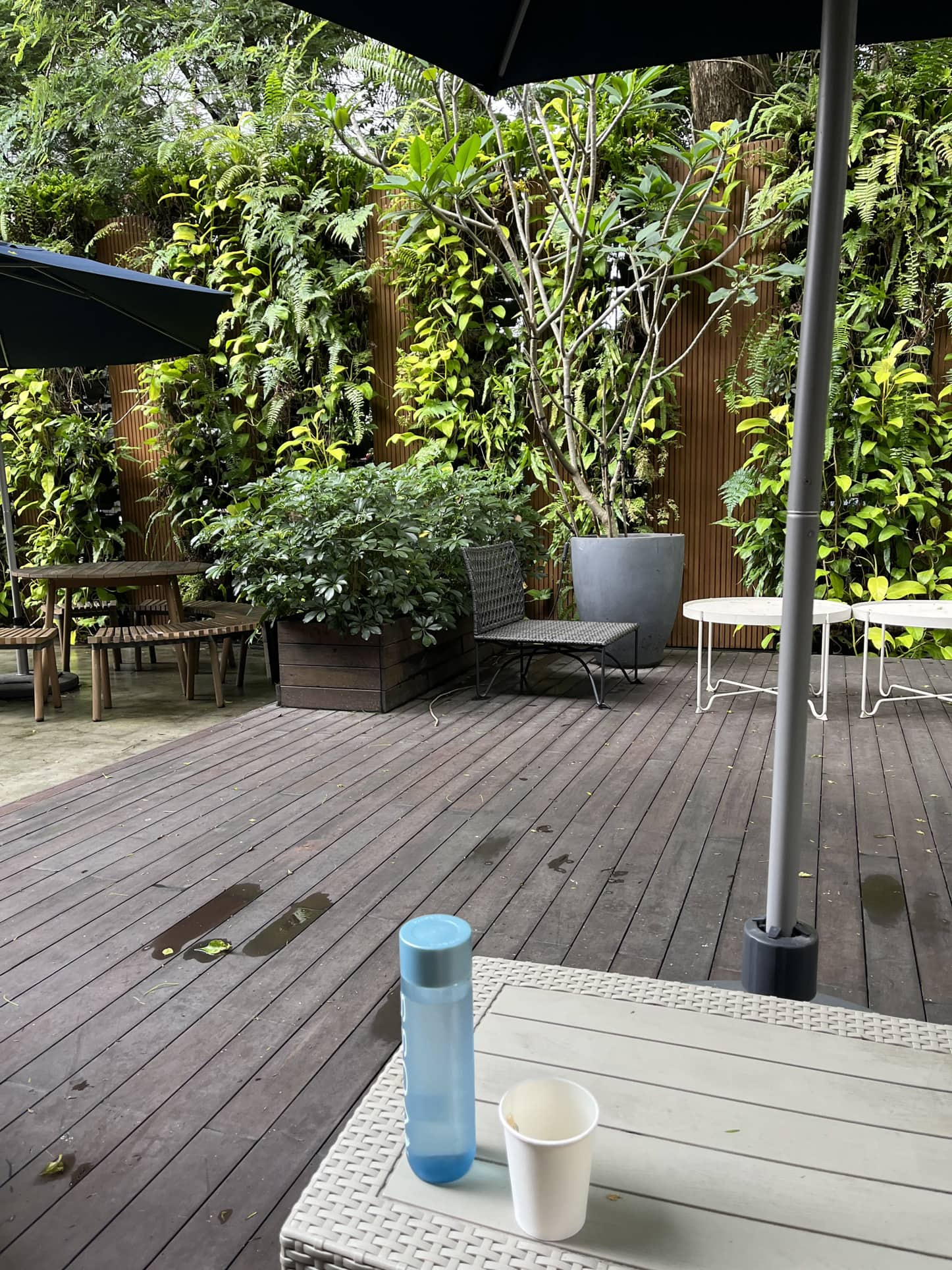 Quiet morning in the back yard.
Having friends over
Now in my first piece, a reason I mentioned for moving out was to be able to invite friends over. To test whether co-living facilitates that, I invited friends over on a few occasions at Hmlet. Unfortunately, if you're staying in a small room, I find it quite difficult to host.
As previously mentioned, there's no desk/chair, so you can only hang out in the communal areas, such as the yards, kitchen and lounge. This can make it a little difficult to have a private conversation!
Block A's kitchen. Sadly no windows in the space but there is a table and couch.
There are no restrictions on when you can have visitors but visitors will need an access card to enter the residence. (Except for the communal lounge, as the receptionist usually leaves the main door open.) As the kitchens are not on the ground floor, and there is no intercom system, this can make it challenging to have home cooked dinner parties. (You'll need to leave the food unattended in the shared kitchen then walk down to the entrance to buzz your friends in.)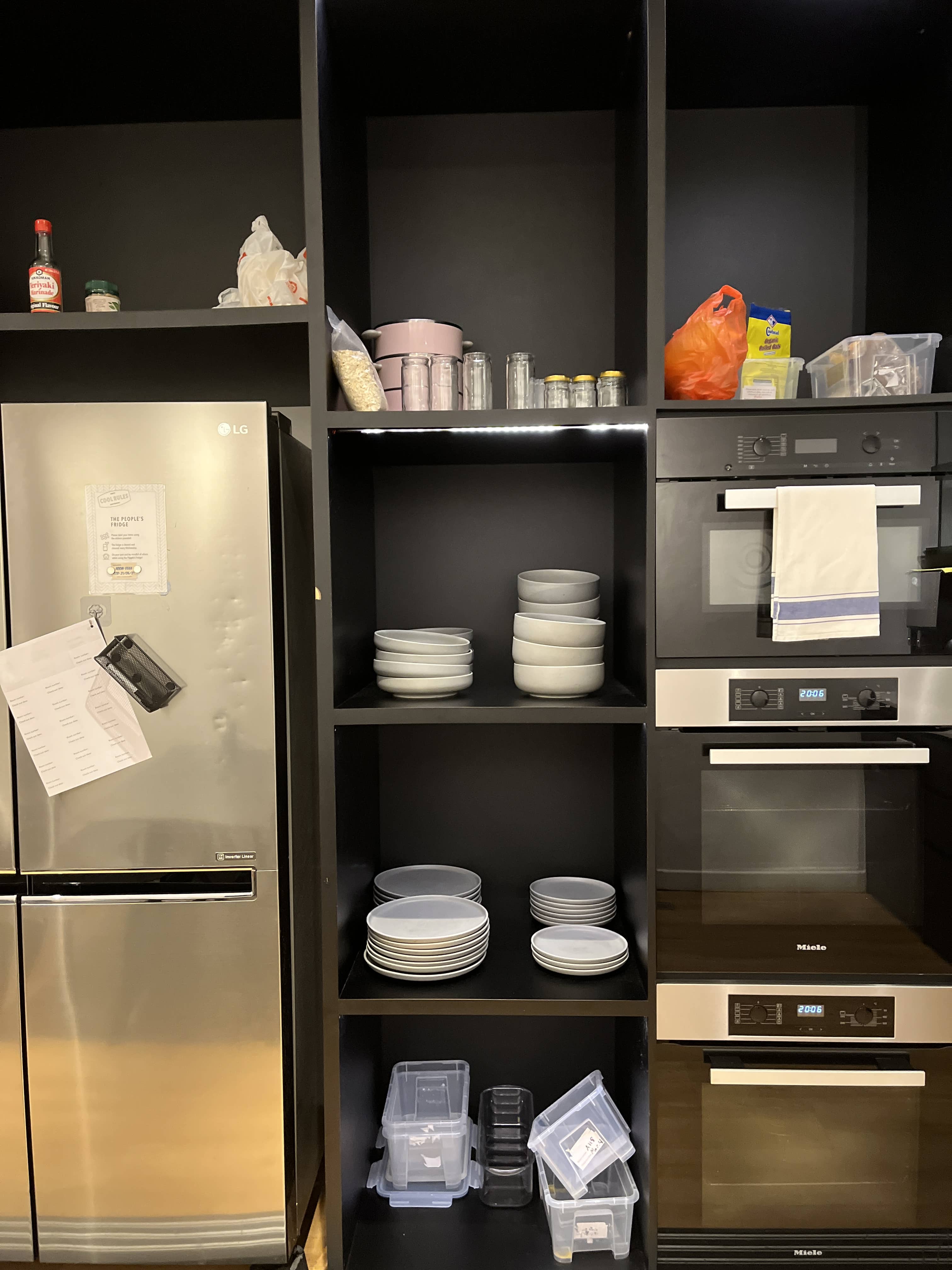 I would say the kitchen is quite well-stocked with cutlery, plates, pots etc. I made it a point to go to the kitchen several times a day and never had to wait long to use anything. (I actually didn't see anyone cook in the kitchen besides myself though. At most they used the microwave.)
Note: there is free coffee and tea provided, which is a nice touch.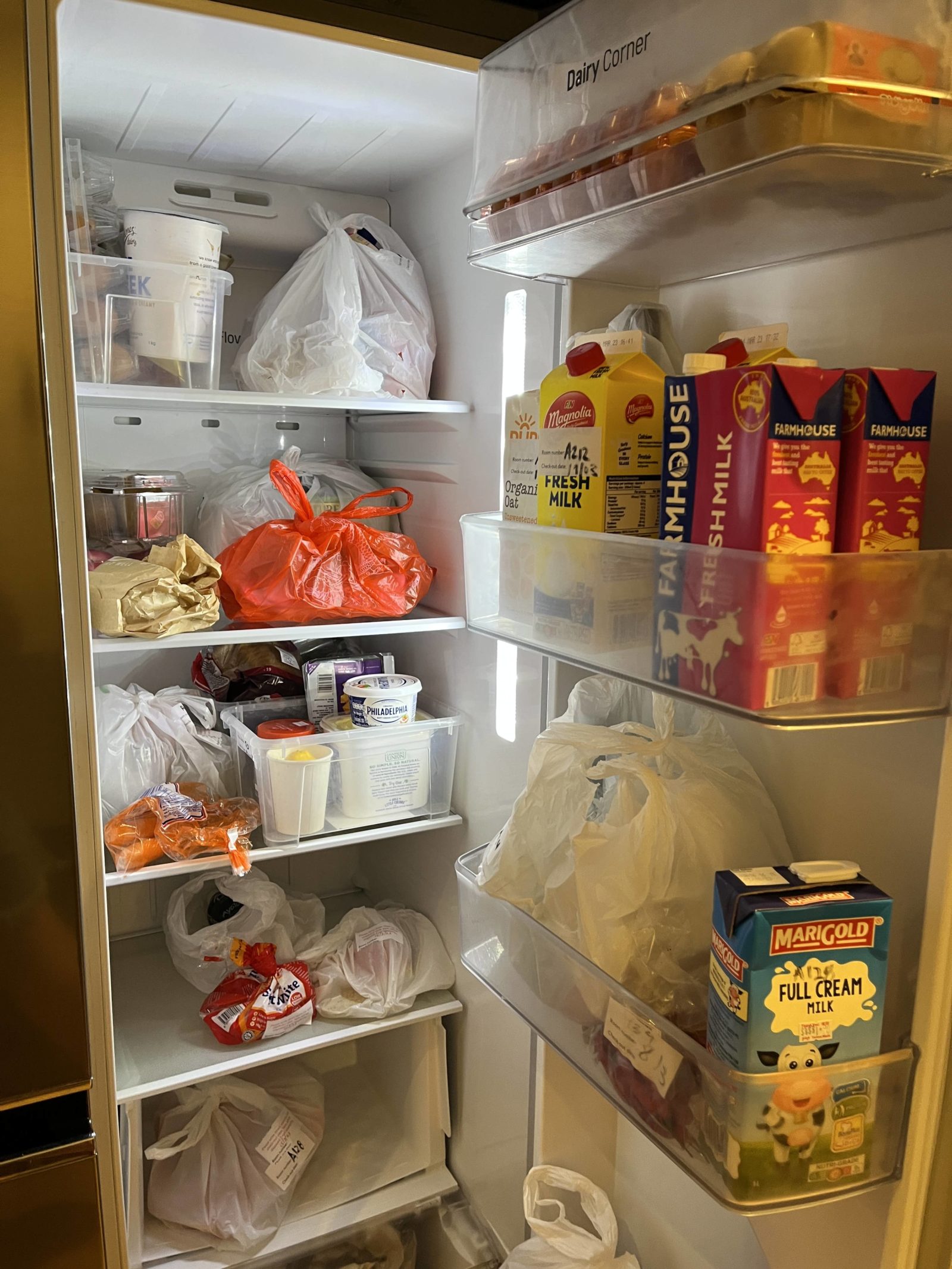 I had no issues with fridge space during my stay but someone who contacted me after reading my previous articles stayed at Lyf and found food storage to be an issue. (Too many residents, too little space.)
Community
Last but not least, I was interested in co-living because of the community aspect.
Unfortunately, during my stay at Hmlet, no communal events were hosted. (They were cancelled because of COVID and had yet to be reinstated although I was told they planned to do so, soon.)
At an ideal co-living space, it should be possible to meet like-minded individuals organically though, either in the lounge or kitchen. I'm not sure if it was because occupancy was low when I was there, but even though I made it a point to visit the kitchen at least twice a day during my stay, I barely saw anyone. (And there is only one kitchen for the entire Block A!) It took about a week before I met other residents, some of whom I did have interesting conversations with. Half of them were in Singapore on holiday and half were using Hmlet as a medium-term base whilst they sorted out longer-term housing in Singapore.
Note: as I mentioned earlier, a few of you contacted me privately about your co-living experiences (at Lyf and Hmlet) and almost all of you mentioned the lack of community feeling that you were searching for with co-living.
To sum up, I definitely enjoyed trying co-living. (Partly because the location of Hmlet is fantastic and so much better than my current place!)
However, would I do it again?
Yes but only IF the room is large enough to have a table and chair in it OR the residence has private spaces that you can book for meetings or gatherings (sort of like a mini function room in a condo.) Moreover, unfortunately, I would be very hesitant to commit to a long-term stay at a co-living residence without having seen (in person) the actual room that I would be renting because, apparently, what you see (in the ad) is not what you get (in real life!)
If you've tried co-living, feel free to share more about your experience in the comments!