Property Stories
I Regret Buying A Mega-Development: 7 Homeowners Share Their Biggest Regrets
Ryan J
August 12, 2023

2

min read
1. The pool is great, but the related facilities are too limited
Alfred (not his real name) lives with his partner at Bayshore Road. They live in one of the older mega-developments along this road, which dates back to 1996. Alfred says that, while the pool and other facilities are fine, what irks him are the showers:
"There are too many people for the showers to accommodate, the queue is ridiculous. So a lot of people don't bother to use the pool area showers at all, they just head straight into the lifts to go back to their own toilets.
There are over 1,000 homes here, and the residents also invite their relatives and relatives' children. You imagine so many people, all soaking wet, walking through the lobby and into the lift. The floor in the lobby becomes very dangerous and slippery; and inside the lift there's so much water, it can slosh up to my toes if I wear my flip-flops.
But I can't blame them, because many times I walk into the pool area shower, and I see every single stall is occupied and there's a long line. I also give up and head to my own toilet sometimes."
Alfred adds that, probably due to the sheer volume of people, soap dispensers, towel paper, and other such toiletries often run out in the shower rooms.
2. A project too big to comfortably walk across
AM lives in a mega-development "near Farrer Road", and says his chief issue is the sheer project size. He says that, at over 800,000 sq. ft., distances can be misleading. Some blocks of the condo are within short walking distance of the bus stop or MRT, whilst others are far away.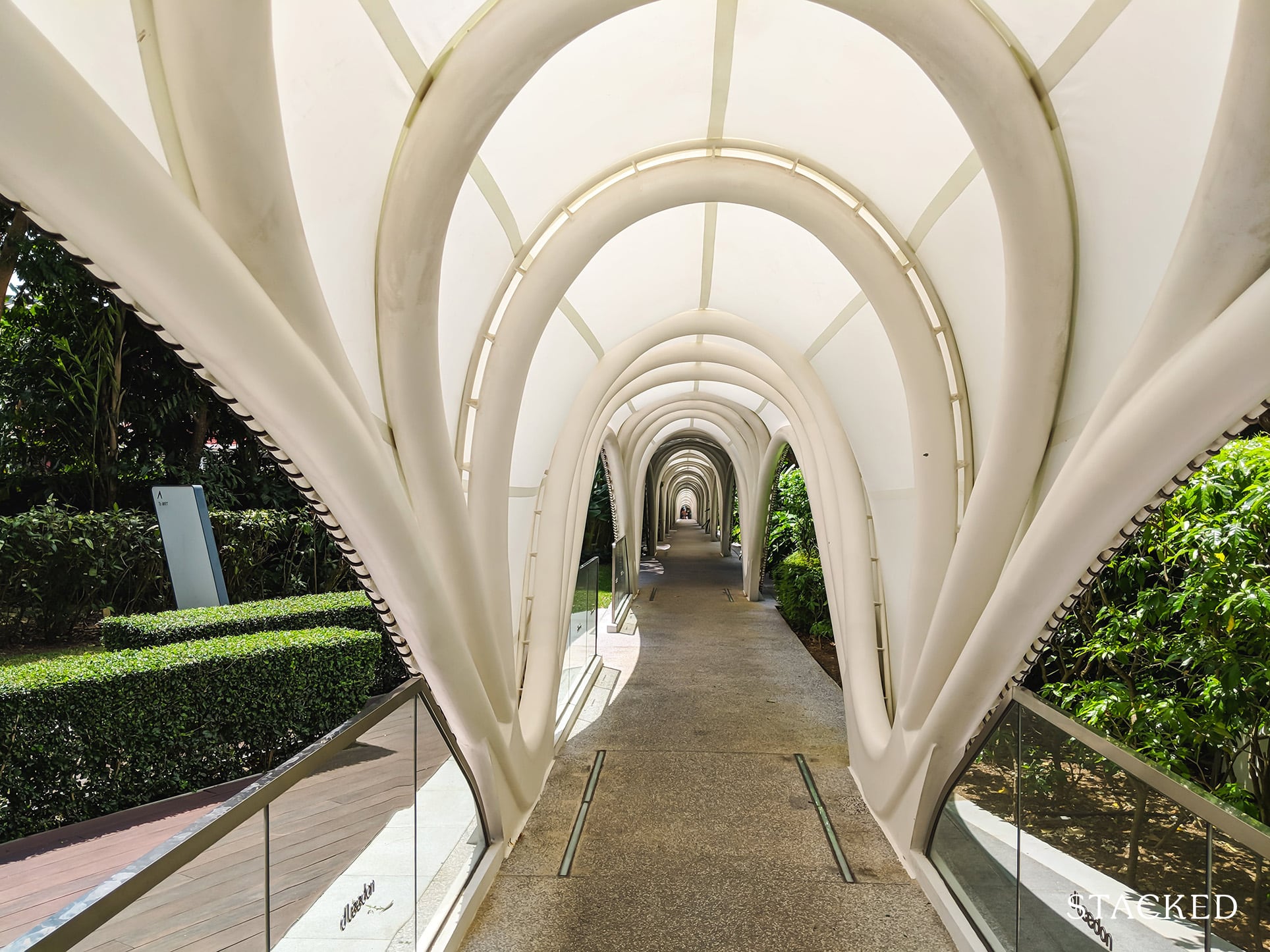 "When we looked at the models in the sales gallery, I didn't get a sense of the distance between blocks," AM says, "And I should have checked for the closest side gate, and the walking distance to the main entry."
One of the problems this has also caused is cold food:
"It's quite common for the food delivery people to get lost, or to walk quite far from the entrance to our block. By the time they get here, even if I am just ordering from the cafe downstairs, the food is usually room temperature at best. One time I waited an extra 20 minutes because the delivery person walked to the wrong end of the condo, turned and walked to another wrong end, and finally got it right only the third time."
AM says sometimes, it feels more like living in a block within an HDB estate, than living in a condo. 
Read this next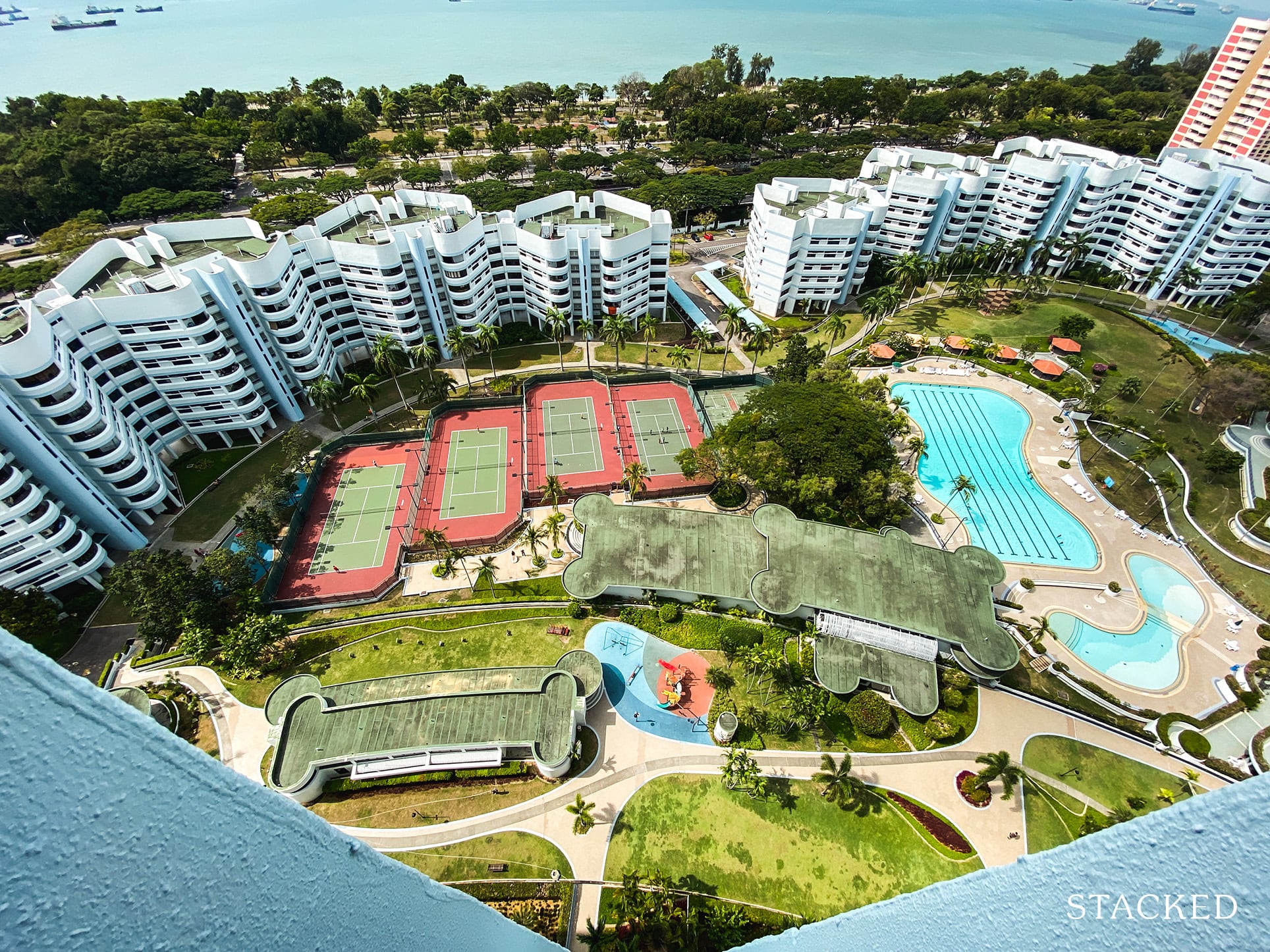 3. The long wait for lifts
SK says the worst issue with her mega-development is the number of units packed into each block, and the delay this causes.
"When I leave for work at 7.45 am, that is probably one of the worst times," SK says, "The lift is stopping at almost every floor. And because I'm somewhere in the middle, the lift is sometimes packed when it gets here, so I need to wait for the next one."
The same situation sometimes happens when she's headed from work; but fortunately, she works late hours, and is able to avoid a second elevator rush.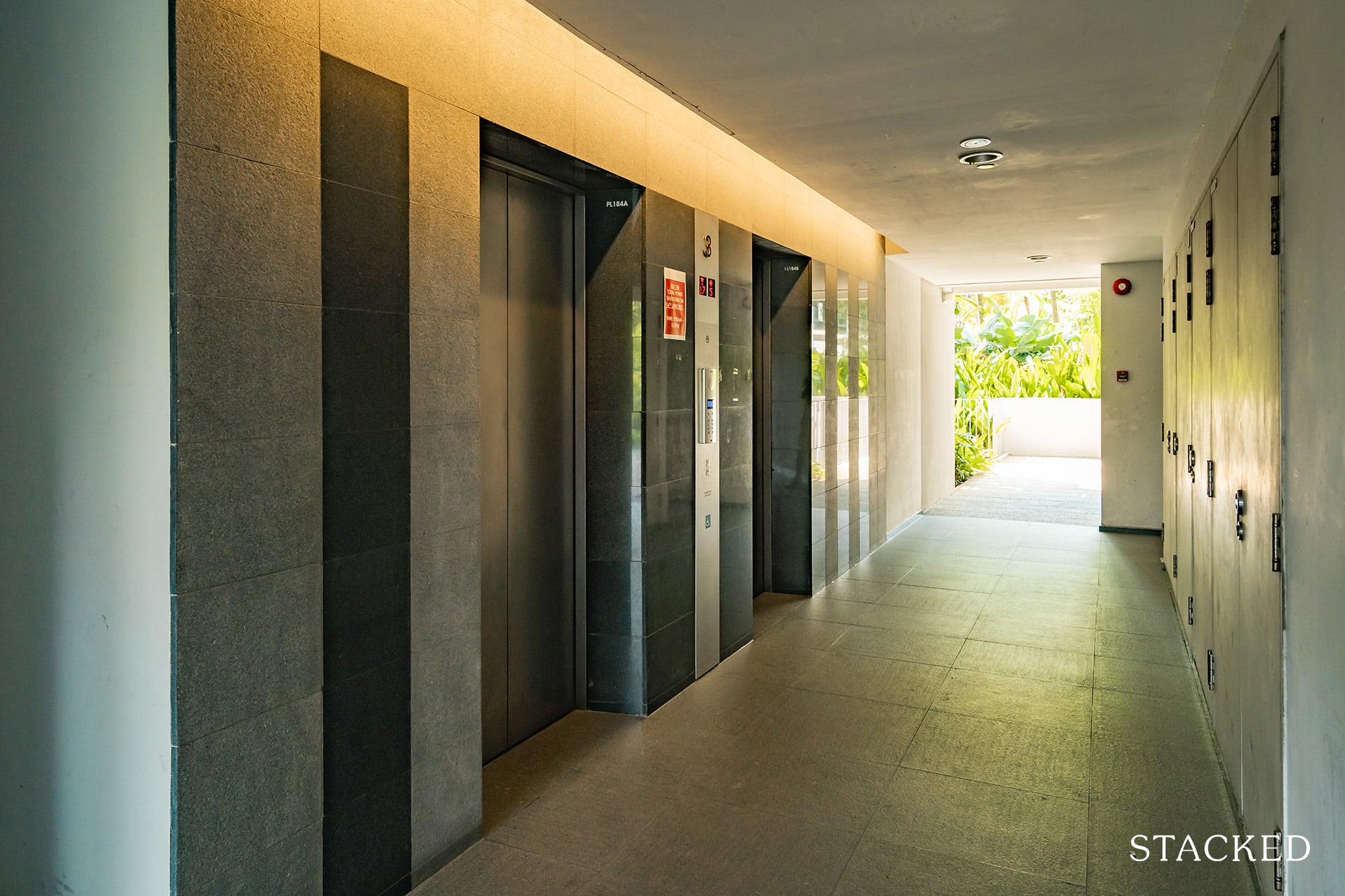 One of the worst problems, however, is when new residents are moving in:
"There are only two elevators for 30 floors," SK says, "When people move in, they sometimes shut down one elevator for the movers. Then it takes a ridiculously long time to get up or down. One time this happened, I waited so long, my Grab driver just drove off because I spent almost 15 minutes waiting for the one available lift."
We also received comparable remarks from a retired couple, from a different mega-development. They had moved from a landed home to the project, and acquired two units close to each other (to try and recreate the size of the previous home). One of the couple noted that:
"The biggest issue I have is the wait times for the lift. I can sometimes wait 5 to 10 minutes for the lift, which is irritating when I'm in a hurry. My regret is buying a high floor unit, I would have much preferred buying a ground floor. Even though it is less private, it would have been much easier to walk in and out of my home."
4. Not enough places for bicycles
Andrew M. also lives in one of the mega-developments in the Bayshore area. His main complaint involves bicycles:
"With so many residents, and living close to the beach, I guess we have to expect that a lot of people will want to cycle. This is a very pleasant way to spend the weekend, going up and down East Coast Beach. Plus, this condo is a bit far from the MRT station, but it's short if you bike there – so we end up really having a lot of cyclists.
The problem is the developer never accounted for all these bikes. The actual spaces to park your bikes are always packed, so a lot of us have taken to leaving the bikes in nooks and crannies in the underground parking lot.
Over the years the place has become like a bicycle graveyard, with new bikes and abandoned bikes all over the place. It's one of the most unsightly things in this condo, and all the fines and threats about confiscation are useless."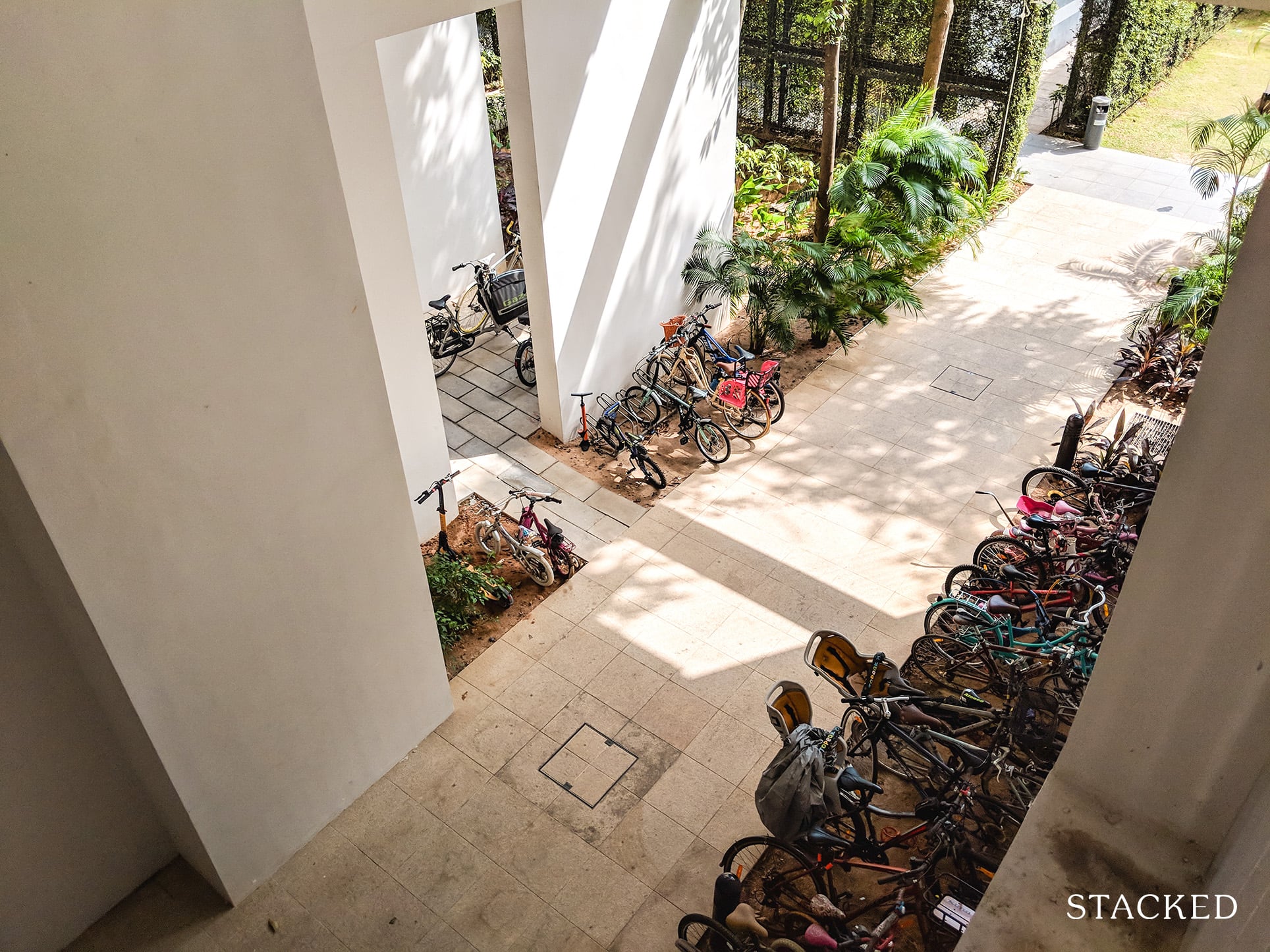 Andrew notes that he has lived in four other condo projects previously, and has seen this problem only with the current project. He attributes it to the sheer volume of residents (over 1,030 units), most of whom quickly learn that bicycling is the best way to get around the Bayshore to Bedok area.
5. Overbooked facilities and the "facility mafia"
One realtor relayed a complaint that he received, when scouting out a potential property for his client. This was regarding a "very famous condo", which he declined to name.
Although the mega-development in question has two tennis courts, a resident had relayed that they were often overbooked; and that the same faces seemed to appear on the courts all the time. It eventually became evident that a particular group within the condo took turns to "chain-book" the facility, thus ensuring that their clique could monopolise the facilities.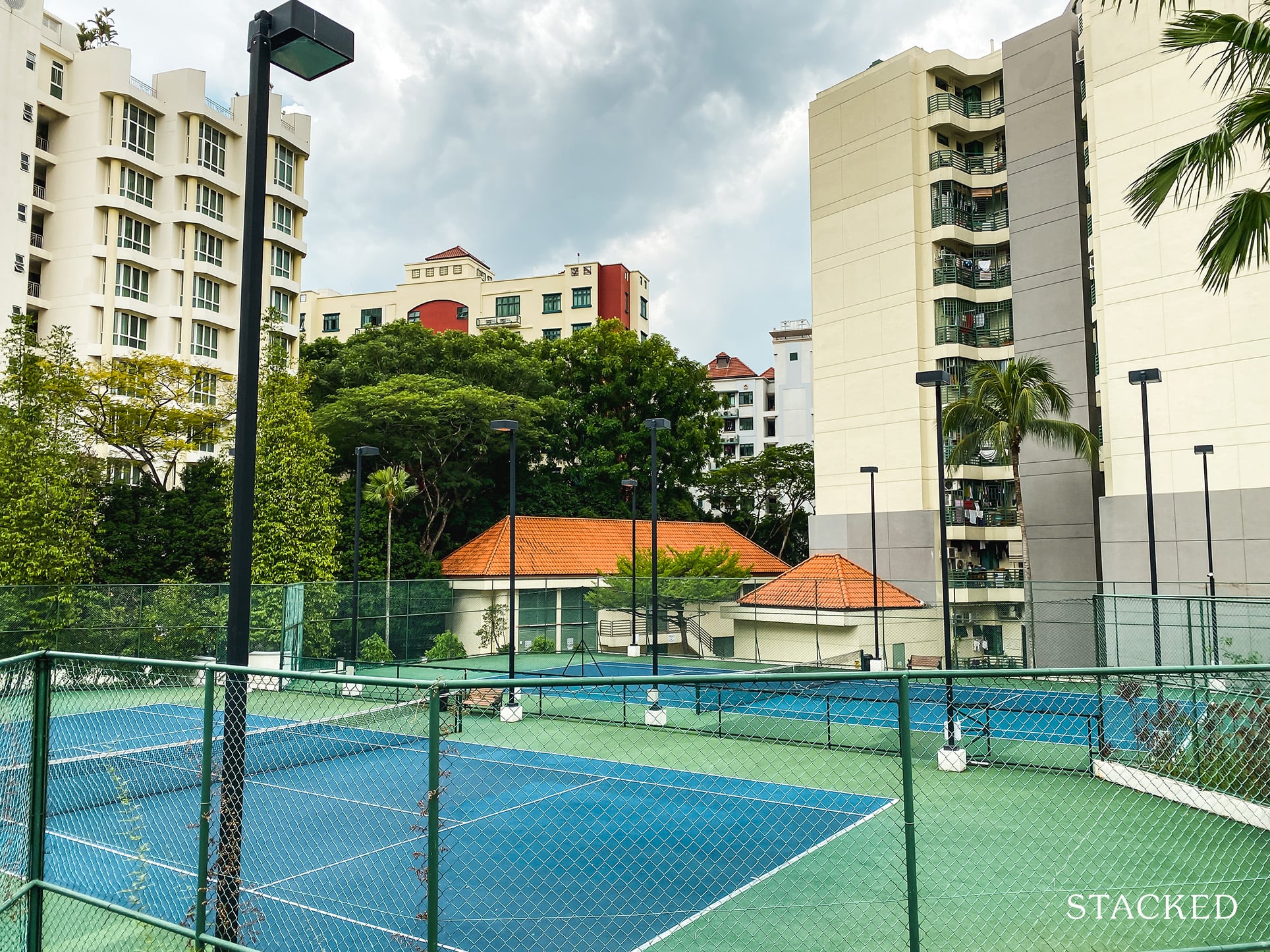 From what we've gleaned, this is not uncommon even in regular condos. But it is more likely to happen in mega-developments, as waits in-between sessions can be very long, thus prompting this sort of behaviour (especially among serious tennis players, some of whom may also have private coaching sessions).
The same realtor noted the problem may lessen with time, as condo management begins to notice the patterns and recognise the names.
That said, this is less of an issue with newer condos today using condo management apps to book facilities. These often limit the residents to selective timeslots that even have non-peak and peak hour limitations per user. While this does help prevent abuse, it does still mean that you can't quite afford to book the tennis court multiple times a week as you can do at a smaller development.
6. The "poolside roar" on weekends
If you're opting for a mega-development, T.C suggests it's best to pick the higher floors, even despite the longer wait for the elevators.
T.C says the poolside area, close to his unit, is open all the way till 11 pm at night. This was also true of her previous home. But in her previous condo, which had under 300 units, this was not an issue: there were very few people using the pool after 8 pm.
"But because this place has so many people," T.C says, "The crowd seems to come in two waves. The kids and families up to about 7 pm, then an older crowd that hangs around till almost 10 pm, because the second batch are trying to avoid the first batch."
This means T.C doesn't get much quiet right up to around midnight, describing the loud talking and splashing as a "poolside roar", that she can hear the moment she opens the windows by even a small crack.
By far the worst times are during festive celebrations, like Hari Raya, Christmas, Deepavali, and New Year. The condo likes to hold community events during these times, which means activities like children's shows and scavenger hunts.
"In a smaller condo it's tolerable," T.C says, "But in a big development like this, it's as if your house is in the middle of a pasar malam, you know. Especially when they blast those techno songs they like to use for events."
T.C says condo managers for mega-developments need to reconsider their event planning, as what is okay for a "regular" condo is far too disruptive for a 1,000+ unit condo.
In particular, she wishes the management would make attempts to spread out such events, over different parts of the condo grounds, rather than congregating in one given spot.
Another reader also voiced a similar opinion:
"I moved from a smaller development to a much bigger one, but I made the mistake of only viewing it on a weekday. So weekdays are not so bad, but it is the weekends and holidays that get insanely packed, and the swimming pool and common areas are always booked and constantly crowded. I stay on the lower floors, so the noise levels can get quite bad.
I do like the other aspects of living in a big development, like the variety of facilities, and the convenience of having a minimart. So I don't regret it totally, but I would have been more selective of my facing of the unit within the development.
There are a couple of spots where people generally don't walk by as much, which would have been better."
7. Facilities don't make up for an inefficient layout
One of our readers, a single homeowner under 35, picked a mega-development as a first home. As being single means a more conservative budget, the unit of choice was a one-bedder; and at the time he says:
"I could only look at the smallest 1 bedroom units, so to me the layout was pretty much the same in all of them. I do remote work most of the time, so the location wasn't as crucial to me.
I kept getting drawn back to the big developments, as there were so many facilities to pick and choose from. From KTV rooms, to multiple swimming pools and even things like a gaming room.
It was one of those things where I could envision myself using it, but the reality was that you spend so much more time in your home than using the facilities. Those are good to have but not must haves.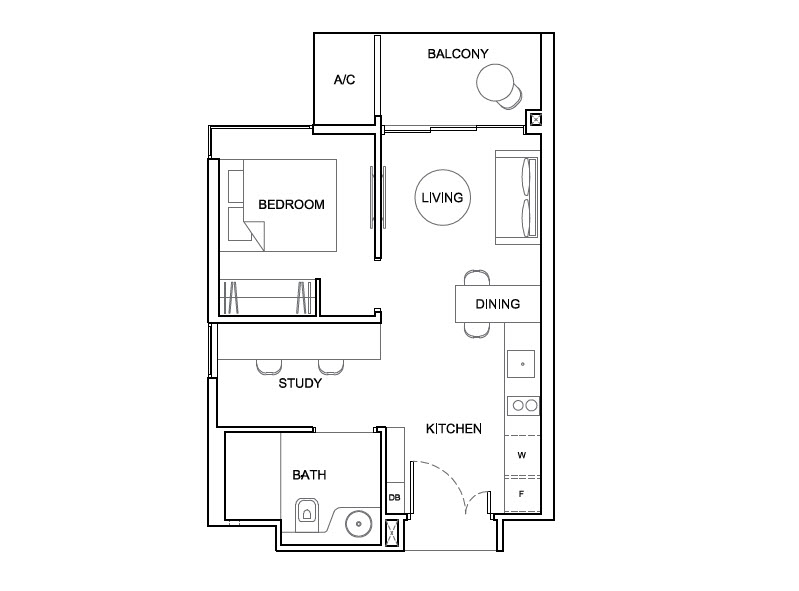 So I do regret prioritising the facilities in these big developments, rather than looking for one that has an actual good layout. Or rather, a layout that is more suitable to my needs. I ended up with one where the study is next to the bedroom, which I now realise is not so good as I do have people over sometimes, and it would have been good if the spaces were separated."
In essence, mega-developments are on one far end of the property scale (the largest), with boutique developments on the other end (the smallest). This does tend to polarise opinions among buyers: some love mega-developments for their lower prices and facilities, but others will never accept the lack of privacy, and competition for future buyers and tenants.
For more homeowner experiences, and insights into the Singapore private property market, follow us on Stacked. We'll also keep you updated with reviews of new and resale properties alike.