Property Stories
I Regret Buying A DBSS: 5 Homeowners Share Their Biggest Regrets
Ryan J
August 30, 2023

6

min read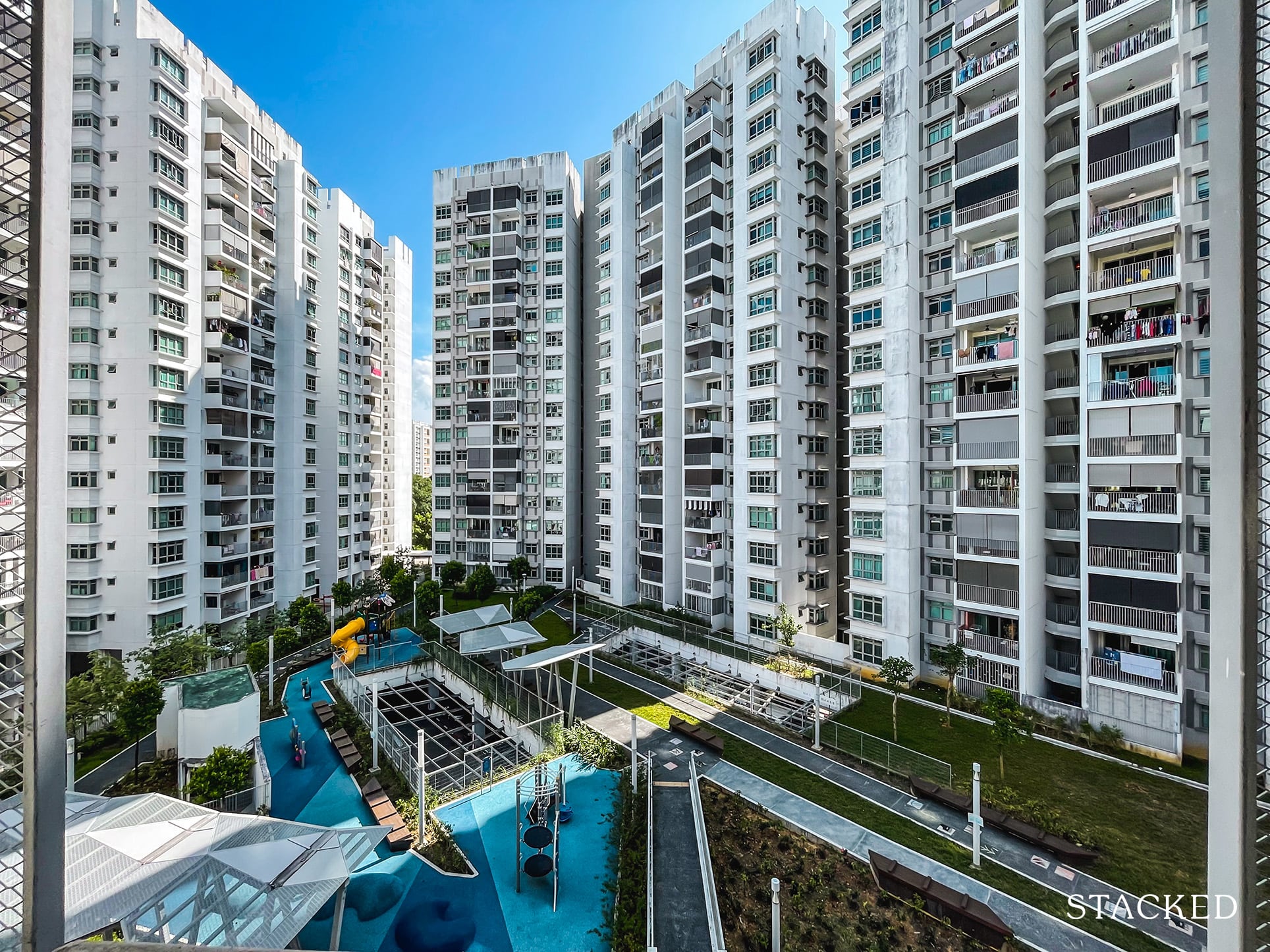 6
min read
Introduced in 2005 but discontinued in 2011, Singapore's Design, Build & Sell Scheme (DBSS) remains a topic of conversation, even if it's for its relatively short lifespan. This unique housing scheme aimed to elevate public housing by bringing in private property developers for construction, a departure from the traditional approach of the Housing and Development Board (HDB). Yet, despite the promise of upscale living (some have balconies, gated security, and a supposed higher level of finishing), the DBSS projects have left some homeowners disgruntled. To delve into the issues, we talked to several DBSS residents who shared their challenges and disappointments.
1. Some design issues can't be corrected
LJ and her husband bought a unit at Centrale 8 in 2011, but are committed to selling and moving out by the end of 2023. LJ says that, despite the developer rectifying a lot of initial errors, some elements couldn't be changed:
"My main complaint is the same one that was on the news quite often. The kitchen has a service yard, but the pipes in the service yard take up about half the entire yard; it's very inconvenient, because after you hang the laundry there's barely any space to move around.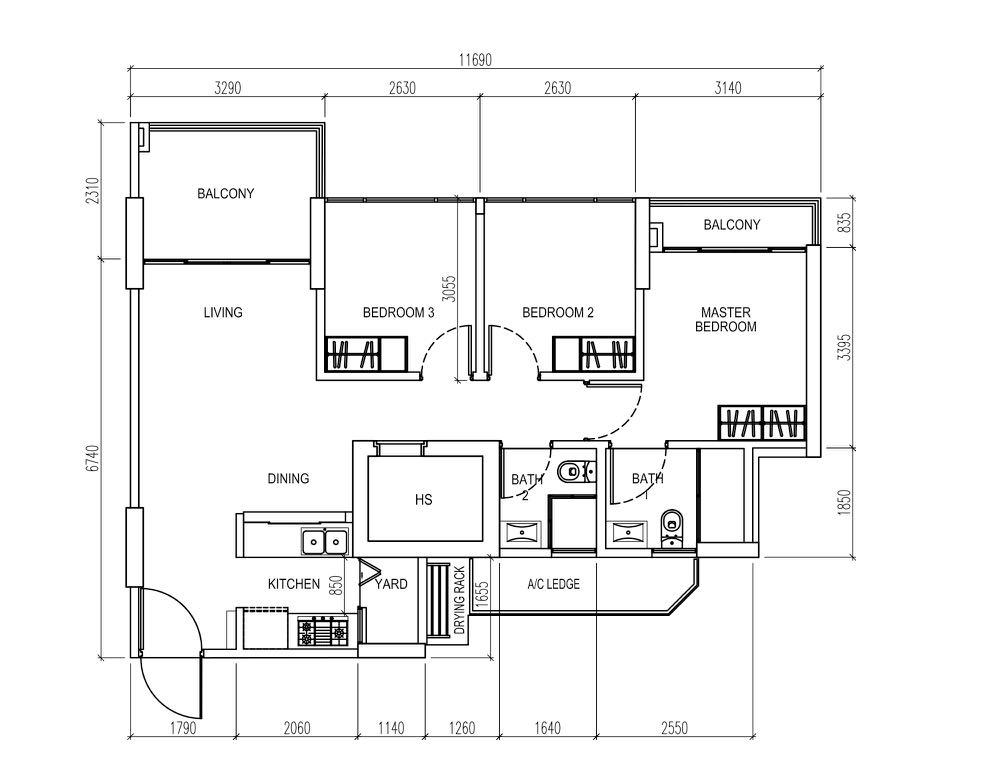 There are also a lot of leaks, we have had to repair at least 12 times over the past 10 years. Sometimes the leak is from the neighbour upstairs, sometimes from the air-con. One time we had a leak where even the contractor couldn't identify the source, but luckily it stopped after a few months.
I think the design is just bad, and there's no way to fix something that is just inherently this way."
Another reader, who just goes by Ravind, says the same issue is found with his resale unit at Trivelis. However, he admits he has "less of an excuse" as he was aware of it:
"I knew there were some problems with Trivelis, and I could see the pipes in the service yard already. But it didn't occur to me that this was such a big issue, later I realised how cramped and ugly it is.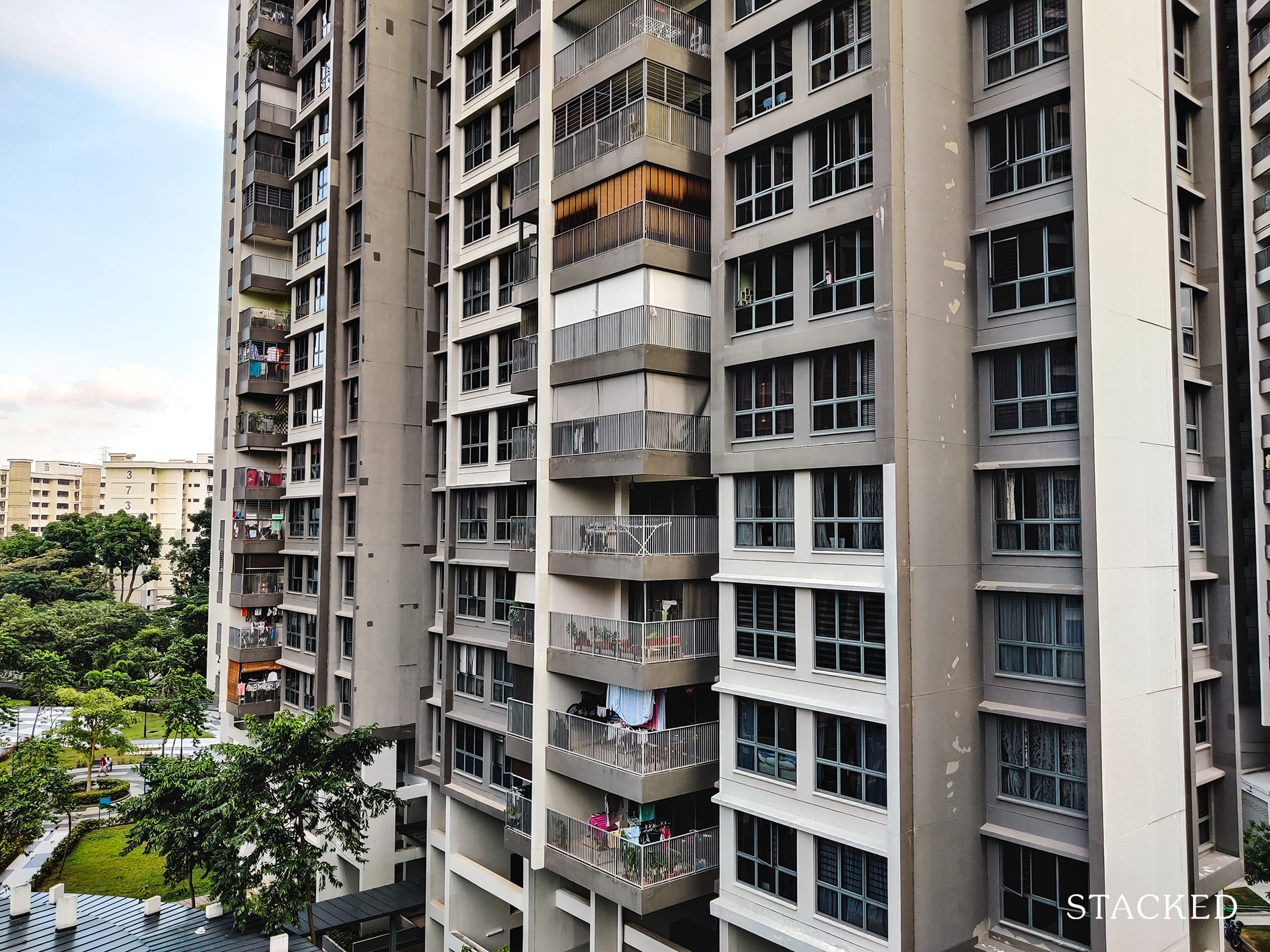 The master bedroom is quite squeezy also – I haven't measured it but compared to my in-laws' place and my brother's and sister's units, mine is definitely smaller. My wife commented before we bought, but I thought it was her imagination at the time. I should have listened.
But I'm going to stay on, since this is is close to my workplace. I do regret not waiting a while for other options though."
2. A feel of being "written off" by the developer
Loke and his wife initially intended to buy an Executive Condominium unit. But when they found out DBSS flats were built by private developers too, they thought it was a good deal:
"In our mind, it was like an EC, but without condo maintenance fees. And we don't really care about things like gyms and swimming pools. So we thought, wow, this is an amazing idea, and we rushed to get a DBSS."
Their later disappointment was coupled with frustration, over the handling of defects:
"I'm sure you've read a lot about the problems in many DBSS flats. Our unit also had some issues. We had some broken tiles, and some tiles where the colour was darker than others. We had a toilet window that couldn't close properly, even from day one.
But we are quite forgiving about these things. The issue is the way the developer dealt with us. There was a lot of middlemen, and a lot of getting MPs to represent us and bring up complaints.
All of this should not have been necessary. They are the developer, but they don't even have the guts to come and talk to us directly? The government must force them? And there was so much confusion about who to talk to at first – whether to complain to HDB or complain to the developer, or complain to God-knows-who."
3. Underestimating the impact of the MOP
In 2014, Lin and her mother (who lives with her) were torn between a resale EC and a resale DBSS flat. Both were relatively close to her office. In the end, they settled on the DBSS flat, because it had better MRT access.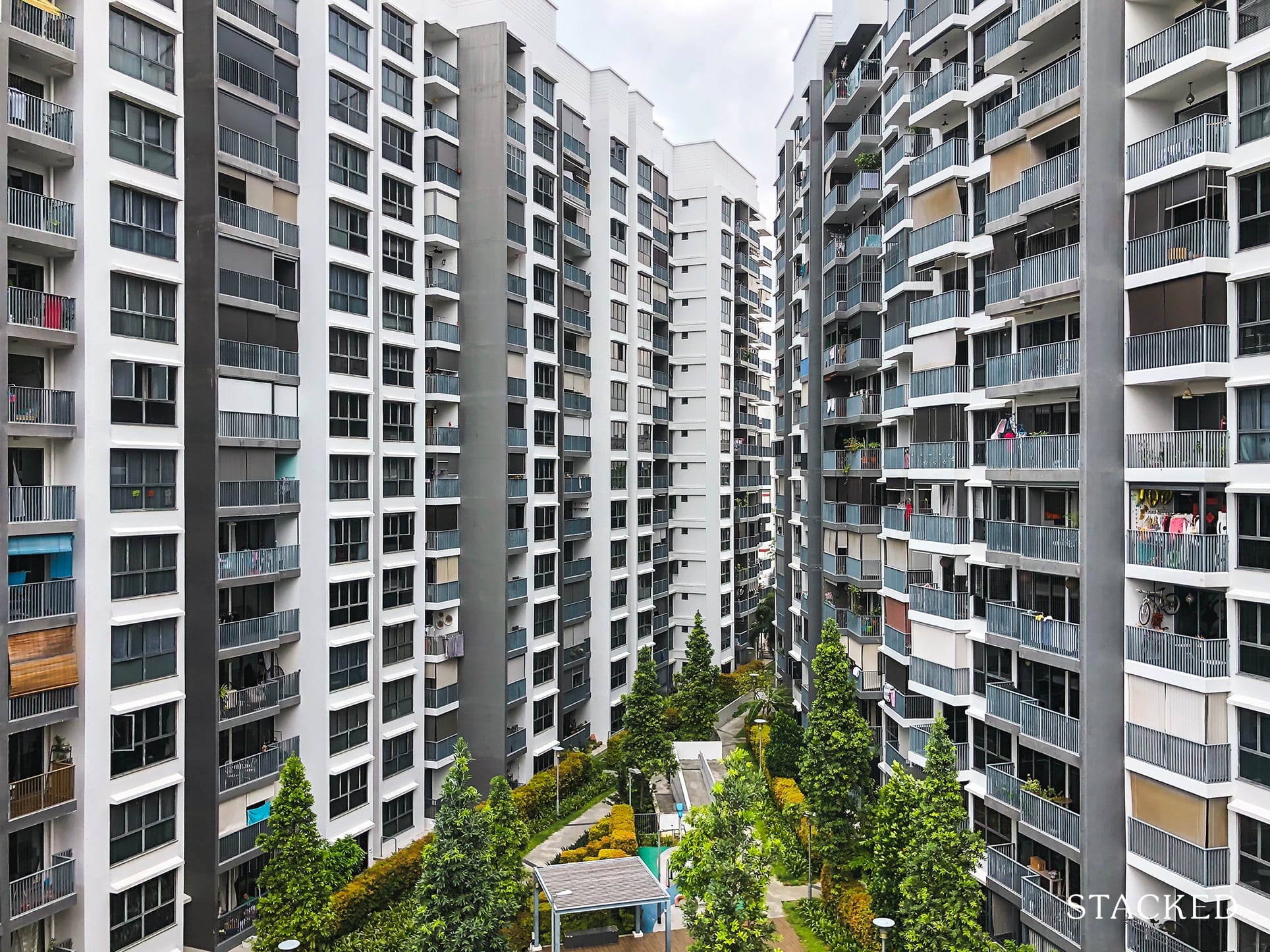 "I regretted my decision a few years later," Lin says, "Because by then I had changed jobs and started working in Paya Lebar. And then Parc Esta came up, which would have been perfect: one stop from my office, and also close to where my sister was living.
If I had gotten the EC*, I could have just sold and bought at Parc Esta. But because I bought the DBSS, I was still within the MOP. It was quite frustrating because I missed out by just one year. So now ironically, I live quite far from my Paya Lebar office, even though my main intention was to live near work."
Lin adds that selling a DBSS flat is harder, as there are eligibility restrictions (e.g., the ethnic quota and the Mortgage Servicing Ratio). While ECs will eventually be free of this – after the 10th year – it is a perpetual restriction on DBSS flats. She feels the only reason DBSS flats have sold well in certain areas – such as Bishan – is "due to the location, not because DBSS is better." 
Read this next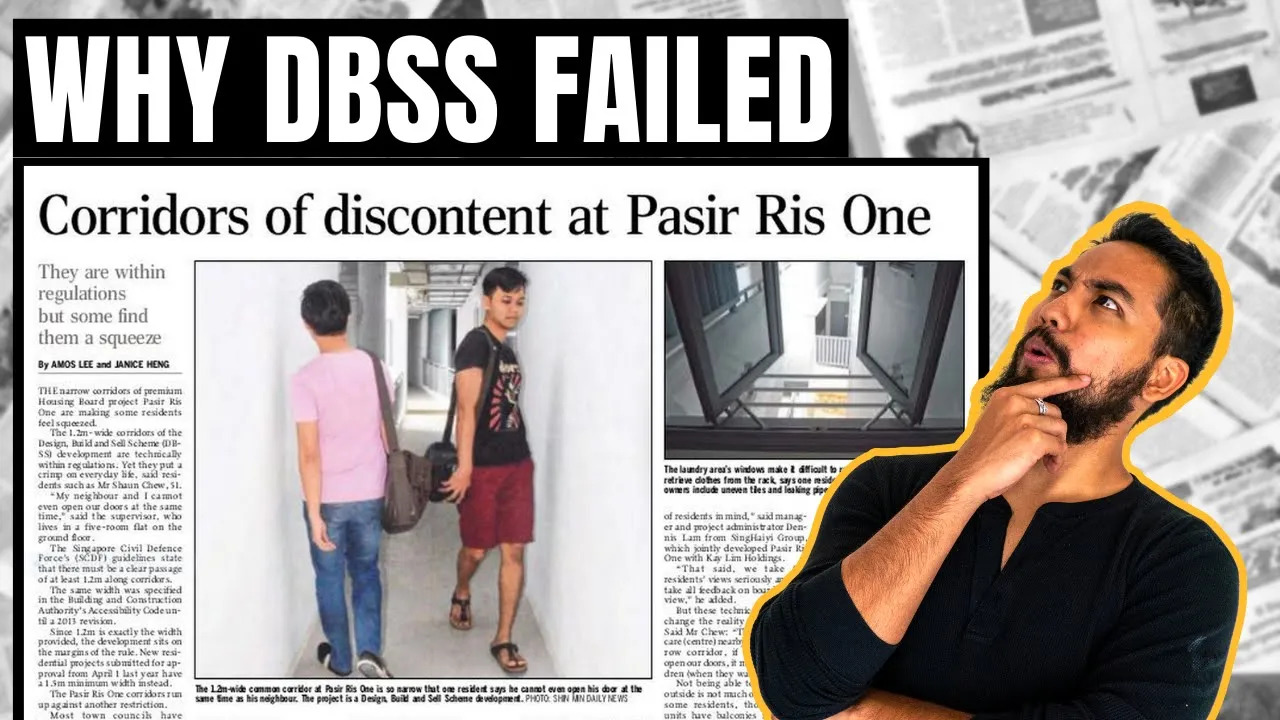 Read this next
by Stacked
*For clarity: there is still a five-year MOP for new ECs. It is only resale ECs that do not have MOP restrictions.
4. Stuffy toilet because the windows have to stay closed
JH says that when he bought his DBSS flat, he had only seen the floor plans for his unit. He thus had no way to visualise how it aligns with the common corridor outside.
"I was quite shocked to find out that the toilet can be seen from the common corridor," he says, "So we always keep the toilet windows closed all the time. This is unpleasant because if someone has just used it, and you're the next one to use it, the odour will hang around. We always wait about 10 minutes after the last person to go in."
JH says he feels a bit "cheated" by this:
"It's not that I can't live with it, but the principle of it offends me. Even if this information was available before, it was never brought up or highlighted. All I saw was the layout. And because there's so much emphasis on how it's done by private developers, of course, we'll assume they don't make these kinds of stupid mistakes."
5. No "saving on renovation" as expected 
Chet was adamantly against lavish renovations, when he and his wife bought their DBSS unit. His opinion is that: "If you buy an HDB flat it's not your house, it's the government's house. So don't spend so much to make it nice."
The couple bought a DBSS unit "early in the scheme", when extensive complaints had yet to be publicised. Chet theorised that, because private developers were involved, the finishing of the units would be better – this made it possible to pay for mainly just furnishings, with little renovation work.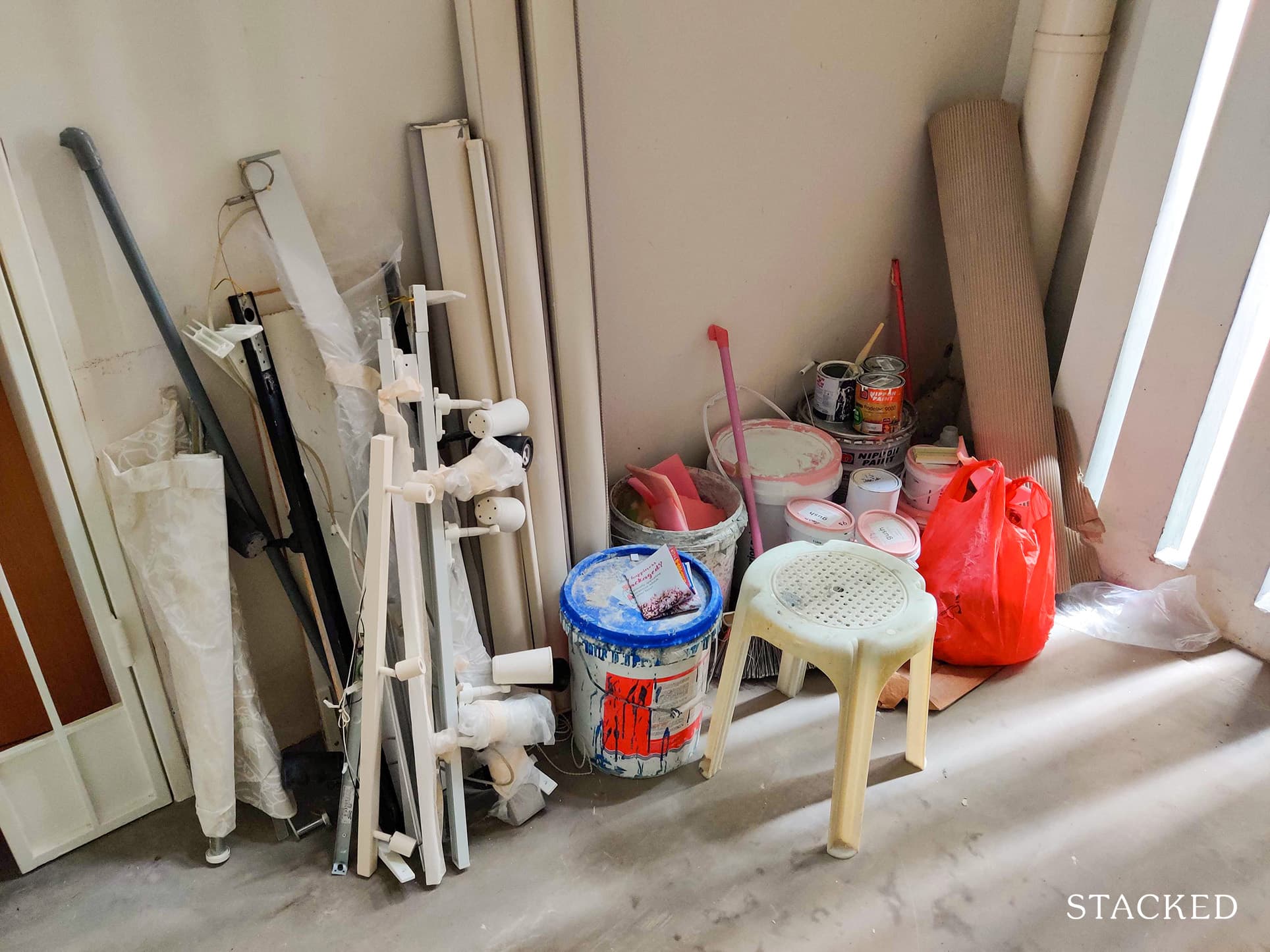 "I think your readers can guess how it turned out, you all are quite in touch with the market. The shower area was so badly sealed, it didn't matter if you close it all the way – the whole toilet would become a swimming pool after a five-minute shower.
In the master bedroom, if you open the room door or the wardrobe doors all the way, it reaches almost the middle of the room. It can almost touch the bed.
And the kitchen area, I don't know what sort of cheap material was the countertop, but on the very first week, my orange juice had permanently stained a ring onto it. Even my interior designer can say if he did this kind of job he would lose his client already."
In the end, Chet still had to make "major changes," even after defect rectification. He estimates spending around twice the budgeted amount, and now says he would have waited for an EC if he had known.
We should note that, despite these common regrets, DBSS flats do seem to be selling well. Perhaps as one interviewee noted, it's a matter of location; or perhaps it's a boom market and a rising tide lifts all boats. Do comment and let us know your opinion, on whether you'd buy a DBSS.
Meanwhile, follow us on Stacked for new on the Singapore property market, as well as reviews of new and resale properties alike.