Property Stories
I Moved From A 9,000 Sqft Landed Home In Bukit Timah To An HDB Flat: Here's What It Was Like
Ryan J
May 11, 2023

6

min read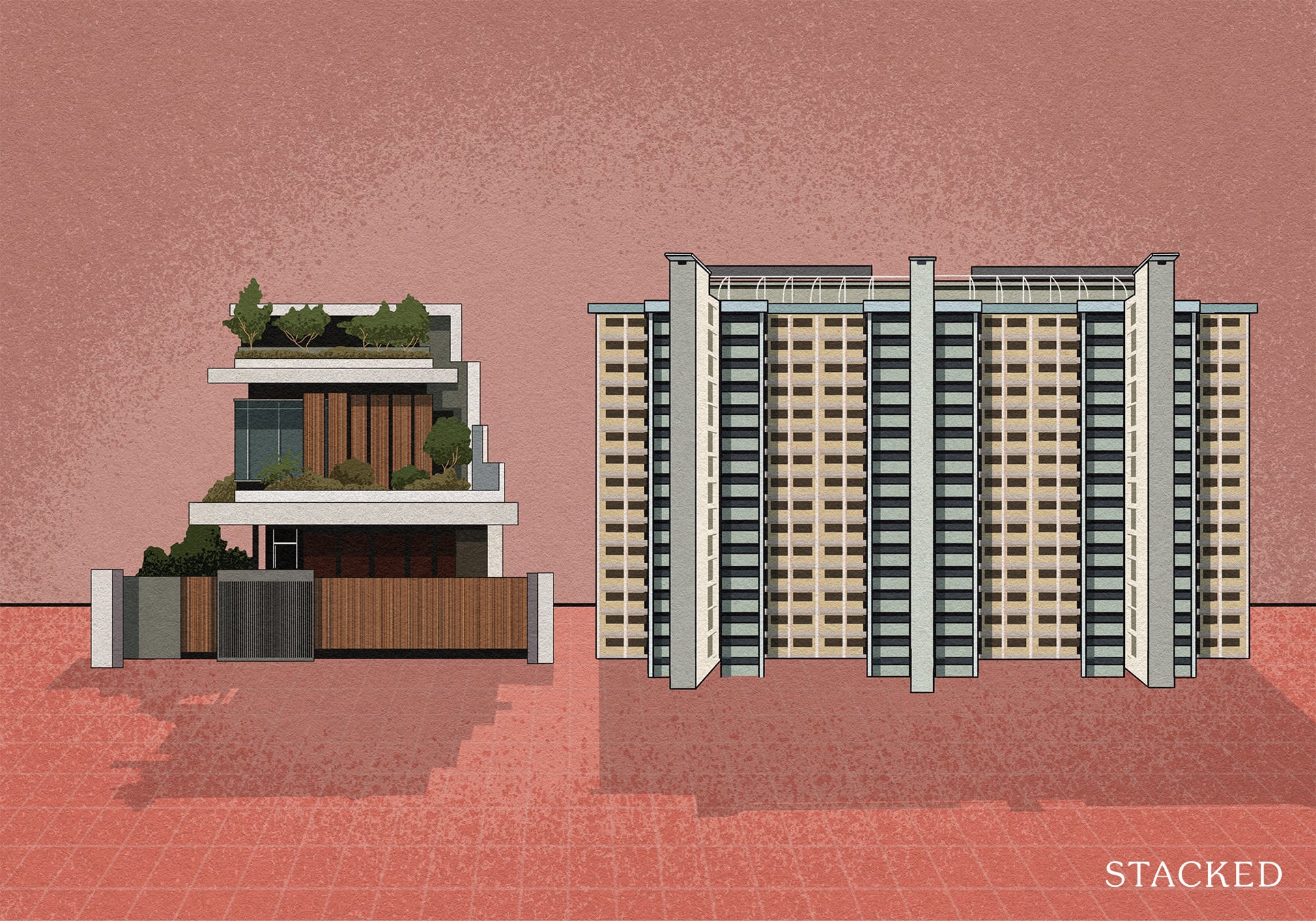 6
min read
What's the biggest home you've ever seen? If you're like most Singaporeans, it's probably no more than 2,000 to 3,000 sq. ft. But this week, we talked to someone who grew up in a massive 9,000+ sq. ft. home but has since moved to a 4-room flat. It seems like a rather jarring transition, so we talked to them about the experience of moving to a much smaller home:
From Watten Estate to Queenstown
Our reader, J, had spent most of his life on a landed property belonging to his parents. This detached house was located in Watten Estate, a landed enclave in the Bukit Timah area. J says:
"It was around 9,000+ sq. ft. and was purchased in the late '90s. It was previously a single-storey home but was demolished and built up to a three-storey house with an attic. We also had a swimming pool around 30 metres in length, and a pond at the back of the home. The home also had a lot of outdoor space, and back then we had dogs so it was a really nice setting for them to run around.
Today, I live in a mid-level 4-room HDB flat in Queenstown."
J eventually moved out, however, after he got married. He says that:
"I was in a long relationship with my spouse, so by the time we got married, we just wanted a place to call our own. My wife also didn't want to move into the home, even though we were welcome to…we kept dogs and my wife didn't want to stay in a home with dogs. The dogs weren't mine though, so it was not difficult to leave.
We also wanted our own space to decorate and invite friends over – something that we did a lot in my parents landed home, but regardless, it was still not ours.
When it came to hunting for a home, we did our own affordability assessment and found that we could afford some of the flats in Queenstown. This was before COVID happened, so today we don't think it would've been possible. We're grateful we managed to find a flat here."
Resale flat prices had been in decline for around eight years, between 2013 to 2021. This was due to the introduction of the Mortgage Servicing Ratio (MSR), and HDB ceasing publication of Cash Over Valuation (COV) rates. But in the aftermath of the pandemic, prices shot up even higher than the 2013 peak.
Pros and cons of moving out
J says there were some losses from moving out of the landed home:
"I definitely miss the pool. It was quite big as it was 30 metres long and around 25 metres wide. I could occasionally invite friends over to just chill around the area, and go for a swim. Sometimes we'd play water sports too.
I also miss the large bedroom that I had, which could fit two king-sized beds and a study table. It also had a good view of the greenery.
Parking was free. While we had a driveway, the road outside also offered ample space to park. Today, I do pay for season parking, so this is also something I miss."
However, J says there are some things he doesn't miss about the landed home. One of these is the stairs: while this isn't a huge deal, it did make it less convenient to get about.
Another issue was the isolation typical of most landed enclaves:
"I also found where I lived to be quite inconvenient. Back when I didn't drive, having to take an unsheltered walk in and out for around 12 minutes was quite tiresome – even more so when you forget your wallet and realised it at the edge of the estate.
There are also a lot of people who leave their dog shit on the pavement, which can be quite hard to see because a lot of landed owners put plants outside – they can obscure it with the thick foliage, blocking sunlight. It wasn't uncommon for me to step on dog shit prior to meeting friends, which is quite embarrassing, to say the least. I've learned to walk on the side of the road after a while, but it's not ideal. It's also not uncommon to walk into spider webs too.
While Watten Estate has restaurants in the vicinity, it wasn't exactly hawker fare. It was also around a seven-to-eight-minute walk just to get there.
And for quite a number of years when I stayed there, there was no MRT nearby, so I could only rely on the bus."
J says there is access to a Downtown Line station near Watten Estate now, which has somewhat improved the situation.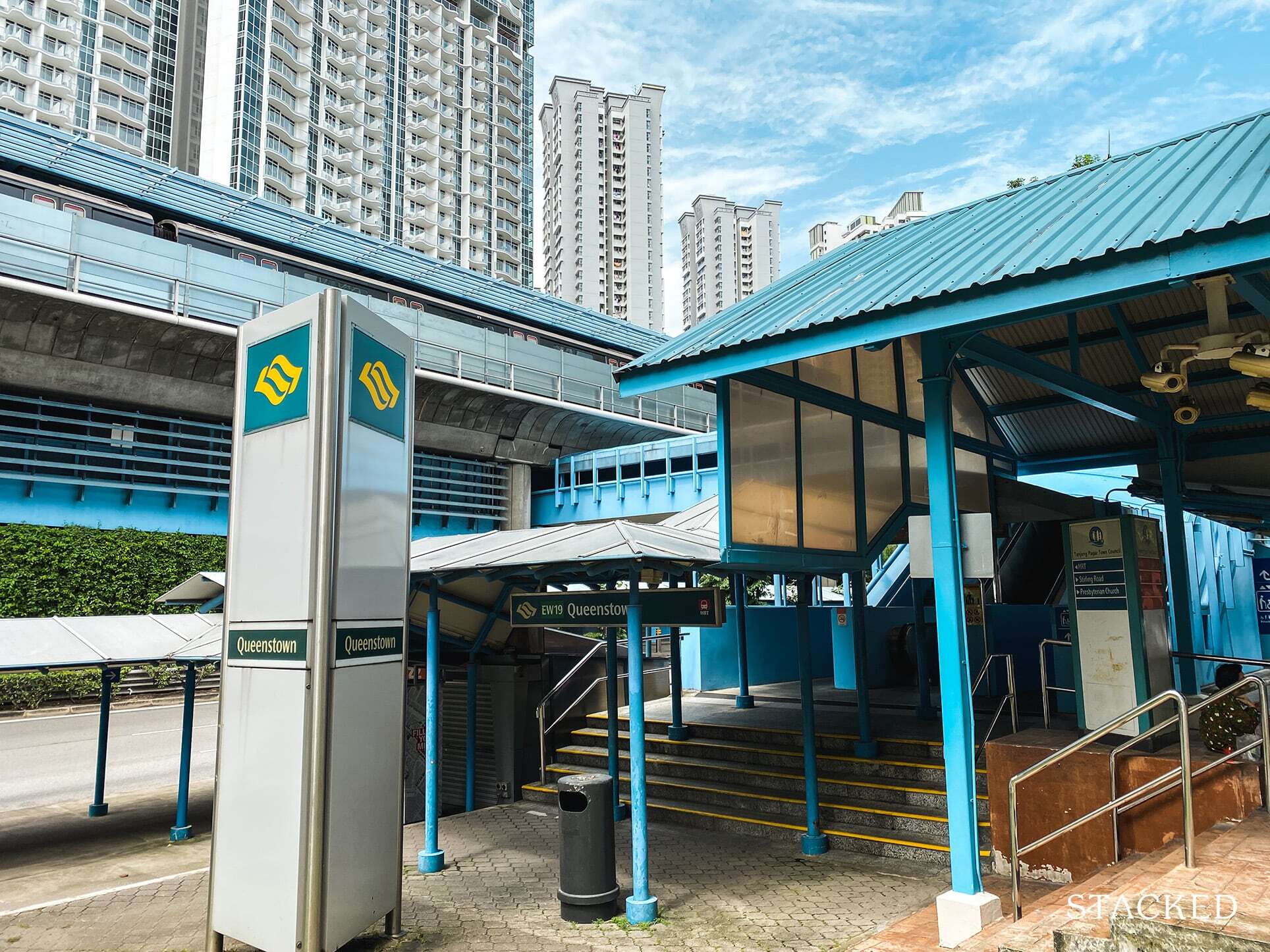 In contrast, his HDB home in Queenstown is within walking distance of an MRT station, a food centre, 24-hour supermarkets, and a neighbourhood mall. J also cycles, so he can get to Great World City in just a few minutes with a park connector.
"Judging purely by amenities, I really prefer my current HDB home," J says, "And while having the pool is great, it's not something that I need.
I think the HDB that I live in fits us perfectly now. It would've been nicer to have a bigger space though. The 4-room flat is quite a squeeze and makes very little allowance now that we have a family."
Lifestyle changes and connecting with the neighbourhood
J says that living in an HDB flat is noisier, but it's not too much of a drawback:
"I have neighbours above and below. My neighbours above have kids, so they're usually running up and down at certain times. We've gotten used to it, especially after we had ours.
Renovation works also happen once in a while, so we can hear the hacking of walls even if it's above 10 storeys high. HDB blocks across would also have renovation works, so we're not immune to that either."
Nonetheless, J says "I quite like the life around the area. In fact, it was rather quiet at Watten Estate…Having the crowd does feel like I'm part of a neighbourhood."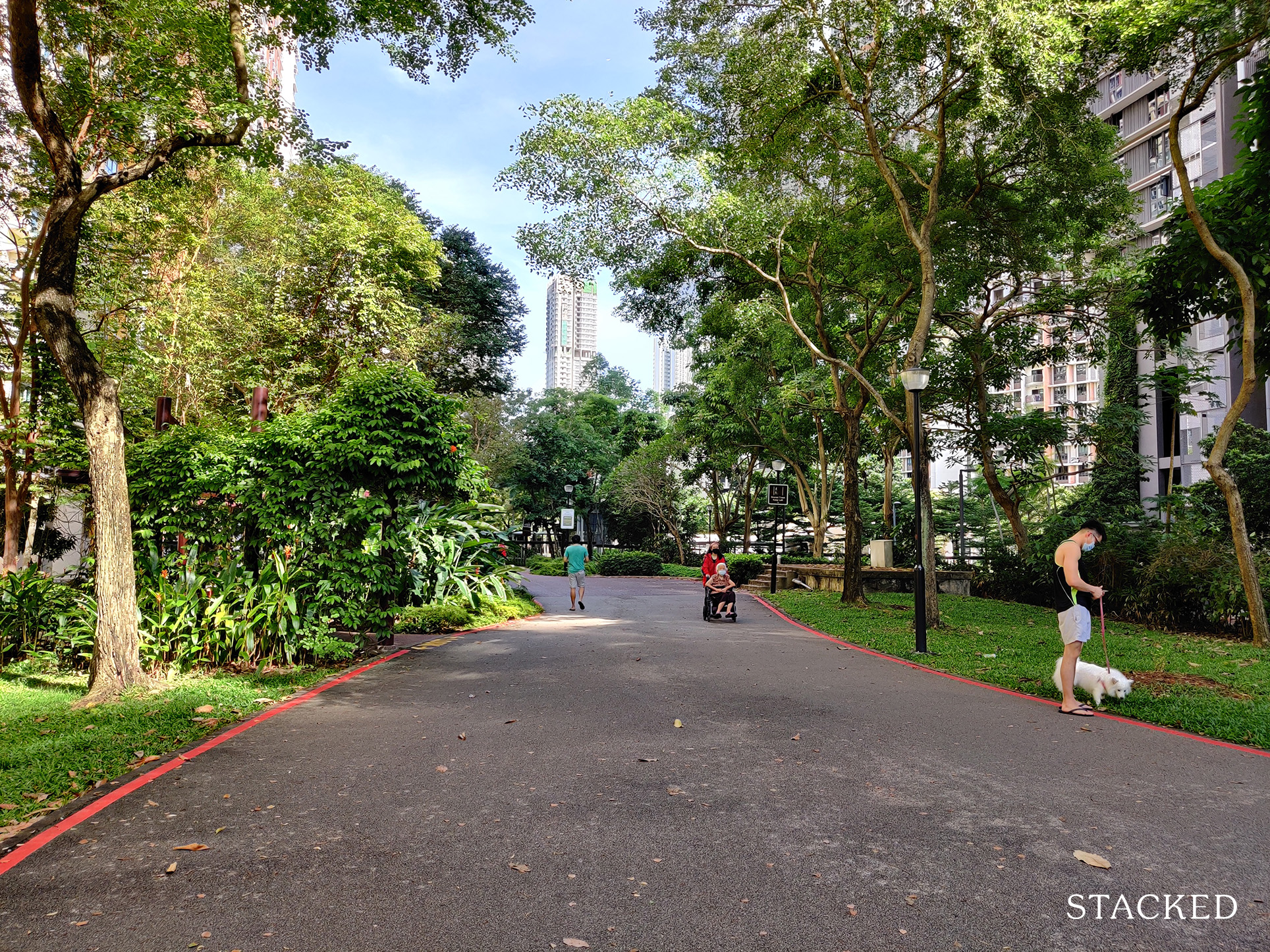 Moving to an HDB home has also changed his lifestyle habits a bit:
"Today I still drive, but no longer as much given the convenience of where I stay. Our COE is also expiring, and at current prices, I'll be looking forward to taking taxis/public transport more which is thankfully quite convenient. The only downside is that a car would've just been more convenient with a kid, but that's just something I need to work with."
J says he cycles much more often now; and while Watten Estate meant he always had a place to store the bike, he's more at peace with it in an HDB estate:
"I used to cycle out of Watten estate and park my bicycle next to the neighbourhood police post, and it got stolen – twice. It's almost as if there's a sort of syndicate that steals bicycles from people living in this estate to sell off. Where I live today, my bicycle doesn't get stolen even when I park it in communal spots."
This coincides with some of the unproven theories we've heard from landed homeowners. Some claim to experience more petty theft and vandalism (e.g., people smashing potted plants, or even scratching cars) after moving to landed estates.
The dominant theory is that this is due to the lower number of residents, and hence lack of observers. Some owners have also pointed out that their landed enclaves are not as well-lit as HDB estates.
J says he hasn't got any desire to move back to a landed home, although a condo may be an option:
"I've lived in a landed home for over 10 years, and while I can see why many people desire to stay in one, I've also seen the cost and management aspect of it.
If anything, I'd rather stay in a condo with facilities, on a sufficiently high floor that has a good view.
Unless you have the mind space to manage your land, or you wish to enjoy the privacy of your own garden, having a landed home seems overrated to me. I really enjoy my HDB today and the convenience that it brings."
For those who are also right-sizing from a landed home to a flat, J offers the following advice:
"The location matters a lot, and I'm not talking about the investment value of things. You must like the neighbourhood vibes and the amenities that come with it. Coming home to a lovely neighbourhood brings great joy to me. I would look out my window and actually feel great living here.
Next is the layout, make sure it works for you. Think about the chores you'd have to do, and the room functionalities you need. Is it better to have half-windows (so you can put furniture against the wall) or full-height windows (so you get more light in)? 
There're a lot of little things that need to be mulled over carefully with your lifestyle. One overlooked area is the service yard. We made a mistake purchasing a home with a layout that couldn't fit a dryer so this has created some inconveniences for us, given how small the area is to hang dry clothes already."
For more stories from homeowners and living experiences, follow us on Stacked. We'll update you with on-the-ground observations and practical living issues, on a variety of housing options in Singapore.