Property Stories
I Bought A 4-Bedroom Condo In Cash (And Paid ABSD) But Still Live In An HDB: Here's Why
Ryan J
April 21, 2023

6

min read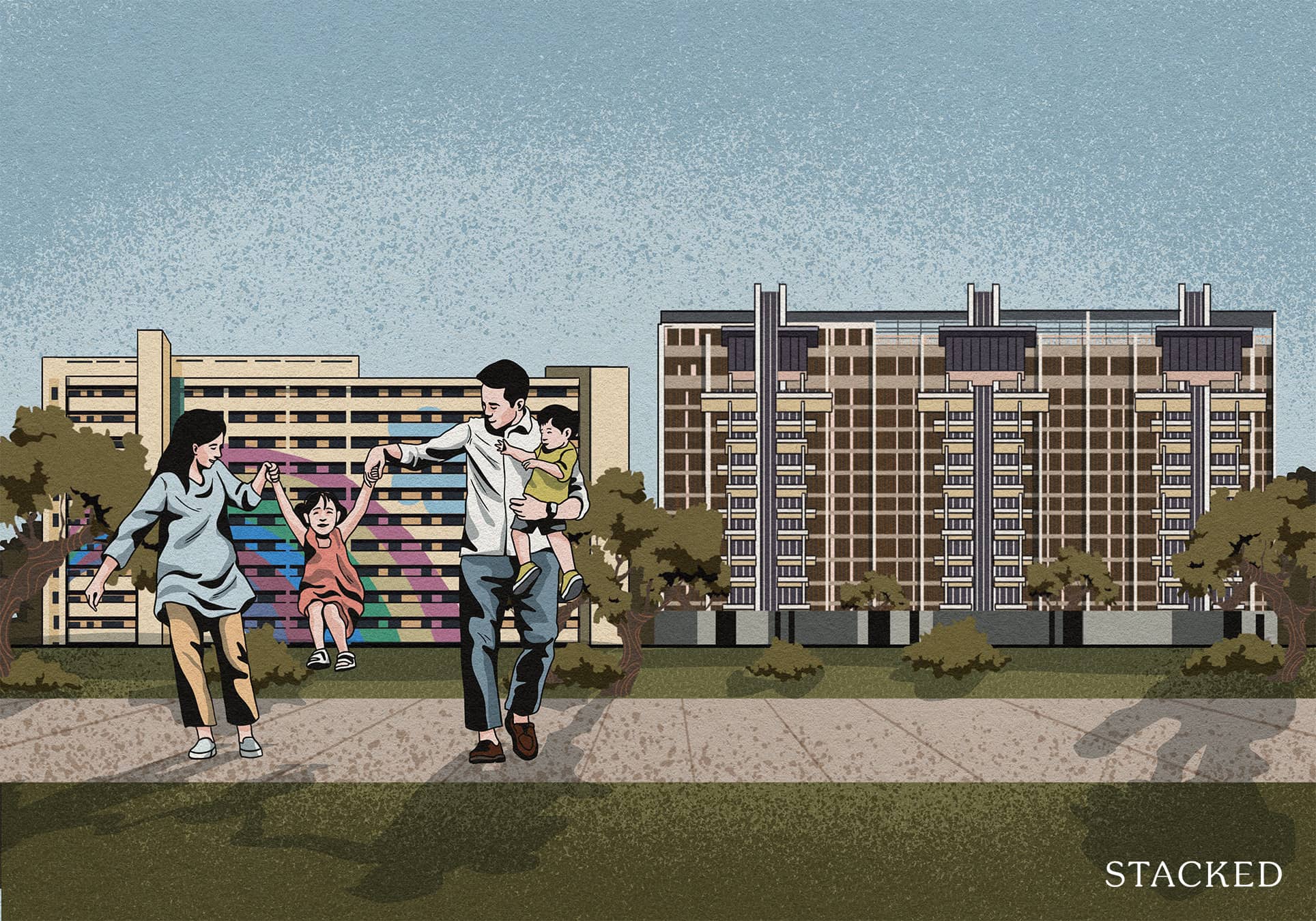 6
min read
For many Singaporeans, moving from a flat to a condo is a big step up in life; and a four-bedder condo of 1,400+ sq. ft. is probably an even bigger dream. This week, however, we spoke to someone who – despite buying a four-bedder and paying the ABSD – has chosen to continue living in his 4-room flat in Bedok. Here's a homeowner who has taken an unusual route to property ownership:
A turnaround in financial fortunes
YK is currently in his late forties, and in 2020 he purchased his first private property. This was a four-bedder resale unit of around 1,453 sq. ft., in District 18 (around the Simei area).
YK says this was a big milestone, and it was something he couldn't imagine in his younger days:
"Growing up things were difficult because my father gambled frequently, and me and my brother had to support our parents. Even as a Secondary school student, I would live in a high state of anxiety, as we had loan sharks banging on the gate every day.
Right up till my twenties, a good portion of my income went toward paying off my father's gambling debts. So I never imagined I would own a property, let alone a private property."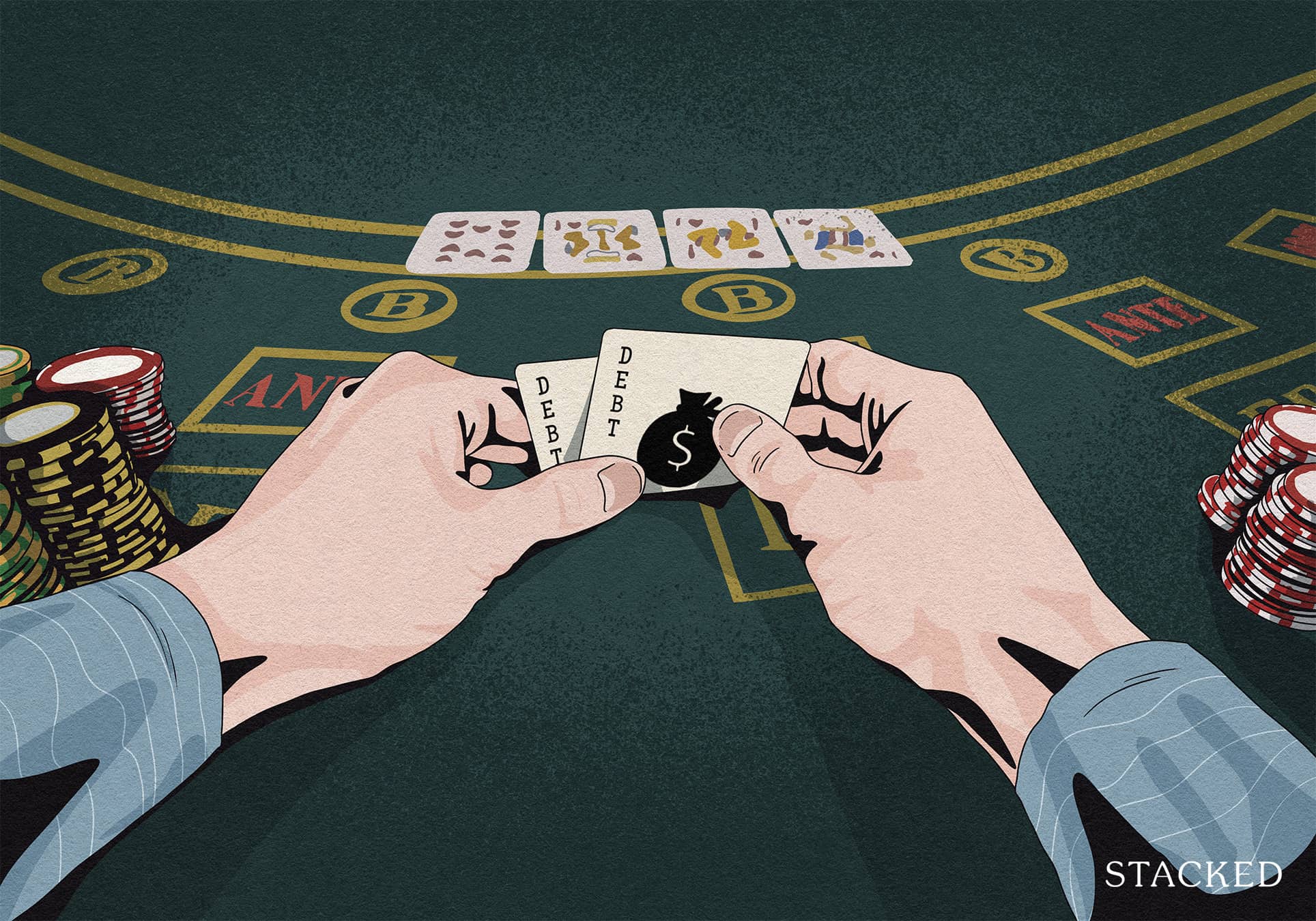 Ironically, YK says it was his family's debt that indirectly contributed to his business acumen.
"I had a few employed jobs, but they never paid enough, and I realised I had to have a much higher income than normal to both settle my family issues and also own my own place. So this pushed me into the sales line at first, and later into starting my own business."
By 2001, YK was earning enough to purchase his first property with his wife, a 4-room resale flat in Bedok. At the time, he had also begun to experiment with Forex trading and a stock portfolio. However, YK says he was disappointed in these endeavours:
"I guess I don't have the right temperament to trade, it's quite different from running a business. I found it quite frustrating as it was always 'one step forward, two steps back.' Also at the time I had an acquaintance who was into the property, so I begin to lean toward that direction."
A decision long in the waiting
Several times over the next two decades, YK would "almost" buy a second property – but each time he seemed to find a good reason not to:
"Especially when ABSD and such things were first introduced," YK said, "I thought these were temporary cooling measures*. So I wanted to wait till they were over before I bought, I guess I was quite naïve. And you know over the years it only got worse, the prices got higher."
YK says it was his in-laws who finally persuaded him. After going through the Global Financial Crisis in 2008/9, and the recent Covid situation, YK felt pressed to invest in a less volatile way. He also wanted to ensure his son (who is soon to complete NS) will have a place of his own right after.
"I know some people will say that's a high point in the market, but that's the same reasoning that stopped me for almost 20 years, and each time the price just seemed to get higher. So in the end, ABSD or not, I just decided to bite the bullet."
YK says he and his spouse jointly purchased the property; they paid around $1.24 million for the resale condo unit, in December 2020. This would have involved an ABSD of $245,000. YK says a combination of cash and CPF was used, but the couple didn't have to use a loan.
"I was advised against paying it all at once, and I understand the rationale," YK says, "But as I'm getting older I don't want to have a mortgage hanging over me. Now I'm also glad I paid it all at once as the interest rate today is so high."
However, the decision to keep the 4-room flat was another matter, and YK debated this with his wife for quite some time.
*The government has not officially rescinded the position that ABSD and related cooling measures are "temporary." At this point, however, it makes sense to think of them as permanent.
Choosing to keep and stay in the 4-room flat
When YK first started to look around for a condo, the assumption was that they'd sell their flat and move into the new property. However, YK's wife had some inhibitions against moving.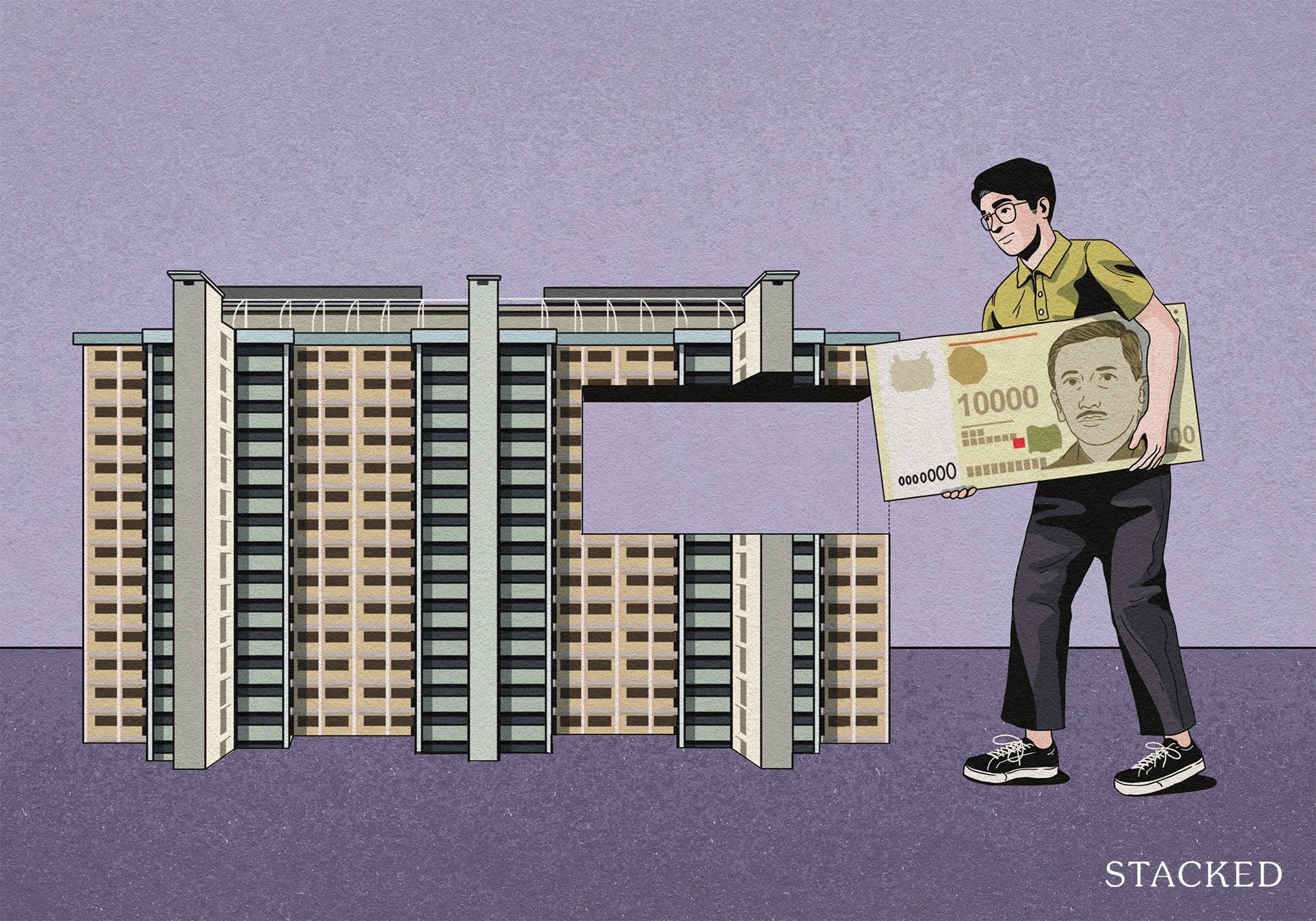 "The condo unit is big and the facilities are nice, but public transport is not so good as our current flat," YK says, "If we move, my wife would have to use Grab or use the car to drive out. Currently, we can walk about 10 minutes to Bedok MRT."
YK added that his wife disliked driving or using cars, as she has inner-ear issues that cause car sickness after just a few minutes.
When YK brought this up to his realtor, he was offered an alternative solution:
"My property agent advised that, since the condo is partially for investment and partially a roof for my kid, I can consider staying in place.
Instead, I can rent out the condo while staying on in my flat, and this would also help to pay back some of the costs until my son is ready to move in there."
YK also realised that he could, further down the road, flip things around and stay in the condo while renting out the flat. This flexibility cemented the couple's decision to retain their HDB, despite the significant cash outlay.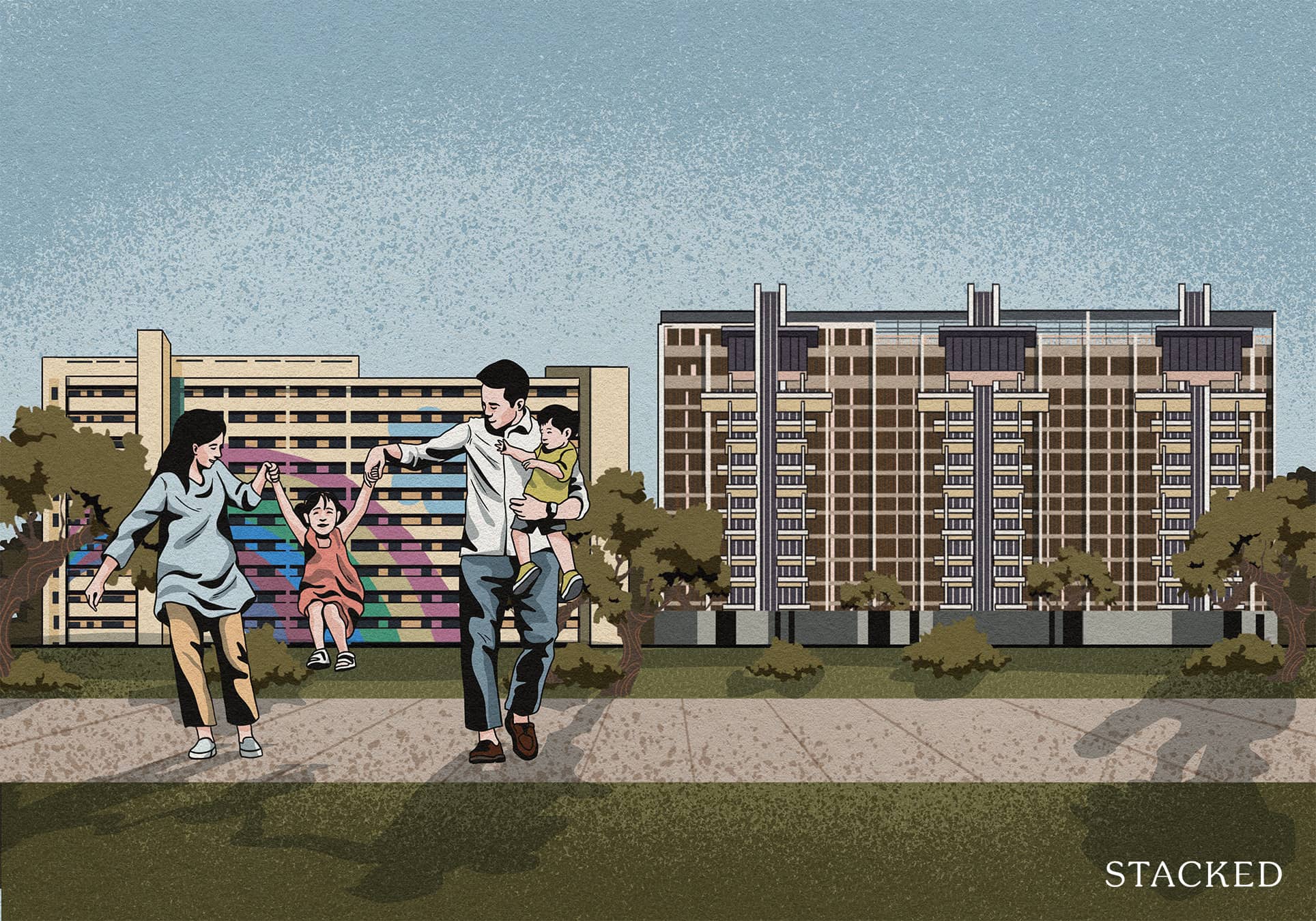 "From my younger and hungrier days, we have never lost the habit of being quite thrifty with everyday spending," YK says, "We seldom travel or buy branded things, so we were okay to buy even without selling our flat."
A lucky turn of the rental market
Over the past year and a half (as of 2023), the rental market in Singapore has been at a peak. This has led several people to congratulate YK on his insight in renting out the condo, but he handwaves this as pure luck.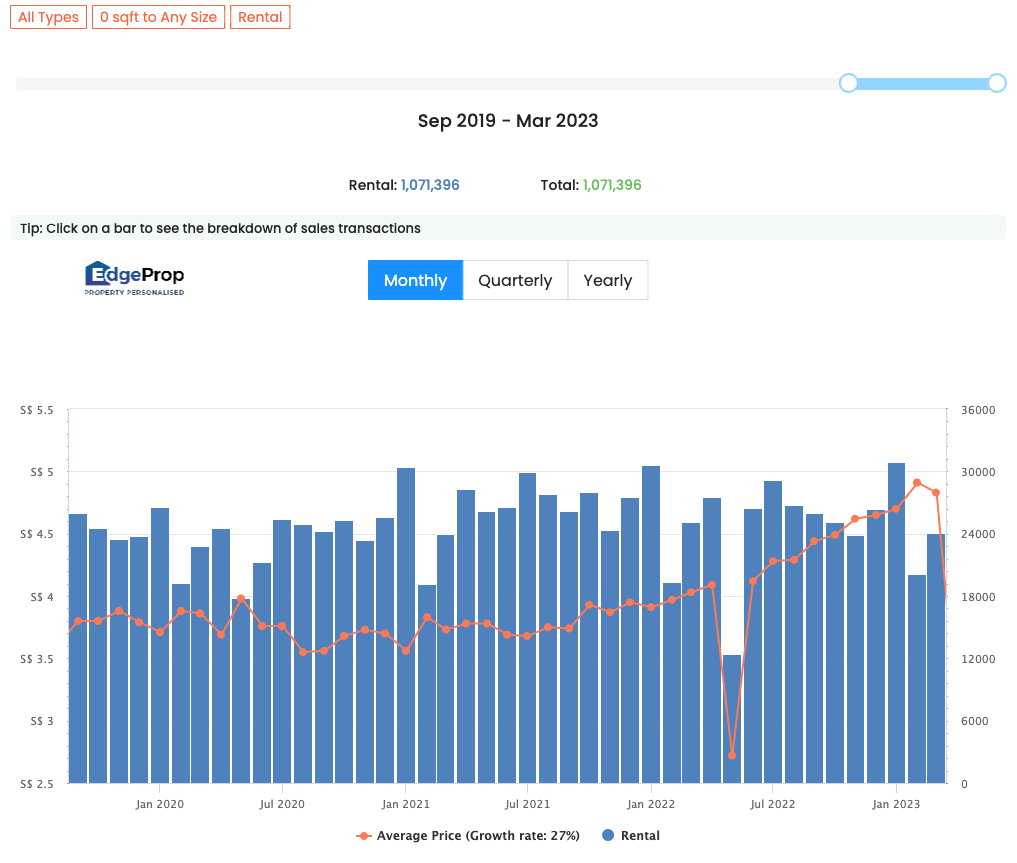 "It's nice to get more rental income of course, but it's not that I have any genius foresight or anything. It's honestly just blind luck that, at this moment the rental market is good, and I happen to have bought something to rent."
YK says he currently gets around $5,000 a month from rent, which is more than even his realtor expected, given the fringe location of the condo. This stroke of good fortune meant he was able to earn back the cost of renovations in just about a year.
The condo unit is currently rented to an expatriate family, whose lease extends to 2024.
Read this next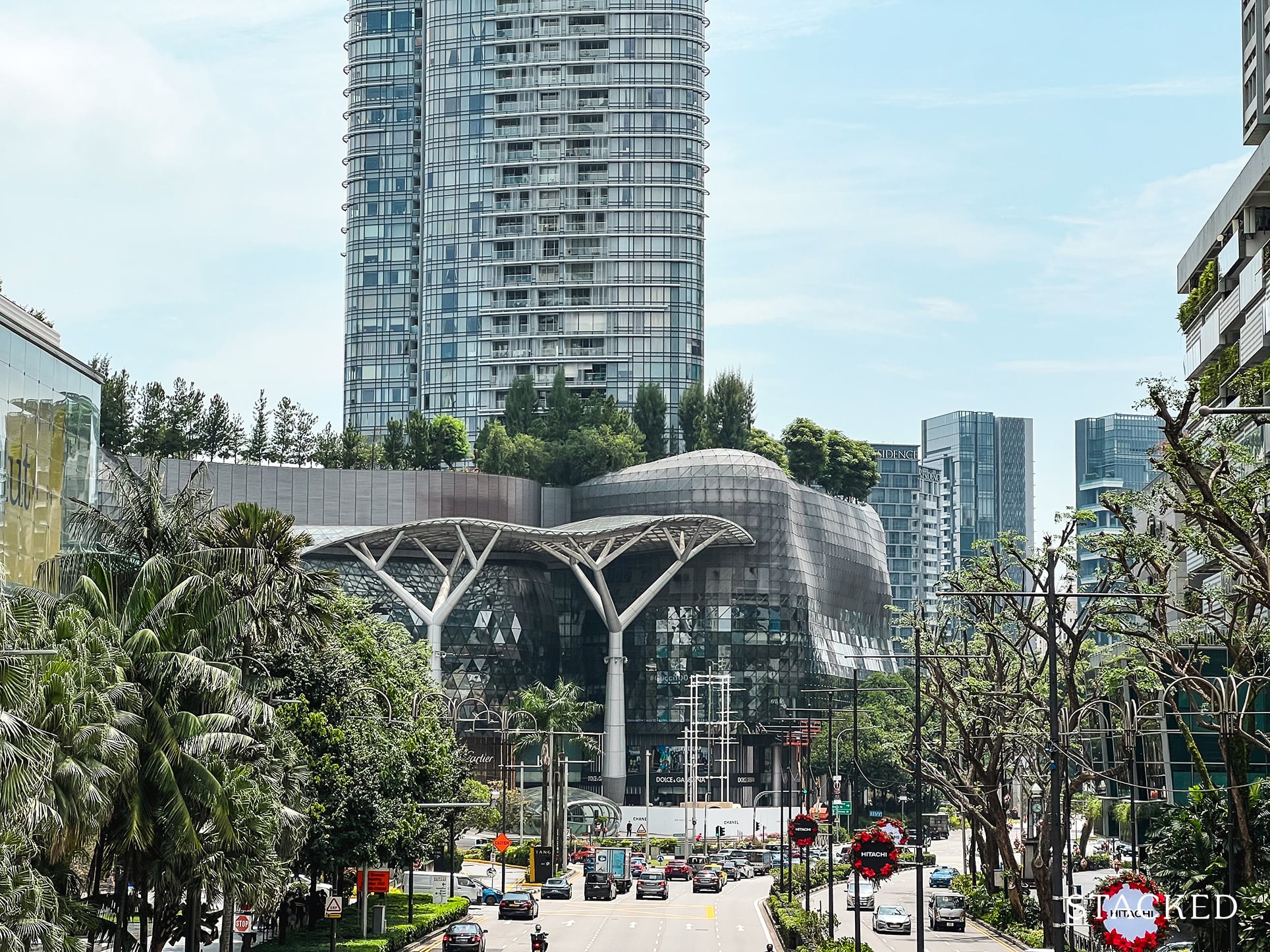 Occasional regrets, but nothing major
YK says there are times when he feels a tinge of remorse when he visits the property – it would be nice to hold BBQs or splash in the pool, especially on warmer days.
"I should have used the facilities more just before we rented out the unit," YK says, "I do feel like we should have had more time to enjoy the place. After all, we spent so much, but we won't be living in here till a year or two…maybe more if we rent it out longer."
However, YK says it's not a huge deal, as he'll be sure to use the facilities when his son moves in.
The only other gripe is that having rented out the unit so soon after buying it, YK doesn't feel he has a good knowledge of the day-to-day realities of the condo. He relies heavily on the tenant to find out news like whether the facilities are well-maintained, or what the neighbours are like. It was the tenant, for instance, who had to inform him that certain common areas are prone to flooding in heavy rains. This is an area YK hopes to improve on, via more constant visits.
YK's advice, to those who want to own a second property, is simply this:
"If you have the means and have worked out your numbers, go for it; there's no ideal time other than that. Otherwise, you will be like me, wait and wait until the price becomes a lot higher."
For more property owner stories and experiences, follow us on Stacked. We'll also provide you with in-depth reviews of new and resale condos alike.