Interior

How This Old Maisonette In Paya Lebar Was Transformed With A $110k Renovation Budget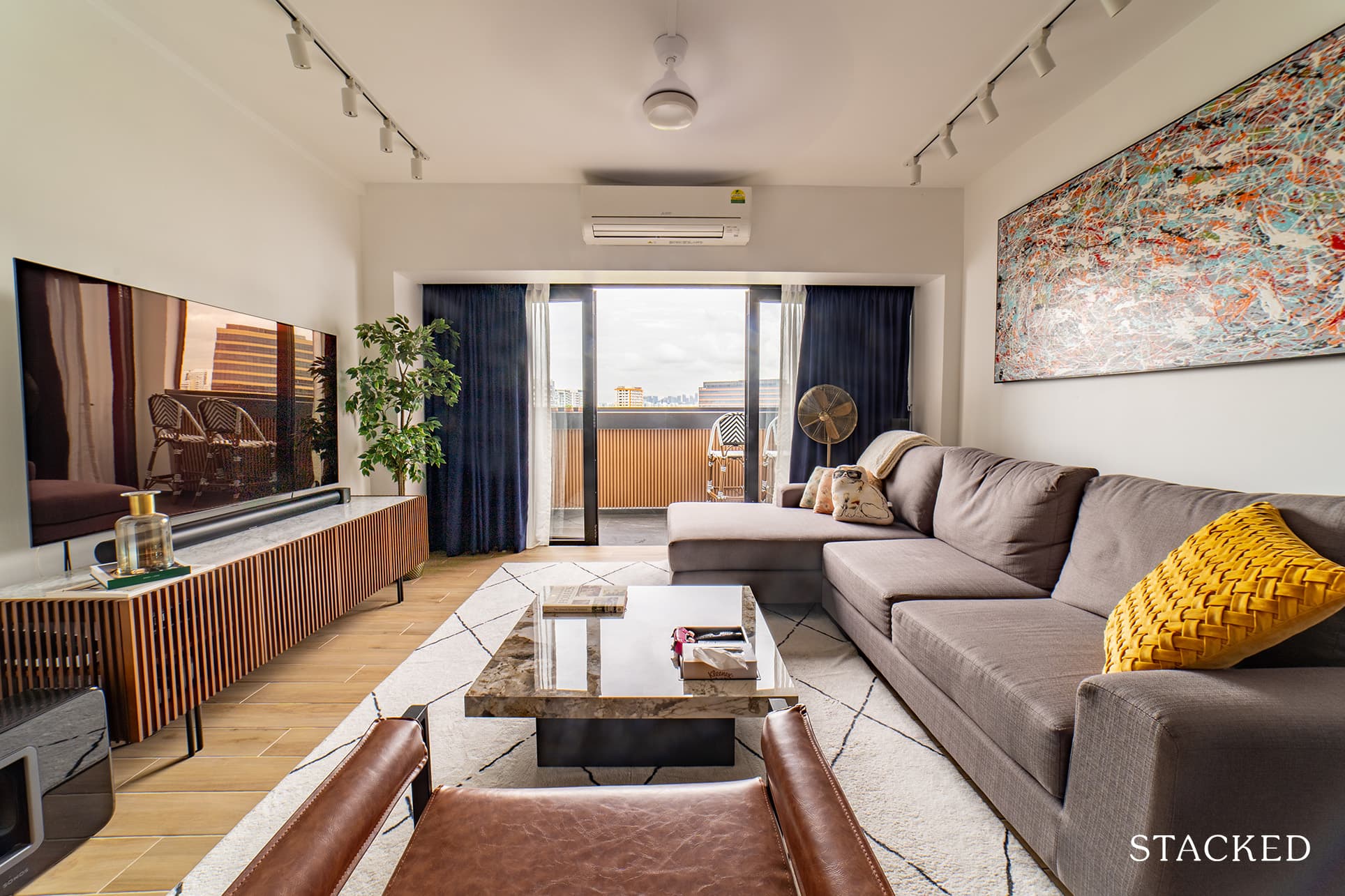 Did you know that the HDB stopped building maisonettes in 1995?
And so owning this type of home nowadays means having to purchase an old one and renovating it to suit your preferences.
But herein lies the challenge.
As they aren't a blank slate like buying a new BTO, you need to take into account that more often than not, you will be taking over an original condition flat with a dated interior. The condition of the stairs must also go through a thorough inspection, as well as electrical wires, loose hinges on doors and windows, and even the flooring.
However, contractors can easily repair most of these issues. What you need to concern yourself with is if the maisonette can accommodate the layout and other reno-specific plans that you have.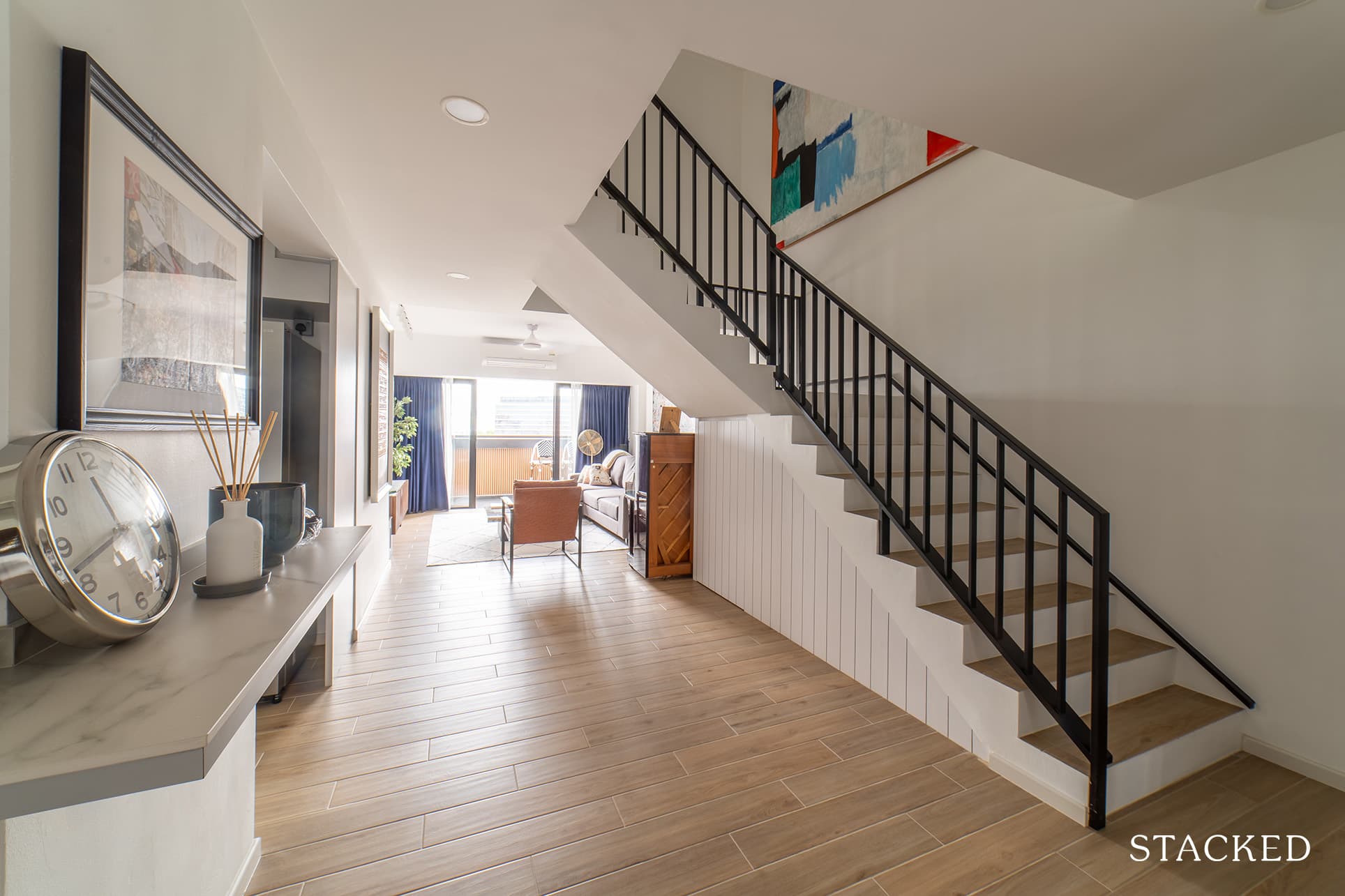 This is something that Chris and his wife had to go through in their matrimonial home, a spacious 1,528 square feet HDB maisonette located in the vibrant heart of Paya Lebar (@lepayamaison).
Let's take a look at how the couple renovated this old maisonette and how they navigated the challenges.
Transforming An Old Maisonette To A Luxury Home
The previous owner stayed in the flat for almost 20 years. As such, the interiors were already dated, and the place was in poor condition.
"We knew that we definitely had to do a complete overhaul for the renovation," Chris said. "We had to initially allocate $90k, but the final tally was $110K."
Chris said that the $20K increment was from various works they chose to add during the course of the renovation. One of which is the installation of windows in the bedrooms.
"We wanted the extra sound-deading effects so we chose to upgrade to double-glazed windows for the entire upper level where the bedrooms are."
It's a very practical decision for their sleeping and working quarters since their place is near the MRT tracks.
Some of the other additional works include false ceilings for several areas in their house and false walls to flush some of the foundation walls straight.
For their inspiration, Chris revealed a surprising choice. It was the Los Angeles-based-real-estate-agent-turned-YouTuber Enes Yilmazer who influenced his design choices.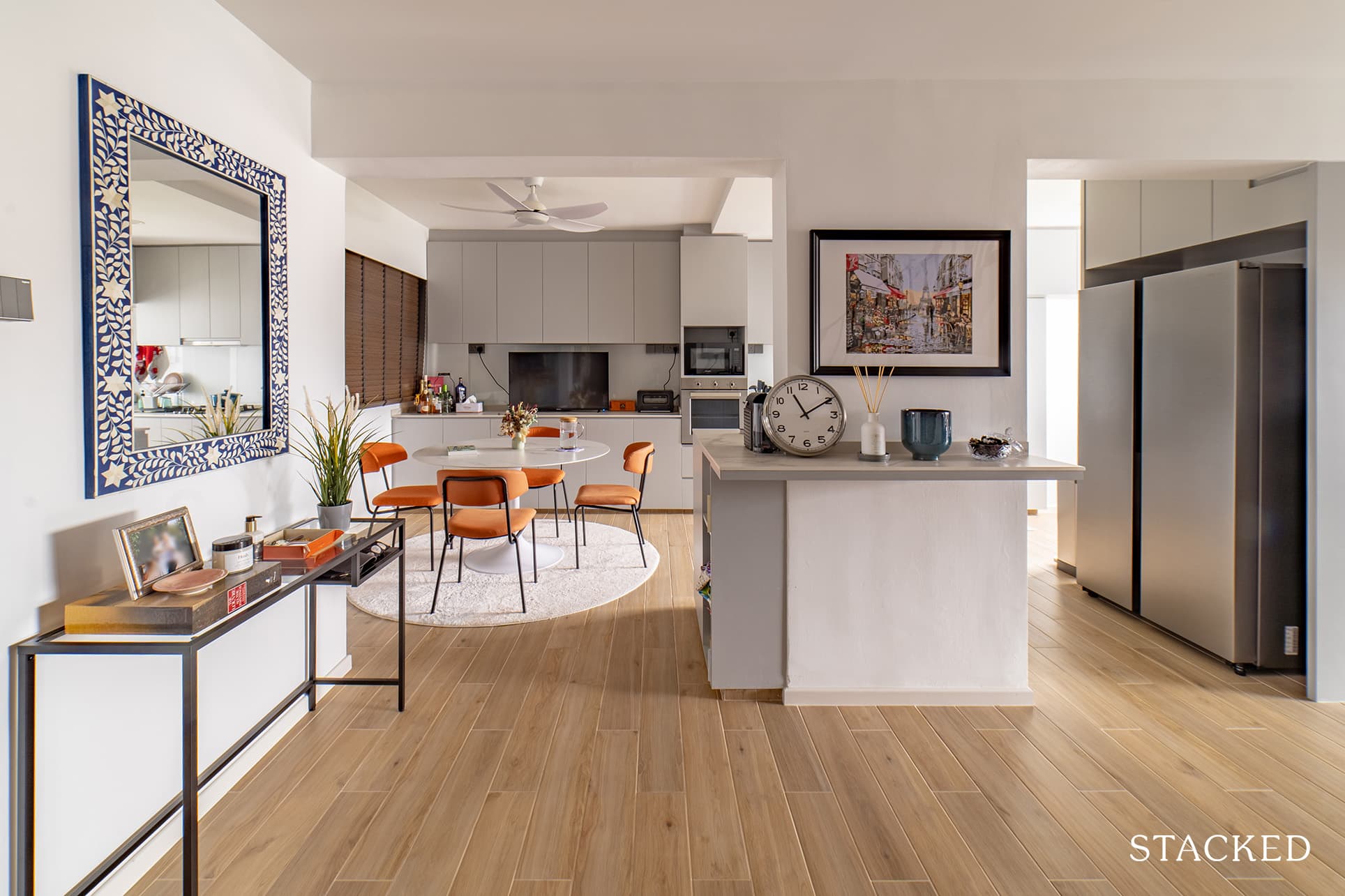 Enes showcases luxury homes in the LA area on his YouTube channel, including the staging process. Chris admitted that the houses featured by Enes swept him off his feet. "I decided emphatically that I will endeavour to recreate the styling of the featured houses in his channel," he said. He jokingly added that whether they managed to pull it off on their IG account (@lepayamaison) is a separate question.
Their maisonette's complete overhaul was made possible by the hacking down of walls in both the upper and lower levels. "In the lower level, we hacked the wall between the kitchen and dining," Chris explained, "and also the wall between the kitchen and living to create one big open space."
For the upper level, they also hacked the wall between the master and one of the common bedrooms to combine them into an extra-large master suite.
Here's a closer look at the result of their renovation.
Living Room
Renovation can bring out the best in any home, but sometimes some areas just stand out from the rest. For Chris and his wife, their living room is one of their favourite parts. "We are most pleased with how our living room turned out. As we still have yet to fully furnish our place, our living room by far feels the most complete."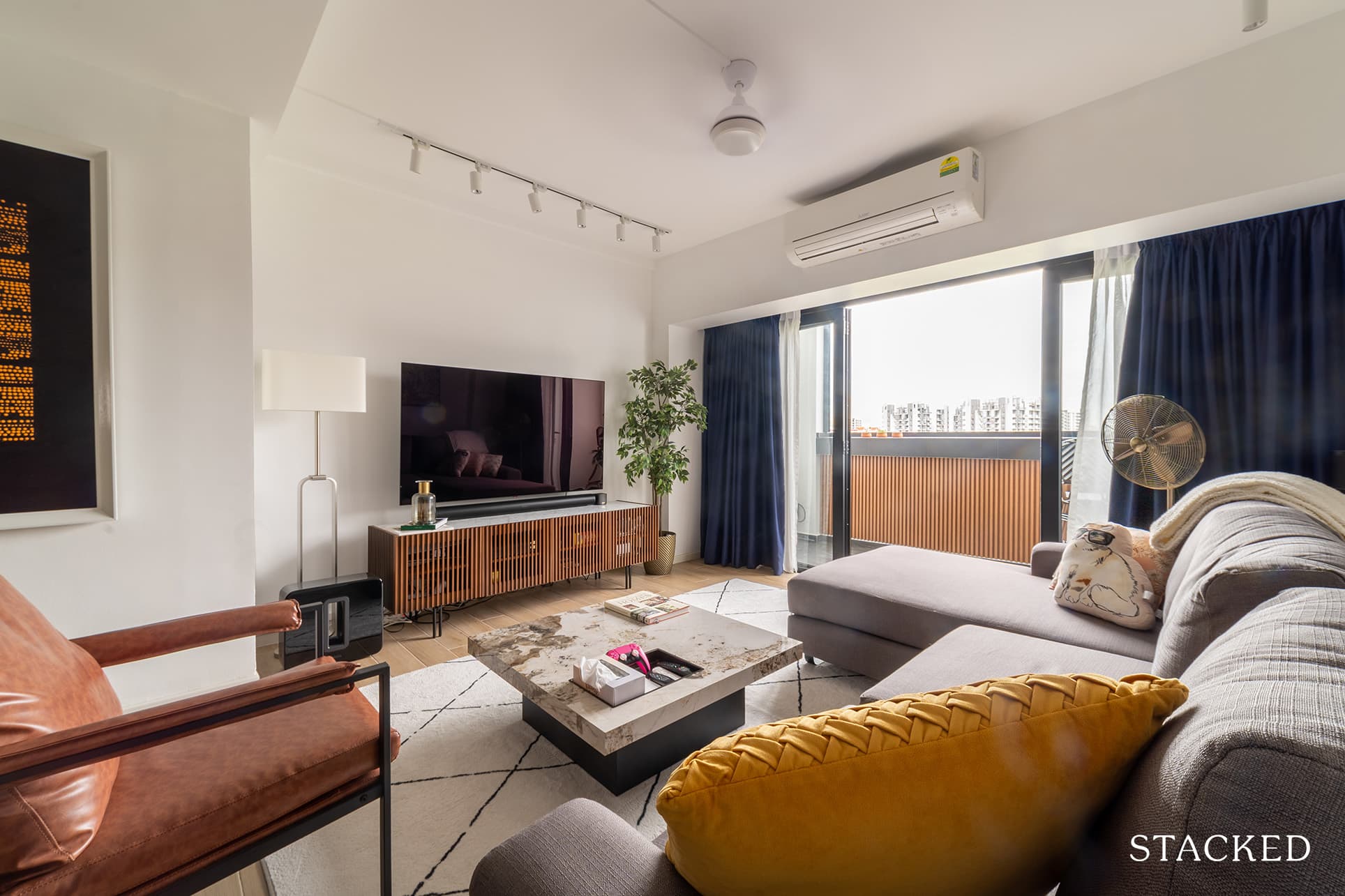 The large living room has a lot of space to move around, even with a full-sized L-shape sofa and an upright professional piano. The marble-top coffee table takes the centrepiece and creates an opulent atmosphere in the space.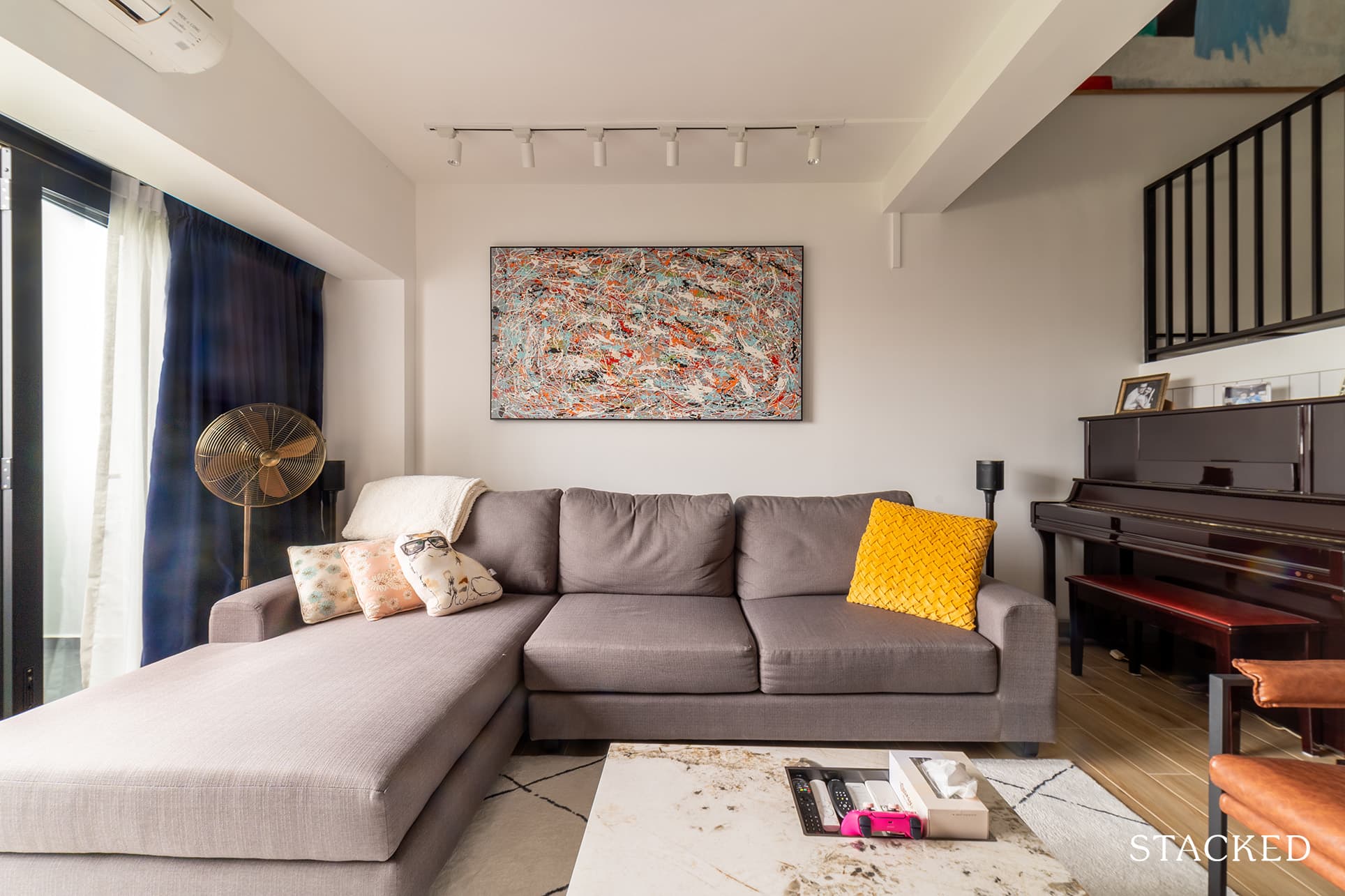 The furniture pieces are tasteful and kept simple to allow the various artworks displayed to accentuate the space further. At the same time, the running lights on the ceiling offer a distinctive mood in the evening.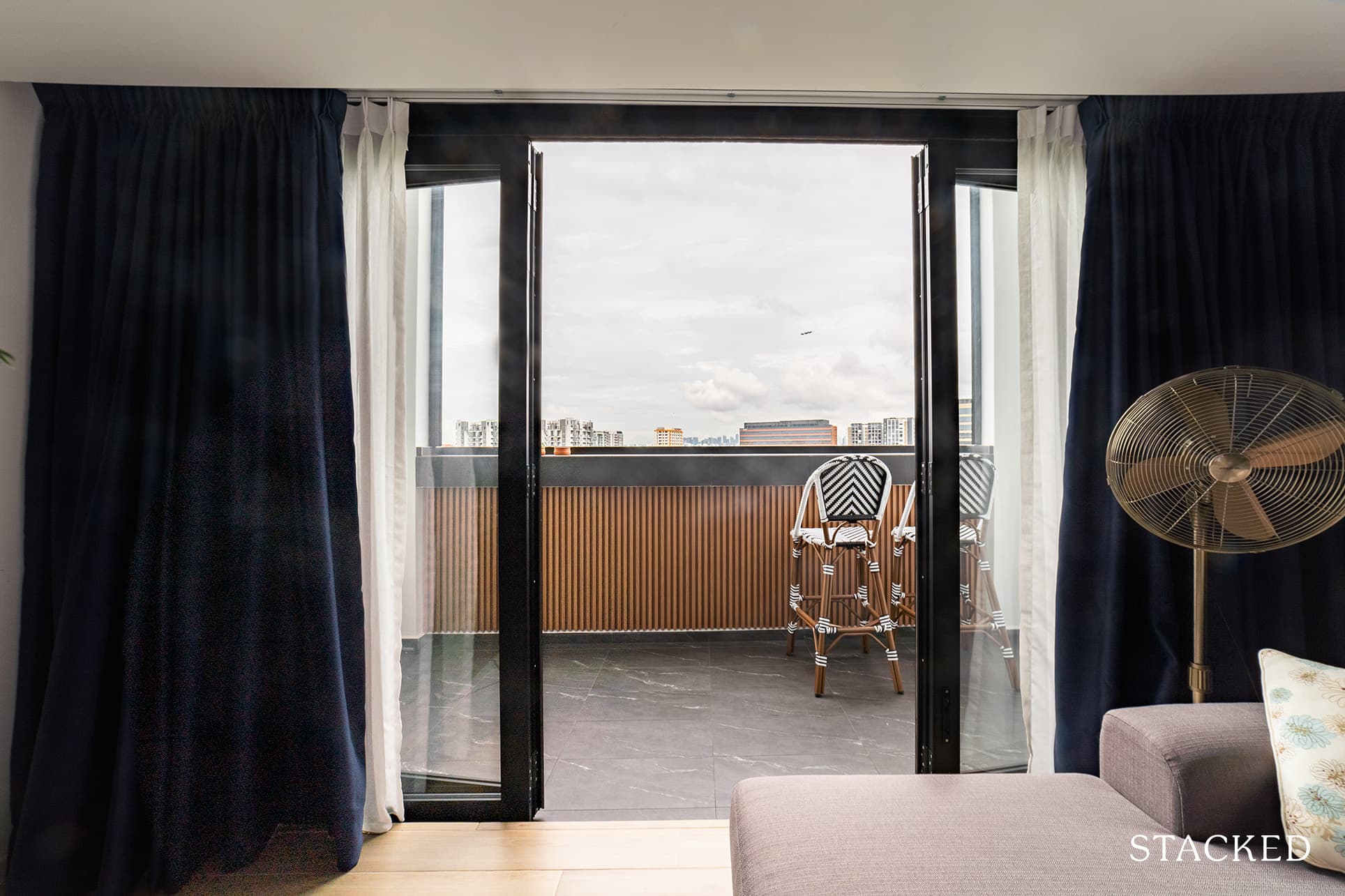 To further emphasise the flow of natural light, the living room bi-fold doors open up to a beautiful view of Paya Lebar on the balcony.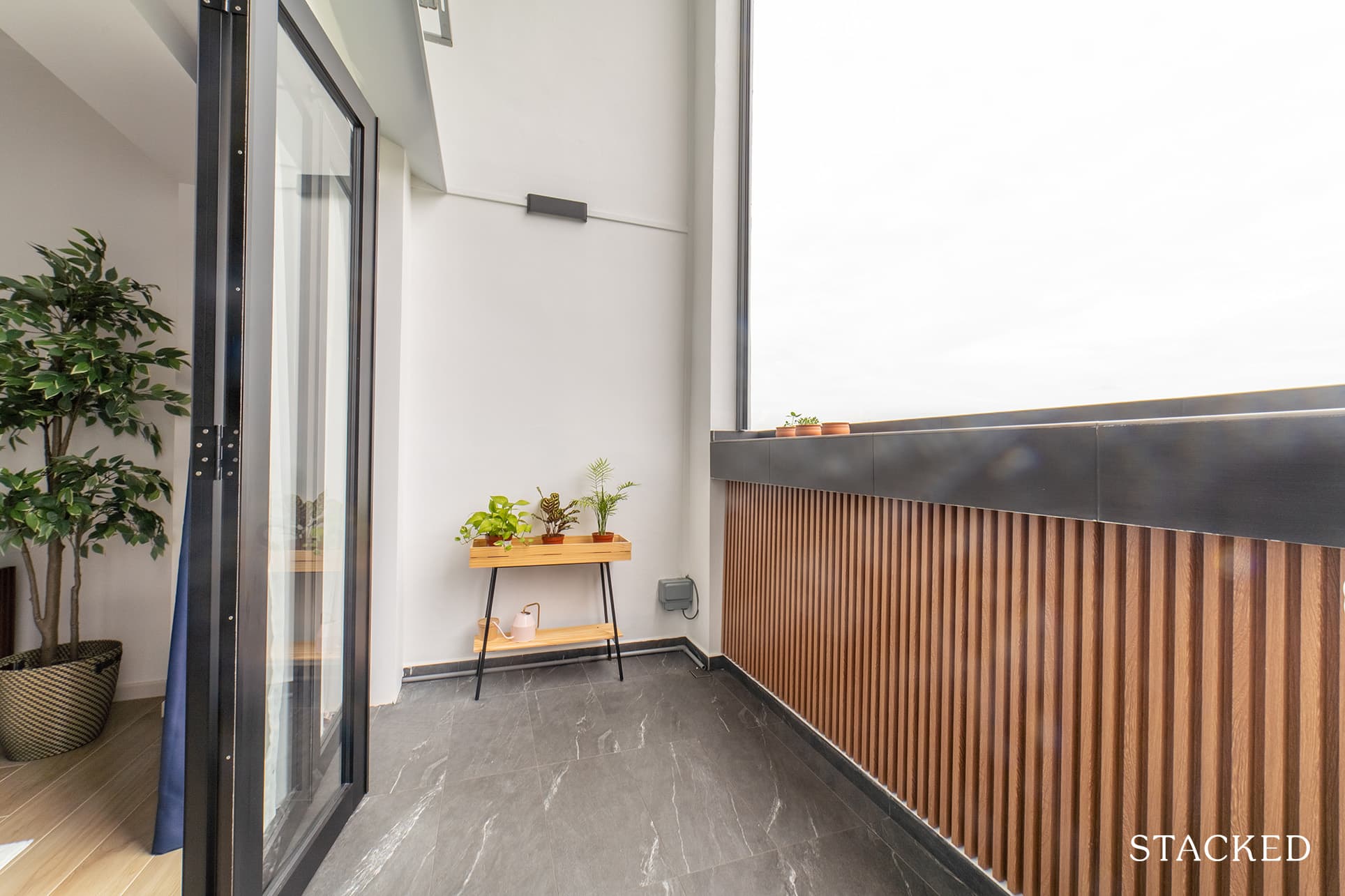 The balcony actually ended up being the most expensive part of the house, if you were to include the cost of the bi-fold doors and the automated blinds. As the unit does receive afternoon sun, this became a hefty but needed expense.
Dining and Kitchen
Closed kitchen cabinetry in light grey and clean lines dominate the kitchen. The wood floor is a seamless continuation of those from the living room, offering warmth to this area as well.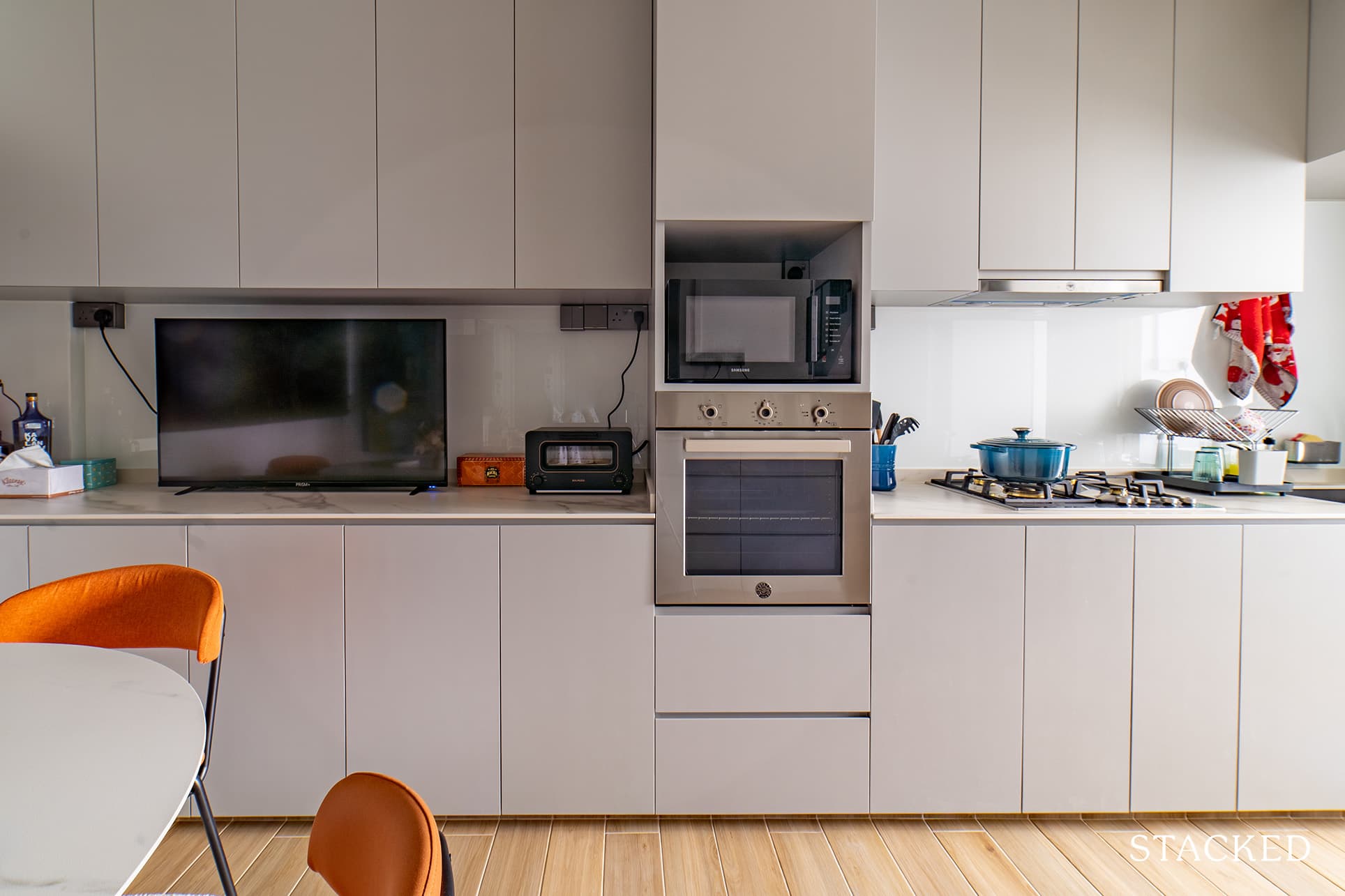 Marble-patterned countertops, as well as the dining table, can offer an effective way of elevating the elegance of the kitchen.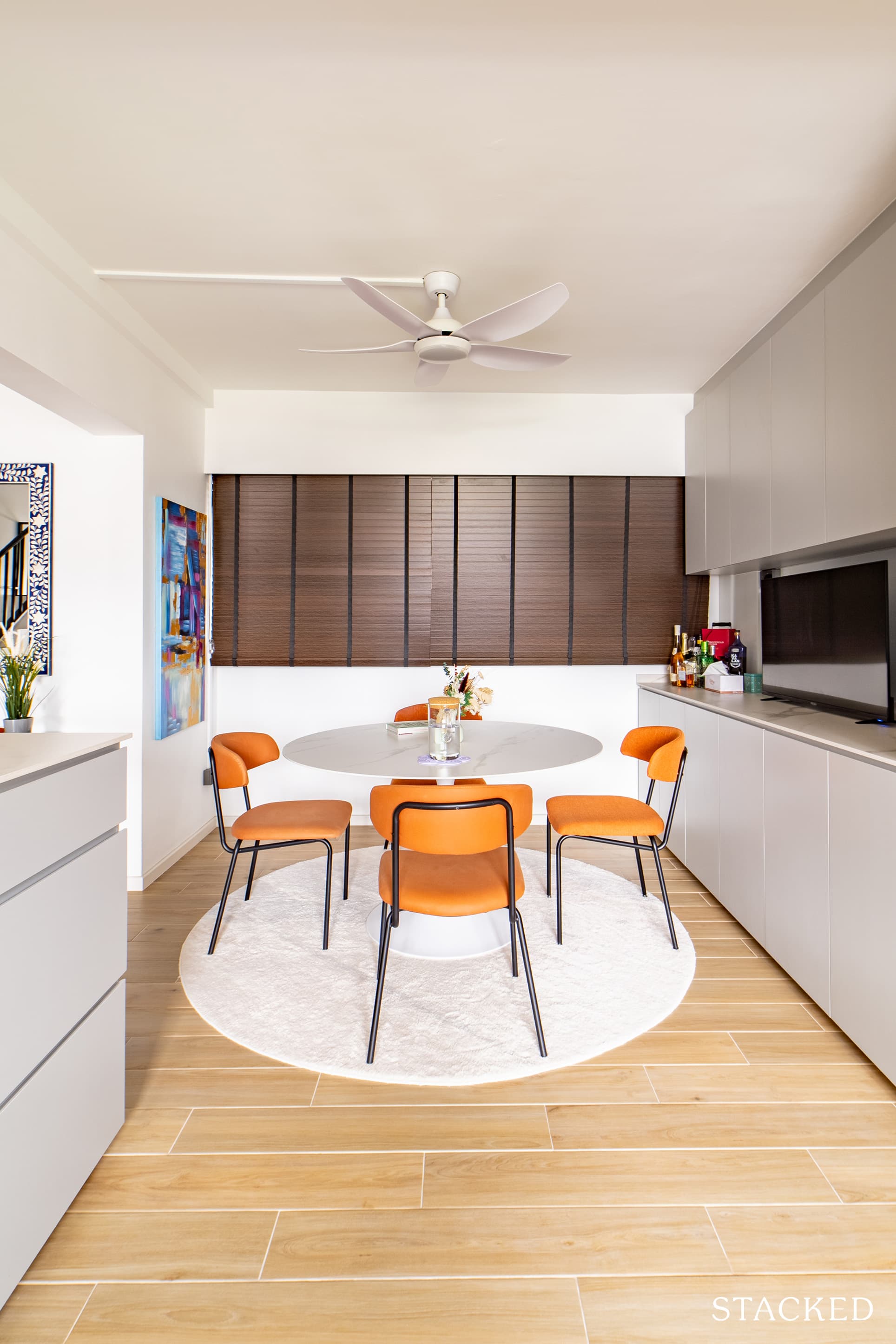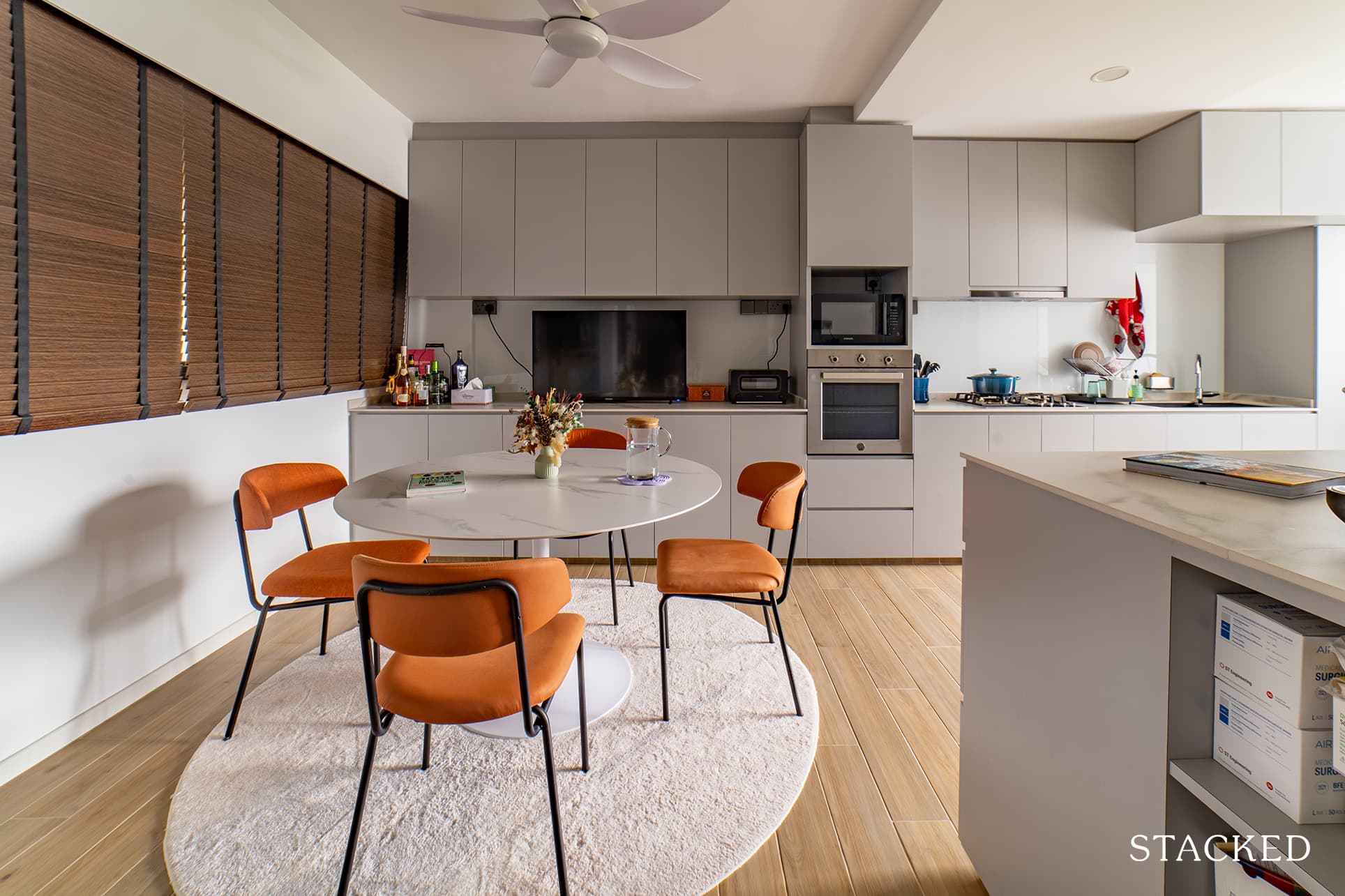 There's also ample lighting for the kitchen, which streams from the service yard, as well as the windows along the dining area. They've also put a focus on how it looks at night, with cove lighting lined along the top of the cabinetry.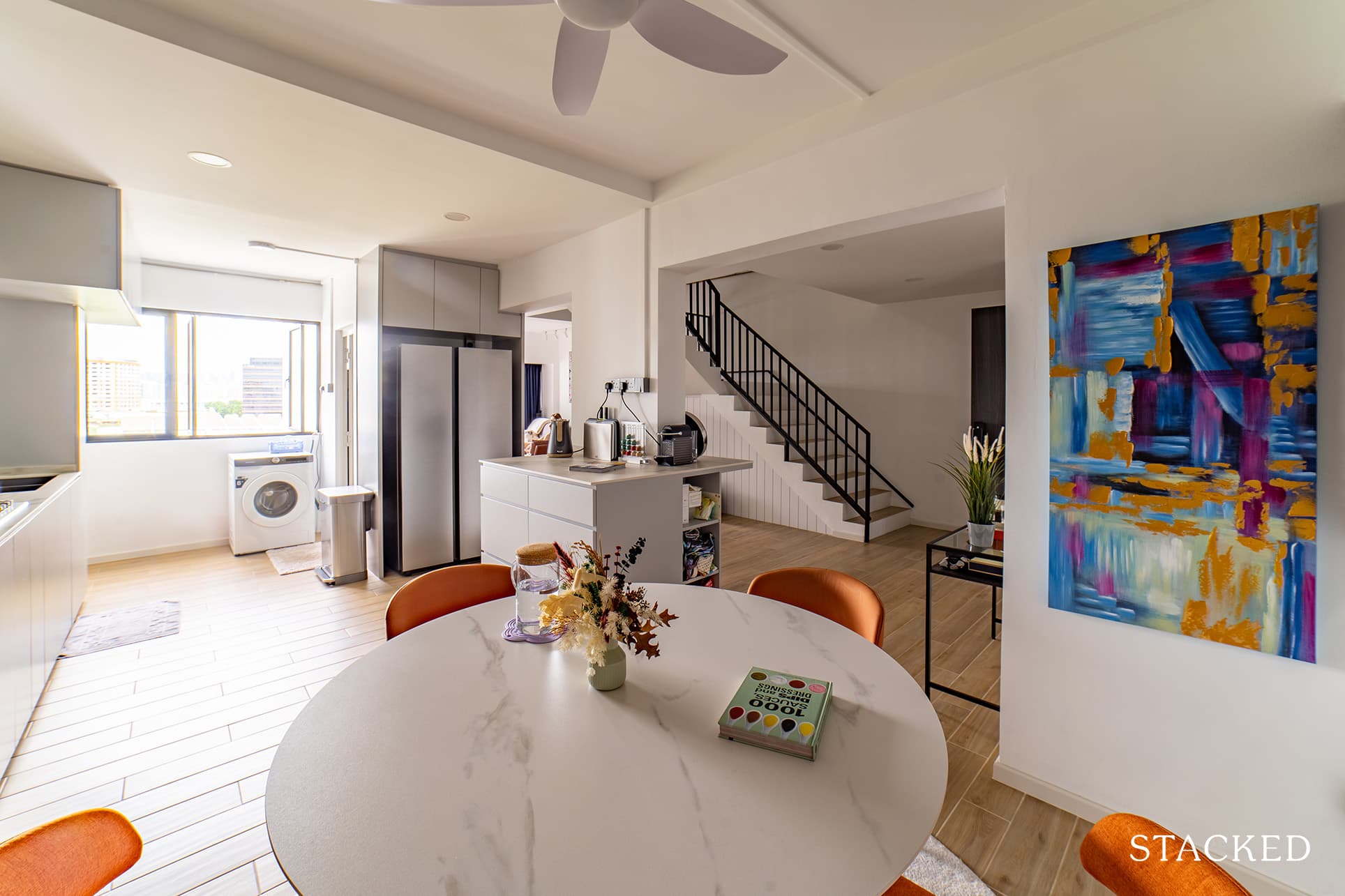 Bedroom
Before reaching the bedroom, you'll notice a large abstract painting hanging on the wall behind the flight of stairs. There's also one in the living room if you haven't seen it earlier which helps bring a pop of colour and texture to the space.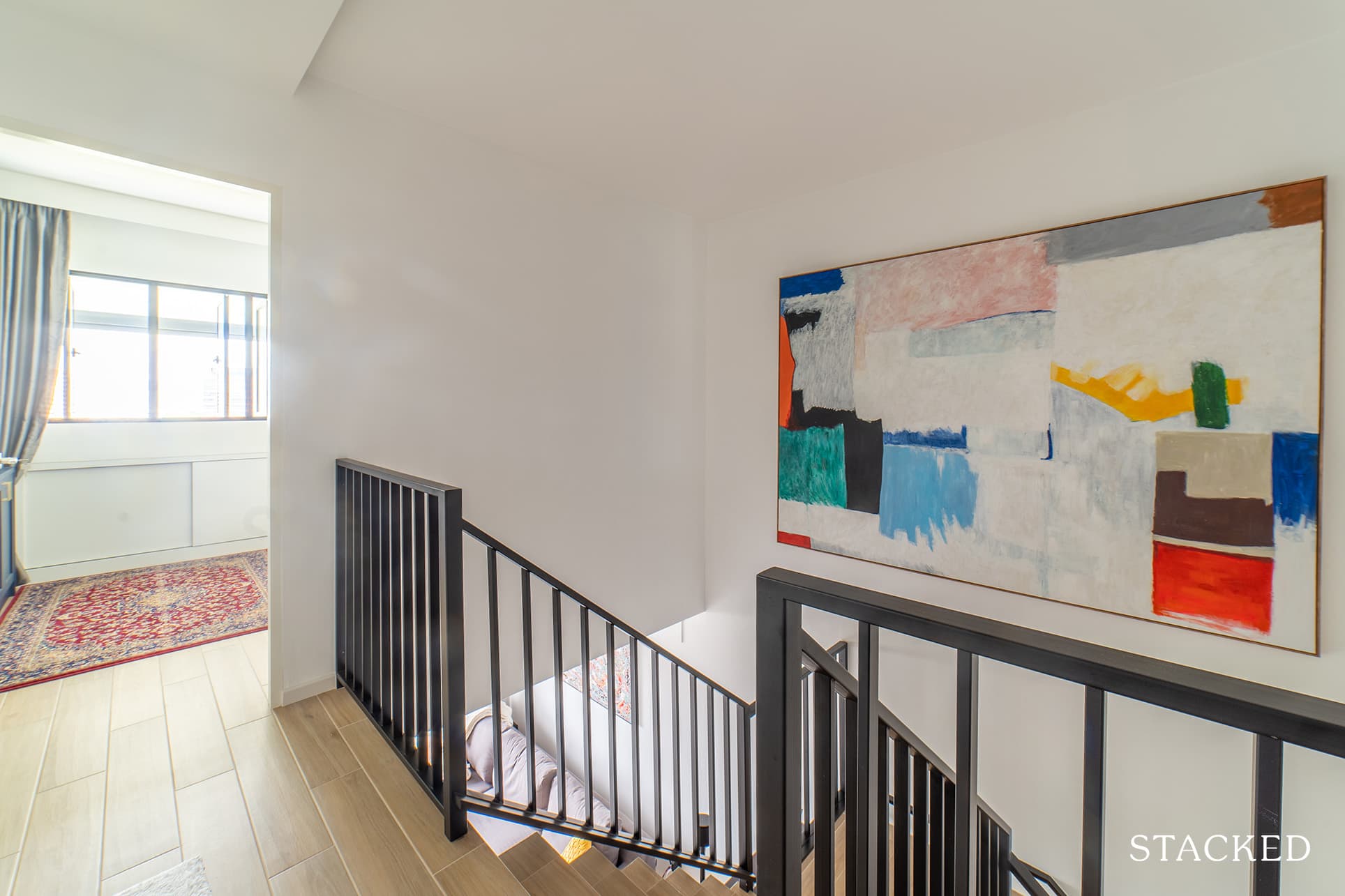 Now on to the master bedroom. The couple chose to go with a simple layout for their bedroom for good reason. Sometimes bedrooms can contain too many distractions, and creating a space solely to sleep is a smart move.
Read this next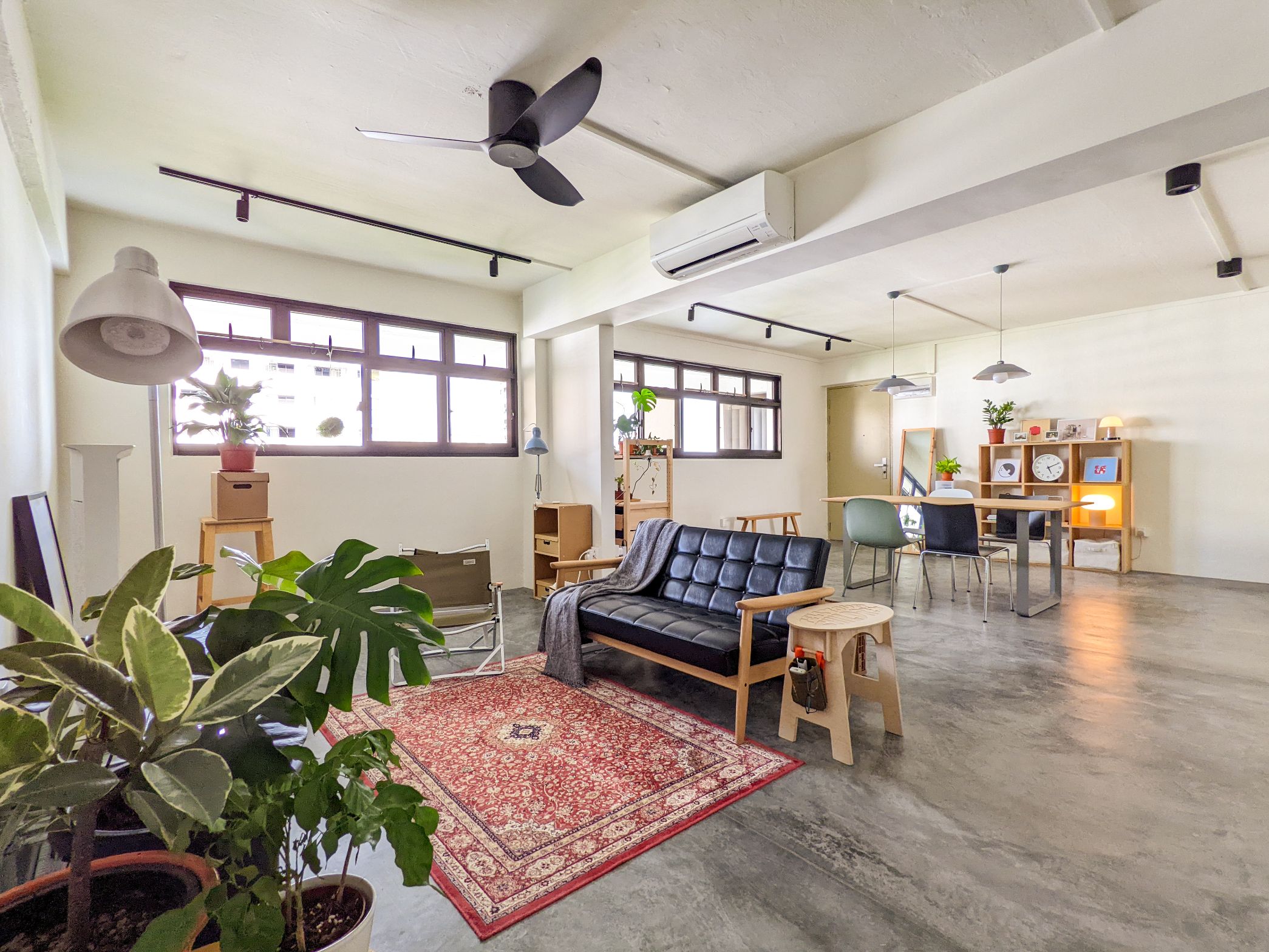 Read this next
by Stacked
For Chris, it is his favourite space. "It is huge and my mattress is immensely comfortable. I may or may not have taken a few extra winks during those work from home days," he disclosed.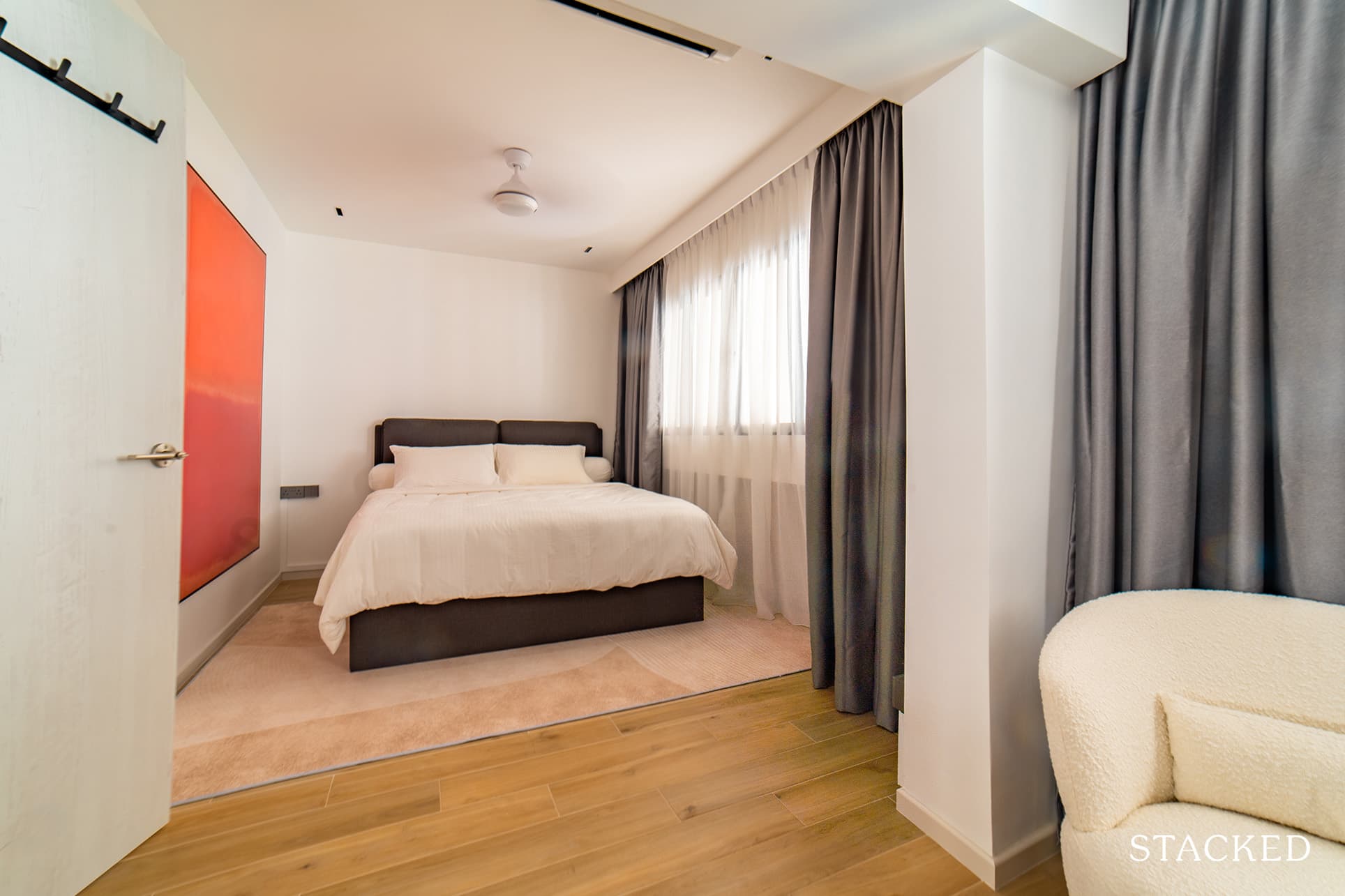 Hacking the wall between the master bedroom and one of the other rooms allowed them to set up a walk-in wardrobe that is separate from their bed area. It's a luxury that not many can enjoy, and having more storage space in another area allows the master bedroom to feel even more expansive.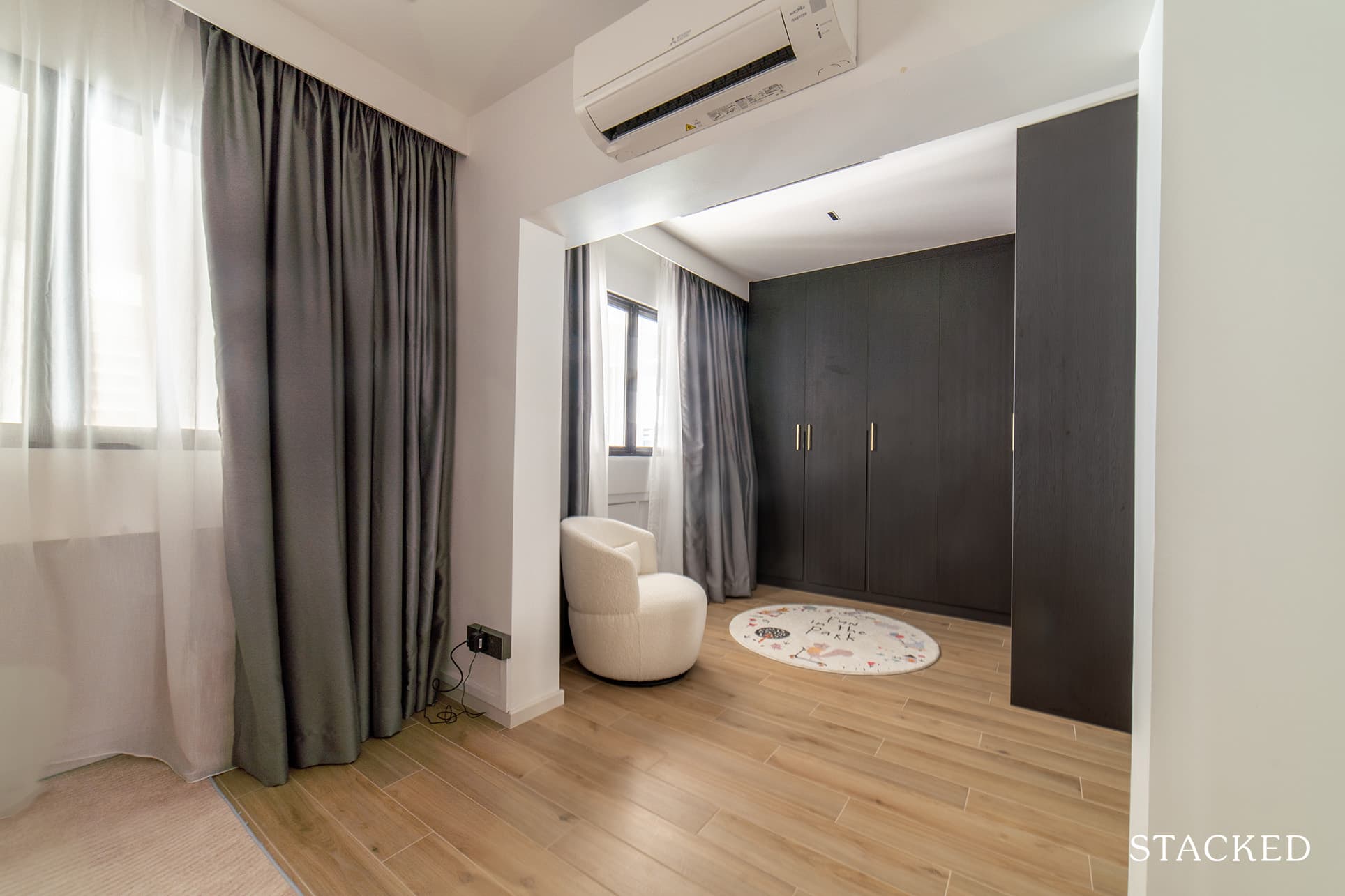 Study Room
Chris and his wife decided to convert one of their bedrooms into a study room. The navy blue, floor-to-ceiling blue bookcase creates a lively accent on the onset. Studies have shown that having a blue interior colour in the room can help encourage study activity better than the warmer colours of brown or orange, so this is certainly a very suitable choice.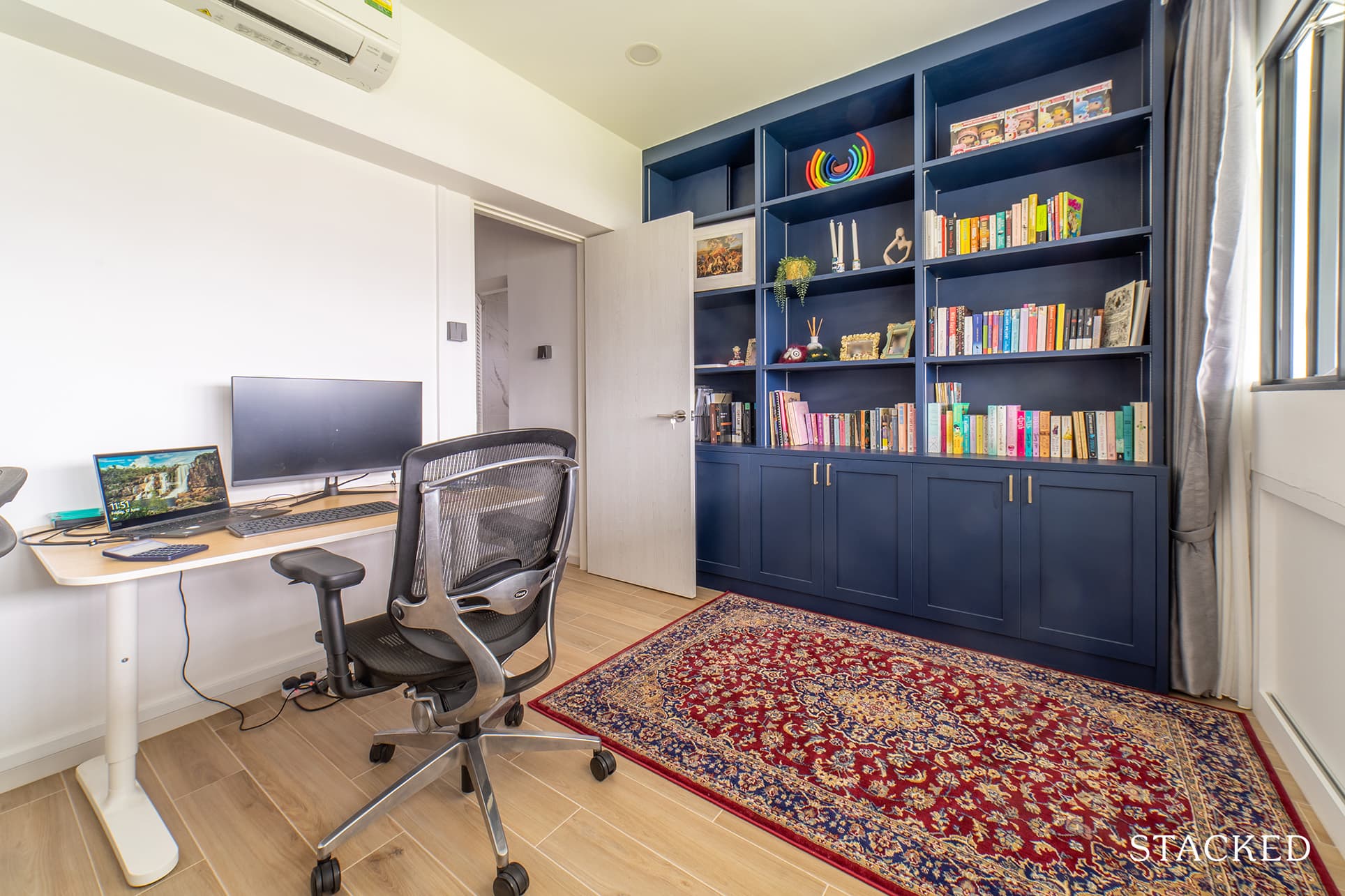 Bathrooms
The bathroom upstairs is dominated by grey coloured tiles. Using this colour for the bathroom, especially the cool grey tone, helps add a calm and cooling effect – especially if you consider Singapore's hot and humid weather. The deep dark tones for the cabinets and the gold finishes of the handles help to give it a touch of luxury.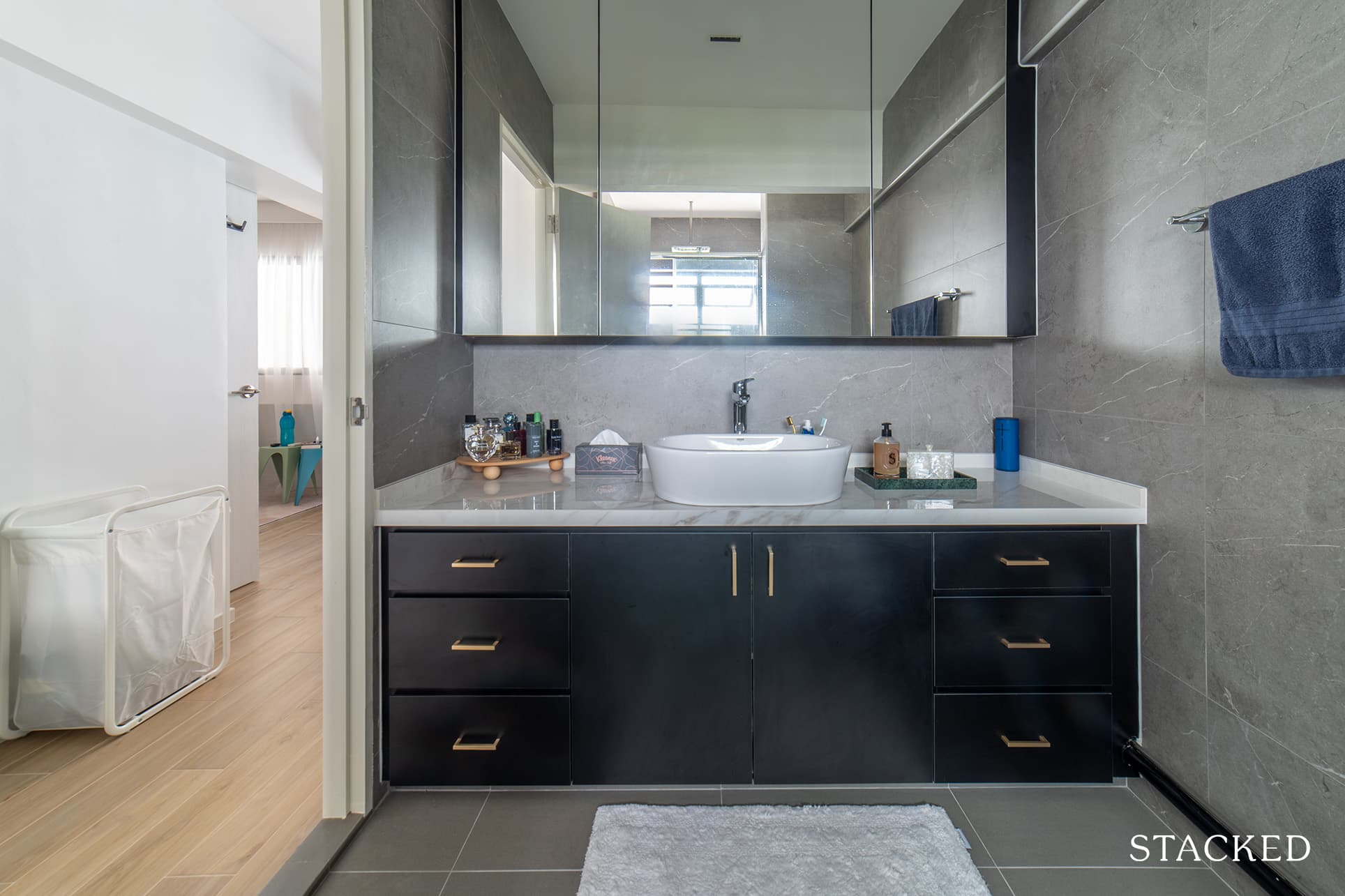 On the other hand, the bathroom downstairs has one of its walls in green tiles in a herringbone pattern. It may be noticeably smaller, but it's more functional than before, as you'll learn later.
Bringing The Vision To Reality
The couple was able to bring about 80% of their vision into reality. "We had to forego some things on our wish list due to budgetary concerns," Chris said. The great thing, though, is that they didn't have to add more to their reno budget.
For instance, Chris said that they would have gone with large format real wood planks for the flooring and real marble for the bathrooms if money was no concern.
Aside from the budget, they also encountered some limitations with what they can or cannot do with the HDB unit due to restrictions. "We would love to have glass panels for the balcony if that was allowed."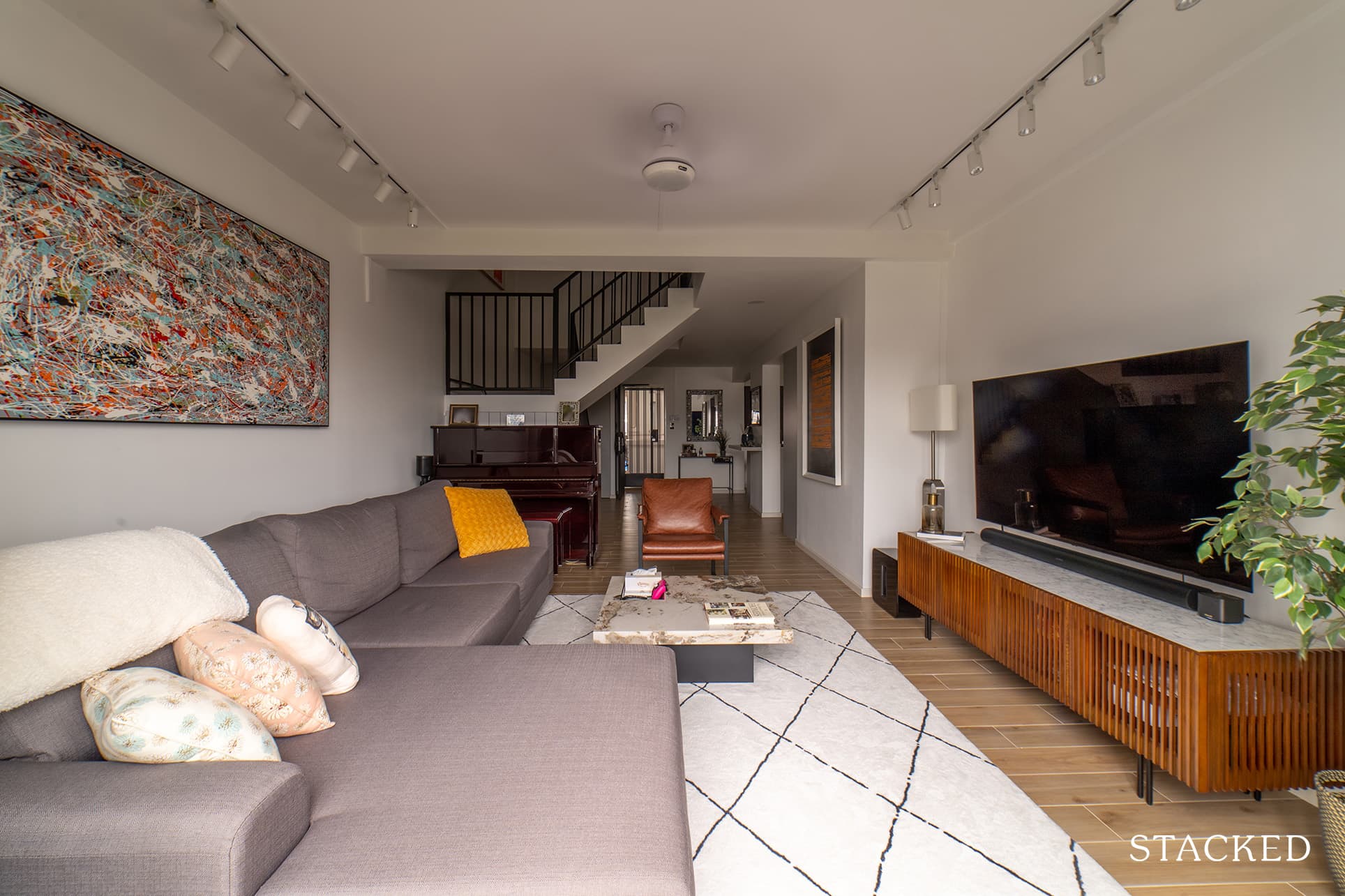 The couple tried a different yet effective approach in arriving at a final decision for their contractor. They visited various contractors and IDs for quotes but added something to the mix of criteria.
"Essentially, our decision was brought about by the contractor's good reviews, professionalism, easy-going nature, and competitive pricing," he shared. Plus, they also factored in an Instagram influencer's experience.
"The influencer was raving so much about how smooth the process was with her contractor," Chris shared, "so we decided to contact the same contractor." He said that the contractor came on-site to make measurements and then proceeded to furnish them with a quote which they eventually accepted.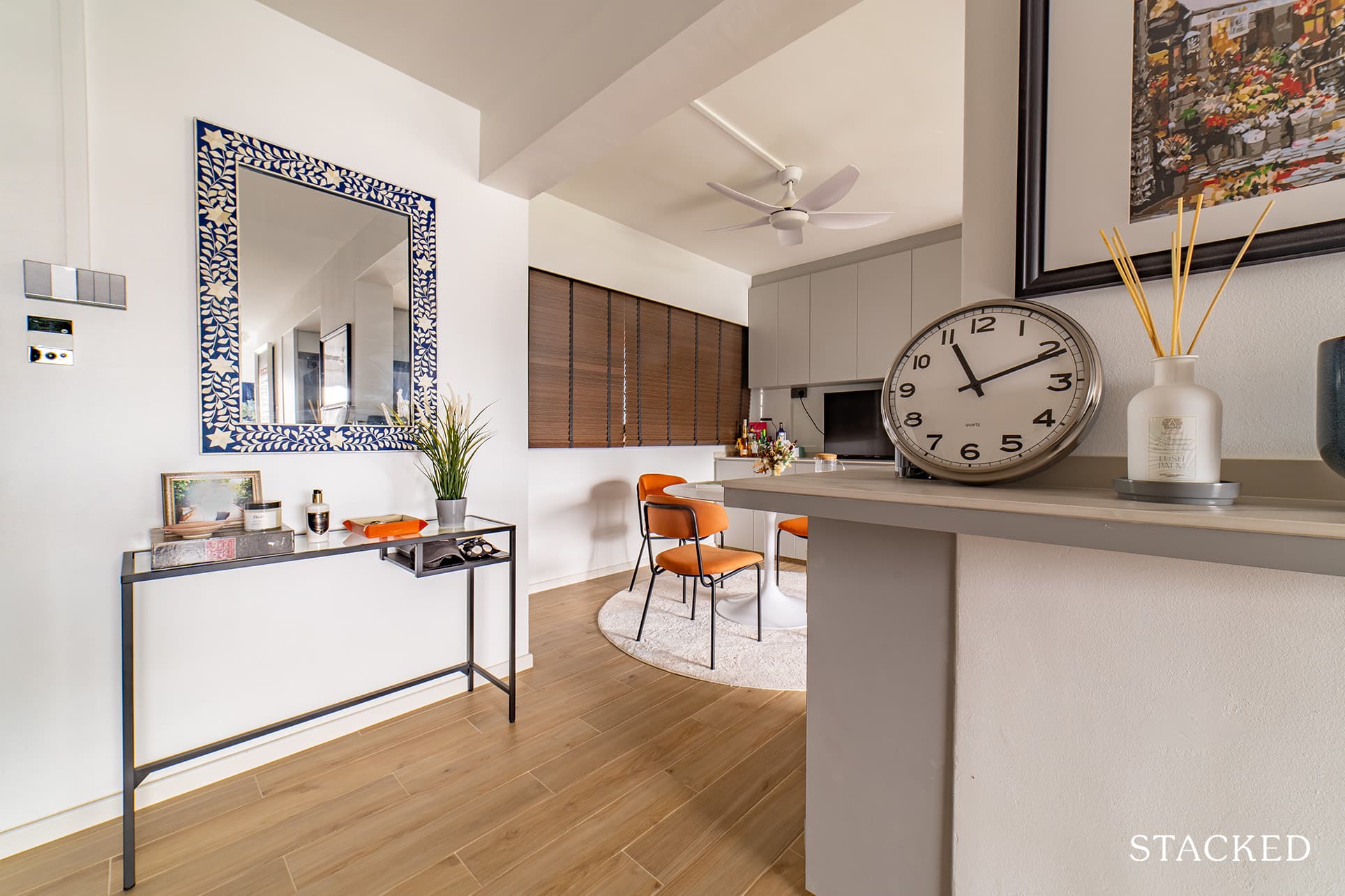 When it comes to their furniture sourcing process, Chris and his wife follow a simple rule of thumb. "Anything we deemed non-essential with regard to quality were all Taobao purchases."
We're sure a lot of us share the same principle and are already familiar with the wonders of Taobao.
Chris believes that this is both practical and smart. "Why pay for a mark-up in price to purchase locally when you can get a 90% similar item on Taobao costing so much less?"
But as he said earlier, these items should be non-essential with regard to quality. For Chris, these are dining chairs, a dining table, stools for when there are extra guests, a coffee table, a side chair in the living room, and a study table.
For essential items such as sofa and mattress, the couple needed to make sure of their quality, so they tested them physically in local showrooms before making a purchase.
So what items did they buy locally? Chris prioritized those that would benefit from local warranty coverage in case of malfunction. These are mostly appliances which include the TV, soundbar, fridge, washing machine, oven, and stove.
Lesson Learned From A Successful Renovation Journey
Challenges, when overcome, present valuable lessons regardless of what aspects of life it affects. And since this maisonette is quite old, Chris and his wife had a number of predicaments they had to go through.
But nothing compares to the WC challenge.
"The washroom at the lower level was the biggest challenge," he said. Based on the original floor plan, there was a "wash area" on the lower level. However, the previous owner had this demolished entirely. So to be able to have a full-fledged WC in the same location, they had to rebuild the wash area and install a toilet bowl.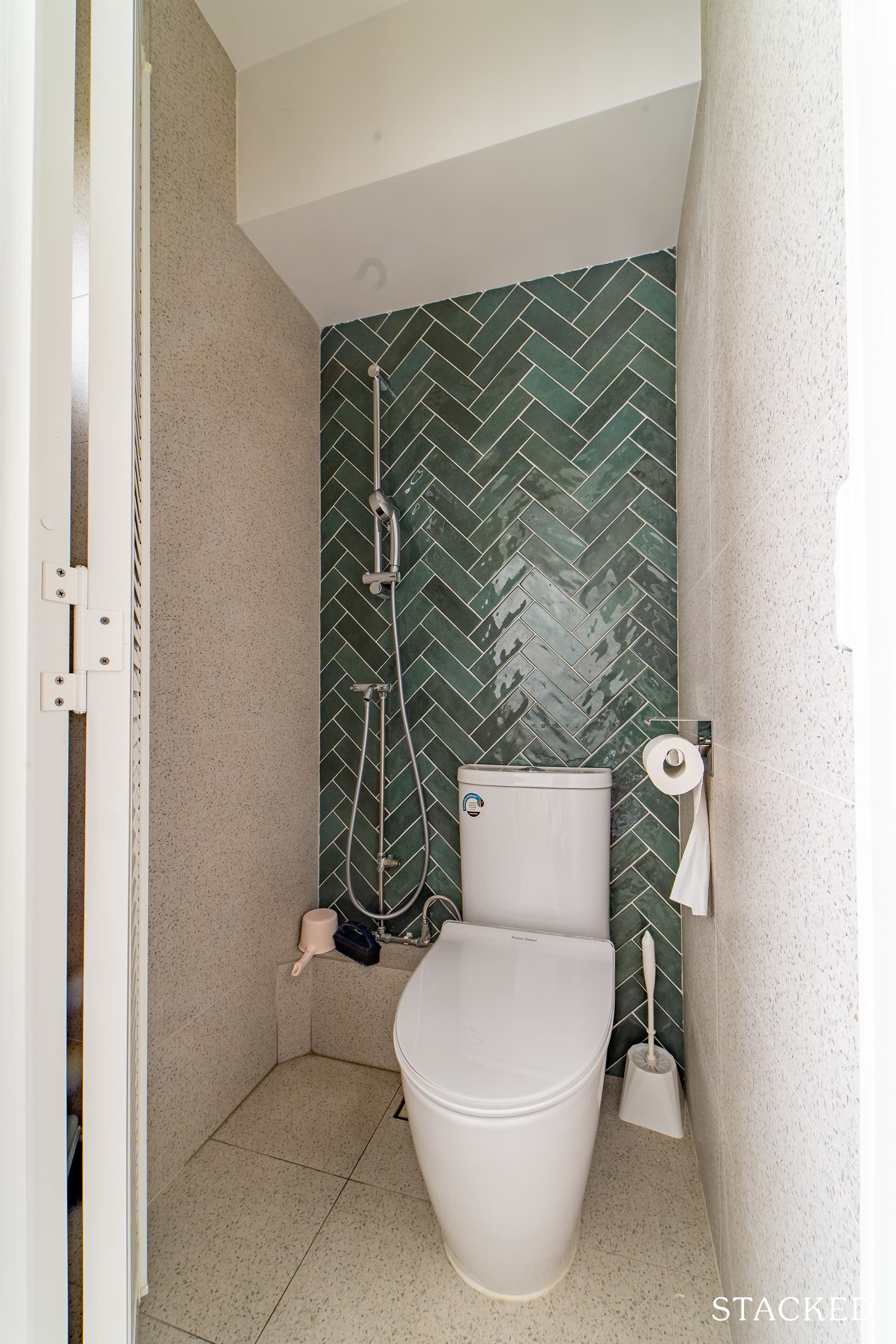 It was no easy feat since they needed to make sure it had a discharge pipe wide enough for the toilet bowl.
There are two main types of discharge pipes, one thin and the other wide. The former is for sinks, while the latter is for refuse from a toilet bowl. Chris explains that the problem is that the original area only had the thin pipe available, so it's unsuitable for a toilet bowl installation.
Fortunately, Chris's block had undergone the Home Improvement Programme (HIP).
His neighbour, who shares the same exact layout as that of his unit, showed him a solution to his problem. Due to the HIP upgrade, they installed a toilet bowl in the lower-level wash area. "I immediately told my contractor to do the same," Chris said.
The couple learned a lot of things in this reno journey, from tile selection, paint selection, toilet fittings, and false ceiling – among other things. "It was quite a memorable journey for us," he said, "and I think I am more confident to handle the renovation of our next home moving forward."
He did also add that playing safe is something that he won't be repeating again. "I would have preferred if I was more daring with experimenting with various textures, tile formats, and colours for my bathroom tiles," he admitted.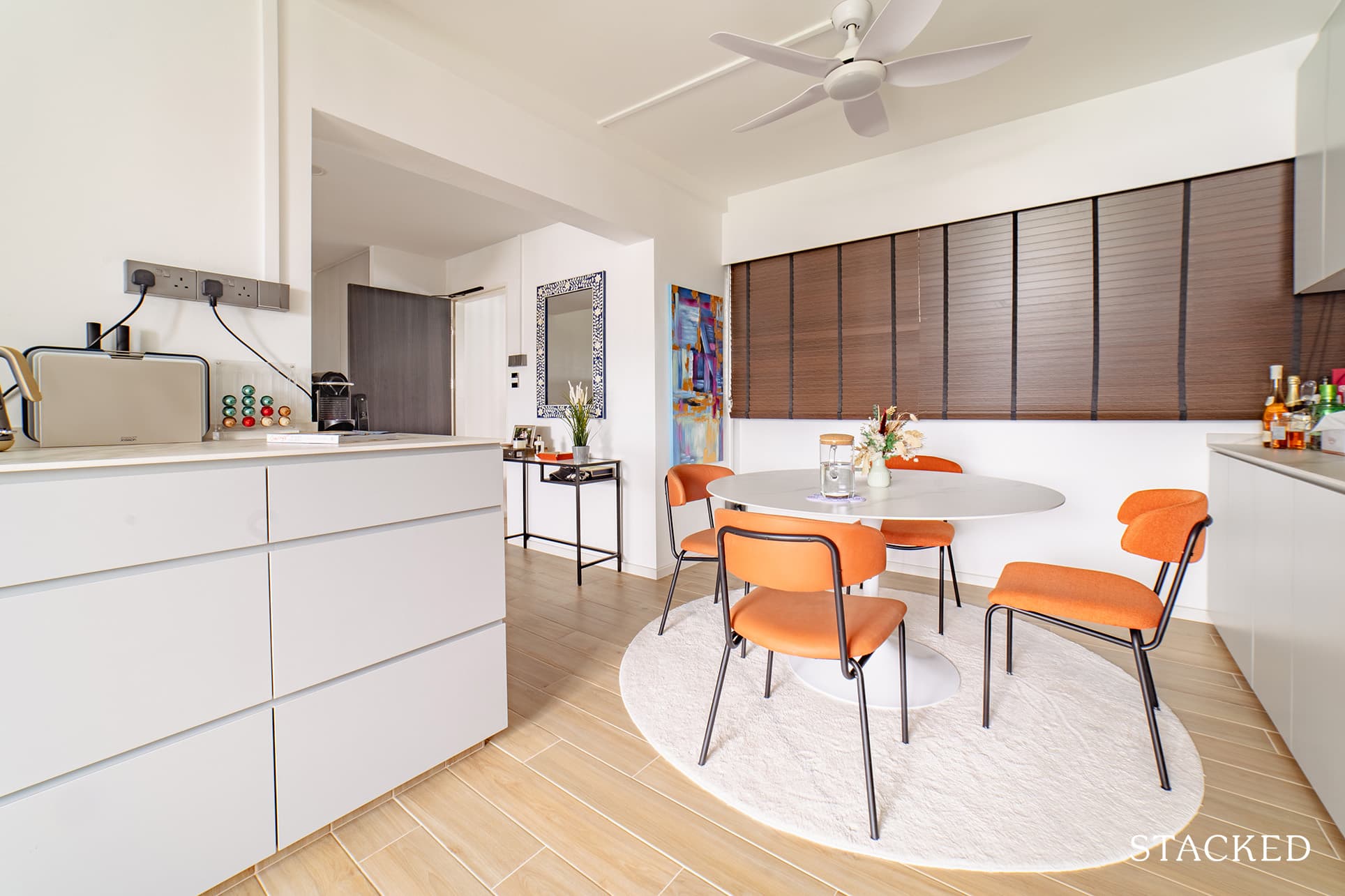 Chris gives sound advice unique to other homeowners we've interviewed in the series. Instead of the usual "stick to a theme" or "watch your budget" advice, he said he would like to introduce an often neglected yet vital component of a house.
"For new resale HDB owners who bought an old flat like me, please please please factor the installation of LAN cables throughout the home," he emphasised. "Personally, installing LAN points throughout the house blanketed with a Wi-Fi mesh system was a non-negotiable for me."
We figured it must have been for work, but Chris's answer took us all by surprise:
"Otherwise, how will I scroll through TikTok smoothly while on the toilet seat?"