Our Verdict
Located in a quiet cul-de-sac along Institution Hill, Hill House offers residents a serene abode within Singapore's vibrant District 9. However, it has slightly smaller units and its boutique nature means that it won't appeal to a wide audience.
30
min read
| | |
| --- | --- |
| Project: | Hill House |
| District: | 09 |
| Address: | 11 Institution Hill |
| Tenure: | 999-year from 1 July 1841 |
| No. of Units: | 72 |
| Site Area: | 14,230 sqft |
| Developer: | Mequity Hills Pte Ltd |
| TOP: | Q3 2026 |
I've always found a hill location to be a bit of a double-edged sword. On the positive side, you get more elevated views and more privacy. On the less positive end, it's less accessible, and depending on how steep the gradient is, it can be more tiring than you think to walk in and out (if you don't drive).
It's a small dilemma that would likely face prospective buyers looking at today's property in question, the Hill House.
Set nearly at the end of Institution Hill, it sits on elevated grounds that overlook the shophouses situated by River Valley Road. The good news here is that these are conserved shophouses, so the units facing River Valley Road will never have to worry about other developments sprouting up in the future to block your views.
The Hill House is actually the second property developed under The Ove Collection, a lifestyle brand created by Joan Chang (she's the eldest daughter of Herman Chang, the founder of property developer Macly Group). The first was The Iveria, a 51-unit development located just across from The Hill House, which is now fully sold. As a bit of context for you, the first project under her belt was the much-lauded revamp of Lloyd's Inn, a boutique hotel that's located just down the road. The success of the revamp led to a Lloyd's Inn in Bali, as well as the creation of a new brand called Cara Cara Inn, a boutique hostel for younger travellers to Bali.
So as you might imagine given her age, her developments are largely targeted at the more well-heeled millennial buyer. The Iveria was inspired by the cosmopolitan lifestyle of New York, while the Hill House aims to be a more quiet retreat at Institution Hill.
While River Valley has been well-loved by many for its diversity in architecture, ranging from low-rise conserved shophouses to taller developments, its charm lies in its neighbourhood. Considering that it is located in between the vibrant Robertson Quay (famed for its nightlife and alfresco dining) and upscale Orchard Road, there's much to love in and around the neighbourhood.
The challenge? As with most small projects, the lack of space and economies of scale does mean that some aspects will have to be compromised. Let's see how the Hill House fares with our tour of the show flat.
Hill House Insider Tour
Let's start with the immediate surroundings of the Hill House. Institution Hill is a road most people would probably have never heard of, let alone have driven to in their life. It's quite a short road, so the walk out to the main road isn't bad at all – but as you can tell from its name, it is on a gradual incline up towards the development.
Although short, the road is shared by 5 small developments, along with the second entrance/exit of the towering Aspen Heights.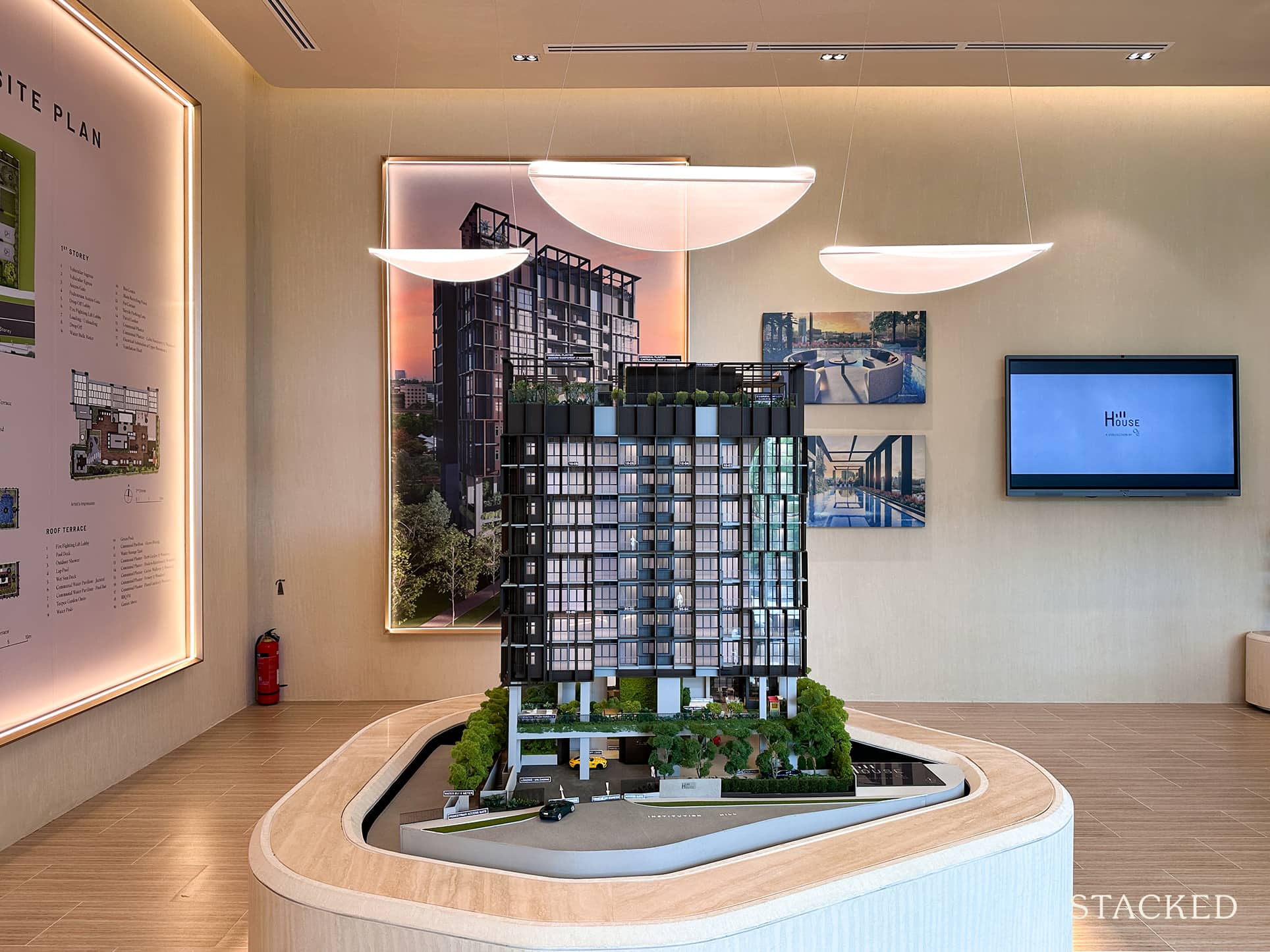 Before we dive straight into touring the facilities of Hill House, here's a bit more context in terms of land size for Hill House. It sits on 14,230 square feet of land (which is considerably small, even for a boutique development) and has 72 units. It comprises a singular residential tower with a rather simple facade of straight lines and a black-and-white colour palette to contrive a modern and contemporary aesthetic.
Notably, the residential blocks are propped up on high stilts and are complemented with plenty of greenery. Not only does the added height give a higher clearance view of the landed enclave (on top of being situated on a hill), the common areas get to enjoy better wind flow and the first-floor units are able to enjoy better views and more privacy.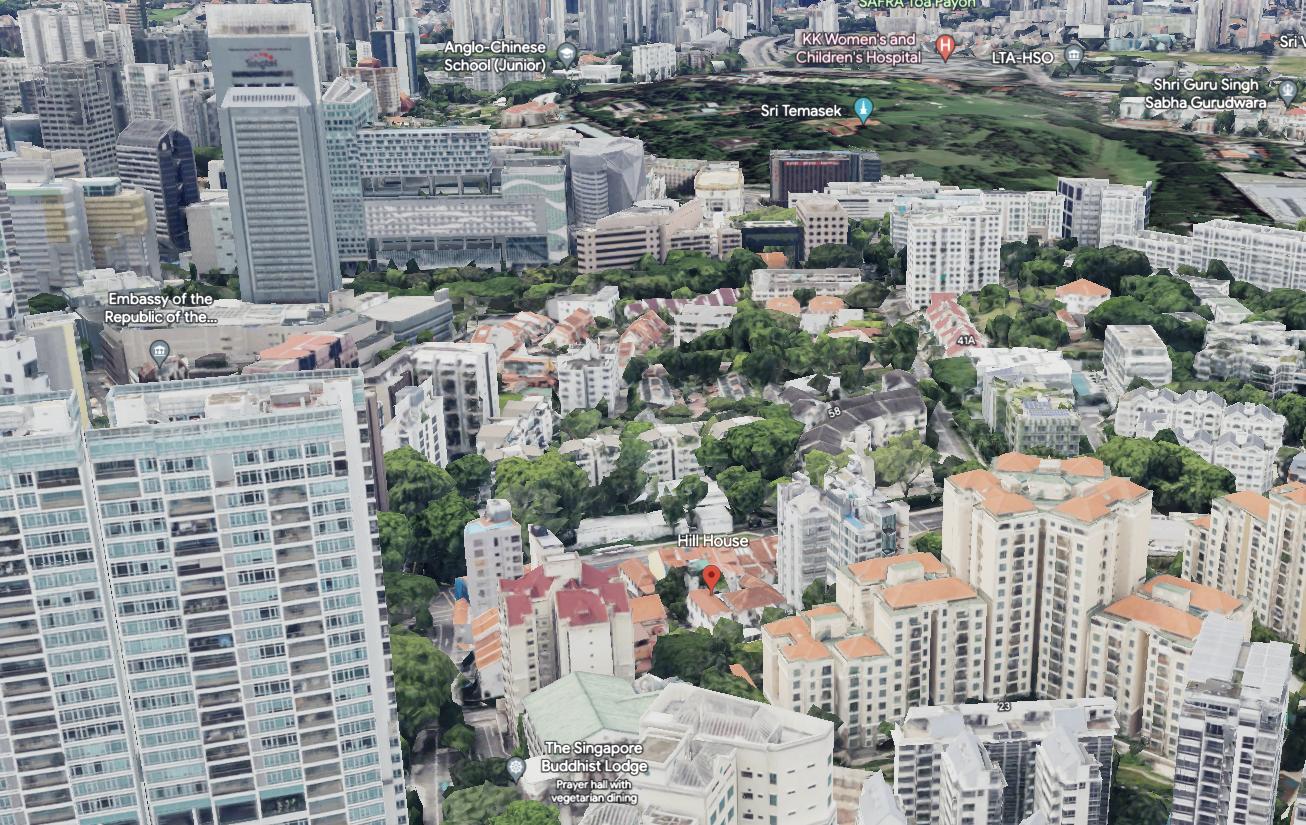 Google Earth might not have updated the facade of Hill House on its skyline yet, but I thought it would still be informative to take a look at its surroundings from this angle. As seen from this screenshot, the location of Hill House overlooks the taller facade of Aspen Heights and the landed enclave along River Valley Road.
Although I can't confirm the clearance height for unblocked views towards the Somerset direction, higher floor units facing River Valley Road should be ideal for those who want to enjoy unblocked city views. Alternatively, units that face Aspen Heights won't enjoy much of a view, seeing that Hill House has a lower-rise facade.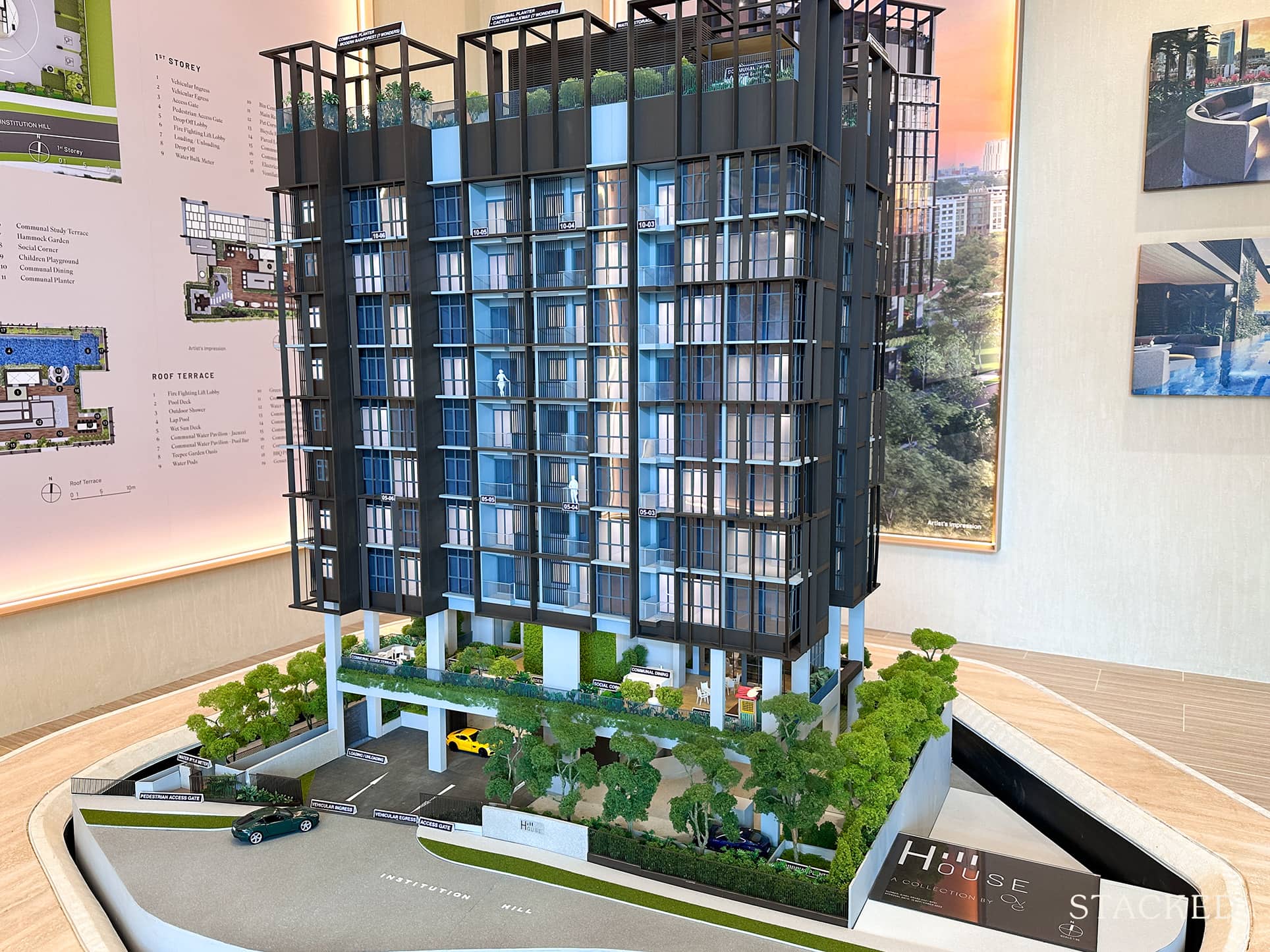 Just based on Hill House's land size, you may be pleasantly surprised by the variety of facilities that it is able to offer. To cope with the lack of land space, the facilities are seen to be distributed along the annexe on three different levels – the ground floor, the second floor and the rooftop.
To me, the thought process that went behind fitting all the facilities while making sure the project didn't feel too cramped was commendable. Boutique developments are known for their lack of facilities but Hill House seems to do better than most.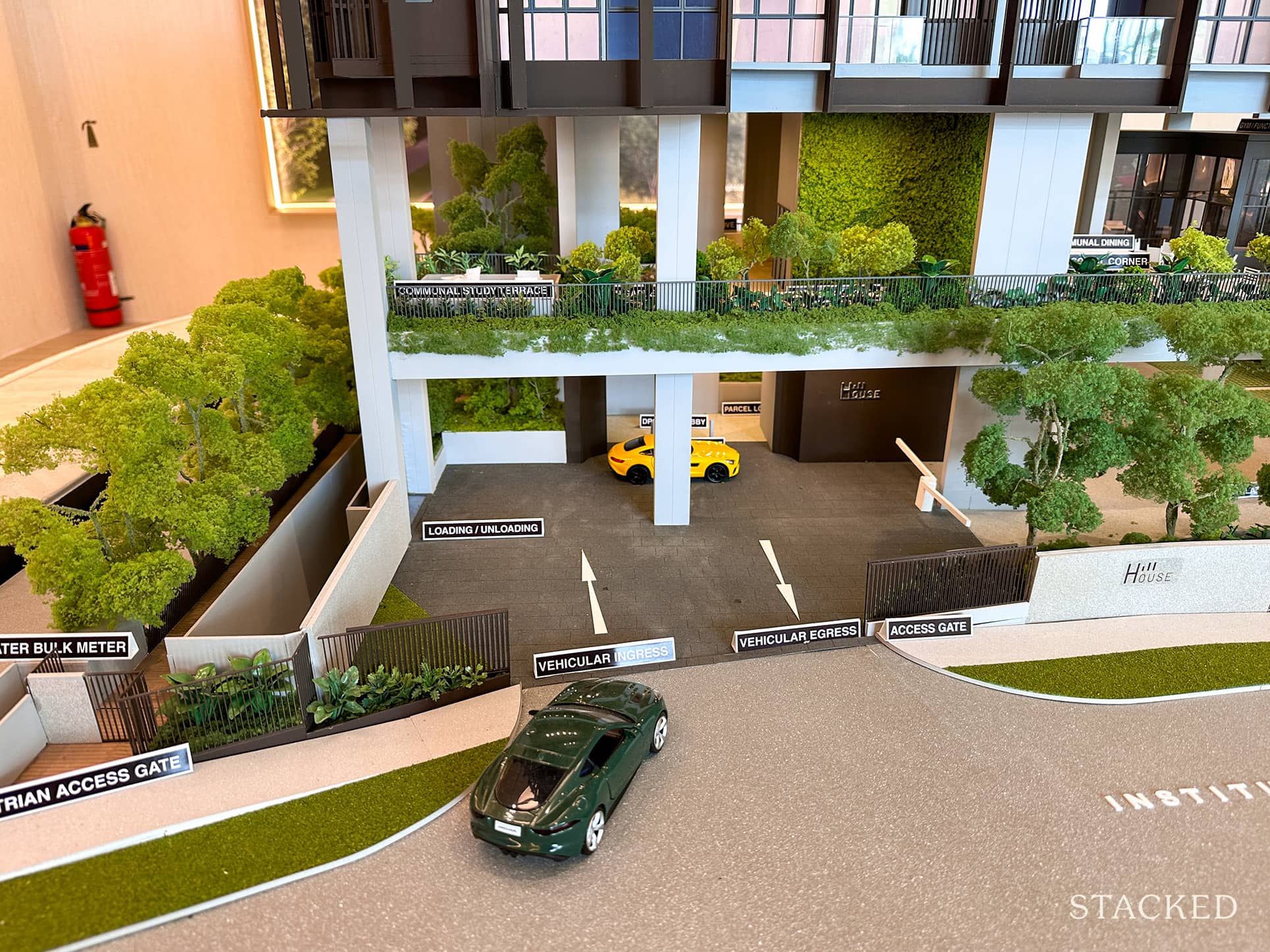 Starting off with the front entrance, there's only one ingress and egress at Hill House, which conveniently faces Institution Hill. Seeming to follow a trend that has been spotted in several new launches, Hill House strikingly does not have a traditional security checkpoint.
Instead, the developers opted for a smart gantry system to maintain security, which could translate to lower maintenance fees. This is seemingly more common in most boutique properties which rely on a smart system to control the gates.
As previously mentioned, Institution Hill is a cul-de-sac that currently services residents of Aspen Heights, which means that the road would likely be much quieter as compared to other nearby roads like Kim Yan Road.
The downside is that pedestrians would have to exit along Institution Hill and take a walk out to the main road (River Valley Road) to access the nearest bus services, which can be seen as rather inaccessible.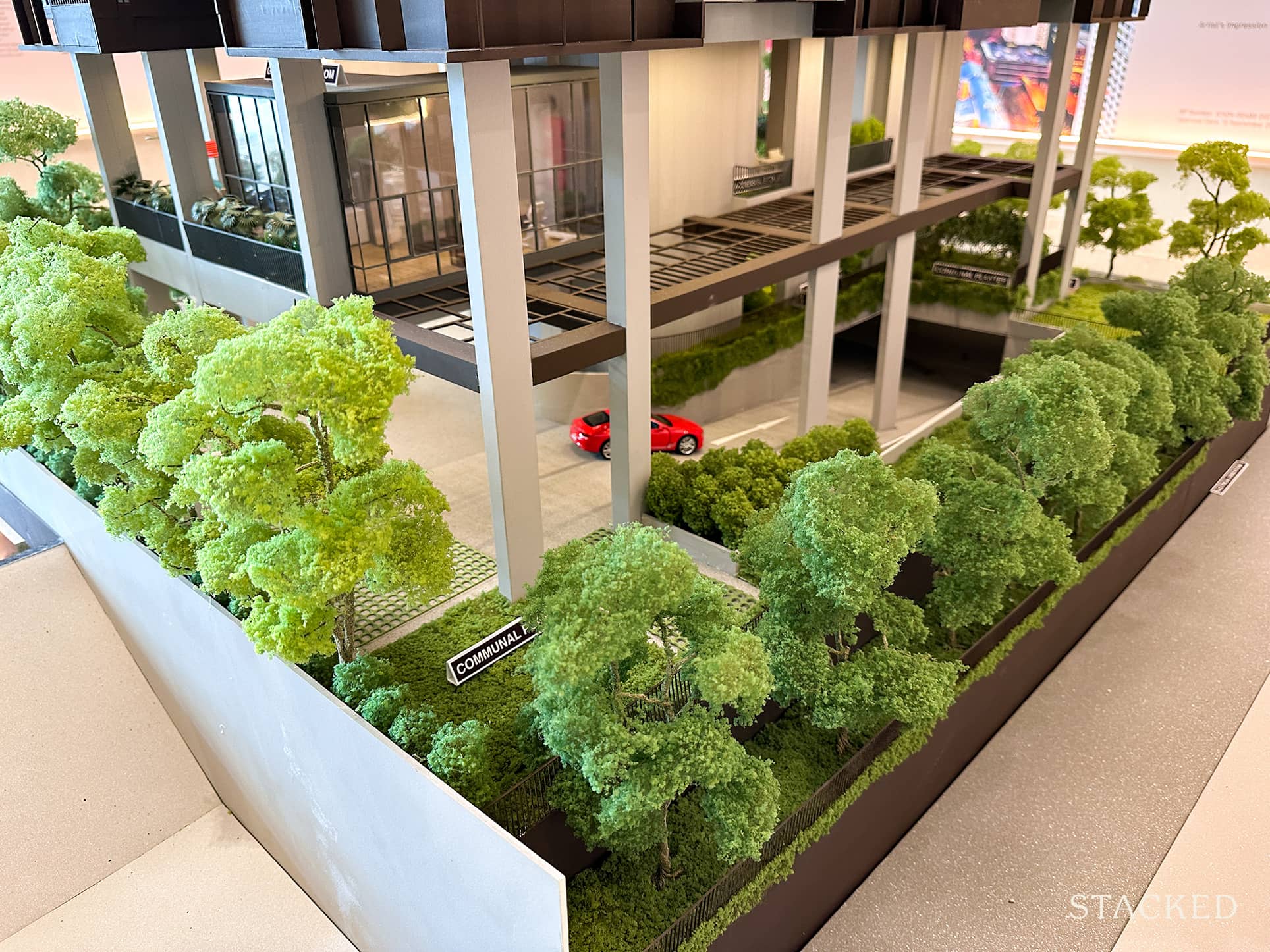 For residents and visitors who drive, there are seven lots available on the street level for accessible parking, though these lots are not sheltered.
Alternatively, the entrance to the basement car park is located at the back of the development which goes all the way down to level B2.
Here, you can also see that there are generous amounts of greenery surrounding the periphery of Hill House. The whole idea of this is to create a live painting that is constantly growing and changing through its botanical plants.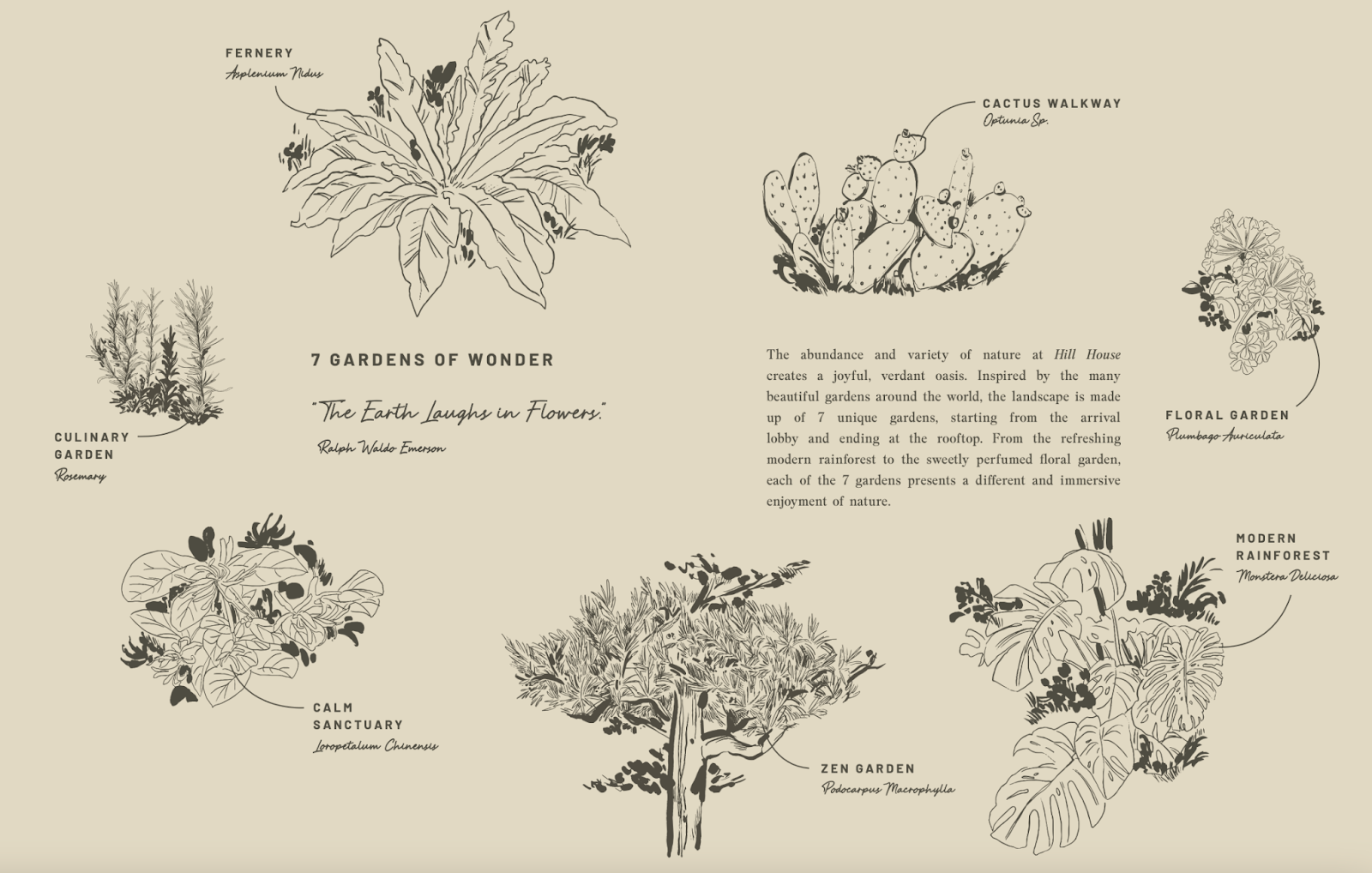 Hill House prides itself on including various exotic plants throughout the project in the form of "7 Gardens of Wonder" to make each corner of the development more distinct.
It's quite unusual for boutique developments to place so much emphasis and effort into creating a concept and on its landscaping, which is why I think these details do make a difference within the boutique condo category.
In fact, there are similar instances that I can see with Lloyd's Inn and Hill House – both are dedicated to creating an immersive and tranquil experience with their landscaping.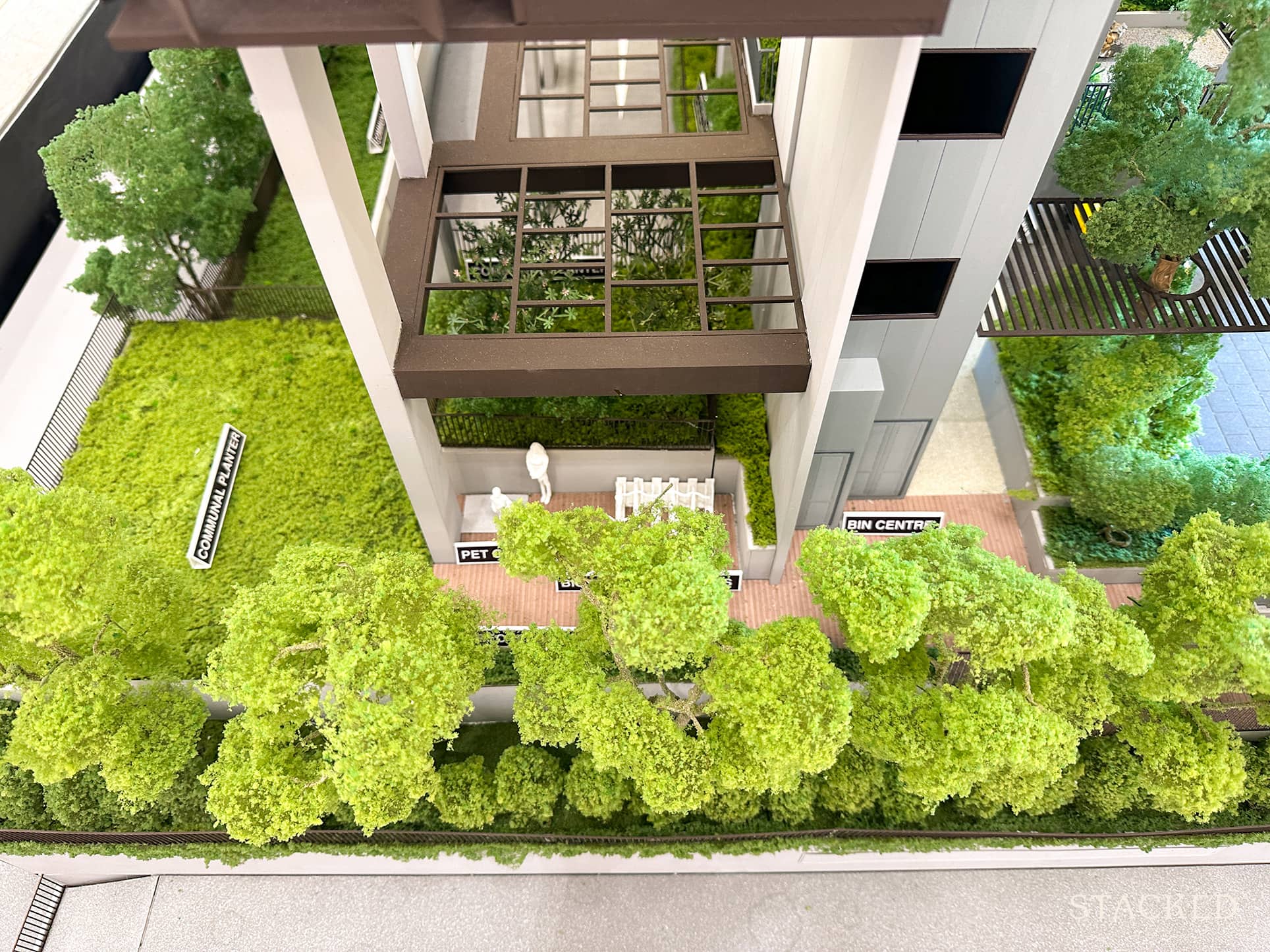 On the ground floor, the facilities are quite simple. It includes a communal planter, bicycle parking lots and even a pet corner.
As a pet owner myself, I do hope that this corner is catered for more practical use, like a washing and clean-up point for pets after a walk or potty run. This makes taking care of your furry friends much more convenient and clean, which can tackle the pain points that many pet owners face while living in a condominium.
From this angle, we can also see that the design of elevated stilts allows more natural lighting and better ventilation in the project.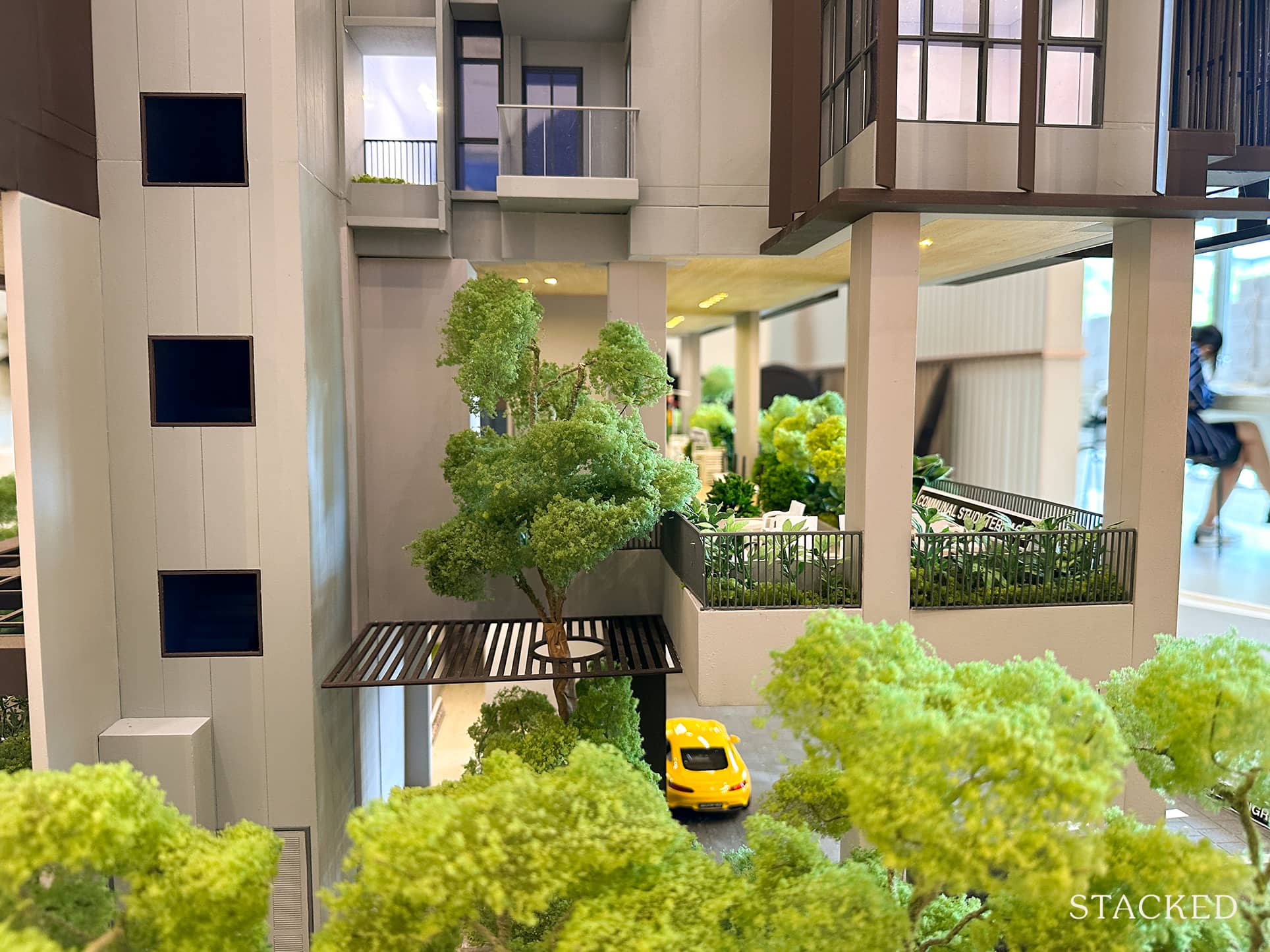 I can see that the facade was done in mind to complement the natural growth of the landscaping, which is further testimony to the developer's effort in creating a dynamic and organic project.
From here, it's also apparent that the stilts provide a functional shelter and a high ceiling height for the facilities on the second floor.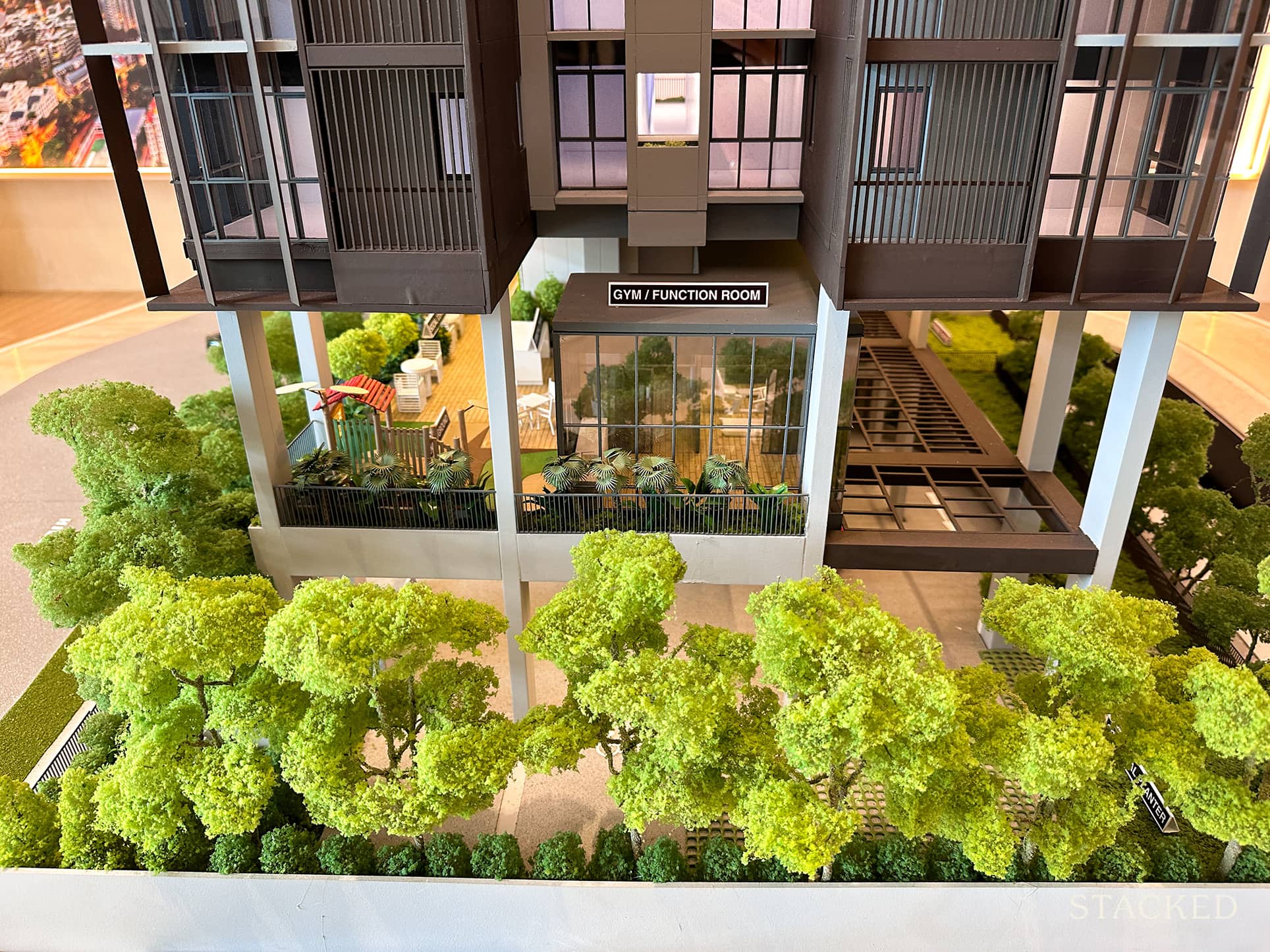 As Hill House uses its vertical height as space to include more amenities, not only does it make the project feel less crowded, but there's also more privacy and shelter. On the second floor, residents can find the gym, function room, communal spaces, gardens and a playground.
Although you can definitely feel the constraints of land space, it's great that Hill House still makes an effort to accommodate more facilities, which does stand out from projects that are situated on bigger sites but with fewer facilities.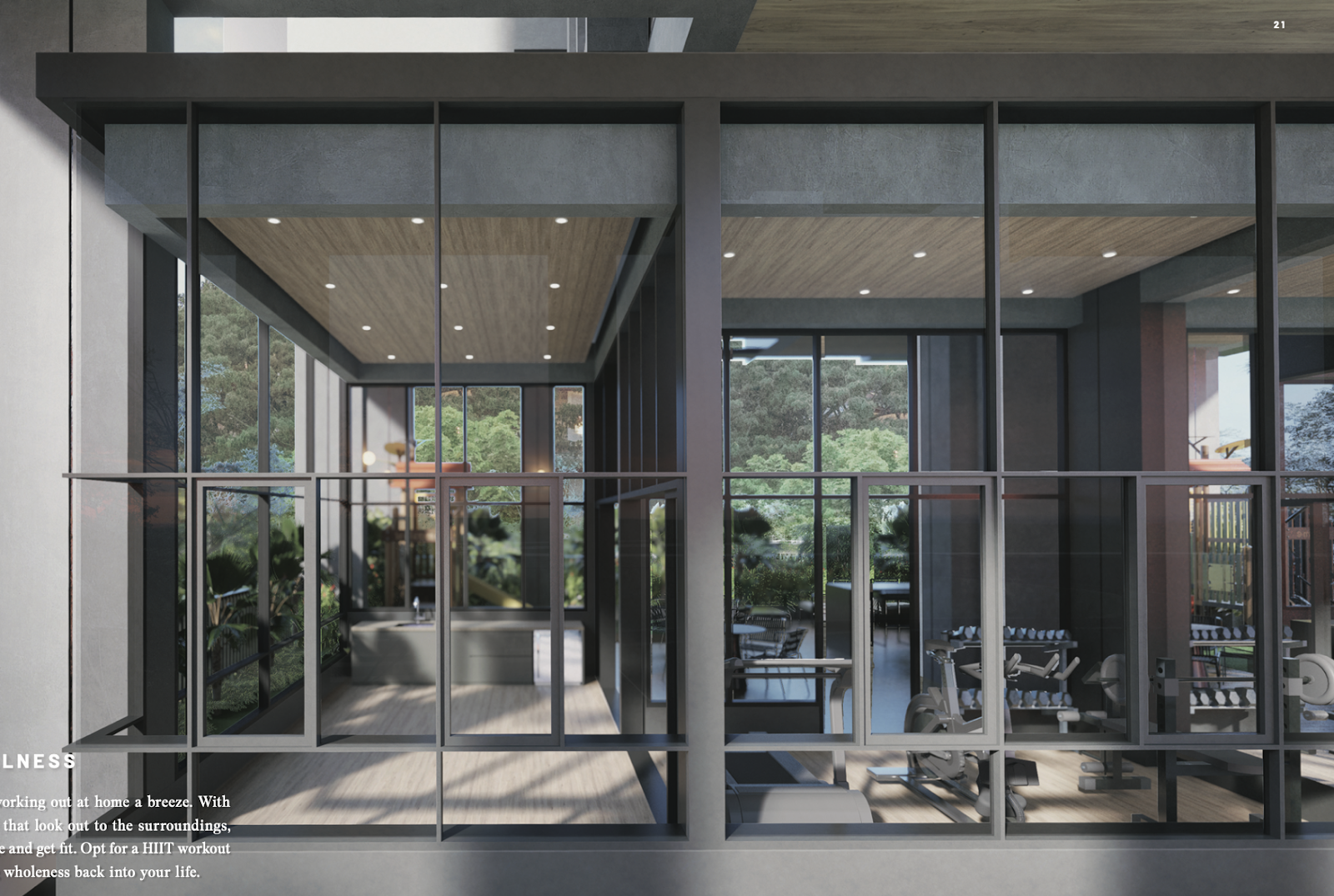 This is a render of the gym and communal area that I got from the brochure, which I thought would be useful in showcasing the facilities better. It's great that both areas have floor-to-ceiling windows and double-volume ceilings to bring in more natural light and give off a luxurious ambience. It faces the North towards the shophouses along River Valley Road, giving an interesting skyline.
I've seen bigger developments with similar-sized gyms so I think most buyers would definitely be happy with this provision.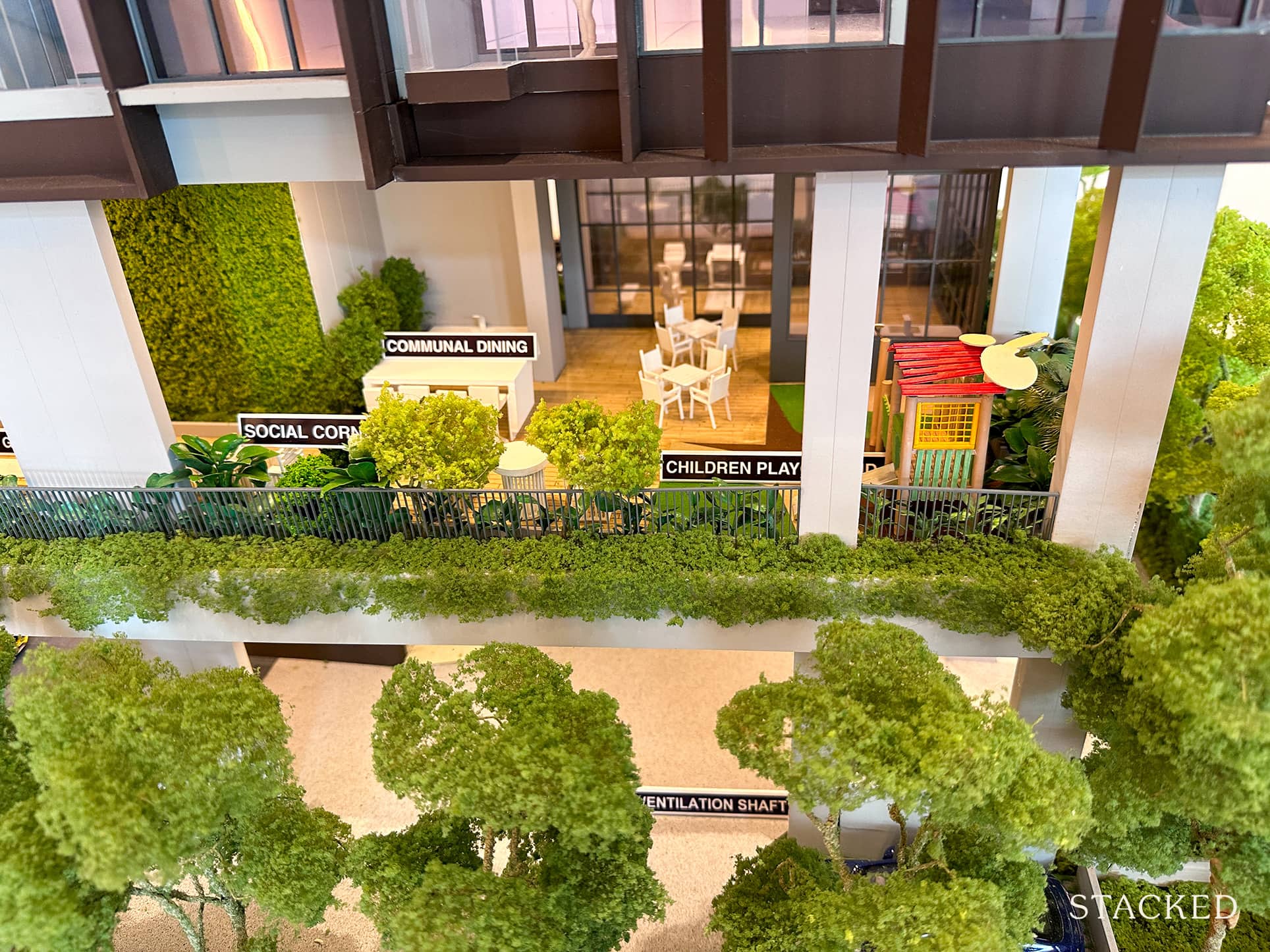 As previously mentioned, there's a children's corner and other communal spaces found on the second floor. You can also see how the landscaping complements the facilities to give it a more relaxing and welcoming touch.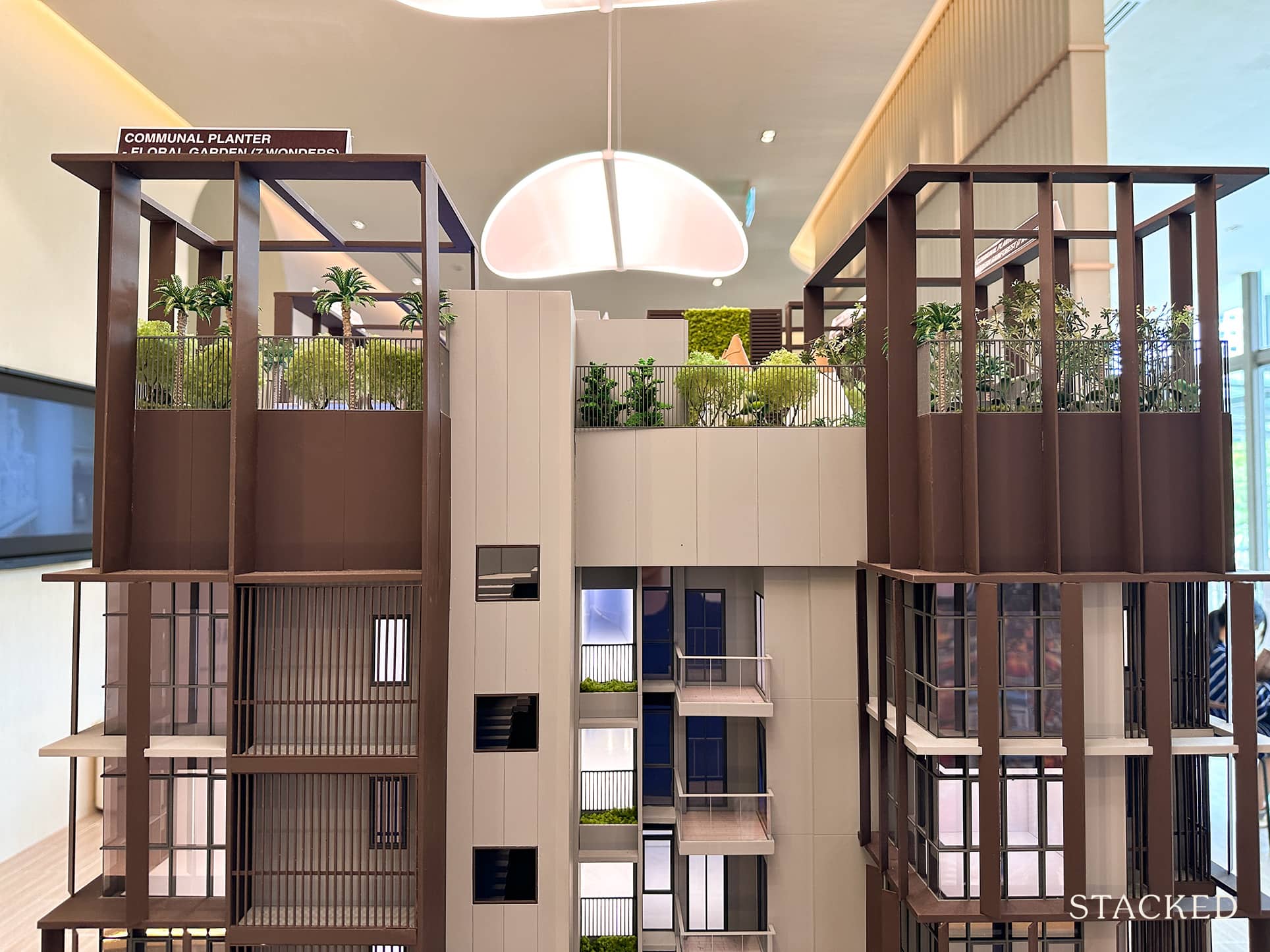 Moving on to the roof terrace is where the remaining amenities can be found. If you're wondering where the pool is located, it's found right at the top of the project.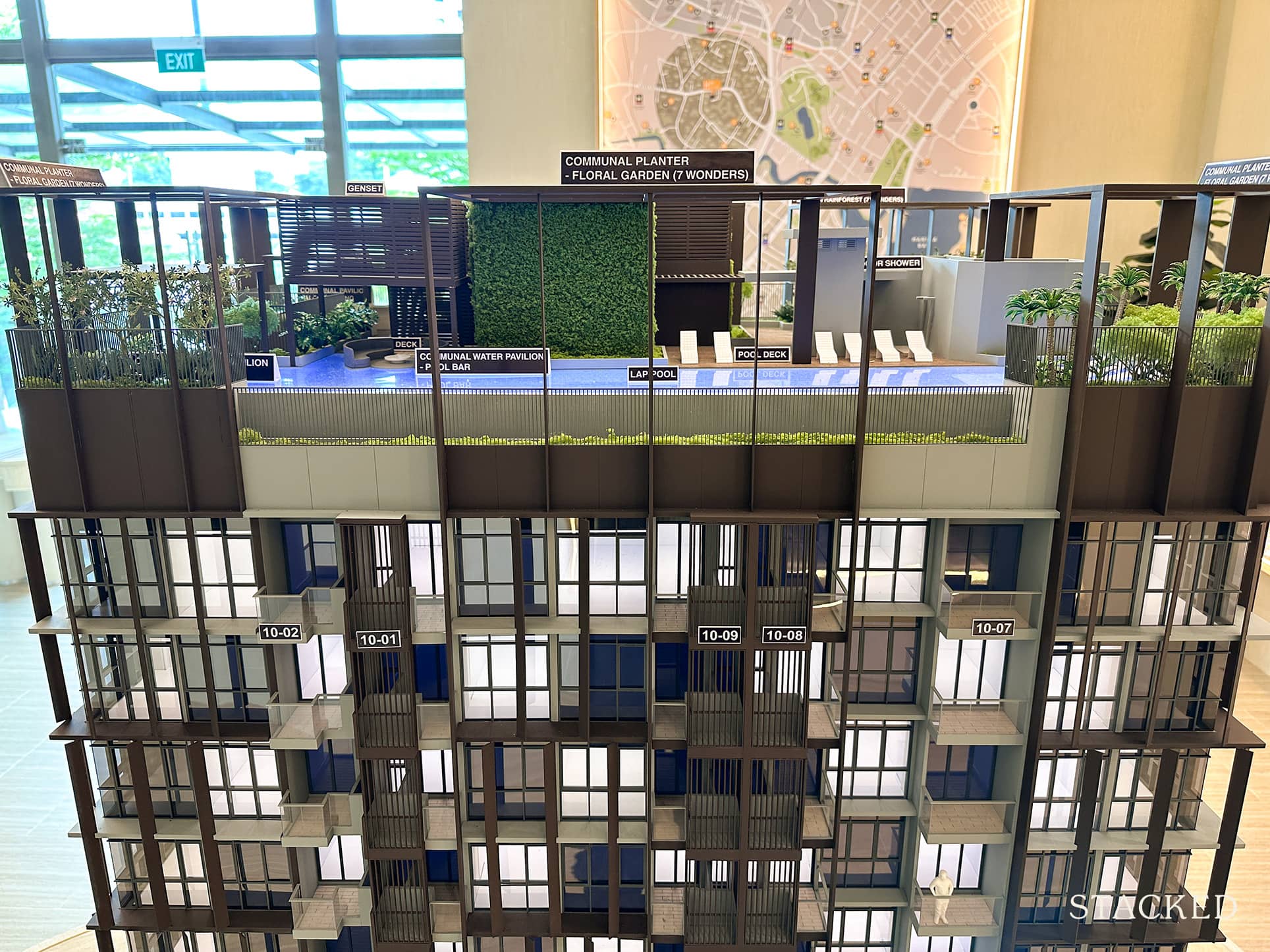 While we typically see most boutique developments place their swimming pools on the first floor of the project, the developers of Hill House took the effort to have it placed on their highest floor.
It was quite an interesting decision since that would mean that rooftop pools are more expensive to build. However, I think the developers wanted the residents to be able to enjoy vantage points of the neighbourhood and create a more impressionable project, which does show their dedication to producing a quality home. For a boutique development, the 20m sky lap pool is as good as it gets.
That said, the roof facade does impede the views a little, I'd have much preferred to have a completely unobstructed view instead.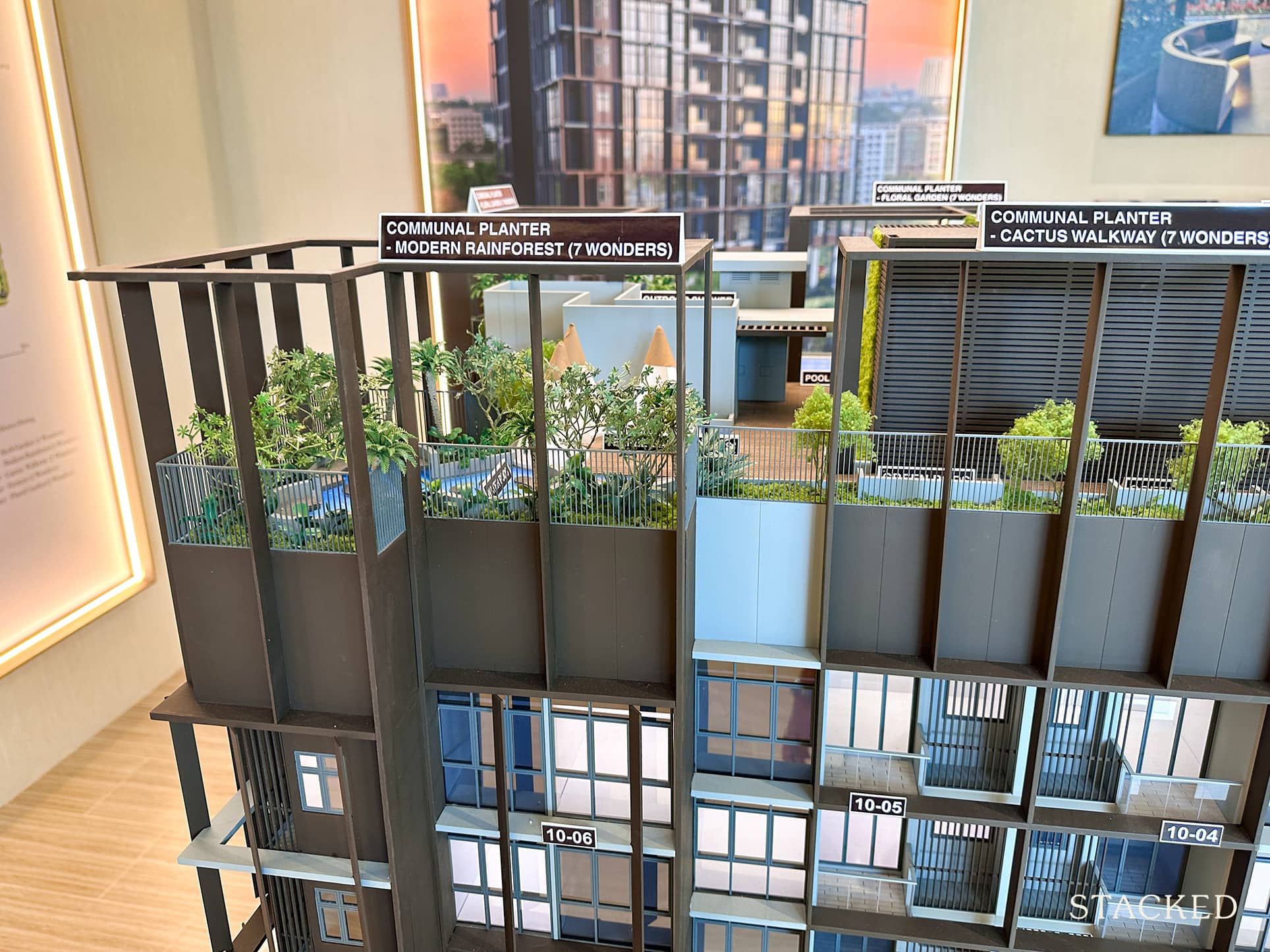 Apart from the lap pool, there's also a jacuzzi and a BBQ pit. I can imagine that it would be quite a private and enjoyable experience to throw a party on the rooftop of Hill House. Here, we can also see many of the other communal planters that are part of the '7 Gardens of Wonder'.
As compared to the area facing the lap pool, the jacuzzi would be a quieter and more private corner of the project.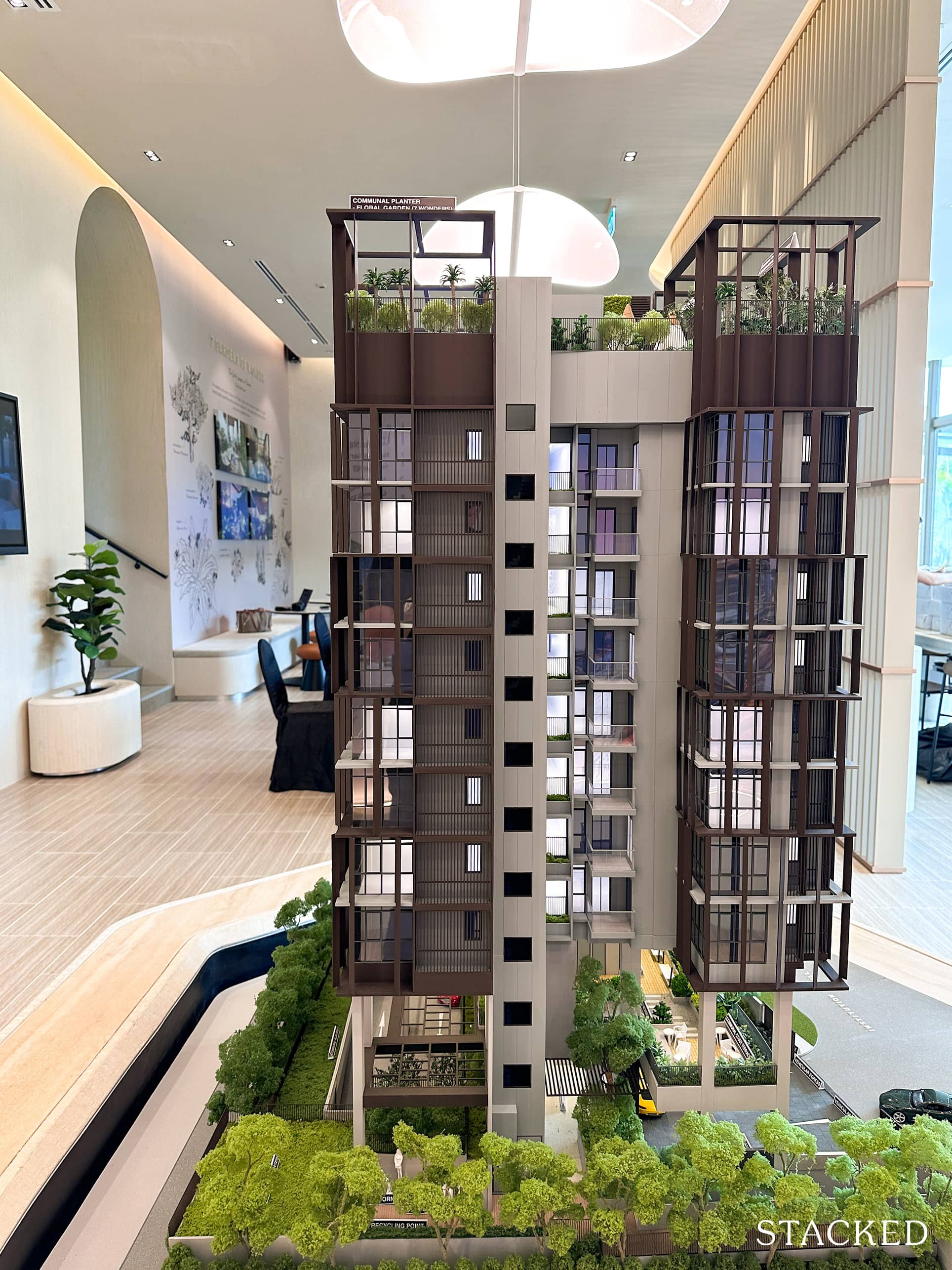 In terms of design and aesthetics, Hill House is admittedly not the most eye-catching. Its design leans more towards a minimalistic and simplistic touch with a natural and dark palette, and is easily overlooked by those who prefer a more grand appearance.
For a boutique development, however, it's definitely more than meets the eye. It comes with a thoughtful and wide variety of facilities, which makes it a great project to call home.
Hill House Condo 2 Bedroom Type B3 Stack 3 (624 sq ft Review)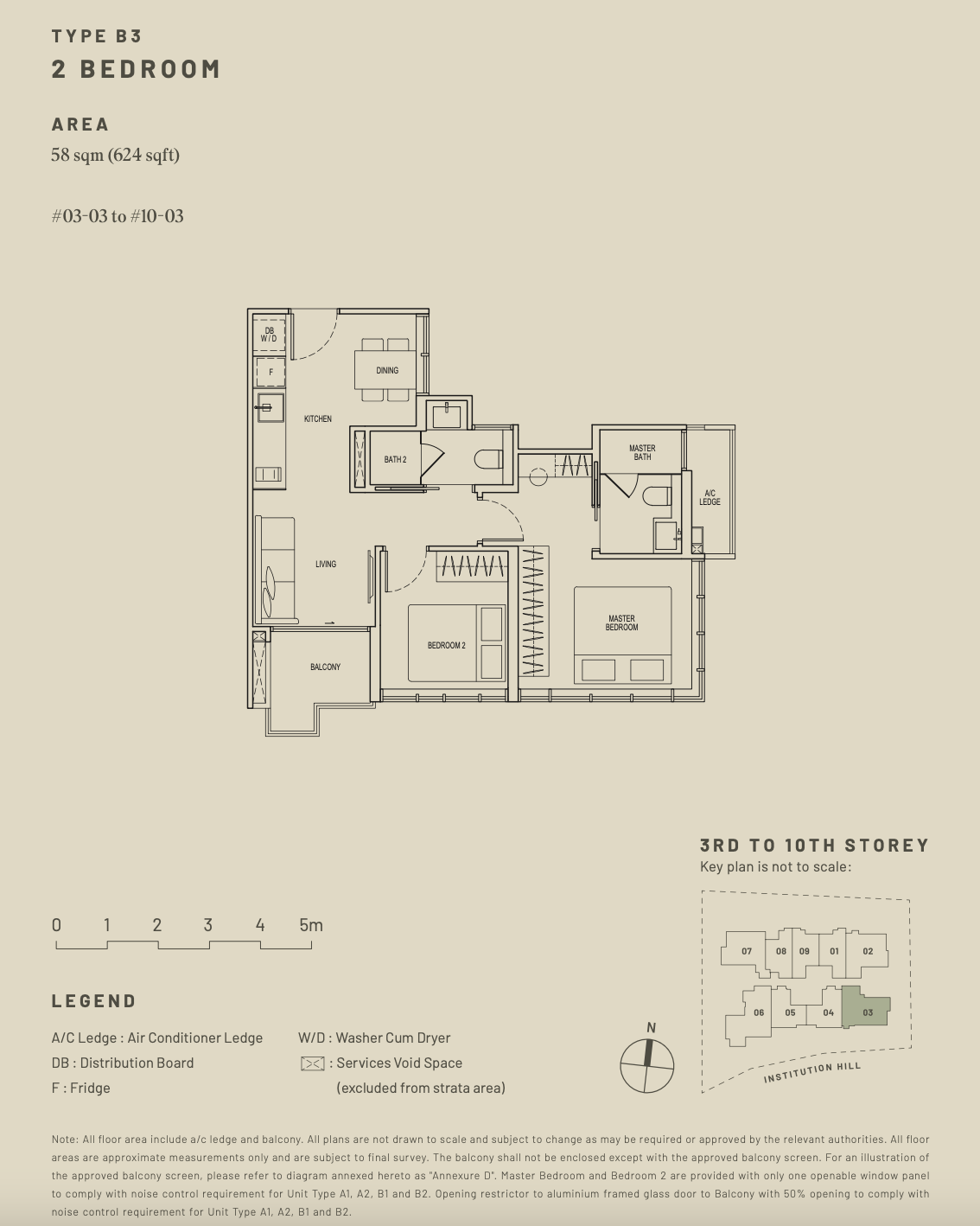 The show flat features the 2-bedroom Type B3 unit, which is located within Stack 3 of the site plan. Sized at 624 square feet, it offers two bedrooms, two bathrooms, an open kitchen, a living and dining area and a small balcony.
In total, there are three different variations of the 2-bedder units, all in the same size. However, what sets each apart is the orientation of the dining area (Type B1 is combined with the living room, whereas B2 and B3 are separated by the kitchen area) and the direction of the balcony.
In this unit's case, the balcony faces along Institution Hill towards Aspen Heights in the South direction. Both bedrooms have floor-to-ceiling windows that overlook in the same direction. The master bedroom does have an additional panel that looks out towards the East direction.
I like that this unit would be quite well-shaded all year round, and the effects of the afternoon sun would be quite minimal.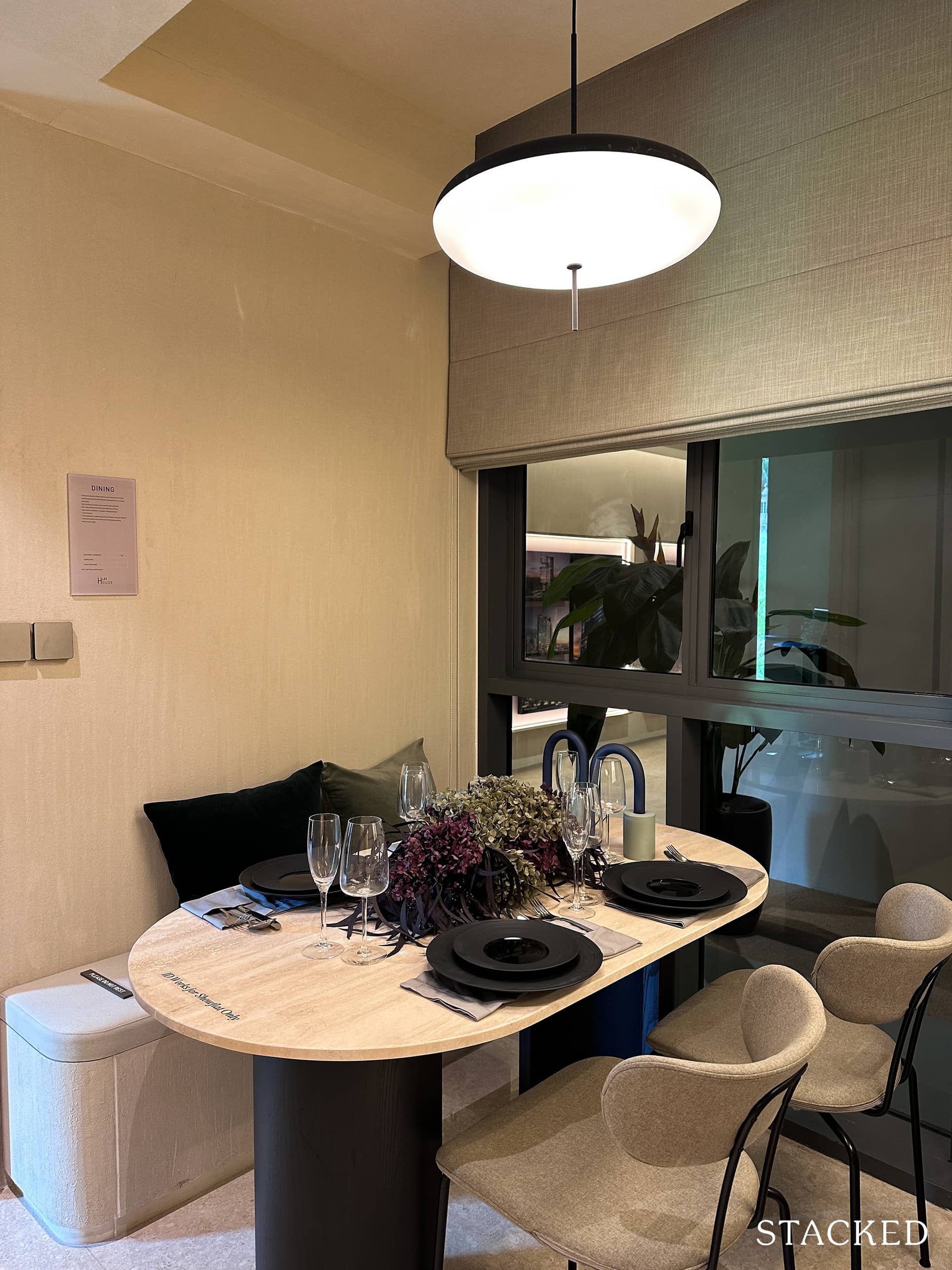 As a first for me, once you enter the unit, the open kitchen and dining area are visible on sight.
To be sure, it's an interesting choice to place the dining area right at the entrance of the unit. While I personally do like the placement of it, some people may feel it's a bit odd to dine near the entrance area. That said, one major plus point is that you get to enjoy natural light (and ventilation) while dining, which is something many smaller units currently can't offer.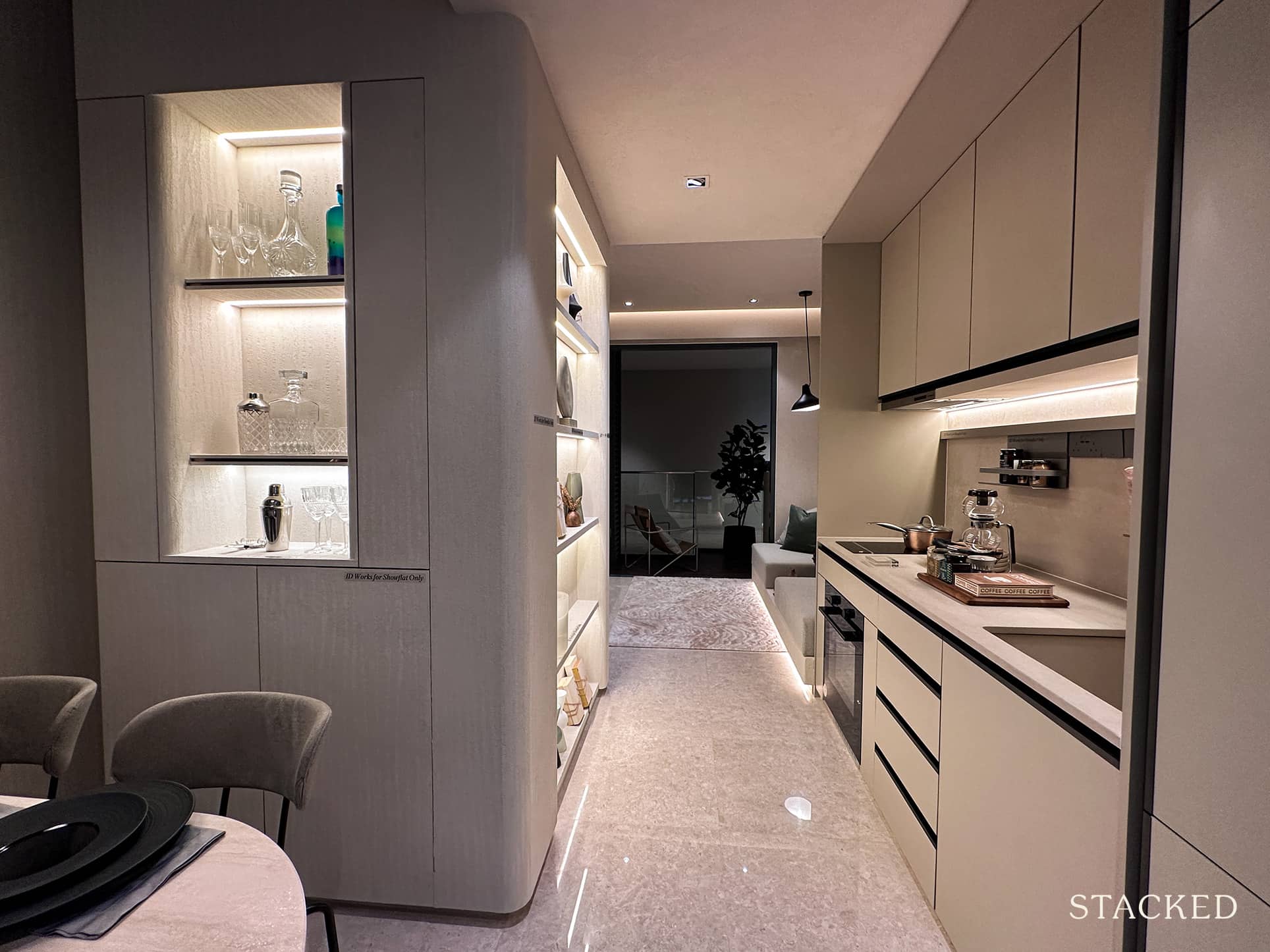 Beyond the dining area on the left, it's your usual entryway/kitchen area.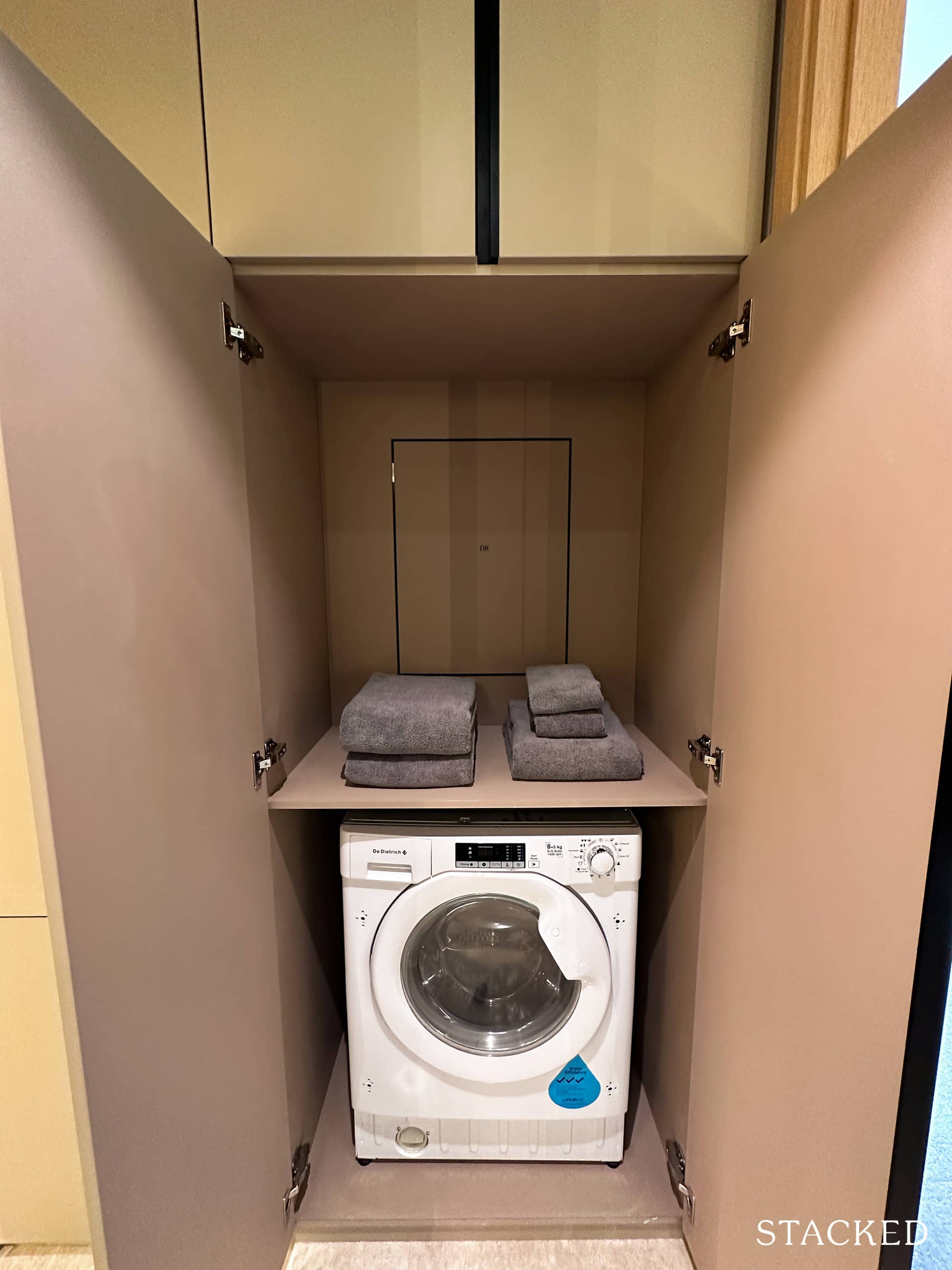 Like most new launches that deal with a smaller space, it's common to find the kitchen and washing machine placed in the same area.
Stowed within one of the shelves in the kitchen is the washer cum dryer from De Dietrich, a premium brand which should be familiar with most Singaporeans.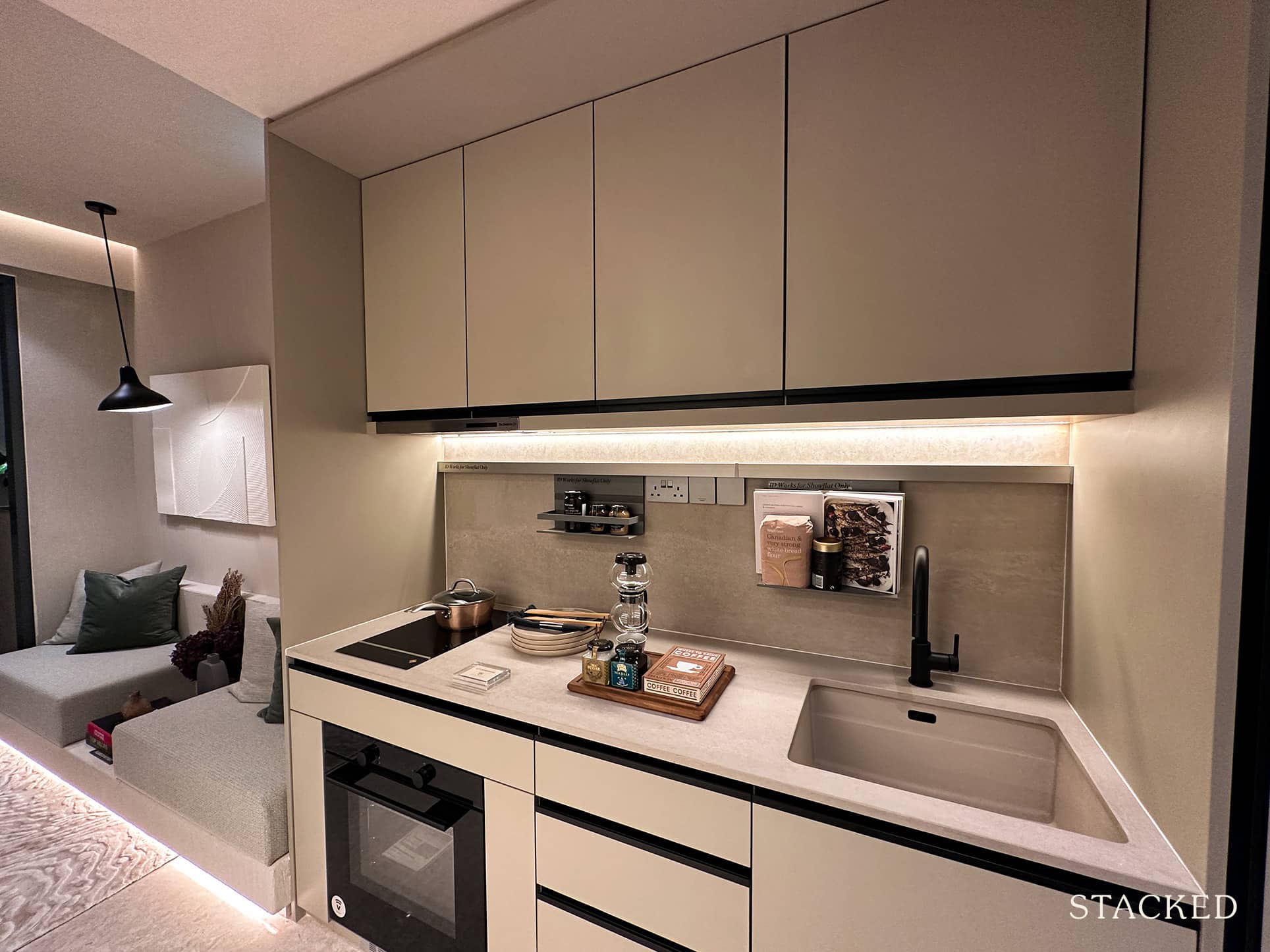 Moving on to the open kitchen, it is on the smaller side but comes fully equipped with your usual appliances like a built-in oven from V-Zug, faucets from Franke, and dual electric hobs and cooker hood from De Dietrich. For those in the know, these are all high-end appliances that are picked to offer homeowners a higher sense of luxury.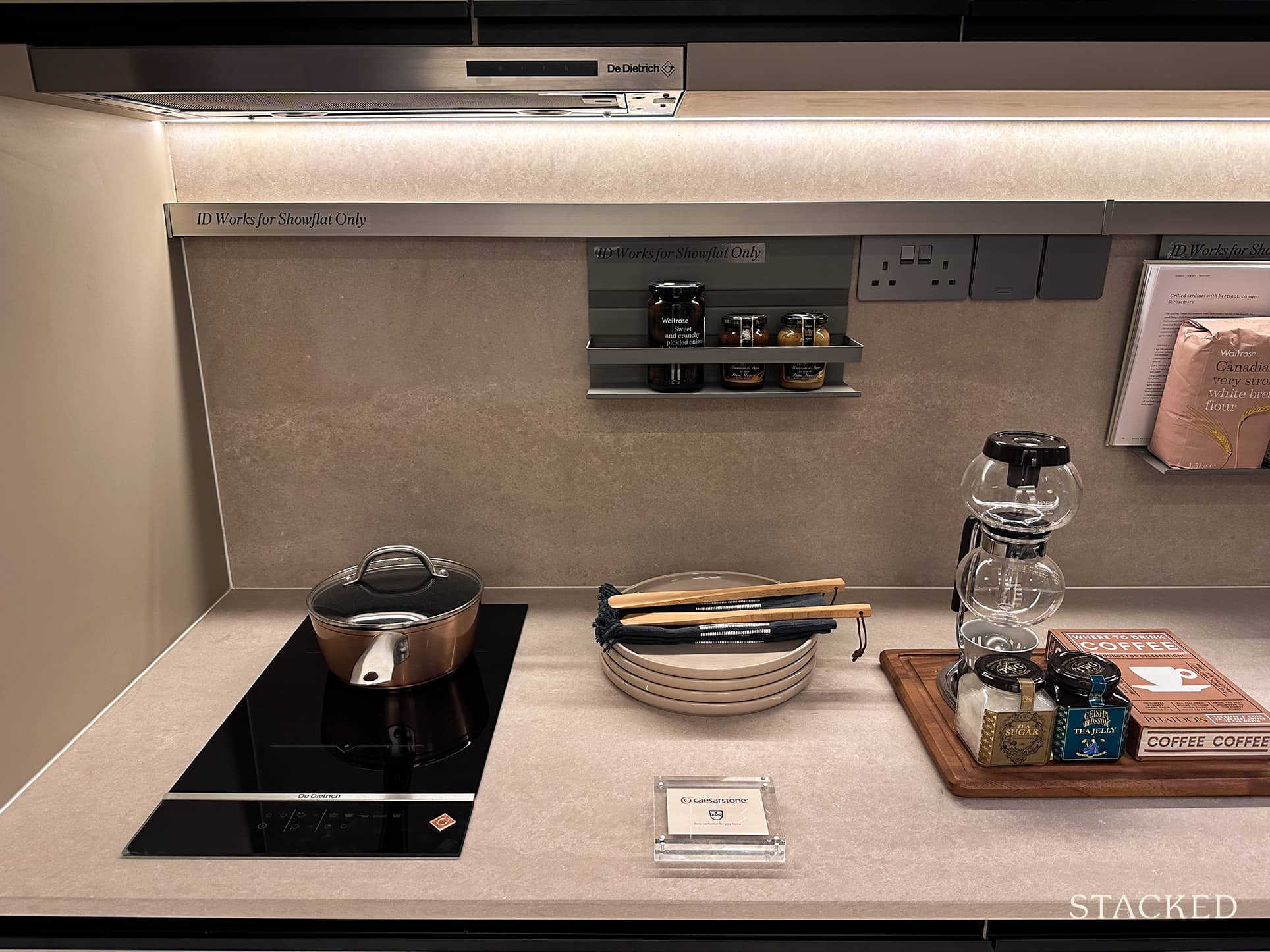 There is quite limited counter space though, so it's really more suited for those who do light cooking at home. To counter that, the design here showcases a magnetic strip to create more shelving space, which is a practical idea when working with small kitchens like this (note: this isn't included, it's just to show how to utilise the space more efficiently).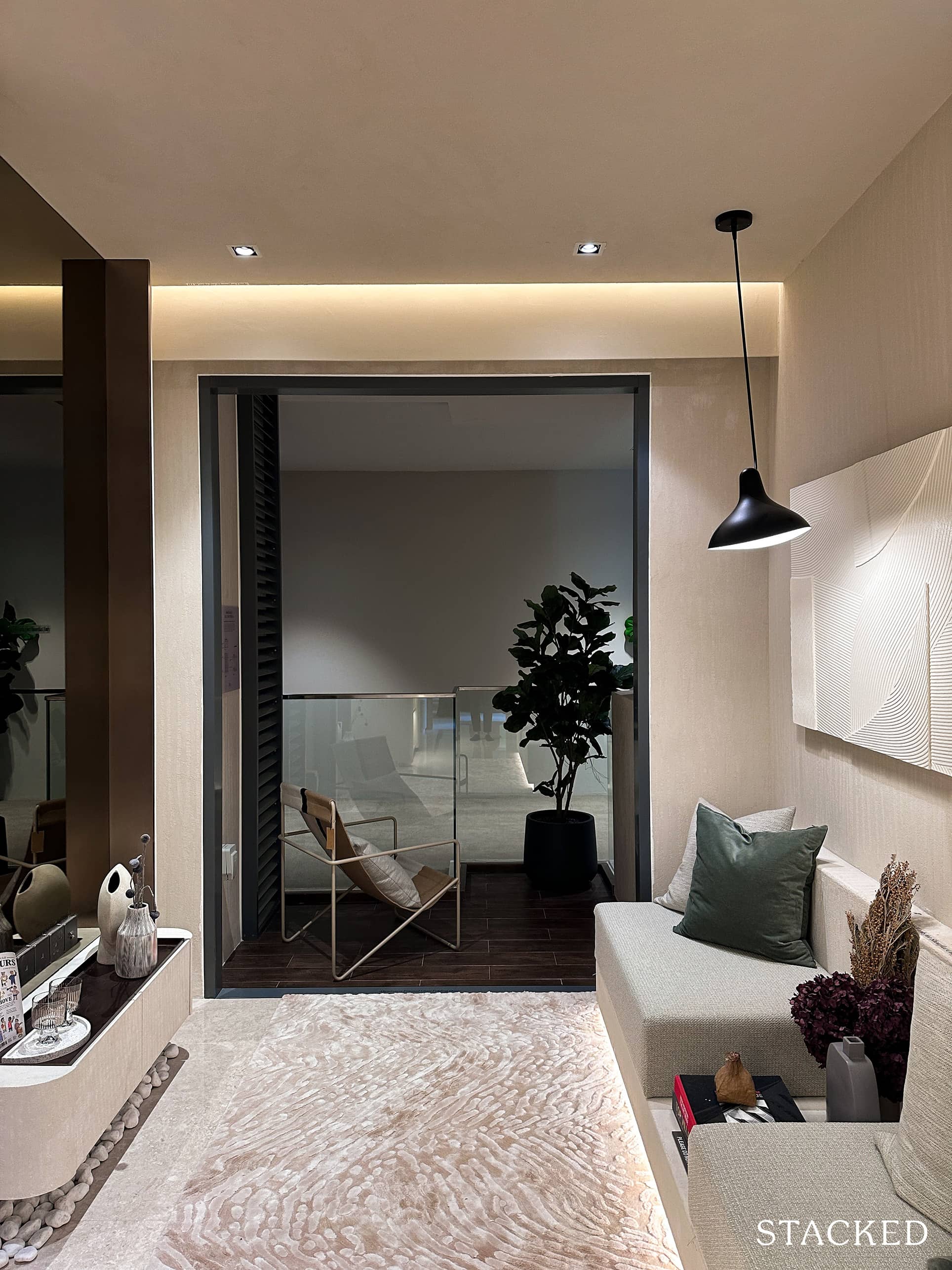 Next up, is the living area. It's a modestly-sized space so you'd have to be very careful about the size of furniture that you put in. In this case, the IDs chose to flush the TV console and sofas against the walls to maximise the walking area.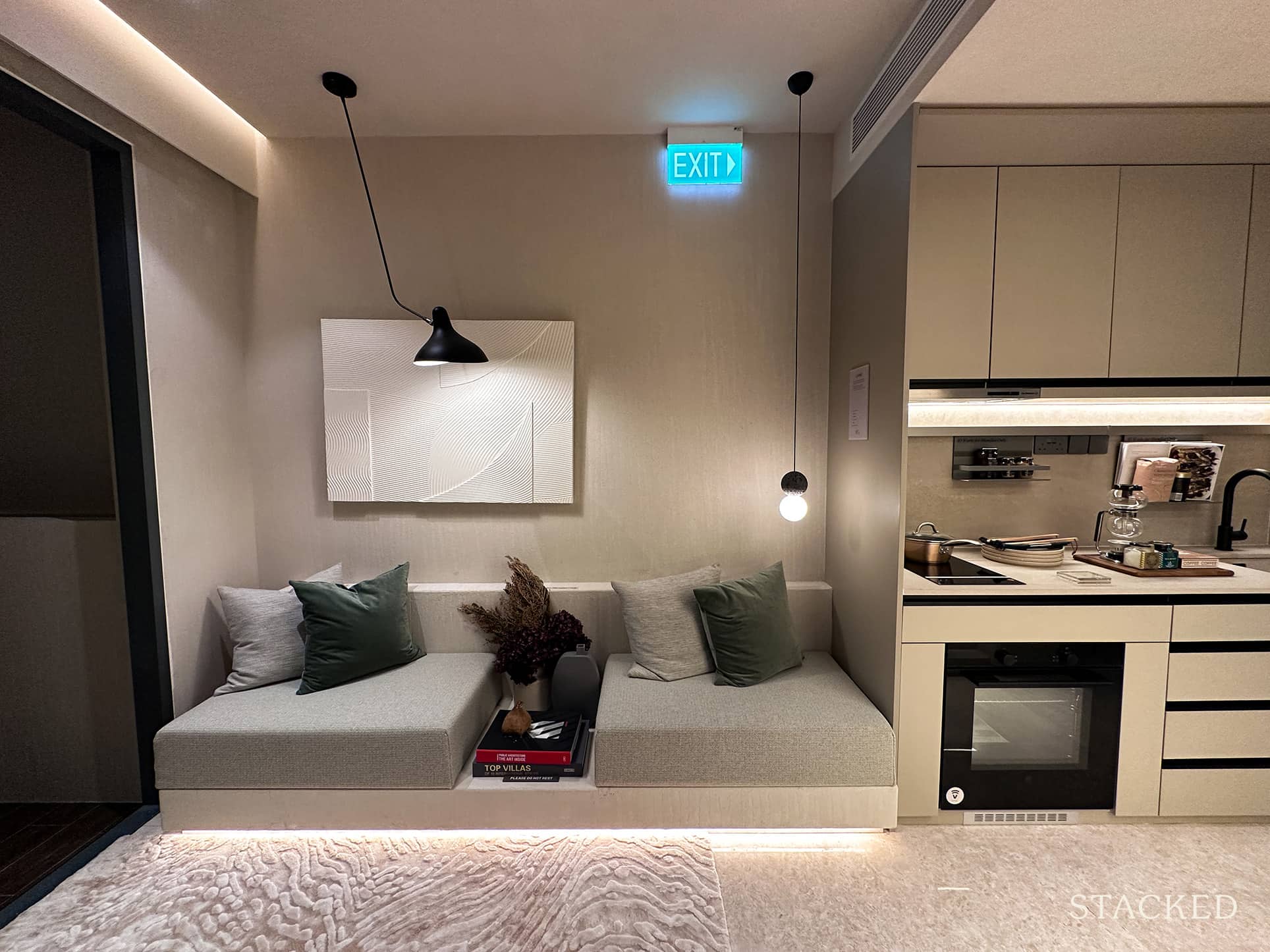 From this angle, it's quite apparent why such a design had to be used. Not only does it create more walkway space, but it also seems to be necessary so as to not encroach the living area with the kitchen. I'd likely want to do the same here, as it's hard to find smaller sized sofas that can fit such spaces well.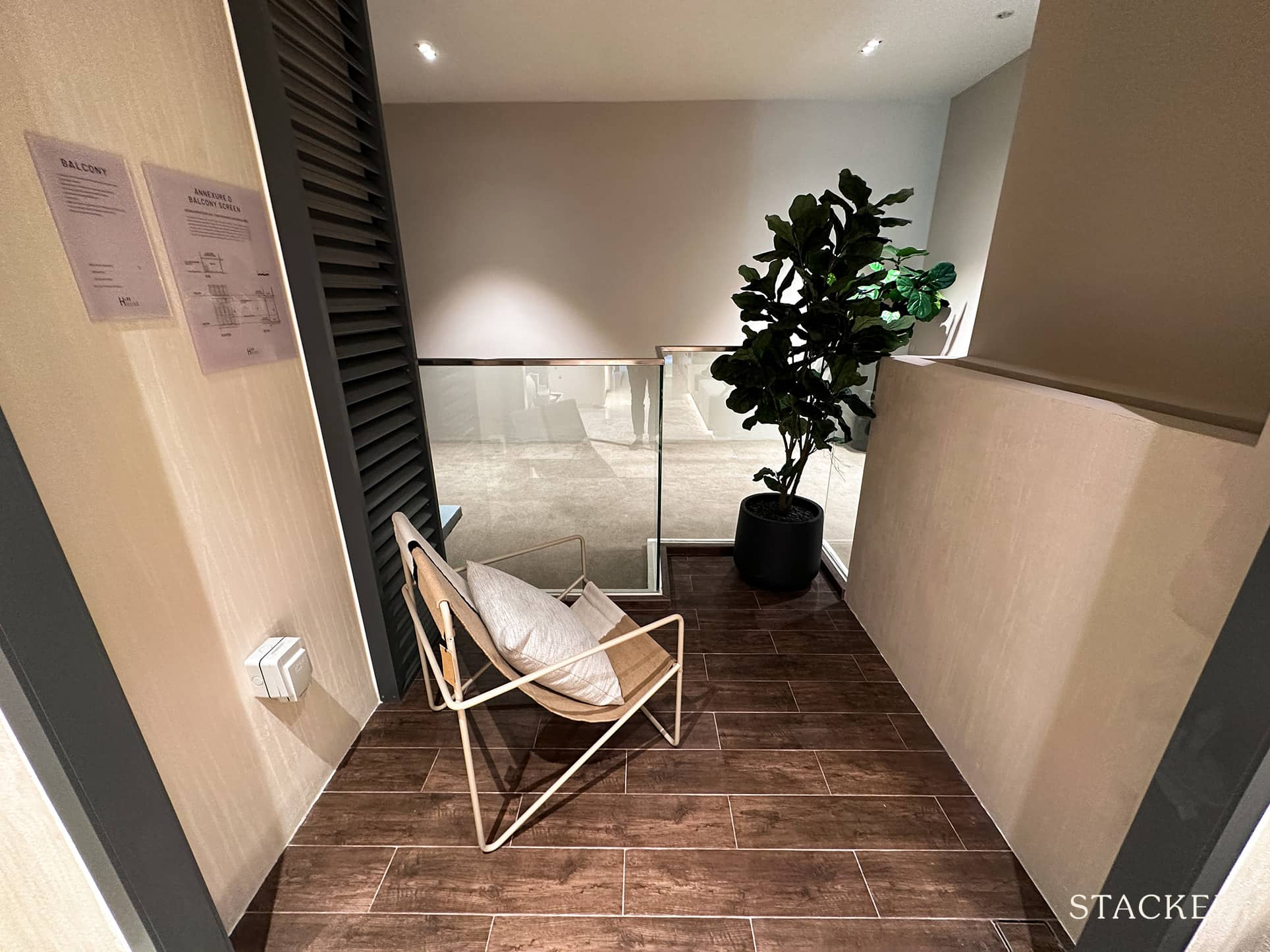 The balcony comes in a regular shape save for the little "balcony" of its own. I can't say that it would be a very useful space, so placing plants as shown here is probably the best use case.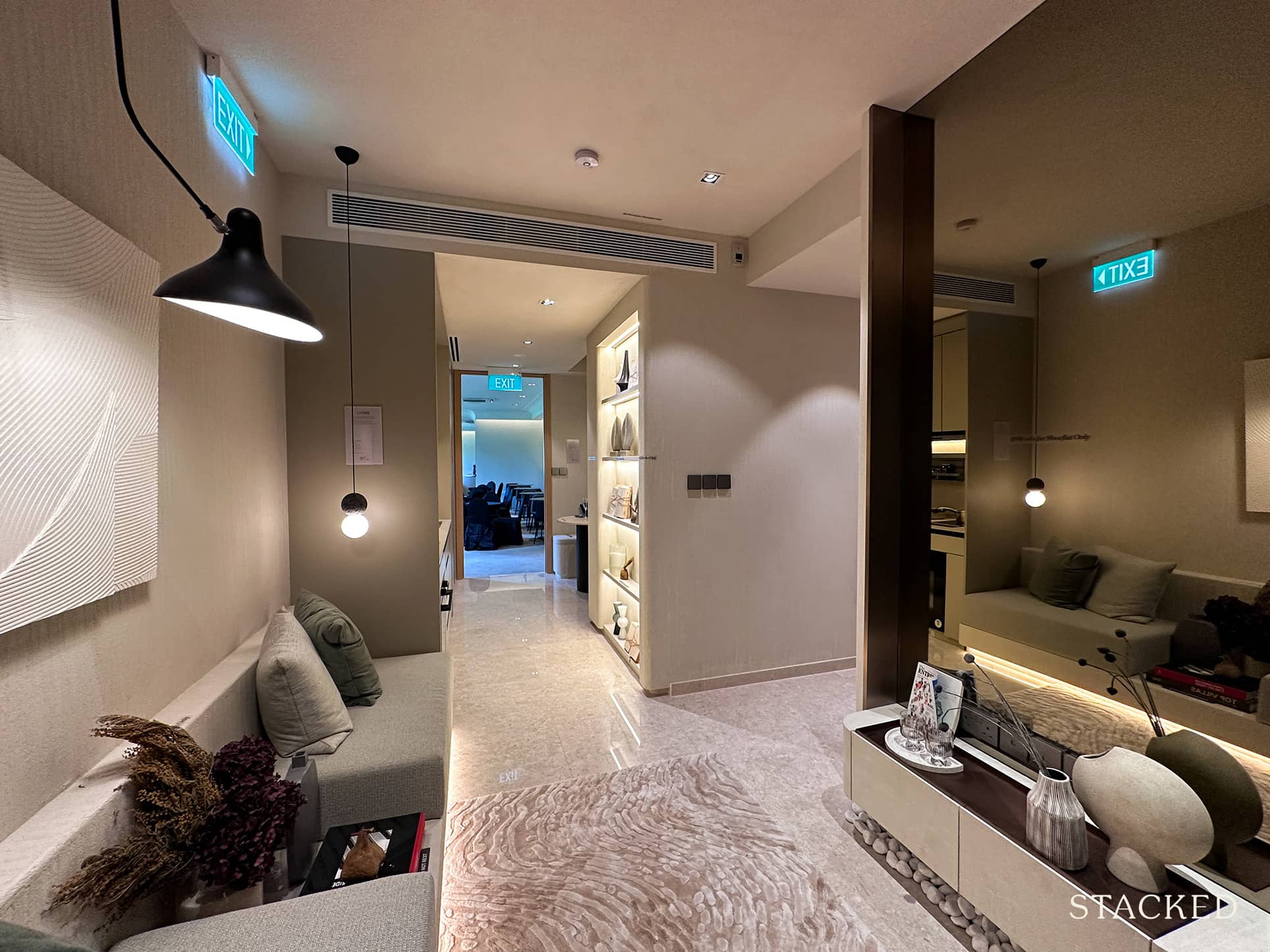 Looking back at the unit, here's an unobstructed view of the entire living area from the entrance of the unit.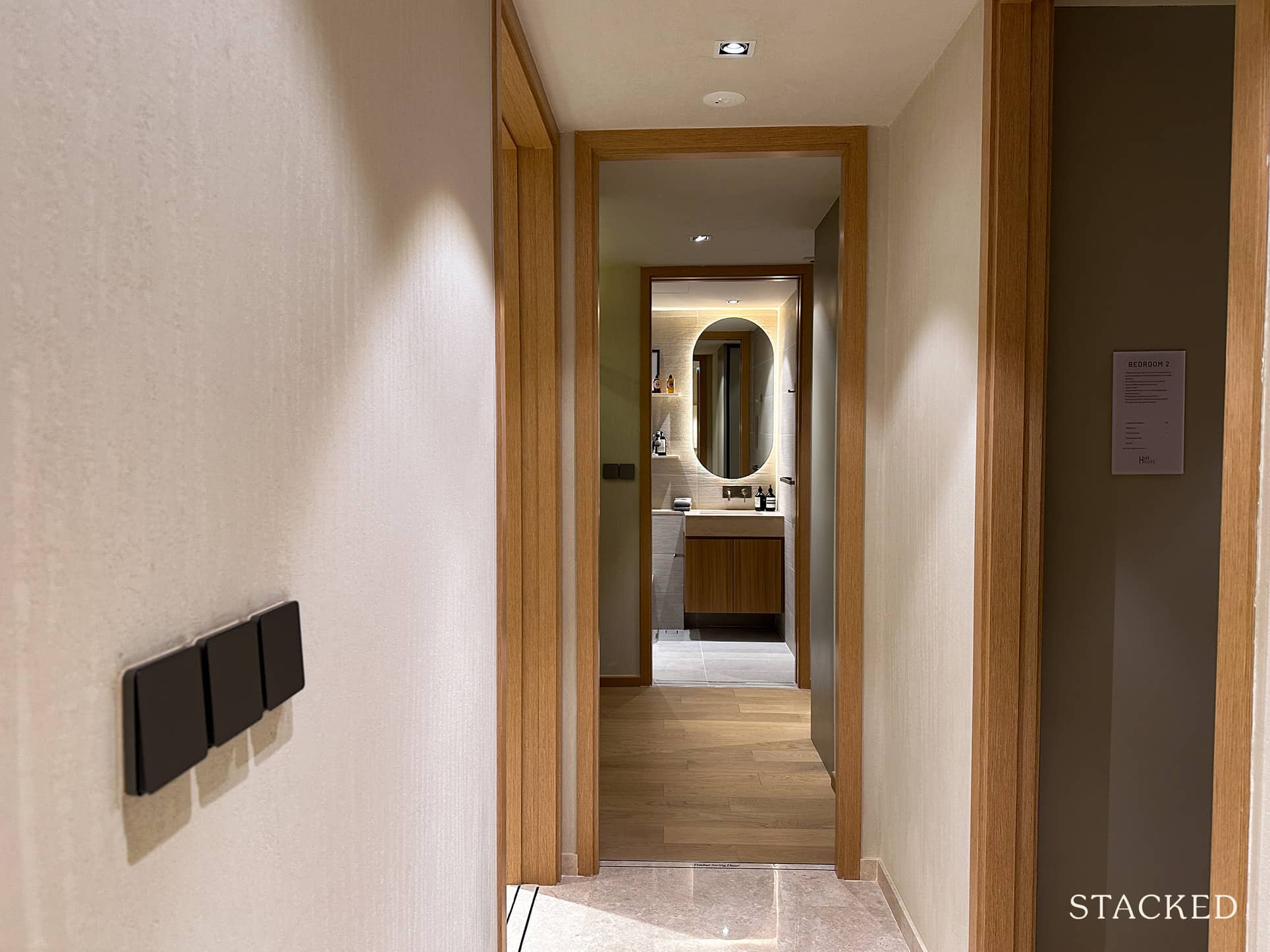 Next up, there's a short hallway to connect both bedrooms as well as the common bathroom.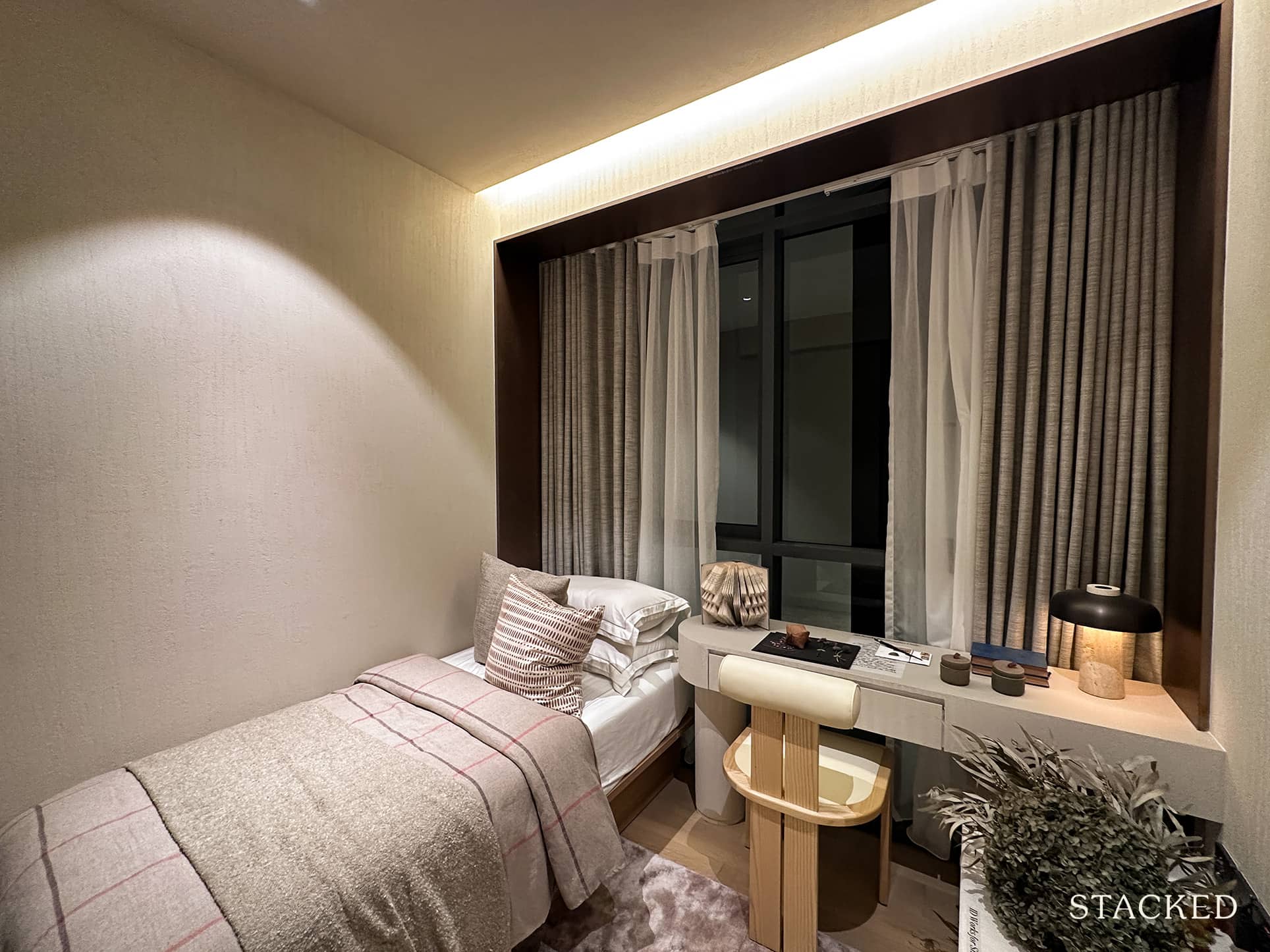 Let's first take a look at the common bedroom, which has a squarish layout and can accommodate either a double bed or, in this case, a single bed and a study area.
The floor-to-ceiling windows might be a common feature in recent new launches, but with smaller rooms like this, they do help make it feel more spacious. Furthermore, this particular stack overlooks Institution Hill in the South direction, which means that soft natural light can be expected to filter in throughout the day.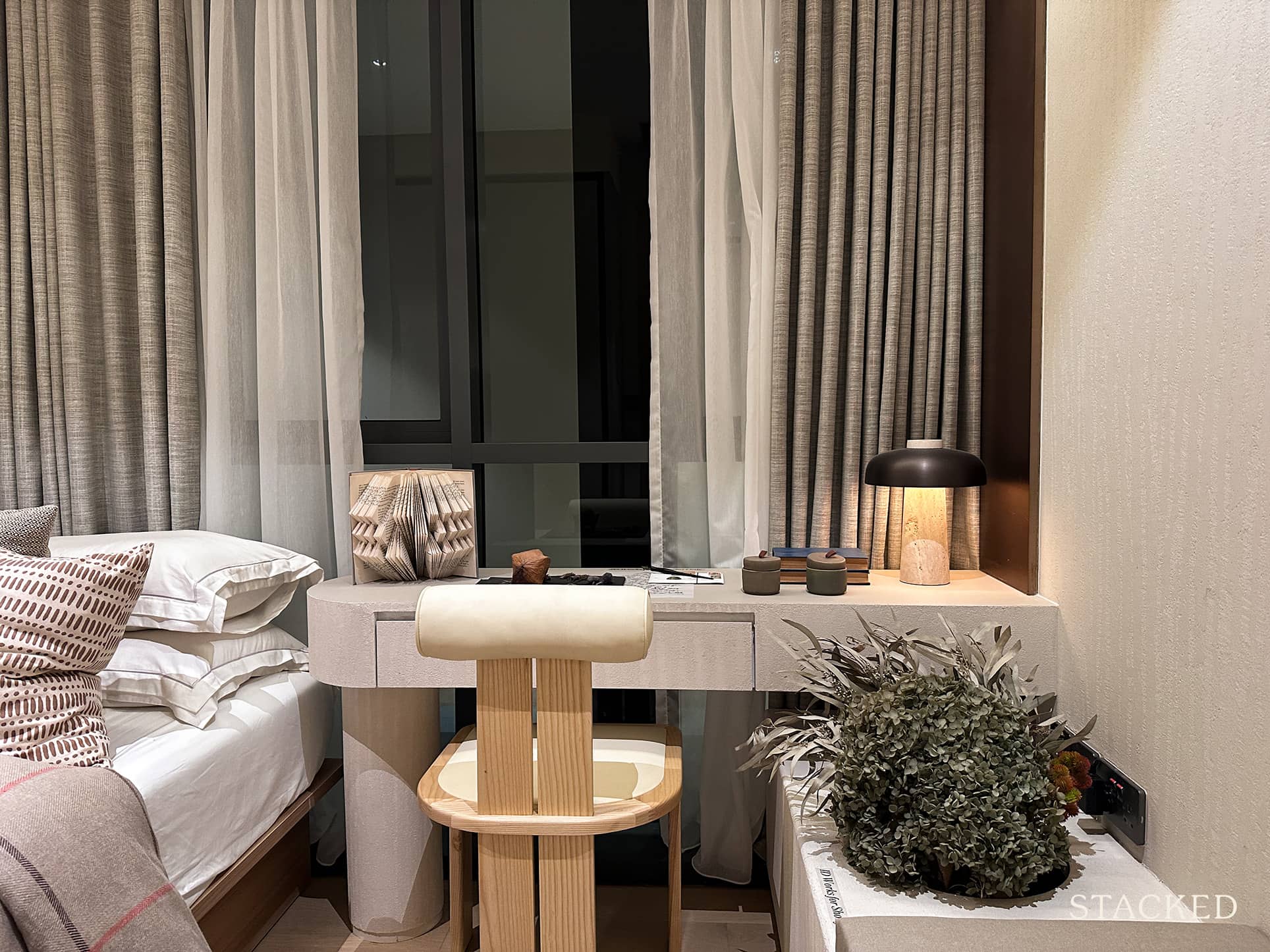 There is a decent sized study shown here, which I do think most people would opt for something smaller due to the lack of space.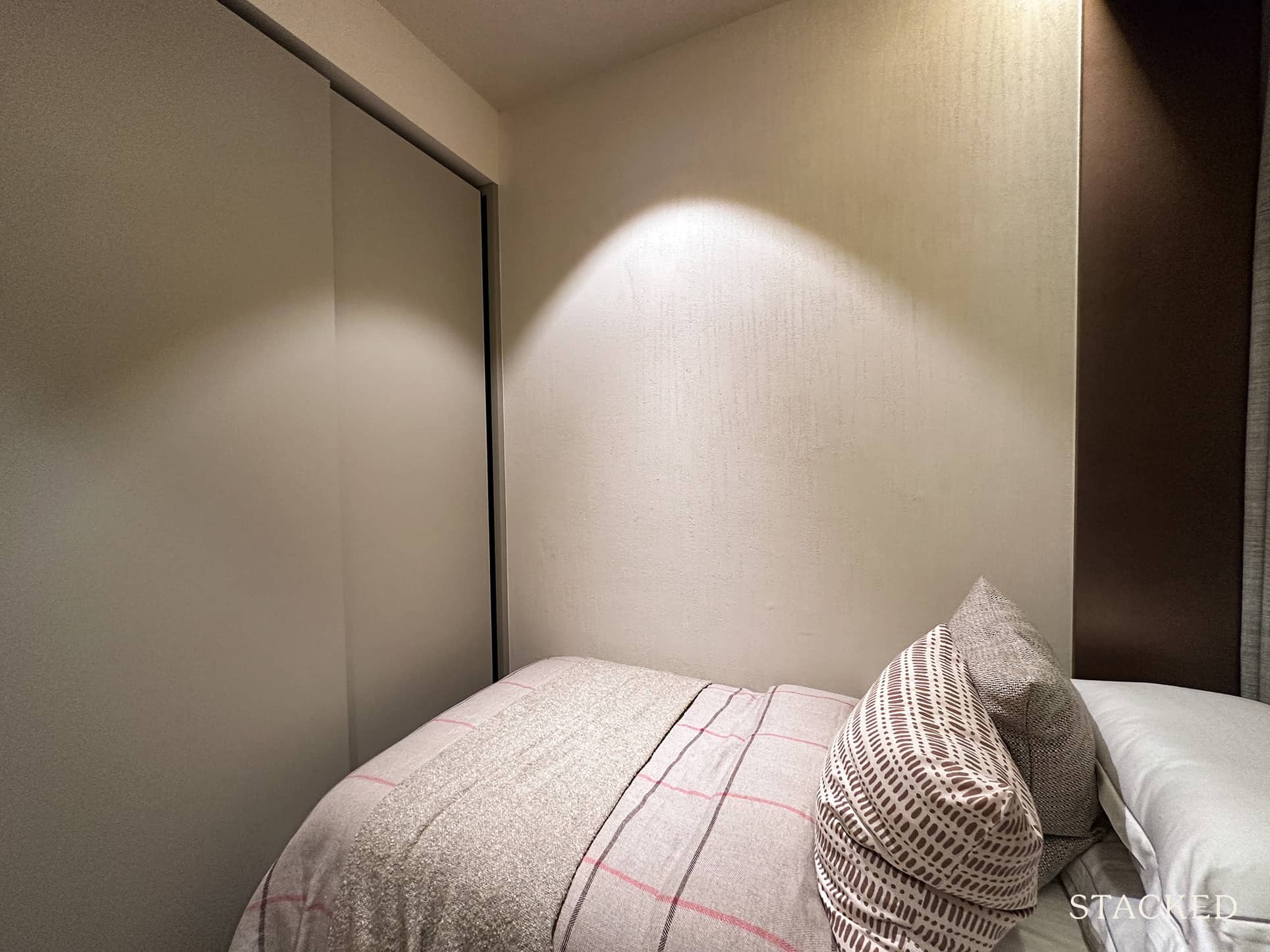 Furthermore, such an arrangement would result in the bed being almost neck-to-neck facing the built-in wardrobe without much walking space. While it was cramped, I appreciate that the developers chose to showcase how typical furniture would look when fit into the room to give buyers an accurate sense of the space.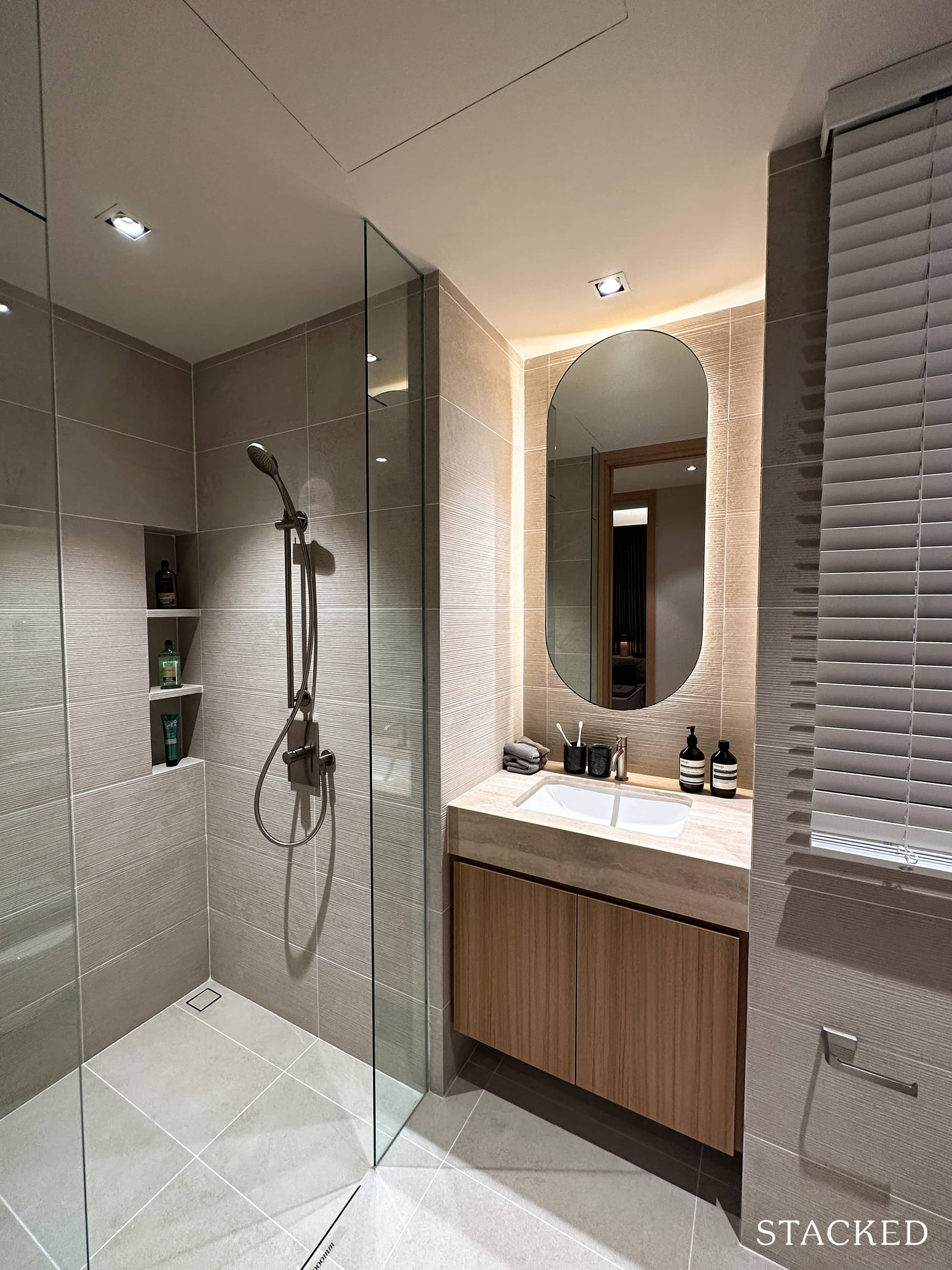 The common bathroom, located right across the common bedroom, is surprisingly well-sized. It has a walk-in shower, a regularly-sized sink, and similar to the kitchen, it has a neutral earthy palette to brighten up the space.
The shower area includes a handheld shower set and mixer from Gessi, which is another well-known premium bathroom brand in Singapore. I also like how there are nooks built-in on the wall for a seamless and chic look to place any sundries that the occupants might need.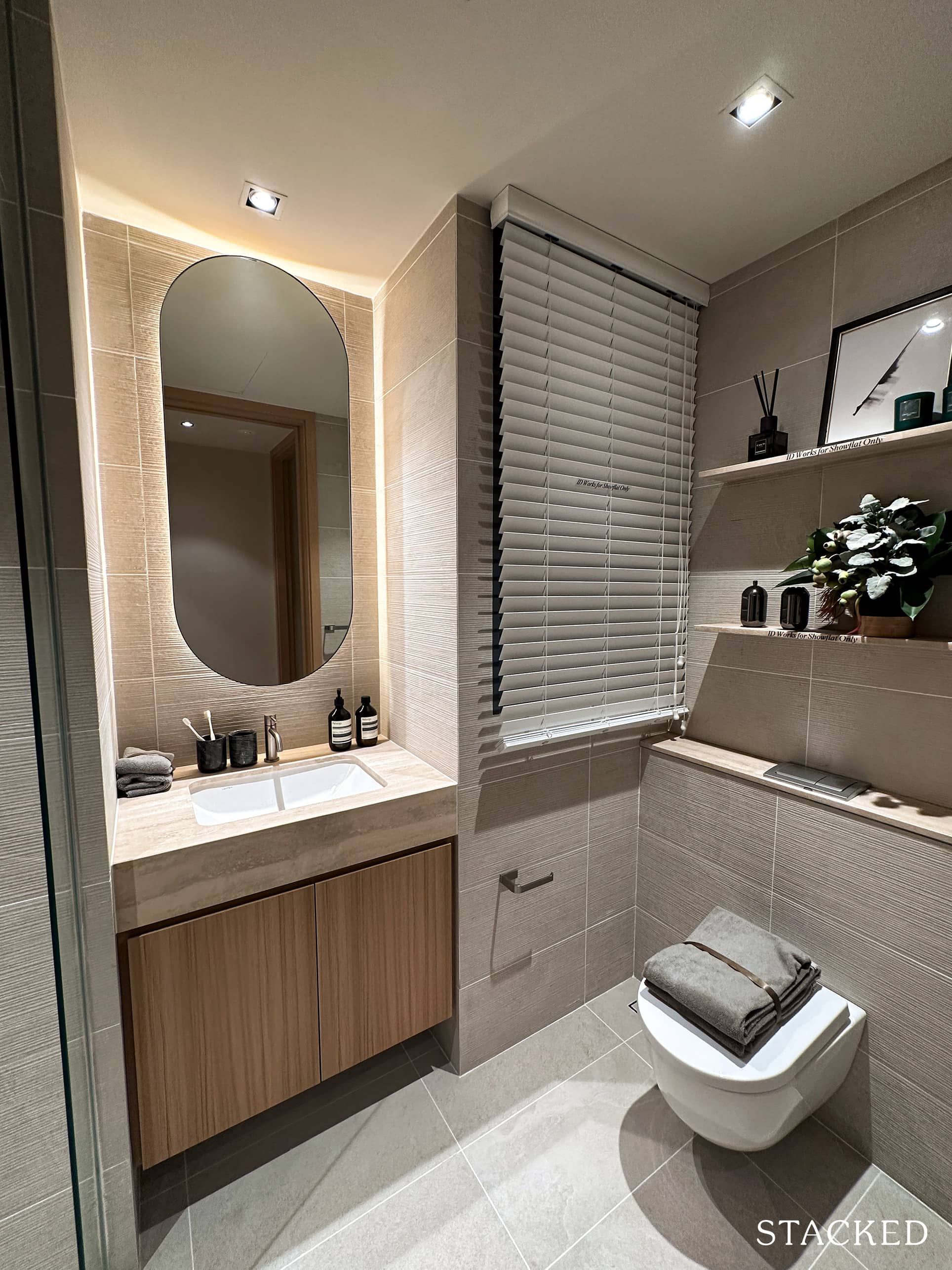 The sink area, although small, is pretty functional with LED lights installed behind the mirrors. There are also cabinets installed to store any sundries or bathroom-related products.
Most importantly, this bathroom comes with a window, which is essential for natural ventilation. Last but not least, a wall-hung toilet from Laufen is installed for easy cleaning.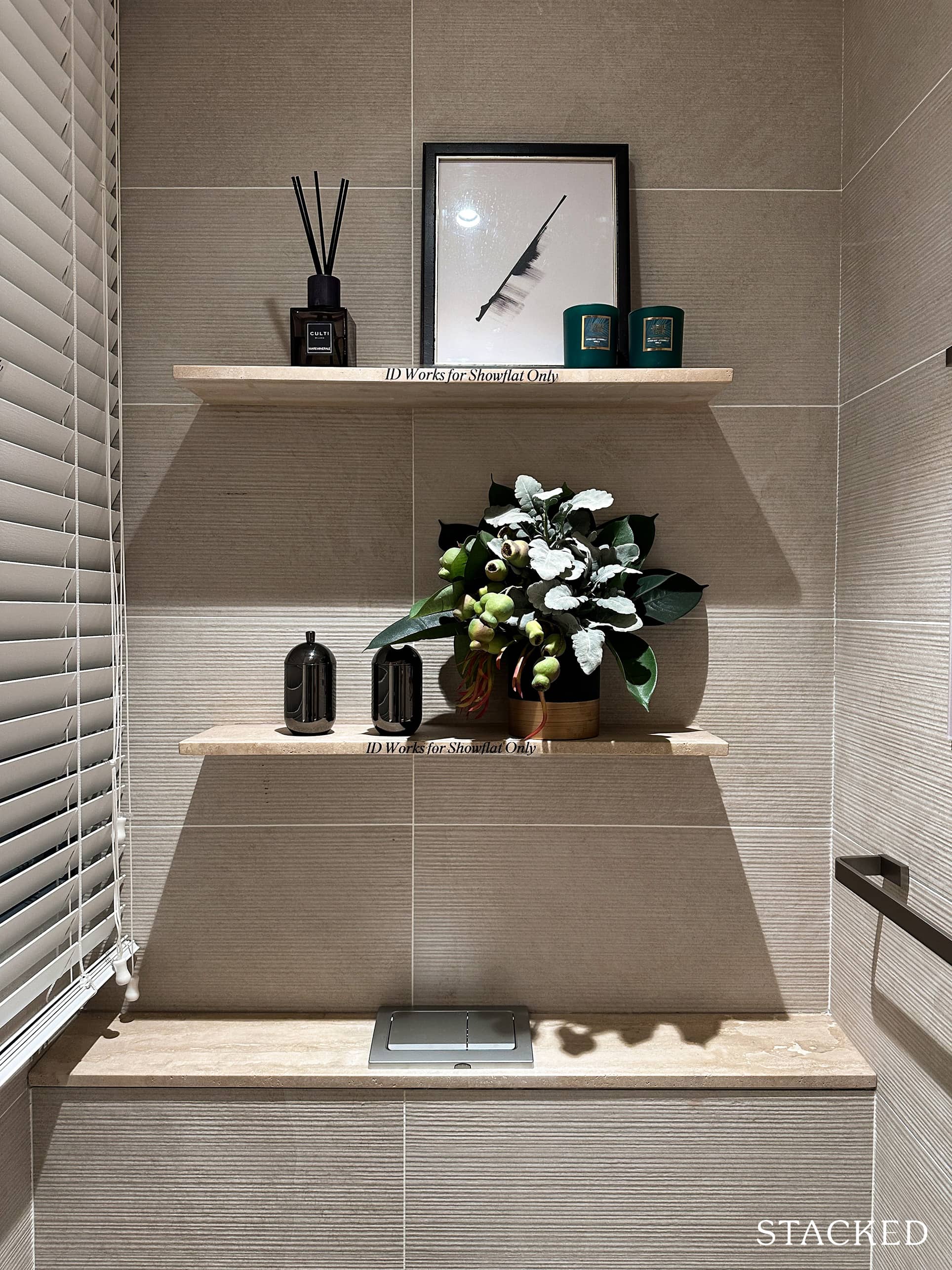 The IDs have also decided to install shelves on top of the toilet for more storage and display space. Folks can consider installing bigger shelves that can hold your towels and other bathroom sundries to really maximise the area.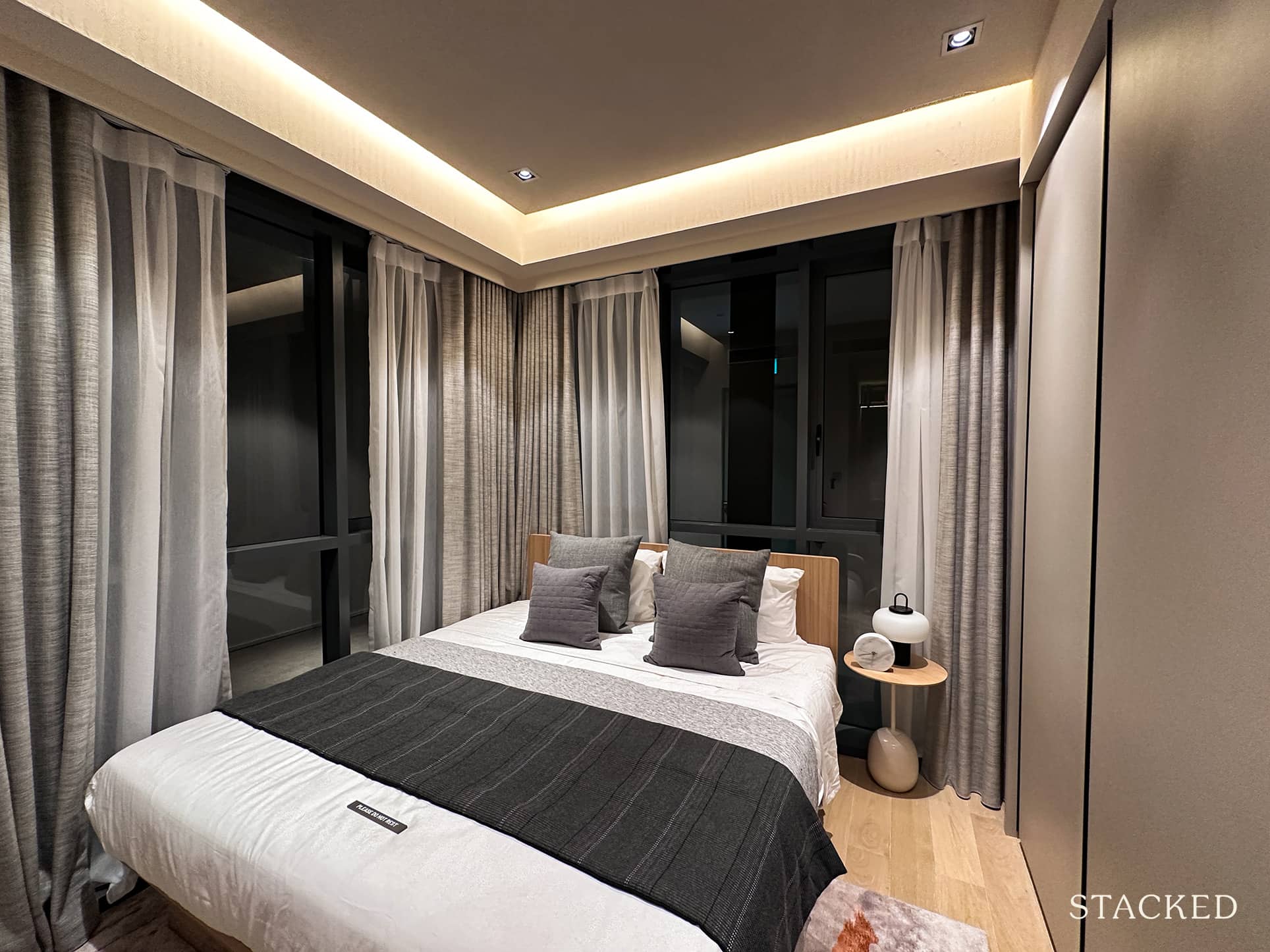 Now, for the master bedroom. As compared to the common bedroom, it comes with a pair of right-angled floor-to-ceiling windows, which offers a nice view of the neighbourhood.
The window that is against the bed faces Institution Hill (South-facing) and the other one faces the East.
Another thing to highlight here is that the size of the built-in cabinets provided is quite impressive. You have a 3-panel length wardrobe space, which is bigger than what you might see in your typical new launch 2-bedroom unit.
Let's move on to take a look at the designs for the built-in cabinets. On the right side of the cabinet is an additional compartment that can be pulled out to find a full-length mirror on one side, and additional shelving on the other.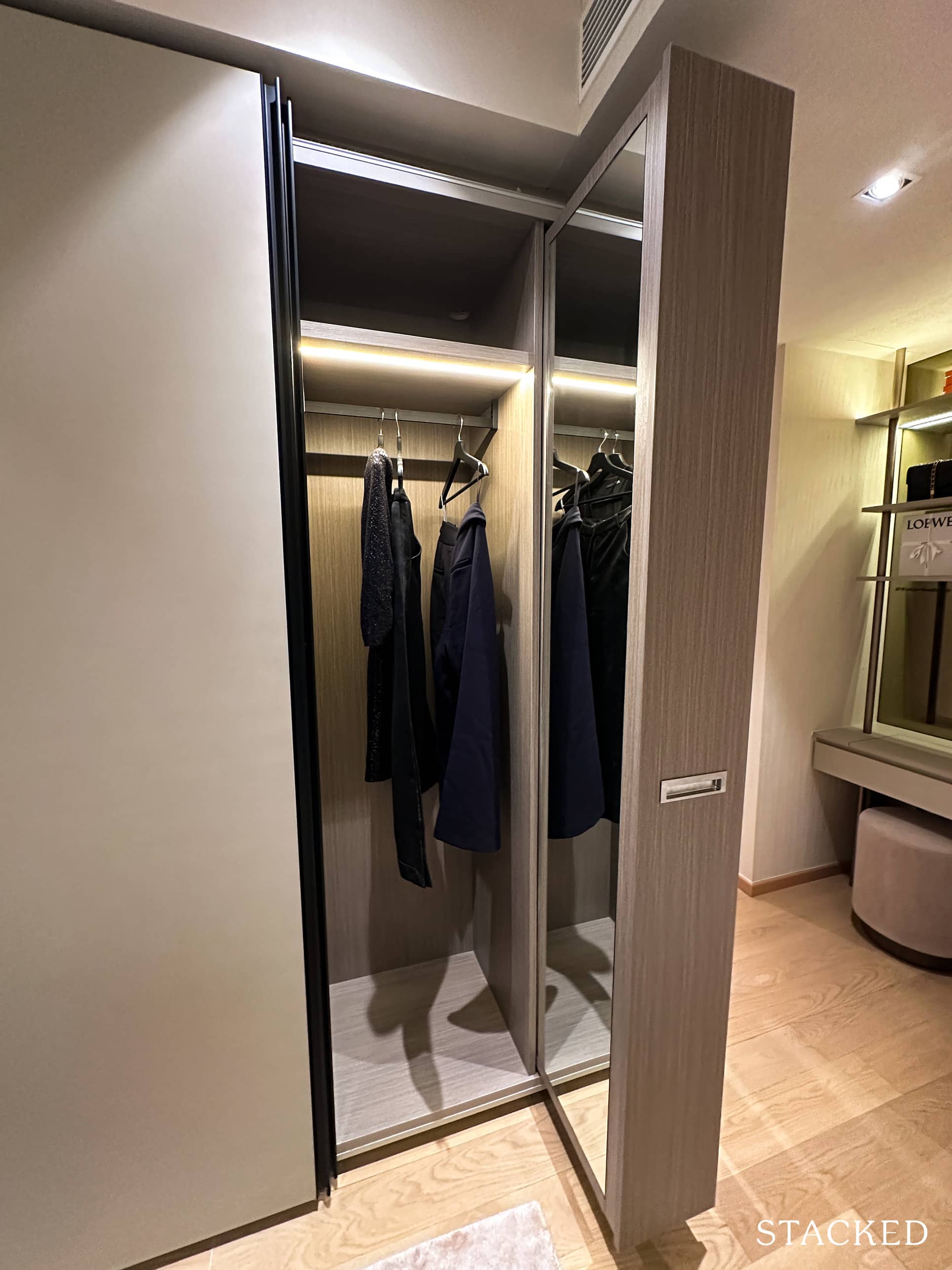 Not only does it save space, but it's also a really practical design and a smart way to reduce the number of mirrors in a room (for those who are superstitious, it's believed to be bad to have your bed or door face a mirror).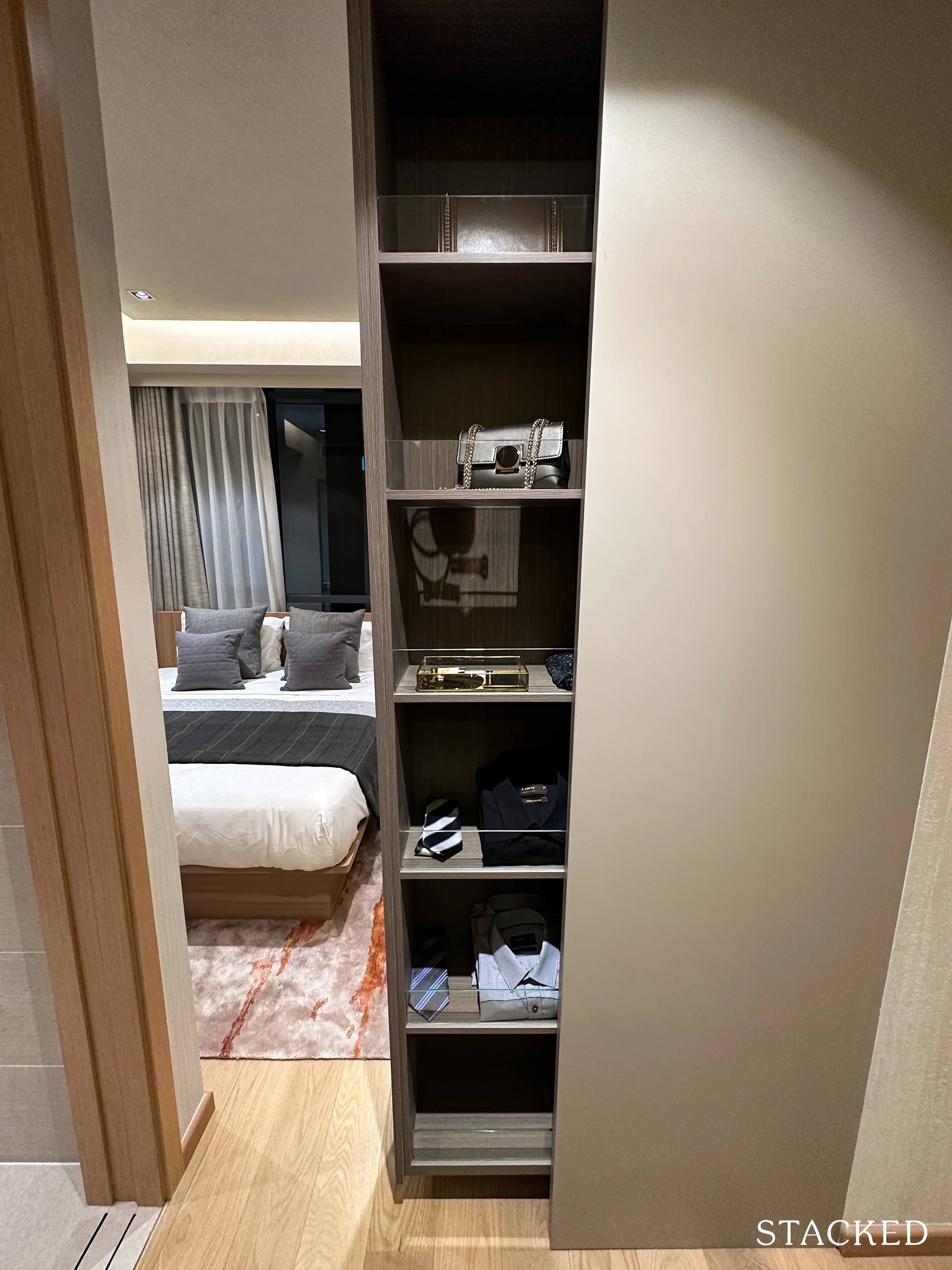 On the other side of the pull-out compartment is additional shelving, which is great for displaying and storing jewellery or bags.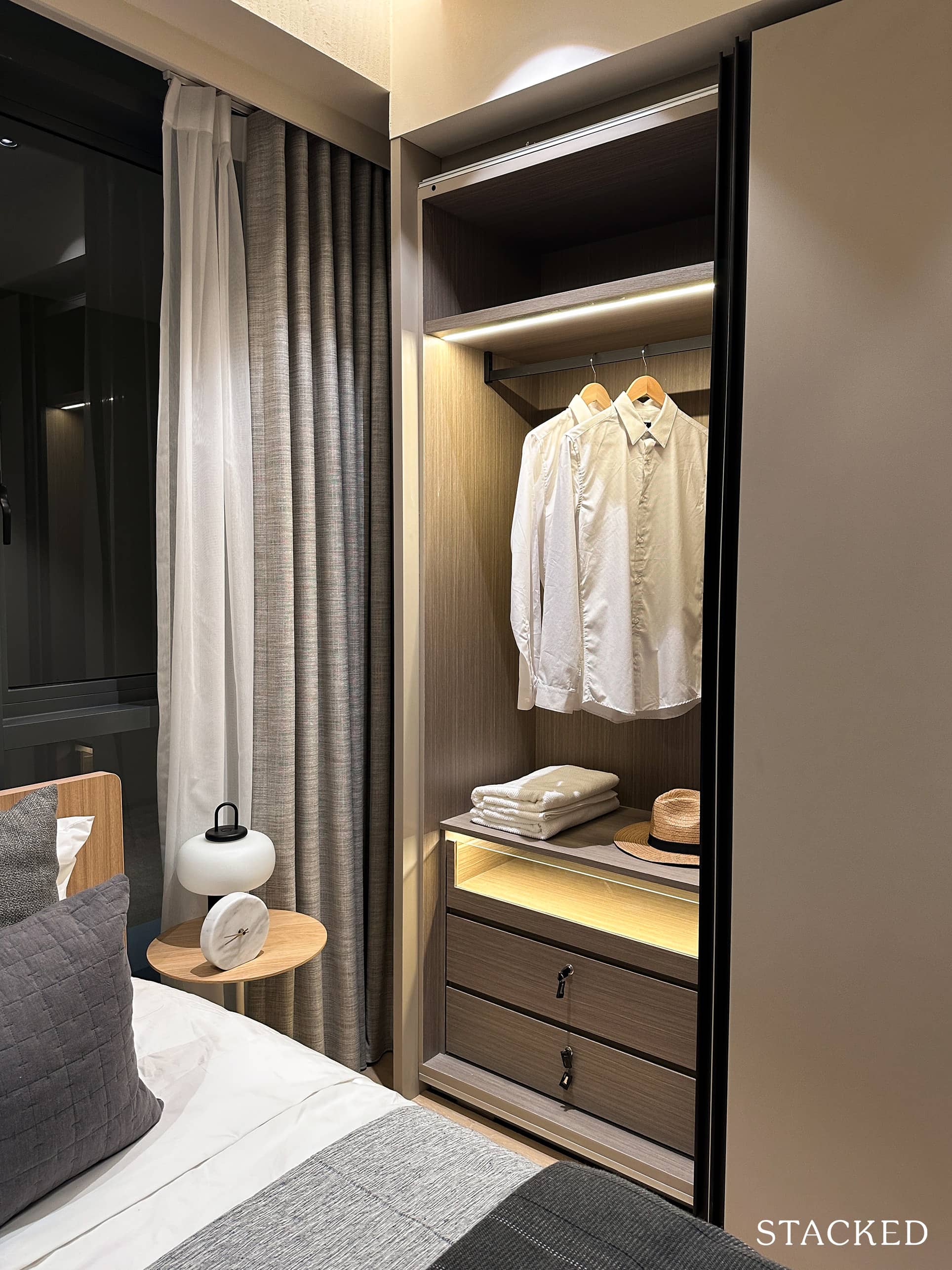 The other side of the wardrobe is typical with a hanging rack and other shelving areas.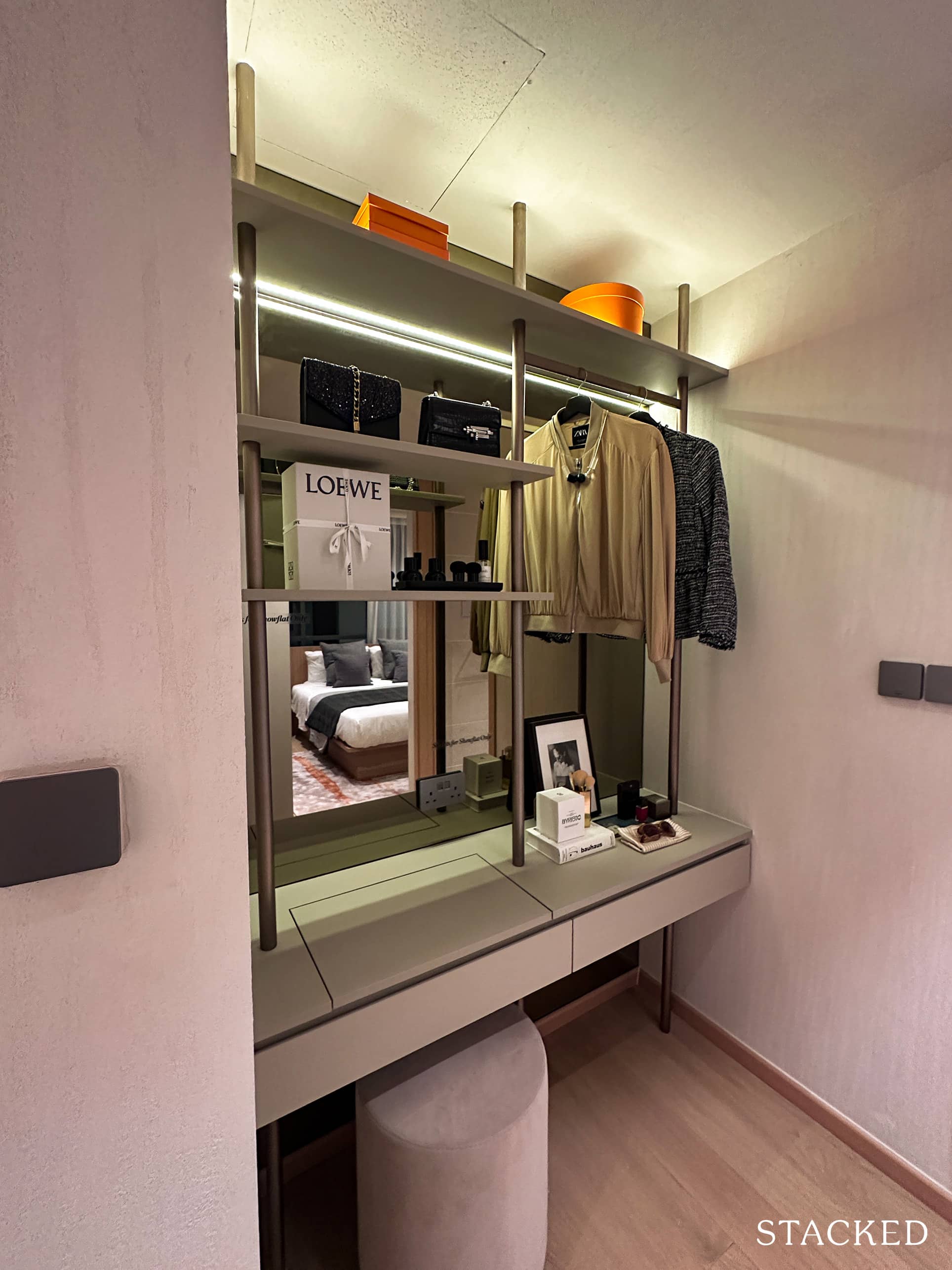 Just right outside of the master bathroom is an alcove that fits a simple vanity space. This design has more of an open concept but it's great to see that there's still some additional space for such features such as this.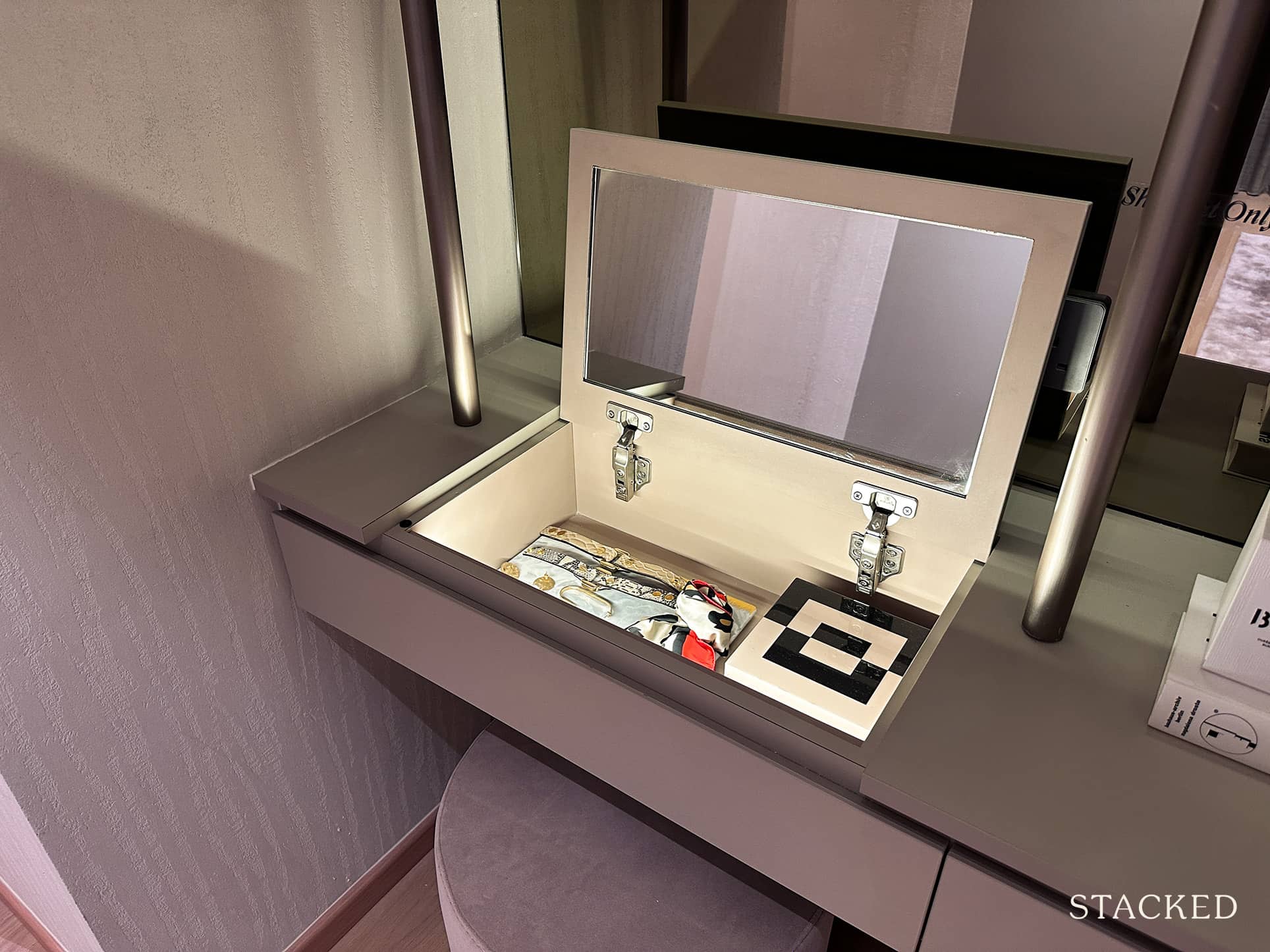 The table has a smart-storage design and opens up to become a crevice to store your items. If not, it can also double up as a study desk.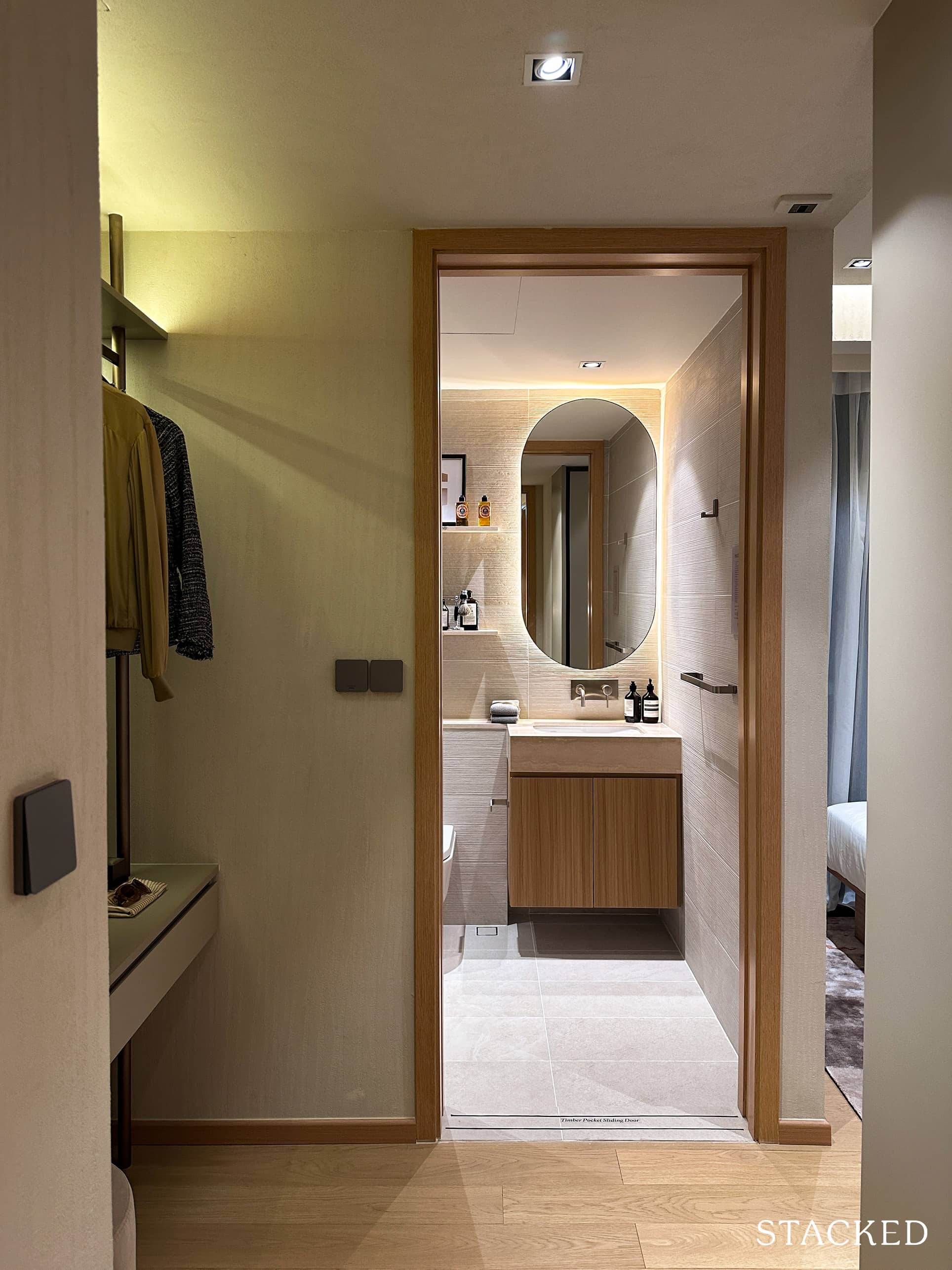 Last but not least, located beside the vanity area is the master bathroom.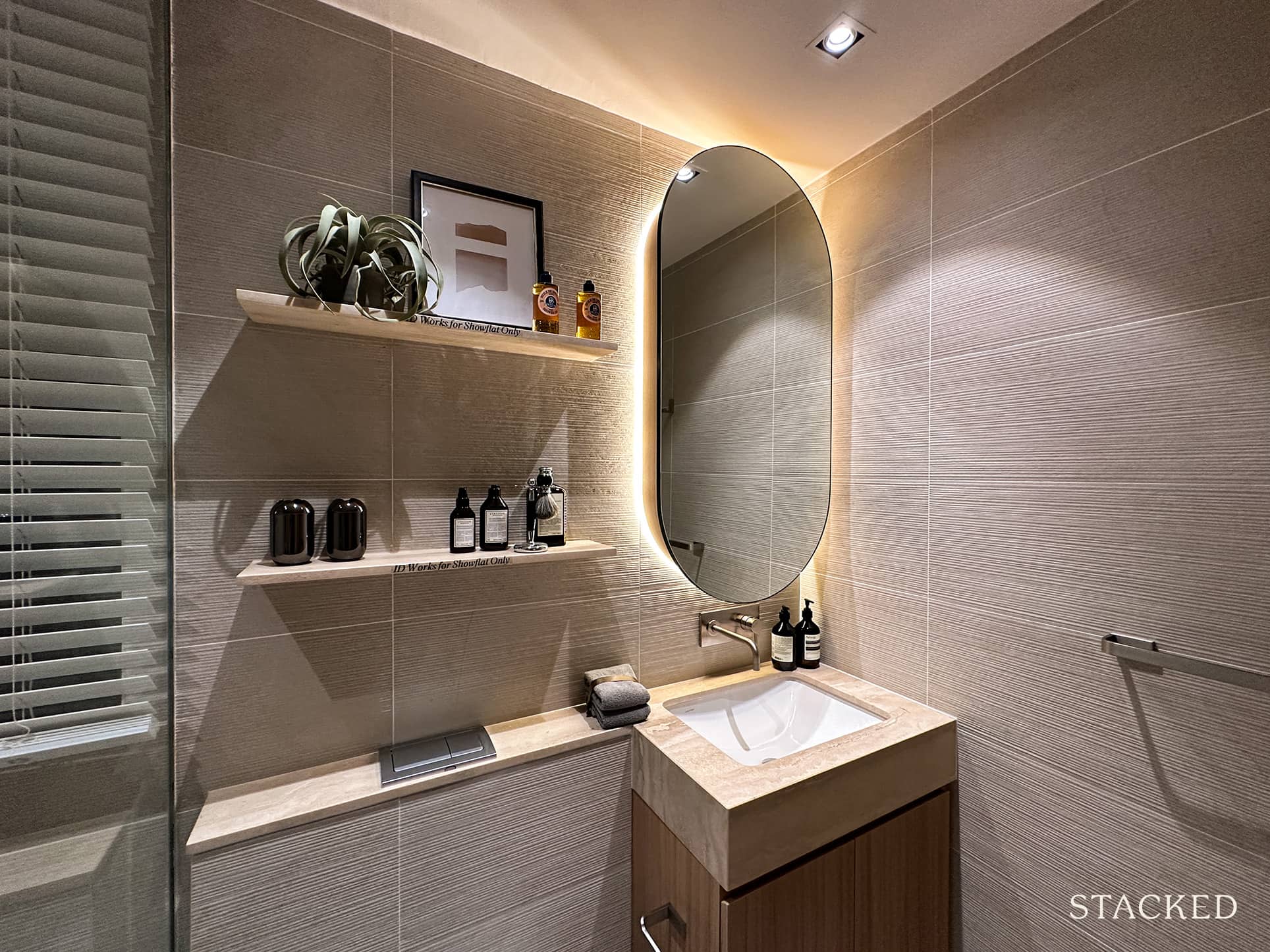 Overall, the master bathroom has an identical theme to the common bathroom, with bright tiles and a LED-lit mirror.
In this bathroom, the wall-hung toilet is located beside the sink, with the same shelvings that we've seen previously installed here as well. While the sink has minimal counter space, there is a cabinet underneath the sink available for storing any sundries in the bathroom.
The main difference is that the window is located in the shower area (better ventilation, in my opinion), and there's a rain shower that's specially installed for those residing in the master bedroom.
And with this, we come to the end of the Hill House show flat tour.
Hill House Location Review
Tucked within a residential-dense neighbourhood of the exclusive District 9, Hill House is the new kid on the block within the mature estate.
It is located along Institution Hill, a private cul-de-sac that currently services existing residents from Aspen Heights and the walk-in front gate for other small condominiums. What I appreciate about cul-de-sac developments is that it gives a more private setting without compromising much on the location.
It cuts into the much busier River Valley Road, which most Singaporeans are familiar with the line of iconic and beautifully preserved shophouses.
On the topic of public transportation, residents of Hill House that rely heavily on buses might find it convenient that the nearest bus stop is located just a minute's walk away. It has five different bus routes with bus stops including City Hall MRT Station (East-West and North-South line) and Bugis Cube (near Bugis MRT Station, which is on the East-West line).
Alternatively, the nearest MRT Station is Fort Caning MRT (on the Downtown line) which is about a 9-minute walk away, and Somerset MRT (on the North-South line) which is about a 12-minute walk away. With that being said, residents at Hill House have the option to walk (or cycle) to Singapore's best shopping belt (yes, Orchard Road) and skip all the unnecessary traffic.
Driving accessibility is also very convenient since the project is already located within Singapore's city centre.
Great schools are within the nearby area across all education levels, with River Valley Primary School, SMU, and SOTA located within its vicinity. Young parents will be happy to know that pre-schools are aplenty within walking distance too.
Amenities
Public Transport
| | | |
| --- | --- | --- |
| Bus Stop | Bus Serviced | Distance from Condo |
| Bef Kim Yam Rd | 32, 54, 139, 195, 195A | 190m, 2-min walk |
| Aft Kim Yam Rd | 32, 54, 139, 195 | 220m, 3-min walk |
| Opp Mohd Sultan Rd | 32, 54, 139, 195 | 500m, 6-min walk |
| UE Sq/Bef Mohd Sultan Rd | 32, 54, 139, 195, 195A | 550m, 6-min walk |
| St. Thomas Wk | 32, 54, 139, 195 | 550m, 7-min walk |
| Opp St. Thomas Wk | 32, 54, 139, 195, 195A | 600m, 7-min walk |
Nearest MRT:
Fort Canning MRT, Downtown Line (750m, 9-min walk)
Somerset MRT, North-South Line (1km, 12-min walk)
Schools
| | |
| --- | --- |
| School | Distance from development (& est walking/driving time at 8.30 am) |
| The Blue House Nursery | 170m, 2-min walk |
| Superland Pre-School (River Valley) | 600m, 3-min drive |
| MindChamps PreSchool @ River Valley | 650m, 3-min drive |
| EtonHouse Pre-School Robertson Walk | 750m, 3-min drive |
| Cambridge @ Robertson | 800m, 3-min drive |
| Superland Pre-School (UESquare) | 950m, 3-min drive |
| River Valley Primary School | 900m, 4-min drive |
| Alexandra Primary School | 2.5km, 5-min drive |
| Anglo-Chinese School (Junior) | 2.8km, 6-min drive |
| Zhangde Primary School | 3.1km, 6-min drive |
| Farrer Park Primary School | 4km, 8-min drive |
| School of the Arts (SOTA) | 1.6km, 4-min drive |
| Outram Secondary School | 1.8km, 4-min drive |
| Gan Eng Seng School | 2.5km, 6-min drive |
| Crescent Girls' School | 3.1km, 7-min drive |
| Queenstown Secondary School | 3.9km, 7-min drive |
| Bukit Merah Secondary School | 4km, 7-min drive |
| Lasalle College of the Arts | 2.1km, 5-min drive |
| Singapore Management University | 2.1km, 4-min drive |
| Dimensions International College | 150m, 1-min drive |
| Furen International School | 2.9km, 5-min drive |
| Dynamics International School | 3.7km, 6-min drive |
Retail Outlets
| | |
| --- | --- |
| Destination | Distance from Development (& est walking time) |
| Orchard Central | 850m, 3-min drive |
| Orchard Gateway | 900m, 3-min drive |
| UE Square | 900m, 3-min drive |
| 111 Somerset | 1km, 3-min drive |
| 313@Somerset | 1km, 4-min drive |
| Plaza Singapura | 1km, 4-min drive |
| The Quayside | 1km, 3-min drive |
| Ngee Ann City | 1.4km, 4-min drive |
| The Centrepoint | 1.6km, 5-min drive |
| Valley Point | 1.7km, 4-min drive |
| ION Orchard | 1.7km, 4-min drive |
| Great World | 1.8km, 4-min drive |
Most will agree that the variety of shopping options around the neighbourhood is superb, and some might even find walking or cycling to their destinations during peak hours might work better for them.
The nearest grocery mart is probably Cold Storage located within UE Square. It is a comfortable 8-minute walk away or a 3-minute cycle away.
Private Transport
| | |
| --- | --- |
| Key Destinations | Distance from Condo (Shortest Time at Peak Hour (0830) Drive Time) |
| CBD (Raffles Place) | 3.1km, 6 – 22-min drive |
| Orchard Rd | 2.1km, 4 – 12-min drive |
| Suntec City | 3km, 6 – 20-min drive |
| Victoria St | 3.3km, 7 – 22-min drive |
| Changi Airport | 20.8km, 20 – 35-min drive |
| Paya Lebar Airbase (by 2030) | 13.8km, 18 – 40-min drive |
| Tuas Port (by 2040) | 37.9km, 40 – 70-min drive |
| Mediapolis (and surroundings) | 8.9km, 12 – 28-min drive |
| Mapletree Business City | 7.2km, 14 – 40-min drive |
| Tuas Checkpoint | 27.5km, 26 – 45-min drive |
| Woodlands Checkpoint | 21.5km, 22 – 45-min drive |
| Jurong Cluster | 21.7km, 24 – 50-min drive |
| HarbourFront Cluster | 5.6km, 10 – 35-min drive |
| Punggol Cluster | 19.5km, 18 – 30-min drive |
Immediate Road Exits:
Take a left after Institution Hill to enter River Valley Rd
Hill House Developer Review
Developer
A consortium of three local companies, Mequity Hills Pte Ltd is a joint venture of Macly Capital Pte Ltd, Roxy-Pacfic Holdings Limited, and LWH Holdings Pte Ltd.
Macly Group
Established in 1987, Macly Group is an award-winning local developer with a long track record of developing apartments, condominiums, mixed developments, commercial, landed properties, and cluster housing projects. It even developed and operates several hospital brands across Asia, such as local favourite Llyod's Inn.
Other notable projects by the Macly Group include Neu at Novena, Eon Shenton, and The Iveria.
Roxy-Pacific Holdings
One of Singapore's most established property developers, RP Holdings is a property and hospitality group with a track record since 1967. The company's track record includes other renowned residential projects like Mori and Neu at Novena.
LWH Holdings
Established as a construction company in Singapore, LWH Holdings has a strong track record over the past two decades on its ability to build functional and beautiful homes for everyone. Some projects include Baywind Residences and Carpmael Thirty Eight.
Architect
A Singapore-based award-winning architectural firm, JGP Architecture was established in 1985 and has now expanded its reach to Shanghai, Beijing, Ho Chi Minh City, Kuala Lumpur, and Yangon.
Their portfolio focuses mainly on Asia-Pacific projects, with highlights including Four Points by Sheraton Malaysia and Holiday Inn Express Singapore.
Unit Mix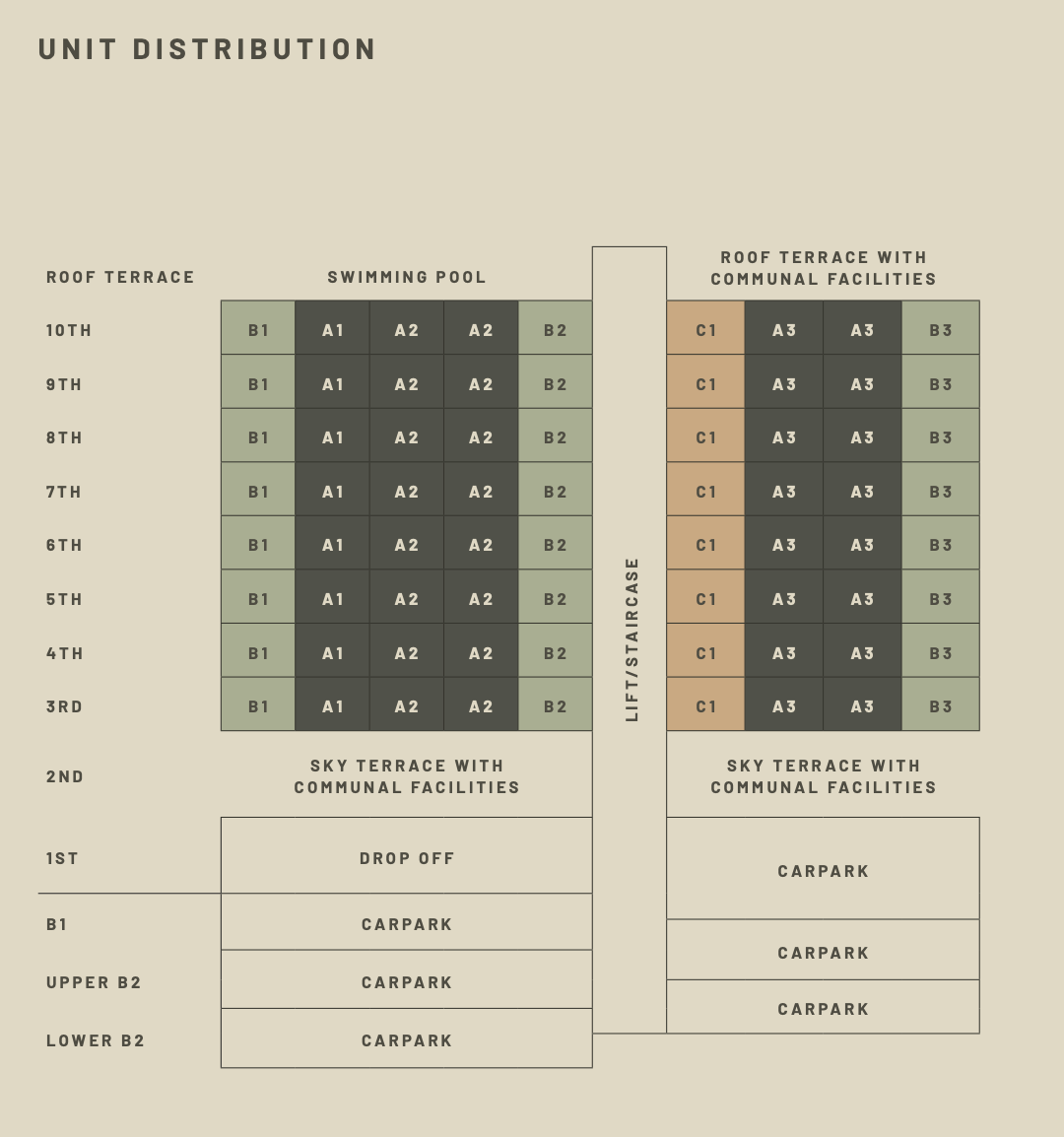 | | | | |
| --- | --- | --- | --- |
| No. of Bedroom | Type | Area (Sqft) | No. of Units |
| 1 Bedroom | A1 | 431 | 8 |
| 1 Bedroom | A2 | 431 | 16 |
| 1+1 Bedroom | A3 | 452 | 16 |
| 2 Bedroom | B1 | 624 | 8 |
| 2 Bedroom | B2 | 624 | 8 |
| 2 Bedroom | B3 | 624 | 8 |
| 3 Bedroom | C1 | 753 | 8 |
Hill House offers layouts ranging from 1-bedroom to 3-bedroom units. Although there's not much of a variety of options for buyers, it's understandable since there are only 72 units to pick from here.
While the 1 and 2-bedroom unit sizes are in line with what you'd find in most new launches today, the 3-bedroom units are definitely of compact size, and there will be a trade-off to be made here in terms of the size to the benefits of the central location.
Just from looking at the unit mix breakdown, a majority of the units are 1-bedroom units, which indicates that the project is mainly targeted at singles or couples.
Hill House Stack Analysis
Development Site Plan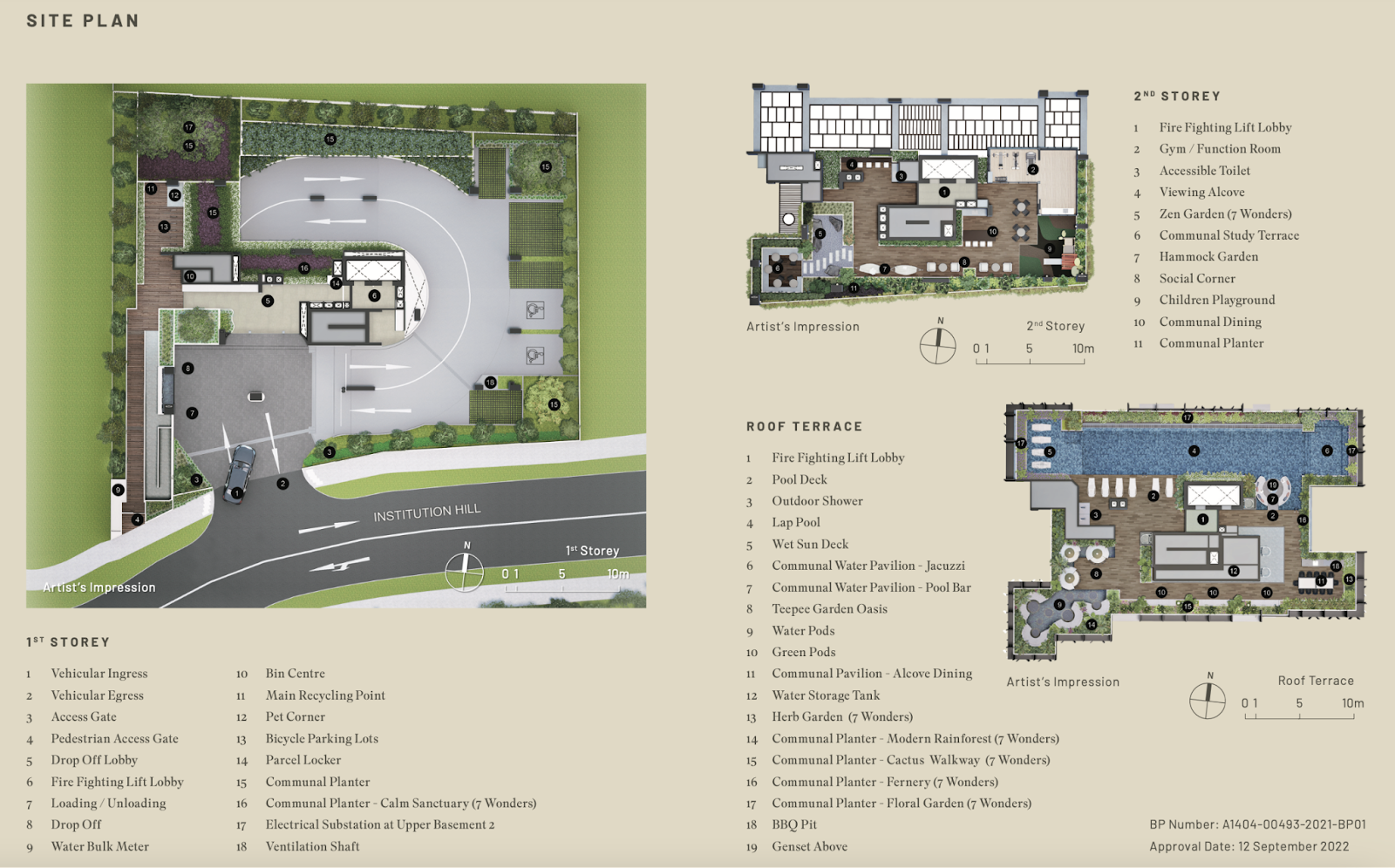 Hill House sits on a small site of land sized at 14,230 square feet, with its facilities distributed across three levels to better maximise its space efficiency.
Street Level
The sole ingress and egress to the project are located on street level, which faces along Institution Hill. Other condo amenities found on this level include a pet corner, bicycle parking corner, and a communal planter area.
Overall, the residential building takes up most of the site area, apart from a small amount of space that acts as a periphery around the block.
2nd Storey
On the other hand, the second floor focuses on providing lounge and communal spaces for the residents to interact. I thought that the developer's commitment to allocating a few storeys just to provide a better lifestyle element for its residents was really commendable.
On this floor, there's a gym, a function room, several communal spaces for gathering and solo activities, gardens, and a children's playground.
Roof Terrace
Last but not least, the roof terrace, which is located on the highest floor of Hill House, has more active facilities. It includes a lap pool, sun deck, water pavilions, a dining space (to host private events), and other communal planter spaces. The BBQ pit is also available for booking on this floor.
On the matter of car parks, the developers chose to dig deep underground with 3 basement levels and available lots on the street level.
Best Stacks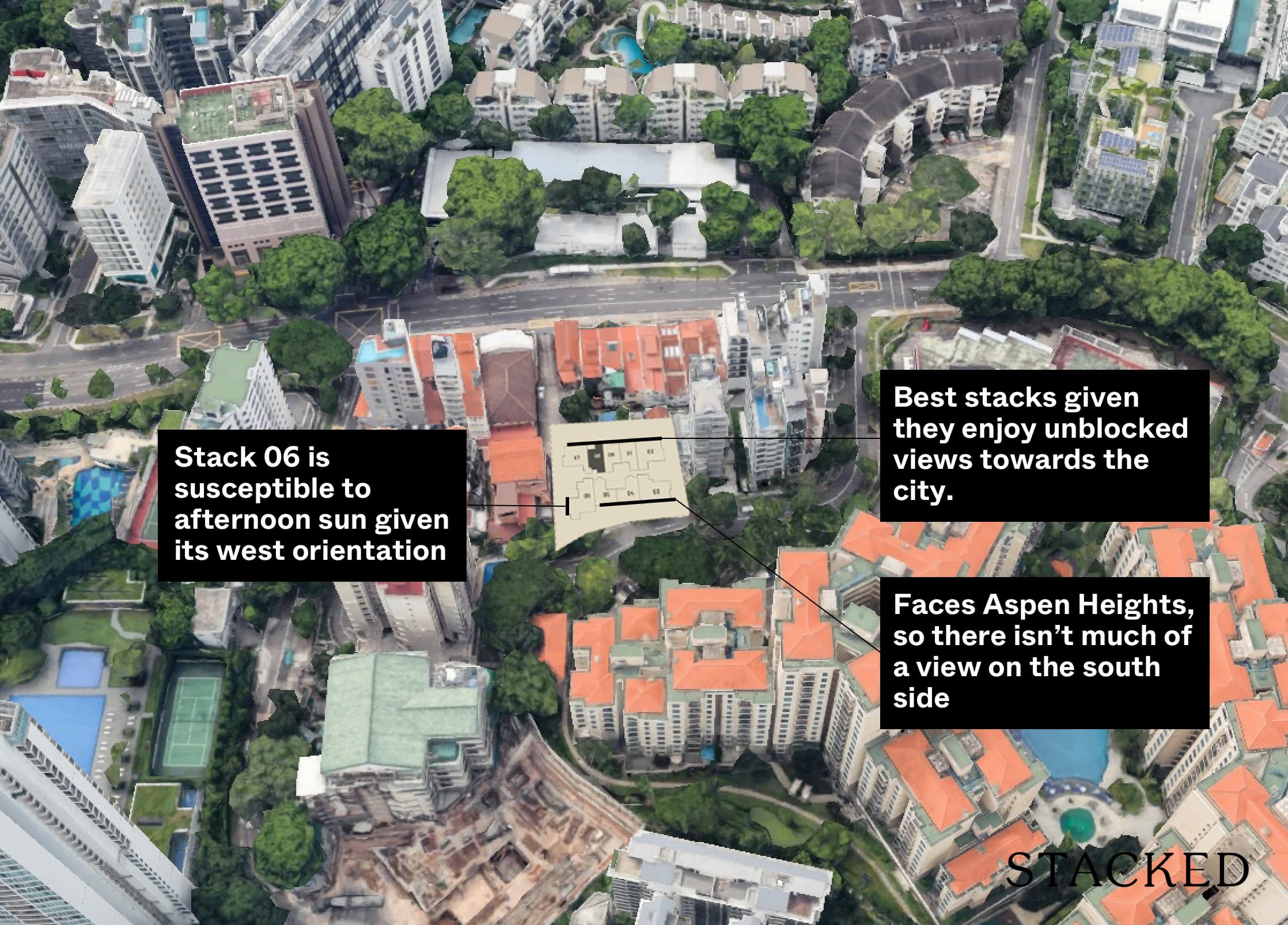 Picking the best stack is a subjective choice, but for simplicity's sake, I've considered these three key variables:
Afternoon Sun Orientation
Views
Privacy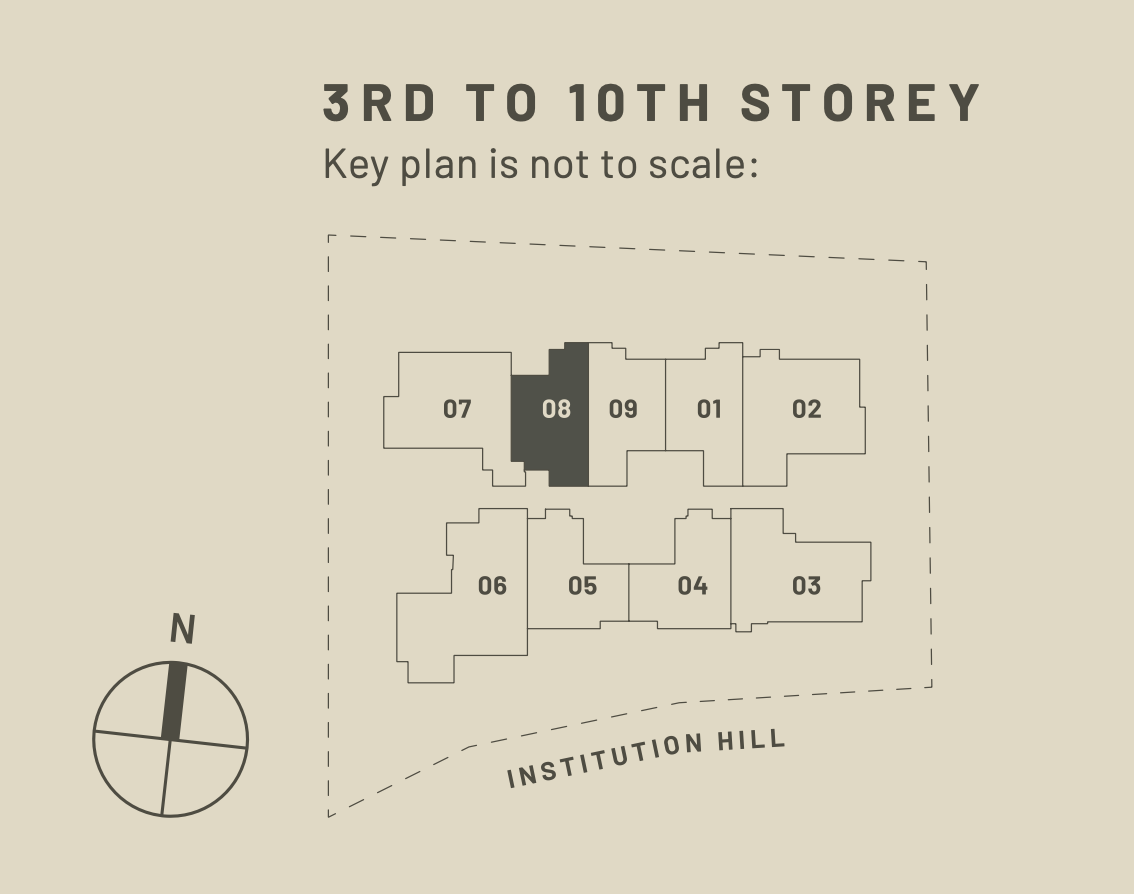 Stacks 1, 2, 7, 8 and 9
These stacks have balconies that look in the North-West direction towards the shophouses along River Valley Road. Higher floor units are able to enjoy unblocked views of the surrounding neighbourhood that look towards Lloyd's Inn in the Somerset direction. These units would most likely be experiencing more noise since it does look towards the busy street and business-operating shophouses.
The afternoon sun would not be that much of an issue, which is great for those who want a naturally bright unit without the intense sun.
Stacks 3, 4, 5
On the other hand, Stacks 3, 4, and 5 have balconies that look towards Institution Hill in the South-East direction. While these units would be well-shaded, there isn't much of a view since it overlooks Aspen Heights.
Stack 6
Last but not least, Stack 6 has units with a balcony overlooking the West direction, making it most susceptible to the afternoon sun. Higher floor units would be able to enjoy unblocked views of the shophouses along Kim Yan Road and the surrounding neighbourhood.
Afternoon Sun
Most stacks are north-south facing, with the exception of stack 06 where the balcony overlooks the west direction. As such, most units would not have afternoon sun.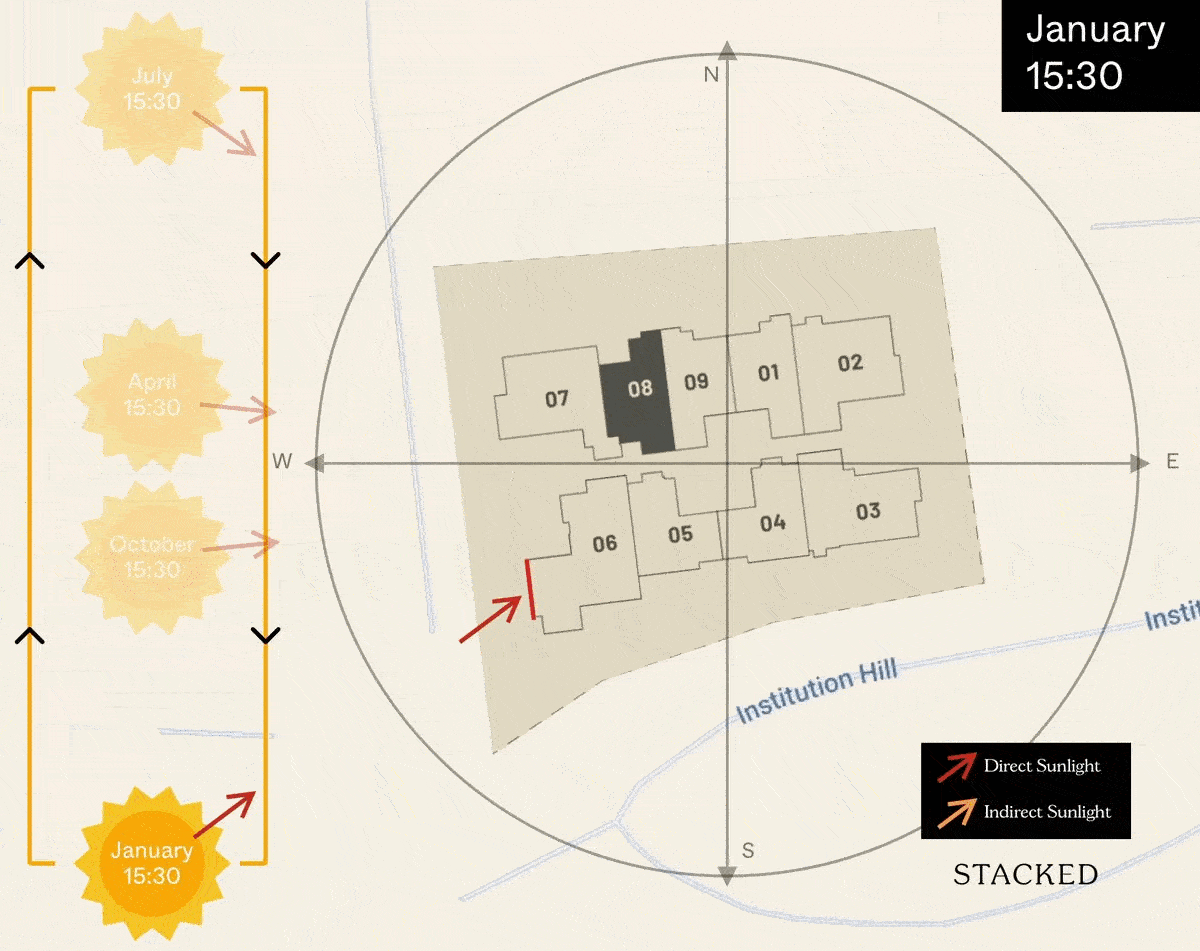 Hill House Price Analysis
| | | | | | |
| --- | --- | --- | --- | --- | --- |
| Development | Units | Average Psf | TOP | Tenure | Price Gap |
| Hill House | 72 | $2,945 | Est 2026 | 999-year | NIL |
| Waterford Residence | 118 | $1,930 | 2010 | 999-year | 34.5% |
| Aspen Heights | 606 | $1,958 | 1998 | 999-year | 33.5% |
| Langston Ville | 54 | $1,848 | 2000 | 999-year | 37.2% |
| Oleanas Residence | 130 | $2,024 | 1999 | Freehold | 31.3% |
| The Wharf Residence | 186 | $2,187 | 2012 | 999-year | 25.7% |
| Aspen Linq | 18 | $1,490 | 2016 | 999-year | 49.4% |
| Martin Place Residences | 302 | $2,466 | 2011 | Freehold | 16.3% |
| Gambier Court | 23 | $1,624 | 1999 | 99-year | 44.9% |
| The Iveria | 51 | $2,613 | 2024 | Freehold | 11.3% |
| Robertson Edge | 70 | $2,084 | 2008 | 999-year | 29.2% |
As seen from the list of developments, there haven't been many new additions within Hill House's vicinity, apart from The Iveria (which is stipulated to TOP by 2024).
Despite the slight difference in tenure (with Hill House being 999-year leasehold versus The Iveria being freehold) and its vicinity, the former still manages to command a higher premium of 11.3%.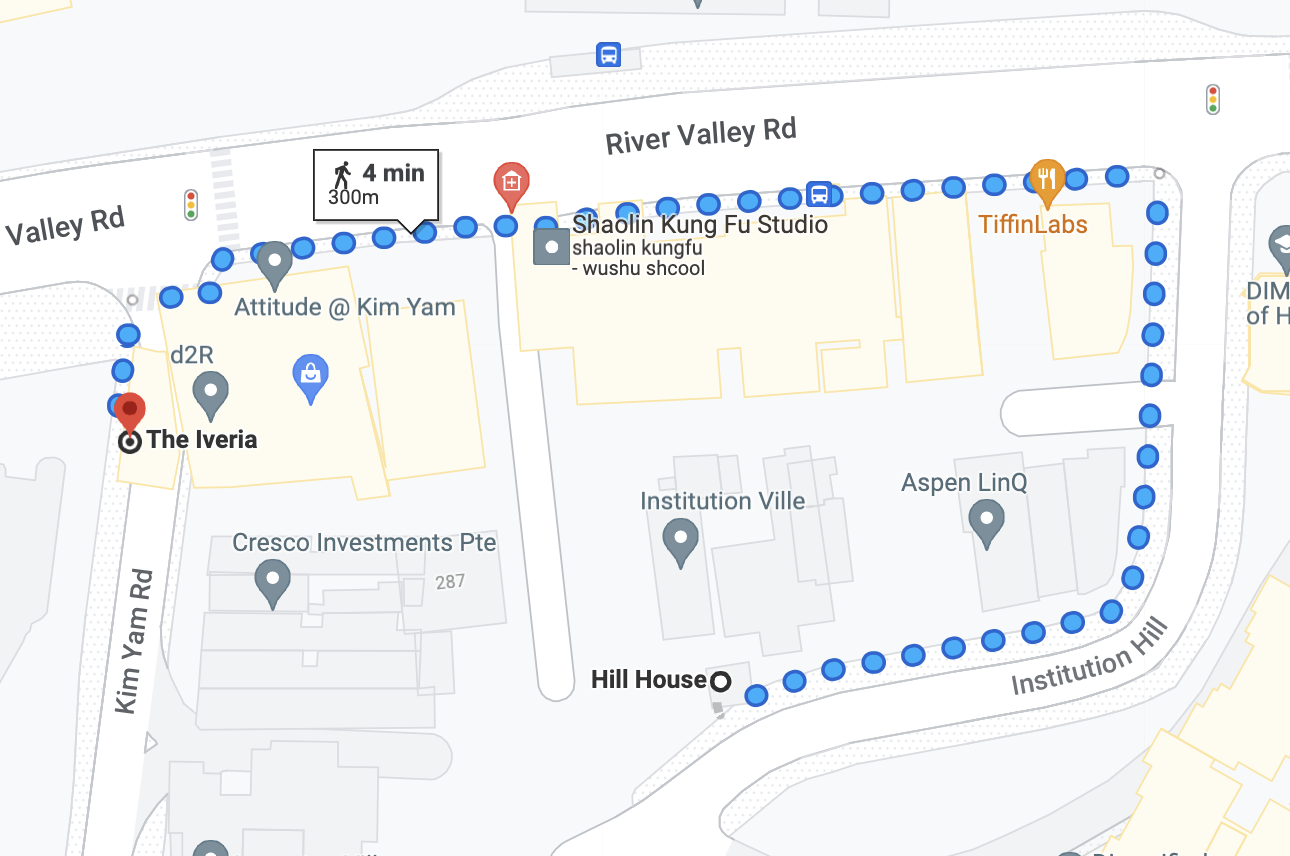 This indicates that Hill House's more private location is highly appreciated within the neighbourhood. Of course, its newer launch status also allows it to command a slightly higher premium.
On the other hand, older developments (TOP from 1998 to 2008) have an average price ranging from $1,624 PSF to $2,084 PSF.
No surprise that Gambier Court has the lowest average PSF price (a whopping 44.9% PSF difference to Hill House), considering that it is one of the few 99-year leasehold projects amongst a dense freehold and 999-year tenure neighbourhood. However, its location is better overall, considering it is a short walking distance to the Singapore River.
Surprisingly, Robertson Edge (TOP 2008) has a similar average PSF price to Oleanas Residence (TOP 1999), despite its almost decade difference in the launch date.
When reviewing the prices for newer launches (TOP from 2010 – 2016), the average price ranges from $1,490 PSF to $2,466 PSF, with Aspen Linq as the development with the lowest average price PSF.
Comparisons with other developments
Before we take a look at how it compares in detail with other condos in D09 and the CCR, here's a look at the latest prices for Hill House:
Current prices (as of 27th June 2023):
| | | | | |
| --- | --- | --- | --- | --- |
| Bedroom Type | Low $PSF | High $PSF | Low Price | High Price |
| 1 Bedroom | $3,262 | $3,404 | $1,407,000 | $1,467,000 |
| 1+1 Bedroom | $3,259 | $3,445 | $1,473,000 | $1,557,000 |
| 2 Bedroom | $3,104 | $4,575 | $1,937,000 | $2,145,000 |
| 3 Bedroom | $3,035 | $3,175 | $2,285,000 | $2,391,000 |
Buyers hunting for a District 09 condo would know that such absolute prices are considered quite decent. But where does it stand among available District 09 new launches today?
| | | | | | | |
| --- | --- | --- | --- | --- | --- | --- |
| Project Name | 1BR Avg Price | 1BR Avg $PSF | 2BR Avg Price | 2BR Avg $PSF | 3BR Avg Price | 3BR Avg $PSF |
| Cairnhill 16 | – | – | $2,282,280 | $2,945 | $3,445,000 | $3,006 |
| Hill House | $1,463,600 | $3,341 | $2,065,950 | $3,311 | $2,336,571 | $3,103 |
| Irwell Hill Residences | $1,668,000 | $2,627 | $1,964,000 | $2,659 | – | – |
| Klimt Cairnhill | – | – | $2,840,000 | $3,298 | $5,250,000 | $3,509 |
| Kopar At Newton | $1,499,429 | $2,900 | – | – | – | – |
| The Atelier | $1,589,528 | $2,895 | – | – | – | – |
| The Avenir | $1,678,000 | $3,184 | – | – | – | – |
District 09 currently has 6 other new launches with available units and pricing information. You'll see that Hill House is competitive in the 1 and 3-bedroom categories while being on the lower end of the spectrum for 2-bedroom units.
A quick look at the $PSF is telling why this is the case: units are simply smaller than its new launch peers.
Despite being competitive in terms of overall prices, its $PSF pricing stands somewhere in the middle.
For the 1-bedroom units, Hill House ranks as the most affordable on average. The next most affordable on average is Kopar At Newton. This could seem surprising to some considering how Hill House is a 999-year leasehold which effectively makes it freehold. On the contrary, Kopar At Newton is a 99-year leasehold development.
However, a look at the available units in Kopar reveals that the 1-bedders are 517 sq ft in size, contrary to Hill House's 400+ sq ft units. These units are also situated on the higher floors.
Aside from the size and floor level, Kopar at Newton is a larger development, boasting varied facilities. It's also much more convenient in terms of MRT access as it's only a few minutes away from Newton MRT interchange.
As for the 2-bedroom, Irwell Hill Residences is cheaper on average, and it's 99-year leasehold, unlike Hill House which is 999-year leasehold.
With this in mind, it's simple to think that going for the 999-year leasehold option is obvious.
However, I think that you shouldn't be comparing purely on price and tenure.
Both developments are in different locations and offer different types of facilities. Hill House is a small condo and is positioned atop a hill which is less convenient if you do not drive, unlike Irwell Hill Residences which is within walking distance of an MRT.
The 3-bedder is where Hill House really stands out today. Only 1 stack within the development offers 3 bedroom units, and they're 753 sq ft in size.
Once more, the small unit size here is what makes Hill House affordable. 753 sq ft is even smaller than the typical 3-bedroom compact unit. Its current average price of $2,336,571 makes it around 32% cheaper than the next most affordable District 09 new launch: Cairnhill 16.
The cheapest 3-bedroom at Cairnhill16 goes for $3,220,900 and comes in at 1,055 sq ft. Here's what it looks like: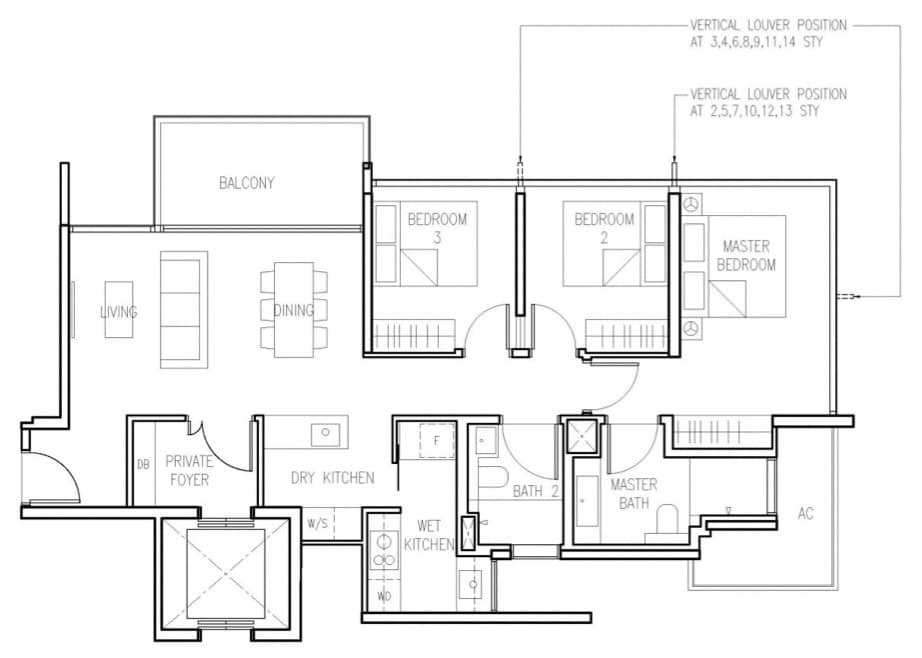 The unit comes with a private lift and foyer, and a separate dry and wet kitchen. It's got an entryway for privacy, a flexible living and dining configuration, and a pretty decent master bedroom size.
Here's what Hill House's 3-bedder is like:
While some might not be a fan of the door opening up right to the living room and dining, it is undoubtedly more efficient. Each bedroom is smaller than the one at Cairnhill 16, however, at least in this compact layout, there's no wasted walkway space and hardly any hallway space too.
Since the layout in Cairnhill 16 doesn't have a utility room/store or a yard, you could argue that both layouts are comparable.
In this sense, Hill House's lower quantum for the smaller size is actually worth it considering its efficiency and the fact that it's over 30% cheaper – but only if you are okay with small spaces.
Compared to CCR new launches
1-Bedroom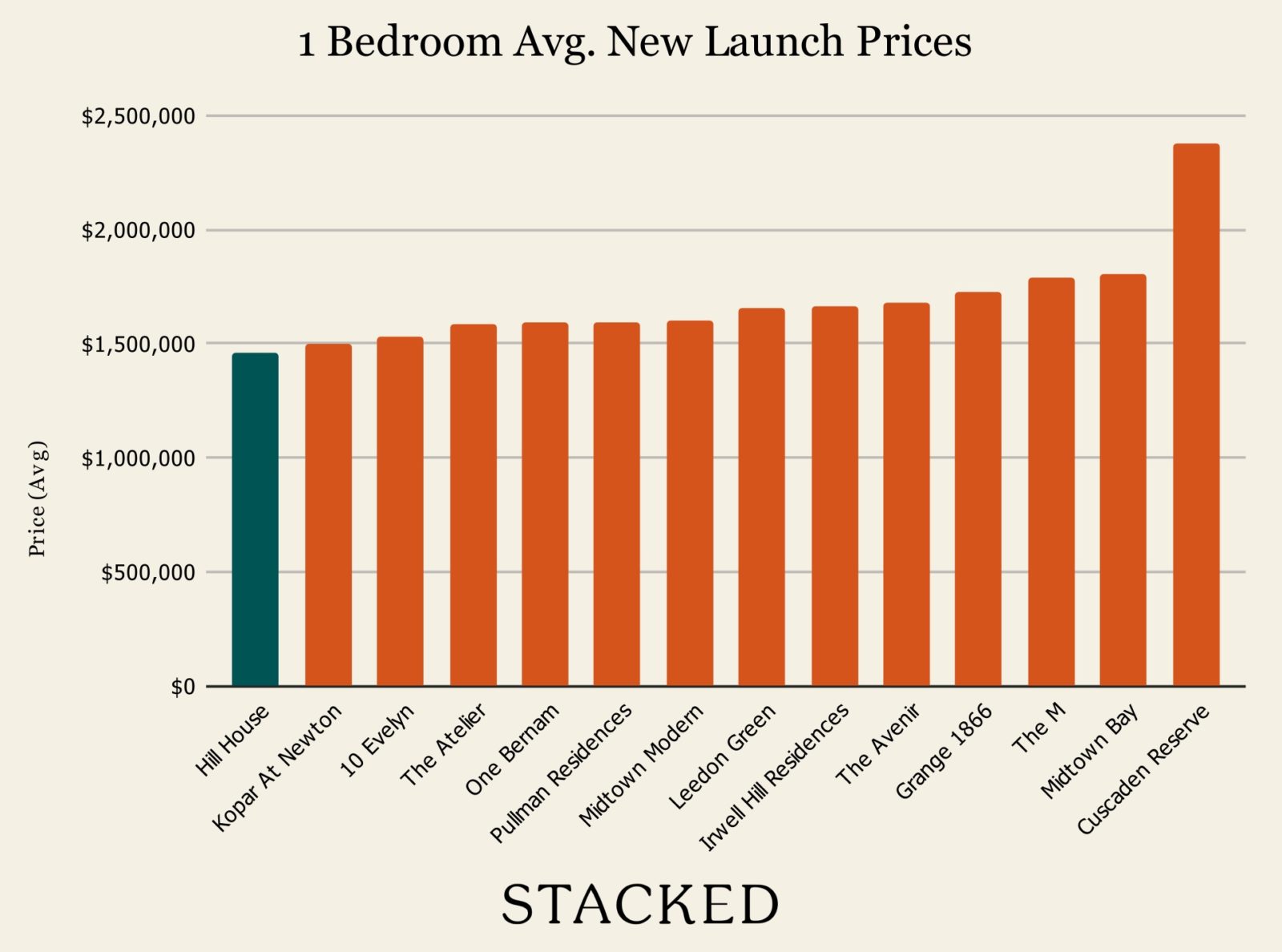 Hill House is the most affordable CCR new launch available today, even lower than the 99-year leasehold Kopar At Newton. However, Kopar At Newton is close to an MRT and within 1KM to popular schools.
Still, since we are looking at 1-bedroom units now, the quantum difference isn't really that great. For example, you could purchase a 495 sq ft 1-bedroom unit at 10 Evelyn for $1,378,000. 10 Evelyn is freehold and you can at least walk to the MRT. Here's what the cheapest 1-bedroom floor plan looks like: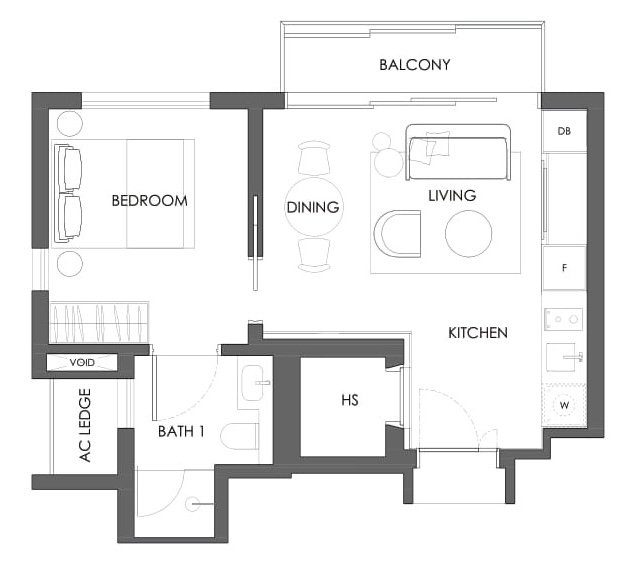 The 1-bedroom here is pretty efficient. Coming in, you immediately have the kitchen on the right and the household shelter on the left. It then opens up into the living and dining area which is of a flexible configuration, allowing you to prioritise what's important for you. The balcony may be lone, but it's narrow – making it quite practical if you're looking to enjoy the outdoors for just a cup of coffee (or just doing simple exercises like Pilates). The aircon ledge is also of a good, small size.
Here's what the 1-bedroom at Hill House looks like: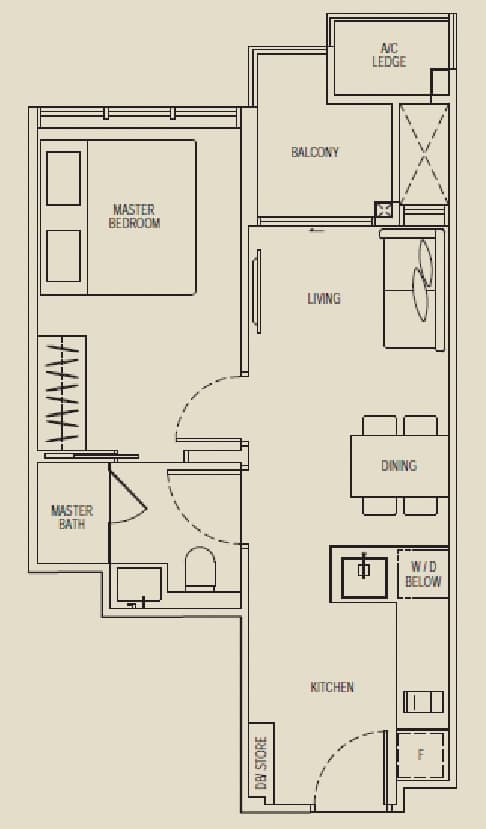 This layout belongs to the 431 sq ft unit. Given this size, it's not a surprise that there's no household shelter. Apart from that, the layout is quite efficient too – entering the unit, you'll immediately be in the kitchen area. Further down is a separate living and dining area. The master bedroom is on the left side and is of a respectable size. The AC ledge is also not too big.
Between the two, it really boils down to whether or not you value the household shelter space (I think most people at this size, wouldn't).
However, the bigger consideration here is the location and facilities. Both are in completely separate locations, so this is really down to personal preferences. On the one hand, 10 Evelyn is closer to an MRT and you don't have to tackle a hill (even if it's not very steep) if you take public transport. However, Hill House has good amenities in the River Valley and Killiney area, and you can also walk to Somerset.
In terms of facilities, Hill House is definitely the winner. It has a rooftop pool, function room, gym, barbeque pit and playground among other facilities. 10 Evelyn really only has a gym and a pool which is surprisingly lacking for a condo. This may not be a big deal for singles, but in an environment where surrounding condos have more facilities, this can weigh on its resaleability on the secondary market.
Overall, I do think that singles or investors looking to purchase a near-freehold/freehold unit in District 09 on a budget will find Hill House's offer to be quite palatable in today's context.
2-Bedroom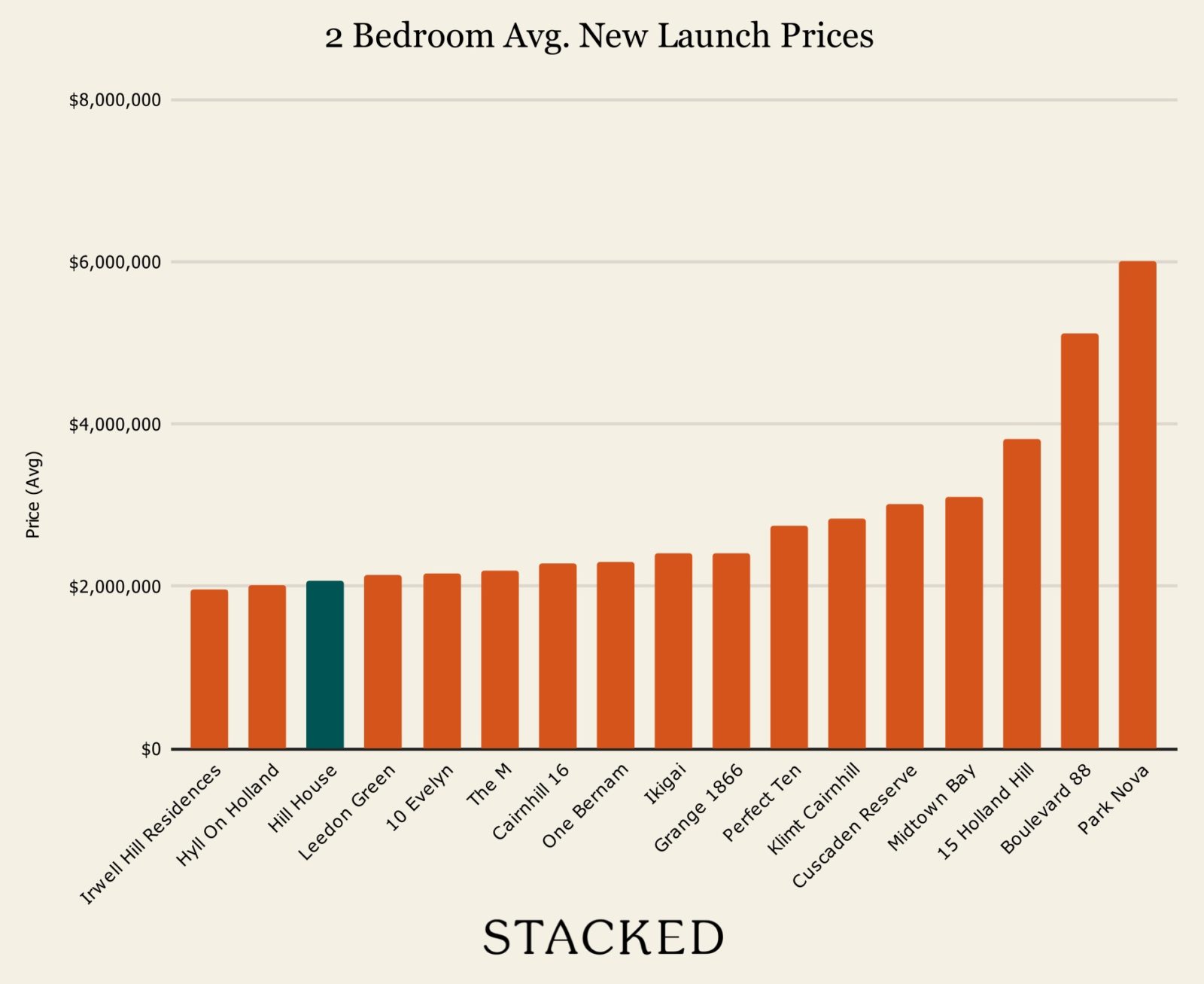 It's nearly the same story with its 2-bedroom units as it's straddled between Hyll on Holland and Leedon Green. Both developments are freehold, so on paper, Hill House doesn't seem to be that much more special.
What caught our attention is the more affordable Irwell Hill Residences which has the lowest average quantum so far based on what's available.
The most affordable 2-bedder goes for $1,938,000 and is situated on the 36th floor: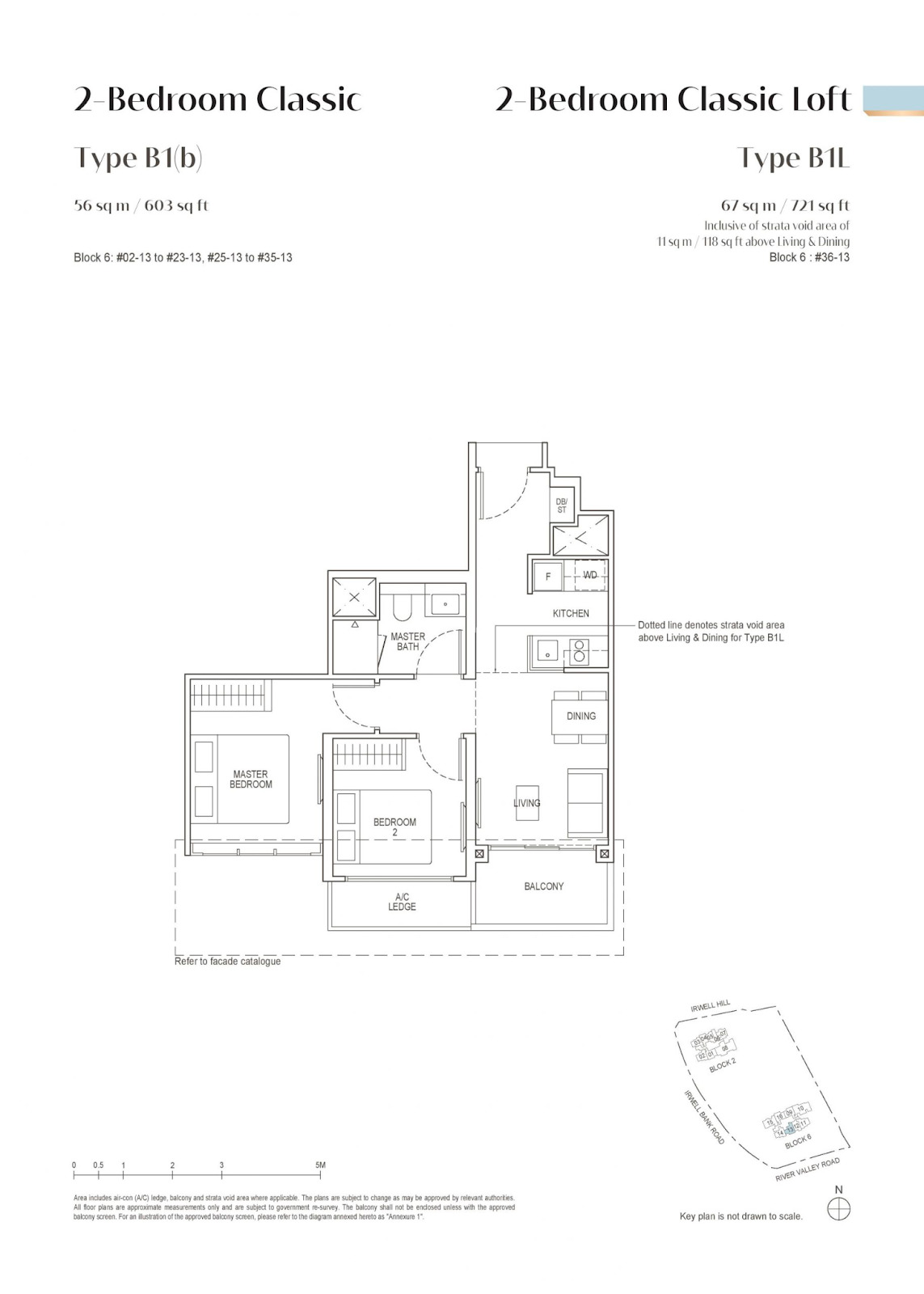 It only has 1 bathroom, so it may be less desirable when it comes to renting it out. However, I do believe the higher price point is due to how high up it is. The unit on the 10th floor went for $1,548,000, but this was in 2021 when times were vastly different.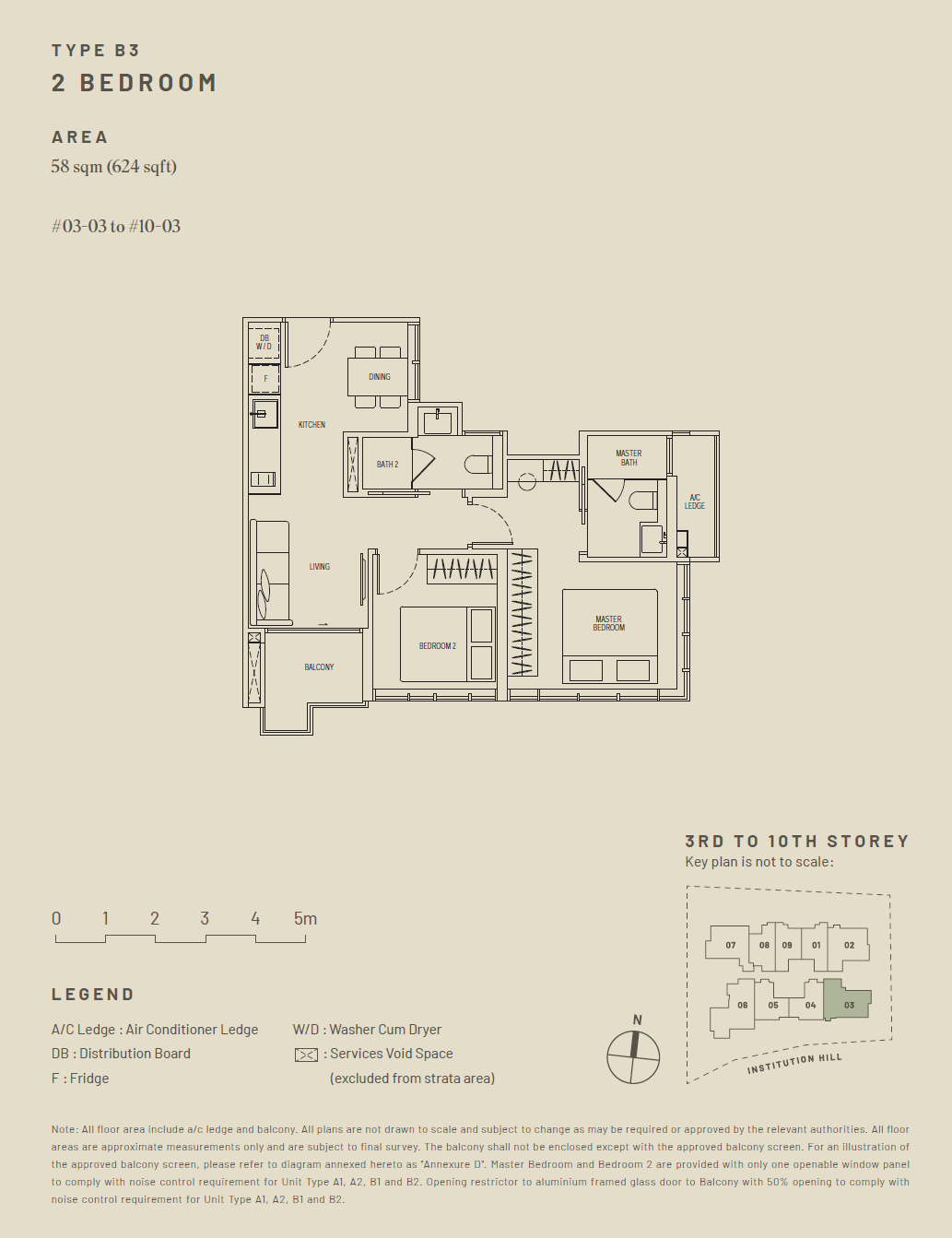 Based on Hill House's layout, the 2-bedroom here seems to be the better option – it has 2 bathrooms. The unit also does away with an entryway, making it more efficient.
The 10th-floor unit with this layout currently goes for $2,050,000. At this price, it's hard to say which is better. Hill House is 999-year leasehold, but it costs more than Irwell Hill Residences which is a larger development, has better convenience to an MRT (Great World), and a better view (given you're on a higher floor). It does have 2 bathrooms though, which is really a dealbreaker depending on your preferences.
3-Bedroom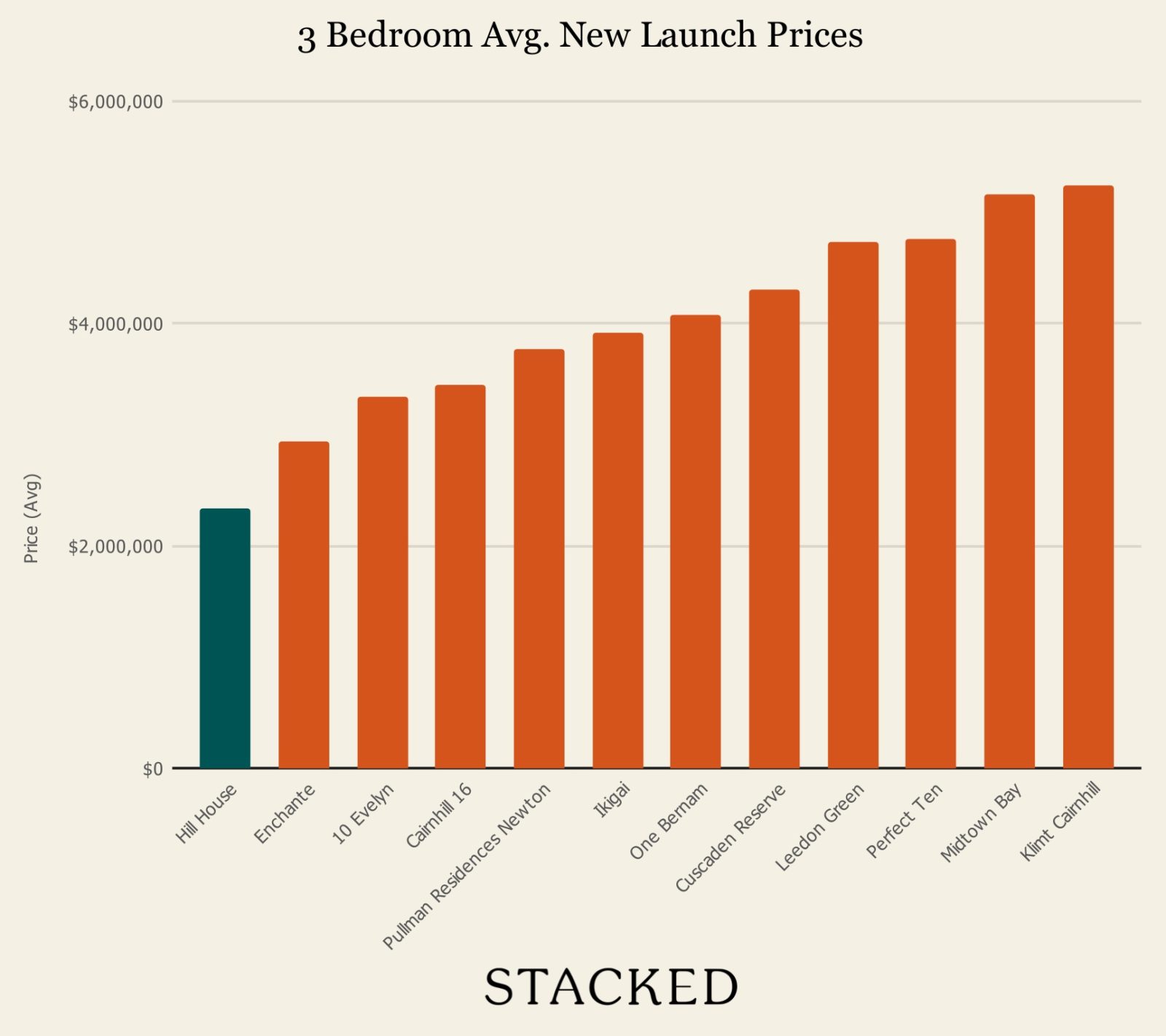 When it comes to 3-bedroom units, Hill House takes the cake for being the most affordable 3-bedroom in the CCR.
As mentioned, its small unit size of 753 sq ft is the main reason why. Now let's compare this to the next cheapest 3-bedroom in the CCR: Enchante.
Since the cheapest 3-bedroom in Hill House is on the 4th floor (going for $2,285,000), let's compare this to the cheapest unit at Enchante which happens to be on the 4th floor too.
The unit at Enchante is 1,001 sq ft in size and costs $2,695,000. Here's what it looks like: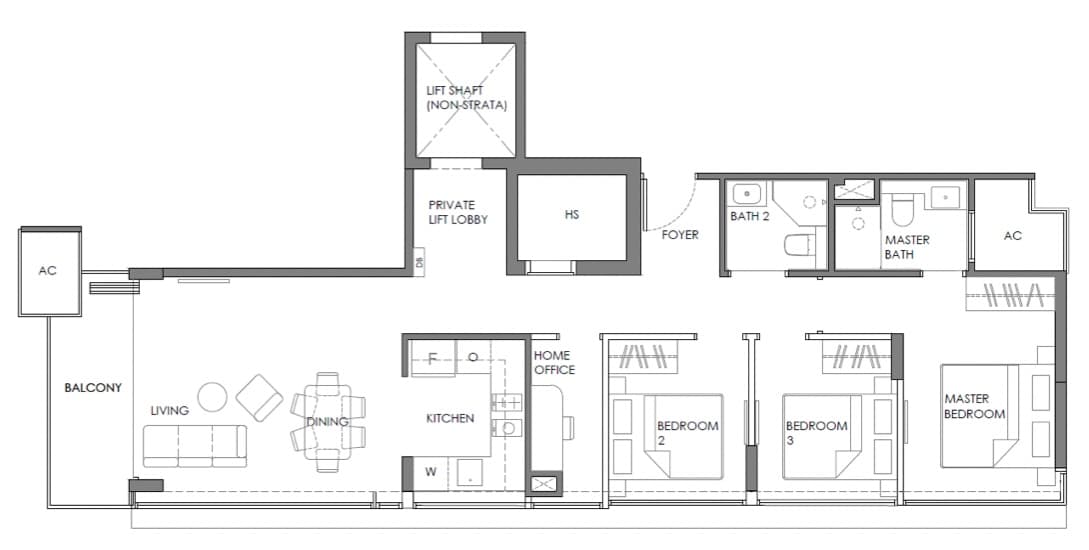 The unit has a private lift which opens up to a private lift lobby. From there, you'll see that it's a largely linear one. Turning right, you have the living, dining and kitchen. Turning left, you'll find the living quarters.
In my opinion, I'm not the biggest fan of the layout. Given the linear design, quite a large portion of square footage goes to the walkway space. For a 3-bedroom above 1,000 sq ft, there's also no service yard which buyers would expect in today's market. The good thing about this unit is that there's space for a home office, and because it comes with a window, it could be suitable as a helper's room which adds great functionality to the space.
Now here's the 4th floor 3-bedroom unit that's going for $2,285,000:
I've commented on the 3-bedroom earlier when compared to Cairnhill 16 and mentioned that this layout isn't exactly great. However, when compared to Enchante, you'll find that it's about 15% cheaper and it's still almost as practical with the exception of the study area.
In this regard, families on a tighter budget but looking to stay in a central area would be attracted to Hill House which is ultimately the selling point that Hill House offers – it's a boutique 999-year leasehold development with an attractive quantum for a new development.
Affordability is something of a concern to HDB upgraders and thus, makes more sense in the OCR where land prices are less, and developers can afford to build more practical layouts.
Moreover, HDB upgraders do not mind such locations, and they're likely to upgrade to a condo in their area given their familiarity with the place.
On the other hand, buyers who consider District 9 may not want to scrimp for a flat that's small. They're also likely not to come from an HDB upgrading background.
Without a practical family-friendly layout, the pool of buyers remaining are those who really don't mind small spaces, bachelors/couples who prize such a location or investors looking at yield and the safety of a near-freehold land.
Ultimately, I see this as an affordable new launch entry into District 09 and the River Valley area for very specific profiles and the ability to be priced this way due to the downsides of small unit sizes and without the advantage of being close to an MRT.
Hill House Appreciation Analysis
Great World MRT Station on Thomson East Coast Line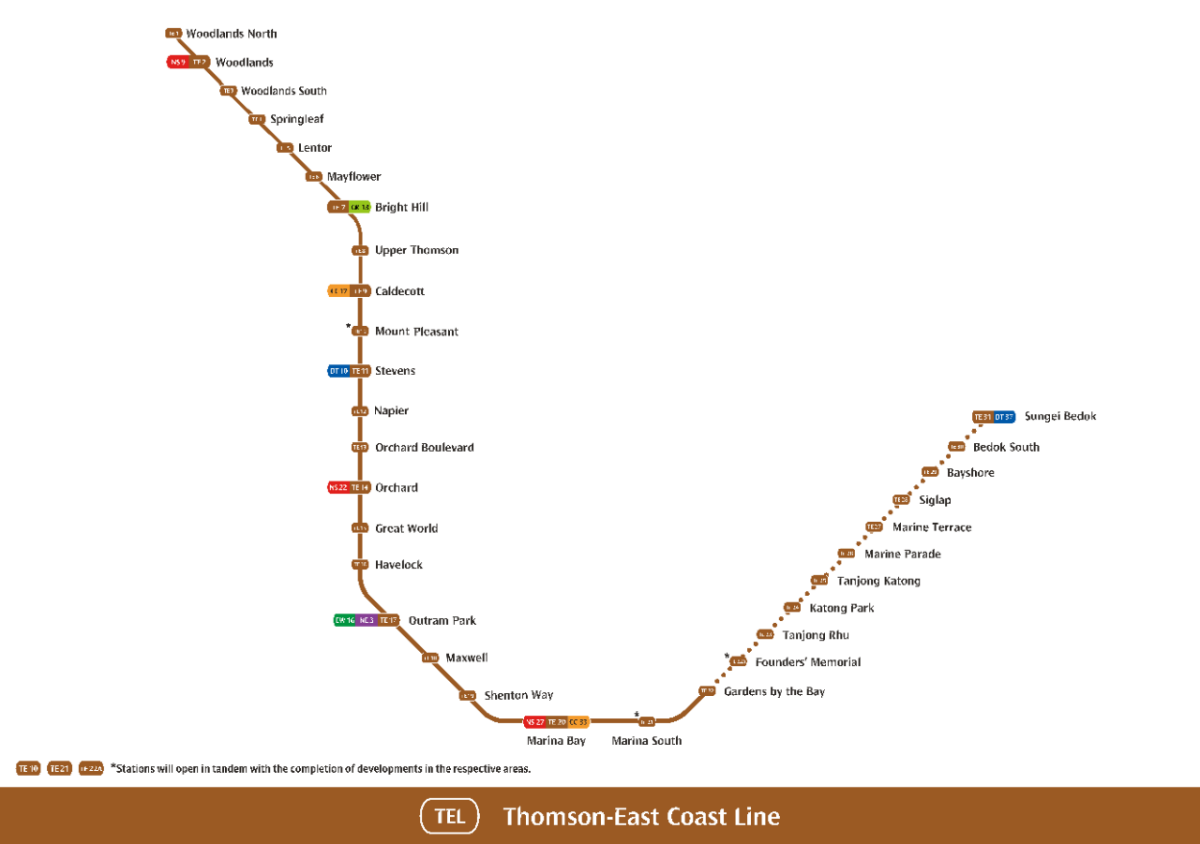 Perhaps one of the biggest upgrading news within this mature neighbourhood is the launch of Great World MRT Station, which has recently launched earlier in November this year.
Although it is still a walking distance away from Hill House (around 1.1km, 12-min walk away), it gives residents the additional choice of taking the Thomson-East Coast Line. Now, residents can reach Outram Park Station in 2 stops, Maxwell in 3, and Marina Bay in 5.
It directly links commuters to Woodlands and Siglap too.
Dimensions International College: Now a Reserve Site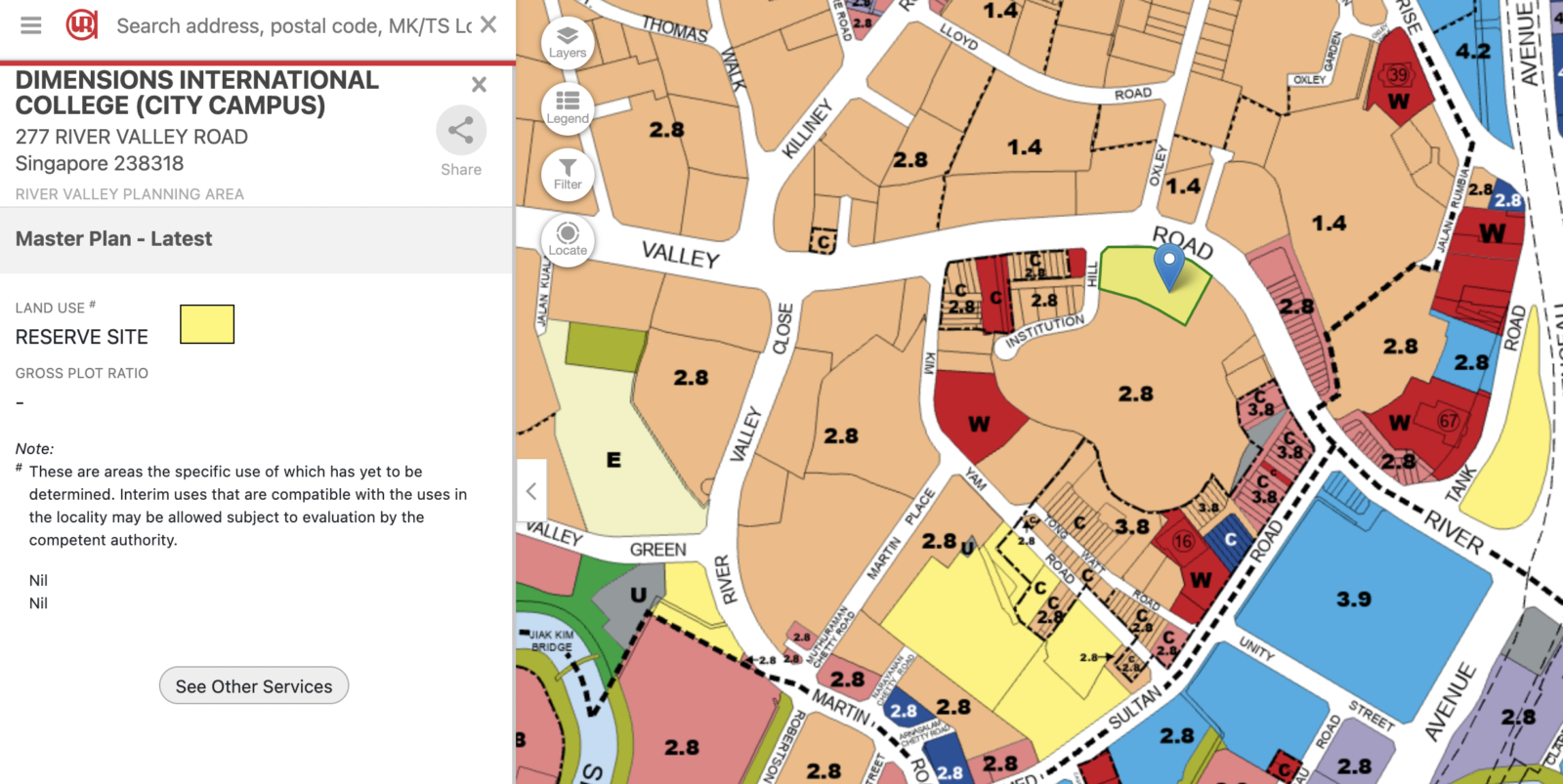 As seen from the 2019 Master Plan, Dimensions International College has been earmarked as a reserve site, which means that the zoning and use of the land have not been decided. Considering that the area is mainly zoned for residential usage, I doubt that its future use would be too much of a contrast.
It can also be noted that there are several other plots of reserve sites within the neighbourhood, such as The Herencia.
Established D9 Neighbourhood
Singaporeans are probably all familiar that District 9 is considered one of the most upscale parts of Singapore, with the majority of real estate being freehold properties.
While Hill House is not technically freehold, it does have a 999-year leasehold which many would dub as good as one.
River Valley is also well-known to be an expatriate enclave, and the international schools nearby support this demographic. Well-loved by renters and homeowners alike, D9 is probably one of the most coveted neighbourhoods in Singapore.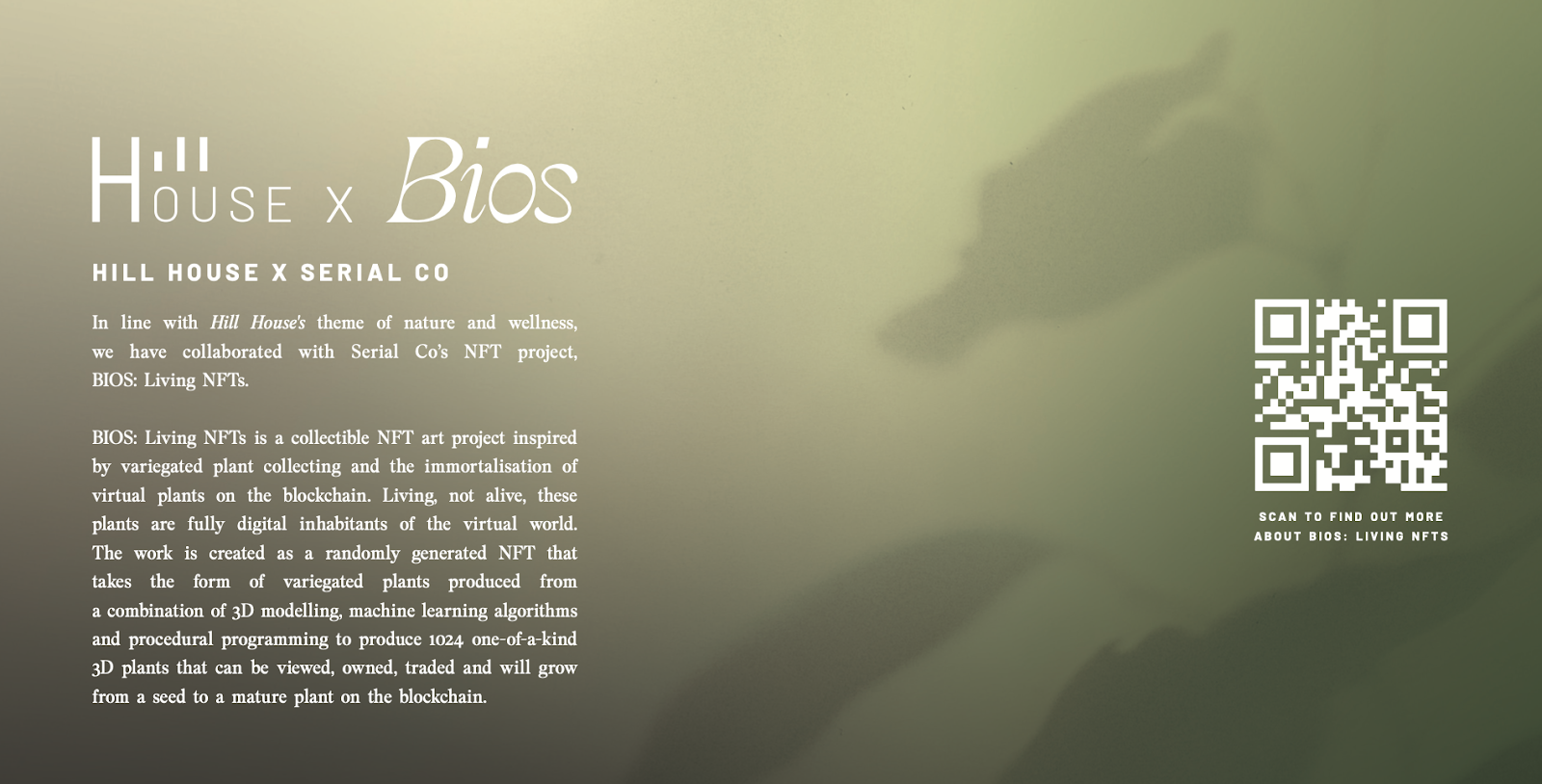 While this will not appreciate the value of Hill House's units per se, I find it interesting that some new launch condos have navigated toward the direction of NFTs. In line with Hill House's theme of wellness and nature, they have collaborated with Serial Co's NFT project, themed BIOS: Living with NFTs.
This NFT series is a collectible art project inspired by variegated plant collecting to birth virtual plants on the blockchain. Seeing that Hill House is located within the vicinity of Singapore's art scene, I thought that the idea fits well with the theme.
What we like
Central location in private neighbourhood

Decent facilities for a boutique condo
What we don't like
–

Smaller units

–

Nearest MRT station a walking distance away
Our Take
Despite the outer regions of Singapore hogging the new launch limelight, the allure of District 9 in Singapore is still undeniable. But it's also a place of hustle and bustle, where the constant hum of activity can be both energising and overwhelming.
Boutique condos like Hill House offer a compelling alternative. Nestled in a quiet cul-de-sac, Hill House offers residents a peaceful haven amidst the dynamic neighbourhood. The option to walk or cycle to prominent landmarks like the Orchard shopping belt and Great World City only amplifies its appeal. Furthermore, its 999-year lease is virtually equivalent to freehold, giving buyers peace of mind about their investment's longevity.
But like all choices, choosing a boutique condo has its trade-offs. For some, the lack of a sheltered walkway to the nearest MRT station (a 9-minute walk away) could be a deterrent. The smaller unit sizes, typical of boutique developments, might also pose a challenge to those accustomed to more spacious dwellings.
In essence, the choice boils down to individual preferences and priorities. For those who value privacy, tranquillity, and long-term ownership, the appeal of boutique condos like Hill House may outweigh the benefits of larger developments with more units and facilities. They offer a unique blend of comfort and convenience, and a chance to enjoy the vibrancy of District 9, at a more palatable (relative) price point.
What this means for you
You might like Hill House if you:
• Like living in a quiet environment within District 9:

One of the key selling points of Hill House is that it allows residents to enjoy the convenience of D9 living within a serene and quiet environment. Currently, Institution Hill services residents of Aspen Heights, which makes it a much more exclusive part of D9. For those who like the best of both worlds, Hill House might work for you.
You may not like Hill House if you:
• Commute via MRT frequently:

Hill House is located about a kilometre away from three different MRT stations and for most, that distance would typically require a short bus ride over. For those who don't mind the walk, the pathways are not sheltered which could be problematic on rainy days.
End of Article
Join our Telegram group for instant notifications
Join Now
Cheryl