Condo Reviews

Goodwood Residence Review: Private With Exclusive Greenery Views
Reuben
March 22, 2020

17

min read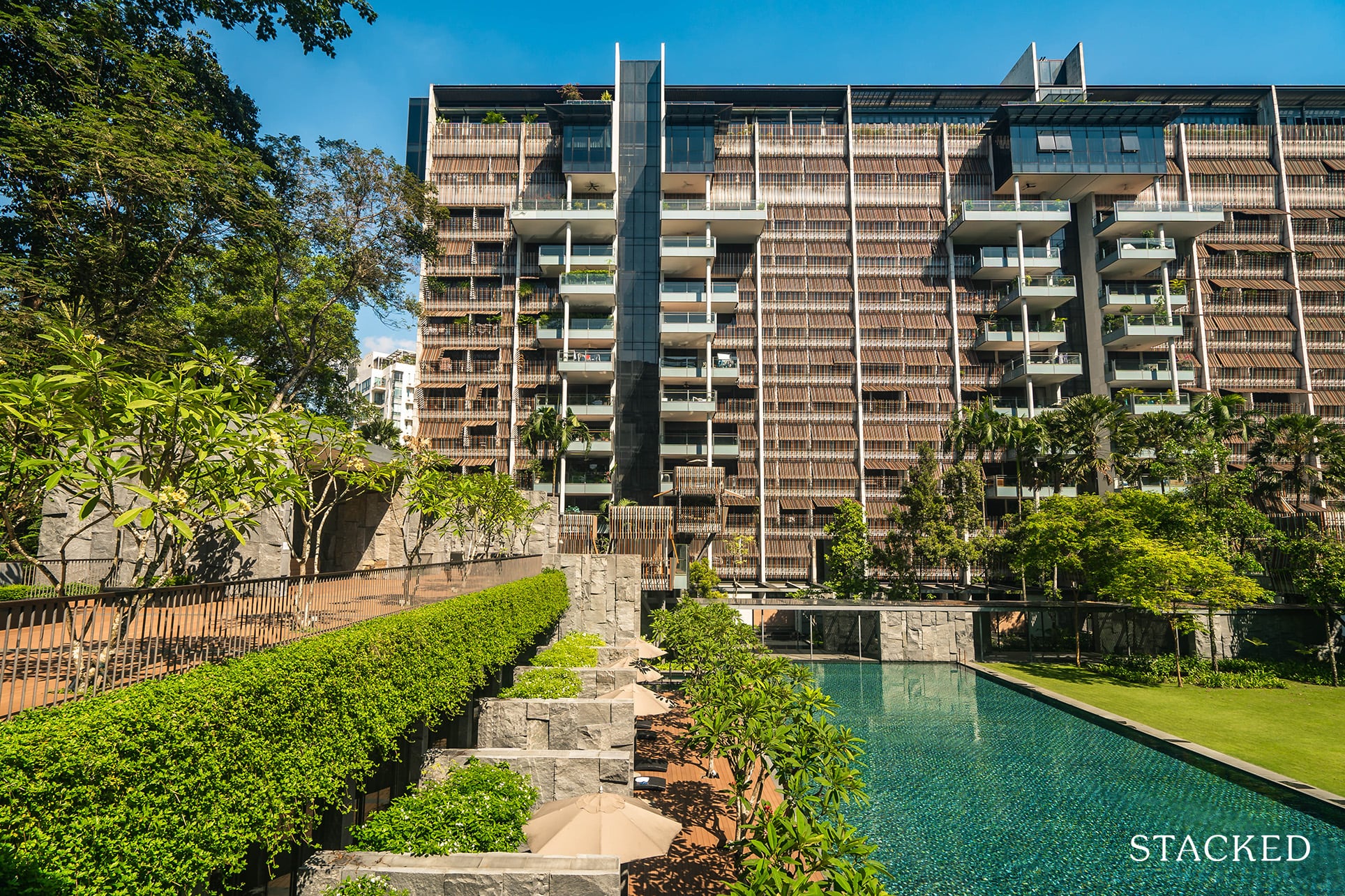 Goodwood Residence's biggest asset is its privacy and unblocked views over Goodwood Hill. There is nothing else quite like it in the immediate area.
Reviewed by Reuben on March 22, 2020
What we like
Best in class privacy

Greenery views

Lots of space

Green initiatives
17
min read
| | | | |
| --- | --- | --- | --- |
| Project | Goodwood Residence | District | 10 |
| Address | Bukit Timah Road | Tenure | Freehold |
| Site Area | 267,460 sqft | No. of Units | 210 |
| Developer | Goodwood Residence Development Pte Ltd | TOP | 2013 |
80% facilities, 20% units'.

That's not something you hear every day.

Not especially when the development in question spans over 2.5 hectares (267,460 square feet), housing a mere 210 units.

And that nearly all its neighbouring projects are Good Class Bungalows.

Good views, tranquil-like serenity, luscious nature, timely convenience… the list drags on.

Yet for some who've been living at the Goodwood Residence since its birth in 2013, there are other pressing concerns that dampen this seemingly untouchable allure.

Constant traffic jams, lack of primary appliance durability (despite the brands) – these are some of the other less-talked about issues that plague residents here.

They aren't a deal breaker by far, no.

But when you consider the asking price of over $2,500 psf for most units here, I would think that one should be entitled to their high expectations… at the very least.

For now, let's see what this prized project has installed for us!
Goodwood Residence Insider Tour
Facilities in Goodwood Residence
Tennis Courts
Barbeque Area
Spa Pool
Pool Deck
24-Hours Security
Swimming Pool
Jacuzzi
Steam Bath
Clubhouse
Playground
Lounge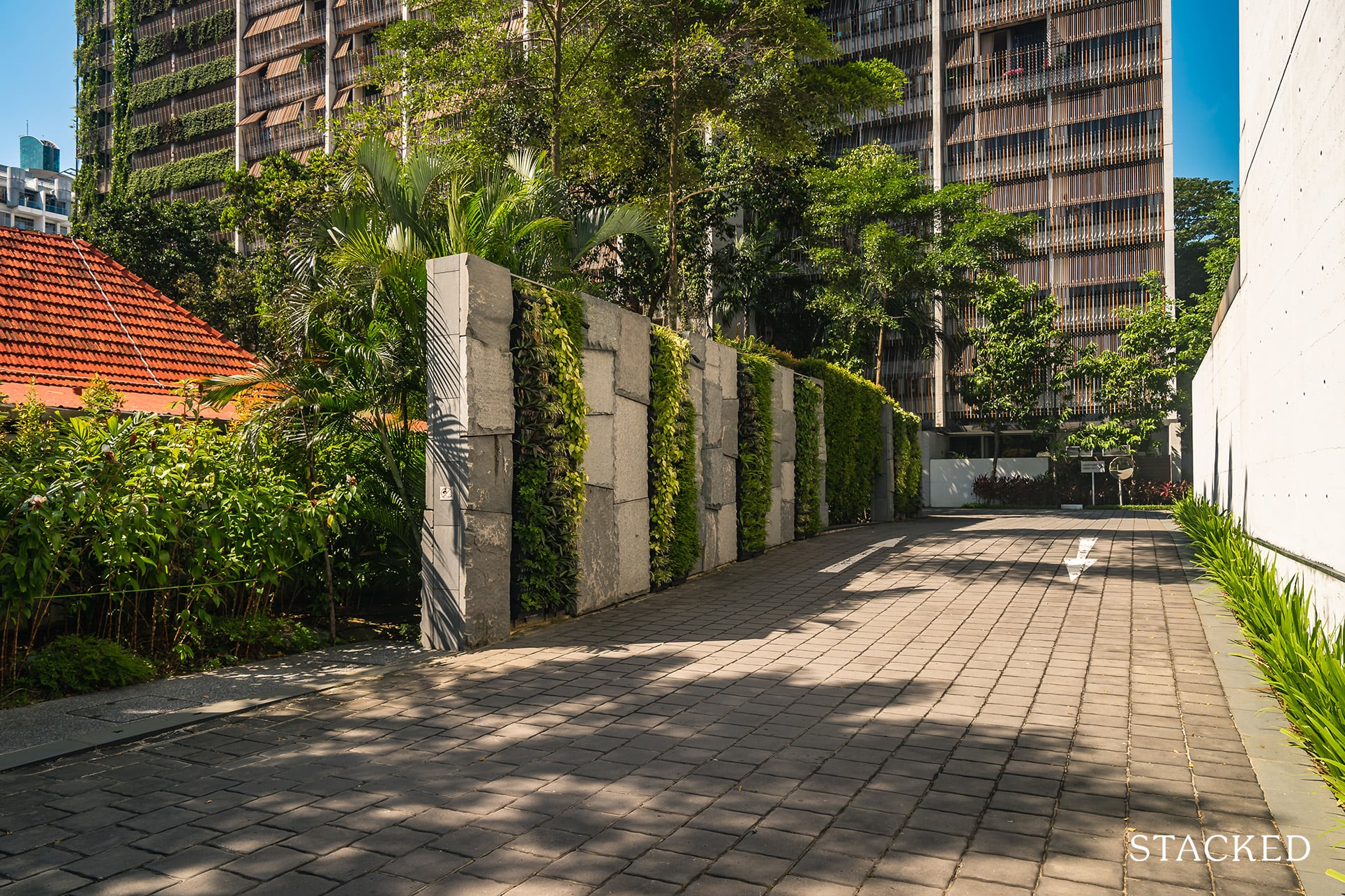 I know this is straying away from our usual way of starting a condo tour, but the entrance of Goodwood Residence had construction works and unfortunately, we were unable to get a good shot of it.
The entrance itself is quite unconventional too, it is a long drive in which goes past the tennis courts and the first block of the condo. It's rather clear from the beginning that space is not a constraint here, and the sense of anticipation that you get during the drive in is definitely heightened.
Of course, if you don't drive and have to walk out each day – this could be something you'd have to consider.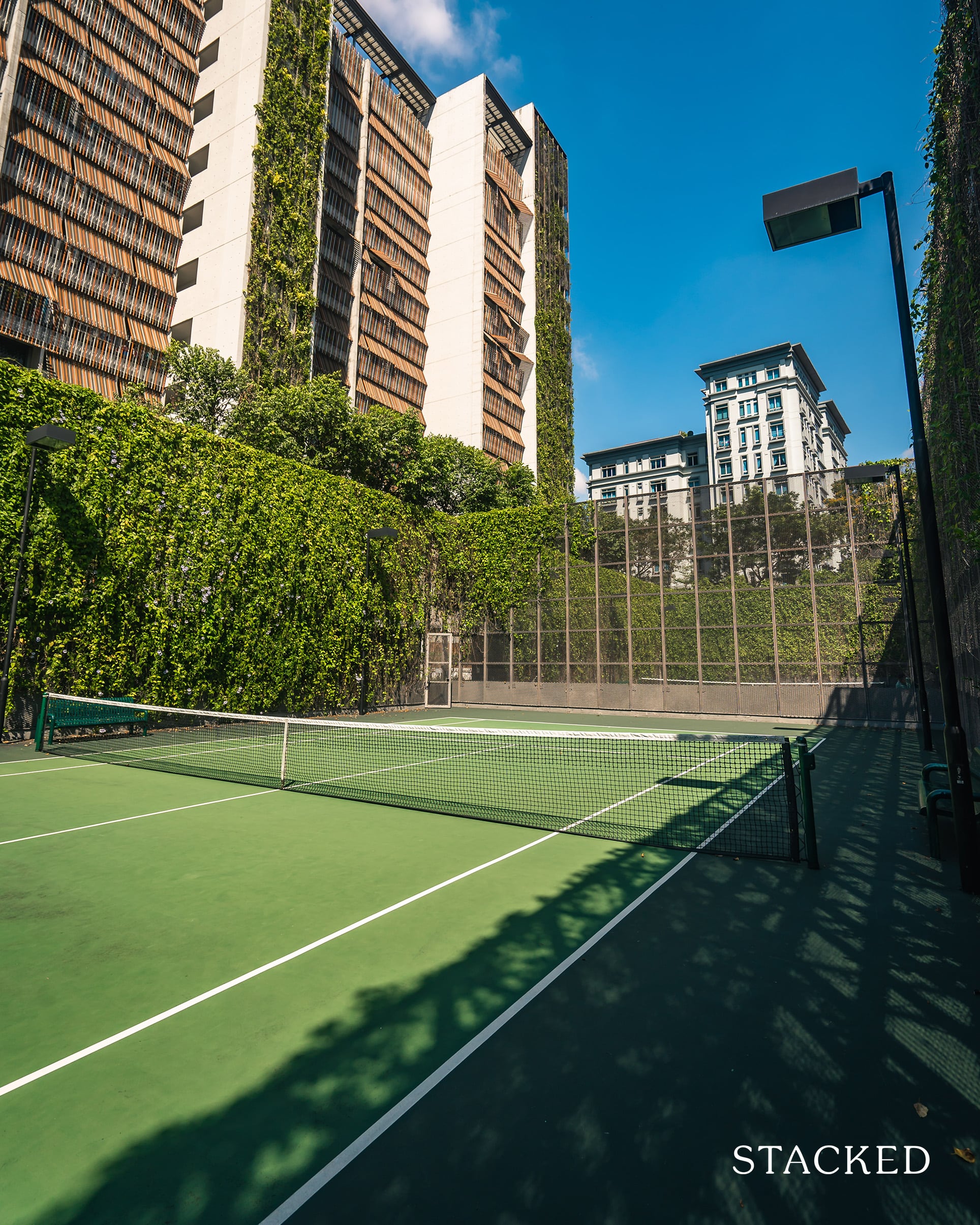 Like the Leedon Residence (which actually shares the same developer, GuocoLand), the tennis courts are located at the front of the development – although this one isn't set quite as far away. It was a smart decision to place the tennis courts at the front, as this sets the whole development further back. This serves two purposes – it gives a good 80m frontage to insulate against the road noise, and it provides more privacy for residents as well.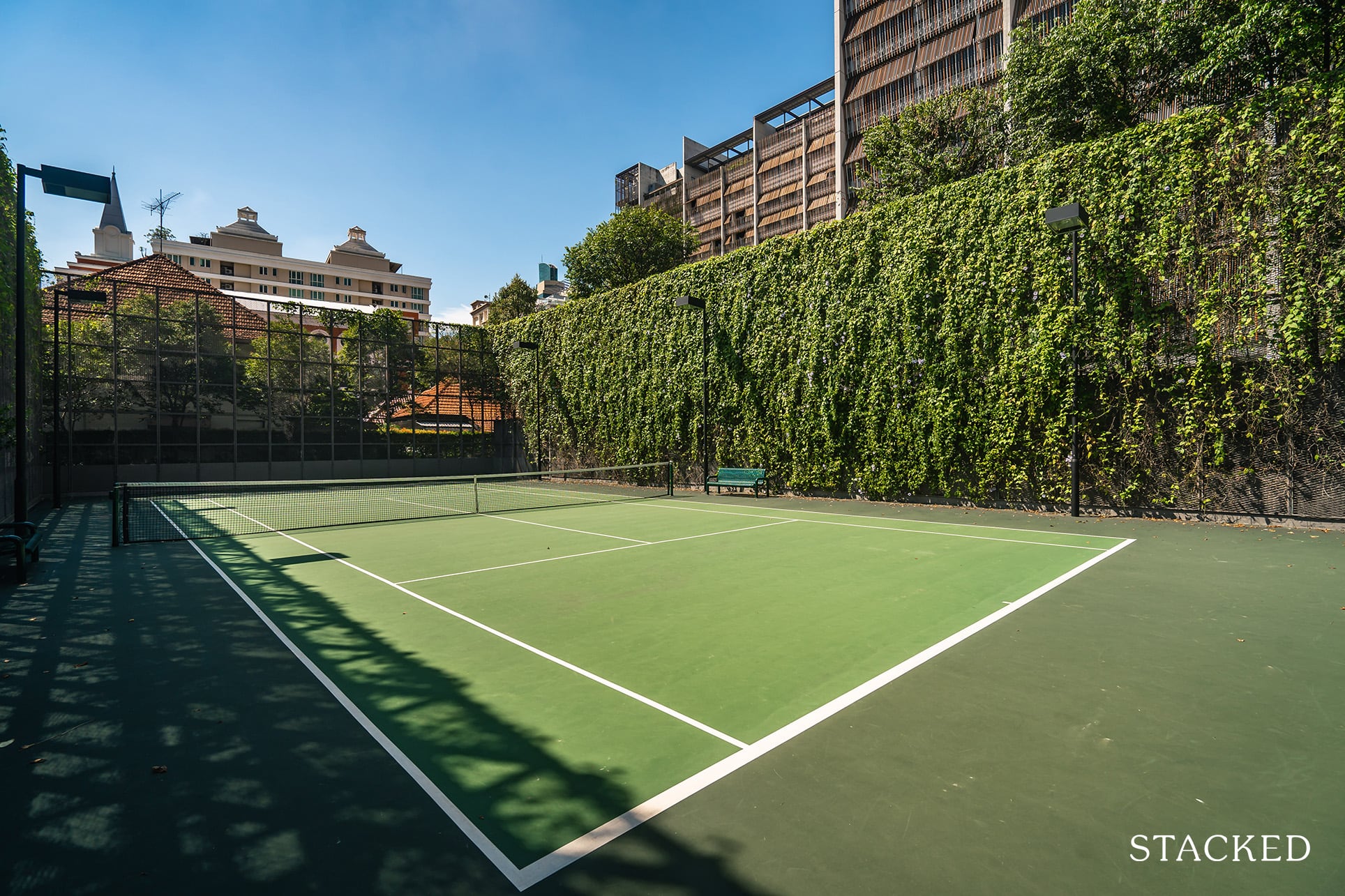 For just 210 units total to have 2 tennis courts is definitely a sign of extravagance.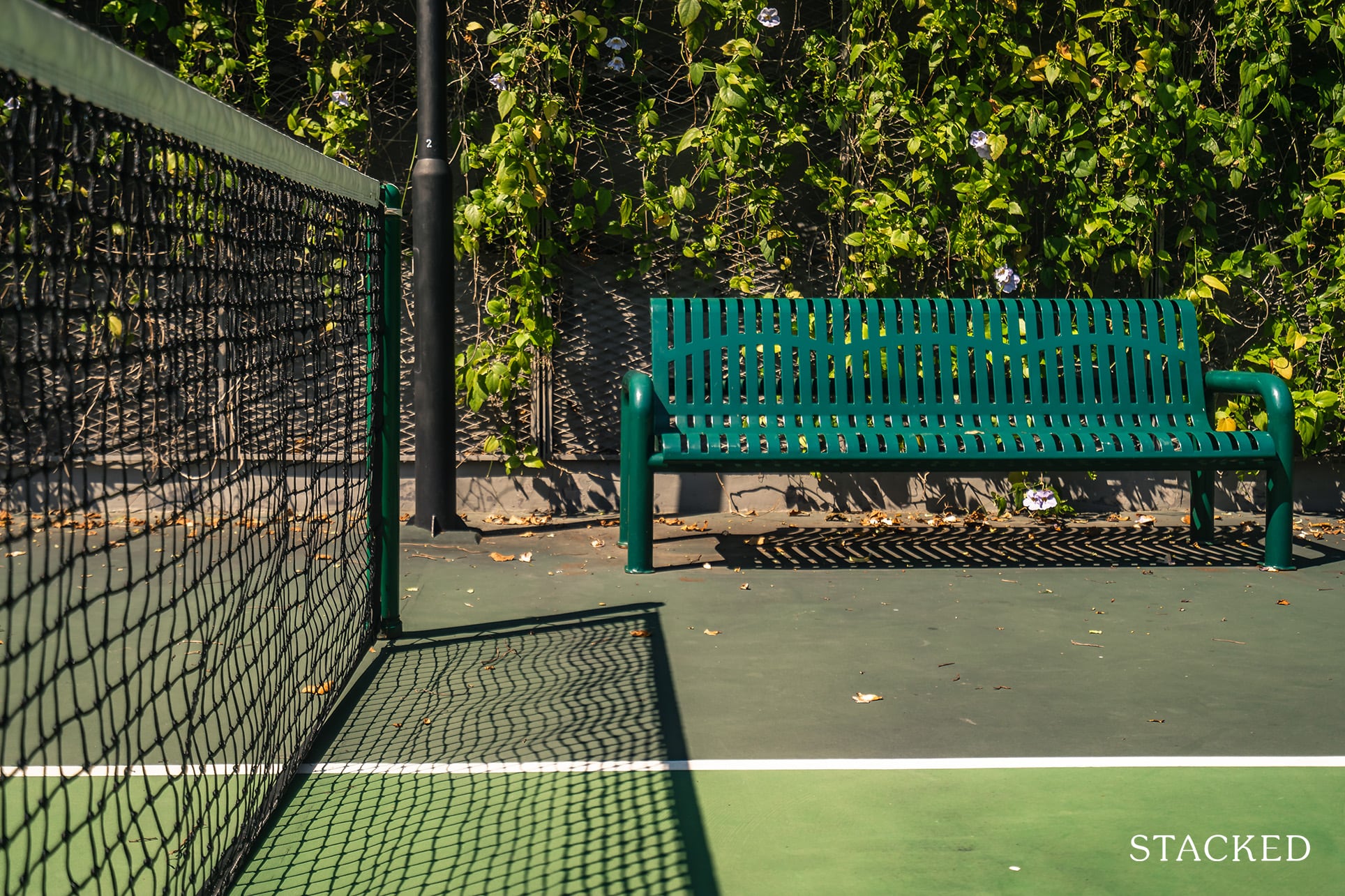 I like the foliage that has grown all over the sides of the court – it certainly extends a different look to the terrain of the place.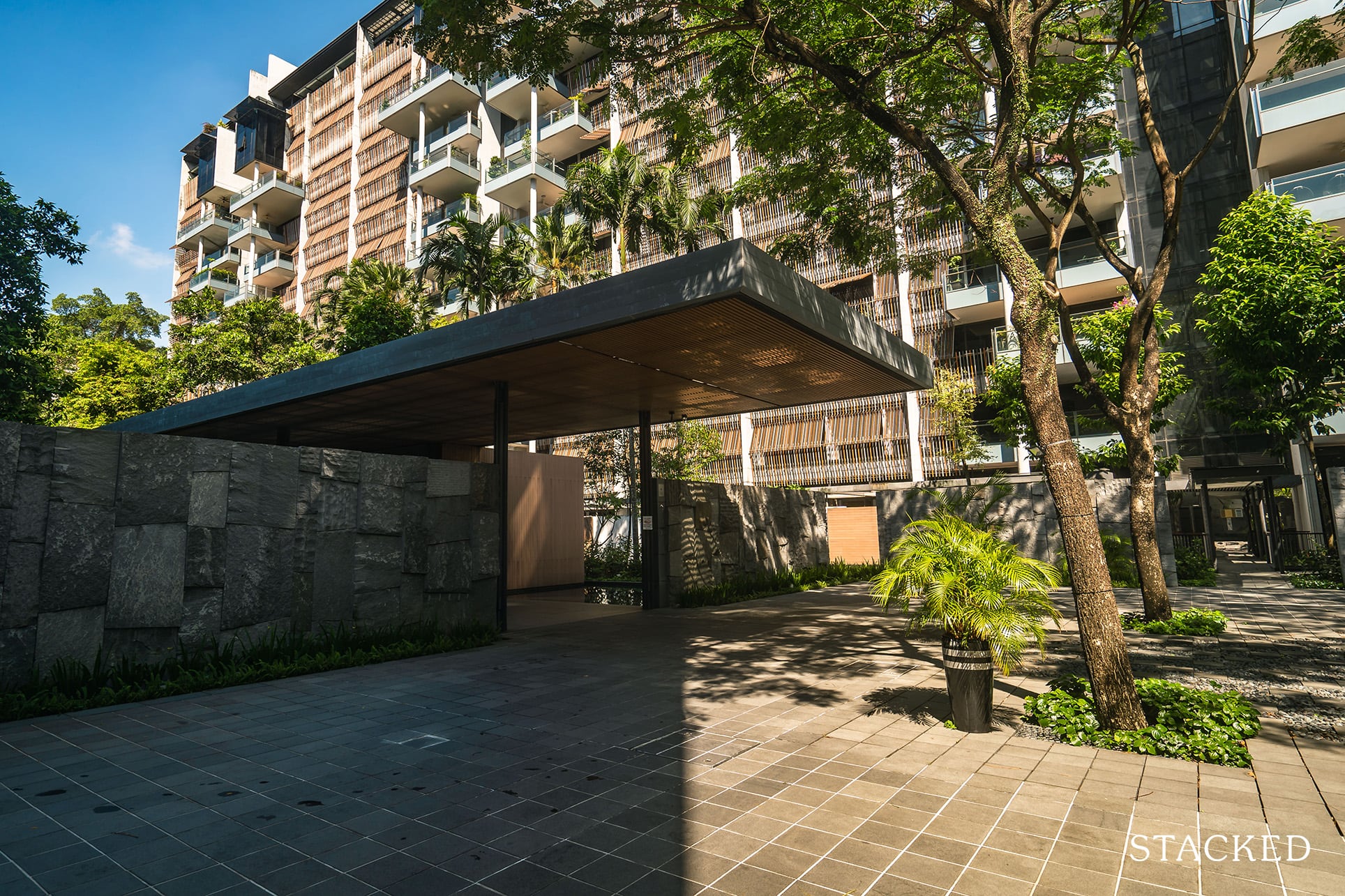 Once you get past the cobbled driveway, it leads you to the capacious drop off point. You get the feeling that Goodwood Residence was designed to amplify the discretion and exclusiveness of the place. It's one of those place that if you don't know, you don't know – you can barely peer into its interior from the outside.
I'm always a believer in an expansive arrival area being able to communicate the luxuriousness of a development, and the one at Goodwood Residence is no different. There's a reason why many a luxury hotel makes the effort to dedicate a huge space to its lobby area – it gives you the feeling that you've arrived to somewhere special.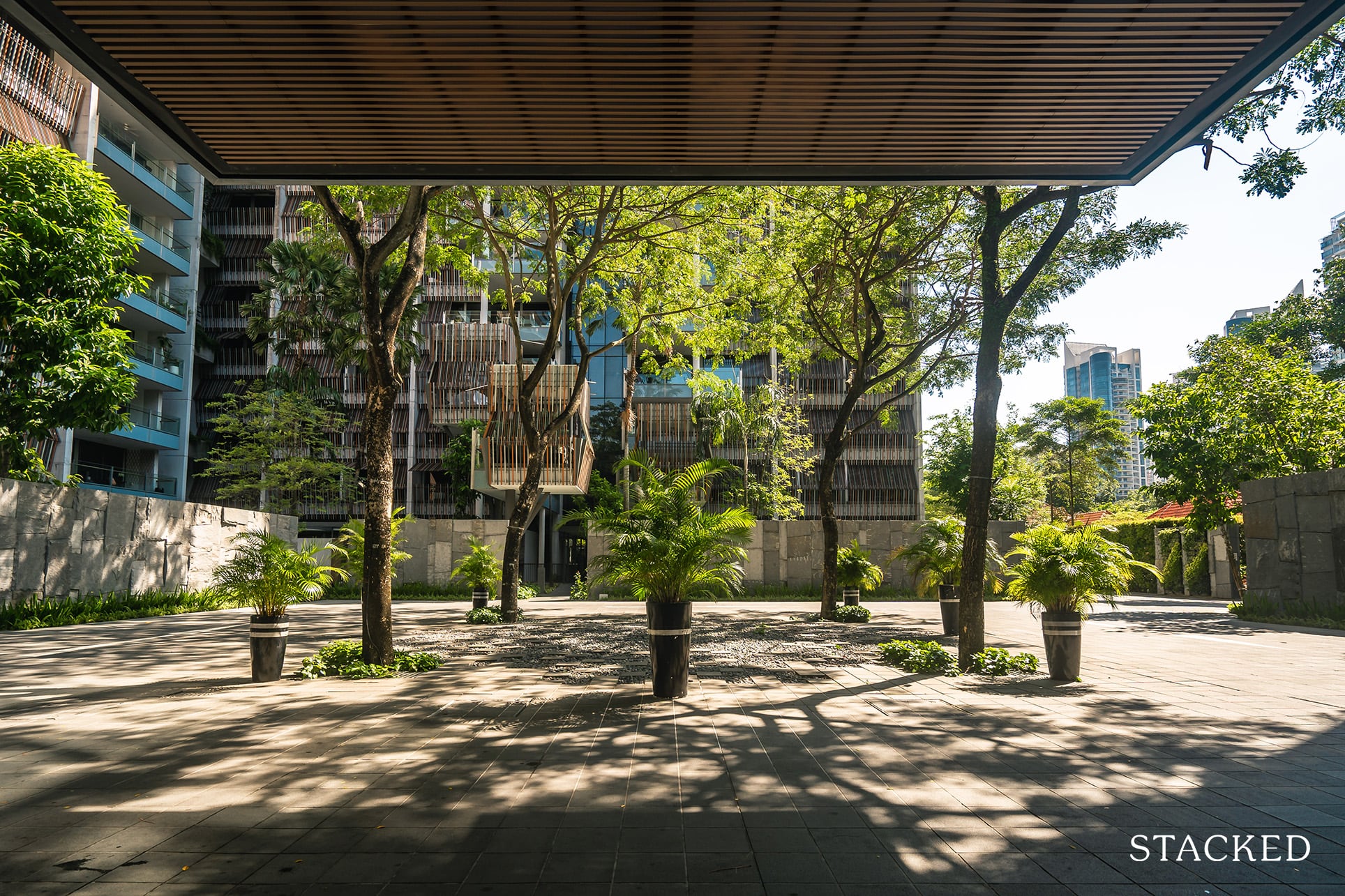 Particularly as Bukit Timah Road is a constantly buzzy and busy one, it's just such a relaxing feeling to be able to come home to a private space such as this. The rain trees do a good job in providing some shade and intricately shaped shadow patterns on the ground.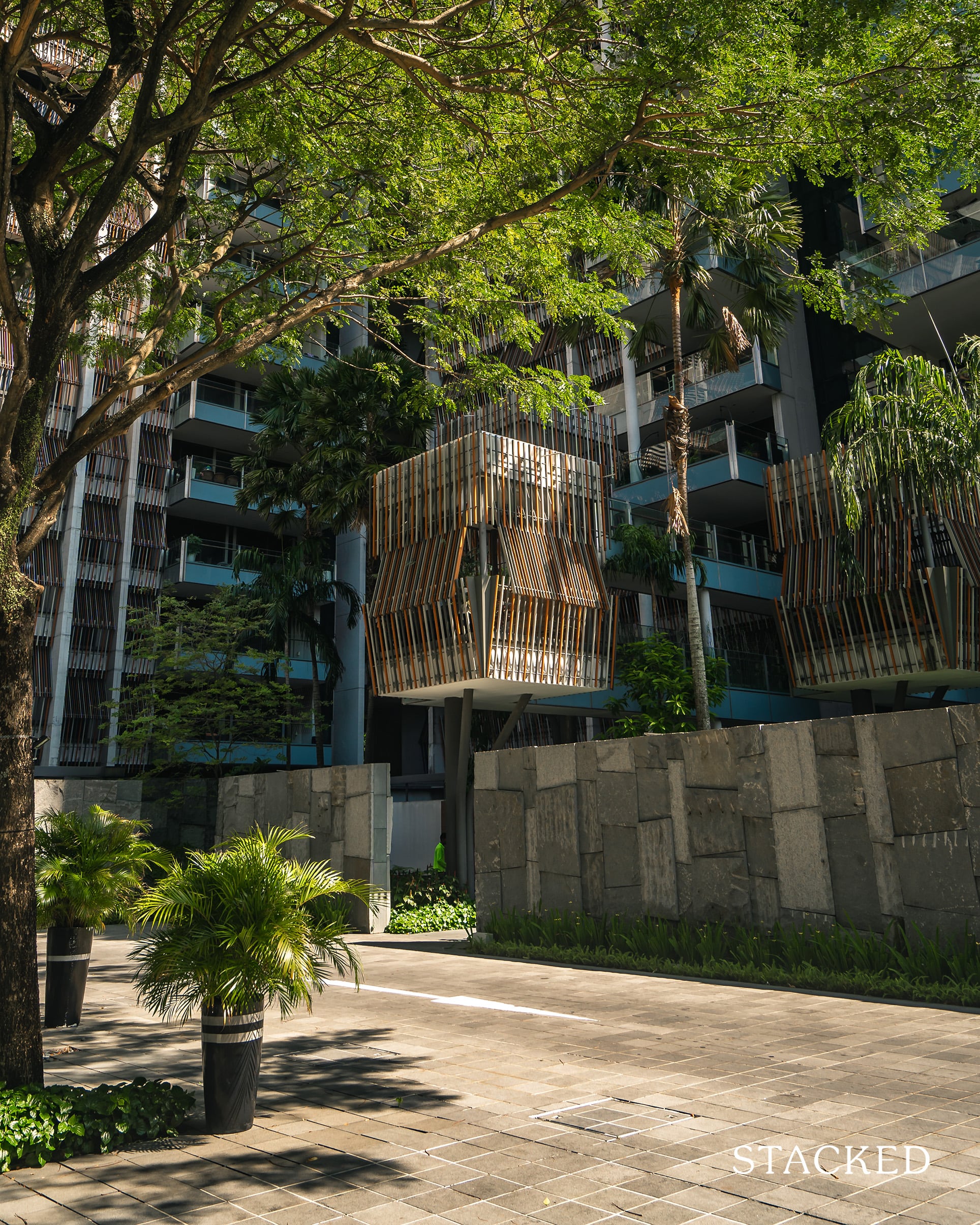 Goodwood Residence is actually made up of two 12-storey L-shaped blocks – the Lawn Wing and the Garden Wing. This part that you are seeing is part of the Garden Wing, which is probably the least attractive stack of the development in my opinion, as you do not get to enjoy the beautiful pool view.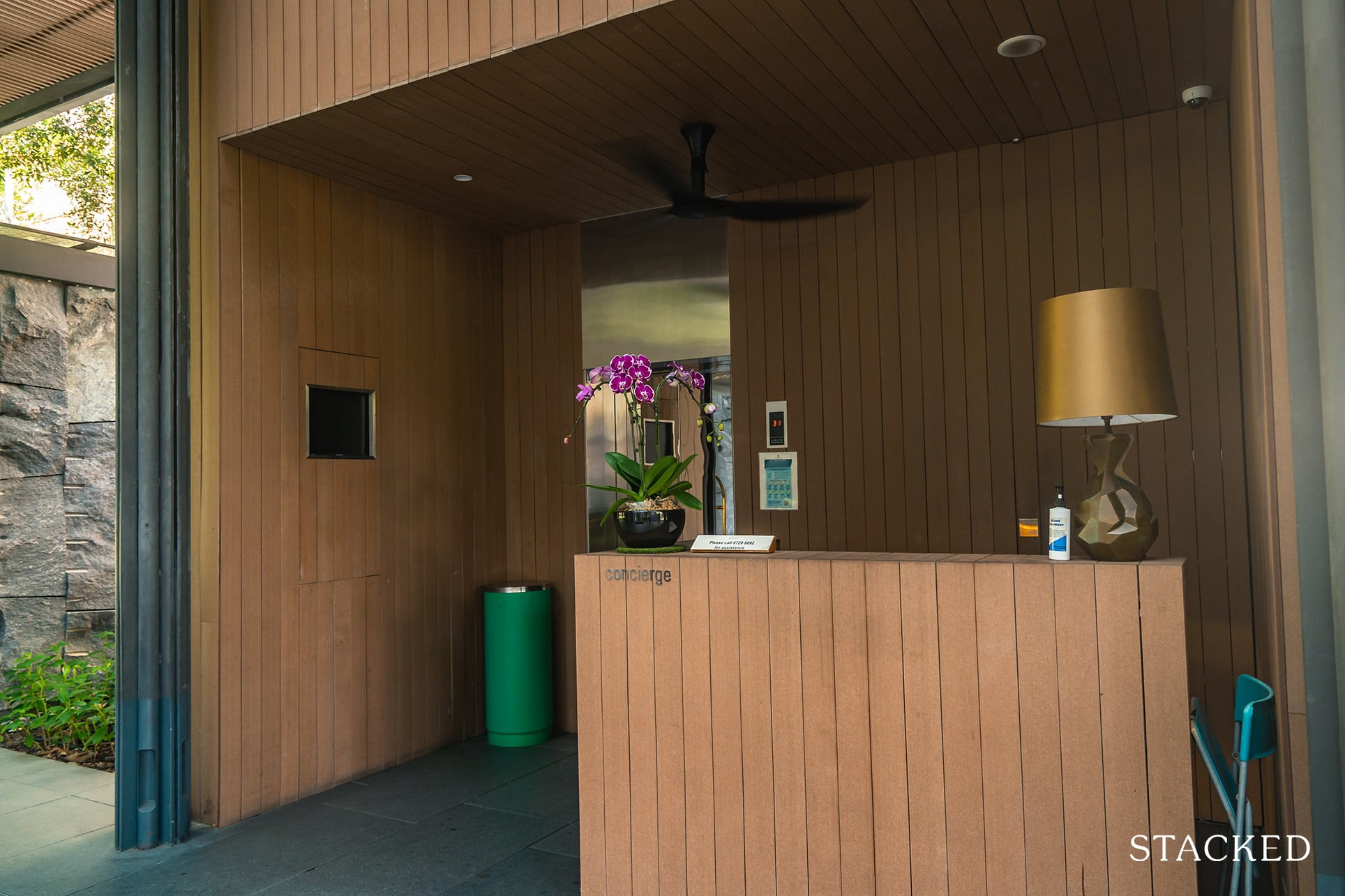 Moving past the arrival court, you are immediately greeted by the concierge desk. The one at Leedon Residence looks more grand for sure, but this had more of an opulent resort-style vibe to it. As you'd expect from any high-end development worth its salt nowadays, the concierge is available for you to book a taxi or even receive parcels if you so happen to be away.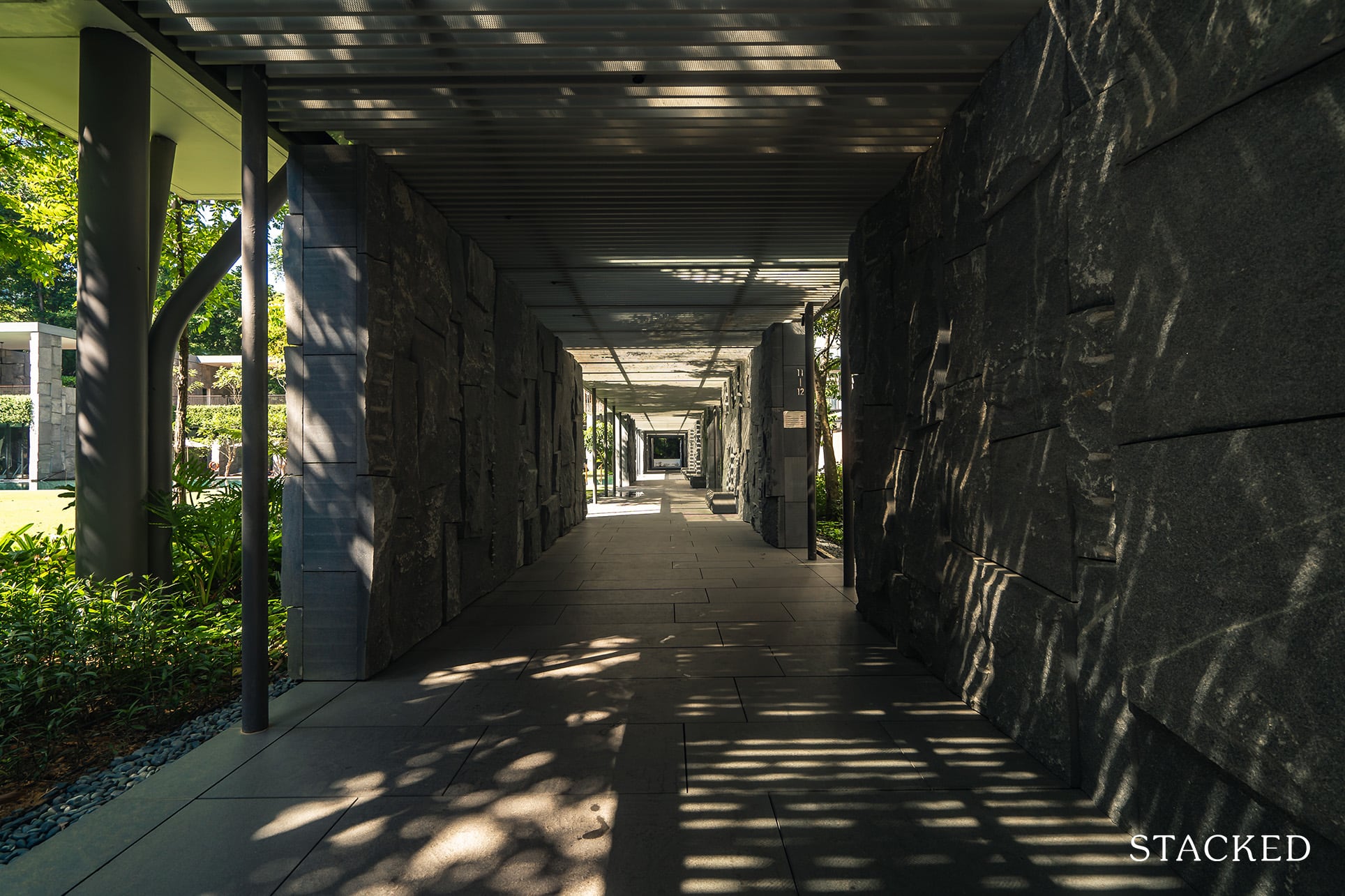 The rest of the grounds are stylised like a private resort sanctuary, with sheltered walkways and thick patterned boundary walls that have gaps at different points to give you a glimpse of the open spaces. This is one of the times that photos just doesn't do justice to the space – it may look quite dark here but the feeling on site is a totally relaxed atmosphere.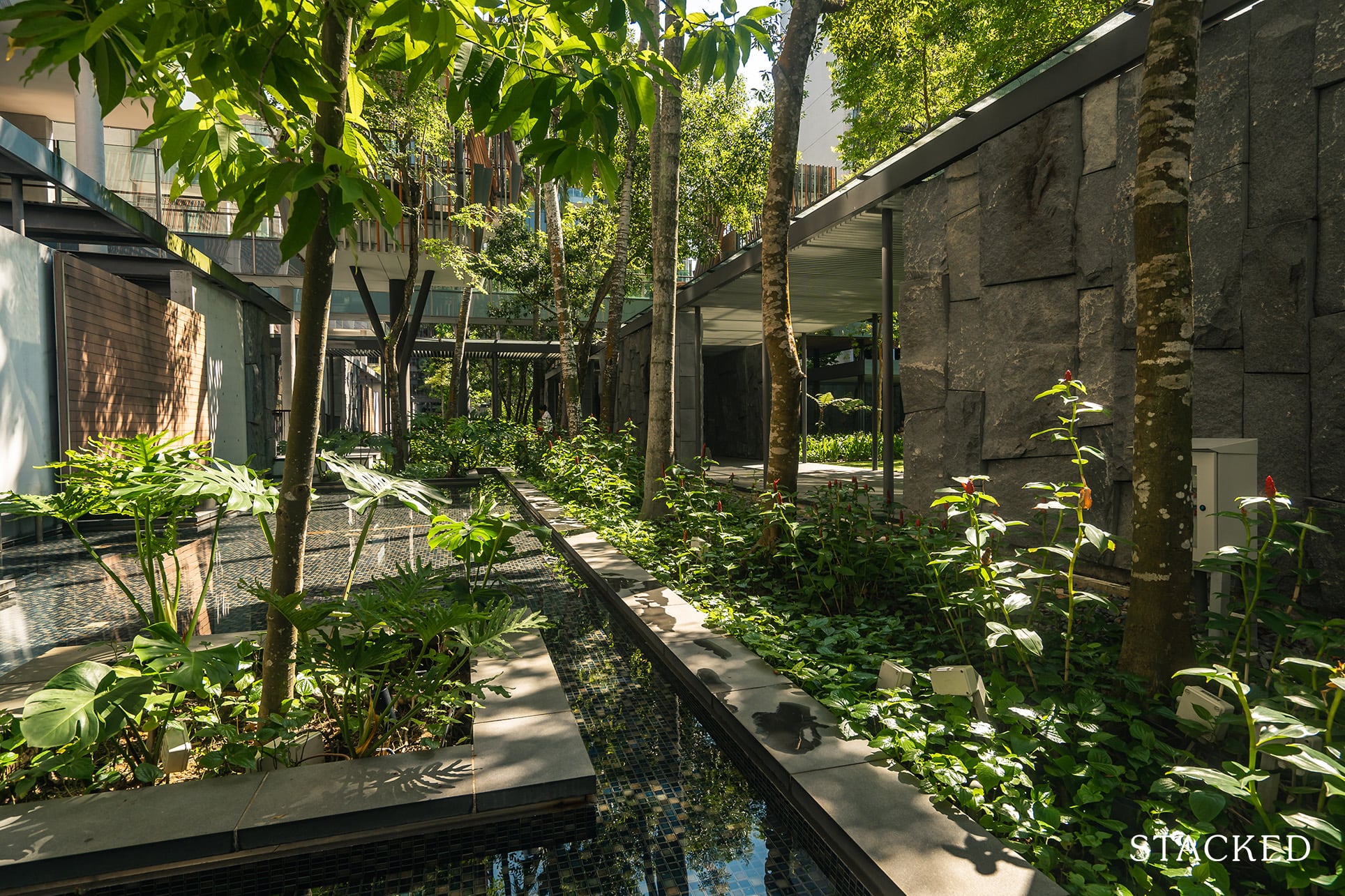 Along the pathways you do get peeks of the landscaping – it's almost forest-like.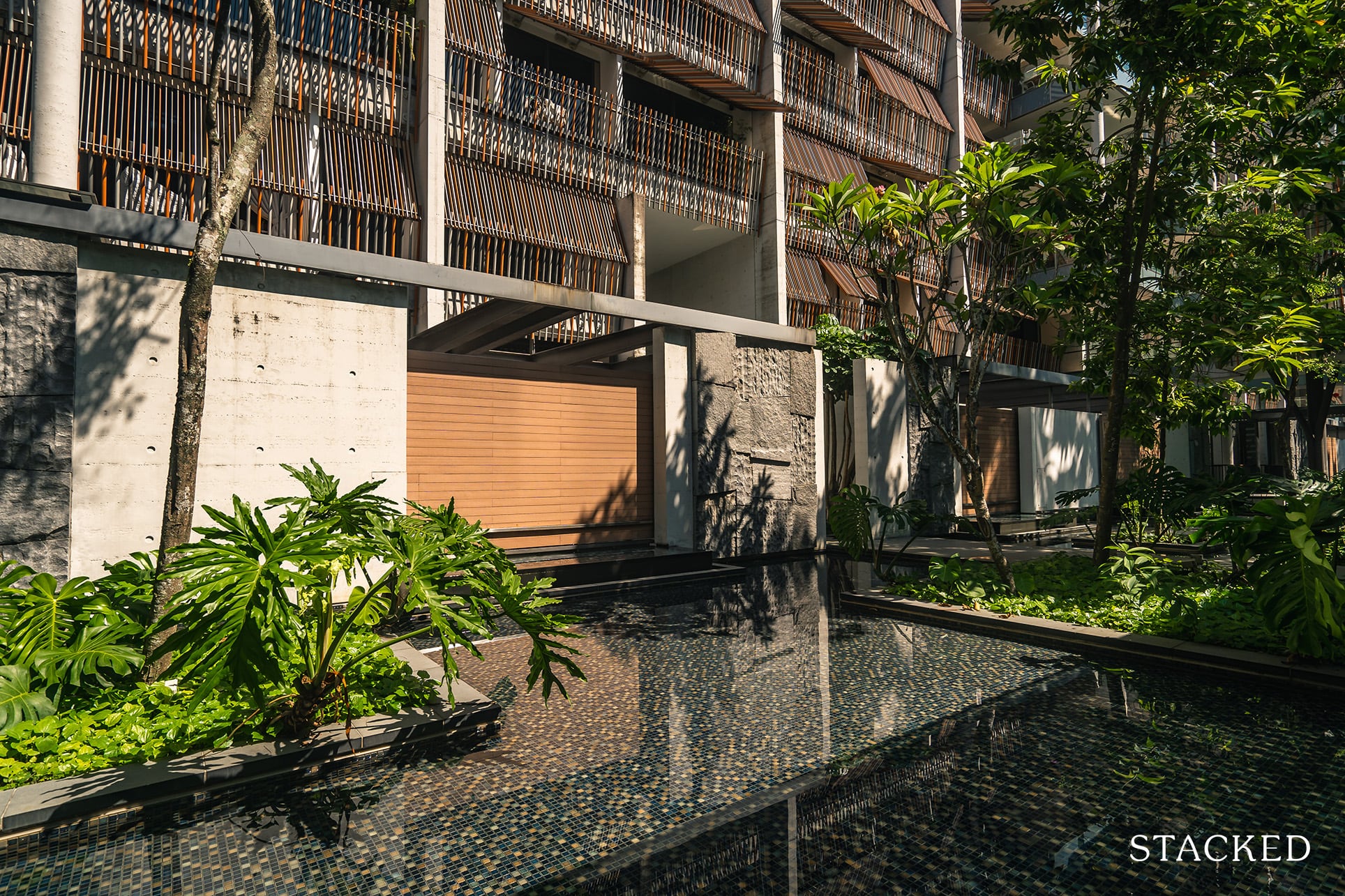 One of the unique aspects of Goodwood Residence is the different types of units that cater to a certain demographic lifestyle. These ground floor units that you see here are specially designed to mimic staying in a landed property, with its high ceilings and outdoor pool terraces.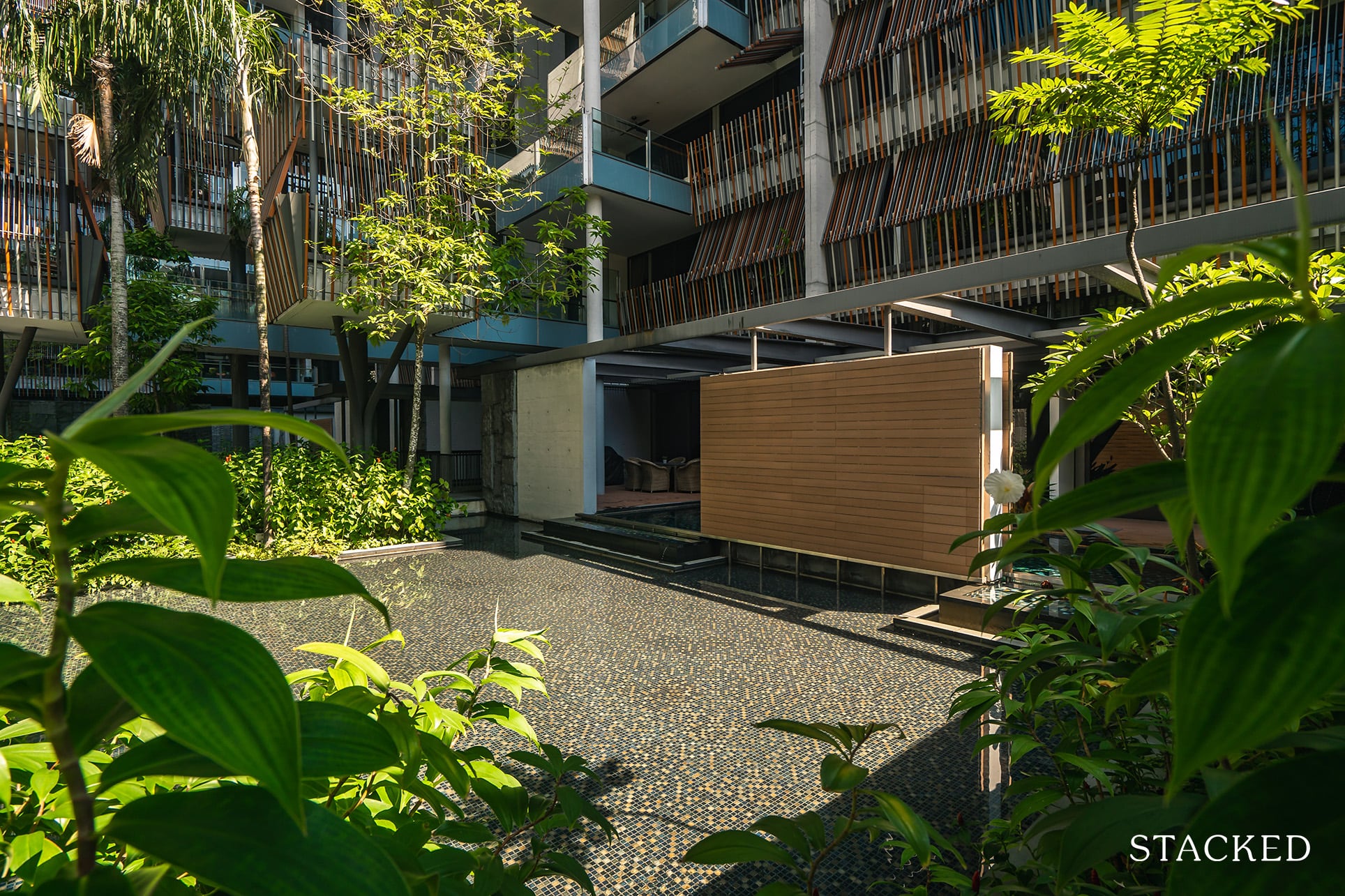 What's doubly special here are these sliding doors that allow you to make the space as open or as private as you'd like. Keeping it open lets you take in the wonderful view of the open lawn and swimming pool as well.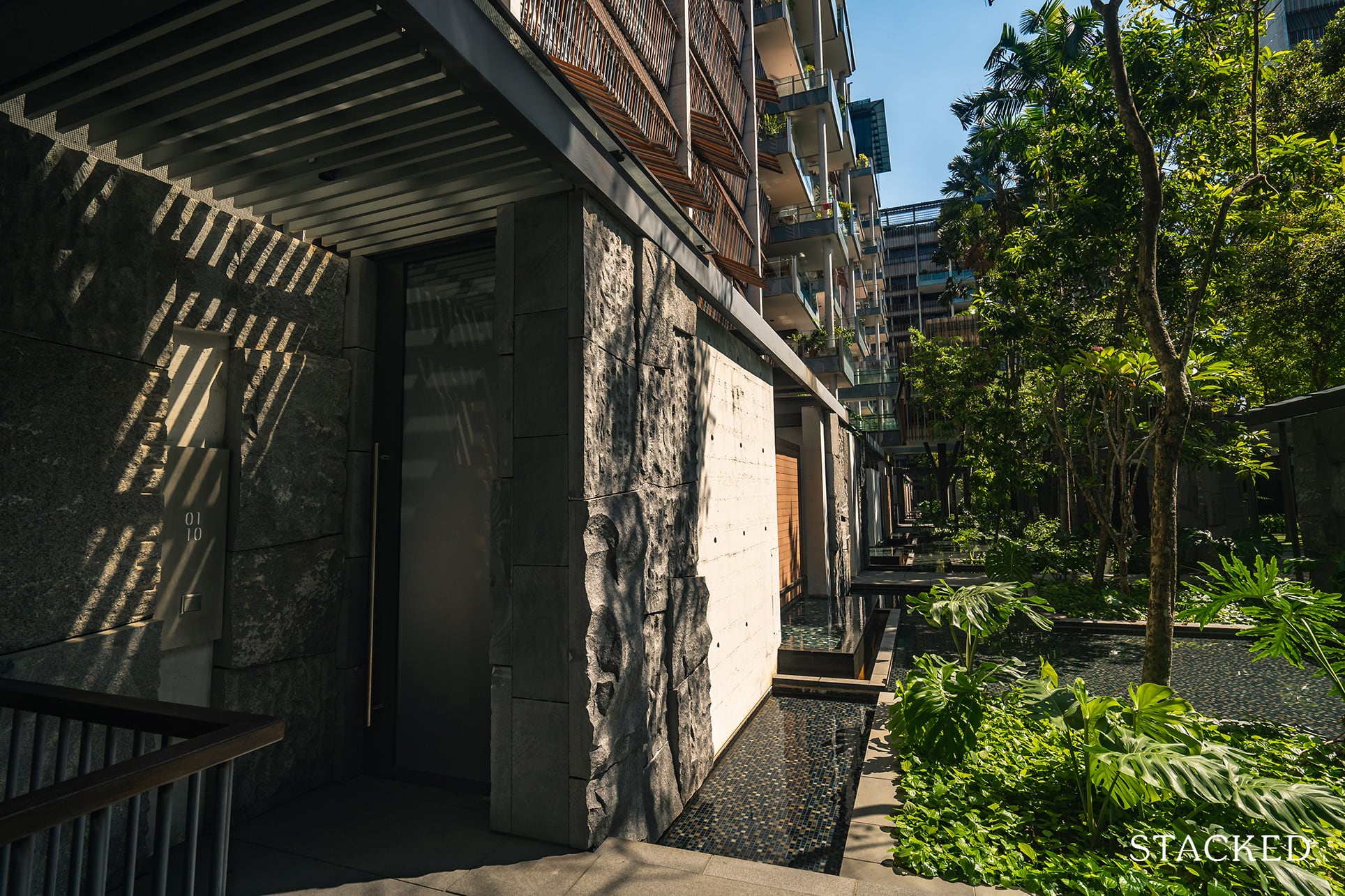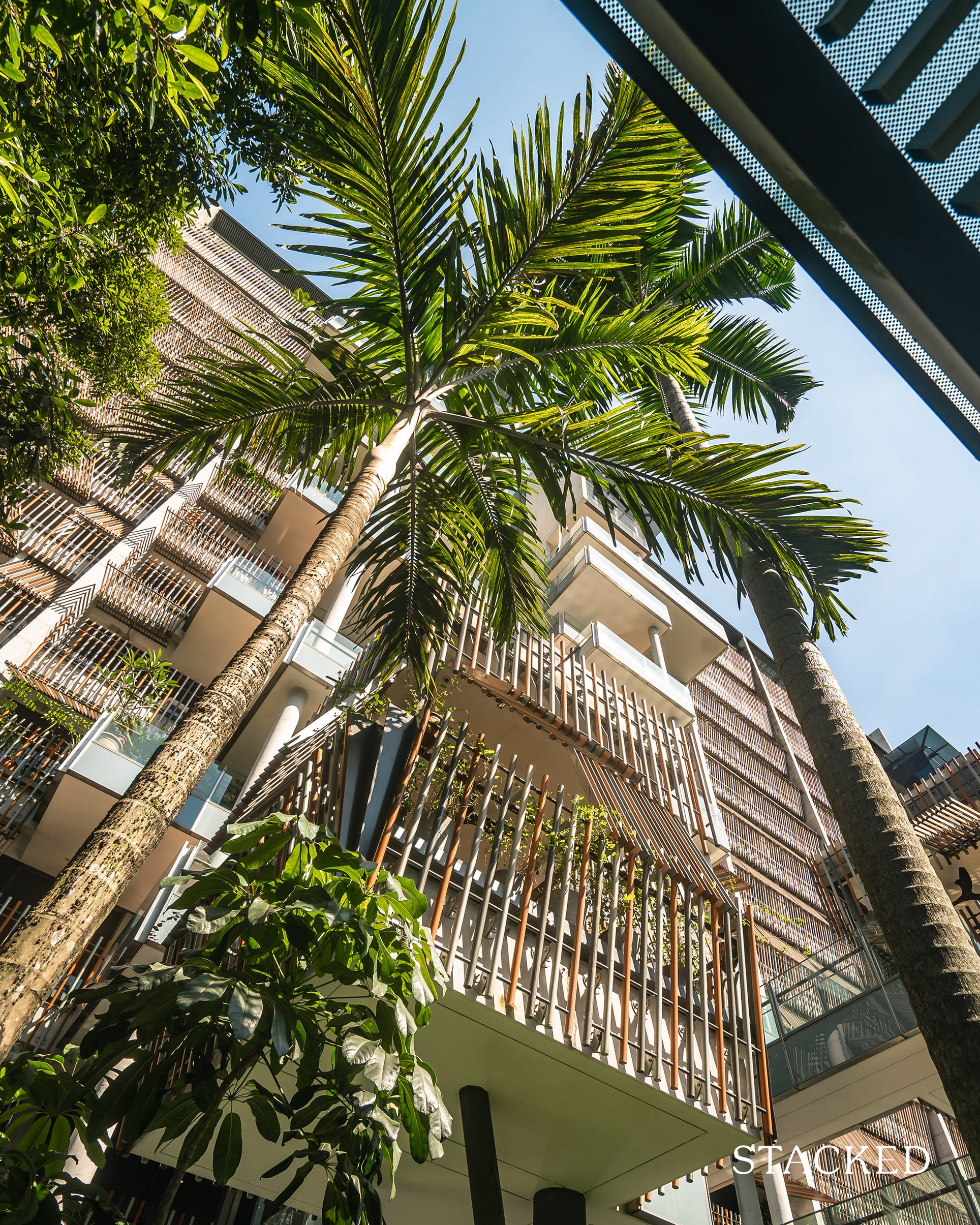 It's not just the ground floor units that get special treatment, there are a total of 15 units designed with treehouse cabanas. From your unit, there is a walkway that leads directly to it. You can think of this as your very own private treehouse to get away for some reading time or even a pre-dinner tipple.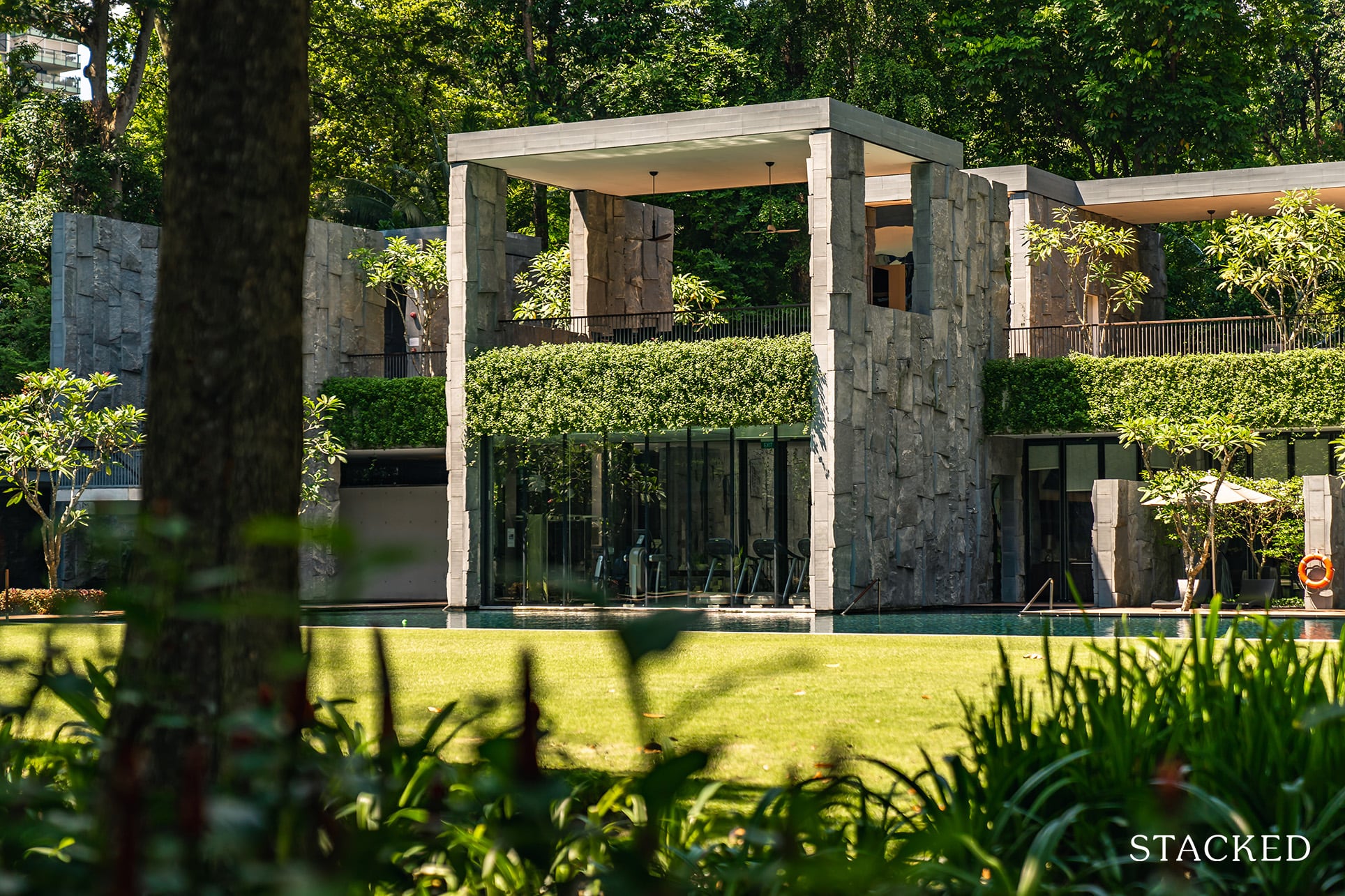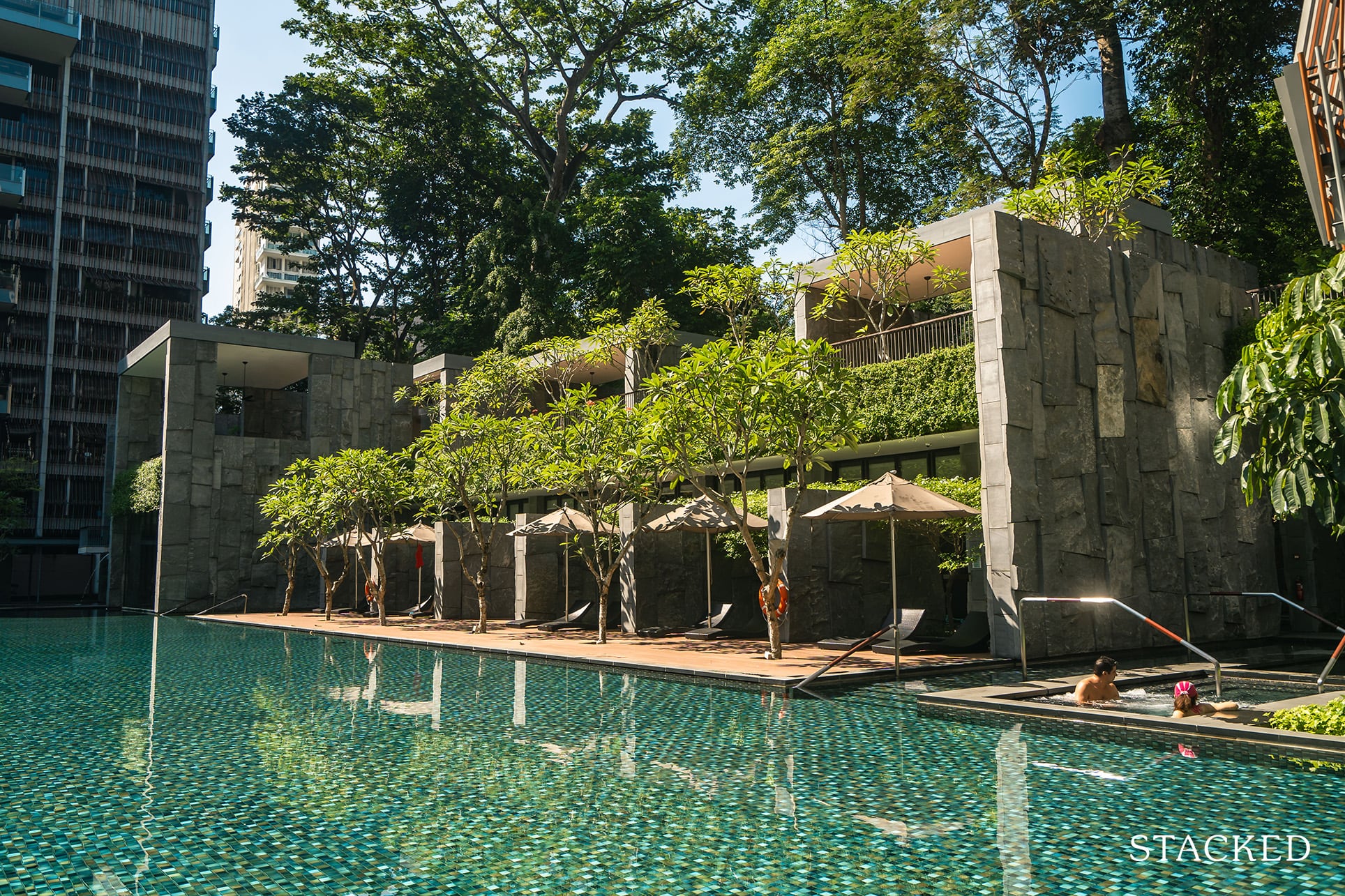 The clubhouse is where most of the facilities are at, and it is a magnificently designed space. The grey cobbled stone walls interspersed with the foliage makes for a varied look – it is quite unusual but yet looks suitably upscale. I must say they've captured that high-end resort feel remarkably well here.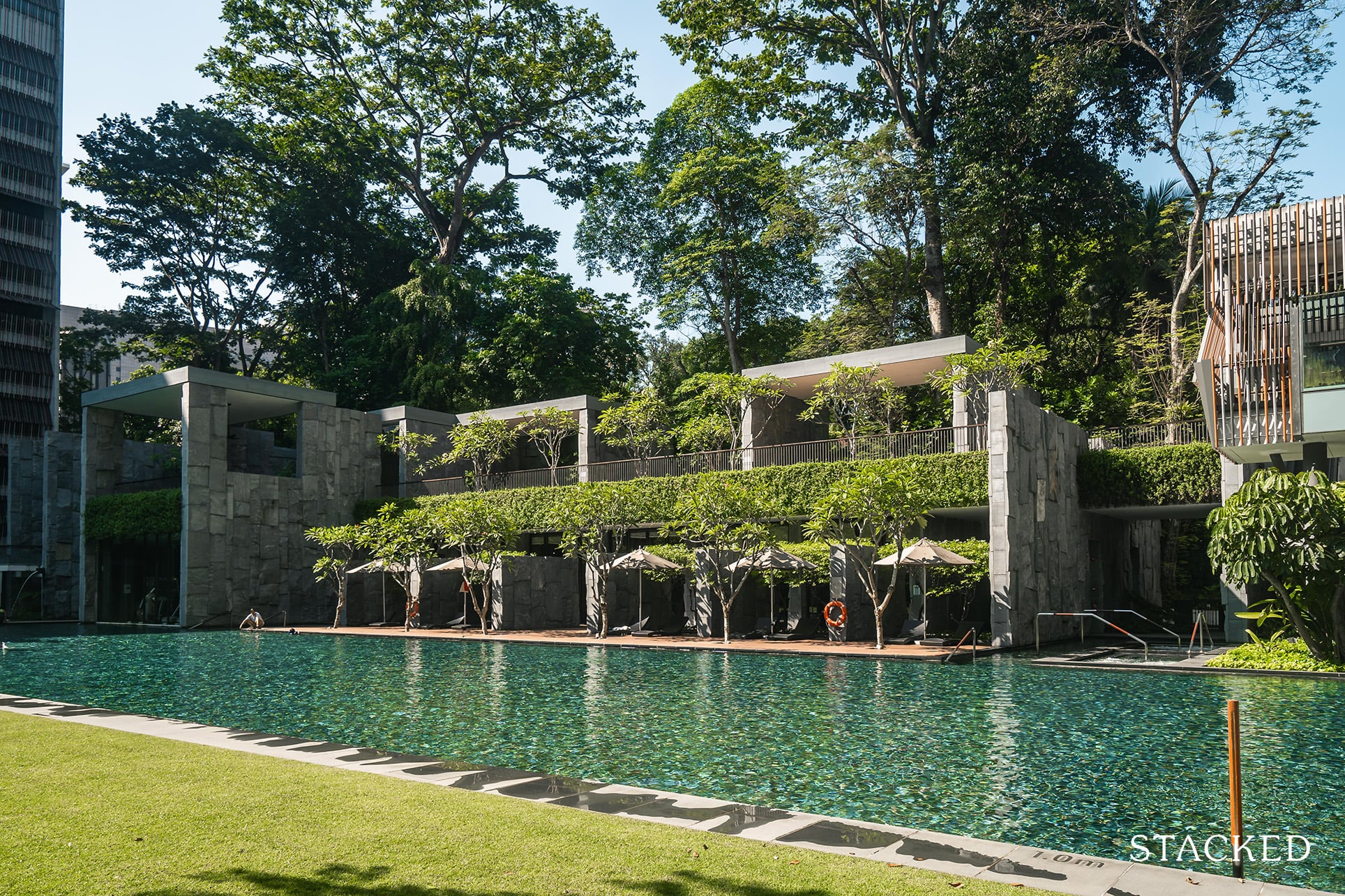 But the most noteworthy aspect of this space is what lies behind the clubhouse – Goodwood Hill. It is a 20 hectare land space of verdant greenery and the tree conservation area of the famous black and white Colonial houses.
Because there is almost an uninterrupted space of greenery, it's just astoundingly quiet and private here. The backdrop of towering trees behind is really picturesque as well, and serves as a reminder of the exclusiveness of the place. And because of the way the interlocked blocks was designed and the absence of any other building in sight, it really looks as if Goodwood Residence is in its own quiet little corner of Singapore.
When in fact, it is actually situated in a really central location. If I had to provide a reason to justify its price tag – this would be it – for there really isn't anywhere else that is quite like this.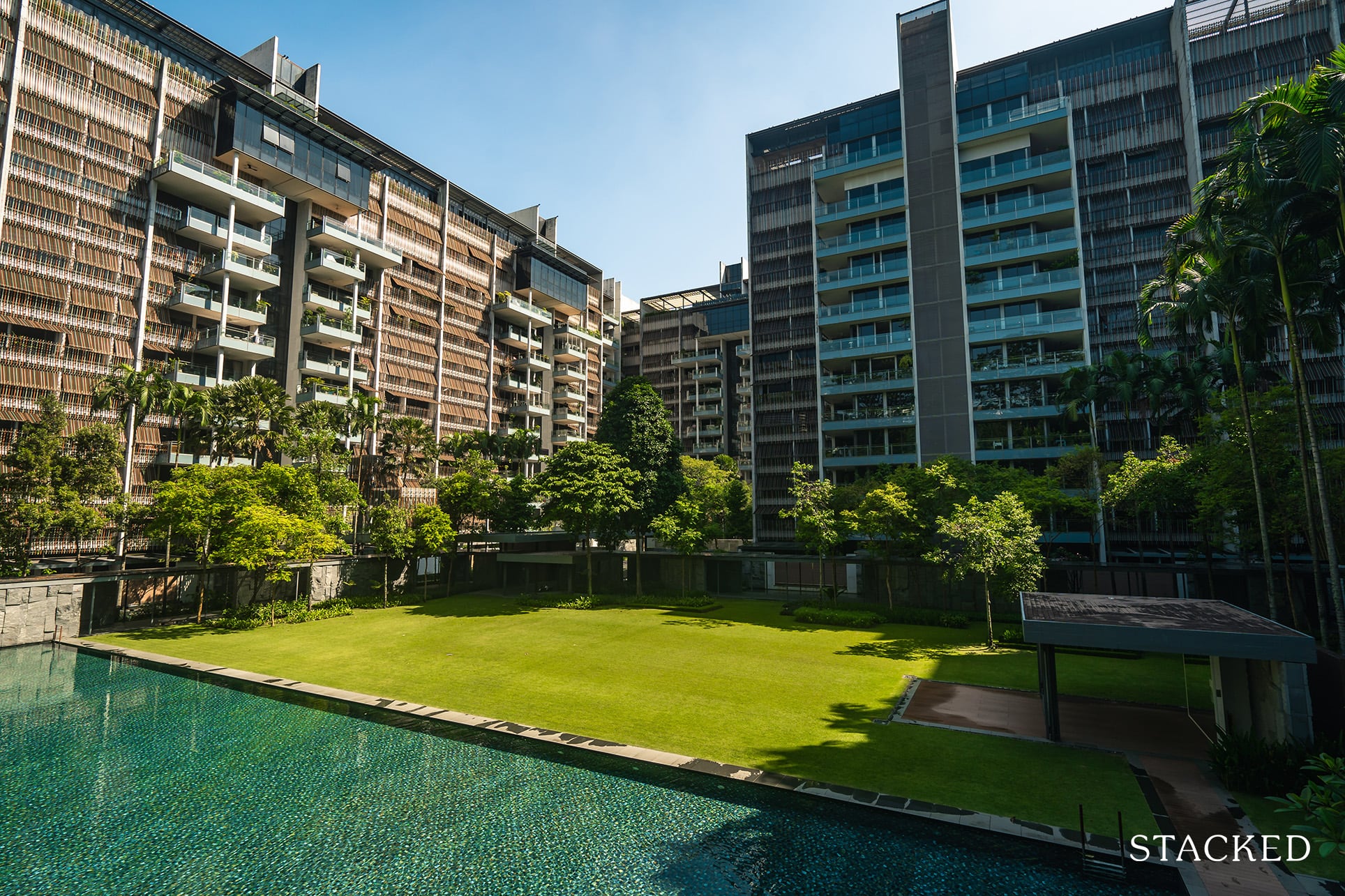 From a high vantage point, the space in the middle of the development almost looks as if it was made of two rectangular pieces – one, a huge body of water, the other, an ambling piece of land.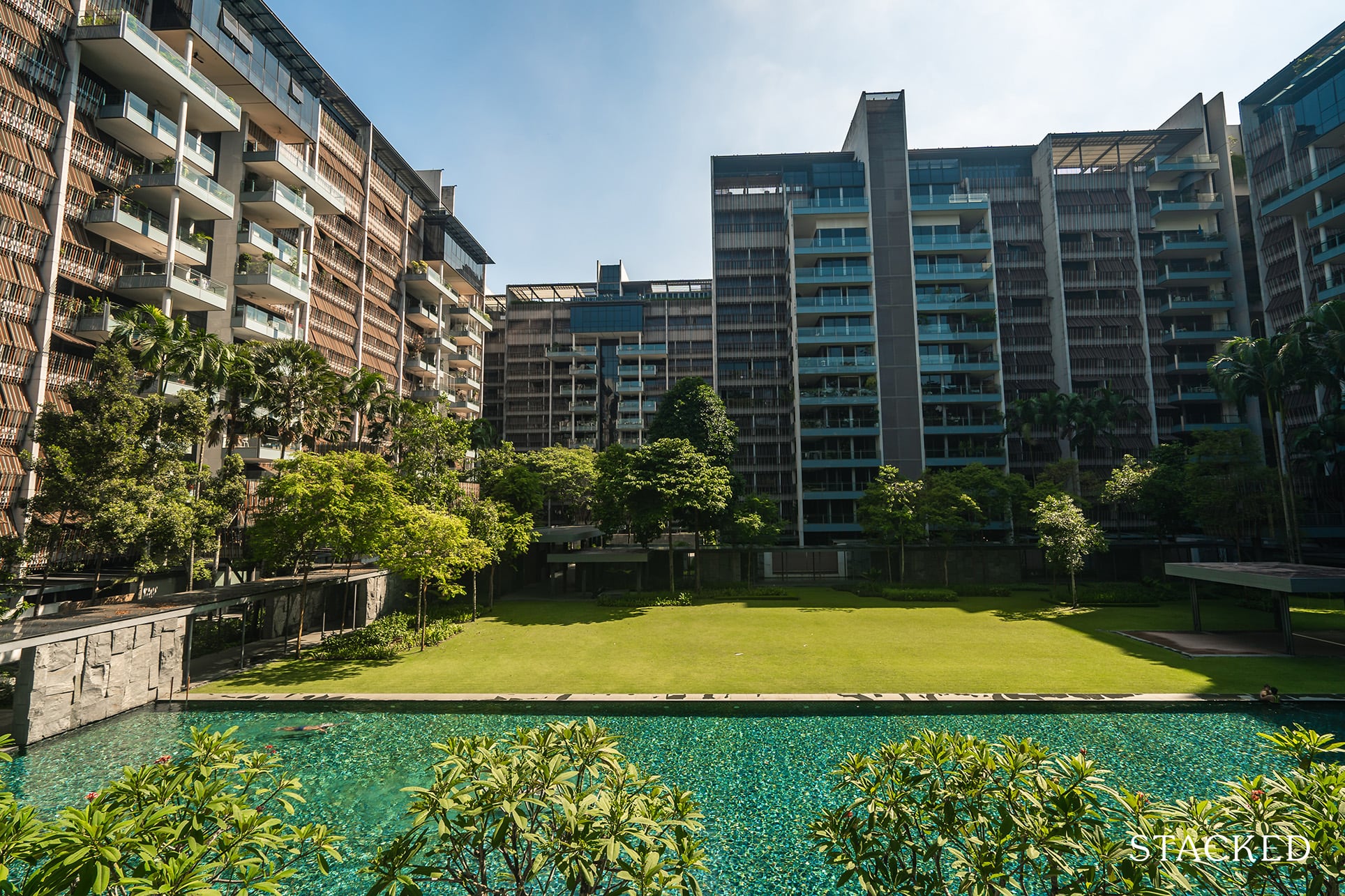 And it is because of the flatness of both the swimming pool and the Grand Lawn which really contributes to the open expansiveness of the space.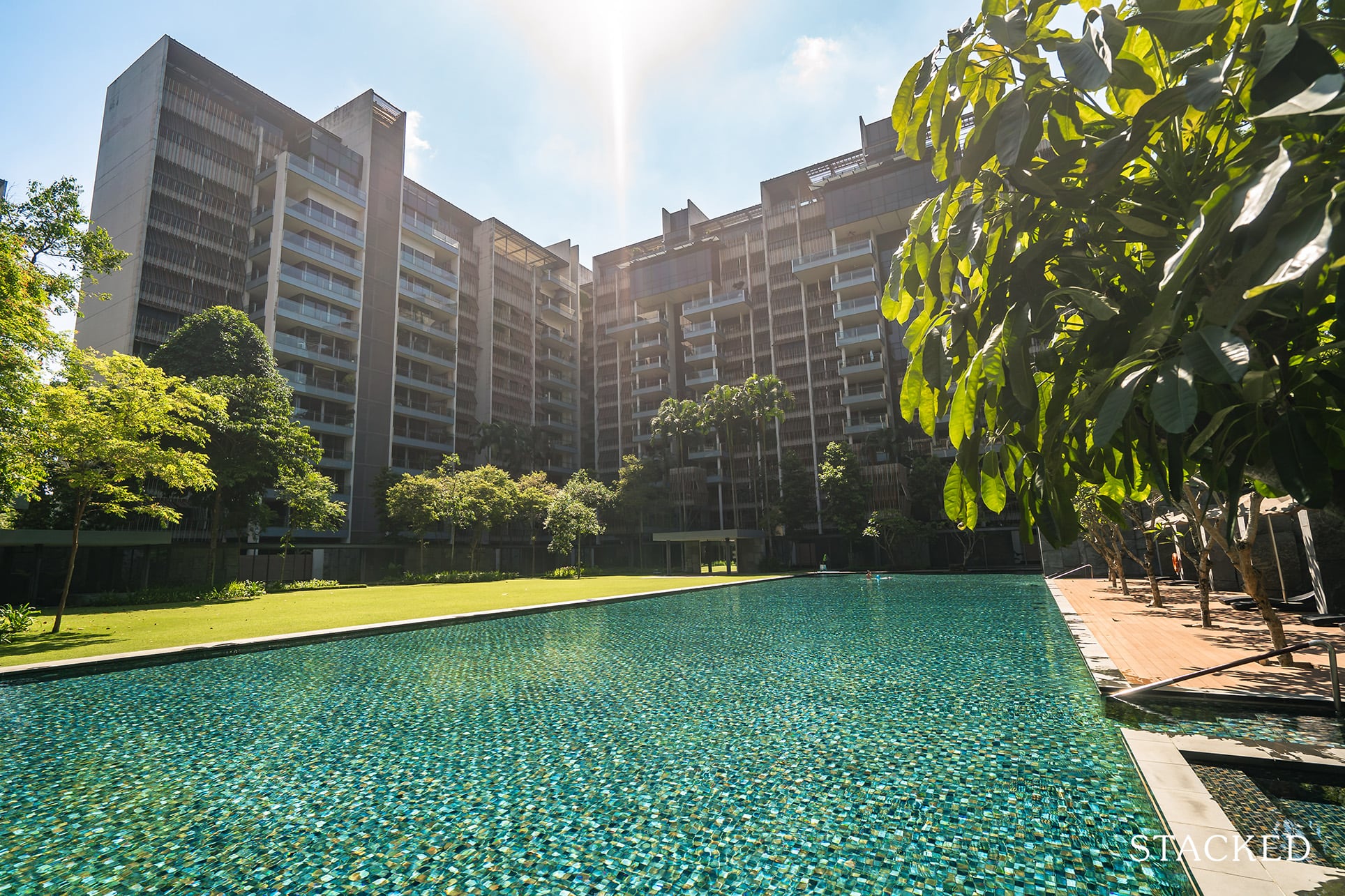 I actually visited this development when it was first built in 2013, and truth be told, prior to that I wasn't actually convinced from the renders that I had seen online. But actually seeing the space in the flesh it really felt like a breath of fresh air – I think that the developers have done a fantastic job in merging both the natural elements with a touch of modernity still.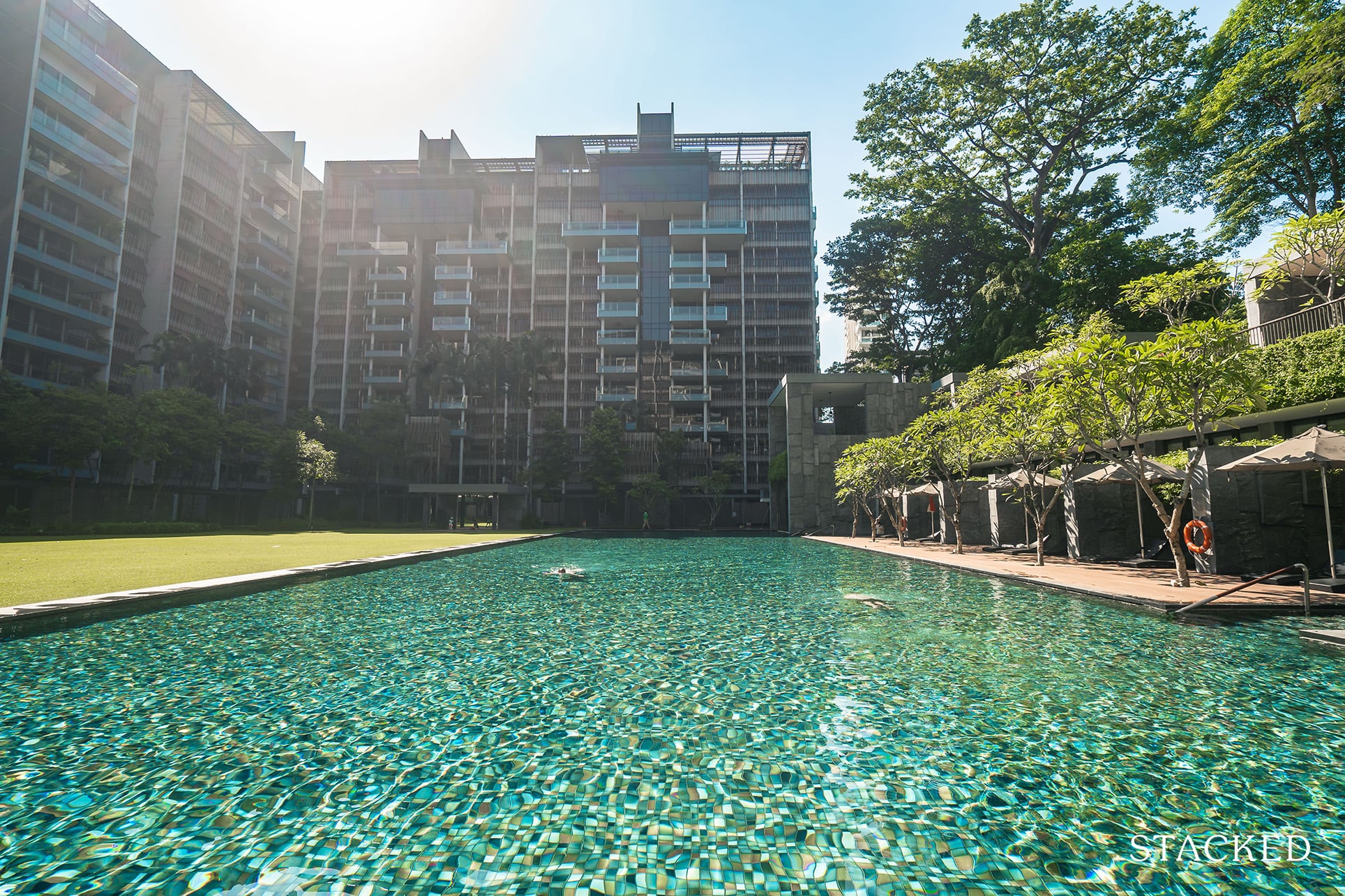 I mean, just look at this swimming pool. I know I often wax lyrical about many other condo pools, but this one is truly special. I can't think of many other swimming pools I'd rather be relaxing in on a weekend.
Come to think of it, it isn't so much the pool itself that is amazing – but it is really more the surroundings while you take a dip. You really do feel like you are in a private oasis, with seemingly no one else around.
It just has such a wide expansive feeling, and for just 210 units the pool is definitely more than sufficient.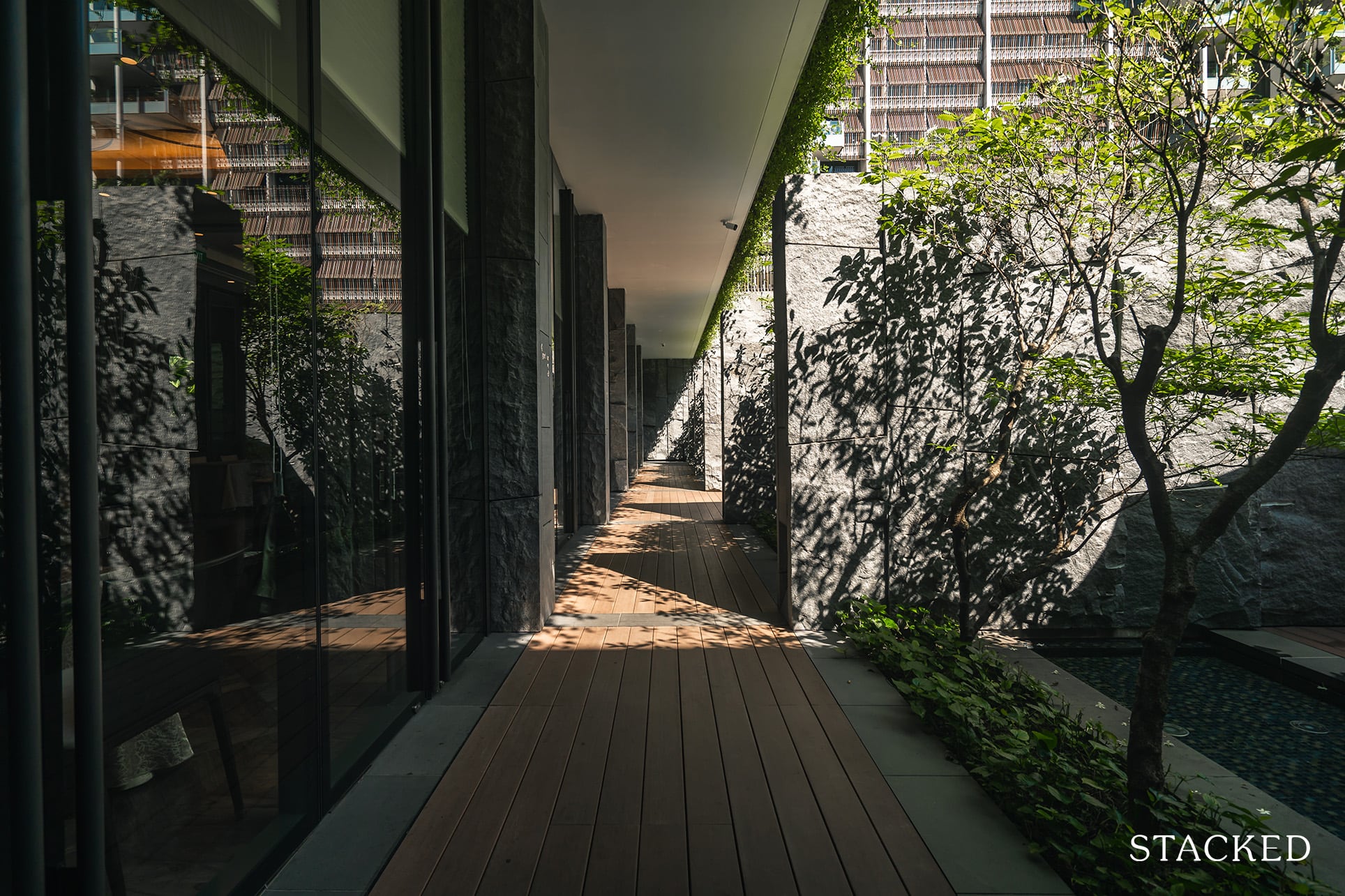 The deck by the side of the pool is actually segregated into "mini courtyards" which gives more privacy between the loungers.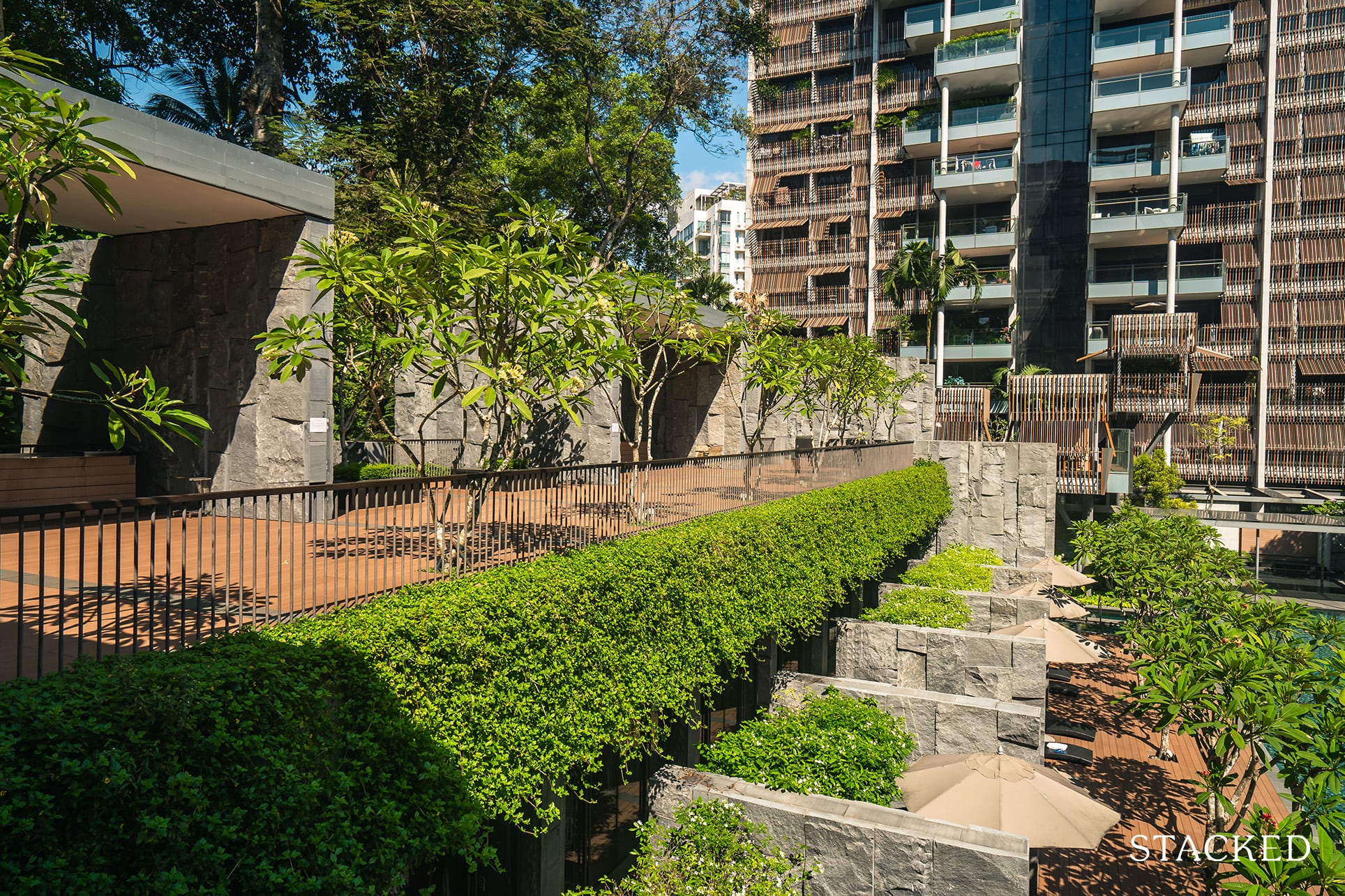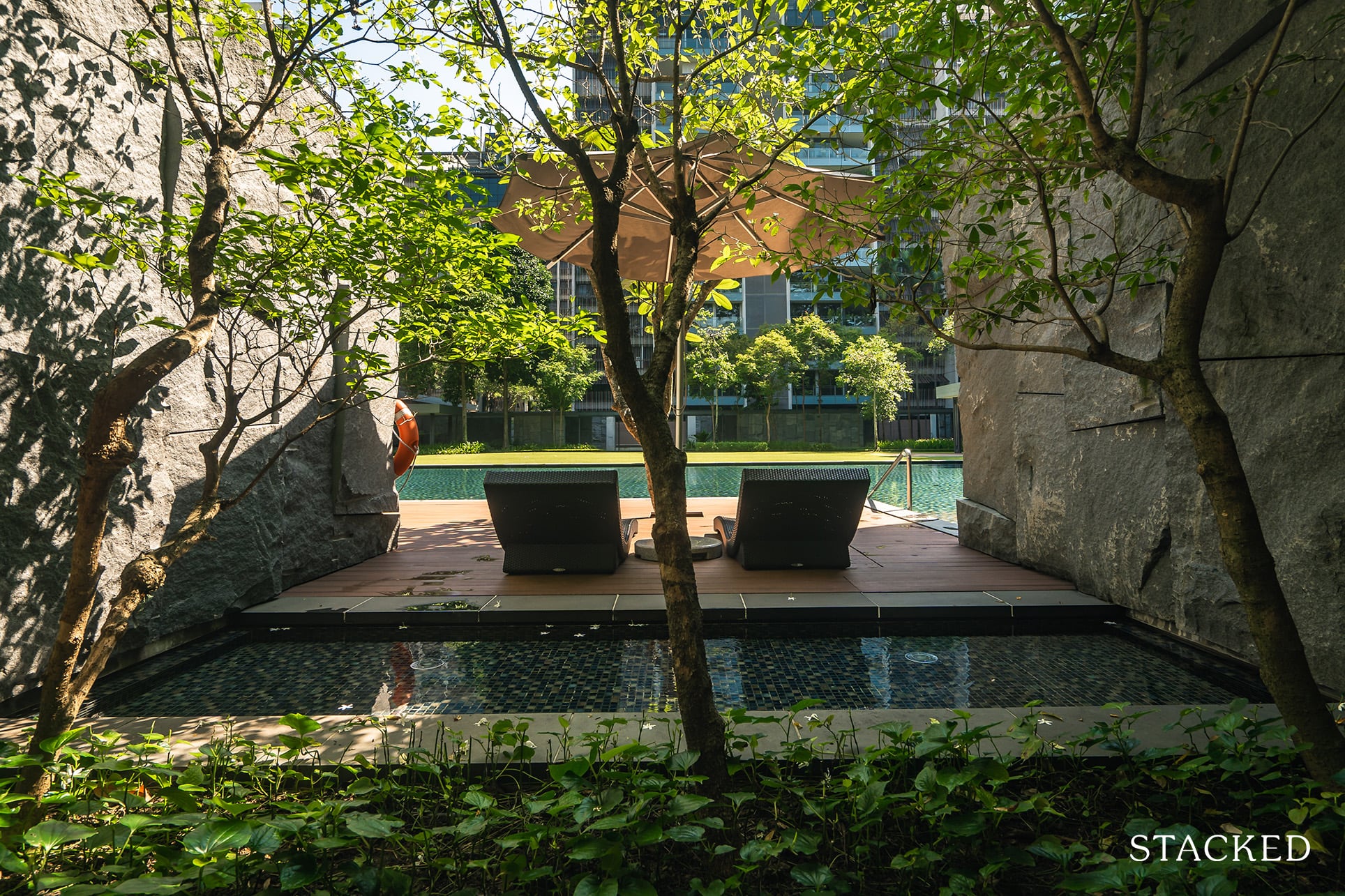 It is definitely more private – although I am surprised there aren't any poolside cabanas here, given the resort inspired nature of the development.
You get poolside service here too, with pool attendants to take drink orders. Talk about resort living!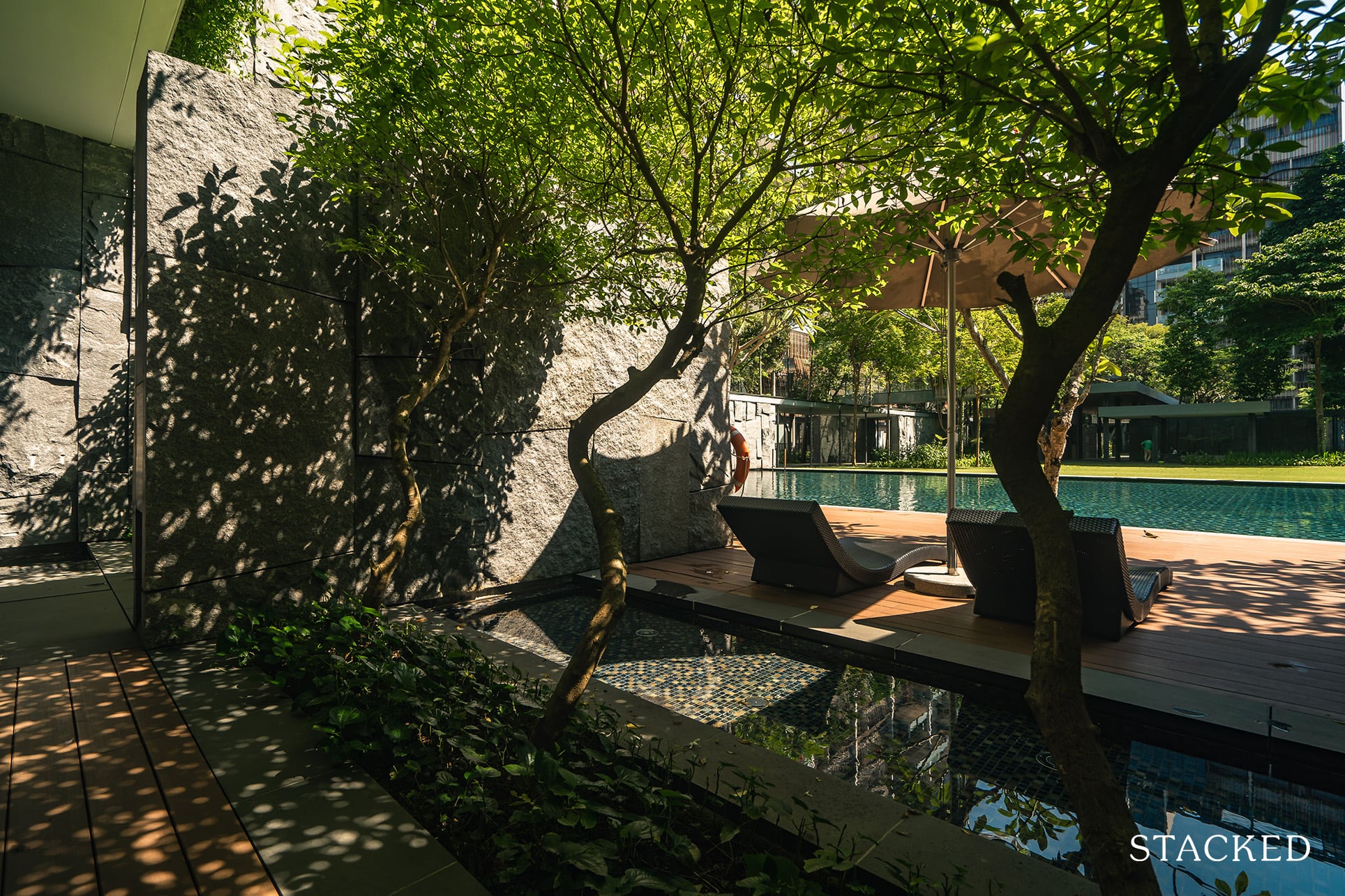 Some spots here really do look as if it was lifted directly from a travel magazine – which was probably what GuocoLand was going for.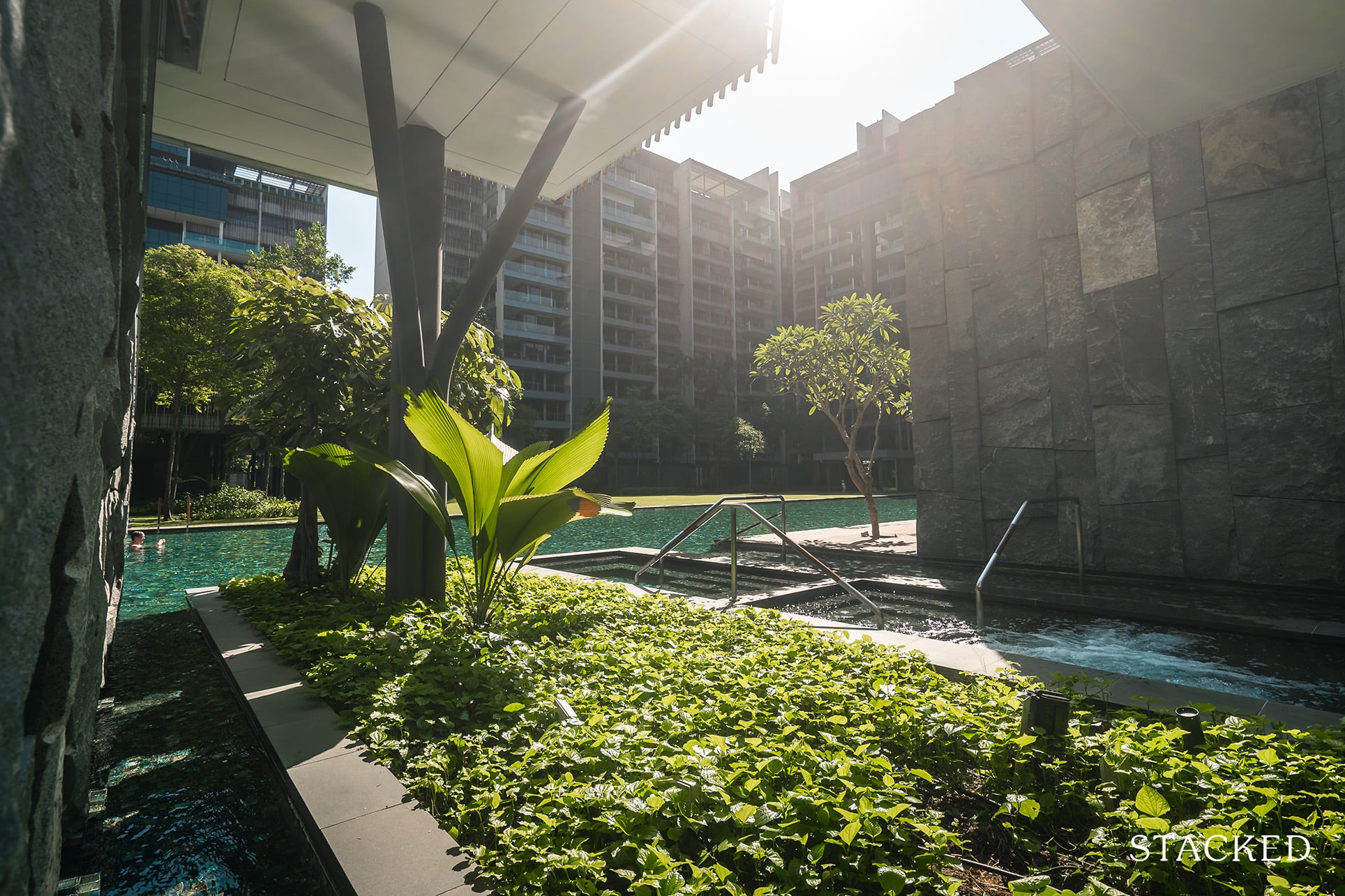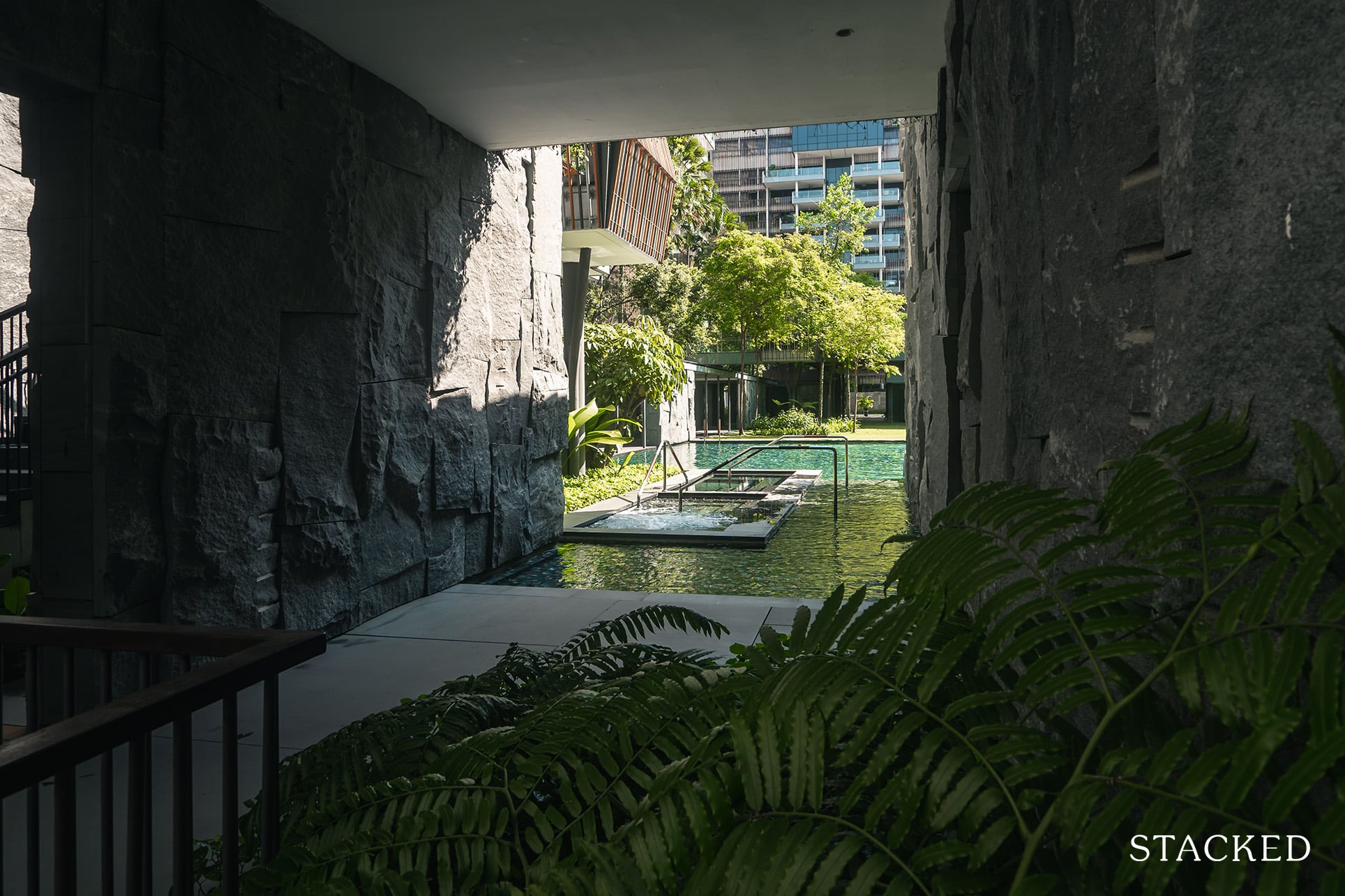 Down by the corner is a quiet jacuzzi spot.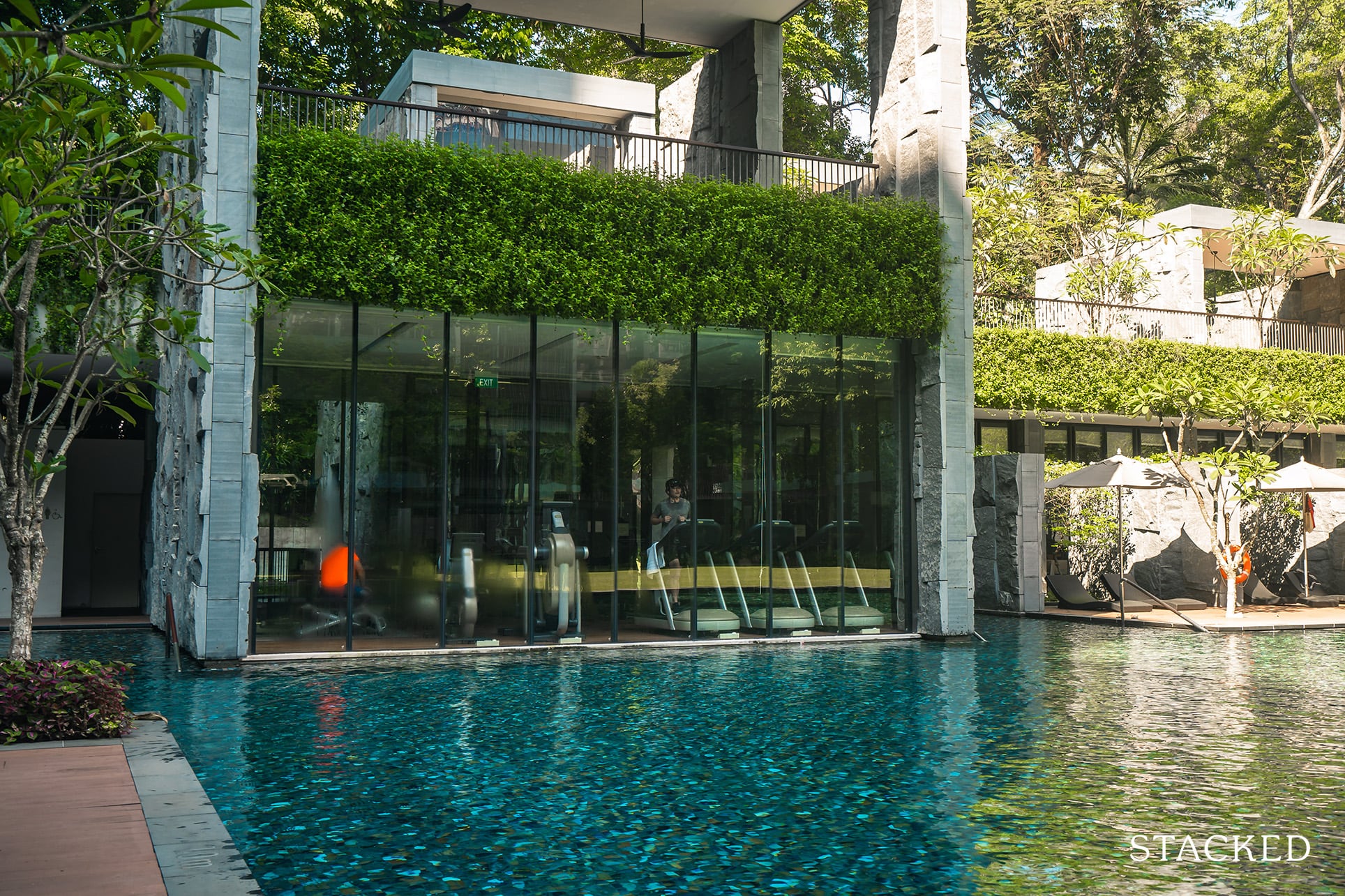 The first block of the clubhouse actually contains the gym, which has a scenic view overlooking the swimming pool.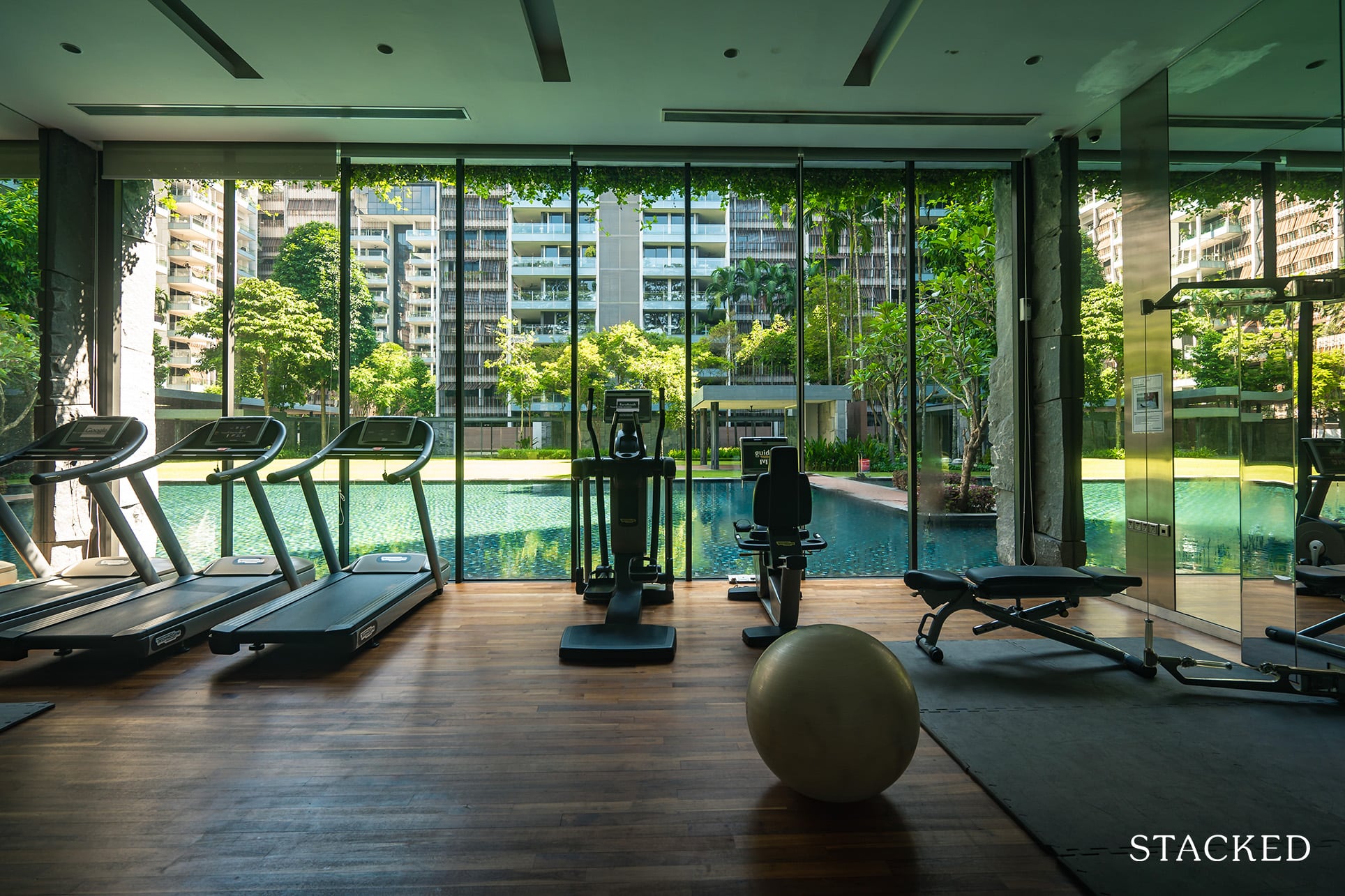 I think you'd agree with me that it definitely has workout inspiring views.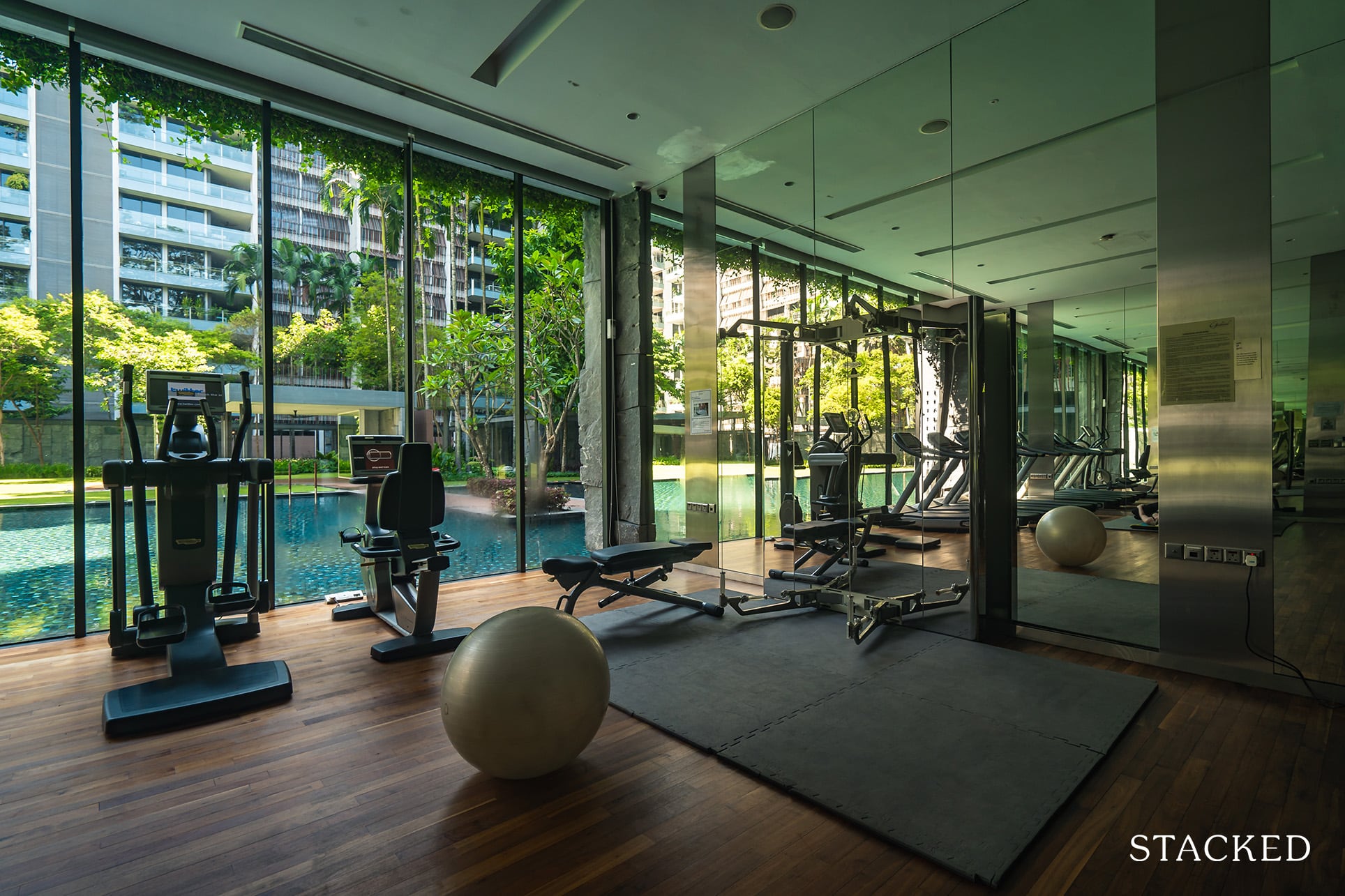 The gym does have decent aerobic and training equipment, but if you are looking for proper weight lifting it is quite lacking in that department.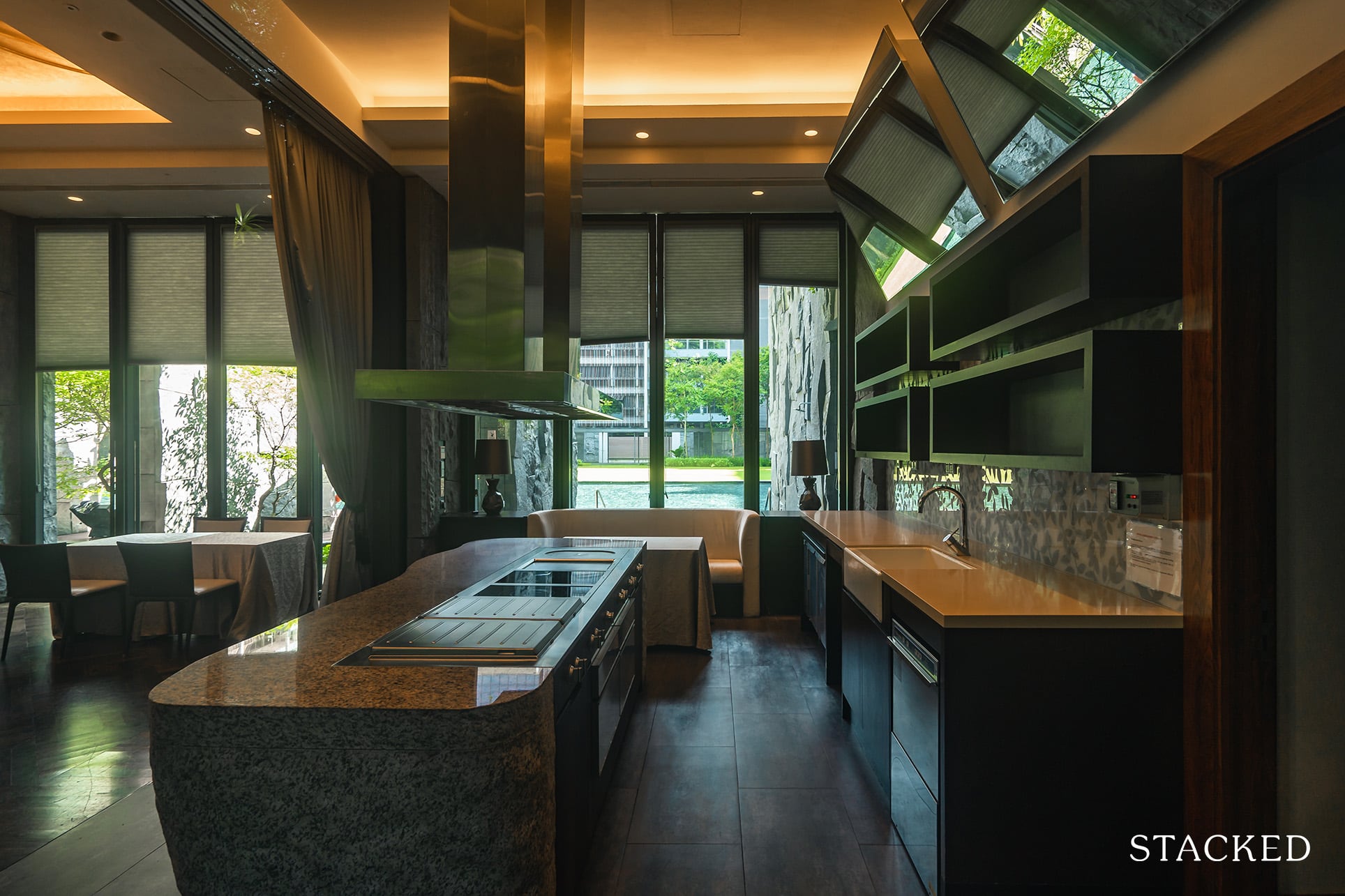 Next to the gym is the private kitchen, where you can use the space to invite private chefs down to host your guests.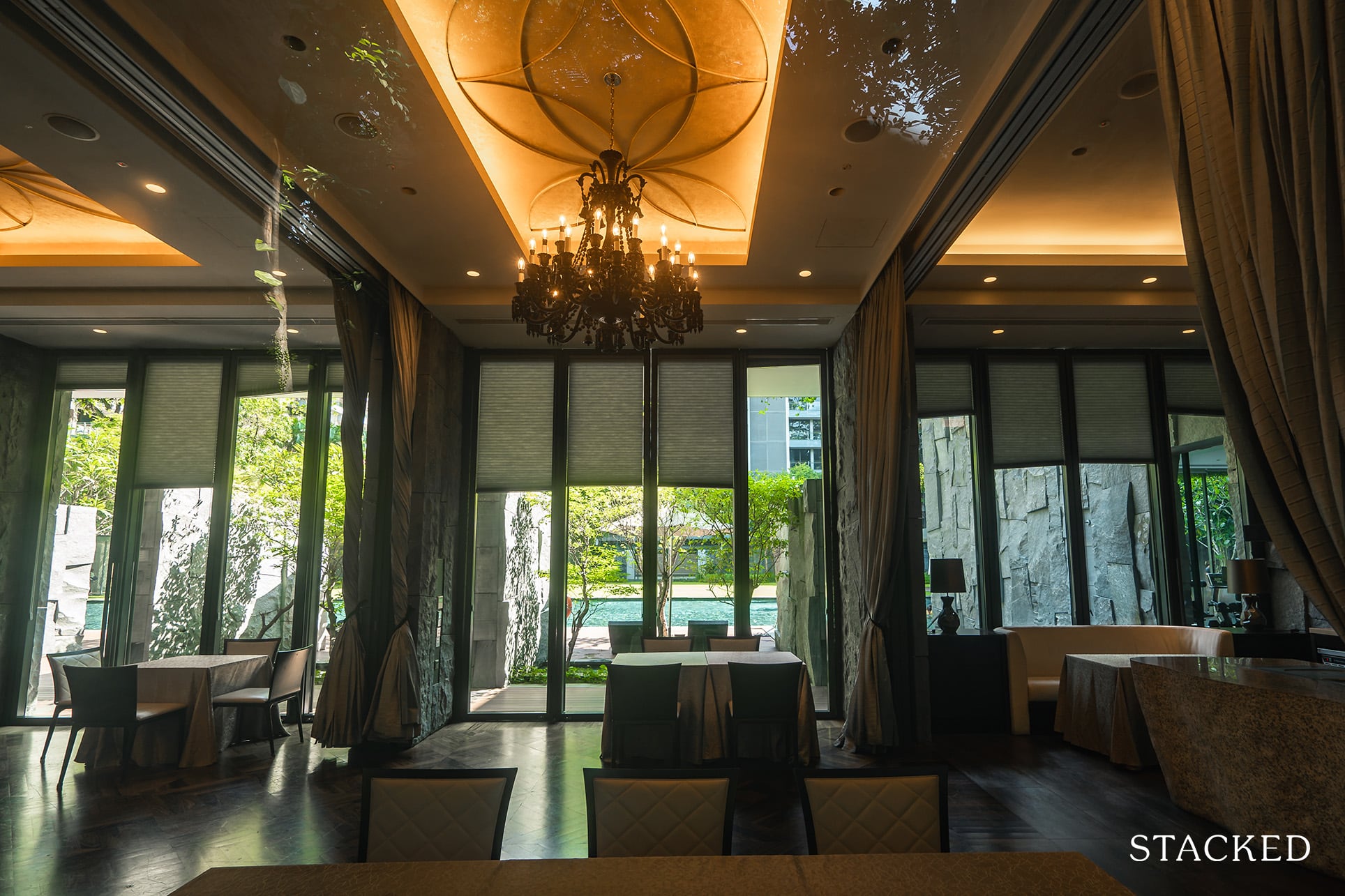 The dining lounge itself is just okay, especially when you consider the lofty standards that the exterior of the development has set. It's certainly nothing like the elaborate one over at Oue Twin Peaks.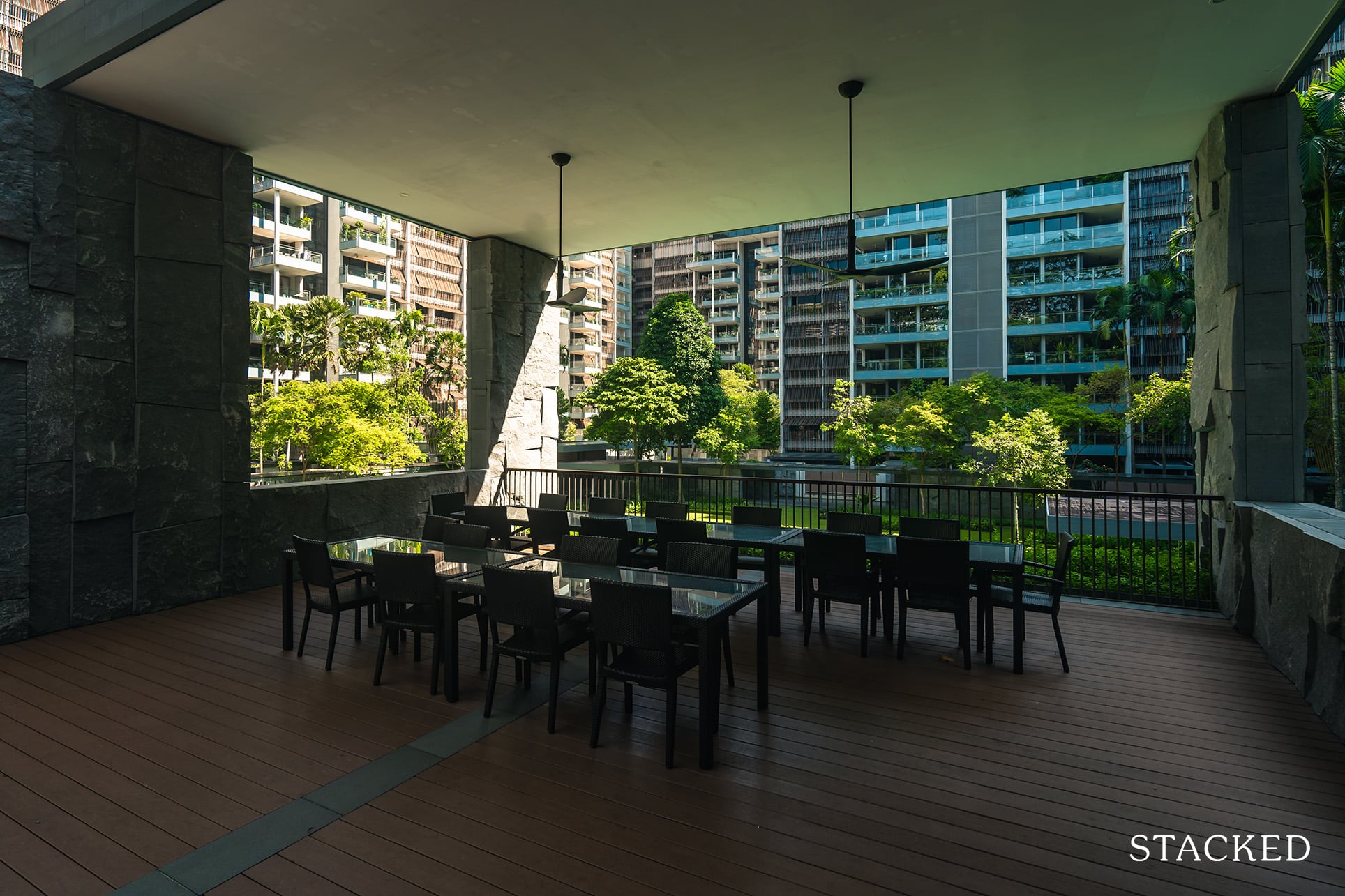 That said, I much prefer the outdoor dining on the second level – it's a really lovely space. The al fresco nature of it really takes advantage of the views and tranquility of the estate.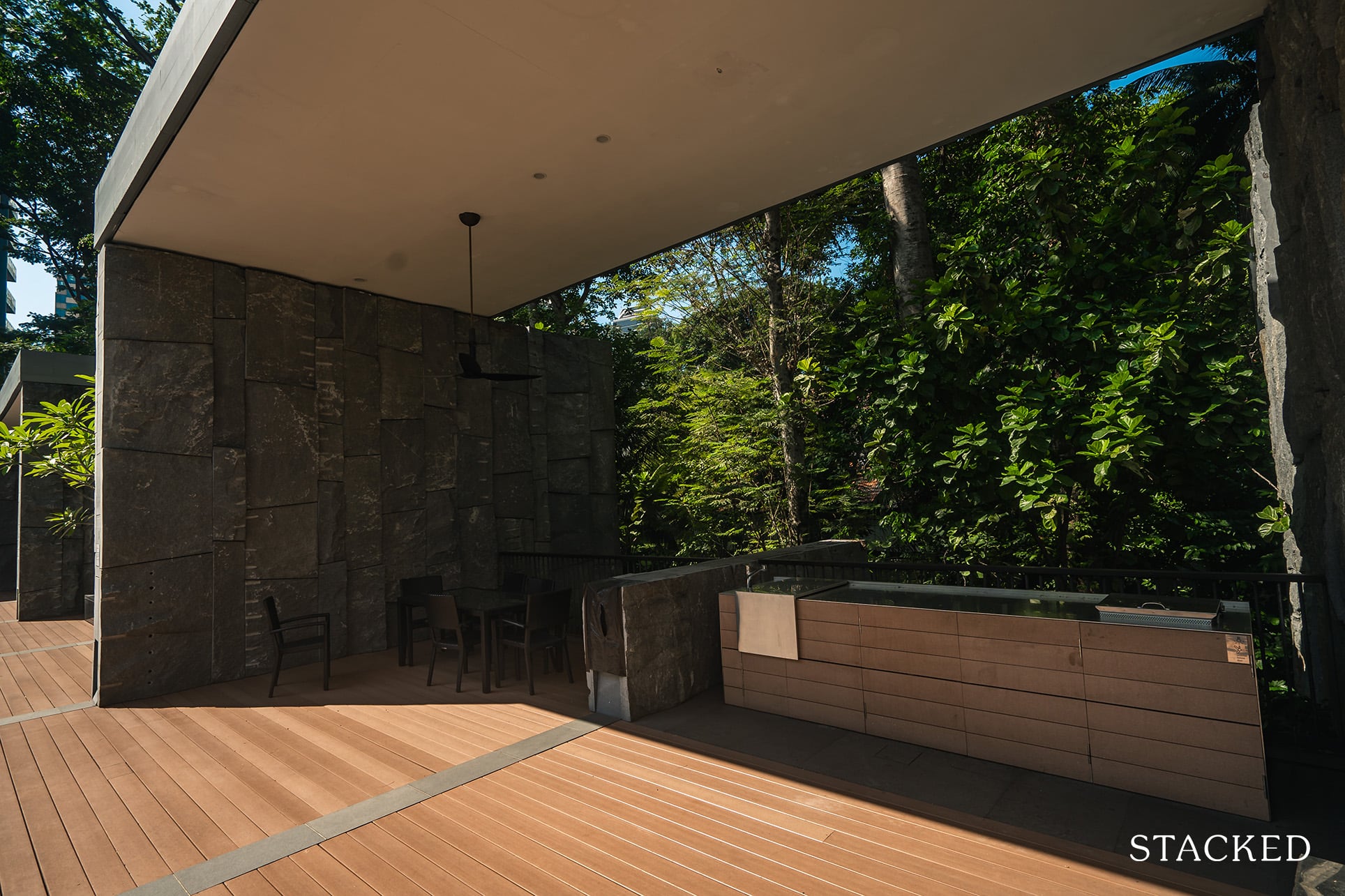 And that's not the only outdoor dining facility on the top deck – each of the structures houses its own barbecue pit with seating areas too.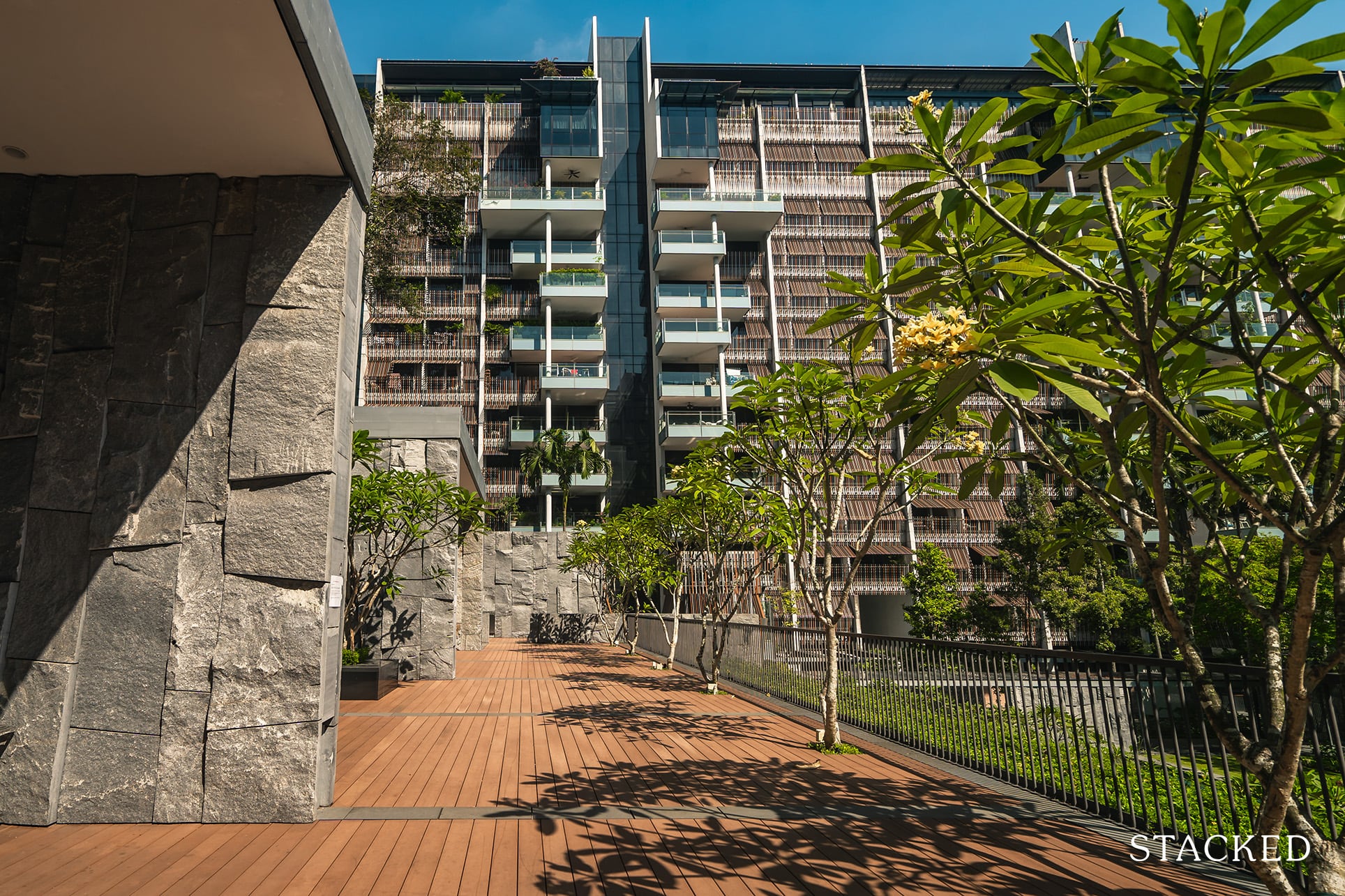 You get great views from both sides – one side facing the greenery at Goodwood Hill, and the other of the open lawn area.
There isn't any seating to speak of on the viewing deck, but I do suppose you could pull out a couple of mats here for an early morning yoga session.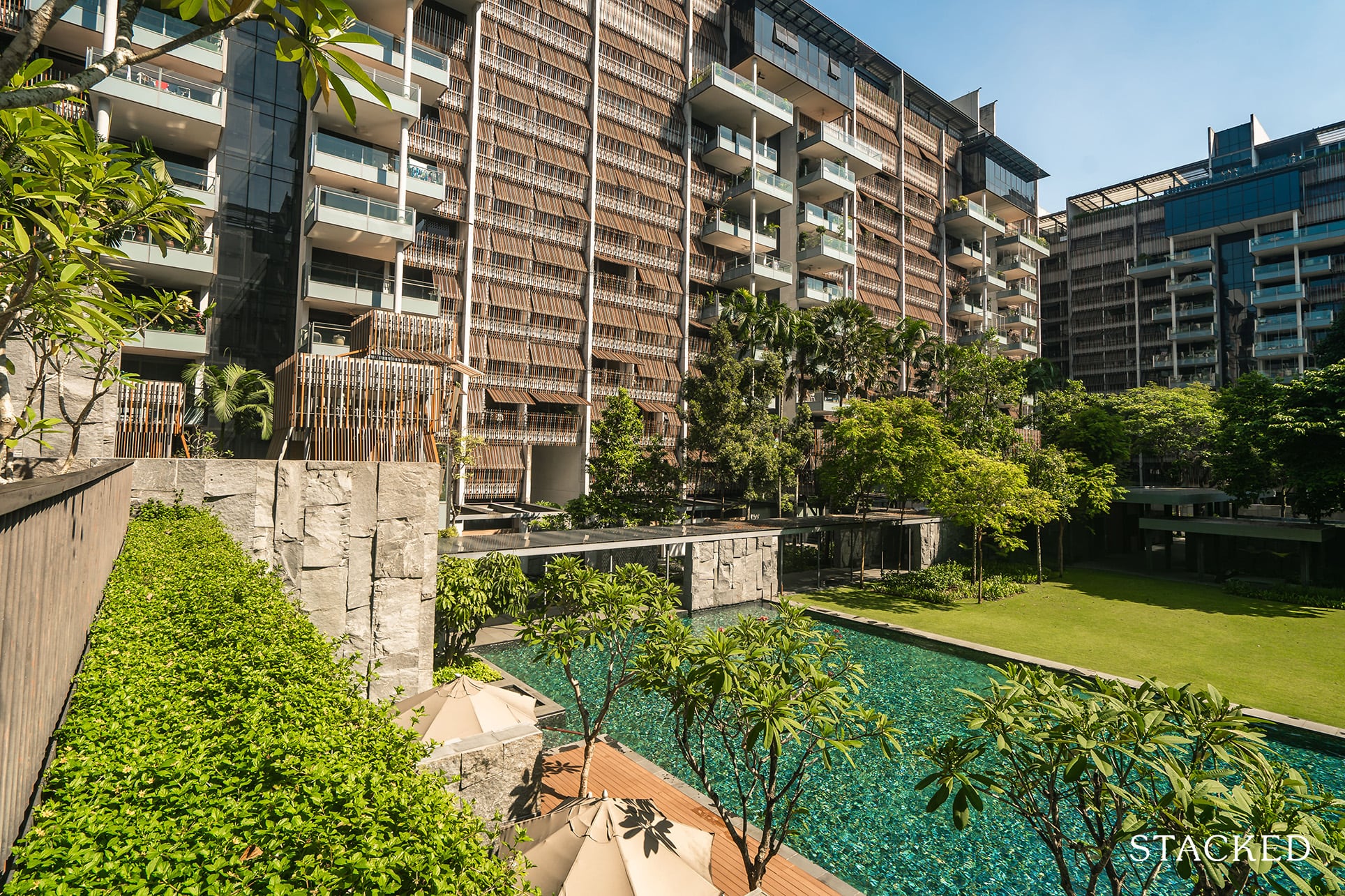 With a view like that, it really makes waking up for the sunrise a lot more of an attractive proposition, doesn't it?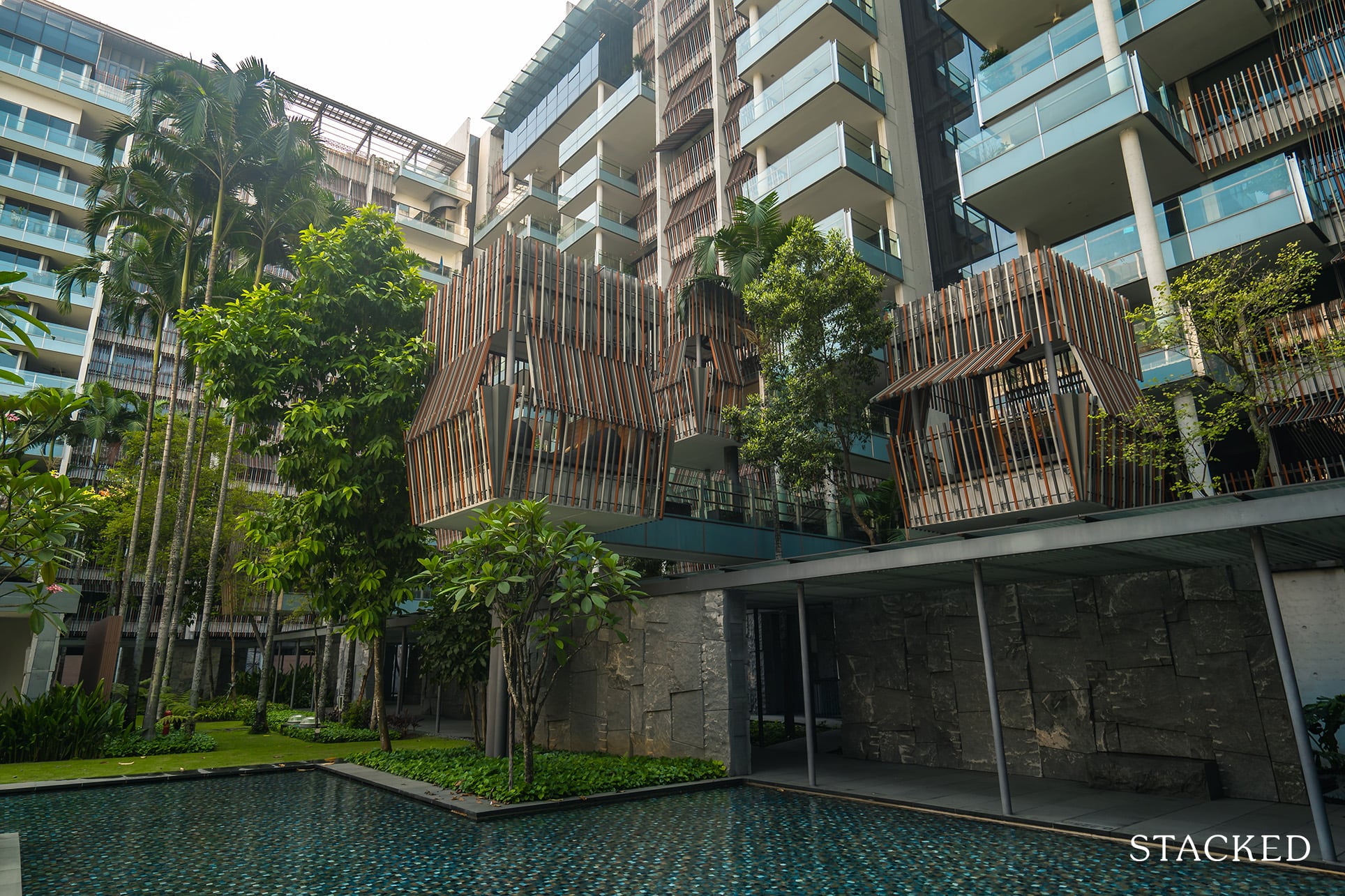 The biggest treehouse cabana in the development is actually directly connected and accessible only to 1 unit here, so it's not open to the public.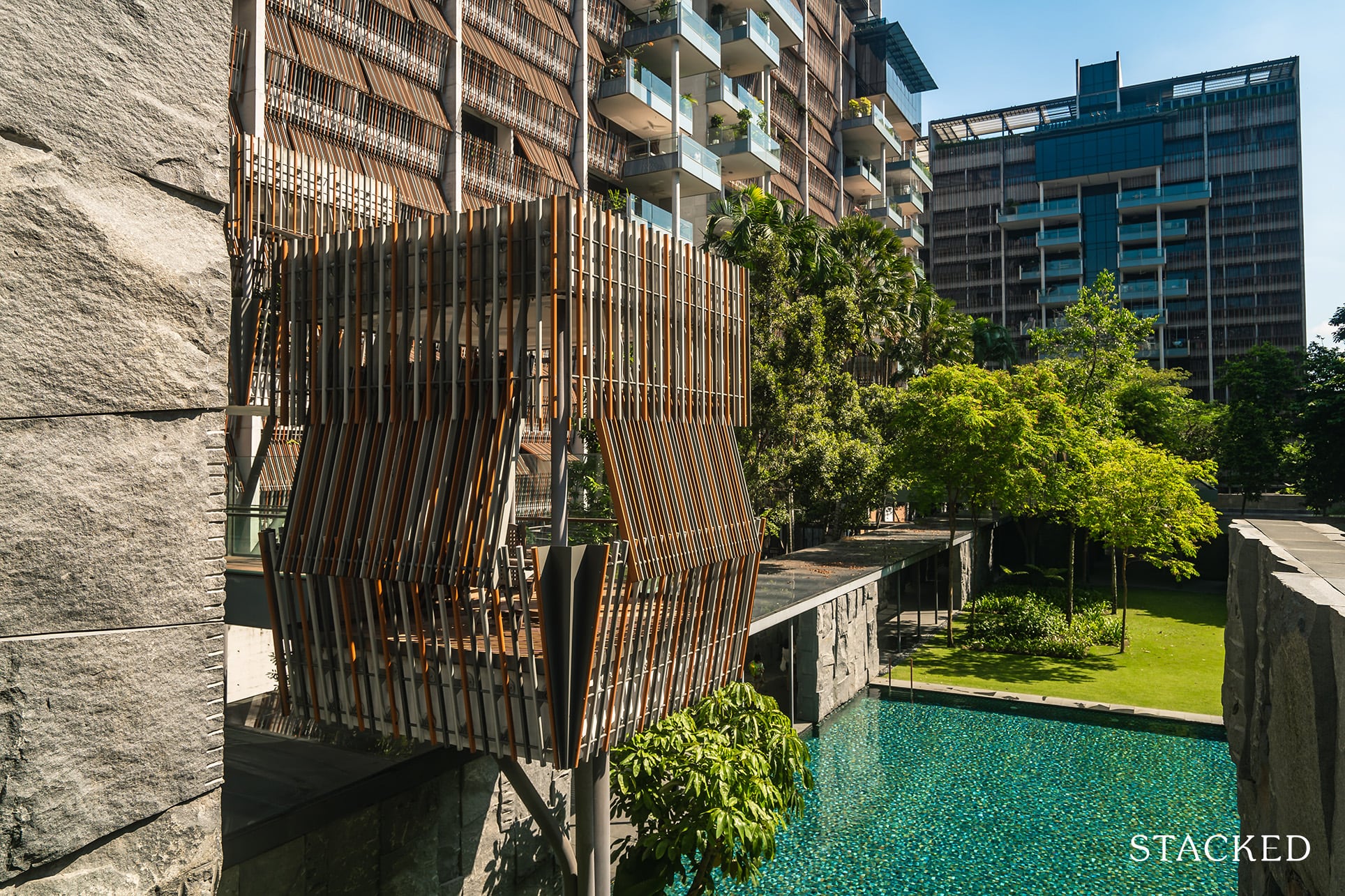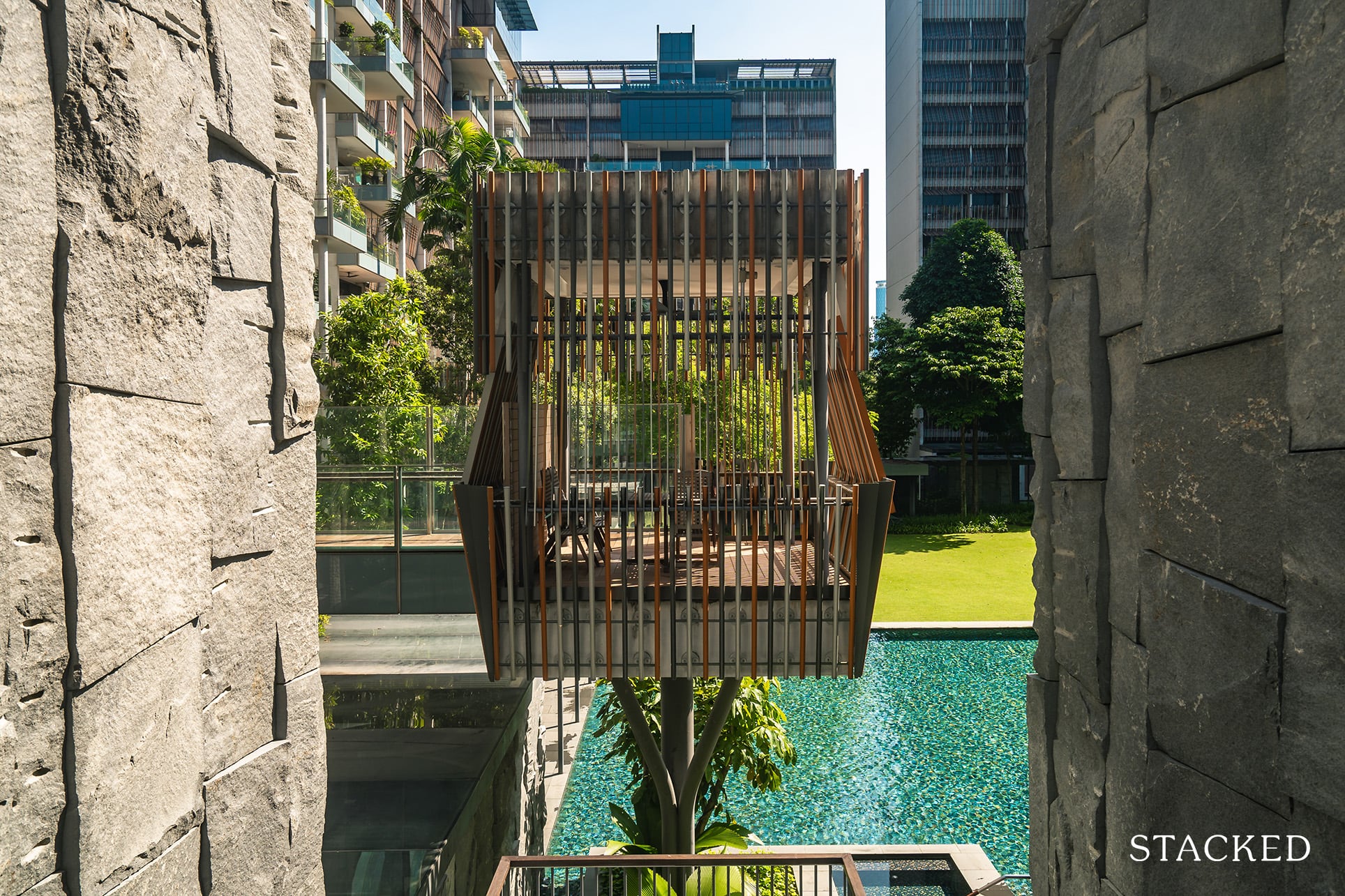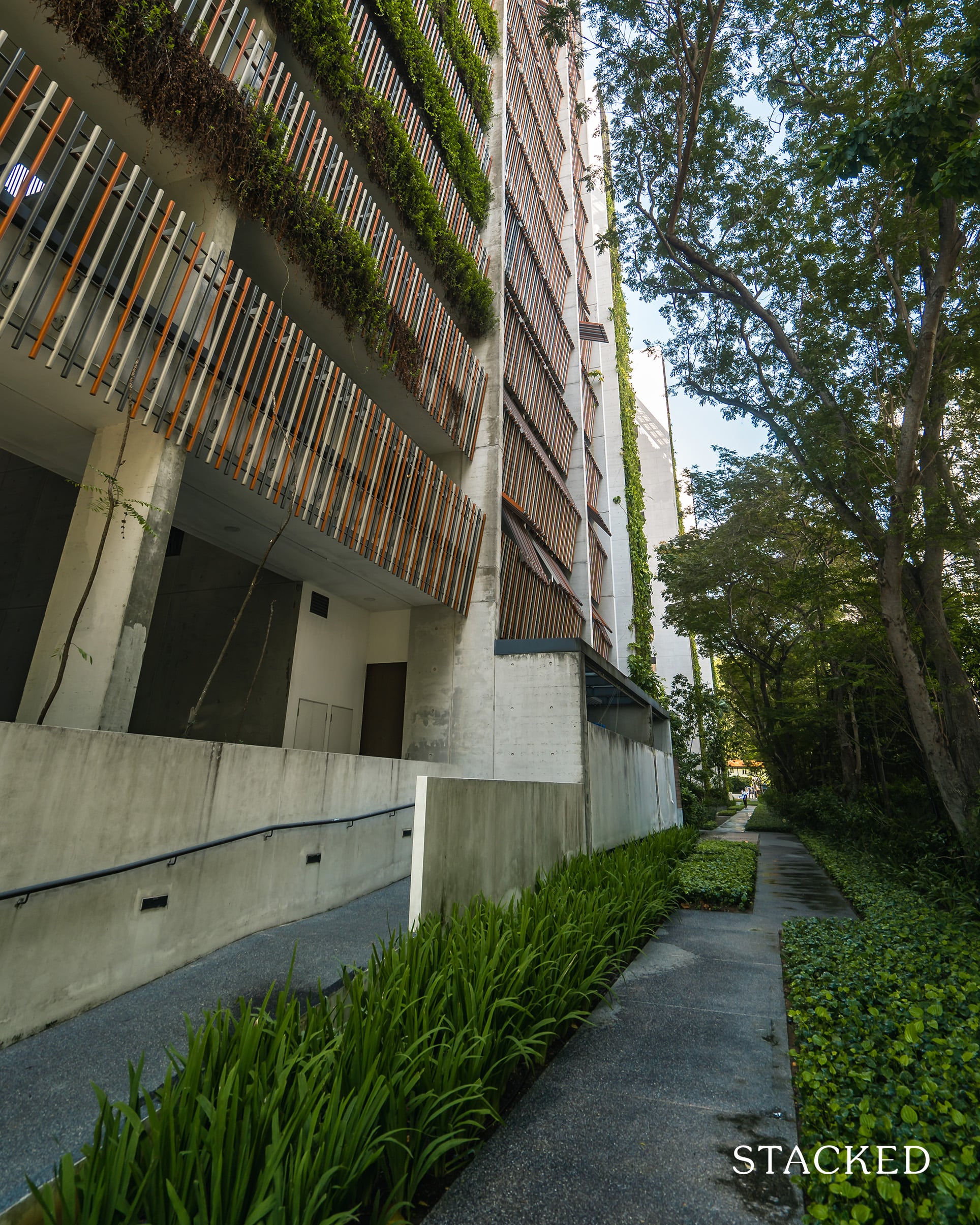 Surrounding the circumference of the estate is a garden walking path.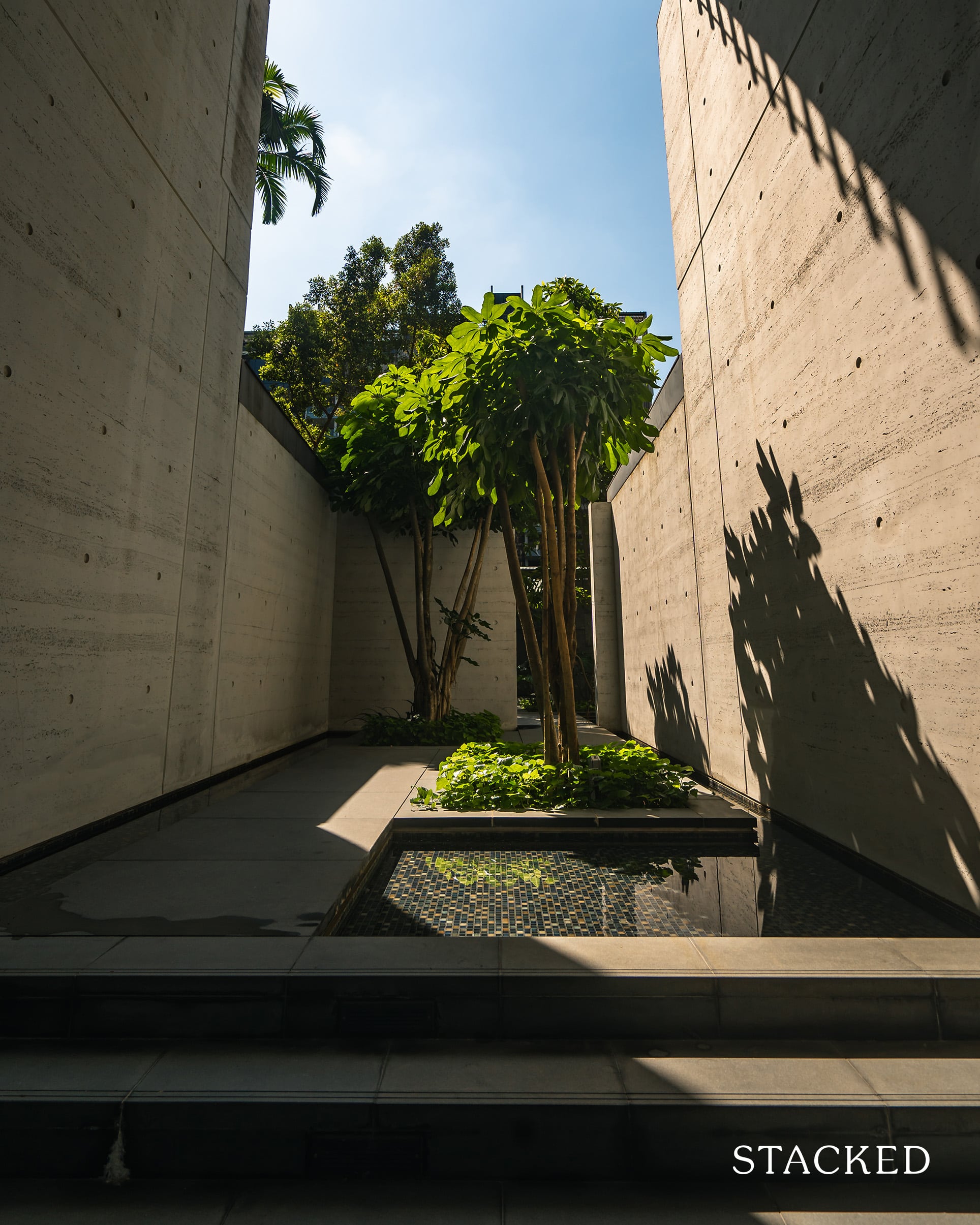 Of which even the path to cut through features beautiful landscaping.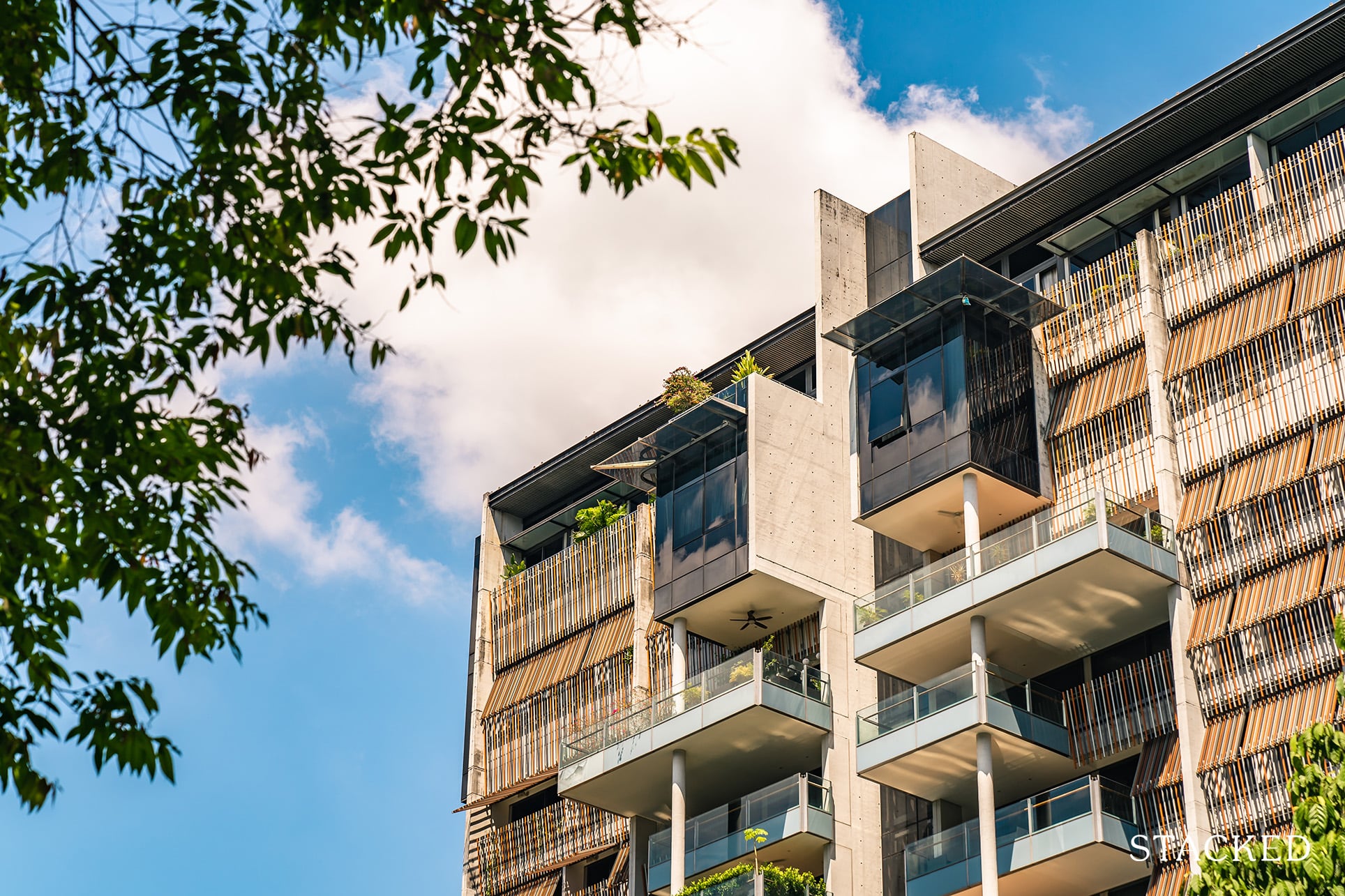 Maybe it's just all the overly used darkened glass structures that we see nowadays, but the facade of the Goodwood Residence is one of the most unique that you'll see in Singapore. It was inspired by traditional Asian textiles and the roll up bamboo curtains from the colonial houses at Goodwood Hill. I don't think it is a design that will be universally loved, but if you are into the whole resort ambiance it is a modern take on it.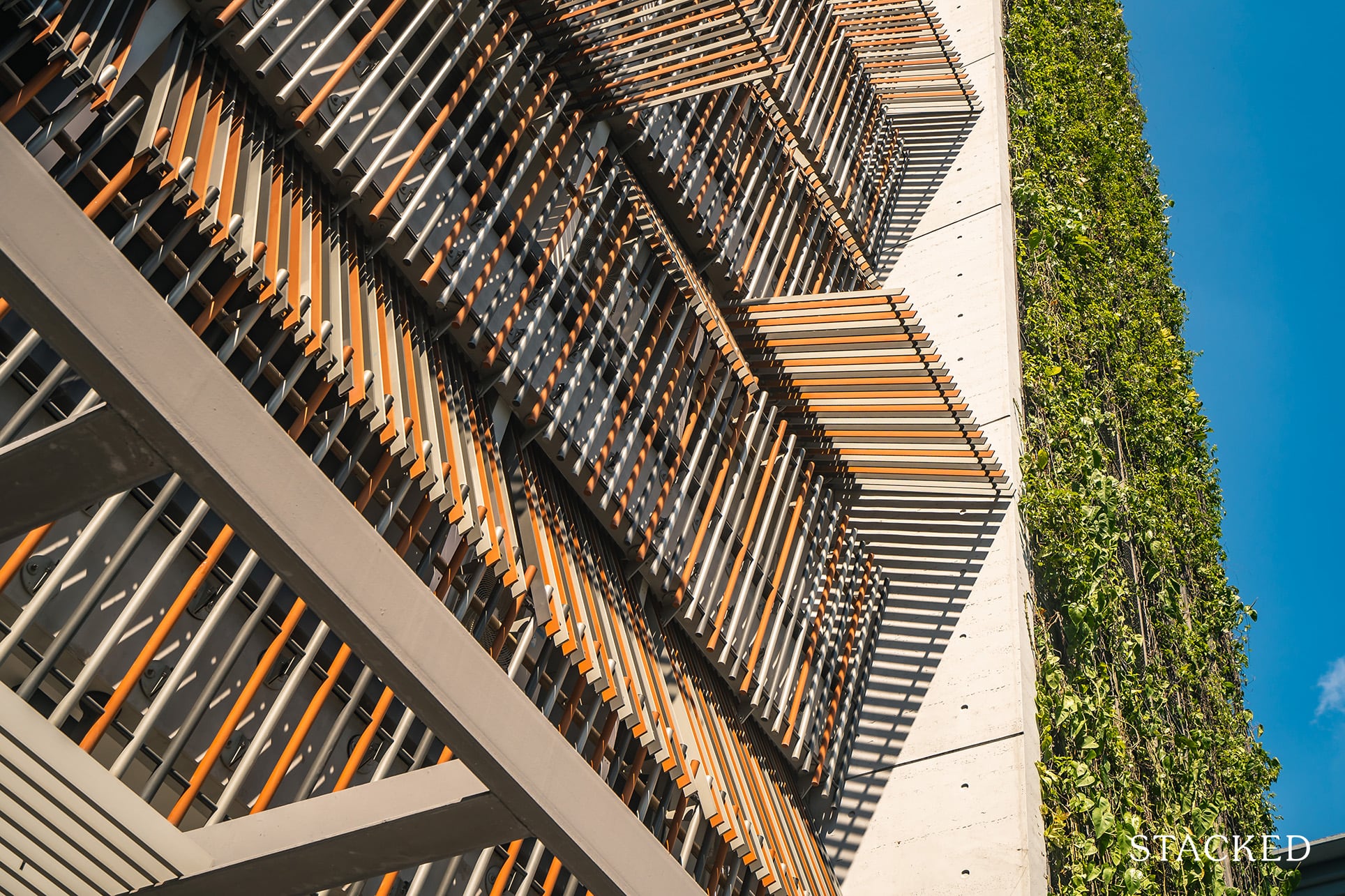 Look closely though, and you'd realise that the coloured bars aren't just for fun and games. It is actually practical – you can move them at different angles to provide a screen from the sun as well as a certain degree of privacy too.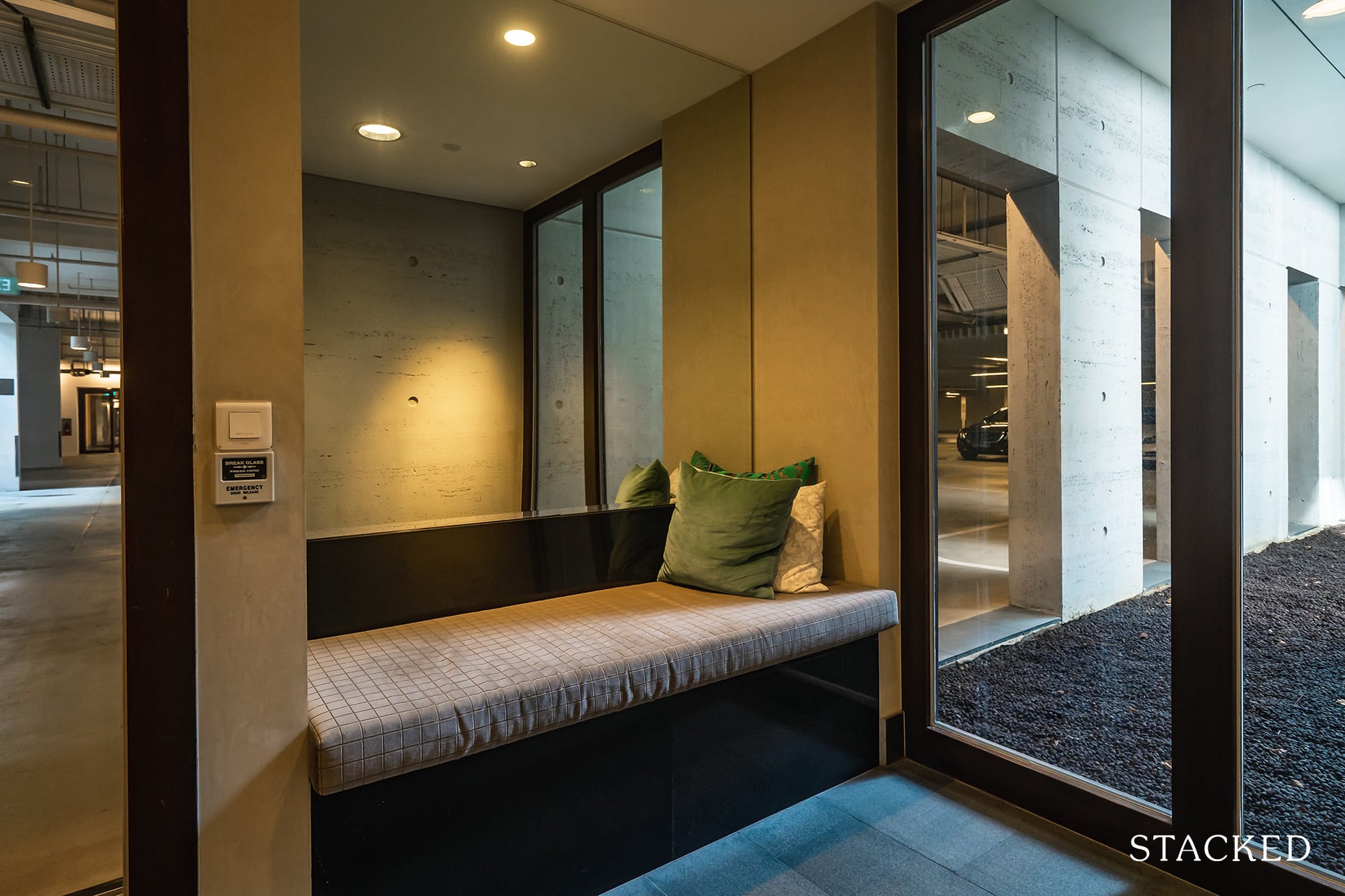 Last but not least, let's take a look at the carpark. Each unit here has private lift access, which are accessible from the air-conditioned lobbies.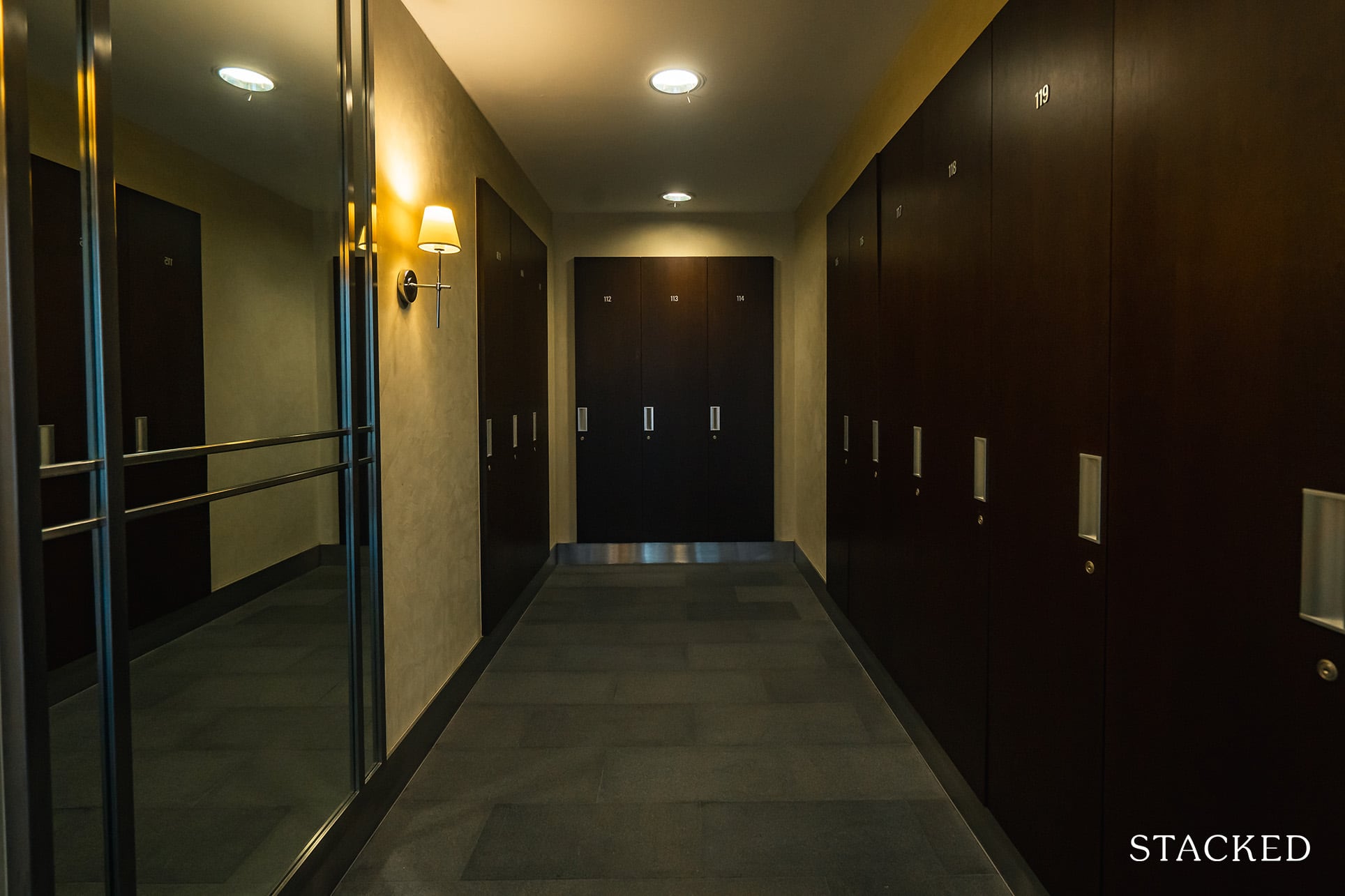 In recognition of the type of clientele here, each unit comes with its own golf locker too.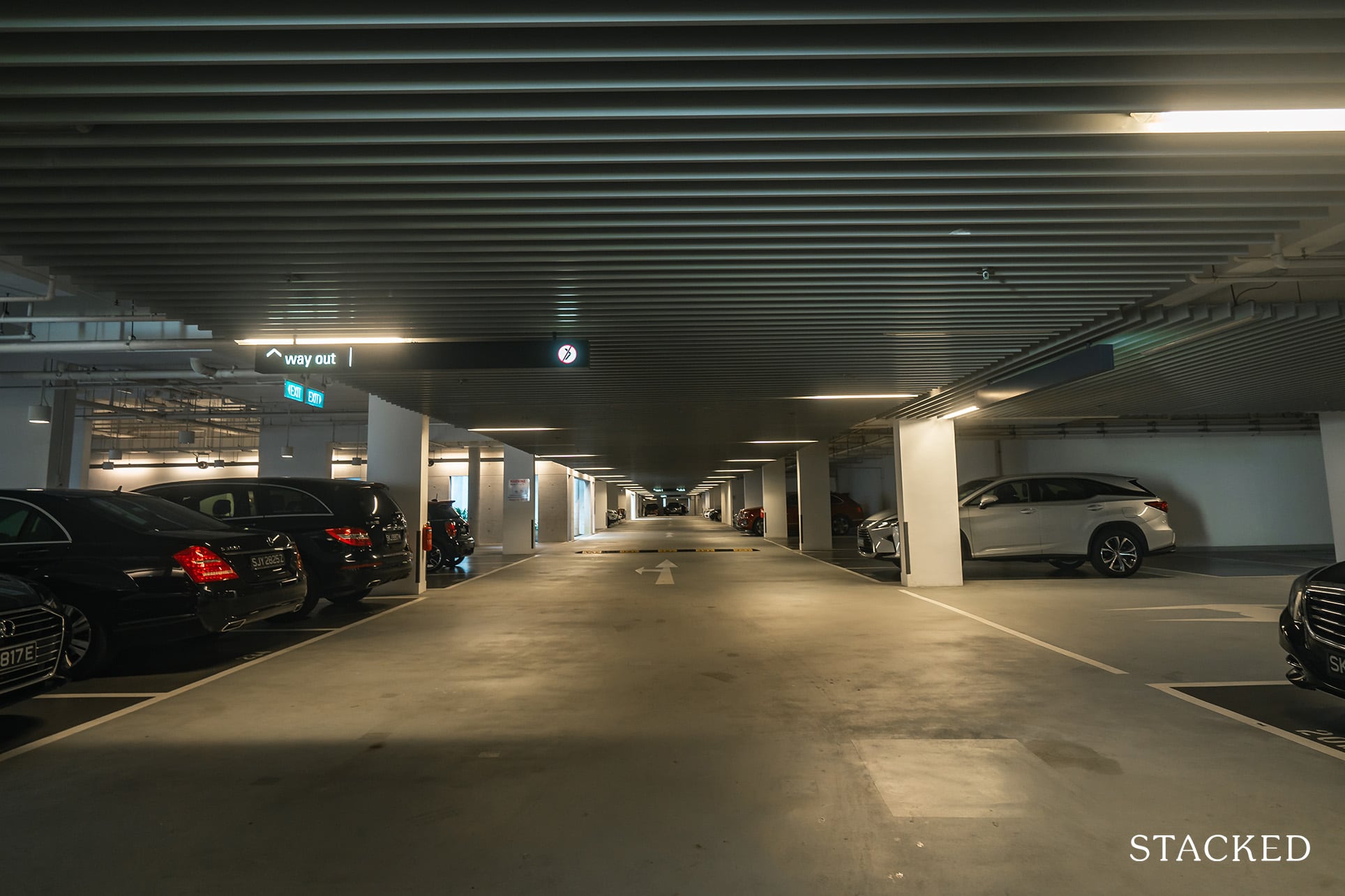 Carpark space is not an issue here.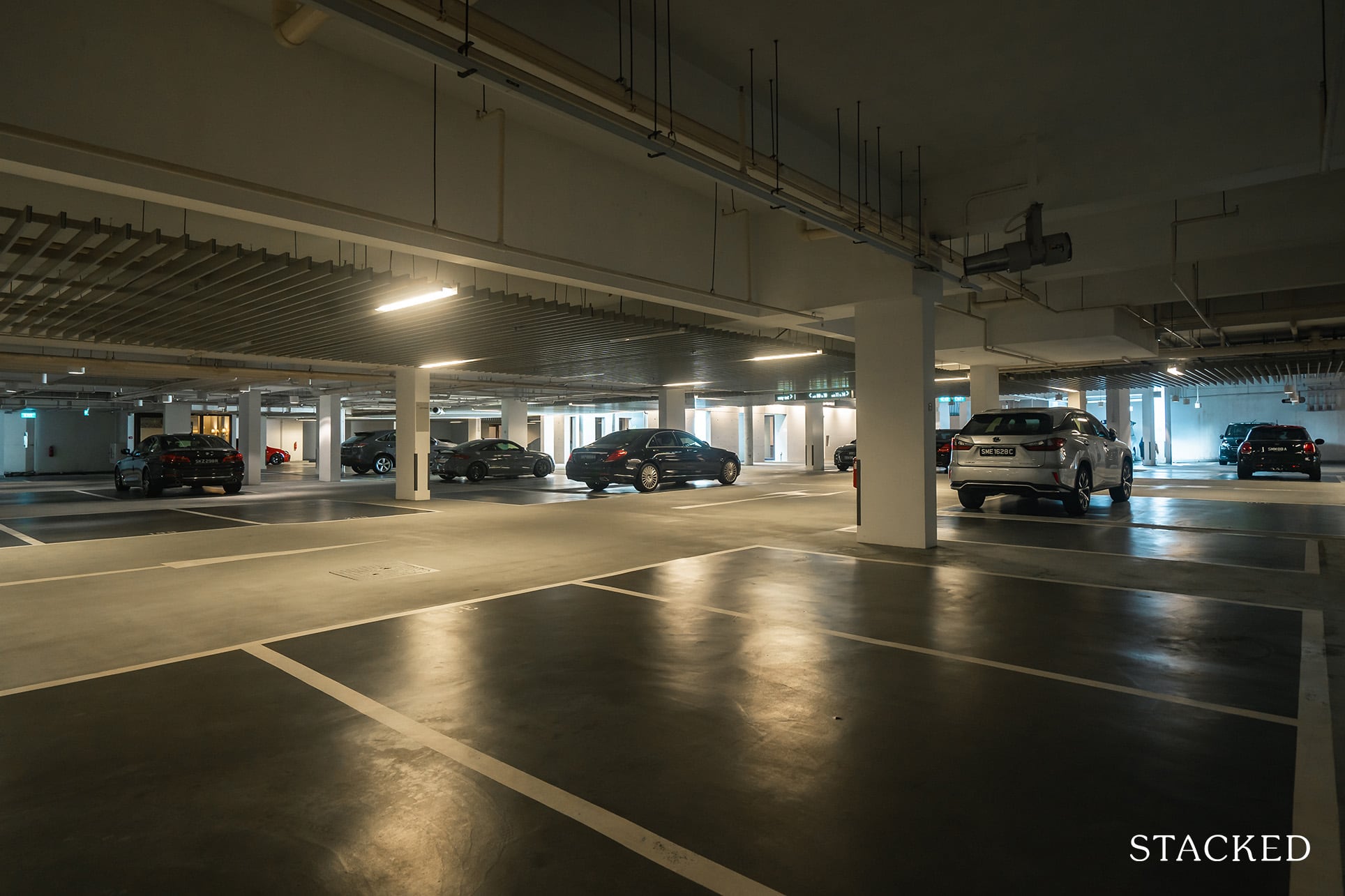 The lots are suitably wide and quite spacious.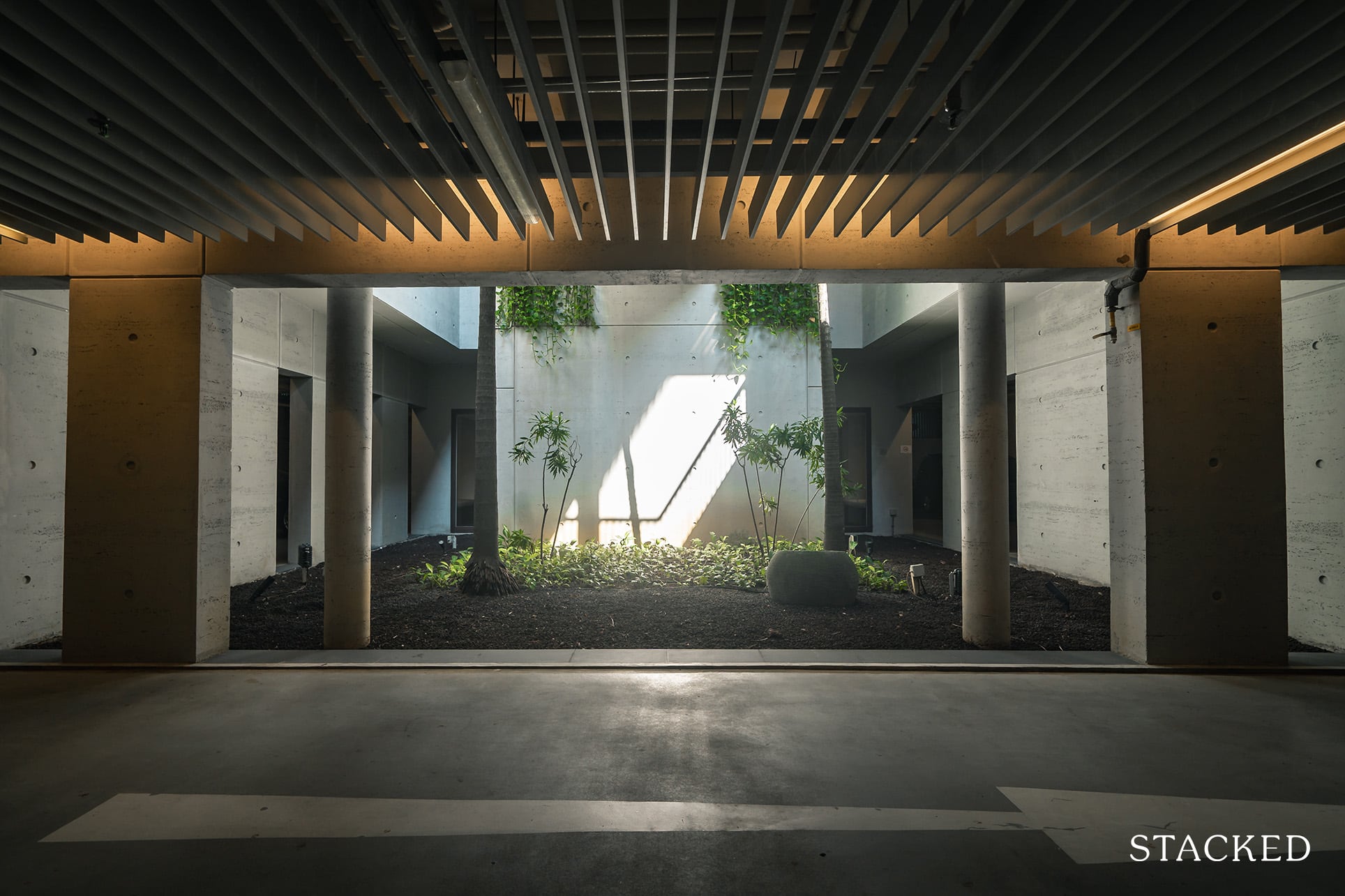 The carpark here feels especially bright and airy – no thanks to the surface level courtyards that let light into the basement carpark.
Goodwood Residence Location Review
Goodwood Residence's strategic location at the eastern tail-end of Bukit Timah Road means that it has access to some of Singapore's top-tiered clusters.

Novena, Orchard, Bukit Timah, Little India are just some of the enclaves that are simply a stone's throw from the condo.

Food and grocery options are seemingly abundant here, even if traffic jams might pose an issue to some residents.
Public Transport

| | | |
| --- | --- | --- |
| Bus Station | Buses Serviced | Distance From Condo (& Est. Walking Time) |
| 'Balmoral Plaza' | 48, 66, 66B, 67, 170, 170A, 171, 700, 700A, 960, 960e | 270m, 3-min walk |
| 'Newton Stn Exit A' | 5, 54, 124, 128, 143, 162, 162M, 167, 167e, 171, 700, 700A, NR1 | 750m, 9-min walk |
Closest MRT: Newton MRT – 550m, 7-min walk

While the path to the Newton MRT station isn't fully sheltered, there are some trees that do provide the occasional shade against the often harsh sunlight. On that note, an umbrella is usually a must on rainy days.

Newton MRT is a single stop from Orchard MRT (2-min ride) and is 5 direct stops away from the CBD/Raffles Place MRT (9-min ride).

Residents will also find that there are a number of buses that service the closeby clusters (Little India, Novena etc.) – and can therefore decide between the MRT lines or Bus routes, depending on current traffic circumstances.

Private Transport
| | |
| --- | --- |
| Key Destinations | Distance From Condo (& Est. Peak Hour Drive Time) |
| CBD (Raffles Place) | 6.9km, 20-min drive |
| Orchard Road | 3km, 8-min drive |
| Suntec City | 6.1km, 15-min drive |
| Changi Airport | 21.2km, 22-min drive |
| Tuas Port (By 2040) | 37.9km, 45-min drive |
| Paya Lebar Quarters/Airbase (By 2030) | 13.9km, 22-min drive |
| Mediapolis (and surroundings) | 8km, 20-min drive |
| Mapletree Business City | 9.5km, 25-min drive |
| Tuas Checkpoint | 27.2km, 35-min drive |
| Woodlands Checkpoint | 18.7km, 30-min drive |
| Jurong Cluster (JCube) | 14.5km, 25-min drive |
| Woodlands Cluster (Causeway Point) | 18.9km, 25-min drive |
| HarbourFront Cluster (Vivo City) | 7.6km, 20-min drive |
| Punggol Cluster (Waterway Point) | 19.8km, 30-min drive |
*Note that Drive Times are calculated during Peak Hours

Immediate Road Exit(s): 1 Exit along Eastern-End of Bukit Timah Road

Summary: There is only one entrance to Goodwood Residence along Bukit Timah Road, but that area is infamous for traffic jams during the peak hour – especially because the entrance to the development is just outside the roundabout at Newton Circus and the exit from the Newton flyover. Another reason is because this is the main road that connects from Orchard and CBD area to many of the private homes along Bukit Timah.

Groceries

| | |
| --- | --- |
| Name of Grocery Shop | Distance From Condo (& Est. Walk Time) |
| Cold Storage – United Square | 900m, 6-min drive |
| FairPrice – Scotts Square | 1.07km, 5-min drive |
| Jason's – Ion | 1.08km, 6-min drive |
Schools

| | |
| --- | --- |
| Educational Tier | Number of Institutes |
| Preschool (within 1km walk) | 2 |
| Primary (3km-drive) | 6 |
| Secondary (3km-drive) | 4 |
| International School (3km-drive) | 3 |
| Junior College (5km-drive) | 4 |
| University (5km-drive) | 1 |
Additional Pointers

Environmental and green features
Goodwood Residence has a number of innovative green features that have enabled it to receive the BCA Green Mark Platinum which is the highest rating that can be achieved currently. Climate change is a real and serious threat to an island nation like Singapore, so advocates of sustainable living will be glad to see the features here that contributes to that.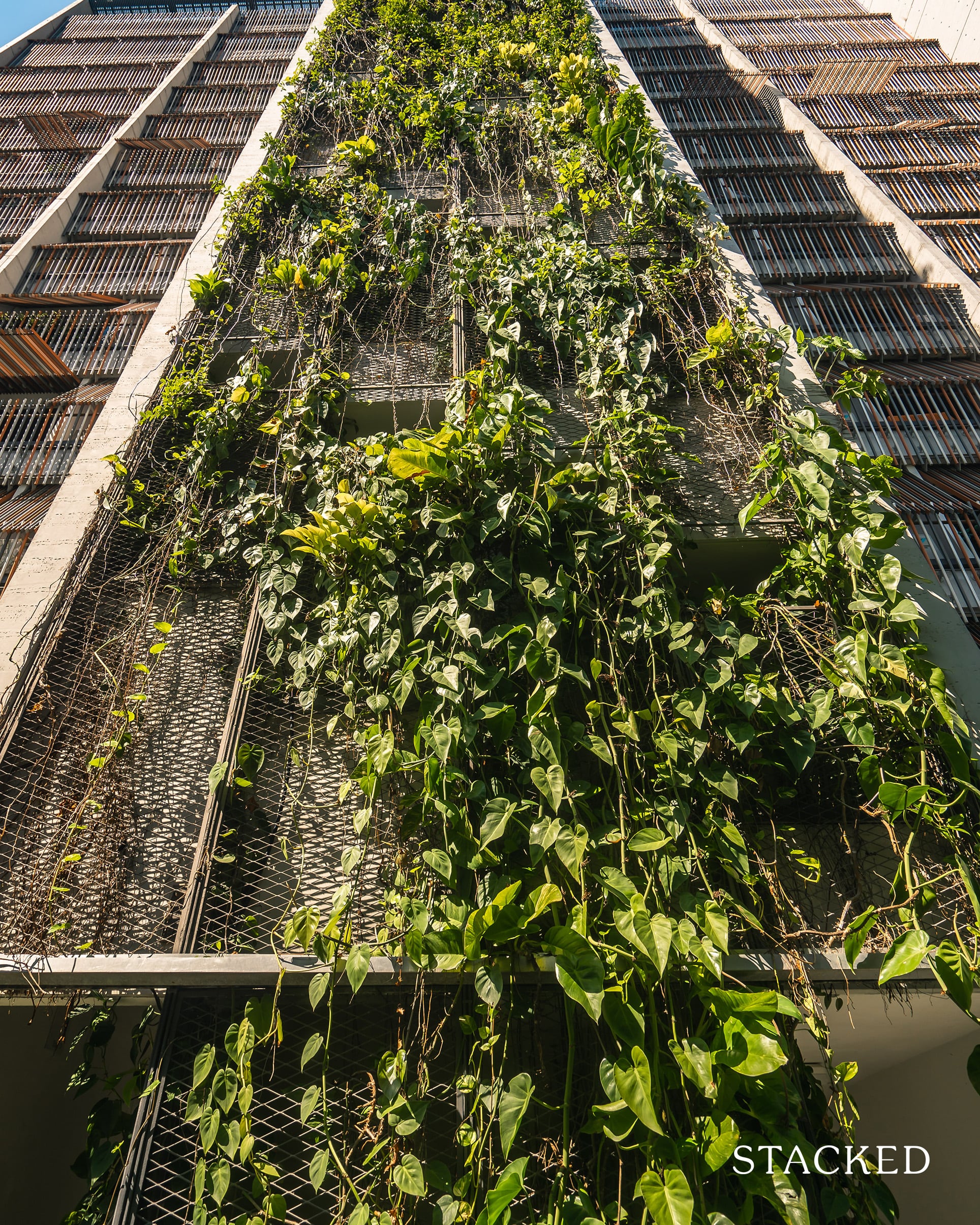 The creepers on the facade are not just for beautifying the place, it naturally cools it down as well.
Goodwood Residence also has a self-sustaining irrigation system that takes in rainwater, irrigation water run-off and underground water to water the plants during the dry seasons.
There are also separate rubbish chutes for normal and recyclable waste at the common service lobbies – these are connected to a pneumatic waste system for ultimate convenience.
Lastly, all the internal walls of the Goodwood Residence are built from reclaimed material.
Because of all the sustainable features that was designed during the early onset of planning for the development, it only added a 1% extra in construction cost. More importantly, it actually saves an estimated $600,000 in annual utility bills – which is about a 20% reduction in monthly maintenance costs.
Another important feature is the single-loading of the units – which means you get cross ventilation which allows for a good flow of wind. During certain parts of the year you might not even need any air-conditioning!
With many Singaporeans placing a strong emphasis on education, it's really no wonder that many of the top schools in Singapore have such high demand. Some of the more popular schools nearby include Anglo-Chinese School, St Joseph's Institution, and Singapore Chinese Girls School. In fact, Anglo-Chinese School (Primary) is at an extremely walkable distance away.
Goodwood Residence Development Site Review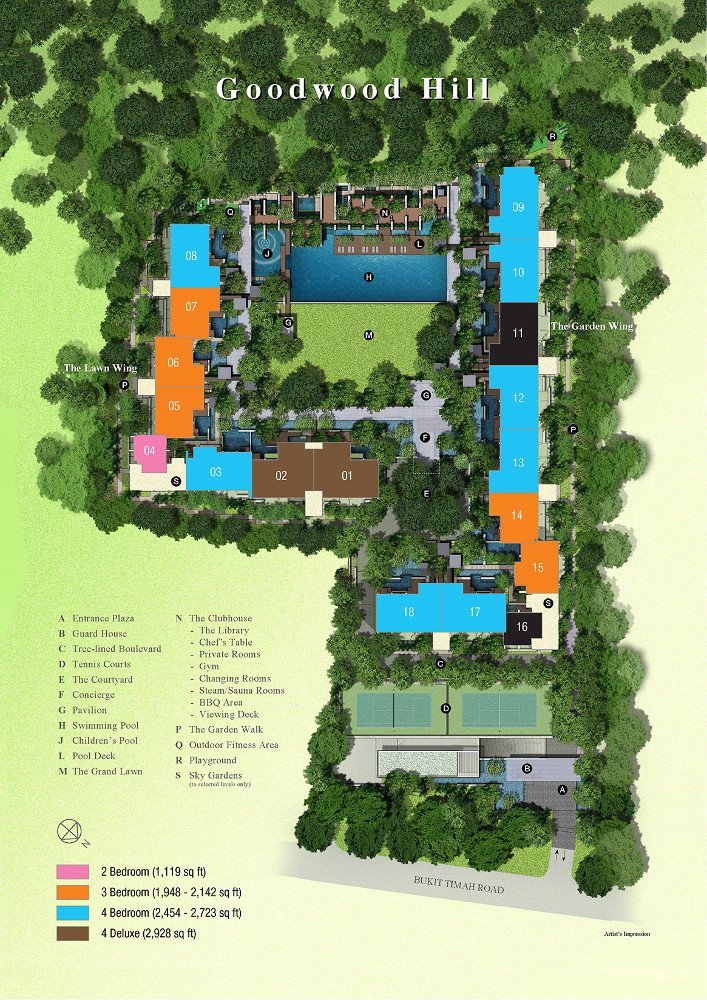 At a land area of 267,460 square feet, Goodwood Residence is not the largest when it comes to land size – but it has very generous proportions when you take into account its 210 units. Just to put things into perspective, Cyan condo down the road has 278 units on a smaller plot of 161,000 square feet, and even at that size the spaciousness is undeniable.
Like I mentioned earlier in the review, one of, if not the biggest attribute of Goodwood Residence is the shared boundaries with Goodwood Hill. You can see it much clearer from the site plan here that most of the development has been angled to face the lush greenery of Goodwood Hill.
It's a deliberate choice too – with 80% of the land dedicated to its landscaping and facilities. It makes the whole place feel synonymous with nature – as if the clubhouse is the only thing separating you from the greenery of Goodwood. For a resort-vibe lifestyle it really doesn't get much better than this.
You don't get a huge range of facilities here like the Sims Urban Oasis, but you definitely get the standard few – tennis court, gym, and swimming pool. The difference is really the quality – everything here is done up till such a high standard.
Best Stacks

Unit Mix

| | |
| --- | --- |
| Unit Type | Size of Units (sqft) |
| 2 Bedroom | 1,119 sqft |
| 3 Bedroom | 1,948 – 2,142 sqft |
| 4 Bedroom | 2,454 – 2,680 sqft |
| 4 Bedroom Deluxe | 2,928 sqft |
| Penthouses | 3,918 – 8,450 sqft |
There's no doubt that Goodwood Residence is prime for luxury condo buyers. Unit sizes here are on the bigger scale of things, you just don't get large living spaces like these in new launches anymore.
Just look at the 2 bedroom units at 1,119 square feet – that's bigger than some 3 bedroom units in some of the newer condos today!
For families looking for luxurious yet spacious living for their home, you really aren't going to get much bigger spaces than these.
Best Stacks
No doubt the best stacks in Goodwood Residence are 1 and 2. Direction for units here is NE-SW which is ideal and if you clear the landed houses facing Bukit Timah, views both ways are unblocked.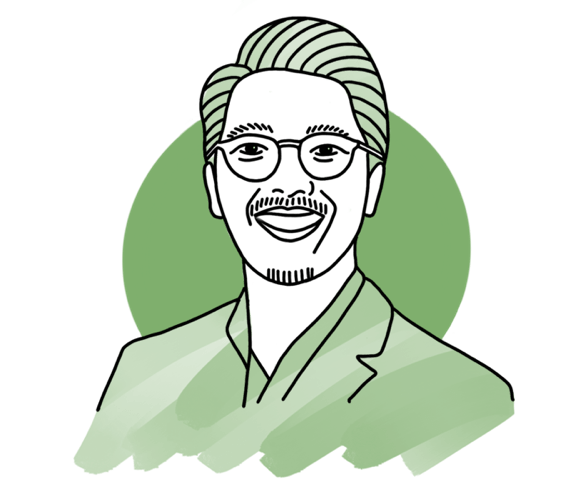 Insider Tip
"For ultimate luxurious family living, the 4 bedroom deluxe in Stack 1 will be the best option."
Ryan Ong,
Real Estate Specialist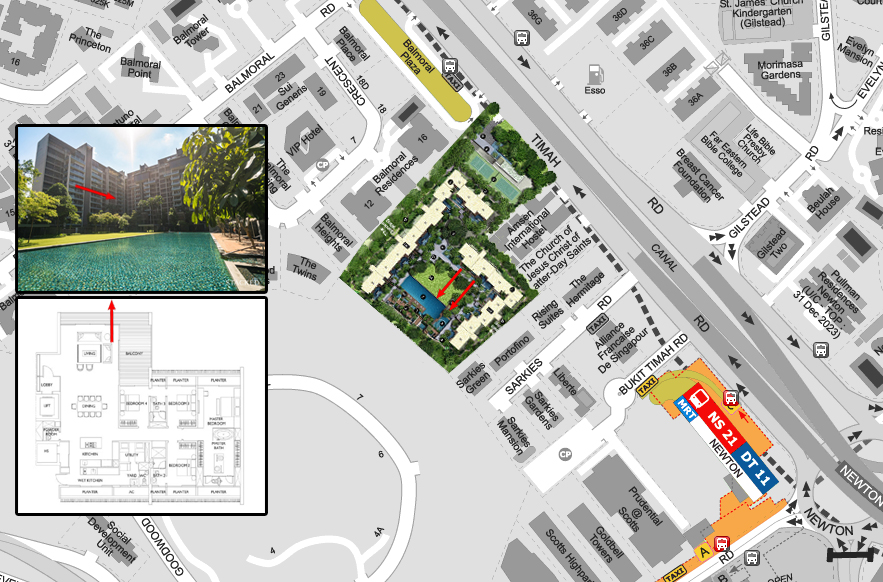 If you look at the floor plan for the 4 bedroom deluxe, it has been designed especially so that you are able to open both the balcony and planter at the wet kitchen to allow the wind to flow through the house.

Prices for Goodwood Residence
Price Breakdown (1st Property)
2-Bedroom
3-Bedroom
4-Bedroom
4-Bedroom Deluxe
Penthouse
Price
$2,899,329
$4,800,890
$6,699,420
$7,399,056
$17,002,494
25% Down Payment
$724,832
$1,200,223
$1,674,855
$1,849,764
$4,250,624
Additional Costs
Buyer Stamp Duty
$100,573
$176,636
$252,577
$280,562
$664,700
Legal Fees
$2,500
$2,500
$2,500
$2,500
$2,500
Valuation Fees
$300
$300
$300
$300
$300
Stamping Fees
$500
$500
$500
$500
$500
Total Price
$3,003,202
$4,980,826
$6,955,297
$7,682,918
$17,670,494
Initial Investment Amount
$828,705
$1,380,158
$1,930,732
$2,133,626
$4,918,623
Return on Investment
Expected Rental Price
$5,036
$9,456
$12,515
$15,518
$24,165
Rental Yield
2.01%
2.28%
2.16%
2.42%
1.64%
Price (2nd Property)
2-Bedroom
3-Bedroom
4-Bedroom
4-Bedroom Deluxe
Penthouse
Cost Without ABSD
$3,003,202
$4,980,826
$6,955,297
$7,682,918
$17,670,494
Plus: ABSD (12%)
$347,919
$576,107
$803,930
$887,887
$2,040,299
Total Price After ABSD
$3,351,122
$5,556,932
$7,759,227
$8,570,805
$19,710,793
Initial Investment Amount
$1,176,625
$1,956,265
$2,734,662
$3,021,513
$6,958,923
Return on Investment
Expected Rental Price
$5,036
$9,456
$12,515
$15,518
$24,165
Rental Yield
1.80%
2.04%
1.94%
2.17%
1.47%
The Bukit Timah/Balmoral area has a ton of condos – so if you are looking at this immediate area you have a lot to choose from. Not to mention just beyond Stevens Road where you start creeping into the Draycott/Ardmore territory.
But I think it's fair to say that at the luxury end of it, Goodwood Residence is probably one of the top choices of the area – and it isn't even the highest in terms of PSF. The upcoming Pullman Residences and the existing Reignwood Hamilton Scotts (the one with the sky garages) are all currently higher priced.
That said, because the unit sizes are big, the final quantum is actually rather sizeable – even for the luxury market. So if the location and proximity to schools are higher up in your list of criteria you really have quite a few options to choose from – Trilight and Goodwood Grand come to mind.
If unit size isn't a priority, Sloane Residences, Pullman Residences, and The Hyde are all options to consider. They might have higher $PSF, but final quantum comes in at a more palatable rate given the smaller unit sizes.
Goodwood Residence Appreciation Analysis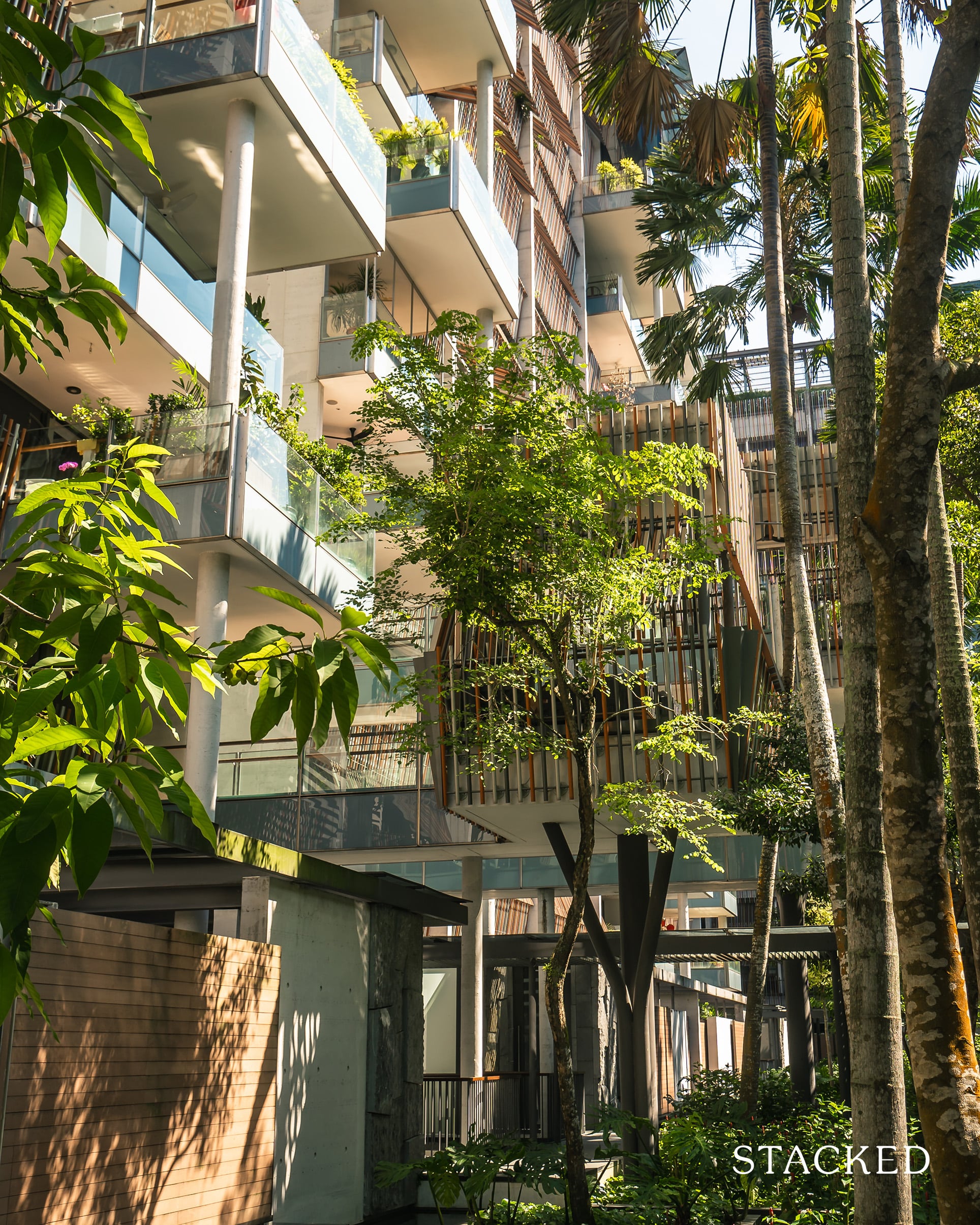 If you look at the highest appreciating districts in recent years, District 10 has actually come in at number 6 on the list – appreciating 29.82% in the past 6 years.
But that appreciation is mostly due to the new launches in the area as District 10 is already quite fully built up – so appreciation in the district will solely rely on rejuvenation in the area through constant redevelopment. You can already see it with new launches like Kopar, Pullman Residences, 35 Gilstead, Neu @ Novena, Juniper Hill, and Sloane Residences. This is in addition to the upcoming Chancery Court and City Towers redevelopment as well. District 10 will always remain a strong pull for residential living as a premium district, and that's not going to change any time soon.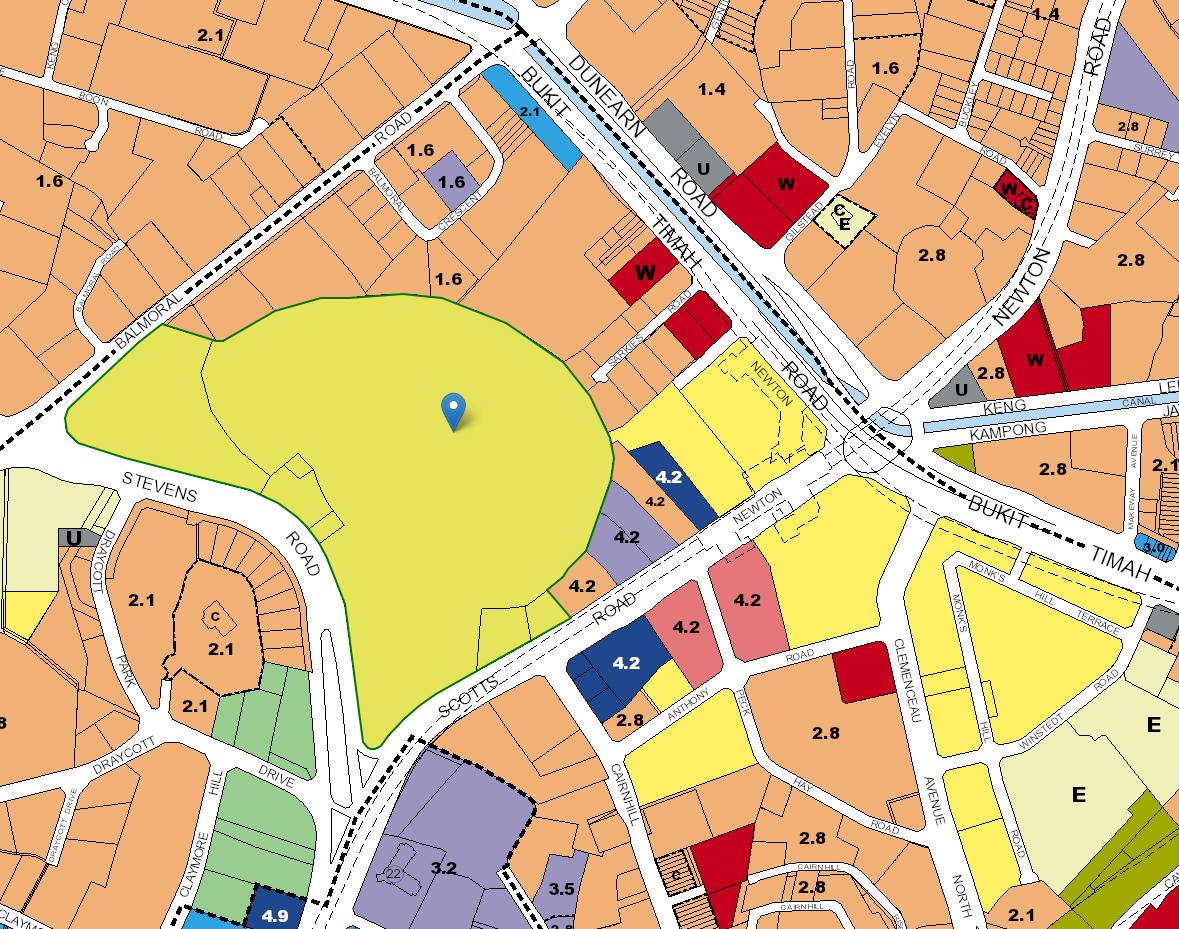 Taking a closer look at the Master Plan in the surrounding area, you can see that there is quite a lot of land that are reserve sites – meaning that specific land use has not been determined. This includes the very large piece of land that Goodwood Hill sits on, as well as the plots directly next and opposite to Newton MRT station. Depending on what these sites will be in the future will definitely have an impact on the prices moving forward.
Our Take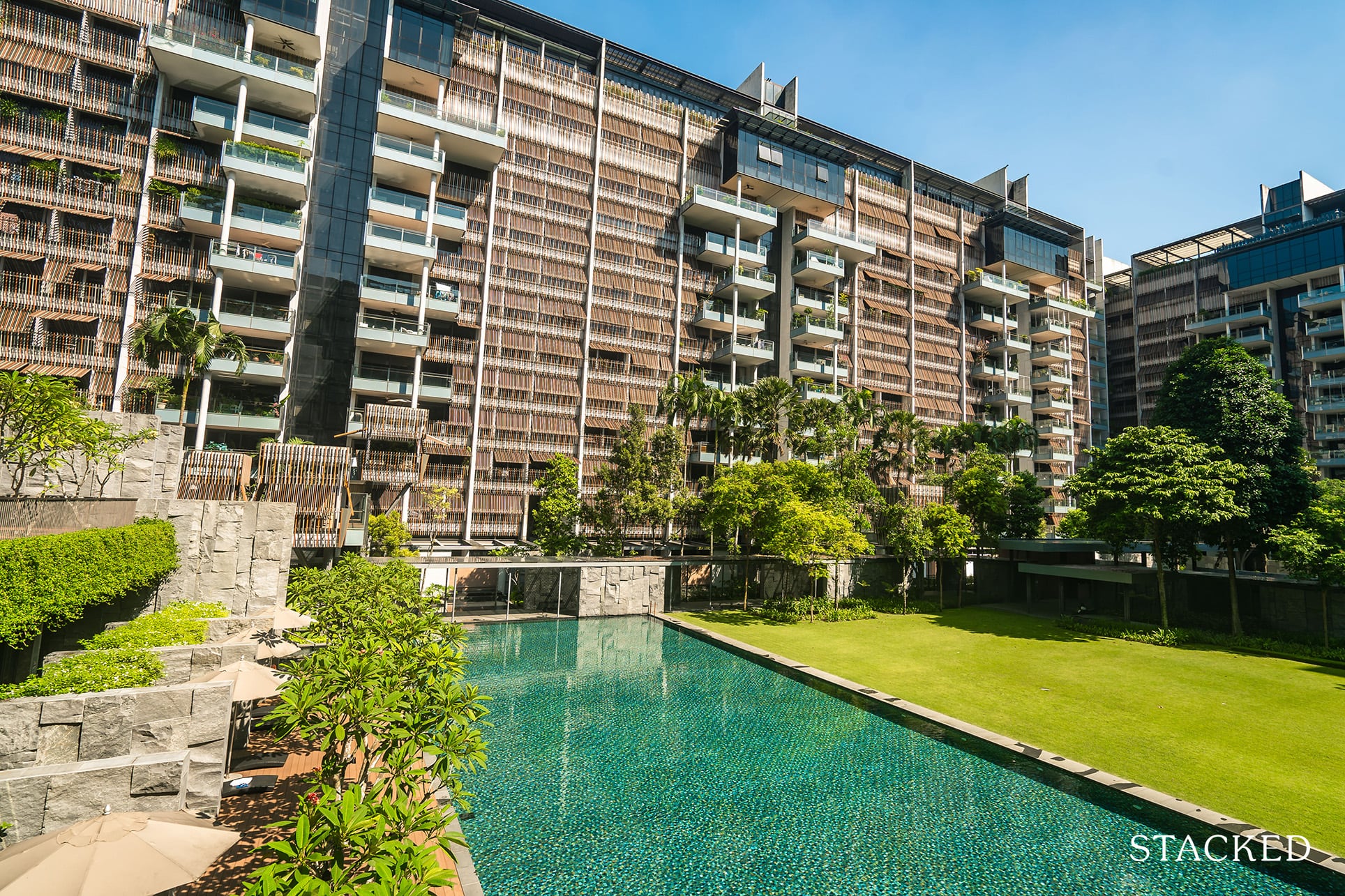 For homeowners looking to set up shop in the area, whether it be because of proximity to good schools or a city central location – Goodwood Residence is a very compelling offering.
Its big unit sizes will no doubt appeal to the well-heeled home buyer – especially as current trends are towards smaller units.
The biggest issue facing buyers would probably be the number of options in the area – they are basically spoilt for choice even when it comes to the high-end segment.
But when you think about the unblocked greenery views, the privacy and exclusiveness – its tough to really put a price to that. So if those are the things that you prize in a home – it's easy to see the value that Goodwood Residence brings.
What this means for you
You might like Goodwood Residence if you:
• Like big unit sizes:Above average indoor living spaces are available for all unit types here.
• Want the exclusive lifestyle:Not many people can boast of unblocked greenery views, especially in such a central location like this.
You might not like Goodwood Residence if you:
• Want ultimate convenience:Goodwood Residence is close by to everywhere – if you drive. If you want ultimate convenience to shops and amenities you are still better off in Orchard.
• Enjoy sky-high views:As the highest level is 12-storeys, you'll never enjoy the towering city views from here.
End of Review