Condo Reviews

Gallop Gables Condo Review: Future en bloc potential?
Sean
May 6, 2019

13

min read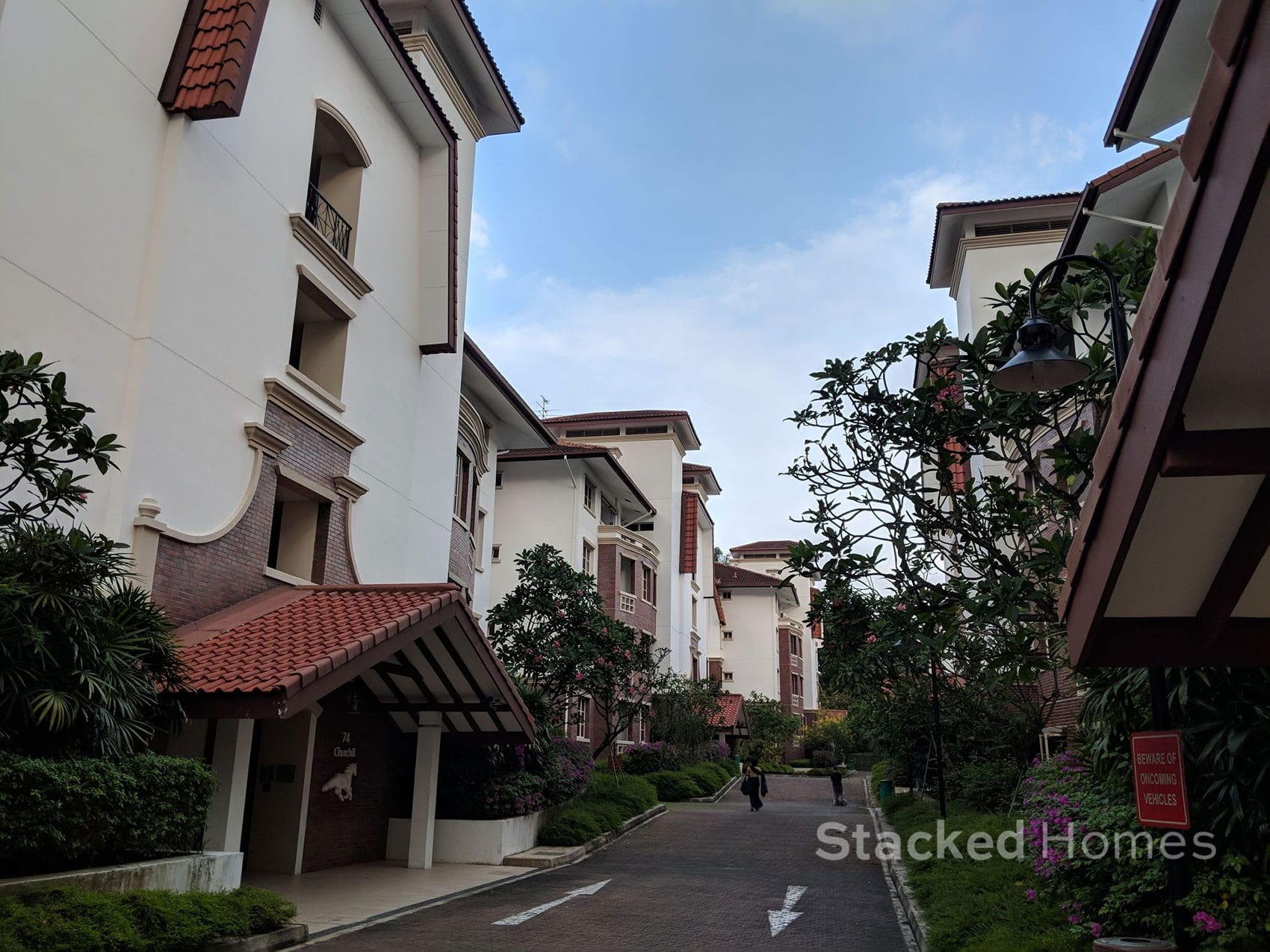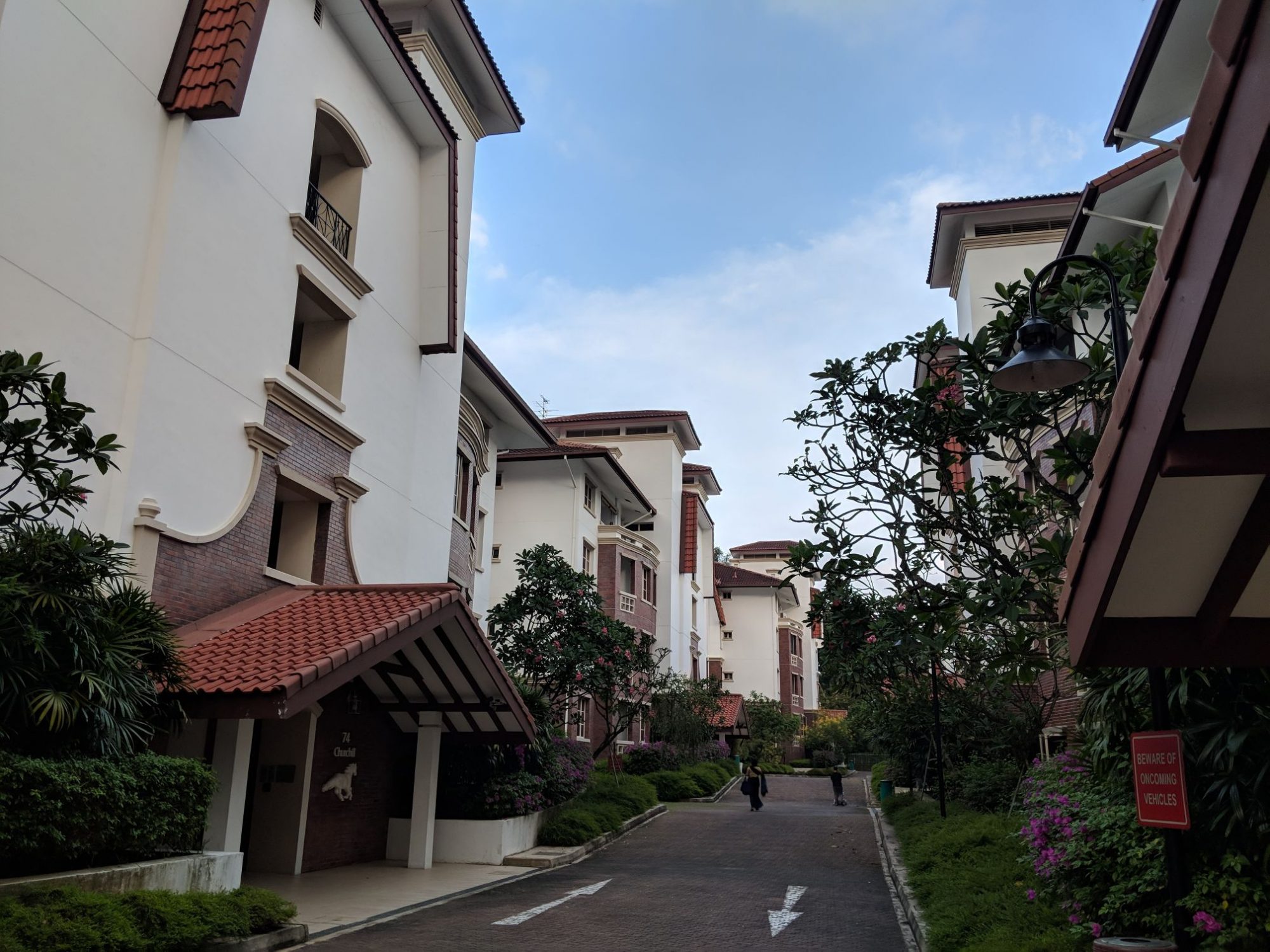 Gallop Gables has good long term en bloc potential. If you can look past the older exterior it is a quiet development for your own stay.
Reviewed by Sean on May 06, 2019
What we like
MRT right outside

Close to main road yet quiet

Big land and few units

Modern Gym
What we don't like
—

Small swimming pool

—

Exterior not our cup of tea
13
min read
About this condo

| | | | |
| --- | --- | --- | --- |
| Project | Gallop Gables | District | 10 |
| Address | Farrer Road | Tenure | Freehold |
| Site Area | 23,528 sqm | No. of Units | 140 |
| Developer | Straits Development Pte Ltd | TOP | 1997 |
Gallop Gables condo is an easy one to miss in the Farrer Road area. The entrance is nondescript and its older design is overshadowed by newer developments like the D'Leedon and Leedon Residences. Yet if you look past its exterior, it has 250,000 square feet of land space with only 140 units. It has coveted freehold status and is walking distance to the MRT. So if you are not too fussy about the exterior of the development, will the Gallop Gables condo be a good option for you? Read on to find out more!
Gallop Gables Condo Review Location
We have reviewed two of Gallop Gables closer neighbours, Pollen and Bleu and Sommerville Park and we think that the Gallop Gables has the best location out of all the condos in that enclave. You can easily access the main Farrer Road and it is the nearest to Farrer Road MRT station, where the bus stop is located as well.
To get to Empress Road food centre and market you cannot cross the road directly. The only way is to head towards the overhead bridge at the MRT station. It is a slight detour but a much safer way to cross the road. Also, for the elderly, there is a lift at the overhead crossing. Which can be very convenient and is also sheltered all the way to the food centre. It might seem like a small thing but will come very handy in Singapore's tropical weather.
One annoying bugbear about the location of the Gallop Gables is during peak hours. This is because the right turn at Empress Road is not in action at those times. If you are coming down from Farrer Road towards the PIE, you will have to drive down to Serene Centre instead to make a U-turn. Outside the peak hours, Sunday afternoons tend to get chock a block as church services would have ended. Because you will have to take the leftmost lane to get to the development it can get quite frustrating if you are in a rush.
Like we have said in our other reviews, the Empress market is not the liveliest of places. However, for homemakers, the proximity makes it very convenient to be able to get fresh food when you need it. We also like that there are small shops there that would cater to most people's needs. Fruits, artisan bread and meat, clinics, dry cleaning and a 7 Eleven. Perhaps the only thing missing would be a supermarket, of which the nearest is a Cold Storage at Cluny Road.
In terms of food options, you can get a quick meal at Farrer Gardens HDB estate and even D'Leedon has a couple of cafes and shops to choose from. At Serene Centre you get a 24 hour McDonalds that has recently been revamped and a Killiney Kopitiam that transforms into a craft beer bar at night. Next to Serene is Cluny Court, which has a couple of interesting independent shops and food stops like Affogato Bar, Gastronomia by Da Paolo and Relish.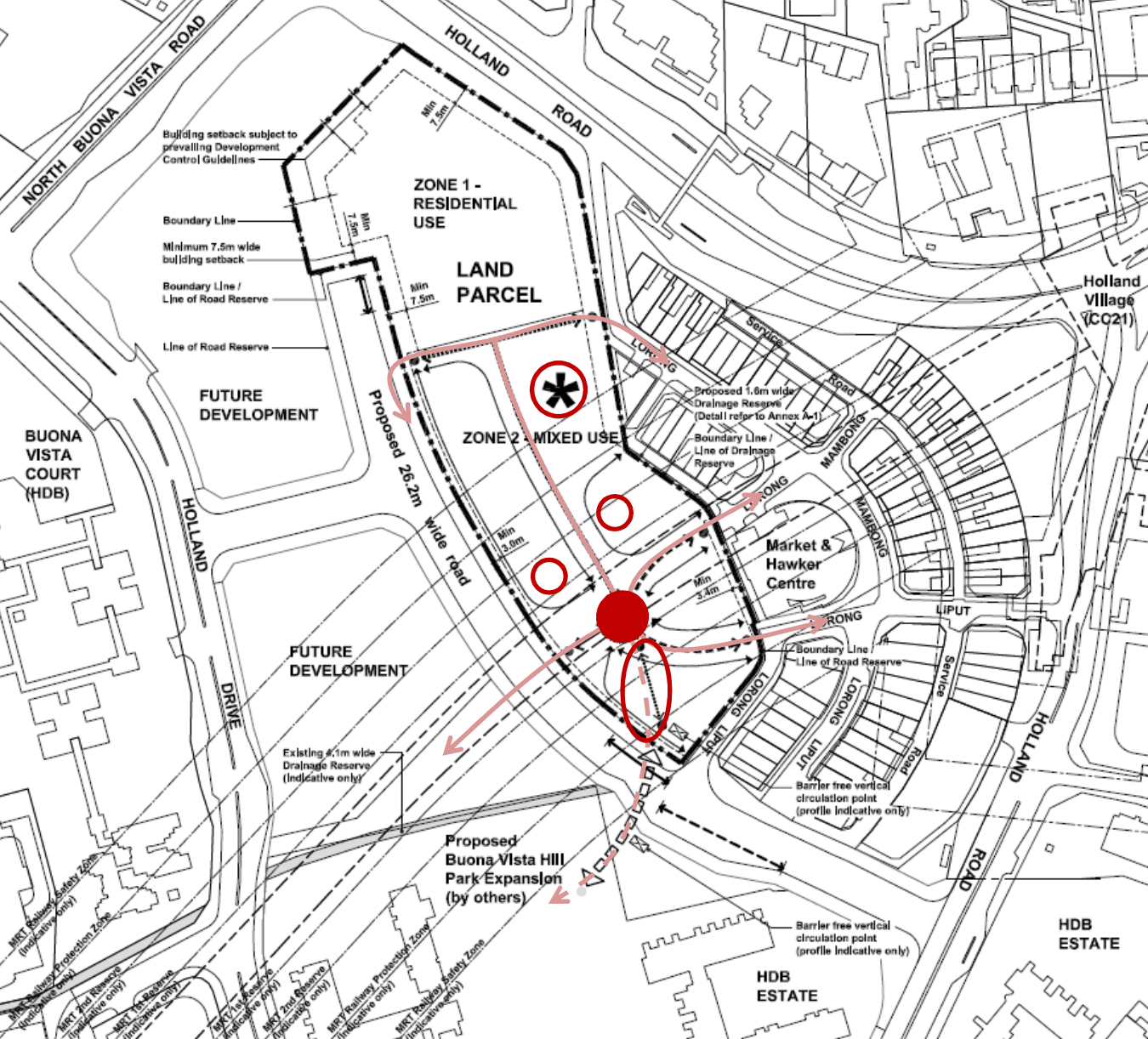 Holland Village is also just as close by to the Gallop Gables. It is currently going through a revamp, and once done will offer even more to residents with a mixed-used development and open courtyards and terraces. You can also reach the Orchard shopping belt in less than 10 minutes by car, which is another plus point towards the great location.
As for schools, Saint Margaret's Secondary School and Nanyang Primary School are within close walking distance. Within driving distance would be Raffles Girls Primary School, Queenstown Primary School, Nanyang Girl's High School, Hwa Chong Institution, National Junior College, Anglo-Chinese School (International) and Hwa Chong International Schools. So if being close to reputable schools is a priority for you, the Gallop Gables condo will tick that box.
Gallop Gables Condo Development Site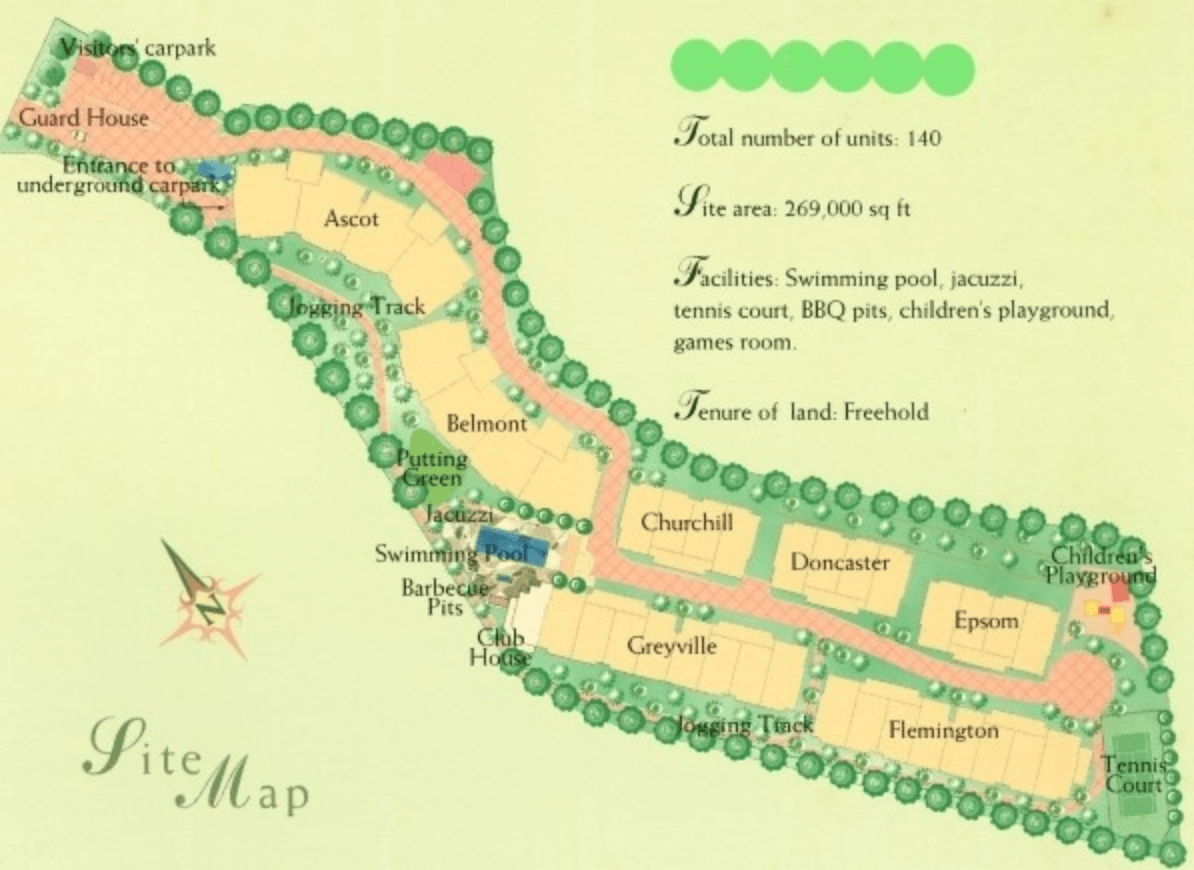 The Gallop Gables sits on a long irregular piece of land. The entrance of the condo is very narrow and widens as it gets to the blocks. This is why if you are unfamiliar with the development, you do not realise the potential of the land that it sits on as its entrance belies its size. Just to give you an illustration of the space that you enjoy, the Gallop Gables has 23,528 SQM of land which comes to 168 SQM per unit. D'Leedon at 69,402 SQM of land divides into 41 SQM per unit. Each unit at Gallop Gables enjoys 4 times the amount of space that residents at D'Leedon have, which is a huge difference! This is why if future en bloc potential is important to you, then Gallop Gables will be a prime candidate.
One downside of the size of this development is that if you are staying in the blocks at the back, it is actually quite a long walk to get to the main road. So if you do not drive, keep in mind the distance of the walk and whether it would be feasible for you to walk every day. Thankfully the underground carpark spans almost the entire length of the development so in the event of rain you are sheltered almost all the way.
Here is the unit mix of the Gallop Gables:
| Unit Type | No. of Units |
| --- | --- |
| 2-bedroom | 31 Units |
| 3-bedroom | 43 Units |
| 4-bedroom | 57 Units |
In keeping with older developments, the units at the Gallop Gables are large and spacious. The 2 bedroom units here start at 1152 square feet and go up to 3164 square feet for the 4-bedroom. This is in contrast to the upcoming Wilshire Residences, where a 2 bedroom unit is around 760 square feet. 

Insider Tour
Facilities in Gallop Gables
Swimming Pool
Gymnasium
Jogging Track
Tennis Court
Barbeque Pits
Playground
Clubhouse
Putting Green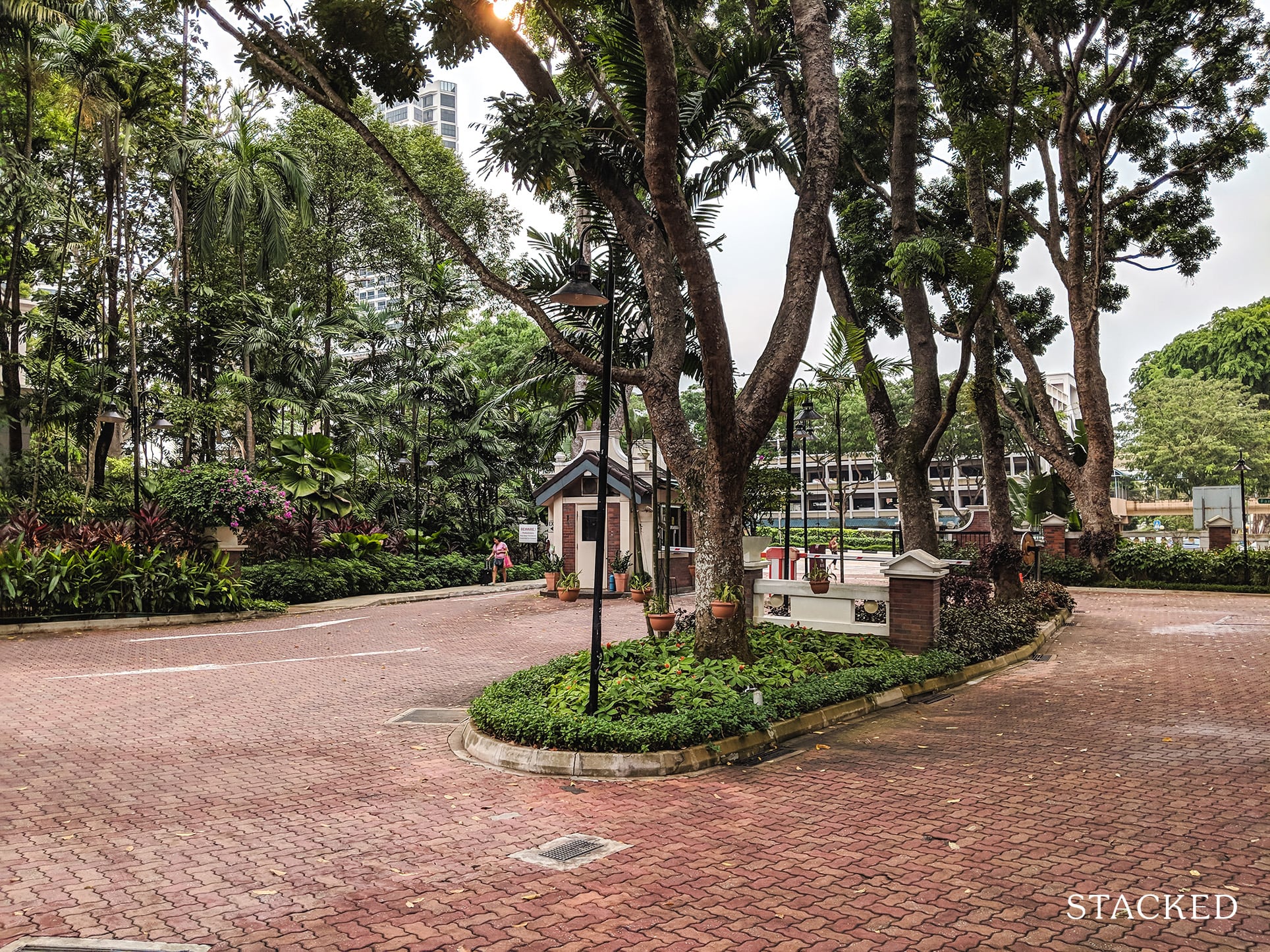 Gallop Gables resembles a very olden British style of architecture. The majority of the development is hidden behind this entrance, which allows for an almost perfect silent atmosphere away from the noise of Farrer Road. It would be nice if there was a sheltered walkway from the front, but this is typical of older developments.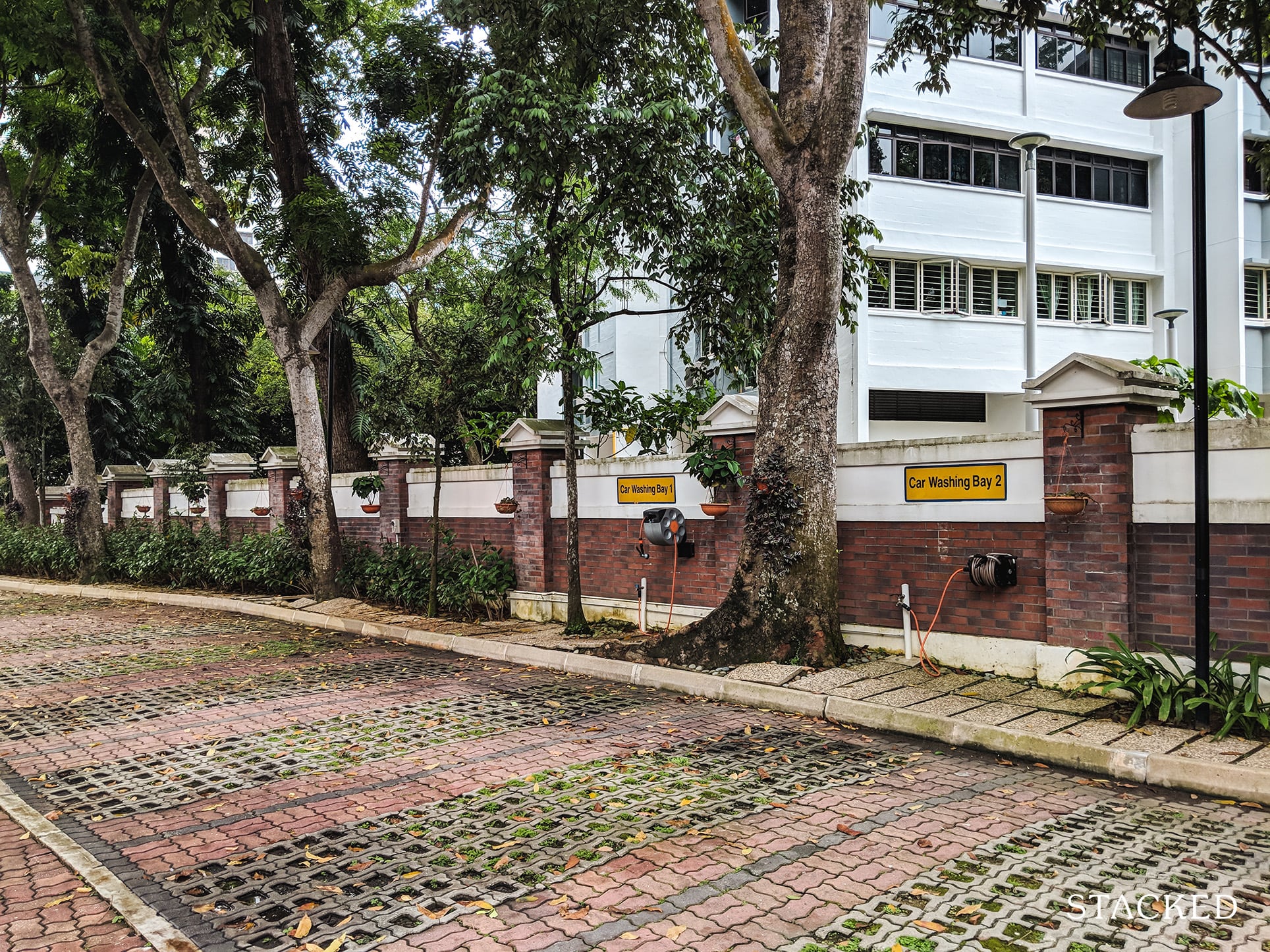 There is so much space at the front the development can afford two car washing bays. We would have preferred it to be in the underground carpark though, washing the cars under the afternoon sun sounds like a really tiring job!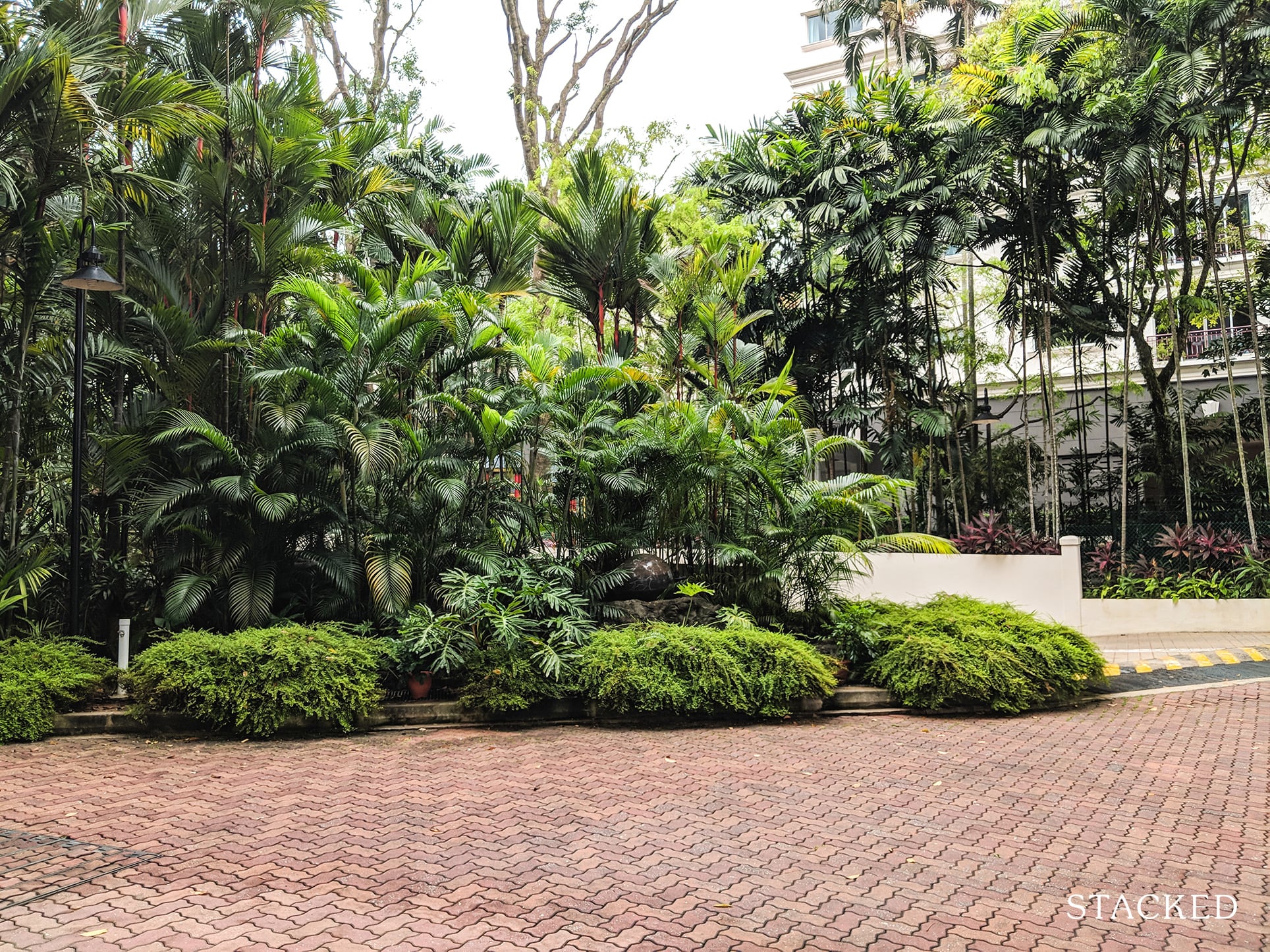 The entrance to the carpark is almost hidden by the greenery. We enjoyed the amount of foliage here, its a fine respite from the city on the outside.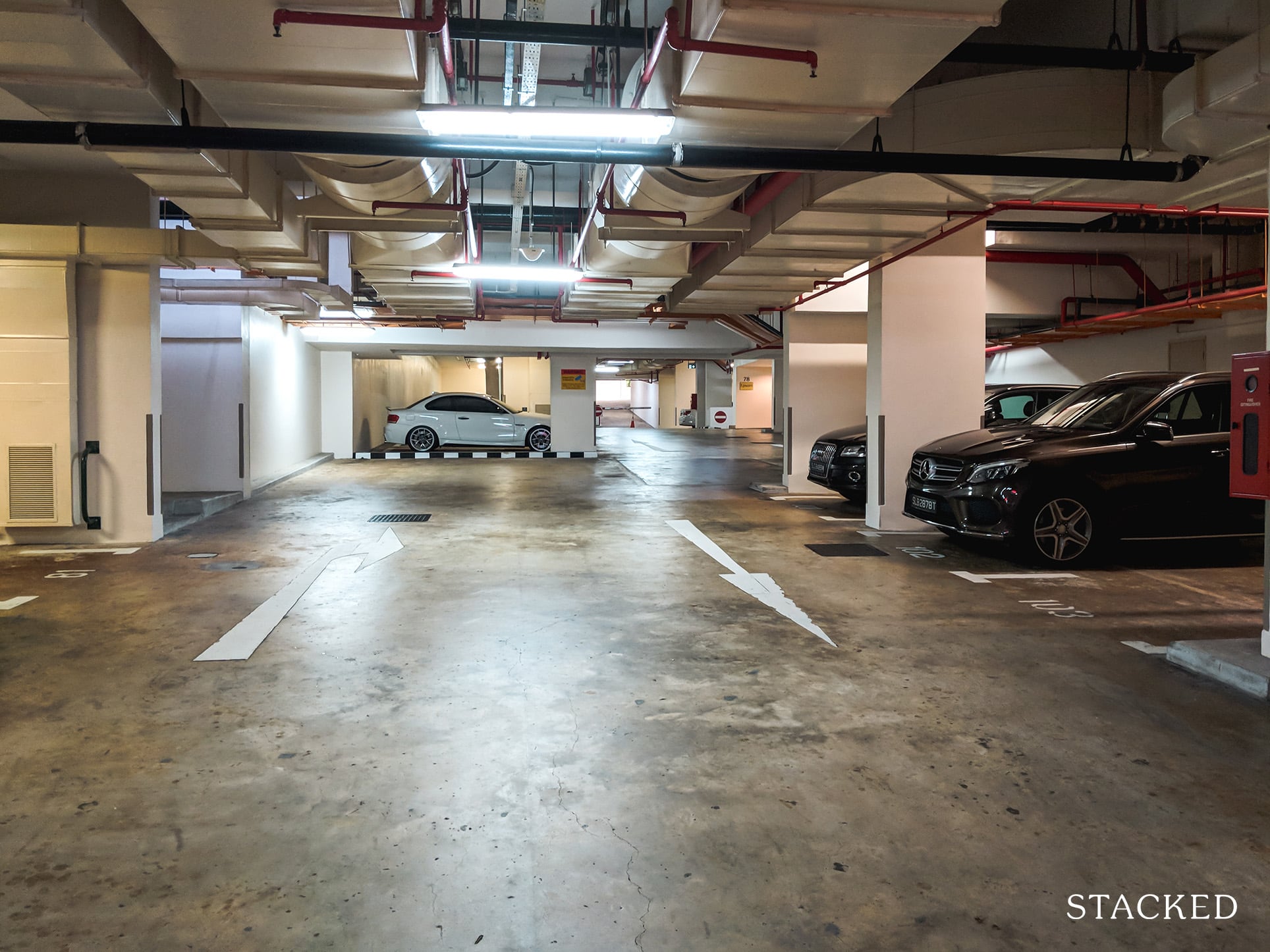 Could this be the longest carpark in Singapore? Because of the length, there are a couple of really big bumps to prevent people from speeding inside.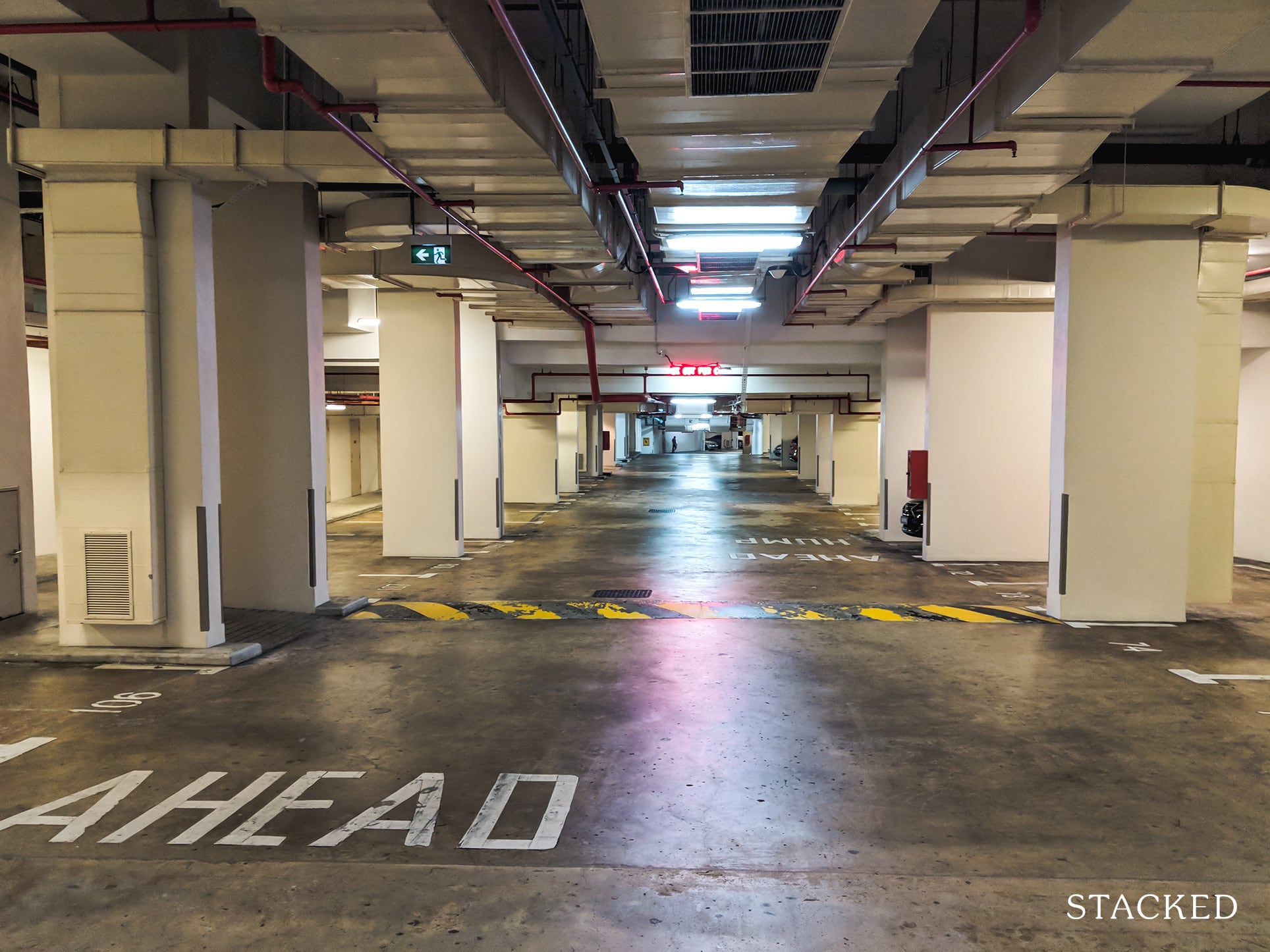 We think there should be more than enough carpark in the Gallop Gables, judging by the number of empty lots.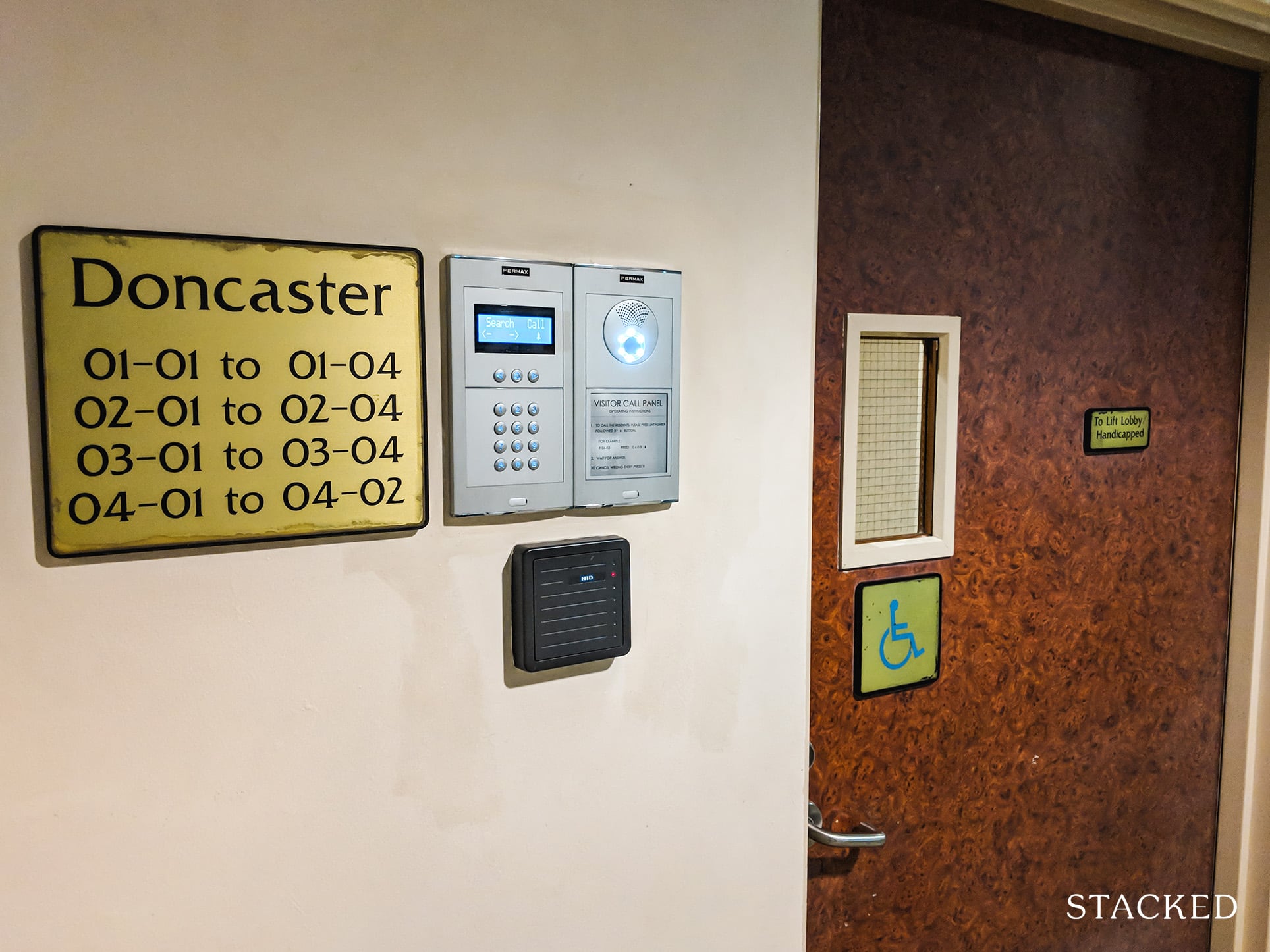 You will need the resident keycard to access the lift. For visitors, they will have to dial-up to gain access. One useful feature at the basement are store rooms for each unit that can be used to keep bulky items. The location makes it easy to store items from your car while still keeping your home relatively clutter free.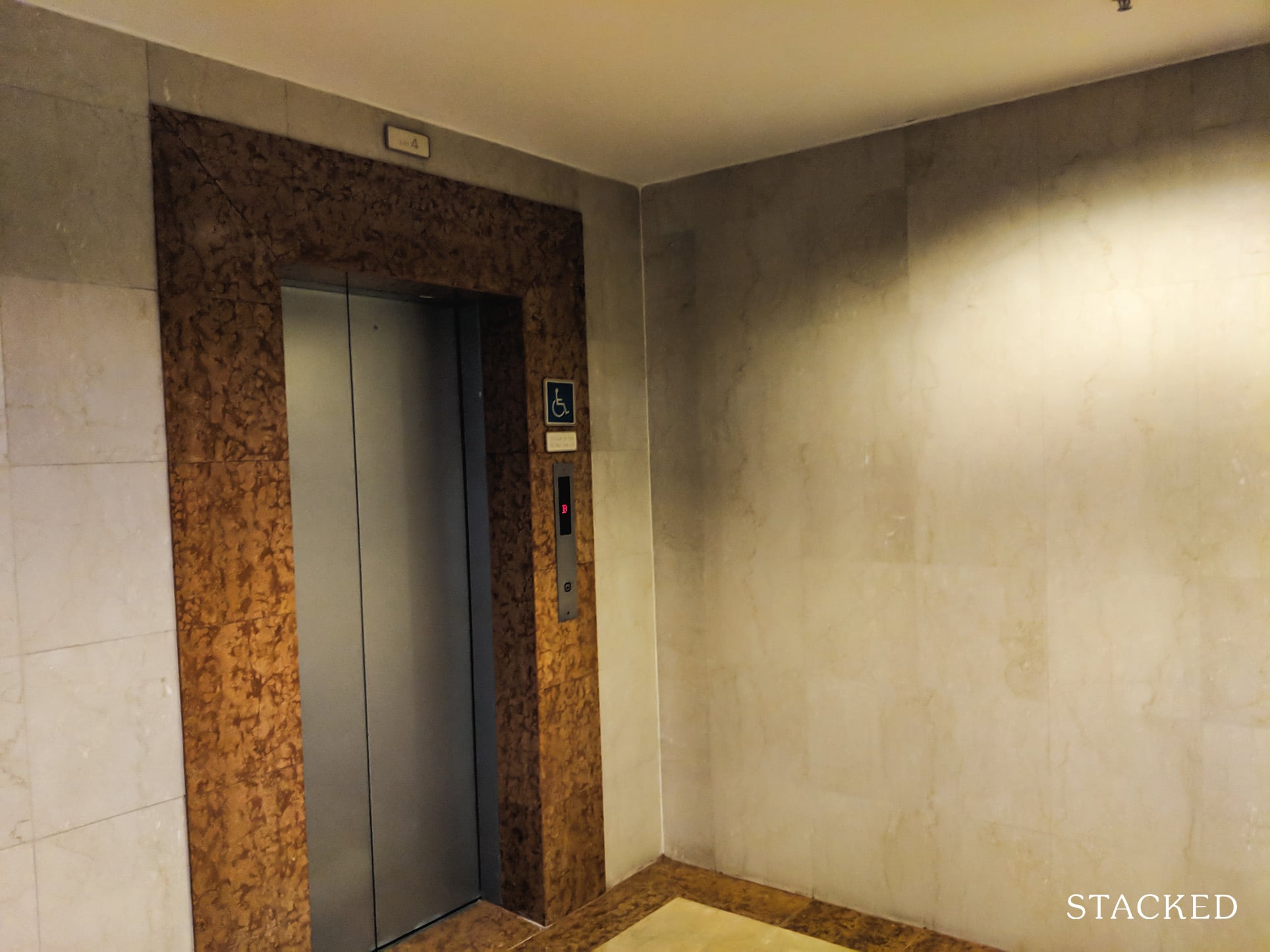 The lift lobby is surprisingly air-conditioned, which is great on a hot sunny day.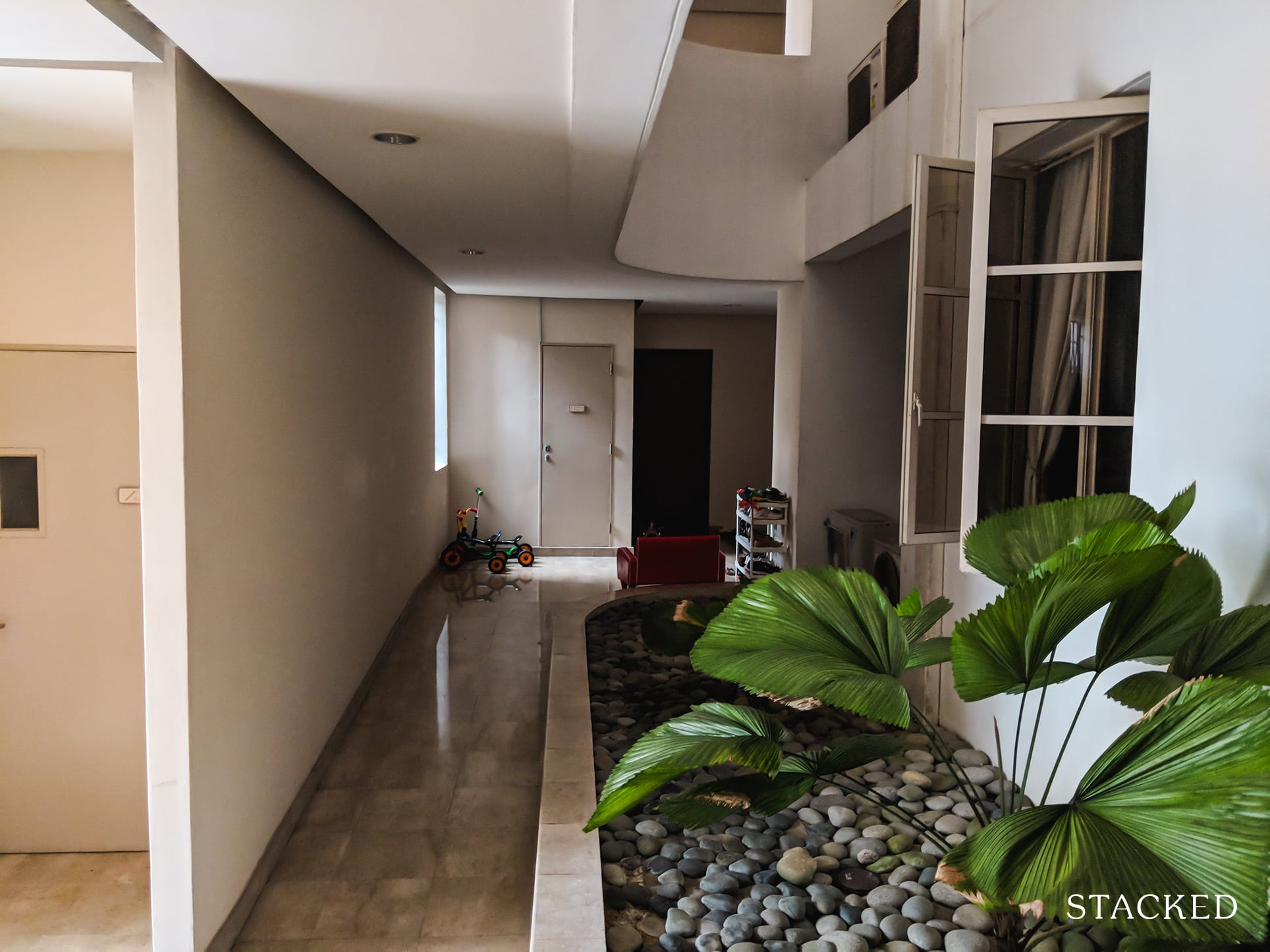 This is the first level that leads to different units. We really do not like the open corridors of the Gallop Gables, they are dark and do not give a good first impression to visitors at all.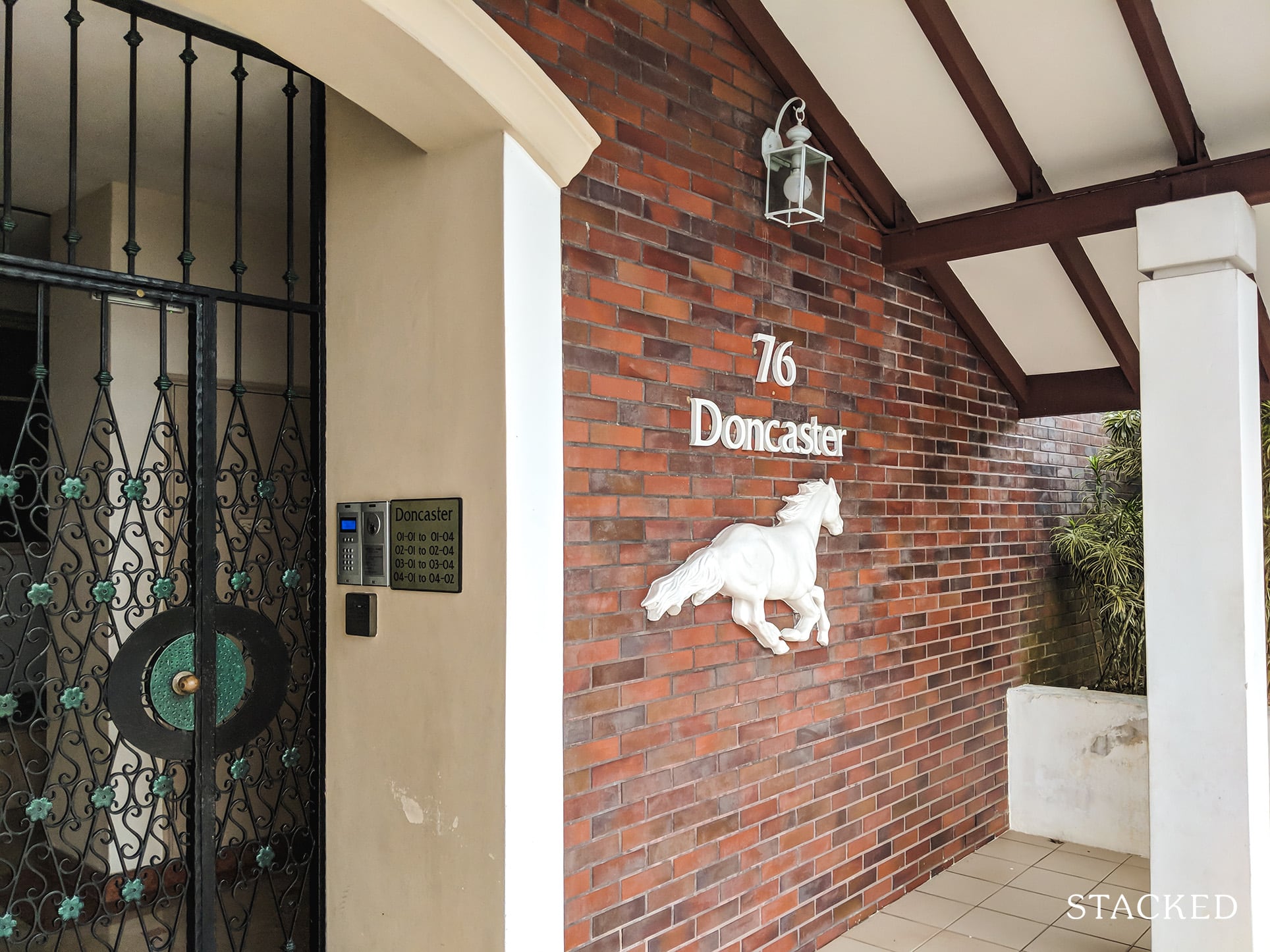 It is a gated access at the front of each block as well, so you need your keycard at all times.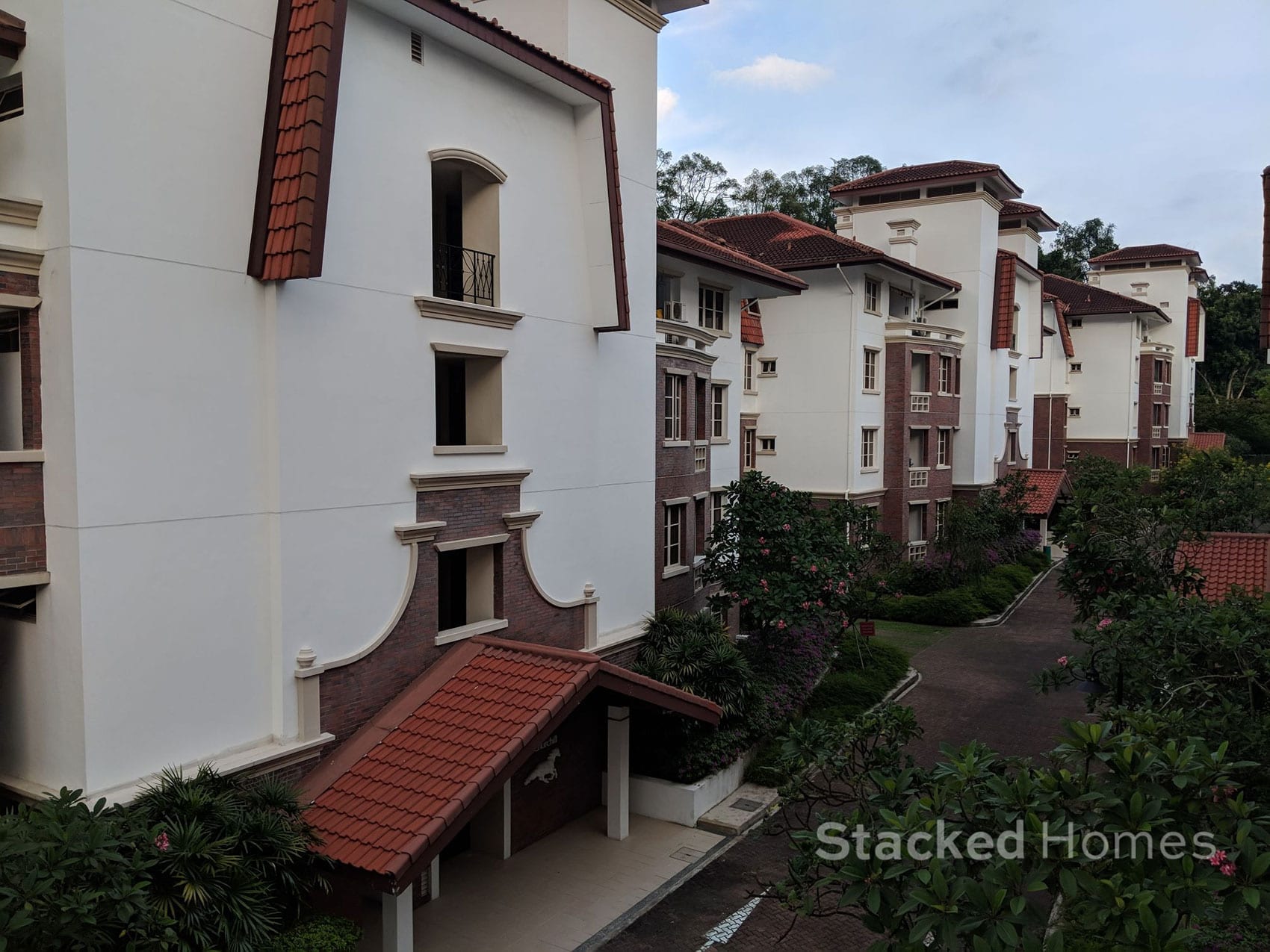 The block designs here have a really unique style to them. And in general, everything is well maintained despite its age.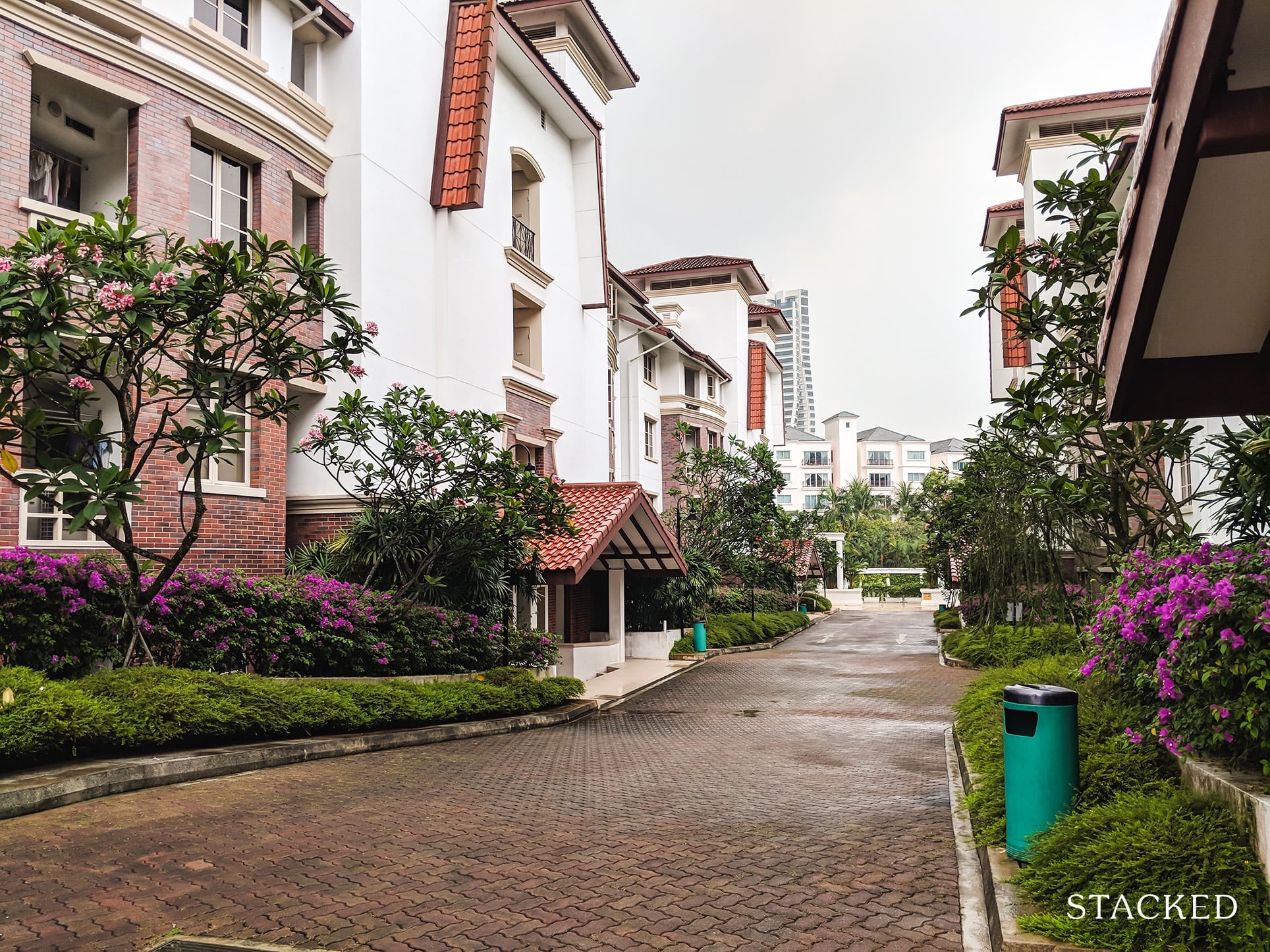 The common spaces in front of the block are closed off to cars, so you have this wide walkable path. It could also be that we were there on an overcast day, but the place feels very cooling and breezy.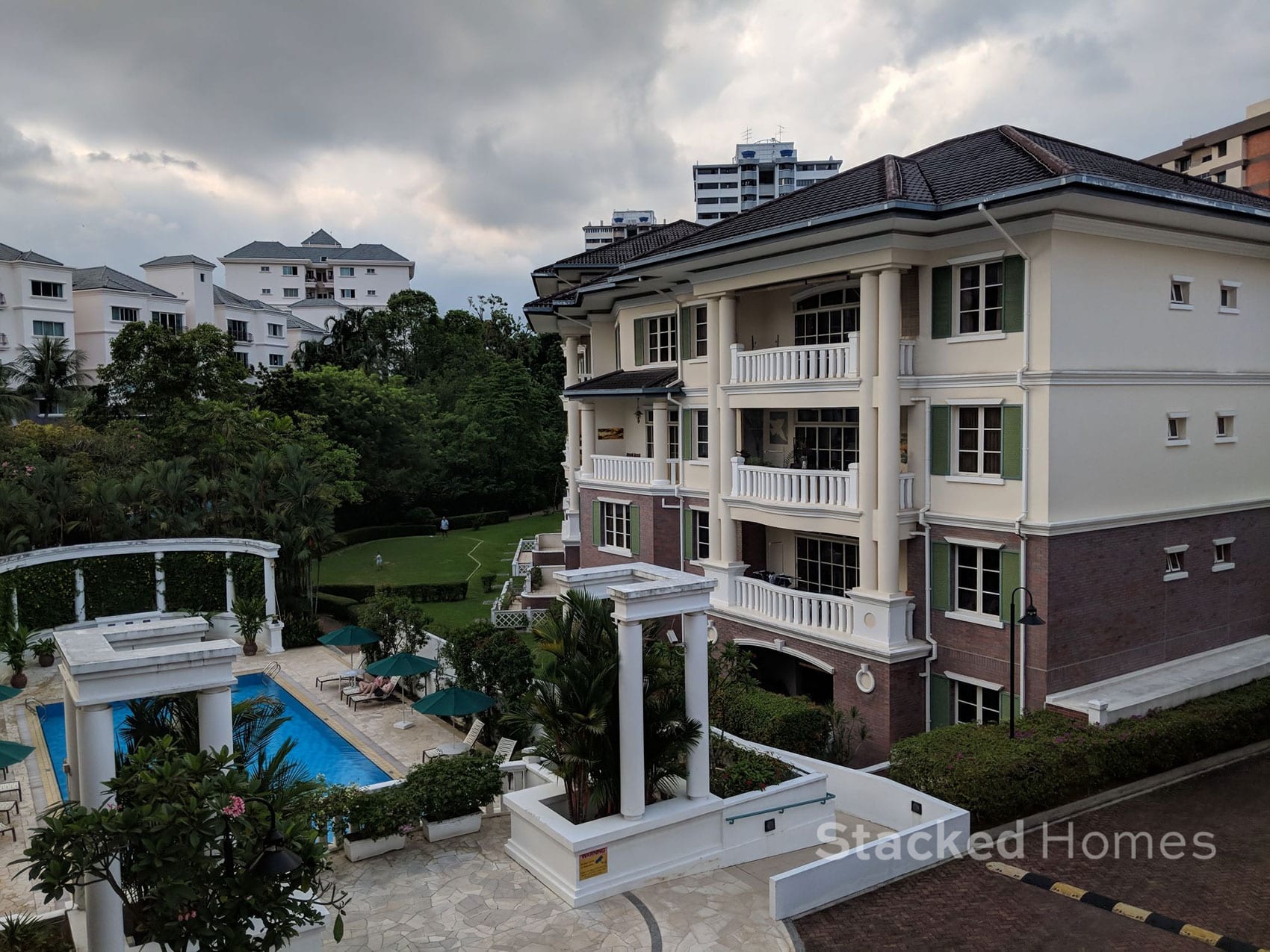 The swimming pool and clubhouse area are on a lower level as compared to the other blocks. Also interestingly, the blocks near the pool are of a different design as well.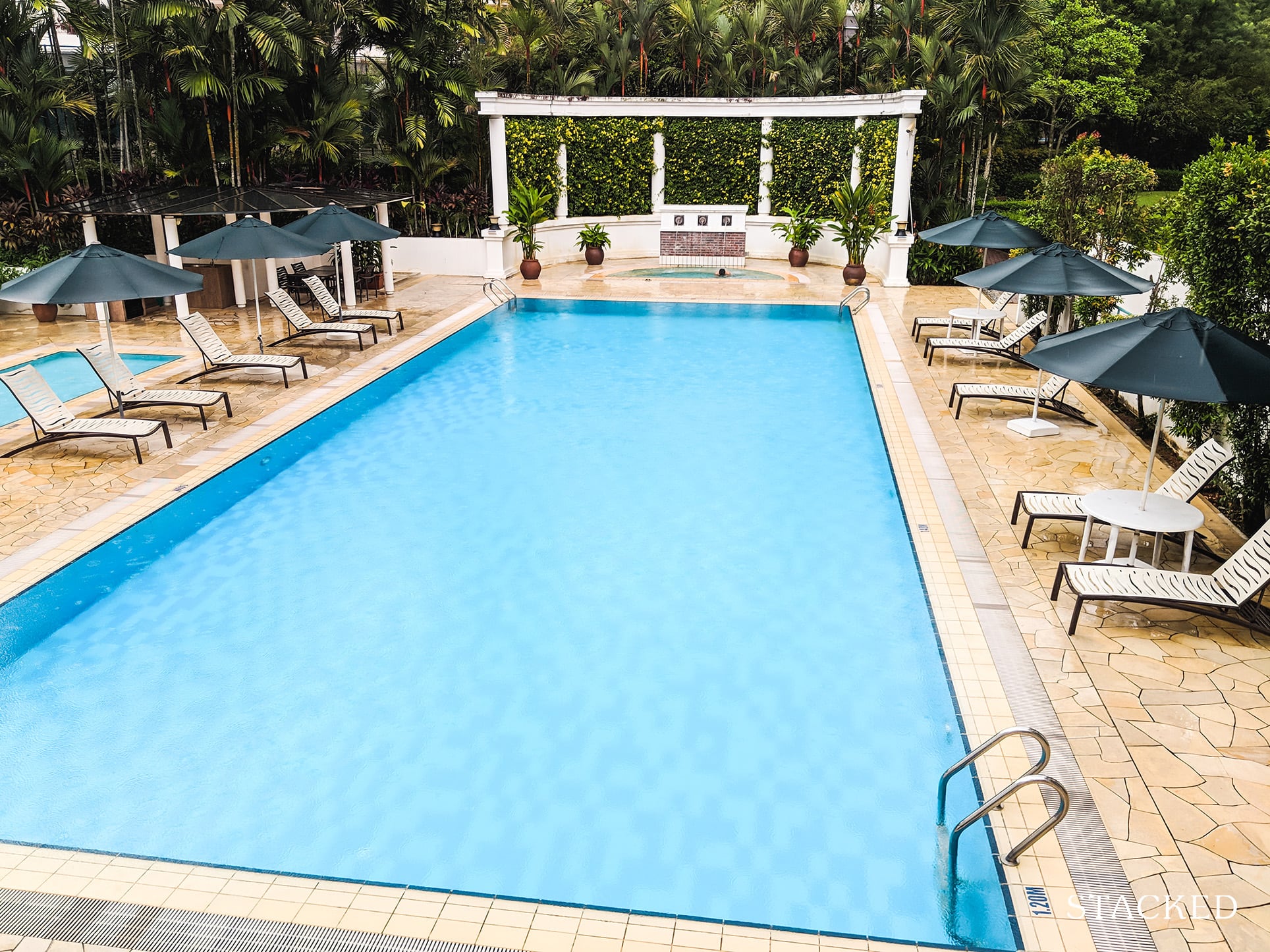 The swimming pool is a bit of a letdown here. It is small in size considering the land space that is available, and the design here is definitely dated.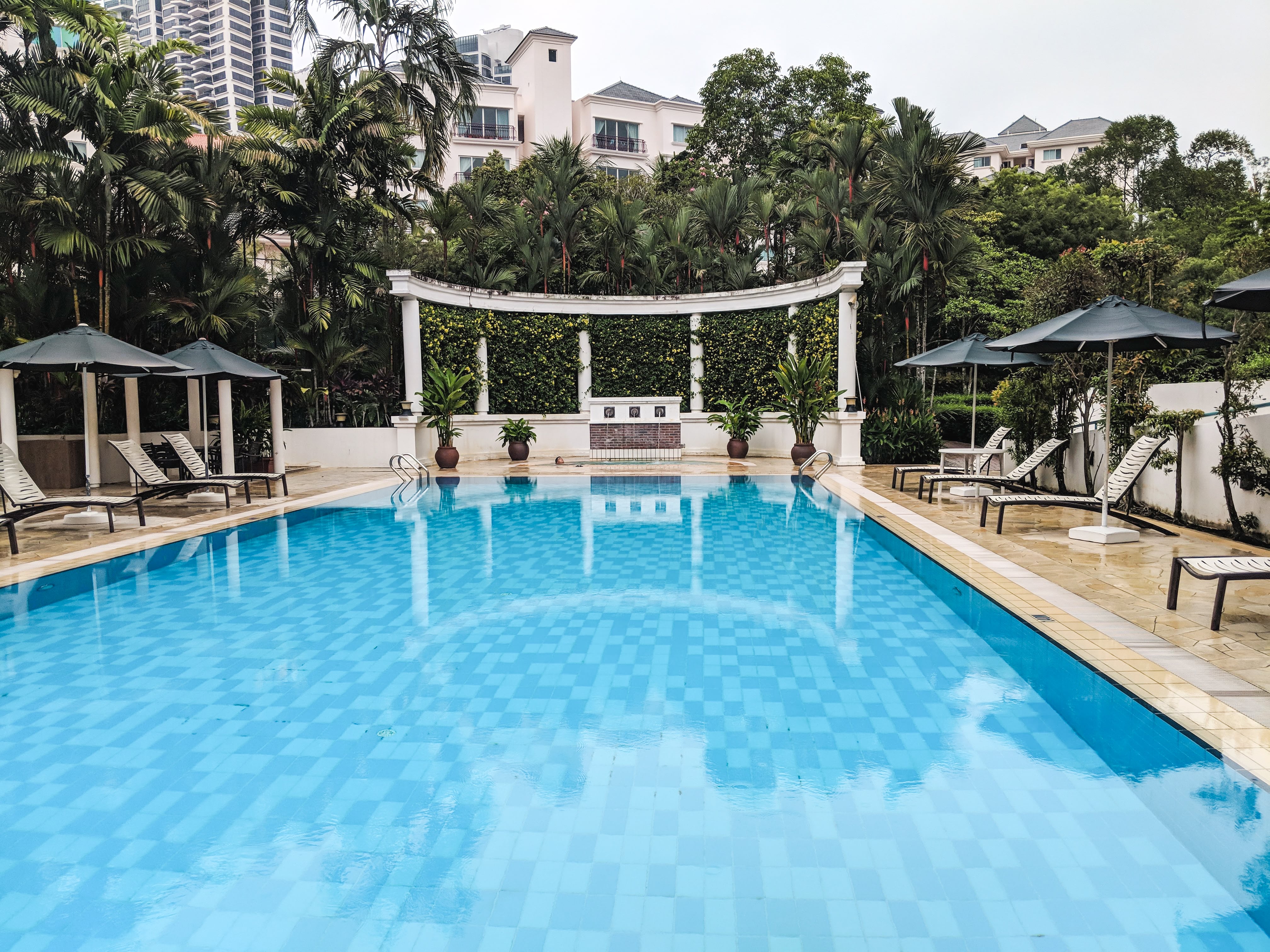 Read this next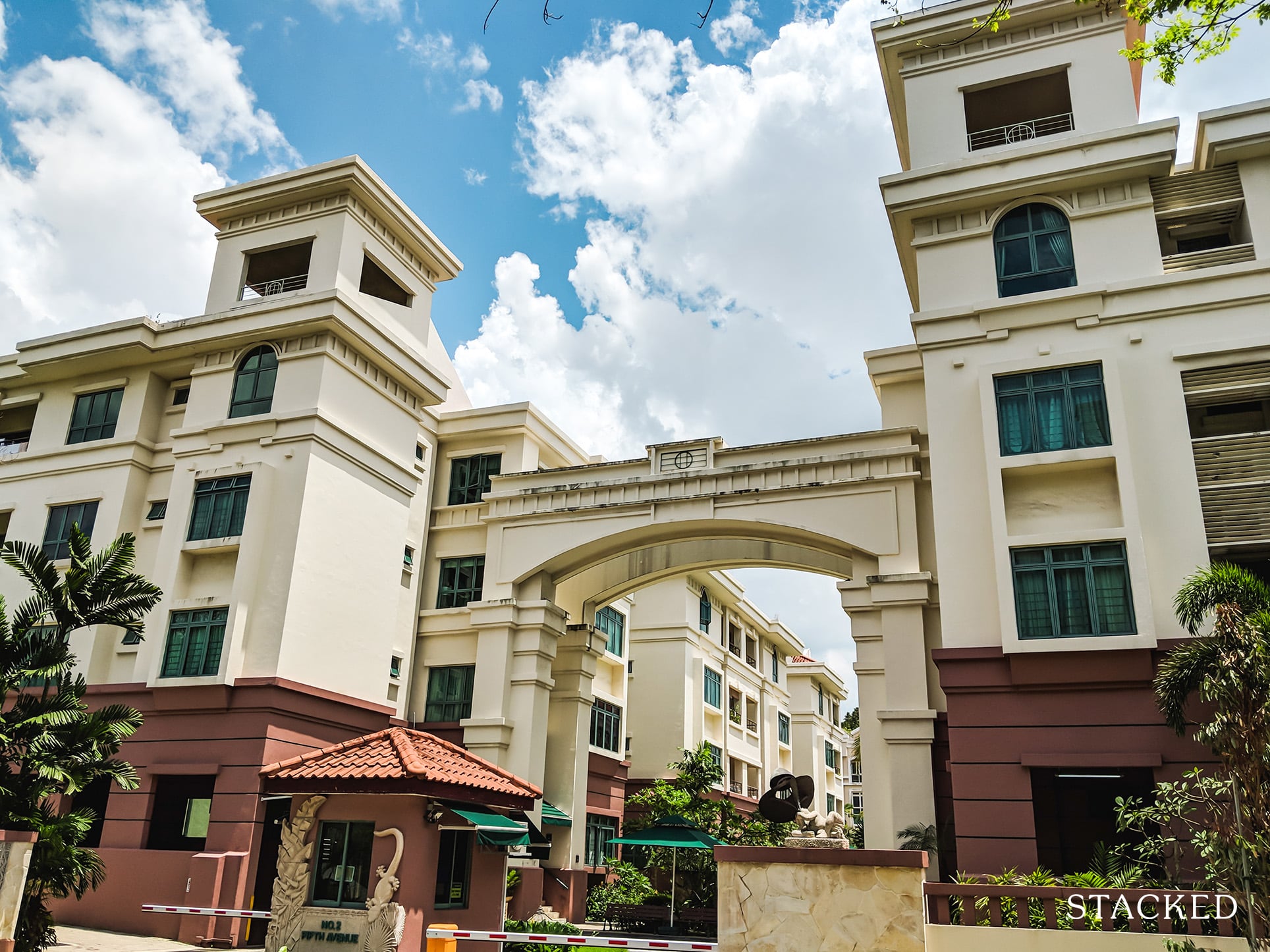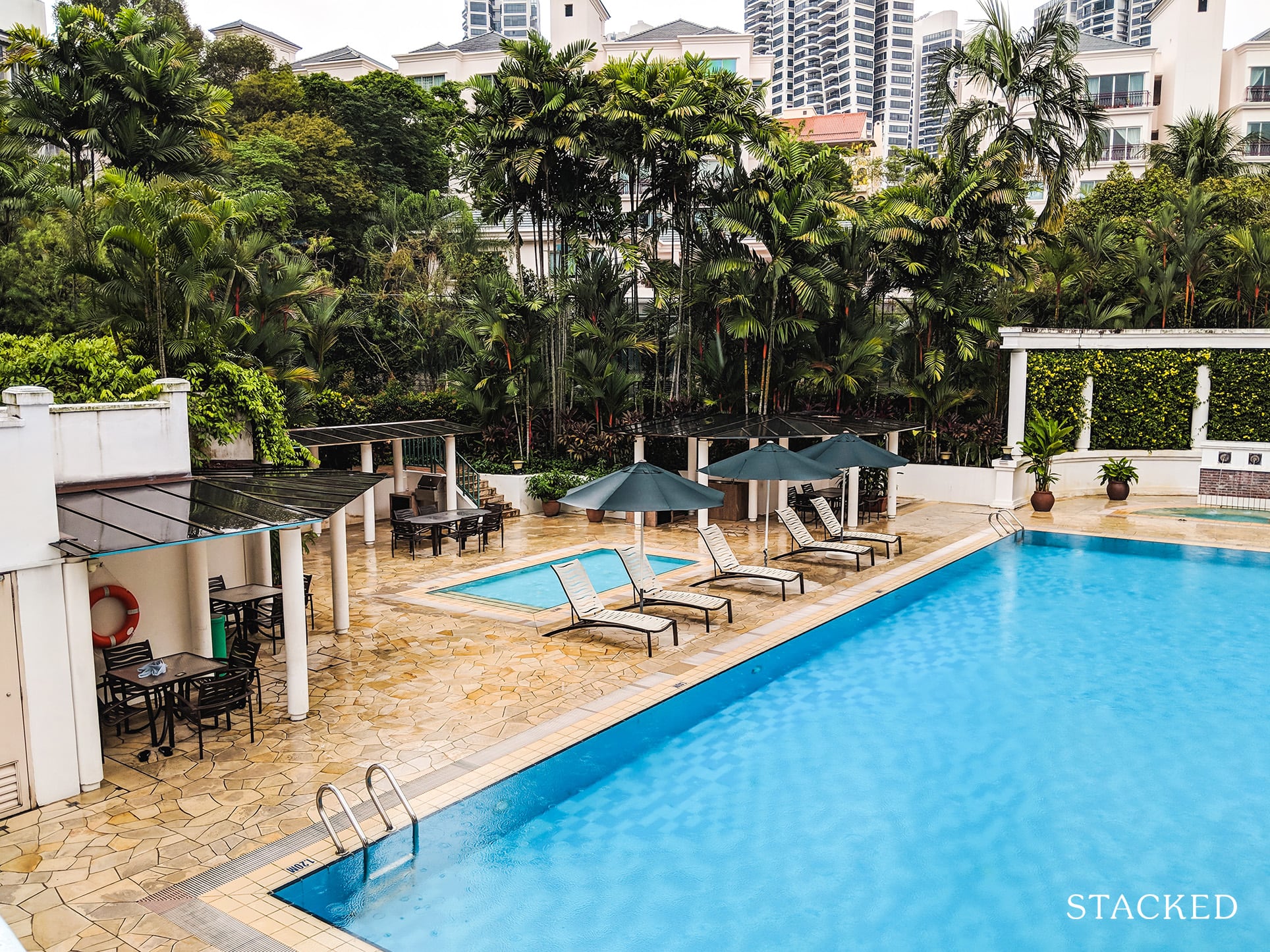 There is a tiny kids pool near the barbeque area, and shelter for the tables.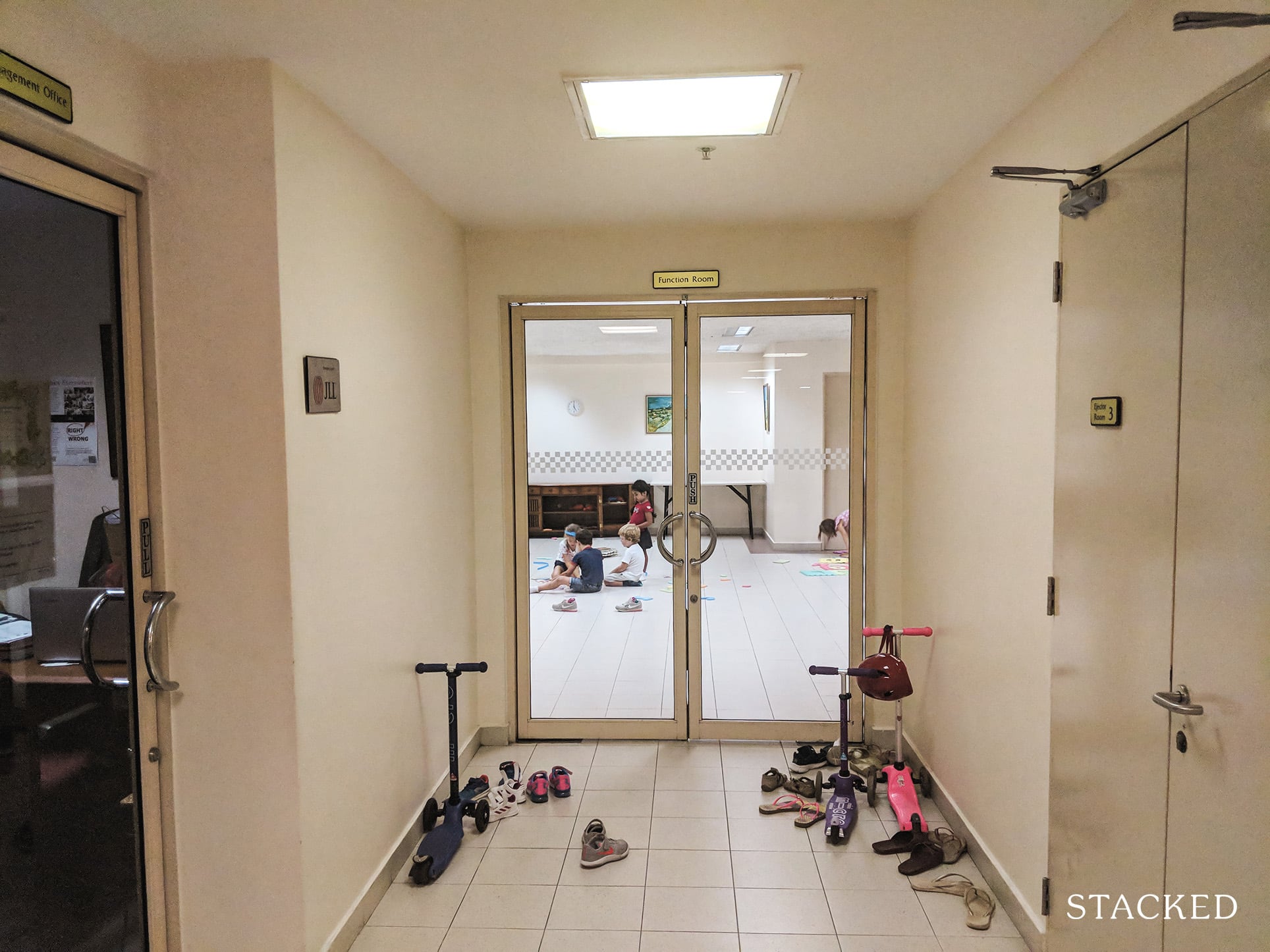 In the clubhouse area, there is a function room that seems to be well utilised.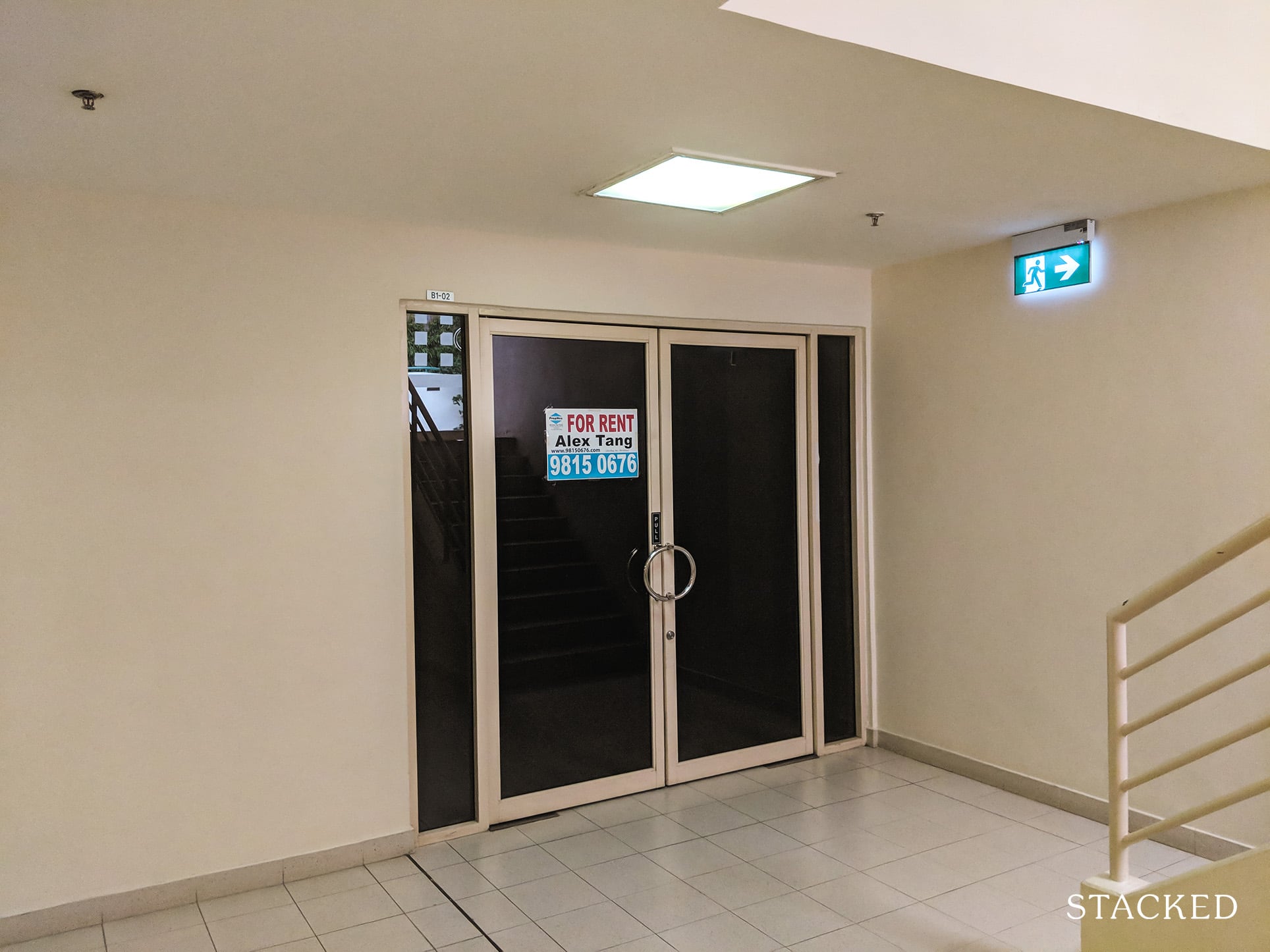 Shop space for rent. It would be useful to have a minimart here, but we think that there aren't enough units here to support it.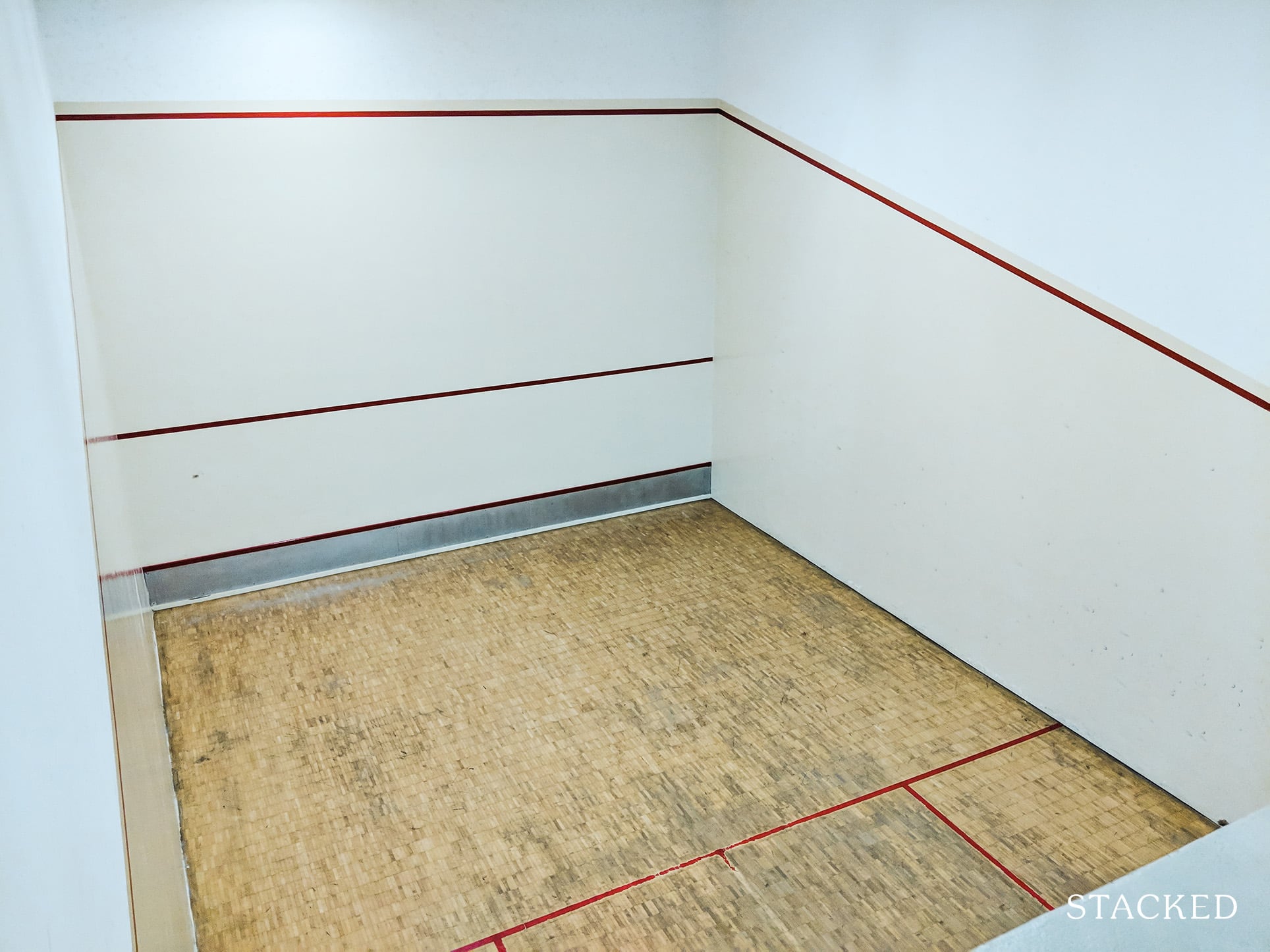 There is even a squash court. Admittedly, the floor has seen better days but it is still a nice addition to the facilities on offer.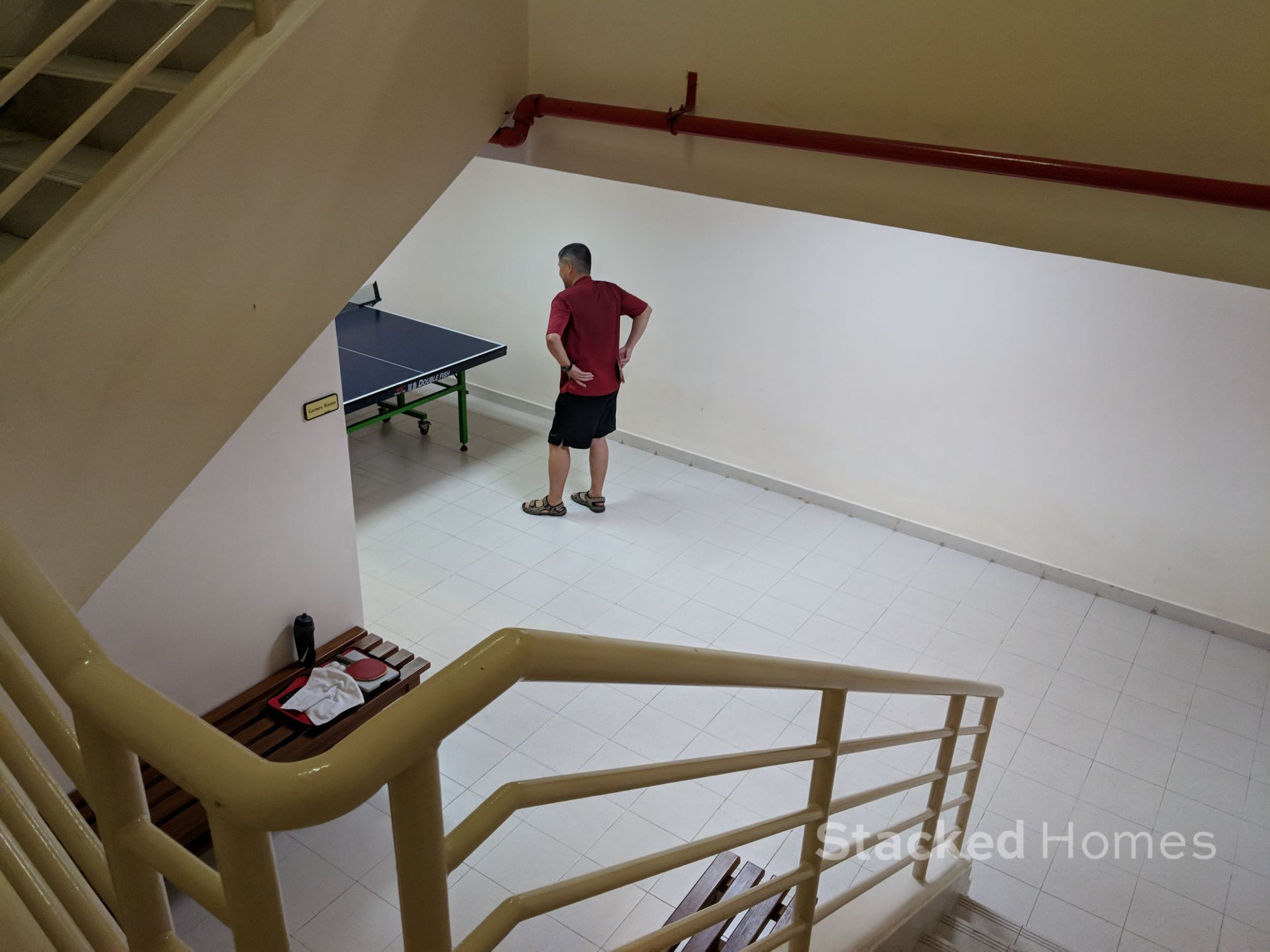 Further down in the basement, there is even a table tennis table!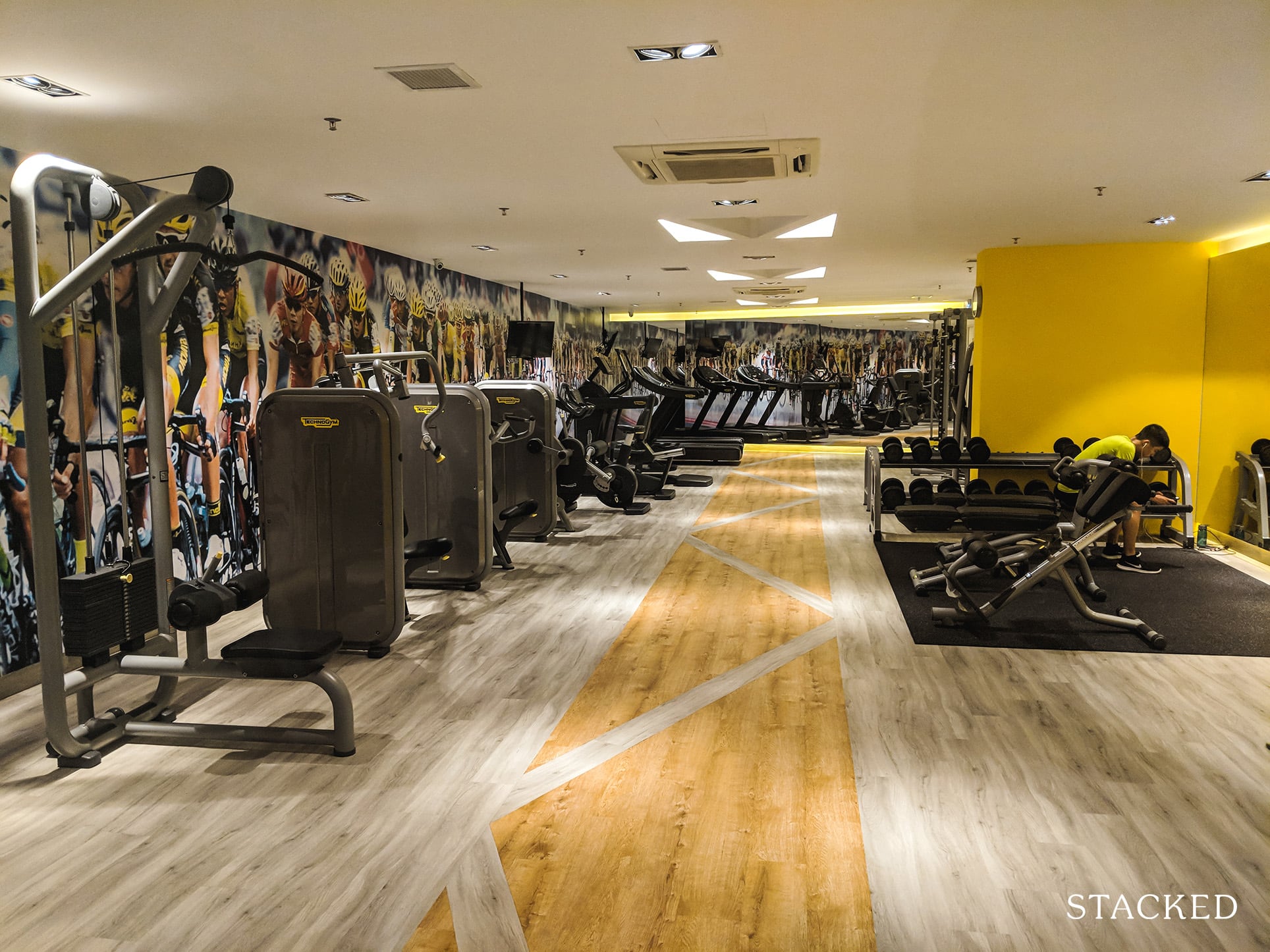 And we have saved the best for last. The gym here is the most surprising of all, its modern, bright and has all the latest equipment (even a punching bag). There is no view to speak of, as it is located in the basement, but it is very impressive for a condo gym for sure. If you are a gym fanatic this would be a very big plus point. Plus it speaks volumes about the management at this development.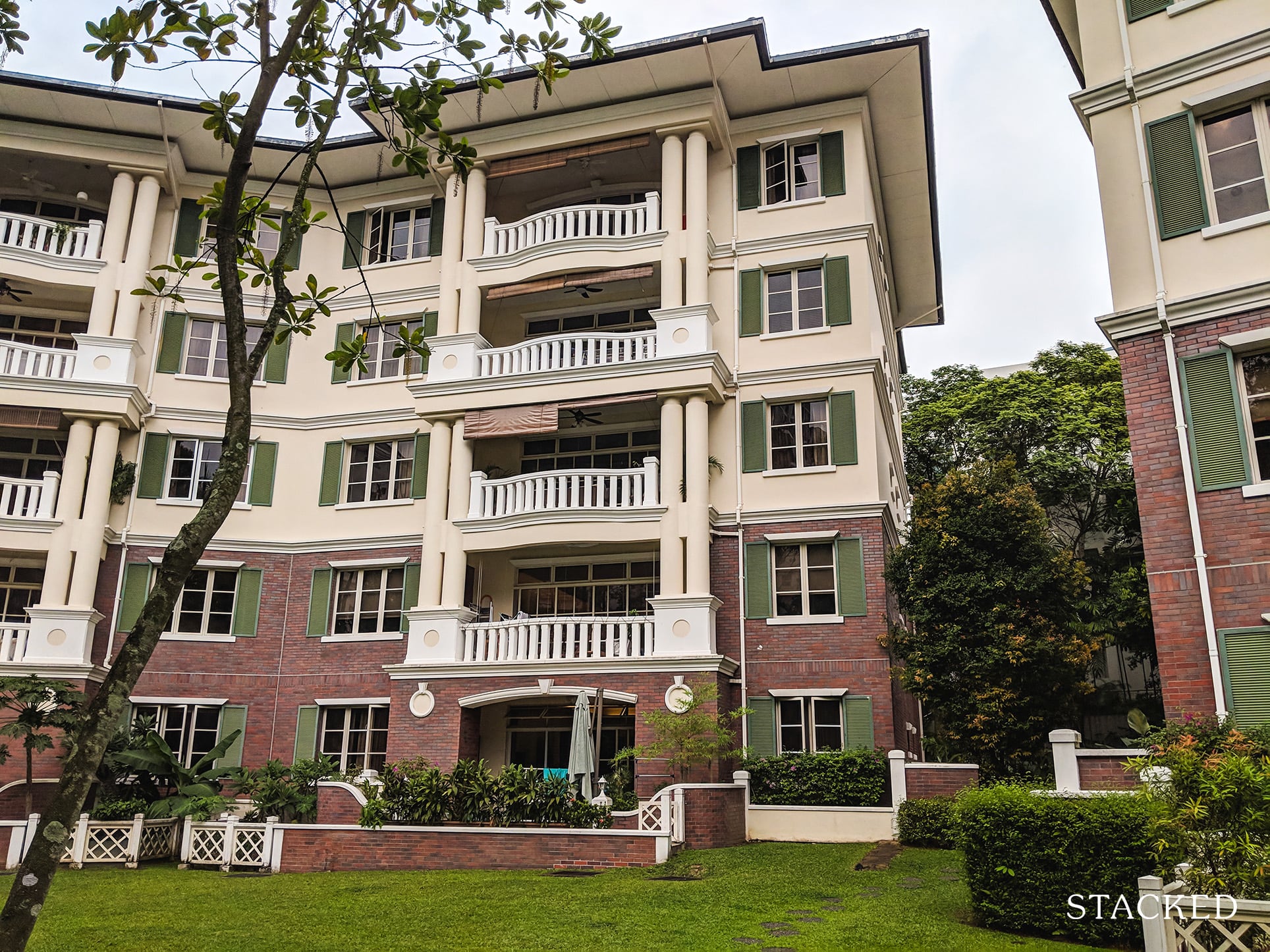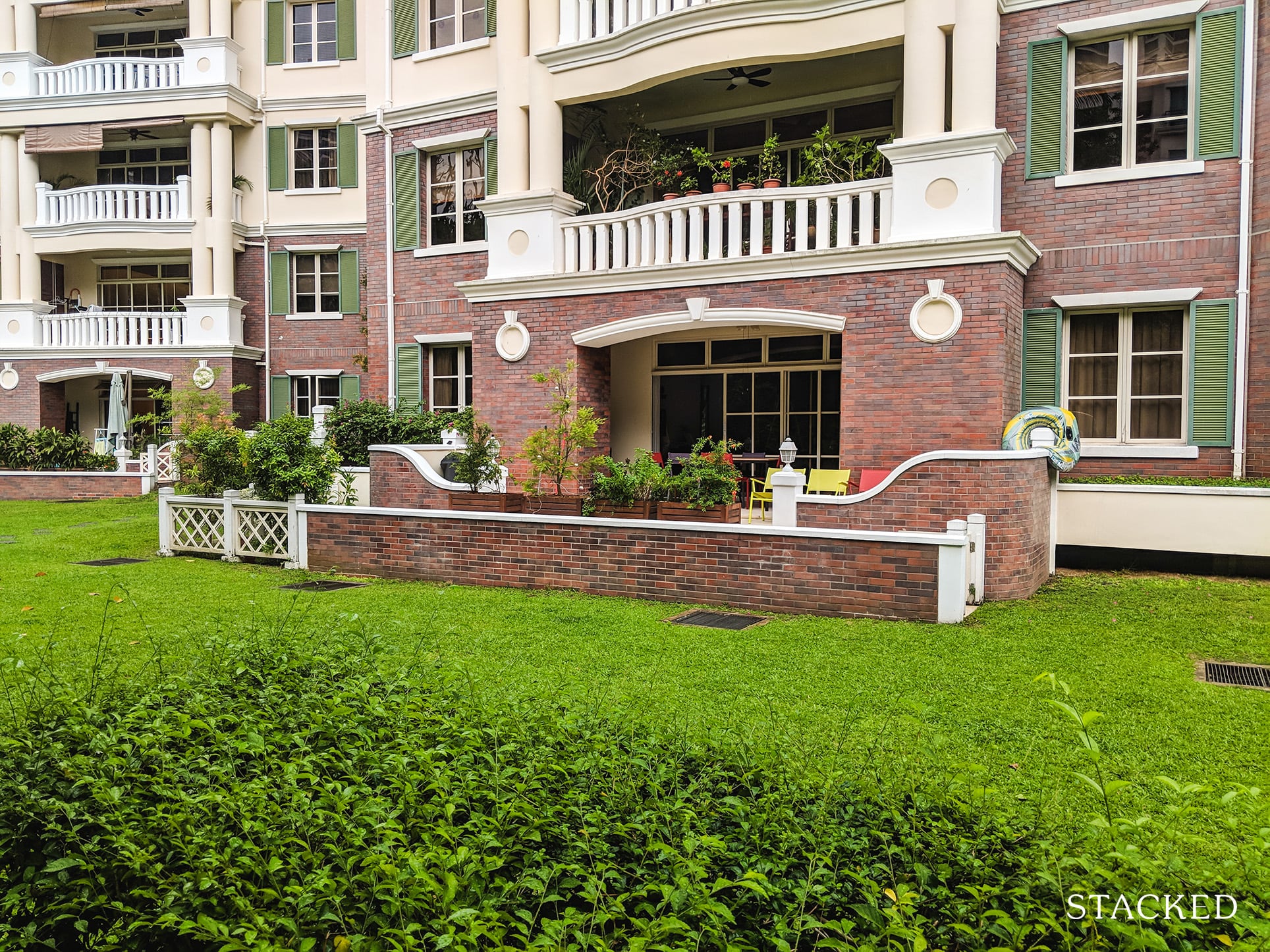 We like the ground floor units at this block as it faces lots of greenery and has a sizeable patch of grass for the kids to run around and play in.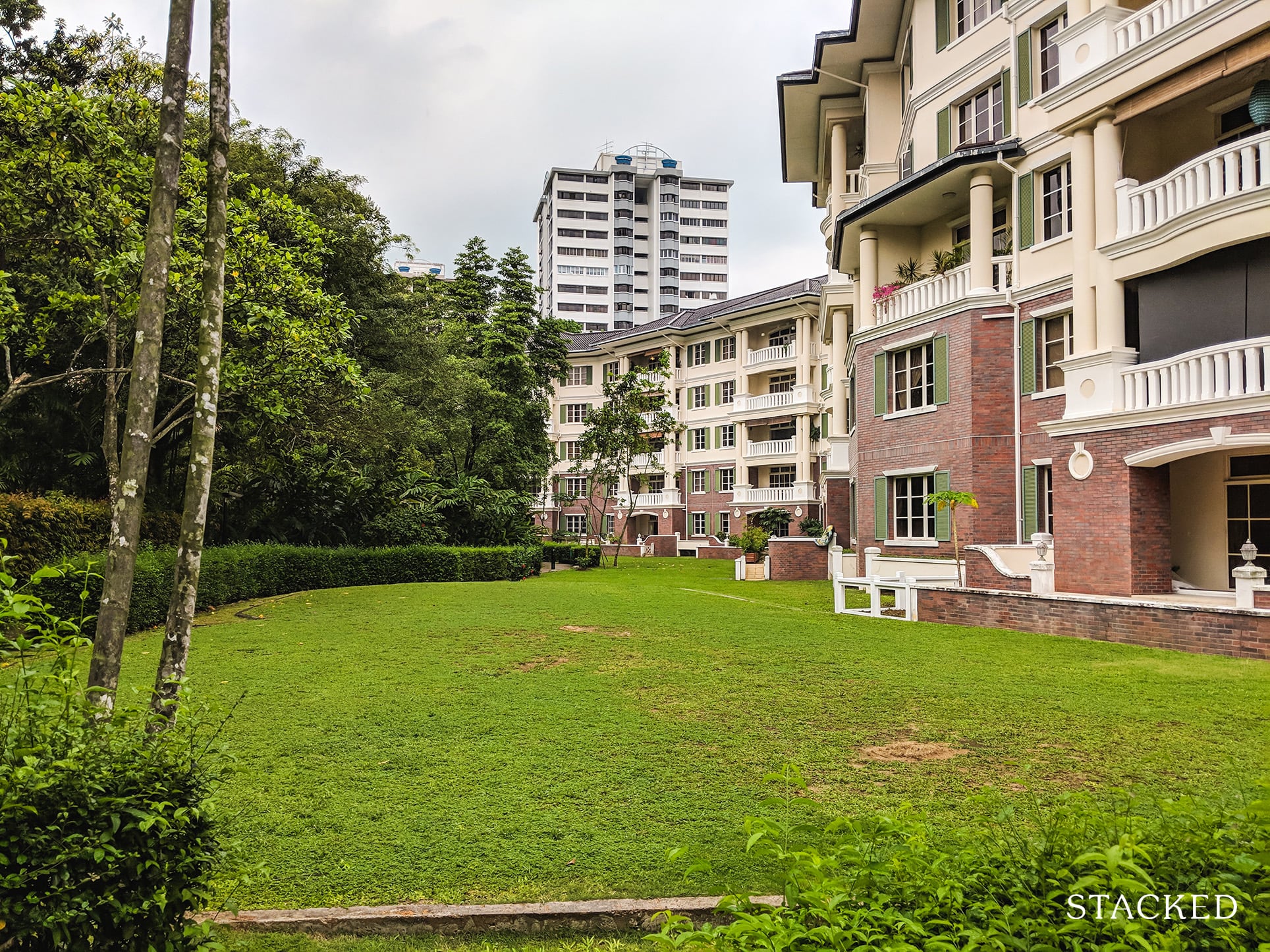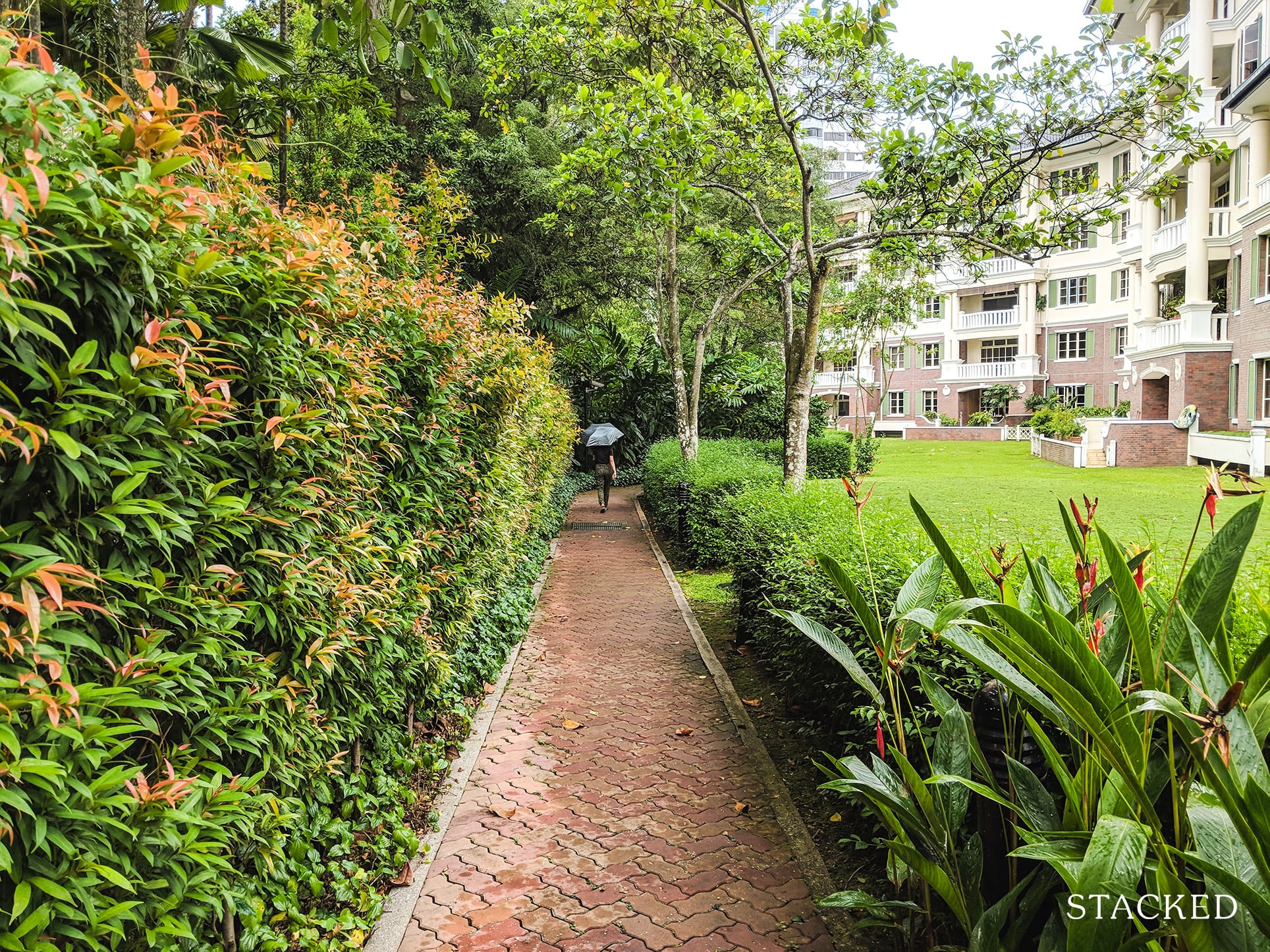 There is also a jogging track that runs through the sides of the development.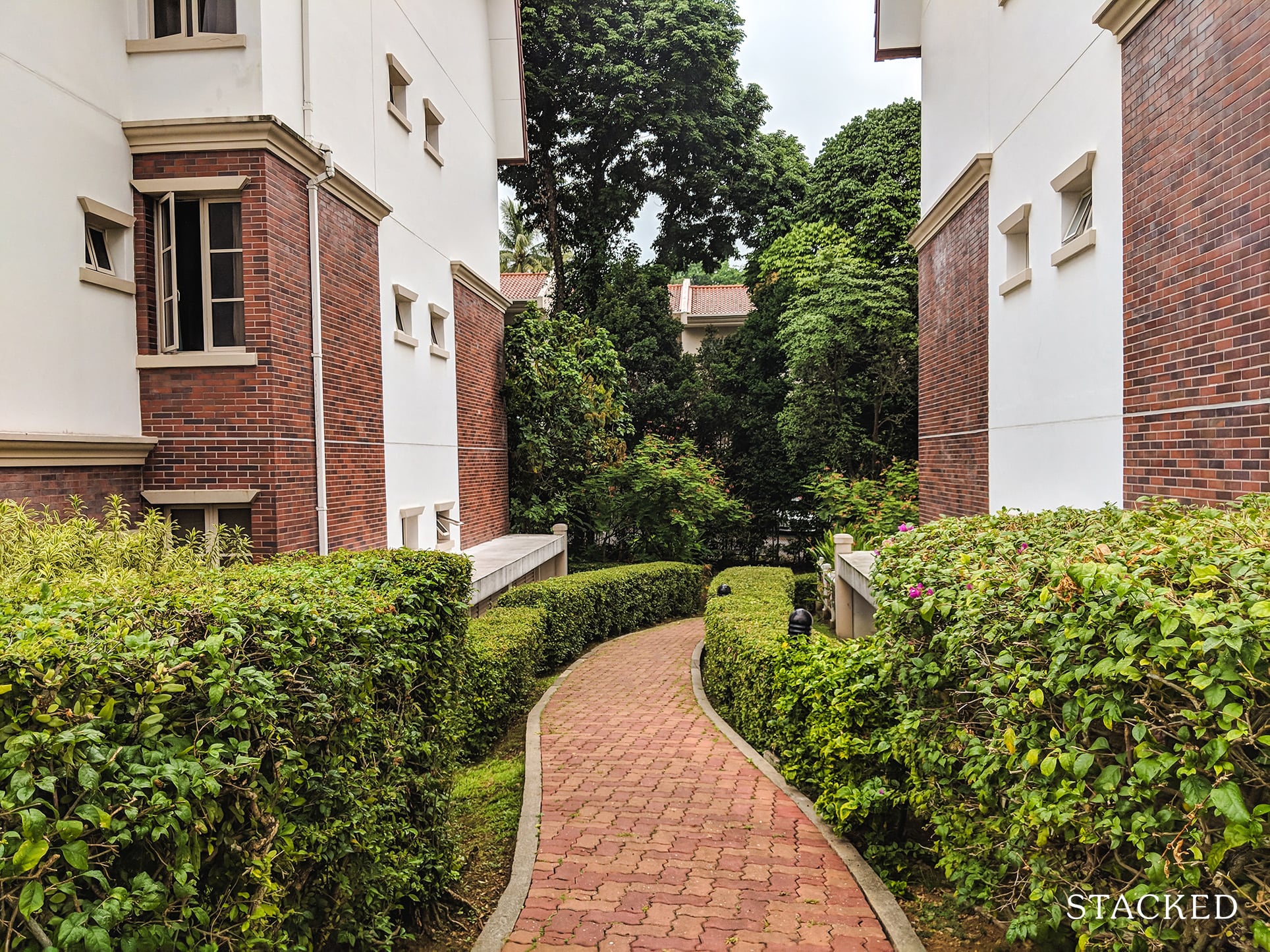 Which you can totally use for running sessions, instead of having to go out of the development.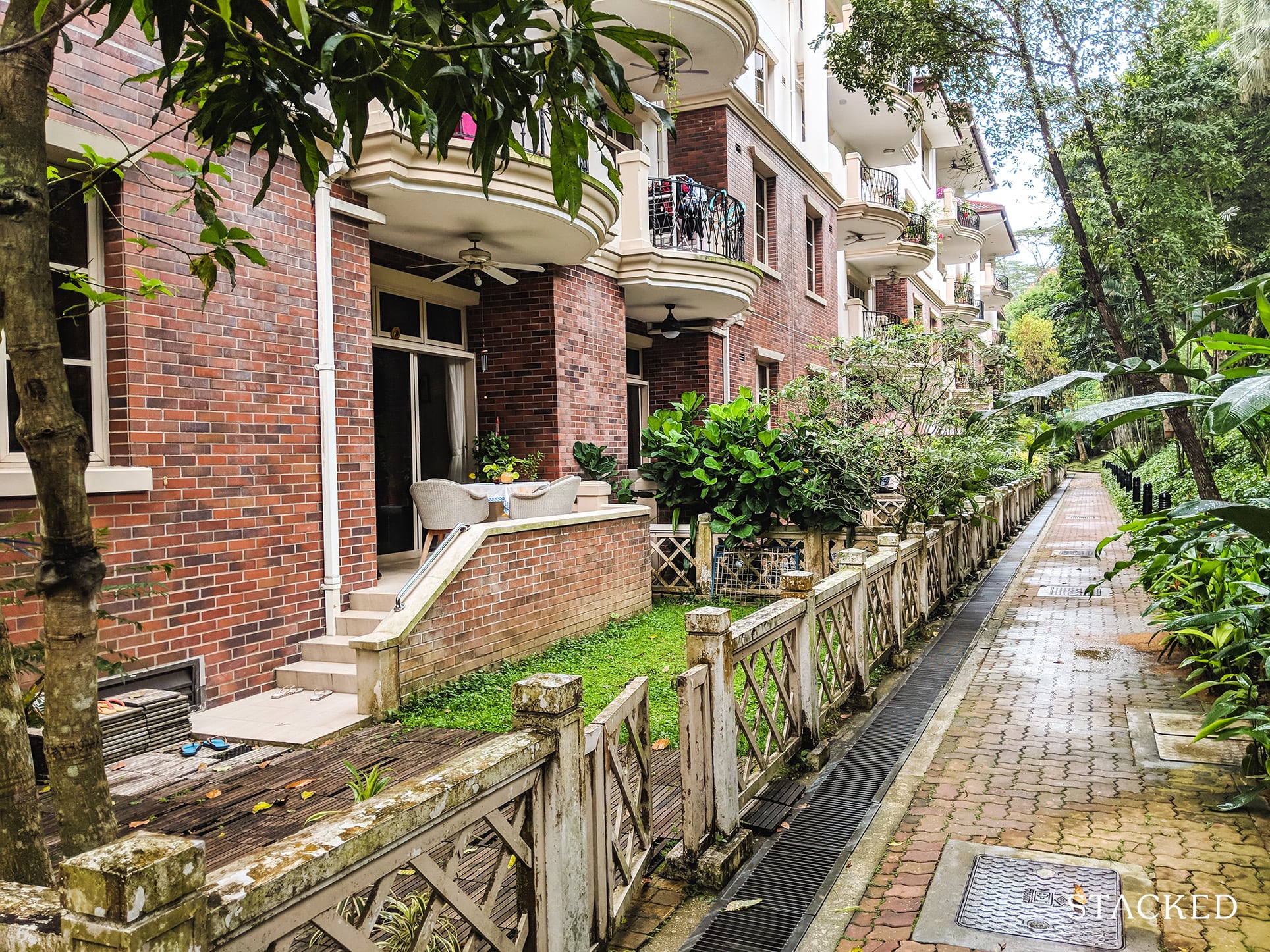 Some of the units do face Sommerville Grandeur, so if you like a bit more privacy you will have to look at the stacks facing Gallop Green instead as it is on higher ground.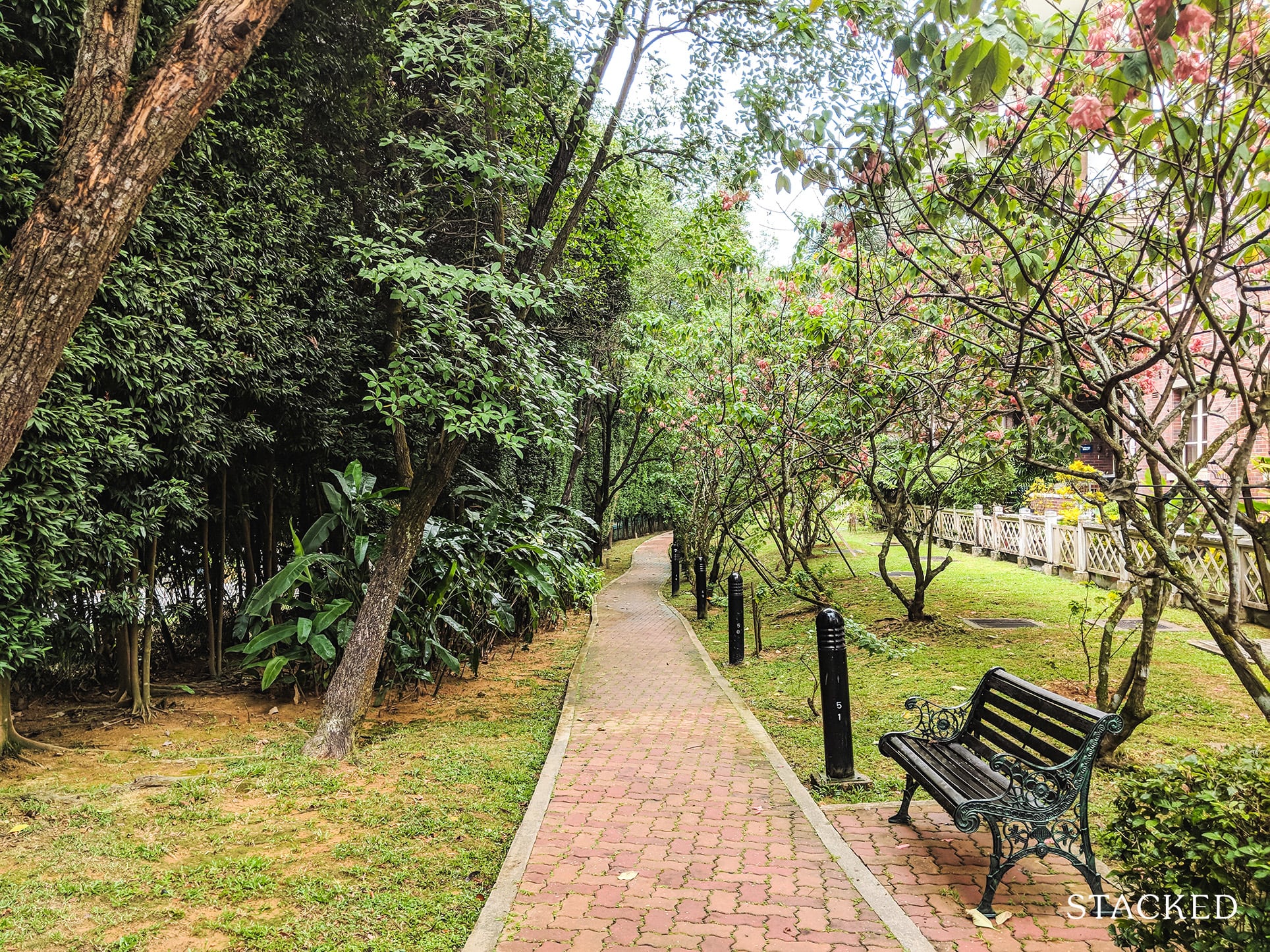 It is really quiet and tranquil around most of the development.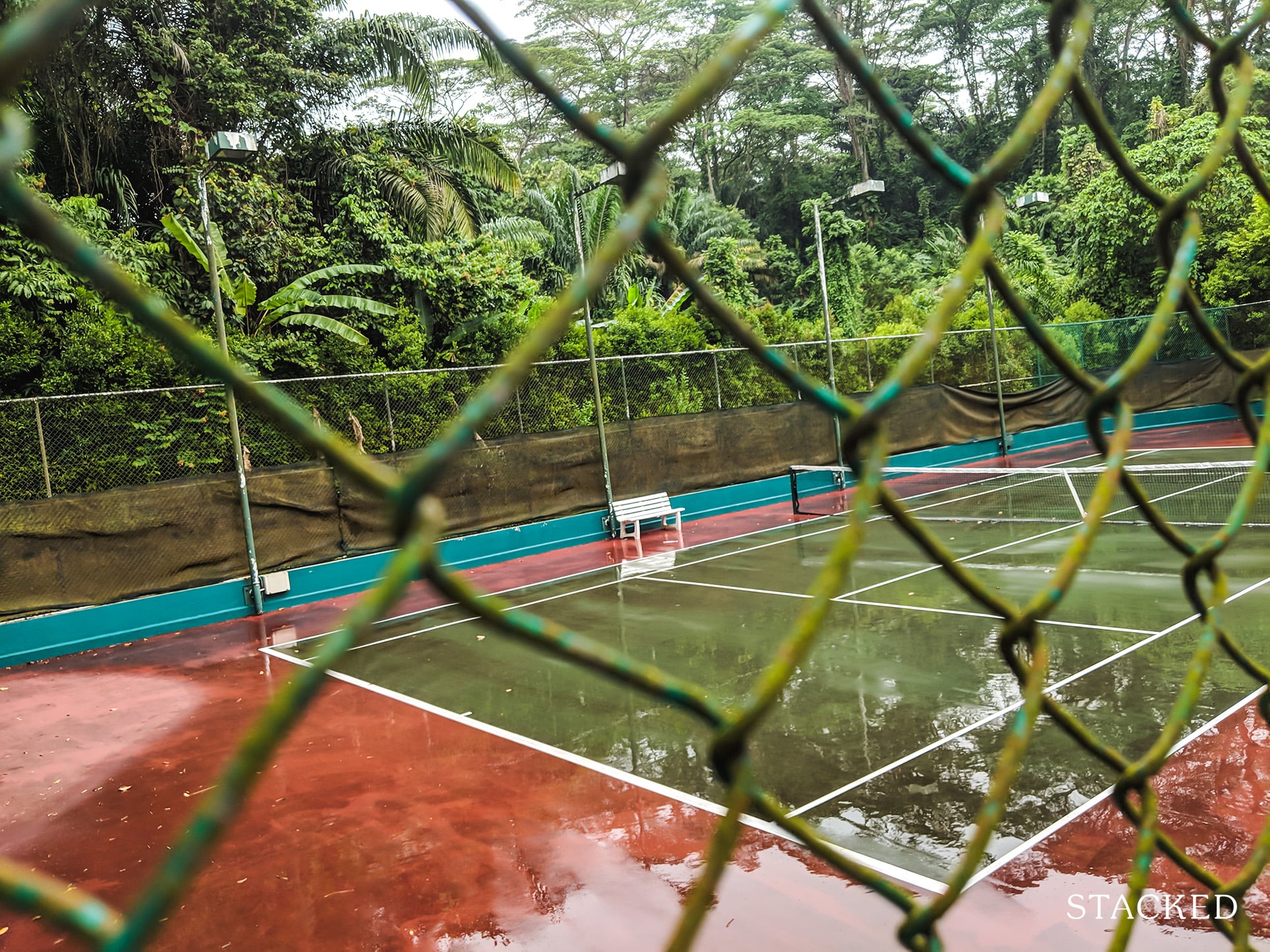 Finally, the tennis court right at the back of the development. If you stay at the first block it is quite a long walk. The back of the tennis court is a forested area, and further behind would be Botanic Gardens.
So which are the best stacks?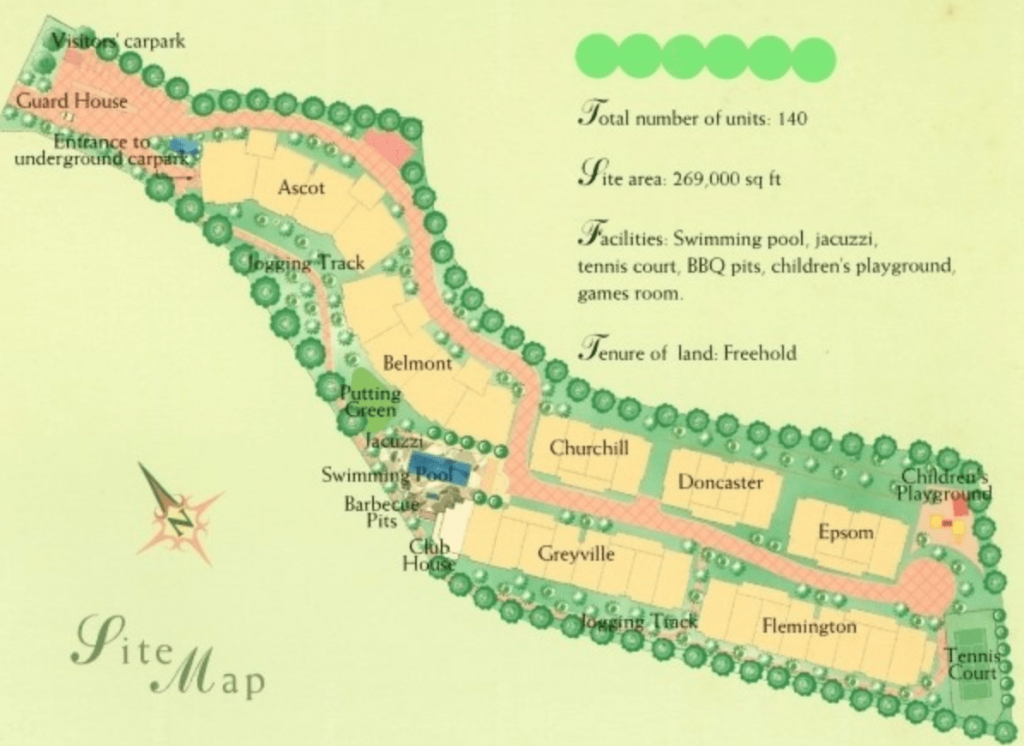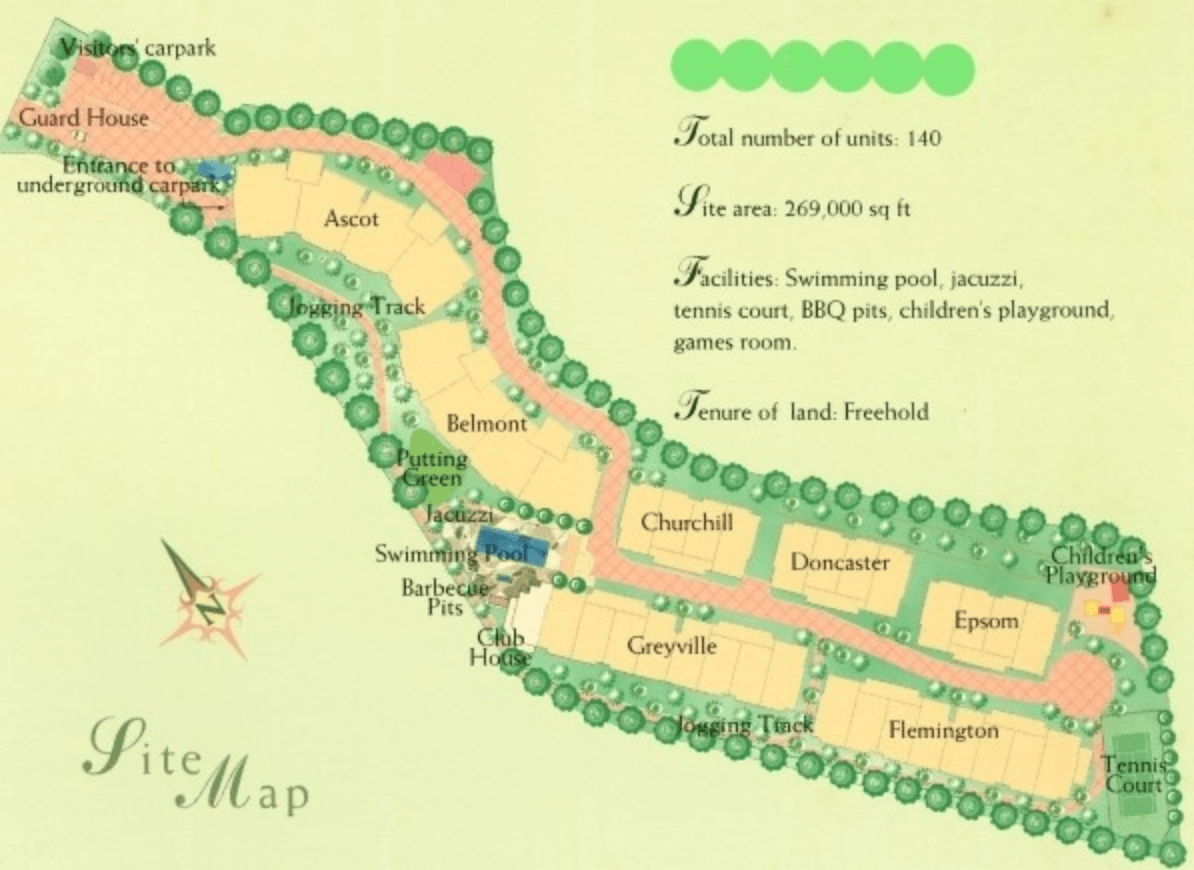 For the first block Ascot, it is the closest to the main road. So naturally it will have the shortest walking time to the main road and Farrer Road MRT station. But because it is closest to the main road, it is the most susceptible to road noise. If you are on the lookout for a unit at this block, that is a tradeoff that you will have to be aware of.
We like the Belmont ground floor units as this faces the green patch and it is wide and open. However, you will have to bear with noise from kids playing here as well as from the swimming pool area. For Churchill, Doncaster and Epsom, these face the wall dividing the development from Gallop Green so in terms of ventilation it is not the most ideal. The good part would be a greater sense of privacy and quiet. Our picks in this end would be Greyville and Flemington as these have the better facing (Sommerville Park). One thing to note would be that people can walk past on the jogging track, so the ground floor units will not enjoy as much privacy.
Gallop Gables Condo Review – Prices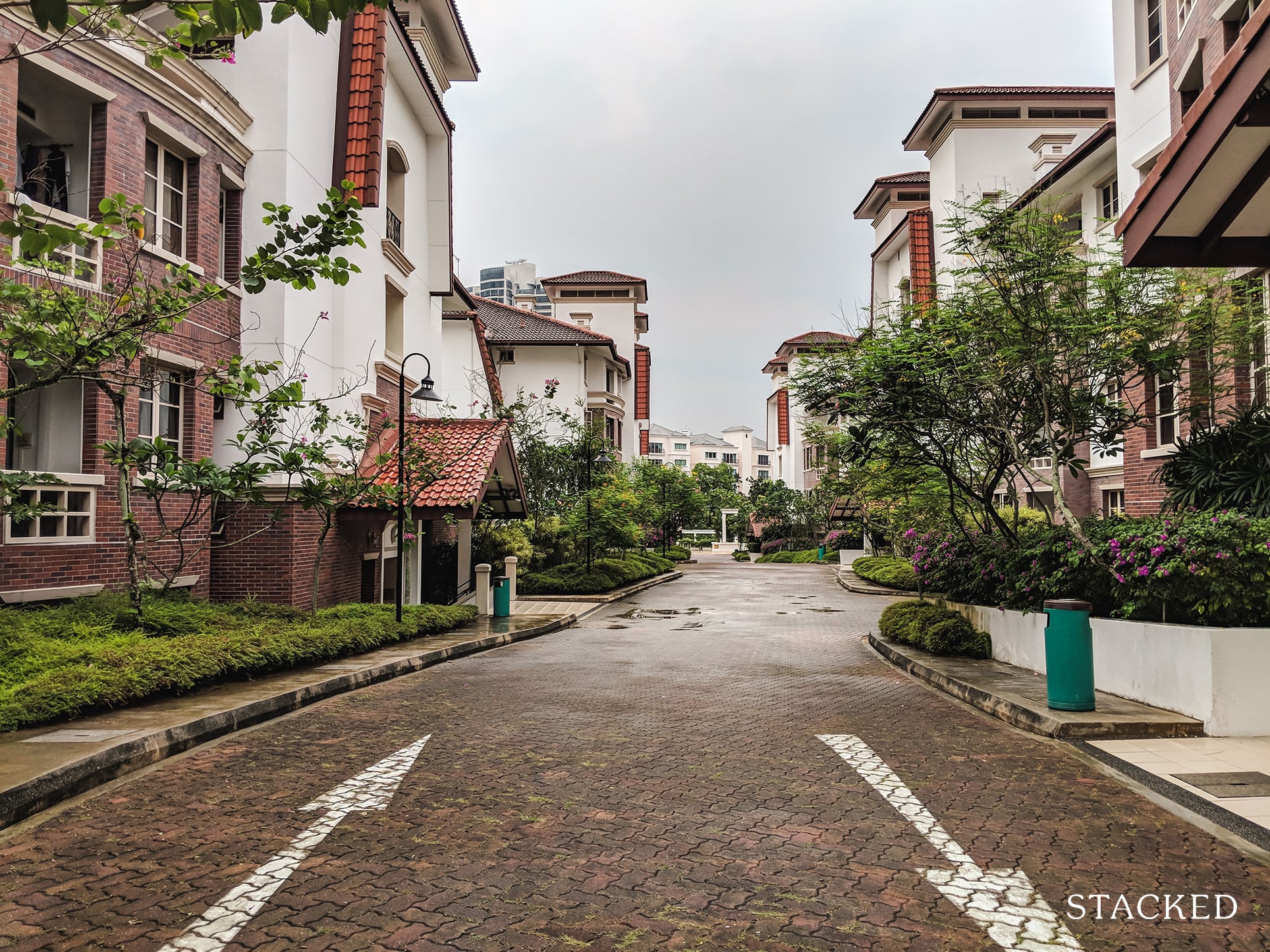 | Project Name | Tenure | TOP | Average Price (PSF) |
| --- | --- | --- | --- |
| Gallop Gables | Freehold | 1997 | $1,752 |
| Spanish Village | Freehold | 1987 | $1,301 |
| The Levelz | Freehold | 2004 | $1,592 |
| Sommerville Park | Freehold | 1985 | $1,643 |
| D'Leedon | 99 years | 2014 | $1,648 |
| Waterfall Gardens | Freehold | 2010 | $1,690 |
| Gallop Green | Freehold | 2002 | $1,818 |
Looking at the surrounding developments, the average price for the Gallop Gables condo is about reasonable for where you would classify the development. If you are looking for something with good en bloc potential in the area, at an average price of $1,301 PSF, Spanish Village does look like an easier option as the price is a lot lower. Do take note that the development has attempted to go en bloc 3 times already, but has not been successful yet.
Sommerville Park might be slightly cheaper but at such a huge land size and amount of units, the barriers to achieving a successful en bloc in the future would be higher as well.
Our Take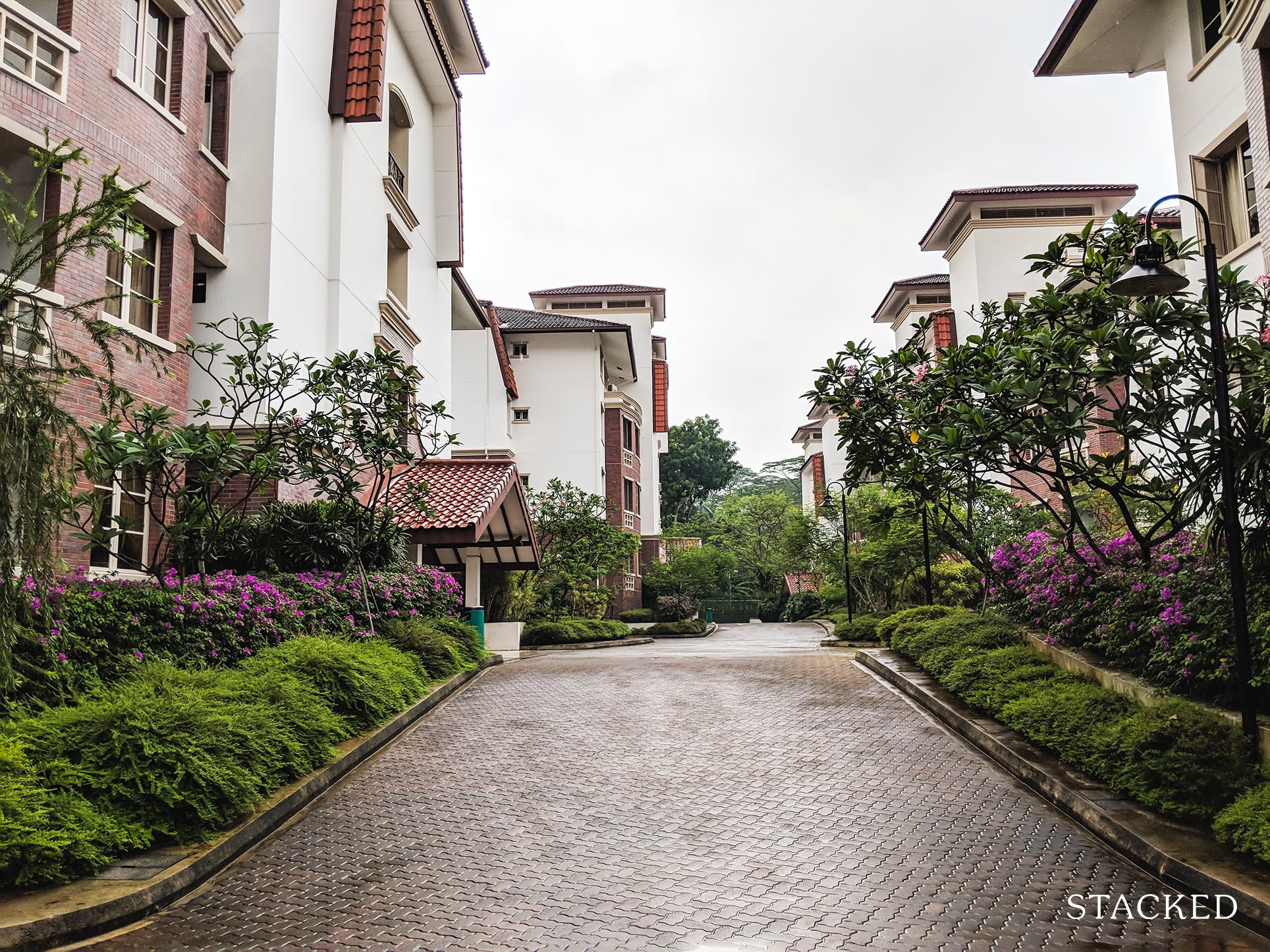 If you are looking for an older development with good future potential, Gallop Gables will be a compelling choice. Just look past the older facade and slight quirks and you do have a very quaint development that still has much to offer. Its location, proximity to MRT and the size of freehold land in District 10 (with so few units) are a couple of the major reasons why we like the Gallop Gables.
What this means for you
You might like the Gallop Gables if:
• You are looking for a bigger living space.The Gallop Gables unit sizes are all bigger than average, so you will enjoy the sense of space here.
• You want more greenery and outdoor space.The Gallop Gables also has lots of land, although it is an odd shape, there is lots of greenery around.
• You are looking for future en bloc potential.As the Gallop Gables has lots of land, is an older development and in a prime location, the property has potential in the future for redevelopment.
You might not like the Gallop Gables if:
• You prefer modern looking developments.If you like the design of modern developments, the Gallop Gables might not work for you as the external facade is definitely dated.
• You are looking for a good rental yield.If you are looking to purchase the Gallop Gables for its rental yield, it would not enjoy a great rental because of the age of the property. With that said, it is still popular with foreigners for the space and location.
End of Review