Buying
Freehold Vs Leasehold: How Have New Launch Condos Performed Since 2014
Ryan J
March 3, 2022

7

min read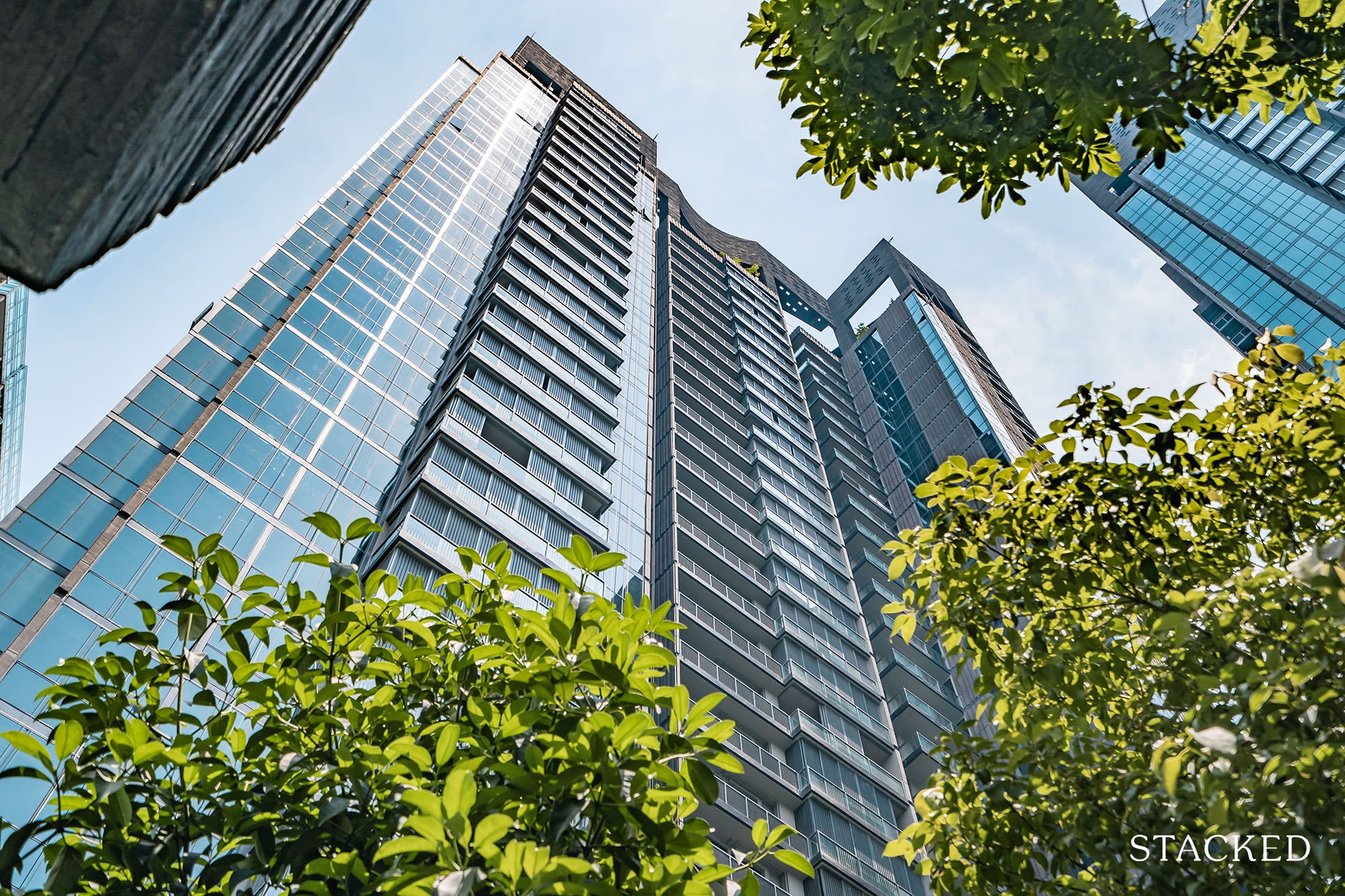 7
min read
It's a common question many homebuyers ask when looking to buy a new launch condo: is freehold or leasehold a better choice?
While it may sound like a simple question on the surface, it is actually a very nuanced and deep one. One that is nearly impossible to answer. Ask any real estate expert, and they'll tell you it's like opening up a can of worms. We have attempted to answer it here, but in short, it all depends on the property.
It probably also doesn't help that due to Singapore's young age, we have a few examples of what happens when a lease runs out. In fact, it was only recently in December of 2020 when we saw the first residential lease expiry, and repossession by the state. And most leasehold condos that are getting old will attempt to go for a collective sale.
Therefore in this piece, we will take a look at how freehold and leasehold new launch condos have performed, and see if there are any trends to pick up on.
Overall performance of freehold versus leasehold, by condo
The following is based on condos that saw transactions from 2014 onward (as in, the first new sales were registered on January 2014 or later).
This is to avoid any distortions, from the period before major cooling measures kicked in. 
There is also an issue of volume: there will always be many more leasehold condos than there are freehold condos, and the volume of transactions can impact the data. However, this is unavoidable and will always be the case.
Finally, for the list below, note that we have confined the data to predominantly new units; that is, the units were initially bought from the developer, and then resold. There are some cases of resale to resale, but they only make up 30 out of 3,254 transactions (<1%) as well as cases of sub-sales, but these are small enough that we feel they don't seriously disrupt the numbers.
Some key points to note
Leasehold almost always outperforms freehold, over a shorter term
Losses from leasehold tend to be smaller
Leasehold seems to fare better in fringe districts
Freehold and boutique seem to be the worst combination
1. Leasehold almost always outperforms freehold, over a shorter term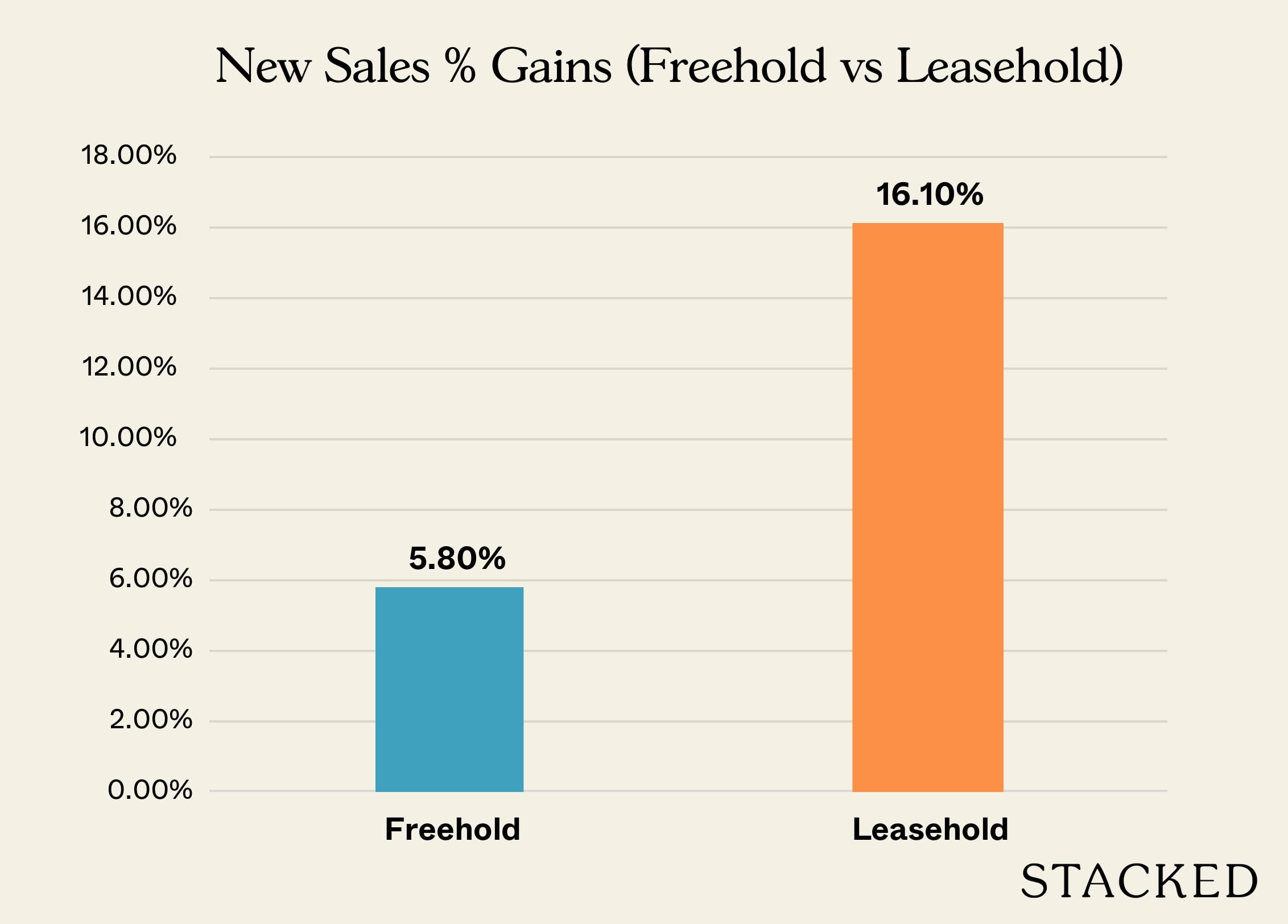 Overall, the results shouldn't be surprising; leasehold has a tremendous advantage over a freehold counterpart, over a time span of less than a decade.
Freehold properties cost 15 to 20 per cent more on average, which means it takes much longer for buyers to see gains. Remember that fundamentally, there's no difference between a leasehold and a freehold condo other than the remaining lease: someone buying a cheaper leasehold gets the same level of quality and facilities.
Also, note that because many of the condos are still considered rather new, this works out to the benefit of the leasehold projects because of the timeframe that we are looking at now.
If a freehold condo is ever going to outshine a leasehold counterpart, it will probably be in the last half of the leasehold condo's lifespan; this is really when the freehold status starts to have an effect, as there's no lease decay and no financing issues for subsequent buyers.
2. Losses from leasehold tend to be smaller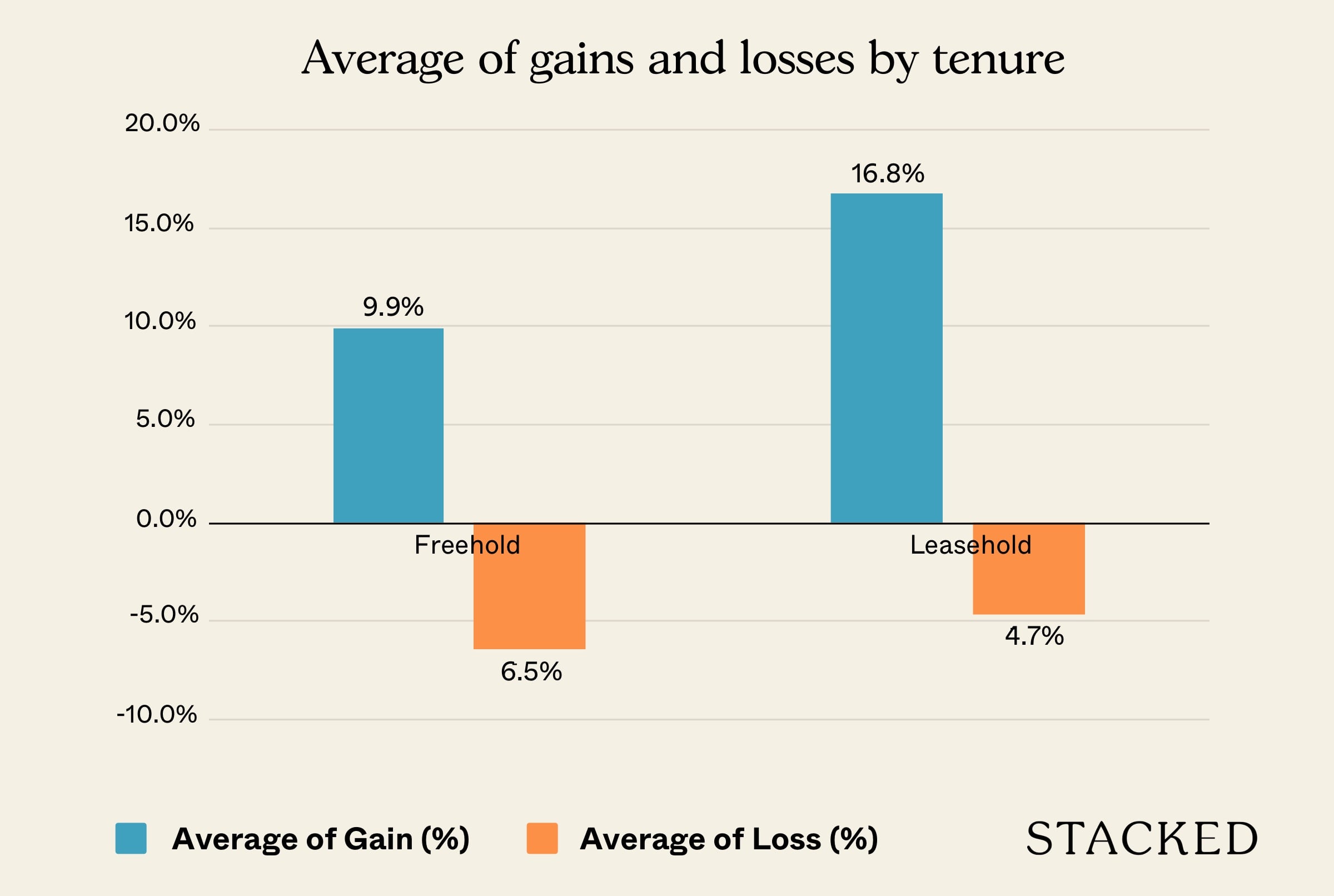 The only losses on the leasehold side were from Fourth Avenue Residences (-3.3 per cent), and Pollen & Bleu (-1.9 per cent).
Apart from being the only two examples, these losses are considerably smaller than the losses from freehold counterparts. None of them come close to the kind of losses in Ascent @ 456 (-11.3 per cent), or 8 Saint Thomas (-10.7 per cent).
This isn't entirely due to the lease alone; it's related to the fact that many of the freehold units are high quantum, prime region properties; these units are harder to sell, and the sometimes low volume of transactions can make resale results more volatile.
If there's a lesson here, it's that investors holding on for shorter periods, say around five or six years, it may be safer picking a leasehold option.
3. Leasehold seems to fare better in fringe districts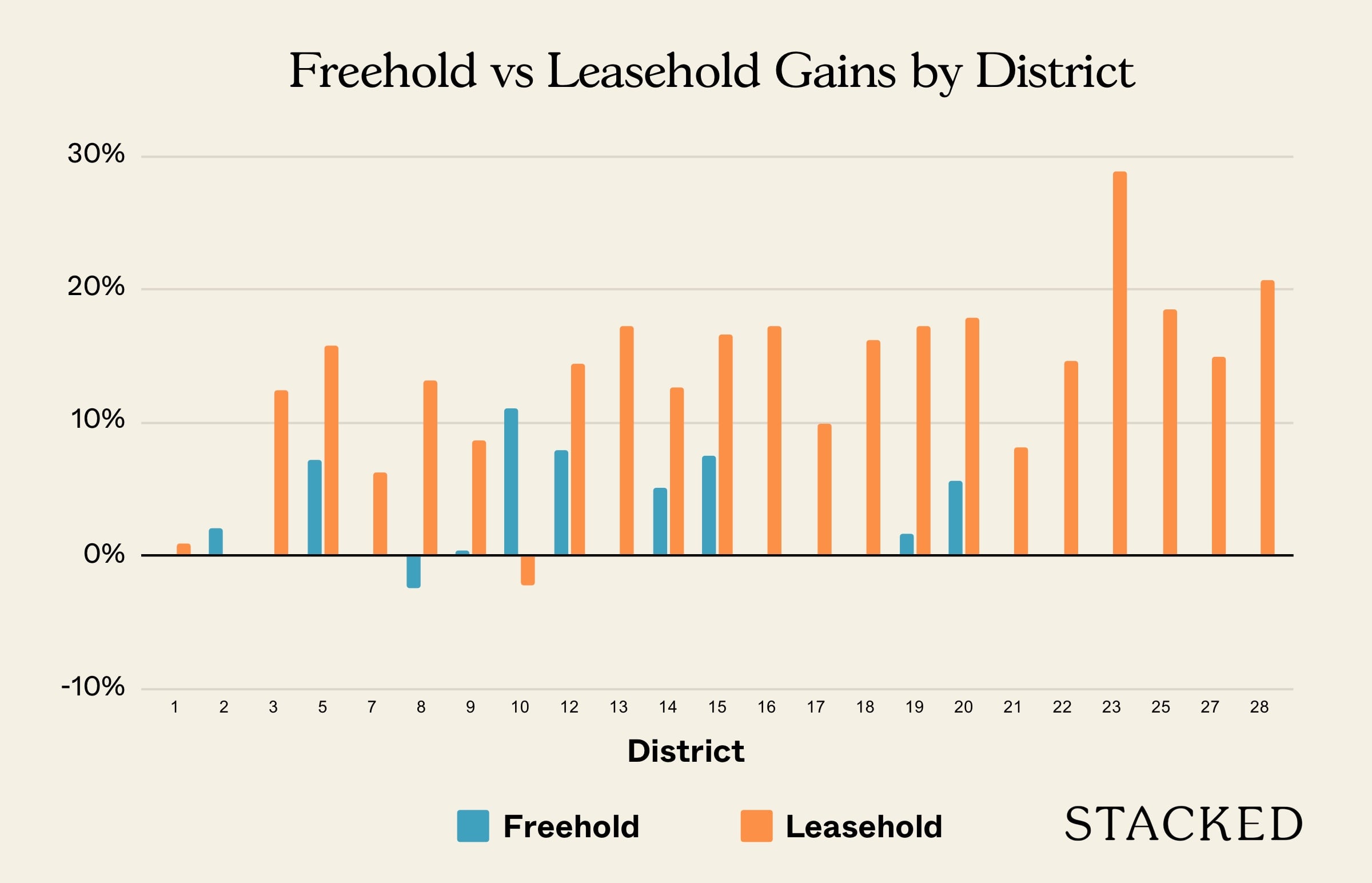 Note that in the prime area of district 10, freehold properties saw an average gain of 11.1 per cent, while leasehold counterparts fell 2.2 per cent.
The highest overall gains for leasehold were mainly in the Outside of Central Region (OCR), with districts 23, 28, and 25 at the top. It's partly that a lower entry price provides more room for appreciation, but it's also because of the buyer demographic in the last few years.
A large number of buyers have been HDB upgraders, who are typically priced out of the Core Central Region (CCR) or city fringe. As such, resale condos in the OCR – where leasehold is more common – have seen a stronger pick-up, whereas prime region condos have fallen behind.
4. Freehold and boutique seem to be the worst combination
Many of the freehold projects showing losses are boutique condos, with 50 units or fewer.
For example, 183 Longhaus has only 40 units, while 24 One Residences has just 24 units. Ascent @ 456 has just 28 units. 
Boutique condos tend to come with higher price points, due to the exclusivity; and the smaller number of units often means pricey maintenance fees. As such, these units are more challenging to re-sell, except to the more affluent buyers.
Read this next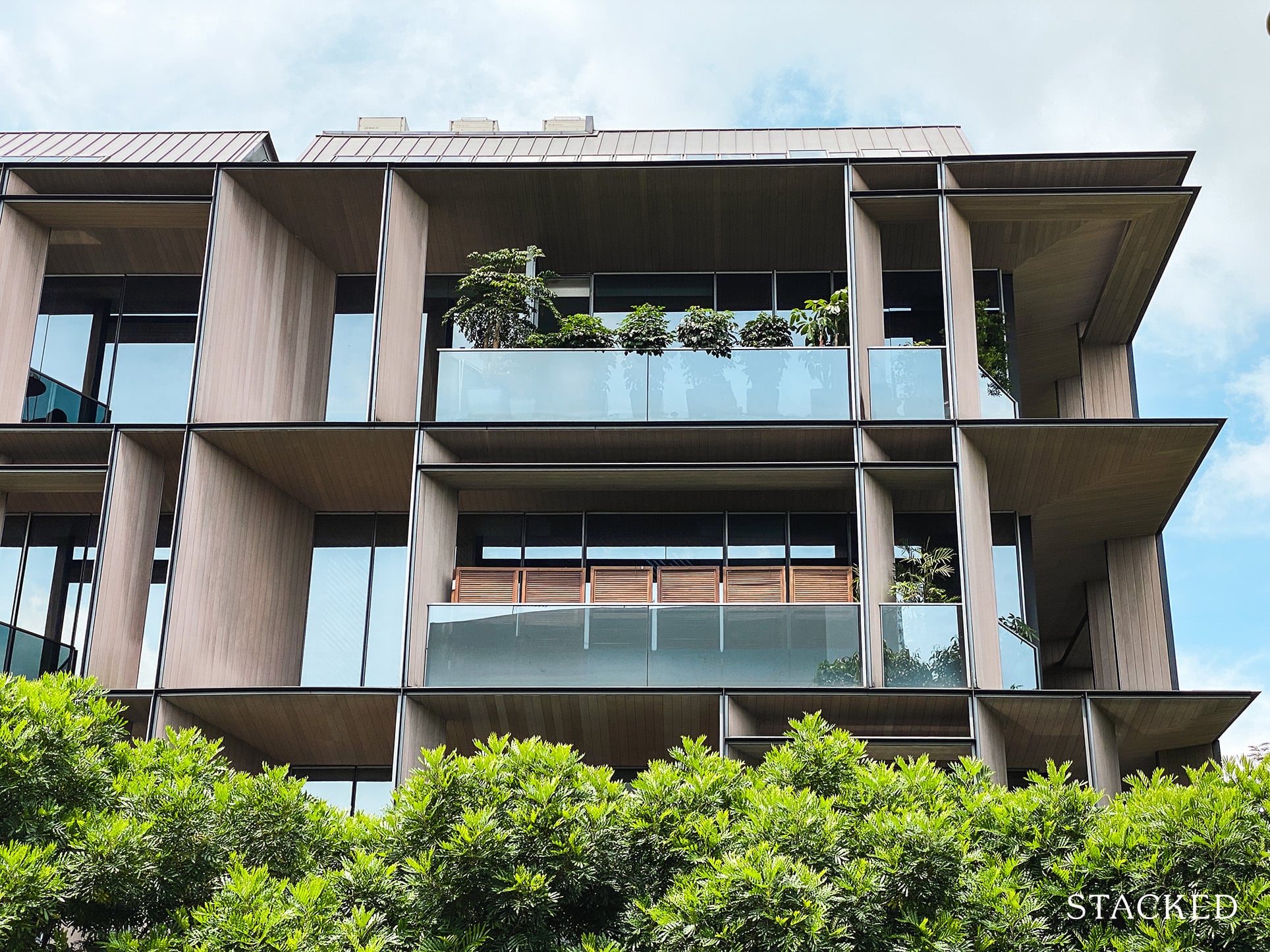 There's also a low volume of transactions in most boutique units, making the price quite volatile.
Some realtors opine that this has nothing to do with freehold or leasehold status, but the intent of the buyers. Boutique condos are more often purchased as an indulgence by affluent home buyers, and these buyers are not focused on financial gains (hence their willingness to sell even at a loss, once they're tired of it or need to move on). 
There's also the matter of discoverability. Most buyers would have heard or seen bigger projects like High Park Residences, but a small one like Ascent @ 456 is just much less likely to be known. For potential buyers to come across these projects will require them to dig deep when searching, or have experienced real estate agents that are very familiar with the surrounding projects.
Upcoming en-bloc sales could impact interest in freehold condos
As always though, don't take any of the points here as gospel to push any narrative. As much as the trend shows that smaller freehold boutiques seemingly don't perform as well, it also doesn't mean that they all don't do well. Every property has different factors that affect its profitability (not just the lease status), and you'd always want to cover all grounds possible when evaluating a potential purchase.
2022 is expected to see a rise in en-bloc sales, despite higher stamp duties. This is because developers are currently land-starved, with most of the 2017 collective sale sites now redeveloped and sold. 
Some realtors have remarked that the attitudes of developers, toward freehold properties, could impact buyer sentiment.
That's because a common sales pitch is that freehold property is more attractive to developers, or can fetch a better en-bloc price. This is on the basis that developers don't have to pay for a top-up on the lease.
This will be a good time to monitor whether sale proceeds for freehold properties, during a collective sale, really are higher. For more on the situation as it unfolds, follow us on Stacked. In the meantime, you can also check out reviews of new and resale condos alike.