Analysis
A Buyer's Case Study With Stacked: Fourth Avenue Residences
Ryan
December 7, 2020

15

min read
First Consultation
As you might well have guessed, this was another client journey that began in the earlier months of the pandemic.
Like many others that we've spoken to during this period, it was a confusing phase to be house shopping – let alone for someone looking to buy their first home.
The number one question on their minds usually was – would the prices drop further?
Couple that with resale prices that don't really seem to be dropping and you've got yourself one bewildered home buyer.
If this reads like your thought process over the last few months, know that you are not alone – there are many others in the same boat as you are.
So like our previous case study on Kopar, unfortunately we could not meet up for the first consultation and had to do it over the phone.

For the benefit of those new to our case studies, the first consultation is always crucial. First, for us to better understand our client's objectives and to dive deep into what they really want in a home. Oftentimes people have an idea of what they want in their head – close to good schools, capital appreciation, or even must have features like an open patio.
But after going through the entire process, what they end up purchasing can be very different – buying a home can actually be more emotional than you might think!

Second, we like to use the opportunity to better educate our clients on the Singapore real estate market. The trends, things to look out for, and general tips. We will also present what to look out for in any potential purchase – integration (shopping, MRT, transformation), comparables in the area, holding period, and sustainability for the property.
In this case, our clients had a lot of questions about freehold vs leasehold (very normal), and about new launch vs resale (again, very common).

They hadn't done much prior research, but were keen on settling down in areas that they were used to, like the Bukit Timah, Holland, and to a lesser extent, the Alexandra regions.
After speaking to them, these were their initial set of criterias.
Looking at resale as they wanted bigger living spaces (1,000 sq ft and above)
Timeline was important, they wanted to move in by 2021, hence again, resale
Freehold
Only keen on Bukit Timah, Holland, and Alexandra
Future capital appreciation
There were a few pertinent issues, of which we had to align during the call.
For one, their budget was at $1.6 million. Not a small one by any means, but in the prime areas you would be hard pressed to find something suitable. The older condos usually have bigger living spaces and hence a bigger overall quantum. And especially taking into consideration the freehold criteria, you really aren't left with too many choices.
And as you might know by now, one of the problems when shopping for a resale unit is availability. More so for older developments in these areas as they tend to be more for own stay – which might mean you don't always get the right unit you are looking for. In other words, the timing and availability is never within your control.
But again, the real issue here was that they were priced out of the areas that they were looking at.
Of course, we had to show them what we meant.
Take Gallop Gables for instance.
It's quite an under the radar type development. It doesn't occupy much frontage along Farrer Road like the rest but it's deceiving as it stretches pretty far in.
Basically, it's just 140 units on over 200,000 sq ft of freehold land. It's spacious and walking distance to Farrer MRT station. 
But, because it's an old development – unit sizes are big.
By most accounts that would be a good thing, but for our clients here this just meant that the overall quantum is out of their reach.
Recent transactions have shown the 2 bedders transacting at over $2 million, which blows past their budget.
Likewise, other developments in that area like Spanish Village were priced at $1.8 million for a 1,100 sq ft unit. Again, while it fits the size requirements, even though the psf is low, the overall quantum is too high.
Although looking back now there was a transaction in Oct 2020 at $1.6 million at a reasonable price of $1,419 psf. Which does reinforce our point about looking at resale units – the timing is never within your control. While it may seem like a missed opportunity in this case, it is really just one of those things that can't be predicted.
There have also been countless cases where you might be kept waiting, with no suitable unit coming on the market. When that happens you'd be stuck in no man's land, should you rent? Or just give up the wait and buy someplace else.
More importantly, despite the current pandemic – these sellers had holding power. So contrary to popular opinion that they would be willing to let their units go at a discount, on the ground this wasn't the case at all.
It may sound harsh, but doing this is important to let our clients have clarity of the actual situation, and how realistic their budget actually is for what they want ultimately.
It's much better than going around on a wild goose chase for them to be disappointed at the end of the day.
Last but not least, we rationalised with them that since their targeted holding period was only about 10 years, it could actually be worth exploring the option of a leasehold new launch as well.
Because they were intending on using this property as a stepping stone to a bigger one in the future, it might not actually be worth it to pay the premium for a freehold one – so as long as the new launch TOP is within their timeframe. 
So we gave them a little homework to do, they had to rank in order of priority between size, freehold and location.
After deciding which was more important, it would then be more conducive to see if the budget needed to be adjusted, or if one of the priorities could take a backseat.
They came back to us in about a week, and this was how they ranked it
1. Location
2. Size
3. Freehold
So now that everyone was on the same page, it was down to researching for the first proposal.
First Buyer Proposal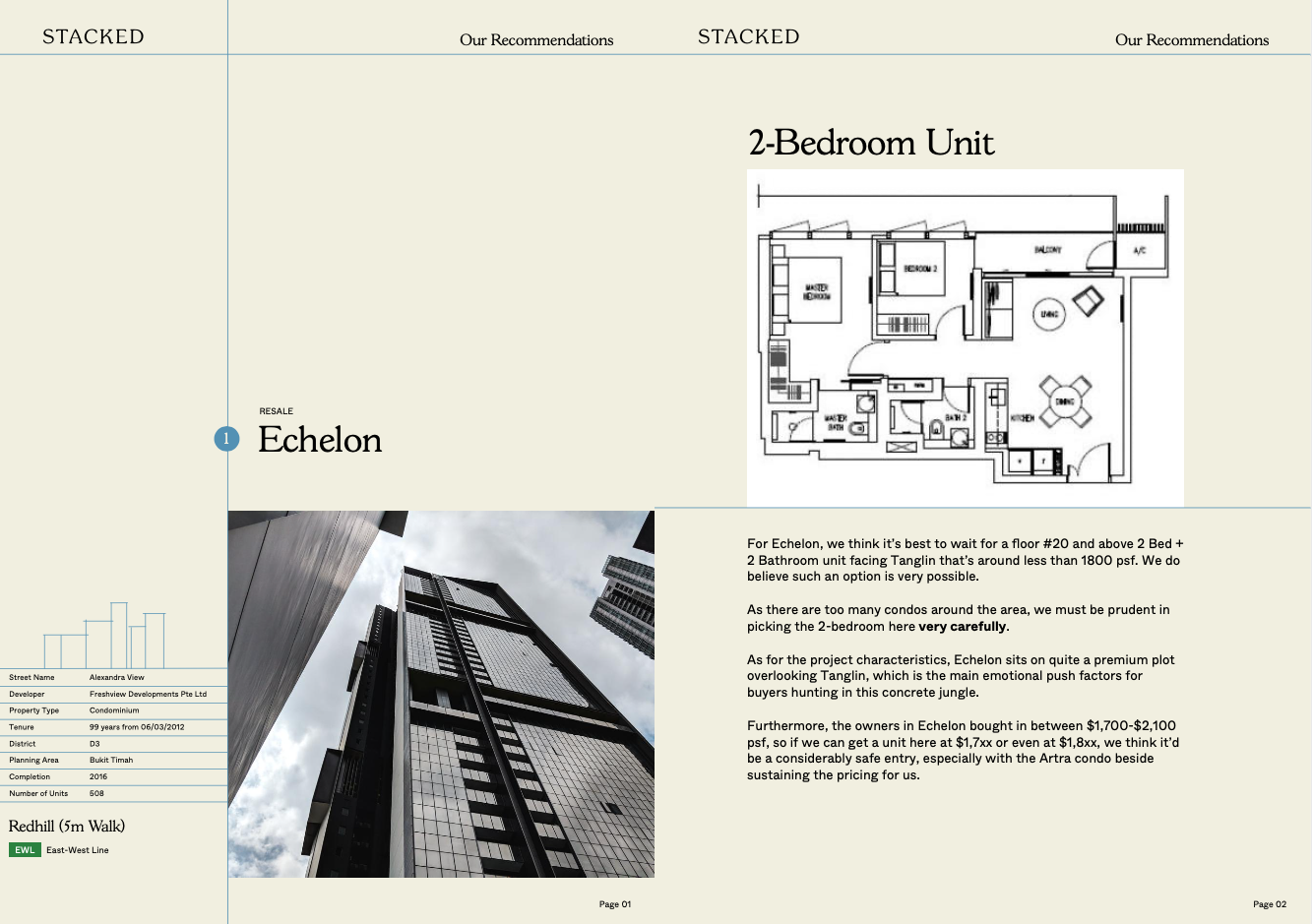 Now it goes without saying, the locations they were looking at has a ton of residential options.
But because of the budget constraints, it was a lot easier to sieve down to what was necessary.
Here were the first 4 options that we presented:
Echelon
For those less familiar with the Alexandra area, the Echelon is one of the five newer developments in the immediate area. Arguably, it is the sleekest looking one (having been designed by SCDA). Although you do have Alex Residences next door with the rooftop infinity pool as the wow factor, and the newest kid on the block – the Artra, with direct MRT access and an NTUC located within the development. 
For Echelon, we recommended to wait for a 2 bedroom unit from the 20th floor (for the views) and a pricing of under $1,800 psf. Given that there are quite a number of condos in that area, it is imperative to pick the right unit very carefully. 
Most of the earlier owners of the Echelon would have purchased between $1,700 – $2,100 psf so $1,800 psf would be a considerably safe entry – especially with the newly built Artra to help sustain the pricing of the area.
Read this next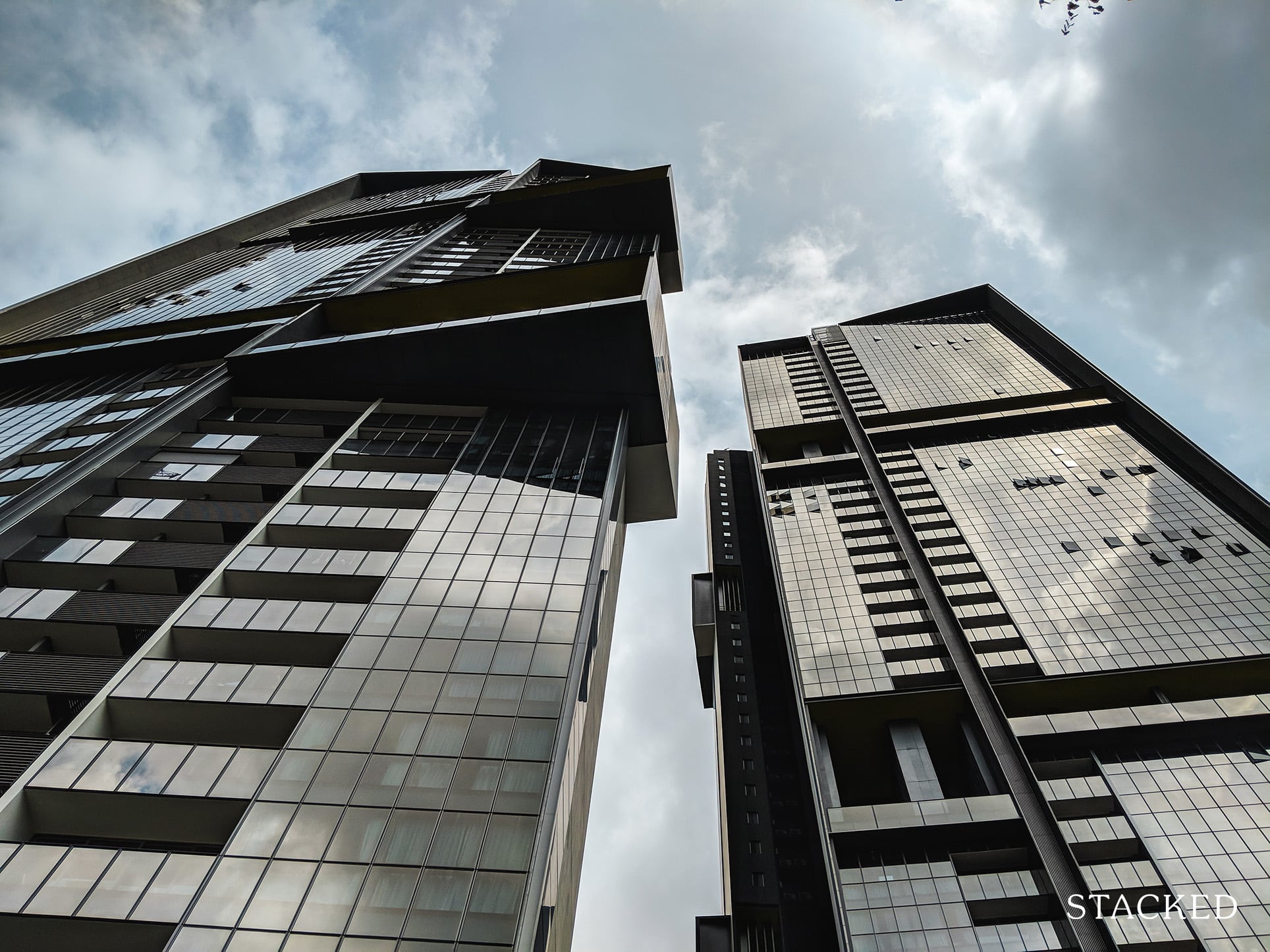 The Merasaga
Our clients mentioned that the Holland Village area was one that they really liked. While there were many new launches in the area, they were all out of budget because of the freehold status and well, it is Holland after all.
So in this area, we looked at the resale market (Warner Court/Willyn Ville), but these older ones were all freehold and the current asking prices were overpriced plus out of the budget range. 
Hence, we considered The Merasaga because it was leasehold so prices were almost within range.
Needless to say, the location is great, close enough to walk to Holland Village yet still enjoys relative peace and quiet.
That said, buying an old leasehold such as this would probably have to entail the exit strategy of waiting for an en bloc sale.
Alternatively, because of the revamp of Holland Village we would think that prices might be pushed up once the new launches are all built (best case), if not price would be maintained or there might be an en bloc opportunity – which renders your price quite well-protected.
Of course, the risk factor is if any speculators here for an en bloc fails, they might be pushed to sell below market value.
Fourth Avenue Residences
With the asking prices at that point of time for a 2 bedroom 2 bathroom unit at $1.6 million budget, it was within their budget.
You could almost consider it to have direct access to Sixth Avenue MRT station, and with food just opposite and a Cold Storage located next door, it does offer good prospects liveability wise.
Last but not least, you will enjoy good rentability not just from the characteristics above, but from the positioning of the RoyalGreen next door. Because that is a freehold project, owners there will be wanting to protect their rental yields with a higher asking rental price. This gives owners at Fourth Avenue Residences a buffer in pricing. 
It's quite simple really, if you are a tenant looking in the area, would you choose the development that is connected to the MRT (cheaper) or the freehold one opposite the road (which is more expensive)?
The biggest downside here is probably its scheduled TOP by the end of 2022.
Margaret Ville
Admittedly, this was a stretch of budget but we felt this 4 bedroom unit at Margaret Ville was a good option that was worth considering. This was asking for $1.9x m where other 4 bedroom units in the area were priced at $2.2m and above.
We also like that there were only 300 plus units in the development, which is a great size. Not too big that facilities could get overcrowded, and not too small that monthly maintenance gets too overbearing. Plus, it is expected to TOP in 2021, which was perfect timing.
Second Consultation
So during the second consultation, we went through the proposal thoroughly so that they had a better feel of the pros and cons of each pick.
From here, we had a sense that they were really keen on The Merasaga, while Echelon was more of an interest to see how a new modern development would be like.
It was also during this call that they felt that they wanted to prioritise resale units first as the possibility of moving in earlier was a tempting prospect.
With that, it was a tense wait for the circuit breaker to end to commence the viewings!
Here's a list of the projects that were viewed (other than the initial proposal). For fear of boring you completely, we'll just quickly touch on what they liked and didn't like about each of them.
really liked the location, quiet yet close to HV
dated exterior
Asking price and guesstimate closing price of the available units at that time was much higher than last transaction and valuation
Good location
Poor facilities
High asking price because freehold
Close to MRT
From here they dropped the Alexandra area, still preferred Holland
The Wharf
Crowded on the weekends
Surprisingly squeezy feel
Didn't feel homely
Really like the resort ambience
Location while good, was a bit underwhelming compared to Merasaga
Liked the pool and facilities
Wasn't a fan of the unit layout
Newton Edge
Small
Not a fan of the location
Corals at Keppel Bay
Really liked the location and feel of the development
Stylish design
Not great layout
Concerned that the project still hadn't sold out
Liked the layout
Good location
Asking price and guesstimate closing price of the available units at that time was much higher than last transaction and valuation
Unit condition required a lot of renovation
Concerned about the amount of reno work needed
After viewing all the resale units, the straw that broke the camel's back was because all the resale units were not in ready-to-move-in condition. This meant that substantial renovation costs would have to be incurred – which was exacerbated by Covid-19 (construction costs would be higher). 
Not just that, you might even see the timelines having to be stretched even further because of construction delays.
Understandably, it was tough for them because while they did like some of the resale units, the asking prices and conditions were just too much to be considered. Taking into account the prices plus additional reno works meant that they were likely to have to account for a bigger overall budget.
And so because of those reasons, we proposed to them to take a look at the new launch side of things.
Back to New Launches
Unfortunately by that time, Margaret Ville was 100% sold out. So we turned our attention to Fourth Avenue Residences.
You might be wondering: there are so many new launches in the Bukit Timah area – so why Fourth Avenue Residences?
First things first, it has great connectivity to the Sixth Avenue MRT station (you could say it is direct) and there is a lack of unit supply in that landed-dominated area. Furthermore, as far as entry prices go, Fourth Avenue Residence is the lowest priced full-facility condo in the vicinity (we are talking about 2 bedroom units here specifically) because it is the only leasehold condo in the area – so it will also be an affordable quantum in the future resale market. This is a major trait that would contribute towards its value-retention factor for Fourth Avenue Residences despite its leasehold tenure. 
Put it this way – this is simply an introduction of a mass market residential supply to an area lacking one. One comparison that you can draw would be to the Loft at Nassim – which has managed to hold its prices and demand (the only leasehold in a freehold dominated area).
For further comparisons, we have done a similar one with Kopar and its adjacent Amaryllis Ville. 
Next, we did additional research on its main attribute – its MRT connectivity and its bearings on rental demand.
If we were to look at the Downtown MRT line (with the upper limit of where our clients would go being Bugis), there are just a few projects that can boast to have direct MRT access.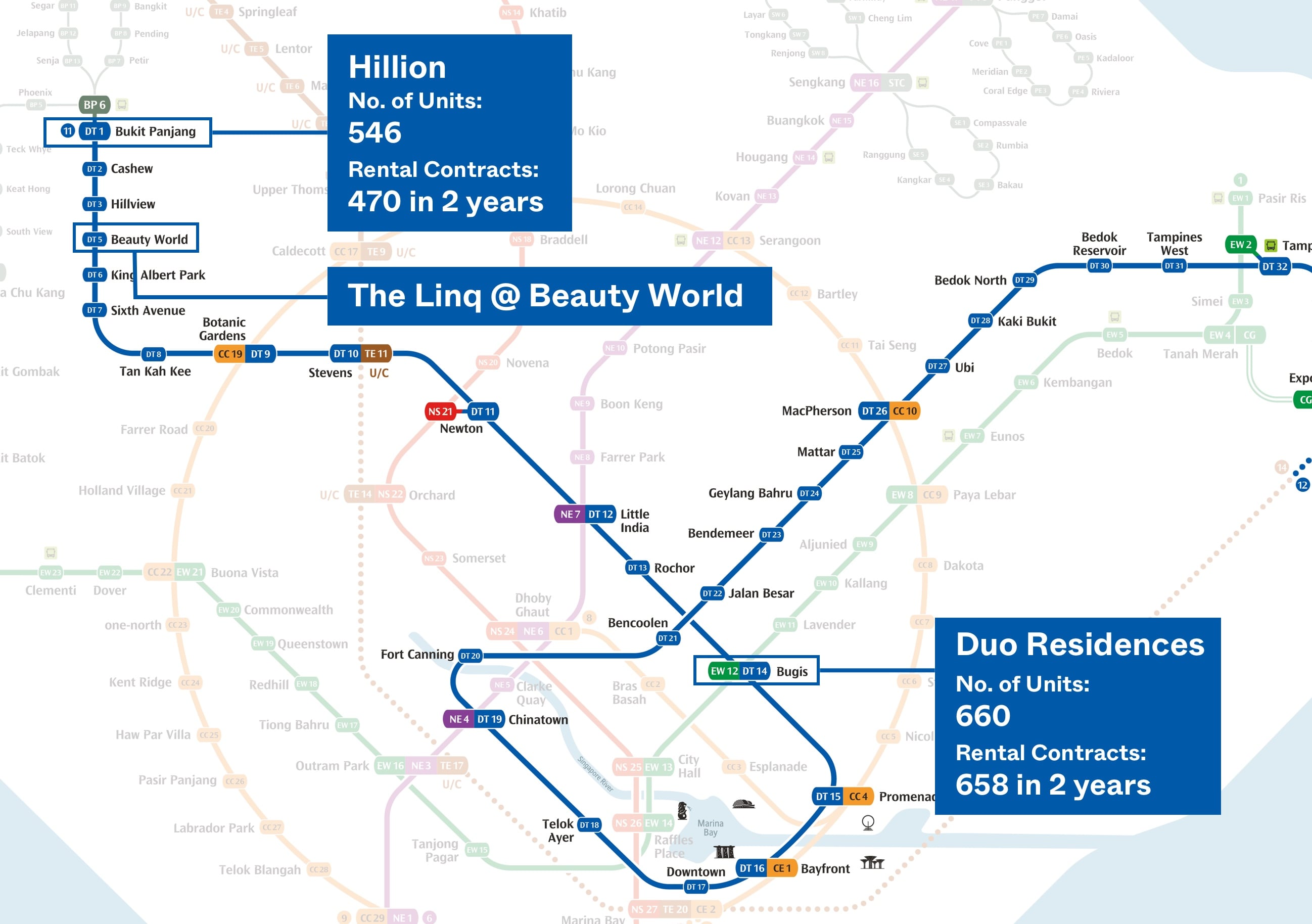 To give you an idea, we have Hillion at Bukit Panjang, The Linq @ Beauty World, and Duo Residences at Bugis.
As a comparison:
Hillion 546 units, with a total of 470 rental contracts in 2 years
Duo Residences 660 units, with a total of 658 rental contracts in 2 years
Contrast this to further away projects from the MRT:
Eco Sanctuary 483 units, with a total of 171 rental contracts in 2 years
Foresque 496 units, with a total of 241 rental contracts in 2 years
Tessarina 443 units, with a total of 193 rental contracts in 2 years
This is just to illustrate that rentability and rental demand will play a role in the price protection of the development.
Beyond project comparisons, identifying the right unit within the development is just as important as well. To get that right, we will be relying on the varying stack premiums as a safety net.
This premium is at its highest gap during the new launch phase only. As the project enters the resale market, you still start to see this premium gap closing, and even disappear entirely at times.
To give you a better idea, these were some of the asking prices for a 2 bedroom unit at Fourth Avenue Residences.
So some of the Stacks we were looking at were Stacks 4 and 12 at $1.673m and $1.68m respectively.
But just as we were doing our research on it, we received word from our networks that there was a sub sale unit that was looking to sell at $1.63m, despite having bought at $1.68. This was a distressed sale, hence the lower price as the seller was urgent to let it go. 
It was a fresh listing that was not even on any property portal yet.
We quickly did up a comparison with the other units to showcase why this sub sale unit would be one to go for.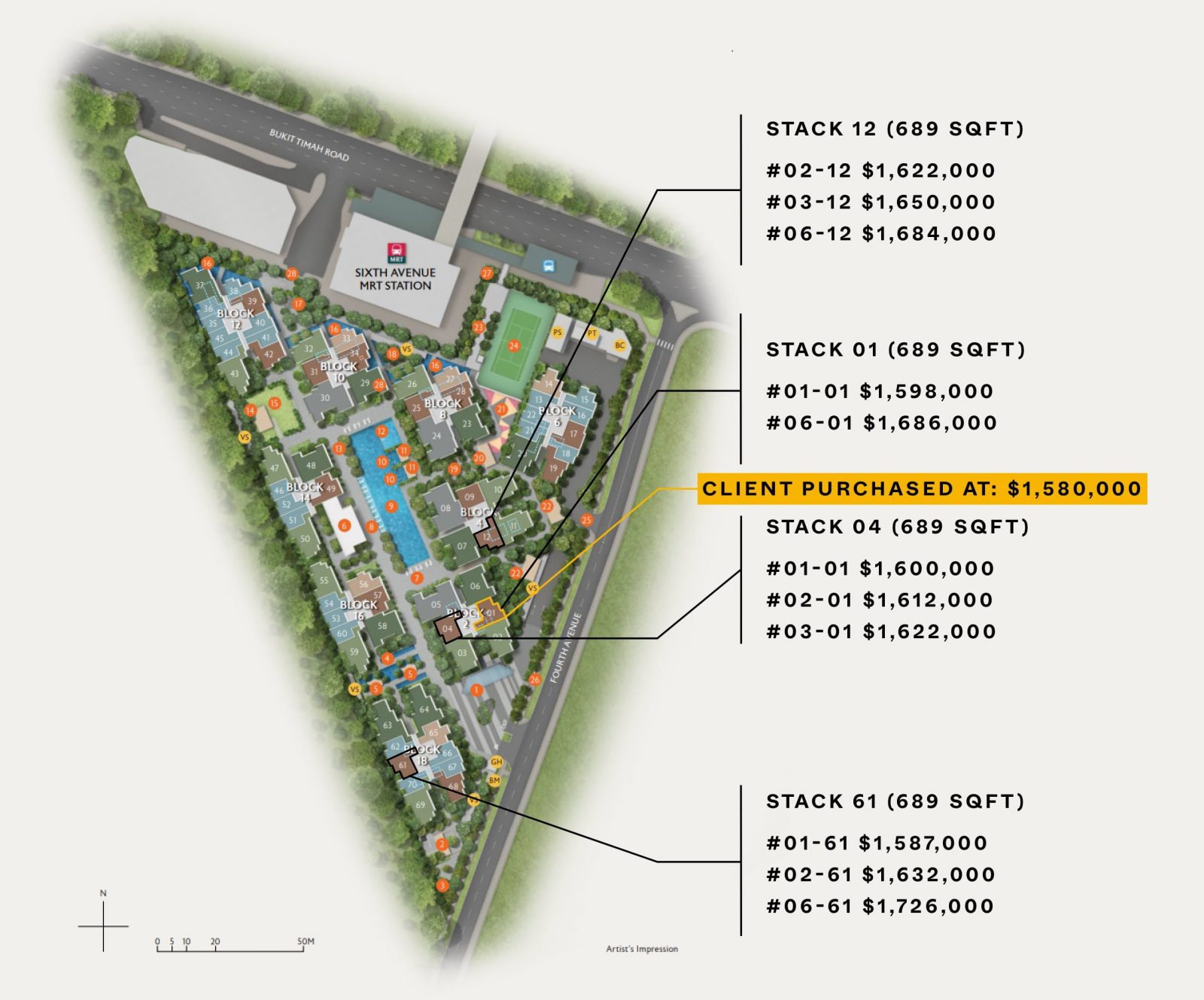 Judging from the situation at hand, we advised for an offer at $1.58m.
At that price, we considered it to be an even safer entry, as you would be essentially almost getting it at one of the lowest prices for a 2 bedroom unit at Fourth Avenue Residences. As a matter of fact, only a small handful of units were going for cheaper – but bear in mind these were facing the wall (as it is facing the MRT). To give you a better idea, these were sold at $1.518m.
In comparison as well, current units were asking for above $1.6m, so the price was effectively well protected.
Final Purchase
To cut a very long story short, we were able to push through the deal for them at $1.58m.
Those with a good memory might remember that our clients initially wanted to move by 2021, but Fourth Avenue Residences was only slated to be ready by end 2022.
Well, because of the unpredictability of the availability of the resale units and the one-off of this sub-sale unit, they were willing to wait a little longer for it.
Ultimately, you could say this was a one-off that wasn't going to come around again. But we do think that all things considered, it was a good entry price to a development that is well connected and would be an ideal stepping stone for them before moving to a bigger one in the future.