Condo Reviews

Espada Condo Review: Small "Affordable" Units in River Valley
Reuben
September 7, 2019

16

min read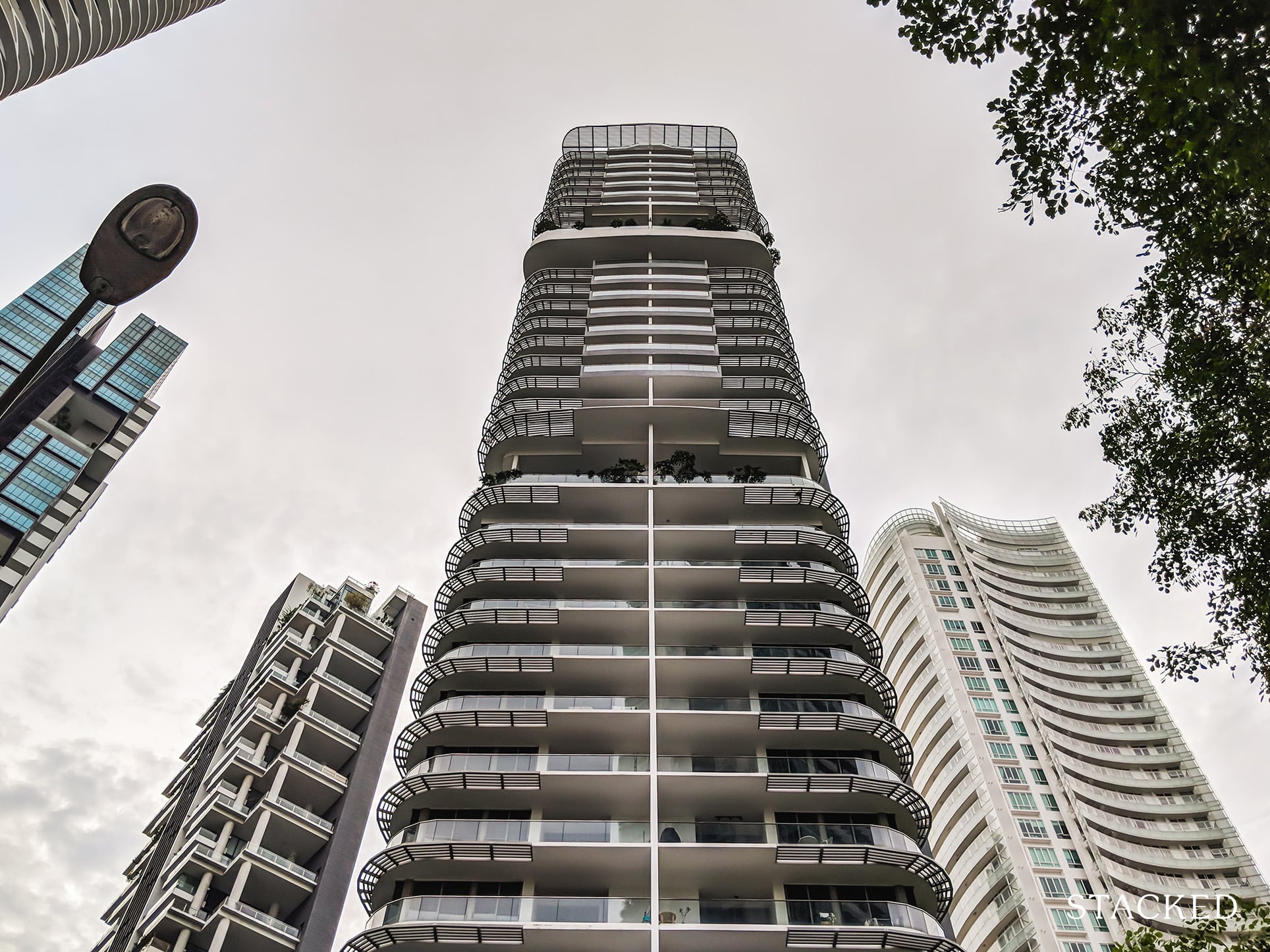 Relatively new condo in a great location, but not suitable for families as the units are small.
Reviewed by Reuben on September 07, 2019
What we like
Abundance of food nearby

Walking distance to 2 MRT lines

24 hour NTUC

Good swimming pool
What we don't like
—

Some areas not as well maintained

—

Small units
16
min read
About this condo

| | | | |
| --- | --- | --- | --- |
| Project: | Espada Condo | District: | 09 |
| Address: | Saint Thomas Walk | Tenure: | Freehold |
| Site Area: | 37,102 sqft | No. of Units: | 232 |
| Developer: | Novelty Orchard Development Pte Ltd | TOP: | 2013 |
Affordable is probably the last word that developers think of when they architect a condo in the District 9 area. Yet somehow, the Espada condo bucks this exorbitant trend – much to the delight of both singles and couples with no intention of raising little replicas of themselves anytime soon. The condo's incredible location (think 300-metre walk to Somerset MRT) is further bolstered by the impending arrival of the Havelock and Great World (Thomson-East line) stations in 2021.
Granted, the condo might not make top news for its snugly-fitted units, but a well-developed set of amenities and a prized freehold status make it a noteworthy investment for younger home-lookers. More so when you think of its projected increase in valuation as the years roll by. A further (massive) bonus for diehard shopaholics is the proximity of Singapore's esteemed Orchard Road shopping belt – situated just a mere 10-minute walk from the Espada condo.
Insider Tour
Facilities in Espada
Swimming Pool
Wading Pool
Jacuzzi
Barbecue Pavilion
Gym
Playground
Outdoor Fitness Station
Heated Swimming Pool
Yoga Corner
Sports Bar
Hot Tub
Outdoor Dining Area
Tennis Court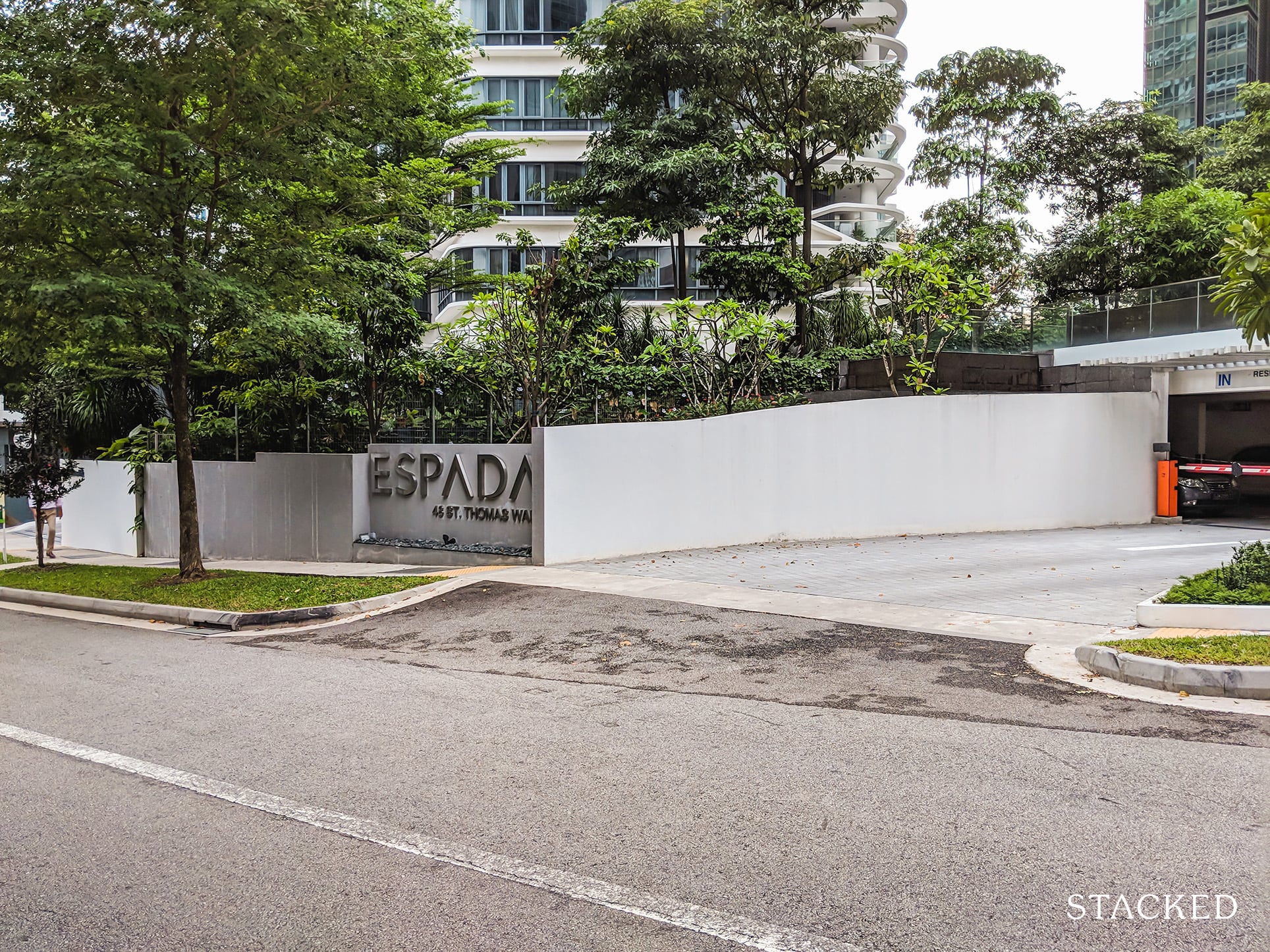 The Espada condo does not have the most impressive entrance, and it is a little disappointing as it is quite a new development, having only been built in 2013. I know it is not supposed to be a luxury development, and the land size is quite small but it does not give off the best first impression here.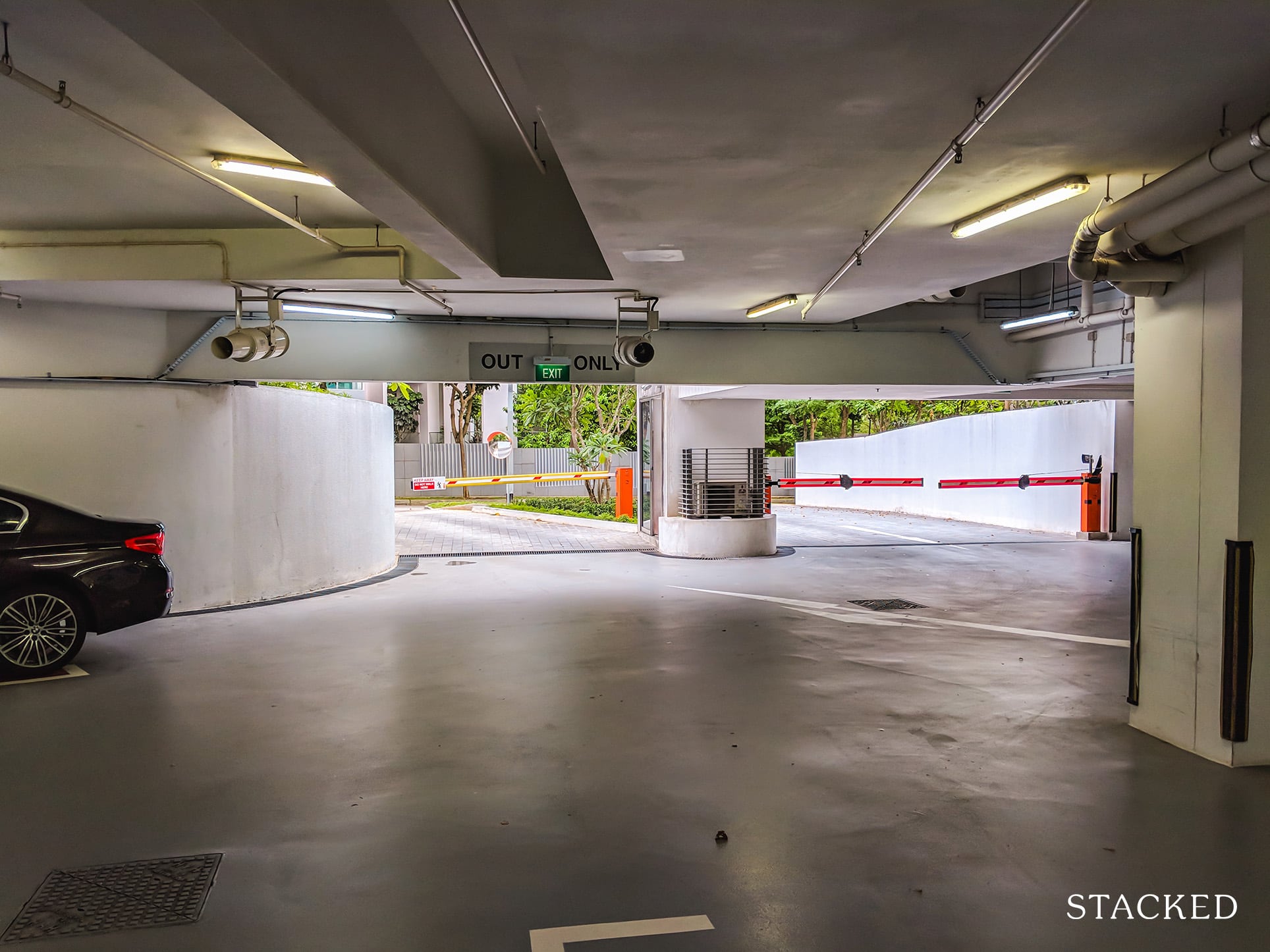 The carpark here has the epoxy coating on it, which is always a good sign that the developer has invested in a quality development. It's a pity though that the ceiling is quite low hence it feels ever so slightly claustrophobic in here.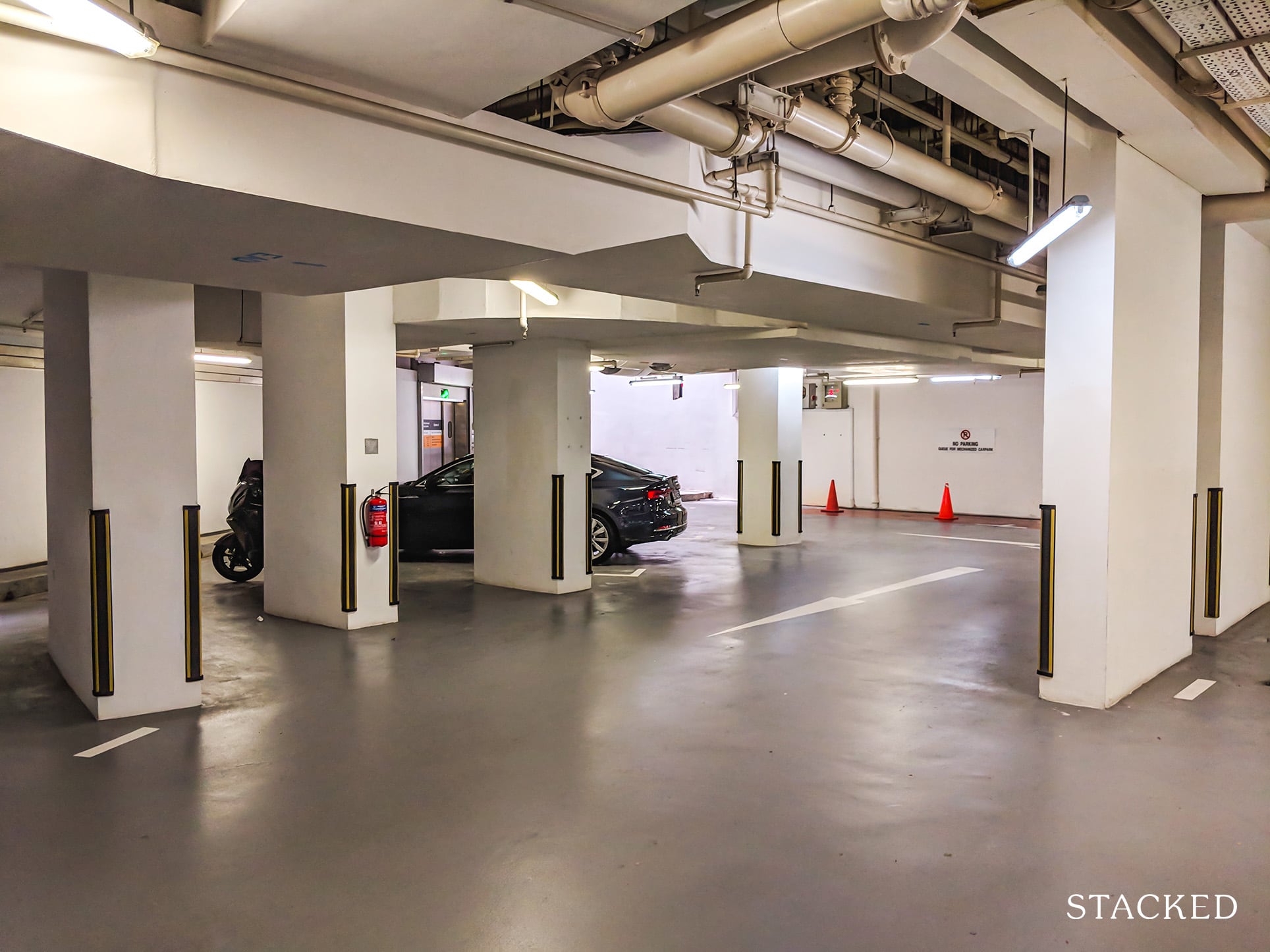 The carpark here is not big, and sadly, there isn't any provision for visitor carpark lots here. I know perhaps given the location it is not as necessary, but it would have been nice to have some allocations at the very least.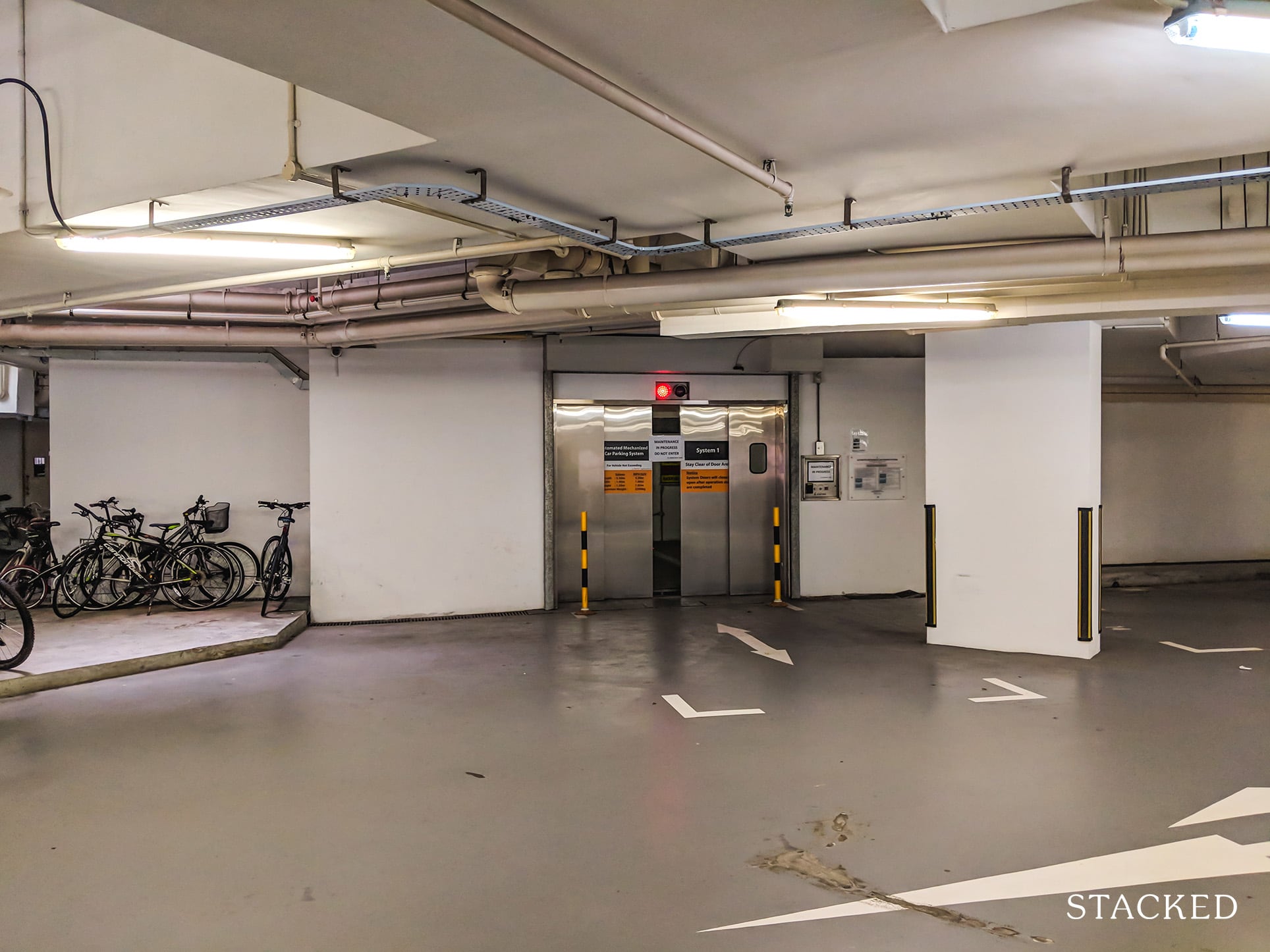 Because of the lack of space, the developers installed a carpark lift instead of the usual ramp. It looks cool but it could be a hindrance during peak hours. Do note that there are a total of 186 lots as compared to 232 units, which means not every unit will get a lot. Again, this is getting increasingly common in the smaller newer developments and is all part of the trend to move Singapore towards a car-lite society. This also might not pose as much of an issue here as I think that the majority of the units here would be rented out hence you should be fine even if you do drive.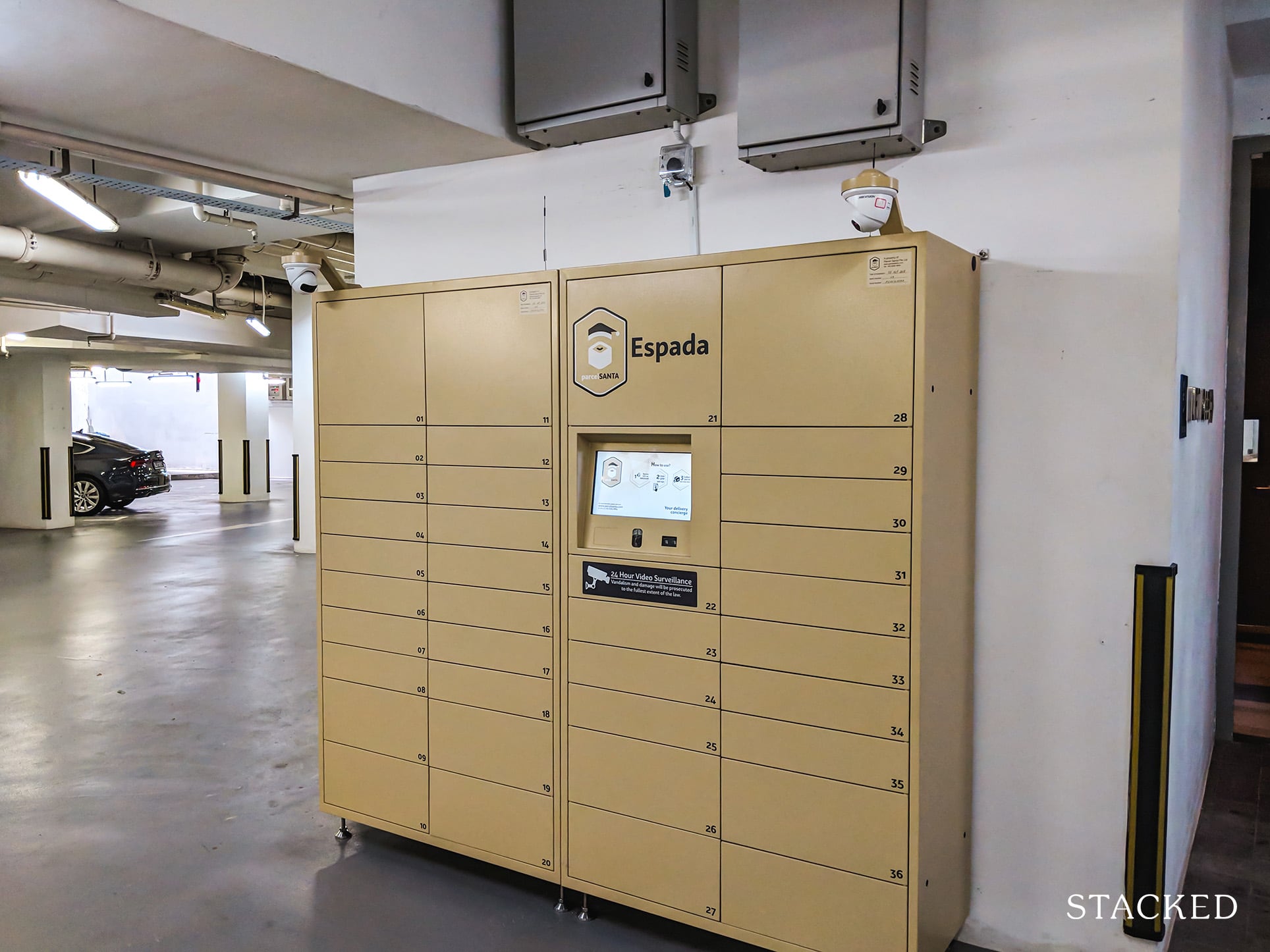 Just before the entrance to the main lobby, the Espada condo has its own Parcel Santa! Which is always a useful thing to have around for deliveries when you have no one at home to receive them.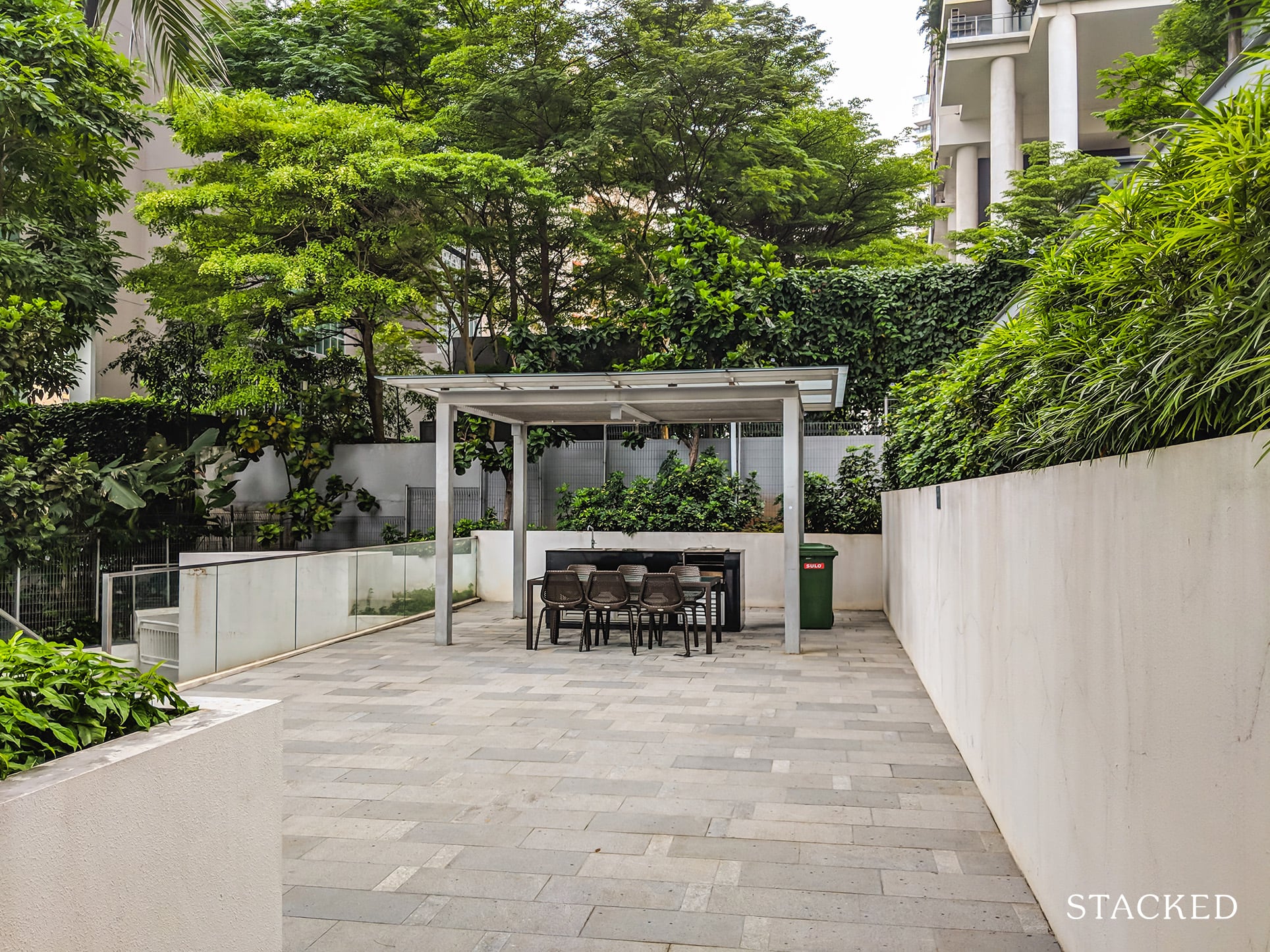 Once you get up to the first floor, on the right you have a barbeque area with some seating and it is sheltered too.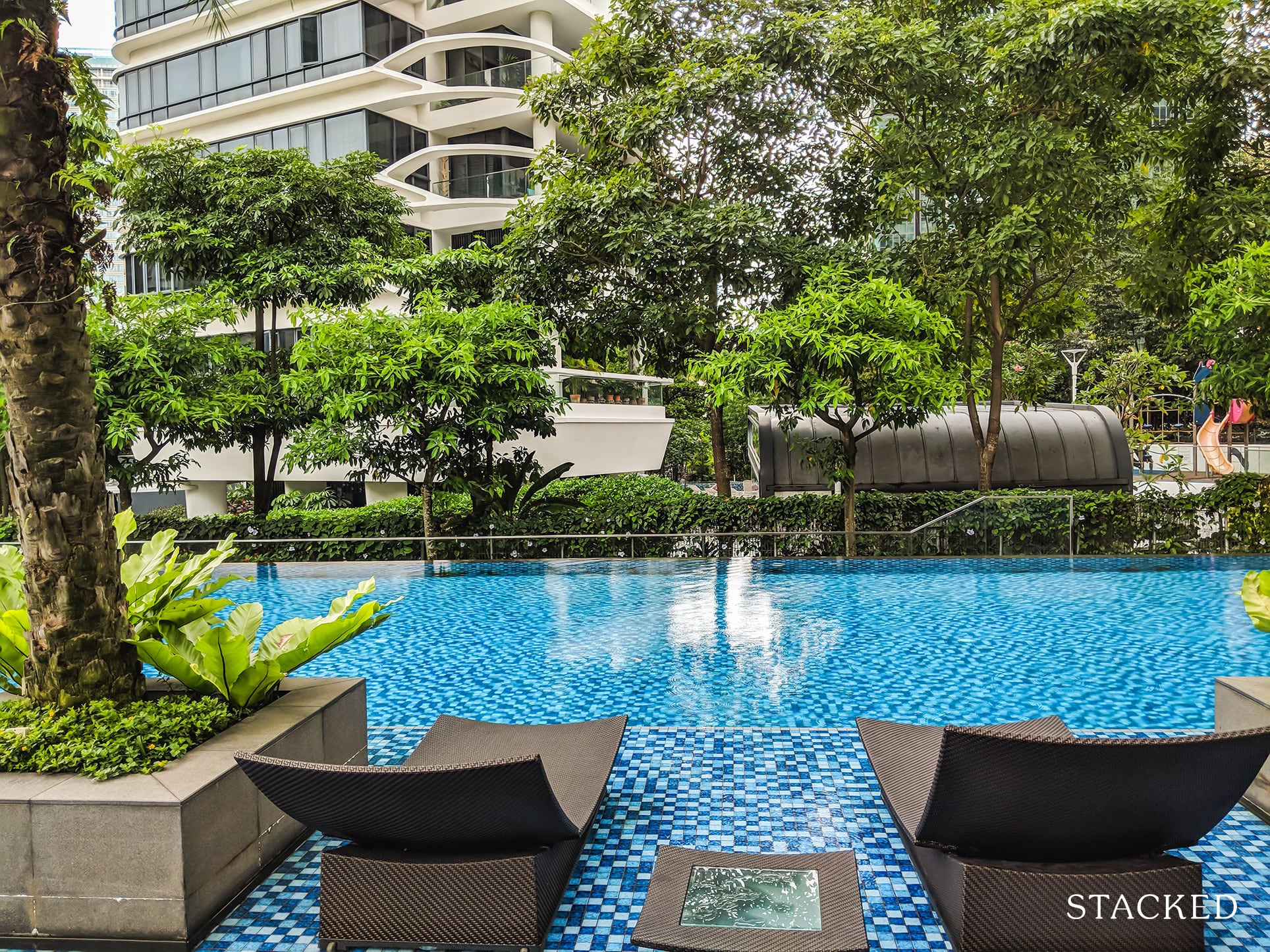 Right in front of you is the main swimming pool of the Espada condo, with some lounge seating perched right next to it.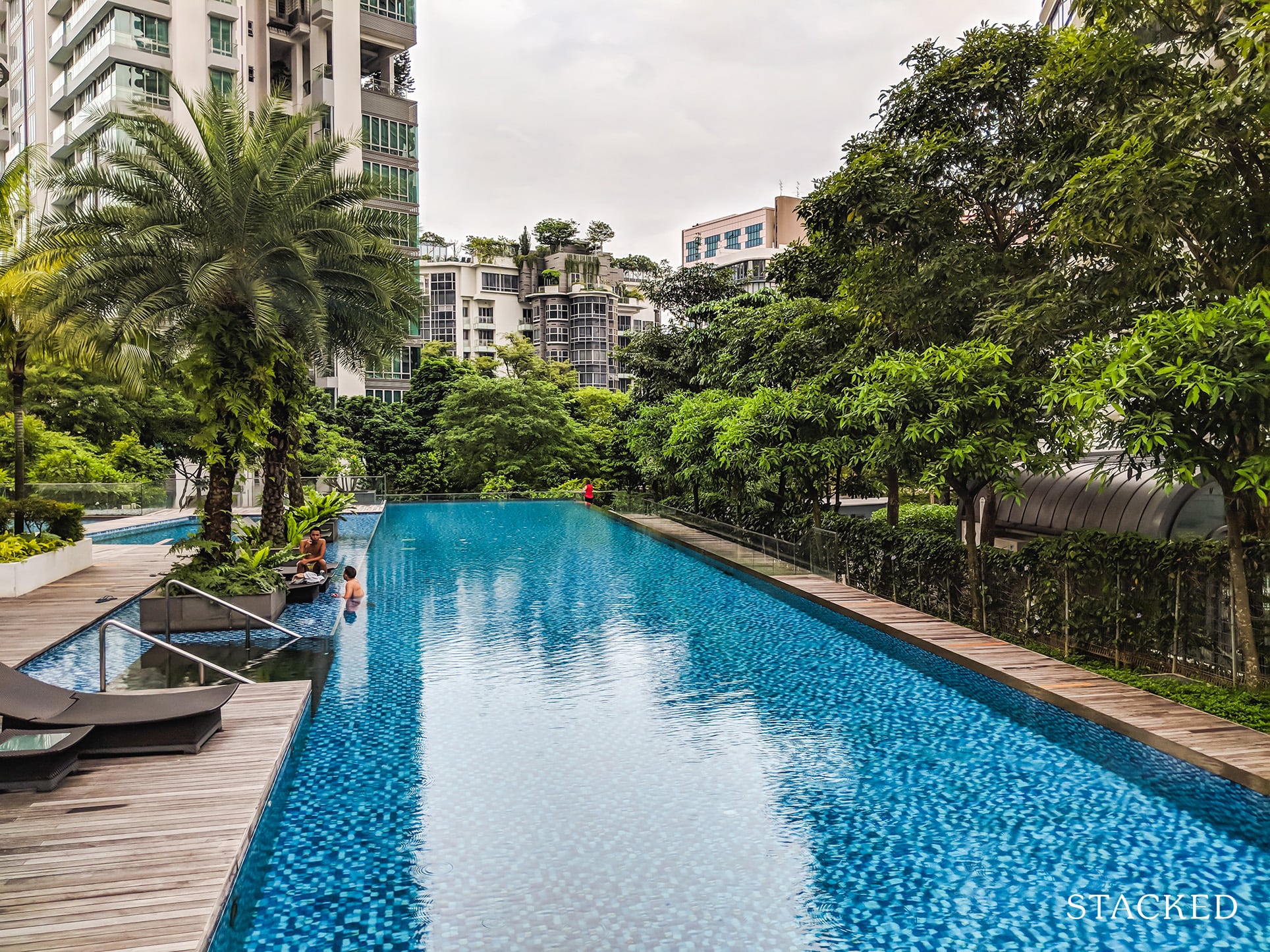 The infinity pool is a great size (40m), its nice and long such that you can swim proper laps. Even though there is the Skyline 360 next to it, there is enough space between the developments such that it doesn't feel so squeezy. The back and front of it are quite open too so all in all for a city development this is quite well done.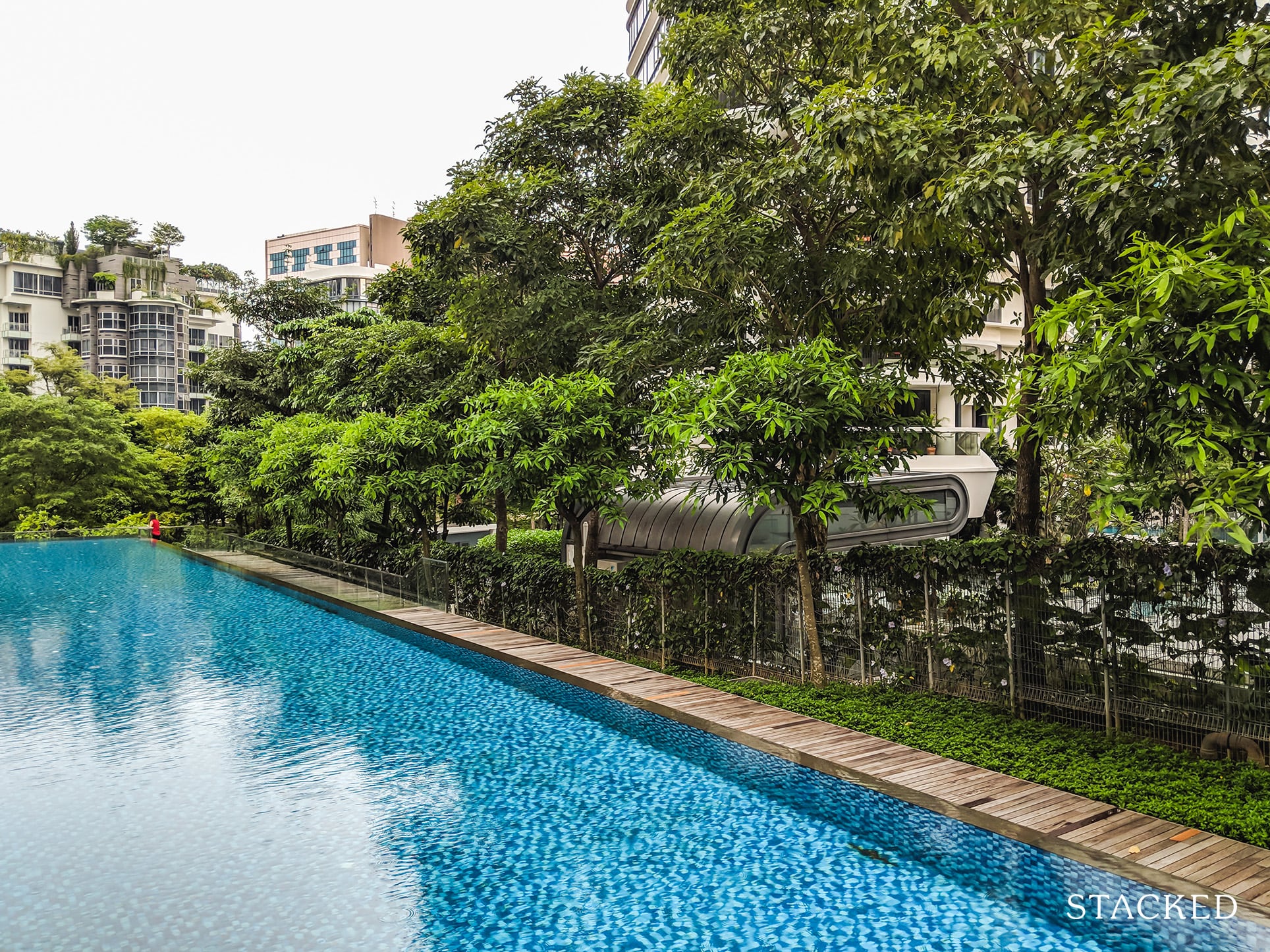 The trees planted at the side do help too in providing a certain degree of privacy. Of course, this isn't going to block prying eyes from the higher floors, but ultimate privacy will always come at a heavy price.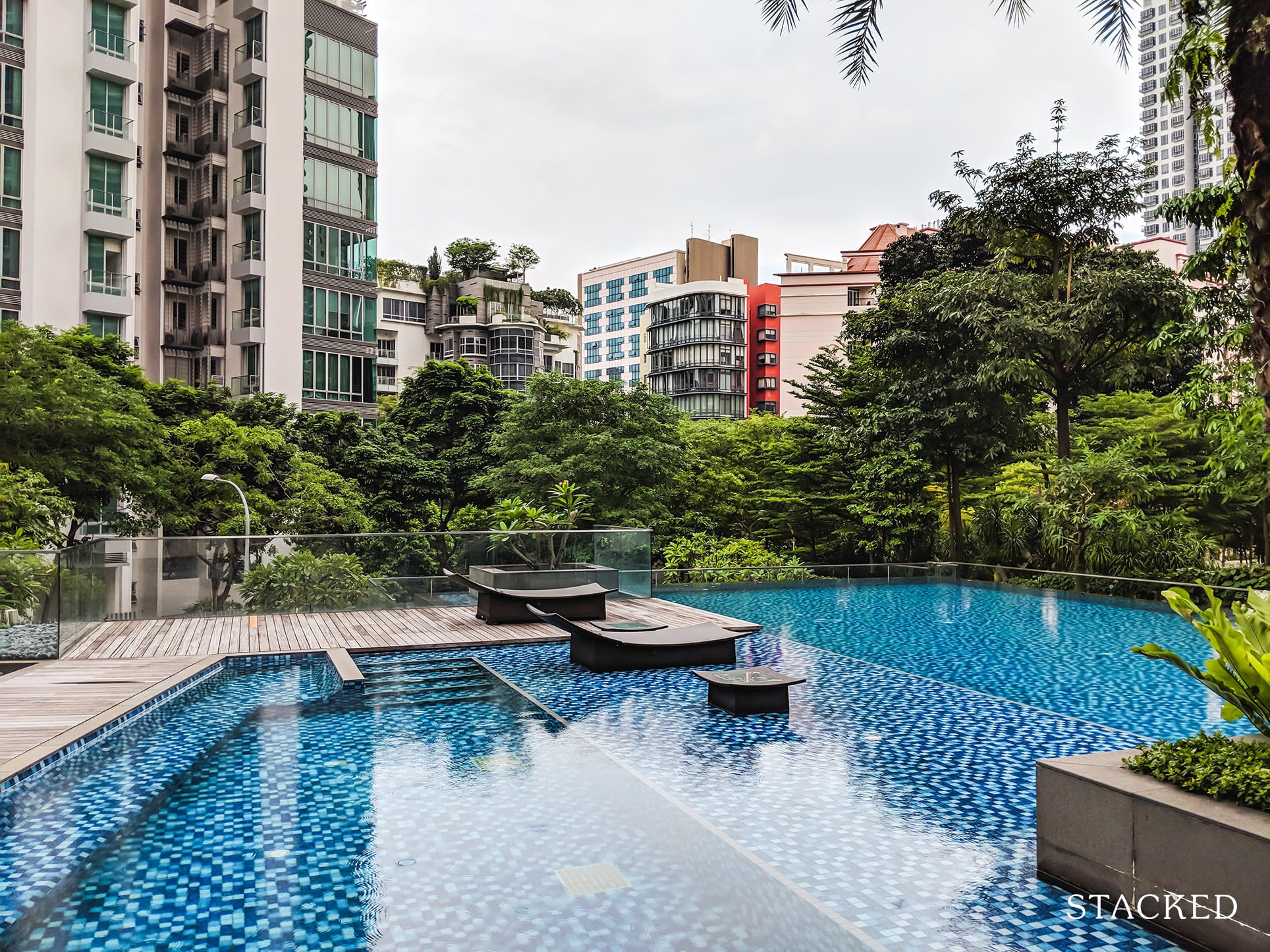 Right at the end, there is a jacuzzi area that is attached to the main pool. I like the seamless flow in design here, and that it is actually quite a sizeable area, unlike some condominiums that do not dedicate much space.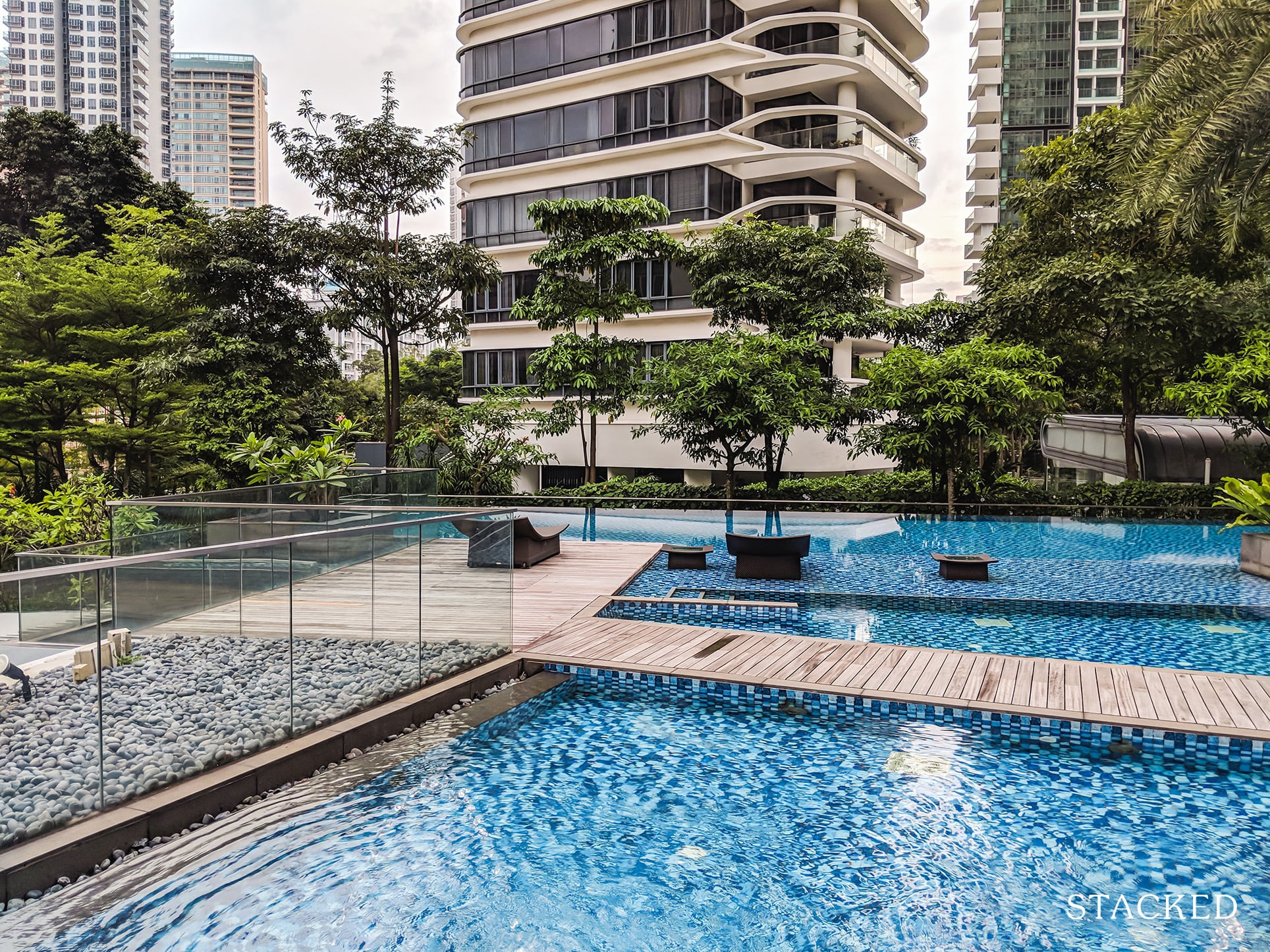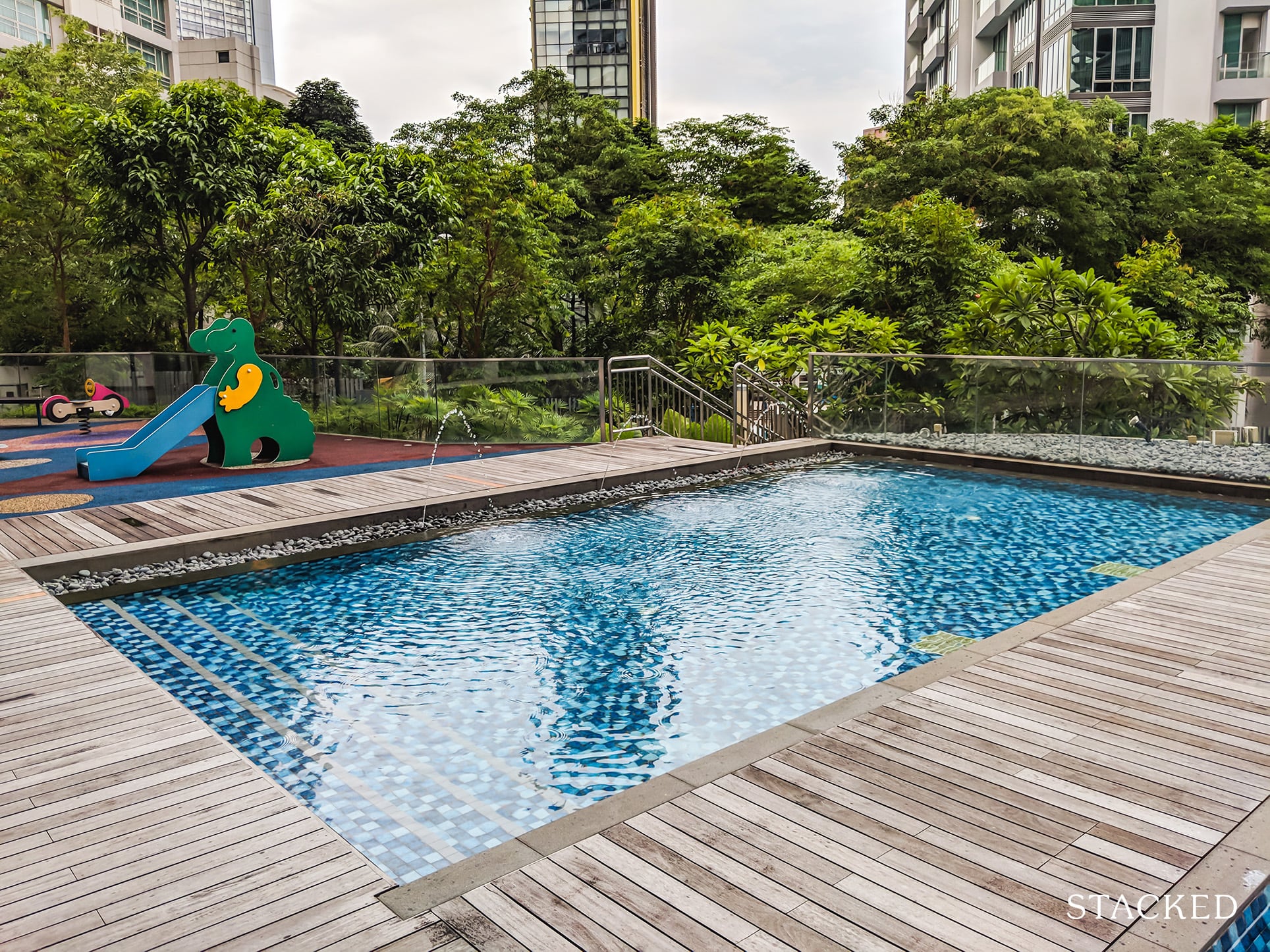 There is even a space carved out for a children's pool here.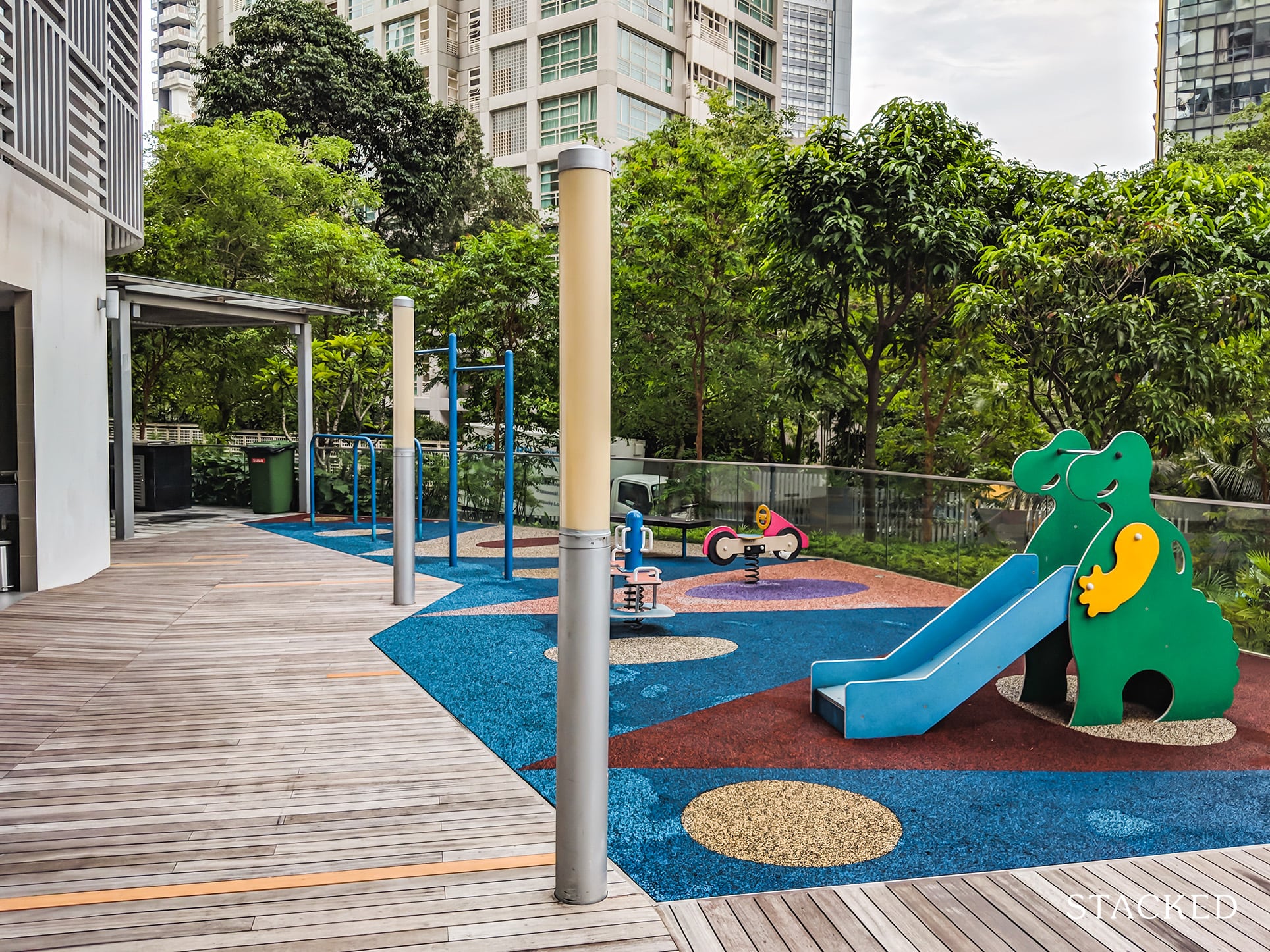 For a development that has a lack of space, quite a big part has been dedicated to a children's playground. Although part of it is actually the outdoor fitness station as well.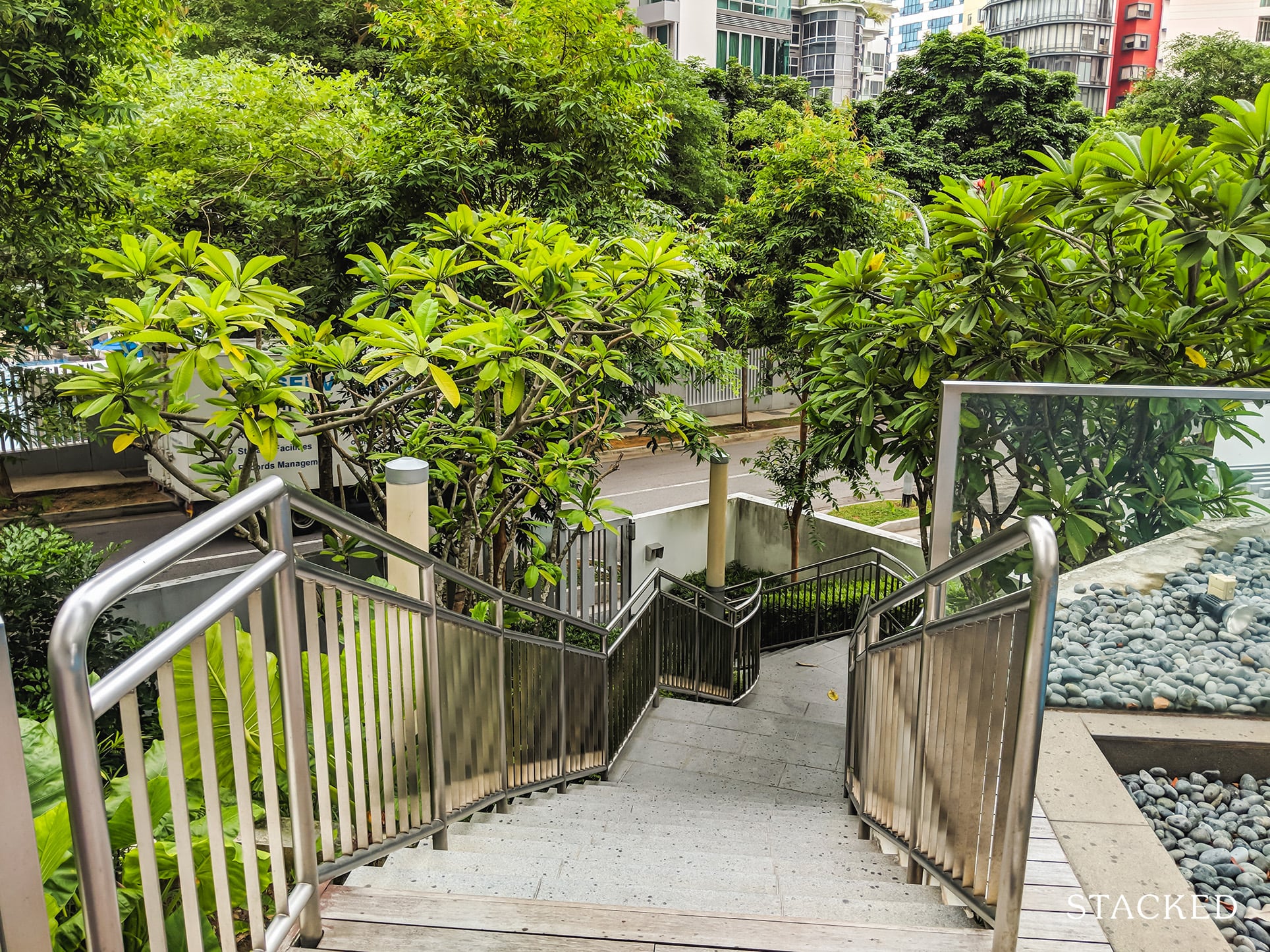 Here, you get to the side gate of the Espada condo. This leads you out to St Thomas Walk although it should be said it is actually faster to just go through the carpark.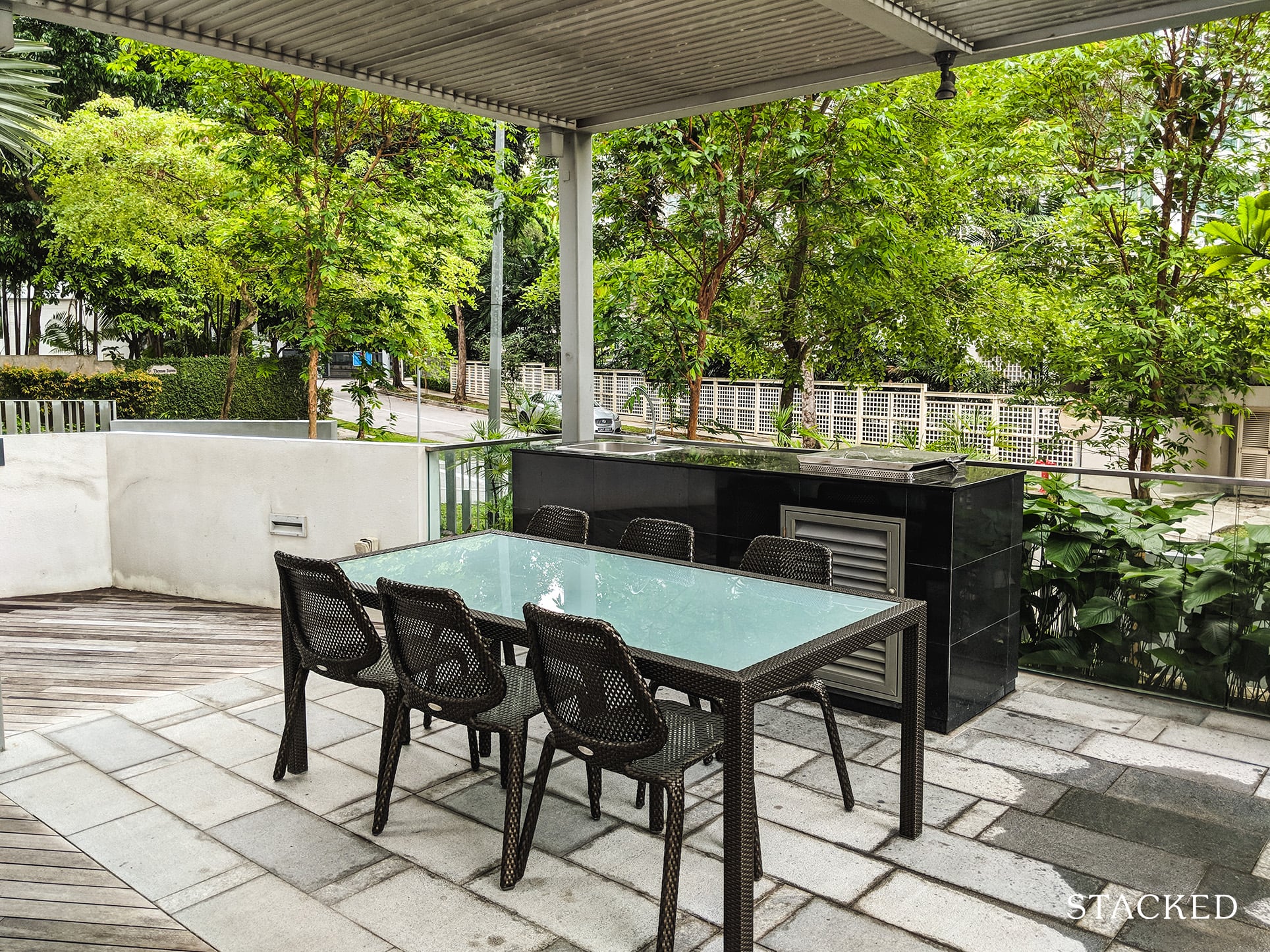 Located right at the corner of the development is another space for barbeques. Again, it's great that it is sheltered but the amount of seating here is a bit limited and only really suitable for small gatherings.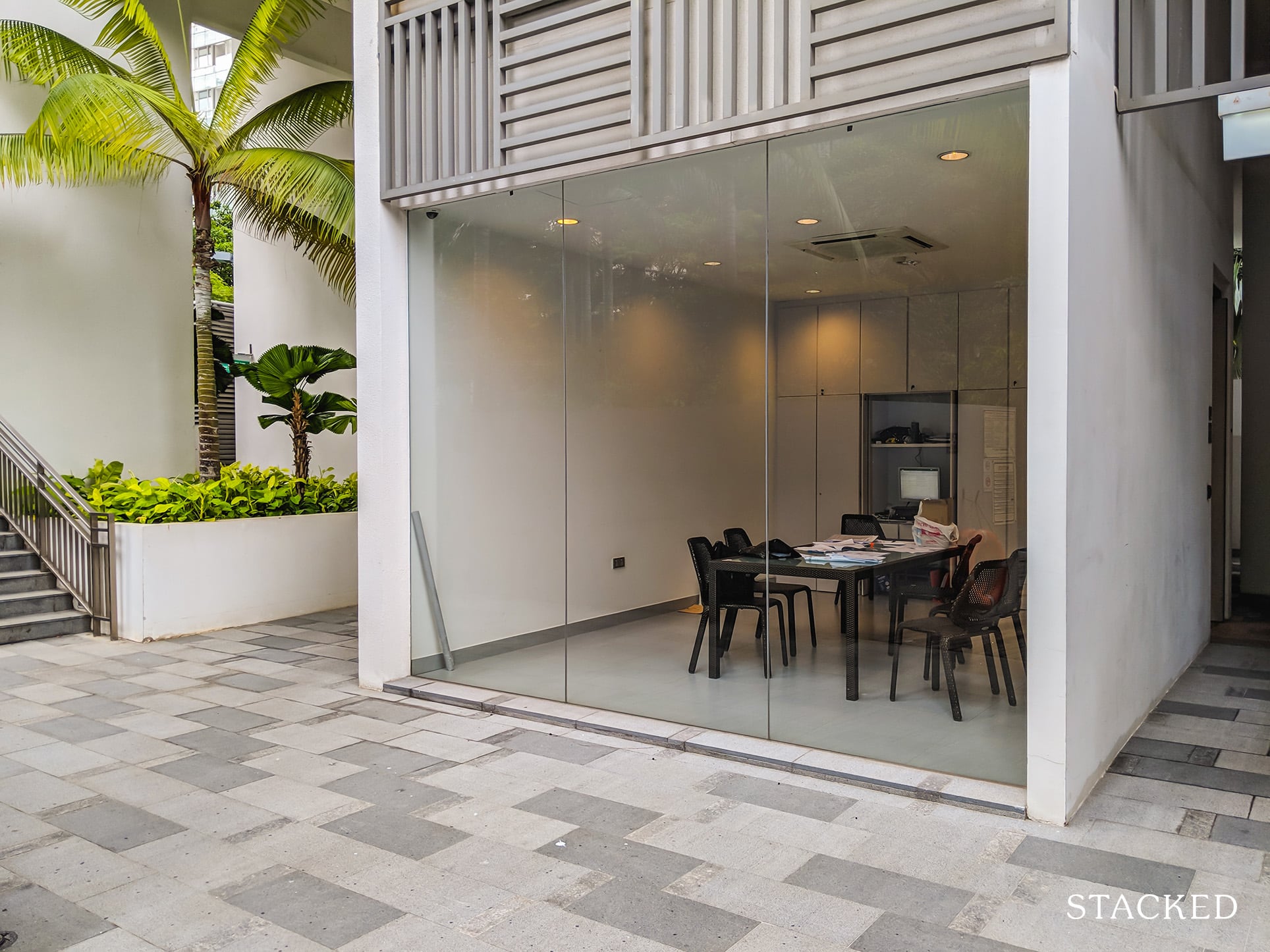 Back at the main block, there is a function/study room available.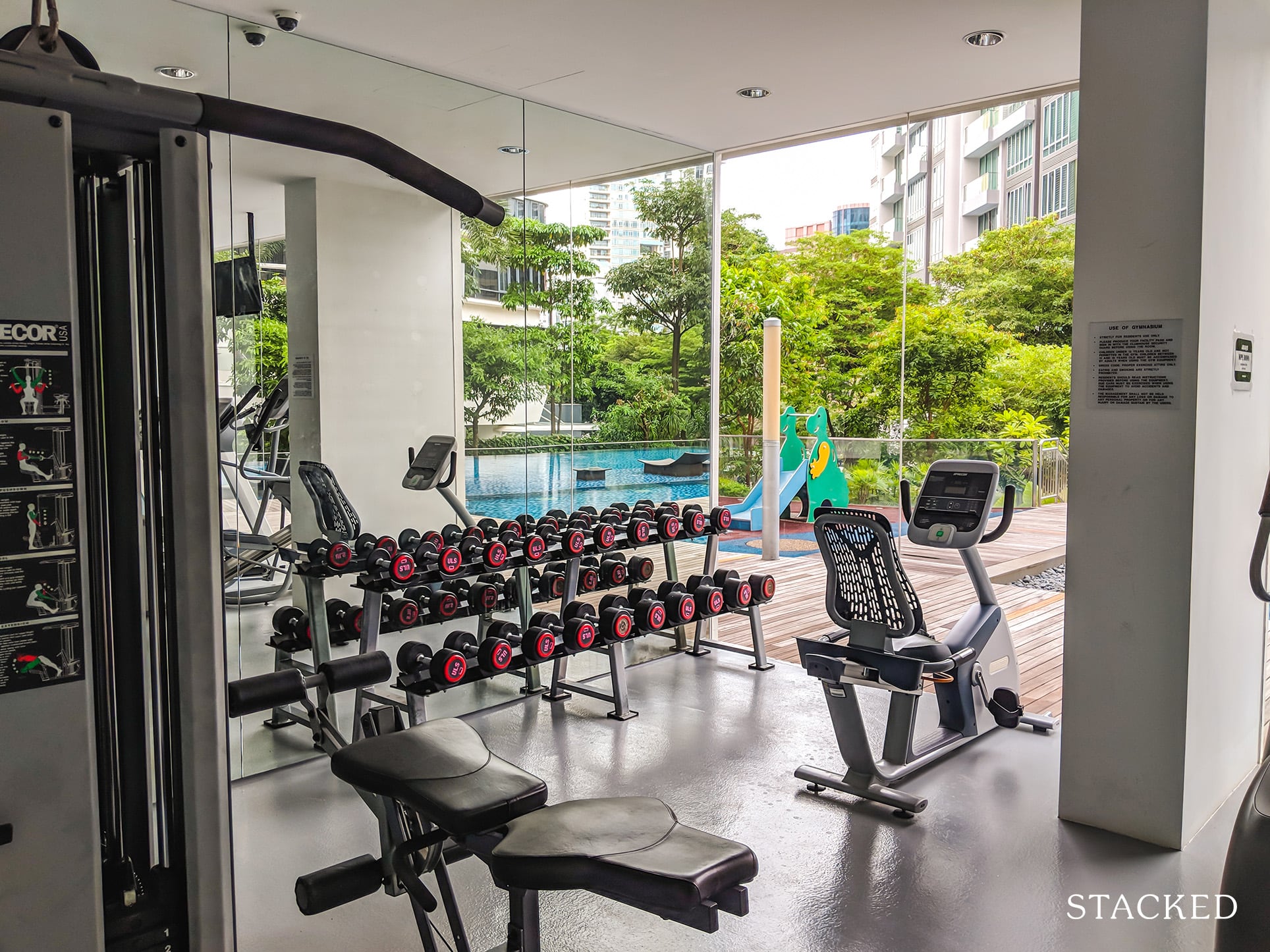 And of course, the gym which is well equipped and a good size for the development. Having the floor-length mirrors is a good move as it makes the space look a lot roomier.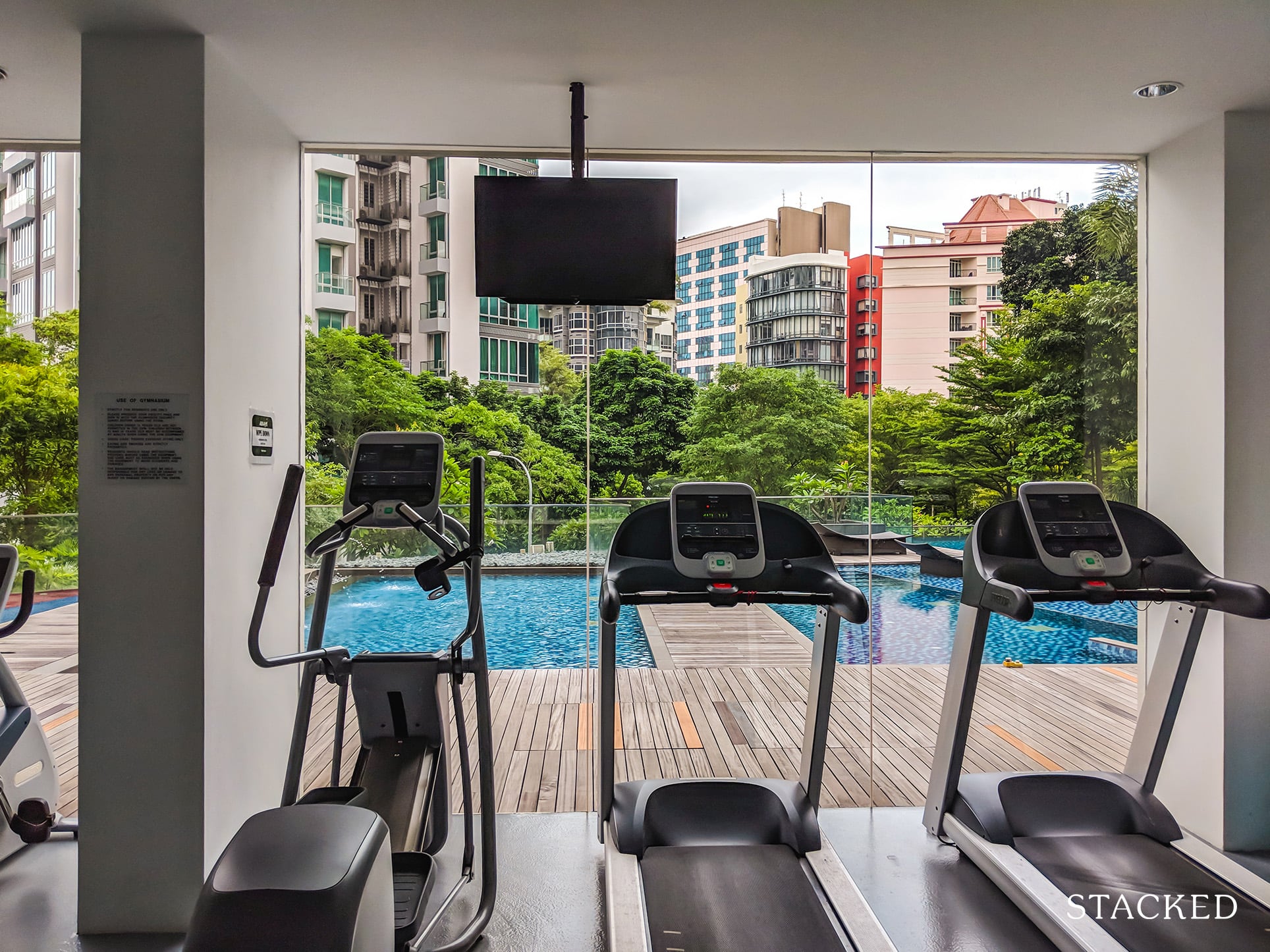 It certainly helps to have a good view from the gym as you exercise away!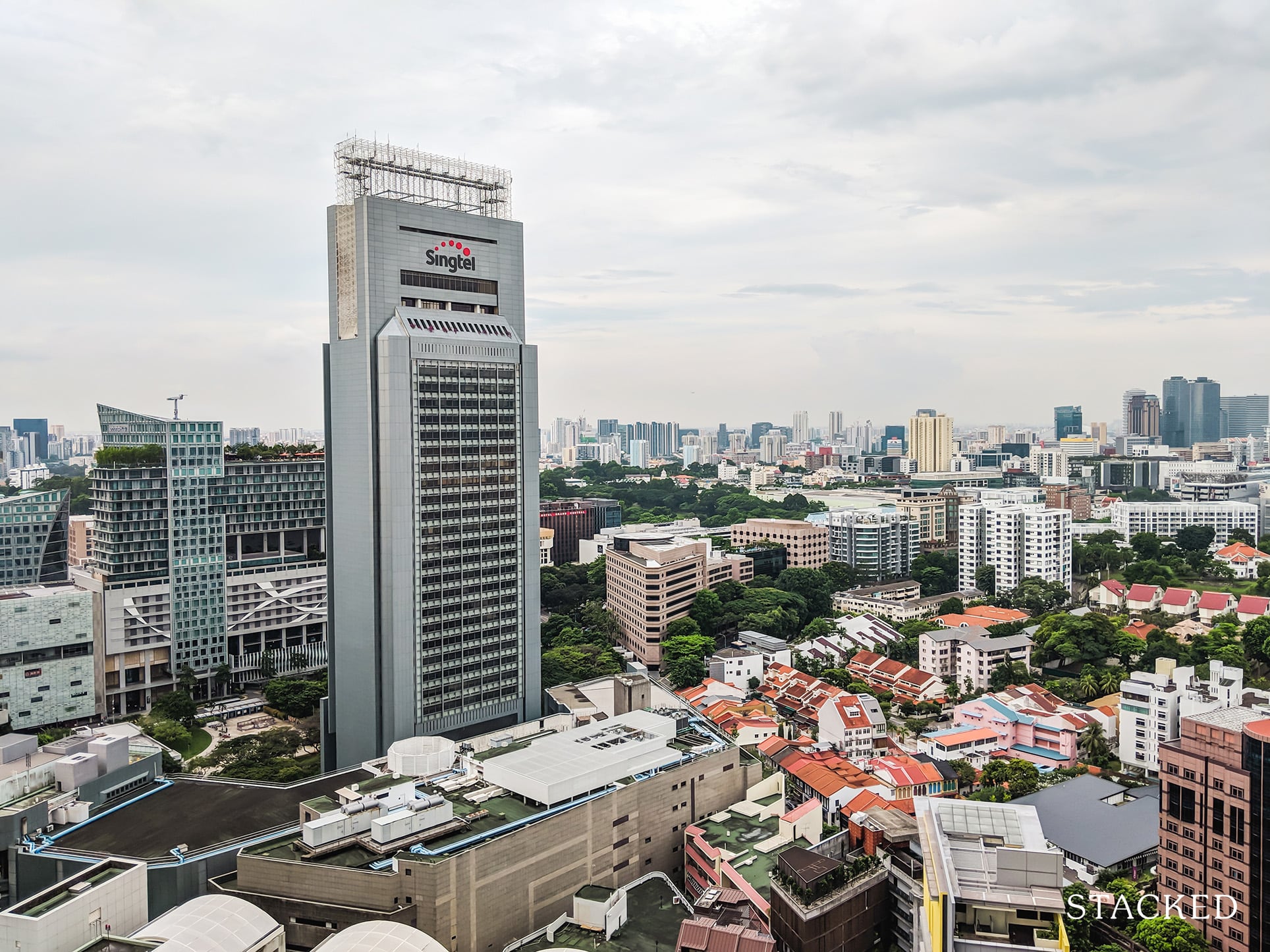 Moving up, the first thing that strikes you at the sky terrace on the 24th floor is the picturesque views of Orchard Road and the city.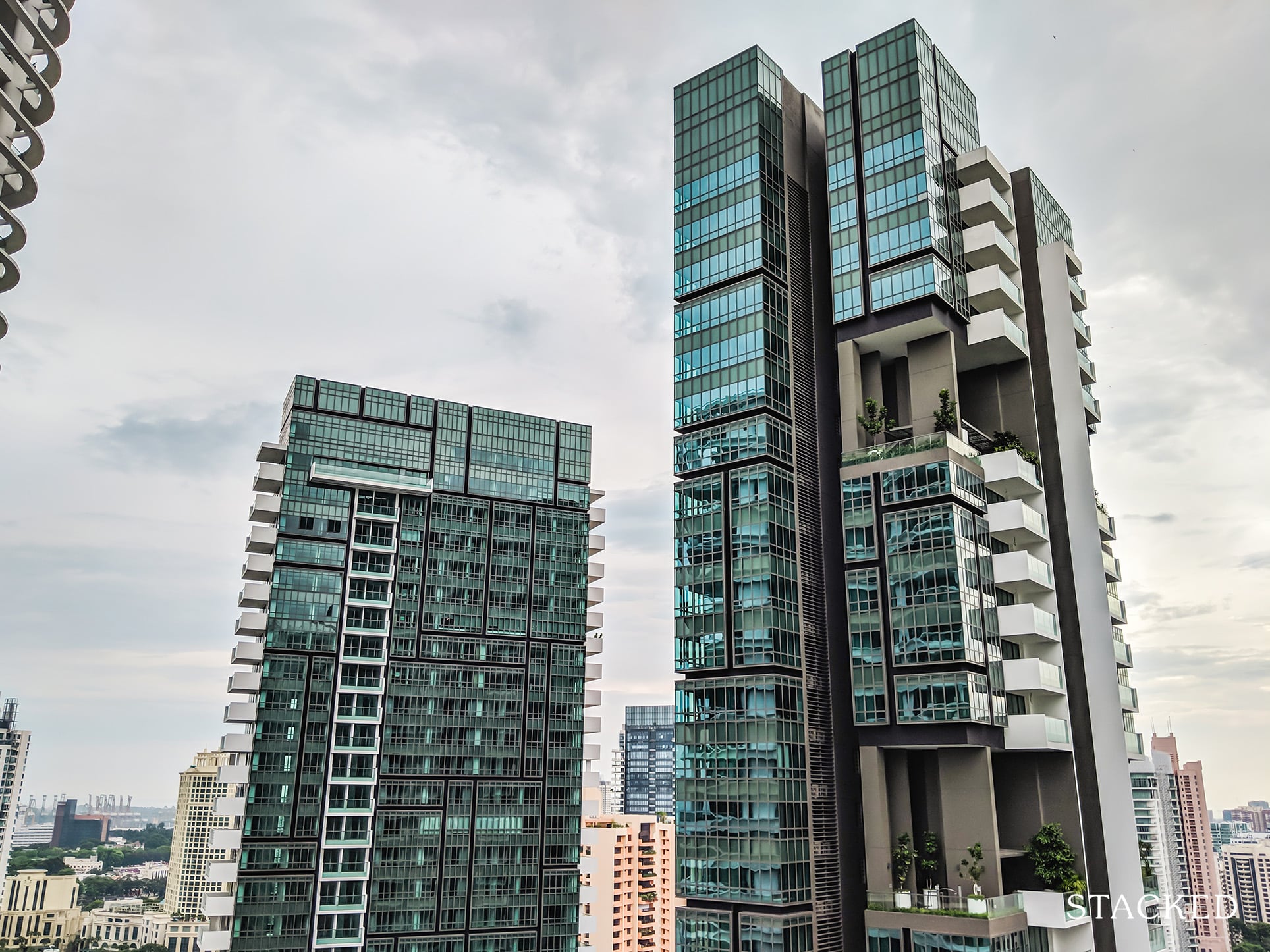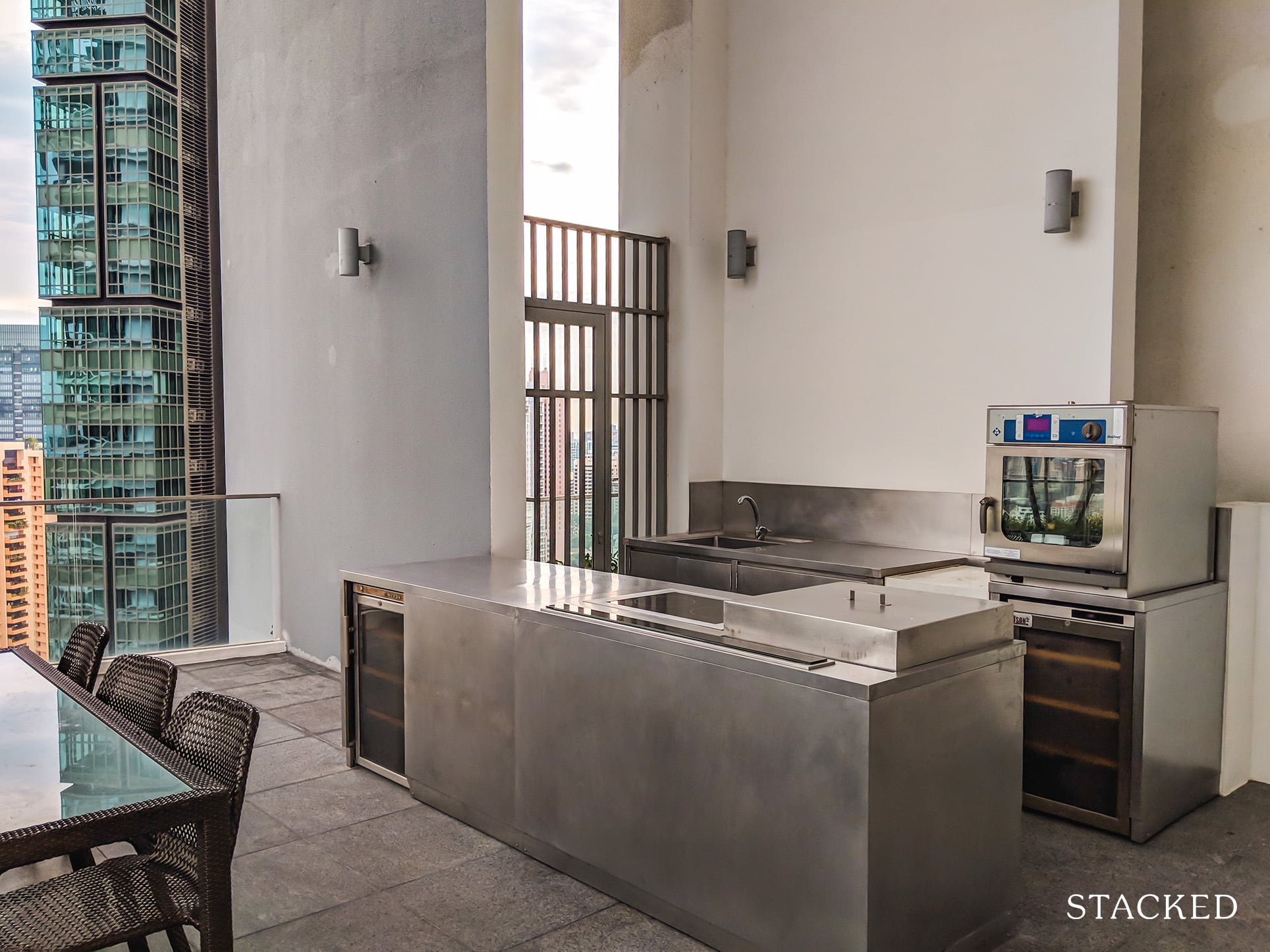 There is a dedicated dining area here, that comes with a proper kitchen and facilities to cook. This would be a useful place to hire a private chef to entertain your guests.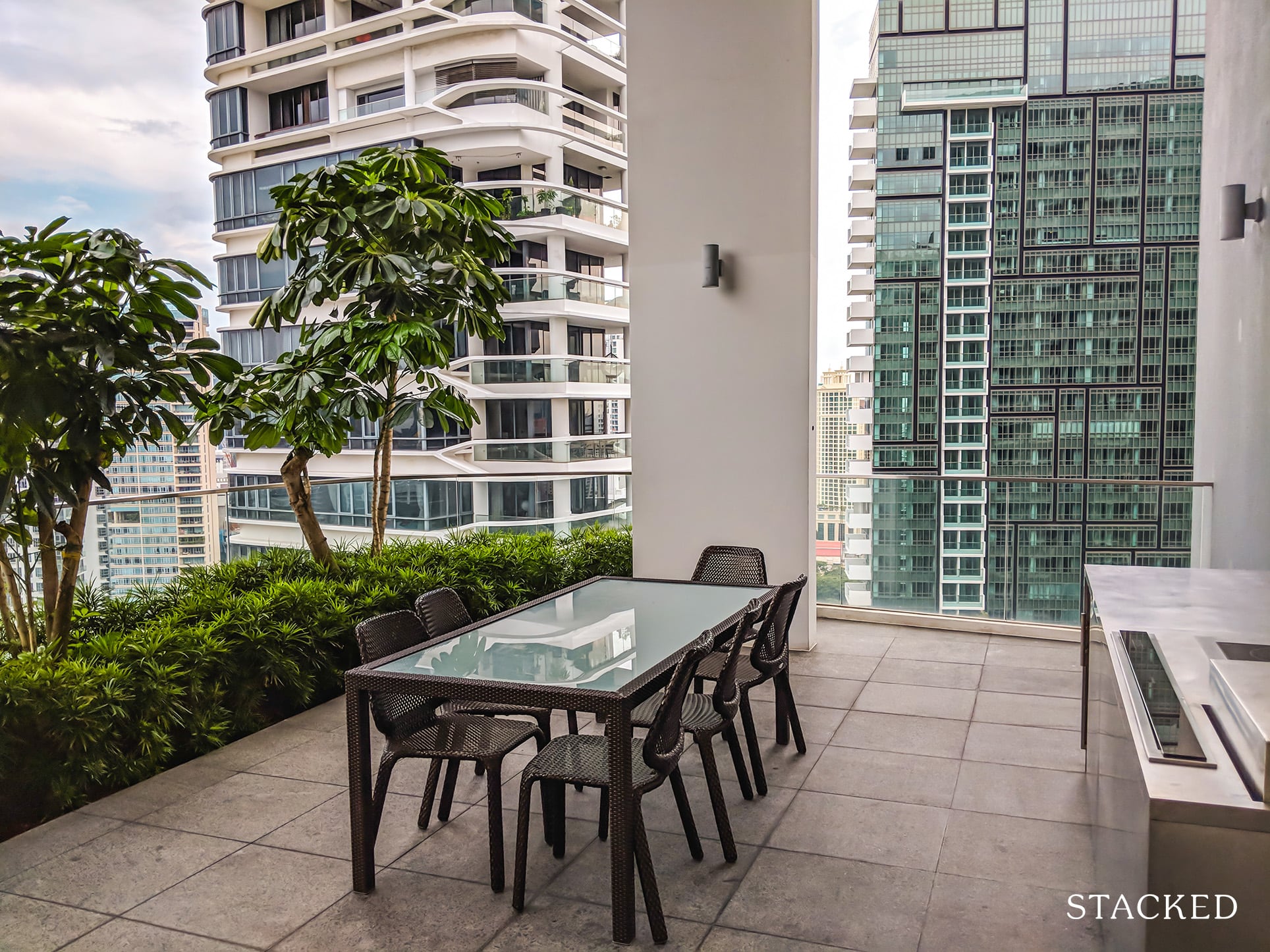 I think they should have used nicer seating here to make it look more upscale, but this is a good feature to have to take advantage of the views and the breeze. A plus point here is that the ceilings are high and it makes the space a lot more open and spacious.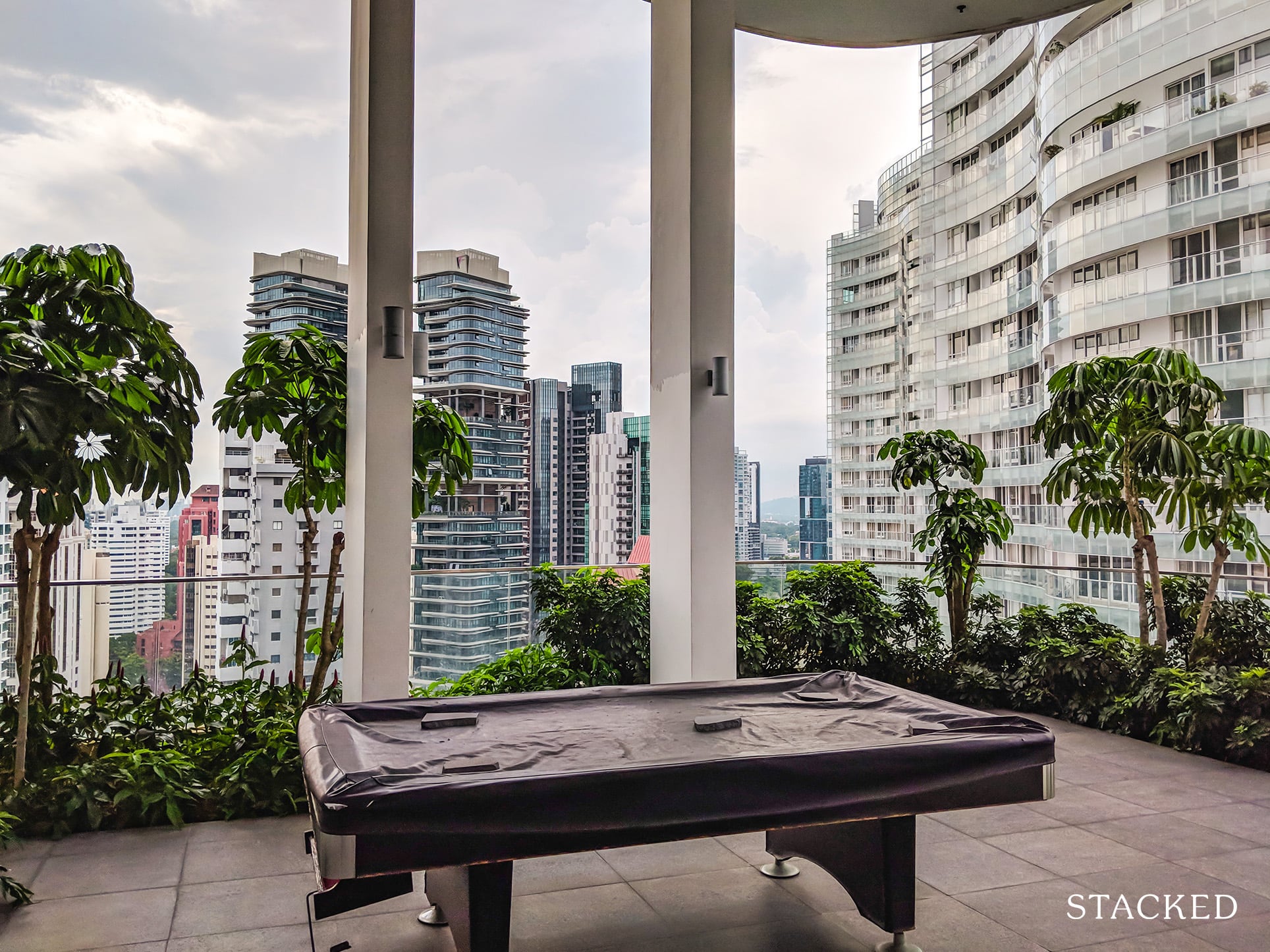 Another concept that the developers tried to bring forth here is the sports bar, where there is a pool table for recreational activity.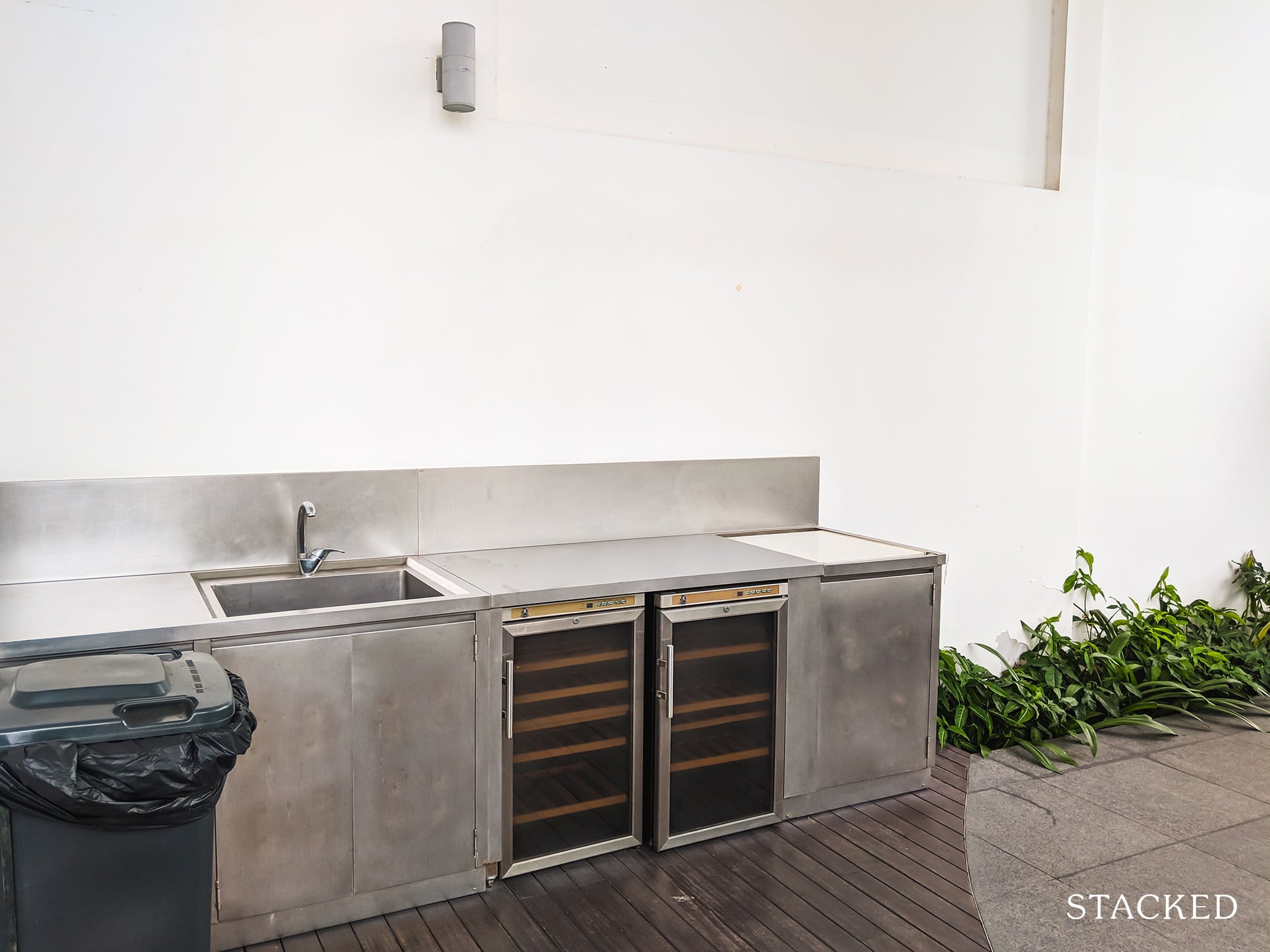 The bar area, with the wine fridges. It's a good concept, but I think in reality most people would not be using it.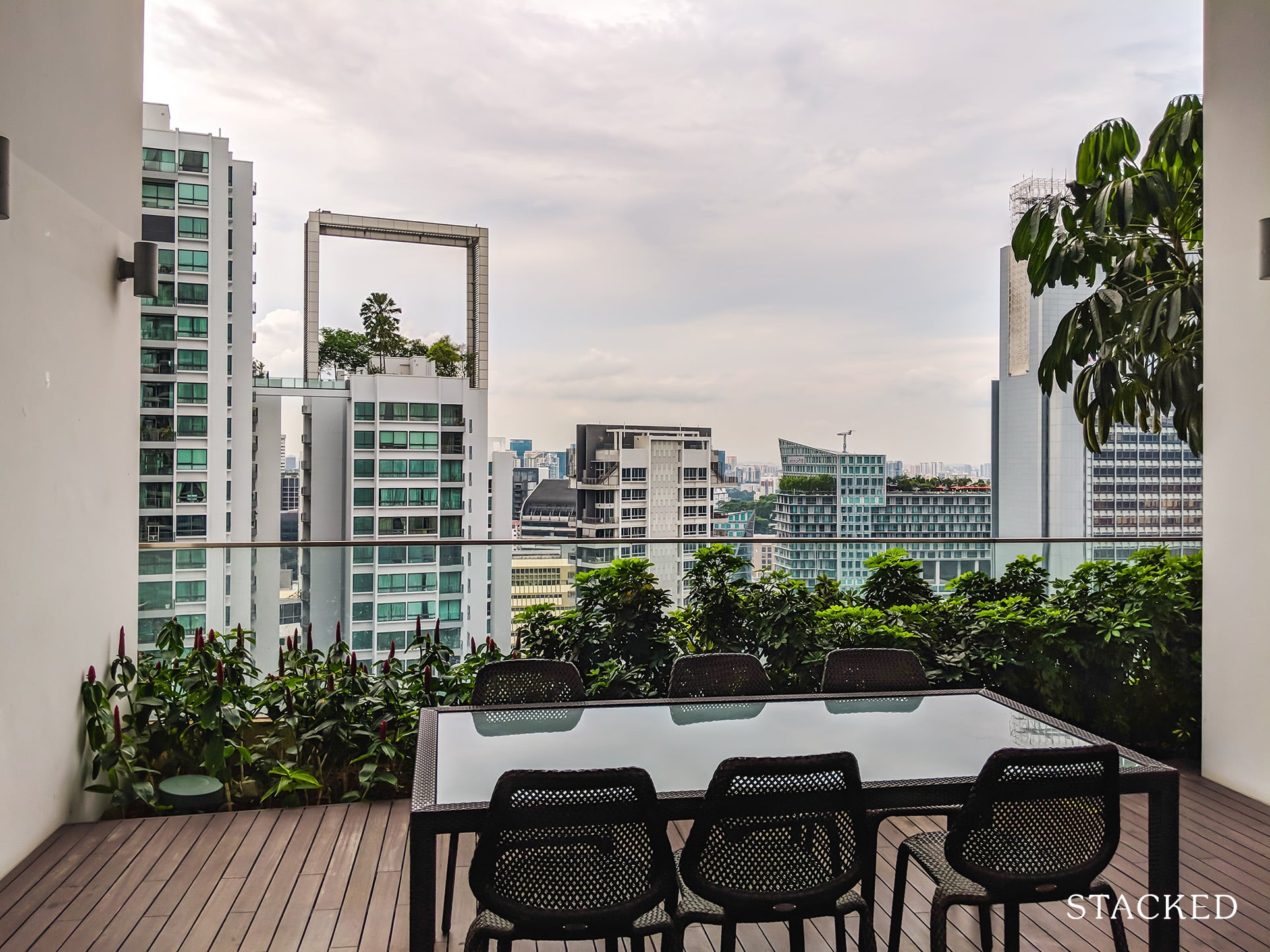 It's great that they dedicated more seating areas on the 24th floor.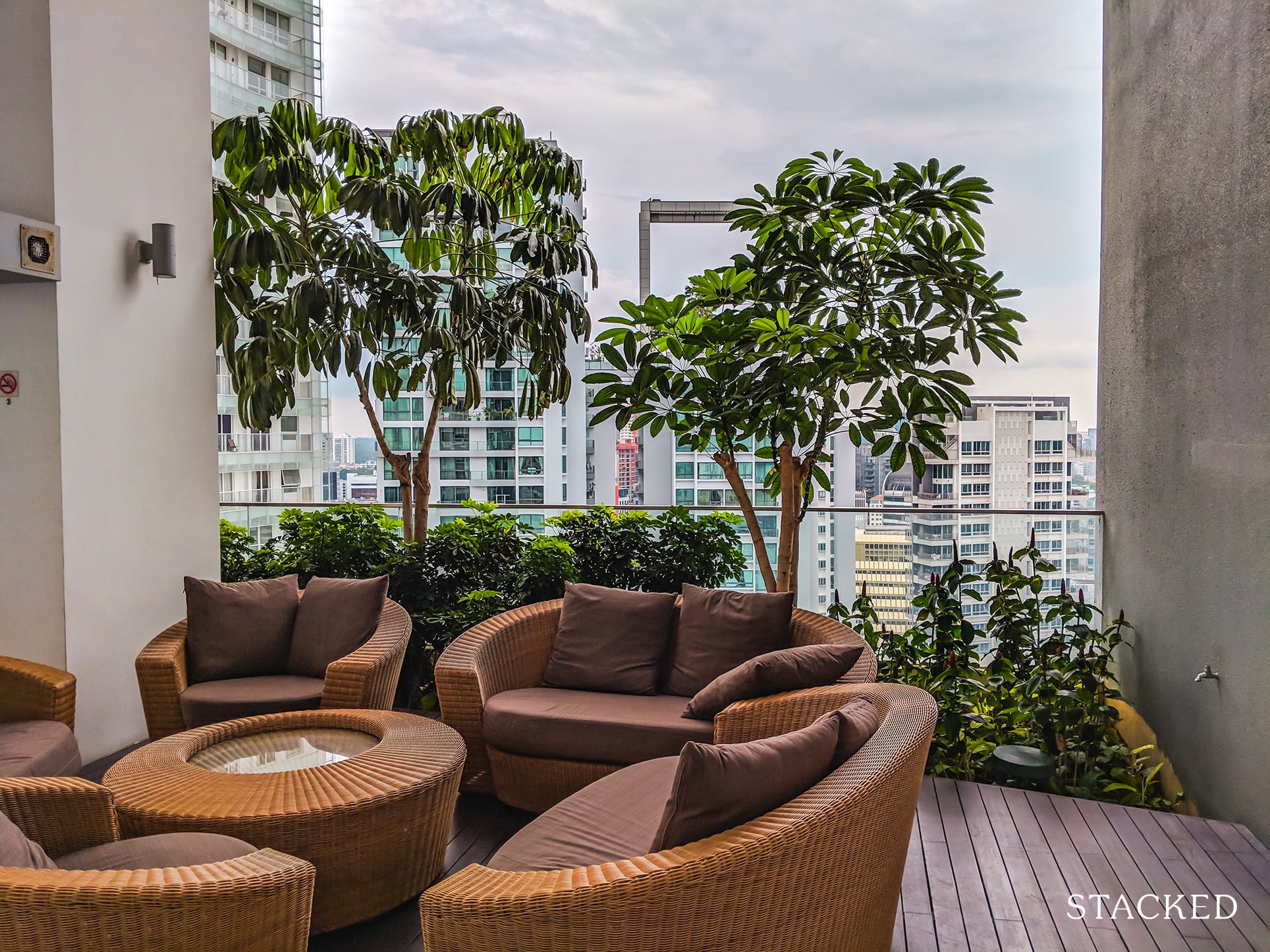 More comfy sofa seating here. Unfortunately, the design of these are rather bland and look dated already.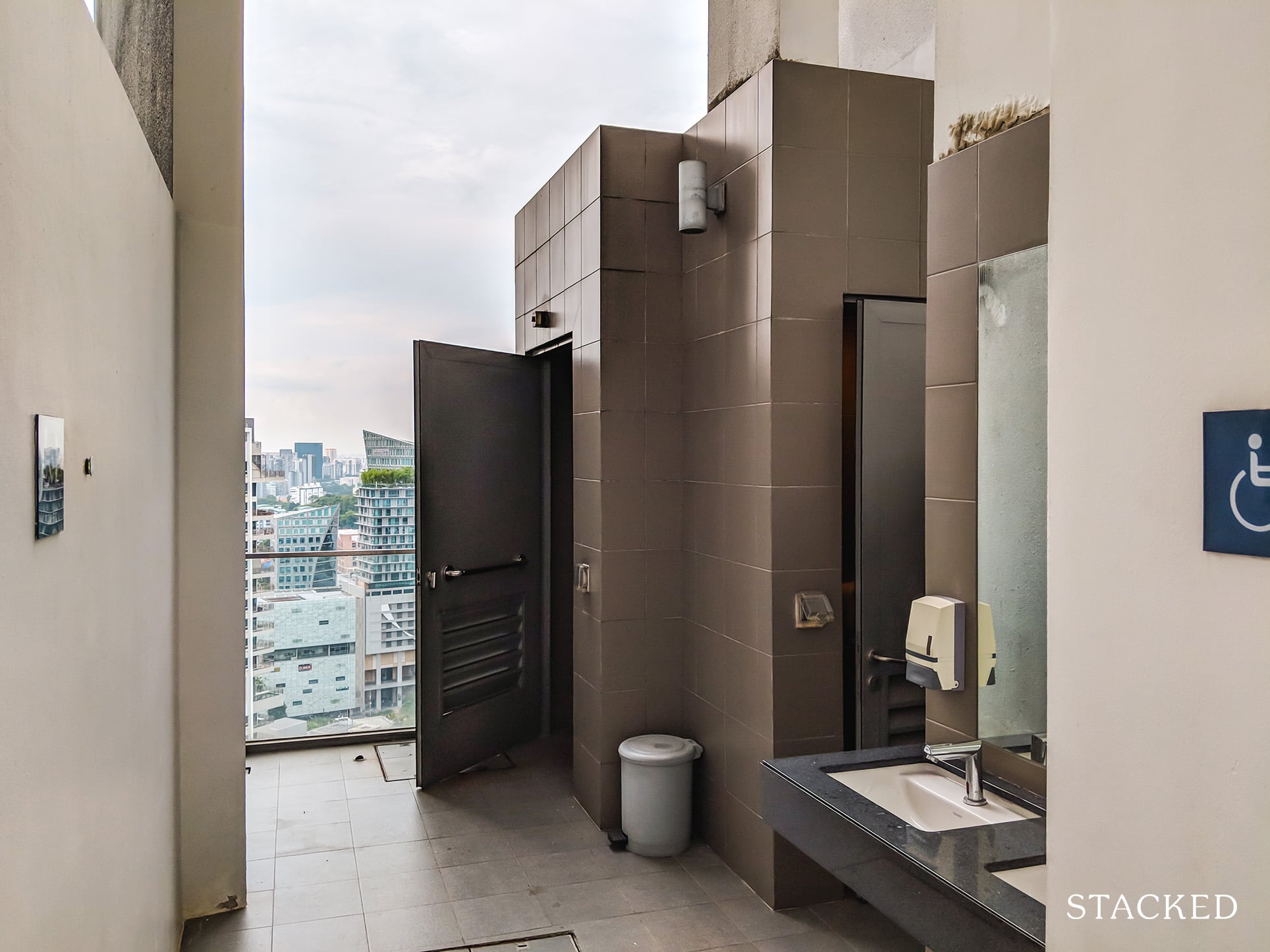 Of course, there are toilets at the top for visitors as well.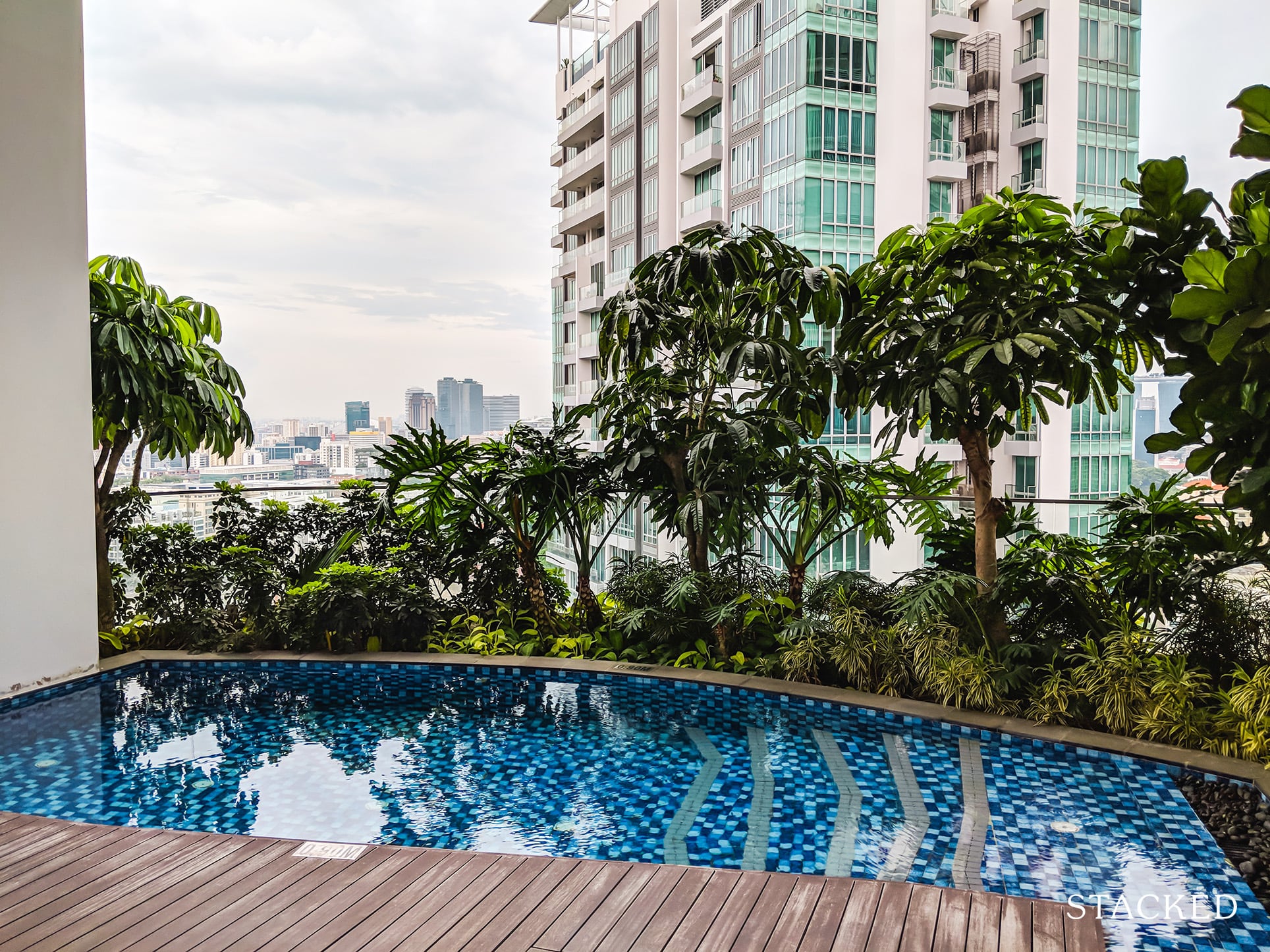 Right behind is a large hot tub area. The plants help to provide some privacy, but I think I'd rather much have the option to soak and admire the views from here.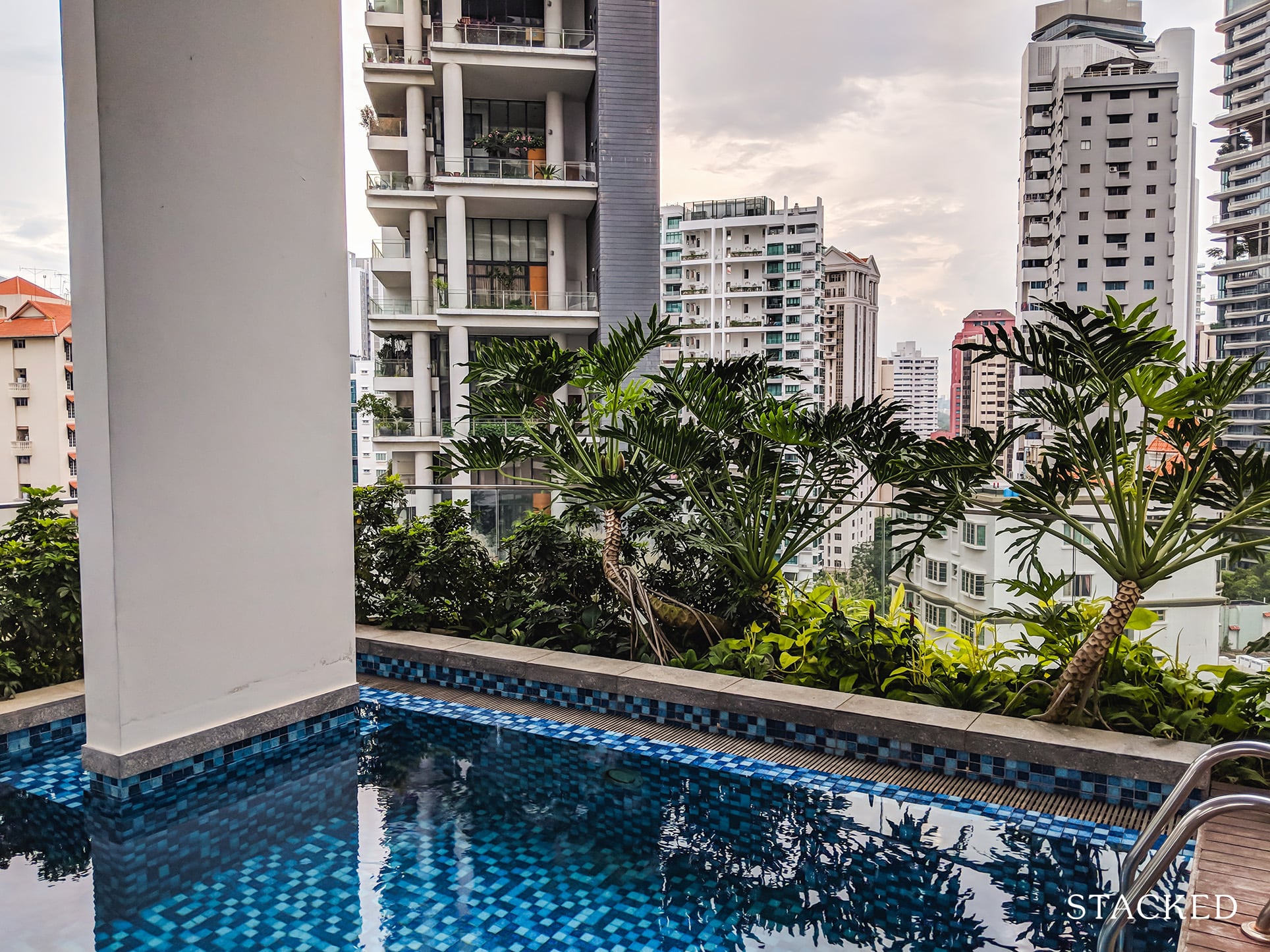 There is actually another sky terrace on the lower 14th floor, which comes with a few more facilities.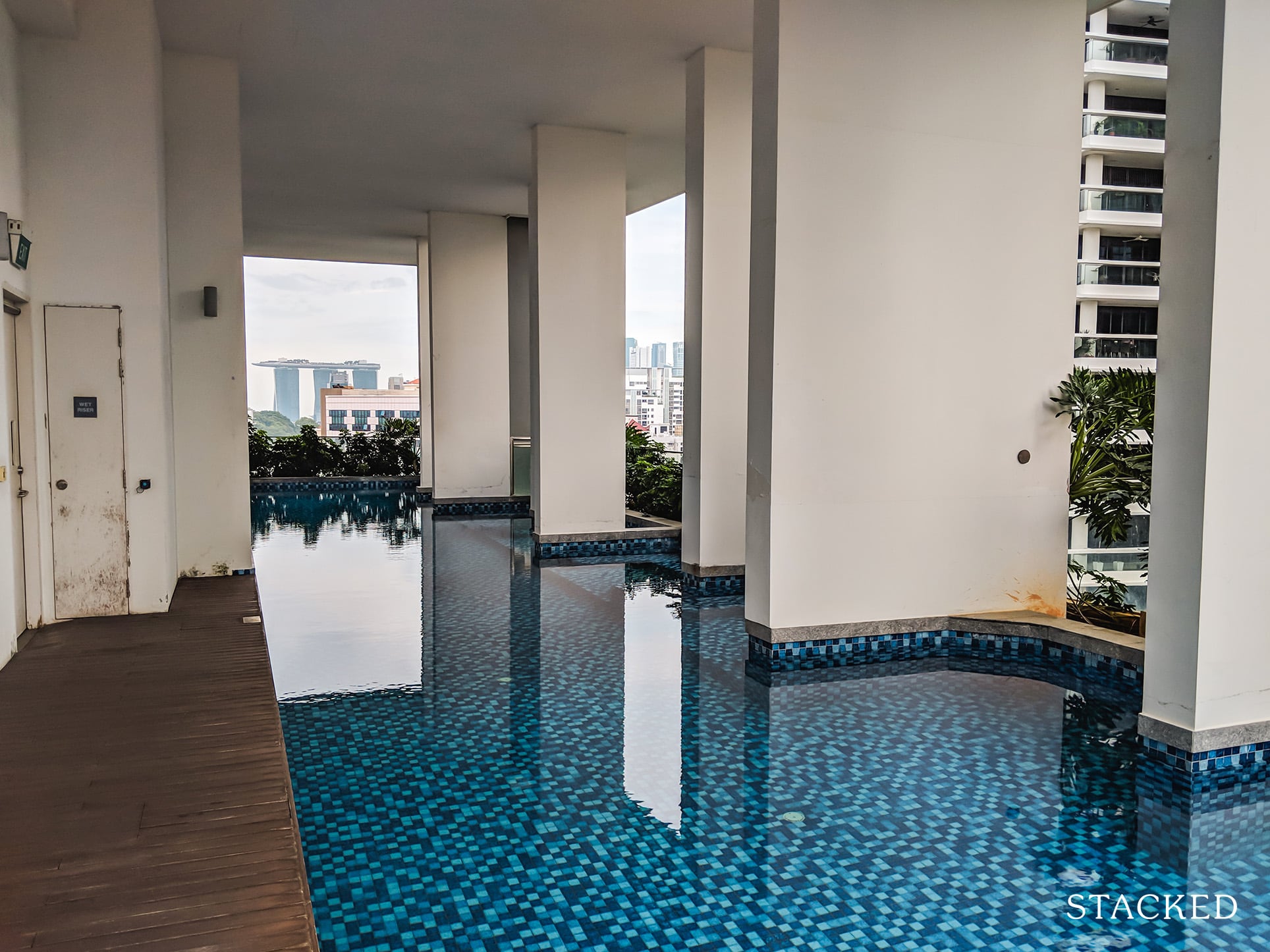 This shows both the good and bad points of the Espada condo. First up, I like this heated swimming pool that spans the length of the block. Despite what you might think of Singapore's weather, a swimming pool that is sheltered on a high floor is usually chilly and tends to go unused. So kudos to the developer for providing the option of a heated pool.
However, as you can see from the door on the left, the upkeep of some of the areas leaves a lot to be desired. The areas on the first floor are actually well maintained, but the sky terrace areas seem to be more neglected.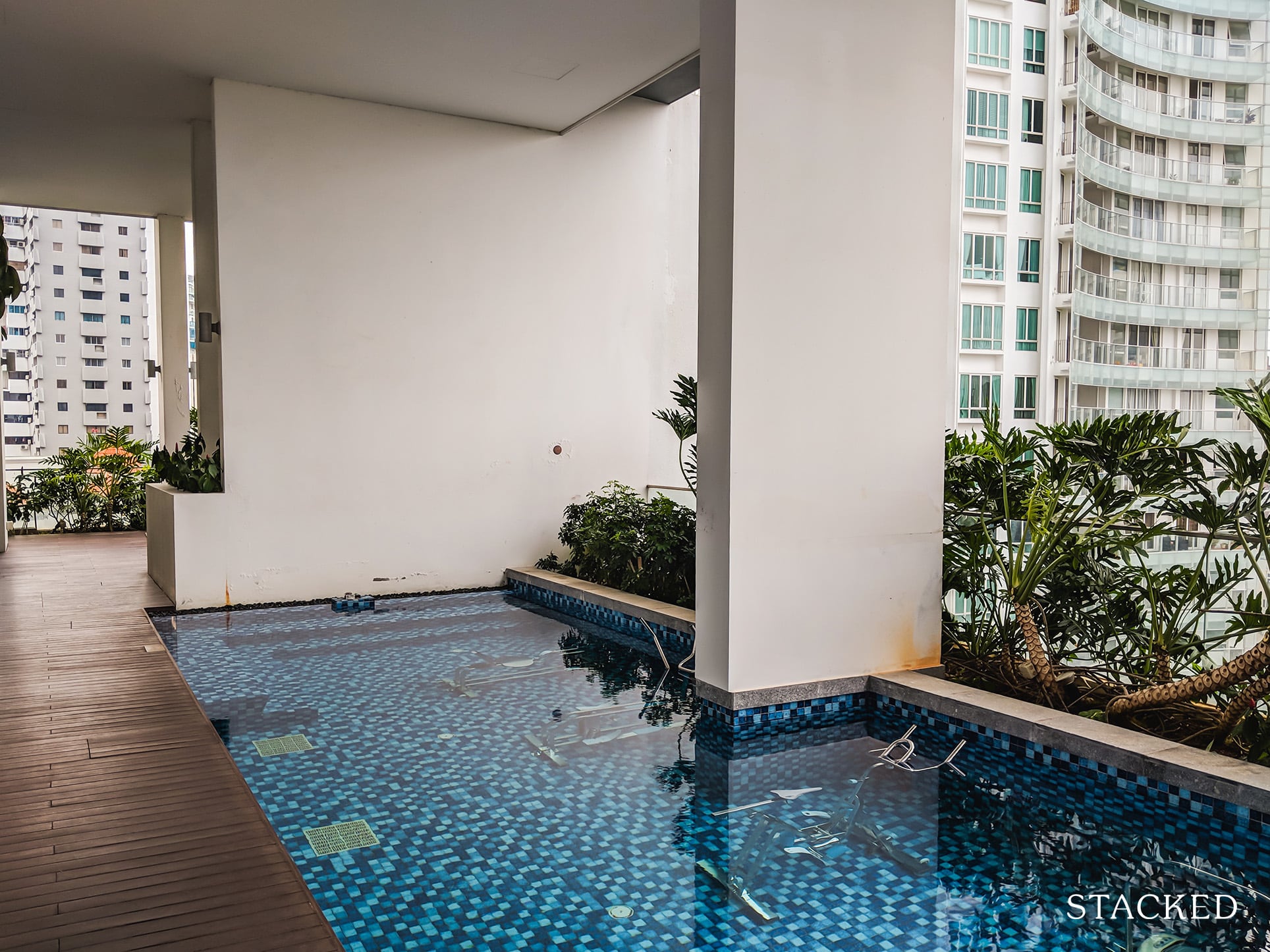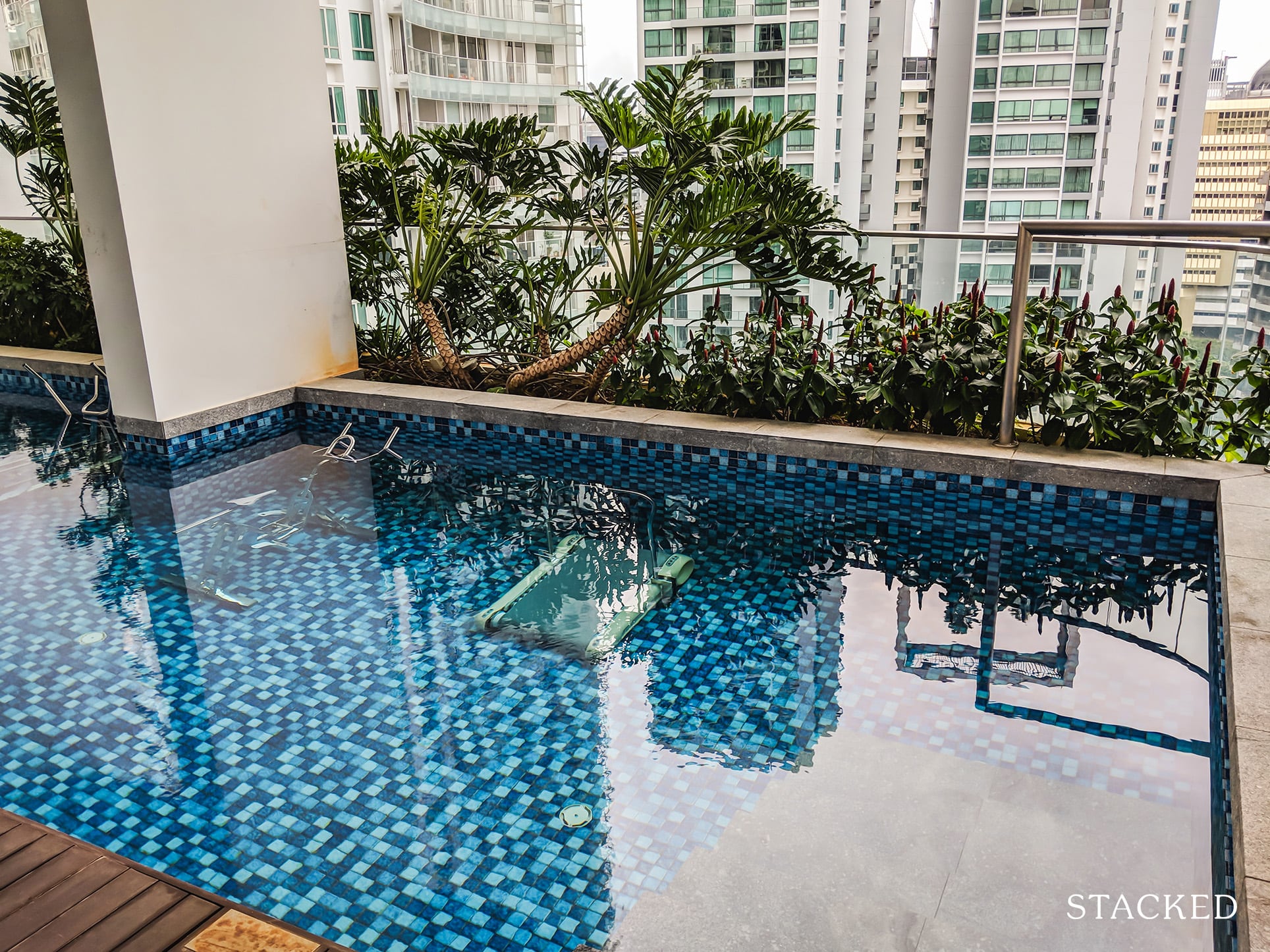 On the other side, some of the space has been dedicated to an aqua gym. If you have been following my condo reviews, you would know by now my thoughts on aqua gyms. It is very much pointless and I can safely say that I don't think I've ever seen a single person use it in any development that I've visited.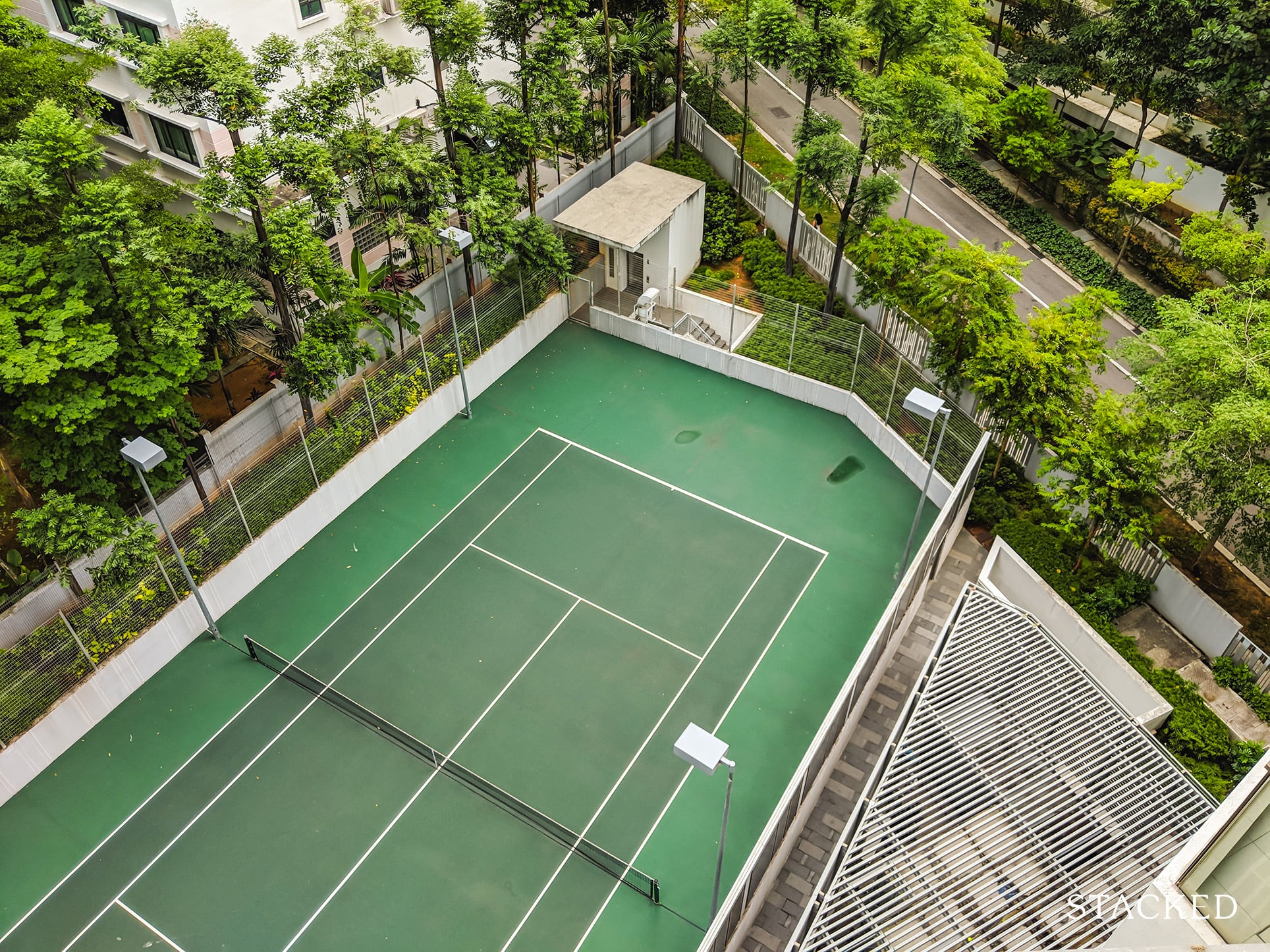 For a small development, it is seriously impressive that the developers managed to squeeze a tennis court in!
Espada Condo Location Review
Situated in the 'Somerset-half' of district 9, the Espada condo is surrounded by a host of familiar names. Its neighbours include the Skypark @ Somerset, 8 St Thomas, and One Devonshire – a cluster of skyscraping giants rising above Singapore's prime central region.
As with most skyscrapers, however, there is bound to be the lesser talked-about lower residential units. Here's what we found out.
The Espada condo is located along (albeit the quieter side of) St Thomas Walk – a road that is frequented by residents and visitors to One Devonshire and the St. Thomas Suites. What this means is that every so often, you might observe bits of noise and smells of traffic creeping into your home.
Is it a massive issue though? Not to most living in the Espada condo. But to those opting for lower-rise units (particularly those who see themselves at home during peak hours), be sure to employ careful research on the traffic's secondary impact on your desired unit beforehand.
As for transport, you can be sure that getting to your destination from the Espada condo is (if not a breeze) usually very convenient.
Somerset MRT station is only a 6-minute walk away, and its proximity to the other MRT lines (Dhoby Ghaut, Clarke Quay and City Hall) means easy and quick access to prime areas. More than that, the 'St. Thomas Wk' bus stop is located 4 minutes away from the condo by foot. It services buses 32 (till Bedok), 54 (till Bishan), 139 (till Toa Payoh) and 195 (till Queenstown). While this list might seem sparse, the network is rather comprehensive in covering the North, East and West directions from the condo even if a change of bus might be required en route to your destination.
Owning a vehicle is therefore not a necessity if you live in the Espada condo, though admittedly, the presence of one always brings added convenience. Car owners will revel in knowing that the CBD and Orchard Road are only 10 and 5-minute drives away respectively. What's more, St Thomas Walk can be accessed via two entry points – Killiney Road and River Valley Road (Killiney Road further dissects into Devonshire Road, making it a handy alternative if the need arises). As we have often discussed, multi-entry points help to ease peak hour traffic jams – a distinct possibility here due to the multiple condos in the estate.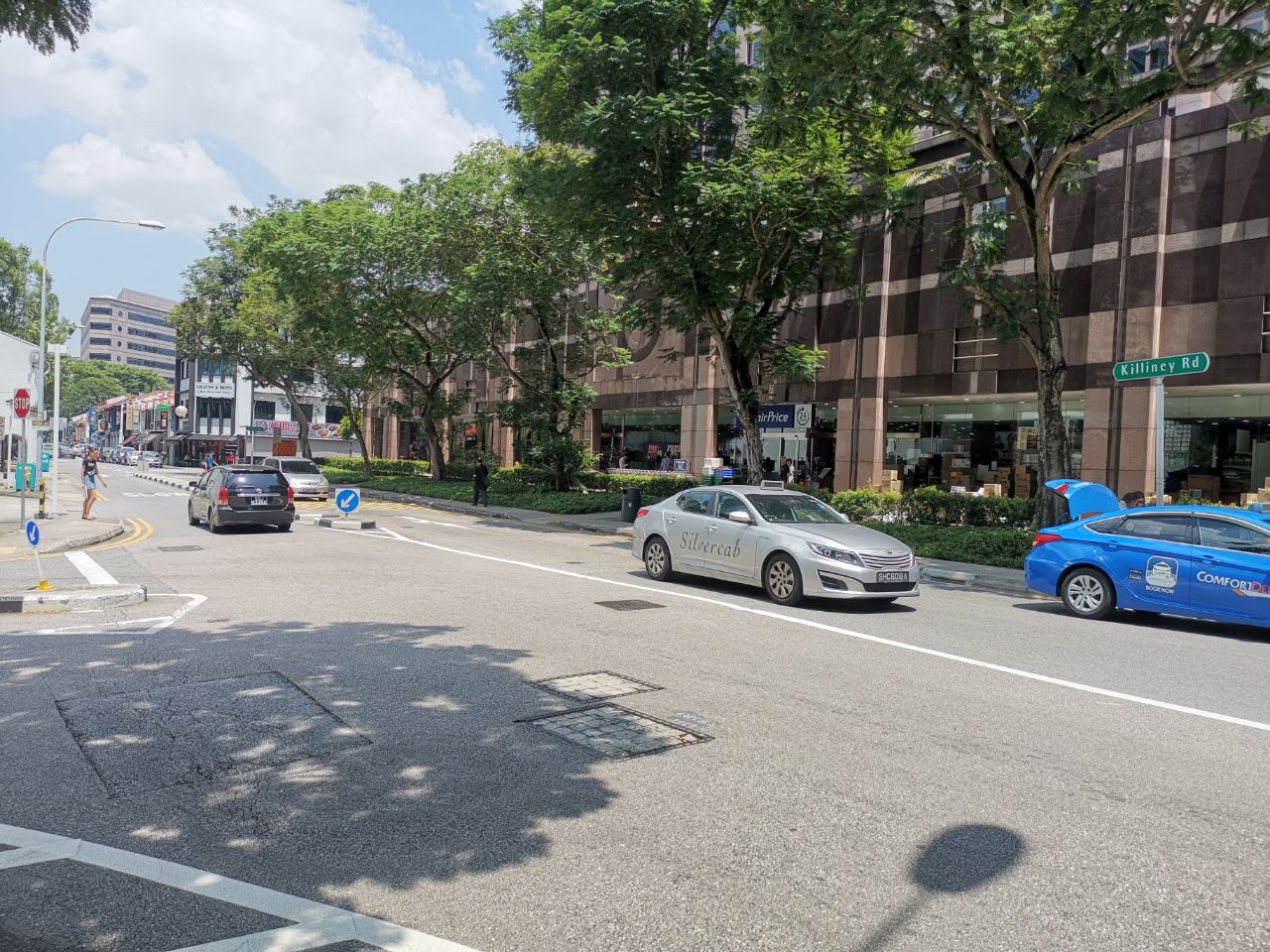 As for nearby amenities, residents have easy access to a host of grocers – the closest of which is the Orchard Grand Court FairPrice (3 minutes' walk). Other options include Cold Storages at Triple One Somerset (5 minutes' walk), Takashimaya and Great World City – the latter two we have included as easy alternatives for those who drive and prefer an occasional change of scenery.
What's more, you will find UOB, DBS, and OCBC ATMs all within a 3-minute walking radius of the condo – making last-minute CNY-related ATM hunts a thing of the past. The presence of a nearby SPC Killiney petrol station, Watsons and a 24-hr 7-Eleven in the vicinity further adds to the convenience.
When it comes to food near the Espada condo, one can safely say that the residents here are spoilt for choice. The biggest draw comes from Killiney Road (barely 3 minutes' walk from the condo). On this street, you will find a string of scintillating eateries with a diverse selection of mouth-watering cuisines.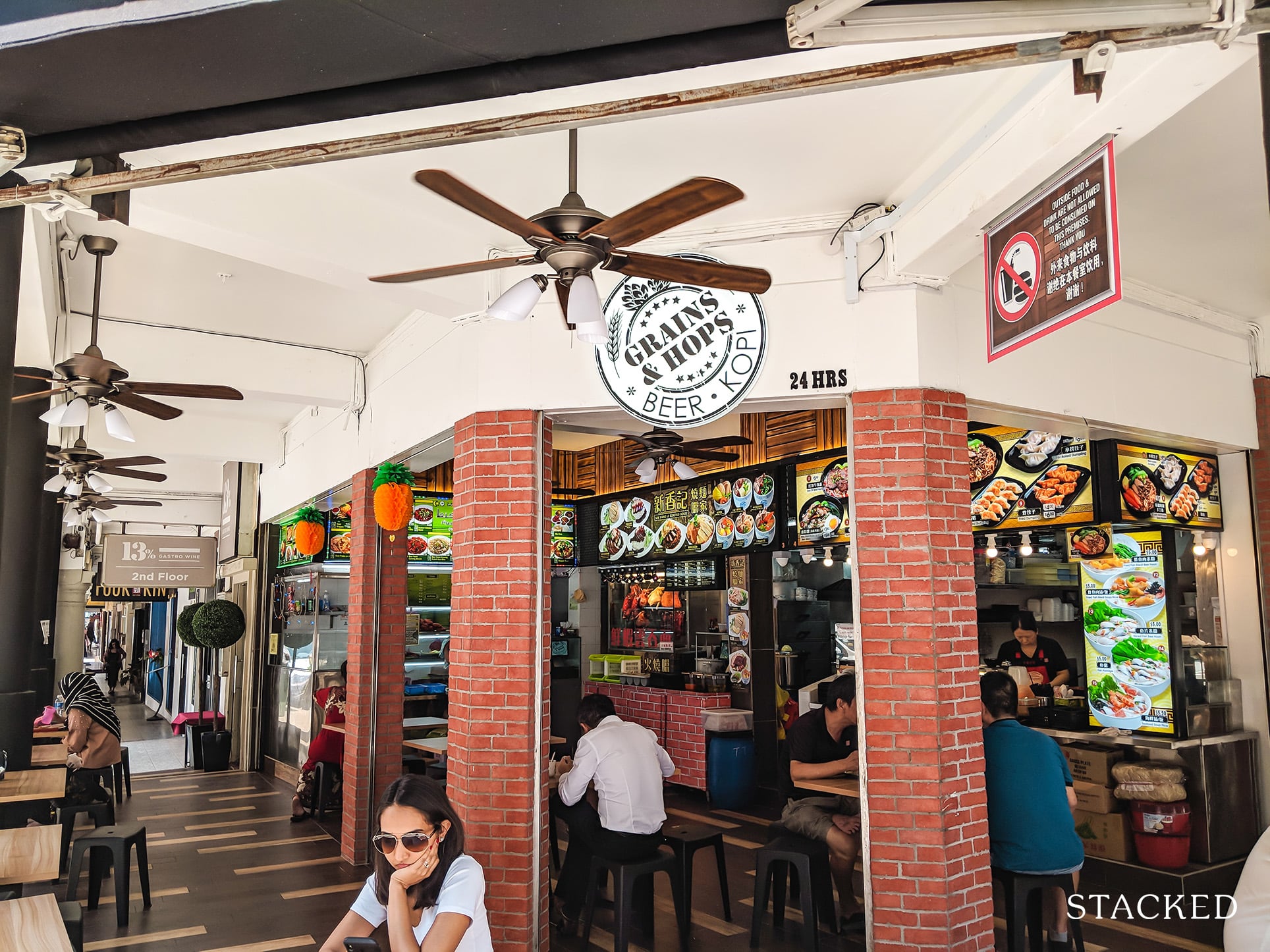 The closest joint to the condo is the S11 eatery – its roots dating back to 1933. Here you will find economic mixed-rice options for hassle-free takeaways. Trudge on a little more and you will observe a plethora of stalls, including household names like Jew Kit Hainanese Chicken Rice, Killiney Curry Puffs, Teck Kee Tanglin Pau and even Domino's Pizza. More than that, you will find Thai, Korean, Japanese, Malay, Indian and even Vietnamese options on hand to spoil you for choice.
For those who enjoy authentic local food, you will be delighted to know that the nationwide famous Killiney Kopitiam is also located along the same stretch. Here, you will find traditional butter kaya toasts, laksa, fishball soups, otah, mee rebus and a whole bunch of other flavourful dishes to satisfy your cravings.
As for shopping malls, your options when residing at the Espada condo (though expected) are bountiful. Big names like Takashimaya (Ngee Ann City), Scape, Mandarin Gallery, Orchard Cineleisure and Great World City spring to mind – all of which are less than a kilometer away from the condo. If you are into the glitz and glamour of the Orchard shopping belt, or simply enjoy a variety of shopping choices, then the Espada's proximity to it is truly one of the condo's biggest plus-points you can benefit from.
Lastly, even though one should not expect to raise a family here due to the condo's tight-spaced units, there are a couple of solid education options in the vicinity should the need arise.
For preschools, you have the Kay Poh Road Baptist Kindergarten as well as JHS Montesorri Kindergarten, PCF Kreta Ayer-Kim Seng Blk 79, Chinese Kindergarten and YWCA Kindergarten – all less than 5 minutes' drive away.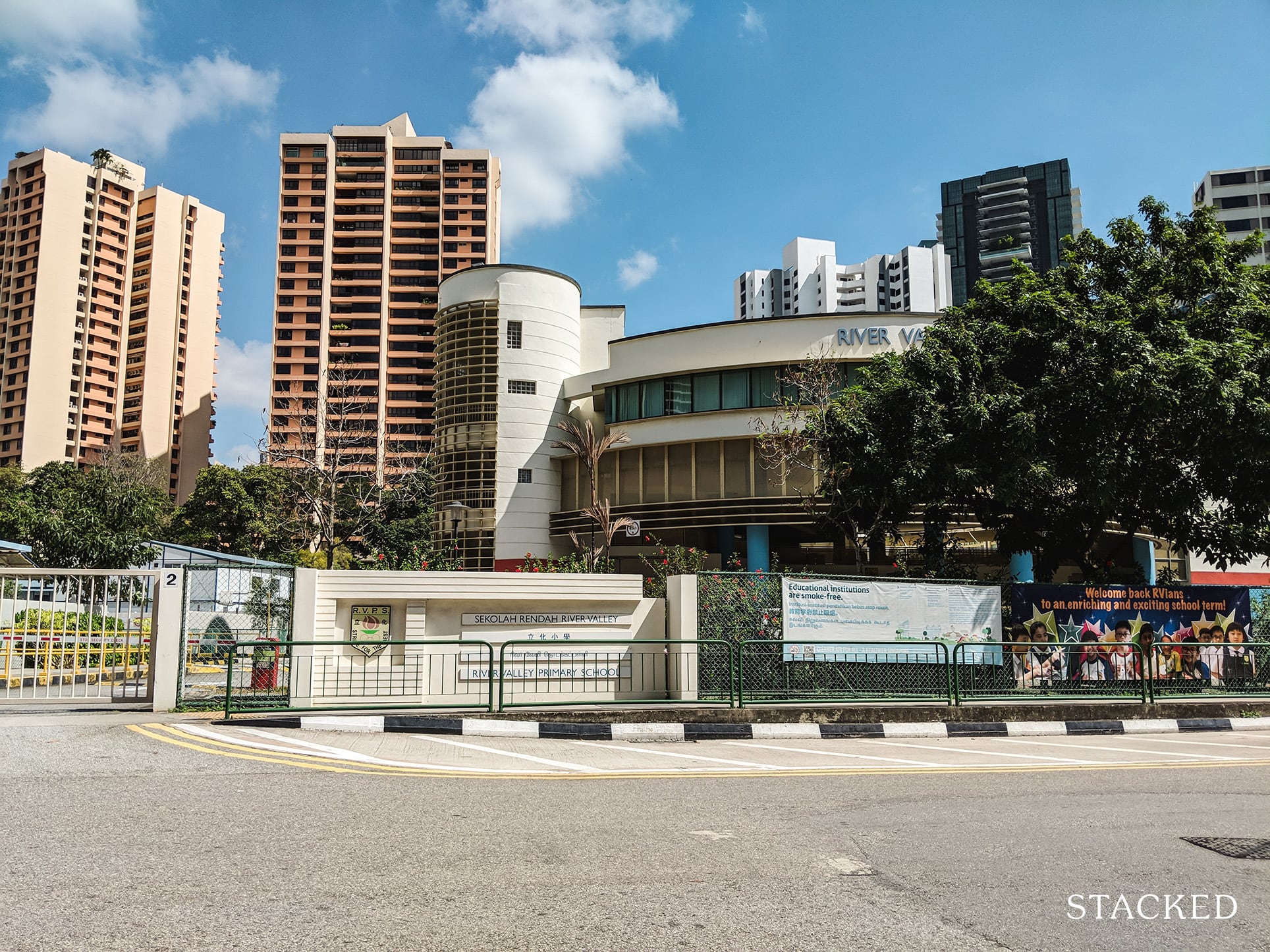 For primary schools, River Valley Primary is just a couple of minutes' walk away, with the options of St. Margaret Primary, Anglo Chinese Junior School and Zhangde Primary below the 2-kilometre radius.
As for secondary schools, we have Outram Secondary and Gan Eng Seng Secondary in the vicinity.
Other noteworthy mentions include NAFA (Nanyang Academy of Fine Arts), SMU (Singapore Management University) as well as a cluster of international schools including Swedish Supplementary School, Finnish Supplementary School, Chatsworth International School (Orchard Campus) and Eton House International School. Once again, these schools are below the 2-kilometre radius from the Espada condo.
Espada Condo Development Site
The compromise for the Espada's great locale to price ratio comes in the form of its size (both in units and condo space). In fact, the condo stands on just 37,102 square feet of land area! Rather than cramping multiple buildings together however, the contractors (Novelty Orchard Development) opted for a singular 32-storey tower that comprises of 232 units in total.
The result? A high-density condo (plot ratio 2.8) that still manages to offer its residents a rather peaceful retreat, though the surrounding high-rise condos of One Devonshire and the St. Thomas Suites might seem a little claustrophobic to some.
The breakdown of units in the Espada are as follows:
Unit mix

| No. of Units | Unit Type | Size (sqft) |
| --- | --- | --- |
| 141 | 1-bedroom | 377 – 560 sqft |
| 56 | 1-bedroom + study | 646- 689 sqft |
| 27 | 2-bedroom | 667- 721 sqft |
| 5 | 1-bedroom penthouse | 657- 1,313 sqft |
| 2 | 1-bedroom + study penthouse | 1270 sqft |
| 1 | 2-bedroom penthouse | 1313 sqft |
As you can see, the majority of the units here are 1 bedroom apartments. The lack of 3 bedroom units and above further reinforces the fact that the Espada is not a suitable option for larger families.
Having previously covered bigger unit condos in District 9 such as the Cosmopolitan, Trillium and Centennia Suites, it is easy to downplay the size of the Espada's units. However, we should bear in mind that those were outliers and the trend for smaller units in central areas is very much commonplace amongst newer developments (think 8 St. Thomas) even if the units here are slightly smaller than average.
Prices Review
Surrounding developments

| Project Name | Tenure | TOP | Average Price (PSF) |
| --- | --- | --- | --- |
| Espada Condo | Freehold | 2013 | $2,304 |
| 8 Saint Thomas | Freehold | 2018 | $3,125 |
| Skyline 360 | Freehold | 2012 | $2,229 |
| St Thomas Suites | Freehold | 2010 | $1,843 |
| La Crystal | Freehold | 1996 | $1,824 |
Compared to the various other freehold condos in the Somerset-half of District 9 that have been built in 2013 (or after), the Espada comes up on top in terms of pricing. Furthermore, units at the Espada can sometimes drop to as low as $1,800 psf (admittedly, this is for the bigger units) – a sure steal for its incredible location. The tradeoffs, however (as mentioned earlier), are its slightly smaller units and land space on which the condo resides.
Although from the list it does seem like Skyline 360 and St Thomas Suites has a better average price, but you will have to bear in mind that they contain much bigger units.
Our Take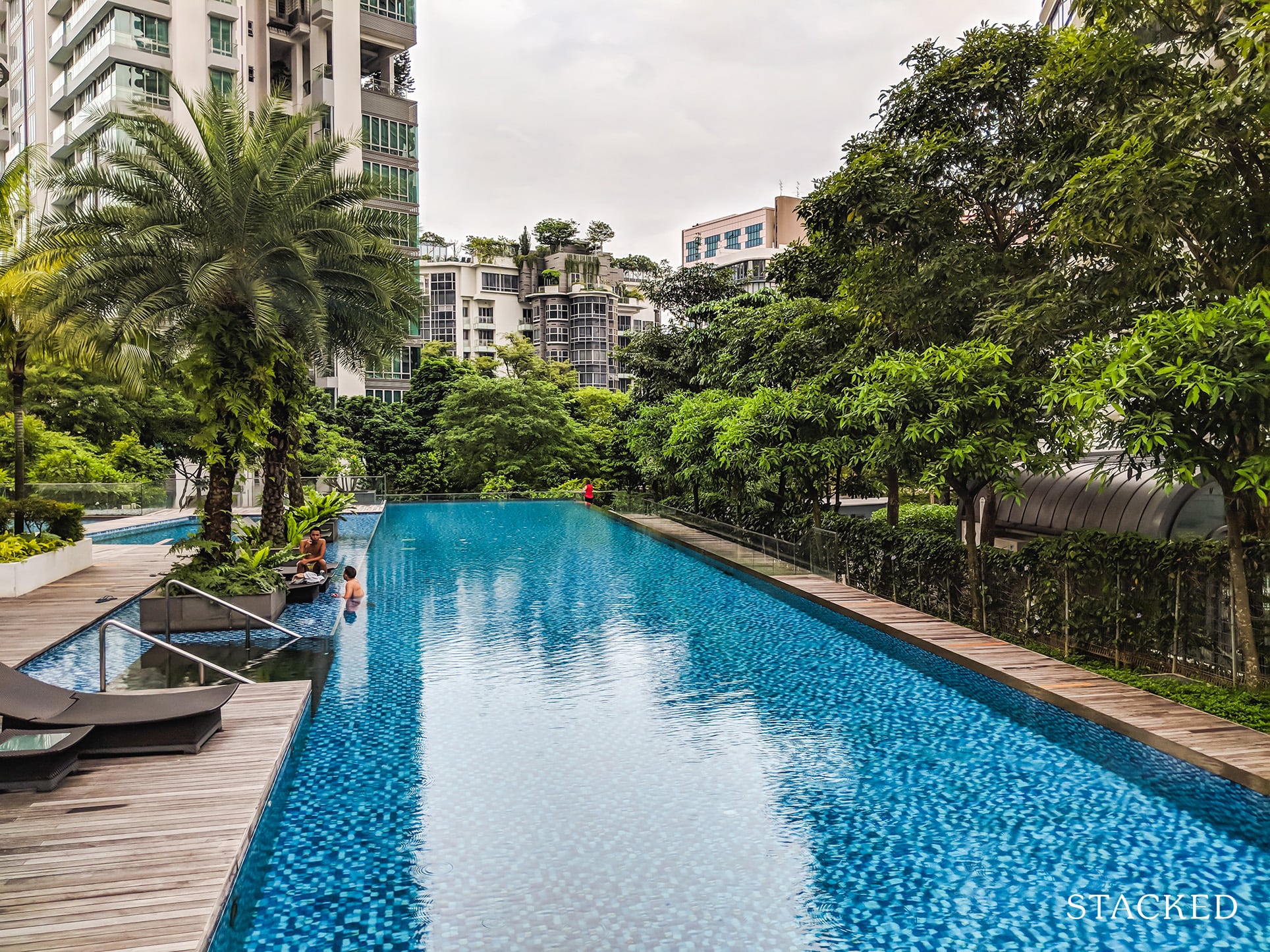 Personally, I feel that the developers of the Espada condo have done very well in fitting their facilities into such a limited space. The size and semi-privacy of the pool is definitely a plus, as is the design and seamless flow of the jacuzzi. Admittedly, the playground and kids' pool do seem a little redundant given the Espada's target audience.
To be honest, the Espada condo seems very much to me like a jack-of-all-trades, master of none. It is a semi-luxury residence that triumphs its neighbours (One Devonshire and Skyline 360) with its relatively new TOP (2013). It is 'affordable', though not the cheapest when compared to other older condos in the region. It's plus would be its location, and it's minus, the small units and land area.
In my opinion, the Espada is just slightly above average when compared to the other condos in the vicinity. Furthermore, as I tend to prioritize space and quietness over location, I would only seriously consider it IF I was still single. At the end of the day, with prices hovering just under the magic million-dollar number for a freehold one-bedroom condo in River Valley, this will always be its number one selling point.
What this means for you
You might like the Espada condo if:
• You value a good location:Incredible transport, amenities and proximity to shopping areas make the locale near unbeatable.
• You prefer a relatively newer condominium:Built in 2013, the condo is a tad newer than most of its neighbours.
You might not like the Espada condo if:
• You are a stickler for large spaces:The smaller than average units and land space will simply not suit your preferences.
• You have a family and kids:If you live with your spouse and a kid, you might still be able to fit in the 2-bedroom units. Anything more, however, will result in a squeeze.
End of Review