Buying

Don't Fall For These 7 Common Misleading Tactics In New Launch Condo Sales
Ryan J
January 28, 2023

9

min read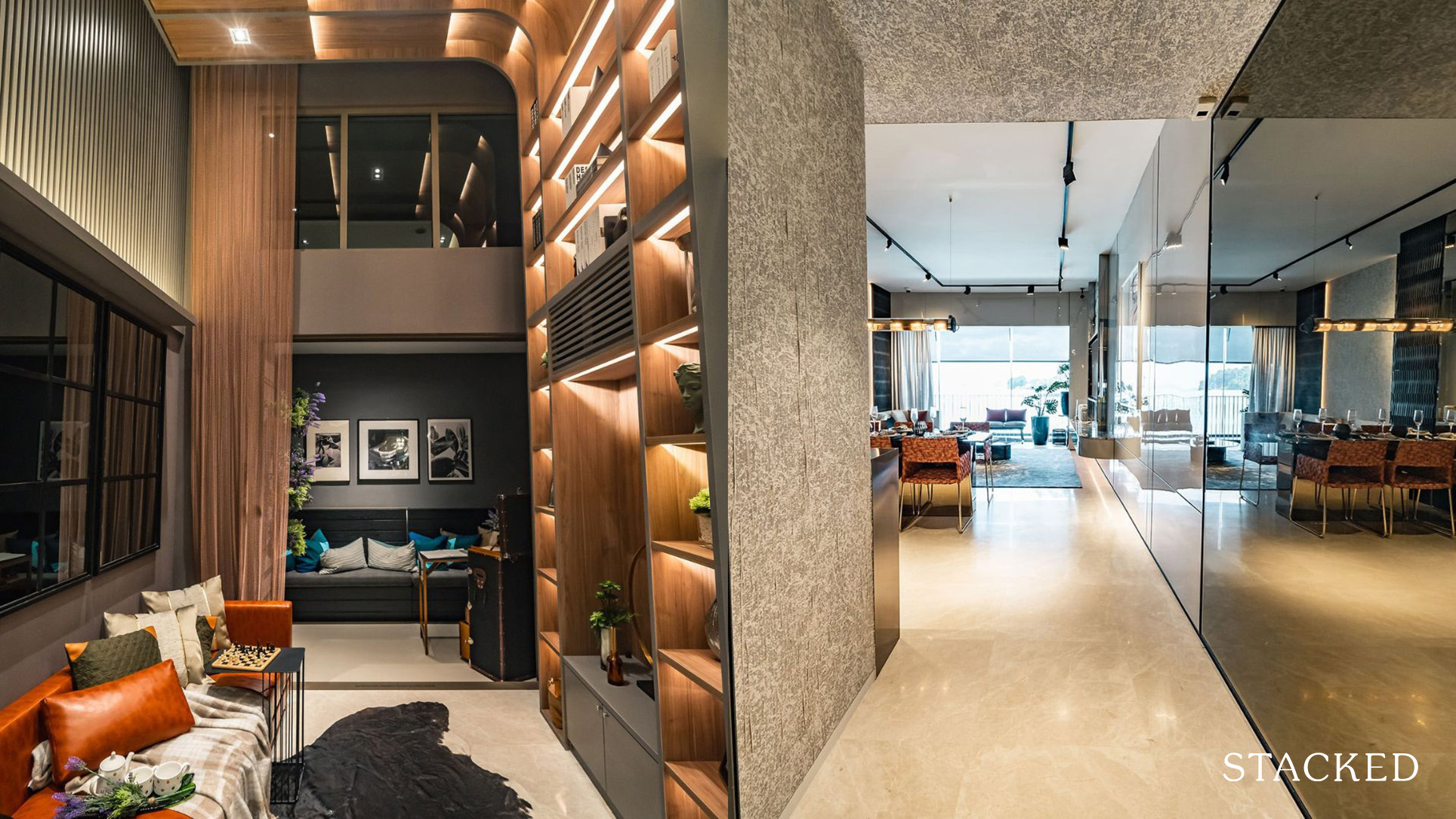 9
min read
Tighter regulations and bodies like CEA mean that the property market is no longer the wild frontier it used to be, like back in the '70s and '80s. But however much the government tries to regulate, clever marketing finds a way. The following may not be illegal, but for the first-time homebuyer these may be easy to miss; so look out for these when you're shopping for a new launch:
1. Watch out to see if the show flat is the typical unit
Given the high cost of building a show flat (which is why we built our new launch platform), it's understandable why developers would only want to build actual show flat units that represent the best the development has to offer.
So most of the time, show flats will use the most spacious-looking configuration possible. For example, if there are 3 different types of 2-bedroom units, they will typically showcase the biggest (or the most common) unit type. This means that sometimes you can get a false sense of how big the unit is, as you have to use the show flat as a proxy for the actual unit you are looking at.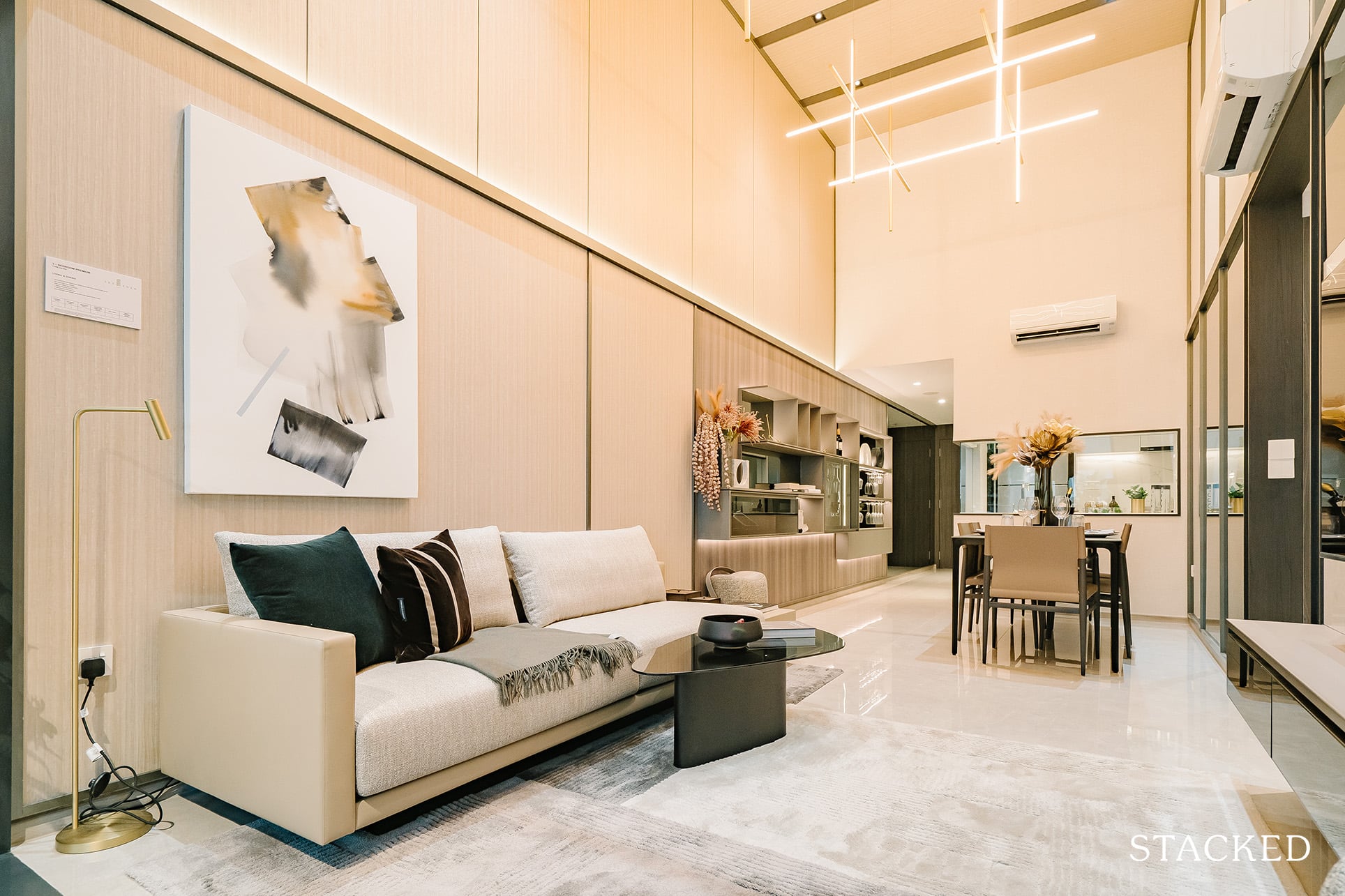 Also, developers sometimes like to show the highest floor unit as an example. This usually comes with a higher ceiling – and again, can make it very hard for you to really get a sense of space for the unit. A higher ceiling will always make the space feel bigger, and we've definitely heard of buyers that have expressed surprise on key collection day at how much smaller their unit feels.
So when you are viewing a show flat, always ask for the ceiling height, and if it comes standard across the units that you are looking at.
2. Show flat trickery can be hard to judge the actual size
We've written a full piece here, but if it's your first time viewing a show flat you should really have a read so that you are better prepared.
For sellers who are on the fence about investing in staging to sell their home, a show flat is probably the best example of why dressing a space up can make a huge difference.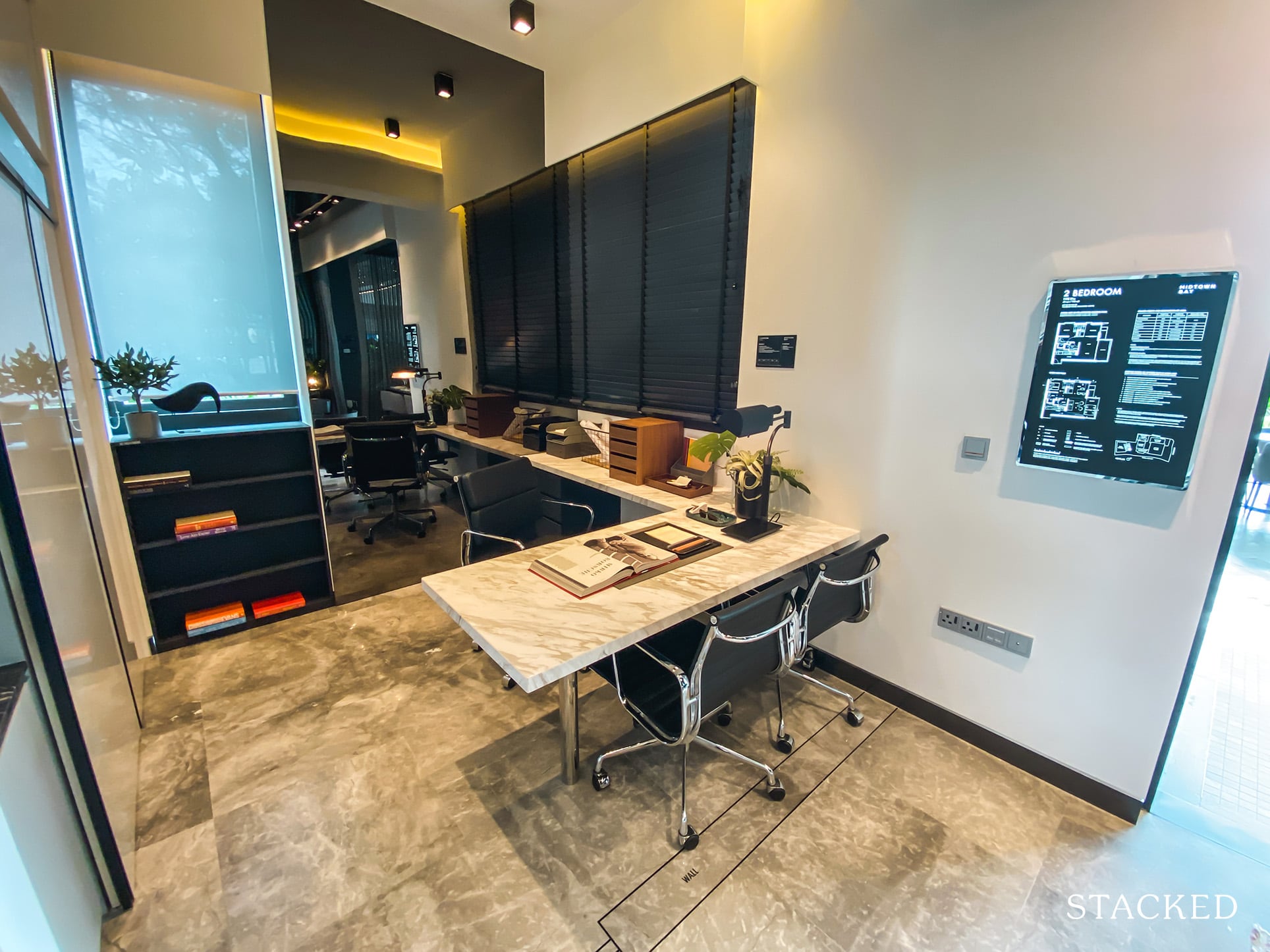 Besides the design, and the use of alluring scents, one of the main tricks used is to remove certain rooms to accentuate the size of the living and dining areas. While this is regulated today (developers have to mark out where it is an ID feature, and where the walls have been removed), it makes it very difficult for the casual viewer to really get an accurate sense of the space.
Another common trick is to make extensive use of mirrors, which visually widens the space; and you'll notice some show flats like transparent (glass or plastic) furniture with the legs showing. This also helps to make the space look bigger than it really is.
Finally, do watch out for the size of the furniture used. Sometimes these may be custom-made to fit the space better, and may not always represent the reality of how the space can be used. This can be in the form of svelte sofas that look good but aren't actually very useful in terms of size.
3. The term "mixed-use" is becoming misleading
"Mixed use" and "integrated" are not really interchangeable terms. When a project is an "integrated development", it almost always means there's a connection to an MRT station, bus interchange, etc. It also tends to be bigger and may encompass a civic amenity (e.g., town library or clinic). We have noticed some agents don't bother to clarify this, when buyers confuse the two.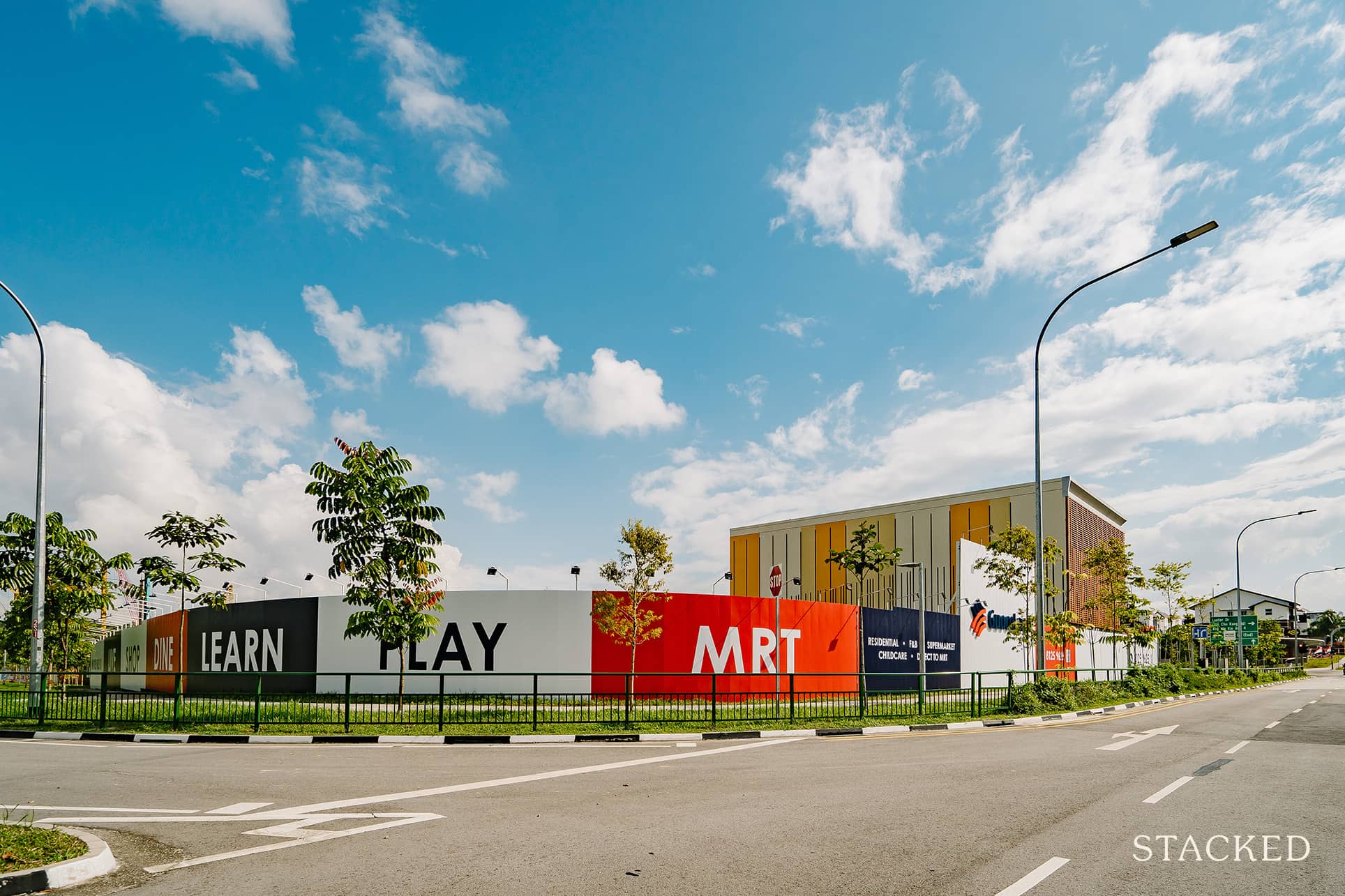 For mixed-use projects, there can be massive differences in how well the commercial component is handled. Mixed-use can mean an MCC Land type project (think The Poiz and Sceneca Residence), where the developer goes so far as to seek out tenants like a supermarket.
But in some cases, a "mixed-use" project will just have a bunch of uncoordinated shop spaces, which are haphazardly sold to whoever buys them. This is how you end up with projects where the "shops" are a hodgepodge of one bakery, one candle shop, a pet sitter, and a mix that's only situationally useful (and the stores can rotate and vanish quite quickly, as tenants give up).
Be on the lookout for this, and ask what exactly the developer has promised regarding the commercial component. Having "shops right downstairs" is meaningless if none of those shops sell what you need.
4. VVIP, VIP, and other "invite-only" launch phases
It is generally true that buying in the earlier launch phases means a lower price – we cover this in some detail in this developer pricing article.
There is also, as we mention in the linked article above, no guarantee that prices won't also fall for later buyers. Developers are sometimes forced to discount units as a project comes close to its ABSD deadline, or if sales are getting stagnant.
So no matter what impression you're given, don't believe that an "early bird discount" of 10 per cent means you're guaranteed a 10 per cent profit, once units are sold at "normal" price.

There are also many sites and advertisements that will try to hook you in the words "VIP" or "VVIP". Many agents try to make it sound like they have special connections to get you better status, when in reality it's just a marketing gimmick. Go to a crowded show flat and you'd realise that everyone is slapped on with a VIP sticker anyway.
The only real VIP preview may be conferred by the developer to friends and family, or clients that have purchased with them before.
5. The project comparisons may use selective information
It's common for the sale team to have a kit, which readily draws price comparisons to nearby units. This may include projections regarding rental rates, or returns over certain time periods.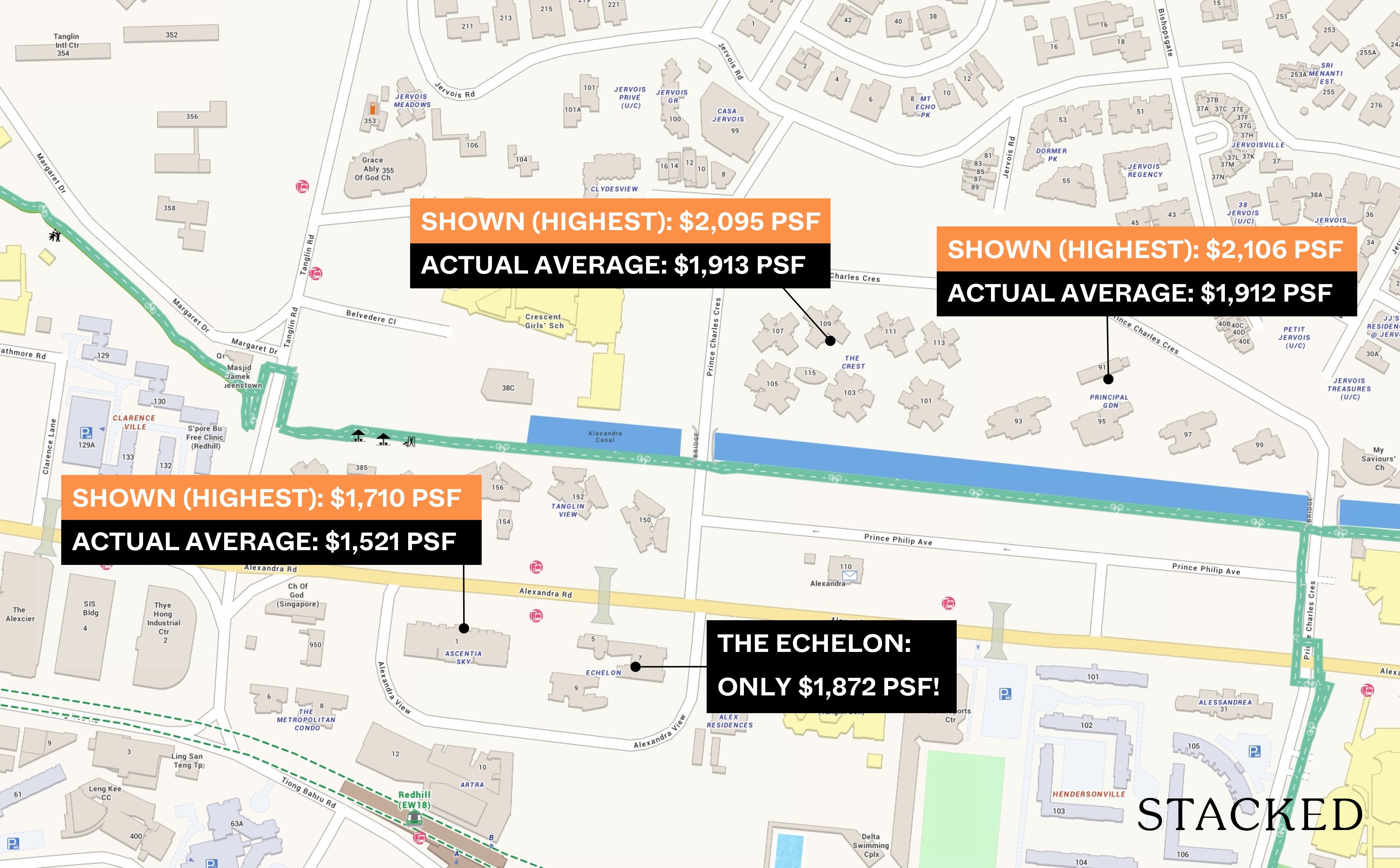 While it's unlikely that you'll be told outright lies, the information used may be cherry-picked to make the new launch look like a value buy. For example, the seller may use the highest transactions in nearby properties, when drawing up price comparisons – or they may conveniently leave out one or two developments that are priced much lower (if caught, they may say those are too old or a bit too far to be considered relevant).
Some of these unbalanced comparisons – such as between a ground floor unit of the new launch and a top floor unit in a neighbouring condo – may lend the impression that the new launch is cheaper than it appears.
6. The percentage "already sold" may not refer to the entire project
For larger developments, it is common not to release every unit at launch. For example, a condo with 600 units may only release an initial batch of 120 units during the launch weekend.
So when you're told it's "80 per cent sold", this may mean only 96 units are sold, rather than 480 units. This is both to make for a more sensational news headline and to create a false sense of urgency in buyers.
As to how many phases there are, or when exactly one phase ends and another begins, that's entirely up to the developer. Luxus Hills, a landed development, had 25 phases over its entire launch.
As we touched on in point 3, note that some earlier phases (e.g., phase one and phase two) can sometimes have almost similar early-bird discounts, even though in theory the earliest phases should always have the best bargains.
7. Similar facilities that are marketed as separate features, multiple times
This is when you see claims such as "400+ facilities", or some other equally improbable number. In many cases, these are just variants of the same facility, marketed as separate features (e.g., if the landscaped area has one Japanese garden, one flower garden, and one rock garden, it may be marketed as three separate features).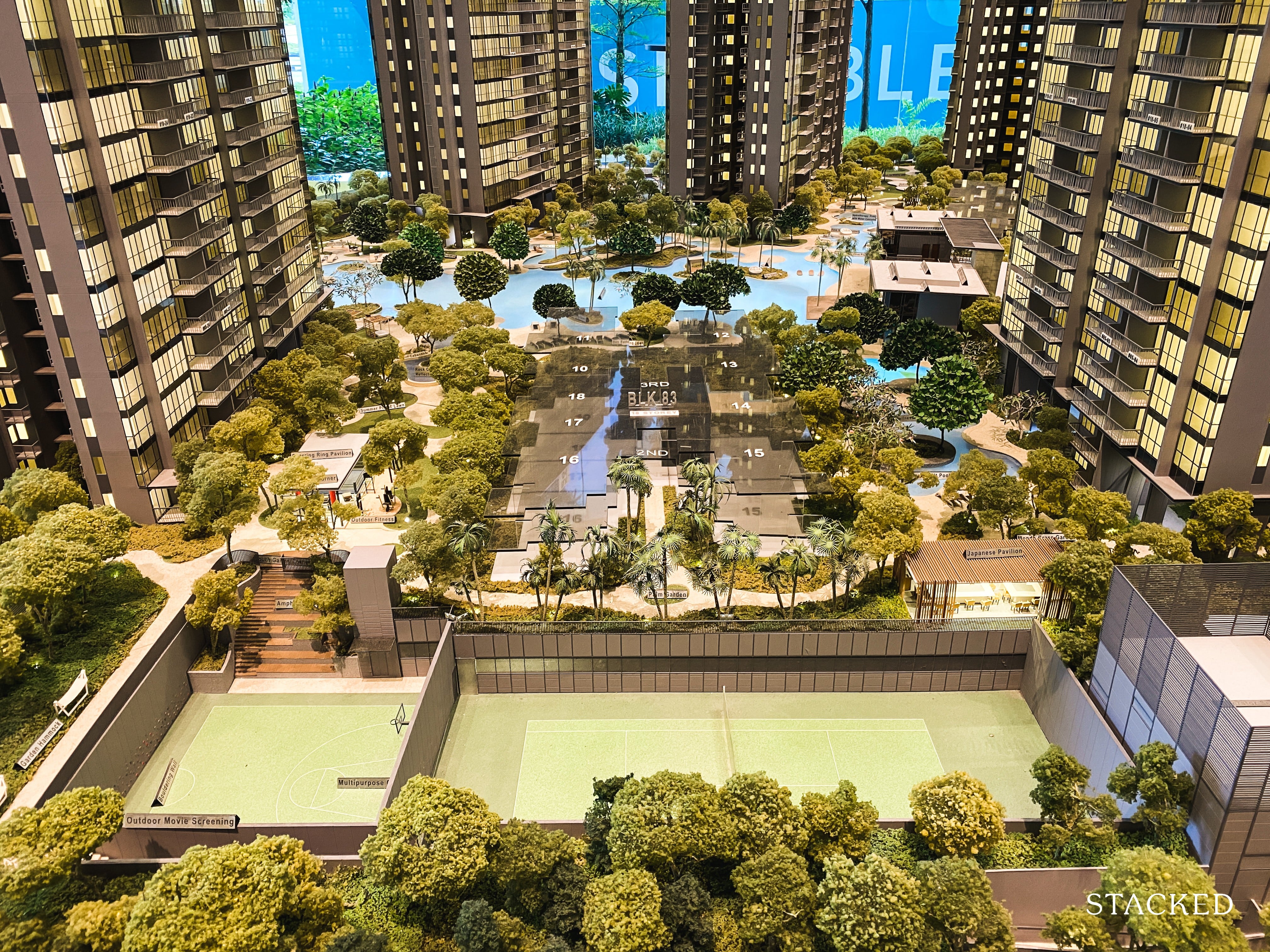 We have seen even tiny playground spots, or a single lonely BBQ pavilion, marketed as separate features. This gets even more confusing when it comes to pools; such as if the "sunning pool" is really just the shallow end of the lap pool (this is why some brochures may list three to five pools when you can see only two in the actual display).
Focus on the scale model of the condo, and look for the separate facilities with your eyes. They may be smaller or fewer than the materials suggest.
Finally, be wary of any calculations and simulations done for you on the spot
Many potential buyers have been walked through a simulation of potential returns, rental yields, etc., often accompanied by fancy charts and graphs.
These may be helpful, but quite a few buyers have mentioned that the agents talk fast, and it's hard to pick up on the maths involved (unless you're already an experienced investor). As with point four, the information used by also be rather selective – for example, using the average rental rate for the neighbourhood rather than the median, to simulate potential yields.
(If there is a development nearby with unusually high rates, such as a boutique luxury condo, this will skew the average upward, unlike using the median).
We'd suggest you keep what the sales agent writes for you, to review under calmer circumstances later; the picture might be clearer then; but don't take it at face value. You can also reach out to us at Stacked, and double-check any claims against our reviews of new and resale condos alike.