Property Stories
Disgruntled About My Walk-Up Apartment: A Homeowner's Cautionary Tale
Ryan J
March 30, 2023

6

min read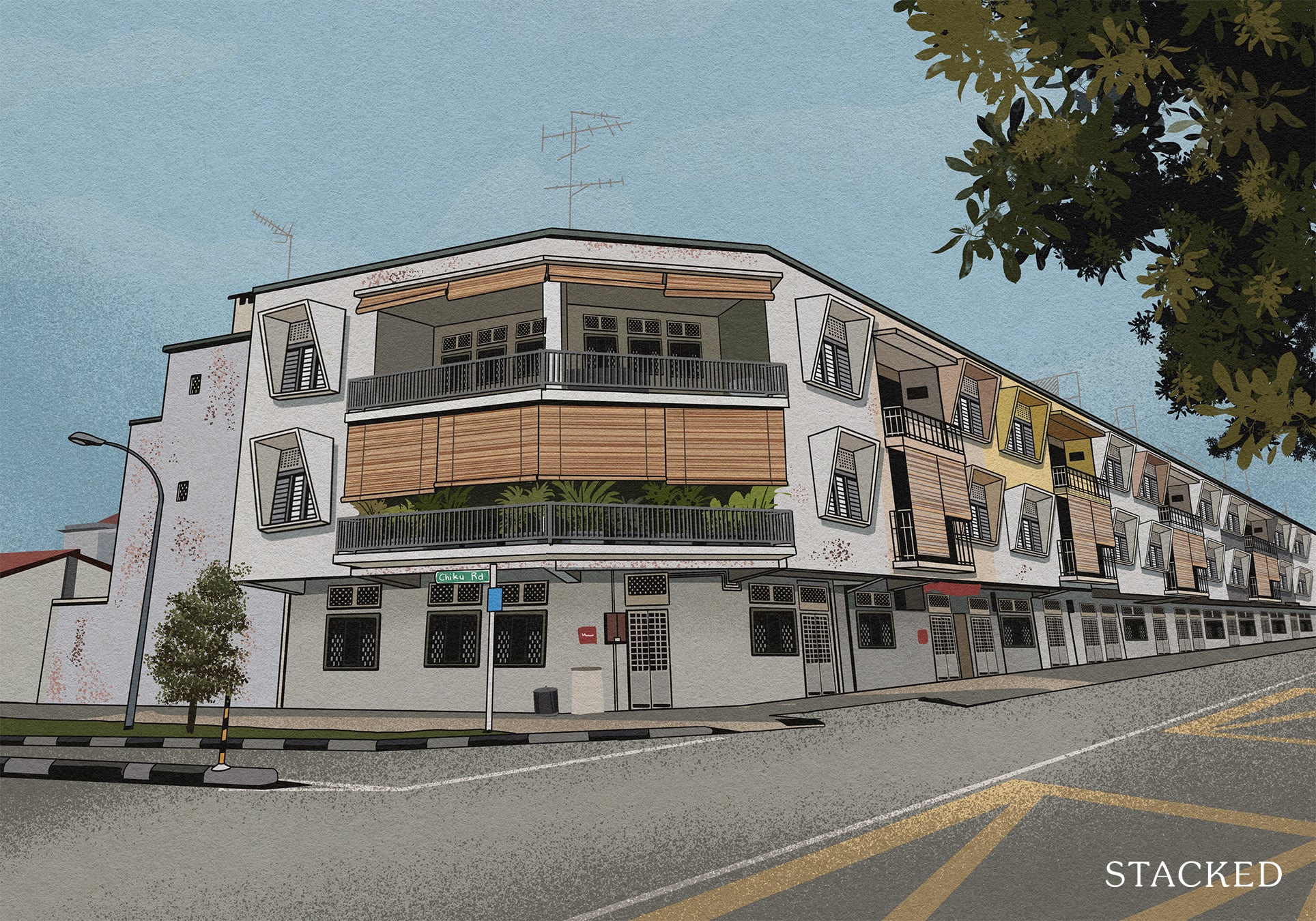 6
min read
Walk-up apartments are a niche type of property that isn't for everyone. While you do often have more interior space (and more freedom to renovate as you wish), the downsides are very obvious too. Alternately praised and derided for their size and (usually) advanced age, investors can't seem to come to an agreement on these, and walking up and down the stairs daily can get tiresome (no pun intended) very quickly.
For those considering this unique type of property, this week, we present the alternative view of someone who regrets his walk-up unit:
Looking for an affordable, low-density option
When J decided to find his own home, he had a clear idea of what was needed. J had suffered from noise-triggered migraines since childhood and works in a high-stress creative field:
"At the end of my day, I just want a quiet place to zone out, I don't care even if there's no MRT or restaurants or anything. I need the right vibe for my work to flow. So when I found a place near my parents at Siglap, I thought it was perfect."
The property J found was a walk-up apartment, located just off East Coast Road. This is close to the Esso station at Frankel, where Jalan Buloh Perindu turns into a landed area with mainly older homes.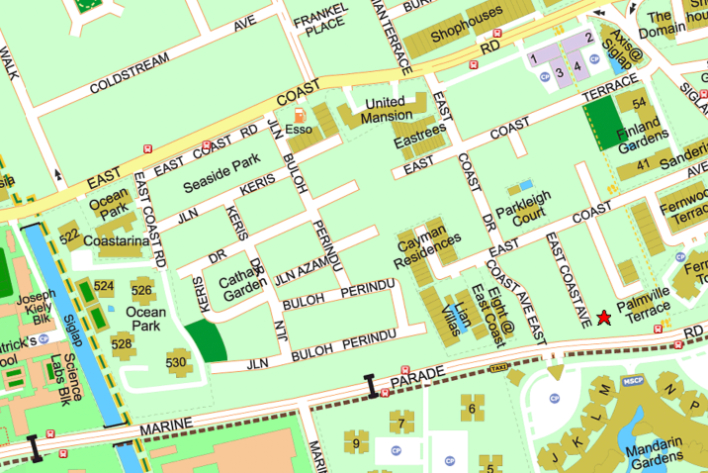 J says the price of the unit was considered high at the time, at just over $900,000 for around 594 sq. ft. However, he appreciated that there were only five other units besides his own. In addition, it was near his parents, and there were few other properties in the high-priced Siglap enclave that would have been within budget.
J says:
"I did have an alternative in mind, which was a resale condo in Paya Lebar; but I was told by the agent that Siglap-area homes have a better track record and that the Paya Lebar alternative was not so good in the long term, because it was leasehold."
The freehold status of the walk-up also convinced J that its advanced age – dating back to 1965 – would not be a significant drawback.
As J was in a rush, and there seemed to be no better options, he agreed to the sale with minimal checks.
"In hindsight, I should have been more thorough, and I would have spotted many of the problems. But I was eager to get out on my own because my family is quite big with four other siblings; I need the quiet to work from home." 
Problems from the first month
Unfortunately for J, problems started as soon as the first month. J noticed that the glass on one of his light fixtures had darkened considerably; and eventually, he noticed water appearing around it.
There were also sagging "lumps" in some parts of the ceiling, which hadn't been there when he bought the unit.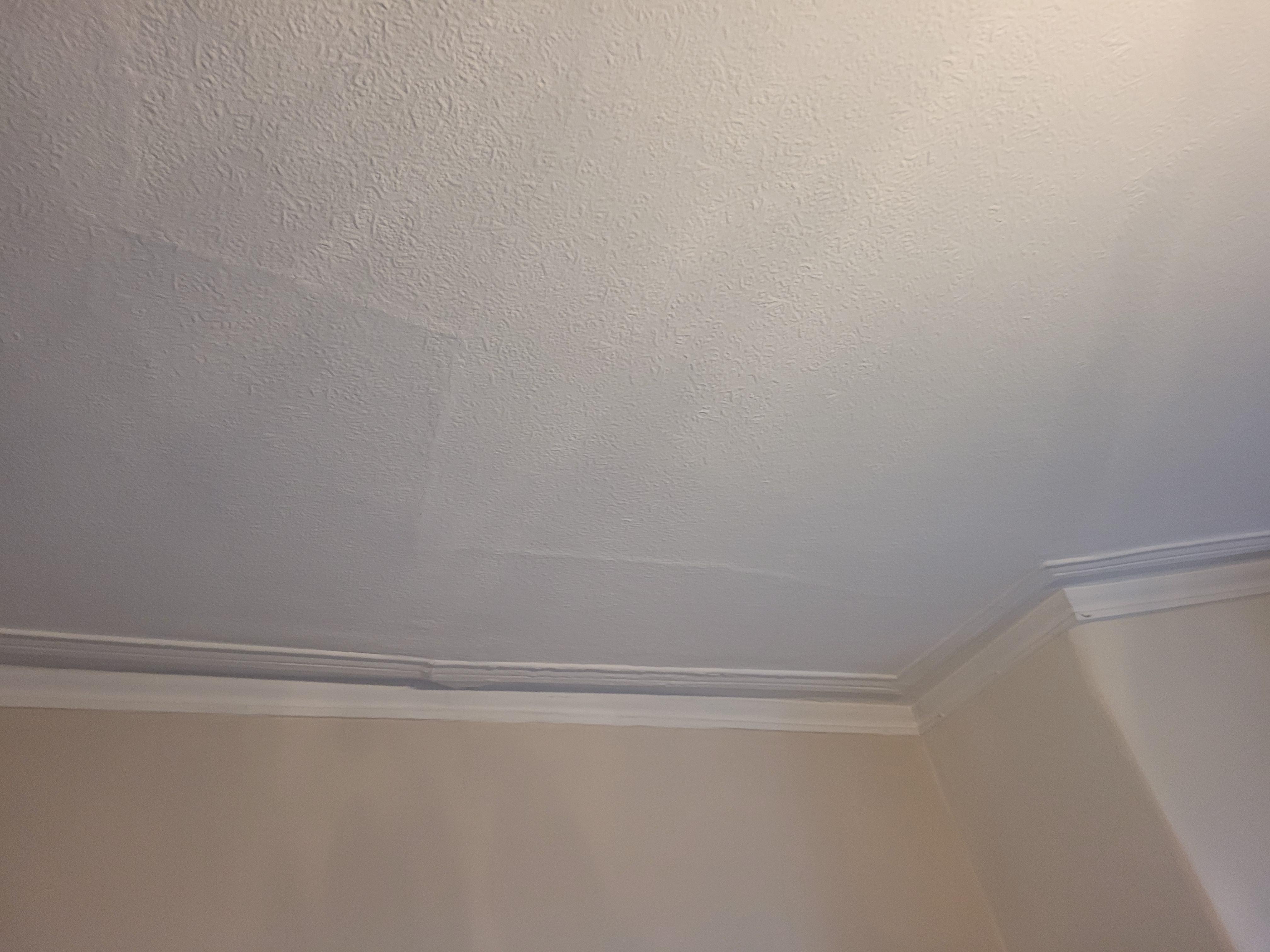 J called in a contractor, who identified the problem as a leak from the unit upstairs.
"But the person living upstairs was a tenant, who told me it was her landlord's problem. And her landlord was almost impossible to talk to because he was currently working and staying abroad in Hong Kong. 
It took more than two weeks just to touch base with the landlord; and in the meantime, my living room floor had three buckets to catch the leaks; and I was emptying them twice or three times a day."
It took around two months before the neighbour upstairs took action to seal the leaks. It would not, however, be the first time. Since 2018, the neighbour's leak has come back three times; and on one occasion it damaged a $3,500 futon that J had shipped in from Australia. 
However, J is not the only victim of this.
"I have another neighbour with the exact same problem", J says, "This is an old place, so the unit above from hers also leaks. She had it worse than me because her last leak happened during the Circuit Breaker."
J says the fear of leaks has affected his furnishing choices too, as he no longer dares to use pricey carpets or buy vintage furniture.
Dirty and run-down common areas
J says that, while individual units are often beautiful from the inside, the common areas are embarrassing:
"I once saw dirty tampons thrown in the corner of the stairwell," J says, "And the small garden area is poorly maintained. I would sometimes quietly turn over old pots to get the water out, because I worry about dengue mosquitoes."
J says the impression is of six owners who care only about their own unit, and a reluctance to bear higher costs for anything else. The lack of 24/7 security, which J would get in a condo, is also something he feels nightly:
"There are sometimes characters sitting on the stairwell and talking and smoking, as late as three or four in the morning. Two or three times, they were laughing so loud I was woken up by them. I'm pretty sure they don't live here, but without security guards, it's so easy for anyone to just come in."
Weak water pressure in the bathroom
Likely due to its age, J says there are constant problems with water pressure in the bathroom.
"Sometimes the water is a slow and small amount even when I turn the tap all the way. Even the toilet doesn't flush very well, so I need to pour water down the toilet bowl to fully flush. It's been fixed a few times, but over time it seems to come back."
Another problem, J says, is the smell that sometimes comes from the old pipes. Due to build-up over time, there is sometimes a strong urine-like smell from some of the pipes; but this is beyond his control.
"I can't just redo all the piping for the whole building, right? So this is something that needs collective action. We (the owners – ed.) have discussed it before, but it makes me wish I hadn't bought such an old place."
The stairs will be a problem over time 
J says he considered the stairs to be trivial at first, but an accident last year has forewarned him of how inconvenient it can get.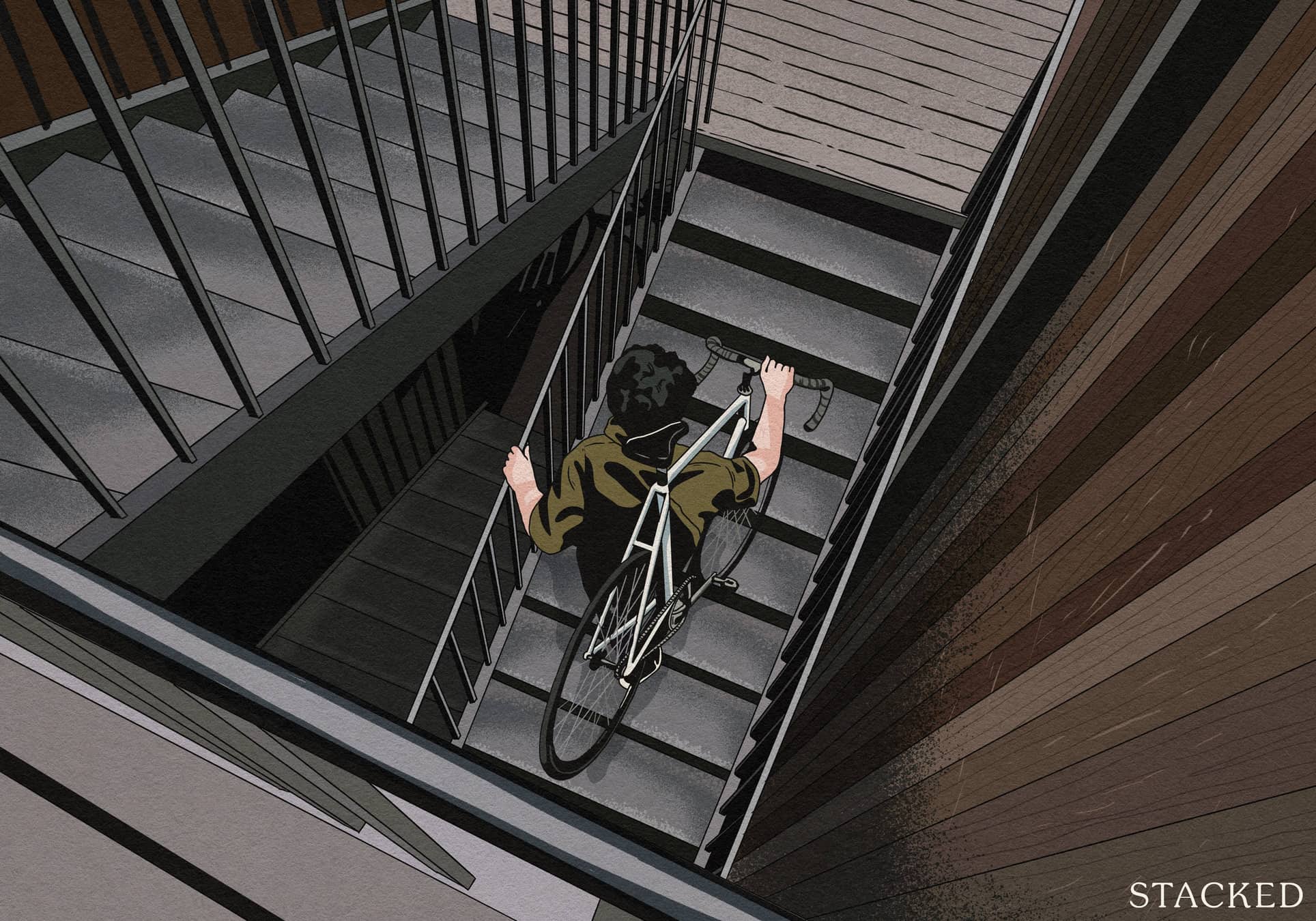 "I sprained my ankle playing football, and that's when I realised how difficult stairs can be if you have mobility problems. I ended up wasting money by ordering meals and groceries all the time because I couldn't bear to go up and down the stairs all day. One time I actually tripped while going down the stairs, and I was lucky I didn't end up with another sprain or worse." 
This led to the realisation that, at some point, J's home would become impractical:
"I think when I'm older, I will have to move. The stairs will eventually become too troublesome; then I have to find buyers who are younger or don't mind the stairs."
This leads to further complications, such as resale value.
Worries over resale potential 
J regrets buying into the "freehold" argument of the seller's agent; and in hindsight, he realises he picked a difficult unit to sell.
"It's not just about freehold or leasehold. Single-bed, single-bath units are already hard to sell; it's even harder when there's no MRT station or other amenities nearby. And this is a luxury area, so the buyers here are not the sort to buy small and very old units."
As with many walk-up apartments, price volatility is also an issue. With few transactions over the years, future buyers have no guidelines. This problem is compounded when surrounding properties are all landed homes, which constitute a totally different type of housing.
J says his preference is frankly to sell and move right away, but circumstances prevent this.
"My industry right now is quite shaky, and home prices are high. Even if I sell, I'm not confident I can afford a new property; and I wouldn't be able to buy a resale flat*. In hindsight, I should have been more patient, and rented until I found a better place."
J says that, while he doesn't mean to cast all walk-up apartments in the same light, he would advise buyers not to over-romanticise them either.
"It can seem unique and different to get an old place, and do it up in style. I feel the appeal of something different from both HDB and a condo. But make sure you're prepared to deal with the problems of older properties."
For more homeowner experiences, on-the-ground opinions and insights into the Singapore property market, follow us on Stacked. We'll keep you up to date with in-depth reviews of new and resale properties alike.
*As of 2023, you need to wait 15 months after selling a private property, to buy a resale flat.