Analysis
How Much Does A "Bad" Facing Really Affect Your Property Value?
Ryan J
September 19, 2023

4

min read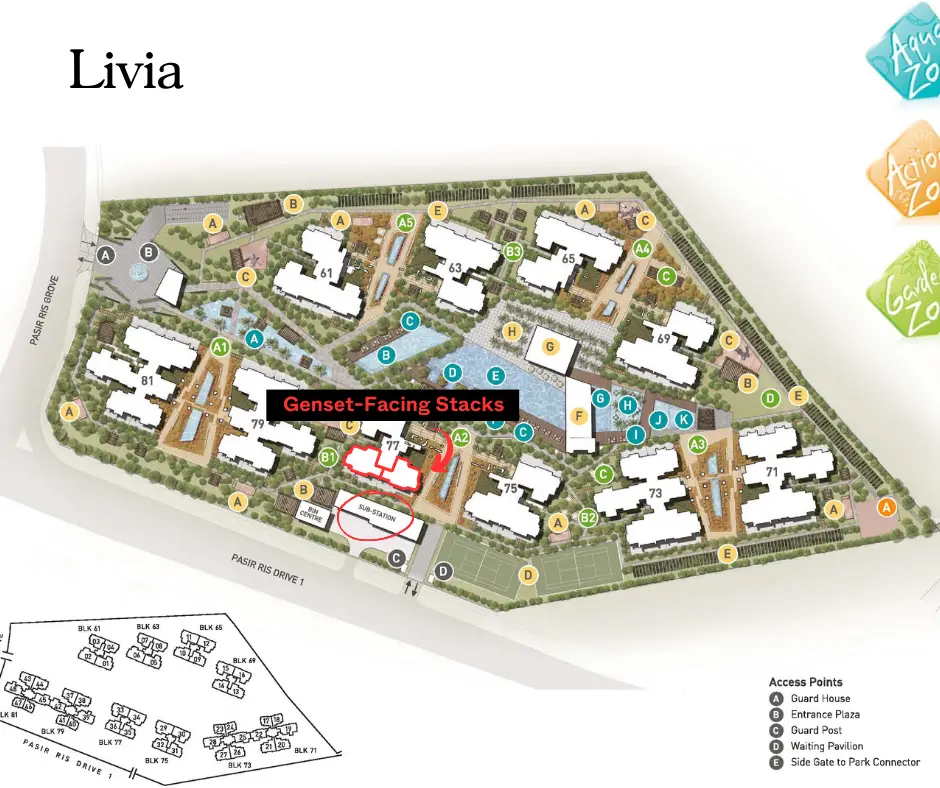 4
min read
When it comes to property investments, certain preconceived notions often dictate our decisions, even before we delve deep into the details. One such popular belief revolves around properties facing undesirable landmarks, like the power station, or the internal substation, and their potential impact on investment returns. Tell an investor that a property with such a view fetches lower gains, and they'll likely nod in agreement. Such assumptions, rooted deeply in our collective psyche, often go unchallenged.
However, how often do we actually pause to dissect these beliefs? Is the potential negative impact of a poor facing genuinely significant, or could the discounted initial price tag compensate for any future drawbacks? To answer this, we examined several units, aiming to quantify the real implications of this widely accepted notion.
Stacks with less-than-ideal views
We picked out some specific condo stacks with units facing the power station. These condos were chosen based on their size so as to have a larger number of transactions to analyse. They're also more recent developments as they tend to have been transacted in more recent times and also have more detailed site plans that indicate clearly where the generator sets are.
Here are the ones we used:
| | |
| --- | --- |
| Condos | Genset-facing Stacks |
| The Palette | 1, 2, 7, 8 |
| Livia | 35, 36 |
| Parc Rosewood | 128, 129 |
| The Skywoods | 2, 3 |
| Riversound Residence | 15, 16 |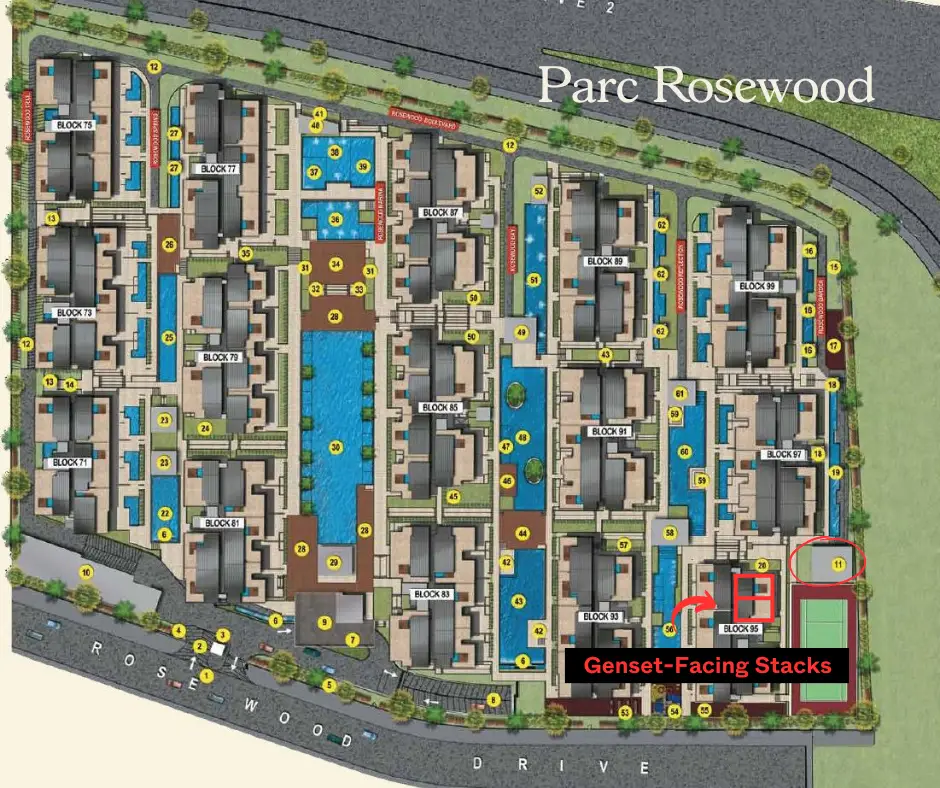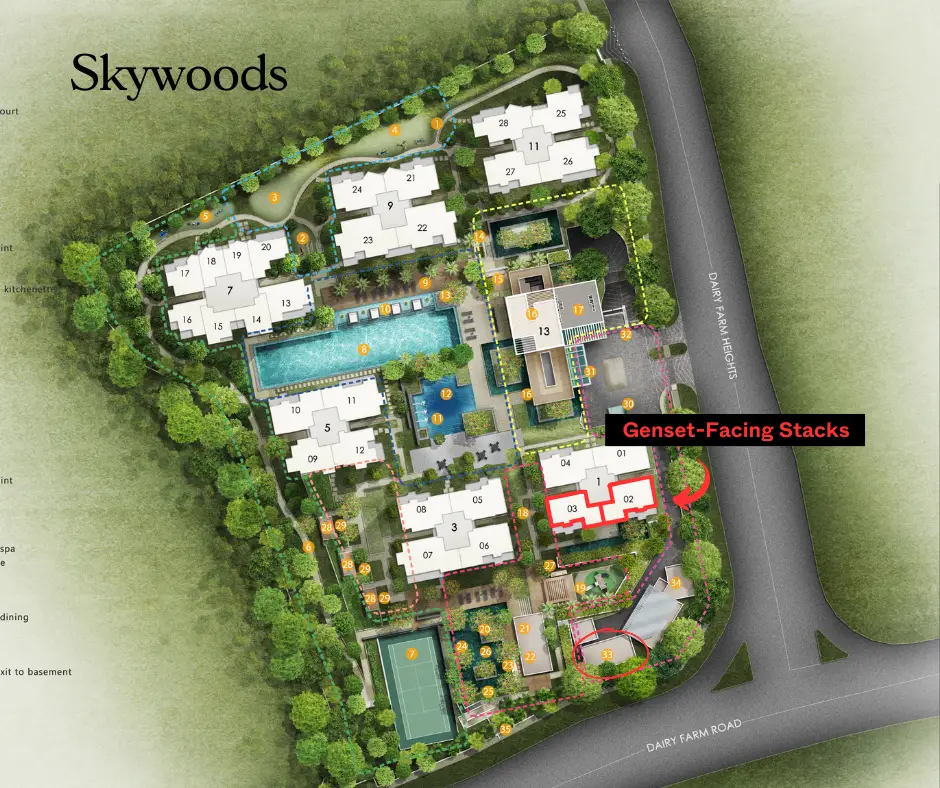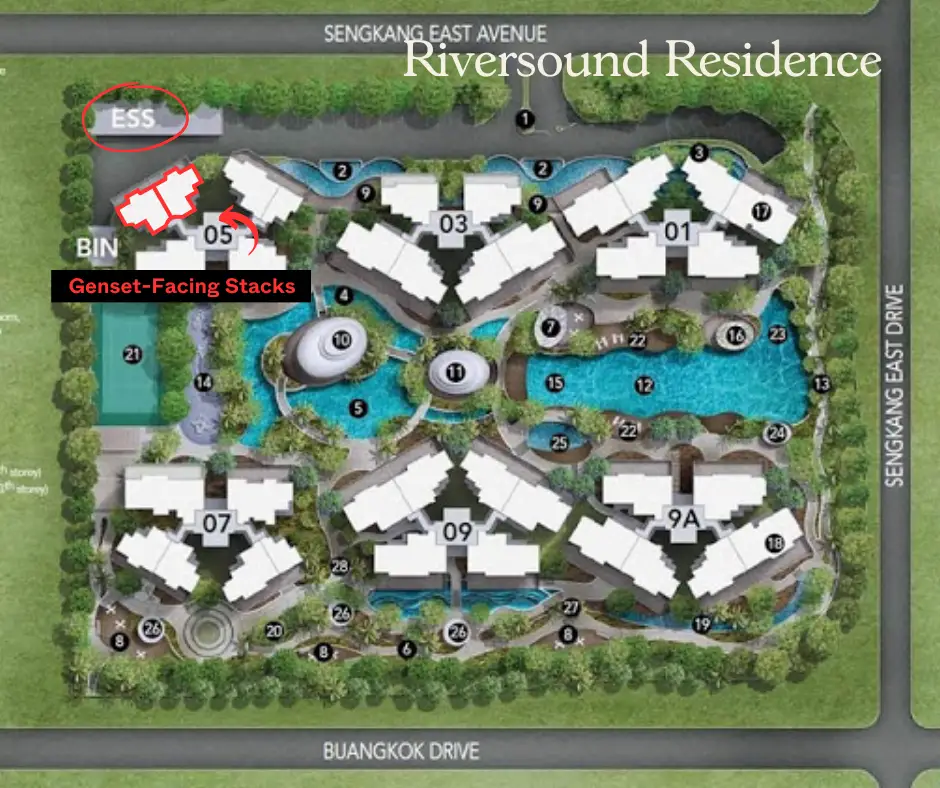 What are the differences in gains?
| | | | |
| --- | --- | --- | --- |
| Face Genset? | Min % Gains | Avg % Gains | Max % Gains |
| No | -16.9% | 19.2% | 91.0% |
| Yes | -3.3% | 19.7% | 40.4% |
If we look at the average gains, the difference appears to be negligible. In fact, the units that don't face the power station, communal dump, etc. even seem to have a slightly lower average, by half a percentage point.
That said, the units with better facing seem to have a higher potential ceiling for gains, as well as the potential to have lower gains. There isn't a clear reason for this; but if we had to speculate, we'd guess it's because stacks with better facings (i.e., not facing the generator station) are likely to be premium stacks that are priced higher. This could result in the potential for both greater gains and greater losses; but this is a speculation we'll check out below.
Looking at the difference based on lower versus higher floors
In theory, higher floors should mitigate the impact of less desirable facings – be it facing the power station, or communal dump, or just the dingiest part of an old condo. Here's what the numbers showed:
| | | |
| --- | --- | --- |
| Face Genset? | Low Floor | Not Low Floor |
| No | 19% | 19% |
| Yes | 21% | 19% |
Again, the difference is negligible. Being on a higher floor doesn't seem to improve results; and in fact, units on the lower floors even seem to perform slightly better. But even this difference may not be on account of the facing.
It could just be that lower floor units were purchased for less, to begin with; but we seem to be using this justification a lot. So we decided to check that as well:
That means comparing between new sale and resale units
| | | | | |
| --- | --- | --- | --- | --- |
| Face Genset? | % Gains | Vol. | % Gains | Vol. |
| No | 20% | 420 | 21% | 448 |
| Yes | 23% | 11 | 19% | 21 |
In theory, developers would charge less for stacks or units with worse views (which would include facing the power station, among other things). If units are priced lower, there should be more room for gains.
From what we can see above though, that doesn't appear to be true. The difference in gains is almost negligible, although we do need to acknowledge the much lower volume of units with poor facing.
As for comparing resale-to-resale numbers, the volume of transactions is too low to draw any clear conclusions.
Read this next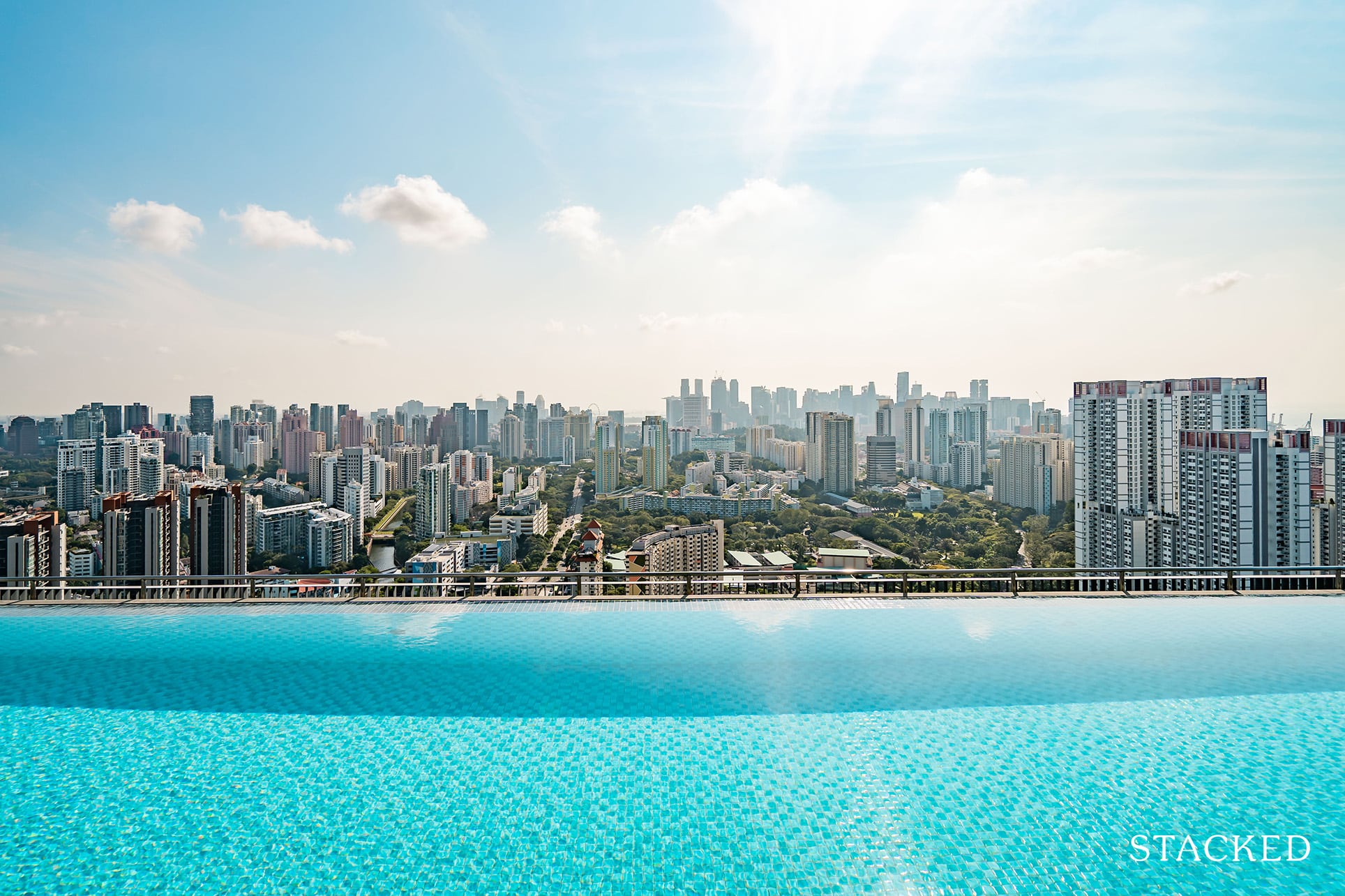 Does this mean we learned nothing? Not quite.
It shows we take for granted something that can't easily be proven. Almost everyone agrees that a worst facing or view is bad for property value, but we saw nothing in the gains that reflect that.
This might mean that buyers are not as fussy as we imagine; and that the stigma we attach to certain facings (e.g., directly facing the power station) is undeserved. It might also mean that – thanks to improvements in site layout – developers are skilled enough to ensure that even a "bad" facing is not entirely intolerable.
(Some newer developments even located dumping areas or power stations underground, where they're not visible from any stack).
Realtors we spoke to said they weren't too surprised. Most agreed that too many other factors outweigh the issue of the unit's view/facing. Most realtors, for instance, said that fundamental issues such as proximity to the MRT station and schools, or the overall quantum and size, do take priority over more trivial preferences like the view.
This is especially true of investment-driven buyers, such as landlords (tenants tend to be pragmatic, and seldom agree to pay more because the view is better), or those who are buying because they believe in en-bloc potential.
This doesn't change the fact that, for some individuals, the view or facing does make a difference. You will run into these buyers from time to time; and of course, it's always ideal to not be pointed at the worst parts of a condo. But that aside, the numbers suggest we shouldn't be too hung up on the view.
If the unit is reasonably priced, and the location is practical, then it may be foolish to turn it down just because you can see part of the power station.
For more in-depth looks at new and resale properties, or happenings in the Singapore property market, follow us on Stacked.