Our Verdict
A 99-year leasehold mixed-use development located in the vibrant and dynamic One-North and Buona Vista neighbourhood, Blossoms by the Park is a sensible choice for individuals and families who like being near key amenities.  Nestled along Slims Barracks Rise and North Buona Vista Road, it is sandwiched between Rochester Mall and NTU @ one-north. As usual, the added convenience will come at a cost of road noise as Buona Vista North Road is a busy one.
52
min read
| | |
| --- | --- |
| Project: | Blossoms by the Park |
| District: | 5 |
| Address: | Slim Barracks Rise |
| Tenure: | 99-year Leasehold |
| No. of Units: | 275 |
| Site Area: | 85,648.4 sqft |
| Developer: | EL Development |
| TOP: | Est. 2026 |
To the casual observer, One-North and Buona Vista will not typically be one of the first few places that pop into mind when you think about looking for a home.
This is no thanks to the area having acquired a reputation for being one of Singapore's most innovative and intelligent neighbourhoods.
Apart from the numerous tertiary institutions (like NUS and ACJC) being located close by, it is mainly due to the prominent presence of our local start-up scene, R&D, and tech firms congregated there that have played a role in the current impressions of the area.
Also, if you've driven around the vicinity, you'll see that the demographics are pretty much all younger office workers. Plus, it probably doesn't help that the entire area is dominated by white buildings with architectural features like organic curves and very manicured green landscaping. It's all very planned out indeed (the futuristic masterplan of One-North was drafted by the renowned Iraqi-British architect, Zaha Hadid).
But things are slowly starting to change.
For many years, the 2 main residential developments were Dover Parkview and Heritage View, followed by One North Residences and Rochester Residences.
In more recent times, One-North Eden was launched (and sold out), followed by 2 residential-cum-commercial sites that were launched under the GLS at Slim Barracks Rise.
One of which is the development in question today, Blossoms by the Park.
Purchased by EL Development for $320.1 million, or $1,245.7 psf ppr, there were some who were surprised by the demand for these 2 plots (which drew 10 bids each).
So given that this area isn't what you'd describe as the most "homely" area, I would say that they've been rather smart with the naming of this development. While it is certainly by the park (and that's always important today), it does evoke a more homely and liveable feel – something that its nearest competitors haven't quite pulled off.
Let's see what this latest new launch has in store. First up, a tour of the development itself:
Blossoms By The Park Insider Tour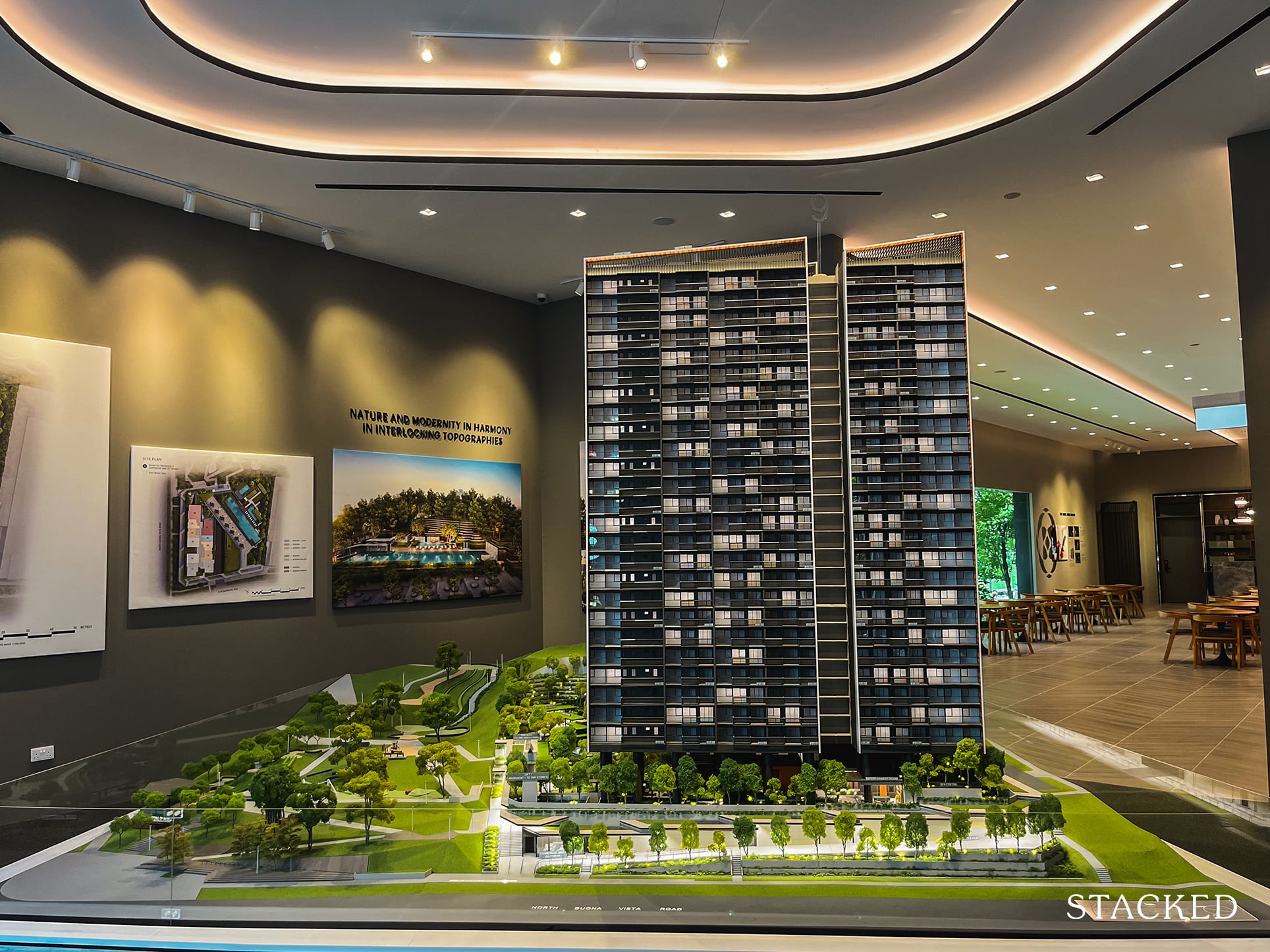 Before I dive deeper into the development itself, let's first take a look at its location and what ultimately decided its name.
With a single residential block facing the busy North Buona Vista Road (holding 275 units), the sole ingress and egress of the development can be entered through Slims Barracks Rise, which can be either entered from One-North Gateway or One-North Link.
Slims Barracks Rise is currently servicing several other developments, including NTU @ One-North and two other new launches, namely One-North Eden and The Hill @ One-North. Since the majority of these projects are still undergoing completion, the area is currently mainly filled with construction with low levels of traffic.
Considering that all these developments are rather small in scale, I would assume that traffic would still be manageable even during peak hours.
So given the rather similar profiles in terms of sizes and location of these developments (they are all really close to each other), buyers would naturally be wondering about the differences between each.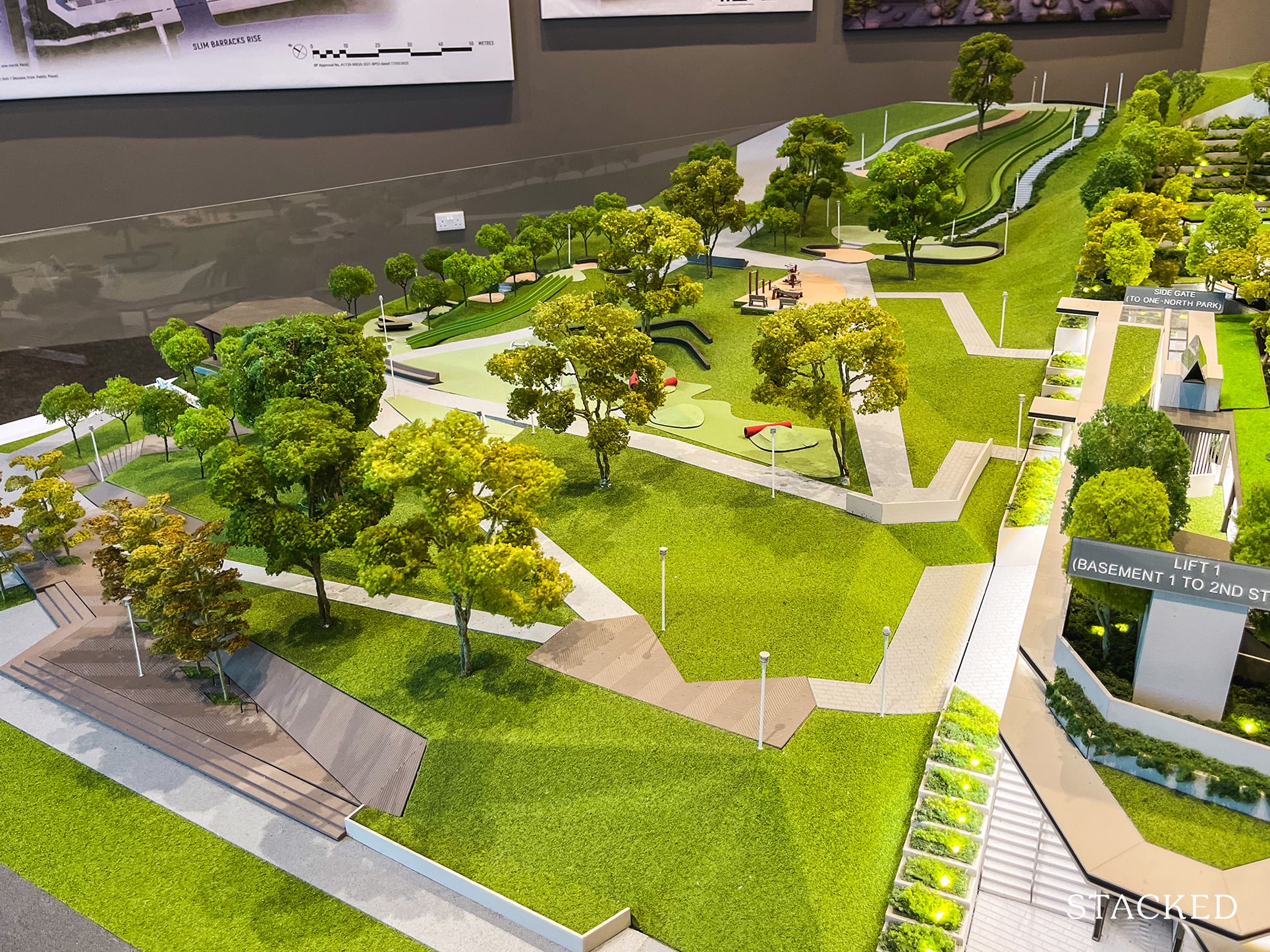 As such, what makes Blossoms by the Park unique (at least, until The Hill @ One-North is launched) is that One-North Park is located right next to the project. Green spaces, especially in highly dense areas, make a huge positive difference to the environment.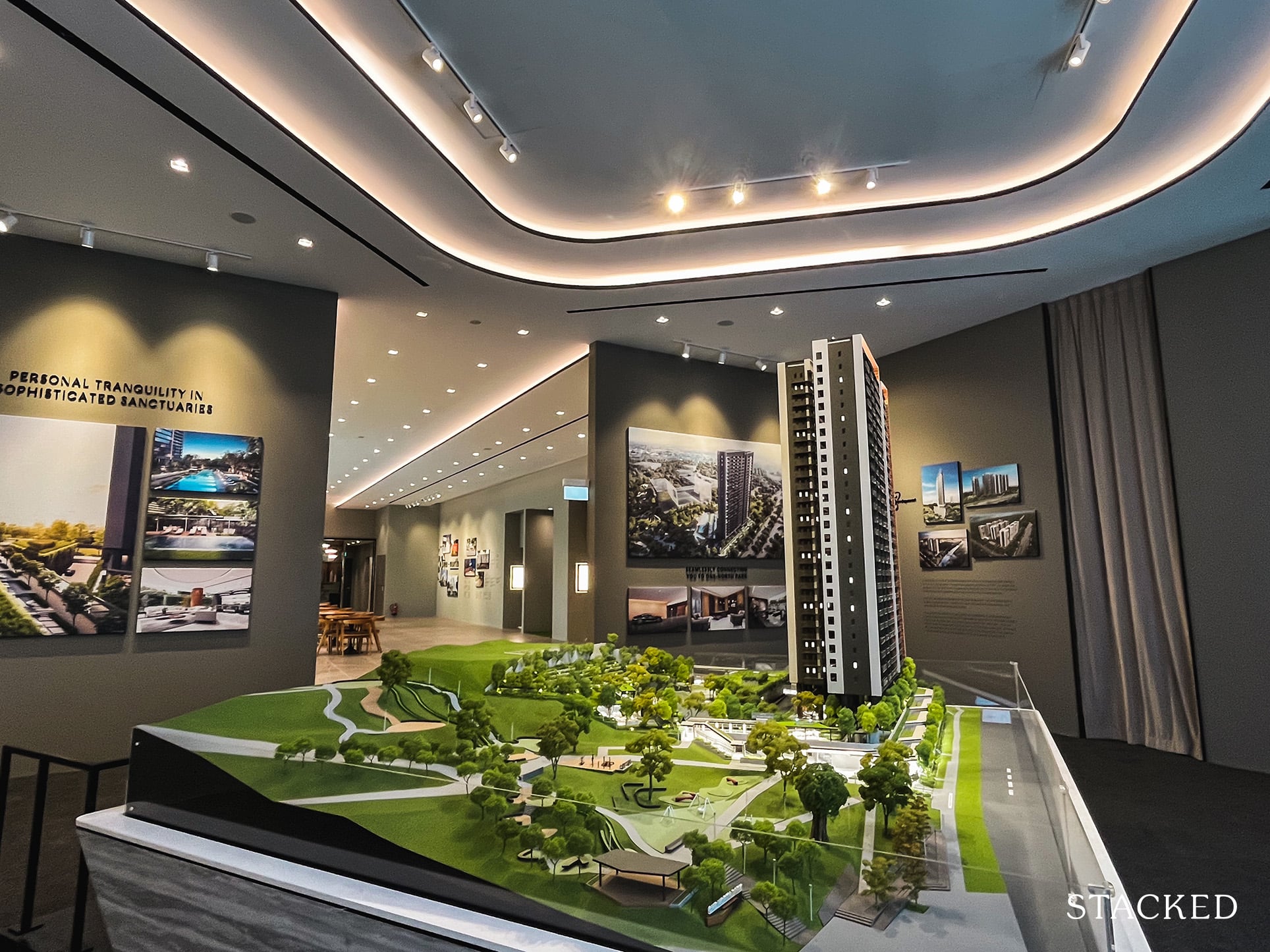 In fact, EL Developments undertook the site for Blossoms by the Park with the condition of rejuvenating this hilly park, and we can see that they have "merged" the two sites to complement each other seamlessly. Eventually, that even inspired the name of the condominium project.
That said, while this park might have played a huge part in the designing process for Blossoms by the Park, it is open and accessible to the public and not part of the official condo amenities. This is all part of JTC's master plan to have One-North as a community – so the projects here with commercial units on the ground floor will all be easily accessible to the public. I suppose once this is all built it can be quite a nice experience to explore the shops in the vicinity (the real issue would be the curation of it all).
One of the two side gates into Blossoms by the Park can be accessed from One-North Park. In retrospect, looking at the photo again, it really does look to be a rather seamless transition don't you think?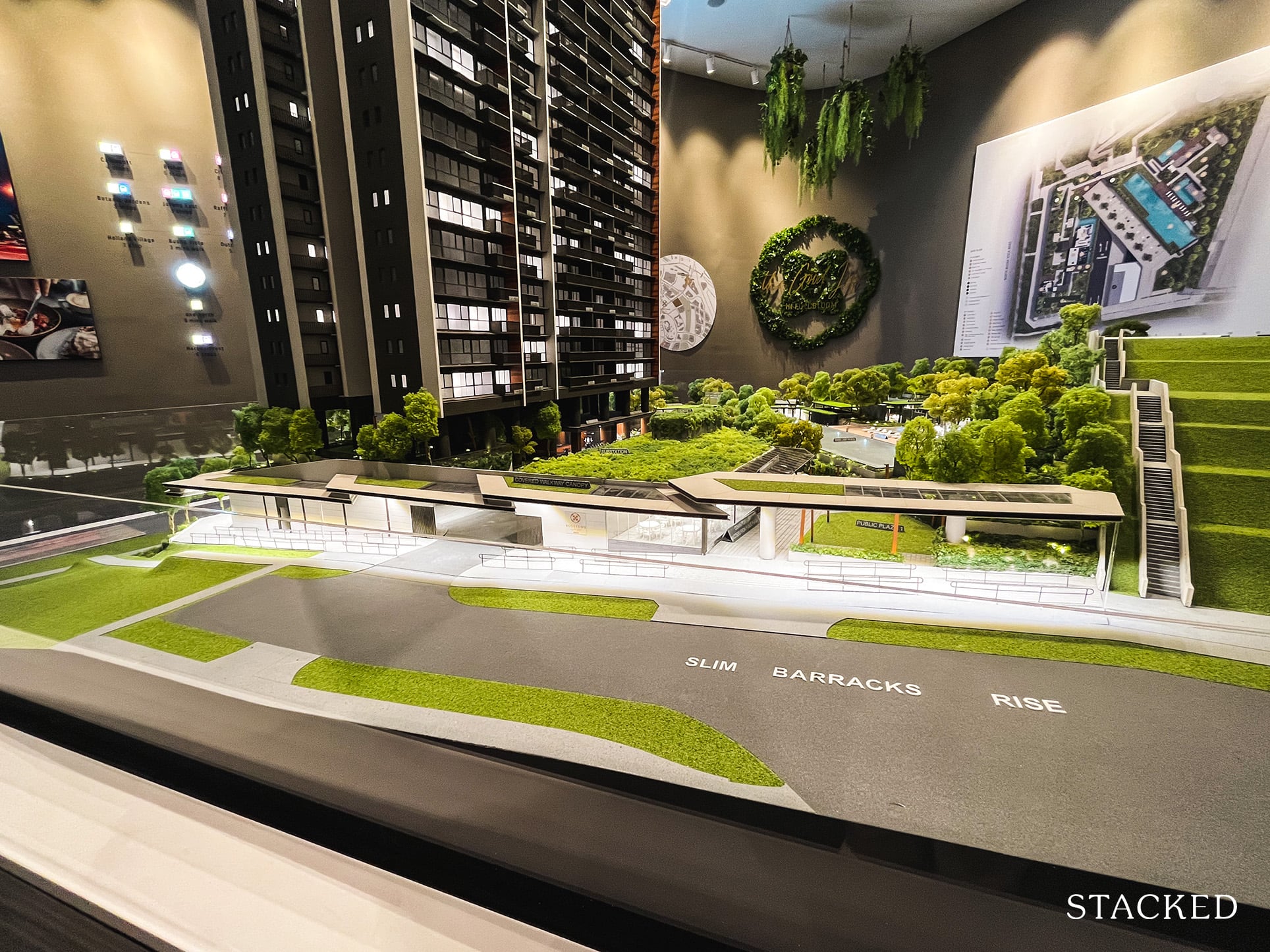 So there are a few points that are worth highlighting here. First, if you drive, you can't enter the development via the main North Buona Vista Road. Instead, this would be off One-North Gateway and then into Slim Barracks Rise.
There are alternative ways too, via Commonwealth Avenue West (and subsequently through North Buona Vista Link and a mix of internal roads).
The last way is through Portsdown Avenue, so it is actually quite well-connected internally. So if other areas are jammed up, you at least have multiple ways of getting home.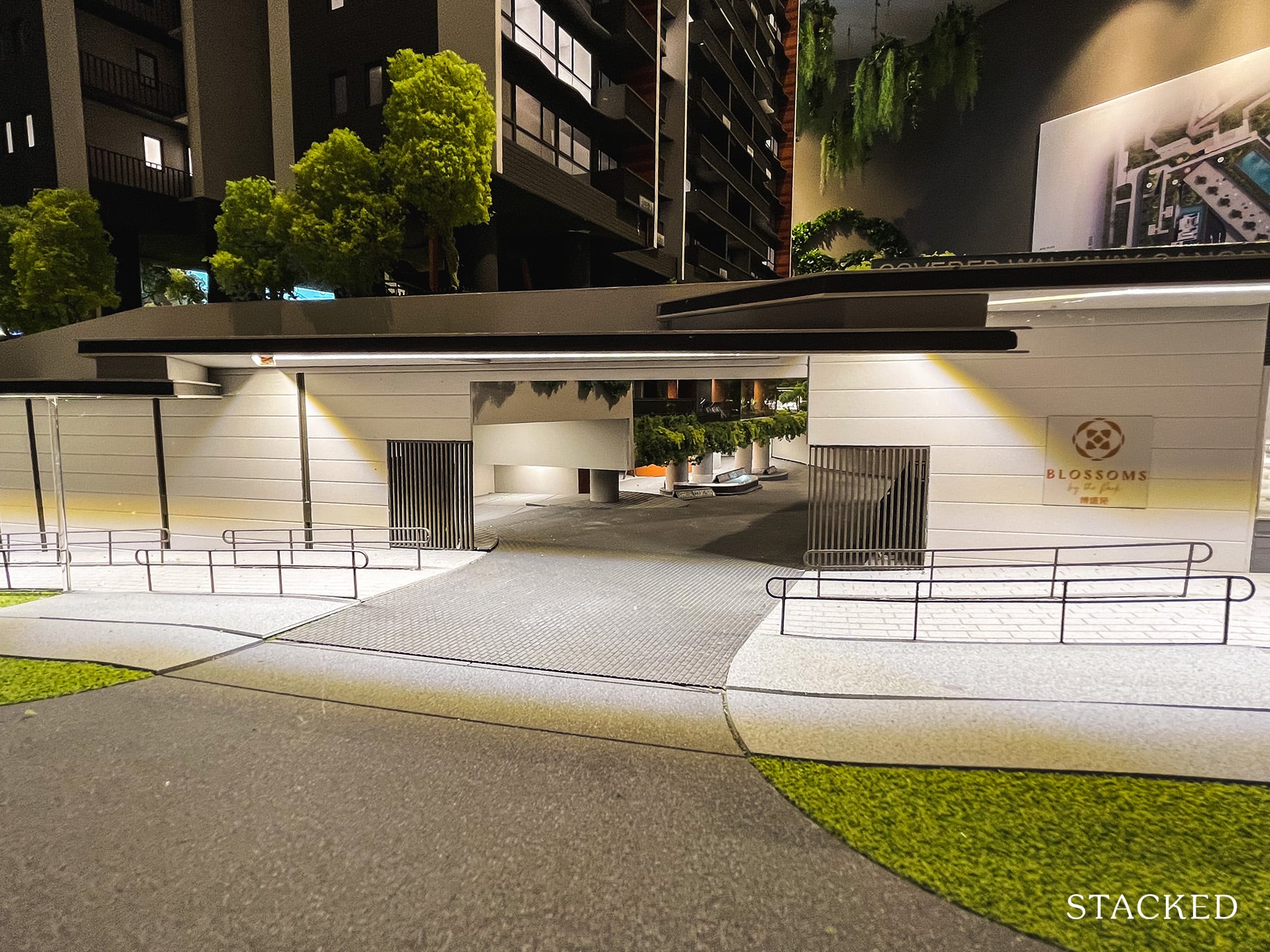 The entrance to the development is quite simple and is actually quite closed-off although you can see parts of it through the public plaza on the second storey. It's part of the fenceless yet private design, which you can see the effect of here. Most casual visitors on this side of the development probably would have no idea you could actually access it.
Driving through takes you to the arrival courtyard and drop-off point, followed by the entrance to the car park.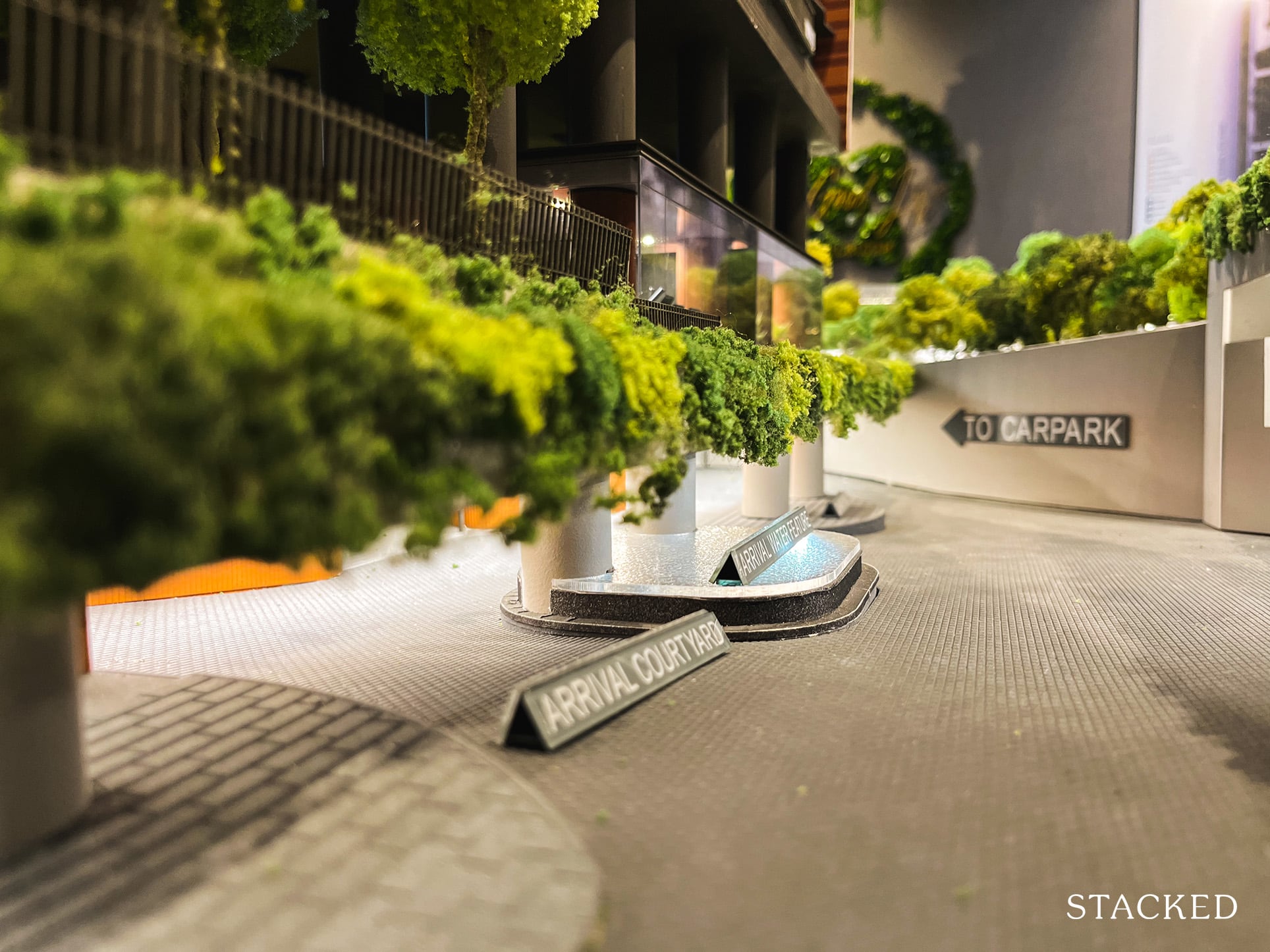 The arrival courtyard is attractive-looking enough, with a central water feature along with lush greens hanging from the second floor.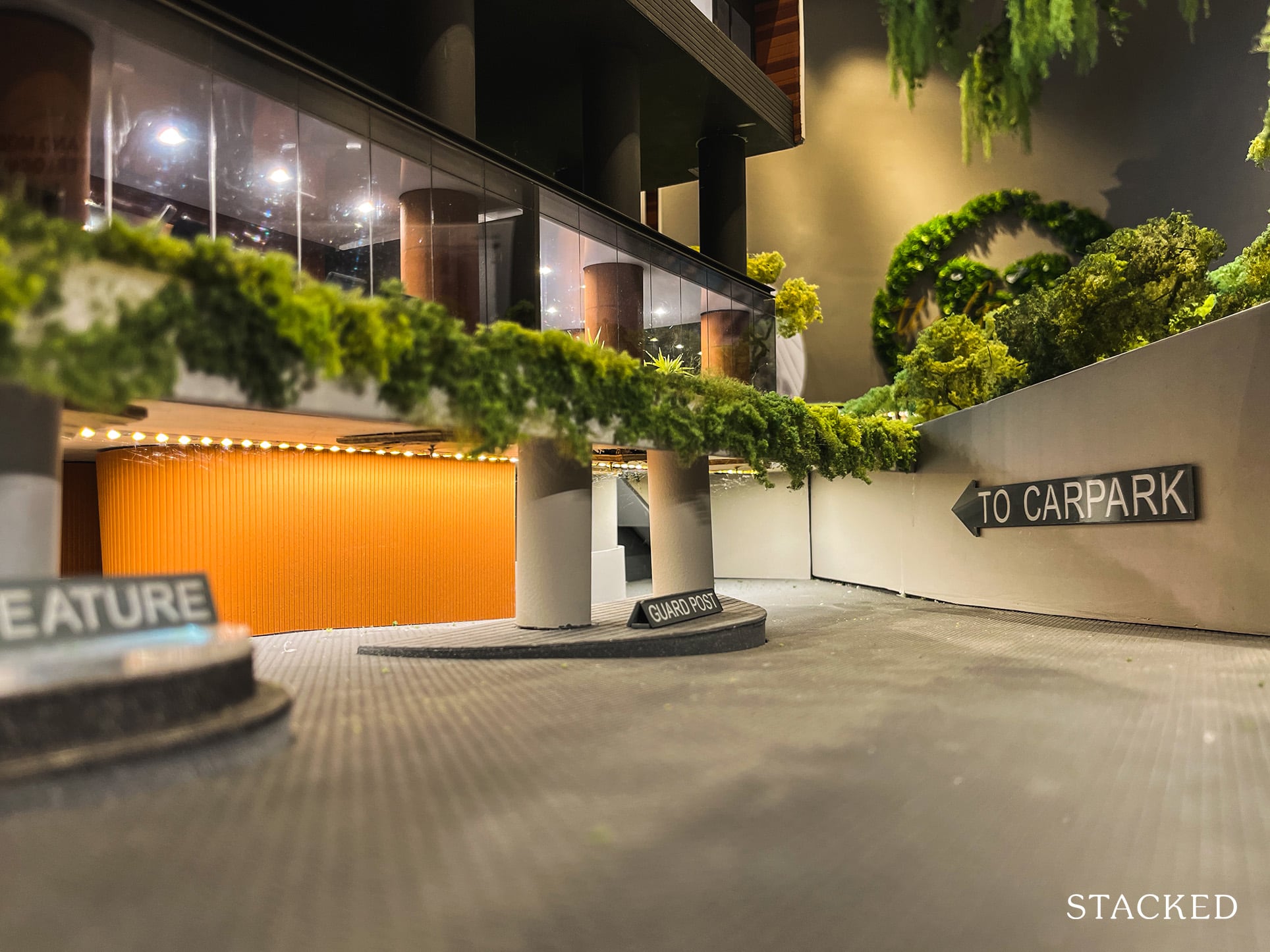 Another useful point is that the security checkpoint is located after the drop-off area instead, before entering the car park.
This makes it more fuss-free for pick-ups without the need to pass through security, which could really make a difference in shortening wait times and preventing a mini jam during peak hours.
For those who drive, there are 110 basement car park lots (+3 accessible lots), 2 EV lots, and 7 commercial lots available on the first storey. It's not a 1:1 ratio, but no one would expect it to be given the location and proximity to the MRT station.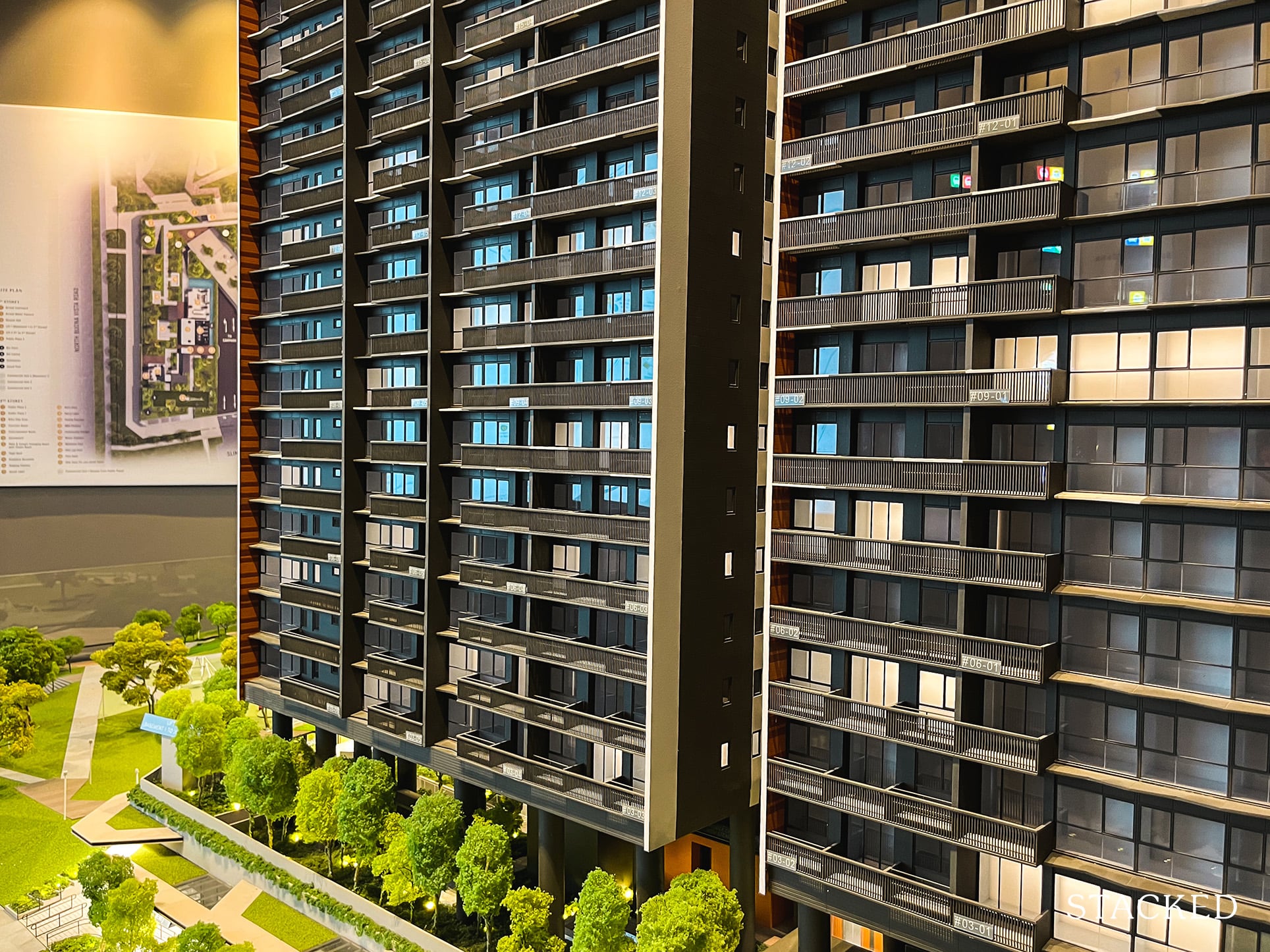 Taking a closer look at the building facade, it has a rather typical design of a black, white, and dark grey colour palette set against a plethora of green landscaping with some pops of colour along the sides of the building. It's a safe enough choice, and while you aren't going to stand out among the rest of the buildings here, there can be no real complaints about the design.
What's more interesting for me is how the land was laid out, given that it is set on a slopey terrain (I'll go through it deeper later below).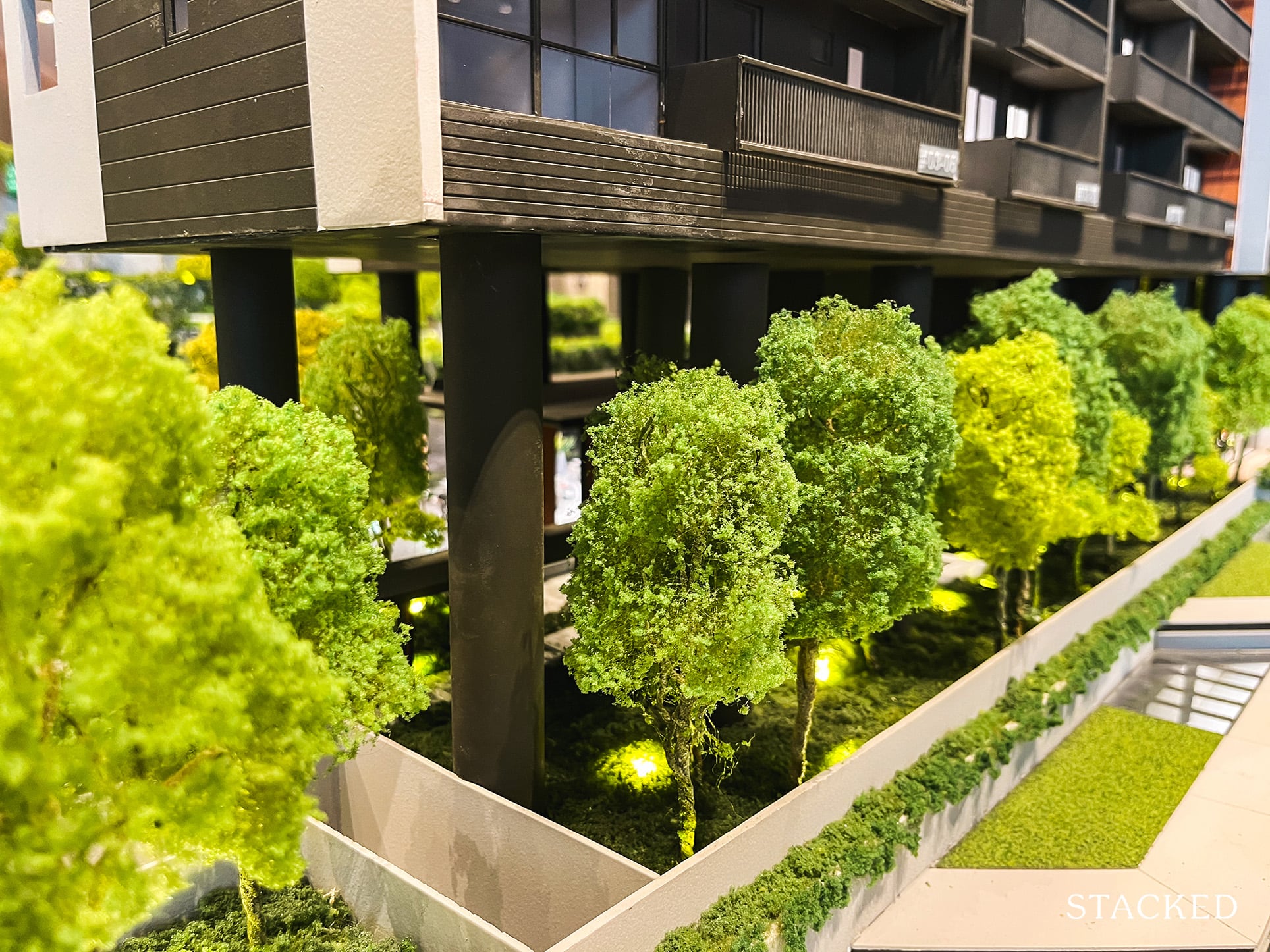 For one, the developers chose to prop the residential blocks on stilts, while surrounding them with plenty of green landscaping. As such, this feature will do well in improving ventilation within the common areas, while providing natural shade.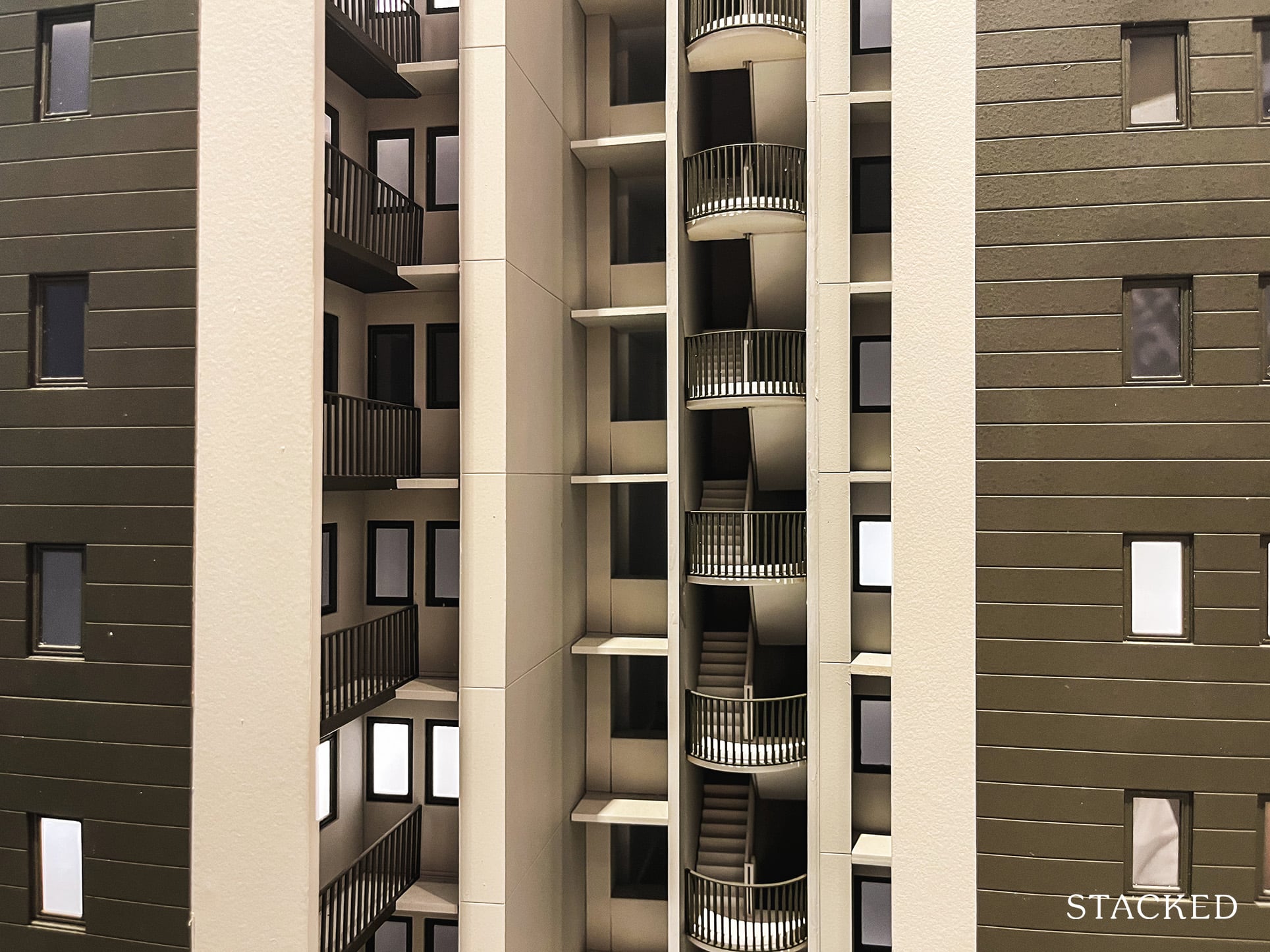 Another design feature that I noted was that the stairways are open-air with a curve to them. Though it's not an outstanding point, I thought it is a nice touch of design to the otherwise uniform building facade.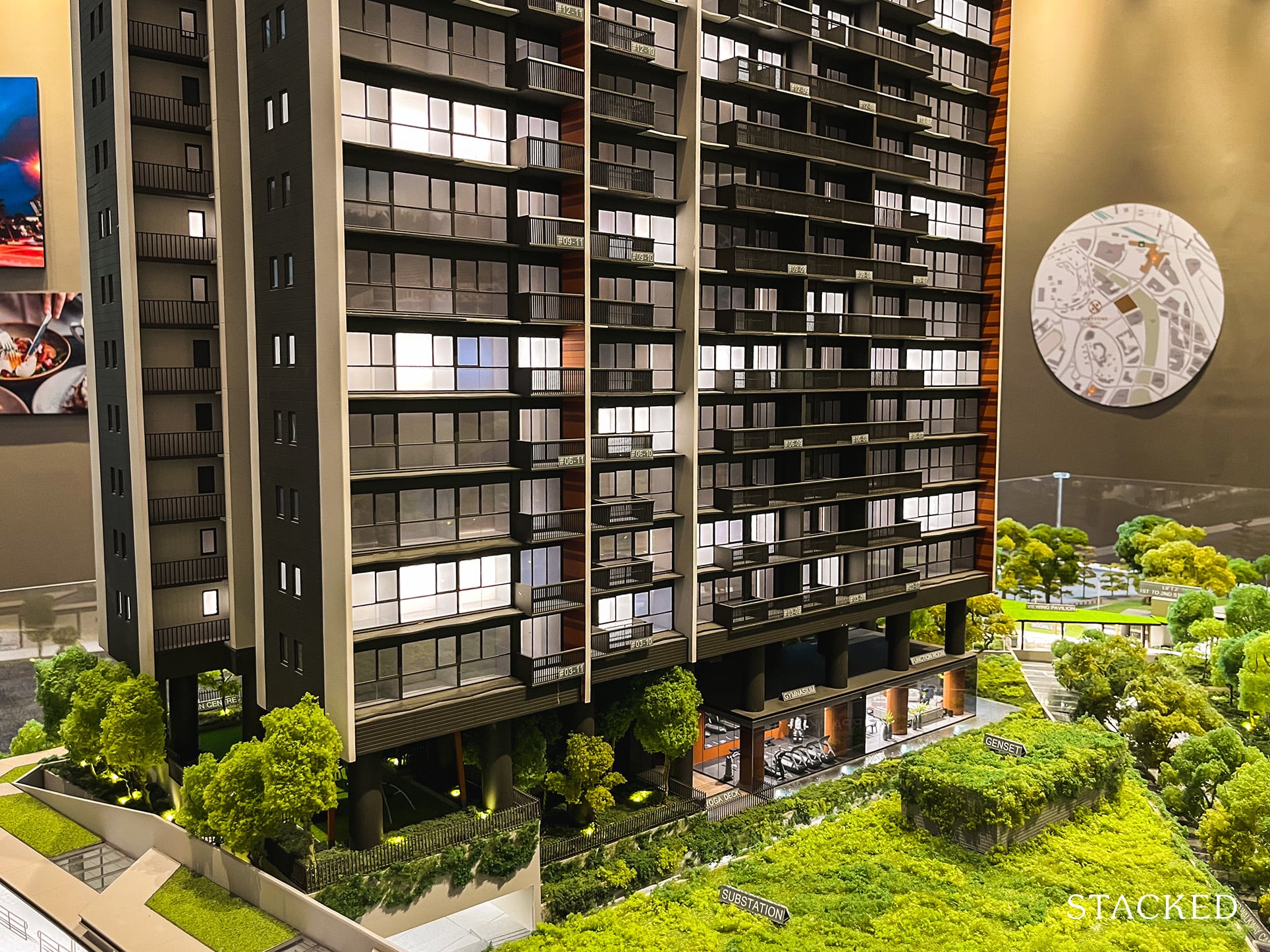 To promote a more walkable neighbourhood, one of the features I noticed at Blossoms by the Park is that there are many sheltered walkways.
In an effort to make the development more liveable, green landscaping was added to these shelters, which allows residents from every floor to enjoy the green views when looking out of their units (you can even see that the Substation and Genset are quite well camouflaged here).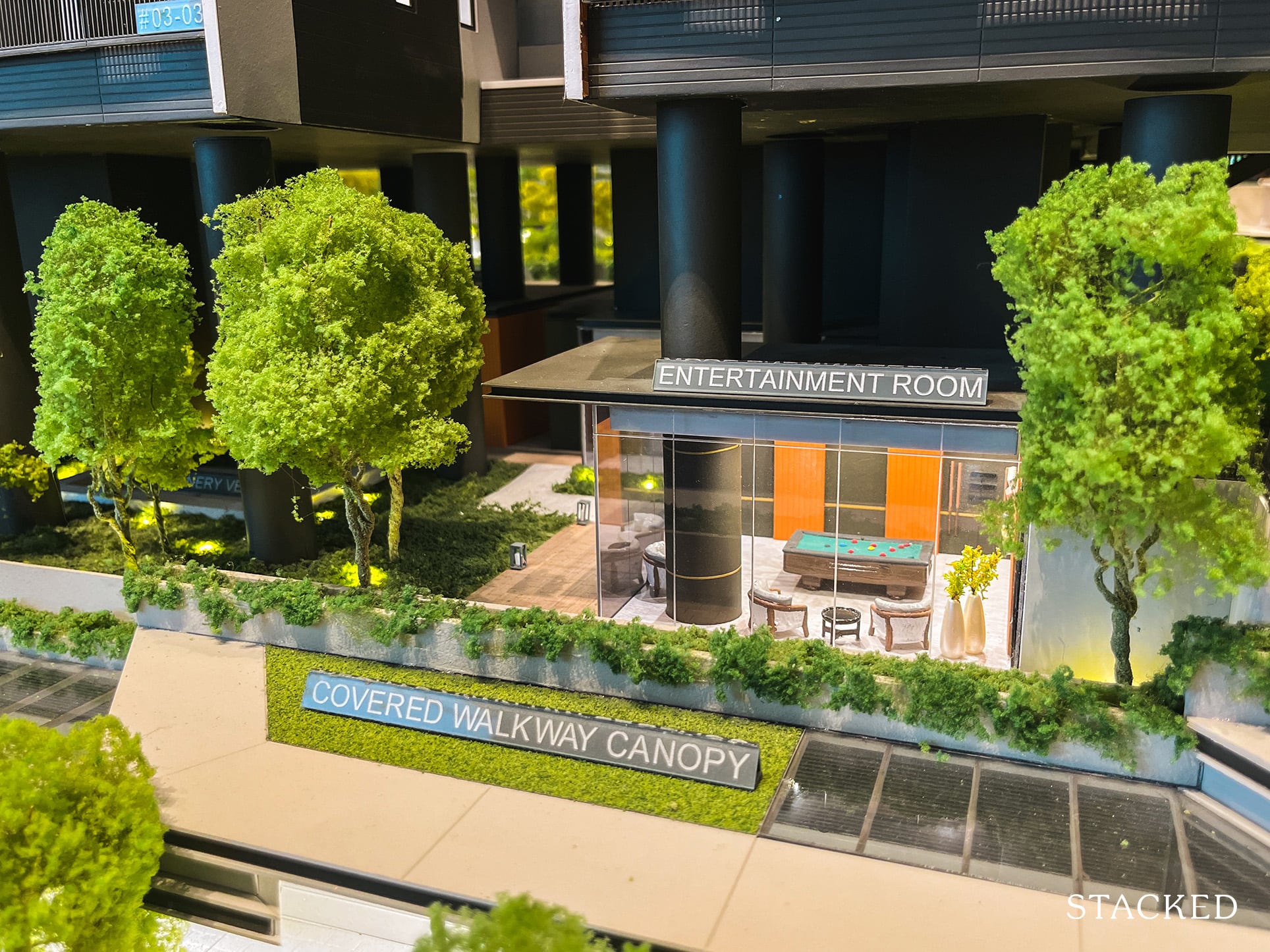 Let's start with the facilities. There isn't a long list of it, but I would say that each has been well-thought-out and would quite easily cater to the 275 units. A very obvious miss would be the tennis court, but I don't think many would be expecting one given the size of the land plots.
Here, the entertainment room can be found in a glass-enclosed area, which is available for booking. Other amenities include a yoga deck, gym, function room, steam room, viewing pavilion, and a kid's play area.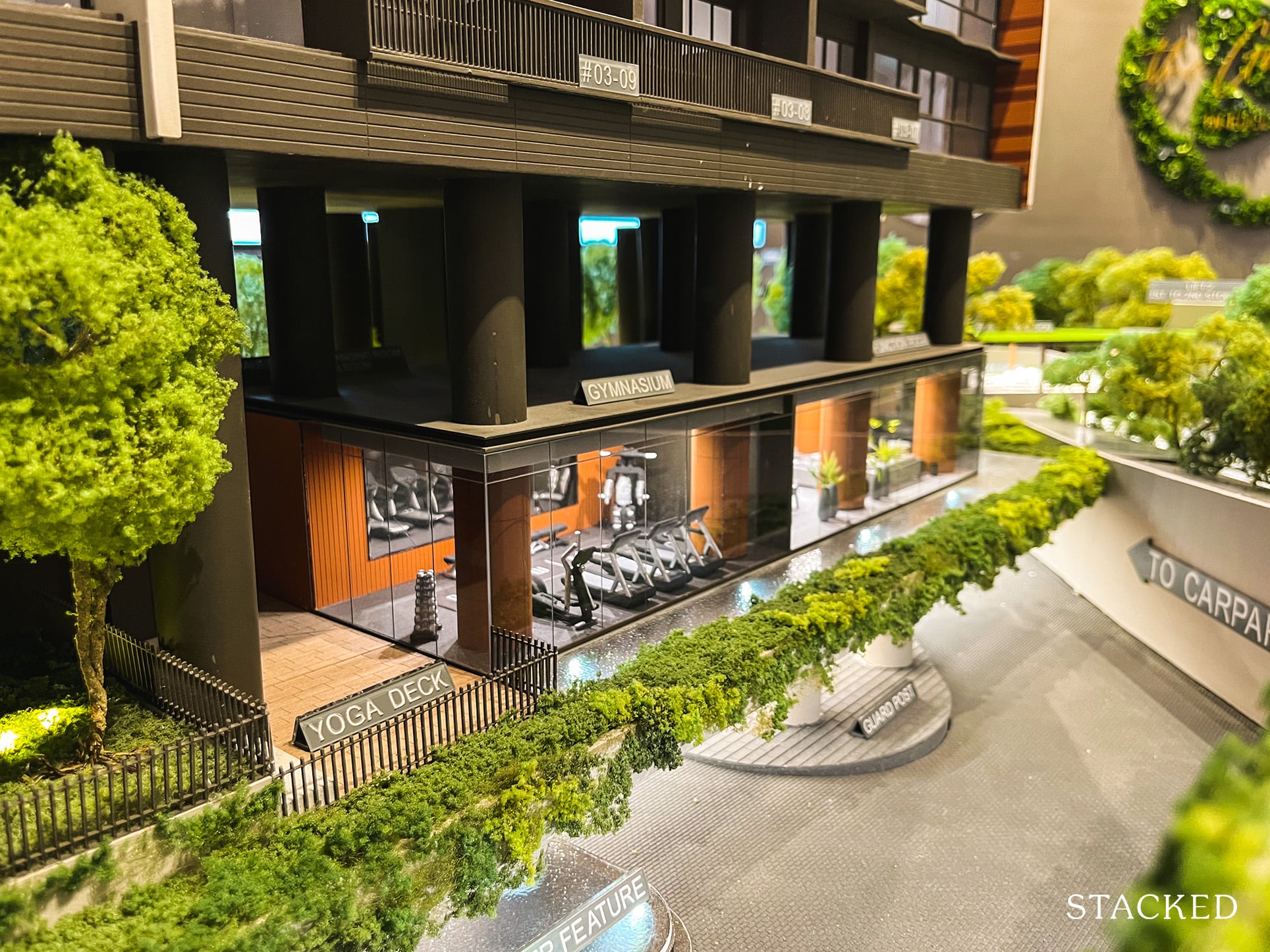 The gym is a decent enough size for the number of units, and while I'd always like a bigger one if possible, I've seen developments with more units and a similar-sized one so this would really be nitpicking.
You do also have a nice length of water on the outside, which is quite nice.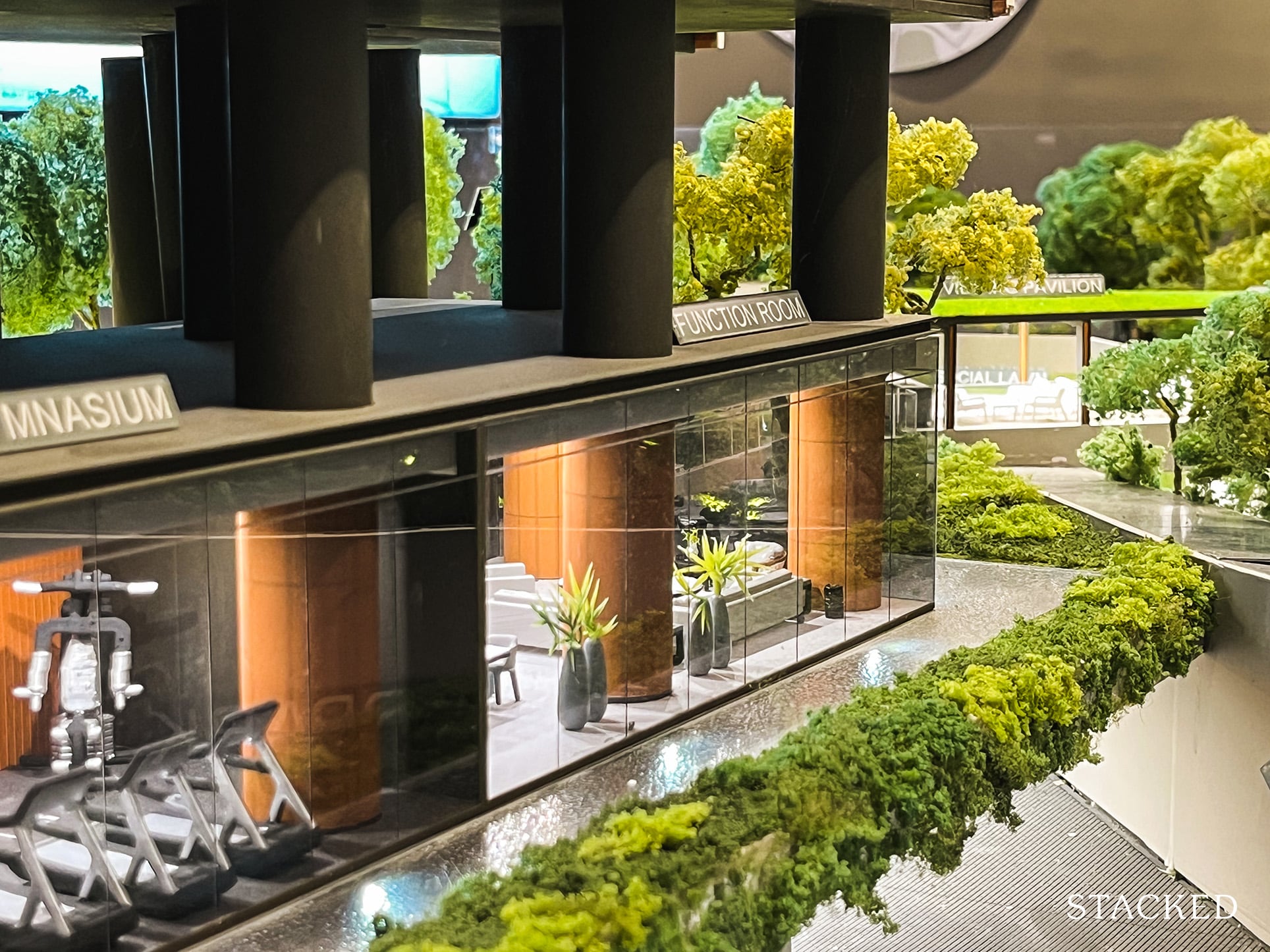 The function room is located next to the gym, and while some people might point out the pillars taking up space, I would say that visually it does look good with the right-angled floor-to-ceiling windows.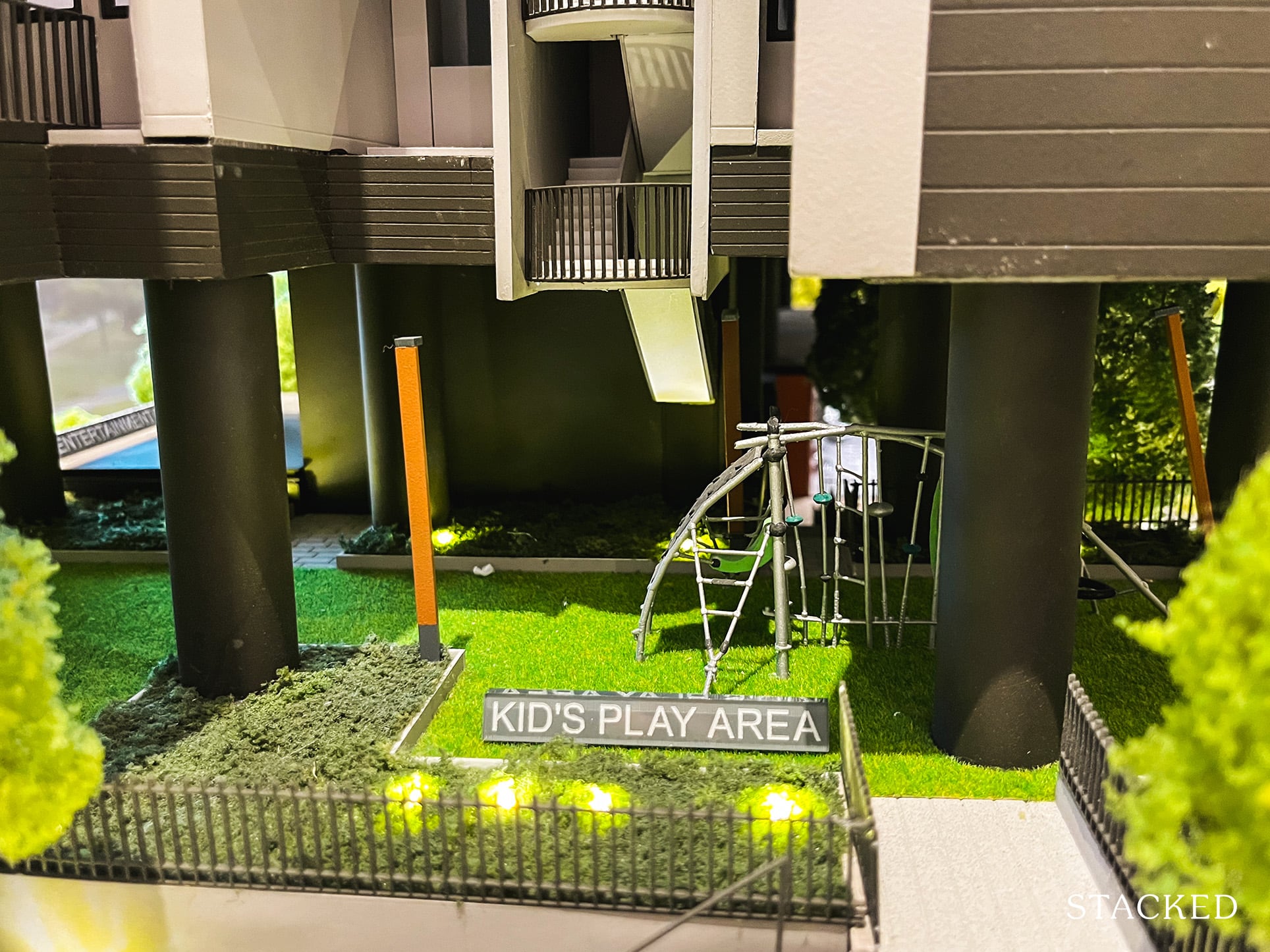 The kid's play area is located below the block, so some parts of it would be sheltered. Frankly, this isn't the most conducive spot, but I don't think this development is really targeted at families with young children anyway.
You do have Fairfield Primary School within the 1 km radius, but the bigger draw would be the ones for older children such as ACJC, ACS(I), NUS, ESSEC Business School, and ACS (International).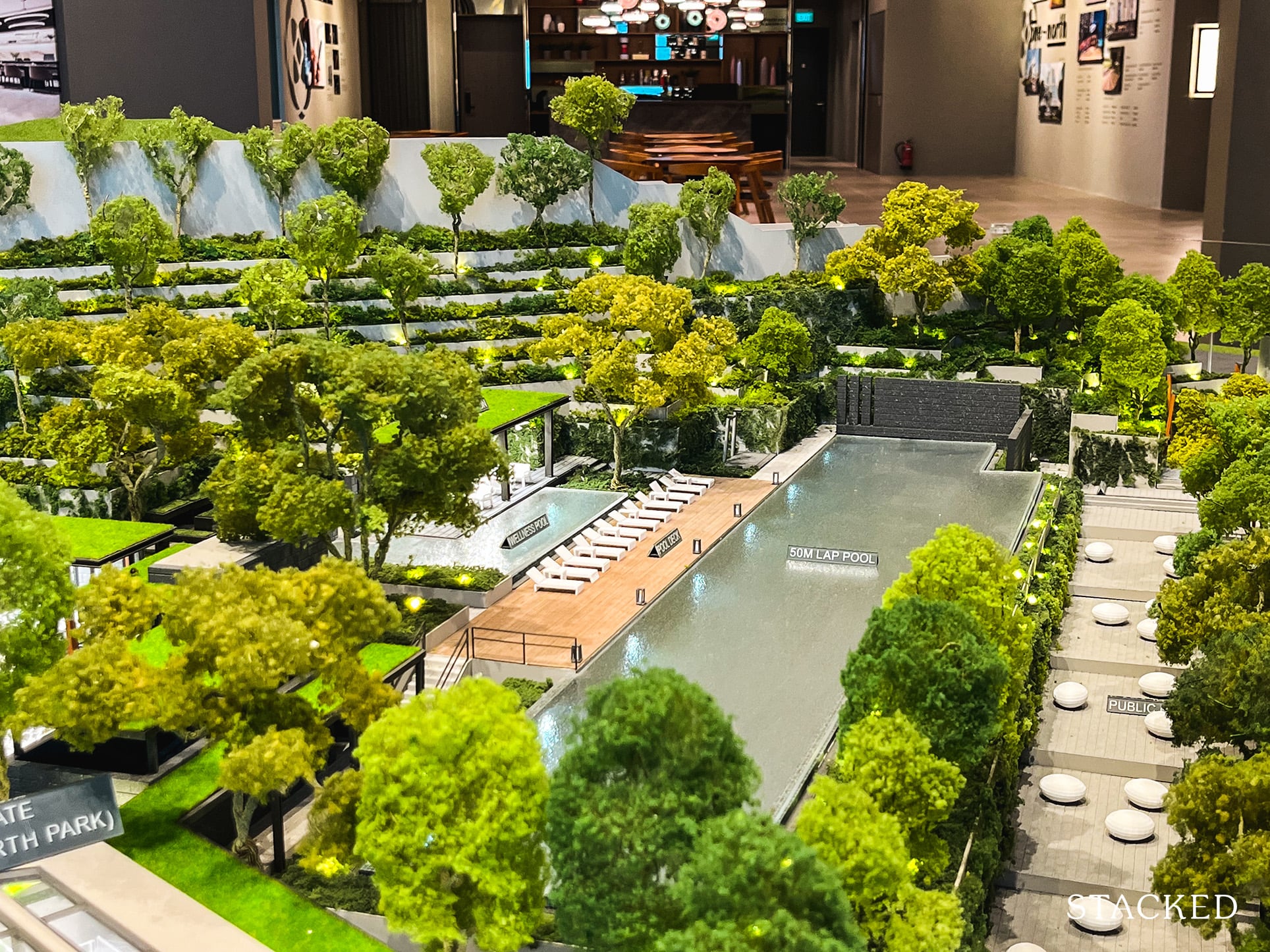 Moving on to look at the rest of the facilities, I must commend that the developers did a good job in utilising the hilly terrain of One-North Park to their advantage.
Using a cascading technique to create a beautiful landscape to blend into the rest of the facilities, it created a somewhat futuristic atmosphere (which is very fitting for the One-North area) without utilising the site area of the project.
It's a little complicated so bear with me.
There are several components to this part of Blossoms by the Park, which can be divided into three categories – the lap pool, the rest of the facilities, and the public areas.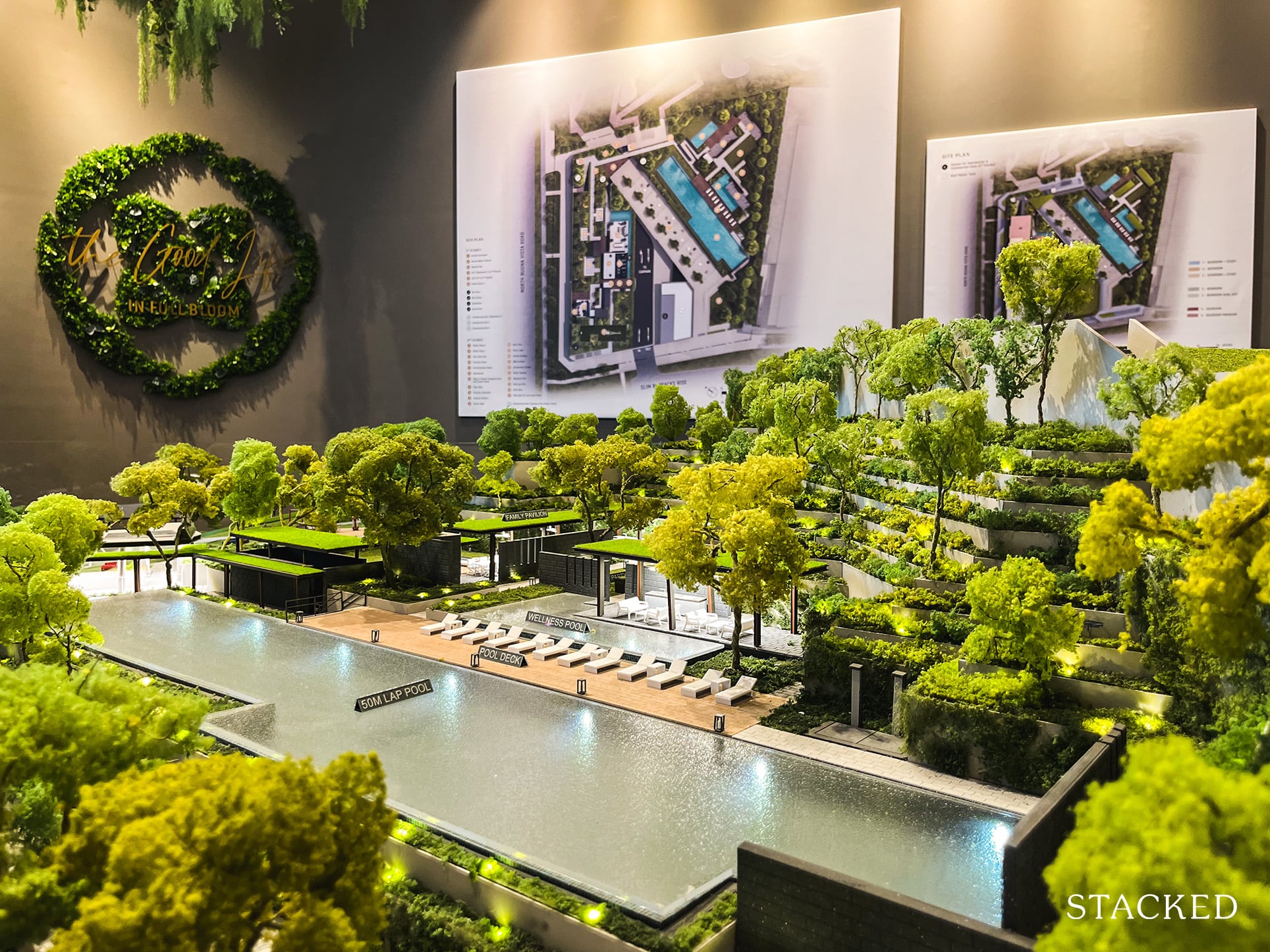 Sitting in the heart of the estate is the 50m lap pool, which is quite a beautiful sight nestled amongst the extensive greenery. Given that most of the views beyond the pool would be One-North Park (although there are buildings further back at Biopolis), I would say that the general ambiance should be quite sublime.
I really like that the main residential block isn't set too close, and since you don't have anything really around you, it should feel quite private.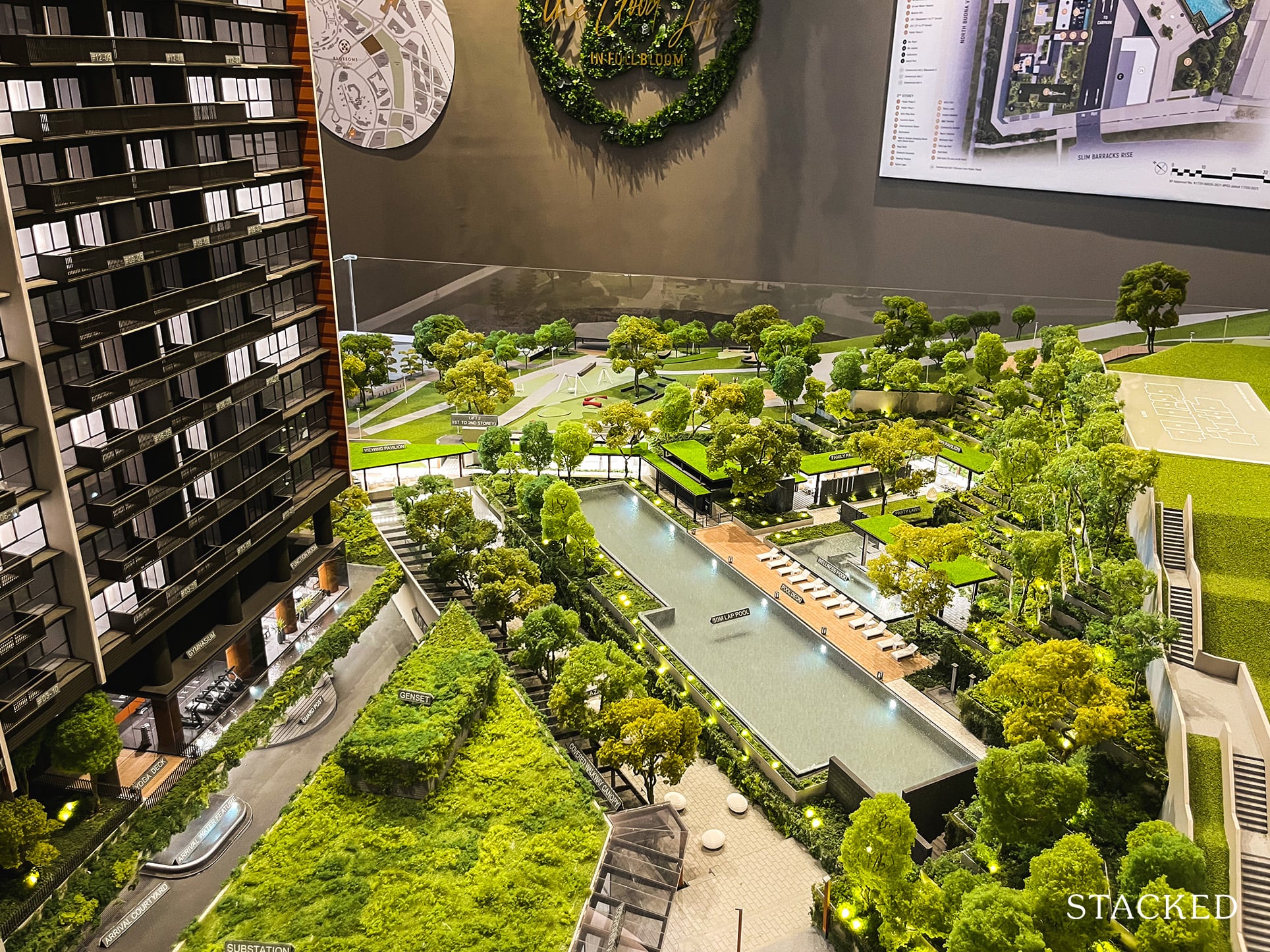 Also, a 50m lap pool is as generous as they get for 275 units in today's context. There are more luxurious (and more expensive) developments with a bigger unit count and a smaller pool, so this is definitely a major plus point.
You can also find 2 other pools within the development if that's not enough, a wellness one, and a kid's pool.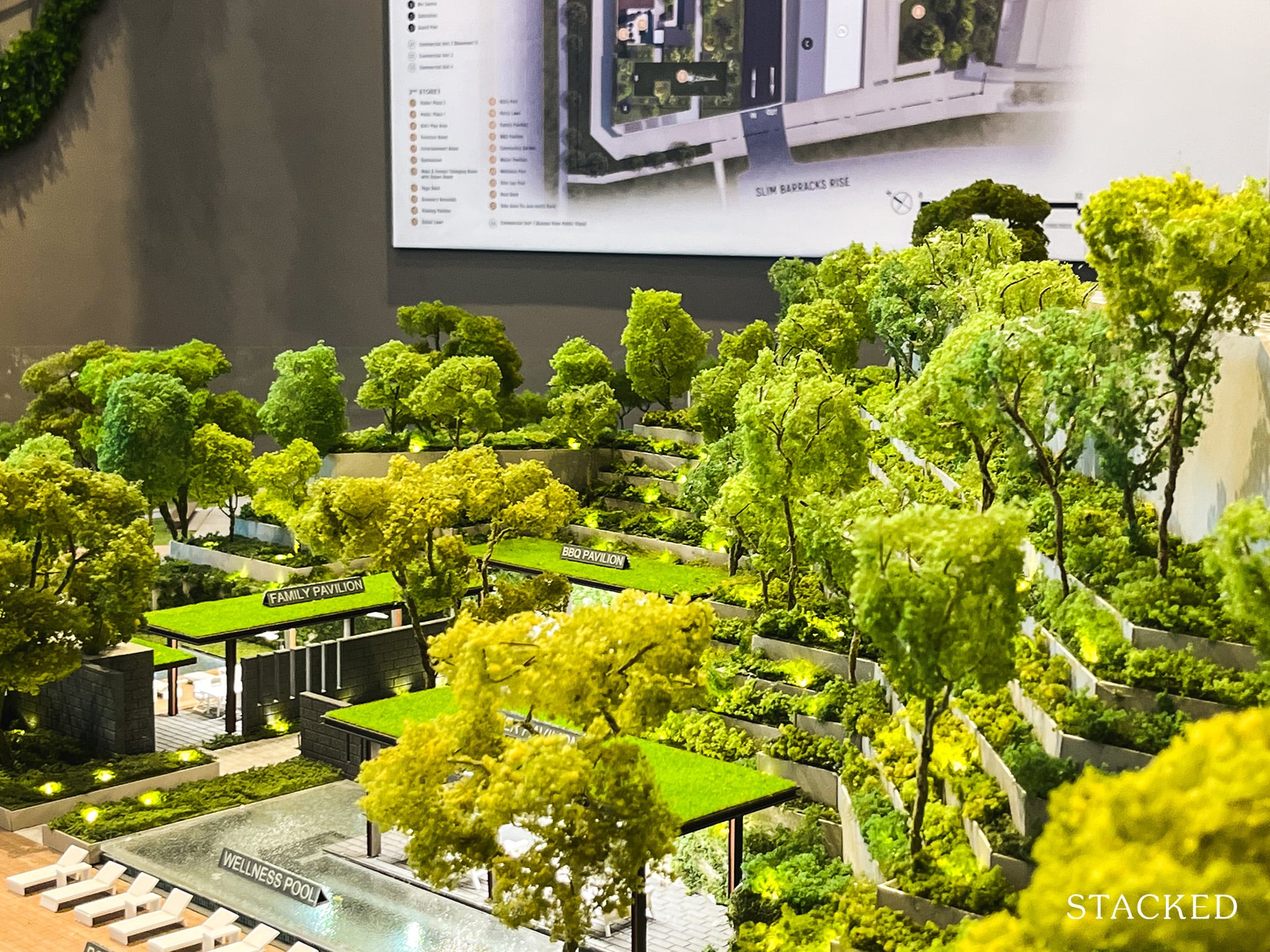 The wellness pool is located just right beside the lap pool and at a much more serene part of the project which is close to One-North Park.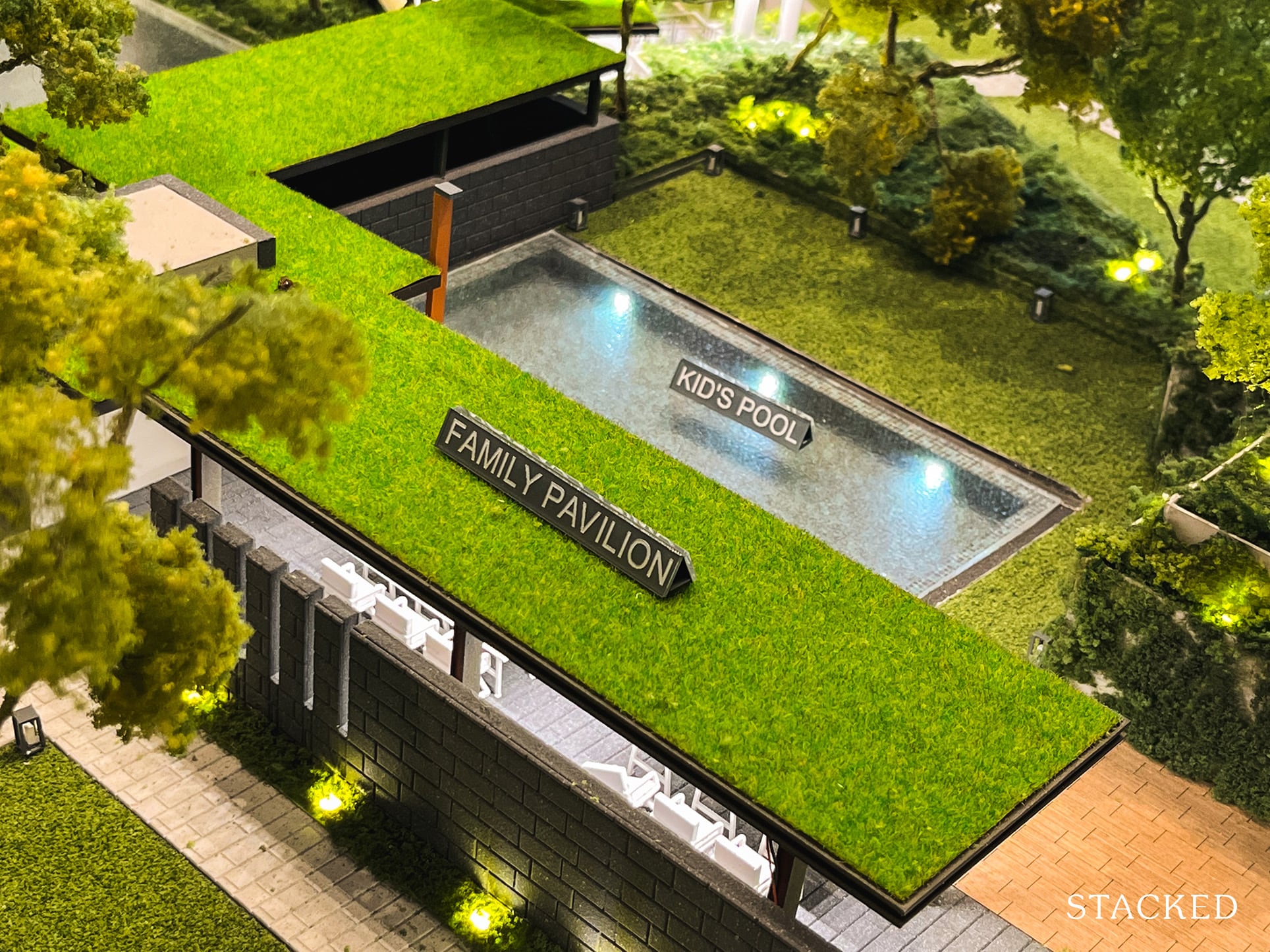 As for the kid's pool that is nearer to the BBQ pavilion and family pavilion. This was done for practical reasons as the developers chose to group the more active amenities together to contain the noisier activities in one area.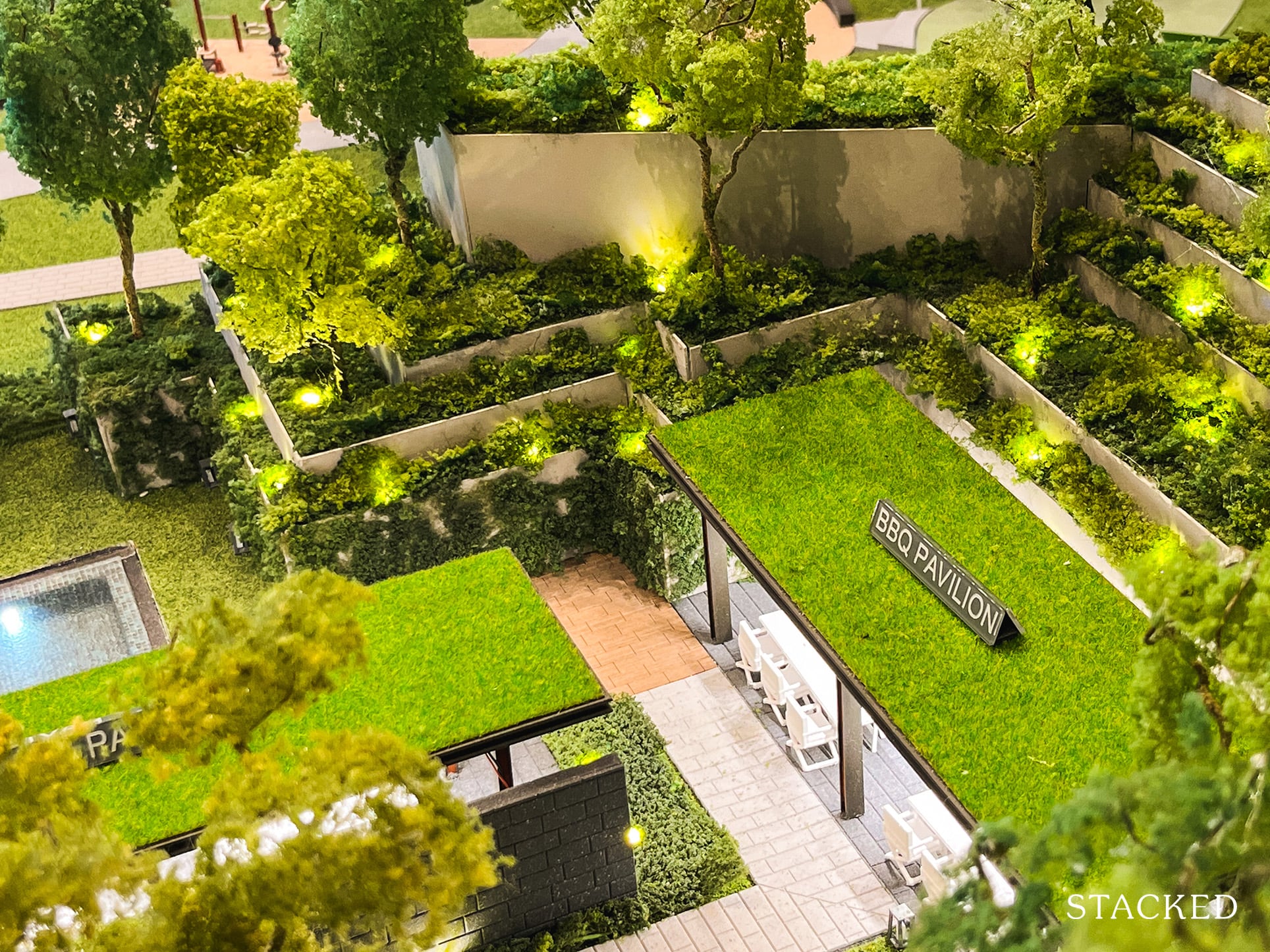 Like most of what you see here, the roofs of the different pavilions will be covered in greenery, so the views from the higher floors would nearly be like a blanket of green.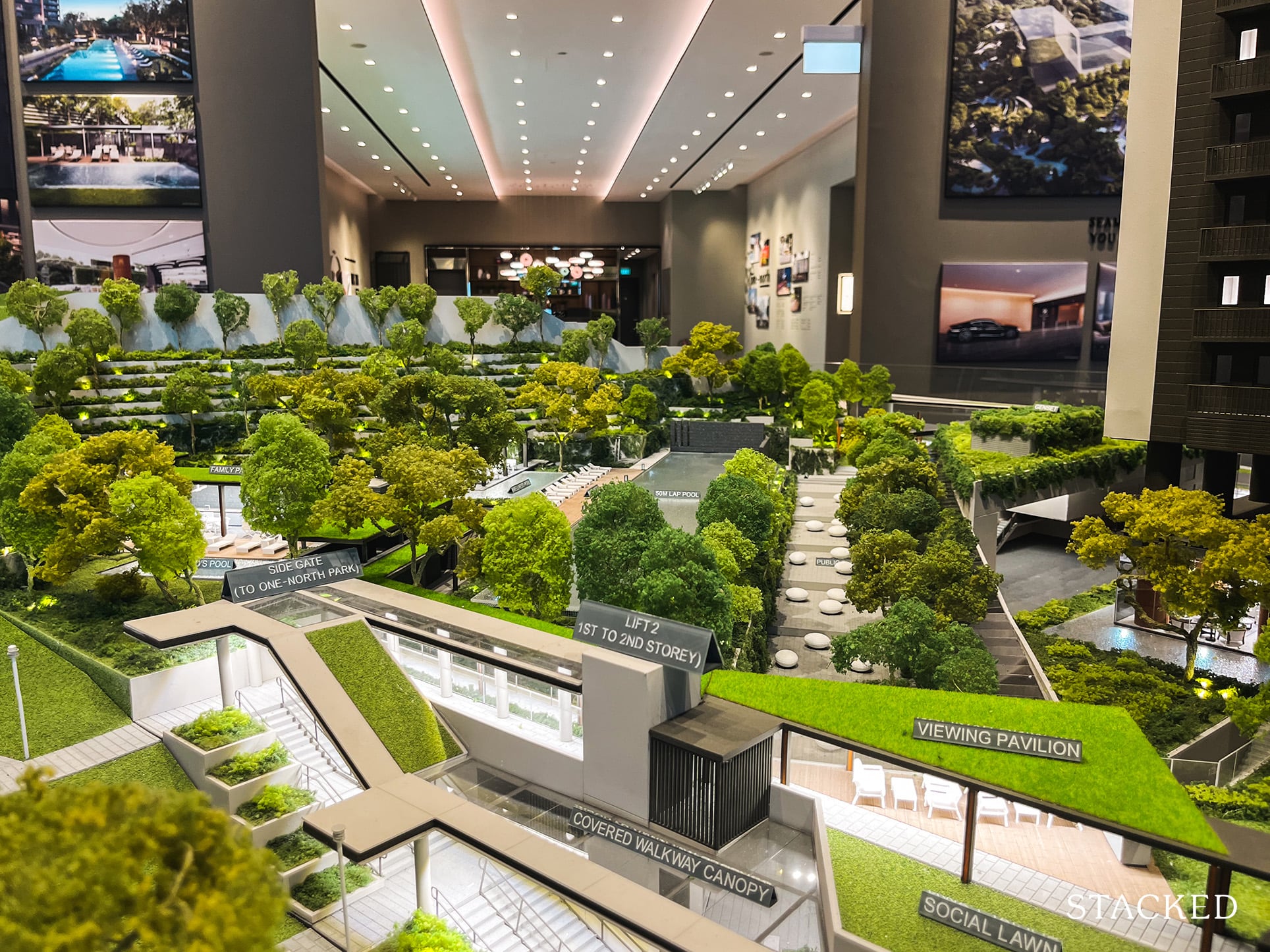 As mentioned earlier, the estate is set on a tiered landscape. So unlike One-North Eden, which is just flat and accessible from the ground floor, Blossoms by the Park has different levels to it.
What's worth highlighting is the public plaza that cuts across the project (apparently the MRT tracks are located right under this straight pathway). This gives you convenient access to the 4 commercial spaces, which can be found across two levels.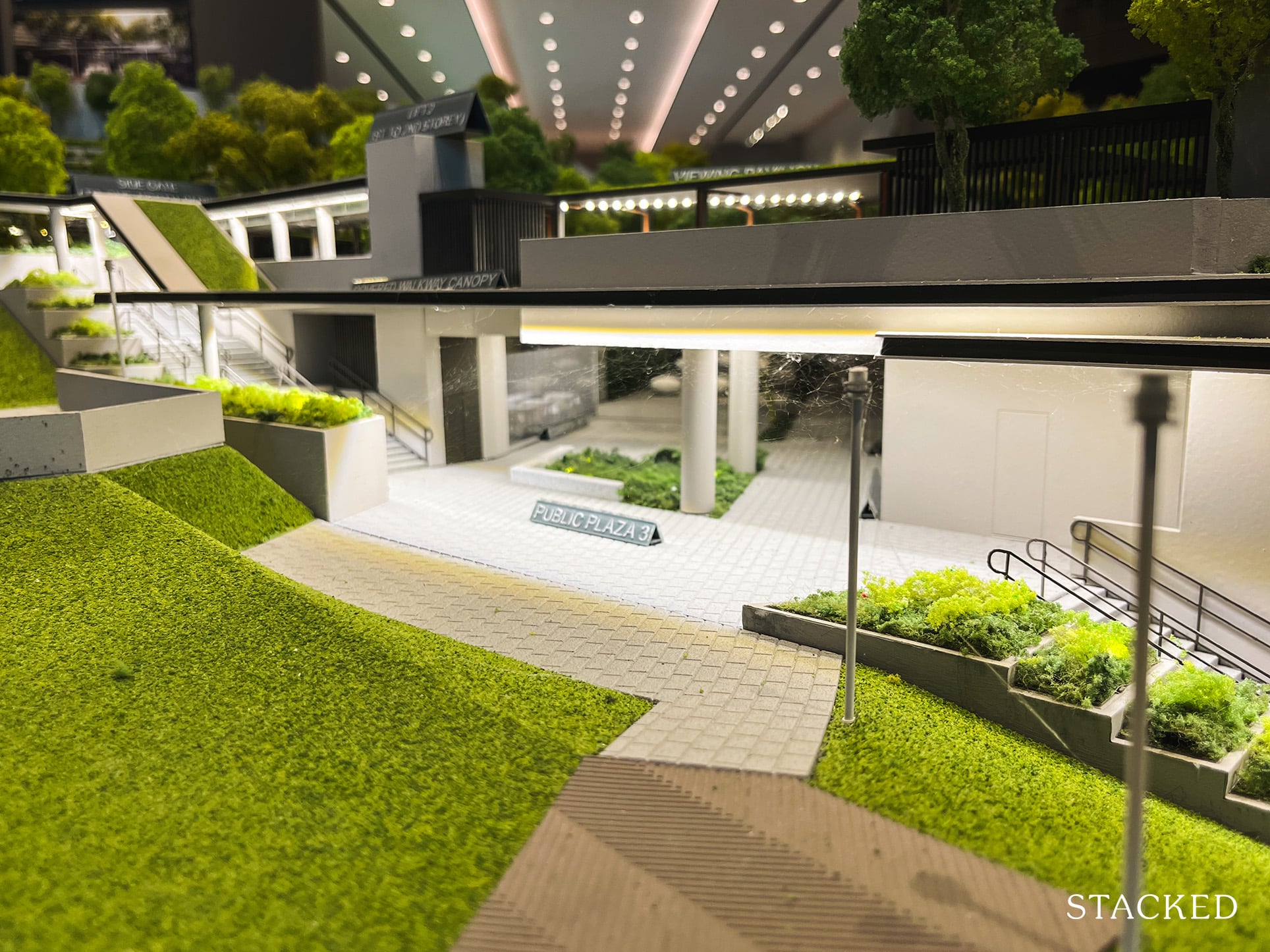 It's certainly varied, and I like how you have seamless access to the park, yet the important facility areas are kept private enough.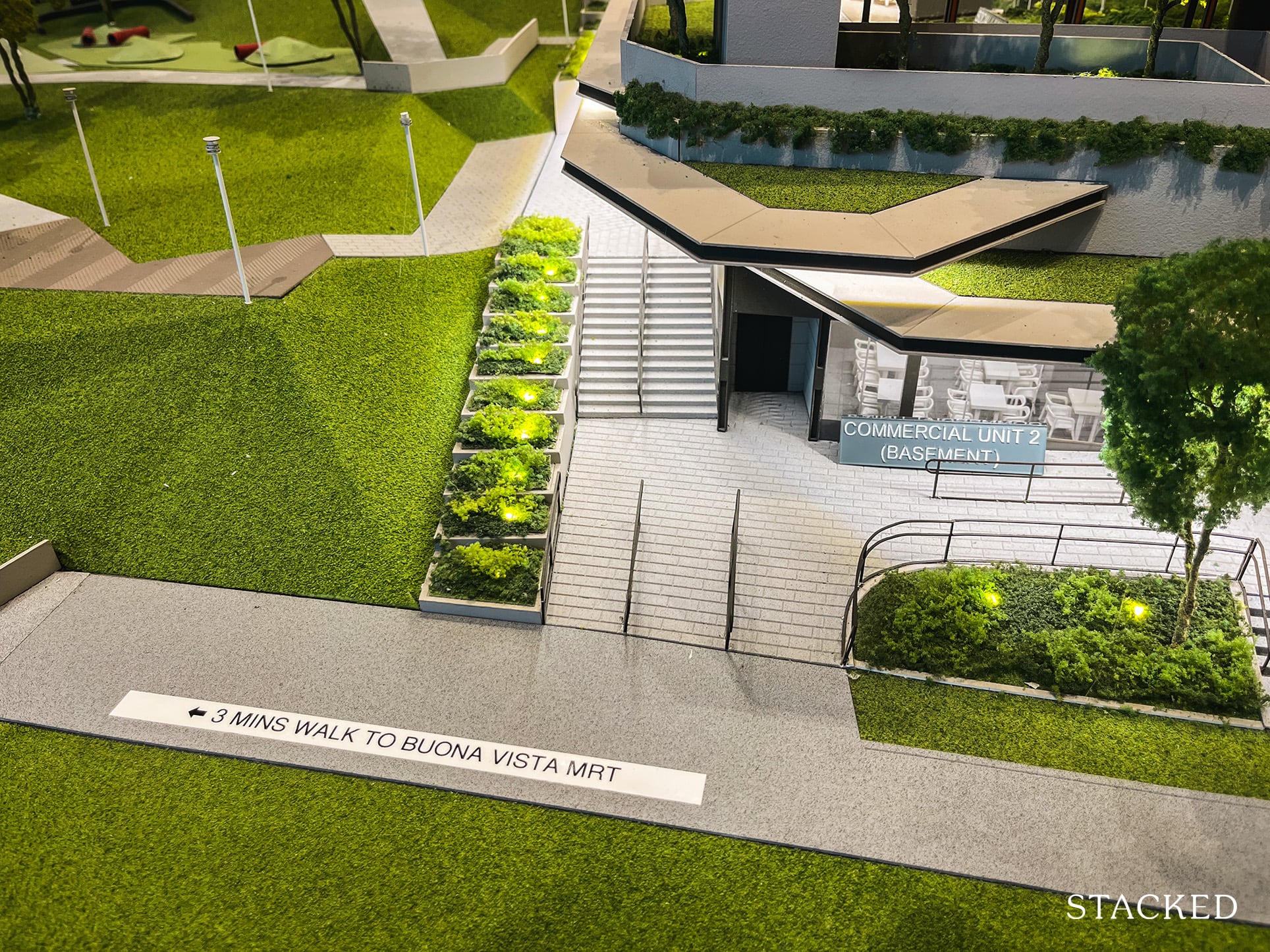 So the 4 commercial units are spread out across two levels – level 1 and basement 1.
While there is no news yet on the type of business taking over these commercial units, the developers are leaning towards selling off these spaces rather than renting and managing the tenants.
I suppose that would be the challenge for the commercial units in each residential project. As there isn't a central governing body, it would be hard to really curate the commercial mix well here.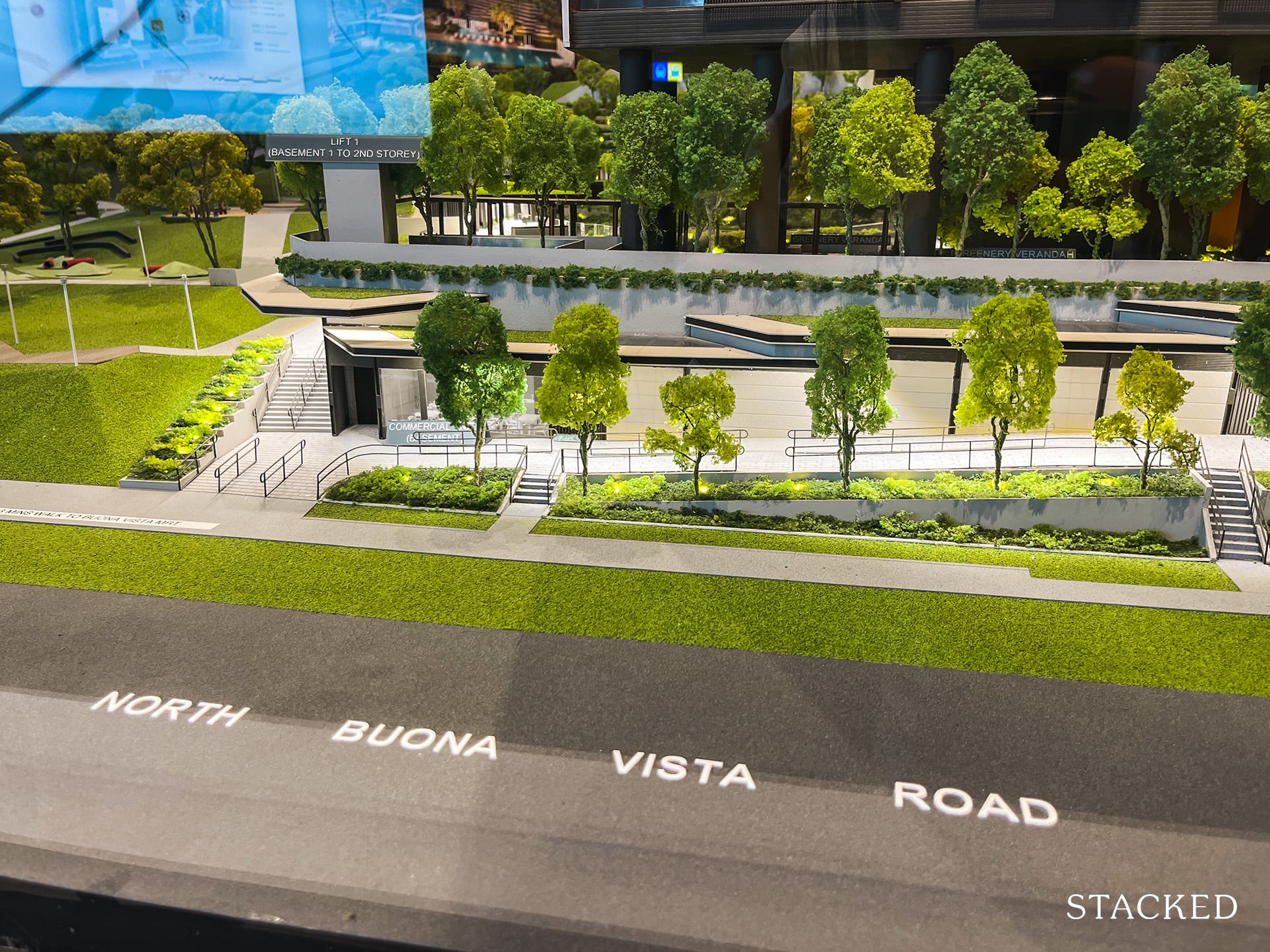 Finally, you'd see that even though the development is right next to North Buona Vista Road, privacy for residents will not be compromised due to the commercial unit and basement.
But, what you might find strange is that the residential block is located closest to the main road, rather than set further back (and using the facilities instead as a setback).
I can't be sure of this, but perhaps there were several design limitations they had to grapple with given how varied the landscape is here. So on that front, residents would have more road noise to deal with, but on the brighter side, it also means that the swimming pool area would be better insulated.
Blossoms By The Park 2 Bedroom + Study Type B2-PH (872 sqft) Review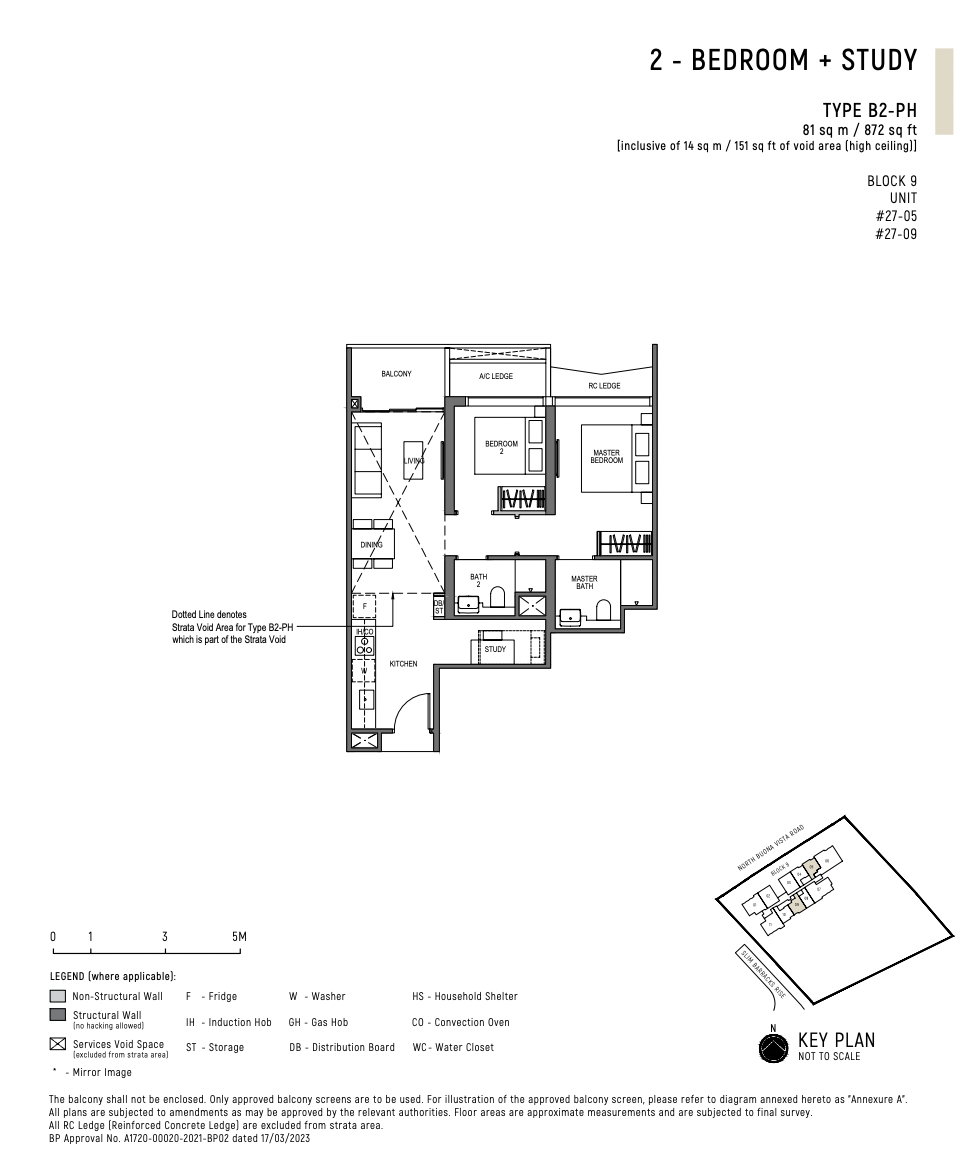 Located in stacks 05 and 08, the 2 Bedroom + Study penthouse unit is located on the highest floor on both stacks and is the biggest 2-Bedroom unit you can find at Blossoms by the Park. As it is the penthouse unit, there are only two of these units available.
Although it has a similar layout as compared to its other counterparts, what makes the penthouse unit stand out is undoubtedly the 4.65m high double-volume ceiling found in the living area.
Sized at 872 square feet, this unit has an L-shape layout, similar to all the other 2-bedroom units within the project. Do note that the higher ceiling "space" is something that you would be paying for here, as the actual floor space is 721 square feet.
As for materials, the living comes in marble-like porcelain floor tiles, while the bedrooms are a PVC timber-look alike.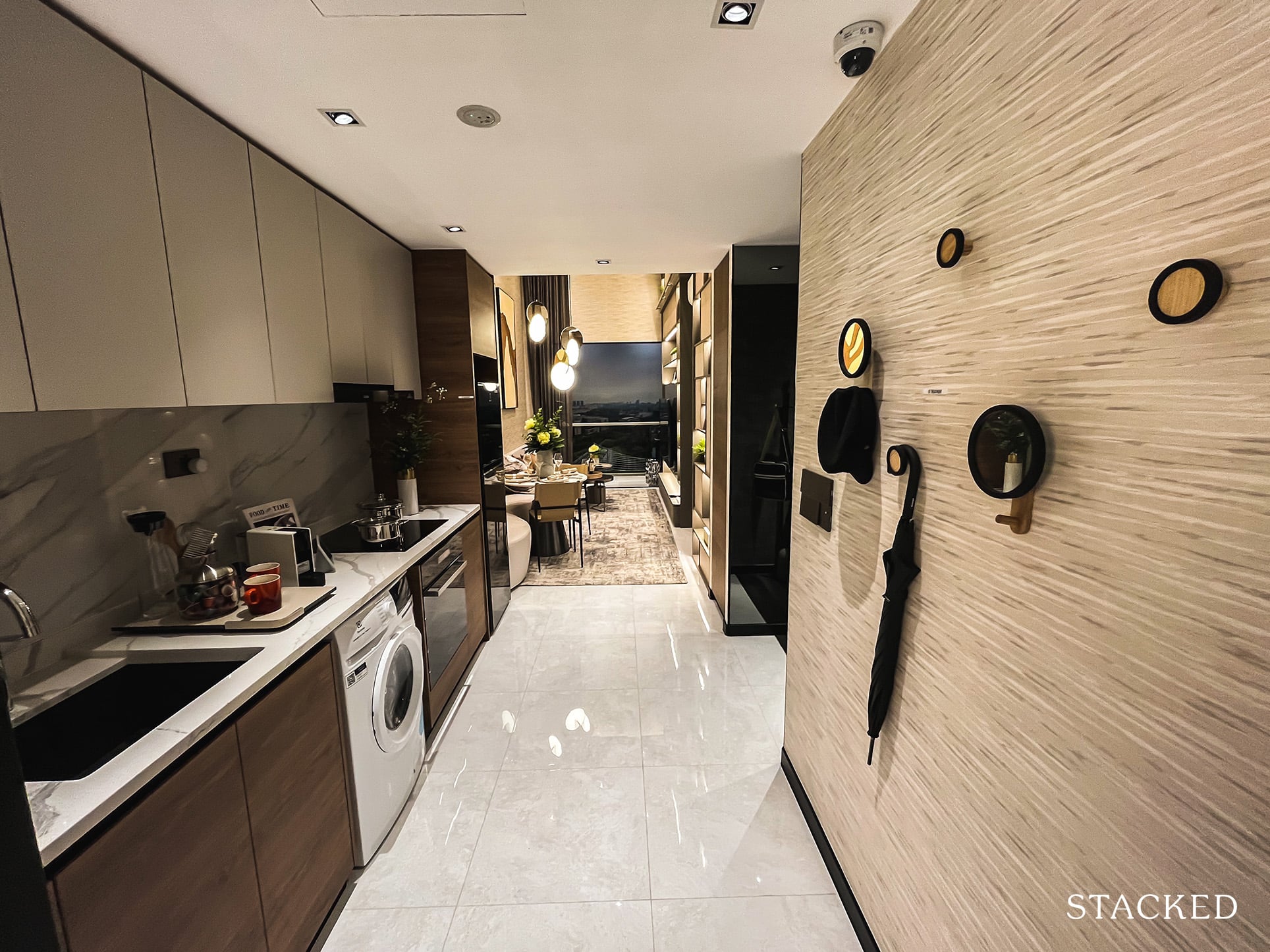 Like most new launches today, the unit opens up into the open-concept kitchen.
So while there's no official foyer area to the unit, there's the option to make use of the wall space across the kitchen to add minimal shelving.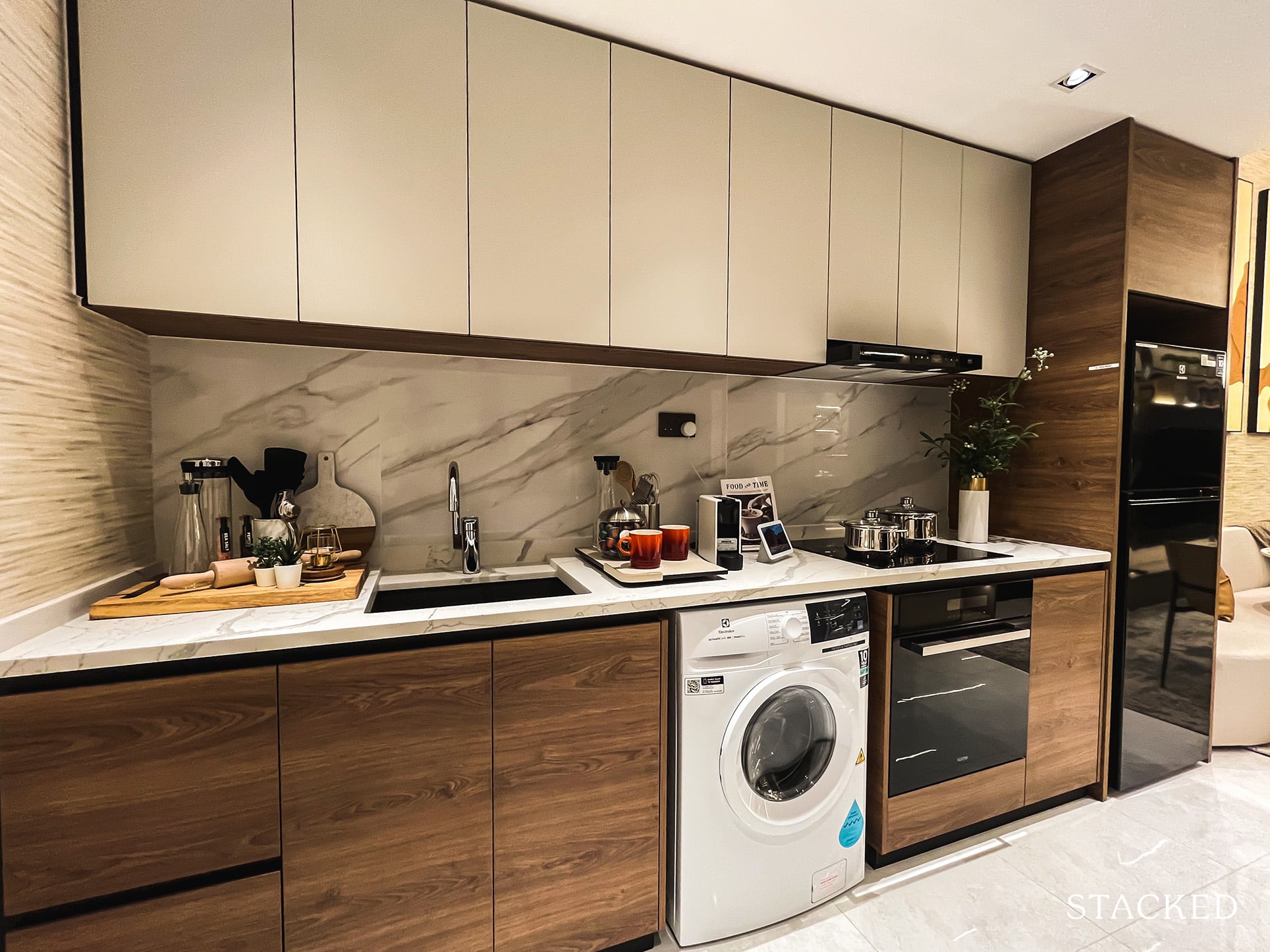 The kitchen itself is quite lengthy, so you do have a decent amount of countertop space for food prep as well as storage spaces (the kitchen backsplash is included too).
As for the fittings, this comes in the form of Grohe for the taps, a granite-looking sink from Rubine, and a dish-drying rack. It's worth mentioning here that unlike most new launches today, the fridge and washer/dryer are not included.
The positive spin on this was to allow homeowners to choose their own preferred appliance brands, which while not great, I can't see this being a deal breaker anyway. I do think we will be seeing more of this moving forward anyway, as developers look for ways to increase their margins.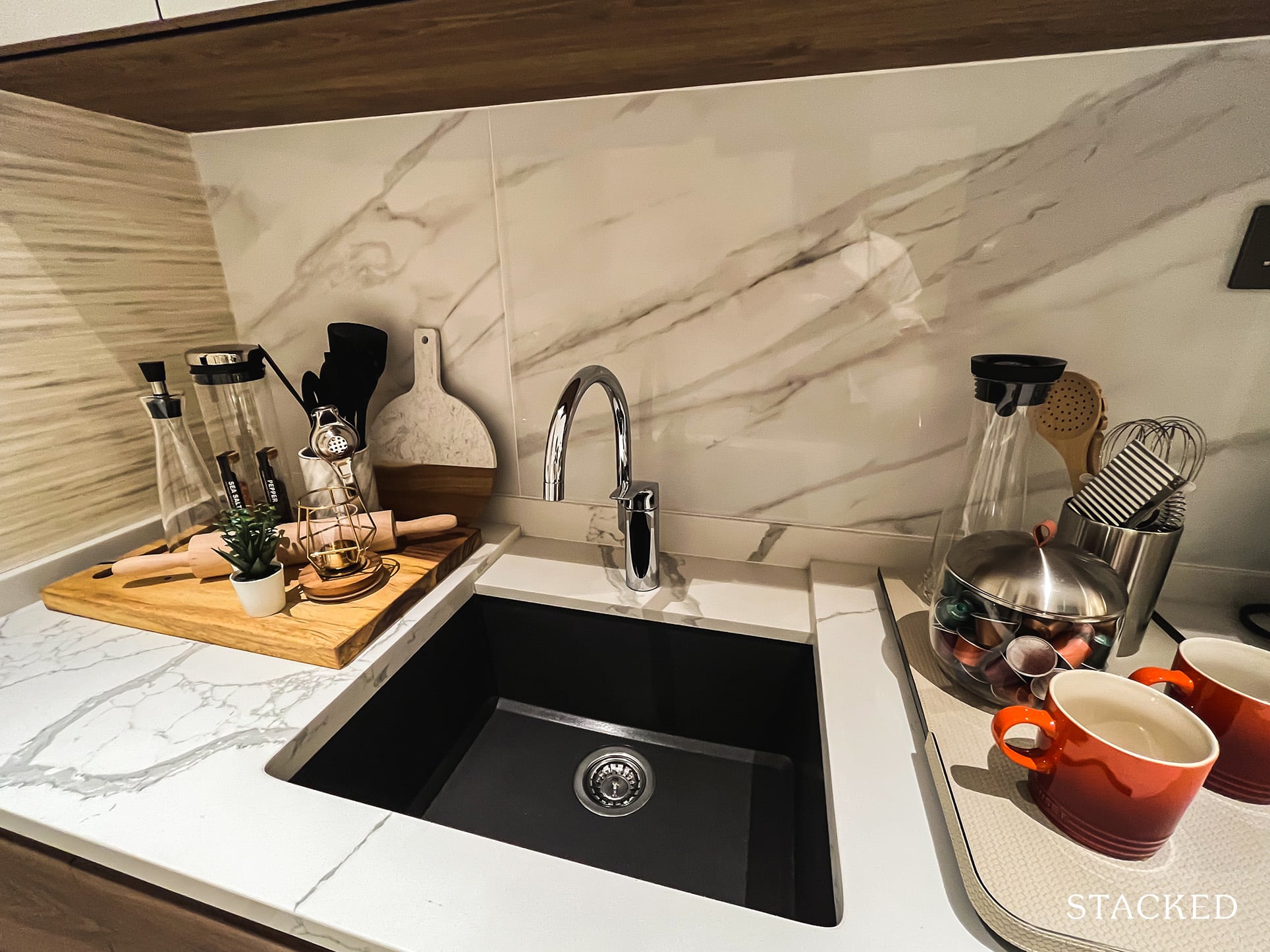 Considering that Blossoms by the Park is a PPVC project, there's only one theme and colour scheme to choose from. With that being said, I thought that the neutral colour palette of dark wood, white, and greys is a safe choice to suit most people's tastes.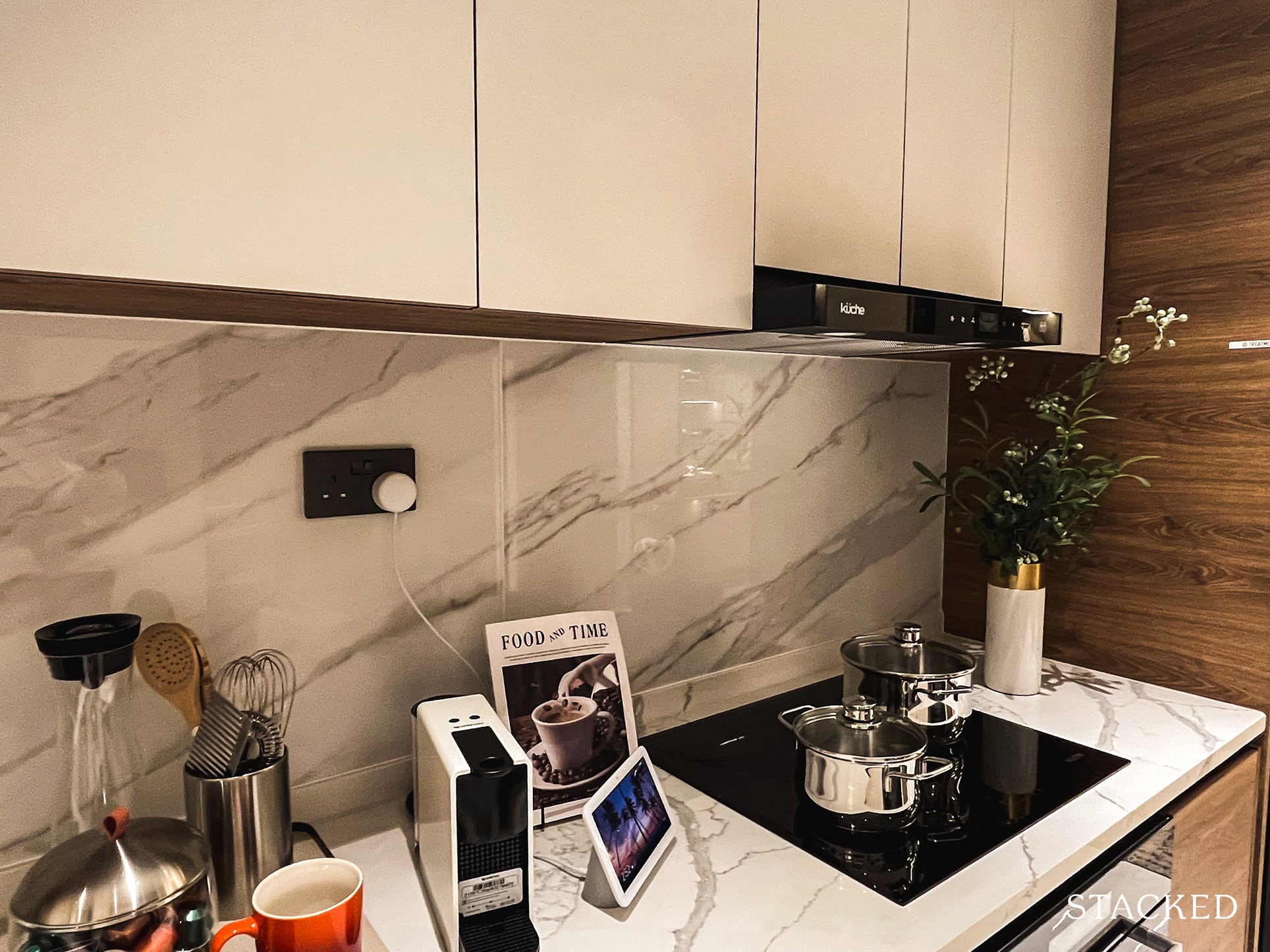 Finally, one positive touch here was the smart kitchen system. A smart oven, hob, and hood from Küche will be provided to allow homeowners to control their appliances remotely from their smartphones.
This means that you'll be able to monitor your cooking, baking, and kitchen conveniently and seamlessly. The smaller units here have induction surfaces anyway, so I'm not sure how risky it would be to leave it on as compared to the regular stoves. But if you are lazy to get off your couch to turn it off I suppose this would be useful.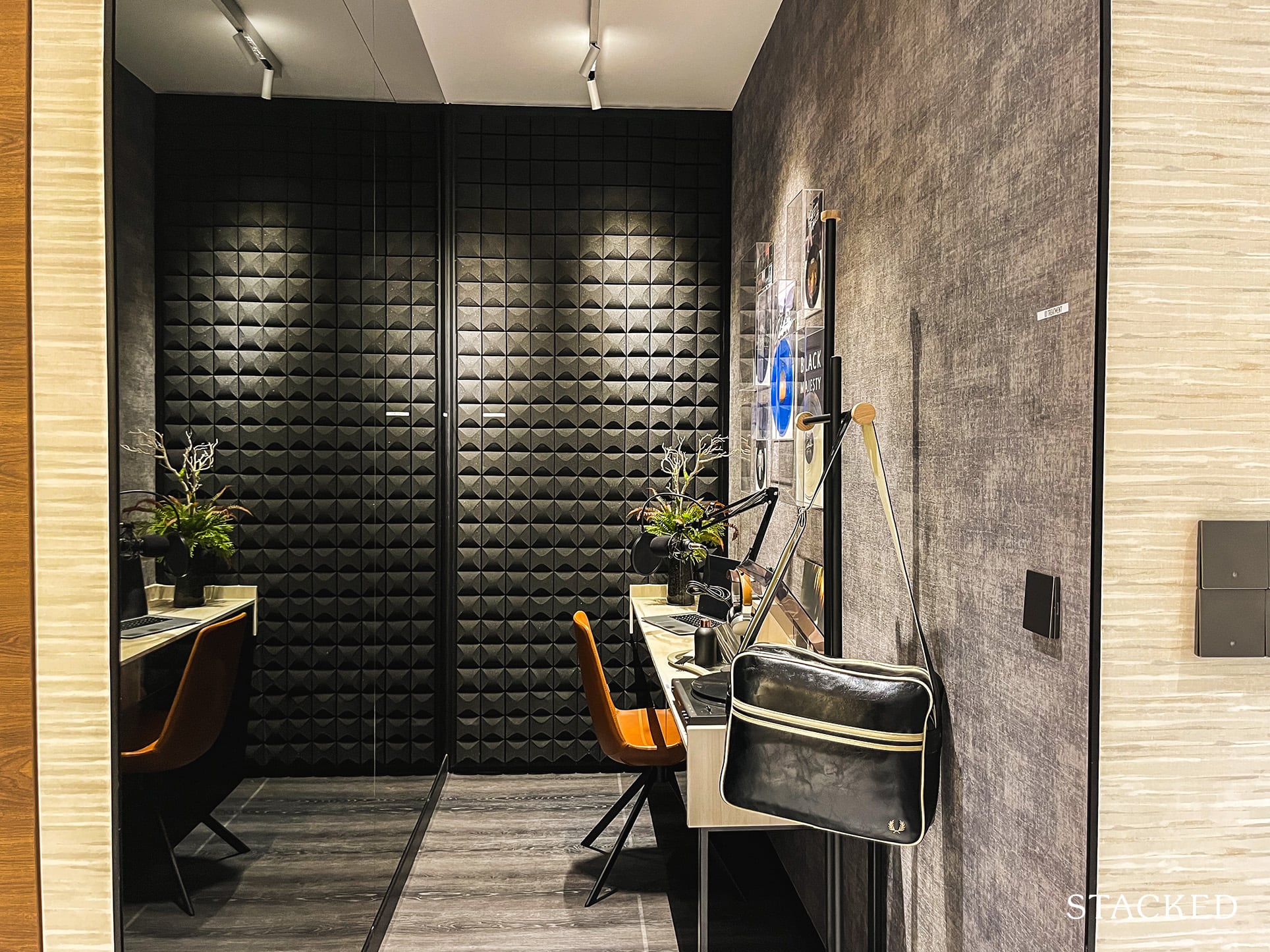 For those wondering where the study space is located, it comes in the form of an alcove located just across the kitchen. Personally, I'm not a fan of the location since it is near the busiest areas (like the main door and kitchen), though the issue can be solved by enclosing the space for a more private study corner.
Sized at around 43 square feet, it's around the size of an average household shelter. While it's rather narrow in width, it's deep enough to comfortably fit a table, chair, and even some shelving space. There are no windows here too, so you will need to install adequate lighting.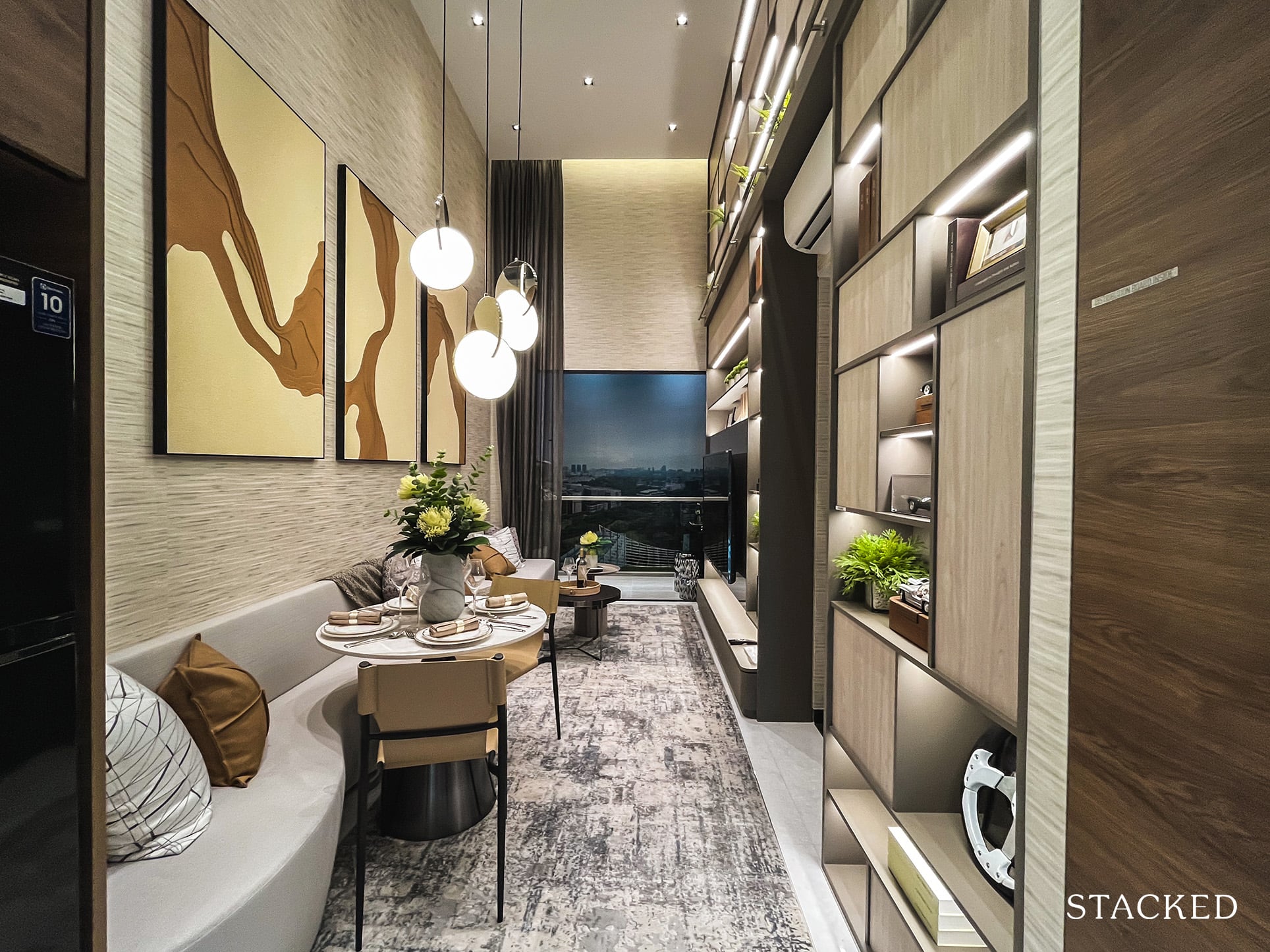 The double-volume ceiling starts in the dining area and ends in the living room. Unlike other 2-bedroom units that have a typical ceiling height of 2.8m, the penthouse units have a height of 4.65m to give off an impression of spaciousness.
Admittedly, the living and dining area is not the widest in terms of width, which might be challenging when it comes to dealing with bulky furniture. In fact, this layout reminds me strongly of the layout we saw in the 1953 condo.
One simple solution when working with spaces like these would be to use booth seats and flush them against the walls, which is exactly what both projects have done. The IDs for Blossoms by the Park decided to create a continuous booth seat to combine the living and dining space seamlessly – which is certainly a more efficient use of space.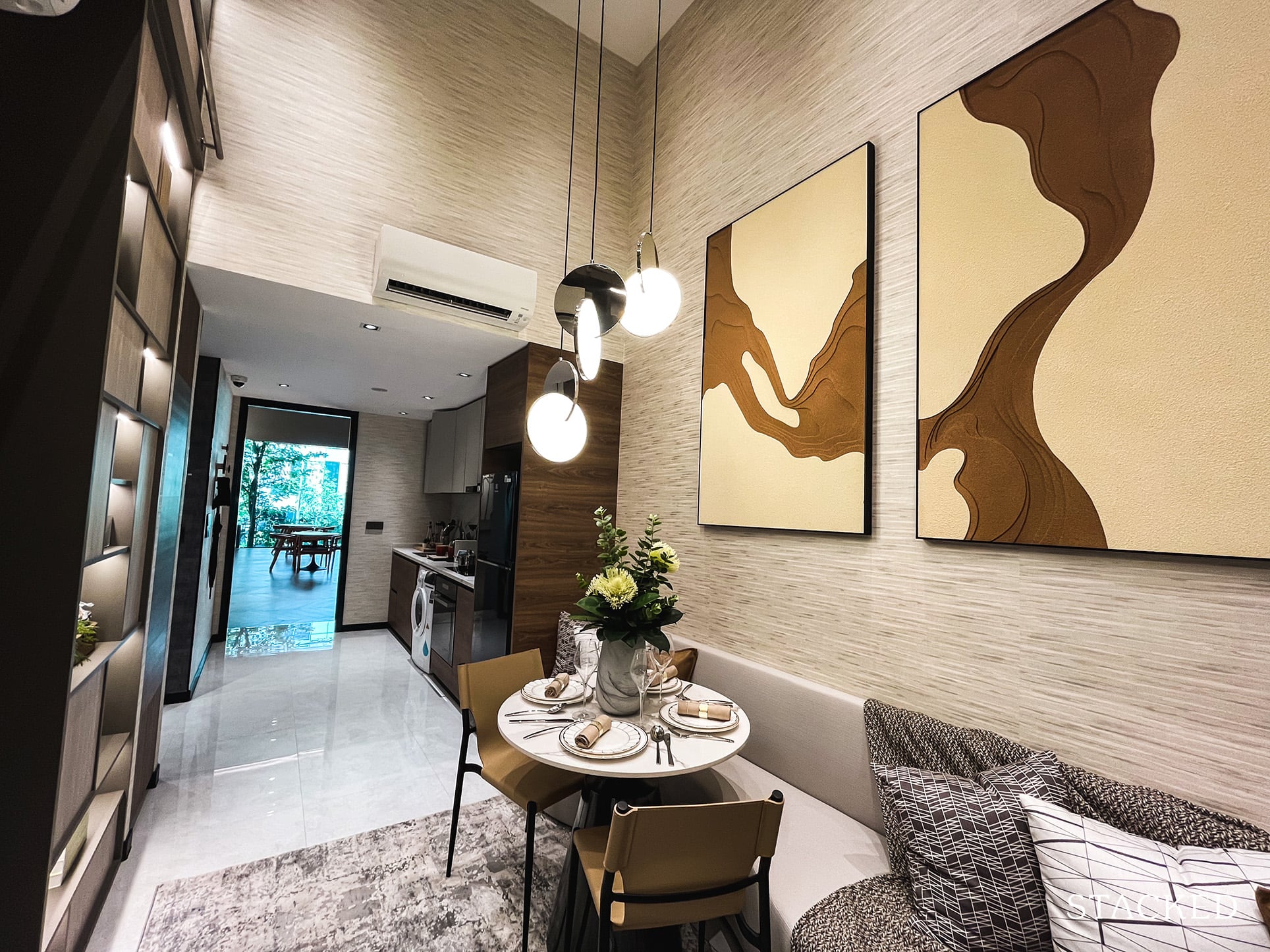 To further emphasise the double-volume ceilings, the IDs chose to build a floor-to-ceiling display shelf to resemble a loft concept. While this might be aesthetically pleasing, it does make me feel like the space is a little more cramped.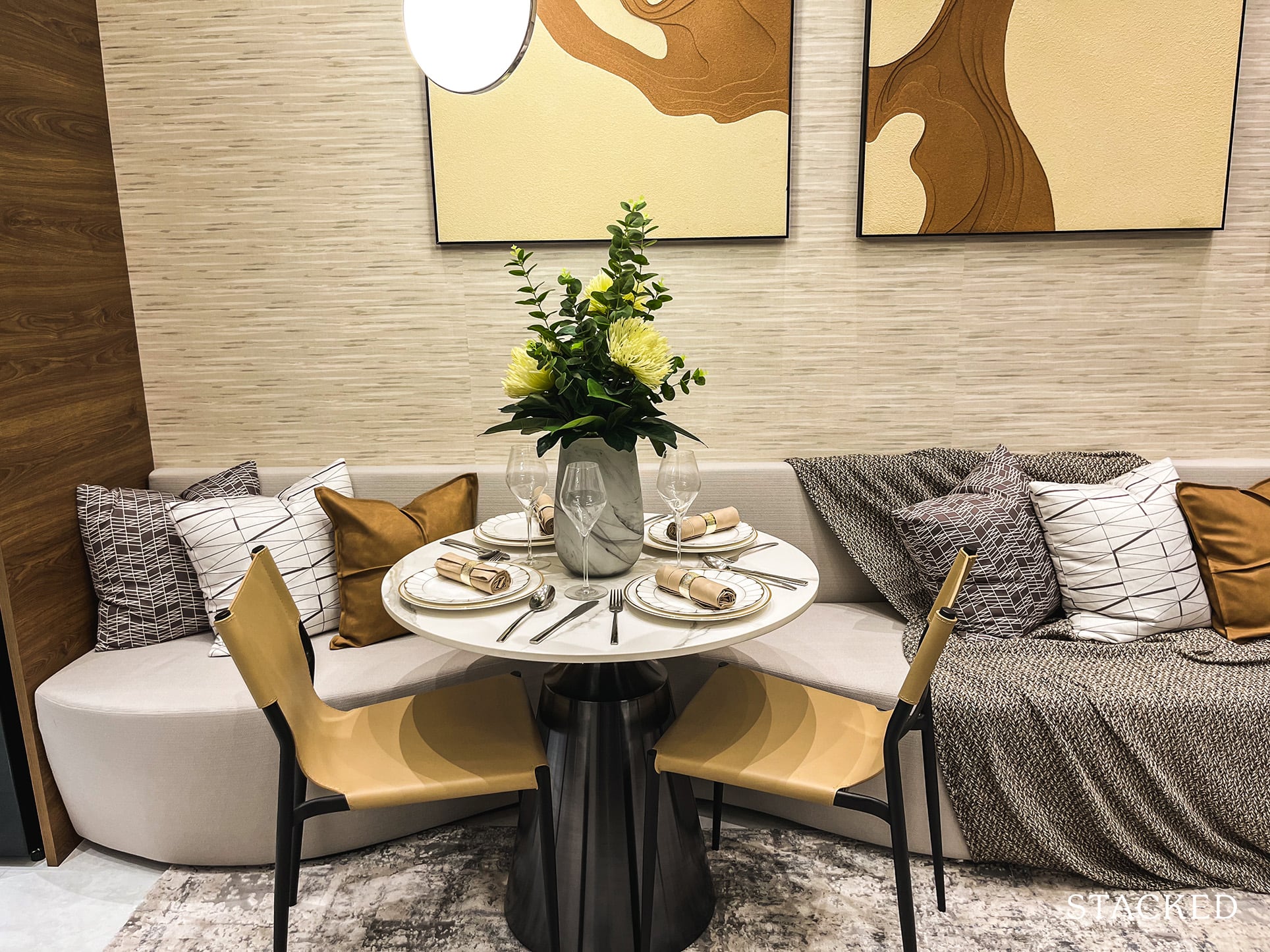 While the booth seats might appear to work well for this layout, homeowners can also choose to install a more traditional dining table.
However, be mindful to use more compact furniture since it might encroach into the pathways in the living room.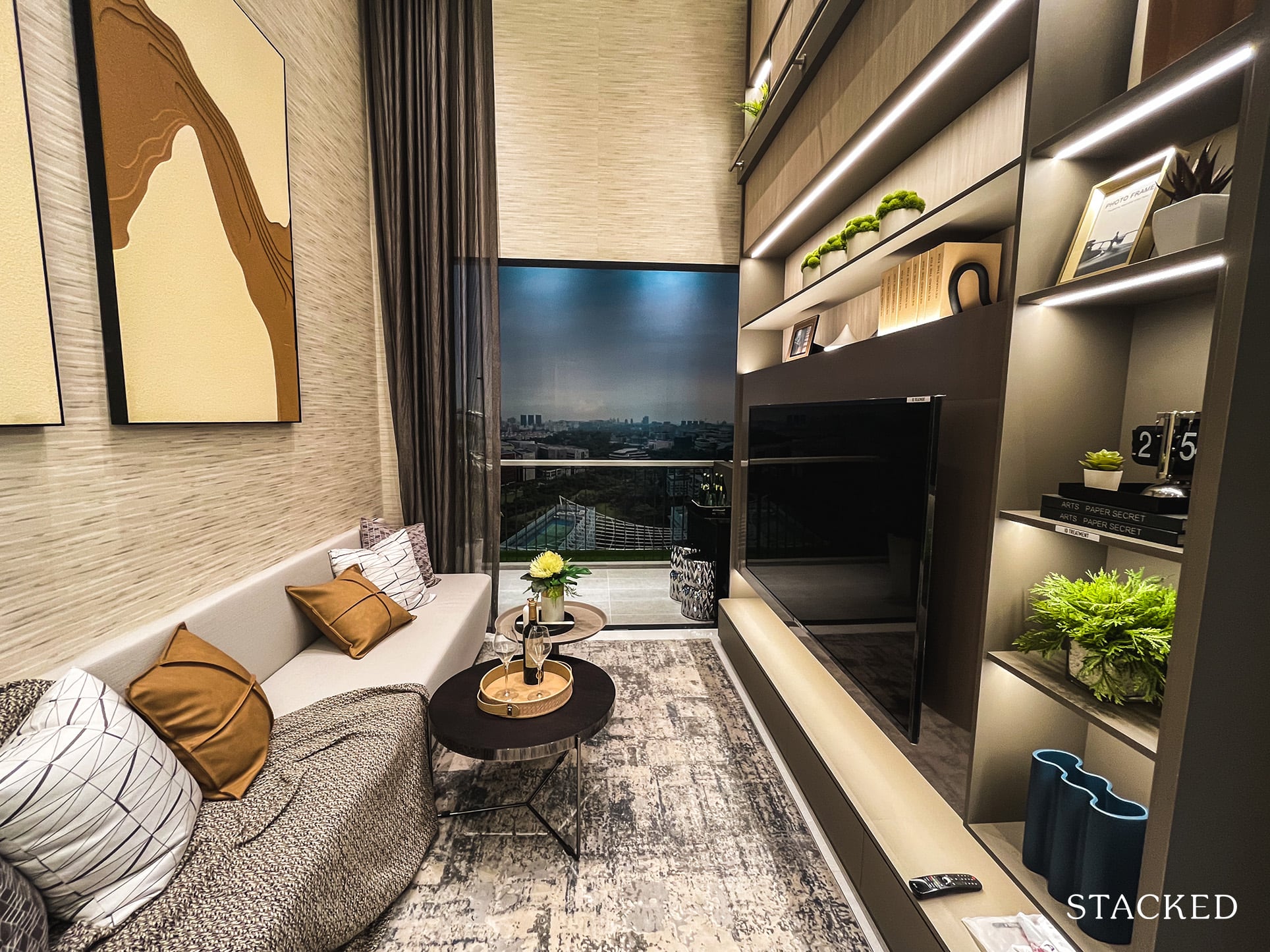 The shelving storage here does take up some space, and I'd probably do without the coffee tables here if you want a regular couch as this one is leaned all the way back against the wall.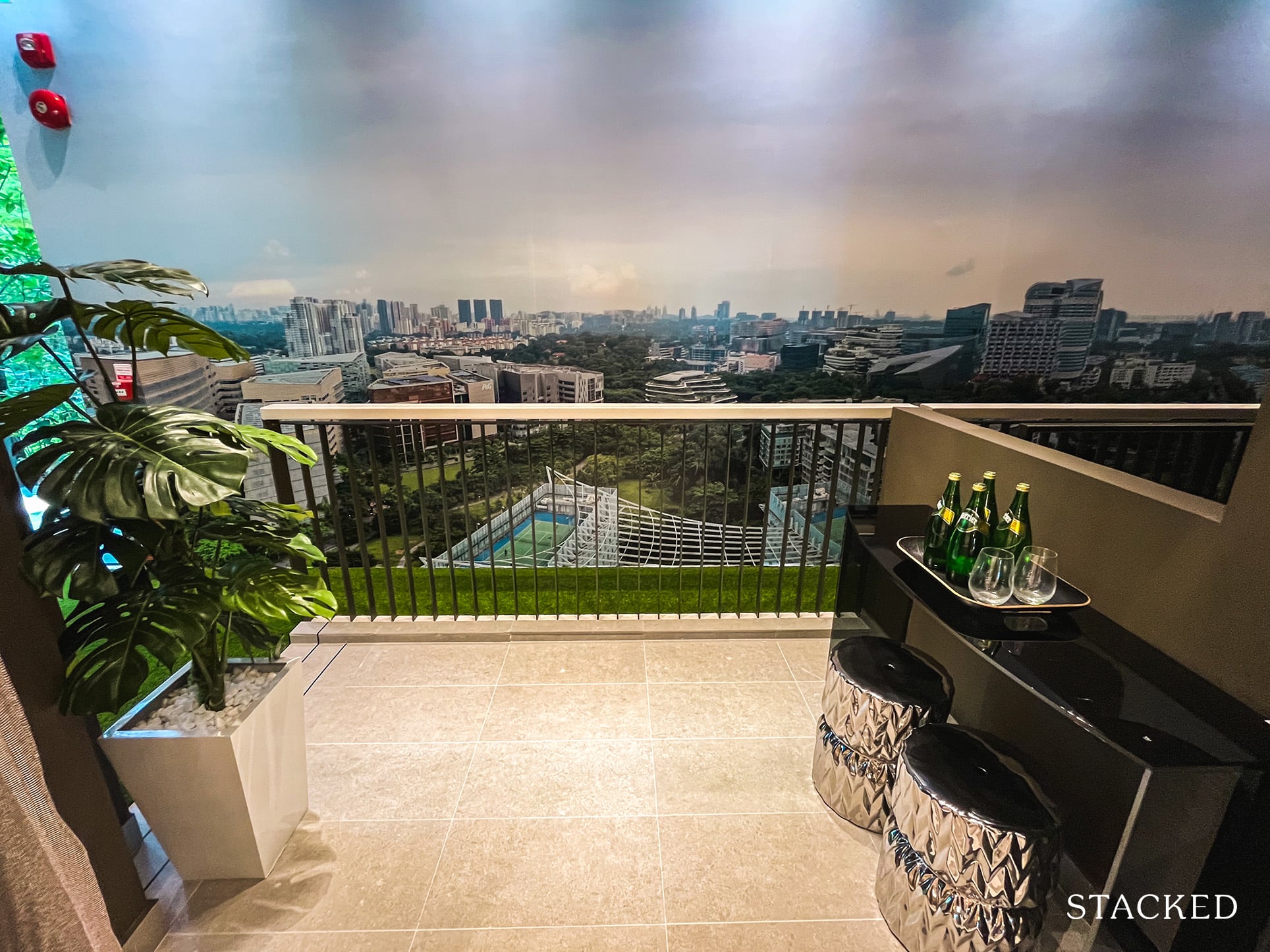 Moving on to the balcony, it is decently sized at slightly above 50 square feet, which seems to be big enough to accommodate a small table and some chairs. Every unit will come with a balcony anyway, for you to enjoy the views.
If you are interested, this particular shot depicts the view of a 2-Bedroom + Study unit located on the 23rd floor that is facing NTU@one-north.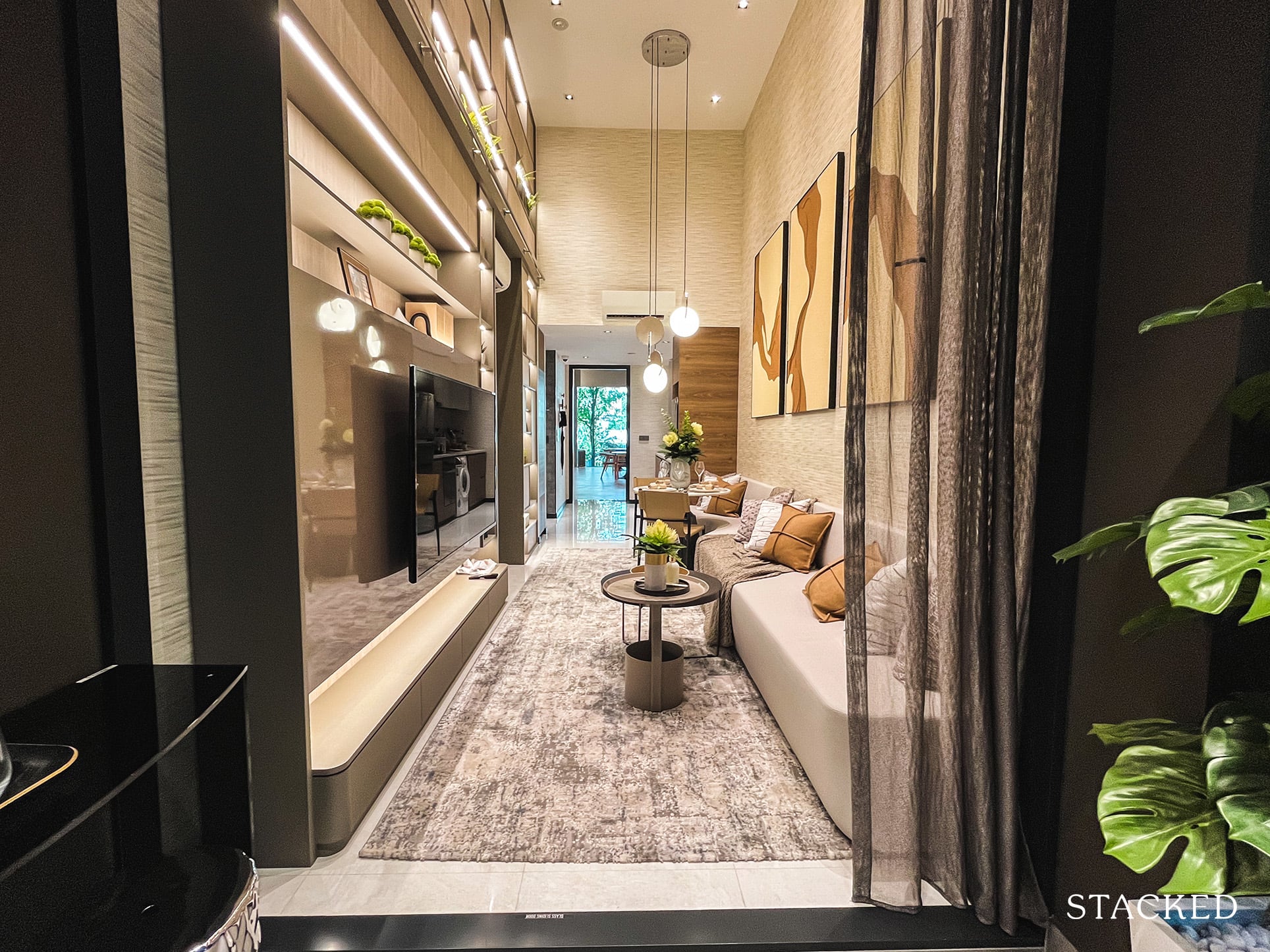 Here's a shot of the living area from the balcony, which you can better judge the width of the living and dining areas.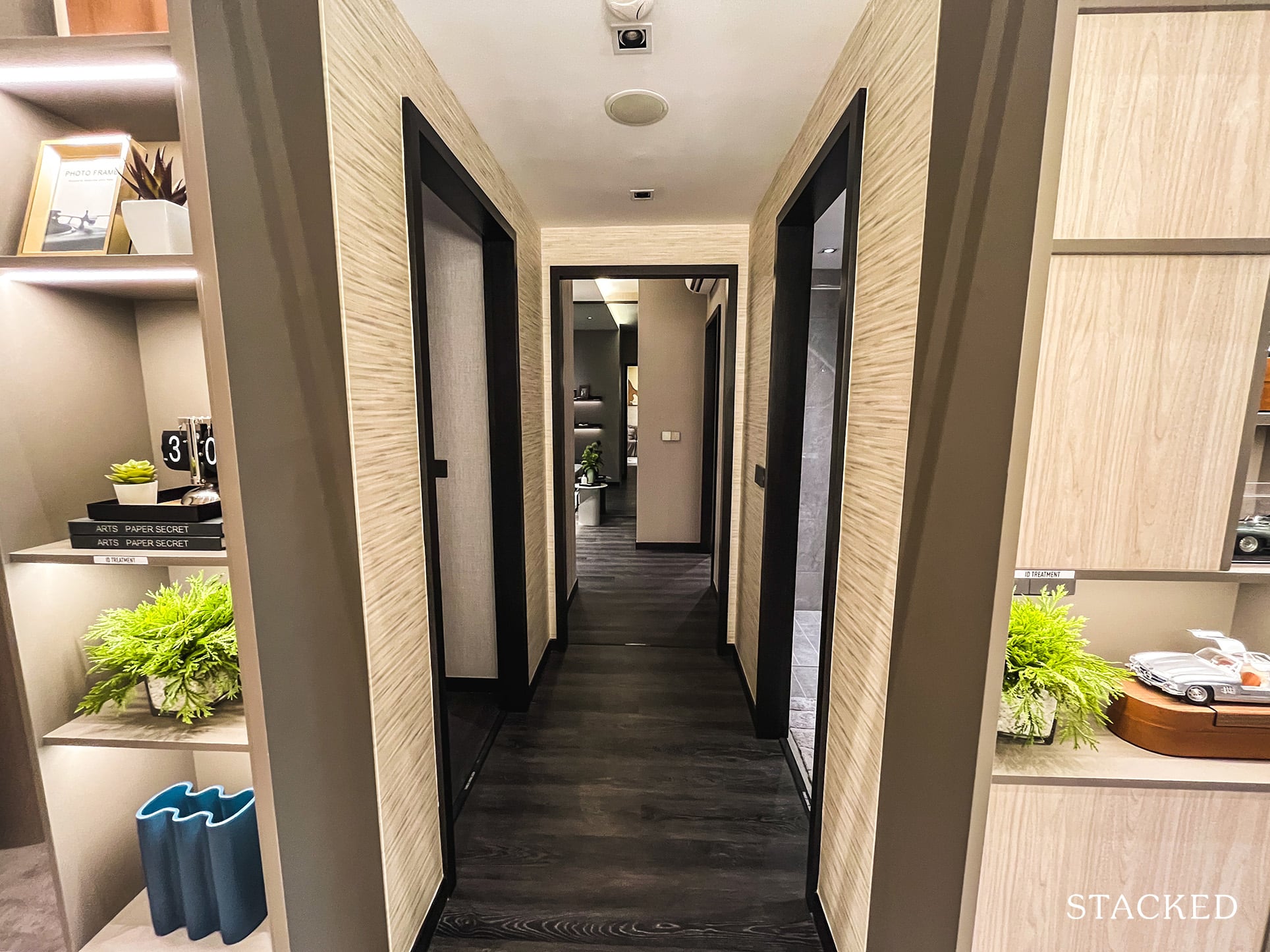 Moving on to the bedrooms, here's a look at the hallway leading to both bedrooms and the common bathroom.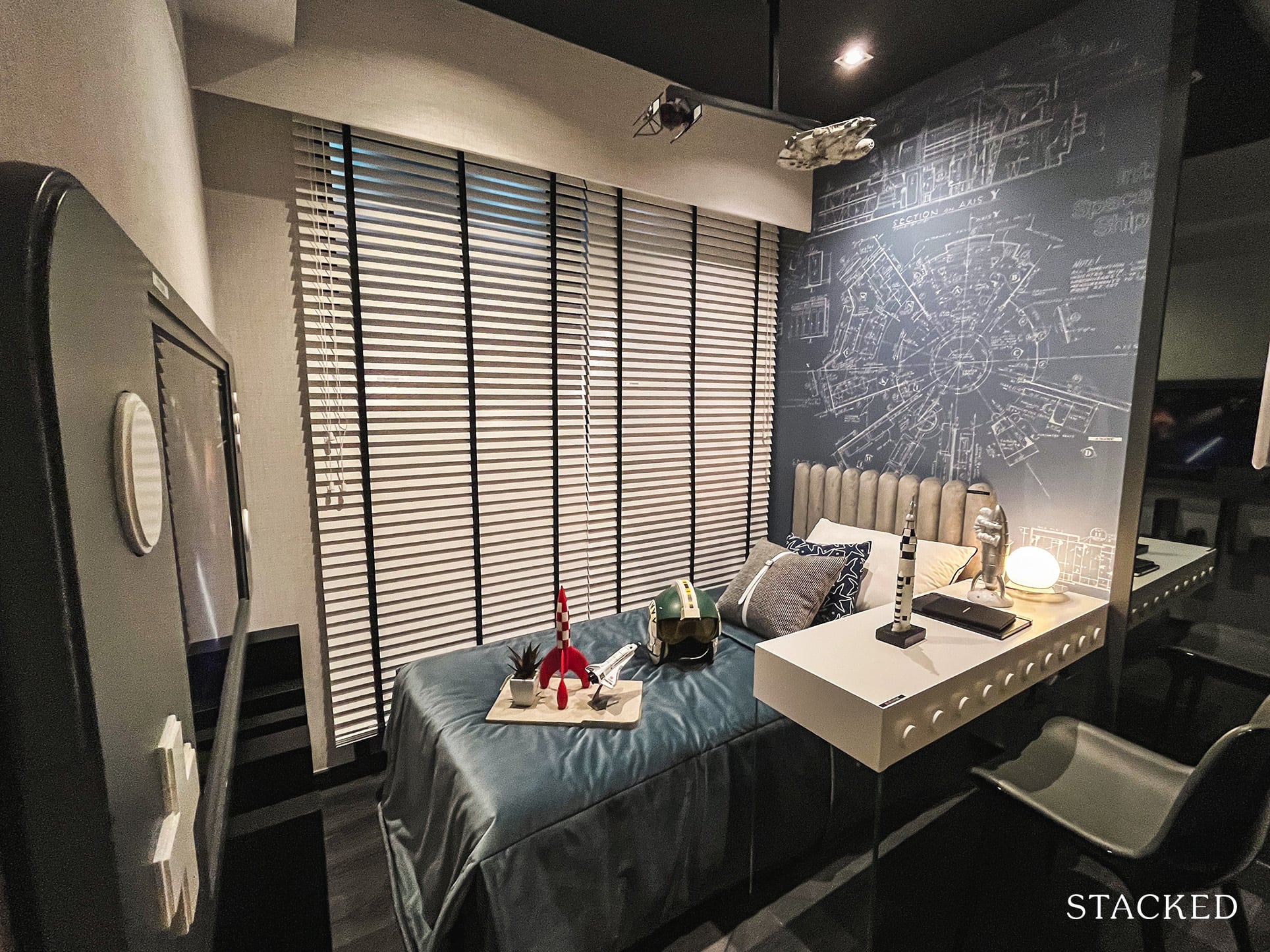 Making the first turn on your left, you'll find the common bedroom, which is sized at 86 square feet. It's a typical size, and unfortunately, you won't find a floor-to-ceiling window here given the AC ledge is located on the outside.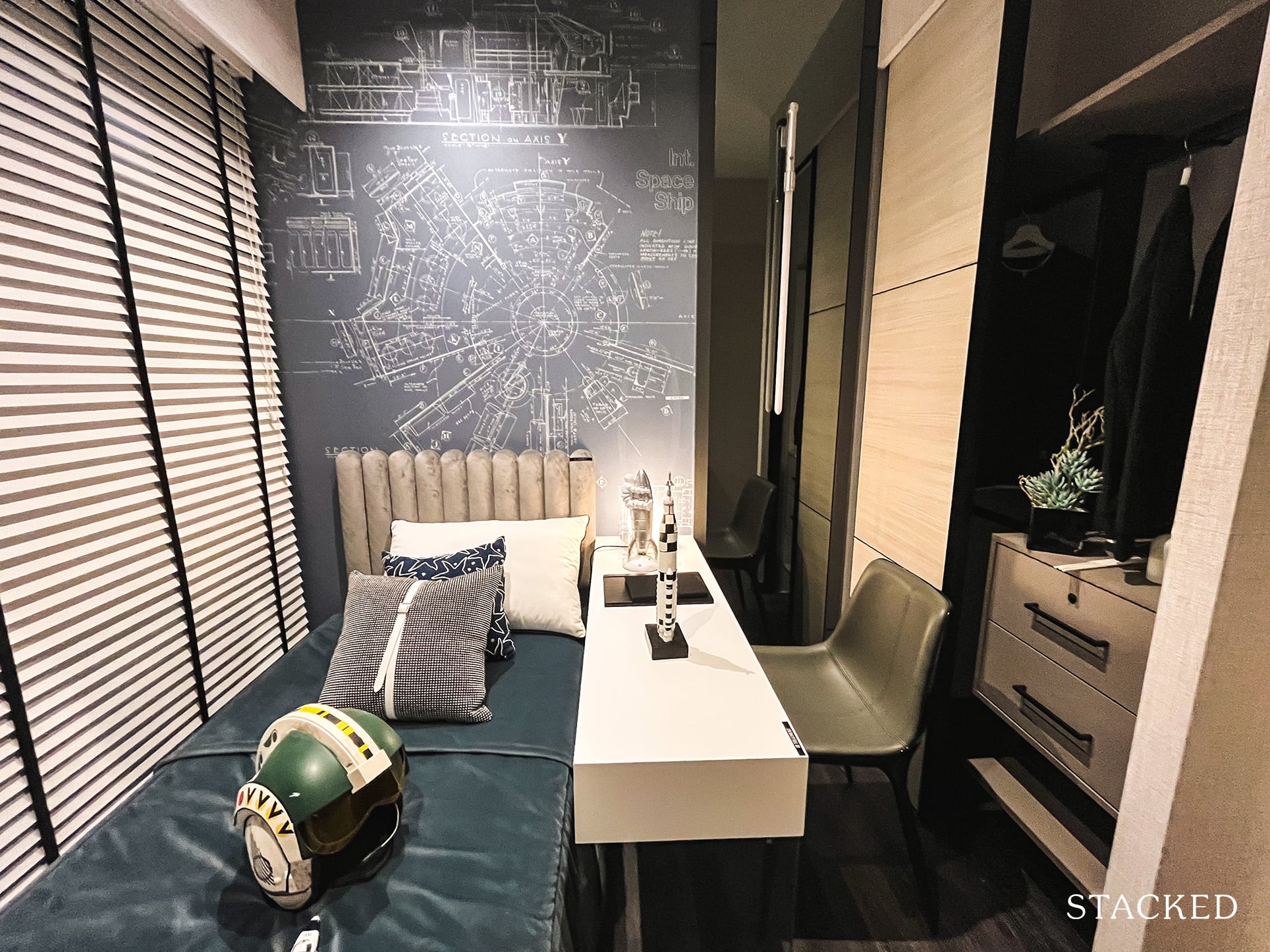 While it can accommodate a queen-sized bed, there's also the alternative to fit a single bed and a small desk (as seen in this room). This setup is not great though, as the chair here will block access to the wardrobes.
The wardrobes are the usual sliding laminated doors, which is inline with what you'd have seen in other new launches.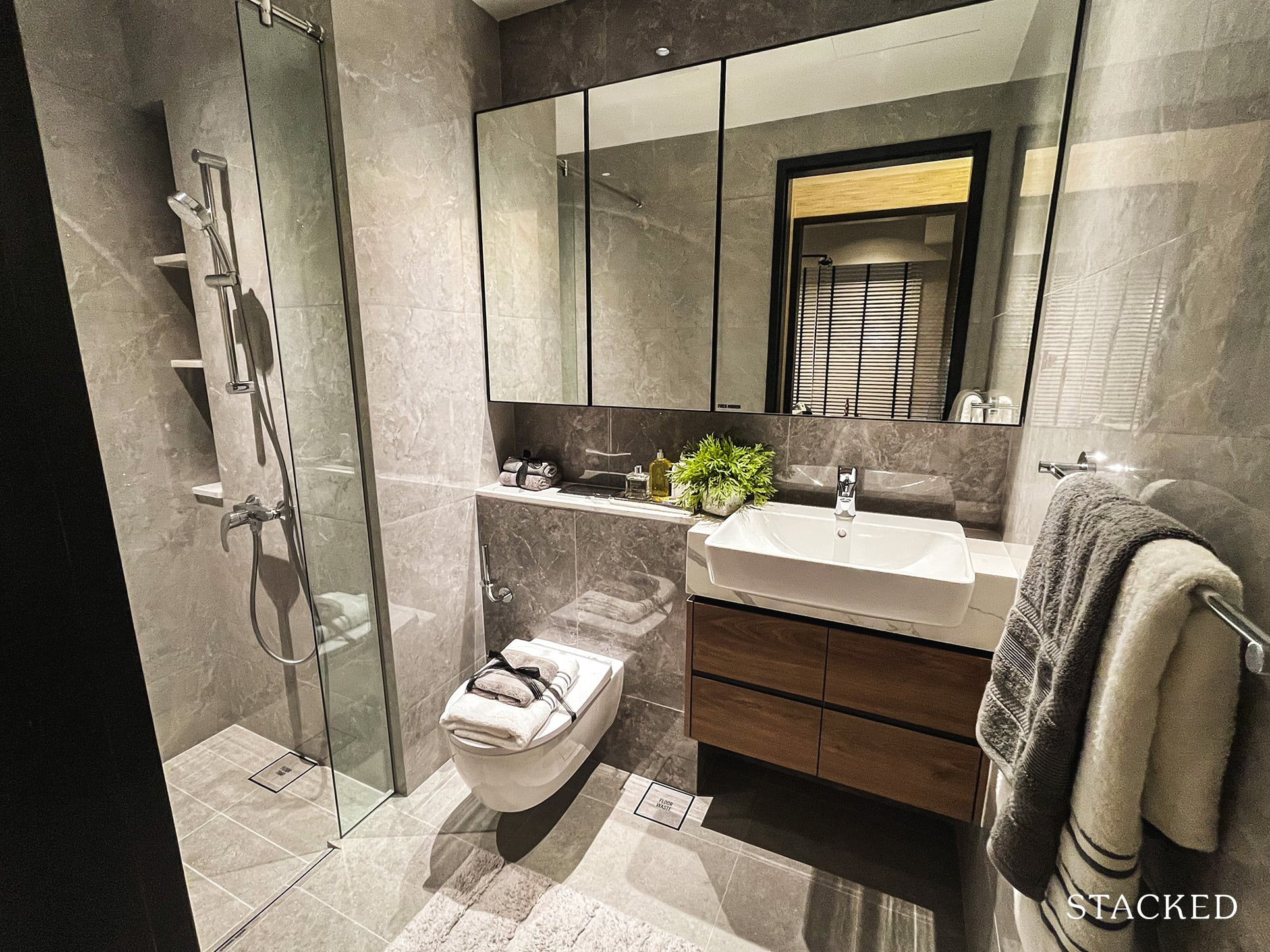 As for the common bathroom, it's finished in a minimalist grey colour scheme. It has a walk-in shower, a wall-hanging toilet (for easy maintenance), and a niche located in the shower area to place the toiletries that you use daily. The sanitaryware and fittings are provided by Grohe and Geberit, although one downside here is that there are no windows for natural ventilation.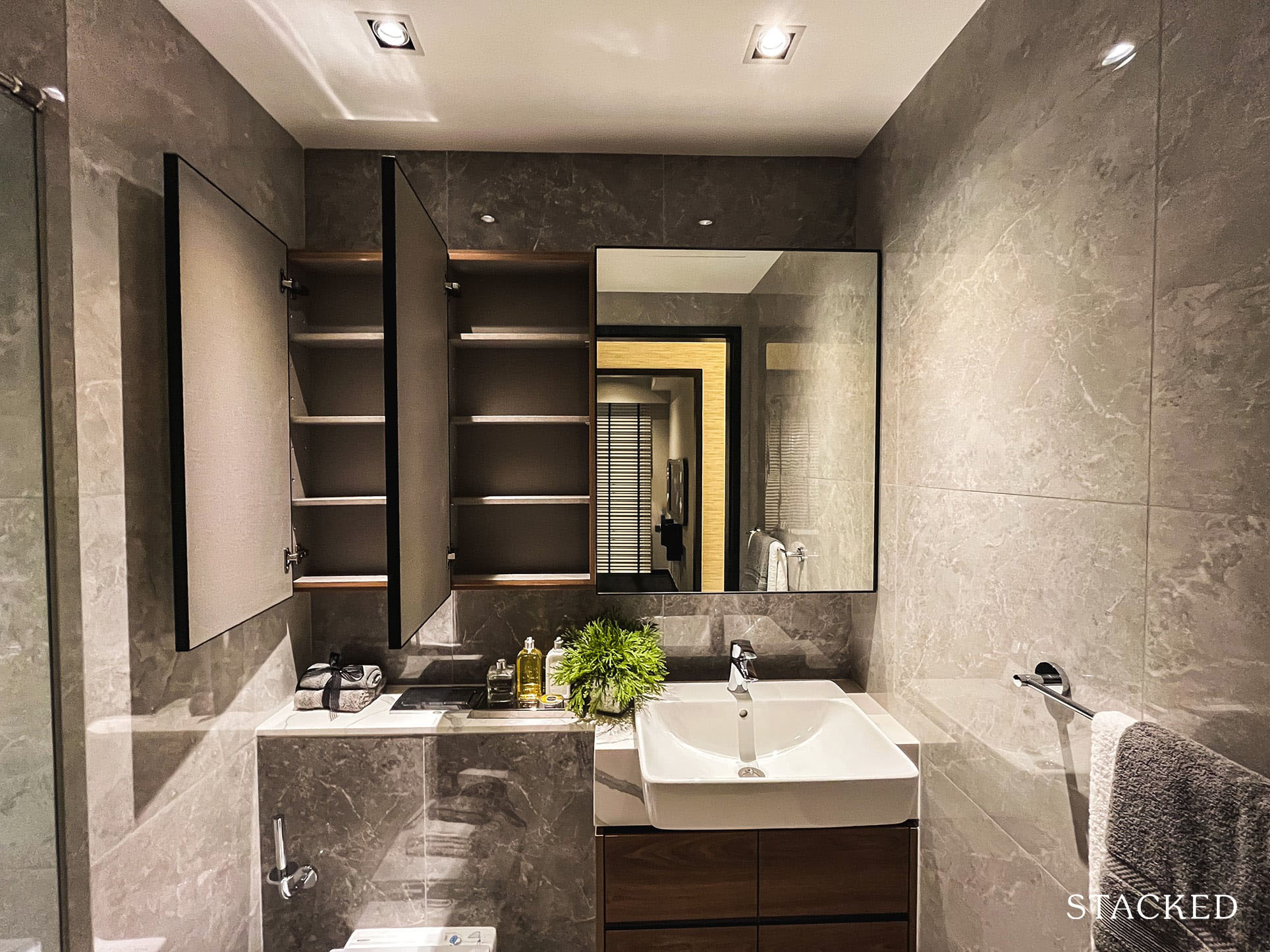 There is also some shelving storage located behind the mirrors and under the sink to keep any clutter out of sight.
Last but not least, let's take a look at the master bedroom.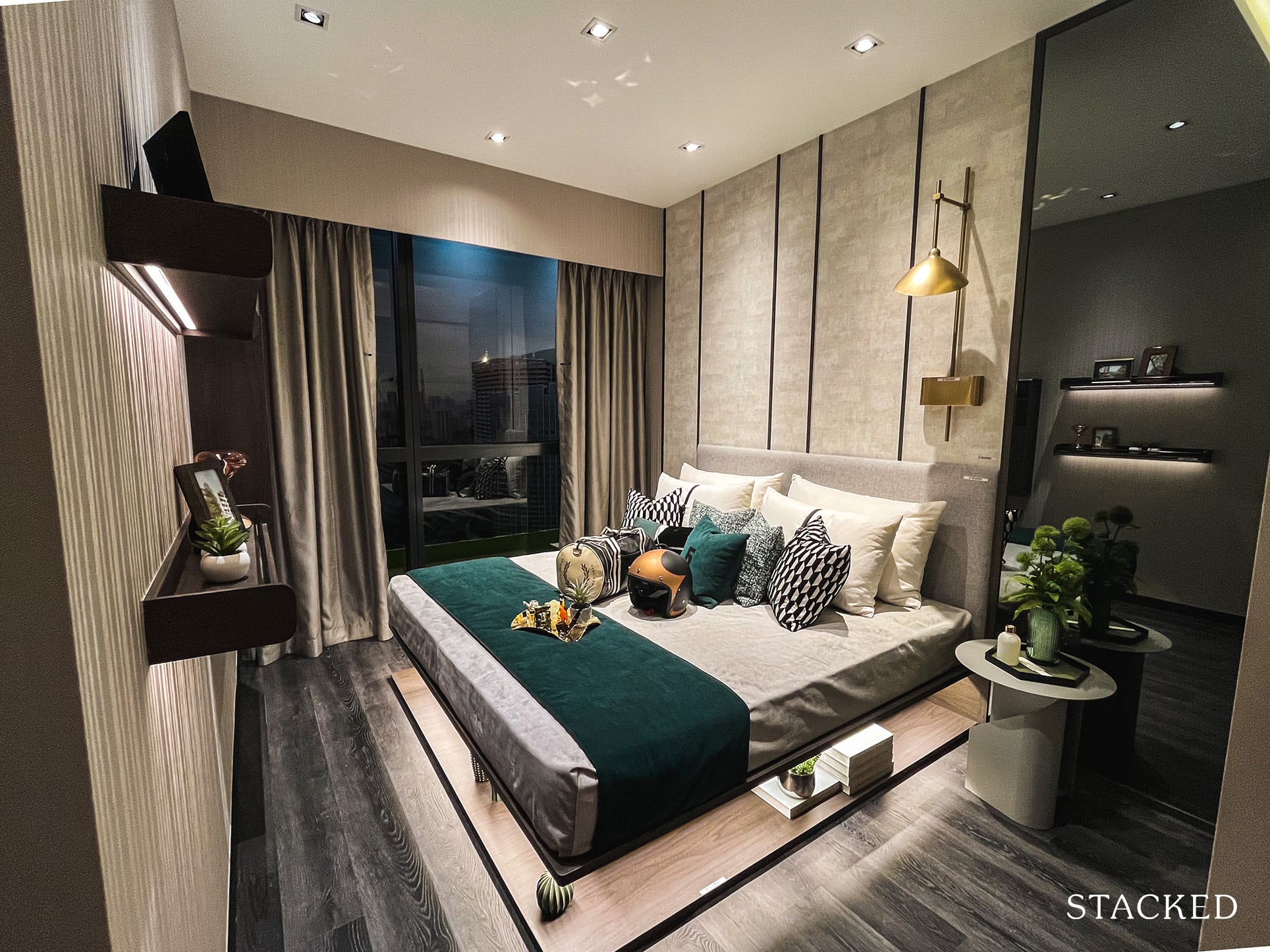 Sized at 140 square feet, the master bedroom is of a typical size – which is big enough to accommodate a king-sized bed and still has decent walkway space.
Apart from the built-in cabinet, there are also floor-to-ceiling windows to allow more natural light into the space.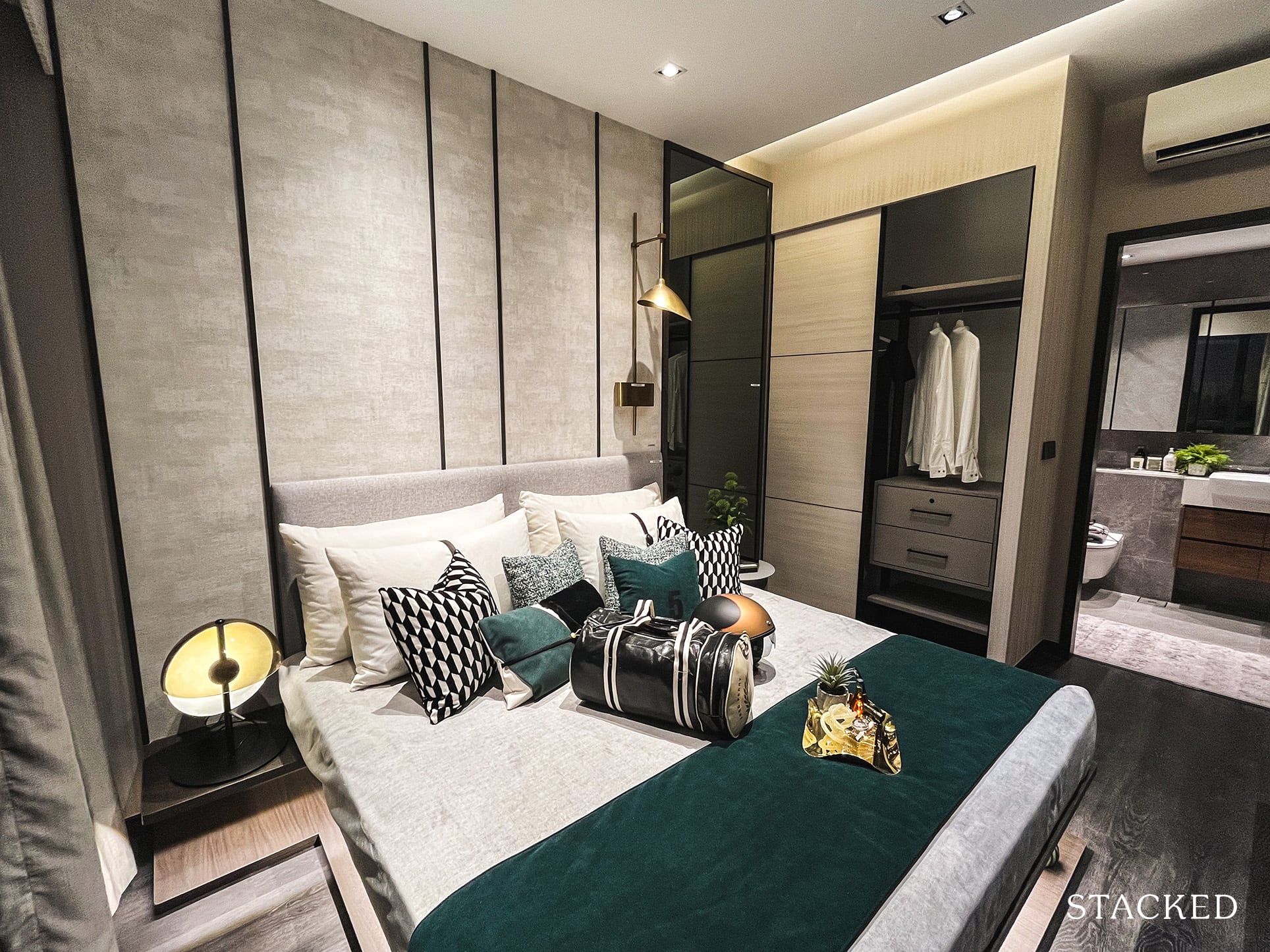 However, I do have to point out that there's probably not going to be enough storage space to comfortably fit two in this bedroom.
I suppose this is the reason why the IDs chose a floating bed to create more room for storage under the bed.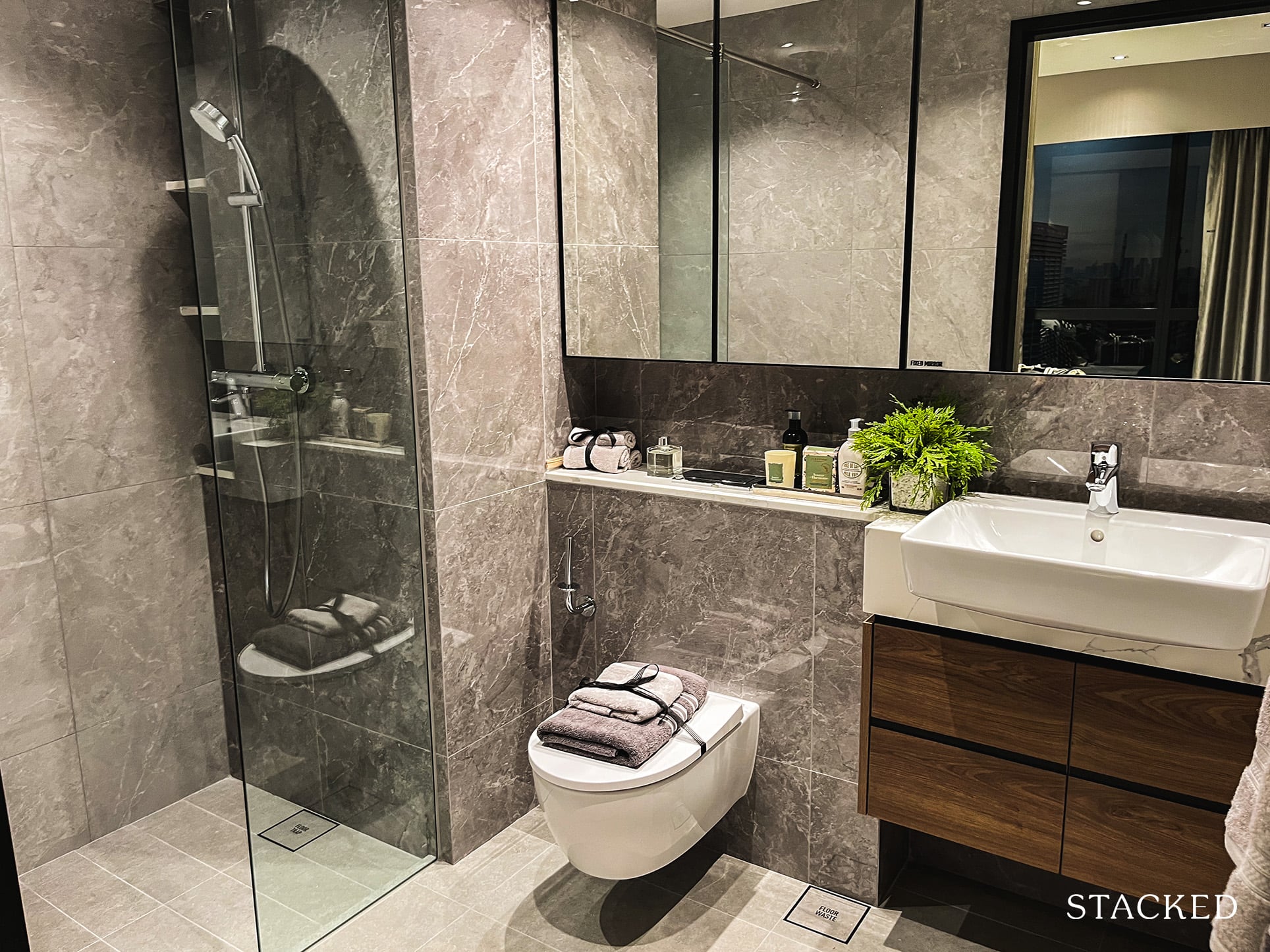 As for the master bathroom, it has the exact same design and layout as the common bathroom, with storage space behind the mirrors and under the sink (there's no ventilation here either).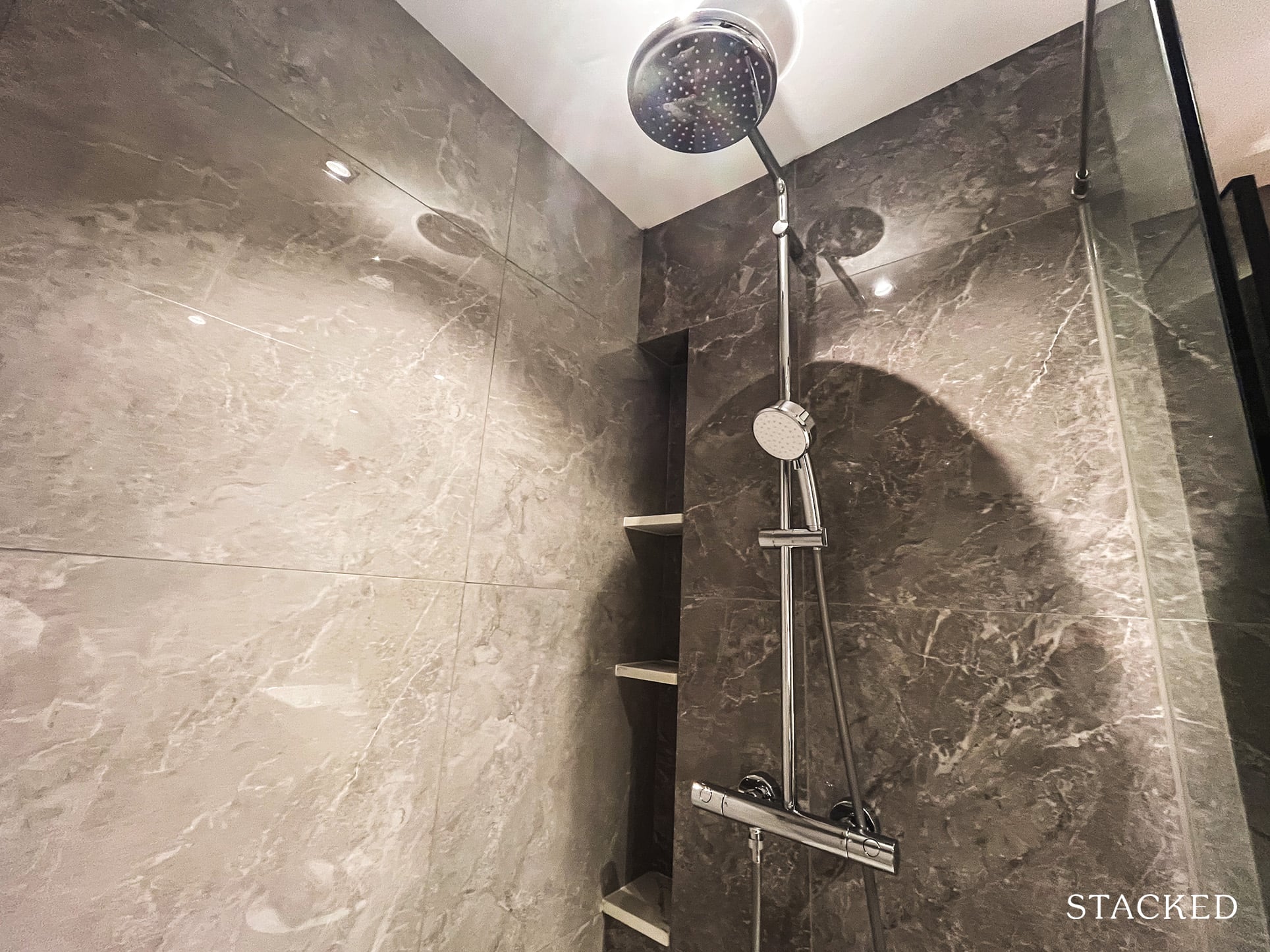 The fittings here are from Grohe and Geberit too, with the only differentiation being the overhead rain shower.
Blossoms By The Park 4 Bedroom Premium Type D1-PH (1,539 sqft) Review
The next (and last) unit available for viewing at the show flat is the 4-Bedroom type D1-PH unit. It's a 1,539 square foot unit which is only found in stack 07, and it's the only penthouse unit within this category.
The other 4-bedroom units (Type D1) have a similar floor plan, except for the difference in ceiling height in the living and dining areas (the regular units are sized at 1,302 square feet). Also, units in this stack face the South-East direction and as such, you can expect minimal afternoon sun.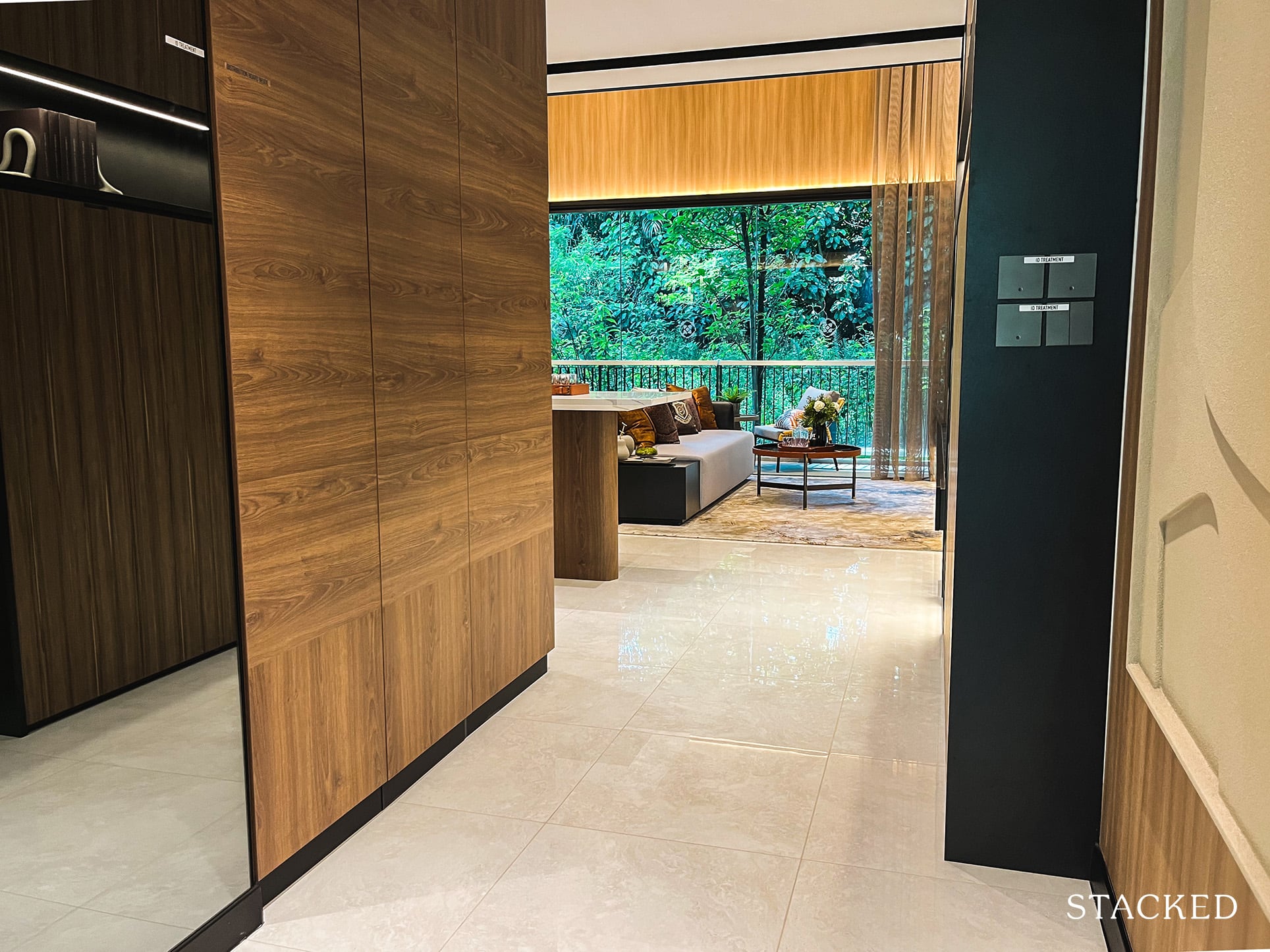 Unlike the previous 2-Bedroom + study unit, the entrance of this unit comes with a foyer area. This affords you more space to create more shelving to store shoes or other household appliances.
Additionally, the foyer space provides more privacy for the homeowners as there's no direct view into the living and dining space.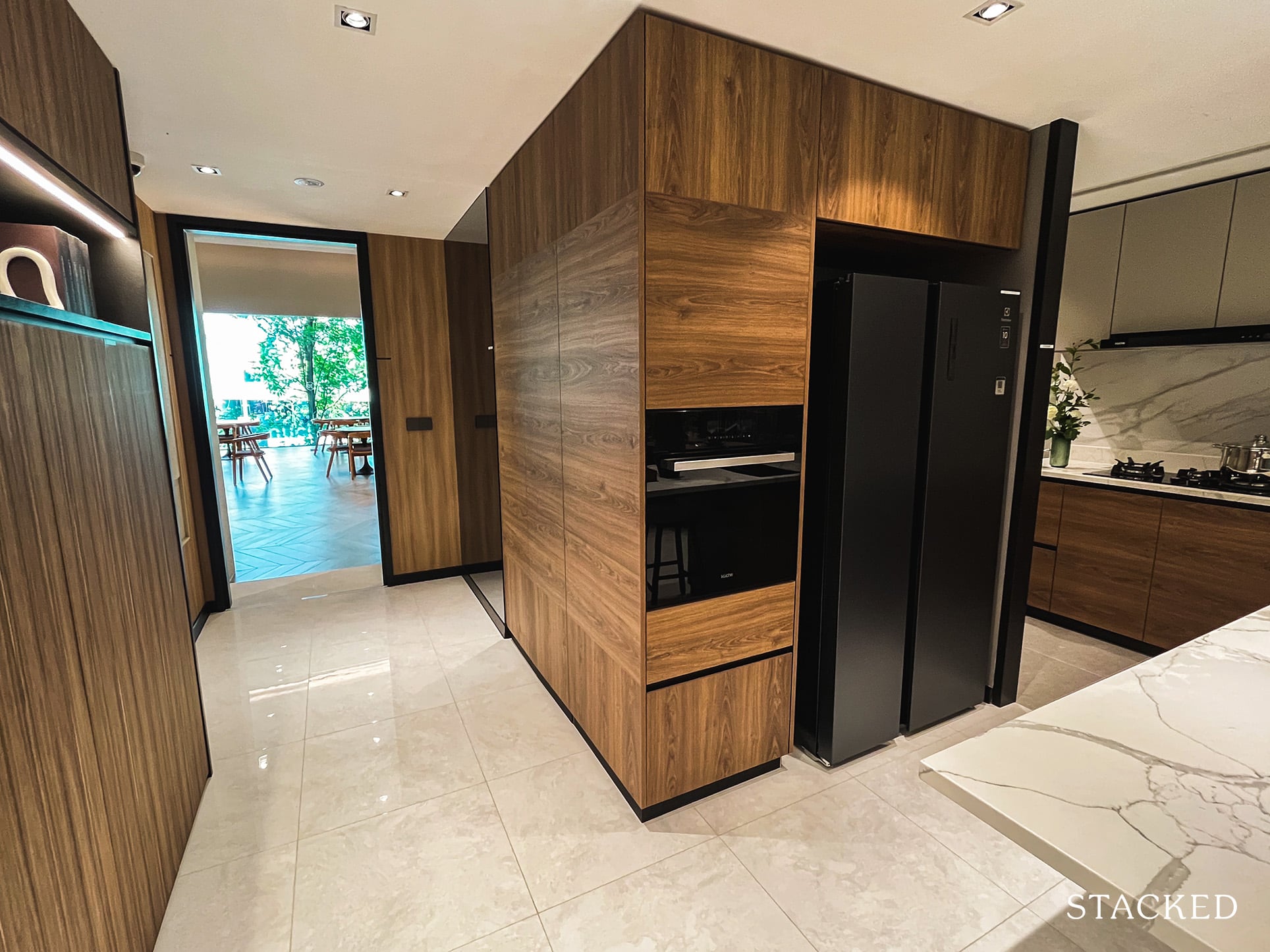 Here's another shot to show you the width of the entranceway space. Do note that similar to the 2-bedroom unit, the fridge shown here is also not within the list of provisions.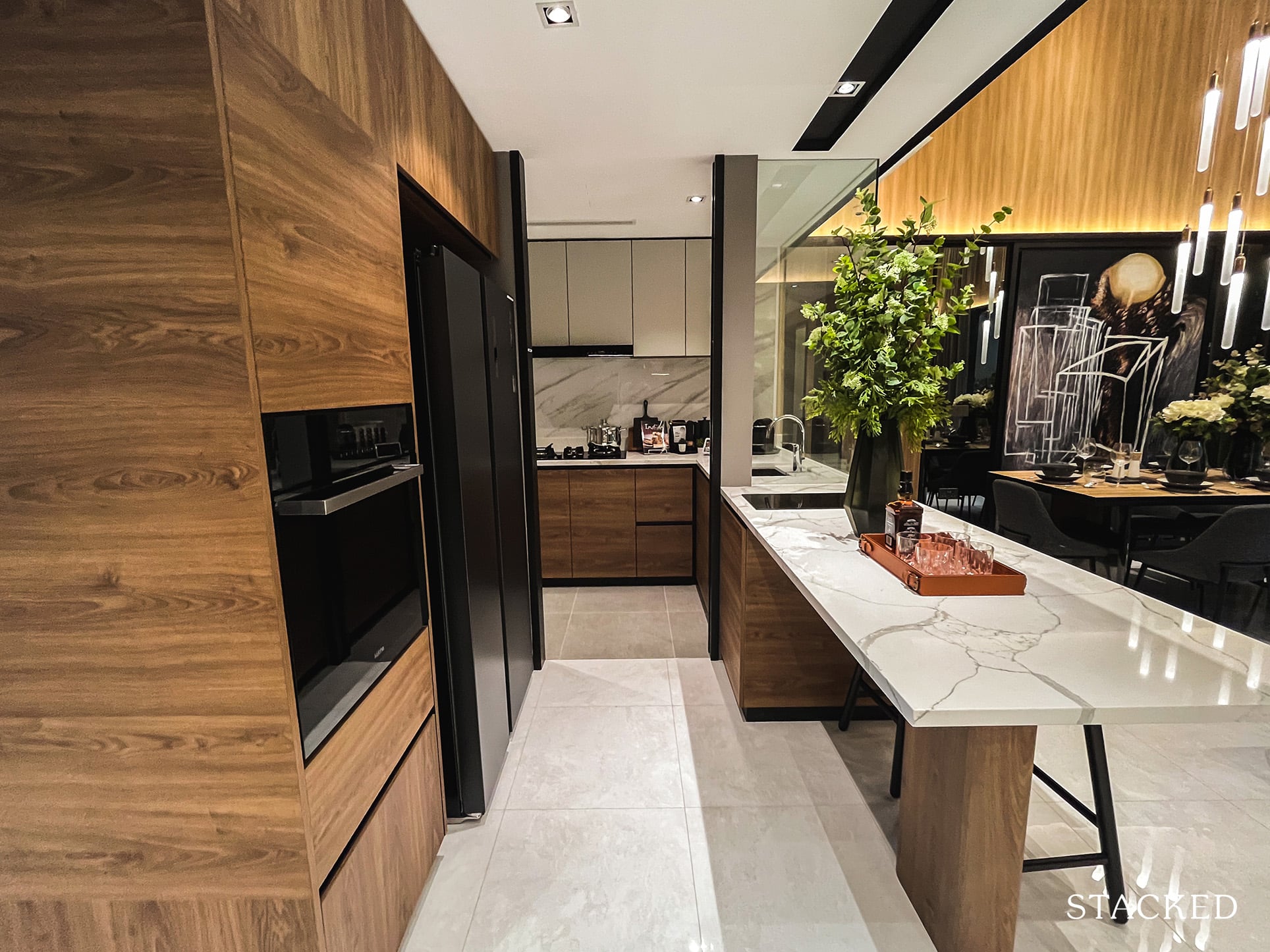 Step further in and you will find the dry kitchen space, which is a common concept in most 4-bedroom units. It is quite a functional one too, with a cooking hob, and the countertop space can be used for food prep or as a quick breakfast counter.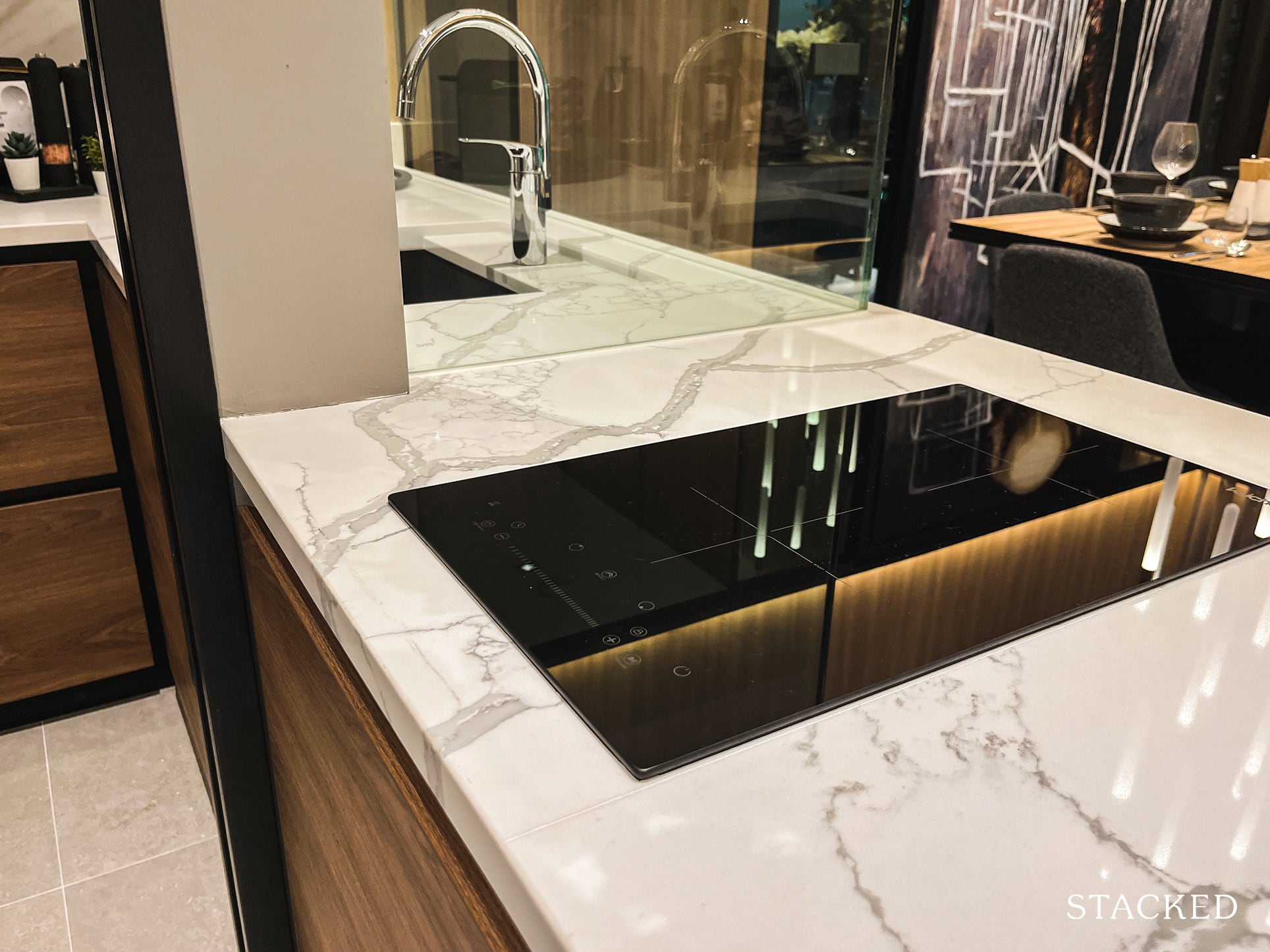 Apart from a nook to fit in a fridge, a smart built-in oven and induction hob from Küche can be found. I do like that they've included the induction hob in the dry kitchen, as it makes it more convenient to prepare quick and light meals.
There are also a decent amount of built-in cabinets found within the dry kitchen, which is great for storing food or general appliances.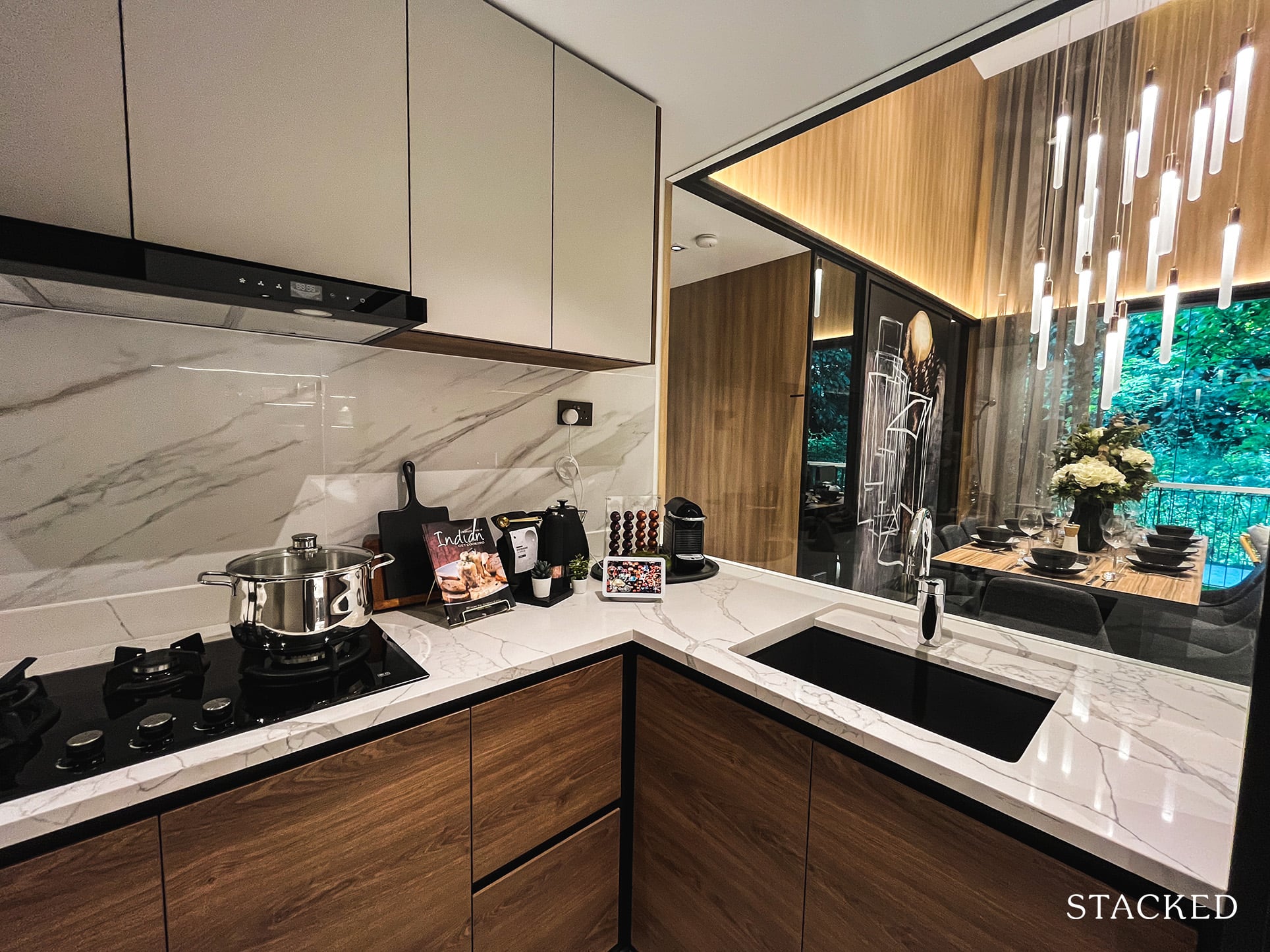 Moving on to the wet kitchen, you will find more countertop space which is set in an efficient L-shaped layout.
For the 4-bedroom unit, there's also a gas hob (also from Küche) installed for those who enjoy having an open flame to cook. They have also included the smart kitchen system, where you can regulate the temperature of your cooking conveniently from your phone.
However, do note that the wet kitchen is not enclosed, though homeowners have the option to install a door.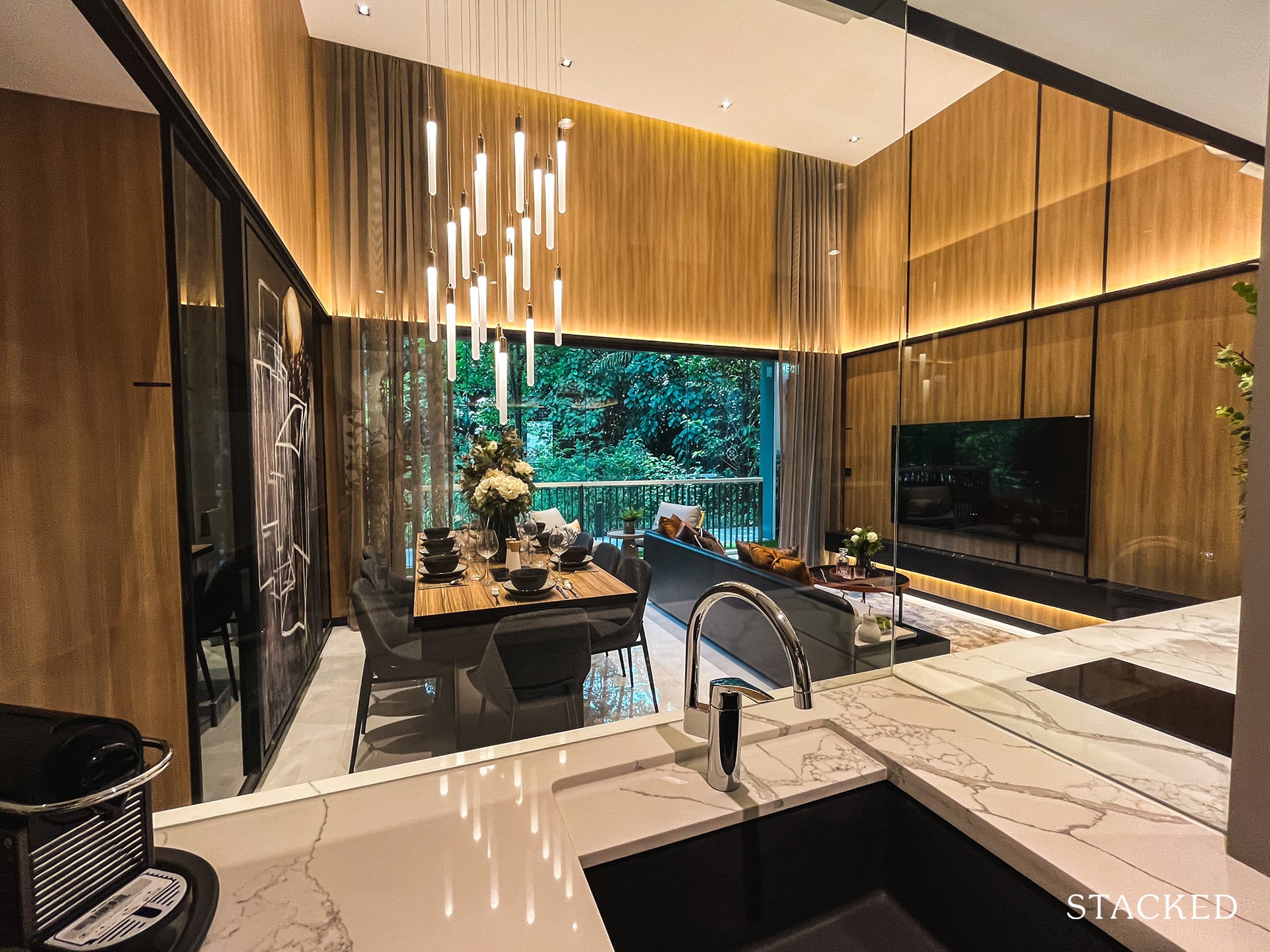 Another feature worth highlighting is the right-angled glass wall, which serves as a way to get in more light into the kitchen. For parents, that is a practical use too as you are able to better keep an eye on kids as you are busy in the kitchen.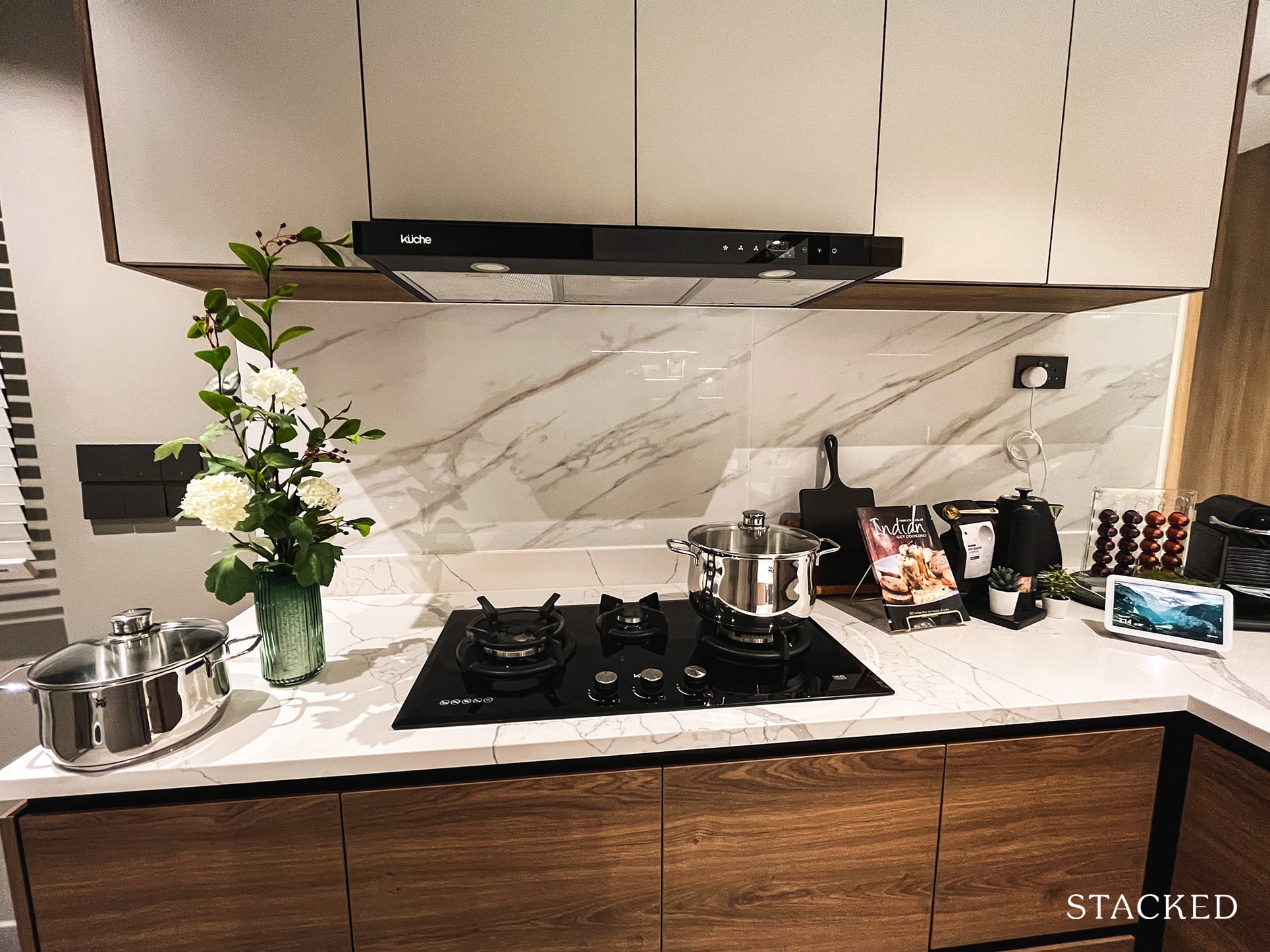 Other than that, the look of the wet kitchen is similar, with the same patterned backsplash installed. Overall, the colours used are neutral and will have a wide appeal.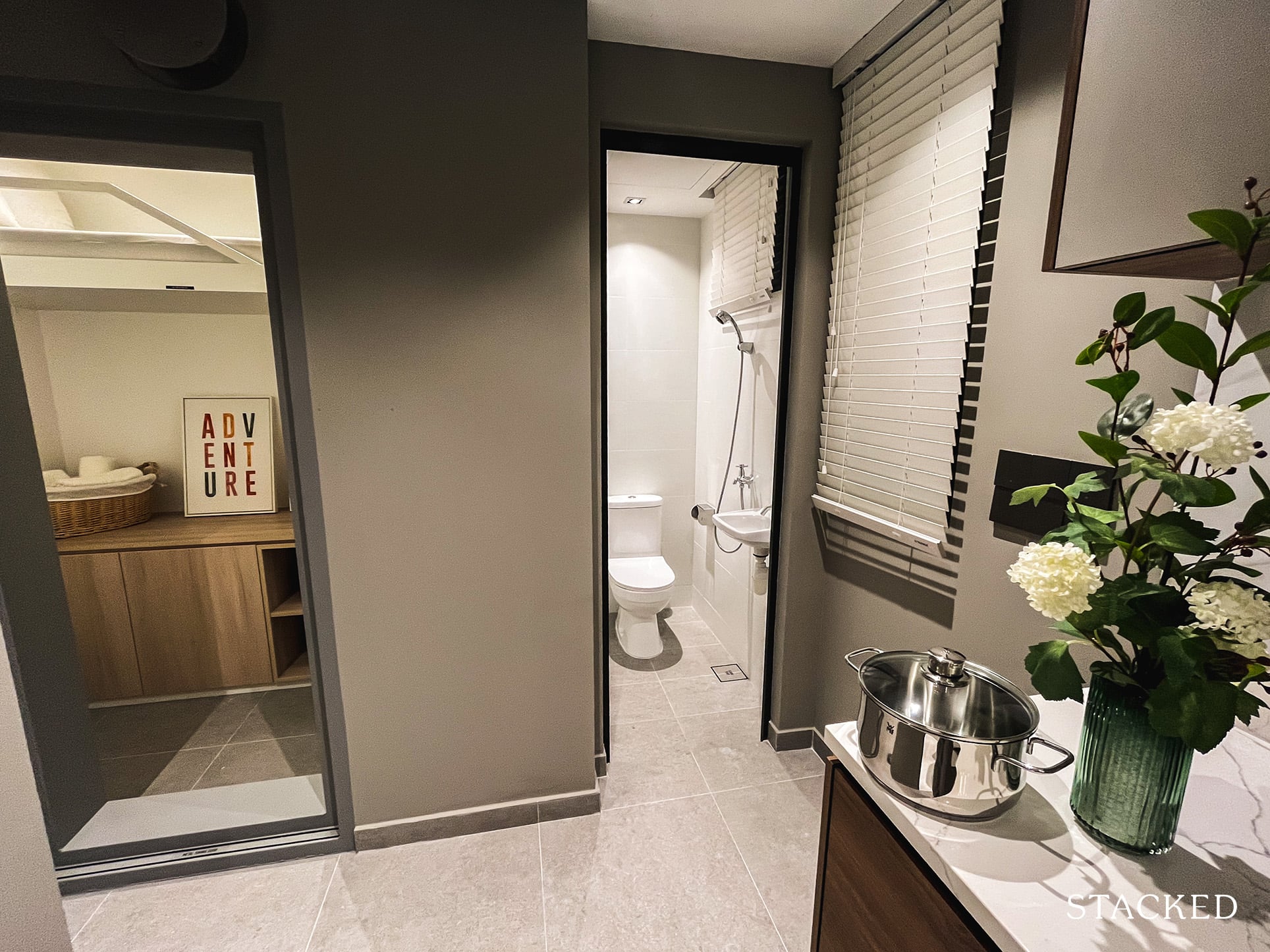 Located just beside the kitchen is a window in the yard area, which is great for ventilation (especially if the wet kitchen is enclosed).
There's also a household shelter and WC available in the yard, which is a prerequisite for a unit type like this.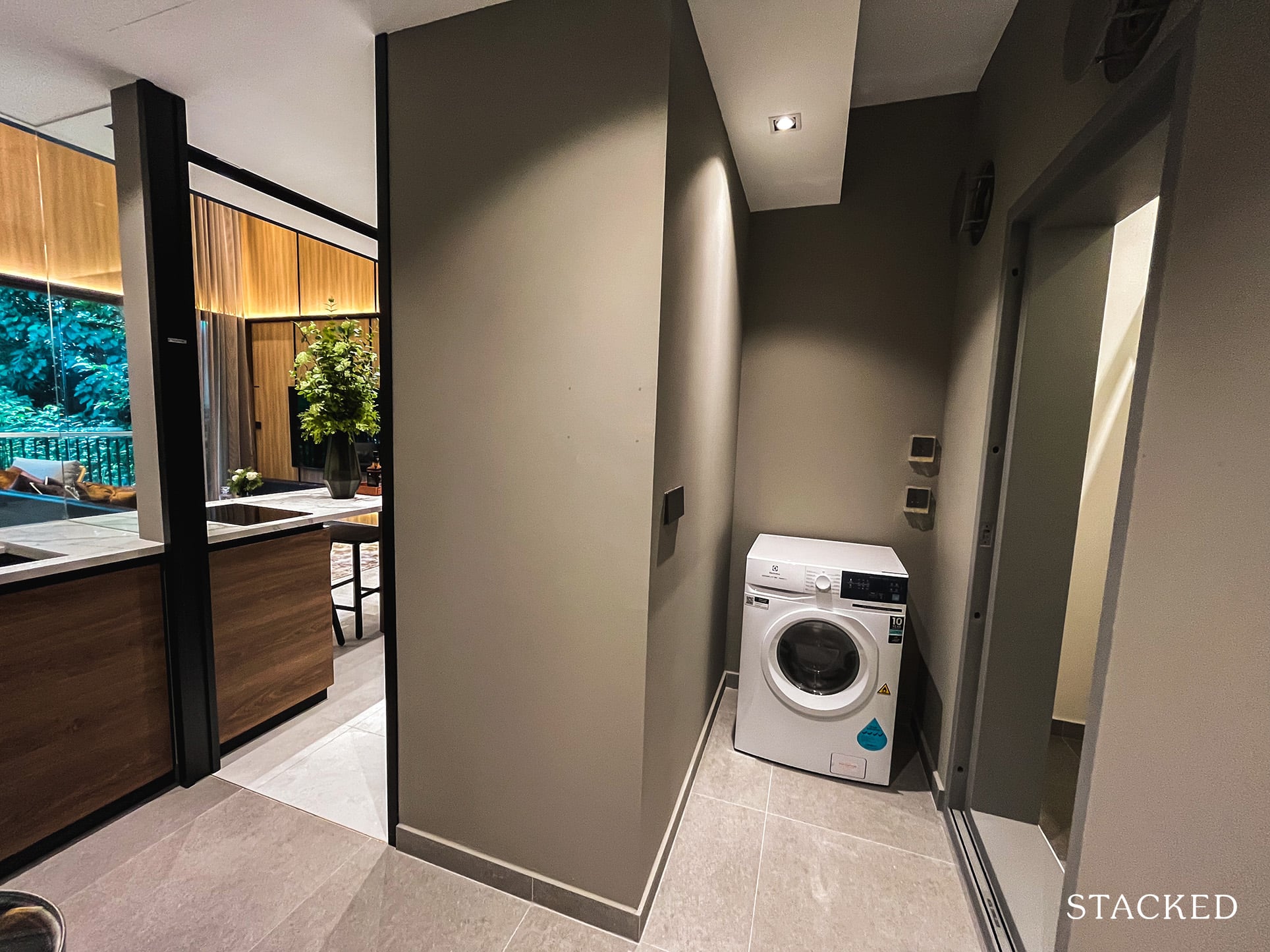 In the other corner of the yard area is a small nook that the IDs have chosen to simply fit a washer-dryer. However, do note that it is not included along with the unit.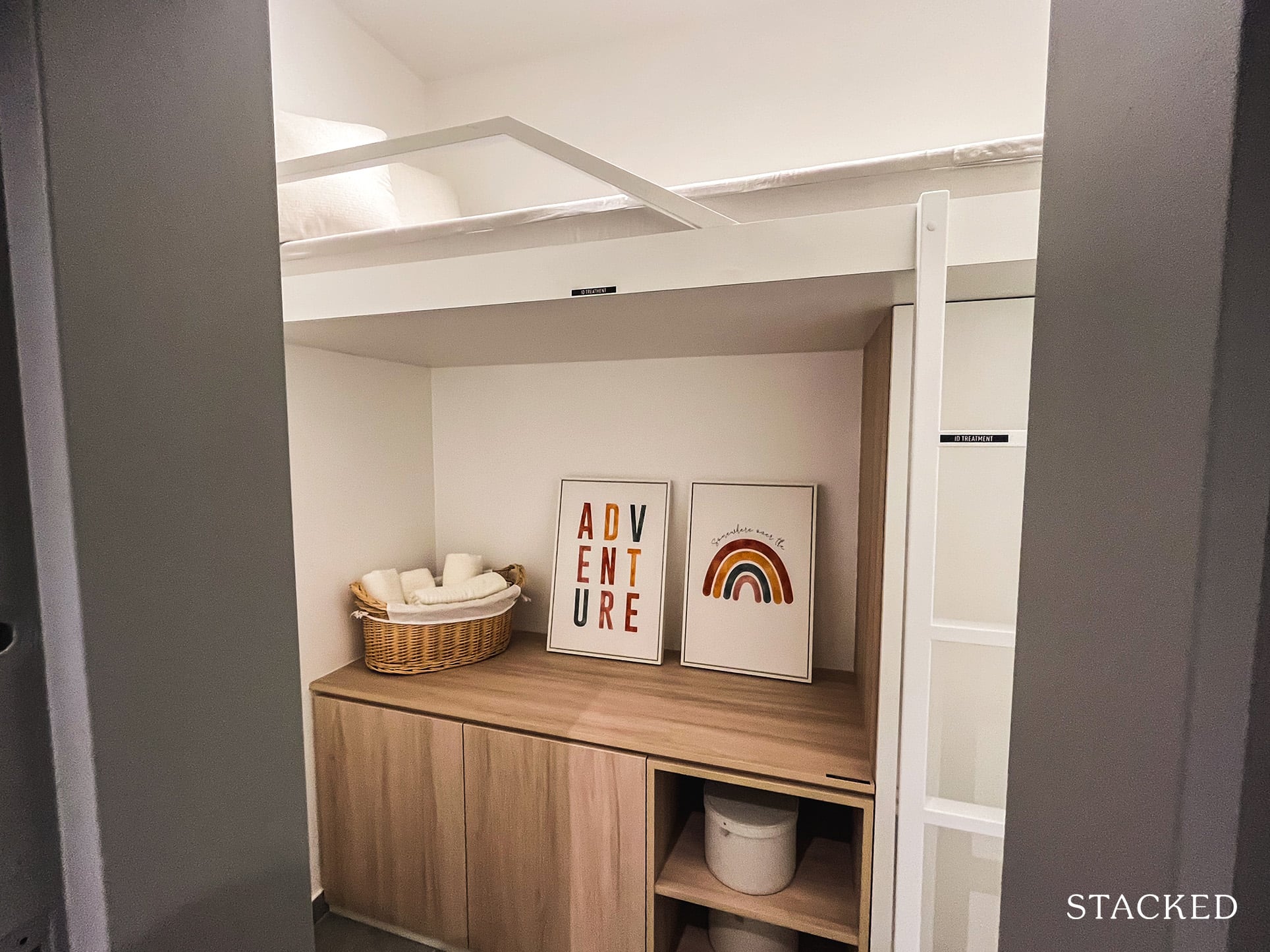 For the household shelter, the IDs chose to create a double-deck bed with storage located at the bottom. This is a useful setup that you can use if you need more storage space still.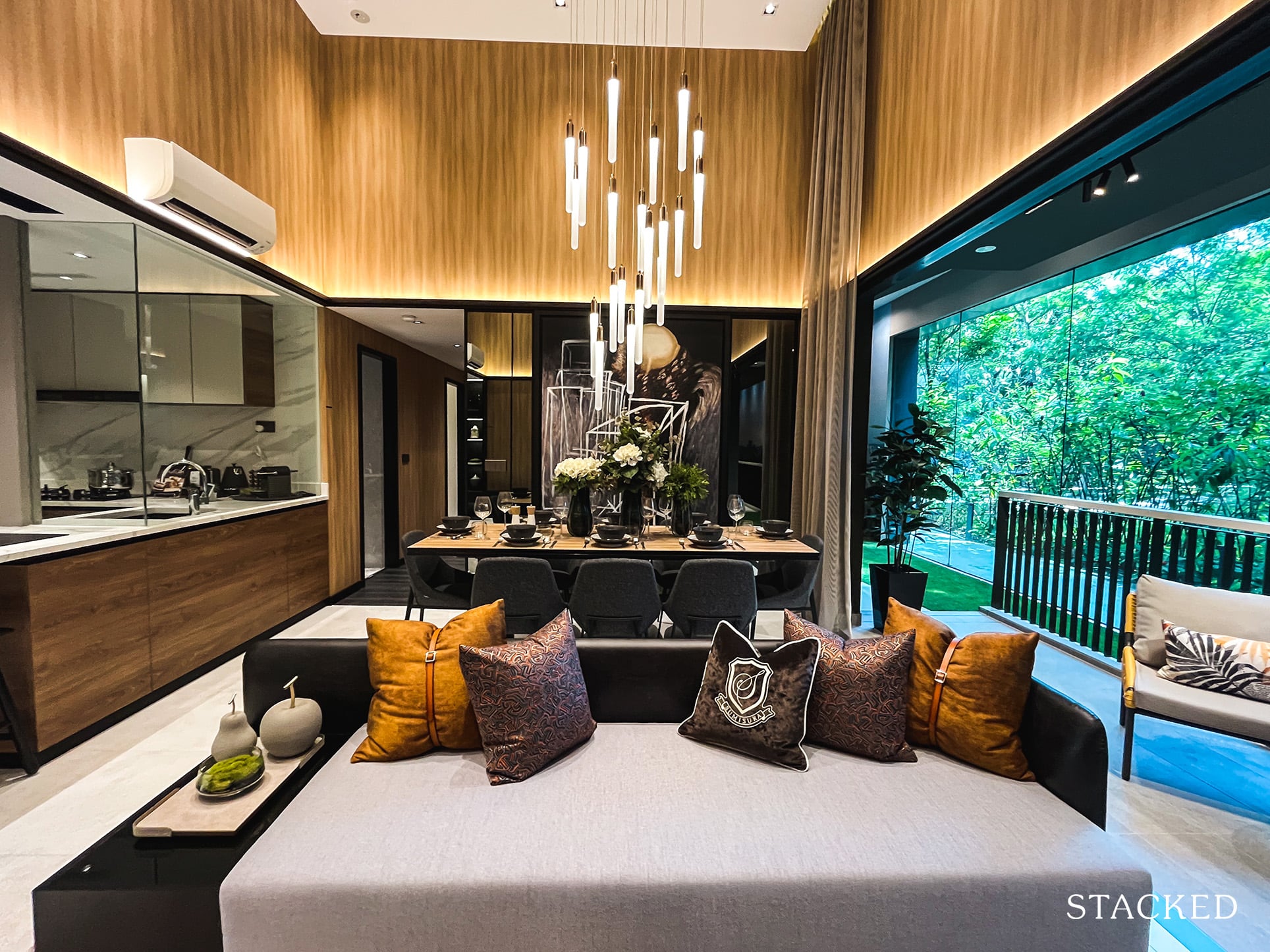 Now for the highlight of the home, the living and dining areas. Overall, the space is decently large enough to accommodate a larger family nucleus.
Of course, the double volume ceiling (also 4.65m) and balcony also play a huge part in enlarging the space.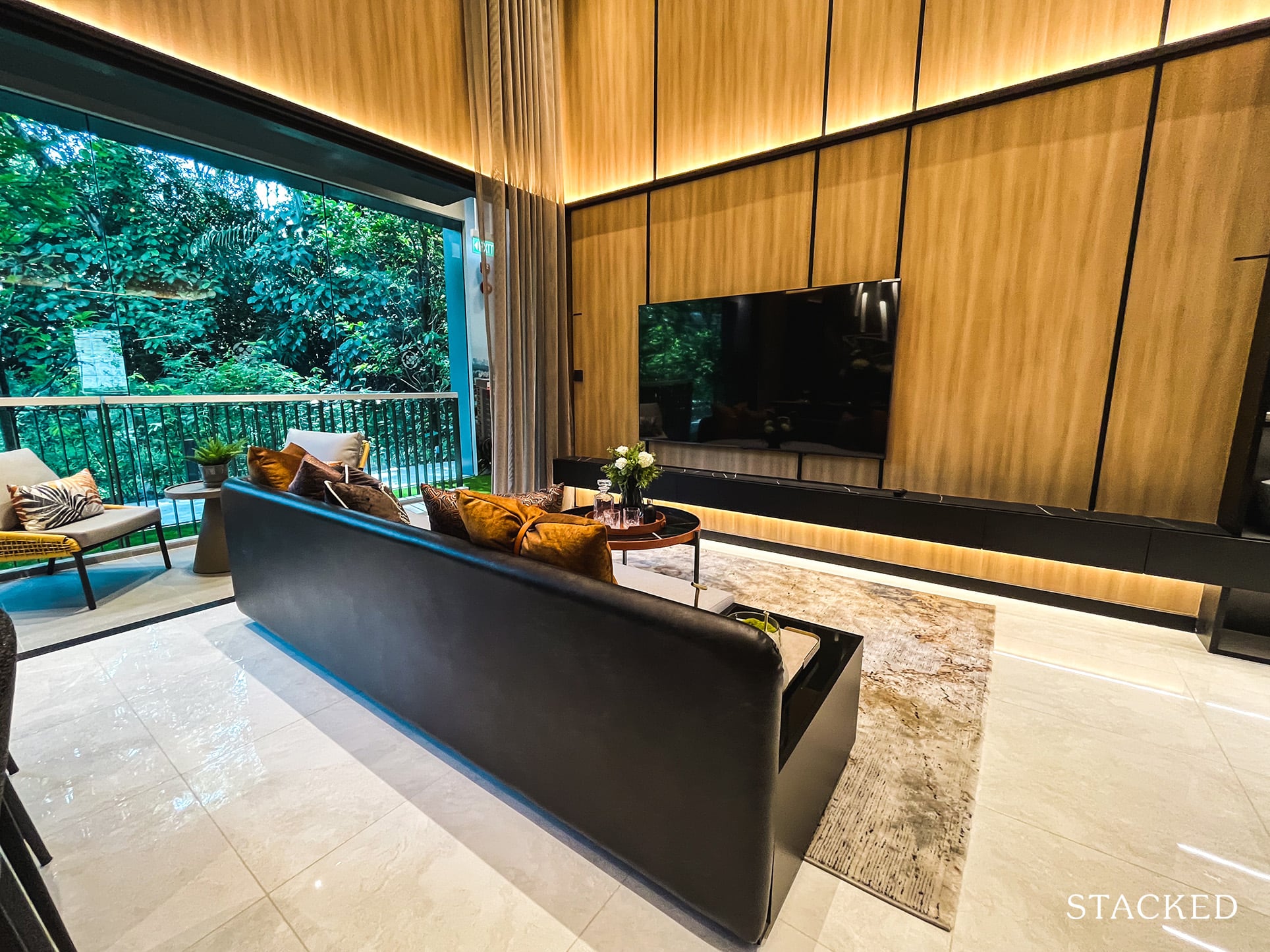 With the TV console flushed against the wall, there's space in the living area to comfortably fit a four-seater sofa and coffee table without it feeling too cramped.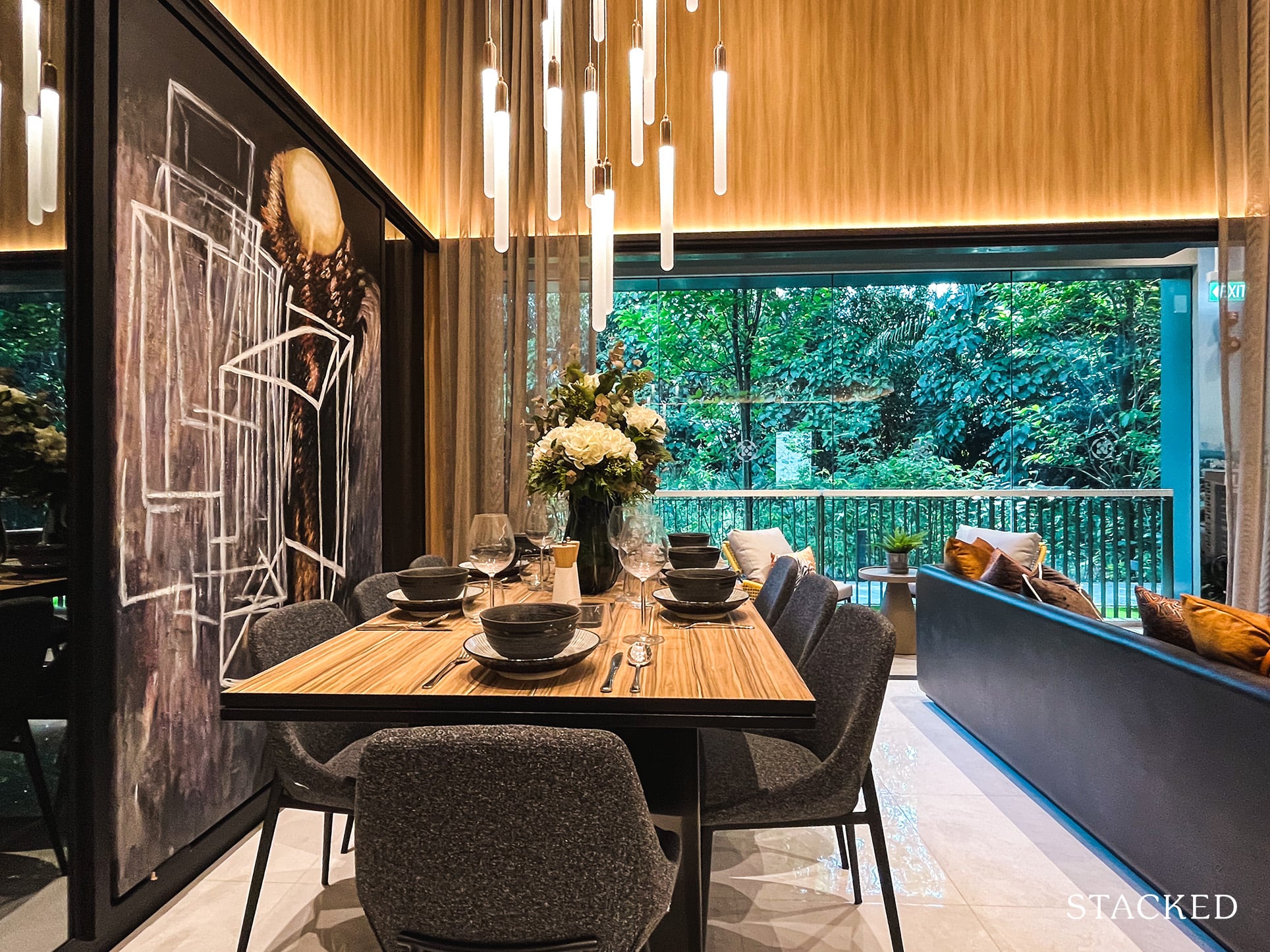 Here's the dining space from another view, where you do have reasonable space on both sides of the table.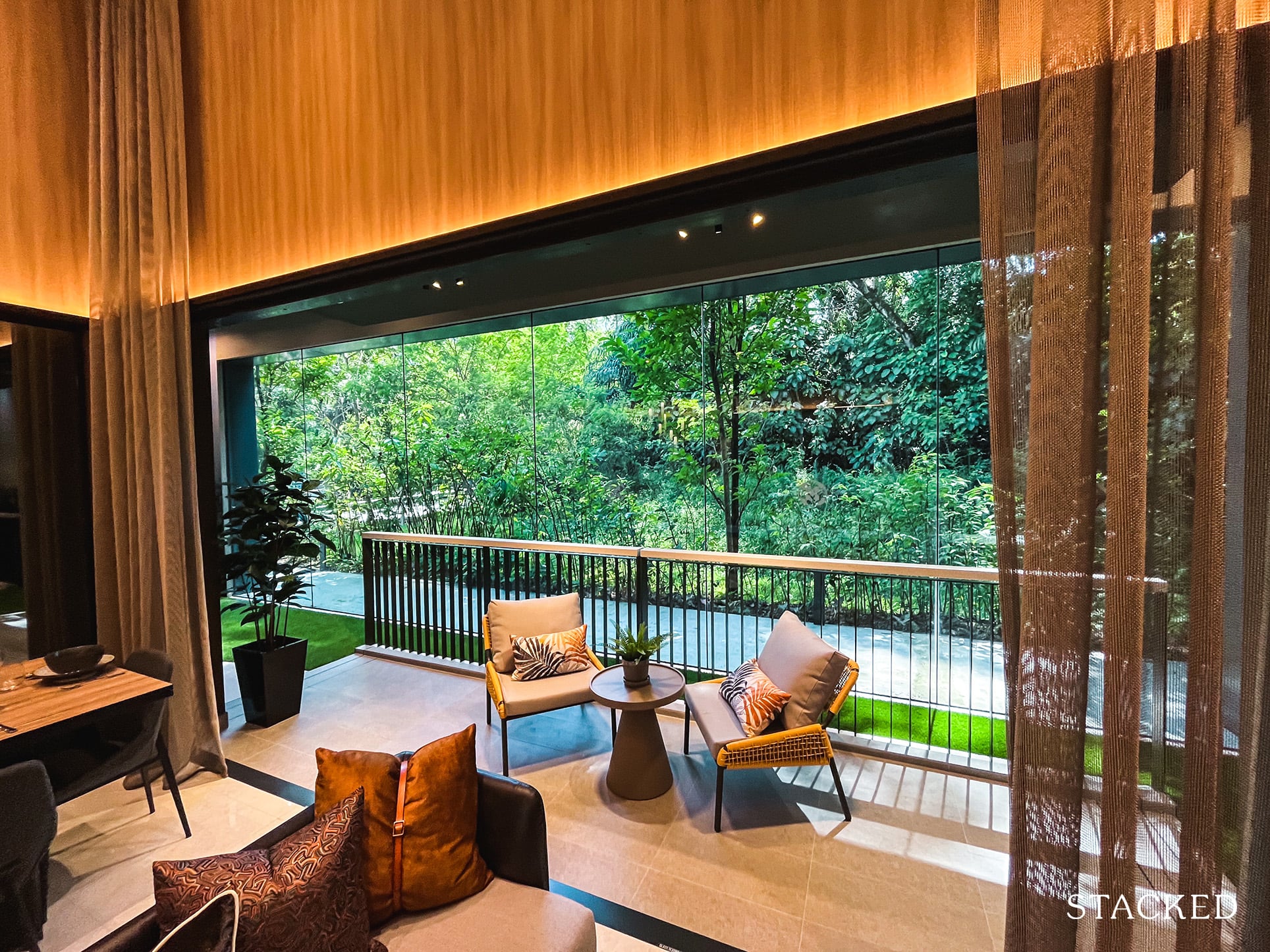 Sized at 97 square feet, the balcony plays a rather unassuming role in creating a bigger space. Seeing that it follows the entire length of the living and dining area, you can think about using it as an alternate dining space.
Given this is the top floor, views over the One-North neighbourhood should be pretty great as well.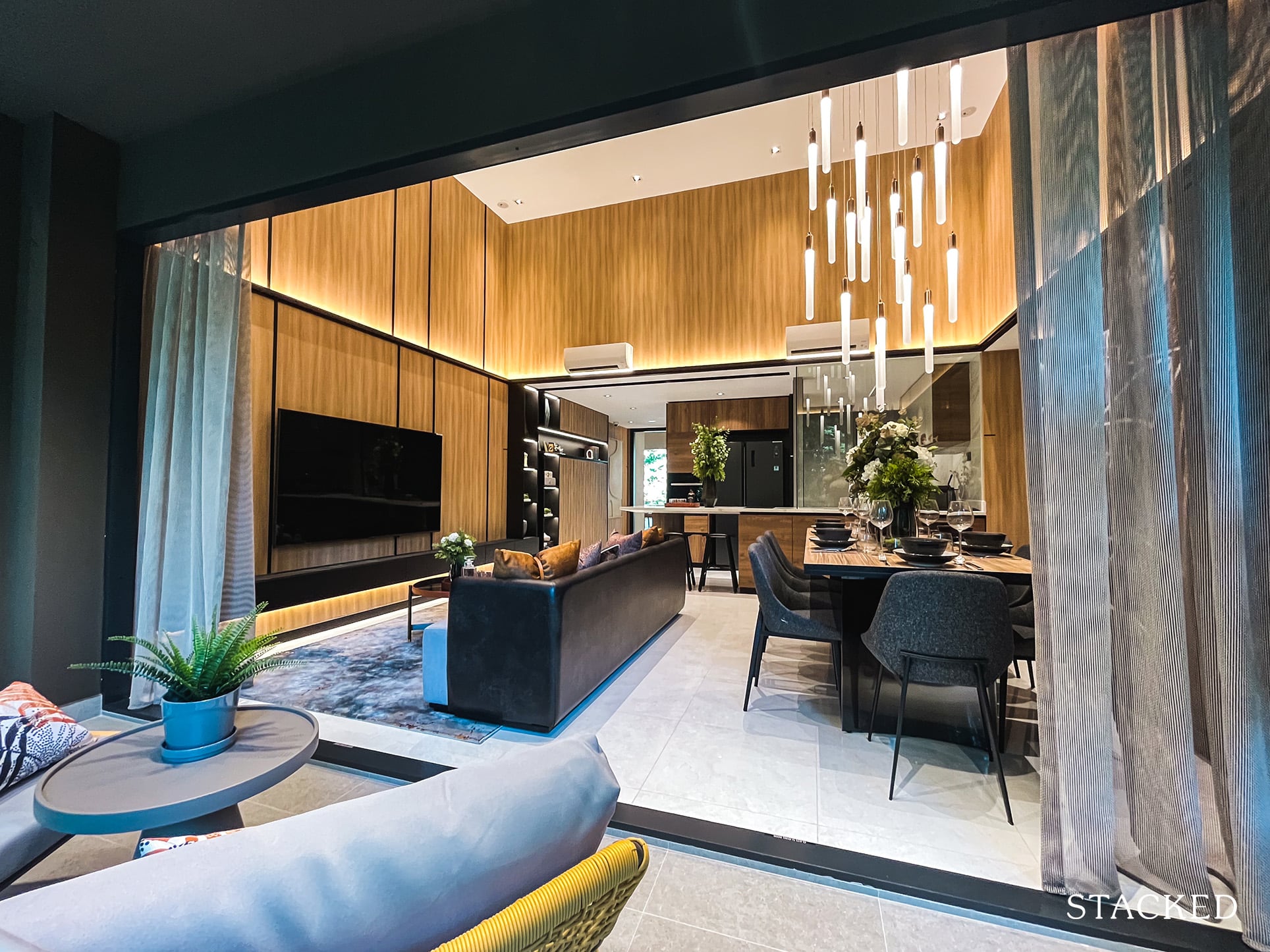 Here's the view of the living and dining space from the balcony. If you are thinking of getting this unit, a statement chandelier piece is nearly a must-have in my book!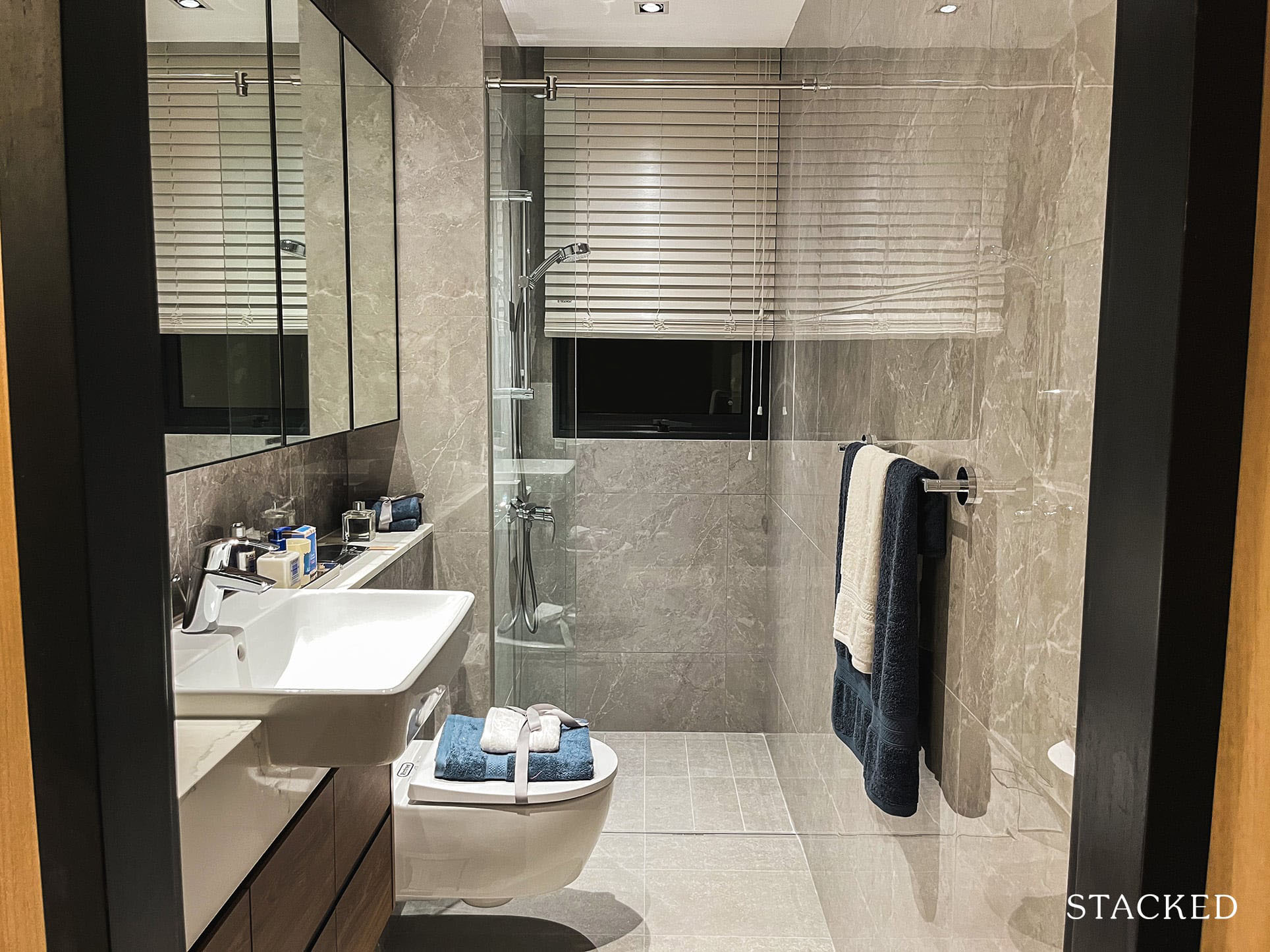 Taking a left turn into the hallway is the first common bathroom. At first glance, this bathroom has a walk-in shower, a big window (great for natural ventilation), and a wall-hanging WC. There's no differentiation here from the smaller units, as the fittings are by the same Grohe and Geberit.
There is also built-in storage behind the mirrors and under the sinks to stow away any sundries.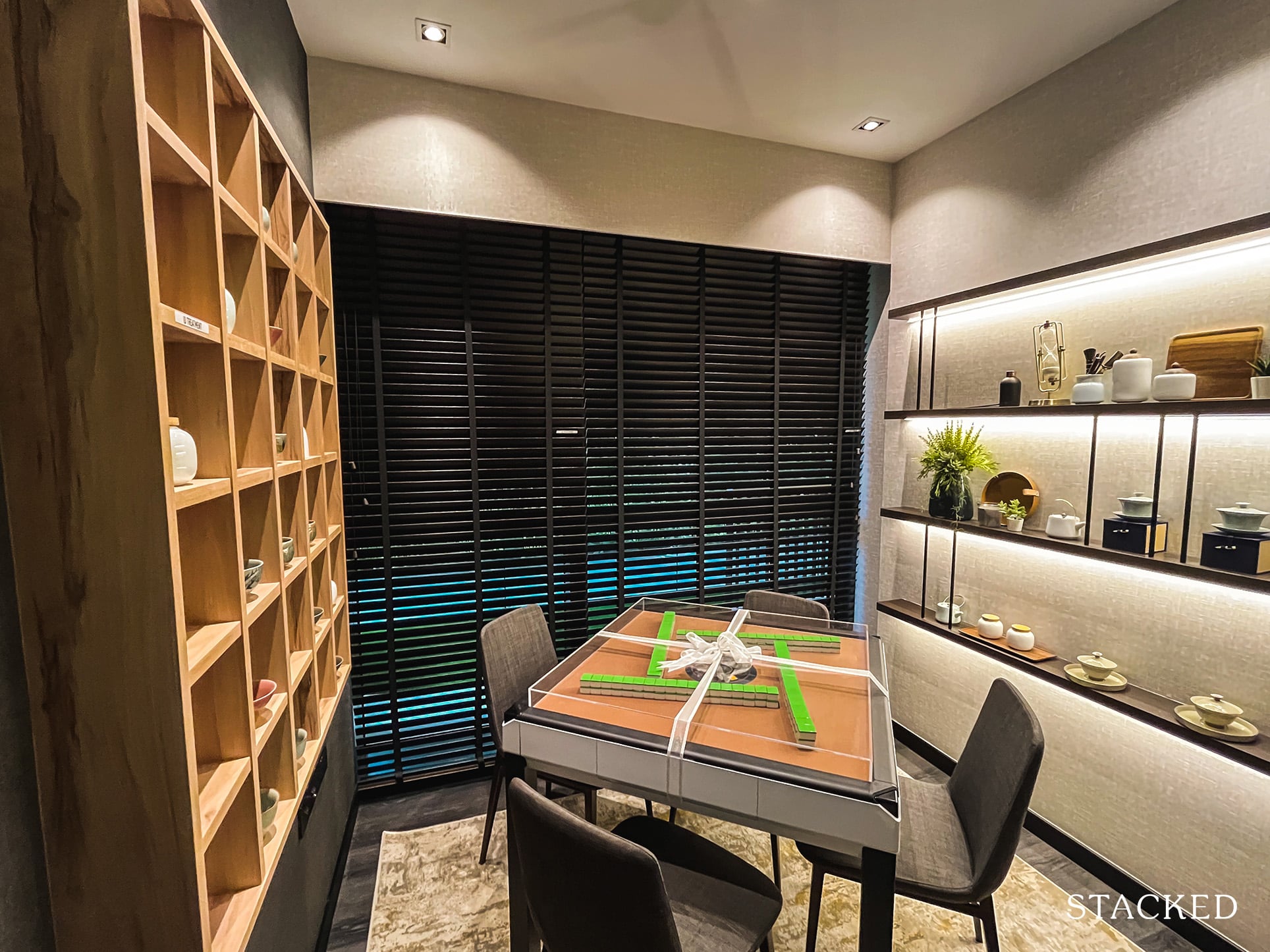 Moving on to the first common bedroom located right across the common bathroom, the IDs have chosen to show it off as a mahjong and tea room.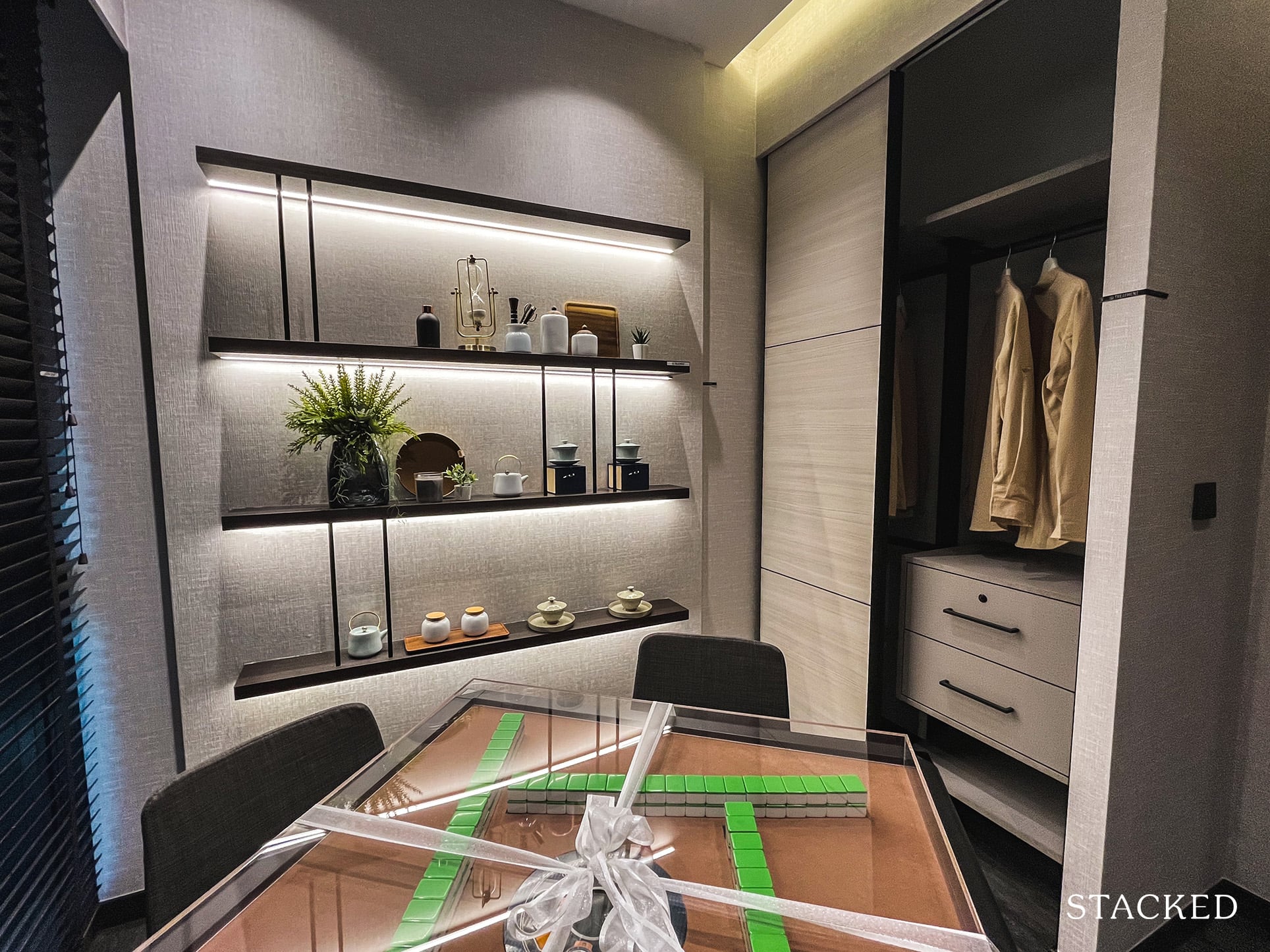 With floor-to-ceiling windows and a built-in wardrobe installed by default, the room is typically sized and doesn't offer any differentiation factors from the bedroom next door.
It's the common bedroom across the hallway that has a more attractive selling point – it's ensuite.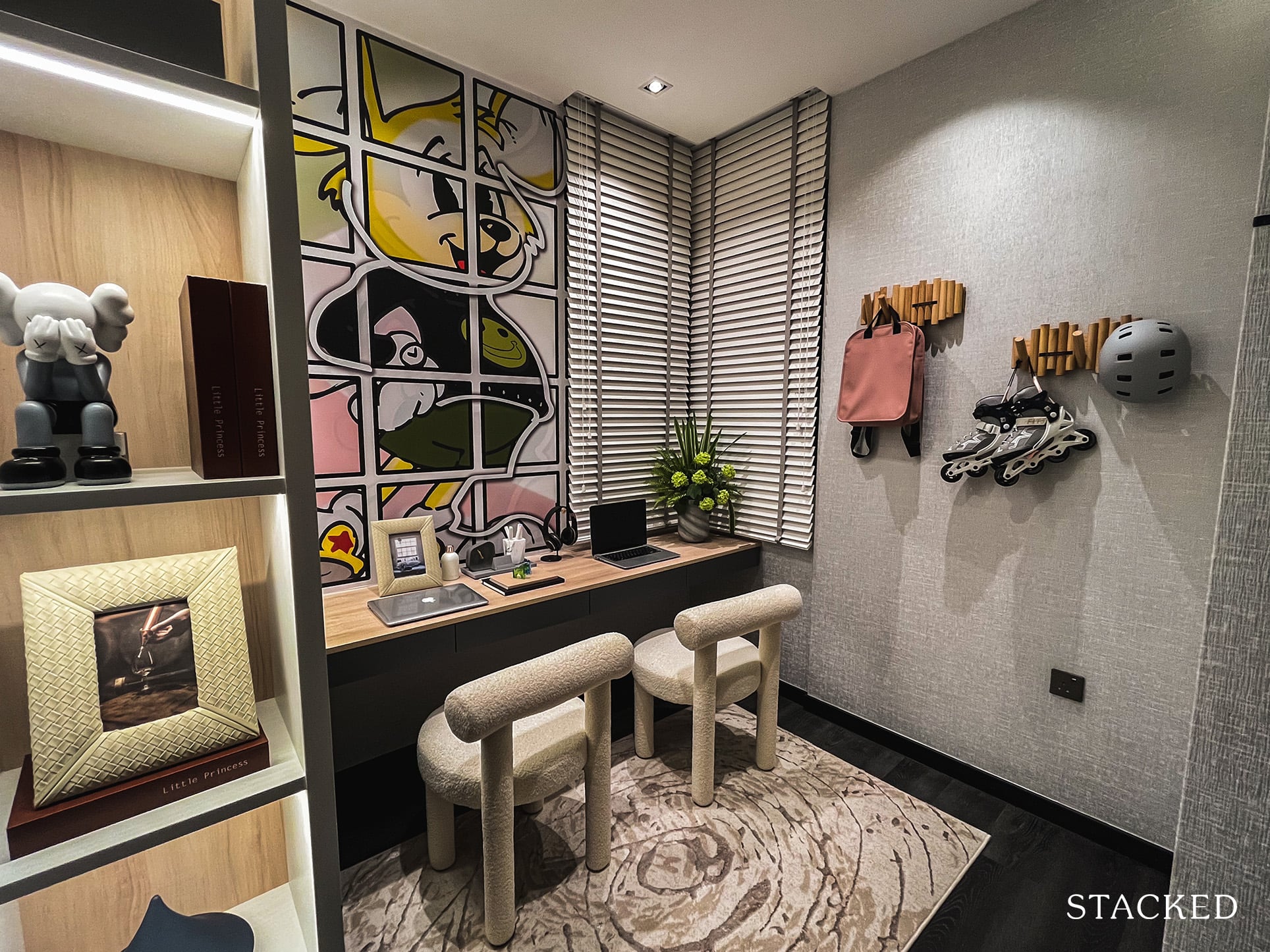 Although the space is shown off as a study, you can fit in a queen-sized bed here. Unlike the other common bedrooms, however, you don't have full-length windows. Instead, this comes only at the corner of the room.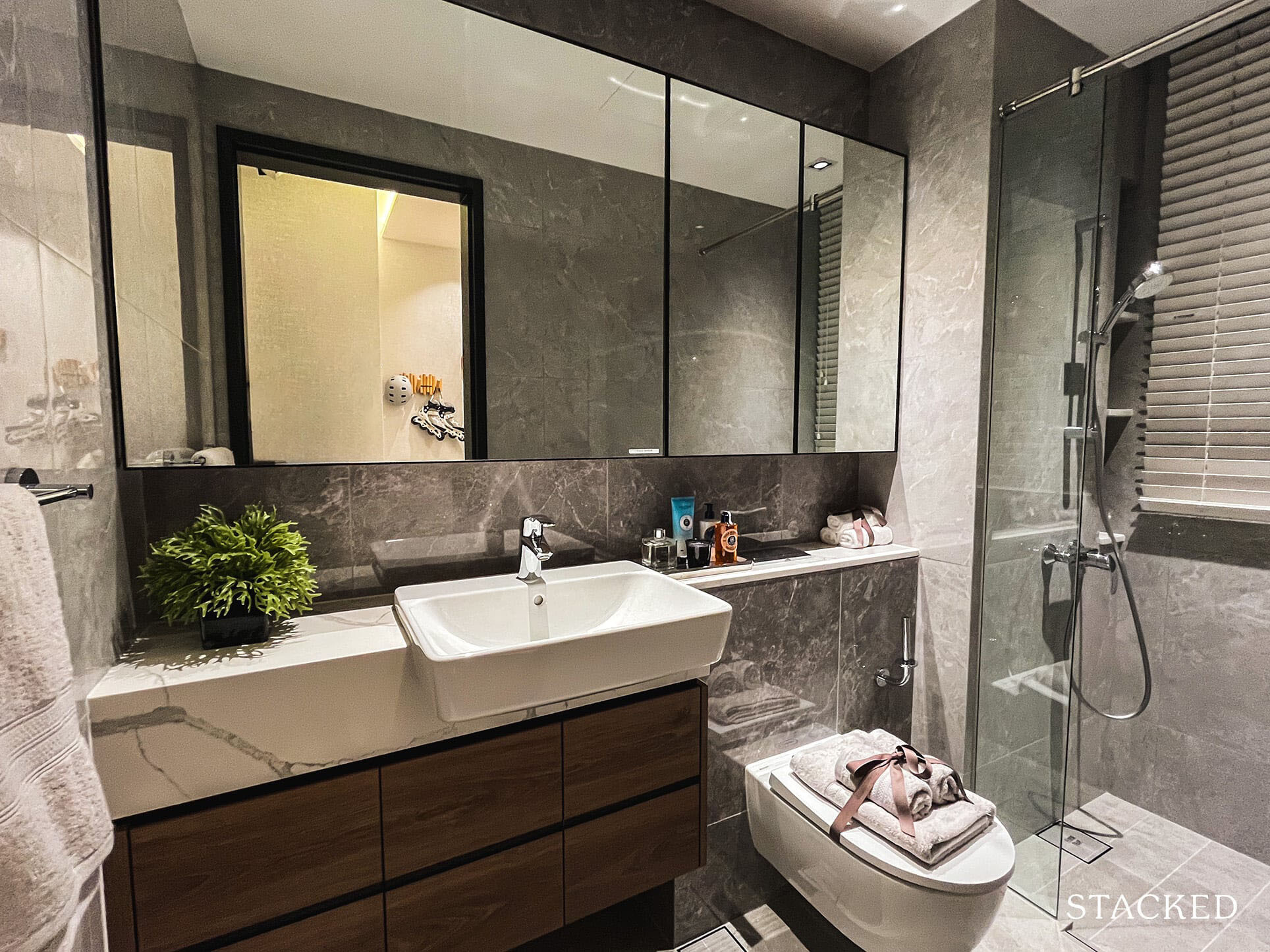 As for the common bathroom, it comes in the same colour theme and fittings as the one just next door, so I won't be elaborating much here.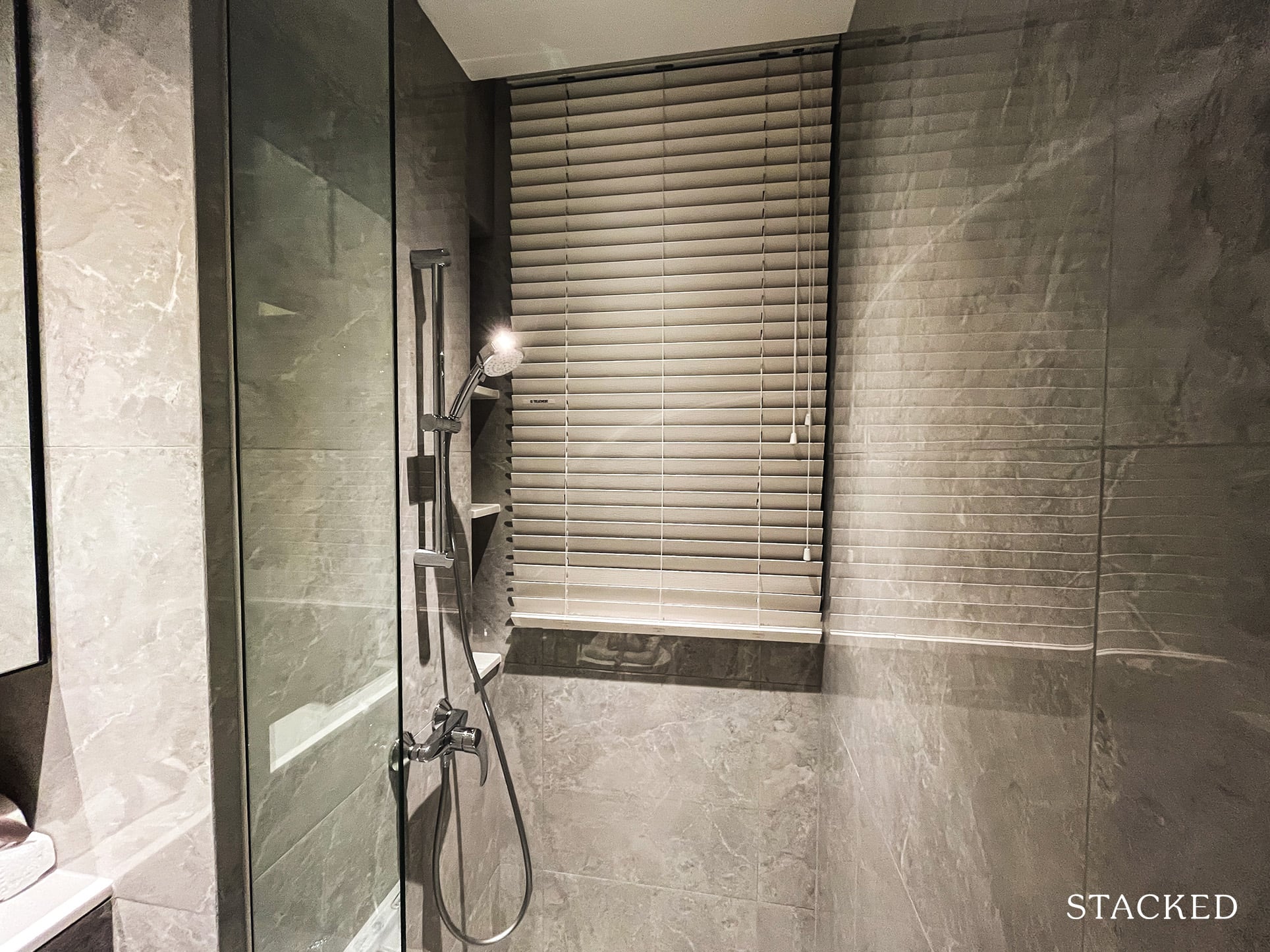 Thankfully, there is also a big window here for those who like to have natural ventilation.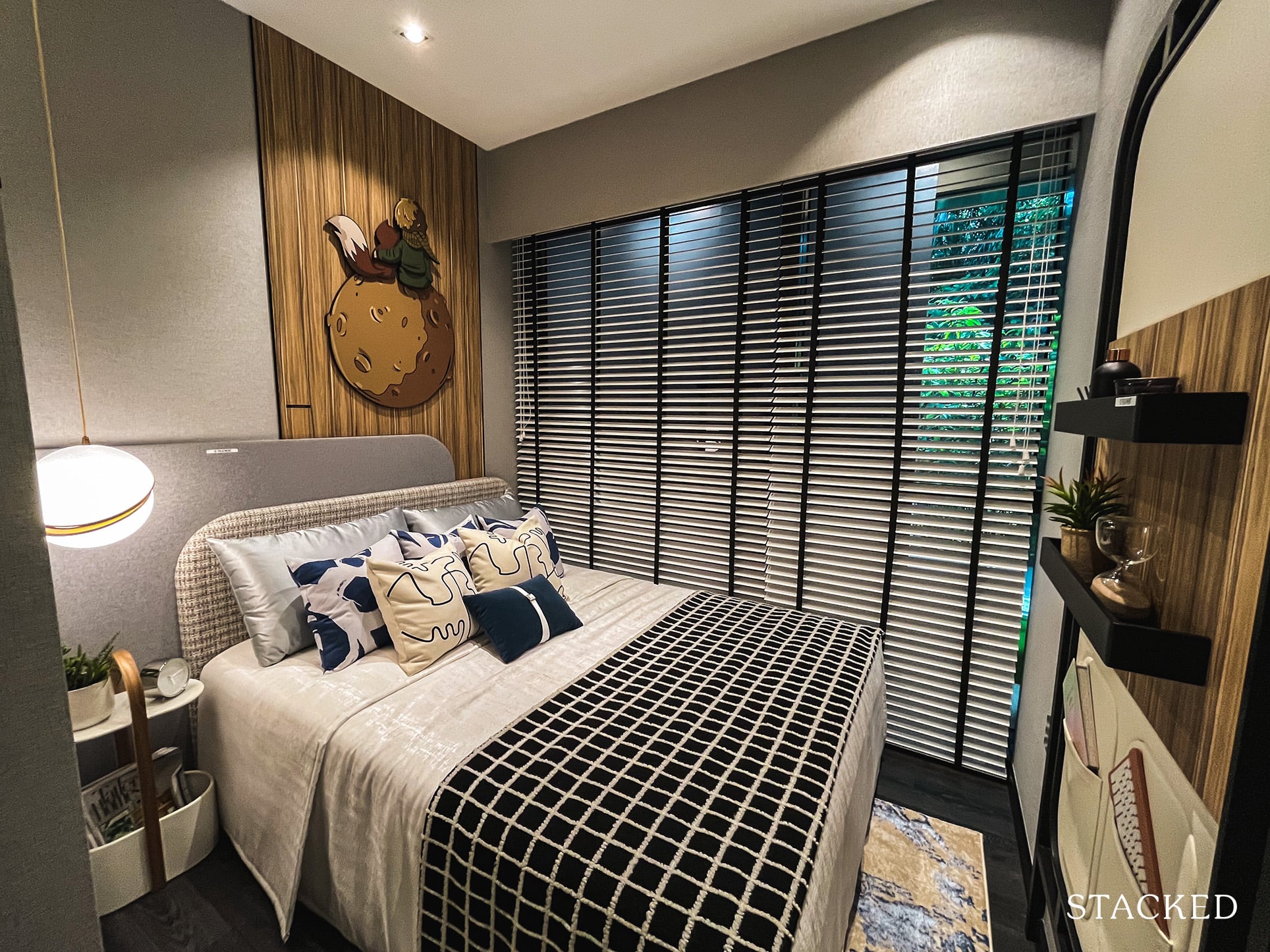 Located across the ensuite bedroom is the last common bedroom, which as shown, is able to fit a queen-sized bed and a built-in wardrobe. This one has full-length windows, although as you might imagine with a bigger bed, the walkway space here will be limited.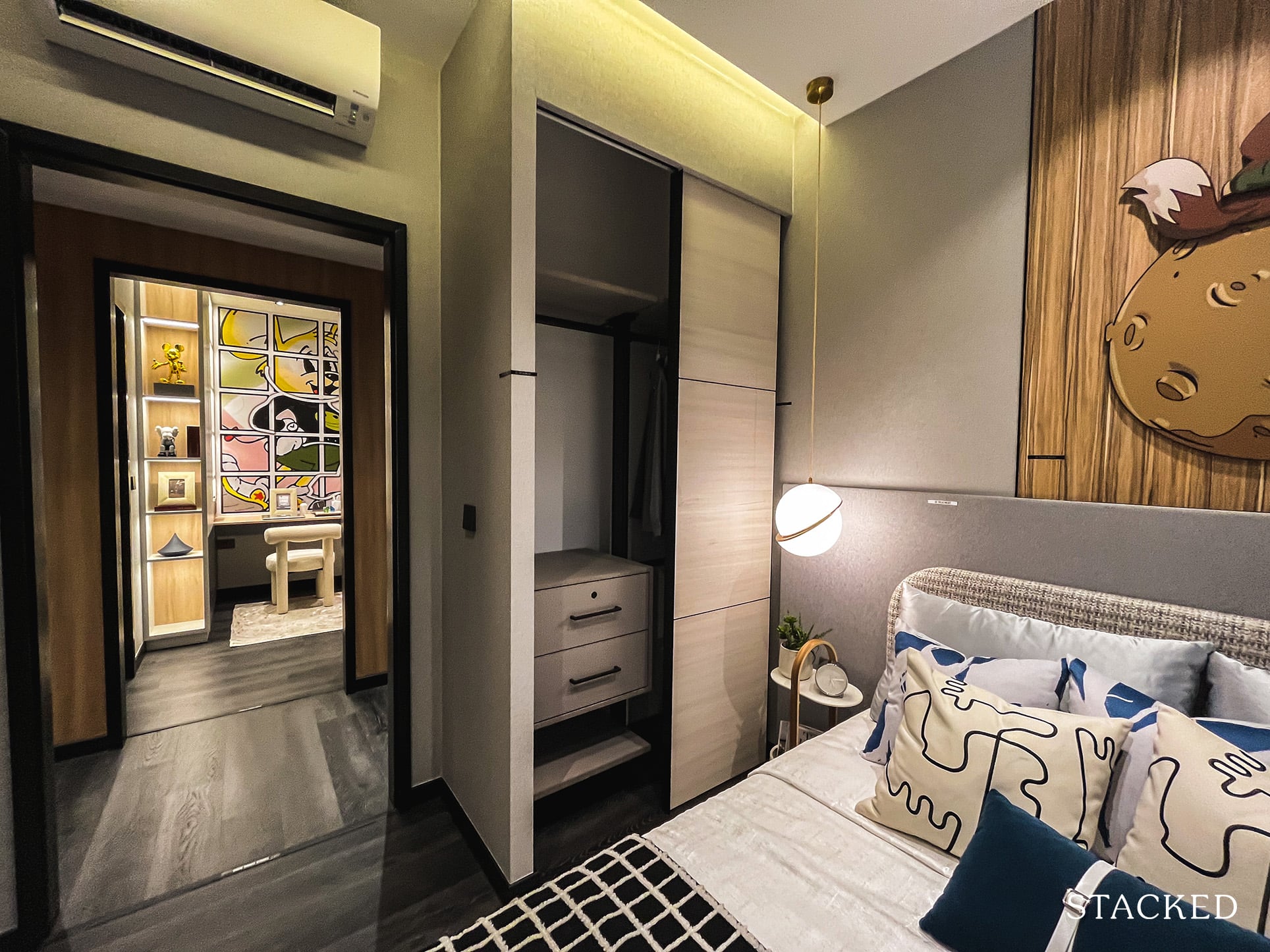 Last but not least, let's take a look at the master bedroom.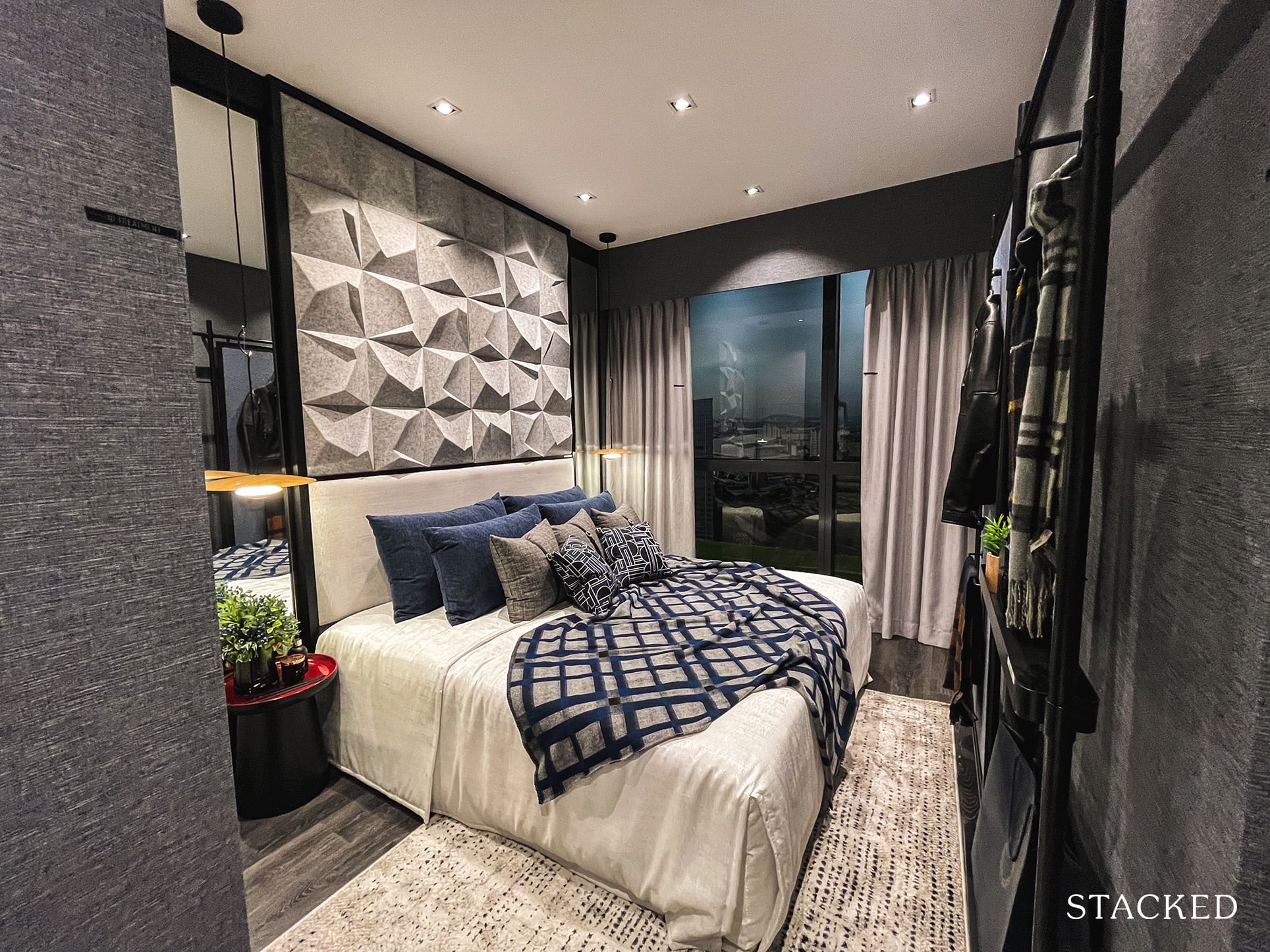 The master bedroom is sized at 151 square feet, which is slightly bigger than the 2-Bedroom + Study unit. On top of the built-in wardrobe, it can accommodate a king-sized bed without it feeling too cramped.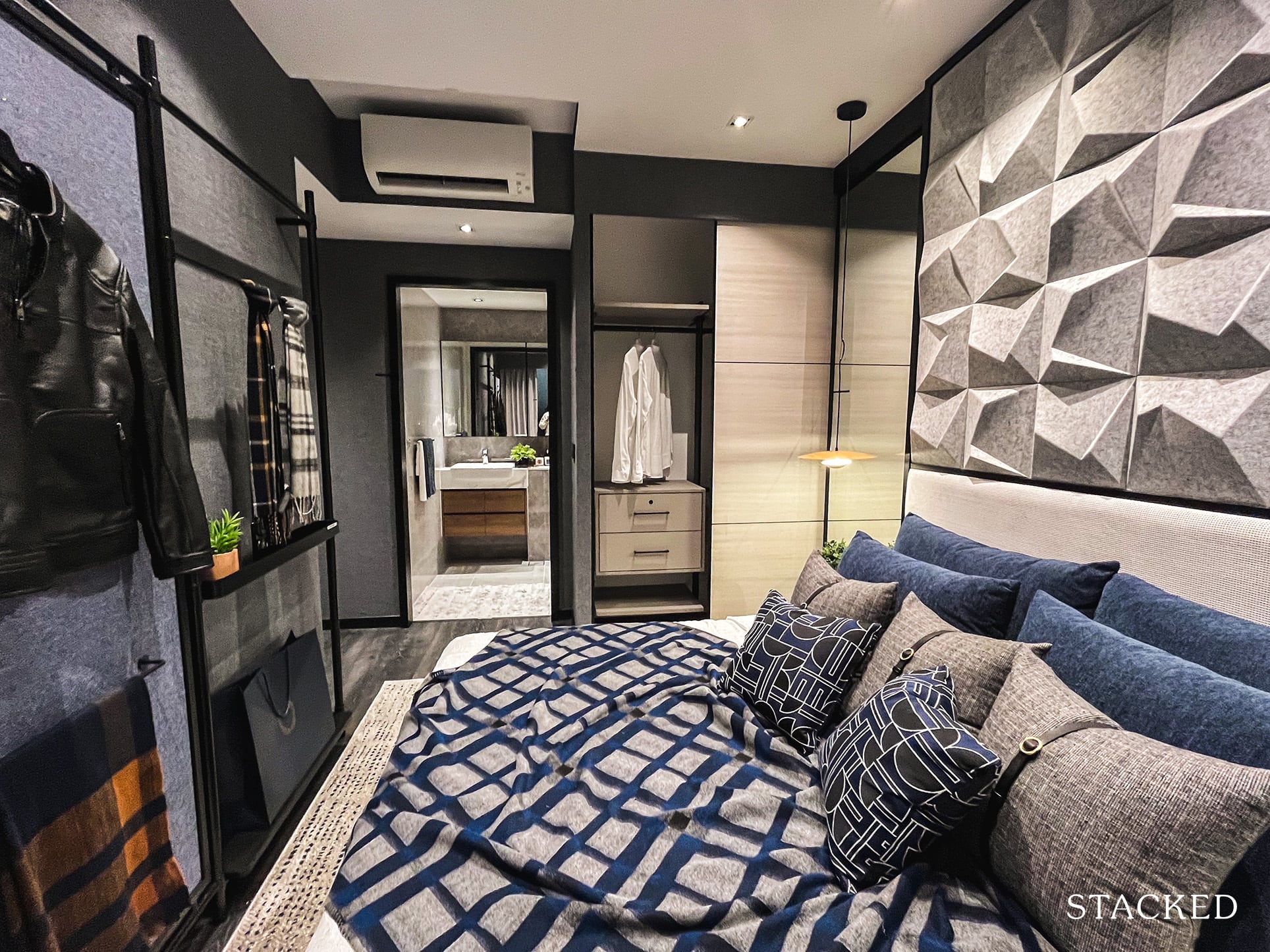 It's a pity that the wardrobe space here isn't given any extra allowances, although at least you do have a utility room for extra storage.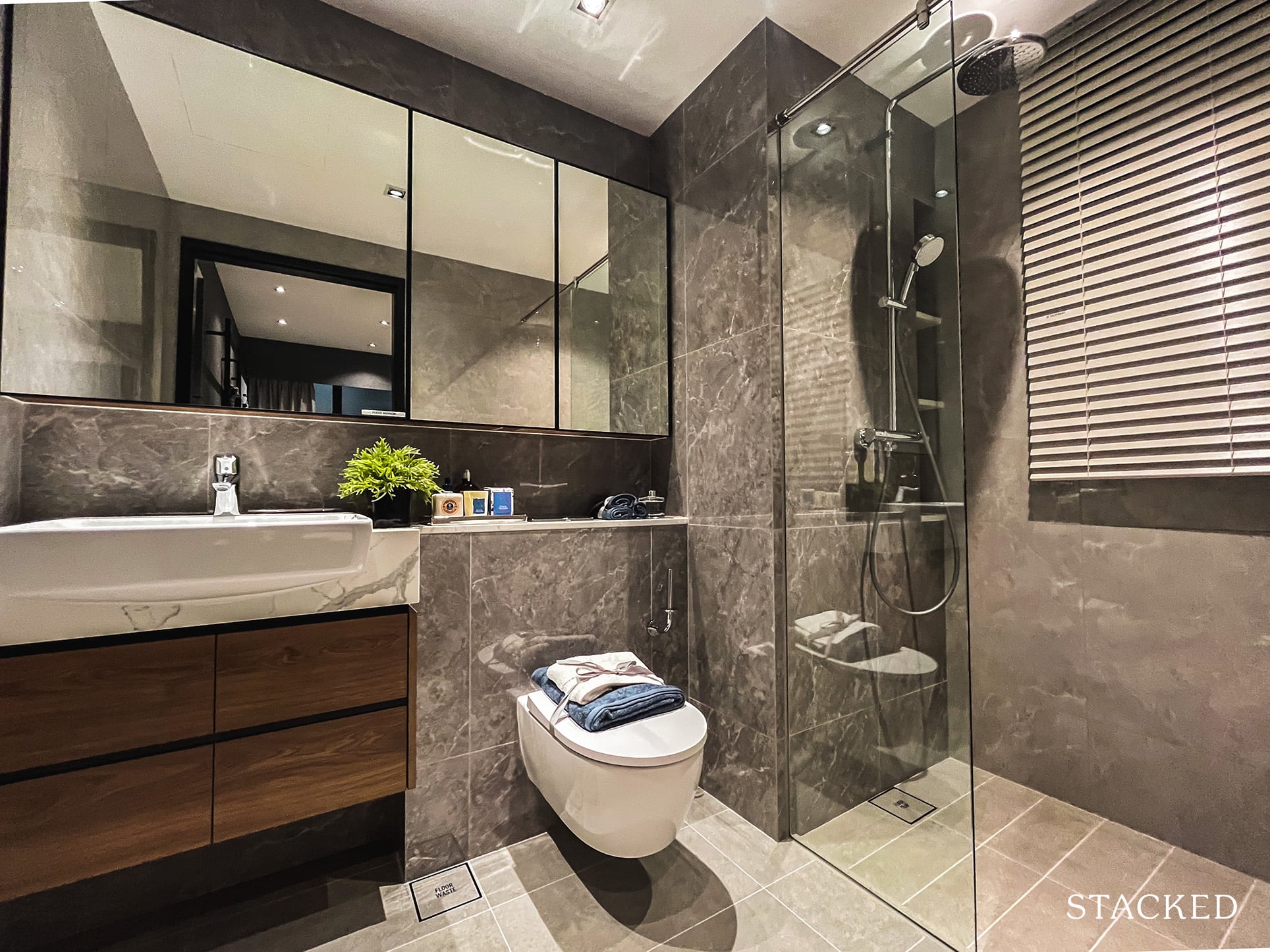 Finally, for the master bathroom. It has a similar finish and design as compared to the common bathrooms, so there's not much more to elaborate on here.
Some repetitive features include the wall-hanging toilet, walk-in shower, and storage behind the mirrors and under the sink. There's also a window to facilitate better ventilation. The biggest difference? There's an overhead rain shower installed here.
Blossoms By The Park Location Review
The One-North neighbourhood is now well-established as the place to be for our local research, start-up, and tech scene.
It houses key leading players in the media and research scene, which includes knowledge sectors ranging in the biomedical field, engineering scene, and media industry. Big names like Grab, Ubisoft, Seagate, and Shopee are prominent names in the area, making it a vibrant tech centre. Inevitably, this plays a huge part in determining the main demographic that would be attracted to living in the area, as well as its complementing amenities.
Not only that, many prominent schools are within close proximity too. Institutions such as NUS, Anglo-Chinese Junior College, and Singapore Polytechnic are within a two-kilometre distance away, making it an ideal housing location for families and students.
Facing Slim Barracks Rise and Biopolis Way, Blossoms by the Park is sandwiched between the hilly one-north Park and NTU@one-north. While it is within walking distance of many key amenities, this comes at a cost of a tranquil environment, especially during peak hours on weekdays.
Its nearest MRT is currently at Buona Vista Station (which is located on the East-West and Circle line) and is a short three-minute walk away. Residents also have the option to take an 11-minute walk to one-north Station (Circle line) or the comprehensive bus services nearby (the nearest is around a two-minute walk away).
Those with means to private transportation would find that driving is rather convenient, with the AYE located close by.
Located right next to the Buona Vista MRT are Rochester Mall and The Star Vista, which would come in handy for those looking for dining and grocery options nearby. Alternatively, a short journey out would bring residents to Raffles Holland V Mall and Jelita Shopping Centre at Holland Village. The upcoming addition of One Holland Village will be an added bonus as well.
Amenities
Public Transport
| | | |
| --- | --- | --- |
| Bus Stop | Bus Serviced | Distance from Condo |
| Aft Anglo-Chinese JC | 14, 74, 91, 92, 92A, 92M, 95, 95B, 191, 196, 198, 200, | 181m, 2-min walk |
| Buona Vista Station Exit D | 14, 74, 91, 92, 92A, 92B, 92M, 95, 191, 196, 198, 200, 200A | 266m, 4-min walk |
| Buona Vista Station Exit C | 14, 74, 91, 92, 92A, 92M, 95, 191, 196, 198, 200 | 267m, 4-min walk |
| Essec Business Sch | 14, 74, 91, 92, 92A, 92B, 92M, 95, 191, 196, 198, 200, 200A | 350m, 5-min walk |
Nearest MRT
Buona Vista MRT Station, 290m, 4-min walk
one-north MRT Station, 900m, 11-min walk
Schools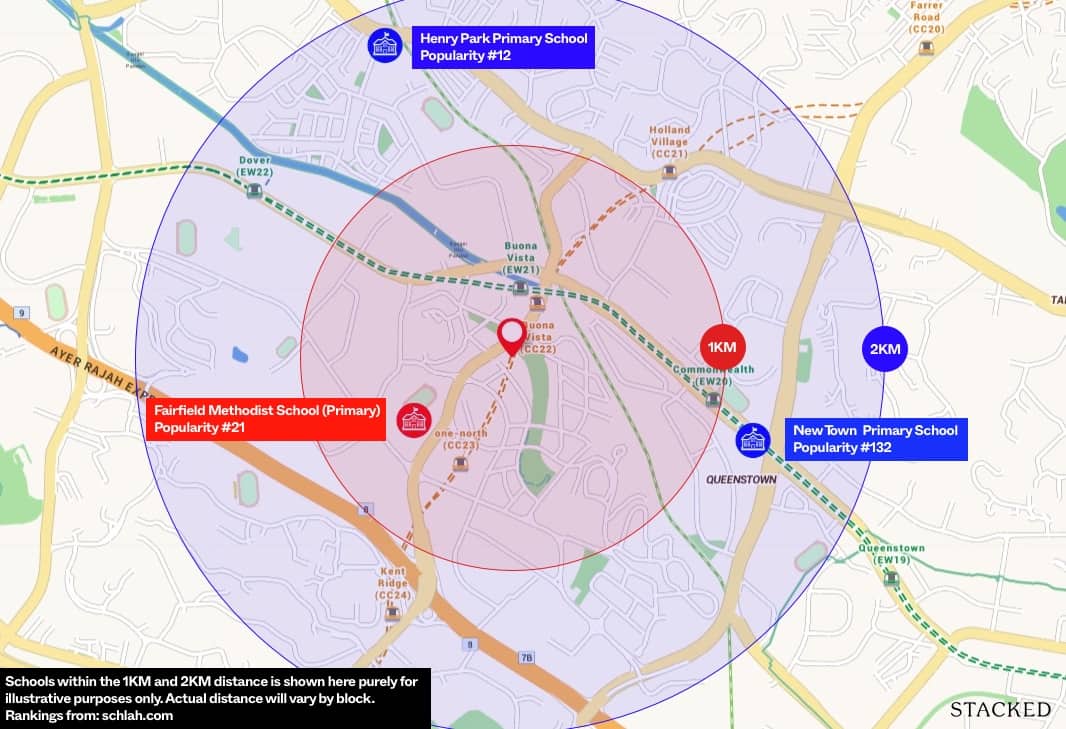 | | |
| --- | --- |
| School | Distance from Development (& est. walking/driving time at 8.30 am) |
| Chengzhu Mandarin Kindergarten | 500m, 6-min walk |
| Maplebear Learning Garden (Rochester Mall) | 550m, 8-min walk |
| Mindchamps Preschool @ Buona Vista | 750m, 4-min drive |
| Mindchamps Preschool @ Fusionopolis | 800m, 4-min drive |
| Sparkletots Preschool @ Ulu Pandan Blk 15 | 1.7km, 4 – 12- min drive |
| Sparkletots Preschool @ Ulu Pandan Blk 24 | 1.9km, 5 – 12-min drive |
| The Little Skool-House International | 2.1km, 5 – 14-min drive |
| Fairfield Methodist Primary School | 1.5km, 3 – 8-min drive |
| Henry Park Primary School | 3.5km, 7 – 18-min drive |
| Nanyang Primary School | 4.7km, 8 – 16-min drive |
| Fairfield Methodist Secondary School | 1.6km, 4 – 9-min drive |
| St. Margaret's Secondary School | 4.8km, 8 – 20-min drive |
| Crescent Girls' School | 5.2km, 9 – 28-min drive |
| Anglo-Chinese Junior College | 900m, 2 – 6-min drive |
| Singapore Institute of Technology (SIT) | 2km, 4 – 9-min drive |
| Singapore Polytechnic | 2.1km, 4 – 12-min drive |
| National University of Singapore (NUS) | 2.1km, 4 – 12-min drive |
| NUS High School of Math and Science | 4.9km, 7 – 16-min drive |
| Singapore Institute of Management | 5.3km, 8 – 24-min drive |
| ESSEC Business School | 450m, 6-min walk |
| Sorbonne-Assas International Law School | 1.2km, 3 – 7-min drive |
| Anglo-Chinese School (Independent) | 1.8km, 4 – 9-min drive |
| Dover Court International School | 2.7km, 6 – 14-min drive |
Retail Outlets
| | |
| --- | --- |
| Destination | Distance from Development (& est. driving time) |
| Rochester Mall | 1.1km, 3 – 7-min drive |
| The Star Vista | 1.5km, 4 – 10-min drive |
| Raffles Holland V Mall | 2.3km, 6 – 16-min drive |
| Holland Road Shopping Centre | 2.7km, 5 – 16-min drive |
| Jelita Shopping Centre | 3.1km, 6 – 16-min drive |
| The Clementi Mall | 4.1km, 7 – 22-min drive |
Private Transport
| | |
| --- | --- |
| Key Destination | Distance from Condo (Shortest Time at Peak Hour (0830) Drive Time) |
| one-north Business Park | 850m, 4-min drive |
| Orchard Road | 6.9km, 10 – 35-min drive |
| Harbourfront District | 7.7km, 12 – 30-min drive |
| Jurong Lake District | 9.9km, 14 – 30-min drive |
| CBD (Raffles Place) | 10.9km, 16 – 40-min drive |
| Suntec City | 15km, 16 – 35-min drive |
| Paya Lebar Airbase (by 2030) | 24.9km, 24- 45-min drive |
| Changi Airport | 28.8km, 24 – 35-min drive |
| Tuas Port (by 2040) | 31.7km, 35 – 60-min drive |
Immediate Road Exits:
Exit onto Slim Barracks Rise and turn right onto either one-north Gateway or one-north Link
Blossoms By The Park Developer Review
EL Development
EL Development first started out as a business unit within one of Singapore's well-noted developers, Evan Lim & Co, which dabbled in building industrial, commercial, and subsequently residential projects. Met with overwhelming success, EL Development officially became a separate company in 2007 and subsequently focused on creating residential projects.
With almost two decades of experience as a developer in the residential field, their past projects include notable names such as Parc Riviera and Symphony Suites.
Apart from Blossoms by the Park, another upcoming project under their belt includes Pullman Residences, which was acquired through an en bloc sale.
Architect
Having been part of BCI Asia's Top 10 architectural firms in Singapore from 2005 to 2019, EL Developments chose ADDP Architects to design Blossoms by the Park.
They boast of a substantial portfolio in the residential scene, some of their more notable projects include Seaside Residences, Martin Modern, Grandeur Park Residences, Ki Residences @ Brookvale, and Park Colonial.
Unit Mix
No. of Bedroom
Type
Area (Sqft)
No. of units
Percentage
1-Bedroom + Study
A1, A1-PH
549 – 689 sqft
25
9%
2-Bedroom
B1, B1-PH
678 – 829 sqft
50
36.4%
2-Bedroom + Study
B2, B2-PH
721 – 872 sqft
50
3-Bedroom
C1, C1-PH, C2, C2-PH
1,044 – 1,259 sqft
50
36.4%
3-Bedroom Dual-Key
C3, C3-PH
915 – 1,033 sqft
50
4-Bedroom
D1, D1-PH
1,302 – 1,539 sqft
25
18.2%
4-Bedroom Premium
D2, D2-PH
1,507 – 1,884 sqft
25
Overall, there is quite a diverse range of options for a small-to-medium-sized development such as this as there are 1 to 4-bedroom units offered at Blossoms by the Park, with sizes ranging from 549 square feet to 1,884 square feet.
Considering the success of One-North Eden (it's fully sold now), it's perhaps not surprising that the unit mix at Blossoms by the Park would follow in a similar vein. Given the immediate location, most people might assume that a large chunk would be dedicated to the small units, but that's not the case here.
Blossoms by the Park looks to attract a more own-stay mix, and a big bulk of the units are catered to 2- and 3-bedroom units. It's also interesting to see that there's a dual-key option for multi-gen living, or as a good option for those who want to enjoy some rental income, given the high rentability here.
Blossoms By The Park Stack Analysis
Development Site Plan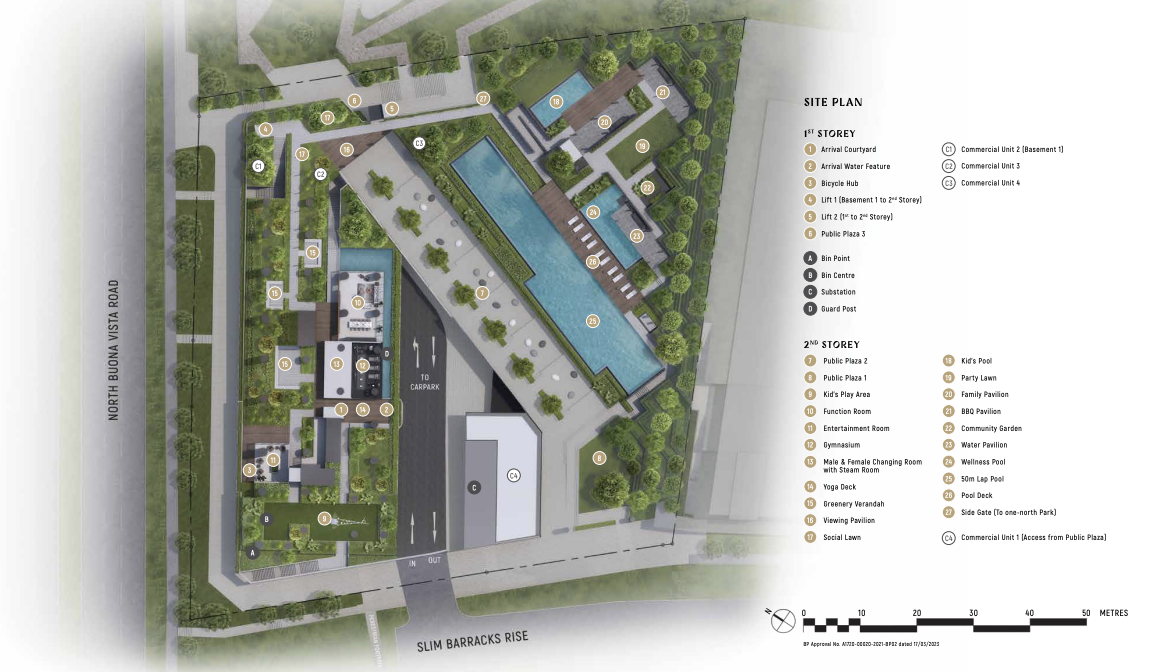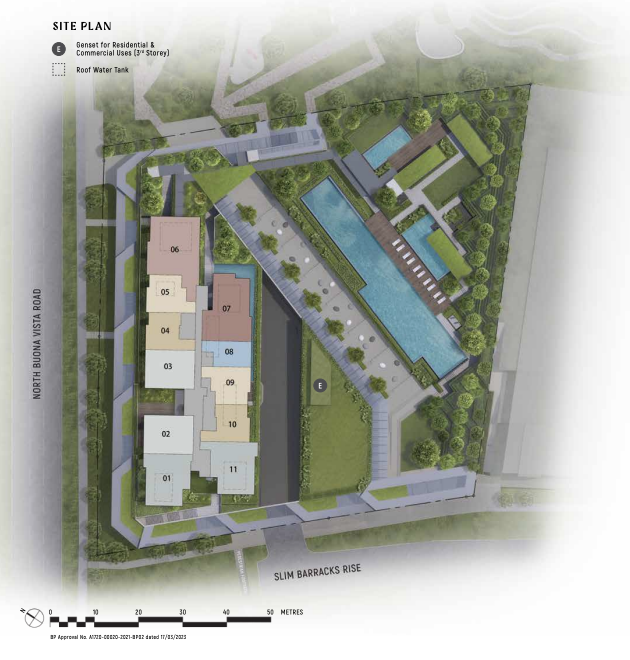 At first glance, I would admit that Blossoms by the Park appear to look like a typical new launch that is sitting on a squarish plot of land. However, developing the project required a rather unexpected depth of architectural and engineering expertise.
Sitting on 85,648.4 square feet of land, the developer had a few components to consider when designing the usage of the space.
For one, it is adjoined to the nearby One-North Park (which is also a side project by EL Development), which the developers have merged fluidly with the project. Other considerations included the natural topography of the site (which is trodden on a rather steep hill) and the fact that there is a commercial segment that is open to the general public.
With these considerations in mind, the end result was a monolith with plenty of cascading landscaping and the ratio of common amenities to the residential block being 60/40. It is currently marketed as the tallest building in one-north, though there are several other taller buildings in Buona Vista.
Half of the residential tower faces North Buona Vista Road in the North-West direction, with the other half facing the condo facilities and towards NTU@one-north in the South-East direction. It is also noted that the distance between the project to NTU@one-north is approximately 55m, and to the main road at 18m.
The facilities are spread across the remaining landscape and underneath the residential annexe. There are also four different commercial units to support the residents.
There is one ingress and egress facilitating the project, which is entered from the quiet Slim Barracks Rise. While there are two side gates, one is accessible only by Residents (which leads to One-North Park) and another is open to both residents and the public (which leads to Buona Vista MRT).
One key observation that you might notice is that there are many stairs and ramps to counter the hilly terrain. For this reason, residents who require wheelchair accessibility might not find it the most convenient to get around the project.
Best Stacks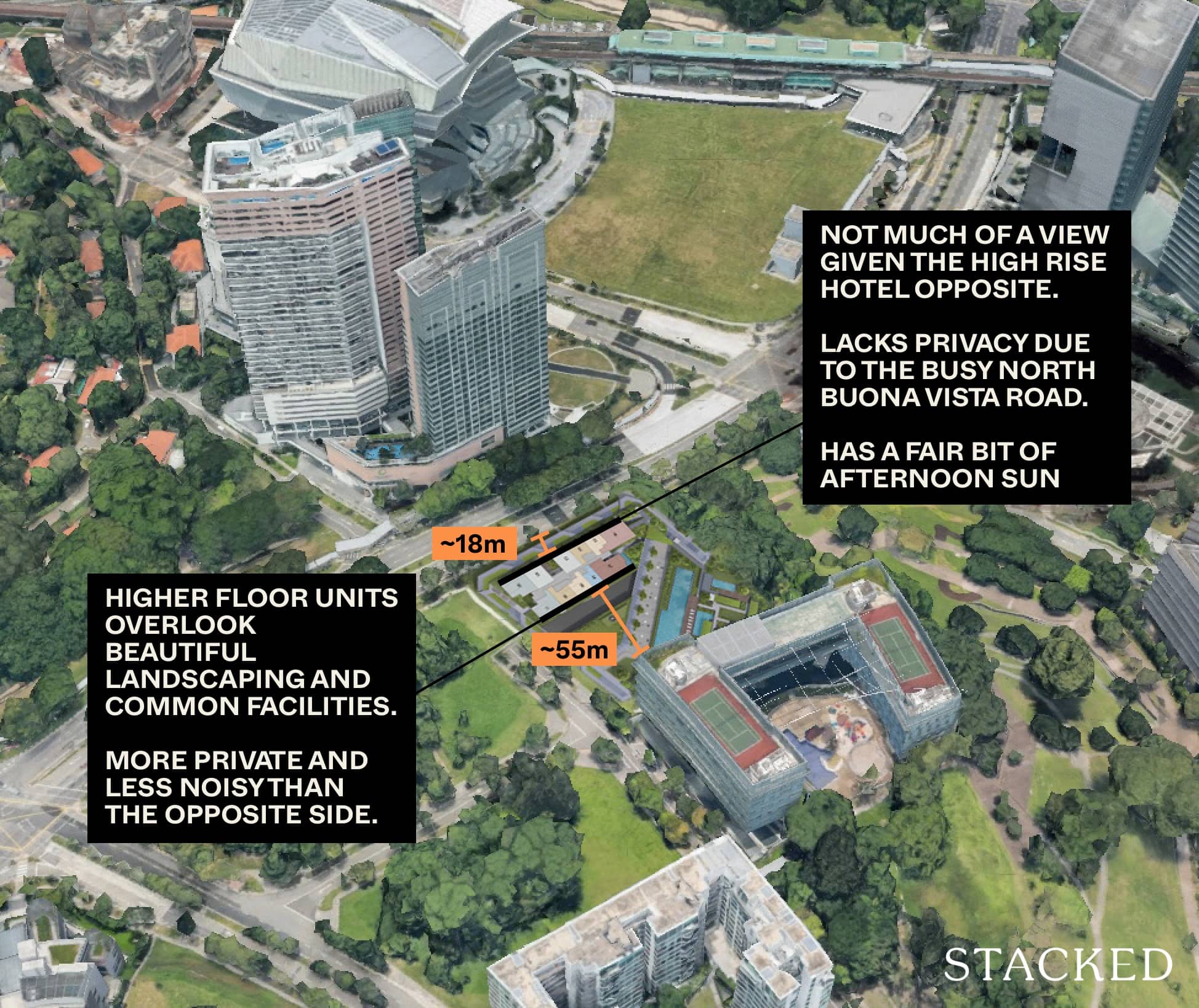 Seeing that there's only one residential block in Blossoms by the Park, there's frankly not much variation to choose from. I would reckon that the key deciding factor largely depends on the unit type that you'd be looking at.
Still, let's take assess the blocks based on three main factors – privacy, afternoon sun, and views.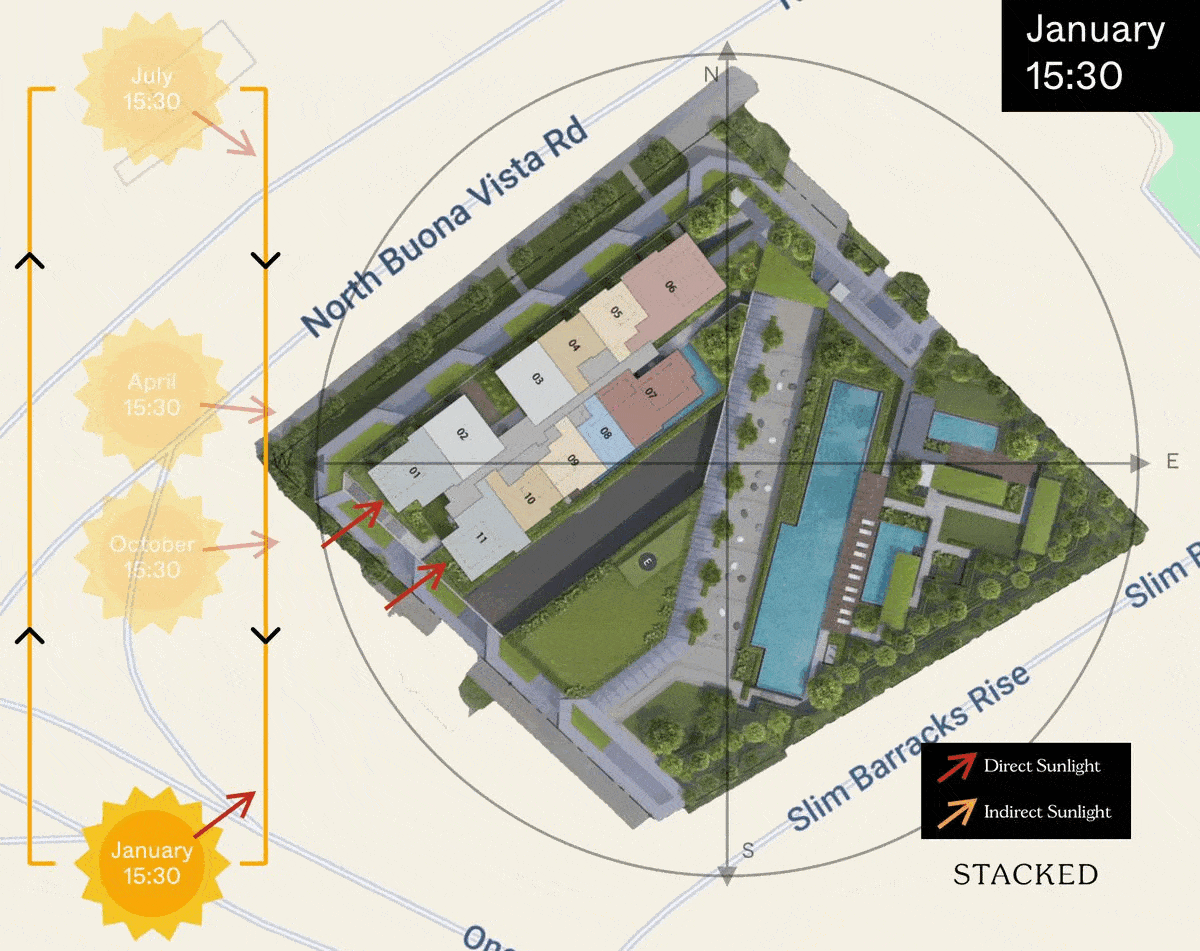 Stacks 01 – 06
These stacks overlook North Buona Vista Road and share views of Rochester Mall and Park Avenue Rochester (which is a four-star hotel). While there is quite a distance between the condo and the opposite development, there's not much of a view since the opposite building is taller and there isn't much of a clearance height.
Privacy might also be compromised since it does overlook a busy road and into another building. Considering that the residential facade is a mere 18 – 30m away from the road, it might be a cause for concern for those sensitive to noise.
These stacks have a North-West orientation, which means that there'll be a modest amount of afternoon sun.
Stacks 07 – 11
Since these stacks face the South-East direction, residents can expect these units to be well-shaded without much direct afternoon sun.
In terms of views, these units overlook the beautiful landscaping and common facilities towards the direction of NTU@one-north. I would suppose that these stacks would be much more private in comparison to Stacks 1-6 since there's a fair bit of distance away from the neighbouring building.
For those who are particular about privacy, views, and noise, these stacks would be the better option.
Blossoms By The Park Price Analysis
Resale Comparison
| | | | | | |
| --- | --- | --- | --- | --- | --- |
| Development | Units | Average psf | TOP | Tenure | Price Gap |
| Blossoms by the Park | 275 | ~$2,250 | 2026 | 99-year Leasehold | – |
| The Hill @ One North | 142 | ~$2,300 | 2026 | 99-year Leasehold | -2% |
| One-North Eden | 165 | ~$2,000 | 2025 | 99-year Leasehold | 11% |
| Kent Ridge Hill Residences | 548 | $1,783 | 2024 | 99-year Leasehold | 20% |
| Normanton Park | 1,840 | $1,864 | 2023 | 99-year Leasehold | 17.2% |
| The Rochester Residences | 334 | $1,548 | 2011 | 99-year Leasehold | 31.2% |
| One-North Residences | 405 | $1,539 | 2009 | 99-year Leasehold | 31.6% |
| Treasure Place | 54 | $1,266 | 2006 | Freehold | 43.7% |
| Heritage View | 618 | $1,461 | 2000 | 99-year Leasehold | 35.1% |
| Dover Parkview | 686 | $1,290 | 1997 | 99-year Leasehold | 42.7% |
When looking at the average psf prices for the neighbouring condos (we tried to narrow them down to those within a five-kilometre radius), there is a surge in prices between the new launches (TOP 2023 – 2026) and the resale flats.
For the resale condominiums (TOP 1997 – 2011), the average price psf ranges from $1,266 to $$1,548 psf, which is around a 31.2 – 43.7% difference in price from Blossoms by the Park. One thing that was surprising to me was that the only freehold project (Treasure Place) is the worst-performing development out on the list, even when compared to a 99-year leasehold property that TOP-ed back in 1997 (Dover Parkview).
Unsurprisingly, projects that are located nearer to the Buona Vista MRT Station are the best-performing projects that are commanding above $2,000 psf, with The Hill @ One North clinching the highest price of an estimated $2,300 psf.
Blossoms by the Park ranks second on the list, with an estimated price of around $2,250 psf.
Now that we've taken a brief look at the prices around, let's look into the One-North precinct specifically. But first, here are the indicative lowest prices for each unit type:
Indicative starting prices:
| | | | |
| --- | --- | --- | --- |
| Type | Size | Starting From | $PSF |
| 1-Bedroom + Study | 549 – 689 sq ft | $1,291,000 | $2,352 |
| 2-Bedroom | 678 – 829 sq ft | $1,499,000 | $2,211 |
| 2-Bedroom + Study | 721 – 872 sq ft | $1,585,000 | $2,198 |
| 3-Bedroom | 1,044 – 1,259 sq ft | $2,279,000 | $2,183 |
| 3-Bedroom Dual-Key | 915 – 1,033 sq ft | $2,082,000 | $2,276 |
| 4-Bedroom | 1,302 – 1,539 sq ft | $2,921,000 | $2,243 |
| 4-Bedroom Premium | 1,507 – 1,884 sq ft | $3,335,000 | $2,213 |
Considering places like Lentor Modern and AMO Residence already breach the $2,000 psf mark, it's no surprise to see prices at the $2,100+ – 2,300+ psf. This is especially so when we consider the estimated breakeven price of the developer that's close to $2,000 psf.
Here's how its minimum $PSF stacks up against other available new launches today: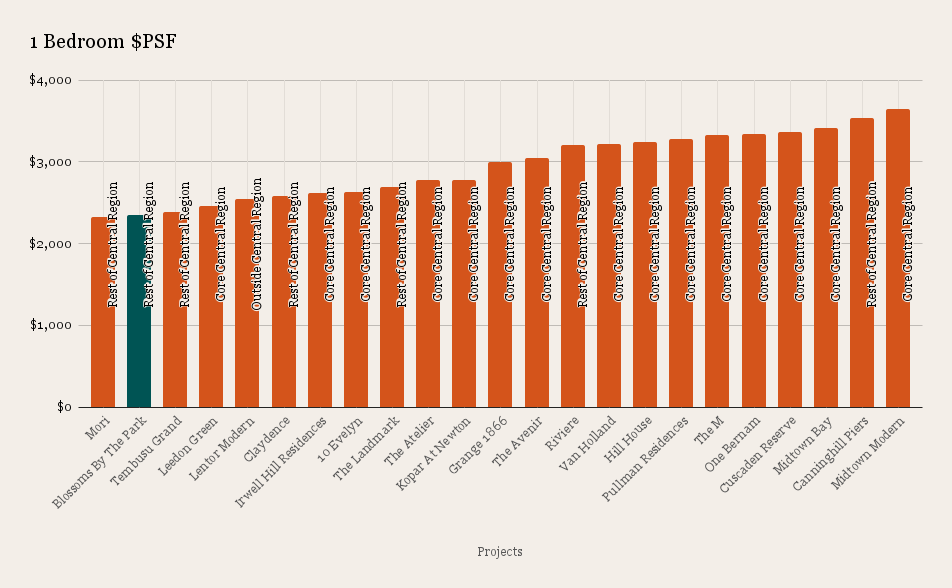 Blossoms By The Park is considered very affordable in today's context. All the 1-bedders available on the market (with available data at hand) are north of $2K already. For $300 psf more, you would be looking at something like Irwell Hill Residences which is in the CCR and close to Great World, another highly sought-after area for rent and is actually a family-oriented precinct.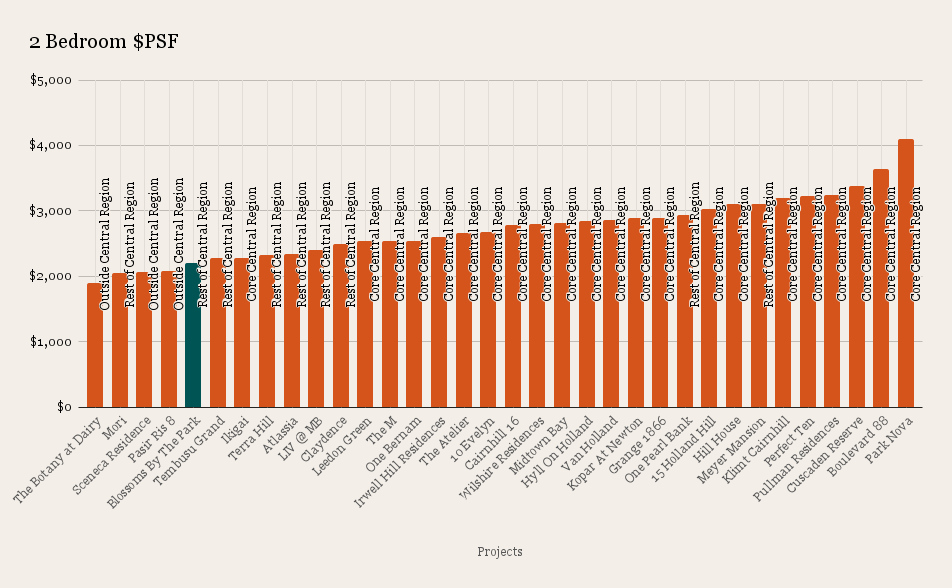 Compared to other available 2-bedders in the market, Blossoms continue to stand out as one of the more affordable options in the market.
Pasir Ris 8 and Seneca Residence, both OCR developments aren't too far off from the lowest $PSF that Blossoms is asking for. Yet, it's lower than developments like Terra Hill which is similarly close to an MRT. The area also offers a growth story that is more directly impacted by the surrounding land plots than the Greater Southern Waterfront would presumably have on Terra Hill.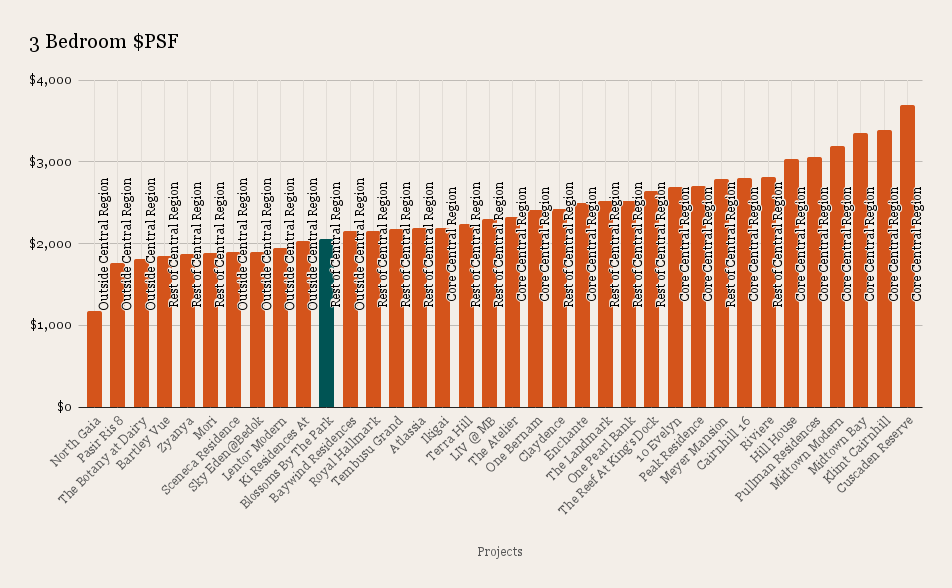 The 3-bedder does look like a very fair positioning in terms of $PSF right now. It's more costly than some OCR developments like Sky Eden@Bedok/Lentor Modern, understandably, but it's also not as expensive as more central developments like The Atelier (although that is freehold).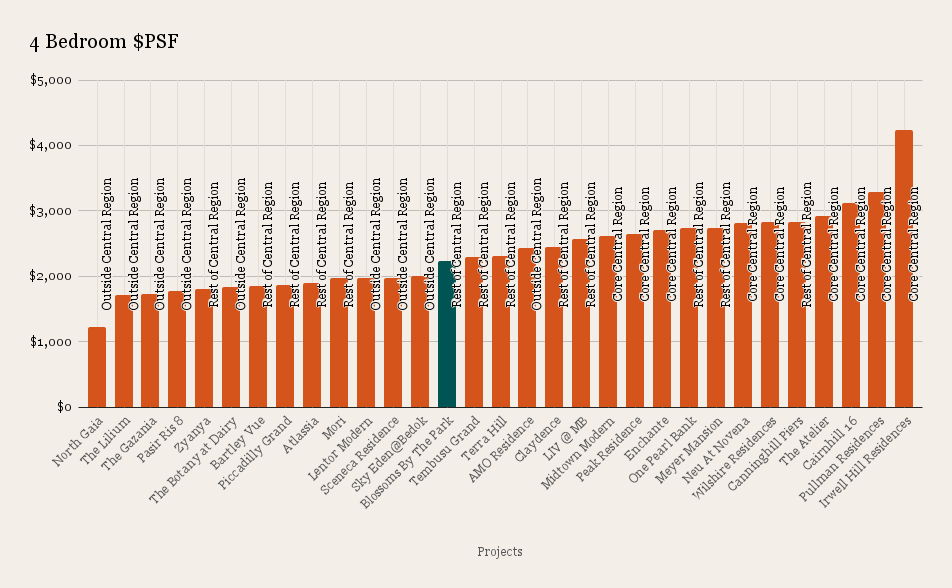 Given 4-bedders are harder to move than other units, this graph may not be too accurate as the remaining units here tend to be bigger – thus, $PSFs tend to be lower when that's the case. Regardless, if you're in the market right now, Blossoms by the Park isn't exactly on the lower end of the scale in terms of $PSF.
Right now, you can get an integrated development Piccadilly Grand, also in the RCR, and has good amenities around (not to mention it is a popular area to rent). For its minimum $PSF, the 4-bedder costs $2.954M which is just $33,000 more than what Blossoms by the Park is asking for. If you're in the market for a 4-bedder, let's just say there are options at the given budget.
Overall though, the pricing is fair. It's a market high, and after taking into account the land cost and its positioning in today's market, the developer really isn't pushing hard for a high price.
But the relevant question is – at these minimum $PSFs, will there be growth for buyers today?
To answer this, we'll dive into two things. First, the rental play here provides insights for those looking at this project as an investment one (mainly those buying the 1, 2, and 3-bedroom dual key units to rent out). Next, we'll look at the profitability of condos around the area as well as recent prices to see what's the premium you'll have to pay today, and whether that doesn't leave much room for growth.
Is the Buona Vista area particularly investor-led?
The short answer is yes and probably obvious to many. Considering the surrounding area is a biotech hub, demand for rent here is quite high. Here's a look at the rental contracts signed over the past 1 year broken down by condos:
| | | | |
| --- | --- | --- | --- |
| One North Residences | Rental Contracts (1-year period) | No. of Units | Est % Rented out |
| 1 Bedroom | 106 | 159 | 67% |
| 2 Bedroom | 52 | 118 | 44% |
| 3 Bedroom | 13 | 78 | 17% |
| 4 Bedroom | 6 | 20 | 30% |
Source: Squarefoot Research, 99.co
Note: One rental contract was listed as a 5-bedder but shifted under the 4-bedroom as there are no 5-bedroom units here.
| | | | |
| --- | --- | --- | --- |
| The Rochester Residences | Rental Contracts (1 year period) | No. of Units | Est % Rented out |
| 1 Bedroom | 78 | 113 | 69% |
| 2 Bedroom | 48 | 157 | 31% |
| 3 Bedroom | 32 | 110 | 29% |
| 4 bedroom | 0 | 6 | 0% |
Source: Squarefoot Research, 99.co
Estimated units rented out here hover at a high 60+% for 1-bedroom units – the most affordable types and thus most accessible by investors. Next are the 2-bedroom units which range between 31%-44% being rented out. This is still quite a high proportion of units being rented out, especially if we consider that some 2-year contracts aren't included here.
It's probably the reason why the 1-bedroom, 2-bedroom, and 3-bedroom dual key units make up close to two thirds of units (63.63%) at Blossoms with the idea that homeowners can also rent out the studio unit in the 3-bedroom Dual Key configuration.
Now let's take a look at the rental yields here.
One-North Residences
| | | | | | |
| --- | --- | --- | --- | --- | --- |
| UNIT SIZE(SQFT) | AVERAGE MONTHLY RENT*(S$) | NO. OFRENTALCONTRACTS* | AVERAGE PRICE*(S$) | NO. OF TRANSACTIONS* | RENTAL YIELD*(%) |
| 500 TO 600 | 3,641 | 26 | 920,000 | 2 | 4.7 |
| 600 TO 700 | 3,167 | 3 | – | – | – |
| 700 TO 800 | 4,000 | 1 | – | – | – |
| 900 TO 1,000 | 4,669 | 8 | 1,370,000 | 1 | 4.1 |
| 1,000 TO 1,100 | 5,050 | 8 | – | – | – |
| 1,100 TO 1,200 | 5,580 | 5 | – | – | – |
| 1,200 TO 1,300 | 6,453 | 2 | – | – | – |
| 1,300 TO 1,400 | 6,700 | 1 | 2,165,000 | 1 | 3.7 |
| 1,400 TO 1,500 | 7,000 | 1 | 2,200,000 | 1 | 3.8 |
| 1,500 TO 1,600 | 8,000 | 1 | – | – | – |
| 1,600 TO 1,700 | 9,200 | 1 | – | – | – |
| 2,600 TO 2,700 | 9,000 | 1 | – | – | – |
Source: Squarefoot Research
The Rochester Residences
| | | | | | |
| --- | --- | --- | --- | --- | --- |
| UNIT SIZE(SQFT) | AVERAGE MONTHLY RENT*(S$) | NO. OFRENTALCONTRACTS* | AVERAGE PRICE*(S$) | NO. OF TRANSACTIONS* | RENTAL YIELD*(%) |
| 800 TO 900 | 4,598 | 15 | 1,309,000 | 2 | 4.2 |
| 1,000 TO 1,100 | 4,471 | 7 | – | – | – |
| 1,200 TO 1,300 | 5,459 | 8 | 1,932,500 | 2 | 3.4 |
| 1,300 TO 1,400 | 6,617 | 6 | 1,965,000 | 2 | 4 |
| 1,600 TO 1,700 | 7,688 | 4 | – | – | – |
| 1,700 TO 1,800 | 8,400 | 2 | 2,920,000 | 2 | 3.5 |
| 1,800 TO 1,900 | 7,533 | 3 | 2,660,000 | 1 | 3.4 |
| 1,900 TO 2,000 | 8,067 | 3 | 2,849,000 | 2 | 3.4 |
Source: Squarefoot Research
Rental yields here are quite healthy, starting at 4.1% for the 2-bedroom unit in One-North Residences to 4.7% for its 1-bedroom unit.
While 4+% is healthy for rental yields, this is not specific to the One North precinct. This is especially so in today's strong rental market. You can find projects with such yields, some even freehold or newer developments in other locations, so we wouldn't take this figure as something special to the One North area.
In fact, a quick check on monthly rent amounts for 1 and 2-bedroom non-landed units shows that rents have not risen as fast as all other projects in Singapore, on average:
1 Bedroom rentals
| | | | |
| --- | --- | --- | --- |
| Period | One-North Residences | The Rochester Residences | All Others |
| 2020-Q2 | $2,913 | $3,515 | $2,373 |
| 2020-Q3 | $2,832 | $3,429 | $2,356 |
| 2020-Q4 | $2,712 | $3,486 | $2,370 |
| 2021-Q1 | $2,824 | $3,522 | $2,422 |
| 2021-Q2 | $2,921 | $3,496 | $2,511 |
| 2021-Q3 | $2,903 | $3,575 | $2,481 |
| 2021-Q4 | $2,924 | $3,644 | $2,600 |
| 2022-Q1 | $3,112 | $3,621 | $2,701 |
| 2022-Q2 | $3,189 | $3,988 | $2,899 |
| 2022-Q3 | $3,388 | $4,221 | $3,074 |
| 2022-Q4 | $3,632 | $4,473 | $3,407 |
| 2023-Q1 (Till Feb) | $3,835 | $4,757 | $3,575 |
| Avg Growth | 32% | 35% | 51% |
2 Bedroom rentals
| | | | |
| --- | --- | --- | --- |
| Period | One-North Residences | The Rochester Residences | All Others |
| 2020-Q2 | $4,250 | $4,925 | $3,032 |
| 2020-Q3 | $4,134 | $4,768 | $2,996 |
| 2020-Q4 | $3,961 | $4,781 | $3,013 |
| 2021-Q1 | $4,067 | $4,885 | $3,070 |
| 2021-Q2 | $4,363 | $4,868 | $3,198 |
| 2021-Q3 | $4,175 | $4,891 | $3,201 |
| 2021-Q4 | $4,426 | $5,192 | $3,325 |
| 2022-Q1 | $4,422 | $5,189 | $3,462 |
| 2022-Q2 | $4,694 | $5,500 | $3,701 |
| 2022-Q3 | $4,879 | $5,612 | $3,943 |
| 2022-Q4 | $5,200 | $6,529 | $4,288 |
| 2023-Q1 (Till Feb) | $5,551 | $6,550 | $4,498 |
| Avg Growth | 31% | 33% | 48% |
The growth in rents for 1 and 2 bedroom units here is slower for both One-North Residences and The Rochester Residences, compared to the rest of Singapore.
This isn't necessarily bad as the One North precinct was quite sought after before the pandemic, meaning rental upsides could've been limited as tenants look to stay further out rather than bidding even higher to stay in the area. You can infer this from the higher average rental costs in 2020-Q2.
It could have also been the case that during the pandemic, foreigners working in the area may have chosen to leave Singapore altogether which led to relatively lower growth.
Regardless, the yields do show that investors can get rental returns which bodes well for investors looking at Blossoms By The Park as it is relatively safe given the continued demand – especially now that Singapore has opened up.
Next, let's look at the profitability of the One North precinct.
To do this, we'll be focusing on just The Rochester Residences and One-North Residences as these are the two newest and most relevant condos in the area. Here's a look at their development's $PSF from 10 years ago compared to other 99-year leasehold developments across Singapore:
| | | | |
| --- | --- | --- | --- |
| Year | One-North Residences | The Rochester Residences | Other 99-year leaseholds |
| 2013 | $1,495 | $1,443 | $1,114 |
| 2014 | $1,368 | $1,402 | $1,058 |
| 2015 | $1,398 | $1,381 | $1,071 |
| 2016 | $1,370 | $1,247 | $1,175 |
| 2017 | $1,428 | $1,357 | $1,144 |
| 2018 | $1,502 | $1,361 | $1,192 |
| 2019 | $1,463 | $1,423 | $1,241 |
| 2020 | $1,422 | $1,351 | $1,220 |
| 2021 | $1,456 | $1,371 | $1,272 |
| 2022 | $1,527 | $1,506 | $1,401 |
| 2023 | $1,605 | $1,543 | $1,495 |
| Annualised Growth | 0.71% | 0.67% | 2.99% |
Source: SRI Big Data
Immediately, you'll see that the annualised returns here pale in comparison to the average of all 99-year non-landed developments in Singapore over this 10-year period.
This could be attributed to the largely investor-focused units in both developments, where the majority of units are 1 and 2-bedders. To make things more interesting, let's focus on larger units that are more homeowner-focused.
To do this, we'll remove units below 1,600 sqft for The Rochester Residences and units below 1,300 sqft for One-North Residences. Do note that there are some 2-bedroom units that are 1,335 sqft but given their volume, the effect on the $PSF shouldn't be material.
| | | | |
| --- | --- | --- | --- |
| Year | One-North Residences | The Rochester Residences | Other 99-year leasehold |
| 2013 | $1,442 | $1,355 | $1,090 |
| 2014 | $1,361 | $1,411 | $1,044 |
| 2015 | $1,315 | $1,339 | $1,055 |
| 2016 | $1,369 | $1,258 | $1,088 |
| 2017 | $1,373 | $1,340 | $1,078 |
| 2018 | $1,288 | $1,318 | $1,166 |
| 2019 | $1,359 | $1,377 | $1,249 |
| 2020 | $1,326 | $1,283 | $1,167 |
| 2021 | $1,431 | $1,383 | $1,231 |
| 2022 | $1,510 | $1,509 | $1,392 |
| 2023 | $1,622 | $1,599 | $1,482 |
| Annualised Growth | 1.18% | 1.67% | 3.12% |
You can see that with a larger size, the annualised growth is higher – for The Rochester Residences in particular, the annualised growth jumped from the average of 0.67% to 1.67% for its larger units.
While this is an improvement, it's still half (or less than half in One-North Residences case) the growth of all 99-year leasehold resale developments across Singapore.
Another way we can gauge profitability here is by looking at how many owners make and lose money in both these projects relative to other projects. Rather than looking at all sales since it was first launched though, we'll consider resale transactions from 2013 onwards.
So why 2013 onwards? This is to avoid looking at developer mispricings.
The Rochester Residences has a lot of unprofitable transactions, but many of those who lost money bought directly from the developer. It's also not an accurate reflection of the growth in the One North precinct. The losses could've simply been the result of the hype/marketing of the area, but not an accurate reflection of what the market has accepted.
When we look at the number of profitable non-landed homes (buy/sell between 2013-2023), 77% of transactions make money on average.
Here's the distribution of gains versus losses across all condos: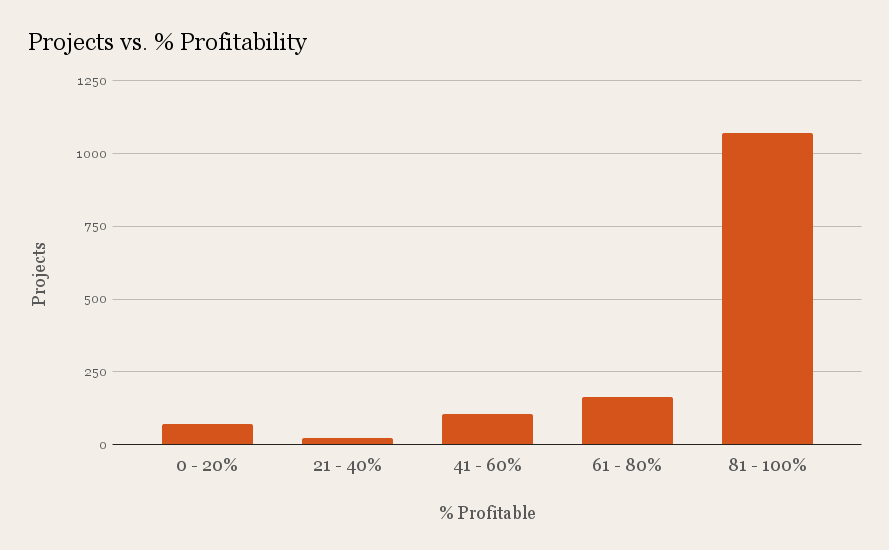 The chart above shows the number of non-landed projects that fall within a % profitable category. 81-100% means that between 2013 – 2023, 81 – 100% of resale buy and sell transactions are profitable.
Here's the distribution of profits for both The Rochester Residences and One-North Residences between 2013 – 2023:
| | | | | | |
| --- | --- | --- | --- | --- | --- |
| Project | Breakeven | Loss | Profit | Total | %Profit |
| The Rochester Residences | 0 | 2 | 8 | 10 | 80.00% |
| One-North Residences | 2 | 4 | 13 | 19 | 68.42% |
It's expected that in Singapore, you should have more profitable than unprofitable transactions. The question is just how much more profitable. In terms of profitability over the past 10 years, the numbers here are decent. It's really nothing to shout about given that most projects have at least 81% profitable transactions. Both the highlighted projects above fall below this (although The Rochester Residences misses by a hairline).
What does this show you? While the hype around the One North precinct has been going on for some time, it's not as if buyers of these 2 developments that take advantage of the supposed growth story have truly benefited over other buyers of other properties. Perhaps there's a better growth story/development potential elsewhere, but whatever it is, the One North precinct doesn't seem to give buyers a noticeable capital appreciation advantage as of yet.
In other words, if you're simply buying into this district due to the "growth potential", it probably hasn't quite peaked – even though the area isn't fully developed yet given the availability of white sites as well as further plots at Portsdown Road (as it wasn't back then either). There also may be growth potential in other ways, for example, commercial units here could see greater footfall as more buildings come up. However, if this area continues to remain an investor-led area, perhaps the price stickiness and growth potential may be affected in the short term.
One good thing to note here though is the popular Fairfield Methodist Primary. Surrounding the school is just a handful of condos, with some HDBs within the 1KM zone. So most buildings around are not residential.
Now that's not to say that buyers of Blossoms By The Park can't see growth, for this, we should take a look at what buyers would be getting in at today, and how this compares to its surrounding competitors.
Here's what buyers at One-North Eden, the second newest kid on the block, paid:
| | | | | | |
| --- | --- | --- | --- | --- | --- |
| Bedrooms | One-North Eden Lowest $PSF | One-North Eden Average $PSF | One-North Eden Highest $PSF | Blossoms Lowest $PSF | $PSF Premium Over Average |
| 1 Bedroom | $1,868 | $2,112 | $2,257 | $2,352 | 11.3% |
| 2 Bedroom | $1,870 | $2,033 | $2,160 | $2,211 | 8.8% |
| 2 Bedroom + Study | $1,921 | $2,023 | $2,174 | $2,198 | 8.7% |
| 3 Bedroom* | $1,813 | $1,936 | $2,088 | $2,056 | 6.2% |
| 4 Bedroom* | $1,779 | $1,877 | $2,019 | $2,228 | 18.7% |
*The average of the different 3 and 4-bedroom lowest $PSF was taken to derive Blossom's lowest $PSF here
Back then, there were definitely people that were commenting on the high prices here. Today though, given how prices have moved, those prices now definitely look very attractive.
Currently, Blossoms by the Park is charging a premium of up to 18.7% over the average transacted at One-North Eden, and it's likely higher given these are just the starting $PSFs.
What this means is that those entering Blossoms by the Park now will face some competition in the future, as buyers of One-North Eden can afford to price lower. That said, given there are only 165 units there (and if demand does increase in the area), then it may not matter as much.
Now with all this said and done, what can we make of the pricing?
First off, the asking prices for Blossoms by the Park can be considered fair. Remember, we're still at a property market high now.
But here's what you have to note:
In the shorter term, One-North Eden could be priced cheaper than what you'd be willing to let go of. The One North Precinct is a great place to invest in if you want to rent to people working in the area, however, the numbers also show that rents here did not aggressively move up as much as the average in Singapore.
Tenants who work in these jobs should also be making enough to afford to stay in a more expat type of enclave – and the closest is probably the most well-known ex-pat enclave of all, Holland Village. Thus, those working in the One North precinct have options other than condos in the vicinity.
It's unlike other precincts like Bukit Panjang where new launches such as Dairy Farm Residences and The Botany cite tenants from the German European School of Singapore being a strong investment factor. The school is about an 11-minute walk to the MRT, and when it concerns families, these tenants will be thinking about transport time for their kids too, so the surrounding projects are attractive. With rental prices at a market high, expats with families would avoid buying a car, so living close to the school is ideal. This also saves them time which is very valuable.
Moreover, the stigma of the One North precinct being more investment-focused and less family-oriented can weigh on prices here.
However, this can naturally change in the future.
In the long term as the area gets more built up, you could be looking at a better upside if you hold onto a property here considering the lack of supply. After all, the rental yield here is quite decent, and the One-North precinct could become more and more family-oriented (who knows?).
Still, the growth story and low supply shouldn't be the only factor in considering an investment property. As the numbers show, there have been better opportunities elsewhere, and that also holds true today.
Blossoms By The Park Appreciation Analysis
Future Plans for Surrounding Plots of Land Nearby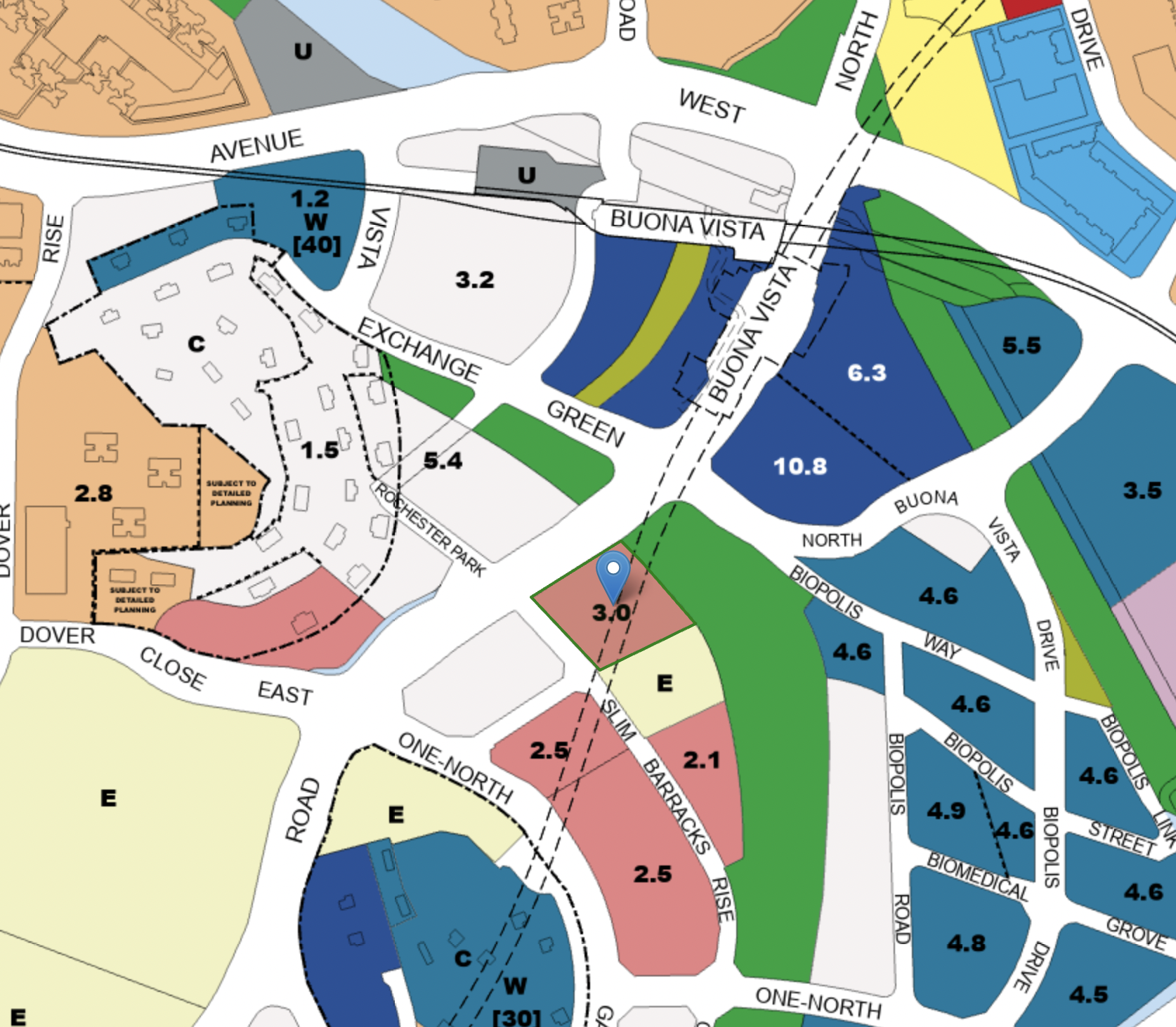 Source: URA
While the general usage and tone of the neighbourhood have already been solidified, some of the surrounding plots of land near Blossoms by the Park can expect further changes.
For one, several white sites are located beside and across the condominium that is still pending their eventual zoning and usage. While white sites do not have a predetermined usage, we can expect the uses to fall within residential, office, shop, hotel, recreational or entertainment uses.
We can also expect more residential projects to be completed within the next few years, too.
Low Supply of New Launch Private housing in one-north
While there are plenty of 99-year leasehold projects in the District 5 neighbourhood, there's generally a low supply of condo units within the One-North district where demand generally outweighs the overall supply.
Apart from Blossoms by the Park (which is estimated to TOP in 2026), other projects include one-north Eden (estimated to TOP in 2025) and The Hill @ one-north (estimated to TOP in 2026), both of which are located just around the block.
Including Blossoms by the Park, the total additional supply of residential units in the neighbourhood comes up to 582 units.
Future Plans for Queenstown by URA
According to the 2019 Draft Master Plam, we can expect many exciting developments for the Queenstown neighbourhood.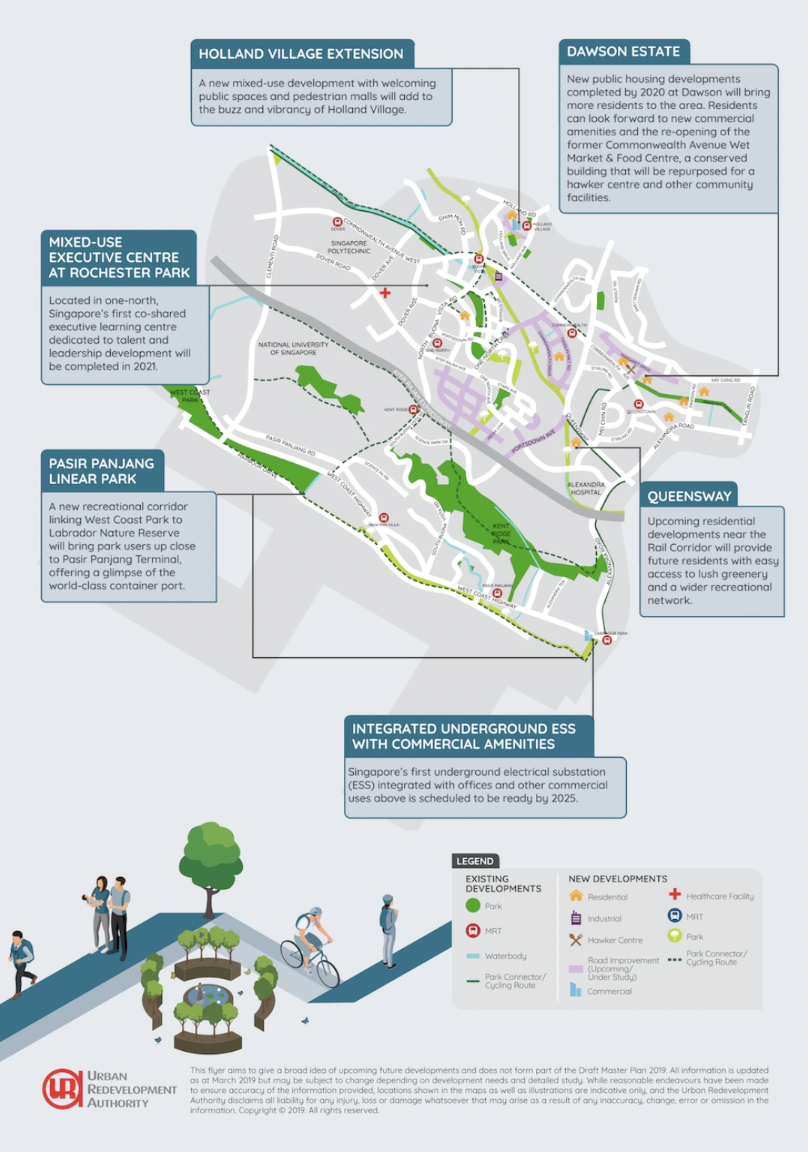 Holland Village Extension
Introduced to the public back in 2019, One Holland Village is the newest addition to the area. Highly anticipated for welcoming more public spaces and a pedestrian mall, it is a mixed-use development aimed to add more vibrancy to the neighbourhood.
This project includes a residence, serviced residence, retail and office component and is estimated to be ready by Q4 2024. Being near the Buona Vista and one-north neighbourhood, this addition further adds to the existing profile and tone of the area.
Biopolis Phase 6 Upgrading
In addition to the existing R&D and start-up scene in one-north, Biopolis Phase 6 is the latest plan in the Biopolis precinct, which is one of JTC's main strategies to further spark the biomedical industry in Singapore.
This project would include a 12-storey tower block and rail corridor within the neighbourhood. With Blossoms by the Park being close proximity to the development, it would further add to the demand for housing within the area.
Close Proximity to Greater Southern Waterfront and Jurong Lake District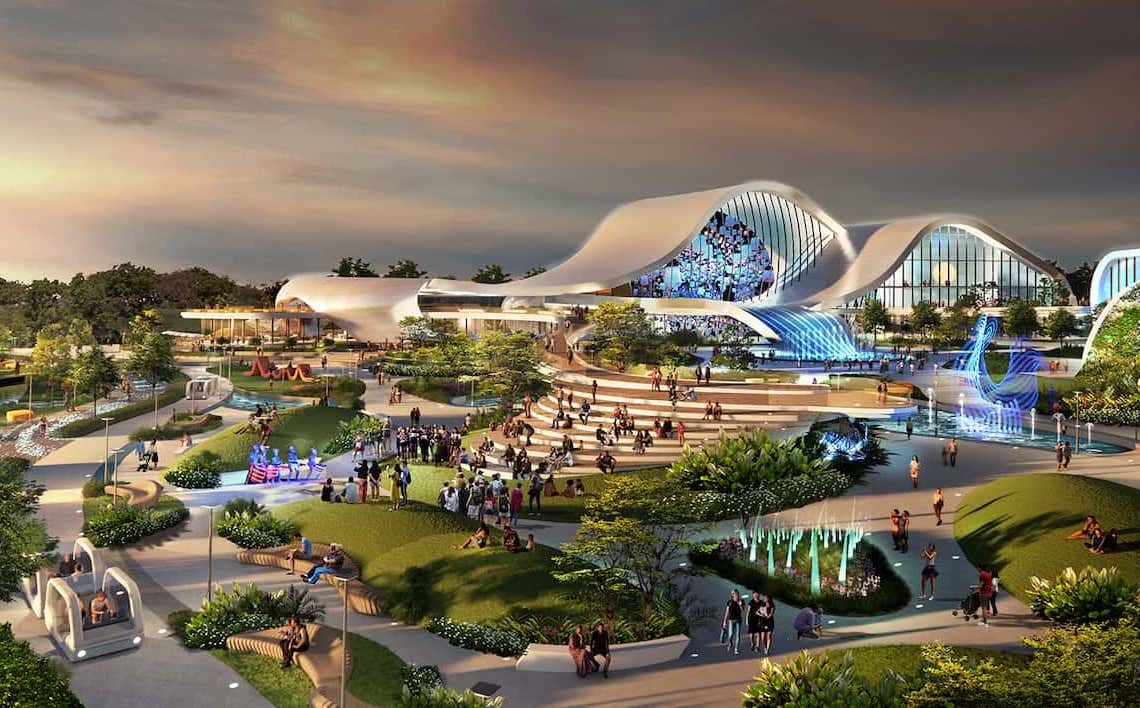 Image Credits: JLD
Some of our island's most anticipated projects, the Greater Southern Waterfront (GSW) and Jurong Lake District (JLD) would greatly add to the appeal of the West side.
While the GSW aims to include more green spaces and better waterfront connectivity, the JLD aims to create a town that is conducive for companies to operate, residents to live, and amenities to enjoy, all while surrounding a lush lakefront greenery.
Just a 15-minute drive (or a few MRT stops) away from Singapore's upcoming second-biggest CBD, Blossoms by the Park is positioned in an advantageous position to benefit from these upgrading projects.
What we like
3-minute walking distance away from MRT

Conveniently positioned to key amenities such as grocery shops and food options

Near many renowned institutions

Located right beside a park
What we don't like
–

The neighbourhood can be a bit of a ghost town during weekends

–

Unit provisions are not holistic, with key appliances like the fridge and washer cum dryer not provided
Our Take
There's a lot that I've already gone through in the review, but let me summarise.
I think overall, I can see the clear target market for those who work in the One-North area but want to stay as close to work as possible. Despite how the pandemic has brought on WFH for people, most people are back to work today, and there would be greater demand to spend as little time travelling as possible.
It is also undoubtedly very convenient as the MRT station is just a 3-minute walk away.
So from an own-stay perspective, I like that the estate looks good visually. It's very green, and the big 50m lap pool and the surrounding areas look to be very nice indeed. The best part is that it is right next to One-North Park, and will probably feel like you have a much bigger land size than it is because of the lack of buildings surrounding it.
It's also obvious that a lot of thought was given to making the common areas open, yet still retaining privacy for residents.
Unit sizes here are average from a new launch comparison, and so are the layouts and offerings within (there was nothing really remarkable about them). But I suspect that most buyers here would be of a younger age group (given the type who would be working in companies at One-North), and perhaps place more importance on the location as well as the facilities.
More important, would be its immediate surroundings. While the area is really vibrant on weekdays, it's on weekends (especially Sundays) that it can get quite quiet (just like the CBD).
There is still some way to go for it to be considered a more residential area, and part of that would be the activities on weekends. While you do have One Rochester and Star Vista, the Biopolis and One-North area is still relatively muted. Look at the closing times of the shops on weekends, and you will find that quite a number close early on Saturdays, and are completely closed on Sundays.
How would this play out in the future according to the master plan set by Zaha Hadid? I'm certainly looking forward to seeing the end product.
What this means for you
You might like Blossoms By The Park:
• Like being a short walking distance away from key amenities:

Just a short walk away from Buona Vista MRT (and a slightly further one to one-north MRT), Blossoms by the Park is positioned in a convenient location to access key amenities, such as public transportation and lifestyle amenities. Rochester Mall and The Star Vista are located right around the block for a variety of dining options and to conveniently pick up groceries.

• Have older schooling children and want convenient options:

The neighbourhood is well-known for its abundance of superb institutions, especially at the tertiary level. Schools like NUS, ACJC and Singapore Polytechnic are accessible via drive or public transport options.

• Like living near your workplace:

Without a doubt, those who work within the one-north or Buona Vista neighbourhood would enjoy great accessibility from living at Blossoms by the Park. Those who like the convenience of living near your workplace would definitely enjoy living at the project.
You may not like Blossoms By The Park:
• Do not like staying in a busy area:

One of the inevitable downsides of living in a place near offices and key amenities would be the high traffic and footfall during the weekdays since many cars and people would need to pass by the area.

• Prefer bigger units:

As with most new launches, units here are average in size but smaller when compared to older developments. If you require more interior living space, then there definitely are other options to look for.
End of Review
Documents
Join our Telegram group for instant notifications
Join Now
Cheryl