Condo Reviews

Belle Vue Residences Review: Private spacious living in River Valley
The Belle Vue Residences is unique in certain ways. If you like the central location of River Valley, but want privacy, peace and quiet and require a big living space, it cannot be beat. But all these comes with some inconvenience due to the entrance, and price wise, a high quantum.
Reviewed by Stanley on July 06, 2019
What we like
Lots of privacy

Quiet in bustling River Valley

Size of units
What we don't like
—

No full-sized tennis court

—

No side gate with only one entrance

—

Blocks are quite bunched together considering the size of land
13
min read
About this condo

| | | | |
| --- | --- | --- | --- |
| Project | Belle Vue Residences | District | 09 |
| Address | Oxley Walk | Tenure | Freehold |
| Site Area | 247,751 sqft | No. of Units | 176 |
| Developer | Winquest Investment Pte Ltd | TOP | 2010 |
On the surface, the Belle Vue Residences has a lot going for it if you are looking for a high-end condominium in District 9 with privacy as a big priority. It is located in River Valley, on a huge piece of prime land considering the number of units and spacious units that are getting increasingly rare in Singapore. Are there any downsides to this development? Read on for our full comprehensive review on the Belle Vue Residences.
Belle Vue Residences Review Location
Belle Vue Residences location is very much hidden from the main road and in fact, the lane to turn into the development is so obscure that it is easy to miss. For those who have been to the W Hotel in Bali, the entrance to the development has a similar vibe and feel. So if you are all about privacy and secrecy, this place would be very much up your alley. We have to say though, when visiting for the first time, it does make the place feel very exclusive, as most of Oxley Walk is dedicated to the lead up to the Belle Vue Residences.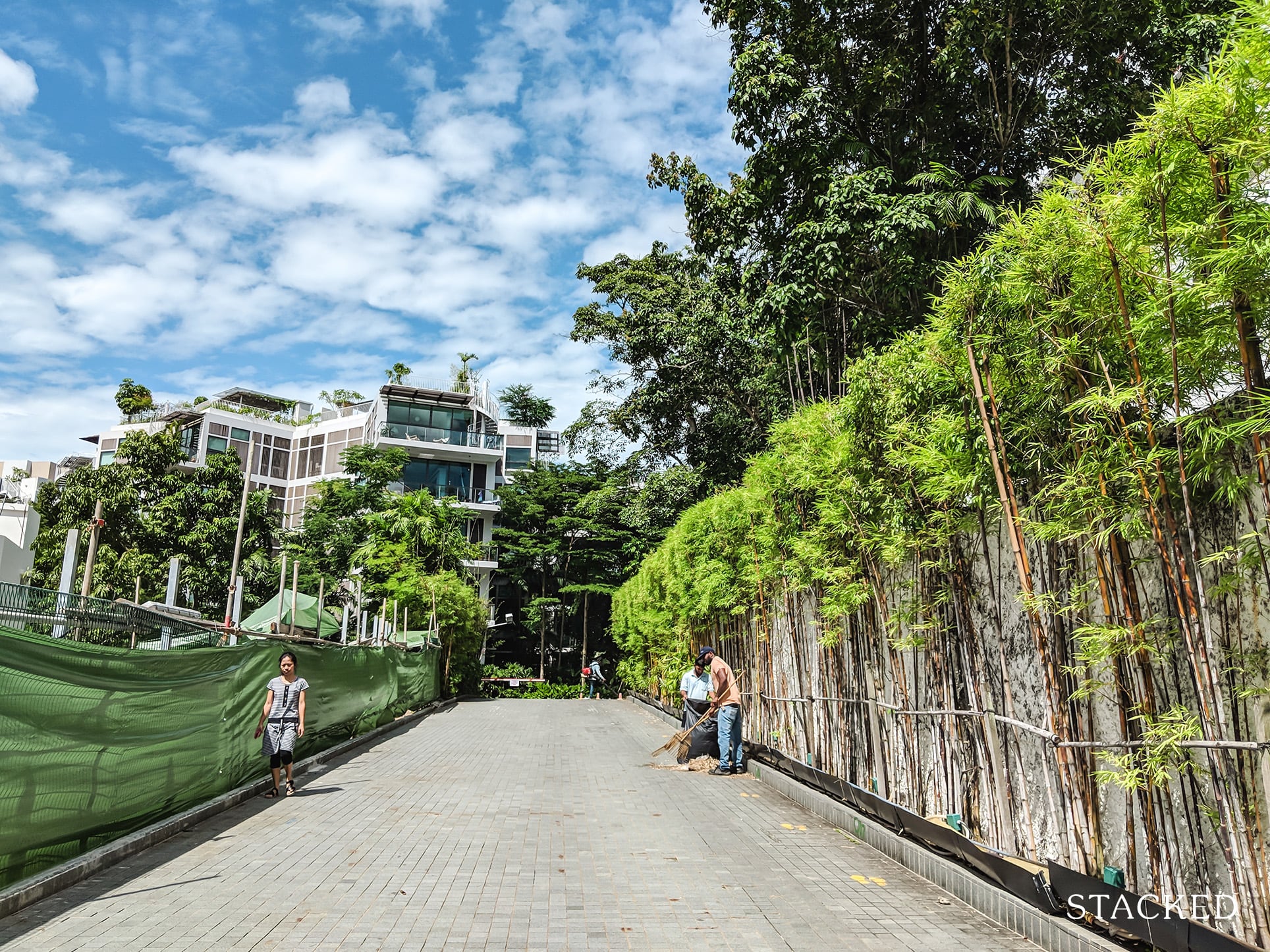 Like the Parvis condo that we recently reviewed, the Belle Vue is completely surrounded and if anything is even harder to access the development as there is only one small entrance and no side gate at all just the one side gate that allows you to get to Jalan Rumbia. For those who are all about convenience and accessibility, you can probably stop right here and look for something else. But for those well-heeled buyers who prioritise privacy and seclusion, this is about as private as you can get while still living in the central city area.
We have reviewed a good number of River Valley condos before, but the location of the Belle Vue Residences is rather unique as it is located closer towards Dhoby Ghaut and Fort Canning. So it is within about a 10-minute walking distance to Plaza Singapura and the Cathay. If you are up for walking further, that gets you to the Prinsep and Selegie area where there are lots of small cafes and shops and at night it is a lively area with many KTVs and bars dotted around. PoMo and Peace Centre can get quite crowded too with students on weekdays as the School of the Arts is right next to the Cathay. Frankly speaking though, this side of town is slightly rougher and messier, and most of the residents that can afford to live at the Belle Vue Residences would probably not be hanging out here.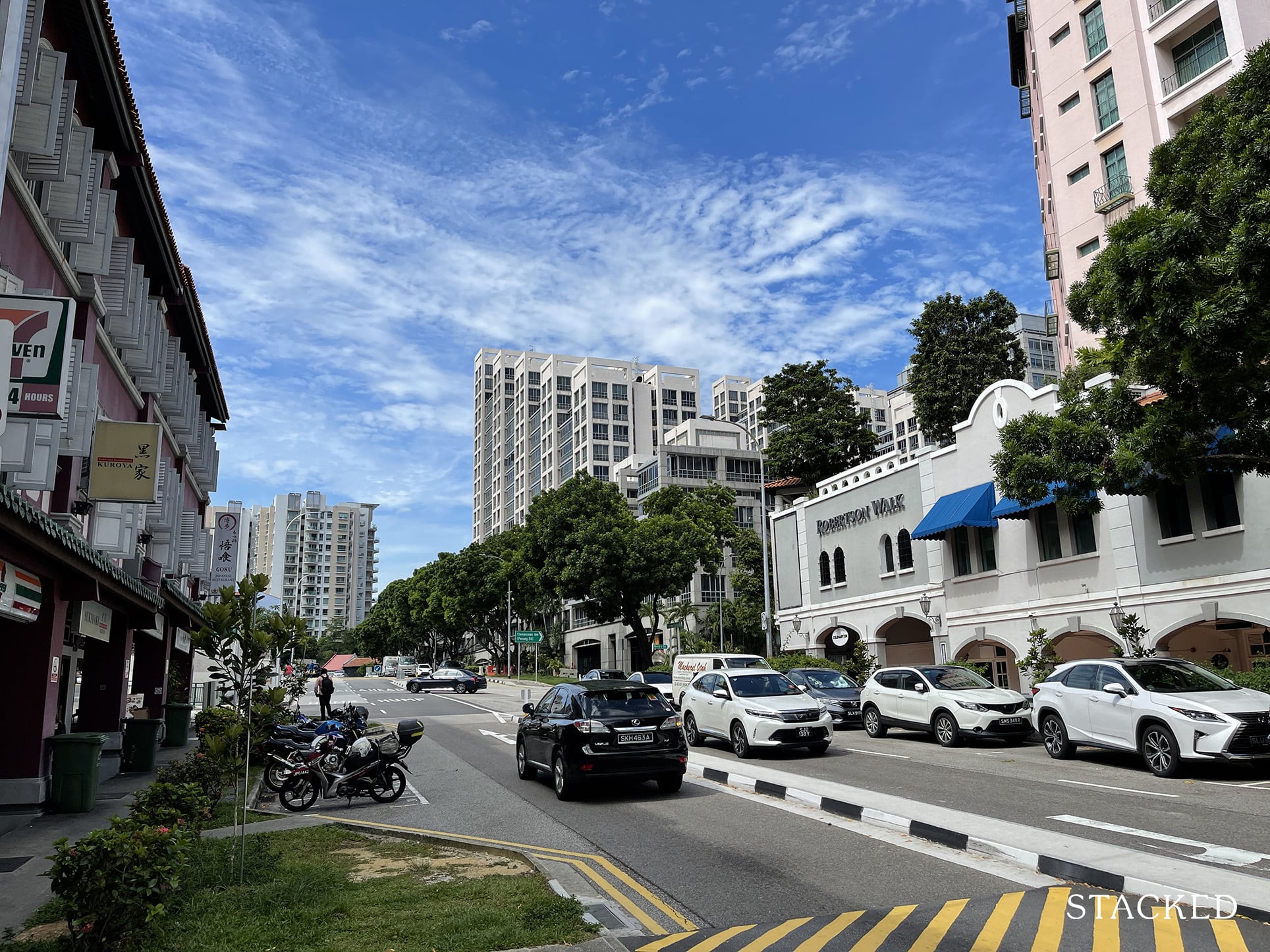 Which is just as well, because you can also walk to the Mohamed Sultan and Roberson Quay area where it is just packed with restaurants and more upscale joints. The area is famous for places like Bistecca Tuscan Steakhouse, Ippudo and District 10 Bar & Restaurant, just to name a few. But as a whole, the place is really established for its Japanese and Italian cuisines. We dare say that the Robertson Quay locale is well known for its nightlife too, and on weekends it can get really packed. Another option to choose from would be Clarke Quay, where its nightlife is possibly even more happening. We do think that the crowd you get there is probably the younger and more energetic age range that are ready to party the whole night and not to mention, the hordes of tourists swarming the place.
One thing to be aware of is that along Tank Road (close to the front of the Belle Vue Residences) is a string of religious buildings. This includes Sri Thendayuthapani Temple, the Church of the Sacred Heart and right along Oxley Walk is Chesed-El Synagogue. As Singapore is a multi-religious society and one of the rare places in the world where different religious groups can live together peacefully, this really isn't much of an issue at all. But it is just worth noting those days in which you can expect more activity for each religious group in that area.
Perhaps the most unique thing about staying in this area is the closeness of Fort Canning Park. We could be wrong, but other than the Imperial condo, the Belle Vue Residences is probably the closest you can stay (in a residential compound) to Fort Canning Park. Which is pretty cool as not many people can boast of that.

In a city centre area like this, access to such a big space of greenery is rare and nature lovers will appreciate this aspect of living in the Belle Vue Residences.

As for transportation, the Belle Vue Residences is within 10 minutes walking distance with two MRT stations, Fort Canning and Dhoby Ghaut. Dhoby Ghaut is an interchange so you get three in one with the Circle Line, North South Line, and the North East Line. Fort Canning is the Downtown Line so its easy to hop on to get to the CBD area. Although the walk is not super short by any means, we think that most buyers that can afford the Belle Vue Residences most probably are not looking at public transportation as their primary means of transport. 
For buses, the closest bus stop is opposite Haw Par Glass Tower, but the offerings of just 4 bus services are pretty dismal. For more options, you will have to walk round to Mohamed Sultan Road where there is another bus stop. For drivers, River Valley Road is a major road with lots of connections so it will be easy to make your way to and from the development. The closest highway is the CTE, which in our opinion is the worst highway as it is usually quite jammed.
Lastly, for schools in the area, River Valley Primary School, Chatsworth International School, and St Margaret's Primary School are all within a 10-minute walking distance. If you have children in university, you could actually walk to the SMU city campus, it's not a short walk but its great exercise!
Development Site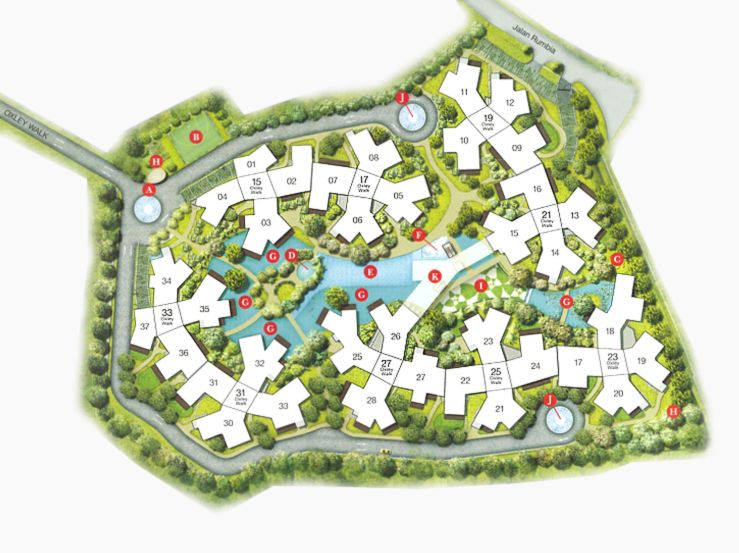 It's tough to see from the outside, but the Belle Vue Residences has 247,751 square feet of land for just 176 units which is a great ratio. Once you get in from the private driveway, you are able to drive down both sides of the development but unfortunately, it does not wrap all the way around the property.
However, despite there being so few units for the land size, the blocks are actually quite close together and not as spaced out as you would imagine. One reason being the low plot ratio (1.4) for the area, and another for the bigger than average unit sizes. So much so that there wasn't even space for a proper tennis court, and in its place, a multi-purpose court.
As you can see, because of the insulated nature of the development, you get lots of privacy and quietness. You will not get any sort of road noise at all, which is quite a feat when you are living in central Singapore. But as we said, this will come at the expense of accessibility as there is only one entrance to the development. With that being said, you do not share Oxley Walk with anyone else so traffic will be kept to a minimum.
From the unit mix you can better understand the targeted clientele of the Belle Vue Residences.
Unit mix

| Unit Type | Size (sqft) |
| --- | --- |
| 2-bedroom | 1,378 sqft |
| 3-bedroom | 1,841 – 2,120 sqft |
| 4-bedroom | 2,239 – 4,250 sqft |
The units here are huge and truly generous, with the 2 bedroom units the size of some 4/5 bedroom apartments we've seen in other areas. (Looking at you Sky Everton).
Insider Tour
Facilities in Belle Vue Residences
Multi-purpose Room
Swimming Pool
Steam Room
Theatrette
Barbeque Pits
Courtyard Garden with Water Wall
Playground
Sauna
Children's Pool
Leisure Lounge
Multi-purpose Court
Jacuzzi
Gymnasium
Clubhouse
Golf Storage Locker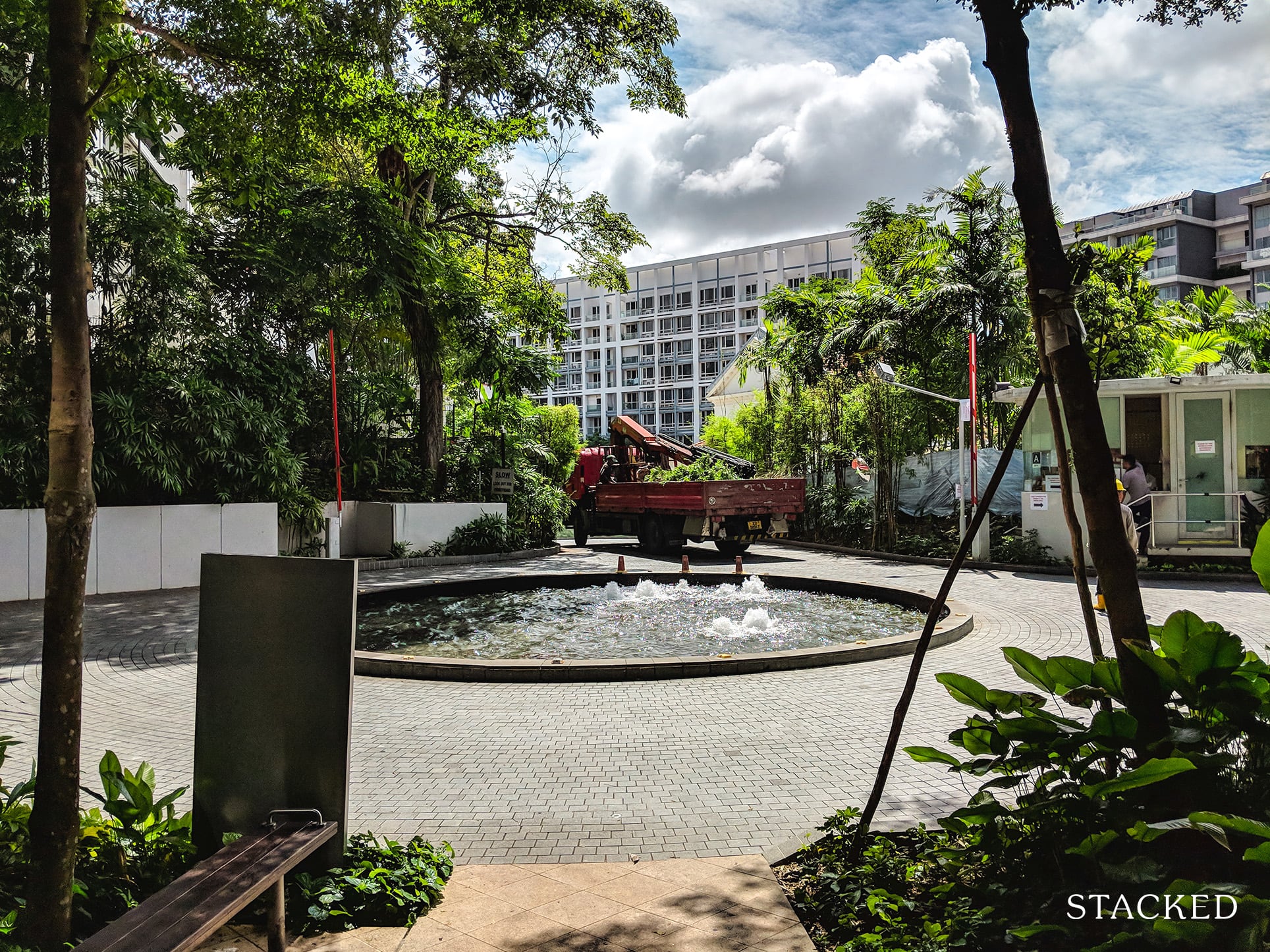 The arrival area is appropriately sized, but after the private driveway in we have to say it was not as impressive as we thought it would be. Not to say that it was a letdown, but it was just okay.
It's a different story beyond the arrival area though. Once you step into the front of the blocks, the area just looks super welcoming with the tall trees and luxuriant foliage. It does also remind you of a high-end resort.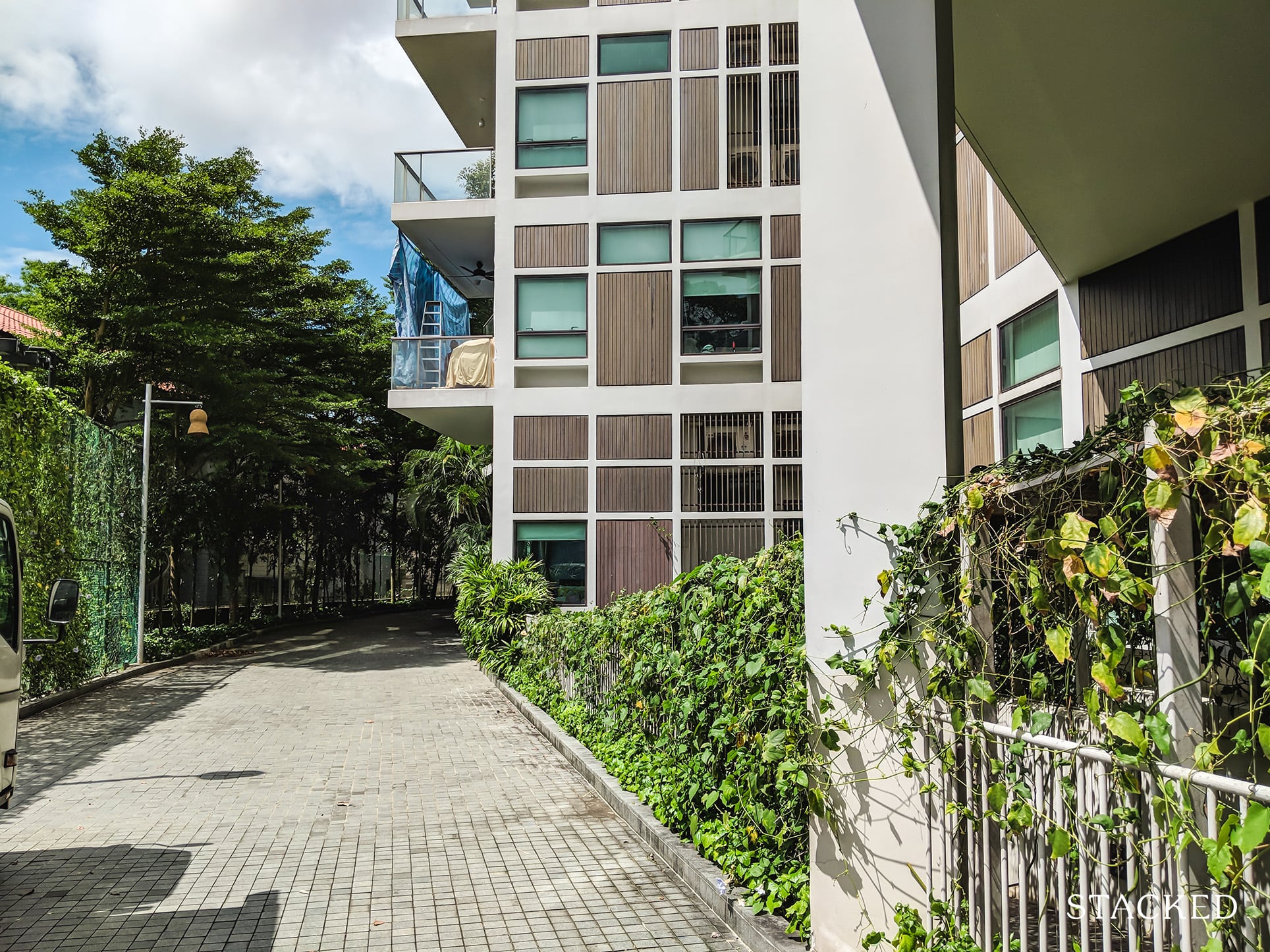 Perhaps its because its been almost ten years since, but we can't help but feel that the driveway does not quite scream high-end.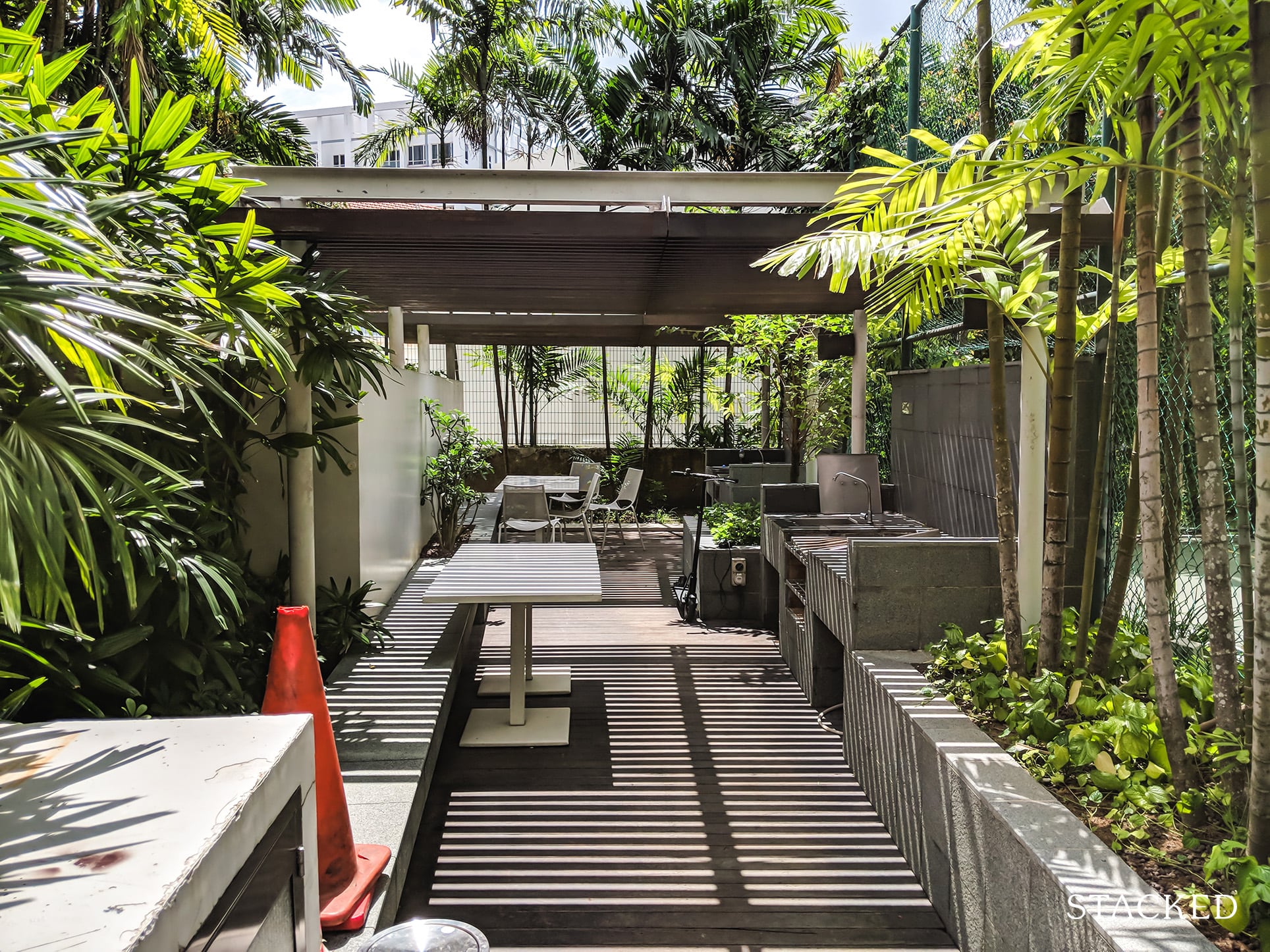 Right next to the guardhouse is one of the barbeque pits along with some seating area. Thankfully there is some semblance of shade, but we did think this was a strange location to put a barbeque area. It's almost as if it was an afterthought.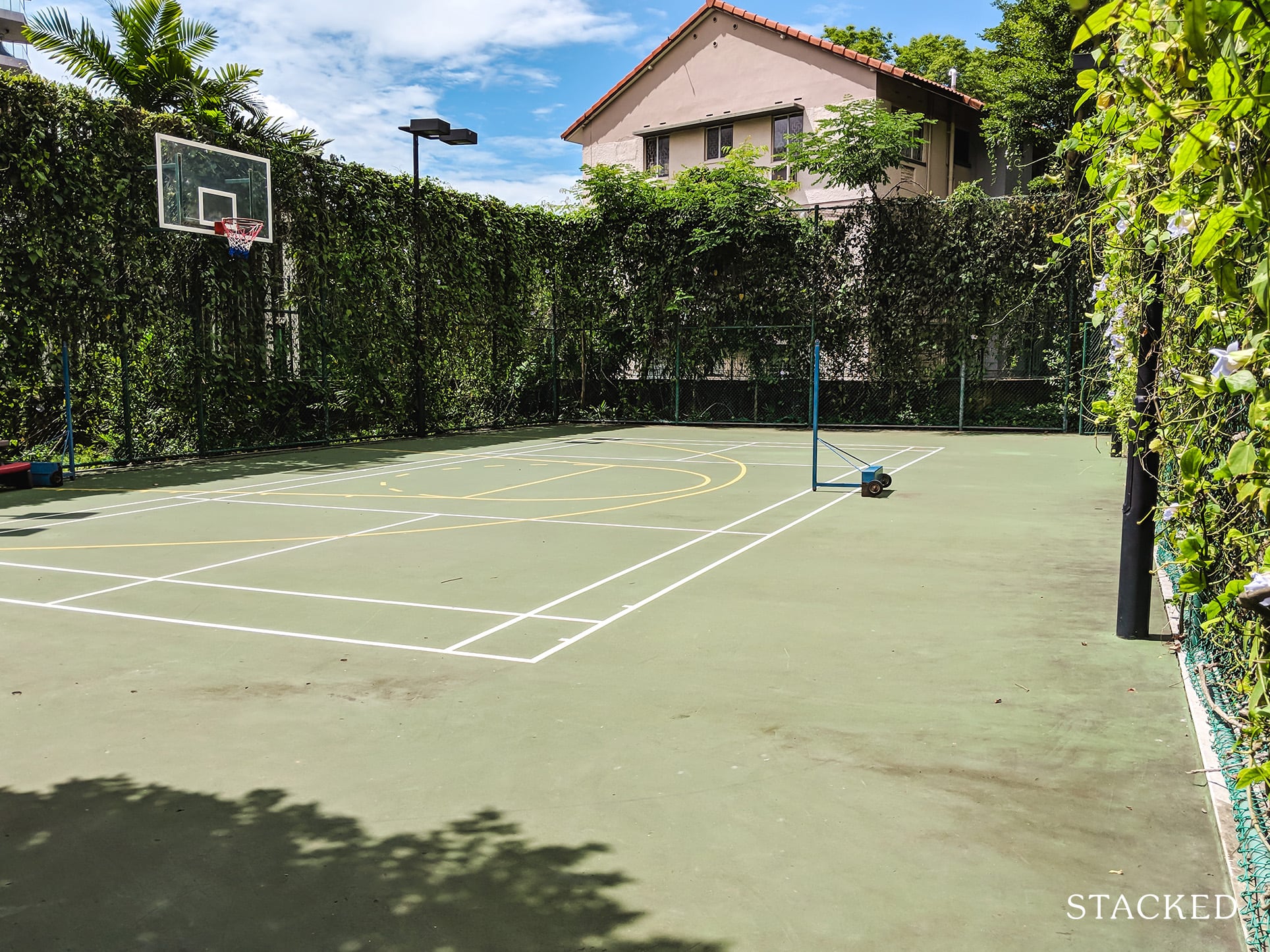 While we are not the biggest tennis fans, we can't say that many of the residents would be too impressed that there isn't a full sized one at the Belle Vue Residences. If you are a huge tennis fan, this probably would not be adequate for you. It does the job for casual sports though.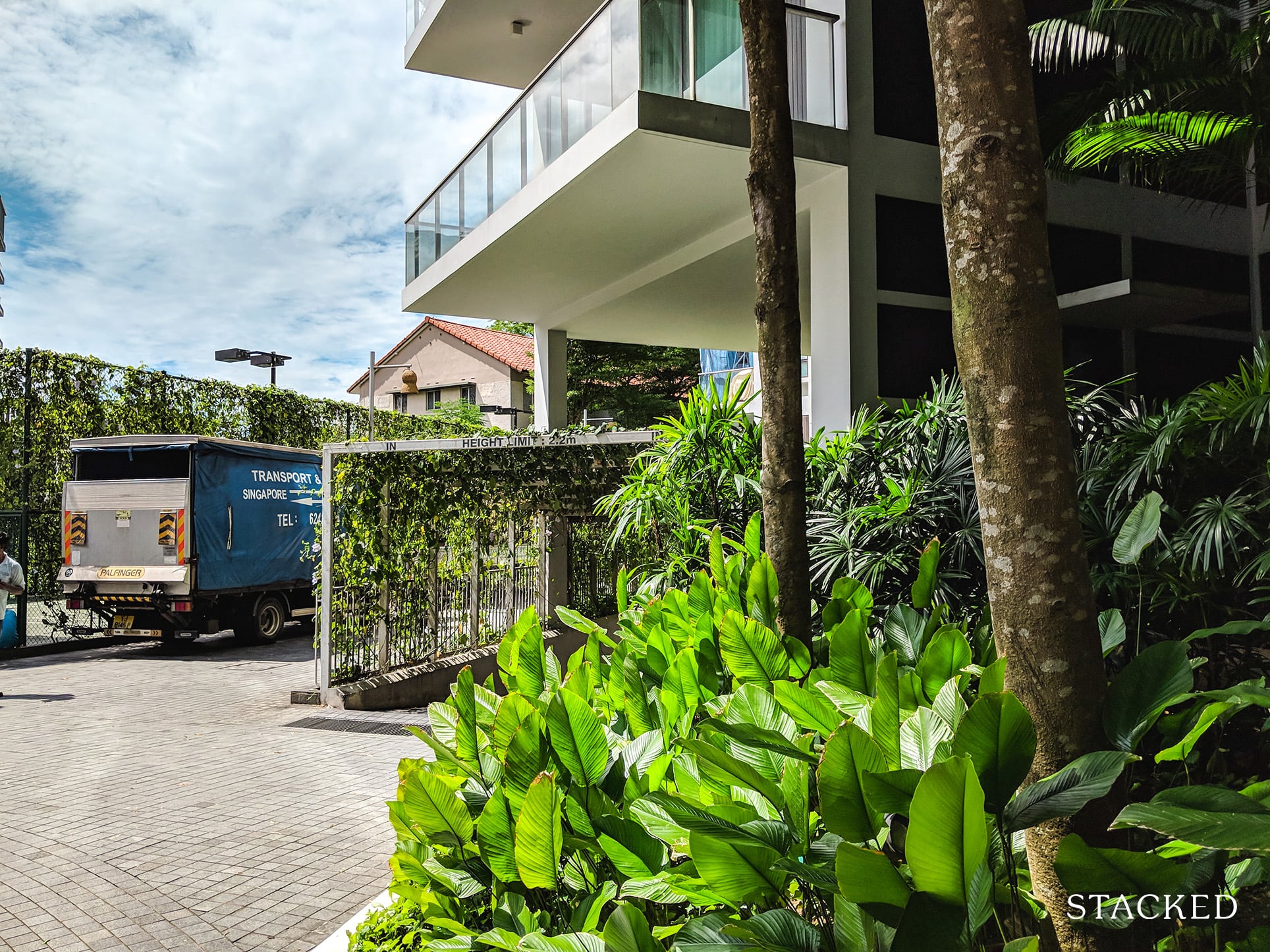 The entrance to the underground carpark is just off the roundabout, and the entire ceiling was covered in long vines, which was a nice touch.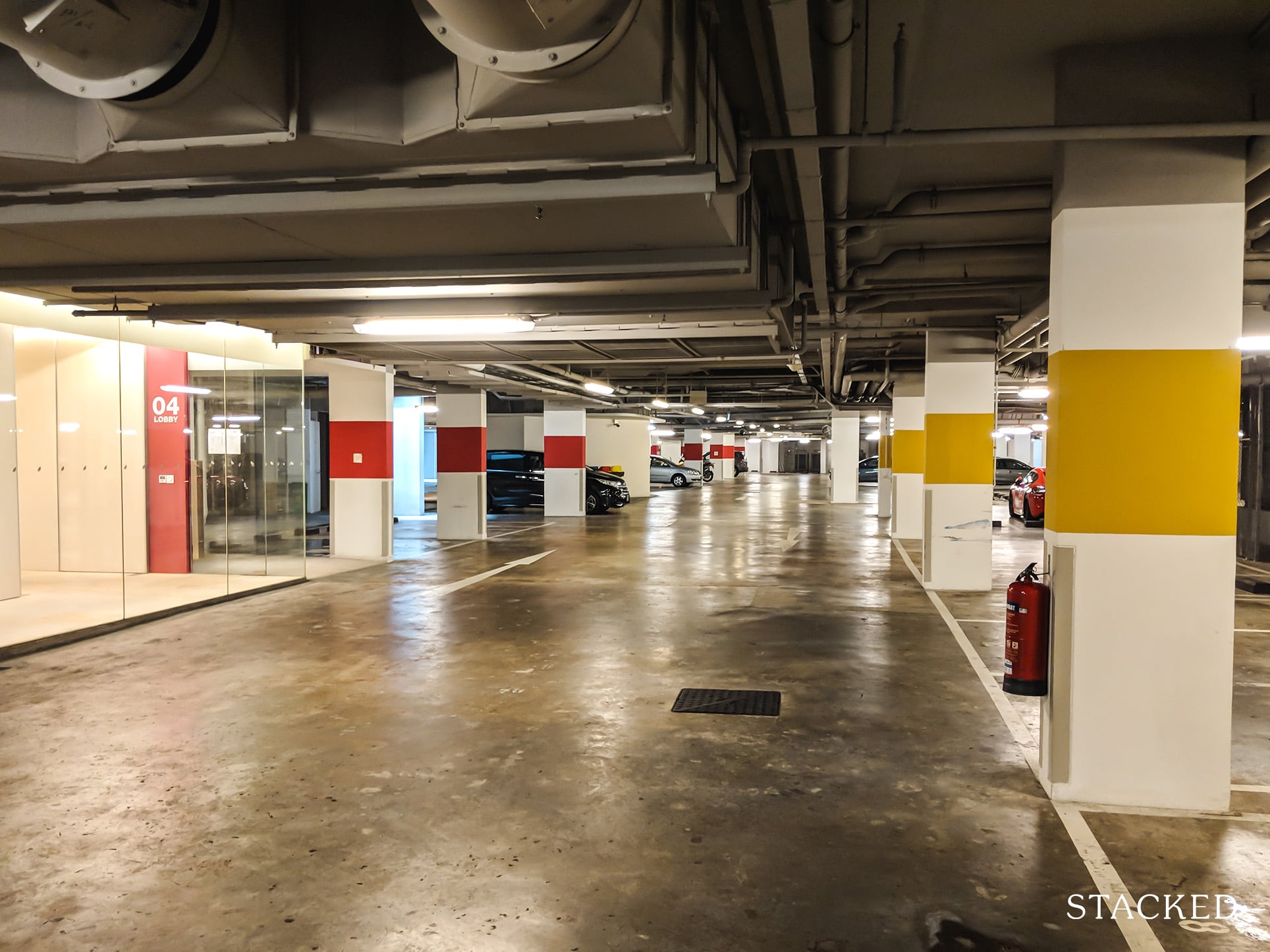 The carpark is brightly lit but that is just about the best praise we can muster for it. There are quite a number of blocks and different lobbies, so we get why it could be confusing for people such that they had to differentiate with colour. But it just feels a bit cheap. Same goes for the flooring. Perhaps we've been too spoilt by many of the newer premium developments.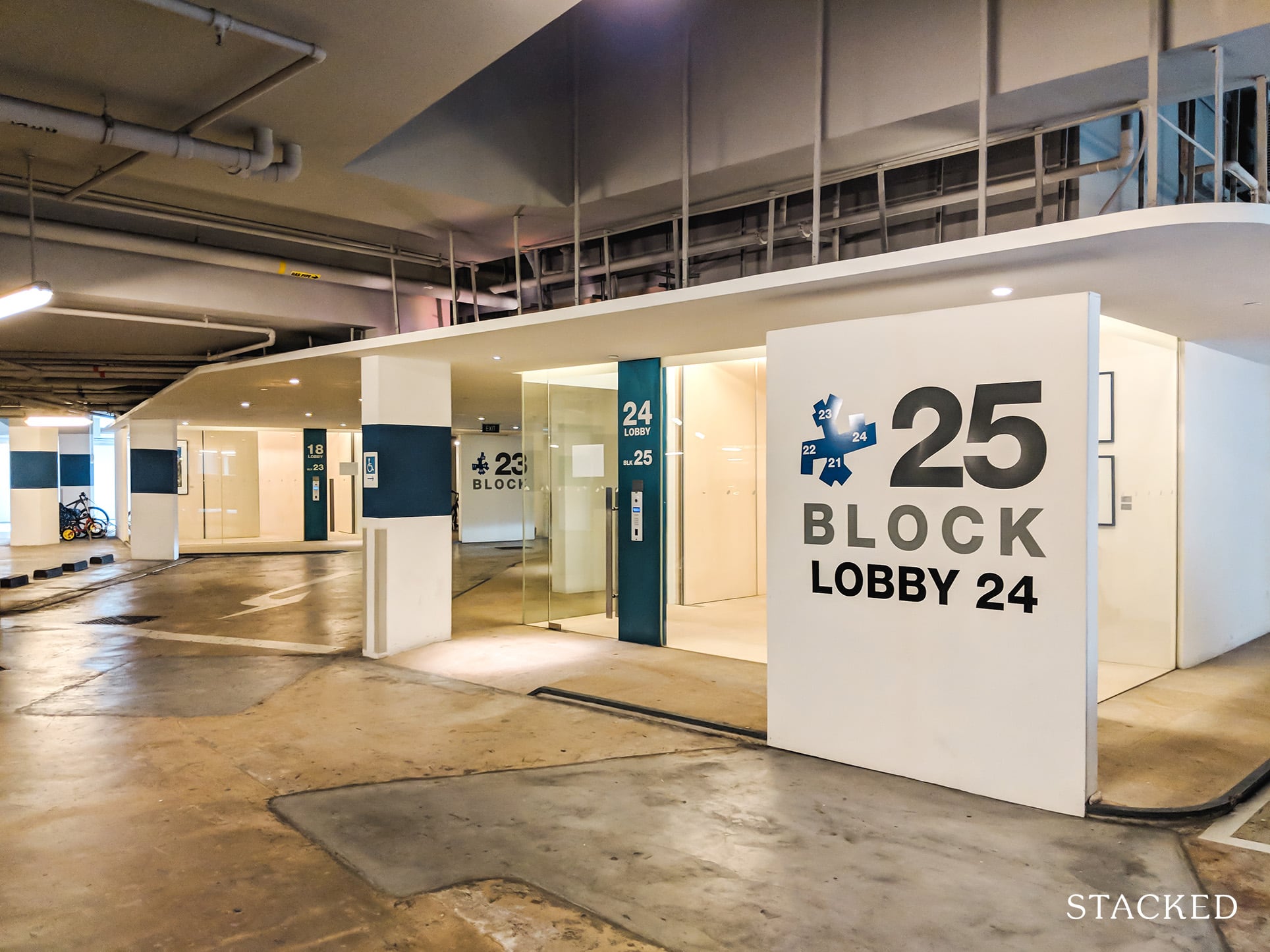 Each lobby is also air conditioned which is always great and requires keycard access or for you to be dialled up for additional security.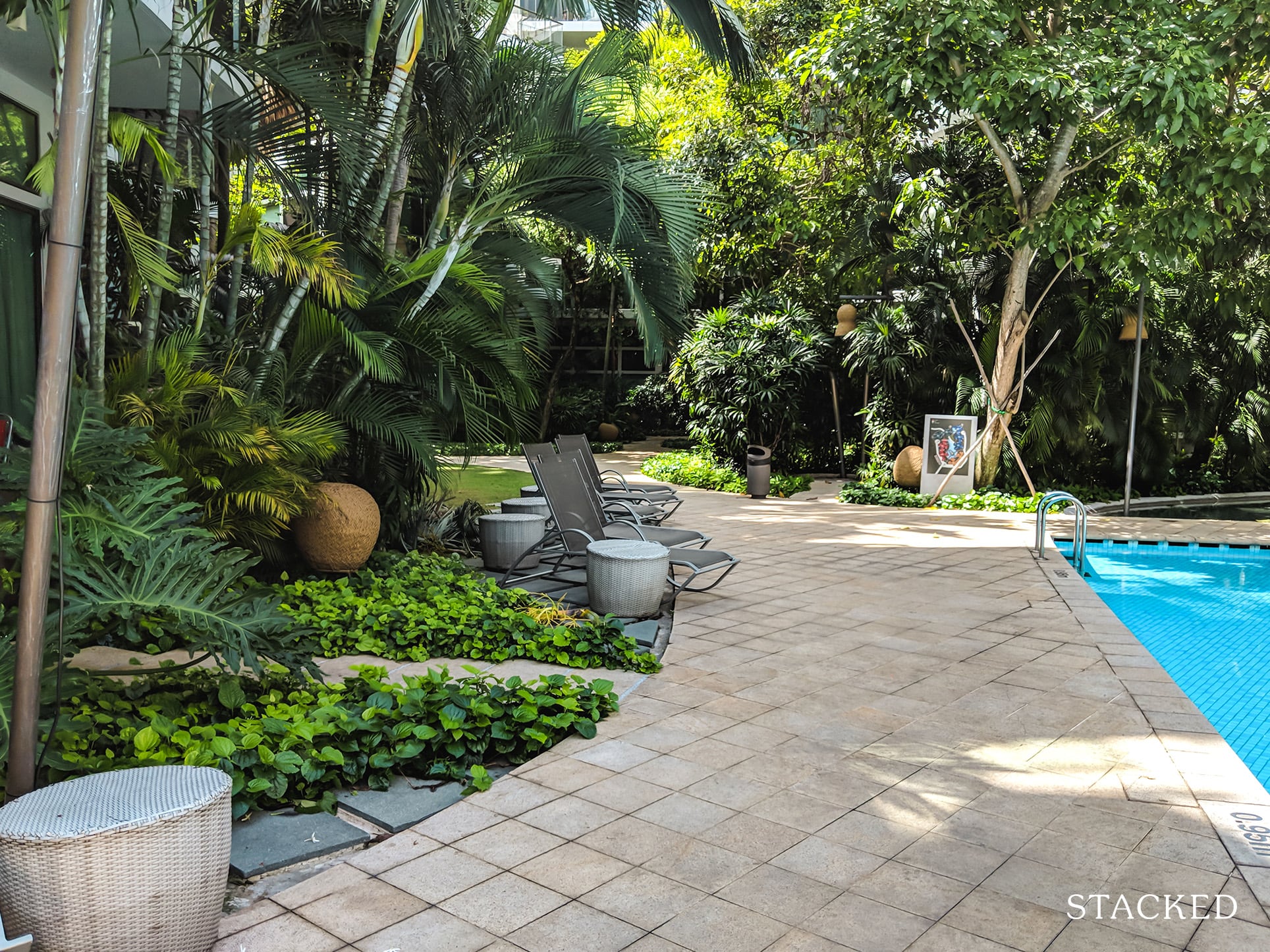 Read this next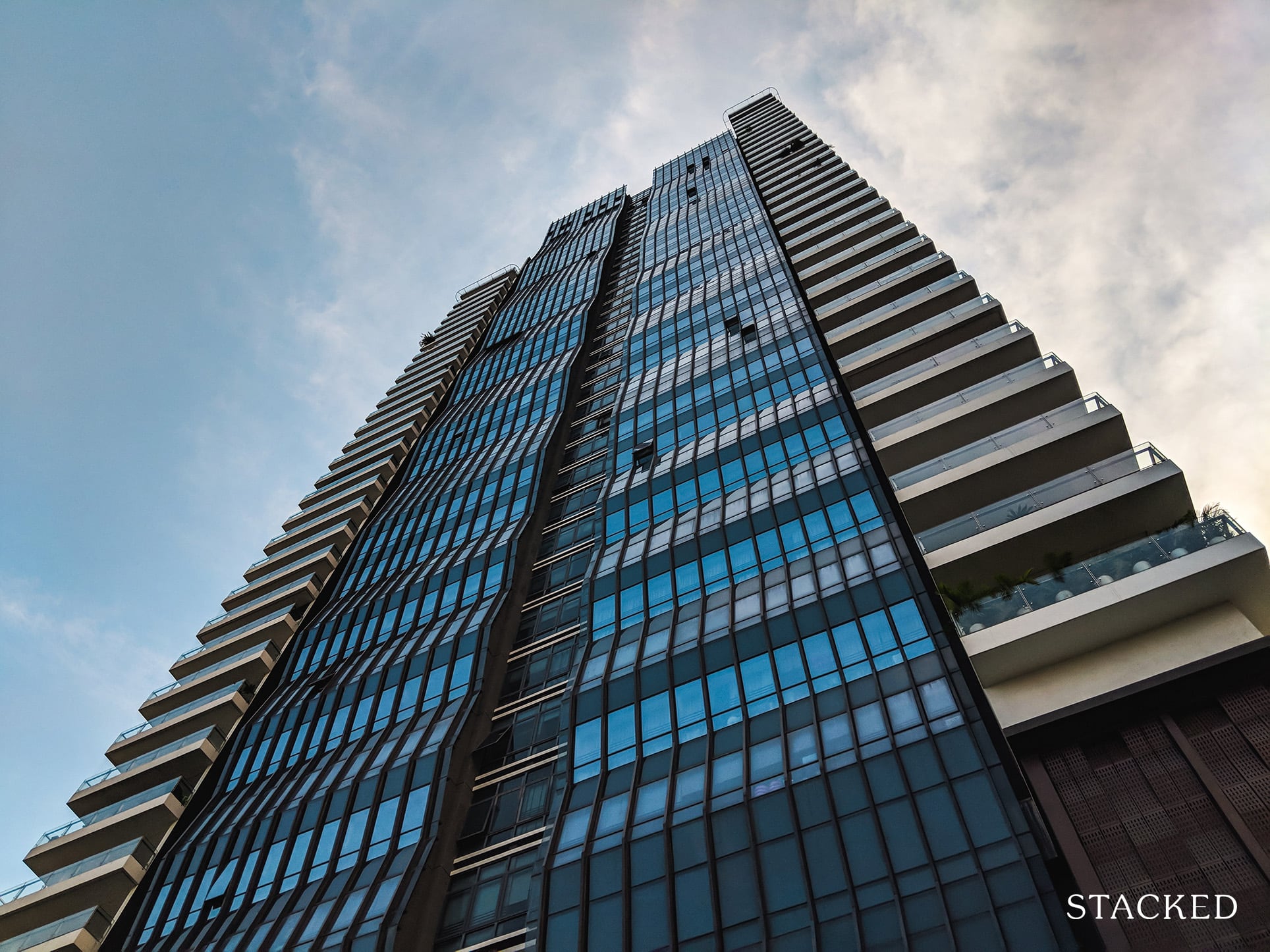 Coming up to the common area, the Belle Vue Residences offers a lot of greenery and is kept quite cool in the shade despite the hot afternoon sun.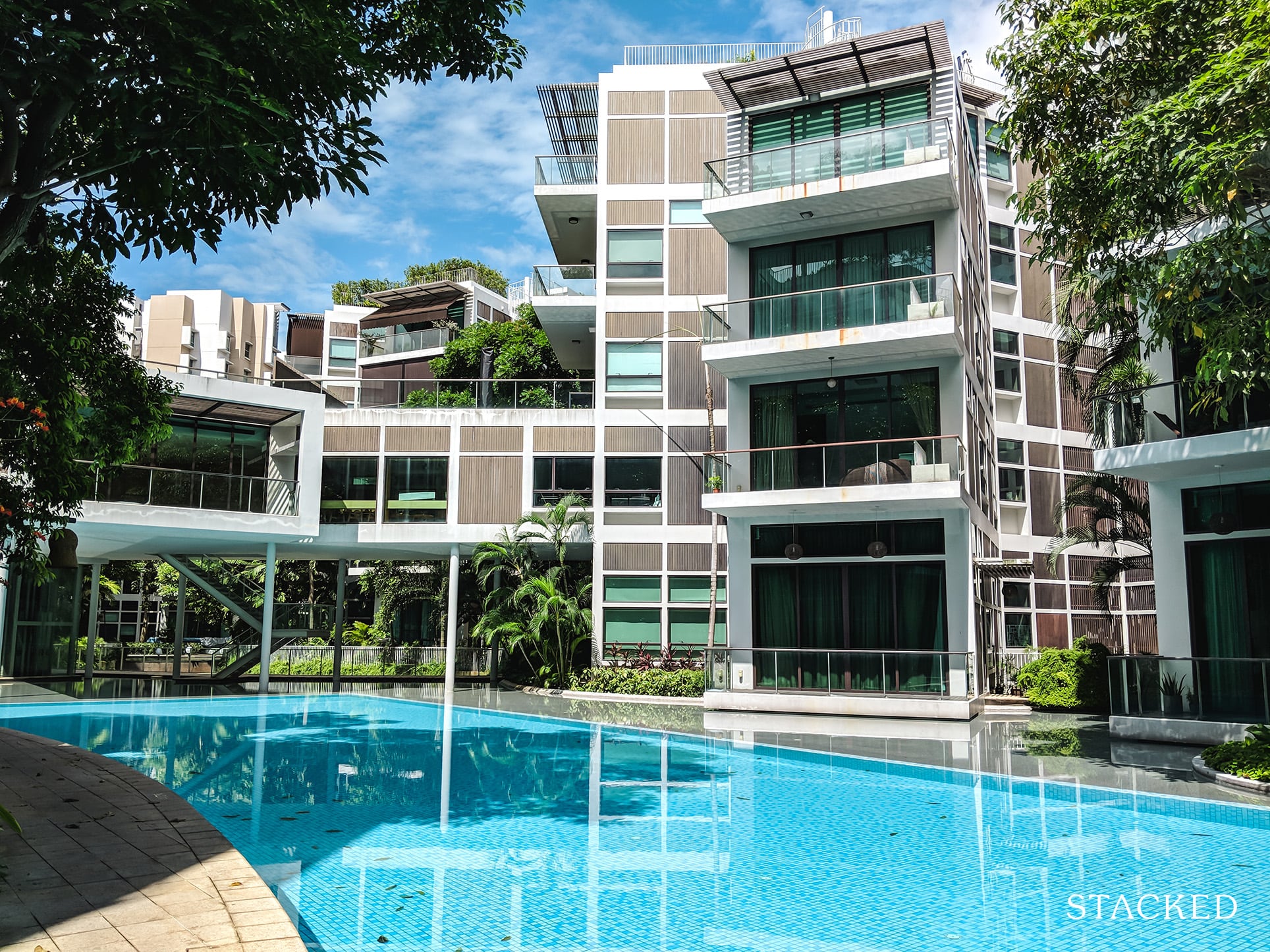 The swimming pool is appropriately sized for the development, and we like how it spills over to some of the units, where the ground floor looks as if it is surrounded by water.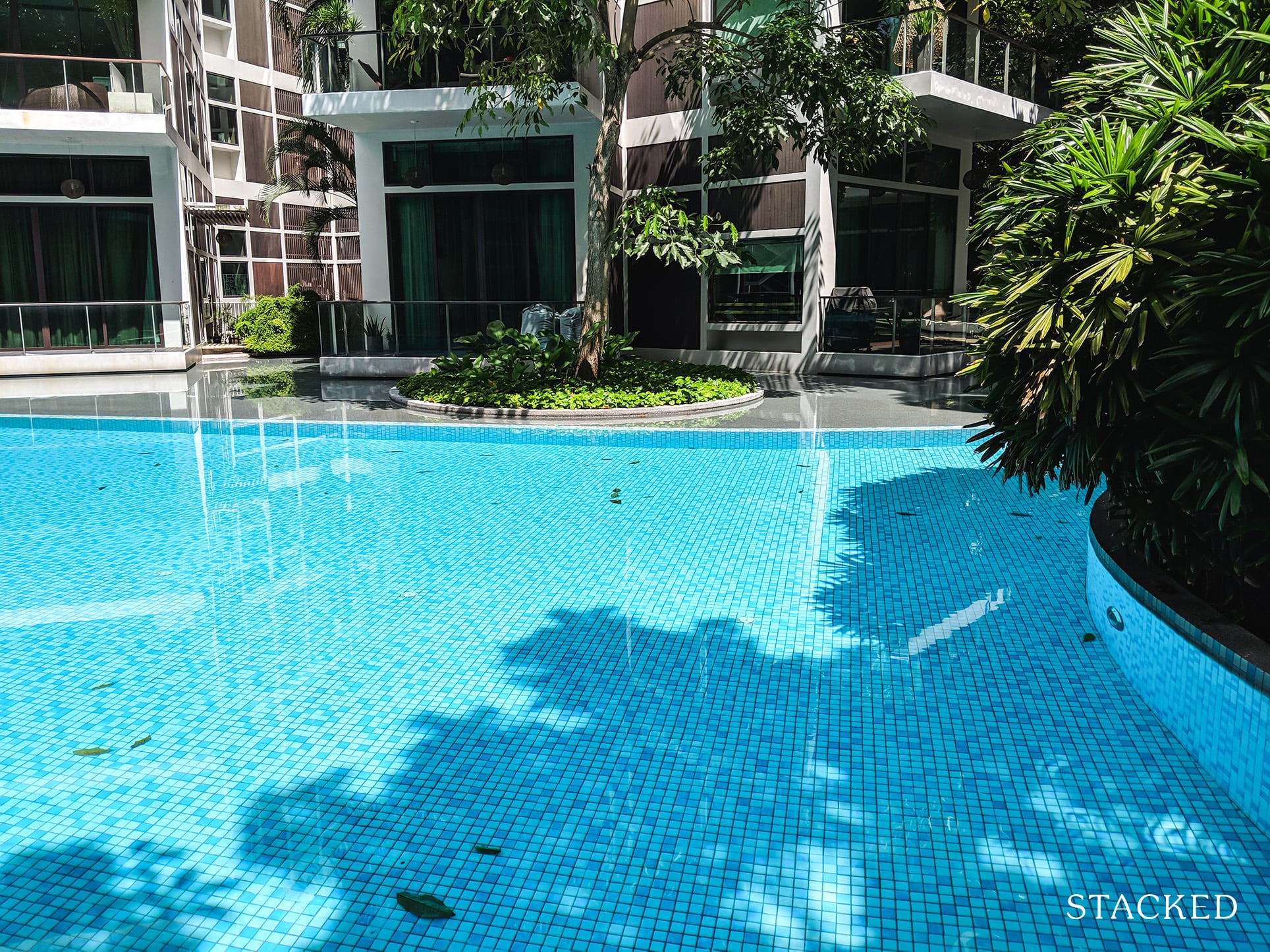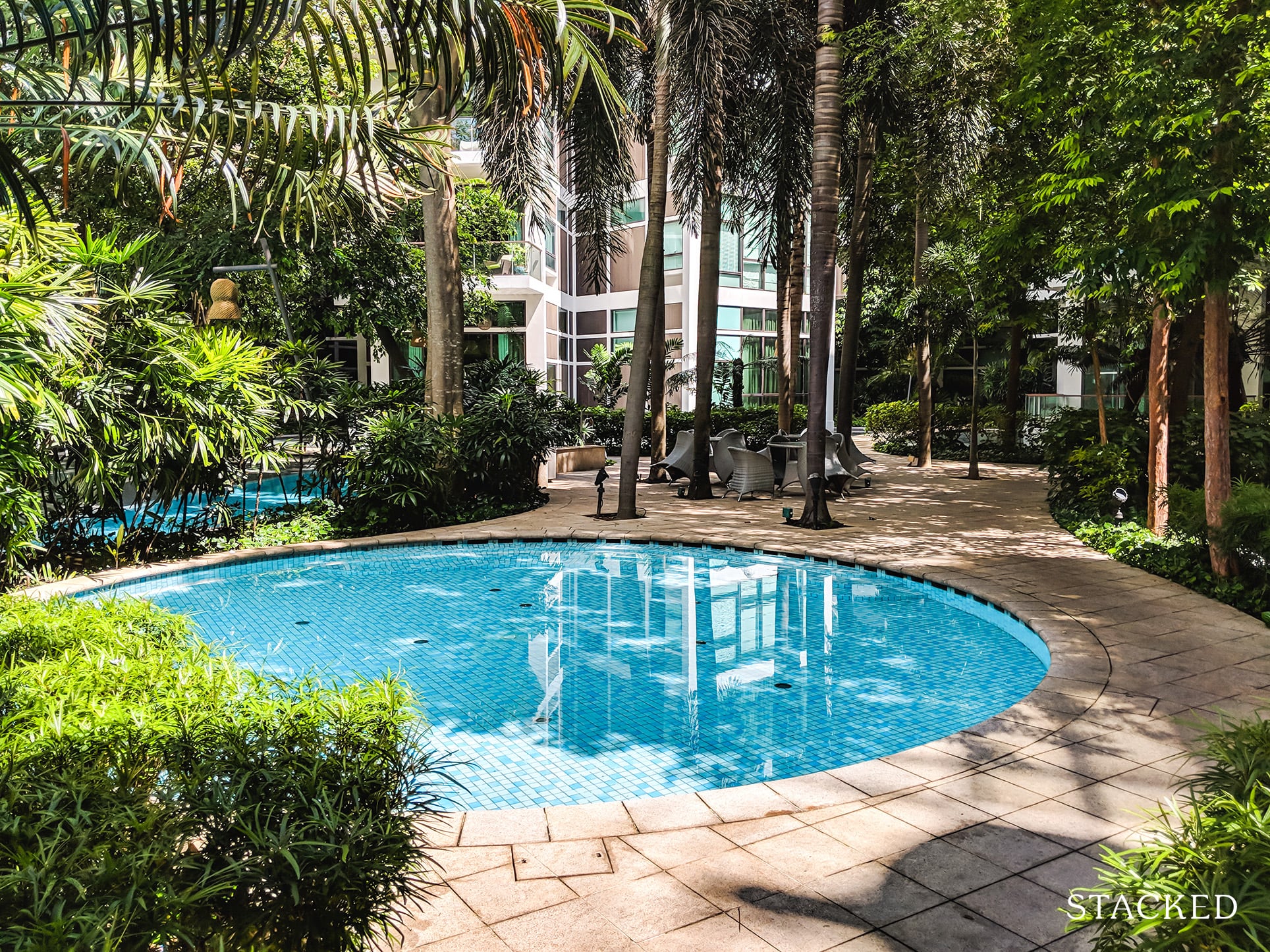 Over at the corner there is a small, shallow kids pool, with some chairs and tables surrounding it.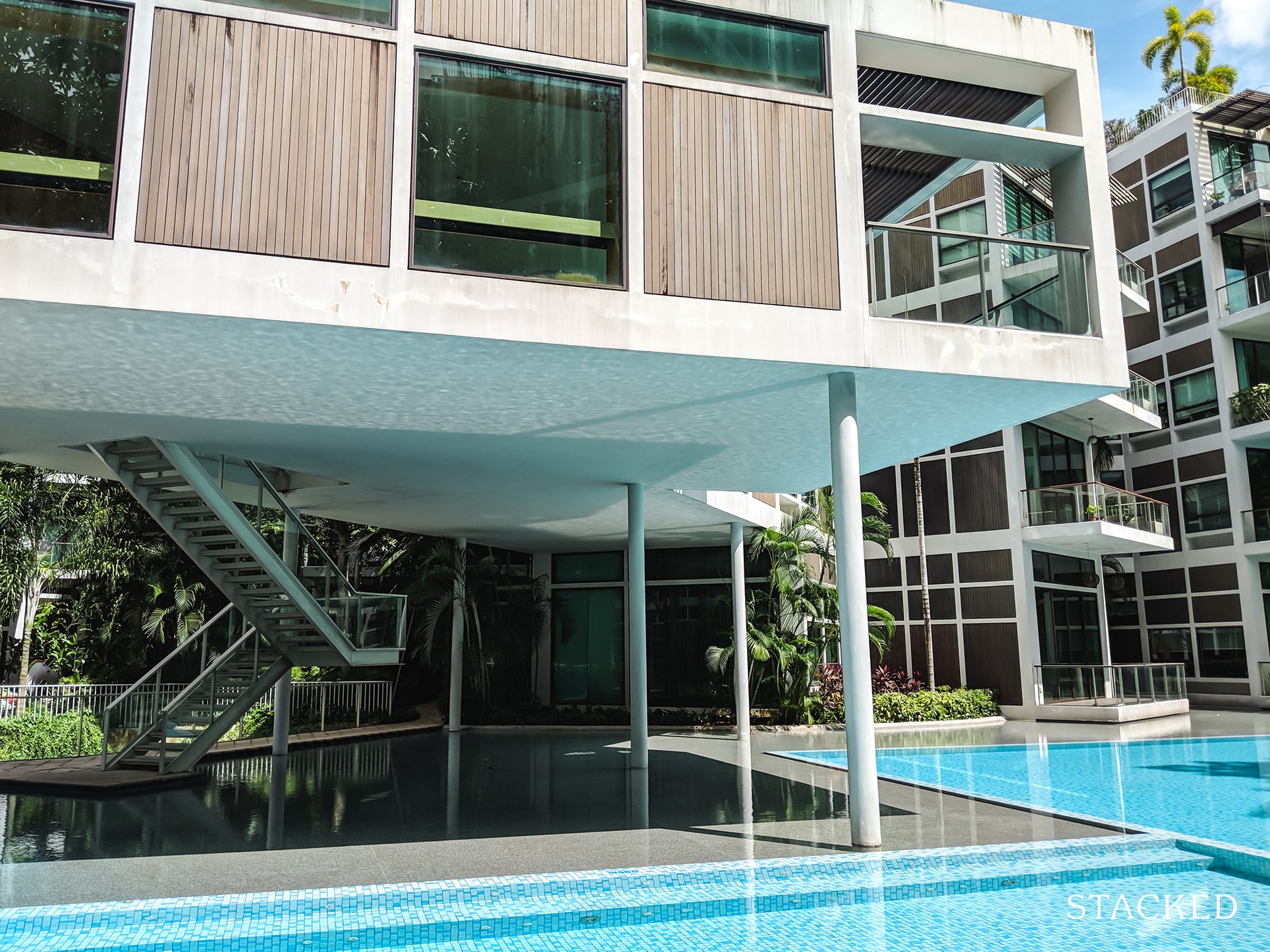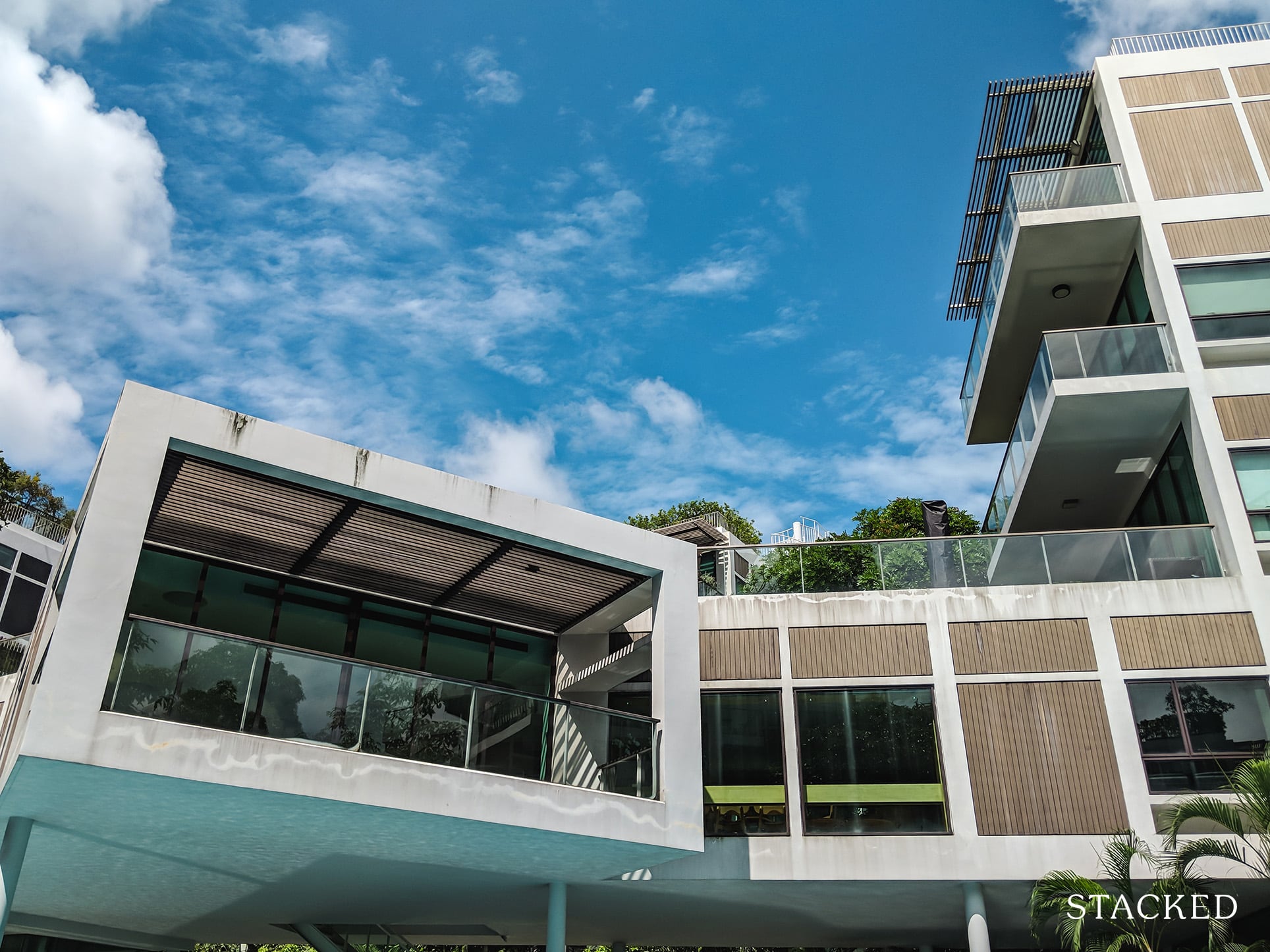 The clubhouse is at the end of the swimming pool. We do like how it has been elevated over the pool, which is a nice touch.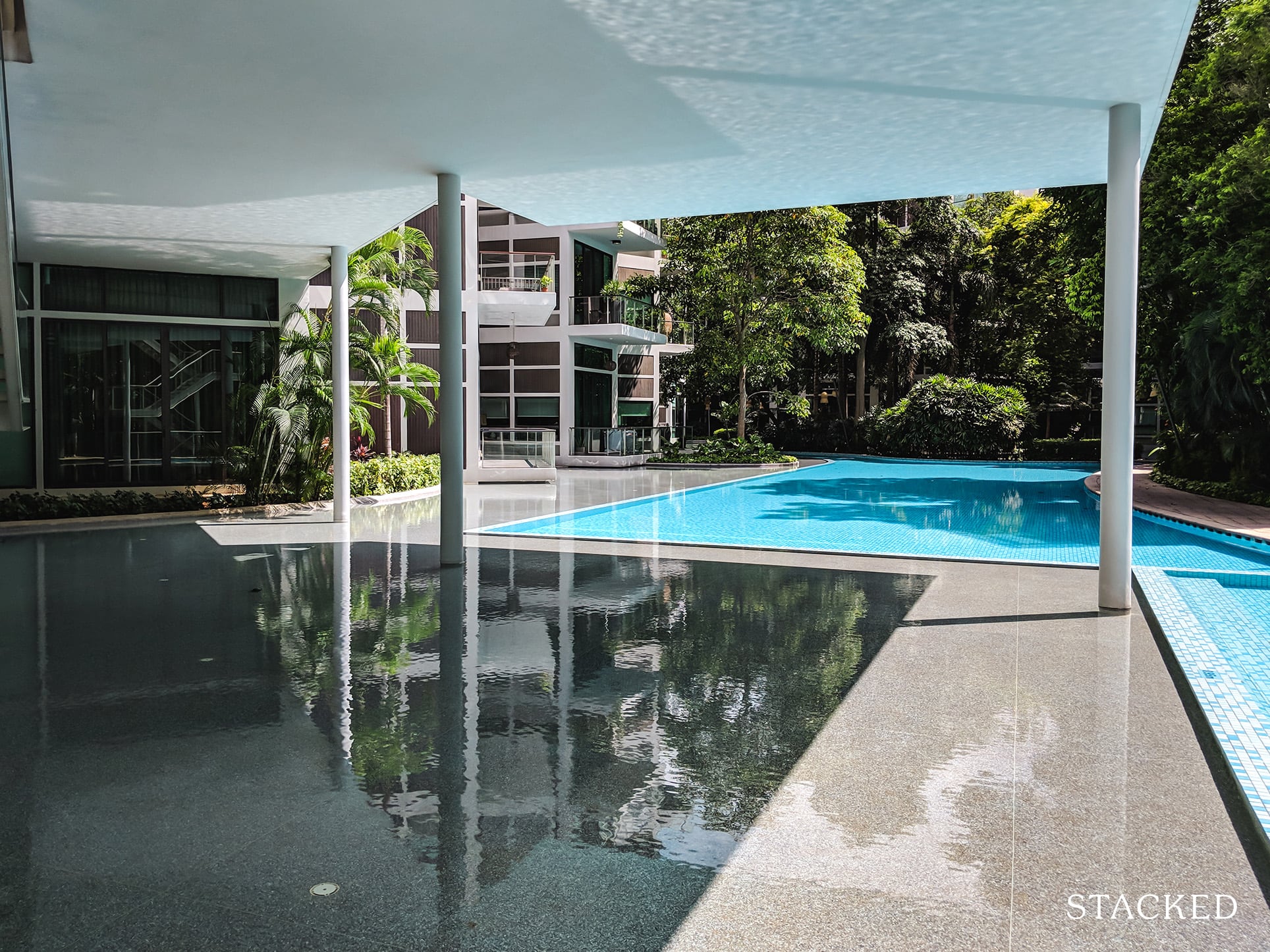 It's a bit of a wasted space below but we feel it adds to the look.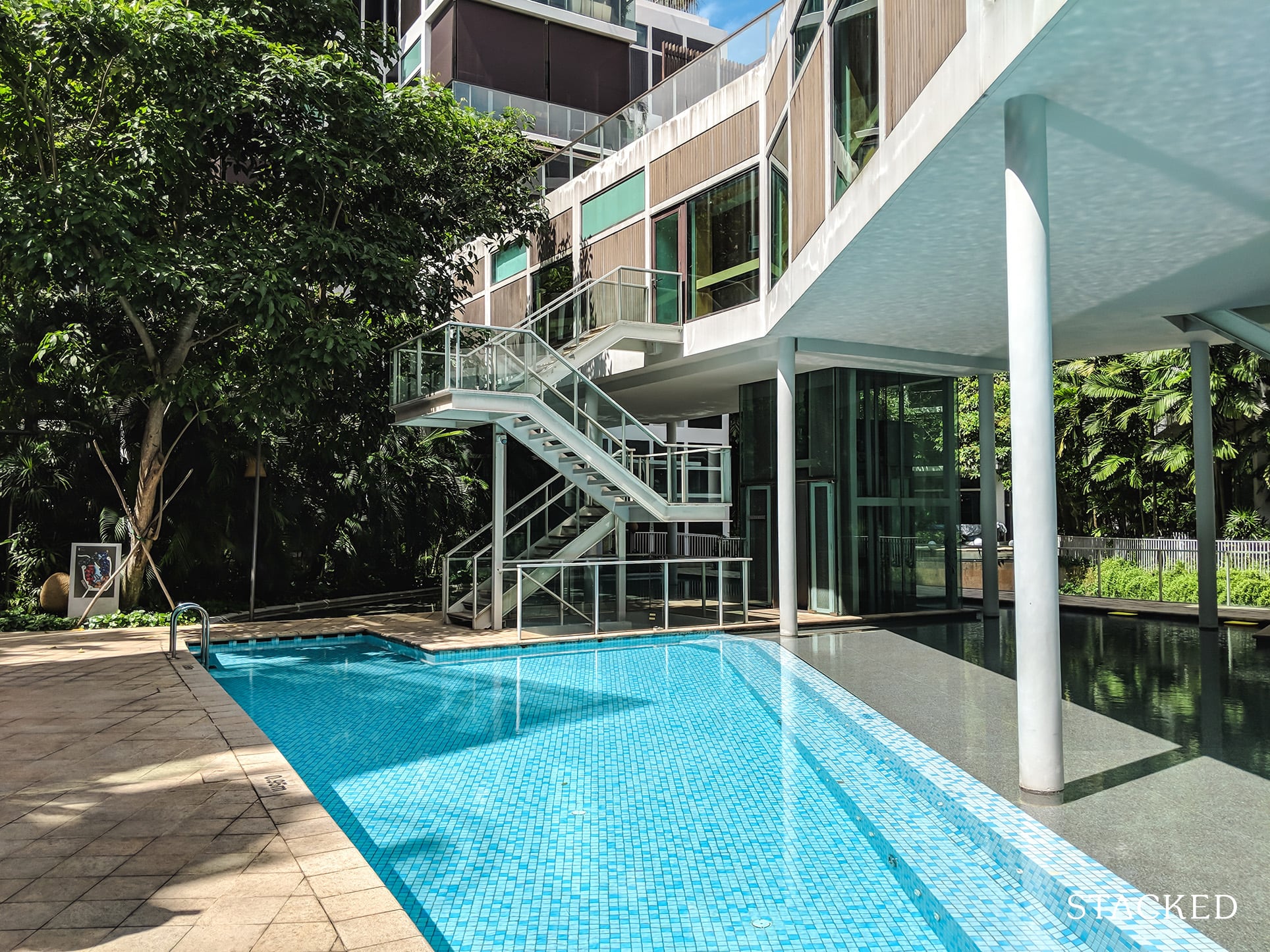 Just below the clubhouse, there is another small swimming pool.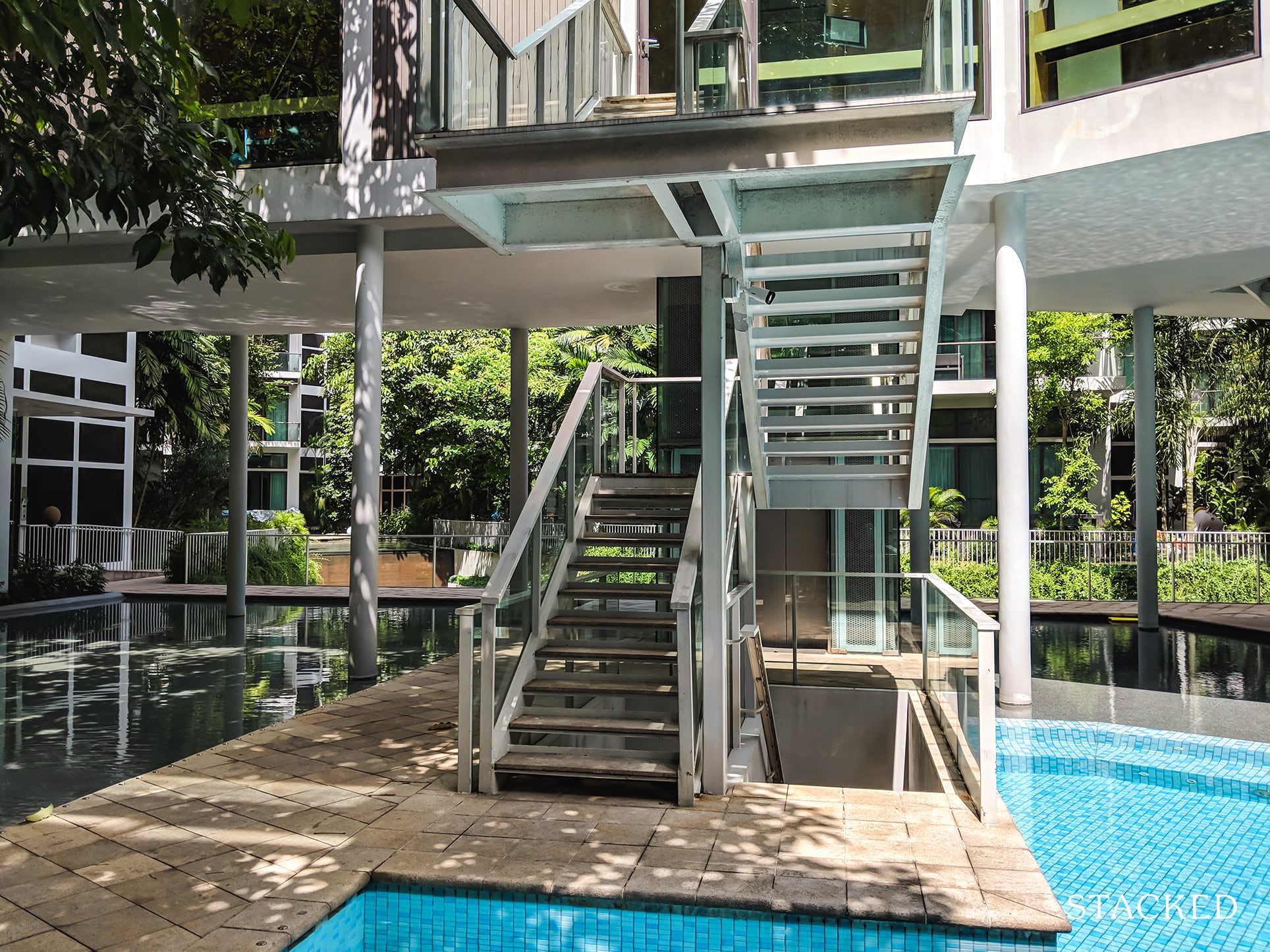 You have the option of taking the stairs or getting the lift to the clubhouse.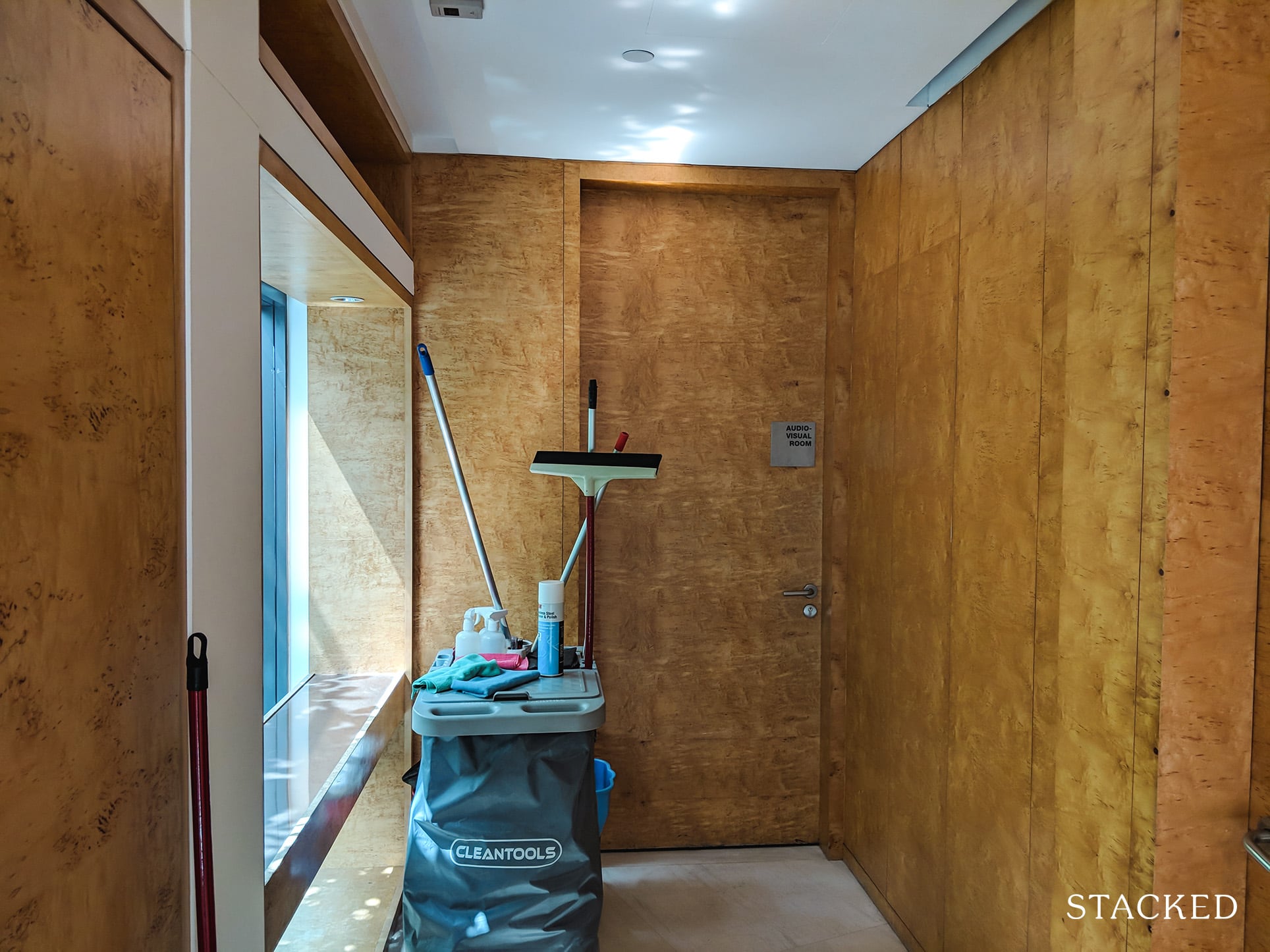 Once you get up, to your left would be the theatre room.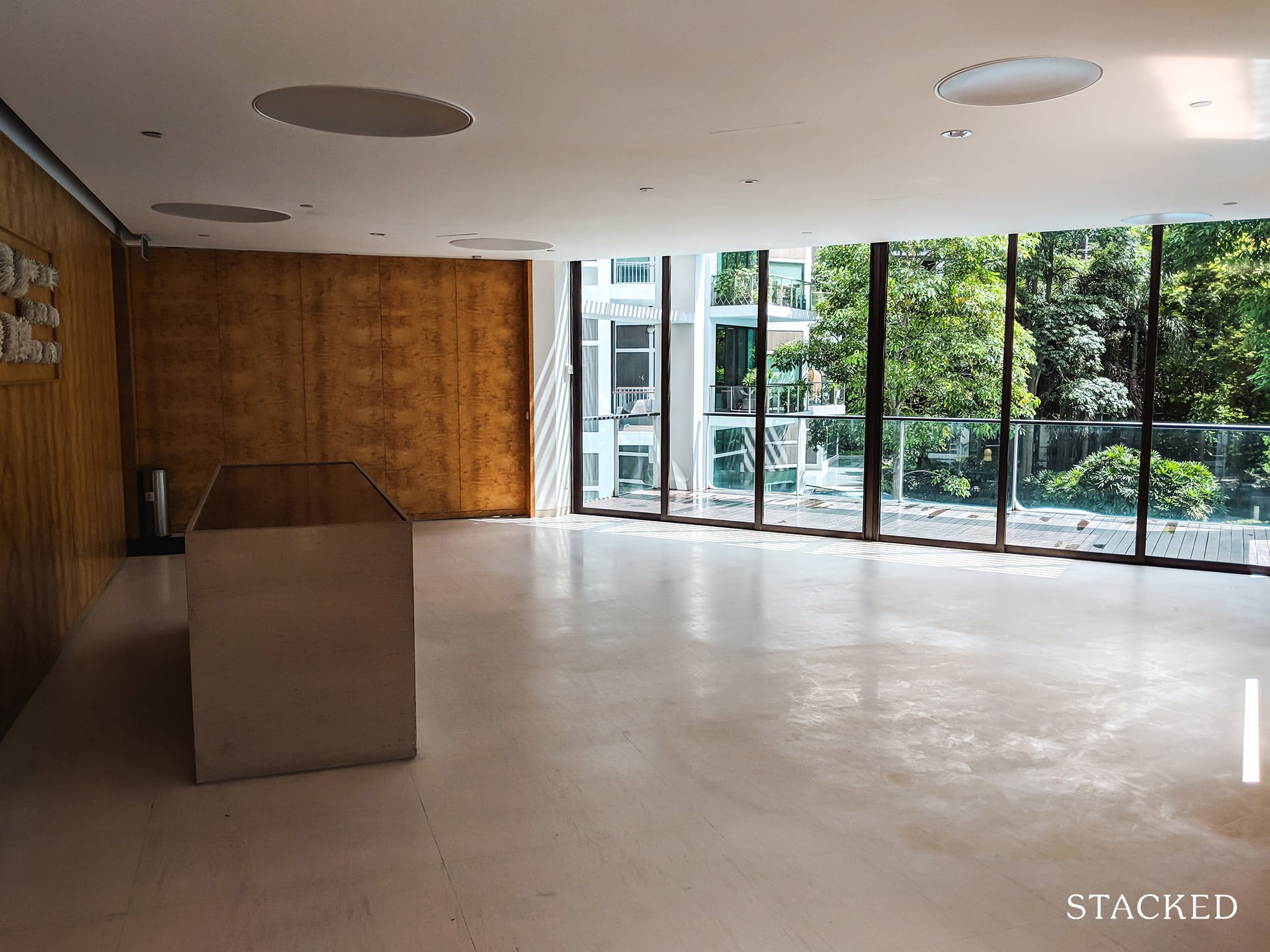 And to the right would be a multi purpose room that you can use for functions and entertaining. It is quite a big space usable space. If you were wondering why the place looked so bare, its because they are currently undergoing a revamp, so you can expect the final version to look a lot better.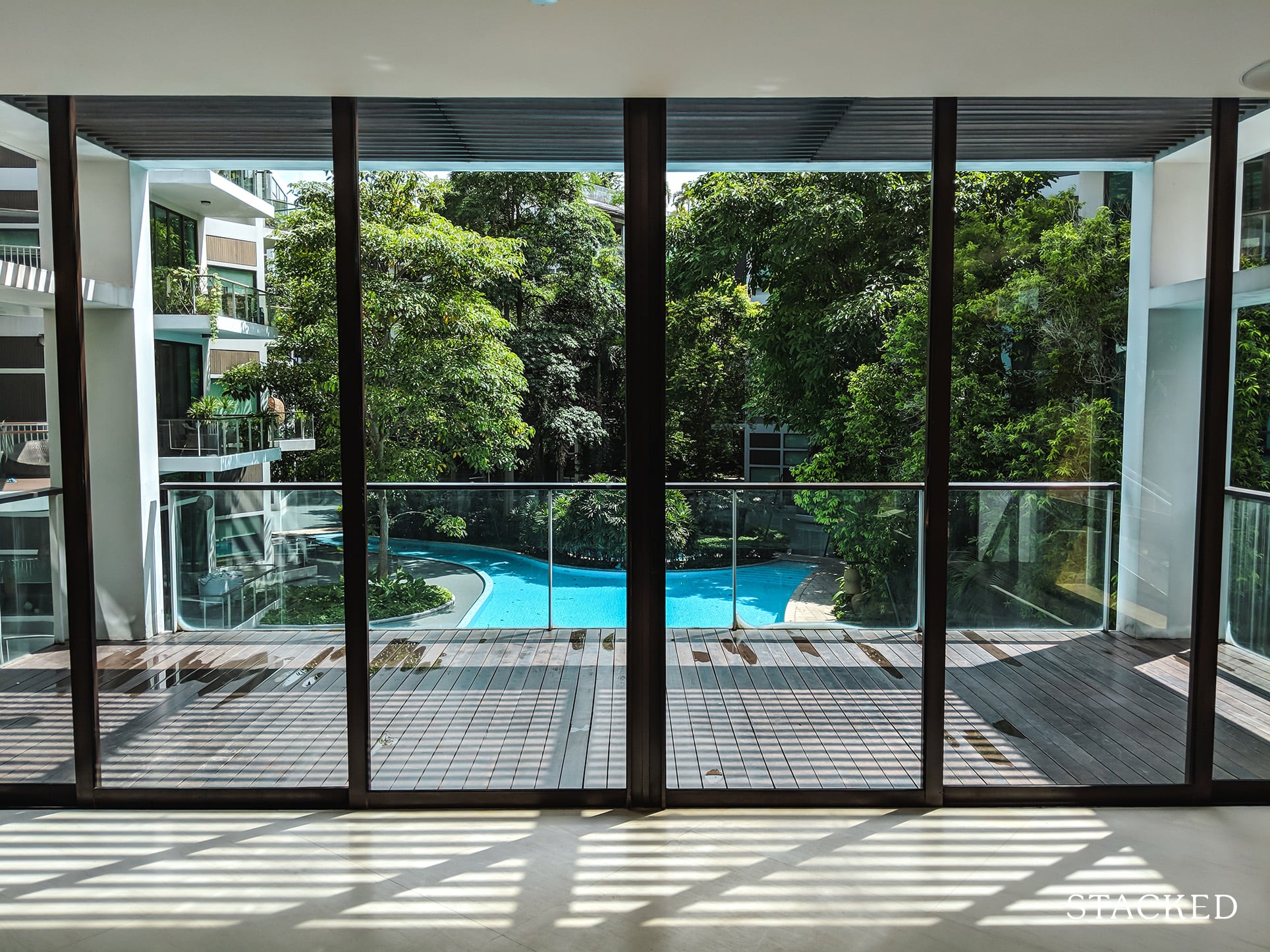 The end of the room opens up to this lovely view of the stretch of the swimming pool. There is also a very usable open balcony space here. For a development that is coming close to 10 years old, the maintenance here is pretty good we have to say.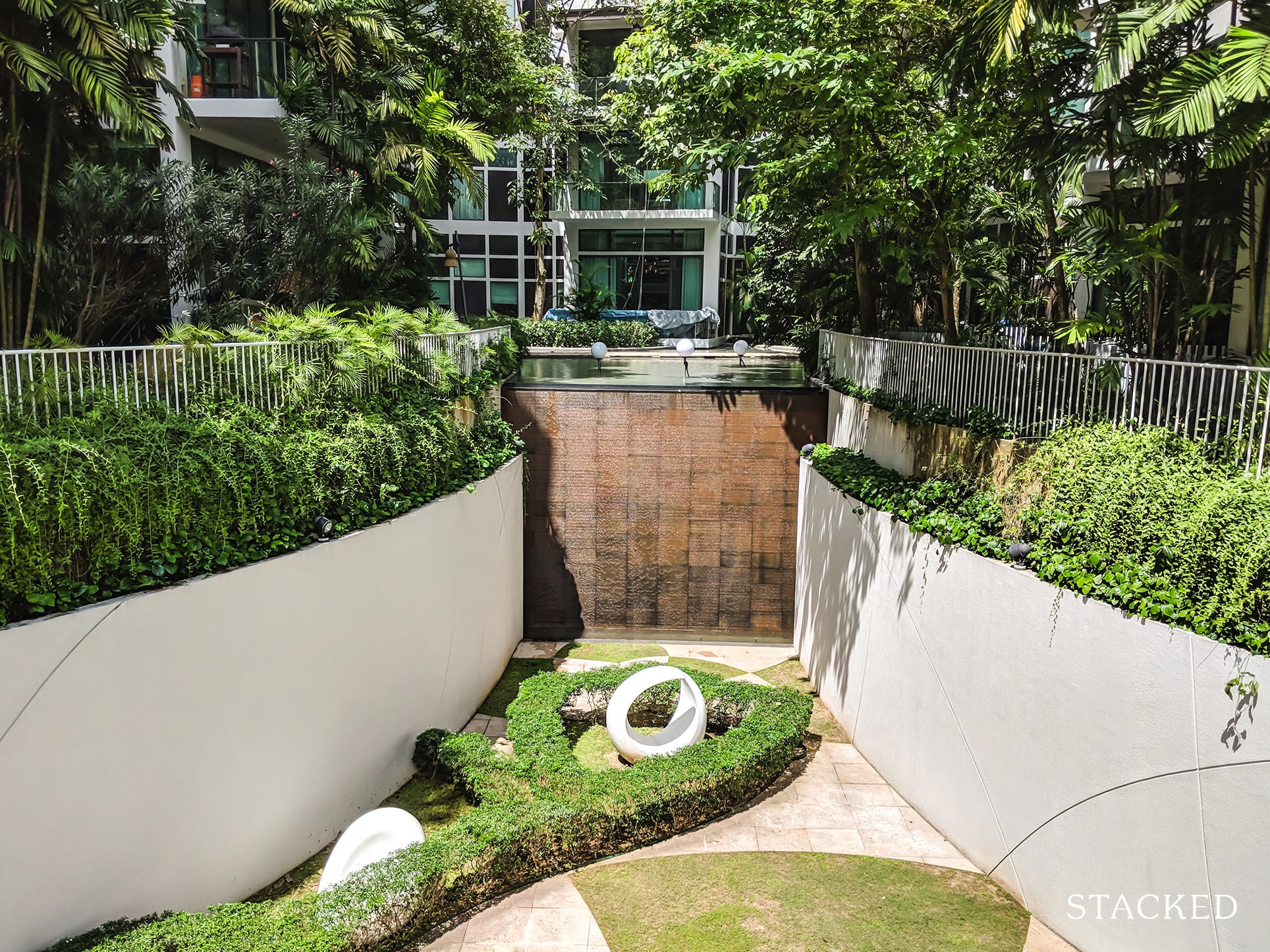 Moving on, there is a waterfall feature at the basement level of the clubhouse.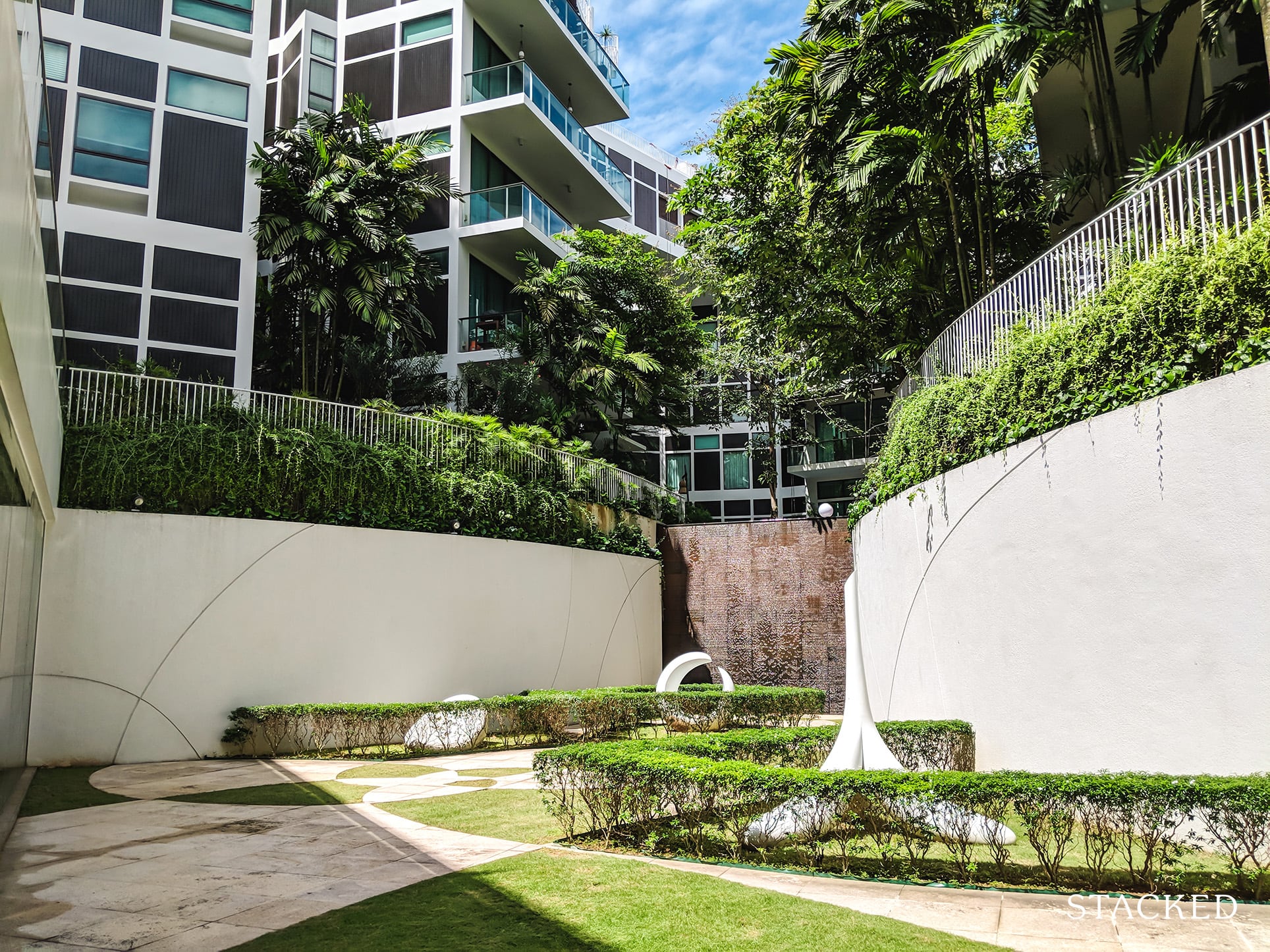 Once you reach the basement level, you'll find a couple of fixtures. It's quite a large space, and a bit under utilised in our opinion. To the left is the gym, which overlooks this area.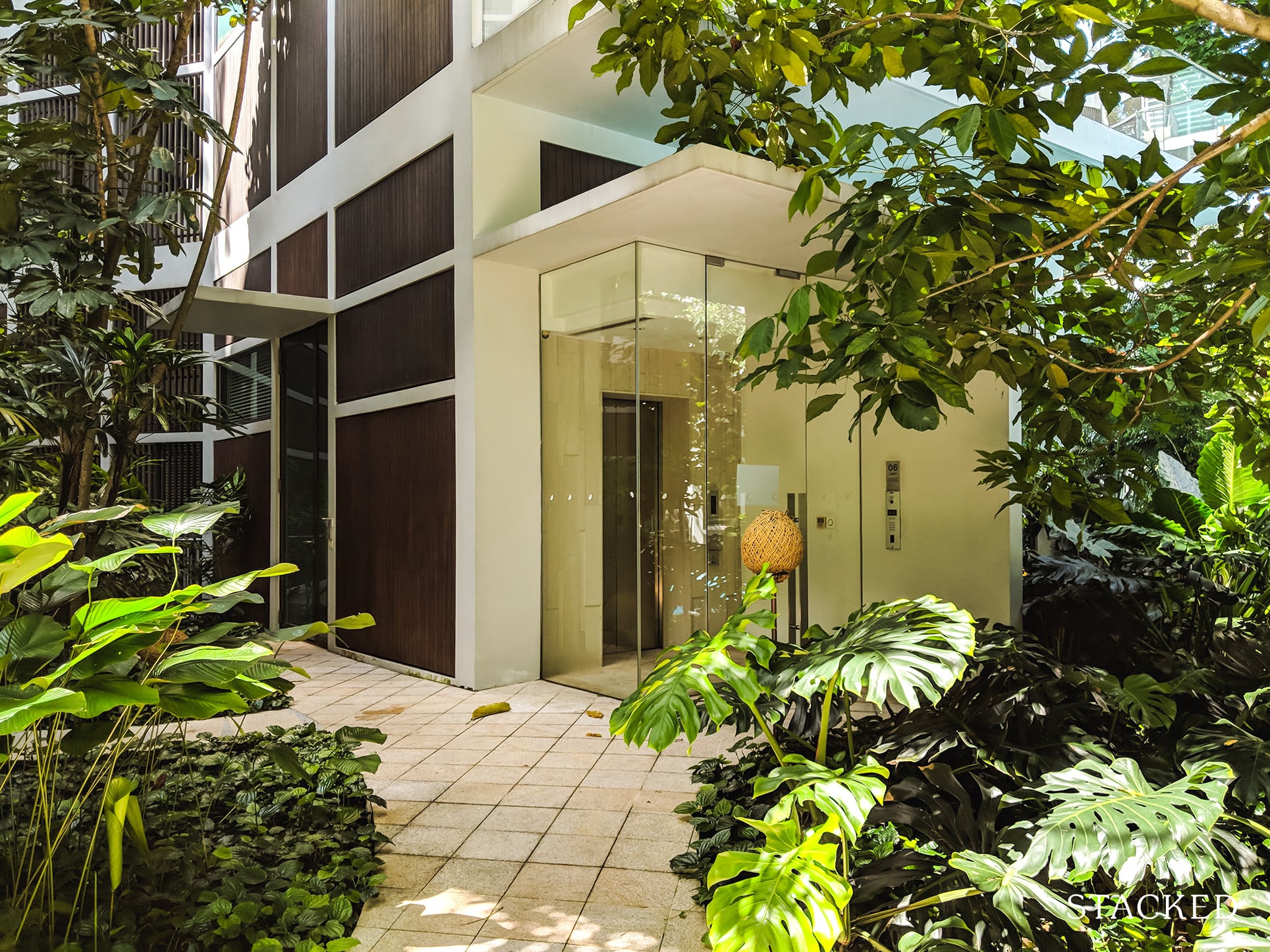 Even on the first floor, the lift lobbies are thankfully air conditioned.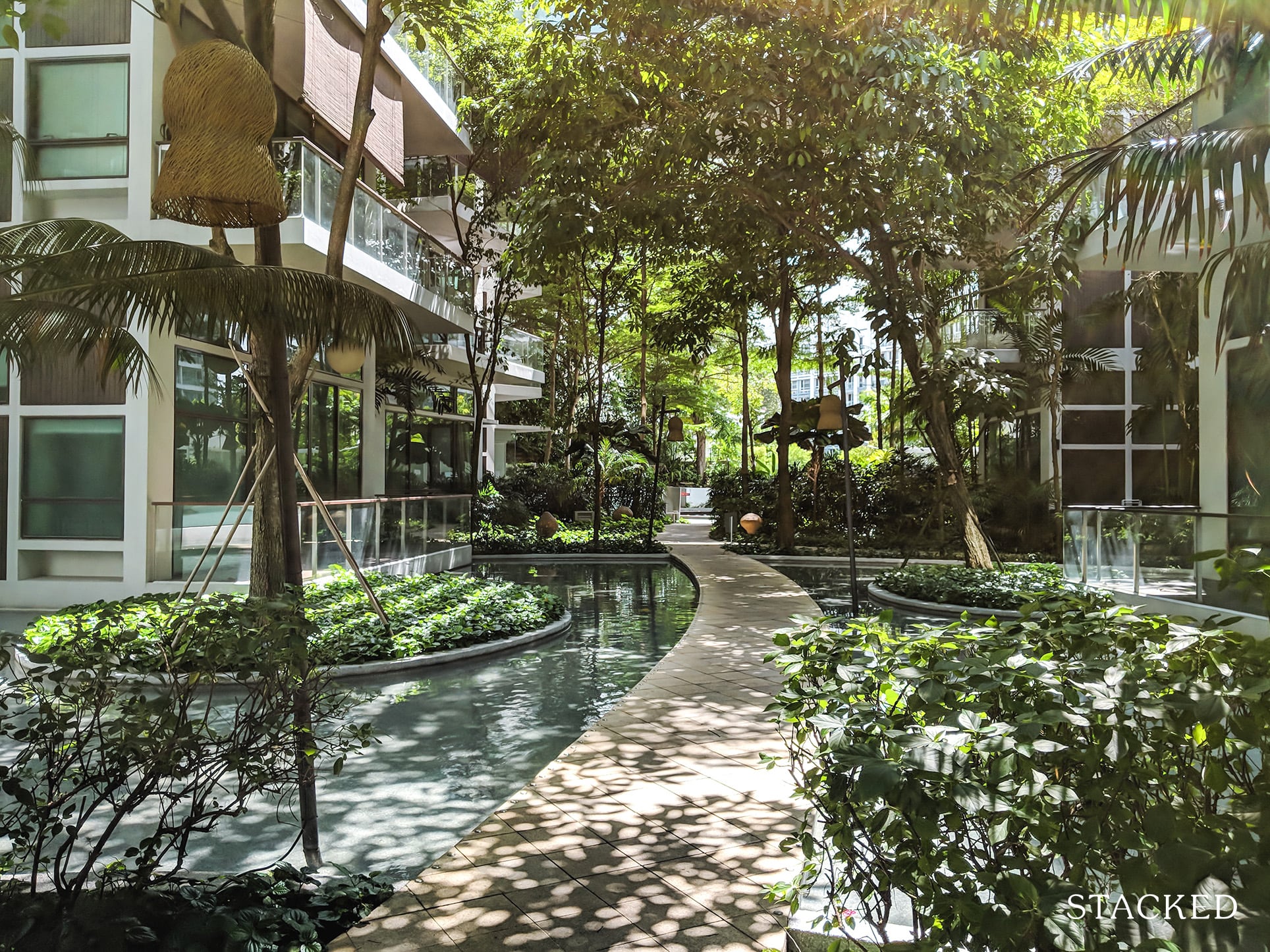 We do like walking through the common areas of the Belle Vue Residences. The lush greenery and the many water features along the pathway are welcoming and relaxing.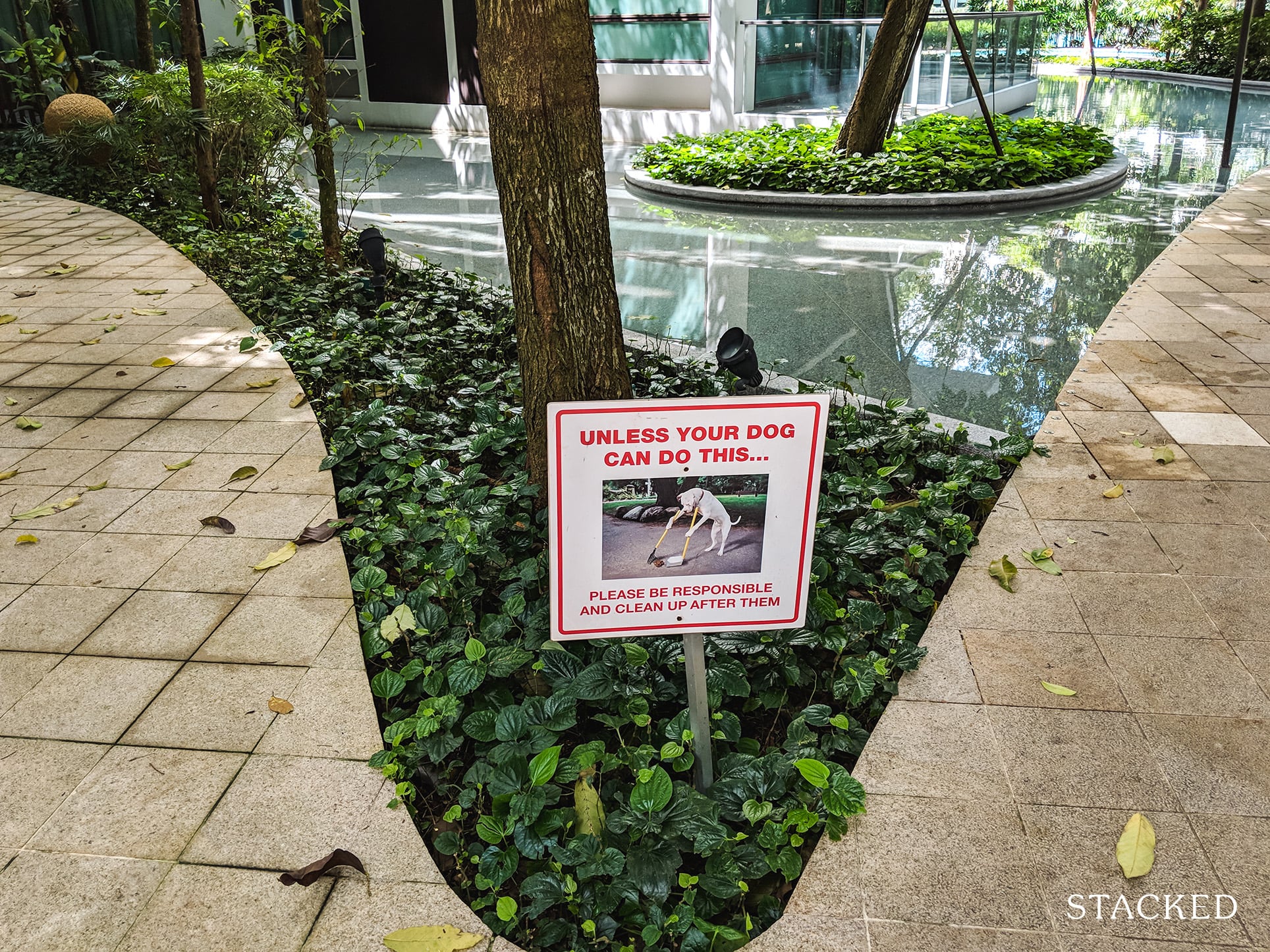 Probably the funniest sign we have come across in all our condo reviews.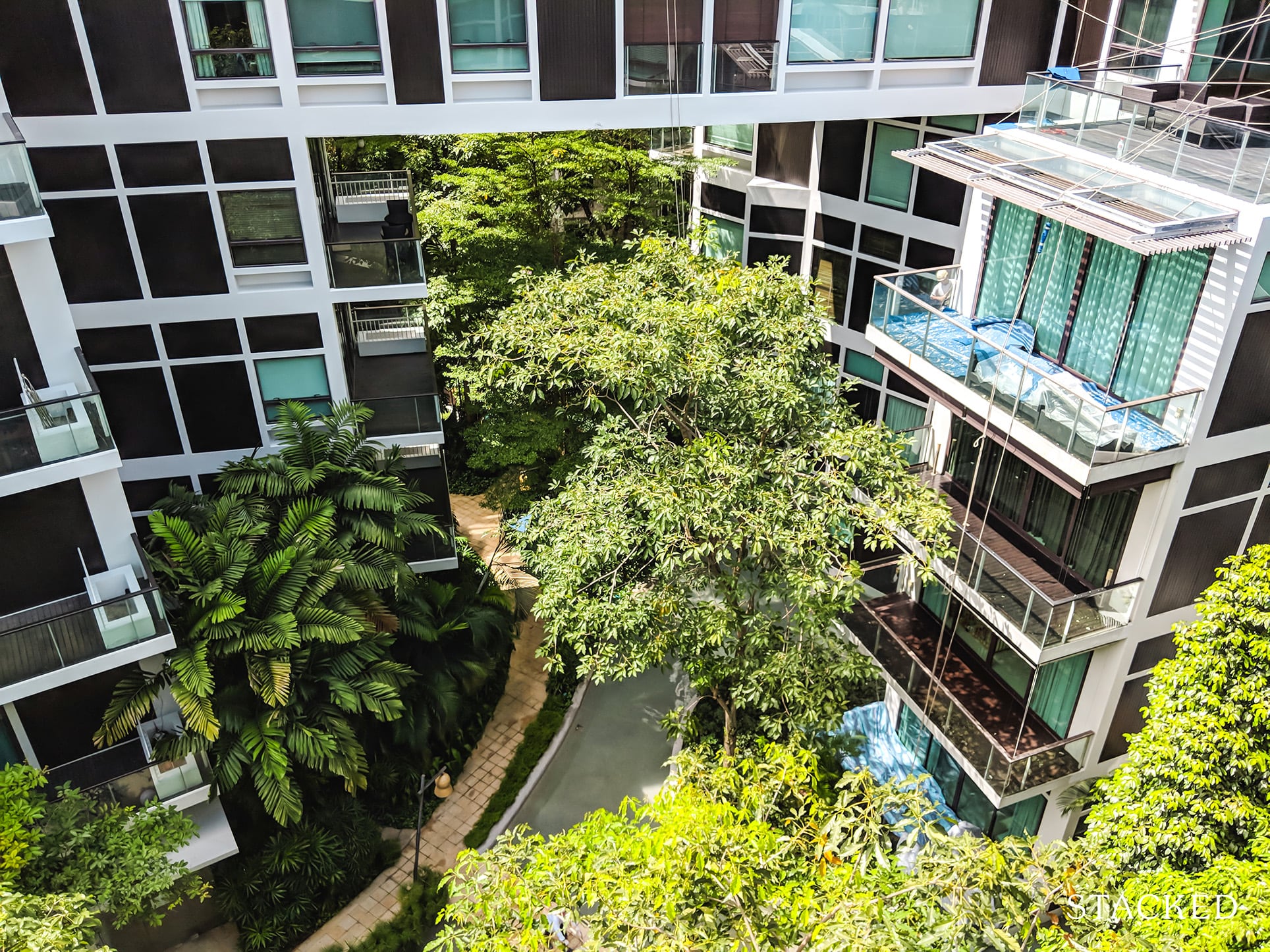 Surrounding developments

| Project Name | Tenure | TOP | Average Price (PSF) |
| --- | --- | --- | --- |
| Orchard Court | 99 years | 1970 | $1,101 |
| Langston Ville | 999 years | 2000 | $1,568 |
| 283 Studio | 999 years | 2012 | $1,612 |
| Residences at 338A | Freehold | 2004 | $1,639 |
| Waterford Residence | 999 years | 2010 | $1,669 |
| Aspen Heights | 999 years | 1998 | $1,727 |
| The Botanic on Lloyd | Freehold | 2006 | $1,742 |
| Visioncrest | Freehold | 2007 | $1,889 |
| UE Square | 929 years | 1997 | $1,910 |
| Robertson Edge | 999 years | 2008 | $1,964 |
| The Imperial | Freehold | 2006 | $2,088 |
| Urbana | Freehold | 2007 | $2,094 |
| Attitude at Kim Yam | 999 years | 2011 | $2,113 |
| The Wharf Residence | 999 years | 2012 | $2,121 |
| Oxley Edge | Freehold | 2016 | $2,243 |
| Lloyd 65 | Freehold | 2016 | $2,849 |
There have been no sales at the Belle Vue Residences for the past year in 2019, with the last sale dating back to September 2018, where a 2,002 square foot unit was sold at $2,148 PSF. At this range you can say it is about reasonable considering the location and potential of this development. Considering the Imperial just next door is at a plot ratio of 2.8, there is a chance the plot ratio for Belle Vue Residences could be revised upwards in the future.
Because the units are big however, the quantum is large enough that there aren't many people that can afford to purchase a unit at the Belle Vue Residences.
Our Take
The Belle Vue Residences is unique in certain ways. If you like the central location of River Valley, but want privacy, peace and quiet and require a big living space, it cannot be beat. But all these come with some inconvenience with the entrance, and price wise, a high quantum.
What this means for you
You might like the Belle Vue Residences if:
• You need large living spaces.Each unit here is well above the average size for each category and is well and truly spacious.
• You really like peace and quiet.As it is completely surrounded, you do get a lot of peace and privacy once you are inside the development.
You might not like the Belle Vue Residences if:
• You want convenience.While walking 10 minutes to the MRT is not too bad, if you truly want convenience there are better developments suited for that.
• You prioritise facilities.The facilities here are not bad by any means, but for the prices that are being asked for right now, you could do better in other places.
End of Review