HDB Reviews

Bedok South Horizon Review: Future "Integrated" HDB Close To East Coast Park + Sea Views
Sean
April 3, 2023

17

min read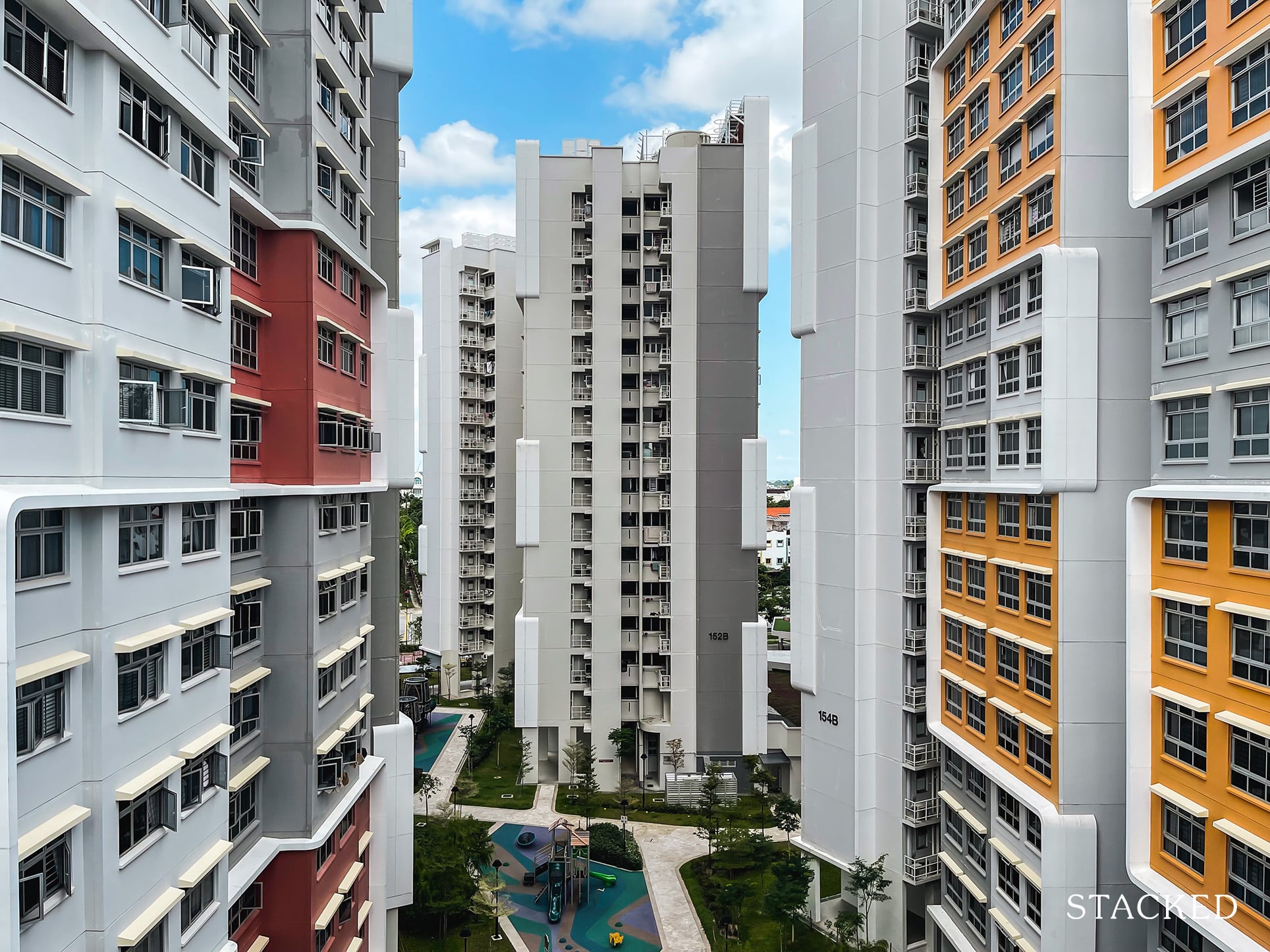 Reviewed by Sean on 03 Apr 2023
What we like
Upcoming MRT within the development

Integrated with Siglap Community Club

Close to East Coast Park

Next to the park connector
What we don't like
—

No MRT within vicinity right now

—

Some inner-facing stacks are too close to each other
17
min read
| | |
| --- | --- |
| Project: | Bedok South Horizon |
| HDB Town | Bedok |
| Address: | Bedok South Road |
| Lease Start Date: | Around 2021 |
| No. of Units: | 940 |
Bedok South Horizon was launched in the November 2016 BTO exercise alongside 8 other projects. This exercise in particular had also 2 other Bedok BTO projects – Bedok Northvale and Bedok Beacon. Other mature BTOs Kallang Residences and 2 BTOs in the Bidadari precinct were launched too, giving BTO hopefuls plenty of opportunity to bid for a desirable mature estate flat.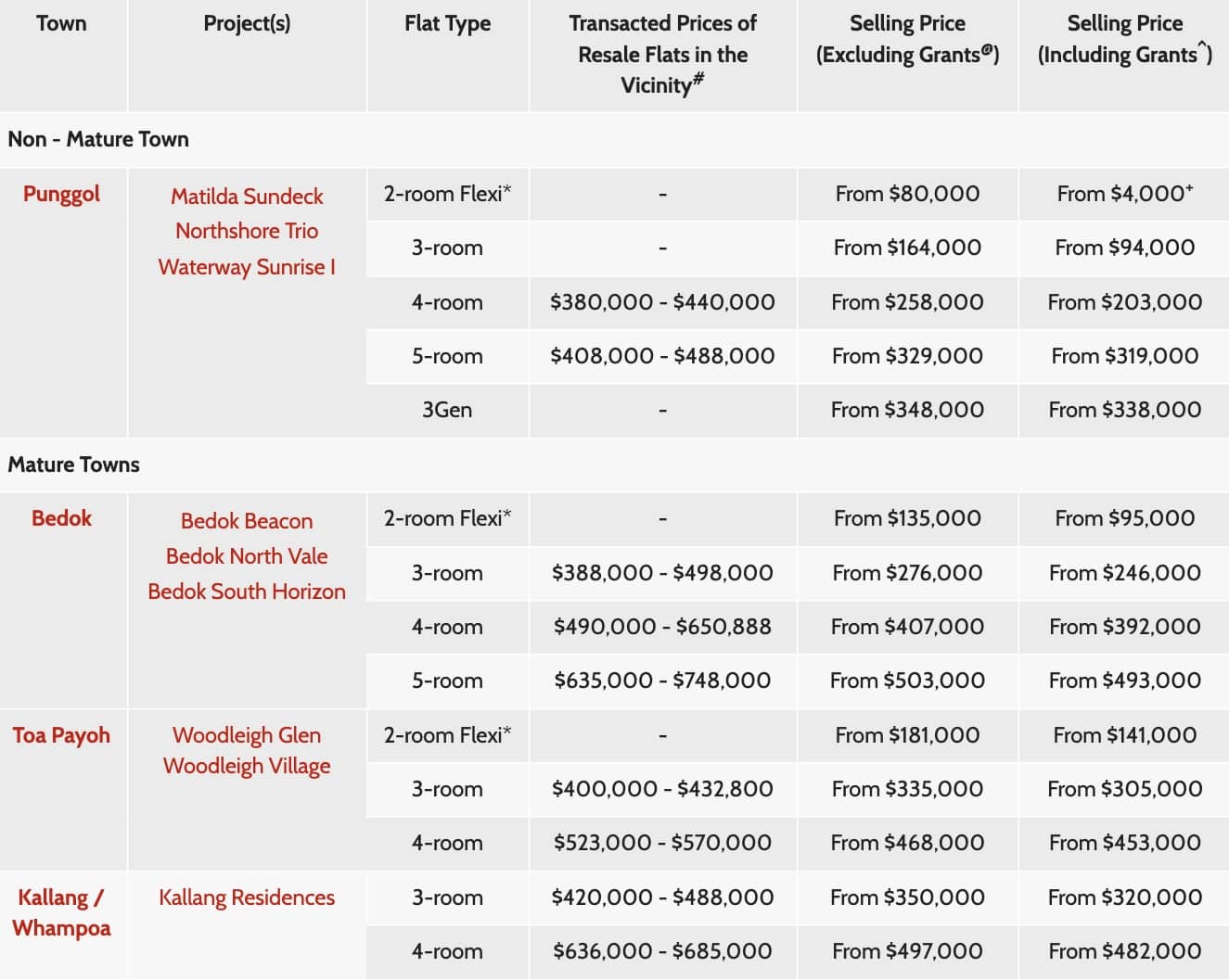 The prices above sure look attractive today – especially with what Bedok South Horizon has to offer. It's very close to East Coast Park with some stacks even having the prized sea view. Amenities around are also plenty given how mature this estate is, and the most exciting part is the upcoming Bedok South MRT that's set to open in just 2 years!
So if you're looking for a modern HDB in the east, should you consider Bedok South Horizon? Let's take the tour to find out!
Bedok South Horizon Insider Tour
Once you arrive at Bedok South Horizon, you're greeted by a pretty modern and simple-looking sign with the development's name. As you can see, the driveway here is extremely spacious too.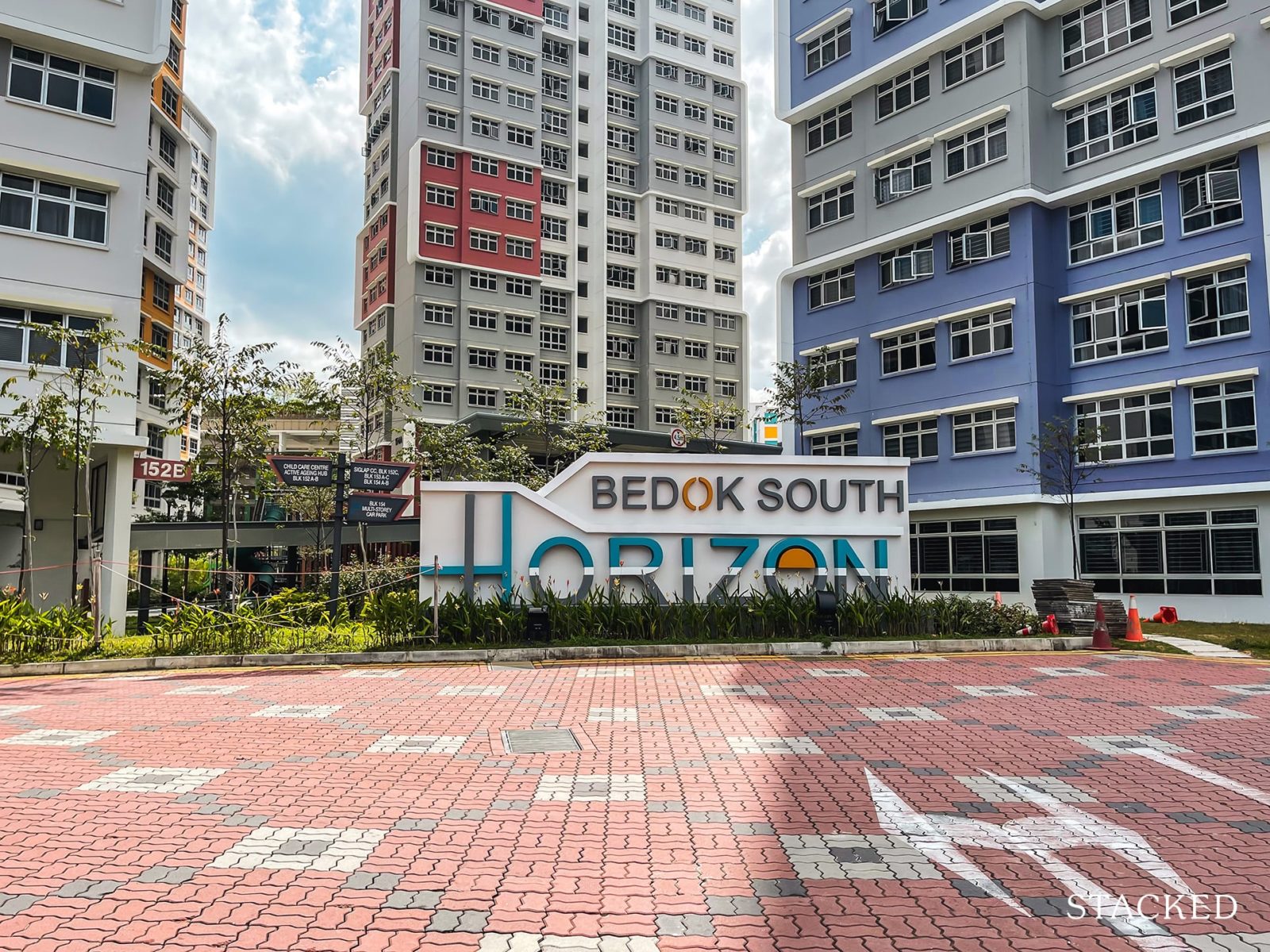 There are 3 entrances to the development. One from Bedok South Road, one from Bedok South Avenue 3 and another from a neighbouring HDB cluster. As you might well know, having multiple entrances does make it more convenient for residents to get in and out. And for an HDB with over 900 units, this is really useful indeed.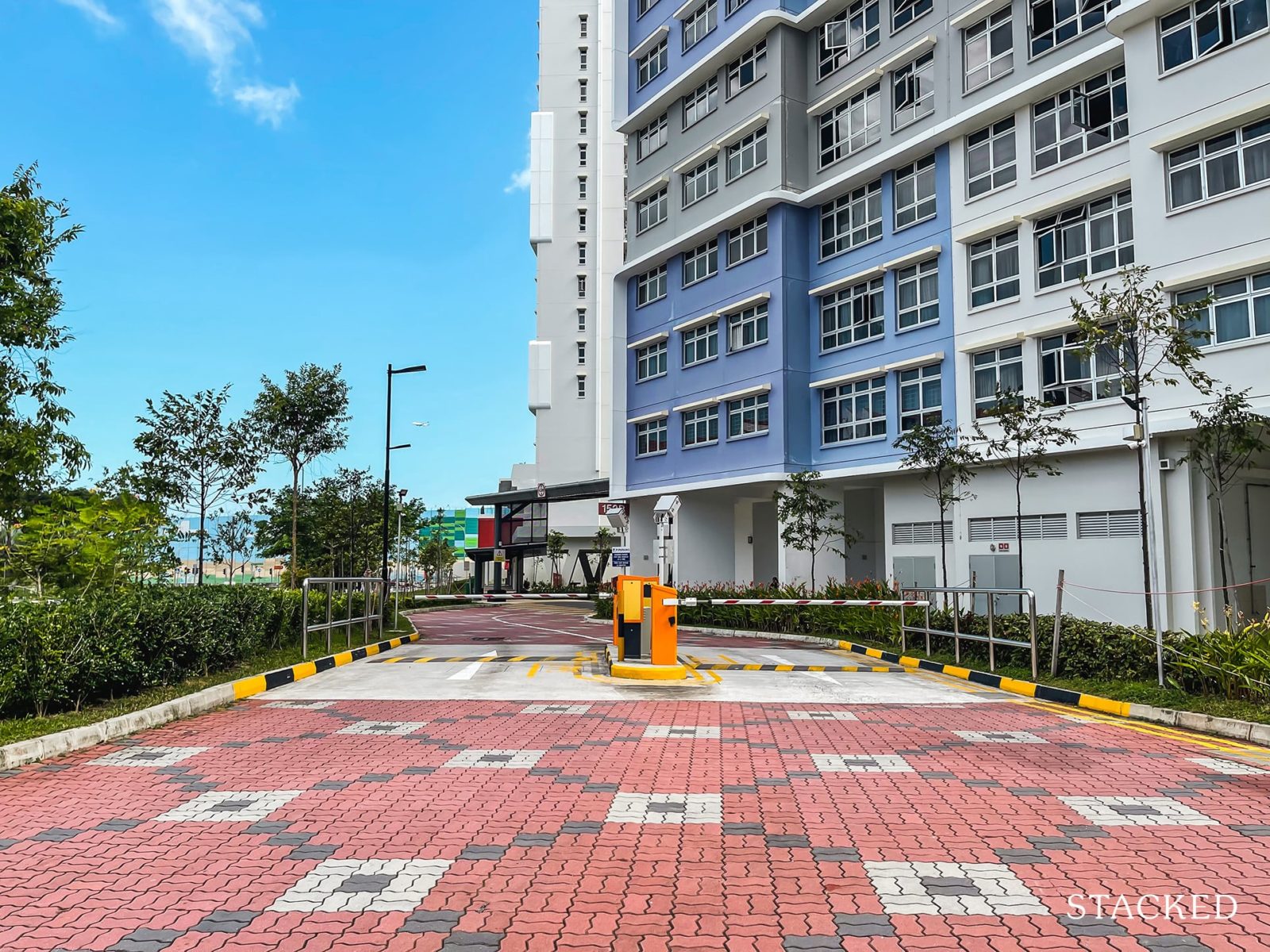 Since there's quite a handful to cover in this development, we'll take a quick look at the drop-offs as they're more or less similar.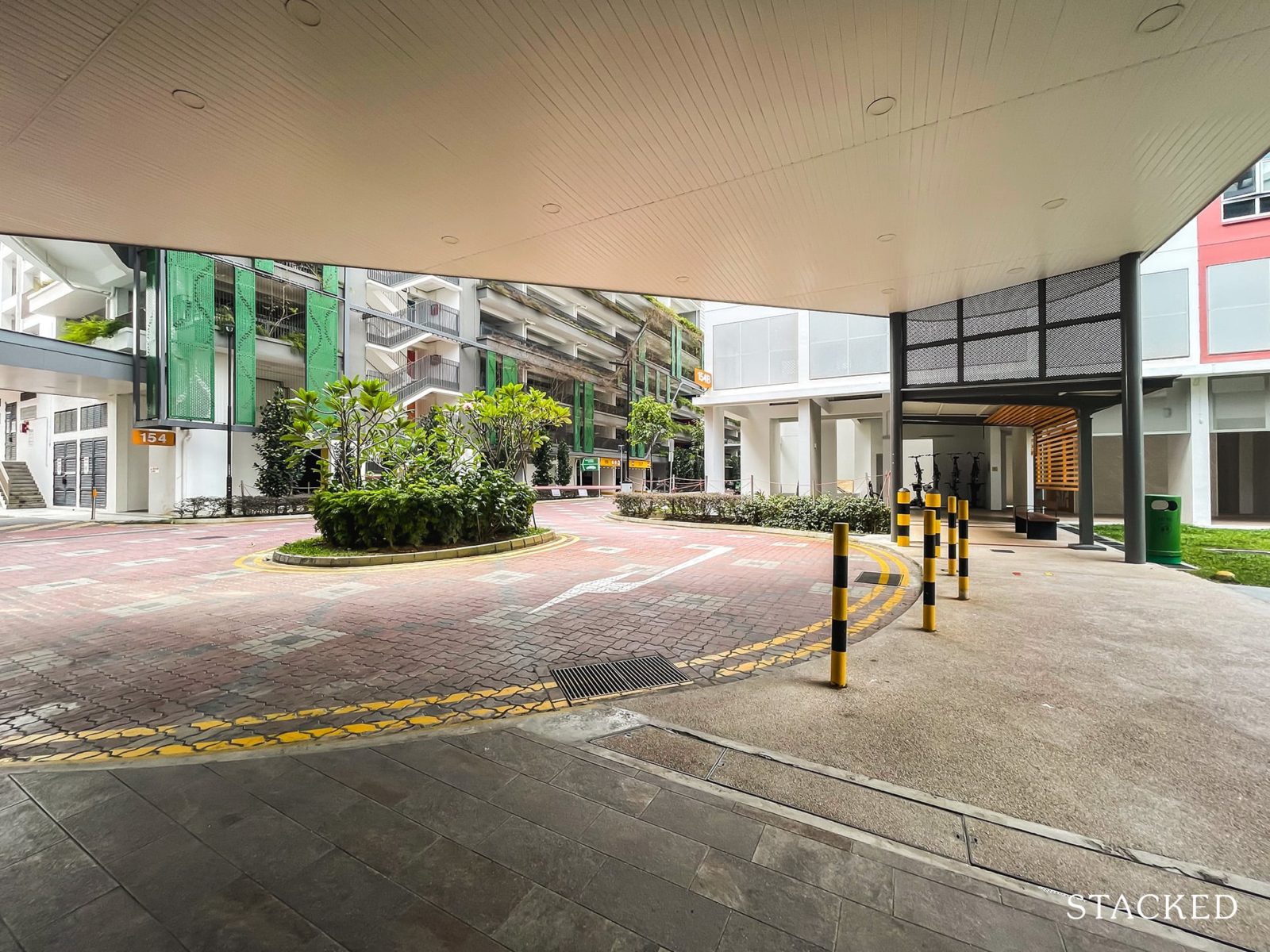 There are a total of 5 drop-off points scattered across the development which is great since residents can call for a pick-up and drop-off close to their block.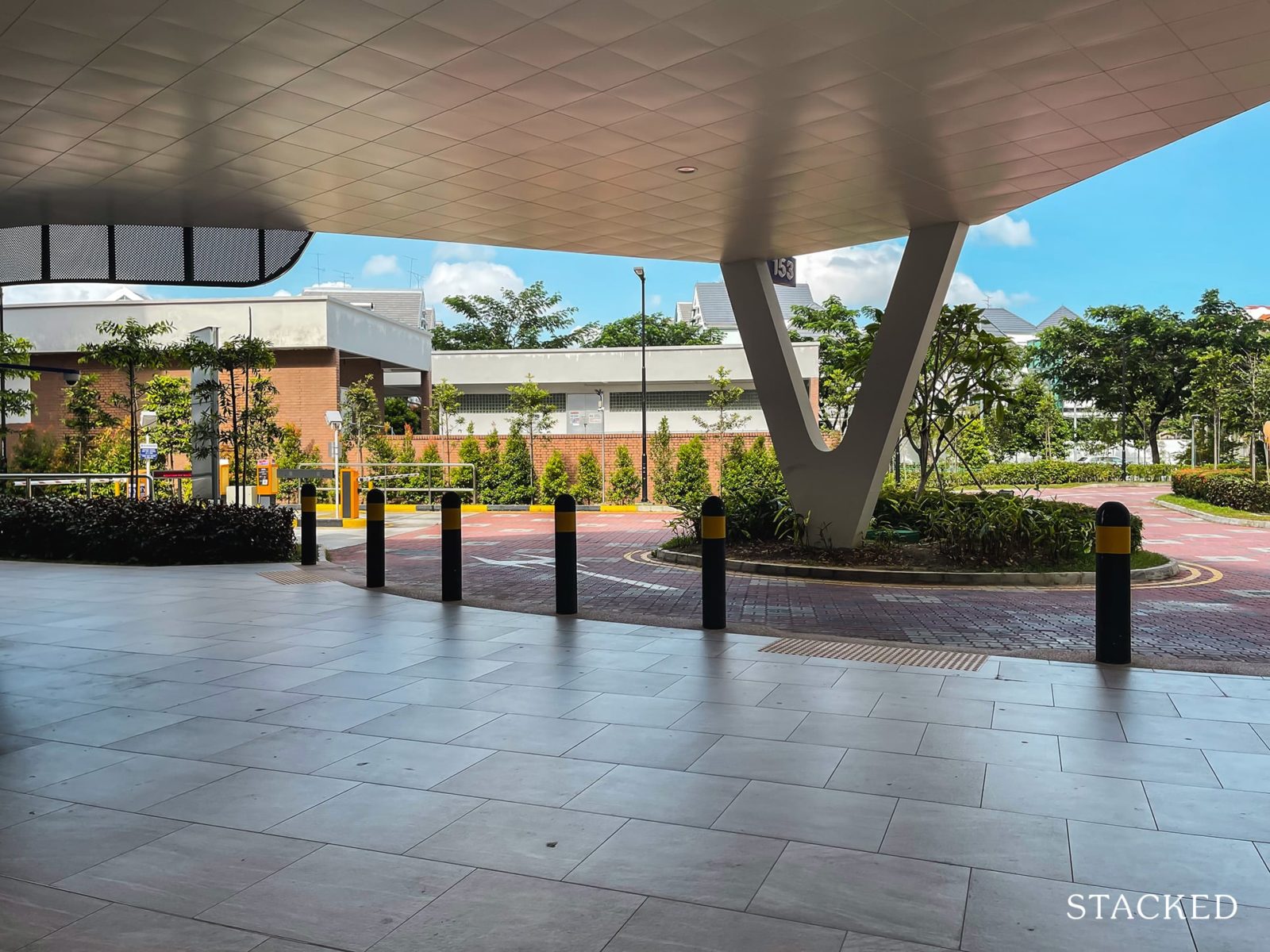 All of the drop-off points come in a roundabout fashion making it convenient for drivers so they wouldn't need to do a 3-point turn. You'll be surprised how much this is taken for granted!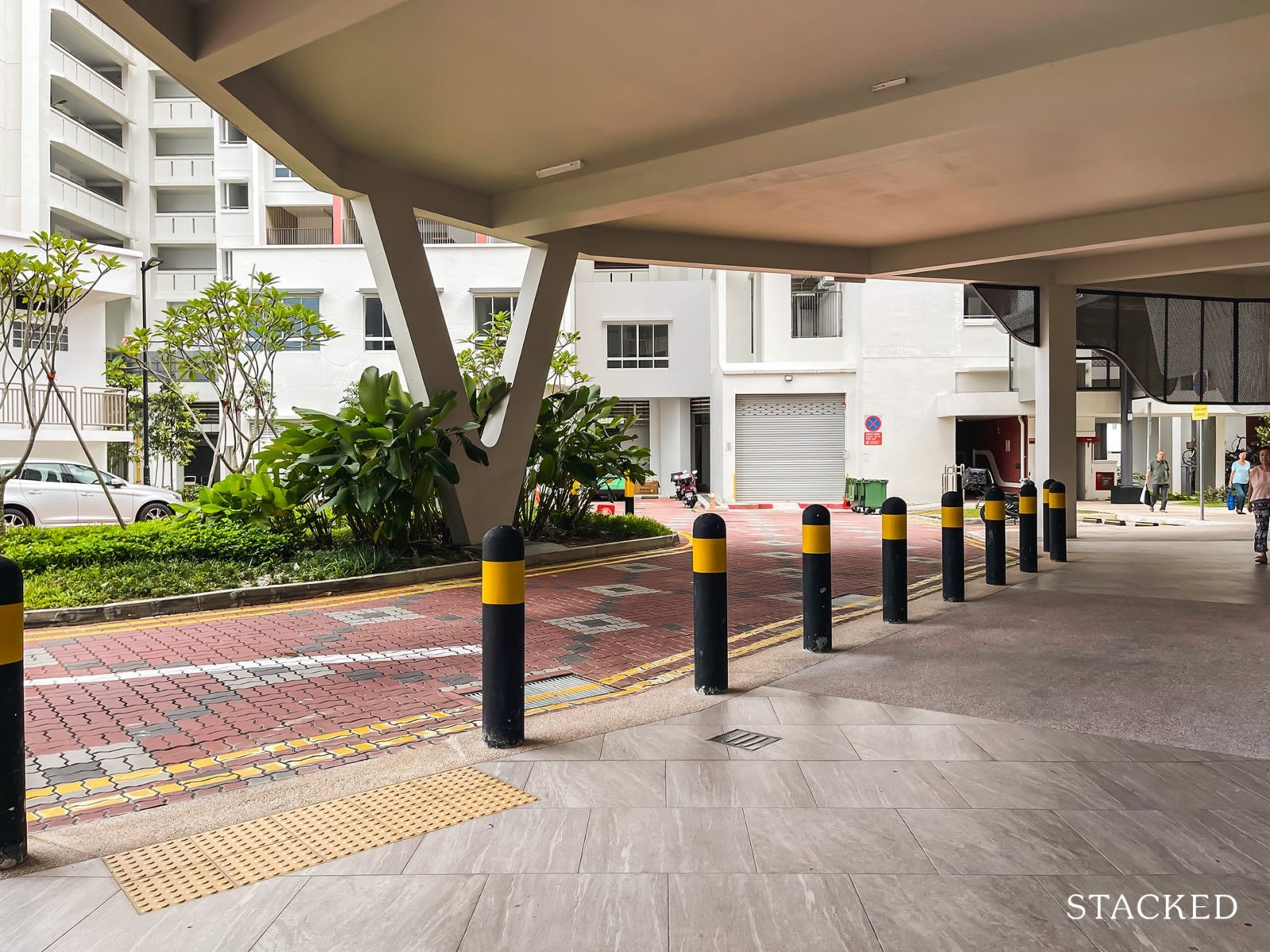 They're also very spacious, fitting up to 2 cars under the shelter. I also like that it comes with some greenery, helping to provide a nicer welcome home.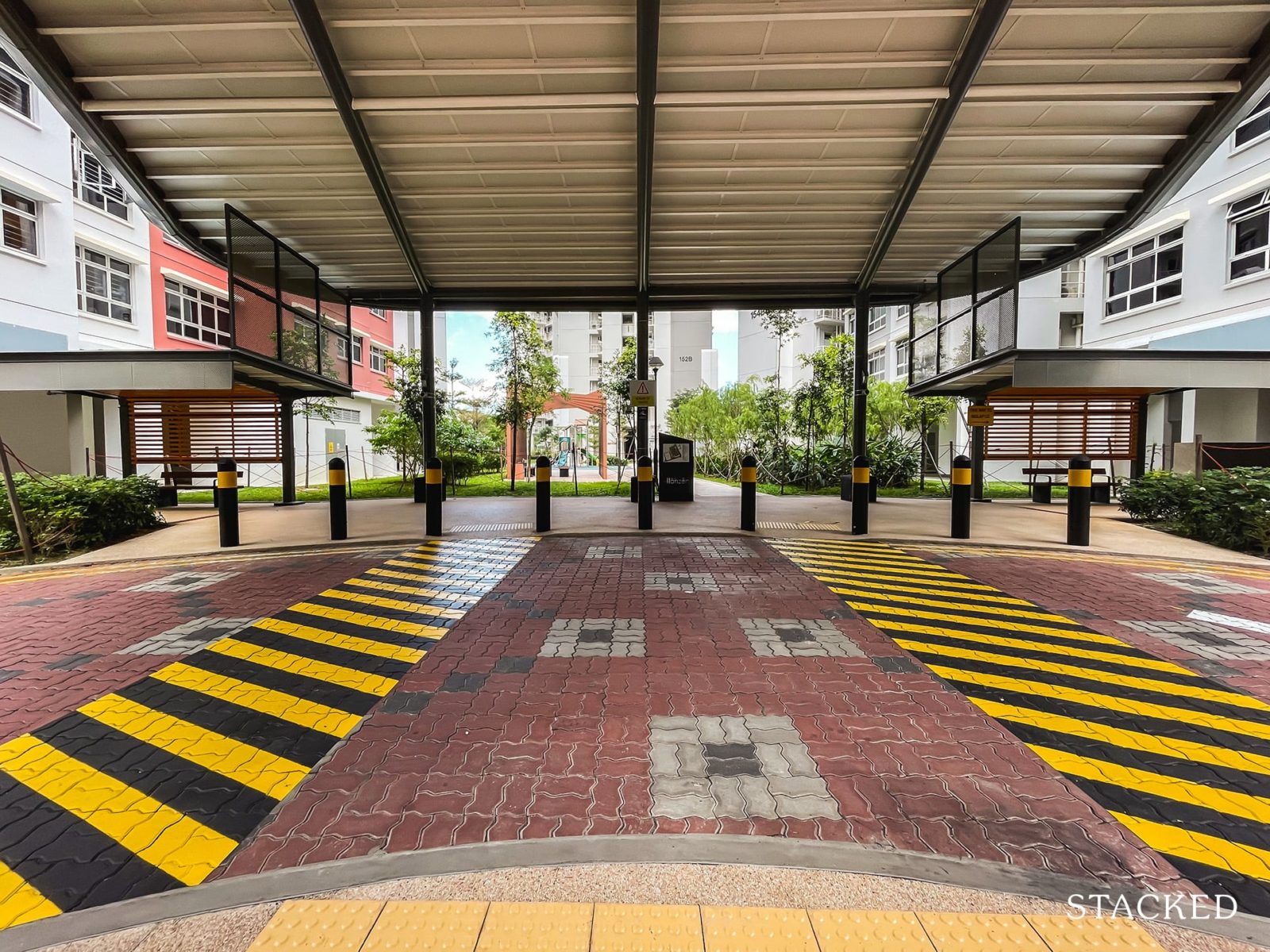 As usual, the drop-offs also come with bench seating which is useful for those waiting for their pickup. The design of the bench also looks great and does add to the overall aesthetics of the place. It even has a backrest!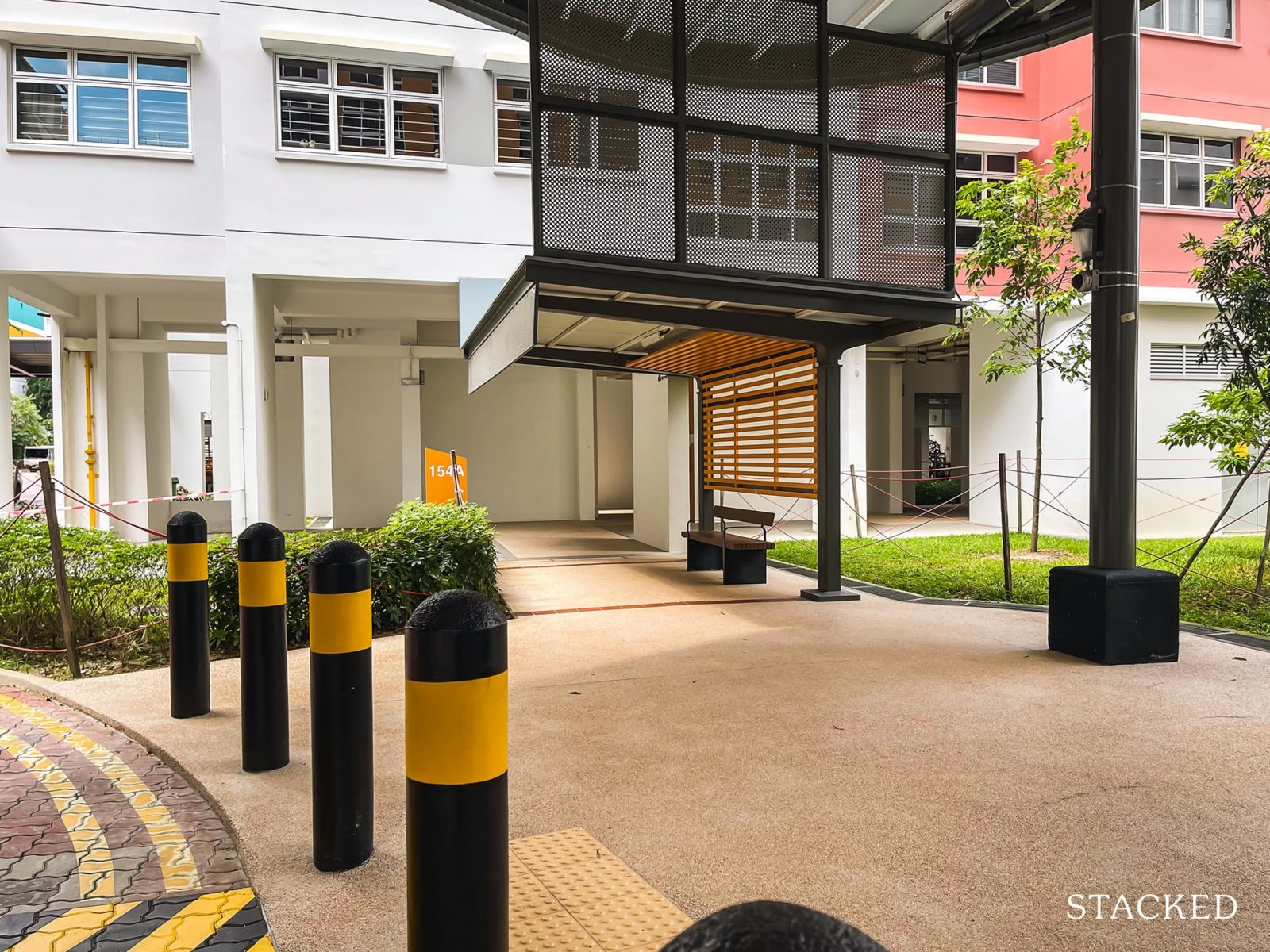 The most important thing about drop-off points is that it's fully-sheltered to your block – and this is true for Bedok South Horizon. All 5 drop-off points here come with sheltered linkways to each and every block, so residents can move throughout the development during wet weather comfortably.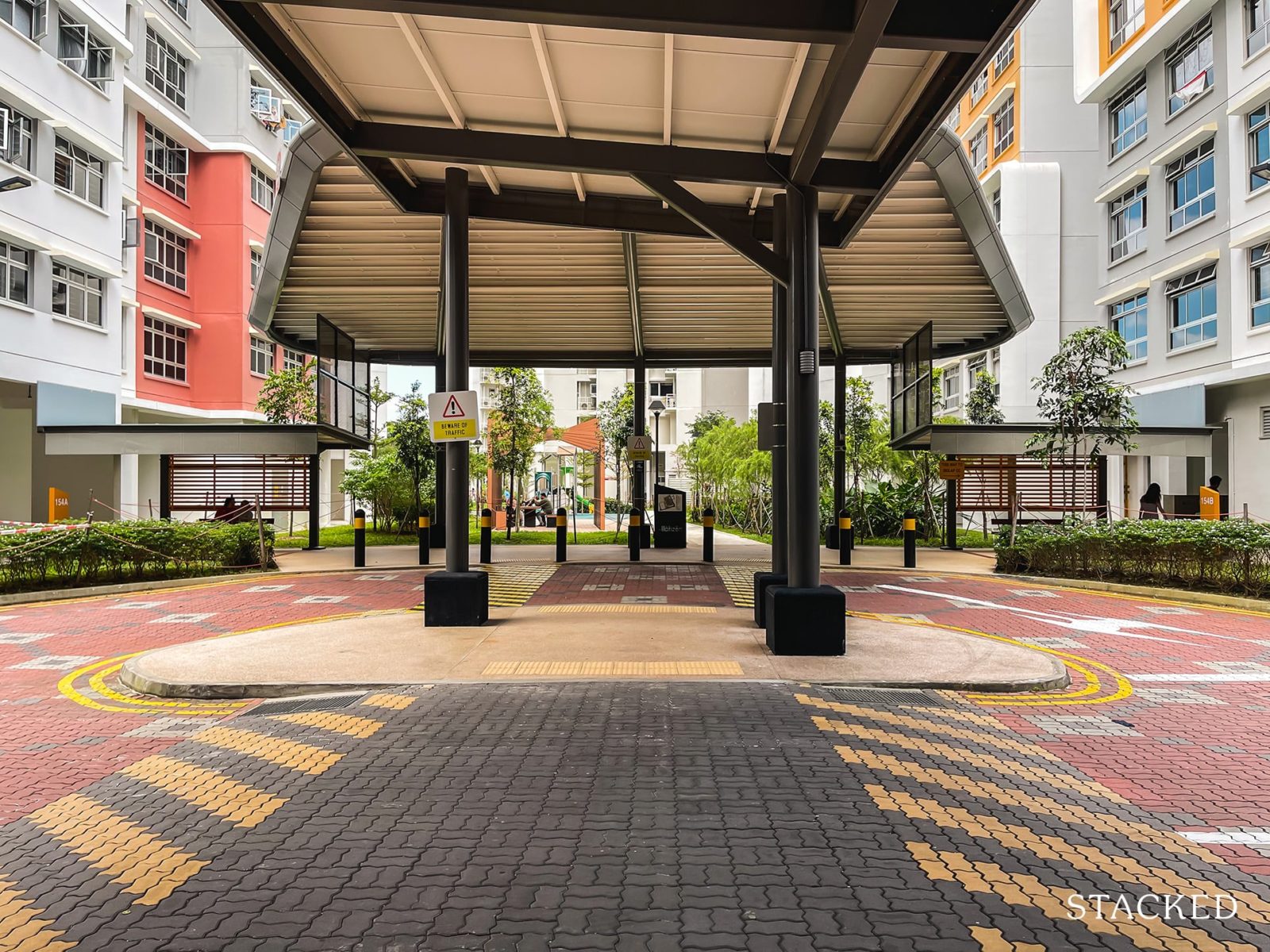 Next, let's check out what the car park here has to offer.
The car park goes up to 7 storeys high (plus a roof garden) and is of a multi-storey variety. It also features 2 entrances and exits, making it convenient for drivers here.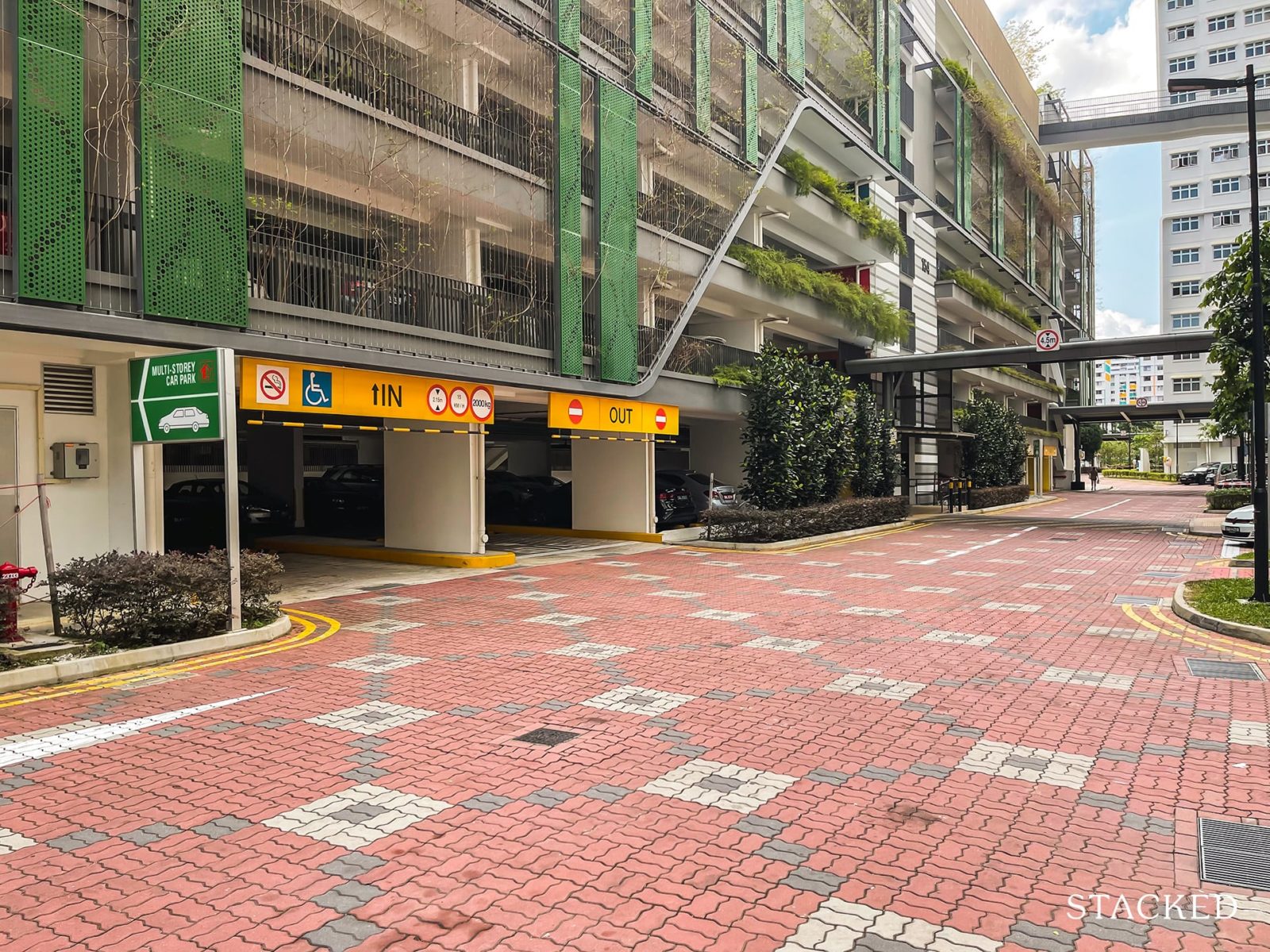 In terms of design, I do appreciate the effort here to look different visually. The green claddings and vertical planters help break the concrete facade of a typical MSCP, however, it does look like more could be done with the plants. Perhaps once it has time to grow out, things could look better.
Regardless, this is already more than what most HDB developments have, so no complaints here!
Inside, you'll find the car park to be bright and well-ventilated as with most MSCPs.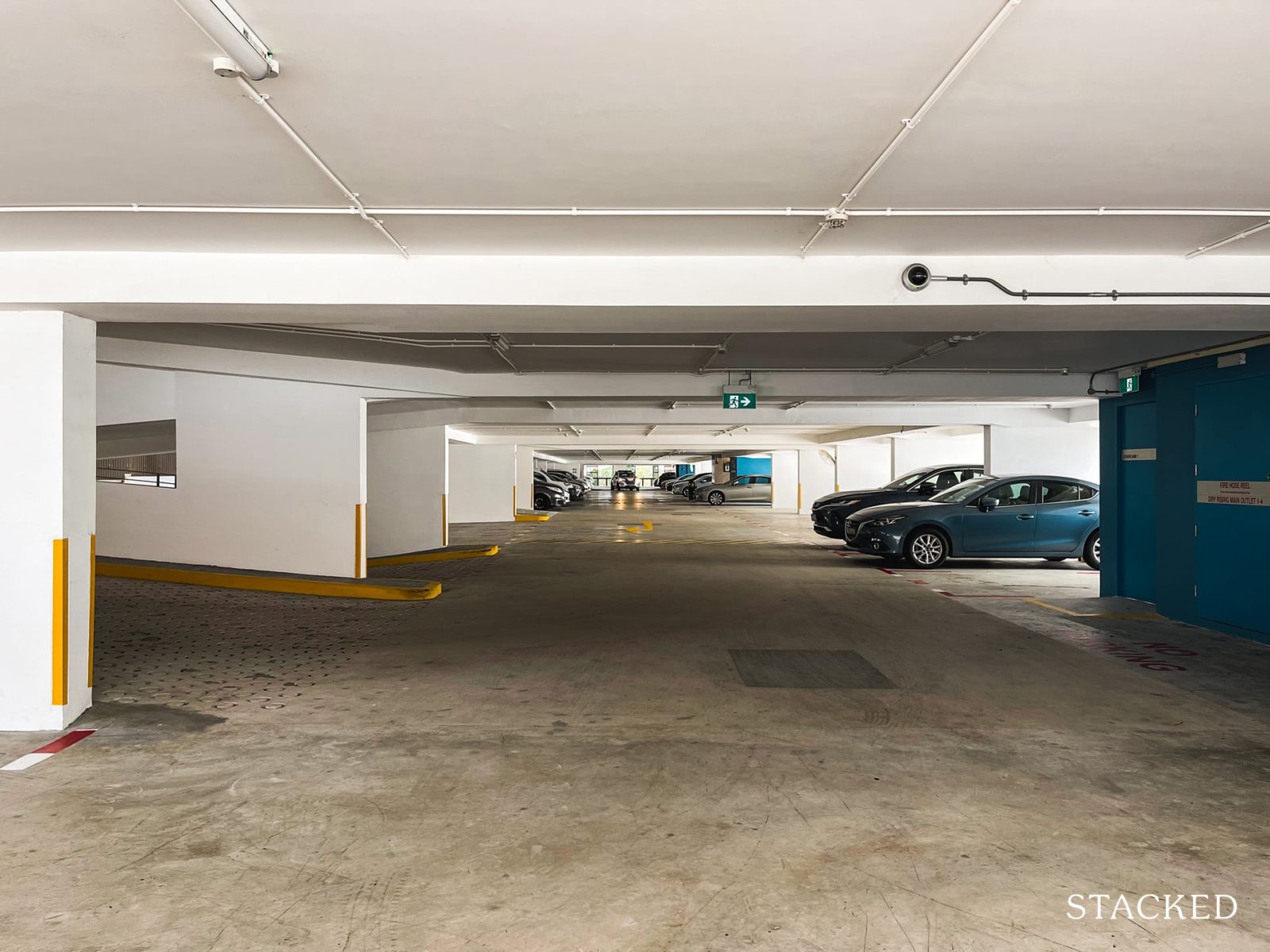 Drivers would be pleased to see that there's an ample number of season parking lots available here. A quick check for the month of March shows over 200 lots available: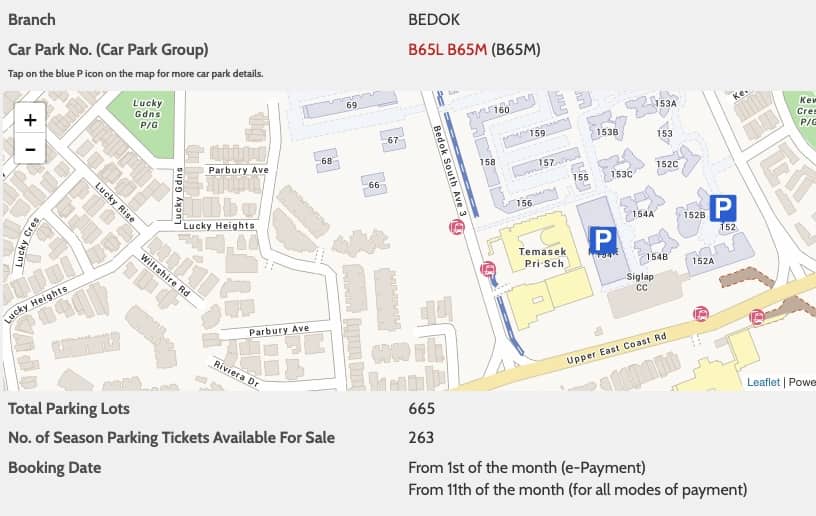 Another thing you'll notice about this MSCP is that it does not face any unit directly. By direct, I mean facing the living quarters.
This is because the blocks are facing inwards towards each other. From here, you'll only be able to see into the service yards/kitchens of these units: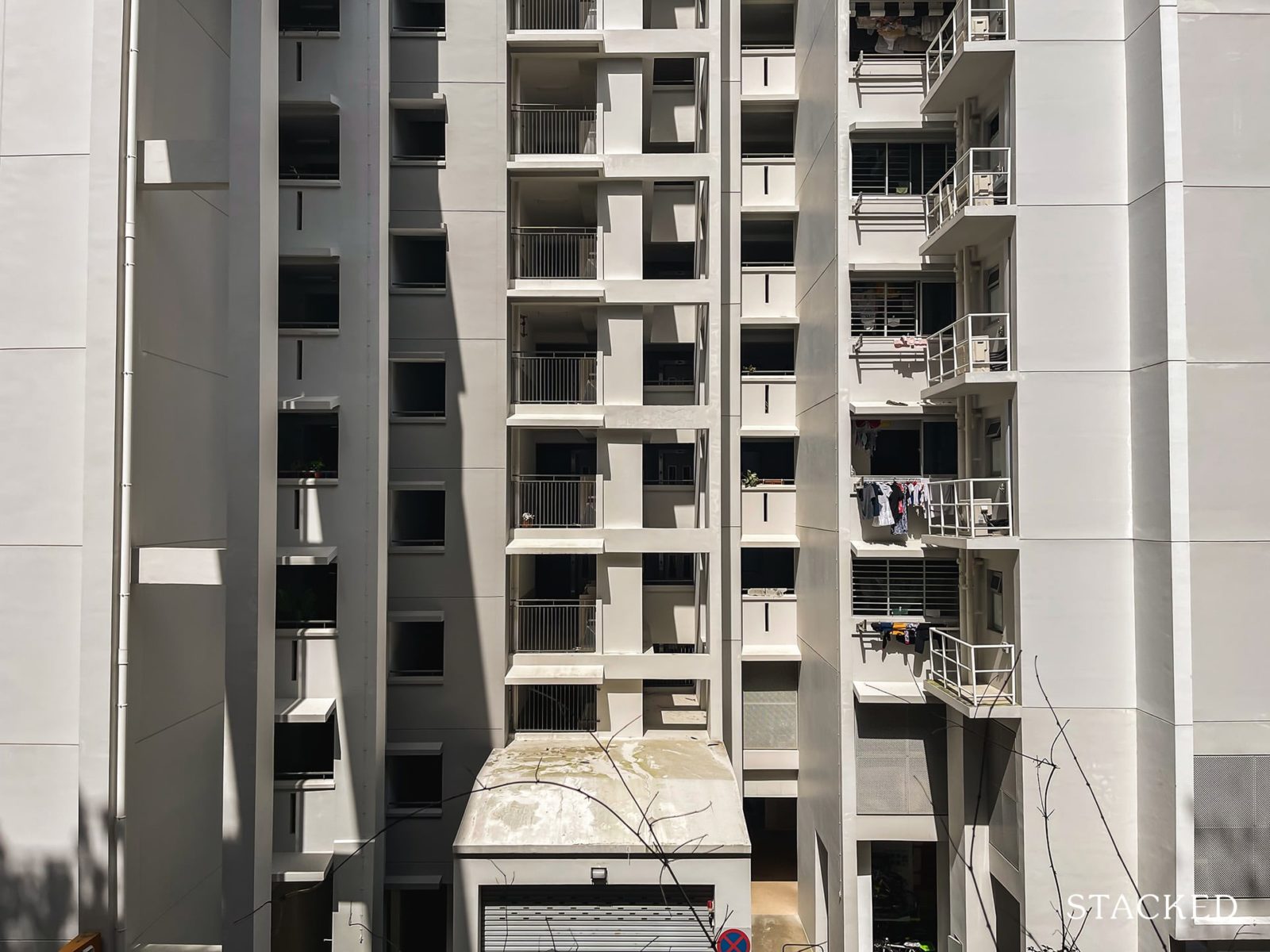 As such, units closest to the MSCP should not be too affected by the car park.
Unfortunately, there is no link bridge from levels 1-7 to the adjacent HDB blocks, so drivers who park on the upper floors would need to head down to reach their block. This may seem like a small issue, but it does add up over time if you drive a lot, especially if you have family members with less mobility or heavy things to carry frequently.
However, I must say that having a link bridge here may not necessarily be that useful since it'll only cater to 2 out of the 8 blocks here. Still, having one would at least be a benefit for those staying next to the car park considering its already less-than-ideal location!
That being said, there are 2 link bridges – one on level 4 that connects to the adjacent Siglap Community Club, and another on level 8 that connects the roof garden to blocks 154A and 154Bm as well as the community club.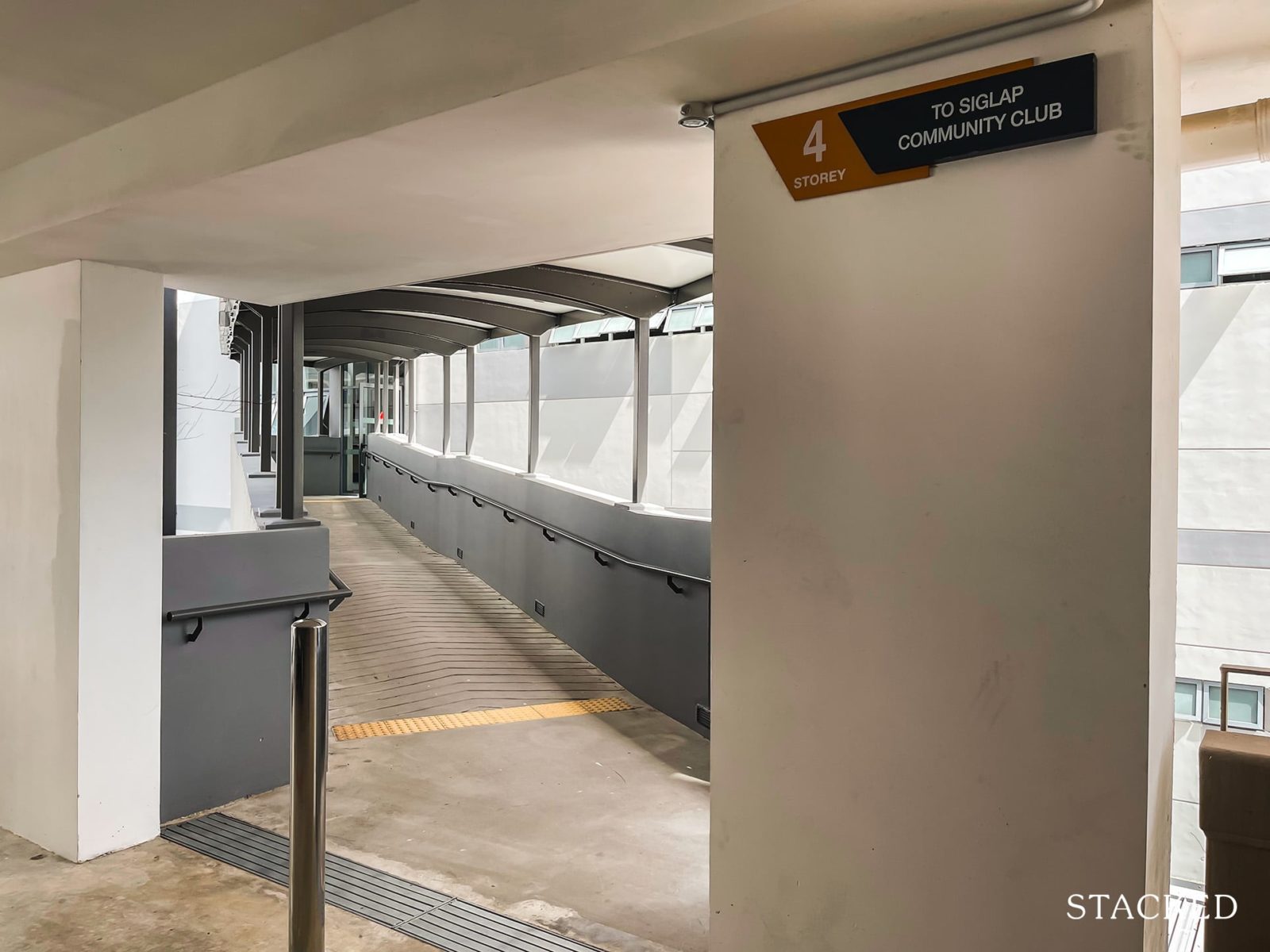 When I first hear the term "community club", I honestly thought it was just going to be a bunch of empty functions and a multi-purpose hall, but The Siglap Community Club offers a lot and is a strong highlight of living here.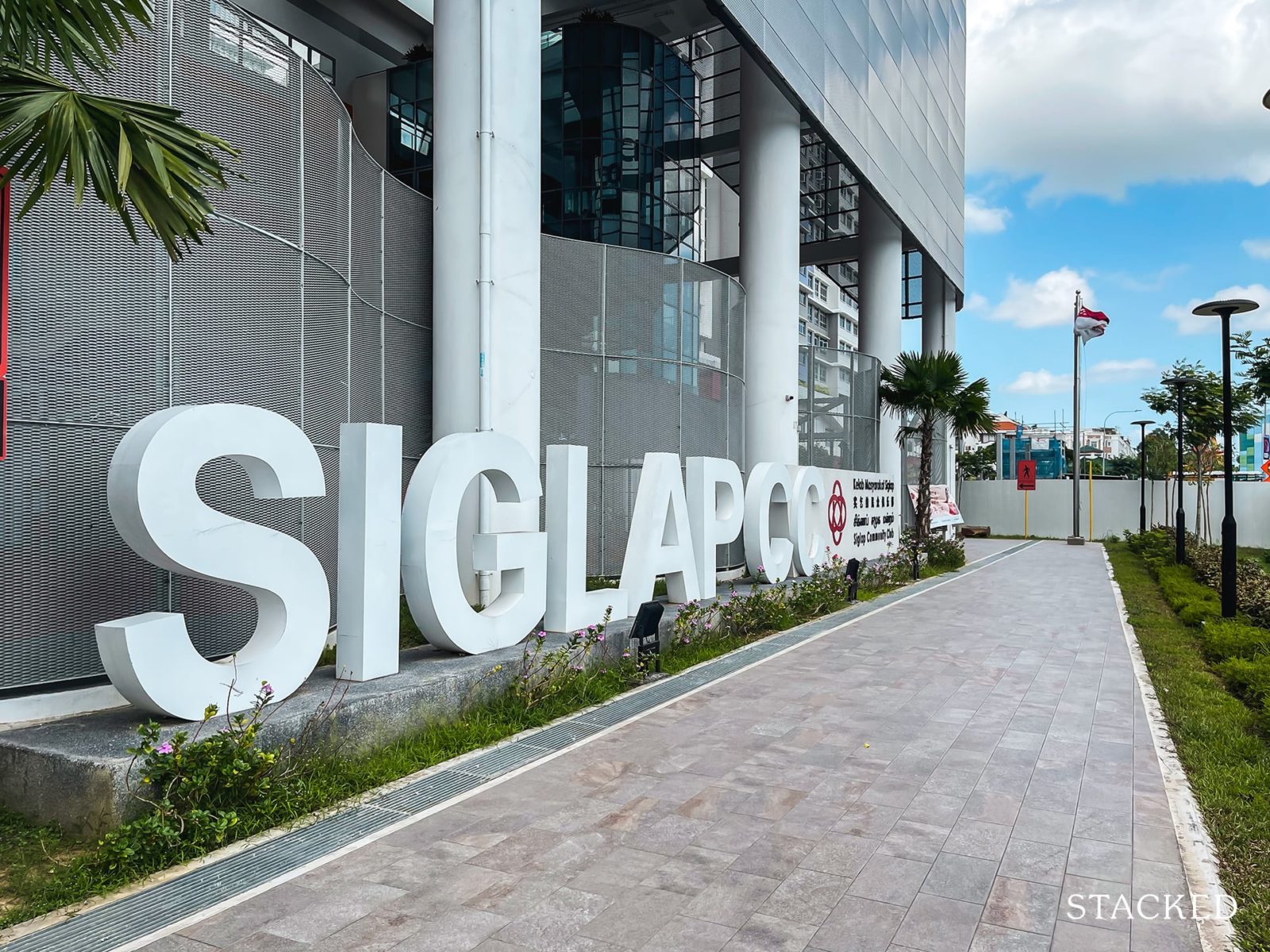 First off, it comes with a Sheng Siong supermarket which makes it extremely convenient for residents living here.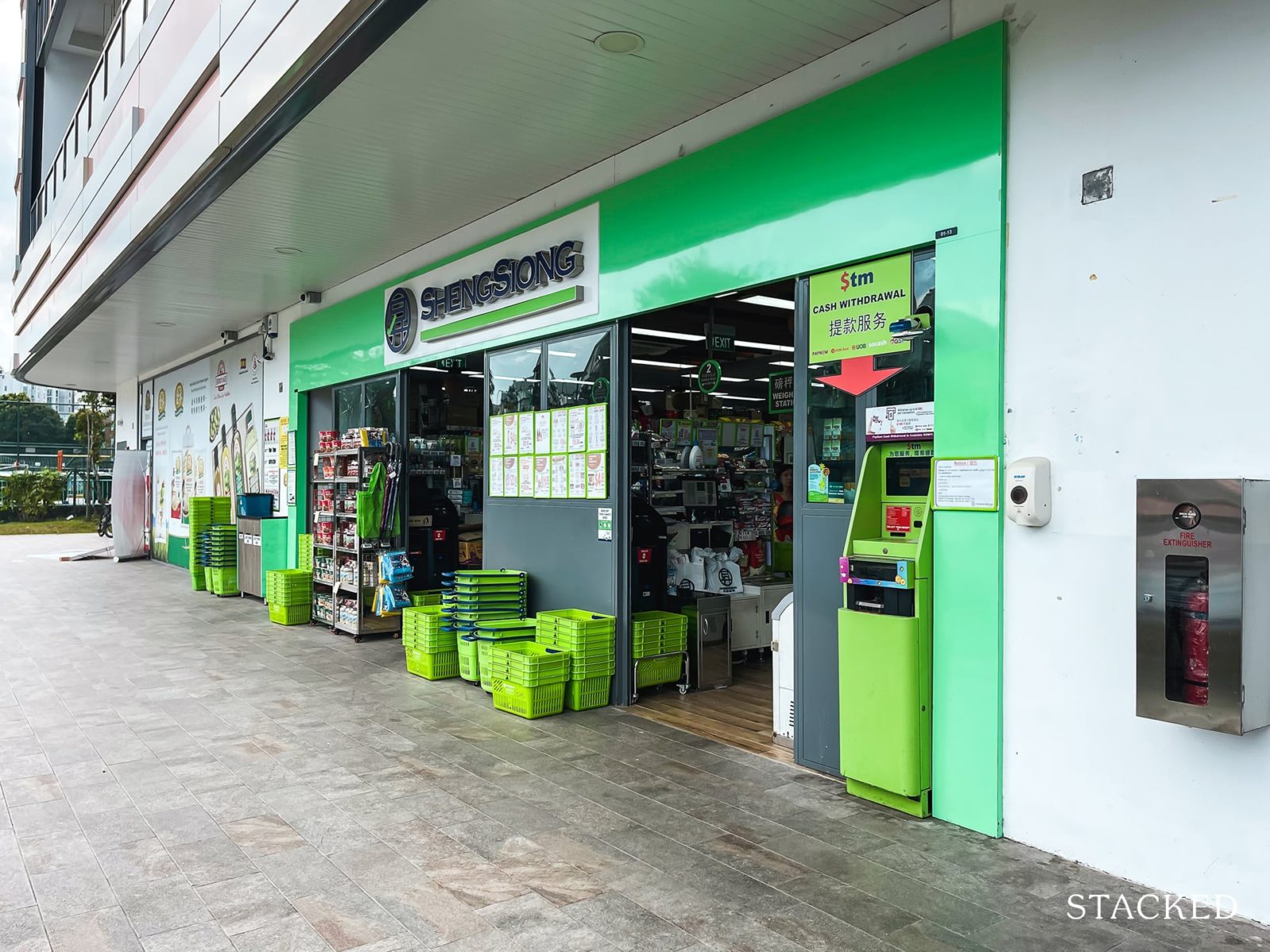 Fans of American culinary delights would also be pleased to find a relatively popular food chain here: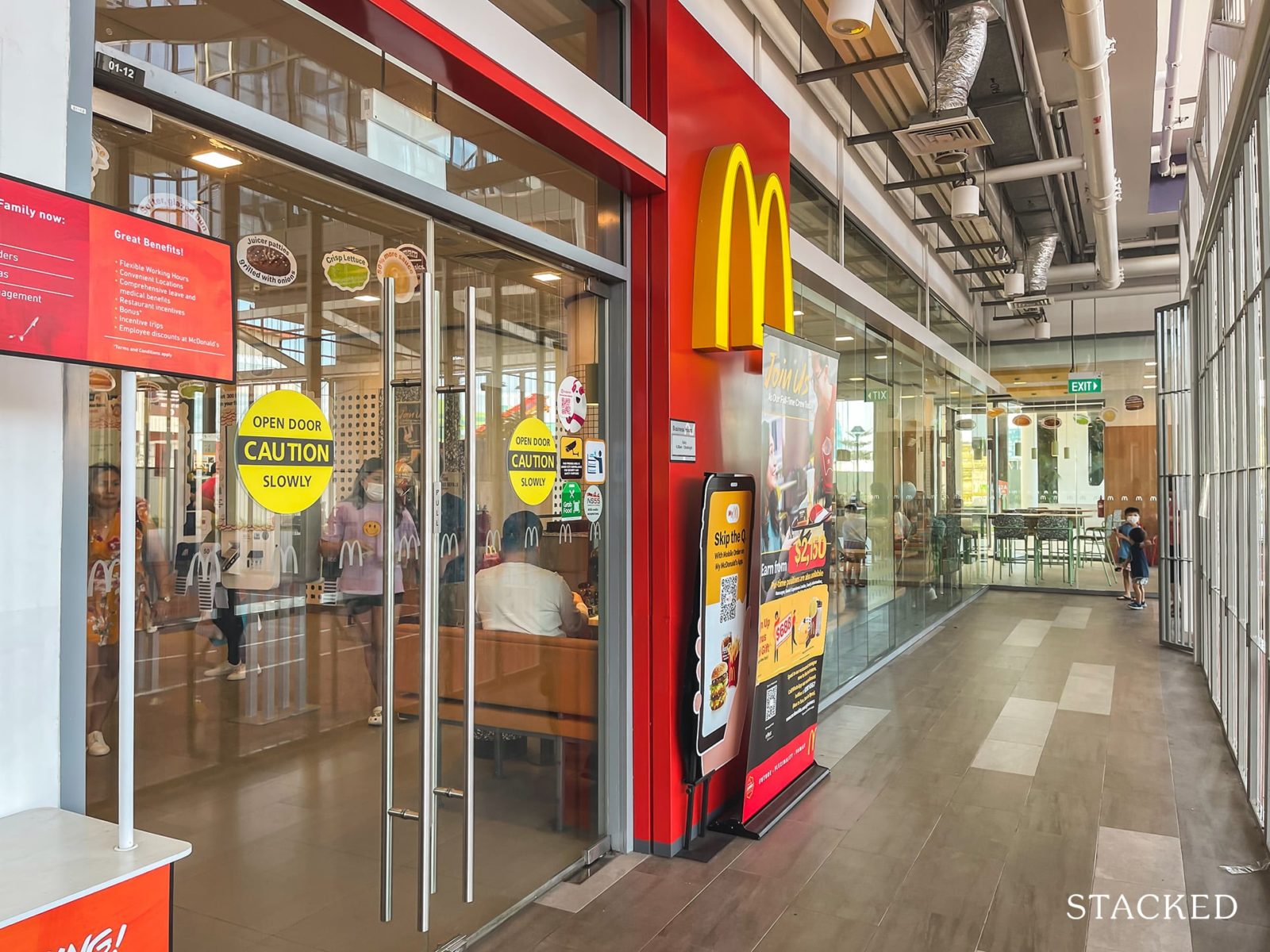 Of course, you can't eat Mcdonald's every day, so it brings me great joy to say there's a Kopitiam here for those who relish local cuisines.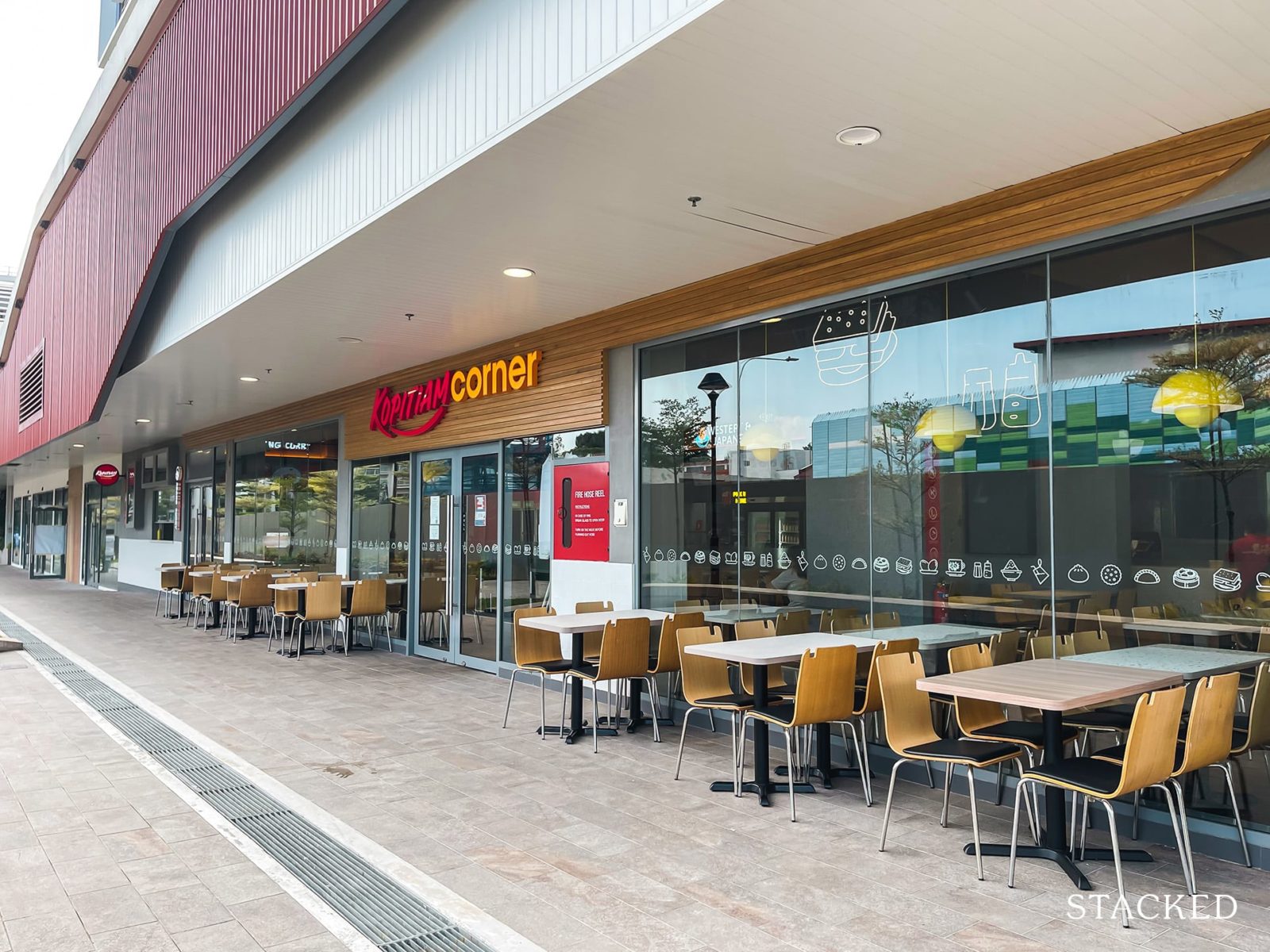 There's also a rooftop Futsal pitch, badminton court, basketball court, bowling alley and an Anytime Fitness gym outlet. Is there really more you could ask for? (Yes – a cinema please).
Side note: Not many HDB buyers realise this, but if you sign up for season parking, a more premium gym membership and add on the cost of the conservancy charges, you could be paying a monthly fee that's more than the typical maintenance fee paid at a mass-market condominium.
Bedok South Horizon is one of the few HDBs that can boast of having such amenities. The only other HDB with this level of amenities I've reviewed is Hougang RiverCourt given it has an integrated mall.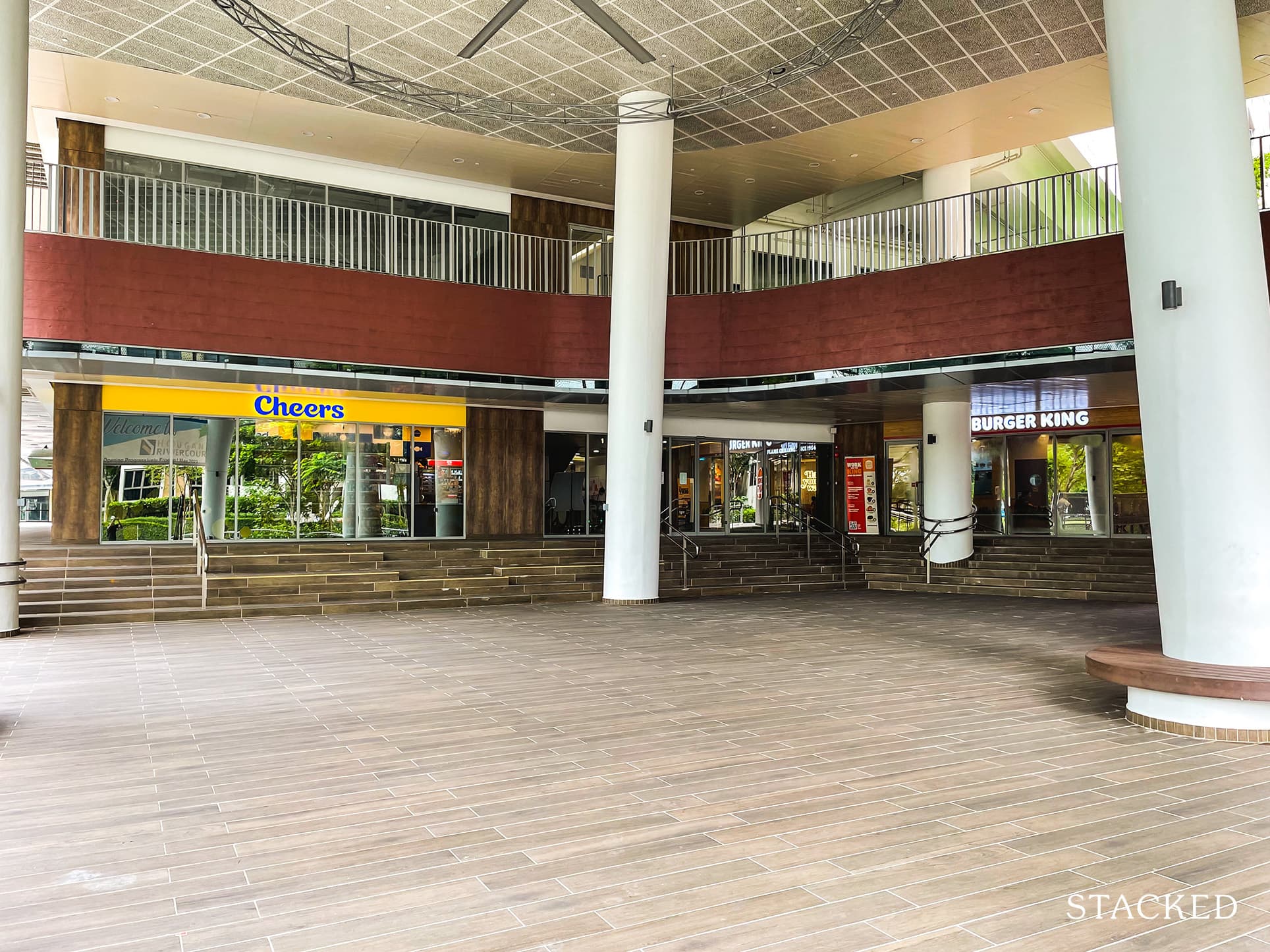 Now let's head back to the development where we head up to the 8th floor of the car park – the rooftop garden.
As with most modern HDBs, the car park rooftop is an opportunity to house an open garden area which serves as a place for residents to take a stroll. Rooftop gardens are particularly useful when there are no parks within walking distance which is the case here (Kew Green Playground doesn't count).
Coming out, you'll find the rooftop garden to be quite a sight!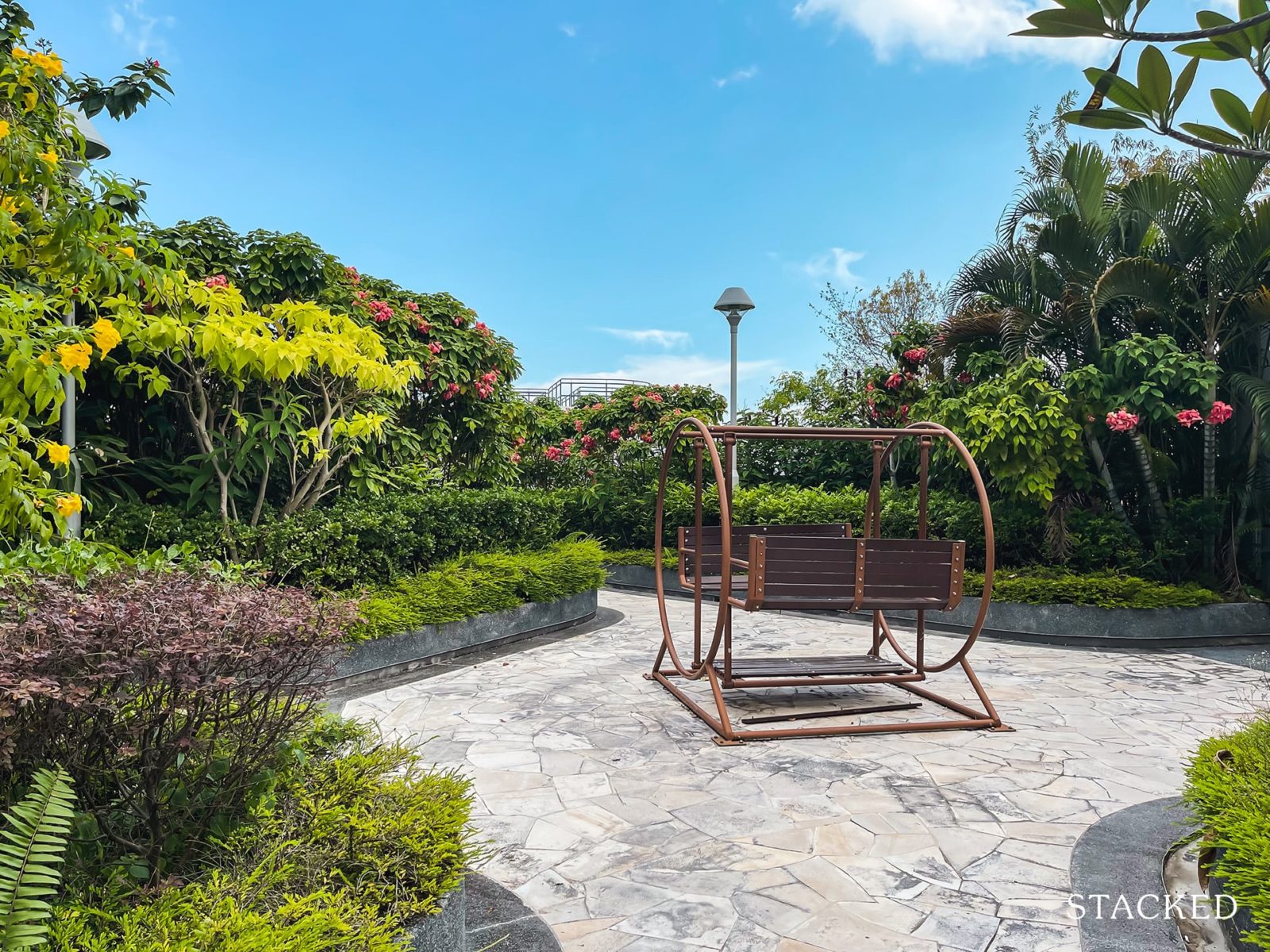 The pathways are wide, the plants are well-curated and manicured and there's a ton of floral variety here.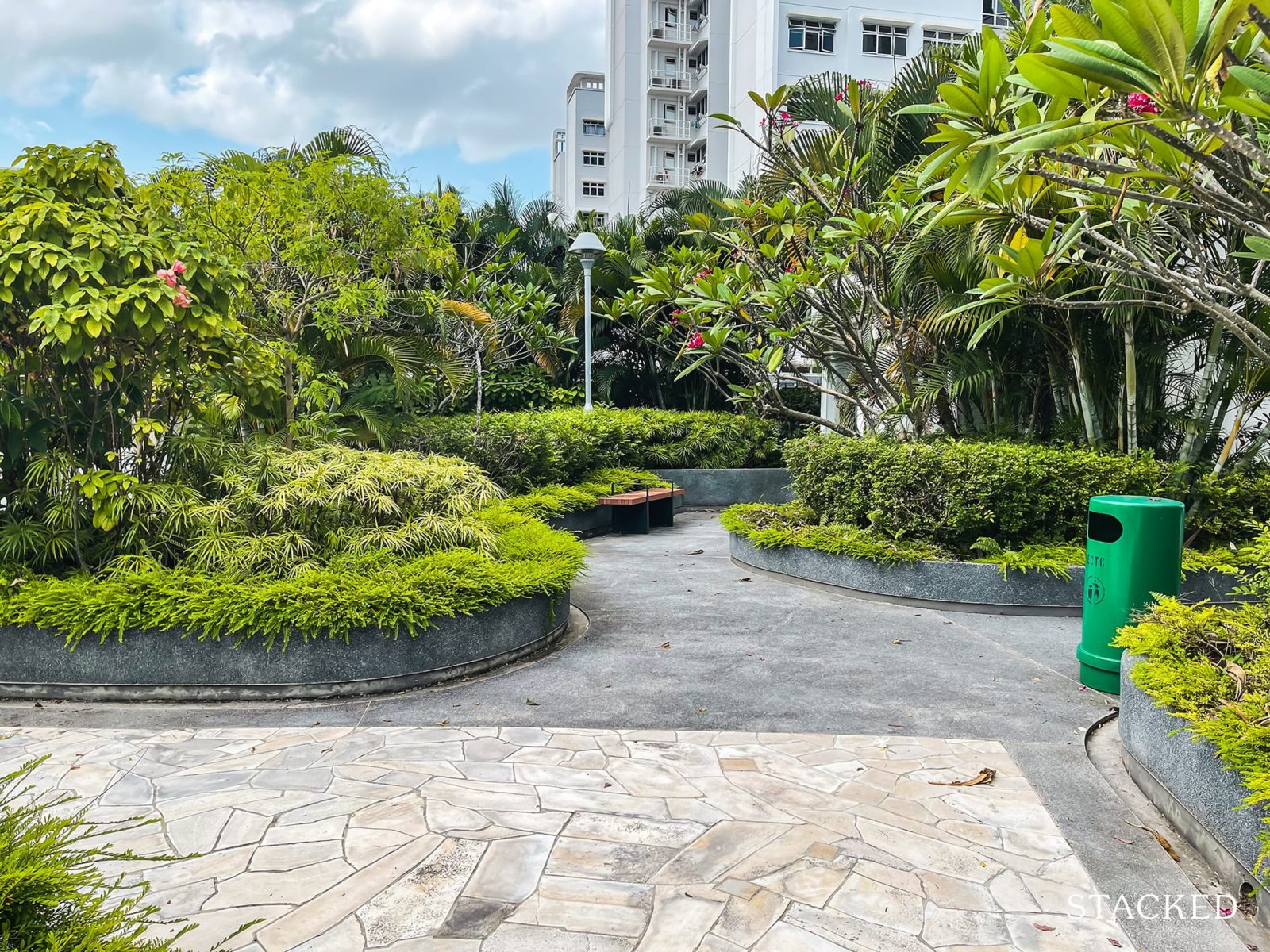 There are also quite a few benches here that actually look quite cohesive with the overall look.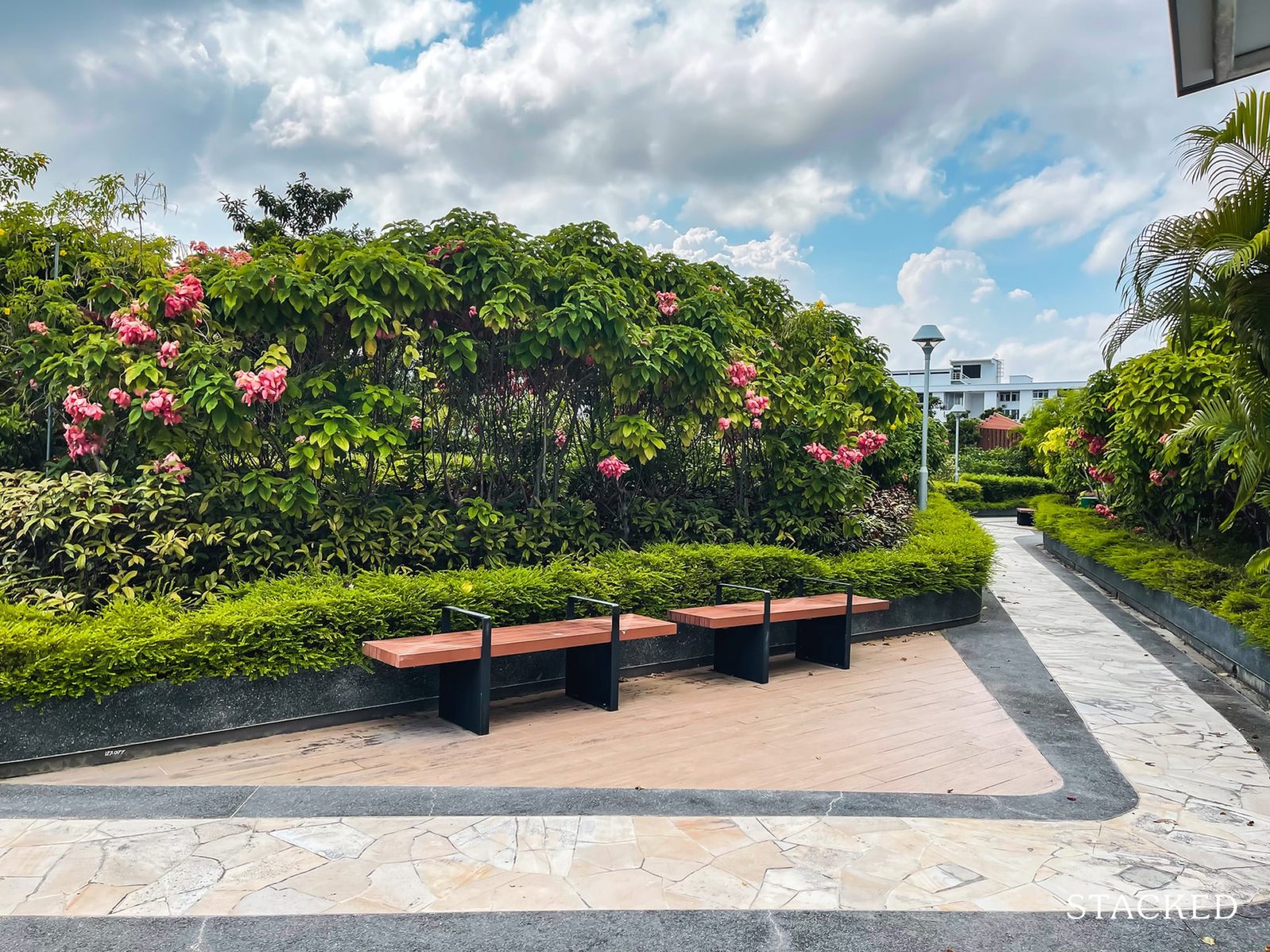 Even the lamp post here fits in quite nicely. At one spot, you can even find a swing here!
The rooftop garden also features some exercise equipment: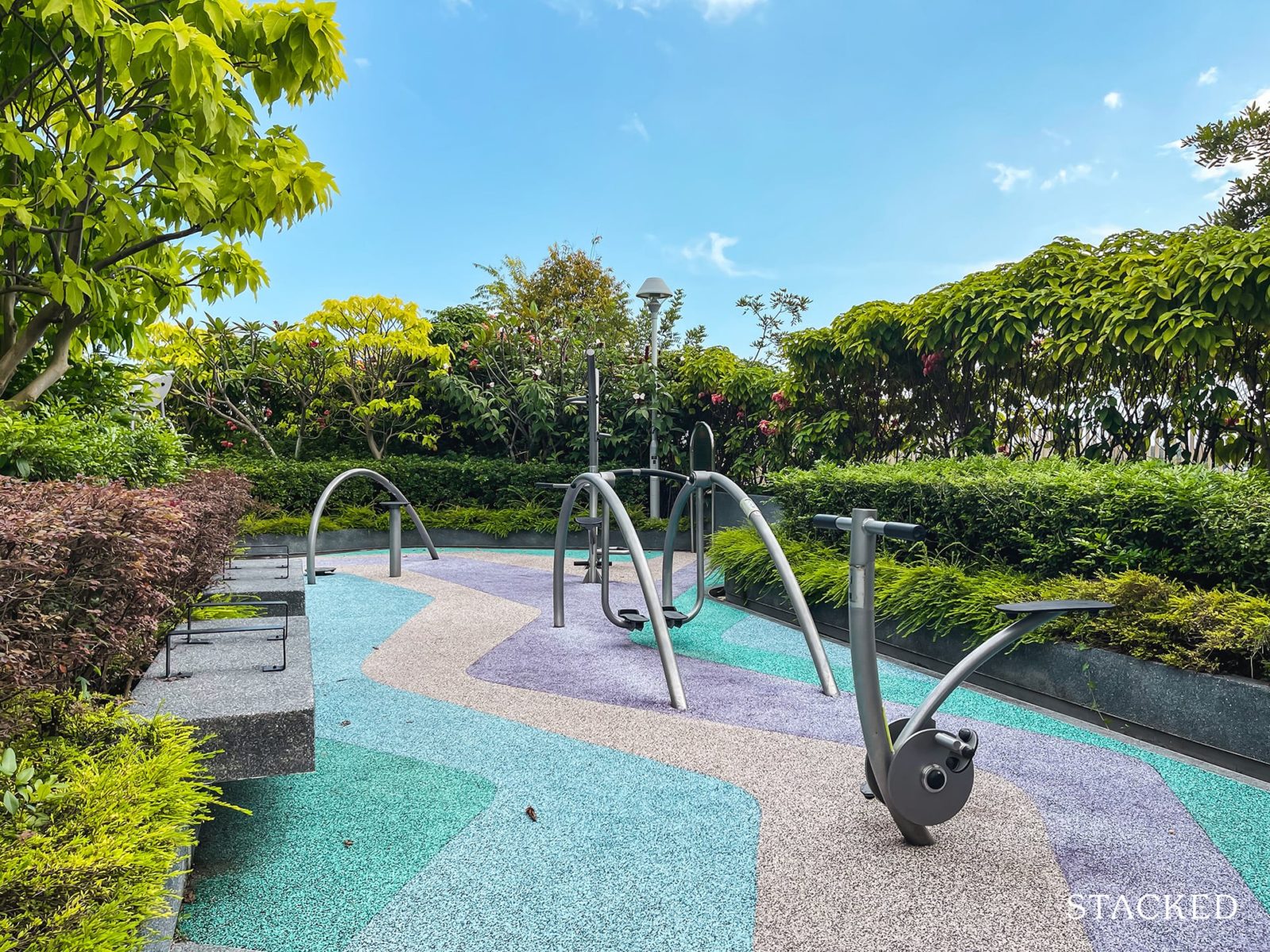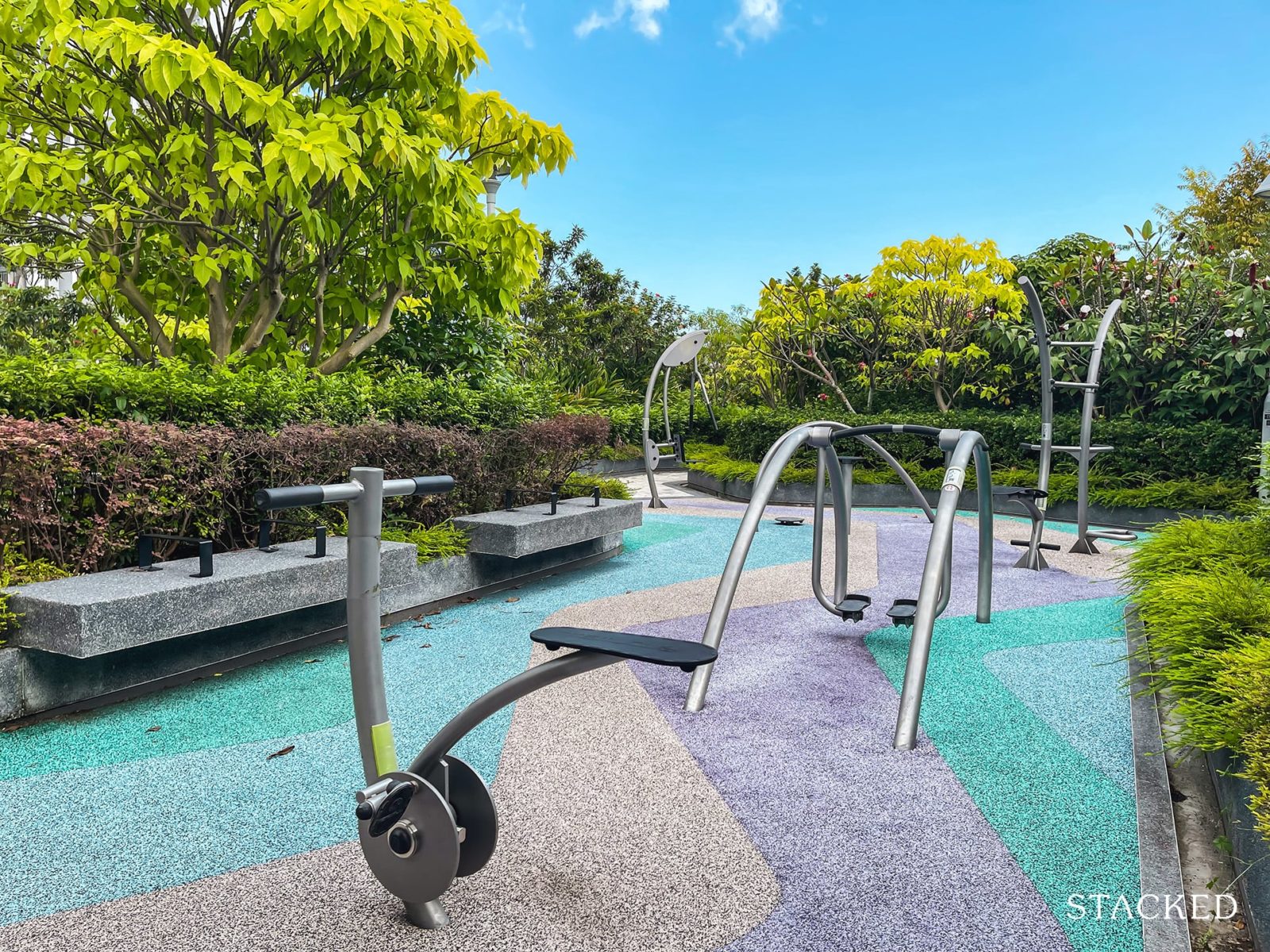 There's also a fully-sheltered seating area here that's great if you're looking for some respite from the rain/sun.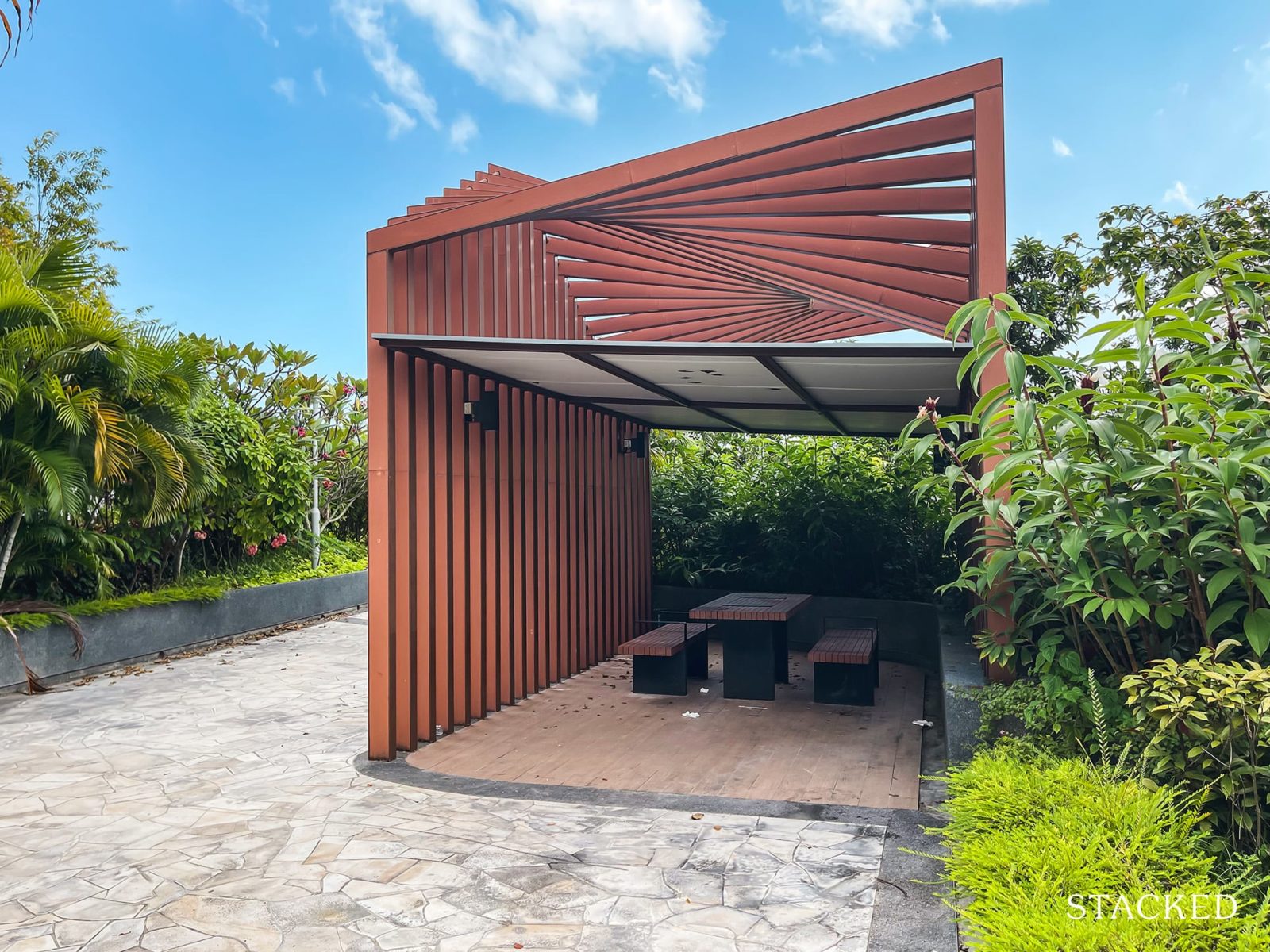 I've raved enough about the rooftop garden now, so let's proceed to one of the blocks to check out what the common corridors here look like.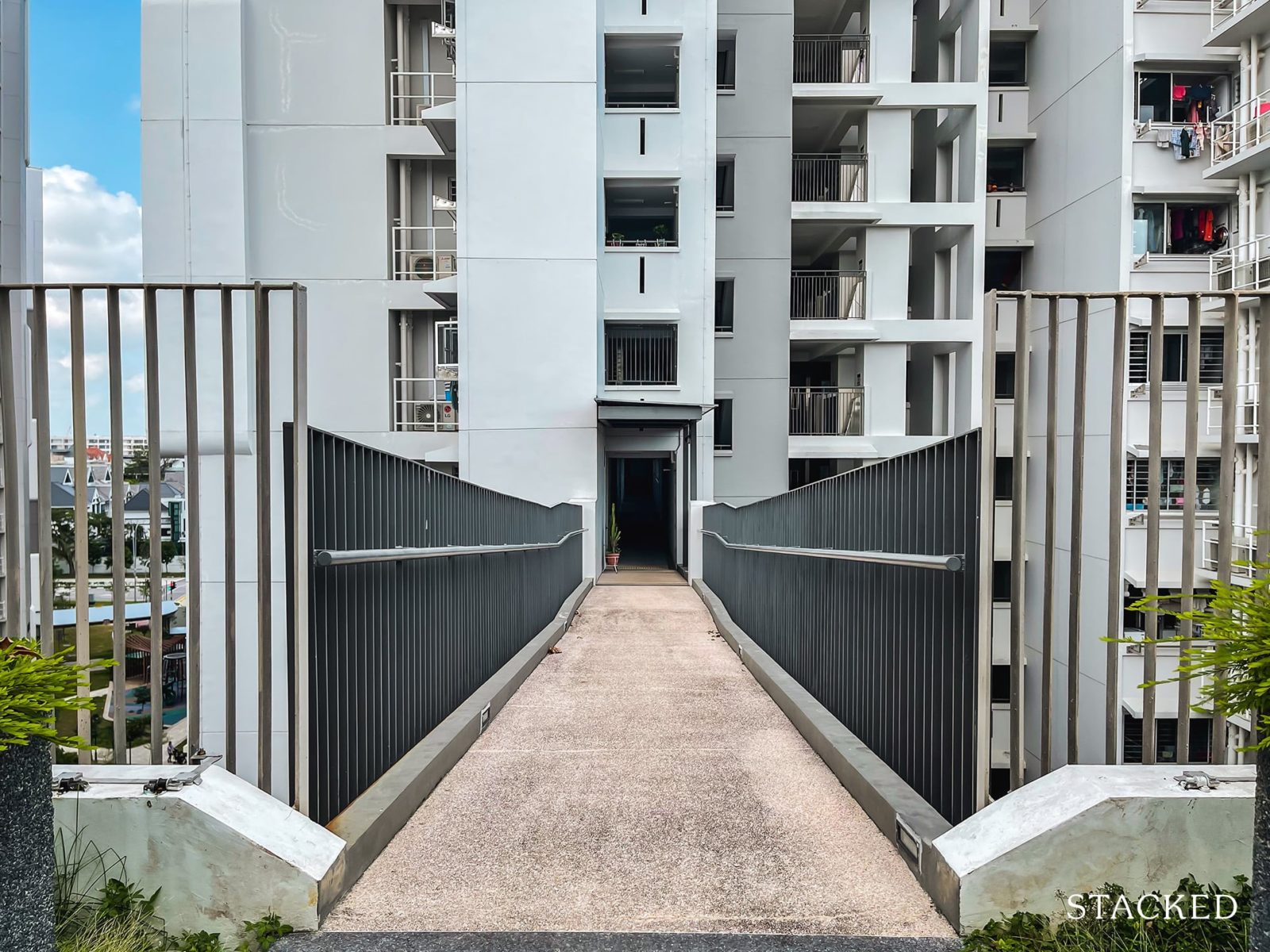 From the link bridge, you'll notice that with an inward-facing block, residents won't face much of a privacy issue for those units just above/beside the link bridge. This is great since such facing would invariably reduce the value of the home, so I'm pleased to say that won't be the case for residents here!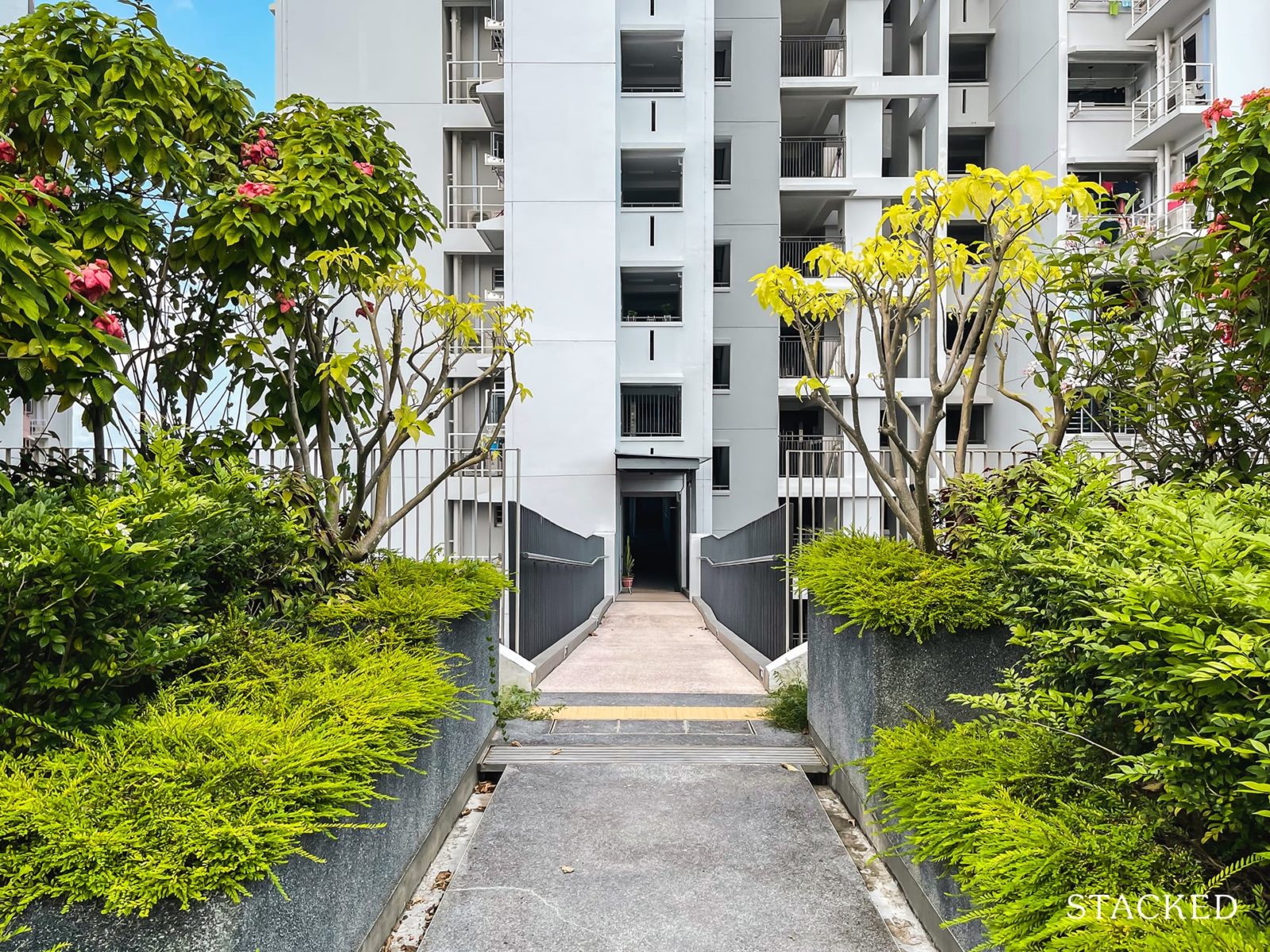 Heading in, you'll find the corridors here to be somewhat spacious. It's very well-lit and ventilated, so no complaints here!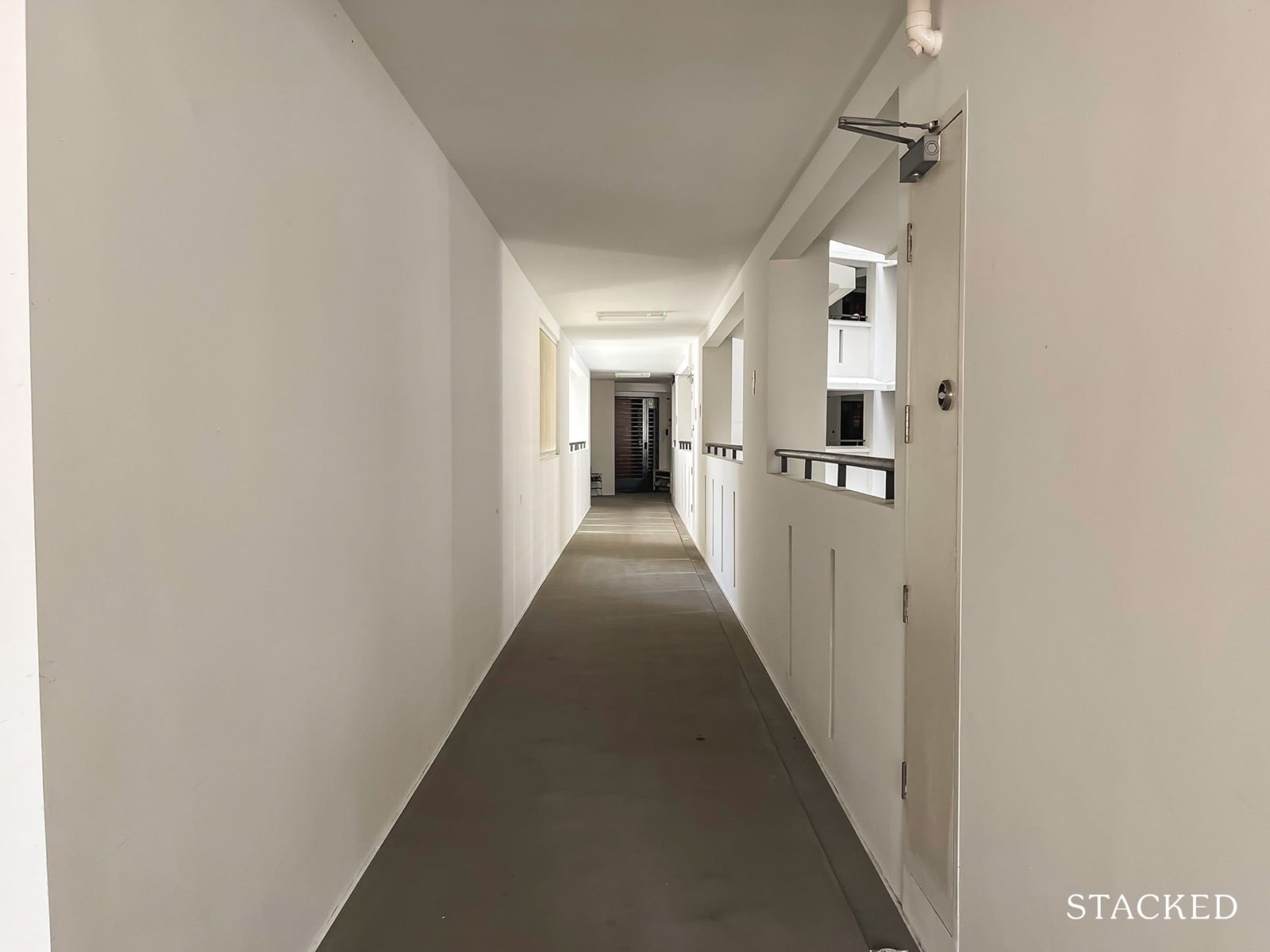 Typically, there are around 7 – 9 units per level depending on which block you're in. You'll also either share 2 or 3 lifts per floor. This may not sound like much, but for an HDB development spanning up to 18 storeys, this isn't a big deal at all. From our experience, the longest waits are within developments that span above 30 storeys.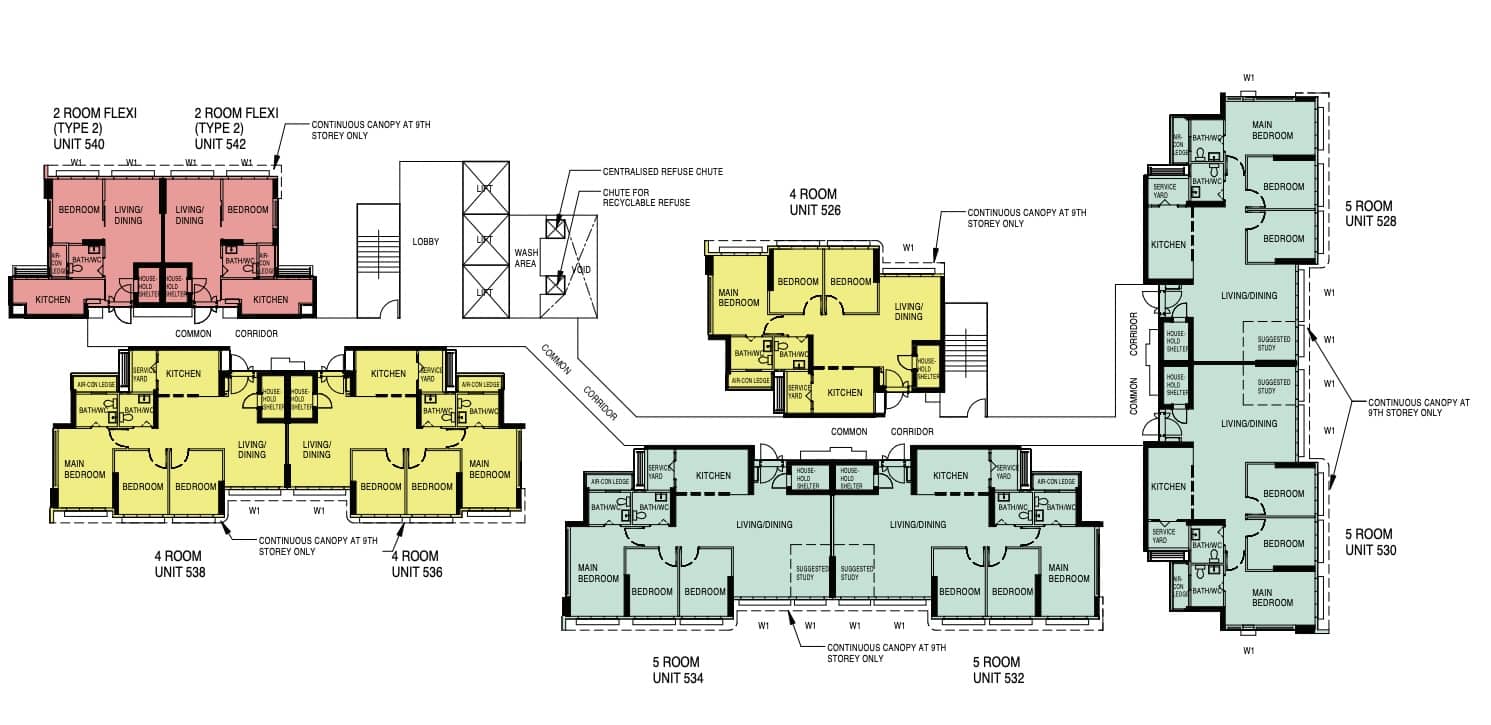 As with many long corridor layouts, some units here have their service yards exposed meaning less privacy for residents.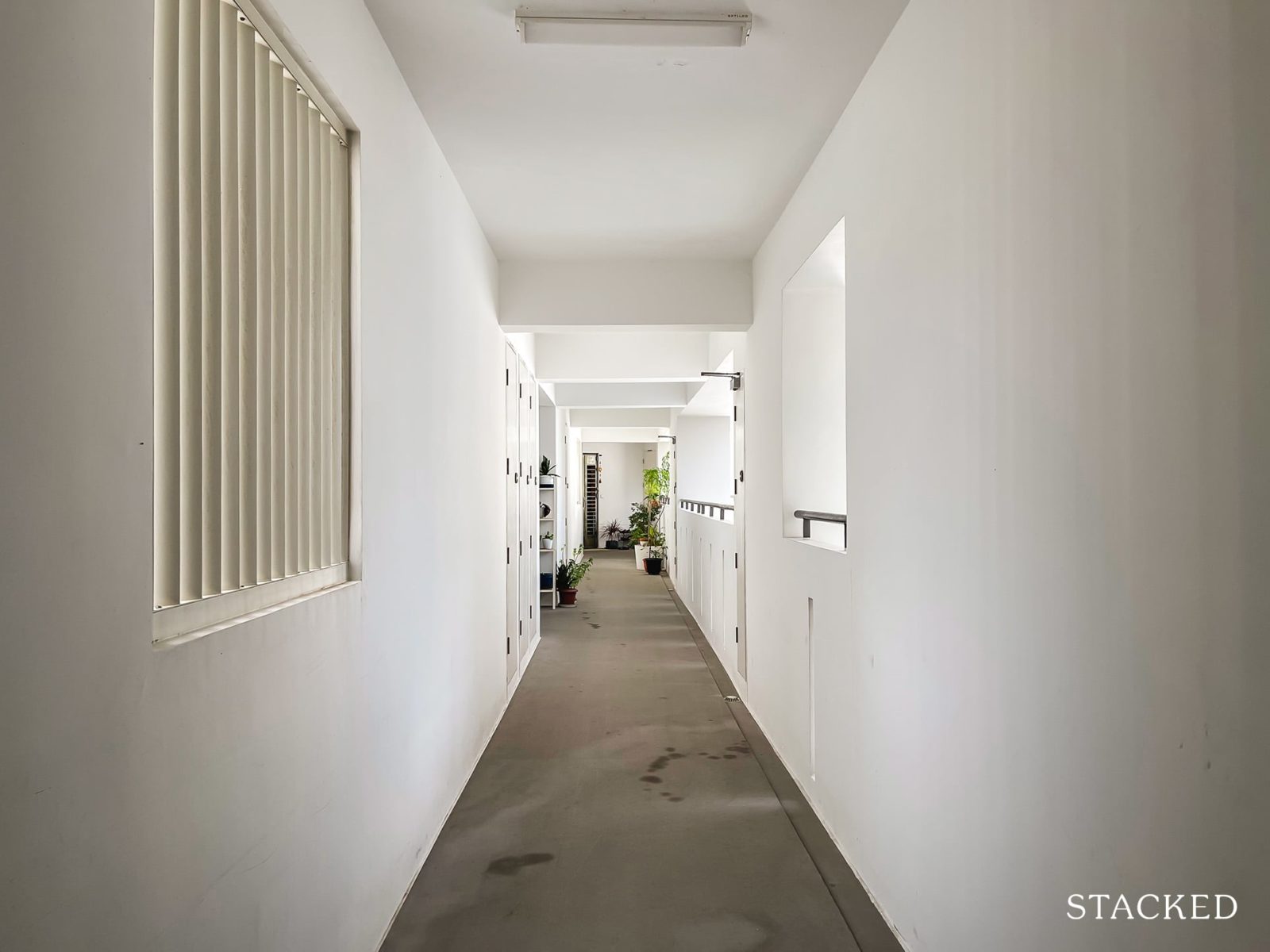 The common area outside each unit is also quite spacious. For example, a corner unit here can fit several bicycles:
Units along the corridor would also have some space to put a shoe rack which makes it practical.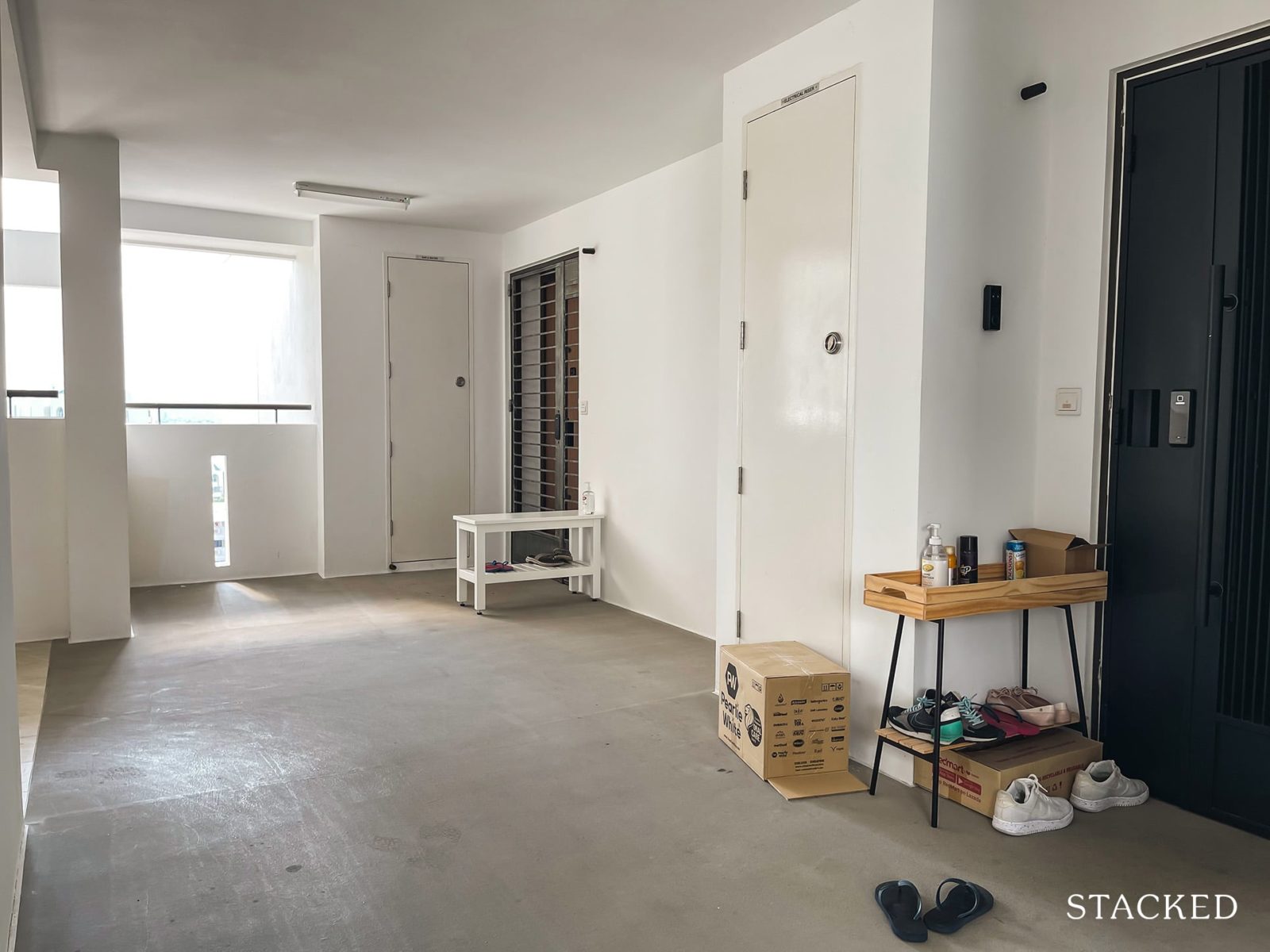 There's also a decent amount of space in between each unit that is directly facing each other: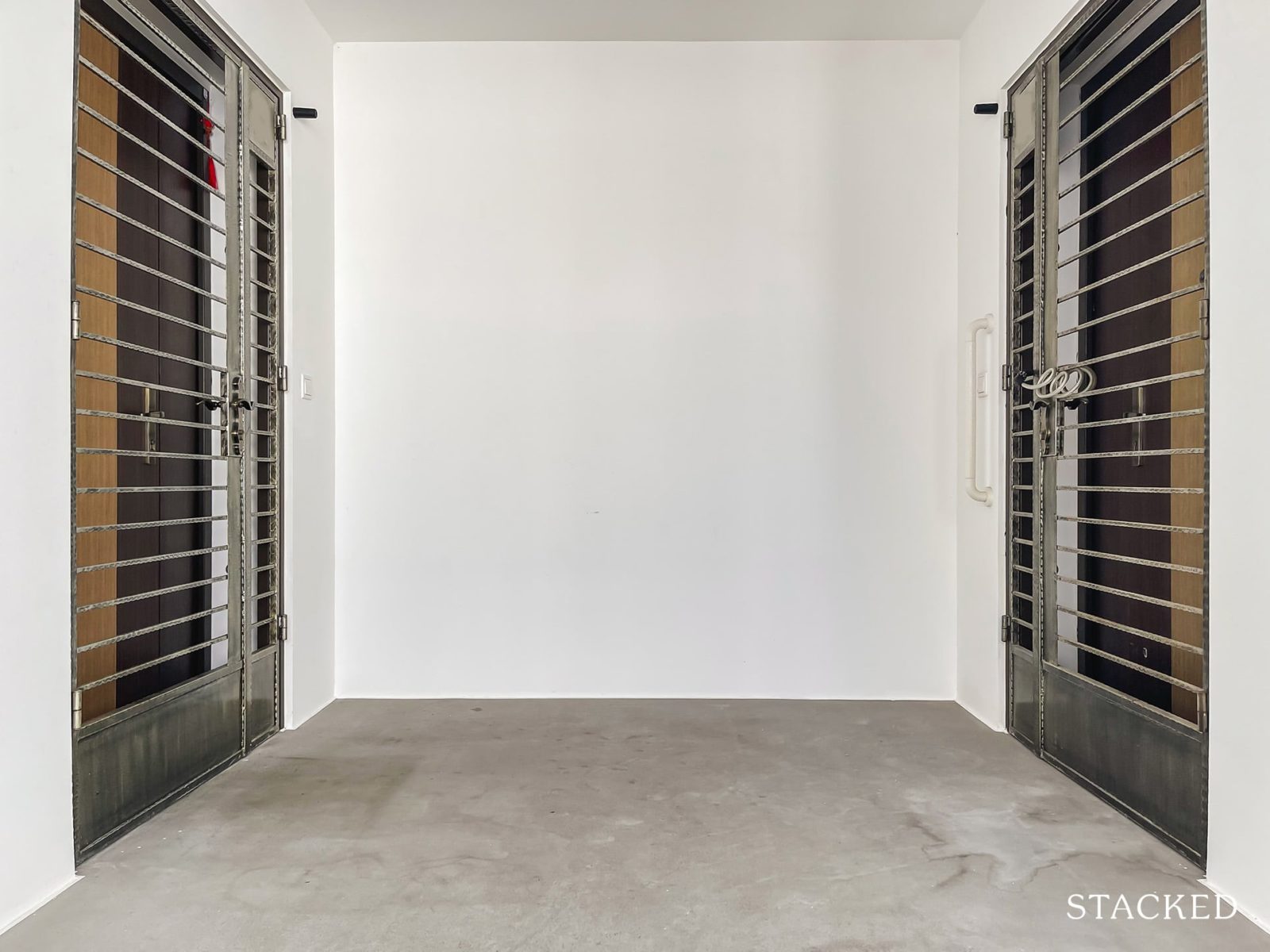 Now let's head down to check out what facilities are on offer here!
There are 3 playgrounds and 2 fitness areas here split into 2 sections, one on the north and the other on the south side of the development.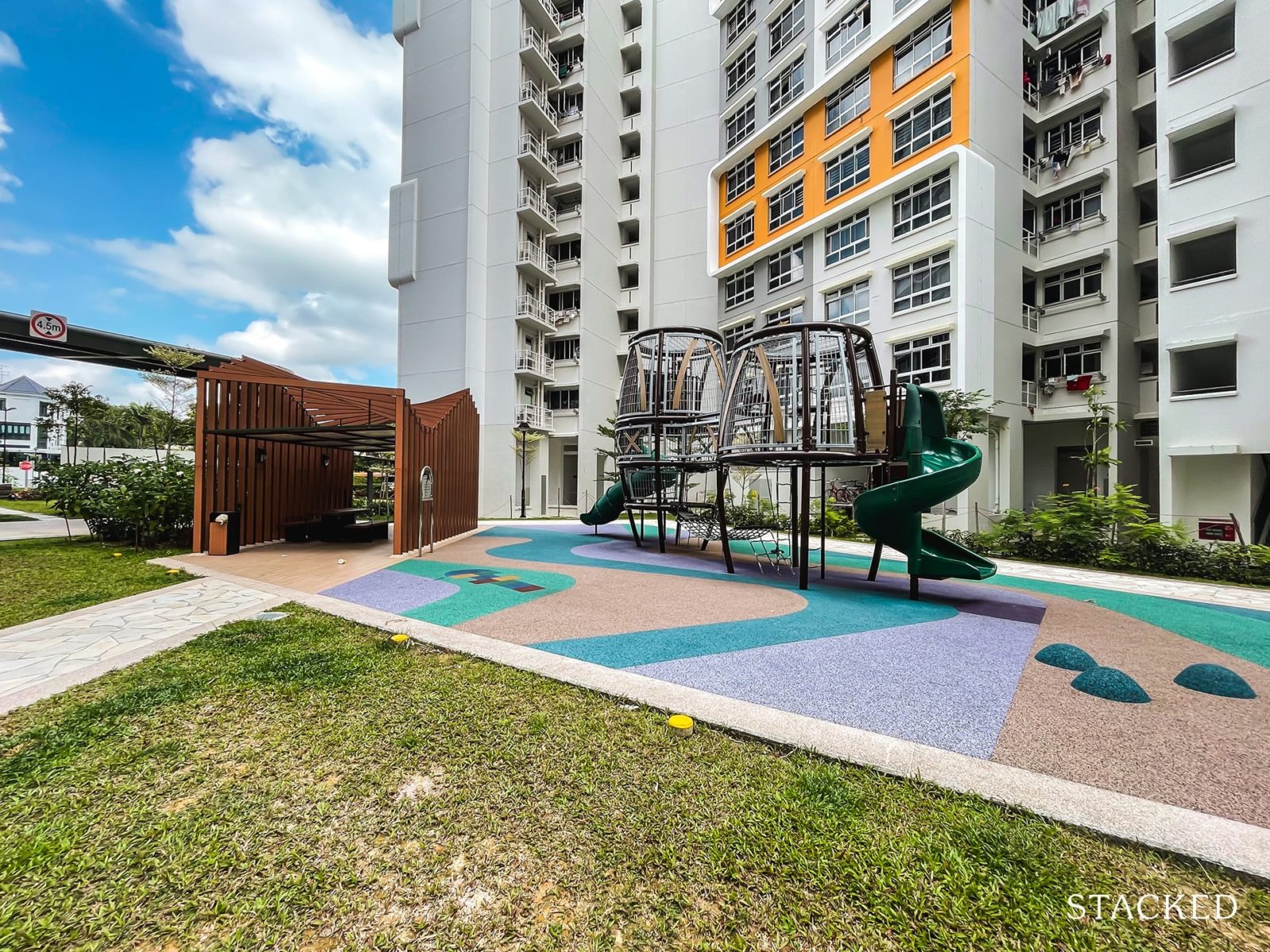 The first playground features 2 slides and several climbing structures.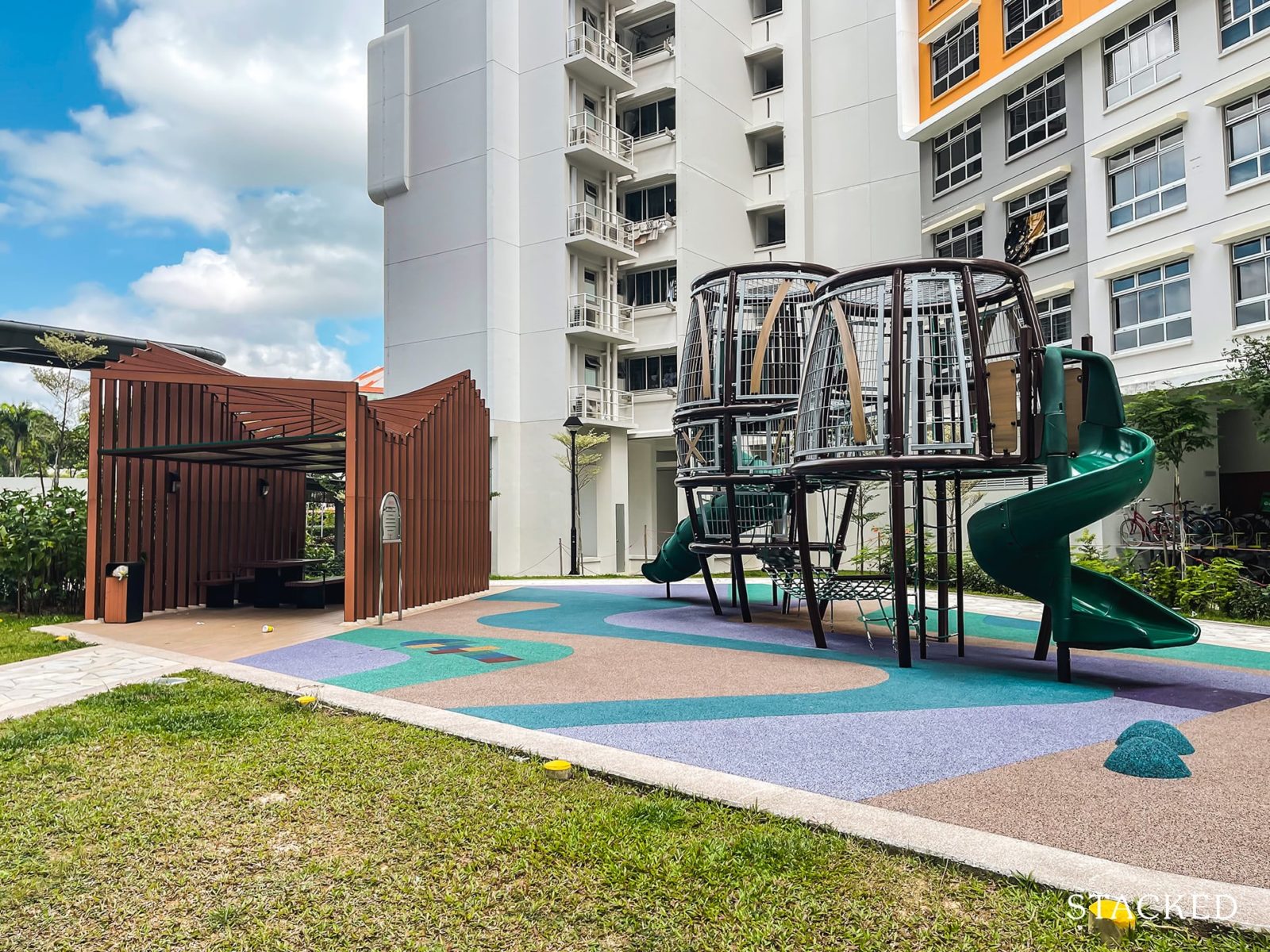 Nearby, you'll also find a fully-sheltered seating area. I like the wood trellis design over the shelter which gives the place a visually more unique look.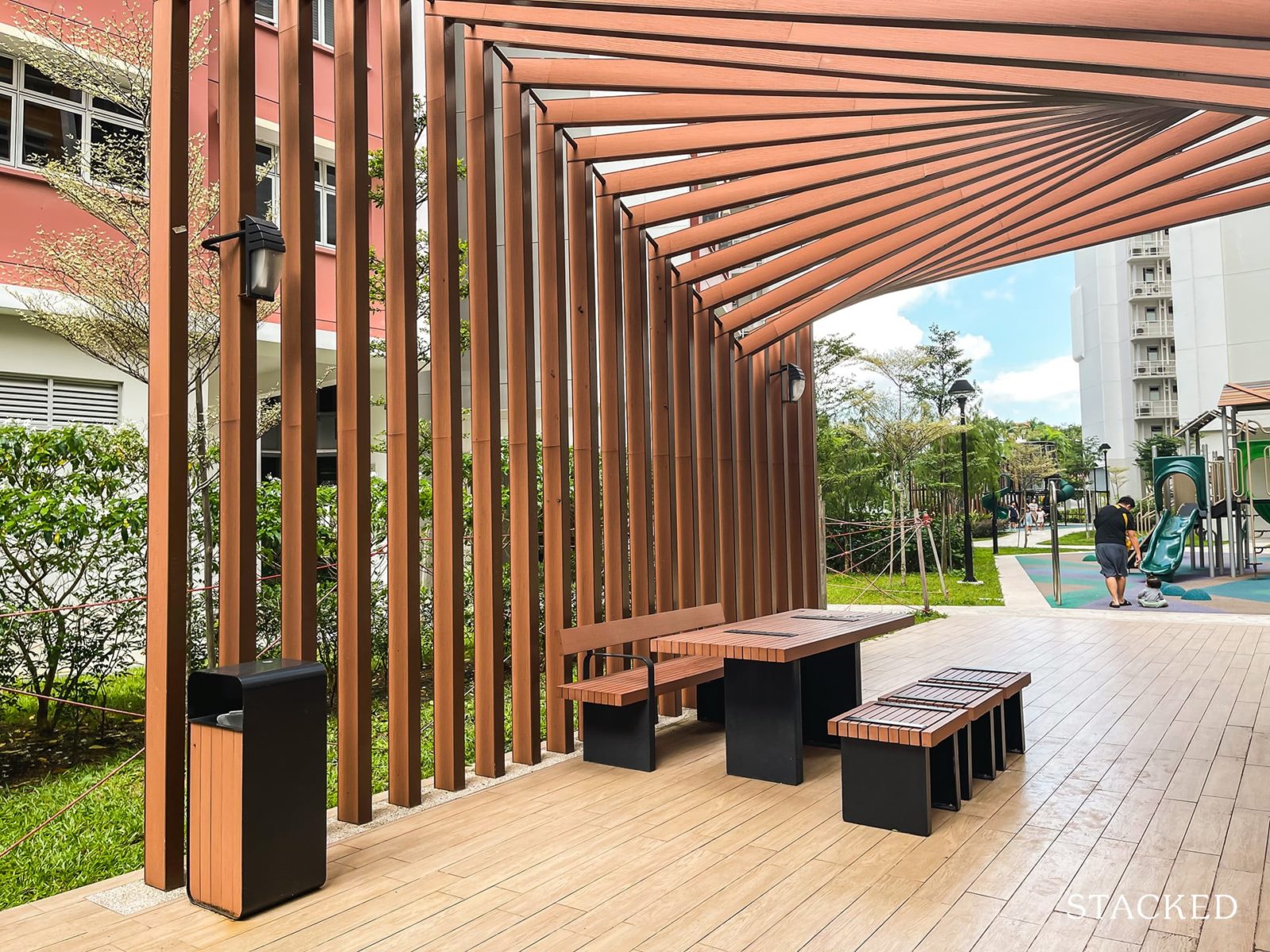 Now the second playground looks really interesting: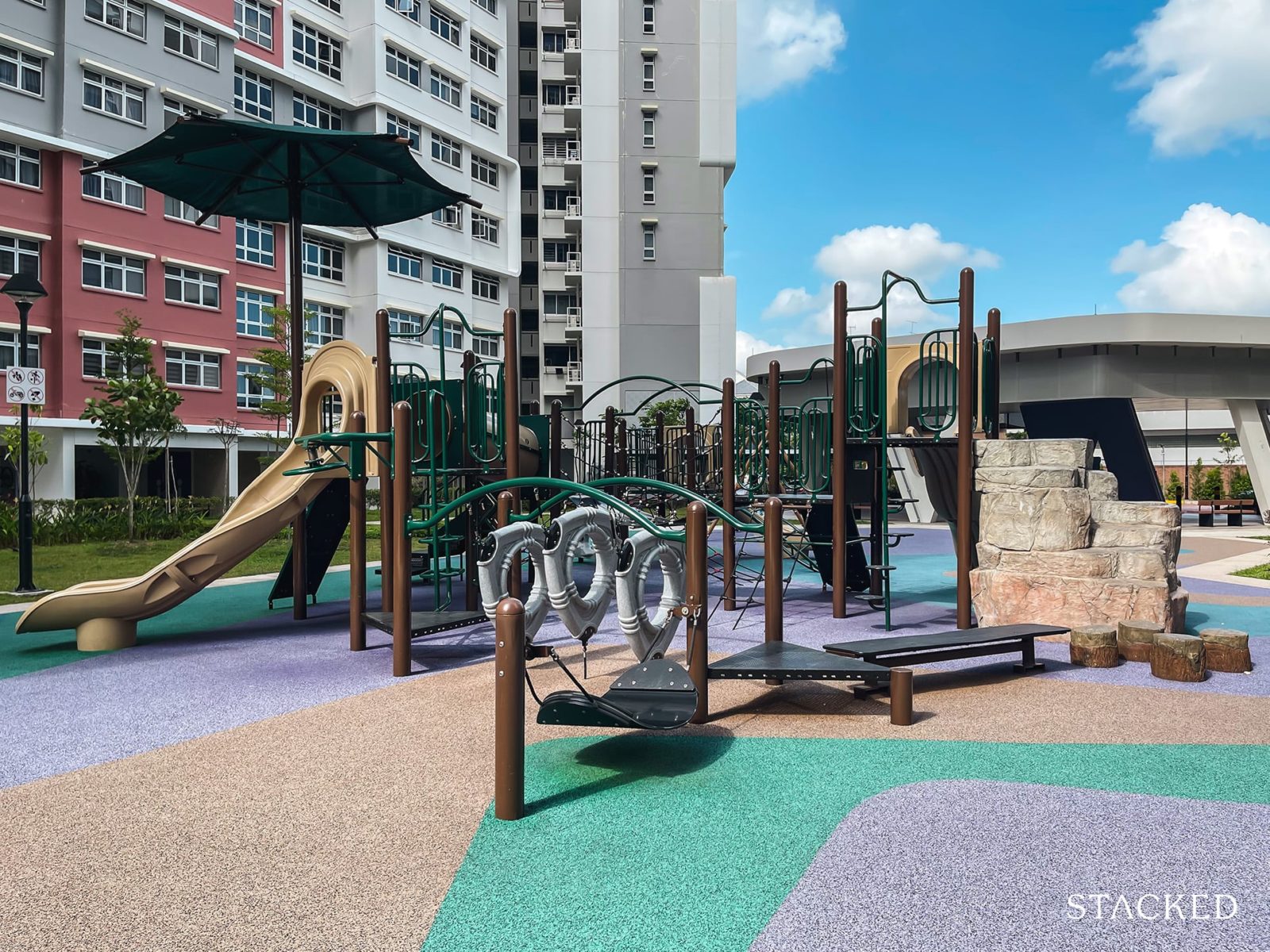 This one is huge and features a ton of climbing structures and obstacles too.
It's even friendly to younger kids as it features this merry-go-round (note tricycle not included).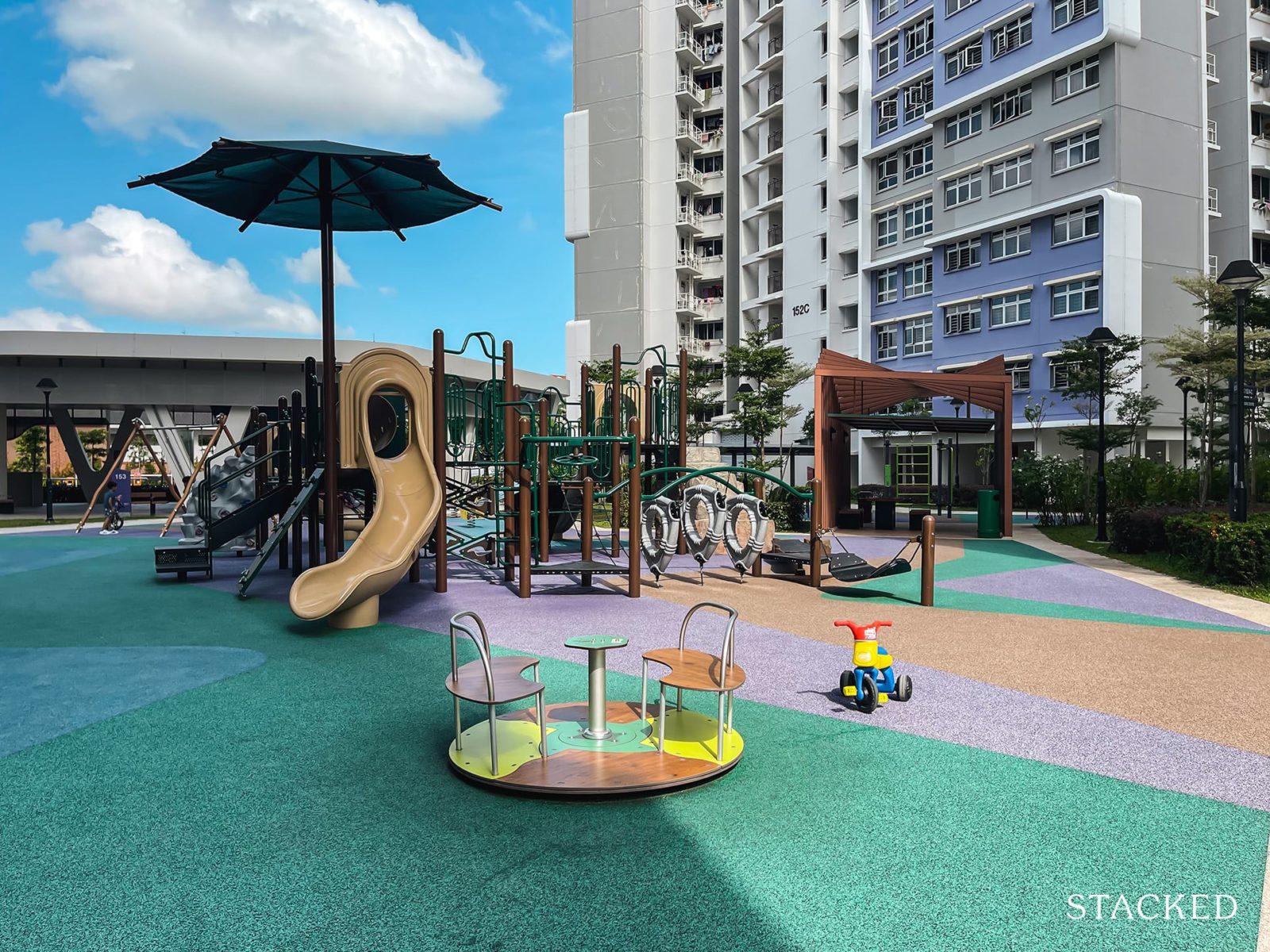 There's also a swingset just around the corner: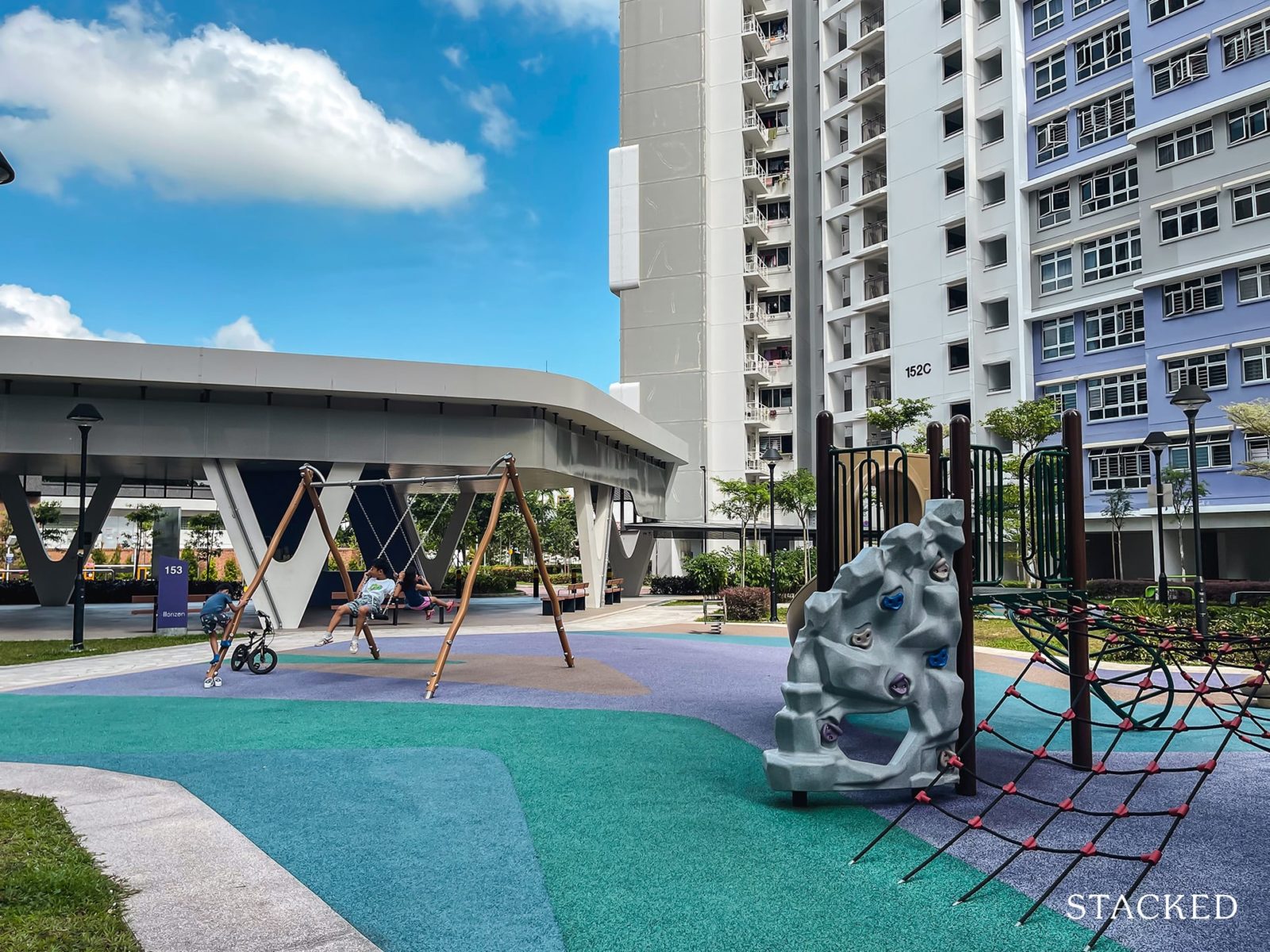 The 3rd and last playground looks more like a typical playground and features 2 slides and a climbing structure.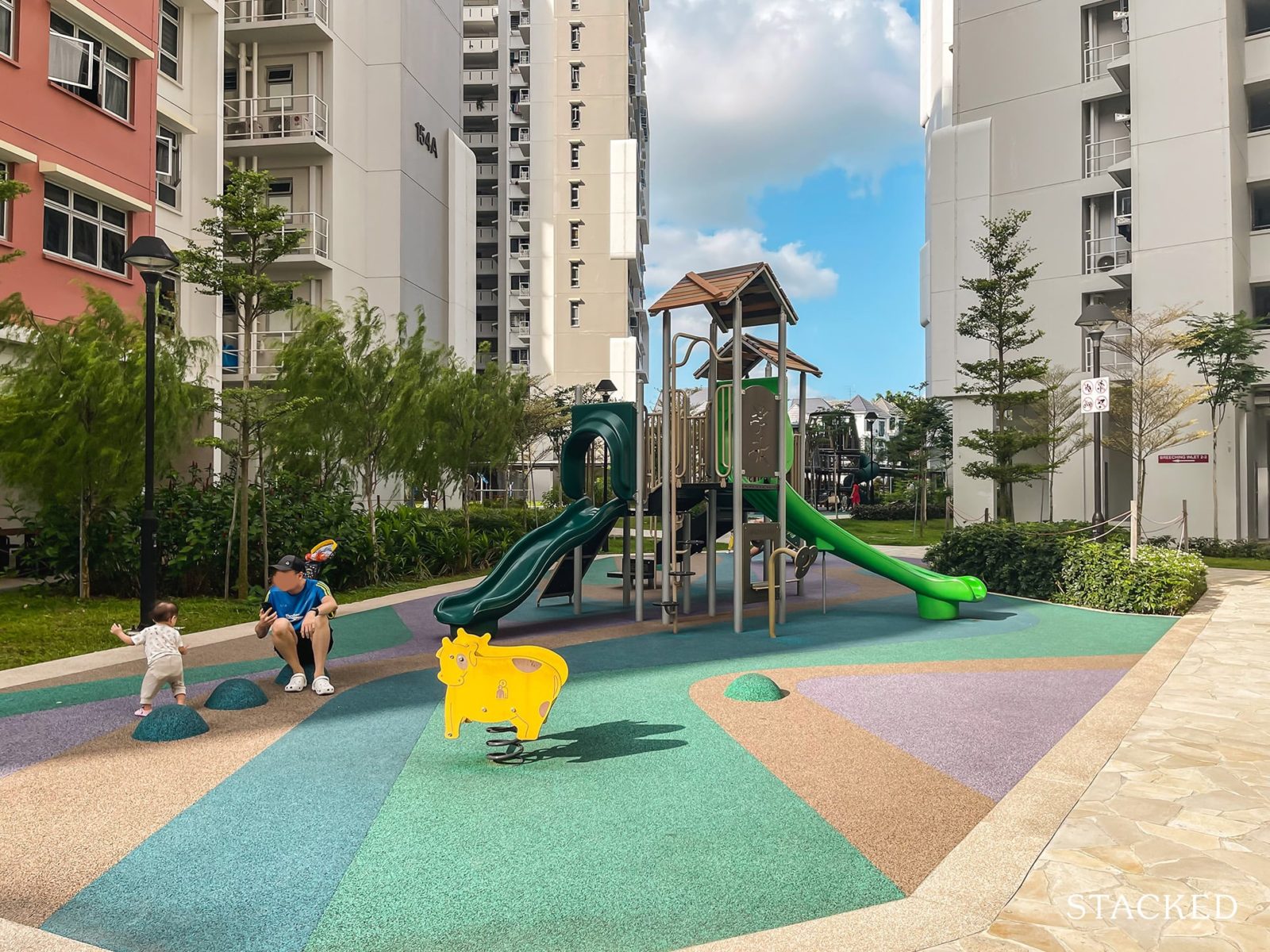 There are spring riders here too for younger kids!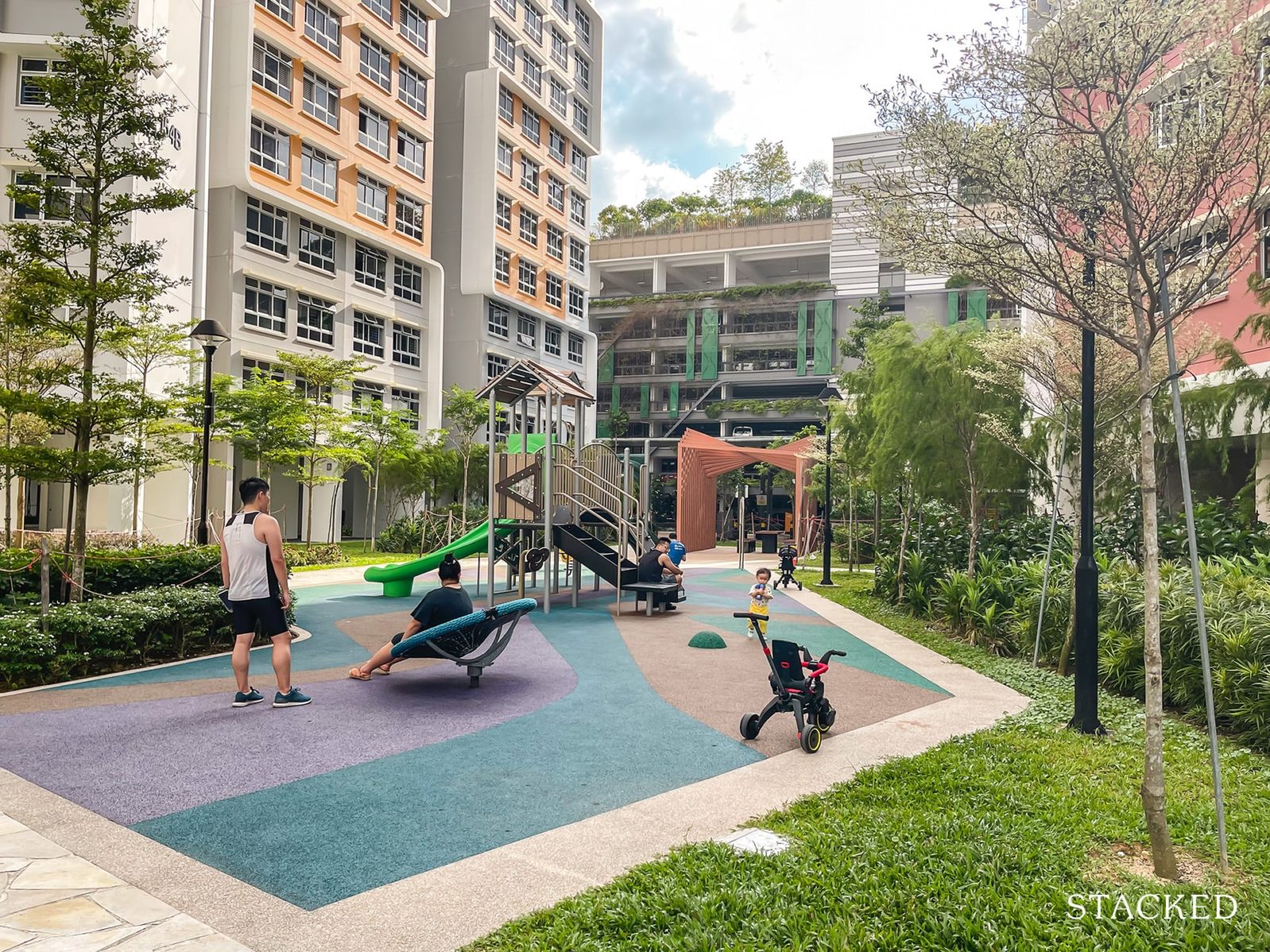 Overall, these 3 playgrounds should be sufficient for the 940 units here.
Next, the fitness corners. The first one features some pretty modern and varied equipment: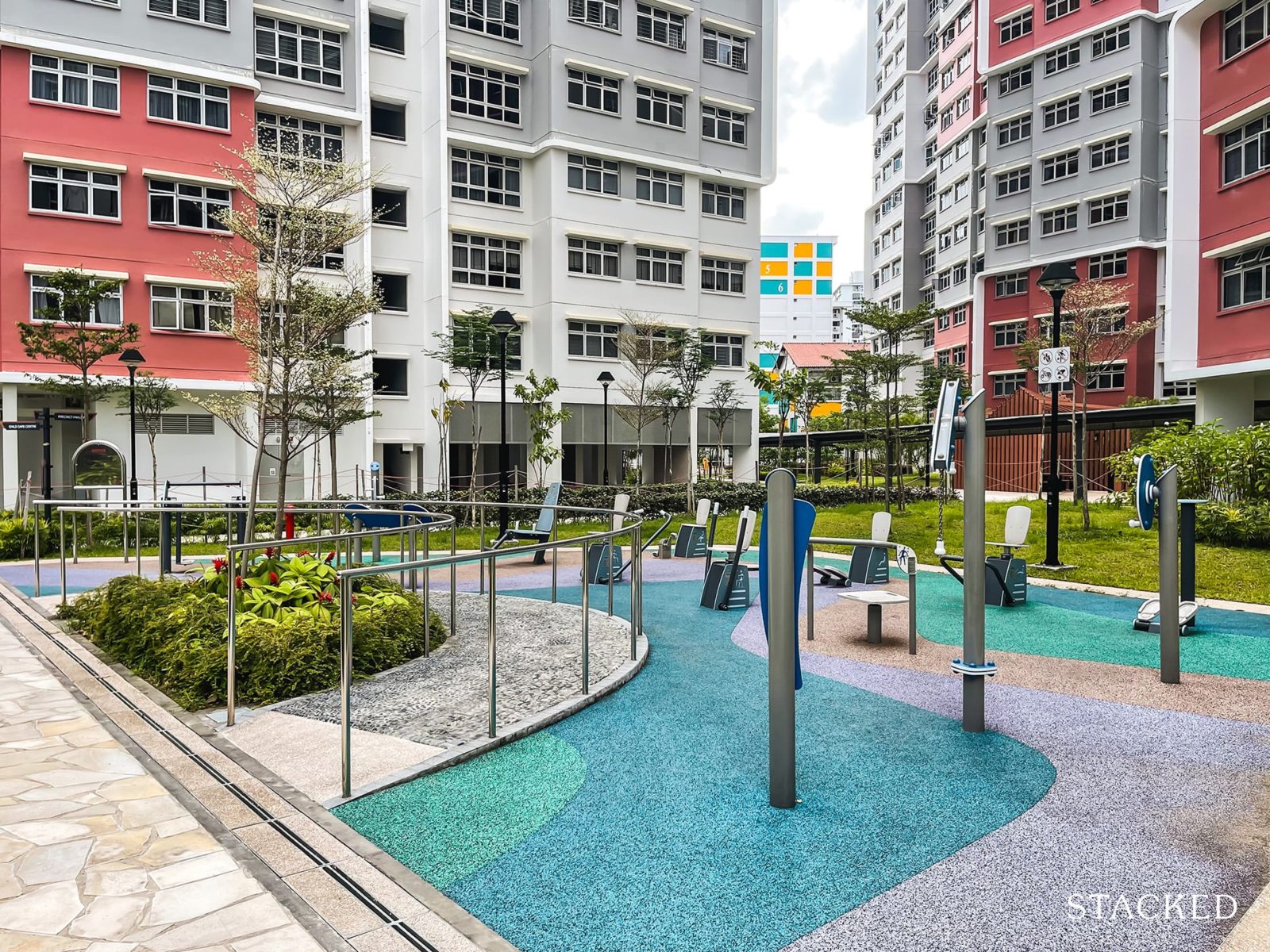 There's also a foot reflexology area here, something I've not seen in a while.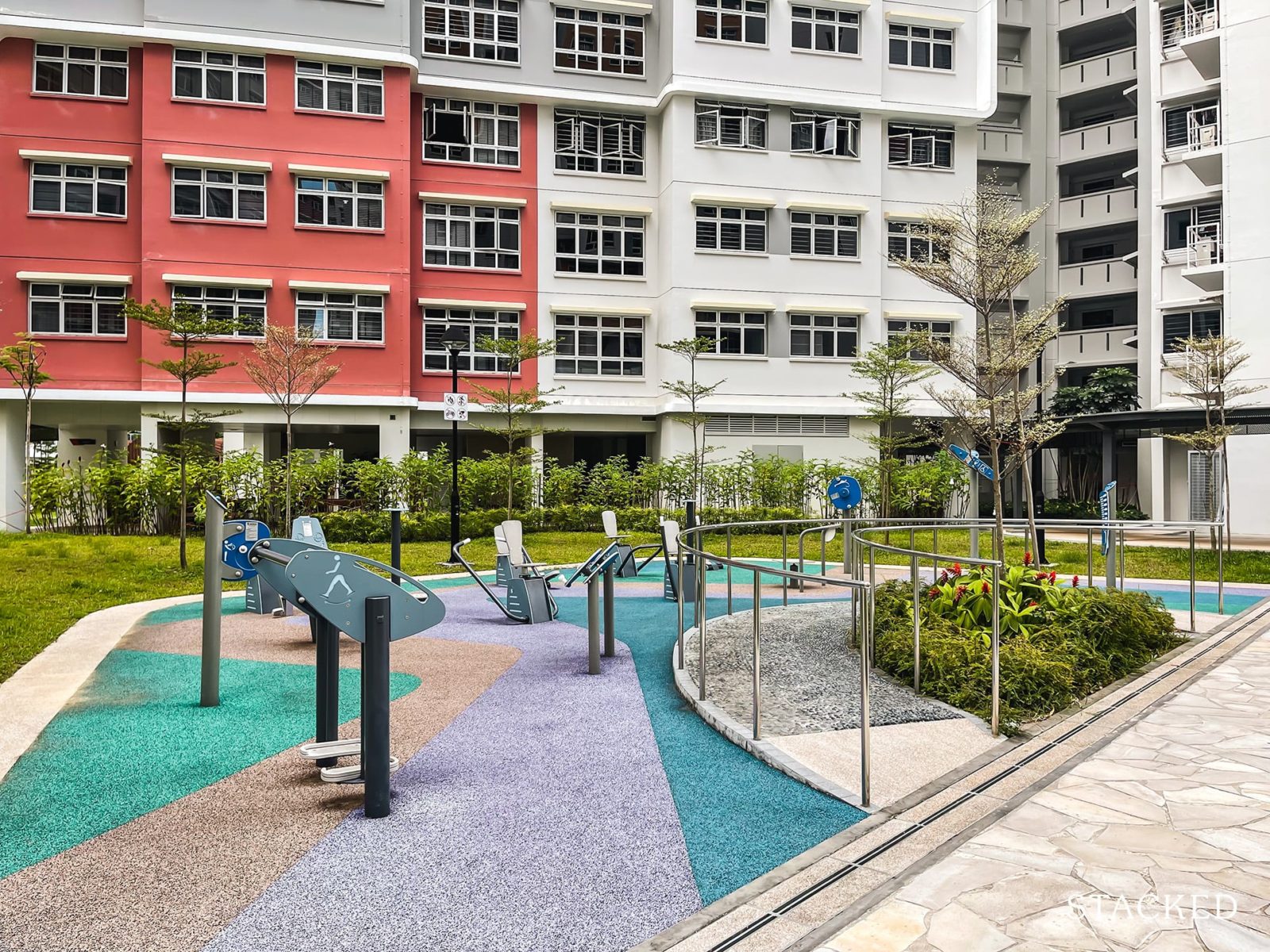 From here, you'll see the main issue with having facilities right smack in the centre of the development – the lack of privacy. There's also not much foliage here to help act as a privacy barrier, so those staying on lower floors would probably have to deal with other residents looking in once in a while.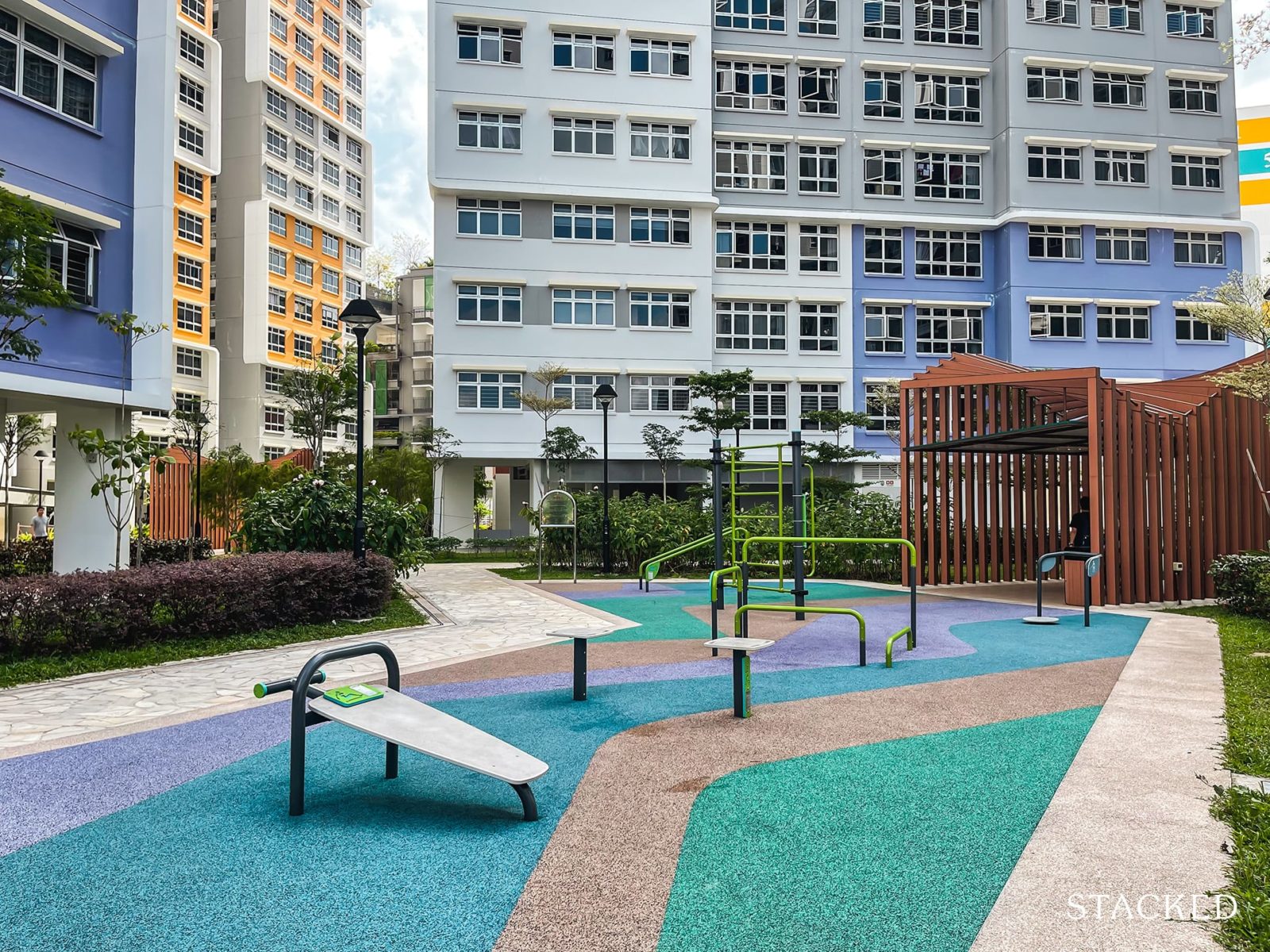 The 2nd fitness area looks more relevant to strength training as it features static equipment.
Like the 1st fitness area, you'll find the lower floor units here quite close by.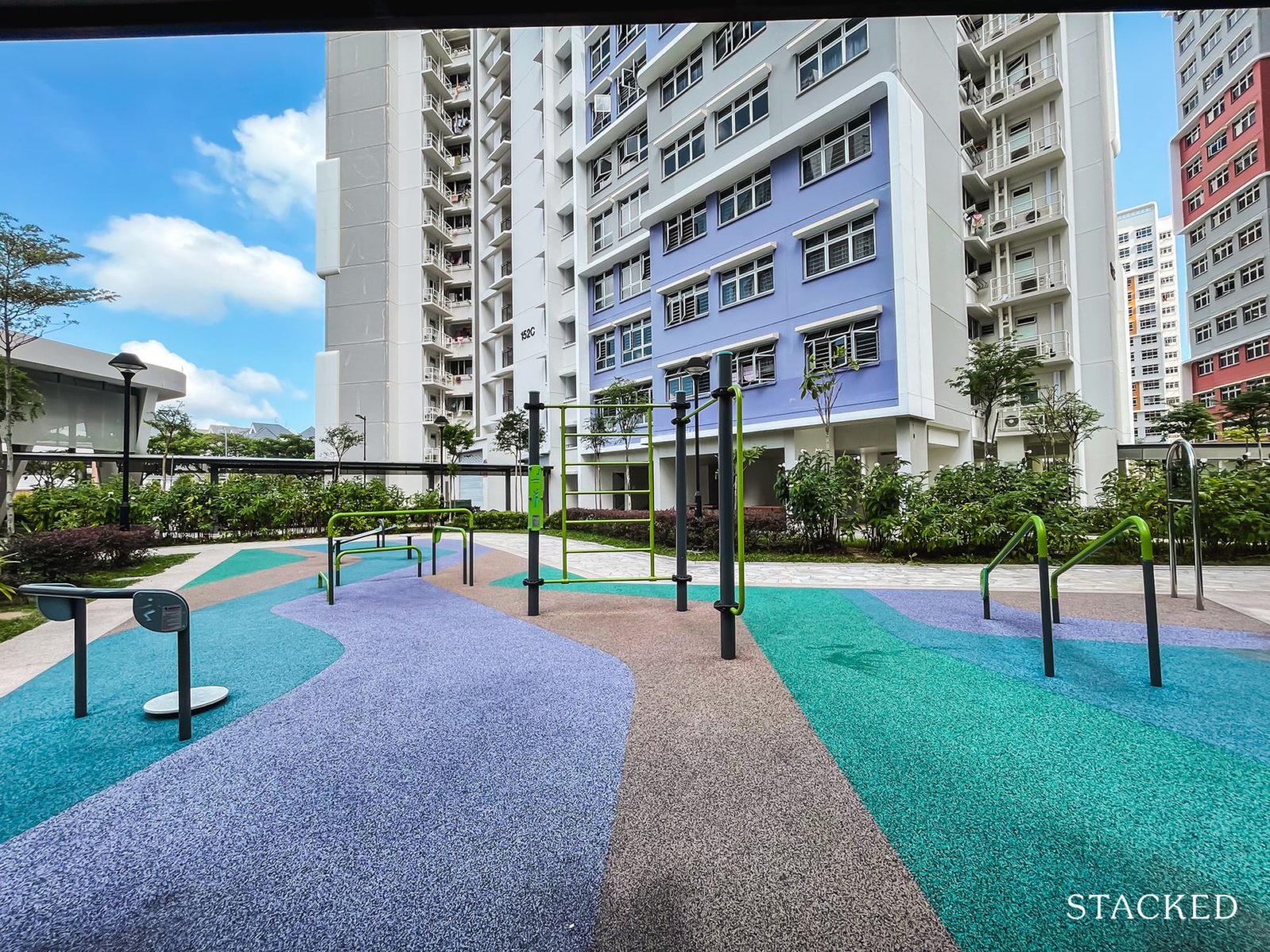 Finally, the last facility I'll be showing you is none other than the precinct pavilion. In total, there are 2 precinct pavilions – one at block 152, and another at block 153.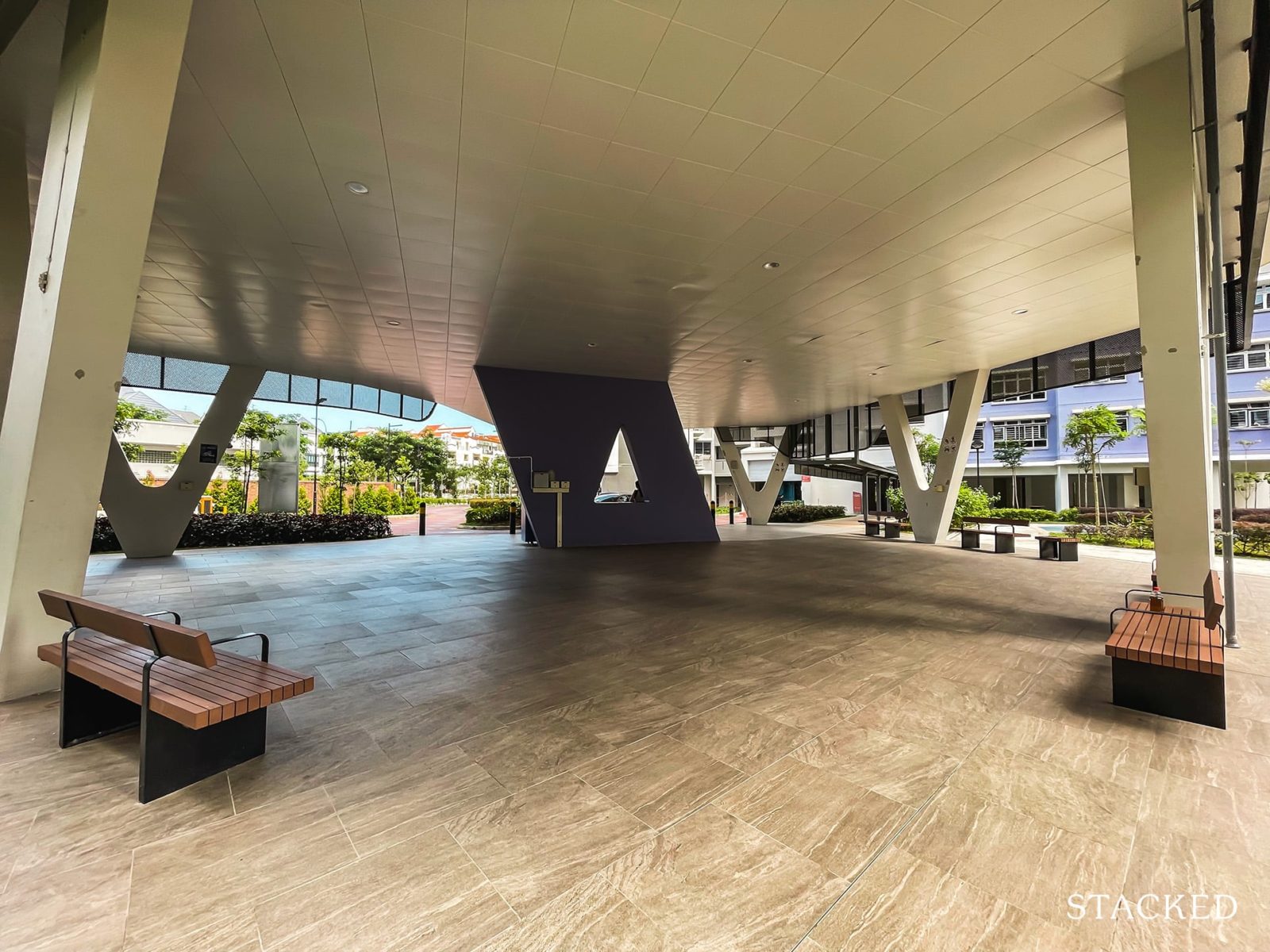 Both are quite similar – they're visually more attractive than the typical precinct pavilion given the use of tiles and a V-shaped structural column supporting the shelter that is also commonplace in other parts of the development.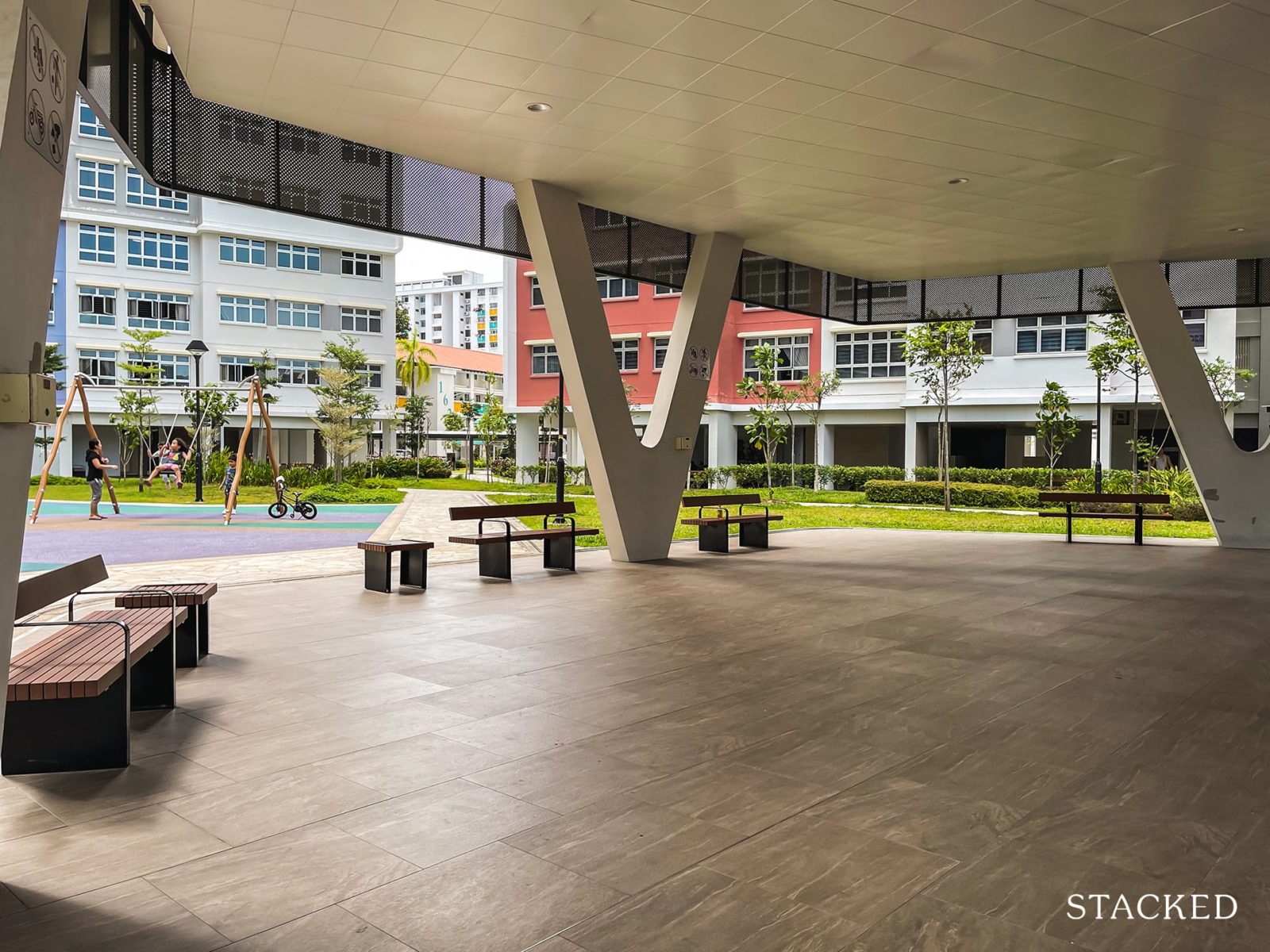 The shelter features seats around the perimeter, lights and a wash bay. However, they do not come with fans though this isn't much of an issue as organisers tend to provide them.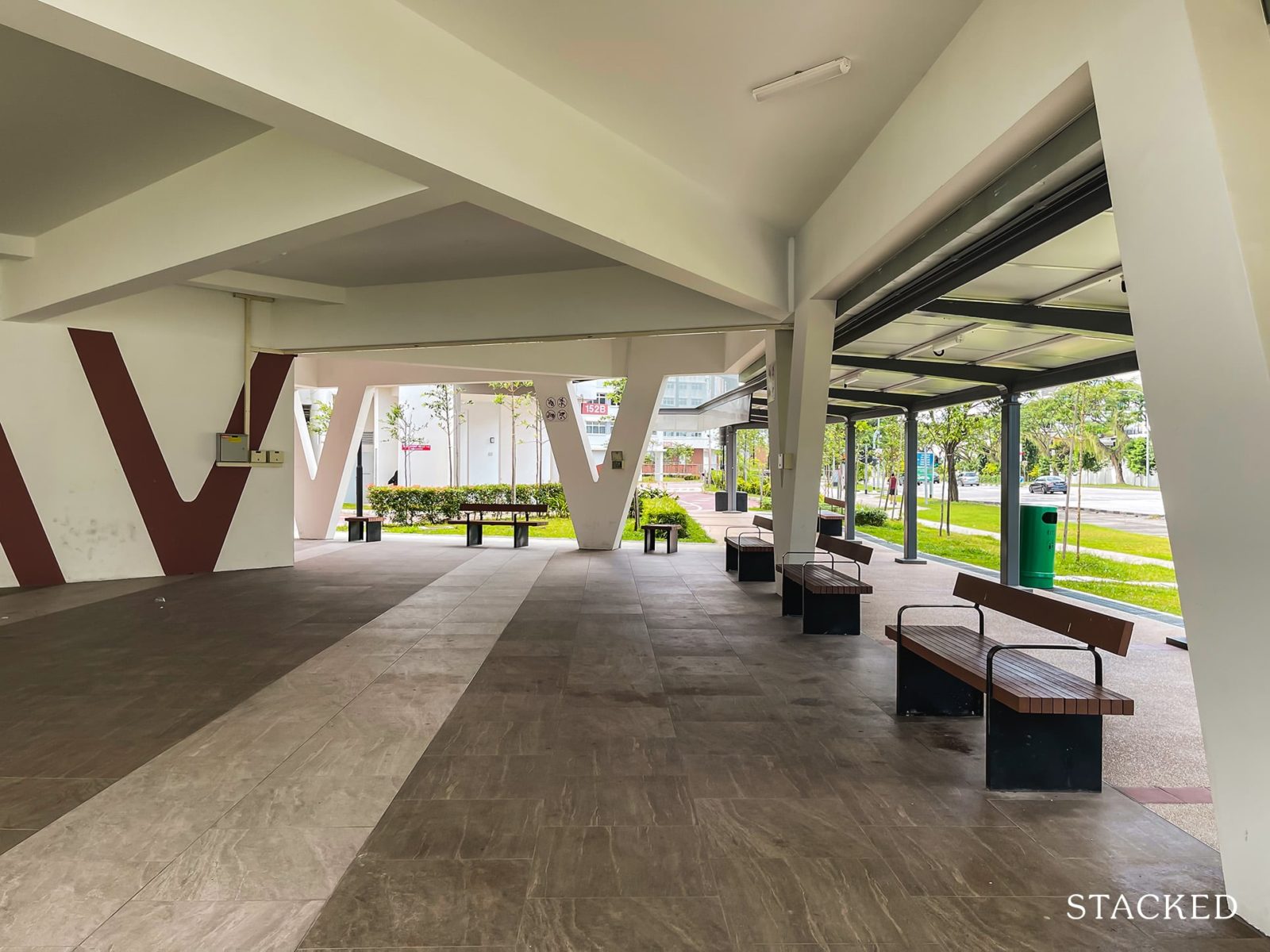 While it is close to certain stacks, both shelters are positioned as best as possible away from as many residential units as possible as it's almost by the roadside.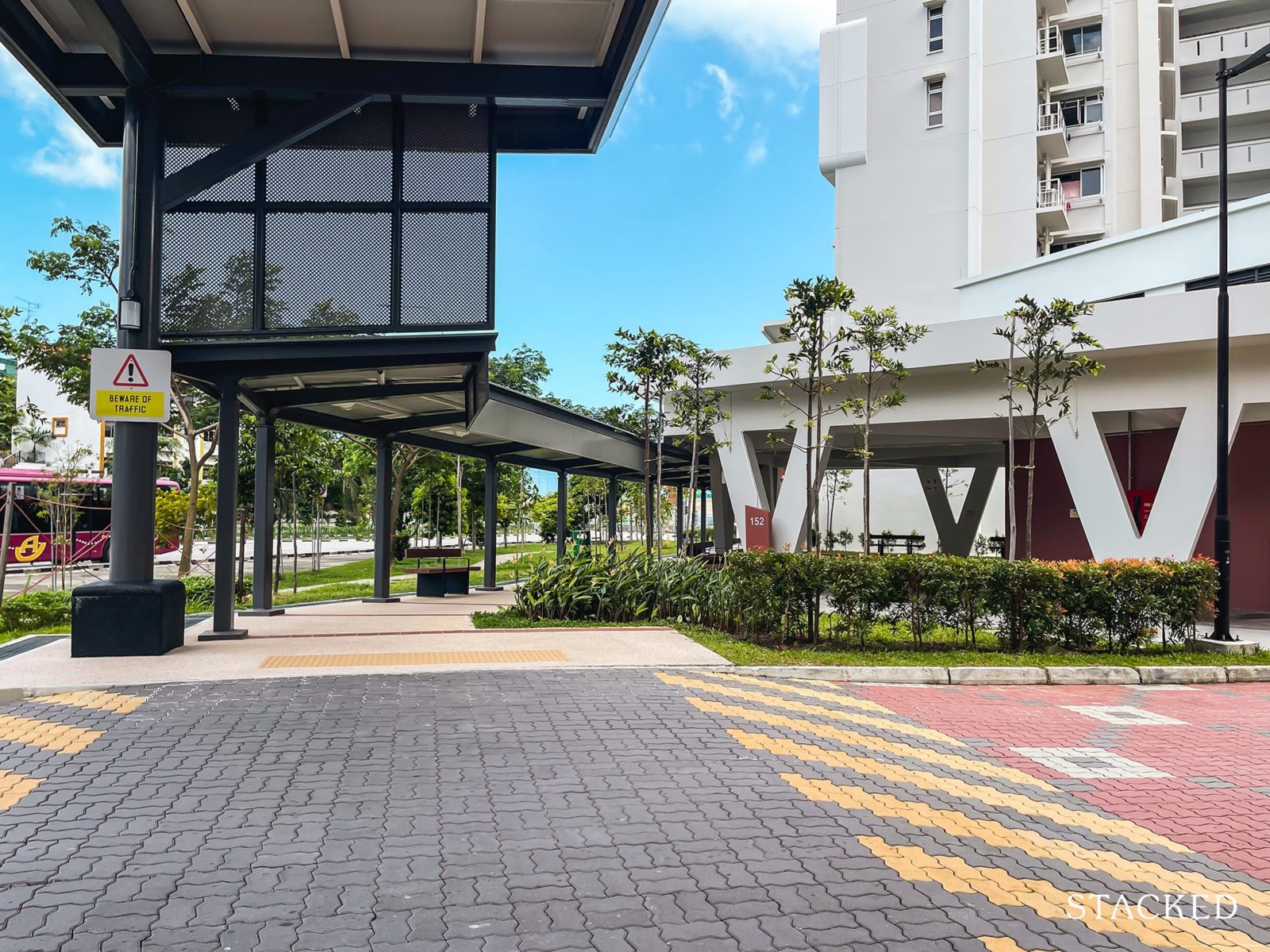 They're both also connected to a drop-off point, making it easy for guests to reach.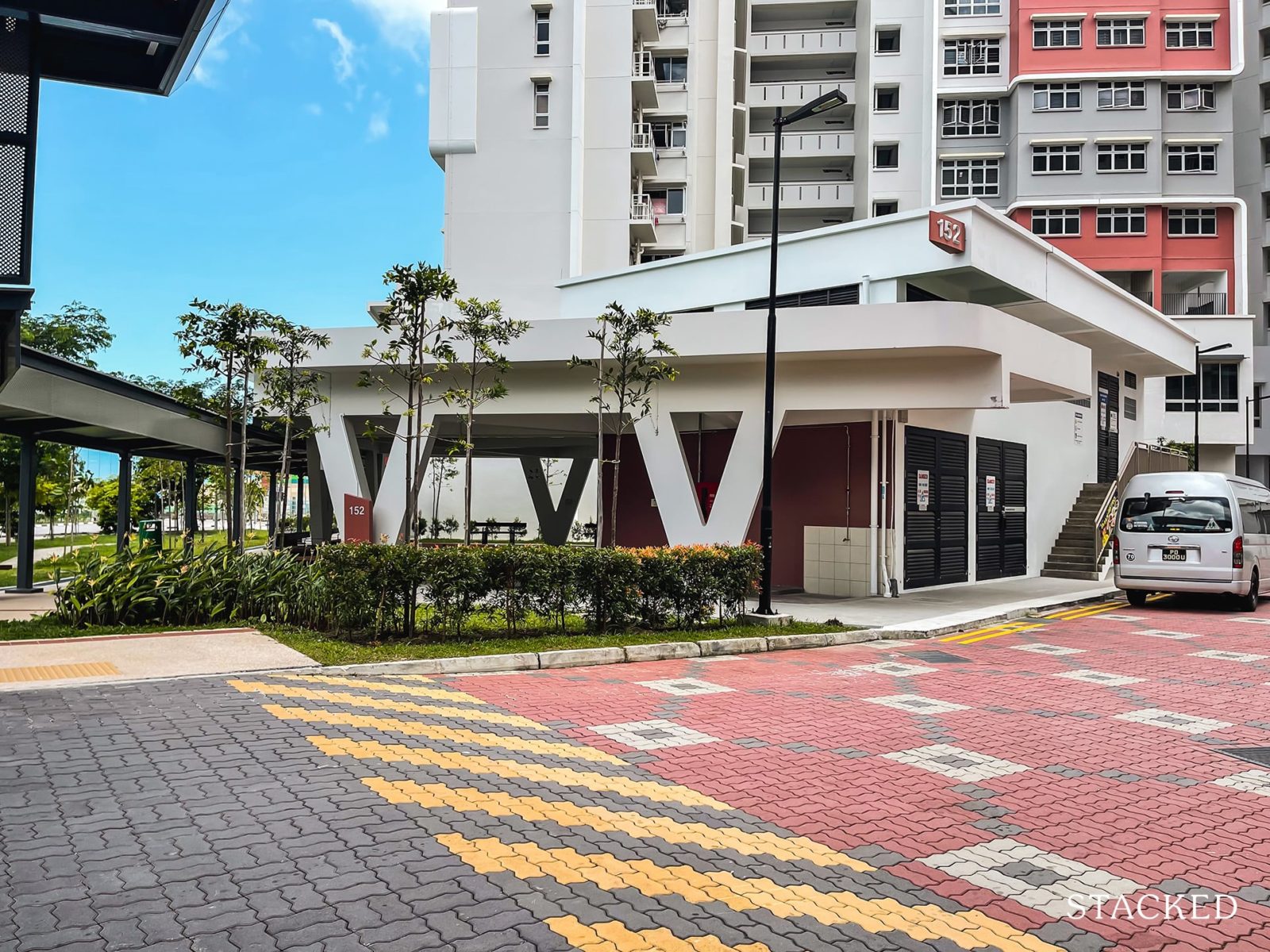 Now that we're done with the facilities, I just have one more thing to share – the childcare centre.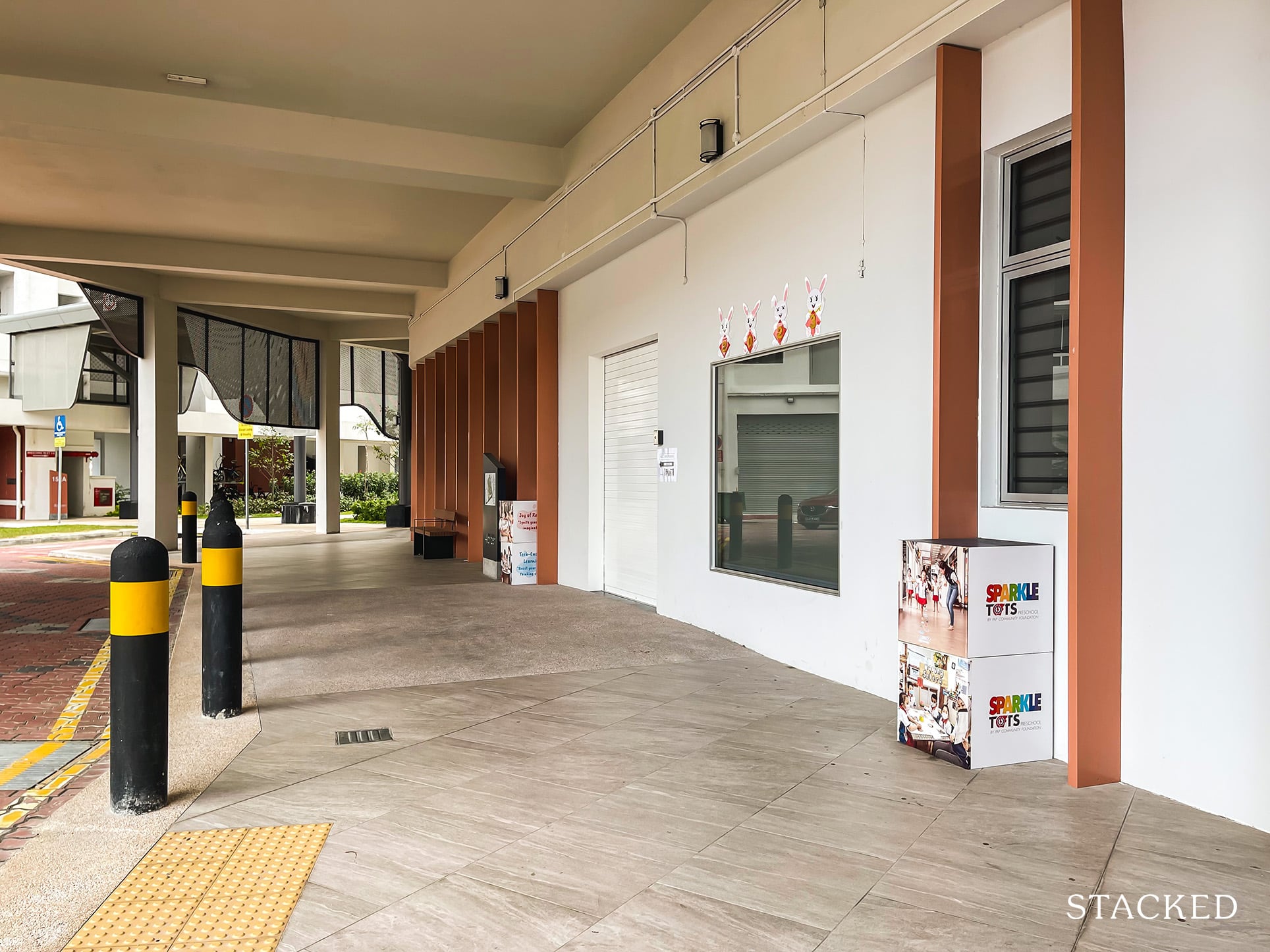 Bedok South Horizon boasts its own childcare centre which is located at block 152B which is added convenience to those who are lucky enough to enrol their kid here.
Having a childcare centre within the development is great, but it doesn't mean anything in terms of priority, unlike primary schools.
The good news is that there are other preschools around the area: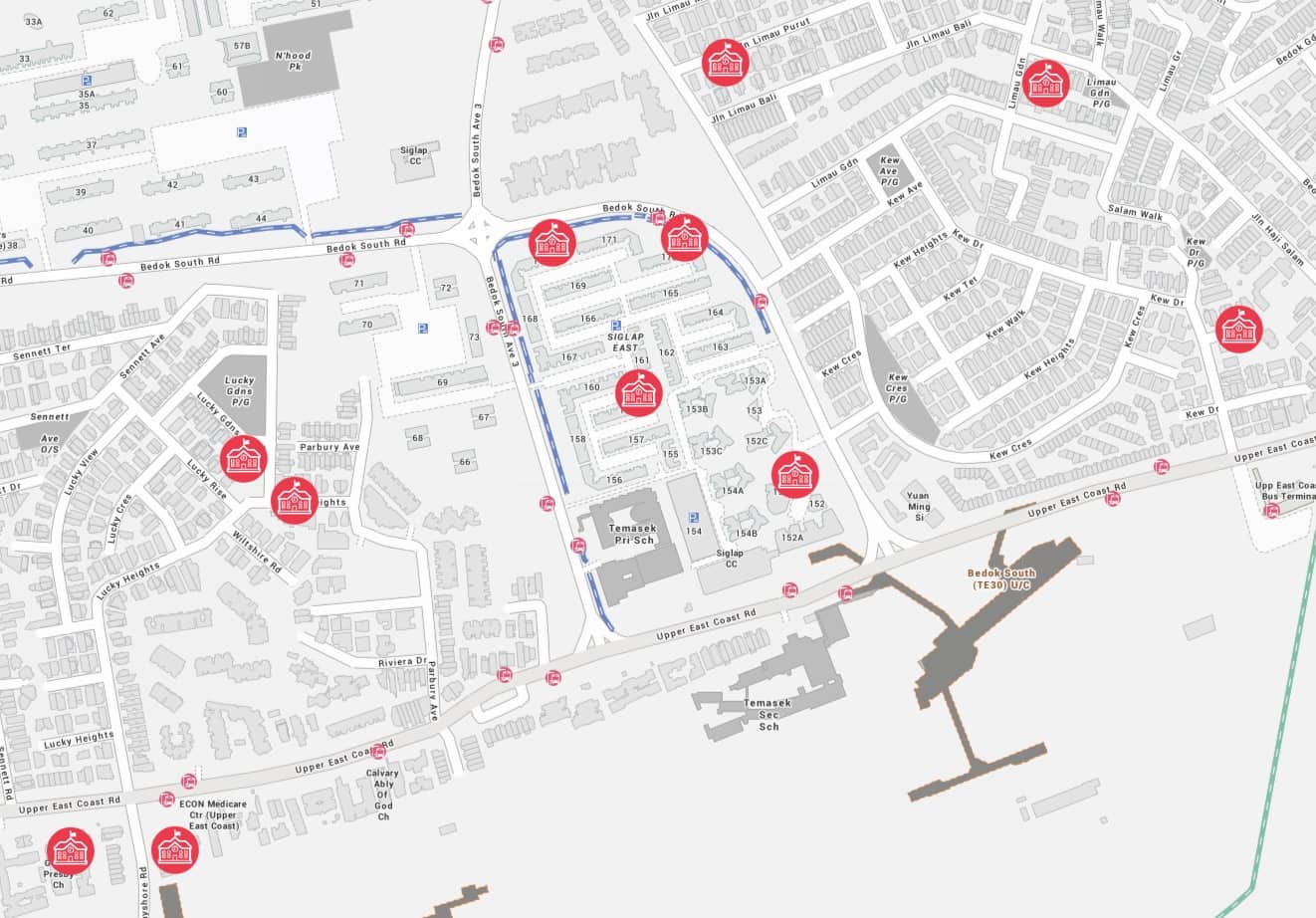 A quick check showed that vacancies are lacking though. That being said, it is relieving to see that there's at least going to be a childcare centre opened here.
Bedok South Horizon Location Review
In all of the reviews I've written so far, I've never felt this excited about an HDB development till now. Residents at Bedok South Horizon will have an MRT at their doorstep. Combined with the community club, it almost feels like an HDB-style integrated development!
This MRT station known as Bedok South MRT sits along the Thomson-East Coast line which has a direct line to Orchard Road and will be ready in 2025 – just 2 more years!
As of today, however, public transport here is not impressive as there's no MRT within walking distance.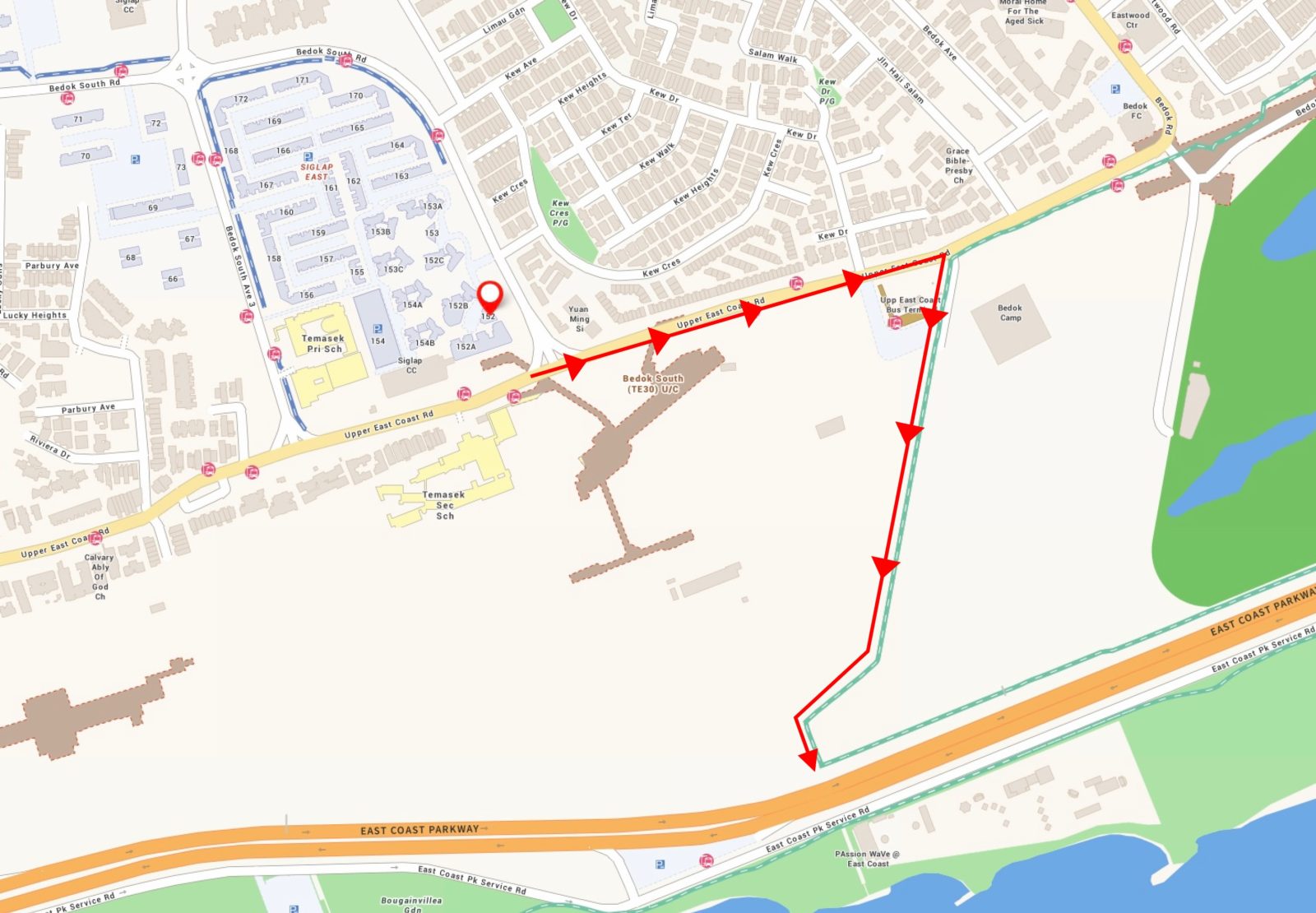 Bedok South Horizon is also just a short cycle away from the big daddy of all parks – East Coast Park itself.
Being in such close proximity to East Coast Park means you wouldn't have to rent a bicycle there since you live so nearby – a convenience only those living around the area can experience.
For those keen to explore other routes, the Bedok Park Connector also leads northwards towards Tampines.
In terms of food (beyond the community centre), there is a food court at block 169 which is just a few minutes walk away. There's also a 7-Eleven next door to that and a dry cleaner.
Those looking for a greater variety of food can travel to Bedok Food Centre, however, it is about a 15-minute walk away.
Overall, Bedok South Horizon offers sufficient amenities with the community centre next to it, good recreation with East Coast Park nearby and an MRT that's going to be open soon at its doorstep. Apart from this, there isn't much else that's offered as the amenities apart from what's been mentioned are pretty limited.
Public Transport
| | | |
| --- | --- | --- |
| Bus station | Buses Serviced | Distance From HDB (& Est. Walking Time) |
| 'OPP TEMASEK SEC SCH (94051)' | 10, 10e, 13, 14, 25, 43, 46, 55, 137, 229, 853M | 50m (1 min walk) |
| 'AFT BLK 156 (84671)' | 25, 46, 48, 229 | 100m (2 min walk) |
| 'BLK 163 (84681)' | 229 | 100m (2 min walk) |
Closest MRT: Tanah Merah MRT (East-West Line) – about a 19-minute unsheltered walk. Upcoming MRT Bedok South MRT is just a 1-minute walk away (U/C 2025).
Residents today would have to contend with just taking the bus for public transport as the upcoming MRT is not. yet ready. In terms of connectivity, buses plying this route go to the CBD, Clementi, Ang Mo Kio, Yishun, Punggol, Pasir Ris and Tampines.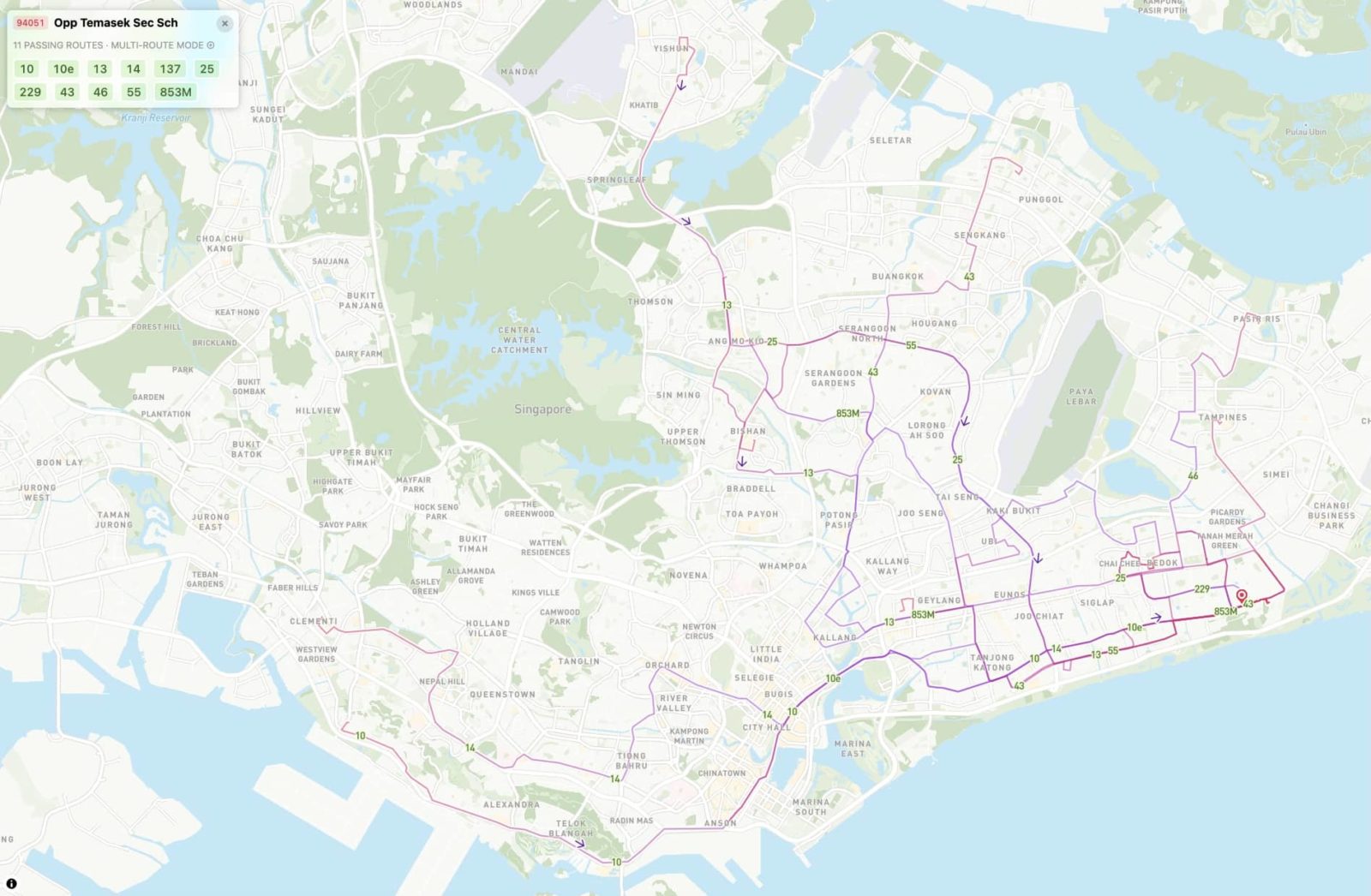 Needless to say, it's got pretty good bus coverage. However, the journey is quite a while from Bedok South Horizon to Raffles Place MRT – a good 48 minutes by bus.
Once Bedok South MRT comes up, the journey is expected to get shorter.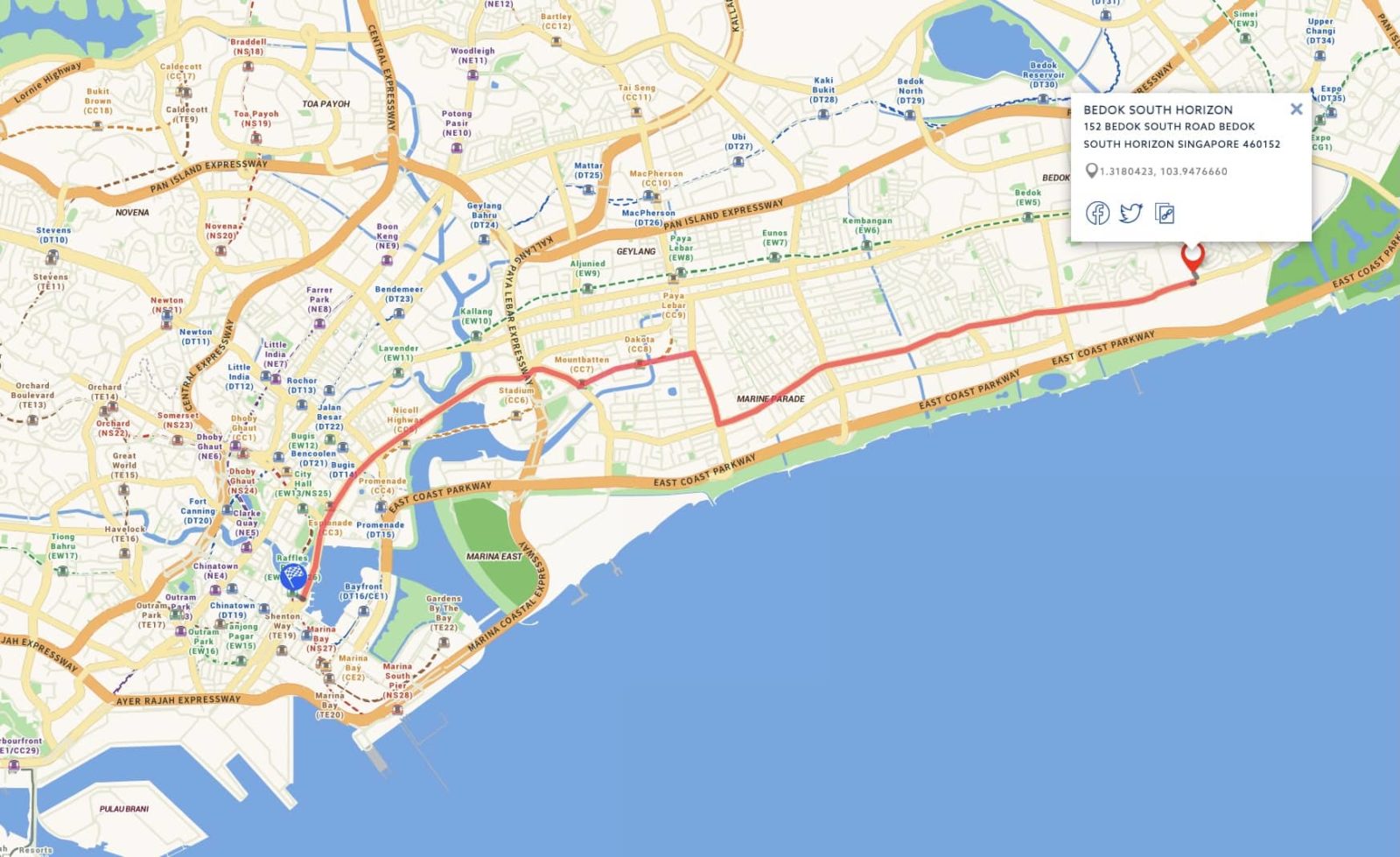 Residents would be pleased to know that the journey to the bus stop is fully sheltered, so you wouldn't have to worry about the rain or shine.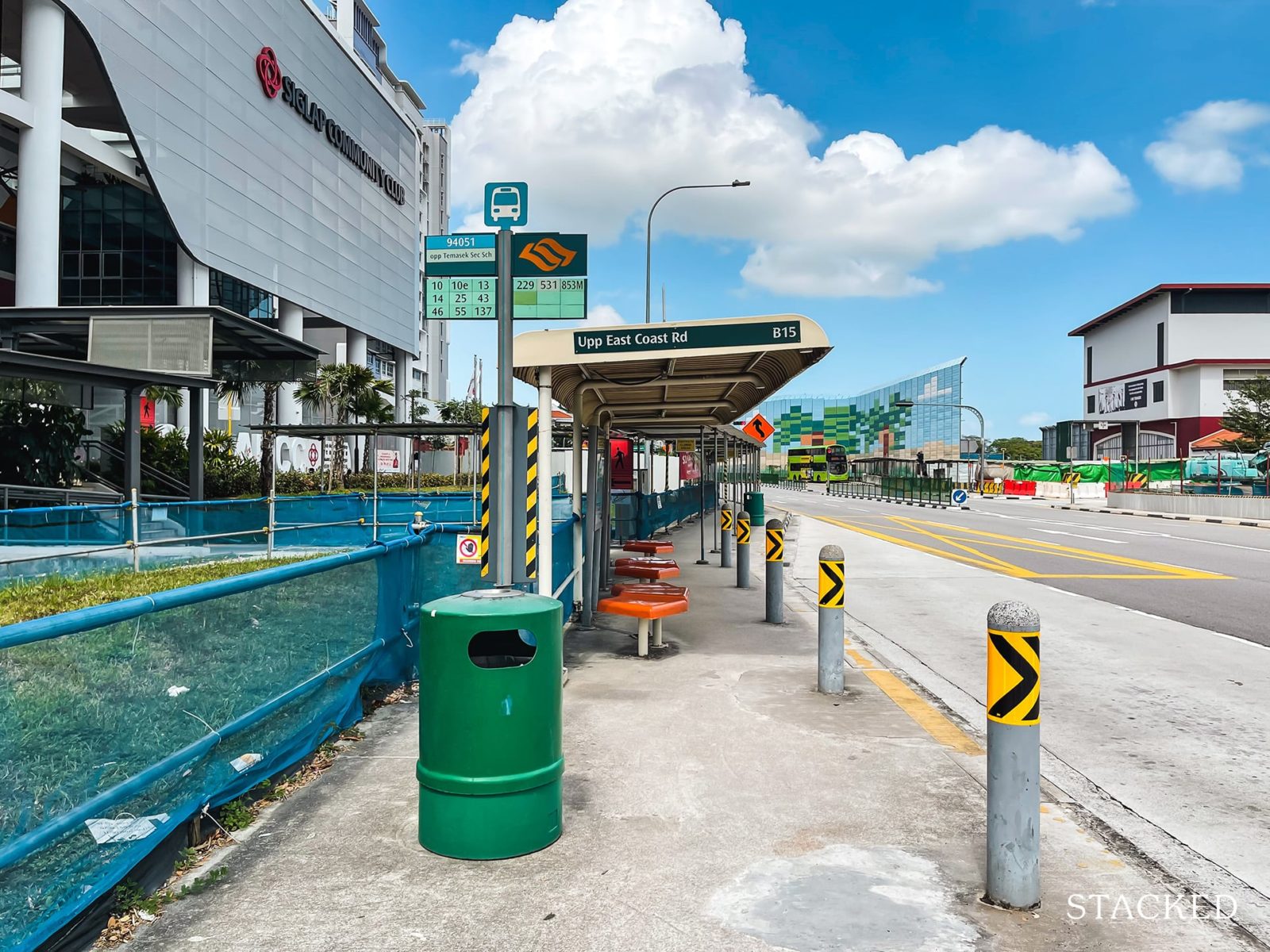 Private Transport
| | |
| --- | --- |
| Key Destinations | Distance From HDB (& Est. Peak Hour Drive Time) |
| Raffles Place | 14 km (21 mins drive) |
| Orchard Road | 15.7 km (25 mins drive) |
| Suntec City | 11.7 km (18 mins drive) |
| Changi Airport | 10.2 km (16 mins drive) |
| Tuas Port | 48.9 km (1 hr and 6 mins drive) |
| Paya Lebar Quarter | 7.1 km (14 mins drive) |
| Mediapolis | 21.9 km (34 mins drive) |
| Mapletree Business City | 24.8 km (29 mins drive) |
| Tuas Checkpoint | 45.2 km (59 mins drive) |
| Woodlands Checkpoint | 34.4 km (45 mins) |
| Harbourfront Cluster | 17.9 km (25 mins) |
| Punggol Cluster | 14.9 km (23 mins) |
Source: OneMap. Based on driving times during peak hours.
Immediate road exit:
Bedok South Road, Bedok South Avenue 3.
Summary:
Expressway connectivity here is pretty good as it's just a few minutes away from the ECP, PIE and TPE. Drivers can easily connect to the ECP via Bayshore road to Changi Airport, or through Bedok South Avenue 1 within minutes when heading westwards towards Clementi/CBD. Those heading north can drive along Upper Changi Road East to connect to the TPE, and the PIE can be reached via Bedok North Road.
Groceries
| | |
| --- | --- |
| Name of Grocery Shop | Distance from HDB (& Est Time) |
| Sheng Siong Supermarket | 50m (1-minute walk) |
Schools
| | |
| --- | --- |
| Educational Tier | Number of Institutes |
| Preschool | 3 |
| Primary School (Within 1KM) | 2 |
| Secondary School | 3 |
| Junior College | 1 |
| Other Tertiary Institutes | 2 |
| | |
| --- | --- |
| School | Distance From Condo (& Est. Walking Time) |
| Sparkletots Preschool | inside the development |
| Blossom Creative Centre LLP | 0.8 km (9 mins walk) |
| Little Lions Preschool | 1 km (11 mins walk) |
| Temasek Primary School | 0.4 km (4 mins walk) |
| Bedok Green Primary School | 1.8 km (22 mins walk) |
| Temasek Secondary School | 0.1 km (1 min walk) |
| Bedok View Secondary School | 1.2 km (14 mins walk) |
| Bedok South Secondary School | 1.6 km (19 mins walk) |
| Temasek Junior College | 1.7km (20 mins walk) |
| ITE College East | 2.8 km (17 mins via bus) |
| Victoria Junior College | 3.9 km (19 mins via bus) |
Bedok South Horizon Site Review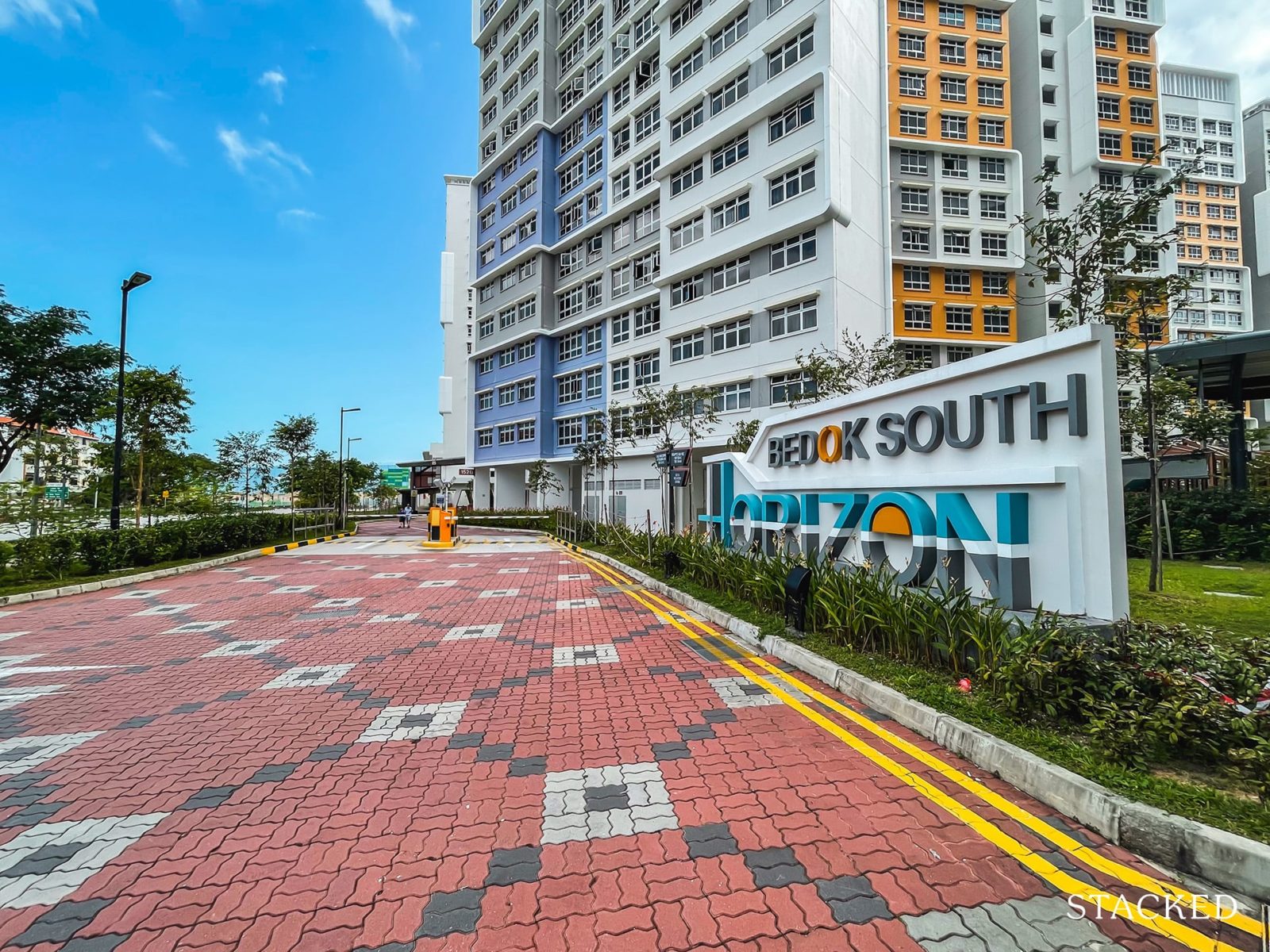 Bedok South Horizon is made up of 940 units comprising 2-room flats, and 4 and 5-room flats. The 4 and 5-room flats make up around 78% of the total unit mix here.
The overall design of Bedok South Horizon is quite pleasing and quite unique too. You've probably realised it by now – the blocks have a reinforced concrete structure that curves in between each floor. Coupled with the blue, orange and red accents, Bedok South Horizon does have a distinct identity in the area especially given it's surrounded by older HDBs.
That said, the development itself doesn't really feel as open considering there are 8 blocks spanning up to 18 floors. The blocks are also quite close to one another too: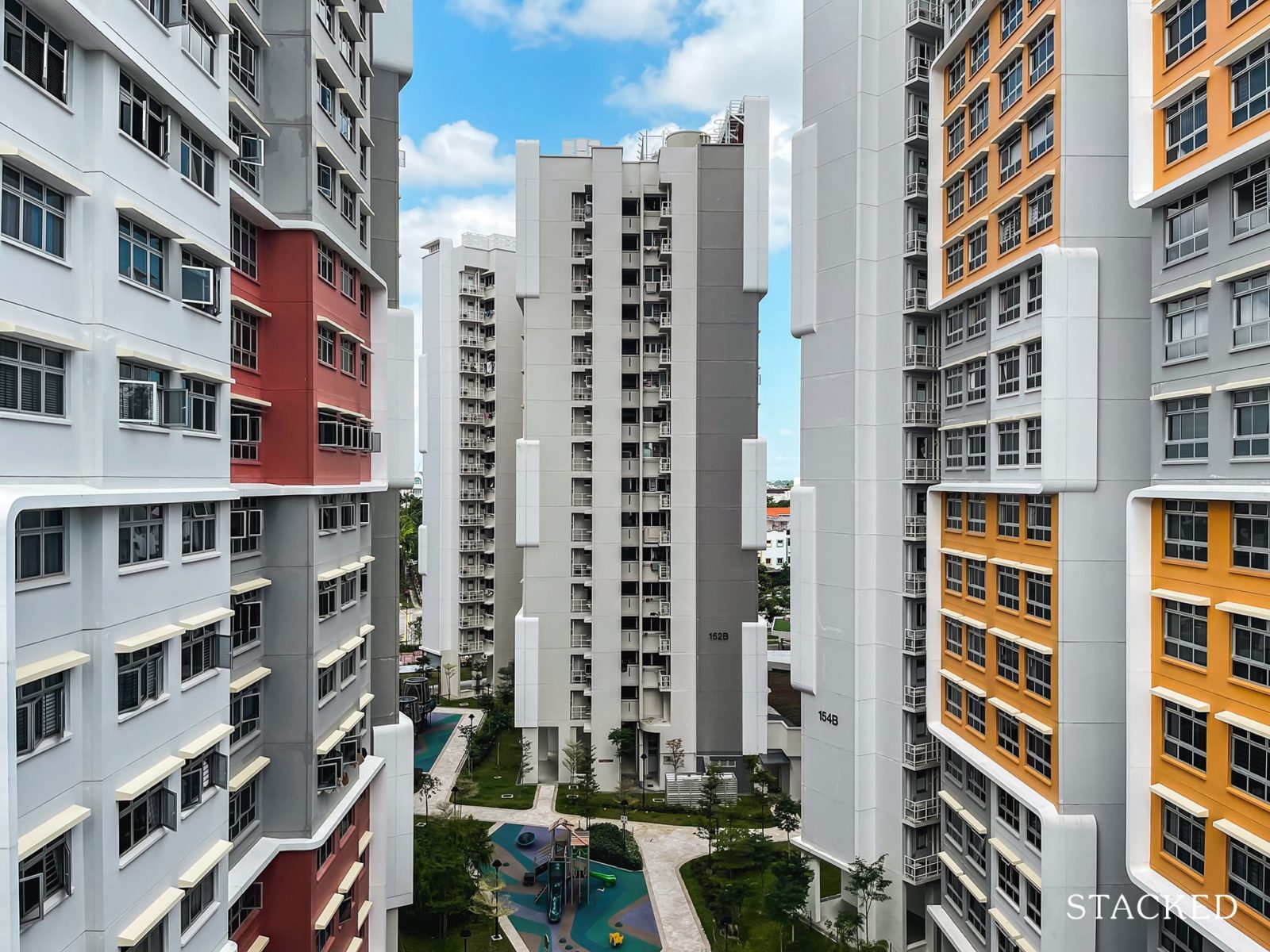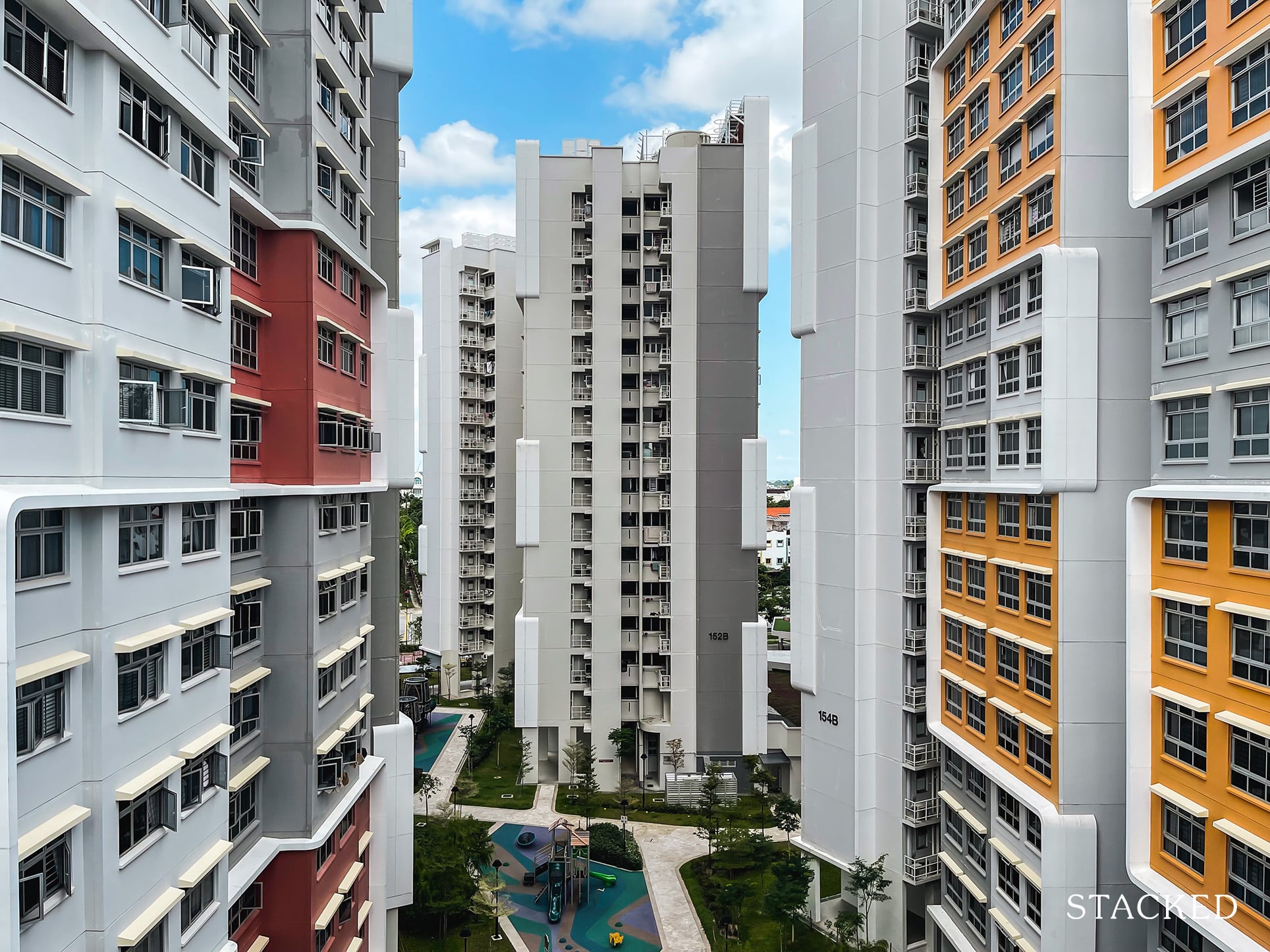 There aren't a lot of open spaces with bench seating, as most of the open spaces are found where the playgrounds and fitness corners are at. However, there are fully sheltered spaces provided where the facilities are at.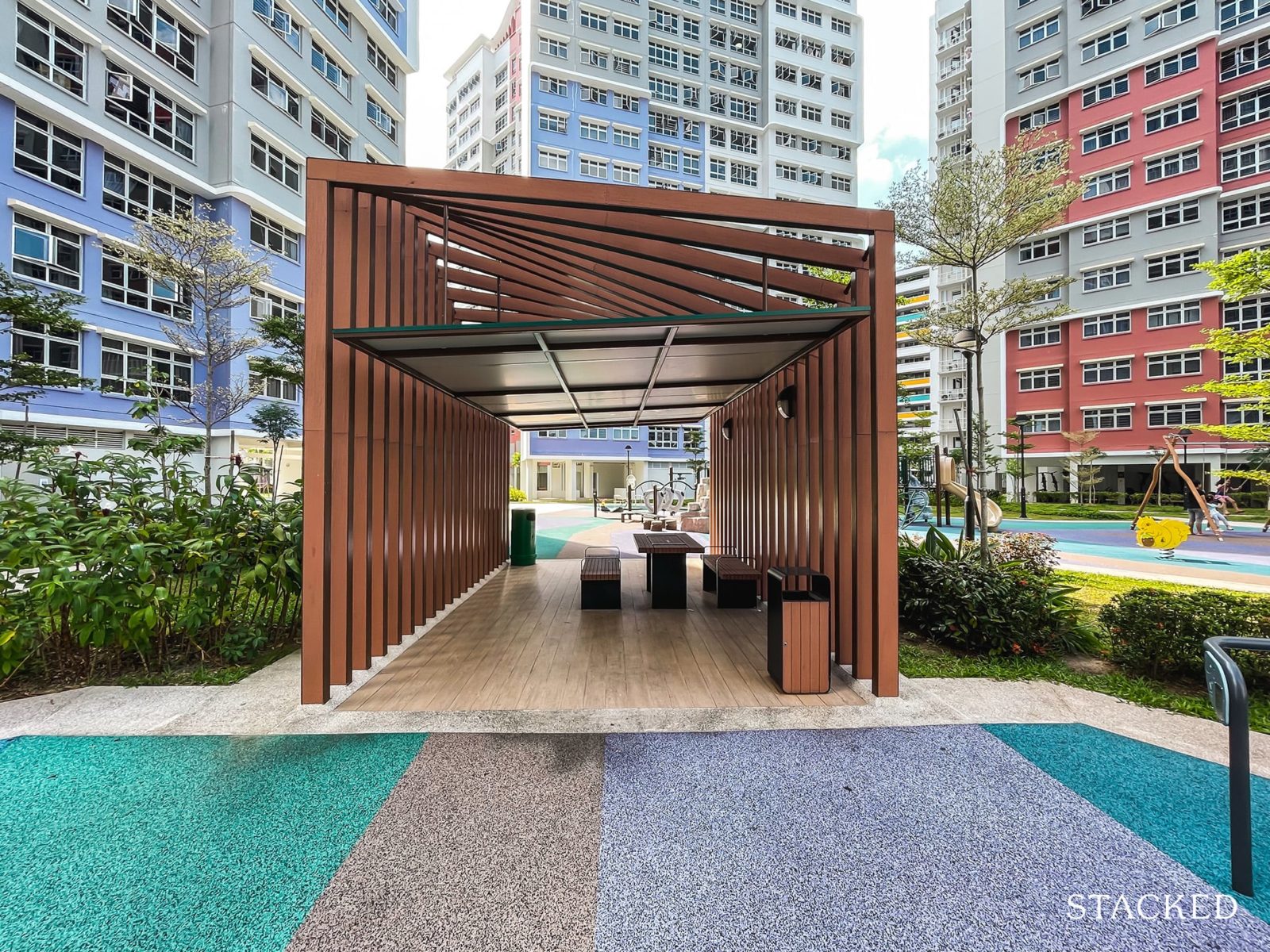 The void decks also feature some really modern seats, though as usual, I wouldn't say it's designed for comfort!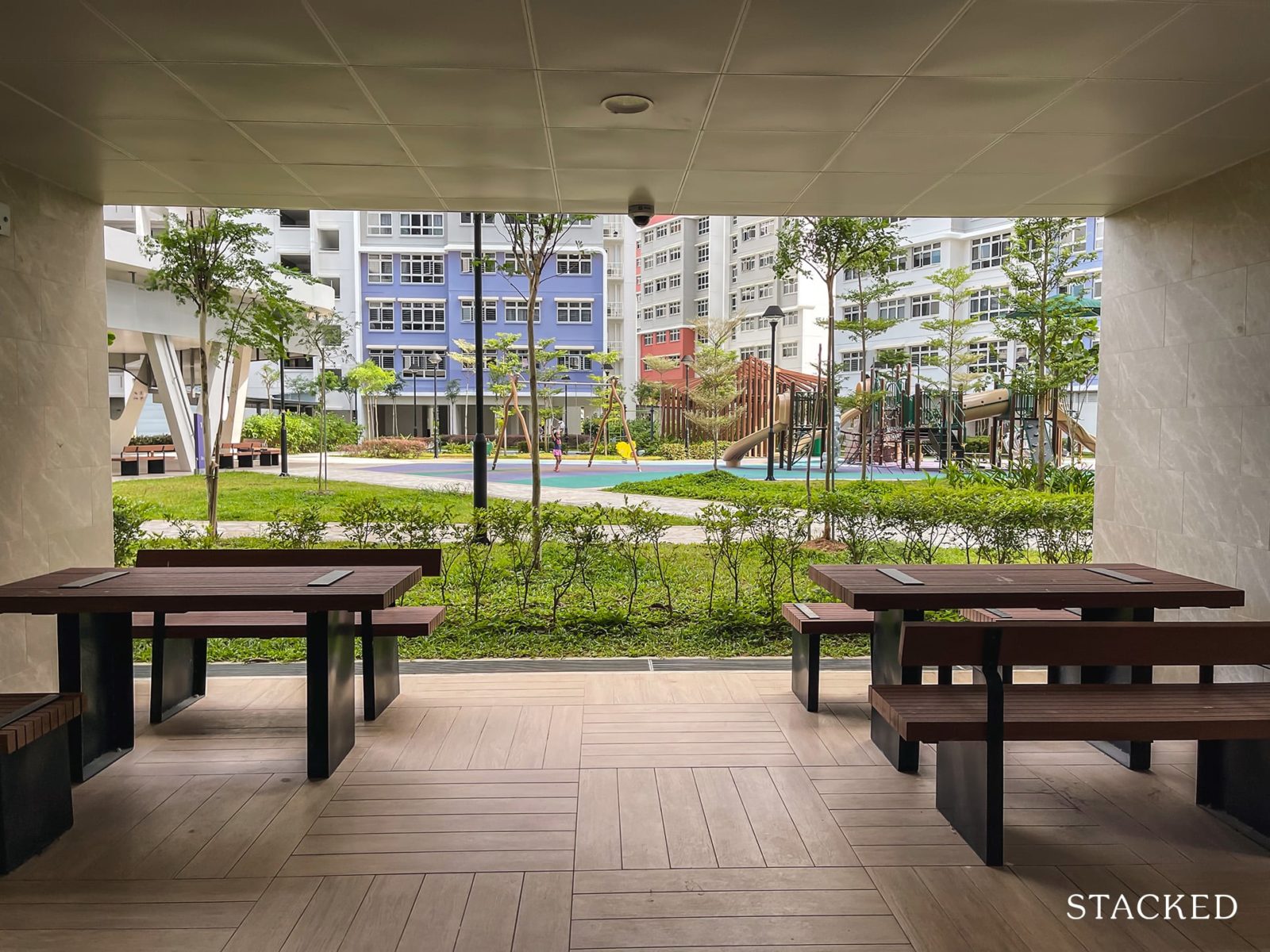 Unit Mix
| | | | | | | |
| --- | --- | --- | --- | --- | --- | --- |
| Block | No. of Storeys | 2-Room Type 1 | 2-Room Type 2 | 4 Room | 5 Room | Total |
| 152A | 16 | | 28 | 41 | 54 | 123 |
| 152B | 16 | | 45 | 28 | 30 | 103 |
| 152C | 16 | | | 30 | 60 | 90 |
| 153A | 16 | | | 75 | 28 | 103 |
| 153B | 18 | | | 32 | 68 | 100 |
| 153C | 18 | | | 83 | 34 | 117 |
| 154A | 18 | 34 | 34 | 85 | | 153 |
| 154B | 18 | 34 | 34 | 83 | | 151 |
| Total | | 68 | 141 | 457 | 274 | 940 |
Bedok South Horizon Stack Analysis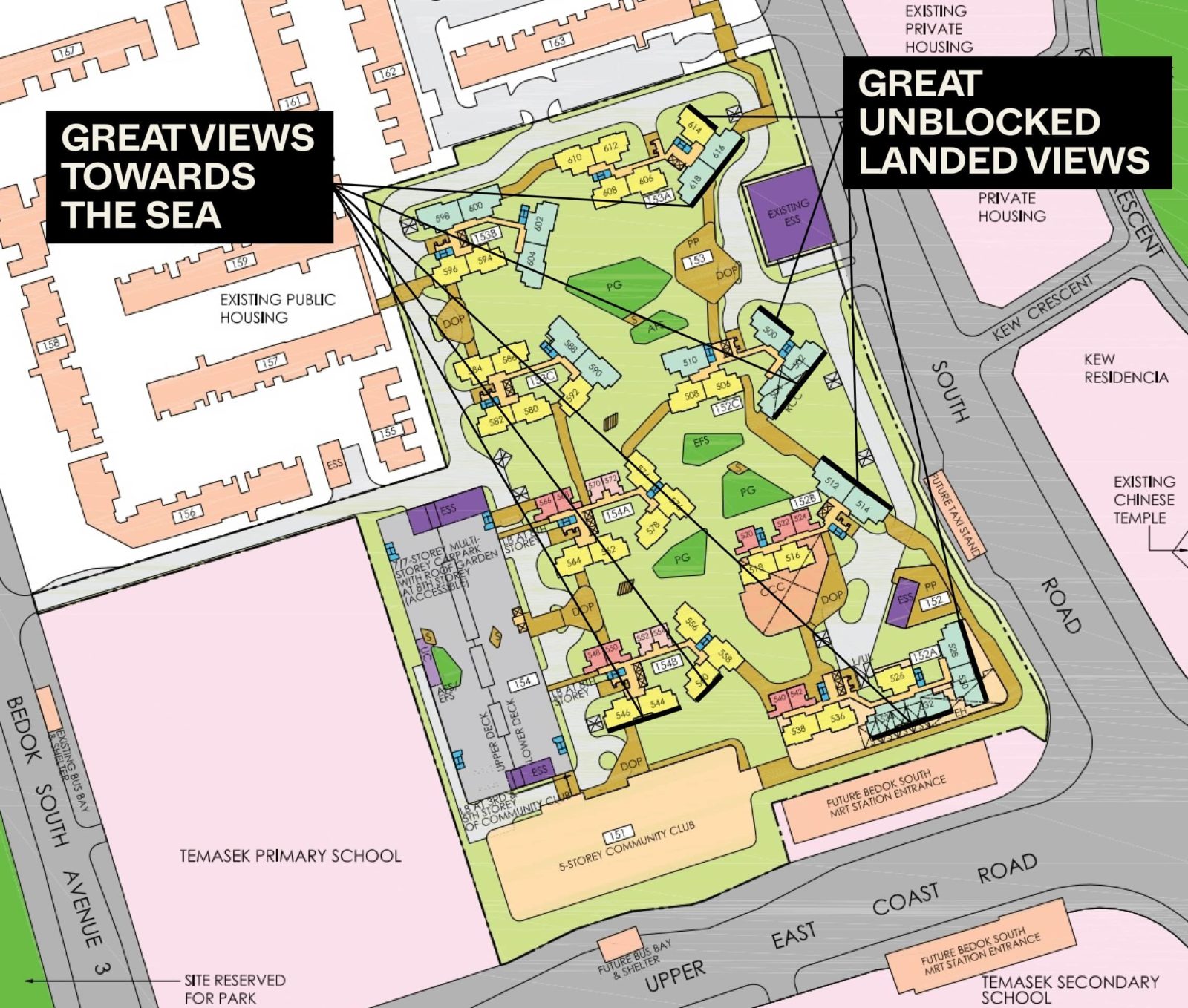 Another strong point about Bedok South Horizon is the sea view and the unblocked landed housing estate view.
South-facing stacks have a good view towards the sea along the east coast: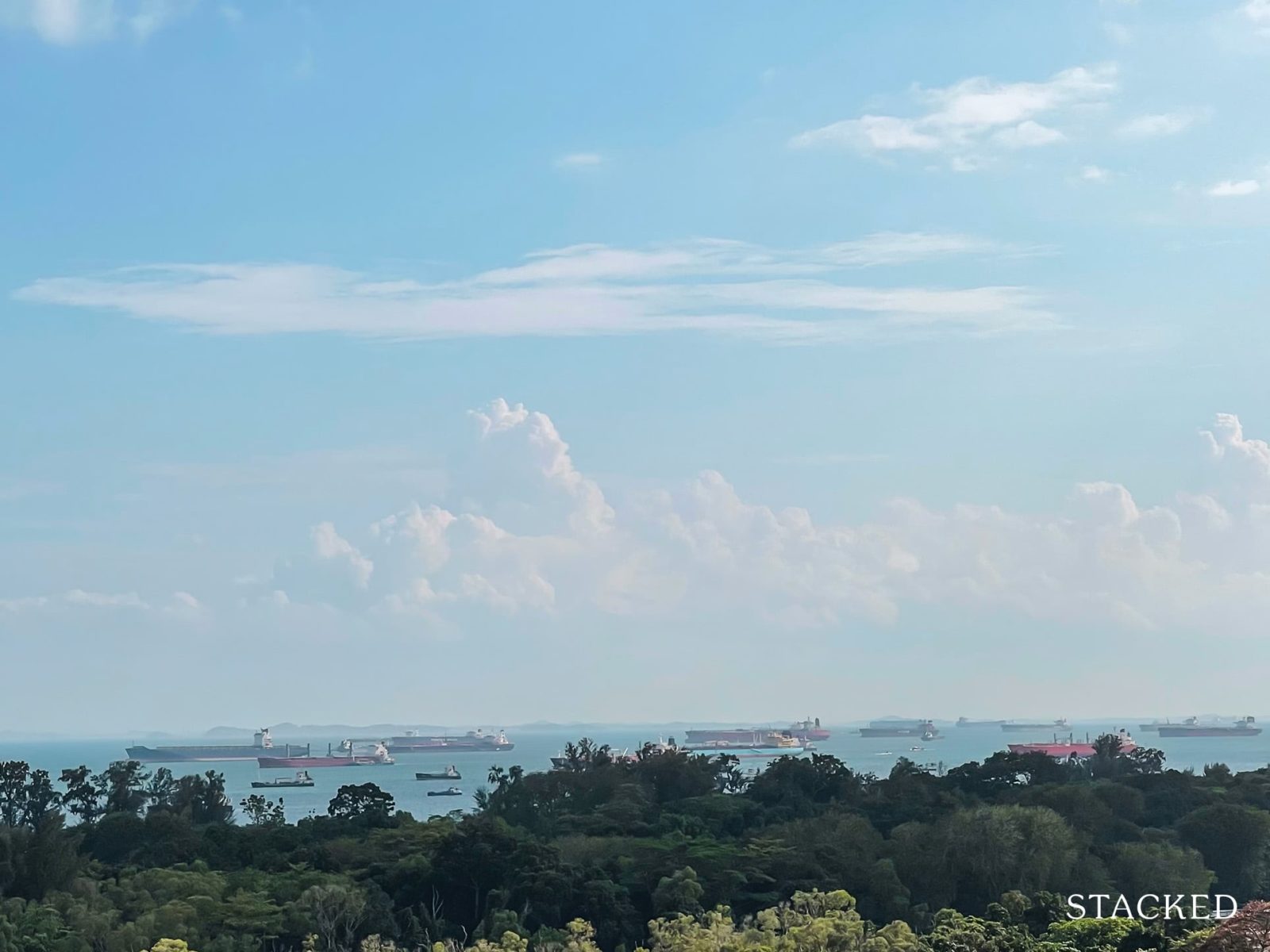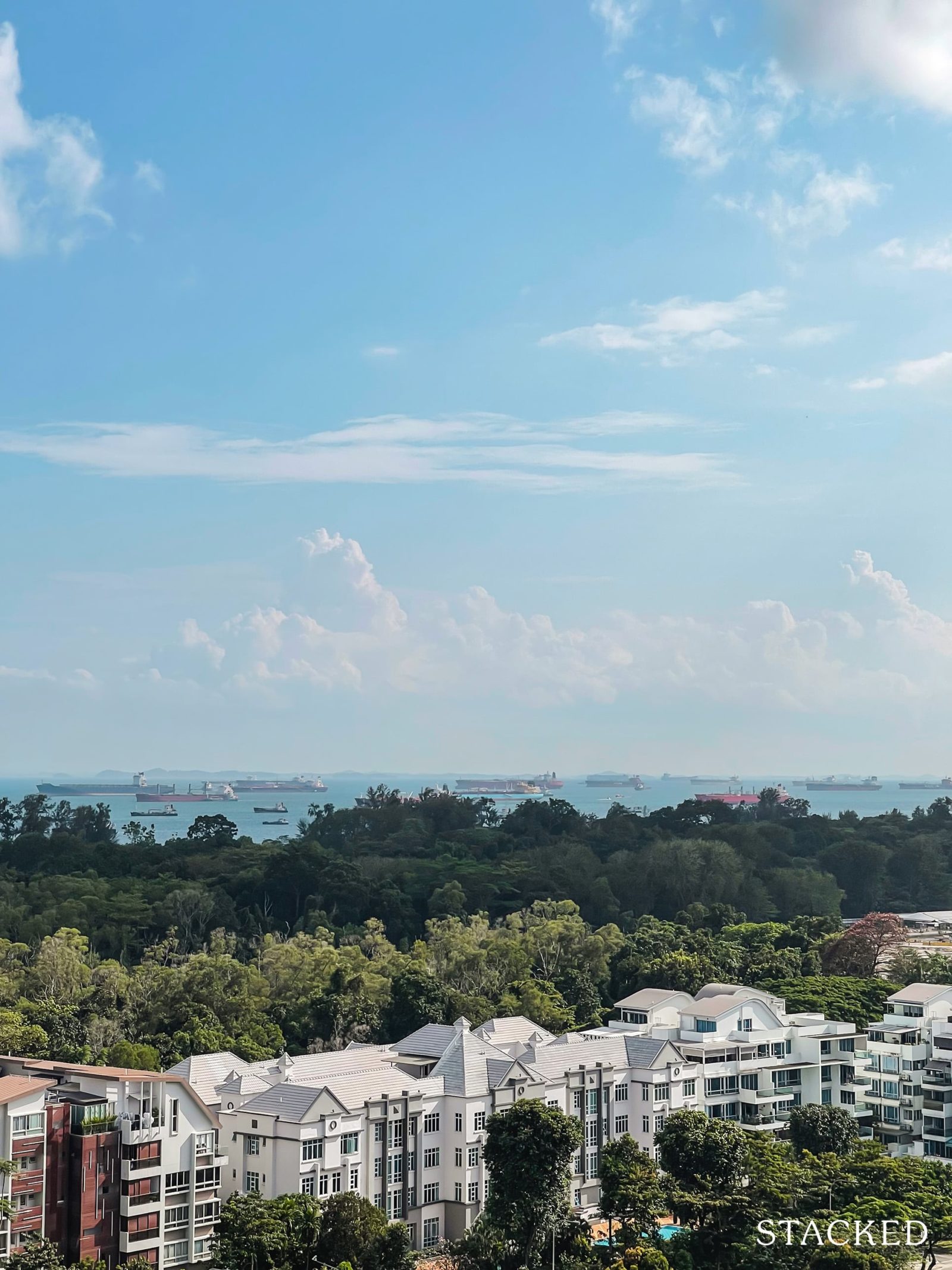 I wouldn't get too excited about these views though. Under the Proposed Bayshore plans, residents would likely have their views blocked by high-rise residential blocks in the future. Pocket sea views may still be there though!
East-facing stacks have it pretty good too with the landed estate view towards the airport: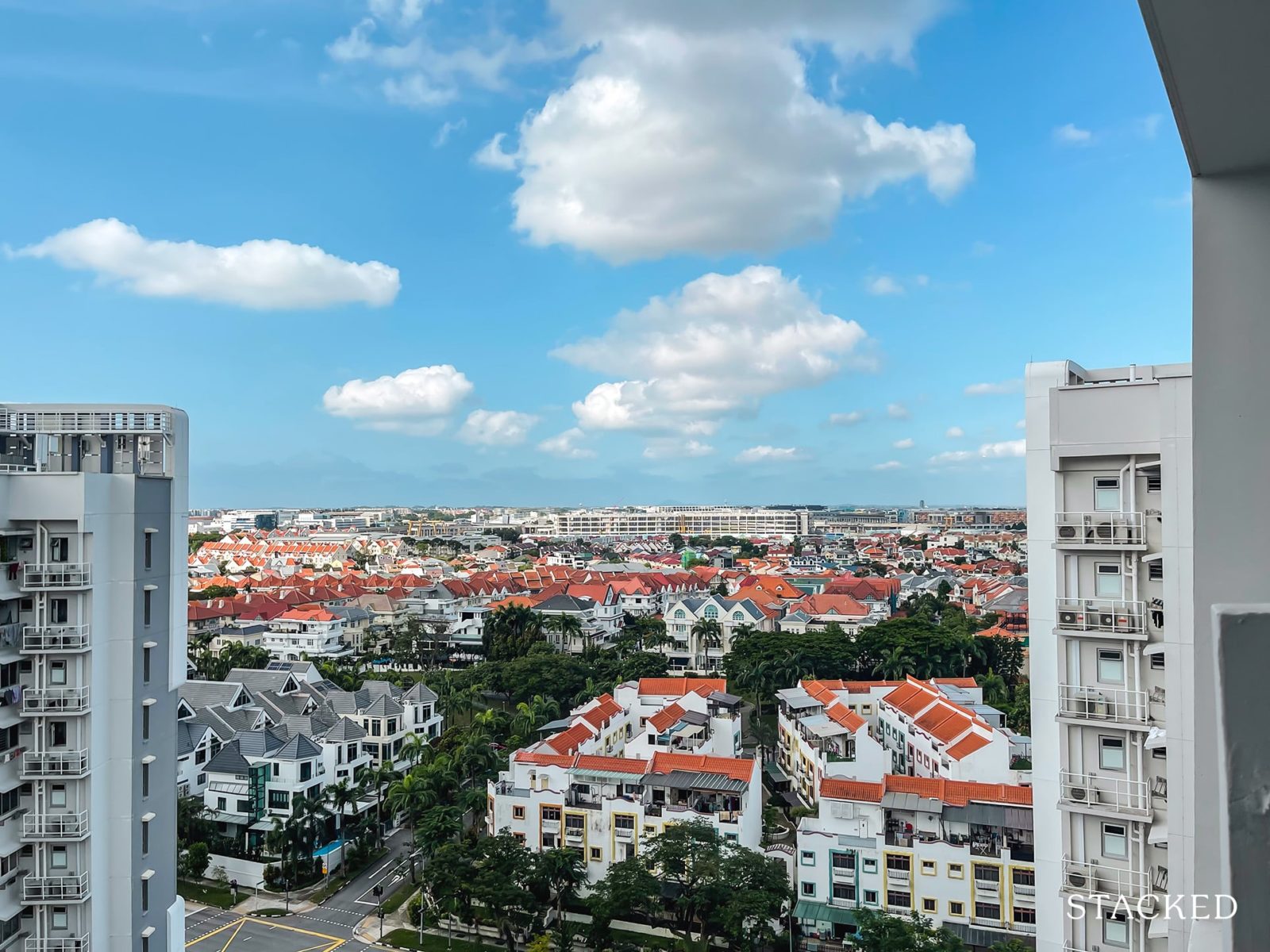 There aren't any west-facing units, but those facing the south can get a glimpse of the west view which is pretty much unblocked and has a view towards the city: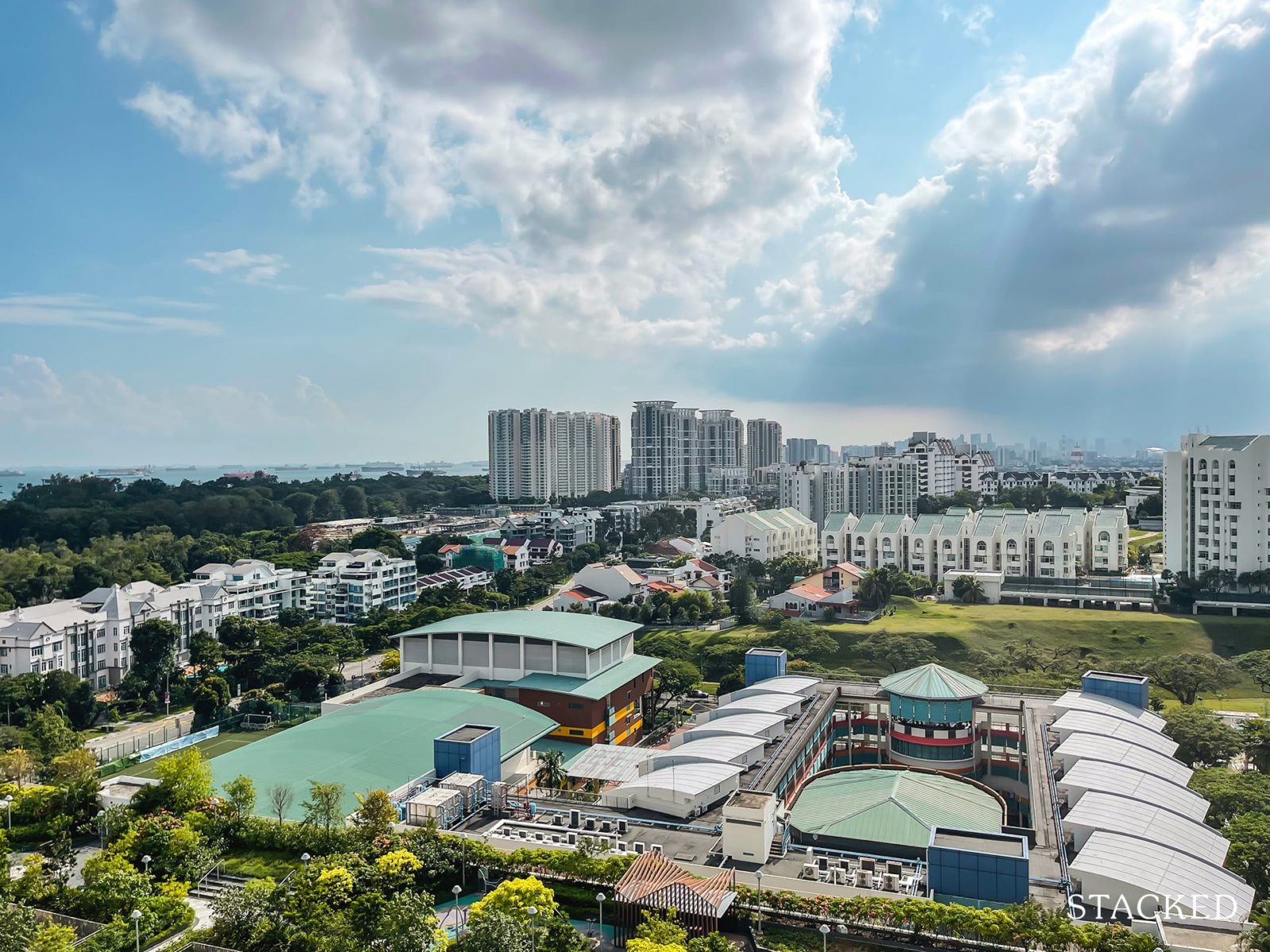 North-facing stacks face the old HDB opposite. Even if you're on higher floors, you can't really get a good view here (this pic below is taken from #16):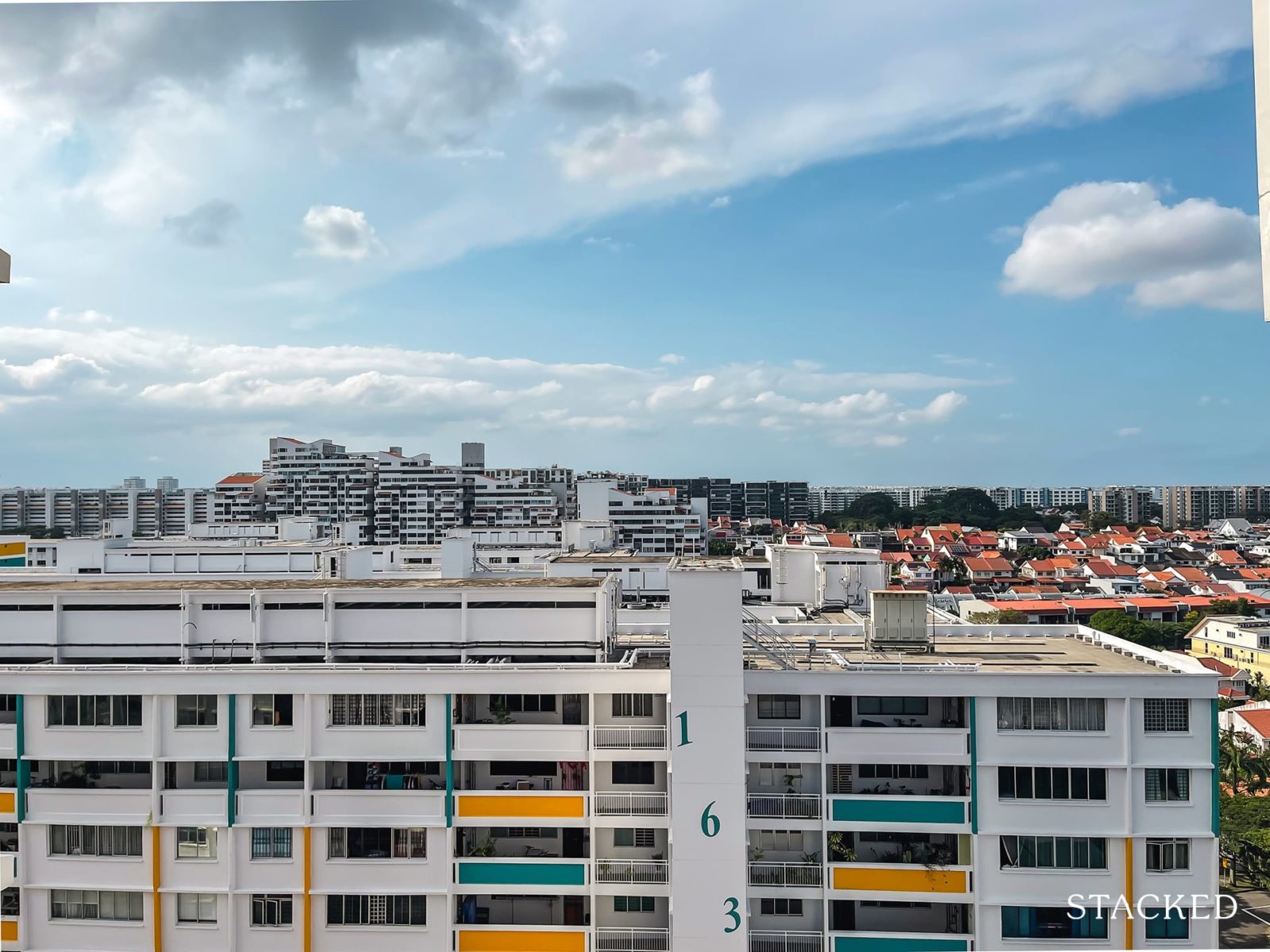 The best stacks are obviously those that face the sea or the landed estate, whichever you prefer. Considering the upcoming development on the south side, the landed estate seems to be a safer choice as that's likely not going to change.
Bedok South Horizon Layout Analysis
2-Room Flat (Type 1, 38/36 sqm)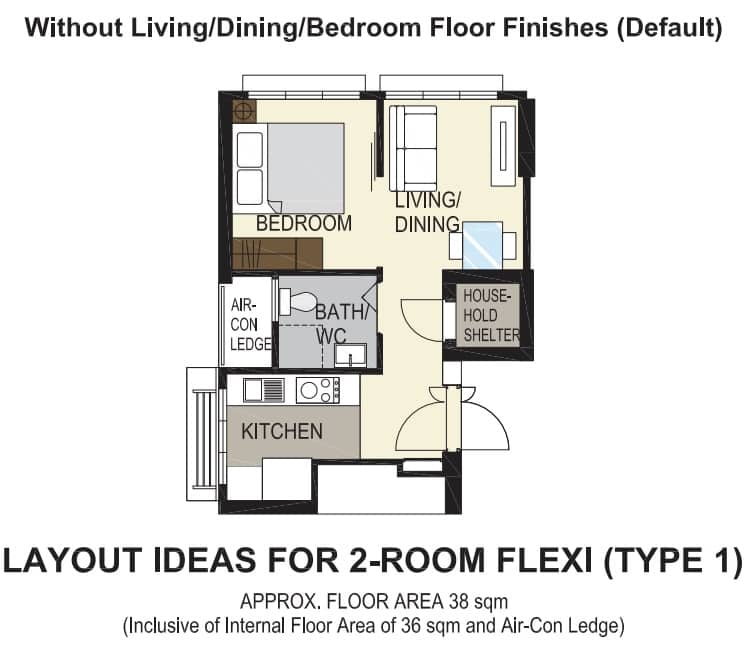 | | |
| --- | --- |
| Pros | Cons |
| Living and bedroom windows are aligned | The dining area may be a bit cramped |
| A squarish layout provides ease of furniture placement | Small space to put the TV |
| Good service yard layout allows for both washer and dryer | Only one entrance to the bathroom – unable to access from the bedroom |
2-Room Flat (Type 2, 47/45 sqm)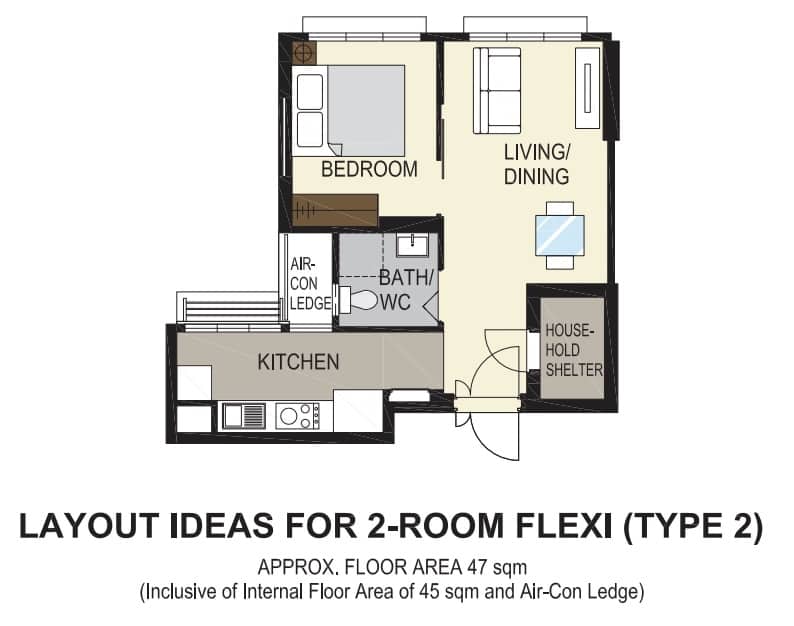 | | |
| --- | --- |
| Pros | Cons |
| The living and bedroom window walls are aligned. | Lacks an extra space that could double up as a bedroom which is available in other Type 2 layouts |
| Good privacy as the door doesn't open up to the dining area | Can't put cabinets on 2 sides of the kitchen |
4-Room Flat (93/90 sqm)
| | |
| --- | --- |
| Pros | Cons |
| All rooms can fit a queen bed minimally. The Master bedroom can fit in a King bed. | Has structural columns between bedrooms that prevent an open concept |
| Separate living/dining area | A smaller place for TV console as the living/bedroom wall is not aligned |
| Good service yard layout allows for washer/dryer to be placed on both sides | |
| Good countertop space beside the dining | |
5-Room Flat (113/110 sqm)
| | |
| --- | --- |
| Pros | Cons |
| All rooms can fit a queen bed minimally. The Master bedroom can fit in a King bed. | The main door opens up straight to the living and dining area (which lacks privacy) |
| Good service yard layout allows for a dryer and washer on both ends | Structural column between rooms does not allow for an open concept |
| Spacious and separate living/dining area | |
Our Take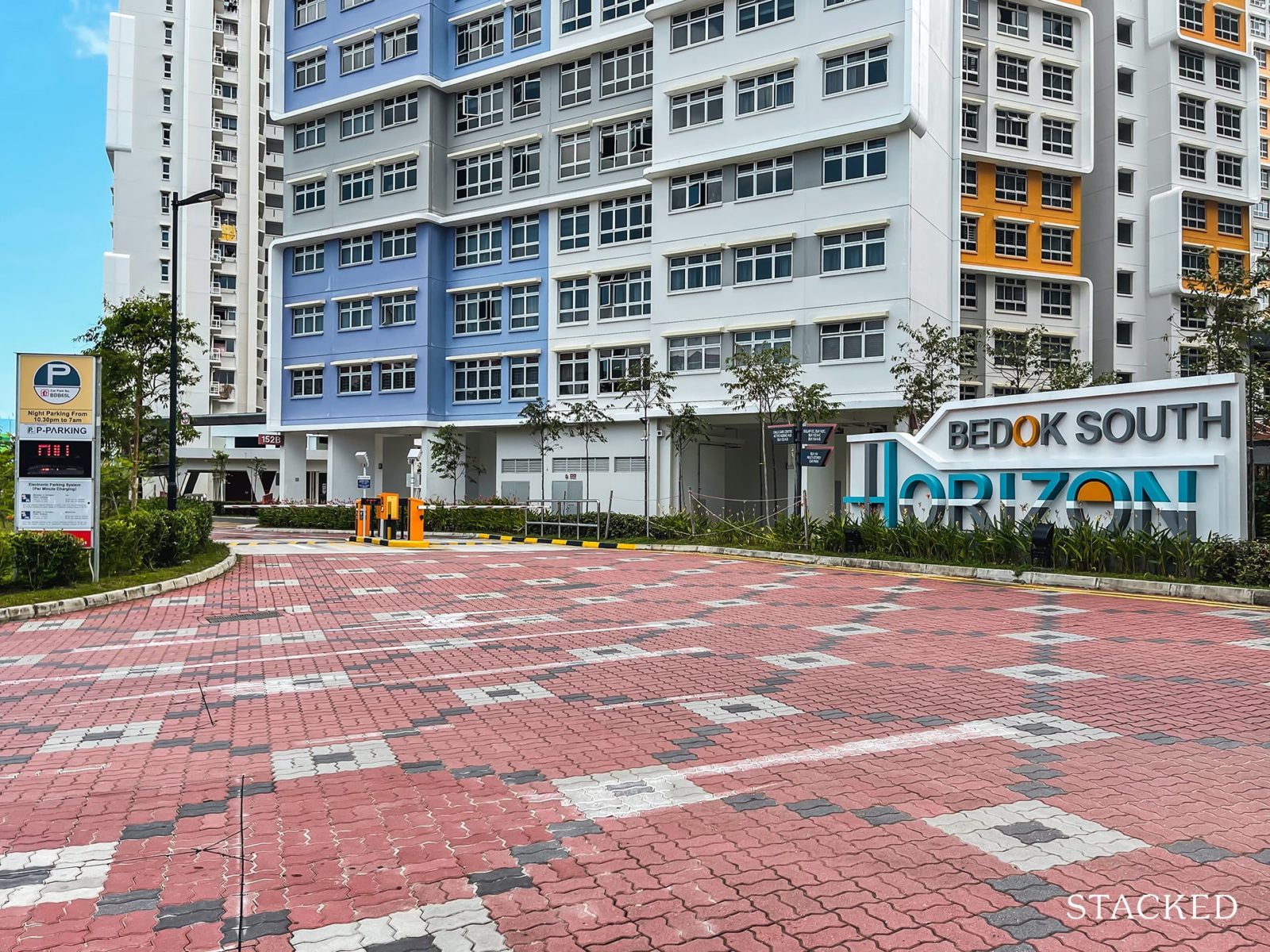 Bedok South Horizon has plenty to offer residents and is one of the most feature-packed HDBs I've visited.
In terms of amenities, Siglap Community Club offers quite a lot to residents here and is just next door. The community centre meets all the resident's needs here with a supermarket, food court and restaurant.
In terms of nature, the park connector is also just a short cycle away, but more importantly, so is East Coast Park!
Facilities-wise, there's an adequate number of playgrounds here which comes in different varieties catering to different ages too.
The rooftop garden is also very well-maintained and I love how varied the flora is – it's probably one of the better rooftop gardens I've seen.
In terms of views, buyers can choose to pay a premium for the sea or landed estate view, not something that many HDB developments offer.
And of course, the icing on top of the cake is the prospect of having Bedok South MRT opening in 2025 which would make the downside of poor public transport connectivity much better.
Finally, families/couples looking to have kids would also be glad to know there's a childcare centre here, and around the area. However, vacancies are low, though this is a widespread issue and not a Bedok South Horizon one.
Overall, I really like what Bedok South Horizon has to offer and is definitely an HDB I'd recommend for those who prioritise staying in a modern development around the area and want a sea view/unblocked view.
What this means for you
You might like Bedok South Horizon if you:
• Want to live near the sea:

It's one of the few HDBs you can actually get that's near East Coast Park – some stacks even have sea views!

• Want convenience to amenities:

Siglap Community Club is integrated with the development, providing residents with quick access to amenities like Sheng Siong!

• Want to be near an MRT:

While it's only ready in 2 years, Bedok South MRT would be at the doorstep of the development which not many HDBs can boast!
You may not like Bedok South Horizon if you:
• Want to stay near an MRT immediately:

Up until Bedok South MRT is up, Bedok South Horizon is not within walking distance to any MRT.

• Are afraid of construction noise:

The Bayshore area is set to be developed in the coming years, likely resulting in dust and noise pollution. Plus, previously unblocked views may then be partially blocked.
End of Review