New Launch Reviews

Avenue South Residence Review: Close to Everything Except an MRT
Reuben
September 15, 2019

27

min read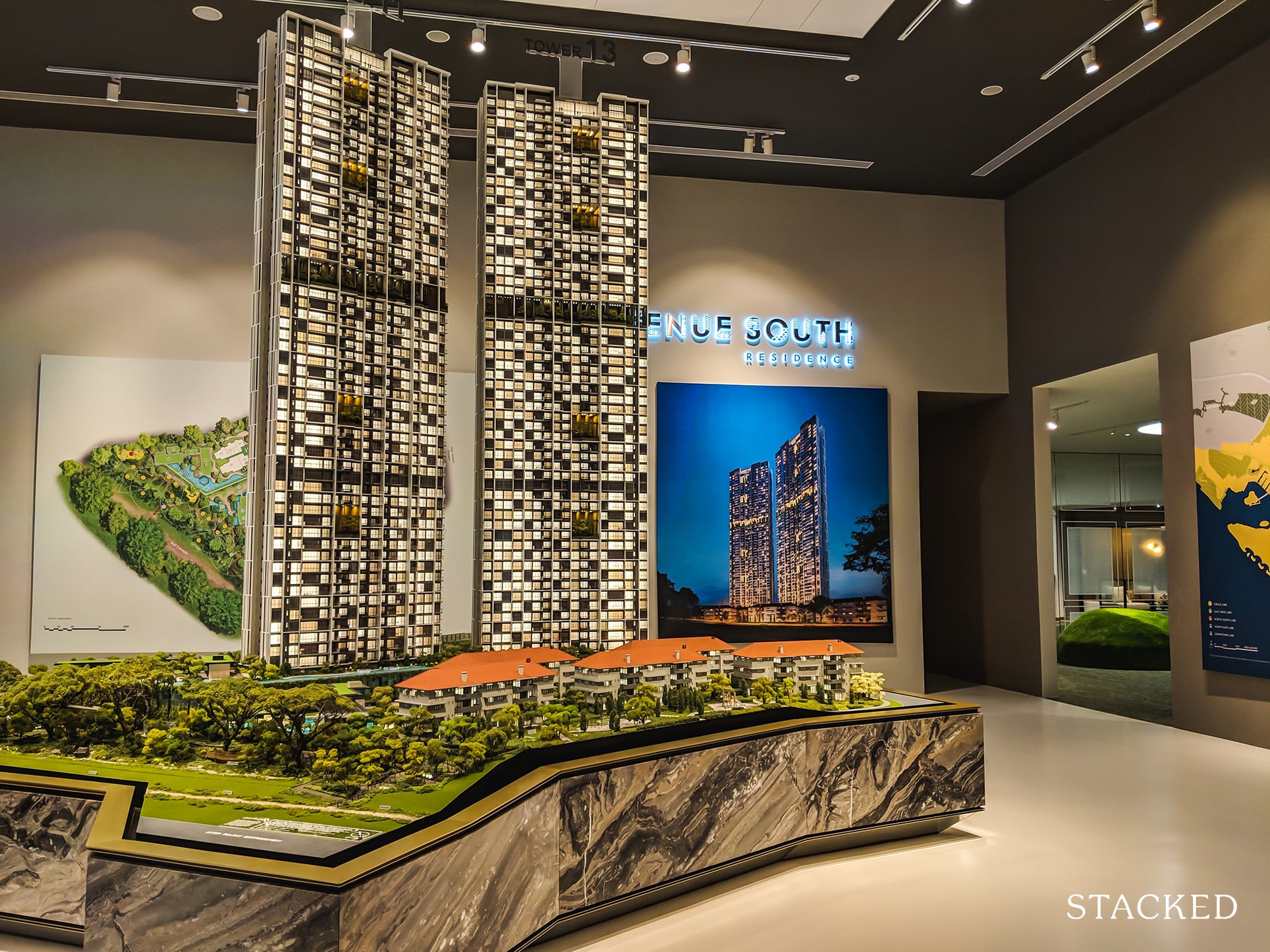 The asking price of Avenue South Residence is extremely reasonable if not a tad on the cheaper end all things considered. Personally however, I find 1,074 units in a 245,972 square feet area a tad squeezy. Couple that with the slight added inconvenience of accessing the MRT, and it does seem to fall short of Sky Everton in terms of investment (also consider its 99 year tenure) and convenience potential.
Reviewed by Reuben on September 15, 2019
What we like
Close to GSW

Very near SGH

Interesting facilities

Price
What we don't like
—

Not close to MRT

—

One tennis court

—

Rooms are small
27
min read
Property overview

| | | | |
| --- | --- | --- | --- |
| Project: | Avenue South Residence | District: | 03 |
| Address: | Silat Avenue | Tenure: | 99 years |
| Site Area: | 245,972 sqft | No. of Units: | 1,074 |
| Developer: | United Venture Development (Silat) Pte Ltd | TOP: | 2023 |
District 3 has a newcomer. And not just any newcomer, for that matter. With more than 90% of its initial 300 units snapped up during launch last Saturday, it is safe to say that the Avenue South Residence has piqued the curiosity of both the public and ours.
Located along Silat Avenue, massive twin (56-storey) towers rising from an ocean of green will look to boast an unparalleled panorama over the much-talked-about Greater Southern Waterfront as well as the city's beautiful skyline. Work on a quintuple set of reminiscent heritage blocks just a tad lower down has also begun – an initiative that has captured the interests of both locals and foreign investors alike.
By combining modern luxurious living with nostalgic memories of the past, it is an out-of-the-box (read: bold) idea led by developers UOL that has been touted by most as a brilliant step forward. Couple these highlights with a solid location, convenient amenities and bright future prospects, it's easy to see why Avenue South Residence is such a crowd favourite. Will its show units live up to the hype, however? Let's find out.
Avenue South Residence Insider Tour
Facilities in Avenue South Residence
Playground
Childcare Centre
8 commercial shops
Public Park
Bicycle Park
Rock Wall
Balancing Trail
Boulder Climb
Discovery Trail
Tree Trail
Boardwalk
Suspension Bridge
Function Room
Gym
Studio
Barbeque Pits
50m Lap Pool
Poolside Lounge
Sun Deck
Spa Pool
Splash Pool
Green Lounge
Dipping Pool
Play Lawn
Mini Golf
Eco Pond
Herb Garden
Fruit Garden
Pet Maze
Sanctuary Pool
Lounge Pool
Eco Fitness Garden Trail
Tennis Court
Outdoor Fitness Plaza
Aqua Gym
Infinity Spa
Harvest Garden
Rooftop Function Room
Karaoke Room
Lounge
Study Room
Piano Room
Clearly, you can see from this extensive list of facilities that the Avenue South Residence is jammed packed with facilities. Some notable ones that sound interesting are the outdoor ones, like the trails and rock climbing walls. I think it is great that there are 8 function rooms (with 4 on the 56th floor!) and multiple barbeque pits. From the looks of it as well, the amount of greenery and landscaping planned looks to be quite stunning as well. Perhaps the only questionable one at this point is the tennis court. Just the one for the entire development of more than 1,000 units!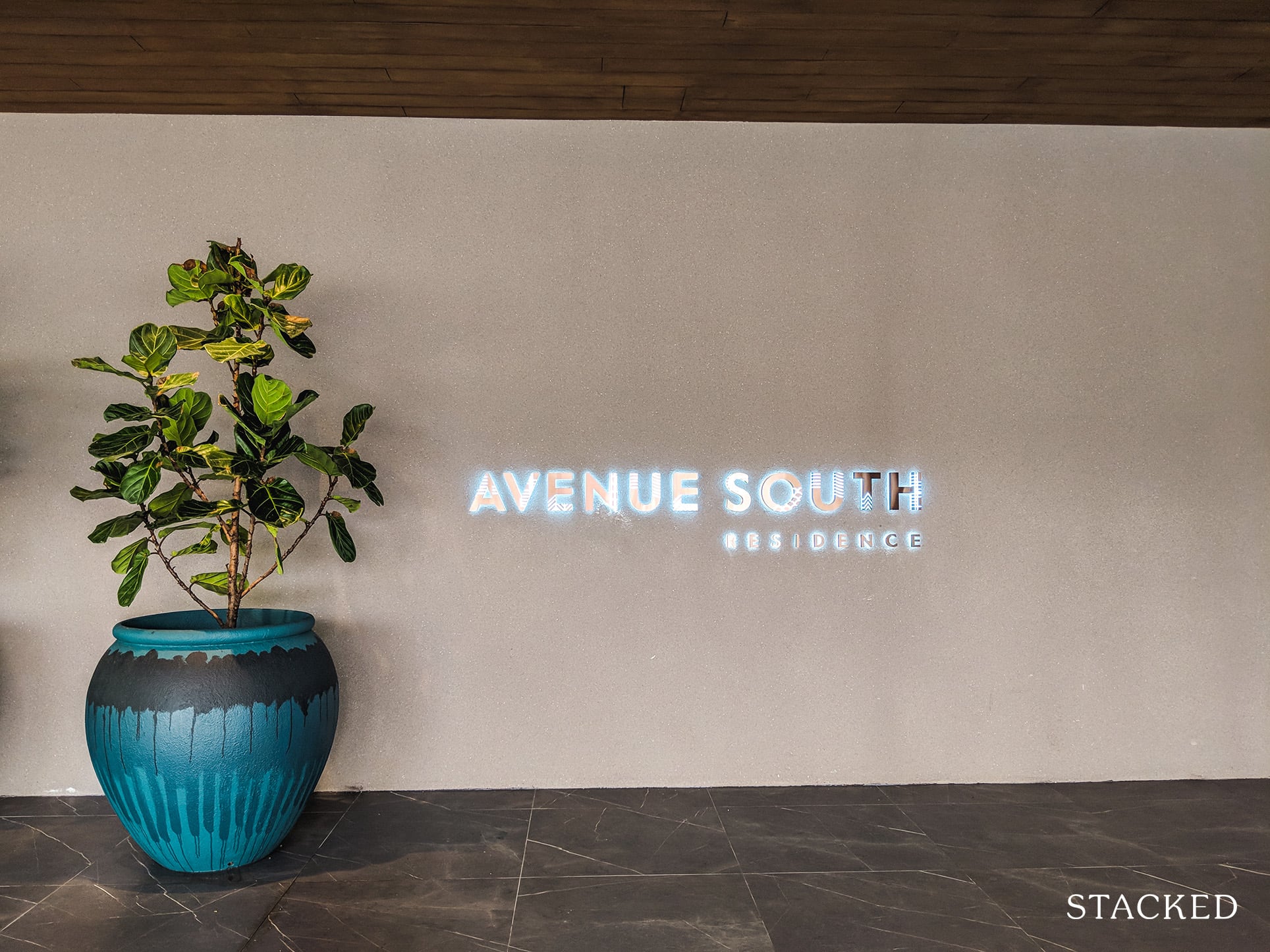 Pretty impressive first impressions.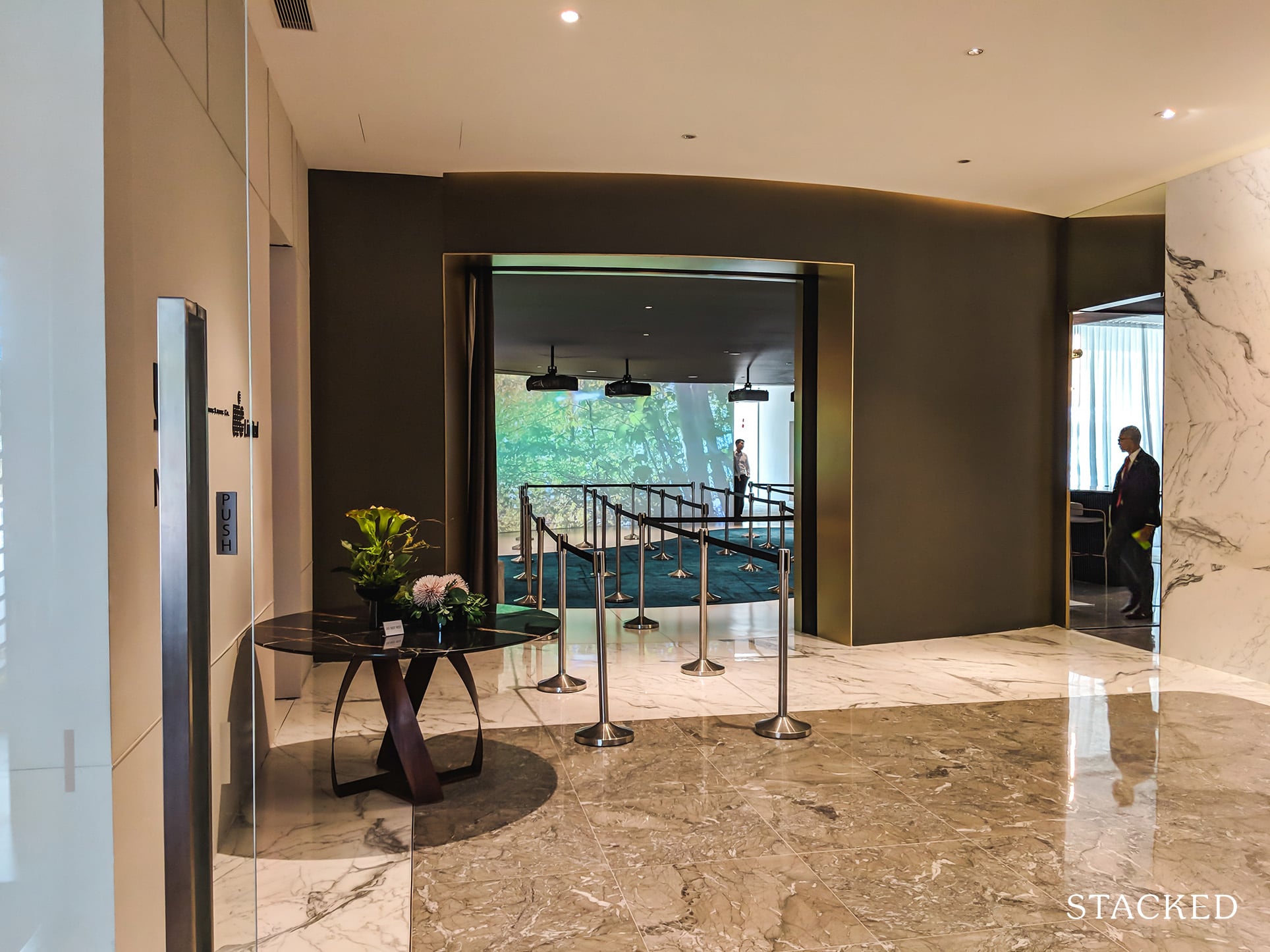 The show flat is pretty massive, no doubt in anticipation of the huge crowds.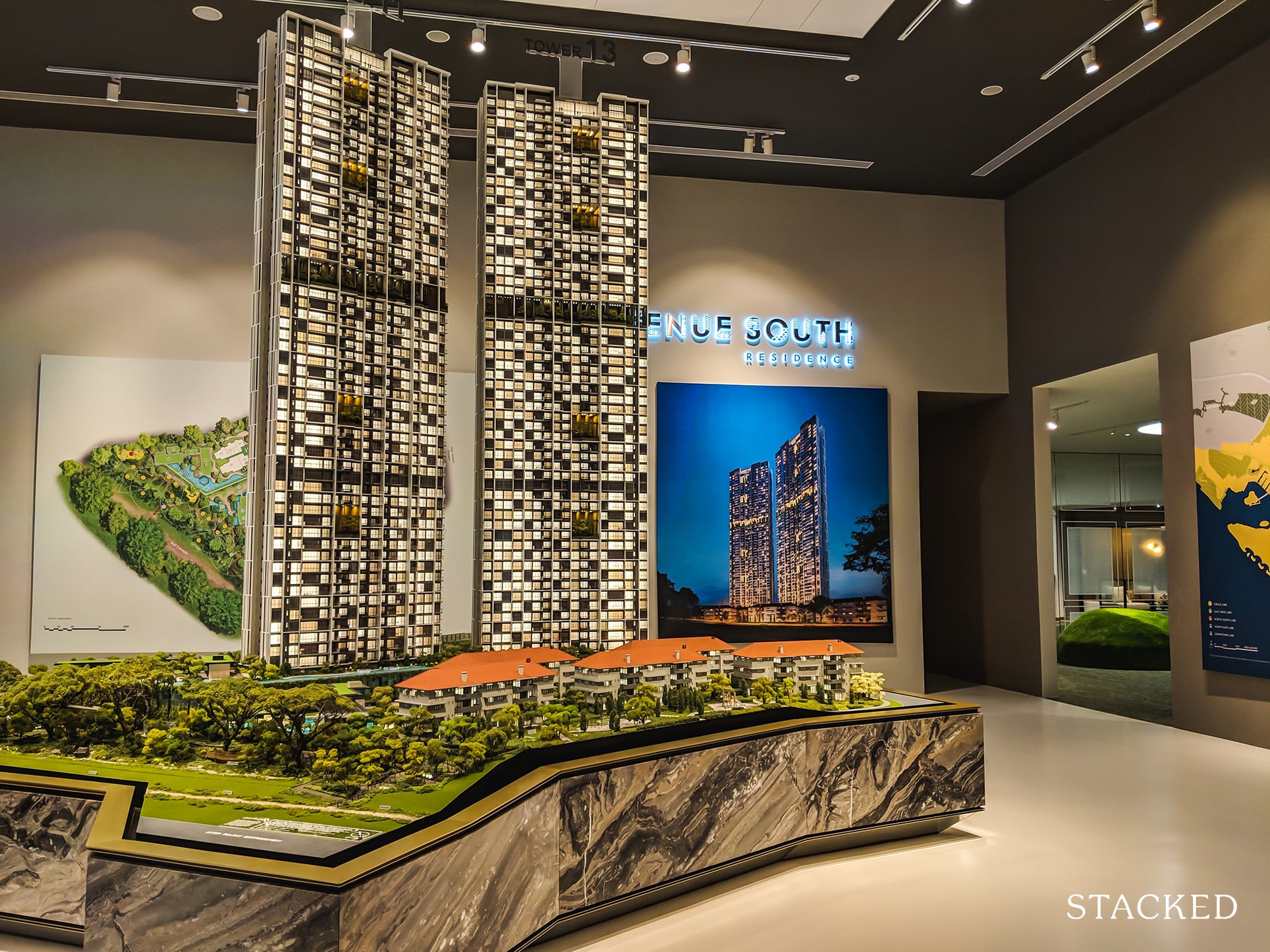 The two soaring 56-floor towers shown in their full glory here.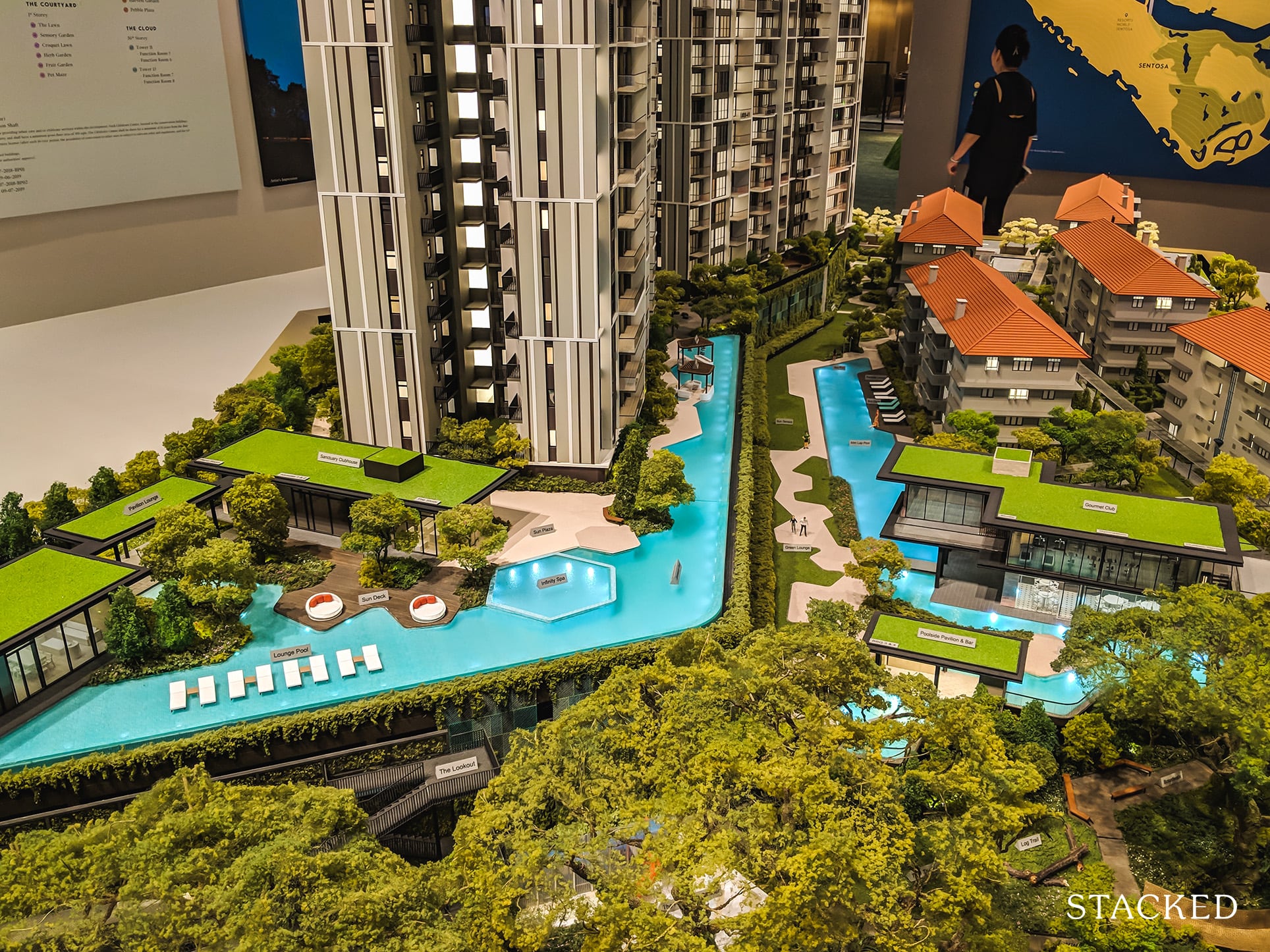 This view here shows off the size of the swimming pools available at the Avenue South Residence. I like that the infinity pool at the top deck stretches for such a long length, and the elevated height allows for views over the rest of the development. What is also brilliant here is the orientation of the pool. In most big developments, you would be surrounded by the other blocks or even neighbouring developments. But in this case, most of the facing of the pool is towards the AYE, so you don't get any high rise buildings peering in. Also, the frontage is about 80 metres which is very generous.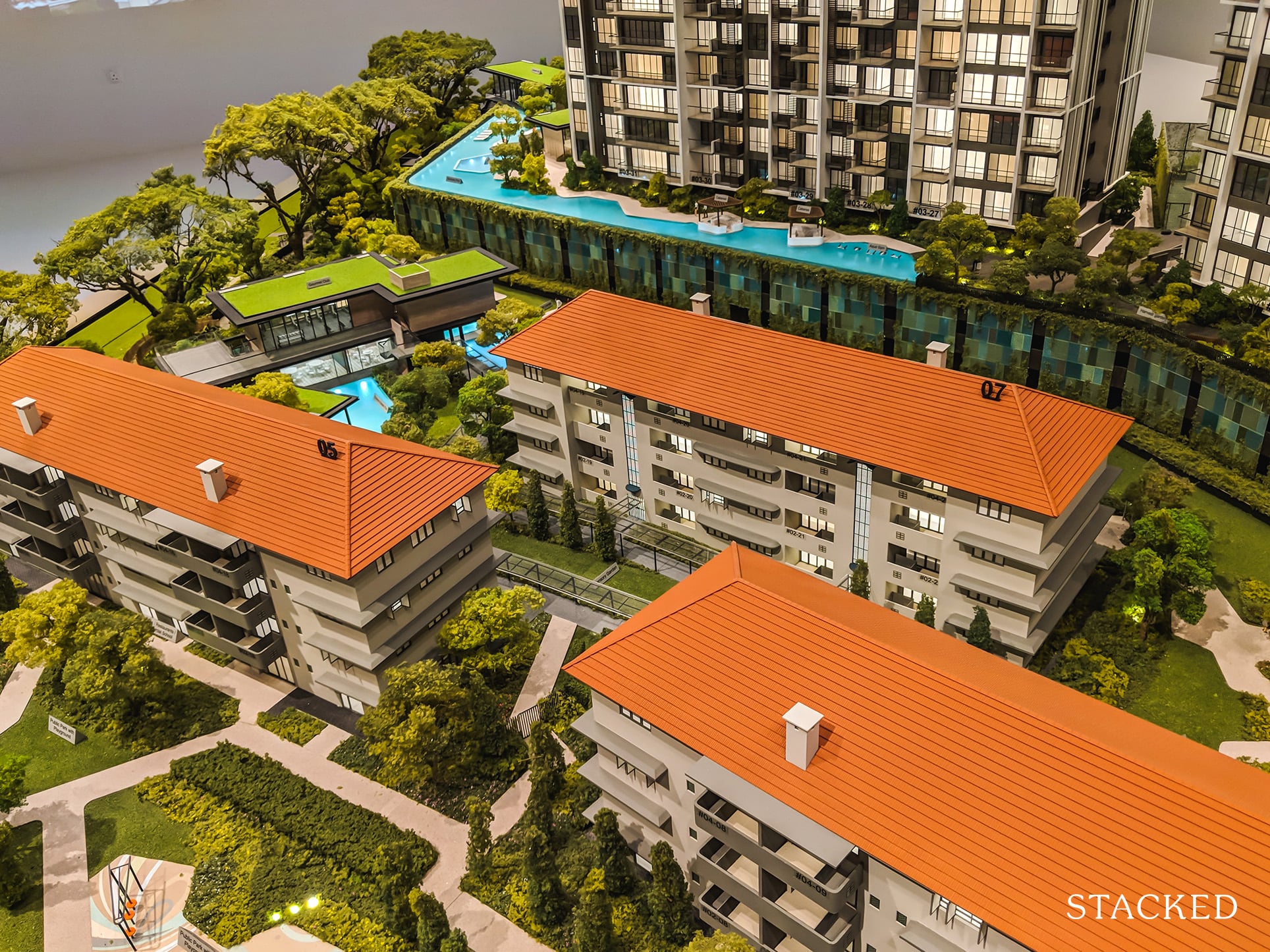 One cool aspect of the Avenue South Residence is the conservation of the old blocks, which they have termed the Heritage blocks. No doubt it is very unique, and it brings some character to the estate, unlike a lot of the newer developments that are just relegated to two densely packed blocks.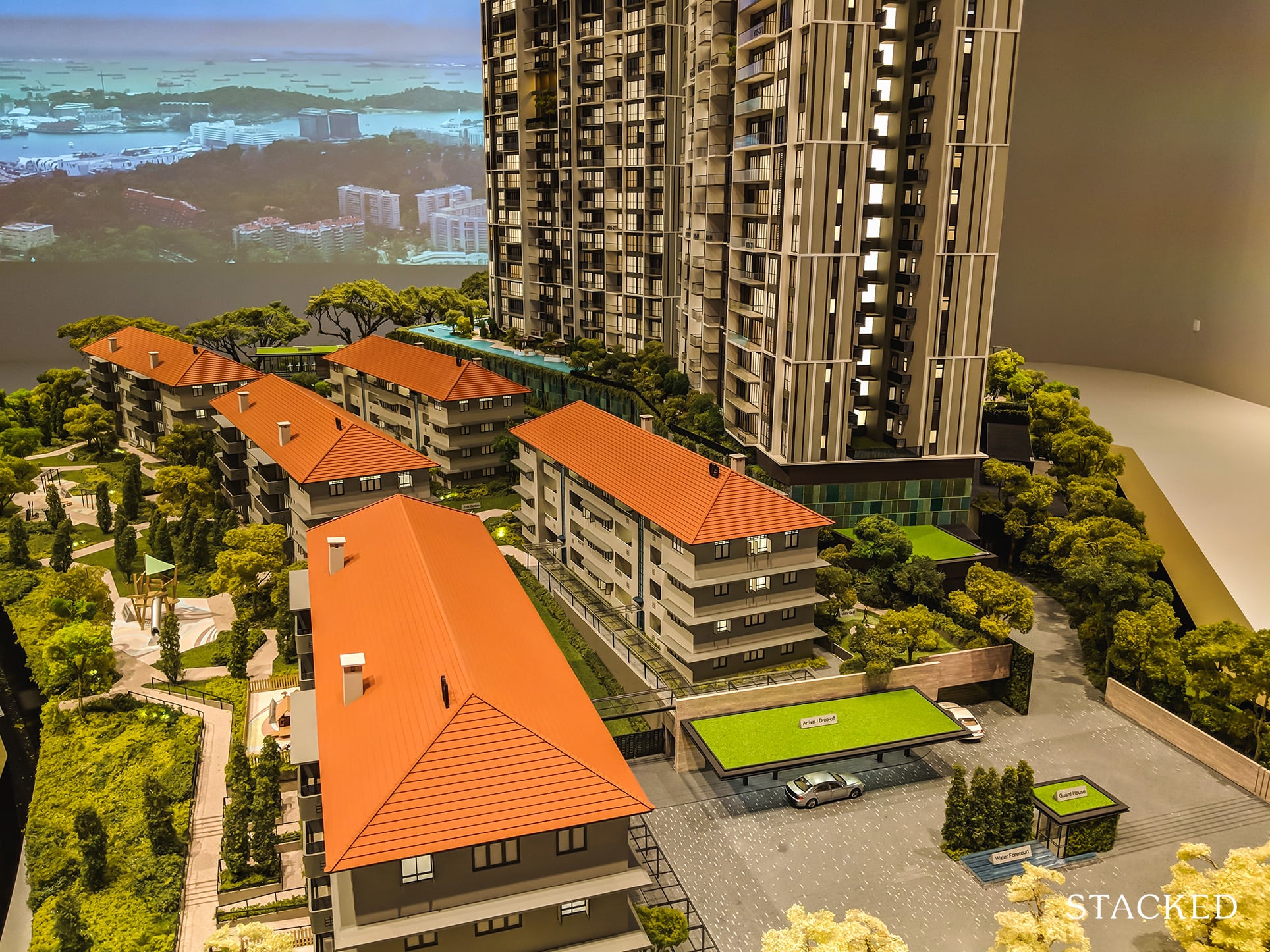 And unlike Riviere, I do think the design here is a lot more congruent with the conserved blocks. It actually looks like it's part of the same development here. For sure if you are looking for a different living environment but still want to enjoy a gated community and condo facilities, these Heritage blocks will present a viable option. I know of a good number of people who like the vibe of the low-rise block living at Tiong Bahru but are concerned about the safety and facilities aspect – this option at Avenue South would be a good mix of the two.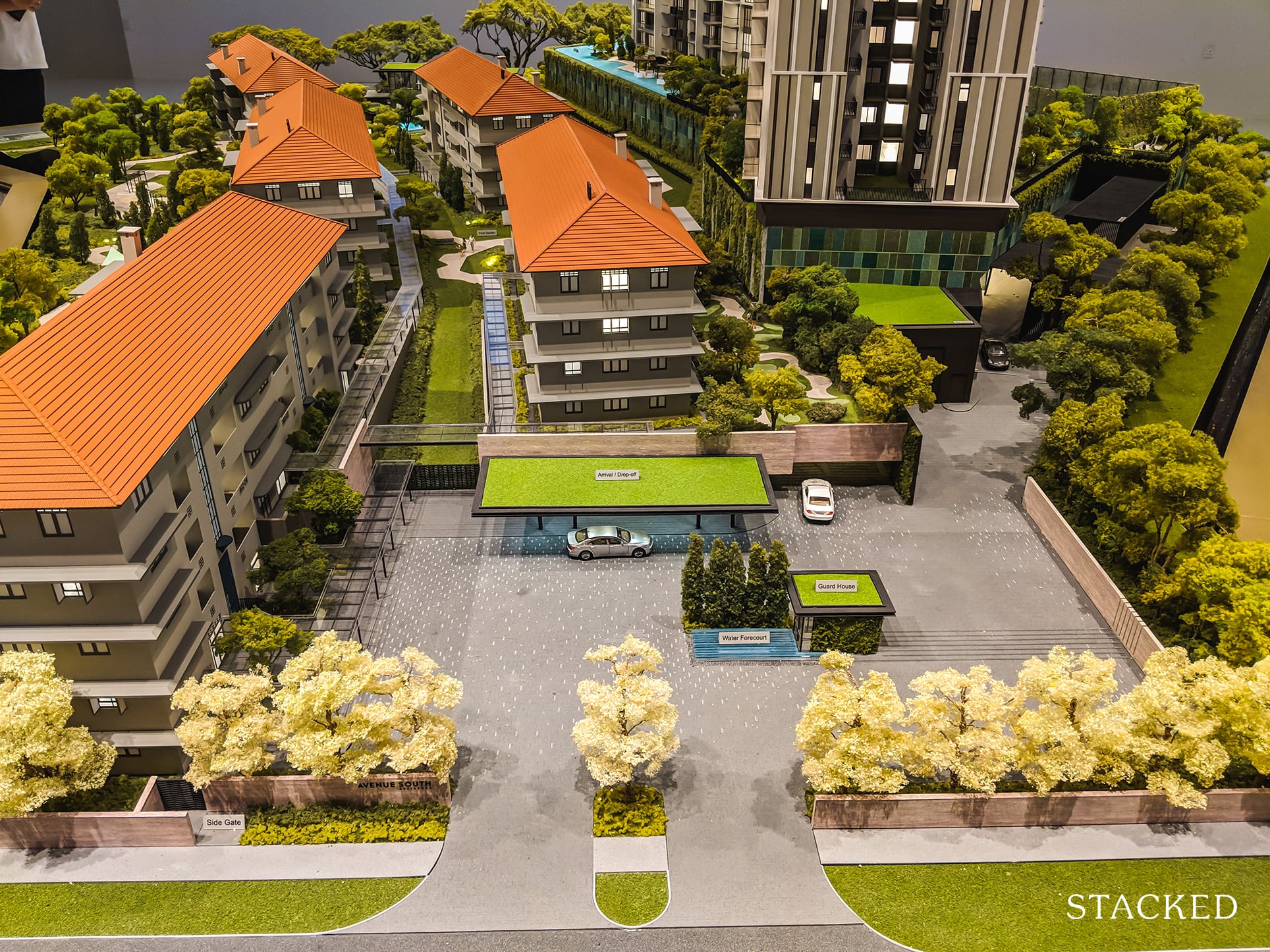 The developers have also dedicated a sizeable space to the arrival and entrance of the estate. Some people may feel that it is a waste of space, but I think it lends a grander air to visitors coming in and just gives off a better vibe to residents at Avenue South Residence.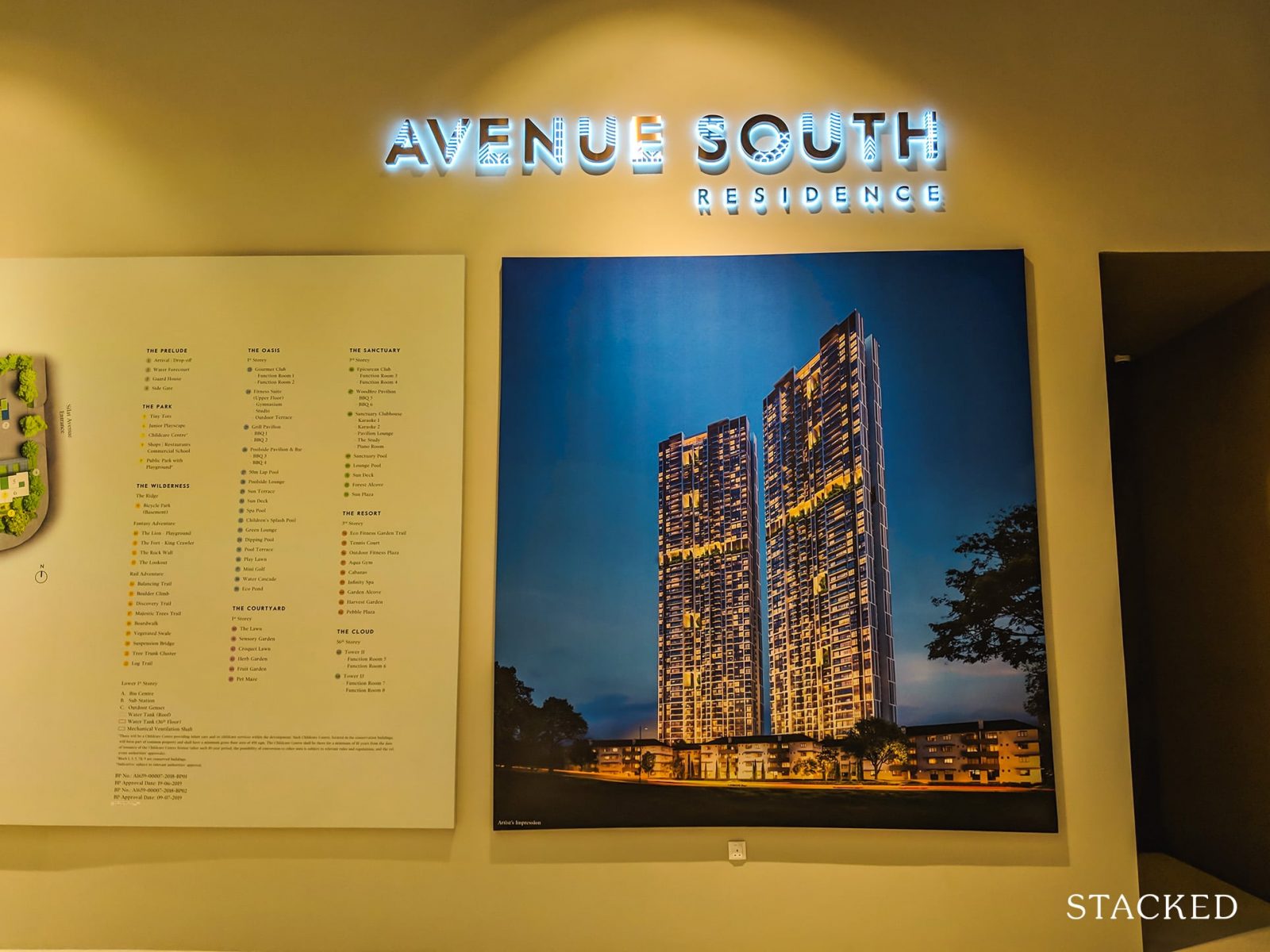 Avenue South Residence 1 Bedroom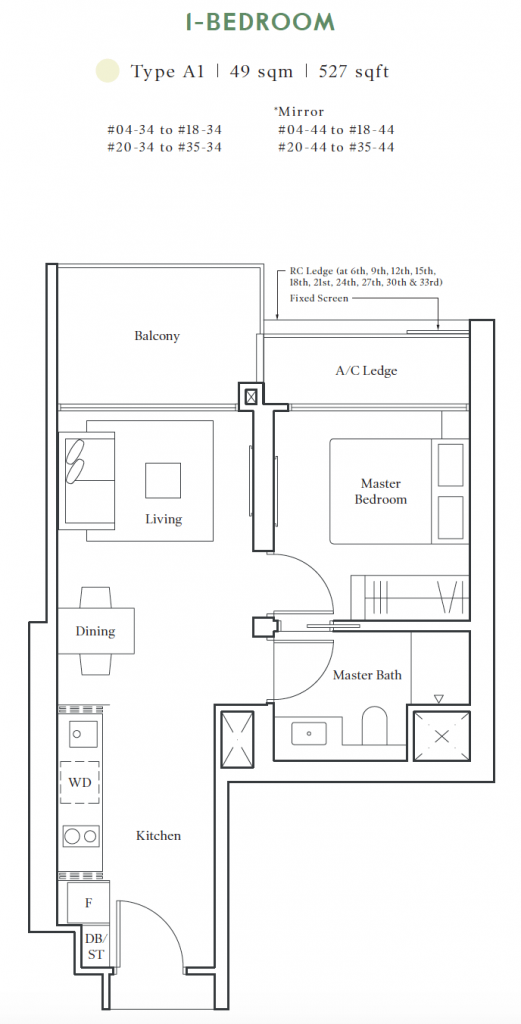 For new development, the 1 bedroom unit at Avenue South is actually very decently sized. In fact, at 527 square feet, it is considered to be above average.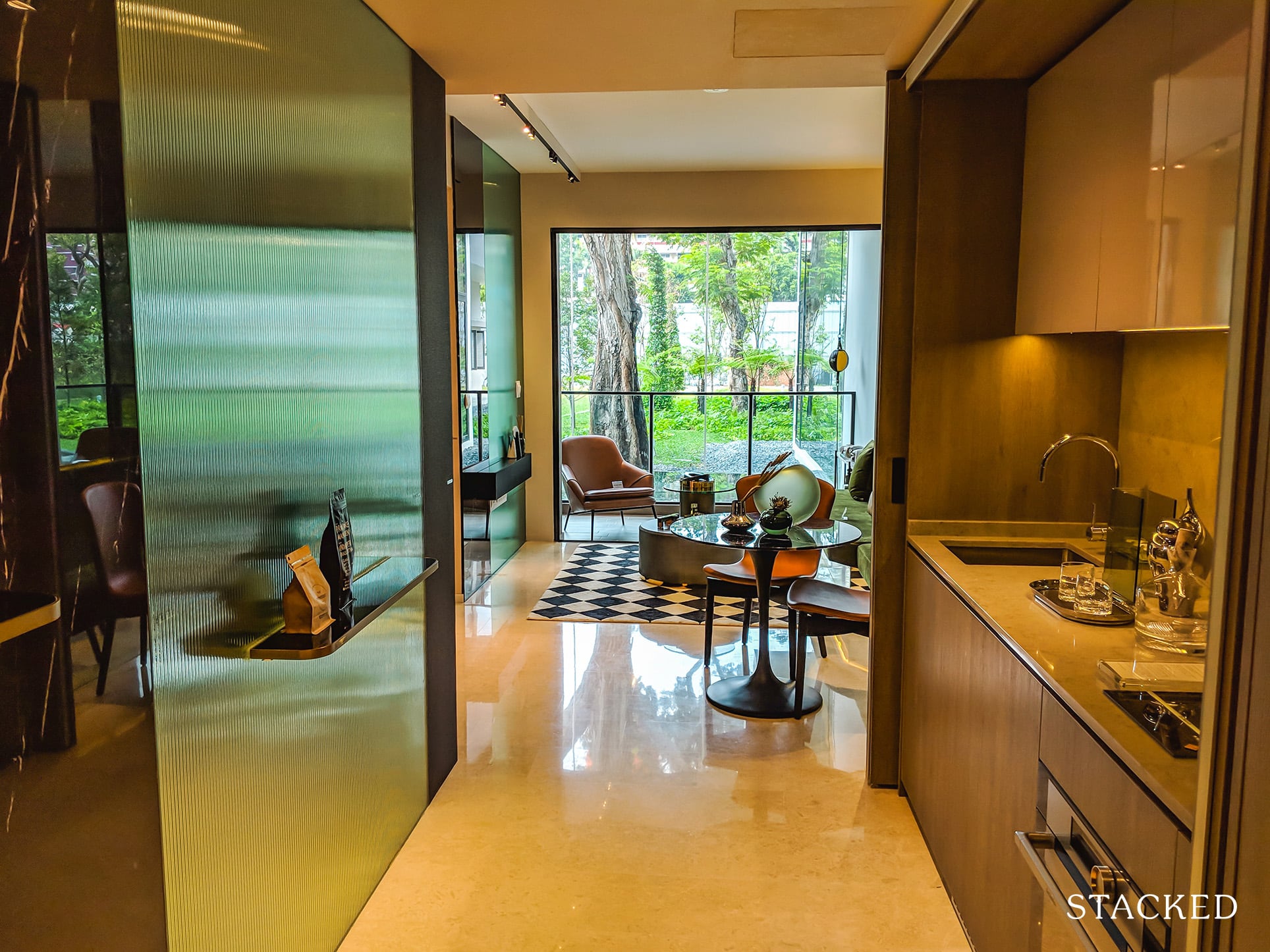 The entranceway into the unit is sufficiently wide which does give a better feeling of space to the place. Because it shares the same space as the kitchen as well, you don't get any wasted entrance space here.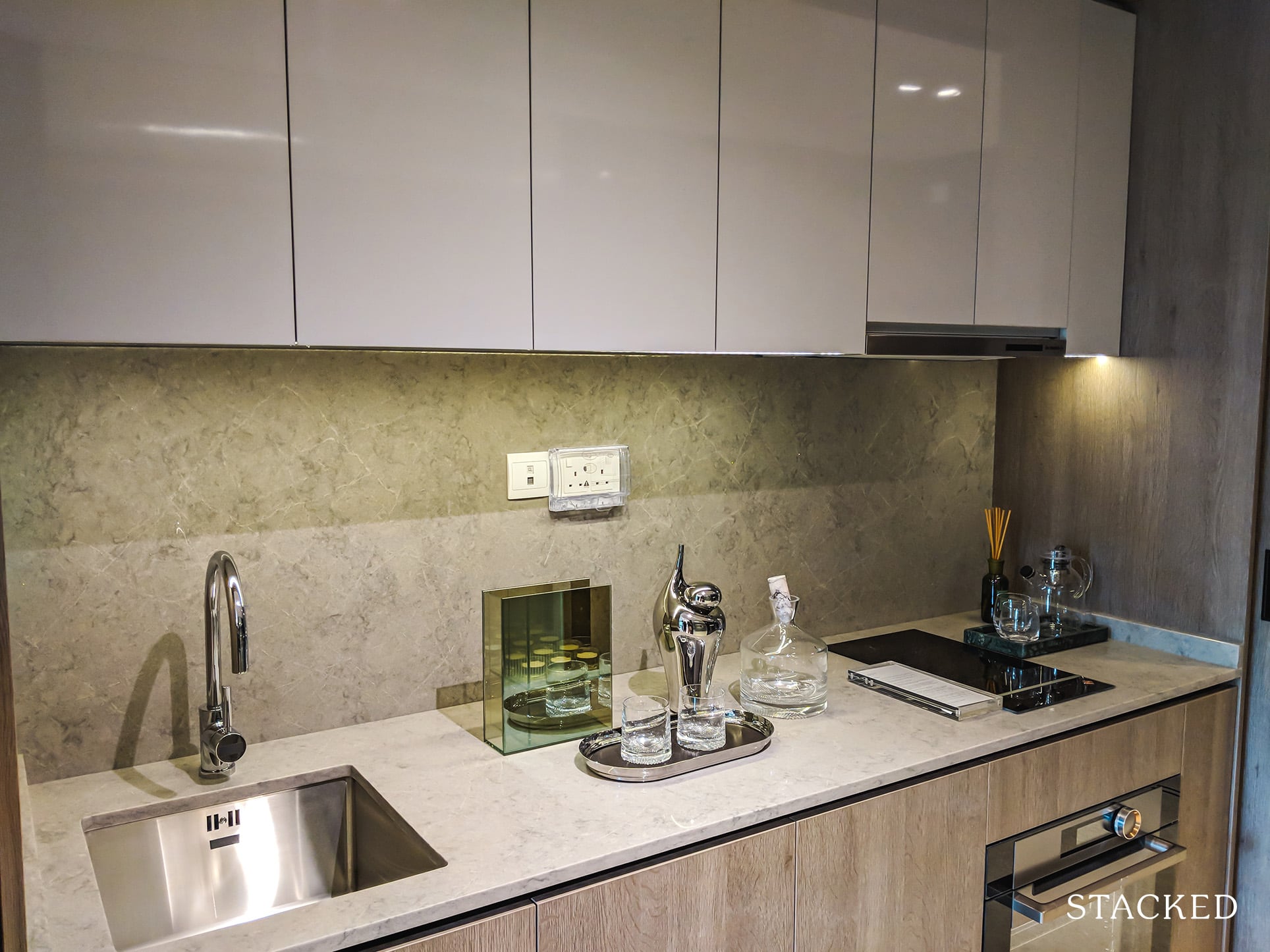 For a one-bedroom unit, the kitchen top counter is long enough to have space for a medium-sized sink and cooking hob. Plus, there is still space for food prep and some kitchen equipment. Like most small units, however, the kitchens are not built for heavy cooking as there isn't proper ventilation unless you decide to open your main door.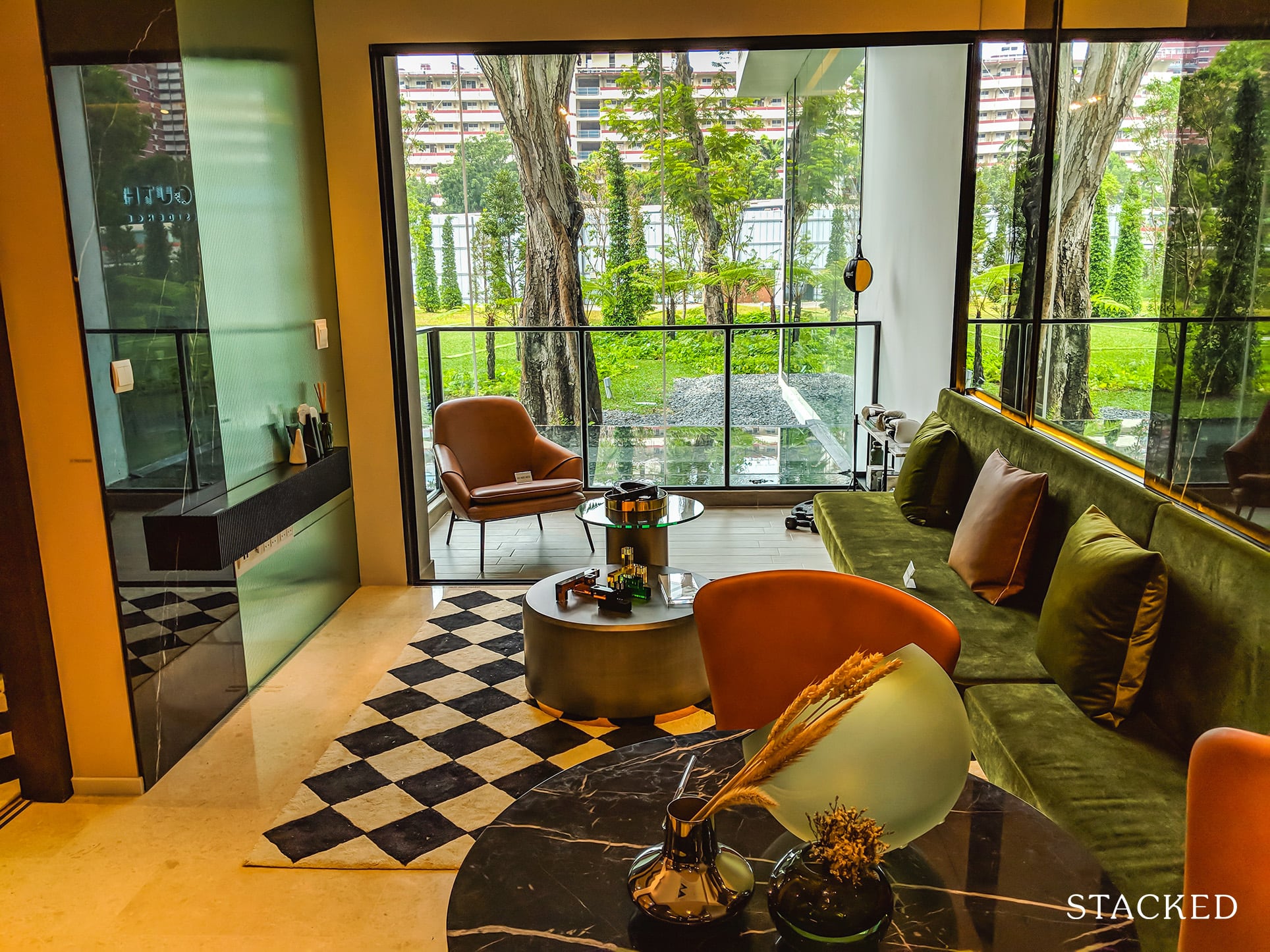 The living room is on the smaller side but still adequate for a 1 bedroom living situation. If you like the outdoor space, the balcony here is quite big and can extend your living room space. But if you rather have more usable indoor space, this unit will not be as suitable for you.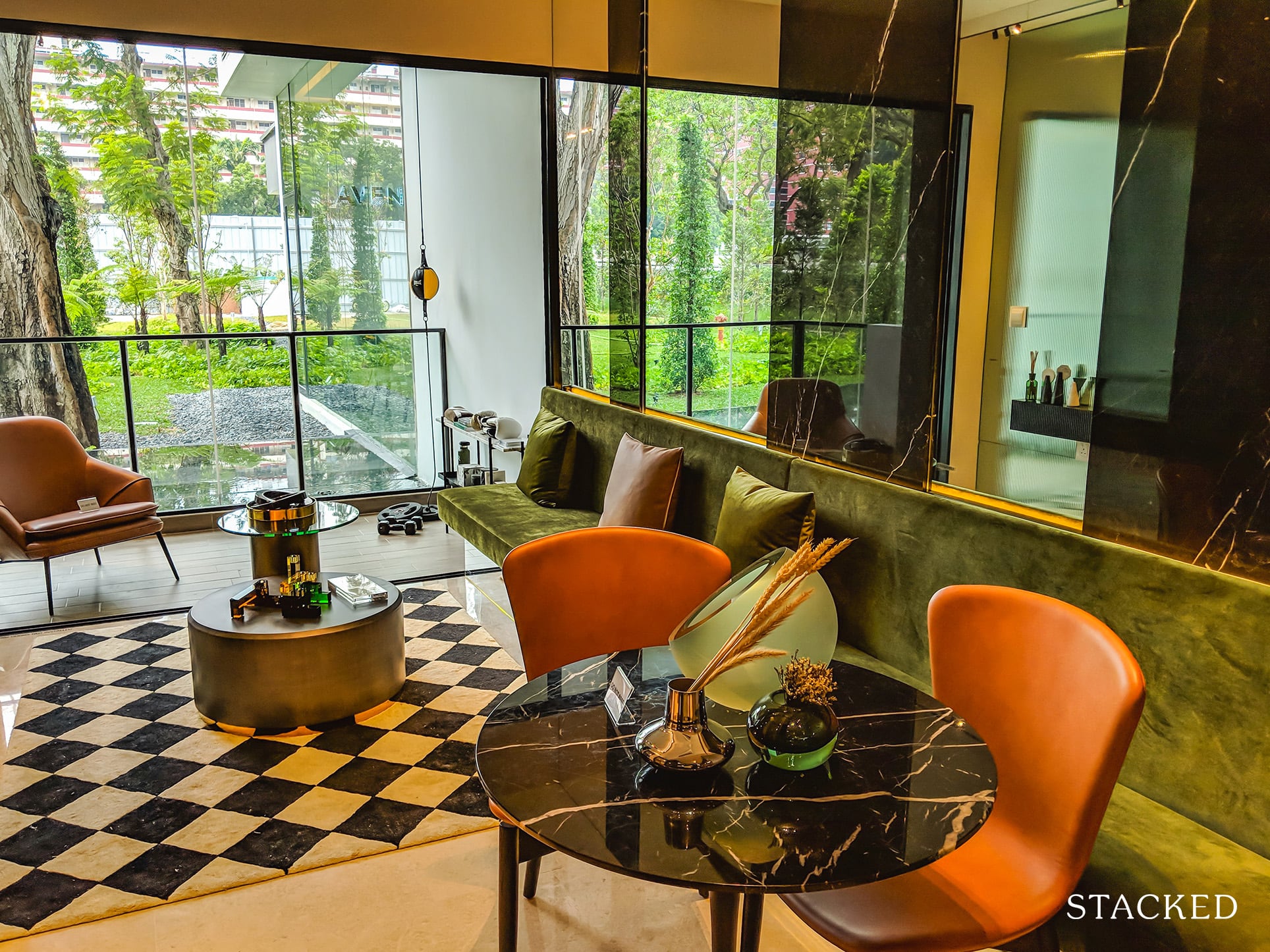 The dining area is very doable too, with room for a small table and chairs. Just as long as you aren't planning on holding big dinner parties, this is certainly suitable for a one-bedroom environment.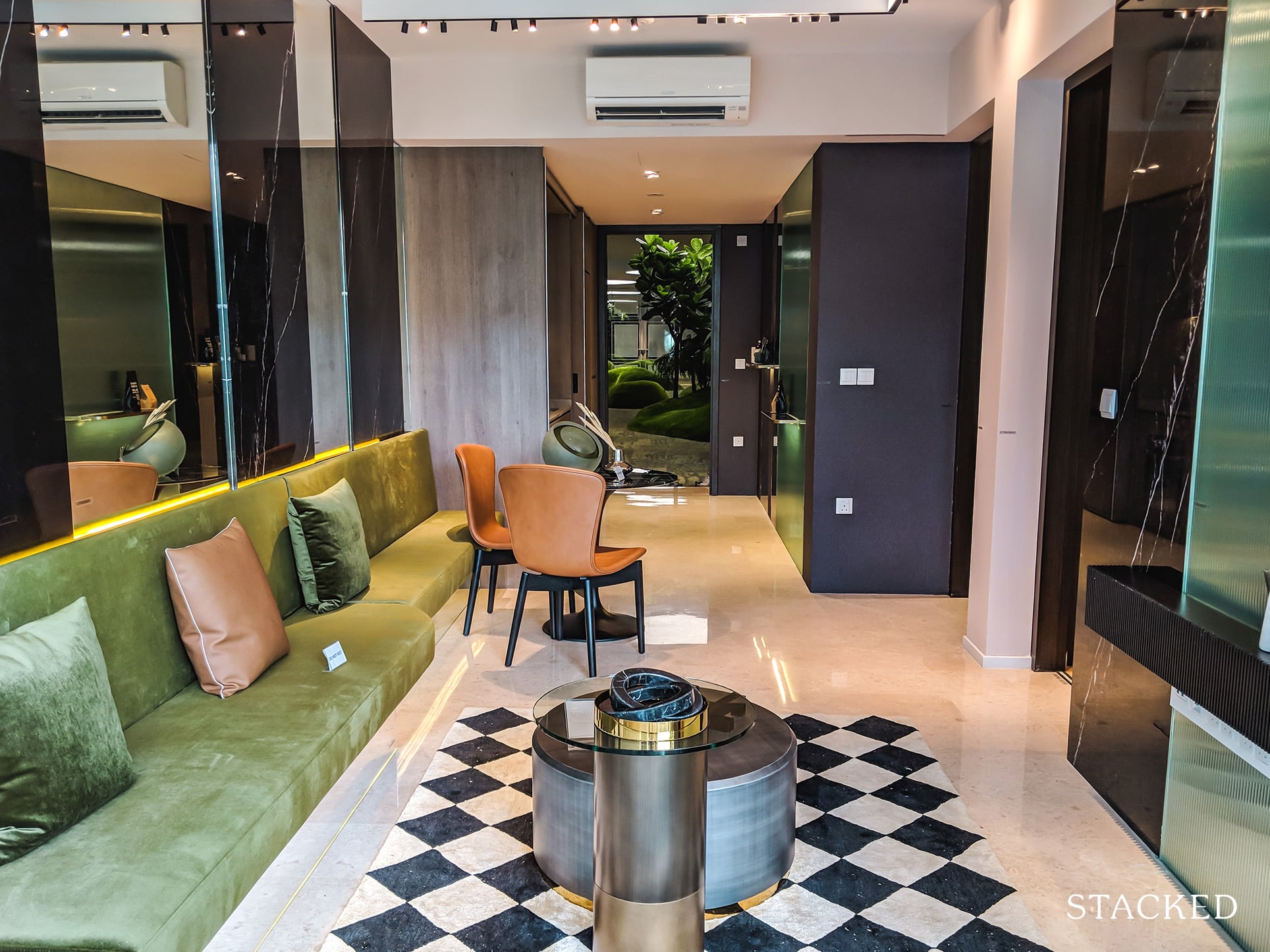 Just to show you a view from the living room and into the kitchen area.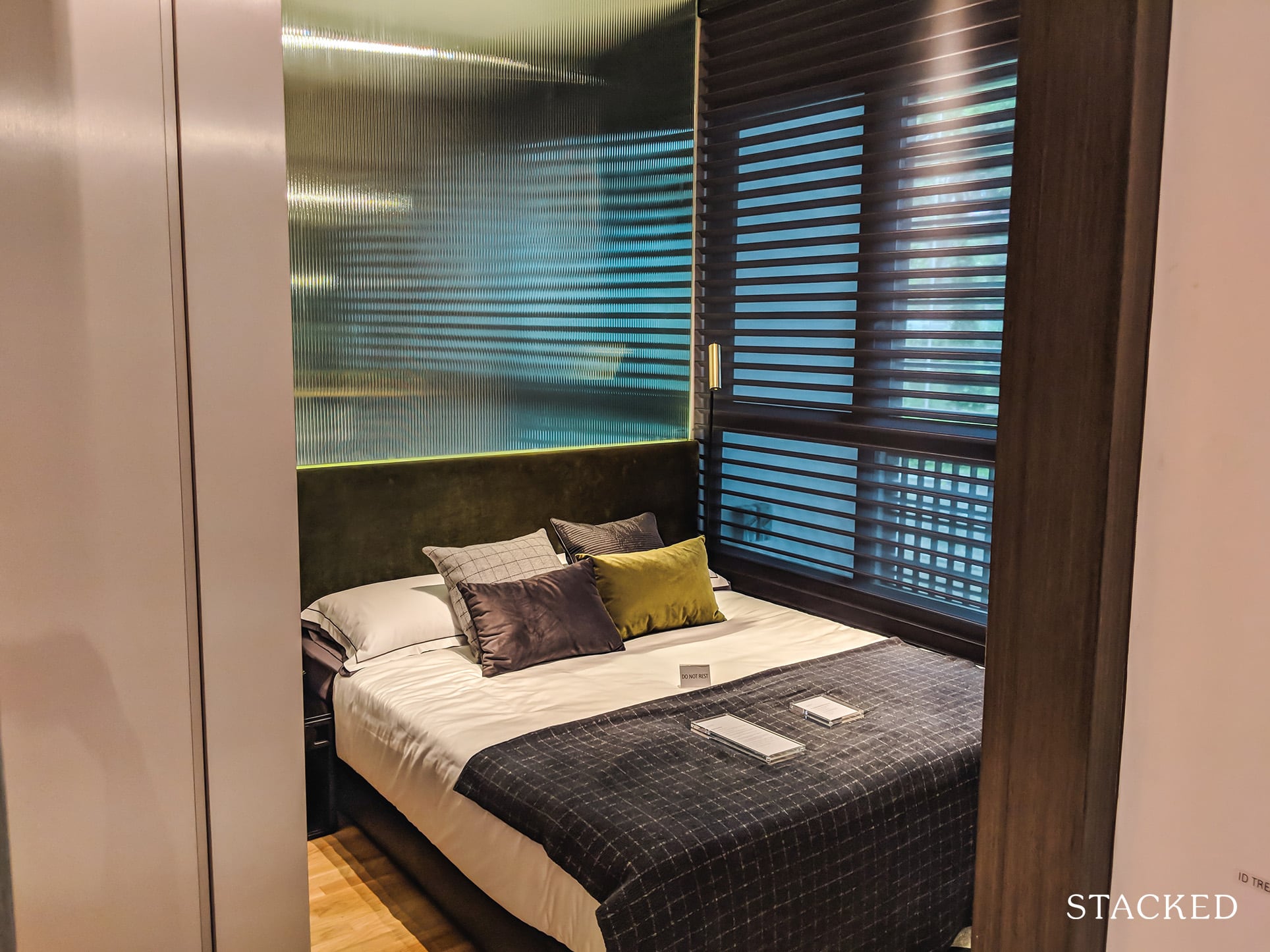 The bedroom in the 1 bedroom unit is frankly quite small, and there is really only enough space for a queen-sized bed. If you are looking to fit in a traditional study table, that is not an option unless you employ some really creative tactics.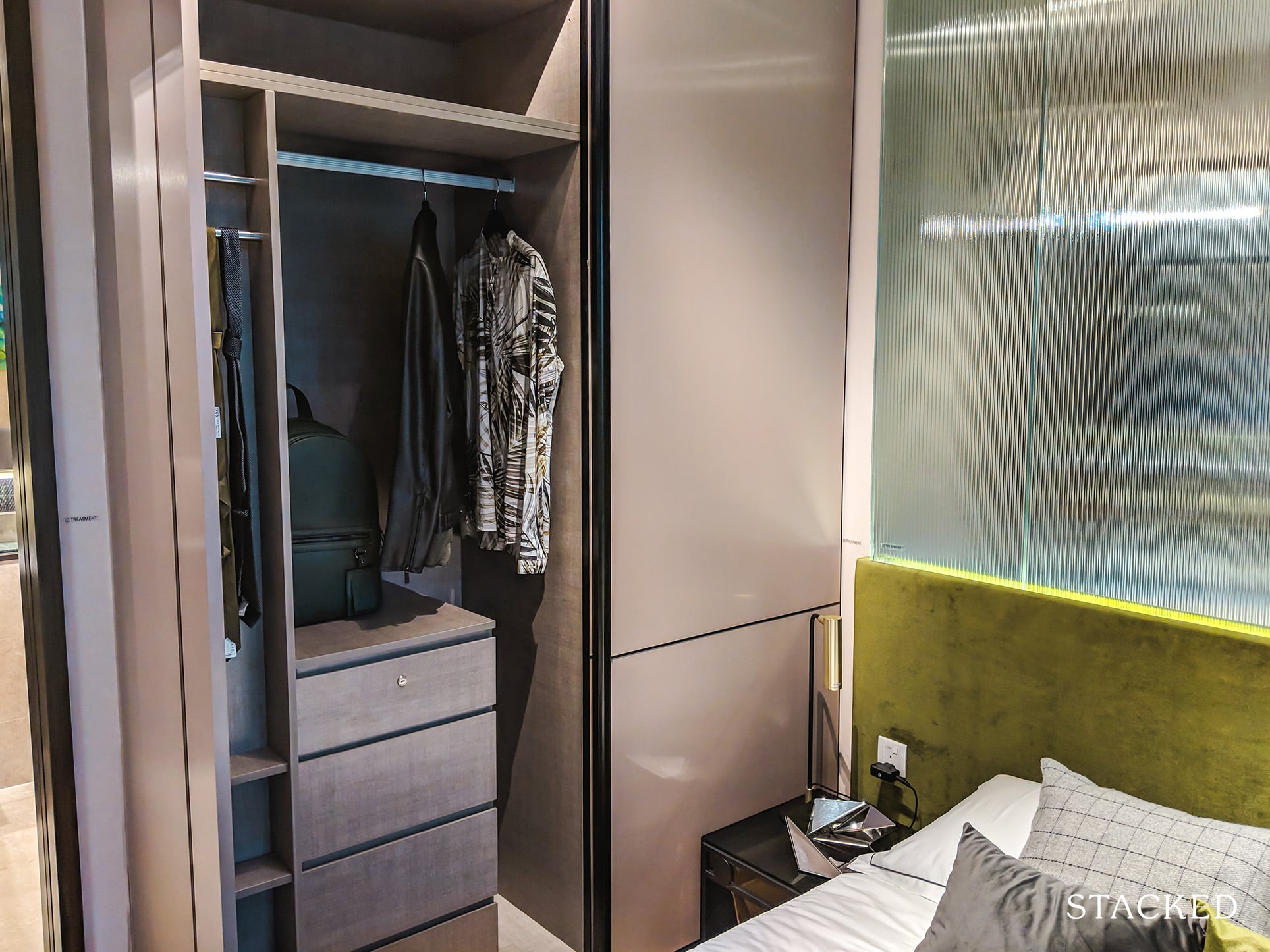 The wardrobe space is just satisfactory, as per what you would expect from a 1 bedroom unit.
Avenue South Residence 2 bedroom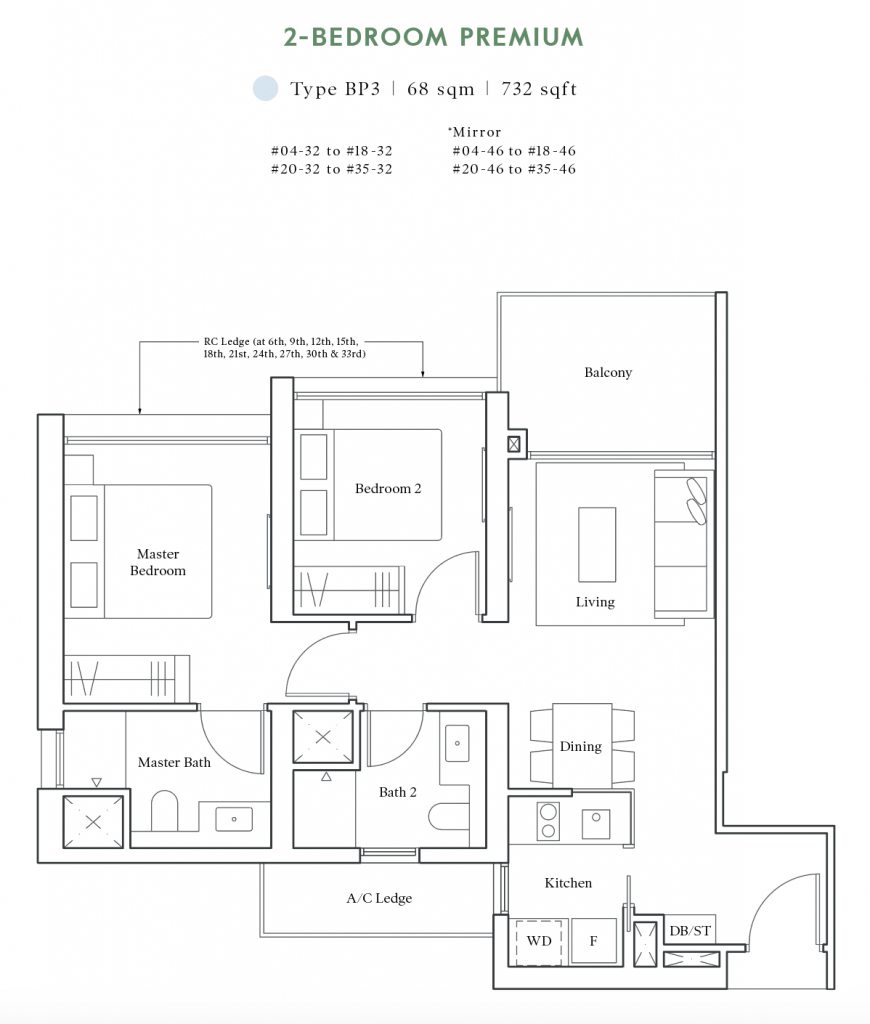 As compared to the 1 bedroom unit, the 2 bedroom unit at Avenue South Residence is of average size. While I'm not a big fan of an entranceway for small units, those who are concerned about privacy would be happy with the small enclave here.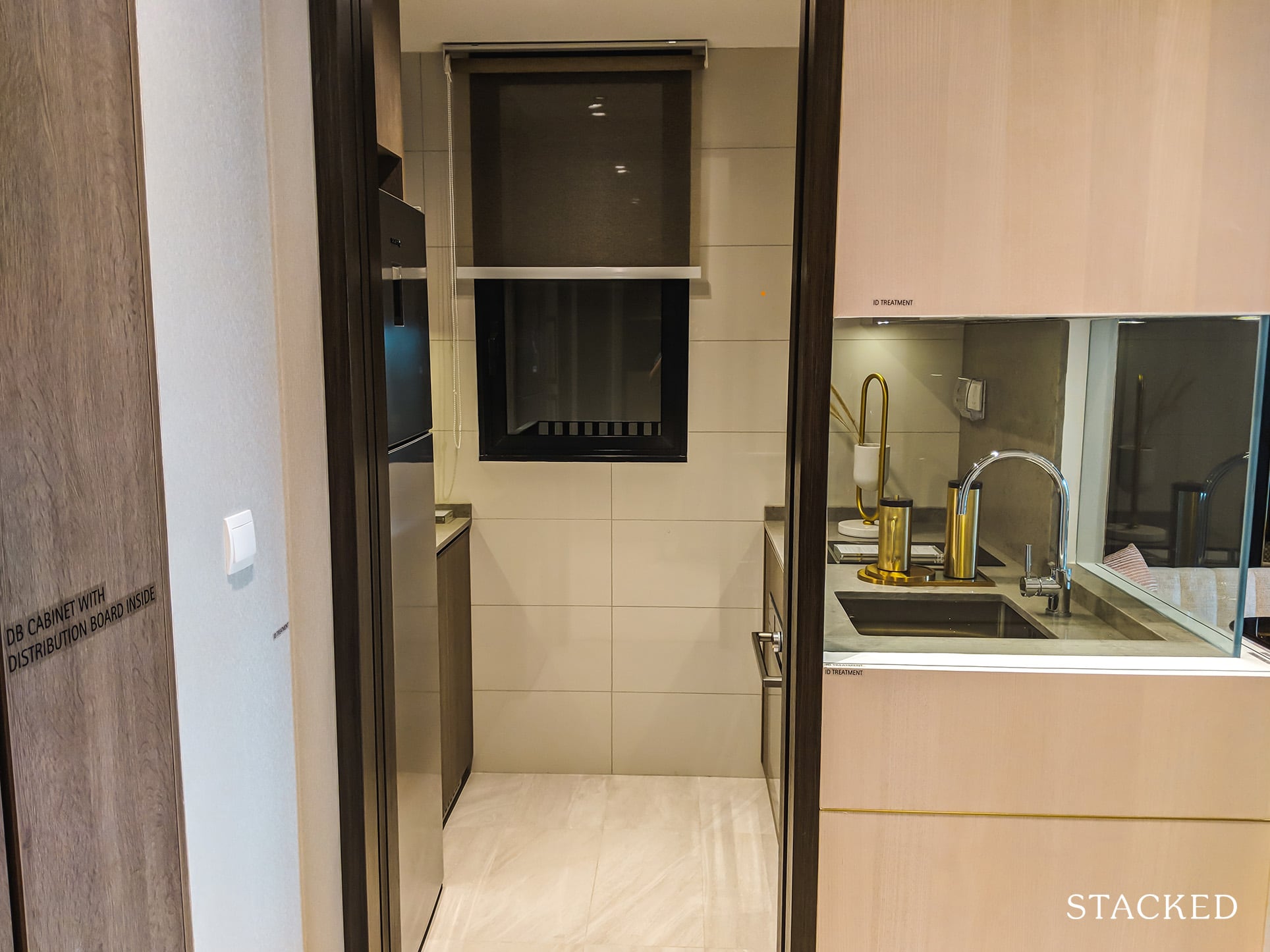 Once you step in, there's some storage on the left, with the kitchen entrance immediately visible. What's good to see here is an enclosed kitchen, which isn't something that you find too often in 2 bedroom units. The best part? There's a window as well for natural ventilation!
And while the kitchen isn't the biggest, it still is rather decent for a 2 bedroom unit. I do like the cutaway glass too, as it adds more light and a bigger, more open sense of space to the kitchen.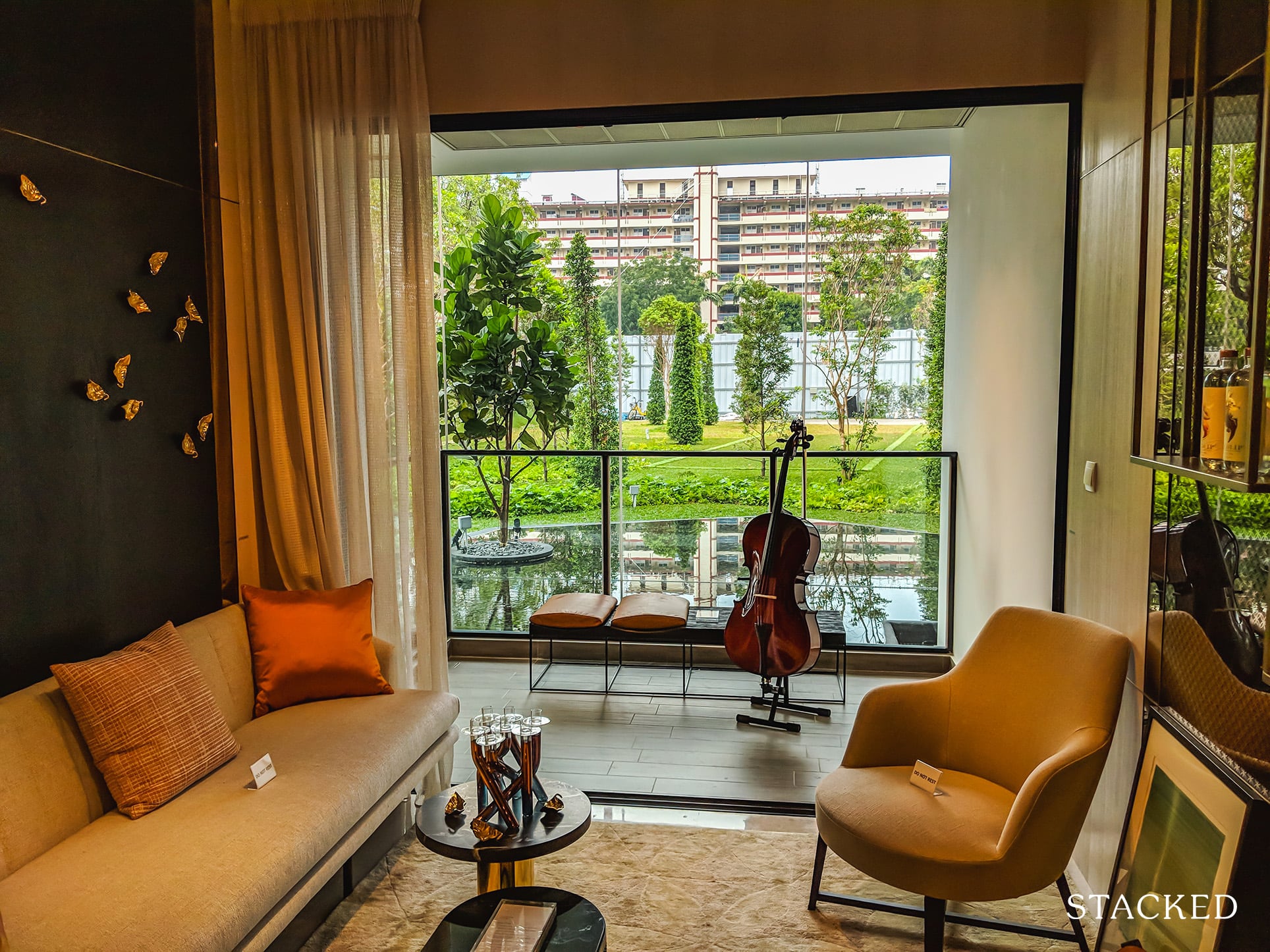 The living room is of an okay size but it does feel a bit narrow. It is good, however, for a 3 seater sofa and a small coffee table.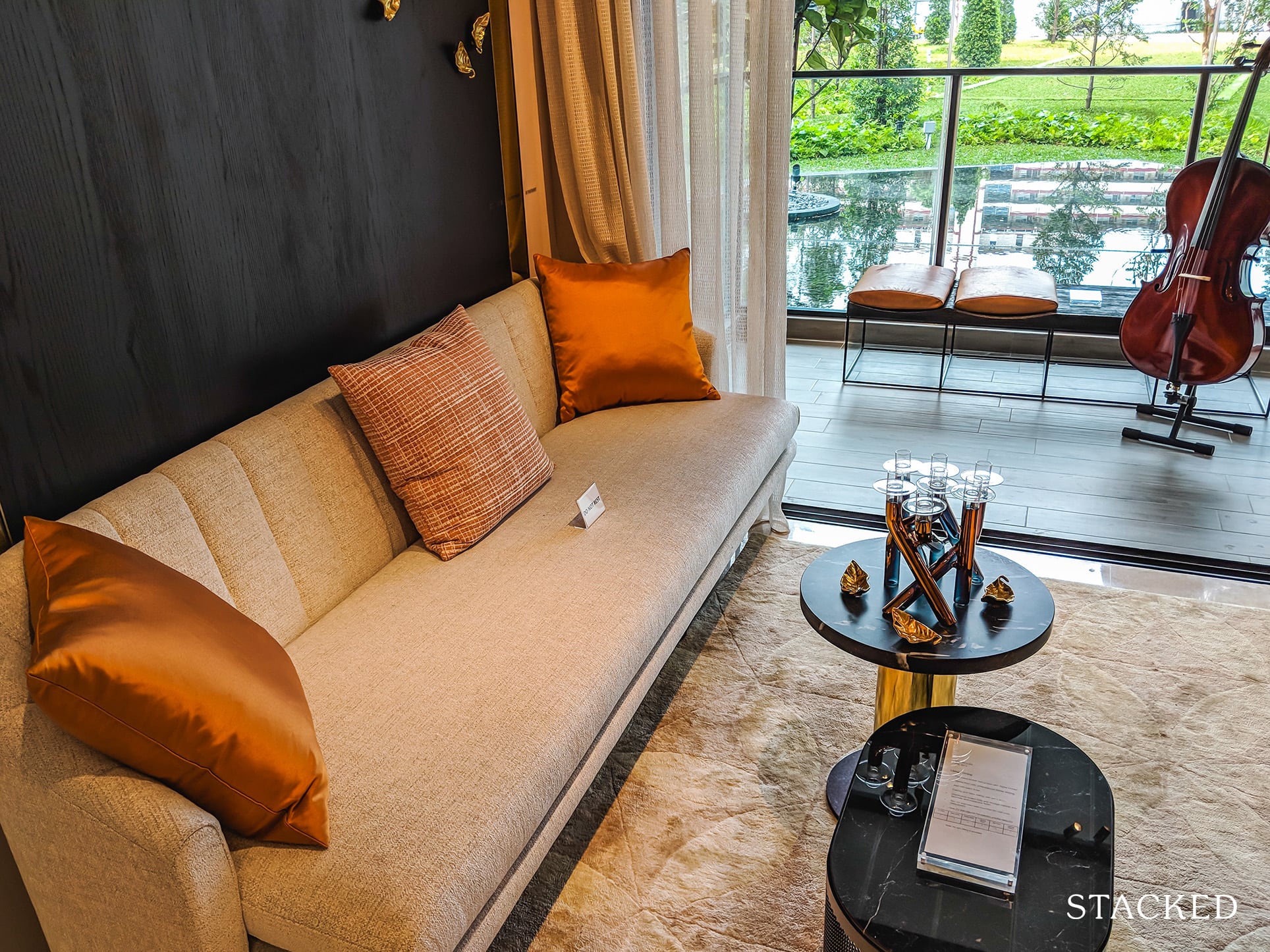 The balcony is nicely sized for a 2 bedroom unit, and there is enough space for some comfy seating.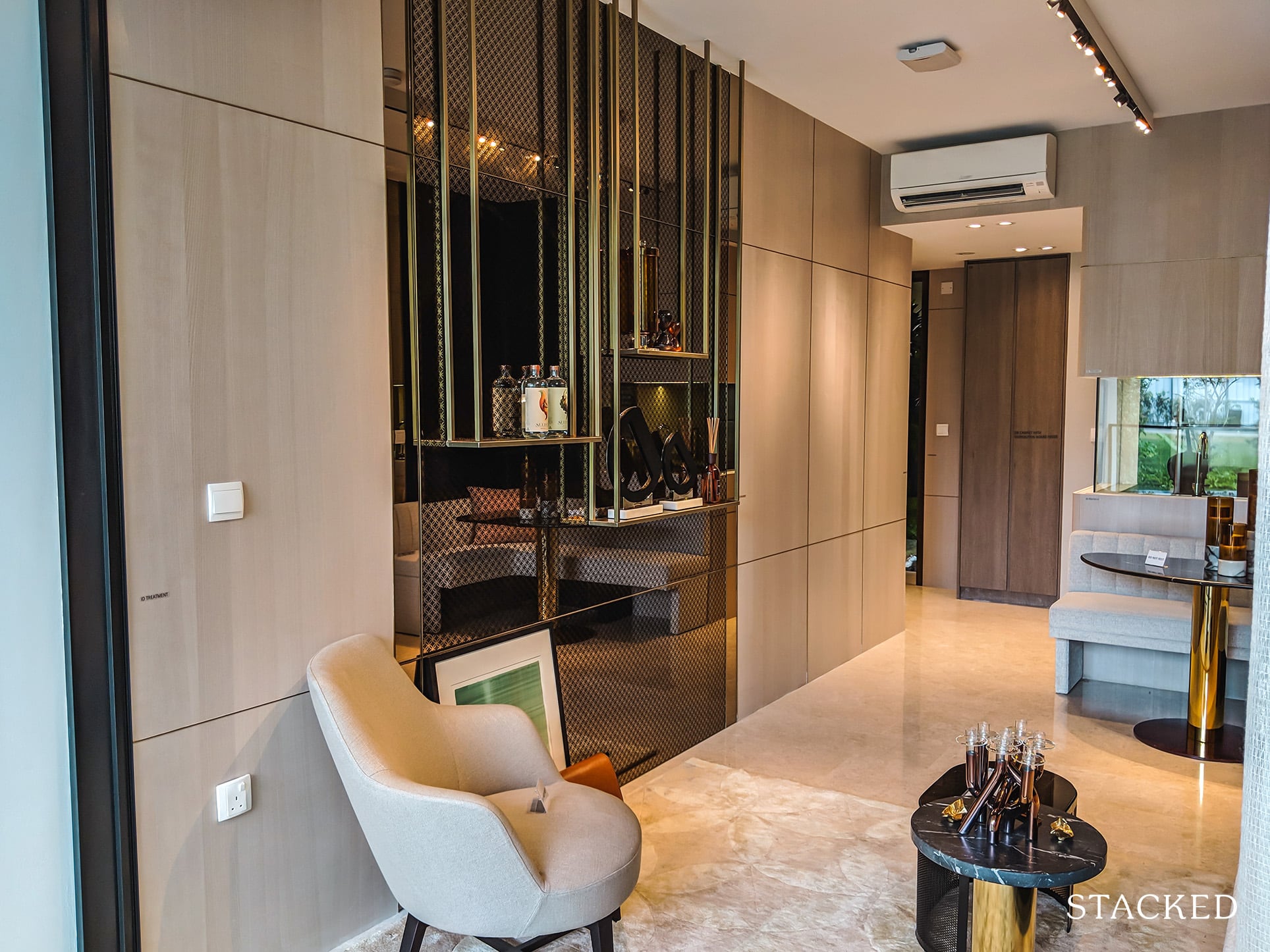 Where it falls apart a little here is in terms of the dining area. There isn't much space at all, and the interior design just showcased a small seating area and couch to allow the unit to look more spacious. Unless you like to eat in the living room in front of the TV, this could be an issue. Of course, you could always proportion the living area to be smaller to compensate, but this is worth highlighting.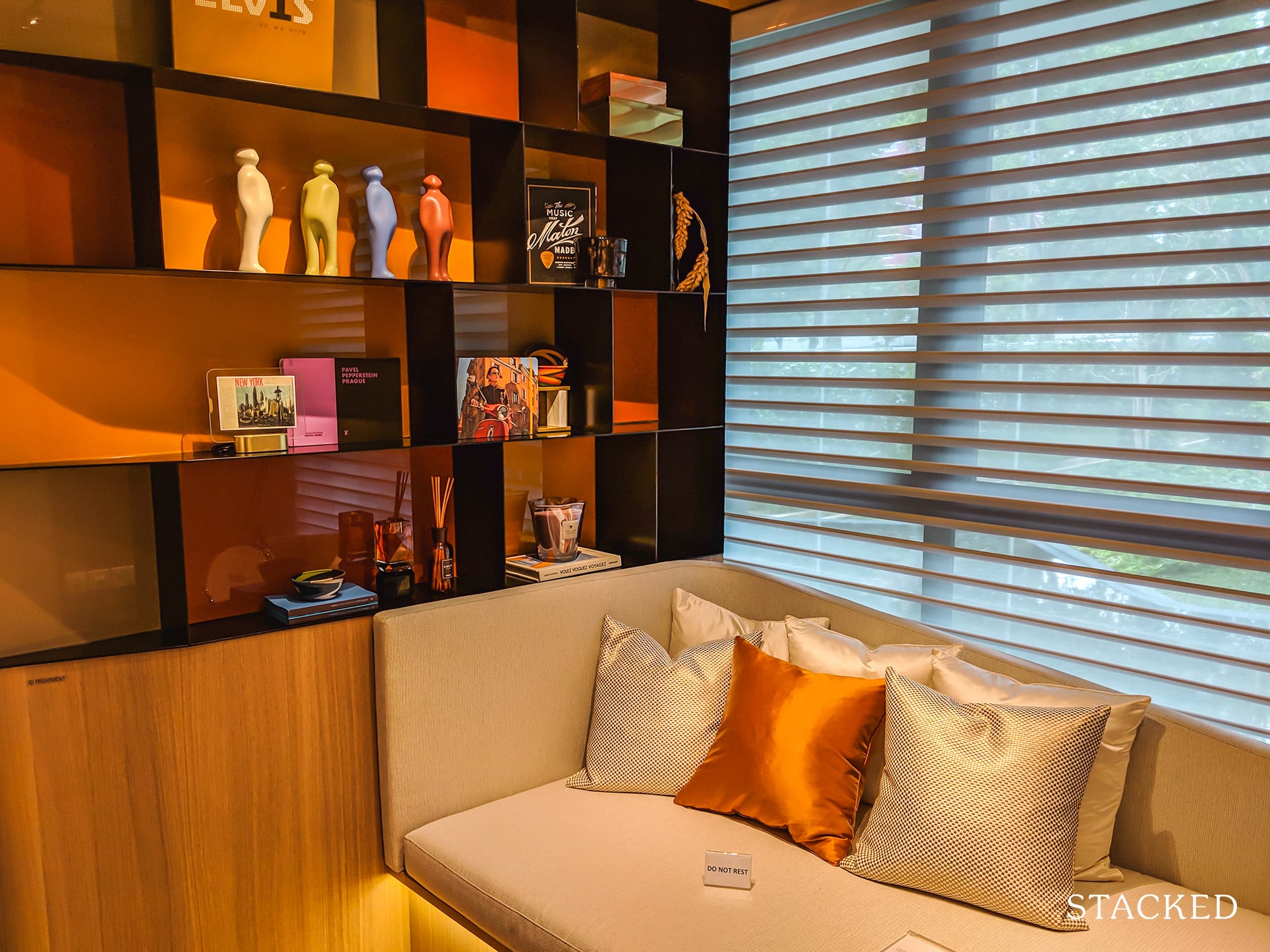 The second bedroom is okay in size, but the positive here is the full-length windows available. Again, this isn't always available in 2-bedroom layouts, as the AC ledge is typically positioned here. In the case of this 2 bedroom unit at Avenue South Residence, the AC ledge is smartly placed outside the bathrooms instead.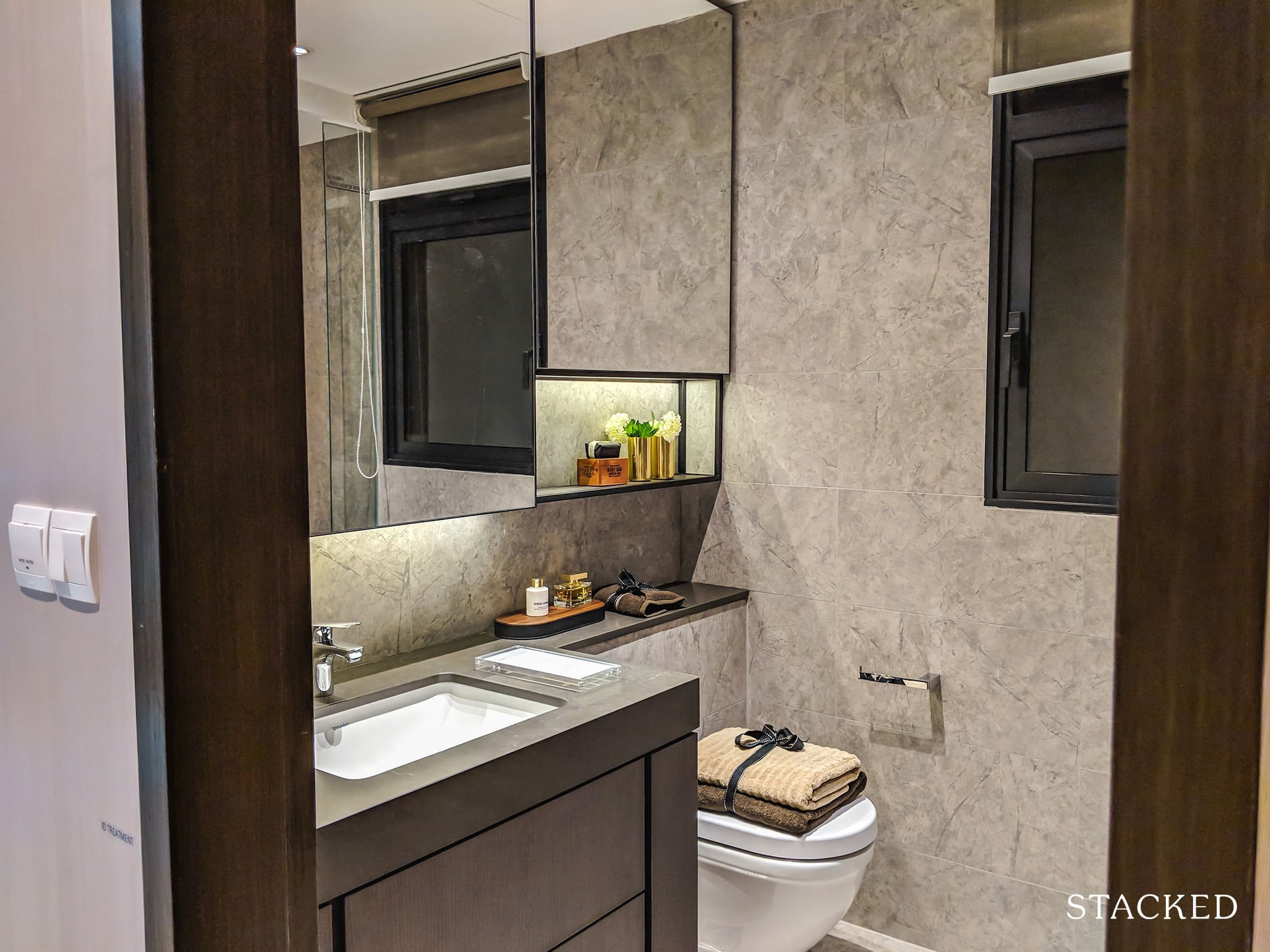 The bathrooms here are decently sized, although I'm not the biggest fan of the colour scheme here. One positive here is the window, which allows for much needed natural ventilation.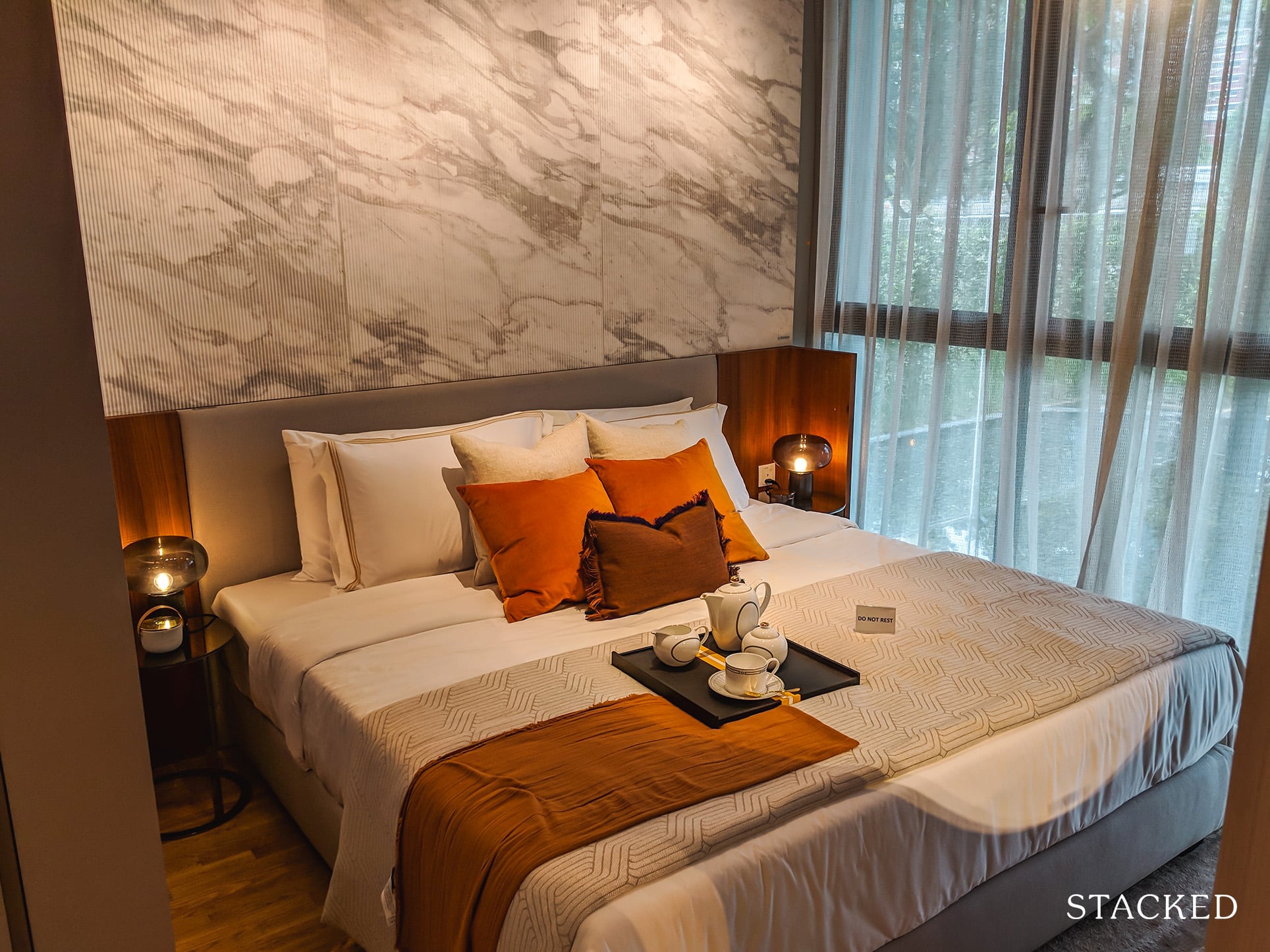 The master bedroom is just okay too. After fitting in a king-sized bed and two side tables, there really isn't much space for anything else.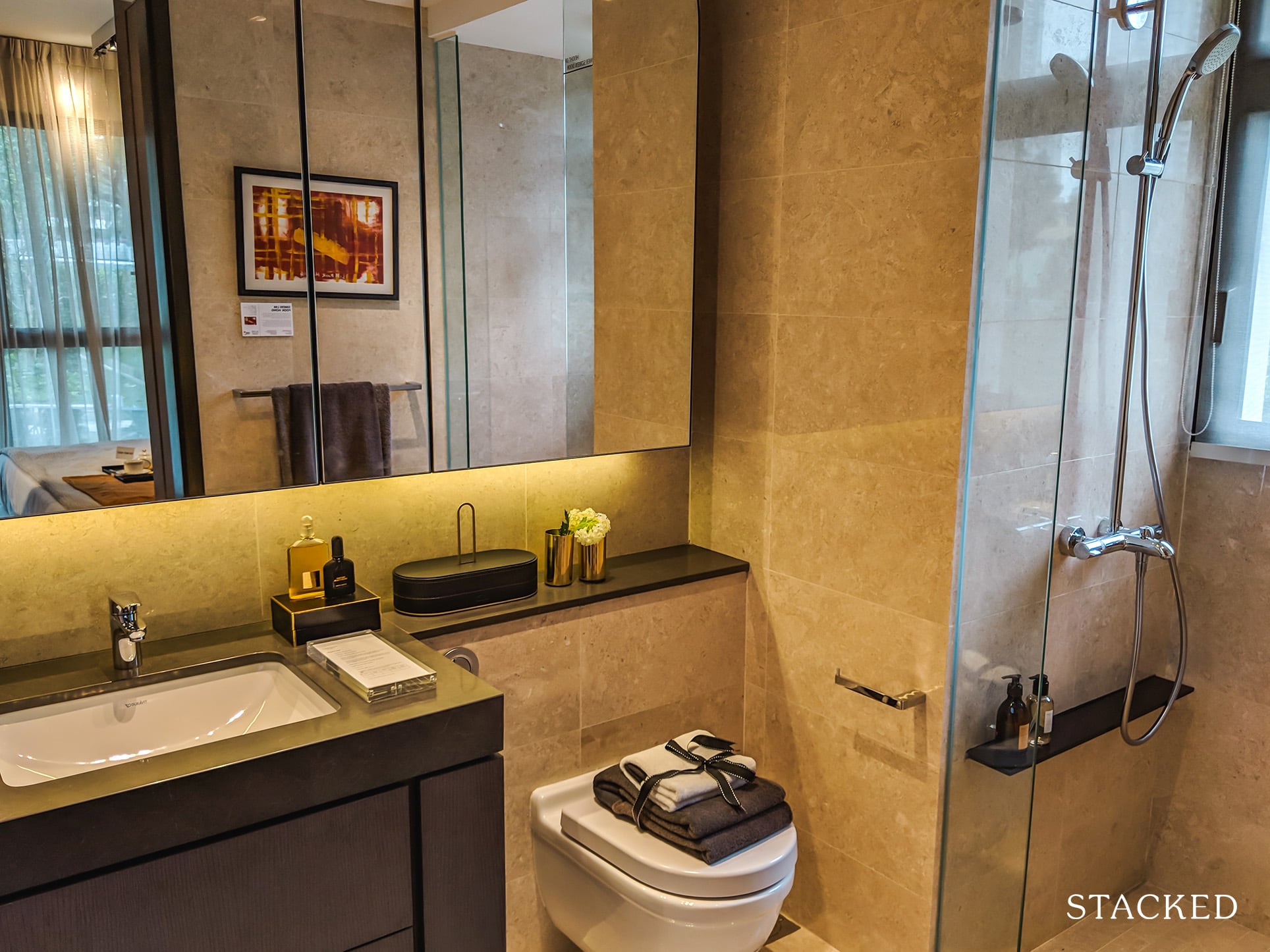 The master bathroom is a typical size, and again comes with a window for natural ventilation.
Avenue South Residence Heritage 3 bedroom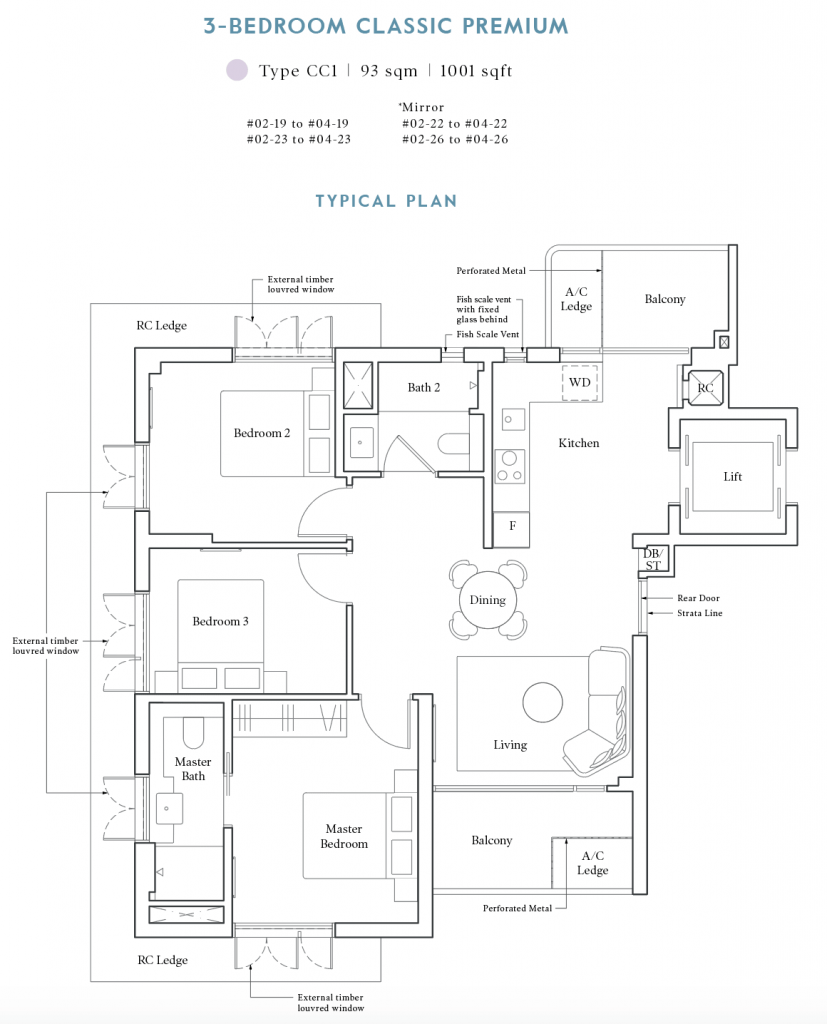 Now onto what I think is the most unique aspect of the Avenue South Residence, the Heritage units. For a 3 bedroom unit at just over 1,000 square feet, it is not the biggest but I think it is quite well laid out with lots of usable space. The AC ledge spaces here are kept to the absolute minimum as compared to the 1 and 2 bedders, and I do like the big kitchen space.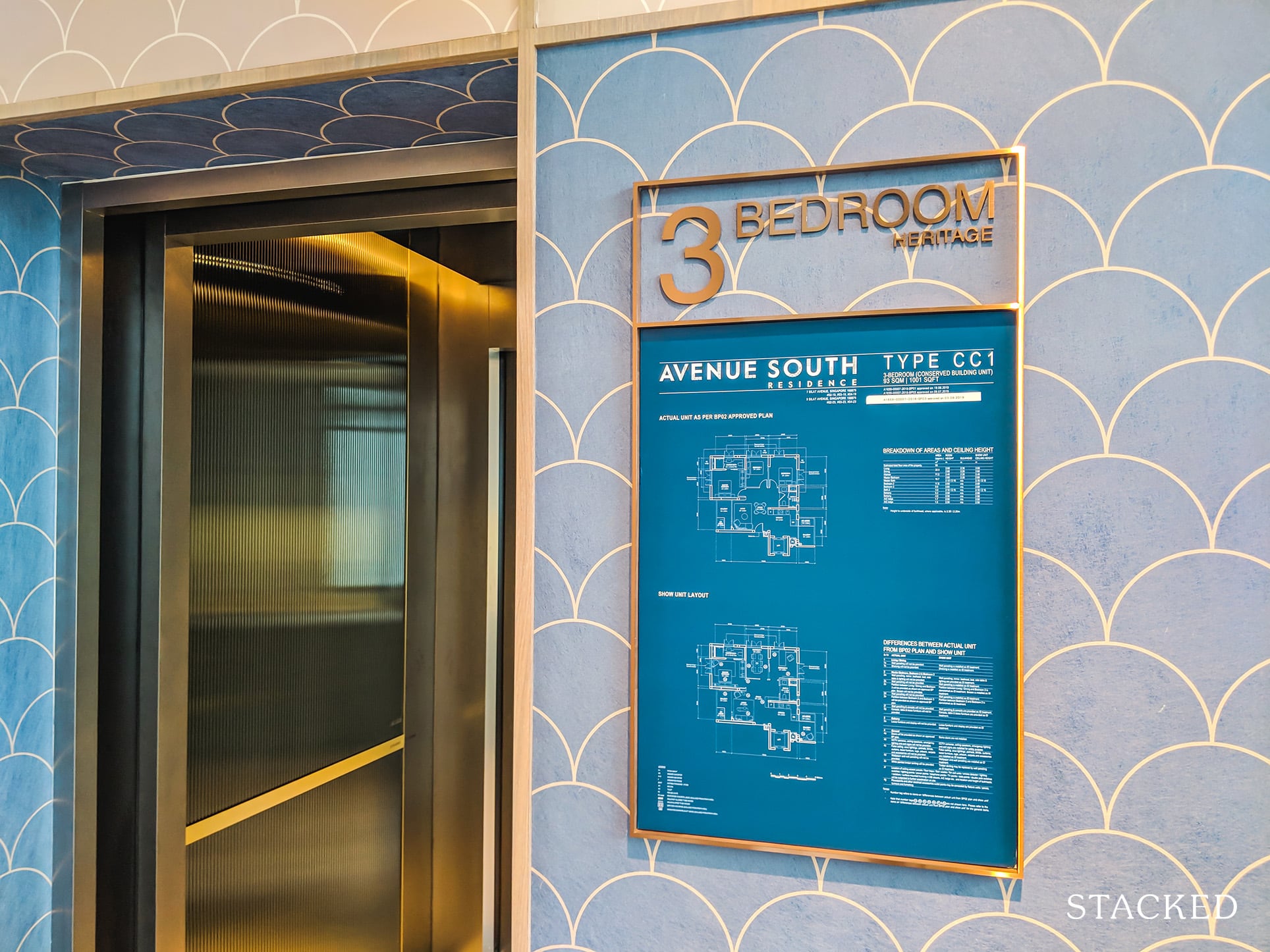 Additional branding to set the Heritage units apart. Another thing to note is that blocks 1, 3, and 5 contain the 8 commercial units and a childcare centre, so these will be less private than the blocks at the back.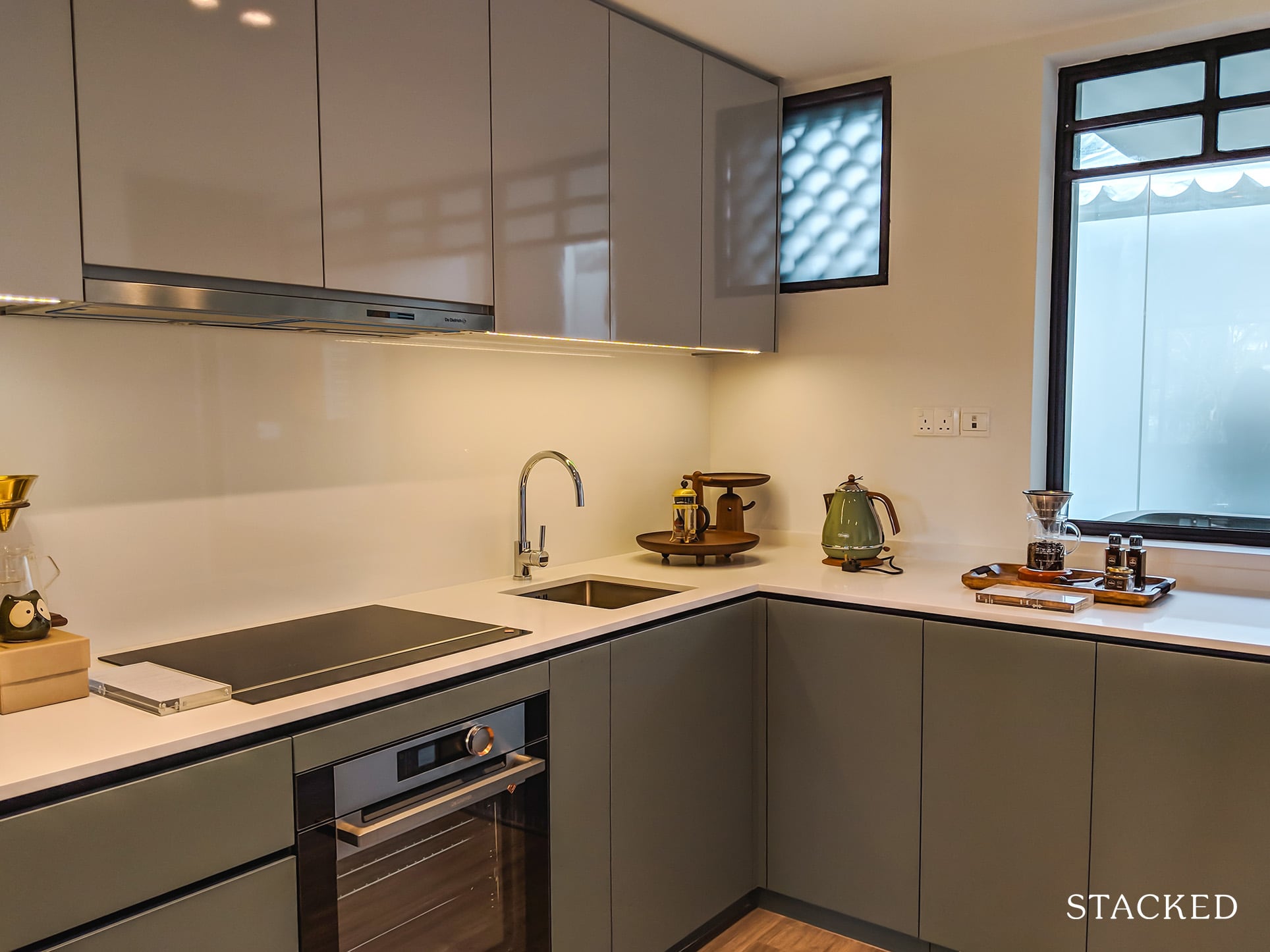 Once you step into the unit, you are greeted by the kitchen. It is a big space, and if you enjoy cooking or cook a lot, you will definitely be very pleased with the amount of space. The long counters are especially useful and will be good for storing more kitchen equipment.
The window here is pretty big too, and because of the balcony on both sides of the apartment, you can open both sides for a good cross-ventilation – fantastic to air the place and for some wind flow.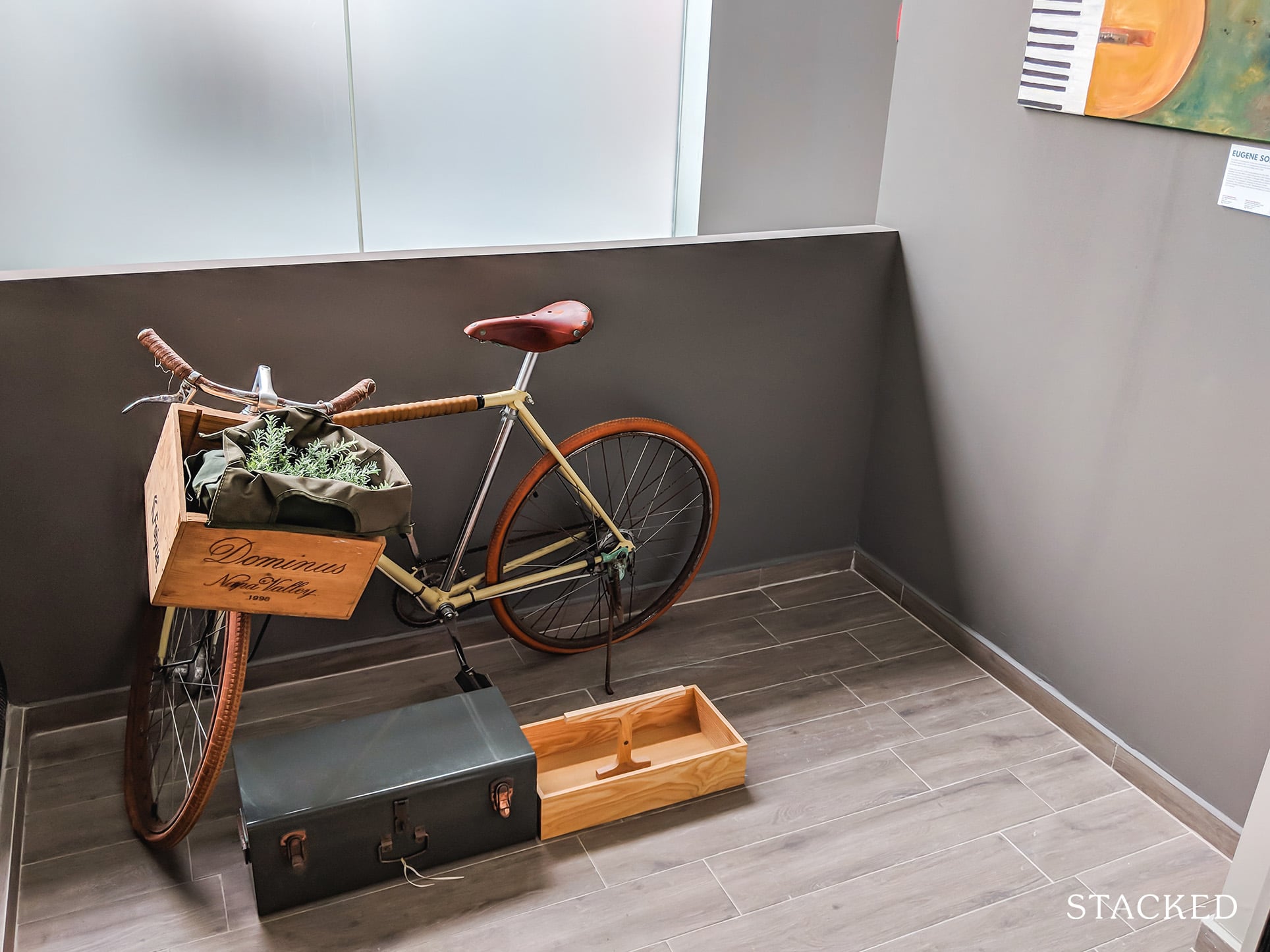 This is one of the two balconies in the 3 bedroom Heritage unit. If you do not require that much outside space, you could use it to double up as a space for just hanging your laundry.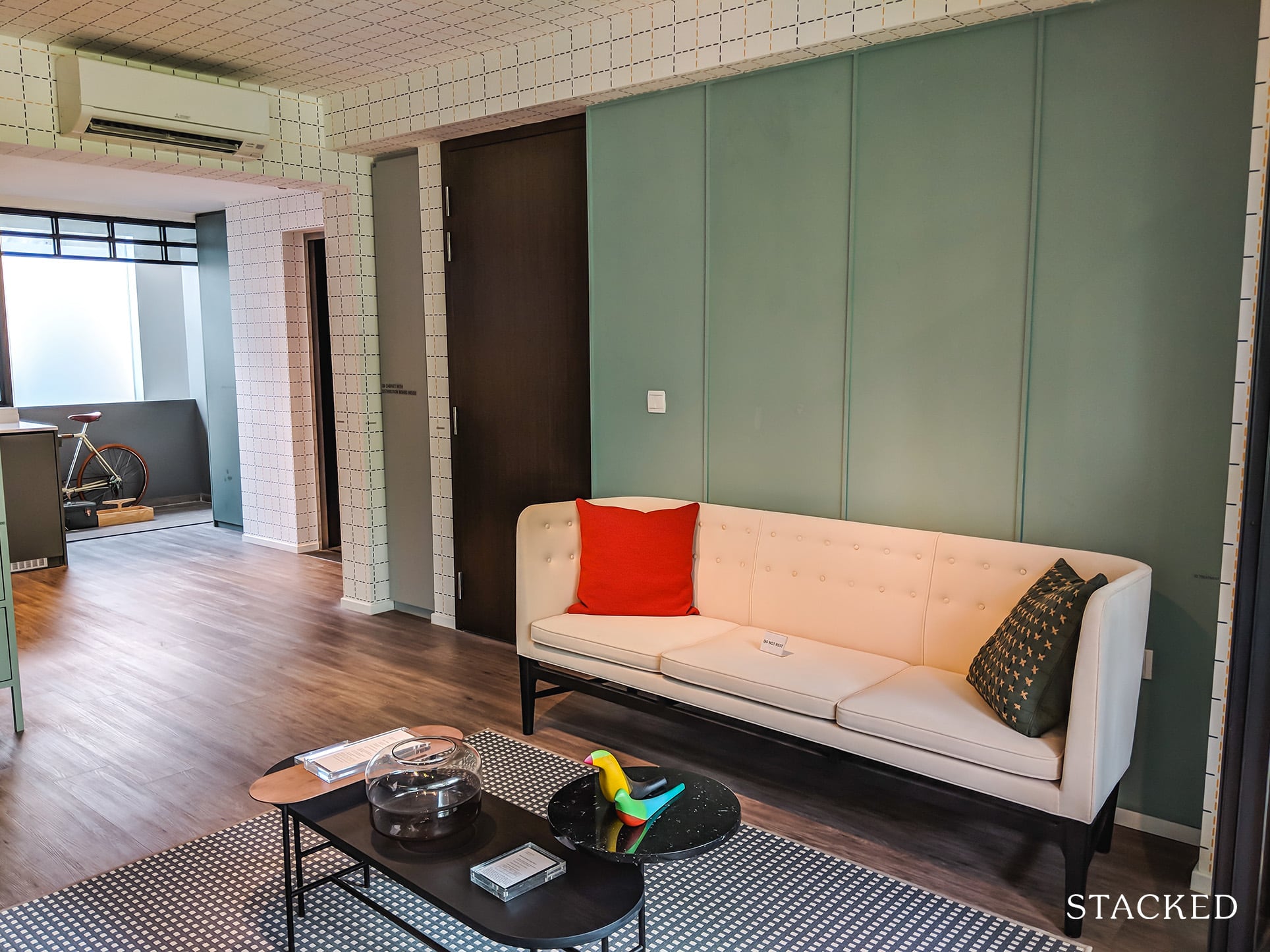 The living room space here is not big on paper, but it does seem spacious as the couch used here is small, so this might be a little deceiving. Also, because they replaced one of the bedrooms to be a dining room instead, it does open the space up.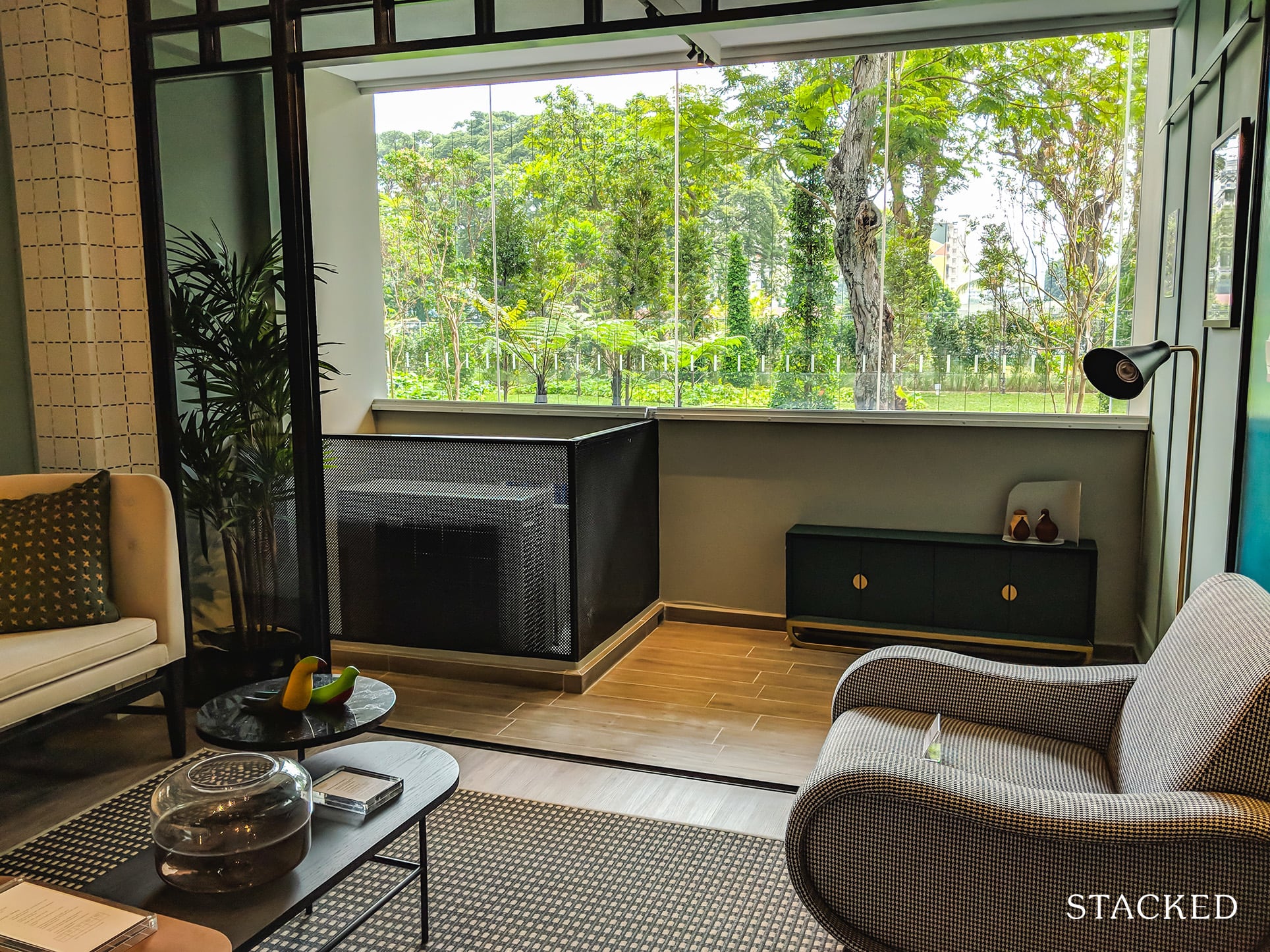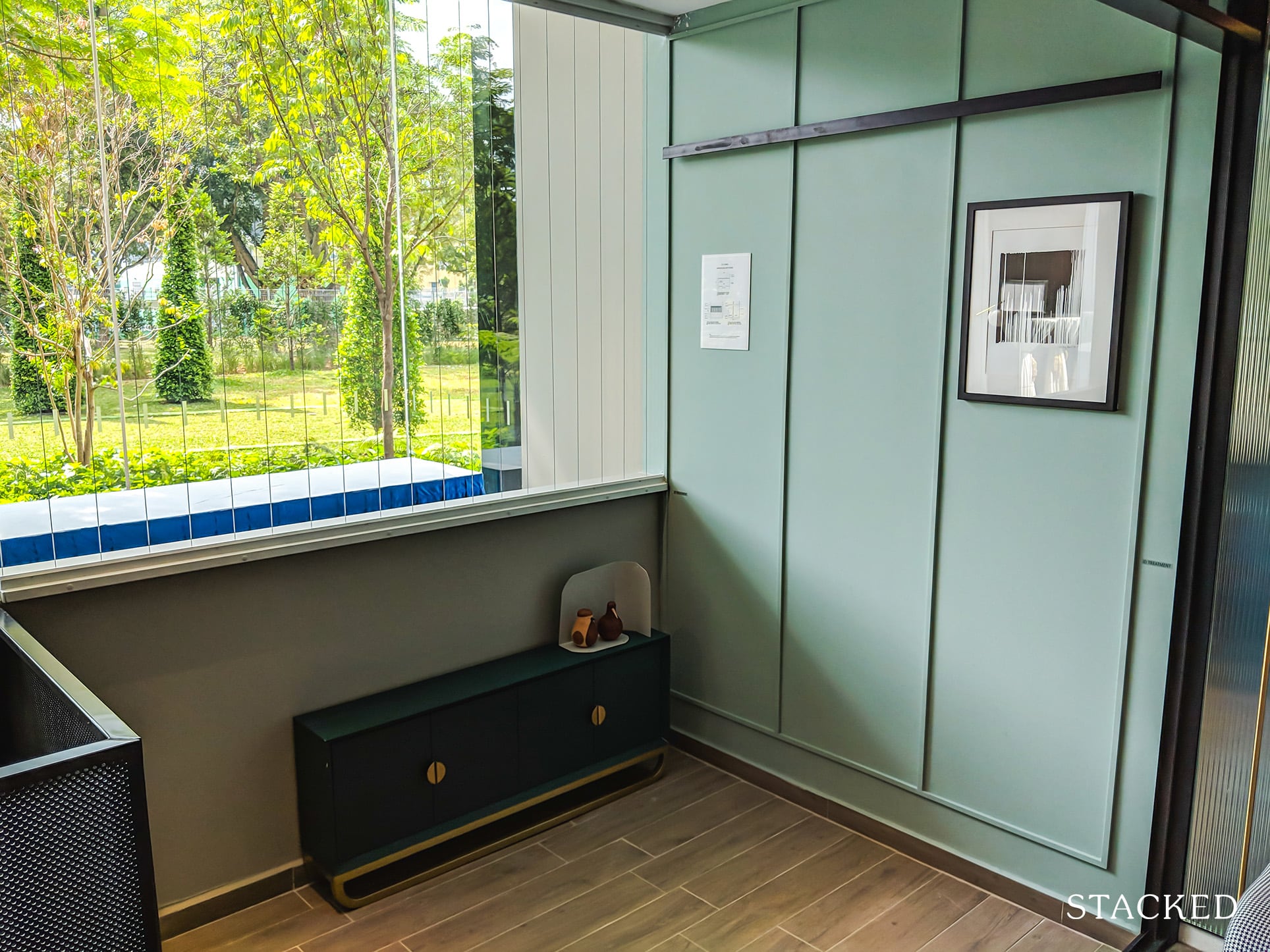 The balcony here is the second outdoor space that you have in this 3 bedroom unit. The AC ledge takes up some space here and might be slightly noisy when the compressor is running.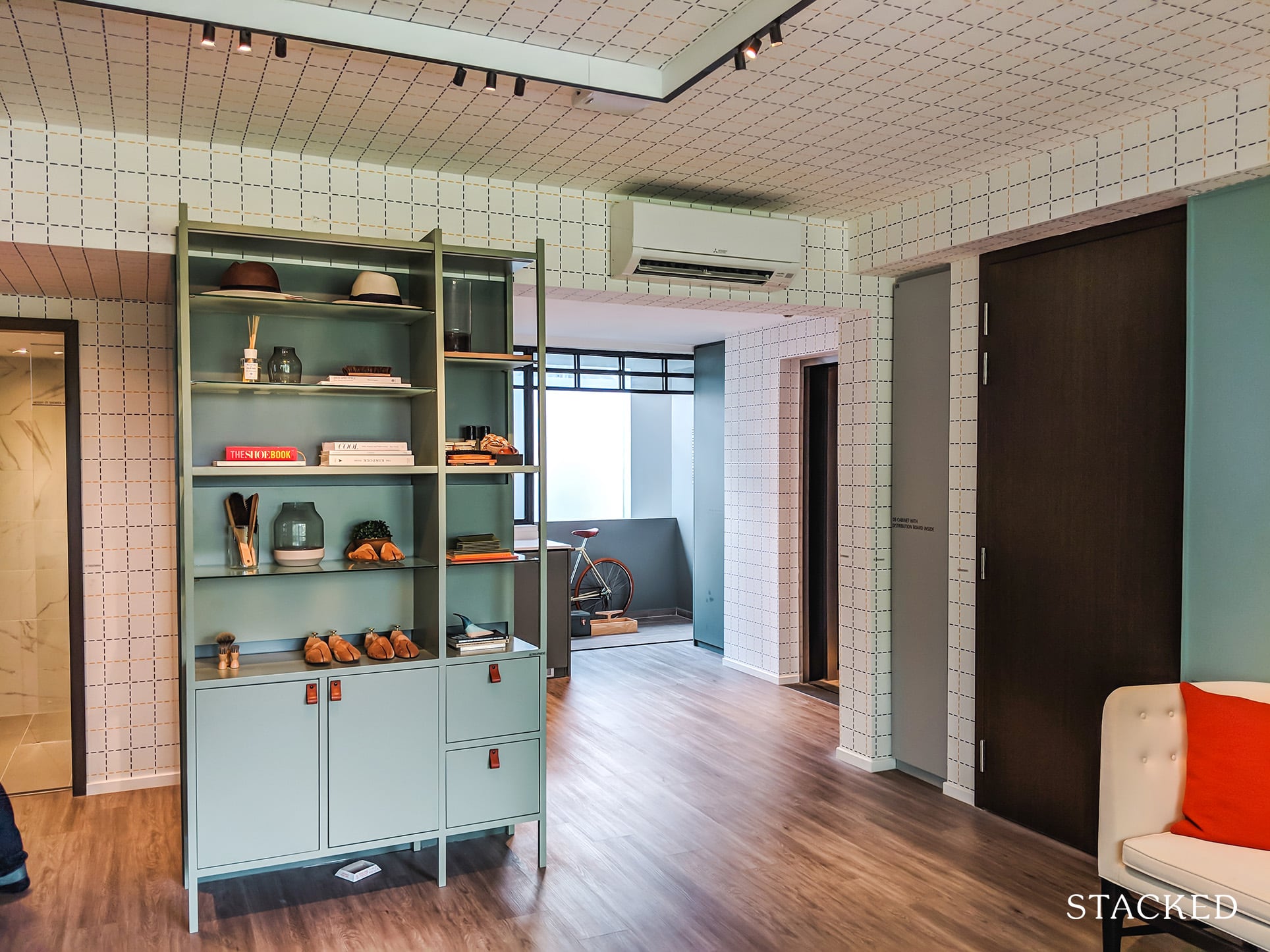 To orientate you a little better, the cabinet above actually sits where the dining area is supposed to be. So yes, the dining area is not fantastic.
I must say, though, I really like how the ID has designed this unit at Avenue South Residence with the theme of its heritage in mind. It looks slightly retro yet is still very modern and in keeping with trends of today.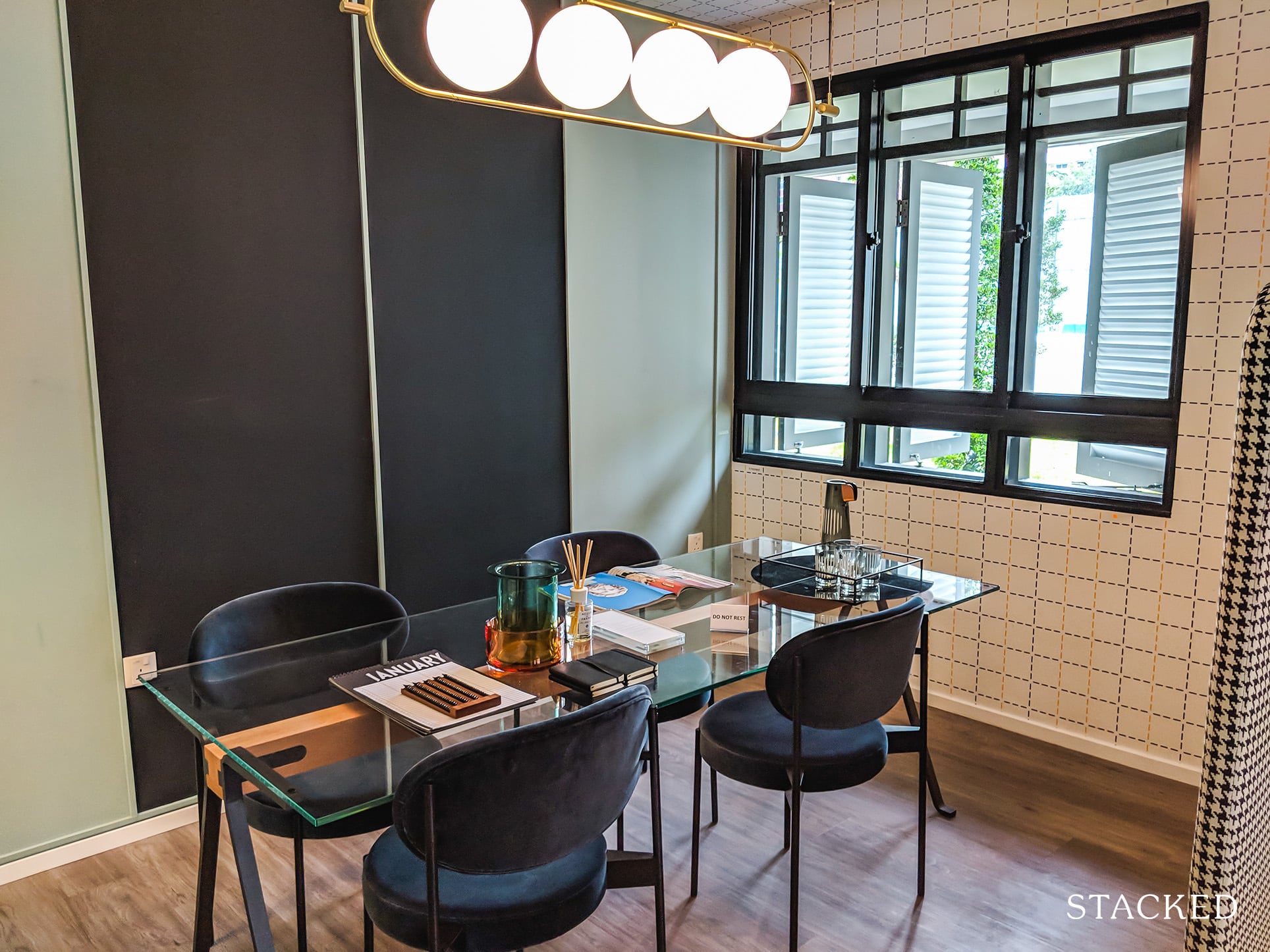 So the dining room has been moved to replace one of the bedrooms in the show flat unit.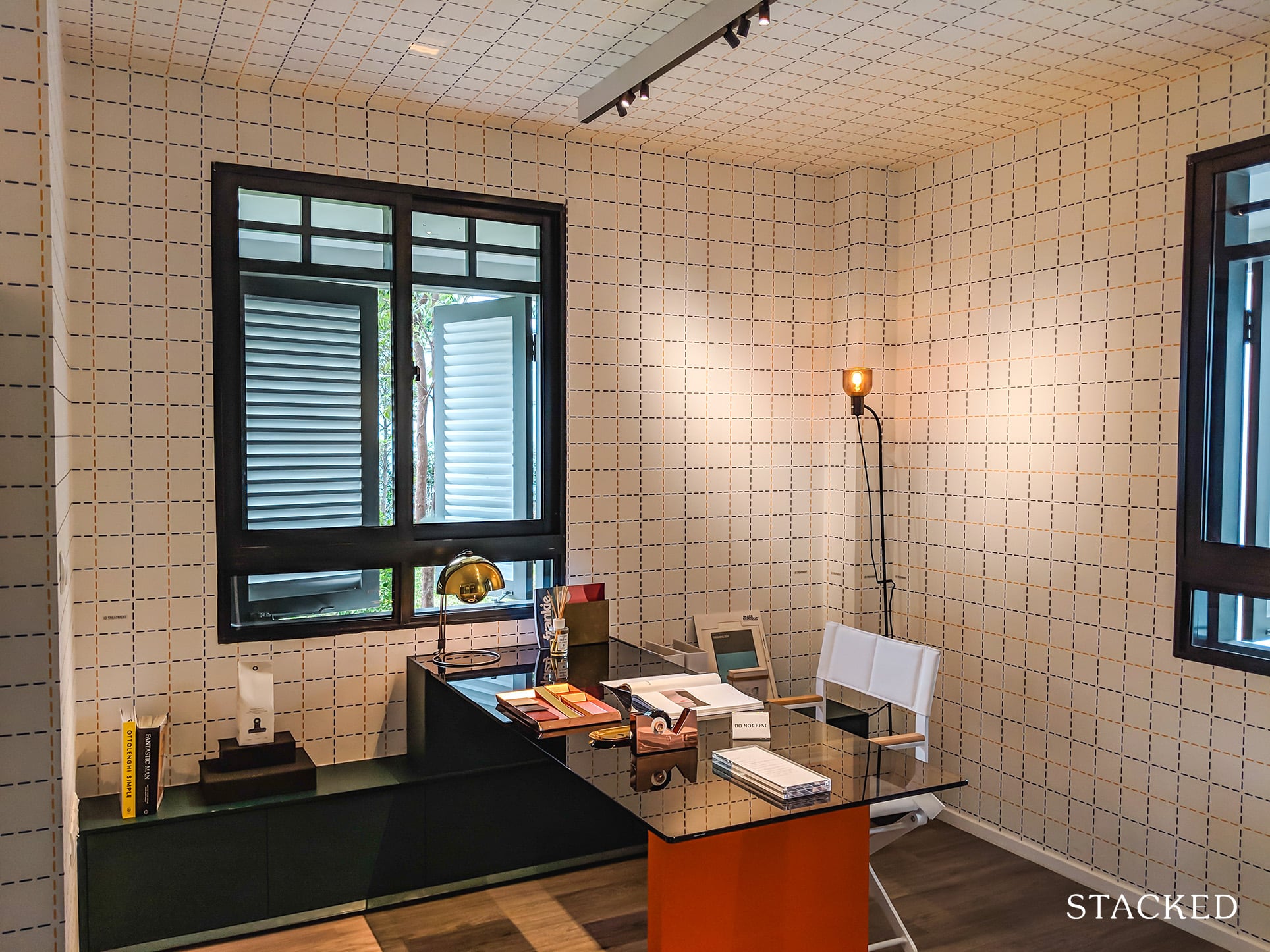 And the other bedroom was turned into a study room. Based on the floor plan, the size of both common bedrooms are quite big and is good for a king or queen size bed and perhaps even a small dressing table.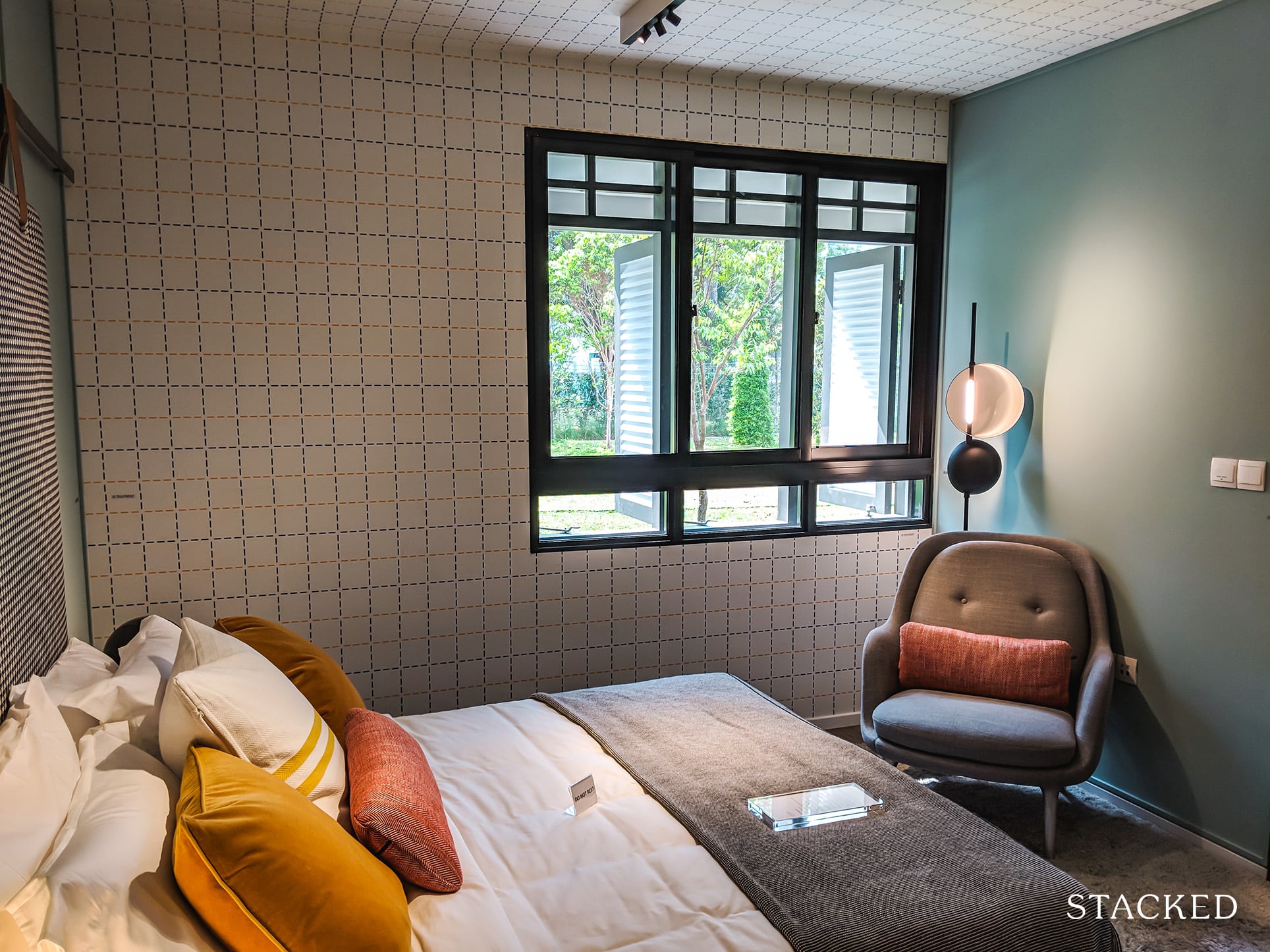 The master bedroom is average in size, and you can fit in a study table if you so wish.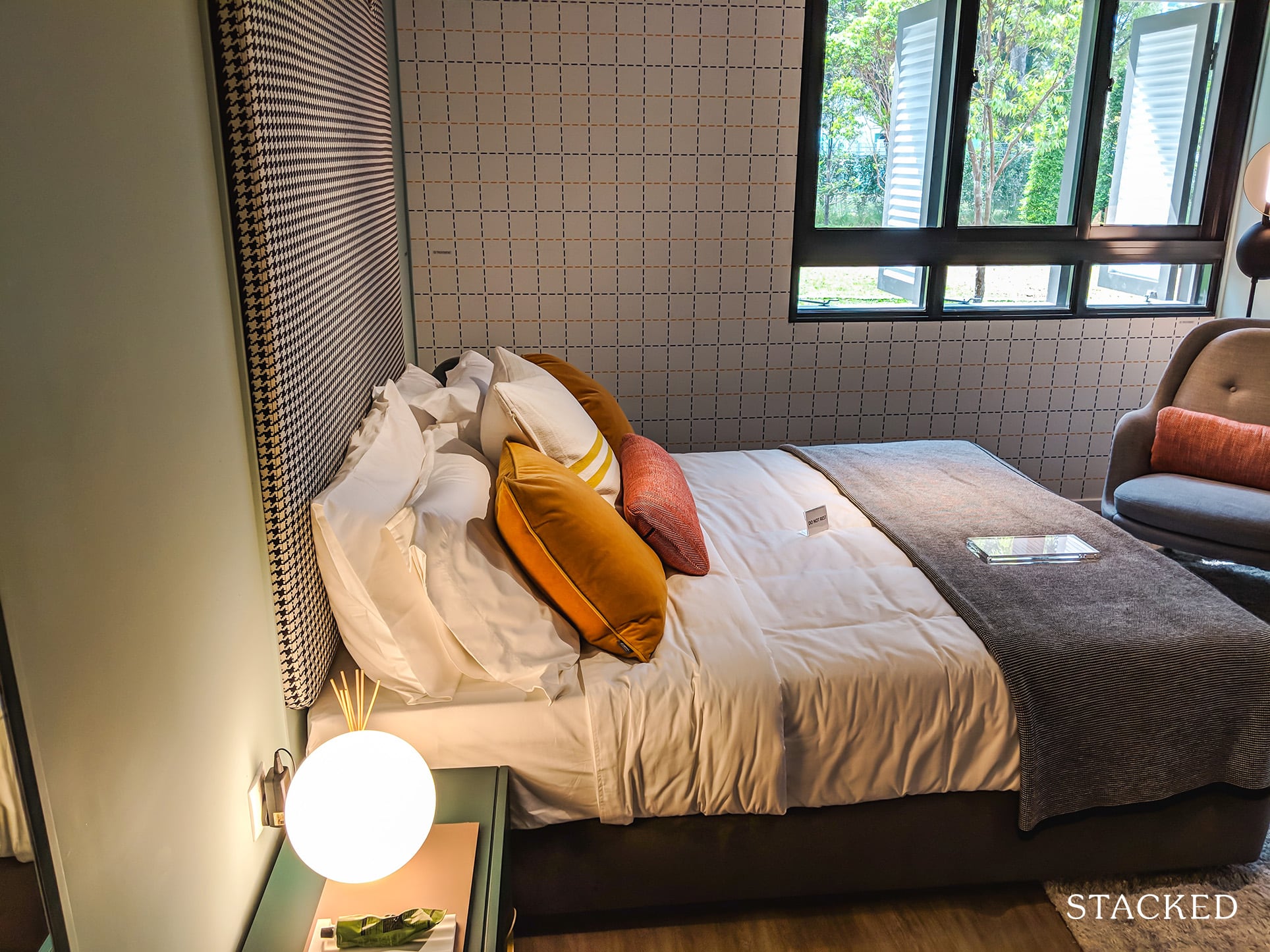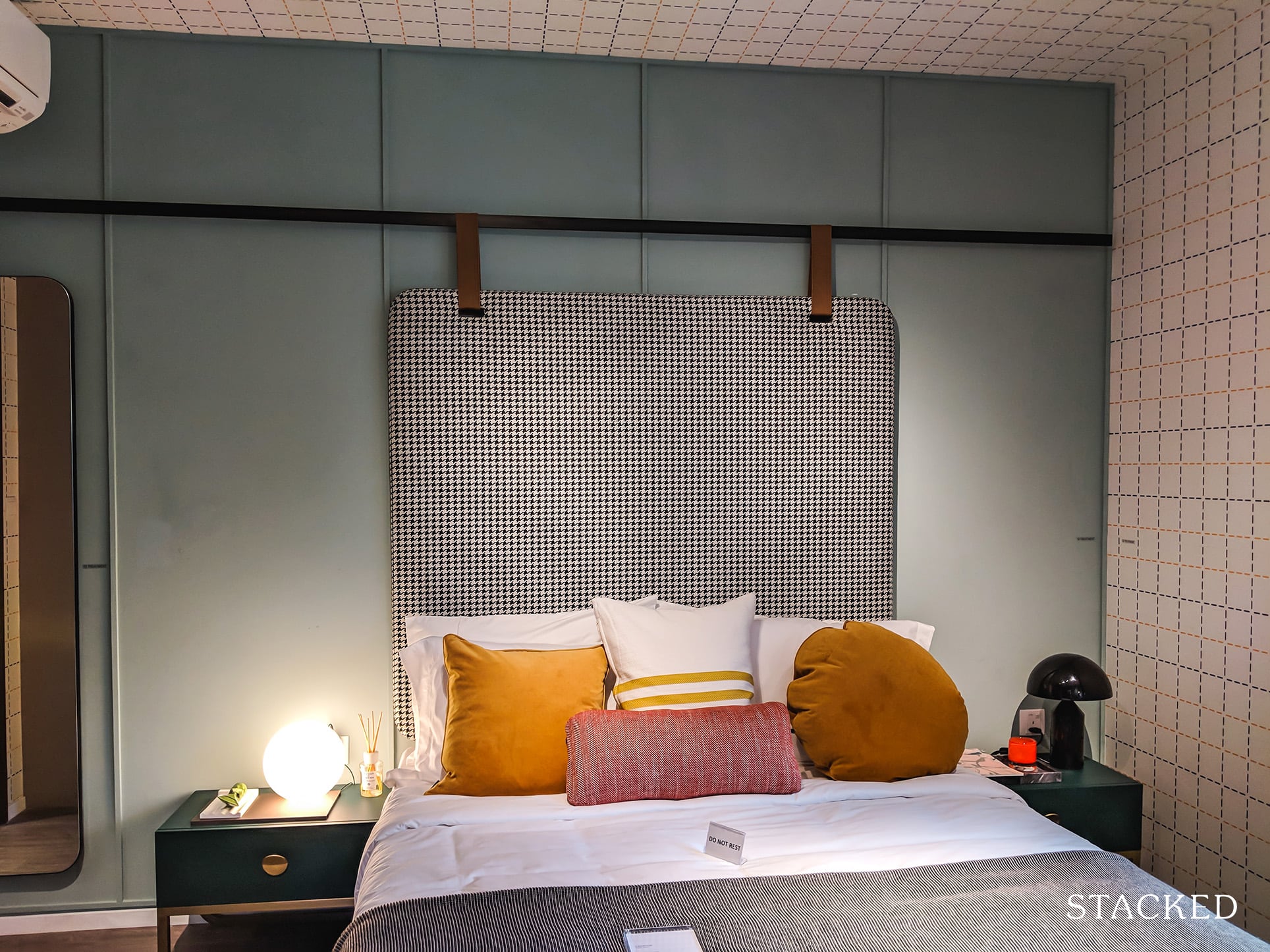 It is wider than it is long, so you have more space, especially between the cupboard and the bed.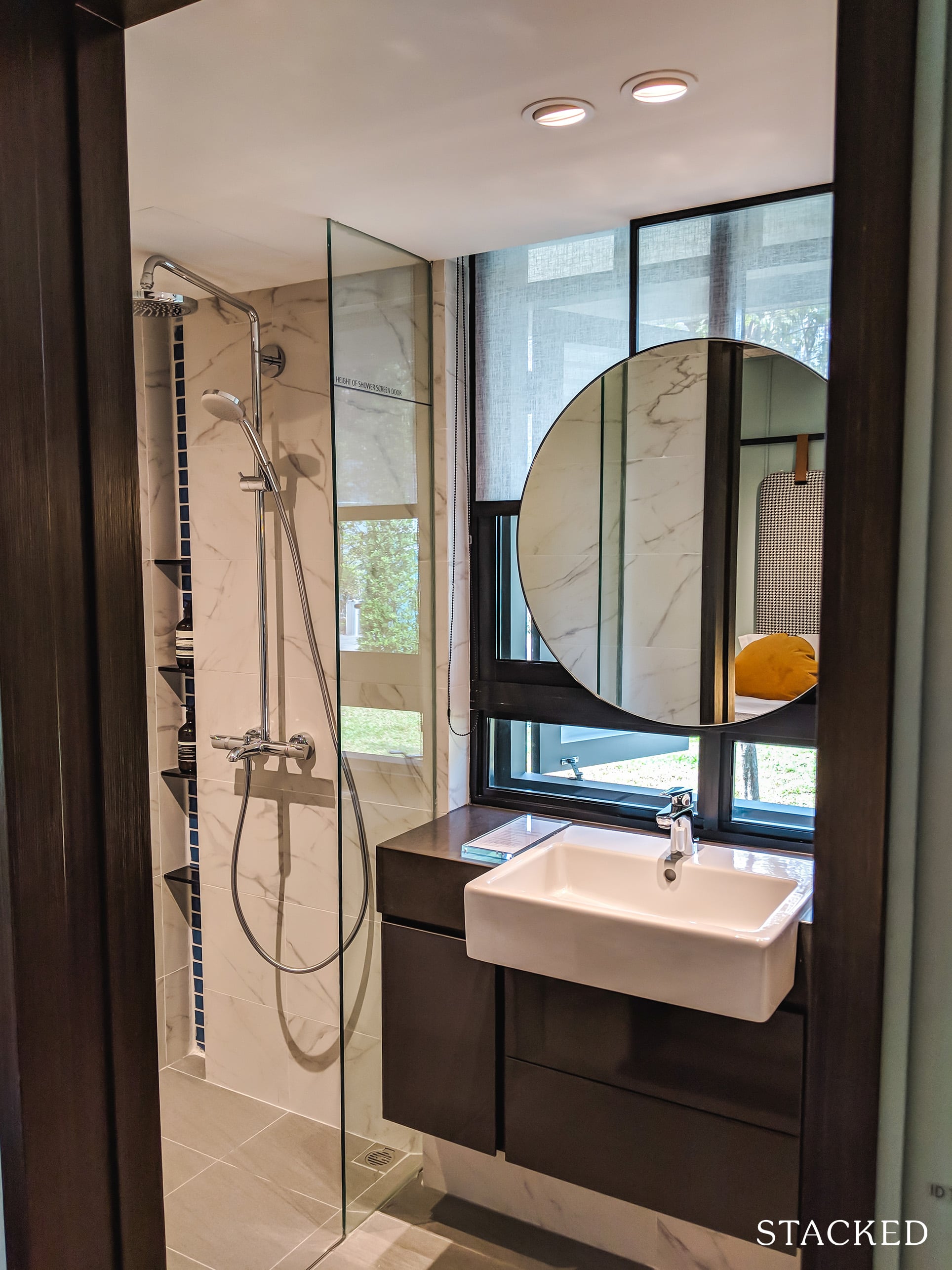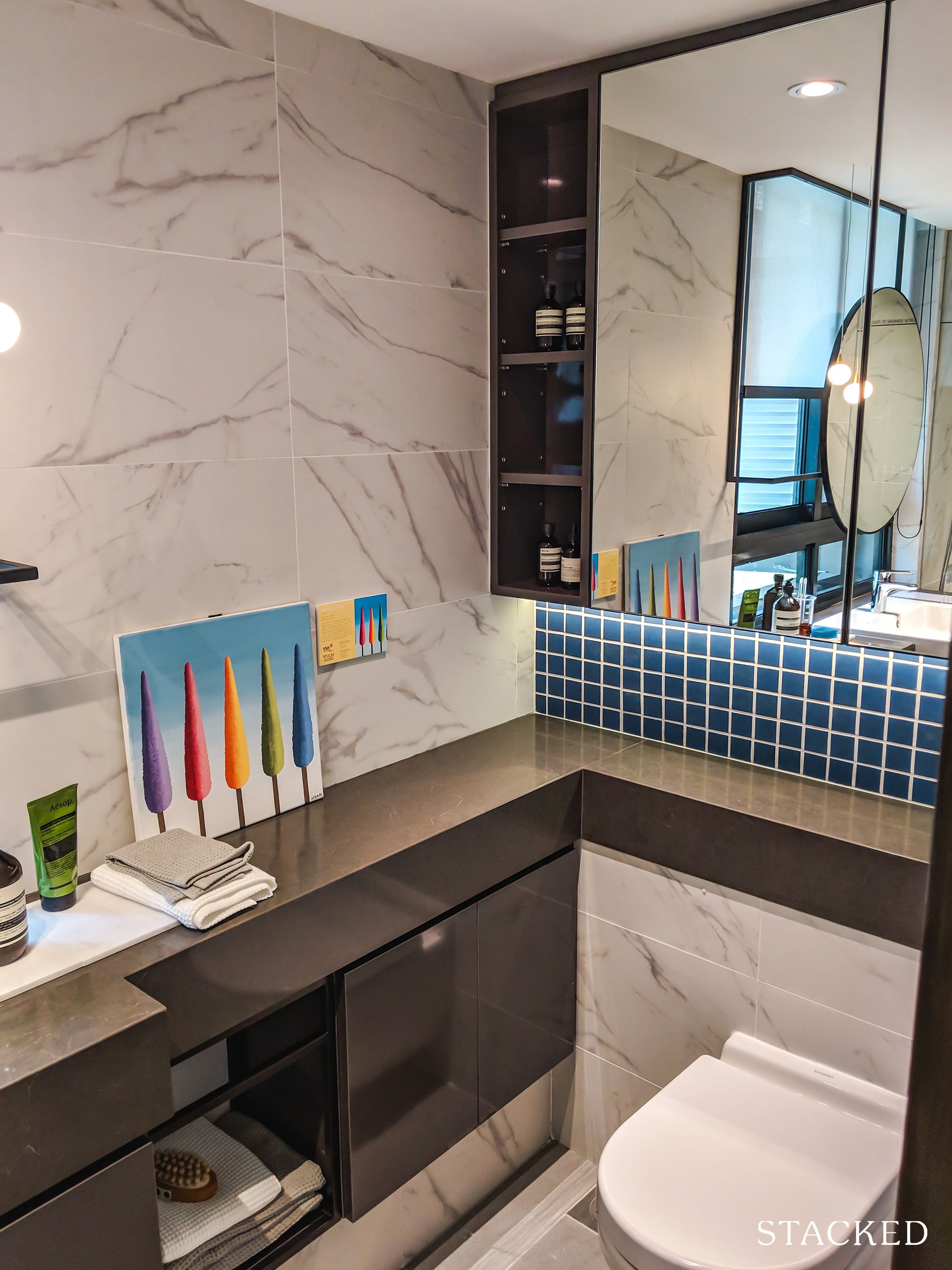 I don't like the layout of the bathroom. It isn't small in size, but the elongated shape makes it seem more cramped than it actually is. All in all, if you like the nostalgic design of the outer shell of the building, I think the layout of the 3 bedroom Heritage collection is rather well laid out.
Avenue South Residence 3 bedroom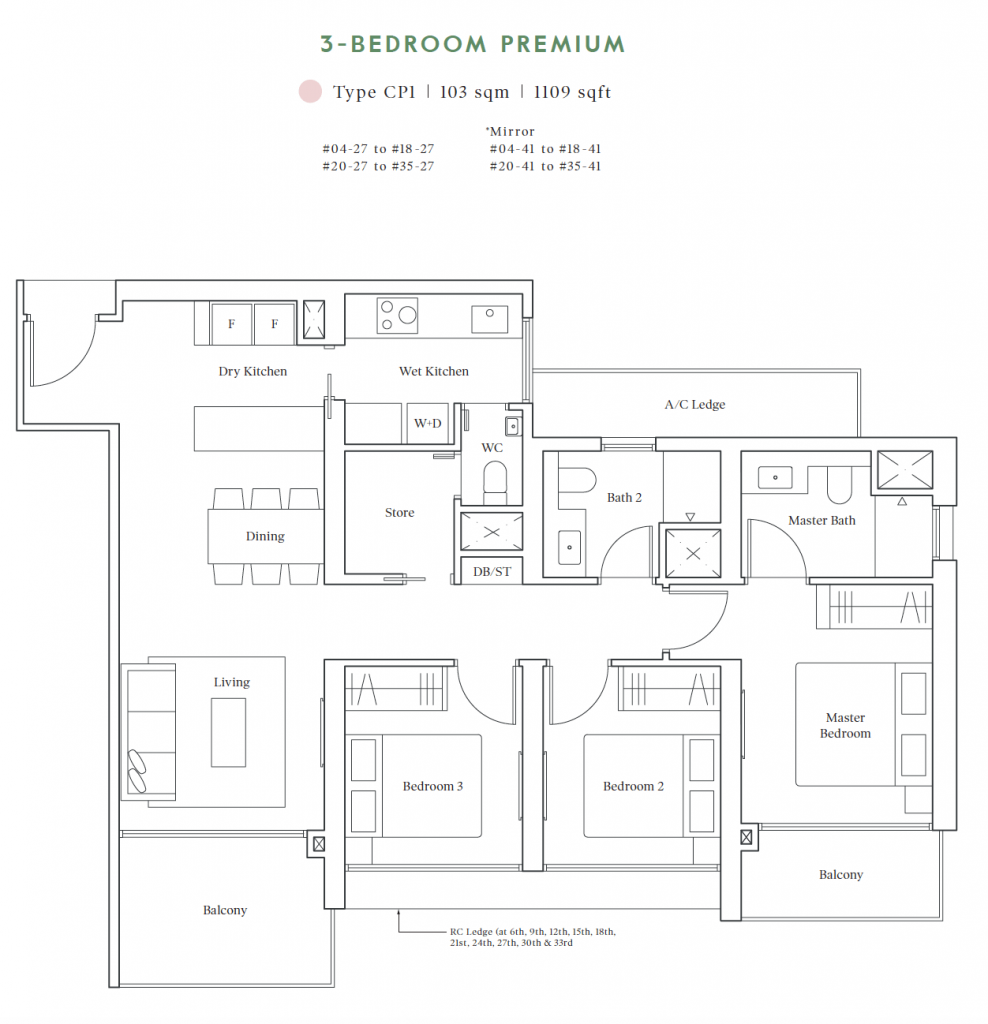 This is the floorplan of the 3 bedroom unit in the tower blocks. It is bigger than the 3 bedroom Heritage collection and has the addition of a wet kitchen. For those who utilise the kitchen a lot, having a wet and dry kitchen is extremely ideal and would be a big reason to choose this layout.
However, at first glance, it does seem that space is not as well planned here, with lots of unusable space near the entrance and the long corridor. The storeroom is unnecessarily big, although you can convert it into a mini-study room.
The entrance to the 3 bedroom unit allows you to do something funky to welcome you home, but I find that in most cases it is quite wasted space.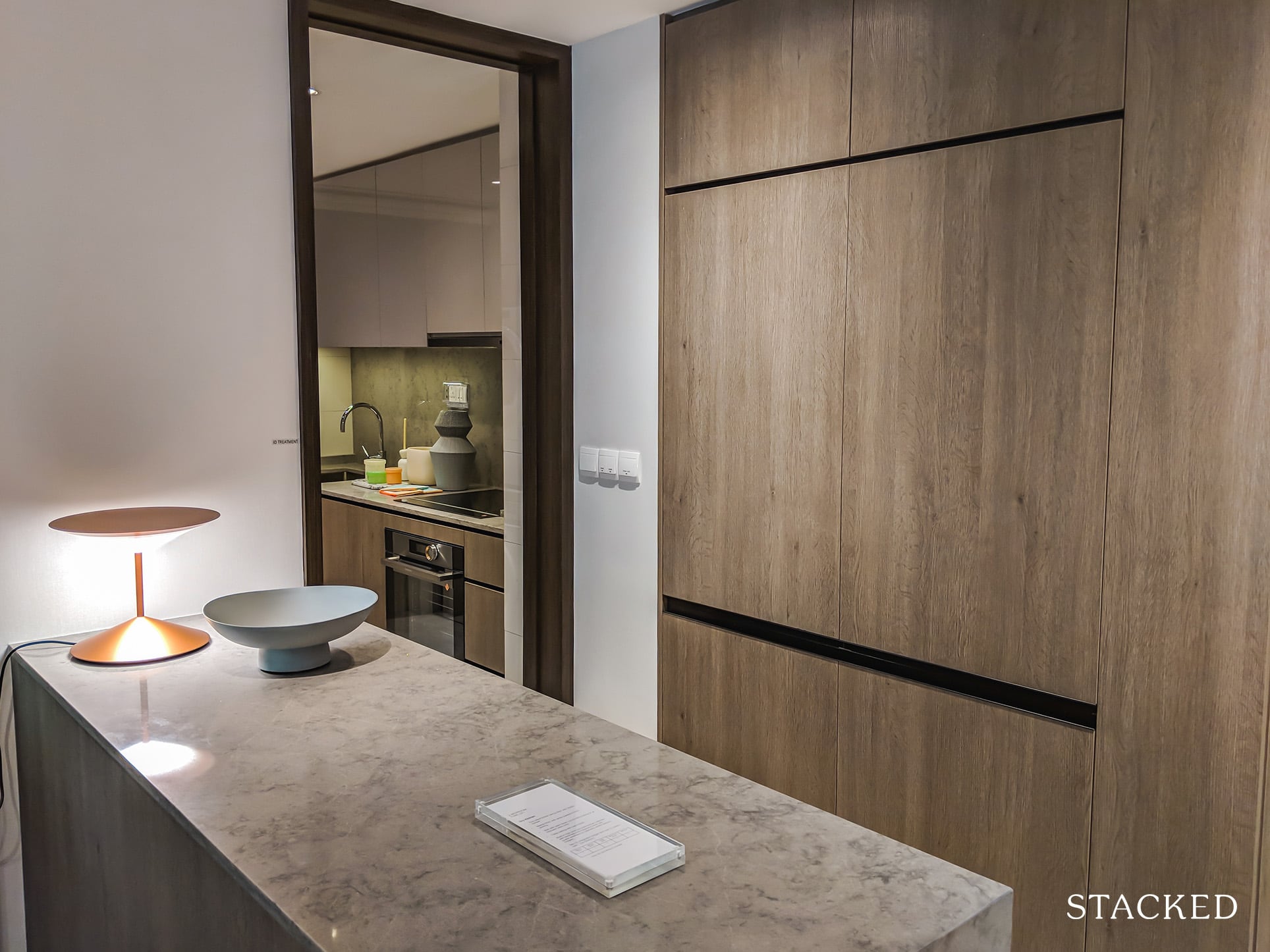 I like that there is a dry and wet kitchen for this 3 bedroom layout, and the kitchen island looks gorgeous here.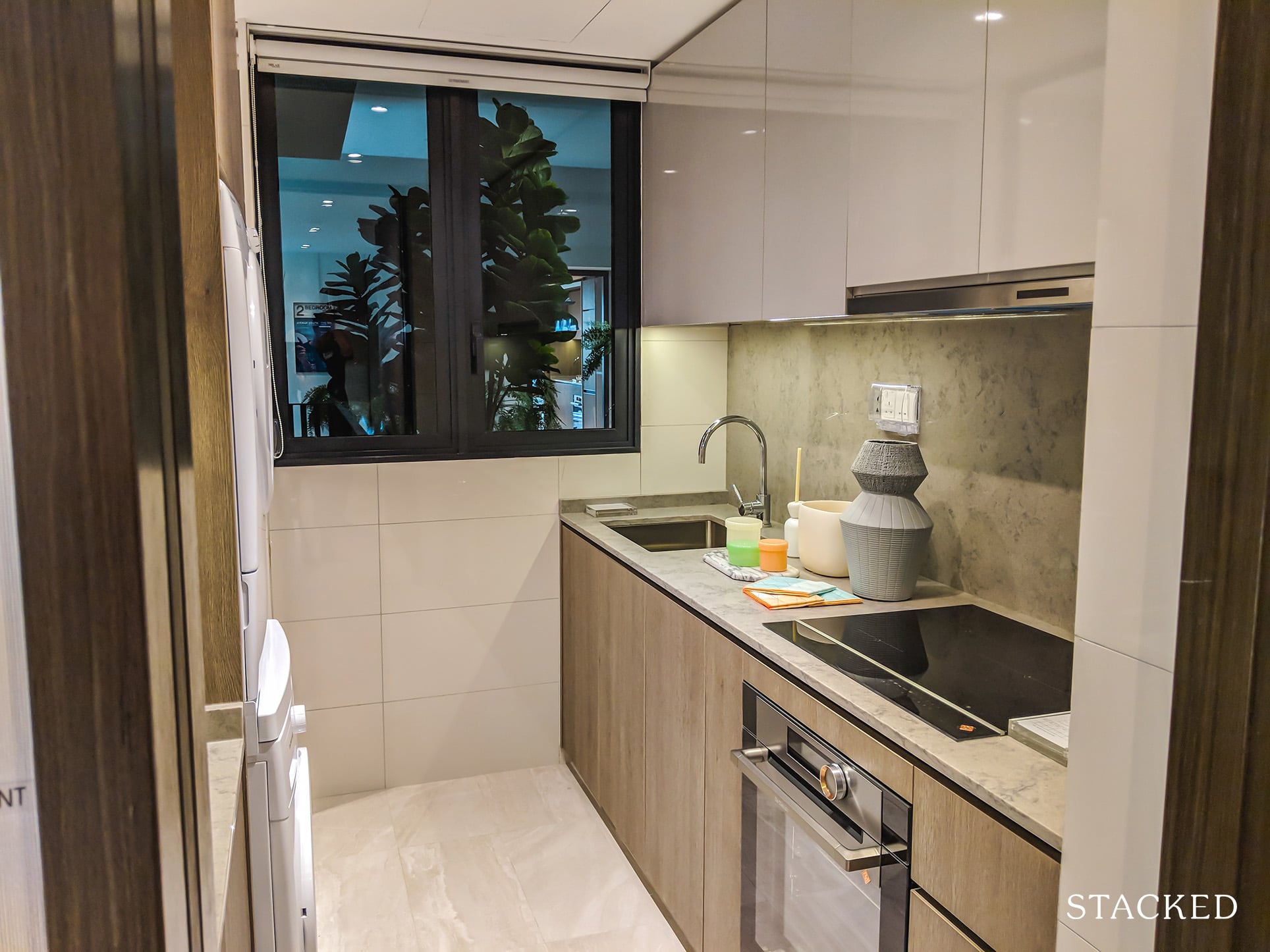 The wet kitchen at the side is totally usable, and I like the big windows here to air the place if necessary.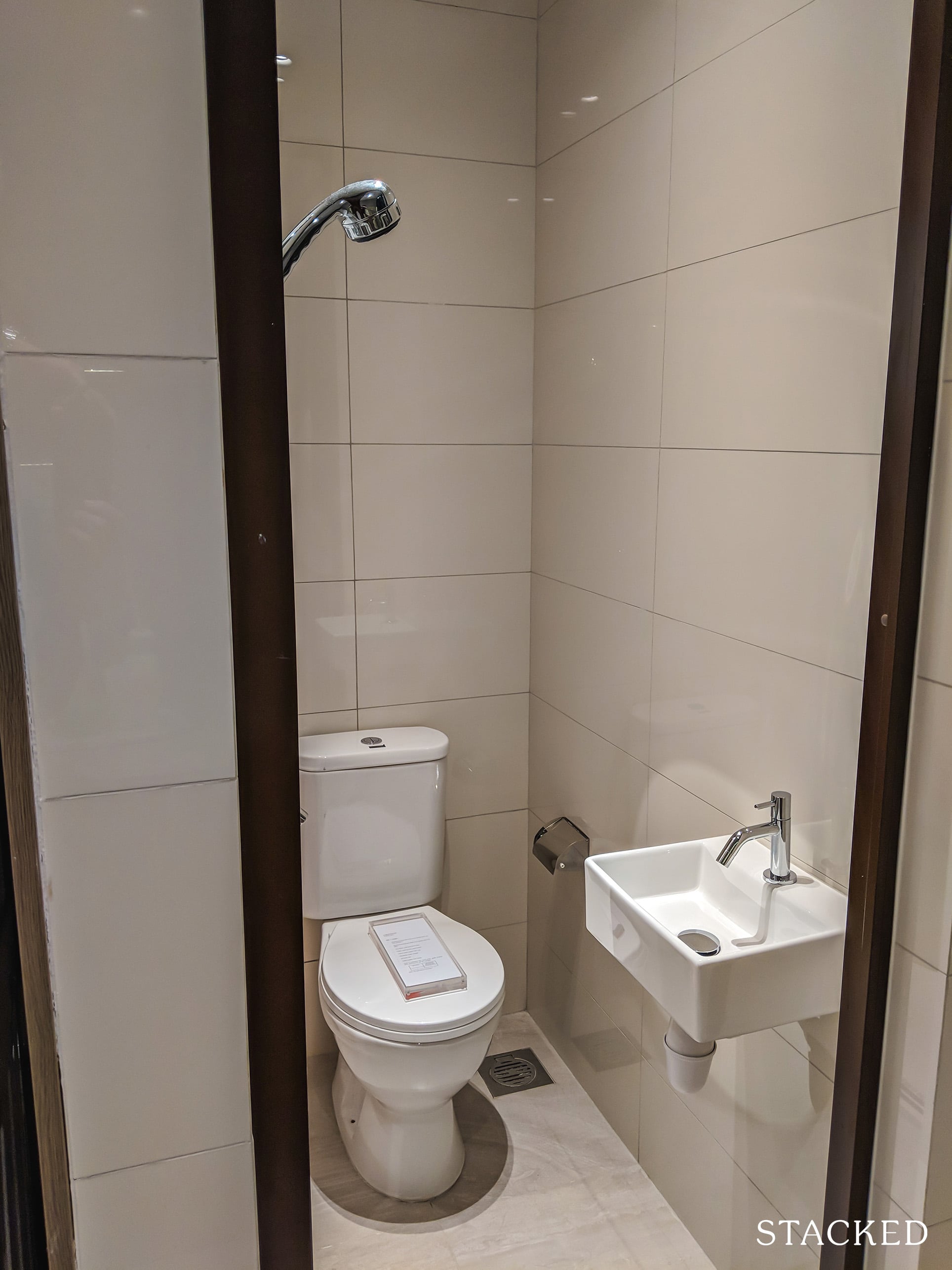 There is a small toilet at the back too.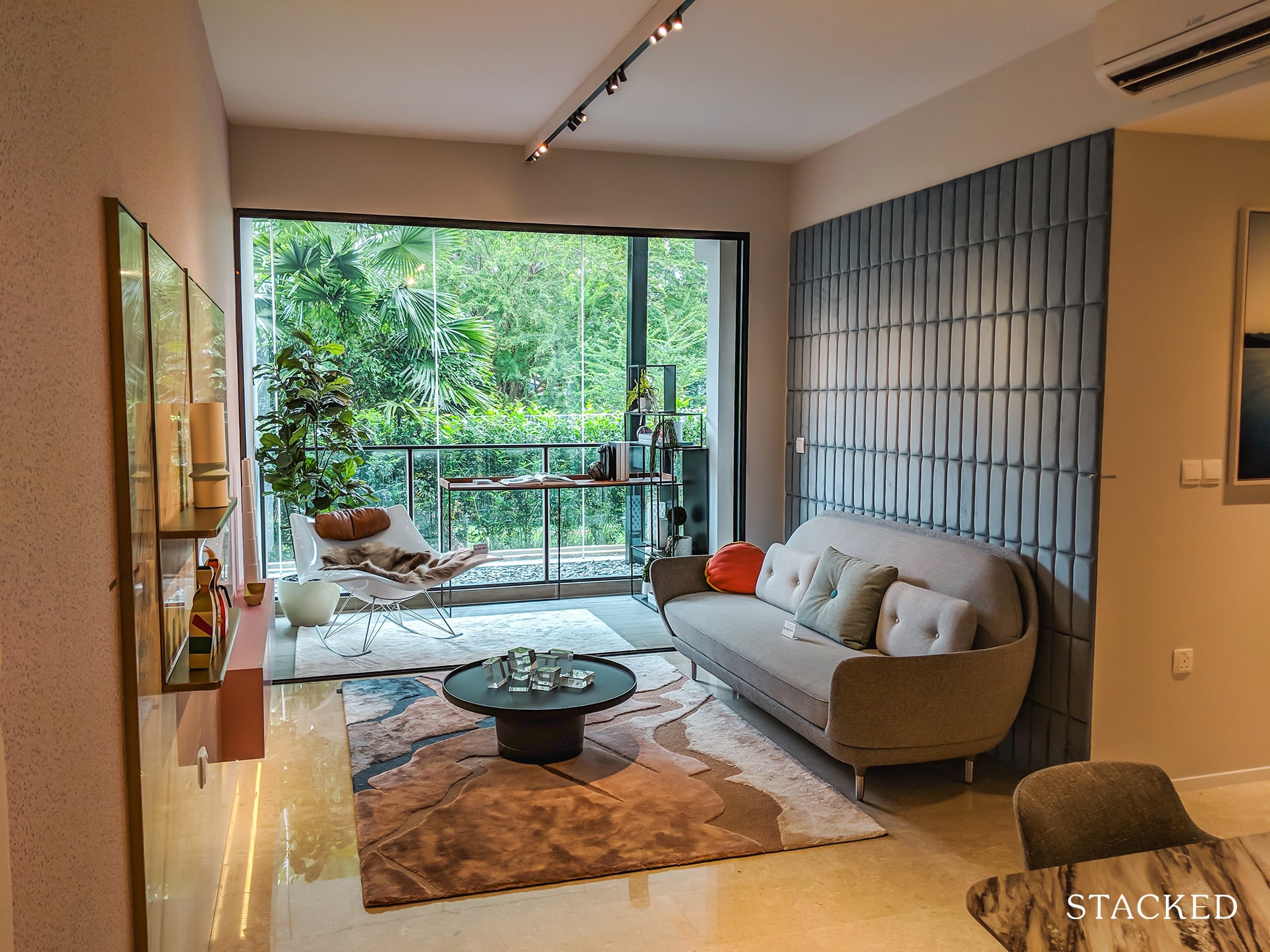 I do find the dining and living room to be a bit on the small side for this layout.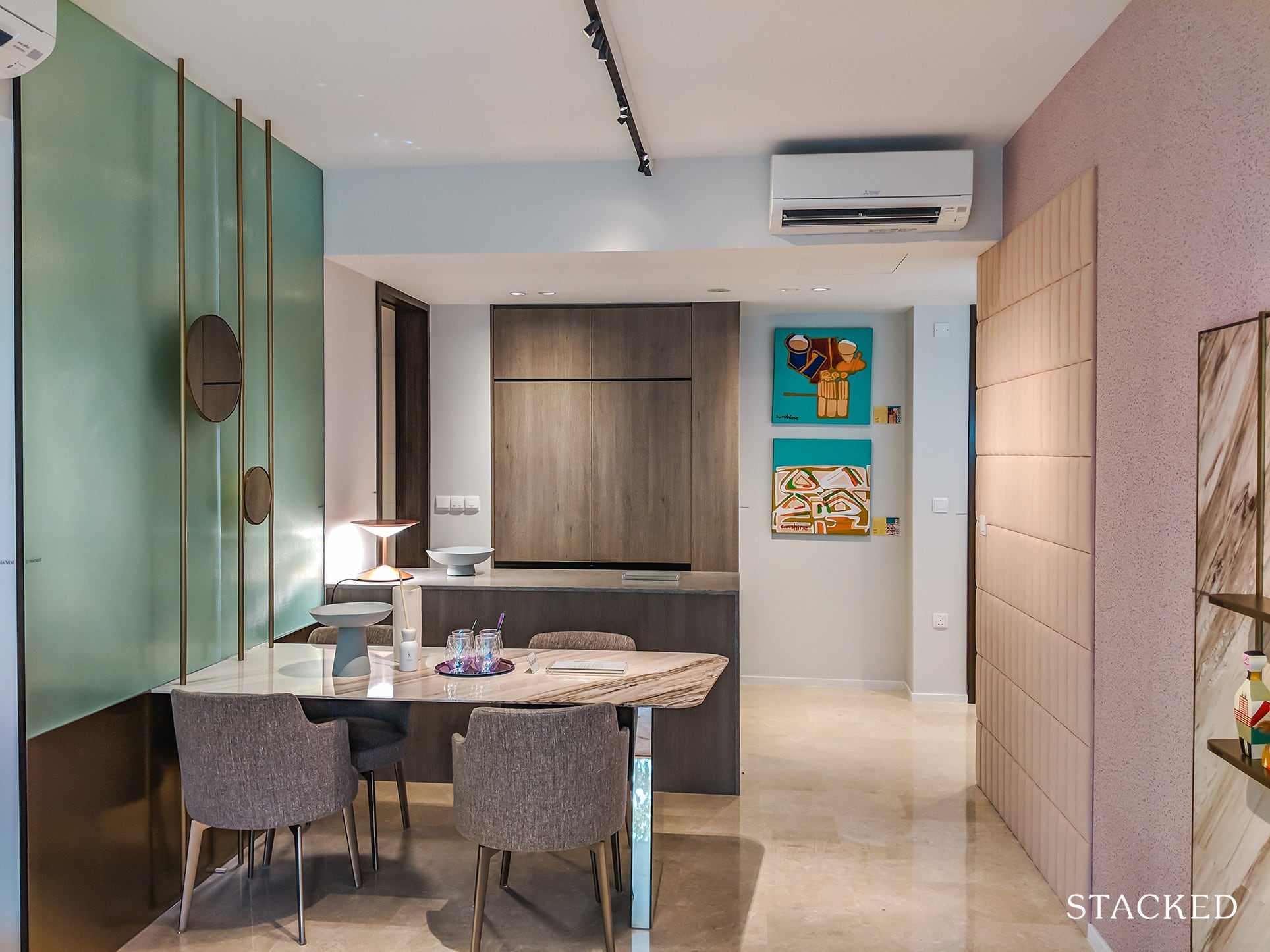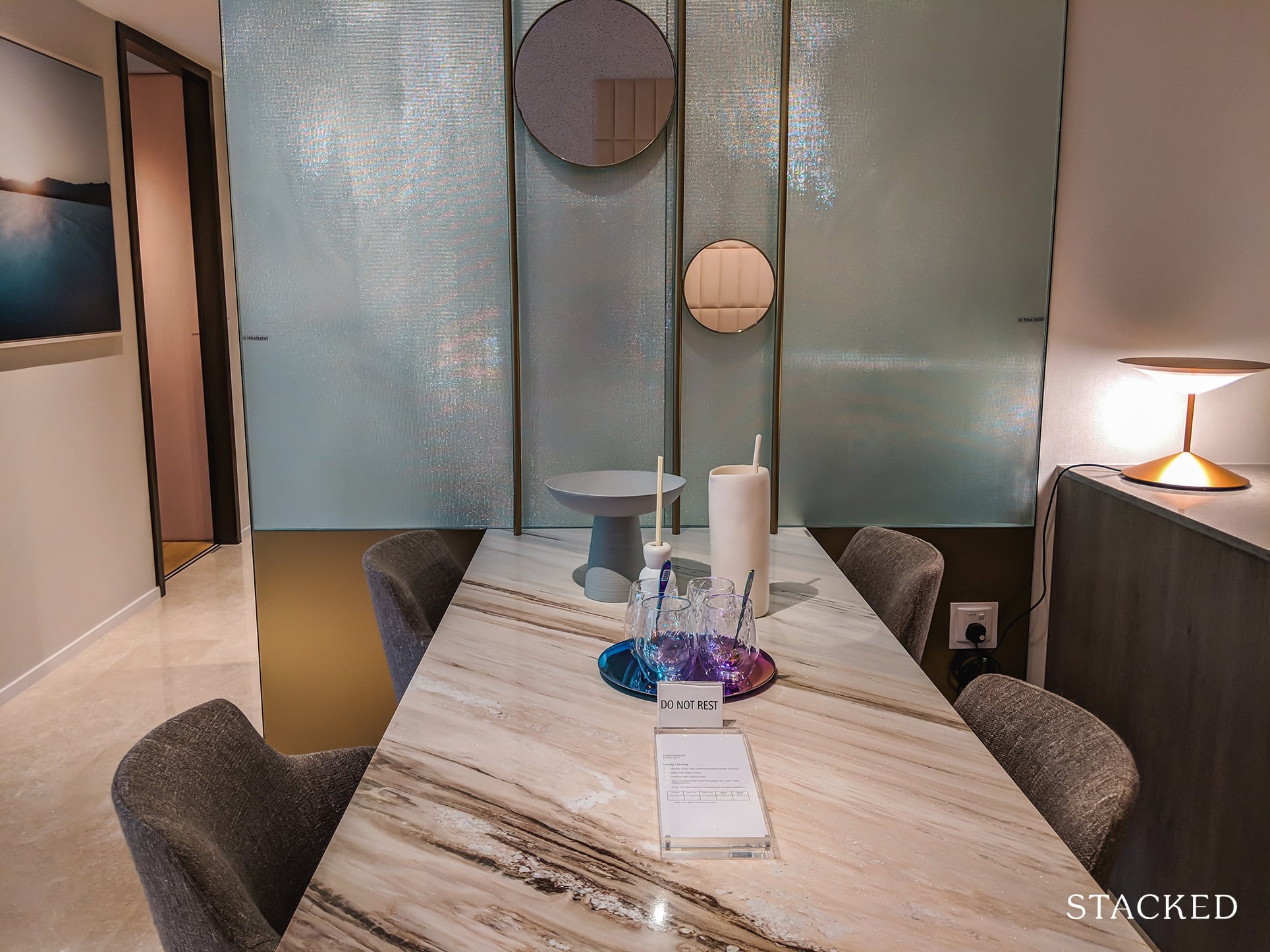 You can fit a small dining table for 4 here, but for a 3 bedroom, I would expect to be able to accommodate something bigger.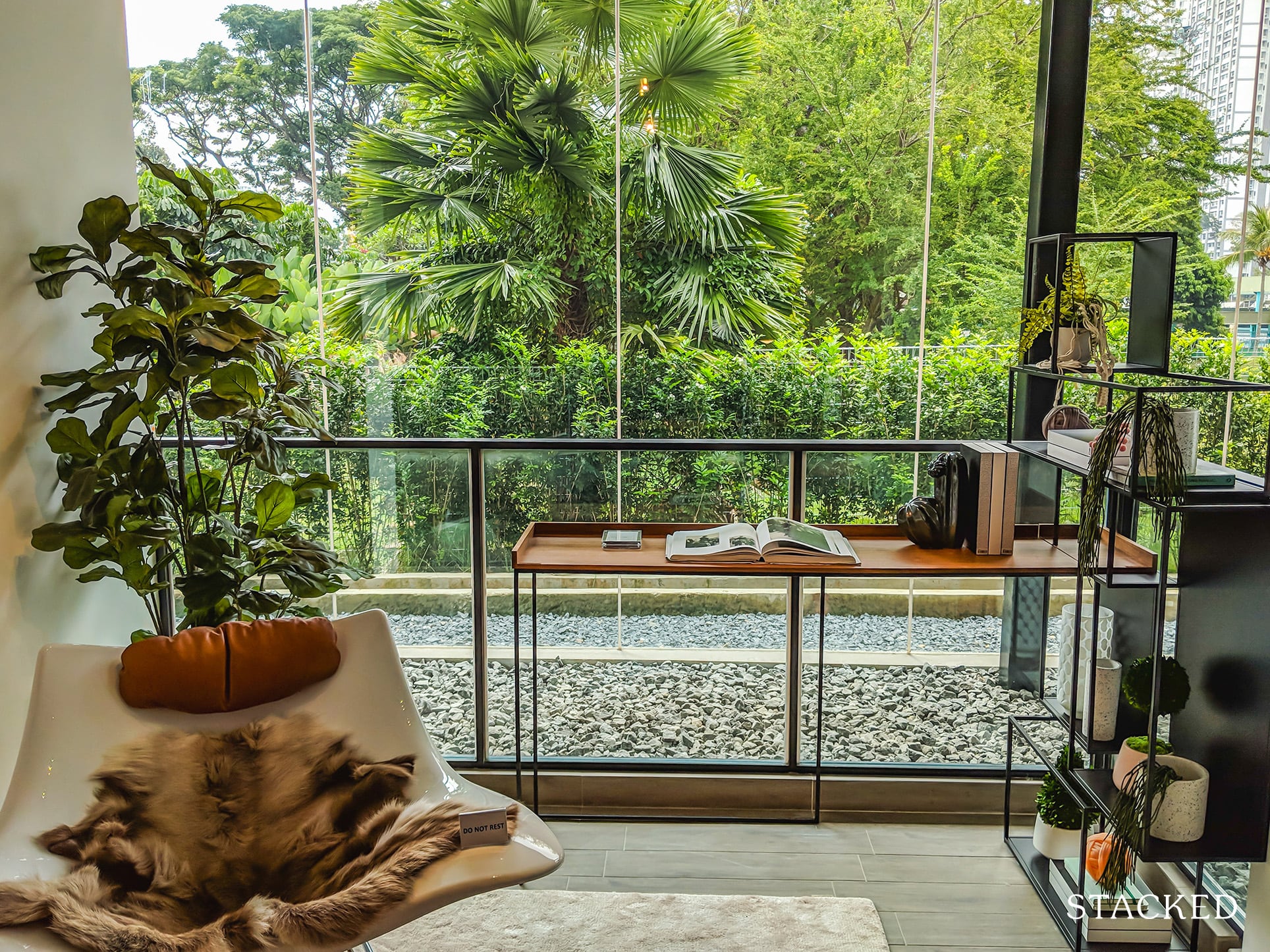 Like all the other layouts we have seen so far, the balcony is of a good size for it to be functional.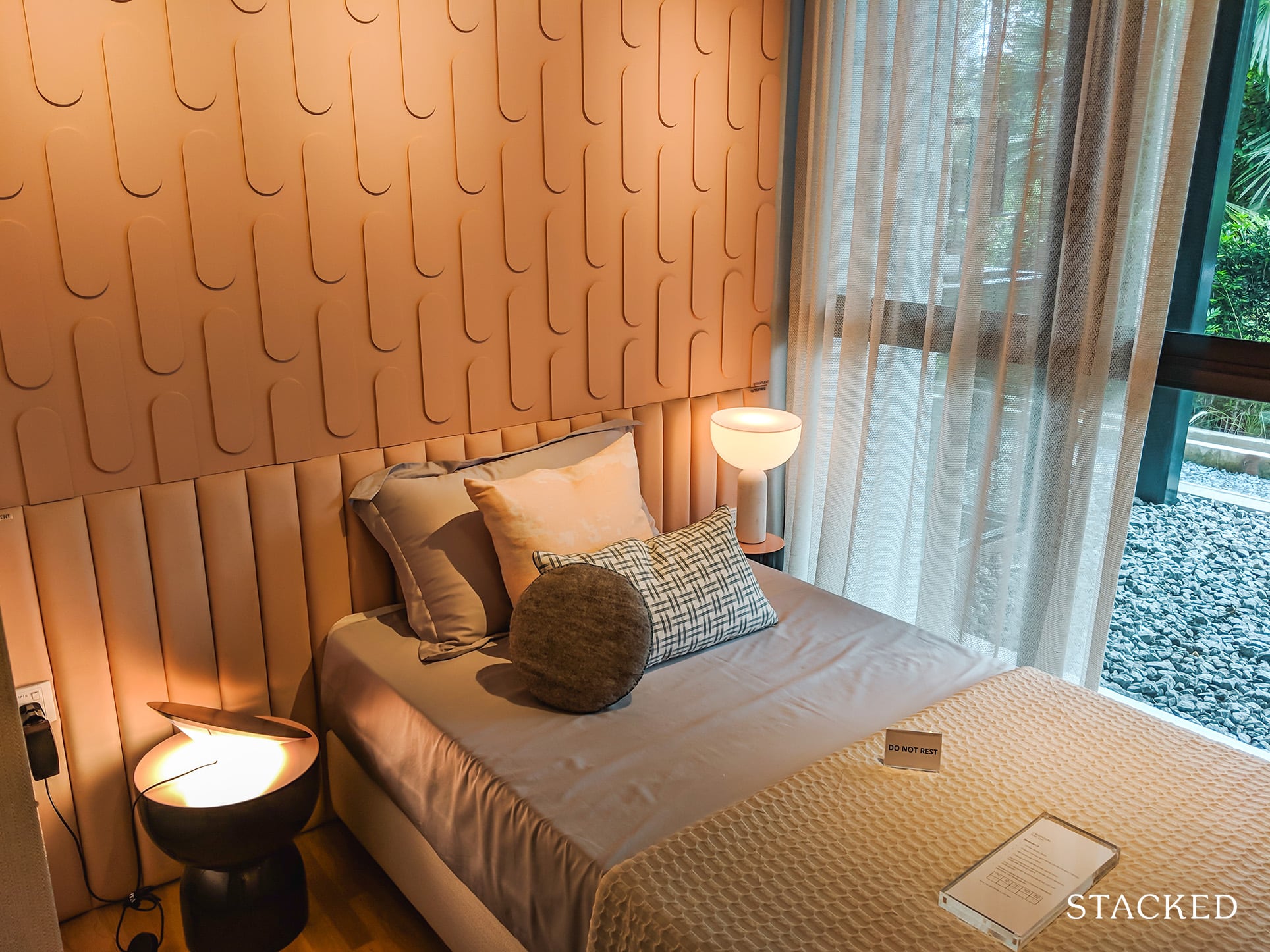 The common bedroom is shown here in a very attractive shade of pink but is really only big enough for a single bed.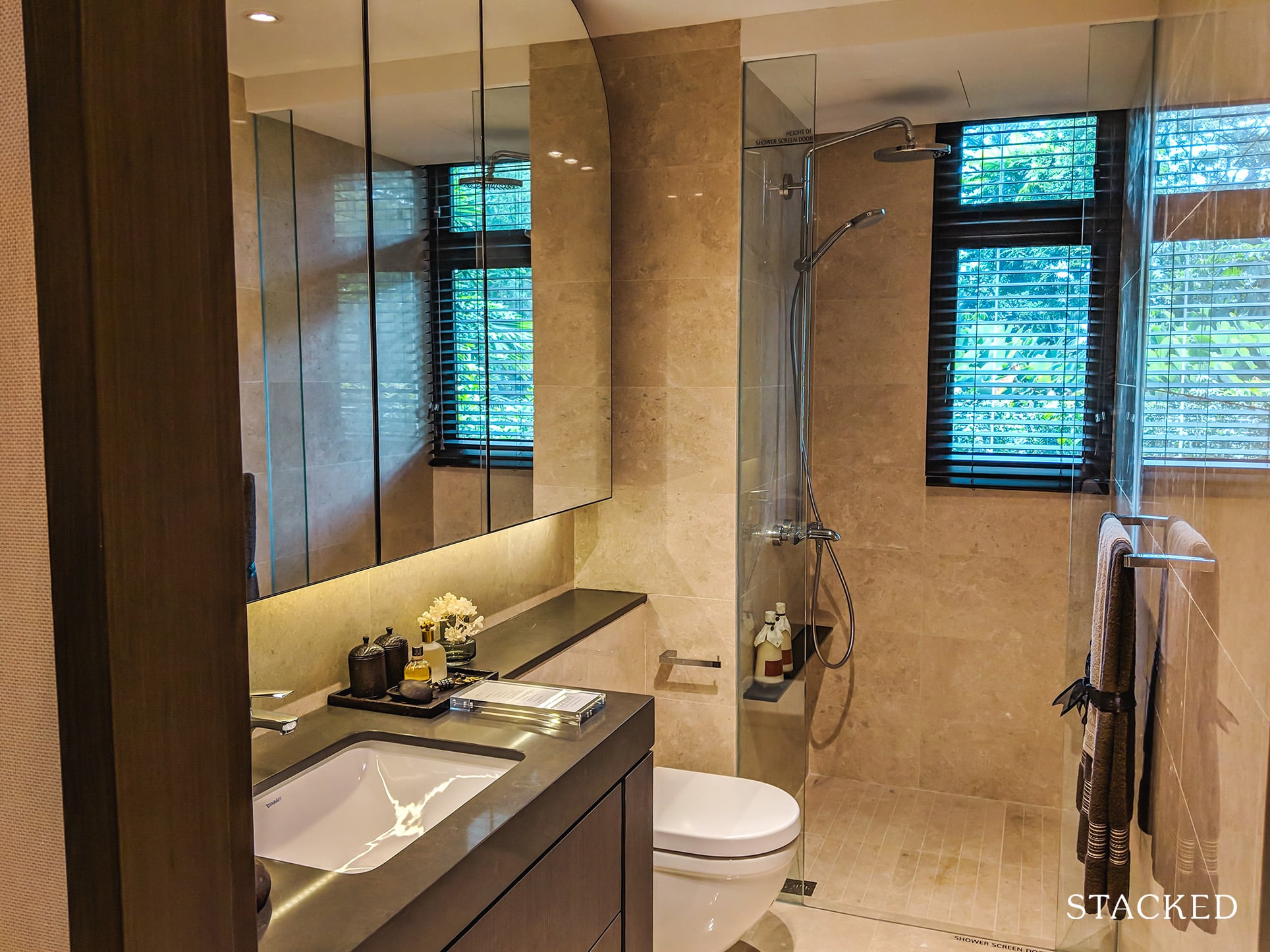 The common bathrooms here are well sized.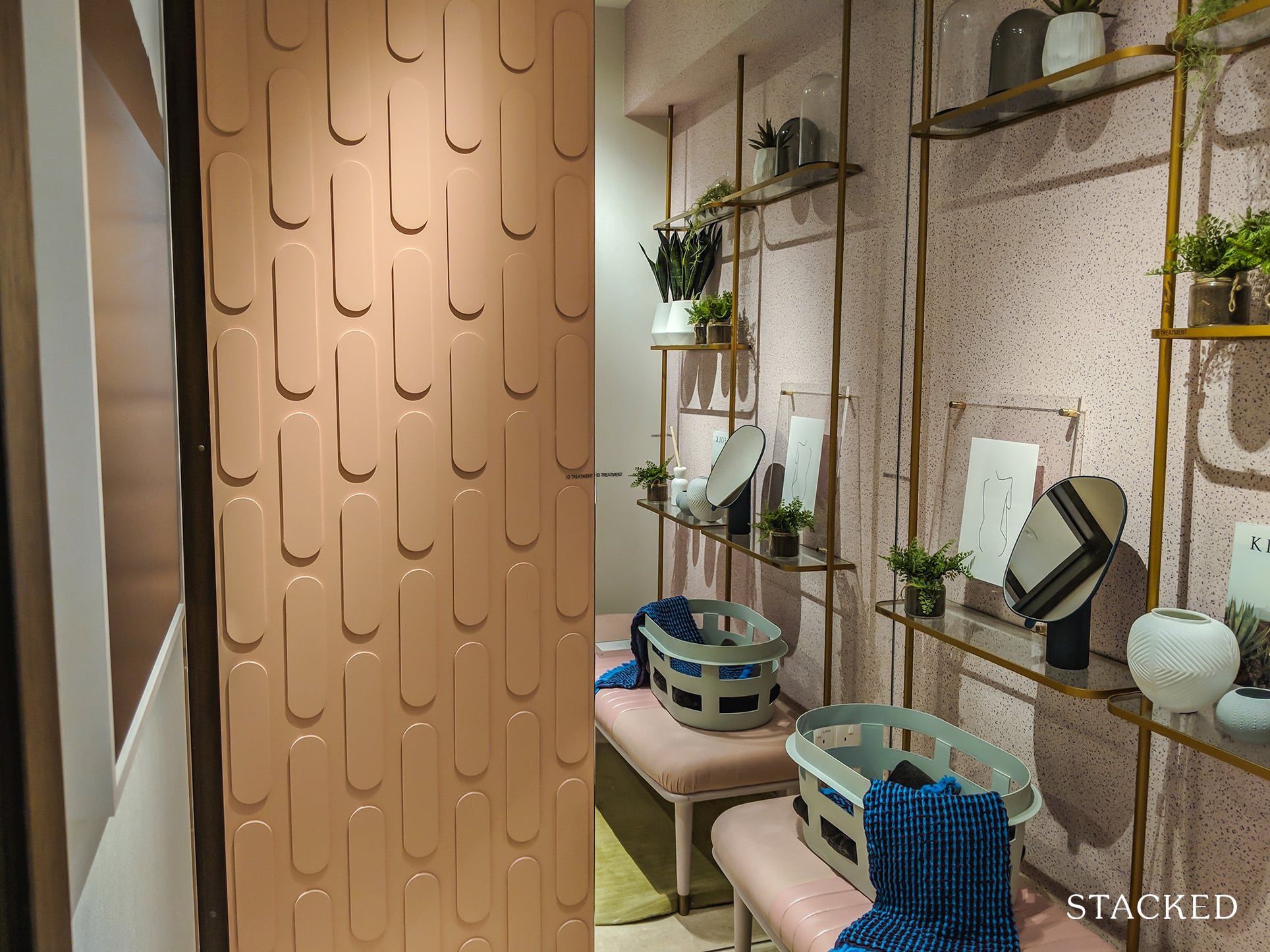 The storeroom can be used as a study room too, or even a helper's room.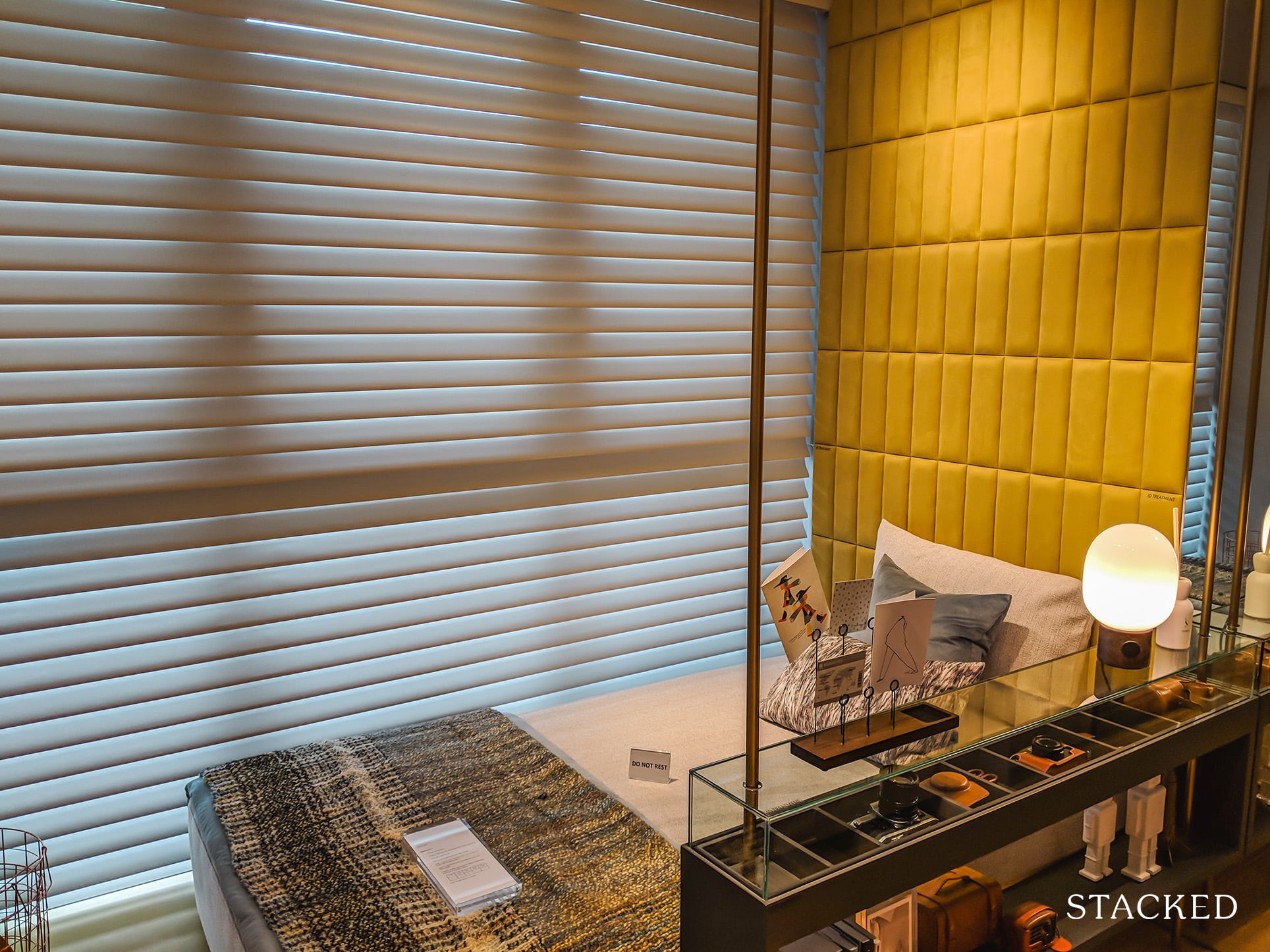 It is the same story for the other common room, it's best to fit just a single bed here.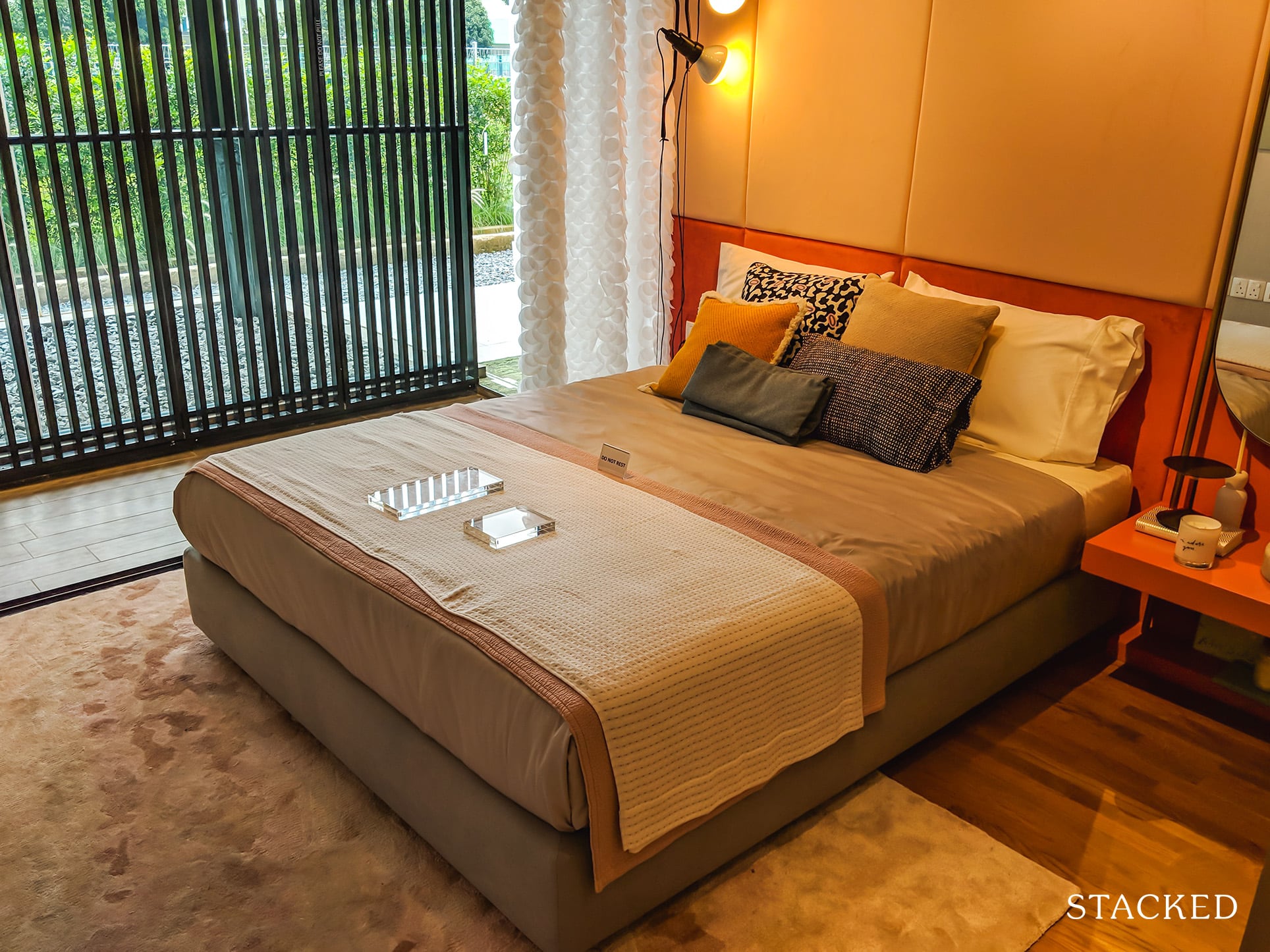 The master bedroom is okay sized as well. I do like the small balcony that comes along with it.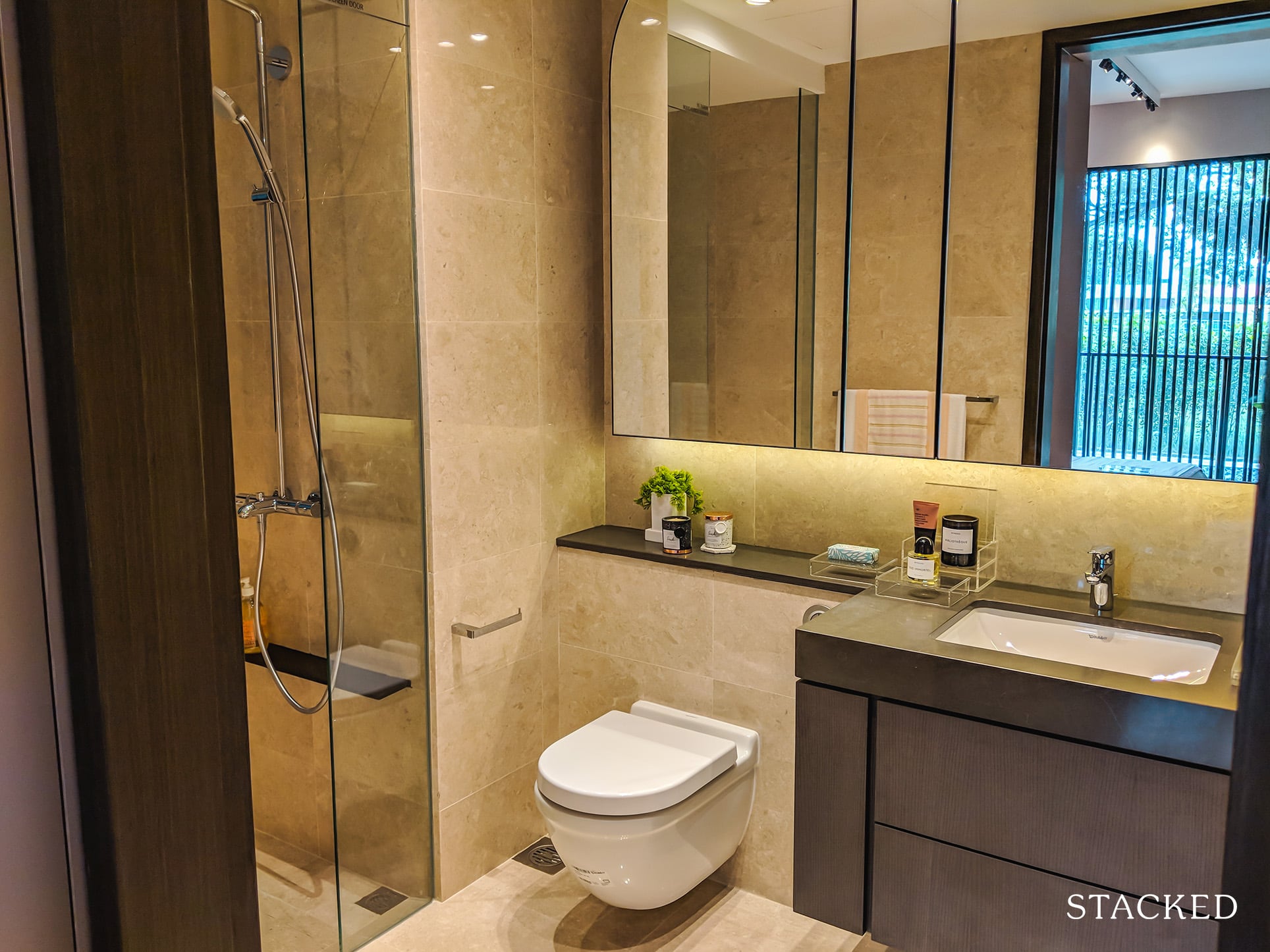 The master bathroom is spacious and above-average size.
Avenue South Residence 4 bedroom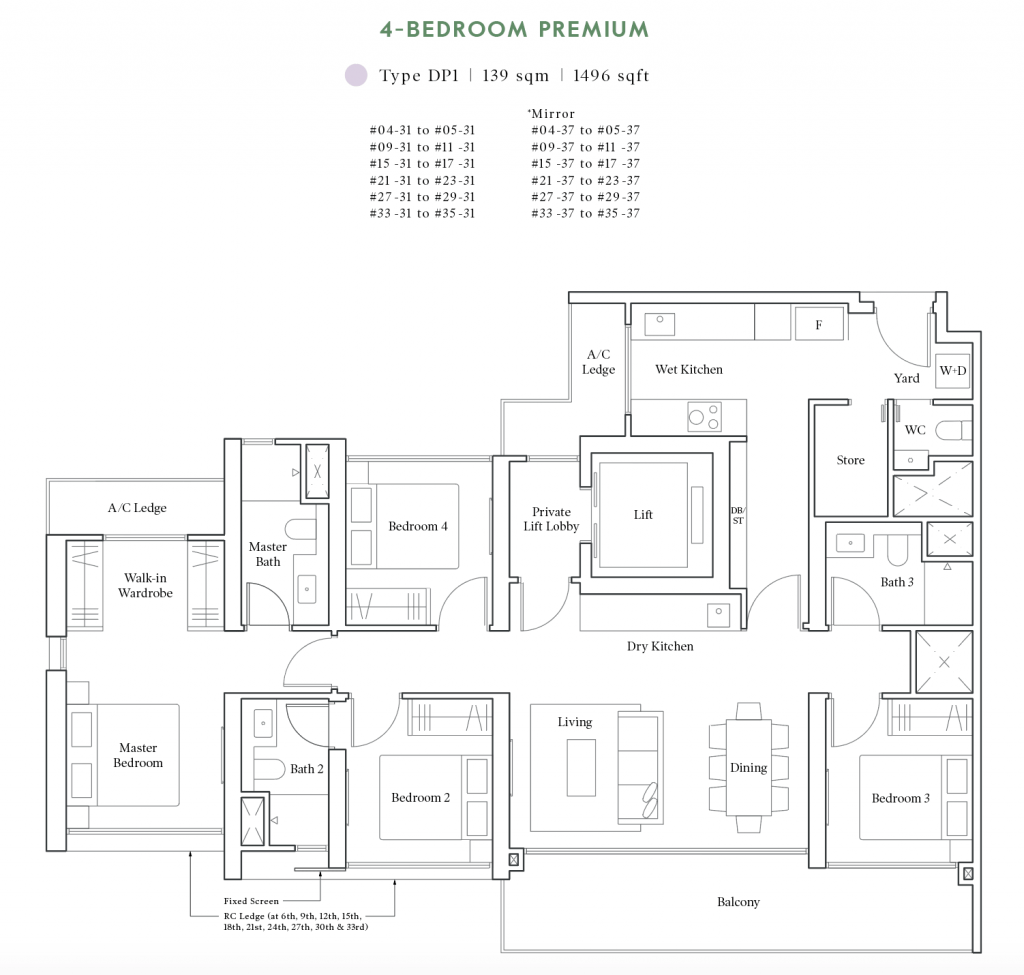 The 4 bedroom unit in the Horizon collection is fairly spacious in size, but there are a couple of spaces that you would consider unusable space. The corridor to the master bedroom, the corridor to the wet kitchen and the space in between bedroom 3 and bathroom 3 are a bit of a waste.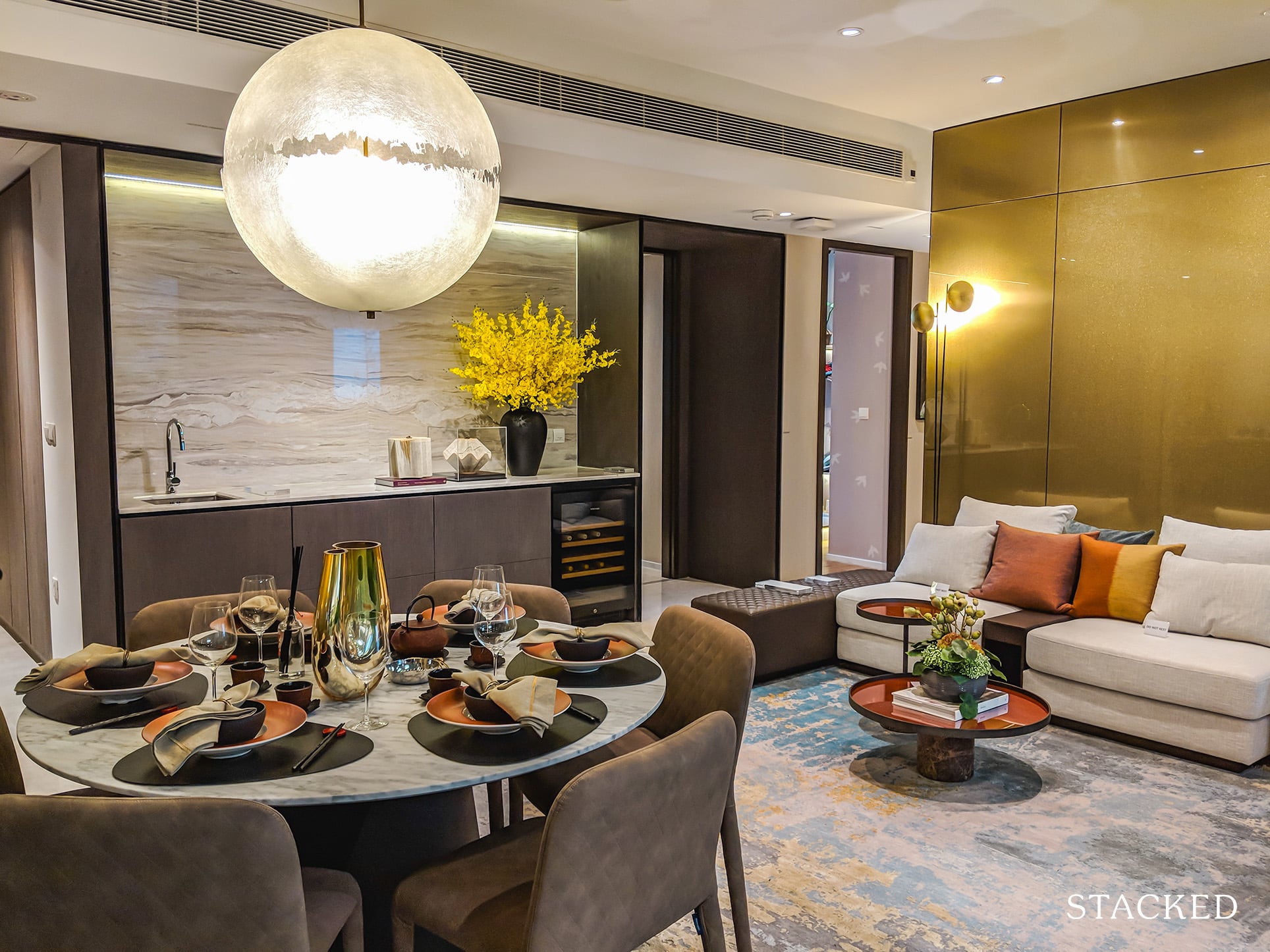 The living and dining areas in the 4 bedroom unit are average-sized, especially when you compare to the allowances given to the kitchen here. The long counter is supposed to be the dry kitchen, and I think the layout is actually quite awkward as it is some distance away from the wet kitchen.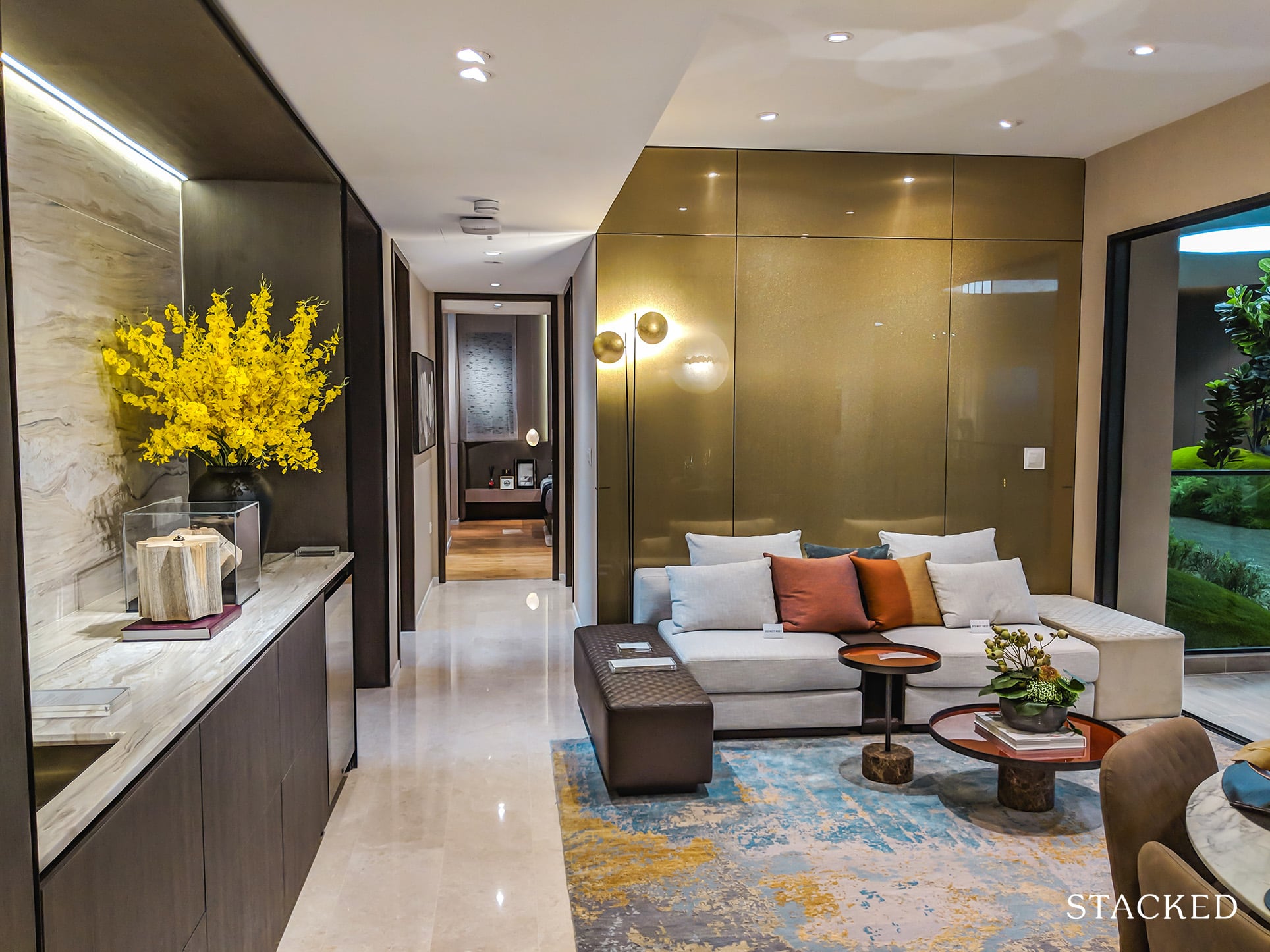 You can see from this angle the width of the living room space is not that great, so you won't be able to fit a big lounger here.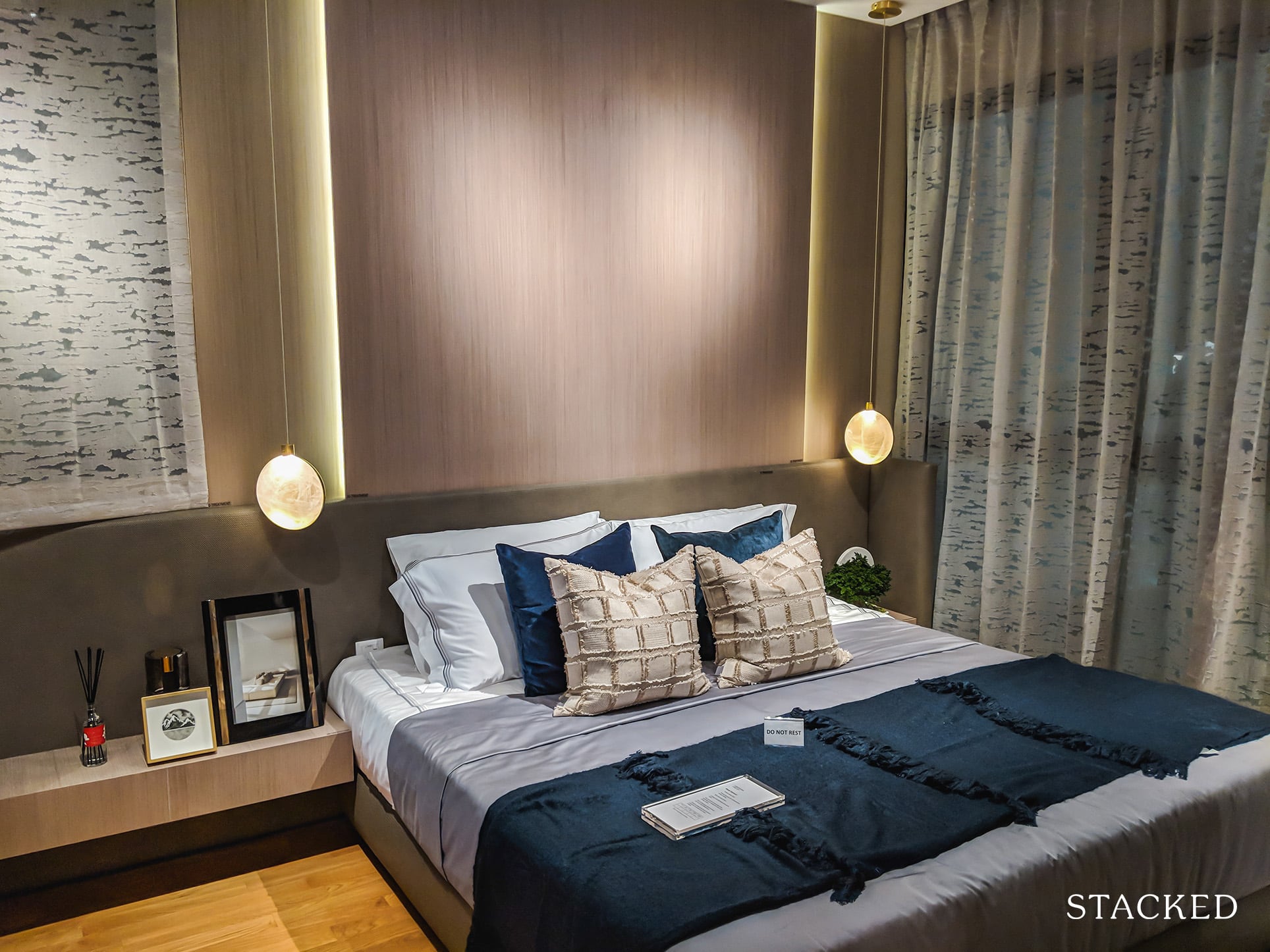 The master bedroom in the 4 bedroom layout is big and has ample space to move around.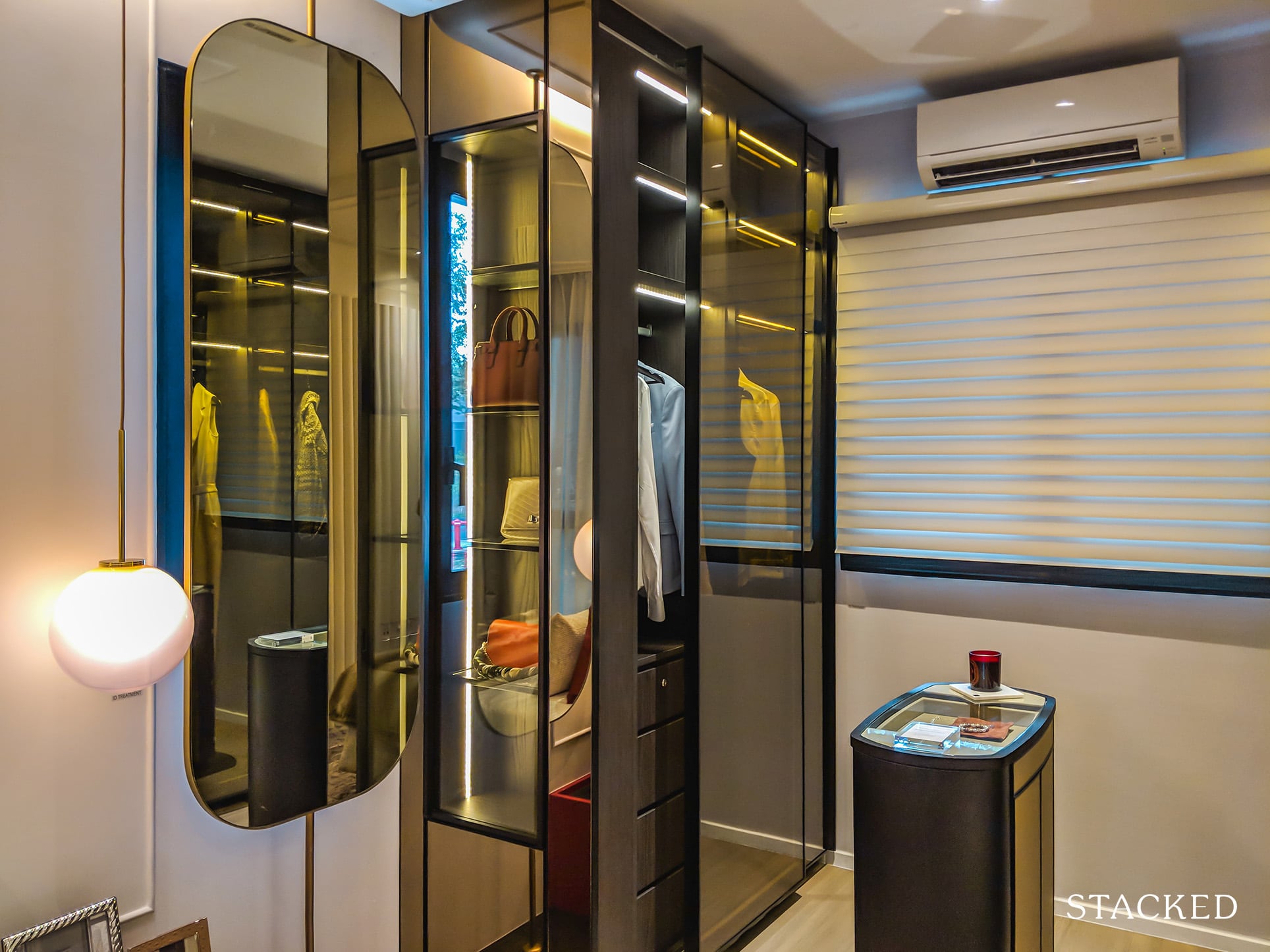 There is even space for a "walk-in wardrobe". I would say that it is more of an extended space to have a bigger wardrobe than a true walk-in wardrobe. Nevertheless, the extra storage space will be very much welcome by the shopaholics among you.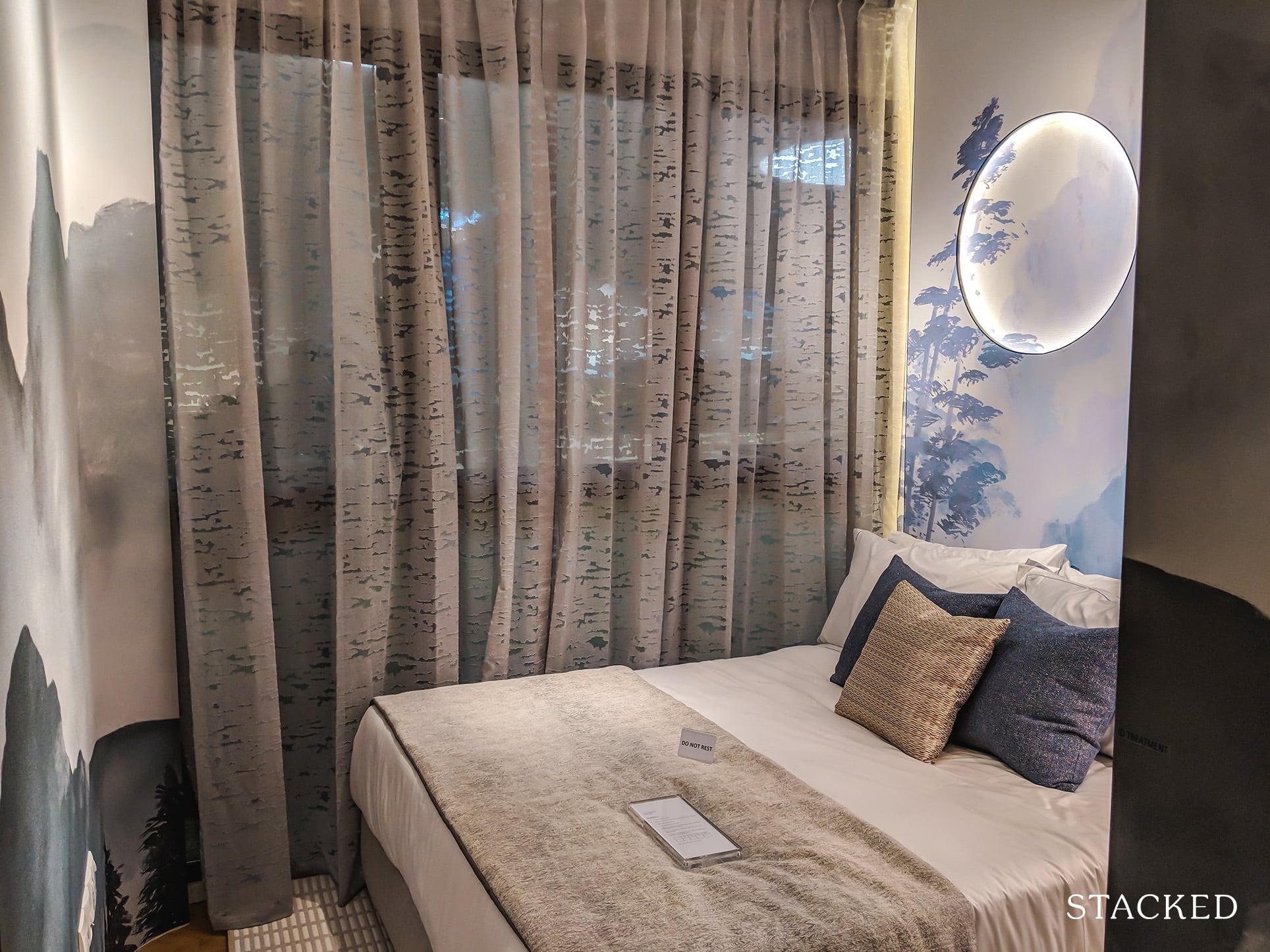 The 3 common rooms in this 4 bedroom layout are all exactly the same size.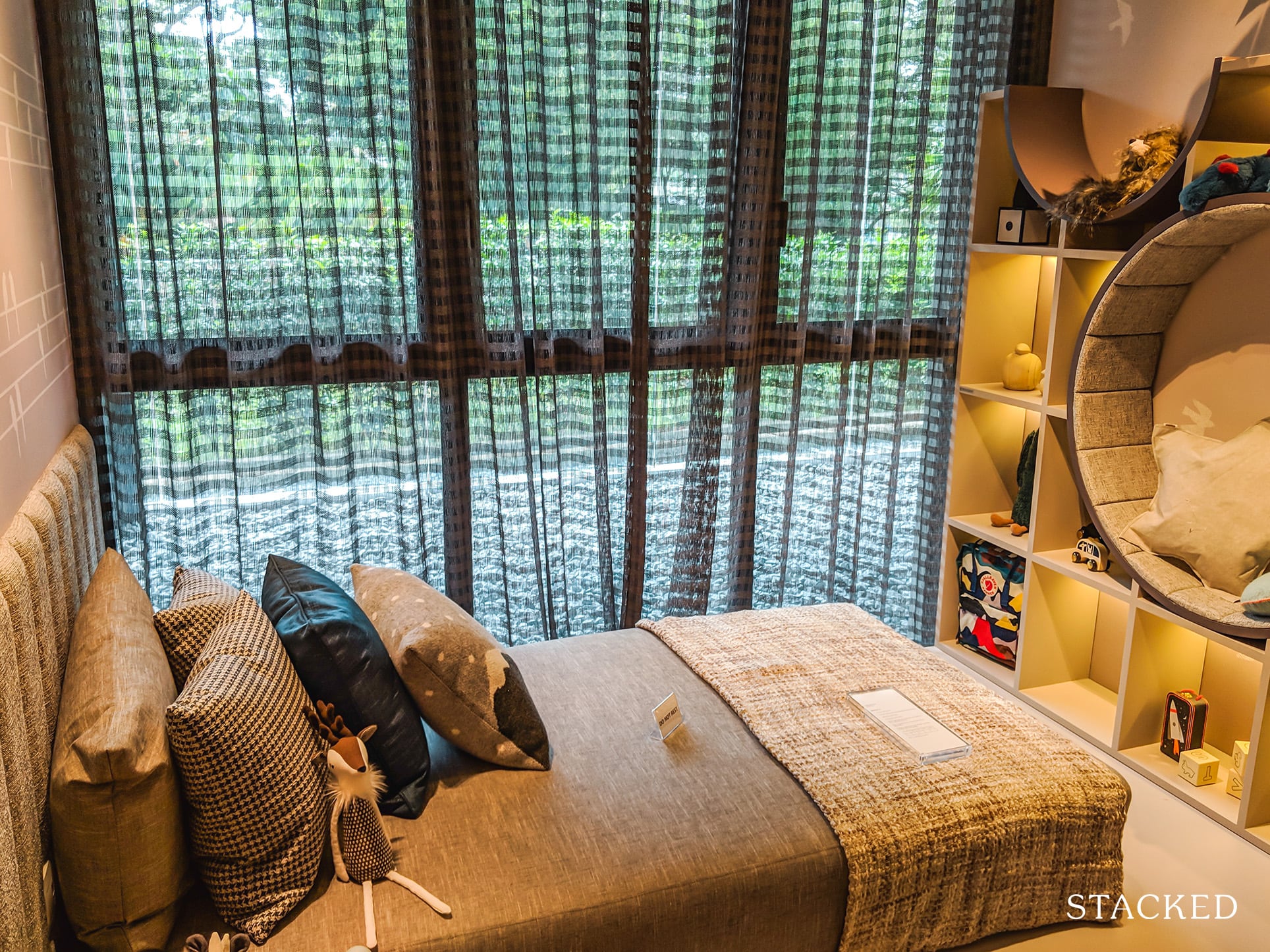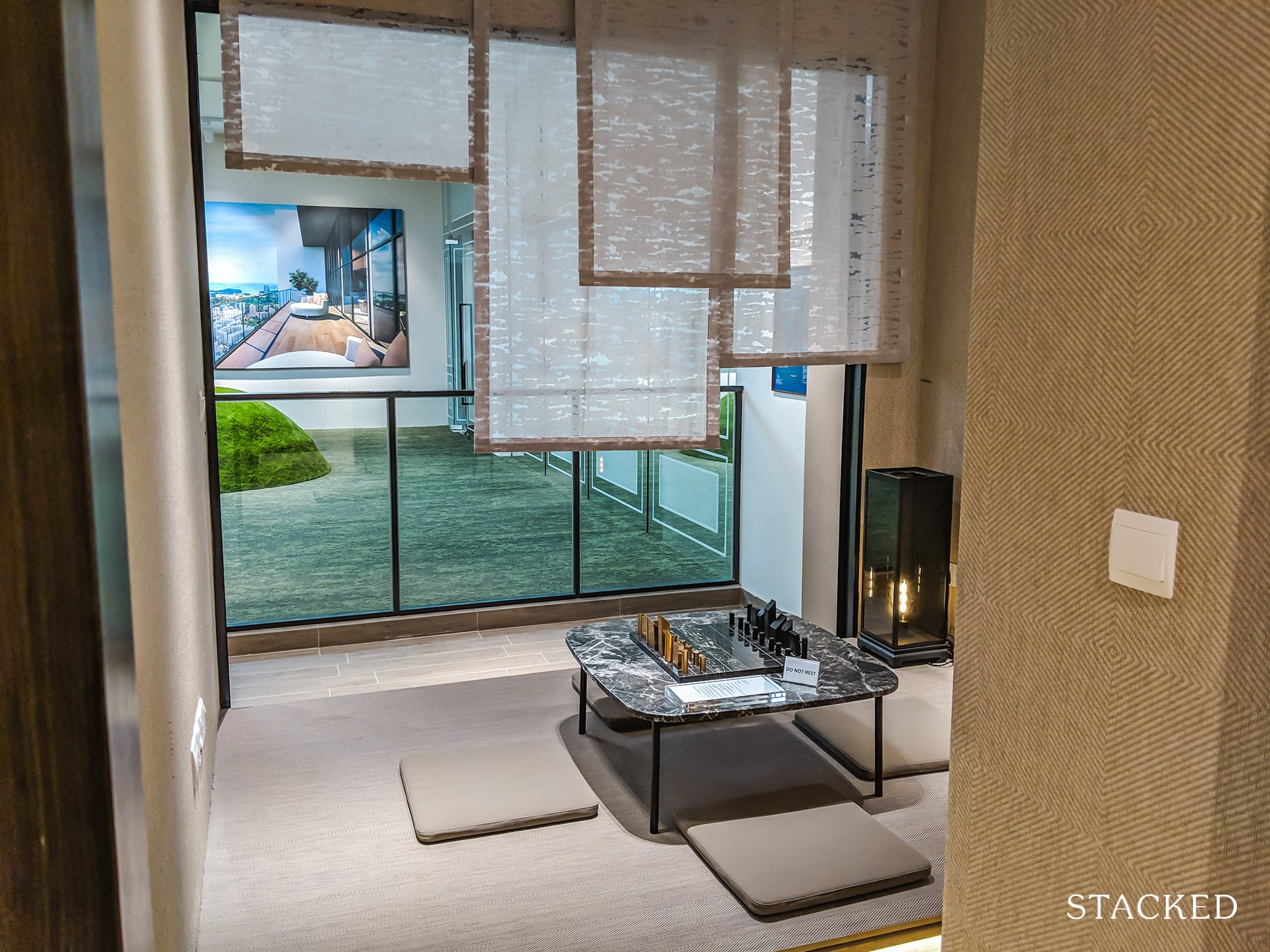 For the second bedroom in this ID unit, they have showcased it as an open concept.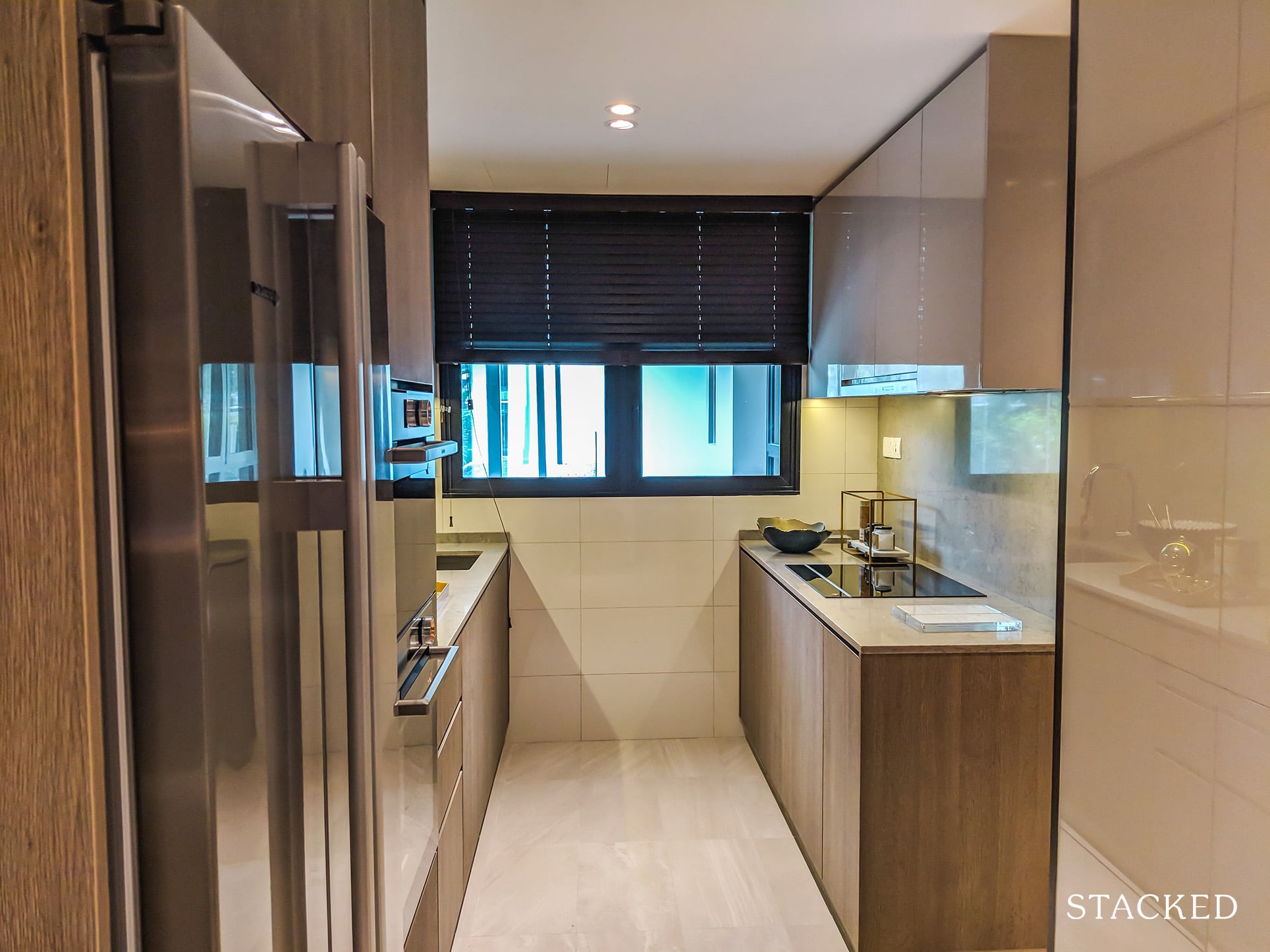 Like what we've seen from the other units, the size of the kitchens at the Avenue South Residence are impressive, and this one is no exception.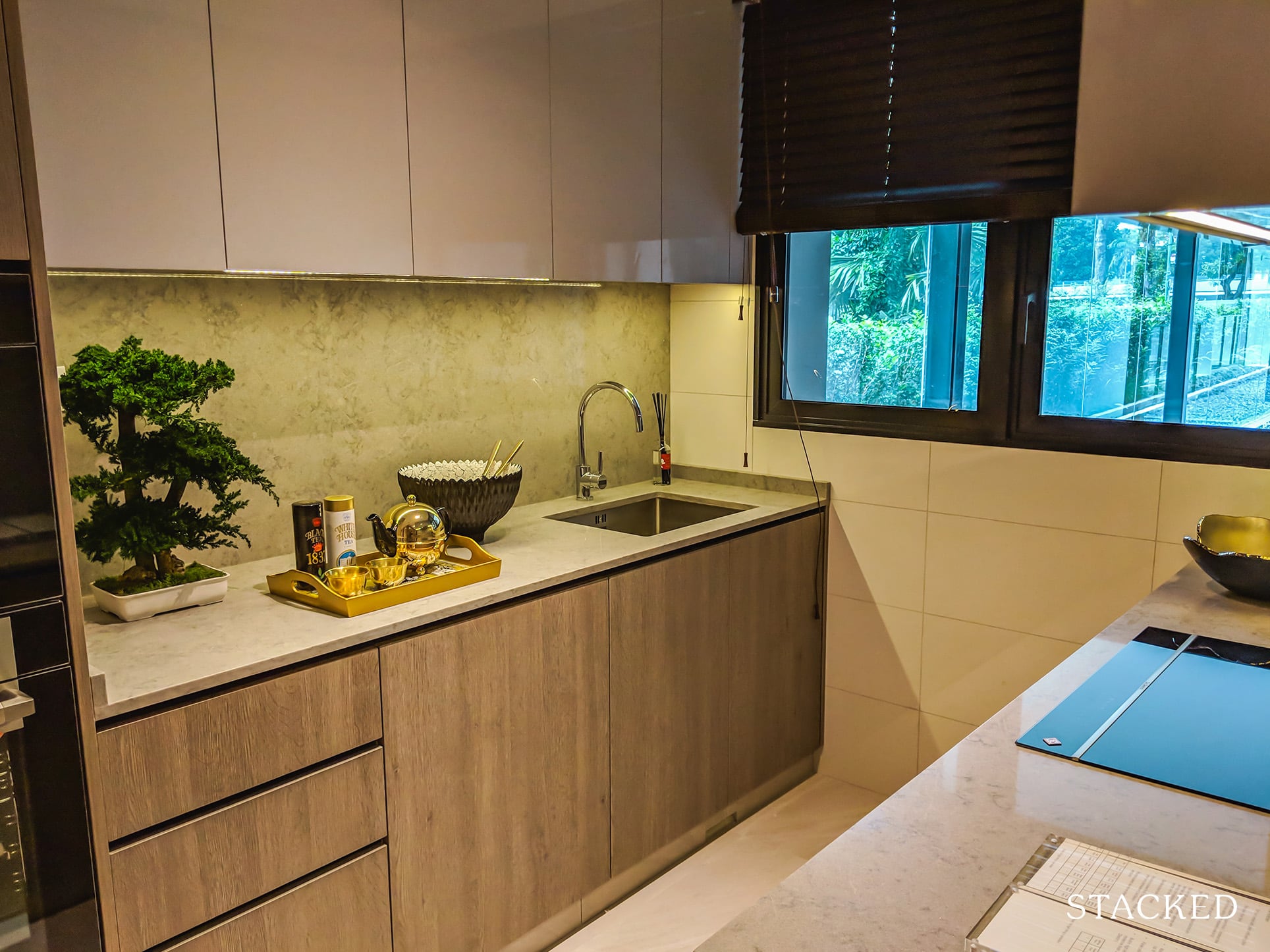 The helpers/storeroom is of a good size too. The fold-out bed certainly makes a lot of sense in a space like this.
Avenue South Residence 4 bedroom Peak Collection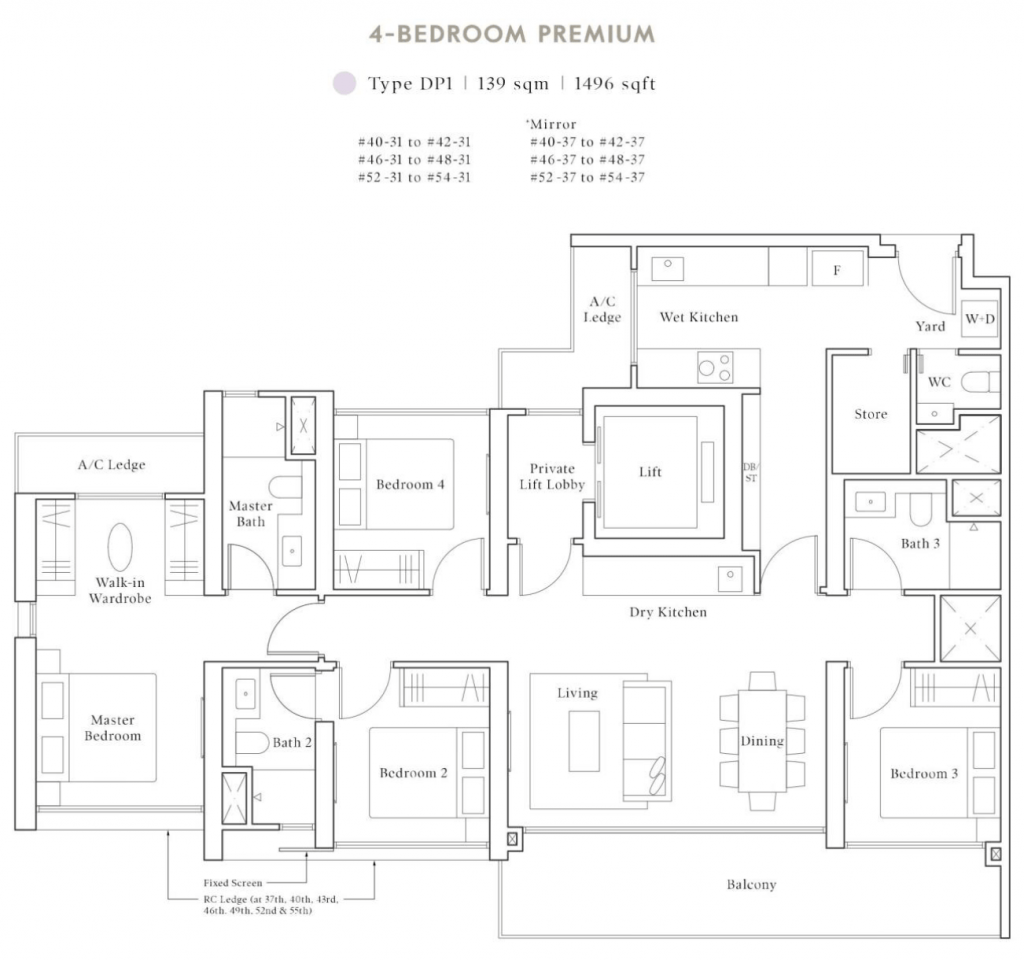 The Peak collection at the Avenue South Residence is reserved for the uppermost floors. In recognition of its more exclusive status, there are certain upgrades that come with it. For one, the balcony floor is flushed to be the same level as the living and dining area. Also, the units come with more expensive fittings and furnishings from higher-end brands.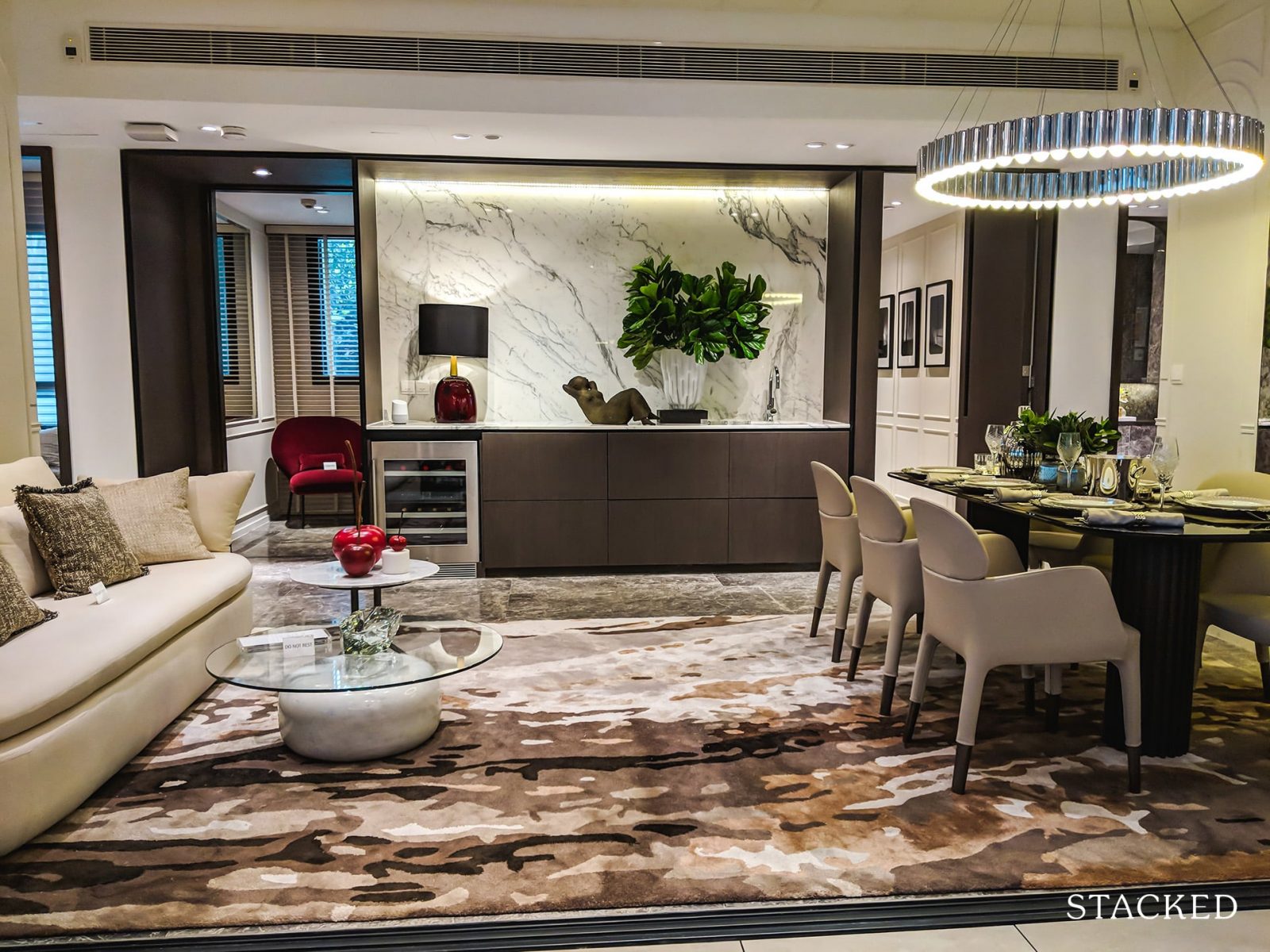 Avenue South Residence Maintenance
| | |
| --- | --- |
| Unit | Est Maintenance Fee |
| 1 bedroom | $190 |
| 2 bedroom | $220 |
| 2 bedroom premium | $220 |
| 3 bedroom | $220 |
| 3 bedroom premium | $220/$260 |
| 4 bedroom premium | $260 |
From here, you can instantly see one of the biggest plus points of the Avenue South Residence is the monthly maintenance fee. For the 1 bedroom, $190 is already pretty good. But at only $260 even for the biggest 4 bedroom units, that is a really fantastic price.
Avenue South Residence Location Review
Cue the lack of any nearby MRT stations within a 15-minute walking radius.
Admittedly, it's a tad rough to start a location review with that – however, it is something that both investors and home-lookers should look into.
The nearest MRT station to the condo is Outram Park MRT, situated a 'staggering' 17-minute walk away. Despite this rather alarming fact, residents can take delight in a silver lining.
Just a minute's walk from the residency is the 'Opp Melaki Blk 2' bus stop that services buses 61, 124, 143, and 166 (as does the other bus stop across the road). From here, it is simply a 5-minute ride via buses 124 and 143 to Outram Park MRT Station. It is also a 6-minute bus ride via 61, 143, and 166 (across the road) to VivoCity (Harbourfront MRT).
What's more, the Cantonment MRT Station and Keppel MRT Station on the circle line are being projected for completion in 2025 – its entrance within an 8-minute walk from the condo (if you cut through the various HDB blocks in between). Situated two stops from the Harbourfront and Marina Bay stations, it could prove useful in reducing commuting time for residents.
All things considered, accessibility to public transport here doesn't seem too daunting, if just a slight bit more tedious to get to the Harbourfront or Outram MRT station.
Another thing to note is that although the condo is located a stone's throw from the Ayer Rajah Expressway (expect a tad of noise/sound pollution), accessing AYE going towards ECP would require a detour through a stretch of 4 different roads – not the best news for car owners in residence.
On the bright side, however, the condo's location is just a 10-minute drive from the CBD and Orchard Road – Cantonment and Eu Tong Sen Road both prove solid alternatives should the other be clogged with traffic en route to the Core Central Business District.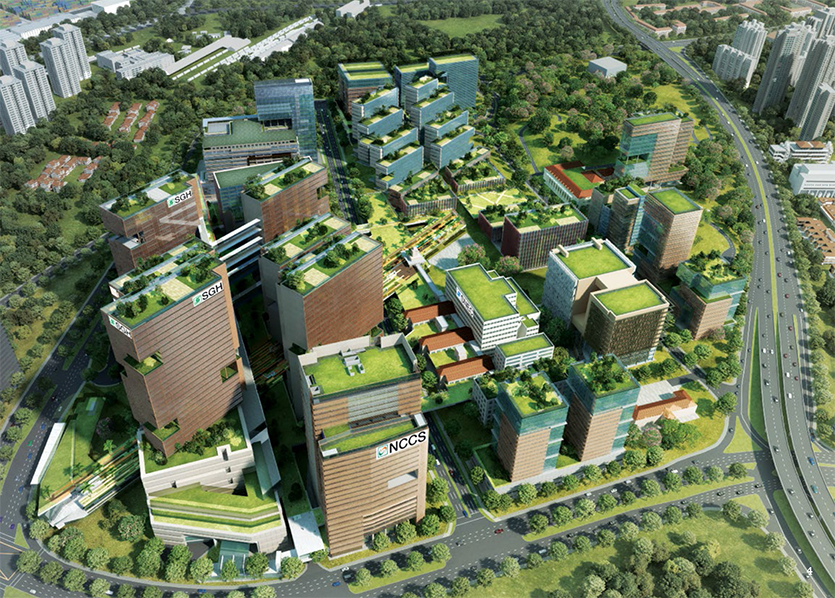 Perhaps the main thing that would compensate for the lack of an MRT station here is really the proximity to Singapore General Hospital. Other than the obvious convenience of living so close by to medical help, the planned future updates to Singapore General Hospital is something well worth highlighting. The SGH campus masterplan looks to be an ambitious one, with 43 hectares of land being catered to this mammoth. As part of the planned updates, there is going to be a Discovery Mall and History Walk being incorporated. This huge project would no doubt create many more jobs, and Avenue South Residence looks to be one of the developments that stands to benefit from this.
Another fact further worth highlighting is the property's proximity to the 'heartlands'. With an abundance of HDB flats and roads in the condo's immediate vicinity, concerns over noise and privacy could surface. However, most residents are banking on the promise of planned greenery (that will surround the condo) to mitigate this.
Yet the presence of this well-developed estate will go a long way in helping residents ease straight into life when they first move in. What's more, the Tanjong Pagar Neighbourhood Police Station is situated just behind the condo, which will bolster safety for residents in Avenue South alongside the condo's security.
District 3 is well-known for its easy access to a host of eateries, shopping spots, and entertainment venues. Combine that with Avenue South's 10,000 sqft area of planned commercial facilities (including the likes of F&B etc.), and residents have little to worry about amenities-wise.
Gastronomes will take further delight in the various food joints scattered in the vicinity.
Just a minutes' walk from the Avenue South Residence Condo, residents and visitors alike will discover the Block 148 coffeeshop (you will find the famous Teck Heng Pig Organ Soup stall here) – making for both economical and convenient options.
Walk down a little more to a string of shops lining Jalan Bukit Merah, and you will discover a vegetarian option in the Swee Hunt Vegetarian restaurant as well as the Good Chance Popiah Eating House – a 3rd generation (Hokkien) food joint that allows you to D.I.Y your very own popiahs! Frequented by strings of celebrities, it has also been proven a delicious 'zhi-char' option.
Groceries-wise, residents with frequent late-night endeavours will take comfort in knowing that there is a 24hr Hao grocery located along the same stretch. Lim Lam Hong Confectionery can also be found next door.
As for proper grocery spots, residents looking for quick fixes could find themselves frequenting the Silat Avenue FairPrice – a minutes' walk from the condo. For those looking for bigger options, the massive NTUC (Singapore's biggest) at VivoCity as well as the Cold Storage in Harbourfront Centre (next door) are only a 4-minute drive away.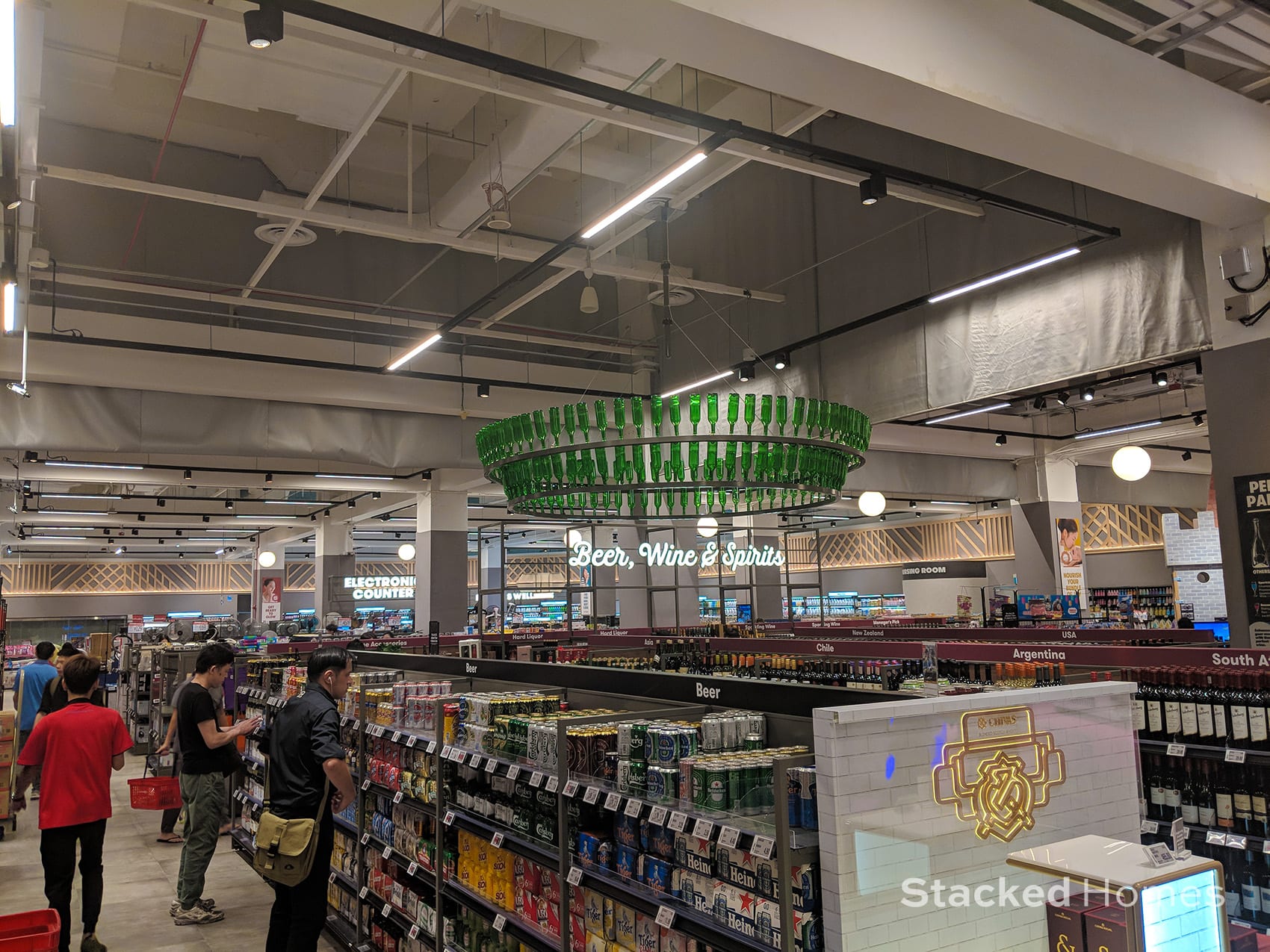 Outside of groceries, VivoCity is not the only shopping mall that residents will find themselves frequenting. Other nearby shopping malls that are easily accessible by car include People's Park Complex (4 min), 100 AM (7 min), Tiong Bahru Plaza (8 min) and the Anchorpoint Shopping Centre area (9 min).
What's more, parents will be glad at the abundance of schools in the area.
Starting with preschools, you have a number of PCF preschools within a 5-minute drive radius as well as 2 PAP Community Foundations – one at Everton Road and the other along Cantonment Road.
As for primary and secondary schools, CHIJ Kellock, Radin Mas primary school, Cantonment primary school and Zhangde Primary, as well as Outram, Bukit Merah, Gan Eng Seng, and Queenstown Secondary schools are all within a 10-minute drive from the Avenue South Residence location.
The location also spells good news for future tertiary students from Singapore Polytechnic, National University of Singapore (NUS) and Management Development Institute of Singapore (MDIS) – given their relative proximity to the condo.
Our final note revolves around the condo's TOP – which is currently scheduled for the end of 2023. While it is important to understand that amenities might change along the way, the biggest spotlight is on the upcoming Greater Southern Waterfront.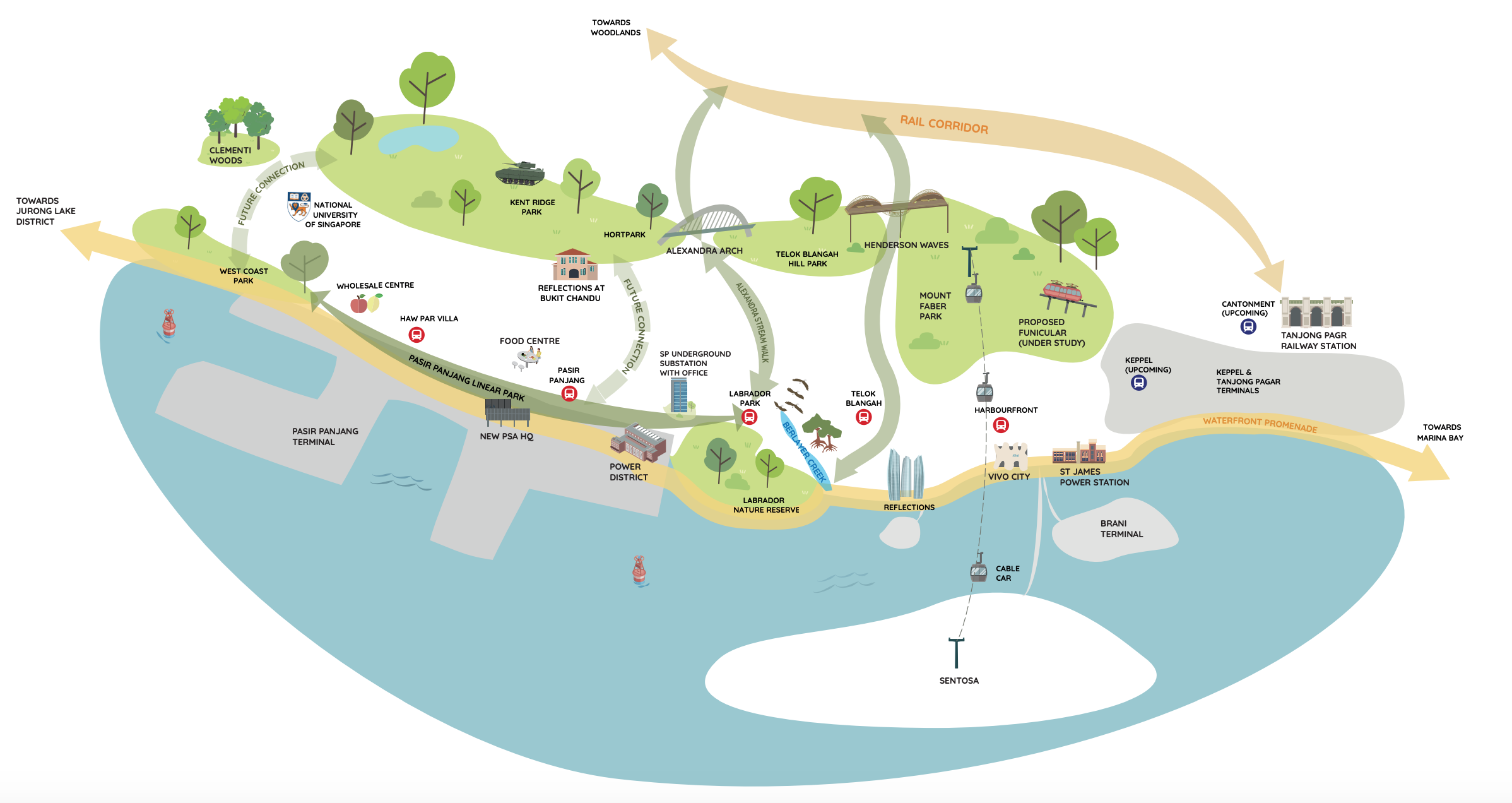 With plans already in motion to seamlessly combine Sentosa, Marina Bay and Labrador Park into a single incredible waterfront living experience that will span nearly twice the size of Punggol, residents can expect a couple more high-rise frontiers popping up (potentially blocking bay views) alongside increased access to various parks and nature trails linking the waterfront.
Avenue South Residence Developer
Avenue South Residence developers are a joint venture between three companies UOL Group Limited, United Industrial Corporation Limited (UIC), and Kheng Leong Company. Both UOL and UIC have a solid track record working on successfully completed development projects together. All three have had a significant role to play in the Singapore business landscape in addition to business interests in the Asia Pacific Region.
Most Singaporeans will be familiar with UOL Group. It's one of Singapore's largest and most well-known property developers. One of its major shareholders is United Overseas Bank (UOB), which is a top three financial institution in Singapore.
United Industrial Corp was incorporated in Singapore in 1963 as a private company and listed as a public company in 1969. They are one of the major players in the Singapore real estate industry.
Incorporated in 1949 and originally a spice and commodities business Kheng Leong Company is now heavily involved in the real estate industry, continually growing through its collaboration with a network of strategic partners and direct investment in its portfolio of new projects.
It's no secret that these three companies will draw on their vast experience to deliver quality, excellence and value to this joint venture.
Avenue South Residence Development Site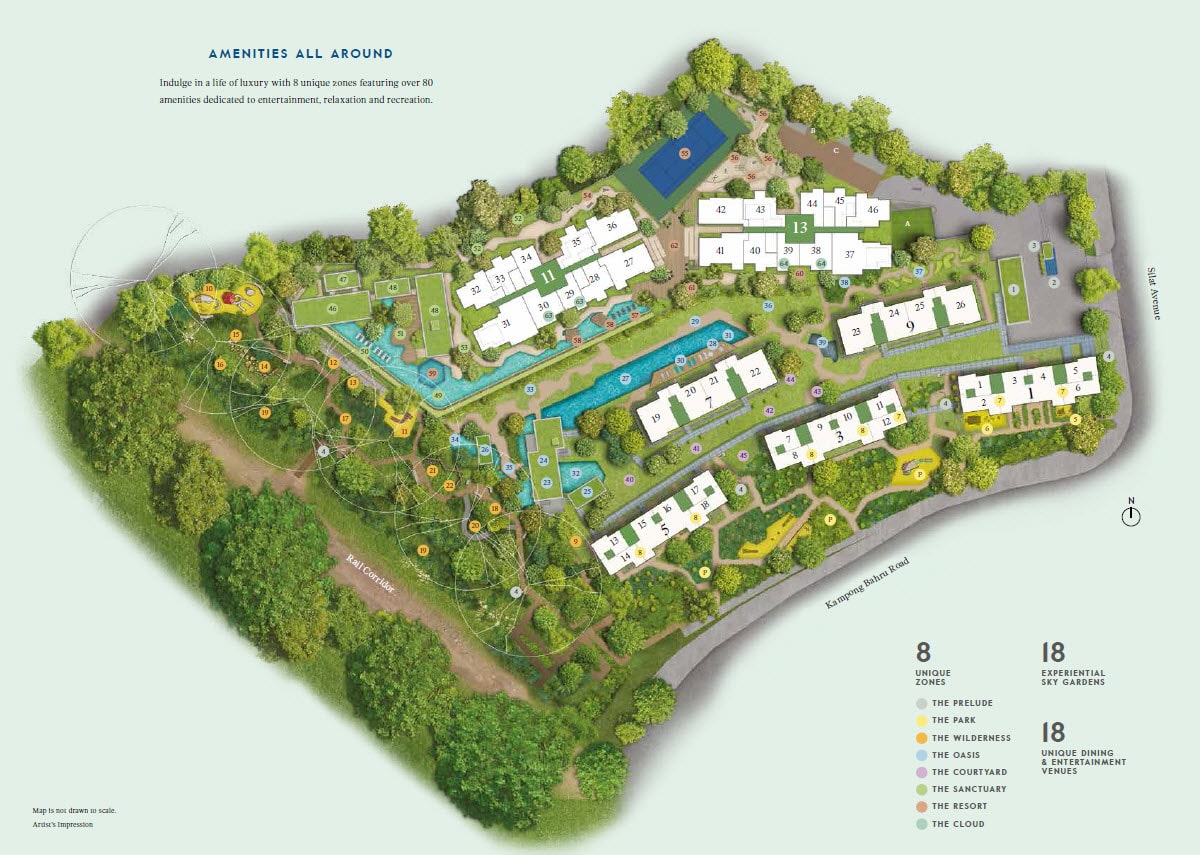 Avenue South has an allocated space of 245,972 square feet – on which 1,074 units will reside, amongst other state-of-the-art facilities. With a plot ratio of 3.7 (courtesy of its twin 56-storey towers), it does seem that common spaces here might get a little crowded over non-peak hours.
That being said, you can tell from the site map that a spread of greenery is one of UOL's top priorities. While this is unlikely to reduce overcrowding, it might add much-needed variety to the residential area, potentially 'opening-up' spaces for its residents.
Furthermore, the sizable entrance to the condo could add an aura of the property looking bigger than it actually is.
The unit mix is as follows:
| Unit Type | Size (sqft) |
| --- | --- |
| 1-bedroom | 474 – 527 sqft |
| 2-bedroom | 646 – 732 sqft |
| 3-bedroom | 936 – 1109 sqft |
| 4-bedroom | 1496 sqft |
| Penthouse | 882 – 1668 sqft |
Most of the units here are of average sizes, though their individual concerns are worth a brief recap. While the 1-bedroom is above average in size, its larger balcony section does mean a smaller living room. Also worth noting is that the bedroom will scarcely fit anything else than a queen/king-sized bed.
The 2-bedroom unit (and this is the premium – 732 sqft) have very sizable toilets, which unfortunately reduce room sizes. The kitchen and dining area also seem a tad squeezy – meaning any more than 2 people here could prove claustrophobic.
As for the larger 3-bedroom (and 4-bedroom) units, there seems to be a tad of unusable space coupled with the occasional awkward positioning of counter-tops that might make unit space seem a tad below average when compared to other condos.
Are these worthy tradeoffs for solid views in a well-developed estate with a projected increase in valuation? We'll decide in a bit.
Price Review
Unit breakdown
Unit Type
Block
Size (sqft)
Starting Price
1-Bedroom Classic
Heritage
474 – 495 sqft
$858,000
2-Bedroom Classic
657 – 807 sqft
$1,150,000
2-Bedroom Classic Premium
807 sqft
3-Bedroom
947 – 1001 sqft
$1,600,000
1-Bedroom
Horizon
527 sqft
$970,000
2-Bedroom
657 sqft
$1,190,000
2-Bedroom Premium
689 – 732 sqft
3-Bedroom
947 sqft
$1,700,000
3-Bedroom Premium
1109 sqft
4-Bedroom
1496 sqft
$2,650,000
1-Bedroom
Peak (40th floor onward)
527 sqft
$1,195,000
2-Bedroom
657 sqft
$1,474,000
2-Bedroom Premium
689 – 883 sqft
3-Bedroom
947 – 1119 sqft
$2,064,000
3-Bedroom Premium
1109 – 1302 sqft
4-Bedroom
1496 – 1668 sqft
$3,216,000
(Above table is based on prices as of August 29 2019 – subject to changes and discounts)
Considering that developers UOL purchased the land area in April 2018 for $1.035 billion (that equates to $1,138 psf ppr), their current average psf charges of $1,780 for heritage units and $2,250 for peak units do seem very reasonable.
Surrounding developments

| Project Name | Tenure | TOP | Average Price (PSF) | District |
| --- | --- | --- | --- | --- |
| Avenue South Residence | 99 years | 2023 | $2,015 | 3 |
| Everton Park | Freehold | 2023 | $2,500 | 2 |
| Artra | 99 years | 2021 | $1,947 | 3 |
| Stirling Residence | 99 years | 2022 | $1,837 | 3 |
| One Pearl Bank | 99 years | 2023 | $2,378 | 3 |
The first thing that pops to mind is the price comparison between units here and that of Sky Everton – a district 2 condo also expecting to TOP end of 2023.
Granted, Sky Everton does have a more prime location and that sought-after freehold status (not to mention its 3 swimming pools). It will also be a more sought-after rental option based on its walking proximity to both the CBD and the MRTs. However, if budget is a concern, Avenue South does offer itself as a more plausible alternative in the same district.
In addition, Avenue South does fall between the Artra, Stirling Residence and One Pearl bank (3 other upcoming high-rise condos in the vicinity) in terms of pricing. The reason for this is its proximity to the CBD/Downtown-core area – so once again, the correlation between location and budget comes into play.
Our Take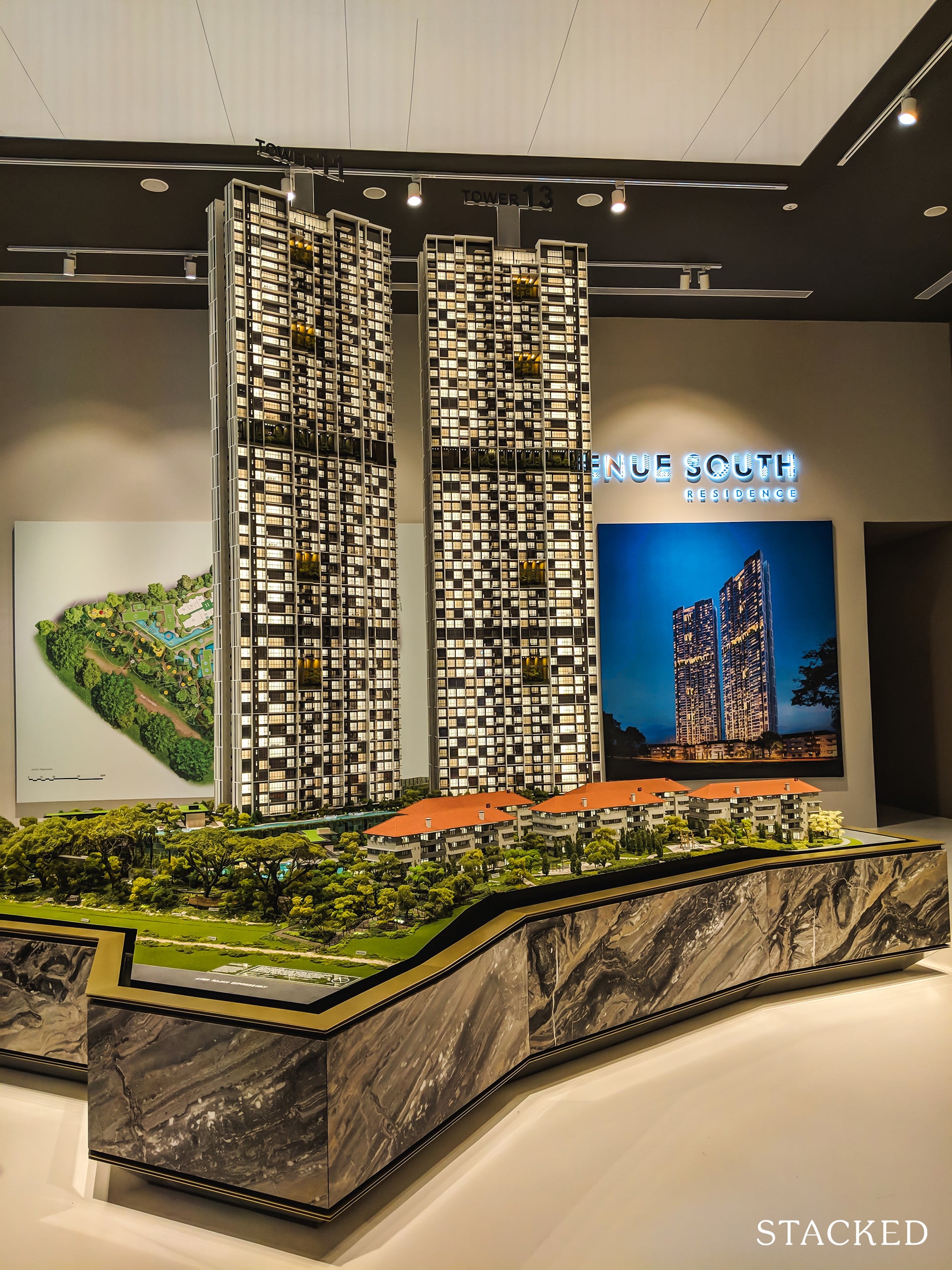 In my opinion, I feel that the asking price of Avenue South Residence is reasonable, if not a tad on the cheaper end, all things considered. If I had the choice, however, I would be inclined to fork out a little more for Sky Everton – think of this as a comparison of the crème de la crème.
Don't get me wrong, Avenue South Residence does have incredible prospects (impending GWS) coupled with solid nearby amenities and a good location. Personally, however, I find 1,074 units in a 245,972 square feet area a tad squeezy. Couple that with the slight added inconvenience of accessing the MRT, and it does seem to fall short of Sky Everton in terms of investment (also consider its 99-year tenure) and convenience potential.
IF however, a unit at Sky Everton wasn't an option, and I had to pick from an upcoming unit in District 3, then Avenue South Residence would certainly have my unrivalled attention.
What this means for you
You might like Avenue South Residence if:
You are looking to the future: The Greater Southern Waterfront is bound to bring with it a myriad of new opportunities leading to a solid rise in valuation.
You love the sentimental: Think of the heritage units as a familiar step back into a dark cave with the right equipment and assurance of safety.
You might not like Avenue South Residence if:
You are not a fan of crowded spaces: Building upwards does have its cons, and with 1,074 units in a 245,972 sqft area of land, things could get pretty hectic.
You have a solid budget and are looking for the best: In this case, Sky Everton will triumph Avenue South in a multitude of ways, including location and tenure.
End of Review