Commentary
A Review Of New Launch Condos Performance In 2023: Here's How Major Launches Have Fared So Far
Ryan J
May 10, 2023

9

min read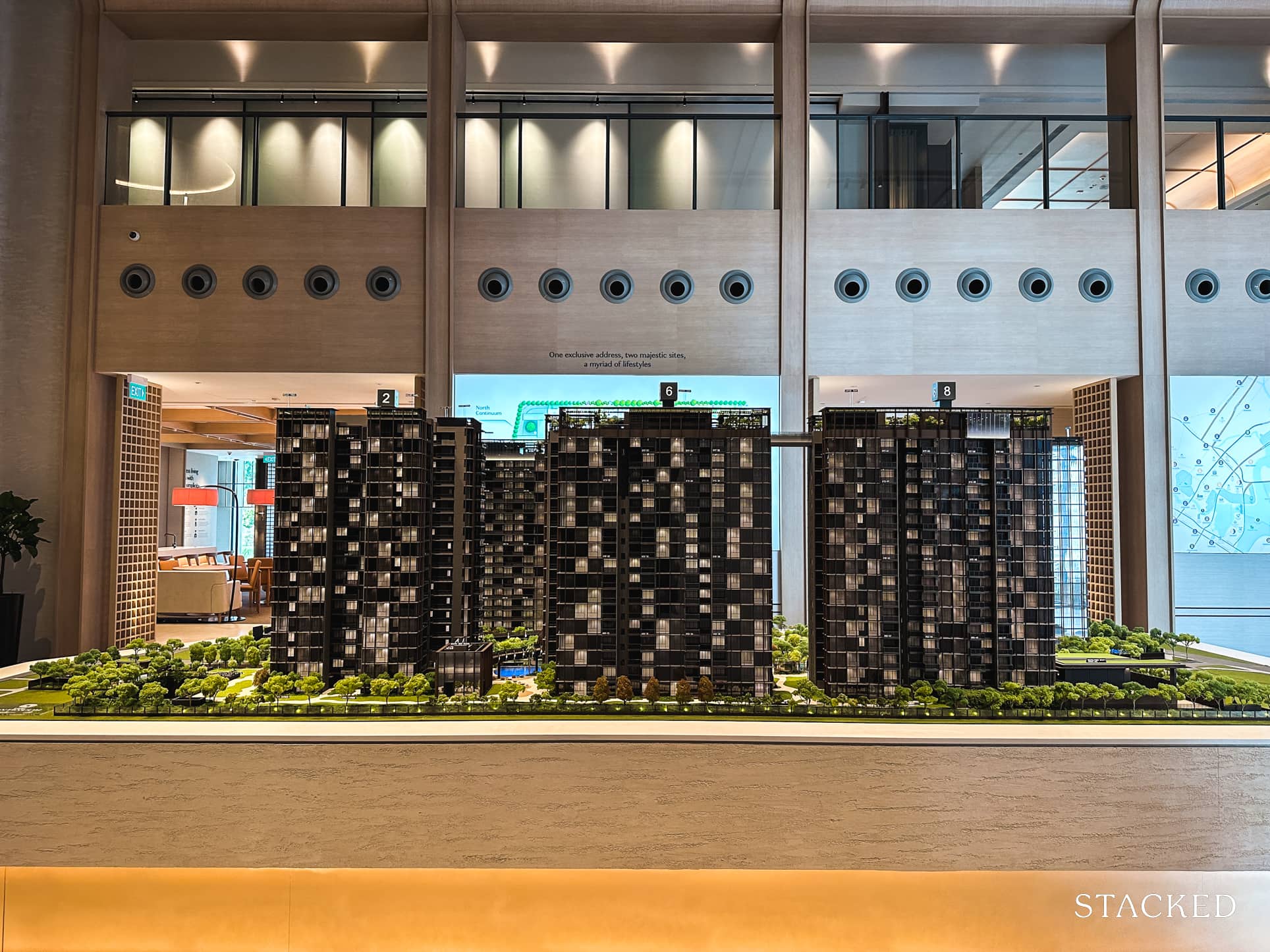 9
min read
As we approach the mid-year mark in 2023, we thought it would be appropriate to look back and see how the new launches have been doing. With the new cooling measures just announced recently, it certainly has dampened things, with some projects like Newport Residences having to push back their sales preview.
Here's how some of the bigger launches have been performing so far: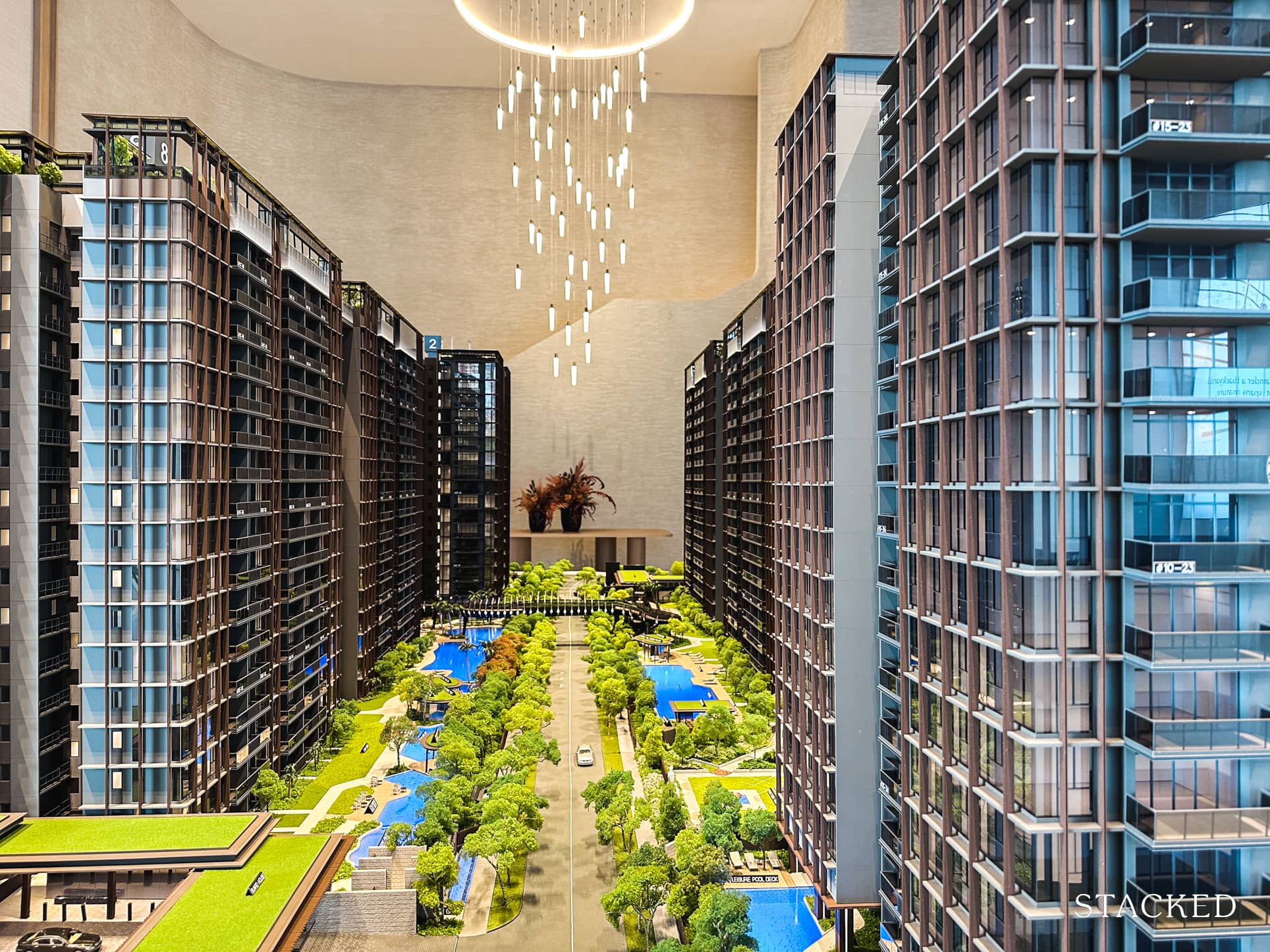 26 per cent of The Continuum sold at launch
At The Continuum, 216 of 816 units were sold over launch day; a weaker showing than Tembusu Grand, which is another new launch in the same district (at the time of writing, Tembusu Grand is about 55 per cent sold).
Of course, in terms of absolute numbers, it is closer, with Tembusu Grand moving 340 out of 638 units.
From word on the ground, we're told that the lowest-hanging fruit – the shoebox units – also didn't fully sell out. In The Continuum, these would be the 1+1 bedder units at 560 sq. ft. In most launches, these small, low-quantum units are among the first to move.
Perhaps buyers are also waiting for the launch of the mega 1,035-unit Grand Dunman before they make their final decision. Given the sales figures here, the new cooling measures, and the high-interest rates, Grand Dunman could be launched with more competitive pricing.
While the average price per square foot is high (around $2,700+ psf), this alone doesn't explain the slower sales. District 15 is a luxury area, so most prospective buyers wouldn't be too shocked at the prices. It's possible that out of the 3 new launches within the same area, The Continuum would have been hit the hardest by the new cooling measures for foreigners, as it seeks to be more of a luxury-focused project.
55 per cent sold at Tembusu Grand
Since its launch in early April (where opening weekend saw sales of 53 per cent), there have been a further 15 units sold.
At launch, 10 per cent of the units sold were from Permanent Residents and foreigners so it is reasonable to assume that this could have been lower if Tembusu Grand had launched after the announcement of the cooling measures.
Just like The Continuum, buyers shopping for a new launch within the District 15 area have the luxury of choice and some could still be waiting for Grand Dunman to launch before making a decision.
63 per cent sold at Sceneca Residences
Sceneca Residences was the first new launch of 2023 and a major one after the September cooling measures. As such, many market watchers were anticipating the sales figures after launch weekend – as that could set the tone for the rest of the developments moving forward.
160 units or 60 per cent of the 268 unit development were sold over the launch weekend, which was considered decent at that time. Since then, 12 units have been sold.
51 per cent sold at The Botany at Dairy Farm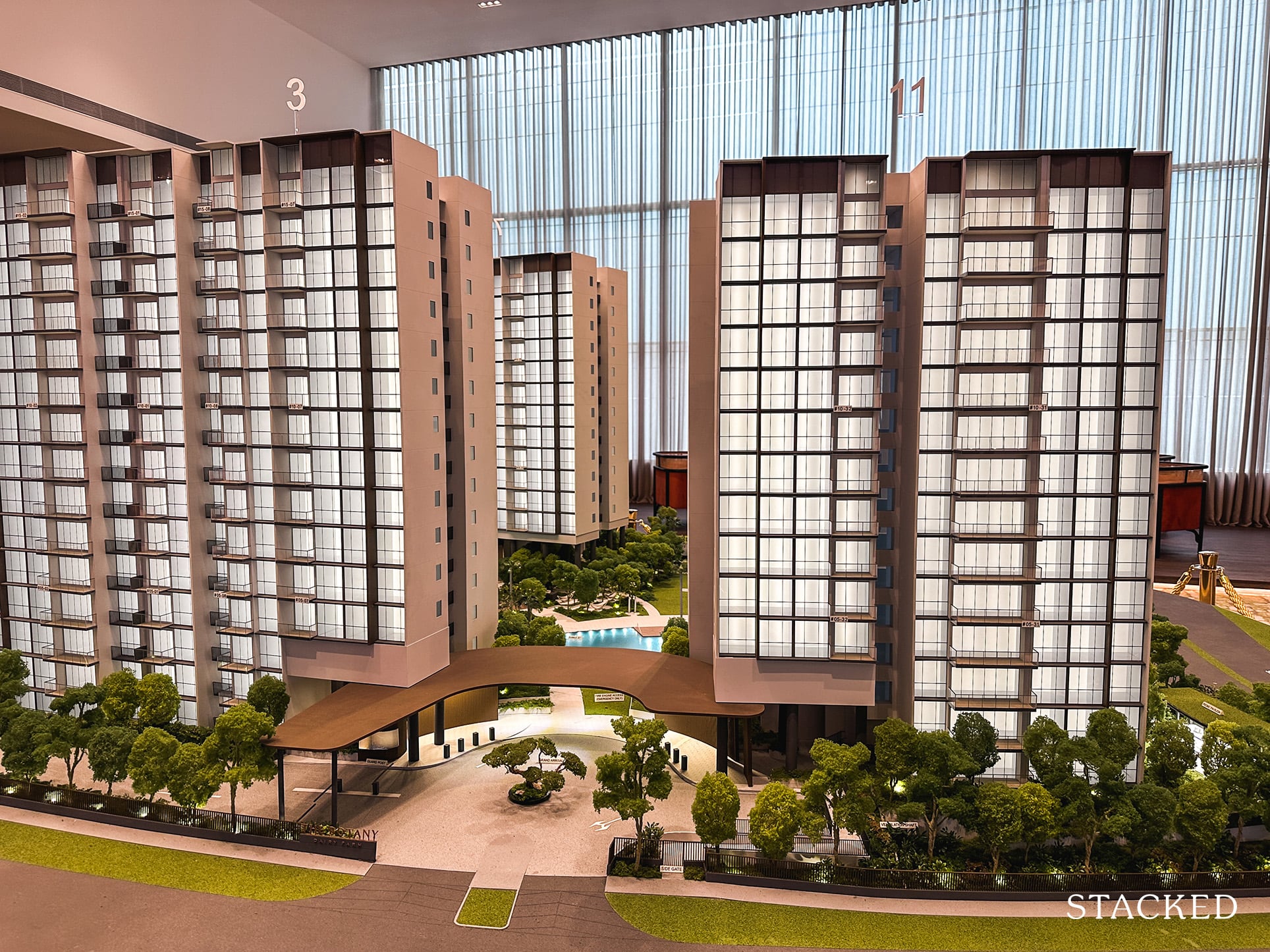 The Botany at Dairy Farm was an interesting one because the previous launches in the area like Midwood and Dairy Farm Residences didn't enjoy the best of starts.
For example, Midwood sold 50 per cent of its units during launch weekend. Which sounds good as a headline, until you find out that just 50 units were released for sale. Dairy Farm Residences sold 35 out of 80 units launched, which was a slightly better showing.
So comparatively, The Botany at Dairy Farm did well, having sold 48 per cent during launch weekend. Since then, they've moved a total of 23 more units.
38 per cent sold at Terra Hill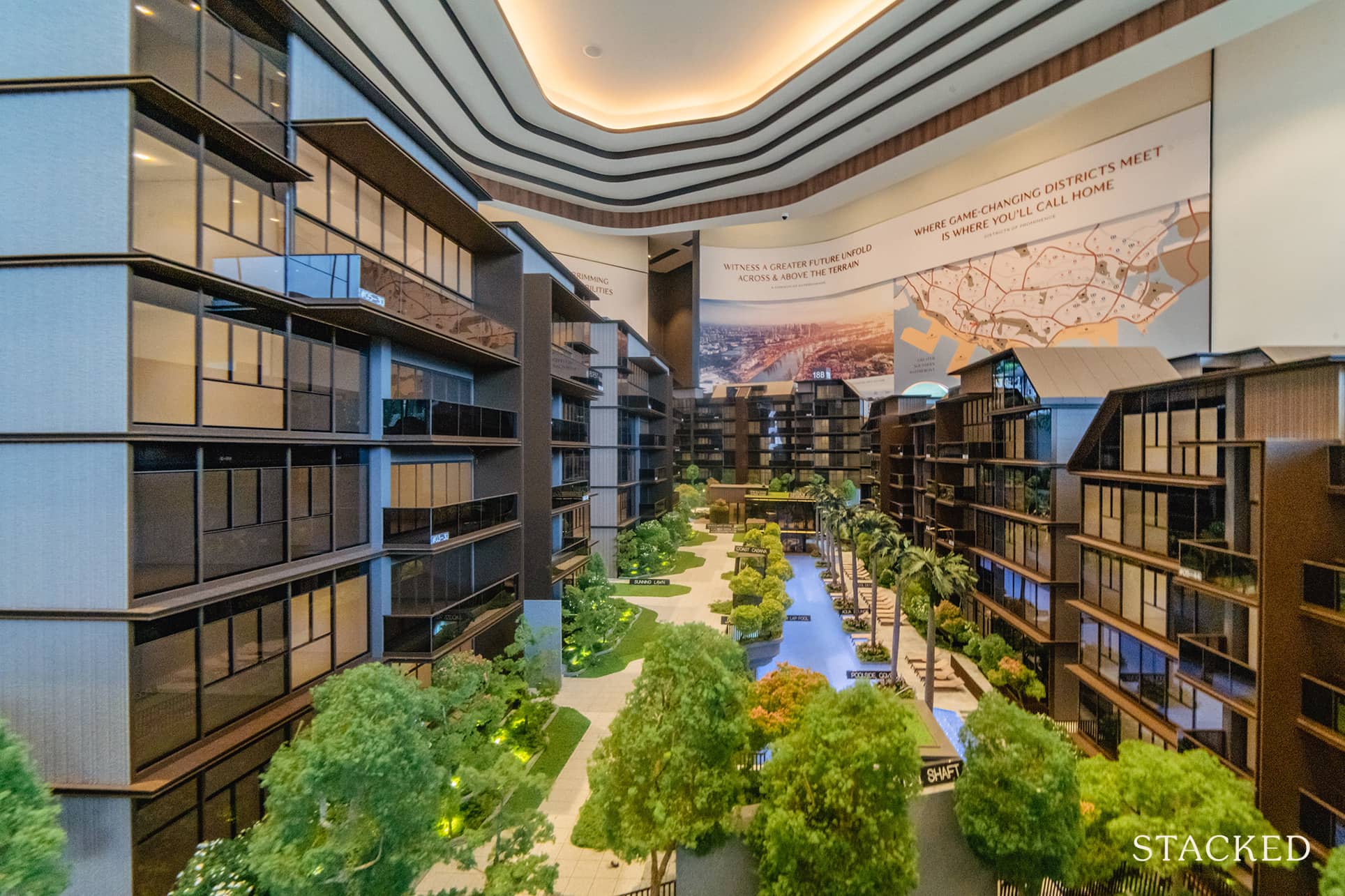 Terra Hill sold 38 per cent of its units at launch, or 102 units at an average of $2,650 psf. Since its launch in February, just 5 units have moved. Given its luxury focus in an area not commonly known for luxury, some might say that's not a bad showing at all.
75 per cent sold at Blossoms by the Park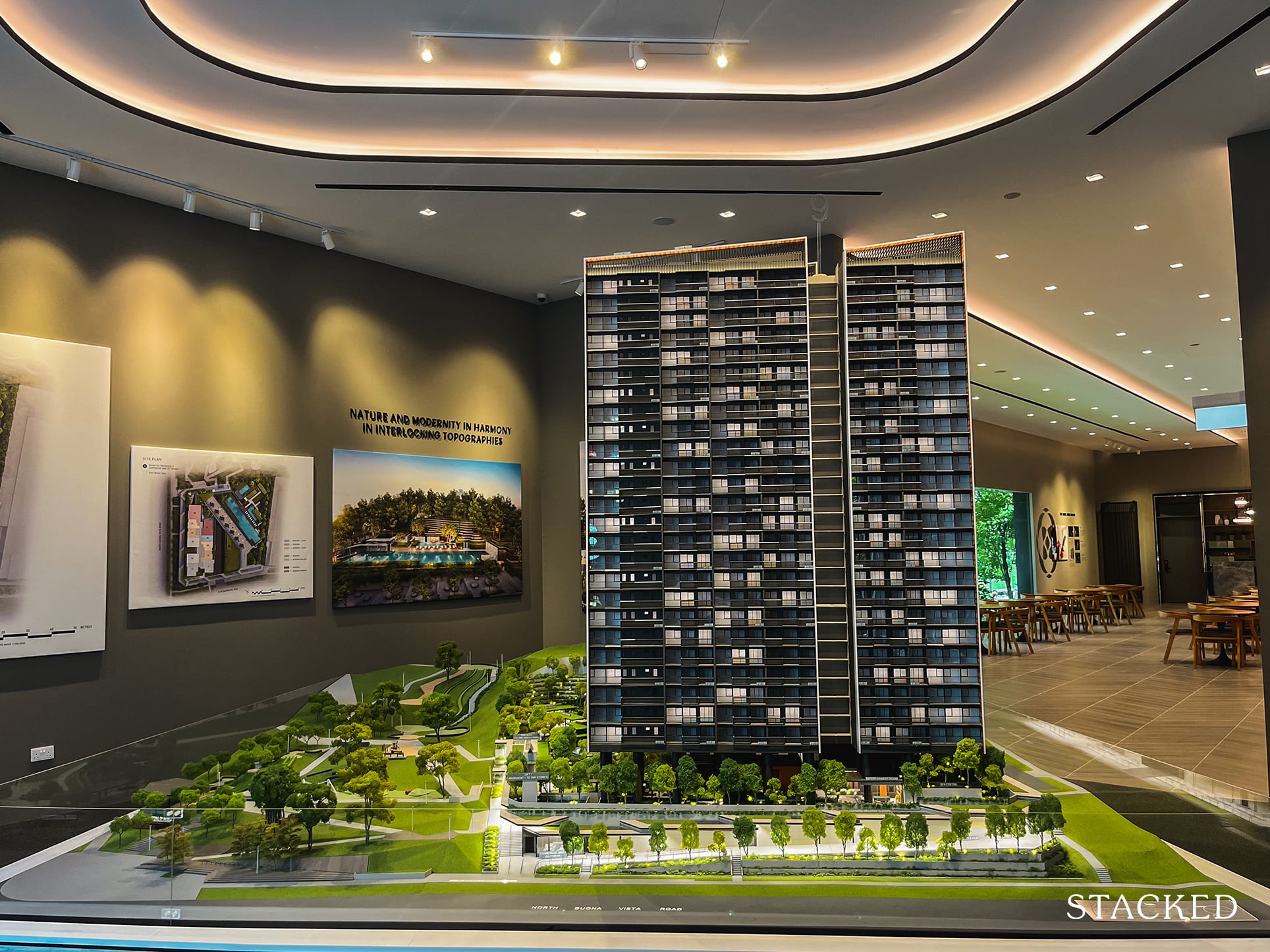 Registering the best major new launch sales of 2023 so far, Blossoms by the Park has sold nearly 75 per cent of its 275 units. As of 6 pm on launch weekend, it had sold over 70 per cent at an average of $2,423 psf.
Given that this was just after the announcement of the cooling measures as well (some foreigners even still went ahead with their purchase), some would consider this a really good result.
That said, given there are just 275 units here for sale (which is small in comparison to the number of units available in District 15), and the strong sales and demand of the previous One-North Eden, most people weren't too surprised at the final numbers either.
*Do note that some of the numbers shown may not tally as launch figures do not account for buyers who may have pulled out after launch weekend.
Wider property market factors
Fewer foreign investors
ABSD rates for second properties
A slew of launches in District 15
Impact of rising interest rates
Potential end of the rental boom
1. Fewer foreign investors
Among the recorded transactions for The Continuum, none have been from foreigners. We're told that roughly 10 per cent of sales are from Permanent Residents, whereas the rest are all from Singaporeans.
From word on the ground, several foreign buyers – who previously expressed interest – have since backed out. This can be chalked up to the recent doubling of ABSD rates on foreigners and entities, from 30 per cent to 60 per cent.
One realtor noted that this has some bearing on the wider market:
"Most foreign investors tend to prefer luxury properties to mass-market options, so the 60 per cent ABSD will affect high-end properties more than other condo segments. If The Continuum continues to see slow sales, I would expect the same from other luxury launches in the coming year or two, and we may see prices in fringe districts catch up with areas like District 10 or District 15".
We're following up on this increasingly common pitch by realtors, and we're currently checking out the price gap between the Core Central Region (where most luxury properties are) and the fringe regions. Follow us on Stacked for an update on this shortly.
2. ABSD rates for second properties
Some other realtors didn't feel the lack of foreign investors was the main issue; they pointed out that foreigners made up a small percentage of buyers anyway, and couldn't account for such a significant lack of interest.
Rather, one realtor blamed it on the ABSD increase for a second property:
"To me, the main cause is the increase of ABSD to 20 per cent for the second property. Investors were already disincentivized when it was at 17 per cent. That's why even the one-bedders are not cleared, you can no longer justify it even with the rental income."
Another realtor felt that this provides opportunities for upgraders and singles, who have begun to struggle with new launch prices (now normalised at over $2,000 psf even for some fringe condos).
With investors switching to a "wait and see" approach, both these groups may see prices rise at a slower pace this year.
3. Slew of launches in District 15
Some market watchers speculated there are just too many new launches in the same district. Besides Tembusu Grand and The Continuum, Grand Dunman is also launching in the area – and Grand Dunman is not a luxury condo, it is adding an impressive 1,035 new units to the same area.
This isn't counting LIV@MB and Royal Hallmark, which are also adding more high-end options to the area.
If we look at resale condos in the area, we also see that the freehold status of The Continuum doesn't help much: there are plenty of boutiques, and freehold condos already in the District 15 area. And while the area is an ex-pat enclave, the slew of options means landlords will face more competition.
4. Impact of rising interest rates
Genuine owner-occupiers tend to respond to rising home loan rates with a sigh. If they need a place to stay, there's little they can do but pay for it. Investors, on the other hand, might refrain from buying entirely if rates climb too high.
One realtor noted this is an issue for the luxury market, which tends to attract more investors than owner-occupiers:
"The increase in interest rates happened so fast investors are already shaken. We went from rates below two per cent to rates reaching four per cent in only around a year. When you add the higher ABSD rates on top of the spiking interest rate, investors will definitely opt to wait and see; right now everyone suspects there's a chance that developers will offer a better deal, or extend early-bird discounts."
5. Potential end of the rental boom
From word on the ground, tenants are beginning to push back and turn down high rental rates. Some people have also expressed that the rental boom is the freak aftermath of our recent black swan (Covid-19), which will wind down as more new projects are completed.
Accordingly, more investors have been warned that new launch properties – which are typically ready in three to four years – are unlikely to benefit from the unsustainable rental boom.
Coupled with higher ABSD rates, this could make more aspiring landlords rethink their plans; or at the very least, start to consider less risky, lower-capital resale properties instead.
None of this is to say The Continuum or subsequent luxury properties are doomed to fire sales; we've seen projects that start slow but suddenly see a sales surge later. It does show, however, that cooling measures and an interest rate hike may bite deeper than expected. Follow us on Stacked as we keep track of the situation, and for in-depth reviews of the various projects mentioned.