Property Stories
A Landed Home For Just $780k? Touring Jalan Chempaka Kuning & Bedok Walk: Landed Estates With A Lot Of Character
TJ
September 25, 2022

17

min read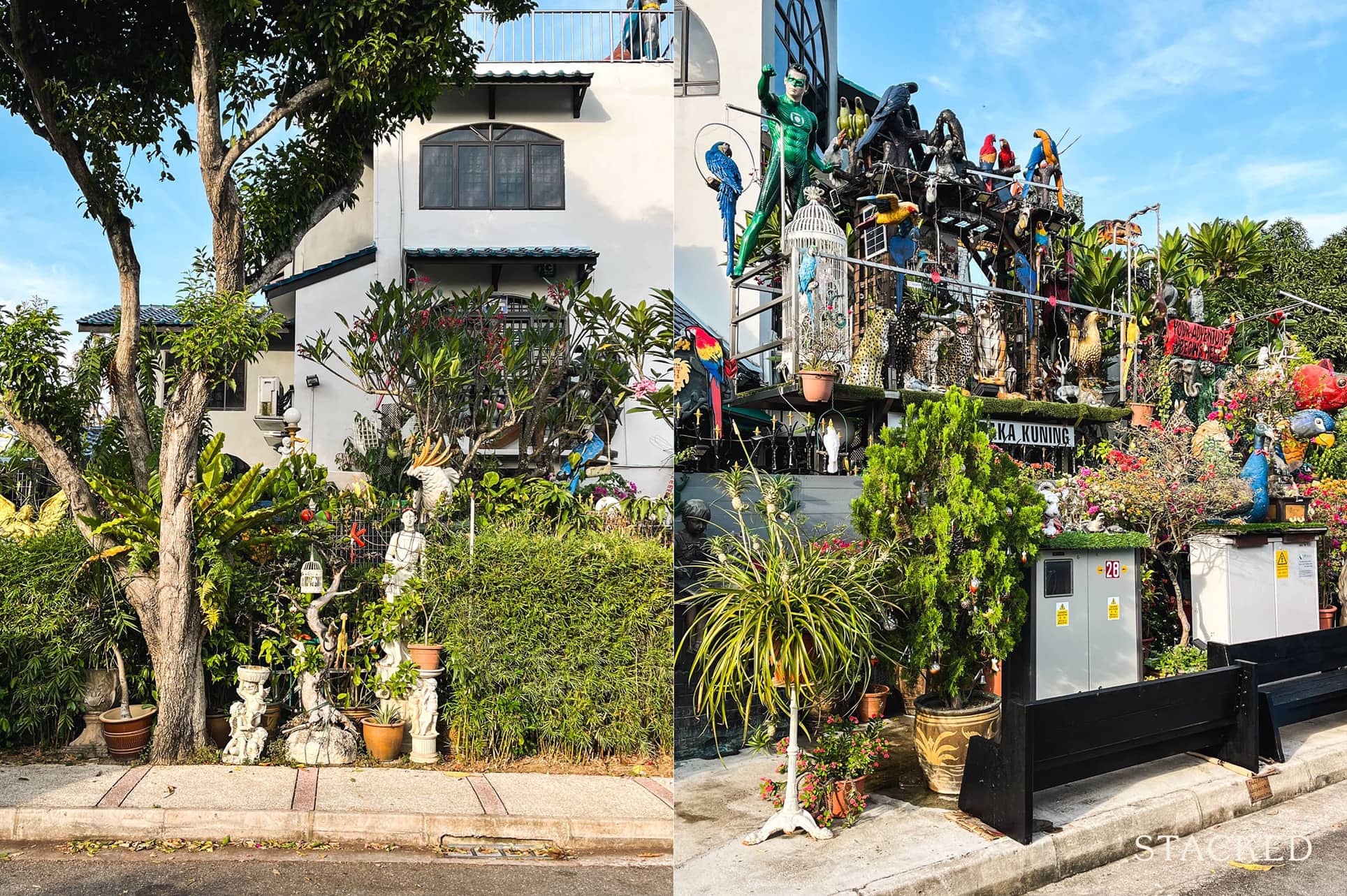 17
min read
We seem to have a lot of readers who love the East lately, as there have been quite a few reader requests for landed tours in the East! And so today, I'm heading over to Bedok Walk for my weekly walkabout. (For those who've asked for an overview of Kembangan, I've heard you and will share my review of a landed enclave there soon!)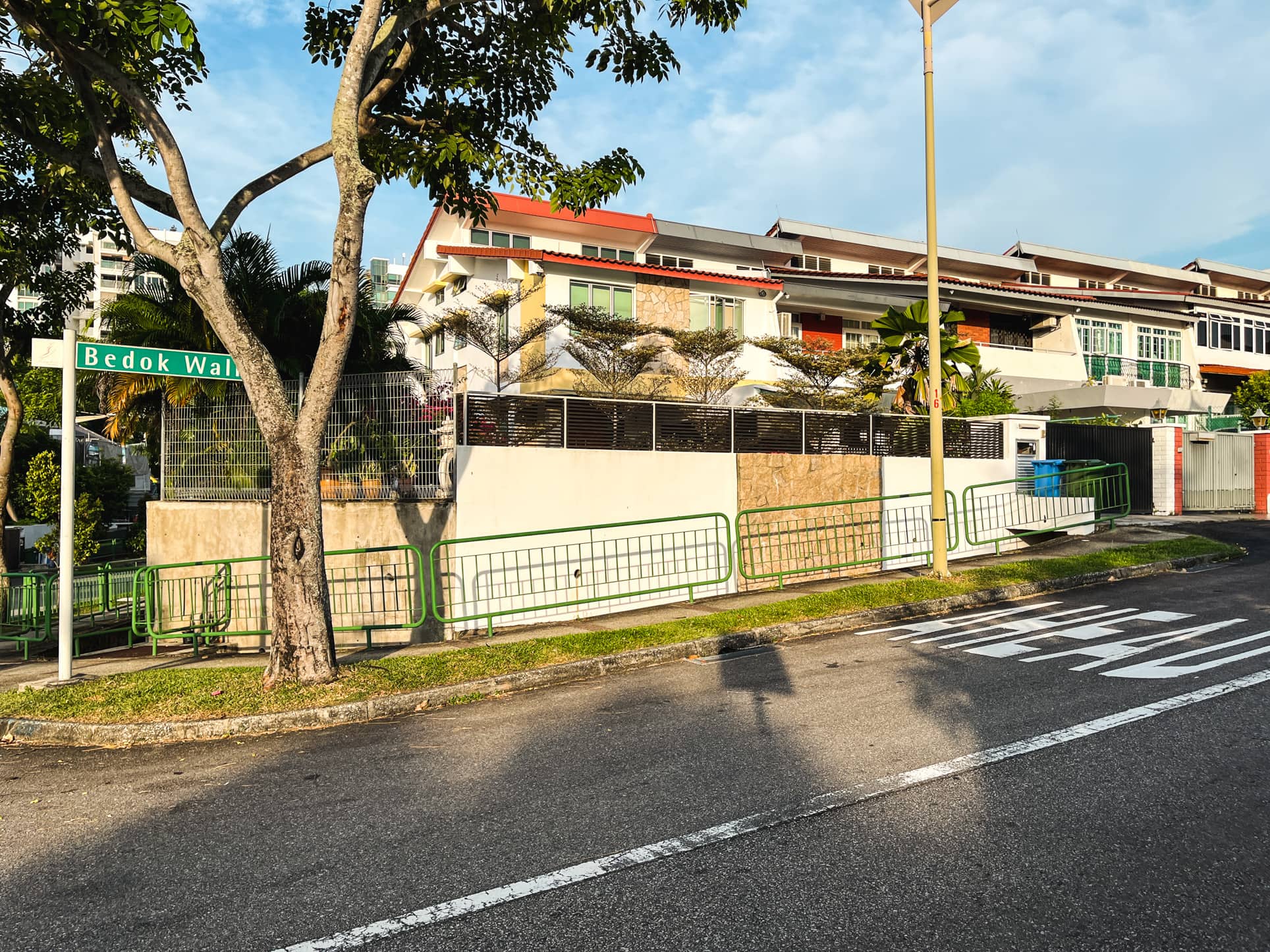 Bedok Walk is actually a very short street, so I decided to review the area between Bedok Park Connector, New Upper Changi Road, Tanah Merah Kechil Avenue, and Upper Changi Road. My first impression of Bedok Walk is of the industrial area that one has to drive through to get to it (if driving in from town via the PIE.) It isn't a huge area, but you would have to be comfortable with sharing the road with lots of heavy vehicles to get home, which can be a potential issue for older drivers.
Note: The traffic from Bedok to the city (via the PIE) is heavy from 7 am all the way to 9 am+.
My second impression is that the estate has a TON of character. If you may recall, I've mentioned that I like viewing landed houses because there's a lot of potential to personalise (versus condos which are usually kept cookie-cutter due to management rules.) Well, this estate has the street with the most character that I've ever seen in my many landed tours for Stacked! If you don't believe me, see for yourself.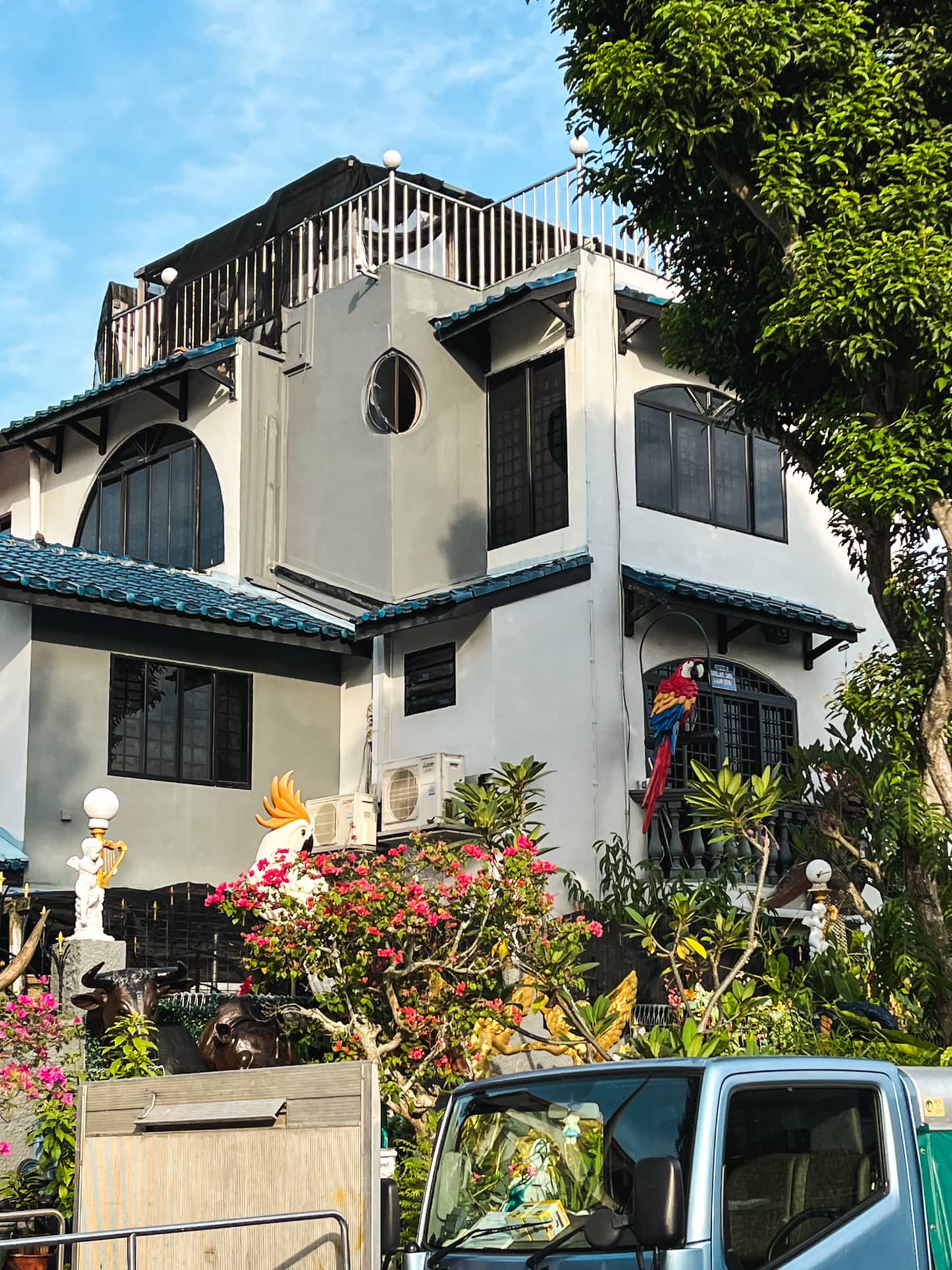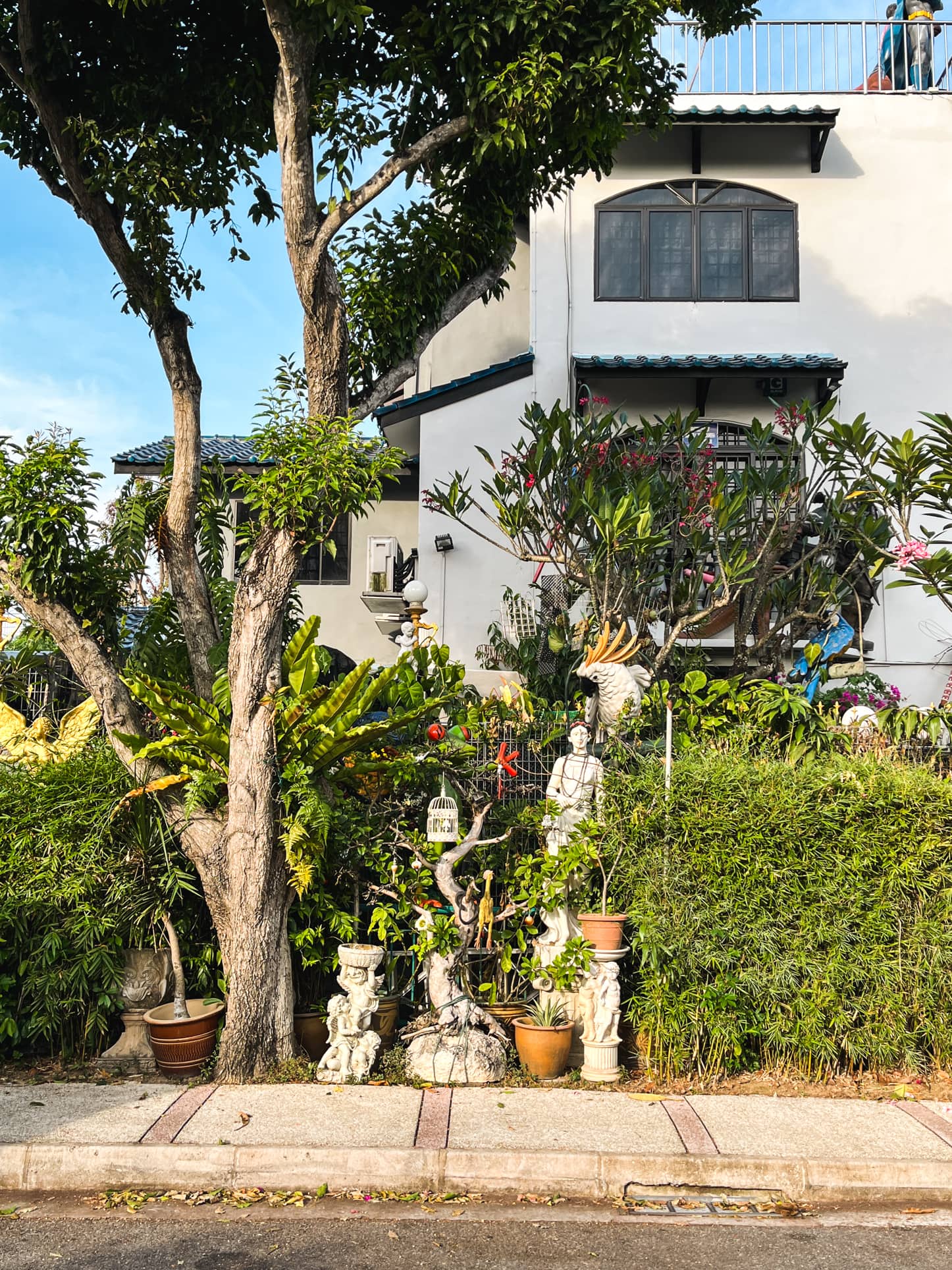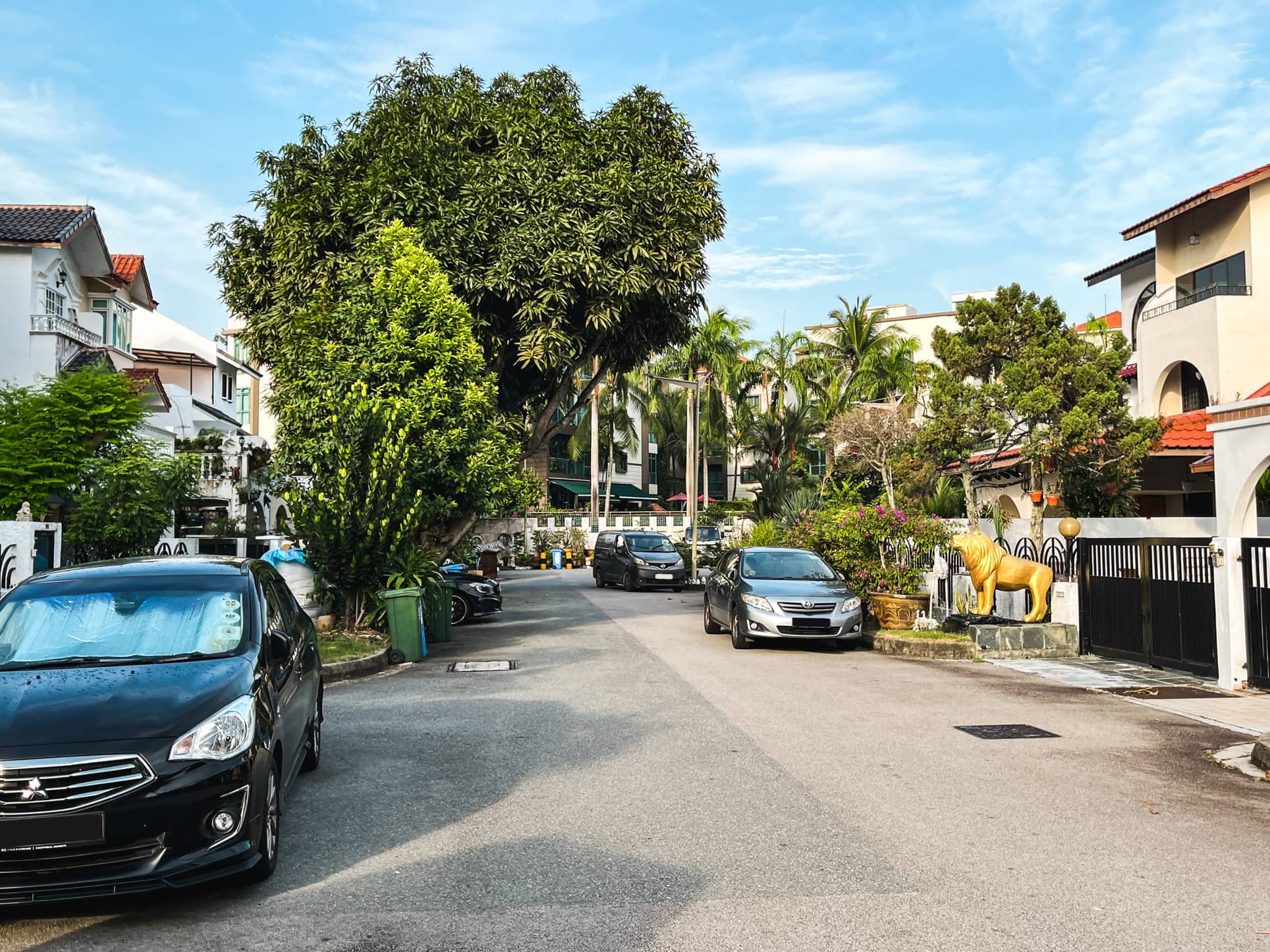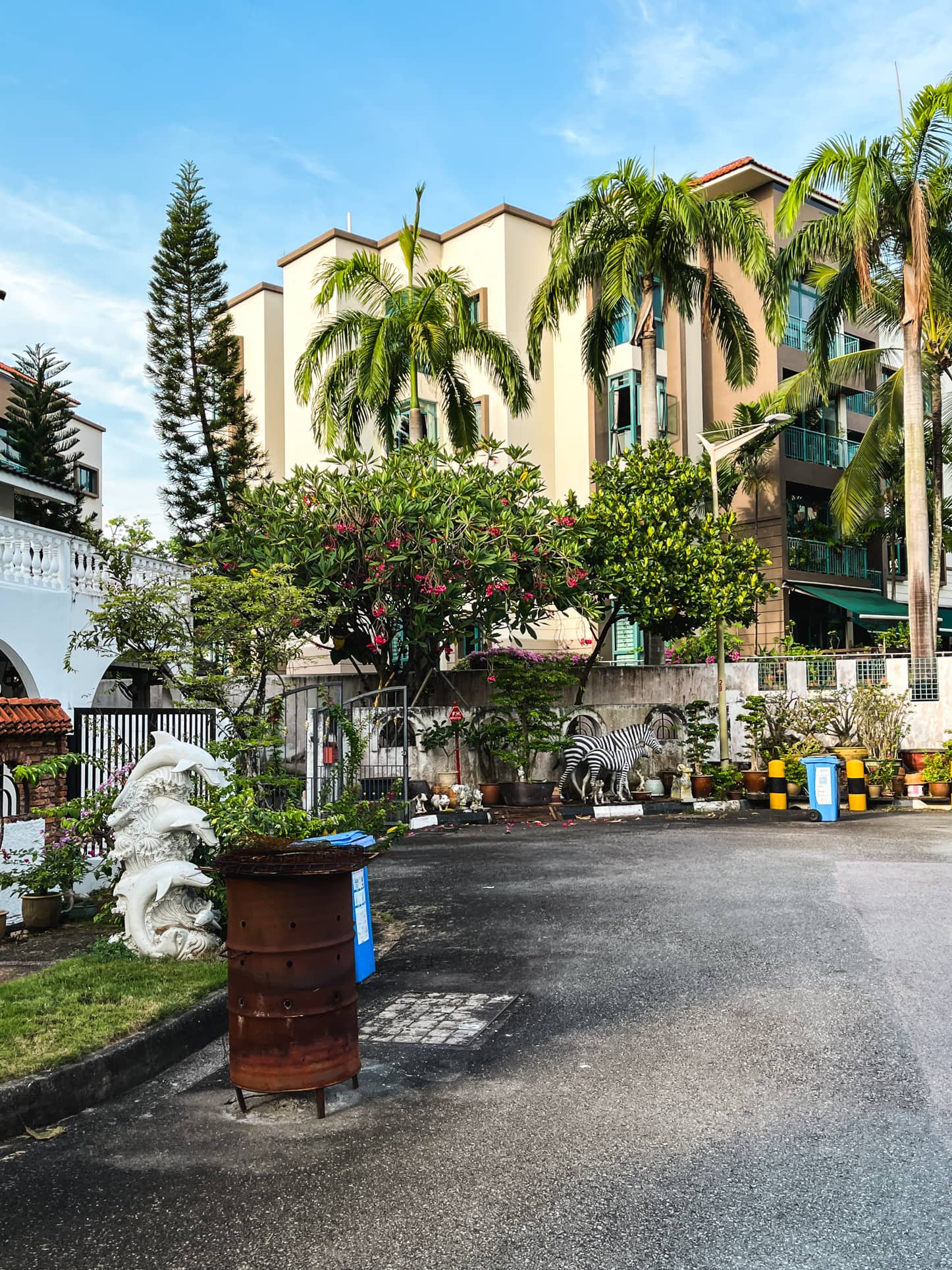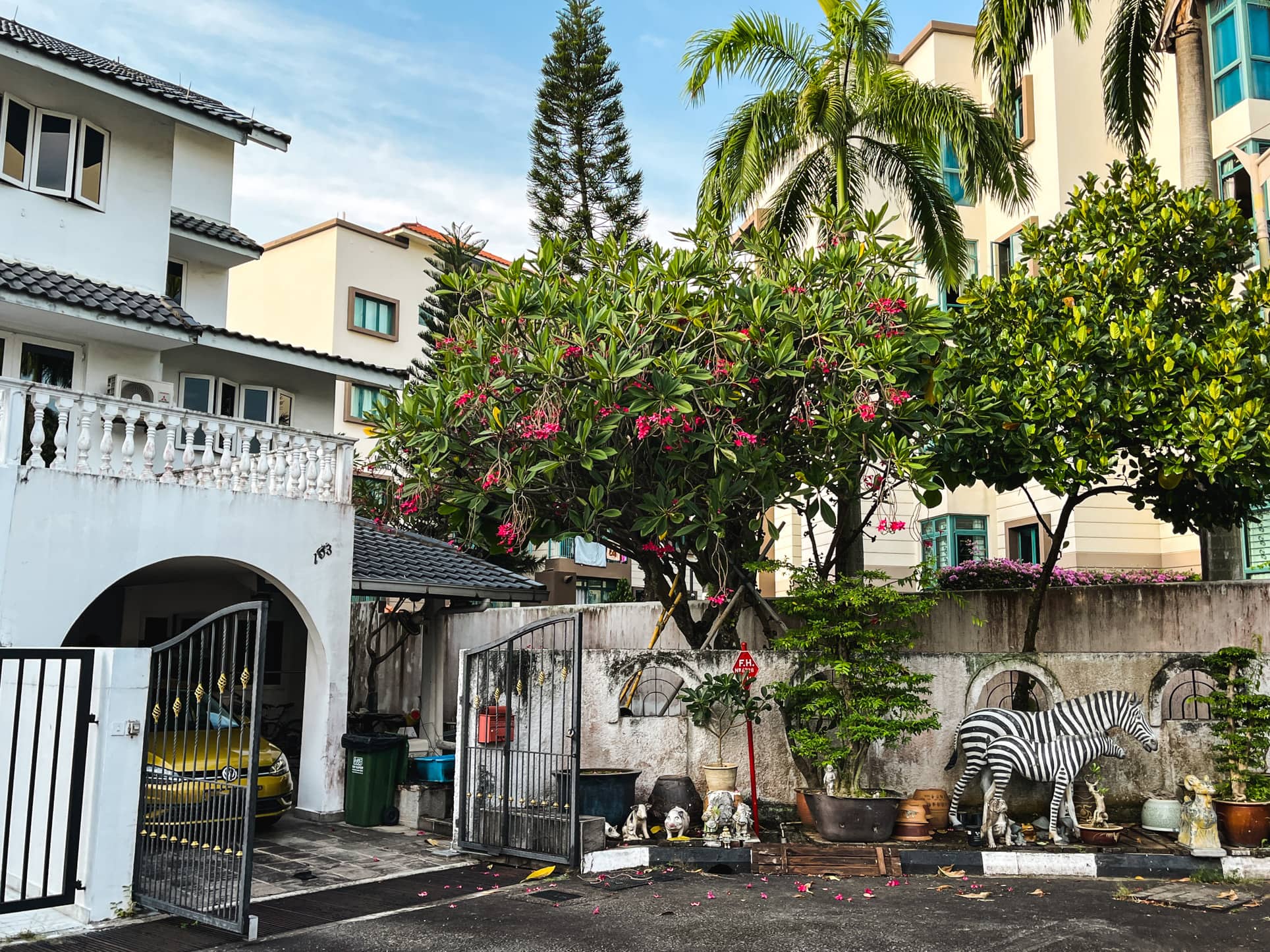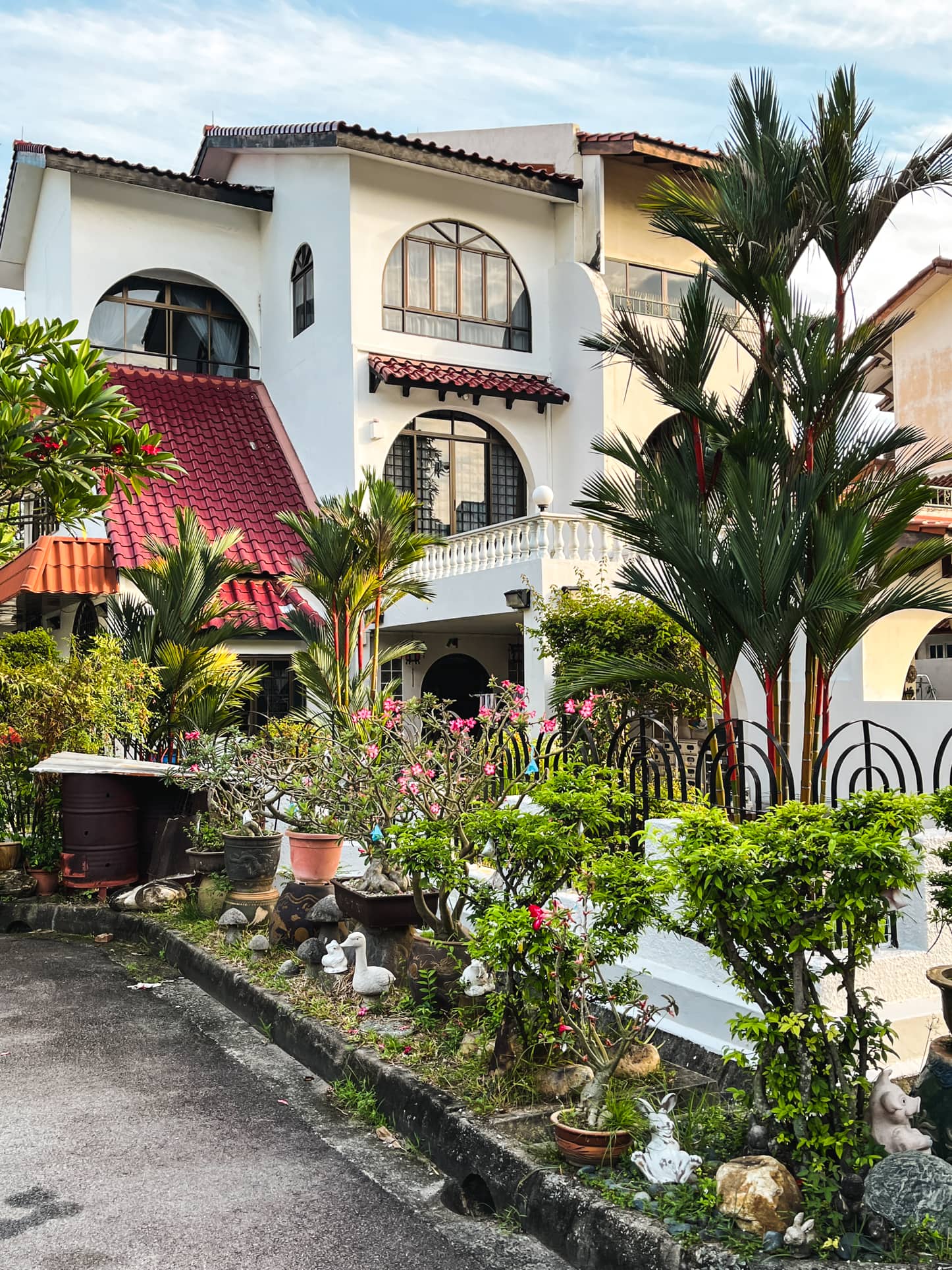 On with the rest of the tour!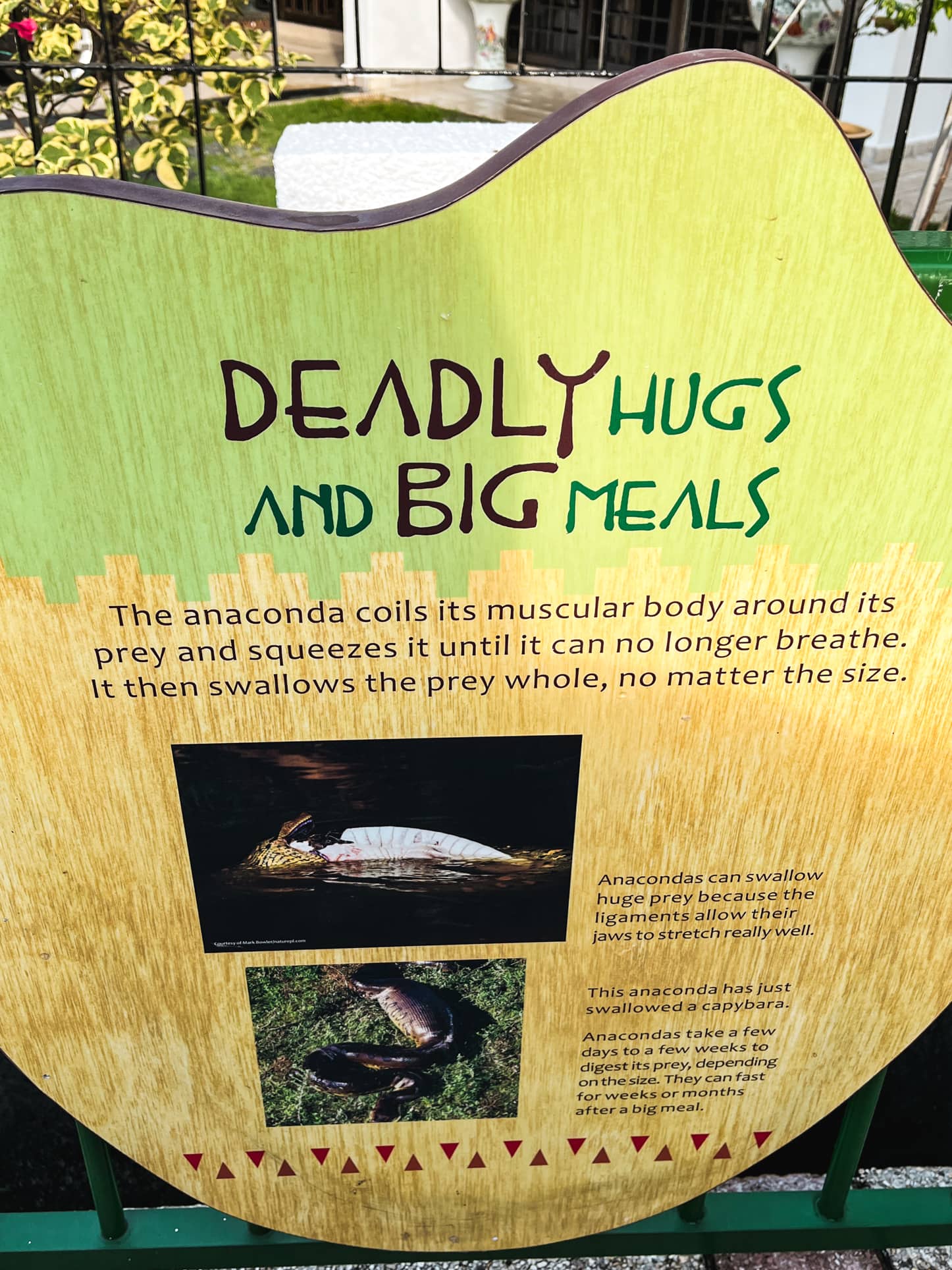 These photos were actually taken along Jalan Chempaka Kuning, which is a very interesting street as house prices here range from about $700,000 to $10 million! If you're wondering if I've made a mistake, the discrepancy is because some of the houses are on 70-year leases which expire in 2034, whilst others are freehold.
If you've been following this landed tour series, you may remember when I reviewed Fuyong Estate and, although I liked it, wondered about whether the area would become very run-down as the lease starts dwindling (based on the experiences of those who stayed at Geylang before the land returned to the government.)
Well, I'm happy to say that Jalan Chempaka Kuning looked to be in decent condition and I didn't see lots of litter or rats running around, despite the Geylang horror stories (where some residents actually had to build mini-barricades to keep the pests out!) I didn't spot any worker dormitories or temples either, if you were wondering.
Note: if you're wondering about transacted prices, houses at Jalan Chempaka Kuning have been transacting between $320,000-$590,000 in 2021 and 2022.
| | | | | | | |
| --- | --- | --- | --- | --- | --- | --- |
| Date | Address | Type | Lease | Size (Sqft) | $PSF | Price |
| 26 AUG 2022 | 102 JALAN CHEMPAKA KUNING | TERRACE | 70 YRS FROM 1964 | 2,631 | 224 | $590,000 |
| 22 APR 2022 | 30 JALAN CHEMPAKA KUNING | TERRACE | 70 YRS FROM 1964 | 2,367 | 135 | $320,000 |
| 6 OCT 2021 | 73 JALAN CHEMPAKA KUNING | SEMI-DETACHED | 70 YRS FROM 1964 | 3,072 | 155 | $475,000 |
| 7 JUL 2021 | 21 JALAN CHEMPAKA KUNING | SEMI-DETACHED | 70 YRS FROM 1964 | 3,034 | 168 | $510,000 |
Anyway, a photo paints a thousand words, so I'll show some photos of the street to let you decide for yourself!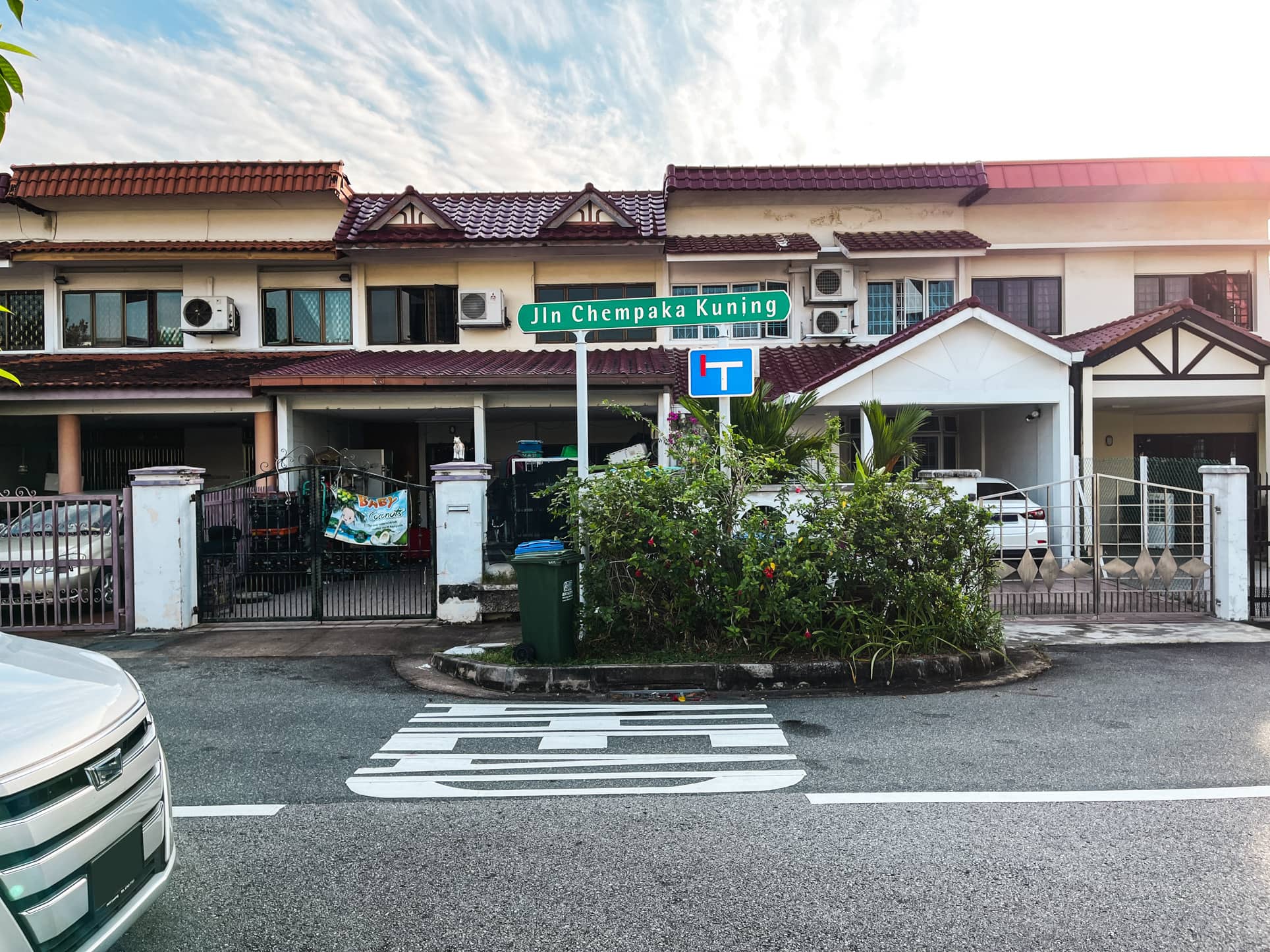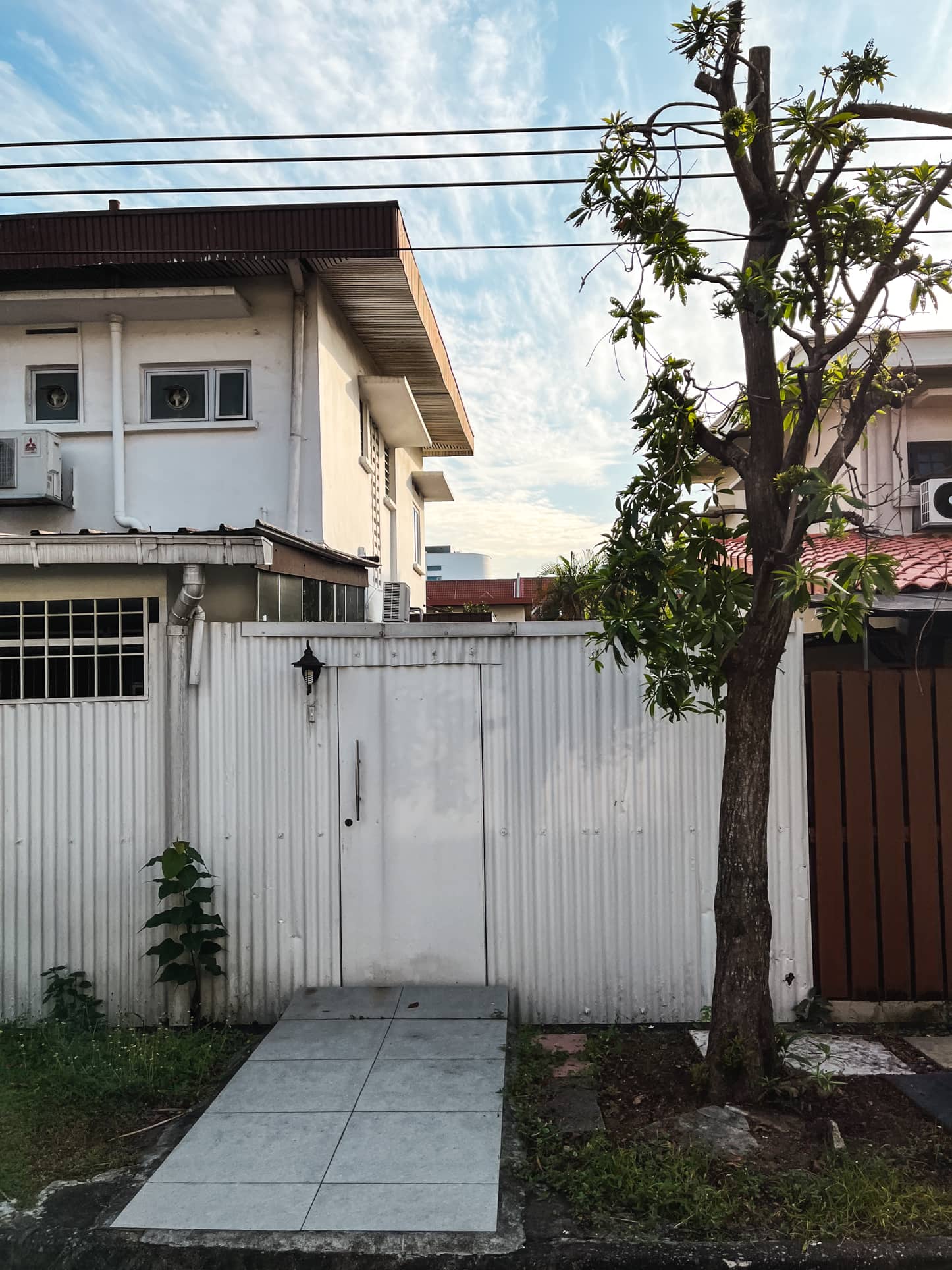 The houses here are on the smaller side (terraces) and so there are cars parked on the street, but it's not as crowded as other estates I've been to – probably because Simpang Bedok wasn't open when I visited. As the street is so near the market (which doesn't have a terribly big carpark) and is so short, I'm guessing it may get quite jammed when the market is busy!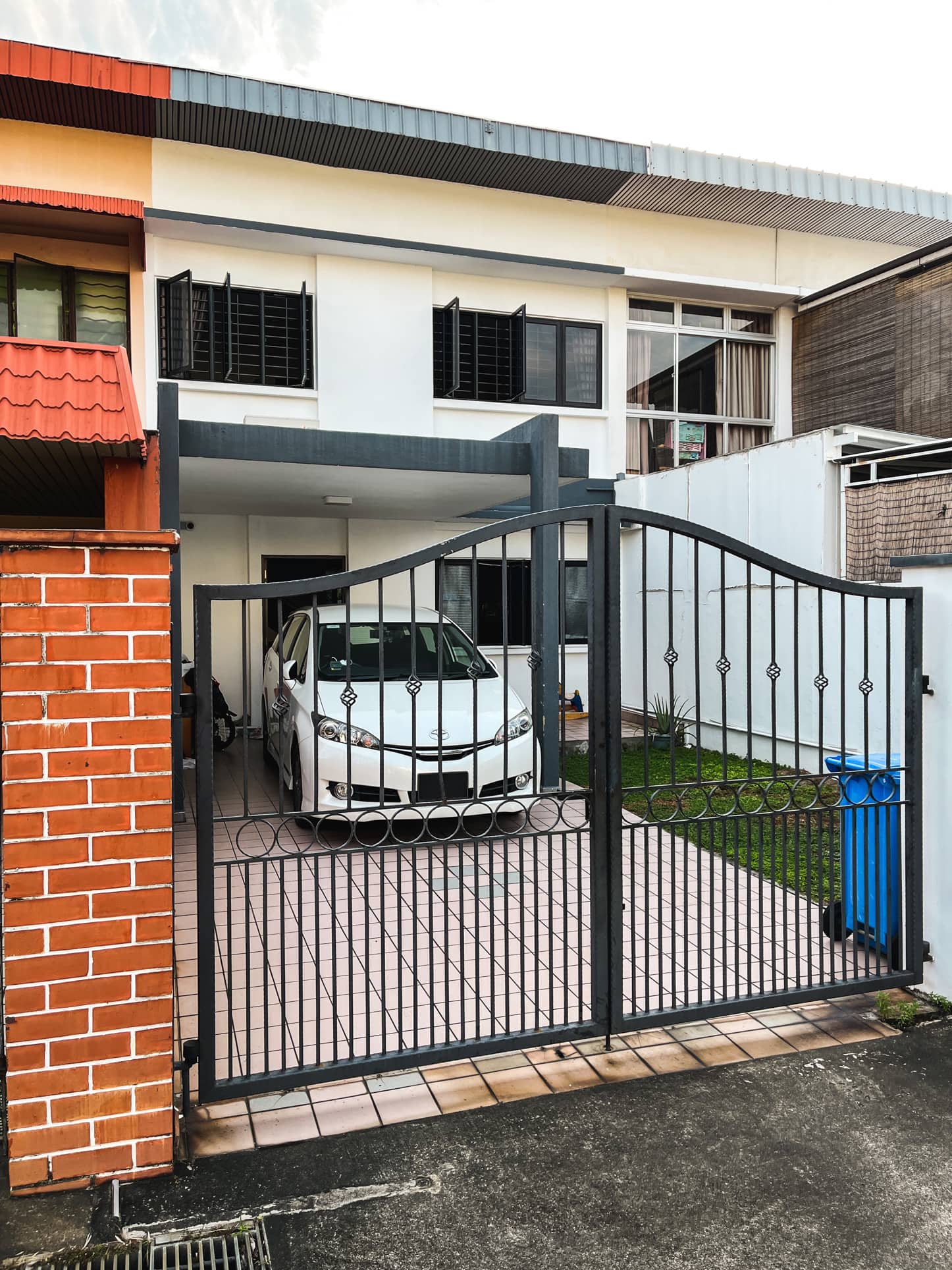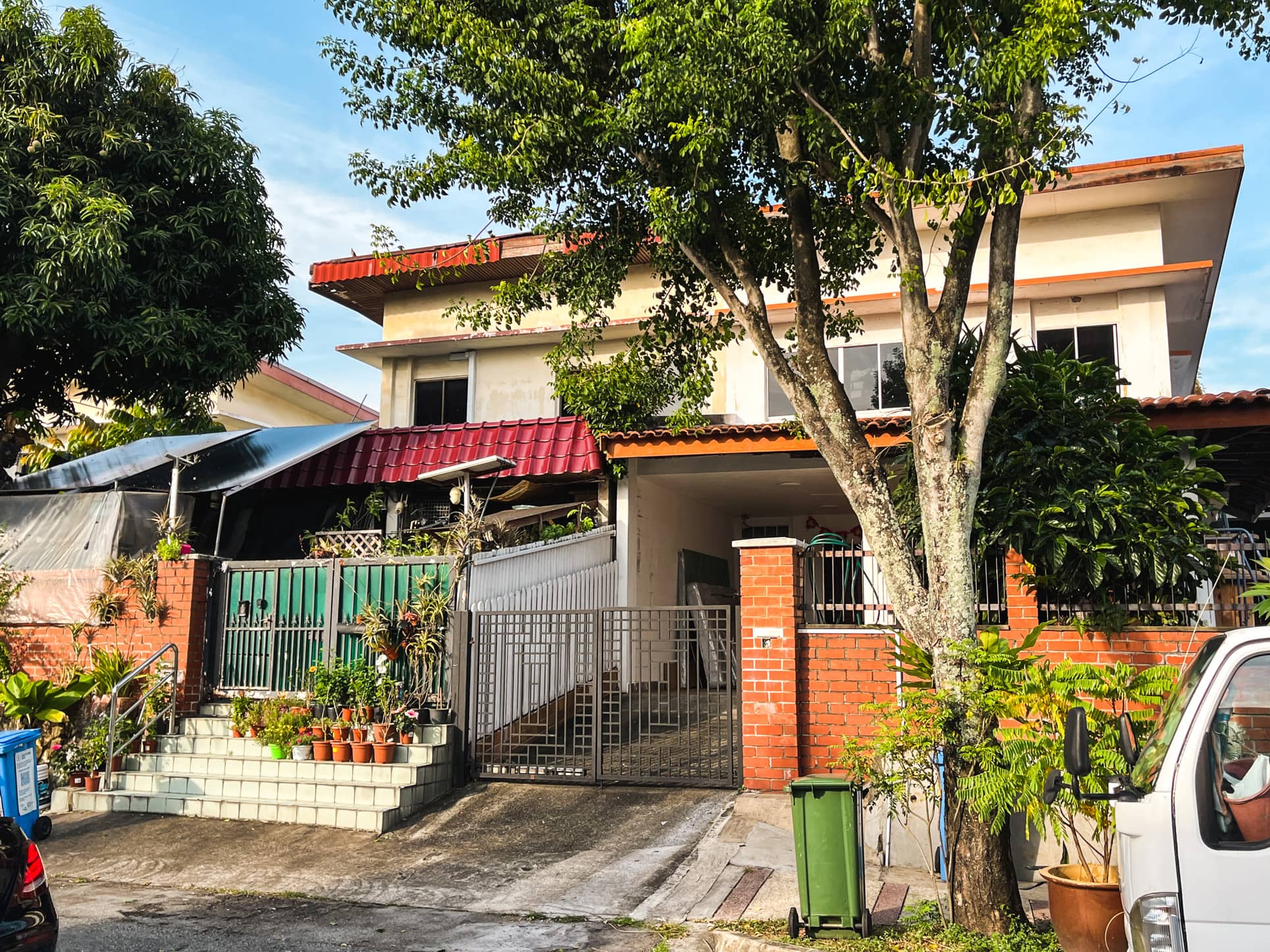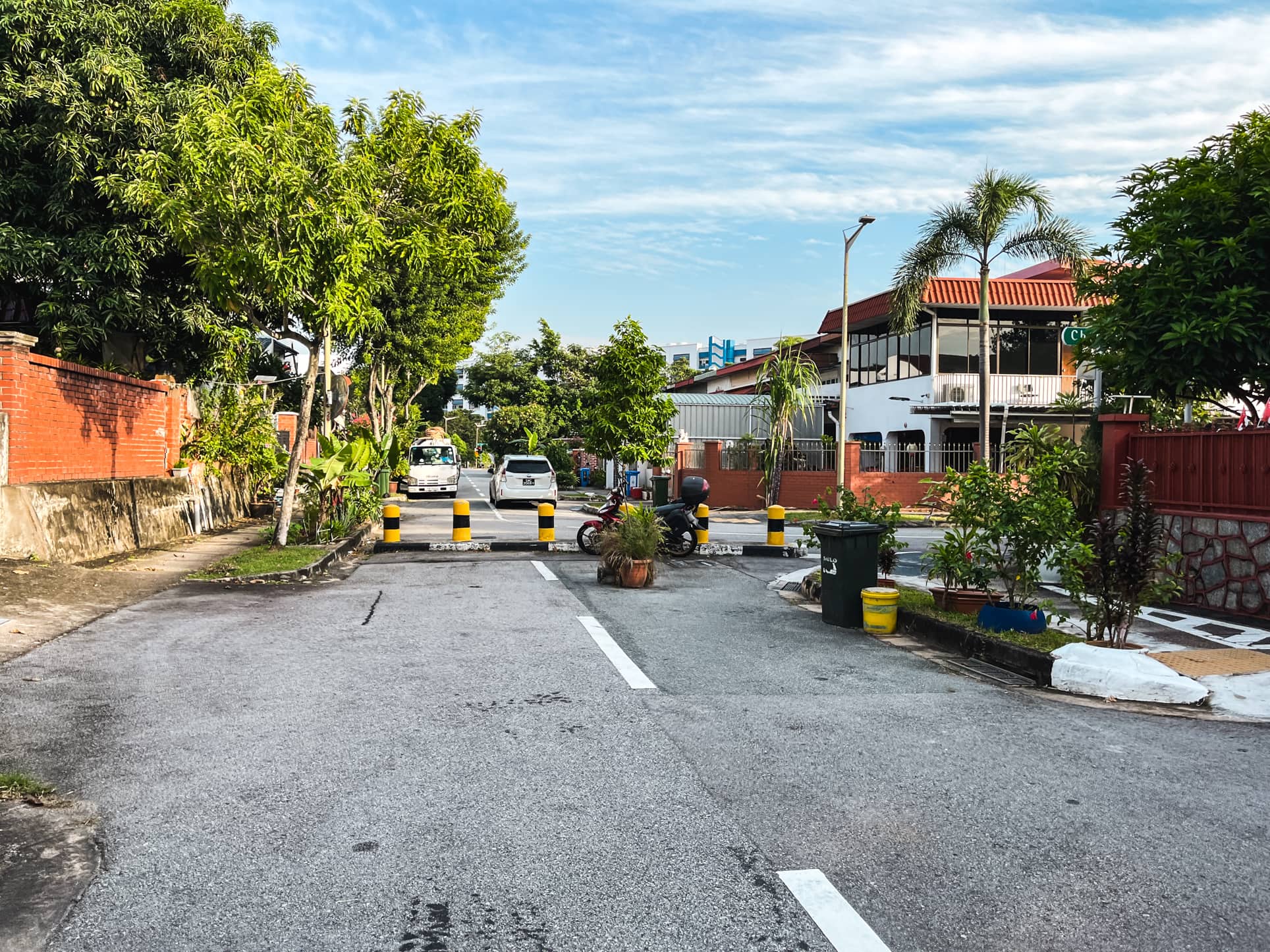 To the right of the previous photo is Springfield, a leasehold cluster house development that borders Bedok Park Connector. It has 111 units and (at the time of writing) had units on sale from $1.998 million to $2.45 million. (The 99-year lease dates from June 1995, so it has quite a while to go, unlike the leasehold houses around it.) Next to The Springfield is another cluster house development, Summer Gardens, also with a 99-year lease dating from June 1995, with a public playground opposite from it.
Read this next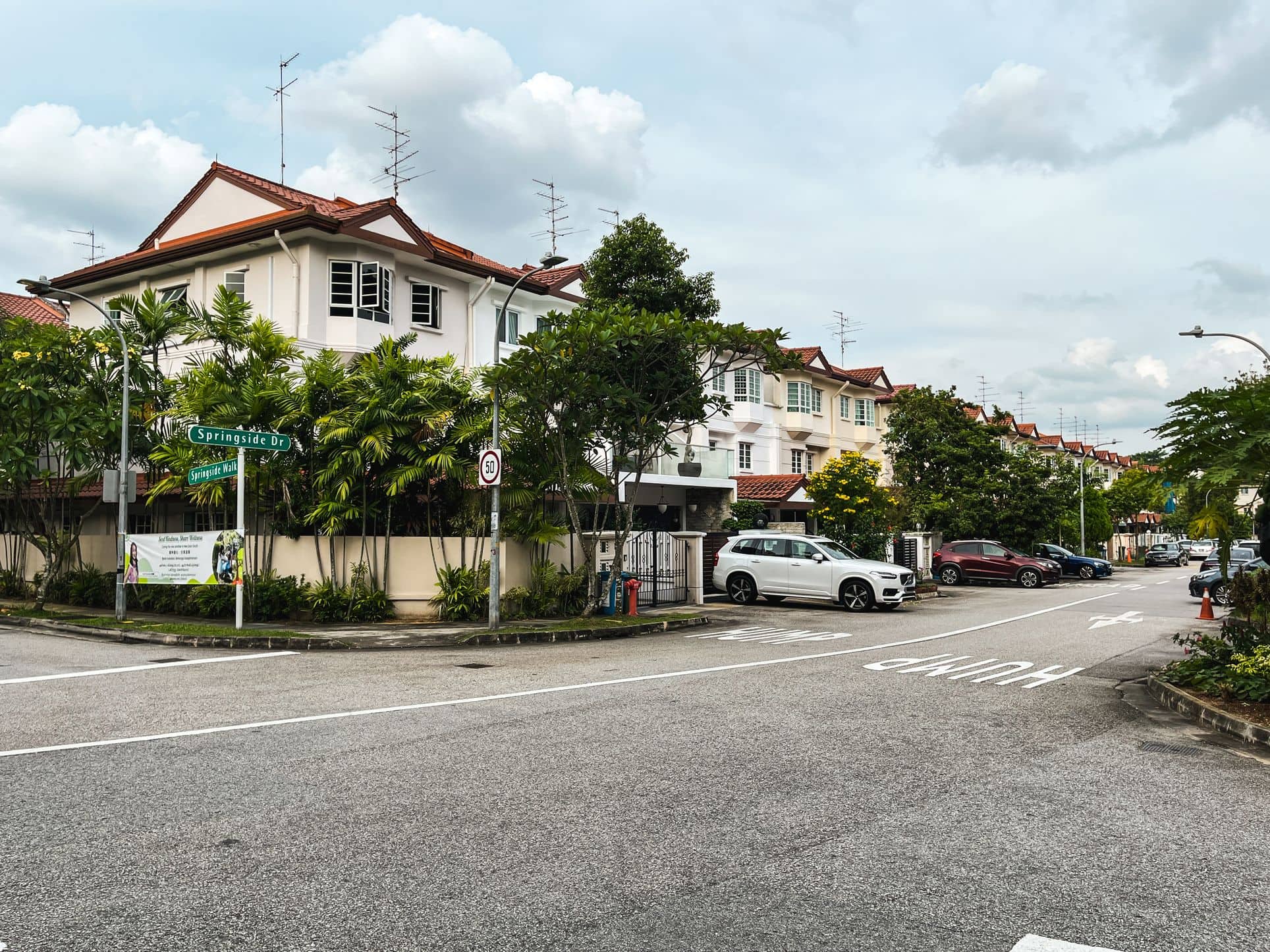 If you continue walking across the dead-end barrier (the yellow and black barriers shown in the previous photo) you will see the houses with the statues that I started the article with.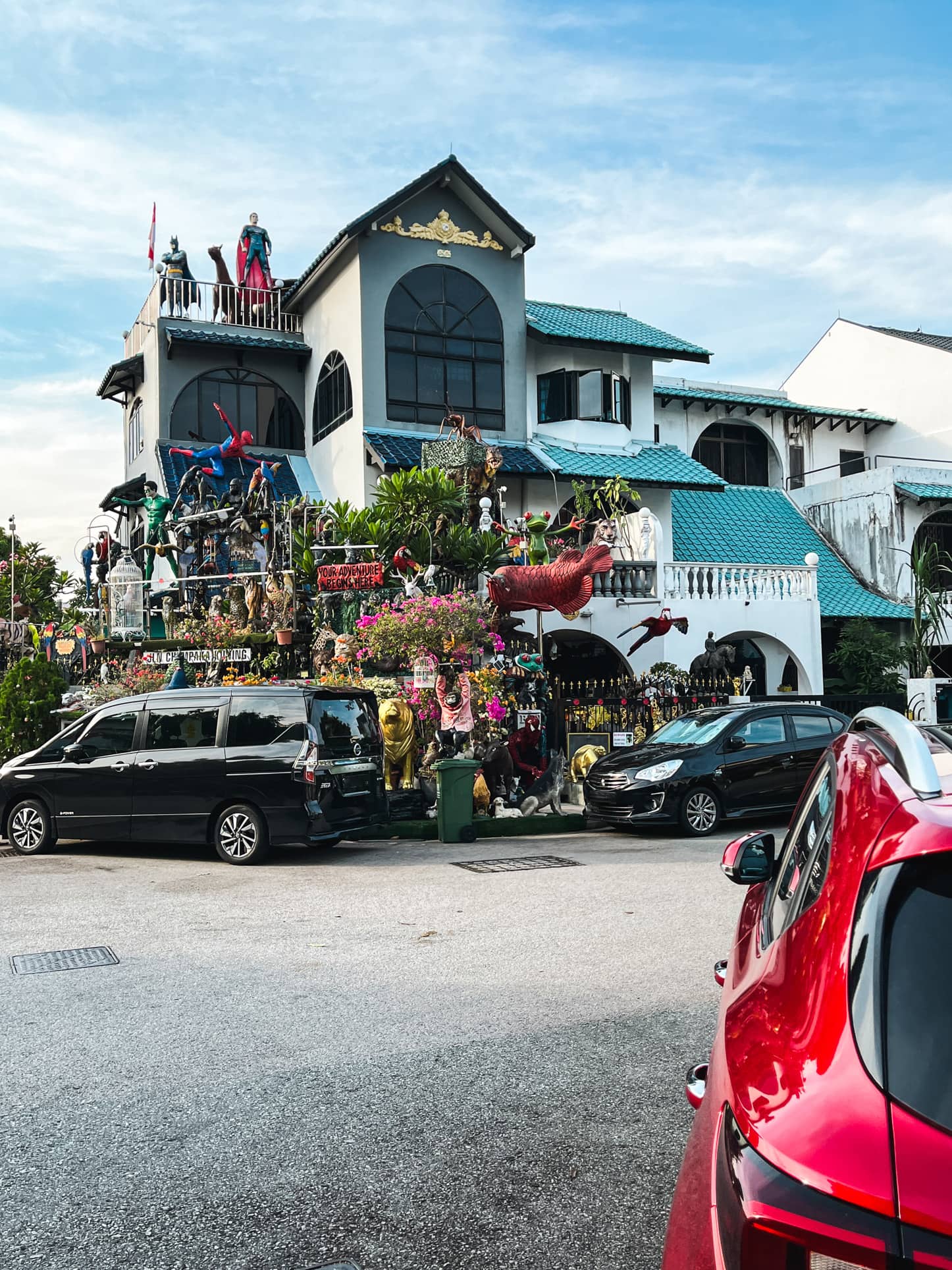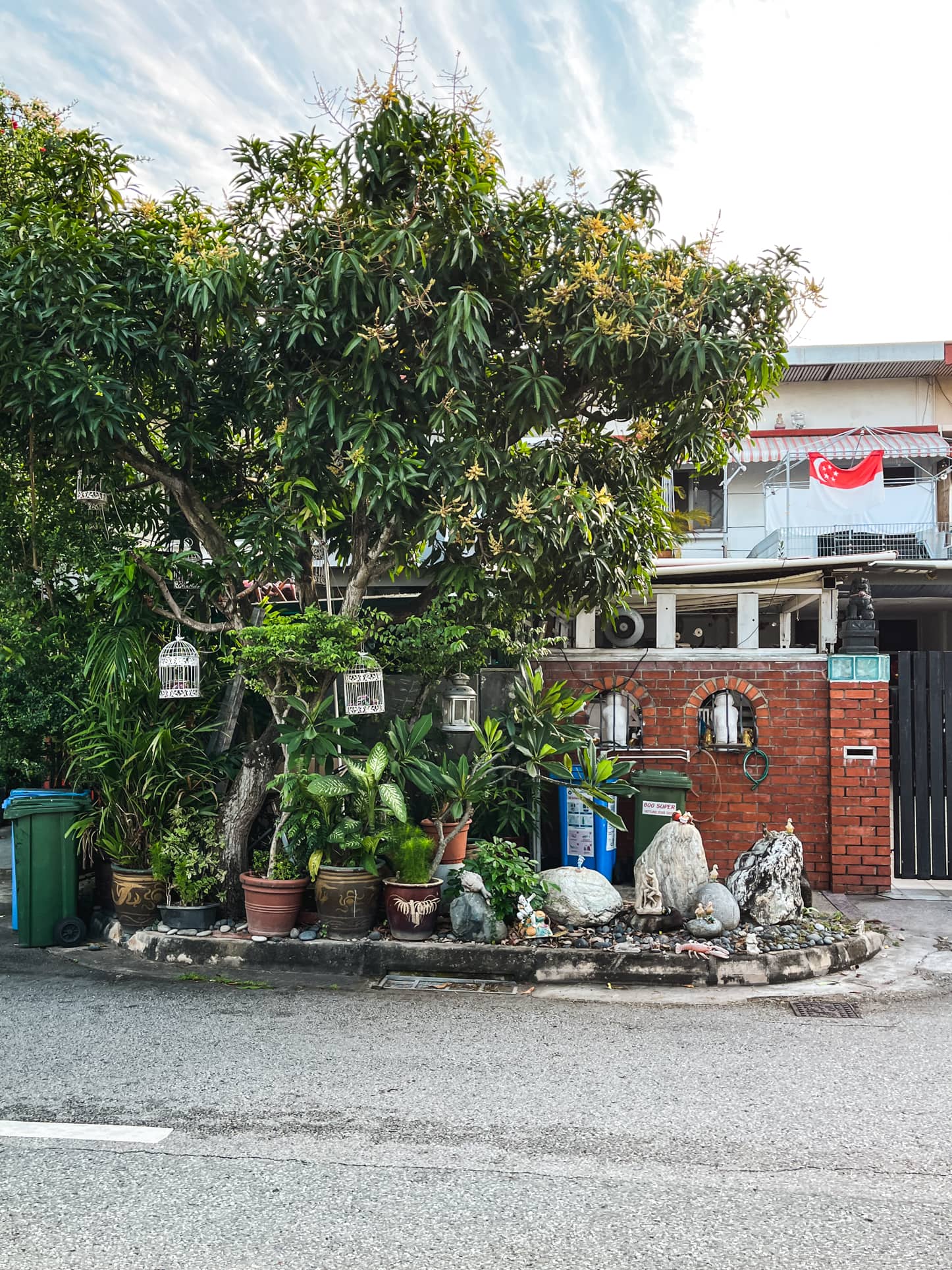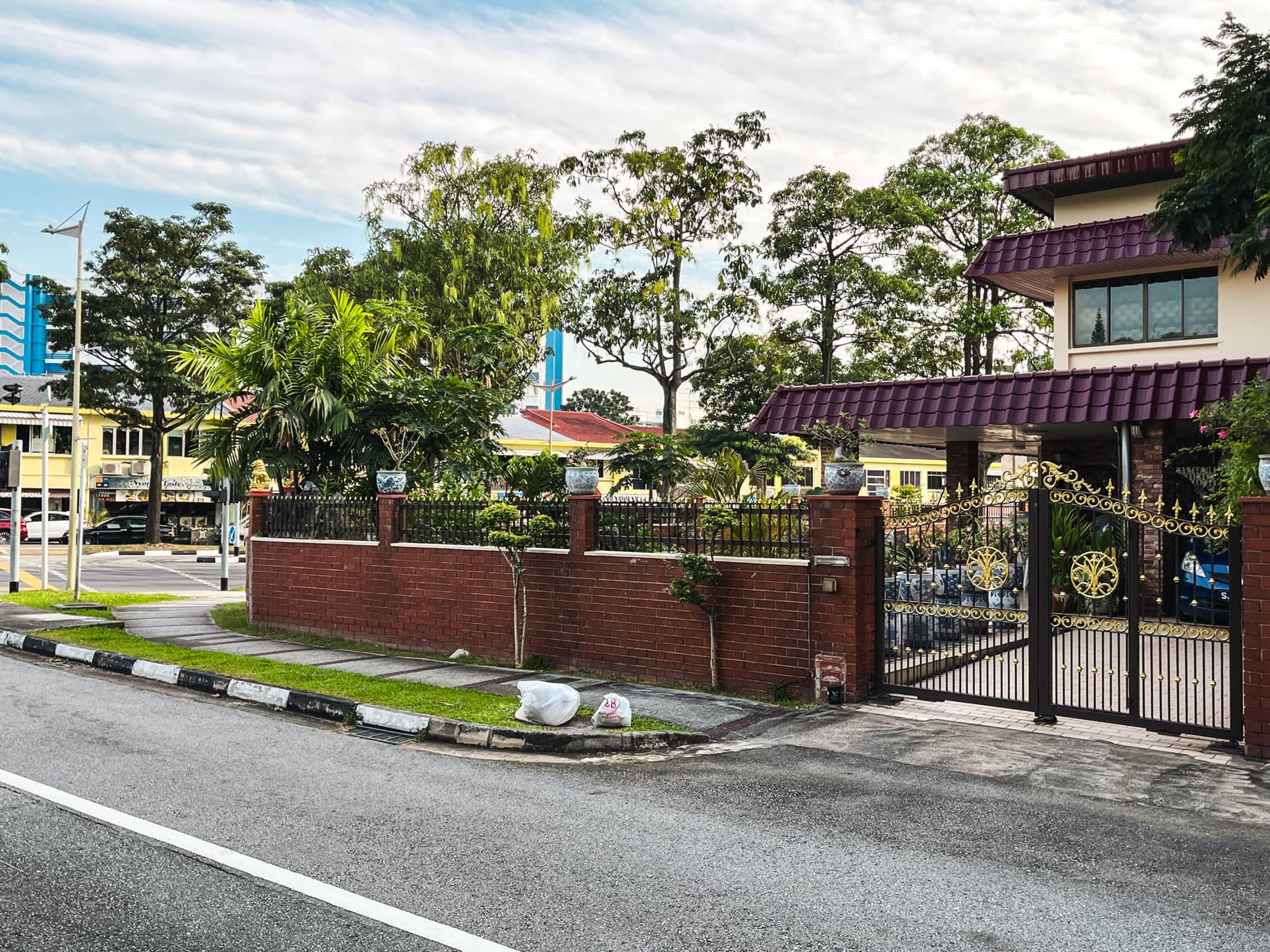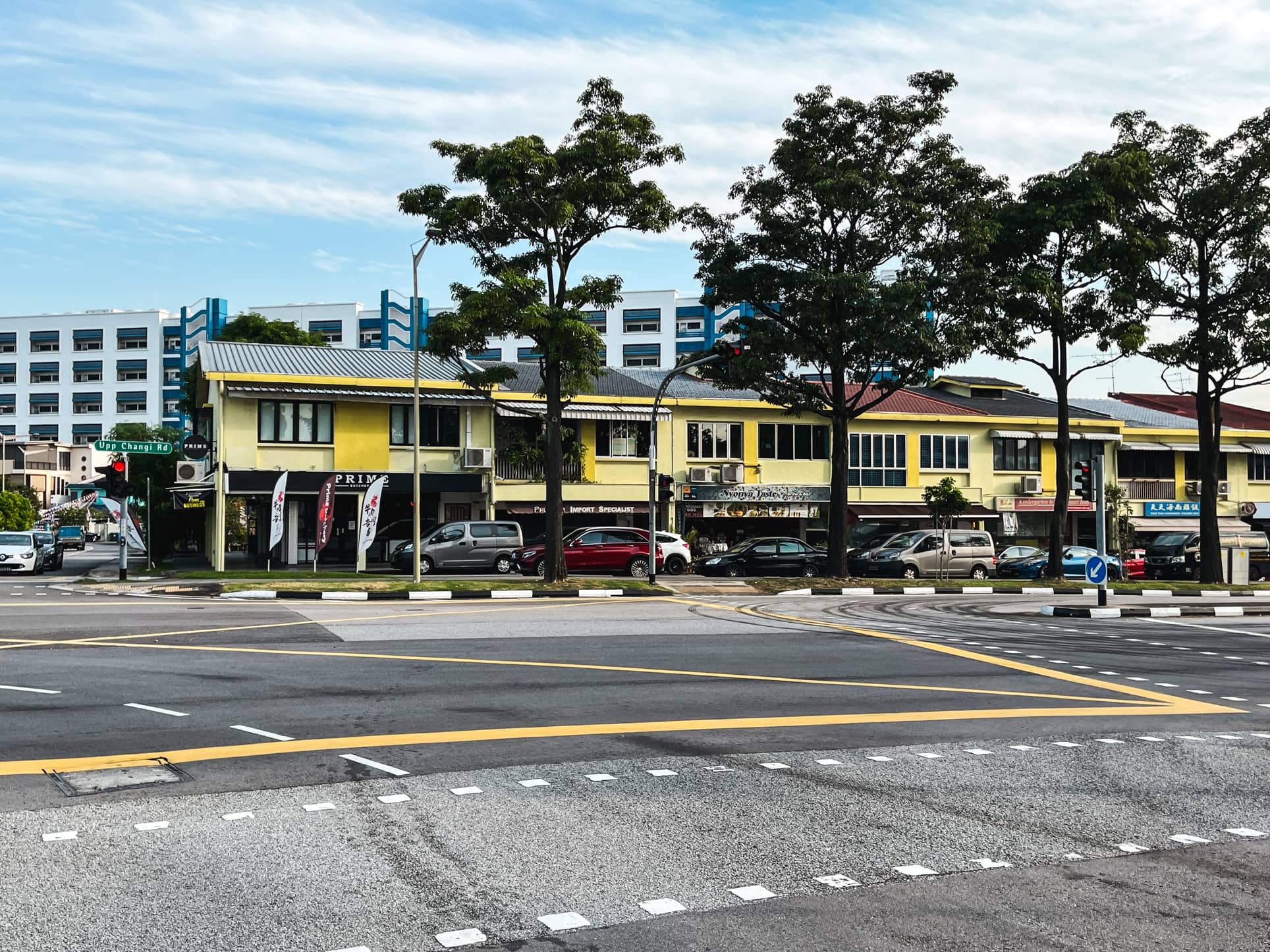 Turning left, so away from the shophouses, there's yet another playground across the street. (Jalan Pari Burong Playground.) There's also Simpang Bedok Pet Playground and Dog run next to it.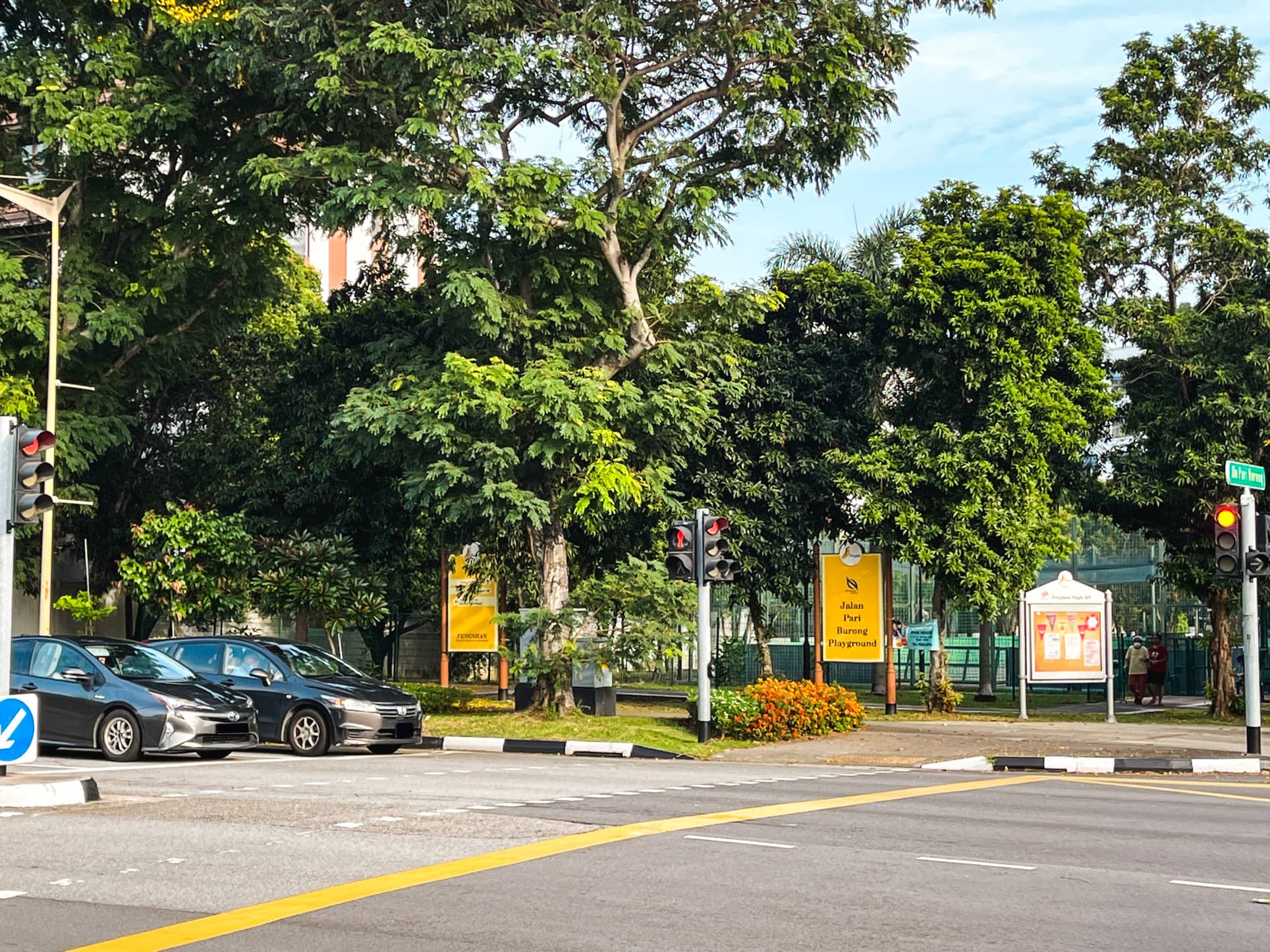 Walking back towards Bedok Walk, we see more interesting buildings.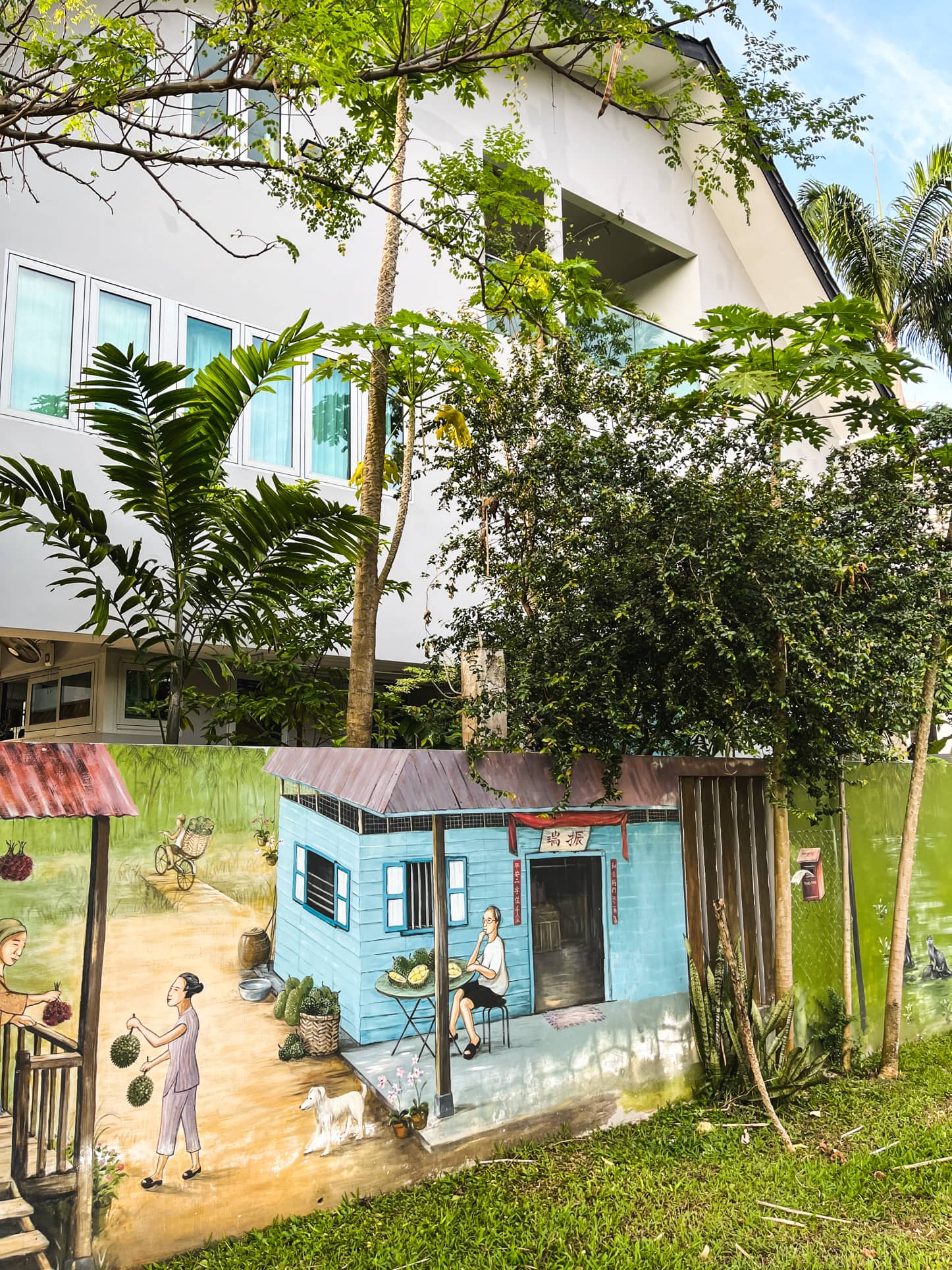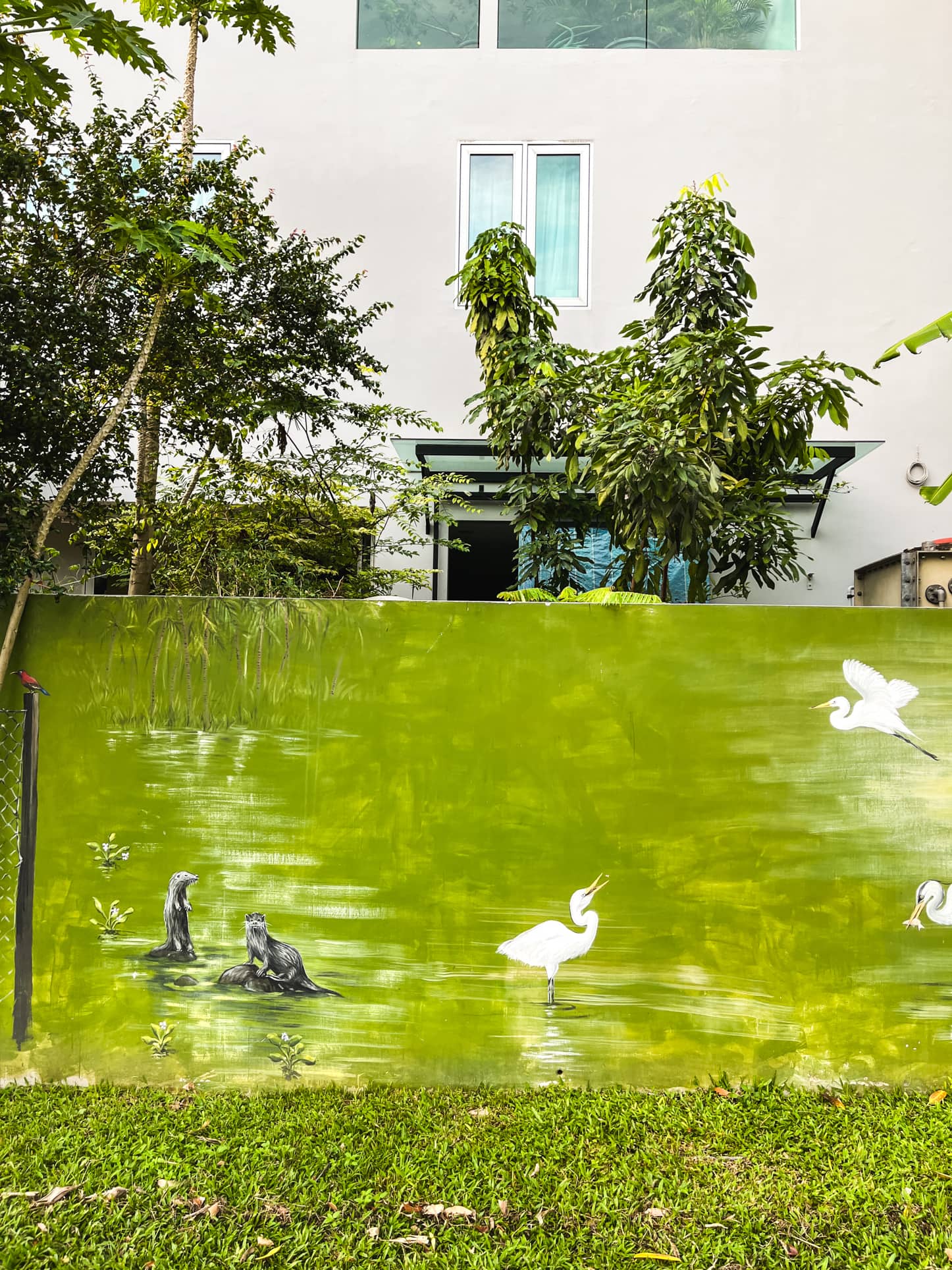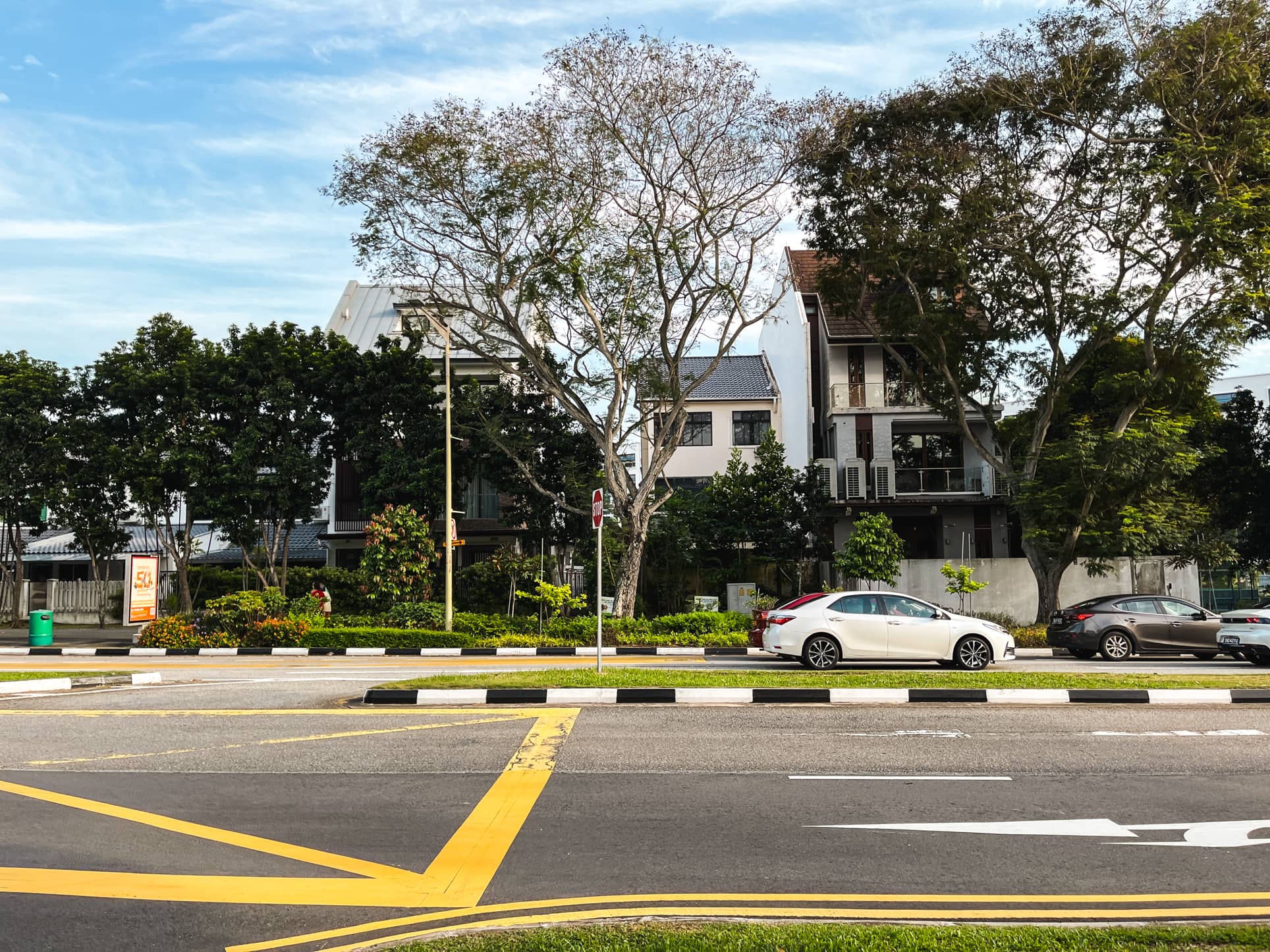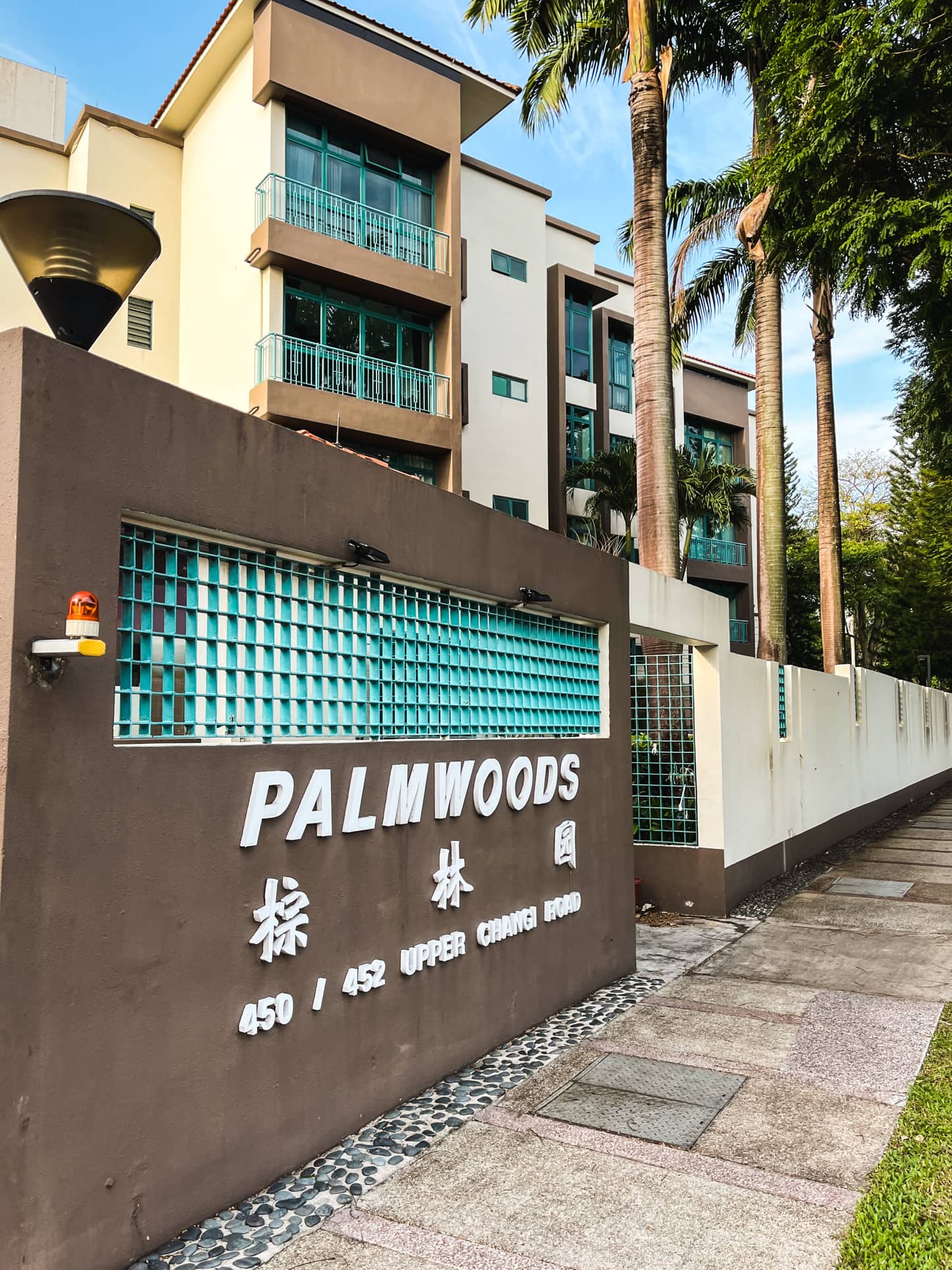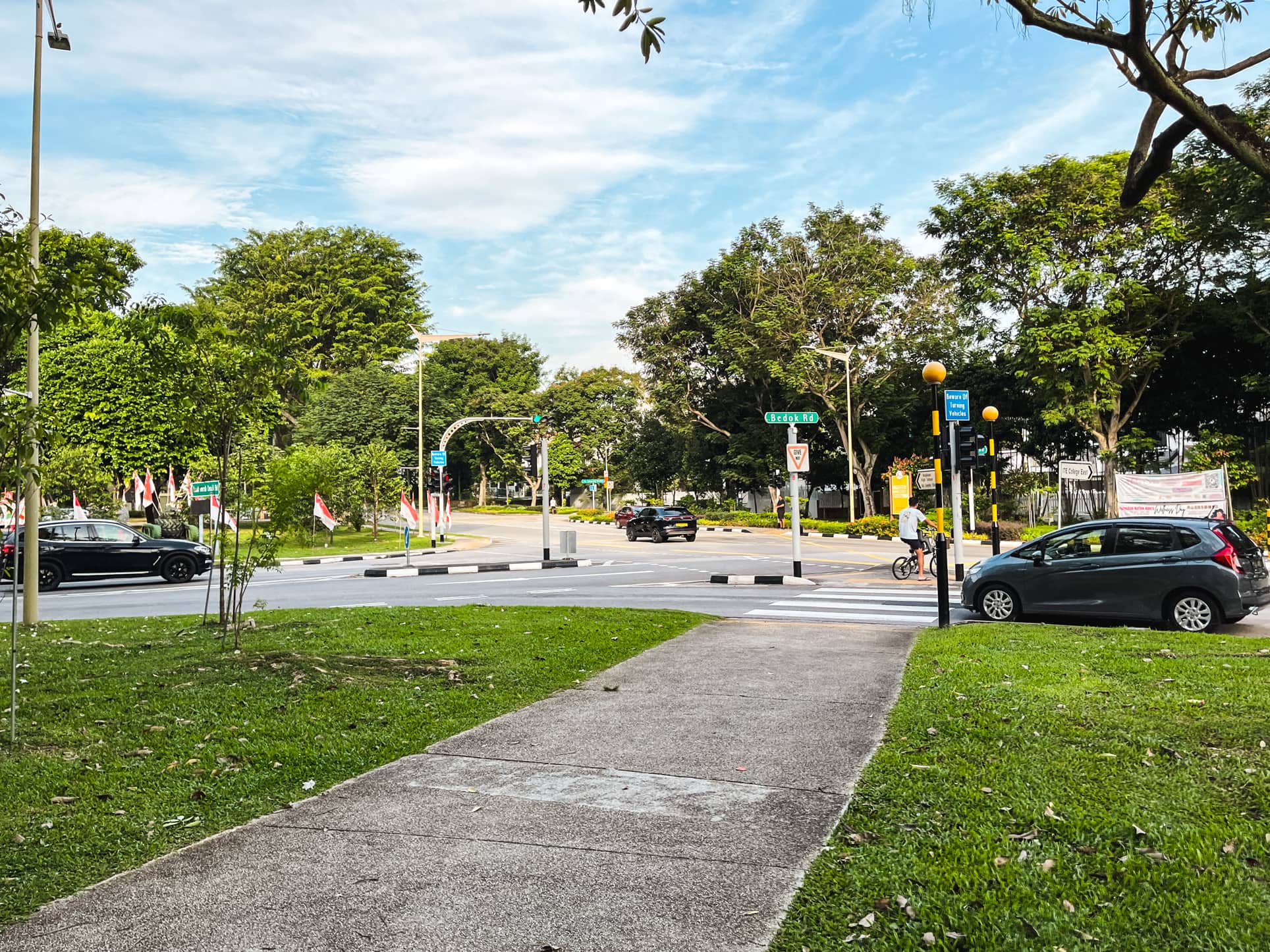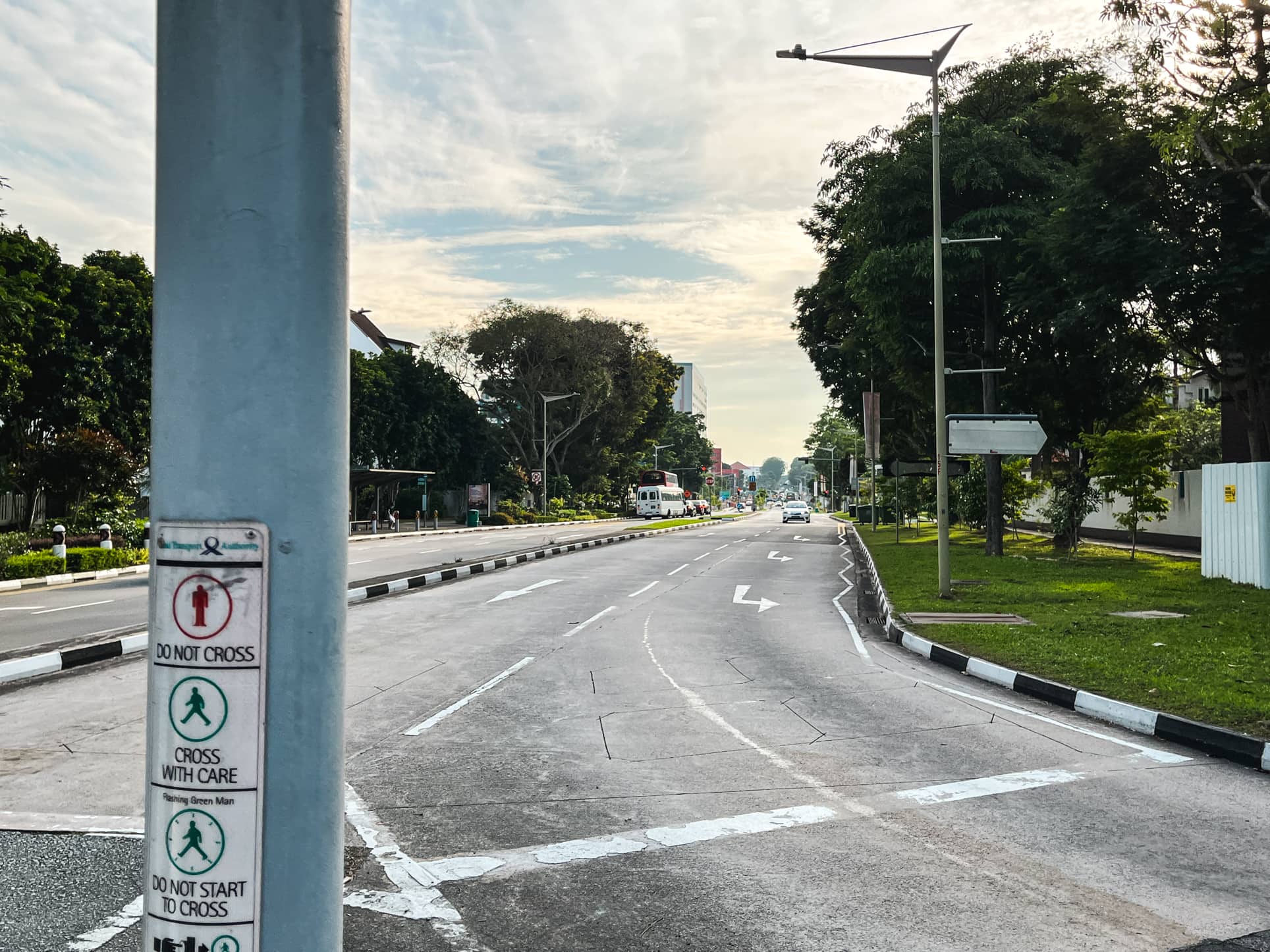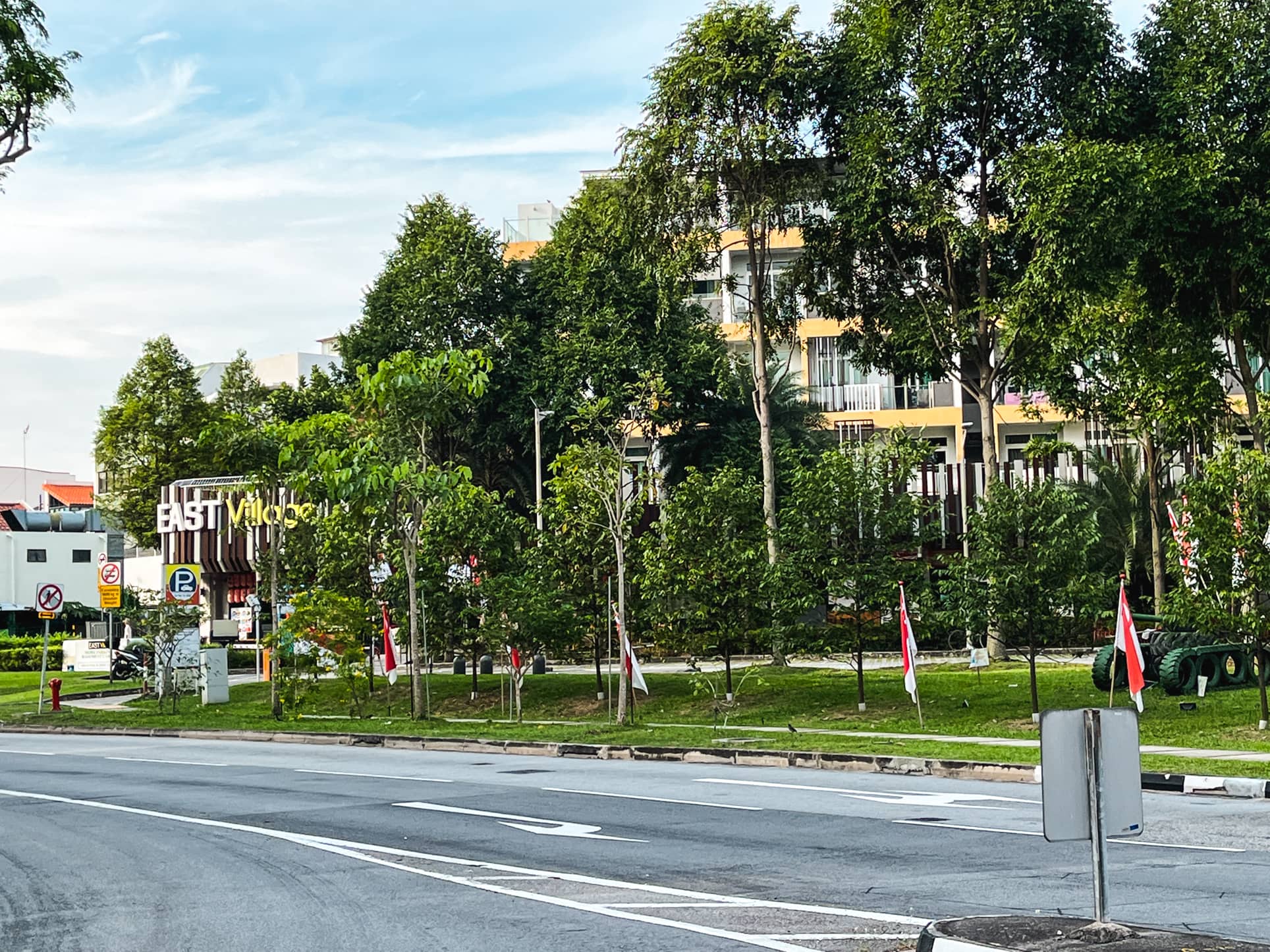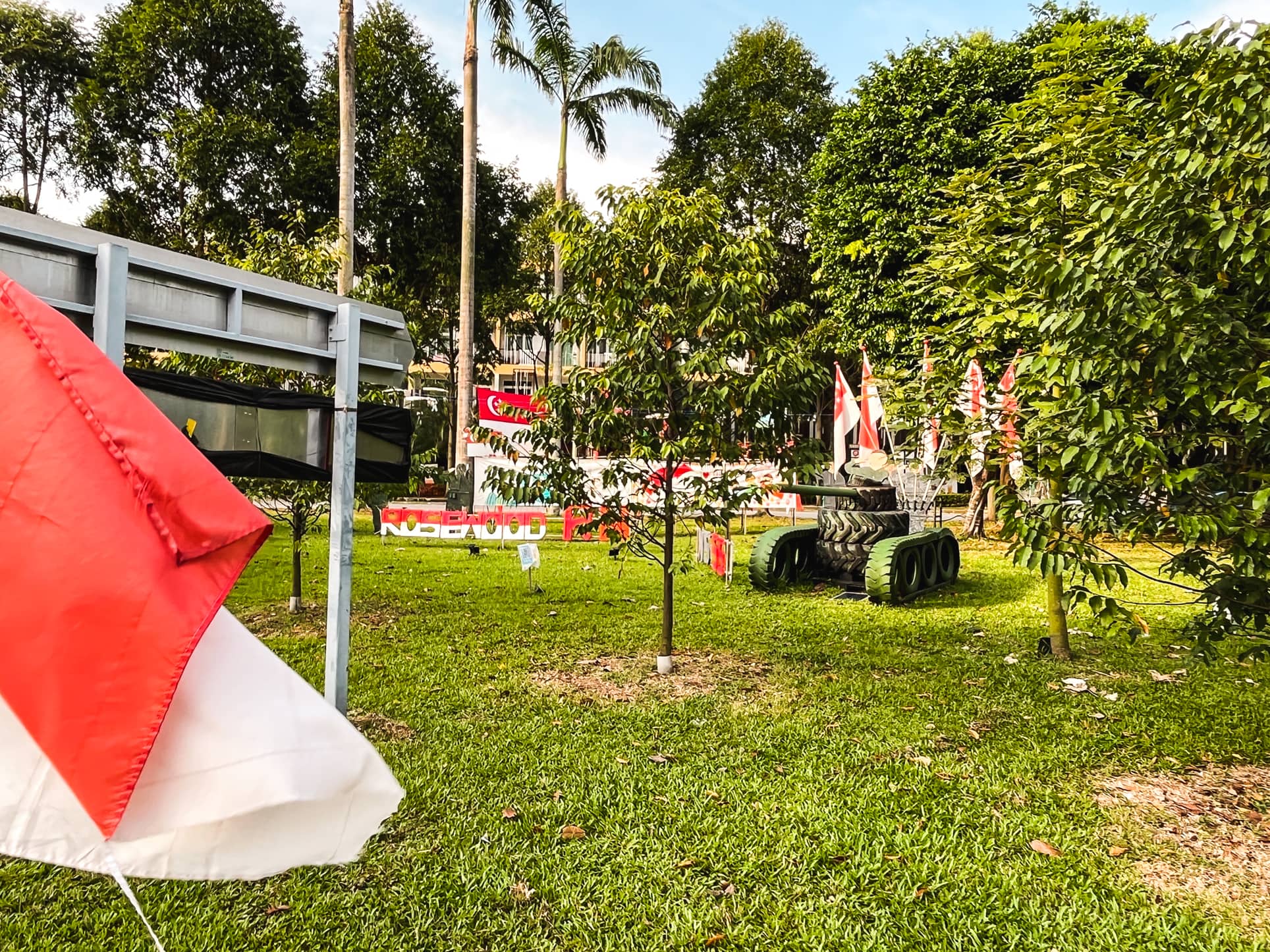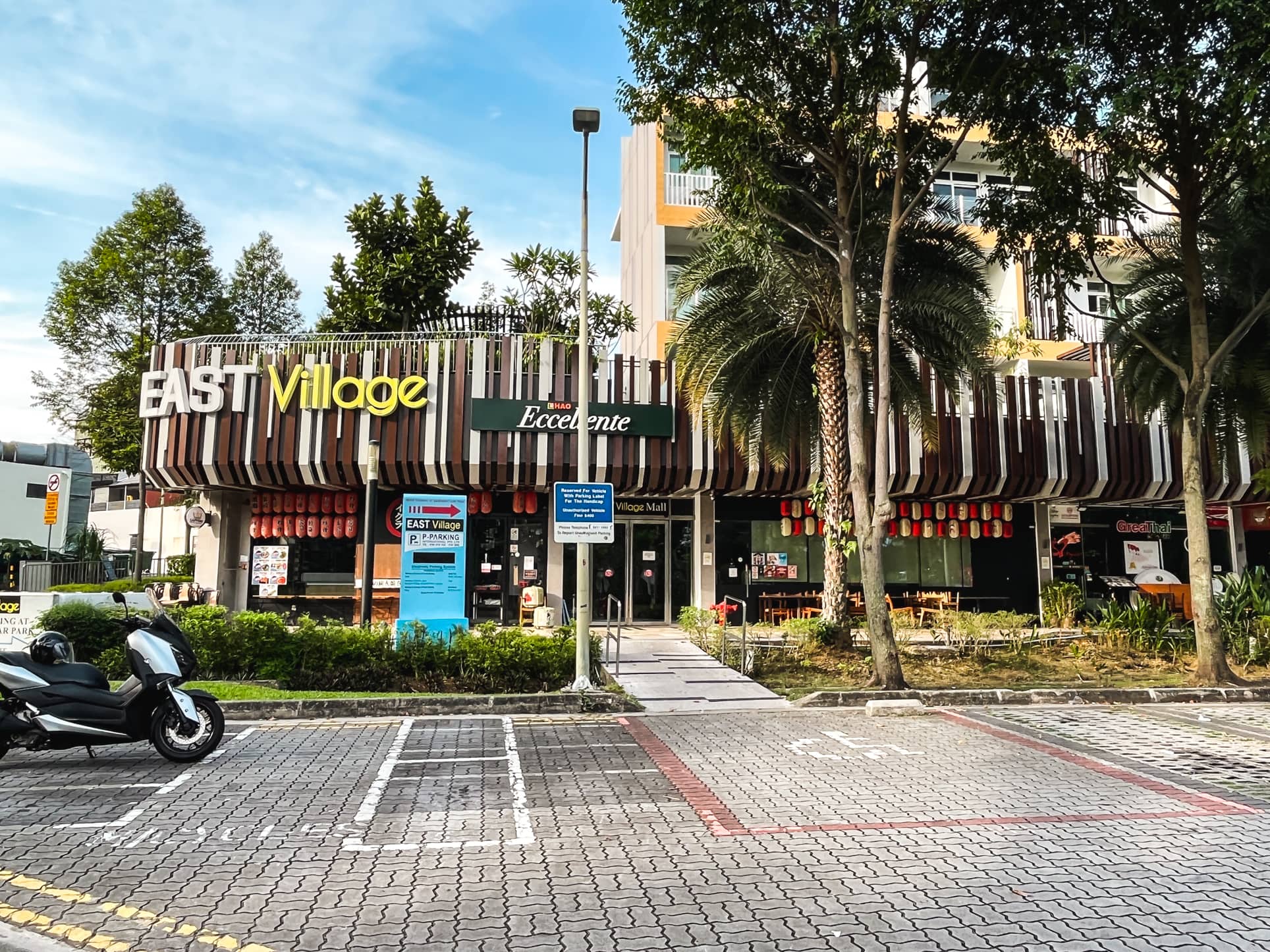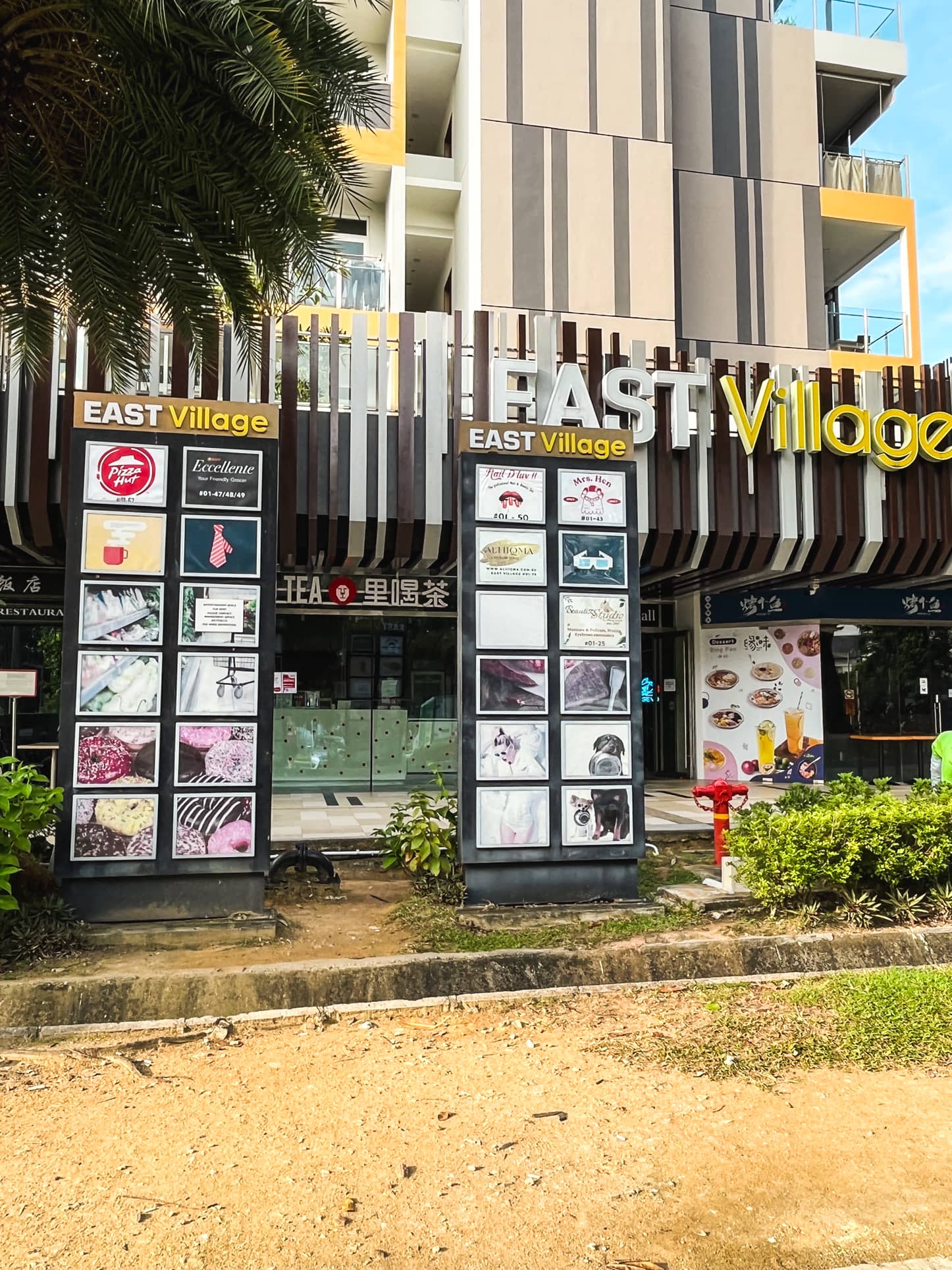 Walk past East Village and we reach Bedok Walk on our right.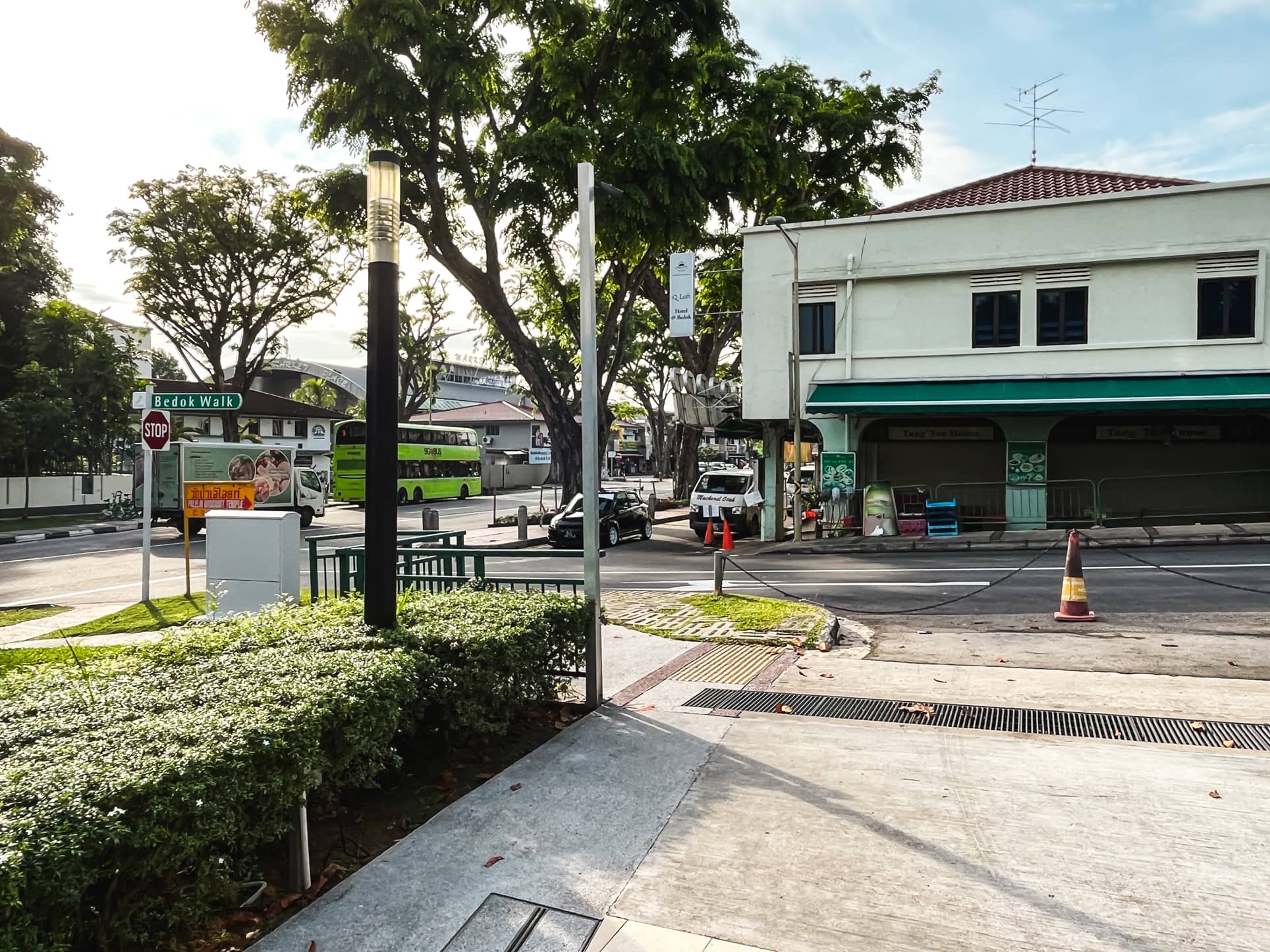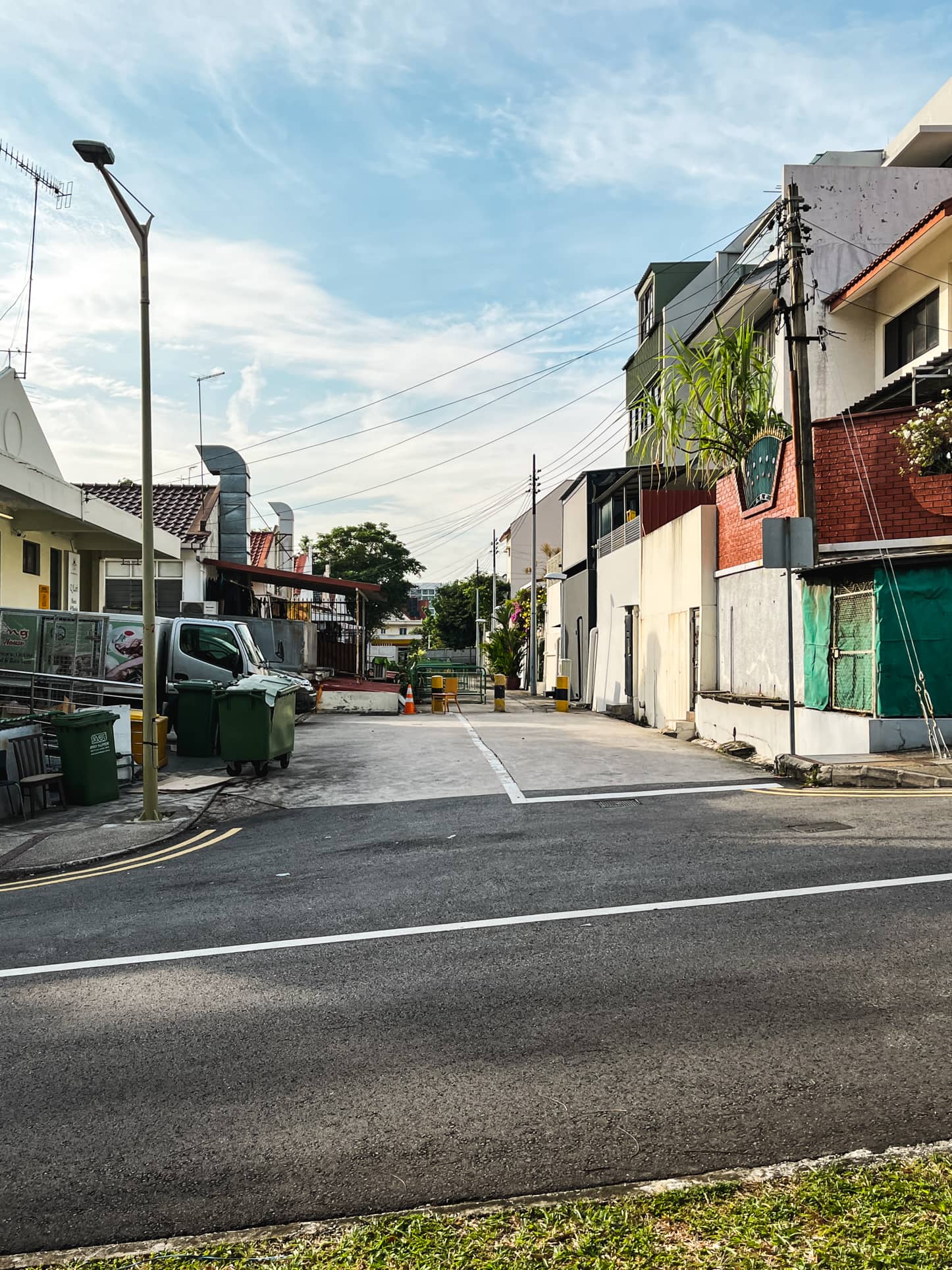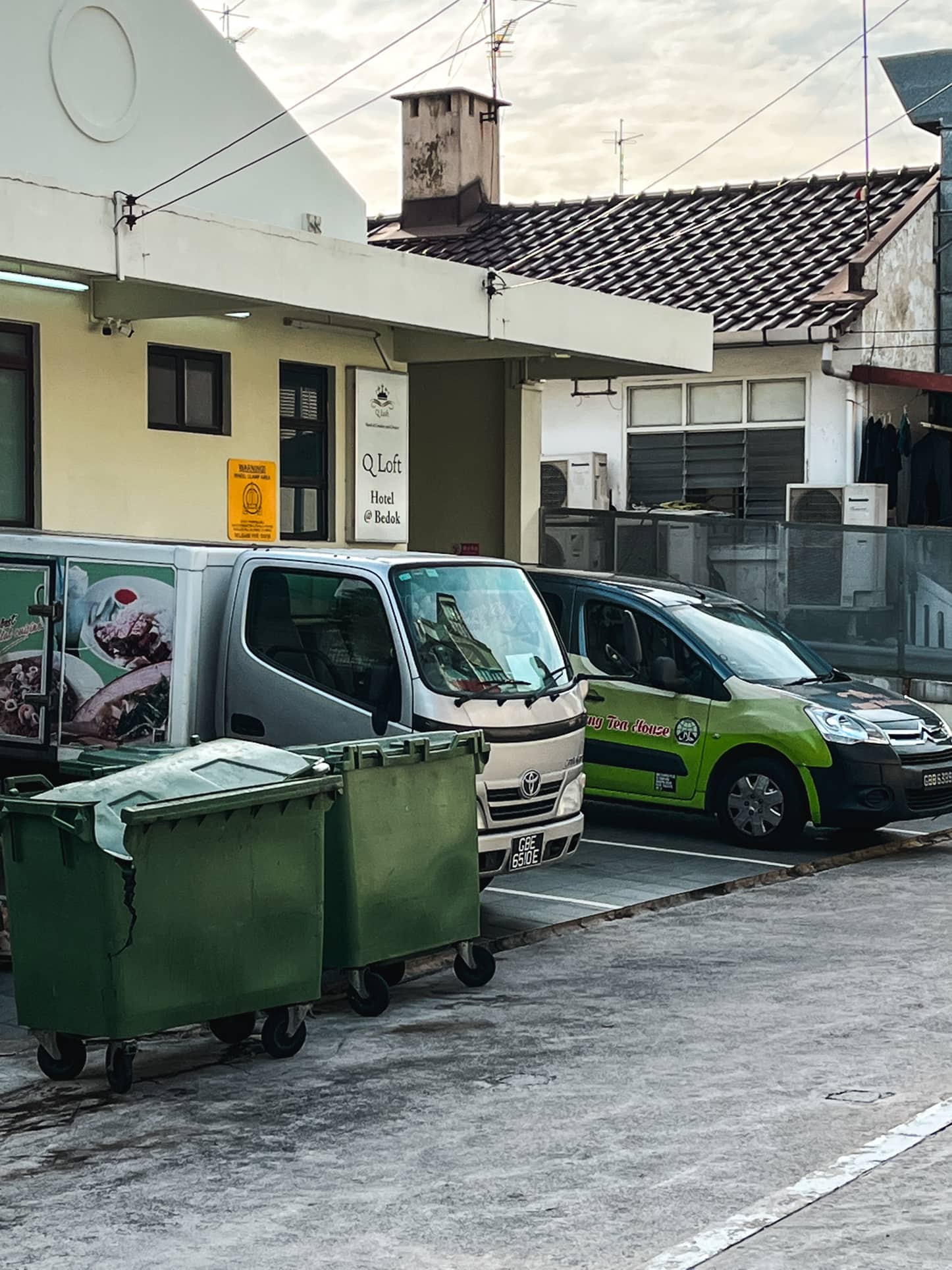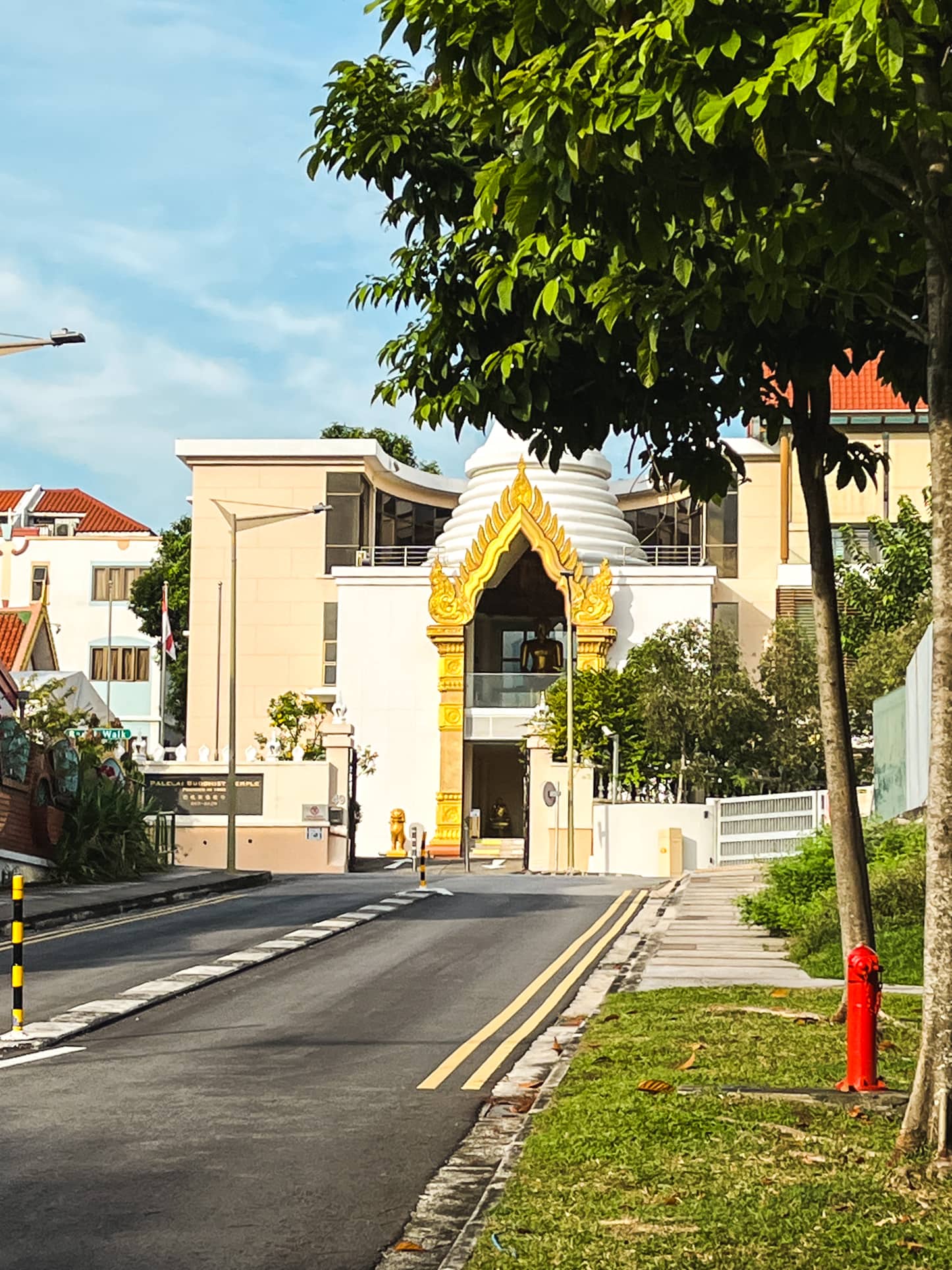 I must confess, when I saw the temple, I went "uh oh" due to concerns that the street may be noisy and that parking may be an issue when the temple is in session. (Bedok Walk is not a terribly big street.) In fact, there is even a sign in front of the temple asking cars not to block the way!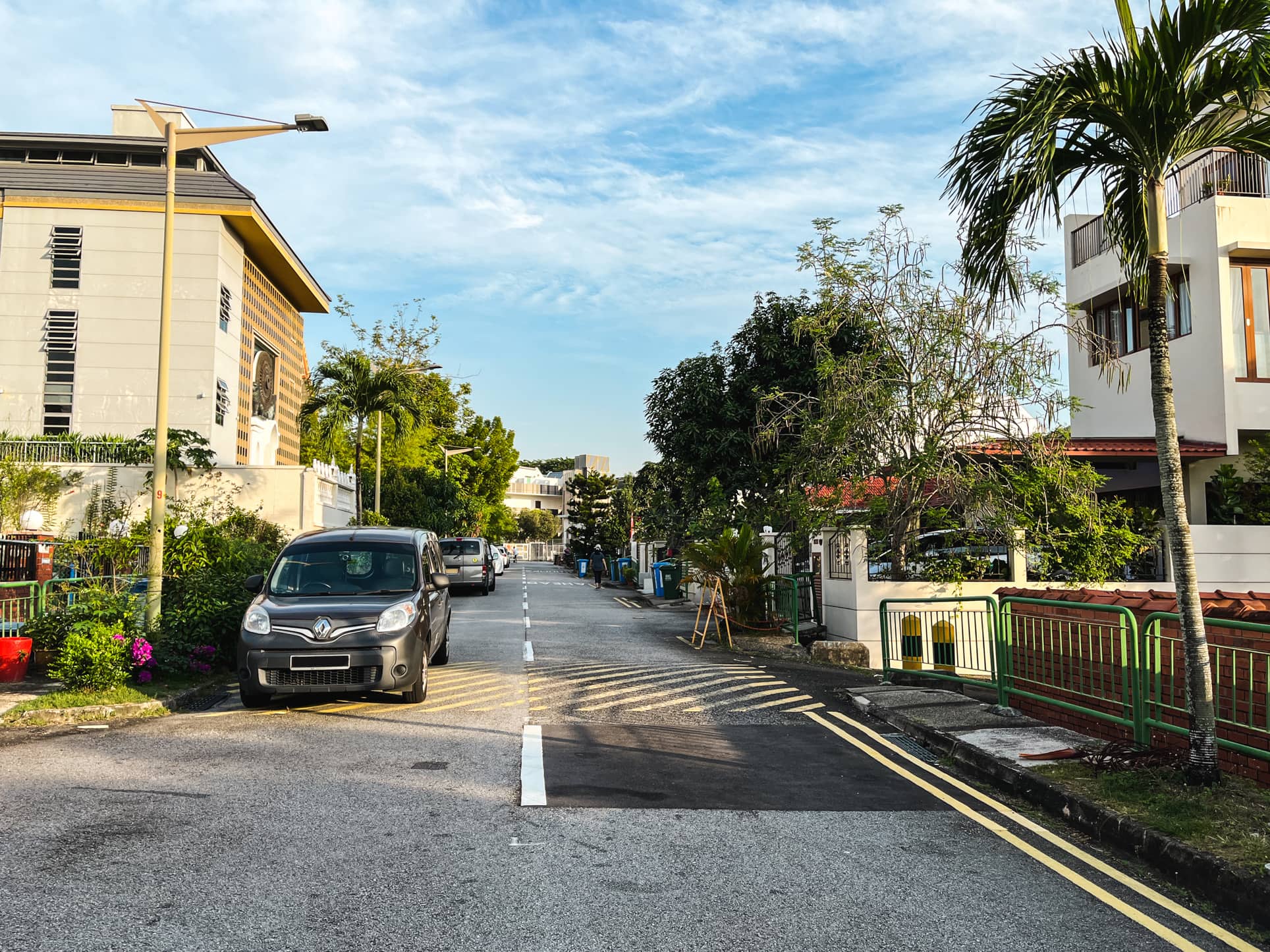 It was easy to drive through and to find a space to park, as it was 7ish in the morning and the temple wasn't in session. But if you were looking to buy a house on this street, I'd definitely suggest visiting a few times when the temple service is being held to see how comfortable you are with the situation….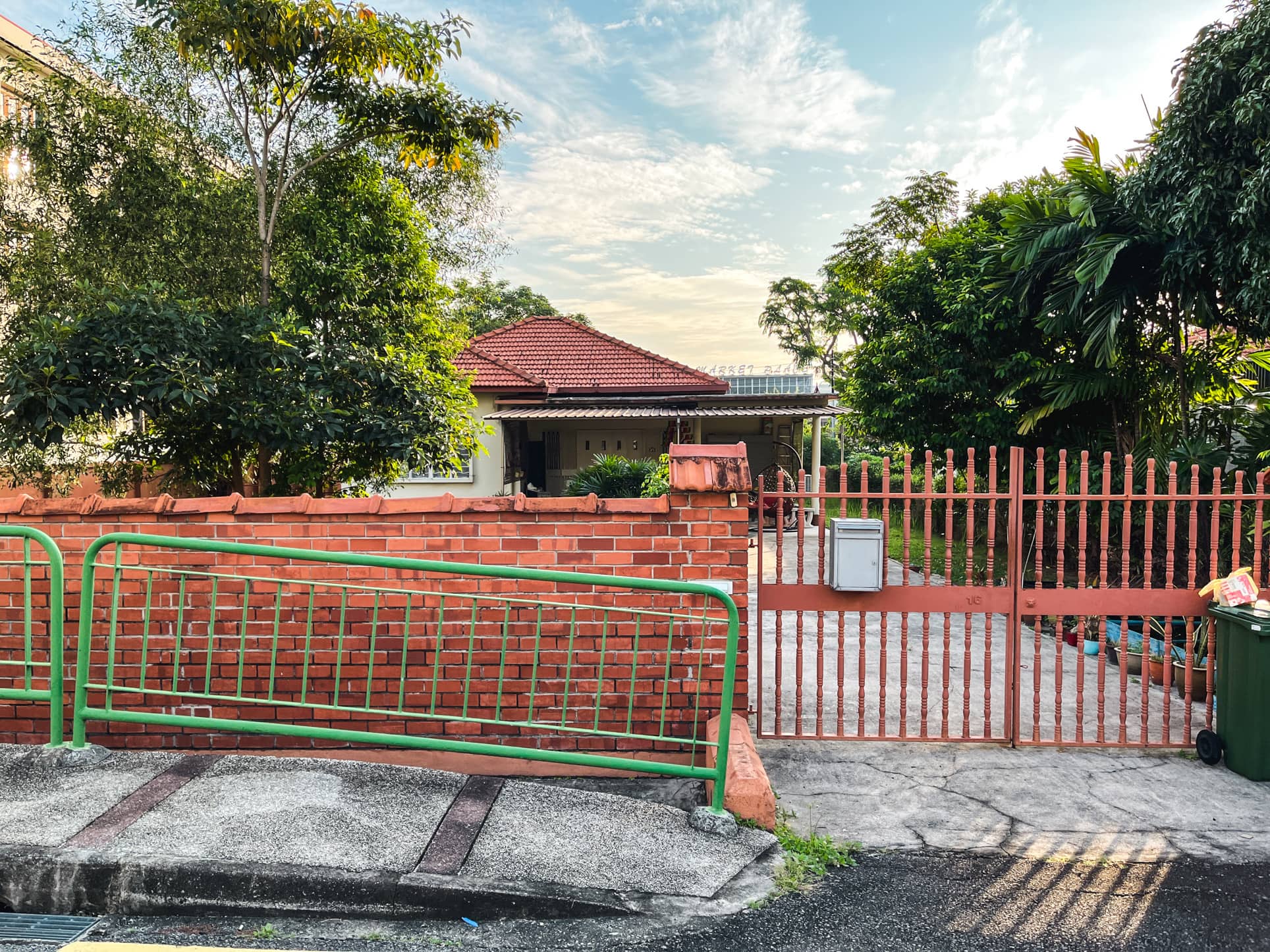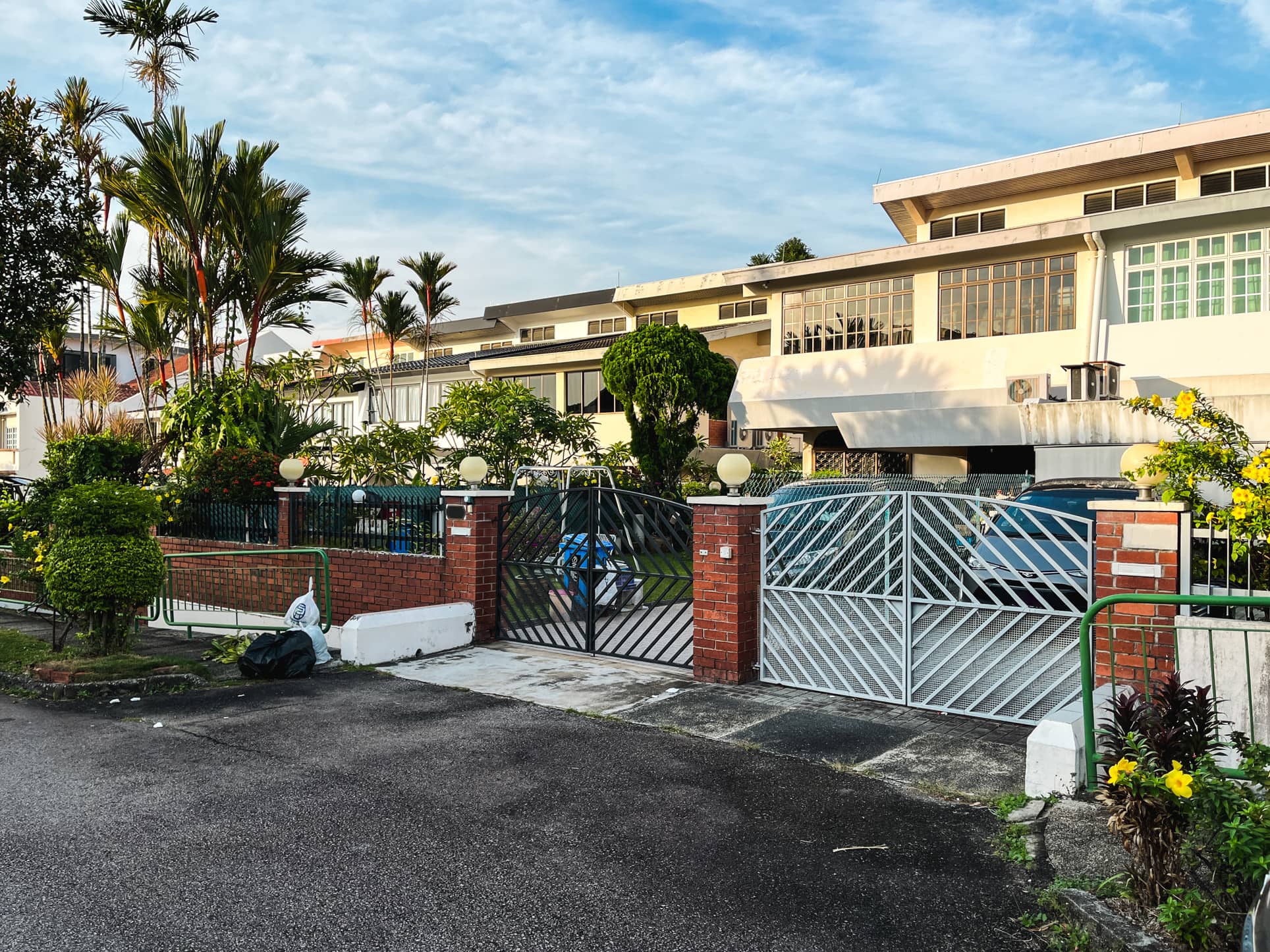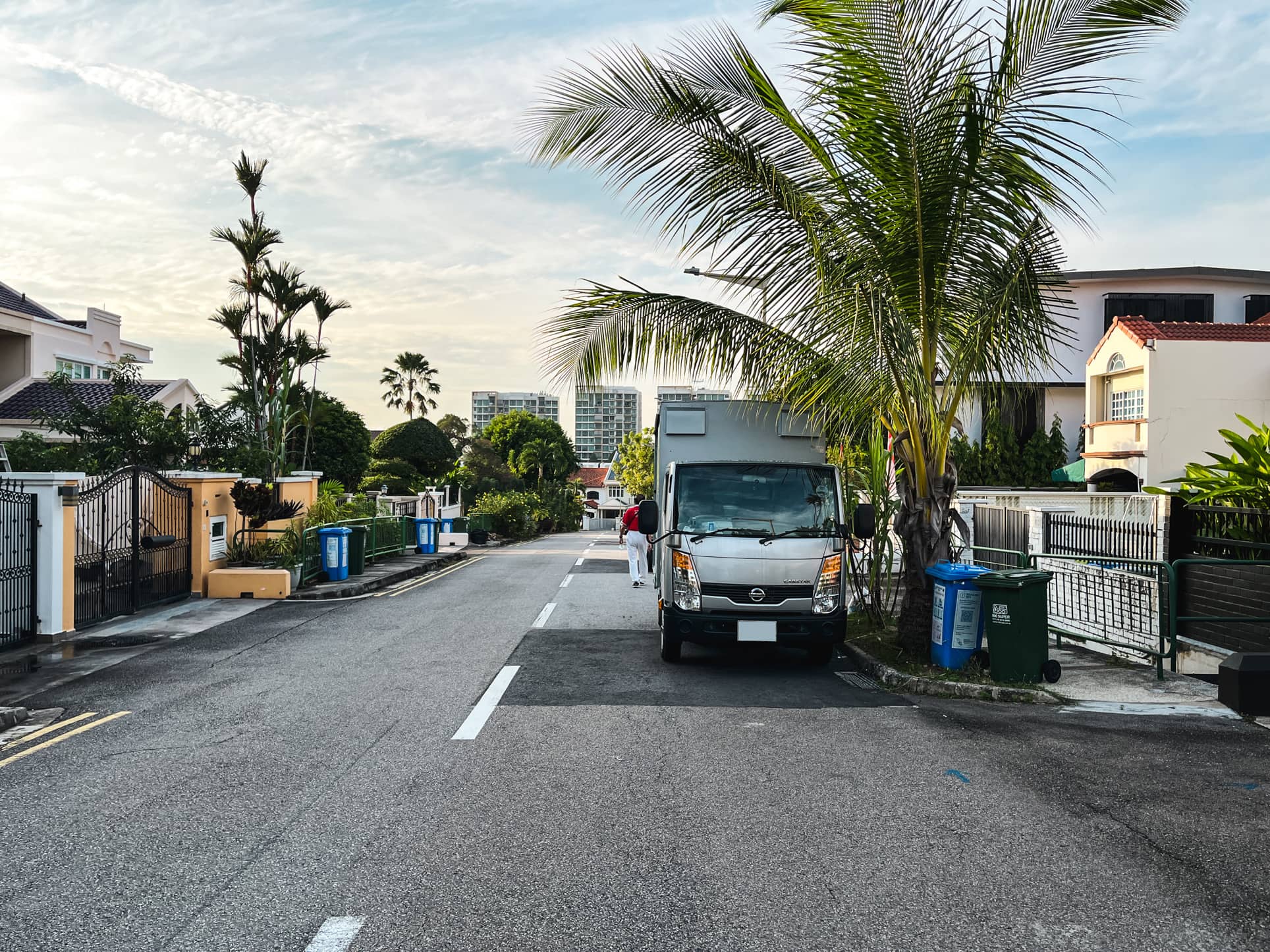 Unfortunately, Bedok Walk is pretty noisy even at 7 plus in the morning. I could hear the constant rumbling of the MRT trains, construction, and what just felt to a constant buzzing of background noise. Noise-sensitive people may want to visit several times before committing to a decision!
Note: In comparison, the houses around Simpang Bedok felt much quieter. That said, I visited on a Monday, when markets are generally closed, so it may not be a good gauge of the crowd and noise over there!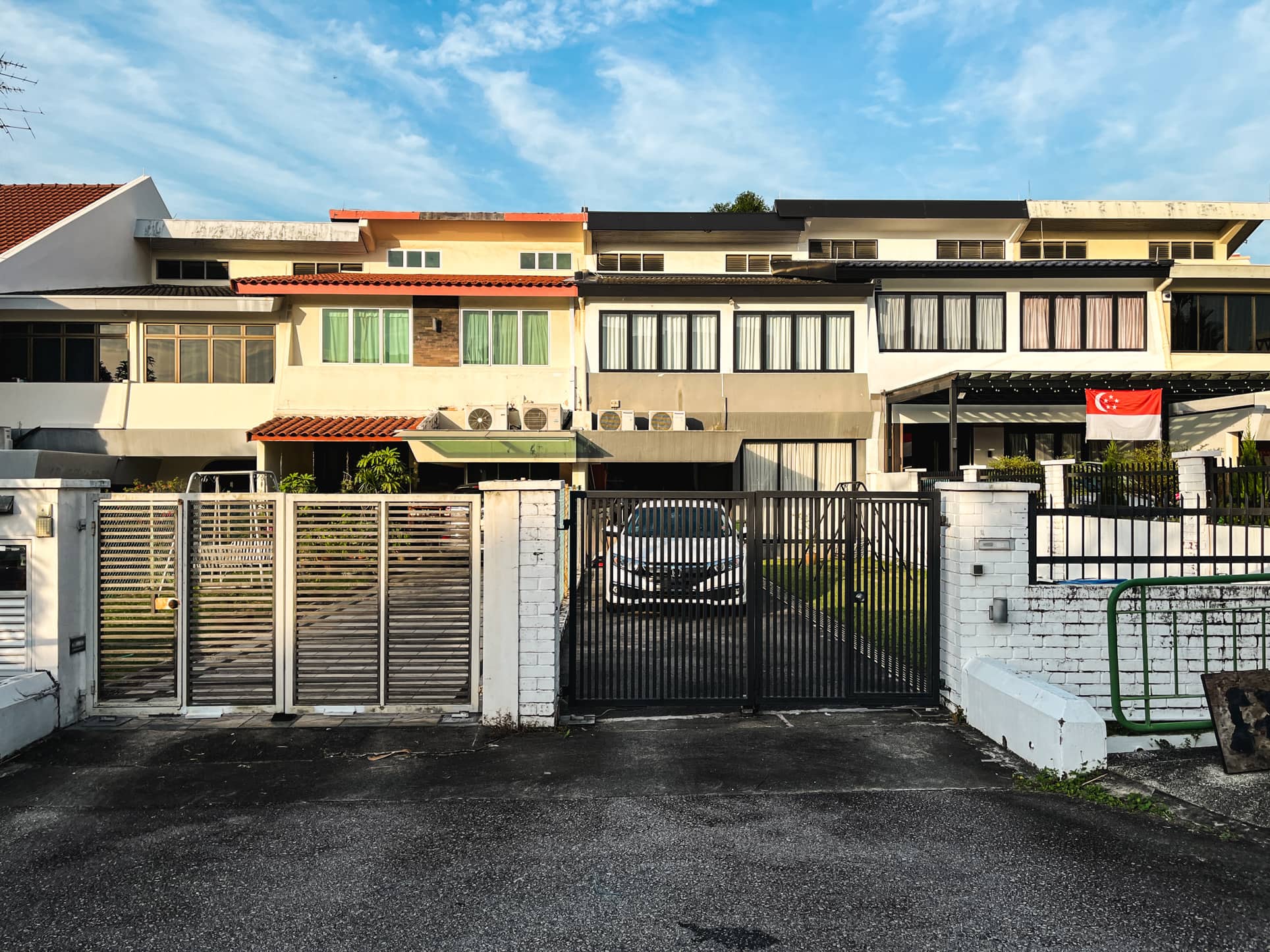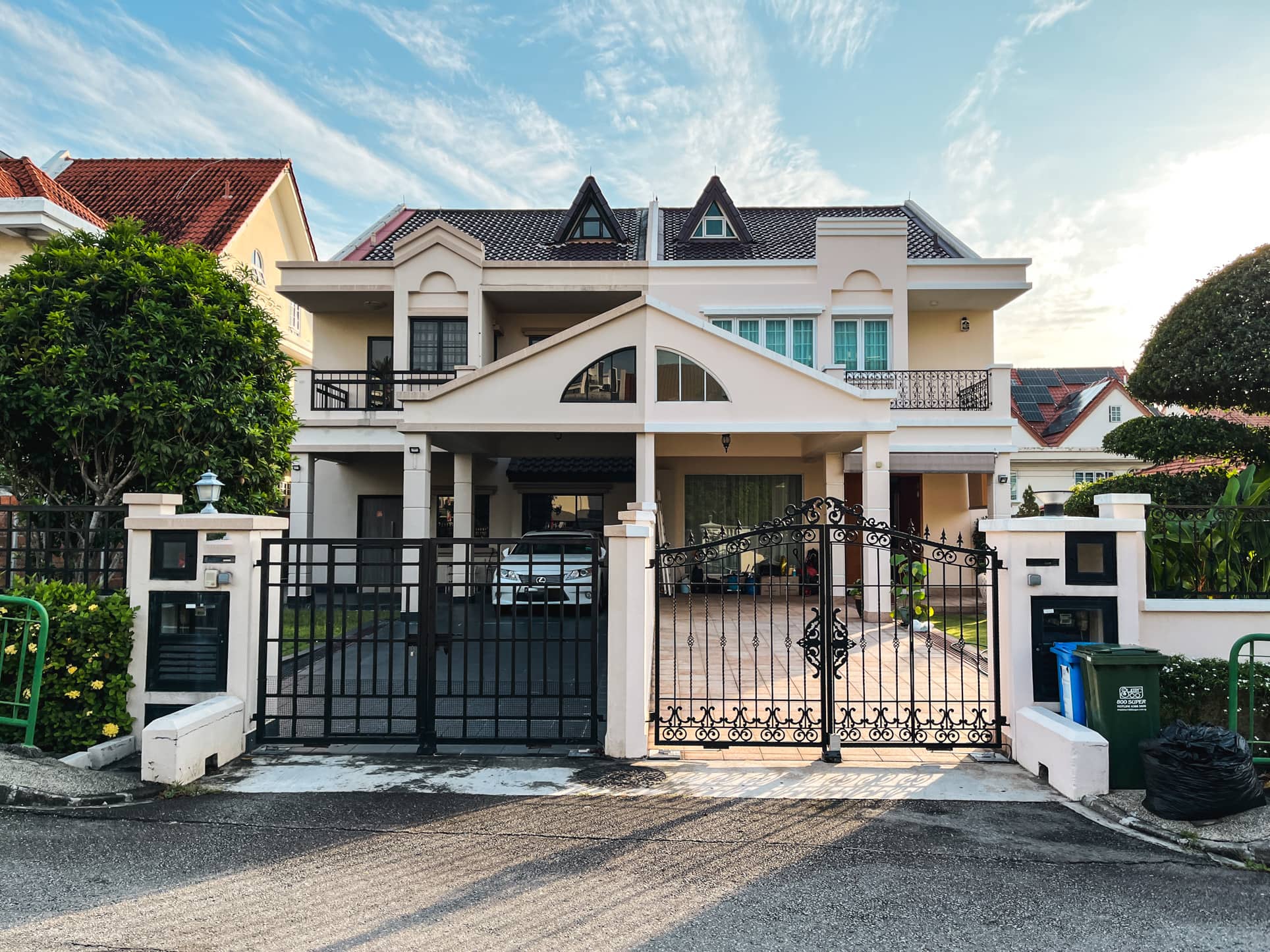 One thing I like about the area is how much care the homeowners spent on landscaping. If you look to the left and right of the photo, you'll see that the homeowners don't just pay attention to their internal gardens, they even grow plants outside their house boundary walls (behind the green street railings.)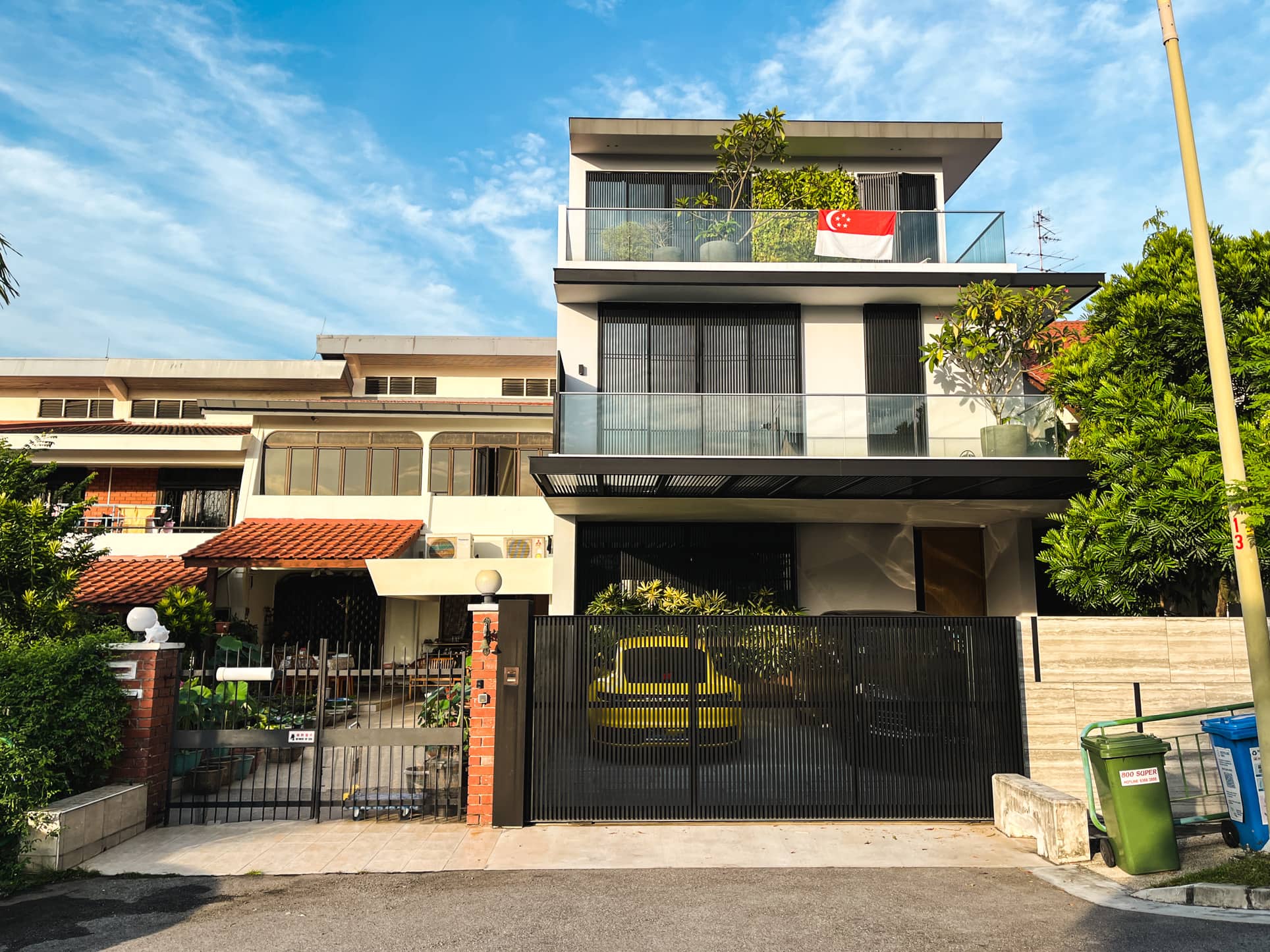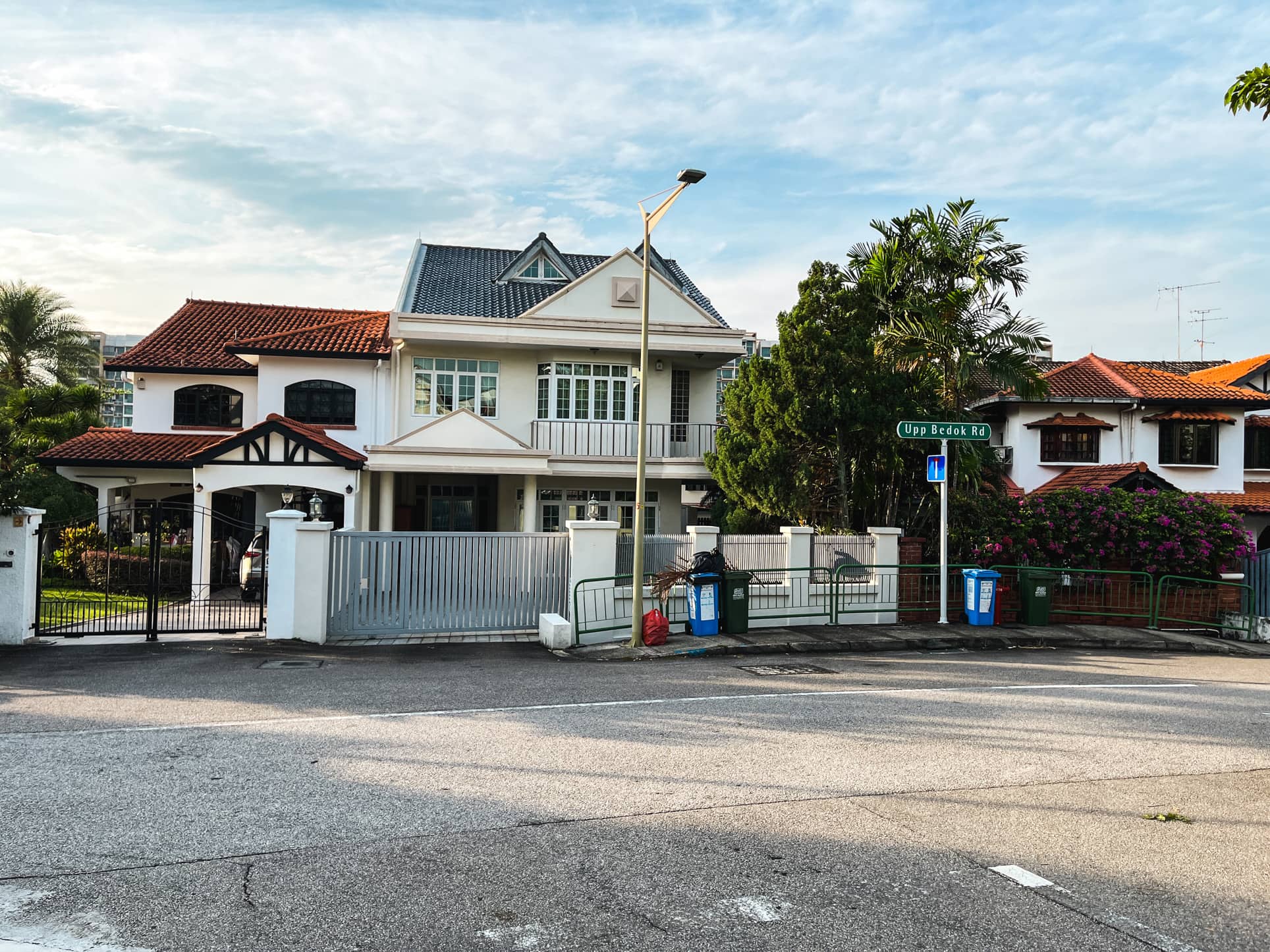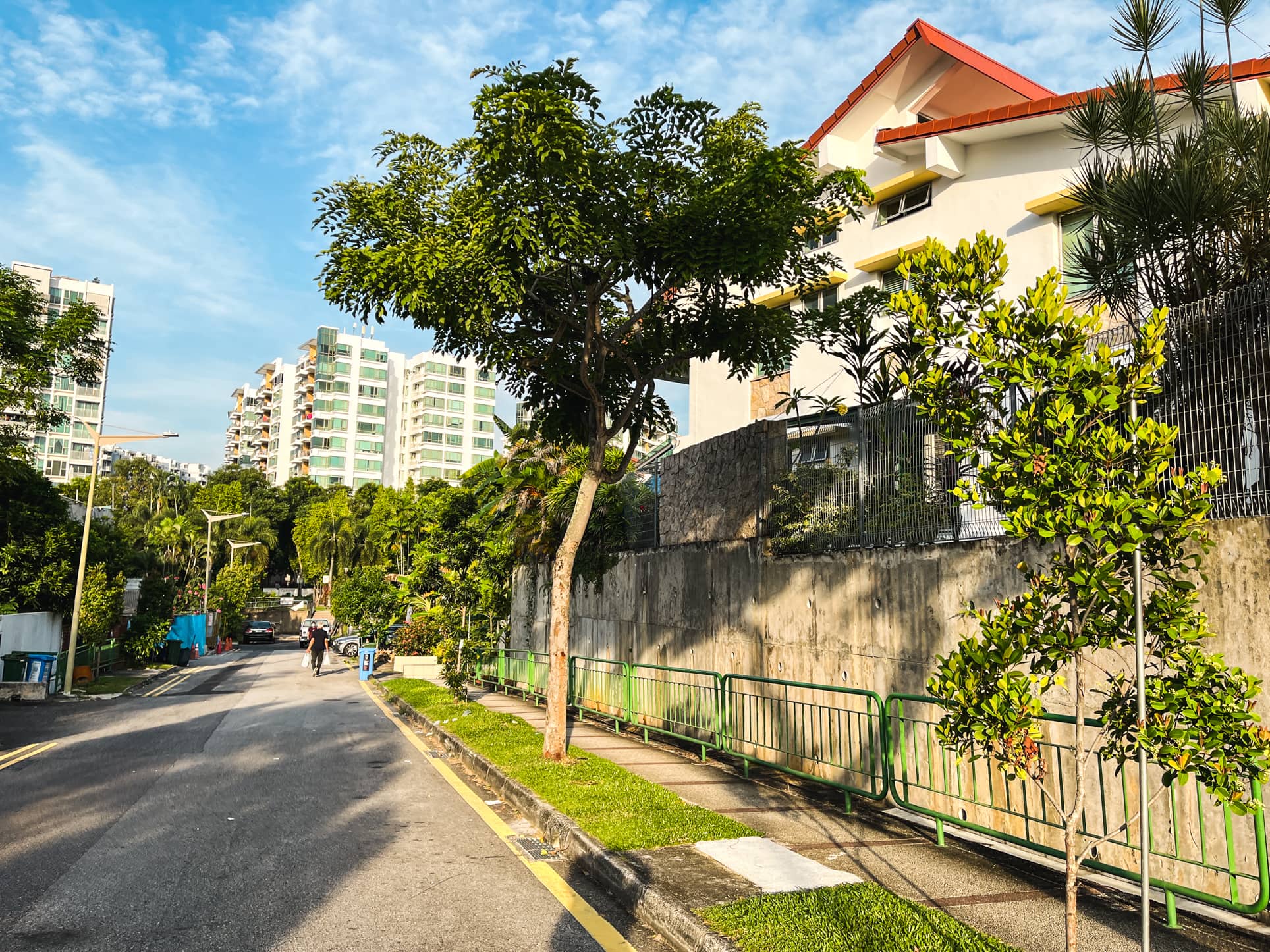 Note: I believe Upper Bedok Road may be located a little below Bedok Walk (so may be a little less windy.)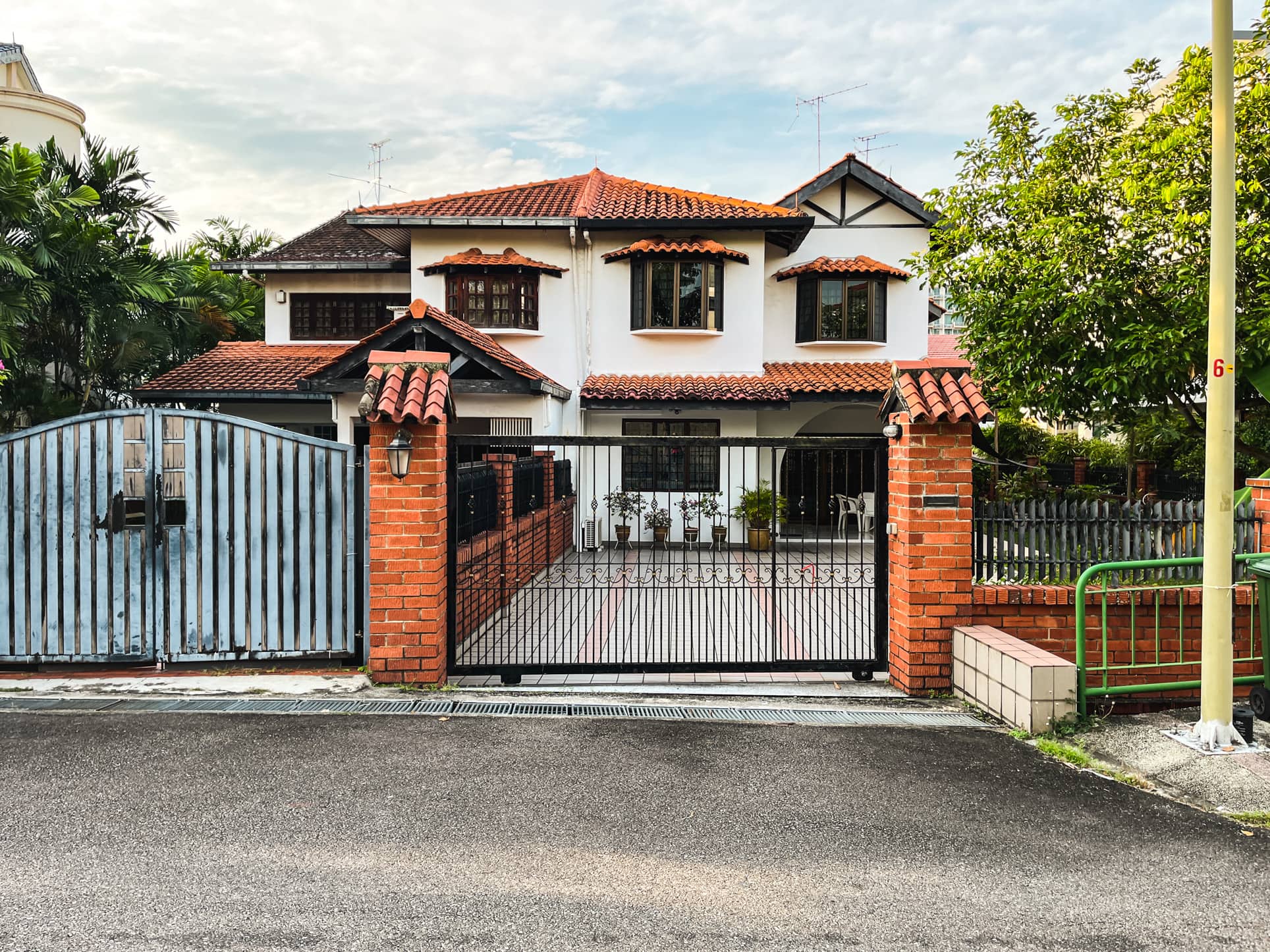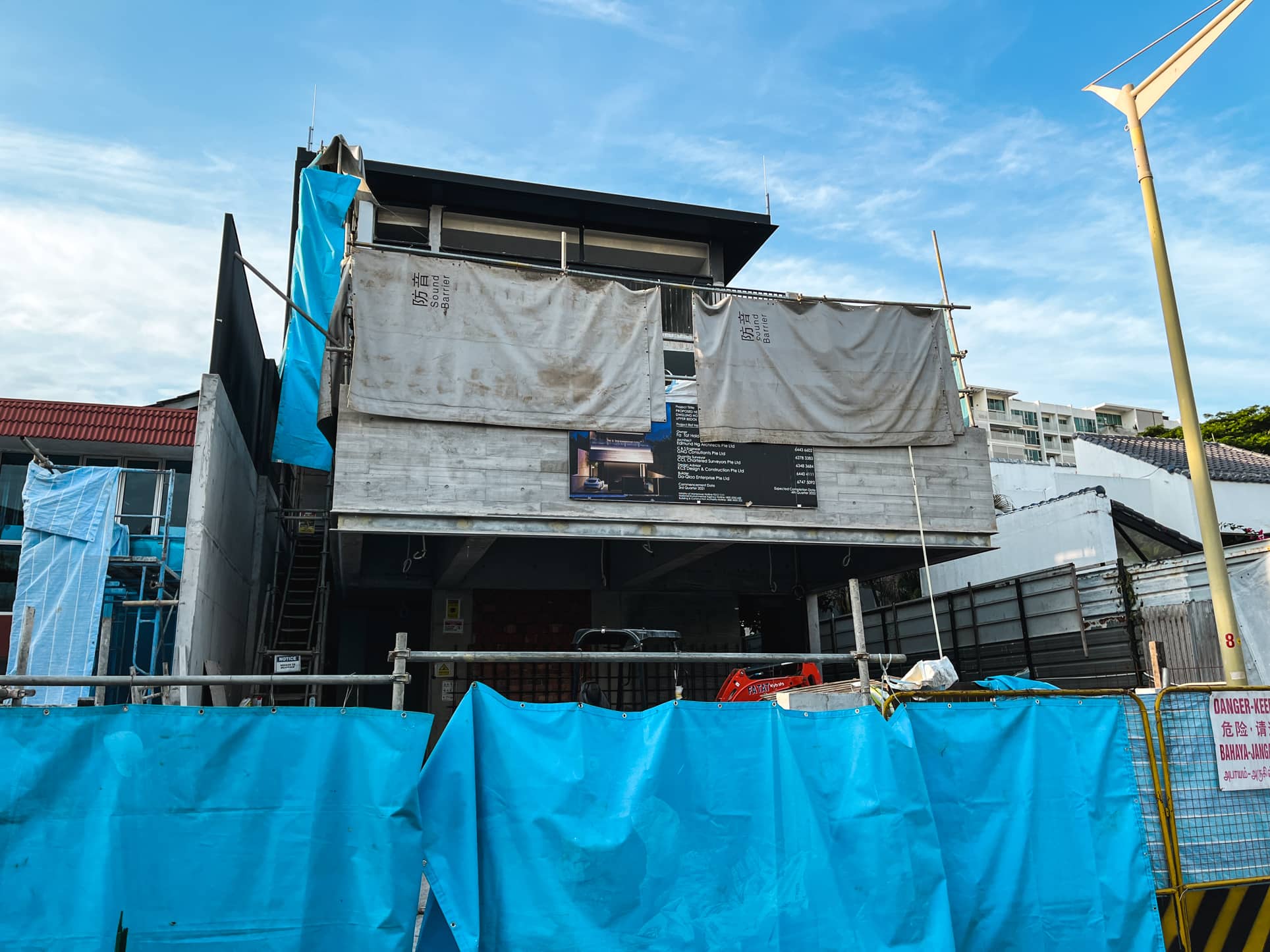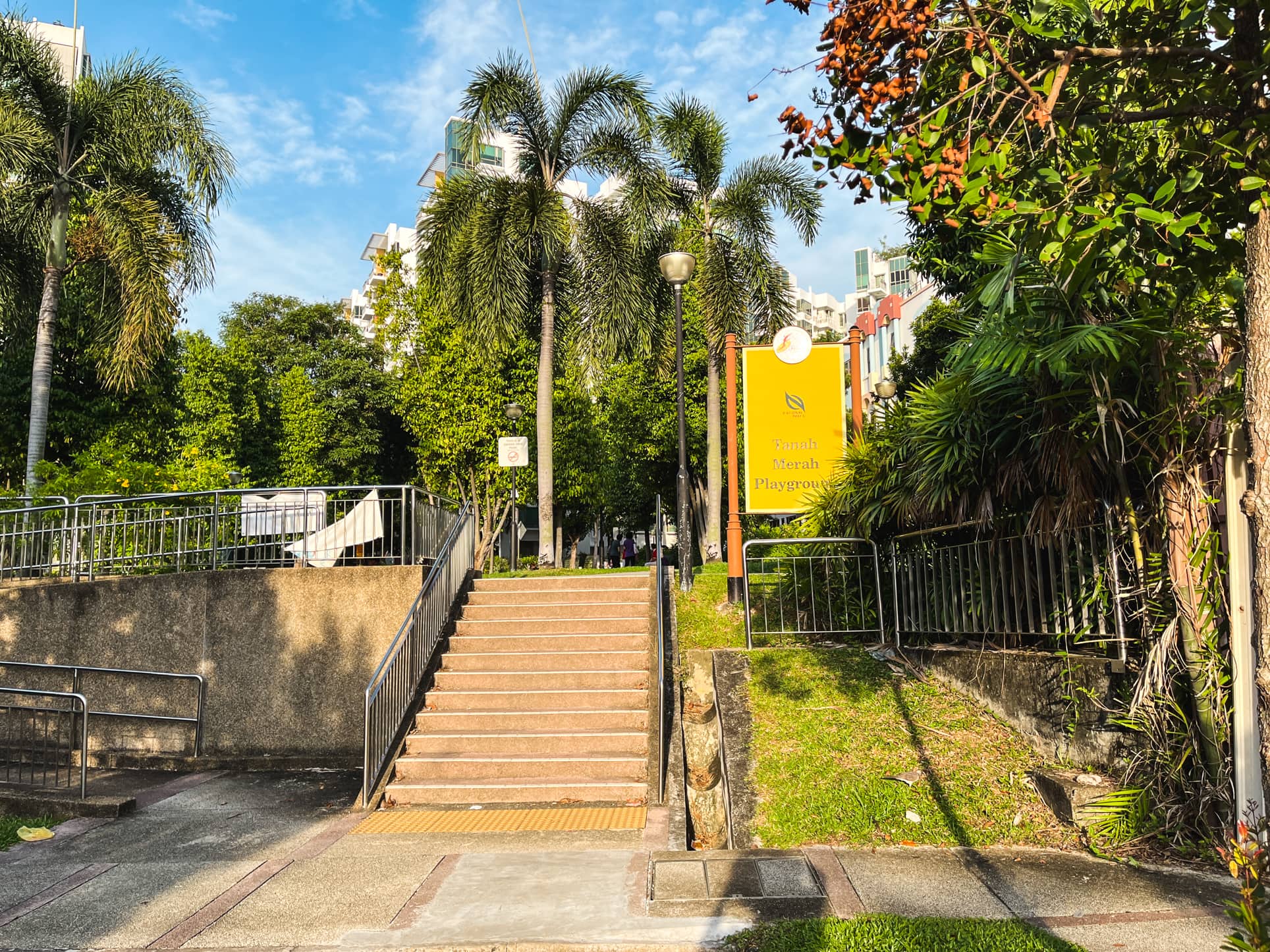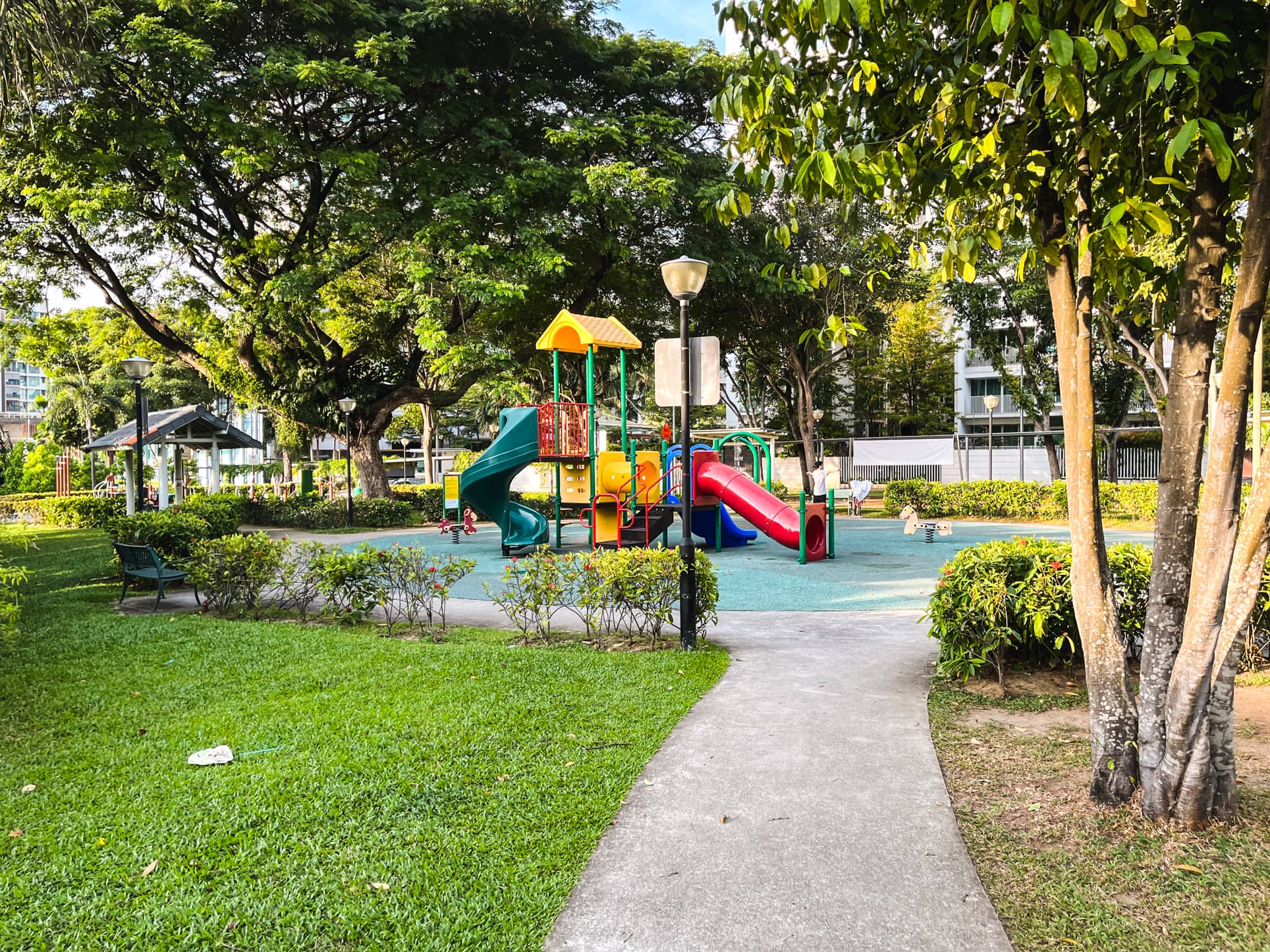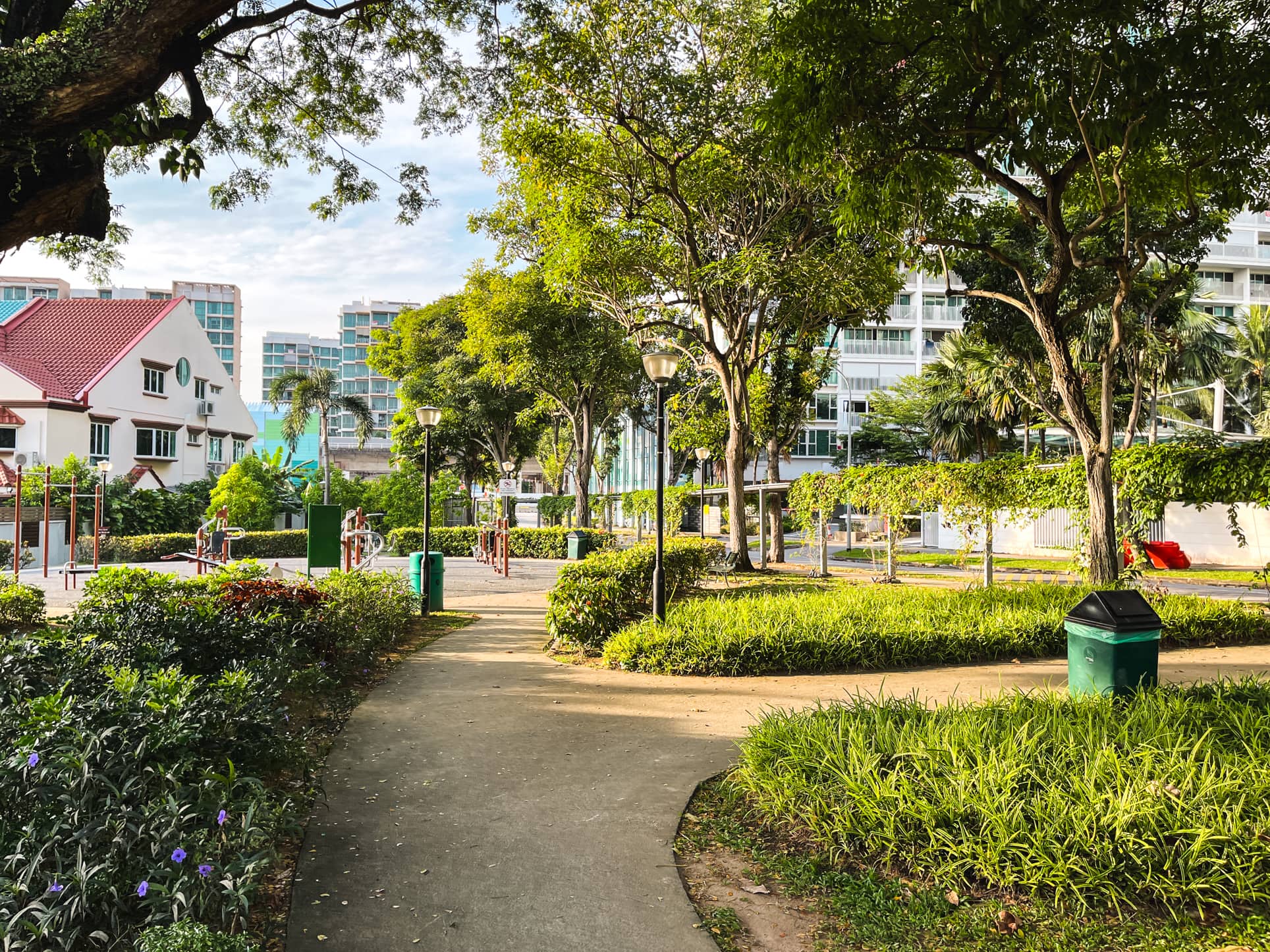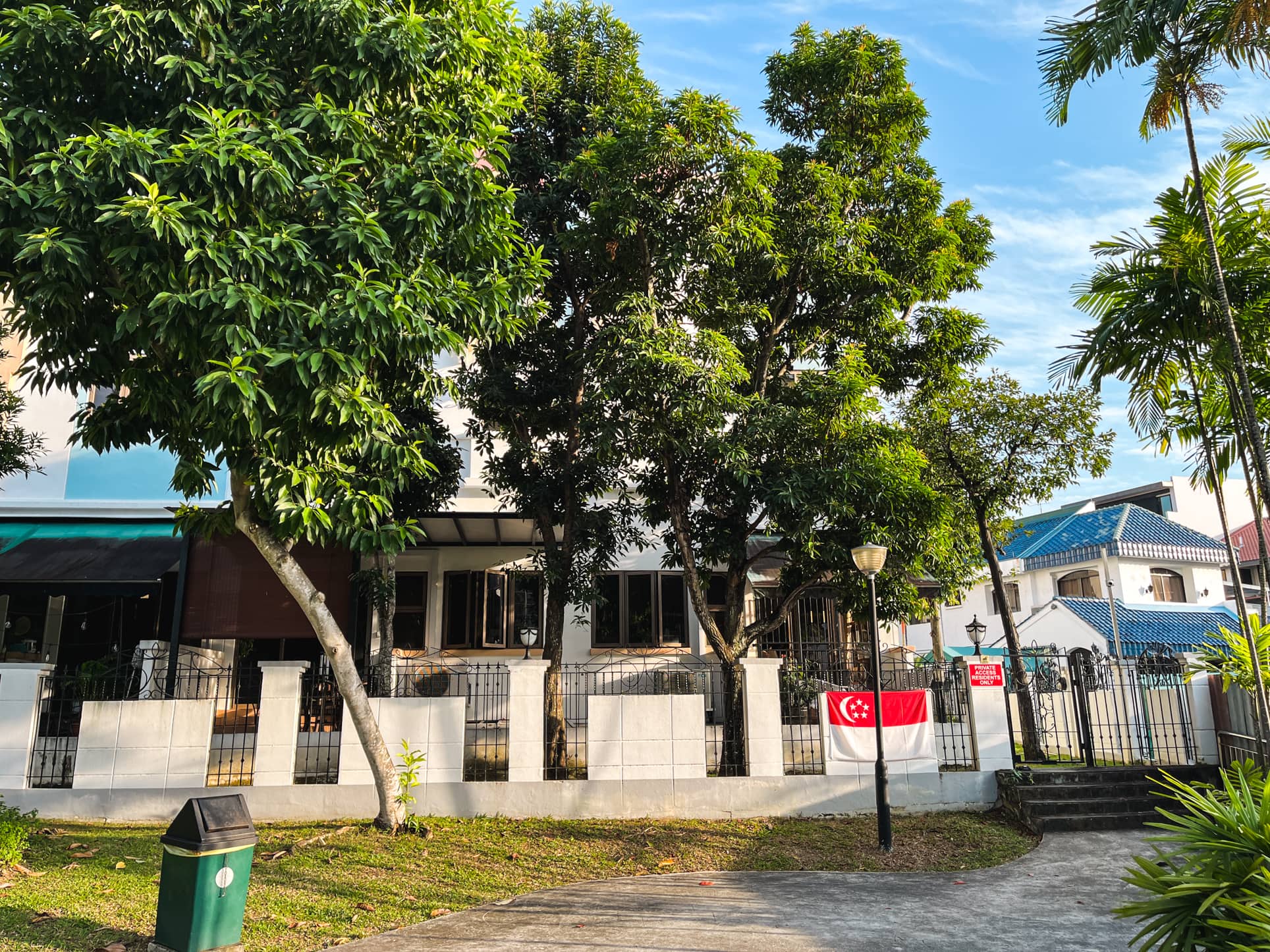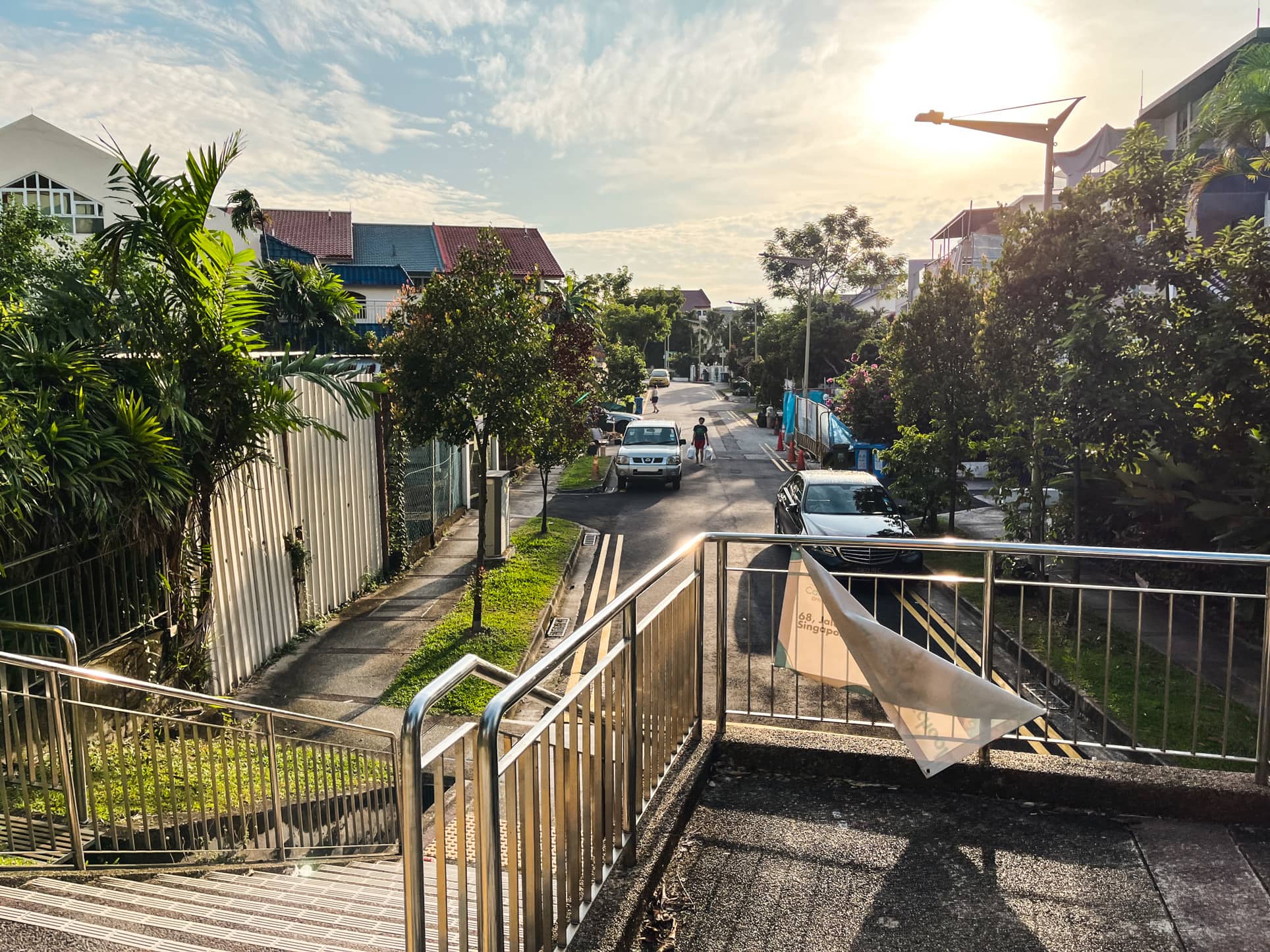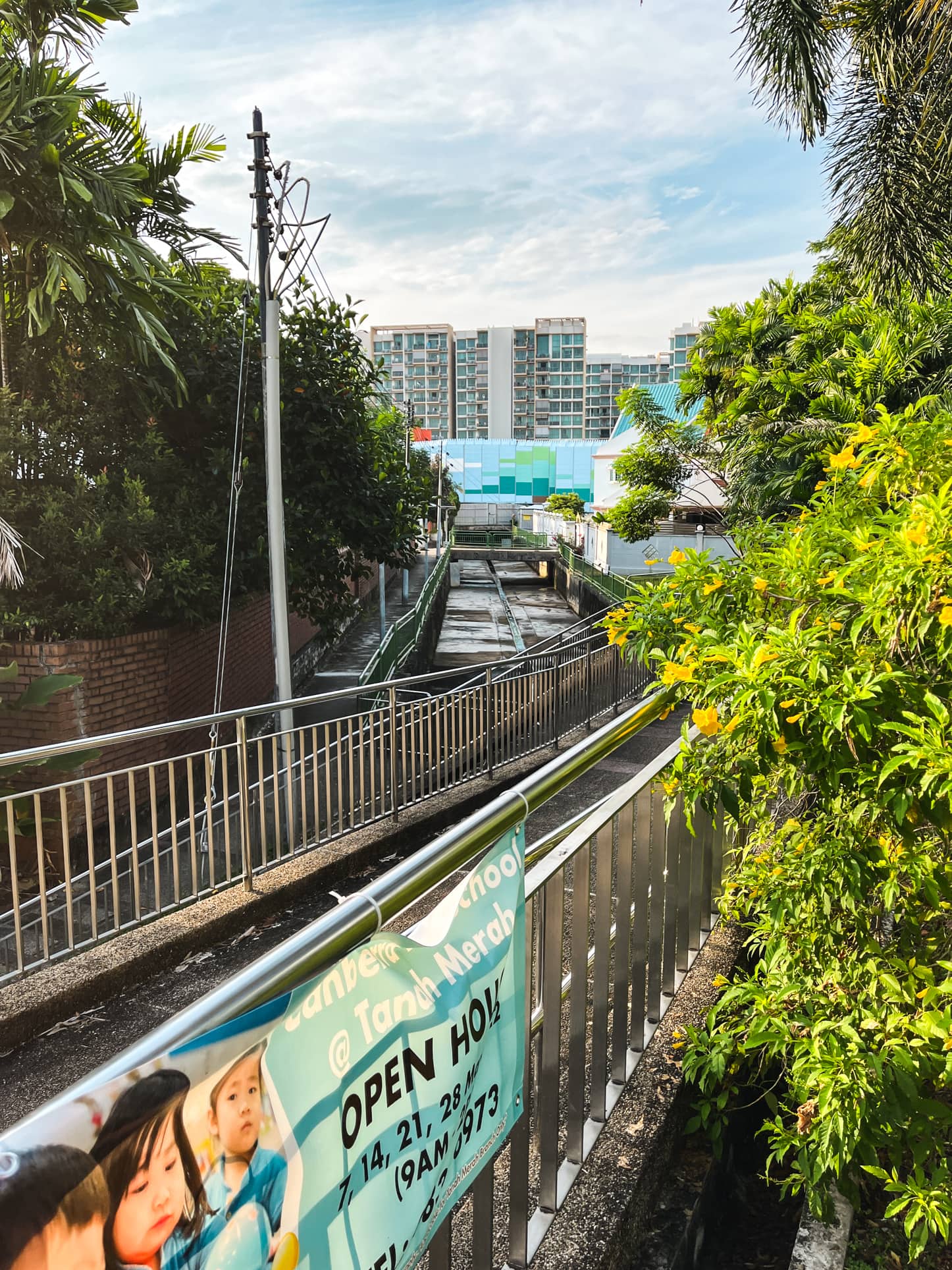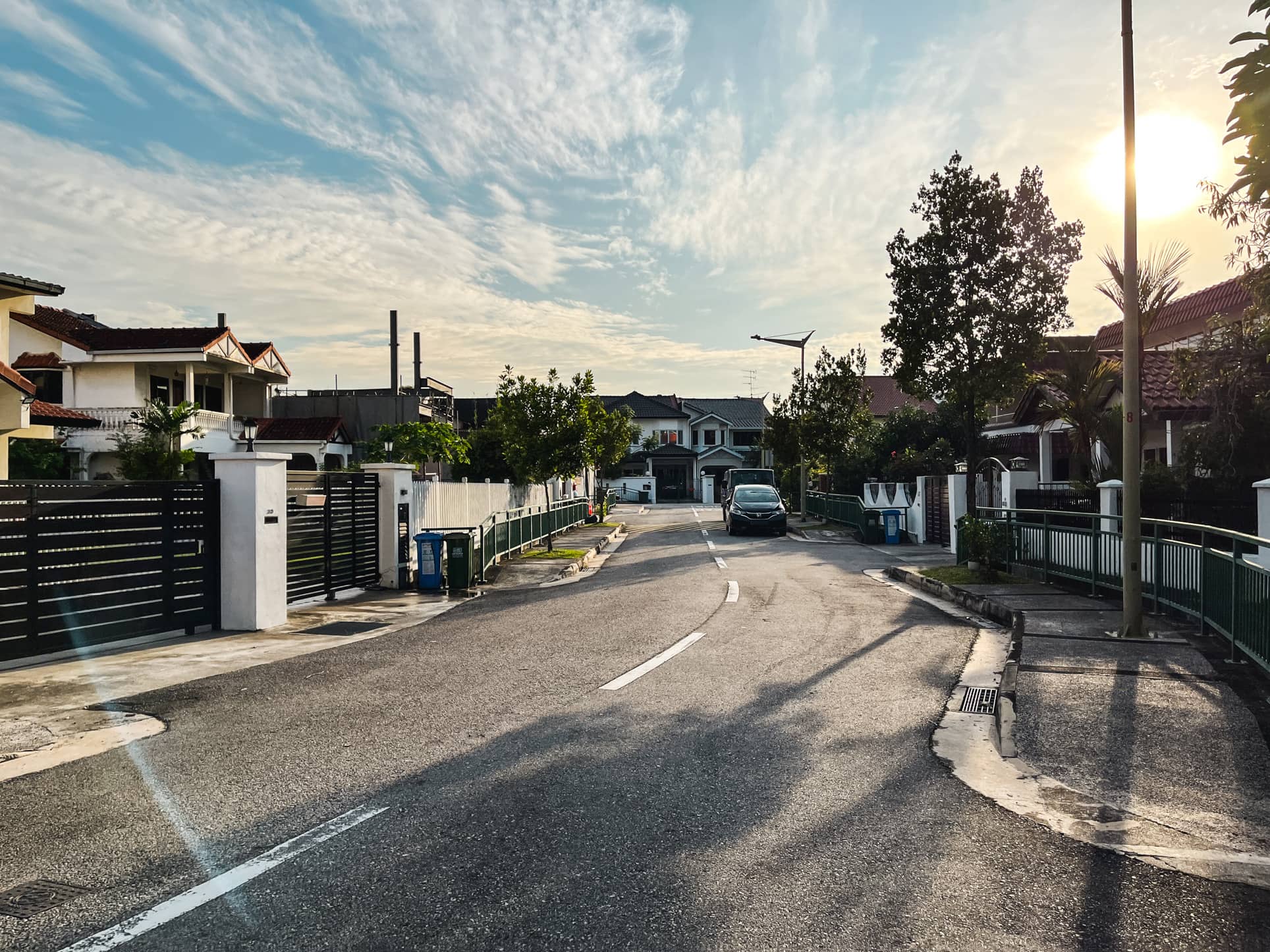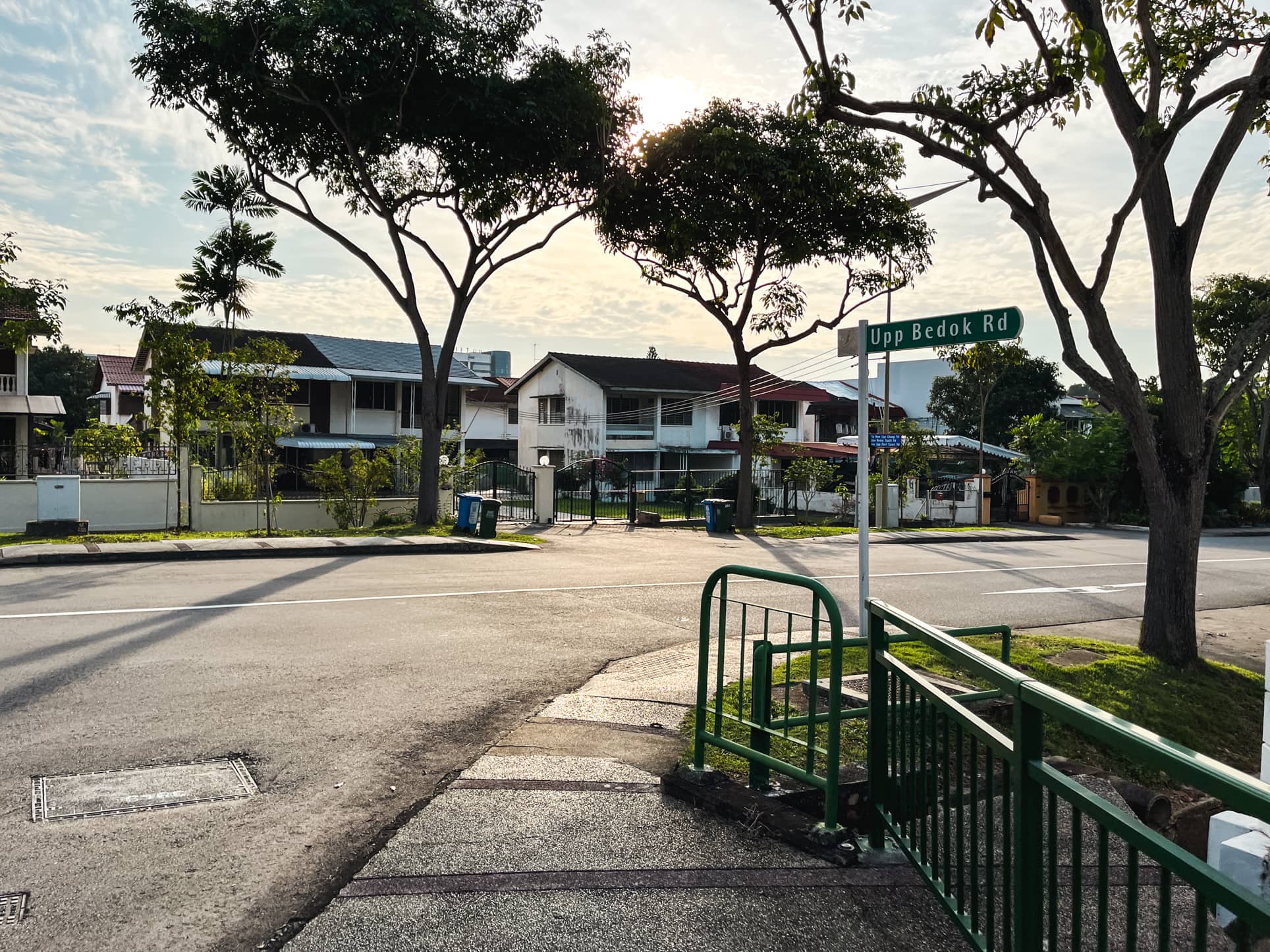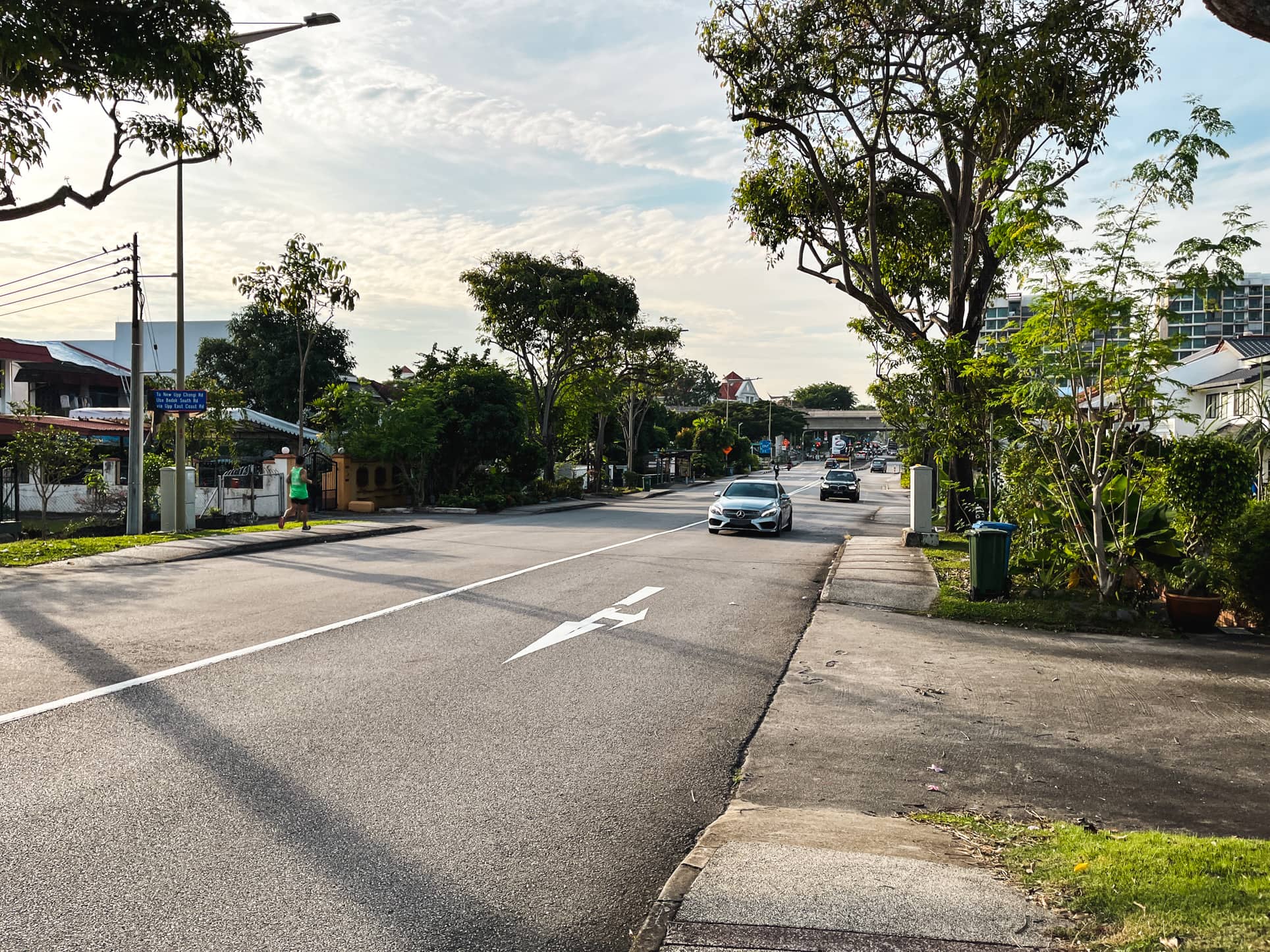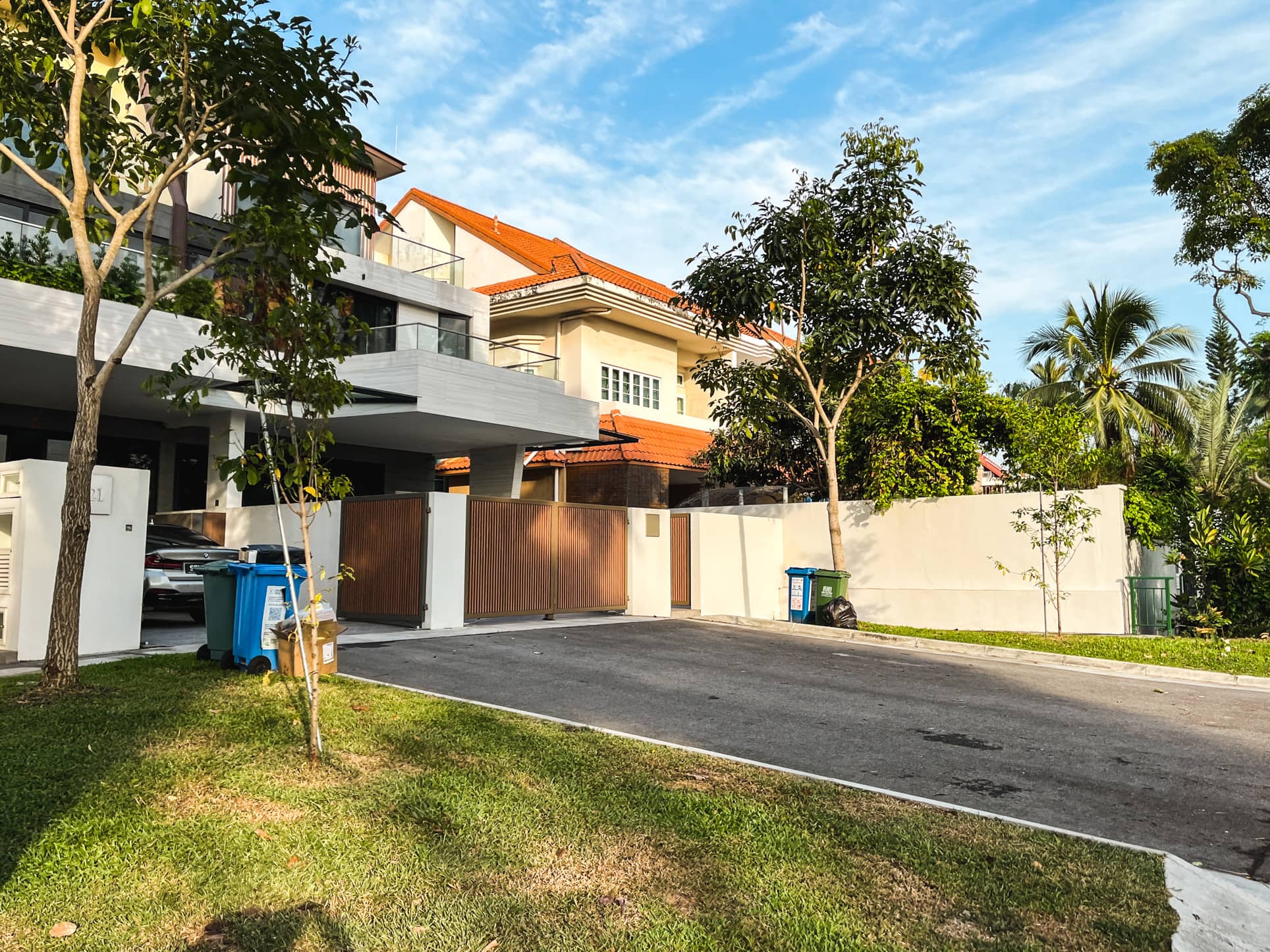 Along Bedok Road is also Jeet's Little Learners School for Early Years Development and a Shell station. Unfortunately it's located after the turn into Bedok Walk (if driving from town), so you would have to make a small detour to fill up before heading home.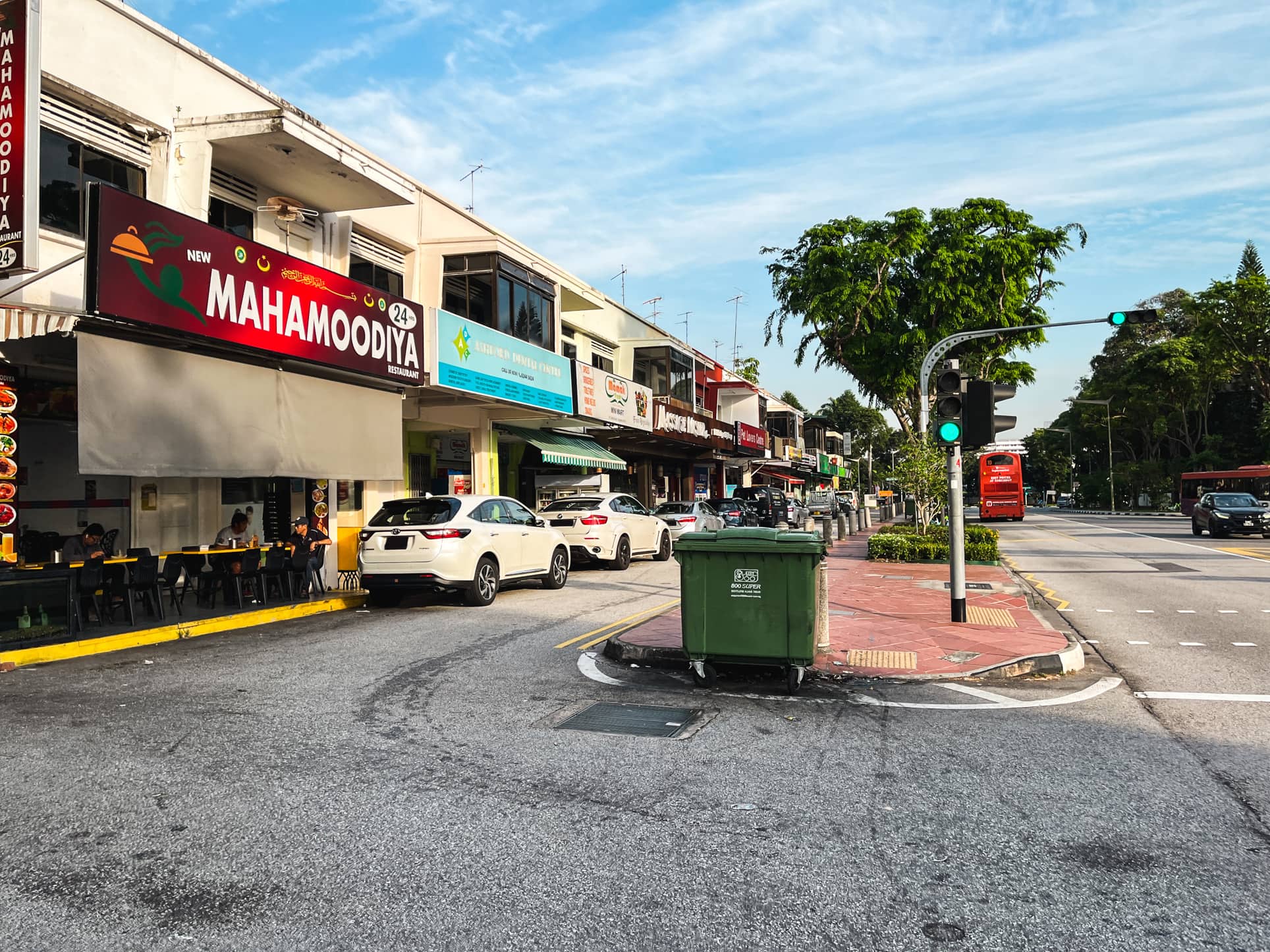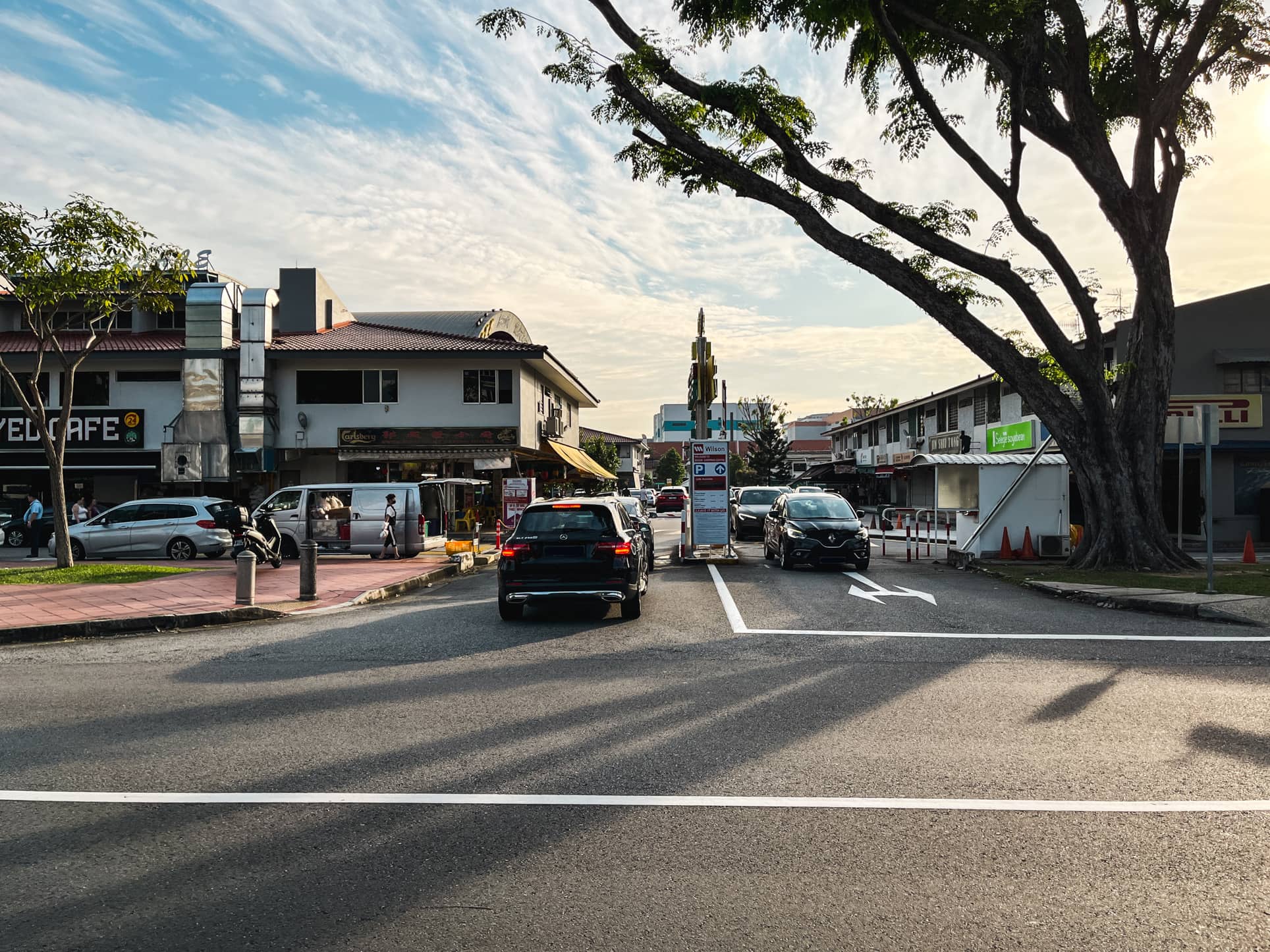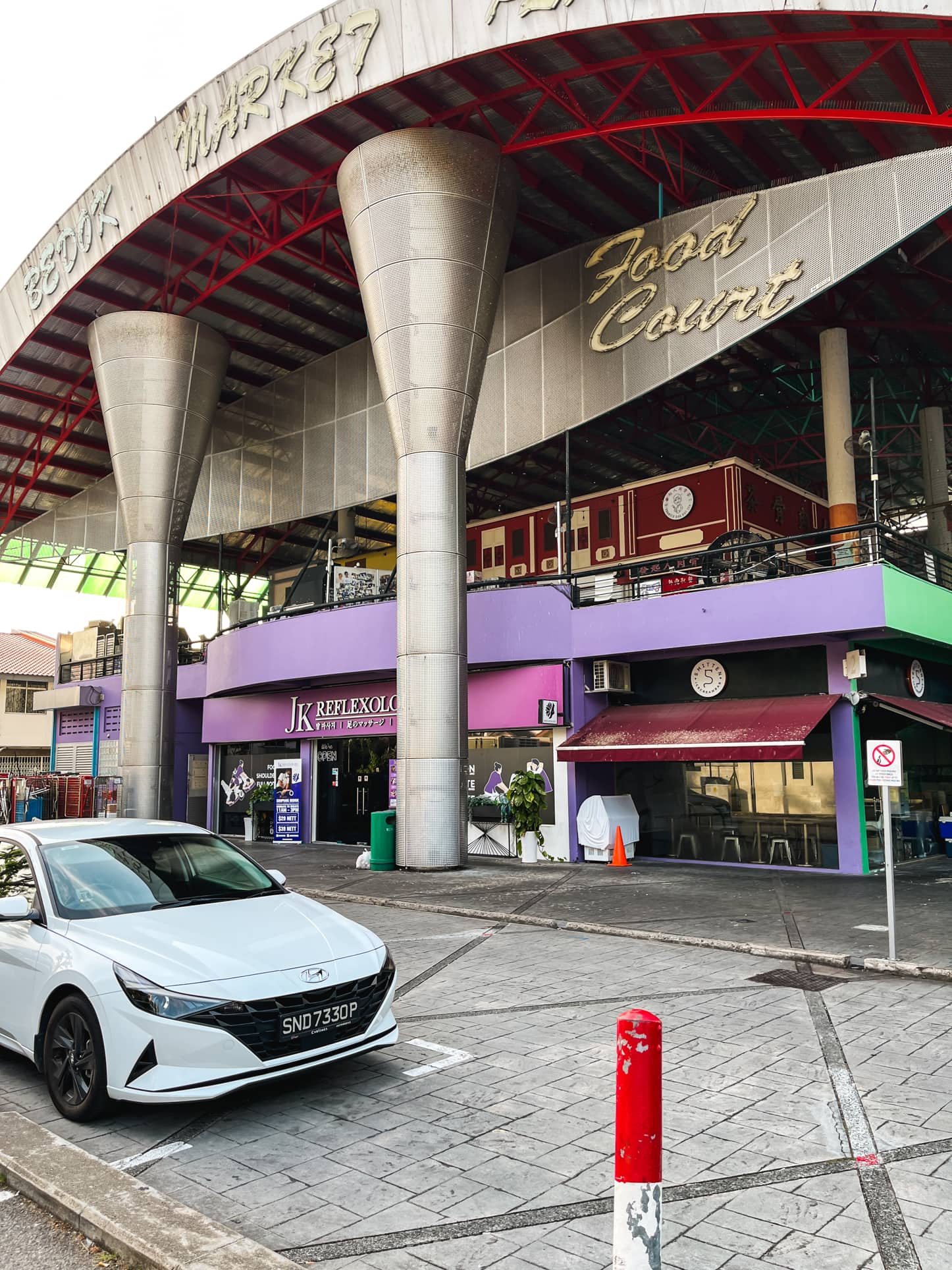 Note: there seems to be "happy hour" reflexology here for a great price. $29 ++ for a 60 min reflexology session on Mondays-Fridays, 11 am-3 pm according to the signage! Full body massage for $39++!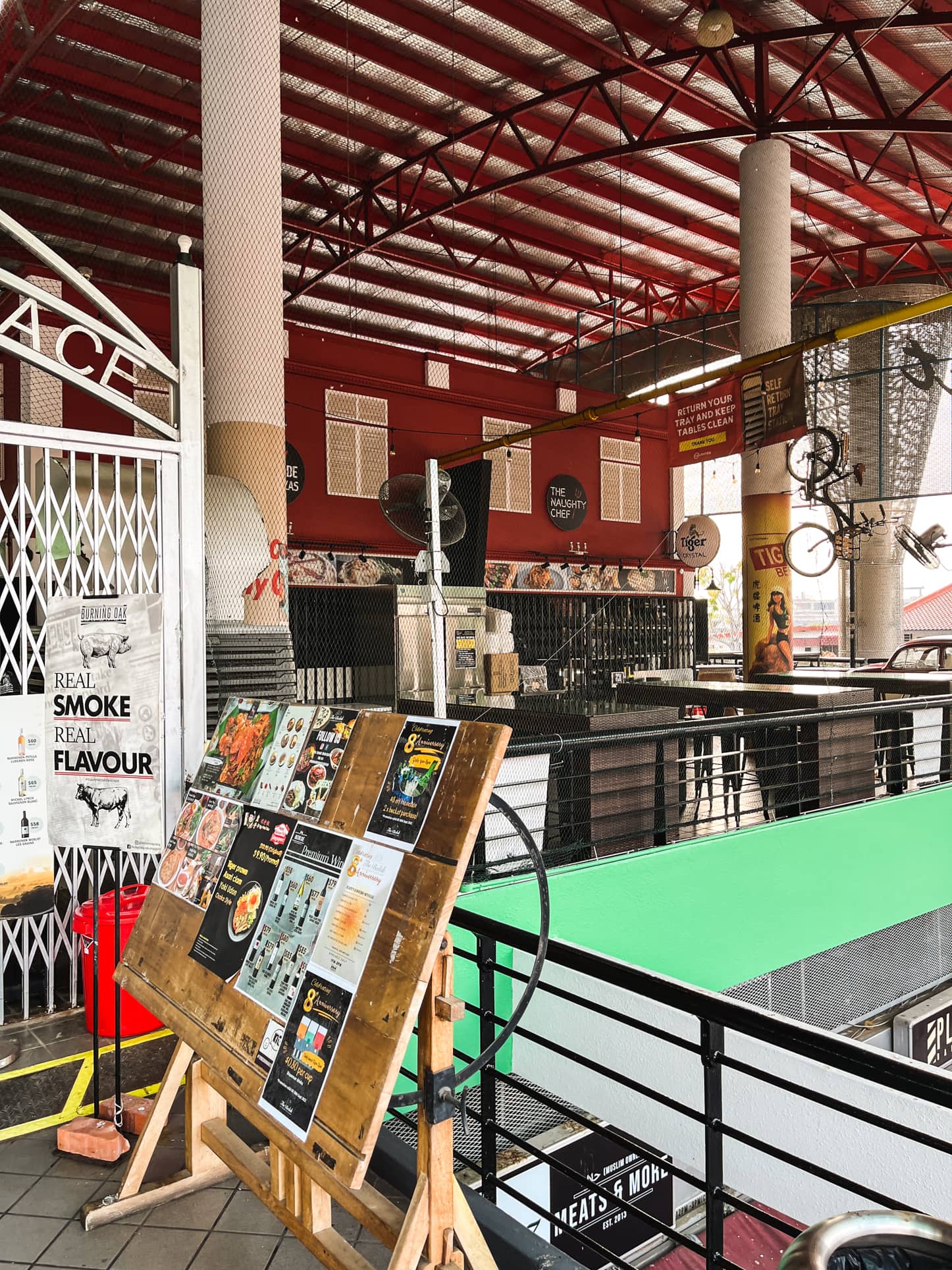 As you can see, the area around Bedok Walk has tons of amenities and I've not even mentioned that Bedok Walk is a mere 6 minutes to Tanah Merah MRT station! (FYI, my friend lives in an apartment near Tanah Merah MRT and she says she can hear the station announcements every morning! That could explain why I felt the area is so noisy!)
In terms of education, Bedok Walk is also walking distance to Saint Anthony's Canossian Secondary (18 minutes on foot) and Anglican High (10 minutes on foot.) Saint Anthony's Canossian Primary is also under 1 km away, according to yoursingaporemap.com.
Moreover, if one ever needs medical services urgently, Changi General Hospital is 5 minutes by car or a 20 minutes walk.
All in all, there's lots to be grateful for if one lives in this area. If you can see yourself living here, prices (at the time of writing) start from $3.65 million for a (single storey) terrace house.
Now that we've finished our loooong tour of Bedok Walk and its surroundings, how did you find it? I was pretty charmed (apart from the noise)! Let me know in the comments if there's any other landed enclave you'd like me to feature. There've been quite a few requests so, if I haven't done the tour you requested for, I've not forgotten about you, I'll get round to it eventually as I make my way down the list!