Property Stories
A Detailed Tour Of Joo Chiat And Katong In 60 Photos: Here's Why This Charming Neighbourhood Is So Popular
Cheryl
May 29, 2023

18

min read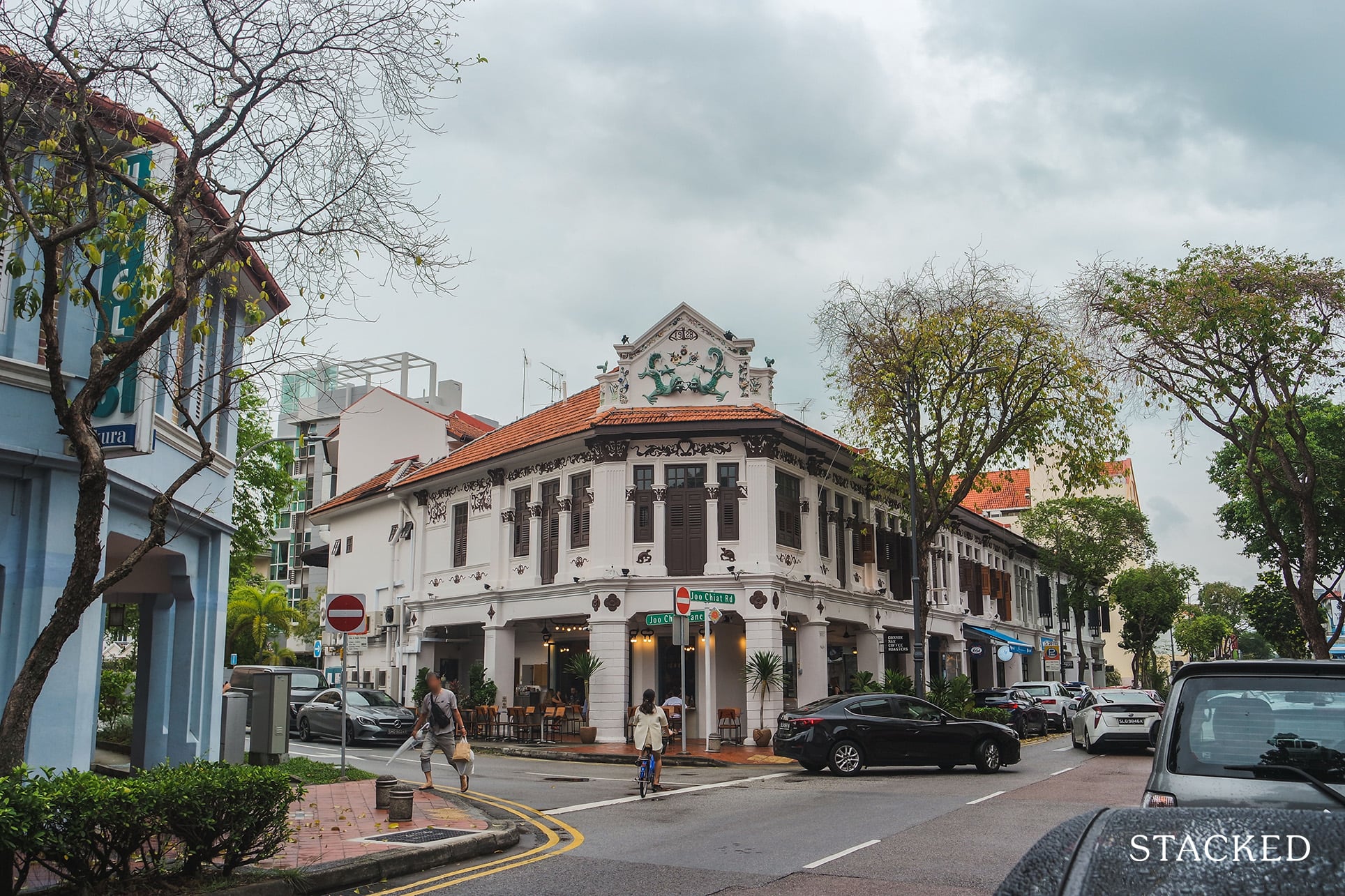 18
min read
I'm sure many of you readers also share this love for the neighbourhood or have heard this phrase from friends who firmly believe that 'east side, best side'.
For those who cannot comprehend the mass infatuation, it's tough to put into words why this place is so well-loved.
In this read, I attempt to illustrate the unique essence of the community through a visual walkthrough.
Continuing the neighbourhood tour series (in which I explored Tiong Bahru previously), we move on to take a look at the charming Joo Chiat and Katong neighbourhoods. Due to their proximity to each other, their names are often used interchangeably.
For the most part, this neighbourhood is well-known for a few things – the beautiful shophouses, good eats, the rich Peranakan heritage and that the neighbourhood is sitting on reclaimed land.
But that's just the tip of the iceberg.
As someone who grew up with her grandparents in Marine Parade, studied there for most of her life and eventually found her life-long partner in this neighbourhood, this place is the epitome of home to me.
I pondered for a long time on how to go about writing this piece, mainly because of how much this place means to me and what would be the best way to illustrate its vibrancy and energy without sounding too cliche.
Here goes:
Unique Peranakan Architecture & Built Environment
Just five years ago, the neighbourhood looks vastly different from how it does today.
Apart from the new MRT stations and some of the older buildings being taken down (the iconic Marine Parade CC will always have a spot in my heart), I now see a surge in the expatriate community and cafe scene.
The usage of these traditional spaces is changing too, especially the Peranakan-style architecture that Joo Chiat is probably most known for.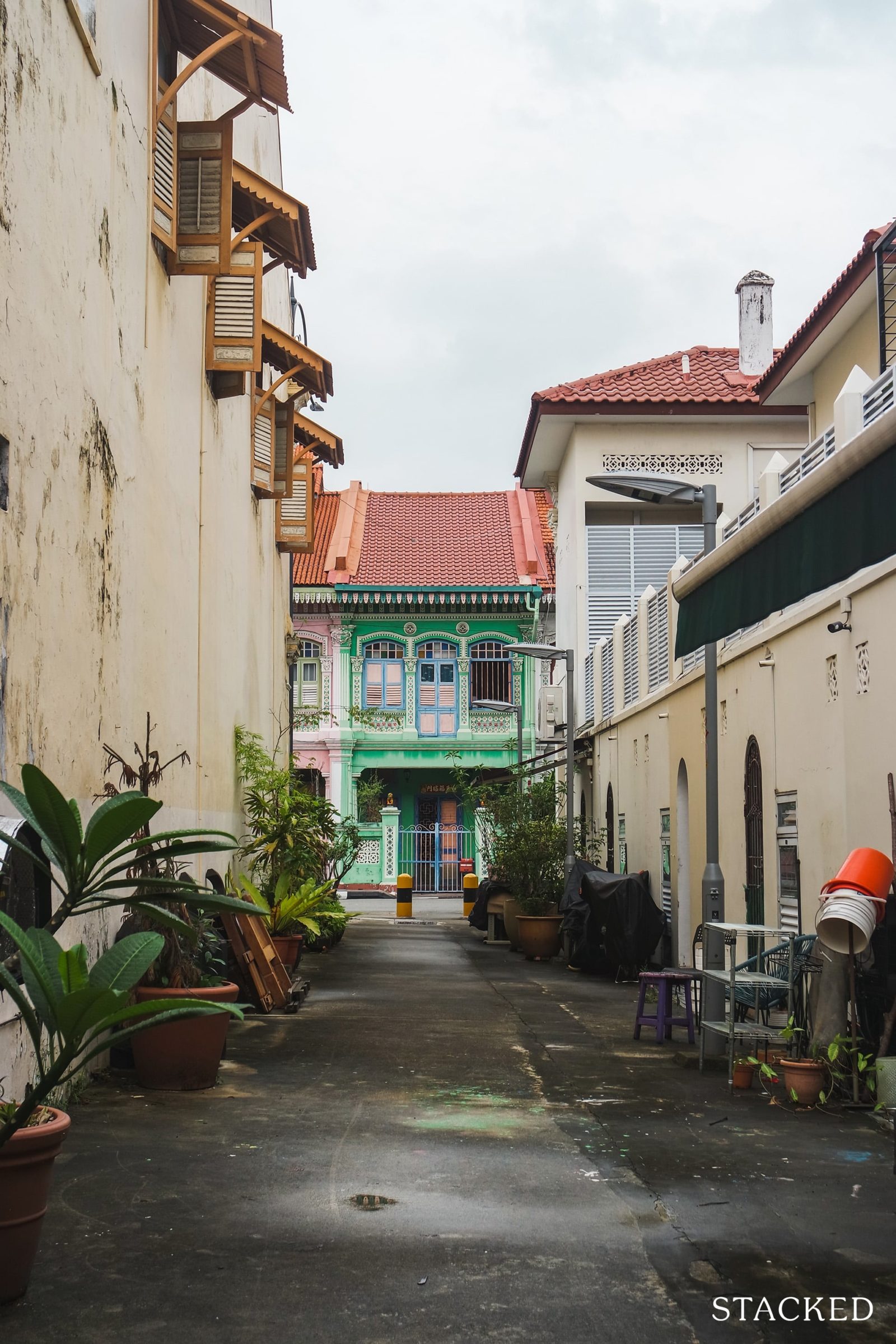 Colourful Koon Seng Shophouses
Characterised by brightly-coloured facades and intricate tiles, these spaces offer a glimpse into the life of the Perankans living in yesteryear Singapore.
For any foreigners reading this, Peranakan is colloquially referred to as someone who has a blend of Malay and Chinese heritage. While the Peranakan men are known as 'baba', the women are known as 'nonya'.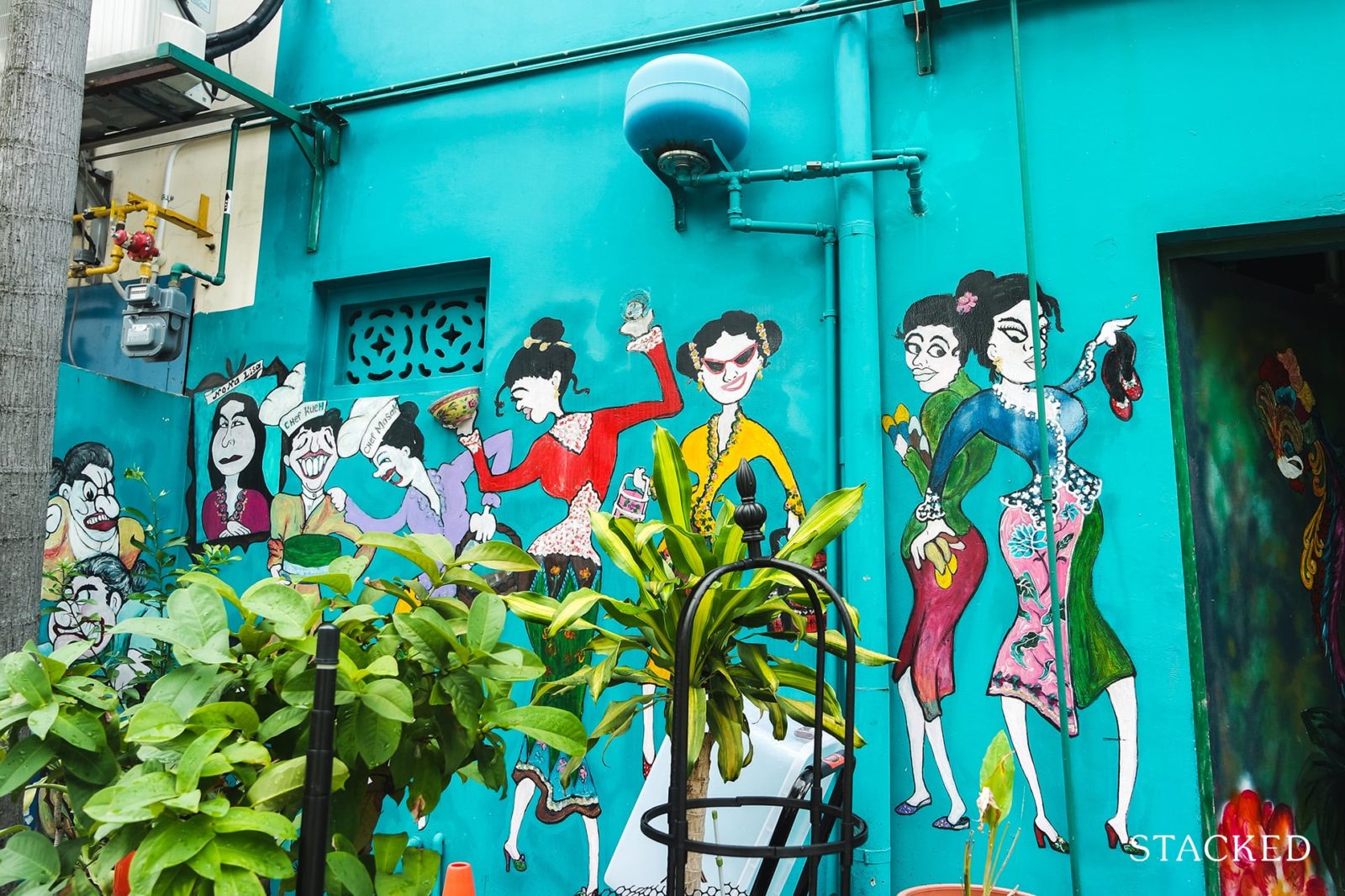 Rumah Bebe Dancing Nonyas Art Mural
They are distinguished by their love for deep vibrant colours, patterns and drama. This can be observed through their colourful beading, and elaborate clothes and transcends even to the bounds of their wonderful homes.
Combining Chinese, Malay and European elements, the shophouses found in the Joo Chiat and Katong neighbourhood lean towards the:
Late Shophouse Style,
Transitional Shophouse Style, and
Art Deco Shophouse Style
The most recognisable out of the three, the Late shophouse style was largely inspired by a fusion of East and West architecture.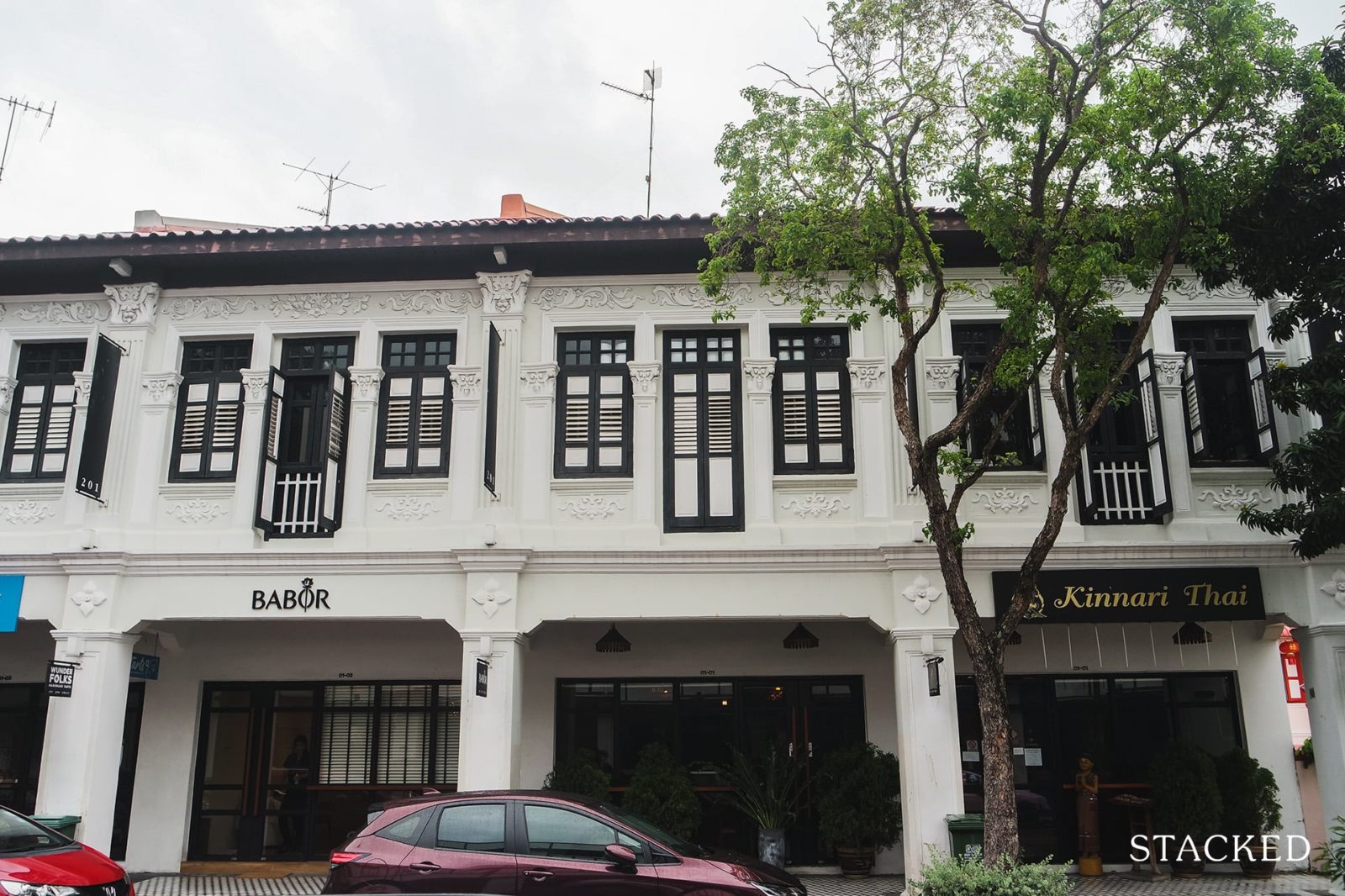 Corinthian columns and baroque motifs
Corinthian columns and full-length French windows were some Western characteristics iconic to this style of shophouses and were often complemented by the extensive use of decorative mouldings, intricately carved woodwork and imported glazed tiles that were more inspired by the East.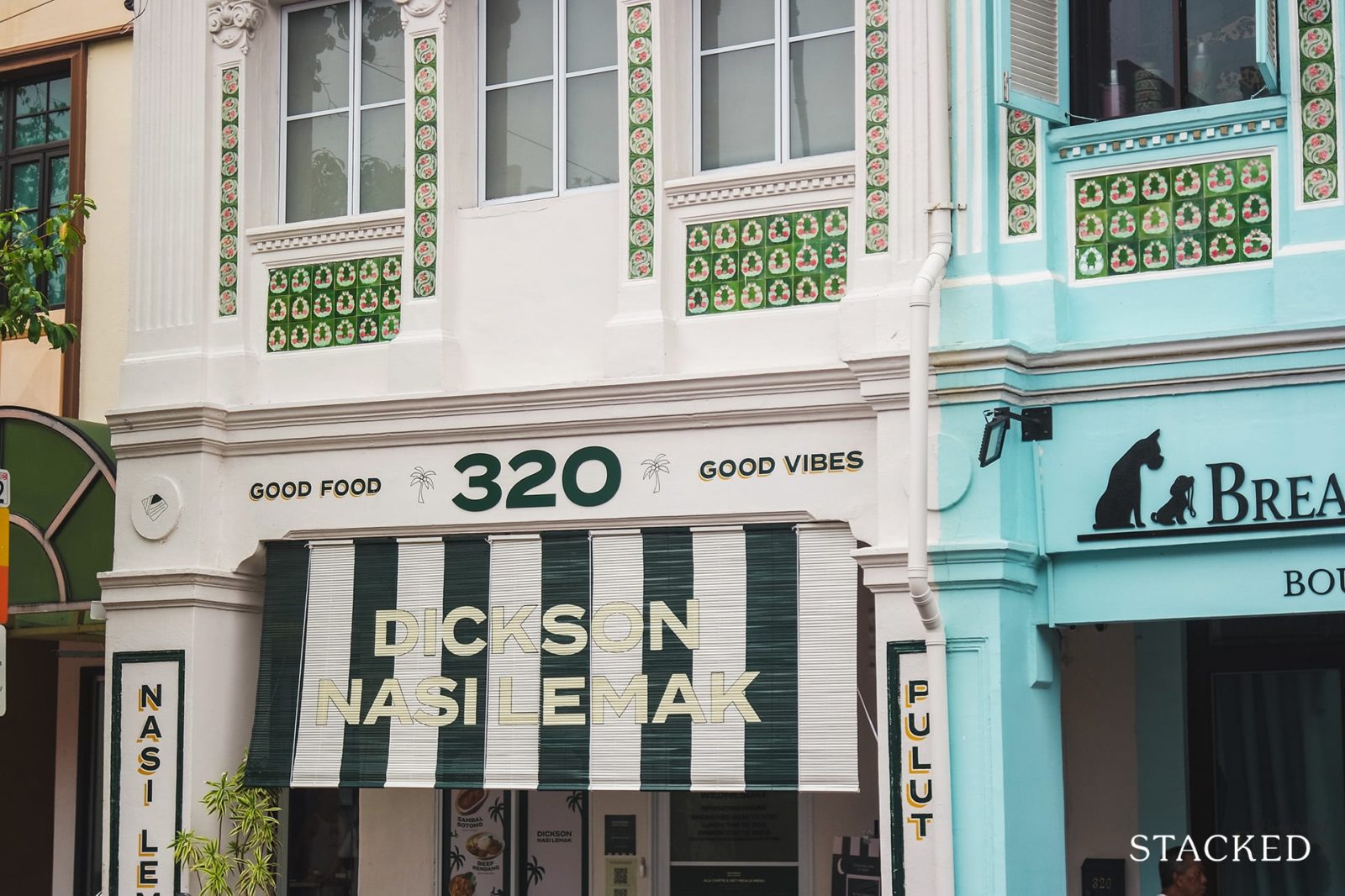 Beautiful tiles with floral motifs and colourful shophouse facades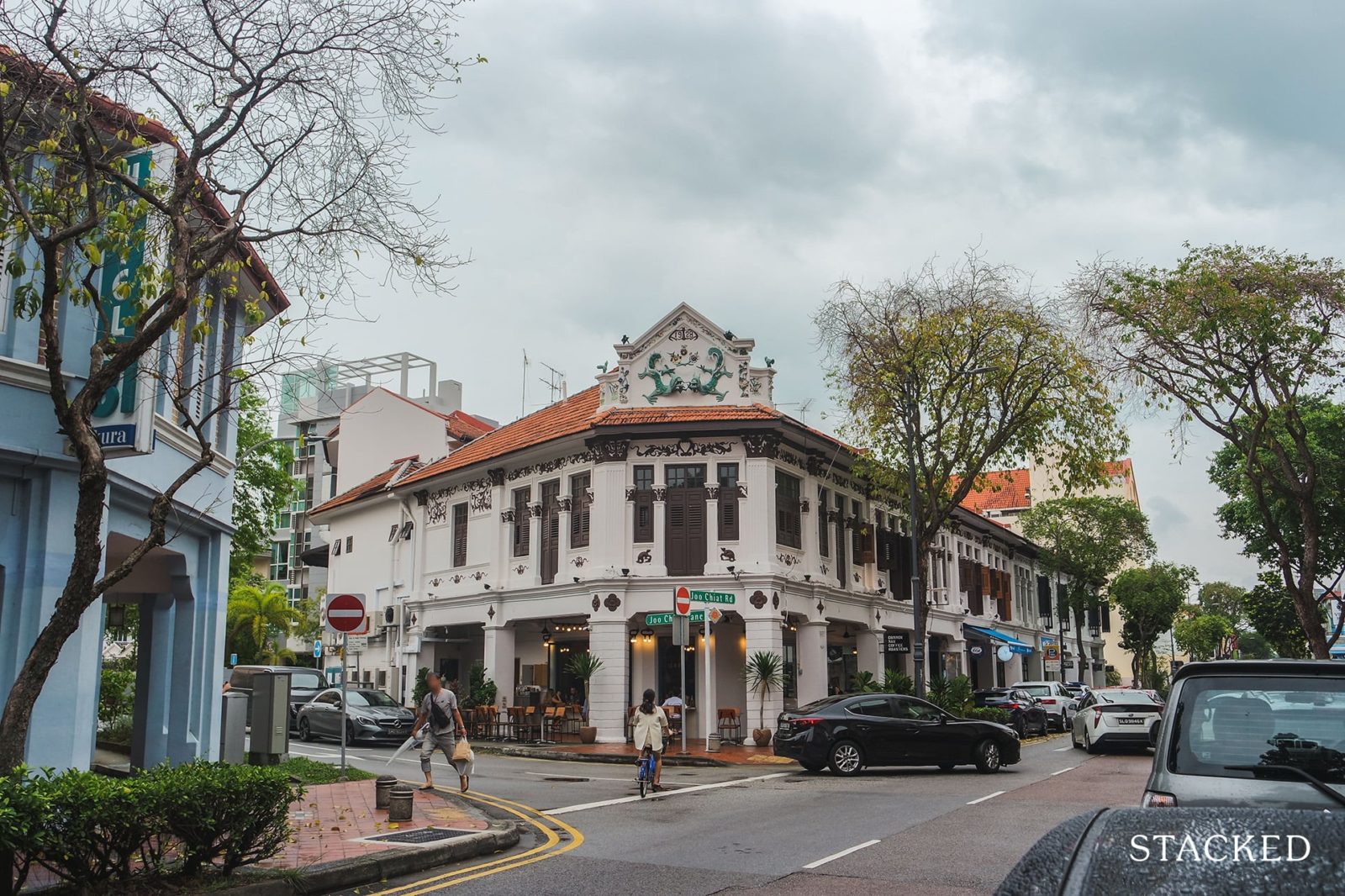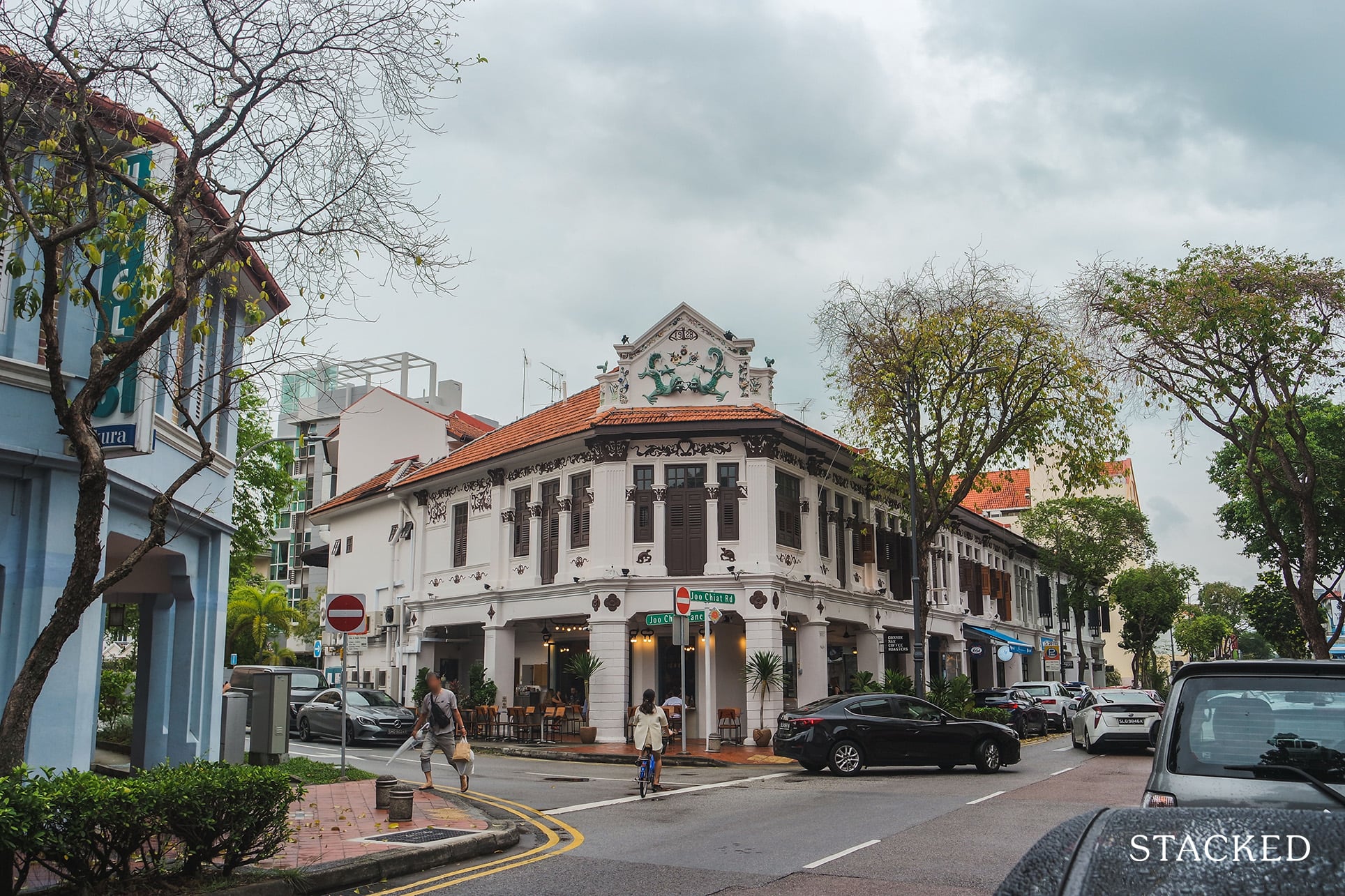 These photogenic homes were often a reflection of an increase in the wealth of the people and their preference for European tastes.
Decorative majolica tiles were a symbol of a colourful Peranakan legacy and were often used to decorate the shophouse facades, with floral and animal motifs that connotes auspicious meanings.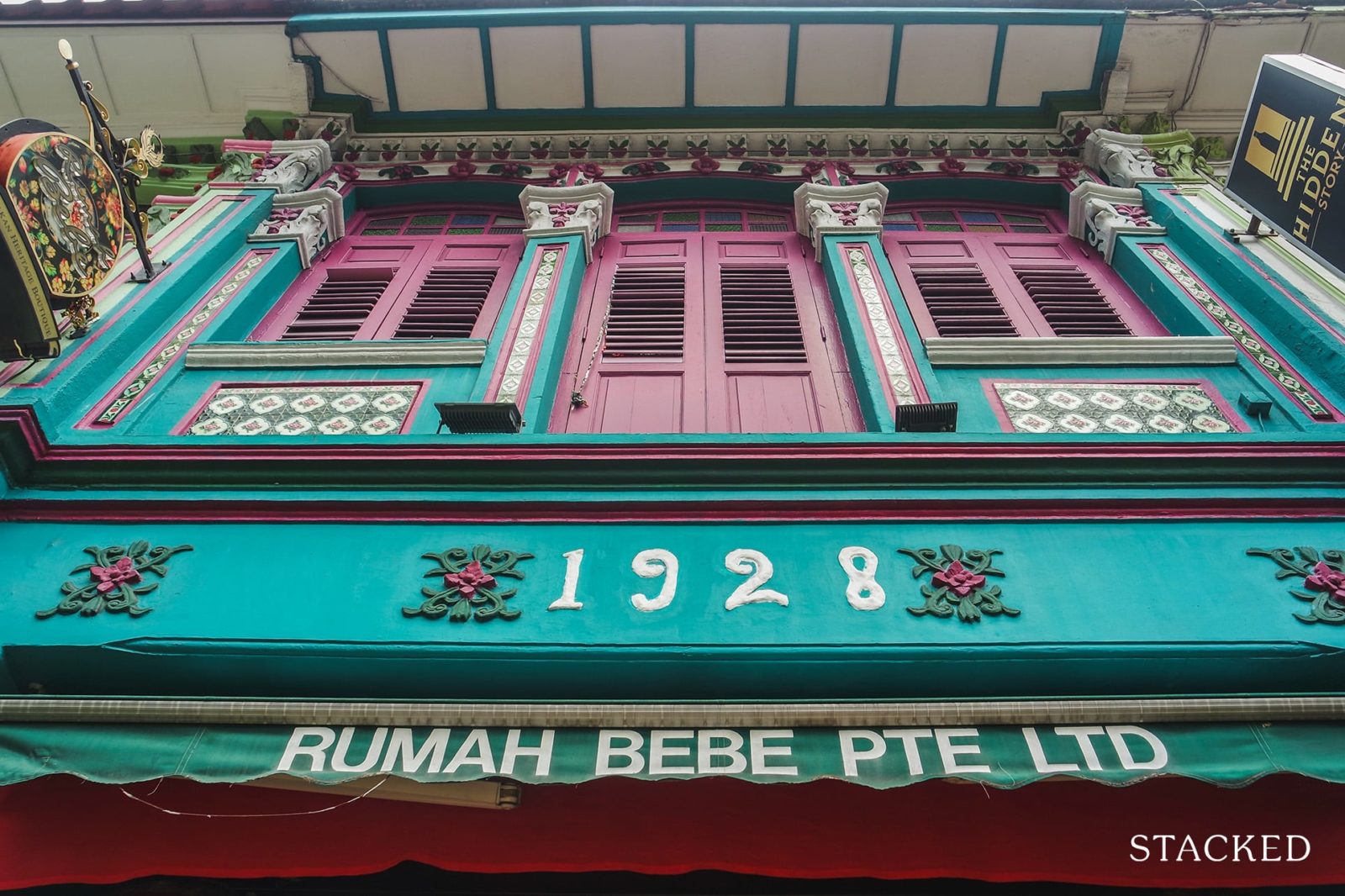 Peonies, which are known as 'King of Flowers', symbolise wealth and honour.
On the other hand, Art Deco-style shophouses were mainly distinguished by geometric patterns, clean arches and keystone anchors that were inspired by the automobile industry, which was considered revolutionary at that time.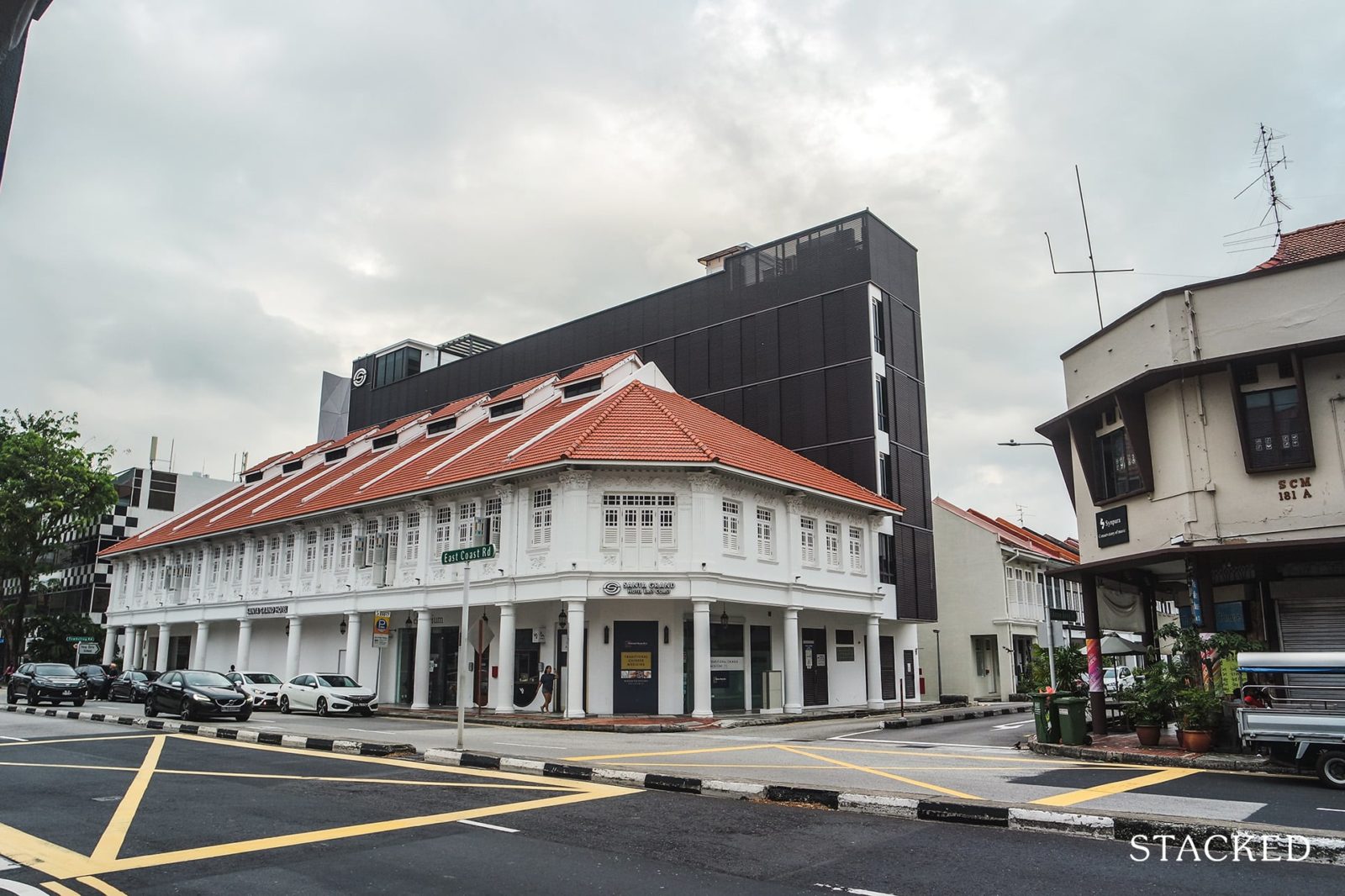 The Art-Deco shophouse restored into a boutique hotel
We see that many of the lines were inspired by the curvature of ocean liners and the geometric shapes of trains and aeroplanes.
Undoubtedly, what makes living in shophouses unique is definitely in its structural components and details. The exterior spiral staircases, courtyards and oriental air wells all play a huge role in creating a unique ambience.
Sanitation in Singapore back then was much more underdeveloped, and this was reflected in the design of their homes.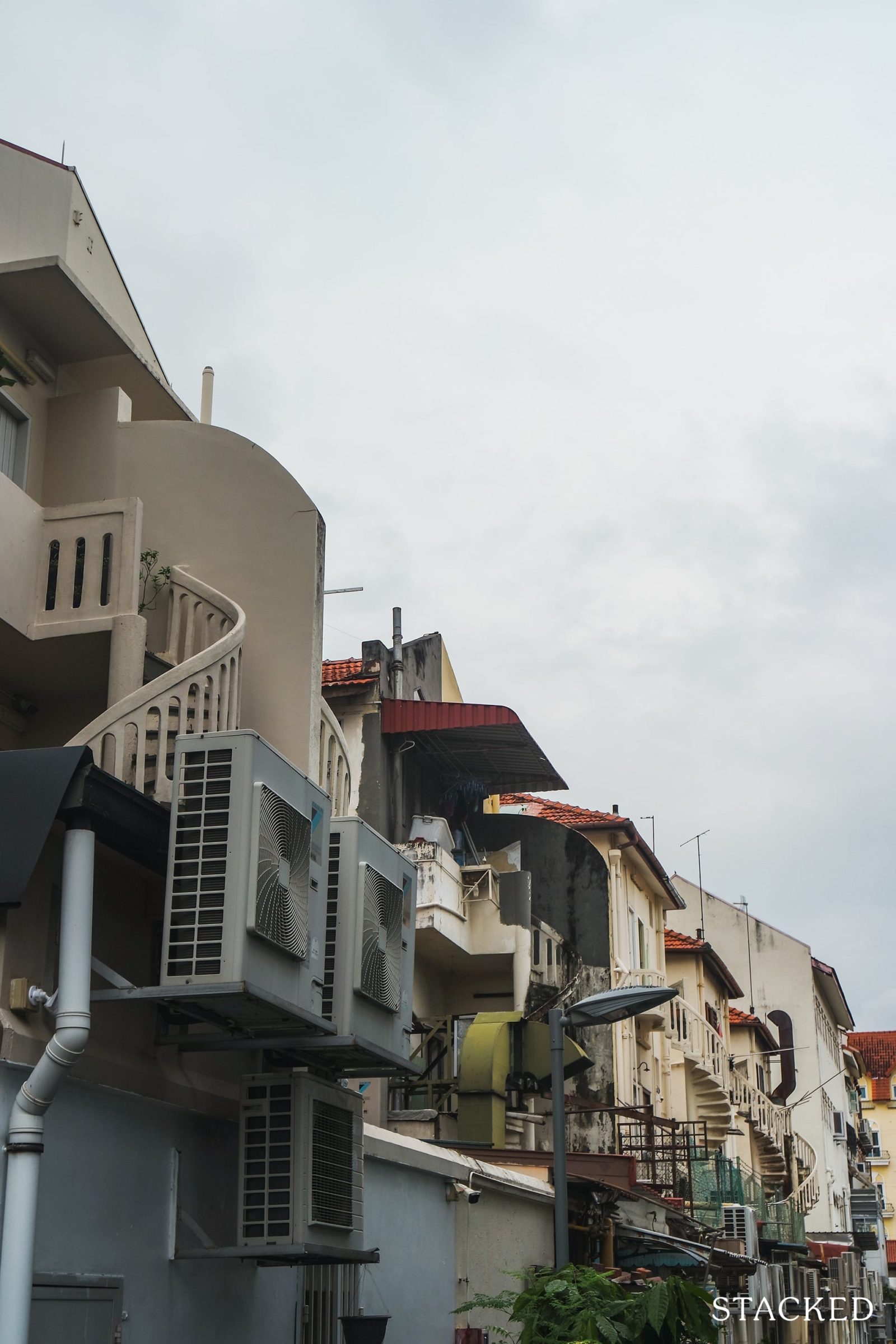 Spiral stairwells were designed specifically for the night soil collectors to access the homes without needing to enter through the front door. Dual entry was important!
Other features were designed specifically to acclimatise to the humid weather in Singapore, such as added vents, sun shades and specially-designed gates.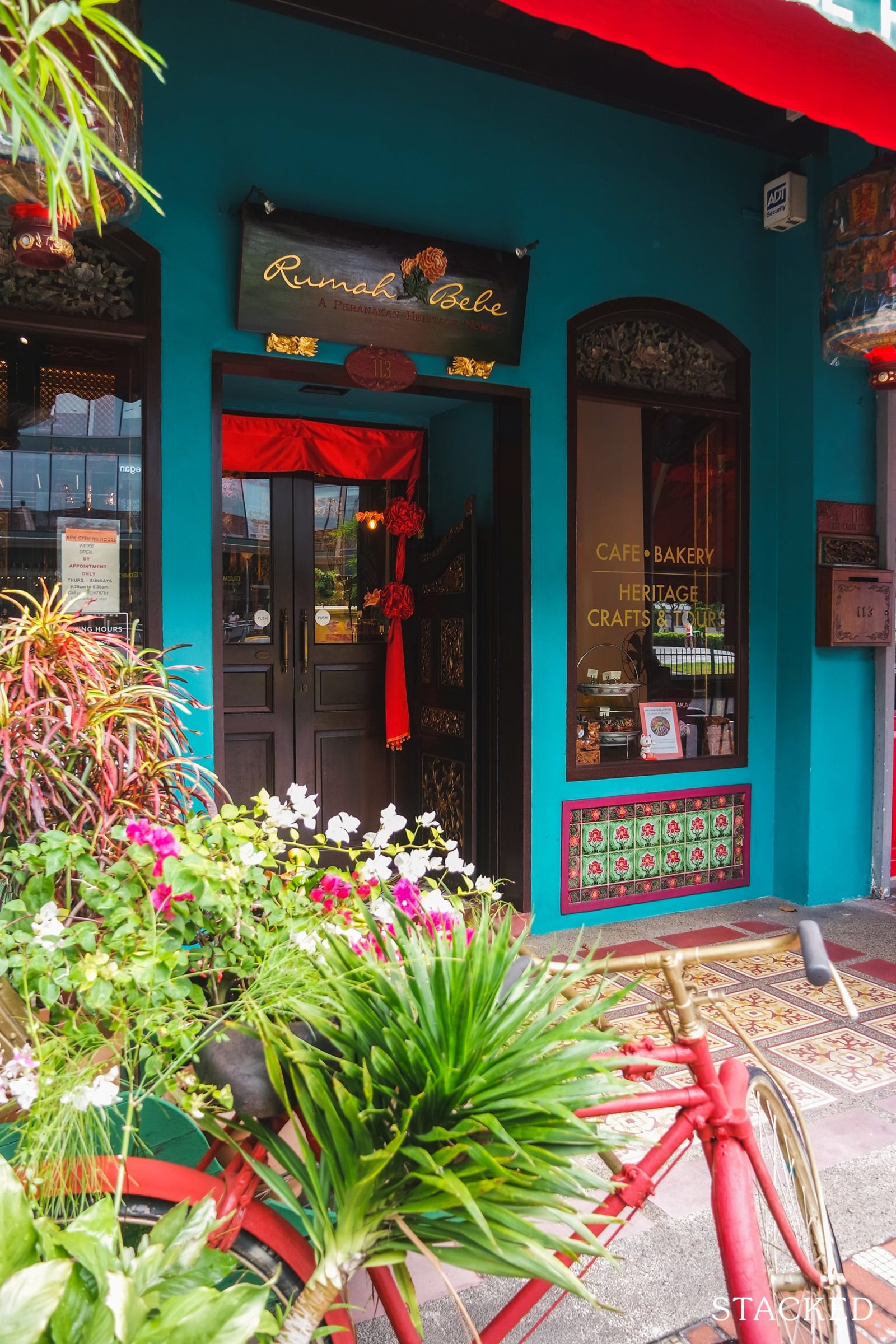 Pintu Pagar observed at Rumah Bebe, which was crucial in providing privacy while encouraging natural ventilation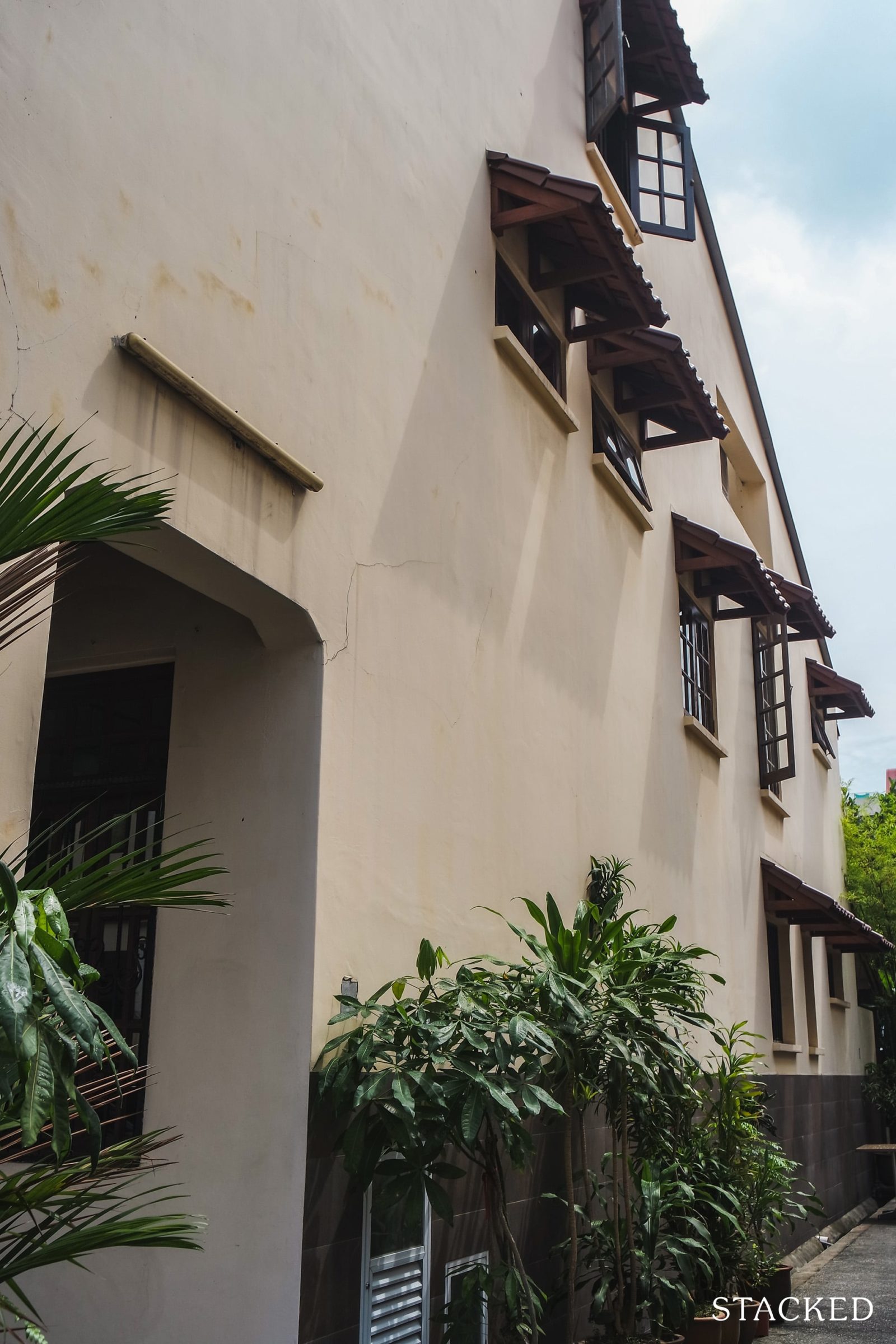 Shophouses with sunshades added to windows to reduce glare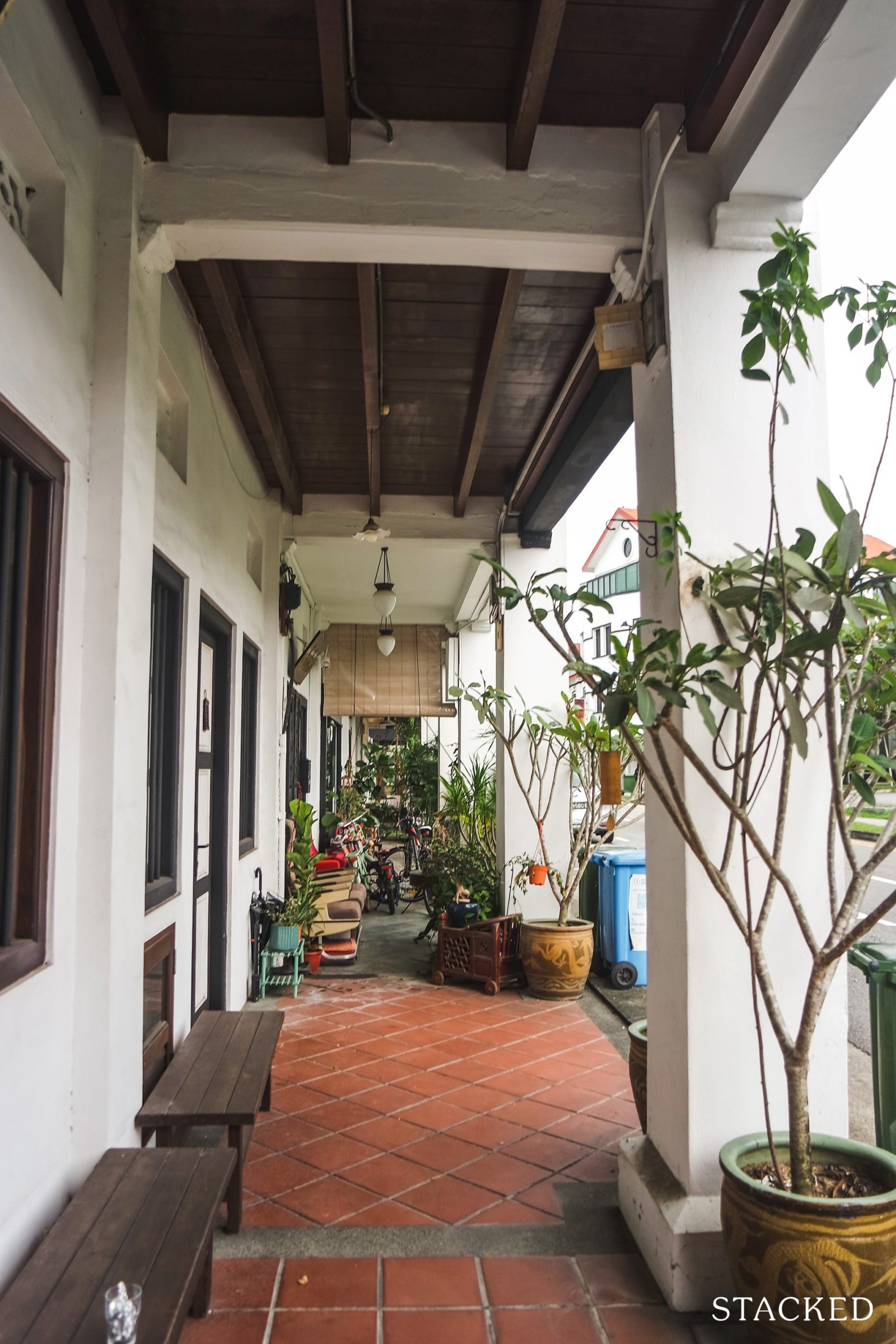 The five-foot way was also an important aspect to provide pedestrians shelter from the rain and sun and get people out of the street.
Undeniably, gentrification has had its effect on the community, especially when seeing the modern and refreshed outlooks on some units' facades juxtaposed to older ones.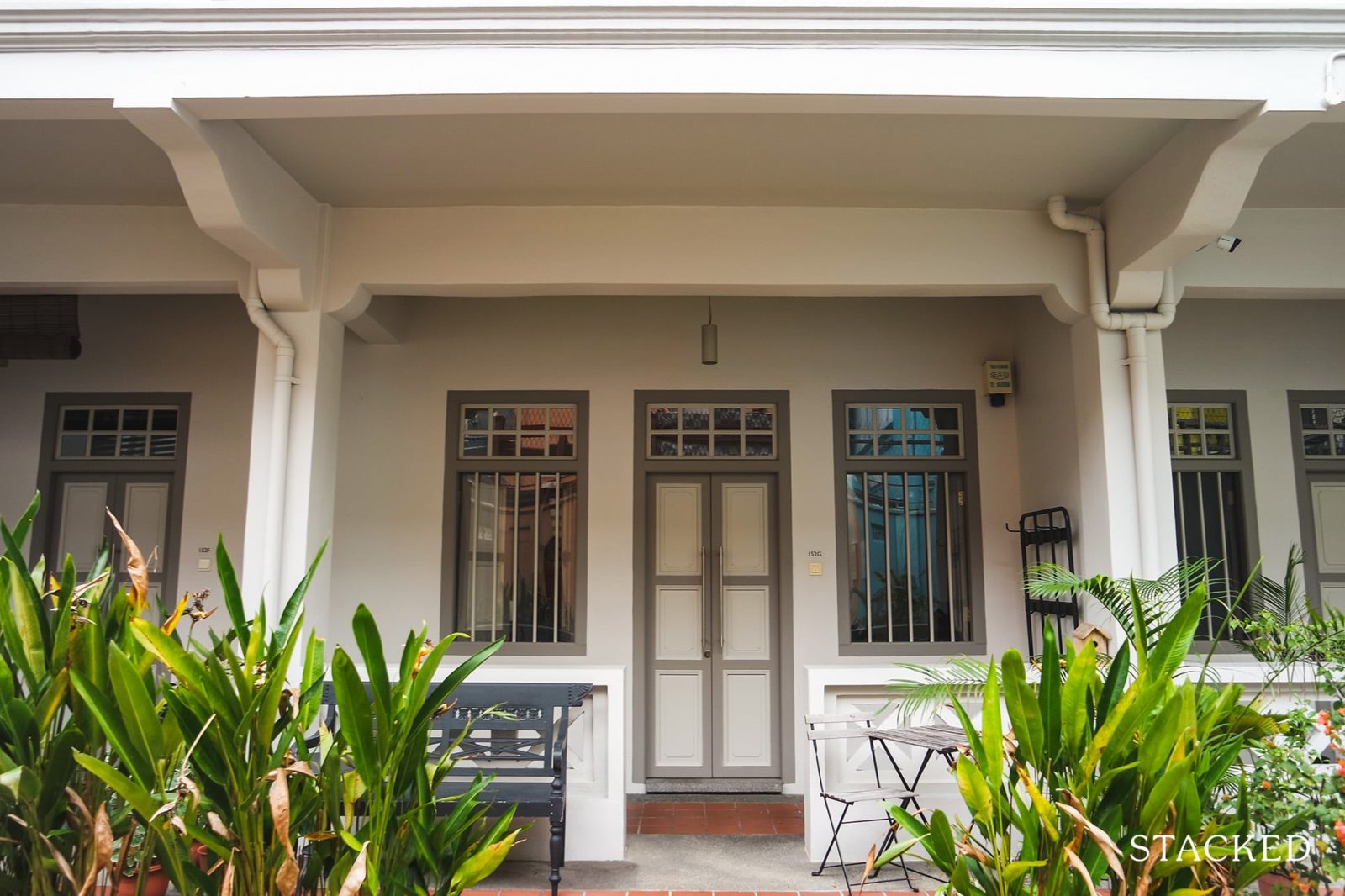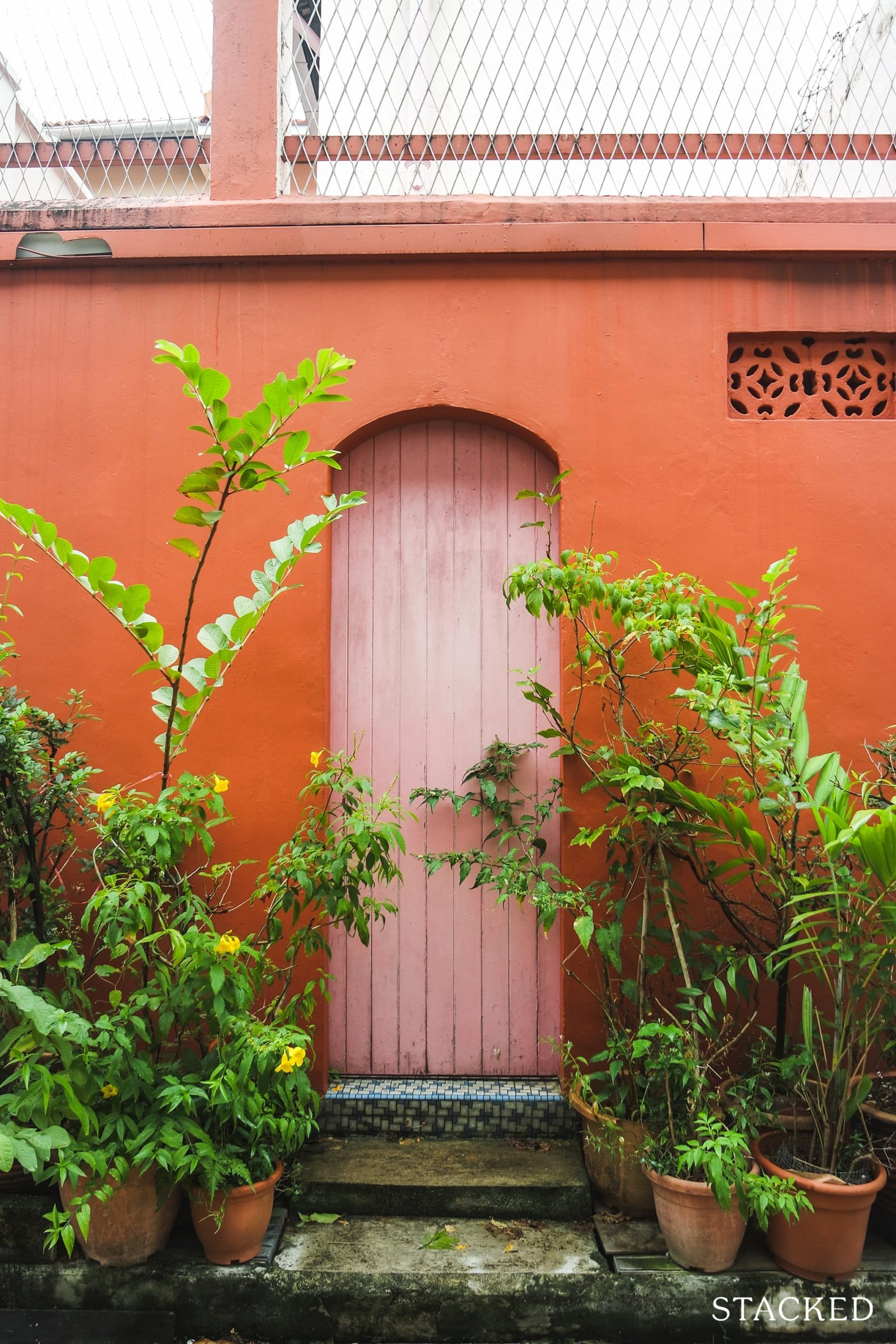 A pop of red was noted at the backdoor behind one of the shophouses with conserved floor tiles
Today, we see more younger folk living within the area, and these spaces now become home to more cafes and co-working spaces with eclectic designs.
Even so, one thing that is timeless is the pride that these folks feel for their neighbourhood.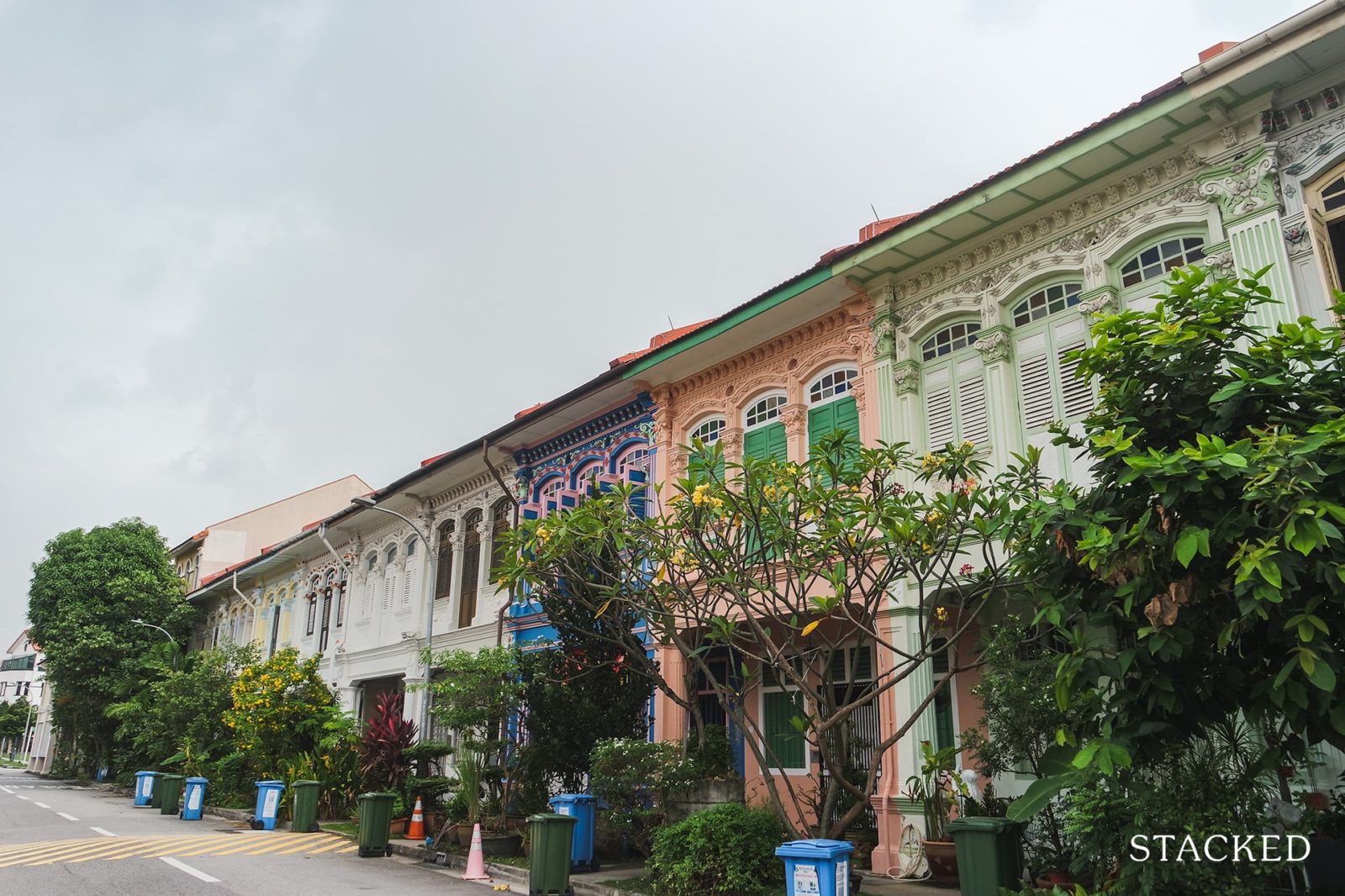 I can see that every lane has been well taken care of by the residents, with lots of love going into caring for the flora and their overall environment.
Apart from the elaborate tiles, street art and murals were important elements to depict the Peranakan heritage and way of life.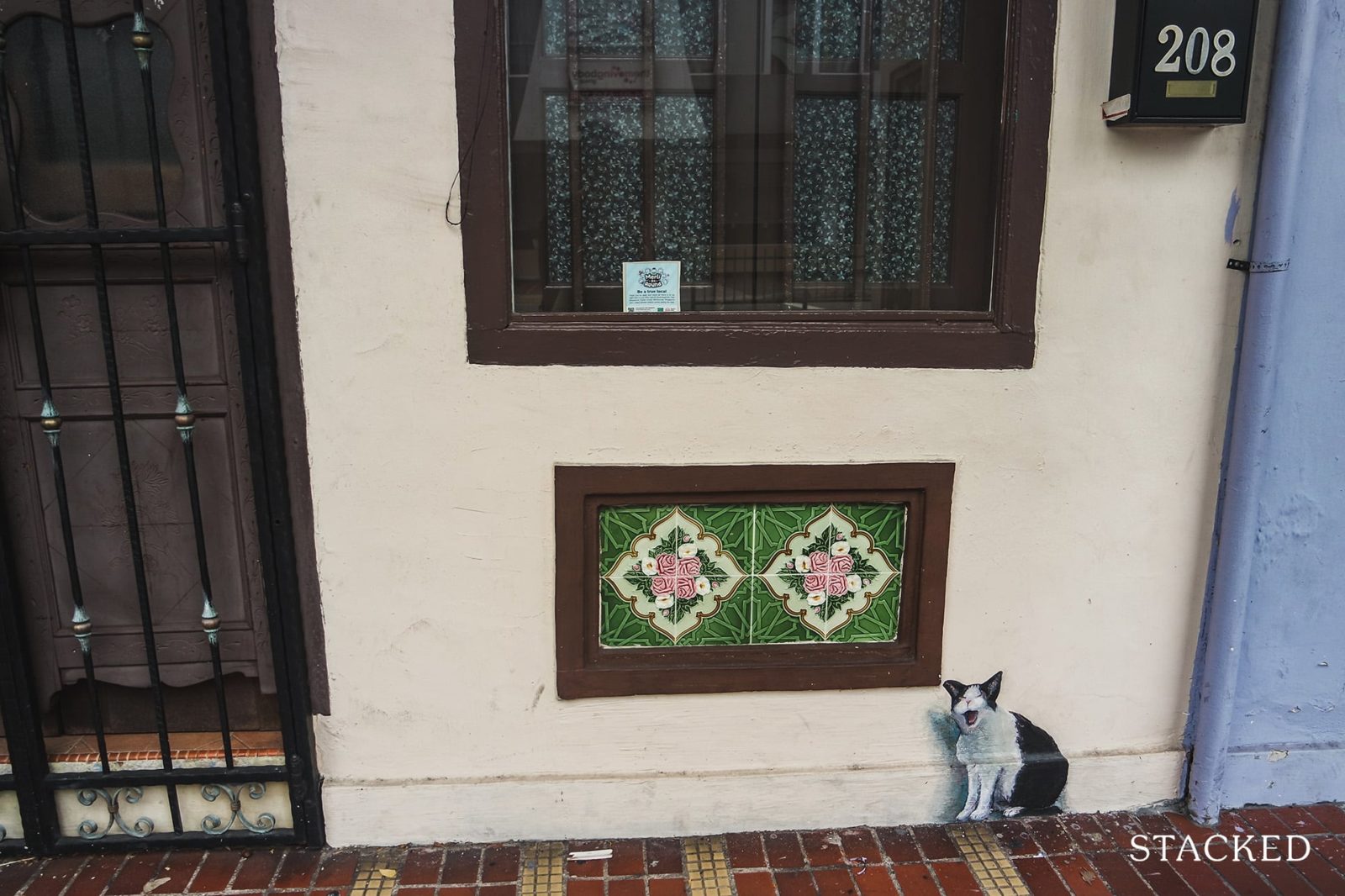 This famous mural located at Katong Antique House depicts a cat. These fur friends were a common sight back in the day and were well-loved by the community.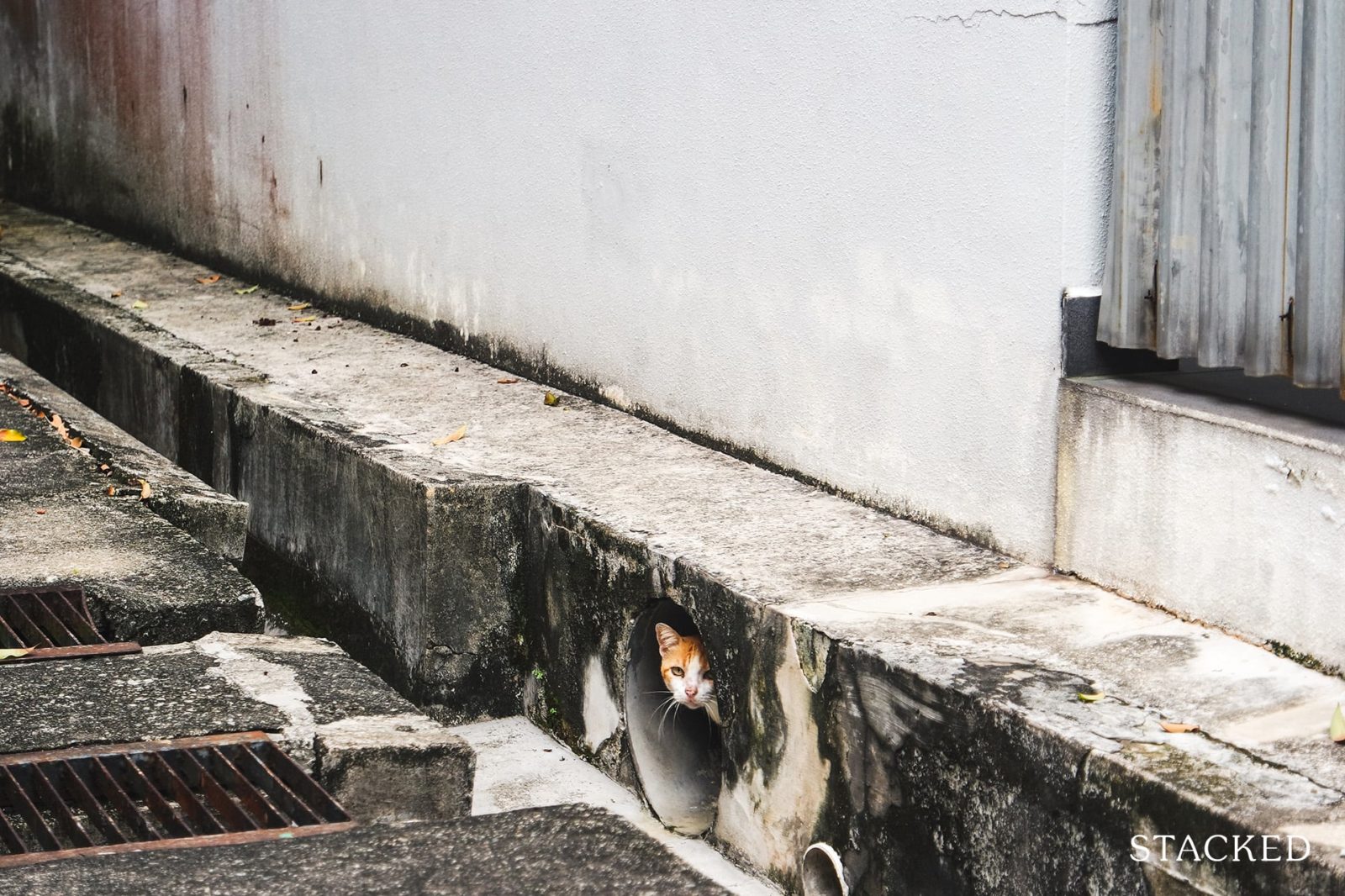 When life imitates art – stray cat spotted in Joo Chiat
Even with the sensitive conservation measures by URA, some of these shophouses are seeing a revival in terms of modern restoration uses. An example includes Figment, which specialises in creating beautiful spaces (normally shophouses) for rent.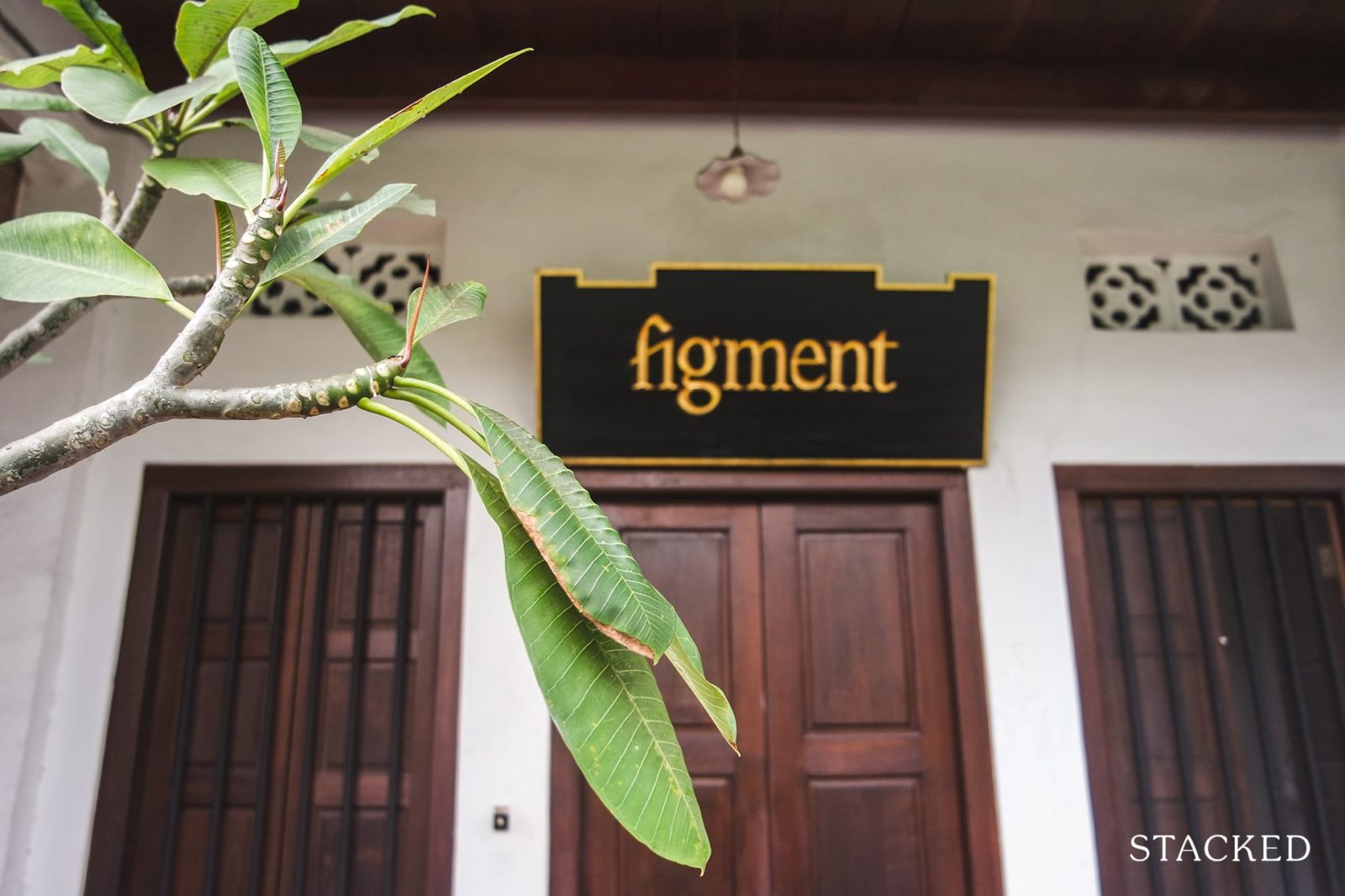 Restored shophouse front with oriental vents and dark woodwork
Although I'm not Peranakan myself, I had the privilege of growing up with neighbours who were.
Since we didn't live in shophouses, their vibrant heritage was reflected in their decorations through intricate prints, nonya kebaya and delicious food (the ayam buah keluak was definitely a neighbourhood favourite).
Exploring Joo Chiat in the Day
Whenever I bring friends from abroad to visit the Joo Chiat neighbourhood, there are always the same few things on the itinerary – eating good food, appreciating the Peranakan heritage, mural hunting along obscure alleyways and doing a cheeky bit of shopping.
And in my opinion, this neighbourhood is best appreciated on a bicycle, though I might be biased on that aspect.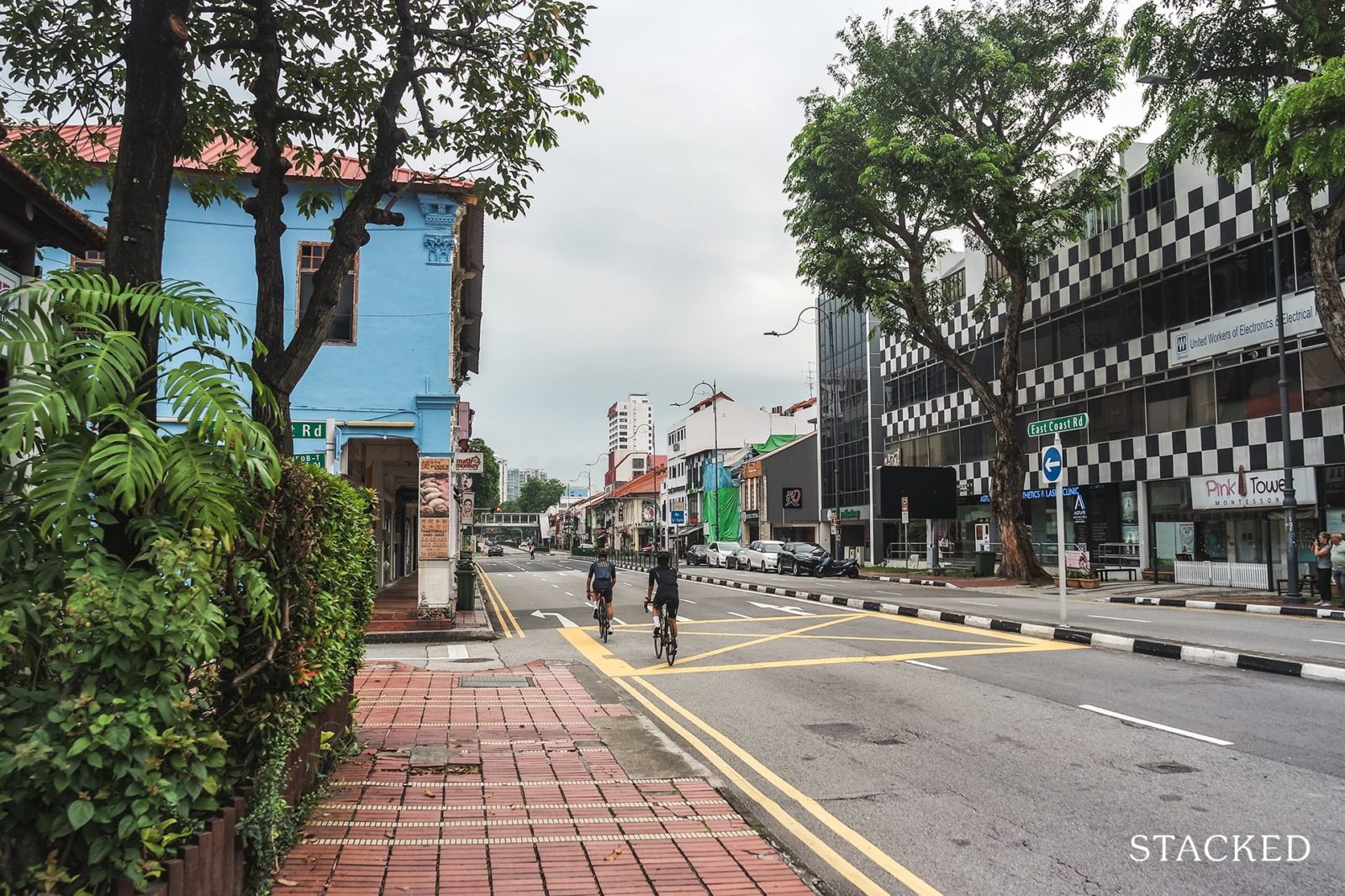 Cyclists enjoying the quiet roads and cooling weather on a Saturday morning
When I was younger, I fondly remember cycling along back alley lanes (to avoid the traffic) with my grandpa to pick up afternoon treats for my grandma after school.
Her usual go-to was the Otah bun from the old-school Chin Mee Chin with a cuppa Kopi-O.
Even now, these long-standing old-school names still continue to draw in a big crowd during my recent visit on an early Saturday morning.
Still famous, the recently revamped Chin Mee Chin Coffee shop already filled at 8 am on a Saturday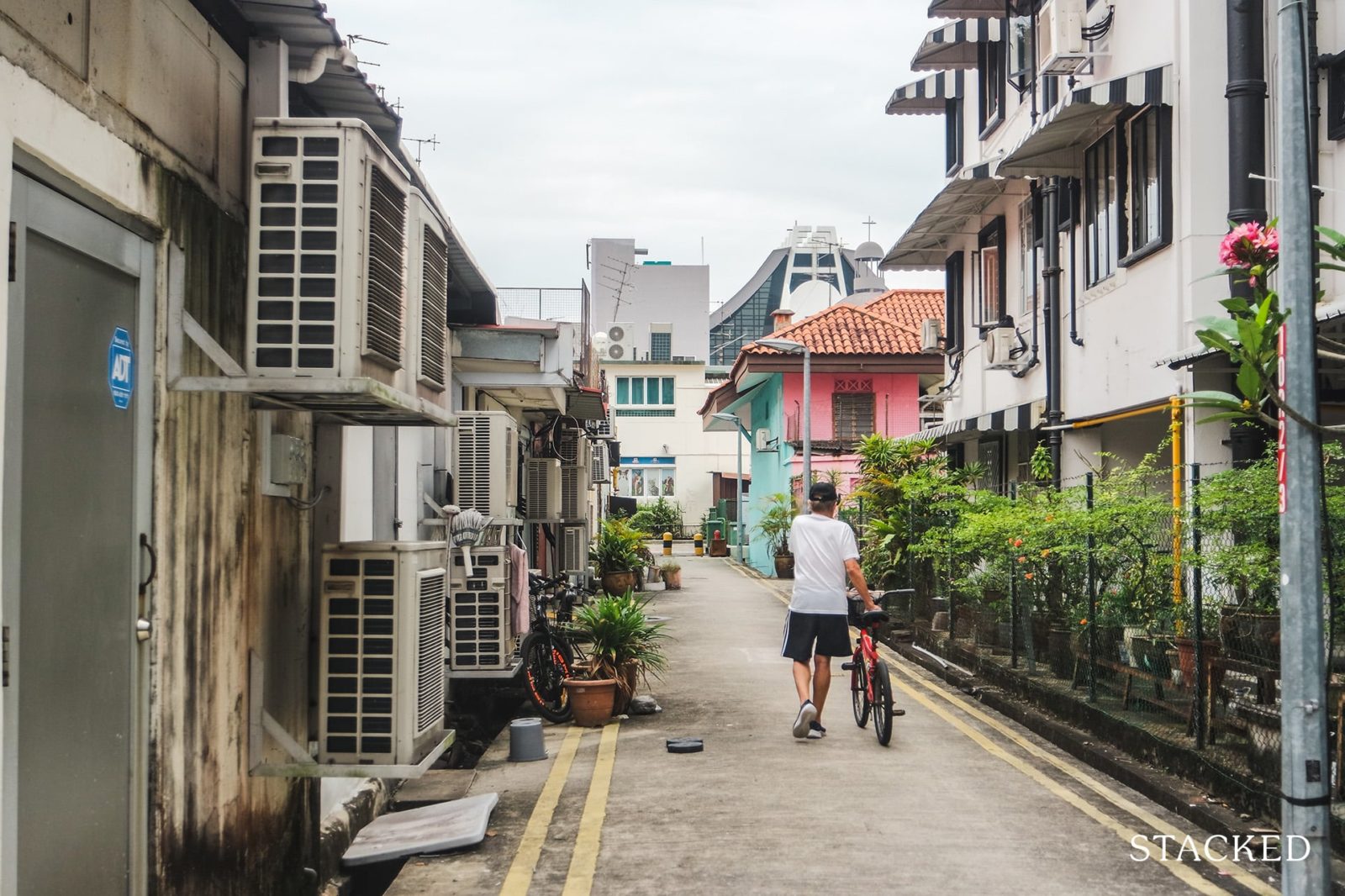 Residents using the back alleyways to get around Joo Chiat
Nowadays, however, Joo Chiat is known amongst the younger crowd for its interesting diversity of chic cafes, bars, modern fitness studios and even the birth of Singapore's unofficial Little Vietnam.
Let's explore them.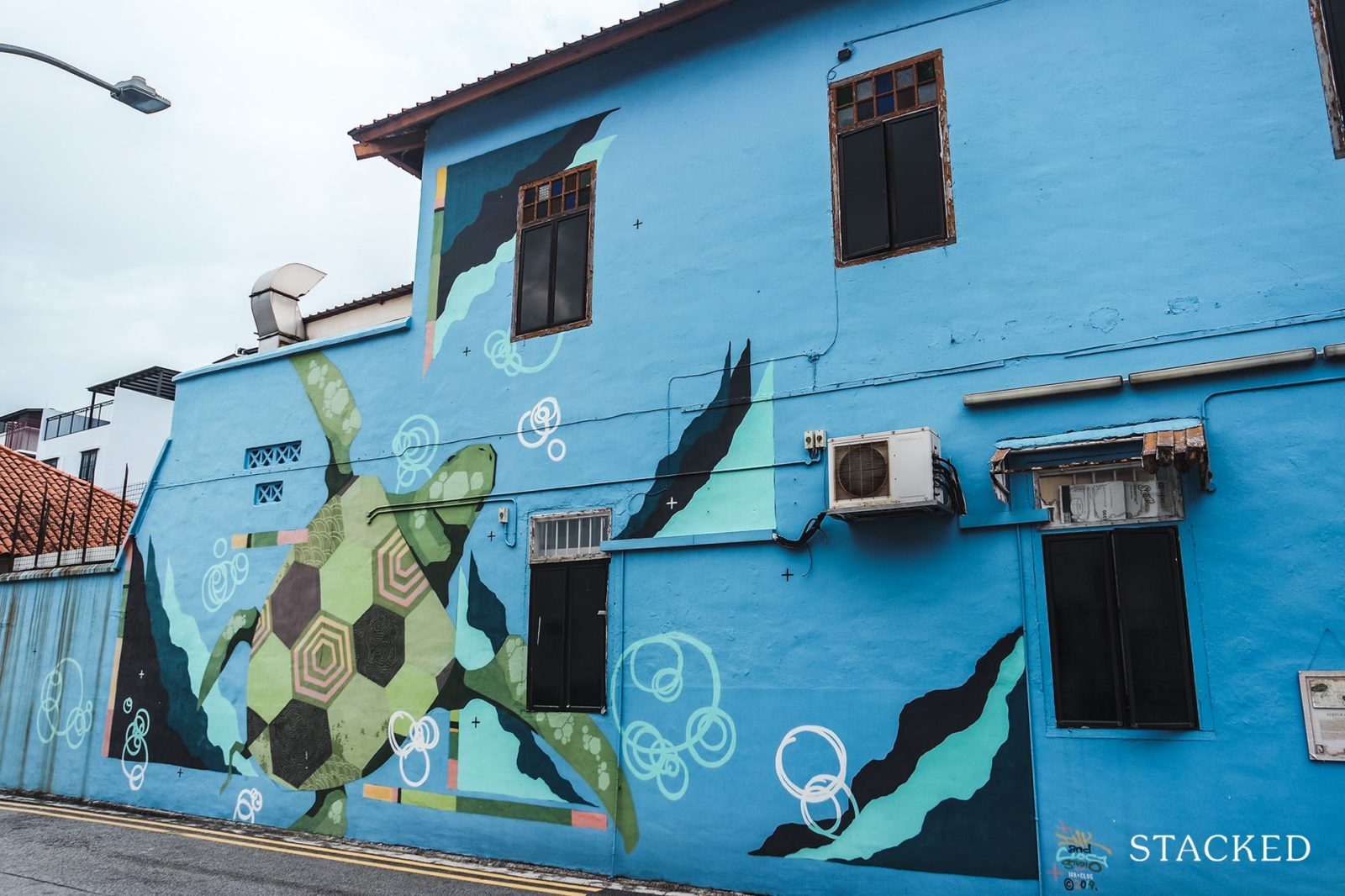 "Turtle Cape" by Ink and Clog
While walking around, I chanced upon one of my favourite murals, which is of this swimming turtle against a blue backsplash located along East Coast Road.
As Tanjong Katong literally means "Turtle Cape" in Bahasa Melayu, this mural pays homage to the history of the place.
In fact, before the infamous land reclamation that eventually catalysed the East Coast, this neighbourhood used to be a coastline. Turtles would typically lay their eggs on its shore and houses that used to dot along the coastline were often raised to counter against the tides.
Although the turtles and the shores have long disappeared with urbanisation, this mural and the colourful homes stand as testaments to its past.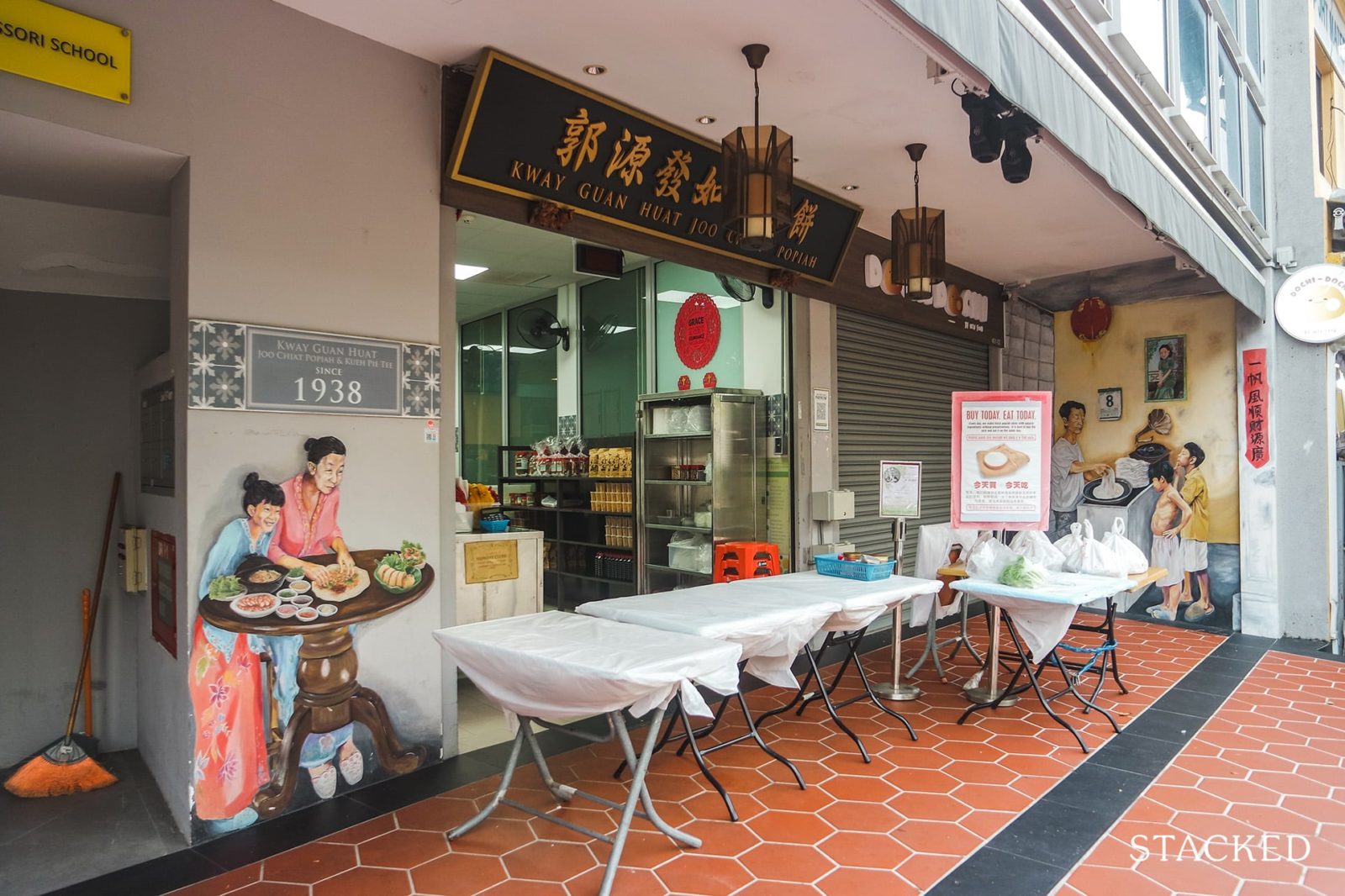 Kway Guan Huat Joo Chiat Popiah and Kueh Pie Tee
While it's true that most would usually head to the variety of trendy cafes to grab a bite these days, don't miss out on trying some of the neighbourhood's more traditional food.
One tasty example is the Kway Guan Huat Joo Chiat Popiah and Kueh Pie Tee, which is famed for their traditional Popiah skin that was painstakingly replicated since handed down from their forefathers in Fujian. The beautiful mural painted just outside of their pre-war shophouse makes it a destination not to be missed.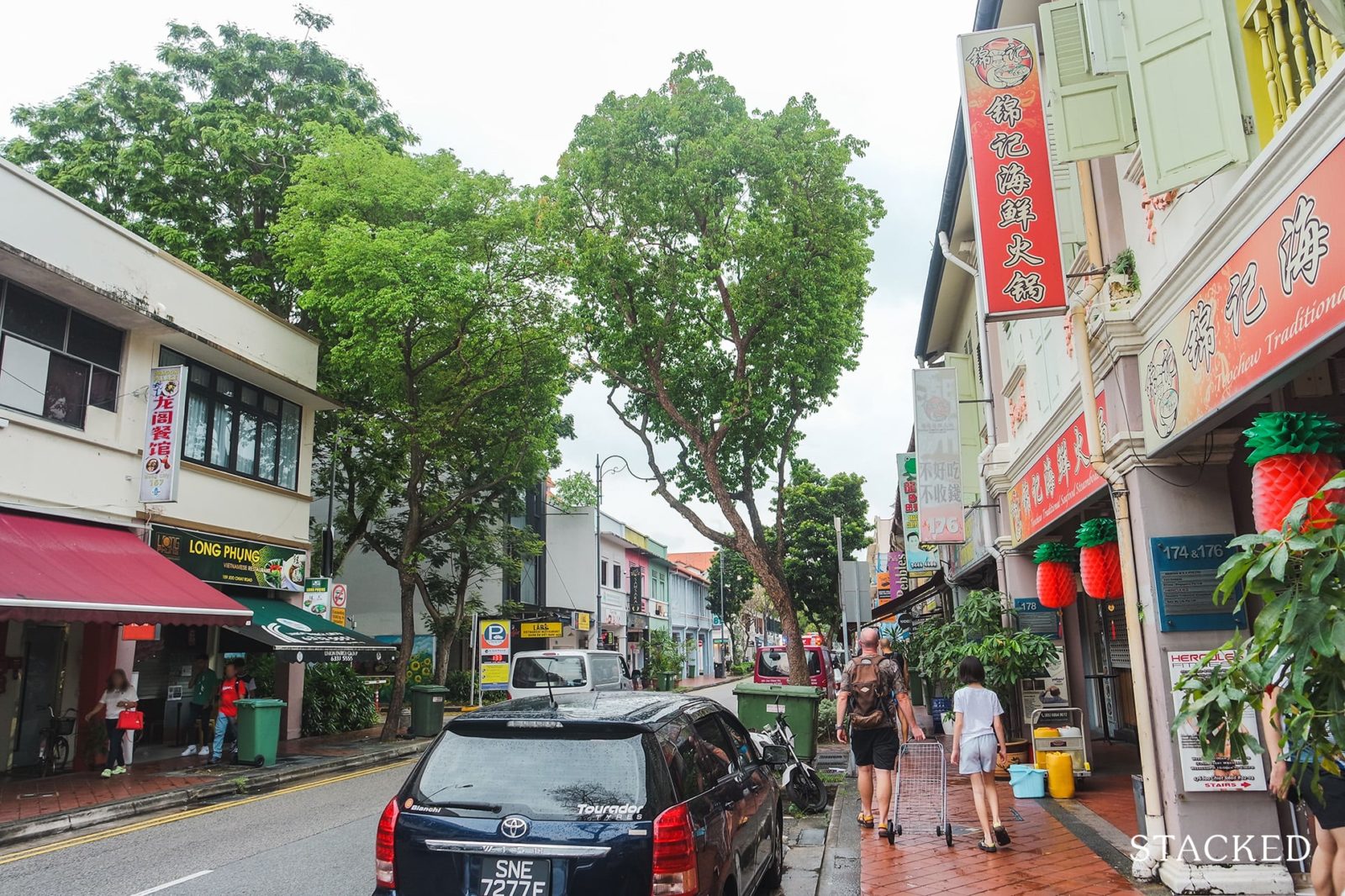 East Coast Road, often dubbed Singapore's unofficial Little Vietnam
I often say that strolling along East Coast Road can feel like you're peeling an onion.
One moment you're walking along more traditional local boutiques, another you'd feel like walking through a Little Vietnam with the delicious smells of Bahn Mi and stir-fried seafood wafting from the multiple restaurants.
Either way, the entire walk is pleasant as you'd get to enjoy the shade from the trees, beautiful architecture from the colourful shophouses and eclectic boutiques that are unique to Joo Chiat.
Another common practice to get used to in the neighbourhood is street parking. This means that people would often have to park far away from their destination and stroll over.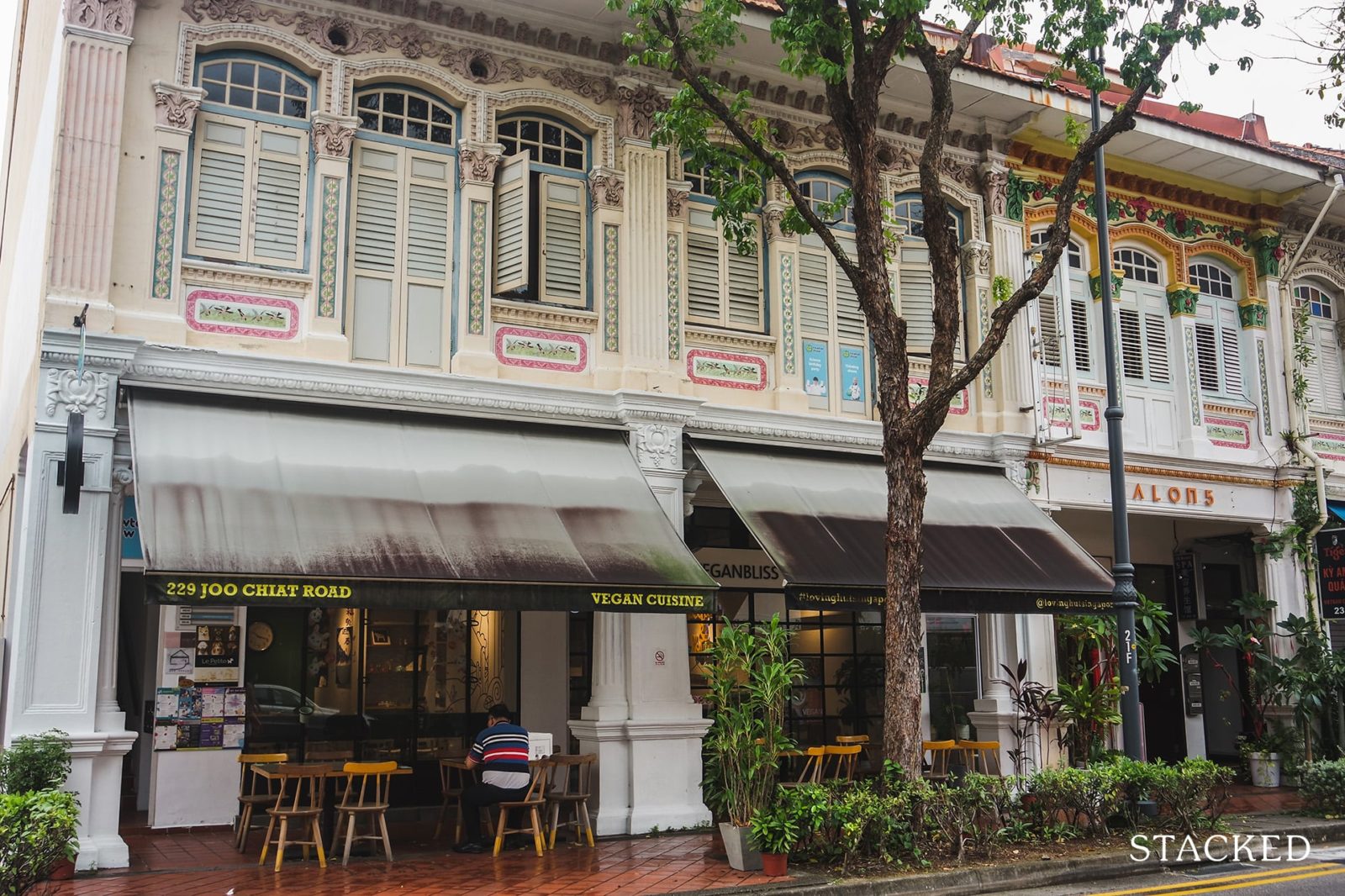 Colourful pre-war shophouses occupied by chic cafes and boutique salons
Joo Chiat is also well-known for its niche grocers.
One of my favourite past times on a weekend afternoon is heading to The Cheese Shop to pick up some delicious cheeses, cured meat and crackers to enjoy in the evening. It wasn't surprising that during my visit that Saturday noon, the shop was already full of patrons jostling to pick up great quality cheese.
If you're a lover of cheese like me, I'll highly recommend spending some time checking the shop out.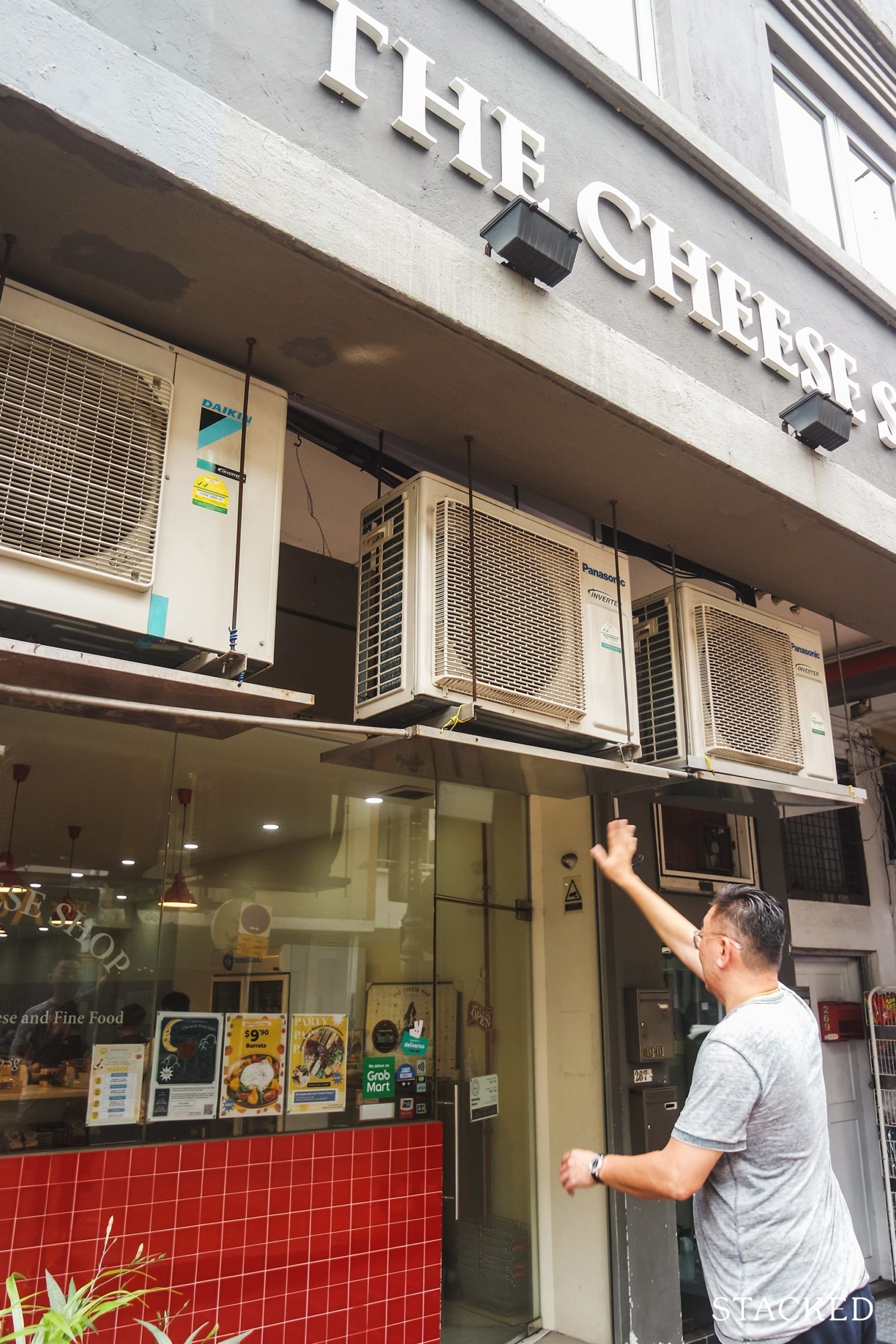 A man spotting his friend in The Cheese Shop and waving to say hello
And of course, we can't miss out on the extensive cafes within the neighbourhood.
True that there might be plenty of other neighbourhoods across Singapore with a prominent cafe scene, I personally think that Joo Chiat is the place to be when it comes to discovering quirky concepts.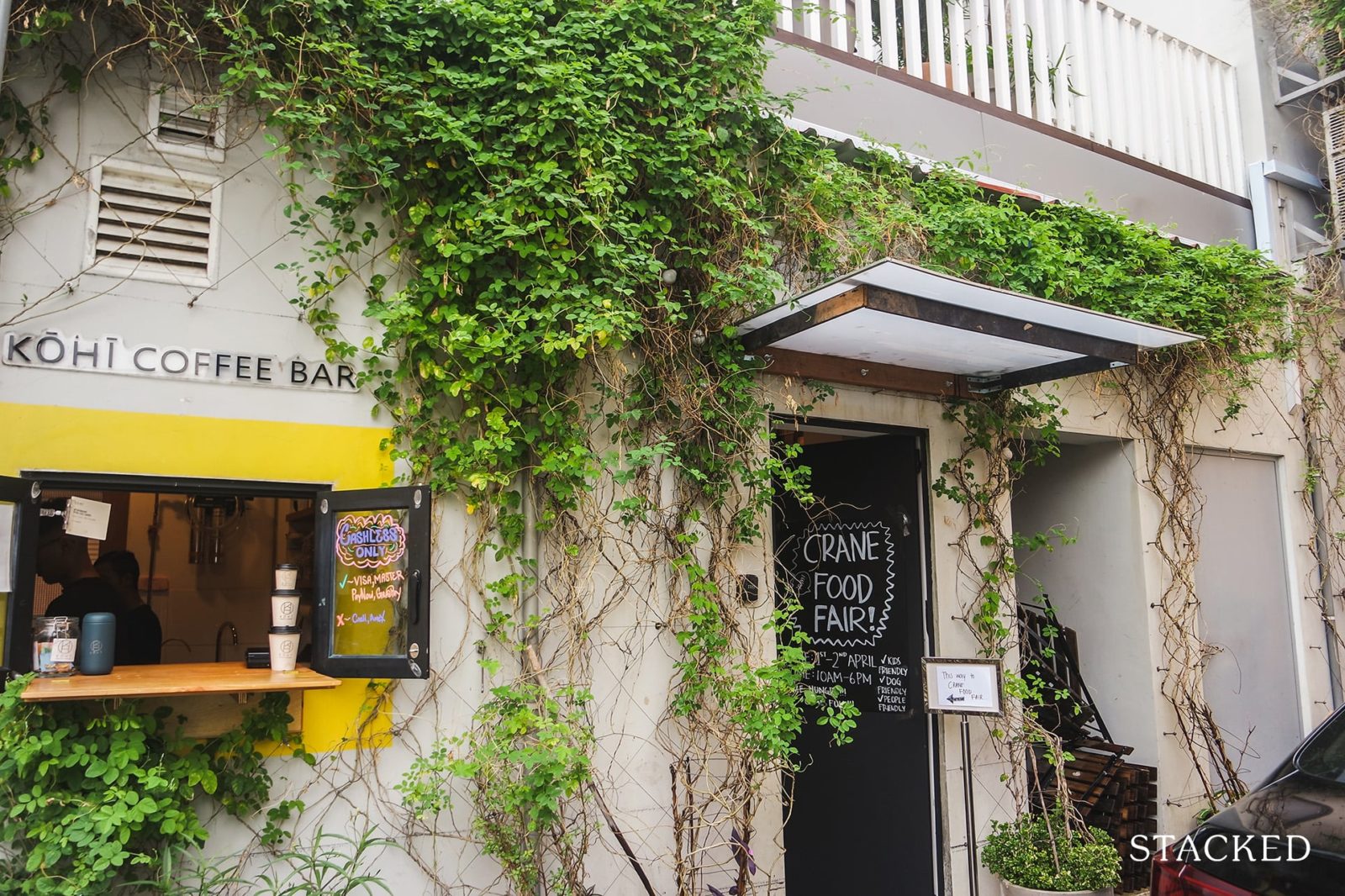 Kohi Coffee Bar – interesting takeaway concept for a coffee joint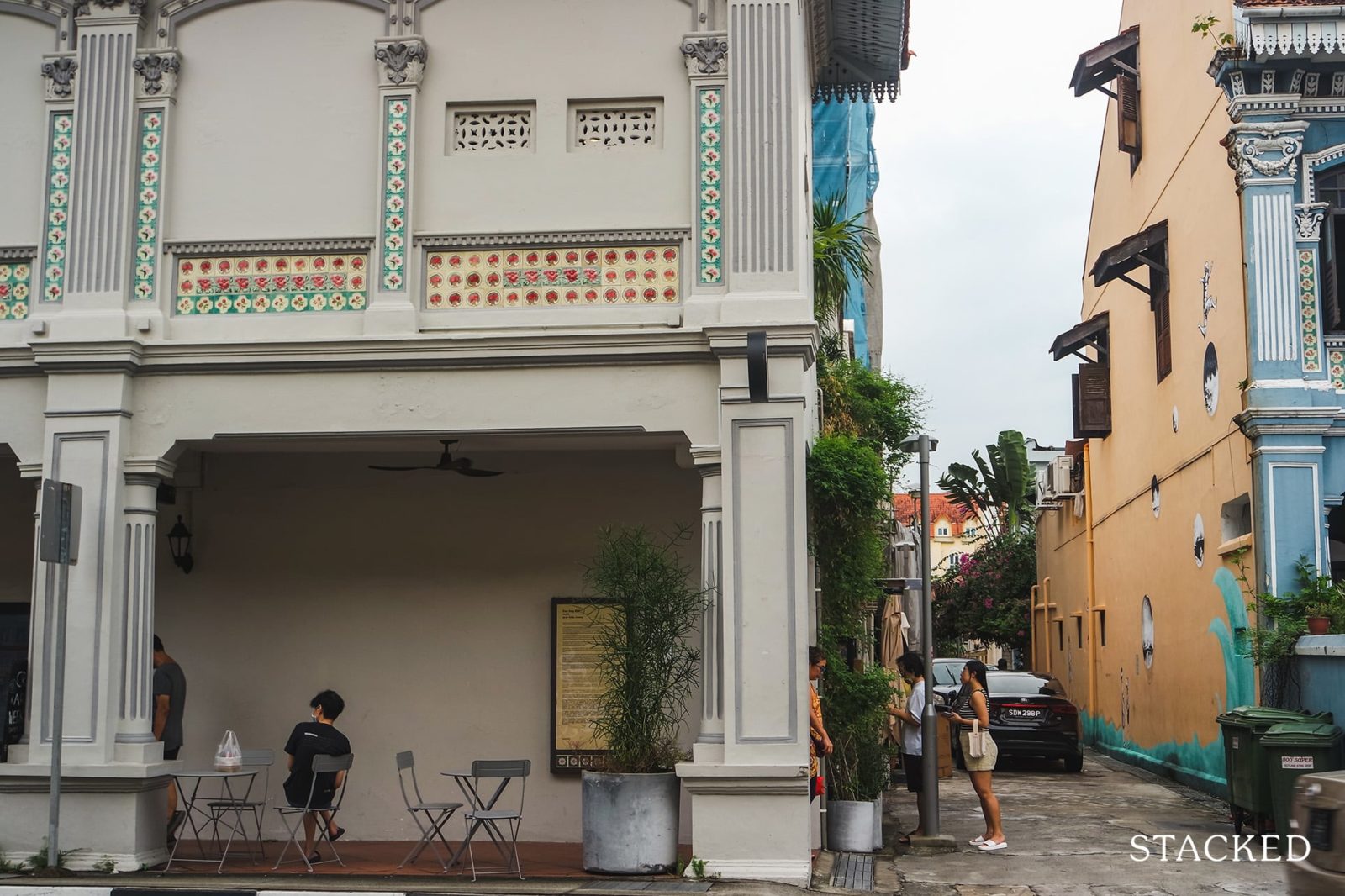 Patrons queuing for coffee at Kohi Coffee Bar
Don't miss out touring the back alleyways of these shophouses too. You might chance upon colourful murals, and cool-looking doors and even catch a glimpse of living within the neighbourhood.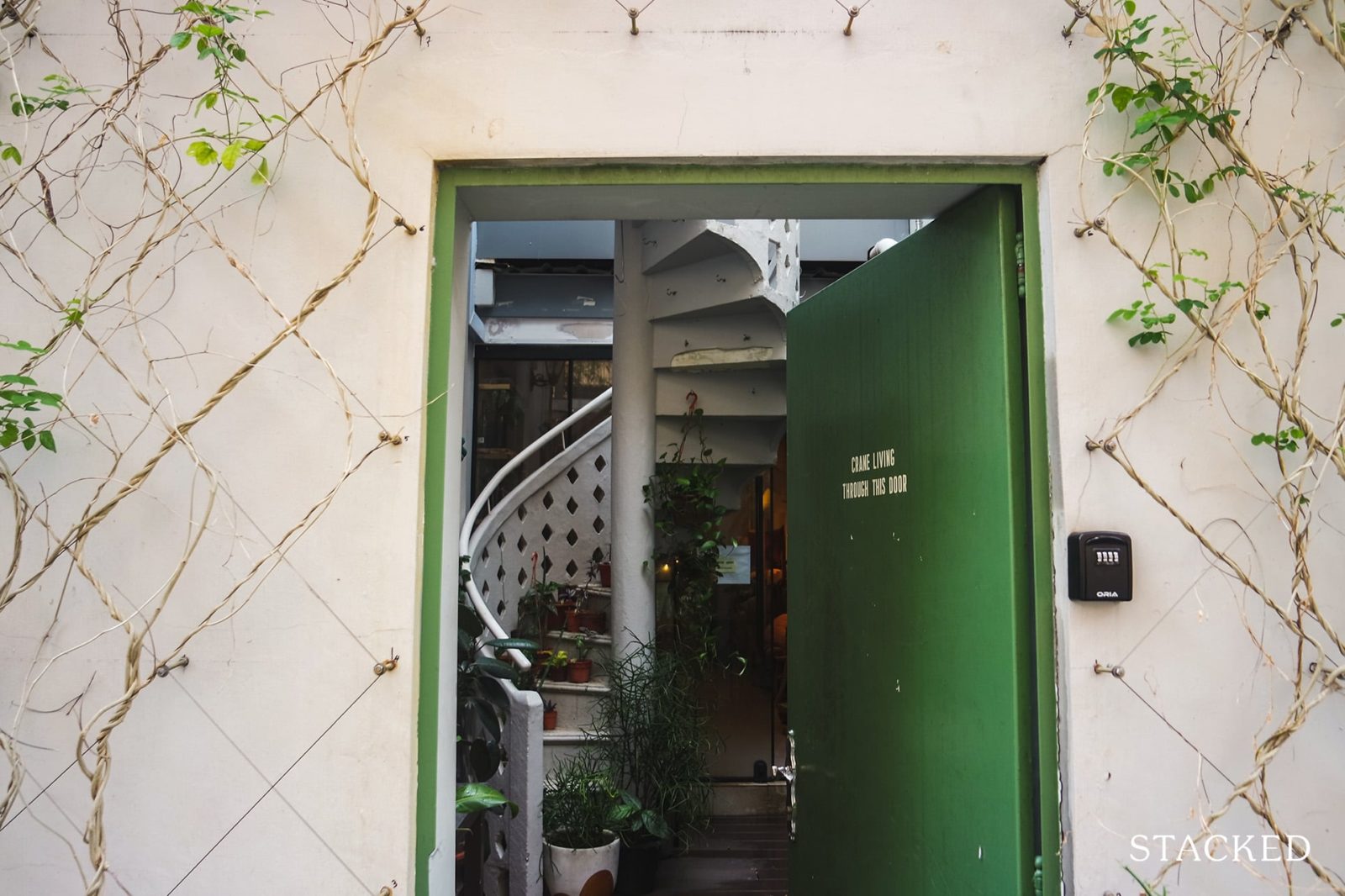 Pop of green at Crane's backdoor – see the spiral staircase in its courtyard!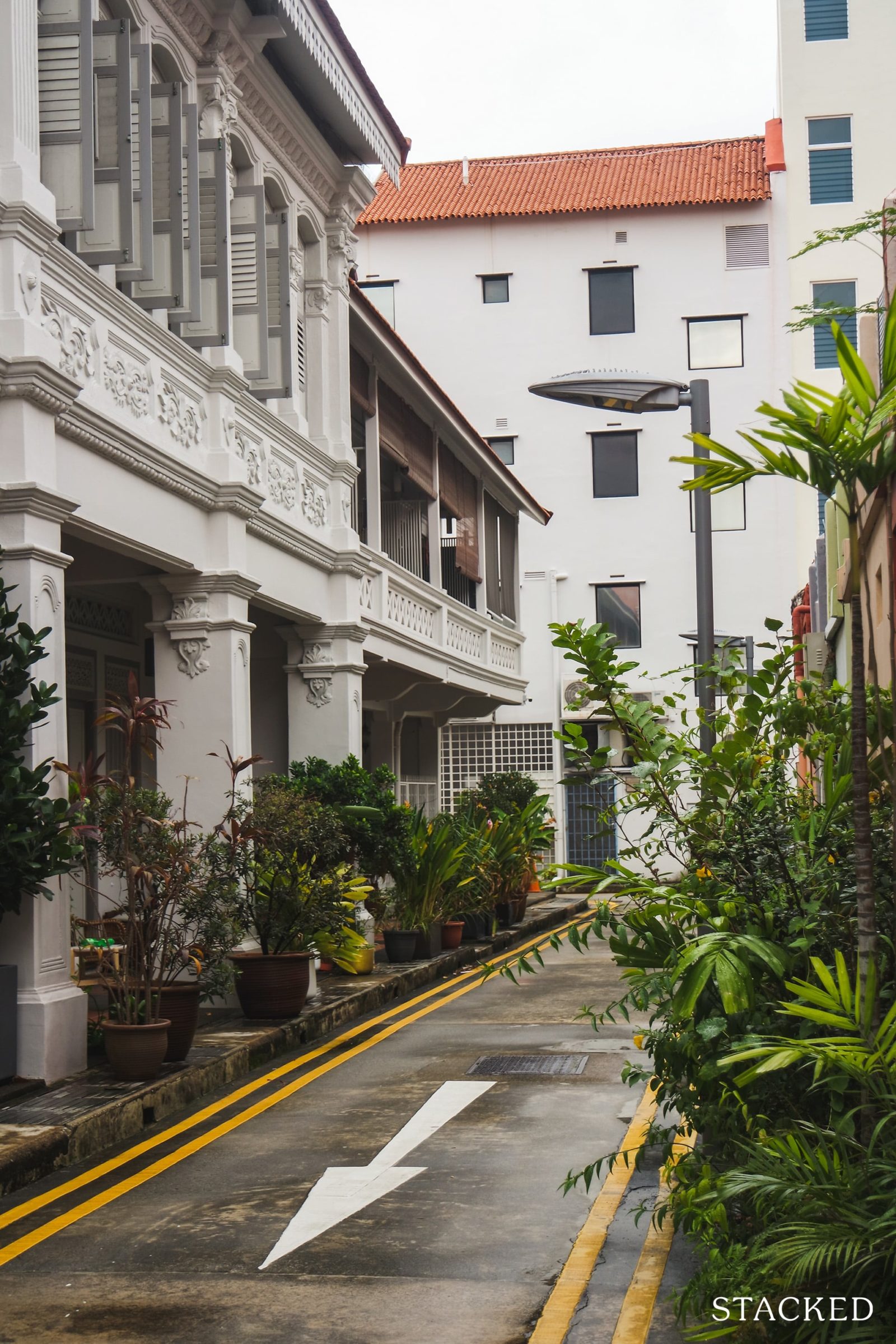 Back alleyway of Koon Seng Road – Beautifully Restored Residential Shophouses with Baroque motifs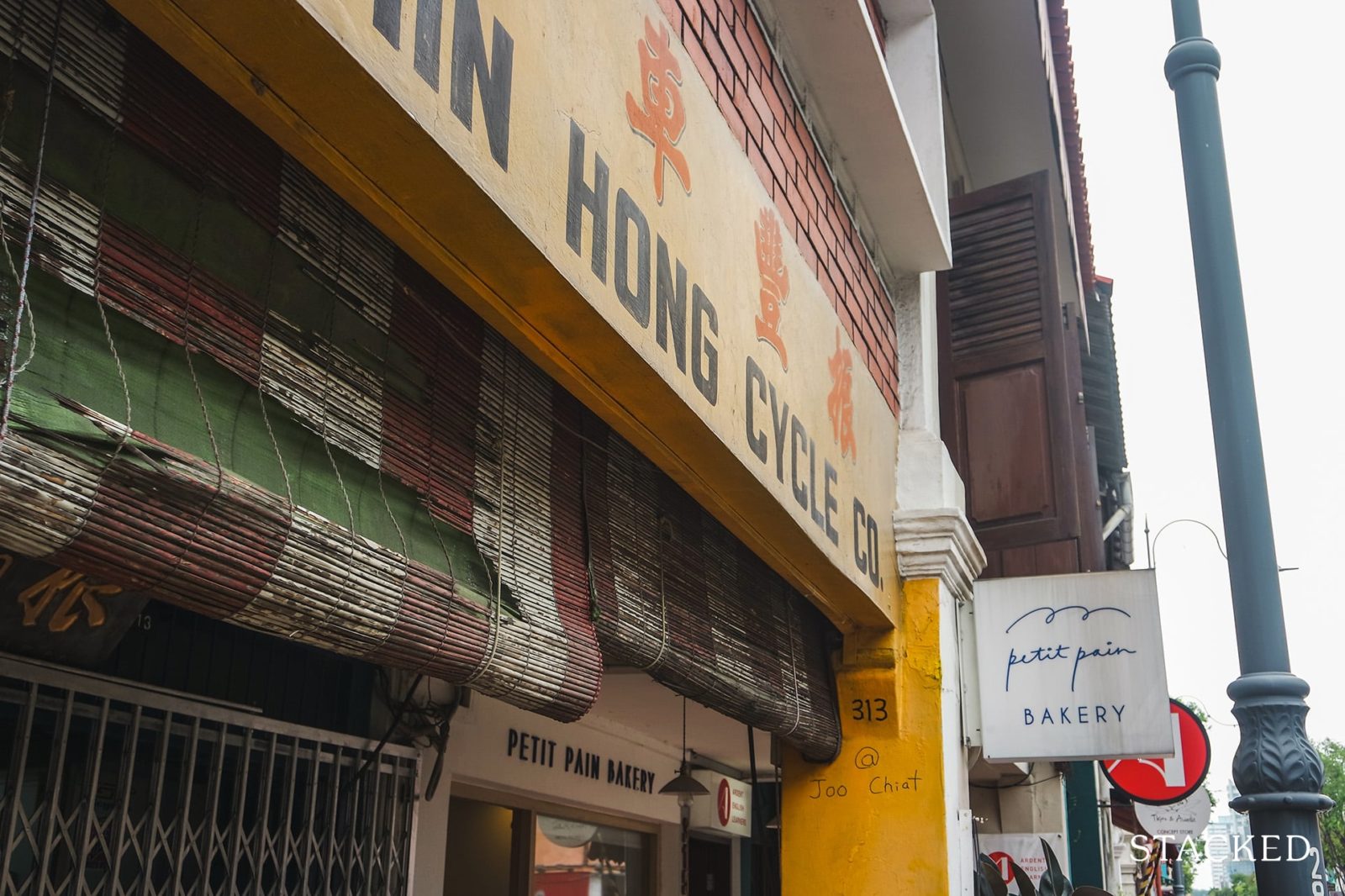 It's also interesting to see how newer stores contrast against more vintage storefronts. While some might find the diversity to be confusing, I think it's a cool juxtaposition between our past and our present.
Doesn't it also put into perspective how much the neighbourhood has changed over the years?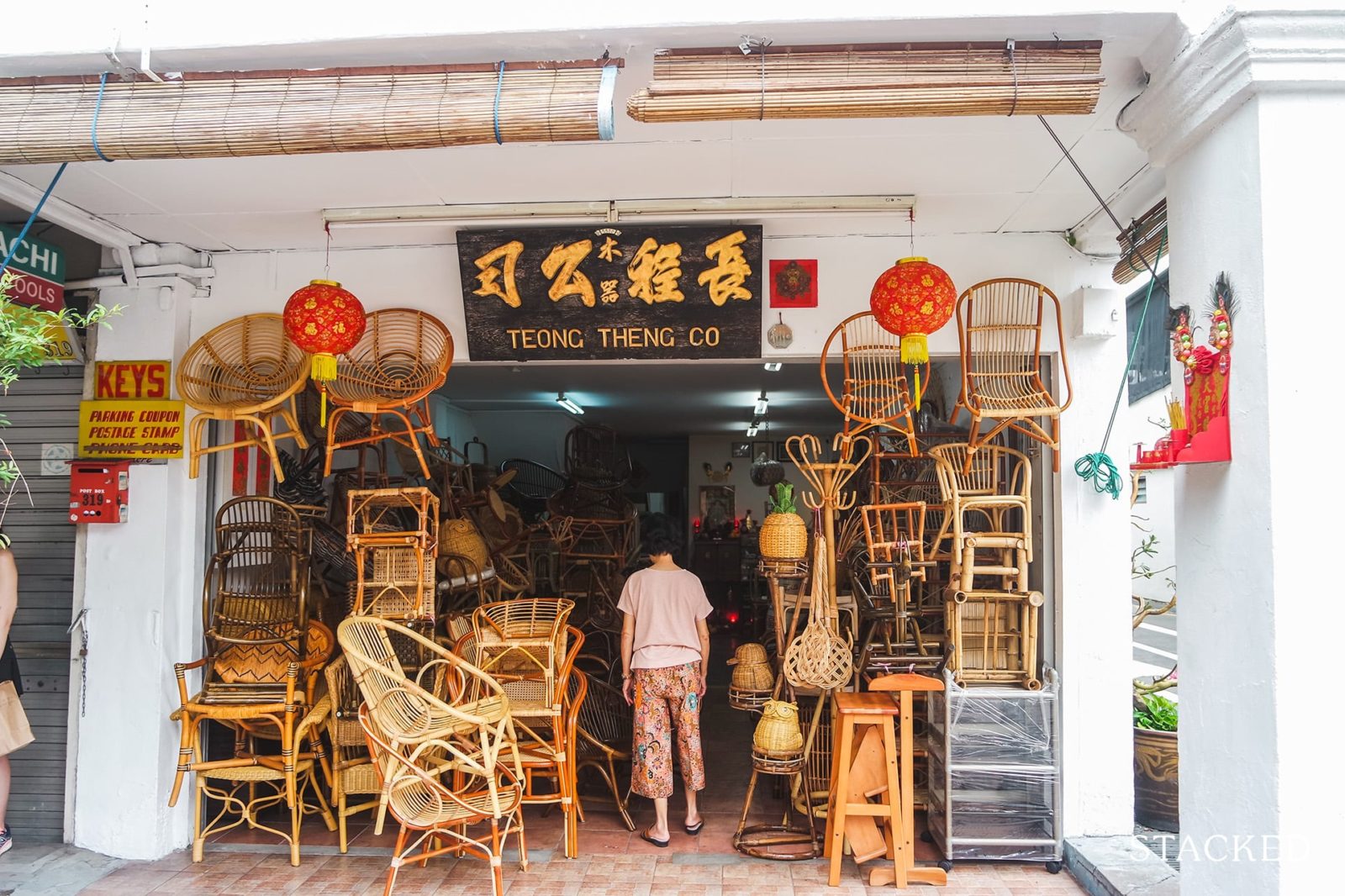 Traditional rattan furniture at Teong Theng Co – manned by a very nice auntie!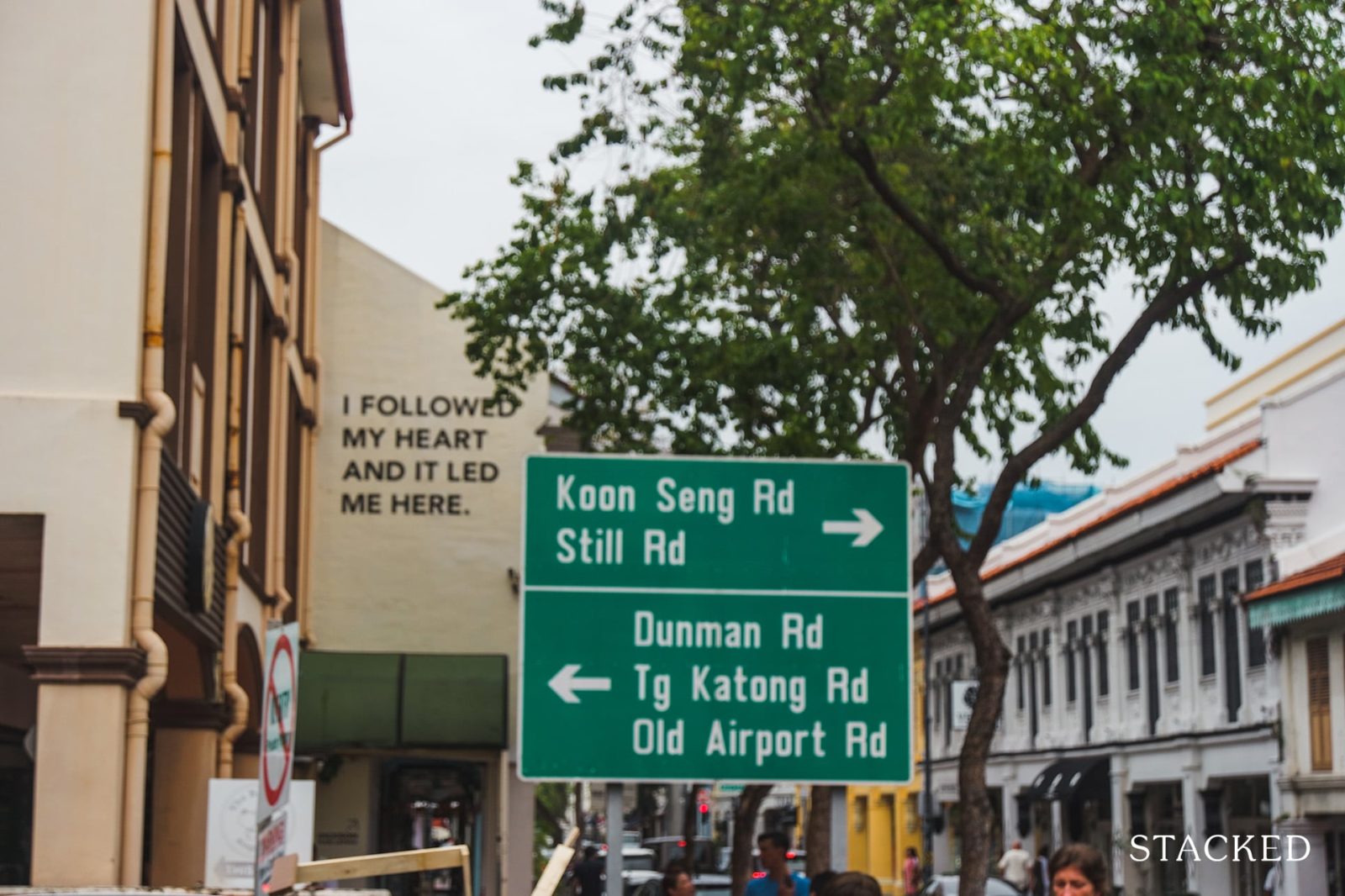 "I followed my heart and it led me here" – such joy I felt when I saw this!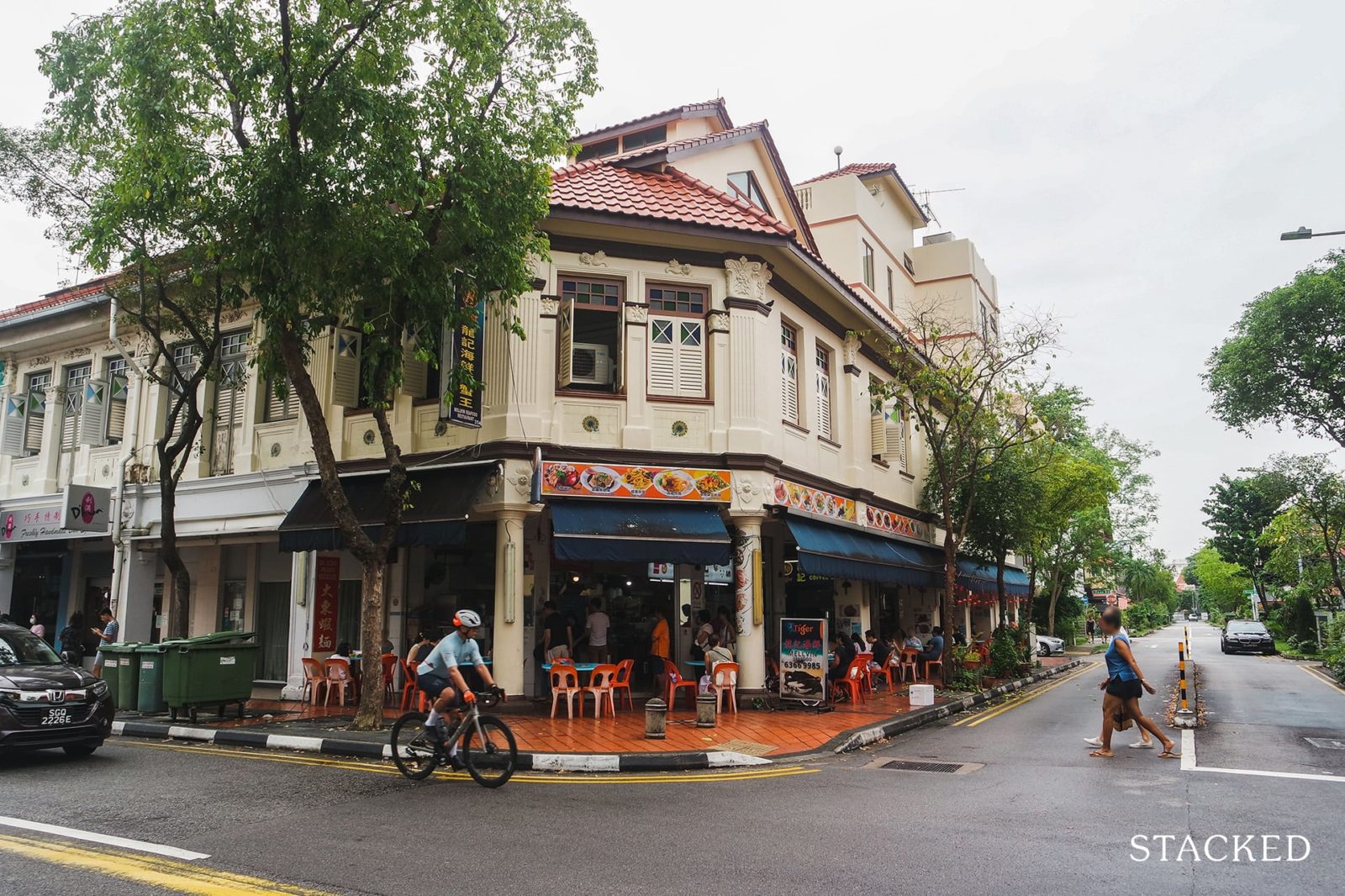 Coffeeshops, pedestrians and cyclists – common sights in Joo Chiat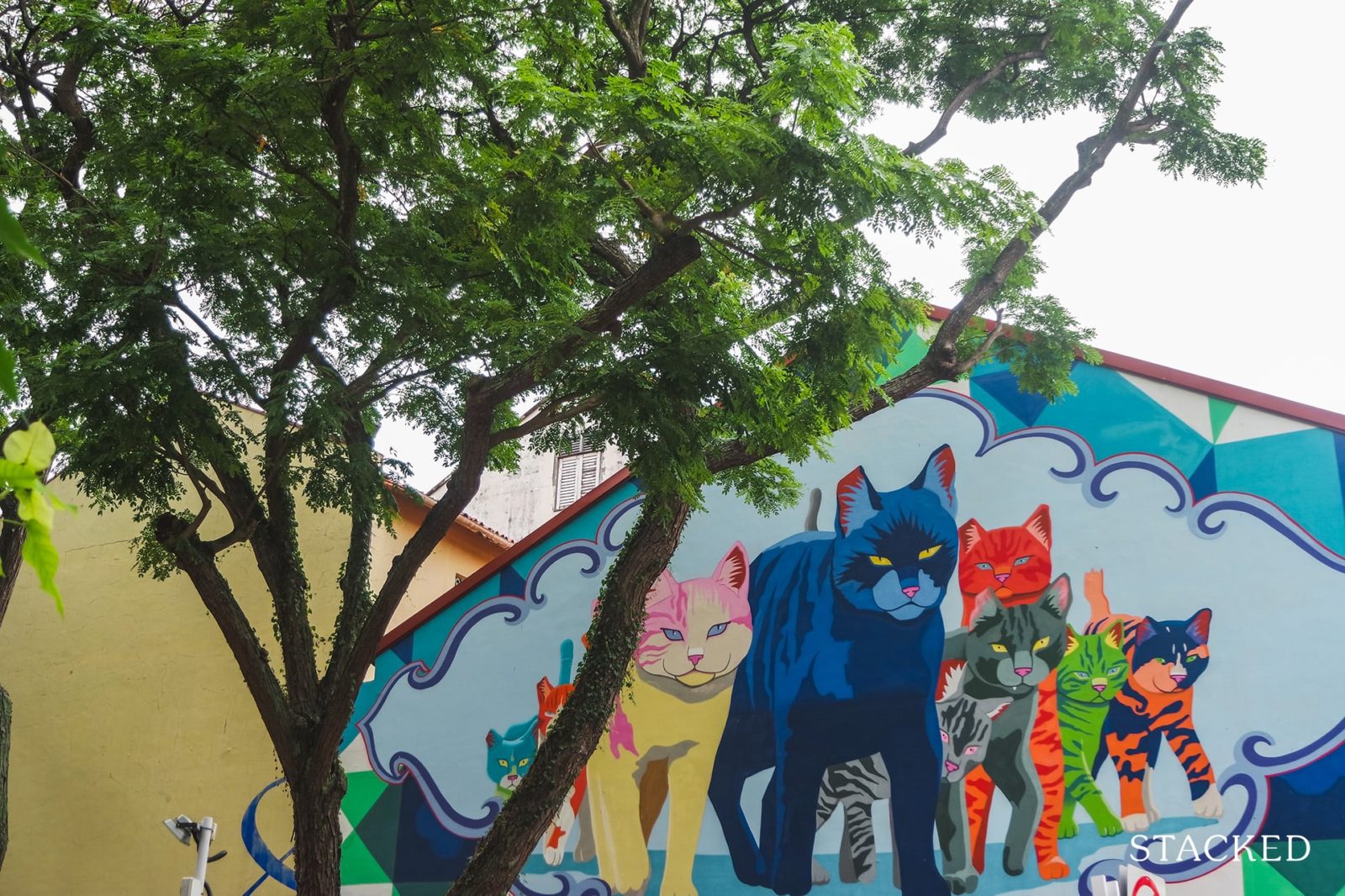 "Jalan Jalan" – a mural of proud cats to represent Joo Chiat's heritage and was inspired by colourful Peranakan ceramics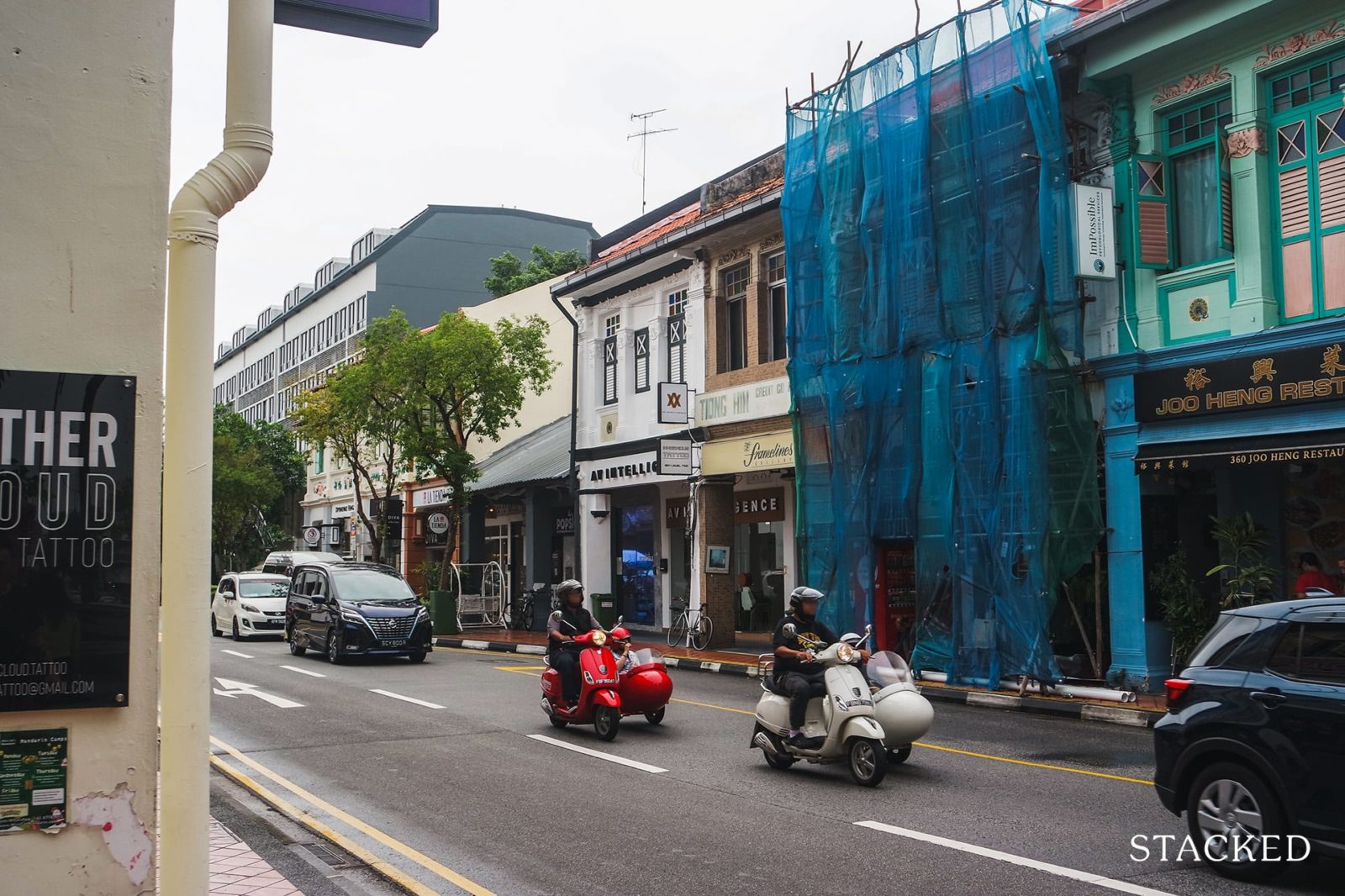 A Red and White Sidecar Motorcycle spotted along the streets of Joo Chiat Road!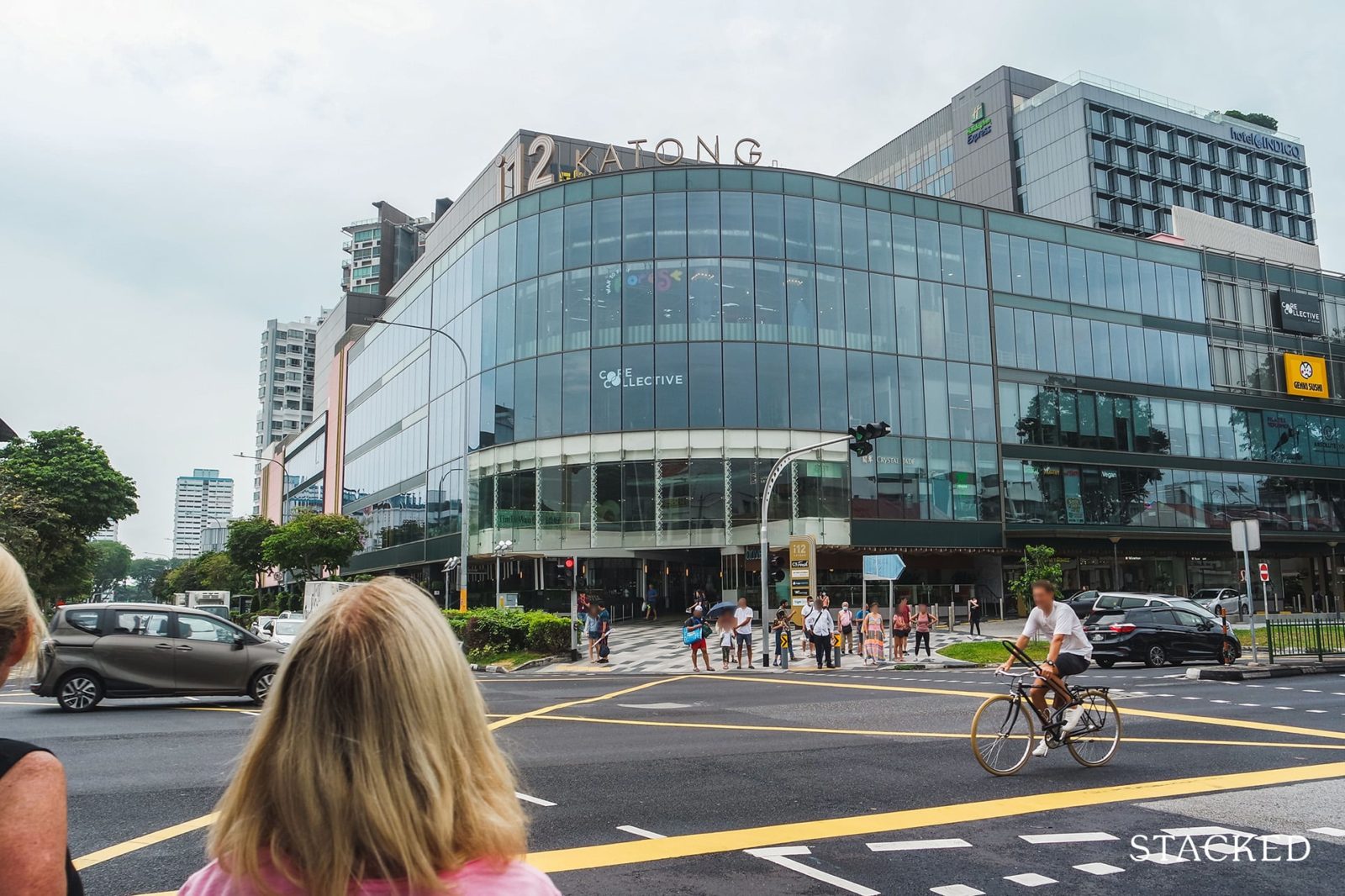 Before i12 Katong was introduced into the neighbourhood, roaming around the streets was often a sweaty and humid activity.
Now, it serves as a safe haven for those who need shelter and air-conditioning from Singapore's fickle weather.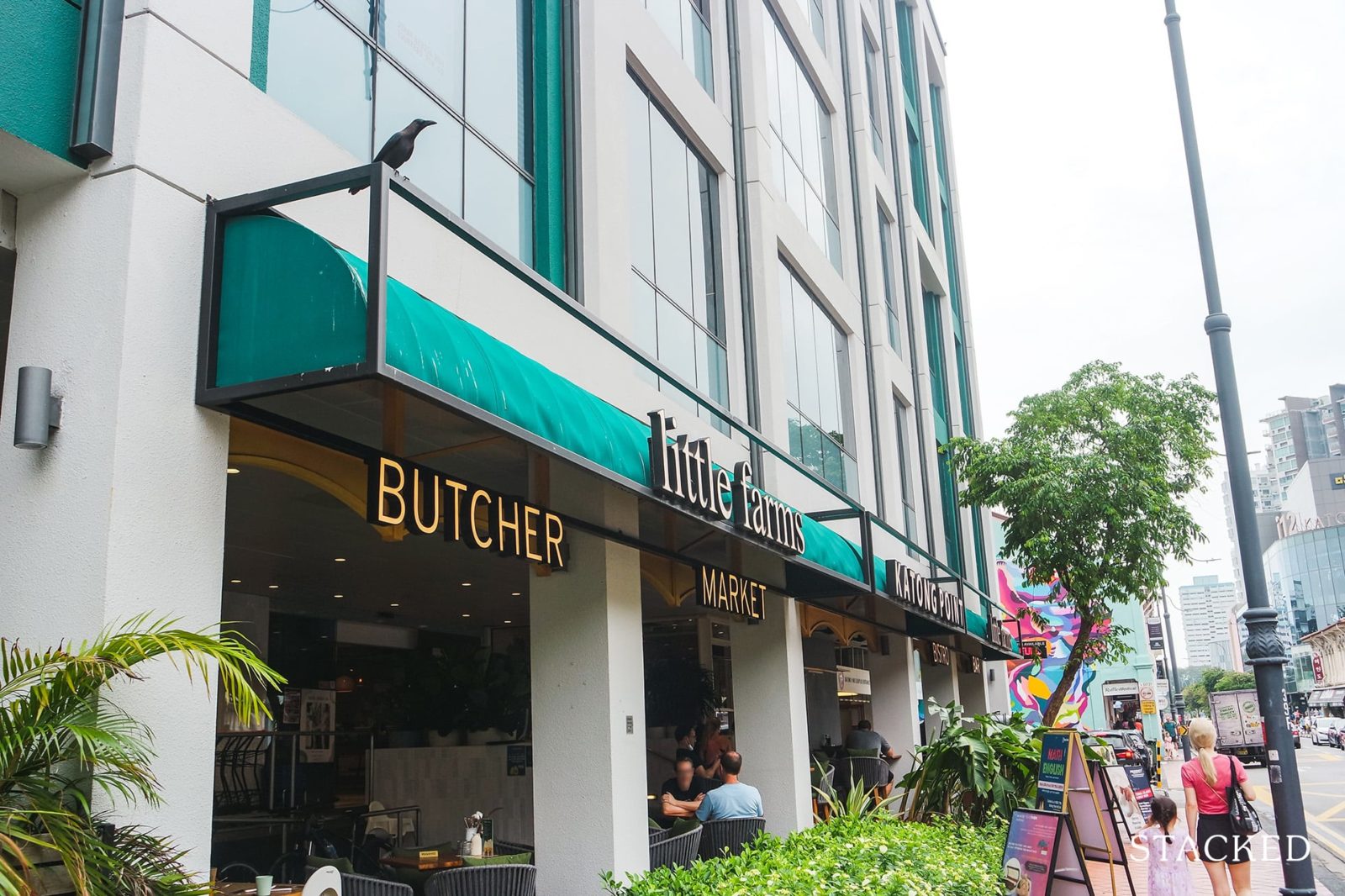 Little Farms – a premium grocery shop specialising in organic produce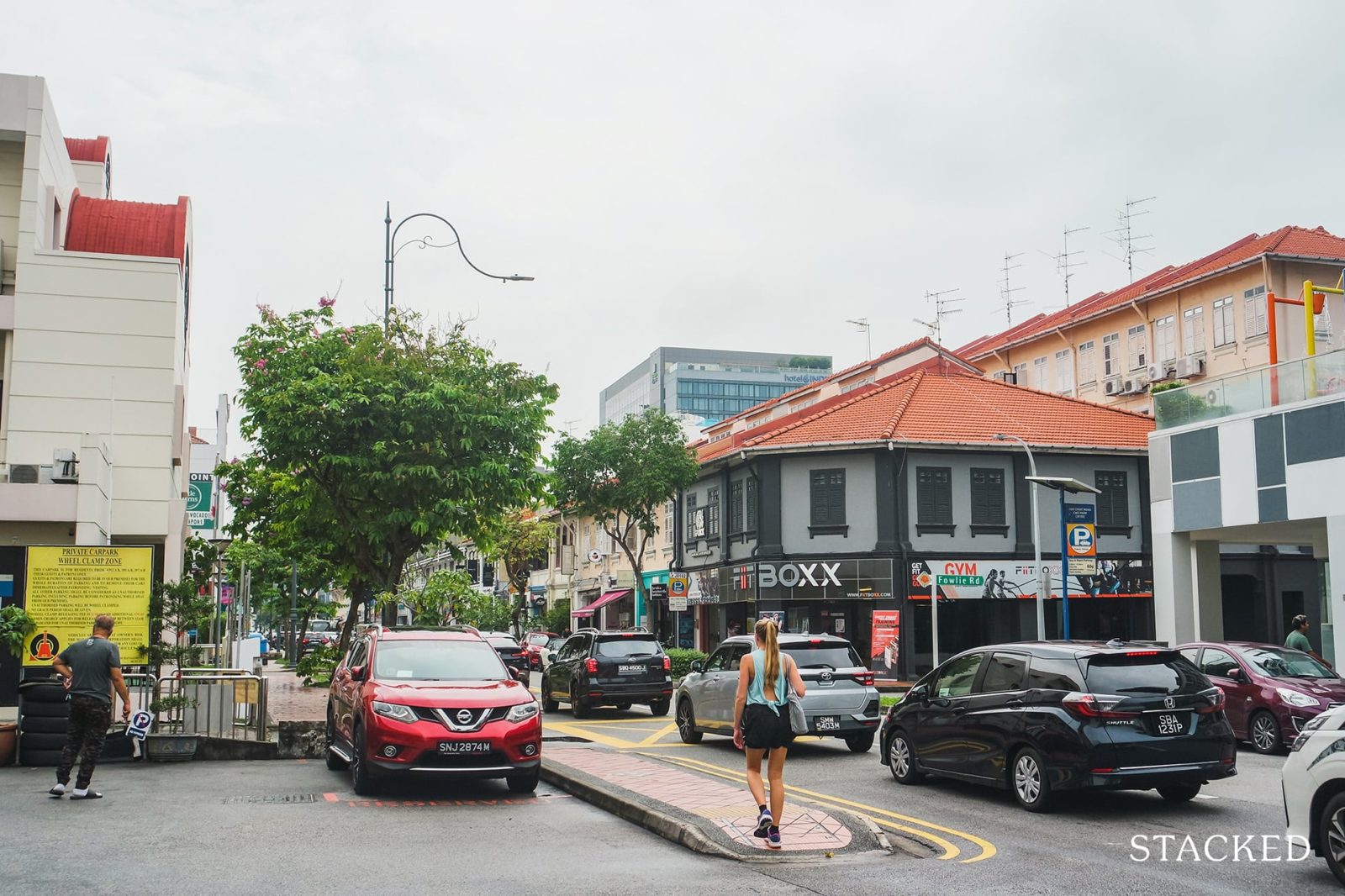 Apart from food, there are many established fitness studios littered around the neighbourhood that are great for those who are looking to break a sweat. At any time of the day, you're bound to see people in athleisure rushing to their classes.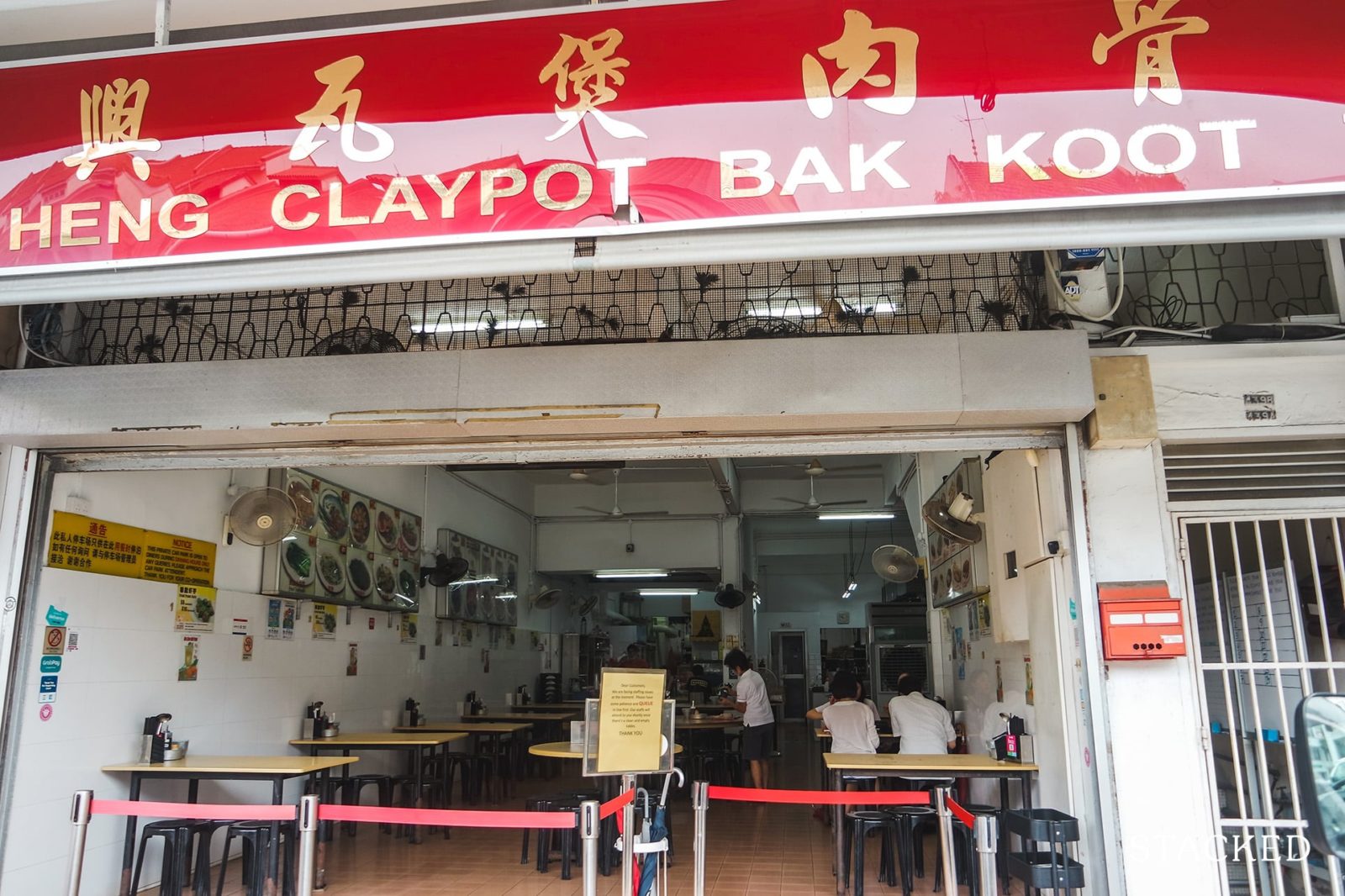 Sin Heng Claypot Bak Koot Teh – A stalwart in the neighbourhood that my boyfriend and I often visit for supper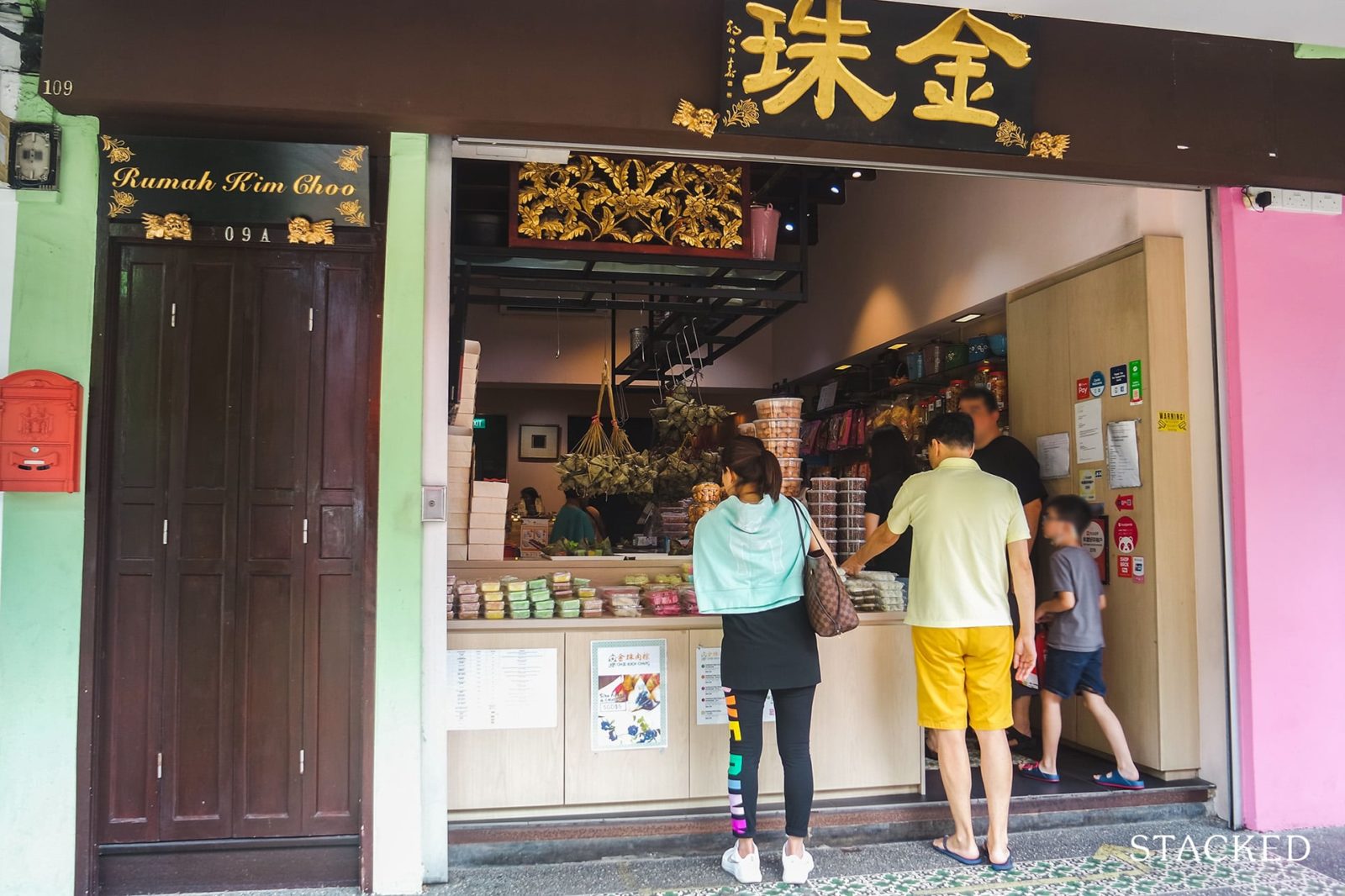 Arguably selling the best rice dumpling in Singapore, Kim Choo Kueh Chang has been a mainstay in the area since 1945. The shop is always busy with its loyal patrons every time I pass by and it's all owing to their delicious traditional treats.
As someone who grew up eating this, my personal favourite will always be the Kee Chang with dipping sugar on the side.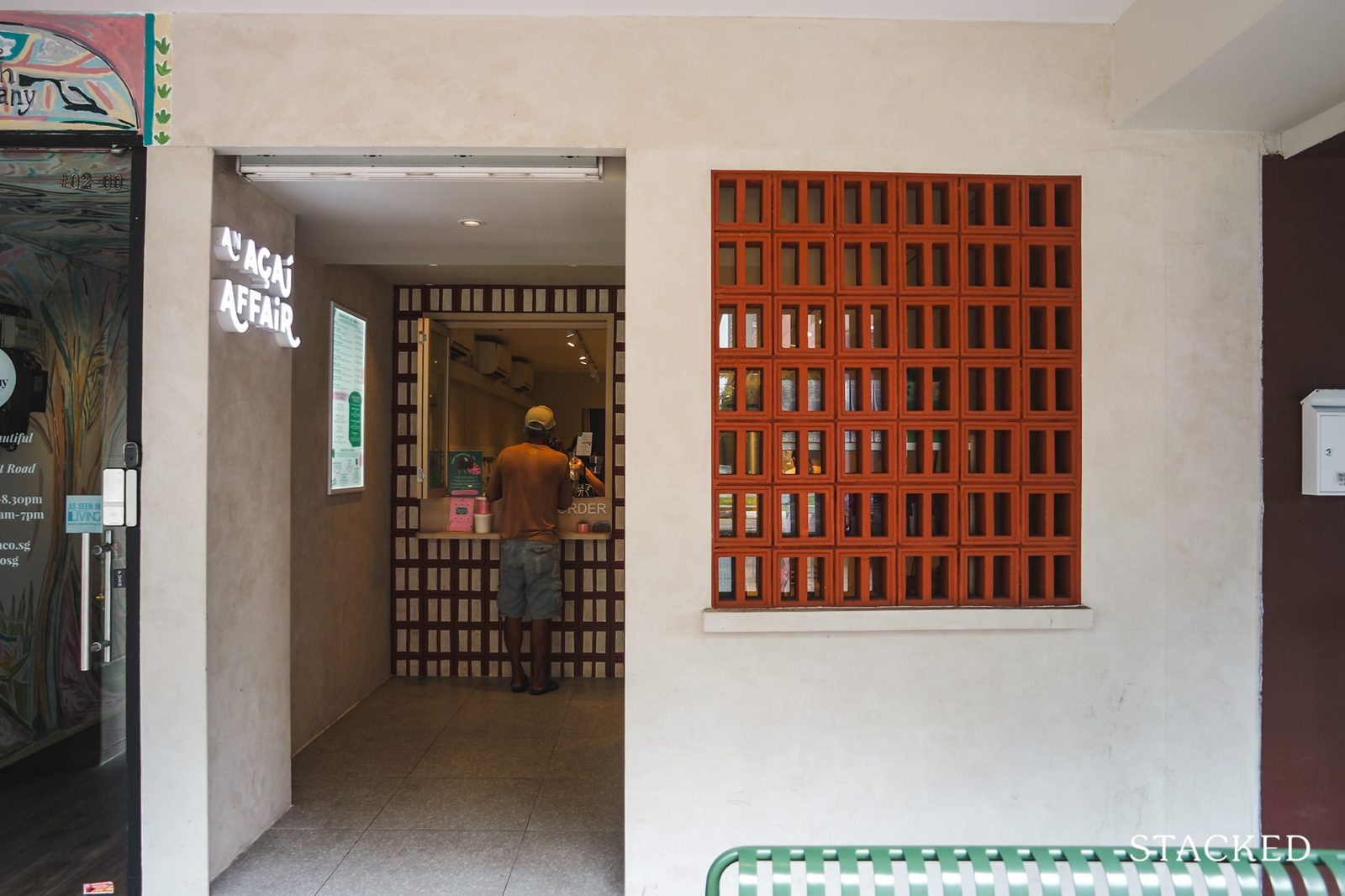 An Açai Affair – Interesting storefront inspired by Peranakan architecture
A pet-loving neighbourhood – fur friends are often spotted on their walks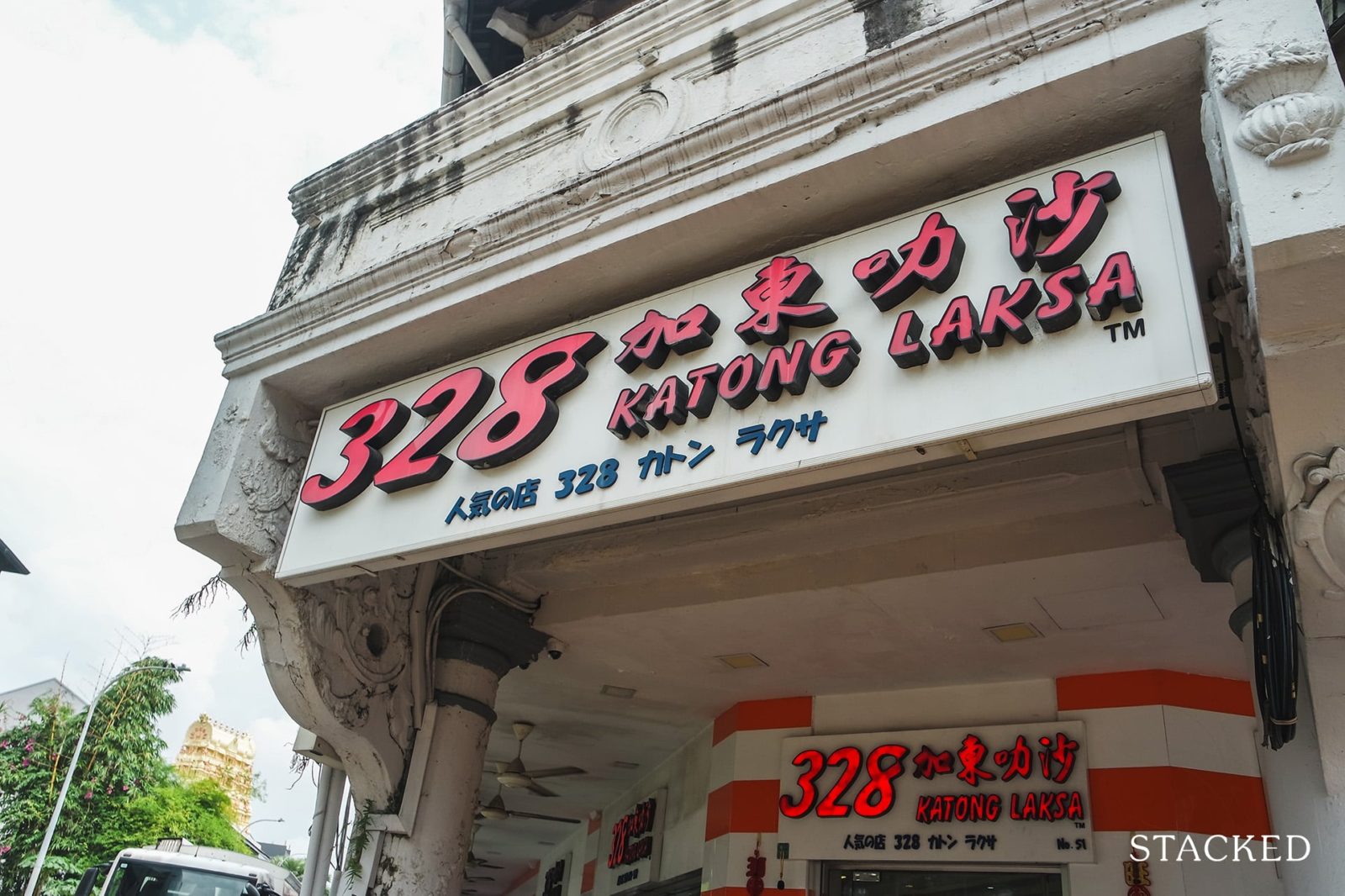 Iconic 328 Katong Laksa – a must-try for anyone who is passionate about food
Exploring Tanjong Katong in the Day
Taking a short bus ride (or walk) to Tanjong Katong, it's apparent that the dynamics are much more toned-down as compared to the vibrant and noisy Joo Chiat. The shophouses are less colourful, the roads are wider and the lanes feel quieter (especially within the landed estate).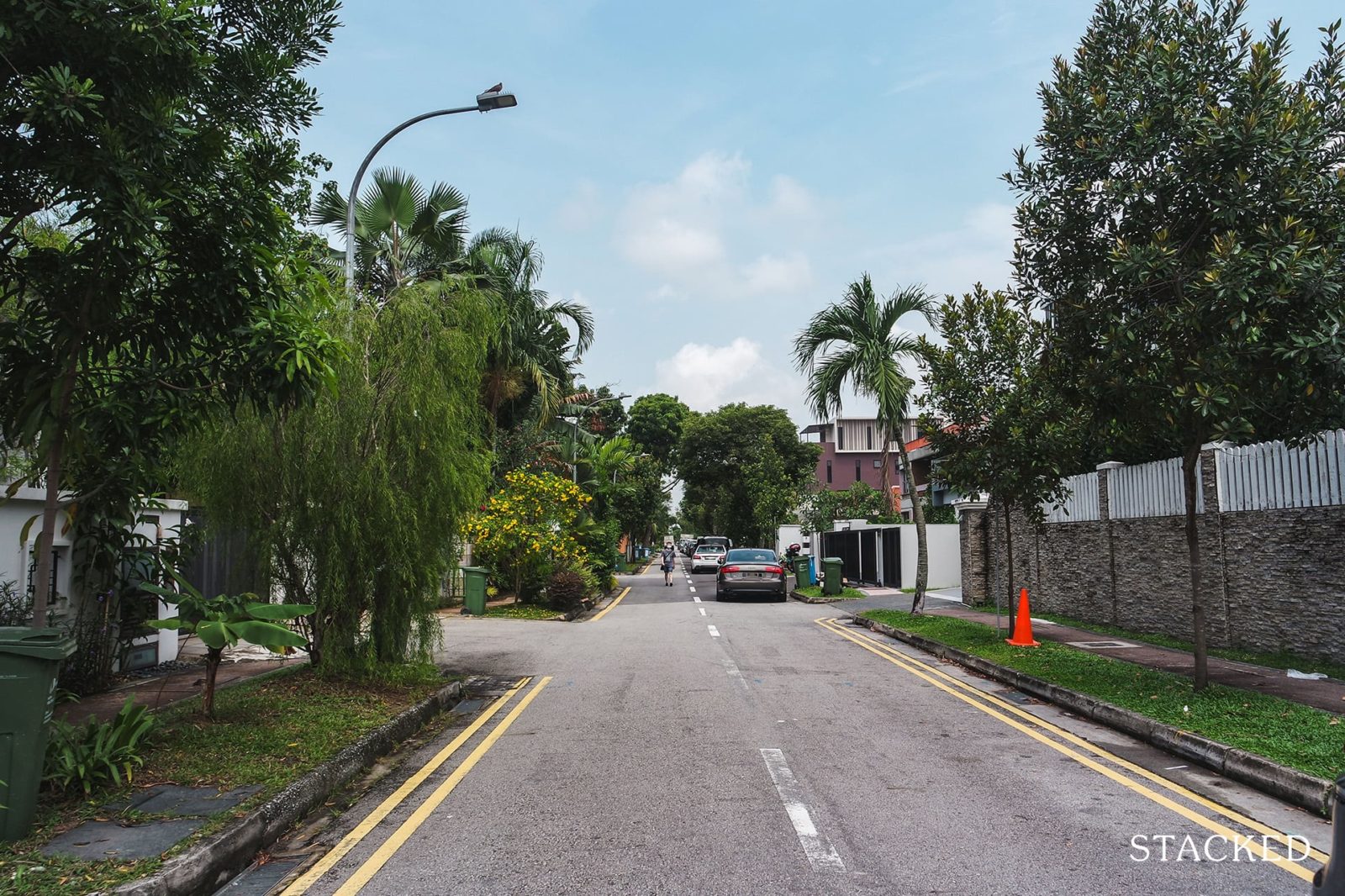 The quiet lanes of Wilkinson Road
Still, there's much to explore. Let's take a quick look.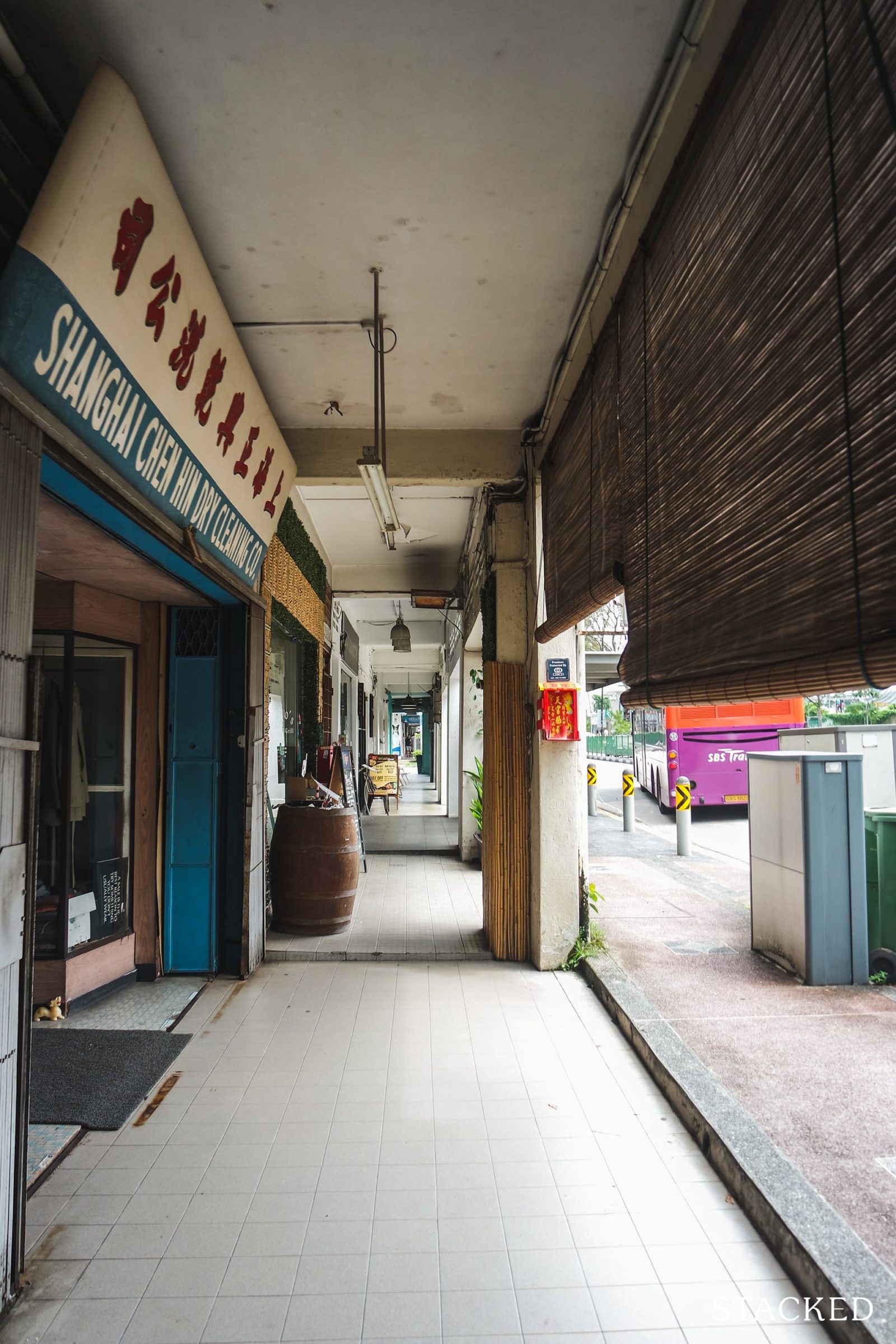 Five-foot way along Tanjong Katong Road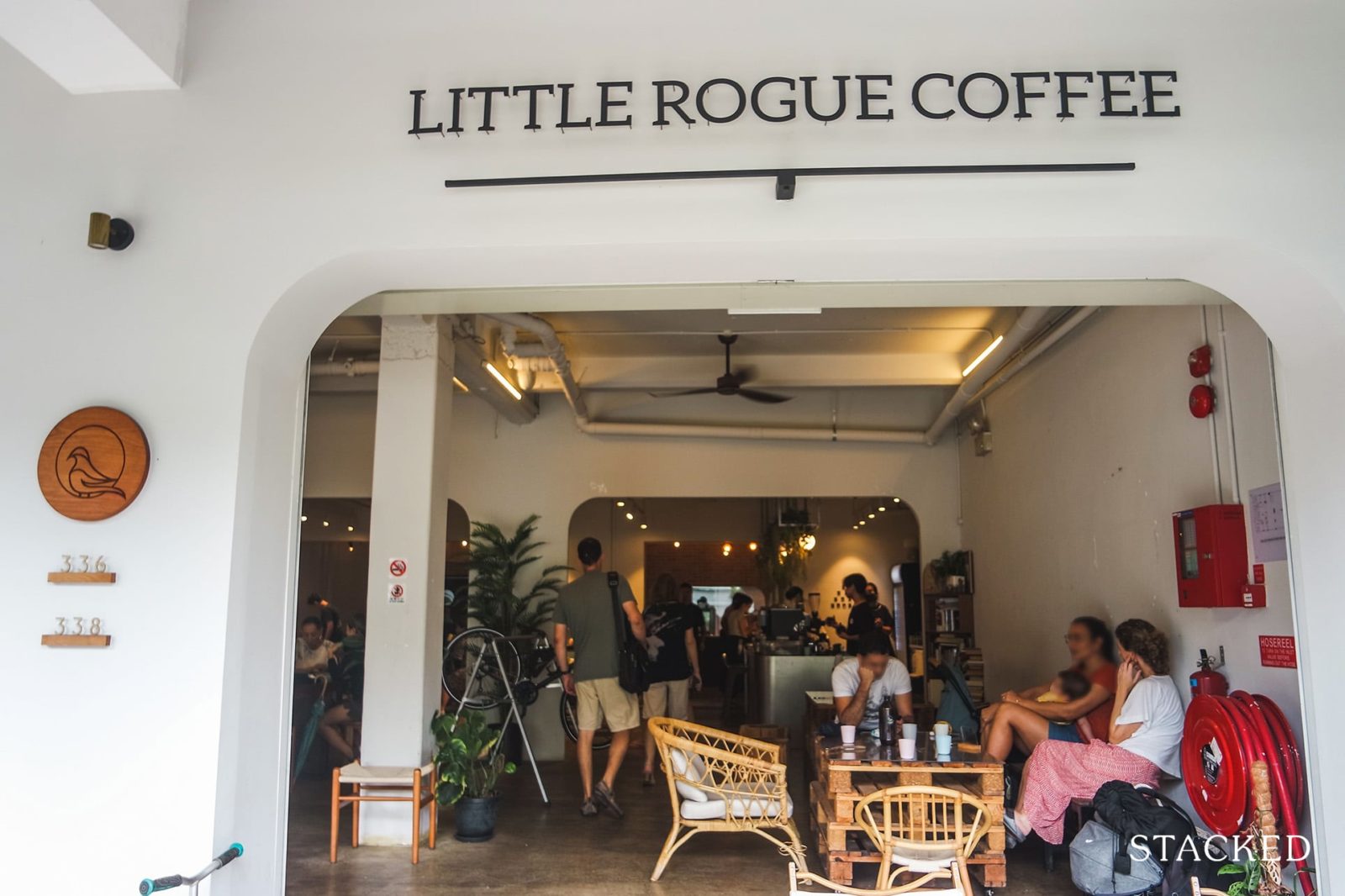 In comparison with Joo Chiat, Tanjong Katong is considered to be fairly new to the cafe scene. Even so, I won't put it past the area to slowly develop into a trendy spot for cafe hoppers.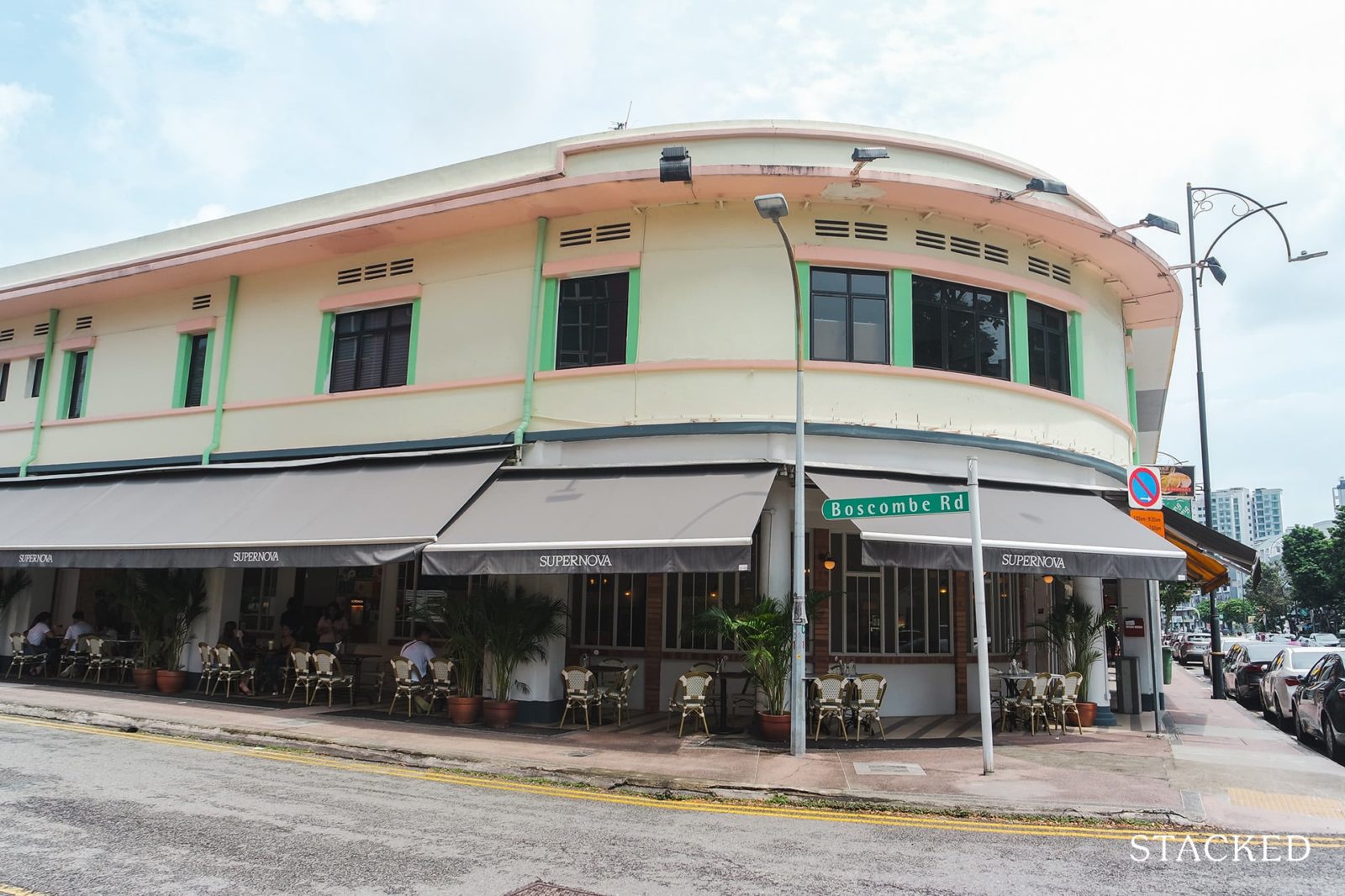 Supernova – a fairly new addition to the neighbourhood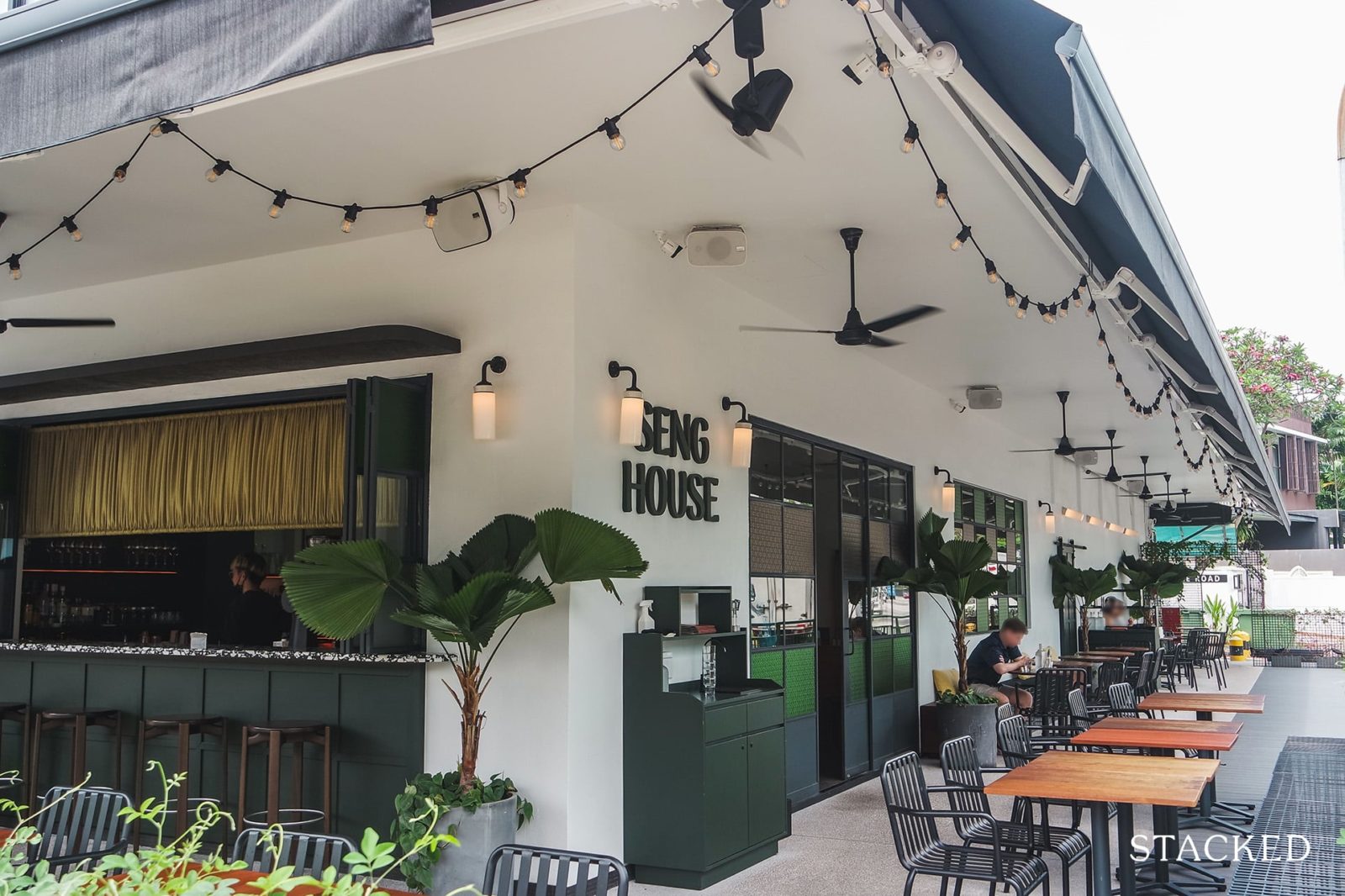 Seng House preparing for service
For now, however, the neighbourhood is catered more to pet lovers. Apart from the various groomers, vets and pet shops found along the street, there are many animal-themed street art that definitely catches your attention.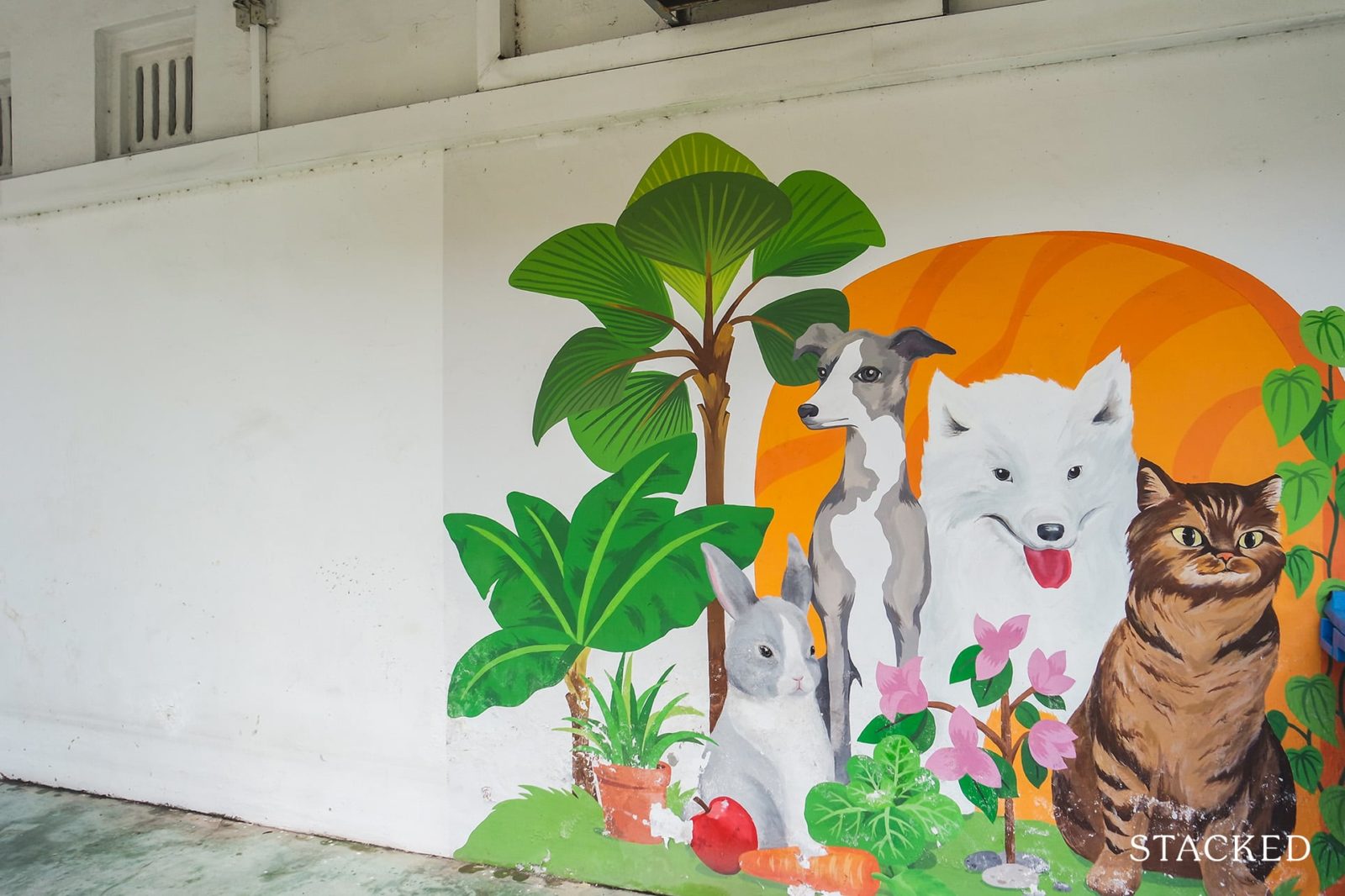 "Animals for Life" – The cutest mural posited just next to a vet clinic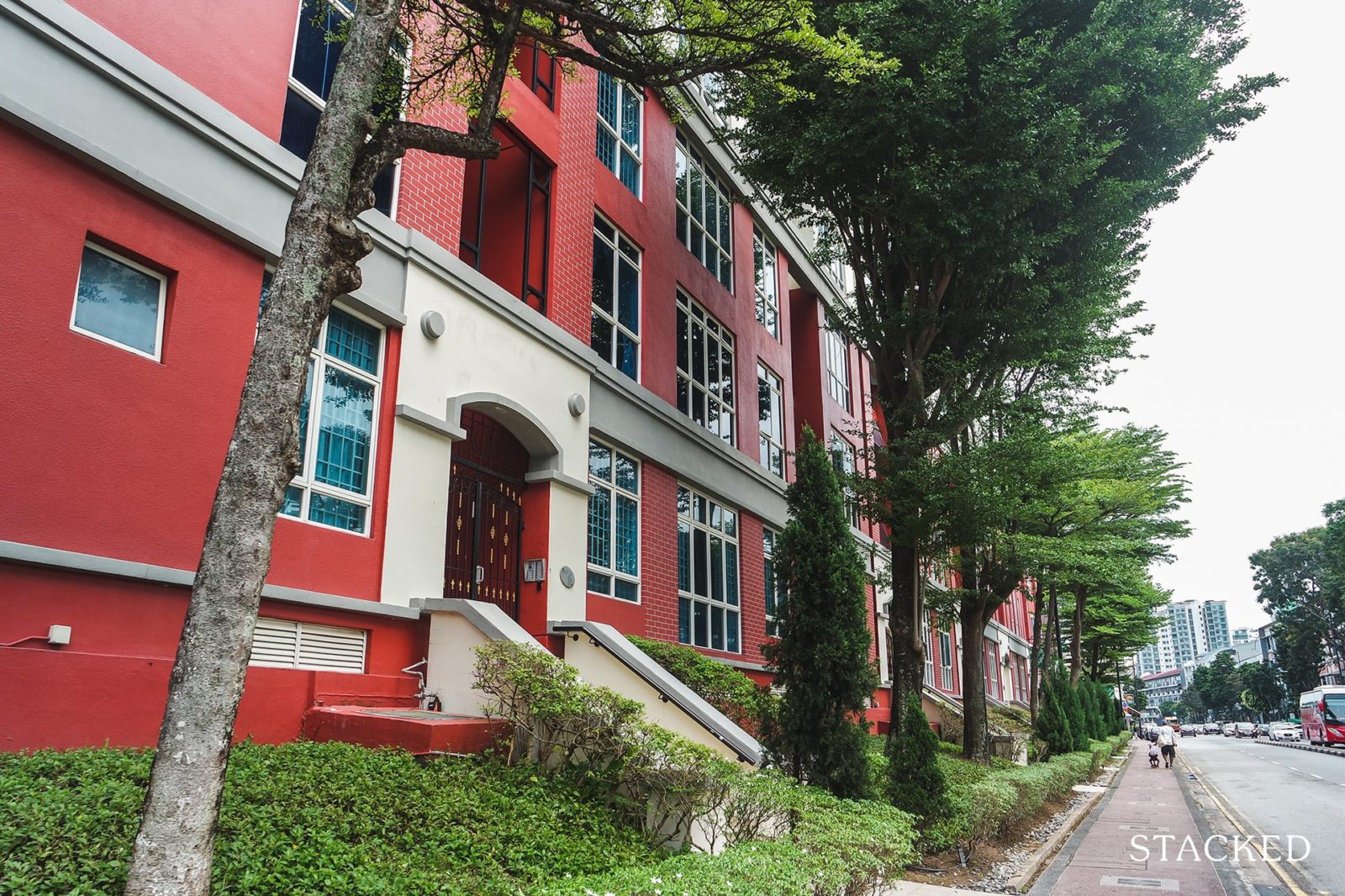 To me, Chelsea Lodge has always been an iconic landmark of the Tanjong Katong neighbourhood. Recognised by its red facade, it reminds me of those brick homes that you'll see in the UK and it does add a fair bit of character to the street.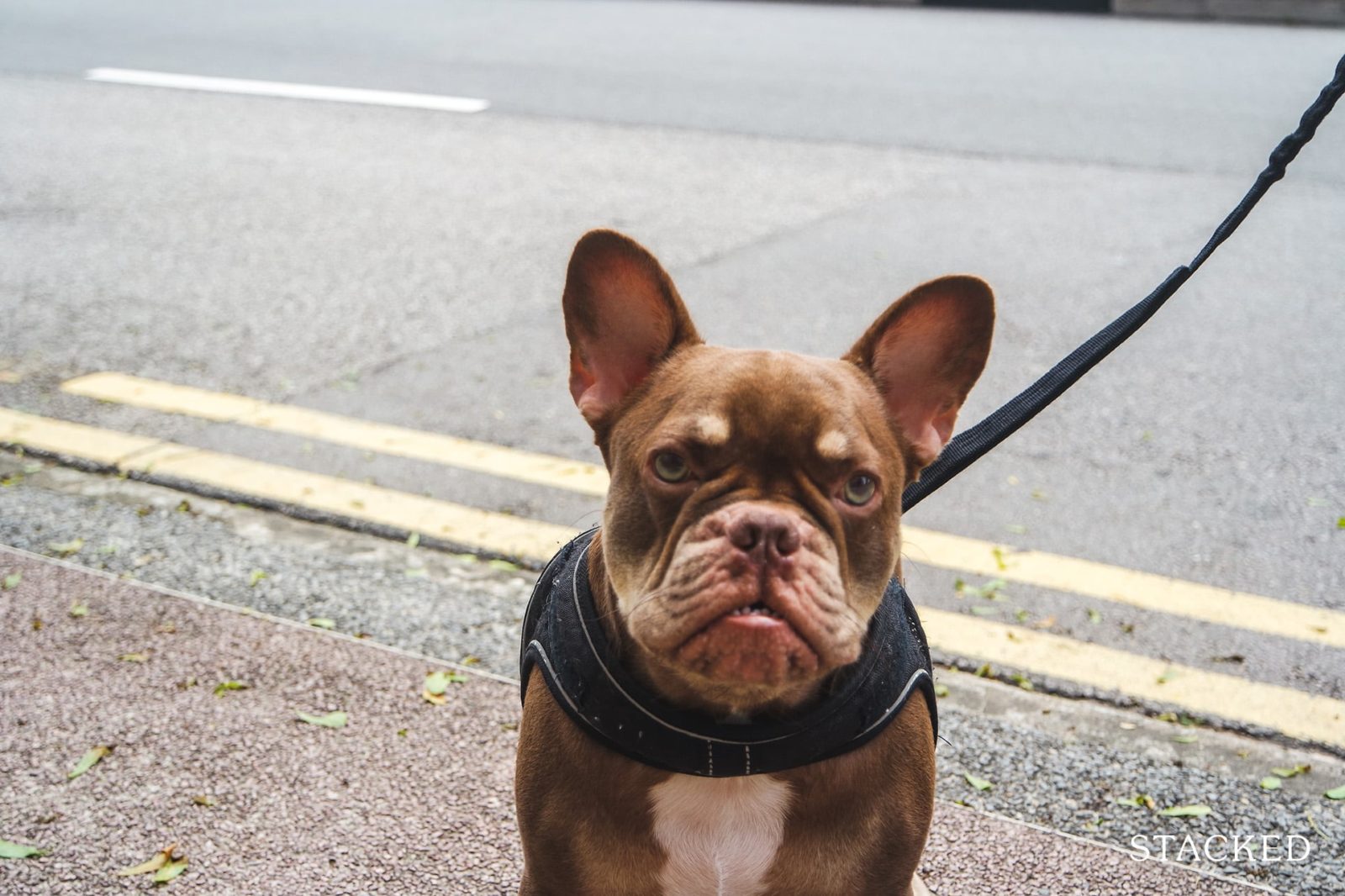 Saying hi to a friendly face that I met while touring the neighbourhood!
Even with the fancy cafes, my go-to in the neighbourhood will always be the Punggol Nasi Lemak, though on some days I might opt for Eng's Wanton Noodle. Either way, they are well-loved for their affordable and delicious delicacies.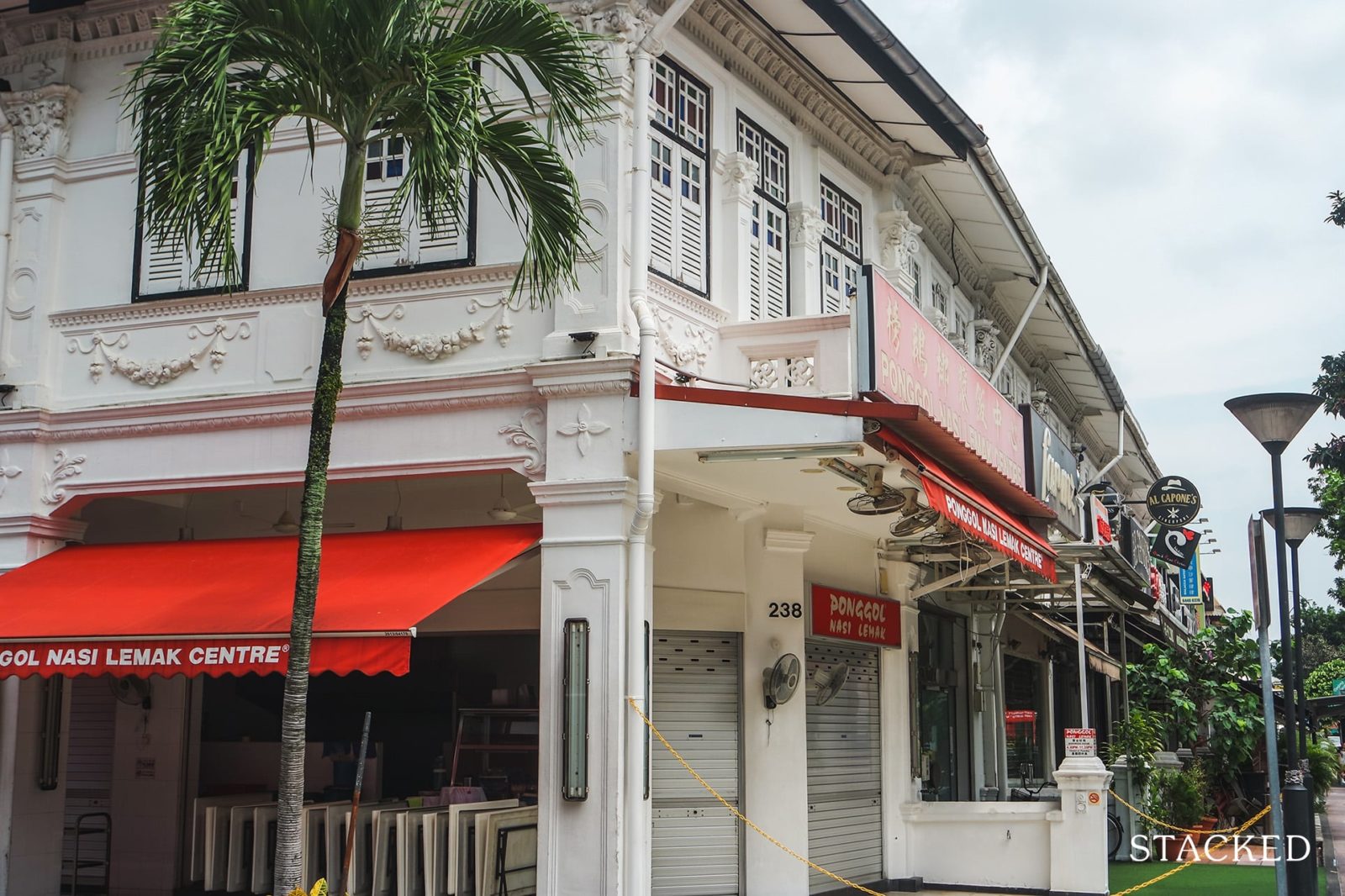 Punggol Nasi Lemak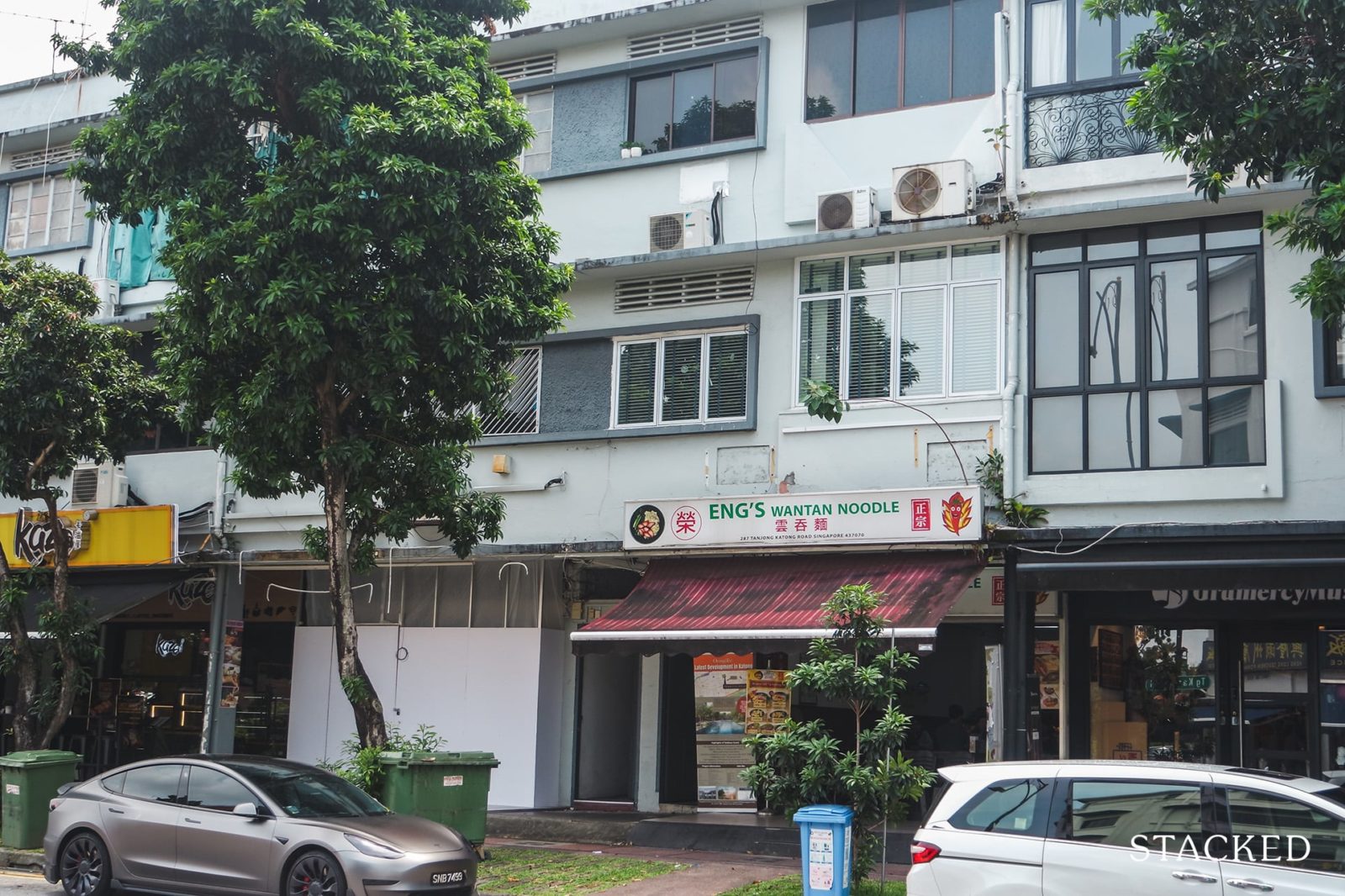 Eng's Wantan Noodle
What to Expect When Living in Joo Chiat and Tanjong Katong
Location
Situated in District 15, Joo Chiat and Tanjong Katong are well-loved for its vicinity to the famous East Coast Park, its abundance of great lifestyle offerings and housing some of Singapore's best-rated local delights.
Being a mere highway away from Singapore's bustling city centre, it provides great connectivity for those with means of personal transportation and a great neighbourhood for those who enjoy city fringe living.
Due to its unique architecture, vibrant amenities and strong community spirit, it is a popular destination for many locals to spend a gentle afternoon. Foreigners also frequent the area to appreciate the Peranakan architecture from Singapore's yesteryear.
Public Transport
For those who rely on public transport to get around the island, taking the bus would probably be the most convenient option.
The neighbourhood has a comprehensive bus service system to connect residents to other parts of the East, the airport and the city centre. Using i12 Katong as a landmark, here are some bus stops located nearby.
| | | |
| --- | --- | --- |
| Bus Stop | Bus Serviced | Distance from i12 Katong |
| i12 Katong | 16, 16M | 140m, 1-min walk |
| Opp i12 Katong | 16, 16M | 220m, 2-min walk |
| Roxy Sq | 10, 10e, 12, 14, 14A, 14e, 32, 40 | 260m, 3-min walk |
| Opp Roxy Sq | 10, 10e, 12, 14, 14e, 32, 40, 47 | 350m, 4-min walk |
| Opp Parkway Parade | 15, 31, 36, 36B, 43, 43e, 48, 134, 135, 196, 196e, 197, 853M, 966 | 450m, 5-min walk |
| Parkway Parade | 15, 31, 36, 36B, 43, 43e, 47, 48, 134, 135, 196, 196e, 197, 401, 853M, 966, 966A | 450m, 5-min walk |
While many residents are excited about the launch of the Thomson-EC line and the various train stations within the neighbourhood, the neighbourhood's inaccessibility to MRT stations was a longstanding pain point that many long-time residents have endured.
Currently, the nearest train station from i12 Katong is either Eunos MRT (East-West line) or Dakota MRT (Circle line) – both around a 15-minute bus ride away (which is typically longer, depending on traffic conditions).
However, relative to which part of the neighbourhood you lived in, it could be more convenient to take a bus to Bedok MRT, Tanah Merah MRT or Kembangan MRT. Alternatively, it might even make more sense to take a direct bus straight to your destination.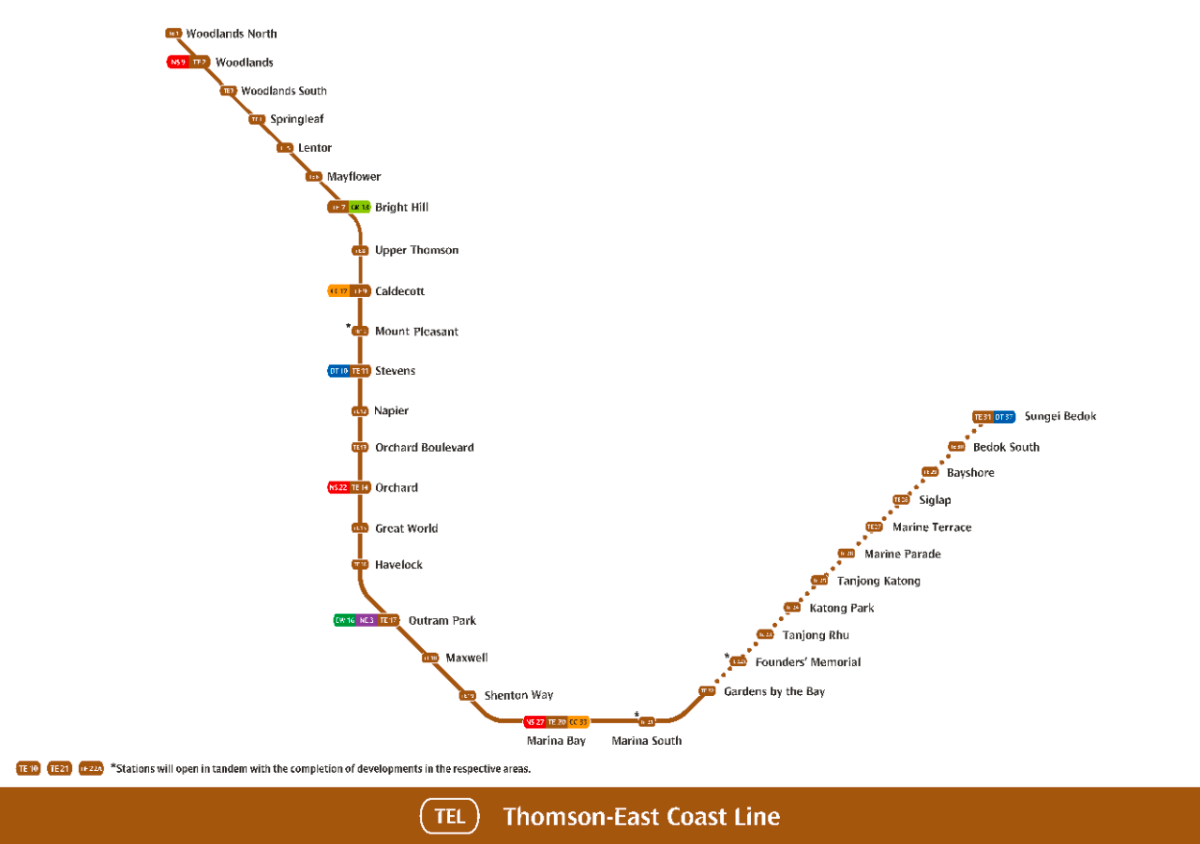 Image Credits: LTA
Stipulated to launch in 2024, the Marine Parade Station is a short 5-minute walk away from i12 Katong and can better connect residents to the city centre.
One downside is probably that you'd have to walk without a shelter to get to the bus stops or train stations.
Driving
Regardless of the type of housing you settle for within the district, drivers would have to be comfortable with open-air roadside parking and navigating through tight roads.
This is because most of the amenities are located within shophouses, which are often along smaller alleyways. It's also common to see cars parked alongside main roads, such as Tanjong Katong Road and East Coast Road, and even within the landed housing nearby.
I'll be frank, it could be quite gruesome to drive along these tight roads during peak hours and finding parking is largely dependent on luck.
| | |
| --- | --- |
| Destination | Distance from i12 Katong (Off-Peak Timings) |
| Suntec City | 6.8km, 9-min drive |
| Victoria Street | 6.8km, 9-min drive |
| Marina Bay Sands | 7.3km, 9-min drive |
| Clark Quay | 8.4km, 14-min drive |
| Fullerton Road | 9.2km, 13-min drive |
| Chinatown | 9.4km, 14-min drive |
| Bukit Timah Road | 12.2km, 19-min drive |
| Harbourfront Walk | 12.7km, 14-min drive |
| Changi Airport | 12.8km, 12-min drive |
Driving into the city centre and other parts of the East from D15 is fairly convenient, due to the multiple highways connecting the neighbourhoods.
Shopping Malls
| | |
| --- | --- |
| Shopping Mall | Distance from i12 Katong |
| I12 Katong | NIL |
| Parkway Parade | 1.2km, 4-min drive |
| Katong V | 400m, 1-min drive |
| The Odeon Katong | 1km, 3-min drive |
| Katong Shopping Centre | 900m, 3-min drive |
| Katong Square | 100m, 1-min drive |
Within a 1km radius of i12 Katong, there are many other shopping malls within the neighbourhood that have a great variety of shopping, dining and grocery options.
There are also many supplementary schools (like tuition centres, music schools and dance schools) within these malls to cater to the families living within the neighbourhood.
Grocery Shopping
Apart from the typical supermarkets like Cold Storage and FairPrice, it's typical for residents to frequent other niche marts or even wet markets.
Little Farms is a popular grocer that specialises in organic products and high-quality produce. During the weekends, a long line can be seen forming at their bistro, too.
There are other gourmet speciality shops such as The Cheese Shop and Meat Collective, which specialise in high-quality cheese and meat cuts respectively and are perennial figures within the neighbourhood.
If you're anything like my grandma and prefer a more traditional way of shopping for your groceries, Dunman Food Centre and Wet Market or Marine Parade Central Market and Food Centre would be good options to consider. You'll get a good sense of the community and can even pick the freshest ingredients for a more affordable price.
Schools
| | |
| --- | --- |
| School | Distance from i12 Katong (Off-Peak Period) |
| Tung Ling Kindergarten | 900m, 3-min drive |
| Maplebear (Katong Point) | 1.2km, 4-min drive |
| Kinderland Preschool | 1km, 4-min drive |
| First Steps Preschool @ East Coast | 1.2km, 5-min drive |
| Pat's Schoolhouse | 1.3km, 4-min drive |
| Dynamic World Montessori School | 1.7km, 5-min drive |
| Odyssey The Global Preschool | 1.8km, 5-min drive |
| Etonhouse International School | 2.3km, 5-min drive |
| Tanjong Katong Primary School | 1km, 2-min drive |
| Tao Nan School | 1.4km, 5-min drive |
| Tanjong Katong Girls' School | 1.6km, 3-min drive |
| CHIJ Katong Primary | 2km, 5-min drive |
| Haig Girls' School | 2.2km, 5-min drive |
| Ngee Ann Primary School | 2.3km, 6-min drive |
| St. Stephen's School | 4.1km, 8-min drive |
| Opera Estate Primary School | 4.7km, 9-min drive |
| Tanjong Katong Secondary School | 1.3km, 3-min drive |
| Chung Cheng High School (Main) | 2km, 4-min drive |
| St. Patrick's School | 2.1km, 5-min drive |
| Victoria School | 3.2km, 6-min drive |
| CHIJ Katong Convent | 3.6km, 6-min drive |
| Dunman High School | 2.7km, 5-min drive |
| Victoria Junior College | 2.7km, 6-min drive |
| Temasek Junior College | 6.1km, 9-min drive |
| Canadian International School (Tanjong Katong Campus) | 1.5km, 3-min drive |
Within a 5-km radius of i12 Katong, there's a wide variety of superb school options, which is always a plus point for growing families. However, these travel times are estimated based on off-peak hours, so be sure to account for the traffic conditions.
Future Upgrading Plans
A decade ago, the East Coast and Tanjong Katong neighbourhood felt rather different than it does today.
Although the built environment looked somewhat the same (after all, URA has set sensitive measures in place to conserve the facade of the shophouses and the built environment), it's fascinating to note that the neighbourhood does not feel obsolete nor under-utilised.
In fact, it's impressive to see how older facades within the neighbourhood continue to keep up with modernity and functionality.
According to the URA Master Plan 2019, some of the more notable upgrades to the area include:
Thomson-East Coast Line Train Expansion – New MRT Stations such as Katong Park, Tanjong Katong, Marine Parade and Marine Terrace Stations will be completed by 2024.
More supply of new launch condo housing within the neighbourhood, such as The Continuum, Tembusu Grand and Grand Dunman
East Coast Park Improvement Works – Visitors can now enjoy new cycling paths, vertical playgrounds and the newly opened Raintree Cove
Downsides of Living in Siglap & Tanjong Katong
True as it might be that there isn't anywhere else I would like to live in Singapore, there are still some inevitable downsides when it comes to living in the East Coast.
It's hard to get around on rainy days
While it's fun to explore the neighbourhood on a sunny day, a rainy day results in an entirely different experience altogether. Apart from the shelter provided by the five-foot way, most of the pathways in the neighbourhood are unsheltered.
For those who have to get to bus stops or destinations that are only reachable by foot (like most of the cafes and fitness studios), it'll be troublesome during rainy days. Be careful of the slippery floors too!
Busy and tight roads for drivers and pedestrians
One of the key issues I constantly face with living in the neighbourhood is definitely the busy traffic, making driving a little more stressful and walking less friendly.
There are many schools within the area, resulting in jams in key areas as early as seven in the morning and after-school hours.
The roads are much tighter as compared to other parts of Singapore (personally, I found it scary to drive beside a huge bus or a huge truck on these tight roads!). Furthermore, street parking is common which slows down traffic.
It could also be dangerous for children or the elderly to walk as there's always traffic coming from all sides.
Strict requirements to adhere to for those living in shophouses
While beautiful, those who are thinking about living in the charming shophouses might have to note the red tape imposed by URA to conserve the facade of the building. Homeowners would have to apply for permits and clearances when upgrading their homes, which can feel restrictive to many.
Furthermore, many of these older developments have older pipes and building facades, and homeowners would have to be prepared to spend more on their upgrading to fix older fixtures.
Not the most wheelchair-friendly
While most of the streets have wheelchair-friendly ramps, there are many steps and stairs when it comes to walking through the five-foot way that might not be too wheelchair-friendly. For those who frequent the stores around the shophouses, accessibility might be compromised.
Final Thoughts
Joo Chiat and Katong remind me of a time when life was simpler and slower in Singapore. They stand tall as a testament to our humble beginnings and tell stories of a bygone era – an essential (but often overlooked) element for a cohesive society.
When I pass by these heritage homes, I fondly remember the times when I was a little girl and the stories that my grandparents would often share with me and the significance of the neighbourhood.
Similar to Tiong Bahru, conserved neighbourhoods like Joo Chiat and Katong were originally designed to encourage community interactions, which is a crucial lesson when it comes to future urban planning projects in Singapore.
While the neighbourhood is far from perfect, it'll definitely appeal to those who appreciate a wee of an adventure when going about the neighbourhood. The stories, its intriguing community and its rich heritage are all part and parcel of the neighbourhood.
Regardless of how this neighbourhood will change in the next decade, I hope it'll continue to inspire our urban fabric for a long time to come.