Analysis
A Buyer's Case Study with Stacked: Principal Garden
Ryan
March 29, 2021

13

min read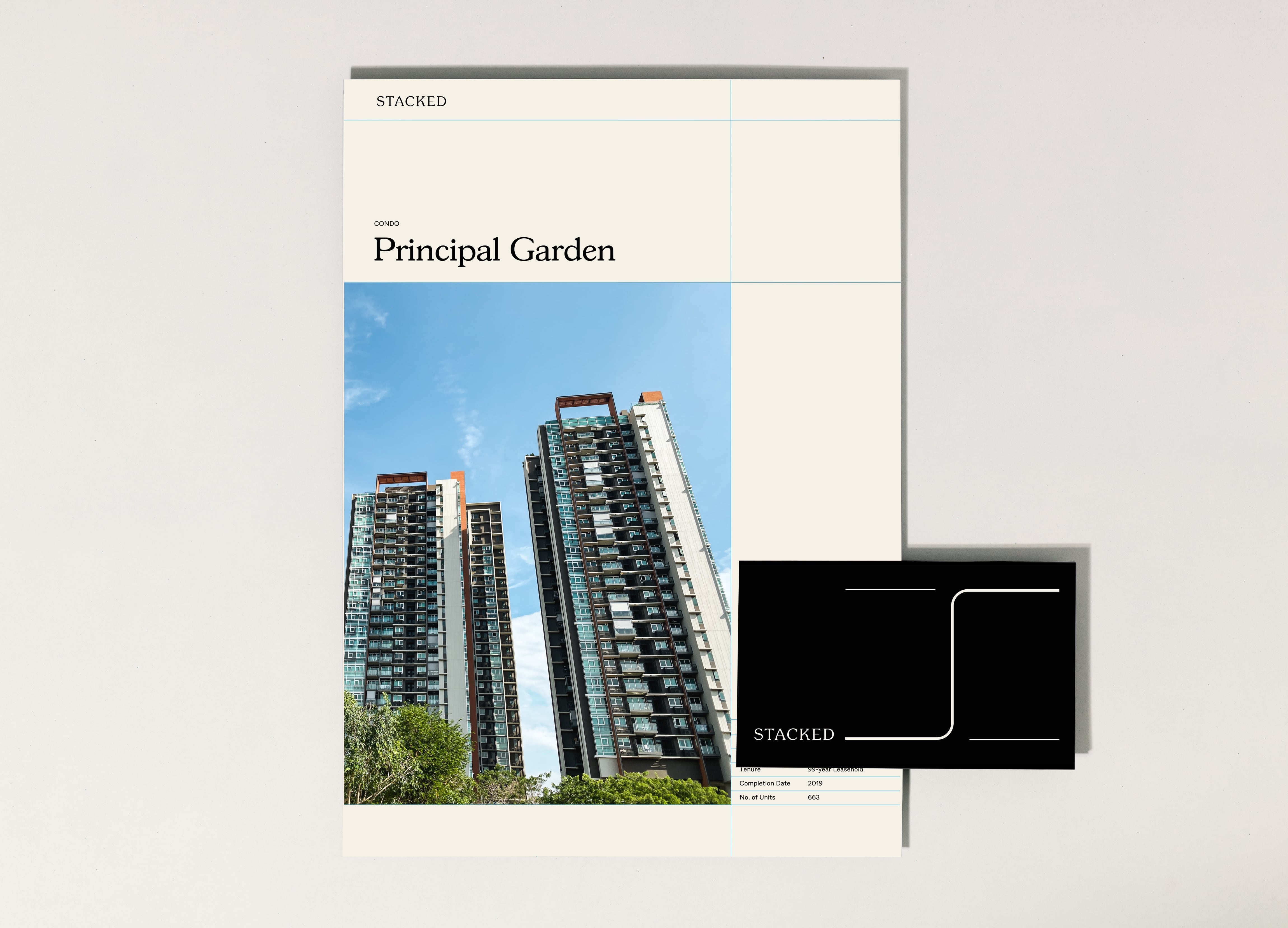 13
min read
Project Case Study: Principal Garden

Client Details
Single, early 30s
Working in advertising
Buyer's Brief
---
Looking for first home/investment
2 bedroom minimum in Bukit Timah/Holland/CBD
Liveability was a focus
Challenges They Faced
---
Afraid of pushy agents
Needed more hand holding as this was the first major purchase
First Consultation
As per usual, we like to use the first consultation to share more on the current state of the property market. We get that some clients might find it a little boring and technical (especially those looking for a pure own stay purchase), but we find that a clear picture for a buyer means they will be in a better place to make an informed decision – so that is always a priority.
If you've read our previous case study, you can probably breeze past this, but we would usually share the current trends and what to look out for. We will also present our factors to note in any potential purchase – integration (malls, MRT, transformation), comparables in the area, holding period, and how sustainable the property would be in the future.
The next step would be to clarify what the client was looking for in a property. While the client had mentioned that this was intended for investment, she had also said it needed to be viable – to some extent – as a property that can be used as a residence.
It was important to clarify the latter detail, as it ruled out certain "pure" investment properties, like dual-key units, units only for single tenants, etc. From here, we could then shortlist a few potential properties that might meet both requirements.
That said, we like to advise clients that it would be best to really have a good think about which matters more – the investment aspect or own stay. It's normal to want to have the best of both worlds, but sometimes you end up being able to achieve neither. In this client's case, she wanted a space that would be an investment in the early years, but it has to be liveable for her to move in should the circumstances call for it.
She had not done much research, but was keen on areas that she frequented – Bukit Timah, Holland, and perhaps even the CBD vicinity.
After the first consultation, these were her initial set of criterias:
Open to resale or new launch 
Flexible on timelines as there was no time constraint on moving in
Open to freehold/leasehold options
Liveability to her was the most important despite it being an investment property
Budget of $1.7 million
So with the list of criteria to work with, we set out to research on the potential few properties that could be interesting to look at. As this would be her first home purchase, we chose to start the buying journey by looking at new launch products first, as you get a more consistent experience and it would be easier to compare. The resale market is a lot more fluid, and dependent on the available supply at that point, so it could be slightly more confusing for the first time home buyer.
Ultimately, we narrowed it down to areas and developments she would be willing to live in, but which also had support factors that could potentially drive appreciation in future. The focus fell on properties in prime areas – Chinatown and Bukit Timah to be precise.
Prime region properties have a proven track record for price growth; and should our clients use the property as their primary residence, these areas are the final word in abundant amenities.
However, prime region properties also pose the challenge of having higher price points; and we would have to narrow down developments that still have reasonable room for appreciation.
It's important to note that prime regions do include no-yield or zero-gain properties, which are pure luxury indulgences. These would tip the scales too far away from the investment goals. At the same time, there are also prime region properties that aren't great for long term home ownership. While location and amenities are rarely a problem, there are plenty of shoebox units (and sometimes a concrete-jungle feel) that aren't desirable by family standards.
The challenge would be to find something in between. The two developments that we felt most suitable were either The Landmark, which was previewing that same month, or Fourth Avenue Residences.
Both properties were in locations with high rentability. The Landmark is just 500 metres from Chinatown MRT station, placing it within the traditional CBD, and just minutes from Orchard.
Fourth Avenue Residences, on the other hand, is just next to Sixth Avenue MRT station. While as close to the CBD, it's still just a 12-minute drive to Orchard; and it provides a greater sense of privacy, being in lower-density Bukit Timah.
As such, we arranged viewings for both The Landmark and Fourth Avenue Residences. While we already had an idea how the investment side would play out for each one, it was important that the clients found them liveable.
First Viewing
During the viewing of The Landmark, we allowed the show flat agent to explain the project details first. This included a rundown of the key facilities, configuration of the various stacks, etc. 
Our work, as always, would come in the debrief we always provide after such viewings. This is when we provide independent feedback on the development, and explore how it relates to the clients' needs on an individual level.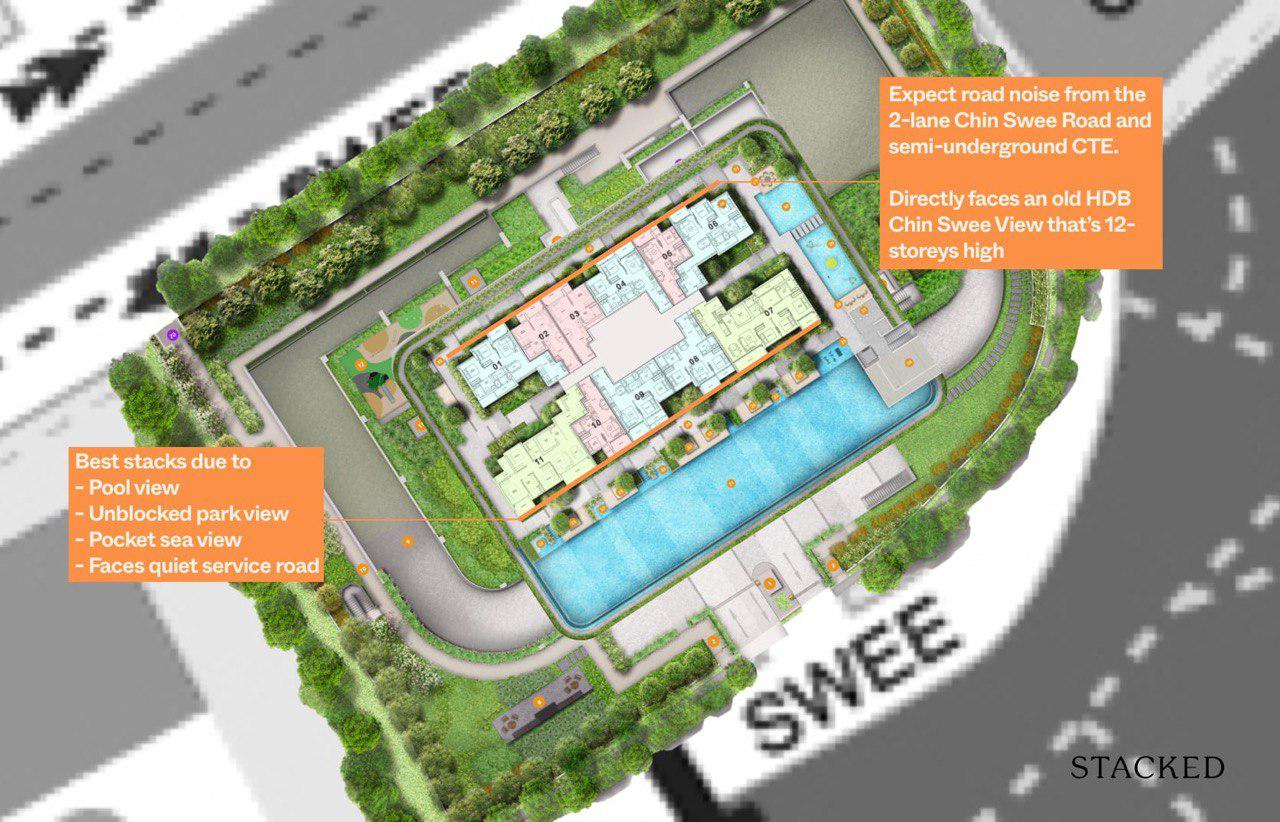 With regard to The Landmark, we saw investment potential in the form of a price play. Developers typically start with loss-leaders and early bird discounts (see our previous article for an explanation on how this works). If the landmark is priced low enough at this stage, and there's later a big premium for, say, high floor units or outside-facing blocks, there would be some potential arbitrage. 
Pricing took the advantage over some of the other considerations. For example, we noted the layout for the two-bedders at The Landmark were on the small side, and there was a lack of a separate dining space. This was the shared impression at the first viewing, which would be clarified as we went further.
The subsequent viewing, at Fourth Avenue Residences, was conducted the same way. After the introduction by the show flat agent, we gave an independent perspective at the debrief.
This development did have a higher initial standing for the client, as she was more familiar with the location. We pointed out that one advantage was a more affordable quantum:
Despite the Sixth Avenue MRT station being at the doorstep – Units of 689 sq.ft., for instance, had transacted at as low as $1.65 million; a price point more common to mass-market condos than prime region properties near the MRT.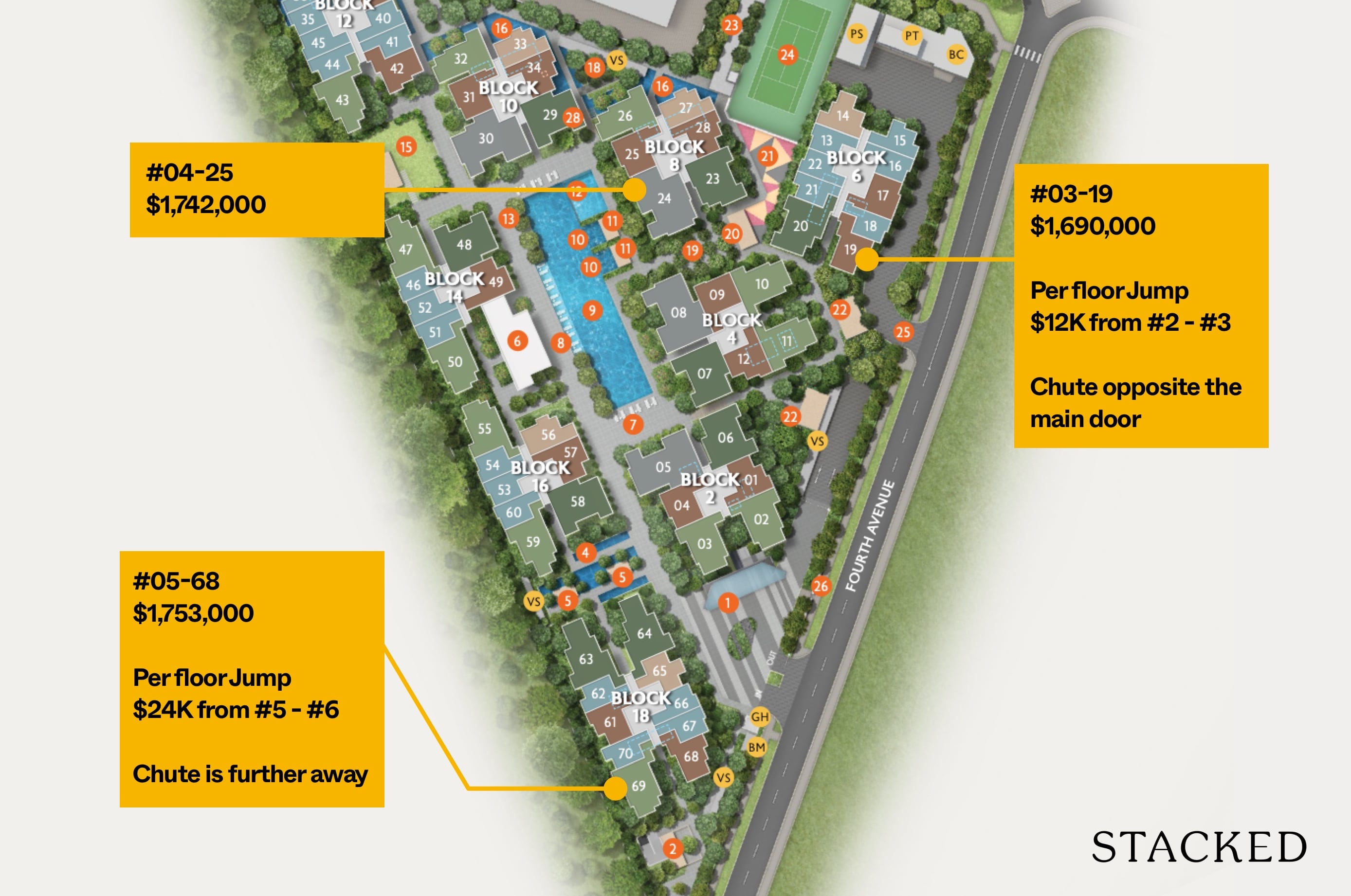 We did note, however, that the price was initially higher at launch, and then lowered to move units due to Covid-19. The price decreases were initially for one-bedders, but were then extended to two and three-bedders as well.
There was also a wide mix of unit types and sizes. This helps to ensure more regular transactions (a higher volume of profitable transactions helps to support the price). However, we did express that it could do with a higher number of smaller units.
Because Fourth Avenue Residences has a lot of variation in layout and facings, it took a longer time to digest the information. Some questions were hard to answer "on paper", such as which stacks had better privacy, which floors had more road noise, whether the sunlight is direct or indirect, etc. A live 3D model was used for the walk-around, to get a sense of this.
It was also a factor that she seemed more familiar with the immediate location; this is a positive factor, as the property will also be for own-stay use.
After both debriefs, we explained the key factors that we were using to explain the situation:
Whether the factors are relevant throughout the entire period they own the property (e.g., you don't want to be drawn by a great view, only to have it blocked by a new development a few years later) 
Whether the development would have the largest target audience, or pool of prospective buyers. Higher demand supports better appreciation. 
The price resilience of the development. For investors, it's important that the property value can be maintained even during a down market. 
The upside potential of the development, when the real estate market is on an upswing. This is more challenging to find in prime region properties – while most central region properties have a lot of price resilience, the higher initial price point can leave less room for future gains. 
Here's a quick summary of the two developments compared:
The Landmark
A price play; potential for sizeable gains if there's a big premium for outside-facing or higher-floor units (a rather common outcome for many new launches)
Within the CBD and in walking distance of Chinatown MRT. This location has high rentability. 
No shortage of amenities; if it's not in the CBD, it's probably a few stops away in Orchard, Bugis, etc. 
Two-bedders were small, and being that close to Chinatown MRT means being in a dense urban huddle. 
Fourth-Avenue Residences
Priced to clear after Covid-19, so potentially a bit of a bargain
One of the rare developments with a low quantum despite being next to Sixth Avenue MRT station
She was already familiar with the area
Further away from the CBD than The Landmark, although the immediate area of Bukit Timah is less densely packed
Although there's a wide mix of unit sizes and layouts, there's a distinct lack of smaller units.
Read this next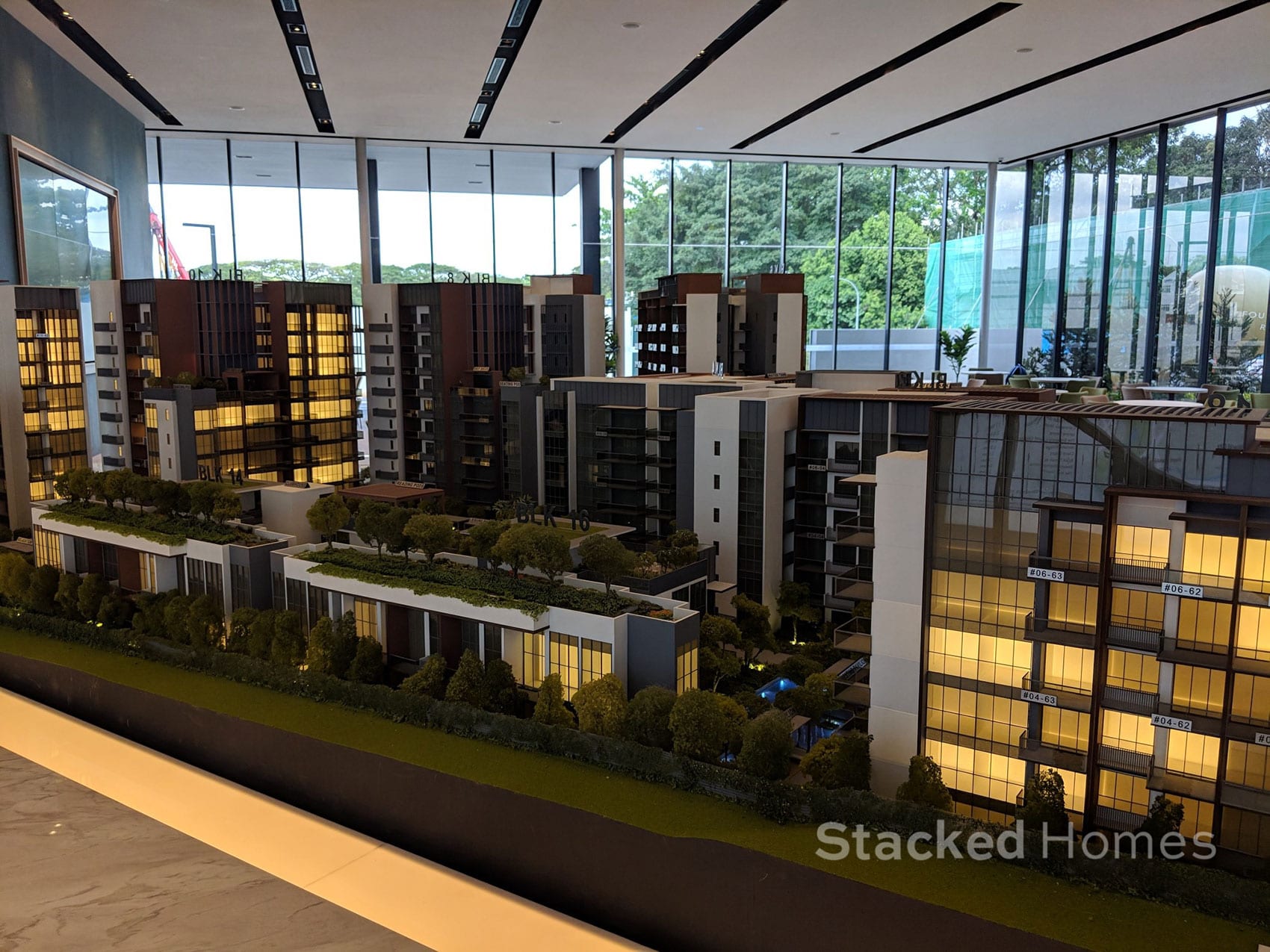 Read this next
by Stanley
Third Consultation
By this point, we had already offered full debriefs after the viewings; and our client was now developing a clearer picture of what she wanted. Our intention at this point was:
To explain the buying process in detail
Explain the finances needed for the purchase and timeline for payments
Work out of the price band is acceptable
Besides these, we handled some other considerations and questions. We looked up whether the land beside it will be developed (there isn't room for another condo to block the view), and smaller details like whether the chute is pneumatic or traditional (it's pneumatic, which reduces pest infestation problems).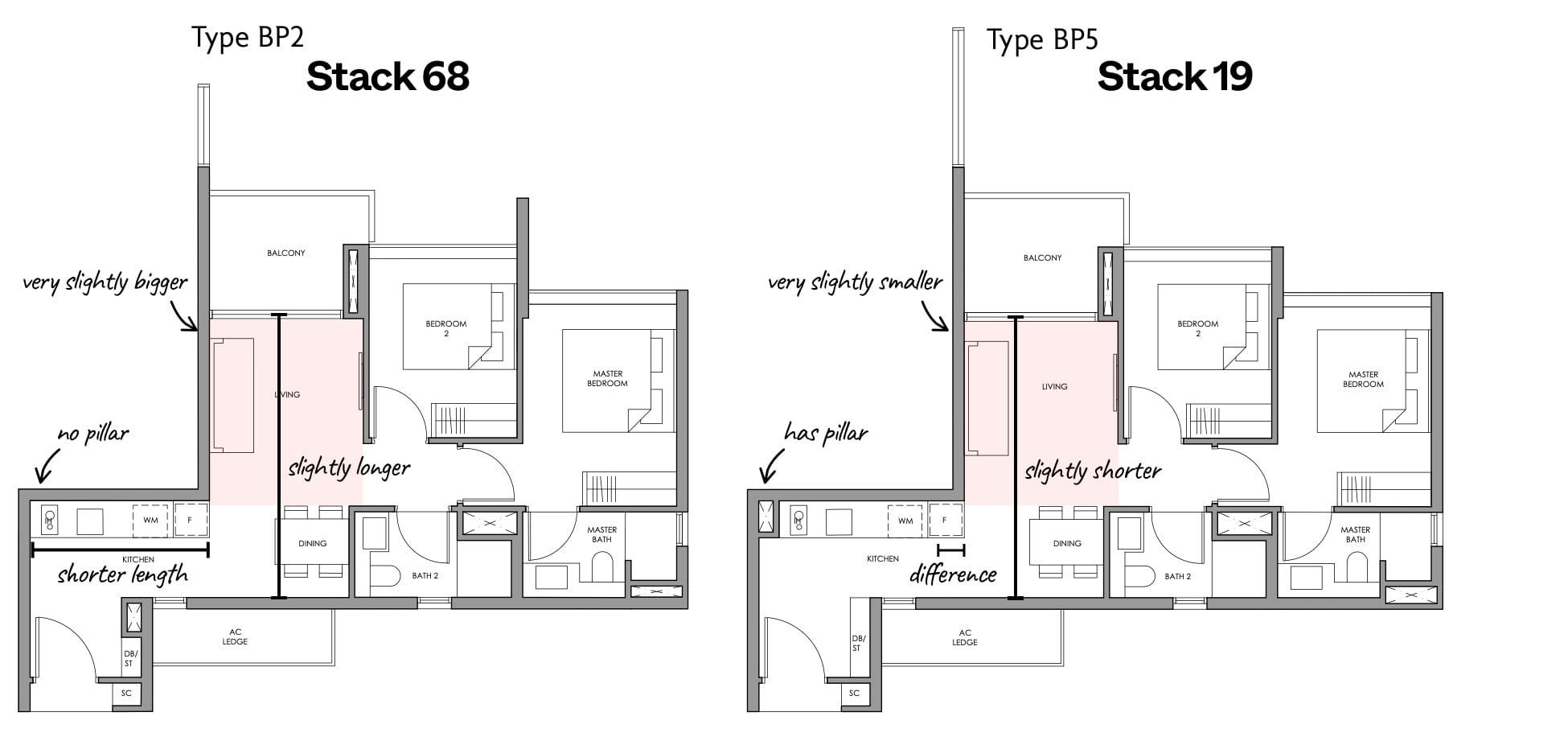 Finer comparisons also had to be made at this stage. For example, we had to compare between two units in one of the developments: #05-68 (at $1.75 million) or #03-19 (at $1.60 million). For these comparisons, we considered factors ranging from distance to the bin, car park vent shaft, views, efficiency of the layout, additional windows, and potential noise pollution.
We leaned toward #05-68 if the future own stay was a bigger priority. This came down to the unit not having a pillar in the kitchen, and a slightly longer living room. We also determined that units in this block are further from the garbage chute than #03-19.
In addition, units in stack 19 were closer to the main road, beside a BBQ pit, and closer to the bin centre and a service road. Which might have negative connotations for prospective future buyers.
Stack 68, despite being closer to the guardhouse (and possibly noisier) is on a higher floor. It's also further from the main road, which mitigates some of the issue.
It's emphasis on the fine detail that makes the difference. And sometimes, it's what leads the buyer to seek a third option. As we have mentioned before, buying a home is always a journey – and what you may have envisioned to set out for in the beginning can always change the more properties you view and gain perspective on.
With some research, we found a third option that matches some of the qualities of The Landmark and Fourth Avenue Residences.
This third alternative was to get a resale unit, from Principal Garden. By this point, there was greater clarity, and our client clearly wanted to prioritise owner-occupancy over the investment portion.
Principal Garden is a development in District 3, recently completed in 2019. She had actually liked this development before, but hadn't been in a position to buy when it was launched.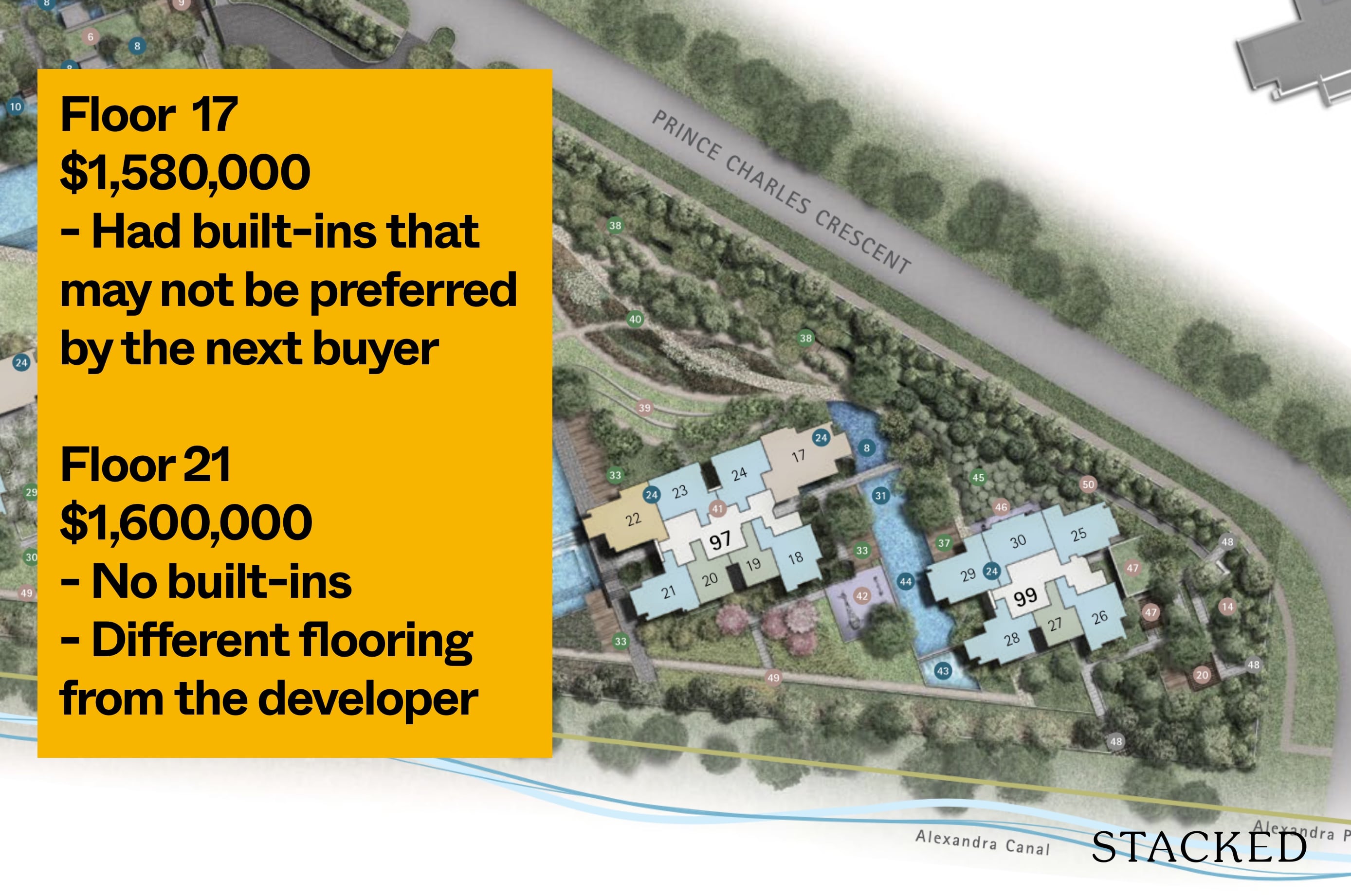 We went through the same comparisons we did above, eventually settling on 797 sq. ft. units in Principal Garden. This was the most efficient layout, as the larger 807 sq. ft. units had a lot of wasted space in the form of a walkway. A 797 sq. ft. layout had more of a living area, but a stuffy toilet with no windows; and the dual-key units had a worse facing.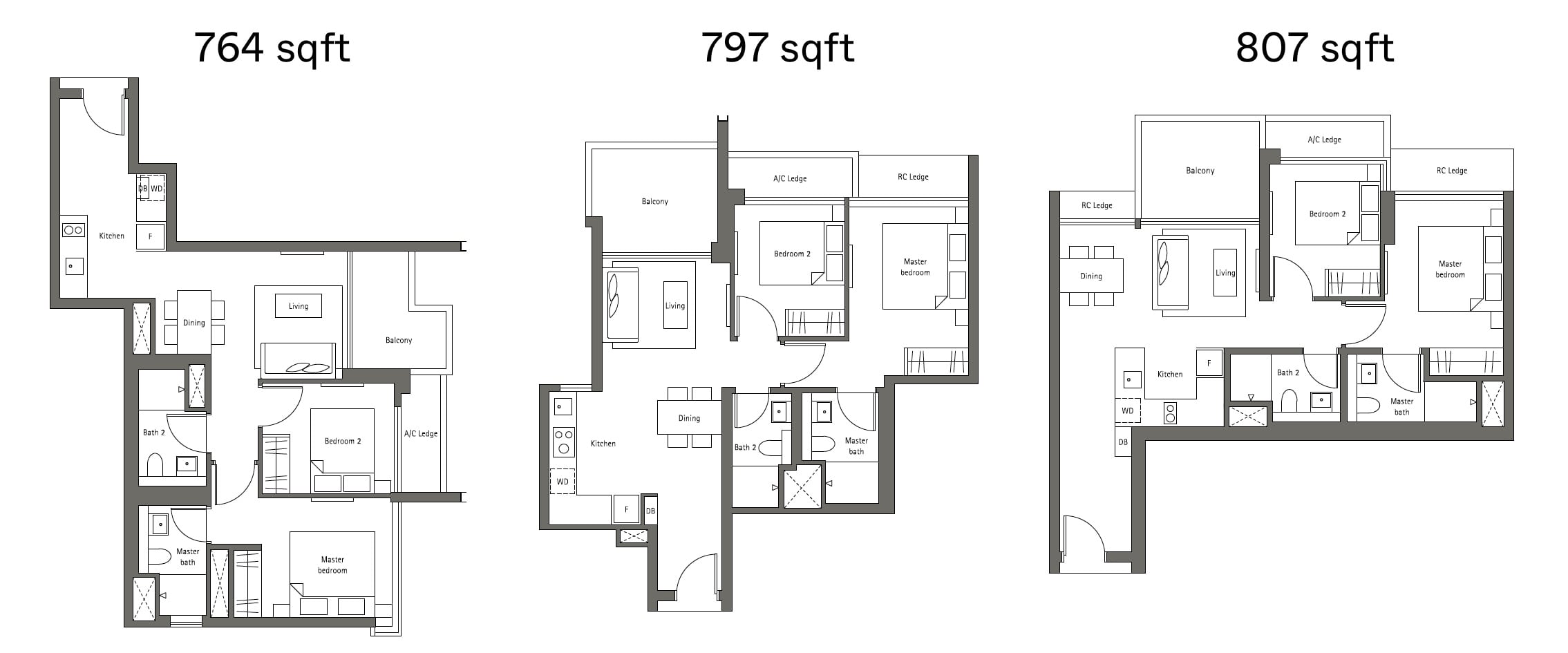 Brief comparisons were also made with other resale options in the area – this time with specific regard to unit layouts. Alex Residences, Echelon, and Ascentia Sky, and Metropolitan were all also considered; but by now our client was very clear on her likes and dislikes, so it was quick to filter them out.
For the sake of those in a similar boat, here were some of her concerns with the other developments:
Poorer layout of Echelon compared to Principal Garden
Alex Residences only has dumbbell units which wasn't her preferred choice
Ascentia Sky had bay window with bomb shelter and planters
Metropolitan only came with 2 bedroom and 1 bathroom units
After many rounds of viewing, it came down to comparing between 2 units 17th floor (asking $1.58 million) and 21st floor (asking $1.6 million and above) in the same stack. We advised her that while the lower floor was cheaper, it did encompass a lot of built-ins that may not be preferred should she choose to exit in the future. Coupled with the former needing an extension of stay, while the higher floor had a different flooring (which she really liked) – made it an easy decision on which to go for at the end of the day. 
So at this point, we decided to offer between $1.57m – $1.59m, and ultimately managed to secure the unit at a fair price for our client.
We also helped to negotiate for some of the furniture to be left behind, including:
1. Dining table n chair
2. Custom mirror
3. Grey cabinet x 2
4. Long bench at the balcony
5. Rattan shoe cabinet
Finally, we helped to settle the financing requirements
After walking them through the mortgage process, we helped them to settle on a fixed rate mortgage from UOB. This was after making a comparison between the banks, and finding out that the fixed rate was at the time was even lower than the floating rate of many other banks.
After key collection, she wanted to spend some time residing in Principal Garden and enjoying the facilities first (and imagining what living there would be like in the future). But after a few weeks, she moved out and we began to prep the place for tenant viewings. We helped to clean the place up and set it up for photographs; we showed the house for two weeks (tough with Covid-19 restrictions, limited the number of viewers), and managed to secure an offer of $4,000 a month for a two-year lease.
This property remains one of the highest (rent-only) transactions for a unit in its class (at time of writing).
Ultimately, we are happy with how the journey turned out, and the final choice made at the end. The most important thing in a purchase especially with own stay in mind is for the client to be at ease with their decision. In this case, we feel that this purchase has ticked off most of the boxes of what our client was looking for, and all possible research has been done to ensure that this is the right purchase for them.