Property Picks
7 Spacious Townhouses In East Singapore For A Good Mix Of Space & Facilities
TJ
March 20, 2022

11

min read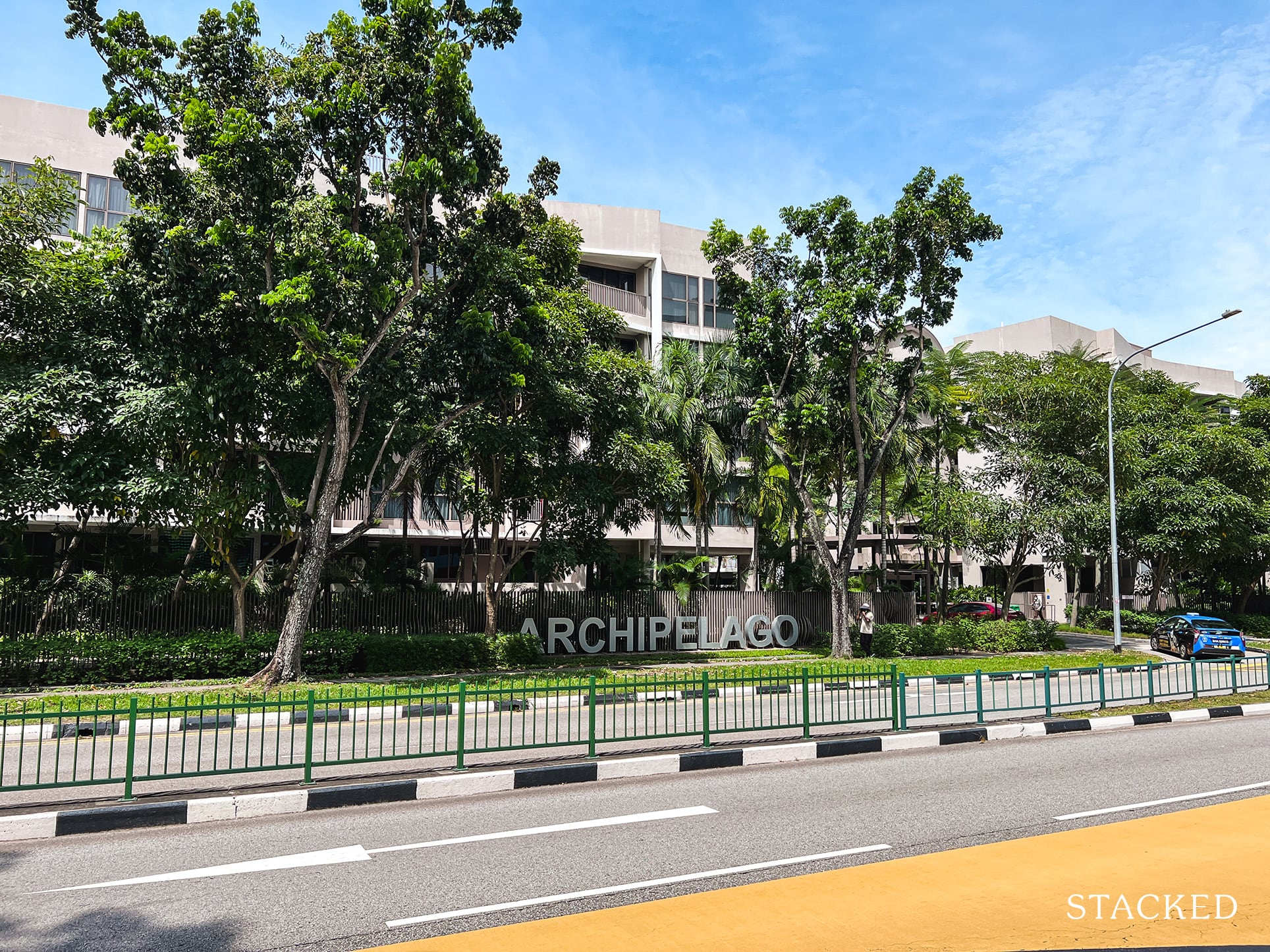 11
min read
Ever since the start of my series on landed property in Singapore, there has been a number of requests for reviews of properties in the East, so this week we'll be looking at 7 townhouses in East Singapore. These span from District 15 to 17, all of which may be bought by foreigners without LDAU approval (except Summer Gardens). At the time of writing, there were no townhouses on sale in District 13, 14, and 18.
Euhabitat (D15, 99-year leasehold, $2.75-$4.5 million)
First up is Euhabitat, a 99-year leasehold development in Eunos that TOP-ed in 2016 and was developed by Far East Organization. In addition to the townhouses, there are low-rise 5-storey blocks that house regular condo apartments as well as SOHO units. There are a total of 748 units spread over 419,000 sq ft (51 of which are townhouses.)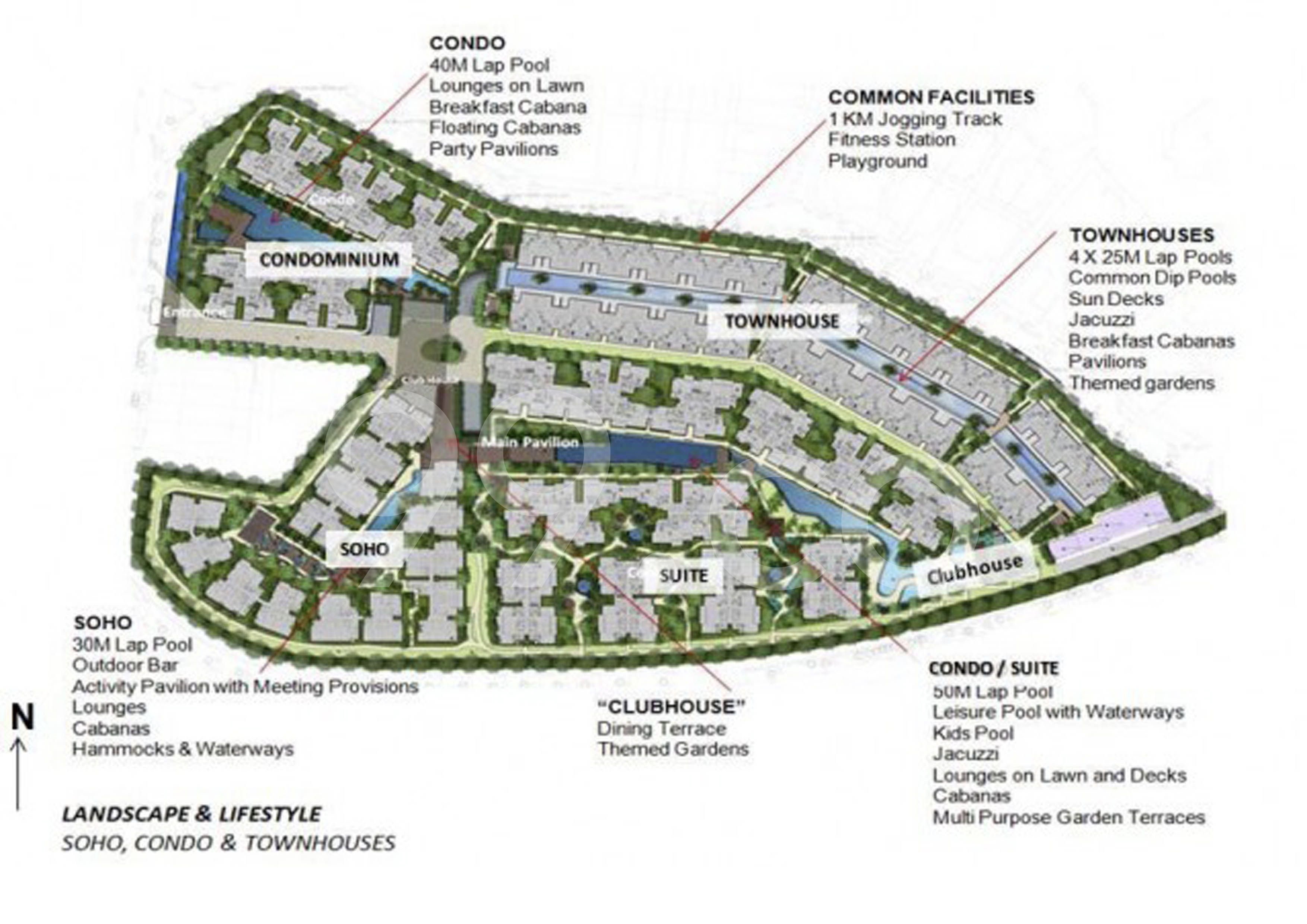 The townhouses here range from around 3,380 to 3,563 sq ft, have 4-floors (including the roof terrace & basement) and 4 bedrooms (as well as 3-4 bathrooms.) They're lined in 2 parallel rows flanking the 25m swimming lap pools, so each townhouse has direct access to the swimming pool. This can be both a blessing and a curse, depending on one's noise-tolerance (and neighbours). The ground floor has a nice high ceiling but one of the downsides for me (I may be nitpicking here) is that the stairs are really narrow. I think you'd need to walk up and down in a single file? (Click here for a video of the interiors.)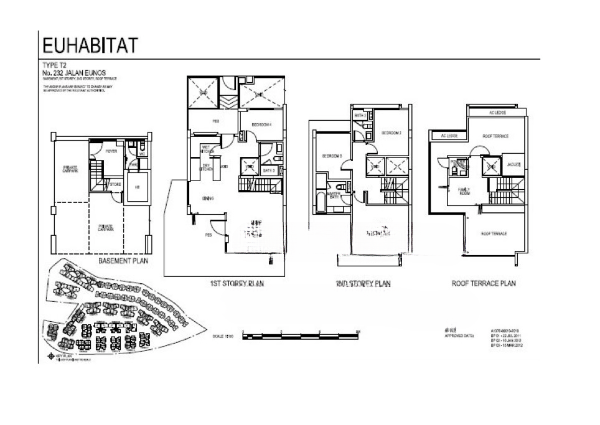 Unique points:
There is a 1 km jogging track in this development
There are 3 primary schools within 1 km: Eunos Primary, Telok Kurau Primary & Maha Bodhi
Relatively low maintenance: As of Jan 2021, maintenance & sinking fund fees came up to about $560 per month. In comparison, The Vision at West Coast, which is slightly larger, has monthly fees of almost $900 and Kew Green $780.
The Seawind @ Telok Kurau (D15, Freehold, $5.5 million)
A 222-unit development, again by Far East Organization, The Seawind @ Telok Kurau TOP-ed in 2015. It has 5-blocks spread over 153,000 sq ft of land and is one of the few freehold townhouses around. (It is the ONLY freehold development in both this week's and last week's articles on townhouses, although NEWest, which is in West Coast, has a lease of 956 years i.e. "almost as good as freehold.")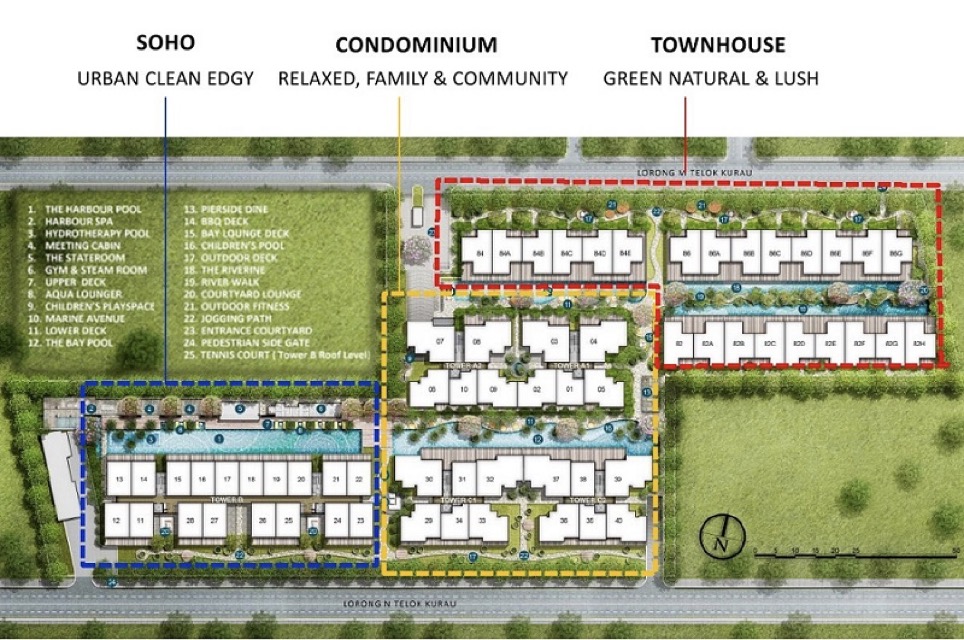 The 23 4-levels, 4-bedrooms townhouses (including a basement and roof terrace) here are very similar to SeaHill (covered last week and also by Far East) but have a different colour scheme. Like Euhabitat, NEWest & Seahill, the townhouses at The Seawind have direct access to the pool from their patios. Although the dining room is on the smaller side, it adjoins the outdoor space directly, so it is very convenient to dine al fresco. (The living room is decent-sized.)
Moreover, not only is there a lift in some units (it was offered as an option when launched), but in the event that said lift breaks down (or 1 doesn't want to fork out the maintenance fee), there is also a bedroom and bathroom on the ground floor for the elderly in the family. The townhouses range in size from 3,247 to 3,608 sq ft and have 2 car park lots at the doorstep of their basement.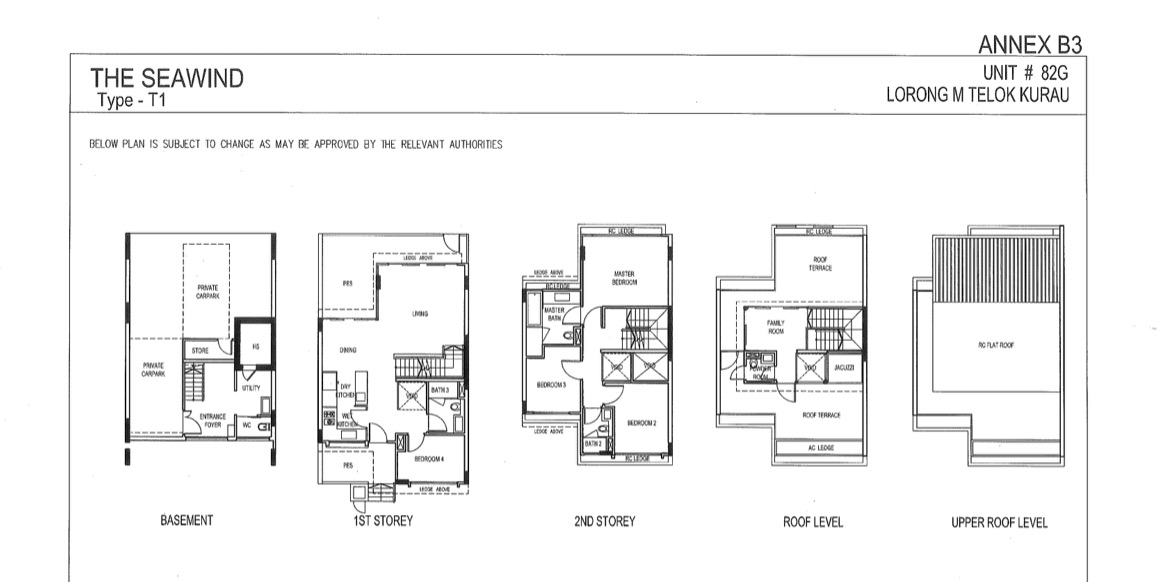 The Seawind stands out in Telok Kurau as most of the developments in the area are boutique ones (i.e. tend to be harder to sell compared to full-facility condos & with fewer facilities): in contrast, there is a swimming pool, gym, tennis court, etc here.

Unique points:
Freehold status
Located in a mixed-use landed enclave, which is mostly low-rise buildings.
2 popular schools within the 1km mark: CHIJ Katong & Tao Nan
In between 2 MRT stations: Kembangan (16 minutes walk via the Signup Park connector) & Marine Terrace (yet to be completed)
The same park connector brings you to East Coast Park in 20 minutes- personally, I find that it's not just the time spent walking that matters but also the surroundings (for example, a 10 minute walk on a busy road, with tons of pollution, definitely feels much longer than a 10 minute walk down a nice park connector.) If that's too far a walk, Telok Kurau Park is a 9 minute stroll away.
I'm a big fan of the louvred windows (although not in that colour) which allow light and wind into the rooms but don't make you feel like a hamster in a cage (i.e. allows you privacy from your neighbours' prying eyes)
The top floor is not 100% outdoor terrace: there is a small covered area and a powder room, making it more practical & ideal for entertaining
If you want a bigger property in this area, but aren't keen on a townhouse, there are also 8 4-bedders at The Seawind that range between 2,019-2,265 sq ft.
Kew Green (D16, 99-year leasehold from 1994, $2.75-$3.258 million
Developed in 1998 (again by Far East – am I the only 1 sensing a theme here? I'm starting to feel like I'm writing an advertorial, although I can assure you that they're not paying me!). Kew Green has 111 3-storey units, with 4-5 bedrooms, that range from 2,842 to 4,413 sq ft in size. Perhaps because the development is on the older side, maintenance is $780 per month. However, the benefit of age is that it was built before square footage started getting eaten up by outsized balconies, AC ledges, bomb shelters, bay windows, and whatnot, so the bedrooms and bathrooms are all of a practical size.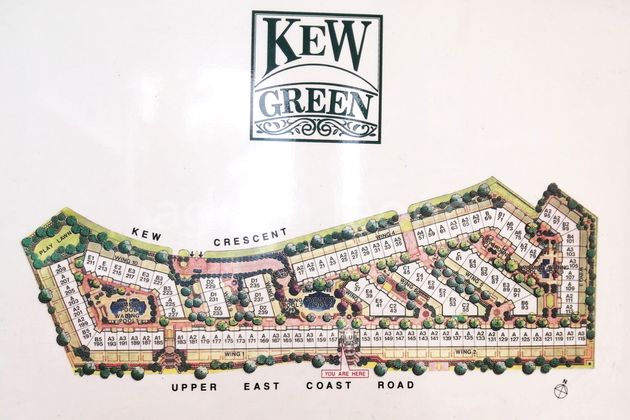 The main selling point of Kew Green is that it is right next to the upcoming Bedok South MRT station (Thomson East Coast Line), which is set to open in 2024. There has even been an entrance to the station planned for right next to the condo gate, so public transport is super convenient here. Unfortunately, it is not the most elderly-friendly development, with steps both inside & outside of the house. (No private lift, being a 90s-development.)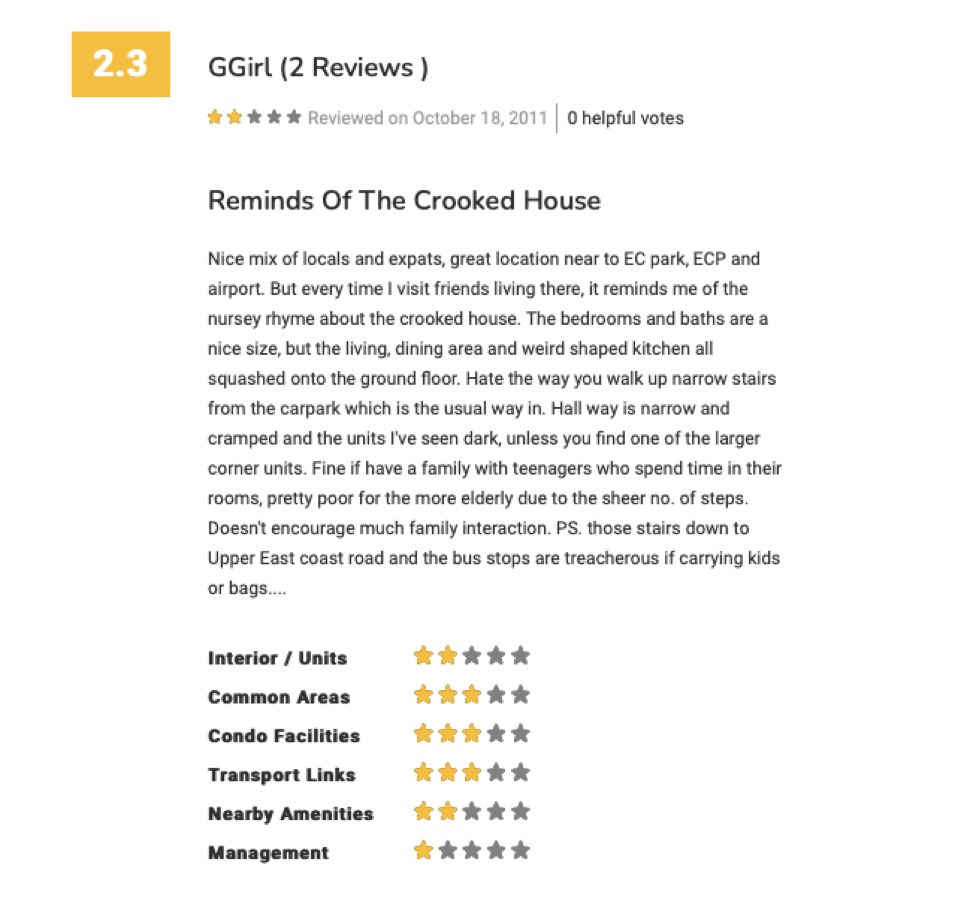 If you enjoy a diverse living environment, Kew Green may be the place for you. Many of the (positive) PropertyGuru reviews appear to be by expats. Click here for a tour of a house.
Unique points:
More traditional architecture: it feels more like a terrace house unlike many other townhouses  which have the unique "cluster house" layout. 
100% roof terrace
It is right next to the upcoming Bedok South MRT station (scheduled to open in 2024) and there is a planned entrance to the station beside the condo gate.
Bedrooms are all quite spacious in size, especially compared to the newer developments
Despite being a leasehold development of over 20 years of age (usually the turning point for leasehold), Kew Green made the news in Dec 2021 for being one of the most profitable sales (a 201% profit of $1.74 million, or an annualised profit of 5% over 23 years. Not bad for an "old" condo!)
Archipelago (D16, 99-years leasehold from 2011, $3.38-$3.6 million
A 577-unit development by Singapore Land & UOL Group (which also developed Meadows @ Peirce, a spacious freehold development that I previously reviewed). Archipelago was branded as a "home in a park" when it TOP-ed in 2015. There is a long frontage (almost 400m in length) facing Bedok Reservoir Park, so many units have unblocked, lush greenery views, as well as a back gate that takes you to the park. (Unfortunately, these green views are reserved for the regular condo units and not the townhouses!)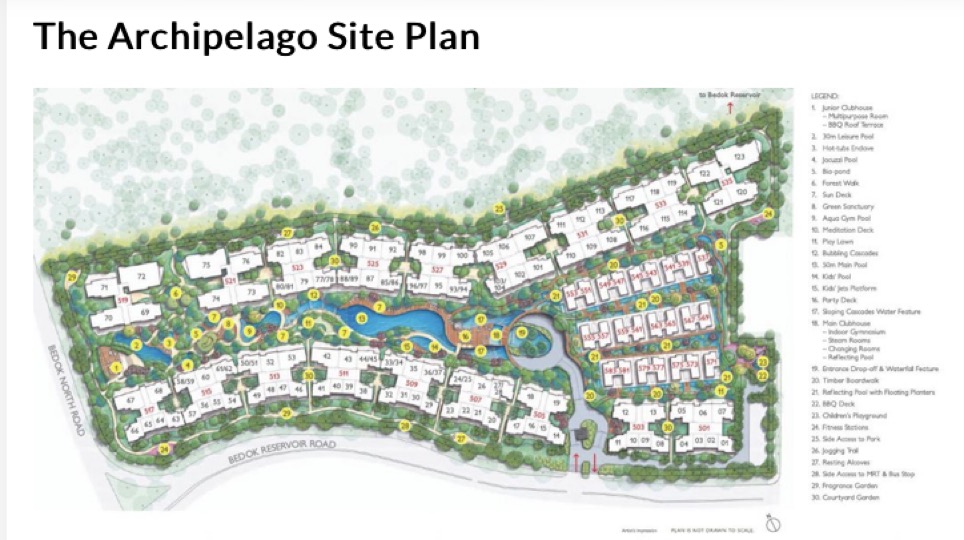 Archipelago is built on a plot that is 491,000 sq ft in size, and this houses 18 blocks of five-storey buildings, including 24 three-storey strata houses that have a build-up of 4,400 sq ft. Unfortunately for the townhouses, they're built in 3 parallel rows in-between two 5-storey condo blocks, so they don't enjoy good views.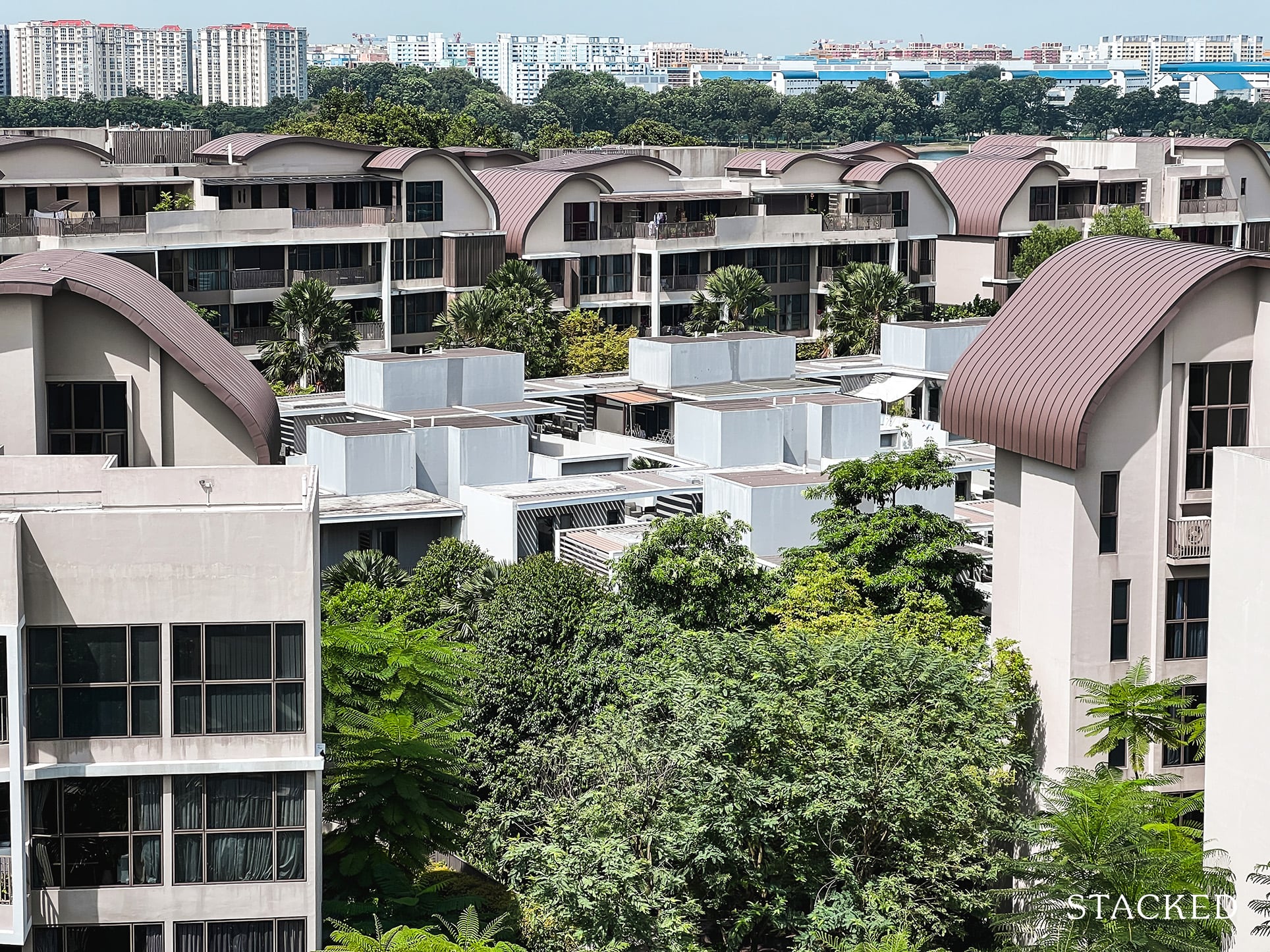 If you're looking for more space but are not sold on the idea of townhouses, Archipelago also has large condo units: 15 5-bedders of about 2,500 sq ft with private lift lobbies & full park frontage. There is a 2,637 sq ft unit with a view of the reservoir currently for sale, as well as 15 penthouse lofts. I have to be honest – if I was buying a larger unit at Archipelago, I'd go for the park-facing unit & not the townhouse!
As befits a development of this size, Archipelago has full facilities, including a 50m pool, a 30m pool, a BBQ roof terrace deck, an aqua gym, and more. In terms of accessibility, it's walking distance to Bedok North MRT (400m away) as well as an easy drive from town (it's very near the PIE exit.) For parents, Damai Primary is within 1 km.
As for the townhouses themselves, they're on the larger size – 4,400 sq ft-ish, with 5 bedrooms and 4-6 bathrooms, depending on the unit you are looking at. Thankfully for people who prefer quieter units, they do not overlook/open into the pool although units 571-683 are next to the play lawn. Note that while there is no lift inside the townhouse, it is still relatively elderly-friendly as it has a bedroom & bathroom on the ground floor (perfect for Grandma or Grandpa).
Note: Unfortunately, Archipelago saw sharp price decreases during the onset of COVID-19, with the average transaction 29% lower than the initial purchase price. (Click the link for more details.)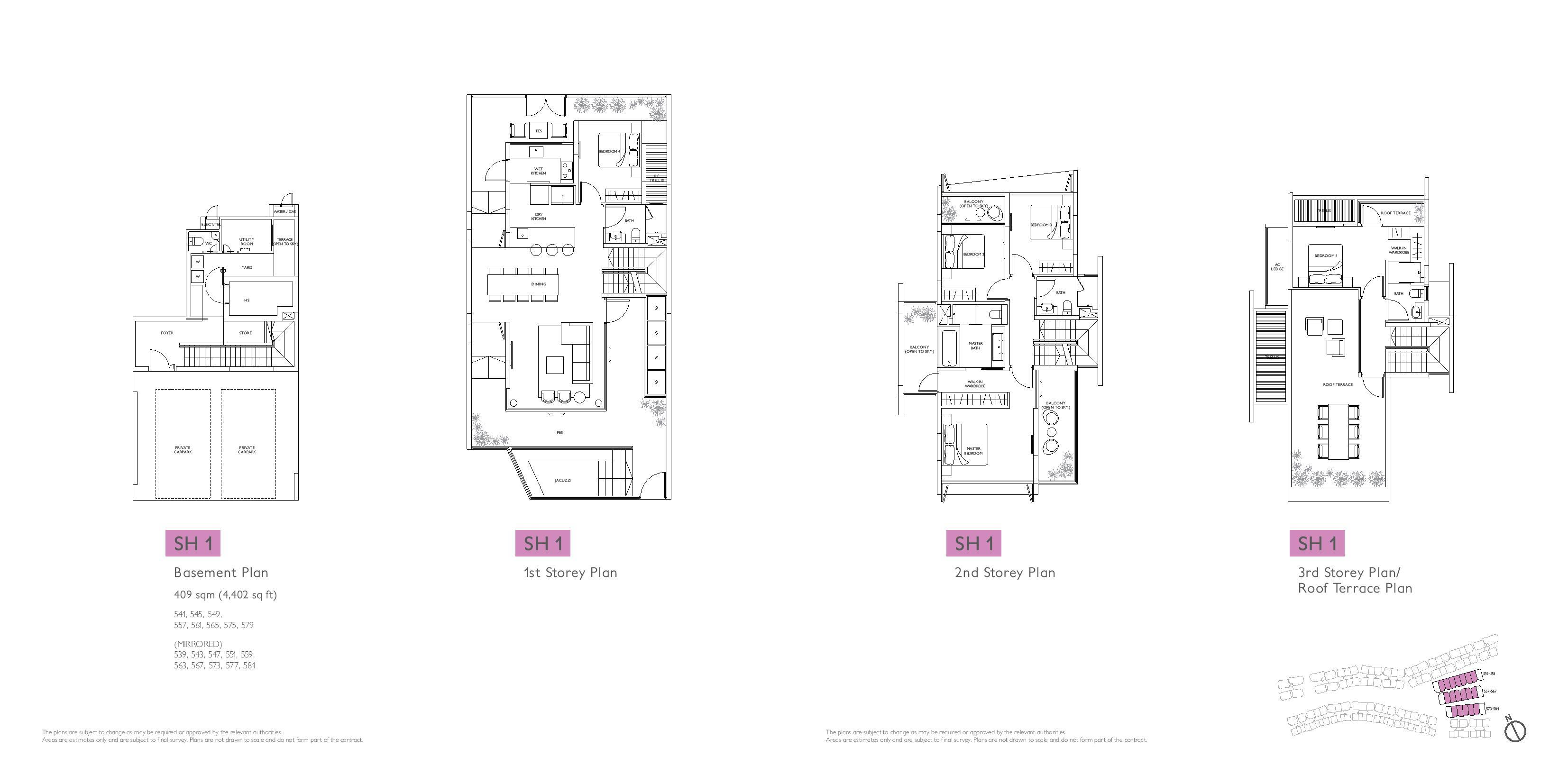 Unique points:
There are no more undeveloped residential plots in the vicinity & Archipelago is the newest condo in the area. (There are 7 other condos at Bedok Reservoir- click here to see my review of Waterfront Isle & Waterview.)
There is a bedroom/family room & bathroom on the top floor which is well laid-out as guests can access the roof terrace (and bathroom) without going through the bedroom. (If the bedroom is on the right, then the terrace is on the left of the stairs, it varies depending on the unit.)
This is pretty random as it's not related to the townhouses, but I really like how the AC ledges for the patio condo units are top-hung, so it doesn't become dead space (you can use the area underneath it)
eCO (D16, 99-year leasehold,$3.8 – $5.2 million)
Another Far East project, this time in conjunction with Frasers & Sekisui, eCO TOP-ed In 2017 and is located on Bedok South Avenue 3. It was billed as "a community in a garden", maybe because of the rain trees that line the street or the conserved trees that were once part of a forested area and which now surround the townhouses.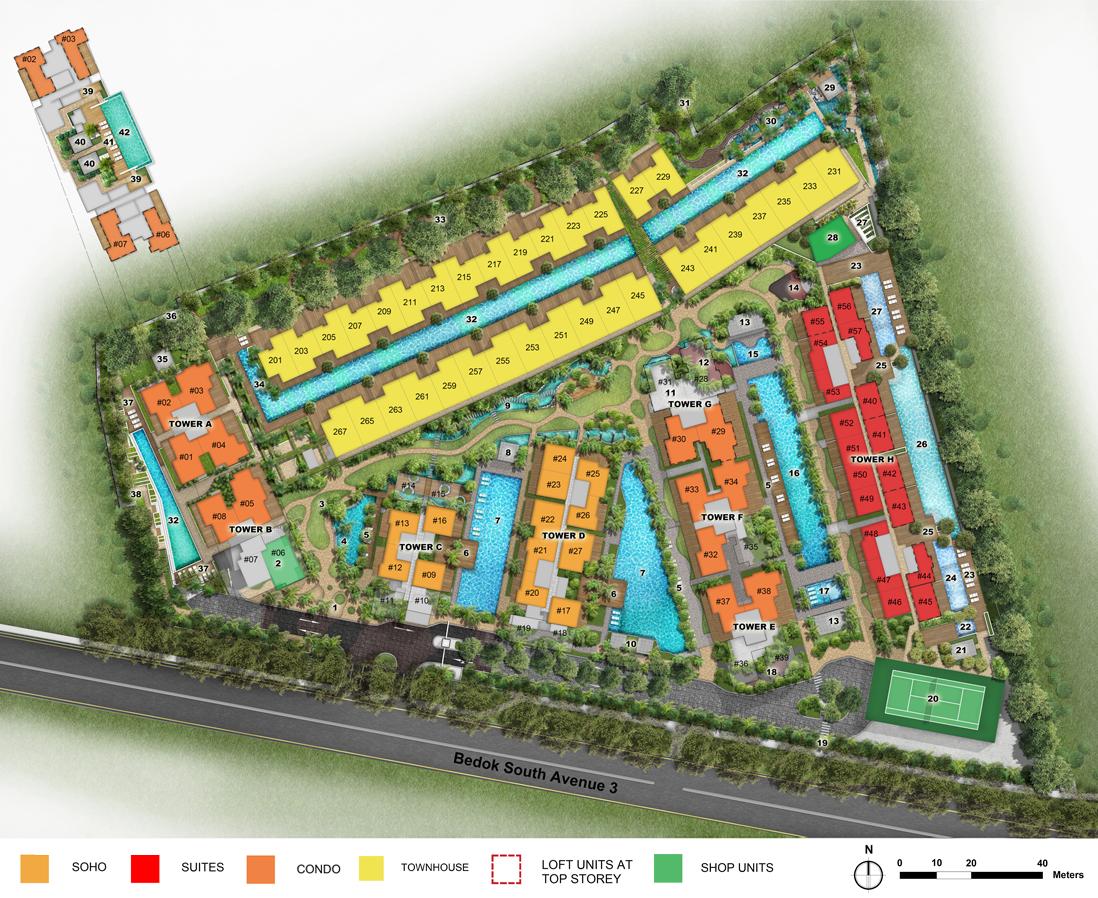 eCo consists of 748 units, 34 of which are townhouses, on a plot slightly over 300,000 sq ft in size – i.e. about 1.5 times the number of units at Archipelago but on a piece of land almost 40% smaller. It sits beside a landed enclave, whilst being within walking distance to Tanah Merah MRT.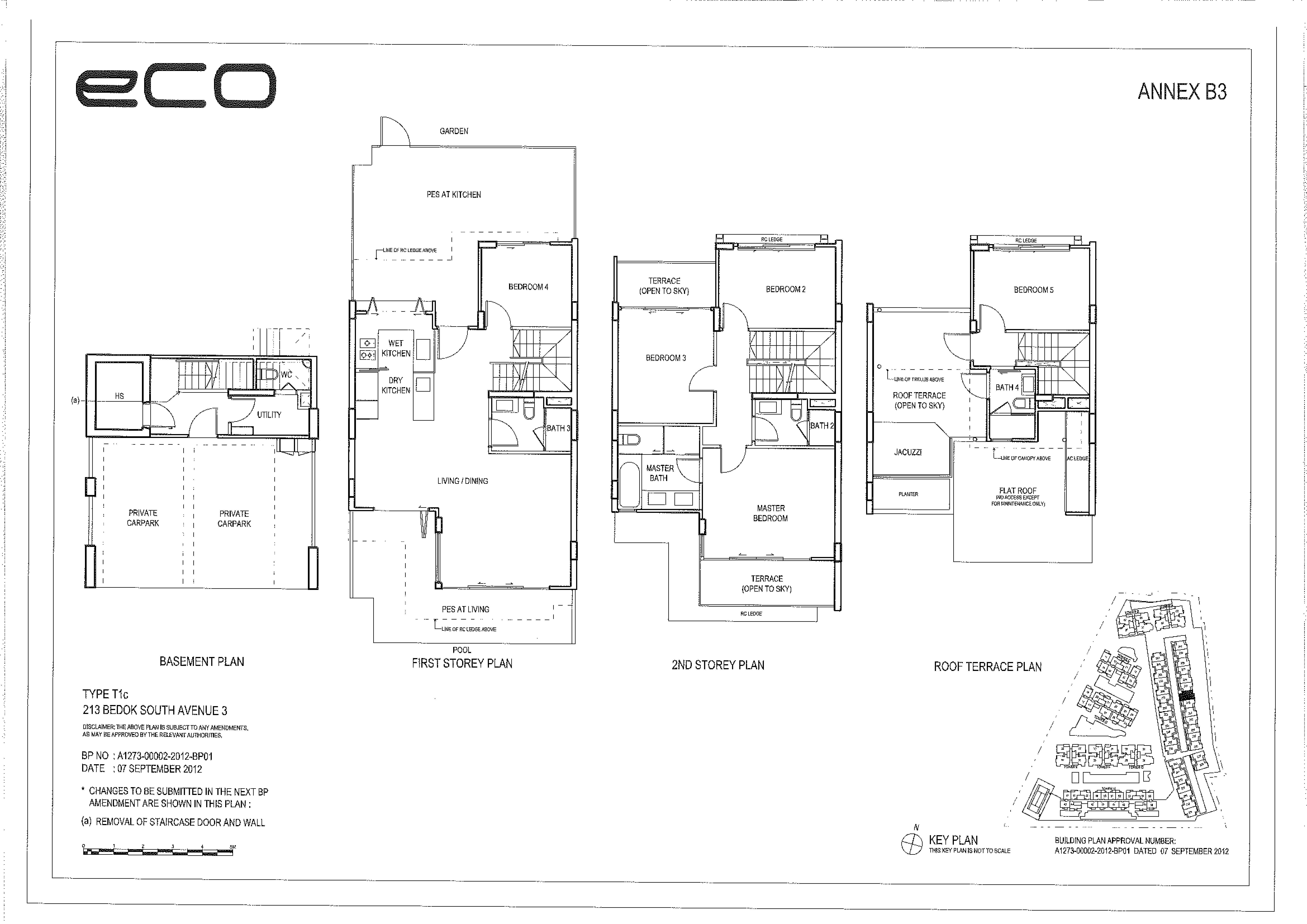 The townhouses have 4 levels (including a basement) and are about 3,853 sq ft in size. Moreover, some have a private lift. Like most of Far East's projects, the houses line the swimming pool in 2 parallel rows and have direct access to it. (Click here to see a video of a townhouse.) The row that is adjacent to the border of the condo faces lower-rise buildings and is set on higher ground, so the houses here have some of the loveliest backyards I've seen in small landed houses (unobstructed views and bright, click here to see photos.) If I was looking for a townhouse in Bedok, that view would be a huge pull factor for me. (The issue with many terrace houses is that they're usually situated very close to their neighbours in front, behind, and beside them, so there isn't a lot of light coming through the house, but thanks to the elevated position of these townhouses, these are beautifully lit. I imagine the wind flow is pretty good too.)
On the not-so-positive side, reviews of the development appear mixed. Whilst most are pleased with the condo, there were 3 in a row from disgruntled people: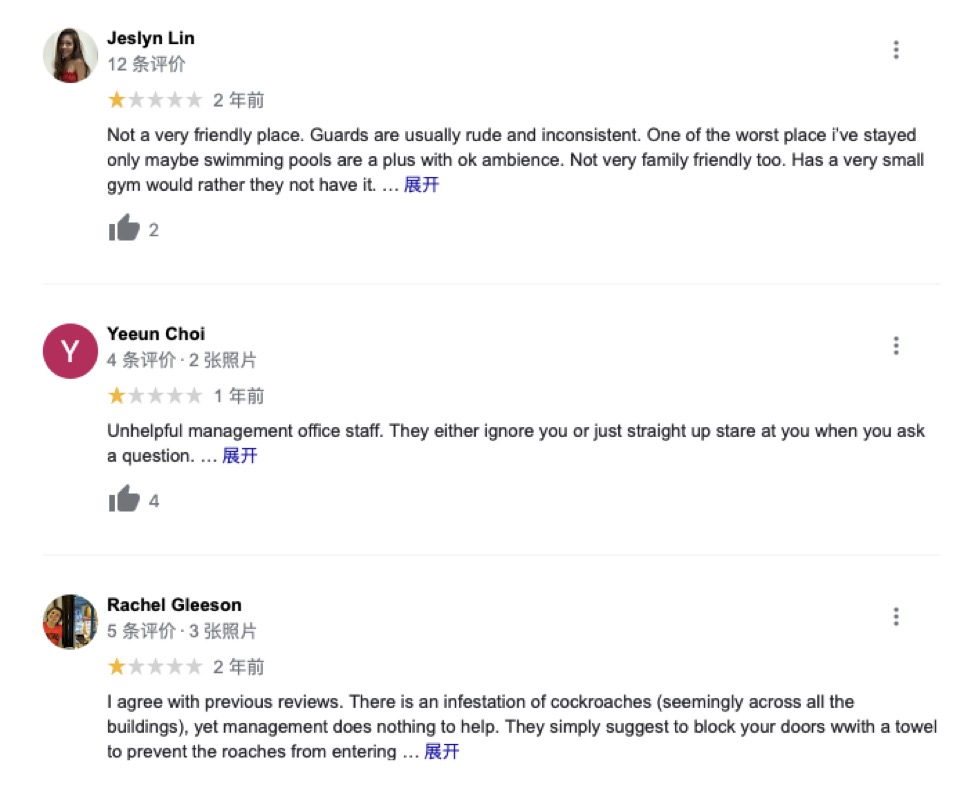 Unique points:
The townhouse has windows in the stairwell, which brighten what is traditionally a very dark area
Set on elevated ground
According to the sales statistics on PropertyGuru, the last townhouse sale at eCo was in 2017 for $3.39 million, so it seems to be quite a "rare" commodity.
There is an infinity pool.
Note that 4-5 townhouses have semi private "infinity pools" in their backyards as there is no townhouse in front of them, so the edge of the pools blend into the horizon.
Like other Far East townhouses, the attic level consists of indoor and outdoor space, which I personally find to be the most ideal arrangement.
Summer Gardens (D16, 99 year leasehold from 1995, $2-$2.8 million)
We previously covered the 86-units Summer Gardens in our article on cluster housing under $2 million in Jan 2021.
Note: if you're interested in this area but not Summer Gardens, The Springfield is a cluster development just 850m away (while it TOP-ed before Summer Gardens (1999 vs 1995) the leases for both actually start from the same year (1995).)
Palm Isles (D17, 99 years-leasehold, $3.1 million)
TOP-ed in 2015 and developed by the well-known Frasers Centrepoint Homes, Palm Isles is a 429 unit condo located at Flora Drive. Out of these 429 units, only 28 are strata-landed houses (half of which are 4-bedders, and the rest 5-bedders.)
The strata-landed units here are quite unique: as the land is sloping, the 5-bedders (about 3,755 sq ft) are actually built on top of the 4-bedders (about 3,013 sq ft). To be honest, I don't see how these are landed homes at all. I have yet to see a "real" landed home in which you have neighbours living above or below you! Isn't one of the reasons for moving to a landed home getting away from noisy upstairs neighbours?! (To be fair, the developer calls these units "Garden Homes" but they're almost always marketed as "strata landed" in resale property ads.)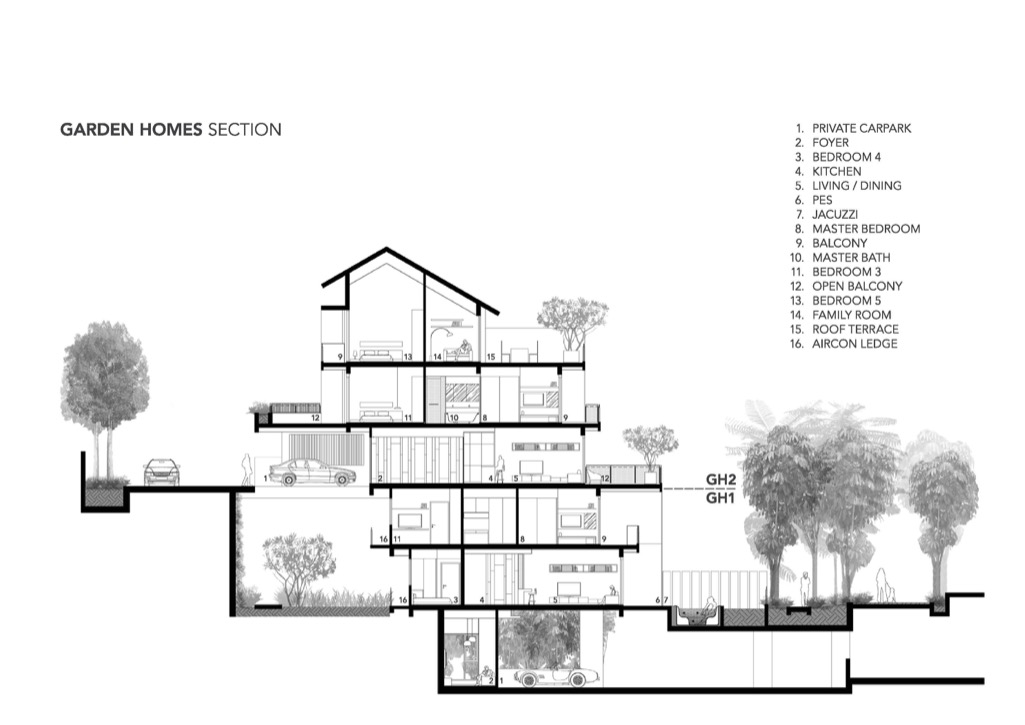 Obviously, the 4-bedder homes are darker than the 5-bedders, being located underneath: the 4-bedders have an open garden in front, but their backyard is more of an enclosed courtyard than a real back garden (it is located underneath the car porch of the 5-bedder Garden Home.) If this all sounds very confusing, have a look at the illustration of the 2 units above.
Even for the elevated 5-bedder homes, the kitchen is rather small & darker than the ones in some of the other developments on this list. I suspect this is because the ceilings here are average height whilst the others have high ceilings (but have not measured so can't confirm.) Also because the bomb shelter is placed in between the wet kitchen and the living room, the flow of light is blocked. (For most of the other townhouses that I've reviewed, the bomb shelters are mostly placed in the basement, which is a sensible choice, as basements are naturally dark.)
As for accessibility, there is a bus stop opposite the condo (Bus No. 5 I believe) and it is 4 stops away from Changi MRT or a quick drive to Changi Airport. (There is also a shuttle bus on weekends.) Not that many of us are doing a lot of travelling these days, but the sort-of-new Jewel at Changi must be a welcome development for residents. If you drive, the condo is next to the TPE, which unfortunately means that some units are rather noisy.
Unique points:
The elevated 5-bedder homes have their own car parches outside the front of the houses, which fits up to 2 cars, making it feel more like a landed house (most townhouses have allocated basement car part lots at the foot of their units.)
Larger than usual balcony/ outdoor dining space outside of the living room
Small shop within the development
No private lift in the townhouse
There are 5 types of pools (and a tennis court).
We've reached the end of our list of townhouses in East Singapore. If none of them has caught your eye, join me again next week as we cover the townhouses in central Singapore.