Buying
7 Reasons Why Buying A New Launch Is A Pain Today + Why We Built A New Platform
Ryan J
September 3, 2022

7

min read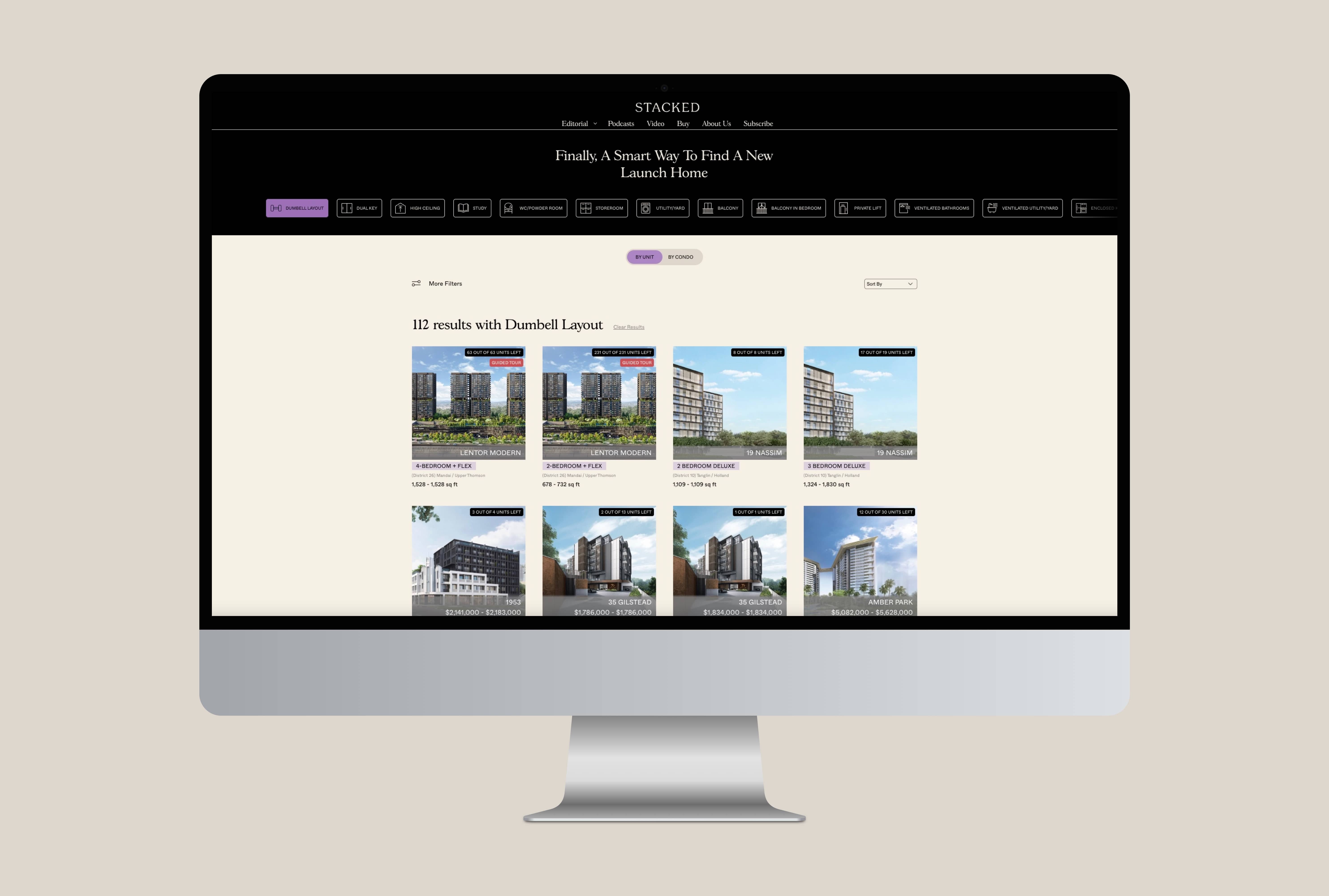 7
min read
The year is 2022. We can buy almost absolutely anything on the Internet today, AI has reached a stage where they can creatively form the most astounding images, and we have robots that are able to perform gymnastic routines:
Imagine what machines will be able to do in the next 5-10 years.

Boston Dynamics' machine shows its flawless gymnastic routine. pic.twitter.com/ZgxrfbhYWe

— Vala Afshar (@ValaAfshar) September 1, 2022
But despite all those technological advances, what's really astonishing to me is how we are still buying property in Singapore. More specifically, how we buy new launches.
Anyone that has tried to buy a new launch recently knows how tedious and convoluted the process can be.
From rushed timetables to misleading information, and a lack of pricing or knowledge there's a lot a buyer has to deal with.
As such today, we're bringing about a new launch platform (see it here!) in collaboration with the most reputable visualisation company in Singapore (VMW). One that is buyer centric, takes into account what a buyer truly needs to know, and with detailed visualisation to really help you envision what it's like.
Here's exactly why we are building this:
1. We currently have no way to search by specific features
Picture this. You want to buy a 2 bedroom new launch condo, but you like to cook, and require an enclosed kitchen. Veteran condo buyers will know that this is quite rare. But how do you even find such units?
So far, all the property portals we've encountered haven't allowed you to filter by feature. You can filter by location, price, age, etc., but what you can't do is identify units with high ceilings, units with mezzanine floors, units with unimpeded sea views, etc.
This is quite a time waster since you can end up with a big list of projects, of which none end up having units that match your needs. The only other alternative right now is to trust realtors, and task them with hunting down units with those specific qualities (this can take a while, even for an experienced property agent – they're often restricted by the same limited online search tools that you have).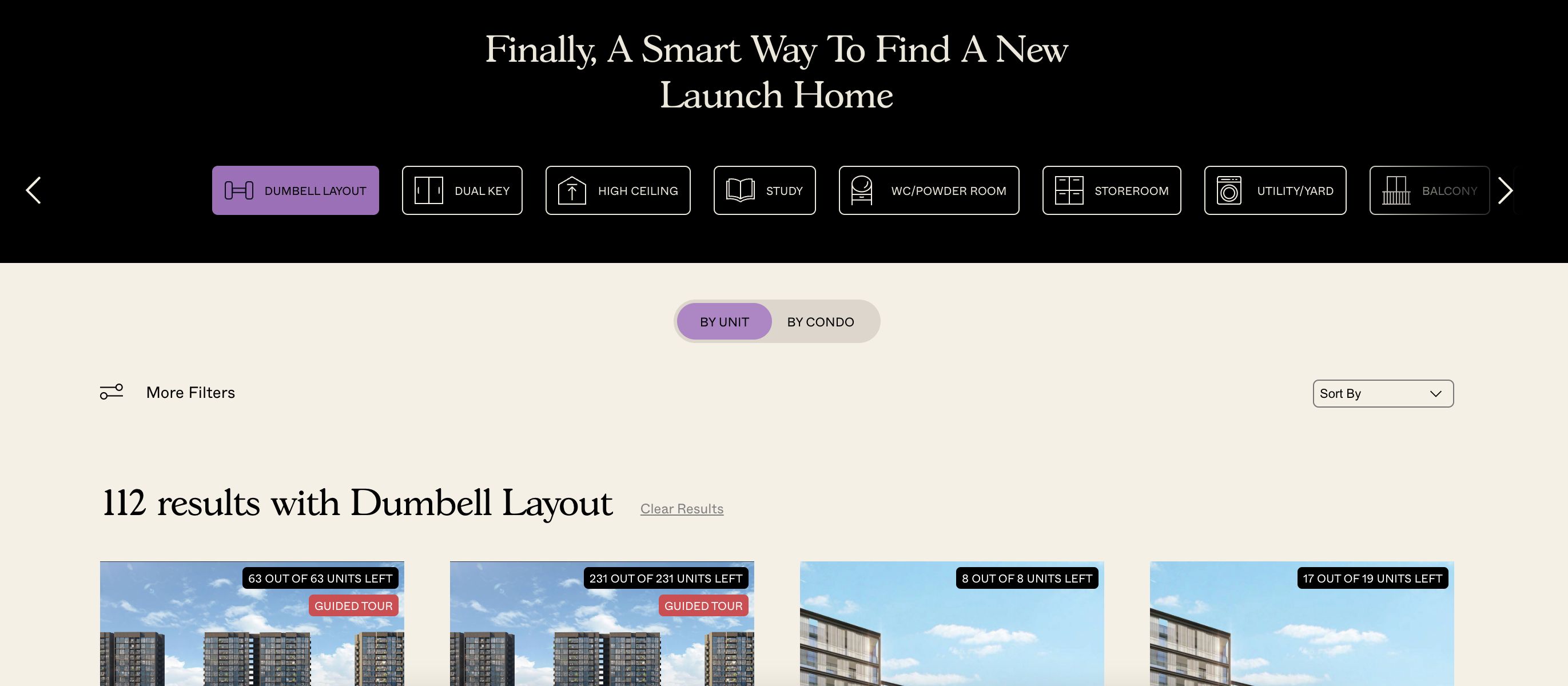 We've worked all this out, with buyer centric categories for you to easily browse. There's some pretty unique combinations so do try them out!
Try it here.
2. There's an asymmetry of information at new launches
This is another issue that many buyers probably don't even realise. If you are looking for a new launch, how do you even find the price of a specific unit, or what units are available?
Buyers don't know how many units are left, or what the various units cost (at least until after some time after launch day). Whatever the agent says, the buyers more or less have to take at face value as that is the only way you can find out any price or unit availability.
This can sometimes be used to push buyers toward certain units; such as if an agent insists a certain stack is better and is close to being sold out. Buyers also have no way to verify how much of a discount they're getting – for all they know, they could be the ones paying the highest price that day.

To be sure, this will be a work-in-progress and a hard one to get completely right, but we believe that making pricing and unit data transparent will only serve to benefit buyers positively.
Try it here.
3. There's limited awareness regarding smaller launches
It's a simple fact that larger developers have bigger marketing budgets. Some of you may recall in 2019, for example, how Treasure at Tampines and Normanton Park virtually drowned out the marketing of other launches that year.
Chances are, if we mention Zyanya or Jervois Prive, only a few of you will know what we're talking about. These are two smaller developments; but they didn't stand a chance at gaining as much awareness, given the much bigger marketing campaigns for the other launches.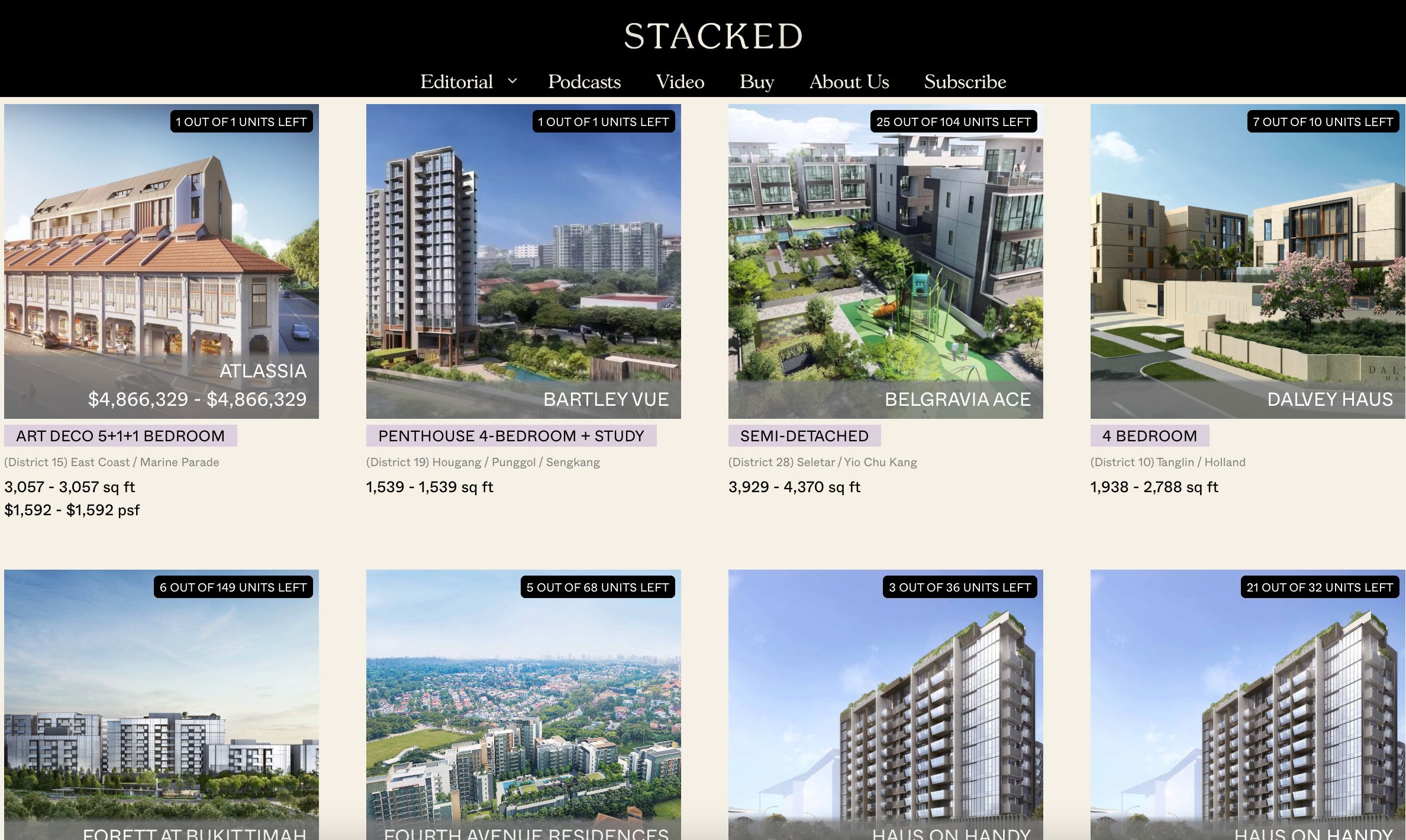 In fact, there were around 60 new launches in 2019, a phenomenally busy year; but when we asked around, most people could name at most four or five launches that year at best (almost invariably Treasure at Tampines, Normanton Park, One Holland Village Residences, and Avenue South Residence).
This can be a disadvantage to home buyers, as there's a chance you'll miss out on a development that's better for you, on account of less marketing. So when you're searching for a new launch, don't stop at the most visible choices – ask multiple agents about smaller developments as well.
Also keep in mind that, because the larger developers can typically also afford higher commissions, there may be an inclination for more agents to push you toward these projects.
As such, we've built the platform to house all new launch properties – whether they are big or small.
See it all here.
4. The showflat only reflects certain unit types
Show flats are expensive to build, and it's never going to be feasible for the developer to build every unit type to show. Building a proper show flat can run into the millions, and the cost of renting the land, daily running costs, and not to mention, the environmental costs of building and tearing down such a structure is prohibitive. As such, the units that you see in a showflat are the ones the developer is most interested in selling. If the unit you want isn't on display, then you need to resort to a 2D floor plan and your imagination.
Some solutions have been devised in recent years; one of the more promising ones being virtual reality reconstructions. This at least helps you to visualise the space better; and it could mean you don't need to head down to the physical showflat.
With how expensive it is to build a show flat, we could be starting to see all but the biggest developments build show flats. For everyone else? That's where 3D visualisations come in.
Our vision is a platform where you can view every single exact unit type in the form of a 3D tour, see the exact view that you'd get from your balcony, along with useful guided commentary. Trust us, it's way better than just starting at a 2D floor plan.
5. We need to better identify fake "official developer" websites
Agents are often able to set up an official-looking website, before the developer can be done with theirs. This is partly because of apps that let agents churn out template websites (we're told Propnex PA has this function), whereas developers take a lot more time and effort to build their sites. It's also all about the SEO game, and very often you'd only find the actual developer site only on the 3rd or 4th page of Google.
Here's how you can identify the genuine developer sites.
If you're a new home buyer though, chances are you don't realise there are dozens of "official" developer sites that are anything but. These sites sometimes bait you with inaccurate pricing, or understate the distance between the project and key amenities like the MRT.
Besides misinformation, buyers are often under the impression that – because they went through the "official site" – they are dealing with an official member of the sales team. In reality, they're dealing with a regular agent, who likely doesn't have exceptional information or connections regarding the project.
There should be some regulatory changes here, at least to prevent these websites from claiming to be "official".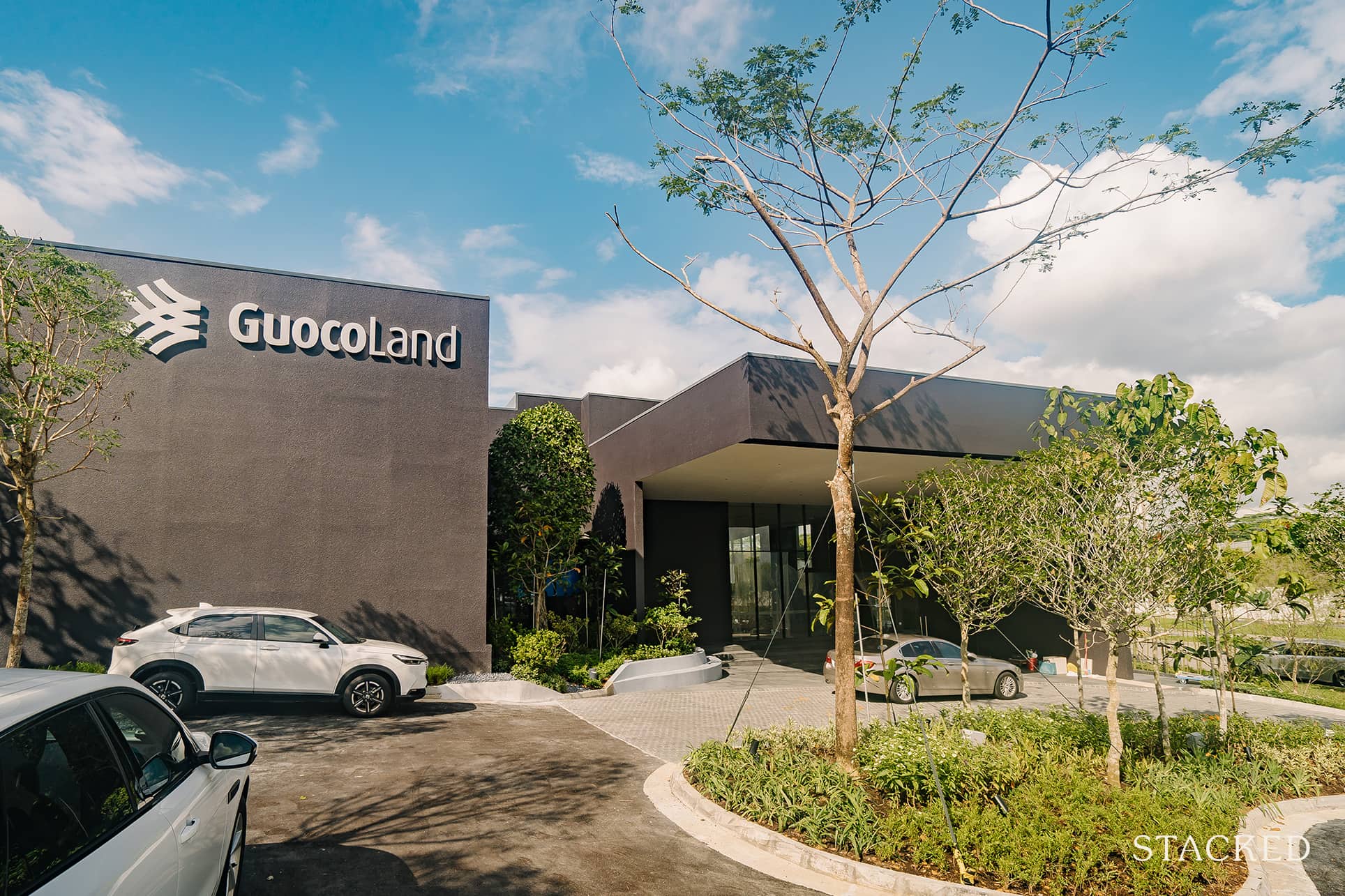 While we don't claim to be working with all developers right now, it's baby steps for us, with GuocoLand the first developer to join us onboard.
6. Having to put down cheques as a sign of interest
Using cheques for transactions these days is, well, dated. In fact, in recent years, we've discovered many young buyers don't even have a cheque book, as they've never required one until going to a showflat.
It's quite troublesome to get the chequebook (especially if this is the one time in your life you're using it), and physically pass it to an agent. There's no reason why we can't use credit cards, debit cards, etc. to make a deposit, the same way we do with hotels, car rentals, etc. This may even give some buyers a chance to earn points on their card.
It's also more secure, since cheques are physical things that get damaged or misplaced. Consider, for instance, a cheque that goes missing at the bank, and which then required a few days for them to locate – or a cheque that's filled in wrong and bounces. These create unnecessary delays in the transaction process.
7. The viewing process is rushed
Many showflats are quite restricted on time. Even after booking with the agent, you may find yourself hurried along before the next batch of viewers (this all started with Covid-19 restrictions, when buyer groups had to be in isolation from each other).
In some cases, the viewing time is as little as two to three minutes; and then the buyers are stuck with just looking at things in the sales gallery – assuming they aren't chased out because of limited space.
This is a very rushed environment in which to make a major decision; and buyers should really have more time to come up with questions, and better examine the stacks.
There's also the issue of how stuffing too many people in one show flat can affect how you might perceive the space, and often in a negative way. This makes it bad for the developer, as well as for you, the potential buyer as it'll be hard to really have a good grip on what the space is like.
Buying a new launch can be a lot easier
We've always been about the buyer at Stacked, and it's our core belief that everyone should have all the right information to make an educated decision.
Buying a property is likely the biggest decision that anyone has to make.
Everyone should have access to be able to check prices across the board, know what units are available, and have the right visuals and information.
In a world where transparency is hard to come by and agents hold the power, it's more important than ever to make decisions based on adequate research, so that you can really zero in on what you really need from your property purchase.
For all home buyers out there, we hope to make your lives a lot easier to find your dream home.
To try out the platform for yourself, please visit: www.stackedhomes.com/new-launches. If you'd like to give us feedback, please send it to us at hello@stackedhomes.com