Resale HDB
7 Rare HDB Flats With Unique Layouts (And Where To Find Them)
Ryan J
April 13, 2023

7

min read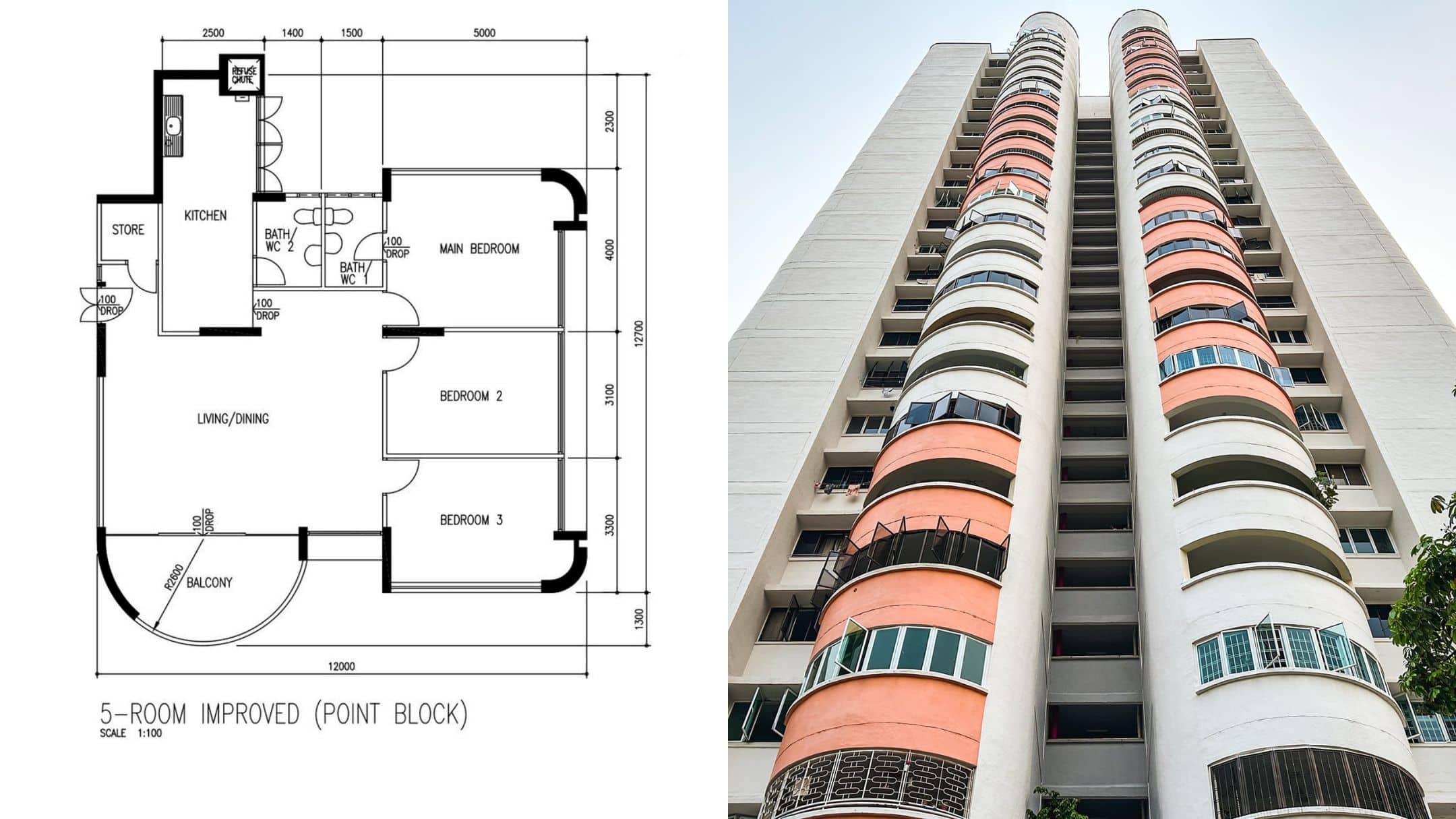 7
min read
HDB flats have gone through several iterations over the years; and in the past decade, they've become…well, standardised. Sometimes we miss the early and experimental phases though, where you could find layouts that HDB would probably never consider today.
In fact, you might even find some of these to be more sought after as homeowners place more emphasis on the uniqueness of their homes.
So for those looking out for something different from the typical HDB layout, here are some oddities you can still find in Singapore:
(These aren't the only unusual layouts though, the last time we did this was nearly exactly one year ago which you can view here!)
1. Curved balconies at Delta Avenue Block 1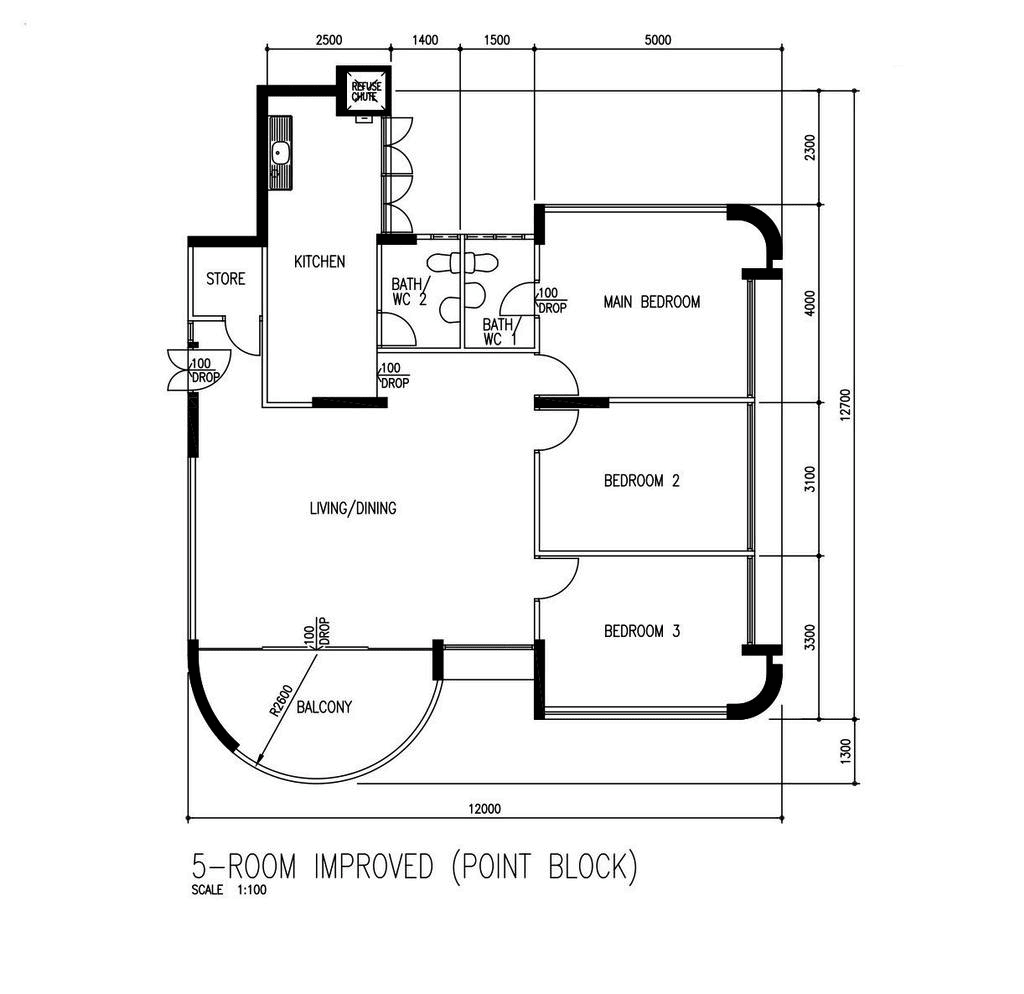 This is actually a pretty good layout with a decent-sized balcony; but like many buildings of its time, it has curved rather than squarish corners as an aesthetic choice. Still, the rooms are rectangular enough to make renovation and furnishing straightforward.
Besides that these flats are in one of the better, most central locations you can find. Besides the fact that you have views of the Singapore River along the Alexandra Park Connector, the general vicinity is not as packed considering its location.
2. Unusual-shaped Bukit Batok Executive Maisonettes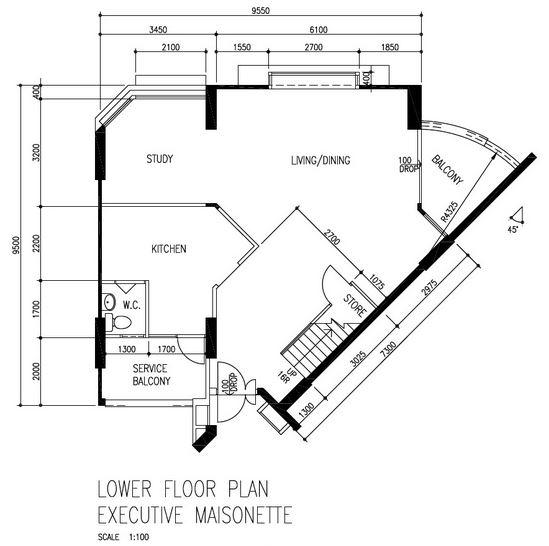 For most people looking for something different for their HDB flats, an Executive Maisonette is probably their best bet given that it is set over 2 floors and there is a lot more customisation you can do. Just check out this blog post that has detailed quite a number of different Executive Maisonette layouts that you can find.
Were such units to be built today, we suspect the bedrooms – or at least just one bedroom – would be located on the ground floor instead. Over the past few decades, there have been complaints by older folks, who have trouble getting up the stairs to the bedroom.
It's not uncommon for ground floor rooms, such as the study in the second layout, to be used as a bedroom today.
Nevertheless, this particular one in Bukit Batok has quite an unusual shape, but the large void gives you a lot of freedom to play around with the communal spaces which could be visually quite interesting.
3. 3 Balconies in a Bukit Batok Block 288/289 Executive Apartment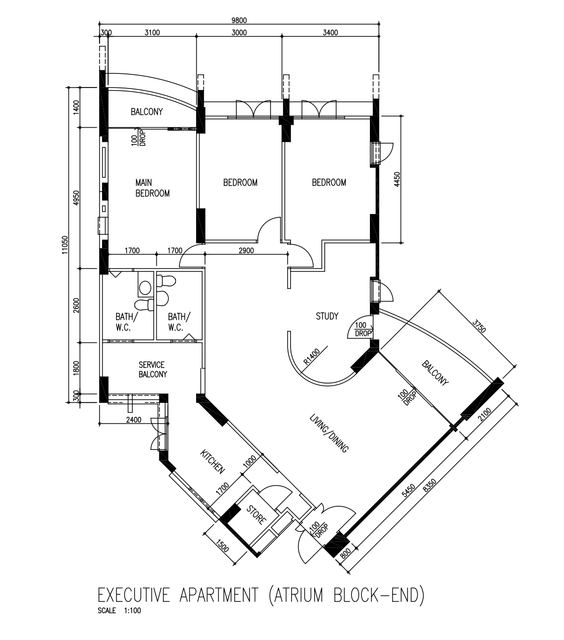 In the same location as the previous one, here's another layout that's unique, but awkward. The curved wall of the study is not going to fit anything – not bookshelves, desks, beds, etc. which are all usually designed to fit into square rooms. The same study also cuts into one of the bedrooms in an odd and rather inefficient way.
You could just knock down the wall anyway, which we suspect most people would probably do to create a bigger and more usable living/dining area.
The sharp-eyed among you would also have noticed that there are 3 balconies here too, one for the master bedroom, one for the living/dining area, and another as the service balcony for the kitchen.
4. Arrow-shaped Sunset Way Executive Maisonettes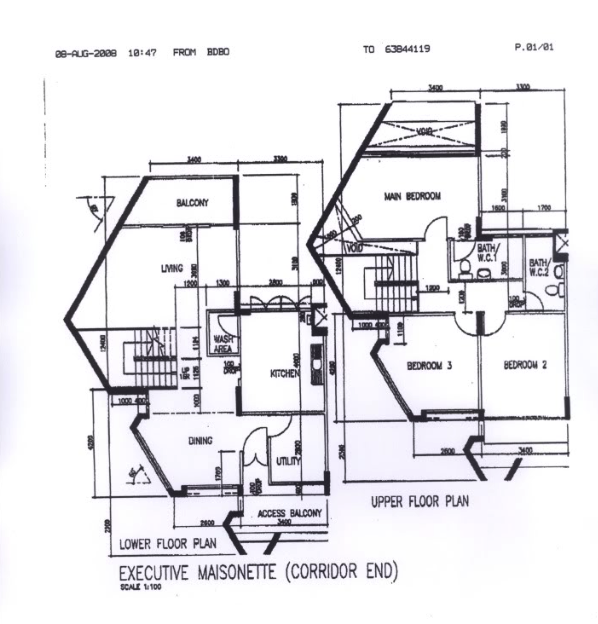 If you are looking out for even more interesting Executive Maisonette units, these Sunset Way EM units are the only ones with this unique, arrow-like structure. Note the sizeable utility room next to the ground floor kitchen, and the wash area. As we mentioned above, we feel families with older folks may be better of turning a ground-floor space – such as the dining room – into a bedroom so there's no need to hike up and down the stairs.
Again, such a shape means that not everyone would appreciate it, but if you have a good designer this could certainly be turned into something truly differentiated.
5. Angular bedrooms in Bukit Batok West Avenue 5, Block 383 to 395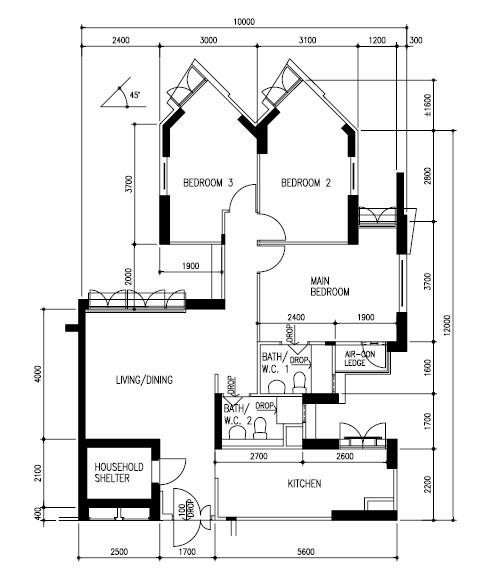 As far as strange HDB layouts go, this is one rare layout that you can find in Bukit Batok, Farrer Park, and Pasir Ris. Note the unusual shapes of bedrooms 2 and 3; these sorts of spaces are tough to use because some furniture might not fit. However, the odd angle of the windows might serve to prevent a direct blast of sunlight in the mornings. One reason we've heard is that because the flat is close to Gombak camp, the windows had to be angled to look away from the hill.
Nevertheless, if you're the type that would like to sit by your window with a book to gaze out wistfully from time to time, this would be ideal. But other than that most people might find it a little challenging to work with.
Note that one of the toilets seems to open out into the living/dining area. It's a bit awkward to come out of your toilet and be looking right at the dining table, or your guests. Also, when you open the door from inside bedroom 3, you'll be looking directly at this toilet.
Overall, this layout is novel but uncomfortable. The living room is cramped, and a good deal of square footage is wasted on weird nooks and crannies.
6. 3 Balconies in Bedok Block 140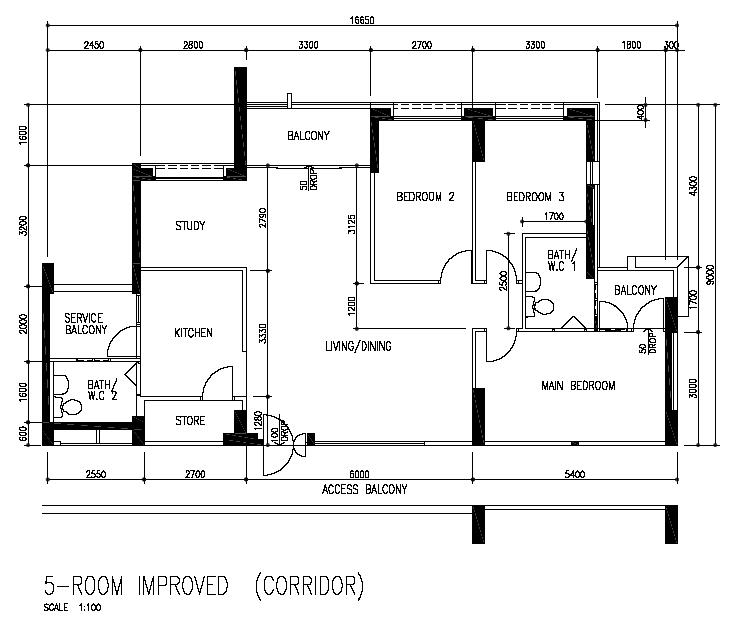 This layout has a balcony attached to the living/dining area, with an access balcony behind it. Then there's another balcony for the main bedroom and one more that constitutes part of the service yard for the kitchen. This is more balconies than we've ever seen for a single HDB unit (if you want to see more, check out the next one).
It's great for those who want to have more outdoor space, but there is more than a decent amount of indoor living space as well, so it's really not too bad.
The layout is also pretty flexible given you can knock the kitchen down to create an open-concept one and the feeling of a much larger communal area.
If we have a complaint about this layout though, it's that bedroom 3 gets the short end of the stick. The toilet cuts into its space too much and forms a narrow entranceway.
7. Funnel-shaped Sembawang Blue Riverview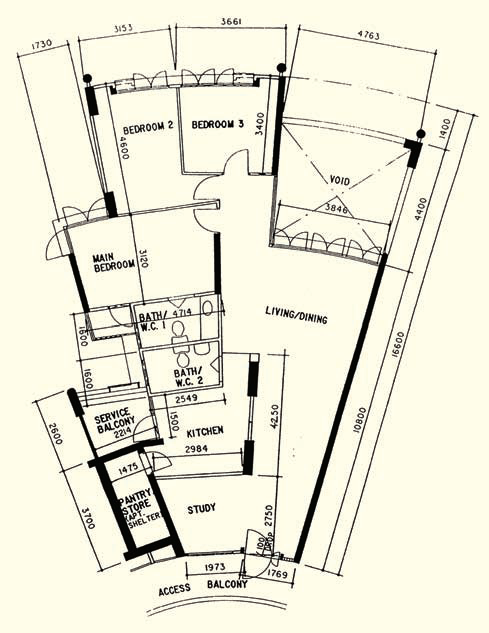 Nothing much to say about this one, other than that it's going to challenge your Interior Designer. The living/dining area is going to feel like a funnel, tapering at one end toward the study.
This is also one of the most unusual ways for a kitchen to cut into the living/dining area, that we've seen in any HDB project.
We suppose the thought here must have been to provide a grander impression of the Sembawang River view, that it slowly opens up to reveal the view as you walk towards it. Do also note that this was only done for the 5-room and Executive layouts, as the 4-room layouts here are quite regular in shape.
Many of these layouts are a blast from the past and are unlikely to ever be repeated (unless lifestyles change drastically, causing HDB to rethink its design philosophy). While they present unique challenges in terms of Interior Design, they also provide opportunities to create homes that look truly different. Reach out to Stacked if you're considering an older unit or uncommon layout, and want some expert advice.
In the meantime, follow us for reviews of new and resale properties alike, and for trends in the Singapore private property market.