Buying
6 Old-School Quirks You Can Only Find In Old Condos In Singapore
Ryan J
August 10, 2023

2

min read
1. Mixed leases sometimes show up as "tenure unknown"
It's rare, but some condos (as well as even commercial buildings) are listed as having an "unknown" tenure on property portals.
These tend to appear for the oldest developments, dating back to the '70s, and they may also appear with some landed housing projects. In these situations, it's possible that some of the units are freehold, whereas some are leasehold (things used to be much messier in the past). Teacher's Estate, for example, has some units that are leasehold, and some that are freehold.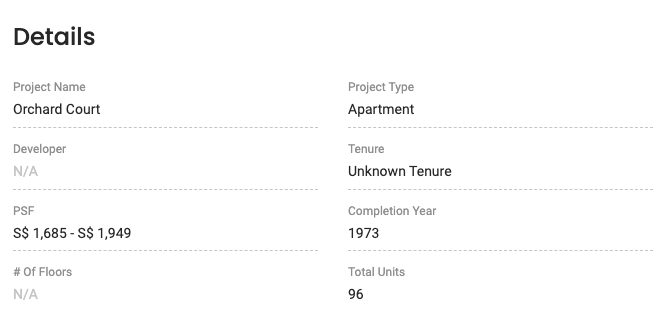 Another example is Orchard Court. Built in 1970, some online listings show their units to be on a 99-year lease, while others say it is on a 993-year lease. From what we've heard, Orchard Court does have a mix of such leases, so this can understandably be confusing for some buyers.
We're still looking into the impact of en-bloc sales or other factors on these projects, so follow us on Stacked, and we'll update you as we find out.
2. Pitched roofs tend to appear on older projects
These are the slanted, "tent-shaped" roofs associated with traditional houses (which goes to show how strong traditional images are, as most buildings in Singapore have flat roofs).
We seldom use pitched roofs today because they are – in an overall sense – more expensive. For architectural reasons, the foundations of the building will need greater depth, and be more costly to lay, if this kind of roof is used. Without getting into too much detail (an engineer or architect would have to explain it), these roofs are more practical for an individual landed property, than for a large condo block.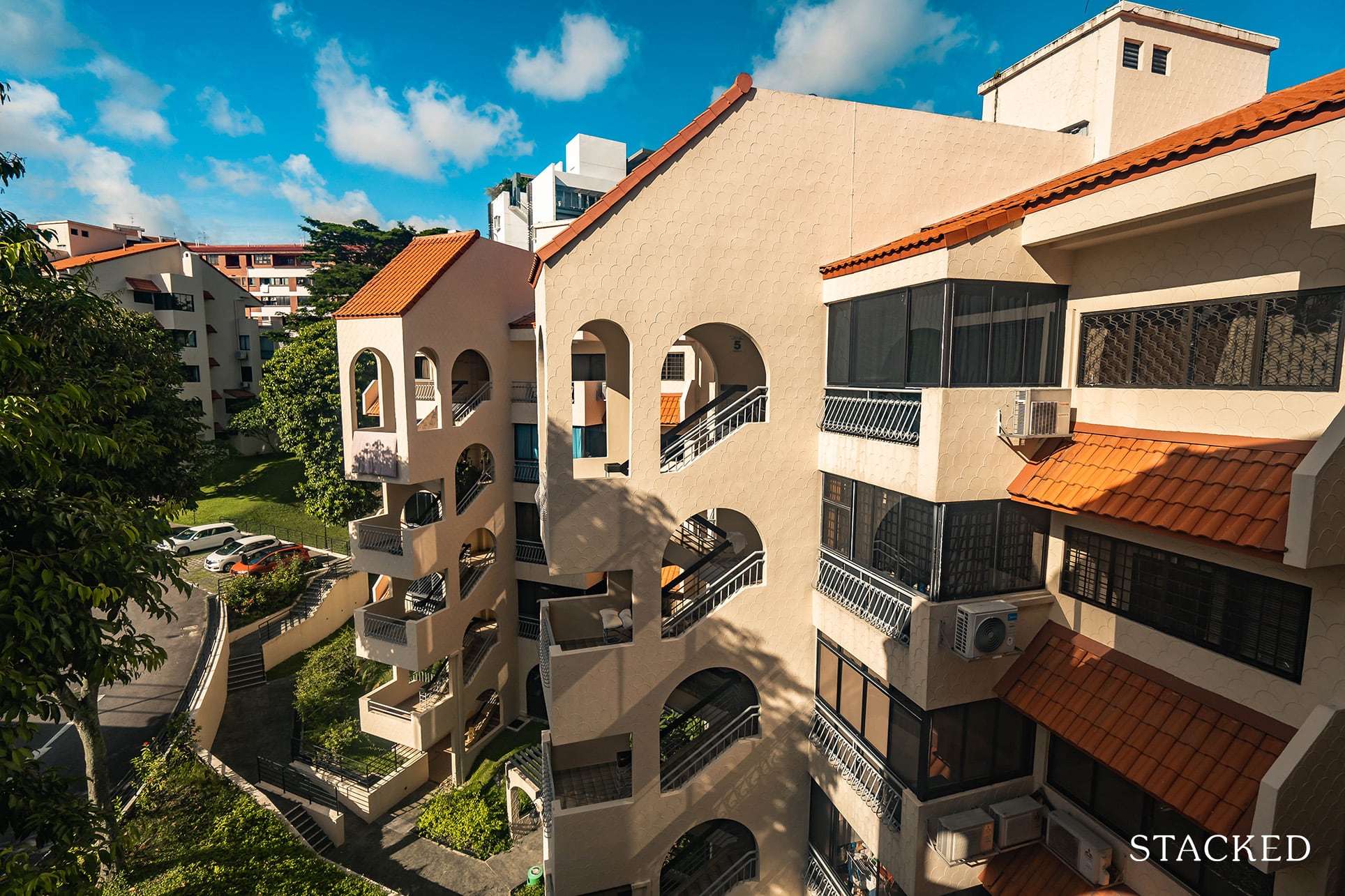 The pitched roofs also tend to be pricier to maintain, especially the sort with lots of individual roof shingles (the shingles may break over time and need replacing). Nonetheless, they were common in the past when, at the time, pitched roofs were good for preventing the accumulation of rainwater and other debris on the rooftops.
A member of a major property developer, who asked to be anonymous, said that the trend changed for two main reasons:
The first is that downstream maintenance is a bigger factor today, as it affects certain BCA scoring criteria (e.g., CONQUAS scores). Flat roofs are much easier for maintenance crews to clean, and generate less waste as they don't need frequent replacing.
Second, many newer projects are not simple rectangular blocks – there are "bits" that jut out, and the more complex the structure under the roof, the less practical a pitched-roof becomes (imagine, for example, trying to have pitched-roofs on a project like Sky Habitat). A flat roof also makes it possible for developers to locate facilities at the top of the project, such as tennis courts or pools.
Nonetheless, some traditionalists do miss the homely appearance of pitched roofs. It is a trait that some homebuyers do look out for, as the insides of the home take on a uniqueness that's hard to find in an apartment format.
3. Mixed-use used to be almost synonymous with "no facilities"
When it comes to older projects, like People's Park Complex, the term "mixed-use" often implies few or no facilities. This is because of how mixed-use projects were conceptualised in the past. 
Read this next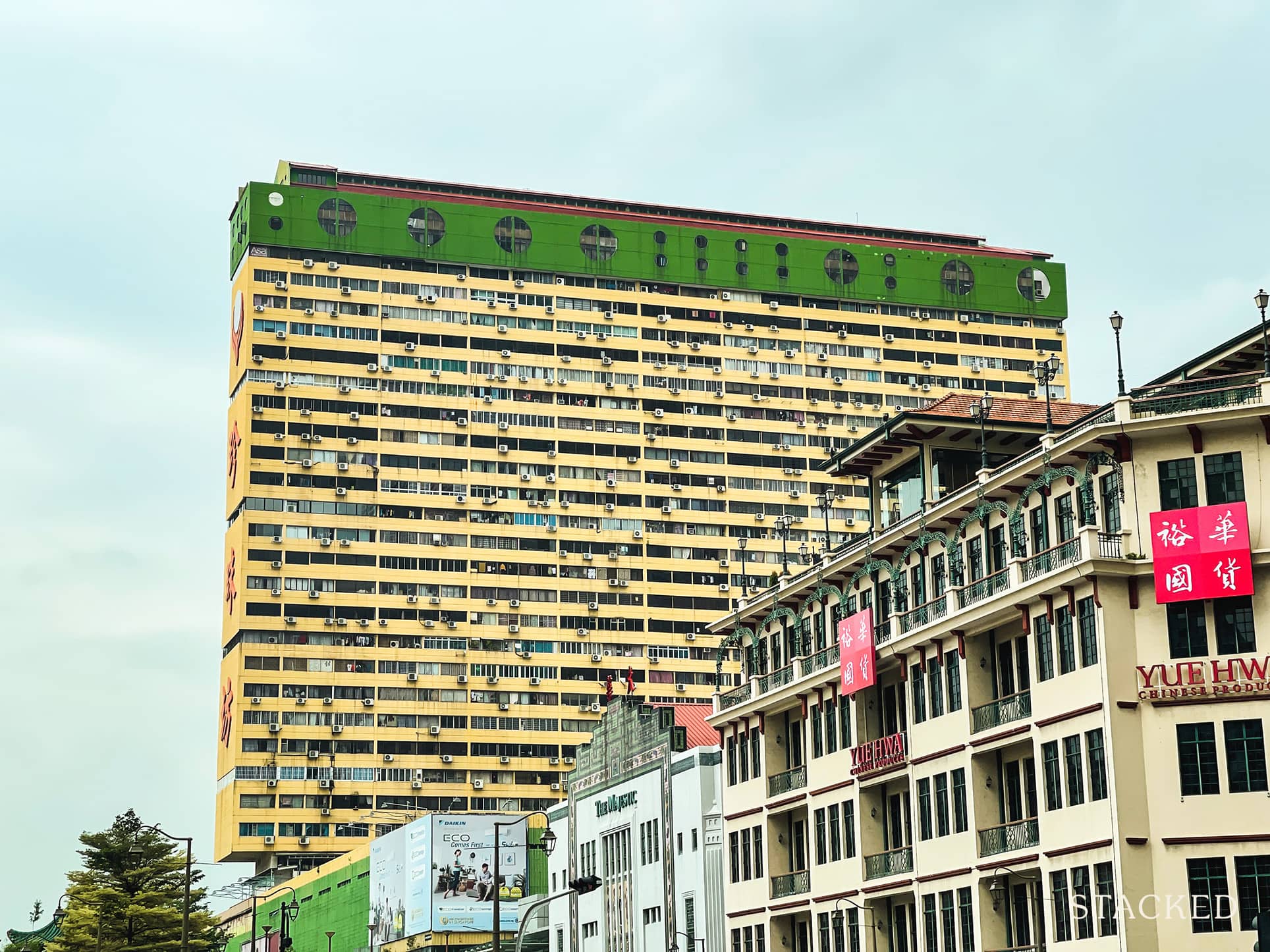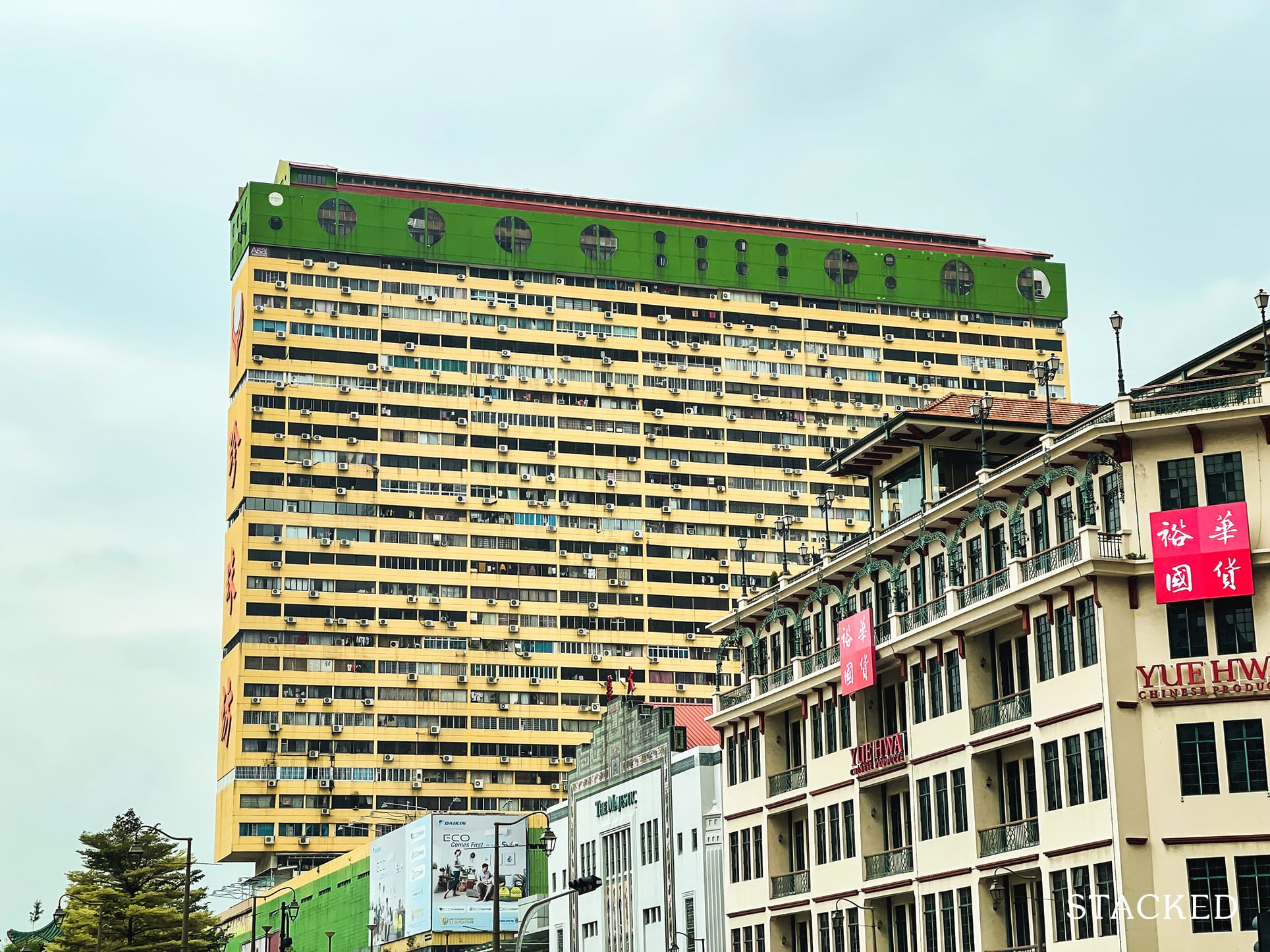 Older mixed-use projects were often commercial efforts first, with the residential component tacked on almost as an afterthought. The developers' intent was often to build a mall or an office; and some space was turned into apartments to diversify and max out earnings. As such, most of these older developments tend to lack niceties like pools, BBQ pits, gyms, and so forth.
This concept has changed in recent years, and we've drifted more toward integrated developments (e.g., The Woodleigh Residences, Midtown Bay/Modern, Lentor Modern, etc.) These days, developers aim to strike a holistic live-work-play balance, for all elements of the project.
You'll also notice that older mixed-use projects tend to have scrambled merchandising, with a disorganised mix of shops and eateries. These days, developers are expected to also control at least the initial tenant mix, to ensure the commercial portion benefits residents.
For this reason, the term "mixed-use" is sometimes viewed with negative connotations when used in reference to older properties. Some developers are emphatic that sales teams use phrases like "integrated development" instead of "mixed-use".
(Although to be precise, integrated means the inclusion of transport hubs and civic facilities like libraries).
4. Different types of windows for a mish-mash facade
It seems that in the past, condo management was much less formal about how windows change the facade. Check out older properties, and you'll often see that the windows within the same block are all slightly different.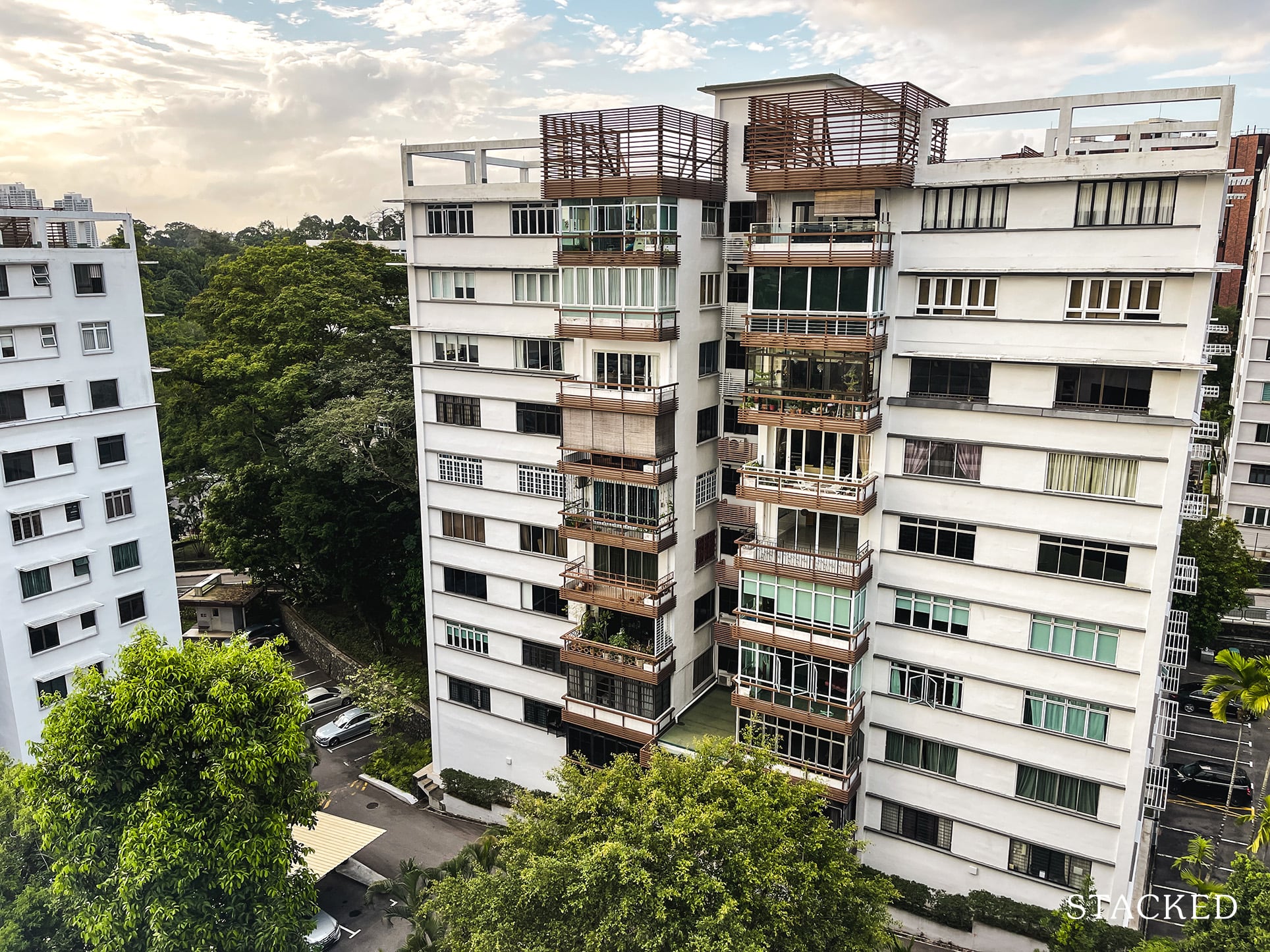 Also unlike point 3, where we say newer condos are quite picky about window grilles, this may not apply to an older project. You're just as likely to see mismatched window grilles as the windows themselves.
Here's the thing though: don't assume it means you can just change the windows today, once you buy the unit. According to some owners we've spoken to, many of the window changes were approved in the past – but the management committee today could be much less willing to approve them.
This is quite a subjective quality. Some home buyers honestly don't care; but some will refuse to buy in condos with mismatched windows because they think it looks messy and dated.
5. Rounded shapes, especially on the balconies
This is an older aesthetic, which can be found right up to around the 1990s. One example of this would be Olina Lodge. Sometimes, there can also be round rooms in older units.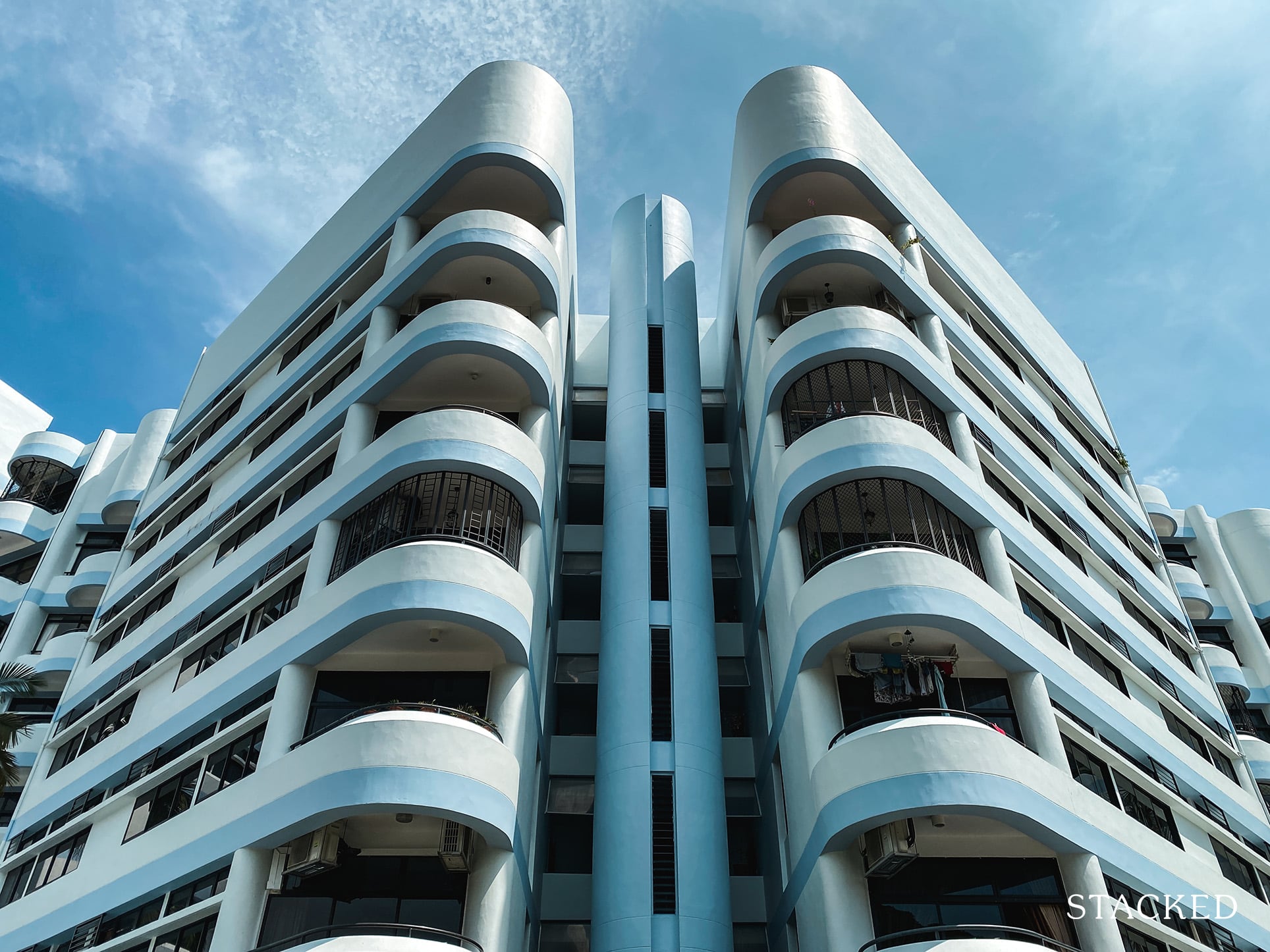 In general, rounded shapes are not as popular today, as we explain in this article. It's challenging because most furnishings are designed to fit squarish rooms, so you could end up with wasted space (unused gaps), or customised renovations (which are expensive).
Today, when everything is about space maximisation, having rounded features becomes more of a luxury (or the modern trend of just straight sleek lines). Some people do like the more organic appearance of these units though!
6. Penthouses or patios with large open outdoor spaces, jacuzzis, private pools, etc.
We hate to say this, but penthouses or ground floor units in recent years have gotten more practical…and more boring.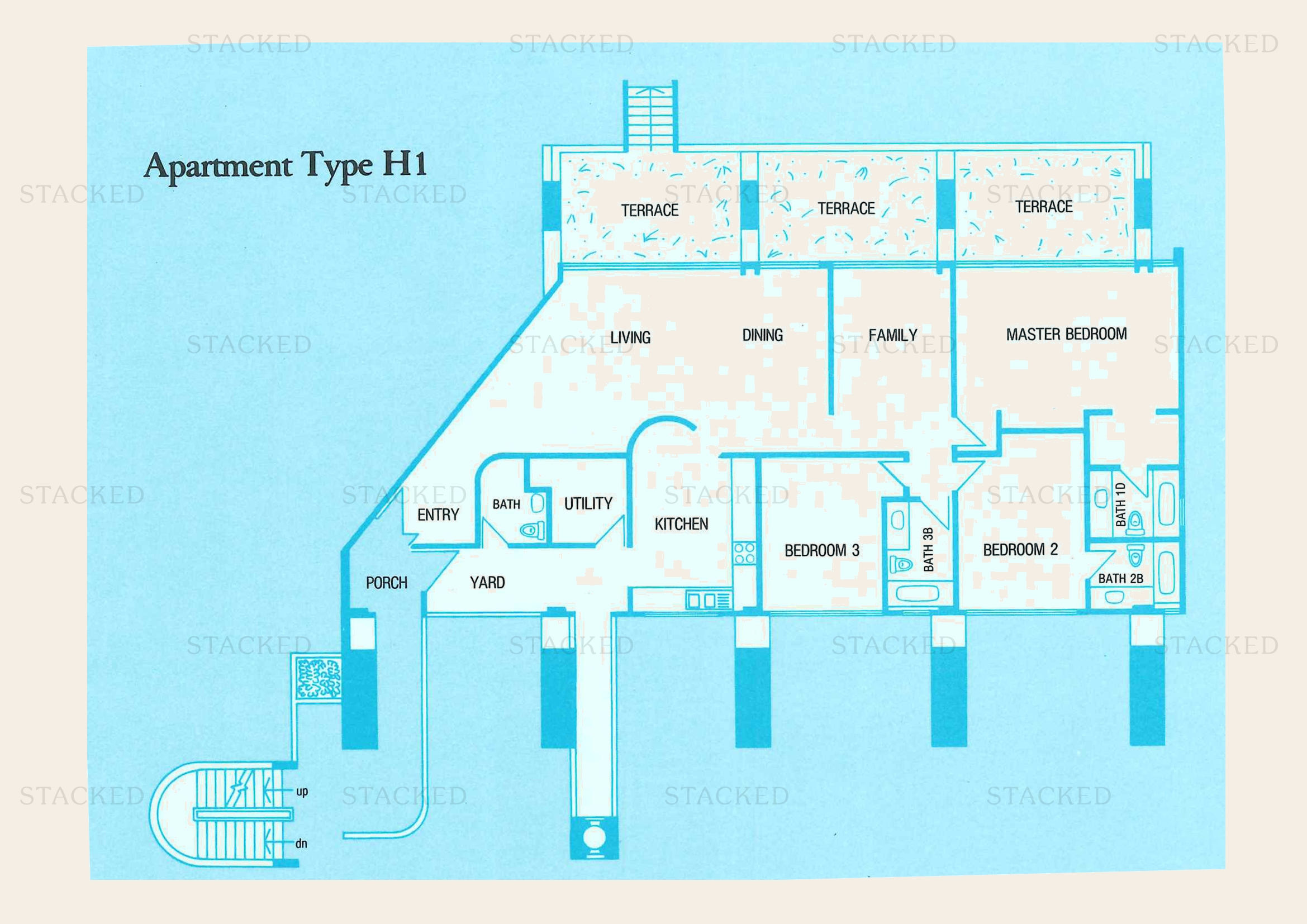 Gone are the penthouses that once came with huge outdoor spaces, in an attempt to rival the landed living experience. And if there's one thing that's probably not coming back (not until we find more efficient tech for it), it's the private jacuzzis and pools. These features have proven expensive to maintain, and more buyers now consider them a waste of space.
Private penthouse pools, for instance, used to be considered a huge luxury; but home buyers find it increasingly silly to pay (and waste space) for a small pool when they're just going to use the big condo pool anyway.
These features tend to work best with truly massive, ultra-luxury penthouses of the sort James Dyson might buy; but for the penthouse units in more regular properties, owners tend to just want more living space, or – as an indulgence – high ceilings, private lifts, and better finishing.
For that reason, you hardly see proper penthouse units with large outdoor spaces today. They're typically just top-floor units with high ceilings in the living/dining instead.
For more on the Singapore private property scene, and the changes we're seeing, follow us on Stacked. We'll also provide insights into the new and resale condos alike.