Property Picks
6 Hard To Find New Launch 2-Bedders With Easily Enclosed Kitchens
Ryan J
September 10, 2022

10

min read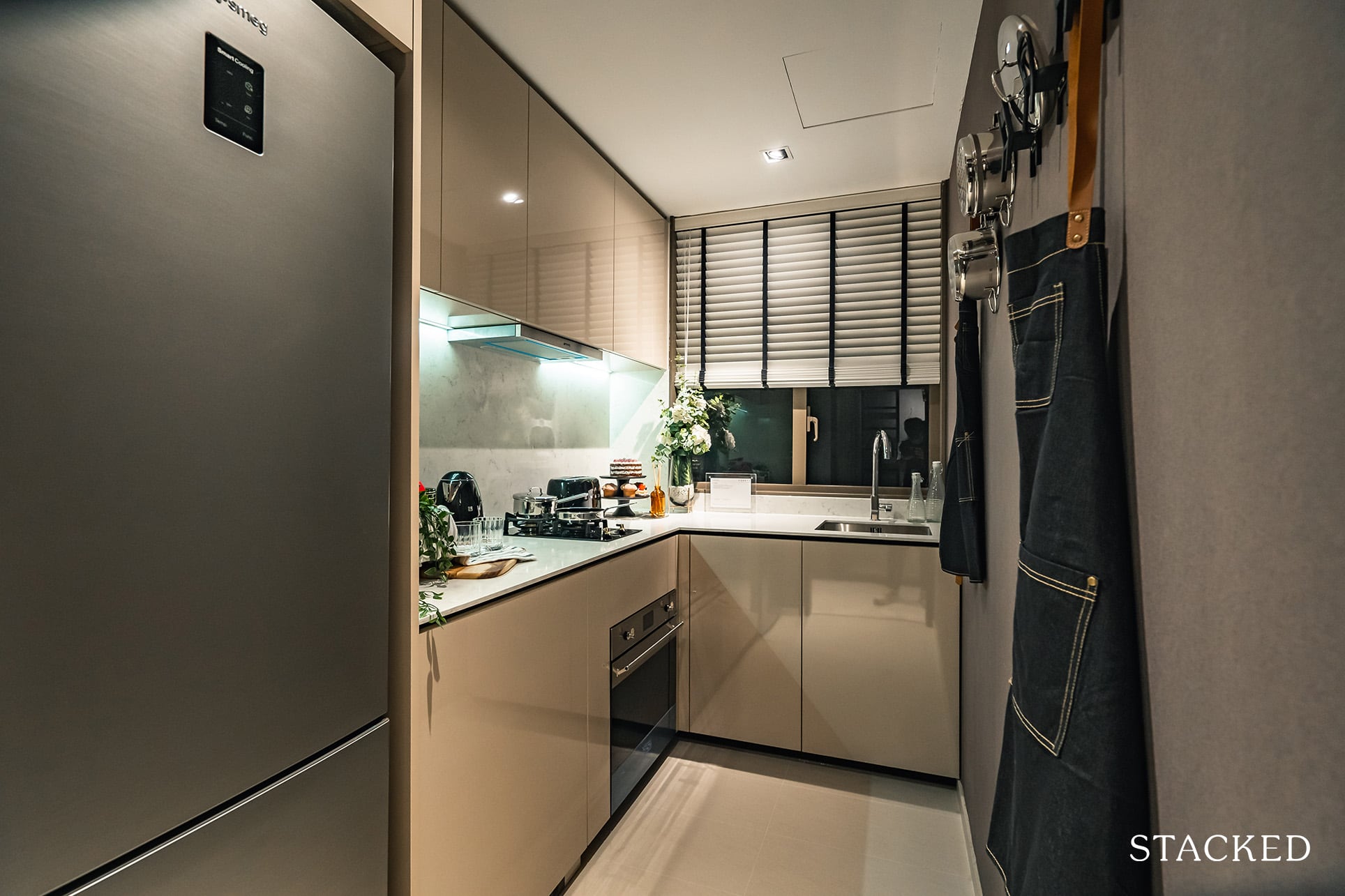 10
min read
It's always the same thing in new launches these days. For the bigger 3, 4, and 5 bedroom units, these will always come with enclosed kitchens. But for 2 bedroom units? Finding one that has an enclosed kitchen is almost like finding a needle in a haystack.
This is exactly why we built our new launch portal (which you can check out here).
And so while open kitchens are the trend these days (and even HDB has made them the default), we know there are some of you who absolutely loathe the idea. Be it about odours, or a film of grease that ends up on the living room floor, if you do cook daily, having an enclosed kitchen is still a better choice. For singles and couples who intend to do a lot of their own cooking, here are some two-bedders with easily enclosed kitchens:
1. Bartley Vue
| | |
| --- | --- |
| Bartley Vue | Details |
| Location | 6 Jalan Bunga Rampai (District 19) |
| Developer | Wee Hur Development |
| Lease | 99-years |
| TOP | 2026 |
| Number of Units | 115 |
Floor Plan
Both the two-bedders (657 sq. ft.) and two-bedder premium units (732 sq. ft.) have enclosed kitchens. The difference? The smaller two-bedder unit comes in a dumbbell layout. Both unit types have a fairly affordable quantum, with standard two-bedders transacting at around $1.4 million, and the premium versions at slightly over $1.5 million.
The main draw for this development is the proximity to Bartley MRT station (Circle Line), which is pretty close by. Bartley Secondary School is next to this development, while the popular Maris Stella High School is also nearby, at around a 10-minute walk.
There are many small eateries along the road toward the Tai Seng area, but the location is a little short on amenities. This is mitigated by the MRT access; it's just one stop away from Serangoon MRT, where you'll find the NEX megamall – residents should be able to fulfil most needs there.
If you want access to the Serangoon area, but want a location that's a little quieter, Bartley Vue might work for you.
2. Forett @ Bukit Timah
| | |
| --- | --- |
| Forett @ Bukit Timah | Details |
| Location | 32A Toh Tuck Road (District 21) |
| Developer | Qingjian Realty |
| Lease | Freehold |
| TOP | 2024 |
| Number of Units | 633 |
Floor Plan
Check out the two-bedroom deluxe layouts (732 to 974 sq. ft.), or the 2+1 layout (689 to 915 sq. ft.). Some of these are quite a bit bigger than what you'd consider typical for a two-bedder. It's also got quite an unconventional layout, but we think it works well. Instead of the kitchen being at the entrance like most two-bedroom units, this one is located between the living and the master bedroom. The best part? It has a window for ventilation too.
Being a new and freehold Bukit Timah condo though, the price is expectedly on the higher side. The deluxe two-bedders go from between $1.7 million to $1.8 million, and the 2+1 units are roughly $1.67 million to $1.75 million.
Forett @ Bukit Timah is one of the headline developments in Bukit Timah right now. It's situated next to the landed enclave along Toh Tuck Road, with the privacy and exclusivity you'd expect from low-density housing. There's also a good number of schools within priority enrolment distance: Bukit Timah Primary is the closest at an eight-minute walk, while Pei Hwa Primary and Yusof Ishak Secondary are also within range.
As with most landed areas, the MRT station (Beauty World on the Downtown line) isn't as conveniently located, so this condo is best for drivers. The Beauty World area is only around a 5-minute drive and can fill most retail needs. There will be further upgrades to the area too, once mixed-use Linq @ Bukit Timah and the integrated project at Jalan Anak Bukit are completed.
3. RoyalGreen
| | |
| --- | --- |
| RoyalGreen | Details |
| Location | 2 Anamalai Avenue (District 10) |
| Developer | Allgreen Properties Ltd. |
| Lease | Freehold |
| TOP | 2021 |
| Number of Units | 285 |
Floor Plan
RoyalGreen has enclosed kitchens for its 2+1 units (721 to 829 sq. ft.). Ranging around $2.1 million to $2.4 million, the price is steep; but you get what you pay for in this premium area.
RoyalGreen is one of the more accessible and convenient condos in the Bukit Timah area. It's less than a five-minute walk from Sixth Avenue MRT station (Downtown Line), which is two stops from Beauty World, and four stops from Newton. The proximity of the prestigious Nanyang Girls High is also a notable draw, at 920 metres.
Along the landed-housing stretch of Annamalai Avenue, you'll find a small foodie enclave, with an eclectic mix of eateries and small stores. Guthrie House, within this area, has Cold Storage; so you can get your groceries at just around a two-minute walk.
Another highlight is the proximity of The Grandstand at Turf City – this is a lifestyle hub for the neighbourhood, which also has a Giant supermarket, eateries, and childcare. It's only around a six-minute drive. Do note that this area is set to change from 2023 onwards, as the leases here will be up to make way for future residential use.
While this isn't the cheapest condo by far, the location strikes a good balance between a low-density area and day-to-day practicality.
4. Wilshire Residences
| | |
| --- | --- |
| Wilshire Residences | Details |
| Location | 30 Farrer Road (District 10) |
| Developer | Tong Eng Group, Roxy-Pacific Holdings Pte Ltd, Kim Seng Holdings Pte Ltd. |
| Lease | Freehold |
| TOP | 2023 |
| Number of Units | 85 |
Floor Plan
For those who like boutique condos, Wilshire Residences has two-bedders (732 to 797 sq. ft.) that have enclosed kitchens. Prices range from around $1.97 million to just over $2.2 million; more or less the norm for a new launch in District 10.
One of the notable draws of this project is its proximity to Holland Village. It's seldom more than a four-minute drive, and you may find prices in Holland V proper to be even higher. As an alternative, Dempsey Hill – an upscale lifestyle area – is only a little bit further away (you can definitely walk).
Besides this, Wilshire Residences will appeal to those who like greenery and the outdoors. You can enter the Singapore Botanical Gardens through the Cluny Park Gate, next to Wilshire Residences (and, of course, you get a great view of the Gardens from many units).
Frankly, Wilshire Residences is one of those condos that is neither here nor their location. Sure, it's in a premium district and it is centrally located – in the grand scheme of things. But walking to the nearest MRT station is a bit of a walk if you had to do it daily, and Farrer Road can get really busy during peak hours. If you are sensitive to road noise, this definitely isn't one to look at.
5. One Draycott
| | |
| --- | --- |
| One Draycott | Details |
| Location | 1 Draycott Park (District 10) |
| Developer | Champsworth Development Pte. Ltd. |
| Lease | Freehold |
| TOP | 2022 |
| Number of Units | 64 |
Floor Plan
Most people would probably have not heard of One Draycott, given how quiet the marketing around this project has been. For those looking specifically for two-bedroom units, you'd be happy to hear that the 64 units at One Draycott are all two-bedders. These units are either 732 or 797 sq. ft., and prices here have recently transacted above $3,000 psf.
It is supposedly a luxury development after all, and you do get private lift access for the units here.
One Draycott is next to the famed Ardmore Park, which has long been the standard against which many Orchard-area condos are measured. This stretch along Draycott Road is just right for being close to the Orchard shopping belt, but far enough to avoid the noise and crowds.
From One Draycott, a four-minute drive takes you to Orchard Road. You'll enter at around the location of Forum The Shopping Mall. You can also walk if you're so inclined, and you'll get there in around seven minutes on foot.
Tanglin Shopping Centre, a quieter alternative than going to Orchard, is also around a four-minute drive (or nine minutes on foot).
Orchard MRT station is a bit too far to walk on foot, but it's assumed that anyone living here will have the budget for private transport.
While the location is fantastic, the investment-minded should be wary: there are plenty of famous projects nearby which can provide strong competition, including names like Nouvel 18 and Sculptura Ardmore. One Draycott may be a luxury condo, but it's nestled among others of similar, if not an even more elevated status.
6. Perfect Ten
| | |
| --- | --- |
| Perfect Ten | Details |
| Location | 321 Bukit Timah Road (District 10) |
| Developer | Japura Development Pte. Ltd. |
| Lease | Freehold |
| TOP | 2025 |
| Number of Units | 230 |
Floor Plan
Perfect Ten consists of only two and three-bedder units, and 60 per cent of the unit count will be two-bedders (753 to 797 sq. ft.). Besides the easily enclosed kitchen, one of the highlights is the ceiling height – every single unit is at 3.25 metres from the ground, and this will appeal to buyers who like loft-type apartments. Transactions to date have hovered around $2.35 million.
Despite the unfortunate launch (Perfect Ten was launched just before the Dec 2021 cooling measures), the development has done well for itself. To date, 83% (96 units) of Perfect Ten's previously released 115 units have been sold – which is not bad at all considering the average price of $3,000 psf. For those looking, Perfect Ten will be launching a batch of 55 selected units (2-bedroom and 3-bedroom) in its new tower today. These will start from approximately S$2.1 million for 2-bedroom units, and approximately S$3.5 million for 3-bedroom units.
Whether Perfect Ten is close to the MRT is a bit subjective – if you're okay with an 8 or possibly 10-minute walk, you might find the distance to Newton MRT (Downtown Line and North-South Line) acceptable. The famous Newton Food Centre is also here, so you always have food nearby. Balmoral Plaza is quite good too, with several eateries as well as an NTUC Finest Gourmet.
Certainly, one of the biggest draws will be proximity to schools. The prestigious Singapore Chinese Girls School and Anglo-Chinese School is within priority enrolment distance of Perfect Ten and will be a big reason why buyers are considering this project.
Retail amenities are a bit scarce in the immediate area; you don't have much besides Balmoral Plaza, which is five minutes on foot. But given that you're one train stop from Orchard MRT (or an eight-minute drive), this is not a major problem.
If you need to check out more condo alternatives with enclosed kitchens, visit Stacked for more details. We'll also provide you with in-depth reviews of new and resale projects alike.