Units Of The Week

5 Well-Sized 3 Bedroom Units Under $2.5 Million With Cosy Patio/Terrace Spaces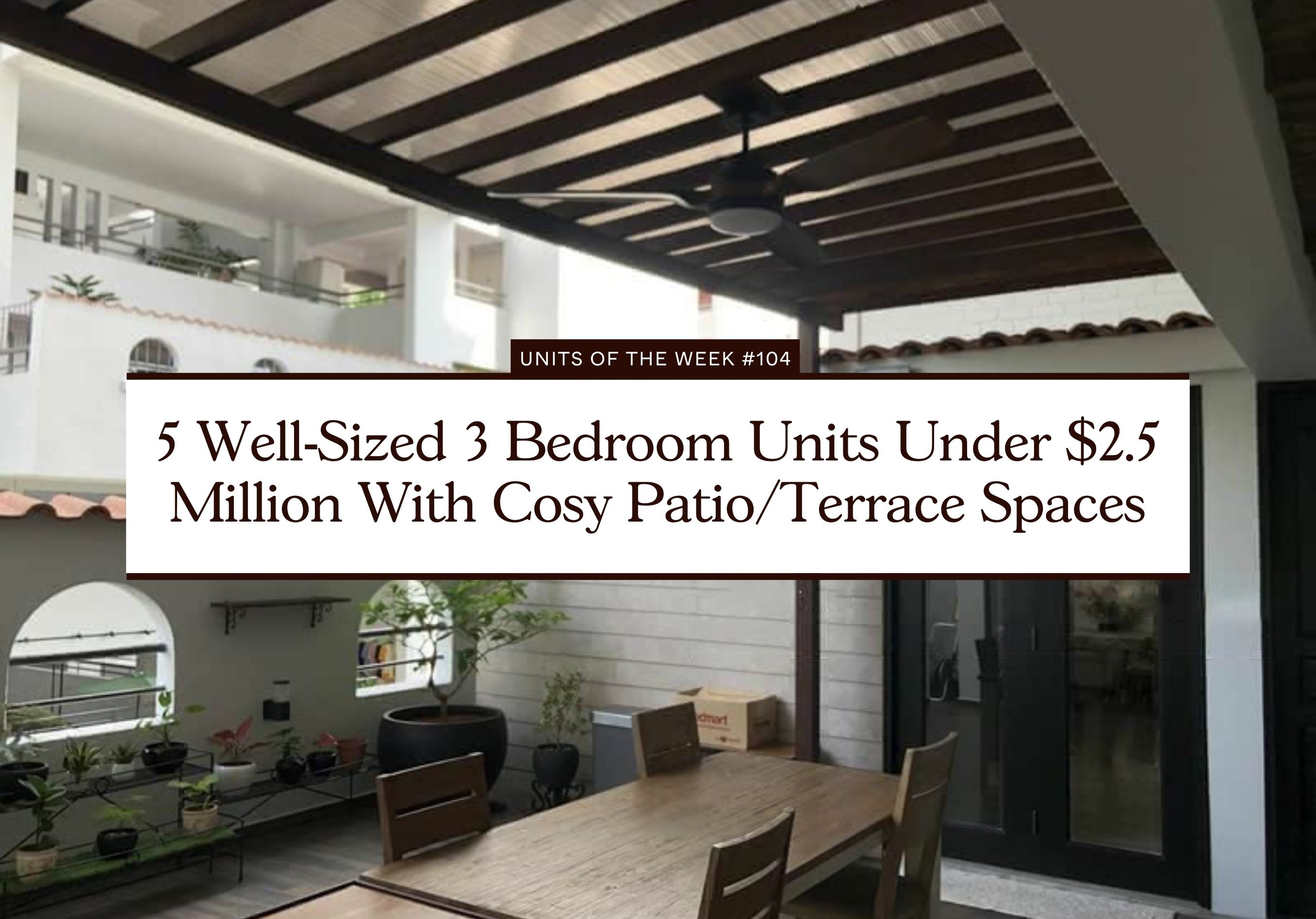 Bigger-sized units are definitely still in vogue right now, even as we are hopefully seeing the tail end of the pandemic.
Which is why we are always on the lookout for well-sized 3 bedroom units as that is the sweet spot for most families. At the price point of under $2.5 million, it may not be the cheapest around, but what you do get here is the size and units that are well-maintained. As such, you can save on the renovation costs and move in almost immediately.
Missed last week? You can view the previous issue here.
You can also join our free weekly newsletter so you stay up to date on our latest curations weekly.
Now let's get on with the list of curated units this week!

$2,350,000
| | |
| --- | --- |
| Address: | Country Park Condo |
| Tenure: | Freehold |
| Size: | 1,582 sqft |
| $PSF: | $1,485.46 PSF |
| Developer: | UOL Development Pte. Ltd. |
| TOP: | 2003 |
Why I like it
Country Park Condo is quite an underrated development for those looking for something different in the East. The location itself is pretty interesting. There's Bedok Food Centre at your doorstep, as well as a upcoming interchange of Sungei Bedok (Downtown and Thomson East Coast line), which makes things very convenient indeed. If the facilities at the condo isn't enough, you are also just opposite Laguna Golf & Country Club and a longer walk away to East Coast Park.

Do note, however, that being located this close to Changi Airport does mean that you can hear the planes as they arrive/leave the airport.

This is a very well-renovated 3 bedroom unit at a size of 1,582 square feet. It's a ground floor unit so it does come with a nice private patio and you do also have the luxury of a private lift here.

– Ryan

2

Pine Grove
$2,130,000
| | |
| --- | --- |
| Address: | Pine Grove |
| Tenure: | 99 year leasehold |
| Size: | 1,755 sqft |
| $PSF: | $1,213.68 PSF |
| Developer: | HUDC Housing |
| TOP: | 1984 |
Why I like it
Pine Grove probably needs little introduction, as it has appeared on the news mutiple times for failed en-bloc attempts. With a land size of over 890,000 square feet, it is undoubtedly a very appealing option for families who want a ton of space for kids to amble about. Don't overlook it's simple exterior too, as it does offer facilities such as a swimming pool, tennis court, and a basketball court.

Some downsides include the lack of access to an MRT station, and if you are staying on the far end of the estate, the walk to the bus stop is unsheltered and may be too far for some. Do also note that there are two GLS sites taking over the old Nexus school, so there may be future construction noise to bear with.

Other than that, the best part of this would be the very sizeable 1,755 square feet for a 3 bedroom unit. You have a small terrace with a private facing, as well as a high ceiling master bedroom with a unique pitched roof. The unit itself is in a pretty decent modern condition too, and you can really see the size available to you.

– Druce

3

Bedok Court
$2,400,000
| | |
| --- | --- |
| Address: | Bedok Court |
| Tenure: | 99-year Leasehold |
| Size: | 2,411 sqft |
| $PSF: | $995.44 PSF |
| Developer: | Bedokville Development Pte Ltd |
| TOP: | 1985 |
Why I like it
It's not the first time we've covered Bedok Court in Units Of The Week (we should definitely get a review done), and it certainly won't be the last. It does offer a very unique slant, with its mismatched exterior and very large units.

This unit is a very large 2,411 square feet with 3 bedrooms and 2 bathrooms. Of course, not everything is interior space, the amount of space dedicated to the outdoor terrace is very big – so it's really more of a lifestyle choice here. I do like the seamless nature of how the outdoor flows into the indoor space, it makes the space feel very open and bright.

The master bedroom is a stunner too, in terms of its size.

– Reuben

4

The Gardens at Bishan
$2,460,000
| | |
| --- | --- |
| Address: | The Gardens at Bishan |
| Tenure: | 99 year leasehold |
| Size: | 1,830 sqft |
| $PSF: | $1,344.26 PSF |
| Developer: | First Garden Development Pte Ltd |
| TOP: | 2004 |
Why I like it
The Gardens at Bishan has been upgraded in terms of connectivity with the newly accessible Bright Hill MRT station on the Thomson East Coast line. It is literally at your doorstep, so it doesn't get much better than that if you are highly reliant on taking the train. Other perks of the location include the close proximity to the food stretch along Upper Thomson and you can also walk to the massive Bishan Ang Mo Kio Park – which is a real draw for families too.

Besides that, this is a ground floor unit with a size of 1,830 square feet for 3 bedrooms and 3 bathrooms. Do take note, however, that not everything is interior space as the private patio is pretty large. That said, there is additional approved roofing done at the patio, so it is way more useable and the space looks very cosy and lovely to entertain. The rest of the unit is done up in a modern style, so it is basically nearly move-in ready.

– Stanley

5

Botannia
$2,350,000
| | |
| --- | --- |
| Address: | Botannia |
| Tenure: | 999 year leasehold |
| Size: | 1,636 sqft |
| $PSF: | $1,436.43 PSF |
| Developer: | City Development Limited |
| TOP: | 2009 |
Why I like it
We covered The Botannia recently, in short it has very sizeable units and it is basically as good as freehold status (956-year lease, to be exact). It isn't near an MRT station, so this would definitely be one of the developments where the prerequisite would be to own a car. This is a 3 bedroom unit at a size of 1,636 square feet. There is a big outdoor patio here, and it also has the advantage of a private and greenery facing. The unit is also very well-renovated, and done in a modern outlooks with both a wet and dry kitchen.

– Sean