Units Of The Week

5 Unique Walk-Up Apartments That Are Very Nicely Renovated
Stacked
January 26, 2023

10

min read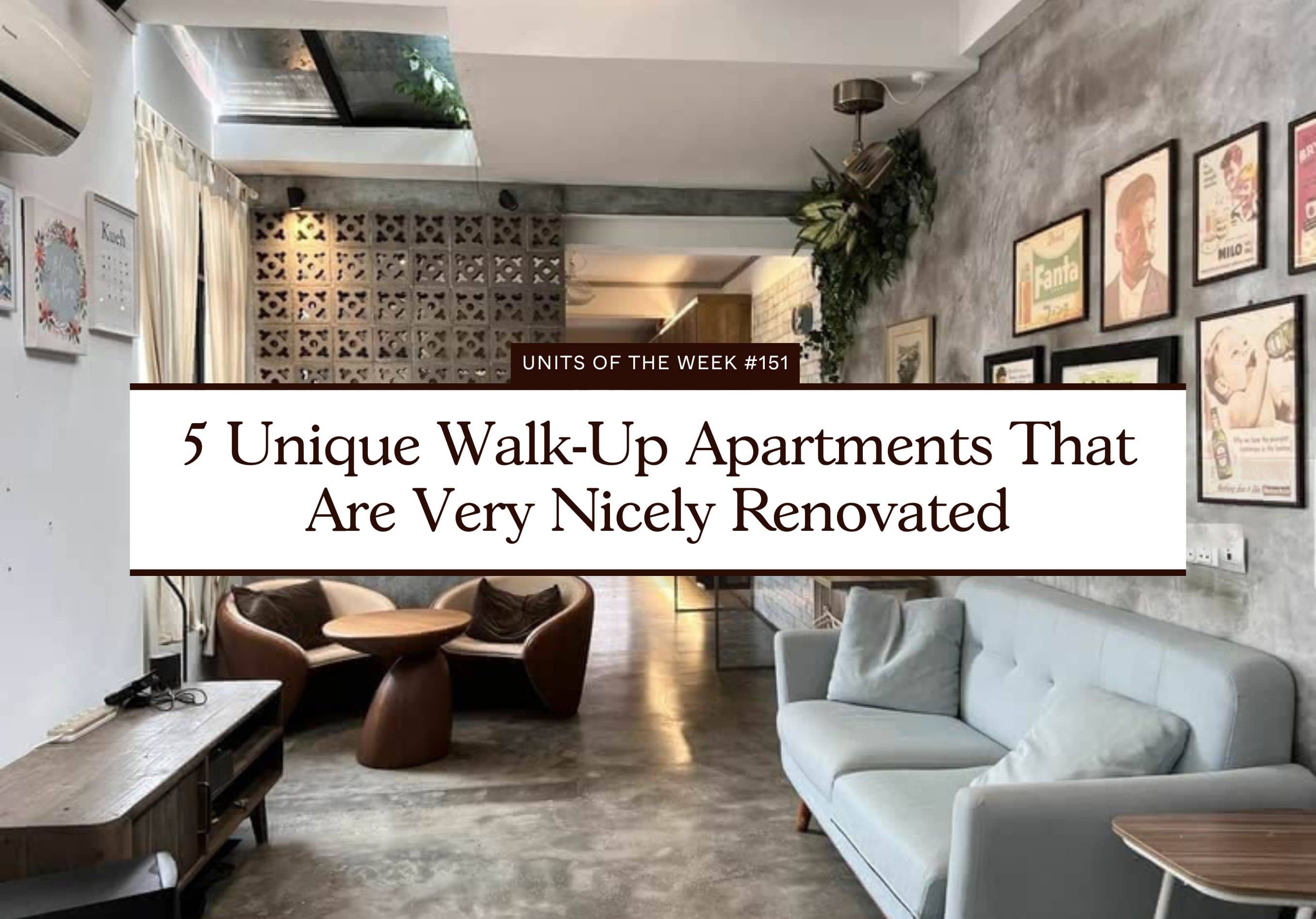 10
min read
Generally loved for its unique and spacious layout and disliked for the inefficient stairs, walk-up apartments can be a little of a double-edged sword.
However, for those who know what they are getting themselves into, it's no wonder why these homes are so elusive within Singapore's typical skyscraper landscape. Not only does it have boundless potential to create a novel 'Pinterest-worthy' home, but the generous amount of space is also a definite cookie point. 
At Stacked, we've previously covered and shared our take on walk-up apartments, which you can view here after reading this post.
This week, we've shortlisted 5 walk-up apartments within the Tiong Bahru and Kembangan neighbourhood that are charmingly renovated and move-in ready.
Missed last week? You can view the previous issue here.
You can also join our free weekly newsletter so you stay up to date on our latest curations weekly.
Now let's get on with the list of curated units this week!

1

Walk-Up Apartment at Jalan Senang
$2,280,000
| | |
| --- | --- |
| Address: | Jalan Senang 418457 |
| Tenure: | 999-year Leasehold |
| Size: | 2,395 sqft |
| $PSF: | $951.98 PSF |
| Developer: | N/A |
| TOP: | N/A |
Why I like it
As the only unit not located in Tiong Bahru in this week's list, this walk-up apartment stands out in terms of its lease. It has a 999-year tenure, as compared to the walk-up apartments in Tiong Bahru that has a typical 99-year leasehold. 

Furthermore, this 2,359 square feet unit has 3 good-sized bedrooms, a study, a utility room, 3 bathrooms and a roof terrace that is great for big families. It offers many common areas for gatherings without compromising on the privacy of its residents. 

In terms of design, the choice of Brutalism contrasts tastefully with the Peranakan-oriental touches of the walk-up apartment. The distinction between the concrete materials, limewashed walls and monochrome colour palette bring out a modern and sleek ambience that is pleasant to the eyes. Undoubtedly, the spiral staircase leading to the roof terrace and the brick-clad walls are some of the design highlights to this unit. But my personal favourite is definitely that pitched roof bedroom!

Considering that this unit has a very deep layout, it's interesting to see how the owners maximised the filtering of natural light throughout the house. 

Unassuming spots like the living room ceiling, glass panels in the kitchen and dining area and glass-sheltered walkways are great ways to bring in more natural light. Additionally, it is situated in a low-rise neighbourhood and offers a rather interesting view. 

Kembangan MRT station (East-West Line) is less than a 10-minute walk away, and a 15-minute walk to Ansar Garden HDB, which has two supermarkets and numerous eateries for groceries and food options. Alternatively, Bedok Mall is a 5-minute drive away. 

– Ryan

2

66 Eng Watt Street
$1,900,000
| | |
| --- | --- |
| Address: | 66 Eng Watt Street 160066 |
| Tenure: | 99-year Leasehold |
| Size: | 1,400 sqft |
| $PSF: | $1,357.14 PSF |
| Developer: | HDB |
| TOP: | 1937 |
Why I like it
Since this unit is located on the ground floor, owners are spared the trouble of lugging heavy bags up the stairs and is much more accessible compared to the higher floors.  

It spans across 1,400 square feet with 2 bedrooms and 2 bathrooms, but stands out to me due to its interesting design, generous space and nuances in lighting of the various corners of the unit. 

Like most walk-up apartments, there are two entrances to this unit – one in the front and another at the back. It has two small open-terraces which the previous owners have enclosed using glass panels, which still allows natural light to continue filtering into the home. 

Apart from brightening up the space, the ample light contrasted with the white floors and walls gives the unit a very elegant, chic and modern look. The high-ceilings also plays an important role in bringing out the characteristic essence of a walk-up apartment. 

In one of the bedrooms, the previous owners have created a loft while the bed is located on the upper level and a study is located at the lower floor, just to bring out a bit of distinction within the rooms. 

In terms of location, Eng Watt Street is well-loved for its proximity to some of Singapore's best cafes, dessert bars and the lively Tiong Bahru Market for affordable dining options and its wet market. Alternatively, Tiong Bahru Plaza is also within a quick walking distance. In fact, the lifestyle within the Tiong Bahru neighbourhood is certainly one of its main selling points. 

The nearest MRT Stations are either at Tiong Bahru MRT (East West line) and Havelock MRT (Thomson-East Coast line), both around an 11-minute walk away. 

– Druce

3

66 Eng Watt Street
$1,650,000
| | |
| --- | --- |
| Address: | 66 Eng Watt Street 160066 |
| Tenure: | 99-year Leasehold |
| Size: | 1,245 sqft |
| $PSF: | $1,325.30 PSF |
| Developer: | HDB |
| TOP: | 1937 |
Why I like it
What can I say, if you are looking for a well-designed walk-up apartment, Tiong Bahru is definitely the first place to look. Though they might share the same amenities and location, it has a rather different interior since the previous owners have reconfigured its layout.

This apartment is 1,245 square feet and has 2 bedrooms and 1 bathroom. It also has two entrances which is found at the front and the back for easy access into the house. 

The previous owners have opened up one of the bedrooms to create an open-concept kitchen, which is a great way to ensure more natural light to filter into the space. Moreover, the kitchen island (which is a great focal piece to the room) serves as a dining spot and additional counter space for food prep. 

The original kitchen has been converted into a spacious laundry area that doubles as a vanity for the bathroom, which is a practical decision, considering that there's only one bathroom in this apartment. 

The design of the unit draws very strong inspiration from the famed Wes Anderson ID style. There are many curves, pops of contrasting colours and arcs found throughout the house. Overall, I appreciate how spacious every corner of the apartment is. 

Similar to the previous unit, it is within a 11-minute walk away to Tiong Bahru MRT Station (East-West line) and Havelock MRT Station (Thomson-East Coast line). Residents can enjoy the superb cafe scene within the neighbourhood and affordable grocery and dining options at Tiong Bahru Market too. Tiong Bahru Plaza is located nearby as well. 

– Reuben

4

72 Seng Poh Road
$1,380,000
| | |
| --- | --- |
| Address: | 72 Seng Poh Road 160072 |
| Tenure: | 99-year Leasehold |
| Size: | 980 sqft |
| $PSF: | $1,408.16 PSF |
| Developer: | HDB |
| TOP: | 1937 |
Why I like it
Another pick within the Tiong Bahru neighbourhood, this walk-up apartment is found within a conservation block along Seng Poh Road. 

Originally, this 980 square foot unit came with three bedrooms, but two of them have been hacked down to allow for more natural light and ventilation into the house. Instead, these two rooms have been converted to fit the needs of the previous owners, which is a living space and a yoga room. 

Although its monochromatic colours and minimalist designs looks great, I appreciate that the previous owners kept the original tiles in the balcony. Not only does it add a touch of character to the space, it retains its endearing history as well. 

Similar to most walk-up apartments, there are two entrances to this unit, which can be found at the front and the back. 

Set within the Tiong Bahru neighbourhood, residents are able to enjoy the lively ambience of the community and delicious cafe options just around the block. Tiong Bahru Market is also located within a walking distance for a variety of food options and shopping at the wet market. Otherwise, Tiong Bahru Plaza is around a 10-minute walk away for more food and shopping options. 

The nearest MRT stations are Havelock MRT (Thomson-East Coast line) and Tiong Bahru MRT (East-West line), which are a 11-minute and 9-minute walk away respectively.

– Stanley

5

71 Seng Poh Road
$950,000
| | |
| --- | --- |
| Address: | 71 Seng Poh Road 160071 |
| Tenure: | 99-year Leasehold |
| Size: | 646 sqft |
| $PSF: | $1,470.59 PSF |
| Developer: | HDB |
| TOP: | 1938 |
Why I like it
It should probably surprise no one that the last pick is also located in Tiong Bahru. Found along 72 Seng Poh Road, it's nearer to Stanley's pick. This unit is the smallest out of all five units, which gives it the title of "The Secret Hideout", since it's perfect for a bachelor's pad. At 646 square feet, it has 1 good-sized bedroom and 1 bathroom. 

This unit also has two entrances, which can be found in the front and at the back for convenient access. The layout is efficient, with a generously-sized living and dining area and functional kitchen that links to the back entrance of the home. 

Since lighting can be a common issue within these older developments, the previous owners have installed frosted glass for all doors and white walls to brighten up the space and maximise natural lighting. It generally has a simple monochromatic design to the house which future owners can easily add on to without much changes needed. 

It is around a 9-minute walk to Tiong Bahru MRT (East-West line) and a 11-minute walk to Havelock MRT Station (Thomson-East Coast line). One of the biggest draws to this apartment would also have to be the lifestyle offerings within the neighbourhood. There are many well-known restaurants, cafes and bakeries within the vicinity, and Tiong Bahru Market is also located nearby for more local and affordable eats and groceries at the wet market. 

– Sean