Units Of The Week

5 Unique HDBs With Balconies That Are Nicely Renovated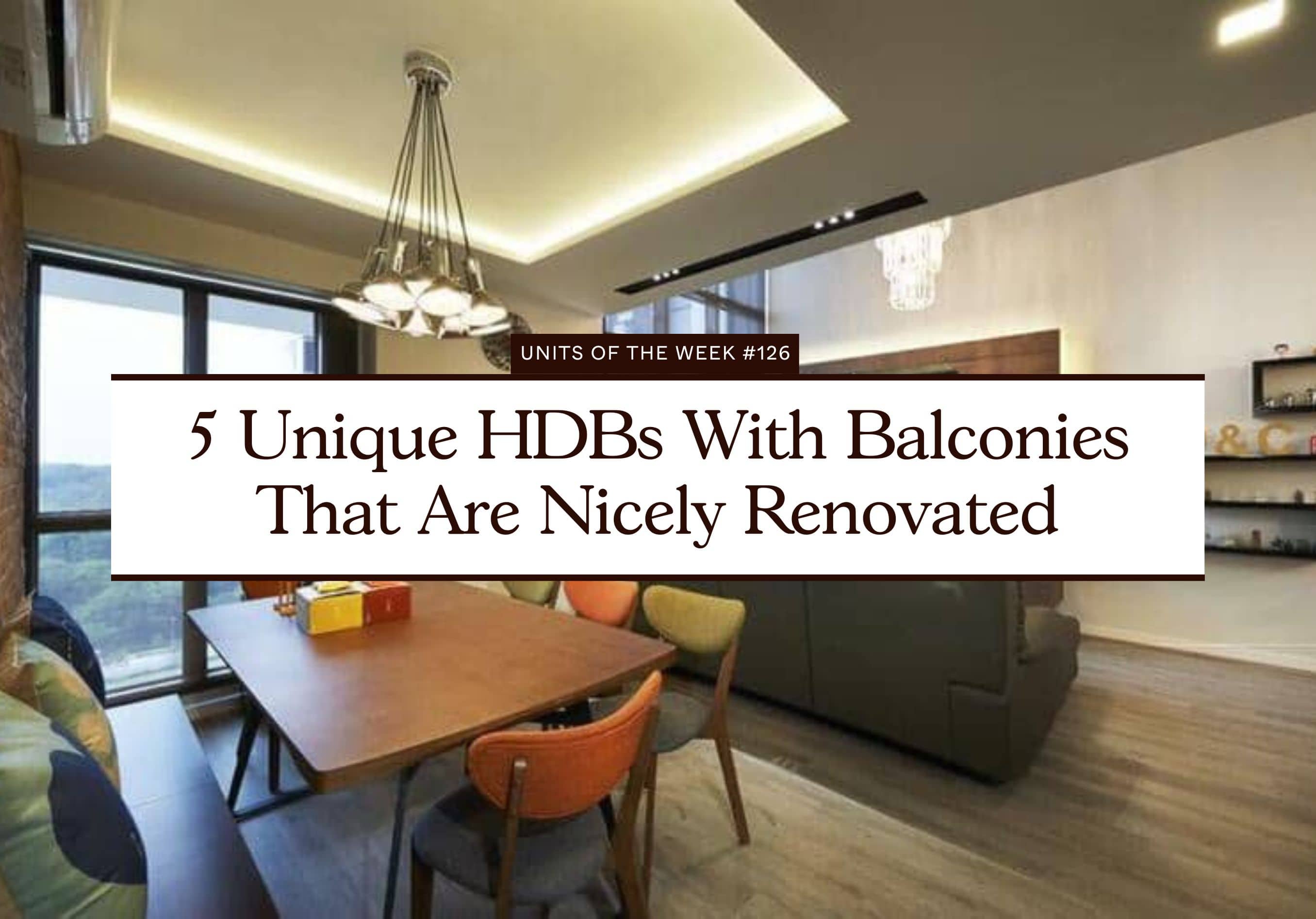 The other day, we were surprised to learn that a client wasn't aware that there were HDBs that had balconies. While it certainly isn't ubiquitous, it also isn't as rare as you might think!
So this week, we sieve out some of the cooler HDB units that come with balconies. These are all nicely renovated (although some may have repurposed the balcony), and are all ready to move in! 
Missed last week? You can view the previous issue here.
You can also join our free weekly newsletter so you stay up to date on our latest curations weekly.
Now let's get on with the list of curated units this week!

1

93 Dawson Road
$1,388,888
| | |
| --- | --- |
| Address: | 93 Dawson Road 142093 |
| Tenure: | 99-year Leasehold |
| Size: | 1,313 sqft |
| $PSF: | $1,057.80 PSF |
| Developer: | HDB |
| TOP: | 2015 |
Why I like it
As of right now, SkyTerrace@Dawson holds the record for the most expensive HDB in Singapore at $1.418 million. It's not too hard to see the appeal – high floor, high ceilings and a lovely view of the surroundings. 

This unit on offer is much of the same, as it's also a HDB loft unit with high ceilings above the living area. If you aren't as familiar with the area, it is in a central location – about a quick 9-minute drive to Orchard and if you walk fast enough, you can also get to Queenstown MRT in about 10-minutes. The immediate area is quite convenient too, as you can walk to Dawson Place in about 5-minutes, where you'll find an NTUC, Koufu food court, Subway, clinics and a hair salon. Across the road at Skyville@Dawson is also a Sheng Siong and a coffeeshop (among others), so you should have no issues for groceries. 

The unit is a 122 sqm space that has been renovated to a very high standard. I especially like the louvered shutters on the upper level as it opens up the space even more. The wooden flooring and wall panels also come together with the warm colour tones to create a cosy vibe. The balcony isn't big, but you do at least have the chance for some fresh air. 

– Ryan

2

53 Geylang Bahru
$888,000
| | |
| --- | --- |
| Address: | 53 Geylang Bahru |
| Tenure: | 99-year Leasehold |
| Size: | 1,259 sqft |
| $PSF: | $705.32 PSF |
| Developer: | HDB |
| TOP: | 1974 |
Why I like it
This 5-room HDB at Geylang Bahru has been transformed into a really spacious 2 bedroom unit instead. It's located at a point block, so you only have 4 units per level here. And because it's situated on a high floor, you do get a nice unblocked view of the Kallang River as well. 

The layout has changed a bit, and the balcony is now situated between the two bedrooms instead of the living room, which allows for more light (the common room was hacked and now forms part of the living room). The design of the space is simple and minimalist, with the light colour tones enhancing the spacious feel. The owners have also cleverly made use of a nook in the living room to create a little library space – quite cool!

In terms of location it is about a 7-minute walk to Geylang Bahru MRT station on the Downtown line, with Geylang Bahru Market and Food Centre even closer by. So you have a lot of food options here (also has an NTUC). As you are also next to the Kallang Park Connector, it's a nice run/stroll to the Stadium/Kallang Riverside Park. All that said, this is an old block built in 1974, so it is already 48 years old. 

– Druce

3

271C Punggol Residences
$1,000,000
| | |
| --- | --- |
| Address: | 271C Punggol Residences |
| Tenure: | 99-year Leasehold |
| Size: | 1,249 sqft |
| $PSF: | $800.64 PSF |
| Developer: | HDB |
| TOP: | 2012 |
Why I like it
First up, I really like the interior of this HDB! (Apparently 180k was spent on reno). It may look simple, but there are elegant finishes (that terrazzo backsplash in the kitchen) that all come together really nicely. The original layout does allow for a study to be built in the living room, so you have that option of doing so if you'd like. One of the common bedrooms has been hacked to become an adjoining walk-in wardrobe for the master bedroom – it's great for buyers who appreciate the extra storage space for clothes.

I do like the contrasting tones, warm lights and frosted glass doors in the bathroom that gives a calming and resort-like vibe. 

It also has the advantage of a great location. You are right next to Punggol MRT station and just a short walk away from Waterway Point. It's the key attraction point of the area with lots of eateries, fast food chains, Decathlon, Don Don Donki, NTUC, movie theatre, clothing stores, and clinics. 

One last point – although the view is currently unblocked facing a plot of land – it is a plum reserve site that will definitely be built upon in the future. 

– Reuben

4

249 Choa Chu Kang Avenue 2
$650,000
| | |
| --- | --- |
| Address: | 249 Choa Chu Kang Avenue 2 |
| Tenure: | 99-year Leasehold |
| Size: | 1,313 sqft |
| $PSF: | $495.05 PSF |
| Developer: | HDB |
| TOP: | 1992 |
Why I like it
This 1,313 square foot HDB unit is a good size for bigger families looking to upgrade on their space. You do have 4 bedrooms here (one was designated as a study), so it's useful. 

For families with kids, you are within 1 km of South View Primary School (Top 30 in Singapore), and a 7-minute walk away from Keat Hong Shopping Centre. It's no ION, but it does contain several eateries, Subway, KFC, Prime supermarket, clinics, and hair salons. 

Location wise, Southview LRT station is right at your doorstep and you are about a 12-minute walk away from Choa Chu Kang MRT station. Lot 1 is here too, where there's even more food options, an NTUC, movie theatre, and a library.

The design of the space has a modern farmhouse look – complete with sliding barn doors and a brick feature wall. 

– Stanley

5

684C Edgedale Plains
$850,000
| | |
| --- | --- |
| Address: | 684C Edgedale Plains |
| Tenure: | 99-year Leasehold |
| Size: | 1,216 sqft |
| $PSF: | $699.01 PSF |
| Developer: | HDB |
| TOP: | 2018 |
Why I like it
This corner 5-room HDB unit has been repurposed – with one common bedroom hacked to become an adjoining walk in wardrobe to the master bedroom. The result is lots of storage, and the mirrored sliding cabinet doors helps to create an illusion of space. The layout allows for a study to be built in the living room, but the owner left it to create a sizeable living room space. It has a modern and minimalist design, with the open kitchen island helping to further accentuate that spacious airy feel.

In terms of location, you aren't within walking distance to an MRT station. Oasis LRT station isn't exactly at your doorstep either, but it is quite a scenic walk over My Waterway @ Punggol and through Oasis Terraces. That means you are 2 stops to Punggol and Waterway Point – which holds the bulk of the attractions in Punggol. I suppose convenience isn't the selling point here, but you are located along Punngol Waterway that leads to the Punggol Promenade Nature Walk – so it's perfect for a scenic stroll in the early mornings or evenings. 

– Sean