Units Of The Week

5 Unique HDBs Above 1,560 Sqft (Special Penthouse + Jumbo Units)
Stacked
September 8, 2022

8

min read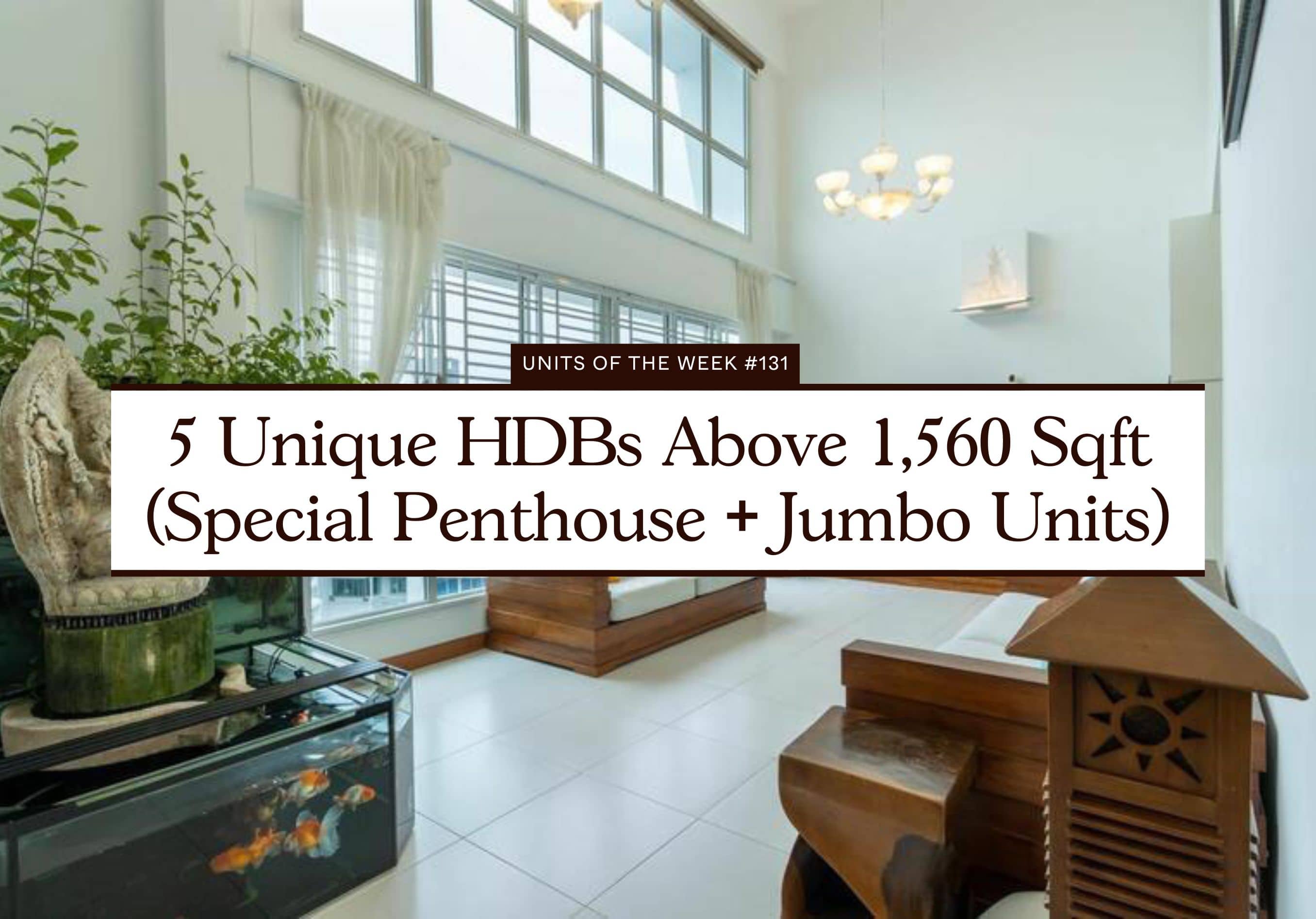 Everyone wants to live in a bigger home. But there are spacious homes, and there are spacious homes with unique selling points.
This week, we take a look at some of the biggest HDB units in Singapore, but these have the exception of certain rare traits. From double volume ceilings in the unit to more than 2,000 square feet of space – this is for the home buyer looking out for something different.
Missed last week? You can view the previous issue here.
You can also join our free weekly newsletter so you stay up to date on our latest curations weekly.
Now let's get on with the list of curated units this week!

1

270C Punggol Sapphire
$1,200,000
| | |
| --- | --- |
| Address: | 270C Punggol Field 823270 |
| Tenure: | 99-year Leasehold |
| Size: | 1,603 sqft |
| $PSF: | $748.60 PSF |
| Developer: | Housing & Development Board (HDB) |
| TOP: | 2011 |
Why I like it
From just looking at the photos, I won't blame you if you thought this was a private property at first glance. This is a really rare loft unit at a really huge size of 1,603 square feet. The double volume height in the living is a magnificent sight, and with the window panels spanning the height and width of the living room, it allows lots of natural light and ventilation. There are also window panels at the stairwell area so the dining and corridor on the upper level is naturally lit too.

All 3 bedrooms are big, and the master bedroom is set on the upper level. The layout is regularly shaped and house is done up very simply with little built in fixtures so the new owners can be creative with the space. There are bay windows here though, which some may deem as a waste of space.

In terms of the location, it is about a 5 minute walk away from Punggol MRT and Waterway Point, which will contain just about everything you might need.

– Ryan

2

830 Woodlands Street 83
$1,200,000
| | |
| --- | --- |
| Address: | 830 Woodlands Street 83 730830 |
| Tenure: | 99-year Leasehold |
| Size: | 2,066 sqft |
| $PSF: | $580.83 PSF |
| Developer: | Housing & Development Board (HDB) |
| TOP: | 1994 |
Why I like it
When it comes to Jumbo HDB units, there are only so many places in Singapore that have them, and Woodlands just happens to be one of them. This unit is under a 10-minute walk to Woodlands MRT, which is a dual line of the North South and Thomson East Coast lines. Of course, Causeway Point is right here too. It may be old, but it does have a decent number of shops and dining options.

This is a Jumbo unit with a huge floor plate of 2066 square feet. It comes with 4 bedrooms (2 of which are ensuite) and a family room with the possibility of creating a sixth bedroom in the master bedroom if you wished. Because of the floor plan, you can also create a dual key layout as there are 2 entrances into the house – good for those thinking to rent out the rooms or for huge families living together but wish to still preserve some privacy. It's really flexible.

The unit also has a consistent Muji styled theme throughout with earthly neutral tones and also hints of industrial components. Basically if you are happy with the layout, you really wouldn't have to spend any extra on renovation.

– Druce

3

533 Hougang Avenue 6
$988,000
| | |
| --- | --- |
| Address: | 533 Hougang Avenue 6 530533 |
| Tenure: | 99-year Leasehold |
| Size: | 1,560 sqft |
| $PSF: | $633.33 PSF |
| Developer: | Housing & Development Board (HDB) |
| TOP: | 1987 |
Why I like it
This Executive Apartment is a big one at 1,560 square feet. But that's not the surprise here, given that most people know that EAs are a good size. What's truly unique here is the spacious circular balcony which the owner has leveled out, removed the door and integrated it as a part of the living area. The window panels (20 of these!) along the balcony allow lots of natural light in too which helps to make the space appear larger.

There is a utility room in the kitchen which can be used as a store or laundry area, and most walls in the house can be hacked giving the new owners more freedom to reconfigure the space.

Location wise, you aren't too far away from Hougang MRT and Hougang mall so most people would be pretty happy convenience wise!

– Reuben

4

793 Yishun Ring Road
$1,058,000
| | |
| --- | --- |
| Address: | 793 Yishun Ring Road 760793 |
| Tenure: | 99-year Leasehold |
| Size: | 1,744 sqft |
| $PSF: | $606.65 PSF |
| Developer: | Housing & Development Board (HDB) |
| TOP: | 1992 |
Why I like it
There's no doubt that if you are looking for a big affordable home, the only way to go is a Jumbo HDB home. This one is quite special as it comes on the ground floor of a 4 storey block with 5 spacious bedrooms (1,744 square feet in size). That said, despite it being on the ground floor it has the advantage of being slightly elevated and has a couple of steps leading up to the house so passersby can't look into the unit.

The kitchen comes with a yard area and another common ensuite bedroom has a small balcony which is uncommonly seen. Thankfully, the unit is regularly shaped and most walls in the house can be hacked giving the new owners more freedom to reconfigure the space.
Besides that, it is only about a 5-minute walk to Khatib MRT station. There's a Giant supermarket at the station, and Khatib Central does have your usual dining options like a McDonald's, bubble tea joints, kopitiam's and of course, a Sheng Siong supermarket.

– Stanley

5

115 Bedok North Road
$900,000
| | |
| --- | --- |
| Address: | 115 Bedok North Road 460115 |
| Tenure: | 99-year Leasehold |
| Size: | 1,733 sqft |
| $PSF: | $519.33 PSF |
| Developer: | Housing & Development Board (HDB) |
| TOP: | 1977 |
Why I like it
One of my favourite supper foods is the soup BCM from Bedok 85. And this unit is just a stone's throw away. If you're the sort that loves your supper but is trying to lose weight, this unit may not be right for you. There is a 24 hours NTUC here too, but the food options around is really quite extensive – you'd never go hungry here.

It's actually an EA, but essentially is two 3room flats adjoined, and comes with 4 bedrooms, 4 bathrooms, 2 kitchens and 2 utility rooms. The layout is regularly shaped and house is done up very simply with little built in fixtures so you can be creative with the space. It also has broken marble flooring in the living and bedrooms which was popular in the 80s but if done right can also complement modern designs – great for singapore's weather as it helps keep the house cool.

You can also possiblycreate a dual key layout as there are 2 separate entrances into the house. If not, and you don't need two separate units, the walls between both units can be hacked to create an enormous kitchen and living area – possible to even carve out another bedroom or two.

– Sean