Units Of The Week

5 Unique Freehold Walk-Up Apartments Near An MRT Station
Stacked
September 29, 2022

8

min read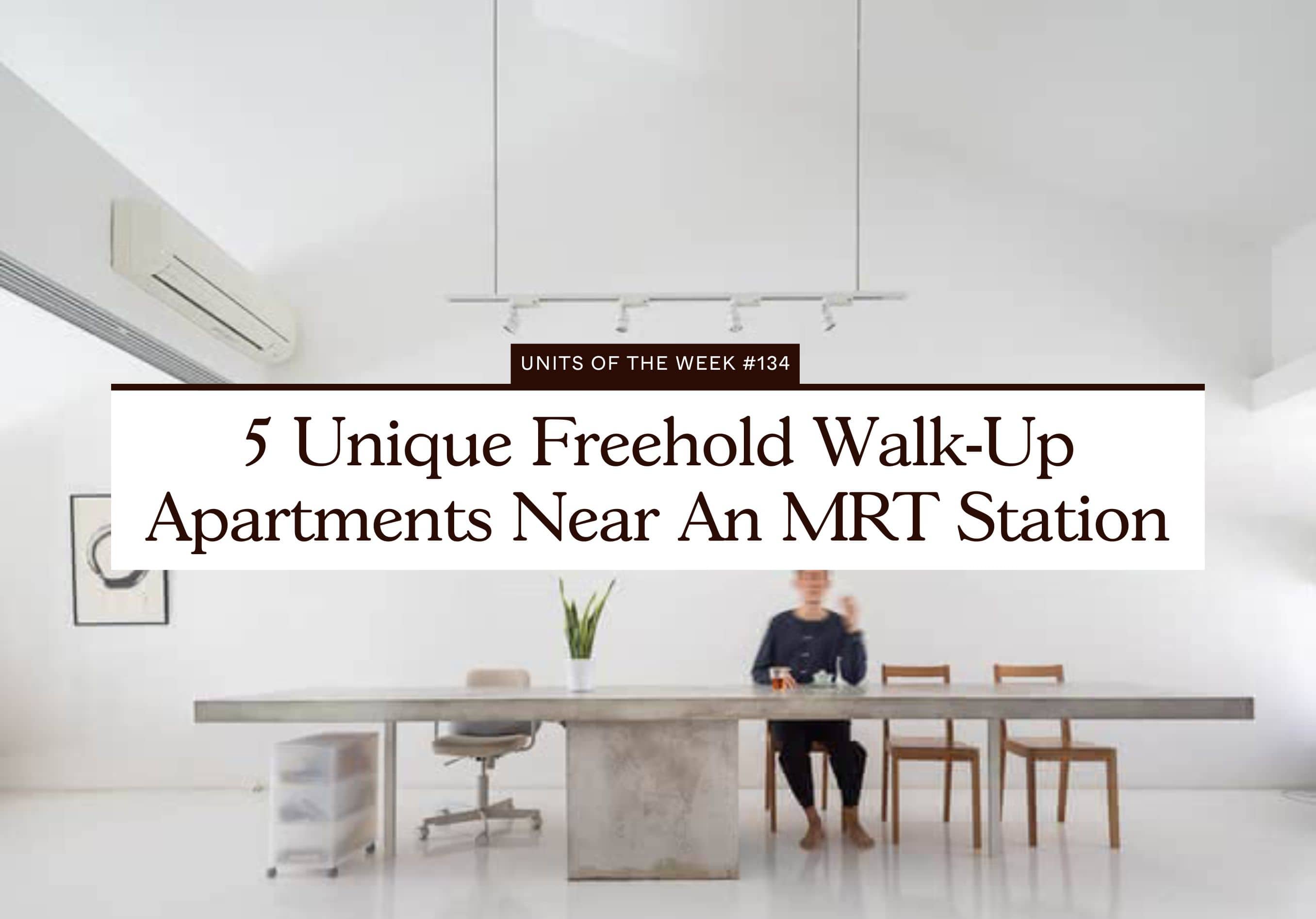 A walk-up apartment is certainly not for everybody. Most will have zero facilities to speak of, and having a security guard isn't going to be on the table either (thankfully that's not much of an issue in Singapore). It's also not future-proof, for those getting on in age – unless you happen to purchase a ground-floor unit.
But, as many of these apartments are usually older, and freehold too – they can serve as an excellent long-term asset if you are not so fussy about the lack of facilities. They are typically quite well-sized too, so if you are keen on spending a bit of money on the renovation (or find one that's already renovated, as you'd see below), they can be really homely spaces too.
Missed last week? You can view the previous issue here.
You can also join our free weekly newsletter so you stay up to date on our latest curations weekly.
Now let's get on with the list of curated units this week!

1

Day and Night Loft at Joo Chiat Place
$1,800,000
| | |
| --- | --- |
| Address: | 427788 East Coast |
| Tenure: | Freehold |
| Size: | 1,066 sqft |
| $PSF: | $1,688.56 PSF |
| Developer: | N/A |
| TOP: | N/A |
Why I like it
This has to be one of the coolest properties I've come across. It's a big size for a 2 bedder, 1066 square feet of space, and even comes with a small rooftop space too (250 square feet not included in your space). It was originally a 2 bedder but the owner has combined the 2 bedrooms to create a large sleeping and resting area. And as the name of the unit suggests, the house has 2 themes – day and night. It's a consistent minimalist theme throughout the house and with the pitched roof of almost 5m it looks to be very spacious indeed.

The living and sleeping area are mostly white with wood and concrete elements forming the 'day' portion, while the kitchen and bathroom are mostly black with wood and concrete elements as well, forming the 'night' portion. I do also like the custom-built Hinoki wood bathtub made from 300 year old trees from the Kiso Valley of Japan – very cool.

As for the location, it's about 9 to 10 minutes away from Eunos MRT and Eunos Crescent Market & Food Centre. You are of course surrounded by lots of eateries in the Joo Chiat area too.

– Ryan

2

170 Joo Chiat Place
$1,999,999
| | |
| --- | --- |
| Address: | 170 Joo Chiat Place |
| Tenure: | Freehold |
| Size: | 1,442 sqft |
| $PSF: | $1,386.96 PSF |
| Developer: | N/A |
| TOP: | N/A |
Why I like it
Just like Tiong Bahru, the Joo Chiat area is chock full of hidden gems. This one is located in the same vicinity as Ryan's pick but is a bigger place at 1,442 square feet for a 3 bedroom unit. It's set on the second level of a 3 storey conservation building. You have 6 large french doors that open up to the balcony which spans the entire length of the living area, which allows lots of natural light in and the long balcony is great for hanging out when hosting guests. I do like the unique air vents above the doors and windows that also allows for natural ventilation into the house. The owner's antique furnishings add a touch of character to the place too.

Though it must be said, one potential drawback is that there is only one bathroom to the space.

– Druce

3

999 Walk Up opp Great World City
$2,350,000
| | |
| --- | --- |
| Address: | 999 refurnished walk up opp Great World City |
| Tenure: | 999-year Leasehold |
| Size: | 1,670 sqft |
| $PSF: | $1,407.19 PSF |
| Developer: | N/A |
| TOP: | N/A |
Why I like it
If you haven't been recently, the revamped Great World City has been a massive world of difference. The previous space used to be pretty sad, but with new additions like a Meidi-ya, refreshed Cold Storage, and even a Shake Shack, there's a ton of great offerings now.

This walk up unit is 999-years which is as good as freehold. It's just 100m from Great World MRT station which will be completed this year – so it's just 1 MRT station away from Orchard. The unit has 4 individual studios each with its own bathroom and kitchen – 2 loft units and 2 regular studios – perfect for buyers looking to rent out the place or even for families who wish to live together but still have their own private space. At 1,670 square feet that's not bad at all.

The loft unit has a high ceiling with a pitched roof, so the unit feels more spacious and it comes in a new york loft design with exposed brick walls, cement flooring and black window frames. The bathroom also has a similar vibe with a black and white colour palette – vintage diamond floor tiles is a nice addition. Finally, the huge window panels in the living and multiple windows that line the rooms allow lots of natural light in as well.

– Reuben

4

Novena Hill
$1,200,000
| | |
| --- | --- |
| Address: | 45 Jalan Novena 308663 |
| Tenure: | Freehold |
| Size: | 710 sqft |
| $PSF: | $1,690.14 PSF |
| Developer: | Unknown Developer |
| TOP: | 1975 |
Why I like it
This 710 square feet 2 bedroom 1 bathroom unit is at Novena Hill. It's just 9 minutes away from Novena MRT station, which is just 2 MRT stations to Orchard or an 8 min drive. You are also close to a lot of malls like Velocity, Square 2, United Square, and Royal Square. While these malls aren't on the same level as what you'd find in Orchard, there are a lot of food options to choose from here.

The layout is efficient with little wasted space and is regularly shaped so it's easy for furniture placements. Though the unit is done up very simply with little built in carpentry so it's easy for the next owner to revamp the place should they wish to. One potential drawback is that it does not have a enclosable kitchen so for those who do alot of heavy cooking, this could be an issue.

– Stanley

5

Eng Aun Mansion
$1,545,000
| | |
| --- | --- |
| Address: | 318 – 318C Thomson Road 307662 |
| Tenure: | Freehold |
| Size: | 872 sqft |
| $PSF: | $1,771.79 PSF |
| Developer: | Unknown Developer |
| TOP: | 2016 |
Why I like it
Like Novena Hill, this one is set in the same area, but just a tad closer to the MRT station and shopping malls, at about a 7-minute walk. I do find Novena to be quite a busy place, the traffic is always heavy – but if you are all about convenience and like to live centrally this would be right up your alley.

The layout is generally efficient, and you do also have good sized bedrooms that are able to comfortably fit a double bed – one even comes with a balcony. There is a minor downside here, which is that there is only one window panel in the living area so it might be a little bit dark for some.

– Sean