Units Of The Week

5 Surprising Freehold Homes Near An MRT Station
Stacked
November 3, 2022

8

min read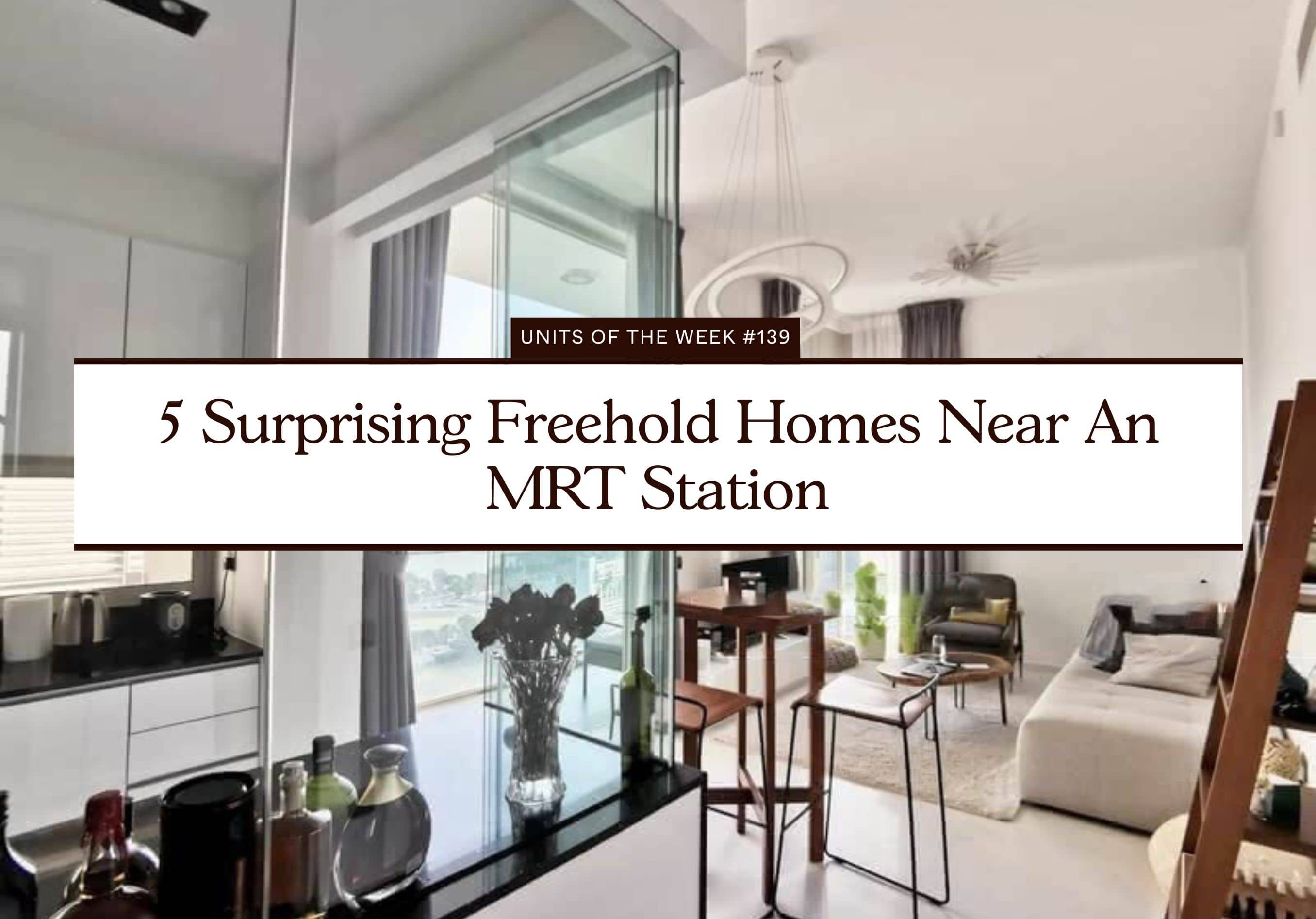 Most people would be surprised to learn that there are freehold properties in the CBD area. While there aren't many, it's reasonable to think that these would be a good store of value in the long run. After all, who doesn't want to own a unit forever that you can pass down to your next of kin?
And so given that Government Land Sales (GLS) will only be 99-year leasehold land moving forward, there is perhaps the case to be made if you are looking for a long-term asset.
Here are some freehold units that you may just be surprised to find in these locations:
Missed last week? You can view the previous issue here.
You can also join our free weekly newsletter so you stay up to date on our latest curations weekly.
Now let's get on with the list of curated units this week!

1

Lucky Plaza
$2,000,000
| | |
| --- | --- |
| Address: | 304 Orchard Road 238863 |
| Tenure: | Freehold |
| Size: | 829 sqft |
| $PSF: | $2,412.55 PSF |
| Developer: | Unknown Developer |
| TOP: | 1981 |
Why I like it
There's no question that Lucky Plaza is a well-known building in Singapore. While perhaps it is better known as a Sunday haunt for Filipino workers in Singapore, it is still in a very central and advantageous location.

Now, not many people know that the tower behind is actually an apartment block, and a freehold one at that. There's only 88 units spread over 30 floors, so it's quite exclusive in that sense. It may not be a looker today, but it's really got an excellent location smack in the middle of the Orchard shopping belt. Plus, with the tunnel to Taka you are sheltered all the way to the MRT station as well.

It's a good sized 2 bedder at 829 square feet (especially in this location), and the layout is regularly shaped which provides ease of furniture placement. The position of the kitchen allows it to be enclosable and even comes with a yard which we hardly see in newer 2 bedders today. You also get a nice view of Orchard, and the condition of the unit is still pretty good considering its age.

– Ryan

2

Skyline Residences
$1,790,000
| | |
| --- | --- |
| Address: | 612 Telok Blangah Road 109026 |
| Tenure: | Freehold |
| Size: | 829 sqft |
| $PSF: | $2,159.23 PSF |
| Developer: | Bukit Sembawang View Pte Ltd |
| TOP: | 2015 |
Why I like it
Skyline Residences is somehow off the radar for many people, but it's really in quite a convenient location if you want to stay outside the city area. It is located in the serene estate of Telok Blangah where there are more HDBs than private condominiums – only 2 others in the immediate estate.

It's a freehold one, and a relatively new project that just obtained its TOP in 2015. It is on the lower end of a mid-sized development with 283 units spread across three 24 storey tower blocks, so you won't feel the crowd too much here.

You are located really close to Telok Blangah MRT station on the Circle Line, which is just one stop away from Harbourfront and the ever-popular Vivocity.

It's a good sized 2 bedder at 829 square feet on paper – although there are bay windows and a planter to be aware of. Do note also that the stacks facing the Keppel golf course will have an unblocked sea view now, this will change in the future due to the GSW changes.

– Druce

3

City Square Residences
$1,700,000
| | |
| --- | --- |
| Address: | 14 Kitchener Link 207223 |
| Tenure: | Freehold |
| Size: | 861 sqft |
| $PSF: | $1,974.45 PSF |
| Developer: | City Development Limited |
| TOP: | 2009 |
Why I like it
Perhaps it's down to the lack of supply, or maybe this is just an increasing population, if the success of sales from Piccadilly Grand is anything to go by. City Square Residences was built in 2009 and has been a mainstay of the area for a while now. It is conveniently situated next to City Square Mall and Farrer Park MRT station (Piccadilly Grand will add more upgrades in the future), and being 30 stories high, it definitely stands out from all the surrounding shophouses – also means you'll most likely get unblocked views all around.

It is a big project with 910 units though, so those who want some privacy will want to look somewhere else (you won't be looking at this neck of the woods anyway).

Like most older developments, you do have a good-sized 2 bedder at 861 sq ft. It's an efficient layout with minimal wastage of space, and also has an enclosed kitchen with a yard.

– Reuben

4

Onze @ Tanjong Pagar
$1,638,000
| | |
| --- | --- |
| Address: | 11 Kee Seng Street 089218 |
| Tenure: | Freehold |
| Size: | 570 sqft |
| $PSF: | $2,873.68 PSF |
| Developer: | Heeton Holdings Limited |
| TOP: | 2017 |
Why I like it
It always comes as a surprise for people to learn that there are actually freehold developments in the heart of the CBD. Onze @ Tanjong Pagar is one of them, and it is rather new too as it was only completed in 2017.

You are just a short walk away from Tanjong Pagar MRT station, and both Tanjong Pagar Plaza and 100AM mall offer a good variety of dining options. That's not even including the wealth of eateries along Duxton and Keong Saik, although admittedly it isn't the most affordable area to eat daily.

This is a mixed boutique development with 56 units residential units and 13 commercial outlets, one of which is the famous Beef Sukiyaki Don Keisuke.

The unit itself is a 570 square feet 1 bedroom penthouse unit. There's a high ceiling here in which the owner has done up a loft which is being used as a study area. You do have an unblocked view of the Keppel terminal which is the site of the future Greater Southern Waterfront, and there's a touch of luxury here with a private lift. I do also like the rooftop swimming pool here, it's quite awesome to be able to luxuriate in a rooftop pool in the middle of office buildings in Singapore.

-Stanley

5

Kallang Riverside
$2,950,000
| | |
| --- | --- |
| Address: | 51 Kampong Bugis 338986 |
| Tenure: | Freehold |
| Size: | 1,140 sqft |
| $PSF: | $2,587.72 PSF |
| Developer: | The Singapore-Johore Express Pte Ltd |
| TOP: | 2019 |
Why I like it
For pure city views, Kallang Riverside has got to be one of the best condos around. It's situated away from the main city area so you have a good shot of the city skyline, and you get unblocked views towards the sea too, which is always nice.

You are situated in between Lavender and Kallang MRT stations – under 10 mins walk to Lavender and under 15 mins walk to Kallang. The surrounding area is under the Kampong Bugis rejuvenation plan where it will become a residential and recreational precinct, so there are further upgrades in the future, even if the location isn't as exclusive anymore. Currently, though, it's almost as if you have exclusive access to Kallang Riverside Park, which is great for those after a bit of nature.

It's on the lower end of a mid-sized development with 212 units spread across 30 levels, and the unit itself is a 3 bedroom 2 bath unit at 1,140 square feet in size. The kitchen is enclosed by glass panels which allow more natural light to flow into the unit and walkway that leads to the bedrooms, and it offers a nice unblocked view of the Marina Bay area

– Sean