Units Of The Week

5 Spacious Freehold (But Old) 3 Bedroom Condos For More Space
Stacked
September 1, 2022

9

min read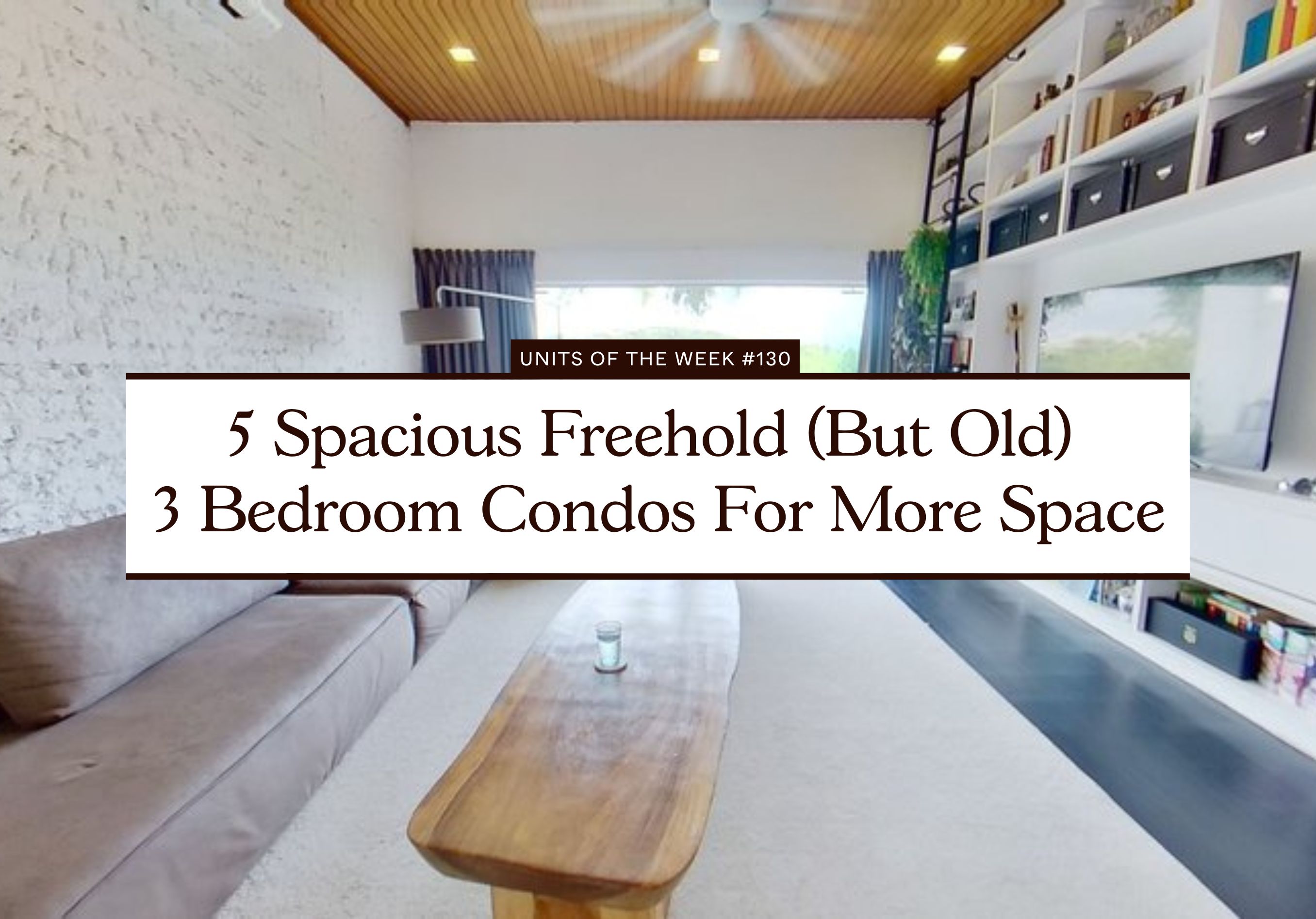 It's very clear by now that many Singaporeans prize space above all else. That, and a more flexible layout that allows you to hack down walls freely to create a space suited to your lifestyle.
As always, if budget is your concern, we've found some of the bigger HDB flats around, at an asking price point of under $600,000.
Missed last week? You can view the previous issue here.
You can also join our free weekly newsletter so you stay up to date on our latest curations weekly.
Now let's get on with the list of curated units this week!

1

Flame Tree Park
$2,980,000
| | |
| --- | --- |
| Address: | 1 Sin Ming Avenue 575728 |
| Tenure: | Freehold |
| Size: | 1,593 sqft |
| $PSF: | $1,870.68 PSF |
| Developer: | WingTai Holdings |
| TOP: | 1989 |
Why I like it
Flame Tree Park is one of those condos that has benefited from the completion of the Thomson East Coast line as you can now walk to either Bright Hill or Upper Thomson MRT station. Upper Thomson Road has always been a hectic jam from the construction, so hopefully with the MRT stations this can help to alleviate the traffic here.

Flame Tree Park is an old freehold condo that was built in 1989. It does have a dated looking exterior, but you'd usually need to go for the older ones in order to find sizeable and more affordable psfs. It does have just 160 units so you will find this to be quite private.

This is a 3 bedroom 2 bathroom unit sized at a more than decent 1,593 square feet. One thing that I like are the big window panels that lets lots of natural light and ventilation in, which also allows you to get a nice unblocked view of Windsor Nature Park. The owners have also been quite smart with the placement of the mirrored wall in the living area that makes the space appear even bigger.

It's here also that you get an open concept kitchen with an island and lots of storage space. Finally, the master bedroom has been reconfigured to allow for more space for a shower and bathtub. The walls have been replaced with glass too, so it does make it seem more spacious (you get the theme here).

– Ryan

2

Thomson 800
$3,500,000
| | |
| --- | --- |
| Address: | 808 Thomson Road 298190 |
| Tenure: | Freehold |
| Size: | 1,625 sqft |
| $PSF: | $2,153.85 PSF |
| Developer: | Property Enterprises Development Pte Ltd |
| TOP: | 2000 |
Why I like it
Not too far off from Flame Tree Park is Thomson 800. This is another freehold condo, but is a newer and more, shall I say, presentable looking development on the outside. There's 390 units here, which is considered the lower end of a mid-sized development in today's context.

This is another condo that has had its location improved by the addition of an MRT station in recent years. In fact, it's not just one but two lines, with Caldecott MRT station on both the Thomson East Coast and Circle line. One of the other major advantages here is that you are an overhead bridge away from Macritchie Reservoir Park which is great for outdoor/nature lovers. This is a high floor unit that is apparently facing the reservoir too, so you should be treated with quite lovely unblocked views here.

This is a 3 bed 4 bathroom unit, and at a size of 1,625 square feet is certainly very decent indeed. It's done up in a sleek and luxurious design throughout the house, that incorporates both wood and marble finishings. The master bedroom has floor-to-ceiling windows, and there is clever storage incorporated, with a foldable desk that can be stowed away in the cabinet when not in use.

– Druce

3

Sommerville Park
$4,200,000
| | |
| --- | --- |
| Address: | 95 Farrer Drive 259291 |
| Tenure: | Freehold |
| Size: | 1,861 sqft |
| $PSF: | $2,256.85 PSF |
| Developer: | Sommerville Properties Pte Ltd |
| TOP: | 1978 |
Why I like it
If you aren't familiar with this part of District 10, you might not have heard of Sommerville Park, as the location of it is relatively hidden. It is, however, on a massive plot of land so it is pretty much unmissable as well.

You are able to walk to Farrer Road MRT station from here, and Empress Road Market and Food Centre is not too far off too. That said, the food options here are a little underwhelming, and the market could definitely do with some sprucing up. You are also within 1km of the ever popular Nanyang Primary school.

Sommerville Park is an old freehold development that was built in 1978. As mentioned, it's on a huge plot of land, and with just 456 units, the amount of space you get is unparalleled.

This is a spacious maisonette unit that's 1,861 square feet in size. All 3 bedrooms are on the upper floor, so you do have more privacy there. It's done up in a minimalist nordic design, which allows the space to appear brighter and more airy. The balcony also spreads across the full length of the living area bringing lots of natural light and ventilation in. As with many of the older units, the living and dining area are nicely segregated here too.

The most unique bit? All the rooms and bathrooms on the upper floor have pitched roofs – and it feels a lot more spacious given the high ceiling. In fact, the owner has made use of this extra volume and done up a loft in one of the rooms which is being used as a study.

4

Kilat 19
$2,500,000
| | |
| --- | --- |
| Address: | 12 Lorong Kilat 598120 Clementi Park |
| Tenure: | Freehold |
| Size: | 1,948 sqft |
| $PSF: | $1,283.37 PSF |
| Developer: | Unknown Developer |
| TOP: | 1986 |
Why I like it
Unlike the developments on this list, Kilat 19 is the only one that doesn't have facilities (it's not because of its age). It's got a pretty good location, it's not smack bang in the middle of Beauty World so it isn't really in the busy stretch. But you are in close walking distance to Beauty World MRT station and there's loads of nearby eateries. There are a handful of cafes and food options directly downstairs too, and there's a surprisingly diverse mix as well.

For families, you'd probably be interested to know that you are within 1km to Pei Hwa Presbytarian Primary School.

As for the unit, it's located on the top floor of a 4 storey walk-up apartment. It's a very good size too, with 1,948 square feet of space for a 3 bedroom unit. The unique pitched roof design allows natural light in and makes the house feel alot more spacious given the high ceiling as well, and you get a split level living and dining area. With the space afforded, you also have the luxury of a dry and wet kitchen. I do also like the arched windows as it soften out the edges and create a different vibe than regular windows do.

There's a ton of character here to play with, but you'd probably have to invest a nice sum to really renovate it.

– Stanley

5

Clementi Park
$3,000,000
| | |
| --- | --- |
| Address: | 121 Sunset Way 597153 Clementi Park |
| Tenure: | Freehold |
| Size: | 1,722 sqft |
| $PSF: | $1,742.16 PSF |
| Developer: | City Development Limited |
| TOP: | 1985 |
Why I like it
If you've been following regularly, you've probably seen numerous Clementi Park listings in our UOTW series so far. It's not by accident of course, there's a lot to like about this development if you are looking for a bigger living space.

This particular unit is pretty large at 1,722 square feet in size. It features an unblocked landed view, and the higher ceiling makes the house feel more spacious and airy. The wood paneled ceiling together with the exposed brick wall and decorative concrete kitchen divider complements each other really well and gives off a modern rustic vibe. I do also like that the floor to ceiling tv console/cabinet doesn't just add to the aesthetics but it is also functional with lots of storage space – it even has a sliding ladder to reach the higher compartments.

To take advantage of the views, there is a good sized balcony for lounging, you can fit a daybed and a sizeable lounge chair here.

There are a number of pointers to watch out for though. Clementi Park is really best for those who drive (although you do have a shuttle bus service), and the pool is quite a small one for the size of the land and number of units. It's also located off the main development, so it can be quite a walk to get there.

– Sean